SEE IMAGES FROM THE PRIVATE VIEW
Octavia E Butler had a vision of time as circular, giving meaning to acts of courage and persistence. In the face of social and environmental injustice, setbacks are guaranteed, no gains are made or held without struggle, but societal woes will pass and our time will come again. In this sense, history offers solace, inspiration, and perhaps even a prediction of what to prepare for.

The Time Portals exhibition, at Furtherfield Gallery and online spaces, celebrates the 150th anniversary of Finsbury Park. As one of London's first 'People's Parks', designed for free movement and thought, it is the perfect location to create a mass investigation of radical pasts and futures, circling back to the start as we move forwards.

Each artwork invites audience participation – either in its creation or in the development of a parallel 'people's' work – turning every idea into a portal to countless more imaginings of past and future urban green spaces and beyond.

Time Portals from Furtherfield on Vimeo.
What We Can Do, Antonio Roberts, Studio Hyte (2019)
An interactive wall depicting the urban green space of Finsbury Park as a machine for radical re-assemblage. The external billboard can be scanned with an Augmented Reality app to reveal the secret of realising progressive visions for the future. Scan the message in the Gallery to see the billboard image animated.

Future Machine, Rachel Jacobs (2019)
An interactive machine designed and built to respond to environmental change and inspire new rites for our troubled times. A slideshow of the machine as it is imagined and built will be presented alongside a ritualised unveiling in the Autumn.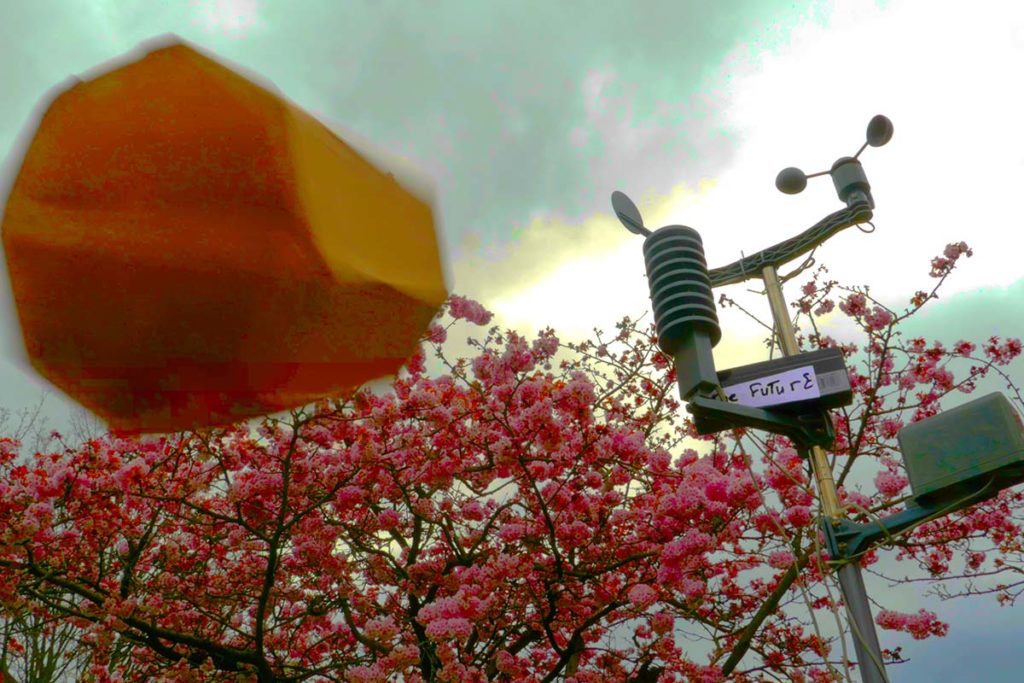 Join the Future Machine design team at Furtherfield Commons in Finsbury Park to build a new artwork that will help us to respond to environmental change…as the future unfolds. Sign up to take part in up to 4 workshops that involve talking, thinking & making, using interactive technology and scientific sensors, helping to design and build the Future Machine itself.
Workshop times/dates and sign-ups:

Tuesday 26th March 3-6,
Saturday 20th April 1-4,
Saturday 11th May 1-4,
Tuesday 18th June 3-6
ArchaeaBot: A Post Singularity and Post Climate Change Life-form, Anna Dumitriu, Alex May (2018)
In collaboration with Amanda Wilson (MARA Project/Imperial College) and Professor Daniel Polani (University of Hertfordshire). Supported by EMAP and Arts Council England
An underwater robotic installation which explores what 'life' might mean in a future transformed by climate change and artificial intelligence. The work is based on new research into archaea, which are single-celled, ancient microbes that can survive in hot, polluted environments, combined with the latest innovations in machine learning. Now living at Furtherfield Gallery the "ArchaeaBot" is the 'ultimate' species for the end of the world as we know it.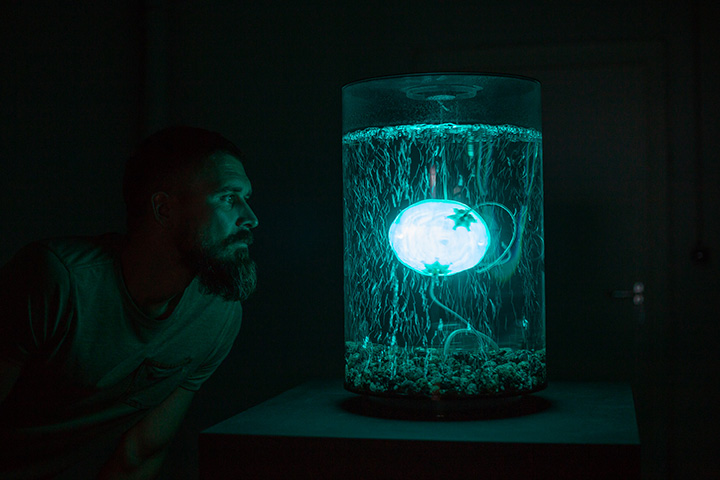 Circle of Blackness: Part 1 – Meet Ann E. Styles, Elsa James (2019)
With creative team: Hugo Stanbury, Nick Lambert, Marius Matesan, Carl Smith, James E. Marks, Chris Szkoda

Through in-depth research James revisits a historical black woman who lived in the Finsbury Park area 150 years ago, embodies and reimagines her then and 150 years into the future. Produced together with Ravensbourne University PlayLabZ and Holotronica, experience time travel and holographic mixed reality at the Furtherfield Gallery throughout the summer.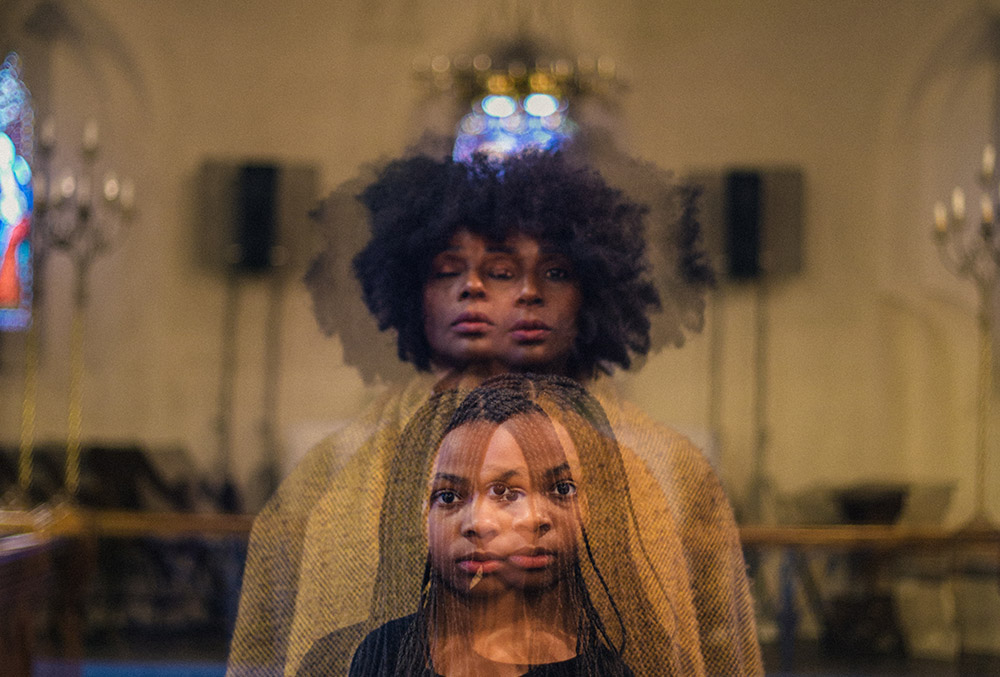 Part 2 of Circle of Blackness will be revealed later in the summer.
The Time Machine in Alphabetical Order, Thomson and Craighead (2010)
This video work is a complete rendition of the 1960s film version of HG Wells Novella re-edited by Thomson & Craighead into alphabetical order from beginning to end. In doing this, the artists attempt to perform a kind of time travel on the movie's original timeline through the use of a system of classification.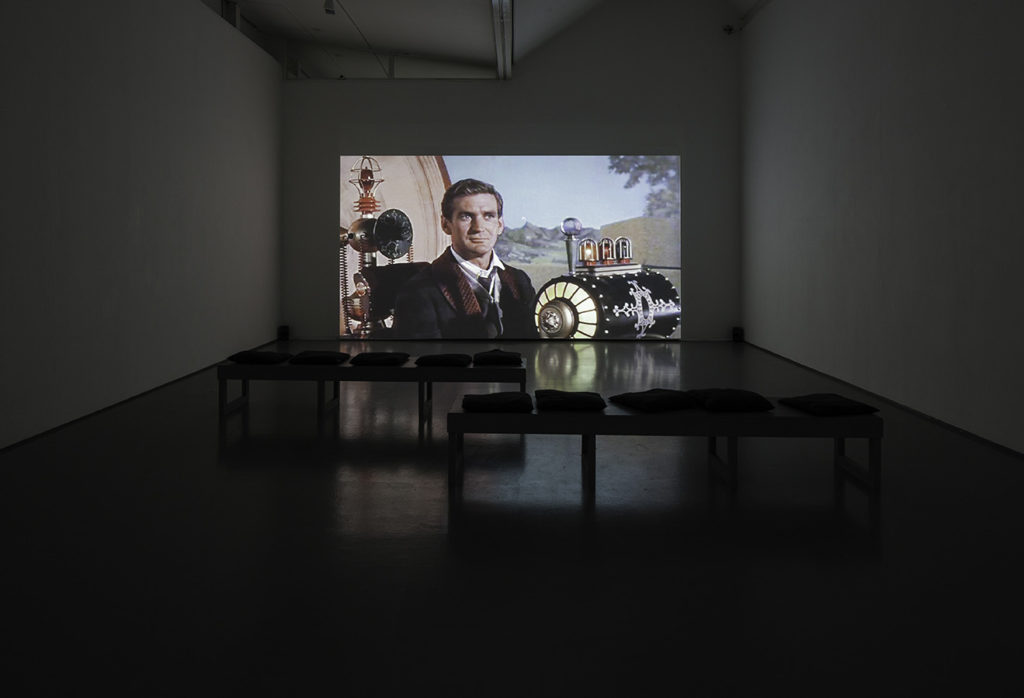 Time Portals Events and Activities
Future Machine Artwork Workshops:
26 Mar, 20 Apr, 11 May, 18 Jun, 13 Jul, Furtherfield Commons
Book Launch Event for Jugaad Time by Amit S. Rai:
27 Apr 14.00-16.00, Furtherfield Commons
Find a Line to Follow and Face The Future! 'Walkshops':
5 May 18 May, 10 Aug, Furtherfield Commons
Free, Fair, and Alive! A People's Park Play Day:
10 Aug 10.00-17.00, Furtherfield Commons
Future of Money Workshops:
10 Aug, 10.00-17.00, Furtherfield Commons, other dates TBC,
Citizen Sci-Fi 3-Day Artworkers Lab Event:
14-15 Sept, time TBC, Furtherfield Commons
Future Machine Artwork Opening Event:
Date and time TBC, Furtherfield Commons
Circle of Blackness Special Event:
28 Sept, time TBC, Furtherfield Gallery and Commons
Citizen Sci-Fi Programme 2019-2021

This 3-year programme combines citizen science and citizen journalism by crowdsourcing the imagination of local park users and community groups to create new visions and models of stewardship for public, urban green space. By connecting these with international communities of artists, techies and thinkers we are co-curating labs, workshops, exhibitions and Summer Fairs as a way to grow a new breed of shared culture.

3 years and 3 themes
50+ Citizen Sci-Fi events
1000s of local residents
Stories, movies, machines and more!
#CitSciFi – crowdsourcing creative and technological visions of our communities and public spaces, together.

Artist Bios

Anna Dumitriu is a British artist who works with BioArt, sculpture, installation, and digital media to explore our relationship to infectious diseases, synthetic biology and robotics. She has an extensive international exhibition profile including ZKM, Ars Electronica, BOZAR, The Picasso Museum, The V & A Museum, Philadelphia Science Center, MOCA Taipei, LABoral, Art Laboratory Berlin, and The Museum of the History of Science Oxford. She was the 2018 President of the Science and the Arts section of the British Science Association and holds visiting research fellowships at the University of Hertfordshire, Brighton and Sussex Medical School, and Waag Society, as well as artist-in-residence roles with the Modernising Medical Microbiology Project at the University of Oxford, and with the National Collection of Type Cultures at Public Health England. Dumitriu is a renowned speaker and has presented her work at venues including TATE Modern, Princeton University, Imperial College, La Musee de la Chasse et de la Nature, The Mendel Museum and UCLA. Her work is featured in many books including "Bio Art: Altered Realities" published by Thames and Hudson in 2016 and many other significant publications across contemporary art and science including Artforum International Magazine, Leonardo Journal, The Art Newspaper, Art Quarterly, Nature and The Lancet. Dumitriu's work has a strong focus on the ethical implications of emerging technologies drawing threads across time, exploring future scenarios by reflecting on the past.
Elsa James is a visual artist, activist and producer based in Southend-on-Sea, Essex, who grew up in west London during the 1970s and '80s. Her solo practice encompasses lens-based performance, language and text, and recently the use of aural and the archive to explore regionality of race; black subjectivity; and the historical, temporal and spatial dimensions of what it means to be black in Britain. She is currently developing work exploring alienation and outsiderness experienced as a black woman living in Essex since 1999. Forgotten Black Essex (2018) embodies two place-specific narratives from our national archives of two overlooked, under-researched and recognised black women in Essex. Her social practice includes advocating for the inclusion of marginalised communities in the arts sector. New Ways of Seeing, Telling and Making (2018), a visual provocation and participatory lab at the Social Art Summit, asked questions about how we can 'genuinely' address barriers to participation and involvement in the arts for BAME communities. In 2015 she was commissioned to research the asylum and refugee community in Southend. This culminated in a 38-page report exposing the council's lack of provision for the needs of asylum seekers, failed asylum seekers and refugees living in Southend.
Rachel Jacobs is an artist, researcher and games designer. She co-founded the artist-led collective Active Ingredient in 1996 and the commercial games company Mudlark Production Company in 2007. She completed a Doctorate in Computer Science in 2014. Rachel is a practising artist exhibiting nationally and internationally, and a Research Associate at the Horizon Digital Economy Institute, University of Nottingham. Her artworks include the award winning 'Heartlands (Ere Be Dragons)' one of the first mobile games that took place on city streets in Sao Paulo, Yokhama, Berlin, Paris, Cambridge, Bristol and Nottingham; 'A Conversation Between Trees', a touring artwork and schools exchange using environmental sensors to connect forests in the UK and Brazil; and 'The Prediction Machine', an interactive installation that predicts the future impacted by climate change. Rachel is currently developing a series of artists interventions 'Creating Rituals for When The Future Comes', alongside a mobile interactive artwork the 'Future Machine'.
Dr Nick Lambert is Director of Research at Ravensbourne University London, where immersive environments and mixed reality experiences are being developed. He researches the application of technology in contemporary art and visual culture. He has written on the history of computer art and engaged with artists and theorists in this field. He has also created artworks for immersive environments including fulldome, and interactive exhibits.
James E. Marks, PsychFi – A natural born new media pioneer, award winning social video, & dimensional computing arts for good maker, curator & speaker. With 4 decades of hands-on experience & experimental knowledge collaborating on Brand / Crowd / Arts Council funded "Sub & Pop Culture Mixed Up Reality Experiences". Recent collaborations include V&A, London Design Festival, Boomtown Fair, Mobile World Congress, Ravensbourne University, Bethesda, SubPac, Modern Panic, Sci-Fi-London & BBC Click

Marius Matesan is creating narratives using real and virtual installation art, noted mostly for his work on theatre stages across Europe and more recently for his Mixed Reality experiences. Mixing reality with the imaginary, using sound, projection mapping, spatial computing and virtual reality. His work revolves around pushing the boundaries of perception, awareness and reality, creating installations that are often addressing social issues with a psychedelic twist.

Alex May is a British artist creating digital technologies to challenge and augment physical and emotional human boundaries on a personal and societal level in a hyper-connected, software mediated, politically and environmentally unstable world. He works with light, code, and time; notably algorithmic photography, robotic artworks, video projection mapping installations, interactive and generative works, video sculpture, performance, and video art. Alex has exhibited internationally including at the Francis Crick Institute (permanent collection), Eden Project (permanent collection), Tate Modern, Ars Electronica (Austria), LABoral (Spain), the Victoria & Albert Museum, Royal Academy of Art, Wellcome Collection, Science Museum, Bletchley Park, One Canada Square in Canary Wharf, the Museum of Contemporary Art in Caracas (Venezuela), the Science Gallery in Dublin, Princeton University, University of Calgary (international visiting artist 2016), Texas A&M University, and the Beall Center for Art + Technology, University of California, Irvine. Alex is a Visiting Research Fellow: Artist in Residence with the School of Computer Science of University of Hertfordshire, and a Digital Media Arts MA sessional lecturer at the University of Brighton.

http://www.alexmayarts.co.uk
Antonio Roberts is a new media artist and curator based in Birmingham, UK. He uses technology-driven processes to explore issues surrounding open source software, free culture and collaborative practices. His visual and performance work has been featured at galleries and festivals including databit.me in Arles, France (2012), Glitch Moment/ums at Furtherfield Gallery, London (2013), Loud Tate: Code at Tate Britain (2014), glitChicago at the Ukrainian Institute of Modern Art in Chicago, US (2014), Permission Taken at Birmingham Open Media and University of Birmingham (2015-2016), Common Property at Jerwood Visual Arts, London (2016), Green Man Festival, Wales (2017) and Barbican, London (2018). He has curated exhibitions and projects including GLI.TC/H Birmingham (2011), the Birmingham editions of Bring Your Own Beamer (2012, 2013), µChip 3 (2015), Stealth (2015), and No Copyright Infringement Intended (2017).
Carl H Smith is Director of the Learning Technology Research Centre (LTRC) and Principal Research Fellow at Ravensbourne University London. His background is in Computer Science and Architecture. He has 17 years experience conducting R+D into the application of hybrid technologies for perceptual, cognitive and creative transformation. He has worked on a number of large-scale FP7 and Leonardo Life Long Learning European projects. He is currently working on 4 EU projects including the Horizon 2020 project '[WEKIT] Wearable Experience for Knowledge Intensive Training' which aims to create 'Wearable Experience (WE)' – an entirely new form of media. His research interests include Embodied Cognition, Spatial Literacy, Perceptual Technology and Hyperhumanism. His other projects involve Context Engineering, Umwelt Hacking, Natural Media, Sensory Augmentation, Memory Palaces, Artificial Senses and Body Hacking. He is co-founder of the London Experimental Psychonautics Club and co-founder of the Cyberdelic Society. Both organisations explore the myriad of ways it is possible to produce and examine Altered States of Consciousness. He has previously worked at the Computing departments at London Metropolitan University, Glasgow University and Sheffield University. The Learning Technology Research Centre (LTRC) conducts design research into the application of information and communication technologies to augment, support and transform cognition.
Hugo Stanbury has worked in the event and entertainment industry for over a decade. Inspired most by the area where cutting edge technology is used for properties rather than purpose, he works hard to balance sound technical delivery with new creative concept. He currently works as Operations Director at Holotronica – the UK company behind Hologauze. Hologauze is the world leading gauze for holographic effects with clients from BMW to Beyonce. Holotronica are specialists in a range of holographic displays, analogue holography and 3D content.
Studio Hyte is a London based multidisciplinary design studio who place research and concept above medium. Working between graphic design, interaction and emergent forms of visual communication, we aim to create meaningful and thought provoking work. Formed of a small group of individual practitioners, Studio Hyte is the middle ground where all of our interests and practices meet. As such our collective practice and research covers a broad spectrum of topics including; language, inclusion & accessibility, egalitarian politics & alternative protest and technology & the human. With an emphasis on process, we often create critical narratives through our work in order to conceptualise through making. Collectively, our visual practice is a means through which we can plot out a conceptual landscape in order to understand and explore real-world scenarios. Studio Hyte works on self-directed research projects, commissions and client-led projects for a small pool of like minded organisations and individuals.
Chris Szkoda, Kaws Infinity – Games Designer/ VFX Artist, works on designing mixed/virtual reality apps for a social mixed reality experience playground at Ravensbourne University London. Keen to support social good & diversity projects, working directly with students and helping them make their creative ideas a reality. He has expertise in immersive technology, VR modelling and painting in Google Tilt Brush and MasterpieceVR software.

Jon Thomson (b. 1969) and Alison Craighead (b. 1971) are artists living and working in London. They make artworks and installations for galleries and specific sites including online spaces. Much of their recent work looks at live networks like the web and how they are changing the way we all understand the world around us. Having both studied at Duncan of Jordanstone College of Art in Dundee, Jon is Reader in Fine Art at The Slade School of Fine Art, University College London, while Alison is a reader in contemporary art and visual culture at University of Westminster and lectures in Fine Art at Goldsmiths University.
http://www.thomson-craighead.net/
This 3-year programme supports our Platforming Finsbury Park initiative. Between 2019-2021 we will produce exhibitions and events that combine citizen science and citizen journalism by crowdsourcing the imagination of local park users and community groups to create new visions and models of stewardship for public, urban green space. By connecting these with international communities of artists, techies and thinkers we are co-curating labs, workshops, exhibitions and Summer Fairs as a way to grow a new breed of shared culture.
3 years and 3 themes
50+ Citizen Sci-Fi events
1000s of local residents
Stories, movies, machines and more!
#CitSciFi – crowdsourcing creative and technological visions of our communities and public spaces, together.
Citizen Sci-Fi: Time Portals 2019
The Time Portals exhibition, held at Furtherfield Gallery (and across our online spaces), celebrates the 150th anniversary of the creation of Finsbury Park. As one of London's first 'People's Parks', designed to give everyone and anyone a space for free movement and thought, we regard it as the perfect location from which to create a mass investigation of radical pasts and futures, circling back to the start as we move forwards.

Each artwork in the exhibition therefore invites audience participation – either in its creation or in the development of a parallel 'people's' work – turning every idea into a portal to countless more imaginings of the past and future of urban green spaces and beyond.

Citizen Sci-Fi: Love Machines 2020
For this Olympic year we will consider the health and wellbeing of humans and machines.

Citizen Sci-Fi: Land Oracles 2021
For this year of predicted peak heat rises we will consider how machines can work with nature.
"It's amazing what we can do if we simply refuse to give up. The word again is persist." Octavia E Butler
In 2019 we celebrate the 150th anniversary of Finsbury Park, and we time travel through its past and future with the launch of our Citizen Sci-fi programme and methodology. Dominant sci-fi franchises of our time, from Black Mirror to Westworld, have captured popular attention by showing us their apocalyptic visions of futures made desperate by systems of dominance and despair.
What is African-American author, Octavia E. Butler's prescription for despair? Sci-fi and persistence. Sci-fi as a tool for getting us off the beaten-track and onto more fertile ground, and persistent striving for more just societies.The 2015 book Octavia's Brood honoured her work, with an anthology of sci-fi writings from US social justice movements and this inspired us to try a new artistic response to the histories and possible futures of Finsbury Park.
Furtherfield's Citizen Sci-Fi methodology combines citizen science and citizen journalism by crowdsourcing the imagination of local park users and community groups to create new visions and models of stewardship for public, urban green space. By connecting these with international communities of artists, techies and thinkers we are co-curating labs, workshops, exhibitions and Summer Fairs as a way to grow a new breed of shared culture.
Each artwork in the forthcoming exhibition invites audience participation – either in it's creation or in the development of a parallel 'people's' work – turning every idea into a portal to countless more thoughts and visions of the past and future of urban green spaces and beyond.
So where do we start? Last year we invited artists, academics and technologists to join us in forming a rebel alliance to fight for our futures across territories of political, cultural and environmental injustice. This year both our editorial and our exhibition programme are inspired by this alliance and the discoveries we are making together.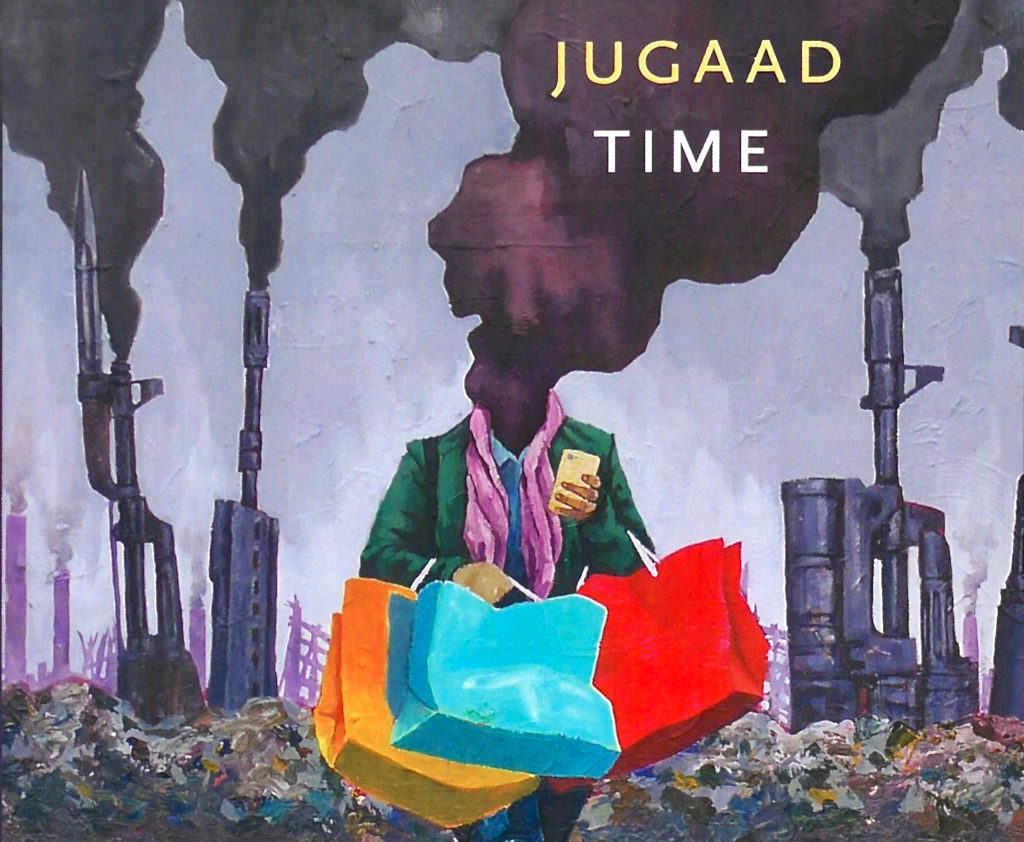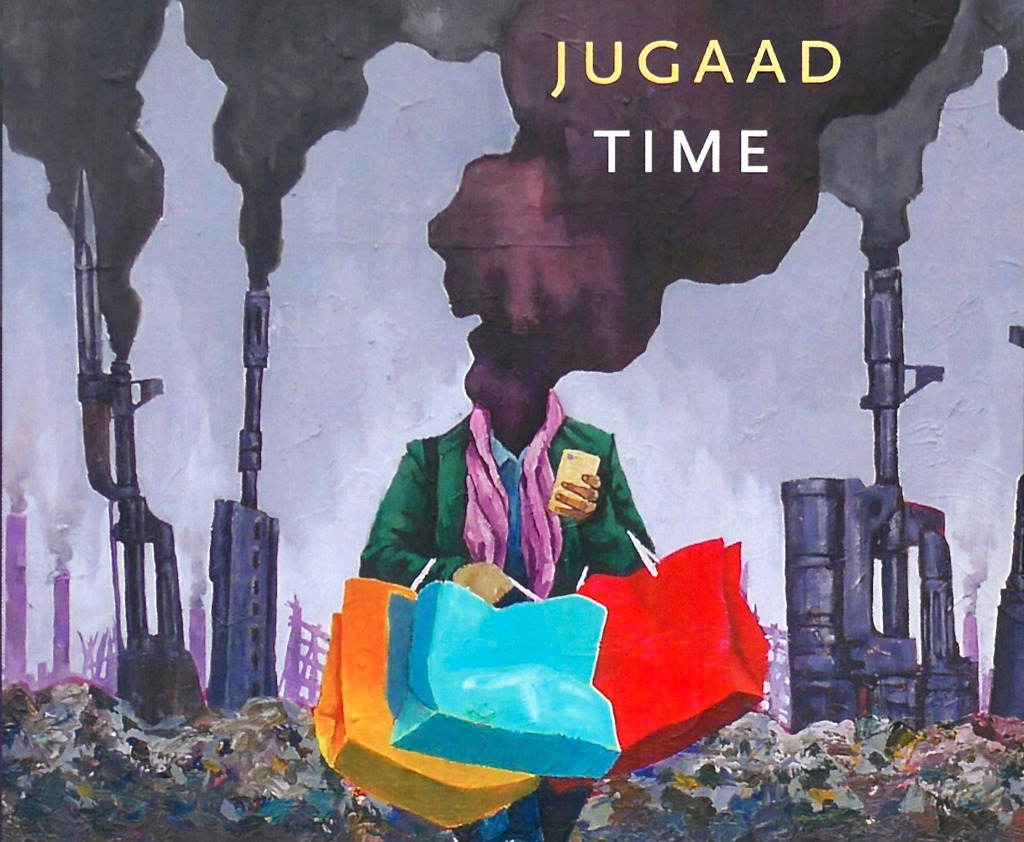 To kick off this year's Time Portals programme at Furtherfield, in April we will host the launch and discussion around Jugaad Time, Amit Rai's forthcoming book. This reflects on the postcolonial politics of what in India is called 'jugaad', or 'work around' and its disruption of the neoliberal capture of this subaltern practice as 'frugal innovation'. Paul March-Russell's essay Sci-Fi and Social Justice: An Overview delves into the radical roots and implications of Mary Shelley's Frankenstein (1818). This is a topic close to our hearts given our own recent exhibitions Monsters of the Machine and Children of Prometheus, inspired by the same book. Meanwhile we've been hosting workshops with local residents exploring our visions for Finsbury Park 150 years into the future. To get a flavour of these activities Matt Watkins' has produced an account of his experience of the Futurescapes workshop at Furtherfield Commons in December 2018.
In May we will open the Time Portals exhibition which features several new commissions. These include Circle of Blackness by Elsa James. Through local historical research James will devise a composite character to embody the story of a black woman from the locality 150 years ago and 150 years in the future. James will perform a monologue that will be recorded and produced by hybrid reality technologist Carl Smith and broadcast as a hologram inside the Furtherfield Gallery throughout the summer. While Futures Machine by Rachel Jacobs is an Interactive machine designed and built through public workshops to respond to environmental change – recording the past and making predictions for the future while inspiring new rituals for our troubled times. Once built, the machine occupies Furtherfield Gallery, inviting visitors to play with it.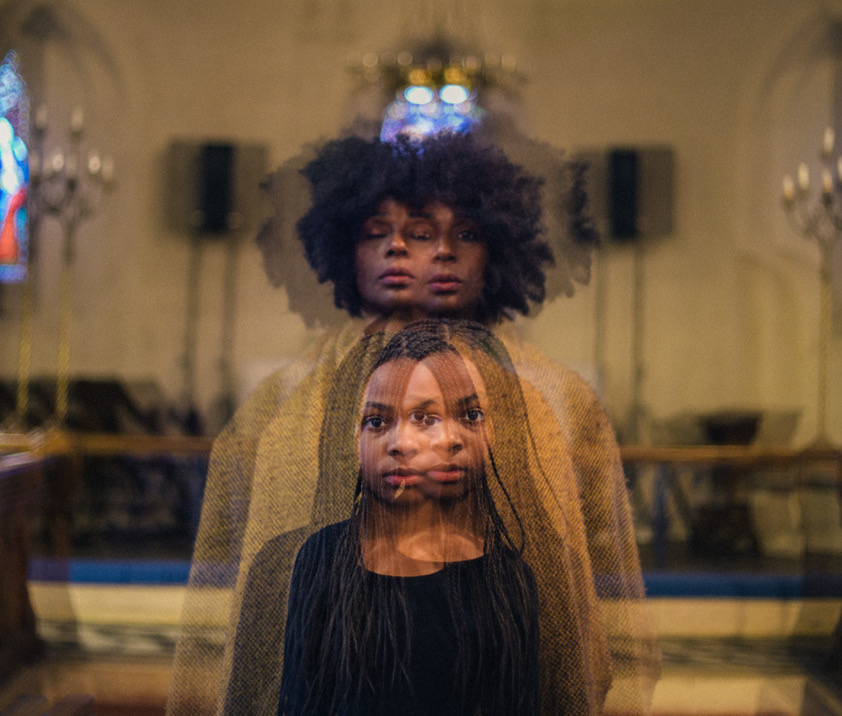 Time Portals opens on May 9th (2019) with other time traveling works by Thomson and Craighead, Anna Dumitriu and Alex May, Antonio Roberts and Studio Hyte. Visitors will be invited to participate in an act of radical imagination, responding with images, texts and actions that engage circular time, long time, linear time and lateral time in space towards a collective vision of Finsbury Park in 2169.
From April onwards, a world of activities, workshops with local families and their enriching noises, reviews, interviews and an array of experiences will unfold. Together we dismiss the dystopian nightmares and invite communities to join us in one of London's first "People's Parks" to revisit and recreate the future on our own terms together.
Marc Garrett will be interviewing Elsa James, about her artwork Circle of Blackness, and Amit Rai about his book Jugaad Time. Both will soon be featured on the Furtherfield web site.
What happens to the hole when the cheese is gone?
Bertolt Brecht
Transient Hole (Variations) is a hybrid curatorial project and symposium by Viennese artist and curator Alexander Felch. The project`s title refers to a concept for a media artwork, that cannot, properly speaking, be materialized for it deals with a moving void – a transient hole.
Across the floor of a white, three-dimensional room a little black hole is constantly and randomly moving. The hole is simultaneously there and not there. It is a portal to nowhere. But is it really? Might it not lead to transcendence, to another reality, or perhaps our reality can only be understood through this liminal presence of nothingness?
The participants are invited to provide their own interpretation for this problem and develop means to represent it, whether through art or science, to display processes that cannot be depicted in reality. The aim of the project is obviously not to find a solution to this existential paradox but to bring about a reflection on the topic from a myriad of disciplines and different perspectives, which explore the limits of representation. The various responses to the THR problematic will be gathered in a collected volume that is in itself a reflection on the boundary between art and science, reality and fantasy.
The project appears – just like the transient hole – in different cities popping up in various forms and is accompanied by lectures, talks and (sound-) performances.
Contributions by:
Atzgerei Productions, Arnold Berger, Ryan Mc Donagh, Sophie Dvorak, Alexander Felch / Aisek Ifraimov, Mariana Ferreira / Dayjon Edwards, Christoph Höschele, Hrvoje Hirsl, Harald Hund, Sandy Leong, Stefan Lutschinger, Nicholas Moloney, Anja Nowak, Jaysha Obispo, Shinji Toya, Jeroen van Amelsvoort, Anna Vasof, Stefan Voglsinger, Jan Vormann, Yilin Wang, David Wauters, Hui Ye.
Featuring concepts developed by students of Middlesex University London – BA Digital Media and BA Media and Cultural Studies
Transient Hole (Variations) X (ten) – Preview

Monday 12 November – Friday 16 November 2018
Middlesex University
FREE
Transient Hole (Variations) X (ten) – Exhibition View
Saturday 17 November 2018, 11:00 – 16:00
Furtherfield Gallery
FREE
13:00
Opening
14:30
Introduction and Guided Tour
Alexander Felch "Transient Hole Research – Instationarity as an artistic concept / a scientific particularity"
Cybersalon feat. Transient Hole Research
Saturday 17 November 2018, 16:00 – 21:00
Furtherfield Commons
FREE
16:00
Limehouse Hole Atlas Datathon
Navino Evans and Sean McBride (http://histropedia.com/)
18:00
Sound Performances
ABOUT THE ARTISTS
Karl Salzmann (A) is a sound & visual artist, curator and researcher currently based in Vienna / Austria. Within process-oriented and experimental setups, he develops and presents works that study the materiality of sound and its social, cultural and metaphorical levels of meaning. His artistic activities mainly concern the interaction between sound and visual arts and often relate to works and topics of (sound) art history.
http://www.karlsalzmann.com/
T_A-Z (Paul Gründorfer) (A) is using process-related setups to explore sonic worlds and to realise site specific interventions, developing real time audio systems, that act autonomous or in reference to the spatial constellation. While considering the encounters between analog and digital, structured or improvised elements, he is focusing on the abstract occurrence of sound and its physical impact.
Electronic circuits are interconnected to cause semi-natural entities, autonomous organisms. Voice and articulation are generated through loops in feedback networks. Onomatopoeia.
His artistic activities examine variable connections between transmitter-receiver networks, which function as a conceptual framework for experimentation with sound and transmission of information.
http://tricx.net/
Monsterfrau Lena Wicke Aengenheyster (A/D) – MONSTERFRAU PJ (Performance Jockey) – Part III of the performance serial MONSTERFRAU The voices' bodies: MONSTERFRAU triggers, mixes and morphes dance music rythms, samples and sounds with her movement. STAATSAFFAIRE: Production of and reflection through artistic projects in music and performance art. Beyond that it is the common optimisation of production environments and network.
http://www.staatsaffaire.com/
–
Visuals:
Simon Sarginson (live coding) (UK)
London edition curated by Alexander Felch + Stefan Lutschinger
Realised in cooperation with Cybersalon, Middlesex University London and the Austrian Cultural Forum London – with kind support by the Federal Chancellery Of Austria.
–
www.facebook.com/transienthole/
www.mdx.ac.uk
www.cybersalon.org
www.furtherfield.org
DOWNLOAD CURATORIAL STATEMENT

SEE IMAGES FROM THE PRIVATE VIEW
Feature image: Jeremy Hutchison, Movables, 2017. Photo courtesy of the artist.
We live in a time of stark and often violent paradoxes: the increasing liberalisation of social values in some parts of the world compared to increasing fundamentalism in others; the wealth of scientific discovery and technological advances in contrast to climate denialism, "post-factual" and conspiracy-driven politics; freedom of movement for goods and finance while individual movement is ever more constricted and subject to law; a drive towards agency, legibility and transparency of process while automation, computerisation and digitisation, render more of the world opaque and remote. At every level, mass movement of peoples and the rise of planetary-scale computation is changing the way we think and understand questions of geography, politics, and national identity.
These ever-increasing contradictions are seen most acutely at the border. Not merely the border between physical zones and between nation states, with their differing legal jurisdictions and requirements for entry and residency, but also the border between the physical and digital, when we apparently – but perhaps misleadingly and certainly temporarily – cross over into a different zone of possibility and expression.
This contradiction is also clear in the balkanisation of newly independent and fragmenting states, and in the rising current of nationalism across Europe, which seems to run in parallel to, and might even be accelerated by, digital connectivity. Some of the most outwardly regressive powers themselves employ what Kremlin theorist Vladislav Surkov has called "non-linear strategy": a strategy of obfuscation and deliberate contradiction clearly indebted to the convolutions and confusions of the digital terrain – and of art. As ever more varied expressions of individual identity are encouraged, revealed, made possible and validated by online engagement, so at the same time a desperate rearguard action is being fought to codify and restrain those identities – online and off. These new emergent identities are, inevitably and by necessity, transient and contingent, slippery and subject to change and redefinition.
The artists featured in Transnationalisms address the effect of these pressures on our bodies, our environment, and our political practices. They register shifts in geography as disturbances in the blood and the electromagnetic spectrum. They draw new maps and propose new hybrid forms of expression and identity. In this exhibition Transnationalisms acknowledges and even celebrates the contradictions of the present moment, while insisting on the transformative possibilities of digital tools and networks on historical forms of nationalism, citizenship, and human rights. While the nation state is not about to disappear, it is already pierced and entangled with other, radically different forms. Alternative models and protocols of citizenship, identity, and nationhood are being prototyped and distributed online and through new technologies. Transnationalisms examines the ways in which these new forms are brought into the physical world and used to disrupt and enfold existing systems. It does not assume the passing of old regimes, but proclaims the inevitability of new ones, and strives to make them legible, comprehensible, and accessible.
Raphael Fabre CNI, 2017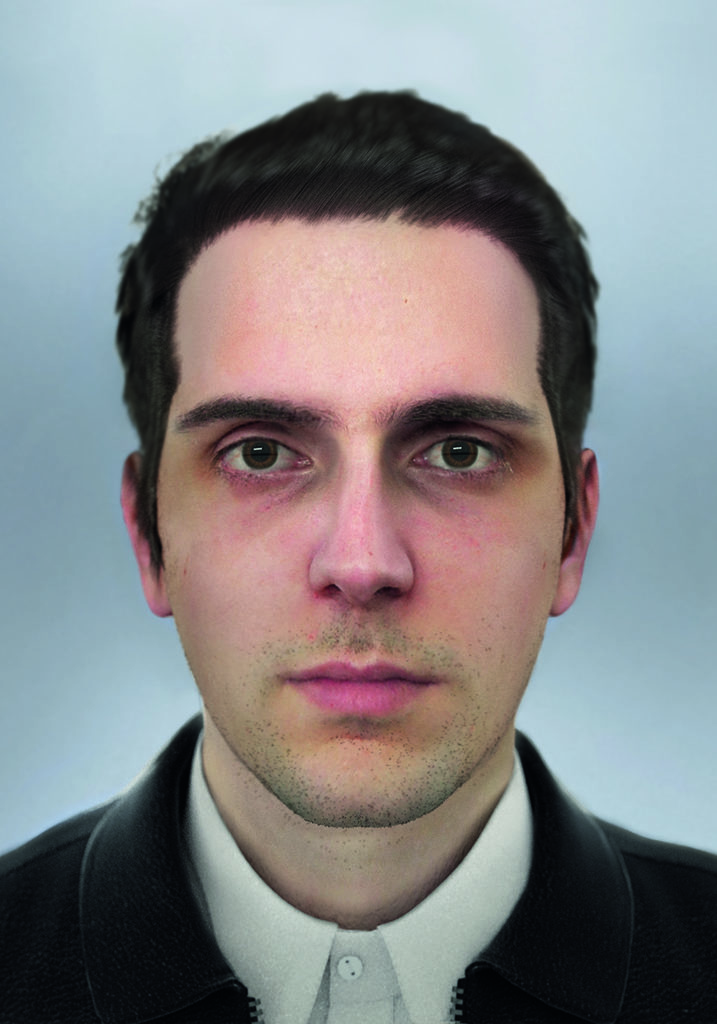 On April 7th, 2017, Raphael Fabre submitted a request for a French ID card. All of his papers were deemed to be legal and authentic and so the demand was accepted and a new national ID card was issued. In fact, the photo submitted to accompany this request was created on a computer, from a 3D model, using several different pieces of software and special effects techniques developed for movies and video games. Just as our relationship with governments and other forms of authority is increasingly based on digital information, so the image on the ID is entirely virtual. The artist's self-portrait suggests the way in which citizens can construct their own identities, even in an age of powerful and often dehumanising technologies.
Jeremy Hutchison Movables, 2017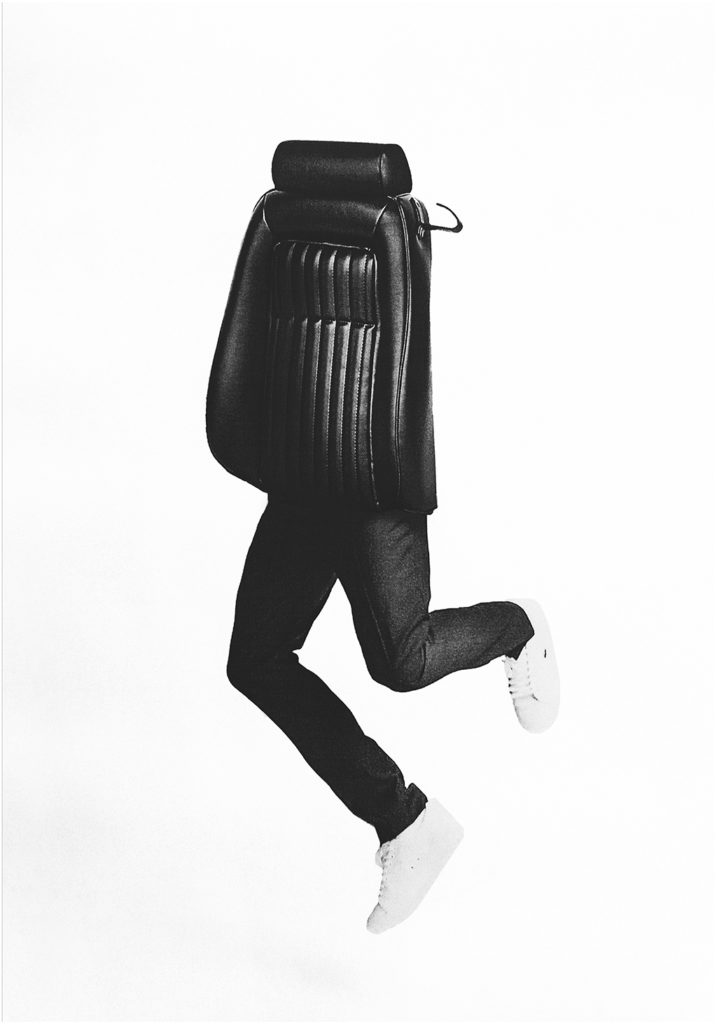 The starting point for this work was a found photograph, taken by police at a border point somewhere in the Balkans. It showed the inside of a Mercedes, the headrests torn open to reveal a person hiding inside each seat. This photograph testifies to a reality where human bodies attempt to disguise themselves as inanimate objects, simply to acquire the same freedom of movement as consumer goods. Movables translates this absurdity into a series of photo collages, combining elements of high-end fashion and car adverts, enacting an anthropomorphic fusion between the male form and the consumer product. The results are disquieting yet familiar, since they appropriate a visual language that saturates our everyday urban surroundings, highlighting the connections between transnational freedoms and limitations, and international trade.
They Are Here
We Help Each Other Grow, 2017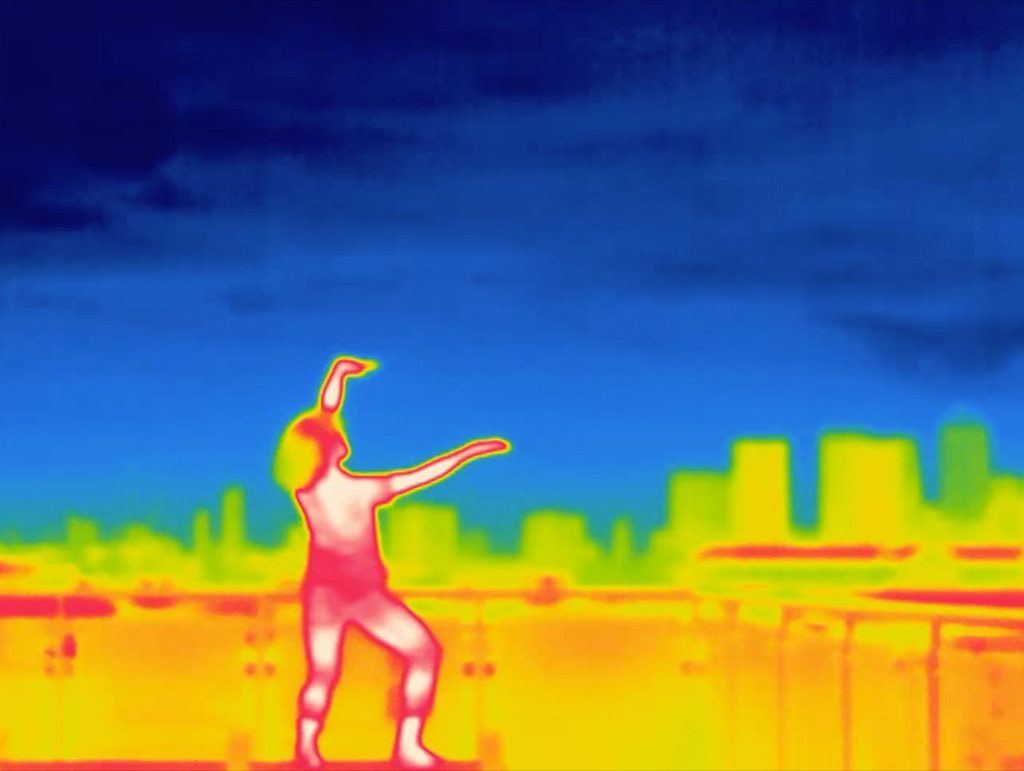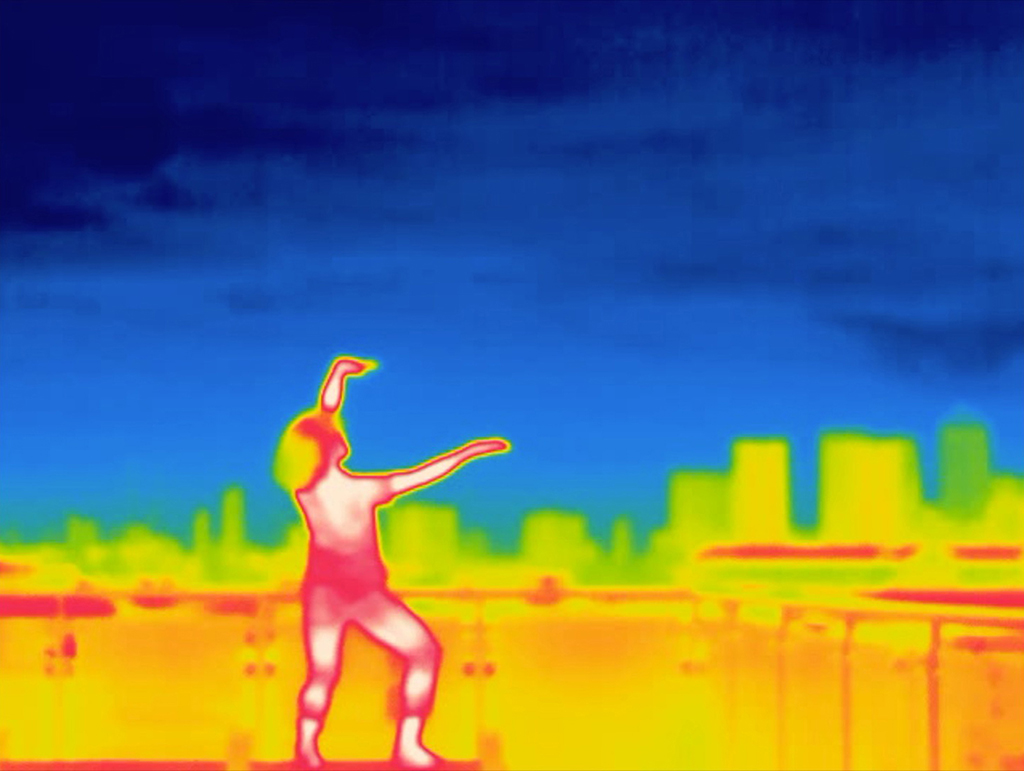 Thiru Seelan dances on an East London rooftop, looking out towards the skyline of the Canary Wharf financial district. His movements are inspired by the dance form Bharatanatyam, traditionally only performed by women and taught to Thiru in secret by his younger sister. Thiru is a Tamil refugee and when he arrived in the UK in 2010, following six months of detention in Sri Lanka during which he was tortured for his political affiliations, Canary Wharf was his first home. His movement is recorded by a heat sensitive camera more conventionally used as surveillance technology and deployed to monitor borders and crossing points, where bodies are recorded and captured through their thermal signature. The song 'We've helped each other grow', composed and performed by London based Mx World, was chosen with Thiru to soundtrack the performance. Mx is a prefix that does not indicate gender. In the UK, it can be used on many official documents – including passports. The repeated refrain, 'We've helped each other grow' suggests a communal vision for self and social development.
Daniela Ortiz
Jus Sanguinis, 2016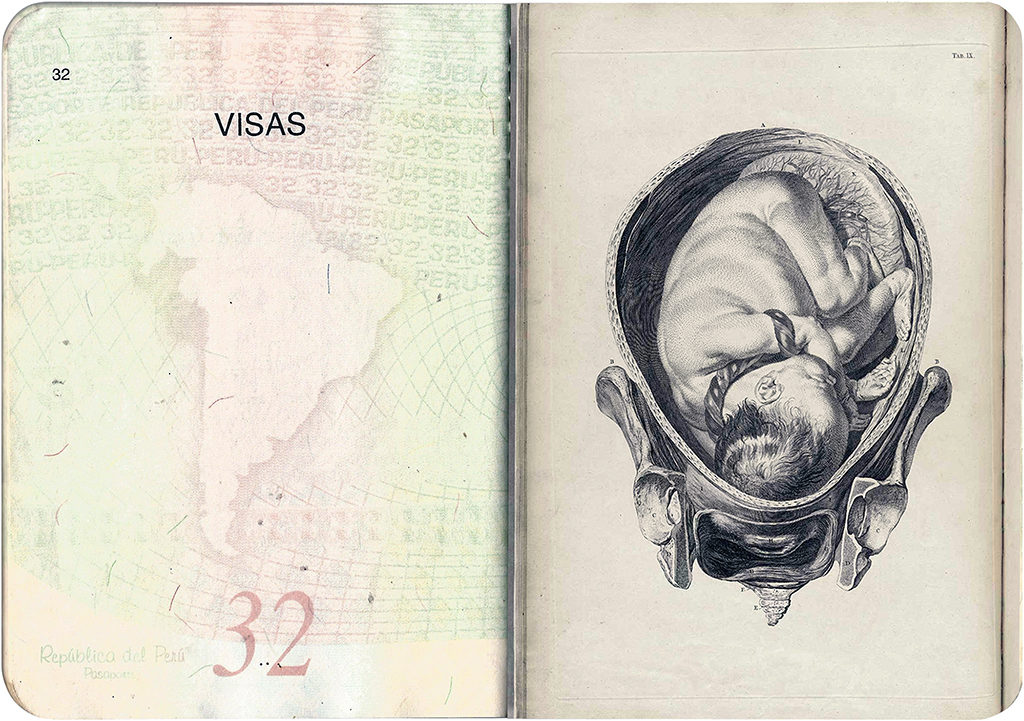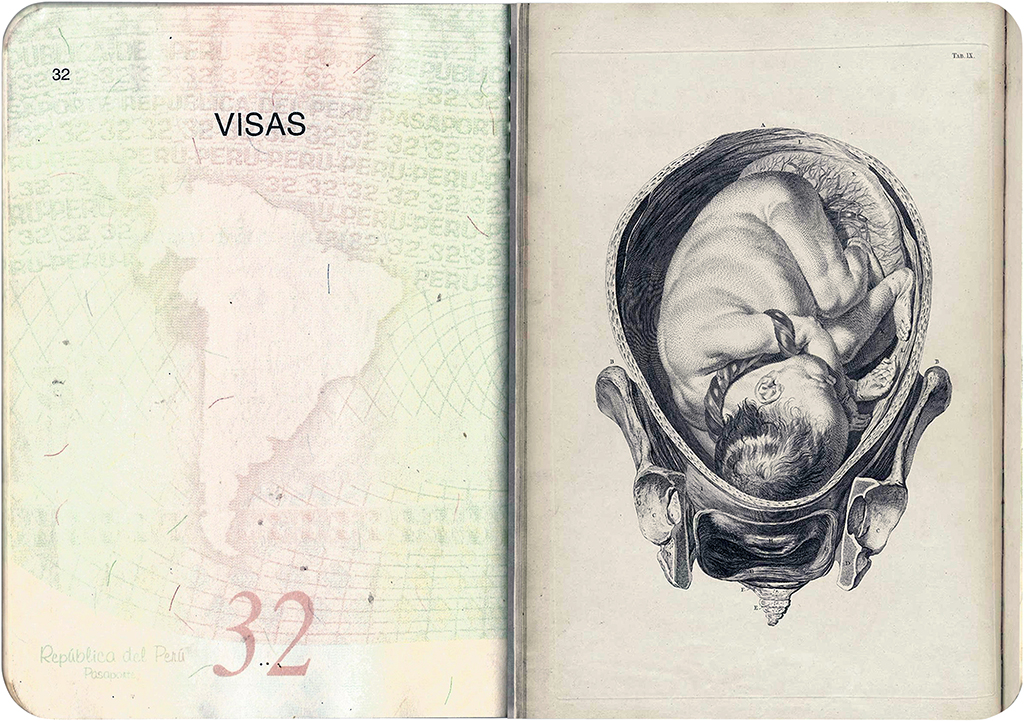 Jus sanguinis, meaning 'the right of the blood', is one of the main ways in which people acquire citizenship: from the blood of their parents. Daniela Ortiz is an artist of Peruvian descent living in Spain, where only babies with Spanish blood are recognized as subjects with the right to the nationality at the moment of the birth. As a result, her child would not have access to Spanish nationality. In this performance, undertaken when Ortiz was four months pregnant, she receives a blood transfusion from a Spanish citizen, directly challenging the racist and nationalist regime of citizenship which would classify her Spanish-born child as an immigrant.
The Critical Engineering Working Group (Julian Oliver and Danja Vasiliev)
VPN, 2018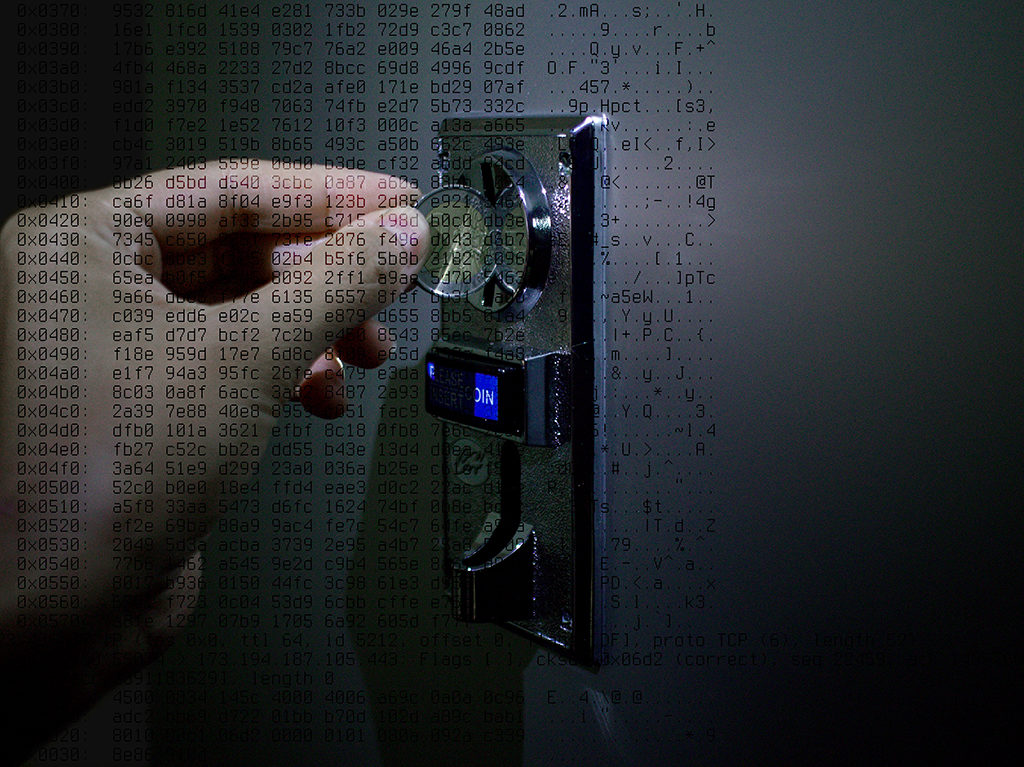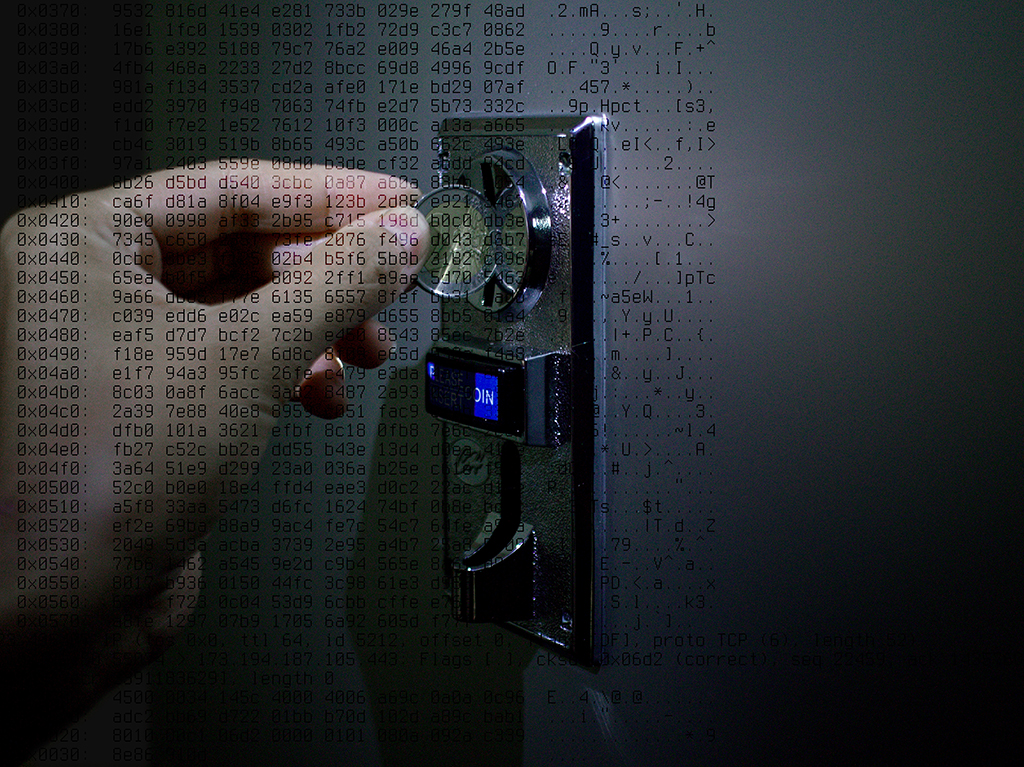 Virtual Private Networks (VPNs) have come into increasing demand in recent years, providing route encryption through hostile networks. In China, Vietnam, Turkey and Pakistan they also serve to mitigate government censorship, so that foreign sites otherwise blocked by state firewalls are made available to VPN users (Twitter, Facebook, Wikipedia, activist sites and digital libraries being the most common).
Vending Private Network takes the form of a condom vending machine, such as those typically seen in toilets. Equipped with mechanical buttons, a coin-slot and USB ports, it offers 4 VPN routes, each adorned with an animated graphic depicting a fantasy destination. Audiences are invited to insert a USB stick into the slot, and a coin into the machine, then to select a VPN destination by pressing a mechanical button, a unique VPN configuration file is then written onto their USB stick. Special instructions (in the form of a README.txt) will also be copied to the USB stick that explain how to use the VPN in a special 'sheathed' mode that evades detection methods (namely Deep Packet Inspection, or DPI) used by corporations and state-controlled infrastructure administrators. This is the only means known to work against state controlled firewalls, for instance and requires an extra install of freely available, open source software and leverage economic and cultural privilege to benefit those not included. With each VPN config generated, another is covertly shipped to contacts in Turkey, China, Vietnam and Iran (and other countries to be confirmed).

Jonas Staal New Unions, 2016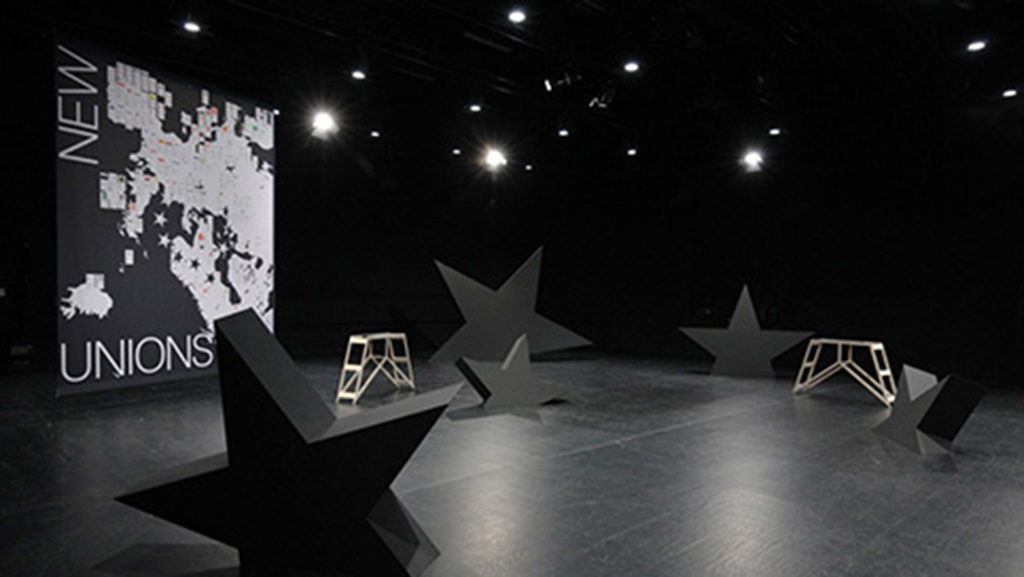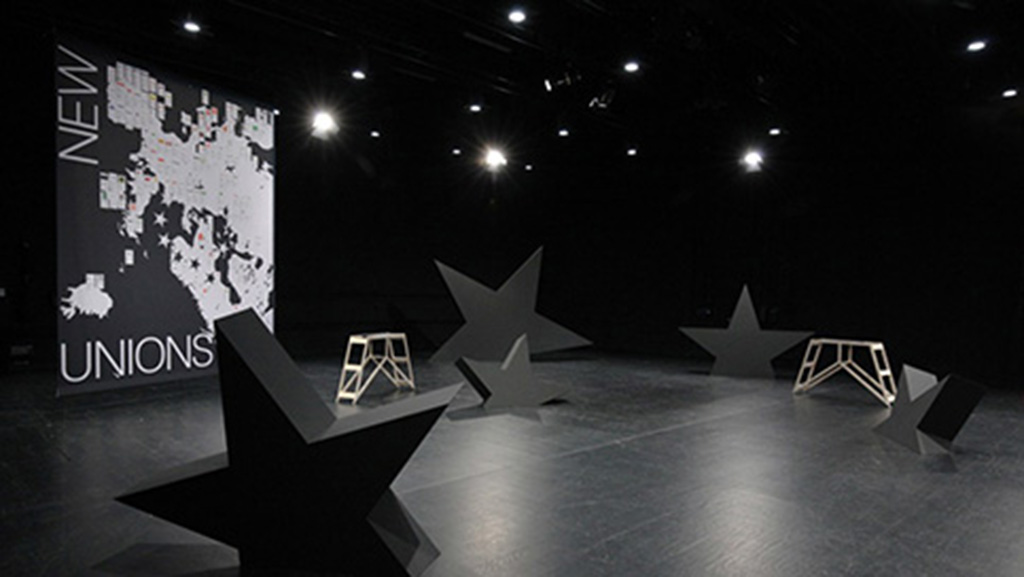 Jonas Staal's New Unions is an artistic campaign supporting progressive, emancipatory, and autonomist movements all over Europe, and proposing the creation of a "transdemocratic union" which is not limited by the boundaries of nation states. The New Unions map illustrates the recent, massive rise in social movements and new political parties which are creating new models of political assembly and decision making while challenging traditional national and institutional structures. From the civil initiative in Iceland to collectively rewrite the constitution after the economic crash, to regional independence movements and pan-European solidarity groups, these emerging political experiments propose new forms of transdemocratic practices. This map is the first in a series which is continuously updated to reflect the evolving geography of transdemocracy.
ABOUT THE ARTISTS
The Critical Engineering Working Group is a collaboration between Julian Oliver and Danja Vasiliev. Their manifesto begins: "The Critical Engineer considers Engineering to be the most transformative language of our time, shaping the way we move, communicate and think. It is the work of the Critical Engineer to study and exploit this language, exposing its influence."
criticalengineering.org
Raphaël Fabre works on the interference of fictions and narrative storytelling in the real world, using techniques ranging from digital 3D technologies to set decoration. Born in 1989, he lives and works in Paris.
raphaelfabre.com
Jeremy Hutchison works with situational performance. Operating in sites of production and consumption, he often collaborates with factory employees, migrant labourers, online workers and jobseekers to examine the structures that limit human existence. How are unequal human relations constructed by global capital? How do consumer products function as portraits of exploitative material structures? In the process of developing these works, each context becomes a stage; a metaphor for the production of reason. To some extent, his projects are rehearsals for an uncertain kind of freedom. He was recently a member of the Whitney Independent Study Program in New York.
jeremyhutchison.com
Daniela Ortiz (Cusco, 1985) lives and works in Barcelona. Through her work, she generates spaces of tension in which the concepts of nationality, racialization, social class and gender are explored in order to critically understand structures of inclusion and exclusion in society. Her recent projects and research revolve around the issue of migration control, its links to colonialism, and its management by Europeanwhite states and societies. At the same time, she has produced projects about the Peruvian upper class and its exploitative relationship with domestic workers. Daniela gives talks and participates in discussions on Europe's migration control system and its ties to coloniality in different contexts.
daniela-ortiz.com
Jonas Staal lives and works in Rotterdam (NL). He has studied monumental art in Enschede (NL) and Boston (US) and received his PhD for research on Art and Propaganda in the 21st Century from the University of Leiden (NL). His work includes interventions in public space, exhibitions, theater plays, publications and lectures, focusing on the relationship between art, democracy and propaganda. Staal is the founder of the artistic and political organization New World Summit and, together with BAK, basis voor actuele kunst, Utrecht (NL), of the New World Academy.
jonasstaal.nl
They Are Here (f. 2006) is a collaborative practice steered by Helen Walker and Harun Morrison. They are currently based in London and on the River Lea. Their work can be read as a series of context specific games. The entry, invitation or participation can be as significant as the game's conditions and structure. Through these games, they seek to create ephemeral systems and temporary, micro-communities that offer an alternate means of engaging with a situation, history or ideology. In parallel, they initiate multiyear socially engaged projects that become generative spaces for further works. They Are Here work across media and types of site, particularly civic spaces.
theyarehere.net
ABOUT THE CURATOR
James Bridle is an artist and writer working across technologies and disciplines. His artworks and installations have been exhibited in Europe, North and South America, Asia and Australia, and have been viewed by hundreds of thousands of visitors online. He has been commissioned by organisations including the Victoria & Albert Museum, the Barbican, Artangel, the Oslo Architecture Triennale, the Istanbul Design Biennial, and been honoured by Ars Electronica, the Japan Media Arts Festival, and the Design Museum, London. His writing on literature, culture and networks has appeared in magazines and newspapers including Frieze, Wired, Domus, Cabinet, the Atlantic, the New Statesman, and many others, in print and online, and he has written a regular column for the Observer. "New Dark Age", his book about technology, knowledge, and the end of the future, is forthcoming from Verso (UK & US) in 2018. He lectures regularly on radio, at conferences, universities, and other events, including SXSW, Lift, the Global Art Forum, Re:Publica and TED. He was been a resident at Lighthouse, Brighton, the White Building, London, and Eyebeam, New York, and an Adjunct Professor on the Interactive Telecommunications Programme at New York University.
jamesbridle.com
ABOUT FURTHERFIELD
Furtherfield is an internationally-renowned digital arts organisation hosting exhibitions, workshops and debate for over 20 years. We collaborate locally and globally with artists, academics, organisations and the public to explore digital culture and the changing world we live in. From our unique venues in Finsbury Park we offer a range of ways for everyone to get hands on with emerging technologies and ideas about contemporary society. Our aim is to make critical digital citizens of us all. We can make our own world.
Furtherfield Gallery
McKenzie Pavilion
Finsbury Park, London, N4 2NQ
Visiting Information
PARTNERS
This project has been funded with the support from the European Commission. This communication reflects the views only of the author, and the Commission cannot be held responsible for any use which may be made of the information contained therein.
Transnationalisms is realised in the framework of State Machines, a joint project by Aksioma (SI), Drugo More (HR), Furtherfield (UK), Institute of Network Cultures (NL) and NeMe (CY).
The Alternative UK write about Transnationalisms: We live in an age of transnationalisms. At Furtherfield, artists test all the borders
Way back in 1995, the artist collective Critical Art Ensemble (CAE), said "What your data body says about you is more real than what you say about yourself. The data body is the body by which you are judged in society, and the body which dictates your status in the world." These words now haunt us, and take their place alongside numerous other ignored warnings about global threats to the wellbeing of our societies and the planet.
In this interview with curator Dani Admiss, we discuss how the data-driven gamification of life and everything has shaped the development of Playbour – Work, Pleasure, Survival at Furtherfield and why the Gallery is currently being transformed into a psychological environment.
Gallery visitors are presented with a series of game-like installations, which are the result of the shared and collective cognitive labour of artists, curators and gallery staff. First the artists, and then the public (as players) are invited to test the processes and experiences offered by new mechanisms of play and labour. Each 'game' simulates an experience of how some techniques and technologies of gamification, automation, and surveillance, are at work in our everyday lives, in order to capture all forms of existence.
Interview
Marc Garrett: Before the exhibition, you initiated an open call for a Lab. You invited participants to join a three-day art and research lab at Furtherfield Commons, Finsbury Park, London. Could you elaborate why you did this and how it informed the exhibition?
Dani Admiss: A couple of months before the exhibition, I ran a 3 day co-research lab that brought together artists, designers, activists, and researchers. I like to refer to it as a performative, temporary exhibition in the form of a lab. There were discussions, performances, interventions, games, and exercises. We had discussion with Jamie Woodcock on gaming and digital labour, he walked us through an interview session with gamers on the Twitch platform. Steven Levon Ounanian held a performative experiment where we thought about how we might render the suffering online in the real world, Itai Palti worked with us to think about design principles and neuroscience. FUN! The idea was that we would collectively explore, discuss and define key issues that we thought were important to then take forward to develop into games and experiences to share with the public. The aim was to play off each other in a live context to generate new perspectives and ideas.
Building on this, I decided to hold an open call for participants. In my most idealistic moment, I'd say I wanted to try and find ways to expand who gets to produce, stage and display, how we define what these issues actually are for wider audiences. Can this lead to new stories about art, tech, society? Like any project it is never exactly as you imagined it, but I think the majority of people got a lot out of working like this. I did. Working with people that aren't always the people you expect to be attached to a project always throws up unexpected experiences. Everyone brought their best themselves with them. Open. Interested. Warm. Prepared. Ready to listen, and for fun!
I'd make the lab longer next time, so it wasn't as intense, and I'd try to have more people join the open call.
MG: The open-curation process you have developed is core to the realisation of the Playbour lab and exhibition. It resonates strongly with Furtherfield's DIWO ethos. It turns on its head, the traditional approach to curating thematic group shows. Please can you tell us about the process and say why this new approach is important at this time?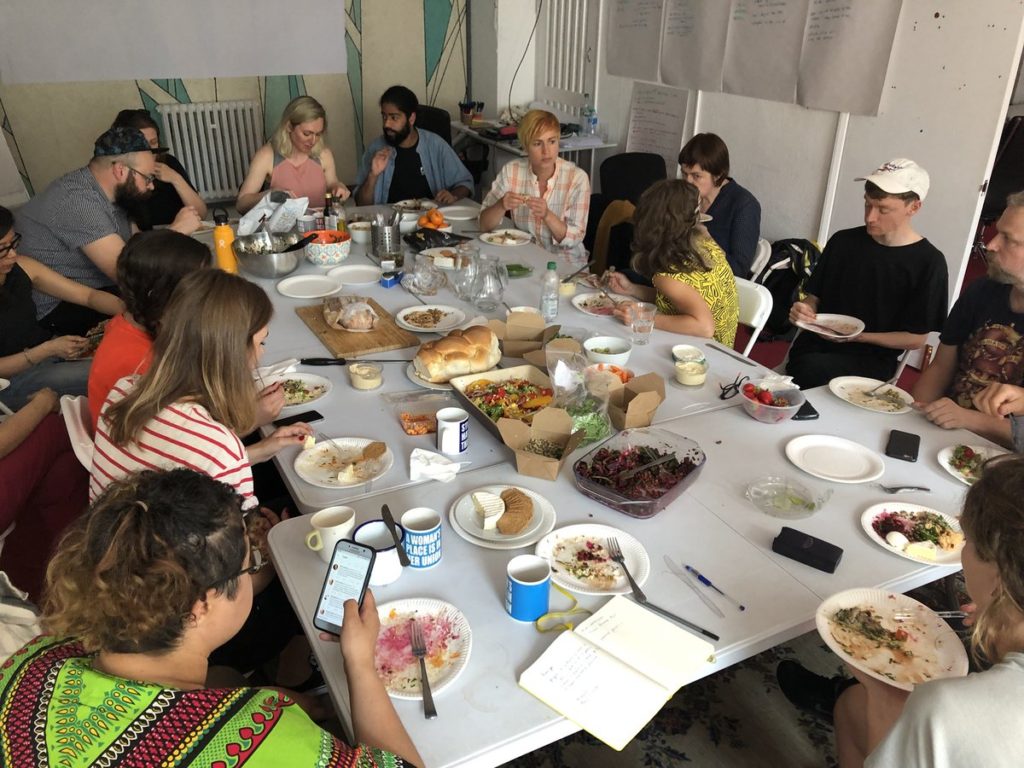 DA: DIWO definitely informed Playbour! I think the spirit of co-creative discovery is a powerful tool that curators should use more. I refer to it as co-research, which is ultimately a way to research-with others. What separates it from more traditional approaches to curating is the unclear distinction between author/researcher and subject/participant. The aim is to achieve closer equality between the participant and subject area, in the form of valuing a person's idea's and lived-experience as much as other 'expert' forms of knowledge. Historically, it has roots in a highly specific context of the radical Left in post-war Italy with Operaismo. This is where the seeds of debate on post-immaterial labour emerged, arising from Hardt, Negri, Bifo, Terranova, etc, and why I originally was interested in working in this way because of the subject matter of the project, however, it became something so much more.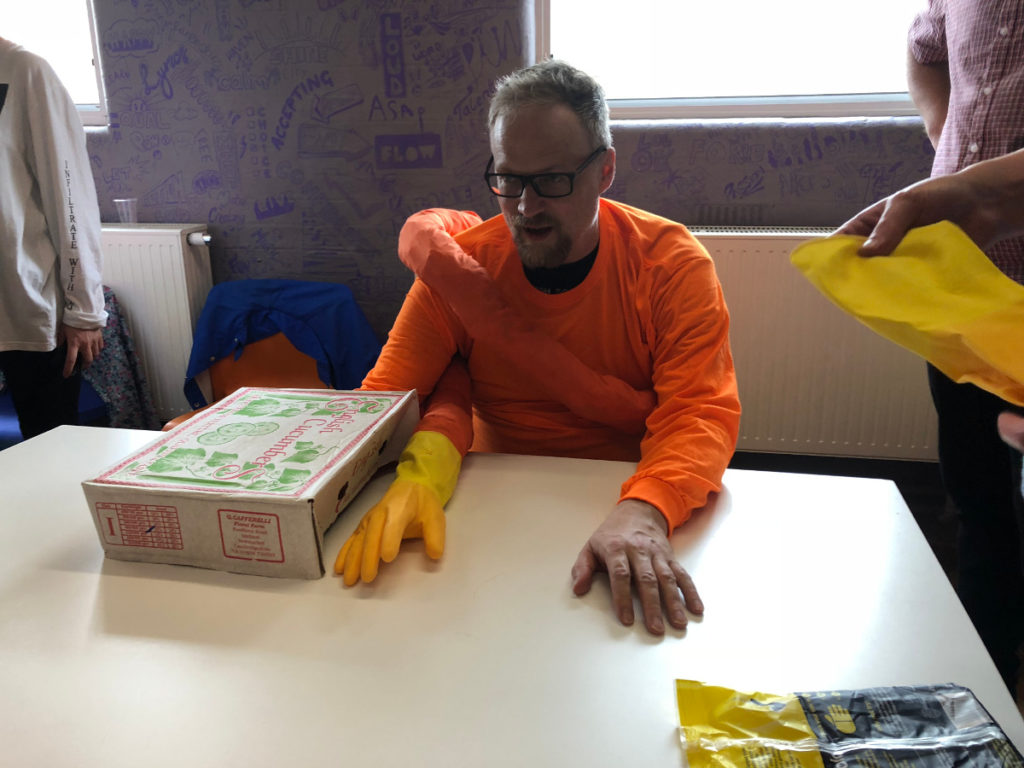 For me, as a curator, creating projects about complex subject areas that bring together embodied and embedded social relations with technical worlds, is something that needs to be done with people rather than to them. I think the most interesting works of art being produced today are treated less like things and instead draw into the very making of the ways in which we get to know what we know. You can see this in works from Cassie Thornton's project Collective Psychic Architecture (an exploration of "bad support" in Sick Times) 2018, where she extends the responsibilities of the gallery or institution through performative means, or in the high-profile modeling and mapping practices coming out of the Forensic Architecture network. How can curating exist in a wider space than before? I'm trying to work in much more extended and expanded ways with the primary intention to include more end users into the areas we are looking at.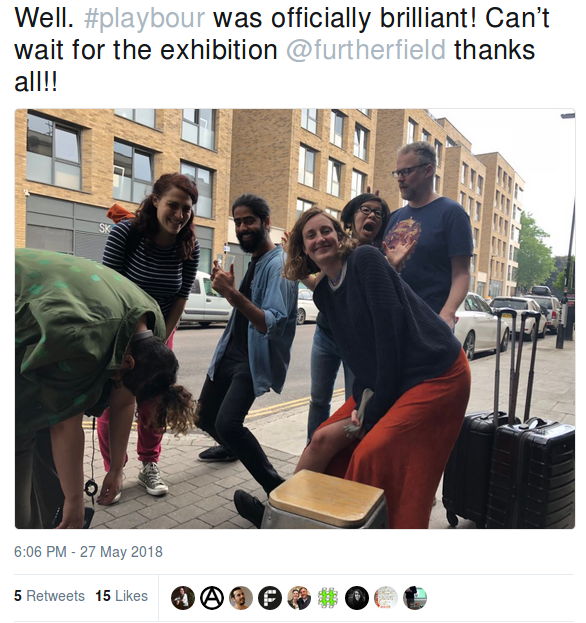 Adopting a co-research model (in the lab, in the show, in the publication, in the micro-commissions) meant that the aim of the exhibition shifts, it becomes less about what the topic is and how it works and more about how it came to be. Brian Holmes once wrote that making an image remakes the world. Yes, but it also distances us from it. Playbour asks people to consider how the world organises us by facilitating moments where people can identify with particular phenomena. I feel this is more fitting and has more potential to create moments of personal learning and change than trying to represent it through curatorial practice. Why do we need this in an age of information? My thinking is that knowledge-projects are not simply objective processes but deeply subjective ones that are enacted through and with others. Finding ways for people to identify in more meaningful ways with the subject will hopefully lead to greater chance that people will gain greater perspective and agency over their own worlds.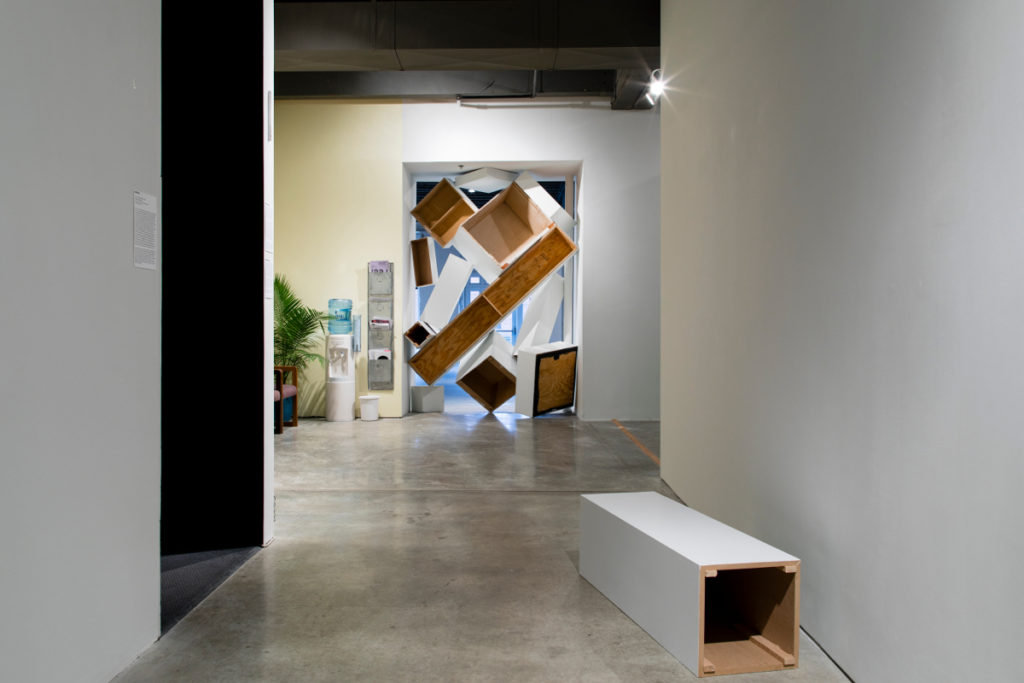 MG: The term Playbour brings attention to critiques of gamification and to the extraction of value via social media platforms. But your subtitle then opens up a whole other world of reflection. What are you discovering about the relationship between "work, pleasure and survival"?
DA: The project is exploring the role of the worker in the age of data technologies, but this looks less at the "future of work" and chooses instead to focus on the shifting roles and blurred boundaries of work, play and well-being – how do we place value on these areas, how do we work with and against them?
Quite often when we talk about opaque terms like immaterial labour and cognitive capitalism we fail to grasp the production processes of these phenomena. Immaterial labour depends on the self and our social relations. We are asked to 'post', 'share', 'network', 'emote', 'communicate', 'know'. Not so much 'understand'. These acts inform the control and creation of our subjectivity. At the same time, very little discussion is happening about the fact that so much exploitation -physical, ecological, economical- sits behind the new commons we are all talking about.
Opening the project out to think about work, pleasure, survival, is a provocation. On one level, it is a nod to the fact that this conversation is for a privileged few. Many choose what they do and this 'choice' is supposed to operate as an expression of one's personality. On the other, it's human nature to get swept up in what is considered the norm, so it's also a challenge to think about what are your own limits, returning to the idea of inviting people to find moments of identification with these broader issues to their own lived experience.
MG: Why is it important that the work being prepared for Furtherfield gallery is conceived of more, as a series of game experiences, than a display of discrete art objects, or a didactic exhibition on the topic of Play and Labour? Has the gallery's location in a public park influenced your thinking at all?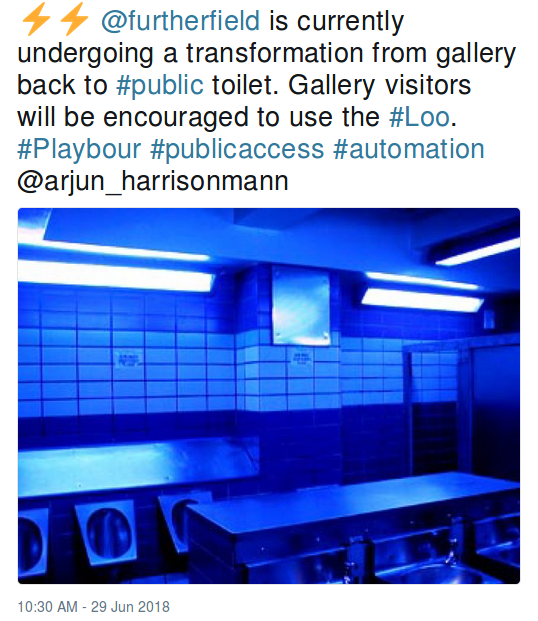 DA: Well, first off, it has been a collective process and so I wanted to show that process to people. Secondly, you have to invest part of yourself in play. The more I research the areas of digital and immaterial labour the more I'm keen to work with others to understand the not yet completed transformations of body, society, and world, into a global capitalist system. These are suffuse and pervasive and nudge our behaviours all of the time. Organising the exhibition as experiences is a way for us all to live-out (at least temporarily and in a safe, playful space) the tentacular effects of immaterial labour and economies of knowledge and information. This is not to say let's walk away from a highly networked society, it's an invitation back into perspectival agency.
MG: You've chosen to put together three themes for the exhibition, ranging across work, pleasure, and survival. Why was it important to choose these three themes in particular?
DA: I'm fascinated by how we are involved in the making of worlds we are then conditioned by. From the learnings in the lab, my own research and collaborations leading up to Playbour, I think gamification, automation, and surveillance are three key areas that scaffold a lot of the debate on digital and immaterial labour.
1) SURVEILLANCE. How we are measured and how we measure ourselves? Traditionally, government control used to come from top-down surveillance techniques, such as the type Michael Straeubig's Hostile Environment Facility Training (HEFT) is looking at. However, I think we should be talking about how forms of control are exercised through our own self-monitoring processes – self-improvement culture is a perfect example of this. Cassie Thornton's Feminist Economics Yoga (FEY), is a wonderful remedy for this.
2) AUTOMATION. How technology is removing decision-making from us in the pursuit of a frictionless universe. In Harrison-Mann's Public Toilet he is talking about how automation is used to address the need of social issues. The starting point is the lack of public services offered in Finsbury Park and how that is altering how we use and experience the public space of the park. He is interested in making a connection between this and how metrics can often end up being exercised in controversial and even arbitrary ways inhibiting people getting what they need, such as disability benefits in the UK.
3) GAMIFICATION. How are rewards and competition embedded into our online interactions and interfaces? Jamie Woodcock has this excellent term that describes gamification-from-above and gamification-from-below. Like the Situationist socialism-from-below. How we might use gamification for our own positive manipulations, diversions and distractions? I think a lot of media and new media practice has long been engaged in gamification-from-below. Marija Bozinovska Jones' piece Treebour (201) plays on this, transferring manipulation of social relations levelled at online interactions to the "natural" networking of trees.
MG: After visitors have experienced the exhibition, what emotions, thoughts and understandings, would you like them to leave with?
I think you introduced the show in an interesting way in your opening text with the notion of the data body and the extension of our bodies into new spaces with unknown consequences. These happen inside the screen, at the edges of the world, in transit, at the end of the supply chains. At the same time, they also operate on semi-conscious refrains, in our behaviours, actions, thoughts and emotions about the world. Taking part, thinking-with, making-with, are strategies to find ways to open up discussions about how we are all involved in making and unmaking our worlds via different actions. Something like digital and immaterial labour is not a discrete issue reservable for experts who work in this area, the connections and consequences weave in and out of our lives and impact us all. We are constantly reacting to thing around us, taking in these cues and pushing them back out into the world.
In terms of emotions, I don't want to spread fear and despair, I'm hoping that some visitors will identify with some of the ideas in the show and relate them to something in their life that perhaps they'd not thought of in that way before.
Notes: Main top image by Marija Bozinovska Jones, Treebour 2018.
DIWO – Do It With Others: Resource
archive.furtherfield.org/projects/diwo-do-it-others-resource
DOWNLOAD PRESS RELEASE

FREE DOWNLOAD OF EXHIBITION DOCUMENTATION
SEE IMAGES FROM THE PRIVATE VIEW
Featuring Katriona Beales and Fiona MacDonald.
The exhibition and research project Are We All Addicts Now? explores the seductive and addictive qualities of the digital.
Artist Katriona Beales' work addresses the sensual and tactile conditions of her life lived online: the saturated colour and meditative allure of glowing screens, the addictive potential of infinite scroll and notification streams. Her new body of work for AWAAN re-imagines the private spaces in which we play out our digital existence. The exhibition includes glass sculptures containing embedded screens, moving image works and digitally printed textiles. Beales' work is complemented by a new sound-art work by artist and curator Fiona MacDonald : Feral Practice.
Beales celebrates the sensuality and appeal of online spaces, but criticises how our interactions get channeled through platforms designed to be addictive – how corporations use various 'gamification' and 'neuro-marketing' techniques to keep the 'user' on-device, to drive endless circulation, and monetise our every click. She suggests that in succumbing to online behavioural norms we emerge as 'perfect capitalist subjects'.
For Furtherfield, Beales has constructed a sunken 'bed' into which visitors are invited to climb, where a glowing glass orb flutters with virtual moths repeatedly bashing the edges of an embedded screen. A video installation, reminiscent of a fruit machine, displays a drum of hypnotically spinning images whose rotation is triggered by the movement of gallery visitors. Beales recreates the peculiar, sometimes disquieting, image clashes experienced during her insomniac journeys through endless online picture streams – beauty products lining up with death; naked cats with armed police.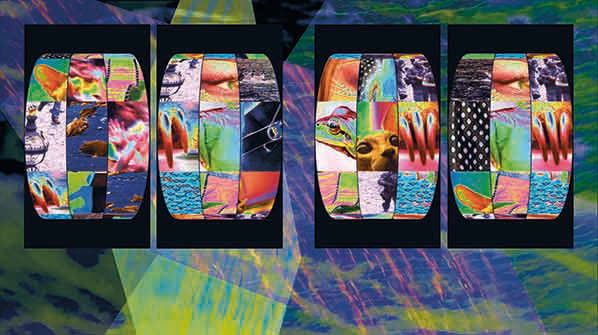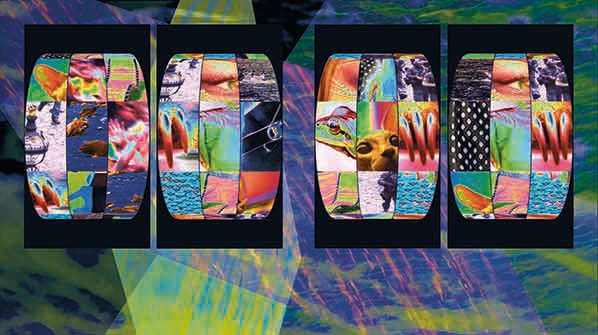 Glass-topped tables support the amorphous curves of heavy glass sculptures, which refract the multi-coloured light of tiny screens hidden inside. Visualisations of eye-tracking data (harvested live from gallery visitors) scatter across the ceiling. On the exterior wall of the gallery, an LED scrolling sign displays text Beales' has compiled, based on comments from online forums about internet addiction.
Where Beales addresses the near-inescapability of machine-driven connection, Feral Practice draws us into the networks in nature. Mycorrhizal Meditation is a sound-art work for free download, accessed via posters in Furtherfield Gallery and across Finsbury Park. MM takes the form of a guided meditation, journeying through the human body and down into the 'underworld' of living soil, with its mycorrhizal network formed of plant roots and fungal threads. It combines spoken word and sound recordings of movement and rhythm made in wooded places. Feral Practice complicates the idea of nature as 'ultimate digital detox', and alerts us to the startling interconnectivity of beyond-human nature, the 'wood-wide-web' that pre-dates our digital connectivity by millennia. (Download Mycorrhizal Mediation here)
More about Are We All Addicts Now?
Are We All Addicts Now? has been developed in collaboration with artist-curator Fiona MacDonald : Feral Practice, clinical psychiatrist Dr Henrietta Bowden-Jones, and curator Vanessa Bartlett.
Glowing light of screens makes us #addictsnow – they are the mini-suns we bask in to keep away the dark https://t.co/jedrDUE2ZWpic.twitter.com/BmTTbFckFp

— furtherfield (@furtherfield) July 27, 2017
View more of the comissioned gifs and tweets here
In the run up to the exhibition, artists Charlotte Webb and Connor Rigby have been commissioned to produce a series of gifs and tweets to stimulate debate around the designed-for-addiction nature of digital devices, and the ethics and politics that surround this. Join the conversation @furtherfield on Twitter and Instagram using the hashtag #addictsnow
Accompanying the exhibition, a book designed by Stefan Schafer and edited by Vanessa Bartlett and Henrietta Bowden-Jones, brings together Beales' and MacDonald's artwork and writing with essays from contributors in the fields of anthropology, digital culture, psychology and philosophy. This book is the first interdisciplinary study of the emerging field of internet addiction. Contributors will discuss their essays at a symposium convened by Vanessa Bartlett at Central Saint Martins in November 2017. Advanced copies of the book are on sale at the Liverpool University Press website https://liverpooluniversitypress.co.uk/products/100809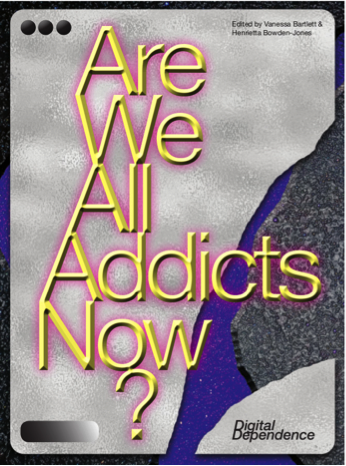 Beales' work 'Entering the Machine Zone' has been co-commissioned with Science Gallery London. An iteration of the work will be presented as part of HOOKED, the opening season of the new Science Gallery London, curated by Hannah Redler.
EVENTS PROGRAMME
Exhibition Tour of Are We All Addicts Now? with Ruth Catlow and Katriona Beales
Saturday 16th September 2017, 2-4 pm
Furtherfield Gallery
Join Furtherfield co-director Ruth Catlow and artist Katriona Beales to find out more about the works featured in the exhibition Are We All Addicts Now? and to discuss the issues that it raises around digital addiction and online behaviour.FREE | booking essential
Late Night Opening & Film Screening
Friday 29th September 2017, 5 – 8.30pm
Furtherfield Gallery & Commons
A late night opening of the Are We All Addicts Now? exhibition, followed by a screening of artists' moving image work that has informed the development of the exhibition.
Gallery Open: 5 – 7pm
Screening: 7 – 8.30pm
FREE | booking essential
Mycorrhizal Event with Fiona MacDonald : Feral Practice
Saturday 21st October 2017, 2 – 4pm
Furtherfield Commons
Fiona MacDonald: Feral Practice presents a lecture, a performance, and a fungi walk. Informed by the history, art and science of human-fungal relations, these experiences explore themes of reciprocity, intuitive and nonverbal interconnection between people, psychedelic consciousness, fungal songs, shamanic journeying, and plant communication.
FREE | booking essential
Visual Matrix Workshop with Vanessa Bartlett
Thursday 2nd November, 4 – 6.30pm
Furtherfield Commons
Join curator Vanessa Bartlett for a research workshop responding to works in the Are We All Addicts Now? exhibition. The visual matrix is a new psychosocial research technique that we are using to generate audience response to this project. Content generated during this session will inform our evaluation of the exhibition.
For more information and to book your place contact info [at] vanessabartlett.com
FREE | email v.bartlett [at] unsw.edu.au to book your place.
Are We All Addicts Now? Symposium and Book Launch at CSM
Tuesday 7th November, 6.30-9pm
Central Saint Martins, University of the Arts London, 1 Granary Square, London, N1C 4AA
This event celebrates the publication of Are We All Addicts Now? Digital Dependence edited by Vanessa Bartlett and Henrietta Bowden-Jones and will feature presentations from many of the book's key contributors who include:
Katriona Beales
Henrietta Bowden-Jones
Ruth Catlow
Mark D. Griffiths with Daria J. Kuss & Halley M. Pontes
Fiona MacDonald : Feral Practice
Gerald Moore
Emily Rosamond
Tony D. Sampson
Theodora Sutton
During the symposium, psychologists, philosophers and artists come together to discuss the emerging diagnosis of internet addiction. Taking into account our precarious economic and political climate, they will ask whether internet addiction should be understood as a form of illness, or simply a sensible adaptation to our current environment? As increasing numbers of people struggle to moderate their online behaviours, this event will also explore artists' strategies for counteracting the seductive, addiction-making qualities of digital space.
Convened by curator Vanessa Bartlett
Presented in partnership with Central Saint Martins Art/Design and Science Research Group
The book, 'Are We All Addicts Now?' is available from Liverpool University Press: liverpooluniversitypress.co.uk/products/100809
See photos from the Symposium and Book Launch
See a recording of the Symposium and Book Launch – Part 1 | Part 2
£4 – £7 | booking essential
ABOUT THE ARTISTS
Katriona Beales is an artist who makes digital artefacts, moving image and installation, stressing the physicality of digital life. Are We All Addicts Now? develops Beales' 2015 work 'White Matter' (a FACT commission for 'Group Therapy: Mental Distress in a Digital Age') which is showing at the University of New South Wales, Sydney as part of Anxiety Festival (Sept 2017). Beales' received an MA from Chelsea College of Arts and has an artist profile on Rhizome.org
www.katrionabeales.com
Fiona MacDonald is an artist, curator and writer specializing in human-nonhuman relationship. As Feral Practice, she works in co-production with a collective of human and nonhuman persons. Current projects include Foxing, (see PEER London, 2017) Ant-ic Actions (see Ethical Entanglements, Bloomsbury Press, forthcoming) Homo Mycelium, and Wood to World (London, Kent, Aberdeen 2015-17).
www.feralpractice.com
Vanessa Bartlett is a researcher and curator based between Australia and the UK. She studies and teaches at UNSW Art & Design, Sydney where her research investigates connections between digital technologies and mental health through reflective curatorial practice. Her recent exhibition Group Therapy: Mental Distress in a Digital Age showed at FACT (Foundation for Art and Creative Technology), UK in 2015 and opens at UNSW Galleries Sydney in September 2017.
www.vanessabartlett.com
Dr. Charlotte Webb is an artist and deviant academic. She speaks and exhibits internationally, focusing on the web as a medium for creative practice, critical thinking and collective action.
ABOUT FURTHERFIELD
Furtherfield is an internationally renowned arts organisation specialising in labs, exhibitions and debate for increased, diverse participation with emerging technologies. At Furtherfield Gallery and Furtherfield Lab in London's Finsbury Park, we engage more people with digital creativity, reaching across barriers through unique collaborations with international networks of artists, researchers and partners. Through art Furtherfield seeks new imaginative responses as digital culture changes the world and the way we live.
"There is no other gallery like Furtherfield. Situated in the middle of Finsbury Park they attract people from all walks of life and focus on contemporary technology and how it affects the lives of people and the world we live in." (Liliane Lijn, artist)
Furtherfield Gallery
McKenzie Pavilion
Finsbury Park, London, N4 2NQ
Visiting Information
Thanks to:
The Wellcome Trust
Arts Council England
Science Gallery London
Central Saint Martins
BF Skinner Foundation
Haringey Council
Bruce Marks (glass artist)
Rob Prouse (raspberry Pi and AV technician)
A late night opening of the Are We All Addicts Now? exhibition, followed by a screening of artists' moving image work that has informed the development of the exhibition.
The exhibition and research project Are We All Addicts Now? explores the seductive and addictive qualities of the digital.
Artist Katriona Beales' work addresses the sensual and tactile conditions of her life lived online: the saturated colour and meditative allure of glowing screens, the addictive potential of infinite scroll and notification streams. Her new body of work for Are We All Addicts Now? re-imagines the private spaces in which we play out our digital existence. The exhibition includes glass sculptures containing embedded screens, moving image works and digitally printed textiles. Beales' work is complemented by a new sound-art work by artist and curator Fiona MacDonald : Feral Practice.
Beales celebrates the sensuality and appeal of online spaces, but criticises how our interactions get channeled through platforms designed to be addictive – how corporations use various 'gamification' and 'neuro-marketing' techniques to keep the 'user' on-device, to drive endless circulation, and monetise our every click. She suggests that in succumbing to online behavioural norms we emerge as 'perfect capitalist subjects'.
Part of the NEW WORLD ORDER exhibition at Furtherfield Gallery
GeoCoin – Bodystorming Blockchain in the City
BOOKING ESSENTIAL – Limited places available for this FREE workshop
A day of design-based research using the GeoCoin platform to explore novel ways of reconsidering and reinventing currency through location-specific value transactions. How can money be reprogrammed to interact with or react to everyday practices of value exchange in and around the city? Explore these and more questions with the Design Informatics team from the University of Edinburgh.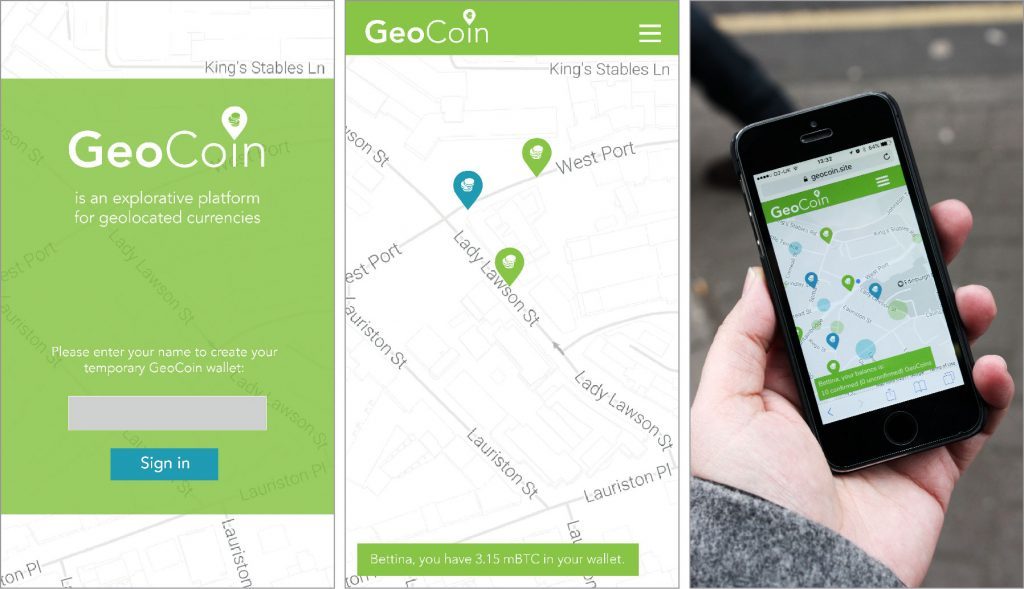 This workshop is part of the ESRC funded research project After Money lead by Design Informatics at the University of Edinburgh.
Wedding event day – blockchain special
Saturday 24 June, 11-1pm and 2-4pm, Furtherfield Gallery

Ever wanted to join your partner in bitcoin matrimony? Or wanted to join another partnership for a short time only? You've come to the right place. For this day only, you can record your short-term bitcoin union via Handfastr on the blockchain in an immutable and ever growing ledger of bitcoin marriages at the Furtherfield Gallery.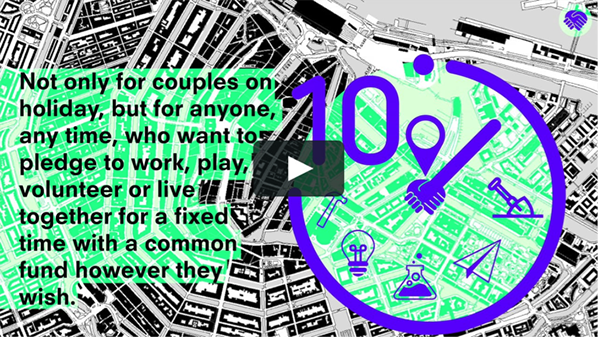 This project is part of the ESRC funded research project After Money lead by Design Informatics at the University of Edinburgh.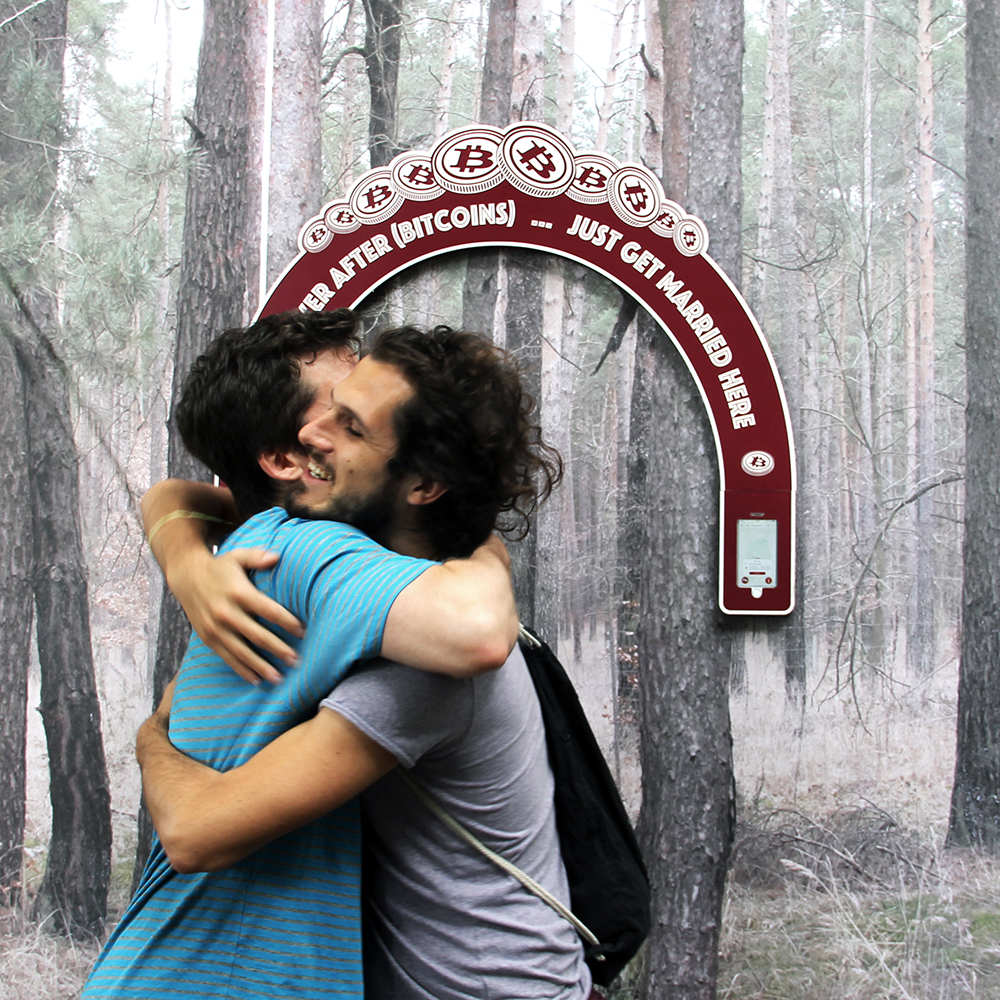 DOWNLOAD PRESS RELEASE (.pdf)
For her exhibition at Furtherfield Gallery, Alison Ballard presents Offline Is The New Luxury a collection of works exploring our relationship with technology and the Internet. When daily encounters are increasingly mediated by online technology, how is this affecting our experience of live-ness, presence, and time?
With live streaming, instant replays and video chat technologies, concepts of time, space, and distance, are changing. We 'hang out' together online, we 'live chat' with computer algorithms, watch cat videos over and over again and share world political events as they happen, 'in real time'. Contemporary Western culture has become now-centric. Social media offers more ways than ever to 'go live' meaning we no longer have to share our experiences with others in the past tense (a photograph we took on holiday or a video of the event we attended last week). Instead, we share our every moment instantaneously in a continuously unfolding now.
The Narrator Is Present is an audio work with narrative ambiguity and a sinister underbelly. How can we distinguish fictional narrative from truth among the multitude of disembodied voices on the Internet? Who is it that is speaking to us and what do they want? Existing simultaneously in Furtherfield Gallery and online, the work also explores the dualistic experiences of the virtual and the physical, and the ways in which these two spaces contribute to a single reality.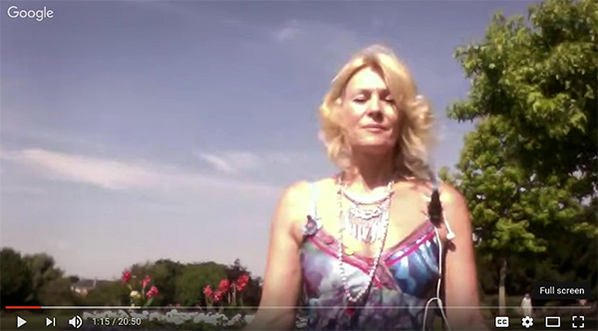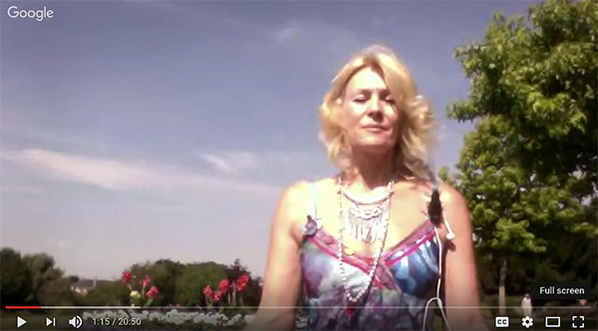 In Live Stream of Consciousness Ballard asks; can the Internet be good for our health? Spending time in parks can improve mental and physical wellbeing by relieving stress, reducing depression, improving memory and cognitive function, and boosting creativity. Can the same mental and physical health benefits of visiting a park be achieved via meditation, online? Ballard attempts to find out with this 20-minute seated meditation, originally broadcast as a live stream from Chalkwell Park, Southend-on-Sea, in 2016. By displaying this work inside Furtherfield Gallery, the artist invites us to reflect upon the physical and mental health benefits that Finsbury Park brings to our day-to-day lives.
Through these works and more, Ballard reflects upon the current state of hyper-reality; the context-collapse of the real and unreal, the distinction between what is simulated and what seems 'real', and invites us to reconsider our view of reality.

EVENTS AND ONLINE
Online Live Stream of The Narrator Is Present
Available online during gallery opening times, from 6 April
http://bit.ly/2mExQ0v
The Narrator Is Present exists live; in the gallery, and online. Visit Furtherfield Gallery to be physically complicit in the work or watch online to be a distanced voyeur.

Online Exhibition Walkthrough with Ruth Catlow Co-Founder and Co-Director of Furtherfield
Available from 7 April 2017 on Alison Ballard's YouTube Channel, in 2D video and Google Cardboard via the YouTube App.
http://bit.ly/2mExQ0v
Also available to view in the Gallery. Please ask a member of staff

Everyday Fiction / NetPark
Open Day 11:00 – 16:00, Saturday 15 April 2017
Metal, Chalkwell Hall, Chalkwell Park, Southend-on-Sea, Essex, SS0 8NB
A chance to experience Alison Ballard's geo-locative audio work Everyday Fiction; a heart-breaking story of loss, grief, and mental illness that explores the ambiguity between reality and fiction that we encounter in everyday life. Site-Specific to Chalkwell Park, it forges a relationship between the audio, the location, and your presence within it. A moving experience with content that some listeners may find challenging.
Just one of the many app-based experiences on offer as part of NetPark; a collection of site-specific digital artworks commissioned by Metal. Find out more on the NetPark website: http://www.netpark.zone/artist-projects
If you have a smart phone, we recommend downloading the App before your visit and connecting to the free NetPark WiFi upon your arrival, to improve your GPS signal.
Download for Apple iOS: http://apple.co/2moPeWA
Download for Android: http://bit.ly/2mEFuI
Don't have a smart phone? That's OK, you can borrow an iPad from Metal on the day, free of charge.

ABOUT THE ARTIST
Alison Ballard explores the ambiguity between fiction and reality, the real and unreal, and the known and the imagined, through temporal works of film, installation, audio, performance, and geo-locative technologies.
Derived from everyday experiences and observations, coupled with an interest in the dislocated relationship of image and sound, and phenomenology, she seeks to produce cross-disciplinary artworks that question our relationships with people, places, and objects, and the shifting meanings of time, presence, and liveness.
Alongside her practice, Alison is Associate Lecturer at Nottingham Trent University and a freelance producer in London and Nottingham. More information can be found on her website: http://alisonballard.com/

ABOUT FURTHERFIELD
Furtherfield was founded in 1997 by artists Marc Garrett and Ruth Catlow. Since then Furtherfield has created online and physical spaces and places for people to come together to address critical questions of art and technology on their own terms.
Furtherfield Gallery
McKenzie Pavilion
Finsbury Park, London, N4 2NQ
Visiting Information
Two years after his death, Harun Farocki continues to maintain an archetypal role in the world of the visual arts. Many mourned for the loss of a gifted artist who was as not just a filmmaker but a critic, activist and philosopher en masse. Farocki succeeded his German New Wave filmic predecessors as his work would seamlessly and at once command hilarity, disparagement and intellect. A project-retrospective collaboration of his work was undertaken, just two years after his death, with its first part at The Institut Valencià d'Art Modern (IVAM) named 'What is at Stake', and more recently the second-part titled 'Empathy'at the Fundació Antoni Tàpies compiled of at least 8 works focusing on an analysis of labour within the framework of capitalist demands.
The title of the exhibition, 'Empathy' originates from Ancient Greek; 'εμπάθεια' is a compound of 'έν' and 'πάθος' meaning 'moved by passion'. In German, empathy translates to 'Einfühlung' and was ironically exploited by Farocki in 2008 as the title for his text and reads:
'A compound of Eindringen (to penetrate) and Mitfühlen (to sympathize). Somewhat forceful sympathy. It should be possible to empathize in such a way that is produces the effect of alienation.'
Taking into account Farocki's liking of Brechtian 'distanciation', he formulated rather quickly that to 'empathise' means to project one's own feelings, therefore infiltrating objective opinion. The notion of 'empathy' for Farocki was carefully tailored to a synthesis that gave him the patience to be simultaneaously attentive and austere towards his subjects' predicaments. As paradoxical as it may seem, empathy and distance are nurtured companions. With Farocki's interpretation of empathy in mind, I entered the dark bunker where the retrospective took place. A space usually leaking brightness from the glass roof was now transformed into an industrious zone of projections, obsolete TV sets and the mellifluous humming of those operative machines. Farocki's filmic oeuvre overflowed from devices onto white surfaces, accentuating the techno-capitalistic condition of labour operating eradically for our Western communities.
As you enter, the video-installation of Workers Leaving the Factory in Eleven Decades (2006) dominates the center. Twelve TV monitors are laid out in a horizontal line, juxtaposing chronologically the moment where the worker leaves the factory in Farocki's twelve chosen films – among them, Workers Leaving the Lumiére Factory in Lyon (1895), Deserto Rosso (1964) and Dancer in the Dark (2000). Here, the excerpts are used as a mnemonic tool as Farocki's montage gravitates around the entrance of each factory. Each scene extrapolates the repetition of entering as a rhetorical techne, an emphatic mimesis of organising and preserving power through the image of the factory and its systems of subjugation. Yet, distance and empathy are circular and procedural.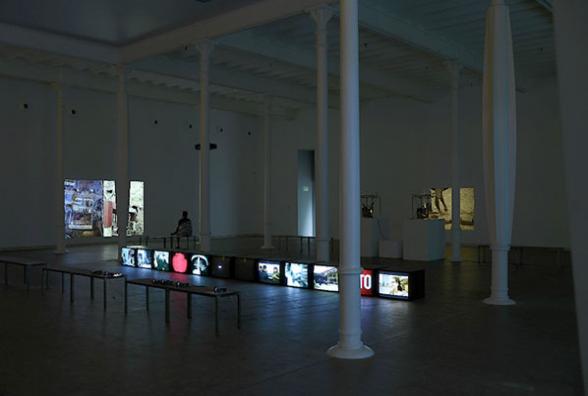 Curated to encourage a clockwise movement following the introductory piece, A New Product (2012) is being televised to the left. It commences during a mundane corporate board meeting for a consulting company violently regurgitating neoliberal logic. The goal of the meeting is to amplify competition and ascertain efficiency of their employees in the workplace by creation of a new product. Through the repetitive flipping of charts and reports, Farocki succeeds in capturing the vocabulary of rationalisation regarding their employees' assets while unfolding the dynamics of the team and its public presentation. The narrative's structure being static and unobtrusive, in conjunction with the ascetic use of the camera implies a degree of distancing from the subject. Still, the absence of Farocki's own evaluation additionally contains the capability to bolster the viewer's assessment of the situation thus achieving the artist's desired equilibrium between empathy and distancing.
There existed a sense of rituality by which the projections were transmuted from a seemingly simple and observational nature, to one which was filled with the allegory of transparency and distance. Re-pouring (2010) was an ode to Tomas Scmidt's Cycle for Water Buckets (or Bottles) from 1959. The original piece was a carefully choreographed mise-en-scene by which Scmidt poured one glass, a bottle of bucket of water into another. The act of pouring for Schmidt was one which indicated a simple and natural process of vaporisation with each pouring. Farocki had programmed machines to perform the artistic gesture for him, a re-pouring of the performative fluxus notion. A paradoxical act, since as human beings our navigational processes depend heavily on our cognitive ability, the mechanical hands were able to seamlessly perform the act of re-pouring. Farocki's hyperrealism allows him to jump to a certain scale of futurity whilst also being rigorous of scrutinizing reality. The act of programming robots to perform a ritualistic and performative task goes undoubtebly implies distancing from the artistic practice of Fluxus. The Fluxus movement was predominantly a practice governed by experimental notions of performativity which were heavily conceptual. It therefore comes into stark contrast to the idea that such act could be thought by algorithm machines as notions of 'thinking/feeling machines' in contemporary society are rudimental and dreams of a future imagination. Farocki, able to perform the task himself such as with Indistinguishable Fire, does not. He steps out, physically distances himself from undertaking the task himself but maintains his empathy to former Fluxus activities but also expressing a empathy towards machines who today perform most human labour.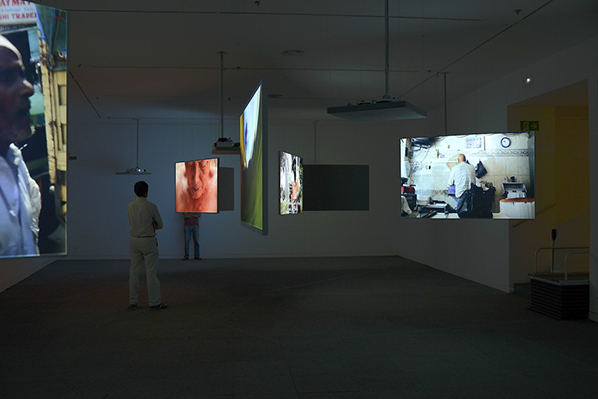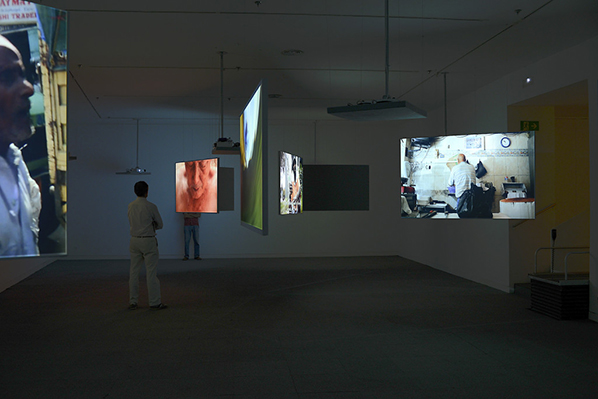 Amidst one of the spectacular accummulations of Farocki's body of work, the apogee of the retrospective would be Labour in a Single Shot, shown for the first time in Spain. The project was initiated in 2011 by Harun Farocki and Antje Ehmann, co-curator of the retrospective. Located in an entirely different bunker, the work was compiled from a series of workshops whereby a fixed camera filmed paid, unpaid, material and immaterial labour from fifteen workshop locations. Projection screens are hanged in a room, most facing eachother whilst the noise of all labour taking place floods the space. Harmonious parallels are created as sequences from butcher shops and surgeries face eachother. The repetitive looping and sequencing of labour is used as a means of distancing and signifies non-judgmental watching as an active practice of iconic power. Our lasting impression is a call-girl sucking on a lollipop explaining how her artifice encourages clients into believing the gratification she provides is sincere. Here, we understand that just as she, through sex, retains empathy and distance in unison, Farocki's empathy can thrive.
Steven Ball and John Conomos
DOWNLOAD PRESS RELEASE (.pdf)
SEE IMAGES FROM ACCOMPANYING EVENTS
LISTEN to a recording of the conversation with John Conomos and Steven Ball at Furtherfield Gallery
Deep Water Web is a free exhibition at Furtherfield Gallery in London's Finsbury Park, connecting opposite sides of the Earth to understand human impacts on the environment and the wider consequences for people living in both locations.
Artists Steven Ball (London, UK) and John Conomos (Sydney, Australia) have collaborated to present a multi-projection installation where London and Sydney are continuously connected across time zones. The exhibition is an immersive experience which the artists have termed a 'hyperlandscape' including real time streaming waterscapes and multiple local manifestations of global ecologies with their own sonic environments and narrated reflections.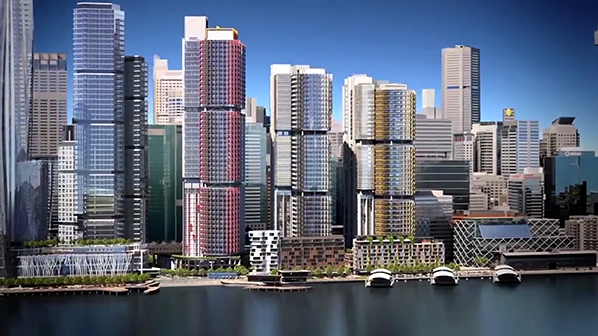 Deep Water Web is a poetic meditation around contemporary and historical geopolitical contexts, underscored by London and Sydney's situation around large bodies of tidal water in the forms of the River Thames and Sydney Harbour. These bodies of water bear material evidence of the local impact of global warming, such as rising tide levels caused by melting ice caps, leading to flooding, and increasingly extreme climate fluctuation. Both cities are also centres of neoliberal capitalism, inscribing the effects of privatisation, fiscal austerity and deregulation of markets across the planet.
Deep Water Web weaves rhetorical explication of postcolonial relationship, elaborating the precarious material forms of climate change, and post-labour late capitalist neoliberal urban developments of waterfronts of former Docklands, considered within the geological and rhetorical ecology of the Anthropocene.
The age of global warming and global neoliberal capitalism are figured here as critical rhetorical realms. These phenomena can be described as what Timothy Morton has called hyperobjects, objects so massively distributed in time and space as to transcend localisation. While they are impossible to comprehend at scale, hyperobjects exert a profound effect at a local level.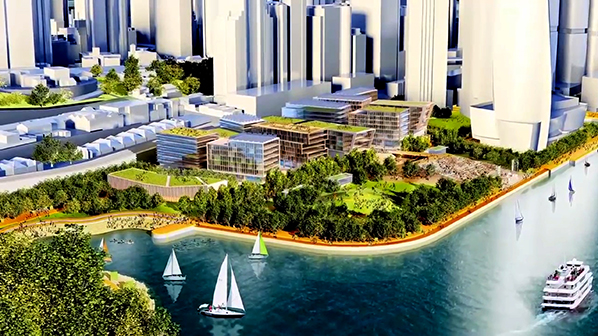 Deep Water Web will also become a catalyst for a workshops series at Furtherfield Commons, which will extend its themes through media based excavations. [dates and full details to be confirmed]
Both artists both have long standing moving image based practices and an interest in landscape and the representation of place. As a hyperlandscape this project suggests that questions of relationship to place, and the construction of landscape, can in the Anthropocene no longer be considered as simply pictorial representation or subjective experience, but is constituted from a range of critical, ethical, ecological, and political positions and concerns.
+ MORE INFO: http://deepwaterweb.net
Deep Water Web is supported by Arts Council England.
EVENTS AND COURSES
Exhibition Tour with artist Steven Ball
Tuesday 4 October 2016 – 5:30-6:15pm – Furtherfield Gallery
Revolutions and Complex Systems
Every Tuesday for 6 weeks
6:30 – 8:30pm at Furtherfield Commons – from 27 September 2016
BOOKING ESSENTIAL
A conversation with John Conomos and Steven Ball
2-3pm Saturday 29 October – Furtherfield Gallery
Booking is essential for this free event
Furtherfield in partnership with the antiuniversity and Radical Think Tank are proud to present this new 6-part course led by Graham Jones.
Aimed at people with an interest in social change, the course will apply concepts from complex systems theory to understanding revolutions and social movements. Sessions will involves a mix of speaker presentation and participatory discussions/activities, covering subjects such as ecology, network theory and new materialist philosophy.
Graham Jones is an activist based in East London, working with groups such as Radical Assembly, Radical Housing Network and Radical Think Tank. Booking Essential.

ABOUT THE ARTISTS
Steven Ball is an artist, writer and academic based in London, working with audio-visual media engaged with landscape and spatial representation, in local and global, social, political and post-colonial spheres. Since 2003 he has been Research Fellow at Central Saint Martins and was instrumental in developing the British Artists' Film and Video Study Collection.
John Conomos is an artist, critic and writer based in Sydney, Australia. His books, essays and artworks are framed within four traditions of contemporary art: Anglo-American and Australian cultural studies, critical theory and post-structuralism. He is a New Media Fellow of the Australia Council for the Arts, and Honorary Professor at Victorian College of the Arts, University of Melbourne.
ABOUT FURTHERFIELD
Furtherfield was founded in 1997 by artists Marc Garrett and Ruth Catlow. Since then Furtherfield has created online and physical spaces and places for people to come together to address critical questions of art and technology on their own terms.
Furtherfield Gallery
McKenzie Pavilion
Finsbury Park, London, N4 2NQ
Visiting Information
Furtherfield Gallery is supported by Haringey Council and Arts Council England
When looking at the many artistic projects focused on how and why we use the internet, it's easy to find yourself lost in a field which doesn't show obvious, strong ties with what we normally know as "traditional art history". This is due to historical and social reasons that emerged between the 80s, 90s and early 2000. These artists were at the vanguard of art culture and pushed at the edges of what art could be, whilst living in a post-punk and postmodernist era, and on tip of this, the arrival of the Internet in 94 changed everything. Many artists took on the challenge of what the Internet offered the world creatively, and explored it not merely as a marketing tool or a place to upload images and videos, but as a medium in its own right, inventing new technically informed, artistic tools and also building grass root led, networked art groups with new infrastructures as cultural platforms. Turning away from anything relating to the mainstream art world and what was seen as outmoded and tired traditions.
In the last decade, we've seen the expansion of the Internet and its use by younger generations where the medium is no longer something you exploit to change the culture, but more to integrate in traditional terms, canonical contexts.However, artist Jan Robert Leegte (born in 1973) is a very important figure to reflect upon, in order to understand this transition; while other artists of his generation were taking the internet for a non-hierarchical distributed system, he chose to explore it from a classical studies background that forged the cardinal points of his artistic research. He reflects an Internet art influenced practice which not only exists online but also in physical space. In fact, we can safely say he can be considered as one of the first Post-Internet artists. This makes him a pivotal figure in this historical segment and it's under this light that one must visit the online exhibition On Digital Materiality (Carroll / Fletcher Onscreen, 3 August-12 September 2016). It's a retrospective show presenting some of the most important and representative works of the Dutch artist, who wrote for the occasion an essay in which describes some of the most important aspects of his work.
Leegte says, the "materials I first used were basic HTML objects, buttons, scrollbars, frame borders, table borders, and also plain color fields and found images. I questioned what it was that rendered this practice similar to making installations rather than collages. At first it was the simulacrum of real world interactive elements (buttons, window frames, etc.). The operating system extended this haptic strategy with traditional paper-based forms, like check boxes, text fields, lists, etc, and, along with the form elements and the interactive document, led to an ecosystem of fake 3D, interactive objects."
The work fluctuates between working on the surface and thinking in three dimensions. The same difference can be found with his use of Photoshop and HTML. If in the former case an image editing software operates directly on the final result, for the latter there is the need to know how to write code while at the same time imagine what the potential results will bring via its translation in the public space, the internet. In this sense, we do not hesitate to define Leegte as an artist who studies and uses the tools of the sculptor; he wonders how to place objects in the space, he feels the problem of contextualising a work in relation to a public and physical environment.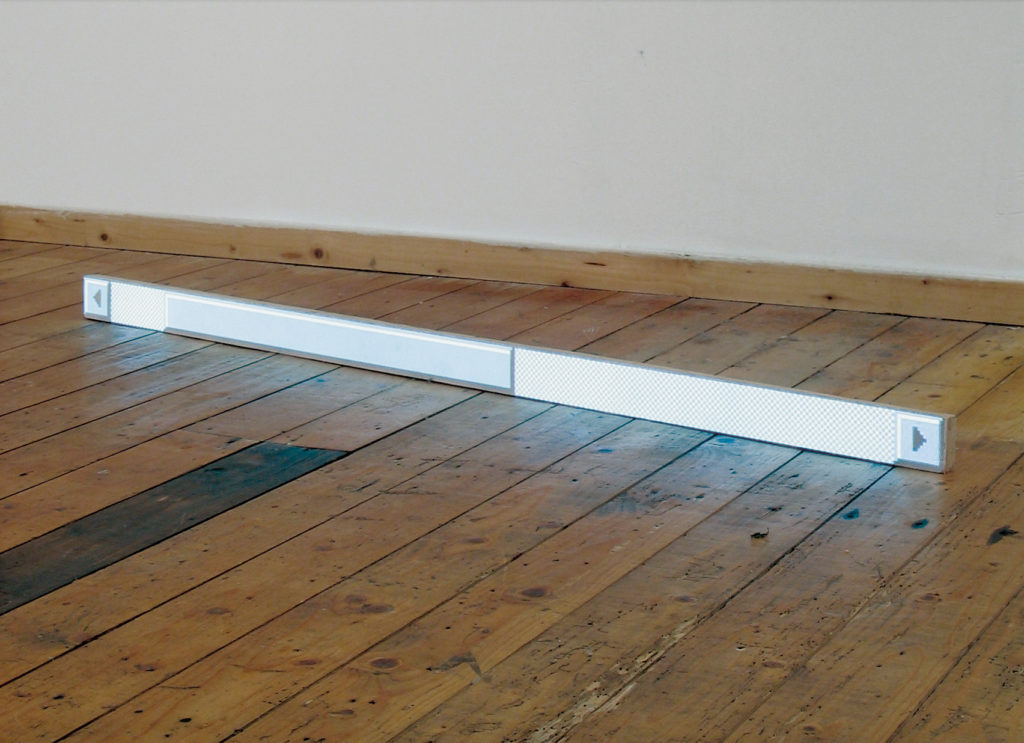 The perception of a substantial difference between surface and space is also proven with his interest in the basic elements of composing the digital interface (scrollbars, mouse pointers, etc). His research examines the artificial environment built by Microsoft and Apple designers. The colours and the shapes were designed to not be perceived as evident mediating agents between the user and the content – in this sense, it is interesting to note that Microsoft has often chosen a minimalist style (shades of grey, square shapes) while with Apple systems the style is usually more exuberant.
However, we should not look at the former as a less culturally relevant product. In the same way, we should not take the white cube exhibition space as a synonym of neutrality (unless we want to think that the whiteness and emptiness stay for an objectivity). This is an aspect that the artist does not seem to detect (in the text, he writes that he "preferred the aesthetics of the Windows classic interface design because of its minimalistic design – no rounded corners and ribbings like the OS 9 design, but simple beveled grey rectangles and a button object was merely a highlight and a shadow, nothing more").
The artist reflected on how specific design elements may in some sense be preserved, as reflections and products of a particular aesthetic and cultural taste: "In Memory of New Materials Gone" (2014) is a work made by a print of the OS9 scrollbar placed in a transparent case in the same way you would do with an object no longer fashionable. This project and all the other works belonging to The Scrollbar Composition Series programmatically address the perception of virtually anonymous and transparent objects on the screen in a three-dimensional space. In a situation where their significance must be noticed; it's the artist himself who begs to not see in this a disruptive act, an action that reveals the subtle ways in which they influence us. It is, however (but not "in opposition to"), a reflection on the artist's activity; as we previously noted, these works are shown on the internet in the same manner in which they would be set up in a gallery space.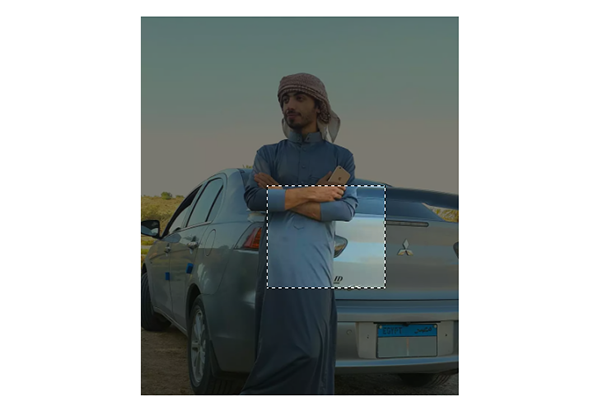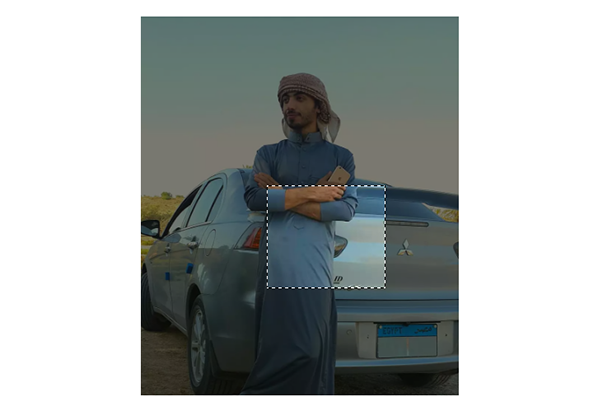 Perhaps, the highest point of the artist's reflection on the differences you meet working on a surface or in three dimensions is The Photoshop Marquee Selection Series. "Random Selection in Random Image" (2012), in which a randomly generated selection marquee is shown within an image randomly obtained from the net. It is the most important work of this series because it opens three-dimensional gaps which have been created sculpturally in two-dimensional images – a dynamic that has echoes of "Scrollbar Composition" (2000), in which the Web browser's monodimensional space is broken down and reassembled in many windows, many independent spaces sharing only the mathematical material they are made of.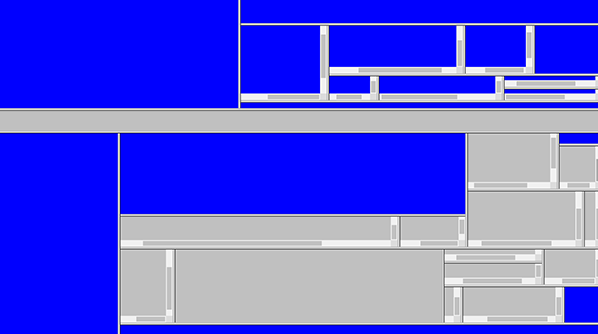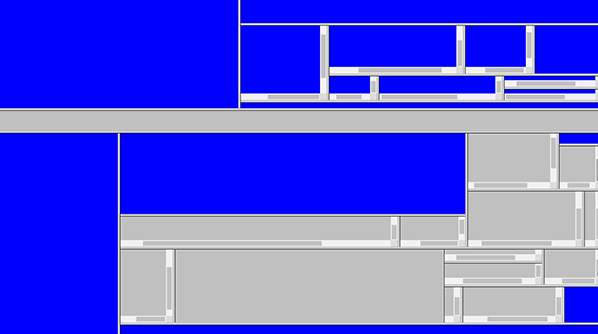 The works featured in this exhibition are related to questions that go beyond the historical and cultural contingency in which they have been created. This makes many of them feel very much alive even 20 years after their creation (a novelty in digital art, I would say). This allows a healthy dialogue between different generations of artists to exist as common ground. It also engages art experts who want to be introduced to artistic issues linked to the internet. It is a dynamic that makes this exhibition a special opportunity for us all to relook at this so-called digital culture and its traditional and non-traditional art theories and its practice under a peculiar and exciting light.
On Digital Materiality – an Internet exhibition is online at Carroll / Fletcher Onscreen until 12 September 2016