Octavia E Butler had a vision of time as circular, giving meaning to acts of courage and persistence. In the face of social and environmental injustice, setbacks are guaranteed, no gains are made or held without struggle, but societal woes will pass and our time will come again. In this sense, history offers solace, inspiration, and perhaps even a prediction of what to prepare for.

The Time Portals exhibition, at Furtherfield Gallery and online spaces, celebrates the 150th anniversary of Finsbury Park. As one of London's first 'People's Parks', designed for free movement and thought, it is the perfect location to create a mass investigation of radical pasts and futures, circling back to the start as we move forwards.

Each artwork invites audience participation – either in its creation or in the development of a parallel 'people's' work – turning every idea into a portal to countless more imaginings of past and future urban green spaces and beyond.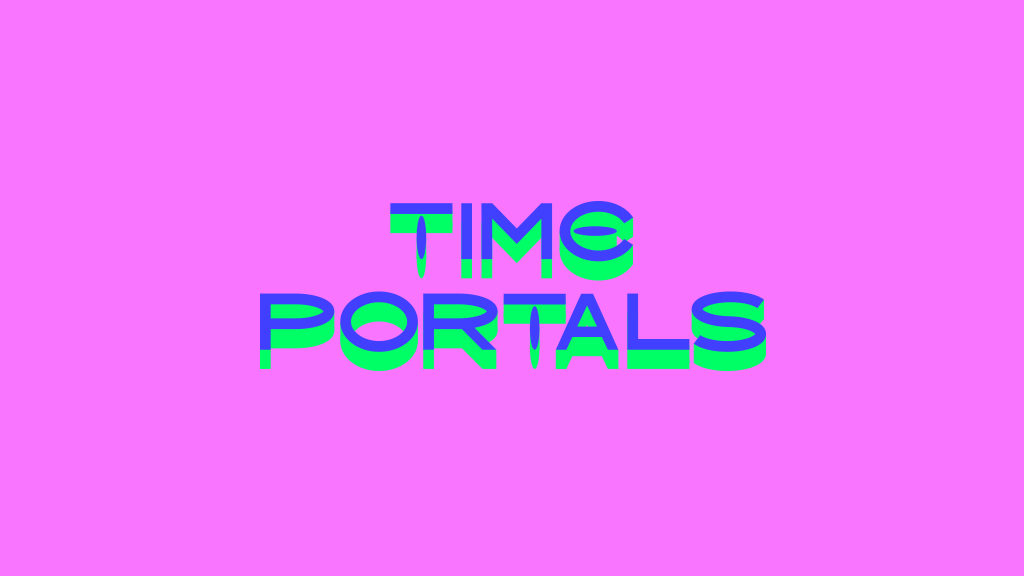 What We Can Do, Antonio Roberts, Studio Hyte (2019)
An interactive wall depicting the urban green space of Finsbury Park as a machine for radical re-assemblage. The external billboard can be scanned with an Augmented Reality app to reveal the secret of realising progressive visions for the future. Scan the message in the Gallery to see the billboard image animated.

Future Machine, Rachel Jacobs (2019)
An interactive machine designed and built to respond to environmental change and inspire new rites for our troubled times. A slideshow of the machine as it is imagined and built will be presented alongside a ritualised unveiling in the Autumn.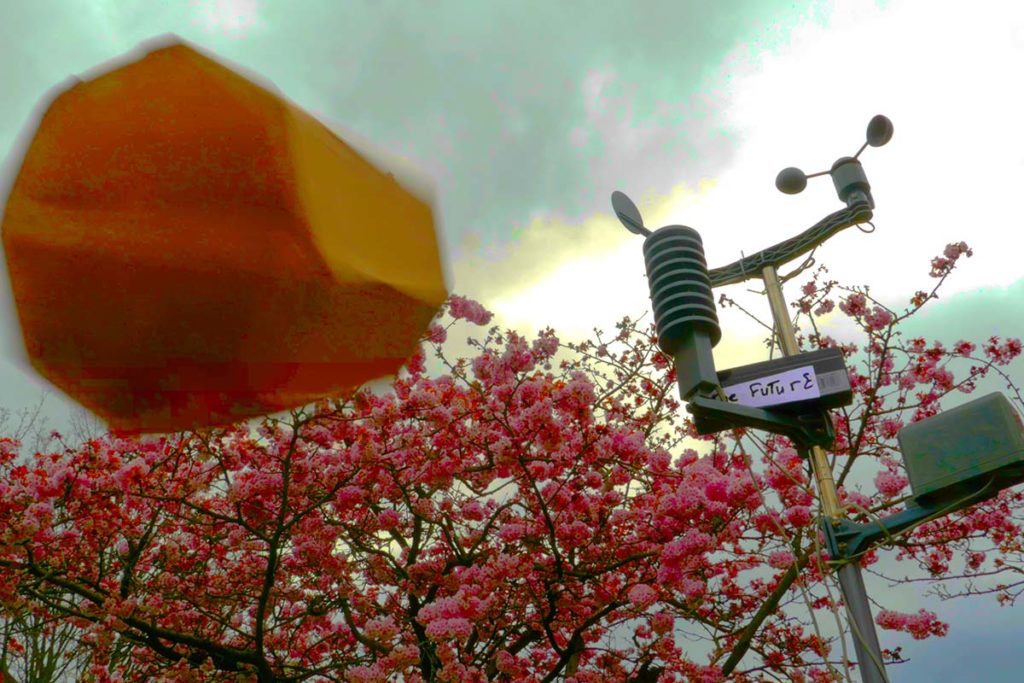 Join the Future Machine design team at Furtherfield Commons in Finsbury Park to build a new artwork that will help us to respond to environmental change…as the future unfolds. Sign up to take part in up to 4 workshops that involve talking, thinking & making, using interactive technology and scientific sensors, helping to design and build the Future Machine itself.
Workshop times/dates and sign-ups:

Tuesday 26th March 3-6,
Saturday 20th April 1-4,
Saturday 11th May 1-4,
Tuesday 18th June 3-6
ArchaeaBot: A Post Singularity and Post Climate Change Life-form, Anna Dumitriu, Alex May (2018)
In collaboration with Amanda Wilson (MARA Project/Imperial College) and Professor Daniel Polani (University of Hertfordshire). Supported by EMAP and Arts Council England
An underwater robotic installation which explores what 'life' might mean in a future transformed by climate change and artificial intelligence. The work is based on new research into archaea, which are single-celled, ancient microbes that can survive in hot, polluted environments, combined with the latest innovations in machine learning. Now living at Furtherfield Gallery the "ArchaeaBot" is the 'ultimate' species for the end of the world as we know it.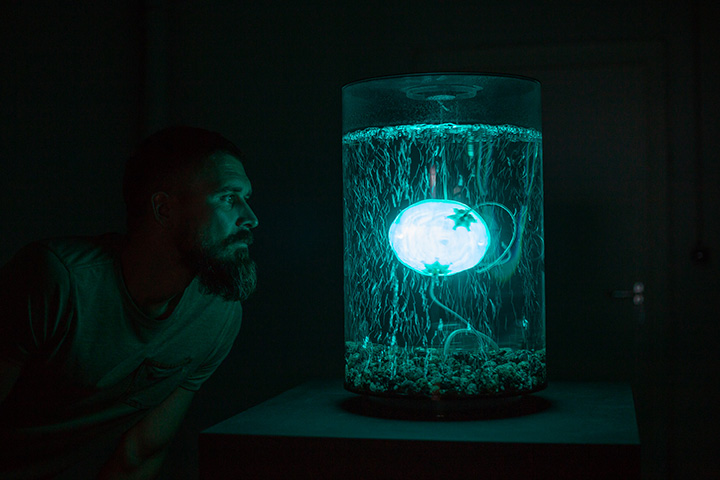 Circle of Blackness Hologram, Elsa James (2019)
With technical team: Carl Smith, James E. Marks, Marius Matesan, Chris Szkoda
Through in-depth research James revisits a historical black woman who lived in the Finsbury Park area 150 years ago, embodies and reimagines her then and 150 years into the future. Produced by hybrid reality technologist Carl Smith and broadcast as a hologram inside the Furtherfield Gallery throughout the summer.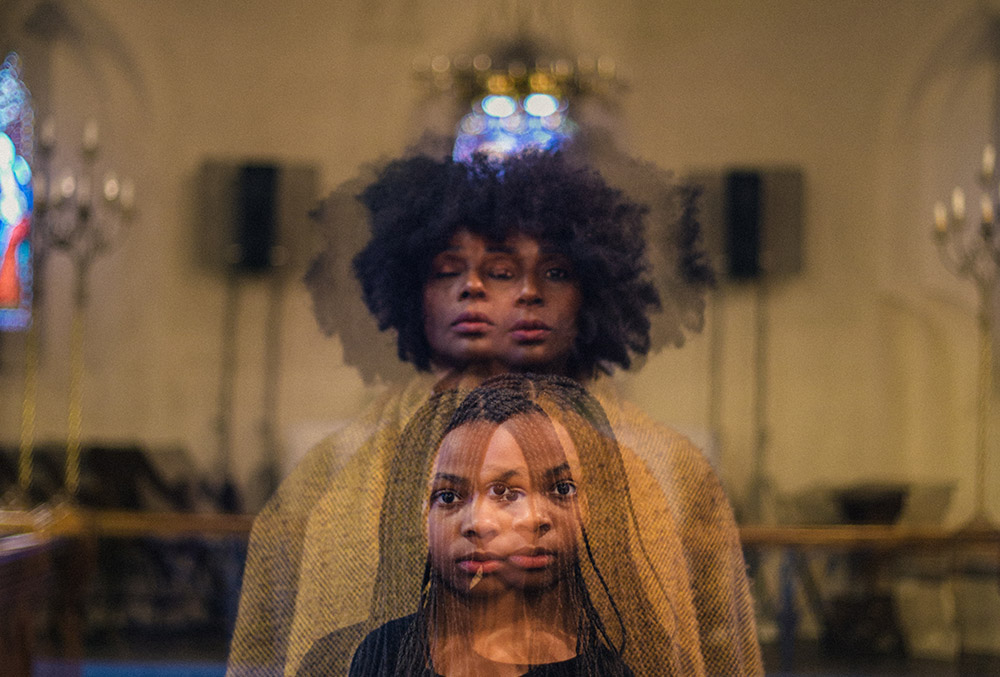 The Time Machine in Alphabetical Order, Thomson and Craighead (2010)
This video work is a complete rendition of the 1960s film version of HG Wells Novella re-edited by Thomson & Craighead into alphabetical order from beginning to end. In doing this, the artists attempt to perform a kind of time travel on the movie's original timeline through the use of a system of classification.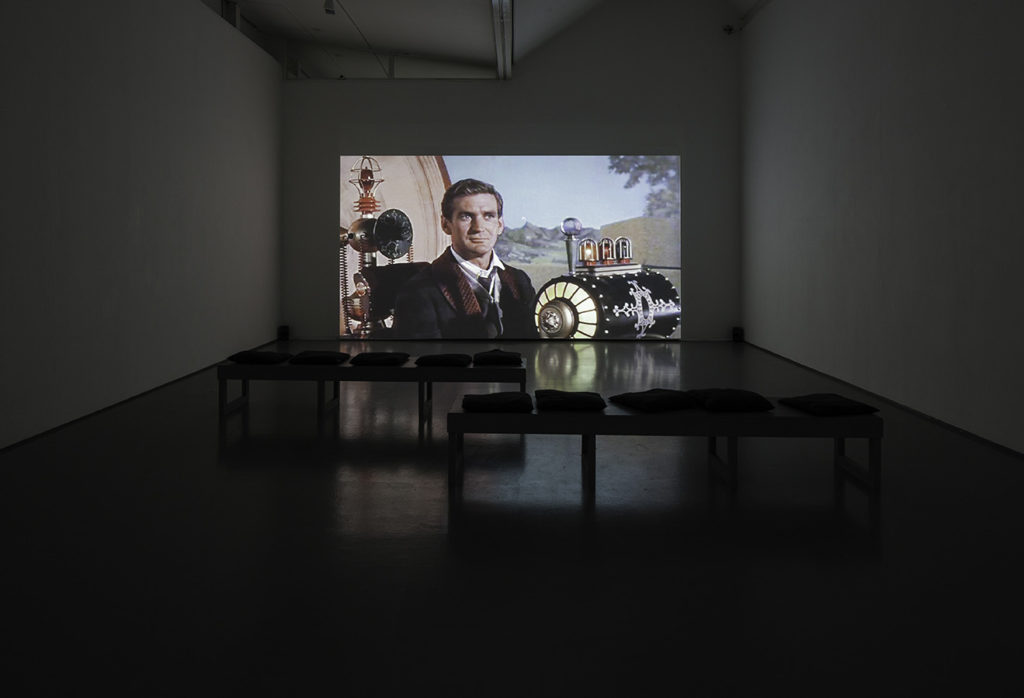 Time Portals Events and Activities
Future Machine Artwork Workshops:
26 Mar, 20 Apr, 11 May, 18 Jun, 13 Jul, Furtherfield Commons
Book Launch Event for Jugaad Time by Amit S. Rai:
27 Apr 14.00-16.00, Furtherfield Commons
Find a Line to Follow and Face The Future! 'Walkshops':
5 May 18 May, 10 Aug, Furtherfield Commons
Free, Fair, and Alive! A People's Park Play Day:
10 Aug 10.00-17.00, Furtherfield Commons
Future of Money Workshops:
10 Aug, 10.00-17.00, Furtherfield Commons, other dates TBC,
Citizen Sci-Fi 3-Day Artworkers Lab Event:
14-15 Sept, time TBC, Furtherfield Commons
Future Machine Artwork Opening Event:
Date and time TBC, Furtherfield Commons
Circle of Blackness Special Event:
28 Sept, time TBC, Furtherfield Gallery and Commons
Citizen Sci-Fi Programme 2019-2021

This 3-year programme combines citizen science and citizen journalism by crowdsourcing the imagination of local park users and community groups to create new visions and models of stewardship for public, urban green space. By connecting these with international communities of artists, techies and thinkers we are co-curating labs, workshops, exhibitions and Summer Fairs as a way to grow a new breed of shared culture.

3 years and 3 themes
50+ Citizen Sci-Fi events
1000s of local residents
Stories, movies, machines and more!
#CitSciFi – crowdsourcing creative and technological visions of our communities and public spaces, together.

Artist Bios

Anna Dumitriu is a British artist who works with BioArt, sculpture, installation, and digital media to explore our relationship to infectious diseases, synthetic biology and robotics. She has an extensive international exhibition profile including ZKM, Ars Electronica, BOZAR, The Picasso Museum, The V & A Museum, Philadelphia Science Center, MOCA Taipei, LABoral, Art Laboratory Berlin, and The Museum of the History of Science Oxford. She was the 2018 President of the Science and the Arts section of the British Science Association and holds visiting research fellowships at the University of Hertfordshire, Brighton and Sussex Medical School, and Waag Society, as well as artist-in-residence roles with the Modernising Medical Microbiology Project at the University of Oxford, and with the National Collection of Type Cultures at Public Health England. Dumitriu is a renowned speaker and has presented her work at venues including TATE Modern, Princeton University, Imperial College, La Musee de la Chasse et de la Nature, The Mendel Museum and UCLA. Her work is featured in many books including "Bio Art: Altered Realities" published by Thames and Hudson in 2016 and many other significant publications across contemporary art and science including Artforum International Magazine, Leonardo Journal, The Art Newspaper, Art Quarterly, Nature and The Lancet. Dumitriu's work has a strong focus on the ethical implications of emerging technologies drawing threads across time, exploring future scenarios by reflecting on the past.
Elsa James is a visual artist, activist and producer based in Southend-on-Sea, Essex, who grew up in west London during the 1970s and '80s. Her solo practice encompasses lens-based performance, language and text, and recently the use of aural and the archive to explore regionality of race; black subjectivity; and the historical, temporal and spatial dimensions of what it means to be black in Britain. She is currently developing work exploring alienation and outsiderness experienced as a black woman living in Essex since 1999. Forgotten Black Essex (2018) embodies two place-specific narratives from our national archives of two overlooked, under-researched and recognised black women in Essex. Her social practice includes advocating for the inclusion of marginalised communities in the arts sector. New Ways of Seeing, Telling and Making (2018), a visual provocation and participatory lab at the Social Art Summit, asked questions about how we can 'genuinely' address barriers to participation and involvement in the arts for BAME communities. In 2015 she was commissioned to research the asylum and refugee community in Southend. This culminated in a 38-page report exposing the council's lack of provision for the needs of asylum seekers, failed asylum seekers and refugees living in Southend.
Rachel Jacobs is an artist, researcher and games designer. She co-founded the artist-led collective Active Ingredient in 1996 and the commercial games company Mudlark Production Company in 2007. She completed a Doctorate in Computer Science in 2014. Rachel is a practising artist exhibiting nationally and internationally, and a Research Associate at the Horizon Digital Economy Institute, University of Nottingham. Her artworks include the award winning 'Heartlands (Ere Be Dragons)' one of the first mobile games that took place on city streets in Sao Paulo, Yokhama, Berlin, Paris, Cambridge, Bristol and Nottingham; 'A Conversation Between Trees', a touring artwork and schools exchange using environmental sensors to connect forests in the UK and Brazil; and 'The Prediction Machine', an interactive installation that predicts the future impacted by climate change. Rachel is currently developing a series of artists interventions 'Creating Rituals for When The Future Comes', alongside a mobile interactive artwork the 'Future Machine'.
James E. Marks, PsychFi – A natural born new media pioneer, award winning social video, & dimensional computing arts for good maker, curator & speaker. With 4 decades of hands-on experience & experimental knowledge collaborating on Brand / Crowd / Arts Council funded "Sub & Pop Culture Mixed Up Reality Experiences". Recent collaborations include V&A, London Design Festival, Boomtown Fair, Mobile World Congress, Ravensbourne University, Bethesda, SubPac, Modern Panic, Sci-Fi-London & BBC Click

Marius Matesan is creating narratives using real and virtual installation art, noted mostly for his work on theatre stages across Europe and more recently for his Mixed Reality experiences. Mixing reality with the imaginary, using sound, projection mapping, spatial computing and virtual reality. His work revolves around pushing the boundaries of perception, awareness and reality, creating installations that are often addressing social issues with a psychedelic twist.

Alex May is a British artist creating digital technologies to challenge and augment physical and emotional human boundaries on a personal and societal level in a hyper-connected, software mediated, politically and environmentally unstable world. He works with light, code, and time; notably algorithmic photography, robotic artworks, video projection mapping installations, interactive and generative works, video sculpture, performance, and video art. Alex has exhibited internationally including at the Francis Crick Institute (permanent collection), Eden Project (permanent collection), Tate Modern, Ars Electronica (Austria), LABoral (Spain), the Victoria & Albert Museum, Royal Academy of Art, Wellcome Collection, Science Museum, Bletchley Park, One Canada Square in Canary Wharf, the Museum of Contemporary Art in Caracas (Venezuela), the Science Gallery in Dublin, Princeton University, University of Calgary (international visiting artist 2016), Texas A&M University, and the Beall Center for Art + Technology, University of California, Irvine. Alex is a Visiting Research Fellow: Artist in Residence with the School of Computer Science of University of Hertfordshire, and a Digital Media Arts MA sessional lecturer at the University of Brighton.

http://www.alexmayarts.co.uk
Antonio Roberts is a new media artist and curator based in Birmingham, UK. He uses technology-driven processes to explore issues surrounding open source software, free culture and collaborative practices. His visual and performance work has been featured at galleries and festivals including databit.me in Arles, France (2012), Glitch Moment/ums at Furtherfield Gallery, London (2013), Loud Tate: Code at Tate Britain (2014), glitChicago at the Ukrainian Institute of Modern Art in Chicago, US (2014), Permission Taken at Birmingham Open Media and University of Birmingham (2015-2016), Common Property at Jerwood Visual Arts, London (2016), Green Man Festival, Wales (2017) and Barbican, London (2018). He has curated exhibitions and projects including GLI.TC/H Birmingham (2011), the Birmingham editions of Bring Your Own Beamer (2012, 2013), µChip 3 (2015), Stealth (2015), and No Copyright Infringement Intended (2017).
Carl H Smith is Director of the Learning Technology Research Centre (LTRC) and Principal Research Fellow at Ravensbourne University London. His background is in Computer Science and Architecture. He has 17 years experience conducting R+D into the application of hybrid technologies for perceptual, cognitive and creative transformation. He has worked on a number of large-scale FP7 and Leonardo Life Long Learning European projects. He is currently working on 4 EU projects including the Horizon 2020 project '[WEKIT] Wearable Experience for Knowledge Intensive Training' which aims to create 'Wearable Experience (WE)' – an entirely new form of media. His research interests include Embodied Cognition, Spatial Literacy, Perceptual Technology and Hyperhumanism. His other projects involve Context Engineering, Umwelt Hacking, Natural Media, Sensory Augmentation, Memory Palaces, Artificial Senses and Body Hacking. He is co-founder of the London Experimental Psychonautics Club and co-founder of the Cyberdelic Society. Both organisations explore the myriad of ways it is possible to produce and examine Altered States of Consciousness. He has previously worked at the Computing departments at London Metropolitan University, Glasgow University and Sheffield University. The Learning Technology Research Centre (LTRC) conducts design research into the application of information and communication technologies to augment, support and transform cognition.
Studio Hyte is a London based multidisciplinary design studio who place research and concept above medium. Working between graphic design, interaction and emergent forms of visual communication, we aim to create meaningful and thought provoking work. Formed of a small group of individual practitioners, Studio Hyte is the middle ground where all of our interests and practices meet. As such our collective practice and research covers a broad spectrum of topics including; language, inclusion & accessibility, egalitarian politics & alternative protest and technology & the human. With an emphasis on process, we often create critical narratives through our work in order to conceptualise through making. Collectively, our visual practice is a means through which we can plot out a conceptual landscape in order to understand and explore real-world scenarios. Studio Hyte works on self-directed research projects, commissions and client-led projects for a small pool of like minded organisations and individuals.
Chris Szkoda, Kaws Infinity – Games Designer/ VFX Artist, works on designing mixed/virtual reality apps for a social mixed reality experience playground at Ravensbourne University London. Keen to support social good & diversity projects, working directly with students and helping them make their creative ideas a reality. He has expertise in immersive technology, VR modelling and painting in Google Tilt Brush and MasterpieceVR software.

Jon Thomson (b. 1969) and Alison Craighead (b. 1971) are artists living and working in London. They make artworks and installations for galleries and specific sites including online spaces. Much of their recent work looks at live networks like the web and how they are changing the way we all understand the world around us. Having both studied at Duncan of Jordanstone College of Art in Dundee, Jon is Reader in Fine Art at The Slade School of Fine Art, University College London, while Alison is a reader in contemporary art and visual culture at University of Westminster and lectures in Fine Art at Goldsmiths University.
http://www.thomson-craighead.net/
"It's amazing what we can do if we simply refuse to give up. The word again is persist." Octavia E Butler
In 2019 we celebrate the 150th anniversary of Finsbury Park, and we time travel through its past and future with the launch of our Citizen Sci-fi programme and methodology. Dominant sci-fi franchises of our time, from Black Mirror to Westworld, have captured popular attention by showing us their apocalyptic visions of futures made desperate by systems of dominance and despair.
What is African-American author, Octavia E. Butler's prescription for despair? Sci-fi and persistence. Sci-fi as a tool for getting us off the beaten-track and onto more fertile ground, and persistent striving for more just societies.The 2015 book Octavia's Brood honoured her work, with an anthology of sci-fi writings from US social justice movements and this inspired us to try a new artistic response to the histories and possible futures of Finsbury Park.
Furtherfield's Citizen Sci-Fi methodology combines citizen science and citizen journalism by crowdsourcing the imagination of local park users and community groups to create new visions and models of stewardship for public, urban green space. By connecting these with international communities of artists, techies and thinkers we are co-curating labs, workshops, exhibitions and Summer Fairs as a way to grow a new breed of shared culture.
Each artwork in the forthcoming exhibition invites audience participation – either in it's creation or in the development of a parallel 'people's' work – turning every idea into a portal to countless more thoughts and visions of the past and future of urban green spaces and beyond.
So where do we start? Last year we invited artists, academics and technologists to join us in forming a rebel alliance to fight for our futures across territories of political, cultural and environmental injustice. This year both our editorial and our exhibition programme are inspired by this alliance and the discoveries we are making together.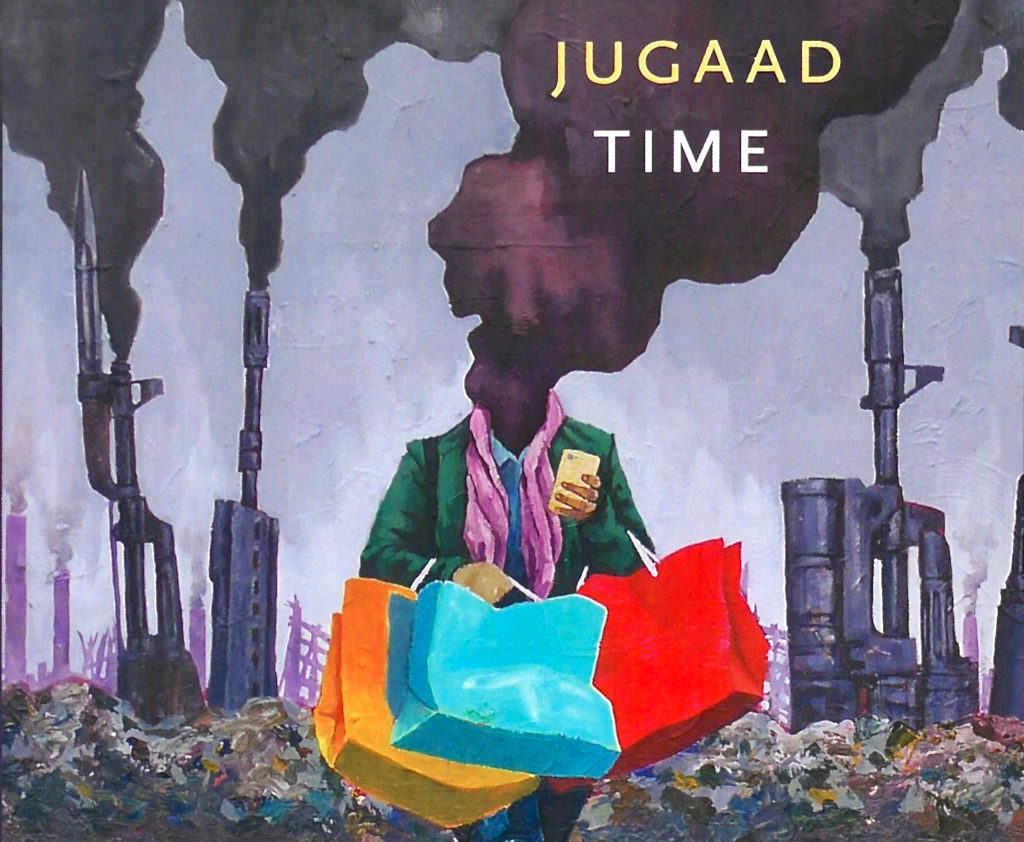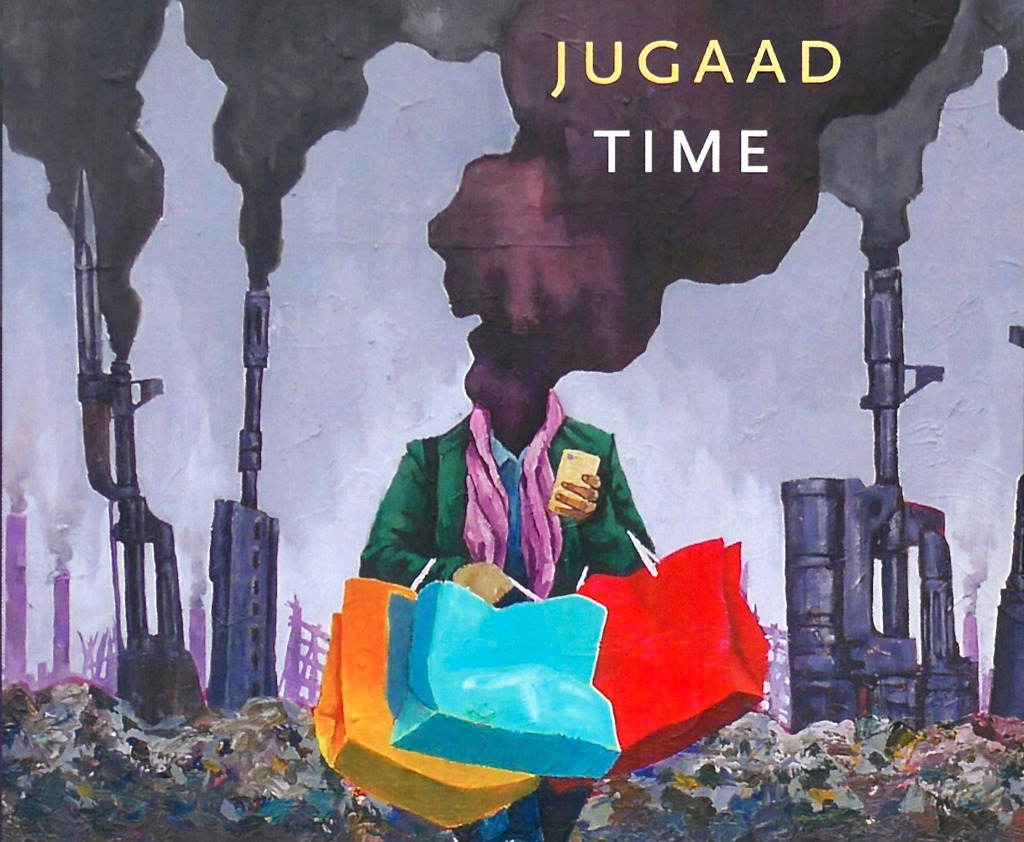 To kick off this year's Time Portals programme at Furtherfield, in April we will host the launch and discussion around Jugaad Time, Amit Rai's forthcoming book. This reflects on the postcolonial politics of what in India is called 'jugaad', or 'work around' and its disruption of the neoliberal capture of this subaltern practice as 'frugal innovation'. Paul March-Russell's essay Sci-Fi and Social Justice: An Overview delves into the radical roots and implications of Mary Shelley's Frankenstein (1818). This is a topic close to our hearts given our own recent exhibitions Monsters of the Machine and Children of Prometheus, inspired by the same book. Meanwhile we've been hosting workshops with local residents exploring our visions for Finsbury Park 150 years into the future. To get a flavour of these activities Matt Watkins' has produced an account of his experience of the Futurescapes workshop at Furtherfield Commons in December 2018.
In May we will open the Time Portals exhibition which features several new commissions. These include Circle of Blackness by Elsa James. Through local historical research James will devise a composite character to embody the story of a black woman from the locality 150 years ago and 150 years in the future. James will perform a monologue that will be recorded and produced by hybrid reality technologist Carl Smith and broadcast as a hologram inside the Furtherfield Gallery throughout the summer. While Futures Machine by Rachel Jacobs is an Interactive machine designed and built through public workshops to respond to environmental change – recording the past and making predictions for the future while inspiring new rituals for our troubled times. Once built, the machine occupies Furtherfield Gallery, inviting visitors to play with it.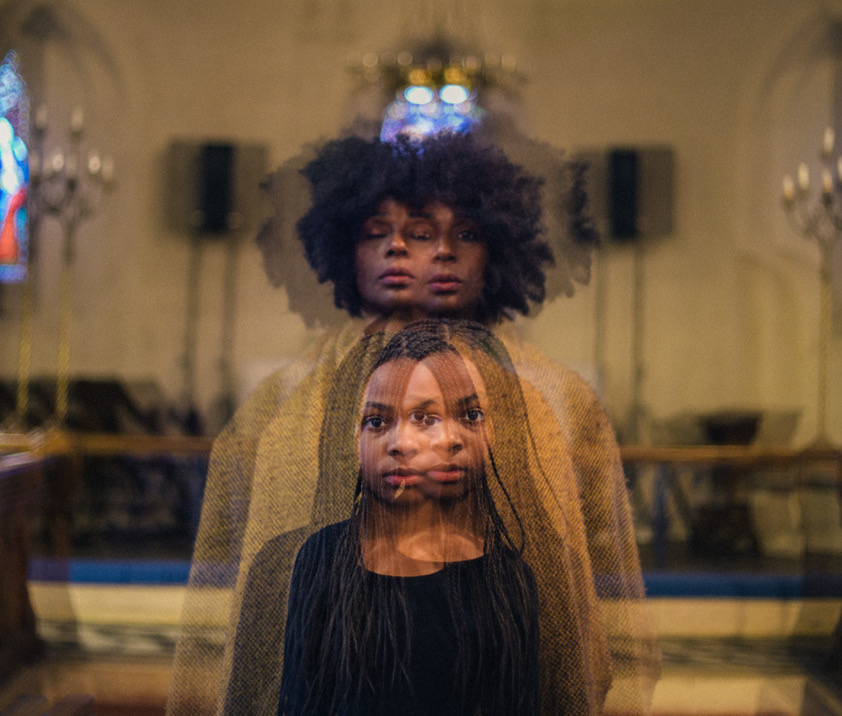 Time Portals opens on May 9th (2019) with other time traveling works by Thomson and Craighead, Anna Dumitriu and Alex May, Antonio Roberts and Studio Hyte. Visitors will be invited to participate in an act of radical imagination, responding with images, texts and actions that engage circular time, long time, linear time and lateral time in space towards a collective vision of Finsbury Park in 2169.
From April onwards, a world of activities, workshops with local families and their enriching noises, reviews, interviews and an array of experiences will unfold. Together we dismiss the dystopian nightmares and invite communities to join us in one of London's first "People's Parks" to revisit and recreate the future on our own terms together.
Marc Garrett will be interviewing Elsa James, about her artwork Circle of Blackness, and Amit Rai about his book Jugaad Time. Both will soon be featured on the Furtherfield web site.
What happens to the hole when the cheese is gone?
Bertolt Brecht
Transient Hole (Variations) is a hybrid curatorial project and symposium by Viennese artist and curator Alexander Felch. The project`s title refers to a concept for a media artwork, that cannot, properly speaking, be materialized for it deals with a moving void – a transient hole.
Across the floor of a white, three-dimensional room a little black hole is constantly and randomly moving. The hole is simultaneously there and not there. It is a portal to nowhere. But is it really? Might it not lead to transcendence, to another reality, or perhaps our reality can only be understood through this liminal presence of nothingness?
The participants are invited to provide their own interpretation for this problem and develop means to represent it, whether through art or science, to display processes that cannot be depicted in reality. The aim of the project is obviously not to find a solution to this existential paradox but to bring about a reflection on the topic from a myriad of disciplines and different perspectives, which explore the limits of representation. The various responses to the THR problematic will be gathered in a collected volume that is in itself a reflection on the boundary between art and science, reality and fantasy.
The project appears – just like the transient hole – in different cities popping up in various forms and is accompanied by lectures, talks and (sound-) performances.
Contributions by:
Atzgerei Productions, Arnold Berger, Ryan Mc Donagh, Sophie Dvorak, Alexander Felch / Aisek Ifraimov, Mariana Ferreira / Dayjon Edwards, Christoph Höschele, Hrvoje Hirsl, Harald Hund, Sandy Leong, Stefan Lutschinger, Nicholas Moloney, Anja Nowak, Jaysha Obispo, Shinji Toya, Jeroen van Amelsvoort, Anna Vasof, Stefan Voglsinger, Jan Vormann, Yilin Wang, David Wauters, Hui Ye.
Featuring concepts developed by students of Middlesex University London – BA Digital Media and BA Media and Cultural Studies
Transient Hole (Variations) X (ten) – Preview

Monday 12 November – Friday 16 November 2018
Middlesex University
FREE
Transient Hole (Variations) X (ten) – Exhibition View
Saturday 17 November 2018, 11:00 – 16:00
Furtherfield Gallery
FREE
13:00
Opening
14:30
Introduction and Guided Tour
Alexander Felch "Transient Hole Research – Instationarity as an artistic concept / a scientific particularity"
Cybersalon feat. Transient Hole Research
Saturday 17 November 2018, 16:00 – 21:00
Furtherfield Commons
FREE
16:00
Limehouse Hole Atlas Datathon
Navino Evans and Sean McBride (http://histropedia.com/)
18:00
Sound Performances
ABOUT THE ARTISTS
Karl Salzmann (A) is a sound & visual artist, curator and researcher currently based in Vienna / Austria. Within process-oriented and experimental setups, he develops and presents works that study the materiality of sound and its social, cultural and metaphorical levels of meaning. His artistic activities mainly concern the interaction between sound and visual arts and often relate to works and topics of (sound) art history.
http://www.karlsalzmann.com/
T_A-Z (Paul Gründorfer) (A) is using process-related setups to explore sonic worlds and to realise site specific interventions, developing real time audio systems, that act autonomous or in reference to the spatial constellation. While considering the encounters between analog and digital, structured or improvised elements, he is focusing on the abstract occurrence of sound and its physical impact.
Electronic circuits are interconnected to cause semi-natural entities, autonomous organisms. Voice and articulation are generated through loops in feedback networks. Onomatopoeia.
His artistic activities examine variable connections between transmitter-receiver networks, which function as a conceptual framework for experimentation with sound and transmission of information.
http://tricx.net/
Monsterfrau Lena Wicke Aengenheyster (A/D) – MONSTERFRAU PJ (Performance Jockey) – Part III of the performance serial MONSTERFRAU The voices' bodies: MONSTERFRAU triggers, mixes and morphes dance music rythms, samples and sounds with her movement. STAATSAFFAIRE: Production of and reflection through artistic projects in music and performance art. Beyond that it is the common optimisation of production environments and network.
http://www.staatsaffaire.com/
–
Visuals:
Simon Sarginson (live coding) (UK)
London edition curated by Alexander Felch + Stefan Lutschinger
Realised in cooperation with Cybersalon, Middlesex University London and the Austrian Cultural Forum London – with kind support by the Federal Chancellery Of Austria.
–
www.facebook.com/transienthole/
www.mdx.ac.uk
www.cybersalon.org
www.furtherfield.org
DOWNLOAD CURATORIAL STATEMENT

SEE IMAGES FROM THE PRIVATE VIEW
Feature image: Jeremy Hutchison, Movables, 2017. Photo courtesy of the artist.
We live in a time of stark and often violent paradoxes: the increasing liberalisation of social values in some parts of the world compared to increasing fundamentalism in others; the wealth of scientific discovery and technological advances in contrast to climate denialism, "post-factual" and conspiracy-driven politics; freedom of movement for goods and finance while individual movement is ever more constricted and subject to law; a drive towards agency, legibility and transparency of process while automation, computerisation and digitisation, render more of the world opaque and remote. At every level, mass movement of peoples and the rise of planetary-scale computation is changing the way we think and understand questions of geography, politics, and national identity.
These ever-increasing contradictions are seen most acutely at the border. Not merely the border between physical zones and between nation states, with their differing legal jurisdictions and requirements for entry and residency, but also the border between the physical and digital, when we apparently – but perhaps misleadingly and certainly temporarily – cross over into a different zone of possibility and expression.
This contradiction is also clear in the balkanisation of newly independent and fragmenting states, and in the rising current of nationalism across Europe, which seems to run in parallel to, and might even be accelerated by, digital connectivity. Some of the most outwardly regressive powers themselves employ what Kremlin theorist Vladislav Surkov has called "non-linear strategy": a strategy of obfuscation and deliberate contradiction clearly indebted to the convolutions and confusions of the digital terrain – and of art. As ever more varied expressions of individual identity are encouraged, revealed, made possible and validated by online engagement, so at the same time a desperate rearguard action is being fought to codify and restrain those identities – online and off. These new emergent identities are, inevitably and by necessity, transient and contingent, slippery and subject to change and redefinition.
The artists featured in Transnationalisms address the effect of these pressures on our bodies, our environment, and our political practices. They register shifts in geography as disturbances in the blood and the electromagnetic spectrum. They draw new maps and propose new hybrid forms of expression and identity. In this exhibition Transnationalisms acknowledges and even celebrates the contradictions of the present moment, while insisting on the transformative possibilities of digital tools and networks on historical forms of nationalism, citizenship, and human rights. While the nation state is not about to disappear, it is already pierced and entangled with other, radically different forms. Alternative models and protocols of citizenship, identity, and nationhood are being prototyped and distributed online and through new technologies. Transnationalisms examines the ways in which these new forms are brought into the physical world and used to disrupt and enfold existing systems. It does not assume the passing of old regimes, but proclaims the inevitability of new ones, and strives to make them legible, comprehensible, and accessible.
Raphael Fabre CNI, 2017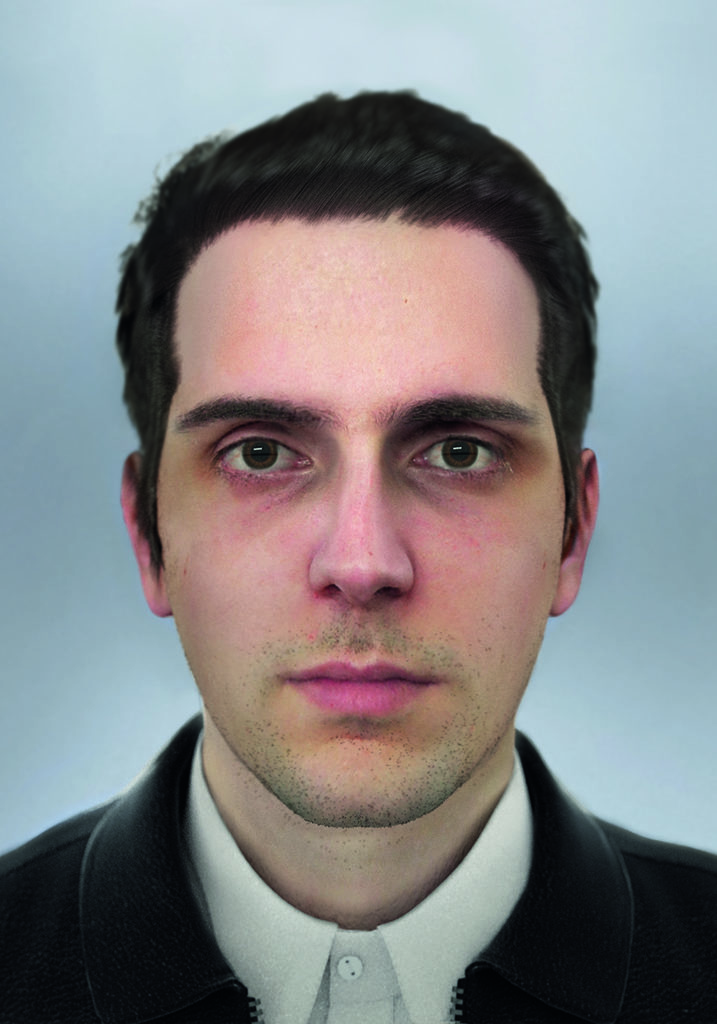 On April 7th, 2017, Raphael Fabre submitted a request for a French ID card. All of his papers were deemed to be legal and authentic and so the demand was accepted and a new national ID card was issued. In fact, the photo submitted to accompany this request was created on a computer, from a 3D model, using several different pieces of software and special effects techniques developed for movies and video games. Just as our relationship with governments and other forms of authority is increasingly based on digital information, so the image on the ID is entirely virtual. The artist's self-portrait suggests the way in which citizens can construct their own identities, even in an age of powerful and often dehumanising technologies.
Jeremy Hutchison Movables, 2017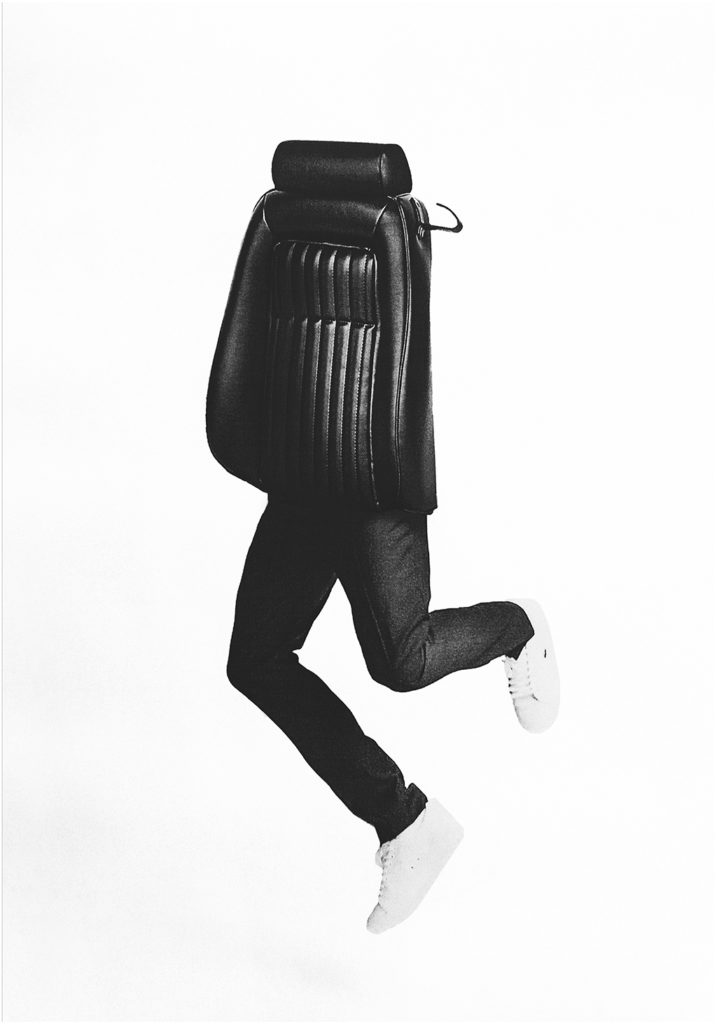 The starting point for this work was a found photograph, taken by police at a border point somewhere in the Balkans. It showed the inside of a Mercedes, the headrests torn open to reveal a person hiding inside each seat. This photograph testifies to a reality where human bodies attempt to disguise themselves as inanimate objects, simply to acquire the same freedom of movement as consumer goods. Movables translates this absurdity into a series of photo collages, combining elements of high-end fashion and car adverts, enacting an anthropomorphic fusion between the male form and the consumer product. The results are disquieting yet familiar, since they appropriate a visual language that saturates our everyday urban surroundings, highlighting the connections between transnational freedoms and limitations, and international trade.
They Are Here
We Help Each Other Grow, 2017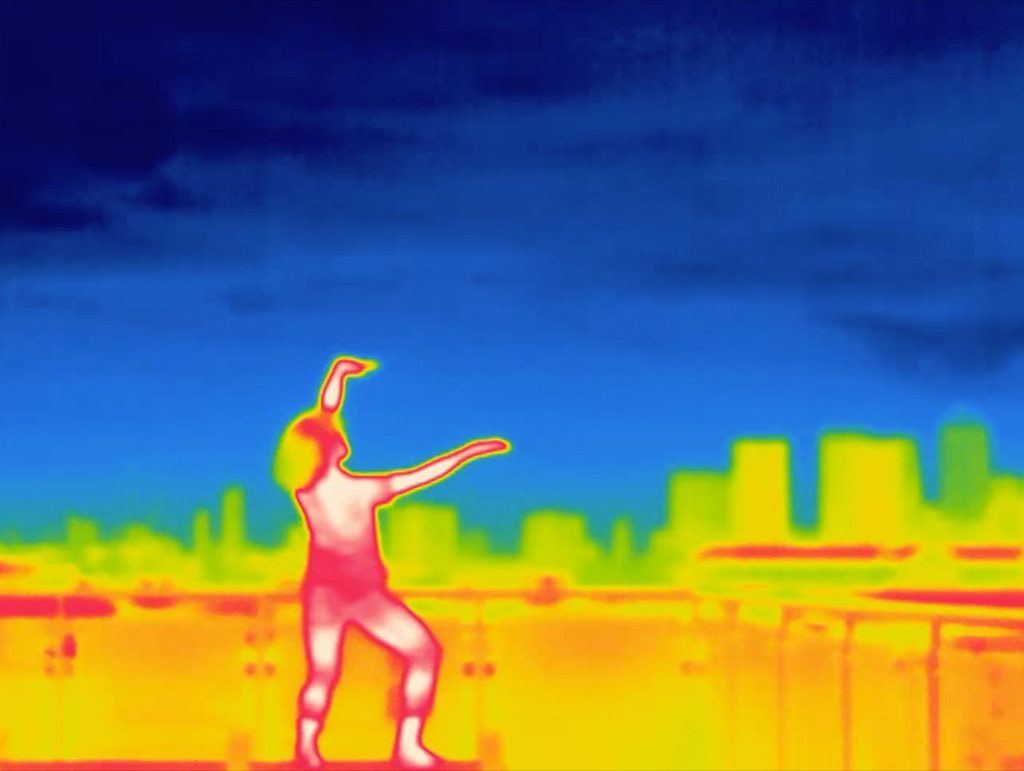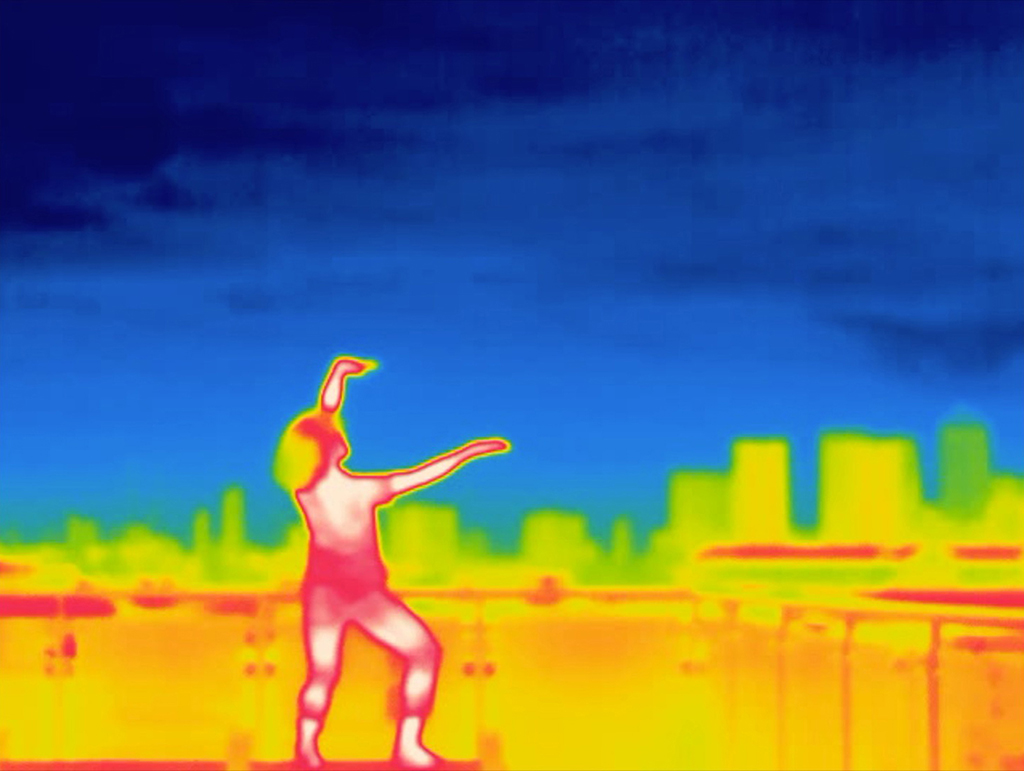 Thiru Seelan dances on an East London rooftop, looking out towards the skyline of the Canary Wharf financial district. His movements are inspired by the dance form Bharatanatyam, traditionally only performed by women and taught to Thiru in secret by his younger sister. Thiru is a Tamil refugee and when he arrived in the UK in 2010, following six months of detention in Sri Lanka during which he was tortured for his political affiliations, Canary Wharf was his first home. His movement is recorded by a heat sensitive camera more conventionally used as surveillance technology and deployed to monitor borders and crossing points, where bodies are recorded and captured through their thermal signature. The song 'We've helped each other grow', composed and performed by London based Mx World, was chosen with Thiru to soundtrack the performance. Mx is a prefix that does not indicate gender. In the UK, it can be used on many official documents – including passports. The repeated refrain, 'We've helped each other grow' suggests a communal vision for self and social development.
Daniela Ortiz
Jus Sanguinis, 2016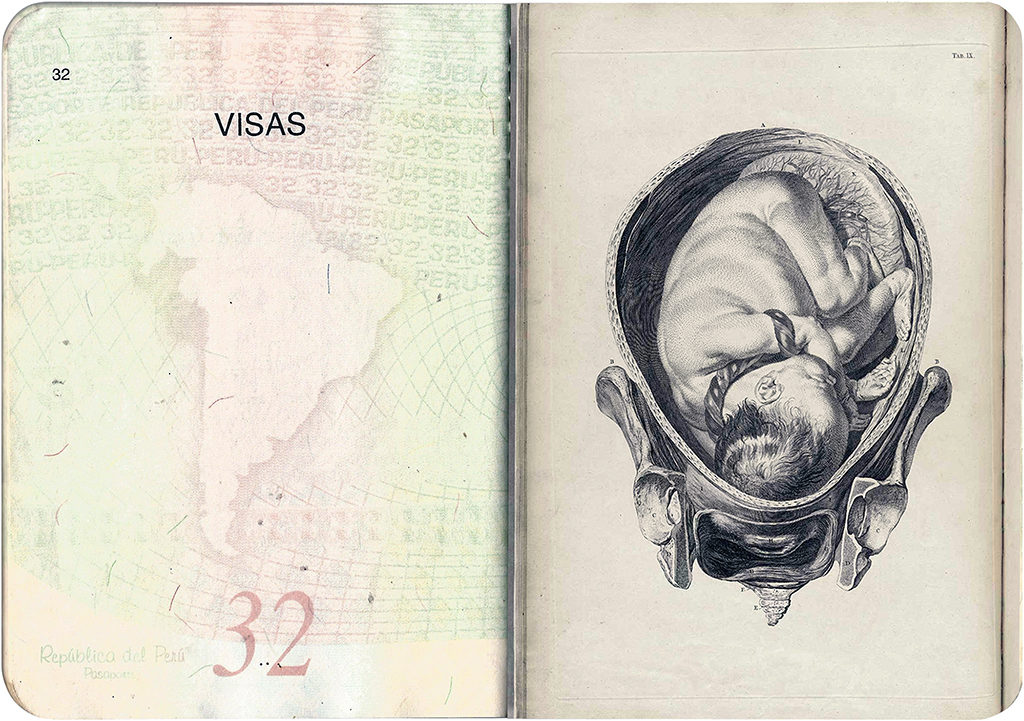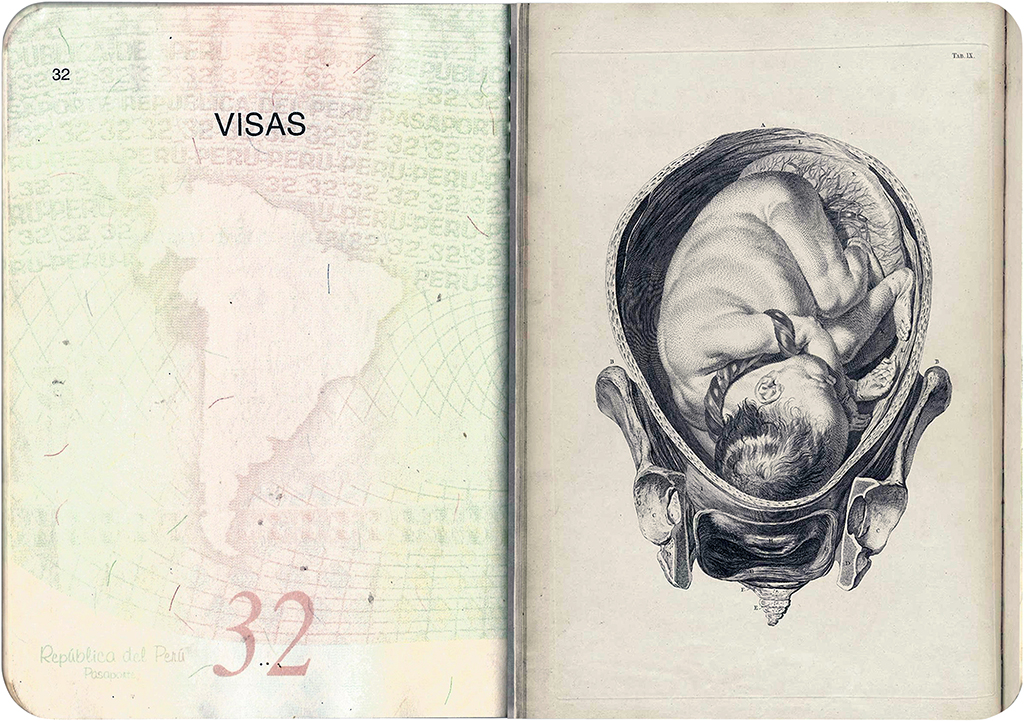 Jus sanguinis, meaning 'the right of the blood', is one of the main ways in which people acquire citizenship: from the blood of their parents. Daniela Ortiz is an artist of Peruvian descent living in Spain, where only babies with Spanish blood are recognized as subjects with the right to the nationality at the moment of the birth. As a result, her child would not have access to Spanish nationality. In this performance, undertaken when Ortiz was four months pregnant, she receives a blood transfusion from a Spanish citizen, directly challenging the racist and nationalist regime of citizenship which would classify her Spanish-born child as an immigrant.
The Critical Engineering Working Group (Julian Oliver and Danja Vasiliev)
VPN, 2018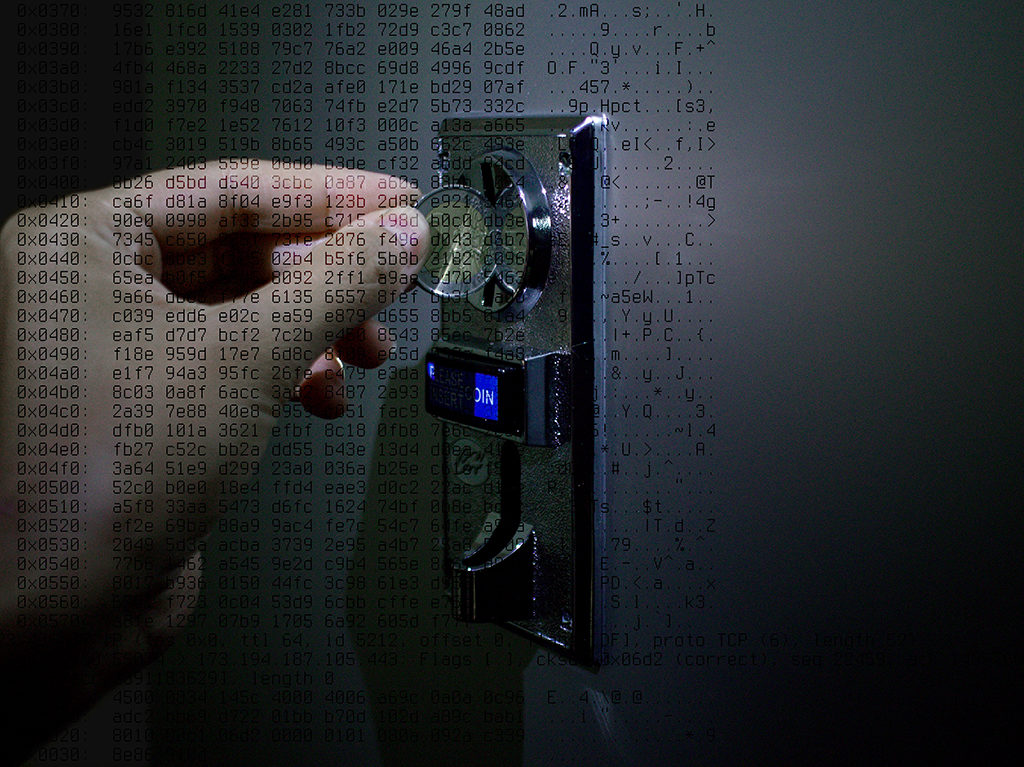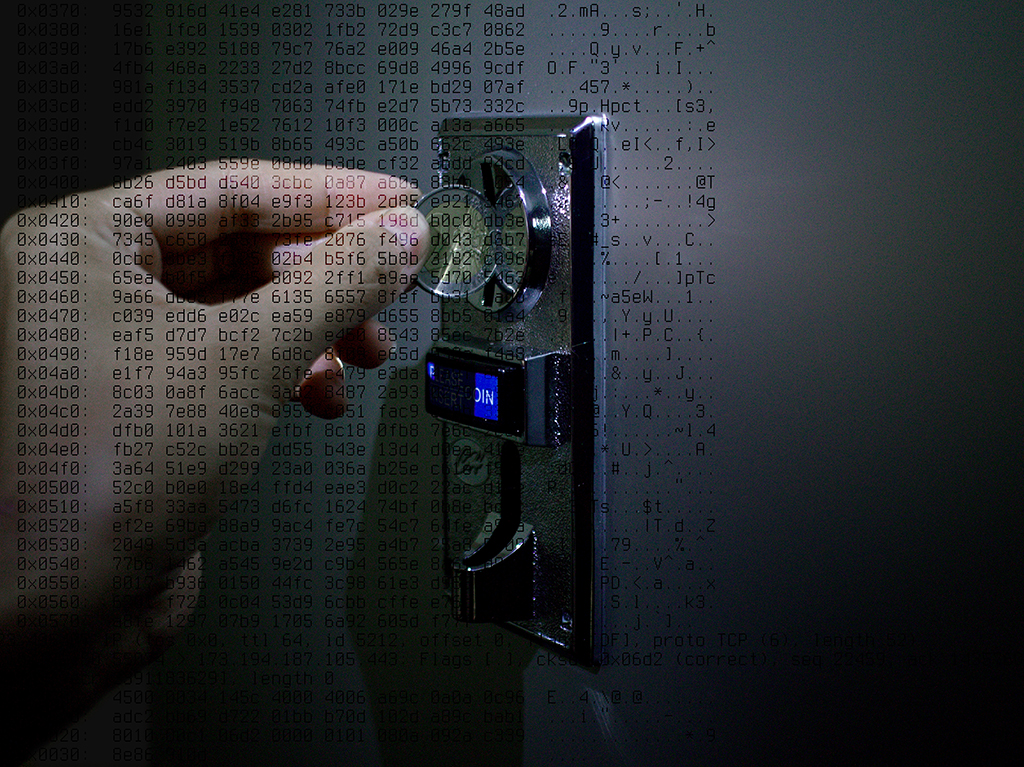 Virtual Private Networks (VPNs) have come into increasing demand in recent years, providing route encryption through hostile networks. In China, Vietnam, Turkey and Pakistan they also serve to mitigate government censorship, so that foreign sites otherwise blocked by state firewalls are made available to VPN users (Twitter, Facebook, Wikipedia, activist sites and digital libraries being the most common).
Vending Private Network takes the form of a condom vending machine, such as those typically seen in toilets. Equipped with mechanical buttons, a coin-slot and USB ports, it offers 4 VPN routes, each adorned with an animated graphic depicting a fantasy destination. Audiences are invited to insert a USB stick into the slot, and a coin into the machine, then to select a VPN destination by pressing a mechanical button, a unique VPN configuration file is then written onto their USB stick. Special instructions (in the form of a README.txt) will also be copied to the USB stick that explain how to use the VPN in a special 'sheathed' mode that evades detection methods (namely Deep Packet Inspection, or DPI) used by corporations and state-controlled infrastructure administrators. This is the only means known to work against state controlled firewalls, for instance and requires an extra install of freely available, open source software and leverage economic and cultural privilege to benefit those not included. With each VPN config generated, another is covertly shipped to contacts in Turkey, China, Vietnam and Iran (and other countries to be confirmed).

Jonas Staal New Unions, 2016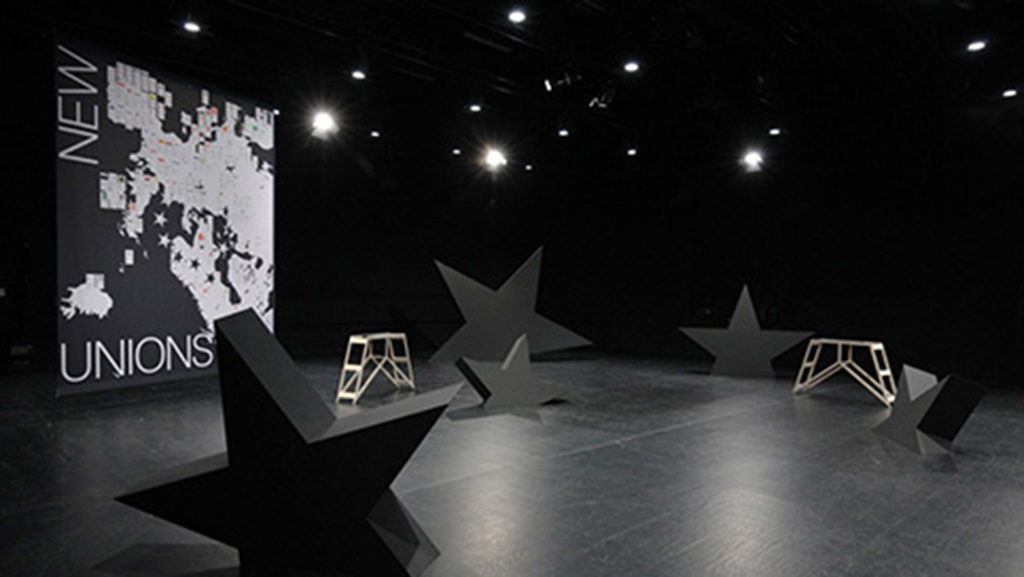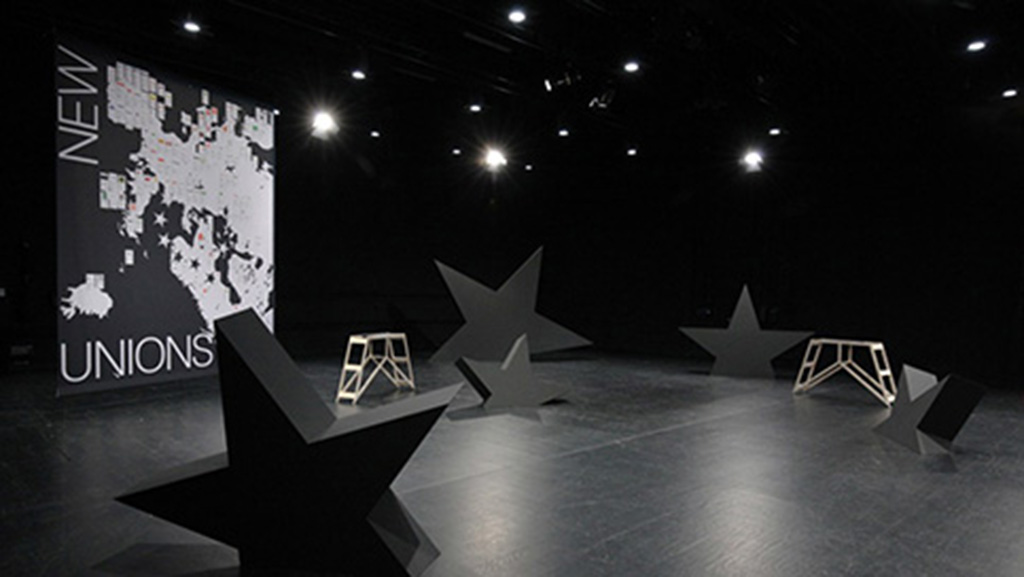 Jonas Staal's New Unions is an artistic campaign supporting progressive, emancipatory, and autonomist movements all over Europe, and proposing the creation of a "transdemocratic union" which is not limited by the boundaries of nation states. The New Unions map illustrates the recent, massive rise in social movements and new political parties which are creating new models of political assembly and decision making while challenging traditional national and institutional structures. From the civil initiative in Iceland to collectively rewrite the constitution after the economic crash, to regional independence movements and pan-European solidarity groups, these emerging political experiments propose new forms of transdemocratic practices. This map is the first in a series which is continuously updated to reflect the evolving geography of transdemocracy.
ABOUT THE ARTISTS
The Critical Engineering Working Group is a collaboration between Julian Oliver and Danja Vasiliev. Their manifesto begins: "The Critical Engineer considers Engineering to be the most transformative language of our time, shaping the way we move, communicate and think. It is the work of the Critical Engineer to study and exploit this language, exposing its influence."
criticalengineering.org
Raphaël Fabre works on the interference of fictions and narrative storytelling in the real world, using techniques ranging from digital 3D technologies to set decoration. Born in 1989, he lives and works in Paris.
raphaelfabre.com
Jeremy Hutchison works with situational performance. Operating in sites of production and consumption, he often collaborates with factory employees, migrant labourers, online workers and jobseekers to examine the structures that limit human existence. How are unequal human relations constructed by global capital? How do consumer products function as portraits of exploitative material structures? In the process of developing these works, each context becomes a stage; a metaphor for the production of reason. To some extent, his projects are rehearsals for an uncertain kind of freedom. He was recently a member of the Whitney Independent Study Program in New York.
jeremyhutchison.com
Daniela Ortiz (Cusco, 1985) lives and works in Barcelona. Through her work, she generates spaces of tension in which the concepts of nationality, racialization, social class and gender are explored in order to critically understand structures of inclusion and exclusion in society. Her recent projects and research revolve around the issue of migration control, its links to colonialism, and its management by Europeanwhite states and societies. At the same time, she has produced projects about the Peruvian upper class and its exploitative relationship with domestic workers. Daniela gives talks and participates in discussions on Europe's migration control system and its ties to coloniality in different contexts.
daniela-ortiz.com
Jonas Staal lives and works in Rotterdam (NL). He has studied monumental art in Enschede (NL) and Boston (US) and received his PhD for research on Art and Propaganda in the 21st Century from the University of Leiden (NL). His work includes interventions in public space, exhibitions, theater plays, publications and lectures, focusing on the relationship between art, democracy and propaganda. Staal is the founder of the artistic and political organization New World Summit and, together with BAK, basis voor actuele kunst, Utrecht (NL), of the New World Academy.
jonasstaal.nl
They Are Here (f. 2006) is a collaborative practice steered by Helen Walker and Harun Morrison. They are currently based in London and on the River Lea. Their work can be read as a series of context specific games. The entry, invitation or participation can be as significant as the game's conditions and structure. Through these games, they seek to create ephemeral systems and temporary, micro-communities that offer an alternate means of engaging with a situation, history or ideology. In parallel, they initiate multiyear socially engaged projects that become generative spaces for further works. They Are Here work across media and types of site, particularly civic spaces.
theyarehere.net
ABOUT THE CURATOR
James Bridle is an artist and writer working across technologies and disciplines. His artworks and installations have been exhibited in Europe, North and South America, Asia and Australia, and have been viewed by hundreds of thousands of visitors online. He has been commissioned by organisations including the Victoria & Albert Museum, the Barbican, Artangel, the Oslo Architecture Triennale, the Istanbul Design Biennial, and been honoured by Ars Electronica, the Japan Media Arts Festival, and the Design Museum, London. His writing on literature, culture and networks has appeared in magazines and newspapers including Frieze, Wired, Domus, Cabinet, the Atlantic, the New Statesman, and many others, in print and online, and he has written a regular column for the Observer. "New Dark Age", his book about technology, knowledge, and the end of the future, is forthcoming from Verso (UK & US) in 2018. He lectures regularly on radio, at conferences, universities, and other events, including SXSW, Lift, the Global Art Forum, Re:Publica and TED. He was been a resident at Lighthouse, Brighton, the White Building, London, and Eyebeam, New York, and an Adjunct Professor on the Interactive Telecommunications Programme at New York University.
jamesbridle.com
ABOUT FURTHERFIELD
Furtherfield is an internationally-renowned digital arts organisation hosting exhibitions, workshops and debate for over 20 years. We collaborate locally and globally with artists, academics, organisations and the public to explore digital culture and the changing world we live in. From our unique venues in Finsbury Park we offer a range of ways for everyone to get hands on with emerging technologies and ideas about contemporary society. Our aim is to make critical digital citizens of us all. We can make our own world.
Furtherfield Gallery
McKenzie Pavilion
Finsbury Park, London, N4 2NQ
Visiting Information
PARTNERS
This project has been funded with the support from the European Commission. This communication reflects the views only of the author, and the Commission cannot be held responsible for any use which may be made of the information contained therein.
Transnationalisms is realised in the framework of State Machines, a joint project by Aksioma (SI), Drugo More (HR), Furtherfield (UK), Institute of Network Cultures (NL) and NeMe (CY).
The Alternative UK write about Transnationalisms: We live in an age of transnationalisms. At Furtherfield, artists test all the borders
Way back in 1995, the artist collective Critical Art Ensemble (CAE), said "What your data body says about you is more real than what you say about yourself. The data body is the body by which you are judged in society, and the body which dictates your status in the world." These words now haunt us, and take their place alongside numerous other ignored warnings about global threats to the wellbeing of our societies and the planet.
In this interview with curator Dani Admiss, we discuss how the data-driven gamification of life and everything has shaped the development of Playbour – Work, Pleasure, Survival at Furtherfield and why the Gallery is currently being transformed into a psychological environment.
Gallery visitors are presented with a series of game-like installations, which are the result of the shared and collective cognitive labour of artists, curators and gallery staff. First the artists, and then the public (as players) are invited to test the processes and experiences offered by new mechanisms of play and labour. Each 'game' simulates an experience of how some techniques and technologies of gamification, automation, and surveillance, are at work in our everyday lives, in order to capture all forms of existence.
Interview
Marc Garrett: Before the exhibition, you initiated an open call for a Lab. You invited participants to join a three-day art and research lab at Furtherfield Commons, Finsbury Park, London. Could you elaborate why you did this and how it informed the exhibition?
Dani Admiss: A couple of months before the exhibition, I ran a 3 day co-research lab that brought together artists, designers, activists, and researchers. I like to refer to it as a performative, temporary exhibition in the form of a lab. There were discussions, performances, interventions, games, and exercises. We had discussion with Jamie Woodcock on gaming and digital labour, he walked us through an interview session with gamers on the Twitch platform. Steven Levon Ounanian held a performative experiment where we thought about how we might render the suffering online in the real world, Itai Palti worked with us to think about design principles and neuroscience. FUN! The idea was that we would collectively explore, discuss and define key issues that we thought were important to then take forward to develop into games and experiences to share with the public. The aim was to play off each other in a live context to generate new perspectives and ideas.
Building on this, I decided to hold an open call for participants. In my most idealistic moment, I'd say I wanted to try and find ways to expand who gets to produce, stage and display, how we define what these issues actually are for wider audiences. Can this lead to new stories about art, tech, society? Like any project it is never exactly as you imagined it, but I think the majority of people got a lot out of working like this. I did. Working with people that aren't always the people you expect to be attached to a project always throws up unexpected experiences. Everyone brought their best themselves with them. Open. Interested. Warm. Prepared. Ready to listen, and for fun!
I'd make the lab longer next time, so it wasn't as intense, and I'd try to have more people join the open call.
MG: The open-curation process you have developed is core to the realisation of the Playbour lab and exhibition. It resonates strongly with Furtherfield's DIWO ethos. It turns on its head, the traditional approach to curating thematic group shows. Please can you tell us about the process and say why this new approach is important at this time?
DA: DIWO definitely informed Playbour! I think the spirit of co-creative discovery is a powerful tool that curators should use more. I refer to it as co-research, which is ultimately a way to research-with others. What separates it from more traditional approaches to curating is the unclear distinction between author/researcher and subject/participant. The aim is to achieve closer equality between the participant and subject area, in the form of valuing a person's idea's and lived-experience as much as other 'expert' forms of knowledge. Historically, it has roots in a highly specific context of the radical Left in post-war Italy with Operaismo. This is where the seeds of debate on post-immaterial labour emerged, arising from Hardt, Negri, Bifo, Terranova, etc, and why I originally was interested in working in this way because of the subject matter of the project, however, it became something so much more.
For me, as a curator, creating projects about complex subject areas that bring together embodied and embedded social relations with technical worlds, is something that needs to be done with people rather than to them. I think the most interesting works of art being produced today are treated less like things and instead draw into the very making of the ways in which we get to know what we know. You can see this in works from Cassie Thornton's project Collective Psychic Architecture (an exploration of "bad support" in Sick Times) 2018, where she extends the responsibilities of the gallery or institution through performative means, or in the high-profile modeling and mapping practices coming out of the Forensic Architecture network. How can curating exist in a wider space than before? I'm trying to work in much more extended and expanded ways with the primary intention to include more end users into the areas we are looking at.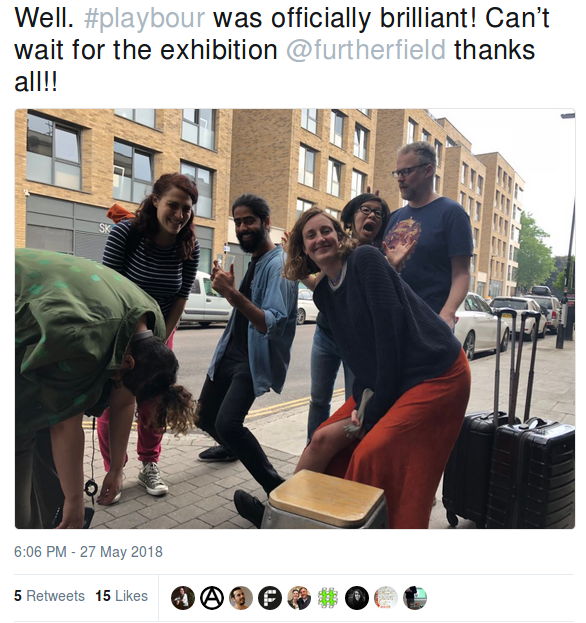 Adopting a co-research model (in the lab, in the show, in the publication, in the micro-commissions) meant that the aim of the exhibition shifts, it becomes less about what the topic is and how it works and more about how it came to be. Brian Holmes once wrote that making an image remakes the world. Yes, but it also distances us from it. Playbour asks people to consider how the world organises us by facilitating moments where people can identify with particular phenomena. I feel this is more fitting and has more potential to create moments of personal learning and change than trying to represent it through curatorial practice. Why do we need this in an age of information? My thinking is that knowledge-projects are not simply objective processes but deeply subjective ones that are enacted through and with others. Finding ways for people to identify in more meaningful ways with the subject will hopefully lead to greater chance that people will gain greater perspective and agency over their own worlds.

MG: The term Playbour brings attention to critiques of gamification and to the extraction of value via social media platforms. But your subtitle then opens up a whole other world of reflection. What are you discovering about the relationship between "work, pleasure and survival"?
DA: The project is exploring the role of the worker in the age of data technologies, but this looks less at the "future of work" and chooses instead to focus on the shifting roles and blurred boundaries of work, play and well-being – how do we place value on these areas, how do we work with and against them?
Quite often when we talk about opaque terms like immaterial labour and cognitive capitalism we fail to grasp the production processes of these phenomena. Immaterial labour depends on the self and our social relations. We are asked to 'post', 'share', 'network', 'emote', 'communicate', 'know'. Not so much 'understand'. These acts inform the control and creation of our subjectivity. At the same time, very little discussion is happening about the fact that so much exploitation -physical, ecological, economical- sits behind the new commons we are all talking about.
Opening the project out to think about work, pleasure, survival, is a provocation. On one level, it is a nod to the fact that this conversation is for a privileged few. Many choose what they do and this 'choice' is supposed to operate as an expression of one's personality. On the other, it's human nature to get swept up in what is considered the norm, so it's also a challenge to think about what are your own limits, returning to the idea of inviting people to find moments of identification with these broader issues to their own lived experience.
MG: Why is it important that the work being prepared for Furtherfield gallery is conceived of more, as a series of game experiences, than a display of discrete art objects, or a didactic exhibition on the topic of Play and Labour? Has the gallery's location in a public park influenced your thinking at all?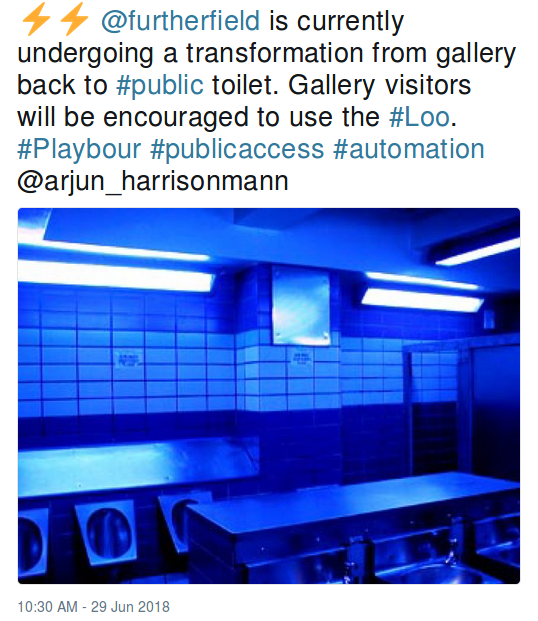 DA: Well, first off, it has been a collective process and so I wanted to show that process to people. Secondly, you have to invest part of yourself in play. The more I research the areas of digital and immaterial labour the more I'm keen to work with others to understand the not yet completed transformations of body, society, and world, into a global capitalist system. These are suffuse and pervasive and nudge our behaviours all of the time. Organising the exhibition as experiences is a way for us all to live-out (at least temporarily and in a safe, playful space) the tentacular effects of immaterial labour and economies of knowledge and information. This is not to say let's walk away from a highly networked society, it's an invitation back into perspectival agency.
MG: You've chosen to put together three themes for the exhibition, ranging across work, pleasure, and survival. Why was it important to choose these three themes in particular?
DA: I'm fascinated by how we are involved in the making of worlds we are then conditioned by. From the learnings in the lab, my own research and collaborations leading up to Playbour, I think gamification, automation, and surveillance are three key areas that scaffold a lot of the debate on digital and immaterial labour.
1) SURVEILLANCE. How we are measured and how we measure ourselves? Traditionally, government control used to come from top-down surveillance techniques, such as the type Michael Straeubig's Hostile Environment Facility Training (HEFT) is looking at. However, I think we should be talking about how forms of control are exercised through our own self-monitoring processes – self-improvement culture is a perfect example of this. Cassie Thornton's Feminist Economics Yoga (FEY), is a wonderful remedy for this.
2) AUTOMATION. How technology is removing decision-making from us in the pursuit of a frictionless universe. In Harrison-Mann's Public Toilet he is talking about how automation is used to address the need of social issues. The starting point is the lack of public services offered in Finsbury Park and how that is altering how we use and experience the public space of the park. He is interested in making a connection between this and how metrics can often end up being exercised in controversial and even arbitrary ways inhibiting people getting what they need, such as disability benefits in the UK.
3) GAMIFICATION. How are rewards and competition embedded into our online interactions and interfaces? Jamie Woodcock has this excellent term that describes gamification-from-above and gamification-from-below. Like the Situationist socialism-from-below. How we might use gamification for our own positive manipulations, diversions and distractions? I think a lot of media and new media practice has long been engaged in gamification-from-below. Marija Bozinovska Jones' piece Treebour (201) plays on this, transferring manipulation of social relations levelled at online interactions to the "natural" networking of trees.
MG: After visitors have experienced the exhibition, what emotions, thoughts and understandings, would you like them to leave with?
I think you introduced the show in an interesting way in your opening text with the notion of the data body and the extension of our bodies into new spaces with unknown consequences. These happen inside the screen, at the edges of the world, in transit, at the end of the supply chains. At the same time, they also operate on semi-conscious refrains, in our behaviours, actions, thoughts and emotions about the world. Taking part, thinking-with, making-with, are strategies to find ways to open up discussions about how we are all involved in making and unmaking our worlds via different actions. Something like digital and immaterial labour is not a discrete issue reservable for experts who work in this area, the connections and consequences weave in and out of our lives and impact us all. We are constantly reacting to thing around us, taking in these cues and pushing them back out into the world.
In terms of emotions, I don't want to spread fear and despair, I'm hoping that some visitors will identify with some of the ideas in the show and relate them to something in their life that perhaps they'd not thought of in that way before.
Notes: Main top image by Marija Bozinovska Jones, Treebour 2018.
DIWO – Do It With Others: Resource
archive.furtherfield.org/projects/diwo-do-it-others-resource

Two years after his death, Harun Farocki continues to maintain an archetypal role in the world of the visual arts. Many mourned for the loss of a gifted artist who was as not just a filmmaker but a critic, activist and philosopher en masse. Farocki succeeded his German New Wave filmic predecessors as his work would seamlessly and at once command hilarity, disparagement and intellect. A project-retrospective collaboration of his work was undertaken, just two years after his death, with its first part at The Institut Valencià d'Art Modern (IVAM) named 'What is at Stake', and more recently the second-part titled 'Empathy'at the Fundació Antoni Tàpies compiled of at least 8 works focusing on an analysis of labour within the framework of capitalist demands.
The title of the exhibition, 'Empathy' originates from Ancient Greek; 'εμπάθεια' is a compound of 'έν' and 'πάθος' meaning 'moved by passion'. In German, empathy translates to 'Einfühlung' and was ironically exploited by Farocki in 2008 as the title for his text and reads:
'A compound of Eindringen (to penetrate) and Mitfühlen (to sympathize). Somewhat forceful sympathy. It should be possible to empathize in such a way that is produces the effect of alienation.'
Taking into account Farocki's liking of Brechtian 'distanciation', he formulated rather quickly that to 'empathise' means to project one's own feelings, therefore infiltrating objective opinion. The notion of 'empathy' for Farocki was carefully tailored to a synthesis that gave him the patience to be simultaneaously attentive and austere towards his subjects' predicaments. As paradoxical as it may seem, empathy and distance are nurtured companions. With Farocki's interpretation of empathy in mind, I entered the dark bunker where the retrospective took place. A space usually leaking brightness from the glass roof was now transformed into an industrious zone of projections, obsolete TV sets and the mellifluous humming of those operative machines. Farocki's filmic oeuvre overflowed from devices onto white surfaces, accentuating the techno-capitalistic condition of labour operating eradically for our Western communities.
As you enter, the video-installation of Workers Leaving the Factory in Eleven Decades (2006) dominates the center. Twelve TV monitors are laid out in a horizontal line, juxtaposing chronologically the moment where the worker leaves the factory in Farocki's twelve chosen films – among them, Workers Leaving the Lumiére Factory in Lyon (1895), Deserto Rosso (1964) and Dancer in the Dark (2000). Here, the excerpts are used as a mnemonic tool as Farocki's montage gravitates around the entrance of each factory. Each scene extrapolates the repetition of entering as a rhetorical techne, an emphatic mimesis of organising and preserving power through the image of the factory and its systems of subjugation. Yet, distance and empathy are circular and procedural.
Curated to encourage a clockwise movement following the introductory piece, A New Product (2012) is being televised to the left. It commences during a mundane corporate board meeting for a consulting company violently regurgitating neoliberal logic. The goal of the meeting is to amplify competition and ascertain efficiency of their employees in the workplace by creation of a new product. Through the repetitive flipping of charts and reports, Farocki succeeds in capturing the vocabulary of rationalisation regarding their employees' assets while unfolding the dynamics of the team and its public presentation. The narrative's structure being static and unobtrusive, in conjunction with the ascetic use of the camera implies a degree of distancing from the subject. Still, the absence of Farocki's own evaluation additionally contains the capability to bolster the viewer's assessment of the situation thus achieving the artist's desired equilibrium between empathy and distancing.
There existed a sense of rituality by which the projections were transmuted from a seemingly simple and observational nature, to one which was filled with the allegory of transparency and distance. Re-pouring (2010) was an ode to Tomas Scmidt's Cycle for Water Buckets (or Bottles) from 1959. The original piece was a carefully choreographed mise-en-scene by which Scmidt poured one glass, a bottle of bucket of water into another. The act of pouring for Schmidt was one which indicated a simple and natural process of vaporisation with each pouring. Farocki had programmed machines to perform the artistic gesture for him, a re-pouring of the performative fluxus notion. A paradoxical act, since as human beings our navigational processes depend heavily on our cognitive ability, the mechanical hands were able to seamlessly perform the act of re-pouring. Farocki's hyperrealism allows him to jump to a certain scale of futurity whilst also being rigorous of scrutinizing reality. The act of programming robots to perform a ritualistic and performative task goes undoubtebly implies distancing from the artistic practice of Fluxus. The Fluxus movement was predominantly a practice governed by experimental notions of performativity which were heavily conceptual. It therefore comes into stark contrast to the idea that such act could be thought by algorithm machines as notions of 'thinking/feeling machines' in contemporary society are rudimental and dreams of a future imagination. Farocki, able to perform the task himself such as with Indistinguishable Fire, does not. He steps out, physically distances himself from undertaking the task himself but maintains his empathy to former Fluxus activities but also expressing a empathy towards machines who today perform most human labour.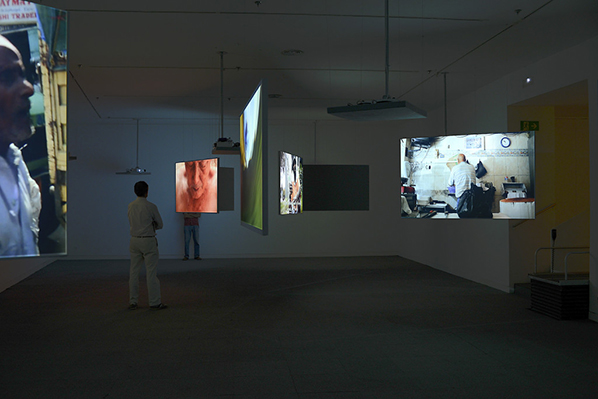 Amidst one of the spectacular accummulations of Farocki's body of work, the apogee of the retrospective would be Labour in a Single Shot, shown for the first time in Spain. The project was initiated in 2011 by Harun Farocki and Antje Ehmann, co-curator of the retrospective. Located in an entirely different bunker, the work was compiled from a series of workshops whereby a fixed camera filmed paid, unpaid, material and immaterial labour from fifteen workshop locations. Projection screens are hanged in a room, most facing eachother whilst the noise of all labour taking place floods the space. Harmonious parallels are created as sequences from butcher shops and surgeries face eachother. The repetitive looping and sequencing of labour is used as a means of distancing and signifies non-judgmental watching as an active practice of iconic power. Our lasting impression is a call-girl sucking on a lollipop explaining how her artifice encourages clients into believing the gratification she provides is sincere. Here, we understand that just as she, through sex, retains empathy and distance in unison, Farocki's empathy can thrive.
When looking at the many artistic projects focused on how and why we use the internet, it's easy to find yourself lost in a field which doesn't show obvious, strong ties with what we normally know as "traditional art history". This is due to historical and social reasons that emerged between the 80s, 90s and early 2000. These artists were at the vanguard of art culture and pushed at the edges of what art could be, whilst living in a post-punk and postmodernist era, and on tip of this, the arrival of the Internet in 94 changed everything. Many artists took on the challenge of what the Internet offered the world creatively, and explored it not merely as a marketing tool or a place to upload images and videos, but as a medium in its own right, inventing new technically informed, artistic tools and also building grass root led, networked art groups with new infrastructures as cultural platforms. Turning away from anything relating to the mainstream art world and what was seen as outmoded and tired traditions.
In the last decade, we've seen the expansion of the Internet and its use by younger generations where the medium is no longer something you exploit to change the culture, but more to integrate in traditional terms, canonical contexts.However, artist Jan Robert Leegte (born in 1973) is a very important figure to reflect upon, in order to understand this transition; while other artists of his generation were taking the internet for a non-hierarchical distributed system, he chose to explore it from a classical studies background that forged the cardinal points of his artistic research. He reflects an Internet art influenced practice which not only exists online but also in physical space. In fact, we can safely say he can be considered as one of the first Post-Internet artists. This makes him a pivotal figure in this historical segment and it's under this light that one must visit the online exhibition On Digital Materiality (Carroll / Fletcher Onscreen, 3 August-12 September 2016). It's a retrospective show presenting some of the most important and representative works of the Dutch artist, who wrote for the occasion an essay in which describes some of the most important aspects of his work.
Leegte says, the "materials I first used were basic HTML objects, buttons, scrollbars, frame borders, table borders, and also plain color fields and found images. I questioned what it was that rendered this practice similar to making installations rather than collages. At first it was the simulacrum of real world interactive elements (buttons, window frames, etc.). The operating system extended this haptic strategy with traditional paper-based forms, like check boxes, text fields, lists, etc, and, along with the form elements and the interactive document, led to an ecosystem of fake 3D, interactive objects."
The work fluctuates between working on the surface and thinking in three dimensions. The same difference can be found with his use of Photoshop and HTML. If in the former case an image editing software operates directly on the final result, for the latter there is the need to know how to write code while at the same time imagine what the potential results will bring via its translation in the public space, the internet. In this sense, we do not hesitate to define Leegte as an artist who studies and uses the tools of the sculptor; he wonders how to place objects in the space, he feels the problem of contextualising a work in relation to a public and physical environment.
                    Jan Robert Leegte, Scrollbar (2002), Image by Jan Robert Leegte
The perception of a substantial difference between surface and space is also proven with his interest in the basic elements of composing the digital interface (scrollbars, mouse pointers, etc). His research examines the artificial environment built by Microsoft and Apple designers. The colours and the shapes were designed to not be perceived as evident mediating agents between the user and the content – in this sense, it is interesting to note that Microsoft has often chosen a minimalist style (shades of grey, square shapes) while with Apple systems the style is usually more exuberant.
However, we should not look at the former as a less culturally relevant product. In the same way, we should not take the white cube exhibition space as a synonym of neutrality (unless we want to think that the whiteness and emptiness stay for an objectivity). This is an aspect that the artist does not seem to detect (in the text, he writes that he "preferred the aesthetics of the Windows classic interface design because of its minimalistic design – no rounded corners and ribbings like the OS 9 design, but simple beveled grey rectangles and a button object was merely a highlight and a shadow, nothing more").
The artist reflected on how specific design elements may in some sense be preserved, as reflections and products of a particular aesthetic and cultural taste: "In Memory of New Materials Gone" (2014) is a work made by a print of the OS9 scrollbar placed in a transparent case in the same way you would do with an object no longer fashionable. This project and all the other works belonging to The Scrollbar Composition Series programmatically address the perception of virtually anonymous and transparent objects on the screen in a three-dimensional space. In a situation where their significance must be noticed; it's the artist himself who begs to not see in this a disruptive act, an action that reveals the subtle ways in which they influence us. It is, however (but not "in opposition to"), a reflection on the artist's activity; as we previously noted, these works are shown on the internet in the same manner in which they would be set up in a gallery space.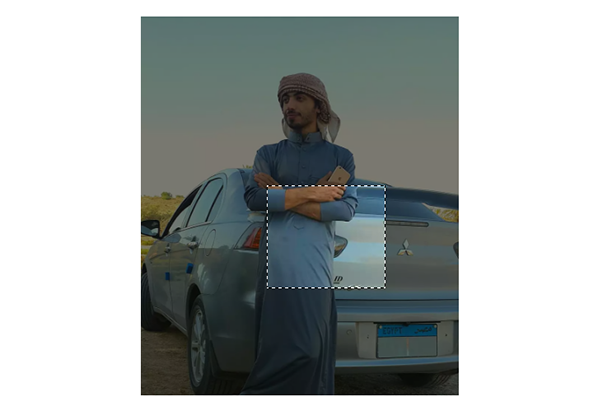 Screenshot of Random Selection in Random Image (2012) by Jan Robert Leegte
Perhaps, the highest point of the artist's reflection on the differences you meet working on a surface or in three dimensions is The Photoshop Marquee Selection Series. "Random Selection in Random Image" (2012), in which a randomly generated selection marquee is shown within an image randomly obtained from the net. It is the most important work of this series because it opens three-dimensional gaps which have been created sculpturally in two-dimensional images – a dynamic that has echoes of "Scrollbar Composition" (2000), in which the Web browser's monodimensional space is broken down and reassembled in many windows, many independent spaces sharing only the mathematical material they are made of.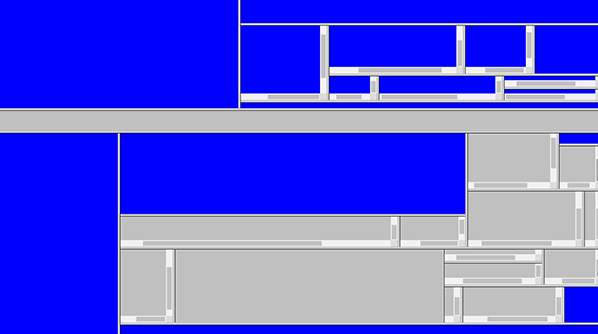 Screenshot of Scrollbar Composition (2000) by Jan Robert Leegte
The works featured in this exhibition are related to questions that go beyond the historical and cultural contingency in which they have been created. This makes many of them feel very much alive even 20 years after their creation (a novelty in digital art, I would say). This allows a healthy dialogue between different generations of artists to exist as common ground. It also engages art experts who want to be introduced to artistic issues linked to the internet. It is a dynamic that makes this exhibition a special opportunity for us all to relook at this so-called digital culture and its traditional and non-traditional art theories and its practice under a peculiar and exciting light.
On Digital Materiality – an Internet exhibition is online at Carroll / Fletcher Onscreen until 12 September
Zeljko Blace is working in(-between) contemporary culture, media technologies and sport, cross-pollinating queer, media and social activism. He is one of the initiators and a co-curator of the project 'contesting/contexting SPORT 2016.'
'contesting/contexting SPORT 2016'
to reclaim the field with art and activism
exhibition and program in Berlin (08.07-28.08.2016)
at nGBK and KunstraumKreuzberg/Bethanien
http://ccSPORT.nGbK.de
www.facebook.com/cc.sport.2016/
www.twitter.com/CcSPORT2016
The exhibition and program contests the field of SPORT through critical art and activist practices. Coming from feminist and queer practices, the project aims to challenge discrimination and encourage emancipation. SPORT is contextualized from its declarative neutrality and autonomy, rendering diverse influences, but also experiences and conditions of SPORT realities visible.
Organized by the ccSPORT international working group of the nGbK including also: Caitlin D. Fisher, Carmen Grimm, Mikel Aristegui, Sarah Bornhost, Stuart Meyers, Imtiaz Ashraf, Andreea Carnu, with support from: Tom Weller, Alexa Vachon, Ilaa Tietz, Tabea Huth, Barbara Gruhl, Steffy Narancic, Tristan Deschamps, Coral Short, Gegen Berlin, Schwules Museum, and advisors: Alex Brahim, Jennifer Doyle, Philippe Liotard, Jules Boykoff, Stephane Bauer and †Frank Wagner.
BOSMA: The 'contesting/contexting SPORT 2016' exhibition and program shows a wide range of uncommon perspectives on sports, questioning cultural systems embedded in them we hardly ever think about. Why did you make this exhibition?
BLACE: In this 'networked' and globalized time we paradoxically live out a multiplicity of highly fragmented realities, niched in specialized interest groups, while 'others' feel they can not contribute or even relate to them. It felt like this to me in my work during the late/post 90s with tactical and net media activism/art – fully disconnected from queer politics and sports organizing for which I had an increasing interest. In general the field of sport has not been part of the lives of many intellectuals, activists and creatives. Many had bad (even traumatic) experiences with sport in childhood and adolescence, feeling alienated, or simply not recognizing it as a possible field to develop work in (unlike right-wing populists in tribal fan cultures). Simply put, the sport system has been taken for granted in its current form. Hence, my first curated sport exhibition title, paraphrased 'sport hater' Chomsky, in 'Another SPORT is possible?!.' (2012, Galerija NOVA, Zagreb, Croatia). My Berlin colleagues and ccSPORT co-founders Caitlin Fisher, Tom Weller and Carmen Grimm felt the same about the separation of sport from arts, activism and academic research. Together (with the support of exhibition spaces nGbK and Kunstraum Kreuzberg/Bethanien) we made plans to instigate and support intersections, cross-pollinate practices and perspectives between these fields through an exhibition, program and media work. We strongly felt the field of sport would never become self-critical and reform, nor would it engage with a wider audience beyond a given consumerist mode, if left to the managerial mentalities and the opportunism of its leaders. We need to reclaim the field of sport together to change it.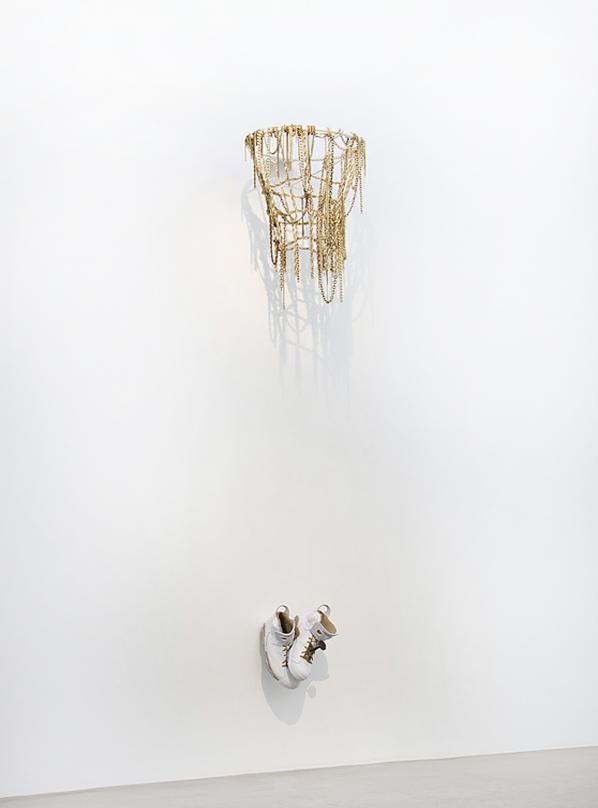 David Miguel Diaz, 'IN GOD WE TRUST ?' 2013
Is this the first ever exhibition criticizing the cultural and political dimensions of sports, and if not, how does your perspective relate or differ from earlier approaches?
I can not say with complete certainty what other group exhibitions on sport critique have taken place before. There have been many on a small scale, marginal in comparison to the huge exhibitions that 'celebrate' sports and are used as decor and entertainment accompanying sport spectacles (a notable exception is the seminal work 'Electronic Café' by K. Galloway & S. Rabinowitz at the 1984 LA Olympics, that actually provides space for interaction/discussion in between different city locations). There were also a few archival exhibitions looking at historical artifacts and documentation critically, as well as some that were experimental and playful (such as the Fluxus Olympiad, scripted as non-competitive multi-sports event) but these approaches were somewhat one-sided. We aspire to create a basis for both critical reflection and informed envisioning of possible developments, by looking at personal perspectives and artistic visions, next to grass-root alternatives and interventions.

Micha Cardenas, 'STRONGER' 2016
The main threads in the exhibition seem to be gender, queerness and the connection between culture, commerce and rules in sport. Are these the main issues at hand?
Indeed our starting points were feminist and queer positions, but we were also very interested in the wider range of intersections and systemic issues within the field of sport that we could connect, rather than focusing on single-issues like homophobia or racism as is often done in mainstream sport campaigns. We decided very early on that the project would not be about identity politics, but rather about the multiplicities of axes of discrimination. There is a spectrum of emancipation efforts and practices that inspire us to think outside of gender norms, result-focused competitions, spectacle creating events and omnipresent 'development' narratives – which ignore for example that women had more access to certain sports historically in different geographies then they did in past 30 years of globalized neoliberalism.

augmented_profile from Diego Grandry on Vimeo..
How do you see the role of the media in the perception of sport?
Traditional broadcast media are the key stakeholder in the Olympics and similar sporting-spectacles. They have made the organizers of large sport events addicted to their huge broadcast contract revenues, but then inherently push for the spectacle of mega-events even further at the cost of other aspects. Newer sports that have evolved around this economy of attention have often sexed athletes (most visible with female beach volleyball) or at least contributed to enforcing gender stereotyping (like the feminization of soccer/football to the point that there are almost no short haired players at the Olympics). Instead of actively evolving with the progressive trends in sport, most broadcasters deepen the stereotypes; too often commenting on the marital status and appearance of female athletes, or referring to them as girls. Athletes from smaller countries, and sports that receive the least coverage are often looked down on, projecting neo-colonial relations on them (or hosts as in Brazil).
With internet networks and 'social' media the situation it is more complex as the interactive nature of media often allows for feedback and multiple standpoints in the same, or various foras. These media diversity brings to the surface and exposes critical minority voices and individuals who are able to argue against norms and question their necessities. For example, the tokenizing of muslim female athletes during these last Olympics received great reactions including historical facts about muslim women winning medals in the '80s and '90s. Also the outing of gay athletes by one reporter, was widely criticized online and the media hype reboot around Caster Semenya was compensated by internet and hybrid media (i.e. AJ+) publishing numerous expert articles and even giving voice to many (including former opponents critics converted to supporters as in case of Australian runner Madeleine Pape).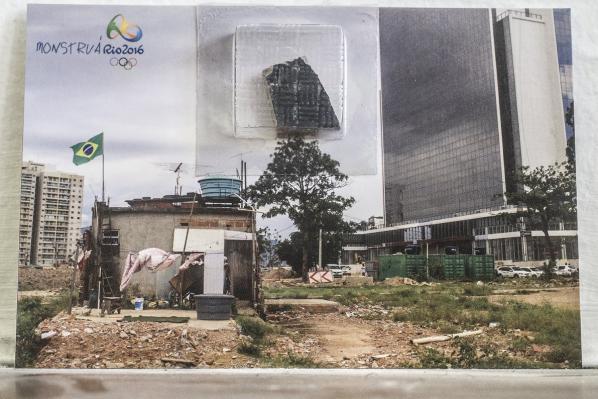 RAFUCKO, 'Postcards' from series of 'MonstruáRIO 2016: Rio's Anti-Souvenir Shop' 2016
The connection between rules and cultural systems in sports is fascinating to me. You have worked as an organizer/curator in Multimedia Institute/MaMa before focusing on sport. What is your perspective on the rise of technological systems in the enforcement of rules, like for example drug testing or electronic goal-line and court line tracking?
Actually, the technological aspects of sport are the ones that still need to be addressed more specifically (technology centered single sport competitions exist since years, with The Cybathlon as their olympics premiere in Zurich, October 8th 2016). They not only re-enforce certain types of (measurable) norms, but also reduce the complexity into what appears to be arguable 'logic' and 'common sense,' while hiding other aspects (psychological and even aesthetic). Drug testing is an important measure of control, but is usually focused on the supra-performance of medal-winning athletes, rather than concerning itself with more generally applicable questions: what are the drugs, who has access to them and why. As long as the prevalent 'production' of results at all costs is dominating sports, the goal of 'clean' sports regardless of technological advancements in control will remain impossible. Gender policing at the Olympics has had a lengthy technological path, starting with visual and medical inspections, moving on to DNA and hormone testing and nowadays being fully questioned. Measuring and tracking technologies have the most interesting potential, not only for confirming line calls but for reshaping sports into allowing potentialities of variable norms and measuring based on generative fields/infrastructures. However, this kind of innovation is more likely to develop in the edges of eSports industry (that is pushed by novelty rather than burdened by traditions and conventions) and then maybe get normalized into traditional sport competitions once existing sport federations and regulatory bodies start losing young markets.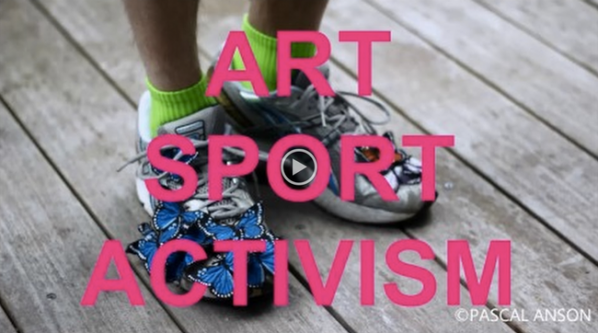 VIDEO TRAILER: ccSPORT presenting GeurreirasProject.org
What do you hope to achieve? And in line with this, are there plans for follow-up events (possible also relating to tech)?
It was important for us to initiate conversations and collaborations that were not in place before, especially between those excluded from the mainstream sport system. We stirred up some interest from academic researchers for immediate follow-ups, but also informed some activists and artists of each other's work. Ideally this could be developed further to elevate the critical and creative work in the field of sport and address issues in multifaceted ways.
We hope the exhibition and program enabled visitors to develop a more articulate position rather than just LOVING / HATING SPORTS, maybe supporting our platform — and ideally also inspired them to build personal or collective proactive relationships to sports. Maybe through practices of engagement against mega-spectacles and hyper-commercialization of sports, while supporting/partaking in grass-root sports or reforming the mainstream system.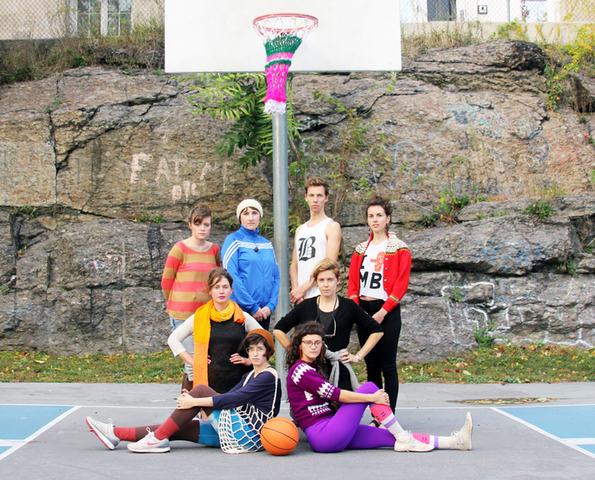 NCAA Team Photo, photo credit: Jordan Tynes
Now we look forward to have the time for reflection after the intense work of materializing the exhibition and the extensive events program, as well as to see what future sport events could be interesting to contest and/or contextualize. One of the most important follow-ups is establishing an online space for sustainable communication, exchange and sharing information, know-how, methods, most likely using wikis, maps and media that came out of our research and workshops during the summer exhibition program.
This will be ncluding video of closing lecture by prof. Jennifer Doyle on art, sports and questioning the origins and need for the gender segregation in sports! More info will be appearing on our working website http://www.ccSPORT.link/
There is a common sense in place about the fact that civil rights are undermined by a various amount of 'exceptions'; exceptions which are based on a system, in which governmental decision-making processes are increasingly determined by the rule of money, or else the market. The idea of a constant 'crisis' leads to a 'state of exception'. Regardless of established legal standards – in the name of financial, economical or security measurements – civil rights are constantly taken away. As a result, the social and legal relations between the different members of society and between nation states are increasingly out of balance. This creates an endless pool of watering down legal standards in postdemocratic societies and produces harmful sociopolitical asymmetries. The exhibition "As rights Go By" which took place in freiraum Q21 this spring 14th April – 12th of June 2016 aimed to exactly pinpoint these asymmetries and to unfold the irregularities of a 'regular legal system'.
The 15 works in the exhibition, curated by Sabine Winkler, focused directly on the complex dynamics between the sources and consequences of disappearing civil rights under the global neoliberal umbrella. The show, which was very well set, had strong internal and external references and what really could struck somebody was the content. The exhibition could be experienced as a single piece, inviting the visitors to discover more more than just the visible tips of the il/legal iceberg and to bring these issues of discussion to schools, universities, festivals, shopping malls and the mainstream media. Of course this doesn't mean not to exhibit – but it means not to stop there.
As Rights Go By was an exhibition which stays in mind ; the visitors could produce their own individual collages, making sense of the gravity of the problematics involved.
The works presented were the following:
Silvia Becks, who worked with the privileges in the art world, presented an installation which discussed how the special rights in place, like the information accessibilities, the funding resources and the leveling up of the societal status, are at the same time leading to a certain loss of legal rights.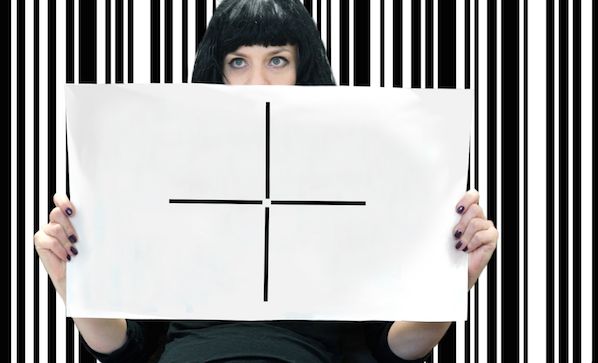 "Complicity Report" by Silvia Beck, Multimedia Installation, 2016
James Bridle, with his video animation "Seamless Transitions", tried to visualize the physical spaces of the unknown arrest, the legal decision making processes and the juridical judgments involved, offering a virtual insight into the secret spaces of il/legality. His work  questioned not only the surveillance strategies of physical space but also the secrecy about trading agreements and legal treaties.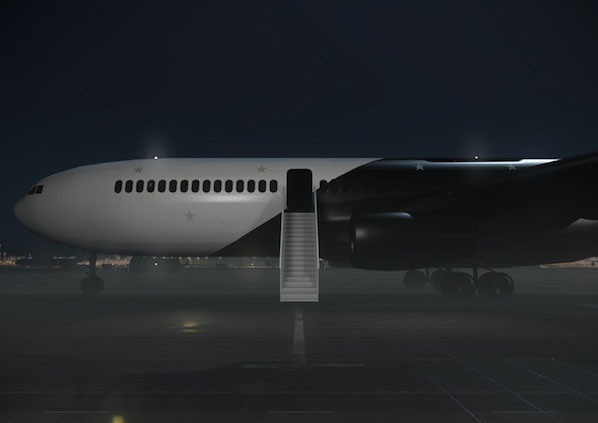 "Seamsless Transitions" by James Bridle, Video 2015 
George Drivas' film' "Sequence Error" referred to a typical business setting where a sudden crisis has lead to a collapse. A fictional situation with a more than real deal: The crisis serves as the exception for legal rights to be erased.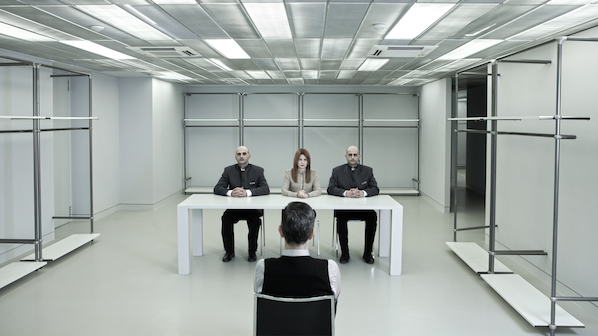 "Sequence Error" by George Drivas, Video, 2011 
Özlem Günyol and Mustafa Kunt, overlaid the portraits of the hundred wealthiest people of the world fading into one collage of one single passport image projected to the wall. A symbol for lost identities and unidentifiable legal entities.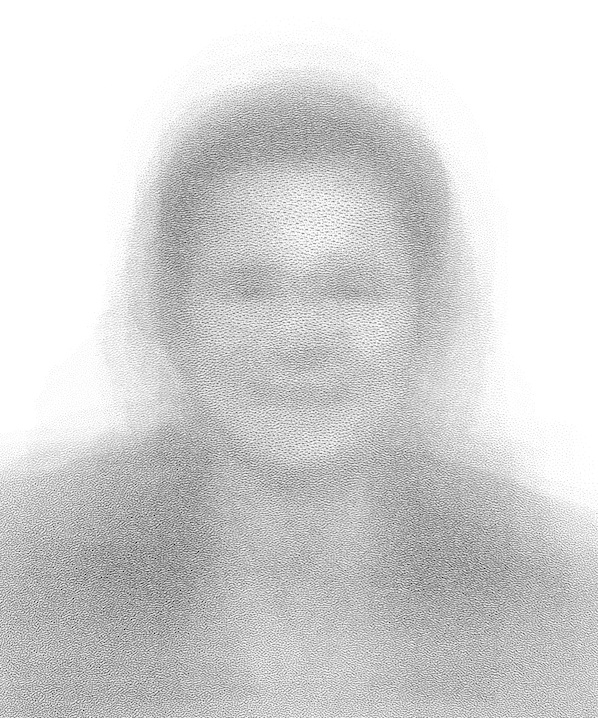 "The Portrait" by Özlem Günyol. Mustafa Kunt, Print, 2015
Adelita Husni-Bey video documentation gave a very detailed insight into an urban planning process in Cairo ("Land") including gentrification processes, which go not only against Egyptian law but actually threaten a huge amount of informal dwellings. The notion 'participations', in particular, delivered a learning lesson about  contemporary urban development strategies and their methods.
Nikita Kadan used a "Popular Medical Dictionary" of the Soviet era in his work "Procedure Room". Painting torture methods on ceramic plates, he showed how physical and psychological violence can be justified for a 'higher' political order.
The Collective Migrafona reported via Comic strips about the Austrian migration politics. Imaginary Heroes are delivering identities in order fight for political rights.
Vladimir Miladinovic's research focused on multinational companies and their strong connections to pre- and post-war power structures. His work discussed the power relations, which are in place during setting up regulations between states and their legal standards.
In his film "1014" Yuri Pattison mixed fictional Hollywood scenes with documentary footage from the hotel room where Edward Snowden gave his first interview. The work offered an insight into the conscious loss of legal rights when fiction becomes reality and vice versa.
Lorenzo Pezzani and Charles Heller raised the question about acting against human rights while being aware of the refugee tragedies based on surveillance technology. Their forensic reconstruction of a boat disaster offered a clear insight into the thin borderline between socio political responsibilities and legal settings.
Julien Prévieux work "What Shall We Do Next? 2006-2011" showed how close technology, law and our bodies are connected; the fact that international corporations obtain patents for specific movements  such as scrolling moves on a tablet shows how unaware we are about our daily il/legal routines.
Andrea Ressi related the notion of loss onto her work; loss of living space, loss of rights, loss of freedom, loss of security and represented these losses in her pictograms with modules of exception.
Judith Siegmund's text based installations produced discomfort. Newspaper quotations about violence against refugees were set up opposite to philosophical text fragments, triggering associations about the relation between violence and competitiveness assuming that people take advantages from others who find themselves in a lawlessness situation.
Lina Theodorou's project was one of the most intriguing works in the show. Her board game club offered a playful insight into the crisis in Greece and the social and legal consequences of austerity measurements up leading to losing well established rights. The setting would be funny if it wouldn't be real.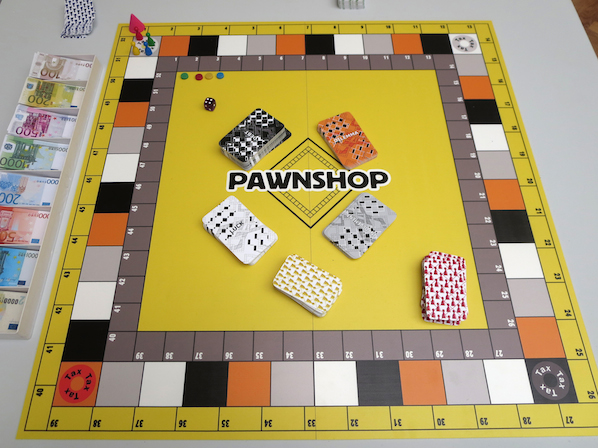 "Pawnshop" by Lina Theodorou, Installation, 2014
Carey Youngs' work "Obsidian Contract" transformed the visitor into an affiliate. The public space and the legal space were imagined and lost rights were reconstructed fictionally while watching the contract text through a mirror.
The exhibition did not refer directly to any political action, artivism, hacktivism or any other form of resistance but it implied the embedded hegemonic power structures pointing where  it all begins.The exhibition was not a subversive act but it showed how subversion as an act of societal struggle became something illegal. Up to around 15 years ago the notion of 'subversion' was relatively easy to connect to counter-cultural productions. But a subversive act wasn't nesessarily illegal – it was done in a grey shadow light between established settings in order to  shake up presumably fixed sociopolitical surroundings. An unclear task under clear conditions.
In the era of global capitalist hegemony, shadows turned straight into black or white areas; no grey is involved anymore. Subversion dissolved into two  parts: the legal one, which consists of what is now understood as innovation – or 'creativity' as the motor for an 'idea based economy'- and the illegal one, what now labels all the 'unwanted' realities: terror, refugees, homeless; etc. Therefore subversive thinking and acting is no longer part of a cultural discourse but is simply illegal. Why?
The unlimited governmental practices which are today in place show that decisions are made as it happens in the financial markets; everything becomes a derivate, something to speculate with. The future has consequences on the present  before anything happens. In times where potentials are seen as threats, the subversive process is turned upside down: subversions themselves become clearly defined and legal settings are turned into grey areas. A clear task under unclear conditions.
The exhibition encouraged, motivated and gave an insight into the power of rights including  the absence of it. Focusing on how rights are either set or (il/legally) undermined by their exceptions and on how well these tendencies are sold as (inter)national necessities, it underlined the urge for a collective awareness of these i/legal practices and their consequences.
'As Rights Go By' was a very important exhibition; as mentioned above – what was visible was just the tip of the iceberg. As in many shows which include a huge amount of artistic research, a retrospective view in the future will show that this is just the beginning of a different kind of political engagement which most of all is a call for action.
Rights go by and are not falling from the sky.
Athens Digital Arts Festival (ADAF) returned this year on the 19th to the 22nd of May with its 12th edition to bring Digital Pop under the microscope. Do machines like each other? Does the Queen dream of LSD infused dreams and can a meme be withdrawn from the collective memory?
Katerina Gkoutziouli, an independent curator and this year's program director together with a team of curators proposed a radical rethinking of digital POP, placing the main focus on the actors of cultural production. From artists to users and then to machines themselves, trends and attitudes shift at high speed and the landscape of pop culture is constantly changing. What we consider POP in 2015 might be outdated in 2016, as the Festival's program outlines, and that is true. But even so, in the land of memes, GIFs, likes, shares and followers what are the parameters that remain? ADAF's curatorial line took it a step further and addressed not just the ephemerality of digital POP. It tackled issues related to governance and digital colonialism, but in a subtle and definitively more neon way.
 450 artists presented their work in a Festival that included interactive and audiovisual installations, video art, web art, creative workshops and artist talks. Far from engaging in the narrative of crisis as a popular trend itself though, ADAF 2016 was drawn to highlighting the practices that reflect the current cultural condition. And the curated works were dead-on at showcasing those.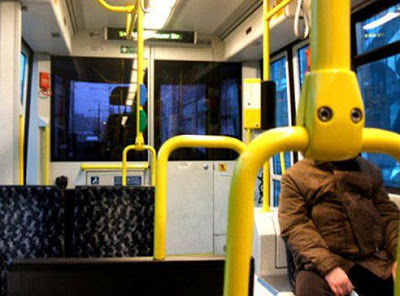 You like my like of your like of my status by Ben Grosser ©Fenia kotsopoulou & Daz Disley
How are we "feeding" today's digital markets then? Ben Grosser's sound and video installation work "You like my like of your like of my status" screened a progressive generative text pattern of increasingly "liking" each others "likes". Using the historic "like" activity on his own Facebook account, he created an immersive syntax that could as well be the mantra of Athens Digital Arts Festival 2016.
Days before the opening of the exhibition, Ben Grosser was asked by to choose the image that defines pop the most. No wonder, he replied with the Facebook "like" button. What Ben Grosser portrayed in his work is the poetics of the economy of corporate data collectors such as Facebook with its algorithmic representation of the "Like" button as the king pawn of its toolkit, that transform human intellect as manifested through the declaration of our personal taste and network into networking value.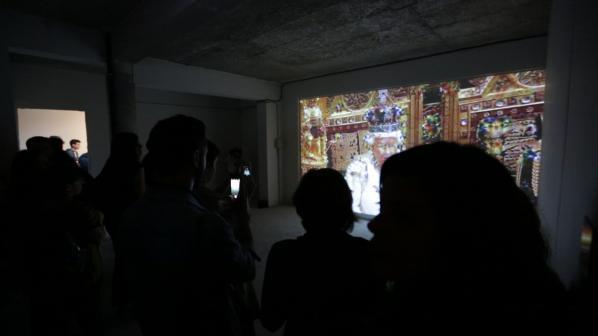 Queen of The Dream by Przemysław Sanecki (PL) ©Spyridon Maltezos
Speaking of taste, what about the aesthetics? From Instagram and Snapchat filters to ever updated galleries of emoticons available upon request, digital aesthetics are infused with social significance. In the Queen of The Dream by Przemysław Sanecki (PL) the British politics and the Royal tradition were aestheticized by the DeepDream algorithm of Google. In an attempt to relate old political regimes and established technocracies, the artist places together hand in hand the political power with the algorithmical one, pointing out that technologies are essential for ruling classes in their struggle to maintain the current power balance. The representation of the latter was placed there as a reminder that it's dynamic is to obscure this relation, rather than illuminate it.
However, could there be some space for some creative civil disobedience? Browserbased took us for a stroll in the streets of Athens, or better to say in the public phone booths of Athens. There, the city scribbles every day its own saying, phone numbers for a quick wank, political slogans, graffiti, tags and rhymes. With 69.numbers.suck Browserbased mapped the re-appearance and cross-references of those writings, read this chaotic network of self-manifestation and reproduced it digitally in the form of nodes. Out there in the open a private network emerged, nonsensical or codified, drawn and re-drawn by everyday use, acceptance and decline.
Can virality kill a meme? Yes, there is a chance that the grumpy cat would get grumpier once realized that its image would be broadcasted, connoted and most possibly appropriated by thousands. But how far would it go? The Story of Technoviking by Matthias Fritsch (DE) was showcased at the special screenings session of the Festival. It is a documentary that follows an early successful Internet meme over 15 years from an experimental art video to a viral phenomenon that ends up in court. Once the original footage was uploaded, it remained somehow unnoticed until some years later that it was sourced, shared, mimified, render into art installation, even merchandised by users. As a cultural phenomenon with high visibility it fails to be deleted both from servers around the world and from the collective memory even though that this was a court's decision. In his work Matthias Fritsch mashes up opinions of artists, lawyers, academics, fans and online reactions marking the conflict between the right of the protection of our personality to the fundamental right of free speech and the direction towards which society and culture will follow in the future in regard to the intellectual property.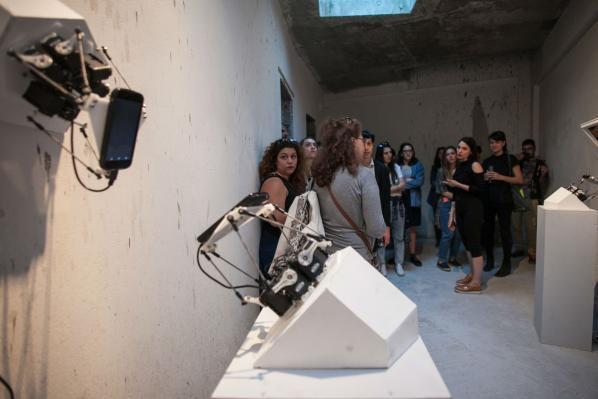 memememe by Radamés Ajna (BR) and Thiago Hersan (BR) ©Foteini Toumboulidou
It's the machines alright! Back in the days of Phillip K. Dick's novels the debate was set over distinctions between human and machine. Since then the plot has thickened and in memememe by Radamés Ajna (BR) and Thiago Hersan (BR) things were taken a step further. This installation, situated in one of the first rooms of the exhibition, of two smartphones seemingly engaged in a conversation between them through and incomprehensible language built on camera shots and screen swipes is based on the suspicion that phones are having more fun communicating than we are. Every message is a tickle, every swipe a little rub. In memememe the fetichized device was not just a mechanic prosthesis on the human body, it was an agent of cultural production. The implication that the human might not cause or end of every process run by machines was promoted to a declaration. Ajna and Hersan have built an app that allows as a glimpse into the semiotics of the machine, a language that we can see but we can't understand.
How many GIFs fit in one hand? If one were to trace all subcultures related to pop culture, then he or she would have to stretch time. Since they are multiplying, expiring and subcategorized not by theorists but by the users themselves and with their ephemerality condemning most of which into a short lived glory. Lorna Mills (CA) explores the different streams in subcultures through animated GIFs and focuses on found material of users who perform online in front of video cameras. In her installation work Colour Fields she is obsessed on GIF culture, its brevity, compression, technical constraints and its continued existence on the Internet.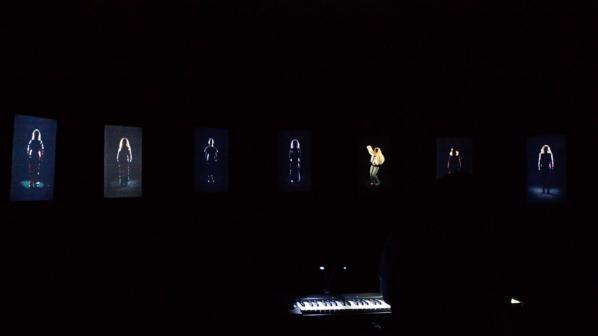 ALL EYES ON US by Manja Ebert (DE) ©Spyridon Maltezos
Global pop stars, a blueprint on audience development. Manja Ebert (DE) in her interactive video installation ALL EYES ON US, one of the biggest installations of the Festival, embarked on an artistic analysis of the global pop star and media phenomenon Britney Spears. Based on music videos of the entertainer that typecast Spears into different archetypical female characters, Ebert represented each and every figure by a faceless performer. All nine figures were played by a keyboard, thus allowing the users to recompose these empty cells decomposing Spears as a product into its communicational elements.
Going through the festival, more related narratives emerged. Privacy and control, the representation of the self and the body were equally addressed. People stopped in front of the Emotional Mirror by random quark (UK/GR), to let the face recognition algorithm analyze their facial expression and display their emotion in the form of tweets while they were photographing and uploading in one or more platforms the result at the same time.
Τhe Festival presented its program of audiovisual performances at six d.o.g.s. starting on May 19 with the exclusive event focus raster-noton, featuring KYOKA and Grischa Lichtenberger.
ADAF 2016 brought a lot to the table. Its biggest contribution though lies in offering a great deal of stimuli regarding the digital critical agenda to the local digital community. ADAF managed to surpass the falsely drawn conception of identifying the POP digital culture just as a fashionable mainstream. On the contrary it highlights it as a strong counterpoint.
Big Bang Data is a major travelling exhibition currently set within London's Somerset House. That a large institution is presenting a journey via data capture through 'selfies, surveillance and infographics' is in itself an interesting patchwork of intent and realisation. The aim of the exhibition is to 'demystify data'. This is a grand, summative and in actuality slightly awkward claim which, in my view, encapsulates the character of an interesting, textured exhibition in an unintentionally astute way.
As Big Bang Data is dedicated to revealing data comprehensively through its various architectures and iterations, it makes sense for the underrepresented materiality of information to have prominence early on. This materiality, perhaps inevitably, was compromised in the gallery space. Entering the first room brings you face to face with Timo Arnall's Internet Machine, which takes the form of multiscreen video documentation of not just the machines, but also the architecture, which supports mobile telephony.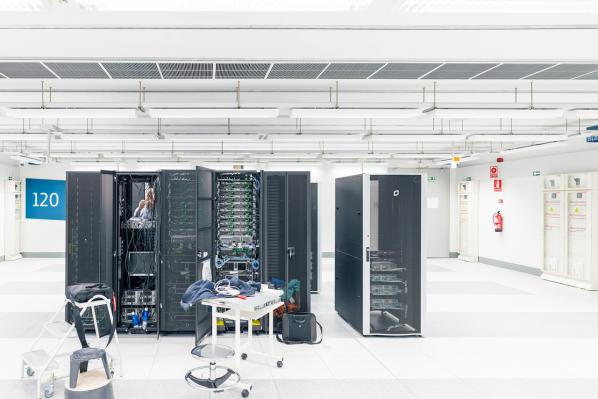 I would have loved to have experienced the spaces shown more intimately and walked around one of these structures; the installation was illuminating but I was still most certainly watching at a remove. This initial interplay of removal and involvement is central to the way we experience data. How can people begin to understand something which exists as multiple codes and flows, on a scale and at a speed which is not concerned with making itself understood by humans? What form could an understanding of data possibly take? When learning about something this far from our grasp, it seems that 'understanding' must be replaced by 'awareness'. Rather than seeking one answer via one route the visitor to Big Bang Data has to build an impression, obviously subjective and subject to change.
In its quest to expose and explain data's social and cultural uses, it presents a fairly overwhelming amount of information. It is interesting to walk through the space thinking about how this information has been channeled by each specific project. Some representations, such as Owen Mundy's 'I Know Where Your Cat Lives', link distant people and spaces via connected points, while others such as Phillip Adrian's 'One Second' capture in great detail one specific point in time and space.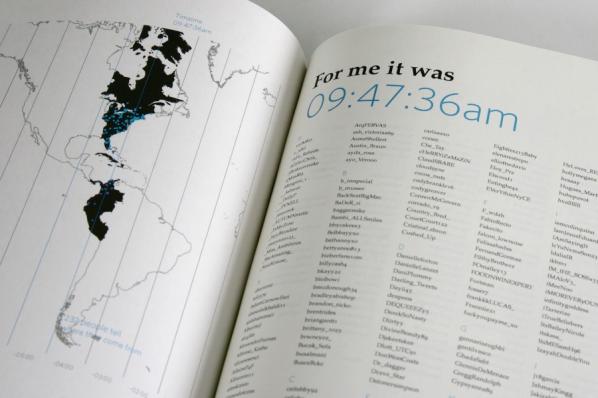 5522 Tweets within the same Second. Sent from all over the world.
Preserved and categorized in four Books.
Julian Oliver's 'Transparency Grenade' brings together graphical, console and physical representations of data to offer a transportable means of leaking information as a response to impenetrable governing systems. Each of the works on display demonstrates a negotiation between temporality, materiality and spatiality, and often one is sidelined in favour of the other. Again, considering the exhibition in this way is also to consider the world of data in all its contrariness.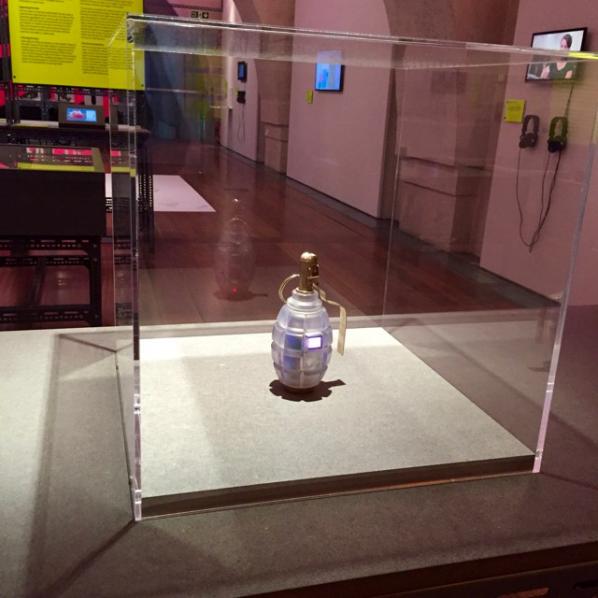 Data manifests itself at the same time locally and globally. As well as addressing specificity, the projects shown in Big Bang Data dwell repeatedly on scale. Works such as Tejka's 'London Data Streams' and Nicholas Felton's 'Annual Reports' pit scales against each other to cast light on the filters through which data is processed.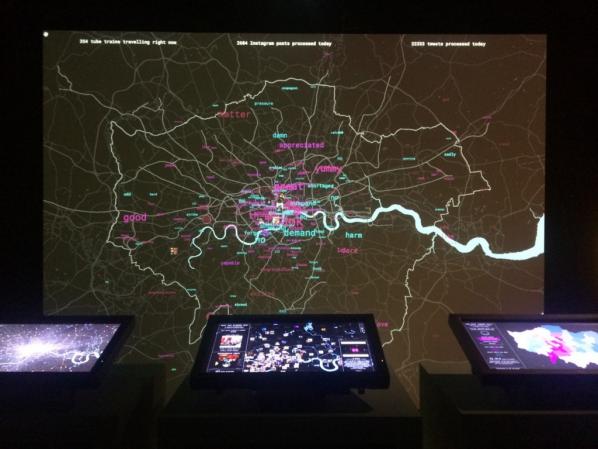 Tekja's installation in the London Situation Room shows a live feed of Tweets,
Instagram posts and TfL data from London.
Ingo Günther's 'World Processor' and Forensic Architecture's 'Liquid Traces: The Left-To-Die Boat Case' are examples of resonant, atypical data visualisations which mutate familiar imagery and present alternative summaries of events. The section entitled 'Data For The Common Good' shows some of the ways data is being actively used in society to empower citizens with works such as Safecast's 'bGeigie Nano' and IF's 'Data Licenses', while a series of video interviews with journalists and other professionals working with data illuminate the processes through which information becomes communication.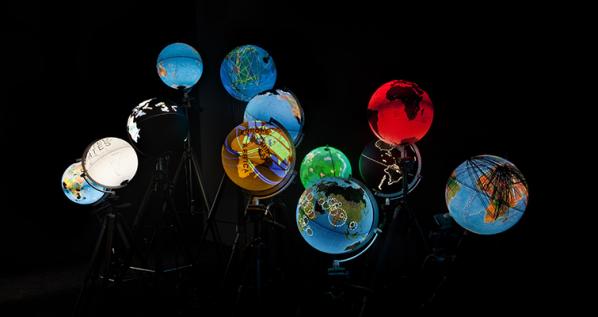 Ingo Günther / World Processor.
The previously mentioned tension between object and their presentation recurs at various points throughout the exhibition, a great example being the array of undersea telephone cables, presented in cases of wood and glass which could have been magpied from a display of historical artifacts (each cable segment has a number next to it which corresponds to a factual description). It felt strange not being able to touch them. A work which I felt fully occupied, and knowingly played with, its surroundings was Ellie Harrison's vending machine, which sits unassumingly in the gift shop; its secret is that when search terms connected to the recession make the headlines, free snacks are dispensed. Its presence in a exhibition on data in a gallery space felt appropriate.
Ellie Harrison. Vending Machine. An installation for which an old vending machine is reprogrammed to release snacks only when news relating to the recession makes the headlines on the BBC News RSS feed.
Big Bang Data, which runs alongside a programme of events and has previously been exhibited at CCCB in Barcelona, comes at a moment where large organisations are more frequently bringing concepts such as surveillance, open source and free software into public spaces. There is a great need to bring the concepts and processes surrounding data more wholly into the public eye, and this exhibition strikes me as, overall, a big step in a good direction. It makes real and challenging efforts to bring together world-spanning processes, complex concepts and extremely diverse content into an exhibition space. The task of the exhibition's curatorial and production teams must have been difficult.
Of course the challenges they faced have been dealt with before many times in many ways, and of course the practical decision-making involved in producing an exhibition invariably creates tension points. The reason I've dwelt on the problems of the organisers here is that the tensions evidenced within the space at Somerset House say much not just about the response of the publicly funded arts to data but also about the nature of data itself. The exhibition turns into at times a museum, a bedroom, a classroom, an information point, a scruffy new gallery space and a state of the art new media space. In bringing together the story of data the exhibition also brings together the story of representation in space more generally.
In writing about Big Bang Data I have had to choose to highlight certain works and not others. Your interpretation will be entirely different from mine, which is as it should be where data and cultural inclusion is concerned. What's important is that the exhibition's prominence and texture opens up conversation and critique. The exhibition is detailed, procedural and expansive. It is also alive with contrariness, generality and awkwardness. Perhaps one of the great things about the show is that these qualities are left to jostle for space. For me, reading this exhibition as a performative event was useful; others may leave Somerset House with an entirely different view having taken an entirely different route. This is inevitable where data is concerned – learning is incremental and procedural, but not traditionally linear.
French artists Émilie Brout and Maxime Marion contribute three pieces to The Human Face of Cryptoeconomies exhibition. Gold and Glitter is a painstakingly assembled installation of collaged GIFs. Previous installations have featured the GIFs displayed on a gold iPad atop a pile of collected gold trinkets; at Furtherfield Gallery now a single golden helium balloon hovers in front of a floor to ceiling projection. Nakamoto (The Proof) is video documentation of the artists' efforts to try and place a face on the elusive Bitcoin creator, Satoshi Nakamoto (but is it his face in the end? We don't know). Untitled SAS is a registered French company without employees and whose sole purpose is to exist as a work of art.
Brout and Marion's work can be situated among artists and art practices who have grappled with how to think about value and objects—or more precisely, how objects are inscribed (and sometimes not) into an idea of what is valuable. In a recent article for Mute Magazine, authors Daniel Spaulding and Nicole Demby point out that "Value is a specific social relation that causes the products of labor to appear and to exchange as equivalents; it is not an all-penetrating miasma."1 Value is a process by which bodies are sorted and edited but it is not a default spectrum on to which all bodies must fall in varying degrees. This clarification makes explicit the fact that while the relationships productive of value allow "products of labor to appear and to [be exchanged]"2 this is not an effect that is extended to all products of labor. Attempts to isolate the underlying logic of this sorting mechanism are often at the heart of art practices dealing with questions of value and commodification. Like Andy Warhol's Brillo Boxes or Marcel Duchamp's Fountain, these artworks become interesting problematics for the question of art and value for the ways in which they are able to straddle two economic realms—that of the art object and the commercial object—while resisting total inclusion in either.
The Human Face of Cryptoeconomies picks up these themes in an art context and repositions them alongside digital cultures and emerging digital economies. In Brout and Marion's work alone, concepts of kitsch, identity, and human capital have been inhabited and imported from their originary realms into the digital. Answering questions remotely, Brout and Marion were kind enough to give us some insights into their work and process. My goal here has been to draw out some points about the operation of value that are at work in Brout and Marion's practice, as well as to point towards an idea of how value is transformed, or even mutated, in the digital age.
* * *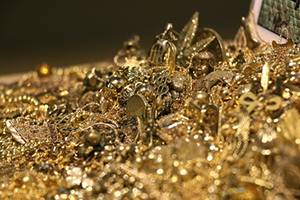 Brout and Marion open up with an interesting provocation. They explain, "When we showed the project [Glitter and Gold] in Paris this year, people stole a lot of objects, even if they were very cheap. Gold has an incredible power of attraction."
It is telling, to some extent, that Brout and Marion's meditations on gold have an almost direct link to the visual metaphor used by Clement Greenberg in his 1939 essay Avante-Garde and Kitsch to describe the relation between culture—epitomized in the avant-garde—and the ruling class. Greenberg writes, "No culture can develop without a social basis, without a source of stable income. And in the case of the avant-garde, this was provided by an elite among the ruling class of that society from which it assumed itself to be cut off, but to which it has always remained attached by an umbilical cord of gold."3 This relation is subverted in Gold and Glitter, which takes for its currency—its umbilical cord of gold—a kind of unquantifiable labor that is seemingly (and perhaps somewhat sinisterly) always embedded in discussions of the digital.
For Greenberg, kitsch always existed in relation to the avant-garde; one fed and supported the other, even if the way in which that relation of sustenance worked was by negation. And while Greenberg's theory relies on his own strict allegiances to hierarchical society, privileged classes, the values of private property, and all the other divisive tenets of capitalism that we now know all too well can be destructive. Kitsch remains useful to us for the ways in which it allows the means of production to enter into a consideration of aesthetics. Here the recent writing of Boris Groys can be useful. In an essay written for e-flux titled Art and Money, Groys makes a compelling case for why we should persist in a sympathetic reading of Greenberg. He argues that Greenberg's incisions amongst the haves and have nots of culture can be cut across different lines; that because Greenberg identifies avant-garde art as art that is invested in demonstrating the way in which is it is made and it doesn't allow for its evaluation by taste. Avant-garde art shows its guts to us all, and on equal terms—"its productive side, its poetics, the devices and practices that bring it into being" and inasmuch "should be analyzed according the same criteria as objects like cars, trains, or planes."4
For Groys this distinction situates the avant-garde within a constructivist and productivist context, opening up artworks themselves to be appreciated for their production, or rather, "in terms that refer more to the activities of scientists and workers than to the lifestyle of the leisure class."5 In this way Glitter and Gold, like Brout and Marion's other artworks, is to be appreciated not for any transcendent reason but rather for the means by which it came into existence. 'The processes of searching and collaging golden GIFs sit side by side with the physical work of accumulating the golden trinkets for display: "We collected these objects for a long time" the artists explain, "some were personal objects (child dolphin pendant, in true gold), others were given or found in flea markets, bought in bazaars … We wanted to have a lot of different types and symbols, from a Hand of Fatima to golden chain, skulls, butterflies, etc."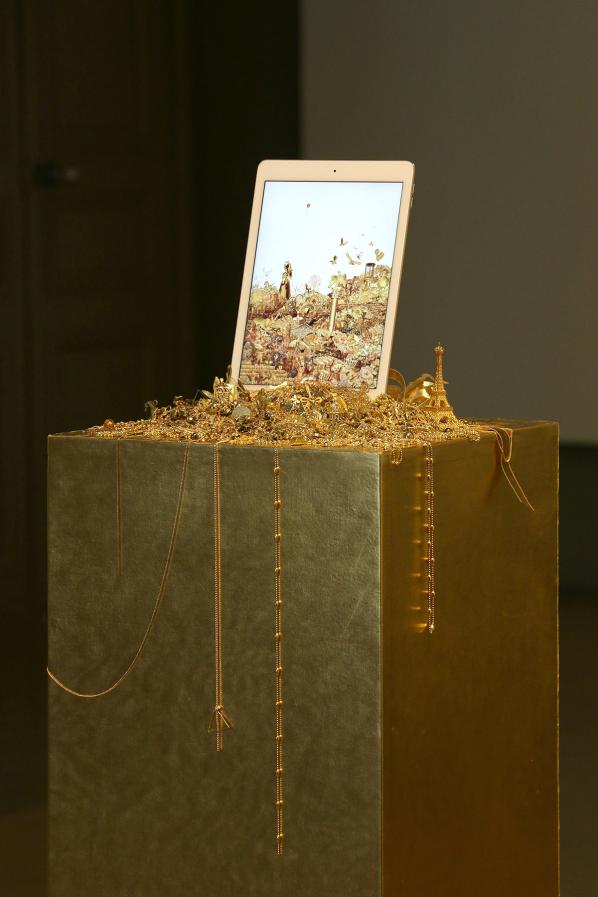 Furthermore, Glitter and Gold can be understood as the product of compounding labors: the labor of Brout and Marion in collecting their artifacts, the labor necessary to create the artifacts, the labor of GIF artists, the labor of searching for said GIFs, the labor of weaving a digital collage. These on-going processes forge, trace, and re-trace paths during which, at some point, gold takes on the function as aesthetic shorthand for value. As Brout and Marion explain, "Here the question is more about the intrinsic values we all find in Gold, even when it just looks like gold. Gold turns any prosaic product into something desirable. [Gold and Glitter] is less about economics than about perceived value."
Groys provides his reading of Greenberg as a means of pointing towards a materiality that is always in excess of existing coordinates of value. If value always reveals the products of labor as they enter into a zone of exchange, it is something else proper to contemporary art that reveals another materiality beyond this exchange. For Groys, this something else is at work in the dynamics of art exhibition, which can render visible otherwise invisible forces and their material substrates. This is certainly a potential that is explored by Brout and Marion. In Nakamoto (The Proof), the viewer can watch the artists' attempt at creating a passport for the infamous and elusive Bitcoin creator Satoshi Nakamoto. At present, it is unclear whether Nakamoto is a single person or group of people, though the Nakamoto legacy as creator of Bitcoin, a virtual currency widely used on darknets, is larger than life. Adding to this myth, after publishing the paper to kickstart bitcoin via the Cryptography Mailing List in 2008, and launching the Bitcoin software client in 2009, Nakamoto has only sporadically been seen participating in the project with others via mailing lists before making a final, formal disappearance in 2011, explaining that he/she/they had "moved on to other things."6 Nakamoto's disappearance, coupled with the fact that Nakamoto's estimated net worth must be somewhere in the hundred millions Euros, has given rise to the modern-day myth of Nakamoto, and with it an insatiable curiosity to uncover the identity and whereabouts of the elusive Bitcoin creator.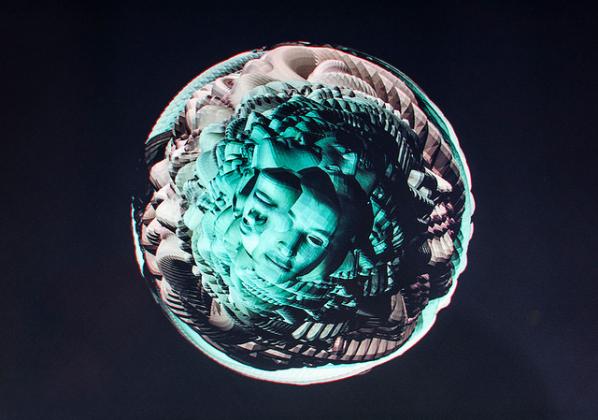 Brout and Marion make their own attempt to summons the mysterious Nakamoto back to life by putting together the evidence of Nakamoto's existence and procuring a Japanese passport using none other than the technologies that Nakamoto's Bitcoin both imparted and facilitated. When asked if they feared for their own self-preservation in seeing this project through, Brout and Marion answered, "Yes, even if we were pretty sure that it would be easy to prove our intention to the authorities, and that the fake passport couldn't be useful to anybody, buying a fake passport is still illegal." They add, "But we also wanted to play the game entirely, so we made every possible effort to preserve our anonymity during our journey on the darknets."
However Brout and Marion have yet to receive the passport; as they explain, "The last time we received information, the document was in transit at the Romanian border." When asked if they expect to receive the passport, they respond, "No, today we think we will never receive it. We are completely sure that it has existed, but we'll surely never know what happened to it." What, then, will they do if they never receive the passport? "Maybe just continue to exhibit the only proof of it we have!" they exclaim. "There is something beautiful in it: we tried to create a physical proof of the existence of a contemporary myth, using digital technology and digital money, and the only thing we have is a scan!"
If Brout and Marion's nonchalance seems unexpected then it is because the disappearance of the passport for the artists marks just another ebb in the overall flow of their piece; a flow that began with Nakamoto, coursed through their clandestine chats via a Tor networked browser and high security email, and now continues to trickle on while we wait in anticipation for the next chapter of the Nakamoto passport to reveal itself. In this respect, the anticipation of the passport is a poetic and unforeseen layer added to the significance of the piece: "Maybe it is even better [that the passport should not arrive]" Brout and Marion comment. "It's like it was impossible to bring Nakamoto out of the digital world."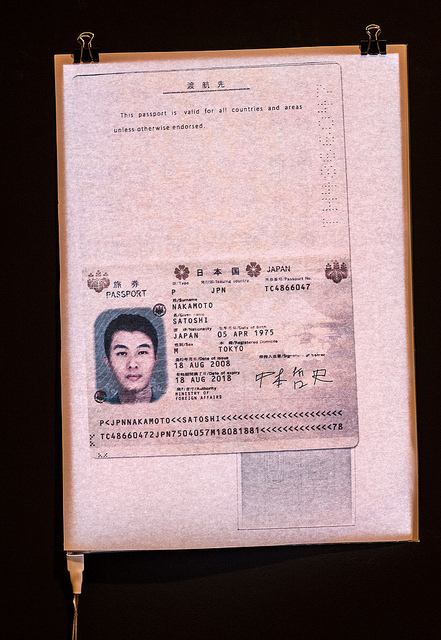 If value is always formed by way of a social relation, then how do digital modes of sociality also deliver this effect? This becomes a particularly fraught question when considering that, as Anna Munster has written, the sociality that takes place on the internet can be understood as the interrelation of any number of subjectivities, both organic and inorganic. Brout and Marion's ambivalence to the purloined passport highlights just such an expectation: "Here the lack of identity delivers a lot of value. Look at Snowden: journalists ask him more about his girlfriend than about his revelations. Making something as big as Bitcoin and staying perfectly anonymous? These are strong attacks to two of the most important issues of our societies: banks and privacy." What their statement suggests is how a collective movement towards transgression, here seen as compounding maneuvers of avoidance of physical world boundaries and institutions, might hold within it the promise of its own set of value coordinates. As Brout and Marion further explain: "For us, Nakamoto is absolutely fascinating. The efforts he made to prevent himself from being turned into a product are incredible. Especially when you know the importance of [Bitcoin's] creation, and that only a few men in the world are smart enough to create something like this. Adding to that the fact that Nakamoto is probably a millionaire, you have one of the only true contemporary myths, something hard to find credible even if it was just a fictional character in a movie. So this somewhat absurd attempt to create a proof of Nakamoto's existence was, for us, an attempt to make a portrait of him, to put light on his figure. And, in some ways, a tribute."
Brout and Marion mount a final probe into questions of value in their piece, Untitled SAS. Untitled SAS is the name for Brout and Marion's corporation whose purpose and medium is to exist as a work of art. In France SAS means société par actions simplifée, and is the Anglophone equivalent of an LTD. SAS companies have shares that can be freely traded between shareholders. Untitled SAS, in Brout and Marion's own words, "has no other purpose than to be a work of art: it won't buy or sell anything, there won't be employees, its existence is an end it itself. The share capital of the company is 1 Euro (the minimum), and we edited 10,000 shares owned by us (5,000 for each one). Everybody can freely buy and sell shares of this company." Brout and Marion are clear: in no uncertain terms, "Untitled SAS is a work of art where the medium is a real company, and the corporate purpose of this company is simply to be a work of art."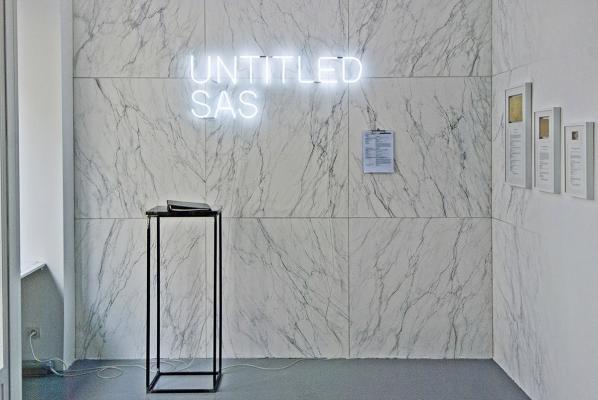 Untitled SAS is a tongue in cheek commentary on the situating of artworks as outside of the rational space of the market while still being subject to selective norms of economic behavior. Brout and Marion explain, "Untitled SASis obviously a metaphor for the art market, and the market in general: it is a true, fully legal, and functional speculation bubble. Companies usually try to create some concrete value, they are means. The art world has fewer rules than the regular market, the price of some artworks can radically change in few days without any logical reason: their intrinsic value is completely uncorrelated to their market value. We wanted to reproduce and play with these systems in the scale of an artwork." At this level, what Brout and Marion uncover is further proof of the condition of the contemporary art period as Groys sees it: a time in which "mass artistic production [follows] an era of mass art consumption" and by extension "means that today's artist lives and works primarily among art producers—not among art consumers."7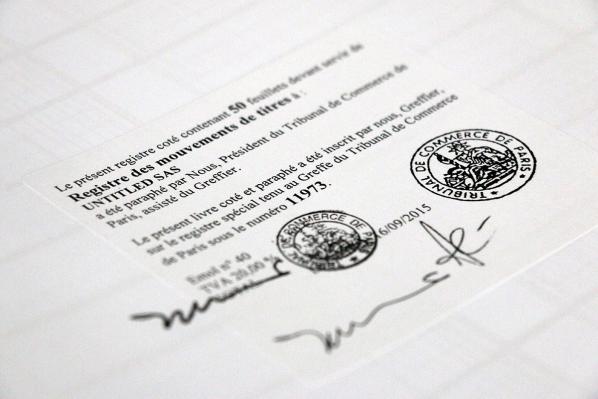 Crucially, the effect of this condition is that contemporary professional artists "investigate and manifest mass art production, not elitist or mass art consumption." This is the mode of art making precisely employed by Brout and Marion in the creation of Untitled SAS. It has the added effect, too, of creating an artwork that can exist outside the problem of taste and aesthetic attitude. Companies tend to eschew taste qualifications in favor of brand associations. Untitled SAS becomes readable as an artwork, as Untitled SAS, when the expectations and regulations of a nationally recognized business are made to butt up against the inconsistencies of the artworld as an economic sphere. The art object then becomes rather a means of accessing the overlapping paths of art and value as they are uniquely enabled to circulate in and out of the art & Capitalist markets.
* * *
Brout and Marion note that, "In our work we often use algorithms and generative ways to produce things, but here we wanted to something no machine can do, something hand-made, too, finally a simple and traditional work of art." These kinds of generative technological processes and sorting algorithms have been central to many debates on how contemporary culture is absorbing the boon of big data: from ethical questions on predictive policing to dating apps and ride-hailing startups. As one Slate article posed the question in relation to Uber, these algorithms are more than just quick and efficient modes of labor—they are reflections of the marketplace themselves.
So what, then, might it mean that both values and services in the digital age are predicated on the power to sort and categorize, and that this power is ciphered through its own dynamic of social relations, but that in one scenario what emerges is a sphere of the valuable and in the other a software that asserts itself as benign and at the behest of an impartial, impersonal data? Perhaps the rationality of value and market circulation vis a vis the art object was always going to be a little too tricky to take on: too many exceptions, too many questions of subjectivity, taste, and judgment. But as the works exhibited for The Human Face of Cryptoeconomies might suggest the rationality of value and the products it chooses to incorporate is of high importance. If value works precisely because of the specific interrelating of social subjects then we can consider the realm of the digital as a concentrated form of such a relation.
Against this we must consider the new subject that is produced and addressed by the intersecting of these discussions. Spaulding and Demby make the case that, that "Art under capitalism is a good model of the freedom that posits the subject as an abstract bundle of legal rights assuring formal equality while ignoring a material reality determined by other forms of systematic inequality."8 Karen Gregory, in The Datalogical Turn, writes, "In the case of personal data, it is not the details of that data or a single digital trail that are important, it is rather the relationship of the emergent attitudes of digital trails en mass that allow for both the broadly sweeping and the particularised modes of affective measure and control. Big data doesn't care about 'you' so much as the bits of seemingly random information that bodies generate or that they leave as a data trail".
The works of Brout and Marion exhibited at the Human Face of Crypotoeconomies exhibition places the intimacy of the body front and center. They speak to the shadow and trace of the body by appropriating the paths of the faceless, or by giving a face to the man (or entity) without a body, to becoming the human face of the market player par excellence by inserting themselves into a solipsistic art corporation. Brout and Marion's practice understands that while value may not be an all-penetrating miasma, this is not also to say that the effect of value is not still inscribed on the flesh of each and all, organic or not.
---
Notes
1 Demby, "Art, Value, and the Freedom Fetish | Mute."
2 Ibid.
3 Greenberg, "Avant-Garde and Kitsch," 543.
4 Ibid.
5 Ibid.
6 "Who Is Satoshi Nakamoto?"
7 Groys, "Art and Money."
8 Ibid.
Introduction.
Choose Your Muse is a new series of interviews where Marc Garrett asks emerging and established artists, curators, techies, hacktivists, activists and theorists; practising across the fields of art, technology and social change, how and what has inspired them, personally, artistically and culturally.
Lynn Hershman Leeson artist and filmmaker, who over the last three decades, has been internationally acclaimed for her pioneering use of new technologies and her investigations of issues that are now recognized as key to the working of our society: identity in a time of consumerism, privacy in a era of surveillance, interfacing of humans and machines, and the relationship between real and virtual worlds. Her work was featured in "A Bigger Splash: Painting After Performance" at the Tate Modern London in 2012 and a retrospective and catalogue are being planned for 2015 at the Zentrum fur Kunst Und Medientechnologie, Germany. Modern Art Oxford is hosting a major solo exhibition of her work Origins of a Species, Part 2, and it's open until 9 August 2015.
Lynn Hershman Leeson released the ground-breaking documentary !Women Art Revolution in 2011. It has been screened at major museums internationally and named by the Museum of Modern Art as one of the three best documentaries of the year.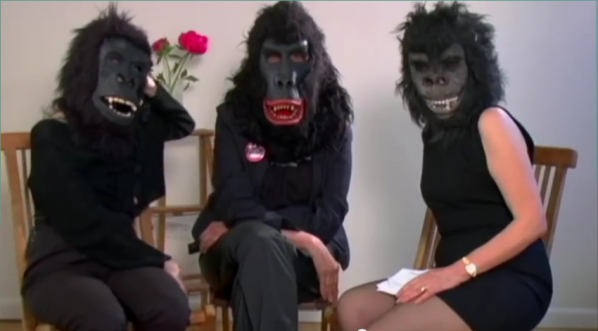 The image above is from !Women Art Revolution, which introduces the Guerilla Girls who draw attention to injustice and under-representation across artistic platforms and institutions. Several members discuss their origin story and modus operandi, including "the penis countdown. !Women Art Revolution won the first prize in 2012 at the festival in Montreal on Films on Art.
She also wrote, directed, produced and edited the feature films Strange Culture, Conceiving Ada, and Teknolust. All featured Tilda Swinton and were showcased at the Sundance Film Festival, Toronto International Film Festival and Berlin International Film Festival before being distributed internationally. After her retrospective, at CIVIC RADAR in December 2014, a bumper catalogue consiosting of 450 pages will be published in Oct 2015. Featuring writing by Peter Weibel, Laura Poitras, Tilda Swinton, Kristine Stiles, B Ruby Rich, Hou Hanru, Andreas Beitin, Peggy Phelan, Pamela Lee, Jeffrey Schnapp, kyle Stephan and Ingeborg Reichle. Civic Radar is now at Diechterhallen Falkenberg till November 19, 2015.
Start of Interview.
Marc Garrett: Could you tell us who has inspired you the most in your work and why?
Lynn Hershman Leeson: What has inspired me are people who work with courage to do original work that has a political and authentic ethic. These include, to name a few only, it seems a bit strange because naming them isolates these artists from the context of their contributions. But I have been inspired by Lee Miller, Mayakovsky, Tinguely, early Automata and so many more like Thomas Edison, Jules Etienne Marrey, even Cezanne. Early on I educated myself by copying works to get a sense of how particular artists formulated their language – the way Rembrandt used light, Leonardo's draftsmanship and parallels he found between technology and science, Gauguin's color reversals, Brecht, Breton and Duchamp's ironic and iconic archetypal identities, Tadeauz Kantor, and Grotowsky's extension of the frame.
Also younger artists (nearly everyone is) like Rafael Lezano Hemmer, particularly the work he is doing now in using facial recognition to locate kidnapped victims, Amy Siegal's Providence, Janet Biggs, Annika Yi, Nonny de la Pena, Tania Bruguera, Ricardo Dominguez, and many many more.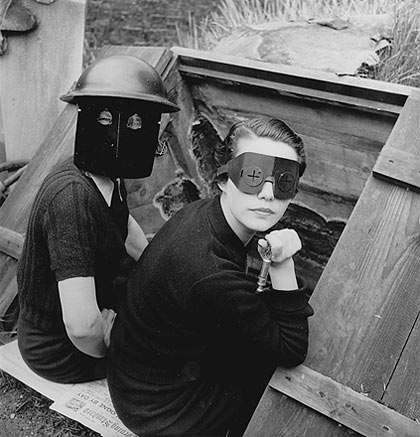 Lee Miller photographed women in fire masks in wartime London in 1944.
                                        [Source: Telegraph/Lee Miller Archives]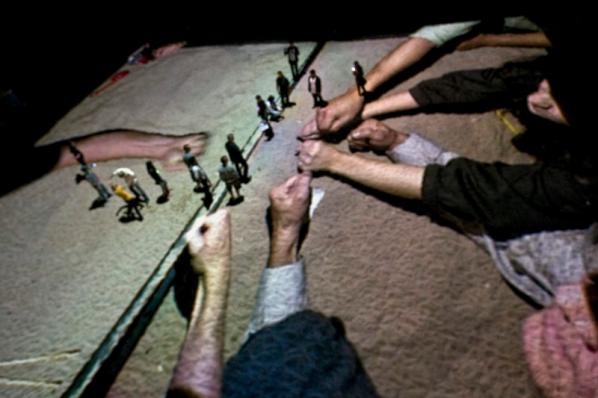 Rafael Lozano-Hemmer, "Sandbox, Relational Architecture 17", 2010.
Glow Festival, Santa Monica, USA. Photo by: Antimodular Research.

MG: How have they influenced your own practice and could you share with us some examples?
LHL: I think these examples added to my conceptual dimensional and historical overview which has been reflected in my practice. There are direct links also, like how the breathing machines and suicide machines relate to Tinguely, or how Roberta relates to Duchamp and Breton. But these are obvious and on the surface. The deeper perspectives embed themselves into the structure and architecture of the work. Political references like Civil Rights and The Feminist Movement are part of the core of the time I lived through and the resulting collage that is my work.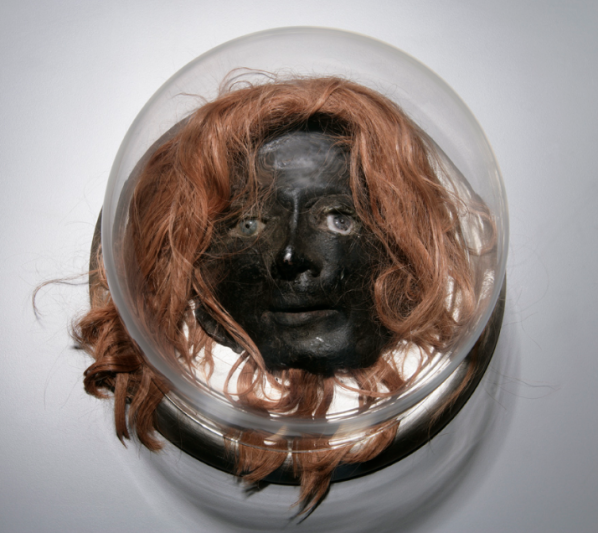 Breathing Machine. 1965. Lynn Hershman
MG: How different is your work from your influences and what do you think the reasons for this are?
LHL: I think we all work in the time frame we are born into, and if we are lucky use the materials or invent the technologies to give presence and voice to the political gestures of that era. We cannot produce work from another era other than what we inhabit and really have to be in tune with the global framing of the tools and language invented during our life time.
MG: Is there something you'd like to change in the art world, or in fields of art, technology and social change; if so, what would it be? How would that happen?
LHL: Of course I would open up the process and systemic repressions, which would hopefully result in eradicating censorship, and the making more transparent the capitalistic underpinnings that are polluting access, value and visibility. In the 70's, I did the first prison art project in San Quentin, and many early public art works geared toward social change, and it just required fortitude and clarity that resulted in breaking down systems of perceived values.
MG: Describe a real-life situation that inspired you and then describe a current idea or art work that has inspired you?
LHL: Well, hearing about Steve Kurtz's predicament and the unfairness of it caused me to make the film Strange Culture.  I personally experienced exclusion and rejection – as did many women, and that inspired !Women Art Revolution. I think work comes out of awareness of the situations of one's time.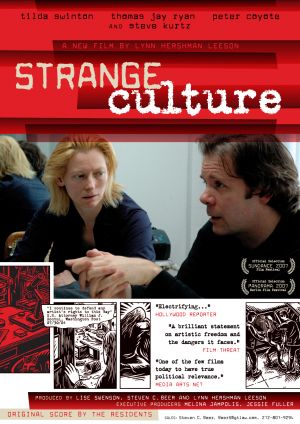 Steve Kurtz's nightmare began on May 11, 2004, when he awoke to find his wife Hope dead of a heart attack. Police responding to his distressed 911 call became suspicious of scientific paraphernalia in his house (materials for an art project on genetically modified food) and contacted the FBI. Soon his world was turned upside down. Only hours after his wife's tragic death he was suddenly a murder suspect, an accused bioterrorist, and a pariah to all but his closest friends.
The film is told through a unique blend of interviews, documentary footage, and reconstructed scenes starring Tilda Swinton, Thomas Jay Ryan, and Peter Coyote, Hershman's critically-acclaimed film is a sophisticated, look at how the traumatic events of 9/11 altered American society and undermined its long-held values. [1]
MG: What's the best piece of advice you can give to anyone thinking of starting up in the fields of art, technology and social change?
LHL: Stay true to your vision, forge ahead no matter what the obstacles are and keep your sense of humor.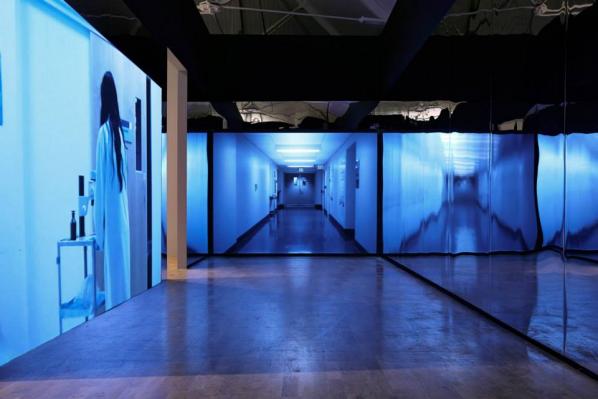 Three images from, Origins of the Species (Part 2). Lynn Hershman Leeson.
                                      Modern Art Oxford. 29 May — 9 August 2015.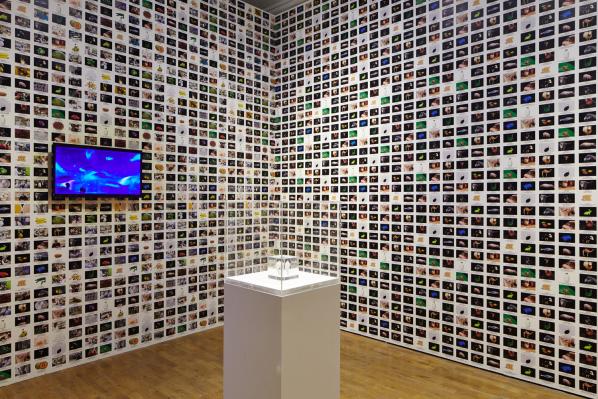 "Ms. Hershman Leeson continues to use art as an advance warning system in new work, developed with scientists, that focuses on, and participates in, the phenomenon of genetic manipulation. The show's most recent piece is an installation of wallpaper made from images of hybrid animals, plants, and human limbs created through DNA manipulation, regenerative medicine and 3-D bio-printing. It looks great in the gallery, and like much of this artist's work, it takes both ethics and aesthetics in ungraspable directions."[2]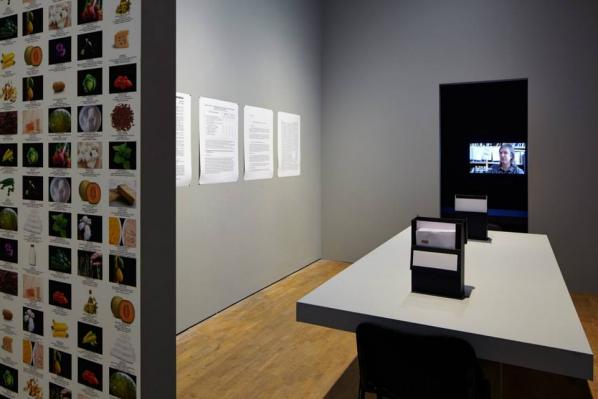 MG: Finally, could you recommend any reading materials or exhibitions past or present that you think would be great for the readers to view, and if so why?
LHL: The Art and Technology show in MdM at Salzburg, my exhibition and catalogue for The Burden of Guilt. The Electronic Super Highway and catalogue coming up at Whitechapel next year. Recommendations for catalogues: !War Graphic Novel, Marshal McLuhan, Rebecca Solnet's River of Shadows, Edweard Muybridge and the Technological Wild, Kristine Stiles: States of Mind,  Peter Weibel: The Global Contemporary and the Rise of the New Art World,  and so many others. I also think for instance that James Watson's Double Helix is beautifully written. So many possibilities for educating one's self exist.
References.
[1] Strange Culture Directed by Lynn Hershman Leeson, 2006.
http://www.docurama.com/docurama/strange-culture/
[2] Lynn Hershman Leeson: 'Origins of the Species'. Art in Review. By Holland Cotter. The New York Times. March 26, 2015.
http://www.nytimes.com/2015/03/27/arts/design/lynn-hershman-leeson-origins-of-the-species.html?partner=rss&emc=rss