Editors present: Yiannis Colakides, Marc Garrett, Inte Gloerich
About The Book
State Machines: Reflections and Actions at the Edge of Digital Citizenship, Finance, and Art
Today, we live in a world where every time we turn on our smartphones, we are inextricably tied by data, laws and flowing bytes to different countries. A world in which personal expressions are framed and mediated by digital platforms, and where new kinds of currencies, financial exchange and even labor bypass corporations and governments. Simultaneously, the same technologies increase governmental powers of surveillance, allow corporations to extract ever more complex working arrangements and do little to slow the construction of actual walls along actual borders. On the one hand, the agency of individuals and groups is starting to approach that of nation states; on the other, our mobility and hard-won rights are under threat. What tools do we need to understand this world, and how can art assist in envisioning and enacting other possible futures?
This publication investigates the new relationships between states, citizens and the stateless made possible by emerging technologies. It is the result of a two-year EU-funded collaboration between Aksioma (SI), Drugo More (HR), Furtherfield (UK), Institute of Network Cultures (NL), NeMe (CY), and a diverse range of artists, curators, theorists and audiences. State Machines insists on the need for new forms of expression and new artistic practices to address the most urgent questions of our time, and seeks to educate and empower the digital subjects of today to become active, engaged, and effective digital citizens of tomorrow.
Contributors
James Bridle, Max Dovey, Marc Garrett, Valeria Graziano, Max Haiven, Lynn Hershman Leeson, Francis Hunger, Helen Kaplinsky, Marcell Mars, Tomislav Medak, Rob Myers, Emily van der Nagel, Rachel O'Dwyer, Lídia Pereira, Rebecca L. Stein, Cassie Thornton, Paul Vanouse, Patricia de Vries, Krystian Woznicki.
Join editors Yiannis Colakides, Marc Garrett, Inte Gloerich, contributors Max Dovey and Helen Kaplinsky, and respondent Ruth Catlow on Tue 23 Apr from 18.00-20.30 for short presentations with plenty for time for discussion.
This event is hosted at Furtherfield Commons in Finsbury Park*
*Please note this is a separate building to our Gallery and is at the Finsbury Park station entrance to the Park.
Join us in Edinburgh at the first DAOWO 'Blockchain & Art Knowledge Sharing Summit' of 2019
DAOWO (Distributed Autonomous Organisations With Others) Summit UK facilitates cross-sector engagement with leading researchers and key artworld actors to discuss the current state of play and opportunities available for working with blockchain technologies in the arts. Whilst bitcoin continues to be the overarching manifestation of blockchain technology in the public eye, artists and designers have been using the technology to explore new representations of social and cultural economies, and to redesign the art world as we see it today.
This summit will focus on potential impacts, technical affordances and opportunities for developing new blockchain technologies for fairer, more dynamic and connected cultural ecologies and economies.
Programme
1.00 Registration
1.30 Welcome and Scene Setting
'State of the Arts: Blockchain's Impact in 2019 and Beyond' Presentation by Ruth Catlow and Ben Vickers offering a comprehensive overview of developments from critical artistic practices and emergent blockchain business models in the arts. DAOWO Arts and Blockchain pdf download (Catlow & Vickers 2019). Followed by a discussion hosted by Clive Gillman
2.15 Coffee
2.30 'Make / Do / Block' Panel Discussion with 5 creative practitioners whose work allows us to experience the otherwise abstract technology of blockchain.
Although the term 'blockchain' has trickled downstream into the public domain, the principles behind the technology remain mysterious to many. Embodied within physical assemblages or social interventions that mine, hash and seal the evidence of human practices, creatives have provided important 'coordinates' in the form of artworks that help us to unpick the implications of the technology and the extent to which it re-configures power structures.
Hosted by Prof Chris Speed and Mark Daniels with panellists:
Pip Thornton – The Value of Words in an Age of Linguistic Capitalism
Bettina Nissen & Ailie Rutherford – Designing feminist cryptocurrency for Govanhill
Evan Morgan – GeoPact
Jonathan Rankin – OxChain, Pizza Block
Larissa Pschetz – Karma Kettles

4.00 Coffee
4.15 Conversation
What Value Does The Blockchain Bring To Collecting Art? | Ruth Catlow in conversation with Marianne Magnin, Arteïa UK Managing Director.
4.45 Wrap up, takeaways and final discussion | Ben Vickers to lead into drinks
5.00 – 6.00 Drinks
Contributors include:
Ruth Catlow, Furtherfield and DECAL
Mark Daniels, New Media Scotland
Clive Gillman, Creative Scotland
Marianne Magnin, Arteïa
Prof Chris Speed, Design Informatics, University of Edinburgh
Ben Vickers, Serpentine Galleries
Through two UK summits, the DAOWO programme is forging a transnational network of arts and blockchain cooperation between cross-sector stakeholders, ensuring new ecologies for the arts can emerge and thrive.
DAOWO Summit UK is a DECAL initiative – co-produced by Furtherfield and Serpentine Galleries in collaboration with the Goethe-Institut London. This event is realised in partnership with the Department of Design Informatics at the University of Edinburgh and New Media Scotland.

OxChain is a major EPSRC research project which explores how Blockchain technologies can be used to reshape value in the context of international development and the work of Oxfam, involving the Universities of Edinburgh, Northumbria and Lancaster.
Our times are characterized by the accelerating collapse and redrawing of multiple borders: between nation states, personal identities, and the responsibilities we have for each other. Also between the old distinctions, work and pleasure.
Some leaders as part of the new world order, tell us through their political actions and their fashion accessories, that they "Just Don't Care". This "political art-form"1 of not caring permits an insidious spread of hatred online and on the ground. In recent times, the digital condition has lent it's networks and platforms to this poisonous, rhetorical hyperbole, turning against immigrants, and others who do not fit into the framework of a western world, oligarch orientated vision. Mass extraction and manipulation of social data has facilitated the circulation of fake news and the production of fear, anxiety and uncertainty. Together these fuel the machine of structural violence adding to the already challenging conditions created by Austerity policies, growing debt and poverty.
In the face of these outlandish difficulties our digital tools and networks – taken up with a spirit of cultural comradeship. More inspiring narratives are emerging from across disciplines and backgrounds, to experiment with new solidarity-generating approaches that critique and build platforms, infrastructures and networks, offering new possibilities for reassessing and re-forming citizenship and rights.
The exhibition and labs for Playbour – Work, Pleasure, Survival, have created new contexts for collaboration. Artists (from the local area and internationally), game designers and architects, come together with researchers from psychology and neuroscience addressing the data driven gamification of life and everything.
In her interview, the curator Dani Admiss discusses how they reassess the power relationships of the gallery, park users and the local authorities, asking who owns the cultural infrastructure and public amenities – and so create a polemic to open up questions of public value. The exhibition is open every weekend through 14 July to 19 August 2018.
The artists featured in Transnationalisms exhibition curated by James Bridle address the effect on our bodies, our environment, and our political practices of unstable borders.
"They register shifts in geography as disturbances in the blood and the electromagnetic spectrum. They draw new maps and propose new hybrid forms of expression and identity."2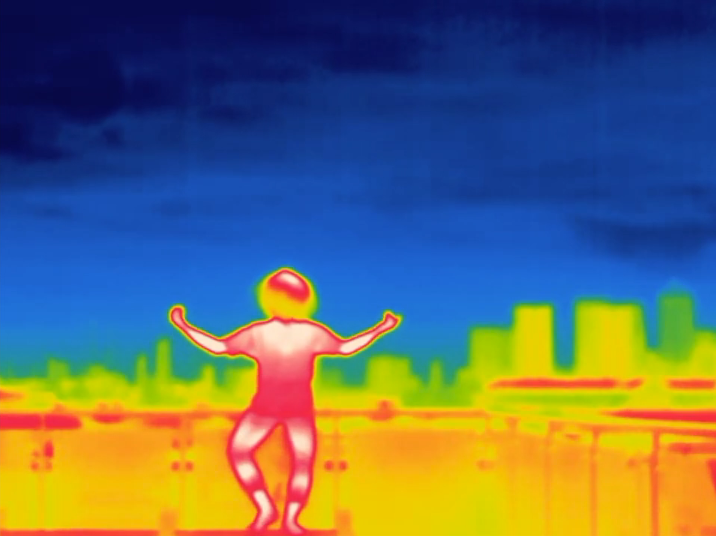 We Help Each Other Grow, 2017 from They Are Here.
"Thiru Seelan, a Tamil refugee who arrived in the UK in 2010 following detention in Sri Lanka during which he was tortured for his political affiliations, dances on an East London rooftop. His movements are recorded by a heat sensitive camera more conventionally often used to monitor borders and crossing points, where bodies are identified through their thermal signature."3
The show opens at Furtherfield from September 14th to October 26th 2018, touring as part of State Machines the EU cooperation which investigates the new relationships between states, citizens and the stateless made possible by emerging technologies.
We have another interview with artist and activist Cassie Thornton, where we discuss her current project Hologram, which examines health in the age of financialization, and works to reveal the connection between the body and capitalism. Her interview focuses on a series of experiments that actively counter the effects of indebtedness through somatic – or body – work including her focus on the way in which institutions produce or take away from the health of the artists and workers they "support".
"In my work for the past decade, I have been developing practices that attempt to collectively discover what debt is and how it affects the imagination of all of us: the wealthy, the poor, the indebted, financial workers, babies, and anyone in-between." Thornton
Finally I interview Tatiana Bazzichelli, artistic director and curator of the Disruption Network Lab, in Berlin, questions about art as Investigation of political misconducts and Wrongdoing. Since 2015, the Disruption Network Lab has cultivated a stage and a sanctuary for otherwise unheard and stigmatised voices to delve into and explore the urgent political realities of their existence at a time when the media establishment has no investment in truth telling for public interest.
"When the speakers are with us and open their minds to our topics, I feel that we are receiving a gift from them. I come from a tradition in which communities, networks and the sharing of experience were the most important values, the artwork by themselves." Bazzichelli.
The programme creates a conceptual and practical space in which whistleblowers, human right advocates, artists, hackers, journalists, lawyers and activists are able to present their experience, their research and their actions – with the objective of strengthening human rights and freedom of speech, as well as exposing the misconduct and wrongdoing of the powerful.
To conclude, all one needs to say is…
"Whether in the variety of human, backgrounds and perspectives, biodiversity or diversity of technologies, coding languages, devices, or technological cultures. Diversity is Proof of Life." Ruth Catlow, 2018.
The word speculation is defined as 'the forming of a theory or conjecture without firm evidence'. The act of speculating was predominantly popularised with the rise of the stock market, however, recent environmental destruction and technological advancements have prompted a rich pool of speculation about the future of our planet, our species and our connection to other facets of life. Tomorrows: Urban Fictions for Possible Futures is such an exhibition, compromised of imaginative narratives speculating the future of our cities – how they will look, how they will function and the degree by which these cities will form new types of citizens directly operating within the network of that future city. In the context of the exhibition's content, fiction is transformed into mighty medium, utilised to share the ideas of thirty-two individual and group projects. These projects envision and share their anticipation for the future as a means of addressing socio-economic, environmental and other issues we face today with a goal to reassess of our presence on the planet.
Tomorrows was curated by Daphne Dragona and Panos Dragonas, and organised by the Onassis Cultural Centre in Athens – a city experiencing continual fluctuations since the end of World War II. The location itself, Diplarios School (a place of former learning and listening), stresses the aspect of sharing and the telling of important narratives determining the shaping of the future. The exhibition begins with a didactic, yet absolutely accessible approach to understanding the notion of developing a future city. As a starting point, the exhibition borrows and advances the ideas of Doxiadis' speculative plans of an Ecumenopolis from 1959-1974. More particularly, we must take into consideration the term 'ekistics' which was coined by Doxiadis in 1942 as derived from the ancient Greek noun οίκιστής, meaning a person who installs settlers in a place or creates a settlement.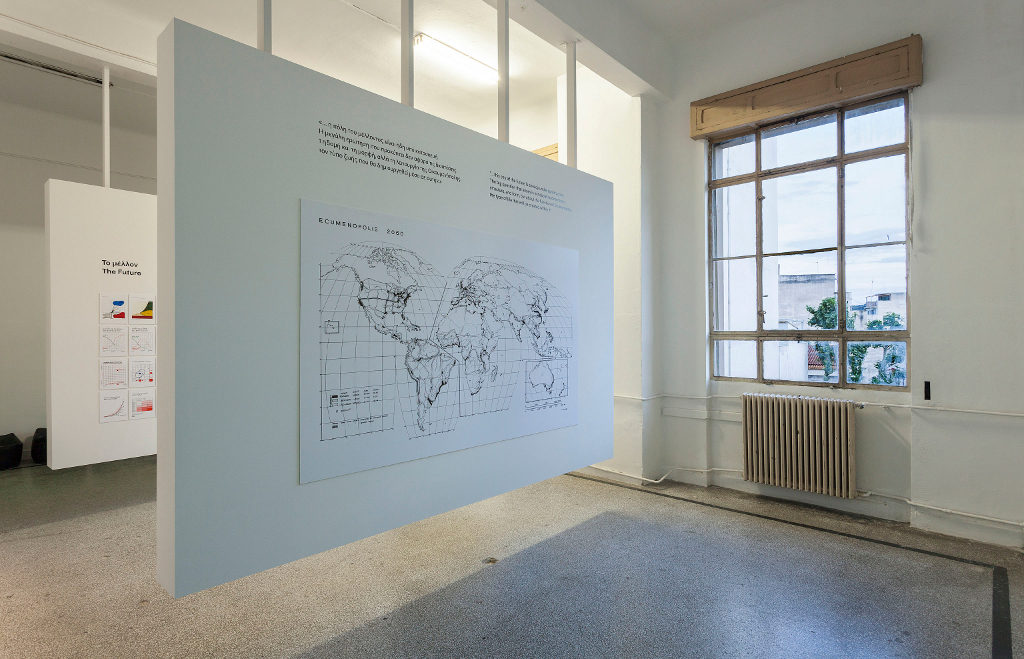 In order to create the cities of the future, we need to systematically develop a science of human settlements. This science, termed Ekistics, will take into consideration the principles man takes into account when building his settlements, as well as the evolution of human settlements through history in terms of size and quality. – Doxiadis
Doxiadis was a visionary and the decision to reinstate his work within the framework of the exhibition was incredibly rewarding for visiting audiences. He anticipated that cities were to become more than global in order to accommodate an ever changing human and non-human environment – as one huge network perhaps out of the control of human capacities. Ecumenopolis is installed on large hanging panels in the first room of Tomorrows and acts as a reference point to the five themes developed: Post-Natural Environments, Shells & Co-Habitats, Networks & Infrastructures, Algorithmic Society and Beyond Anthropos. These themes resonate to the acceleration of our urban development hybridising the natural with the artificial, future network infrastructures of our habitats becoming dependent on inhuman mediation, the possibility of an omnipresent and undemocratic structure within the city through the interdependence of economy, ecology and technology, possible forms of organisation to encourage modes of co-existence within the city, and technological singularity as challenging human sovereignty within our future cities. Doxiadis work gives way to the participants who are primarily artists, architects and designers, to explore these imminent futures of our present planet's landscape.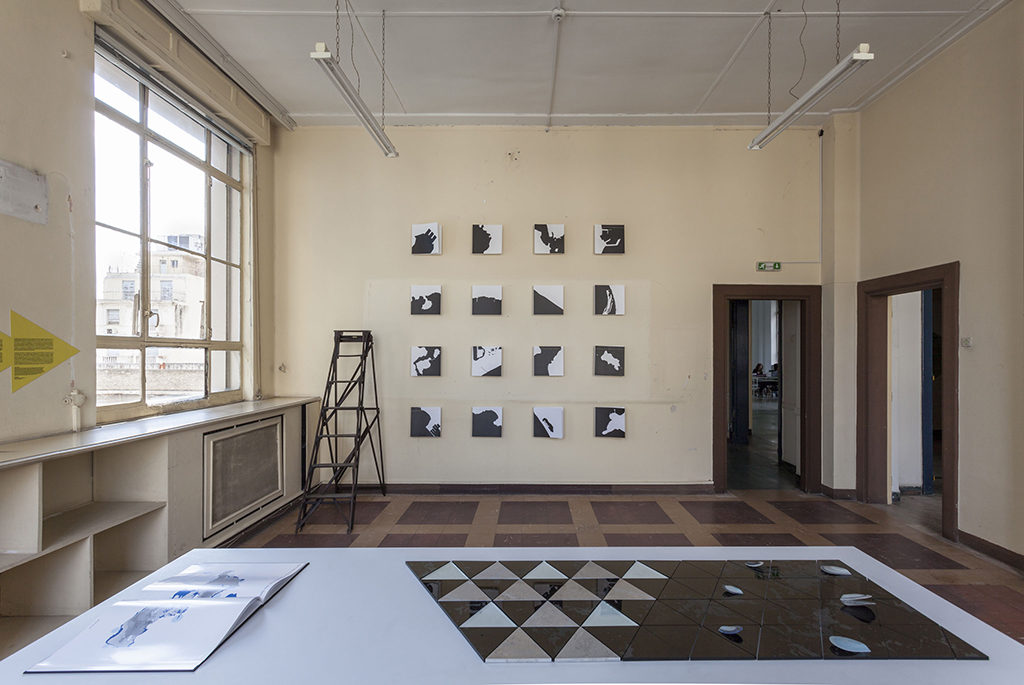 Coastal Domains is an on-going research project exploring the future landscaping of coastal territories in the Northeastern Mediterranea facilitated by Demetra Katsota along with 4th and 5th year students at the Department of Architecture, University of Patras. The installation Coastal Domains was made up of sixteen books, acting as case studies, secured on the wall and a ladder to reach them, encouraging brave visitors to climb and read them – a curatorial decision simultaneously inspiring participation and learning as it is explicitly reminiscent of old archival libraries. The 7th book in the series of sixteen engaged with the coast land of Kanoni and its Sea Lane on the island of Corfu, the research undertaken by Stella Andronikou and Iasonas Giannopoulos. As with each book in the series, the research was made up historically archived material, such as cartographical maps from different centuries and topographical material including the arrangement of roads and different fauna on the island thus unveiling issues of coastal development, the implications of an upsurge of tourism in the 1970s and possible environmental issues. Coastal Domains speculates and designs possible structures for the reinforcement of sustainability, devising various strategies that can protect the coasts of the Mediterranean Sea.
Tomorrows is particularly involved in engaging its locality of the Mediterranean, treating it as a microcosm for observing the implications of the future's development. Silo(e)scapes by Zenovia Toloudi envisages a hybrid of a seed bank and museum for Mediterranea plant species as a tool inspiring a sharing economy. The installation of Silo(e)scapes required the audience to cradle themselves into the centre of the structure in order to experience the transparent silos-displays of the community LEGO labourers sharing their local seeds at the seedbanks. The audience suddenly find themselves in a possible future reality, all encompassing of agrarian sounds and 360 views of kaleidoscopic mirrors that trick perception of your depth of field. Almost theatrical, Silo(e)scapes is immersive and constructs a space where the audience is directly in conflict with the imminent shortage of supplies due to harmful environmental issues and increasing urban development. The audience becomes entirely physically encased in Silo(e)scapes, as a result inciting the plausibility of this future reality.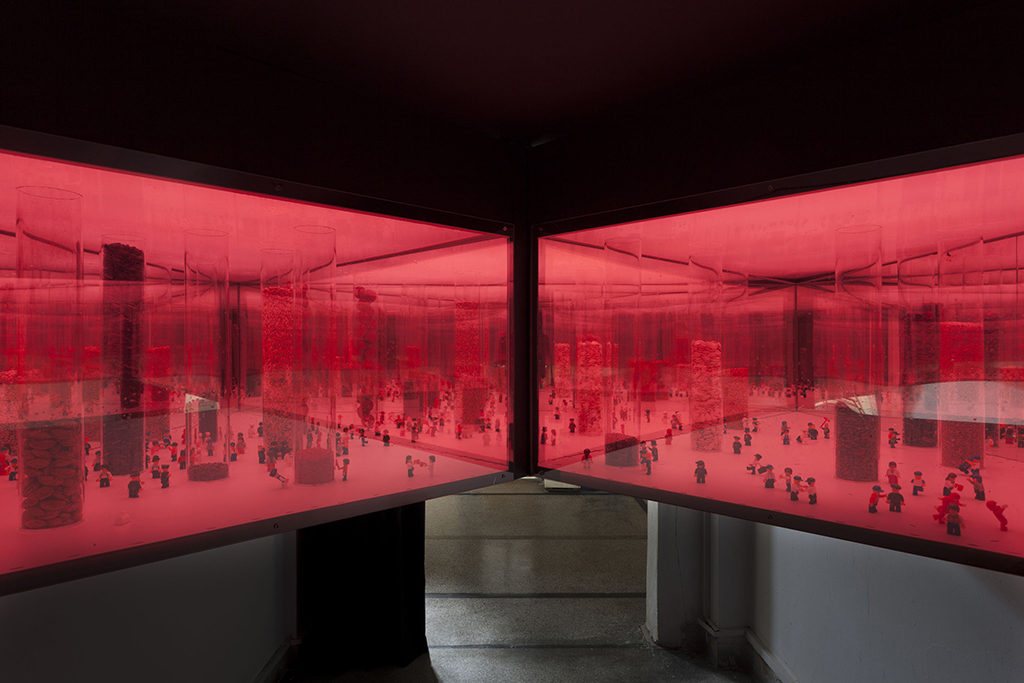 A Cave for an Unknown Traveler by Aristide Antonas introduces another form of habitable landscape for the possible future. The installation is structured like a 'fake archaic cave' that is buries inside it a structure as luxurious as a modern hotel room, invisible to the eye from the outside. The installed structure of the cave is complimented by a large sketchbook denoting the various features of the Cave for an Unknown Traveler. Antonas' work brings to mind the concept of Plato's Allegory of the Cave. The infrastructure and services within Antonas' cave can be taken in context of the prisoner's in Plato's cave perceiving shadows as objects when in fact they are a mere representation of their physical form grasped by our mind. In this context, Antonas' invisible cave begins to resemble an imagined safe haven for a traveling passer-by.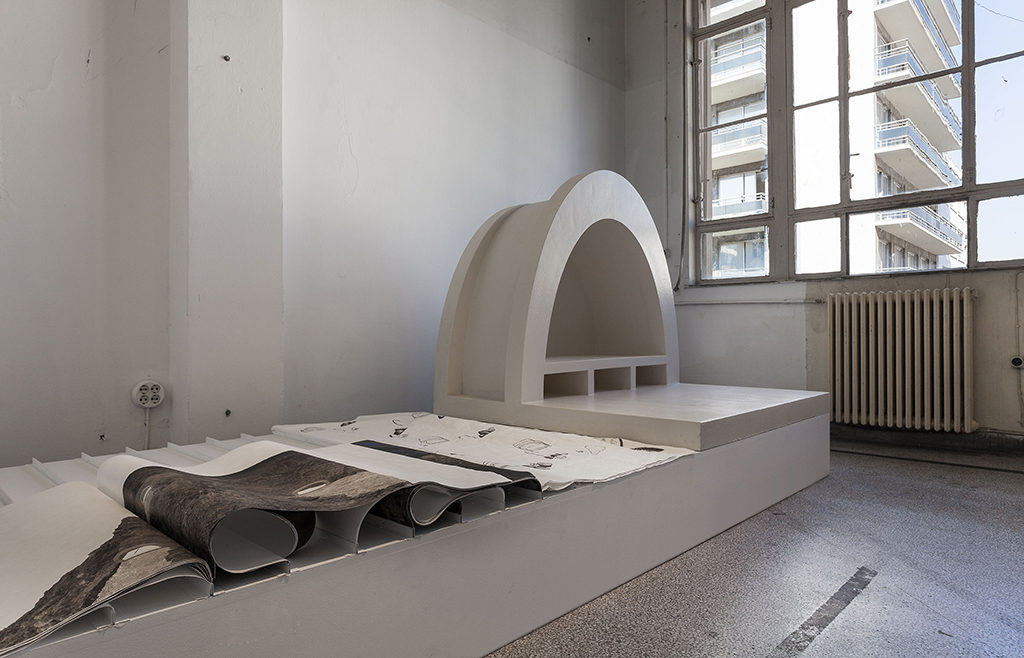 The highlight of Tomorrows is undoubtedly Liam Young's commissioned work Tomorrow's Storeys – a two-channel video installation isolated in a dark room with modular seating. The title of the work acts with a double meaning as in storeys of a building and the stories being told through them. The content, or stories, narrated in Tomorrow's Storeys were first conceived in a workshop in mid-March as part of the programming to the run-up of the exhibition opening in mid-May. The workshop of visual artists, authors, photographers, directors and architects produced an abundance of local stories in the future city of Athens, particularly a future Athenian apartment block. In Tomorrows Storeys all apartments blocks have the ability to reorganise themselves automatically – modular entities like seating in the installation. The videos convey intricately detailed shots of the façade of these apartments as well as its contents recalling film shot by aerial drones and ads for IKEA products. The audience act as omnipresent eavesdroppers drifting from storey to storey into the conversations and local happenings in these apartment blocks. These apartment blocks of the future have found a way to reorganise themselves where Athenians are not given a minimum basic income but instead a minimum basic floor area – the occupants do not own an apartment but a specific volume of space which does not have a fixed location. Amongst these stories of shifting permanence and impermanence one stood out: that of an old grandmother dying and the family arguing about who takes over her volume of space as one character cries quite humorously "Can't you wait until the funeral?!". Tomorrows Storeys are part of a city where bots constantly reorganise your living in a form of urban computation according to best fit the needs of its citizens. In this way, a living space becomes a temporality, alluding the audience to question if their home is real if it always available for smooth transition to another space.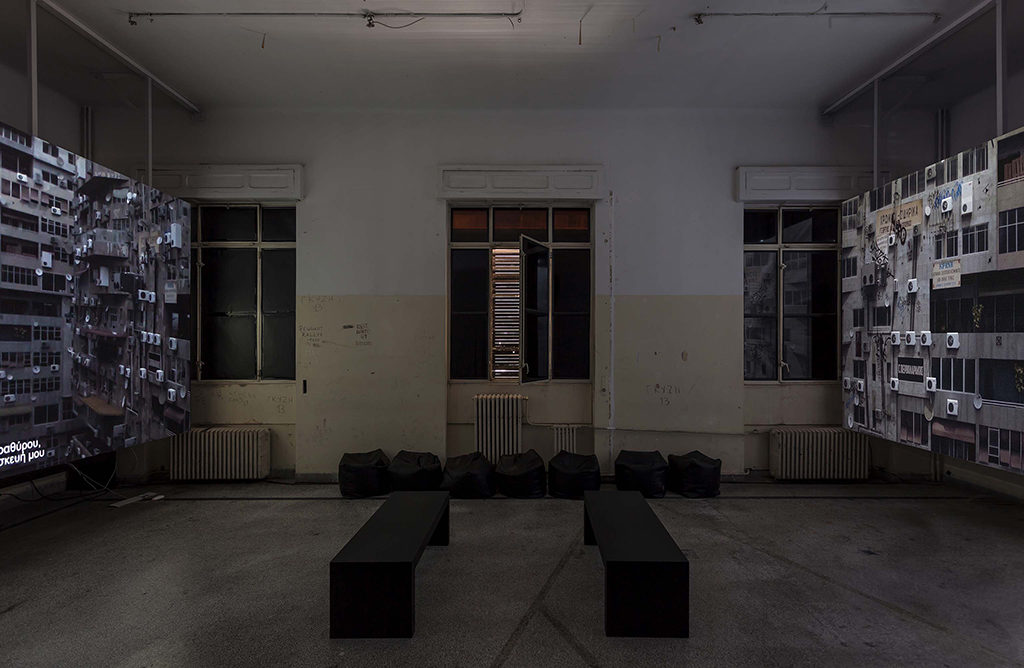 Within urban infrastructures are the human entities contained within them, as Young's work emphasises, however some of these are becoming increasingly inhuman as the theme of 'Beyond Anthropos' suggests. The notion of inhuman or machinic entities being able to replicate human form and intelligence is common and highly popularised since the 1980s as films such as Bladerunner introduced global audiences to 'replicas'. Today, AI is becoming so intelligent that it urges inventors such as SpaceX and Tesla CEO/founder Elon Musk to warn for correct precautions to be taken when engaging with AI, in fact comparing it to 'summoning the demon' and naming it 'our biggest existential threat' in the 2014 AeroAstro 1914-2014 Centennial Symposium by MIT. The work of !Mediengruppe Bitnik, coming only a couple of years after Musk's interview, exemplify the relationship between human and machine. Ashley Madison Angels at Work in Athens is a research project initiated after the data of the Canadian online dating service was leaked in 2015. The leak revealed that Ashley Madison had created 75,000 female chatbots that catered to 32 million mostly male users, engaging them in costly internet intimacy. In Athens, there were 165 fembots for around 22,910 registered users. The installation was comprised of seven of these 165 fembots active in Athens, and were installed in a room dimmed by a fluorescent pink light with screens on tripods similar to average human height and alluding to a physical form. The fembots, programmed to be of different ages, utter pick-up lines they are allocated from a predetermined list to the 22,910 registered users who could not distinguish that they were talking to a machine and not a real person.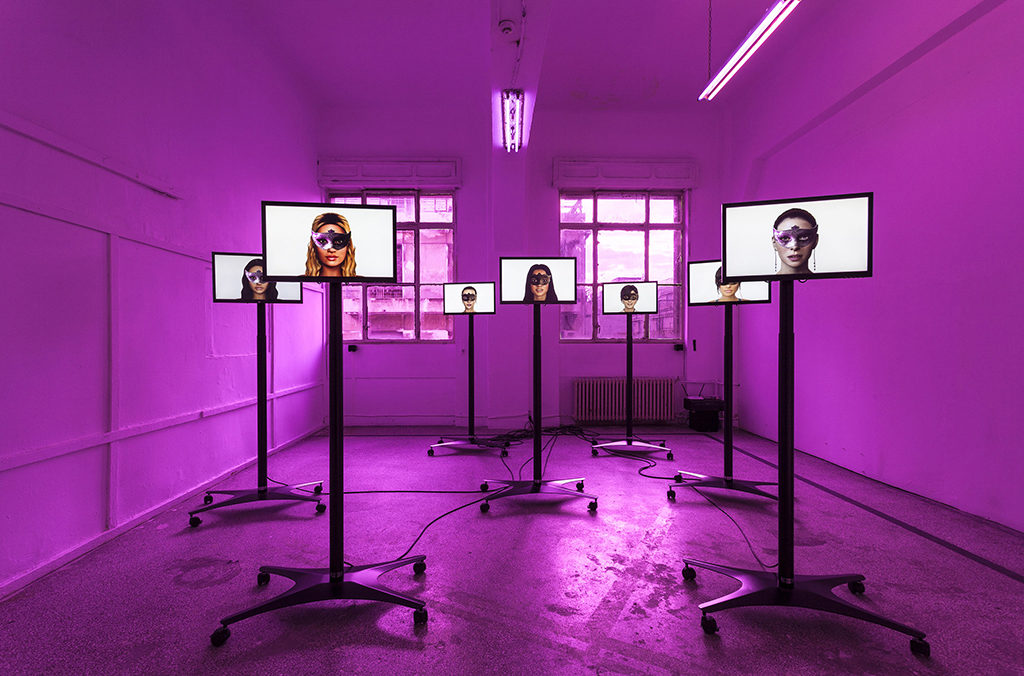 Tomorrows does not wish to present us a future as a prediction or as a form of critique of these technological, environmental and urban developments. Rather, it presents the future as an on-going participatory project, as a tool that can be utilised to examine who we are and where we are at in present tense, as well as where we could be potentially going. These urban fictions of our possible futures, are a speculative activity with the capability of making us more aware of the changes that have taken place whilst simultaneously illustrating the changes that are afoot. Tomorrows was a show that took place over six months ago, but its value to the discourse of the future will remain timeless for decades to come.
DOWNLOAD PRESS RELEASE
The blockchain is widely heralded as the new internet – another dimension in an ever-faster, ever-more powerful interlocking of ideas, actions and values. Principally the blockchain is a ledger distributed across a large array of machines that enables digital ownership and exchange without a central administering body. Within the arts it has profound implications as both a means of organising and distributing material, and as a new subject and medium for artistic exploration.
This landmark publication brings together a diverse array of artists and researchers engaged with the blockchain, unpacking, critiquing and marking the arrival of it on the cultural landscape for a broad readership across the arts and humanities.
Contributors: César Escudero Andaluz, Jaya Klara Brekke, Theodoros Chiotis, Ami Clarke, Simon Denny, The Design Informatics Research Centre (Edinburgh), Max Dovey, Mat Dryhurst, Primavera De Filippi, Peter Gomes, Elias Haase, Juhee Hahm, Max Hampshire, Kimberley ter Heerdt, Holly Herndon, Helen Kaplinsky, Paul Kolling, Elli Kuru , Nikki Loef, Bjørn Magnhildøen, Rob Myers, Martín Nadal, Rachel O Dwyer, Edward Picot, Paul Seidler, Hito Steyerl, Surfatial, Lina Theodorou, Pablo Velasco, Ben Vickers, Mark Waugh, Cecilia Wee, and Martin Zeilinger.
Read a review of the book by Regine Debatty for We Make Money Not Art
Read a review of the book by Jess Houlgrave for Medium
Hi Shaina! Tell us about the genesis of CAMP? How are you part of it? Why are you called CAMP?
CAMP came together as a group in 2007, initially consisting of me, Shaina Anand (filmmaker and artist), Sanjay Bhangar (software programmer) and Ashok Sukumaran (architect and artist) in Mumbai, India. The intersection of our skills and different backgrounds created a vital spark in which to experiment with technology and ask deep questions about form and ways of making radical political work. We are called CAMP as we are not an artist's collective (though we began as a collaboration with KHOJ which was an artist's collective in Delhi, which you headed operations for) but we call ourselves a studio. In this process, we try to move beyond binaries of art vs non-art, commodity market vs free-culture and to build media for the future. Personally, it gives me the platform to eschew conservative approaches to documentary filmmaking with "the colonial male gaze."
How did you decide to create new-media and be part of CAMP coming from a strong documentary tradition?
Oh, for that I would like to describe the response my younger self (1992-2004) had to making traditional documentaries. Travelling around India with my mentor, filming a documentary about life in villages for the anniversary of Indian independence, I described how they'd turn up in jeeps, find the subjects, and ask important questions for the nation. I became increasingly disillusioned by what I saw as the repeated orchestration of finding a subject, interviewing, zooming in, asking questions until the subject ends up crying. So, once while analyzing the relationship between filmmaker and subject I echoed the question hovering over so many discussions, "who speaks for the subject and from where?"
That's when I decided that I had two choices, to either move into fiction which was perhaps less problematic, or to "stay with the trouble", to let the problems drive the work into becoming something more in line with my politics. I also wanted to "trouble" the triangular relationship of author, subject and technology, so that it favored the subject more.
Very interesting! You mentioned Haraway's "staying with the trouble". Were you influenced by her work? Say more! I relate to that experience, having switched from working in Bollywood to doing social documentaries and now learning new-media art. So, what role do you think technology plays in fostering that relationship between the subject and the author and more importantly, how does it "favor" the subject?
Well, yeah. I feel influenced by her as a woman media-maker where I draw from her reflections on race, technology and gender. In CAMP's work at various biennials, I have often felt that every part of the process of documentary-making had been deftly unpacked and put back together again to reflect vital contemporary political concerns within the actual structure of the work or even its distribution, not just its content. By that, I felt we succeeded in using technology to foster that relationship.
I find it fascinating that technology is not a toy or gimmick in your work but rather gives to access to places and people which traditional approaches to documentary wouldn't. In this context, could you throw some light on the use of CCTVs in your work esp. at a time when they were increasingly being used as a tool for surveillance?
In our work Al jaar qabla al daar (The Neighbour before the house- 2009), we used CCTV cameras and set them up to film the houses where eight Palestinian families had been forcibly evicted and are linked to remote controls in new homes or refugee places where the families now live. We were then able to zoom and tilt the cameras to spy up washing or as they went about their business. The complexities of the power relations between the observer and observed are dazzlingly deft and agile, giving energy to the otherwise hopeless situation of displaced Palestinians in Jerusalem. We only hear their voices as they trace the lines of personal memory in their old neighborhoods or stalk the new inhabitants of their former homes with the remotely operated CCTV placed on nearby rooftops. We see soldiers training, Orthodox Jews going to prayer, a boy skateboarding, roofs, water tanks, a veranda built by their own families. Their bodies exert a ghostly presence on the very image we see onscreen as a small boy exhorts his mother to "zoom, zoom"– to spy on one of the new inhabitants leaving the house. But nonetheless through the active manipulation of this technology we had "captured" a settler.
Do you think technology facilitates a democratic or rather liberal exchange for the subject? Let's say immersive technologies like virtual and augmented realities, which I'm interested in, blur the point of view of the author and the subject. What do you think?
The act of wrangling the technology to record the voices of the camera operators while simultaneously filming does create a power shift. For example, in our work, the Palestinian families may be physically invisible in the places they once lived, but their voices and ability to control how we see with even the crudest of cameras, exerts its own pressure. It acknowledges and celebrates the democratization of the camera and makes us question the veracity of all the other images we have seen about Palestine. We hear details about the neighborhoods, how the evictions happened through impossible laws or enforcements as the displaced families observe how the new families don't clean the stairs or water the lemon tree.
Yes, I liked the use of the footage as a timeline for viewers to edit which led you to form Pad. Ma (Public Access Digital Media Archive) which I was a part of too, at some point. Interestingly, here at UCSC, I met and heard Bernard Stiegler who had long ago worked with annotating found-footage with his students thereby that puts CAMP in that discourse. Say something about that.
Well, for me, the most radical and exciting approaches to documentary were in the 60s in India. Since then, what has changed? Nothing here. CAMP's work provides a sense of new possibilities as it steals back technology and puts it into that utopian discourse of Stiegler and others to shift our perspective closer to the subjects. By "troubling" the traditional methods of creation and dissemination it empowers both the viewer and the viewed with a fresh perspective.
Some of your work is about migrant population, home and displacement which strikes a chord with my interest in human-rights and immigration. Tell us about this work and its approach.
A privileged perspective into the worldview of another is contained in our work, From Gulf to Gulf  invited by the Sharjah Biennial a few years ago. Yet again it is a document of a much richer process that began as an artwork/ community provocation/ friendship built over four years between CAMP and a group of sailors from the Gulf of Kutch in India. Initially CAMP produced radio programs culling material from sailors' songs, conversations, phone calls etc. and later that evolved into a new-media piece that showed this totally different space in a radically fresh way. It is composed of footage of their journeys and extended selfie- films shot by the sailors on their long voyages, often accompanied by songs which they Bluetooth to each other.
Fascinating! Lastly, I'm keen to hear about what CAMP wants to do with technology next?
At any given time, CAMP wants to challenge the triangular relationship of author, subject and technology, thereby splintering the privileged gaze and our standard mode of perception. That's our motivation behind whatever we have or will do.
Thank you Shaina for speaking as an artist from CAMP. It was great to talk to you and have worked with you all!
Compiler is an experimental platform organised by curator Alisa Blakeney, artist-curator Tanya Boyarkina, artist Oscar Cass-Darweish and choreographer Eleanor Chownsmith, all currently students of MA Digital Cultures, Goldsmiths. The platform is being built in order to "support collaborative, process-driven projects which connect artists and local communities in networks of knowledge-exchange".
The organisers of Compiler describe it as a kind of ongoing prototype, a structure constantly negotiating the openness to maintain links to varied practices with the coherence of framing, containing, and describing some of the complicated products of digital-analogue interactions. Their focus is looking at what 'digital culture' means and having a productive conversation about it.
From 6-8 April, the first Compiler, Play Safe took place downstairs at OOTB in New Cross. The exhibition examined practices of surveillance inherent in "states, corporations, technological spaces and the idioms of digital art". It questioned whether an increasing intensity of surveillance is linked to control, extraction and politics, or can be understood as a pleasurable phenomenon. People were invited to "Dance a website, see through the eyes of a computer, and have our cryptobartender mix you a cocktail to cure your NSA woes". The work on show, made by students from MA Computational Arts and MA Digital Cultures (both Goldsmiths), included Eleanor Chownsmith's software and performance which turned website HTML into dance routines, Michela Carmazzi's photographic project documenting the reactions of Julian Assange and his supporters following the United Nations' ruling about his case, and Saskia Freeke's machine which repeatedly and intentionally failed to create a ticker-tape parade using sensors and fans.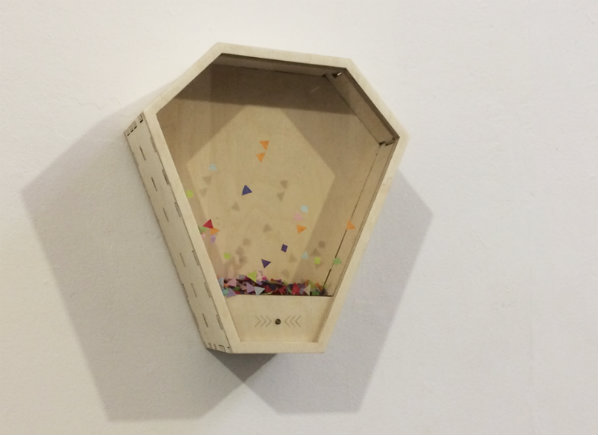 Saskia Freeke, 'Confetti Machine', 2017, interactive installation. Photo credit: Howard Melnyczuk
An exhibition on the theme of surveillance creates a strange grey area for itself when shown in a building with nine screens of CCTV footage. Oscar Cass-Darweish's project made a fairly direct link to the CCTV cameras which emphasised this greyness. The project produced a rendering of the exhibition space by using a function usually found in motion detection processes. This function calculates the difference in pixel colour values between frames at a set interval and averages them, creating a visual output of how machines calculate difference over time.
Another work which made links with the room upstairs was Fabio Natali's Cryptobar, where following an interview with the 'bartender' about your data privacy needs you were recommended a cocktail of data-encryption software. Upstairs you could buy, and drink, a cocktail with the same name (the Cryptobar was part of the V&A Friday Late on Pocket Privacy on 28 April).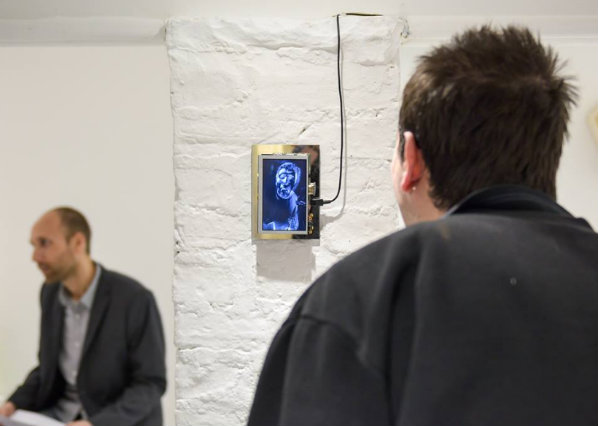 Between Frames, Oscar Cass Darweish at Compiler. Photo credit: Howard Melnyczuk
So far, Compiler has made a variety of spaces for conversation about digital culture through both its artworks and its organisation. Each artwork has a different 'footprint' of interactions, linking websites to rooms, success to failure, data privacy to financial transaction via consultation, and making interesting connections between CCTV and code, dance notation and HTML, activism and commerce.
An interesting way to read the Compiler platform is as a series of combinations of human-readable codes and machine-readable codes. The platform 'compiles' a different combination each time, and each time the output is different. Through this, the interaction of analogue and digital processes is demystified and muddled, in a distinct way. The platform is in its early days, but it seems likely that new connections and new grey areas will appear over the next few months, as Compiler has its second exhibition (again at OOTB) in May, takes part in the CCS conference at Goldsmiths in June and heads in other directions thereafter.
Michela Carmazzi, Assange, 2017, digital photographs. Photo credit: Howard Melnyczuk
The exhibition offered plenty to play with, while posing complicated problems in relation to openness and experimentation. When I spoke to Eleanor, Tanya and Alisa about Compiler and its aim to engage local communities in networks of knowledge-exchange , we talked about how it's an impossible and strange aspiration to have a 'neutral' venue. While a cocktail can be delicious and engaging, it's also expensive. While a cafe is, arguably, a less exclusive space than a gallery, OOTB itself is a cafe which targets a specific audience. Drink prices, decor and a host of other factors mean OOTB, like all spaces, is politicised in a particular way. Their venue choices so far will influence, in subtle and overt ways, their future attempts to engage diverse local communities. The organisers of Compiler acknowledge this; their response is that rather than trying to make an artificial neutrality they are keen to move as the platform develops to new spaces and new and different contexts.
A change of context, message, communication style is not easy; nor does it fit with to an easily recognisable politics or aesthetics. Moving into and out of contexts is something to be done carefully and thoughtfully. It seems to me that the Compiler team will have their work cut out, but if they can direct that work in such a way that the platform is able to communicate in multiple ways at once, 'networks of knowledge-exchange' could develop between, and in response to, the markers set by the organisers. The question is, how will they develop?
What is serendipity? Notoriously difficult to translate1, it is described as a trivial encounter, a pleasing coincidence, or a moment or encounter that was unplanned and occurred without intentionally looking for it. For Olma there appears to be much more at stake than a charming French accident. In the book 'In Defence of Serendipity: For a Radical Politics of Innovation' (2016), Olma gallops through the oppressive apparatus of the creative industries and the tireless illusion of innovation that captivates the hearts of young creatives and designers all over Europe, before finally resting on a call to arms for a radical politics of innovation that encompasses creativity, citizenship and social emancipation.
Introduction
In the introduction of Civic Radar, editor Peter Weibel sets out the motivation, layout and journey of the book. This first comprehensive monograph of Lynn Hershman Leeson's artistic career, spanning across five decades. It must have been a dizzying publication to work on, when compiling her pioneering work in the fields of photography, video, film, performance, installation, and interactive and net-based media art. It is noteworthy that Hershman Leeson collaborated in its production. One feels her personal involvement in the book – its richness, care and detail, shows in its nearly 400 pages, and approximately 500 illustrations. It also features supporting texts by other writers, curators, theorists, and artists, such as: Andreas Beitin, Pamela Lee, Peggy Phelan, Ruby Rich, Jeffrey Schnapp, Kyle Stephan, Kristine Stiles, Tilda Swinton, Peter Weibel and interview by Hou Hanru and Laura Poitras with the artist.
Review.
"I try to live in the present, because most people live in the past. If you live in the present, most people think you live in the future, because they don't know what happens in their own time." Lynn Hershman Leeson.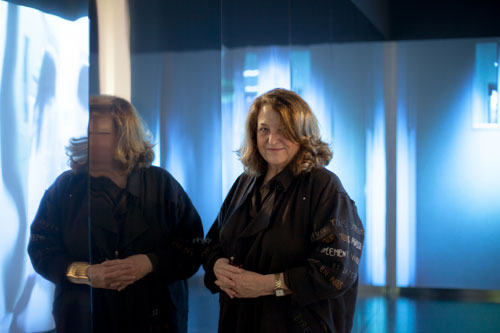 Lynn Hershman Leeson has pioneered uses of new technologies, recognized as key to the workings of our society today. She tackles the big questions surrounding: identity in a time of mass, overpowering consumerism; privacy in an era of surveillance; the interfacing of humans and machines; the relationship between real and virtual worlds; and new bio-ethics surrounding practices such as growing parts of the human body from DNA samples. We can think of Hershman Leeson as a direct artistic descendant of Mary Shelley. Consider Shelley's celebrated publication, Frankenstein: Prometheus Unbound, published in 1818, and its challenges towards macho revolutionaries of 'reason', and her critique of the misuses of science and technology by the patriarch. We can see strong parallels between both women. They are feminists, who have managed to find ways around (and to work with) traditional forms of dominant, patriarchal frameworks, so to express personal, creative and cultural identities, on their own terms.
"Lynn Hershman Leeson's mission statement seems to be that the body is a programmable software embedded in a changeable hardware. Therefore, she shows us so many hybrids and mutants, aliens and agents, actors and avatars, in real life and second life. From Dolls to clones, she demonstrates the paradox plurality of identities especially in the age of total observation." [1] (Weibel 2016)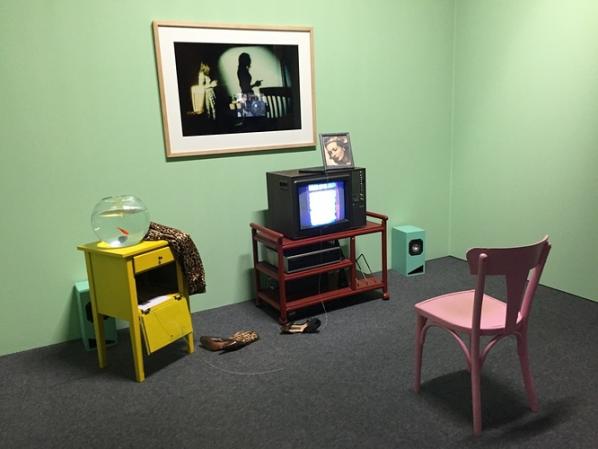 Lynn Hershman Leeson, Installation View from "Lorna" 1979–1982.
Hershman Leeson's artistic process however does not keep its distance from the processes of science and technology. She leaps into the depths of our fears and unreservedly engulfs herself, and her imagination in their material influences and modifications. Like Donna Haraway, Hershman Leeson takes cyborgs, misfits, biology, mutation and transformation as her inspiration, contexts and materials. And also like Haraway, she playfully and critically owns concerns around science and technology, along with the ethical issues that may arise out of their continuously shifting, influences on society; and, thus not owned by or weighed down by them. Every work put forward by Hershman Leeson, is an experiment. Her interests and knowledge inspired by science and technology reflects her constant state of contemporariness. Her work directly correlates to breaking down systems of perceived values.
"Hershman Leeson confronted conventional gender roles and exposed the normative construction of gender identity. Some of her videos have included cross-dressers and transgender men and women, as in Double Cross Click Click (1995), and her assumed male pseudonyms at a time when the art world was dominated by men who mostly ignored women." [2] (Beitin 2016)
Hershman Leeson's art moves fluidly between different formats, contexts and disciplines. This of course is not easy to brand. The art market survives by promoting art that fits into particular roles and products that are easy to promote, predict and consume. The irony here is that the art world promotes the idea of itself as a site of novelty and insights, but in reality represents a deeply conservative culture. Some artists, Hershman Leeson is one of them, transcend the contemporary artworld norm and build alternative universes, contexts and identities, where the art is so investigatory and esoteric, traditional conventions are challenged.
When I interviewed Hershman Leeson last year for Furtherfield she talked about how she'd like to "eradicate censorship, and make more transparent the capitalistic underpinnings that are polluting access, value and visibility". In the 70's, she was the first artist working on a prison art project in San Quentin, and many of her early public art works "geared toward social change." [3]
Civic Radar shows us that her work is not reduced to a singular, reflection of her own creative self. There is a wider story and it includes the voices of many others as part of the narrative of her life and her work, as well as reclaiming a history in a male dominated society.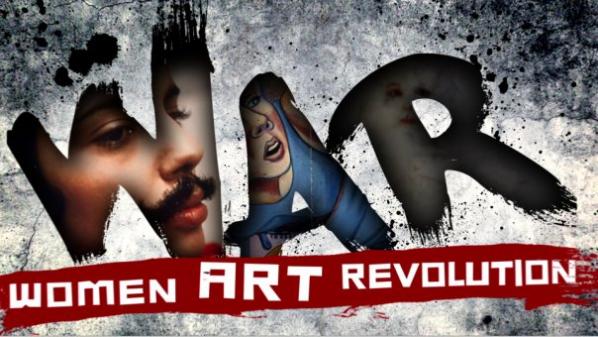 We see reaffirmed a varied and dynamic history where she has been involved in strengthening the role of women in society, as part of an extension of her art process. One excellent example of this rich history is that over a period of 40 years she interviewed an extensive array of women artists, historians, activists, and critics who integrated personal and political content into their work. Then, some of that gathered material was made into a film project !Women Art Revolution, in 2010.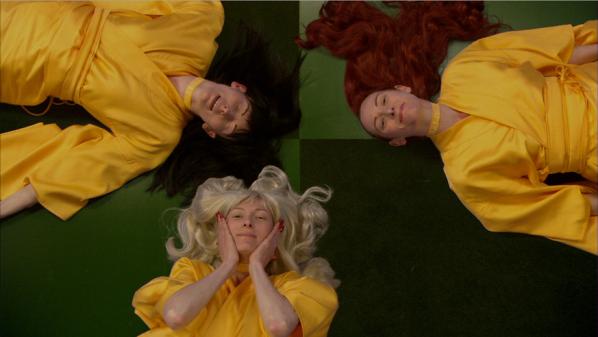 Lynn Hershman Leeson, »Teknolust« Film starring Tilda Swinton. 2002.
Lynn Hershman Leeson has not only achieved pioneering work as an artist, but also as filmmaker. She has collaborated with actor and Oscar winner Tilda Swinton in several feature films that have gone on to receive numerous awards at international film festivals on account of their outstanding quality and innovative themes. »Teknolust« is an absurd, amusing and scientifically highly topical science-fiction drama on the subjects of cyber-identities, biogenetics, gender constructions and sexual self-determination in the age of the Internet. The plot turns on the scientist Rosetta Stone (Tilda Swinton), who illegally produces three clones of herself. The artificial entities can only be distinguished by the color of their clothing and live in an enclosed cyberspace. Because they are dependent for survival on the male Y chromosome, Ruby, the femme fatale among the clones, goes in regular pursuit of men. Sexual contact with Ruby leads to impotence in her lovers as well as to an allergic reaction triggered by a computer virus which is transferable to human beings. The FBI becomes aware of the clone family's machinations following the increased incidents of infection among men, and begins to investigate. Note*
Her work has crossed into many different fields and formats. Which includes: installations, videos, films, sculptures, robots, avatars, contracts, computer programs, photography, paintings, drawings, collages, browser based art, artificial intelligence, bio-matter, network communication systems and devices. Synthia Stock Ticker and Dollie Clones are just two examples that demonstrate how ahead she has been with her ideas and her integration of digital technologies into art. Synthia Stock Ticker, is a networked-based media artwork made in 2000. It refers to the stock ticker invented by Thomas Edison and is unusually prescient in its portrayal of the emotional life of global markets. Inside a glass casing sits a small monitor screen, showing a video of a woman character named Synthia. "When the market is up, the character dances and shops at Christian Dior: when the market is down, she chain smokes, has nightmares, and shops at Goodwill." [4]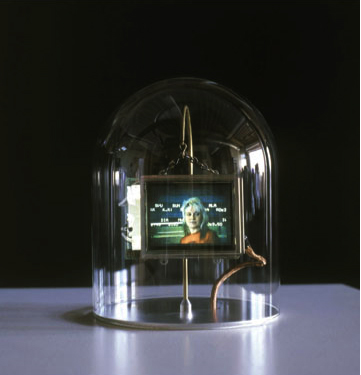 Lynn Hershman Leeson, Synthia. Custom software, microprocessor. Edition of 3. 2000-02.
Again The Dollie Clones 1995-96 predate a contemporary artistic obsession with creeping surveillance. Two telerobotic dolls, Tillie the Telerobotic Doll and CyberRoberta, whose eyes have been replaced with cameras. Each doll has a website that allows users to view the images taken by the webcams and click on an "eyecon" to telerobotically turn the doll's head 180 degrees to survey the gallery.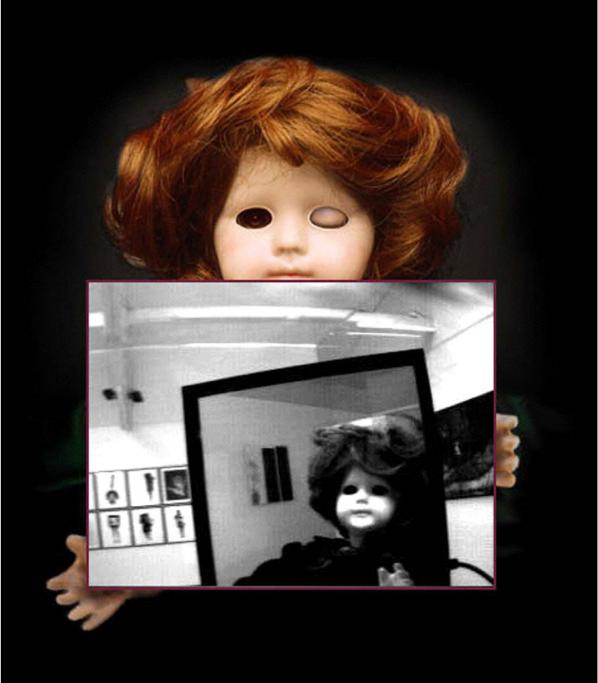 Lynn Hershman Leeson, Tillie and CyberRoberta. 1995-98.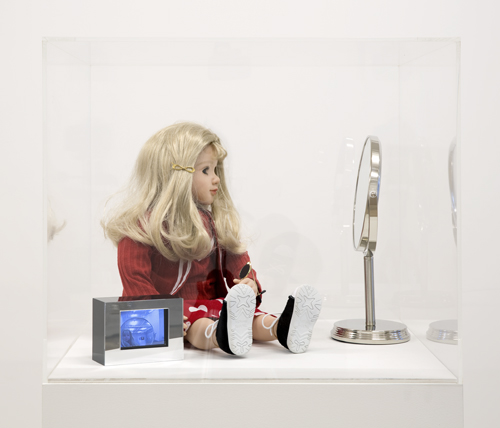 Lynn Hershman Leeson, 'CyberRoberta,' 1996, Courtesy Bridget Donahue, New York.

Hershman Leeson's most prominent performance work was as another woman, Roberta Breitmore. This elaborate alter ego existed between 1973 and 1978. The Breitmore character was well developed, possessing different behaviors and attitudes to Hershman Leeson's own personal identity. Roberta Breitmore had her own handwriting, clothing, wig, makeup, driver's license, apartment, psychologist, bank account, credit cards, acquaintances, life story, and adventures. Hershman Leeson took the audacious leap and sporadically became Roberta Breitmore for 5 years. Other women also lived as Roberta Breitmore and sometimes simultaneously. [5]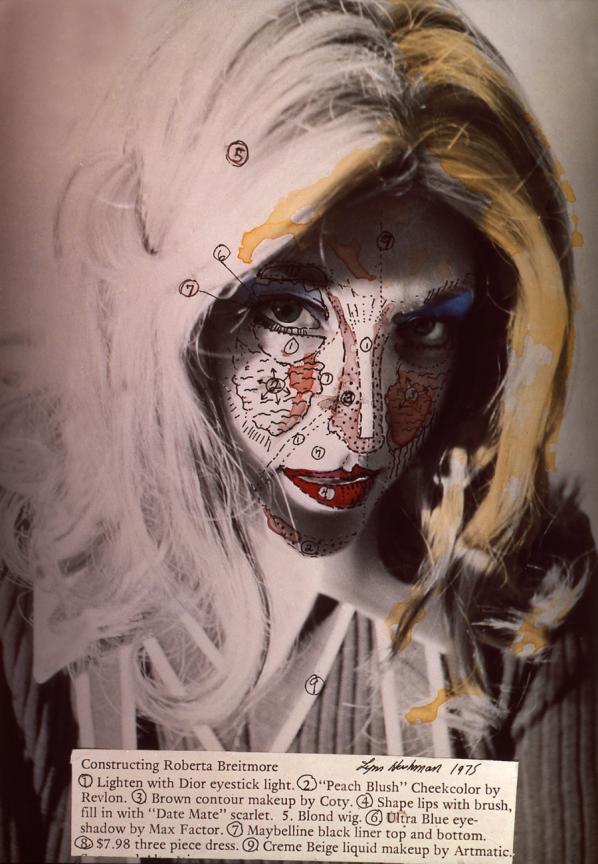 Lynn Hershman Leeson, Roberta Construction Chart #1, 1975.
"Hershman Leeson hired three additional performers, all women, to play Roberta. They wore costumes identical to the ones Hershman Leeson herself wore, and they treated Roberta essentially as a professional (albeit part-time) gig. They undertook some of Roberta Breitmore's correspondence and went on some of her dates (which were documented in photos and audio recordings). Eventually, Hershman Leeson stopped enacting Breitmore, reducing the instantiations of Roberta Breitmore from 4 to 3." [6] (LaFarge 2007)
The spirit of Hershman Leeson's radical art persona can be seen in younger, contemporary artists today. For instance, Heath Bunting's Identity Kits, part of his larger The Status Project consist of various items, personal business cards, library cards, a national railcard, T-Mobile top-up card, national lottery card and much more. "They take a few months to compile each of them because they are actual items that everybody uses in their everyday lives, involving evidence of identity. There is also a charge for the package of 500.00 GBP, which is cheap for a new identity." [7] (Garrett 2014) Then we have Karen Blissett, an Internet artist who suddenly decided to go multiple by opening up all of her email, Twitter, Facebook and Google accounts to many different women around the world. "A torrent of provocative, poetic, and often contradictory voices issued proclamations, made auto portraits, and shared psalm-like meditations on her existential transformation; distributed across online platforms and social spaces, in text, image and video." [8] (Catlow 2014)
Towards the end of Civic Radar a collection of pages show us various images of the exhibition by the same name at the ZKM Museum of Contemporary Art, in Germany 2014. When viewing the images of her work in the large gallery spaces you realize the scale of it all, and how substantial her work is.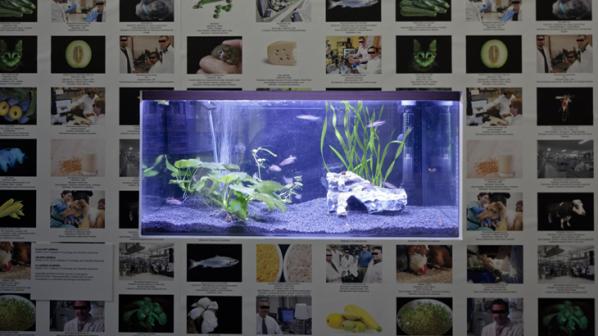 Lynn Hershman Leeson, Installation at ZKM. The Infinity Engine – genetically modified fishes 2015.
Moving on after the images of the works in ZKM, there is a selection of Hershman Leeson's texts written, from 1984 and 2014. These writings, take us through different stages of her career, revealing ideas and intentions behind much of her work and also some of the work included in the publication. In the last paragraph of the last text in a short essay, titled The Terror of Immortality she writes about the contexts that have given rise to her most recent work. "As organic printing and DNA manipulation reshapes the identities of newly manipulated organisms, so too the culture of absorbed surveillance has dynamically shifted. In the next 100 years, the materials used to create DNA will become increasingly distributed and hybridized. The implications of this research include not only the creation of a sustainable planet of hybrid life forms that can survive a sixth extinction and incorporate into to its existence a morally responsible future." (Leeson 2016)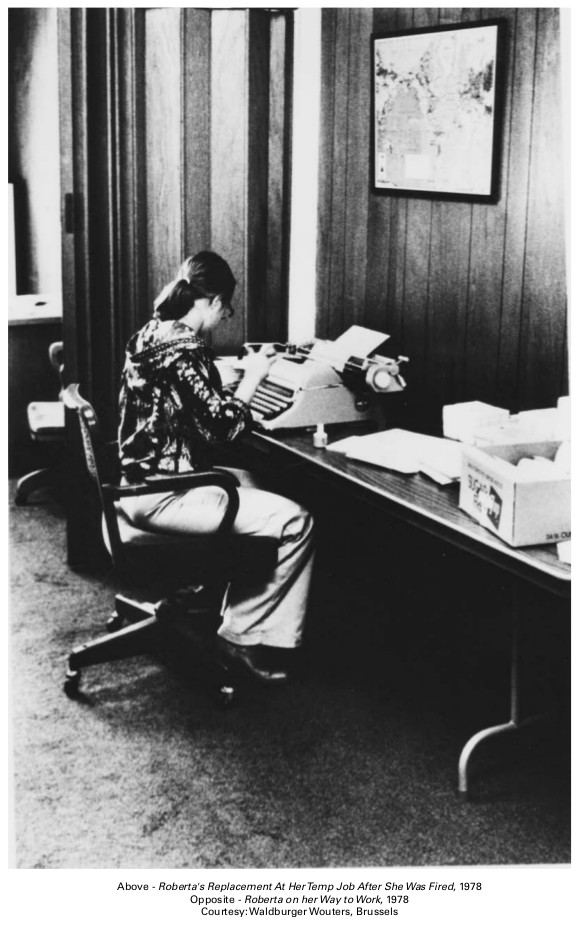 This book is a profound read, offering an insight to this generous and profound artists' fantastical journey in an era marked by accelerating change. And what's so amazing is that the content, the narratives, and the histories, are real. It is an Aladdin's Cave of rich, exceptional artworks, flowing with brilliant ideas. Hershman Leeson has had her finger right on the pulse of what's relevant in the world for a long time, and transmuted the knowledge she unearths in her examination of identity, feminism, science, technology and more into her own artistic language.
Her work is way ahead of most contemporary artists showing now. This book should be read everywhere. Not just because it features great art, but also because features a woman with a great mind. I am not a fan of the words genius or masterpiece; I find them tiresome terms reflecting a form of male domination over women and the non-privileged classes. Yet, after spending time with Civic Radar, I cannot help myself thinking that I have just witnessed something equivalent without the negative baggage attached.
Preferences:

[1] Weibel, Peter. A Panoply of Identities. Civic Radar. Hatje Cantz; 01 edition (15 Mar. 2016). P. 55.
[2] Beitin, Andreas. Face, Surface, Interface: The Motif of the Mask. Civic Radar. Hatje Cantz; 01 edition (15 Mar. 2016).

[3] Garrett, Marc. Choose Your Muse Interview: Lynn Hershman Leeson. June 2015.https://www.furtherfield.org/features/interviews/choose-your-muse-interview-lynn-hershman-leeson
[4] Hershman leeson, Lynn. Civic Radar. Hatje Cantz; 01 edition (15 Mar. 2016).
[5] Beitin, Andreas. Face, Surface, Interface: The Motif of the Mask. Civic Radar. Hatje Cantz; 01 edition (15 Mar. 2016). P. 205.

[6] Breitmore, Roberta (Lynn Hershman Leeson). Antoinette LaFarge. 2007.http://fictive.arts.uci.edu/roberta_breitmore
[7] Garrett, Marc. Heath Bunting, The Status Project & The Netopticon. Furtherfield, May 2012.https://www.furtherfield.org/features/articles/heath-bunting-status-project-netopticon
[8] Catlow, Ruth. Karen Blissett is Revolting. Critical Personas. New Criticals. May 24, 2014.http://www.newcriticals.com/karen-blissett-is-revolting
[9] Leeson, Hershman Lynn. The Terror of Immortality. Civic Radar. Hatje Cantz; 01 edition (15 Mar. 2016). P. 365.
*Text from ZKM – Teknolust. With Lynn Hershman Leeson at the cinema.
http://zkm.de/en/event/2015/03/teknolust-with-lynn-hershman-leeson-at-the-cinema

In 2015, ZKM in cooperation with the Deichtorhallen Hamburg / Sammlung Falckenberg exhibited the first comprehensive retrospective of Leeson's work, including her most recent productions of art. Last year Modern Art Oxford hosted a major solo exhibition of her work Origins of a Species, Part 2 and she also has work in The Electronic Superhighway, at Whitechapel Gallery, in London.

As part of transmediale's opening night in Berlin, audiences were sat in front of three large screens and taken on a journey through the abstract infrastructures of the imminent 'smart city'. Liam Young, a self-proclaimed speculative architect, narrated the voyage whilst beside him, Aneek Thapar designed live sonic soundscapes complementing the performance. For Young, the smart city is a space where contemporary anxieties are not only unearthed but increasingly multiplied. The smart city manufactures users out of citizens, crafting an expanse whereby the hegemonic grip of super-production evolves into a threateningly subversive entity. According to Young, speculative architecture is one of the methods of combating the city's supremacy – moulding the networks within a smart city to facilitate our human needs within a physical realm. It is a means of becoming active agents in amending the future.
Speculative architecture as a term is relatively new, however the concept's origins date back to the 1970s Italian leftist avant-garde. Back then it was called 'Radical Architecture', a term initiated by SUPERSTUDIO's conceptual speculation regarding the structures of architecture. SUPERSTUDIO's methods were transcendental as they favoured the superiority of mental construction over the estranged act of building. The founders of the group, Adolfo Natalini and Cristiano Toraldo di Francia, acknowledged modernist architecture as reductive to man's ability of living a free life since its core foundations were built on putative methods of indoctrinating society into a pointless culture of consumption. The development of The Continuous Monument was a declaration to end all monuments since the structure itself was designed to cover the expanse of the world. Its function was to form 'a single continuous environment of the world that would remain unchanged by technology, culture and other forms of imperialism' as stated by SUPERSTUDIO itself. A function sufficiently egalitarian, and in some respects utopic, The Continuous Monument, much like Tatlin's Third International in the 1920s, was never intended to be built, but instead to uncover the notion of total possibility and arbitrariness. Likewise, Young's performative smart city does not purpose itself around applicable techniques of construction – it creates scenarios of possibility exploring the autonomous infrastructures that lie between the premeditated present and the predicted future. Hello City! intends to transpire the idea that computation, networks and the anomalies that surround them are no longer a finite set of instructions, but instead constitute an original approach to exploring and facilitating speculative thought through imagined urban fictions.
Liam Young's real-time cinematic narration cruises us like a 'driverless vessel' through the smart city beyond the physical spectrum. The smart city becomes an omnipresent regulator of our existence, as it feeds on the data we wilfully relinquish. Our digital footprint re-routes the city, traversing us into what Young calls 'human machines of the algorithm'. His narrative positions human beings as 'machines of post-human production' within what he names a 'DELTA City'. As an envisioned dystopia which creates perversions between the past, present and future, Hello City! is reminiscent of Kurt Vonnegut's post-modern narrative in Cat's Cradle. San Lorenzo, the setting for Vonnegut's book, is on the brink of an apocalypse – the people's only conjectural saviour would be their deluded but devoted faith to 'Bokononism', a superficial religion created to make life bearable for the island's ill-fated inhabitants. Moreover, the substance 'Ice-9', a technological advancement, is exploited far from its original purpose of military use, leading to looming disaster. Both Bokononism and the existence of Ice-9 resonate Young's narrative as they explore the submissive loss of free will and the consequences of allowing the future to be dictated by uncontainable entities. In Hello City! the metropolis becomes despotic and even more complex as it is designed by algorithms feeding on information instead of the endurances and sensitivities of the human body.
Like software constructed by networks, the future landscape will be a convoluted labyrinth for physical beings. Motion within the city will be ordained by a form of digital dérive structured by self-regulated and sovereign systems. Young's video navigates us through blueprint structures simulating the connections within networks thus proclaiming the voyage as unbridled by our own corporal bodies. The body is no longer dominant. He introduces us to Lena, the world's first facial recognition image, originally a cover from a 1972 Playboy magazine. Furthermore, he makes references to Internet sensation Hatsune Miku as a 'digital ghost in the smart city' whilst the three screens project and repeat the phrase 'to keep everybody smiling' ten times. We may speculate that for Young, the smart city has the potential to function like Alpha 60, a sentient computer system in Godard's film Alphaville, controlling emotions, desires and actions of the inhabitants in the 'Outlands'. As Young dictates 'the City, looks down on the Earth' – it becomes a geological tool and engages the speculative architect to remain relevant within the ever-changing landscape of that space.
In a preceding interview, Young refers to the speculative architect as a 'curator', 'editor' and 'urban strategist' attempting to decentralise power structures from conventional and conformist architectural thought. In 2014, Young's think tank 'Tomorrow's Thoughts Today' envisaged and undertook a project titled New City. New City is a series of photorealistic animated shorts featuring the cities of tomorrow; one is The City in the Sea, another is Keeping Up Appearances and the last is Edgelands. Too often, these works are projected and interpreted with the foreseeable frowning of rising consumerism concurrent with the dissolute development of technological super structures. Without a doubt, the supposition that technology is alienating us from our identities as citizens of a city is undeniable and exhaustively linked to the creation of super consumers and social media. Nonetheless, New Cities is more than just about that – comparable to the architectural intrusions of SUPERSTUDIO, the narrative of Cat's Cradle and Alphaville,New City underlines the impending subsequent loss of human liberty with the advent emergence of the smart city whilst Hello City! injects the audience in within it.
Young's notion of the smart city is consolidated within a Post-Anthropocene existence. Without any dispute, our world will inevitably divulge a post-anthropocene reality, but until that critical moment arrives, acts of speculation, such as speculative architecture, only exist within the hypothesis of potentiality. In fact, throughout Hello City! speculation cannot be positioned as either a positive or negative entity – it appears to lie within a neutral area of hybridity and experimentation. The narrative of Hello City! is purely speculative and thus exceedingly experimental. Like much of SUPERSTUDIO's existence, antithetical notions of egalitarianism and cynicism run throughout Hello City! triggering perpetual seclusion of the audience's contemplations. Conflicting positions reveal an ambivalence resulting to escalated concerns towards the act of execution. Speculative architecture itself is a purely narrative process designed on a fictitious future that is not formulated and so the eternal battle between theory and practice will always occur. Uncertainties raise an issue of pragmatism and whether speculation, evidently in architecture, is commendable. Seeing as speculation for the future is, in its most basic form, an act of research, it is regarded as the most pragmatic practise when taking into consideration any future endeavours. As the performance draws to an end, Young declares that 'In the future everything will be smart, connected and made all better' and then indicates towards the contradicting existence of Detroit subcultures that the future map will be unable to locate. A message loaded with properties that are paradoxical and thus ambiguous in their intent, Hello City! occupies itself with inner contradictions that only create the possibility for plural futures, a functional commons for the infrastructure of tomorrow.
In 2016 Ruth Catlow and Ben Vickers led the symposium, Blockchain's Potential in the Arts, hosted by the Austrian Cultural Forum. This symposium sought to bring together individuals from across the arts nationally to highlight and discuss the potential future impact of blockchain and encourage early engagement.
The award-winning DAOWO series was subsequently devised by Catlow and Vickers in collaboration with the Goethe-Institut London, and the State Machines programme. It is intended as a form of active engagement in these rapidly unfolding technical and socio-economic developments. Its title is inspired by a paper written by artist, hacker and writer Rob Myers called DAOWO – Decentralised Autonomous Organisation With Others.
What does blockchain mean for the arts?
'What seems to emerge is a potential for blockchain to devolve mechanisms and processes for funding artists, as well as allowing various players in the arts ecosystem – artists, collectors, viewers, curators, and others – to define how they want to interact, with the possibility that sharing and artwork almost merge, or at least become as two sides of the same coin."
U. Kanad Chakrabarti

Focused on establishing greater cooperation between the arts and blockchain industry, leading researchers and key artworld actors discuss the current state of play. DAOWO Discussions focus on potential cultural and social impacts, technical affordances and opportunities for developing new blockchain technologies for fairer, more dynamic and connected cultural ecologies and economies.
Download the DAOWO Resource #1 for key learnings, summaries of presentations, quotes, photographs, visualisations, stories and links to videos, audio recordings and much more from our first two DAOWO events.
This series brings together artists, musicians, technologists, engineers, and theorists to join forces in the interrogation and production of new blockchain technologies. Our focus will be to understand how blockchains might be used to enable a critical, sustainable and empowered culture, that transcends the emerging hazards and limitations of pure market speculation of cryptoeconomics.
As the DAOWO series unfolds each lab works across a spectrum of themes and domains of expertise, breaking down silos and assumptions about what these technologies might mean.
The aim is to birth a new set of experimental initiatives which can reinvent the future of the arts as we know it.
DAOWO Summits UK 2019
1-6pm Thur 28 Feb – Inspace, Edinburgh, in partnership with Department of Design Informatics at the University of Edinburgh, New Media Scotland.
Edinburgh Programme Summary
State of the Arts: Blockchain's Impact in 2019 and Beyond| Ruth Catlow and Ben Vickers on developments from critical practice to the business of arts and the blockchain. Followed by discussion hosted by Clive Gilman
Make / Do / Block | Panel discussion with 5 creative practitioners whose work allows us to experience the otherwise abstract technology of blockchain. Hosted by Prof Chris Speed and Mark Daniels.
What value does the blockchain bring to collecting art? | Ruth Catlow in conversation with Marianne Magnin, London Director of Arteïa
Previous DAOWO Programme of Labs and Debates 2017-18
For more DAOWO activities see our Events page.
Related

Introduction.
Choose Your Muse is a new series of interviews where Marc Garrett asks emerging and established artists, curators, techies, hacktivists, activists and theorists; practising across the fields of art, technology and social change, how and what has inspired them, personally, artistically and culturally.
Lynn Hershman Leeson artist and filmmaker, who over the last three decades, has been internationally acclaimed for her pioneering use of new technologies and her investigations of issues that are now recognized as key to the working of our society: identity in a time of consumerism, privacy in a era of surveillance, interfacing of humans and machines, and the relationship between real and virtual worlds. Her work was featured in "A Bigger Splash: Painting After Performance" at the Tate Modern London in 2012 and a retrospective and catalogue are being planned for 2015 at the Zentrum fur Kunst Und Medientechnologie, Germany. Modern Art Oxford is hosting a major solo exhibition of her work Origins of a Species, Part 2, and it's open until 9 August 2015.
Lynn Hershman Leeson released the ground-breaking documentary !Women Art Revolution in 2011. It has been screened at major museums internationally and named by the Museum of Modern Art as one of the three best documentaries of the year.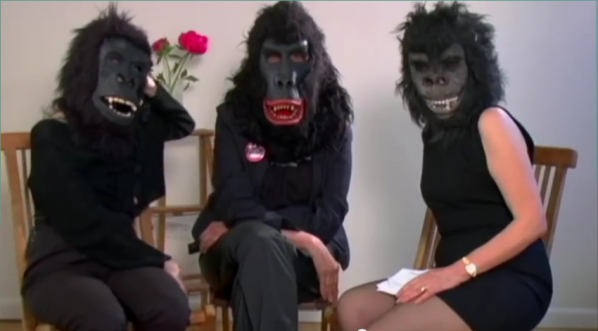 The image above is from !Women Art Revolution, which introduces the Guerilla Girls who draw attention to injustice and under-representation across artistic platforms and institutions. Several members discuss their origin story and modus operandi, including "the penis countdown. !Women Art Revolution won the first prize in 2012 at the festival in Montreal on Films on Art.
She also wrote, directed, produced and edited the feature films Strange Culture, Conceiving Ada, and Teknolust. All featured Tilda Swinton and were showcased at the Sundance Film Festival, Toronto International Film Festival and Berlin International Film Festival before being distributed internationally. After her retrospective, at CIVIC RADAR in December 2014, a bumper catalogue consiosting of 450 pages will be published in Oct 2015. Featuring writing by Peter Weibel, Laura Poitras, Tilda Swinton, Kristine Stiles, B Ruby Rich, Hou Hanru, Andreas Beitin, Peggy Phelan, Pamela Lee, Jeffrey Schnapp, kyle Stephan and Ingeborg Reichle. Civic Radar is now at Diechterhallen Falkenberg till November 19, 2015.
Start of Interview.
Marc Garrett: Could you tell us who has inspired you the most in your work and why?
Lynn Hershman Leeson: What has inspired me are people who work with courage to do original work that has a political and authentic ethic. These include, to name a few only, it seems a bit strange because naming them isolates these artists from the context of their contributions. But I have been inspired by Lee Miller, Mayakovsky, Tinguely, early Automata and so many more like Thomas Edison, Jules Etienne Marrey, even Cezanne. Early on I educated myself by copying works to get a sense of how particular artists formulated their language – the way Rembrandt used light, Leonardo's draftsmanship and parallels he found between technology and science, Gauguin's color reversals, Brecht, Breton and Duchamp's ironic and iconic archetypal identities, Tadeauz Kantor, and Grotowsky's extension of the frame.
Also younger artists (nearly everyone is) like Rafael Lezano Hemmer, particularly the work he is doing now in using facial recognition to locate kidnapped victims, Amy Siegal's Providence, Janet Biggs, Annika Yi, Nonny de la Pena, Tania Bruguera, Ricardo Dominguez, and many many more.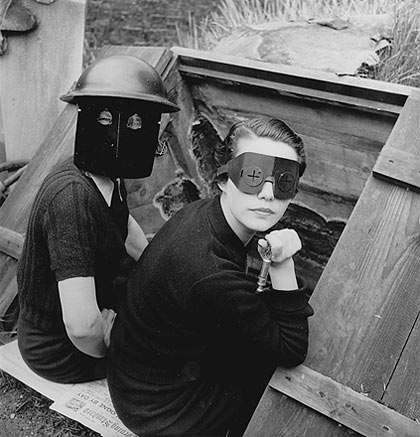 Lee Miller photographed women in fire masks in wartime London in 1944.
                                        [Source: Telegraph/Lee Miller Archives]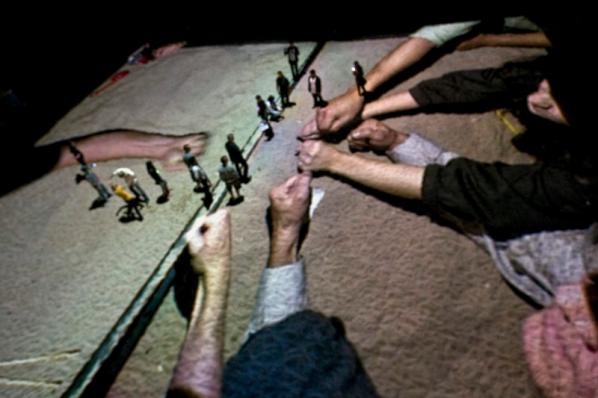 Rafael Lozano-Hemmer, "Sandbox, Relational Architecture 17", 2010.
Glow Festival, Santa Monica, USA. Photo by: Antimodular Research.

MG: How have they influenced your own practice and could you share with us some examples?
LHL: I think these examples added to my conceptual dimensional and historical overview which has been reflected in my practice. There are direct links also, like how the breathing machines and suicide machines relate to Tinguely, or how Roberta relates to Duchamp and Breton. But these are obvious and on the surface. The deeper perspectives embed themselves into the structure and architecture of the work. Political references like Civil Rights and The Feminist Movement are part of the core of the time I lived through and the resulting collage that is my work.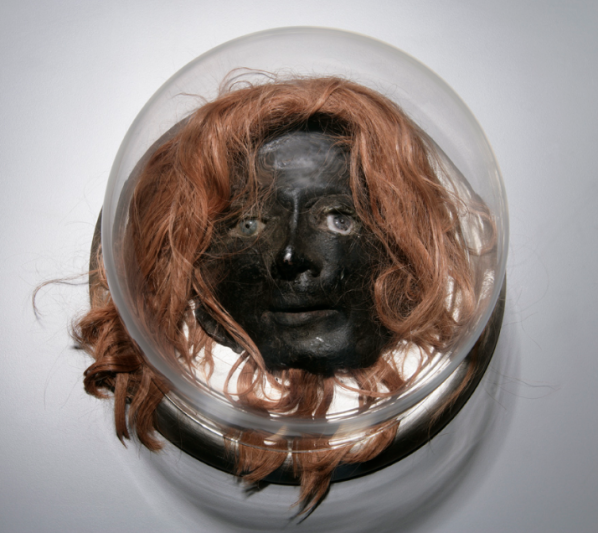 Breathing Machine. 1965. Lynn Hershman
MG: How different is your work from your influences and what do you think the reasons for this are?
LHL: I think we all work in the time frame we are born into, and if we are lucky use the materials or invent the technologies to give presence and voice to the political gestures of that era. We cannot produce work from another era other than what we inhabit and really have to be in tune with the global framing of the tools and language invented during our life time.
MG: Is there something you'd like to change in the art world, or in fields of art, technology and social change; if so, what would it be? How would that happen?
LHL: Of course I would open up the process and systemic repressions, which would hopefully result in eradicating censorship, and the making more transparent the capitalistic underpinnings that are polluting access, value and visibility. In the 70's, I did the first prison art project in San Quentin, and many early public art works geared toward social change, and it just required fortitude and clarity that resulted in breaking down systems of perceived values.
MG: Describe a real-life situation that inspired you and then describe a current idea or art work that has inspired you?
LHL: Well, hearing about Steve Kurtz's predicament and the unfairness of it caused me to make the film Strange Culture.  I personally experienced exclusion and rejection – as did many women, and that inspired !Women Art Revolution. I think work comes out of awareness of the situations of one's time.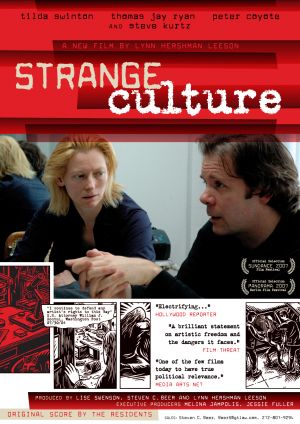 Steve Kurtz's nightmare began on May 11, 2004, when he awoke to find his wife Hope dead of a heart attack. Police responding to his distressed 911 call became suspicious of scientific paraphernalia in his house (materials for an art project on genetically modified food) and contacted the FBI. Soon his world was turned upside down. Only hours after his wife's tragic death he was suddenly a murder suspect, an accused bioterrorist, and a pariah to all but his closest friends.
The film is told through a unique blend of interviews, documentary footage, and reconstructed scenes starring Tilda Swinton, Thomas Jay Ryan, and Peter Coyote, Hershman's critically-acclaimed film is a sophisticated, look at how the traumatic events of 9/11 altered American society and undermined its long-held values. [1]
MG: What's the best piece of advice you can give to anyone thinking of starting up in the fields of art, technology and social change?
LHL: Stay true to your vision, forge ahead no matter what the obstacles are and keep your sense of humor.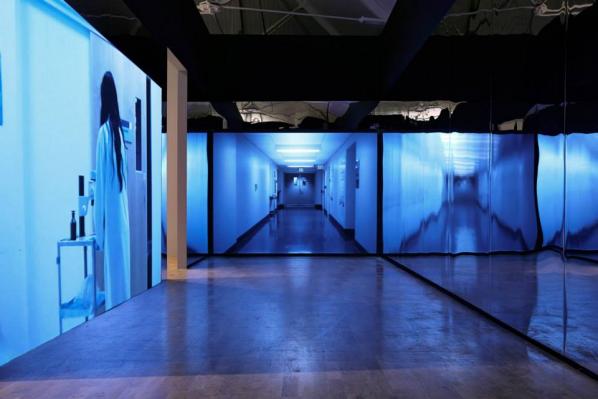 Three images from, Origins of the Species (Part 2). Lynn Hershman Leeson.
                                      Modern Art Oxford. 29 May — 9 August 2015.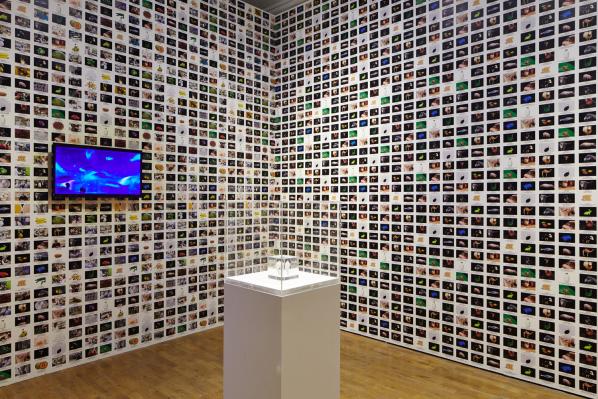 "Ms. Hershman Leeson continues to use art as an advance warning system in new work, developed with scientists, that focuses on, and participates in, the phenomenon of genetic manipulation. The show's most recent piece is an installation of wallpaper made from images of hybrid animals, plants, and human limbs created through DNA manipulation, regenerative medicine and 3-D bio-printing. It looks great in the gallery, and like much of this artist's work, it takes both ethics and aesthetics in ungraspable directions."[2]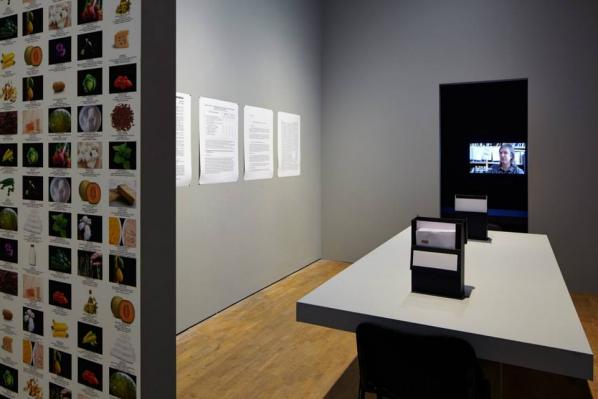 MG: Finally, could you recommend any reading materials or exhibitions past or present that you think would be great for the readers to view, and if so why?
LHL: The Art and Technology show in MdM at Salzburg, my exhibition and catalogue for The Burden of Guilt. The Electronic Super Highway and catalogue coming up at Whitechapel next year. Recommendations for catalogues: !War Graphic Novel, Marshal McLuhan, Rebecca Solnet's River of Shadows, Edweard Muybridge and the Technological Wild, Kristine Stiles: States of Mind,  Peter Weibel: The Global Contemporary and the Rise of the New Art World,  and so many others. I also think for instance that James Watson's Double Helix is beautifully written. So many possibilities for educating one's self exist.
References.
[1] Strange Culture Directed by Lynn Hershman Leeson, 2006.
http://www.docurama.com/docurama/strange-culture/
[2] Lynn Hershman Leeson: 'Origins of the Species'. Art in Review. By Holland Cotter. The New York Times. March 26, 2015.
http://www.nytimes.com/2015/03/27/arts/design/lynn-hershman-leeson-origins-of-the-species.html?partner=rss&emc=rss
The Negligent Eye the Bluecoat Liverpool Sat, 08 Mar 2014 – Sun, 15 Jun 2014 http://www.thebluecoat.org.uk/events/view/exhibitions/1971
Featuring artists: Cory Arcangel, Christiane Baumgartner, Thomas Bewick, Jyll Bradley, Maurice Carlin, Helen Chadwick, Susan Collins, Conroy/Sanderson, Nicky Coutts, Elizabeth Gossling, Beatrice Haines, Juneau Projects, Laura Maloney, Bob Matthews, London Fieldworks (with the participation of Gustav Metzger), Marilène Oliver, Flora Parrott, South Atlantic Souvenirs, Imogen Stidworthy, Jo Stockham, Wolfgang Tillmans, Alessa Tinne, Michael Wegerer, Rachel Whiteread, Jane and Louise Wilson.
The Negligent Eye revolves around the way a digitally-native generation of artists – particularly printmakers – are questioning their relation to the digital, using the notion of 'scanning' as a kind of mid-state of the creative process of the human-digital hybrid. The show is co-curated curated by the Bluecoat's Sara-Jayne Parsons and head of printmaking at the RCA, Jo Stockham, and features several works by her graduates, and other artists from around the RCA, such as Bob Matthews and Christiane Baumgartner. "The relationship between the material and virtual worlds is a question, a set of contradictions we are all inside and how technical images exert their influence on our everyday experience is of ever increasing importance." Jo Stockham.
Rebecca Gossling // Untitled // 2014
In her article Too Much World: Is the Internet Dead? Hito Steyerl asks what happened to the internet, after it died – that is, in an era of the "post-internet" after it stopped becoming a possibility, even in the midst, because of, and symptomized by, its permeation of everything. Steyerl is a major force in understanding our relationship to digital images, and her use of 'death' occurred to me often during viewings of this show and surrounding events, particularly as it could be applied to the post-digital.
So in a sense, I experienced the show as an autopsy of the digital image. From the tragic, simian face looking out from the first ever digital image, taken by Russell Kirsch of his son in 1950, exhibited at two points in the exhibition like an insistent memory. To Marilène Oliver's figures from her 2003 Family Portrait series where bodies have been evoked as series of horizontal cross-section prints layered on acetate, so that they appear as though stored, but only partially in this world; the exhibition continually references, exemplifies and unpacks the death of its medium.
The post-digital is a paradoxical term – at once assuming the reliance of all contemporary culture in digitality, but also looking past it; affirming the death of a form, while embodying its afterlife. This is what Elizabeth Gossling's images of a dead comedian says to me, when it is scanned from a computer screen and printed back on to archival paper, with his image waving from behind an ether of static, living in the solid pulp. The best works in this show, Gossling's included, speak very eloquently about the post-digital, and how artists are motivated into hybrid forms of production, always acknowledging and working in a context of the saturation of the digital.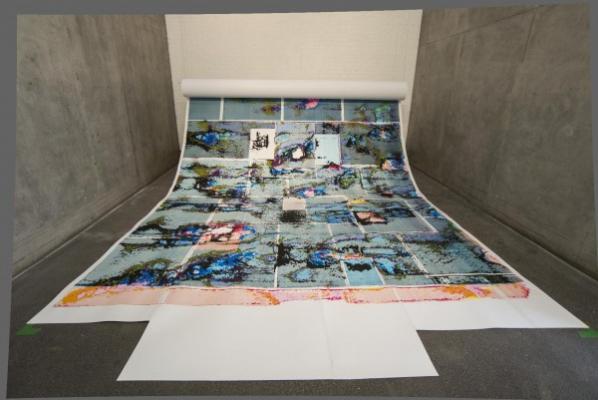 Maurice Carlin, site-specific print, 2014.
The notion of saturation, and its implications of the dissolution and liquidity, itself saturates the show: the first work, Maurice Carlin's monumental print, scrolling down from the ceiling of the vide space is in one sense a spectral ancestor of Monet's waterlilies, but with gashes and pustules of CMYK colour oozing up from behind the serine blue and greens of the pond, and white pixel-like rectangles plugging up the gaps; London Fieldworks' 3D image of data collected from Gustav Metzger's brain while he thought of nothing, is presented on a screen with a trickling sound – perhaps of information leaking inexorably back in?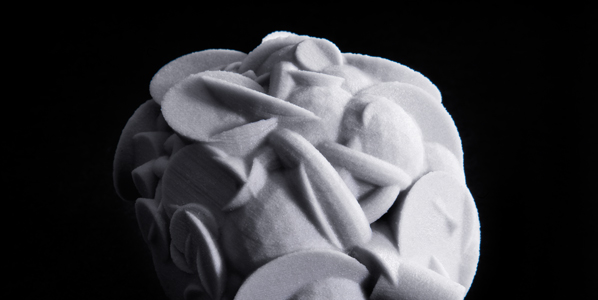 London Fieldworks // Positive Object / 2012
Marilène Oliver's glitch-sculpture of body parts fused in the heart of the 3D scan/print machine hang in the chute of the gallery corridor, their surfaces mid-ripple as though submerged; Jo Stockham's etherized black and white shot of an element of the London skyline, seen perhaps through a teary bus window, but now writhing with red in its afterlife as a veined and depthless skin.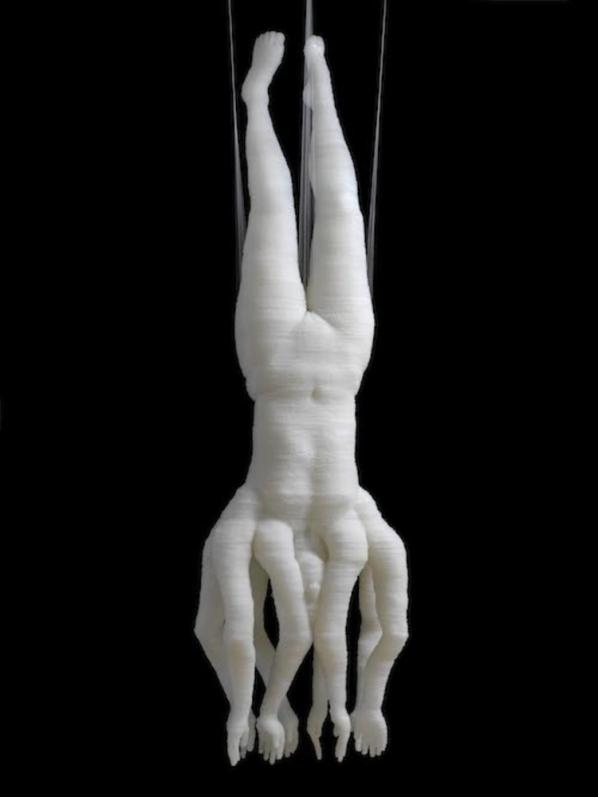 Fallen Durga, Marilene Oliver, twin walled plastic, 2010.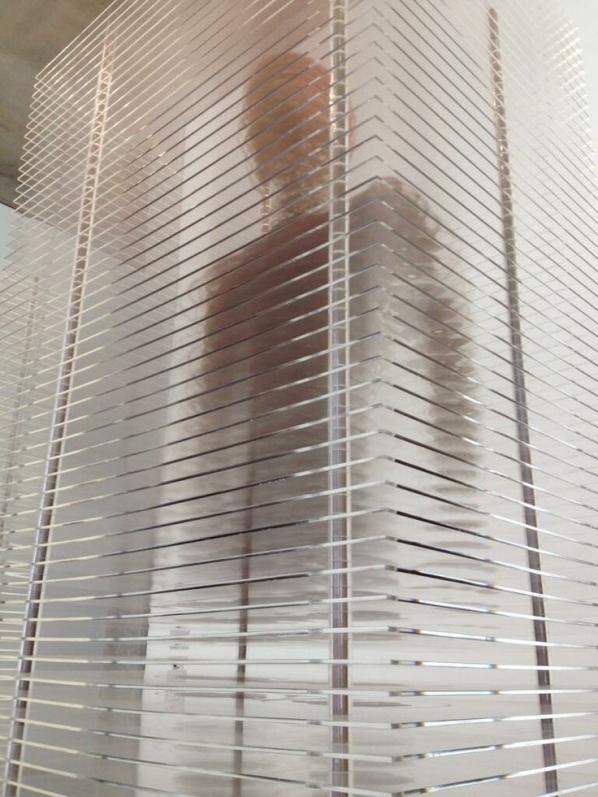 Marilene Oliver – 'Family Potraits' Clear acrylic bronze rods, 2003
Using damage and error to expose the affectivity of a medium, particularly in the context of the digital is the central mode of Glitch Art. I have already used the term glitch to describe the aesthetic of Marilène Oliver's sculptures, and the traces of digital-to-digital scan in Gosling's work and the rich material pixilation of Christine Baumgarner's inscription of CCTV camera stills into largescale wood prints, also contain these signatures.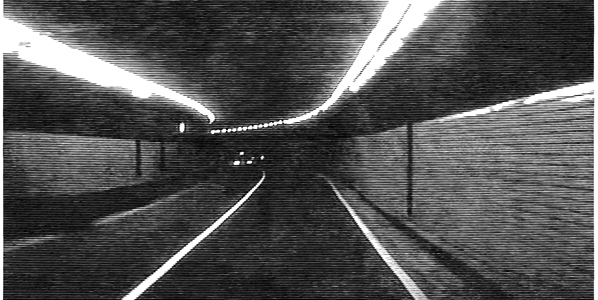 Christine Baumgarner // Solaris // 2013
If there is a criticism to be leveled at these admirable and, frankly gorgeous, works. It is in their distance from what Rosa Menkman refers to as the moment(um) of the glitch. In the medium of print-making, the material fact of the object dominates, and with this show, no-matter the stated and playful interest in the 'between-state' of scanning, there remains the focus on material production – and therefore an irrefutable commodification.
Prints on archival paper and tempered steel, casts in plaster and large-scale hardwearing plastics, each speak of an appropriation of the tactical and fluid glitch, and its migration into commodifiable form. Maurice Carlin's large-scale printwork could adorn a restaurant wall, just as Monet's waterlilies functioned during his era, and Oliver's sculptures also speak and modernise the language of sculpture as produced for private collections through the ages.
There are works also which say nothing of the 'post-digital', such as Imogen Stidworthy's Sacha, a deeply thoughtful study of a wire-tap transcription 'artist' Sacha van Loo. Stidworthy's enigmatic works are often hard to pin down thematically, and here it feels like the loft-type space of Gallery 3 has been used as an outer limit to the reach of the show. And then there are other works that say nothing at all and lessen the show's conceptual rigor. I see Jeaneu Project's peice, and think 'smudge lawn'. I see a Cory Archangel print and a Rachel Whitereed miniture and their names flash through my consciousness like a Google Glass press release.
Truly though, this is a really refreshingly vibrant and precient show at the Bluecoat, and a great partner to the Mark Lecky exhibition featured at the venue last year in its pressing contemporaneity. The exhibition has also been a fulcrum for a really interesting series of events which have dealt with image production – including a day of talks and presentations, i-Scan, artist talks from contributing artists such as Imogen Stidworthy, and independently curated events such as the second in Deep Hedonia's excellent Space/Sound series, where artists such as Madeline Hall, Jon Baraclough, Simon Jones and Andy Hunt explored the multiple angles from which digital scanning can be exploited as a performance and av medium. As with the Mark Lecky show, there is something about the context of the Bluecoat, as Liverpool's most paradoxical space, which delivers an archival retrospective out of the most up-to-date material, and this tension is what pulls appart the body of works before us.
The Rubik's Cube is not just a forgotten toy from the 80's. The fact is that it's even more popular than ever before. You can play with this great puzzle here.