In this interview with Tatiana Bazzichelli, artistic director and curator of the Disruption Network Lab, in Berlin, we discuss questions about art as a process for investigating political misconduct and wrongdoing.
Disruption Network Lab is an ongoing platform of events and research focused on art, digital rights, hacktivism and disruption. So far, they have hosted twelve conference events in Berlin and one in London. The programme creates a conceptual and practical space in which whistleblowers, human right advocates, artists, hackers, journalists, lawyers and activists are able to present their experience, their research and their actions – with the objective of strengthening human rights and freedom of speech, as well as exposing the misconduct and wrongdoing of the powerful. The programme has been covering topics such as the drone war, whistleblowing, counter-surveillance, ISIS media propaganda, hate speech, and artistic and activist strategies in times of increased geopolitical control (see: disruptionlab.org).
Interview
Marc Garrett: Why do we need the Disruption Network Lab now?
Tatiana Bazzichelli: The goal of the Disruption Network Lab is to present and to generate new possible routes of social and political action within the framework of hacktivism, digital culture and information technology, focusing on the disruptive potential of artistic practices. We aim to investigate projects that disrupt the field of information technology in unexpected ways, shedding light on interventions that provoke political and social change from within closed systems. The curatorial strategy aims to connect and to bring into dialogue experts that unfold inner structures of political, economical and technological systems, therefore promoting an in-depth understanding of digital culture in everyday life and society.
I believe that the Disruption Network Lab is necessary because we create a dialogue among people and practices that not necessarily meet often. For example, we connect whistleblowers and artists, policy makers and hackers, investigative journalists and activists. Most of the time, these people are acting within specific scenes, without having occasions of exchange. The curatorial methodology is based on a montage of practices, as well as of fieldwork, to create a conceptual network of multiple points of view.
Each event starts with an in-depth investigation of a subject that is pressing and urgent, and that sometimes needs to be revealed or exposed to the general public. It is not only about organising events, but also to research on what is important to cover according to what is happening in politics, culture and society at a specific moment.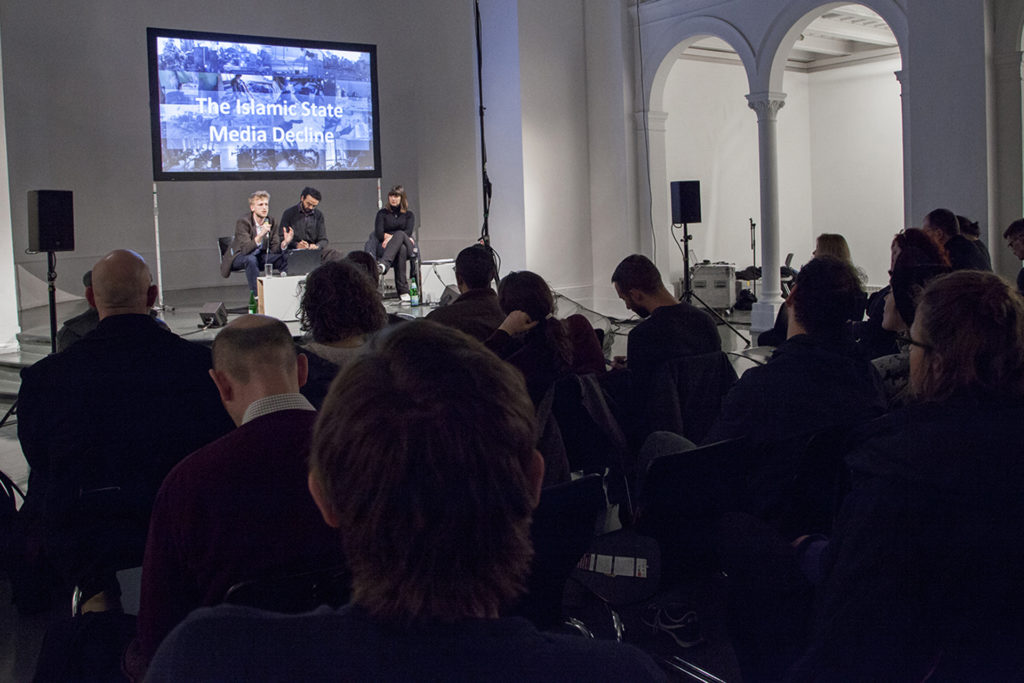 MG: An aspect I find really interesting about DNL is its investigative approach. It deals with those current issues usually tackled by journalism, but manages to go much deeper through the lab and conference formats. It also bridges other political, economical and technological systems, and digital culture. I'm wondering why you've chosen an investigative approach?
TB: Our aim is not only to comment on subjects of analysis, but to invite people that experience such subjects themselves, often at a high personal risk, and are able to offer to the public concrete advice and countermeasures that go beyond theoretical speculation. Our objective is to provoke change: change of opinion, practical change in our everyday life, and change in political and cultural terms.
At the core of my curatorial and research analysis is the reflection on practices that work from the inside of social, political and technological systems, questioning such systems themselves. This research path follows my theoretical investigation initiated with my PhD research "Networked Disruption: Rethinking Oppositions in Art, Hacktivism and the Business of Social Networking" (published in 2013 by the Digital Aesthetic Research Centre of Aarhus University in Denmark, and followed by a traveling exhibition in various European venues: aksioma.org/networked.disruption).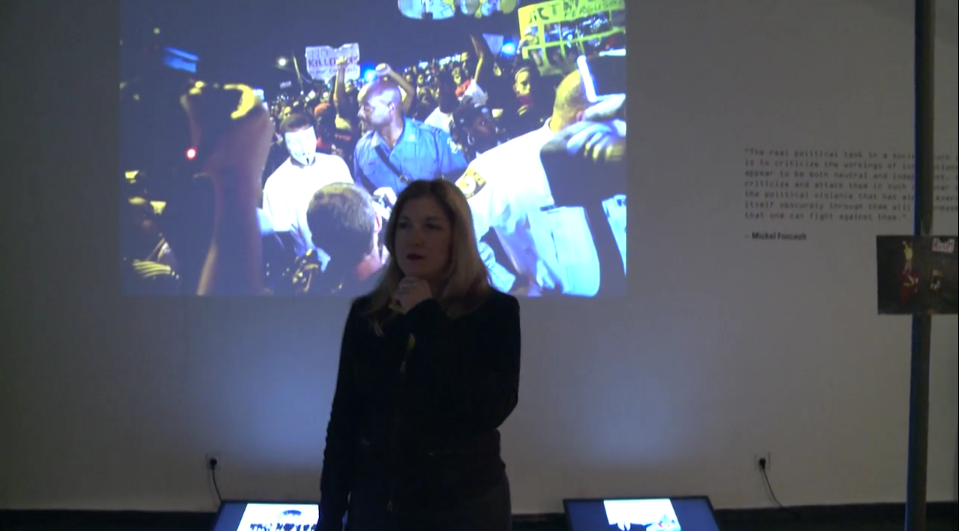 Since the first conference in April 2015, the Disruption Network Lab has been investigating the concept of whistleblowing, bringing attention to abuses of governments and large corporations, involving speakers such as Laura Poitras, Brandon Bryant, John Kiriakou, Annie Machon, Cian Westmoreland, Mustafa Al-Bassam, Abdalaziz Alhamza, Trevor Paglen, Henrik Moltke, a.o.
I come from a practical and theoretical background that combined art, hacking and political activism, but since 2014 my attention has been oriented to art as a act of investigation, thanks also to the work of Laura Poitras that deeply inspired me. I am progressively getting interested in artistic practices and investigations that provoke concrete outcomes, that are even difficult to be defined as "art". Hacker art was my field of interest since the emergence of hacker culture in the 1990s, but thanks to the Disruption Network Lab activity I got even more concrete, and I started being passionate about the field of investigative journalism.
My intent is to combine the culture of investigation with artistic practice, or even operate a conceptual shift, by starting to define investigative journalism and whistleblowing as art.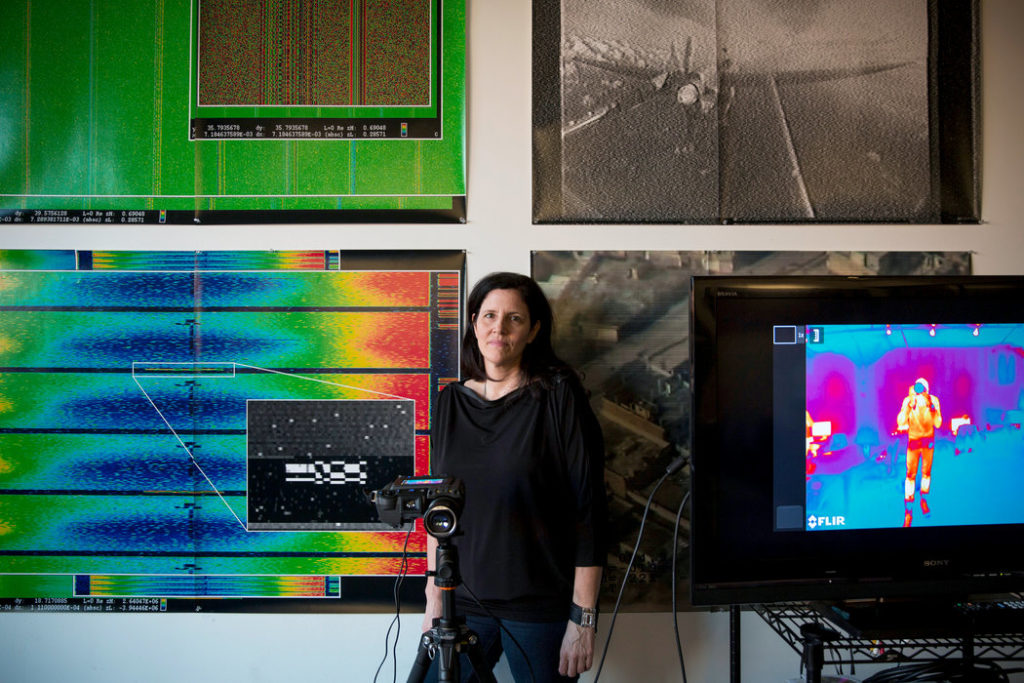 In the act of whistleblowing is embedded a deep change of perspective, where the unexpected emerges. This search for a radical change of point of views, which results in a deep disruption of individual life is something extremely valuable not only in political and cultural terms, but also on an artistic level. It is the contemporary Avant-garde, the search for a profound unexpected gesture that interferes with society and politics at a global level.
The investigative approach is necessary not only in the realm of journalism and whistleblowing, but also in the art context. It is thanks to an artistic approach that many discoveries can be done because artists are able to see reality as a challenge, and in a sense there is an important thread that connects them with whistleblowers. When I brought together these expertise during the Disruption Network Lab conferences, I could really see how it was possible to combine such methodologies and how whistleblowers and artists were intellectually benefiting from each other.
MG: To what degree does your investigative approach stem from what in the media art world has been termed as Tactical Media or Post-Tactical Media?
TB: There is for sure a connection with the tradition of tactical media strategies, and the discourse of post-digital interventions. The idea is to go beyond the digital per se, to focus on the impact of technology on the everyday life, culture, society and politics. However, I like to involve people that do not necessarily theorise on the methods, but that are coming from concrete fields of investigation and would never define themselves as "artists". It is my conceptual "pleasure" to define them as such, but I know that for them it is not really necessary to present their practices via such definition.
A whistleblower wants to provoke real change, she/he/they is a person that was part of a specific institution or organisation and often is a person that believes in systemic structures. It is perhaps because this person believes so much in them that gets frustrated and decides to disrupt an entire life to reveal a wrongdoing. I find this gesture something impressive, it is a work of art by itself. My question would be how much many established artists would be able to risk to provoke changes. Is actually contemporary art able to provoke concrete changes? For sure the meaning of artistic practice is making us reflect on the concept of change, but I feel that nowadays we need more than that. Power is becoming stronger and more pervasive, my opinion is that art needs to have a stronger and more pervasive impact, beyond distribution of ephemeral privileges.
Just to say something about this curatorial approach: it is absolutely not easy. I see the difficulties when I am looking for funds for the Disruption Network Lab. Cultural funders have difficulty to understand how investigative journalism might be considered useful in the realm of art; alongside, political funders don't like us to use the word art because they want to give money to something that appears more impactful on society. I like to connect dots, and to be in between, because it is thanks to this liminal zone that change can really emerge and that we can provoke it. Therefore I am choosing the most difficult path, but luckily until now we managed…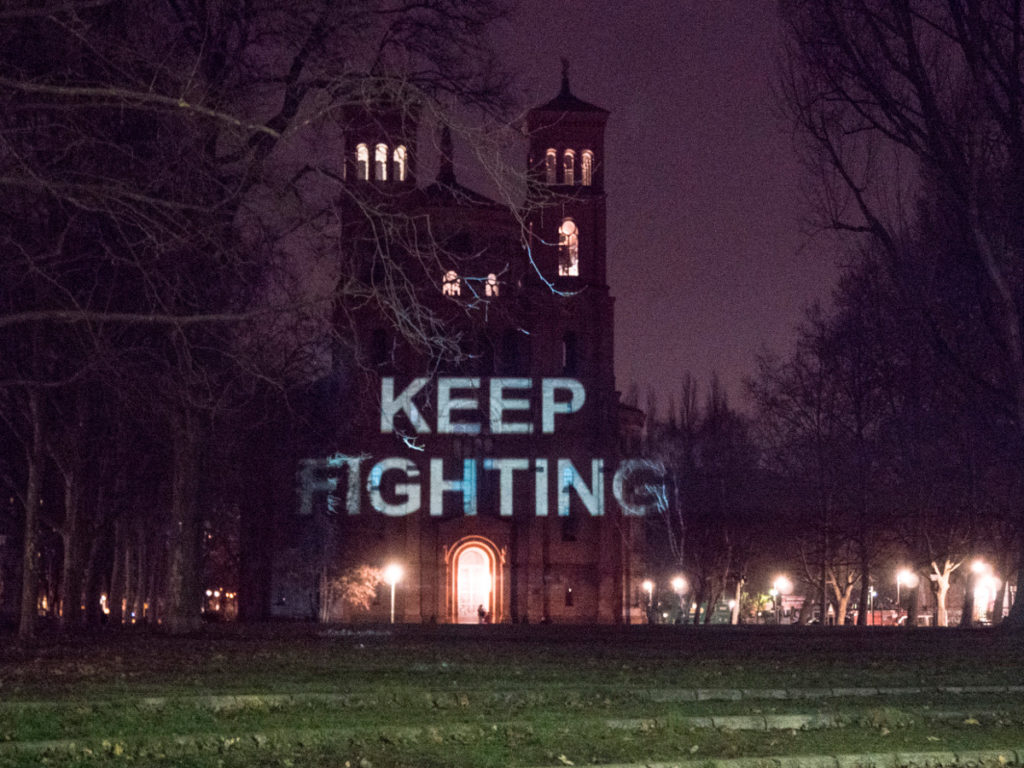 MG: What values are you trying to communicate through this way of working with others?
TB: We want to provide challenging debates within local and international communities, developing a context of critical reflection and analysis beyond what is usually communicated by mainstream media. The format of two-days events with a keynote and a panel each day encourages a very strong community sharing, which works on two levels: first, between the participants altogether, as they often know each other's work, allowing them to meet for the first time in person and engage in actual discussions about their research; second, among the audience, that is usually formed by real experts working on the topics under analysis, as well as by people interested in getting a deep insight.
This unique combination of expertise creates a solid space for critical questions and discussions during the collective moments of sharing, as well as during breaks and dinners, which add to the Lab's credibility to handle and discuss sensitive topics in a safe context.
Since each of our events requires a deep content research before the finalisation of the programme, it is extremely important to us to feel supported by organisations that we can trust and allow our research becoming concrete. The challenge of being independent while also looking for funding is very hard, and often some team members have to handle parallel jobs and sustainability struggles. Considering that we work with whistleblowers and people at risk, as it happened in the November 2017 event "TERROR FEEDS", in which we needed to hire private security, having precarious finances is a severe challenge to the realisation of the project. This is the reason why we try to sensitise our network to sustainability issues in culture production.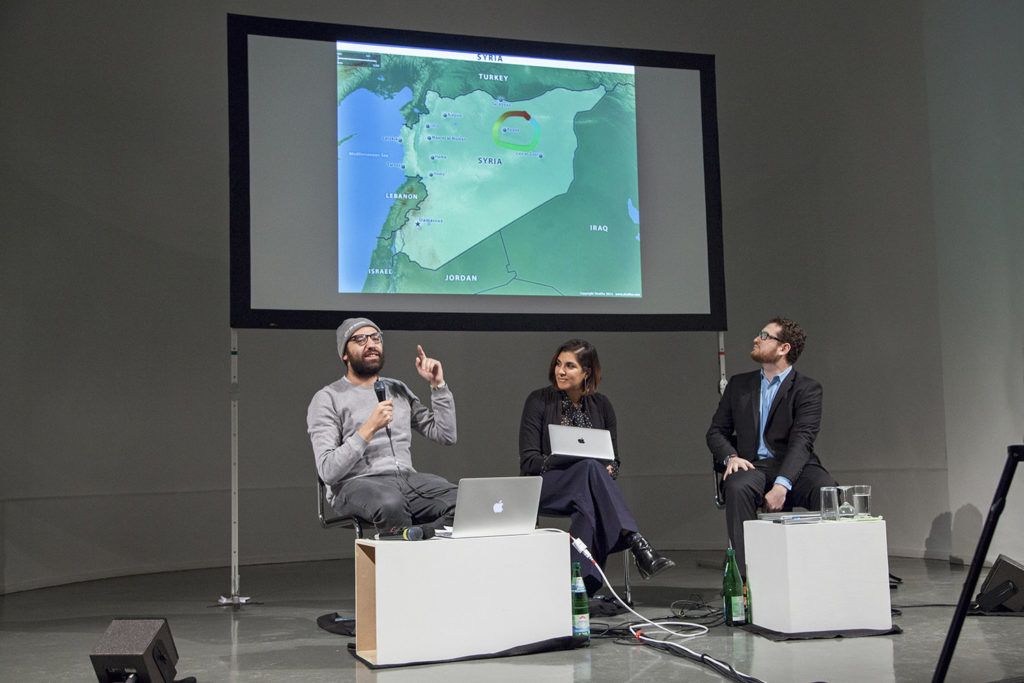 Since 2014 I have been working with wonderful and competent women in my team: Daniela Silvestrin, Kim Voss and Nada Bakr (Project Managers), Claudia Dorfmüller and Rahel Währer (Project Managers and Administration Officers), and with Jonas Frankki that has been shaping the visual identity of the conference programme since the start.
The Disruption Network Lab project was founded in 2014, and since 2016 it is a registered non-profit association in Germany (Disruption Network Lab e.V. – gemeinnütziger eingetragener Verein). The Disruption Network Lab e.V. produces the Disruption Network Lab programme.
The founding of the association was a solid step towards presenting and promoting the topic of digital culture in Berlin and internationally. We evolved from a single, private initiative, to an organisation devoted to digital culture and its applications on politics, technology, and society, locally and internationally. The grounding of the association was supported in 2016 by the Open Society Foundations (OSF) with a structural funding. For the organisation of the events, however, the association has been dependent on external private and (mostly) public funding. The first series of events in 2015 started thanks to the support of the Capital Cultural Funds of Berlin.
I want to be open on these details because they are really important for the way we shape our work. Often organisations in our field do not speak about the "making of", but to be transparent it is part of our values. In our organisation we unfortunately do not benefit regularly of structural grants, and we have to search for grants event after event. During the production of our conferences, we have to undertake fundraising activities and this makes our lives very precarious.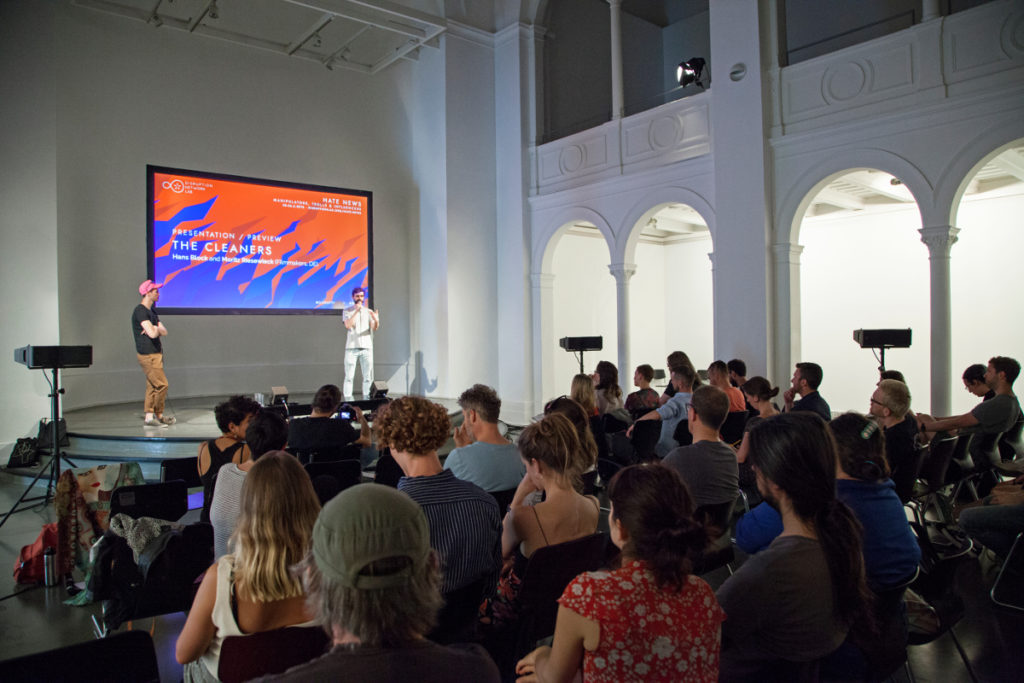 While in 2015, 2016 and 2018 we got funding support from the City of Berlin, this did not happen in 2017. This pushed us to look for international funds, which was a very complex task while being busy with production – thing that almost compromised the whole conference series. This search opened us toward international foundations that are working with human rights, social justice and investigative journalism, such as the Reva and David Logan Foundation, the Bertha Foundation and the Mozilla Advocacy Fund, which supported us in 2017 (and in the case of the Reva and David Logan Foundation, also afterward). This pushed me to research more extensively the field of investigative journalism, because I understood that there was a concrete need for such practices and approaches in the cultural production scenario, and at an international level.
MG: Could you give us an idea of what the composition of the audiences at the DNL conferences
TB: The audience of our conferences is formed by activists, artists, journalists, computer experts, cultural producers, human right and whistleblower advocates, students and researchers. Entrance ticket is very accessible, only 5 Euro per day. After the conference, we provide a video documentation of the events to reach a broader international audience (youtube.com/c/DisruptionNetworkLab).
We have been collecting a lots of video material in the past four years. At the moment I am researching possible grants to see if we will be able to support the activity of archiving such contents in a systematic way, providing additional references and creating useful infographic. This would be something really important to offer to our public in the future.
MG: I was fortunate enough to be asked to chair two different DNL conferences. The one which affected me most, was "DRONES: Eyes from a Distance" which took place in April 2015, at Kunstquartier Bethanien in Berlin. The keynote speaker Brandon Bryant, was whistleblower and former drone-operator. It all felt very intense. The space was full, and the audience were very inquisitive, they wanted to know more. The length of the panels and discussions are longer than usual panel discussions. Yet, strangely, they go very quickly.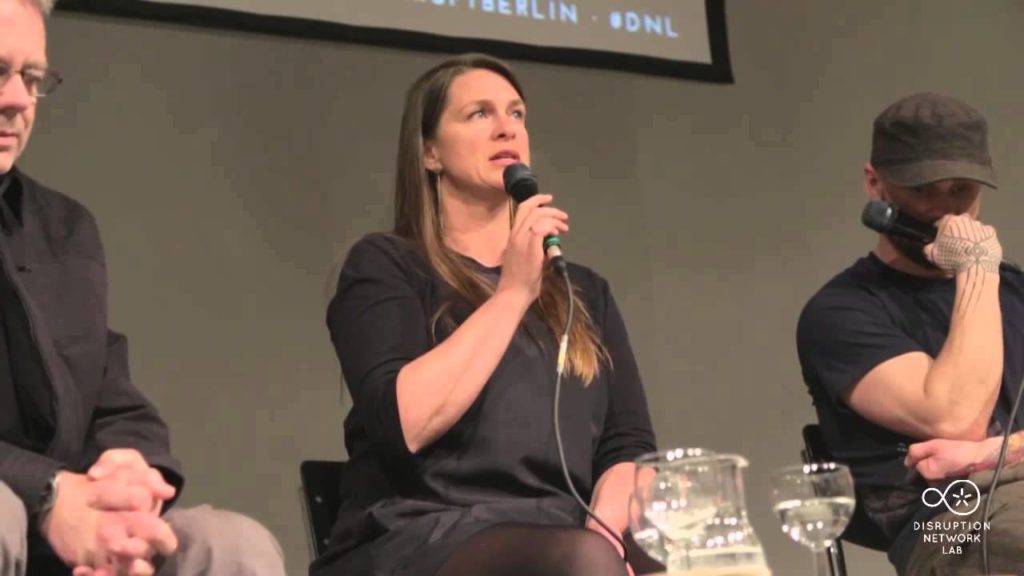 Could you expand on how and why you choose this way of presenting a cultural forum as a platform?
TB: Since 2015 the Disruption Network Lab e.V. produced thirteen conference events (in Germany, UK and Austria). The conference "DRONES" with keynote Brandon Bryant was the first of the series. After that we kept investigating on related subjects, such as activist and resistance strategies after the Snowden-Leaks ("SAMIZDATA": keynotes Laura Poitras and Jacob Appelbaum); whistleblowing ("TRUTH-TELLERS": keynotes Grace North and Mustafa Al-Bassam; "PRISONERS OF DISSENT": keynote John Kiriakou), the ISIS media propaganda ("TERROR FEEDS": keynotes Charlie Winter, Sue Turton, and Abdalaziz Alhamza): hate speech and political misinformation ("HATE NEWS": keynotes Nanjala Nyabola and Andrea Noel).
Currently we are working on developing a new conference on the subjects of populism, right-wing extremism, and alt-right, and the effects of such phenomena in art, media, politics and society, under the title of INFILTRATION: Challenging Supremacism (September 7-9 in Berlin at Kunstquartier Bethanien).
Each conference requires a previous research, and an analysis of the topics that are important at the moment. This allows us to be exactly on time for the investigation of current phenomena. It was the case of the last conference, HATE NEWS, which was the result of a funding application done in December 2017, but since the production started later in 2018, I could focus on the "hot news" of the Cambridge Analytica debate, and be really fortunate to have with us David Carroll and Nanjala Nyabola.
Sometimes the topics are also the result of a common sharing within my own community (which actually crosses many communities). It was the case for the first conference event "DRONES" in April 2015. During some months I was sharing ideas with my friends and colleagues Chantal Meloni (criminal lawyer at the ECCHR in Berlin) and Laura Lucchini (freelance journalist) about the topic of the consequences both on military networks and civil society of an increasing automatism of conflicts. Chantal Meloni suggested me to contact former drone operator Brandon Bryant, that at the moment was not well-known as today – she saw him speaking at the ECCHR during an event related to human rights and the drone war. I reached out to him and we decided together how to shape his Keynote – you saw the results. Brandon Bryant was really important for the start of the Disruption Network Lab, his gesture of coming to us was really brave, generous and impactful. In a sense, it was the beginning that shaped the future of our activity.
MG: What responses have you received from your audiences in respect of this way of presenting and the content being explored?
TB: Our audience is usually really committed. I am always impressed when after four hours of discussions, at the Q&A in the late evening, I see people asking very deep, incredibly detailed and specific questions. I have to say that this has been my deep surprise in Berlin since I moved here 15 years ago, to experience that people are so committed, critical and well-informed during events. But of course at the Disruption Network Lab the feedback it brings a more intense value, because I have the feeling that people are enjoying the unexpected connections that I put together after hard work. And the most fulfilling result is when they got them!
However, it is not always easy to keep the public interested in such deep topics, especially because in Berlin the competition with openings, clubs, and parties during the weekend is tough. In the past 4 years we have been shaping our community of passionate people that are regularly coming and following us, even from abroad. The challenge for me now it is to open up more, and to reach new people that are constantly flowing in the city. The support of our close community is important also for this scope, we need to support each other to keep doing what we do.
MG: Since starting DNL what highlights do you remember that have made you feel you are part of something special?
TB: The work before each conference is hard, we are only five people, and in the past we were just three. So at a production level, there is a lots of work which implies fundraising, press and communication, the whole organisation of the logistic and speakers presence. Plus of course, the curatorial work and the research beforhead. We often arrive to the conference very excited but also really tired. However, every time, it is thanks to the speakers and the audience that we get our energy back. In the past conferences we had really unique and wonderful speakers that shared with us their stories, many of them really difficult, heartbreaking and a real challenge to be communicated. This was the case of (among others) Brandon Bryant, Cian Westmoreland, John Kiriakou, Laura Poitras, Jake Appelbaum, Annie Machon, Andrea Noel, Grace North, Mustafa Al-Bassam, Abdalaziz Alhamza, and the constant very important presence of the Chelsea Manning Initiative before Chelsea Manning was released.
I felt that all these people were trusting us and our public by sharing their stories with us. Each conference has been offering an important context at a human level, a moment of reflection, revelation, and also the sensation to belong to a community. With some people I am still in contact, other entered in contact with each other and are still working together on other projects. This is for me the most important result, to see that the Disruption Network Lab is useful not only to inform, but also to make people feel part of something in common.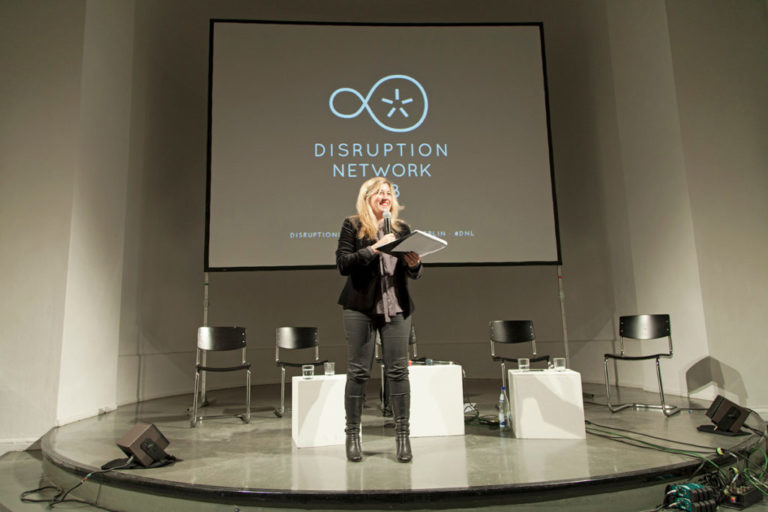 When the speakers are with us and open their minds to our topics, I feel that we are receiving a gift from them. I come from a tradition in which communities, networks and the sharing of experience were the most important values, the artwork by themselves. By combining all these expertise, I feel the responsibility of creating each time the context for a collective artwork, And this is something special, especially nowadays in which the discourse of networking has been completely commercialised. I feel to thank all these people, not only the ones that worked with me and supported us, but also all the people that shared their experiences and the ones that came to listen to them. I am sure that this path will go on, either with us, or among the people that found themselves related thanks to our conferences.
Notes
Tatiana Bazzichelli (1974, Rome) is artistic director and curator of the Disruption Network Lab, a program of conference events at Kunstquartier Bethanien in Berlin. She is currently visiting lecturer at the Fachhochschule Potsdam at the Department of Applied Culture. She has been based in Berlin since 2003. Bazzichelli received a Ph.D. in Information and Media Studies (2011) at Aarhus University in Denmark. In 2012–2014 she was postdoctoral researcher at the Centre for Digital Cultures, Leuphana University of Lüneburg. She founded the networking project Activism-Hacking-Artivism in Rome in 2001 and managed the aha@ecn.org mailing list on art activism. She was program curator at transmediale festival, where she developed the year-round initiative reSource transmedial culture berlin and curated several conference events, workshops and installations (2011–2014). Bazzichelli wrote the books Networking (2006), Networked Disruption (2013), and co-edited Disrupting Business (2013). She curated exhibitions such as Hack.it.art (2005), HACK.Fem.EAST (2008), Networked Disruption (2015), and SAMIZDATA (2015).
The next Disruption Network Lab conference event is INFILTRATION: Challenging Supremacism, as part of the 2018 thematic series "Misinformation Ecosystems", scheduled on September 7-8, 2018, at Kunstquartier Bethanien in Berlin.
The conference wants to reflect on the practice of political, investigative and activist infiltration as a form of betterunderstanding aims, lifestyles and methods of right-wing extremist groups. What is the reason for people to join extremist groups? How can we analyse their dynamics from the inside? What are the reasons of fascination among young generations of right-wing propaganda and supremacist outrage?
Among the confirmed speakers are Daryl Davis (Musician & Author, USA) famous for being a black American befriending members of the KKK since the 1990s and making possible to convert around 200 of them (the film "Accidental Courtesy:Daryl Davis, Race & America" will be screened at the DNL event on September 9). Other participants are Patrik Hermansson (Anti-racist Activist, "Hope Not Hate" Researcher, SE/UK), Julia Ebner (Terrorism and Extremism Researcher and Author, DE/UK), Stewart Home (Artist and Author, UK), Florian Cramer (Research Professor in New Media at Hogeschool Rotterdam, DE/NL), Janez Jansa (artist, SI), and others. Stay tuned at: disruptionlab.org/newsletter/
Main Image: Brandon Bryant, Former US-Drone Operator speaks at Disruption Network Lab, DRONES, April 17 2015, Berlin. Photo by Nadine Nelken.
Bio
Tatiana Bazzichelli is the artistic director and founder of the Disruption Network Lab. Former programme curator at transmediale festival in Berlin from 2011 to 2014, she developed the year-round 'reSource transmedial culture berlin' project and curated several conference events. She was visiting lecturer at the Fachhochschule Potsdam at the
Department of Applied Culture in 2016 and 2017, where she taught classes about art, hacktivism and whistleblowing. You can read more about her here.
Next Disruption Network Lab event
INFILTRATION: Challenging Supremacism
September 7-8 · Studio 1
Kunstquartier Bethanien · Mariannenplatz 2 · Berlin
Partner Event @ Spektrum · September 9
More info: disruptionlab.org/infiltration