This week's list of Furtherfield recommendations is a special list to coincide with Future Fair taking place in London tomorrow (Sat 10 Aug). It features highlights of stall-holder's other works and collaborators, straddling the fields of art, technology and social change.

Calls for Participation

Collective Conditions Worksession
Collective Conditions is a worksession which experiments with the generative potential of codes of conduct, complaints procedures, bug reports and copyleft licenses. The worksession is inspired by trans*feminist collective practices, anti-harassment and allyship-work, non-violent communication, score-making, decolonial and intersectional activism, but also by ways of doing developed within Free Culture and Free, Libre and Open Source software. Collective Conditions focuses on a-polarizing methods, affirmative habits that can stretch and reorient frameworks, that represent new vocabulary, gestures and forms of expression.
Collective Conditions. Constant, Brussels from 8 to 16 November 2019
Deadline: 10 September 2019 https://bit.ly/31hUfSc

Femke Snelting, from Constant is at Future Fair with the Trans*Feminist Rendering Programme

Queering Damage
A one-day workshop, to wonder together about the potential queer analytics of microbial, animal, plant, mineral, cosmological technoscience. Pondering the possibilities and limitation of informatics; and taking seriously the affective forces of nonhuman animals and machines. We ask how might we extend queer theories that concern personal injury into more- than- human ensembles in order to consider the damages shared by humans and nonhumans? How can we generate ways that take us beyond reparative narratives or benevolent utopianism towards more-than-human life?
With Helen Pritchard, Jara Rocha and Laura Benítez in the framework of the Biennal del Pensament. Hosted by Hangar, Barcelona
Deadline: 10 October 2019 https://bit.ly/31rz4NT

Helen Pritchard and Jara Rocha are at Future Fair with the Trans*Feminist Rendering Programme

Artworks, hacks and exhibitions

Data Union Fork: Tools for a Data Strike!
Artisan, educator and feminist hacker Larisa Blazic is exploring ways to reclaim individual data rights and establish collective ownership over data. She is devising and running a series of discursive workshops to explore and address wider accessibility by visualising process through "example mapping". Workshop participants were invited to explore collective bargaining in labour union tradition and its possible hybridisation with DECODE project concepts. The video is directed and produced by Ilze Black. Watch the Data Union Fork Video https://bit.ly/2OJlPql

Lara Blazic is at Future Fair with Reading Minutes in the Park

F'xa
F'xa (Feminist Alexa) is a chatbot designed to provide the general public with a playful guide to AI bias. F'xa takes you through conversations about bias in search engines, recruitment algorithms and voice technology, and gives tips on how to tackle the problems. It was designed using the Feminist Internet's Personal Intelligent Assistant standards, and Josie Young's Feminist Chatbot Design Process. These ethical guidelines help designers ensure they don't knowingly or unknowingly perpetuate gender inequality when building chatbots. https://f-xa.co/

The Feminist Internet is at Future Fair with Prototyping a People's Park

Possible Bodies inventory
Femke Snelting and Jara Rocha are artists who carry out collaborative research on the very concrete and at the same time complex and fictional entities that "bodies" are, asking what matter-cultural conditions of possibility render them volumetrically present. This becomes especially urgent in contact with the technologies, infrastructures and techniques of 3D tracking, modelling and scanning. Intersecting issues of race, gender, class, species, age and ability resurface through these performative as well as representational practices. The research is concerned with genealogies of how bodies and technologies have been mutually constituted. It invites the generation of concepts and experimental renderings, wild combinations and digital and non-digital prototypes for different embodiments. https://bit.ly/2R610VL
Femke Snelting and Jara Rocha are at Future Fair with the Trans*Feminist Rendering Programme

Wealth Beyond Big Brother
A monetary system designed within the cultural context of George Orwell's' 'Nineteen Eighty Four' by Austin Houlsworth. Beyond the paternalistic control of big brother and between the super states of Oceania, Eurasia and Eastasia, lie the disputed territories. Due to the continual change of ruler over these areas, no trusted financial institution has ever been established. Rather the people living within these areas have developed a payment system, which serves as both personal protection and a medium of exchange. This payment method embodies two ideas of value; on the one hand wealth and on the other life. The trader's greed for gold is often tempered by the penultimate meaning of loss. https://bit.ly/2yIlf17 Austin Houldsworth also is the Co-founder and Curator of the Future of Money Design Awards http://futuremoneyaward.com/

Meet Austin Houldsworth with Martin Zeilinger on the Planet Cashless 2029 stall at Future Fair

We Need Us
We Need Us by artist Julie Freeman is a living artwork, powered by people, and influenced by data. It is a live, online, animated artwork that explores both 'life data' and the life of data. The work concentrates on metadata – data about data – which it draws from the activities of citizen science project, Zooniverse, to create sounds and animation. Unlike traditional data-visualisation which helps us understand and make sense of information held in large data sets, 'We Need Us' investigates the unique properties of the data itself. It asks: if the data had lives of their own, how would they be revealed? http://weneedus.org/

Julie Freeman and Hannah Redler Hawes at ODI commissioned Alisdair Gentry to create DoxBox Trustbot which will be featured at Future Fair

😹 LMAO
In these meme-fuelled, statistically 'mythological' times, data, and the algorithms that thrive on it, are often presented as a privacy-obliterating risk-based menace. But there are always two sides to a story: with so much potential to benefit our lives data can also be a force for good, as well as game for a laugh. https://bit.ly/2YF2ydt LMAO Is an ODI Exhibition curated in 2018 (and well worth revisiting) by Julie Freeman and Hannah Redler Hawes. They also commissioned Alisdair Gentry to create DoxBox Trustbot which will be featured at Future Fair

Featured image
Possible Bodies XYZ http://www.fictional-journal.com/xyz/

Join us in London at the DAOWO 'Blockchain & Art Knowledge Sharing Summit'
DAOWO (Distributed Autonomous Organisations With Others) Summit UK facilitates cross-sector engagement with leading researchers and key artworld actors to discuss the current state of play and opportunities available for working with blockchain technologies in the arts. Whilst bitcoin continues to be the overarching manifestation of blockchain technology in the public eye, artists and designers have been using the technology to explore new representations of social and cultural economies, and to redesign the art world as we see it today.

Discussion will focus on potential impacts, technical affordances and opportunities for developing new blockchain technologies for fairer, more dynamic and connected cultural ecologies and economies.
Programme

9.00 Registration
9.30 Welcome and Scene Setting

State of the Arts: Blockchain's Impact in 2019 and Beyond | A comprehensive overview of developments from critical artistic practices and emergent blockchain business models in the arts. DAOWO Arts and Blockchain pdf download (Catlow & Vickers 2019).

Presentation and hosted discussion with Ruth Catlow and Ben Vickers

10.30 Coffee

10.45 Protecting the Rights of Indigenous Australian Artists. What part can Blockchain technologies play?

The Copyright Agency, Australia in conversation with Mark Waugh, DACS UK

11.30 Towards a Decentralised Arts Economy
The launch of Zien, the new dApp for artists will be followed by a presentation and panel discussion with Peter Holsgrove, and artists of A*NA around the implications of tokenising artistic practices.

12.15 Digital Catapult panel

12.45 Wrap up, takeaways and final discussion
Ruth Catlow, Ben Vickers & Mark Waugh
Contributors include:
Ruth Catlow Co-founder of Furtherfield & DECAL Decentralised Arts Lab
Peter Holsgrove, Founder of A*NA
Ben Vickers, CTO Serpentine Galleries, Co-founder unMonastery
Mark Waugh, Business Development Director DACS

Through two UK summits, the DAOWO programme is forging a transnational network of arts and blockchain cooperation between cross-sector stakeholders, ensuring new ecologies for the arts can emerge and thrive.

DAOWO Summit UK is a DECAL Decentralised Arts Lab initiative – co-produced by Furtherfield and Serpentine Galleries in collaboration with the Goethe-Institut London. This event is realised in partnership DACS, UK.
Artists Organise (on the blockchain) was the fourth event in the DAOWO blockchain laboratory and debate series for reinventing the arts, in collaboration with Goethe Institut London.
In this special event, hosted by Drugo more in Rijeka we learned from the Croatian cultural context before envisioning, devising and testing alternative forms of blockchain-based cultural production systems, for application at Furtherfield in London.
We talked with Davor Miskovic about Clubture, the non-profit initiative that has distributed national cultural funding between a network of peers in Croatia since 2002 according to decentralised, participatory principles.
Workshop participants then took Julian Oliver's Harvest, in which "wind energy is used to mine cryptocurrency to fund climate research", as their focus for new proposals for blockchain-based projects to connect park-based arts venues with their local communities. Then they took turns to perform the role of a select committee of skeptical park stakeholders who wanted to know how park users would benefit from the scheme in a time of cuts to public funding and climate change.
Read the semi-fictional Minutes of the Bunsfury Park Stakeholders Group Select Committee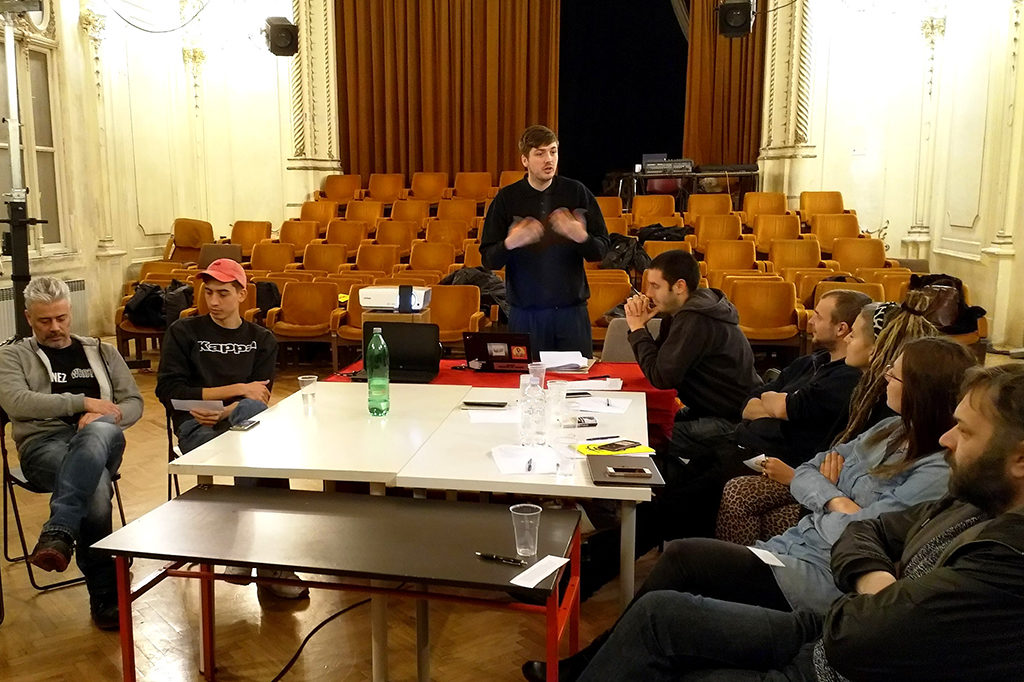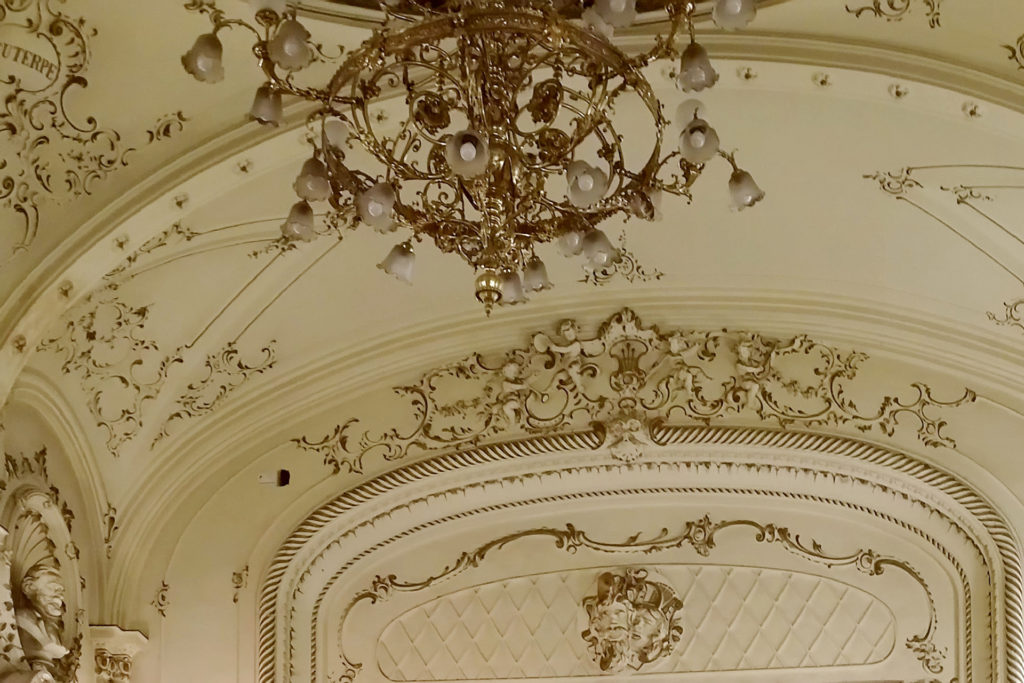 This special event, devised by Ruth Catlow and Max Dovey, and hosted by Drugo more formed part of a wider programme events in Rijeka to accompany the opening at Filodrammatica Gallery of the touring exhibition New World Order.
Thanks to all participants!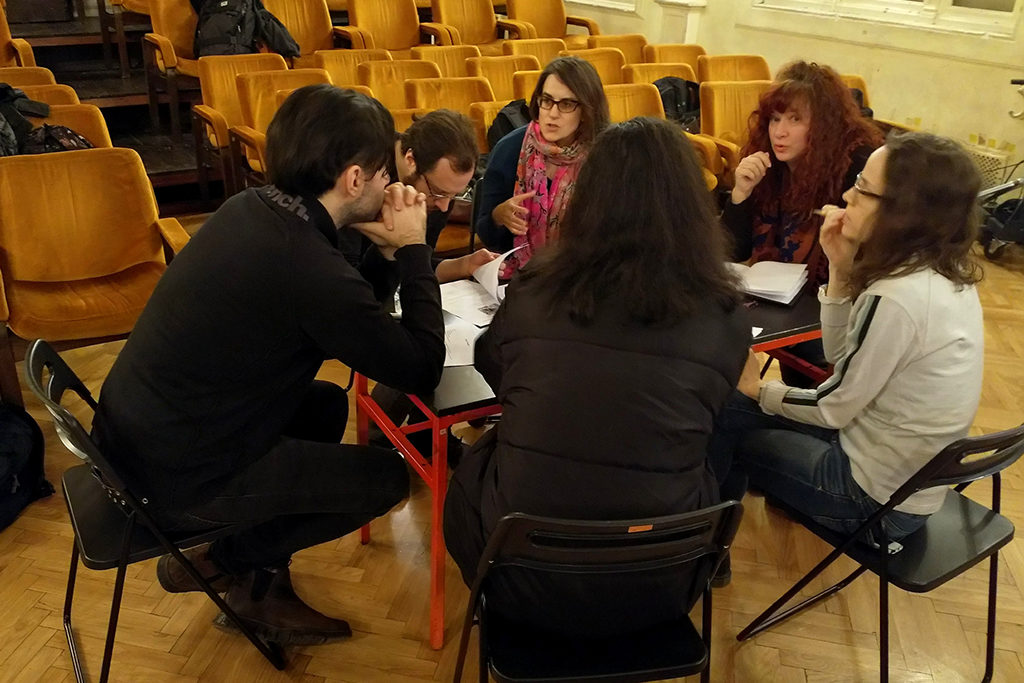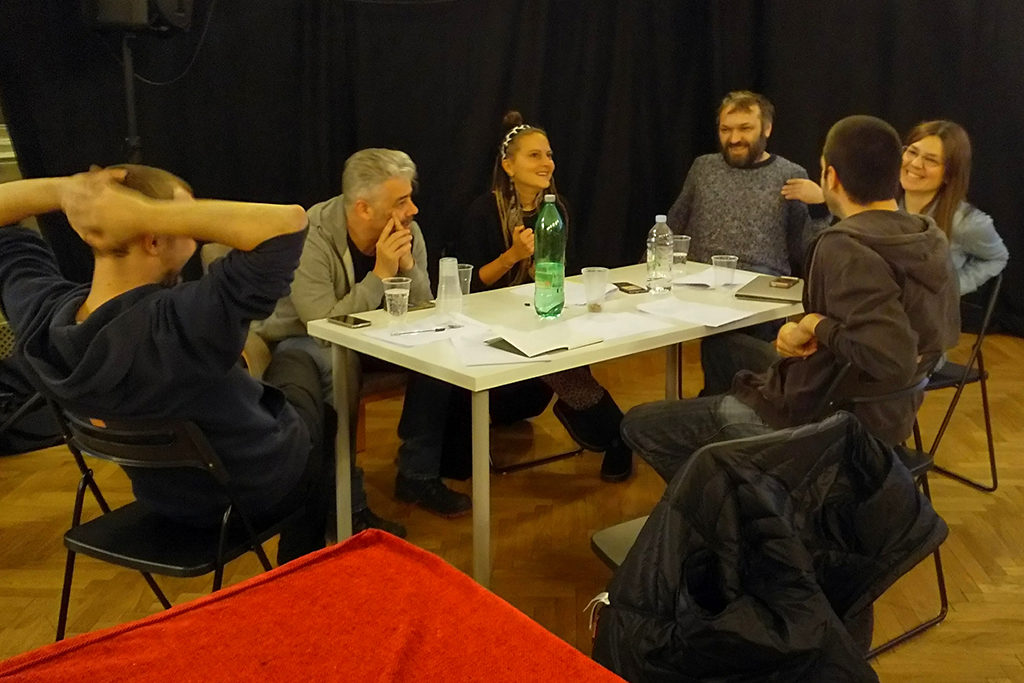 7 – 8.30pm – Introduced by Ruth Catlow and Janez Janša
We invite you to join us for the screening of the documentary film My Name is Janez Janša (2012) as part of Identity Trouble (on the blockchain) the second event in the DAOWO blockchain laboratory and debate series for reinventing the arts. The film will be introduced by Ruth Catlow and Janez Janša, director of My Name is Janez Janša.
"The system of reference of names started to crack … This made me reflect on issues such as identity vs identification, multiplicity vs multiplication, the name as an interface between the private and the public, and the personal name as a brand." – Janez Janša, Director of My Name is Janez Janša.
Following the second DAOWO workshop, we present this film about names, identity, and pseudonymity in a long history of academic, artistic and popular identity play for political and personal reasons. In 2007 three artists changed their names to that of Janez Janša, the then Prime Minister of Slovenia, whilst remaining ambiguous about their reasons. This documentary film reflects on the subjective and public meaning and utility of a person's name and documents the interpretations and responses provoked by journalists, the general public and the "original" Janez Janša.
The Janez Janša® exhibition is on display at Museum of Contemporary Art Metelkova, Ljubljana, 18 October 2017 — 08 February 2018
The DAOWO programme is devised by Ruth Catlow (Furtherfield) and Ben Vickers (Serpentine Galleries & unMonastery) in collaboration with the Goethe-Institut London, and the State Machines programme.
This project has been funded with the support from the European Commission. This communication reflects the views only of the author, and the Commission cannot be held responsible for any use which may be made of the information contained therein.
The interview is taken from the recently published book Are We All Addicts Now? Digital Dependence edited by Vanessa Bartlett and Henrietta Bowden-Jones, Liverpool University Press, 2017, and published with permission from the publisher. Available from the LUP website here – the interview is published in parallel with the exhibition Are We All Addicts Now? at the Furtherfield Gallery, London 16 September – 12 November 2017.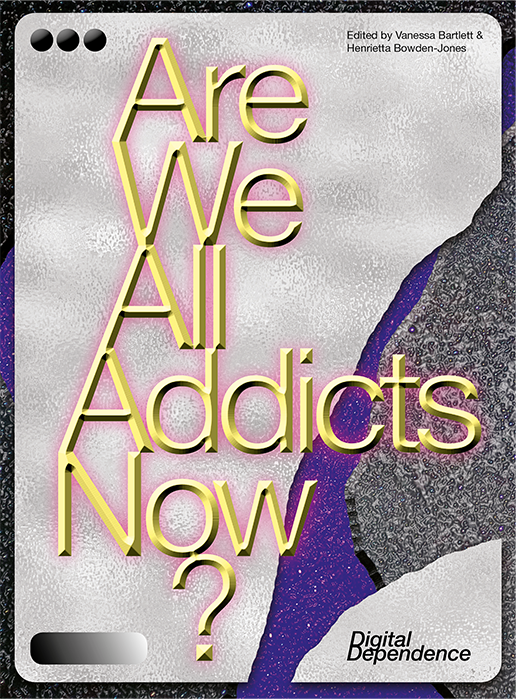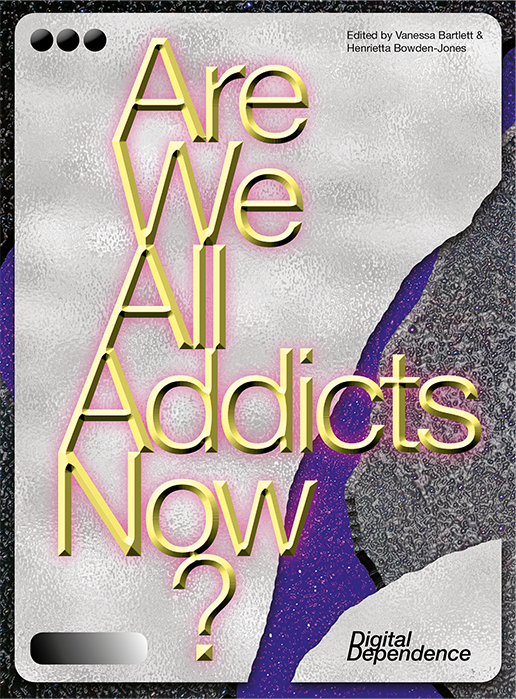 Ruth Catlow: In your exhibition Are We All Addicts Now? That opens at Furtherfield, Autumn 2017. You will be presenting a number of works and installations made in response to your research into online addictions. What prompted your interest in this matter?
Katriona Beales: I have insomnia on and off — like a lot of precarious workers. And to deal with being awake for long-stretches at night I go online, parse hundreds of hyperlinks, images, videos. It's like an out of body experience: I detach, temporarily, from anxieties, pressure, claustrophobia via total preoccupation. Reflecting on these experiences caused me to question whether there was something inherently 'addictive' about the conditions of the digital. My research has developed to look at the burgeoning field of neuromarketing and how much online content is 'designed for addiction' (to borrow the title of Natasha Dow Schüll's scorching analysis of machine gambling in Las Vegas). [
note]Natasha Dow Schüll, Addiction By Design: Machine Gambling in Las Vegas (Princeton: Princeton University Press, 2012).[/note] 1] Gamification strategies and various psychological techniques such as variable reward (originally employed in the casino) are now utilised to mass effect on social media platforms, search engines, email accounts, and news sites.
RC: Can you give us an example of digital content, an interface or a device that you personally experience as addictive?
KB: I find the infinite scroll function on sites like Instagram and Twitter very compulsive. It removes the natural breaks that are built into technologies like the book, with chapters starting and ending. Then again, I used to be a compulsive reader and now I am a compulsive scroller… But I keep circling back round to think about the specific qualities of the conditions of the digital. The infinite, hyperlinked and networked nature of online content means scrolling, scrolling, scrolling never needs to end. There is also a correlation between these repetitive physical actions and meditative type states.
RC: Yes, this connects with theories of flow employed in game design. The idea is to design activities that produce the fulfilling feelings of focus, and to minimise a questioning of the context or frame of play. And there is very little critical discussion in mainstream culture about the gamification of everything, which replaces individual agency with a kind of soft coercion. It's problematic because the less we notice how our attention and experiences are being harnessed by external forces (commercial or state based), the harder it is to connect and collaborate with others outside the given frames.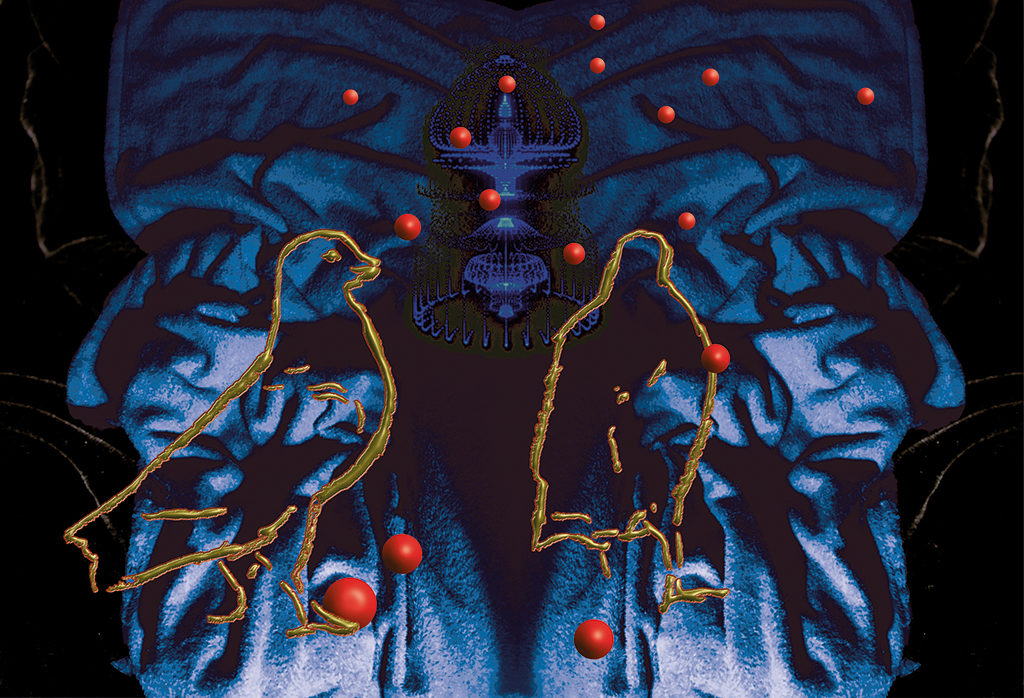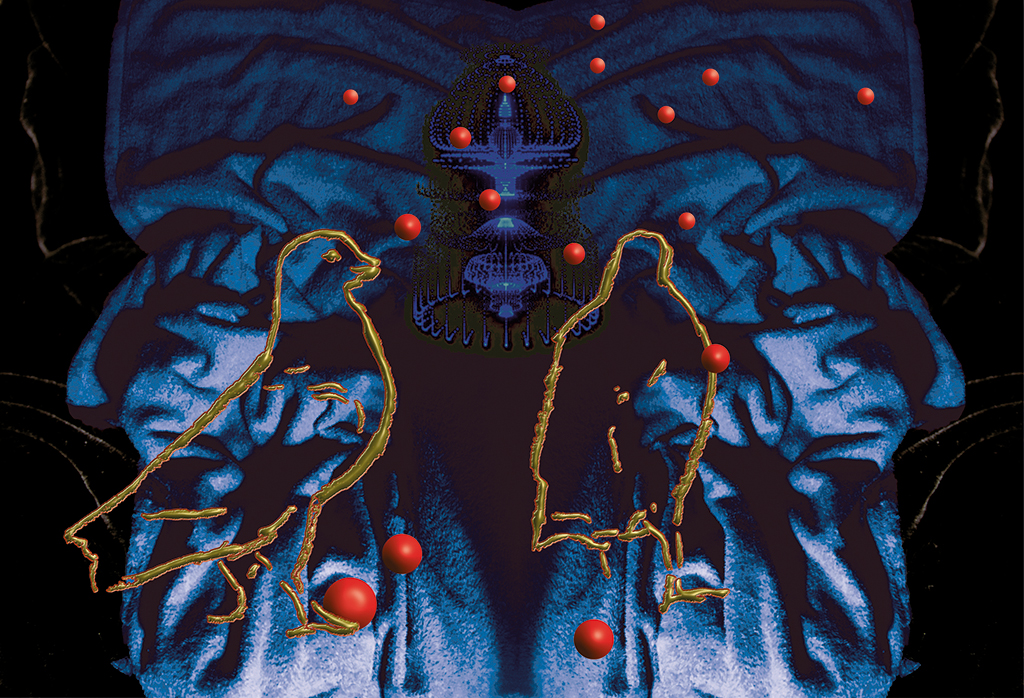 KB: Totally. I like your phrase 'soft coercion' because I think that sums up nicely what I've found troubling. Take this quote from Nir Eyal: "Variable schedules of reward are one of the most powerful tools that companies use to hook users… levels of dopamine surge when the brain is expecting a reward. Introducing variability multiplies the effect, creating a frenzied hunting state… When Barbra lands on Pinterest, not only does she see the image she intended to find, but she's also served a multitude of other glittering objects… Before she knows it, she's spent 45 minutes scrolling." [2]
RC: We initially had reservations about applying the concept of addiction to internet usage, partly because the addiction label is usually used to attach blame to individuals. However, after conversation it became clear that you are exploring a political question. Why is the concept of addiction important to you?
KB: Too much discussion about addiction is focused on the responsibility of people to help themselves. The fact that many can't is often seen as a kind of moral failure. There's also the disputed status of internet addiction in itself as documented by Mark D. Griffiths and his colleagues in their contribution to this book. We can't pretend that there aren't lots of people out there experiencing unhealthy and compulsive relationships to their technologies. But what kind of language is most appropriate to define this? What I am interested in is the phenomenon of what could be understood as addictive behaviours (including my own) being normalised in relation to digital devices. Kazys Varnelis [3] describes network culture as demanding connectedness, with power concentrated in nodes of hyper-connectivity. The more views, the more likes, the more power is accrued. Addictive behaviour is both normalised and valorised in late capitalism as it is associated with the public performance of productivity. Whilst these actions appear to be the choice of individuals, how much is due to the influence of mechanisms and systems of control? Ultimately, I am interested in the idea of the addict as a perfect capitalist subject. However, can we/I be both active-users and critical participants? I am concerned about how many of these platforms function as closed systems in which we contribute (without remuneration) our creative and emotional labour and yet can't shape the conditions in which it is displayed, performed and monetised.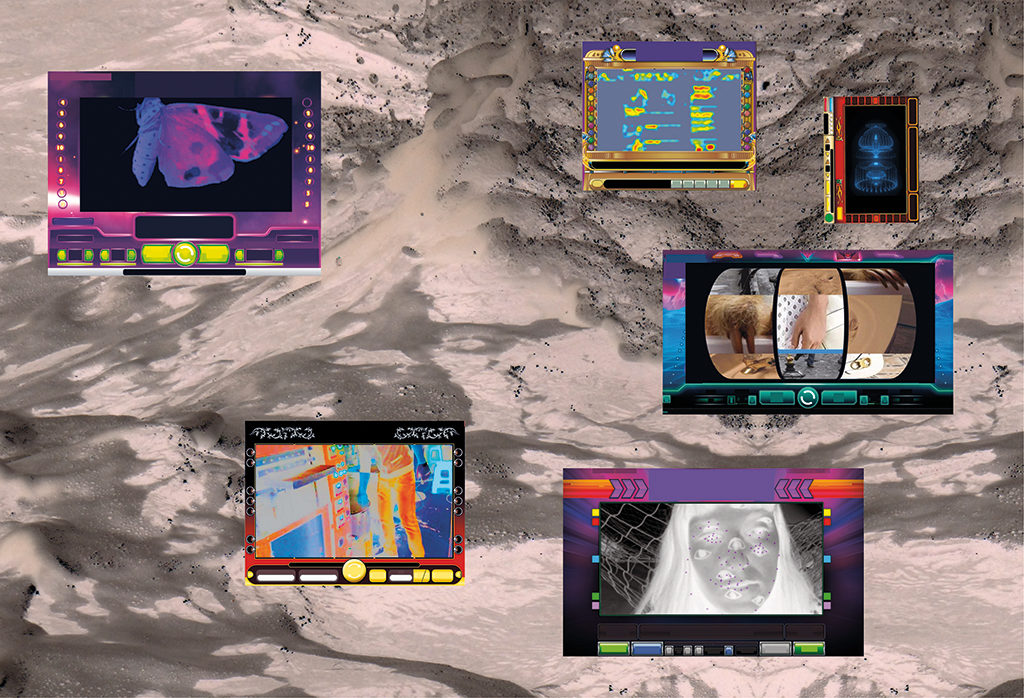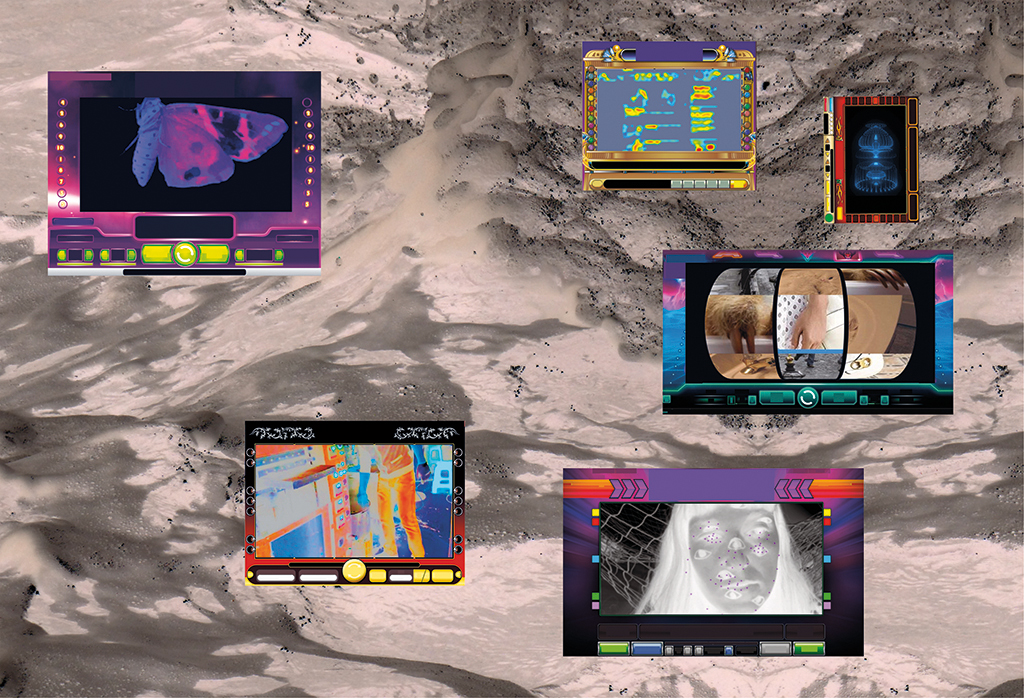 RC: You have collaborated with scientists as well as other artists and curators. How has this worked and what have these collaborations produced?
KB: The space of art offers an opportunity to tap into diverse fields of research, as a kind of (un)informed amateur. I find a Rancièrian strategy of 'deliberate ignorance' liberating. As an artist, I find myself in a position where I can turn my lack ofspecialist knowledge in fields like neuroscience into a kind of asset. I'm not answerable to a canon so can make unorthodox connections. In 2012, I started a conversation with clinical psychiatrist Dr Henrietta Bowden-Jones. Henrietta is fascinating as she started the first NHS clinic for problem online gambling and is now one of the leading experts in the field of online behavioural addictions. My collaboration with Henrietta has flourished, I think, because there is a recognition that there is a mutual benefit from the conversation but not an ownership or entitlement to each other's outcomes.
RC: How does your work deal with the relation between physical and virtual presence?
KB: I am a tactile person, the sort who goes into a shop and strokes things with their face. I am fascinated by how digital devices act as portals into virtual worlds but often their own physicality isn't dwelt on. Yet these devices connect us in a very tangible way to a globalised workforce and unethical labour practices. My iPhone has parts in it that were constructed by hand in an environment that resembles the Victorian workhouse more than the shiny aesthetics of the Apple store. These deeply dystopian factories create objects that seem so sleek, so smooth, so modern, as if they've arrived whole from outer-space. But they were created by workers who do compulsory over-time, sleep in triple bunk beds in small dorm rooms and aren't even allowed to kill themselves. (I'm specifically referencing the suicide prevention netting that Foxconn put up around their buildings after a spate of mass suicides.)1 I'm emphasising physicality to connect my body lying in my bed to the body of someone bent over a production line; it is far too easy to dismiss the impact of our insatiable appetite for electronic goods.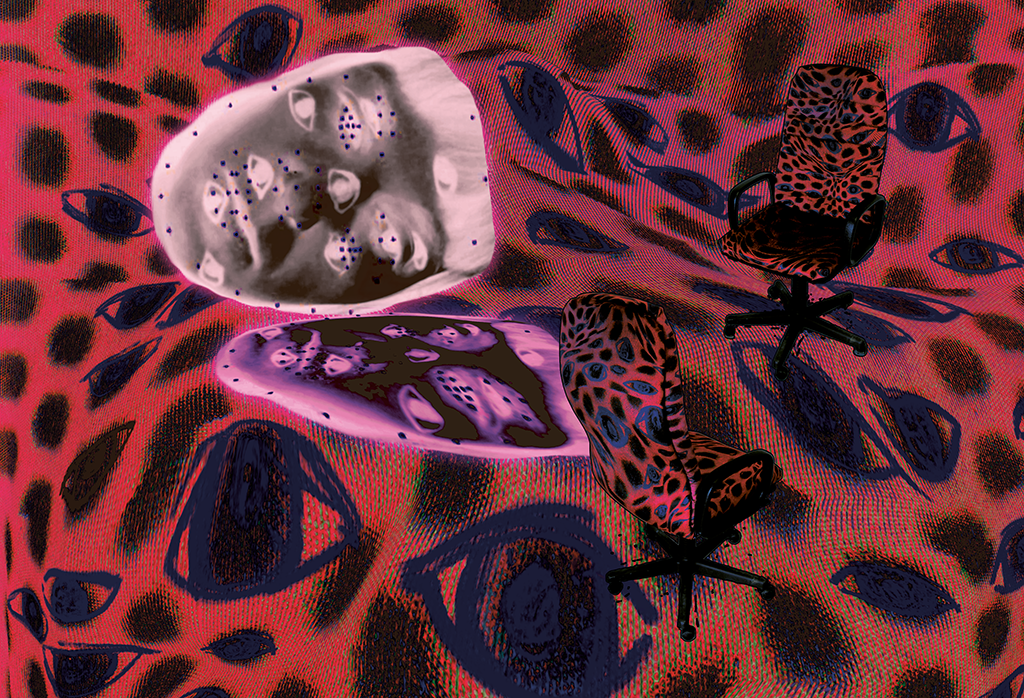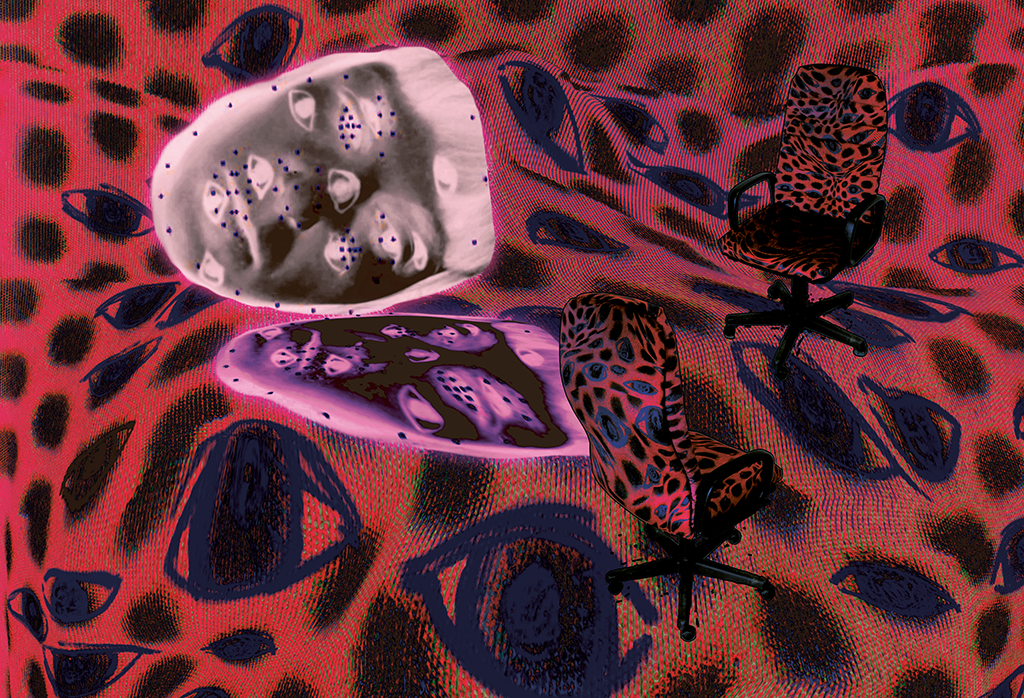 RC: Your exhibition at Furtherfield is to be sited in the heart of a public park. How are you thinking about the relationship of digital devices to the natural environment?
KB: I continue using my smartphone when I step inside the park gates, in a continuum of ongoing augmented experiences where my physical environments are overlaid with digital content. The park acts as a fulcrum for changing understandings of leisure as labour, labour as leisure, and is the perfect site for encouraging reflection on this relationship. As part of this, Fiona MacDonald, who has been working with me on Are We All Addicts Now? as both a curator and an artist, is developing a mycorrhizal meditation piece, looking at network culture from an organic non-human perspective.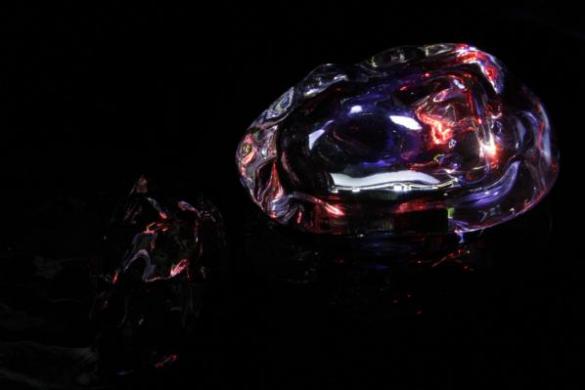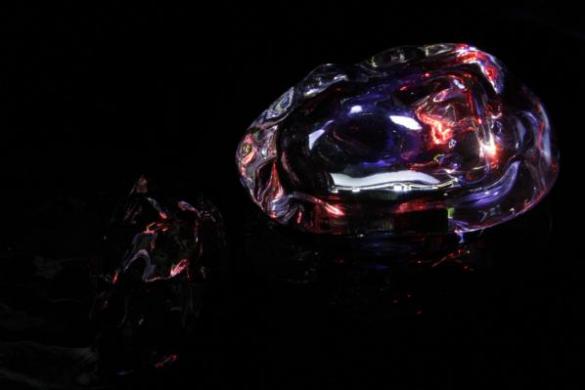 RC: I'd like to end with a description of some of the artworks and installations you are making, the materials you are using, and, in the context of the un-ideal strategies used by designers of mobile interfaces, what condition do you aspire to cultivate in visitors to your exhibition?
KB: I'm making a sunken plunge pool of a networked nest-bed, with glowing screens on which moths flutter embedded in glass orbs. Bed hangings embroidered with dichroic screens stripped from smartphones shimmer overhead, iridescent in the reflected light. I'm trying to communicate how seductive I find the screen in that dark, warm space – in those moments when I am more intimate with my device than my partner. There will be some participatory sculptures referencing pachinko and prayer beads, rhythmic movement, trance-like repetition, lulled into endless hypermobility in the closed systems of 'communicative capitalism'. [5] I'm also working on some moving image works in which makeup is used as a tool to undermine eye tracking software, which I am hoping will incorporate some specialist hardware generating a live-feed of eye-tracking data from audience members. A series of table-top glass sculptures and embedded screens will explore interfaces that are 'designed for addiction' and the way notifications, for instance, are neuromarketing strategies seeking to 'awaken stress — the mother of all emotions.' [6] I'd like the audience to share in my disquiet, and hopefully leave encouraged to engage more critically with shaping their online worlds.
What is the relationship between state corruption and economic collapse in Greece?
Lina Theodorou, artist and creator of the board game 'Pawnshop- Days of Mistrust', talks with Furtherfield's Ruth Catlow about Grexit, Brexit and crisis in Europe.
I met Lina Theodorou, the artist and creator of Pawnshop, in her apartment on a sunny Sunday morning in Berlin. It was just one week after the UK referendum resulted in a vote to leave the EU. I was in Berlin to take part in an event called Art, Money & Self Organization in Digital Capitalism, the first in a series of events called Arts and Commons, organised by Supermarkt.
Theodorou and I quickly got onto the topic of Brexit. We compared notes. She wondered if, like Greece, the UK government would choose to ignore the result of the referendum, fail to invoke Article 50, and stay in Europe after all. That possibility had not occurred to me. She talked about her memories surrounding the Grexit debate- the distress, the uncertainty, the shocking hatred and hostility expressed between family members and people previously considered friends. I had been deeply shaken by the upsurge of street-level racism on the streets of Britain.
Pawnshop, the artwork that is also a board game, was set up for play, laid out on a table in her studio. It is an inversion of Monopoly: the same square board, the pieces, the bank, the cards, the dice. However in this game the player starts the game with no money, only property – jewelery, a bouzouki, antique furniture, a flat- and pays a European tax of €1500 when they pass Go (if they get that far).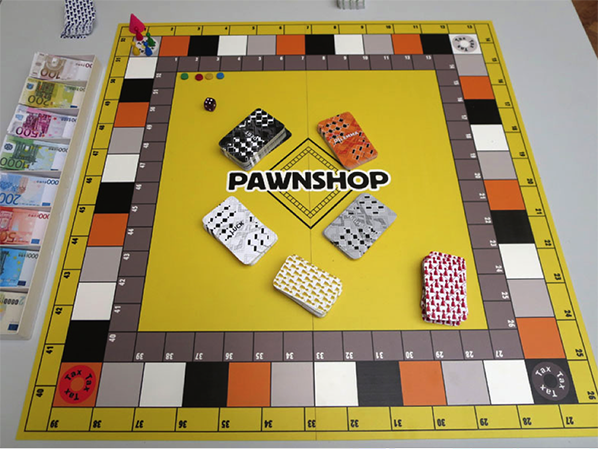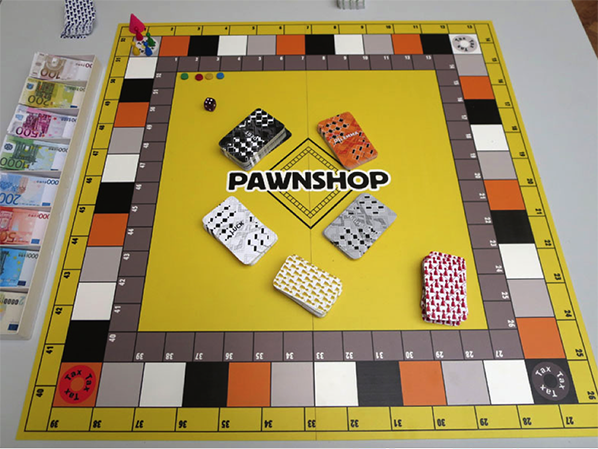 Players proceed around the board, according to the luck of the dice, along a path strewn with dilemmas. A second row of squares is used to keep track of the time spent dealing with the consequences of their choices- jail sentences, or hospitalizations for example. As they move around the board, they pick one of the cards, depending on their landing square, and must choose how they will respond to the given dilemmas.
Theodorou tells me that the game is based entirely in fact. For years she has collected newspaper stories in Greece. And here they are gathered in four categories of cards – Dilemma, Involvement, Debt and Luck- to encapsulate the experience of daily life, for everyone, in modern day Greece. "If you are honest you lose" she says.
Here an upbeat and colourful video sets out the rules.
On her website are photos of engrossed players at Bozar, Center for fine arts, Brussels; at the exhibition TWISTING C(R)ASH; at Bâtiment d'Art Contemporain « Le Commun » in Geneva; and at the exhibition It's Money Jim, but not as we know it, at Mario Mauroner Contemporary Art Vienna, and As Rights Go By, Museumsquartier, Vienna. She says it's important that at the beginning players laugh… but because of "synesthesia", the longer they play, the more uncomfortable they become, they feel the ethical discomfort in their bodies.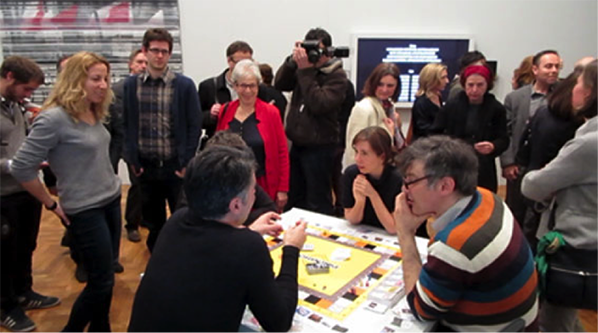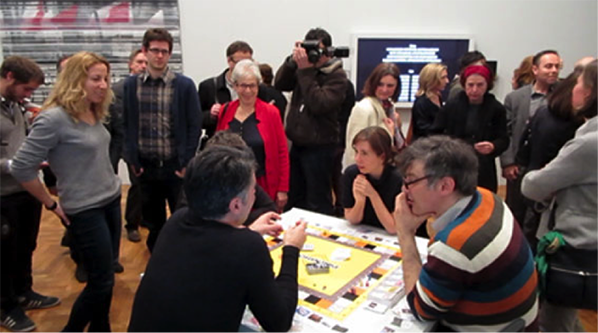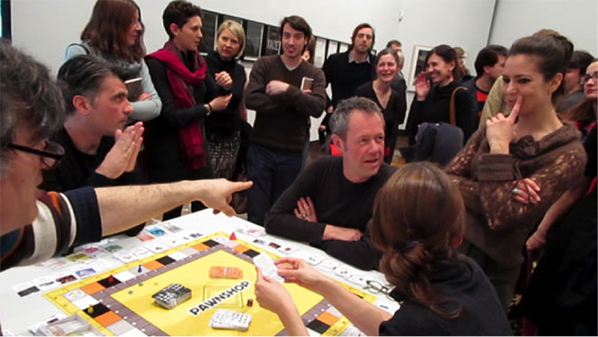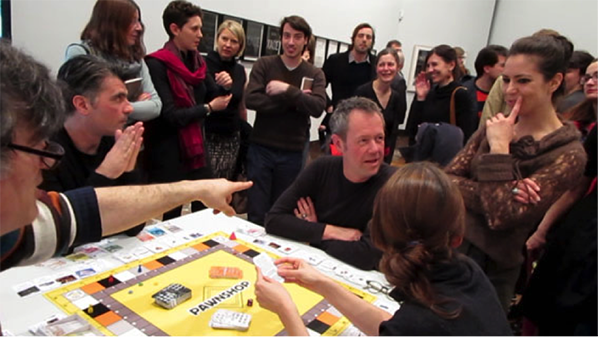 Theodorou and I digress again, coming back to the Europe question. Because I'm in Berlin I think about Germany's role. Germany at the heart of Europe is perhaps more part of the problem than they realise. The style of bureaucracy is molded to reflect the German mentality and their industrial system.This is coupled with a confidence in the correctness of the system – that Theodorou points out, is accompanied by the Northern European, Calvinist attitude – anyone who does not comply is wrong and must be punished. "But what is good for Germany is not necessarily what is good for Greece" she says. In Greece for many years the economy was made up of many small entrepreneurs, small businesses, shops, and a community focus" Why must we suddenly give this up in favour of big business. "Why do you have to destroy something that is healthy?"After the banking crisis in 2008 pawnshops started popping up on every street in every town in Greece.
Theodorou tells me that Pawnshop is the Greek reality board game.
"Your father is sick, do you pay his hospital bill?
Yes: pay €3000 and he lives for another 6 years,
No: unfortunately he dies, but you receive a life insurance pay out of €75,000"
Picking an 'Involvement' card means that that player's decision will have consequences for other people too; Debt (is the biggest pile of cards).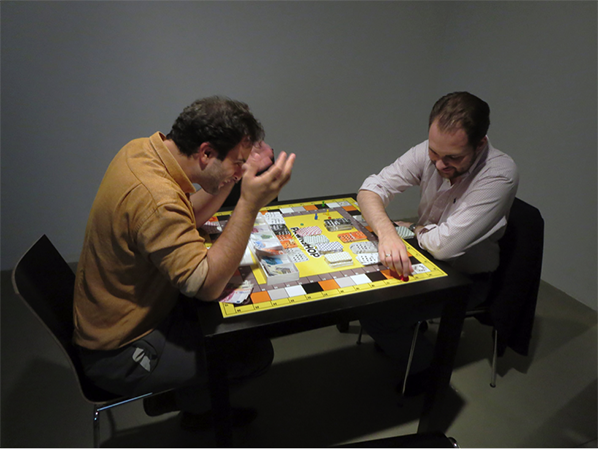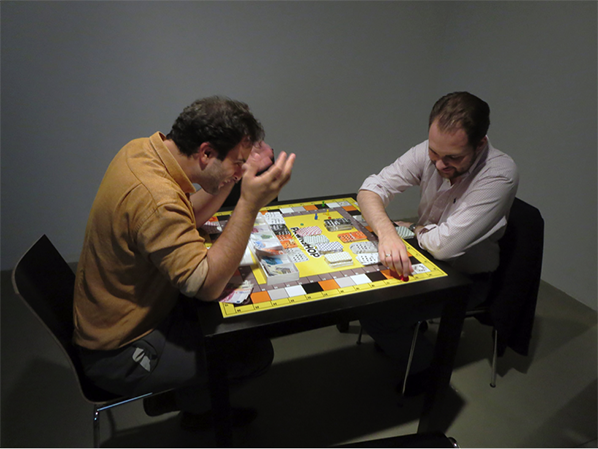 Gentrification strategies have failed in Athens. Back in 2006 the rich Greeks, many of whom were also art collectors, started to organise the large scale art events, (in which of course the artists worked for free), but it didn't take. Then in 2008 the banks collapsed, the economy became surreal, but somehow, Athens remained the same. Perhaps this because regeneration does not have the ever-rising bubble of property prices to support its economy. In Greece everyday people do not speculate on the housing market (as we do in the UK). Rather a house is something you keep for ever in the family.
Theodorou describes the real world Greek tax system as "insane". It changes every 3 months, Even the accountants have difficulty keeping up with the laws. This alone forces many people into the black market. Then the web of bureaucracy protects the hierarchical status quo and people in higher positions hold onto their power by putting obstacles in the way of others.
The only way to win this game (on the board and IRL in Greece) is with good luck. Good luck is the only way to avoid ethical discomfort or financial ruin.
The Luck cards (also based on fact as reported by the newspapers) are hilarious. "A politician hits you with her car, but fortunately the accident is witnessed by the media – collect €2500".
"Some rich ladies wish you a Merry Christmas and hand you €100".
Apparently Athens newspapers have reported tales, for the last few years, in which "ladies" have distributed money to "the poor" from black windowed limousines.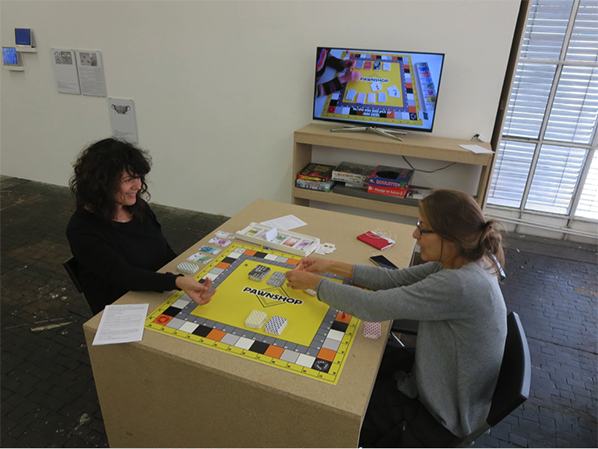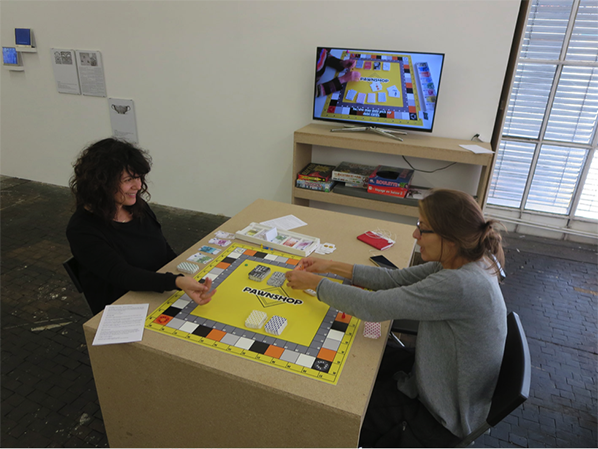 Pawnshop is a polemic on corruption. Small corruption. Long standing, Greek-style, everyday corruption from which no-one can escape. The universal, forced collusion in corruption, and its corrupting effect on the spirit of Greek citizens and society, is set out in the game mechanics. The playful and social medium of the game means that the impact of contemporary Neoliberal politics on the Greek 'everyman' is made legible, feelable and discussable: unending, ethical traps; the impossibility of old-style moral political clarity; the flushing of righteous action, solidarity, resistance or even survival. Corruption all the way up and down.
I question Theodorou carefully, because I have long been suspicious of the narrative that says that corruption is the cause of Greece's economic problems. But the corruption is a fact. While it is not necessarily the only or even the primary cause of its economic distress – which is very very real- the lack of trust in the state is debilitating and has a stagnating effect on the economy.
Pawnshop sits in an honourable tradition of artist's activist games: to change mindsets and attitudes by actively implicating players in a reconstruction of values – see Mary Flanagan persuasive research about crticial play and the many attitude-hacking games coming out of her lab Titlfactor. Also Brenda Romero's chilling Train game, Yoko Ono's Play it by Trust. And for games that train for resistance and solidarity in games such as Escape from Woomera, Debord's Game of War, and my own pacifist chess hack, Three Player Chess.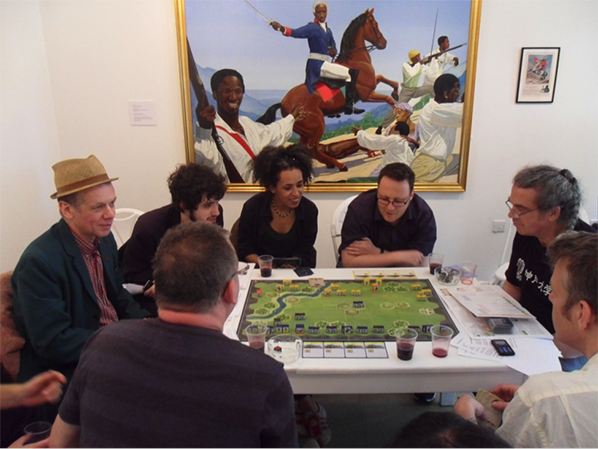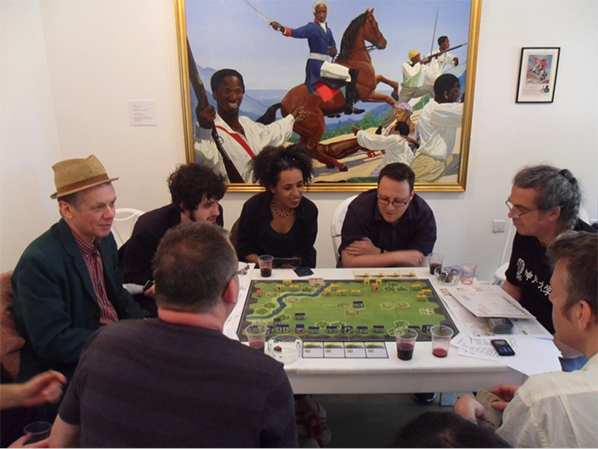 A look around Theodorous portfolios of works reveals a long practice that crosses agitprop, video, installations, and networked pieces.
The work all builds on close observations of contemporary political and social systems. Through graphical exuberance and humour these observations are rendered just (barely) bearable so that we are able to spend time with complex, difficult situations and suspend our certainties. And this is necessary and important. We need to face the complexities and ethical contradictions of contemporary politics. There's no time to lose.
Before the referendum, I found myself uneasy about actually campaigning for "Remain" in spite of my desire for a pan-European peoples' alliance. This was because I couldn't ally myself with the dominating political arguments proposed by the Conservative party (and backed up by big-business and the establishment). I also didn't want to participate in a binary campaign that stamped on the dignity of the layer of people in the UK who are already so disenfranchised by the effects of austerity cuts (and many years of other systemic injustices). This moment revealed for me, and for many others in the 'social liberal' layer, a chasm between my own values and experience and those who voted to 'Leave'. And a desire to find a way to connect. PostBrexit the reality board game may be just the thing we need to help us come together and play our way through the effects, consequences and possibilities.
The negotiation of the commons takes place in two distinct realms that are increasingly reaching into and shaping one another: the long history of the landscape commons both in cities and in the countryside, and across digital networks. In both realms we find the continued project of the enclosures, appropriating forms of collectively-created use value and converting it, wherever possible, into exchange value. In this conversation Ruth Catlow and Tim Waterman discuss the 'Reading the Commons' project together with Furtherfield's work on understanding the commons.
Ruth Catlow is an artist and co-founder co-director of Furtherfield. Tim Waterman is a landscape architectural and urban theorist and critic at the University of Greenwich and Research Associate for Landscape and Commons at Furtherfield.
*
TW: I'll start with a little background. 'Reading the Commons' is an ongoing project which we initiated that seeks to find a place of power in order to defend the continual project of the creation of the commons in all realms in the future and to augment and magnify other similar endeavours by other groups and organisations. We knew that there is already a lot of work being done in and around the idea of the commons, so we were less interested in staking out any intellectual ground than we were in making connections and finding ways of sharing research and experiences amongst ourselves and other interested parties. So far two groups have been assembled to read and discuss. The first was convened in the summer of 2014 at Furtherfield Commons, the community lab space in the South West corner of Finsbury Park, and was composed of a broad range of academics and practitioners from different disciplines.[1] It met once a fortnight for several months and discussion was wide-ranging. The second was in the Summer of 2015 and involved a group of Master's students in curation at Goldsmiths under the direction of Ele Carpenter. Future incarnations of the group will each try for different configurations of people, disciplines, and callings.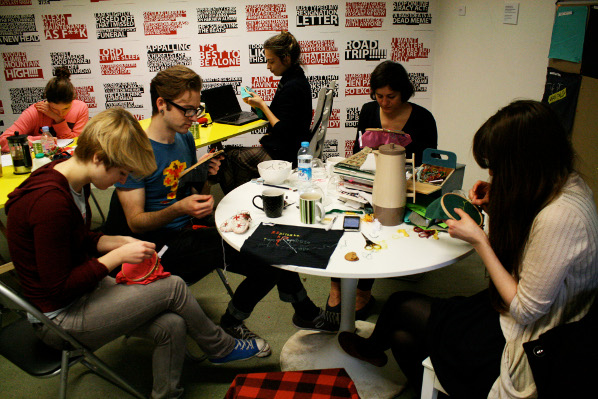 RC: The first group was very diverse – from backgrounds in geography, sociology, law, political science, technology, landscape architecture, art, and more. We faced an immediate challenge talking across the boundaries of all these disciplines and philosophical and cultural traditions. This was illustrated immediately in the first session. One of our group, a scholar in Law and Property, was irked by our early introduction of two Americans , Garrett Hardin and Yochai Benkler. We had introduced these theorists along with Elinor Ostrom, Oliver Goldsmith and Michel Bauwens.[2] The law and property scholar was irked for a number of reasons, but particularly because they represented a bias towards a US and UK (English speaking) over other European traditions- of property and ownership over civil liberties. Another participant, with an established practice in arts and technology looked pained throughout. I think this was because we seemed to be scratching the surface of topics, works and discussions that make up the discourse around the network, and the digital commons.
TW: We partially remedied this problem by asking the participants to provide readings for future sections and to give a brief verbal introduction.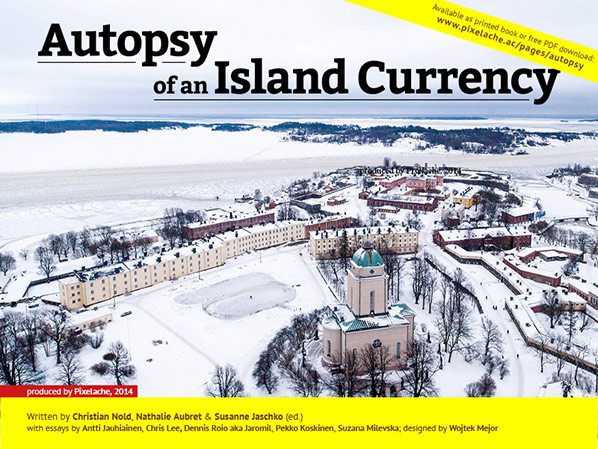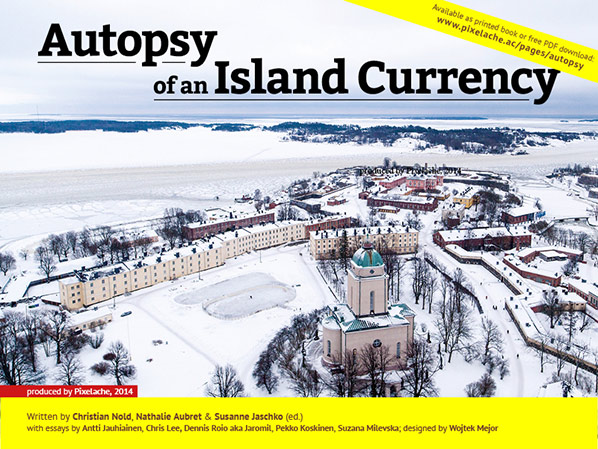 RC: For instance Christian Nold led a show-and-tell at the second session, based on a book, Autopsy of an Island Currency (2014) that he had worked on with Nathalie Aubret and Susanne Jaschko. The book problematises a project called Suomenlinna Money Lab, a participatory art and design project that worked with money and local currencies as a social and artistic medium and that sought to involve a community of people in a critique of its own economies. This reinforced for me the contribution that situated practices have to make to theories of the commons, as the book tells a revealing story of resistance to critique in a place and community with an established interest and investment in the cultures associated with private ownership.
TW: Nevertheless there were a lot of times when people 'looked pained', because basically we had just jumped in and started discussing the idea of the commons without realising that we were all speaking with different understandings of basic terms. In other words, we were all operating on different registers that sprang from our hailing from different philosophical and disciplinary roots and traditions. It might have benefited us to begin by trying to map out our terms. On the other hand, this might have prevented us from ever even starting! This mapping, perhaps, is a project that we need to figure out how to undertake.
RC: The difficulty of wrangling different registers was also exacerbated by the seemingly unbounded scope of the discussion. The relatively recent growth of the World Wide Web introduces enough material for months of readings about how the digital commons has helped to shift thinking about the commons away from merely the management of material resources to knowledge and cultural work.
Still, we felt – perhaps because Furtherfield's physical venues are located within a public park – a sense of urgency to think about the social layers of physical and digital space in relation to the commons, as a way to resist the unquestioning total commercialisation of all realms.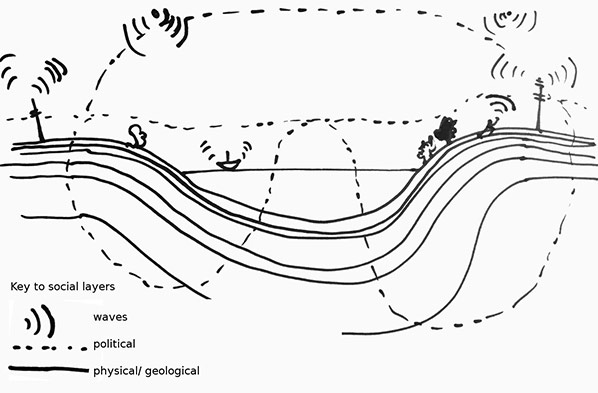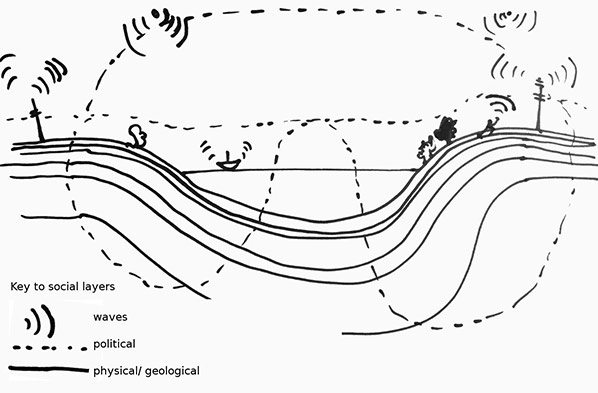 RC: To take a couple of steps back….There are misconceptions about the commons that require rectification. Political economist Elinor Ostrom showed, in opposition to Garrett Hardin, that in theory and in practice, the collective co-operative management of shared socio-ecological resources was a lived reality in many localities (1990). While her research drew on management of material resources her Eight Design Principles for Common Pool Resources, shares many characteristics with digital commons.
Hardin's (1968) essay "The Tragedy of the Commons" had argued that commonly owned resources were doomed to exploitation and depletion by private individuals; therefore justifying the role of hierarchical, centralised systems of power to maintain private ownership. On the other hand, Jeremy Gilbert in his book Common Ground (2013), quotes radical economist Massimo de Angelis, to define the commons as social spheres which help protect us from the market. This becomes particularly useful to help us to recalibrate our definitions of "free" and "sharing" as we reveal so much of our private lives (so nonchalantly) via ubiquitous, proprietary digital devices and commercial social platforms.
TW: Hardin's one-dimensional projection of the commons as unworkable and disastrous was based upon an understanding of human relations that assumed that competitive individualism is 'human nature' and that all such 'experiments' were doomed to failure as a result. This is Darwin's survival of the fittest rendered as 'dog eat dog'. The voice almost contemporary with Darwin's that I think most clearly articulates how evolution (human and otherwise) is based upon cooperation is Peter Kropotkin's, in his amazing book Mutual Aid (1902). Evolutionary science and theory is moving ever more towards Kropotkin's conclusions rather than Darwin's, or at least Kropotkin's work is becoming ever more relevant and complementary to Darwin's. For me, it's also impossible to imagine how cultural evolution could work at all except through the cooperation, sharing, and processes of negotiation that characterise the commons.
The landscape commons has always been about more than just material resources, and this is perhaps the most reductively oversimplified register on which we might speak of the commons. So if the problem is to align the different and more meaningful registers along which we all discuss the commons so that a truly collective and collaborative project can emerge amongst many disciplines simultaneously, we should have a go at pinning in place a few core understandings of the commons? Shall we give that a go?
RC: Yes! From my work with Furtherfield, my feeling for the commons is strongly influenced by the cultures of freedom and openness in engineering and software. In 2011 we created a collection of artworks, texts and resources about freedom and openness in the arts in the age of the Internet. "Freedom to collaborate – to use, modify and redistribute ideas, artworks, experiences, media and tools. Openness to the ideas and contributions of others, and new ways of organising and making decisions together."[3]
If we can agree that the commons are those resources that are collectively produced and managed by, and in the interests of, the people who use them, then the digital commons, as set out by Felix Stalder, are the technologies, knowledge and digital cultural resources that are communally designed, distributed and owned : wikis, open-source software and licensing, and open cultural works and knowledge repositories.[4] Licences such as the GNU General Public License and various Creative Commons licenses ensure that the freedom to use, adapt and distribute works produced collectively is preserved for the future.
Discussions of the commons have, in the liberal tradition, centred around how to produce, manage and share scarce material resources in a bounded geographical locality. This is fundamentally changed in the post-industrial, information age, where cultural and knowledge goods can be easily, cheaply and quickly copied, shared worldwide and transformed. It has brought about a massive shift in the way economics, politics and law are practiced.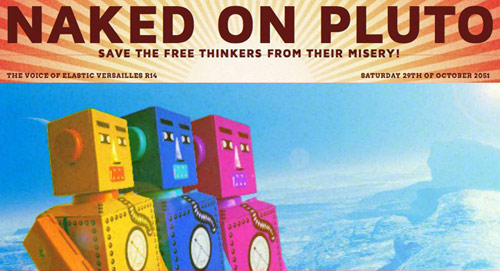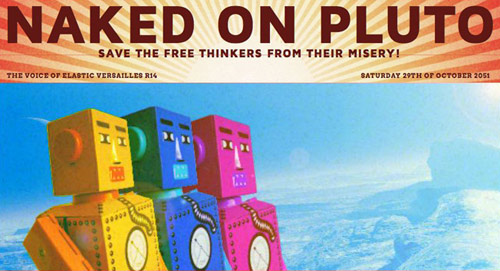 As distinct from the users of the majority of corporately-owned search, sales and social media utilities (think Google, Amazon, Paypal, Facebook, Twitter) and digital entertainment platforms (think Netflix, iMusic and Spotify) the community of people involved in developing the digital commons 'can intervene in the design and governance of their interaction processes and of their shared resources' (Stalder) – think Wikipedia, Freesound, Wikihouse. This has long continued to be an area of intense critical inquiry, unfolding, and practice for artists who are creating digital and networked artworks that take the form of platforms, software, tools and interventions such as : Upstage software for online "cyberformance"; Naked on Pluto, an online game whose 'players' become unwitting agents in the invasion of their own and others' privacy ; and PureDyne, the USB-bootable GNU/Linux operating system for creative multimedia.
Consumer cultures invite us constantly to outsource responsibility for knowledge, information and cultural works to the markets. Artists and technologists involved in the digital commons make these otherwise abstract (and often invisible) shifts in power and social relations "feelable" for more people. In this way they are asserting alternatives to the prevailing economic models – often privileging collaboration and free expression that disrupt outmoded models of copyright and intellectual property.[5]
Discussions about the role of affect in the development of the commons will be the subject of the next explorations of Reading the Commons, and we will certainly come back to these.
TW: Let's look at this from another direction. In landscape terms, the idea of the commons has evolved a great deal over time, as, for example, feudal forms gave way to different hierarchical forms based in capitalism and private property, and now in late capitalism and neoliberalism's adaptation to, and cooptation of various forms of horizontality, especially in managerial practices. The importance of the commons has also shifted from defining notions of shared ownership and management of agrarian resources to include various manifestations of urban life, most recently and compellingly, perhaps, in the dogmatically horizontal democratic organisation amongst participants in the Occupy movement.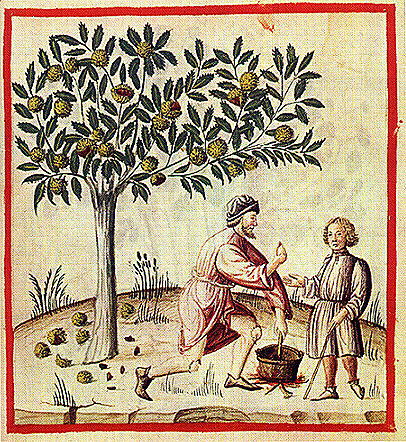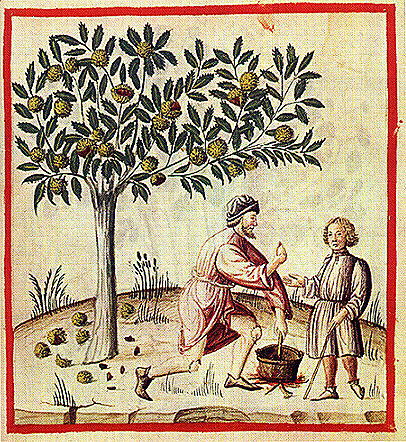 Ultimately, the commons, for me, is about dialogue, sharing, and the relationship between people and place. The earliest expressions of the commons were all about our relationship with food; its procurement, preparation, and consumption. A beautiful historic example is the importance of the chestnut tree to the inhabitants of the Cévennes in southern France, and how it not only embodied the commons, but symbolised it as well. It's not possible to romanticise this story, as it's one of very hardscrabble survival, but it does illustrate the point. As a staple food, the chestnut was a matter of survival for the inhabitants of the Cévennes. It would seem, metaphorically, that the idea of rootedness would follow naturally from this as a characteristic of the commons, but the reality is more nuanced. Chestnuts were introduced to the Cévennes by the Romans, and then tended centuries later by monks, who would share plants with the peasants with the expectation of future tithes. Labour-intensive chestnut orchards were farmed not just by locals, but by migrant workers as well. If we fast-forward to the 1960s, chestnuts were rediscovered by those wishing to get 'back to the land', reviving agricultural practices that had withered away during the years that capitalism had lured people from the countryside into towns.
This shows a very complex picture of the commons: one in which colonization and imperialism, monasticism, peasantry, migrant labour, and then finally arcadian anti-capitalist mythologies of the 1960s each play a part – and I'm skipping over a lot of historic detail and nuance. There is a tendency nowadays to see the commons as exclusively autonomous and horizontal, but historically the commons have been inextricably bound to patterns of ownership and domination. Far from discounting the commons, this shows how the commons can exist within and exert pressure against prevailing forms of domination and ownership. We need not wait for total revolution or the construction of utopia or arcadia. We can get to work now and make a shining example of what is possible, making use of existing networks and existing places. The anthropologist David Graeber, in his book The Democracy Project, (2014) calls this 'prefigurative politics': the idea that by acting out the model of politics and human association and inhabitation that we wish to see, that we work to bring it about.
RC: Yes, and while sociality, rootedness and affinity are all associated with embodied experience, they bubble up again and again in the critical and activist media art community who take digital networks for their tools, inspiration and context. Take for example the Swedish artist/activist group Piratbyrån (The Bureau of Piracy) established in 2003 to promote the free sharing of information, culture and intellectual property. Their entire 2014 exhibition of online and physical installations at Furtherfield Gallery highlighted the centrality to their work of cultural sharing and affinity-building.[6] In his recent conversation with Tatiana Bazzichelli about networked disruption and business, Marc Garrett discusses the importance of affinities in evolving more imaginative, less oppositional (and macho) engagement with regressive forces; and quoting Donna Haraway says "Situated knowledges are about communities, not isolated individuals."(Haraway 1996).[7]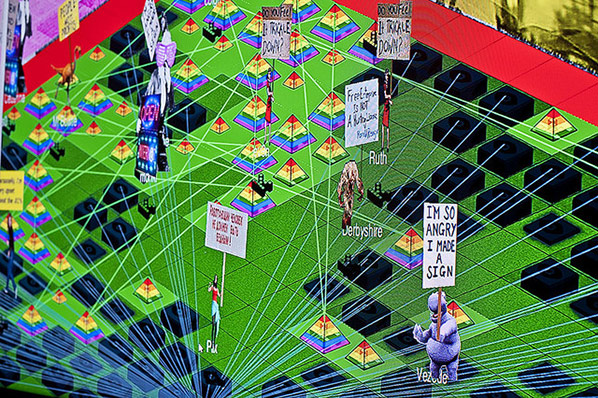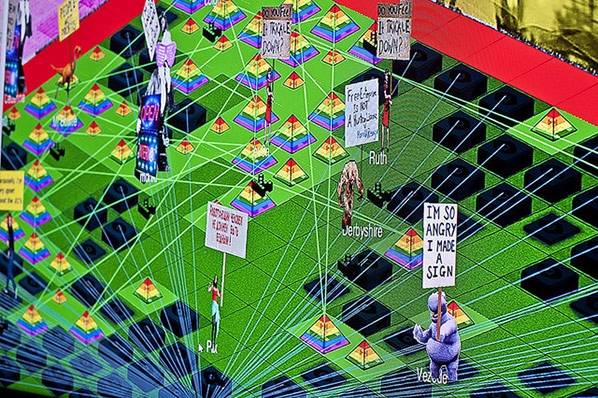 But Tim, I think you were on a roll. Why don't you keep going? Why is the commons important now?
TW: The exploitation of people and resources that marks the practices of contemporary capitalism is very much a continuation of the project of the enclosures, whether it is to skim value off creative projects, to asset-strip the public sector which is increasingly encroached upon by the private sector, or to exhaust land and oppress workers in the Third World. The commons, however, are being created continually, and they represent not just a resource to be enclosed and exploited, but a form of resistance that has particular power because it is lived and acted. It's not at all a contradiction to say that what is common is simultaneously enclosed, exploited, and liberatory. It's a matter of tipping the balance so that the creation of the commons outpaces its negation.
RC: As people negotiate systems for renewal and stewardship of the resources over time they also arrive at an expression of creative identity and shared values.
TW: A moral economy …
RC: By freely surrendering all collectively created culture, from use value for conversion to exchange value, our shared ecologies of knowledge, culture and land are dismantled.
And with this we stand to lose the ability to attend to the nature of co-evolving, interdependent entities (human and non-human) and conditions, for the healthy evolution and survival of our species.[8]
We are seeing a resurgence of collective and collaborative efforts. Our ongoing DIWO (Do It With Others) campaign[9] sets out to adopt the verve and tactics of DIY culture, but to move us on from its individualism towards imaginative and experimental artistic collaboration. We construct more varied social relations (than those set up by pure market exchange) into the proliferation of connected sensing, communication and knowledge tools, in order to facilitate new forms of trans-global relations and cooperation. Most exciting is the Robin Hood Asset Management Cooperative[10],an activist hedge fund (and the project of economists, critical theorists, artists and financial experts) which distributes shares to members and its profits are invested in pro-social and commons-focused cultural projects.
TW: The point about use value is an important one. Capitalism, in the familiar equation, seeks to convert use value into exchange value. This process abstracts and simplifies value into purely financial terms. The language and action of the commons resists this because it is so often emplaced and embodied. The commons are local, experienced, shared, and negotiated, and they exist within networks of friendship, family, and civil society, which operate as moral economies, not purely monetary ones. I should probably also make the point that the Greek root of the word 'moral' signifies custom – which suggests that morals exist in the relational realm of everyday life, rather than in abstract 'higher' realms or in abstract financialised realms such as 'the market' – and that 'economy' comes from Greek again, the oikos, or household. Another firmly embodied and situated idea that is also incontrovertibly relational.
RC: The digital is becoming embodied and situated in a number of ways. Where once the boundaries between the worlds of atoms and bits were marked by screens and passwords, chips and implants are now on or in our bodies, devices and appliances. People and things are becoming increasingly expressive as nodes in the machineweb. Again, this gives artists a vital role in making these effects more legible, feelable and visible. Our actions are tracked, our utterances and exchanges are monitored, and our behaviours inform the design of future media, systems and products. This is the cybernetic loop.[11] We also see a growing awareness of the geo-political questions surrounding the physical infrastructure of the Internet and its role in global markets. The problematisation of the web through heated debates about ownership and control of infrastructure and data, privacy and surveillance expressed in the SOPA debates- the Edward Snowden affair; Tim Berners-Lee's campaign for a Magna Carta for the web; calls for a Digital Bill of Rights; the development of decentralising blockchain technologies that underpin Bitcoin, Etherium and (many other projects; artistic projects with a Situationist verve such as those of Piratbyran and F.A.T Lab- these all help us to clarify our place, the opportunities and limits for agency and action as we straddle the physical and digital layers.
So then we come back to the question of resistance and the commons. If, as you've described above, the continued project of the enclosures sets the scene for new acts of resistance, how Tim do you see these acts taking place in landscape space?
TW: The fact that democracy and the commons both take place (literally a historic act is situated by its taking place) by occupying space as well as by initiating dialogues and negotiations is important. Occupying digital space is important, as you have shown Ruth, and resisting the forms of surveillance and control that seek to close down the digital commons. I take hope from the fact that even if it takes generations to end capitalism, or at least to shift it from a form of global governance to a competitive economic system more appropriate to the scale of the farmers' market, that the commons will never be fully enclosed, because capitalism is dependent upon the commons to create value that it then marketises and financialises.
Defending the digital commons also occupies physical space. It will be, from time to time, necessary to occupy the streets and squares of our cities in protest to stand up for them. In doing so we stand up for the physical commons at the same time. Governments have all sorts of tools against public demonstrations, such as the British government's recently renewed hostility to trade unionism and its desire to further limit strike powers. Strikes will happen whether they're legal or not though, as history amply demonstrates. Often many instances of land occupations are seen to have failed, however they have to have succeeded, at least temporarily, to register in the historical record as symbolic moments. These moments have immense power. The Diggers, for example, followers of Gerrard Winstanley, were proto-anarchists who organised horizontally in their land occupation in Surrey, Northamptonshire, and Buckinghamshire in the mid-1600s. Their planting of vegetables on common land, though a brief experiment, lives on powerfully in the discourses of democracy.
More modern incarnations of this power include the access to land gained by the mass trespass at Kinder Scout, the long-term encampment at Greenham Common, and the incredibly powerful and highly visible symbolism of the Occupy movement in various places from New York to London to Istanbul and beyond. A recent echo of the Diggers is the occupation of Grow Heathrow, which seeks to prevent the airport's expansion by peacefully living on land proposed for a third runway and growing food there.
RC: So our next steps both for Reading the Commons and in our acting out of the commons are to define and map, for the purposes of resistance in the ongoing creation of commons; digital collaborocracy and an exploration of affect, agency, embodiment and the commons. Creative practices under capitalism have long contained elements of both creation and resistance (or defence), and now these actions, both positive and negative, take place across the digital and situated realms as well as what might now be termed the 'situated digital'.
TW: I'm pursuing ideas of what Kate Soper calls 'alternative hedonism' so that sustainability can be conceived of as joyful. I think satisfaction – the fulfillment of desire – can have radical transformative potential for prosperity as a collective pursuit and is perhaps the only way to tip the balance away from liberal and neoliberal individualist competitive models. My idea of the commons and commoning includes freedom, democracy, nice cups of tea, evenings spent drinking wine and talking, the elimination of poverty, and the flourishing of human habitat and human potential.
RC: Let's all drink to that!
---
Many thanks to Professor Jeremy Strong and Dr Penny Travlou for their feedback and notes on this text!
---
Indicative Reading
Axelrod, Robert (1984), The Evolution of Cooperation, Basic Books, 2006
Barnes, Peter. (2001) Who Owns The Sky? Our Common Assets and the Future of Capitalism, Island Press
Bauwens, Michel. (2013) Class and Capital in Peer Production.
Bauwens, Michel. (2005)The political economy of peer production. http://www.informatik.uni-leipzig.de/~graebe/Texte/Bauwens-06.pdf
Benkler, Yochai. (2011) The Penguin and the Leviathan: How Cooperation Triumphs Over Self-Interest.
Boal, Iain. The Long Theft: Episodes in the History of Enclosure (forthcoming)
Bollier, David. Think Like a Commoner: A Short Introduction to the Life of the Commons and/or Viral Spiral. How the Commoners Built a Digital Republic of Their Own. New York, London, New Press, 2008 http://www.learcenter.org/pdf/ViralSpiral.pdf
Caffentzis, George. (1973) "Introduction to the New Enclosures" in Midnight Oil: Work, Energy, War.
Clare, John. (1827) From 'April', The Shepherd's Calendar http://www.johnclare.info
DEFRA. (2003) Countryside and Rights of Way Fact Sheets http://adlib.everysite.co.uk/adlib/defra/content.aspx?doc=63428&id=63430
De Angelis, Massimo. (2003) 'Reflections on alternatives, commons and communities' http://www.commoner.org.uk/deangelis06.pdf
De Angelis, Massimo and Stavrides, Stavros. (2010) 'On the Commons: A Public Interview with Massimo De Angelis and Stavros Stavrides' http://www.e-flux.com/journal/on-the-commons-a-public-interview-with-massimo-de-angelis-and-stavros-stavrides/
Dragona, Daphne. (2013) 'Artists as commoners in the years of indebtedness' http://ludicpyjamas.net/wp/?page_id=815
Federici, Silvia. (2004) Caliban and the Witch: Women, the Body, and Primitive Accumulation (Book) http://libcom.org/files/Caliban%20and%20the%20Witch.pdf
Gilbert, Jeremy. (2013) Common Ground – Democracy and Collectivity in an Age of Individualism
Goldsmith, Oliver. (1770) 'The Deserted Village' http://www.poetryfoundation.org/poem/173557
Graeber, David. (2013) 'A Practical Utopian's Guide to the Coming Collapse' http://thebaffler.com/salvos/a-practical-utopians-guide-to-the-coming-collapse
Haraway, Donna. (1983) 'The Ironic Dreams of a Common Language for Women in the Integrated Circuit' http://www.egs.edu/faculty/donna-haraway/articles/donna-haraway-the-ironic-dream-of-a-common-language-for-women-in-the-integrated-circuit/
Hardin, Garrett. (1968) The Tragedy of the Commons http://www2.geog.ucl.ac.uk/~mdisney/teaching/tutorials/hardin_1968.pdf
Harvey, David. Rebel Cities (2013) http://mappingthecommons.wordpress.com/2012/11/13/the-creation-of-the-ur…
Hyde, Lewis. Common As Air: Revolution, Art, and Ownership. 2010
Kropotkin, Peter. Mutual Aid and/or Fields, Factories and Workshops Tomorrow. 1898 http://www.complementarycurrency.org/ccLibrary/Mutual_Aid-A_Factor_of_Evolution-Peter_Kropotkin.pdf
Lessig, Lawrence. Code and Other Laws of Cyberspace.1999 http://codev2.cc/download+remix/Lessig-Codev2.pdf
Lessig, Lawrence. (2004) Free Culture http://www.free-culture.cc/freeculture.pdf
Linebaugh, Peter. The Magna Carta Manifesto: Liberties and Commons for All. Berkeley: University of California Press, 2008 http://provisionaluniversity.files.wordpress.com/2012/12/peter-linebaugh-the-magna-carta-manifesto-liberties-and-commons-for-all-2008.pdf
Linn, Karl. "Reclaiming the Sacred Commons" and/or Building Commons and Community. Oakland: New Village Press, 2007 http://nccommunitygarden.ncsu.edu/Karl-Linn-ReclaimingTheSacredCommons.pdf
Marx, Karl. (1844) Private Property and Communism. http://www.marxists.org/archive/marx/works/1844/manuscripts/comm.htm
Massey, Doreen. (1994) A Global Sense of Place http://www.unc.edu/courses/2006spring/geog/021/001/massey.pdf
Merchant, Carolyn. (2006) The Scientific Revolution and the Death of Nature http://nature.berkeley.edu/departments/espm/env-hist/articles/84.pdf
Morris, William. News From Nowhere 1893. http://www.sfu.ca/~poitras/Morris_News-from=Nowhere.pdf
Mumford, Lewis. (1964) Authoritarian and Democratic Technics http://www.nyu.edu/projects/nissenbaum/papers/authoritarian.pdf
Nold, Christian and van Kranenburg, Rob. (2011) The Internet of People for a Post-Oil World. http://www.situatedtechnologies.net/?q=node/108
Olwig, Kenneth. (2002) Landscape, Nature, and the Body Politic. University of Wisconsin Press. http://avblivinglandscape.files.wordpress.com/2011/01/olwig_1996.pdf http://dlc.dlib.indiana.edu/dlc/bitstream/handle/10535/77/commons_and_landscape.pdf?sequence=1
Ostrom, Elinor. (2010) "Beyond Markets and States: Polycentric Governance of Complex Economic Systems," American Economic Review, 100(3), pp. 641-72.
Ostrom, Elinor and Hess, Charlotte, Eds. Understanding Knowledge as a Commons: From Theory to Practice. The MIT Press, Cambridge, Massachusetts, 2006.
Ostrom, Elinor. Governing the Commons. 1990 http://wtf.tw/ref/ostrom_1990.pdf
Ostrom, Elinor, and Gardner, Roy, and Walker, James, Eds. Rules, Games, and Common Pool Resources. Ann Arbor, University of Michigan Press, 1994
Platt, John. Platt, J. (1973). "Social Traps". American Psychologist 28 (8): 641–651. doi:10.1037/h0035723.
Rexroth, Kenneth. (1974) "Communalism: From Its Origins to the Twentieth Century" http://www.bopsecrets.org/rexroth/communalism2.htm
Sennett, Richard. (2012) Together: The Rituals, Pleasures & Politics of Cooperation.
Ward, Colin. (2012) Talking Green or 'Play as an Anarchist Parable' from Anarchy in Action. http://libcom.org/files/Ward_-_Anarchy_in_Action_3.pdf
Winstanley, Gerrard (1649). A Declaration from the Poor Oppressed People of England http://www.bilderberg.org/land/poor.htm
The insights of American anarchist ecologist Murray Bookchin, into environmental crisis, hinge on a social conception of ecology that problematises the role of domination in culture. His ideas become increasingly relevant to those working with digital technologies in the post-industrial information age, as big business daily develops new tools and techniques to exploit our sociality across high-speed networks (digital and physical). According to Bookchin our fragile ecological state is bound up with a social pathology. Hierarchical systems and class relationships so thoroughly permeate contemporary human society that the idea of dominating the environment (in order to extract natural resources or to minimise disruption to our daily schedules of work and leisure) seems perfectly natural in spite of the catastrophic consequences for future life on earth (Bookchin 1991). Strategies for economic, technical and social innovation that fixate on establishing ever more efficient and productive systems of control and growth, deployed by fewer, more centralised agents have been shown conclusively to be both unjust and environmentally unsustainable (Jackson 2009). Humanity needs new strategies for social and material renewal and to develop more diverse and lively ecologies of ideas, occupations and values.
In critical media art culture, where artistic and technical cultures intersect, alternative perspectives are emerging in the context of the collapsing natural environment and financial markets; alternatives to those produced (on the one hand) by established 'high' art-world markets and institutions and (on the other) the network of ubiquitous user owned devices and corporate social media. The dominating effects of centralised systems are disturbed by more distributed, collaborative forms of creativity. Artists play within and across contemporary networks (digital, social and physical) disrupting business as usual and embedded habits and attitudes of techno-consumerism. Contemporary cultural infrastructures (institutional and technical), their systems and protocols are taken as the materials and context for artistic and social production in the form of critical play, investigation and manipulation.
This essay presents We Won't Fly for Art, a media art project initiated by artists Marc Garrett and I in April 2009 in which we used online social networks to activate the rhetoric of Gustav Metzger's earlier protest work Reduce Art Flights (from 2007) in order to reduce art-world-generated carbon emissions... Download full text (pdf- 88Kb) >
Published in PAYING ATTENTION: Towards a Critique of the Attention Economy
Special Issue of CULTURE MACHINE VOL 13 2012 by Patrick Crogan and Samuel Kinsley.
The Zero Dollar Laptop Workshop programme has been developed and delivered through partnership between Furtherfield and Access Space and aims to change attitudes to technology. It does this by recycling hardware, deploying Free and Open Source Software (FOSS), sharing skills and working together to create rich media content.
This project has provided a useful basis for thinking about how art might be able to create change through learning and education that relates to technology.
This question becomes especially relevant in the context of current, global economic and ecological collapse.

So first let's start by thinking about what art and technology and social change have got to do with each other?
Do we need art?
It does depend on how you view art. At Furtherfield we don't accept the mainstream view of art as a marginal interest. The expanded, connected and networked art forms that we choose to work with cannot be separated from life so easily.
They engage the people who encounter them with different kinds of aesthetic, ethical and philosophical experiences – often in places not easily recognisable as art-spaces, often in technologically enabled spaces because this is where life takes place for so many people.
For all kinds of reasons (to do with our education and class structures), in the UK the dominant view is that 'great' art is separate and distant from the rest of life and therefore of marginal relevance to society and most people, or to quote Heath Bunting 'Most art means nothing to most people'.
It is regarded as: elite/intellectual, historical/heritage, commodity, the work of charlatans etc.
Sometimes art is regarded perhaps more positively, as a diversion or a hobby; more positive from our point of view because people make art their own, share it and incorporate it into their own lives on their own terms.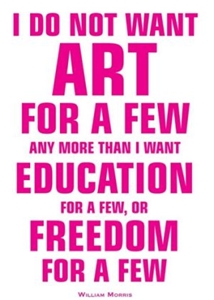 Don't just Do It Yourself, Do It With Others (DIWO!)
Furtherfield got started in the context of the discourse-smothering London Brit Art gallery scene in the mid-90s, when access to established galleries was carefully guarded. Meanwhile the Internet, an open public space of unlimited dimensions, was relatively sparsely populated at two extremes by corporate marketing departments and pet owners. The Internet also offered a free playground for early net artists.
Since then Furtherfield has co-constructed platforms and processes (online and in physical spaces) with a network of other artists, hackers, gamers, programmers, thinkers and curators to support collaboration and engagement between artists, participants and audiences worldwide.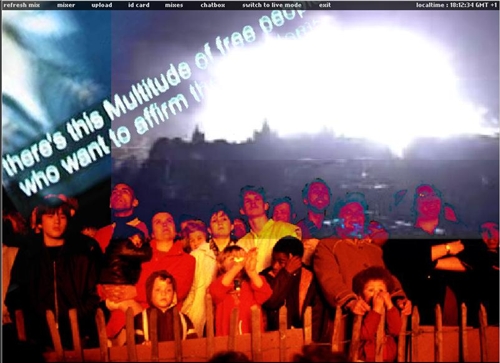 Informed by 'open and free' philosophies and practices of peer-to-peer cultural development and moving on from the DIY (Do It Yourself) approach of the 1990s artist-hackers that fed on the Modernist understanding of the individual artistic genius, we have moved towards more collaborative processes that we call DIWO (Do It With Others) and that explore different ways of creating shared visions.
For us taking a grassroots approach in art means that we pay attention to the everyday lives of the people we work with, to create and shape the platforms that we need. This is not a hippy dream. Rather, it provides a way to develop robust and healthy ways for diverse people and interests to interact and co-exist for mutual benefit.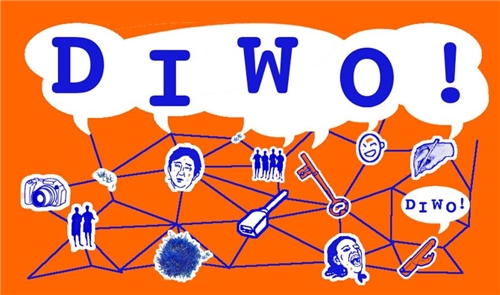 The Zero Dollar Laptop
Since 2008 Furtherfield and Access Space have worked in partnership on the Zero Dollar Laptop project, to support cooperation in creativity, technical learning and environmental awareness. One side-effect of techno-consumerism is that we dump tonnes of UK electronic waste in the developing world each year.[2]
This project, inspired by James Wallbank's Zero Dollar Laptop Manifesto, aims to change the way we think about technology by a shift of emphasis: from high-status consumer technologies to customised tools-for-the-job and smart, connected users.
Our organisations have worked together with participants to develop resources and pilot workshops that aim to eventually bring back into use (or save from toxic waste dumps) millions of redundant laptops currently gathering dust on shelves in homes and offices across Britain; putting them in the hands of the people who are best placed to make use of them, to benefit from a collaborative approach to learning and to connect with new knowledge networks in the process.
This project has its basis in grassroots, critical practice at the intersection of art, technology and social change.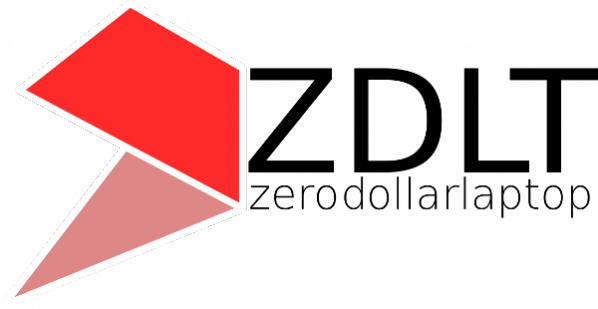 Changing Attitudes to Technology
The first pilot of Zero Dollar Laptop workshops kicked off at the Bridge Resource Centre in West London in January 2010 with clients of St Mungo's Charity for Homeless People. [3]
In our experience, a much more diverse group of people are able to enjoy and benefit from technical projects when the projects acknowledge and incorporate ethical, philosophical and aesthetic questions as part of the mix.
People who might not initially identify themselves as 'techy' stay engaged with complex technical learning processes by focusing on the learning that is meaningful for them and sharing it with others.
In the case of Zero Dollar Laptop workshops this can range from creating a profile image for Facebook to writing a blog post to lobby against government cuts in public services, or creating a desktop background or a new startup-sound to customise their own laptop.
The meaning and function of work is often conveyed by the construction of a context (a place, a set of tools, an aesthetic, a set of relationships) or a hack or remix of an existing context.
With participatory or collaborative artworks the context in which people engage with the work is a part of the work.
So the role of the artist today has to be to push back at existing infrastructures, claim agency and share the tools with others to reclaim, shape and hack these contexts in which culture is created.
We believe that through creative and critical engagement with practices in art and technology people become active co-creators of their cultures and societies.
And as James Wallbank notes, 'the best artworks are those that create artists'.
Originally commissioned by Axisweb.
Featured image: Annie Abrahams creates an Internet of feeling – of agitation, collusion, ardour and apprehension.
This essay accompanies If not you not me, an exhibition of networked performance art by Annie Abrahams at HTTP Gallery in London. Where social networking sites make us think of communication as clean and transparent, Abrahams creates an Internet of feeling – of agitation, collusion, ardour and apprehension. This exhibition presents three new collaborative works alongside documentation of recent networked performances created and curated by the artist.
If not you not me
2002. My expectations and behaviour have been shaped by years of work and play at my personal computer. I have habitually ignored my hunched body whilst my attention is projected through key-stroke and mouse click into a social space made of people, digital technologies and the cables, hubs and protocols of the global network.
separation/séparation: A click on a blank web page, displayed in a tall, thin browser window, is like a poke at the body of a sleeping animal. "Do something then!" On the first two clicks, the words "lonely soul" appear in a standard font at the top of the screen. More clicking calls up the following words "…not knowing how to differentiate between you and me, you don't feel my pain…" Accelerated mouse taps provoke an imperious message on a new screen. "You don't have the right attitude in front of your computer, either you clic (sic) too fast or with too much force…" With more measured interaction I am allowed to continue with the soliloquy, interspersed with instructions drawn from Workpace, an exercise programme used to assist in the recovery and prevention of Repetitive Strain Injury. The first illustrates a facial work-out. An animated download bar sets the duration of the exercise. I wrangle with the regimen to find a way to skip the prescribed exercises, to get to the end of the story. Finally I comply, performing the therapeutic stretches by the light of my machine. In my imagination other viewers/participants, located around the world in their various domestic settings, are roused from their physical inertia, illuminated by their PCs, in animated, undulating fleshy frills at the edges of the Internet. Returning to the screen for the next chapter, one gentle click at a time, a story of unrequited love unfolds; between an implacable machine and a human-being laid low by their own computer-inspired dreams of control and unlimited power.
This is the first time that my body has been directly addressed, indeed disciplined, by a Net Art work. This is made possible by its complex composition. separation/séparation is made of many parts: a web interface, an economical visual aesthetic, texts (the monologue, the instructions, the commands), human-to-machine interaction. Most of these ingredients are also active in the real-time installations and documentary videos exhibited seven years later in If not you not me at HTTP Gallery. The addition of human-to-human interaction, physical space and objects produces ever more complexity in the structure of the work. However while its many different parts often remain visible, separate and present for the viewer/participant, the effect is not one of disconnected components. Abrahams continues to connect them with the sociality of viewers/participants, generating powerful, singular, artistic affects. More recently her favoured vehicle for artistic exploration is collaboration without which there is no relationship: no me, no you, no other and therefore no artwork. If not you not me asks visitors to explore how relations constitute identity and consider the corporeal implications of an emerging human sociality mediated by complex digital networks.
In 2007 One the Puppet of the Other/ L'un la poupée de L'autre explored the experience of solitude on the Internet while straddling both physical and virtual public space. In this collaborative telematic performance at the Pompidou Centre, Paris, Abrahams and co-author Nicolas Frespech each sat in an igloo tents on stage. Their shadows could be seen moving about within, and who communicated via a system of webcams and microphones. They improvised according to a simple rule where each had to respond to the other's instructions – "sing a song" or "say something sweet" – to make each the living doll or avatar of the other. The webcam images and amplified conversations were streamed into the auditorium and displayed on a simple double screen projection above the tents. The hazy, flesh-tones of the webcam images had a unifying effect giving the impression of a shared dream. At the same time their physical proximity on stage reemphasised the way in which they were separated by their attempts to control and resist each other as they chose whether or not, as Abrahams writes, "to give flesh to the projections of the other."

The artists collaborated to negotiate the co-evolution of both a relationship and a performance. This was the first of Abrahams's networked performances that scrutinised real-time intersubjectivity. More recent works in this area include The Big Kiss with Mark River and Double Blind (Love) co-authored with Curt Cloninger. Distinct from pointing and clicking to control a machine or a game, performers adopt the more complex and subtle rituals and tuning-in techniques of improvising musicians and lovers. This requires them to acknowledge the similarities and differences in the nature of the sentient-other and to accept the other's autonomy. Unlike Paul Sermon's reassuring installations such as Telematic Dreaming that invite participants to cooperate within familiar and intimate domestic spaces connected by videostreams, Abrahams's stark interfaces amplify the performers' awareness of their solitude. They are alone in their physical space and yet they are responsible for co-constructing an image or a soundscape to express their experience of a relationship with a distant other. The unexpected result for the viewing public can be a disconcerting impression of intense intimacy. Viewers (as voyeurs) witness the emergence of boundaries as they are made and remade in the co-creation of the performance – each piece is a dynamic double portrait of every negotiation, every partnership.
Abrahams's fascination with collaboration and participation means that she has a strongly developed sense of the context for artwork (not uncommon with artists who work with the Internet – think Jess Loseby's Digital Kitchen, Andy Deck's Panel Junction, Avatar Body Collision's Upstage). She understands the many subtle ways in which curatorial and technical infrastructures impact on the meaning of the work and others' experience of it. She knows that in order to best familiarise herself with the mechanics and affects of collaboration she has to move through all positions from initiator and director, to participant, to viewer. Her two series of curated performances Breaking Solitude and Double Bind (which she created with technical partner Clement Charmet and Panoplie.org) are remarkable in that they demonstrate the power of a simple interface, a curatorial frame and an extended community of artists experimenting across networks. Breaking Solitude was simply set up as "Web-meetings of about twenty minutes long using chat and streaming to experiment (sic) new ways of being together." For Double Bind Abrahams creates a more focused context based in her own earlier experiences as a biologist, where she came across the concept of the Double Bind; "a situation with no exit, whatever one chooses one looses [which] leads to illogical, inhibited, ambivalent and misplaced behaviour. Double bind is the result of conflicting cues about a particular situation. An animal that cannot decide between attack and flight is going to eat or scratch." For this series she asked six artists to reflect on whether double bind describes our relation to technology, within a double webcam performance which could be viewed online and commentated on by up to thirty visitors within a simple message window. Abraham asks: "Is our relation to the computer and internet double bind, bound, bond?…Remote presence, ubiquity, multiple personality, absence of the body? Does this make us schizophrenic? How do we adapt?"
We are unaccustomed to experiencing either art or online social interaction in this way. Most artworks do not require us to participate with so many aspects of ourselves. Most social media interfaces are designed to smooth out the disconcerting glitches and vacuums created by the inevitable interruptions in data-flow. They aim at transparency to give an impression of irrepressible and unproblematic social exchange – as if the last thing we should be aware of when "using" technology is its impact on our physical and psychological well-being. On the one hand this transparency creates an exciting speed of exchange and a froth of production. On the other, however, the bandwidth of our communication is eroded and along with it the range of things that might be conveyed and relations evolved. If it can't be said in 140 characters, it can't be said. A voice disappears – no-one notices; the babbling stream of confabulation bypasses, drowns out – bleaches out – absences and depressions. With these ubiquitous interfaces we interact less with other people than with the social utility itself and with our ideas of ourselves.
Abrahams's work always invites us to acknowledge, feel and imagine in our interactions the many aspects of the machine and the other human being speaking through it. Her current artistic research project Huis Clos / No Exit directly addresses how each person will react in a context of collaboration, at the same time as studying its technical and formal limits and possibilities. Her work's place in the proliferating network of machines and human-beings (their emotions, desires, even their hormones) makes us aware of the artwork's simultaneous openness and resistance to our contribution. It encourages us to bring our whole selves to the question of the part we play in the co-evolution of future relations.
About Annie Abrahams

Annie Abrahams was born to a farming family in a rural village in the Netherlands. She obtained a doctorate in biology in 1978 and found that her observations of monkeys inspired curiosity about human interactions. After leaving an academic post, she trained as an artist and moved to France, where she became interested in using computers to construct and document her painting installations. She began experimenting with networked performance and making art for the Internet in the mid 1990s. Her work has since returned to the questions raised by the monkeys, concentrating on the possibilities and limitations of communication on the Internet. She has performed and shown work extensively in France, including at the Pompidou Centre, Paris, and in many international galleries including among others Espai d'Art Contemporani de Castello, Spain; the Museum of Contemporary Art, Tokyo; and the Armenian Center for Contemporary Experimental Art, Yerevan; festivals such as the Moscow Film Festival and the International Film Festival of Rotterdam, and on online platforms such as Rhizome.org and Turbulence.