In 2021 we rolled out our new format for presenting accessible open-all-hours digital artworks in Finsbury Park called the People's Park Plinth. In parallel, we launched our CultureStake collective cultural decision-making app.
Thousands of you showed up online and in the park to experience a set of interactive artistic proposals for larger artworks. Each one presented its own mini-experience in the park and online using web apps, free data, and AR technologies. Three times as many people got involved with our programmes and ultimately picked Based On A Tree Story for their summer 2022 art experience.
Since then we've been busy working with HERVISIONS and Bones Tan Jones, respectively the curator and artist behind Based on a Tree Story, to build the full digital art experience and install it in the park.
Now, we're extremely excited to tell you that from 13th August the tree sprites of Finsbury Park will be ready for you to find them.
Based on a Tree Story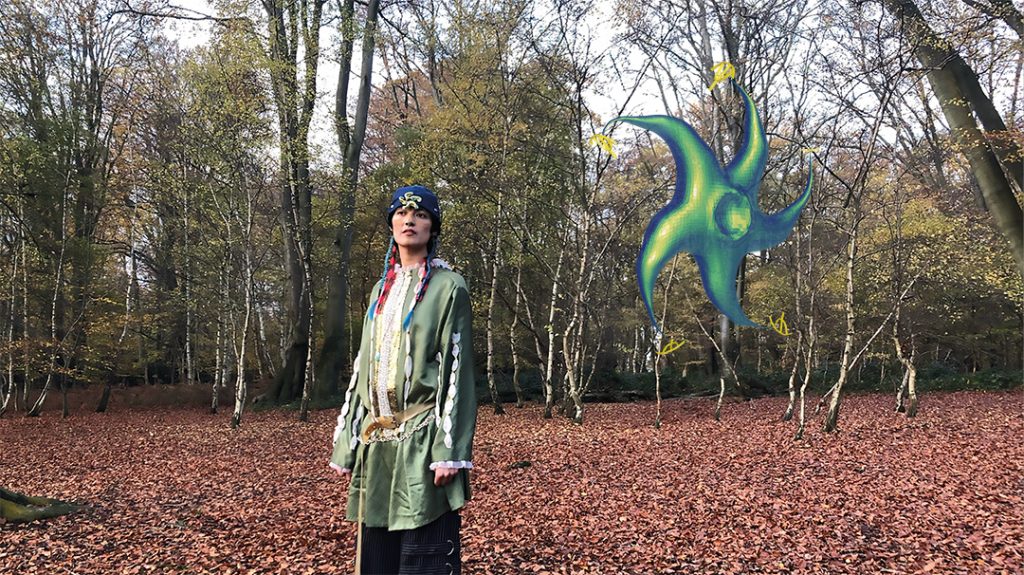 The trees of Finsbury Park bear witness to myriad happenings. Through deep time they wait, they watch, they grow – wiser, wilder…. In this new commission by HERVISIONS X Bones Tan Jones, the special stories of the trees are translated by three mystical sprites that live within the trees, becoming their voice. Use the map to locate clusters of trees and identify the amulet wearers among them. With the app open, scan the symbol to summon the sprite and release a cascade of tree wisdom – time travelling to the roots of their having-beens into the twiggy tips of their future-becomings. And as you crisscross the park, seeking out your next sprite, imagine the ley lines you draw onto and into the earth – and cast your own connective spell.
"We invite you to visit the tree, call forth the sprite and dance together. Let your feet connect to the soil and the movement of the sprite inspire your rhythms. Stomp on the ground and the layers of earth from years of life will reverberate with your sound! Hear their echoes!"
– Zaiba Jabbar, HERVISIONS
Sprite Dance
To celebrate this amazing news, we've invited you to join us for a magical sundown experience seeking out and – if they'll let you – dancing with the tree sprites of Finsbury Park.
Furtherfield Gallery, Saturday 13th August 2022 from 5pm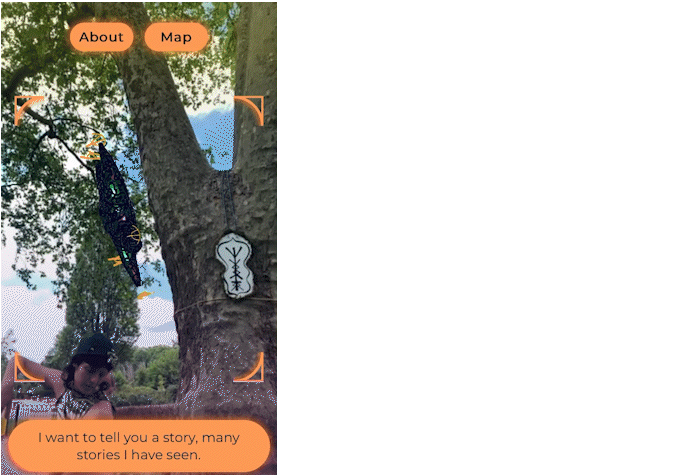 Team
HERVISIONS
Responsible for curating, commissioning, conceptualisation, and research HERVISIONS is a femme-focussed antidisciplinary curatorial agency supporting and promoting artists working across new and emergent technologies, and platforms with a strong focus on the intersection of art, technology and culture.
IG: @hervisions_
Bones Tan Jones
Responsible for conceptualisation, research, and artistic production, Bones Tan Jones' work is a spiritual practice that seeks to present an alternative, queer, optimistic dystopia. They work through ritual, meditating through craft, dancing through the veil betwixt nature and the other. Bones weaves a mycelial web of diverse, eco-conscious narratives which aim to connect, enthral and induce audiences to think more sustainably and ethically. Traversing pop music, sculpture, alter-egos, digital image and video work, Bones sanctifies these mediums as tool's in their craft.
IG: @yaya.bones
Studio Hyte
Responsible for the visual identity, 3D modelling and technical development, Studio Hyte is a South London-based design studio. Working between graphic design, interaction, and emergent communication. We specialise in forward-thinking, multifaceted visual identities and experiences within the arts and education sector. Our aim is to create meaningful, accessible and thought-provoking work.
IG: @studiohyte
We are building CultureStake, the world's first collective cultural decision making app (using Quadratic Voting on the blockchain) because we want to enable all communities to choose the creative experiences they want to have in their own areas. The original idea was driven by an awareness that top down arts programming is increasingly problematic. We wanted to find a way to give more people more of a say in what art and culture gets produced in their neighbourhoods – and more opportunity to be the co-creators. In a nutshell, our mission is to put the public at the heart of public arts.
With CultureStake we want to:
End elitism around the arts – by opening cultural decision making to wider groups and providing more agency to communities.
Enable people to have a stake in what cultural activities get produced in their locality.
Explore together as communities what cultural experiences we want to have in the places that matter to us.
CultureStake is designed for
Communities
We want communities to explore and learn together what we all want to experience in our localities. For example how might a theatre audience cast a play differently or a park community curate a public art exhibition?
Cultural Organisations
We want deeper, richer and more open consultation with the communities cultural organisations work for. For example, how might a city council find out which new artwork should occupy a recently vacated public plinth. Or how might an arts organisation discover which artist on their shortlist should be next summer's blockbuster?
For Everyone
We want a data commons that widens the conversation about how art is valued by different communities around the world. For example, how might our ideas about culture change if we can see what's important to other people?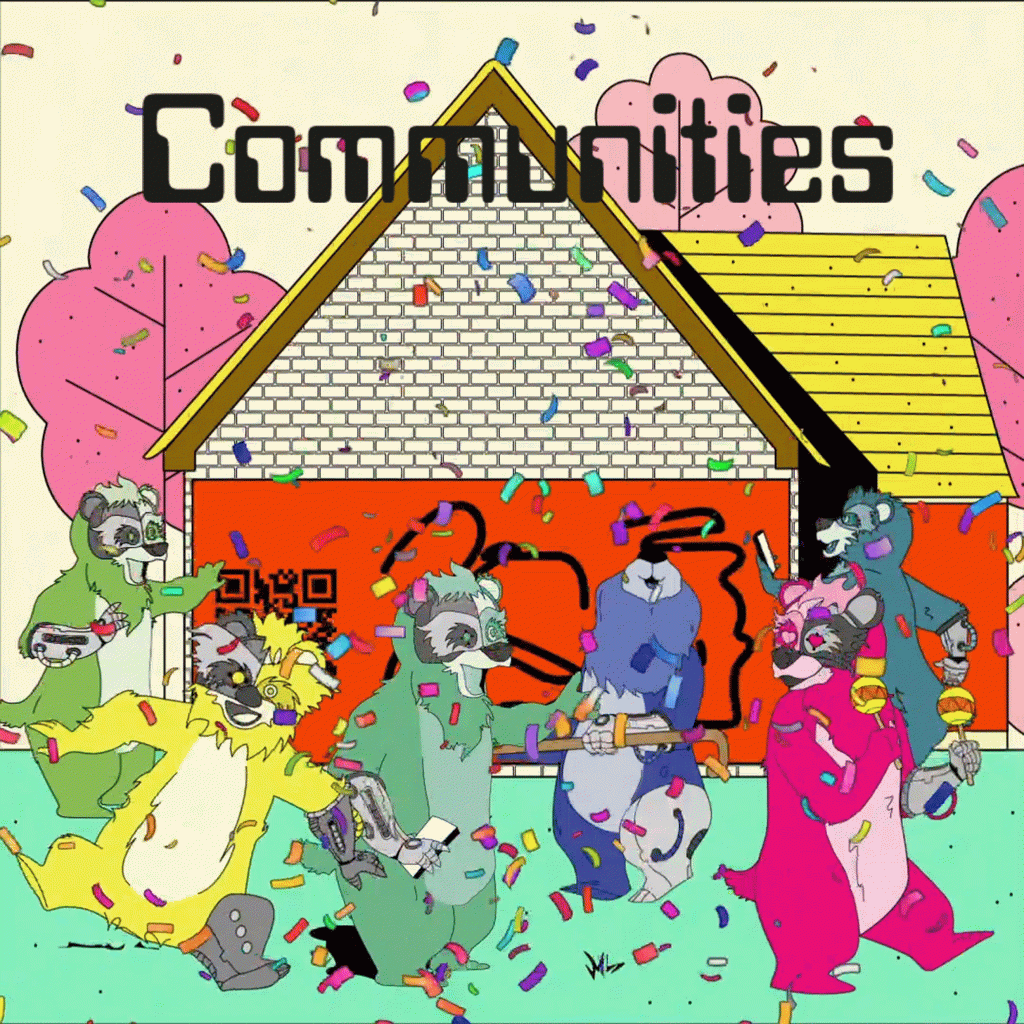 Why Quadratic Voting on the Blockchain?
We are using Quadratic Voting because it takes us all from confusing numbers to nuanced feelings.
In QV voters receive a number of 'vibe credits' which they can allocate to different creative proposals to express their support. The quadratic function means that showing a strong preference comes at a credit cost. Or rather:
The first vote costs 1 vibe credit
The second vote costs 4 vibe credits
The third vote costs 9 vibe credits etc.
This means that QV is quite unlike any other voting process. Indeed, unlike a one person one vote system, in QV votes express not just what we care about but how much we care! This matters because one person one vote systems usually don't present the reason why someone voted the way they did or how strongly they felt about it. Politics have taught us not to trust the way votes are interpreted. Voters' intentions are often misrepresented and communities are polarised about the limited information. Whereas QV allows us to express the intensity of our convictions, giving each of us:
a more engaging voting process
a stronger sense of agency
more trustworthy information on why we vote the way we do
Plus we've designed CultureStake so vote organisers can weight the votes of those closest to the issues that matter. For example, in our use of CultureStake for the People's Park Plinth, any votes cast inside Finsbury Park mean more overall. So those most affected get more of a say.
And we run all CultureStake votes on the blockchain because the blockchain is like a big indelible ledger. This means that a vote cannot be rigged and is always stored extra safely so what we can promise voters is that they can trust our system.
It's Not a Popularity Contest!
There are many ways to run a CultureStake vote. A theatre could develop an unfinished performance and ask communities to choose the next steps. An arts organisation might offer up a range of different events and invite communities to choose what they want to encounter. Either way, the voting system doesn't rely on asking everyone to just pick their favourite, but rather explore their thoughts and feelings in relation to a set of questions. So the result is always knowing more about what communities think and feel. Plus, we never show what ranked 1st, 2nd, or 3rd, but rather what was selected and what thoughts and opinions drove people's selections.
CultureStake In Action
At Furtherfield we are using CultureStake to power our People's Park Plinth initiative in Finsbury Park. The concept behind the People's Park Plinth is that our Finsbury Park buildings and even the park itself will act as a plinth for public digital artworks chosen by our communities using our CultureStake app.
The Gallery building will therefore provide an interface where people can scan hoardings to access works which offer a range of XR-enabled experiences in the park. Annually there will be a set of 'proposal' artworks, which will give people a first glimpse at what can be created more fully later in the year. Everyone will have time to explore these proposals and then use CutlureStake to choose what they want.
Happy CultureStakers
In our pilot year we tripled local engagement and received amazing local feedback like this:
"I live nearby and I've been talking about this with my friends for months, it's such a great idea, to give people a say!"

"[…]decentralisation allows people to have slower but more grassroots-based management of any decision making."

"I think it's good that we have a say as well. And I really love voting."

"Usually I guess I choose art by going to a place and supporting it like that but I've never been involved so much in really deciding on what I will see next. And yeah it makes me actually feel good too."

"[…] quite a lot of times actually […] art is reserved only for the higher echelons of society and I feel like this is really nice that anyone can come in and you vote for who you like or what art you like."

"I do feel represented…"
Tell Us How You'd Use CultureStake
We are now in the next phase of development and are actively looking for partners from different types of venues and communities to partner with us so we can explore their unique needs and ensure we have a robust system.
If you are a small, medium, large, networked, physical, touring, online or any other type of cultural entity that wants to deepen your community connections we would love to hear from you. We want to know how you would use CultureStake in your own context and what you would like to achieve. To find out more contact Charlotte and she'll arrange a meet up.
Our new initiative in Finsbury Park, the People's Park Plinth, cedes co-curational and co-creational control of our cultural activities to the people of the park. It's your park, it's your pick!
In Concept
We believe that if there is more accessible cultural activity in the park, and more people have more of a say in those activities, then the activities will be more representative of local communities and issues, more people will participate, and more people will feel more of a sense of community and connection within the area.
We have therefore developed the People's Park Plinth to operate as a dedicated place-shaping initiative bridging the histories, values, physical location, needs, and social practices of local communities. We aim to connect people to the park, surrounding areas, and each other, through free co-creational public digital arts activities which nurture and strengthen community cohesion alongside the biodiversity of the park itself.
We will work collaboratively via place-based partnerships to support and involve communities in ambitious high-quality cultural experiences and improve access to a range of cultural activities where people live, by:
Turning the whole of Finsbury Park into a plinth for free, open-all-hours, mobile-first, co-creational, digital visual art programmes curated and created by, for, and with the local community.
In Practice
To do this we will invite local people to set the curatorial remit for the People's Park Plinth as a public art project that starts with them and the natural habitat of Finsbury Park.
Every year we will:
Work with community groups to investigate local issues.
Discover artists/artist collectives with affinities for the park and invite them to work with the community through co-creational activities to develop a set of digital proposals for the plinth.
Wrap the park and our gallery in hoardings and posters providing project information on and access to (via QR codes) the virtual gallery of proposals (in a range of formats from video to AR and more).
Seamlessly connect the virtual gallery to our CultureStake app, the world's first tool using quadratic voting on the blockchain to gather nuanced data on people's opinions on culture. The set up of the app means users do not just indicate preferences but also the intensity of their feelings towards their preferences.
Facilitate a public vote to choose which proposal should be produced for the plinth.
Gather everyone together again to produce the chosen art in full before it is digitally unveiled on the plinth for free access for the rest of the year.
Pilot Year
In 2021 we ran our pilot year for the People's Park Plinth and tripled our local engagement.
Coming Up
We will shortly unveil the park's pick for 2022: Based On A Tree Story which allows everyone to explore the park looking for tree sprites which tell the histories of Finsbury Park trees and encourage you to dance with them.
In 2023/24 the People's Park Plinth will take on the theme of local biodiversity. Working with local groups we have developed a project called the Interspecies Festival of Finsbury Park which imagines a a not too distant future where there has been unrest among all the species inhabiting Finsbury Park. After much protest it has been agreed that a treaty of cooperation will be drawn up. But first there will be an Interspecies Festival to ensure all the species understand each other's cultures and needs. Therefore proposals for the plinth will take the form of video presentations by a range of Finsbury Park species each pitching for which park habitat and activities should feature in the forthcoming Interspecies Festival. We will facilitate voting and then support the artist(s) in producing a series of workshops to prepare for the Festival, before hosting the Festival itself in August 2023 and presenting a virtual exhibition of Festival activities and footage.
Decentralised Autonomous Organisations (DAOs) offer unique tools for translocal peers to encode rules, relations and values into their joint ventures using blockchain technologies.
In recent years DAOs have been heralded as a powerful stimulus for reshaping how value systems for interdependence and cooperation manifest themselves in arts organising. Radical Friends. Decentralised Autonomous Organisations and the Arts consolidates five years of research into a toolkit for fierce thinking, as well as for new forms of radical care and connectivity that move beyond the established systems of centralised control in the art industry and wider financial networks.

At a time when so many are focused on NFTs, Radical Friends refocuses attention on DAOs as potentially the most radical blockchain-based technology for the arts in the long-term. Contributors engage both past and emergent methodologies for building resilient and mutable systems for mutual aid. Collectively, the book aims to evoke and conjure new imaginative communities, and to share the practices and blueprints that can help produce them.
Radical Friends includes contributions of essays, interviews, exercises, and prototypes from leading thinkers, artists and technologists across this emerging field. This book, follows Furtherfield and Torque Editions ground-breaking book Artists Re:Thinking the Blockchain.

Editors
Ruth Catlow & Penny Rafferty
Contributors
Ramon Amaro, Calum Bowden, Jaya Klara Brekke, Mitchell F. Chan, Cade Diehm, eeefff, Carina Erdmann, Primavera De Filippi, Charlotte Frost, Max Hampshire, Lucile Olympe Haute, Sara Heitlinger, Lara Houston, Cadence Kinsey, Nick Koppenhagen, Kei Kreutler, Laura Lotti, Jonas Lund, Massimiliano Mollona, MetaObjects, Rhea Myers, Omsk Social Club, Bhavisha Panchia, Legacy Russell, Tina Rivers Ryan, Nathan Schneider, Sam Skinner, Sam Spike, Hito Steyerl, Alex S. Taylor, Cassie Thornton, Suzanne Treister, Stacco Troncoso, Ann Marie Utratel, Samson Young
Publishers
Torque Editions
Design
Mark Simmonds
Cover and Inside Illustrations
Marijn Degenaar
Praise for the Book
"Radical Friends is an urgent book for the 21st Century and beyond. It shows us, in the spirit of the legendary poet and artist Etel Adnan, that the technology of the future needs to be about "togetherness, not separation. Love, not suspicion. A common future, not isolation."
Hans Ulrich Obrist

"How things are run is often more important than what is done. It may not be easy to establish alternative formats and infrastructures, but it's certainly necessary… This collection shows that it is possible too."
Sadie Plant

"This book is about friendship, despair and hope — a beautiful, must-read for all people who are asking unanswerable questions about life, love and the end of the world."
Franco "Bifo" Beradi

"Web 3 diagonalises the principles of Web 1 and Web 2. Binaries are dead. Everything is both good and evil, emancipatory and oppressive, singular and infinitely replicable. Radical Friends navigates this confusing new terrain in a nuanced and accessible way that is liable to make you feel excited about the future of art, politics, and maybe even the world again."
Amy Ireland

"An instant seminal compendium for people who want to gain a deeper understanding of the radical potential of crypto tech for aesthetic institutions."
Harm van den Dorpel
"In The Treaty of Finsbury Park 2025, we are catapulted several years into the future where all the species of the park have risen up to demand equal rights with humans. After much unrest, it has been agreed that a treaty will be drawn up, designating these rights, but first humans must learn to better relate to and understand non-humans so they can cooperate better together. Thankfully there has been a new invention – The Sentience Dial – which allows humans to tune into all the flora and fauna of Finsbury Park."
Introduction
The Treaty of Finsbury Park 2025 is a collaborative project that depicts the story of the dawning of interspecies democracy. It's a new era of equal rights for all living beings, where all species come together to organise and shape the environments and cultures they inhabit, in Finsbury Park (and urban green spaces across the UK, the world, and beyond!) Like many urban parks, Finsbury Park is fraught with environmental issues from noxious gasses and traffic noises to governance struggles and financial sustainability. If colonial systems of dominance and control over living beings continue we all face an apocalypse.
Based around a set of LARPs – or live action role play games – the Treaty of Finsbury Park 2025 is played from more-than-human perspectives to encourage the blooming of a bountiful biodiversity and interspecies political action. Think like a dog, bee or even grass and help change the way we all see and participate in our local urban green spaces forever.
There are 3 parts to the story.
Part 1. 2022. The Interspecies Assemblies – these are games where everyone gets to plan the Interspecies Festival of Finsbury Park 2023 – an event which will celebrate the drawing up of the treaty itself.
Part 2. 2023. The Vote – once artists have had a chance to gather everyone's input they'll present 3 proposals for the Interspecies Festival and everyone will be invited to choose the one they want to participate in.
Part 3. 2023. The Interspecies Festival of Finsbury Park – all the species of Finsbury Park will be invited to join the festival in Summer 2023.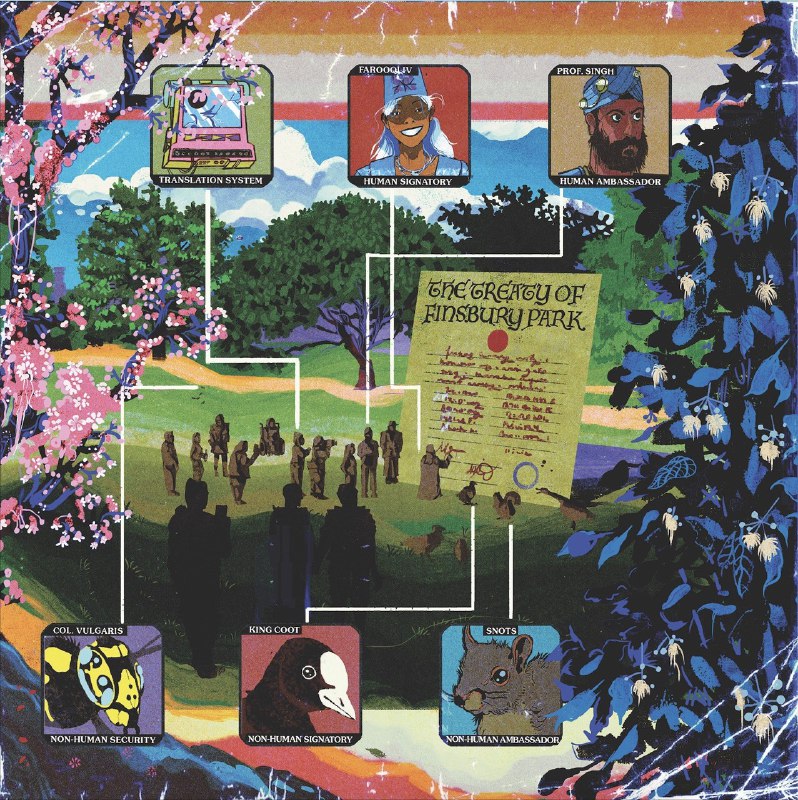 The Interspecies Festival will be a gathering for all species to showcase their cultures, their interests and talents. Like a World's Fair or an Olympic Games, it will be a place of discovery, marvels and broadened horizons. But it can only be planned if you help all the species of the park present their ideas.

By planning the Interspecies Festival together, human people from the locality and around the world will build empathy pathways to other beings. They will learn about what matters to them and their habitats. They will explore what it would mean to acknowledge the equal rights of more-than-human beings to the same range of freedoms they expect for themselves. They will draft the Treaty and they will decide how to connect even more deeply with all the species of the park through a festival for all. From September 2022 scannable hoardings will wrap the Furtherfield Gallery in Finsbury Park with an exhibition featuring stories about the new knowledge and relationships formed by assembly members for the benefit of biodiversity locally and world wide.
Part 1. 2022 The Interspecies Assemblies games
In the PUBLIC game of 'Interspecies Assemblies', human players will be partnered with a mentor representing one of 7 species based in Finsbury Park. These include a tree, a bee, a goose, grass, a squirrel, a stag beetle and a dog. Players will be tuned into the mentor's needs and experiences1 and will then represent them at a series of online assemblies being held to choose the events and the location in the park for the first ever Interspecies Festival of Finsbury Park.
PLAY THE INTERSPECIES ASSEMBLIES GAMES ONLINE.
RECEIVE UPDATES ON THIS PROJECT.
Part 2. 2022-23 The Interspecies Artists Forum and the Public Vote.
In Spring 2022 The Interspecies Artists Forum will be commissioned to design a set of festival activities for 3 biodiversity habitats based on everything learned and proposed through the Assemblies. For example, the dogs might lead on the Sniffathon followed by Barkeoke, Name that Honk for the Geese, and the Squirrels present the Antique Nut Show. Different activities for different habitats will then be presented as immersive scenes for mobile phones for a public vote.
There will be a PUBLIC vote to decide which biodiversity habitat in the park will host the festival, based on the interspecies activities designed for it. We already know that the bees are abuzz for the wildflower meadows, the stag beetles dig the ancient forest, while the squirrels squeak for the new forests. But the winning habitat will need to appeal to all the species. From April 2022 scannable hoarding will wrap the Furtherfield Gallery in Finsbury Park. Everyone – human or otherwise – is invited to attend, scan, and explore activities in the proposed habitats and decide where the Interspecies Festival should be held to best serve the bountiful biodiversity of the park.
Part 3. The Interspecies Festival and Treaty of Finsbury Park and the Treaty
The final Interspecies Festival activities will take place in the chosen habitat to be further developed and enjoyed by the park's public in the summer. These will take place alongside the presentation of the draft Treaty for discussion by all the human and more-than-human people of the park.
Read the concept paper here.
RECEIVE UPDATES ON THIS PROJECT.
More About The Treaty of Finsbury Park 2025
The Treaty of Finsbury Park 2025 is a major new project exploring new ways to build empathy pathways to non-human lifeforms through play.
It represents a major undertaking to do long-term work exploring how an arts organisation based in the heart of an urban green space can support a deeper understanding of that green space and ALL its inhabitants. Beginning in 2020 and spanning a minimum of 5 years, the work was originally developed in a collaboration between Furtherfield and The New Design Congress. The first 3 years are being supported by CreaTures Creative Practices for Transformational Futures. CreaTures project has received funding from the European Union's Horizon 2020 research and innovation programme under grant agreement No 870759. The content presented represents the views of the authors, and the European Commission has no liability in respect of the content.
Credits
Artistic Direction by Ruth Catlow
Concept by Cade Diem and Ruth Catlow
Visual design by Cade Diem
Illustrations by Sajan Rai
LARP Design and Hosting by Ruth Catlow, Bea Xu and Max Dovey
LARP Player Assistance by Yejide Cordner
LARP Player Support by Lekey Leideker and Tanya Boyarkina
Writing by Ruth Catlow and Dr Charlotte Frost
Music by Matt Catlow
Digital Mask animation by PopulAR
Research by CreaTures, stewarded by Dr Lara Houston and Dr Ann Light
Production support for prototype LARPs by Tanya Boyarkina
Outreach for prototype LARPs by Pita Arreola
Thanks to our first players: Shawn, Carien, Anne, Tom and Ricard.
Special thanks to Ricard, Finsbury Park Ranger for introducing us to all the different lives of the park
Thanks to all online Interspecies Assemblies players – you know who you are – 🐶 WOOF!
Future Fictions for Finsbury Park is part of our Citizen Sci-Fi initiative. It brings together sci-fi writers in residence with local residents and set of scientific experts to explore written visions of a Finsbury Park of the future. 
For our 2019/2020 year of FF4FP we worked with sci-fi writers Mud Howard and Stephen Oram to create two new short stories about the park, based on deep research conducted with community members and experts. Via a set of workshops organised by Producer, Ruth Fenton, participants were invited to explore both near and far future ideas based on the current knowledge we have of climate change and technological developments, to imagine how we might like to see Finsbury Park evolve.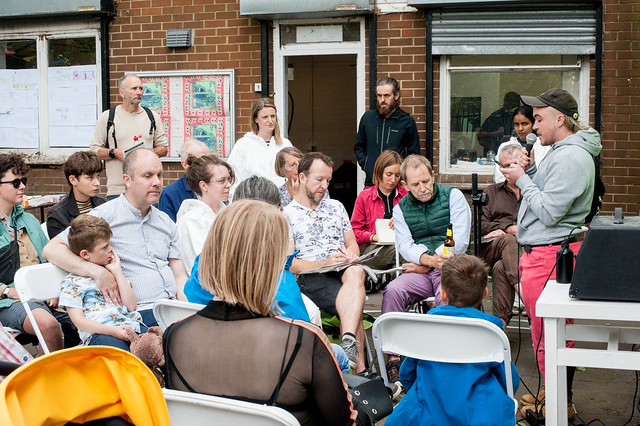 At our Future Fair on 10th August 2019, both Mud and Stephen gave live readings of their stories, which will be published on the Furtherfield website this Autumn.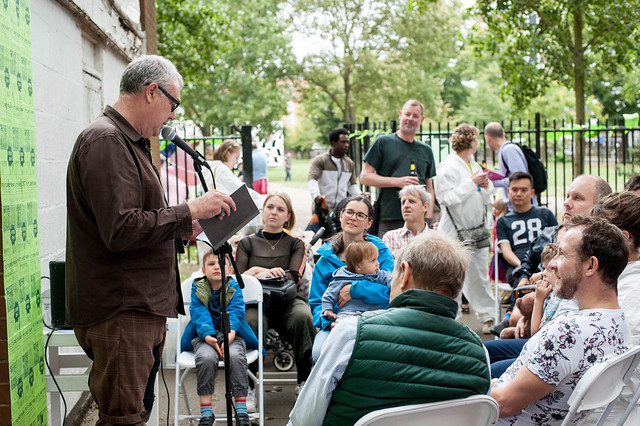 Sci-Fi writers:
Mud Howard (they/them)
A gender non-conforming poet, performer and activist from the states. mud creates work that explores the intimacy and isolation between queer and trans bodies. mud is a Pushcart Prize nominee. they are currently working on their first full-length novel: a queer and trans memoir full of lies and magic. they were the first annual youth writing fellow for Transfaith in the summer of 2017. their poem "clearing" was selected by Eduardo C. Corral for Sundress Publication's the Best of the Net 2017. mud is a graduate of the low-res MFA Poetry Program at the IPRC in Portland, OR and holds a Masters in Creative Writing from the University of Westminster. you can find their work in THEM, The Lifted Brow, Foglifter, and Cleaver Magazine. they spend a lot of time scheming both how to survive and not perpetuate toxic masculinity. they love to lip sync, show up to the dance party early and paint their mustache turquoise and gold.

Stephen Oram
Who writes thought provoking stories that mix science fiction with social comment, mainly in a recognisable near-future. He is one of the writers for SciFutures and, as 2016 Author in Residence at Virtual Futures – described by the Guardian as "the Glastonbury of cyberculture" – he was one of the masterminds behind the new Near-Future Fiction series and continues to be a lead curator. Oram is a member of the Clockhouse London Writers and a member of the Alliance of Independent Authors. He has two published novels: Fluence and Quantum Confessions, and a collection of sci-fi shorts, Eating Robots and Other Stories. As the Author in Residence for Virtual Futures Salons he wrote stories on the new and exciting worlds of neurostimulation, bionic prosthetics and bio-art. These Salons bring together artists, philosophers, cultural theorists, technologists and fiction writers to consider the future of humanity and technology. Recently, his focus has been on collaborating with experts to understand the work that's going on in neuroscience, artificial intelligence and deep machine learning. From this Oram writes short pieces of near-future science fiction as thought experiments and use them as a starting point for discussion between himself, scientists and the public. Oram is always interested in creating and contributing to debate about potential futures.

Future Experts:
The Future Experts comprised of local residents of Finsbury Park, who brought invaluable knowledge of the area, and professional experts from a variety of scientific and design based backgrounds, who brought expertise in future thinking in many areas including health, transport, technology and architecture.
Expert Biographies
Ling Tan
Ling Tan is a designer, maker and coder interested in how people interact with the built environment and wearable technology. Trained as an architect, she enjoys building physical machines and prototypes ranging from urban scale to wearable scale to explore different modes of interaction between people and their surrounding spaces. Her work falls somewhere within the genre of the built environment, wearable technology, Internet of Things(IoT) and citizen participation. It involves working with various communities in different cities and uses wearable technology as tools to express their relationship with the city, touching on demographic, race, gender and the subjective experience of the city through people.
Paul Dobraszczyk
I am a researcher and writer based in Manchester, UK, and a teaching fellow at the Bartlett School of Architecture in London. I'm currently researching anarchism and architecture as well as completing a co-edited book Manchester: Something Rich and Strange (Manchester University Press, forthcoming in 2020). I'm the author of Future Cities: Architecture and the imagination (Reaktion, 2019); The Dead City: Urban Ruins and the Spectacle of Decay (IB Tauris, 2017); London's Sewers (Shire, 2014); Iron, Ornament and Architecture in Victorian Britain (Ashgate, 2014); and Into the Belly of the Beast: Exploring London's Victorian Sewers (Spire, 2009). I also co-edited Global Undergrounds: Exploring Cities Within (Reaktion, 2016); and Function & Fantasy: Iron Architecture in Long Nineteenth Century (Routledge, 2016). I am also a visual artist and photographer and built the website http://www.stonesofmanchester.com. I blog at https://ragpickinghistory.co.uk/.
Dr Rasmus Birk
I am a social scientist, currently working as a Visiting Postdoctoral Fellow at the Department of Global Health & Social Medicine, King's College London. My research here explores the relationship between city life and mental health, specifically how living in the city leads, for some people, to the development of mental health problems. I am currently researching the experiences of young people with common mental health problems (such as depression, anxiety, or stress) in South East London.
Dr Kate Pangbourne
University Academic Fellow at the Institute for Transport Studies (University of Leeds). She has an MA (Hons) in Philosophy with English Literature, an MSc in Sustainable Rural Development and a PhD in Geography – Environmental (Transport Governance). Her research is oriented towards shifting our transport system and individual choices towards greater environmental sustainability, social inclusion and meaningful prosperity. She is particularly interested in the implications of rapid technological change in the transport sector. Current work includes improving the persuasiveness of travel behaviour messages (ADAPT, funded by EPSRC), enhancing the rail passenger experience (SMaRTE, funded by the EU through Shift2Rail) and the societal challenges posed by self-driving vehicles and new concepts such as Mobility as a Service. Proof of humanity: has children, grows vegetables, sews and knits, sings, plays the piano, and used to play jazz sax (badly). Weird info: is a Freeman of the Worshipful Company of Cordwainers and of the City of London (but lives in Scotland).
https://environment.leeds.ac.uk/transport/staff/971/dr-kate-pangbourne
Dr Christine Aicardi
Originally trained in applied mathematics, computer sciences and project management, with a MEng from the Ecole Nationale des Ponts et Chaussées in France. She worked for many years in the Information and Communication Technologies industry, where she held a variety of positions (analyst/programmer, junior consultant, sales engineer, major account manager). She returned to higher education and came to Science and Technology Studies in 2003 as a mature student. After her MSc at the London Centre for the History of Science, Medicine and Technology, she was funded by the ESRC through her doctoral studies, and in 2010, she completed her PhD in Science and Technology Studies at UCL, in the area of Artificial Life. She is currently a Senior Research Fellow for the Human Brain Project Foresight Laboratory. The Lab aims to evaluate the potential social and ethical implications of the knowledge and technologies produced by the Human Brain Project for European citizens, society, industry, and economy. Prior to this, she was Wellcome Library Research Fellow, working on a sociological history project focused on the later career of Francis Crick, British molecular biologist and geneticist, who in the 1970s moved to Southern California and became a neuroscientist.
Featured image: Rusty Russ Twisted Tree ReTwisted via photopin (license)
We are based in the heart of Finsbury Park, which is used by roughly 55,000 people weekly in a neighbourhood described as 'superdiverse' for the nearly 200 languages spoken locally. Working with park users and stakeholders, artists, techies, researchers, policy-makers, and other local arts organisations we have developed a new approach to cultural co-creation in this much loved shared public space: 'Platforming Finsbury Park'.
Our aims are to:
Grow and maintain the natural and cultural value of the park with, and in the interest of all of its diverse users
Discover new ways with local people and partners to shape, and enjoy cultural activities safely in the interest of the neighbourhood
Create open and accessible digital platforms for artistic and learning experiences and use for many years
Try new ways of engaging people, working with natural and social environment and ethical data gathering insights
Connect and share knowledge with international networks of cultural innovation in public parks
An important part of this work is our 2019-21 programme, Citizen Sci-Fi, designed to engage our local community in creative imaginings of the future of Finsbury Park. We are producing a range of participatory networked art practices that respond to today's important questions, in this unique urban park context, that empower local participants, and draw on international areas of practice.
By transforming Finsbury Park into a canvas for participatory digital arts we want to explore how insights drawn from the locality, and meaningful co-created cultural experiences can improve wellbeing for people, establishing new arts practices for Finsbury Park and other public spaces and localities.
Read more about this project in our Spring 2018 Editorial
Citizen Sci-Fi Programme 2019-2021
This 3-year programme combines citizen science and citizen journalism by crowdsourcing the imagination of local park users and community groups to create new visions and models of stewardship for public, urban green space. By connecting these with international communities of artists, techies and thinkers we are co-curating labs, workshops, exhibitions and Summer Fairs as a way to grow a new breed of shared culture.
3 years and 3 themes
50+ Citizen Sci-Fi events
1000s of local residents
Stories, movies, machines and more!
#CitSciFi – crowdsourcing creative and technological visions of our communities and public spaces, together.
Citizen Sci-Fi: Time Portals 2019
The Time Portals exhibition, held at Furtherfield Gallery (and across our online spaces), celebrates the 150th anniversary of the creation of Finsbury Park. As one of London's first 'People's Parks', designed to give everyone and anyone a space for free movement and thought, we regard it as the perfect location from which to create a mass investigation of radical pasts and futures, circling back to the start as we move forwards.

Each artwork in the exhibition therefore invites audience participation – either in its creation or in the development of a parallel 'people's' work – turning every idea into a portal to countless more imaginings of the past and future of urban green spaces and beyond.

Citizen Sci-Fi: Love Machines 2020
For this Olympic year we will consider the health and wellbeing of humans and machines.

Citizen Sci-Fi: Land Oracles 2021
For this year of predicted peak heat rises we will consider how machines can work with nature.