Featured image: Spork patient rights (jpeg copy). Millie developed Spork who experienced all manner of catastrophes.
Download PDF of The Last Collaboration
Preface Summer, 2020
The Last Collaboration comprises the joint fatality review of Millie Niss's final illness in a Western New York hospital's ICU by mother and daughter, Martha Deed and Millie Niss in 2009.  Furtherfield could scarcely have chosen a more significant time to reintroduce the collaboration.
As is the case for hundreds of thousands of people in this year of COVID-19, Millie's story has no happy ending. In fact, those who knew and loved her were forewarned that Martha could not compose an upbeat conclusion to the recounting of Millie's final illness.
2020 is also the year in which the web art so central to Millie's life will end as well. In this, as in her death from a virus that could not be avoided, Millie also is not alone.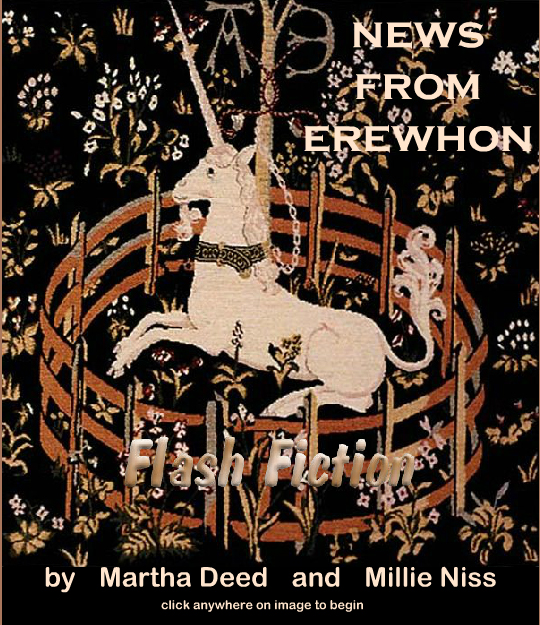 In fact, in parallel to steps Millie took to make sure the story of her illness and death was told in The Last Collaboration, Millie also anticipated the need for future upgrades to her award-winning Erewhon installation.
News from Erewhon, in its initial incarnation is an example of Web Art 1.0 with a slight leaning towards 1.1 because we exploit Google Image search: We display our text with our design. In Erewhon 2.0, we propose to do what older websites have had to do: upgrade from 1.0 to 2.0 whilst preserving the essence of Erewhonicity and without alienating users. Thus, instead of a single URL in a web journal, there will now be a profusion of Erewhon web installations hosted by us and by others. . . (Millie Niss. &Now talk, October 15, 2009)
What Millie did not anticipate, despite her knowledge that she might not have many years ahead of her, was that she would not be able to meet the goal of protecting her work from future changes on the web or with her tools, such as Flash and Actionscript. She died six weeks after delivering her talk.
Martha constructed The Last Collaboration from a collection of circumstances and documents not ordinarily available for a family to review. Family members can keep logs of their observations and conversations with hospital personnel and with their family member patients. They can collect medical records. However, Millie's documentation of her month in the ICU is nearly unique.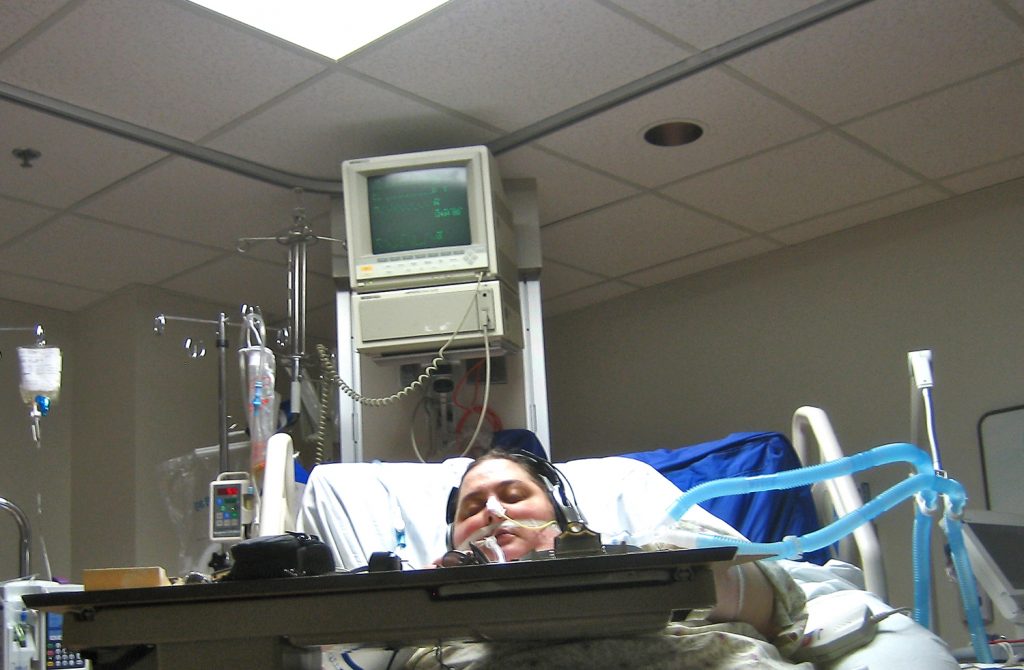 Millie suffered respiratory arrest within an hour of entering the ER, was resuscitated and placed on a ventilator. But she did not require sedation. Millie couldn't speak while on the ventilator. Thus, with her oxygen supply restored, and her computer in front of her or with pencil and notebook in hand, for the next four weeks, she sent reports home, posted emails, and ‒ perhaps most important ‒handwrote her side of every conversation with her family or medical staff. When filled, each notebook was sent home for safekeeping, because Millie wanted her story told. These notebooks are dated and can be linked to her medical record. Thus, both sides of her conversations with medical staff are recorded. Millie's communications in writing can be lined up with progress notes and medical reports to assess whether staff understood the significance of what Millie reported to them.
Millie had struggled with chronic illness that had left her bedridden for several years. She had regained sufficient strength to apply with Martha, her mother, to present at &Now, an international e-poetry conference held in Buffalo, NY. With power wheelchair and oxygen and the help of her aides and family, she had made that presentation. But there was a terrible irony, given our world's current struggle with COVID-19.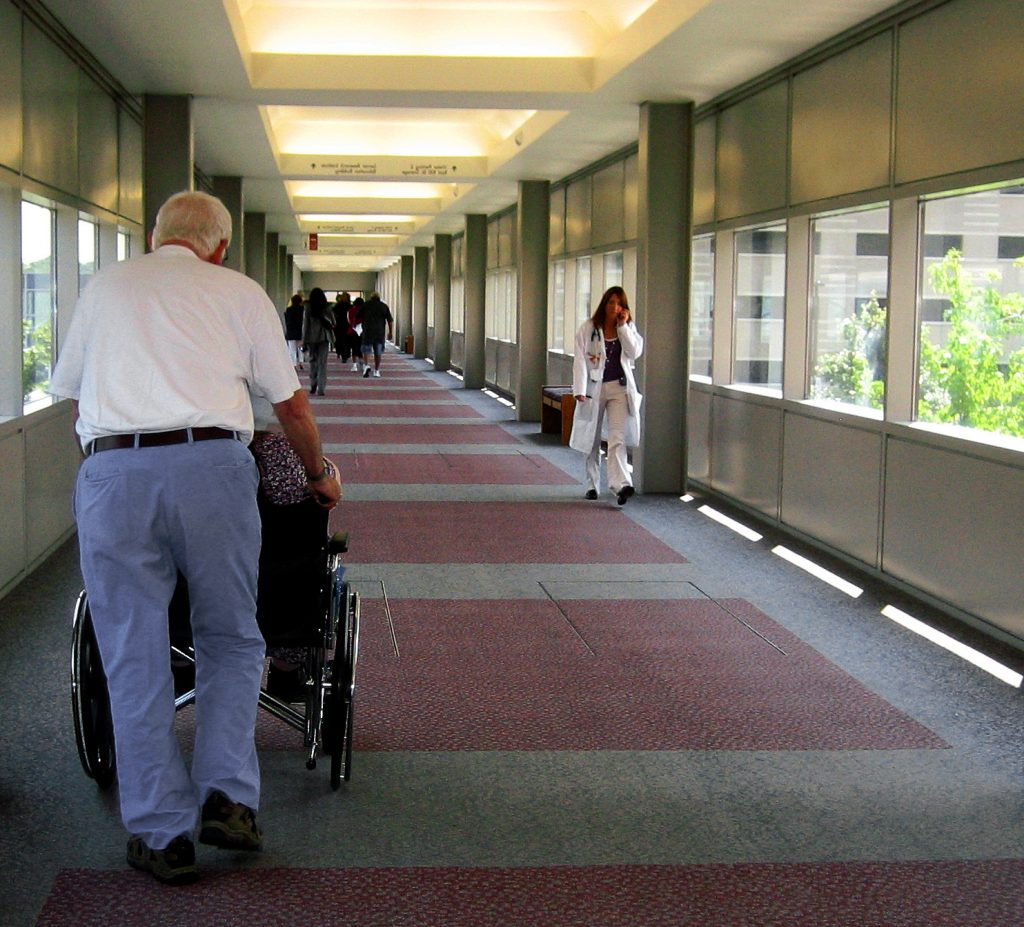 This was October 2009, and there was a major outbreak of H1N1 in the city. Because a vaccine was on the way, but not yet available, local public health officials decided not to announce the outbreak to avoid panic. Only after a dozen or more people, including Millie, had died from H1N1, was the public informed.
Millie and Martha discovered the outbreak when Millie arrived at the ICU, which normally had approximately 20 beds for non-heart patients. Seventeen patients were on ventilators (instead of the usual 3-5), the coronary care ICU had been reduced to accommodate desperately ill patients arriving with H1N1. Patients were forced to remain in the ER until the beds and other equipment were retrieved from storage and set up.
Millie's presentation of her new work, work which excited her because it represented a significant advance in her technical skills led her into H1N1's path and contributed to her death.
And here is the irony to top all others: Erewhon itself will soon disappear. Millie constructed it in Flash and Flash Actionscript, stretching those utilities to their outer limits. And now, the presentation of that project, which was groundbreaking for her, not only is Millie, the author, gone, but in an act of willful obsolescence by Adobe, the work itself also will soon be gone. Although the dire messages of Flash's demise are somewhat contradictory, it appears that the work may not even be viewable downloaded onto laptops and viewed off the web.
To a web artist like Millie, what is happening to her work as well as the work of many others who used Flash when Flash was cutting edge technology, is akin to paper manufacturers decreeing that libraries may no longer use paper in their collections.
Three years' notice is hardly adequate to ensure the work of those early artists, some of whom are no longer here to protect their work.
Impossible to know whether Millie, had she anticipated the early death of her project, would have been willing to risk her impaired immune system to make her &Now presentation in 2009, even absent H1N1 rampant in the community. She had been shut-in for years, as many have been shut in for many months in 2020, due to her risk of death if she had caught a common cold.
Almost certainly, if Millie Niss were here today, she would be coding her own language to preserve her work.
Reading The Last Collaboration in 2020, it is possible to see that changes in health care have improved, particularly in the area of hospital acquired infections (HAI) and medical staff communication with family. The importance of coordinatated, accessible and affordable health care remains critical. Perhaps the most important contribution Martha and Millie's account makes today when families are often excluded from visiting family members seriously ill from COVID-19, is the picture it presents of life in the ICU.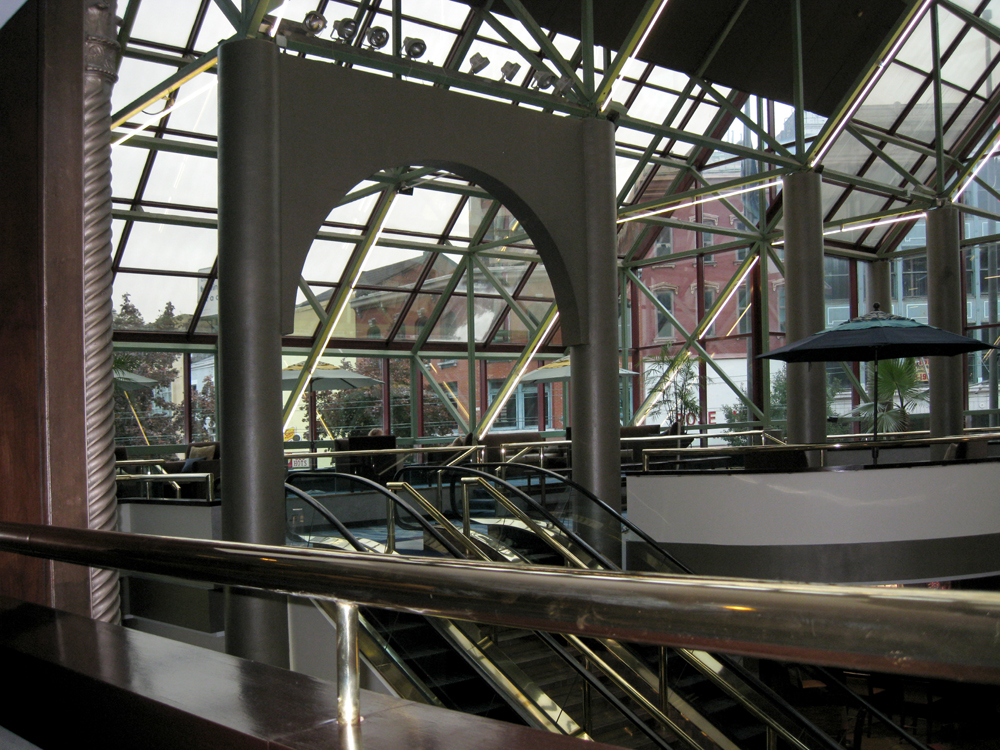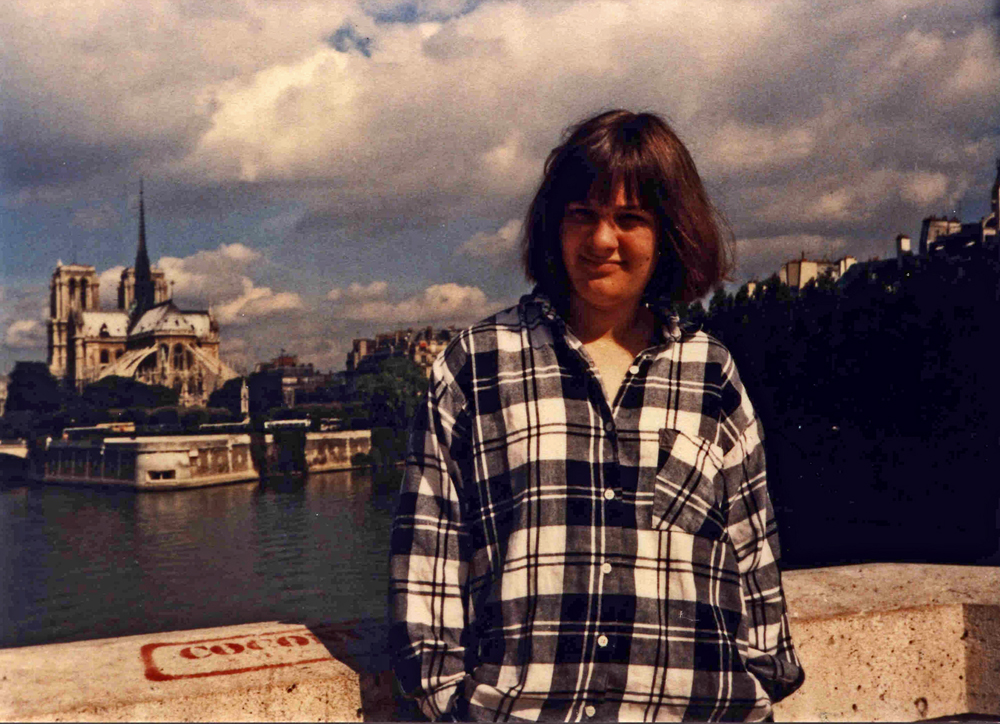 A list of recommendations, reflecting the dynamic culture we are part of, straddling the fields of art, technology and social change.
Events, Exhibitions, Festivals and Conferences
Playmode | Exhibition at MAAT Lisbon, Sep 2019 – feb 2020 | Curated by Filipe Pais and Patricia Gouveia | It is said that play has saved entire peoples, who, in order not to succumb to hunger, resorted to playing games for hours at a time. While the Lydians, that distant people from Anatolia, invented games as a mode of surviving, play from the beginning has been an invention linked to a vital need — to stay alive and withstand the darkness, immobility and extinction.
The artists understood early on the transformative power of play and began integrating it into their works for various purposes – escaping reality, social construction and transformation, subversion or as a criticism of game and play mechanisms themselves – https://www.filipepais.com/playmode
The Long Term You Cannot Afford. On The Distribution of The Toxic | At SAVVY-Contemporary, Berlin, Germany | 19 Oct 2019 – 1 Dec 2019 | This mixed exhibition unpacks the kaleidoscopic meanings of the toxic, both as matter and as metaphor: In his paintings, Boris Anje captures the essence of the excessive and toxic consumerism of a small minority of the world's population | The toxic trade-off inherent in exploitative and abusive processes of extraction, production, and disposal lie at the heart of the changing nature of the ecosystems to which we now belong – with millions of metric tons of synthetic materials, pesticides, heavy metals, and chemicals released and circulated every year. Structural inequalities on a global scale permit for some lives to remain relatively untouched by toxic proliferation through systems of "externalisation" [2] whilst many reside in high concentrations and lethal exposure on a daily basis out of mere necessity of survival. The new age of toxicity is "a condition that is shared, but unevenly so, and which divides us as much as it binds us." – http://tiny.cc/y8ryez
Soft Power 04: an exhibition in a spreadsheet | Hosted by Micheál O'Connell, Andrea Slater and Daniella Norton | Thursday, 31 October 2019 | A fourth exhibition by the Soft Power people, this time in a spreadsheet. Look at it at home, or on your device, or wherever. Drink some wine and chat to friends about what you witness. The link will be supplied with those 'GOING' on the date (Thursday 31st October) at 7pm. For updates sign up to Mocksim's mailing list http://www.mocksim.org/contact.htm
24/7: A wake-up call for our non-stop world | 31 Oct 2019 – 23 Feb 2020 | Somerset House |Embankment Galleries, South Wing | An essential exhibition for today, exploring the non-stop nature of modern life. Many of us feel we're working more intensively, juggling too many things, blurring our public and private lives, pushing the limits of our natural rhythms of sleep and waking.
24/7 takes visitors on a multi-sensory journey from the cold light of the moon to the fading warmth of sunset through five themed zones and contains over 50 multi-disciplinary works that will provoke and entertain | Inspired by Jonathan Crary's book of the same name, and curated by Sarah Cook, 24/7& holds up a mirror to our always-on culture and invites you to step outside of your day-to-day routine to engage, reflect and reset – http://tiny.cc/44f7ez
Launch event for Rabbrexit – A Game of Chance / editions tdwm | Hosted by Cecilia Wee and YiMiao Shih | Thursday, 31 October 2019 (London) | On the date of the Brexit deadline, we're having a little launch party for "Rabbrexit – A Game of Chance" and the birth of editions tdwm. Editions tdwm is delighted to present its first project: a limited edition set of playing cards "Rabbrexit – A Game of Chance", featuring illustrations by YiMiao Shih, designed with Arjun Harrison-Mann.
Rabbrexit – A Game of Chance reworks images from YiMiao Shih's exhibition Rabbrexit Means Rabbrexit at the House of Illustration in London (2019), where YiMiao created a parallel universe in which the UK voted not for Brexit but 'Rabbrexit': the expulsion of rabbits from the country – http://tiny.cc/p3oyez
Become Ungovernable 2: a day of resistance skill sharing | The Antiuniversity, as part of a coalition of autonomous left groups, invites you to a day of practical and informative workshops, where we will learn from each other simple visual intervention methods that anyone can pick up, grow confidence to use a variety of tools and learn about ways to stay safe when organising on the streets and online. In preparation for the planned attack on our city and communities on 31 Oct (Brexit day), we planned a day of practical resistance skill sharing.
The far right, bolstered by a racist and xenophobic government, is growing in confidence. The response to Boris Johnson's hard-right vision for society and threat to our basic rights must be equally confident. Some actions will take place through whatever is left of the parliamentary mechanism, others will take place on the streets. Hosted by Antiuniversity, Green Anti-Capitalist Front, Plan C, Feminist Anti-Fascist Assembly, and Women's Strike Assembly | FB page – http://tiny.cc/1qoyez
NEoN Digital Arts Festival. Multiple Venues in Dundee City, Scotland. Nov 6 – 8 2019. An expanded 3-day symposium entitled, Re@ct: Social Change Art Technology. NEoN Re@ct involves over 30 international speakers over three days addressing a diversity of issues and practices engaging activist digital art. Many artists involved in digital arts have historically been prompted to react and respond to local, national, global, social and political crises (i.e. around issues of environmentalism, gender equality, exploitation, colonialism, militarism, emancipation). Re@ct will be a platform to critically examine the relevance and impact of past and present practices, theories and strategies – to engage an uncertain future through an exploration of the creative potential of digital art. Reigister free to the full symposium – http://tiny.cc/y5lyez
Citizens of Nowhere | Alicja Rogalska: 2019 Stuart Hall Library Artist-in-Residence | Hosted by Iniva | 6 November 2019 | Join 2019 Stuart Hall Library Artist-in-Residence Alicja Rogalska for a screening and discussion about her work developed during the residency alongside two other videos. The three works are concerned with issues of citizenship, immigration and identity, viewed through the lenses of classification methods and systems, legal fictions in immigration law and the lived experiences of statelessness. The screening will be followed by a discussion with invited guests and a Q&A.
The works screened will include: What If As If (2017), The Aliens Act (2019) and Citizens of Nowhere (2019). Total running time of the videos will be 40 mins | Evenbrite bookings here – http://tiny.cc/uiqyez
Books, Open Calls, Papers & Publications
Expanded Internet Art: Twenty-First-Century Artistic Practice and the Informational Milieu By Ceci Moss | Charting the rise of a multidisciplinary approach to online artistic practice in the past decade, the text discusses recent currents in contemporary artistic practice that parallel the explosion of the internet through advances such as social media, smart phones, and faster bandwidth. Internet art is no longer determined solely by its existence on the web; rather, contemporary artists are making more art about informational culture using various methods of both online and offline means. It asks how artists, such as Seth Price, Harm van den Dorpel, Kari Altmann, Artie Vierkant and Oliver Laric, create a critical language in response to the persuasive influence of informational capture on culture and expression, where the environment itself becomes reorganized to be more legible as information | Bloomsbury Academic – http://tiny.cc/ktg7ez
The Cyborg Matrix | Open call for artists, is now online at http://theCyborgMatrix.com !! Make an account and create your own profile. Or type in your name or nickname for a short visit. Doe you want to add you art to the space, go to http://cyarco.com/theCyborgMatrix/ or send us an email at cyborgMatrix@cyarco.com. see you in cyberspace!!
Automation, Artificial Intelligence, and Labour Protection | Comparative Labor Law & Policy Journal, Vol. 41, No. 1, 2019 | A collection of articles on "Automation, Artificial Intelligence, and Labour Protection" edited by Valerio De Stefano (KU Leuven). This collection gathers contributions from several labour lawyers and social scientists to provide an interdisciplinary overview of how new technologies, including smart robots, artificial intelligence and machine learning, and business practices such as People Analytics, management-by-algorithm, and the use of big data in workplaces, far from merely displacing jobs, profoundly affect the quality of work. The authors argue that these issues depend, and can be affected by, policy choices – since they are not just the "natural" result of technological innovations – and call for adequate regulation of these phenomena. Contributing authors are Antonio Aloisi, Ilaria Armaroli, Fernanda Bárcia de Mattos, Janine Berg, Miriam Cherry, Emanuele Dagnino, Valerio De Stefano, Elena Gramano, Matt Finkin, Marianne Furrer, Frank Hendrickx, Parminder Jeet Singh, David Kucera, Phoebe Moore, Jeremias Prassl, and Uma Rani. This article introduces this collection and gives an overview of the issues discussed by the authors – http://tiny.cc/s4zyez
Digital Sociology: The Reinvention of Social Research | By Noortje Marres (2017) | This provocative new introduction to the field of digital sociology offers a critical overview of interdisciplinary debates about new ways of knowing society that are emerging today at the interface of computing, media, social research and social life.
Digital Sociology introduces key concepts, methods and understandings that currently inform the development of specifically digital forms of social enquiry. Marres assesses the relevance and usefulness of digital methods, data and techniques for the study of sociological phenomena and evaluates the major claim that computation makes possible a new 'science of society'. As Marres argues, the digital does much more than inspire innovation in social research: it forces us to engage anew with fundamental sociological questions. We must learn to appreciate that the digital has the capacity to throw into crisis existing knowledge frameworks and is likely to reconfigure wider relations | Polity press – http://tiny.cc/pqg7ez
Articles, Interviews & Presentations
Future Cities as a Network of Waterholes connected by Songlines | Medium | By Steven Liaros | "Irene Watson provides a detailed discussion of the indigenous worldview in Raw Law: Aboriginal Peoples, Colonialism and International Law (2015). Also referred to as relational philosophy, Watson compares and contrasts this with non-indigenous philosophy. This comparison is summarised in Table 1 in which I have included additional descriptions in brackets that express this contrast using other common terms." – http://tiny.cc/rywyez
Brexit Culture | Feature article on ArtRabbit | By Sandy Di Yu | "Research has been conducted by the Arts Council about the economic and operational impacts of Brexit, but the content of culture has yet to be formally surveyed. While we can only speculate like everyone else what the full-fledged impact of Brexit on cultural production will be in the coming years, the era since the 2016 referendum has already seen a flurry of events that indicate growing precariousness in our time. Right-wing populism has gained more than a foothold in political discourse. Conspiracies run rampant about celebrity sex traffickers and their ties to the global elite. Anxiety over climate change, although leading to inspiring global movements, is still being met with dismissal by political leaders." – http://tiny.cc/ujtyez
Can Musical Machines Be Expressive? Views from the Enlightenment and Today? by Steven Kemper and Rebecca Cypess | October 2019, Leonardo 52:5 release | How can music produced by automated technologies be expressive? Transitive theories of expression dominated eighteenth-century ideas of automated music, and many contemporary designers of robotic instruments adhere to these ideas, increasing sonic nuance to make their instruments seem more like expressive human performers. A listener-centered understanding of expression—an "intransitive" perspective—allows us to see automatic instruments as capable of expression despite the fact that no human performer is present – http://tiny.cc/m9nyez
Media Art History: Berlin, Cyber City (1989-91) VR – MR installation by Monika Fleischmann & Wolfgang Strauss | Berlin, Cyber City (1989-91) commemorates the 30th anniversary of the fall of the Berlin Wall 1989. VIDEO. The performative VR city simulation system "Berlin – Cyber City" was created as a reaction to the fall of the Berlin Wall. The intention was the staging of an interactive space for debate on the future of the city. To do this, the VR paradigm – the real-time movement in an immersive environment for a single user – should be extended into a communication space for several users. A participative Mixed Reality table combined with a 3D environment and Virtual Reality tools invites people to discuss the past and the future of the former divided city – http://tiny.cc/q2nyez
Neural 63, Surveillance Surveyed | Issue #63, Summer 2019 | interviews with Pip Thornton, Joana Moll, Mendi and Keith Obadike, Owen Mundy | articles, Surveying Surveillance Capitalism, Decode: Data Cooperatives, Our voices granted to machines, and much more – http://neural.it/2019/10/neural-63-surveillance-surveyed/
Image by: Brad Downey. House of Cards #3. Public Work. 2007, Berlin, Germany. Duration: 4 days. Anonymous installation. Material: paving stones – http://tiny.cc/vkf7ez | Currently featured in Playmode exhibition, Lisbon.
A list of recommendations, reflecting the dynamic culture we are part of, straddling the fields of art, technology and social change.
Events, Exhibitions, Festivals and Conferences
Counting Craters on the Moon | Solo exhibition by Kyriaki Goni | Curated by Daphne Dragona | Aksioma | Project Space Komenskega 18, Ljubljana | 2–25 October 2019 | As a result of advances in machine learning, our understanding of today's world is ever more mediated by machines. What challenges does deep learning bring to human-based knowledge? What do machines see and do differently than humans? How can artificial intelligence enhance new forms of experience and understanding? To address these questions, in Counting Craters on the Moon, Kyriaki Goni purposely turns her gaze to a distant and uncanny territory: the Moon and its surface. The Moon, according to the artist, constitutes a fascinating example and offers an interesting analogy. Lacking an atmosphere, it operates as a data center which stores in its body the memory of our solar system and allows predictions for the future – http://tiny.cc/cgabdz
Acts of Quiet Resistance | 5 October 2019 | Hosted by Foodhall / Sheffield and outsidefilm | Acts Of Quiet Resistance (Ian Nesbitt + Michael Ransley / 2019 / 70 mins) is a documentary steeped in the slow cinema tradition. Five years in the making, it continues a thread in Ian's work of collaboratively made films, blurring the line between subject and filmmaker. "For fans of Shirley Collins, Richard Linklater, campfires and Robert Bresson, but this film is so beautifully sideways it sweeps away comparisons really." Chiz Williams, Cube Microplex | FB link – http://tiny.cc/de5adz
Arts Lab Northampton and Liverpool Arts Lab team up to present 'Howl' | Northampton's Alistair Fruish has taken on Allen Ginsberg's classic poem, once subject to an obscenity trial, to address the major obscenity of our time; the destruction of the ecological systems that sustain our planet. Visceral, confrontational and very timely, 'Howl' was brought to life by the design work of Liverpool's Slim Smith. Printed on A4 280gm textured cream card. http://tiny.cc/3sk9cz All proceeds will go to the Regenerative Agroforestry Impact Network – http://tiny.cc/77abdz
New Suns: A Feminist Literary Festival | 5 Oct 2019 | Barbican, London | A bookfair and day of talks, workshops and screenings, exploring contemporary feminism and technology. 'For the master's tools will never dismantle the master's house' – Audre Lorde | Inviting audiences to explore new and continuing debates in feminist approaches to technology. This year's festival takes inspiration from science fiction writer Ursula K. Le Guin's essay The Carrier Bag Theory of Fiction, which subverts the dominant narrative of technologically driven 'progress'.
The day will include workshops, talks and screenings exploring technofeminism, storytelling, sonic ritual, gender identity, reproductive justice and indigenous knowledge with writers, artists, mystics, poets and academics. In the spirit of the 1980s international feminist bookfairs, there will also be over thirty stalls to explore across Level G, and selected events for free – http://tiny.cc/d86adz
Genetic Automata, Larry Achiampong and David Blandy | 15th oct 2019 | Hosted by Site Gallery (Sheffield) and Arts Catalyst | Genetic Automata forms the first part of an ambitious new body of film-based works that attempt to address this complex history of classification and segregation. Referencing the history of the theory of evolution, and the relationship between Darwin and his taxidermy teacher John Edmonstone, a freed slave, the work takes the form of a video installation combining animation, spoken word and text interspersed with microscopic topographies of varied shades of skin, digital renditions of skin from video games, and film footage of taxidermied bird life from Darwin's bird skin collection at the Natural History Museum – http://tiny.cc/m45adz
Books, Open Calls, Call for Papers & Publications
Open Call: Rot | In the midst of this hubris of humans becoming humus, we might find tools for living in a rotten age. Across the world, artists, activists, and academics are busy learning to give voice to the sympoetic; bat populations translate into flickering shadows, music composed for moth's ears, an opera of 176 golden snails, a butoh dance about shrimp deranged by antidepressant medication overflowed into oceans. This is a genre of creative work interested in finding new ways to interrogate the underbelly of today's 'wicked problems.
Rot invites artists, scientists, activists, and writers with poorly disciplined curiosities to submit work that digs into this compost heap. We are especially interested in supporting dialogue around works in process; field notes, half-completed projects, the tangled, in-between moments where cross-contaminations and co-creations occur. We would especially like to hear from people who are underrepresented in the fields of art and arts publishing – in particular people who identify as BAME, disabled, LGBT, or low income – http://tiny.cc/5p3cdz
New Myths: Recordings from the Missing Channel, curated by Canan Batur | Conceived as a series of soundscapes/sonic think tanks to assess, develop and propose new social languages and methods to understand, and create unlikely relationships between; the systems of representation, the emancipatory aspect of sound and the social constructs of identity. It takes its foundation from the idea that music is a myth, and myths' ability to suggest – with primal narrative power- the conflicting forces and ideas that lie at the foundation of society.
Over the course of five months, New Myths will upload contributions by Tarek Lakhrissi, markiscrycrycry, James Massiah, Momtaza Mehri, Harun Morrison, Precious Okoyomon, Claudia Pages, Hannah Perry, Tabita Rezaire and Rowdy SS to 1.1 Basel's online platform and SoundCloud with the purpose of delving into the multitude of voices, the rhythm of erosion and emergence, and the collusion and contradiction – http://www.1-1.digital/show/new-myths/
Conflictual Aesthetics: Artistic Activism and the Public Sphere | Editor Oliver Marchart | A new wave of artistic activism has emerged in recent years in response to the ever-increasing dominance of authoritarian neoliberalism. Activist practices in the art field, however, have been around much longer. As Oliver Marchart claims, there has always been an activist undercurrent in art. In this book he traces trajectories of artistic activism in theater, dance, performance, and public art, and investigates the political potential of urbanism, curating, and "biennials of resistance." What emerges is a conflictual aesthetics that does not conform with traditional approaches to the field and that activates the political potential of artistic practice | Sternberg Press 2019 – http://tiny.cc/z5bbdz
Call for Papers: Special Issue on Sound, Image and Interaction | EAI Endorsed Transactions on Creative Technologies | For the last two decades, there has been a growing interest in the study of sound from a Human-Computer Interaction (HCI) perspective. This coincides with the shift to a third wave of HCI towards applications in broader cultural contexts. Researchers have paid special attention to the integration of other sensory modalities with sound. This Special Issue "Sound, Image and Interaction", aims to address emerging issues in research related to the creation of interactive sonic experiences, particularly focusing on the role that image plays in these scenarios. We are interested in submissions related to connections between sound, image and/or interaction, and the topics of interest listed – https://escripts.eai.eu/publication/257
Climate Machines, Fascist Drives, and Truth | By William E. Connolly | Duke University Press Books (23 Aug. 2019) | In this new installation of his work, William E. Connolly examines entanglements between volatile earth processes and emerging cultural practices, highlighting relays among extractive capitalism, self-amplifying climate processes, migrations, democratic aspirations, and fascist dangers. In three interwoven essays, Connolly takes up thinkers in the "minor tradition" of European thought who, unlike Cartesians and Kantians, cross divisions between nature and culture. He first offers readings of Sophocles and Mary Shelley, asking whether close attention to the Anthropocene could perhaps have arrived earlier had subsequent humanists absorbed their lessons – http://tiny.cc/3t0cdz
Articles, Interviews & Presentations
Harness the Power of a Fluid Identity with 3 Simple Strategies | By Marloes de Valk September | Institute of Network Cultures | Why aren't there stronger regulations protecting our privacy, our democracy? Seemingly off topic but very similar: why aren't there stricter regulations protecting us from anthropogenic climate change? In an attempt to find answers to these questions, I've been looking into strategies used by different industries to delay regulation: democratic intervention in the private market in order to protect citizens and the world on which their lives rely – http://tiny.cc/o4rfdz
Feminism and the Social Solidarity Economy: a Short Call to Action | The following text is a translation of Marian Díez's impassioned closing speech at the recent convergence meeting of the World Social Forum for Transformative Economies. The closing event was filled with strong presentations, but we chose Marian's for its overview of the sheer scope and variety of the Social Solidarity Economy in Spain and, secondly, to highlight the need for intersectional complementarity among post-capitalist movements. This article is also closely linked to our translation of A Charter for the Social Solidarity Economy – http://tiny.cc/gm4adz
David Olusoga: Blackness, Britishness + the Windrush Generation | 8 Oct 2019 | Hosted by Firstsite, Colchester, UK | To coincide with the opening of Super Black, an exhibition co-curated with members of Colchester's Black African and Caribbean communities, David Olusoga OBE, a British-Nigerian historian, broadcaster, film-maker and award-winning author, is coming to Firstsite to give a unique talk about the history of British African-Caribbean people, and what it means to be black in Britain today.
Every ticket sold raises money to show free exhibitions of award winning artists, and helps Firstsite fund local creative community projects – including free lunches and activities for families during the school holidays. https://firstsite.uk/whats-on/david-olusoga-talk/
Video Doc: The Sex Pistols Riotous 1978 Tour Through the U.S. South: Watch/Hear Concerts in Dallas, Memphis, Tulsa & More | Open Culture | The Sex Pistols "started out as an elaborate Situationist-inspired performance art piece dreamed up by megalomaniac manager Malcolm McLaren," wrote Jonathan Crow in a post here at Open Culture about one of the band's storied, disastrous final shows in Dallas of 1978. After beginning as the creation of McLaren and partner Vivienne Westwood, however, they "evolved beyond just being a stunt." The statement is objectively true by music history standards. The band's earliest gigs were directly responsible for almost every major band that took British punk in subsequent post-punk, goth, new wave, dub, etc. directions, including the Buzzcocks, Siouxsie and the Banshees, The Clash, Joy Division, Wire, and too many others to list – http://tiny.cc/rb8adz
Complexity, uncertainty & scalability: How Assemble's Granby 4 Streets won 2015 Turner Prize | By Stephen Pritchard (originally written in 2016) | "Did Assemble really play such a big part in Granby 4 Streets? How 'community-led' was the project? What was the role of the Community Land Trust? How did Assemble come to win the Turner Prize 2015? Who were the private social investors and what did they do to help make the project happen? The intention here is to blow open the façade behind Granby 4 Streets, Assemble and the Turner Prize 2015 win. Pritchard argues that the media and art world picture of Assemble is overly simplistic and masks a far more complex and uncertain set of events that, ultimately, relied on 'mystery' private social investors to force local government to act in support of the project and to lever money from national grant funders." http://tiny.cc/dqq4cz
Extra Squeezed… (extra stuff)
Publishing and Administrative Assistant job at Ognota books | We are hiring for a Publishing and Administrative Assistant. Abilities to divine the future, travel in the astral plane and to write funding applications are a major advantage. We particularly welcome applicants with strong earth placements – http://tiny.cc/5potcz

Image credit: Leila Nadir and Cary Adams, from the series Microbial Selfie (2017)

A list of recommendations, reflecting the dynamic culture we are part of, straddling the fields of art, technology and social change.
Events, Exhibitions, Festivals and Conferences

Expanded Realities Exhibition | Sep 5 — Sep 10 2019 | At Festival Hub Studio | The Expanded Realities programme seeks to find new pathways for storytelling at the intersection of art and technology. With the digital increasingly ever-present and algorithmic living becoming the norm, artists and filmmakers are grasping the opportunity to challenge our understanding of "reality" and offer audiences a space to enhance, expand and re-evaluate their experience of the world around them. The exhibition includes a number of interactive installations as well as a 360 Cinema showcasing a selection of virtual reality films. This year's installations all seek to push the boundaries of our understanding of interaction, connection and space within the digital landscape – http://tiny.cc/b718bz
The DRHA 2019 Conference – Radical Immersions: Navigating between virtual/physical environments and information bubbles | 8 – 10 September & The group exhibition runs 6-20 September | The exhibition http://tiny.cc/nu18bz engages critically with ideas, practices and beliefs of immersion in relation to digital culture and new media. It will run in parallel with this year's Digital Research in the Humanities & Arts (DRHA) conference, which will address the same theme and take place in the conference. Keynote Speakers: Prof Matthew Fuller (Goldsmiths University of London) Dr Maria Chatzichristodoulou (aka Maria X; London Southbank University). Radical Immersions is convened by Dr Dani Ploeger and Dr Elena Papadaki. The conference will take place at Watermans Arts Centre in West London and is hosted by The Royal Central School of Speech and Drama, University of London – http://www.2019.drha.uk/
Last chance to apply! Call for participants: Collective Conditions | From 1 July to 10 September | Collective Conditions is a worksession which experiments with the generative potential of codes of conduct, complaints procedures, bug reports and copyleft licenses. We understand these socio-technical protocols as artistic and activist media and are curious about the role they can play in the (different) imagination of complex collectivities. By 'complex collectivity' we mean, for example, non-normative human constellations, or collectives where participants with radically different needs, backgrounds and agencies come together. 'Complex collectivity' can be self-chosen, or be the result of structural forces such as laws, racism, technology, wars, austerity, queerphobia and ecological conditions – http://tiny.cc/g218bz
Citizens of Evidence: Independent Investigations for Change | The Art of Exposing Injustice – Part 3 | Hosted by Disruption Network Lab and Supermarkt | Sept 20—21 2019 | Berlin | Workshop at Supermarkt & Tempelhofer Feld · Sept 22 | Exploring the investigative power of grassroots communities and citizens to expose injustice, corruption and power asymmetries. In the context of the debate about deliberate disinformation, fake news, and spreading of false facts, does it still make sense to speak about "evidence" as providing direct proof of the truth of facts? How can journalists, storytellers and activists provoke awareness by disclosing hidden information, when the boundary between the meaning of what is fake and what is real is becoming progressively blurred? | Curated by Tatiana Bazzichelli. In cooperation with: Transparency International – http://tiny.cc/m748bz
Book Launch of 'Free, Fair, and Alive: The Insurgent Power of the Commons' | Mon, 16 September 2019 | By UCL Institute for Global Prosperity | The Institute for Global Prosperity, UCL is delighted to host the launch of 'Free, Fair and Alive: The Insurgent Power of the Commons', a book by David Bollierand Silke Helfrich. The event will be introduced by Ruth Catlow, Co-Founder and Artistic Director of Furtherfield and DECAL Decentralised Arts Lab, followed by presentations from authors David Bollier and Silke Helfrich, and finishing with a response from Dr Feja Lesniewska, Senior Teaching Fellow on Climate Change and Energy Law and Policy at the School of Interdisciplinary Studies, SOAS, and Research Fellow at the Science, Technology, Engineering and Public Policy department at UCL – http://tiny.cc/k208bz
Control voltage 6: Fiend/Masal/Justin Paton/The Spermaceti Organ | Thursday, 12 September 2019 | Westcliff, Essex, UK | Four Great Electronic acts join us for another night of audio visual delight. Best PA in town and a brand new projector bring you a full sensory experience. FIEND – Brendan O'Hares one man Post Rock masterclass – what more can you wish for. Masal – Ozlem Simsek & Alien Music UK – just for this performance Masal are ditching the computer and presenting two long-form improvised pieces one nice and one nasty. THE SPERMACETI ORGAN – Southend scene stalwart Steve O'Malley has finally crossed the Rubicon and has stepped up as a performer, improvised electronics to kick off the night. Justin Paton – Brings us some live acid – a real treat for the feet. FB link – http://tiny.cc/em48bz
STATISTA Presentation Week | 12–16 September 19 | Opening: 11 September 19, 7 pm | Venue: Haus der Statistik, Karl-Marx-Allee 1, 10178 Berlin | The complete program of events will be available at www.allesandersplatz.berlin. Within the vast empty spaces of the Haus der Statistik near Alexanderplatz, STATISTA is testing whether working in the spirit of the Commons is an option even within today's context of city development. With the aid of ten distinct playing fields, STATISTA generates artistic prototypes for a civil society built on collective principles. Including neighbourhood initiatives, a cryptocurrency reflecting the wellbeing of bees, a facade design built for ecological inclusivity, and an international conference. Temporary usage, in this case, does not lead to gentrification, but to a form of urban renewal that is to the benefit of all – https://www.kw-berlin.de/en/statista-presentation-week/
OPEN SCORES. How to program the Commons | Curated by Creating Commons (Shusha Niederberger, Cornelia Sollfrank, Felix Stalder) | For the exhibition, artists have developed a SCORE relating to their practice. A SCORE can have different meanings: It can be a general instruction, a working instruction, a performance instruction or an operating instruction. In any case, it is meant to lead to a realization of an intended action and as such is an interface between a human actor and an object/material/machine. And a SCORE can also be linked to a technical HOWTO document, in that it contains information on how to perform a specific task. Within the exhibition, the newly developed SCORES add an aesthetic layer while pointing to the socio/political impact of the presented projects. The exhibition features interviews conducted as part of the research project as well as a temporary library on the subject of digital commons. Furthermore, there will be a program of talks, screenings, and workshops.
21 September 2019 – 12 October 2019 | Wed. til Sat 15:00 ~ 19:00 and for special events | VERNISSAGE : Saturday, September 21st 2019 20:00 TEMPLATES, Music Performance, Johannes Kreidler 21:00 Let's make a salad. Homage to Alison Knowles 22:00 DJ Gigsta 23:30 DJ ROLUX-FOX – https://www.panke.gallery/exhibition/open-scores/
Exhibition – Rewriting The Future | Sophia Al Maria, Sonya Dyer, Ursula Mayer, Victoria Sin | 27 Sep 2019 – 26 Jan 2020 | Site Gallery, Sheffield, UK | Feminist artists and writers have long been presenting new angles on gender, power, ecology and community and this exhibition explores some of those narratives. In an age where wealth controls our systems of power and the world is ruled by patriarchal societies, feminist speculative perspectives can offer new insights, predictions and even possible alternatives. The exhibition will be accompanied by a digital publication compiling new speculative fiction writing from some brilliant feminist minds. Curated by Angelica Sule – http://tiny.cc/vu28bz
Books, Call for Papers & Publications
The Controversial Archive: Negotiating Horror Images in Syria | by Enrico De Angelis | 'The Controversial Archive: Negotiating Horror Images in Syria' is part of the upcoming INC Theory on Demand book titled 'The ArabArchive: Mediated Memories and Digital Flows" edited by Donatella Della Ratta, Kay Dickinson, and Sune Haugbolle – http://tiny.cc/tcg9bz
The Authoritarian Personality | Verso Books | By Theodor Adorno, Else Frenkel-Brunswik, Daniel J. Levinson, and R. Nevitt Sanford With Betty Aron, Maria Hertz Levinson, and William Morrow Introduction by Peter E. Gordon | What makes a fascist? Are there character traits that make someone more likely to vote for the far right? The Authoritarian Personality is not only one of the most significant works of social psychology ever written, it also marks a milestone in the development of Adorno's thought, showing him grappling with the problem of fascism and the reasons for Europe's turn to reaction. Over half a century later and with the rise of right-wing populism and the reemergence of the far-right in recent years, this hugely influential study remains as insightful and relevant as ever – http://tiny.cc/krg9bz
Articles, Interviews & Presentations
Post-Platform Desires: Build 1, 2, 3 New | By Geert Lovink | The text is written as an introduction to a week-long discussion on the empyre email list in which I participate, with the topic STAY UNFINISHED, YOURS SINCERELY, moderated by Shulea Cheang. The debate happens in conjunction with STAY UNFINISHED, the 5th edition of Stadtwerkstatt's 48 hour showcase extravanganza held in association with Ars Electronica (Linz), curated by Tanja Brandmayr, Shu Lea Cheang and Franz Xaver – http://tiny.cc/54f9bz
The Vernacular of Space Through Images of the Moon | By Jonathan Atkins on Hyperallergic | The Met's exhibition shows us that our cosmos is divided between the pictured, and the real, and that the character of the pictorial asserts a powerful influence over our conception of the actual. "The images were beguiling and beautiful less often for the visual experience — the landscapes of Mars or Venus are in these pictures stubbornly ordinary — than for the knowledge I vested in them, or perhaps for the color they brought to my knowledge. These were places, actual locales, from which no compass could point you home." – http://tiny.cc/46e9bz
Margaret Atwood Expands the World of "The Handmaid's Tale" | Review by Jia Tolentino | In the New Yoker | In "The Testaments," the novelist examines the kinds of complicity that are required for constructing such a frightening future. Women wore this uniform to the protest in Texas, and they have since worn it to protests in England, Ireland, Argentina, Croatia, and elsewhere. When "The Handmaid's Tale" was published, in 1985, some reviewers found Atwood's dystopia to be poetically rich but implausible. Three decades later, the book is most often described with reference to its timeliness – http://tiny.cc/rah9bz
How Porn Performers Fall Victim to Twitter Impersonators | By Lux Alptraum | Medium | Adult entertainment workers count on social media to connect with fans, but the platform's opaque rules leave them vulnerable to impersonators | "A few weeks ago, a porn performer friend of mine tweeted out a seemingly simple request. Someone had created a Twitter account impersonating her, one that not merely used her name and image, but copied her bio verbatim, creating a page that could easily be mistaken for the real thing at first glance. She wanted her friends and followers to report it." – https://tinyurl.com/y2rpqsk5
Wire Formation: eerie images of Dhaka's appetite for electricity | Guardian | Photographer Sounak Das walks the city's streets at night, which are devoid of the people whose demands for electricity create tangled, sculptural structures – http://tiny.cc/vkh9bz
Main image: Predictive Art Bot by disnovation.org – Installation, 2017 | Recently exhibited at Radical Immersions exhibition at Watermans Arts Centre 2019.