Mark Hancock discusses the politics and artistry of Janez Janša's identity interventions in the context of their recent challenge at the Parliamentary Elections in Slovenia, in June 3rd 2018.
---
Ideas firmly deduced, tested against all variables and tentatively sent out into the world for appraisal by others, soon betray us as they bend to the whims of anyone they encounter. But that's the nature of the malleable, post-digital world we live in. Ideas have to adapt and change to suit the warp and weft of the society if they are to survive in some form. How do we lock down our ideas into their final form? And what level of commitment can we expect from our ideas even if we apply intellectual property rights and that centuries-old mark of authenticity, the signature? The art world is particularly vulnerable to the conceit of signed authenticity. A signature often being the only guarantee that you'll see any return (financial, reputational or otherwise) on your investment. If you really want to play with systems of power and bureaucracy, try altering artist names.
Davide Grassi, Emil Hrvatin and Žiga Kariž all changed their names to Janez Janša in 2007, joining the conservative Slovenian Democratic Party (SDS) at the same time, to explore the bureaucratic and political systems of their home country, Slovenia. The foundation of their actions ever since has been the question: what power exists in a name? And not just the art power system, but what political forces come into play when that name also belongs to the leader of the Slovenian Democratic Party, Janez Janša, (Prime Minister 2004 to 2008 and then again in 2012 to 2013). Incidentally, or perhaps not, Janez Janša, the politician was born Ivan Janša. The renaming of the three artists becomes a sort of double bluff when you also start to ask who the 'real' Janez Janša is.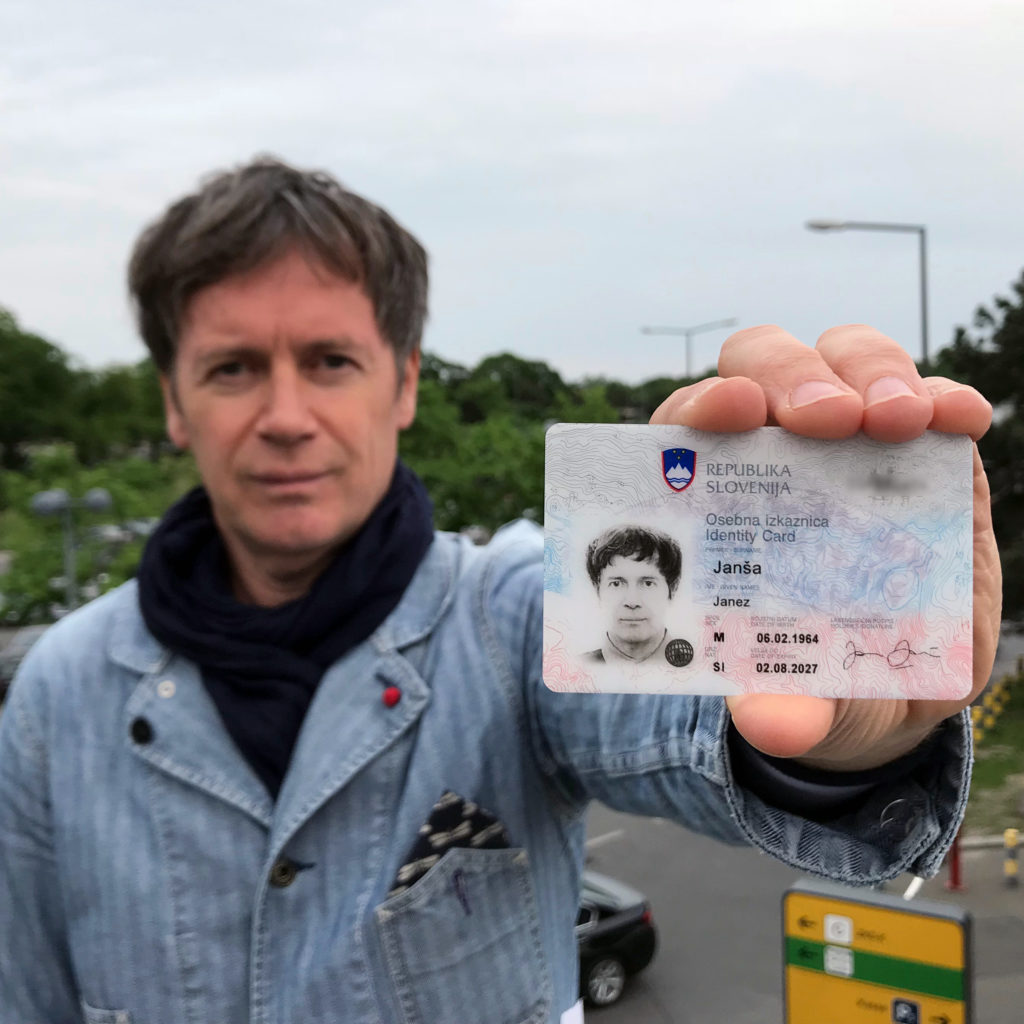 It would be easy to assume that the work of Janez Janša is simply another playful, flaccid baiting of the art world and right-wing political hegemonies. All too often work that challenges the political system might as well be challenging the rules of the Italian Football League, for all the difference in the world it makes beyond the enclosed loop of the art community. There's only so far that insulting the work of Damien Hirst with another work of art can get you. But the Janez Janša artists have chosen to pierce through the membrane of the art world and make a social difference.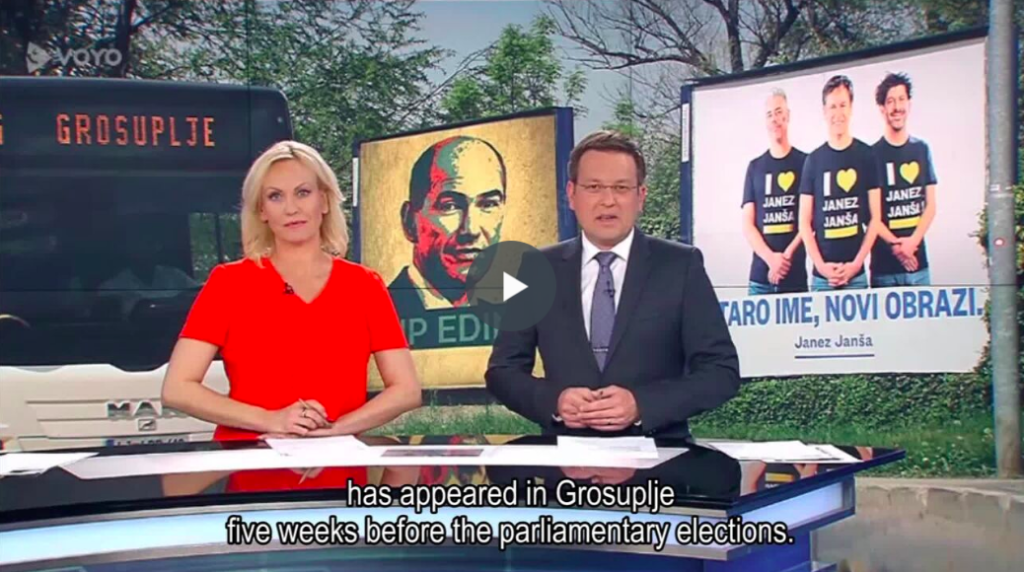 In the Slovenian Parliamentary Elections on the 3rd June 2018, one of them ran as a member of the opposition party, Levica (The Left) in Grosuplje the home district of the ex-Prime Minister, Janez Janša. In a press release, Janez Janša (the artist) said: "Running for parliament is a logical consequence of the view I have towards society. I care about what is happening. I react to things. I want to change them. (…) Society must be organized in such a way that the state begins to serve its citizens, as opposed to serving capital. Capital has no interest either for society or for art or for the individual."
There is something inherently political in multiple authors using a single name, at least if you cast an eye over recent history. Reference points include Wu Ming, the Italian author collective that produced a number of literary works (they published a best-selling novel, Q, in 1999). They evolved from the Luther Blissett collective, whose playful, socially engaged activities defy the concept of the singular creative voice. This concept seems so alien to much of the mainstream media, particularly in Wu Ming's home country of Italy, where they have been accused of everything from cybercrime to the less savoury aspects of rave culture. It's this uncertainty about ownership that seems to bring a nervous lump to the throat of media and political gatekeepers. Perhaps this revolves around two questions so central to capitalism: If you're doing nothing wrong, why hide behind a nom de plume or a collective? And, who do I send the check to, if I want to buy an Art?
On top of this, copyright issues become complex when the roster of names increases as well. Because we still want ideas to be owned, even when they are expanded through homages and pastiches. Copyright, as the attorney representing the Janez Janšas points out, is a legal construct, protecting, "original artistic (and scientific) creations, which are expressed in any way. A work is protected by copyright only if it was created by a human being (an author) and bears a stamp of author's personality." With work by Luther Blissett and Wu Ming, at least the authors can be understood as 'artists', even anonymously. Janez Janša, Janez Janša and, last but not least, Janez Janša have layered this authorship of their artwork with another layer of copyright/ownership complexity.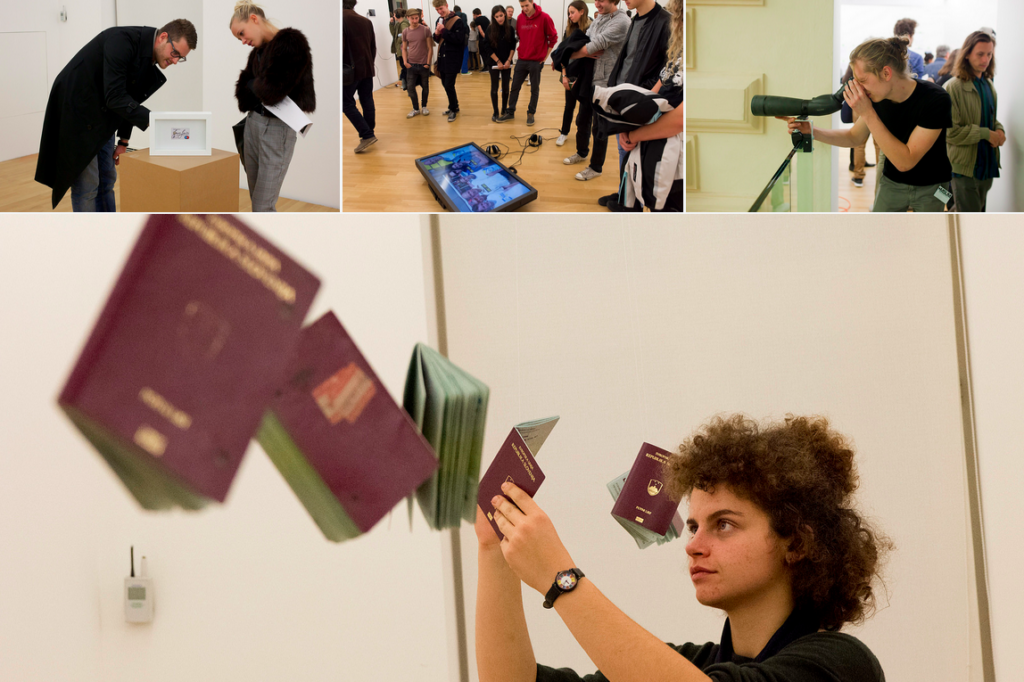 They refer to this work as collateral art, a phrase resonant with the phrase collateral damage, used to describe the acceptable casualties of battles. Collateral art is the acceptable damage on their ideas and projects from engagement with companies and institutions: ID cards, membership cards, the whole panoply of detritus that comes with the work. The artists want this collateral art, often customised by companies on request, to question the relationship between artworks and functional objects, "exploring post-Fordist means of production." Any art historians still trying to shoehorn the belief of the gifted singular genius crafting his (note the gender pronoun: now discuss) solo masterpiece, probably hasn't been paying close enough attention. The individual work of art often only becomes such with the signature of the artist attached as providence. When the work of art carries the signature of a non-artist though, can it still be brought into the art world as a valid comment on… anything? Paperwork sent to institutions by Janez Janša, and signed by an official becomes art. But whose art?
The answer, of course, is that it is their art. Whatever bureaucratic grindstone the works have been milled under, they ultimately belong back with the artists. It is they who return the work back to the art world through the exhibition. The exhibition co-produced by Moderna galerija (MG+MSUM) and Aksioma – Institute for Contemporary Art, Ljubljana, and curated by independent curator Domenico Quaranta, in 2017, was a chance to display and reflect back on ten years of work by the artists. Called the Janez Janša® exhibition, on display were works including Signatures (2007 – ongoing) which explored interventions of the Janez Janša name into public spaces, such as the Hollywood Walk of Fame (Signature, 2007), or Signature (Copacabana), in Rio de Janeiro, 2008. Playfully appearing in numerous locations around the world. Or Mount Triglav on Mount Triglav, an action performed in August 2007. This action commemorated "the 80th anniversary of the death of Jakob Aljaž; the 33rd anniversary of the Footpath from Vrhnika to Mount Triglav; the 5th anniversary of the Footpath from the Wörthersee Lake across Mount Triglav to the Bohinj Lake; the 25th anniversary of the publication of Nova Revija magazine and the 20th anniversary of the 57th issue of Nova Revija, the premiere publication of the SLOVENIAN SPRING; this was a re-enactment of Gora Triglav (Mount Triglav), by the OHO group in 1968 and the latest in a chain of re-enactments, as it was also performed by in 2004 by the Irwin Group.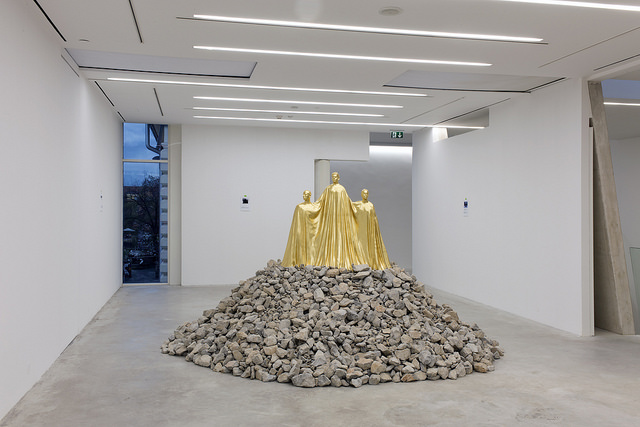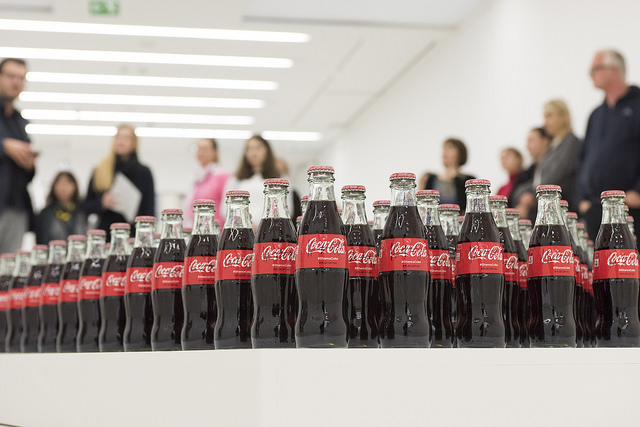 The conference in the same year, Proper and Improper Names: Identity in the Information Society conference, hosted by Aksioma – Institute for Contemporary Art, Ljubljana, and curated by Marco Deseriis in 2017, invited speakers including Natalie Bookchin, Marco Deseriis, Kristin Sue Lucas, Gerald Raunig, Ryan Trecartin, Wu Ming. The subjects under discussion arose from Marco Deseriis' book Improper Names: Collective Pseudonyms from the Luddites to Anonymous. Deseriis, as keynote speaker, talked about the genealogy of the improper name. This is Deseriis's term for the use of pseudonyms by artist collectives, including Wu Ming (who presented a talk at the conference) and Ned Ludd, the fictional leader of the English Luddites.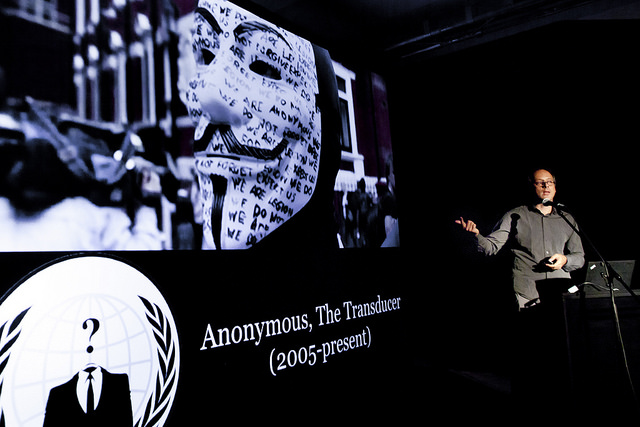 Releasing your ideas out in the wild doesn't always guarantee they will come back to you unscathed or even return at all. The works of the Janez Janša collective are sent out to corporate systems, being adapted and altered, and returned. Or at the very least offering a challenge to accepted forms of ideological structures. In the Slovenian elections on 3rd June, the Slovenian Democratic Party (SDS) won with 25% of the votes. Levica won 9.0%. The SDS is a far-right, anti-immigration party, reflecting the increasing rise of right-wing parties across Europe right now. The leader of the SDS, Janez Janša, now has the opportunity to form a right-wing government. If this happens, and by the time you read this, it may well have, it would continue the shift in European Councils members towards the right.
There's nothing new in declaring that everything is in flux. That's the nature of our hyper-accelerated world. But right now there is a creeping sense that The Other is also to be viewed as The Enemy. The social, political value of art has to change to mean something in what is little short of a battle for a better society for ourselves and others across the globe if it is to have any value whatsoever. Janez Janša, Janez Janša and Janez Janša's work reflect this evolution by being part of the society around them. Being part of the electoral system reflected this challenge and desire to be part of the real world and to make art mean something more than gallery space and conference papers. If art wants to survive and continue to belong to everyone, then it needs to be part of the world we are living in right now. No one work of art ever changed the world, but it helps us unravel and see through the propaganda of systems. We all need to become Janez Janša®.
The final outcome of the recent Slovenian Elections remains uncertain as Social Democratic Party's Janez Janša attempts to form a coalition government.
More images at Flickr – https://bit.ly/2yniHYL
More about Janez Janša – http://www.janezjansa.si/about-jj/
This is a long read by one of the inhabitants of the Zad, about the the fortnight rollercoaster of rural riots that has just taken place to evict the liberated territory of the Zad. It's been incredibly intense and hard to find a moment to write, but we did our best. This is simply one viewpoint, there are over 1000 people on the zone at the moment and every one of them could tell a different story. Thank you for all the friends and comrades who helped by sharing their stories, rebel spirits and lemon juice against the tear gas.
The Revenge against the Commons of the Zad or Why France's biggest police operation since May 68 is prepared to kill for Macron's Neoliberal Nightmare.
"We must bring into being the world we want to defend. These cracks where people find each other to build a beautiful future are important. This is how the zad is a model." Naomi Klein

"What is happening at Notre-Dame-des-Landes illustrates a conflict that concerns the whole world" Raoul Vaneigem
The police helicopter hovers above, its bone rattling clattering never seems to stop. At night its long godlike finger of light penetrates our cabins and farm houses. It has been so hard to sleep this last week. Even dreaming, it seems, is a crime on the Zad. And that's the point: these 4000 acres of autonomous territory, this zone to defend (Zad), has existed despite the state and capitalism for nearly a decade and no government can allow such a place to flourish. All territories that are inhabited by people who bridge the gap between dream and action have to be crushed before their hope begins to spread. This is why France's biggest police operation since May 1968, at a cost of 400,000 euros a day, has been trying to evict us with its 2500 gendarmes, armoured vehicles (APCs), bulldozers, rubber bullets, drones, 200 cameras and 11,000 tear gas and stun grenades fired since the operation began at 3.20am on the morning of the 9th of April.
The state said that these would be "targeted evictions", claiming that there were up to 80 'radical' Zadists that would be hunted down, and that the rest, the 'good' Zadists, would have to legalise or face the same fate. The good zadist was a caricature of the gentle 'neo rural farmer' returning to the land, the bad, an ultra violent revolutionary, just there to make trouble. Of course this was a fantasy vision to feed the state's primary strategy, to divide this diverse popular movement that has managed to defeat 3 different French governments and win France's biggest political victory of a generation.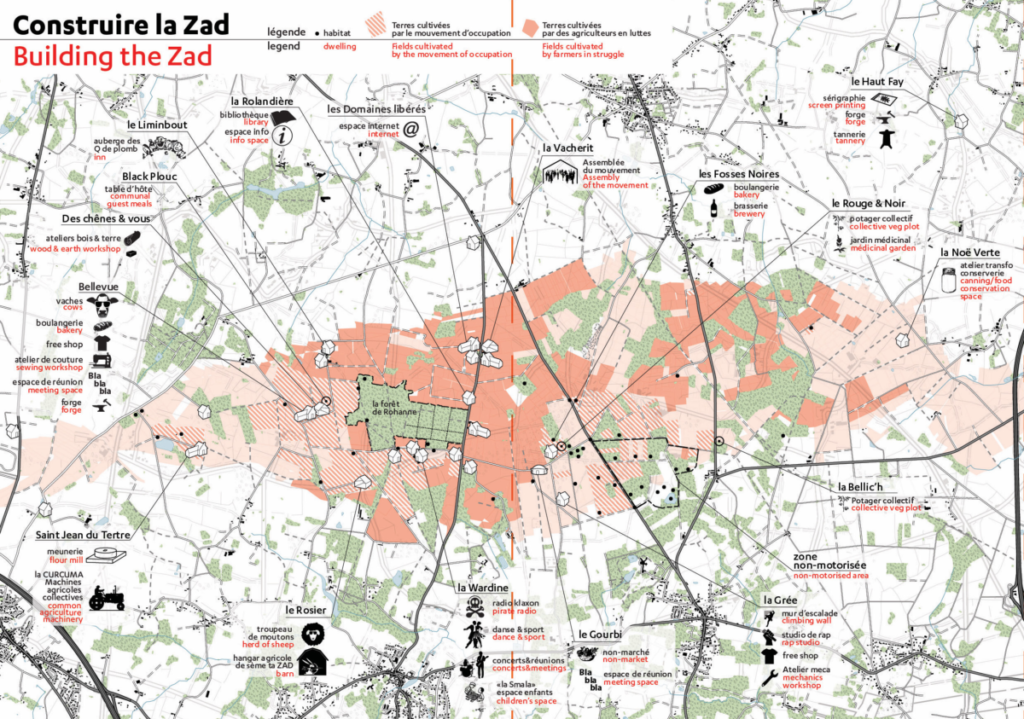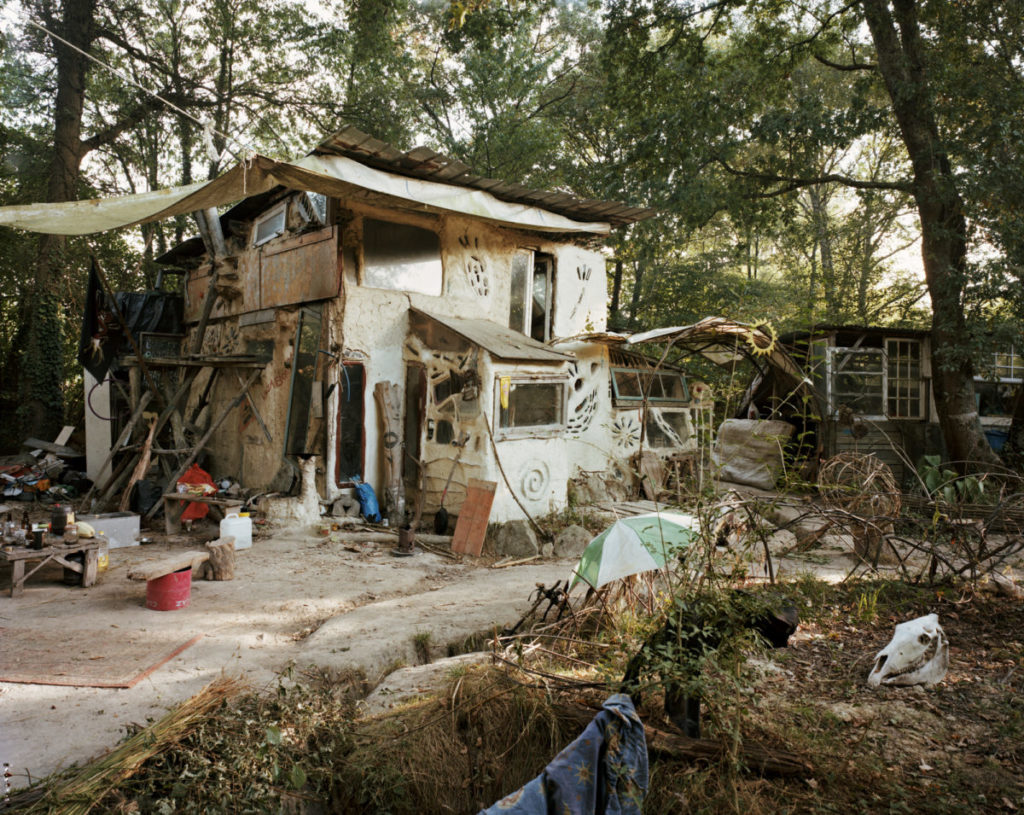 The zad was initially set up as a protest against the building of a new airport for the city of Nantes, following a letter by residents distributed during a climate camp in 2009, which invited people to squat the land and buildings: 'because' as they wrote 'only an inhabited territory can be defended'. Over the years this territory earmarked for a mega infrastructure project, evolved into Europe's largest laboratory of commoning. Before the French state started to bulldoze our homes, there were 70 different living spaces and 300 inhabitants nestled into this checkerboard landscape of forest, fields and wetlands. Alternative ways of living with each other, fellow species and the world are experimented with 24/7. From making our own bread to running a pirate radio station, planting herbal medicine gardens to making rebel camembert, a rap recording studio to a pasta production workshop, an artisanal brewery to two blacksmiths forges, a communal justice system to a library and even a full scale working lighthouse – the zad has become a new commune for the 21st century. Messy and bemusing, this beautifully imperfect utopia in resistance against an airport and its world has been supported by a radically diverse popular movement, bringing together tens of thousands of anarchists and farmers, unionists and naturalists, environmentalists and students, locals and revolutionaries of every flavour. But everything changed on the 17th of January 2018, when the French prime minister appeared on TV to cancel the airport project and in the same breath say that the zad, the 'outlaw zone' would be evicted and law and order returned.
I am starting to write 8 days into the attack, it's Tuesday the 17th of April my diary tells me, but days, dates even hours of the day seem to merge into a muddled bath of adrenaline socked intensity, so hard to capture with words. We are so tired, bruised and many badly injured. Medics have counted 270 injuries so far. Lots due to the impact of rubber bullets, but most from the sharp metal and plastic shrapnel shot from the stun and concussion grenades whose explosions punctuate the spring symphony of birdsong. Similar grenades killed 21 year old ecological activist Remi Fraise during protests against an agro industrial damn in 2014.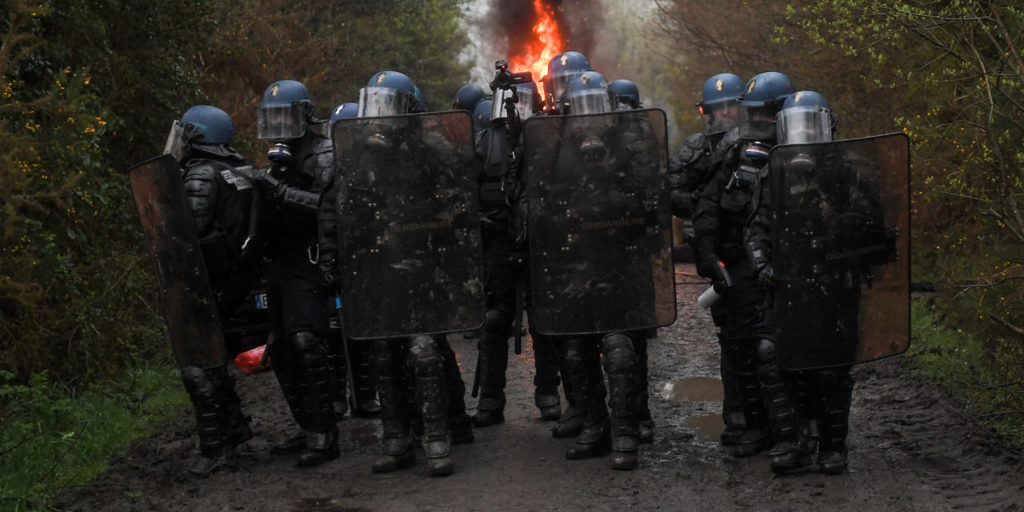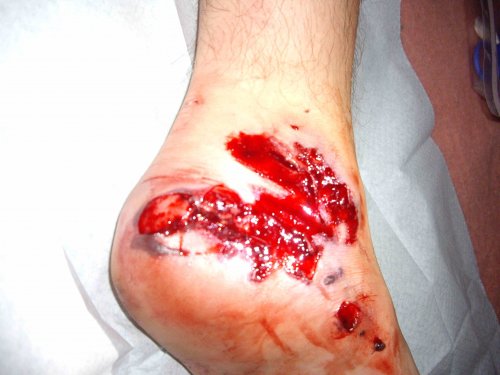 The zad's welcome and information centre, still dominated by a huge hand painted map of the zone, has been transformed into a field hospital. Local doctors have come in solidarity working with action medic crews, volunteer acupuncturists and healers of all sorts and the comrades ambulance is parked outside. The police have even delayed ambulances leaving the zone with injured people in them, and when its the gendarmerie that evacuates seriously injured protesters from the area sometimes they have been abandoning them in the street far from the hospital or in one case in front of a psychiatric clinic.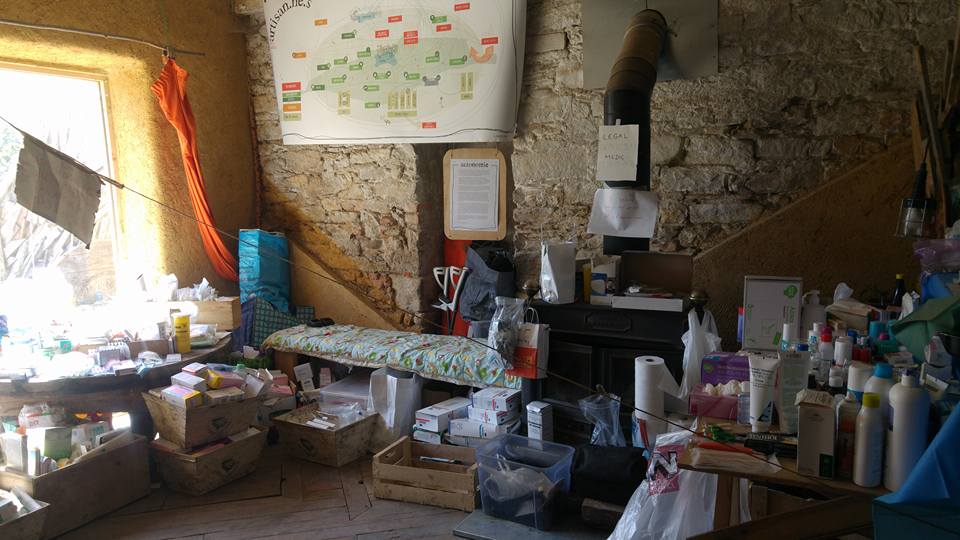 The thousands of acts of solidarity have been a life line for us, including sabotaged French consulate parkings in Munich to local pensioners bringing chocolate bars, musicians sending in songs they composed to demonstrations by Zapatistas in Chiapas, banners in front of French embassies everywhere – from Dehli to New York, a giant message carved in the sand of a New Zealand beach and even scuba divers with an underwater banner. Here on the zone three activist field kitchens have come to feed us, architects have written a column deploring the destruction of unique forms of habitat signed by 50,000 people and locals have been offering storage for the safe keeping of our belongings. A true culture of resistance has evolved in parallel with the zad over the years. Not many people are psychologically or physically prepared to fight on the barricades, but thousands are ready to give material support in all its forms and this is the foundation of any struggle that wants to win. It means opening up to those who might be different, those that might not have the same revolutionary analysis as us, those who some put in their box named 'reformist', but this is what building a composition is all about, it is how we weave a true ecology of resistance. As a banner reads on one of the squatted farmhouses here, Pas de barricadieres sans cuisiniers "There are no (female) barricaders without (male) cooks."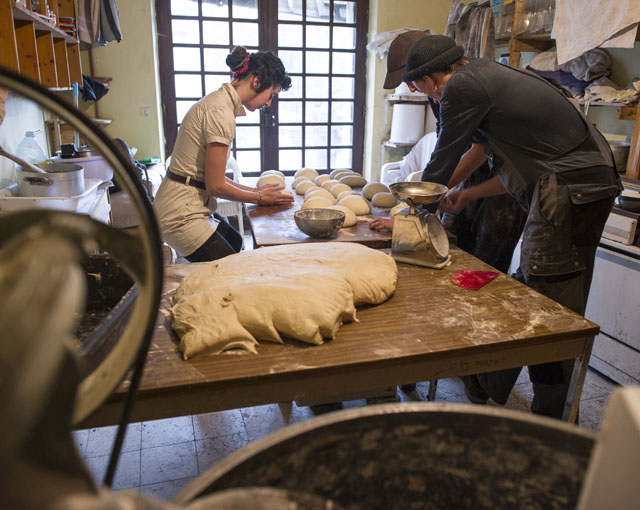 Today has been one of the calmest since the start of the operation, and it felt like the springtime was really flowering, so we opened all the doors and windows of house letting the spring air push away the toxic fumes of tear gas that still linger on our clothes. It feels like there is a momentary lull. For the first time since the evictions, our collective all ate together, sitting in the sun at a long table surrounded by two dozen friends from across the world come to support us. I hear the buzzing of a bee trying to find nectar and look up into the sky, its not a bee at all, but the police drone, come to film us sharing food, it hovers for hours. In the end this is the greatest crime we have committed on the zad, that of building the commons, sharing worlds together and deserting the pathology of individualism.
Two years before the abandonment of the airport project the movement declared in a text entitled The Six Points for the Zad: Because there will be no Airport, that we would, via an entity that emerged from the movement , collectively look after these lands that we were saving from certain death by concrete. A few months before the abandonment the form that this entity took was the Assembly of Usages. Soon after thethe airport was cancelled, we entered into negotiations with the state (via the prefet. Nicole Klein, who represents the state in the department) following a complicated week of pre-negotiations, where we were forced to open up one of the roads which had had cabins built on it since the attempted evictions of 2012. It seemed that the flow of traffic through the zone was the state's way of telling the public that law and order had returned on the zone. (see the text Zad Will Survive for a view of this complicated period).
A united delegation of 11 people made up from the NGOs, farmers, naturalists and occupiers of the zone attended the negotiations and did not flinch from the demand to set up a collective legal land structure, rather than return these lands to private property and agro-business as usual. In the 1980s a similar legal structure was put in place following the victory of a mass movement against the expansion of a military base on the plateau of the Larzac in Southern France. With this precedent in mind we provided a legally solid document for a global land contract, but it was ignored, no legal grounds were given, the refusal was entirely political. Three days later the evictions began.
The battle lines were made clear, it was not about bringing 'law and order' back to the zone, but a battle between private property, and those who share worlds of capitalism against the commons. The battle of the Zad is a battle for the future, one that we cannot loose.
DAY 1: Monday 9th April – Everything Begins in the dark
The telephone rings, it's 3.20am, it's still dark outside, a breathless voice says two simple words, "It's begun !" and hangs up. Everyone knows what to do, some run to offices filled with computers, others to the barricades, some to the pirate radio (Radio Klaxon, which happens to squat the airwaves of Vinci motorway radio, 107,7, the construction company that was going to build and run the airport) others start their medics shift. Hundreds of police vans are taking over the two main roads that pass through the zone.
Fighting on one of the lanes manages to stop the cops moving further west. But elsewhere the bulldozers smash their way through some of the most beautiful cabins made of adobe and the wastes of the world that rose out of the the mud in the east of the zone, they destroy the Lama Sacrée with its stunning wooden watch tower, permaculture gardens and green houses are flattened and they rip gashes in the forest. A large mobile anti riot wall is erected by the police in the lane that stretches east to west, a technique that works in cities but in rural riots it's useless and people spend all morning hassling them from every angle. Despite gas and stun grenades we hold our ground. Journalists are blocked for a while from entering, the police stating that they will provide their own footage (free of copyrights!). The "press group" gives them directions so that they manage to cross the fields and the pictures dominate the morning news.
There are over a dozen of us are facing a line of hundreds of robocops at the other end of the field. One of us, masked up and dressed in regulation black kway is holding a golf club. He kneels down and places a golf T in the wet grass. He pulls a golf ball out of a big supermarket bag and serenely places it in the T. He takes a swipe, the ball bounces off the riot shields. He takes out another ball and another and another.
In the afternoon the cops and bailiffs arrive at the 100 noms, an off grid small holding with sheep, chickens, veg plots, and beautiful housing including a cabin built by a young deserting architect which resembles a giant knights helmet made with geodesic plates of steel. The occupiers, who have built this place up from nothing over 5 years are given 10 minutes to leave by the bailiff. Several hundred people turn up to resist, many from 'the camp of the white haired ones' which hasbrought together the pensioners and elders, who have called it a camp for "the youth of all ages" and have been one of the backbonesof this long struggle. There must be nearly 200 of us, at the 100 noms, this time no one is masked up. A massive block of robocops is coming up the path, some of us climb on the roof of the newly built sheep barn, others form a line of bodies pressed hard against the riot shields, we are peasants and activists, occupiers and visitors, young and old and they beat us, burn our skin with their pepper spray and push us out of the fields.
We reply with a joyful hail of mud that covers their visors and shields. The people on the roof are brought down by the specialists climbers and the bulldozer does its job. A few minutes later a one of their huge demolition machines gets stuck in the mud, a friend shouts ironically to the crowd: "come on let's go and give it hand and push it out!", Hundreds approach, trails of gas take over the blue sky, dozens of canisters rain down on the wetlands, many falling into the ponds which begin to bubble with their toxic heat. I try to console Manu whose home, a tall skinny wooden cabin with a climbing wall on its side, has just been flattened, my hugs cannot stop his sobs. Our eyes are red with tears of grief and gas.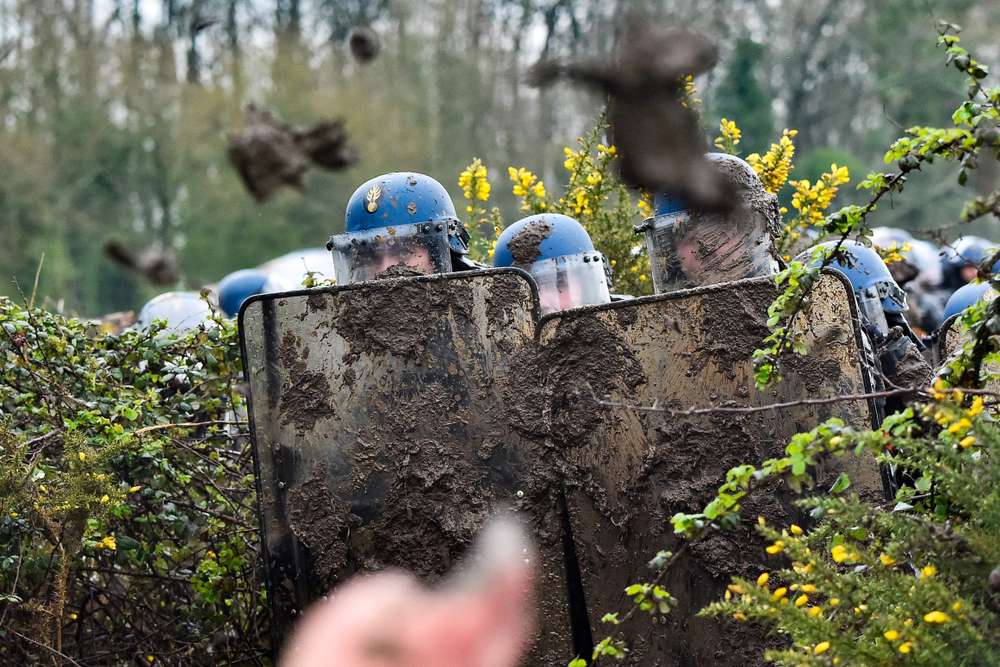 In the logic of the state, the 100 Noms ticked many of their fantasy boxes of those want to be legalised, 'the good Zadists'. It was a well functioning small holding, producing meat and vegetables and where the sheep were more legal than its inhabitants. It was a project that had the support of many of the locals. Its destruction lit a spark that brought many of those in the movement who had felt a bit more distant from the zad recently back into the fold of the resistance. Of course its no less disgusting than the flattening of all the other homes and cabins, but the battle here is as much on the symbolic terrain as in the bocage and it is seems to be a strategic blunder to destroy the 100 Noms.
The live twitter videos from the attack are watched by tens of thousands, news of the evictions spreads and a shock wave ripples through France. Actions begin to erupt in over 100 places, some town halls are occupied, the huge Millau bridge over 1000 km away is blockaded as is the weapon factory that makes the grenades in Western Brittanny.
The demolition continues till late, but the barricades grow faster at night, and we count the wounded.
DAY 2: Tuesday 10th April – Between a barricade and a tank
It all begins again before sun rise, the communication system on the zone with its hundreds of walkie talkies, old style truck drivers cb's and pirate radio station calls us to go and defend the Vraie Rouge collective, which is next to the the zad's largest vegetable garden and medicinal herb project. We arrive through the fields to find one of the armoured cars pushed up against the barricade, we stand firm the barricade between us and the APC. We prepare paint bombs to try and cover the APC's windows with. Then the tear gas begins to rain amongst the salad and spinach plants. A friend finds a terrified journalist cowering in one of the cabins, she writes for the right wing Figaro newspaper and is a bit out of place with her red handbag. "What's that noise??" she asks, trembling, "the stun grenades" he replies. "But why aren't you counter attacking?" she says, "where are your pétanque balls covered in razor blades?" Our friend laughs despite the gas poisoning his lungs, "we never had such things, it was a right wing media invention, and it's impossible anyway, no one can weld razor blades onto a pétanque ball! "
There is so much gas, we can no longer see beyond our stinging running noses. The police are being pressurised simultaneously from the other side of the road by a large militant crowd with gas masks, make shift shields, stones, slingshots and tennis rackets to return the grenades. They are playing hide and seek from behind the trees. The armoured car begins to push the barricade, some of us climb onto the roof of the two story wooden cabin, others try to retreat without crushing the beautiful vegetable plot. Its over, the end of another collective living space on the zone. Then we hear a roar from the other side of the barricade. Dozens of figures emerge from the forest, molotov cocktails fly, one hits the APC, flames rise from the amour and the wild roar transforms itself into a cry of pure joy. The APC begins to back off as do the police. The Vraie Rouge will live one more day it seems, thanks to diversity of tactics.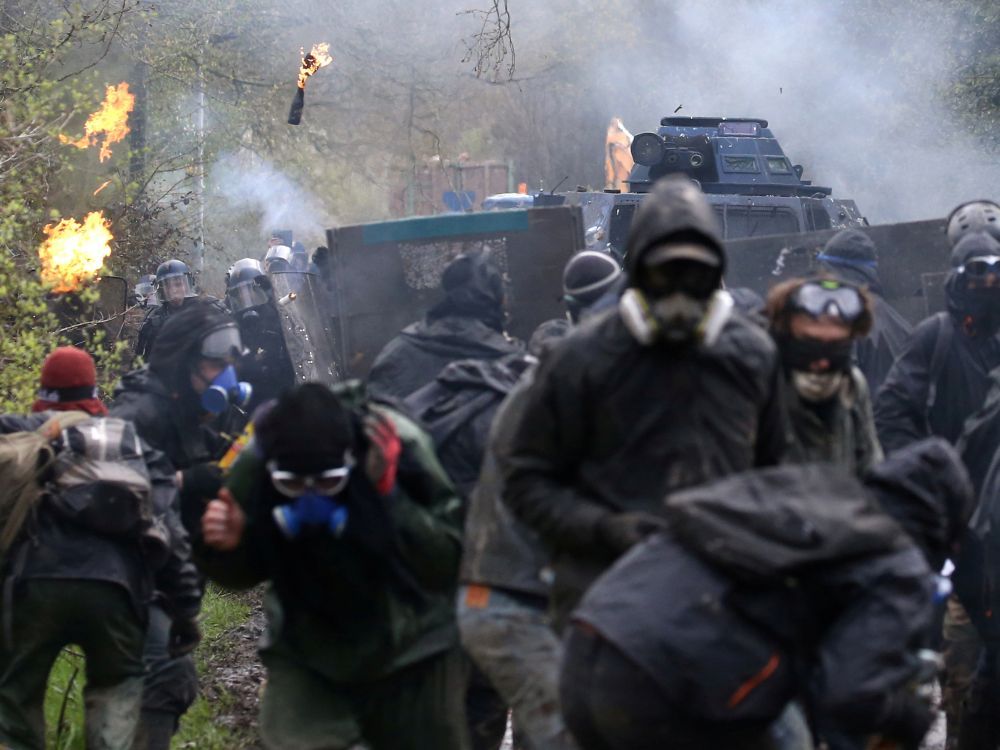 In 2012 when we managed to stop the first eviction attempts of the zone, this was what gave us an advantage. Over the 50 years that the movement against the airport lasted, it used everything from petitions to hunger strikes, legal challenges to sabotage, riots to citizens ecological inventories of the zone, defensive tree houses to flying rocks, tractor blockades to clown armies. Its secret weapon was the respect we had for each others' tactics and an incredible ability to try and not condemn each other. Pacifist Pensioners and black bloc worked together in a way that I had never seen before, which made criminalising the movement much more complicated for the government. Movements win when they have the richest most colourful palette of tactics at their disposition and they are ready to use everyone of them at the right time and place.
In a woodland dip to the east of the zone, the Cheverie, is still resisting. A huge high cabin made from different types of swirling coloured clay – brown, grey, ochre and white – punctuated by mosaics and carved spiders, constructed by hundreds of hands, is about to be crushed. Hundreds of gendarmes surround it, one of them seems to have a machine gun strapped to his back. From the roof someone uses a traffic cone as a megaphone: "we are defending life and the living." When the cabin is finally brought down a minor miracle occurs, none of the dozens of windows is broken, which will make it much easier to rebuild.
At the Fosses Noires, the brewery has been turned into a canteen, but the tear gas is falling on the pots, pans and piles of donated of vegetables. After lunch, a second press conference takes place, yesterday the first one had brought dozens of TV cameras and microphones from radios across the country, 8 people from all the composition of the movement faced the cameras, their dignified anger was so powerful, so palpable, many of us shed tears listening.
Today there are 30 inhabitants are in front of the cameras, it is those that have an agricultural and craft projects running on the zone, the tanner is there as is the cheese maker, the potter and market gardeners, cow herders and leather workers. They explain how over the last weeks of negotiations with the state, they handed over documents to develop a collective project within a legal non profit association that had been set up. They show that on this bocage to think ecologically is to realise that all the projects are interdependent, rotating the fields between folk, sharing tools and and everyone helping out on each others projects when needed. To divide the zad into individual separate units makes no sense.
But the words are not as strong as the striking image of Sarah, our young shepherdess who like a modern day madonna holds a dead black lamb on here lap. She explains how her flock was legalised already and that this one died from stress when it was moved from the 100 Noms farm to avoid the evictions. Her grey eyes pierce the camera lenses, "they chose violence, they chose to destroy what we build, they chose to break off the dialogue with us." Whilem a young farmer, whose milk herd squats fields to the west, raises his trembling voice, " If there is no collective agriculture then you get what's already happening in the countryside – individualism: eat up your neighbours farm land, be more and more alone with a bigger and bigger farm," he takes a deep breath, "the isolation is pushing farmers to commit suicide, we are more and more alone on our farms faced with increasing difficulties. On the zad we hold a vision of farming for all, not just for us."
The zad makes a call for a mass picnic the following day. Vincent one of the supporting farmers from the region, a member of COPAIN 44, a network of rebel farmers whose tractors have become one of our most iconic and useful tools of resistance, sighs, "the government has broken any possibility of dialogue now, they have forced us to respond with a struggle for power."
Between the tall poles that hold the breweries' hop plants a long banner is raised, "Nicole Klein radicalised me."
DAY 3: Wednesday 11th April – Gassing a Picnic
We are woken as normal by the explosions of gendarmes grenades, fighting continues near the D281 road. A small group is trying to stop the police lining up in a field, there aren't many of us, it feels hopeless, then out of the morning mist comes a tractor, its driver wears a balaclava, in the front bucket – a tonne of stones. He drops them in a pile just where we are standing, puts the tractor in reverse and disappears back into the mist.
In the next door field a towering guy wearing a balaclava and dressed in a full monks habit throws a bucket of water over a handful of robocops – "I baptise you in the name of the zad", he bellows. A cloud of pepper spray engulfs him, but one the gendarmes slips in the mud and drop his truncheon, at the speed of light the monk grabs it and runs off, wielding his rebel relic in the air. The police megaphone calls out "You must return the state's property. Return it now!"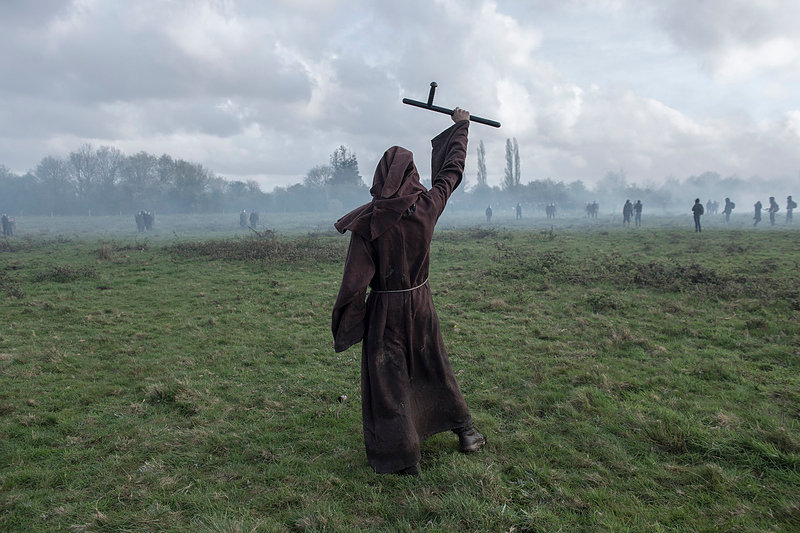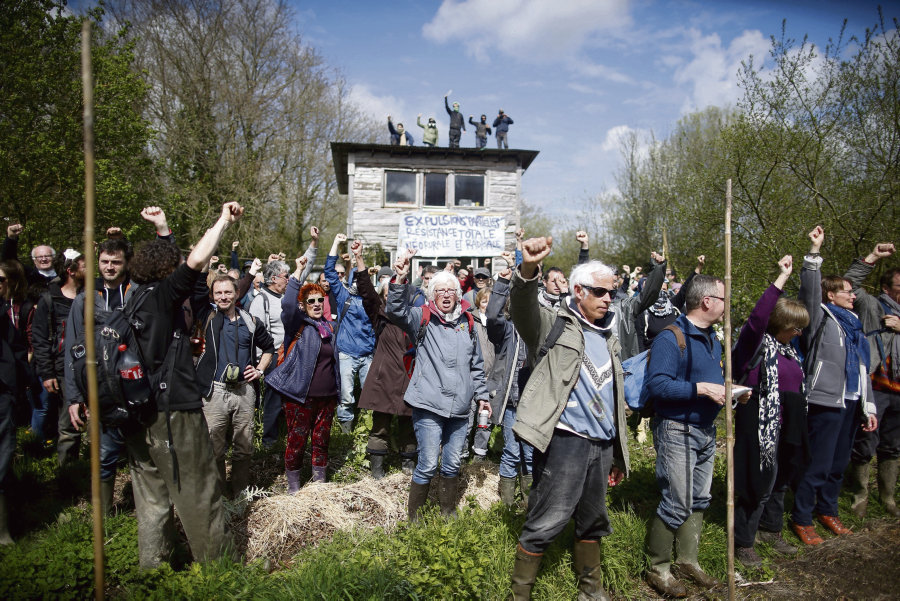 The picnic before it was gassed.
At lunch time, over a thousand people turn up to share a picnic in the fields. Over thirty tractors have come, some from far, despite the fact that its one of the busiest seasons for the farmers, they encircle the large Rouge et Noir collective vegetable garden, now littered with hundreds of toxic plastic tear gas canisters. "The state crossed the red line when they destroyed the 100 Noms" one of them says.
The crowd of all ages walk through the barricades and debris of yesterday's battle that litter the country lanes. The atmosphere is festive, a samba band with pink masks leads us into the field beside the Lama Sacrée. A long line of black clad police stretches across the spring green pasture. The samba band approach, then all hell lets loose: gas canisters shower down, dozens of stun grenades are thrown into the peaceful crowd, panic ensues, people retreat across the hedgerows.
The houses of la Boite Noire, Dalle à Caca, Jesse James and la Gaité fall in the east. Simultaneously they attack la Grée, the large rambling grafitti covered farm at the centre of the zone that has an unconditional welcome policy. There is a car repair workshop, climbing wall and the rap studio and many folk escaping the misery of street life and addictions end up living there together. Farmers' tractors are surrounding the building, a barricade made from the carcasses of cars, is set alight. But the tear gas is too strong and the tractors are forced to back off.
Out of the mist of gas come black lumbering troops, they charge across the fields. The whole zone is split in two by a seemingly endless lines of robocops stretching east to west. The crowd is dispersed, people are coughing up their lungs, they are furious. It began as a picnic, now it's a war zone again. The gas clouds cling to the pasture, frightened cows huddle together in a corner of a tiny field. The medic post at the Fosses Noires has to move away to the Gourbi, but then the gas catches up with it there too and it moves to La Rolandière just in time before the police arrive to smash one of the zone's most symbolic sites, the Gourbi.
In the very centre of the zad the Gourbi is where the weekly assembly of occupiers is held and Friday's No-market, a place where excess produce is distributed with no fixed price but by donation only. Initially there was a stone farm house there, inhabited by an old couple who were evicted in 2012 and their home destroyed for the airport project. Then a wooden hut was built in its place, but its ramshackle pallet sides soon needed restoring and so a brand new state of the art cabin like meeting house was built over 2015. But one night someone sneaked into this beautiful meeting house and set it alight.
But Gourbi was to rise from the ashes, and as an ironic response to the governments 2016 local consultation about the airport project, we held an all night building party whilst the results came through (55% for building the new airport). To the sound of a wild one man accordion band doing kitsch covers of Queen and other trashy pop songs, hundreds of people stuffed the clay of the wetlands into a huge geodesic metal dome structure to build our new round meeting house. It was made of steel and mud to resist arson, but today the bulldozer crushed it with a single swipe of its blade. Worlds away in the metropolis, the Minister of Interior, Gérard Collomb, tells parliament "We want to avoid all violence in this country, this is what we are doing at Notre-Dame-des-Landes."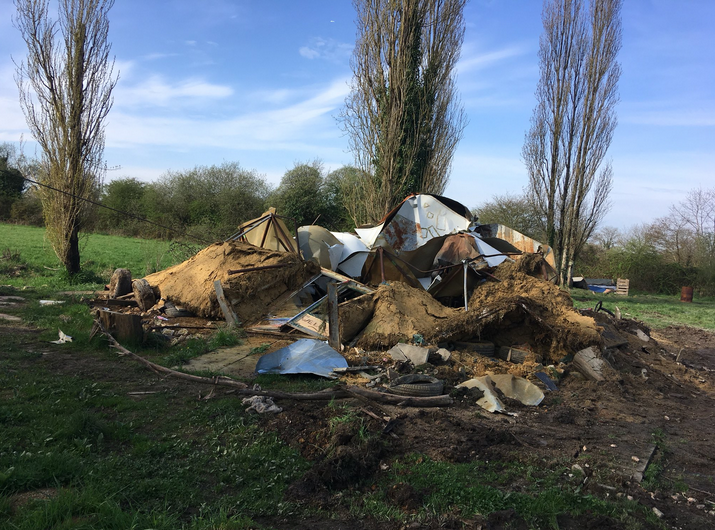 By sunset the government claims to have evicted 13 more living spaces, bringing the total to 29 since Monday. The prime minister refuses to pause the operations, and the medic team share horrific photos of some of the 60 injuries since Monday, including 3 journalists. Meanwhile the cops release their figures: 32 injuries, but it turns out most are from the mis use of their own weapons. Solidarity actions pour in from thousands, including squatters in Iceland, farmers in Lebanon and eco builders in Columbia. In Paris, sex workers send in kinky zad themed S and M photos and students occupy the EHSS elite social science school in solidarity. That afternoon electricity is cut across a large part of the zone and many of our neighbors homes outside of the zad. It is a tactic reminiscent of collective punishment used during military occupations , At night the gentle lulling croak of mating frogs in the marches mixes with the hum of back up electric generators. Four hundred of us meet at the Wardine, in the old concrete cow shed covered in bright murals, we share stories, dogs bark, tempers fray.
DAY 4: Thursday 12th April – Are they ready to Kill ?
The day begins with some good news on radio klaxon. An affinity group action just shut down the motorway that passes near the zad. Emerging from the bushes they flowed down onto the tarmac armed with tyres, fluorescent jackets and lighters. Within seconds a burning wall blocked the flow of commuters to Nantes. The group disappeared just as quickly as they materialised, melting back into the hedgerows. The more we fight for this land, the more we become the bocage and the harder it is to find us. Every day more and more people converge here, many for the first time in their lives.The art of the barricade continues across the zone, including one topped with an old red boat. Some of our most useful barricades are mobile, in the form of tractors, dozens of COPAIN 44's machines take over the main cross roads of the zone.
Following an attempt by friendly lawyers to prove that the eviction of the 100 noms was illegal, the prefect is forced to appear in court in Nantes, but the case is adjourned. The indefatigable zad press group sends out a new communique entitled, After 3 days of evictions are they ready to kill because they don't want a collective ? Clashes continues across the bocage as Macron take to the TV screens for a national statement about his policies. A social movement is rising against him, with university occupations, supermarket, rail workers and Air France on strike – he has to respond. The mise-en-scène is bizarre, he sits in a primary school class room. He speaks about the zad for a little over a minute, "republican order must be returned" he says, and "everything that was to be evacuated has already been evacuated".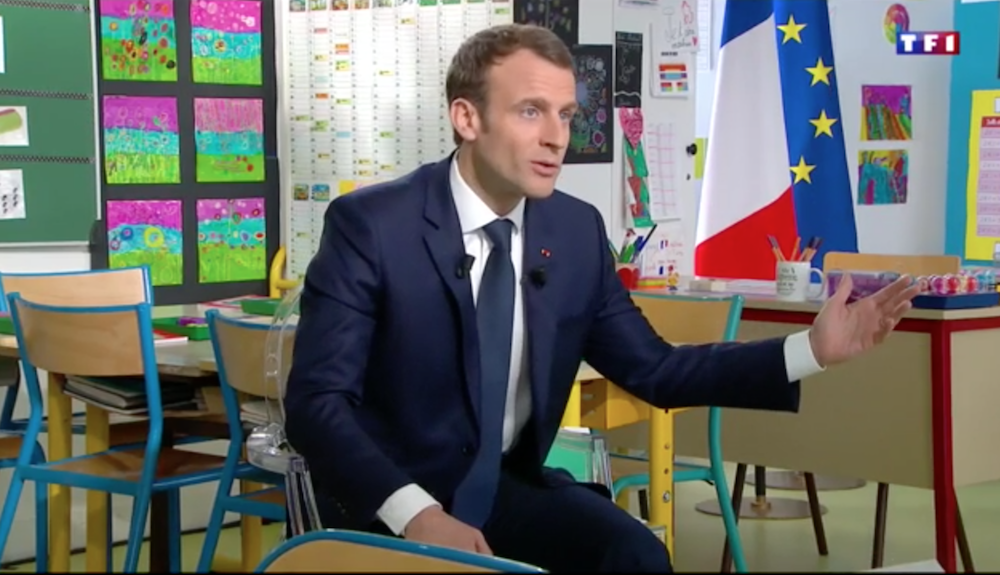 As he speaks a hundred and fifty concussion grenades are launched in less than half an hour in the Lama Sacrée field, the explosions echo across the bocage, bursting the ear drums of those nearby and raising the anxiety levels of those within hearing distance, which on this flat landscape of the zad, is all of us. The league of Human Rights demands that all parties come back to the table. A call is sent for people to converge on the Zone on Sunday: " The time has come to find ourselves together, to say that the zad must live, to dress our wounds and re build ourselves.." …
We walk home to la Rolandière, with its ship shaped library attached to the lighthouse, built where they wanted to build the airport control tower. The sun is setting, 20m high up on the lighthouse's balcony a lone figure is playing a trumpet, fluid sumptous jazz floats across the forest. It is one of those moments when you remember why you live here.
That night under a clear constellation filled sky, the Assembly of Usages meets. We sit on wooden hand made bleechers under Le hangar de l'avenir (The Barn of the future). This cathedral like barn was built by over 80 traditional carpenters in 2016 using mostly hand tools, it is ornamented with snakes and salamanders carved into the oak beams. There are several hundred of us at the assembly, one of the peasants whose tractor is blocking the crossroads reads out a series of texts messages he has received from the préfete who is trying to negotiate with COPAIN 44. "Yesterday the Prime minister said it was war, today the president says its peace, therefore it's all over." It's clear that she's feeling that the situation has become much more complicated than predicted. A deal is made, move your tractors she writes, and I promise that by 10pm I will announce to Ouest France, the regional news paper, that it is the end of operations by the Gendarmes.
The meeting continues, we wait for the article to appear on the newspaper's web site. I reload my phone endlessly waiting for the site to update. Suddenly it does, but it's just a story about rock legend Johnny Hallyday, was it all a bluff ? Then it arrives, half an hour late. A cheer rises from the tired voices. At home we try to party a little, at least we might get a lie in tomorrow morning, it seems that it's over for the time being?
DAY 5: Friday 13th April – Utopias with teeth
I'm half awake, there is a rumble of vehicles on the road… At first I think it's tractors, then I see the lights, blue and flashing, van after van of cops passing. We leap out of bed and run to the top of the lighthouse, the entire road is filled with vans as far as the eye can see. The huge barricade at the crossroads, which the tractors left last night following the préfete's announcement, is on fire, a plume of black smoke frames the the orange dawn. The familiar pop of tear gas canisters being fired is accompanied by the crunching sounds of barricades being pushed by the APC. Radio Klaxon says they have kettled la Grée and are searching it, the Wardine camping is also encircled and a hundred and fifty cops are heading towards the Rosier. The Lascar barricade, made of several burnt cars, with a huge metal doorway and a trench that is several meters wide, is being defended by a nearly 100 of us. The forest is wrapped in toxic mist, ghostly rebel silhouette run from tree to tree, stones are aimed at the robocops with catapults that were made by Andre, an 83 year old who set up a production line for us during the eviction threats of 2016, his team churned out 1000. The cops throw stun grenades blindly from the fields into the forest, one explodes just above my head, caught in the tree it rips the bark into smithereens. Is this what they call the end of operations ?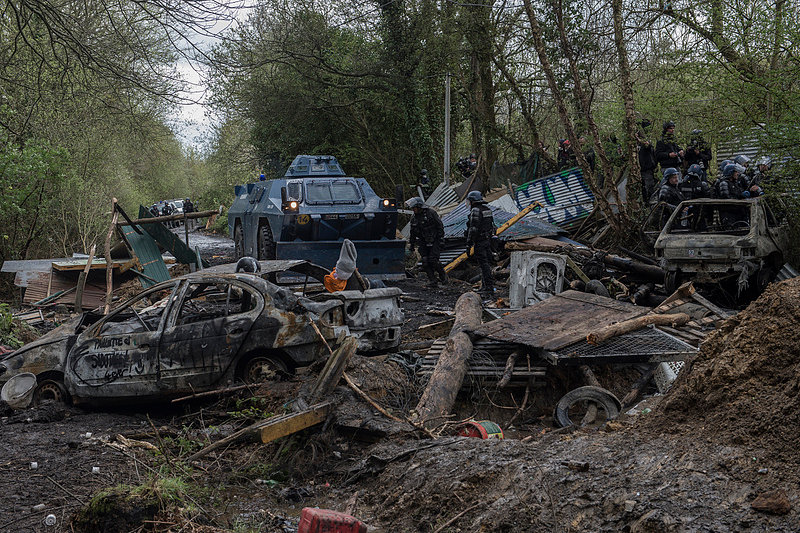 A communiqué from the gendarmerie explains that they are clearing the roads and are not doing any expulsions or knocking down any squats, but that they are looking to arrest people who fired a distress rocket at their helicopter. At la Grée they take away two people but not for that charge. The gas pushes everyone back from the Lascar's barricade and the grinders come out to cut the metal gateway into pieces. Despite the rising clouds of tear gas, people on the roof of the brand new Ambazada, a building that will host folk from intergalactic struggles, manage to sing some of our re purposed folk songs, recount the history of the struggle of the zad.
Then a moment of joy, one of the armoured cars attacking the Lascar tips into a ditch and has to be pulled out by the other one. The mud of this wetlands has always been our ally, its wetness our friend. When they retreat a banner is put up, "Cheap APC driving license available here." Our other accomplice is humour of course, even in what feels like a war zone, with tarmac scorched, broken glass and rubble everywhere, being able to laugh feeds our rage. The police retreat again and the barricade grows back out of its ruins, bigger and stronger than ever. We notice that where the APC fell into the ditch is now a huge deep hole at exactly the place where the drain for the Ambazada was going to be dug, no need for digging, just put the plants in it to make our grey water reed bed. That's what you call radical permaculture, least effort for maximum gain.
At midday the préfete begins her Press conference in Nantes. She confirms last nights message – evictions are over – and in a dramatic gesture, flourishes a page of A4 paper towards the cameras. "It's a simplified form" she tells the press, "so that those who wish can declare their projects as quickly as possible…The deadline is the 23rd of April" she continues " all we are asking is that they declare their names, what agricultural project they wish to develop and to tell us what plot of land they wish to work on, so that the state can process them." She also confirms that it was Macron who was running the operation not the prime minister or interior minister, it was he who decided to stop the expulsions. "I am holding out my hand" she says, and asks for negotiations to re start on Monday, "I am giving the zadists a last chance." Sitting next to her General Lizurey in charge of the Gendarme's operations says that the number of zadists on the zone has increased from 250 to 700.
I walk through the Rohanne forest to The Barn of the Future, I breathe in the forest air, the sweet pine, the musty damp smell of mushrooms. The barn has returned to its normal use as a saw mill and carpentry workshop for the zad. It is the base of the Abracadabois collective that looks after the forests and hedgerows, harvesting fire wood and building timber and setting up skill shares to learn carpentry, forest biology, wood carving, chain saw use and learning about other ways of inhabiting forests inspired by indigenous practices from past and present. The saw mill is planking the logs, twenty carpenters are busy preparing frames for a new building, a new assembly and no-market hall for the Gourbi, that we aim to put up on Sunday during the mass action.
This morning I was enveloped in tear gas and now I'm watching some of the same barricaders without their gas masks making a barn using the techniques that have been used for millennia. It is somehow healing to watch the attentive work. It is this capacity to fight and build, to block capitalism and to construct other forms of life which gives the zad its strength. It is also another reason the state wants to destroy us, they can deal with nice clean alternative eco projects, easy to buy off and recuperate into new forms of green capitalism. But when those who have a systemic critique are also providing material examples of other ways of being, it becomes dangerous. The resistance and creativity, the no and the yes, are the twin strands of DNA of this territory, split one from the other and the zad dies. It becomes another ecovillage or Transition Town, alternatives without teeth.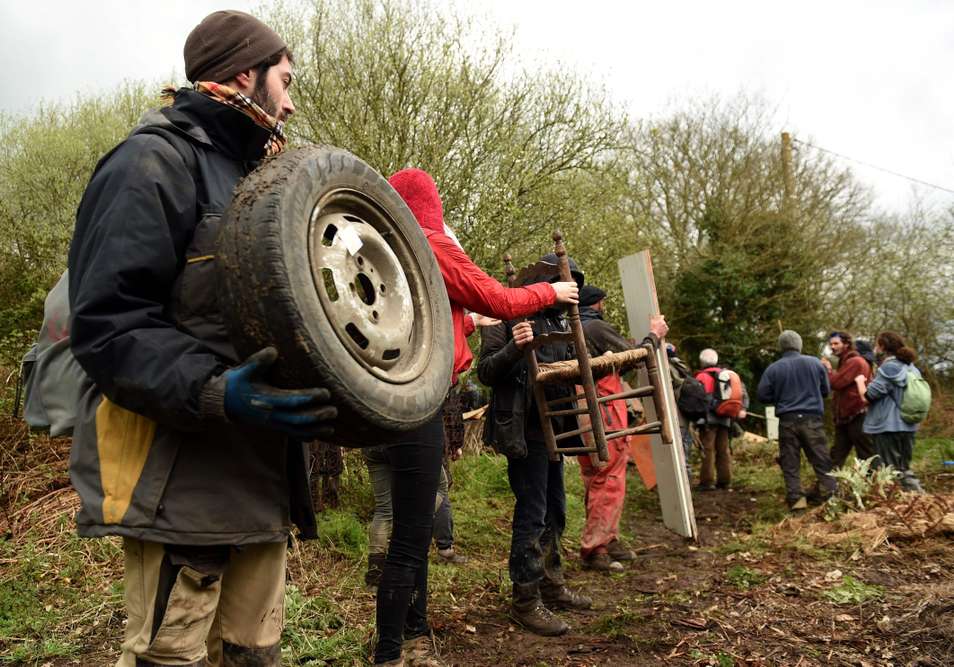 Yet a second helicopter is flying above the barn, this time with Prime Minister Edouard Philippe and the minister of interior inside, they are getting a private birds eye tour of the zad. They have come to congratulate the troops for their hard work. As he shakes hands with the gendarmes Phillippe tells the press that "the state will not accept any reconstruction or reoccupation." He is referring to the action planned on Sunday, "Any place that tries such an action will exclude itself from any possible regularisation…. and will thus put themselves under judicial proceedings." Once again the threat of sorting the good zadists from the bad. The carpenters work late into the night.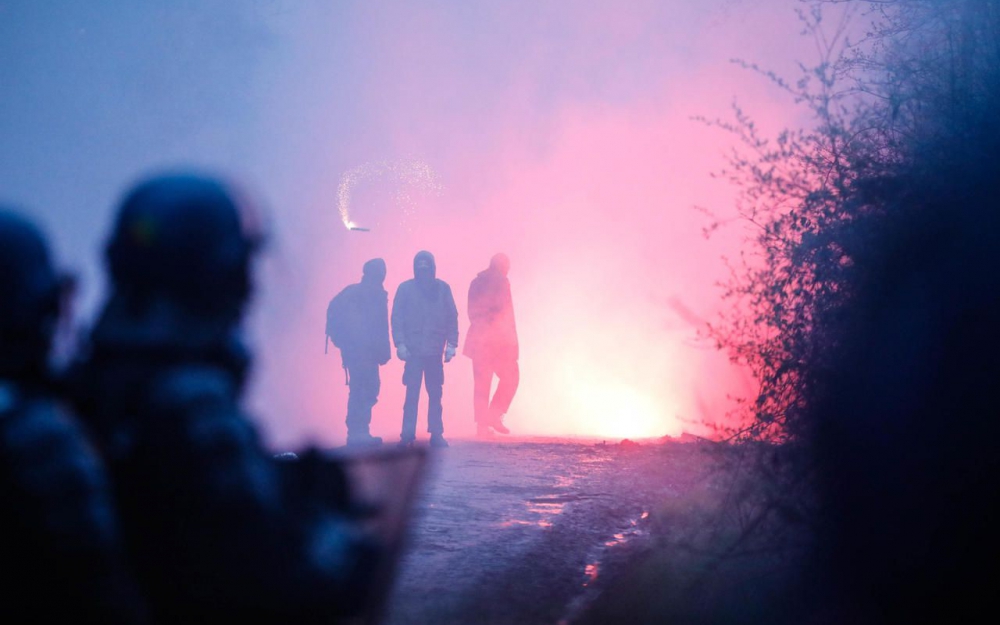 DAY 6: Saturday 14th April – We won't forget our scars
Bang, another wake up call, the APCs and dozens of vans pass by at the speed of a TGV train, bulldoze the barricades away on the D81 road again, and continue South, probably to Nantes where striking workers are holding a demonstration followed by one against the eviction of the Zad.
Barricades are cleared at the Lama Fachée at the same time, and a strange new gas is spotted, dark yellow. It makes people throw up, sows mental confusion and a loss of all spatial and temporal senses. Behind one of the barricades, a trio of action medics are keeping an eye on the adjoining woodland where grenades are exploding, " It's been war wounds here," they explain "skin and nerves hit by shrapnel, open gashes, eardrums damaged, necrosis and bone fractures." Some folk have over 70 pieces of shrapnel in their limbs, it takes hours every day to pull them out and clean them, some have gone 3cms deep into the skin. Many of the new comers on the zone throw themselves into picking up the thousands of gas canisters that litter the fields, placing them in big bags for everyone to see in the "camp of the white haired ones." Each canister costs 110 euros.
The demonstration in Nantes is big, 10,000 people. The 1000 riot police on duty attack it and gas people drinking on the café terraces.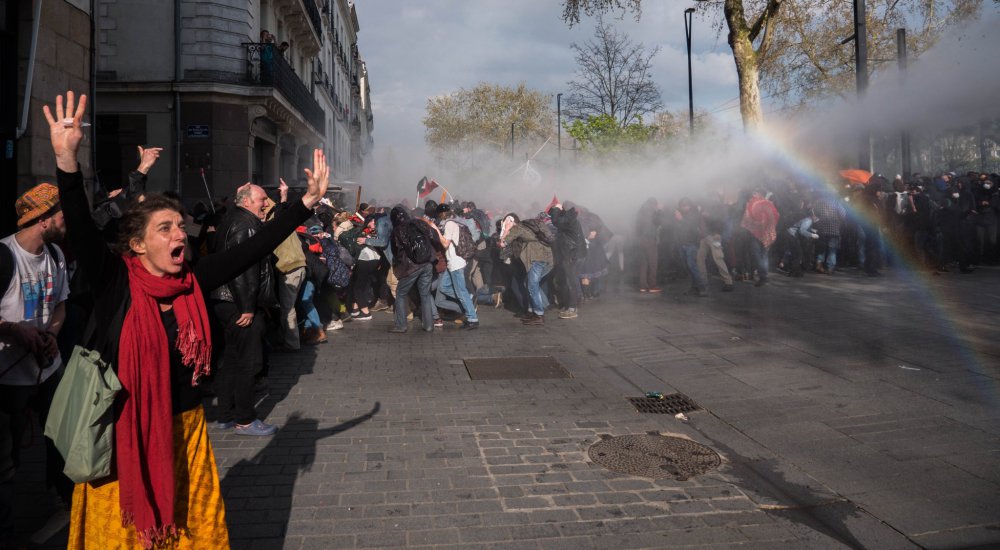 The sun set is dark red this evening. The wood working tools and machines are cleared aside, the Barn of the Future becomes a meeting hall again for the Assembly of Usages. The fresh smell of saw dust perfumes the discussions about whether we should go to back to the negotiations on Monday. The response is no, not yet.
DAY 7: Sunday 15th April – The Human millipede realises a dream
It's the big day, thousands of people from all over the country are converging on the zone for the day of mass action. The troops have cut off a third of the zad, they line the lanes for kilometers, cutting off access to any of the part of the zone where homes had been destroyed last week. This includes the Gourbi where we hoped to bring the new building too. All road access to the zad are blocked off by the gendarmes, they tell people to go home because they won't be able to reach the demonstration. But more than ten thousand of them disobey, park their cars and coaches in the nearby villages and trek for over an hour across the bocage. The details of the new building are still being finished, as the crowds arrive, such as a large 'fuck you' finger and the face of a fox that are being carved.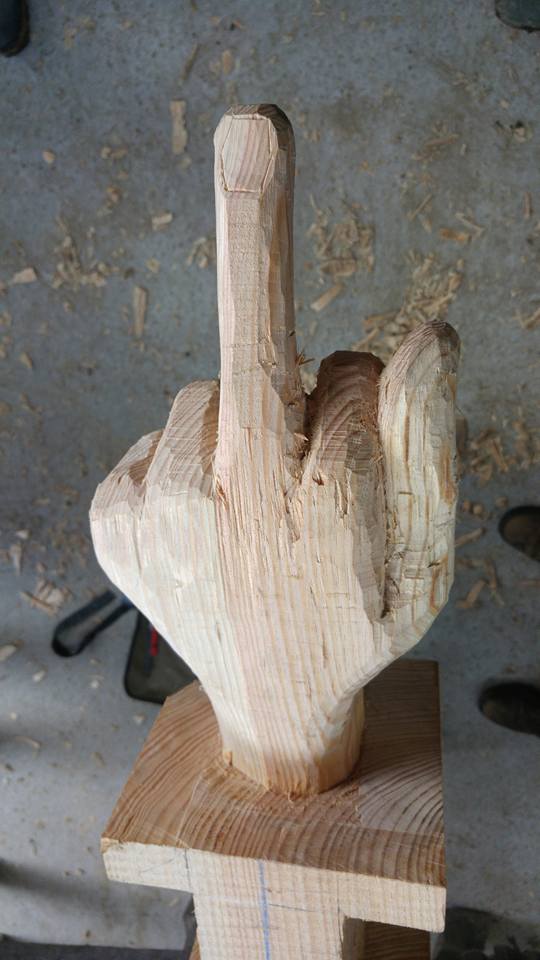 Through the pirate radio, text messages and word of mouth, we tell people to converge on Bellevue, the big farm in the west and wait for a decision about what we will do. 50 of us meet in a field in an emergency meeting, the farmers don't want to risk their tractors, we don't want to have a gesture that feels too symbolic, once again the collective intelligence comes to the fore and we come up with a plan B. The building will be erected as close to the front as possible without forcing the police line, there are too many families here to risk being gased.
Simultaneously we will ask people to unearth the staffs and sticks that had been planted in the ground in October 2016 when the government told us they were coming to evict. It was a ritual disguised as a demonstration, 40,000 people answered the call, planted their stick into the ground and made a pledge to return to get them if the government came back to evict the zone for the airport. The ritual magic worked, that time the government stood down. But now they were back with a vengence and the moment has come.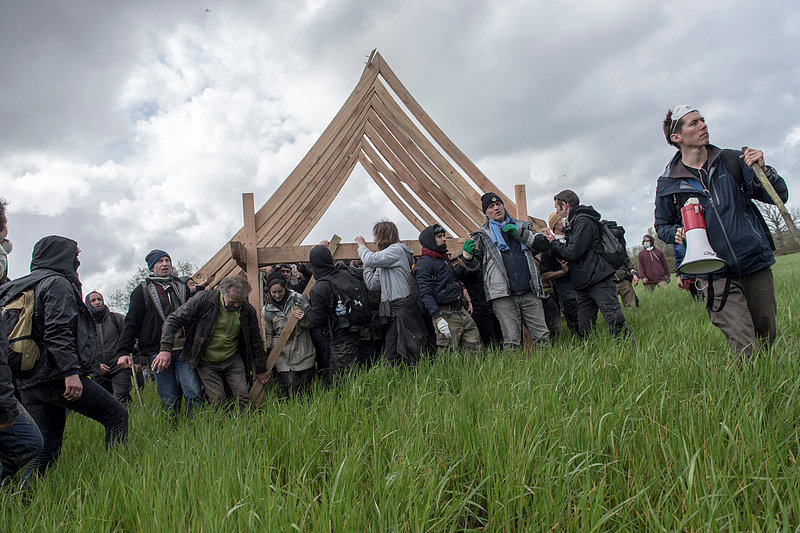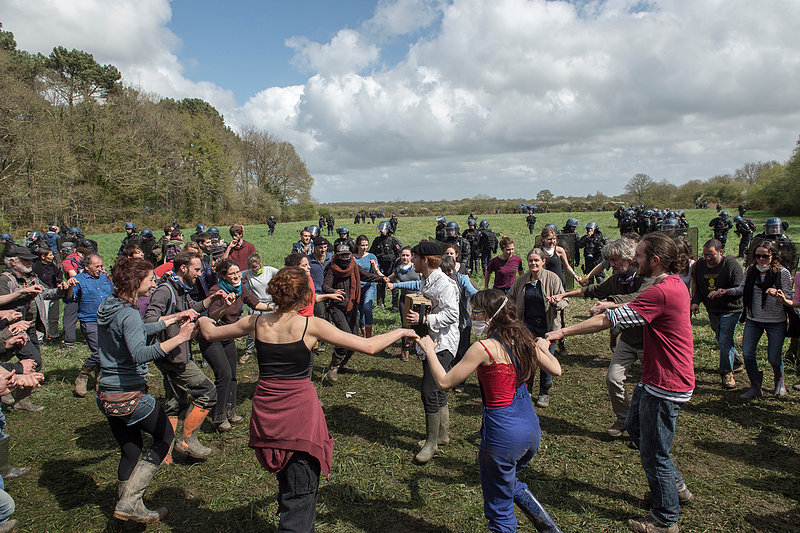 Whilst people pulled the deeply charged sticks out of the clay, others on lane behind carried the huge wooden frames, planks and beams of the new building to the field between between the Wardine and the Ambazada. It takes a few hours to put the carpentry back together and raise the structure up, meanwhile thousands of people push their sticks back into the ground creating a huge circular pallisade around it. In the next door field the police start to tear gas and stun grenaded hundreds of people, some had been reading poems to the cops many held their hands in the air in a gesture of peace. Families hold their ground next to masked up barricaders.
Meanwhile, a handful of people decide as a kind of game, to take the campanille, the tower like addition of the new building, through the forest to the east. A crowd of hundreds follows, we cross the road next to the cops who charge but are forced back by the mass of bodies, we try to get as near to the Gourbi as possible. The wind is on our side and blows the teargas back into the cops lines. But the playful act of defiance ends when its clear that we can't get anywhere near the Gourbi, the police lines are too thick. However, the pleasure of running through forests and fields carrying part of a wooden building is clearly addictive. A few hours later, once the sun has gone down and the cops have left, a new plot is hatched. Why don't we move the whole building, one and a half tonnes of it, 3kms across the fields, in the dark – to the Gourbi !
Despite the general state of tiredness that fills our bodies, we manage a huge heave, 150 of us lift up the structure. A mass of rubber booted feet walk in unison, it feels like a strange chimera shuffling across the bocage, half human half millipede. One of the carpenters directs the operation via megaphone, "a bit to the left ! slow down ! watch that tree branch !" Lit by the beams of dozens of head torches the building seems to float above the prairies, we are plunged into a space between fabulous dream and a scene from an epic film. Someone sits on the very top of the building pushing up the electricity and phone cables so we can pass under them. This is what we call the magic of the zad, the belief that anything is possible when we do it together.
We half expect to see the police helicopter, to feel its spot light pierce the night, but nothing. The closer we get to the Gourbi the louder the chants: "on est plus chaud, plus chaud, plus chaud que le lumbago" (we are much hotter, much hotter than lumbago). When we arrive, fireworks shoot up into the darkness, a bright red distress flare illuminates the scene. We set the building next to the pilled up ruins of the dome. We light a bonfire, Gourbi has risen again.
Whilst we were moving our house, Macron was being interviewed live on TV, sitting in a black and gold marble hall the Eiffel tower as monumental backdrop. He declares that airport had been abandoned as part of the "ecological priorities of the government" and that therefore our anger is no longer legitimate. Rather than an alternative society, the zad was "a project of chaos… illegally occupying public lands" he tells the nation.
"We have restored republican order" he declares, at least four times. We must sign individual forms before the 23rd of April or "everything that should be evicted will be evicted" he says. Macron ends with a ridiculous analogy: the zad is as if someone came into your living room to propose an alternative and squated your sofa. Ridiculous and wrong, none of the land here belongs to private individuals, it all still belongs to multinational airport builders Vinci and the state. But his statement was a new ultimatum, a declaration of total war against all collective forms of life. We return home to the news, but it cannot blunt the memories of this improbable night.
DAY 8: Monday 16th April – We will always re-surge, return, reclaim
There are a half a dozen bodies perched like birds on the rafters of the new Gourbi, one plays a drum, a couple kiss, the green prairies below burst with yellow dandelions. We hear the rumble of APCs, it's obvious they are coming straight here. The glint of riot visors shimmer in the sunlight, a column is moving towards us. A few flash bangs later and those on the roof are brought down by police climbers. The pillars of the building are cut by a chainsaw and the APC drives into it. Like the skeleton of a dying beast it crumbles to the ground. The police leave under a hail of stones, people sort out the broken beams. "Bastards !" a friend points to a stump of cut timber, "they sawed off the big fuck you finger and took it back to the barracks as a trophy !"
The Gendarmerie release their drone footage of the destruction on social networks. They need to show some success in their operation, they too are getting tired of this infernal cycle of destruction and reconstruction. A communication from a group called "Gendarmes and Citizens" denounces the fact that they are feeling "bogged down" and feel like "cannon fodder" faced with "rural guerrillas". They deplore the "political paralysis" of the government who are on the one hand communicating with a "warlike tone" but are not following it up with effective orders on the ground. "Why are we not being given orders to arrest everyone in the squats ?" they complain. So far there have been suprisingly few arrests, we wonder if they will just come back later, raid our homes, pick us off one by one, when things are quieter ?
There is a new moon above tonight's Assembly of Usages. Unsurprisingly the debates are heated, we have to decide to re start negotiations or not. The question has never been negotiate or fight, we always knew that we had to do both, but after so many days of attacks it's not easy to accept to go back to the table. In the end we decide that we can meet the préfete, not to negotiate the base issues, but make demands for the continuation of talks, one of which is take the troops off the zone. "You don't negotiate with a gun to your head", one of the locals says, but we known that if we refuse to meet, Macron's machine could return and destroy everything that is left, risking lives and in the end depriving us of this territory where we found each other.
An older friend of mine, someone who experienced the uprisings of '68, writes to me. His letter just says, "the zad will never end, it will simply change shape." And he is right. This attachment we have to this territory where we have been able shake our dependence to the economy and the state, is something that brings us together, however disparate our political perspectives. Our love for this huge play ground which inspires us to organise together, this deep desire for the wetlands that lubricates our imaginings, these are not abstractions but feelings that are deeply anchored to our experience of this bocage and all our experiments that emerge from it. It is a place that compels us to recompose, to renew, to have the courage to put our political ideas into question, to always push ourselves further than what we thought was possible, to open ourselves up beyond a radical ghetto or walled off utopia. Despite our barricades and the diversity of disobedience, if the state really wants to eradicate the whole of the zad, they can. Everyone would have lost their homes, workshops, fields, tools and we would probably find ourselves banned from returning to the region (a common judicial punishment in France). Scattered across the country without a place that enables us to grow roots together, we would loose all our strength. We know that changing shape is painful, but like a cameleon changes colours, we need to find a way protect this laboratory and camouflage its revolutionary potentialities from the eyes of the state. If we want to stay we need to find a compromise whilst refusing to let go our the commons.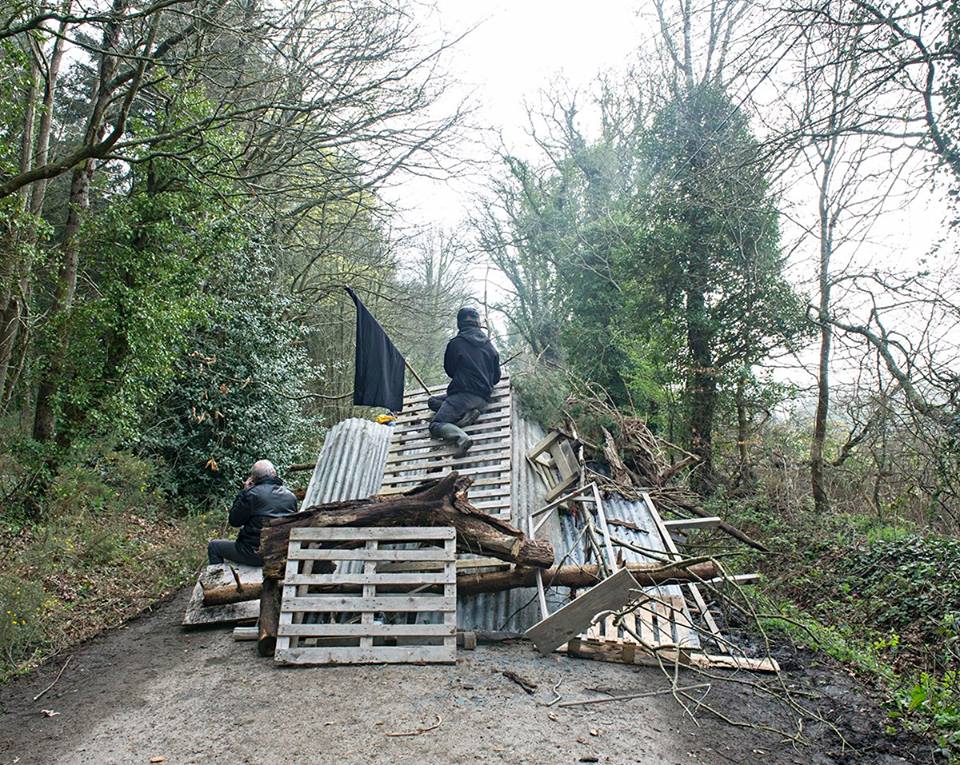 Day 14: Sunday 22nd April – The art of Changing Shape
It's a week later. Over breakfast, Paul tells me about last night's adventures. "It felt like we were robbing a bank. So organised, dressed in black, head lamps, maps, scouts etc. Except all we were doing was evacuating the bee hives from the destroyed homes and gardens, getting them off site." he smiles "we had to carry them full of bees across the hedgerows behind police lines."
The days have calmed down. Less cops on the zone, more bird song than explosions. The cycle of barricade growing and then being smashed slows down, partly because on the main roads the police bring in huge skips to take the materials away. In the smaller lanes barricades remain.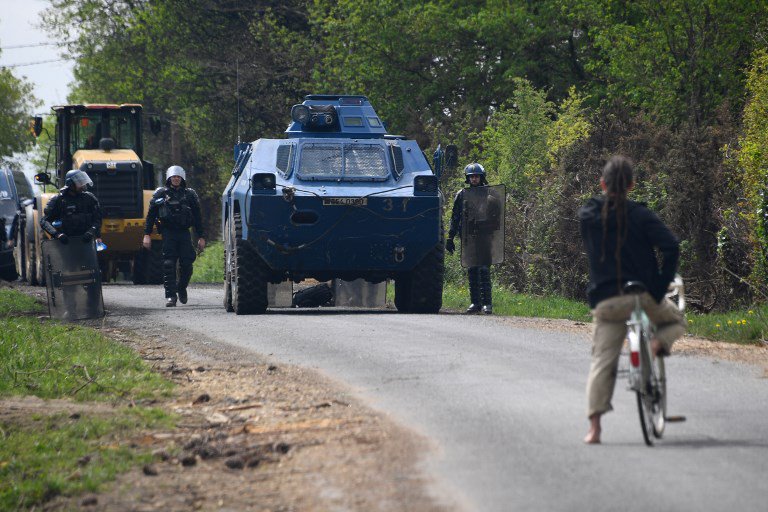 The restart of the negotiations on Wednesday went badly, nothing shifted, despite the presence of ex TV personality Nicolas Hulot, now Minister of Ecological Transition, in charge of the zad case since Marcron's election. He is flown in specially to Nantes in the presidential jet. Following the meeting with us, he gives a press conference in the palatial hall of the Prefecture. The government's hard line is held, the rights of property and the market reign, there will be no global or collective contract for the land, we have to give individual names and land plots by the 23rd or face evictions. In a rhetorical floury he ends, "ecology is not anarchy."
Not surprising for a man whose 'ecology' involves owning six cars, signing permits for oil exploration and supporting the nuclear dump at Bure. Hulot is simply the 'eco' mask for Macron's "make the planet great again" form of authoritarian neoliberal green capitalism. But his statement shows Hulot's absolute ignorance of the history of both ecological and anarchist thought. Many of the first theoreticians of ecological thinking, were anarchists. Élisée Reclus, world famous geographer and poet, whose beautiful idea that humans are simply "nature becoming aware of herself," fought on the barricades of the 1871 Paris Commune. 19th century geographer Peter Kropotkin, spent many years in jail and exile for his politics, but was renowned in scientific circles as an early champion of the idea that evolution is not all a competitive war of "red tooth and claw" but instead involves a cooperation, what he termed Mutual Aid. From the 1950s onwards, US political philosopher Murray Bookchin (now best known for the influence he has on the Kurds to build a stateless form of Municipal Confederalism, taking place in the autonomous territory of Rojova – Northern Syria) brought ecology and anarchy together.
At the heart of his Social Ecology is the idea that humans dominate and destroy nature because we dominate ourselves. To avert ecological collapse we had to get rid of all hierarchies – man over woman, old over young, white over black, rich over poor. According to Bookchin, our greatest lesson to gain from the natural world was that we had let go of the idea of difference, and reclaim the concept held by many small scale organic societies, of unity in diversity. Diversity being the basic force of all bio-systems. He envisioned a world that would be neither communist nor capitalist, but what he called "Communalist". "The effort to restore the ecological principle of unity in diversity," he wrote, "has become a social effort in its own right – a revolutionary effort that must rearrange sensibility in order to rearrange the real world." For him the question of society, to reframe Rosa Luxembourg's: "Socialism or barbarism" – was: "Anarchism or extinction."
When we truly inhabit an eco system it becomes obvious that life has no control centre, no heirachy, no chiefs or bosses, no governments or presidents. Every form of life is a self organising form of commons – deeply connected and interdependent, always changing, always embedded and entangled – from the cells in your fingers to worms in your the garden, from the trees in the forest of Rohanne to the bacteria in your gut. As biologist and cultural theorist Andreas Weber says, all life forms "are continuously mediating relationships among each other – relationships that have a material side, but also always embody meaning, a sense of living and the notion of belonging to a place." The more we observe the living world in all its complexity the more we are able to understand how to become commoners, how to truly inhabit a place and see that the separation between the individual and the whole is a fiction.
"In the ecological commons" writes Weber "a multitude of different individuals and diverse species stand in various relationships to one another – competition and cooperation, partnership and predatory hostility, productivity and destruction. All those relations, however, follow one higher principle: Only behaviour that allows for the productivity of the whole ecosystem over the long term and that does not interrupt its capacities of self-production, will survive and expand. The individual is able to realise itself only if the whole can realise itself. Ecological freedom obeys this basic necessity."
And so to be really free is not to be an individual able to operate free from constraints, but to be tied to beneficial relationships with people and habitats, relationships that feed you materially and psychologically. Without a tie to your food – you starve, without the tie to lovers – you sadden. We are free because we are linked. Freedom is not breaking our chains but turning them into living roots and veins that connect, share, flow together and enable us to change and evolve in common.
Since the abandonment of the Airport, changing together on the zad has been a very a painful process. On the zad often it is a fight between those of us who try to read the terrain and invent something new that is messy and hybrid yet fits the situation we are in and those of us who want to keep a pure radical position, more based on uprooted ideas and ideology than the complexity of the present moment, the here and now, the forces we hold and don't. In 1968 Bookchin asked"When will we begin to learn from what is being born instead of what is dying?" It is a question still just as relevant today on the zad.
Things have been moving so fast. After Hulot's ultimatum, a ministerial announcement suggests that the Prime minster and minister of interior are on a war footing, they are prepared to go for it, evict the whole zone on Monday's deadline, the 23rd.
During the re start of negotiations on Wednesday a technical meeting between our delegation and the bureaucrats, who look at the case from a purely land and agriculture question, had been set for two days later, Friday 20th . Once again we are on a knife edge, this could be the last moment of negotiation before a full scale attack, an attack that most of us who live on the zone know we can't win against, how ever big our barricades.
The Assembly of Usages makes a huge strategic gamble, its a paradigm shift in tactics. We decide to hand in the forms at the Friday meeting, but in a modified way, to show that yes we can fit the state's square boxes of individual projects if they want, but that on the bocage nothing can be separated out, everything is interdependent. Whilst at the same time making a call out for people to come and be ready to defend on the territory from Monday onwards if the state attack. Its the logic of hacking, take what's there, re purpose it, change its use.
Then one of the most unexpected types of zad magic takes place, an office of form filing is set up in the Zad's library, and for 24 hours the building becomes a disturbed ants nest, dozens and dozens of people are running around carrying white pages of paper, writing on computers, having meetings together, looking at maps of the zone, making phone calls. Comrades with great legal and administrative knowledge help out and and by Friday afternoon, just as the meeting at the Prefecture begins a huge black bound file of 40 different projects is produced, each with a name and plots of lands earmarked, but no single name attached to a single plot. A colourful cartography of the commons of the zad is attached to further illustrate the interdependent and cooperative nature of the projects, be they a school of shepherding or the library, orchards or the sports group, mechanics garage or a snail farm, sunflower oil production or bringing up children together. Of the 70 living spaces on the zone, 63 are covered by the forms, only 7 decide not to take this bet of a barricade of paper. Of course paper barricades are not half as fun as ones on the streets, but this time they just might be the ones that save zad from becoming just another orgasm of history, another free commune which shined briefly but ended in bloodshed, another martyred experiment in freedom sacrificed for the sake of a pure revolution. The zad always tried to go beyond the idea of a TAZ (Temporary Autonomous Zone), in favour of a building a PAP ( Permanent Autonmous Zone), this desire is embeded in the solid buildings, the long term agricultural plans, the vineyards planted for win in 5 years time. We can' just let go of all the ties we built here, with the locals, surrounding farmers, pensioners, workers in the city, wanderers of all sorts, Nantes students and the youth, the owls, the black squirming salamanders, the knarly oaks trees, the mud. We must hold onto all these deep friendships and networks of struggle that we have shared with such intensity over the last decade.
The state bureaucrats were confused, some enchanted, the préfete seemed relieved. Leaving the meeting our delegation tells the press that "we have responded to the injunctions of the state because we want to stop the escalation of tension and at last find the time for dialogue and construction," warning that " if we take away one element of the collective, it cannot work. It's up to the state now to negotiate."
As I finally finish this text, the helicopter returns, anxiety rises again in my chest. It spends a long time swooping over the zone, observing this rebel bocage that it wants to reclaim back. Perhaps it is preparing for a final revenge against the commons, who knows, all we know is that during this last fortnight we have fought with every weapon we thought possible including the unexpected. Now we wait to see if the bet worked out…
P.S
On the 26th of April three days after we posted this blog, the Prime Minister made a statement about the Zad: announcing a truce in evictions until at least the 14th of May, to allow time for the regularisation of the occupants who filed forms. According to the Minister of the Interior, "Everything moves calmly and in serenity, as always," that hasn't stopped them piling in with the tear gas this morning to clear barricades. The bet seems to have given us some breathing space, even though they remain with the logic of sorting the 'good' who have chosen the 'right path' and the bad 'illegals', something we continue to reject.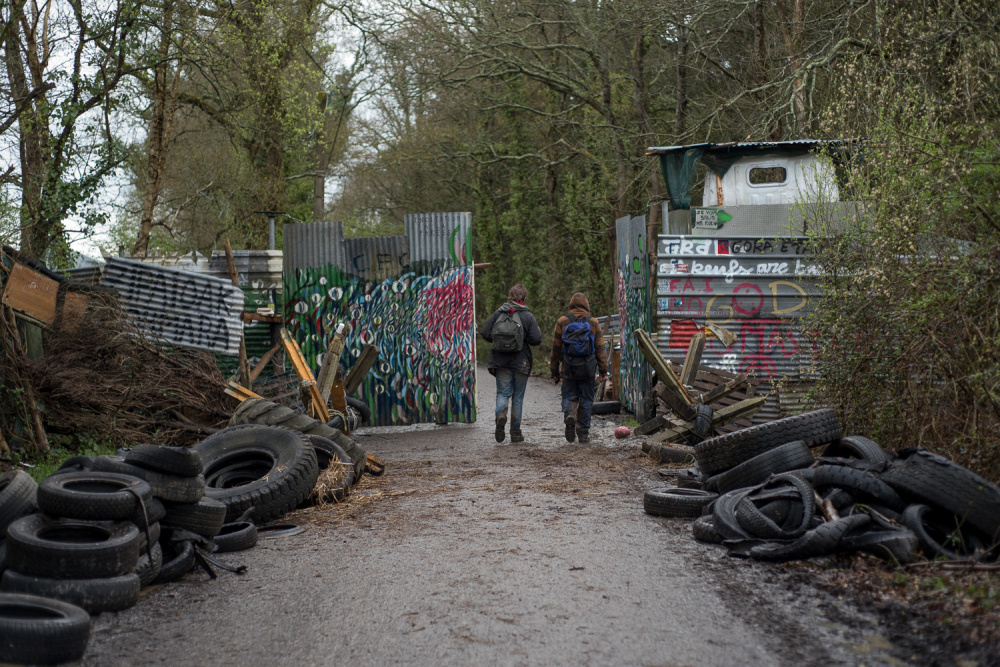 Keep calm and carry on monitoring the media: a review of Monitorial Citizen
NeMe (Cyprus), 9th December 2017, part of the State Machines programme
One couldn't have wished for a more grounding response to contemporary media anxieties than this event. I don't mean that the conference was all rainbows and lolkittens. I mean that it collected and tackled serious issues about the contemporary media landscape, its decentralization and its paranoias. It brought together perspectives on monitorial citizenship, citizen participation and citizen journalism –increasingly discussed in journalism and citizenship studies as new, post-modern, or alternative forms of civic engagement that also involve new, post-modern or alternative practices of media participation– and how this phenomenon can reinforce democratic ideals, and counteract forces or fears for their dissolution.
By all means, there seems to be a lot for us to worry about, a condition which the conference takes as its starting place. As moderator Corina Demetriou mentioned during her introduction, there's the increasing fragmentation and polarization of our world where the success of populist rhetoric and the degradation of political discourse raises concern about our democratic institutions. Then there's the proliferation of fake news, the dominance of media-scepticism, of conspiracy theory and of justifiably alarmist parental control discourse. And further yet, there's the democratic failures of contemporary mass media, the corporate nature of social media, and concerns about the failures of media-education. All these in the face of increased surveillance and online censorship instituted with the excuse of / in order to battle all sorts of nightmarish villains.
The conference had the intended side-effect of facing and disarming most of the above, not least by providing historical context and balancing fears with contemporary research, following up criticisms with constructive questions, and offering numerous examples of citizen monitoring at work to an inspiring effect. NeMe gathered its speakers around the urgent premise of the potential for political change that is contained in networked citizen journalism (after Michael Schudson 1998) or citizen witnessing (after Stuart Allan, 2013). This was done in relation to what NeMe frames as a growing demand for political and corporate clarity that brings citizens immediate access and grants crucial issues a kind of evanescence: a transparency that is double-edged, both in terms of exposure, but also a tendency to fade or be drowned out in a sea of information.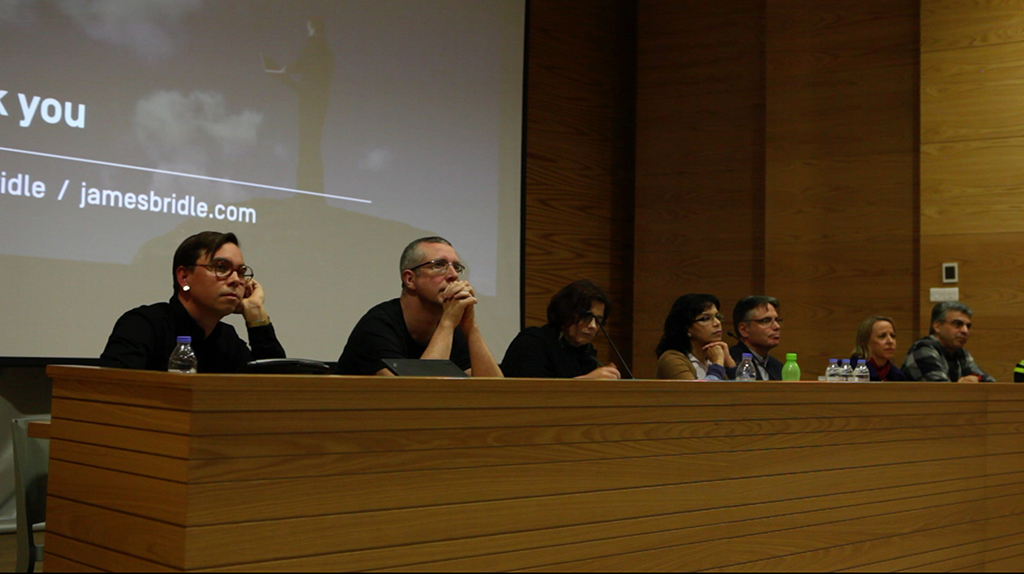 It helps to think of the conference in four parts. First, it provided an introduction to the discursive context and the development of the notion of citizen witnessing (Stuart Allan). Second, it moved on to crucial debates in media education (Joke Hermes) and children's rights of access to information (Cynthia Carter). Third, it introduced a discussion of the politics of democratic citizen participation in theory and online (Nico Carpentier) and the transformative potential of grassroots media monitoring practices towards conflict transformation (Nicos Trimikliniotis). And it concluded, with satisfying momentum, with a discussion of monitorial practice from an artist perspective (James Bridle).
In the first presentation, the conference defined the field and what is at stake in terms of the media establishment's clash with the simultaneous need to subsume new developments in citizen journalism: Stuart Allan set-up the context for this through a discussion of the idea that "somebody should be telling this because journalists aren't." His overview reached from the Kennedy assassination, to the definition of the Arab Spring as the Twitter revolution, to #blacklivesmatter, and the WITNESS human rights initiative. Allan also reflected on negative reactions from the world of professional journalism where citizen reporting is cast as "ghoulish voyeurism enabled by contemporary technology." He most interestingly, juxtaposed professional "helicopter" or "parashoot" reporting, done according to editorial directives, with an emergent form of reporting from within. A form that is embedded and unsanitised, and comes in the form of unapologetically subjective documentation, where the amateur camera approaches truth or reality with an immediacy that trumps formal news, and demonstrates how purposeful citizen witnessing can bring about positive social change.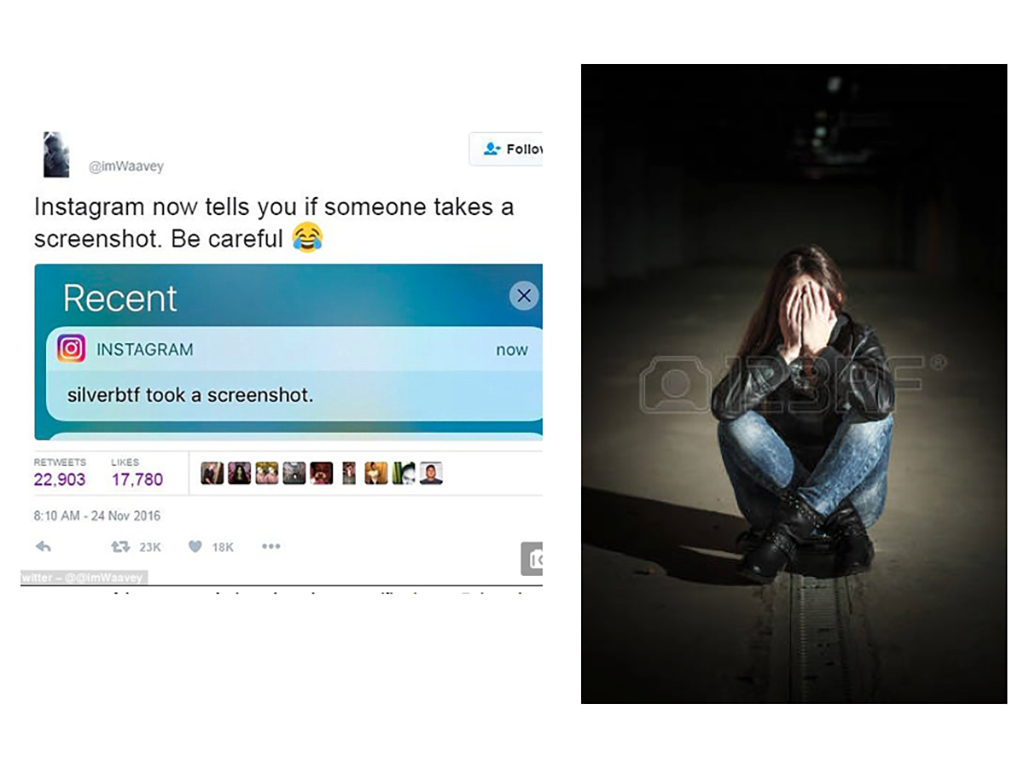 Then came two complementary discussions of sensitive issues around the failures and alarms of contemporary media-education (Joke Hermes) and children's access to information, with emphasis to their online participation and their potential for political contribution (Cynthia Carter). Both speakers have been working towards the deconstruction of the stereotypic fear that it is a dangerous online world for young people, and they've been doing this in different ways and from different angles. Hermes discussed how a quarter century of media education has succeeded in breeding fear and mistrust rather than ways to corroborate and cross-reference. She made the very convincing argument that we need a plan for long-term engagement rather than immediate survival. That we must work towards the strategic teaching of the difference between downright holistic mistrust and meaningful engagement. That we may construct a perspective for cultural citizenship that makes "learning how to listen" (to disengaged sceptics) a priority: part of a new set of conditions for citizenship, where "irony, satire, and playing games" are understood as survival mechanisms, and "ways of blocking screening and fooling one's parents are understood as useful tools for children to survive in all this, without giving in to conspiracy theories." Following up from Hermes, Cynthia Carter explored arguments around parental control and its misunderstandings, with a discussion of how research on news media remains incomplete by failing to include the voices of children. She argued against perspectives that cast children as "passive recipients of information that is going to socialise them." She emphasised how children's civic rights are undermined by the mistaken perception that, primarily, rather than engaged, they need to be protected. She offered examples where interventions by children exercising monitorial citizenship, have the potential to change perceptions about children's political interests and their capacity for meaningful, world-changing participation.
Nico Carpentier connected issues of online participation with broader debates and definitions centering on participation as integrated with democratic ideas. He discussed the development of participation-related discourse online and offline, and the posturing contained in such theoretical or practical endeavours vs. their democracy-reinforcing capacity. He highlighted a serious problem with the idealisation of the democratic capacity of online participation: that, for example, "we still haven't looked at the radical right form of online participation where neo-nazis are participatorily deciding whether they should kill somebody." Carpentier argued for the need to further "democratise democracy" across fields like the arts and the media, and "do more than pay lip service to the logics of participation."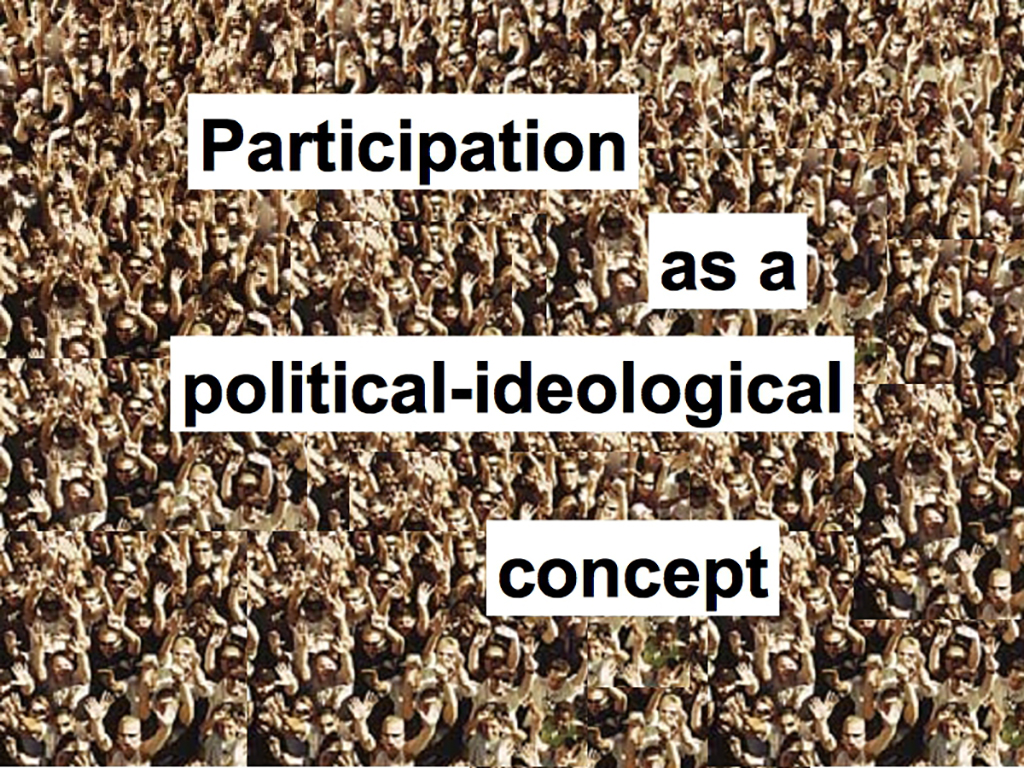 Next, Nicos Trimikliniotis introduced debates around participation and citizen journalism in relation to Cyprus, and to argue for the need to compare struggles and national contexts, particularly in relation to peace journalism and the potential for overcoming austerity and chauvinist citizenship models. He emphasised the role of the media in conflict transformation, in defining the nature of conflict and division: its contextualisation and relativisation, and transference towards social and other issues. For him, the creation of third spaces that defy the long-embedded interests of mainstream media is a crucially valuable new element. He identified such a critically valuable third space in the practice of the monitorial citizen. He used the example of the Cyprus-based collaborative online journalism collective Δέφτερη Ανάγνωση (trans. Second Reading), to argue that it indeed possible to undercut colluding media, and transform the reporting, the investigation, and the very nature of professional journalism, with the help and participation of monitorial citizens, intellectuals and artists.
Finally, James Bridle introduced a multilayered example of his own monitorial artistic research practice, an exercise of monitorial citizenship that actually researched issues of citizenship, migration, and asylum. He focused on a particular project where he worked to cross-reference details left out of a story in the UK press about Theresa May putting asylum seeker and hunger striker Isa Muazu on a private jet for deportation (2013). Bridle tried different methods in order to find out where this jet landed and to investigate the systemic, legal and spatial conditions for this kind of deportation. He spoke about the value of collectively maintained online tools that pool information through crowdsourcing, such as tools designed by the flight-spotting community, in this case making public the capacity to track flights. Bridle's investigation led to a detention centre next to Heathrow, and then to the architectural mapping of this facility, where secret deportation trials seem to be taking place. He proposed this as a way of using the ability to research and cross-reference information through new tech, to make visible something that wasn't visible before, and thus draw a picture of the system that produces a particular kind of story. In this case a story of deportation, also connected to the debate about global surveillance, by performing a kind of reverse surveillance.
Most interesting, and as a conclusion to the conference, Bridle made transparent his own questions about this instinct of monitorial citizenship: the issue that bringing things to view could be a solution to injustice. He pointed out that his own investigative whistleblowing and NSA surveillance, have in fact, the same logic behind them. Both top down centralised government surveillance, and bottom up citizen-driven monitoring or reverse surveillance are based on the logic that there's something secret and if we bring it to view, then something will be radically transformed. Except according to Bridle this is not fully accurate. There is a danger here that we may make the invisible visible but remain blind to the systemic forces that brought it to be in the first place.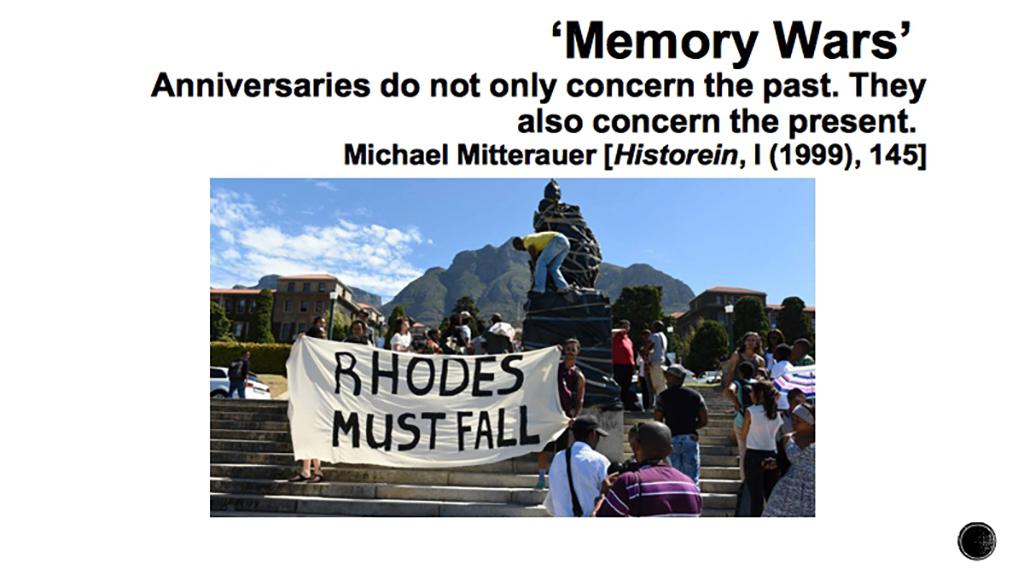 The discussion following the presentations focused on the potential of citizen monitoring given local Cypriot peculiarities, returning to the example of Δέφτερη Ανάγνωση, with members of the audience introducing the consideration that the structure of coordinated efforts of citizen monitoring (whether flat, or hierarchical, or anonymous, and so on) can play a role in its potential to set-up democratic resistance. The formal discussion transformed into after-conference mingling over drinks and finger food that was good enough to keep people processing in small groups for over an hour. My own conversations pushed onwards from James Bridle's point about our unwitting complicity with surveillance logics: do we try to resist such logics? (The answer may be that we can try to temper them). This included a conversation with Joke Hermes, making the connection with a recent article by James Bridle documenting weird and often disturbing algorithmically generated youtube videos targeting children (Bridle, 2017), and putting the question of where to draw the line between parental concern and parental panic. (The answer seems to be gently, by avoiding random overexposure at the preverbal stage, not attempting totalitarian control, and focusing on being there and paying attention).
There's a lot to pick up on in conclusion, aside from my insolent and possibly unjust isolation of one-liners in bold, for which I must ask the speakers' forgiveness. I am most interested in two elements that seem especially innovative contributions to what is already a very rich and intensely investigated intersection of scholarly work on journalism and citizenship. This conference went the extra step to further bridge this growing field with other sides of media theory: First, in connection with peace scholarship and local issues around media collusion and their effect on conflict transformation through the work of Nicos Trimikliniotis. And secondly the connection made with educational theory and cultural studies through the work of Joke Hermes and Cynthia Carter, a beautifully resonating combination with a feminist focus on understanding, rather than fear or control.R

Photographs and videos by Sakari Laurila
This project has been funded with the support from the European Commission. This communication reflects the views only of the author, and the Commission cannot be held responsible for any use which may be made of the information contained therein.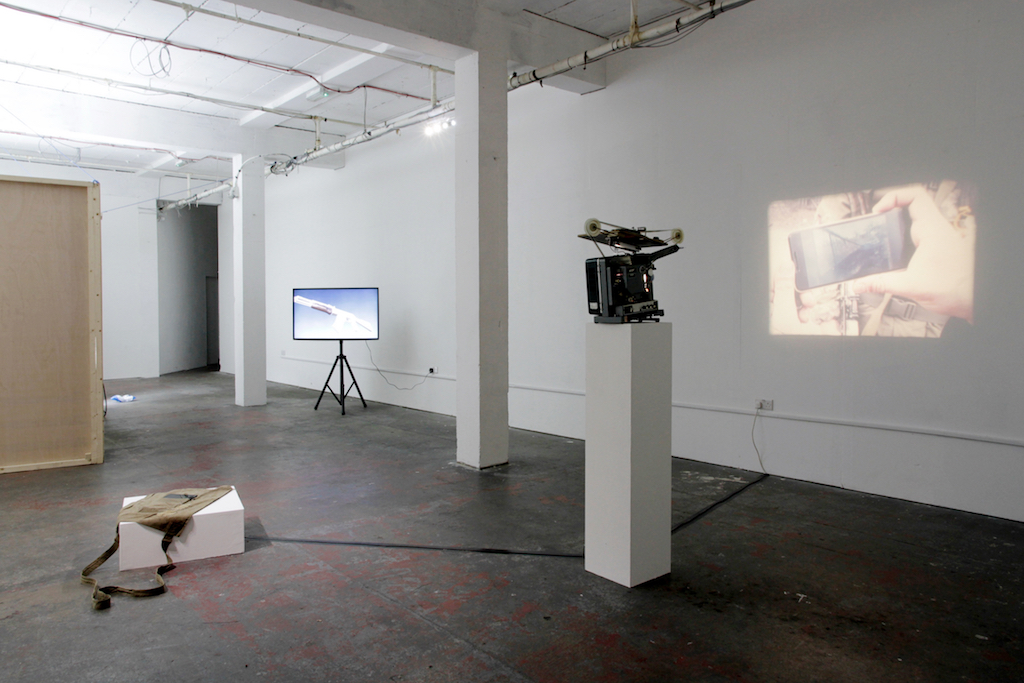 Referring to Ernst Jünger's proto-fascist concept of the 'front experience,' Dani Ploeger's fronterlebnis takes us to a frontline where digital consumer culture and traditional warfare meet. Combining filmed footage of a journey to the frontline in the Donbass War, Ukraine, alongside vintage military paraphernalia, Ploeger puts the artist in the field with the 'real' soldier. These soldiers are men from the far-right Ukraine Volunteer Corps, affiliated with the Right Sector, and remind Ploeger of 'the weird and wonderful mix of action heroes in Sylvester Stallone's Expendables series, albeit without the body builder physiques and less carefully manicured.' Here, Ploeger not only conceives an exhibition which examines the relationship between the cleanliness of modern day technology and the grittiness of traditional warfare, but also highlights wider issues around society's continued masculinised and fetishised relationship to conducting, and, as some of these pieces show, documenting war. With Ploeger's 'weird and wonderful' group made up exclusively of men, featuring masculine nom de guerres such as Bear and Carpenter, fronterlebnis is an exhibition in which masculinity is in the crosshairs as much as anything else.
The four-piece exhibition is part of Ploeger's current exploration into the militarisation of public spaces across Western Europe in connection with our increasingly fetishised relationship with consumer technologies, and how these apparently disparate elements converge in various conflicts, ranging from the Donbass War to public security in cities like Brussels and Paris. The soldier's body has arguably shifted in its role since the latter part of the 20th century, with the advent of sophisticated warfare technologies moving the human body away from the process of killing, at least in popular imaginations of conflict. With this development, the methods of war appear to have shifted, but it is in fronterlebnis that we are able to see how in the Donbass War in Ukraine, traditional warfare not only remains but has now become intertwined with advanced techno-consumer culture.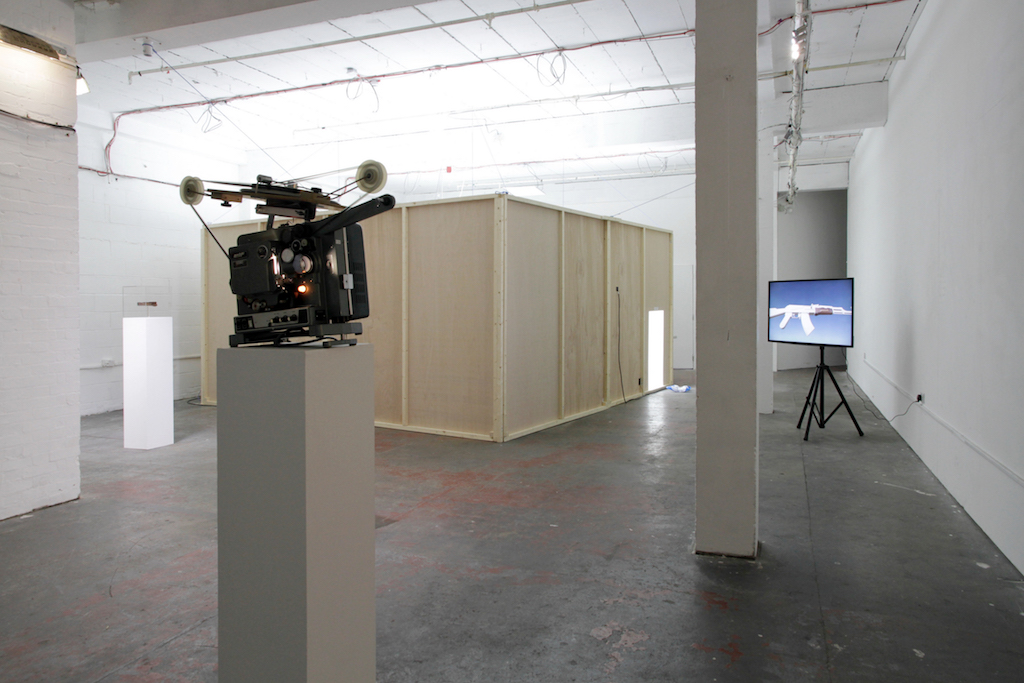 This juxtaposition of the old and new is present in the first piece you encounter as you enter the gallery. In Patrol (2017), Ploeger captured a firefight on his smartphone. The footage has been transferred to 16mm film and is being projected onto the wall of the gallery in a continuous loop. In the film, we see three soldiers – Bear, Carpenter and Steinar – escort Ploeger around the frontline on the edge of the destroyed seaside village, Shyrokyne. These men, in an assortment of vintage and contemporary battle array, many carrying the iconic Kalashnikov rifle, are seen sharing footage of their exploits on the frontline with each other, which they have captured on their smartphones and GoPros. Steinar, the youngest and, as Ploeger told me, the most fashion conscious in his choice of military gear, is filmed by Ploeger watching footage of the moment where he and Carpenter blow up an unexploded mortar shell. In this piece, the 16mm film echoes the era of the weapons that the men are carrying. The manner in which this film is projected reveals the peculiarity of watching a modern day firefight where many of the weapons and uniforms are from the Soviet era, but the men are astute in their engagement of consumer technology in order to document their experiences of the conflict. In Patrol, the Kalashnikov and the smartphone appear to have made an unlikely pairing.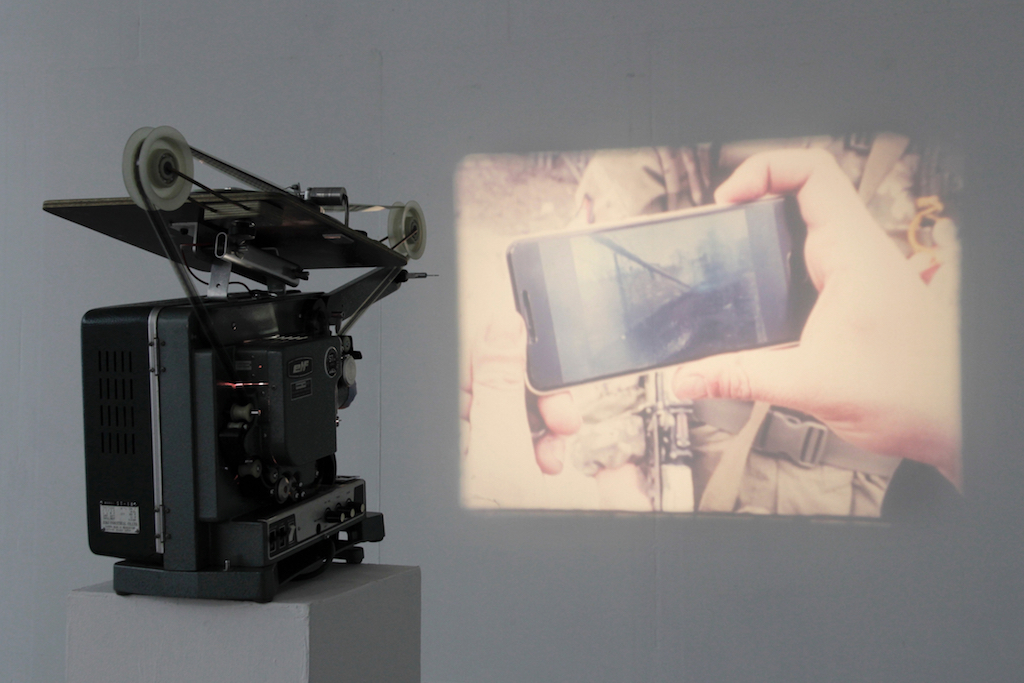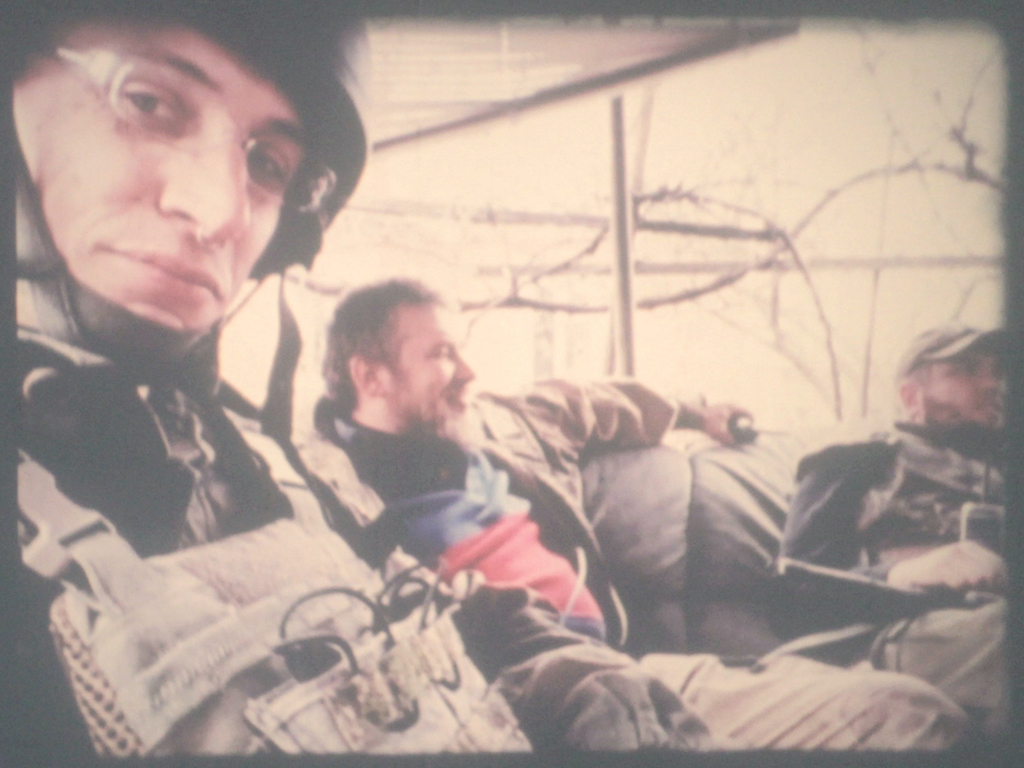 The other work in the show features such seemingly unlikely pairings of traditional paraphernalia of warfare coupled with different pieces of consumer technology. In artefact (2017), the wooden handguard of a Kalashnikov assault rifle is exhibited like an archaeological artefact. Presented on a white plinth, encased in Perspex glass, you can see that the wood of the handguard has been worn with the indents of many hands, signalling its intense use. This carefully exhibited object is just one half of this piece though. The other half consists of digital video animation in which a high-resolution 3D scan of the handguard is inserted onto a digital model of an AK-47. Presented on a large television screen, the digital model, set against a standard blue sky backdrop reminiscent of game development engines, highlights how many of us only come into contact with these types of weapons in a digitised form; whether that be in video games or through action movies. Ploeger's engagement with firearms here reminds me of some of his past work that seems to suggest an interest in these weapons in relation to masculinity and phallic imagery. Dead Ken /Less Pink (2016), a short video installation in which Ploeger fires a small revolver at a Ken doll, speaks to the seemingly indelible relationship between firearms and masculinity. When seen in relation to this video installation, artefact signals an enduring fascination in our shared social psyche with these weapons, but also speaks to how these weapons continue to be consumed and represented in relation to masculine identities.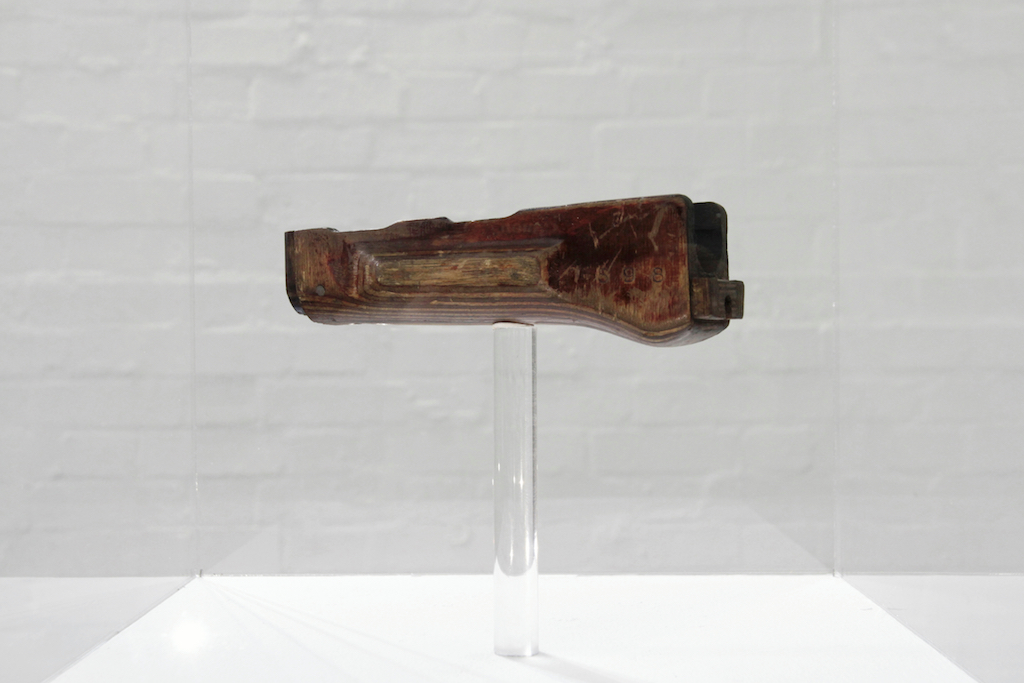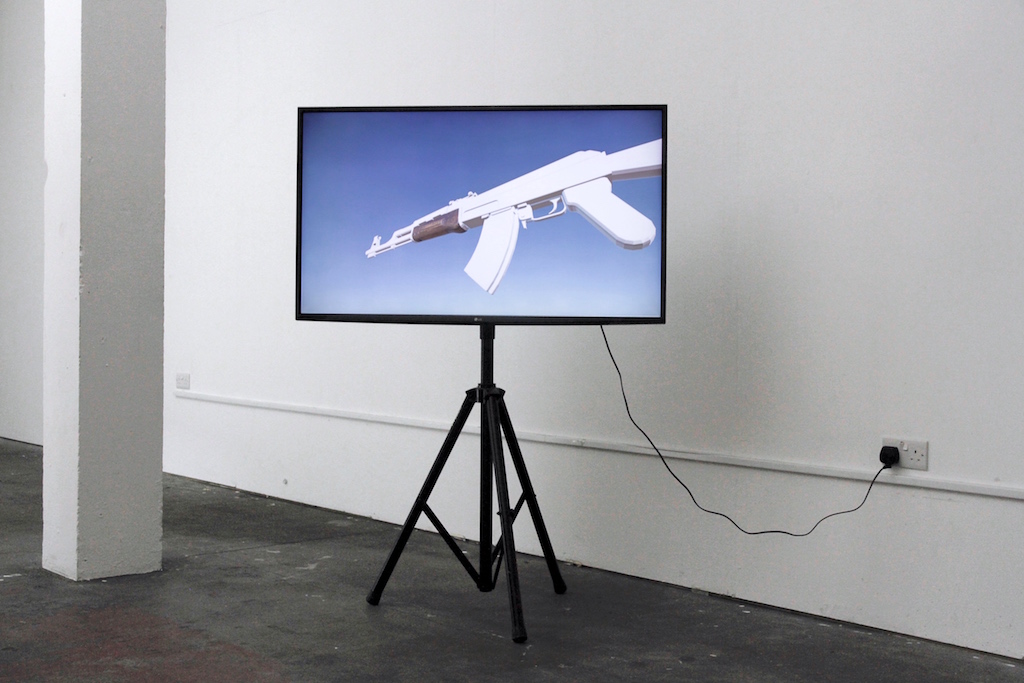 In worse than the quick hours of open battle, was this everlasting preparedness (2017), we can see a more tangible engagement with the co-existence of war artefacts and digital technology. Held in the front pocket of a Soviet army backpack from the Afghanistan War period is a damaged tablet computer which displays a bouncing screensaver, featuring a piece of text from Ernst Jünger's proto-fascist novel Storm of Steel (1920). Jünger describes his experiences of fighting on the frontline during the First World War and the title of this piece is a translation of the text we see displayed on the tablet. Here, the mediatised depictions of war that are so pervasive in popular culture are delineated from the lived experience of Jünger, who discusses this perennial notion of prepared waiting that is a common, though rarely shown, aspect of war. Here, the worn backpack which has been roughly patched and repaired, presumably by the hands of the man to which it used to belong (men's hands are for holding guns rather than sewing needles this bag appears to suggest), holds the similarly worn and damaged tablet. These damaged items speak to Ploeger's past work with electronic waste, which explored our society's proclivity for abandoning technologies when they become outdated or damaged. In this exhibition, however, Ploeger brings together the old and new, using pieces of (almost) electronic waste alongside other material artefacts to further explore the relationship between the material and digital.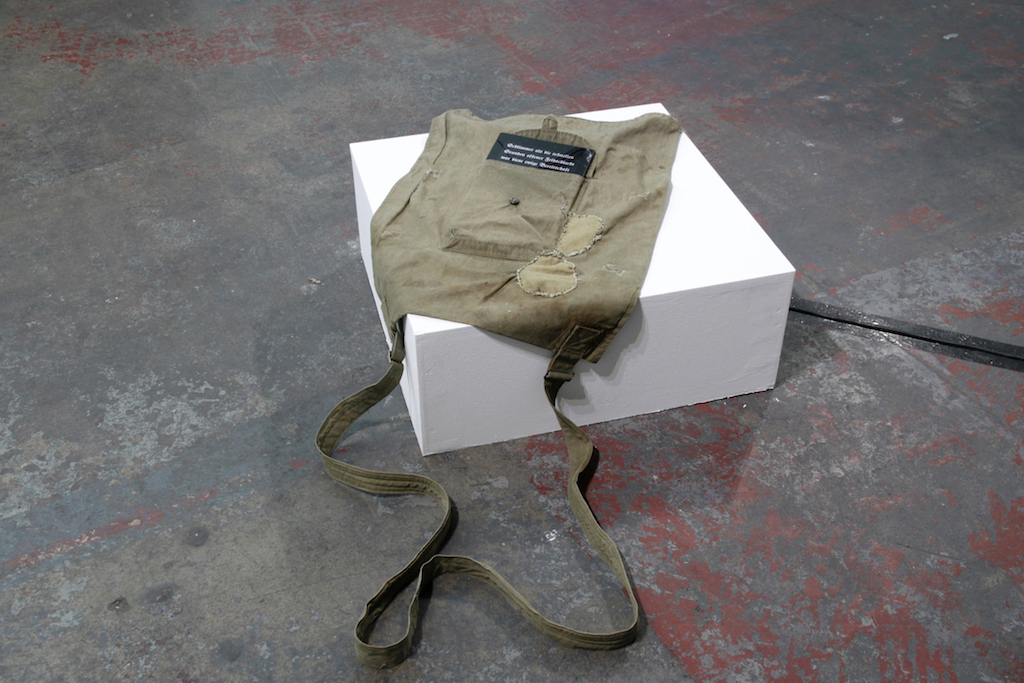 The largest piece of the exhibition, frontline (2016-17), deploys this new and 'clean' technology in order to take us to the frontline. The work consists of a big wooden enclosure of about 5 by 5 meters which can be entered through a small opening on its side. The entirely white inside of the space is brightly lit by a large grid of office LED lighting that hangs above it. This enclosed space speaks to the ways in which Westernised notions of conducting war are now considered clean and sterile as a result of the technology that they use. Before entering the space, you are asked to place foot coverings over your shoes, as if you would be entering a sterile space, a futile gesture it would seem as the same coverings are used again and again. This action, however, also references the cultural shift in how Western nations like to represent high-tech warfare as a clean affair.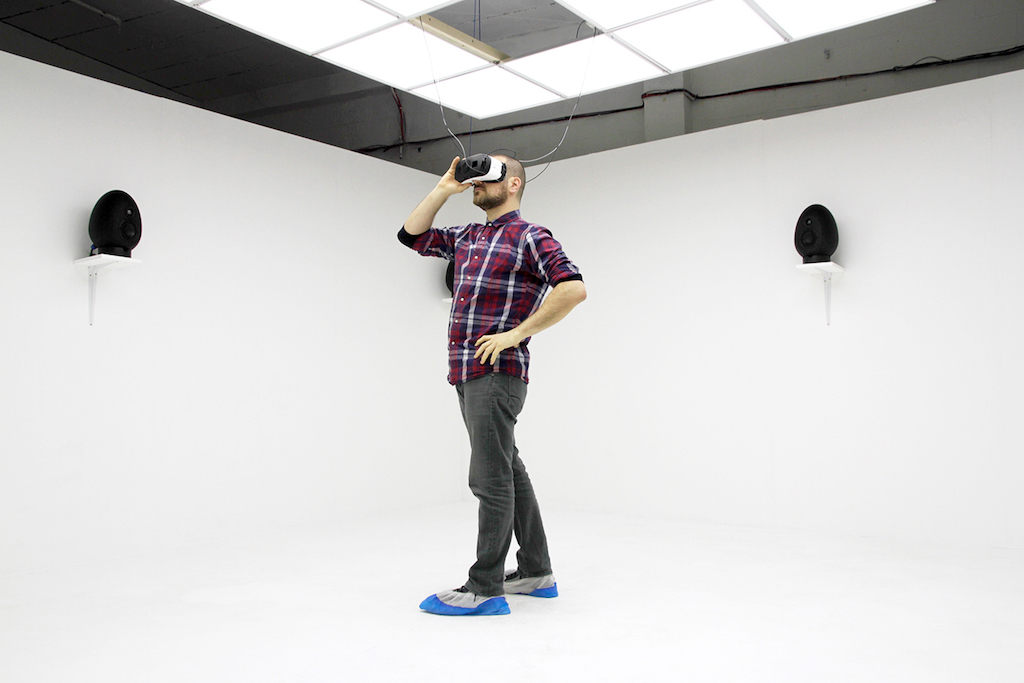 When you enter the enclosure a sensor is triggered and a soundscape of intense gunfire and explosions suddenly surrounds you. It is only until the you place the VR headset on to your eyes that this soundtrack, fit for an action movie, ceases. Roused by the noise, you are then met with a starkly contrasted image to what was suggested through the preceding gunfire soundscape. Rather than an action scene which complements the sounds previously heard, you enter an uneventful immersive video of soldiers smoking and sitting on the frontline. Using an intricate combination of partial video loops, the men appear to be on a never ending smoking break. frontline, subverts our spectacular expectations of warfare and VR technology by creating a VR experience that – after using sound to further heighten our expectations – foregrounds the mundanity of waiting for something to happen that makes up most of everyday life in an area of conflict.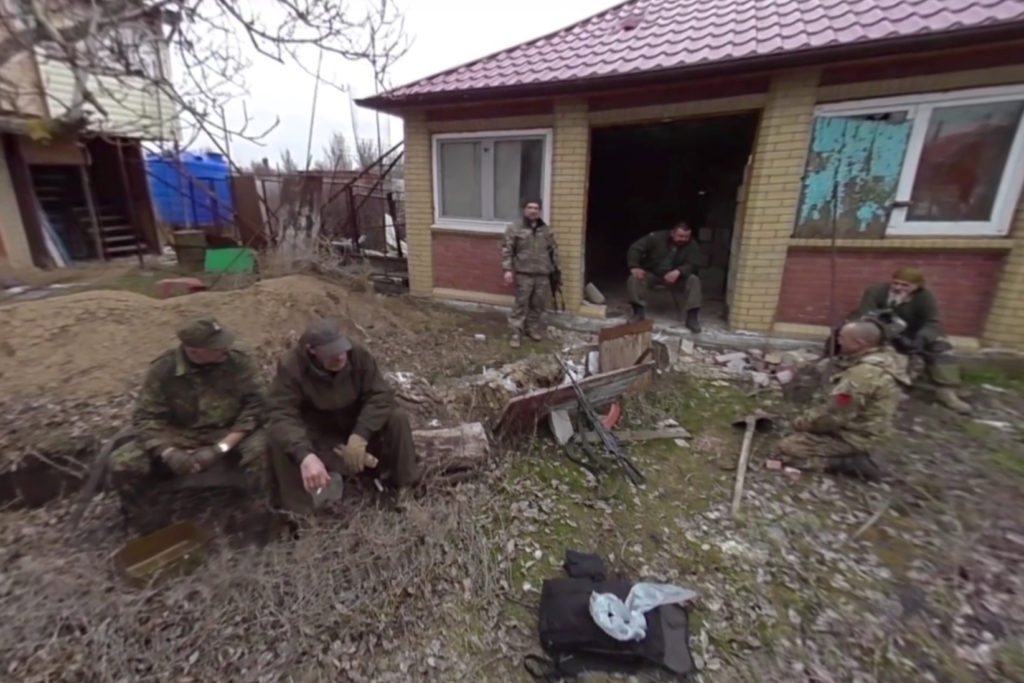 ---
In frontline, as in all of the pieces that are exhibited as part of fronterlebnis, Ploeger subverts our expectations by combining and repurposing technology to make us question our relationship with our technological devices and how we perceive and engage with them in everyday life. In addition to its examination of digital culture, fronterlebnis also seems to suggest that warfare remains a man's game. We encounter men who are still prone to having their boy's toys, but it would seem that in this case they are a GoPro in one hand, and a Kalashnikov in the other. Ploeger's documentation of these conflicts, made with his own personal technological devices, arguably envelopes him in similar mechanisms of fetishization as the soldiers he was with. Neither soldier nor artist seem able to extract themselves from the seductive realm of audiovisual gadgets and self-mediatization in an era of omnipresent digital consumer culture that even reaches as far as the trenches of a dirty ground war.
TERROR FEEDS: Inside the Fear Machine, took place in Berlin November 24-25 2017, and was an analysis of ISIS and its media strategy, the meaning of cyber jihad, and why people enroll as foreign fighters. The 12th conference of the Disruption Network Lab was directed by Tatiana Bazzichelli. Studio 1, Mariannenplatz 2, 10997 Berlin.
Curated by Tatiana Bazzichelli and investigative journalist Mauro Mondello. In cooperation with Kunstraum Kreuzberg /Bethanien, SPEKTRUM and Supermarkt Berlin. Funded by the Reva & David Logan Foundation (grant provided by NEO Philanthropy), the Mozilla Foundation, the Bertha Foundation and the Checkpoint Charlie Foundation. Supported by: the Radicalisation Awareness Network (RAN). In collaboration with the Alexander von Humboldt Institute for Internet and Society (HIIG). Media Partners: ExBerliner, Furtherfield.
To analyse the operational methodology of ISIS means to understand terrorism beyond general terms and not only in reference to the Islamist group. It has updated its strategies during the years, making communication a decisive element of its system. ISIS has shown us how it is possible today, through the networking and the fluidity of information exist runs and build a structure, on several levels and far from a geographically fixed dimension. We are used to thinking about such situations in traditional ways when we refer to paramilitary organisations, and not in such elusive terms where the enemies are so difficult to control, and very difficult to identify. The Terror Feeds conference, has made it possible for us to focus on how terrorism is conducted, in how electronic jihad and strategic messaging affects the worldwide public opinion, both in the west and in the Arab world, representing a new icon of "global jihad".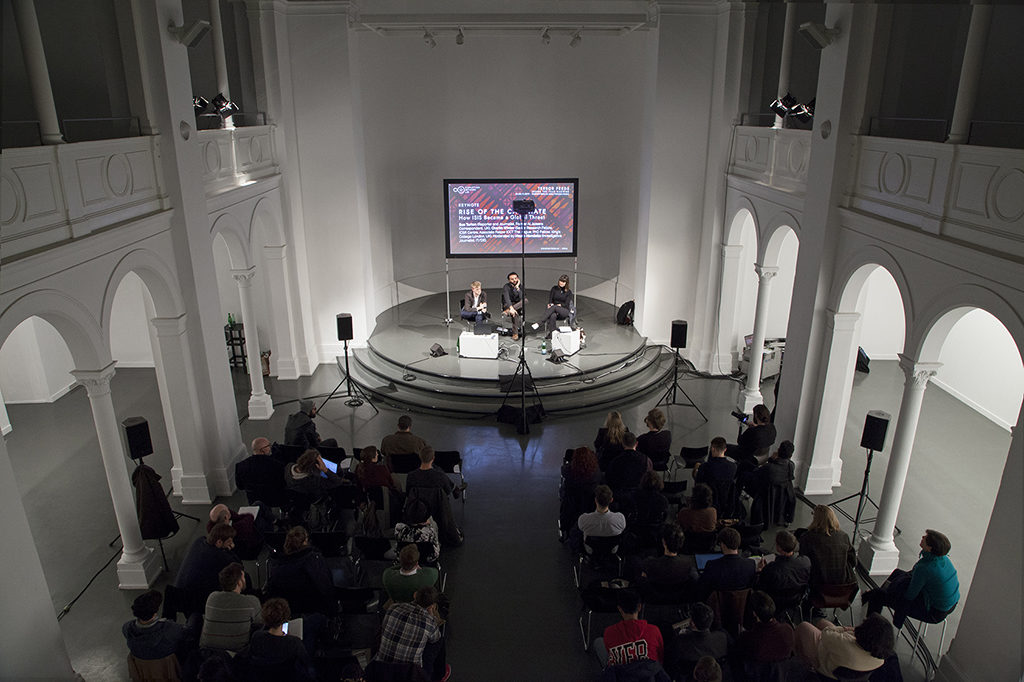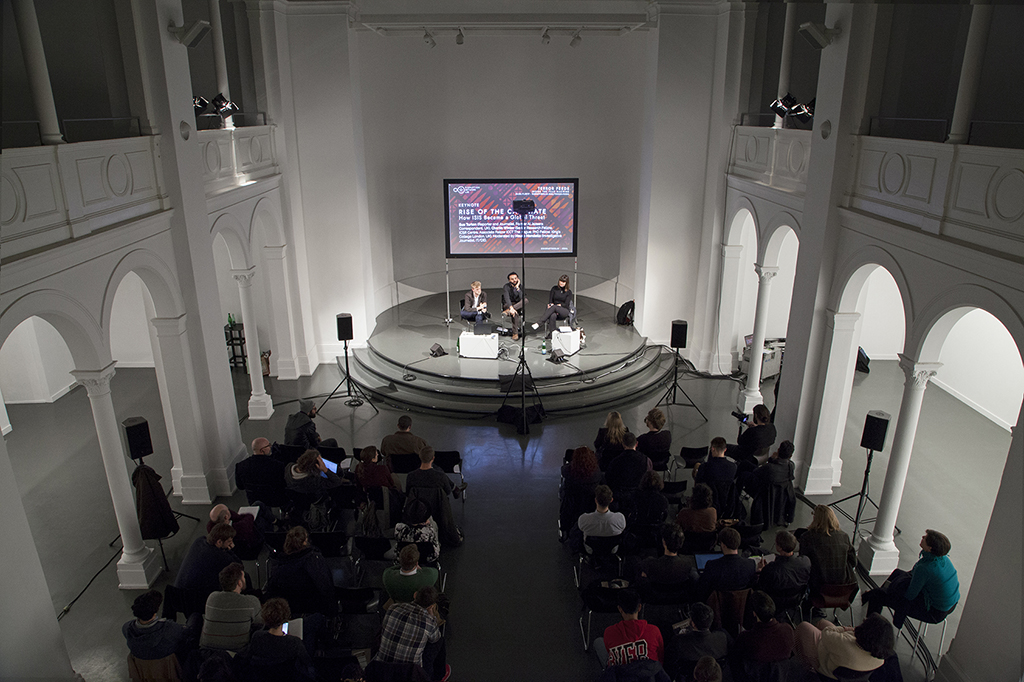 It is a fact that the territories which were once dominated by ISIS have now collapsed and are fragmenting into smaller, chaotic forms of inter-connected, spurious networks, scattered in the rural parts of Iraq and Syria. Nevertheless the group will go on and transform into something else, adapting its strategy.
"ISIS seems to have taken its foot off the official media pedal and is now instead, putting more effort into the logistics side of its insurgent equation", said Charlie Winter, researcher at King's College London, during the first panel of the Disruption Network Lab conference. "This change is part of a shift prefigured by the organisation's changing emphasis on Hijrah, the act of travelling to the caliphate to join the Islamic State. On one side, Hijrah is still promoted but ISIS no longer prioritises this form of recruitment".
During his speech at the conference, Charlie Winter focused on the importance of propaganda for ISIS, and how their production and dissemination is at times considered to be even more important than the military side of the Jihad itself. Winter says, the caliphate message is entirely non-spontaneous and based on three principles: a coherent, positive and alternative narrative; a rejection-based counter-speech operations; the launching of occasional, carefully calibrated media "projectiles". The mainstream is considered as an effective weapon that can exceed the power of the most powerful bombs.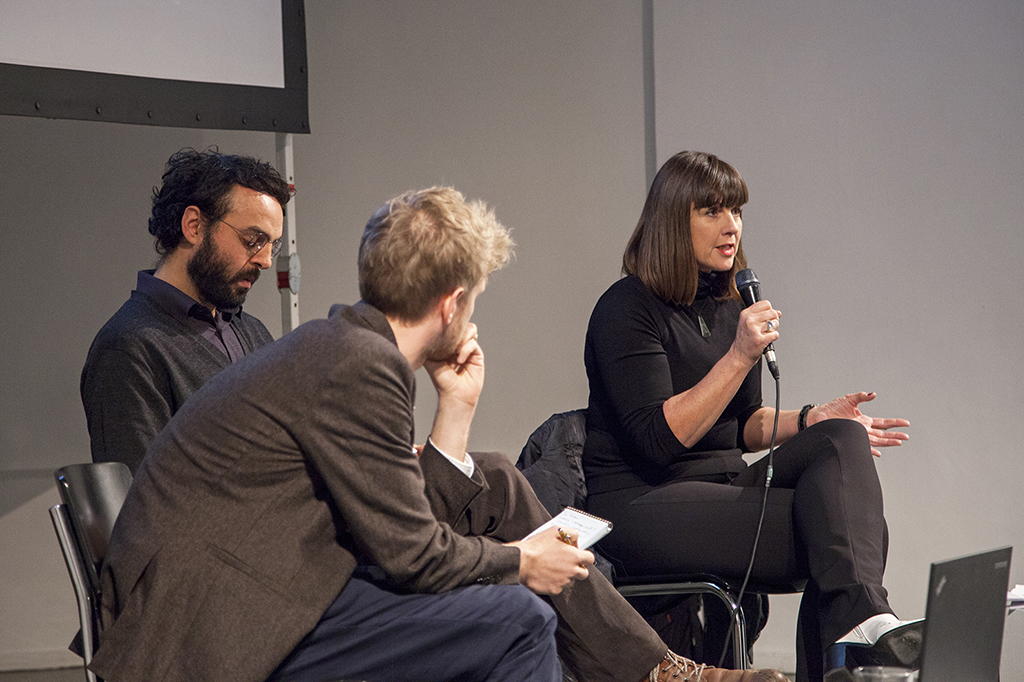 Sue Turton, former Al Jazeera correspondent, writer and journalist, explained during her speech at the conference that ISIS strength is built on its capacity to reach through its propaganda, at people sitting at home eating their dinner with the aim to transform these viewers into ISIS fighters, wherever they are in world. "In some way, ISIS is exciting and gives these individuals the feeling that they're doing something right and that they accomplish something for their faith."
"Isis has an extensive network of media experts and social media accounts", said Dlshad Othman, security engineer and speaker of the Keynote. Focused on the so called Cyber Jihad, "ISIS, has been able to hack government websites and carry out attacks on thousands of Syrian activists social networking accounts, to develop malware, as well as hack the White House website. Cyber Jihad is an organised branch of the ISIS's military strategy and has been able to be used as a main element to reinforce its structure. Cyber Jihad started with doing very simple malware and then increased its level right up to a very well organised phishing campaign."
Another way to understand how ISIS works is to look at the documents relating to the ISIS administration. "The records sometimes can say more about Isis than the propaganda it releases everyday", says Jihad-Intel Research Fellow at the Middle East Forum, Aymenn al-Tamimi. The reach and wide "impact and influence, of ISIS media development over time, is pretty clear," and you can see this reflected in "how many other military groups are trying to emulate the ISIS media strategy in Syria, today ."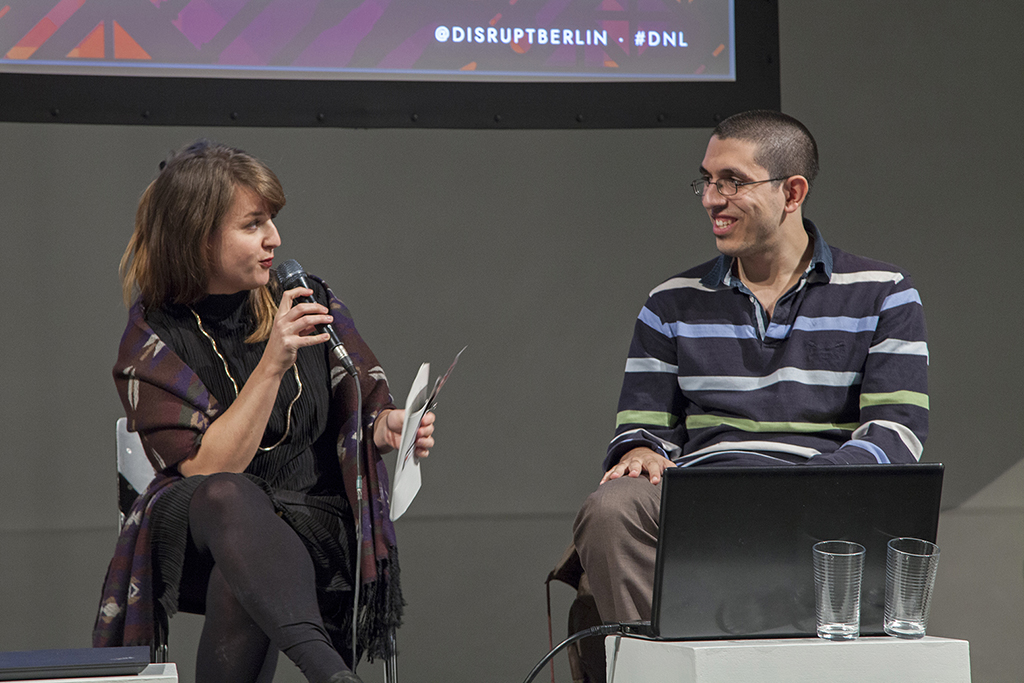 ISIS marked a new path especially concerning the recruitment of fighters, demanding Muslims across the world to swear allegiance and migrate to a territory under its control, and also demanded that other jihadist groups worldwide accept its supposed, supreme authority. "In order to understand ISIS – points out Saud al-Zaid, Scholar of Islamic Studies, Berlin Graduate School of Muslim Cultures and speaker at the Disruption Network Lab conference during the keynote Radicalized: the franchise of terror – "it is crucial to make a difference among individuals, societies and cultures in the ISIS world and to start focusing on what they all have in common, that of course is, first of all, support for the terrorist group". Al-Zaid concentrate on the distinctions, in terms of conflict, between Native and Foreign fighters. "It is not so easy to distinguish, for example, between a guy from Falluja, Iraq, and another one from Yemen," Sayd al-Zaid during his speech at Terror Feeds conference. In the words of Peter Van Ostayen, also a speaker during the Radicalized: the franchise of terror keynote, "half of jihad is media". For Van Ostayen, Historian and Arabist, PhD candidate at KU Leuven, "half of jihad is social media, especially in the recruitment, as we can see exploring the recruitment process of Belgian foreign fighters: more than 600 Belgian individuals joined or tried to join ISIS in Iraq and Syria".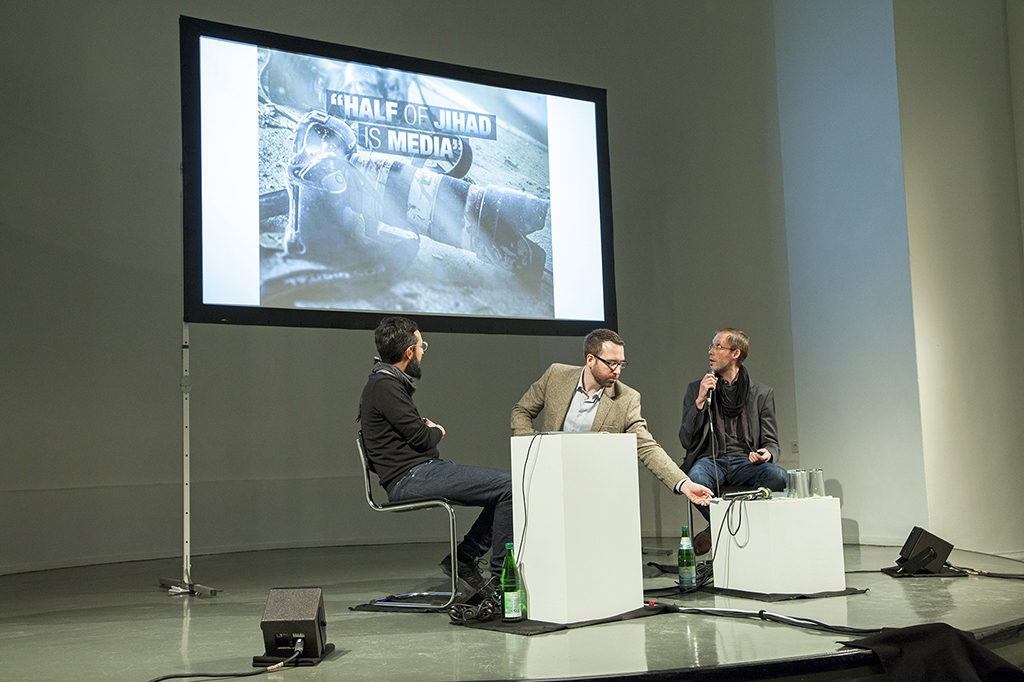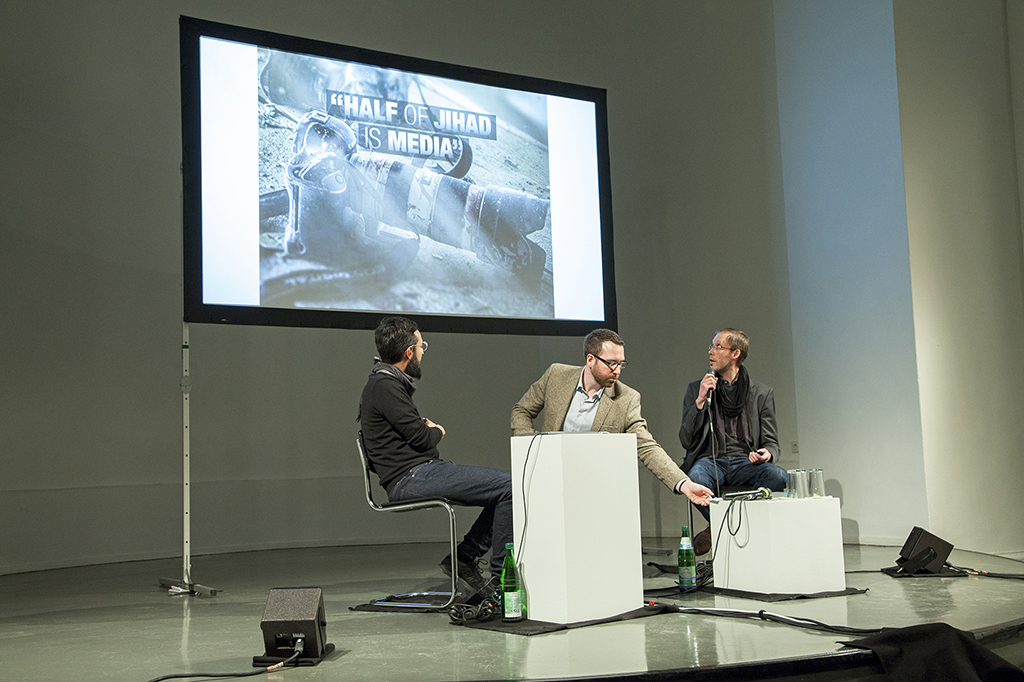 Counter-extremism strategies and prevention also are an issue to consider in the context of increased public fear about homegrown terrorism. "Initially our prevention strategy was not focused on schools and teachers, but engaging with civil society, mainly trying to prevent young people, entirely from Muslim communities, from becoming extremist" – explained Tufyal Choudhury, Assistant Professor at the University of Durham Law School in England, during the Prevention and Prejudice panel – "Than the government changed in 2010, so Prevent policy changed too, in two important ways: Prevent was not anymore focused on all forms of extremism and was not just concentrated on violent radicalization, but also on extreme ideology. Of course this created another issue: we needed to understand what non violent extremism was". Michéle Hassen, Working Group Leader at RAN, Radicalisation Awareness Network, also a speaker during the Prevention panel, stated that "we've not a problem with the concept of radicalisation, but it is different when radicalisation leads to hate crimes and terrorism." For Sindyan Qasem, Research Associate at the University of Münster, Centre for Islamic Theology, the question about Prevention and Radicalisation is how do vague conceptualisation of radicalisation and extremism lead to the infringement of human rights. "I personally think that preventive measures against islamic extremism are almost always based on ideology, so the educational measures and countering extremism in schools is based on giving alternatives to the ideology of islamic extremism".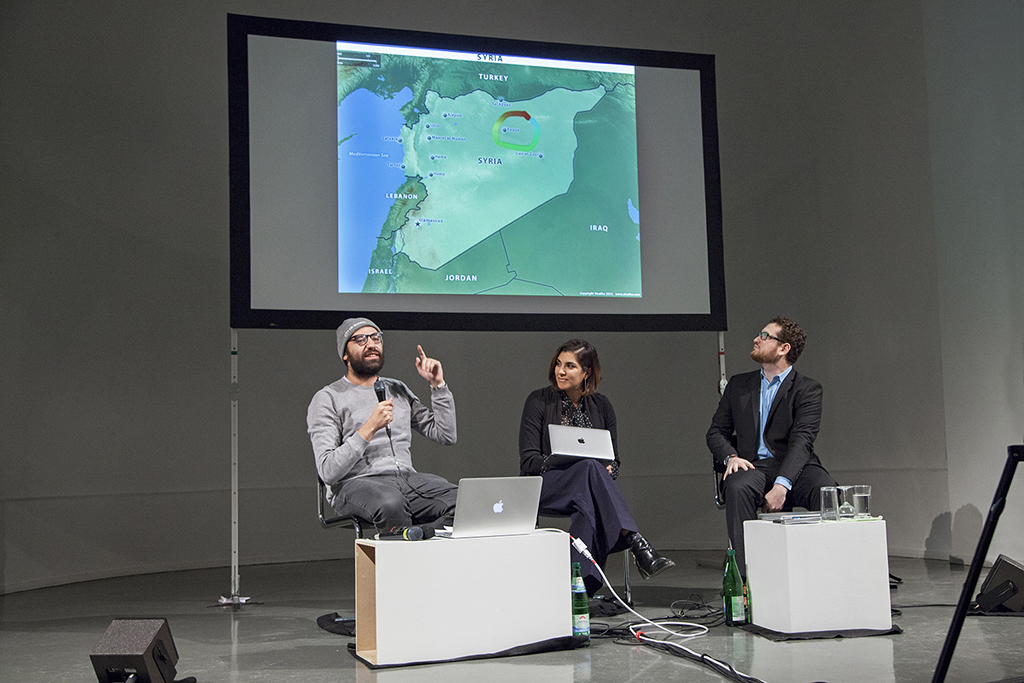 Among the goals of the conference was to focus on the territorial challenges provoked by ISIS. In this sense, Abdalaziz Alhamza co-founder of the blog Raqqa Is Being Slaughtered Silently and Media Activist, shared the experience of living in a Raqqa under ISIS control, trying to resist and documenting the daily life in the "Islamic Caliphate". "ISIS prevented all media organisations to cover the conflict, so it was very important to show what was going on," explained Alhamza. "ISIS did mistakes that we were able to analyse and spread to others. Although, most people just had ISIS propaganda and they slowly started believing in it, so we decided to target everyone. Most of the people had no internet access, so we went speaking with people, we went to schools, we went to Arab communities, to tell them what was going on". During the same keynote, "Fractured Lands: confronting the Islamic State", Aaron Zelin, Founder of Jihadology.net and Richard Borow Fellow at the Washington Institute, explained how IS got from no territorial control to full territorial control. "The so-called Caliphate Project was the idea to establish an Islamic State upon prophetic methodology and based on their interpretation of sharia'a, the Islamic law – said Zelin – they also wanted to build a global network of members and supporters, overthrowing the post-World War II American international system. It's important to understand how they built their structure in Iraq and Syria because it is a guide to their development or regression in other areas, like Philippines, or Libya or Somalia or maybe Europe in 15 or 20 years, considering the polarization that is happening in the european society".
Despite the rout of the Islamic State last year and steady Syrian government advances in territories controlled by the group, a mis-perception has grown abroad that Islamic State (and Syrian war), is winding down. Instead, the carnage is reaching a new peak in Iraq and Syria: much of the world cheered the collapse of Islamic State caliphate, but that victory just cleared the way for a new stage of the conflict, with IS ready to come back again.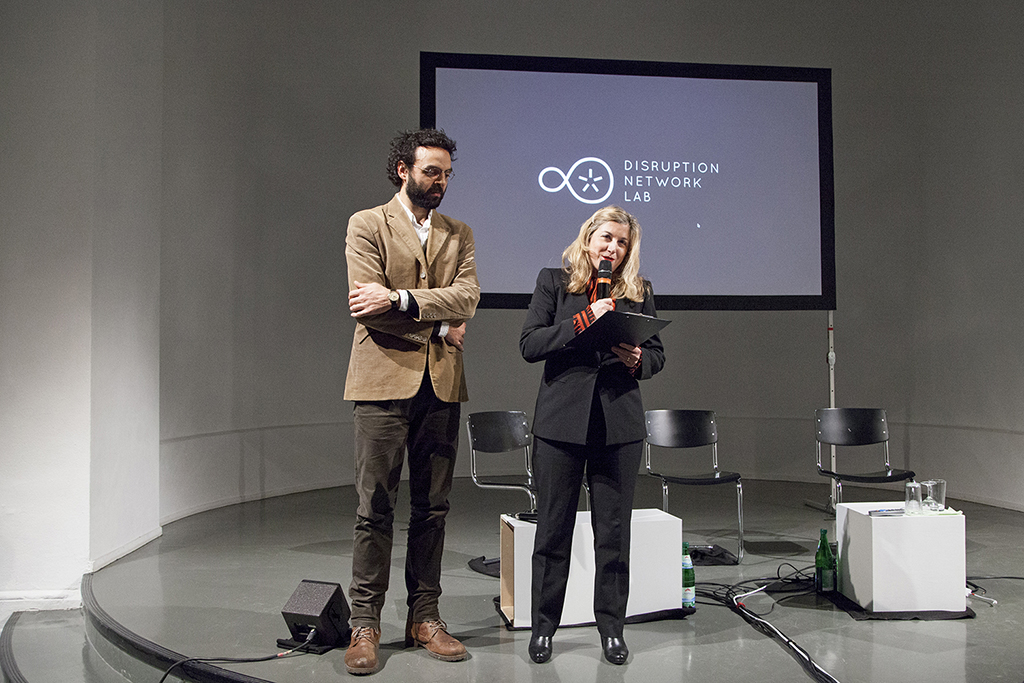 Photos by Maria Silvano for Disruption Network Lab.
More info about Disruption Network Lab:
disruptionlab.org – @disruptberlin
Disobedient Electronics: Protest is a limited edition publishing project that highlights confrontational work from industrial designers, electronic artists, hackers and makers from 10 countries that disobey conventions. Topics include the wage gap between women and men, the objectification of women's bodies, gender stereotypes, wearable electronics as a form of protest, robotic forms of protest, counter-government-surveillance and privacy tools, and devices designed to improve an understanding of climate change.
I was one of the lucky few to receive a hard copy of this fine little zine, a handmade limited edition of 300, put together by Canadian artist & researcher Garnet Hertz. It features 24 contributions of critical art & design, many of which taking a strong stand on feminism and surveillance /privacy issues, indispensable in current debate. Hertz initiated this publication in response to post-truth politics, in itself a notion shrugged off by populist drivel – "Politicians have always lied." – Ptp- strategies involve the removal of scientific context from popular claims in order to comfort the masses in turbulent times of change. Such trends are noticeable in culture and thus in the DIY- movement too. After a disappointing visit at a maker's fair, which essentially promoted the aesthetic design of blinking LEDs and the 3D-printing of decorative junk in an overall atmosphere of relentless marketing, the manifesto of Disobedient Electronics caught my attention, reflecting my impressions accordingly.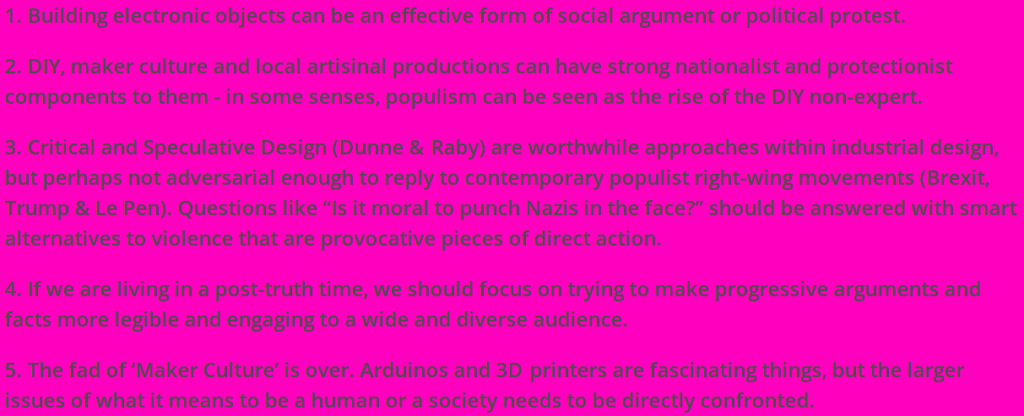 Decline of culture becomes visible as 'popular' themes such as sustainability or integration policies are readily adopted but actually serve as mere buzzwords to increase the marketability of events and products. Since it became profitable to sell electronic boards and a variety of accessory components, the prosumer (Ratto, 2012) is bound to available materials and building instructions and not encouraged to experiment or imagine alternatives to already available commercial design. Therefore many important layers of technology get ignored or regarded as not worth exploring due to the fetishisation of the final result. Although focus should be on action oriented making, tactile objects /installations are important when linguistics fail. We have already incorporated digital structures in every social aspect of our lives and it is difficult to observe let alone express them.
The book treasures the craft of DIY technology development, notably in the surveillance /privacy sector, and highlights the pressing need for knowledge in light of the technological advantage of those in power. Backlash provides us with an educational protest kit, including devices for off grid communication and bugging defence. These are functional but not necessarily designed for situations of conflict, rather for inciting a relevant debate among the general public. Phantom Kitty (work in progress) defies spying by authorities without a warrant and the enforced quantification of humans based on evaluations of online activity. It produces arbitrary noise when the user goes offline to obfuscate browsing habits and it is possible to integrate machine learning algorithms at a later stage, which could mimic or create identity patterns. Phantom Kitty features a stunning mechanical rack for keyboard and mouse operation, fed by a program executing search queries and the access of webpages. The project draws on the eeriness of neither knowing to what extent gathered data is exploited, nor against which parameters and targets it is set.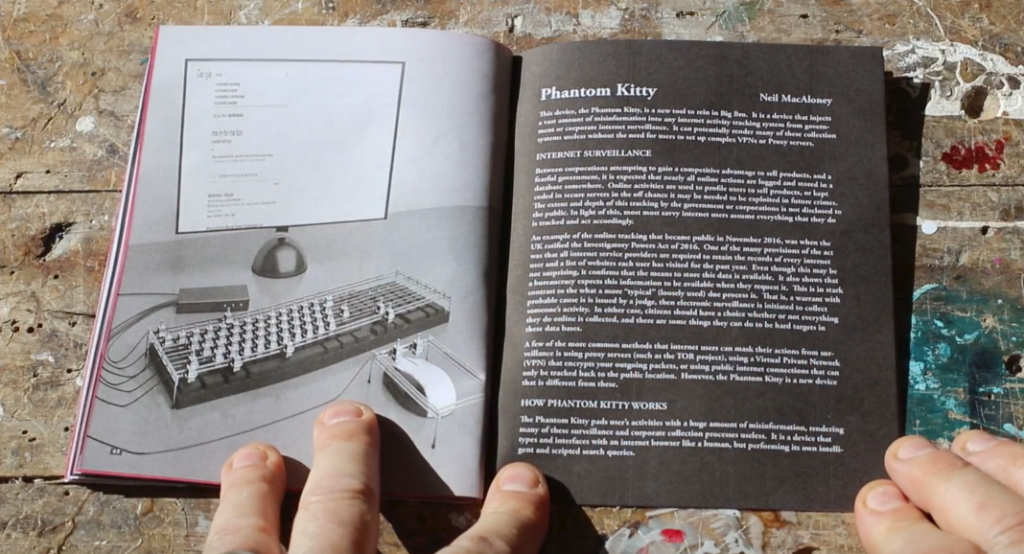 Completely left in the dark about the full scope of exercised control and entailing consequences The transparency grenade by Julian Oliver reminds us that citizens have a right to openness too. The promise of "making the process of leaking information from closed meetings as easy as pulling a pin" is tempting, and in contrast to the opaqueness of corporate and governmental policies, the artwork, other than claiming transparency, is representing it, in its aesthetics, open source software and in the thorough documentation of its engineering process.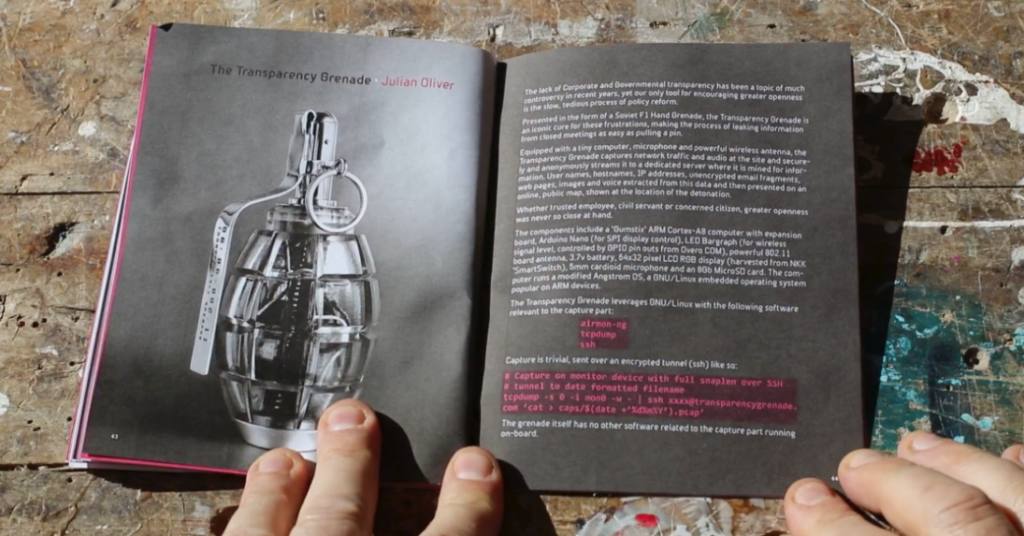 The well written accompanying text of one of my favourite projects PROBOTS describes effective works as "technologies of dissent that work at both the practical level but also the symbolic", by all means valid for those involved making this book, albeit associating with a manifold of disciplines. The tele-operated protest robot certainly meet those demands and can be sent out by the precarious worker as an answer to the efficiency of contemporary policing, simultaneously a metaphor for the limited potential in the act of present-day corporeal protest. The silencing of political resistance happens far beyond the streets and PROBOTS makes an extraordinary research tool for investigating the organisational power of technology, which prevents social progress already from the outset.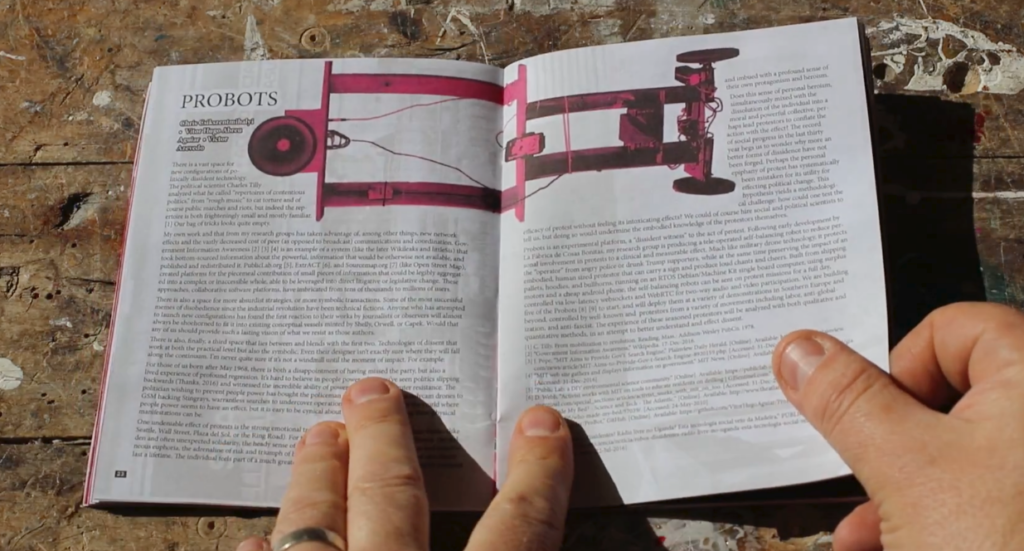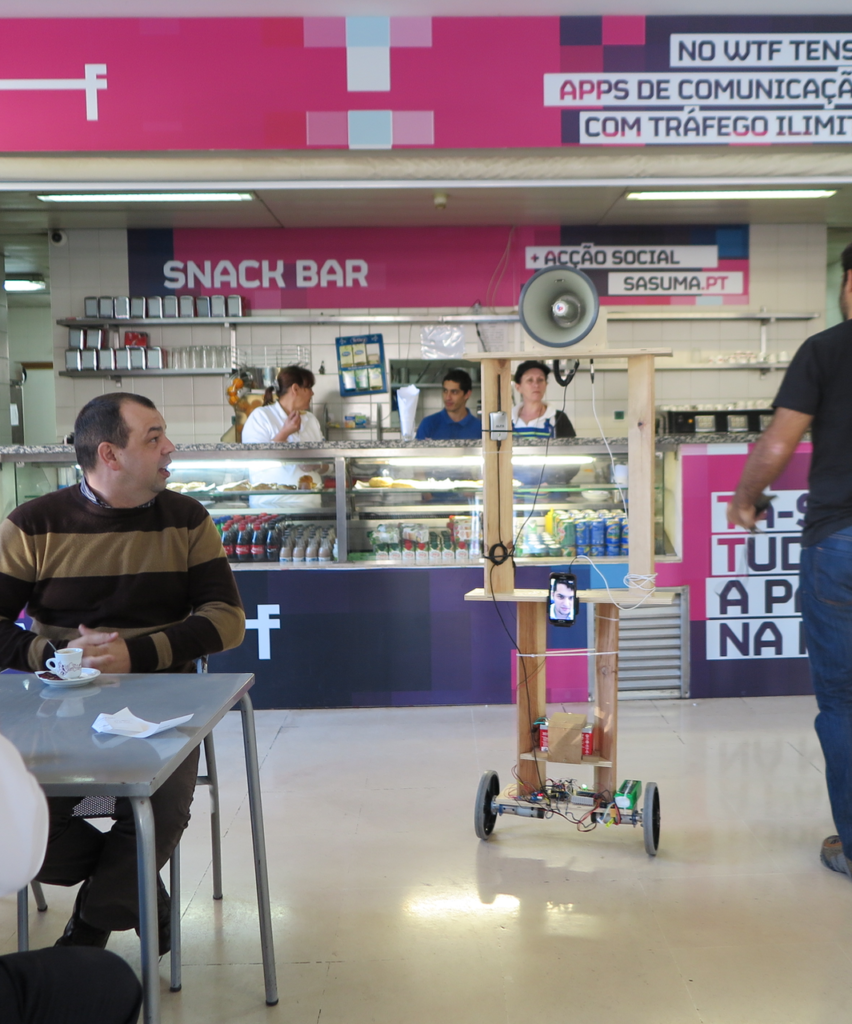 I've only recently discovered that e-textiles is not the same as smart clothing. It is a discipline, focusing on the act of making rather than the actual result, albeit in this case impressive too. The makers of The Knitted Radio approached the craft of knitting and electronics without economic reasoning, a factor which primarily informs the engineering process in industrial design. The liberation from conventional standards brought about alternative forms and methods, that is a sweater that also functions as a FM radio transmitter and the skill to knit electronic components /devices such as resistors, capacitors and coil with conductive yarn, an off-the-shelf material. The knitting instructions for the sweater are available online, it can provide a free of cost, independent communications infrastructure. The concept was inspired by the protests on Taksim Square, Istanbul, Turkey, and associated violations of freedom of speech. A Piece of the Pie Chart: Feminist Robotics by Annina Rüst illuminates gender inequity in form of a production line, which decorates edible pies with pie charts, depicting gender ratios in tech affiliated corporate or public organisations.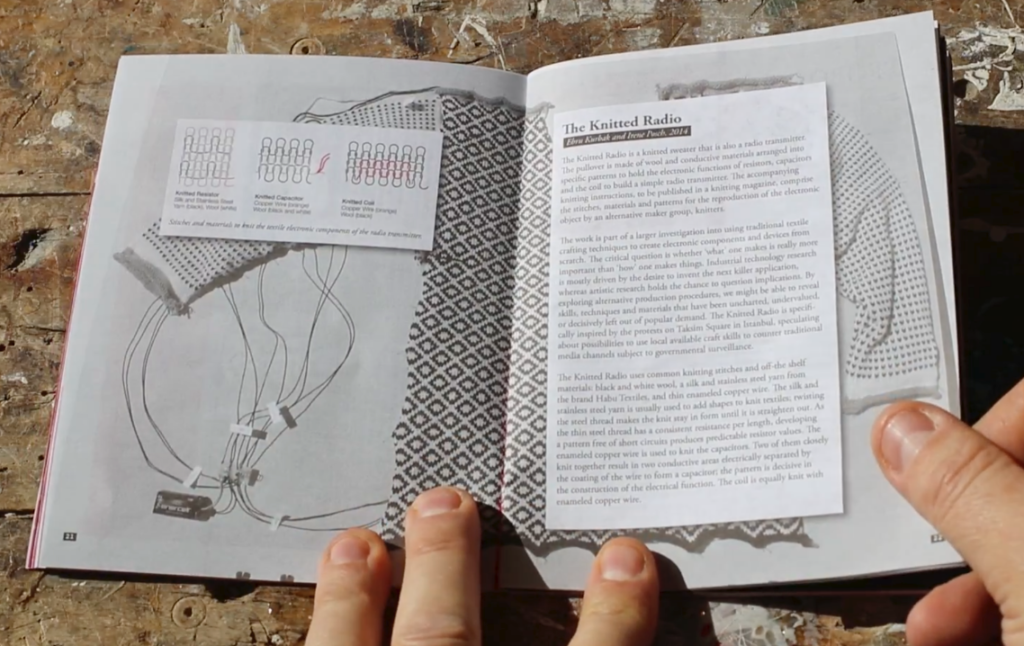 Women are generally underrepresented in tech related workplaces and users of the gallery installation can browse and choose between various data sets on gender in technology, e.g. computer science graduation rates, before an ensemble of household applications and semi-pro robotics sorts the cake. The mere visualisation of data was not radical enough, so the finished pie can be shipped to the institution of which data (and gender inequity) originates, and where it can be consumed accordingly. Women have to be content with the smaller piece of the cake, also symbolic for economic inequality and the missed out experience of working in tech. Rüst was not satisfied with the claim that women are just not interested in tech, and further qualitative research in feminist technology showed that women are rather put off by its hostile macho culture and that technological pedagogy simply failed to inspire girls.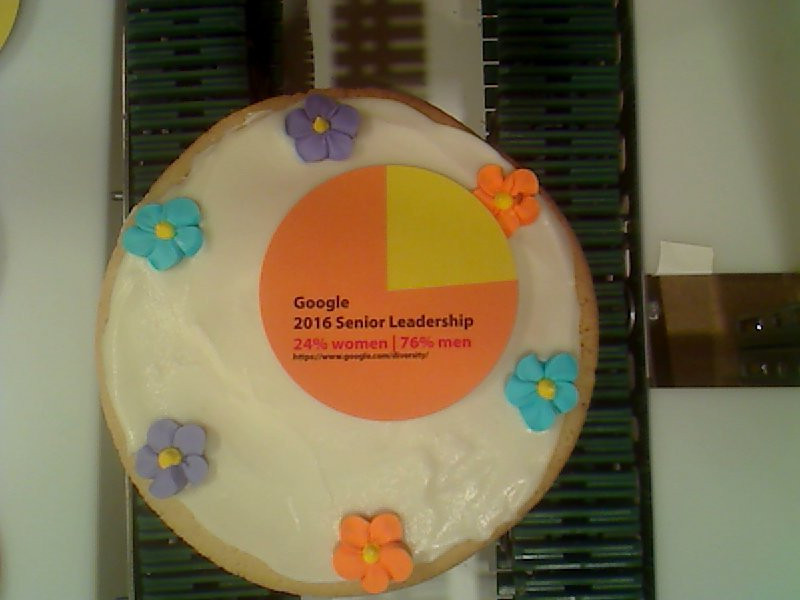 Tweeted image of a finished pie. Source: https://twitter.com/PieChartRobot
The PROTEST issue lives up to its title and emphasizes on projects, which propose hands-on political action and intervention with society, not in terms of providing solutions but to spark much needed discussion and inspire disruptive technology. Disobedient Electronics follows the publishing project Critical Making, which comprised 11 issues, so there is hopefully some more to come.
It was not the cyberpunk universe you were looking for.
Our nostalgia centres were lit up with a cut from a flying car to a full screen eyeball staring across the opening scene, synchronized on the script and musical score of its 20th century precursors' timing. From there, audiences of the Blade Runner sequel were dropped into a pale California wasteland blanketed with conglomerate agricultural biofarms, an antithesis to cyberpunk's damp, urban hybridity. The green, utopic space beyond the city– only glimpsed at the end of the 1982 original theatrical release and removed entirely in the director's cut– was where we started from in Blade Runner 2049, and (surprise) there's nothing but the dystopia of the anthropocene to look forward to there either.
Times change.
The recently post-industrial, 20th century cyberpunk rebellion of bodily sensuality: the noir lighting, the baroque candelabras burning, the lingering fingers stroking out haunting piano music; these were relics now, hinted at, ghosts of a genre in its past moment. Even the endless rain characteristic of the cyberpunk genre was repeatedly replaced with snow in Blade Runner 2049. A borrowed soundtrack teasing the familiar bridge to a heroic death scene came without poetic dialogue or even a witness. Rogue replicants were not criminals, but escaping criminality. Even memories were no longer stolen in this world, but legally manufactured, a convention stripping the typical cybernetic plot of bioharvesting found in cyberpunk down to a more contemporary, bioengineered ethics of classed and raced co-humanity if ever there was one. No, this ethical failure was smoother, blended into liberal values and legal structures, more sanctioned somehow.
The 80s cyberlibertarian world of the white lone wolf, struggling for autonomy in a hybrid, post-globalized world of orientalist economic takeover, had passed by in the great data "black out" of 2020 apparently, and Denis Villeneuve didn't care about your need for consistent genre romance. Sort of. Rather, the director brought the audience's need for Blade Runner nostalgia in and out of the sequel like a tool, cuing our attention to wait for it, partially rewarding us with a sensory, semi-nostalgic moment, only to glitch before nostalgic completion. Again and again, it was invitation and estrangement from our own expectations. Blade Runner 2049 was a highly self-aware remix of its own postmodern references and refusals in a predetermined world.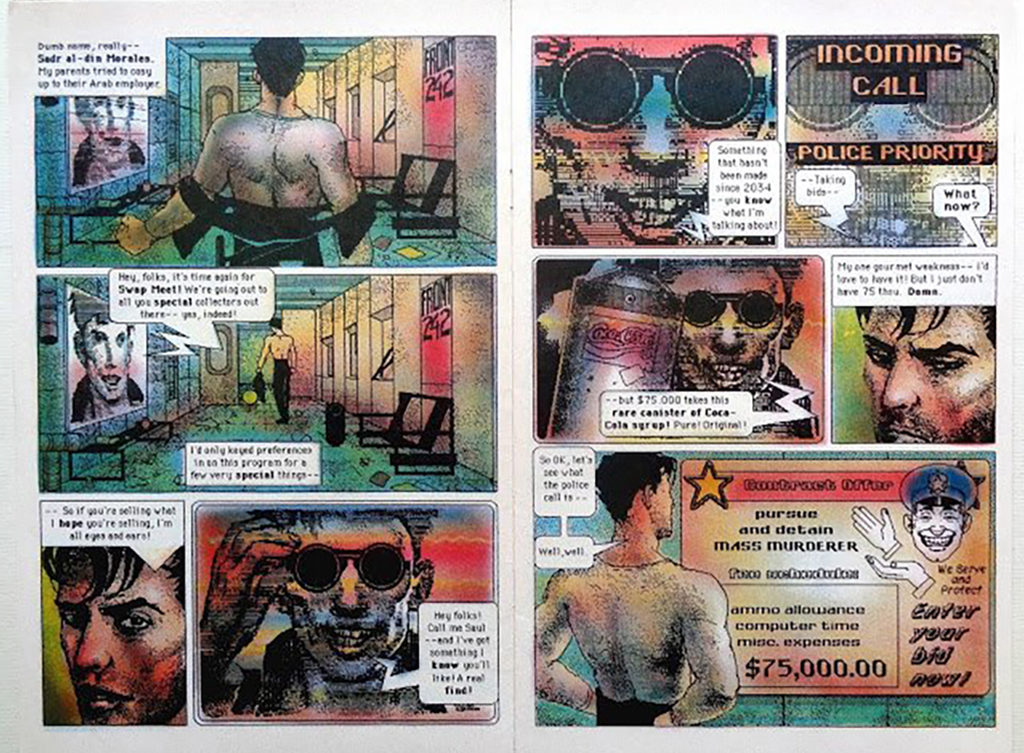 Perhaps a hybridity across two cyberpunks of historical time and cultural change was apropos. Ridley Scott's genre critique of the corrupt corporation had evolved since its 20th century take in the Alien franchise, expanding to consciously address our own implication in the techno-dystopian social narrative. It turns out that we are no longer universally laboring blue collar victims in the secretive horrors of impending biopolitical technocracy. Rather, we are eager and satiated participants in its isolating ubiquity; high tech consumers implicated in all of the attendant social stratification, inequality, and suffering that its warm glow of access masks and accelerates, from facilitated gentrification and casualized labor, to the toxic, extra-legal wastelands of dead electronics processing.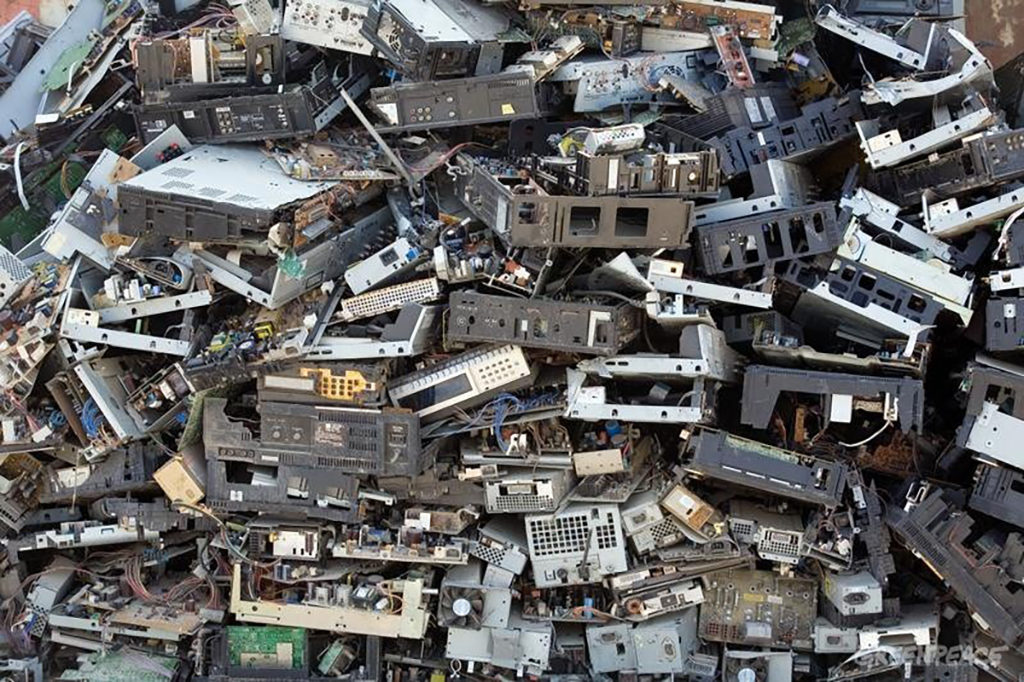 Disruptive innovation has predominantly benefitted the 21th century, western, science fiction audience. Our classic cyberpunk desire for the vindication of the social outlier– the androgynous Sigourney Weaver in a corporate-threatened future of full equality and bodily autonomy, or the replicant who can reclaim a subjectivity beyond his or her social paradigms and slave programming– has since been turned on its anti-establishment head. Scott's film Covenant saw this come to fruition when the Menippean Anti-hero, Bakhtin's rebellious, paradigm-questioning literary figure cloaked in the absurd eloquence of language, is fledged into a full sociopath. We saw this in the philosophical and intellectual character of David and his calculated experiments to replace the evolutionarily inferior human species. If Menippean satire is "a genre for serious people who see serious trouble" (Howard Weinbrot), than what is this?
By Covenant, our anti-hero no longer presented the humanistic redemption narrative of the Menippean Nexus 6 leader, Roy Batty, in the original Blade Runner. Instead, Covenant gave its inverse: a regressed society being shown the mainstream values it has come to love and endorse in a world of neoliberal anti-establishment leadership. So much for the underground resistance crouching in the street garbage. The 21st century universe of cyberpunk has been one of well-mannered disruptive innovators of the species, philosophically visionary proponents of transformative wealth models built on slave bodies, and the "technê-Zen" veneered (R. John Williams) institutionalization and naturalization of technological sociopathy. Here is a social darwinist instrumentalism for our post-human age of market-driven measures of social success and impending climate change. In this universe, androids can be humanist while humans can be androids in an inhuman system, conveying either 'progress' by any means necessary or a losing sense of civilizational duty. Whose side, Covenant asked of us, before its devastatingly feel-bad ending, were you hoping would win anyway?
David, it turns out, was the only anti-hero we deserved now.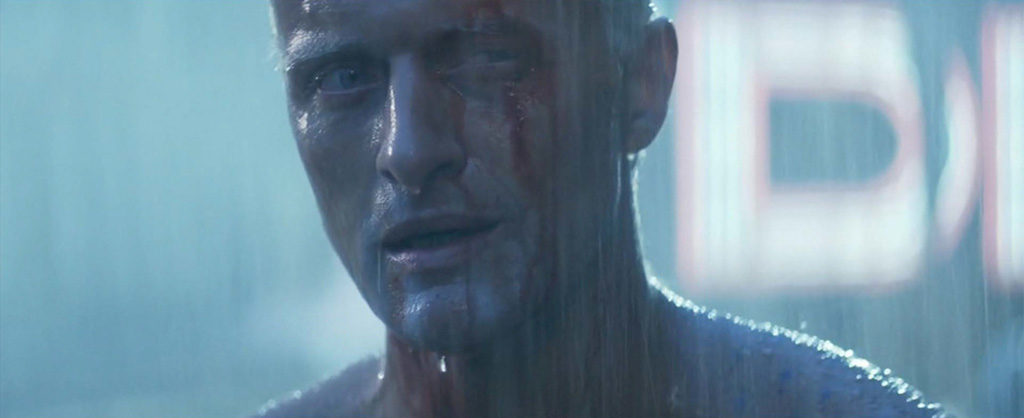 Denis Villeneuve's sequel fits surprisingly in this updated cyberpunk universe. Like Walter in Covenant, the replicant hero who becomes Joe in Blade Runner 2049 (in contrast to Roy Batty) clearly lacks the eloquent language and especially satire of the subversive, Menippean Anti-hero character. Surprisingly, we find his strain of articulate stream-of-conscious in the tech empire guru played by Jared Leto, drained of all the feeling and trickster-like ability of Roy Batty. Joe, however (like Walter), is simple and humble in his speech, seemingly able to feel but dying suggestively in silence off screen. Robbed of the poetic dialogue expected of the death scene, only a soundtrack bite nostalgic of Roy Batty's final scene signals a death of redemption for Joe in Blade Runner 2049. Yet the unsentimentally raw, blank slate of Joe's expression asks of his audience: What do we see through his eyes? What language could possibly be used here to convey the gravity of a moment when power so regularly denies and manipulates the language of our experiences? In this silence, we are perhaps left to only wonder what we would be feeling.
What if it had ended differently? Would Roy Batty's eloquent speech achieve the same humanizing disjuncture today, or does it really belong now to Niander Wallace, our tech monopoly visionary of the neoliberal age, emptied of any contradiction with the smooth flow of progress rhetoric and sociopathic public morality? Niander Wallace as foil who cannot stop talking makes Joe's uncharacteristic silence all the more uncanny. According to Jonathan Auerbach, the uncanny involves a "trespassing or boundary crossing, where inside and outside grow confused… reveal(ing) dark secrets hidden within." Auerbach is talking about film noir here– a highly unsettling sensory genre metabolized into the late Cold War aesthetics of the Blade Runner world. But perhaps we can relate this psychic role of the filmic uncanny to other hybridities explored through expressionist media, where the formal manipulations of sight and sound once conveyed the uneasy clashing of two worlds affectively.
Is Villeneuve's silent denial of a hero's dialogue in a death scene, for a Blade Runner audience, purposely estranging? Does it achieve the same, disorienting "uncanny bodies" (Robert Spadoni) that silent film audiences, unaccustomed to sound in their movies, reported with the introduction of Talkies? Film scholar Shane Denson describes how post-Talkie movies of the Thirties like Frankenstein (1931), were created in a period of transition and between the old and new ontologies of silent and sound film media. Denson argues that such films, working after the initial novelty of Talkie exposition wore off, played affectively with the new hybridity of films formalist storytelling qualities. In doing so, these films drew attention to our participation in media: "sight and sound conspire(d)…to encourage the viewer's medium sensitivity, to coalesce with the perception of a constructed monster." And what is a sequel, after all, if not a constructed monster of narrative to become conscious of?

"Questions."
We live in a time of the seductive post-human technologization and normalization of very inhuman institutions, public policies, and person-like entities whose social impacts are all too often screened over with 'alternative' narratives of language. Glitches in this flow of mainstream mediated ways of knowing can be more than anti-nostalgic; they can be disruption to the alt-fact hyperreality in the neoliberal 21st century. Are uncanny bodies of the sensorily unexpected (or, even, dissected) what we have left to successfully slow down and stutter our neoliberal ubiquity for hearing chasm-filling speech? Can such estrangements allow us the conscious relationality to once again actually hear and see how we are hearing and seeing each other?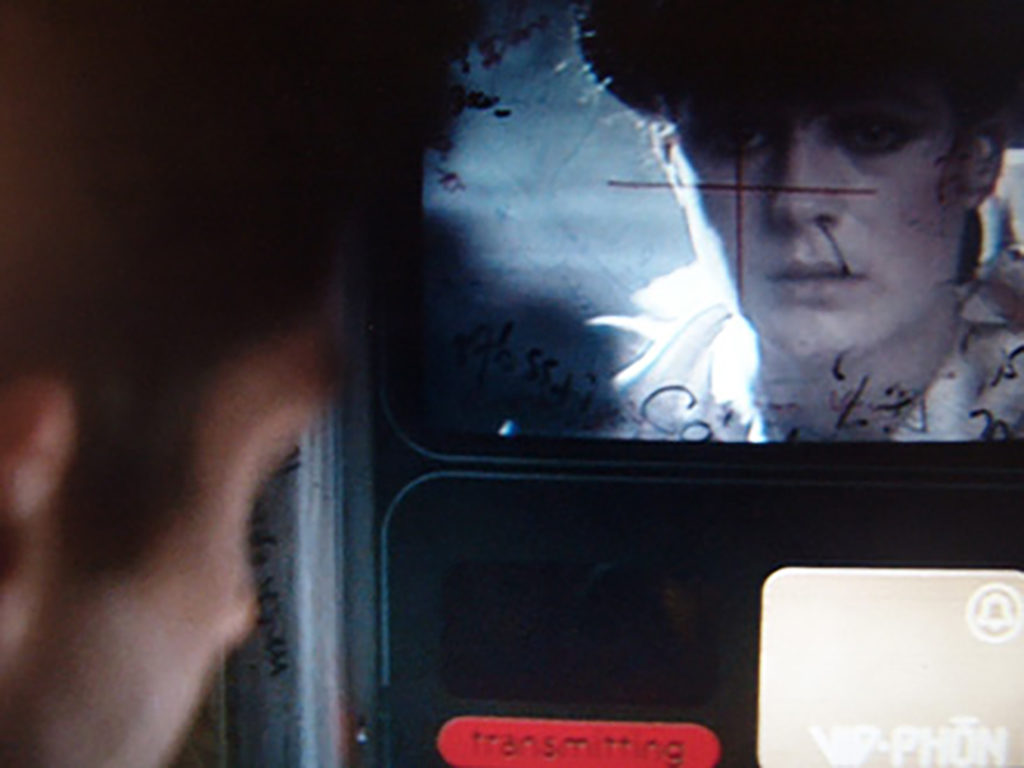 It is convenient to note here that the technological imaginary of the first Blade Runner movie refused ubiquitous surveillance. Blade Runner 2019 even refused a conception of the personal communication device so often credited with fracturing collective sociality in both sci-fi and reality. Decker, for example, calls Rachel from a public videophone in a bar. Whether human or replicant, technological worlding of the original Blade Runner insists on the communications scale of face-to-face human relationality. By the end of Blade Runner 2049 this same scale of technological imaginary in the original film returns. It is the death of one body, the replicant called "Luv", that seems to end the limitless reach of panopticon technology that helps advance the plot.
Some kinds of love can destroy. Scene from Blade Runner 2049
This act leaves the future of Blade Runner's Earth yet again to the relations between two, individual physical bodies. With the 1% most likely afloat in the outer world colonies, we might assume this means that it's up to Us to cross the interface of hyberbaric differences. At a time when love has become perverted with neoliberal logic– instrumental, utilitarian, stripped of its greater sense of equality or duty– it seems that Villeneuve graciously gives us an answer here, if not a fantasy to hold on to. Perhaps one consistency in the Blade Runner franchise is the argument, like that of Junot Diaz on neocolonial oppression (as if it ever ended) and the uptick of white supremacist domestic terrorism, that it is ultimately intimacy with the Other and rejection of the glorified "lone wolf" mentality that must be revolutionary: "Vulnerability is the precondition to contact." What if being in our present moment requires the vulnerability of silence?
"Listen:"
Nostalgia has come unstuck in time. In Ghosts of My Life, the late Mark Fisher wrote extensively of the threat of nostalgia in postmodern cultural production. Building on theorists Frederic Jameson and Bifo Berardi to explain the bending of new technologies to recycle comfortable and profitable cultural forms for capitalism, Fisher explains how "…the nostalgia mode subordinated technology to the task of refurbishing the old", not of specific past styles, or periods, but forms of never-fully-present time asynchronicity. Consider it like another outdated, self-reproducing model, ever expanding all around you to stay relevant. Perhaps you can finally see its now, like a loose eye, engineered, removed from its familiar socket.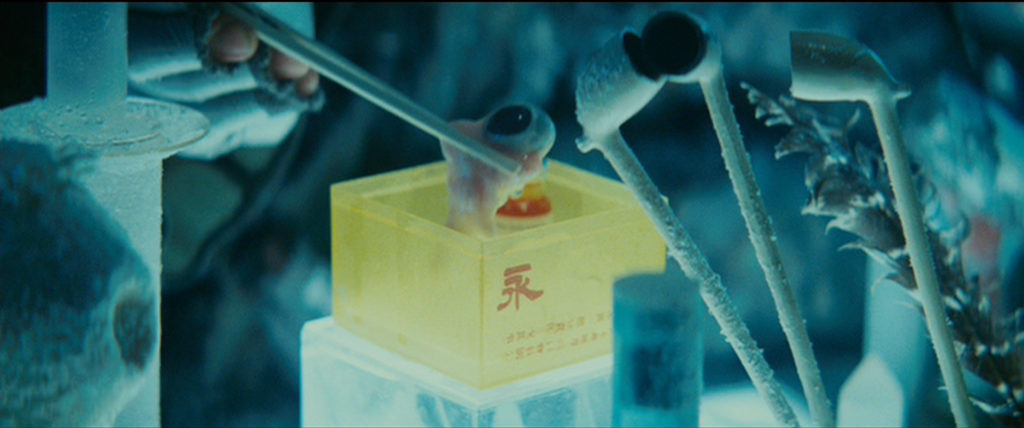 Transgressive fiction has this way of making our boundaries visible in the crossing. The reader may resist its dehumanization, suddenly queasy. Barthes once wrote about the surrealist Georges Bataille's Story of the Eye, a modernist novel from the early mid-20th century which indeed involves a plucked eye and its "metaphorical journey" across other eye-like images. An object, he wrote, "can pass from hand to hand… or alternatively it can pass from image to image, in which case its story is that of a migration, the cycle of the avatars it passes through, far removed from its original being, down the path of a particular imagination that distorts but never drops it" (his emphasis). Barthes felt The Story of the Eye was less a novel and more like poetry. Through its avatars and crossing of sensory metaphors, the eye simultaneously "varies and endures." Consider the following example of crossing sensory metaphors from the Blade Runner sequel: eyes, cells, tears, rain, leaking, bleeding, blinking, seizing, splashing, drowning, watching, "cells". And what if this thing we now strangely see so differently is neither naturally born nor autonomous, but a constructed thing?
How eerie.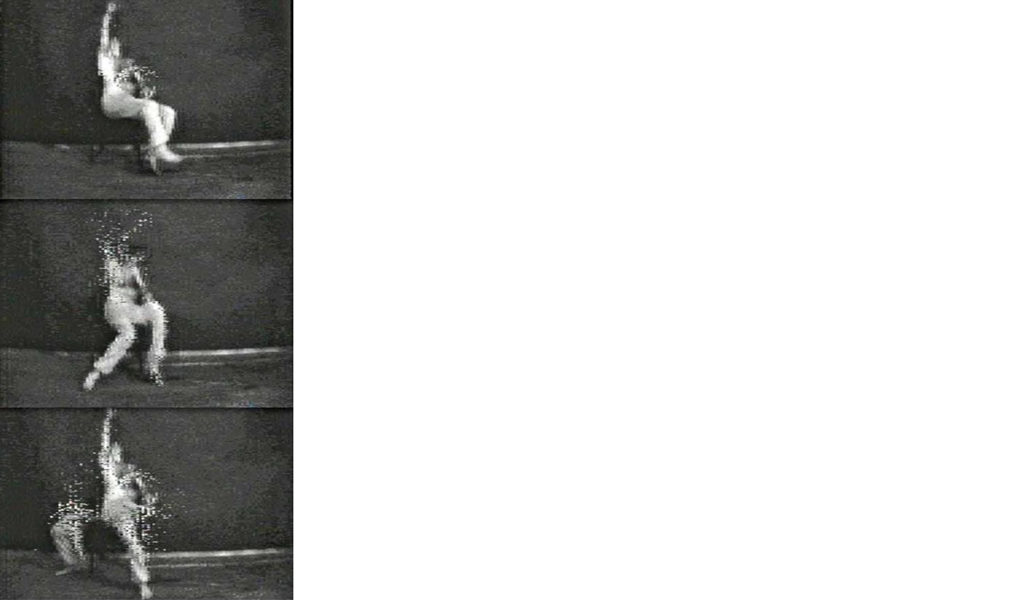 Eerie like the absence of "future shock" in the futuristic. According to Fisher, nostalgia mode production is an aspect of the "cultural logic of late capitalism" that "…disguise(s) the disappearance of the future" and prevents any real possibility of innovative "rupture". Nostalgia in our entertainment helps stabilize the "cultural deficits" created under globalization, soothing the simultaneous "exhaustion and overstimulation" of instantaneous and transactional relations we can't seem to deal with. It fills a high-speed chasm of emotion, truth, and meaning. It denies us the "uncanny" recognition of our temporal futurelessness, left teetering on neoliberalism's precarity of resources "despite all its rhetoric of novelty and innovation…"
Let's just be honest here: by the time the Coke commercial hologram showed up in Blade Runner 2049, it was a joke on our desire for even nostalgic product placements.
Nothing changes.

Dipping into the media art world at this borderland, theorist and filmmaker Hito Steyerl writes in "A Thing Like You and Me" about the video that David Bowie put out in 1977 for "Heroes":
He sings about a new brand of hero, just in time for the neoliberal revolution. The hero is dead—long live the hero! Yet Bowie's hero is no longer a subject, but an object: a thing, an image, a splendid fetish (…) the clip shows Bowie singing to himself from three simultaneous angles, with layering techniques tripling his image; not only has Bowie's hero been cloned, he has above all become an image that can be reproduced, multiplied, and copied, a riff that travels effortlessly through commercials for almost anything, a fetish that packages Bowie's glamorous and unfazed postgender look as product. Bowie's hero is no longer a larger-than life human being… but a shiny package endowed with posthuman beauty: an image and nothing but an image.
What are we to do when no degree of protest or declaration can make an exploited object be seen as a subject? Where is one to find anti-heroism in all of this? Let us be objects of severe agency then. Models that are perhaps transferrable, but unobtainable. One of a kind and replaceable. Constructed yet autonomous.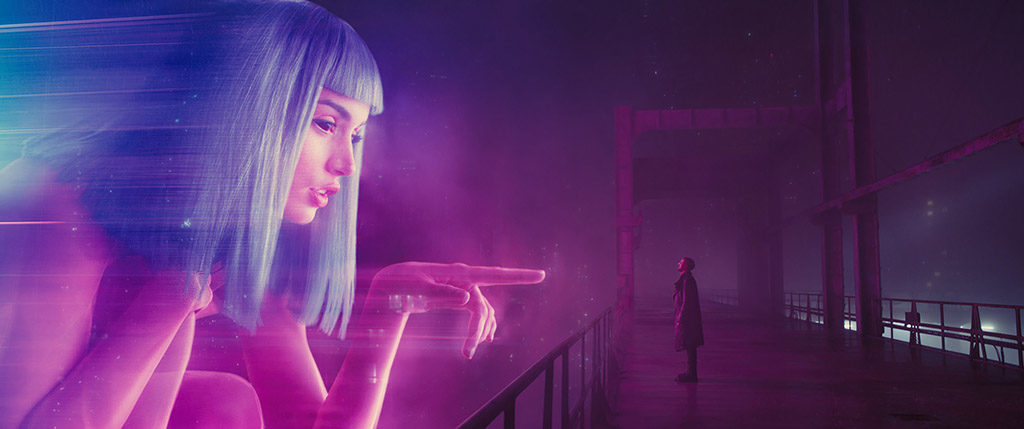 Perhaps then we can only view these things in suspension: the need and refusal of nostalgia as liberating human process, the uncanny increments of our cultural evolution to product and media-focused estrangement, the will to see one's own familiar pixels blown wide open. "Digital information is … characterised by transformation, degradation, circulation," explains Hito Steyerl in an interview in Rhizome, "but also by its surprising ability to mutate and produce unpredictable results. The glitch, the bruise of the image or sound testifies to its being worked with and working; being passed on and circulated, being matter in action." Futureless. As futureless as staring into a present ruin, expansive but without destination, the destination without purpose.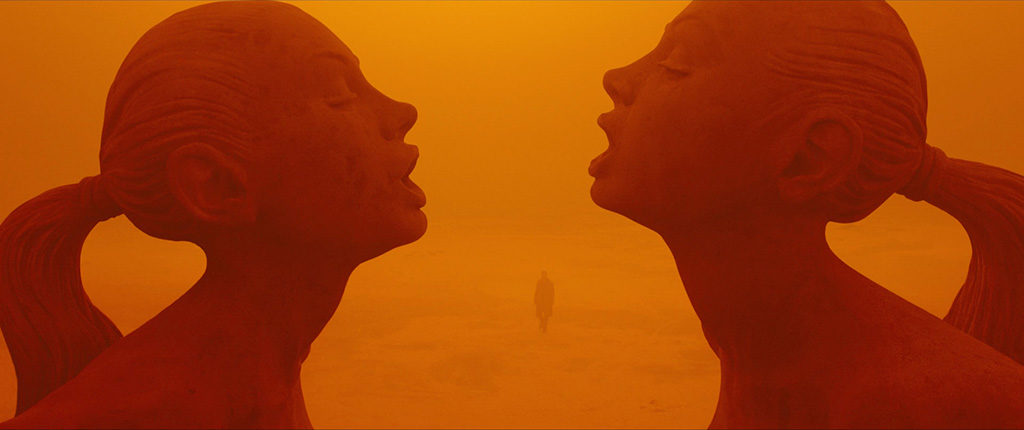 Apropos, then, how our old and new heroes meet in that ruined casino scene, outcasts of white difference (by the future racialization of the synthetic) in an atemporal Las Vegas, framed by primordial Seven Wonder monuments to the our foundational schisms of misogyny (yes I'm also talking about me).
In this incarnated ruin of our stubbornness for cultural mythologies, I was struck by the brilliance of the fight scene, the director literally exploding our pixel expectations of 20th century nostalgia as soon as Harrison Ford makes his long-awaited appearance. The sonic build-up of Decker's familiar piano in the distance was dissolved by the strange sound of his disembodied voice un-cueing an upcoming appearance in the scene, his visual reveal in that moment of our auditory let down, confusing: Desire misfiring. The ensuing cyberpunk clash-as-fight-scene of 20th century romantic and 21st century post-romantic dystopic characters corresponds to the casino's hologram interface of an imagined, mid 21st century entertainment technology; all of the expected glamour and nostalgia is allowed to barely seduce us before sputtering and malfunctioning as filmic metascene. Within the plot, these post-apocalyptic hollywood holograms are also a sign of the future sentience to come in the character of Joe's AI wife, Joi, and a warning that all technology rebels and mutates from initial human intentions, no matter how superficial the design intentions.
My interpretation of this violent casino stage scene in light of a more recent American mass shooting of an ever-expanding, historically singular, and self-containing statistic of "largest ever" is not lost on me. Neither is the choice of mid 20th century entertainers like Elvis and Monroe who notoriously performed like automatons with post-human qualities, their movements in time-space of perfect bodies turning on the master clockwork of a still-industrializing cultural machine before blowing apart, fragmenting. Their avatars echo of consumer-creator bodies in our postindustrial world of 2.0, gig labor, automated economic transactions feigning meritocracy, and a model of precarity demanding the inhuman perfection of individual responsibility for every movement which can shudder, glitch, and explode on other people all too frequently.
This failure is that of speculated, plotted, rationalized, and technologized courses whose error cannot be properly imagined, only realized and refused in the ruins of a short-sighted economic-cultural imaginary. Our looking back on dystopia hints at our present expectations only.
"Irreversability."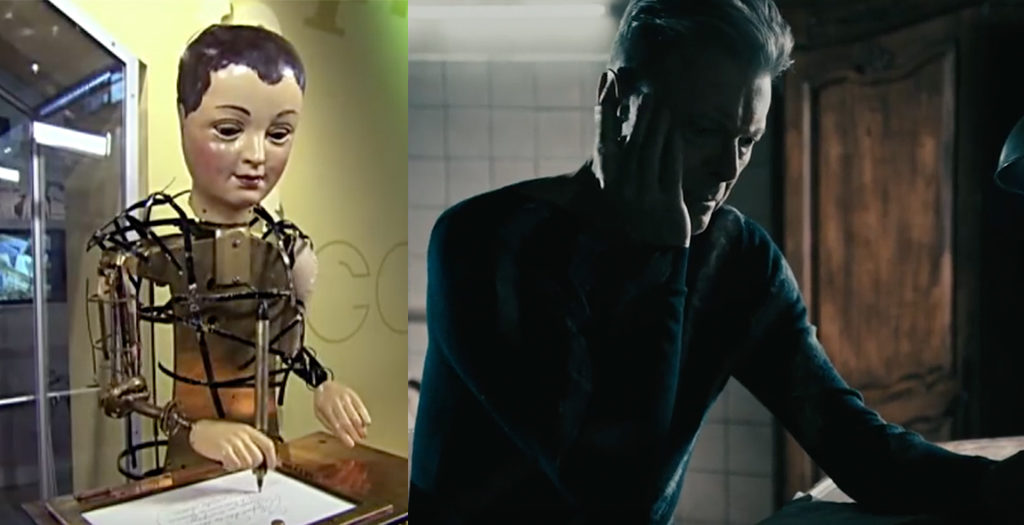 "It's difficult for someone of my generation to break free of the intellectual automatism of the dialectical happy ending", writes Bifo Berardi about irreversability. He compares this "taboo" concept to the "silent" apocalypses of our endless growth mentality, like Fukushima, corporate disaster unaccountability, socialized scarcity adjustments, and our silence on fellow human suffering. His book, The Uprising: On Poetry and Finance, speculates a "process of subjectivization" for the return of solidarity to a "social body". This is the social body being culturally reprogrammed away under our collectively isolated movements of relentless market-driven consumption and precarity (individualist and systemic, like the fascist choreography of Kracauer's Mass Ornament, or the Las Vegas showgirl spectacle). We might consider these grinding automaton gears of consumption and precarity the logics of late-terminal capitalism for clarity, it's refusal a glitch in our clockwork performance. What is one to do for a postmodern exit other than to shudder, to write off the page? Ultimately, Berardi's book leaves us more with a hope for our relational redemption from neoliberal culture through "sensibility" than it does with answers.
Blade Runner 2049 may not have been the sequel people wanted, but its confrontations with its own expectations provided a little of the things we need: a vision of the finite and anthropocene, a postmodern exit to the endless technologized avatars of getting what we think we want, our profound silence of the awful price. The film's self-aware, nostalgic ruin leaves us with a little less of the typical sequel's fourth wall, and an identification with its lonely bodies, caught in action between clockwork cultural predictability and its refusal. These bodies may or may not have the capacity for real love, but they are vulnerable at least to a larger sense of duty that Humanism, in all its universalizing failures, really needs. In this hybrid space of ontological awareness of the facets of knowing, experience and process, Blade Runner 2049's success was inbetween all the things it could never definitively be. We too might realize that 'doomed to fail' may only be our insistence on choosing from a predetermined relational binary.
A distant song floats into the scene.
…"Though nothing, nothing will keep us together…"
When I saw Blade Runner 2049, in was at one of the remaining four hundred or so drive-in movie theaters left in the United States. I went back in memory to my kindling college interest in what I study and consider Avantpop, surveying the changes, considering its meaning and meaningless in my social development as a scholar: working class, woman, white, heterosexual; accepted and refused and abused entrances. The sequel came less than thirty years later in the revolution of a world for me, but I travelled farther to get there, out to a dark semi-rural drive-in beyond the city, and a memory of popping in a VHS tape almost 20 years ago simultaneously. I time-traveled mass media ontologies. I posted an instagram picture. It was semi-romantic nostalgia for me. But I still see that there is only now to change what we're doing. And it is terrifying.
It's quite an ending, to just die in silence, isn't it?
But the fourth wall was always part of this, you know.
The word speculation is defined as 'the forming of a theory or conjecture without firm evidence'. The act of speculating was predominantly popularised with the rise of the stock market, however, recent environmental destruction and technological advancements have prompted a rich pool of speculation about the future of our planet, our species and our connection to other facets of life. Tomorrows: Urban Fictions for Possible Futures is such an exhibition, compromised of imaginative narratives speculating the future of our cities – how they will look, how they will function and the degree by which these cities will form new types of citizens directly operating within the network of that future city. In the context of the exhibition's content, fiction is transformed into mighty medium, utilised to share the ideas of thirty-two individual and group projects. These projects envision and share their anticipation for the future as a means of addressing socio-economic, environmental and other issues we face today with a goal to reassess of our presence on the planet.
Tomorrows was curated by Daphne Dragona and Panos Dragonas, and organised by the Onassis Cultural Centre in Athens – a city experiencing continual fluctuations since the end of World War II. The location itself, Diplarios School (a place of former learning and listening), stresses the aspect of sharing and the telling of important narratives determining the shaping of the future. The exhibition begins with a didactic, yet absolutely accessible approach to understanding the notion of developing a future city. As a starting point, the exhibition borrows and advances the ideas of Doxiadis' speculative plans of an Ecumenopolis from 1959-1974. More particularly, we must take into consideration the term 'ekistics' which was coined by Doxiadis in 1942 as derived from the ancient Greek noun οίκιστής, meaning a person who installs settlers in a place or creates a settlement.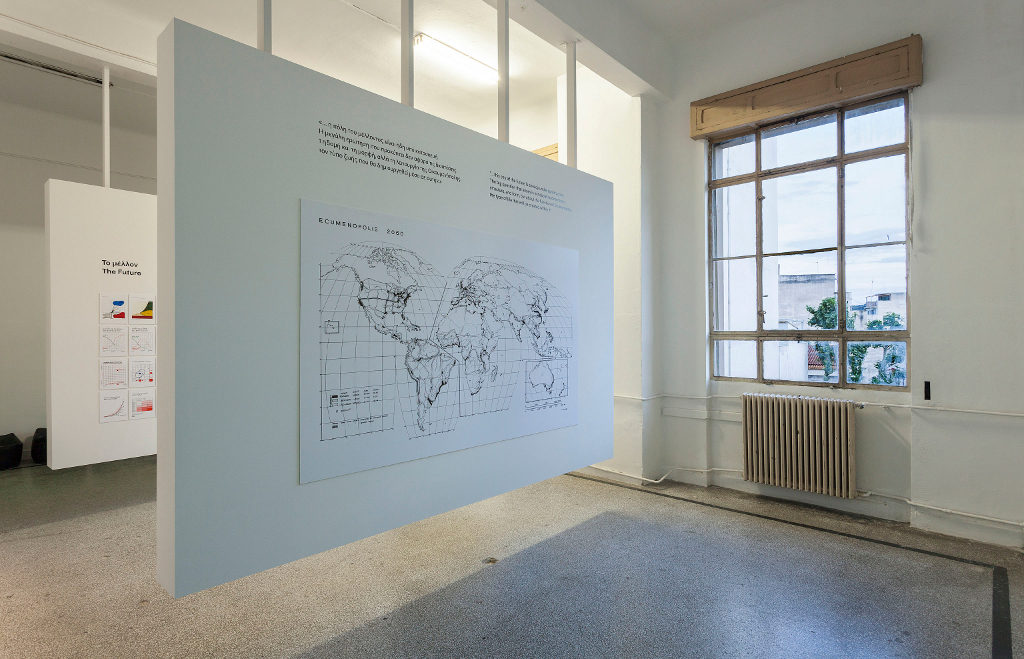 In order to create the cities of the future, we need to systematically develop a science of human settlements. This science, termed Ekistics, will take into consideration the principles man takes into account when building his settlements, as well as the evolution of human settlements through history in terms of size and quality. – Doxiadis
Doxiadis was a visionary and the decision to reinstate his work within the framework of the exhibition was incredibly rewarding for visiting audiences. He anticipated that cities were to become more than global in order to accommodate an ever changing human and non-human environment – as one huge network perhaps out of the control of human capacities. Ecumenopolis is installed on large hanging panels in the first room of Tomorrows and acts as a reference point to the five themes developed: Post-Natural Environments, Shells & Co-Habitats, Networks & Infrastructures, Algorithmic Society and Beyond Anthropos. These themes resonate to the acceleration of our urban development hybridising the natural with the artificial, future network infrastructures of our habitats becoming dependent on inhuman mediation, the possibility of an omnipresent and undemocratic structure within the city through the interdependence of economy, ecology and technology, possible forms of organisation to encourage modes of co-existence within the city, and technological singularity as challenging human sovereignty within our future cities. Doxiadis work gives way to the participants who are primarily artists, architects and designers, to explore these imminent futures of our present planet's landscape.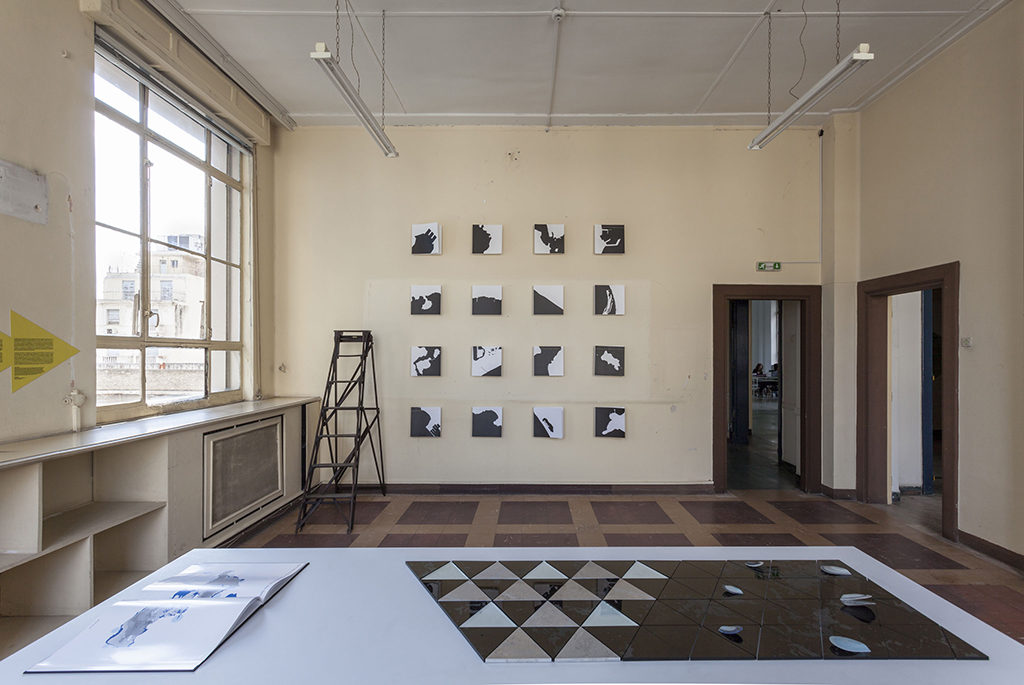 Coastal Domains is an on-going research project exploring the future landscaping of coastal territories in the Northeastern Mediterranea facilitated by Demetra Katsota along with 4th and 5th year students at the Department of Architecture, University of Patras. The installation Coastal Domains was made up of sixteen books, acting as case studies, secured on the wall and a ladder to reach them, encouraging brave visitors to climb and read them – a curatorial decision simultaneously inspiring participation and learning as it is explicitly reminiscent of old archival libraries. The 7th book in the series of sixteen engaged with the coast land of Kanoni and its Sea Lane on the island of Corfu, the research undertaken by Stella Andronikou and Iasonas Giannopoulos. As with each book in the series, the research was made up historically archived material, such as cartographical maps from different centuries and topographical material including the arrangement of roads and different fauna on the island thus unveiling issues of coastal development, the implications of an upsurge of tourism in the 1970s and possible environmental issues. Coastal Domains speculates and designs possible structures for the reinforcement of sustainability, devising various strategies that can protect the coasts of the Mediterranean Sea.
Tomorrows is particularly involved in engaging its locality of the Mediterranean, treating it as a microcosm for observing the implications of the future's development. Silo(e)scapes by Zenovia Toloudi envisages a hybrid of a seed bank and museum for Mediterranea plant species as a tool inspiring a sharing economy. The installation of Silo(e)scapes required the audience to cradle themselves into the centre of the structure in order to experience the transparent silos-displays of the community LEGO labourers sharing their local seeds at the seedbanks. The audience suddenly find themselves in a possible future reality, all encompassing of agrarian sounds and 360 views of kaleidoscopic mirrors that trick perception of your depth of field. Almost theatrical, Silo(e)scapes is immersive and constructs a space where the audience is directly in conflict with the imminent shortage of supplies due to harmful environmental issues and increasing urban development. The audience becomes entirely physically encased in Silo(e)scapes, as a result inciting the plausibility of this future reality.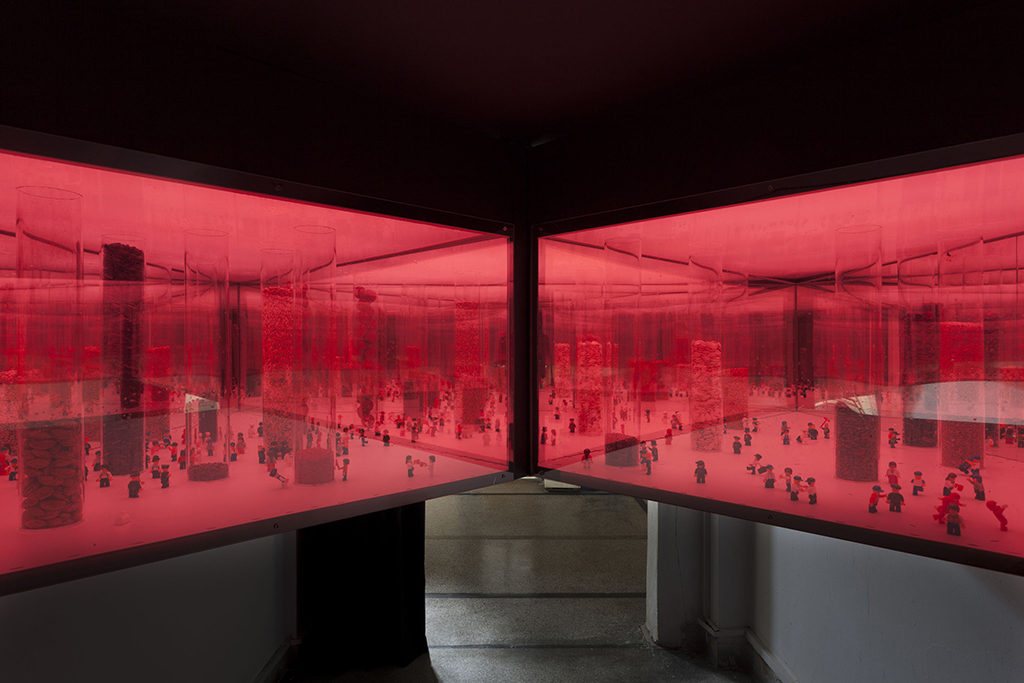 A Cave for an Unknown Traveler by Aristide Antonas introduces another form of habitable landscape for the possible future. The installation is structured like a 'fake archaic cave' that is buries inside it a structure as luxurious as a modern hotel room, invisible to the eye from the outside. The installed structure of the cave is complimented by a large sketchbook denoting the various features of the Cave for an Unknown Traveler. Antonas' work brings to mind the concept of Plato's Allegory of the Cave. The infrastructure and services within Antonas' cave can be taken in context of the prisoner's in Plato's cave perceiving shadows as objects when in fact they are a mere representation of their physical form grasped by our mind. In this context, Antonas' invisible cave begins to resemble an imagined safe haven for a traveling passer-by.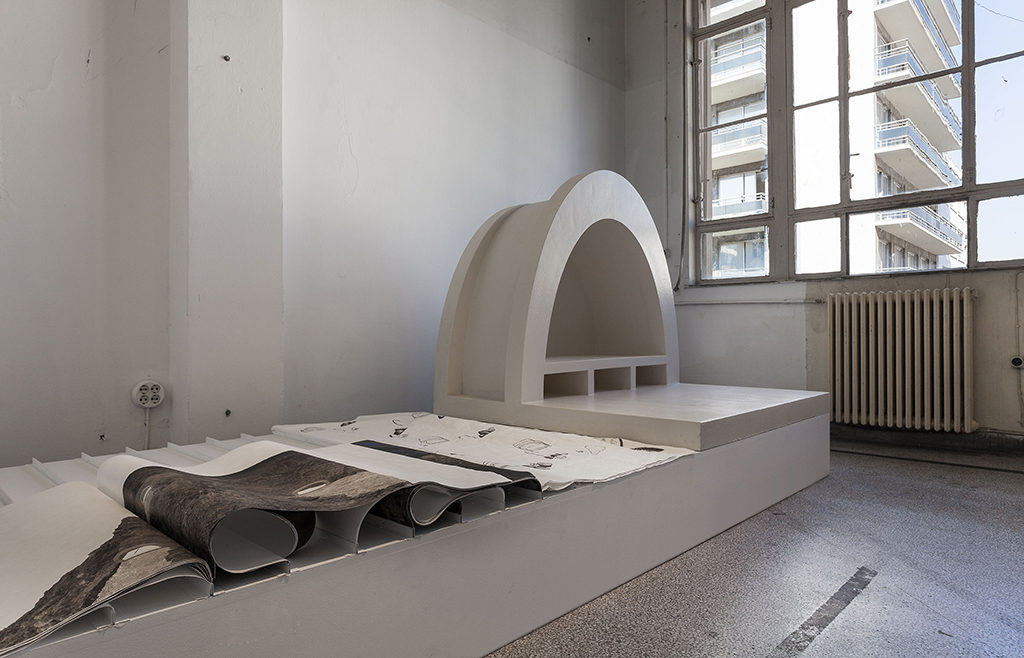 The highlight of Tomorrows is undoubtedly Liam Young's commissioned work Tomorrow's Storeys – a two-channel video installation isolated in a dark room with modular seating. The title of the work acts with a double meaning as in storeys of a building and the stories being told through them. The content, or stories, narrated in Tomorrow's Storeys were first conceived in a workshop in mid-March as part of the programming to the run-up of the exhibition opening in mid-May. The workshop of visual artists, authors, photographers, directors and architects produced an abundance of local stories in the future city of Athens, particularly a future Athenian apartment block. In Tomorrows Storeys all apartments blocks have the ability to reorganise themselves automatically – modular entities like seating in the installation. The videos convey intricately detailed shots of the façade of these apartments as well as its contents recalling film shot by aerial drones and ads for IKEA products. The audience act as omnipresent eavesdroppers drifting from storey to storey into the conversations and local happenings in these apartment blocks. These apartment blocks of the future have found a way to reorganise themselves where Athenians are not given a minimum basic income but instead a minimum basic floor area – the occupants do not own an apartment but a specific volume of space which does not have a fixed location. Amongst these stories of shifting permanence and impermanence one stood out: that of an old grandmother dying and the family arguing about who takes over her volume of space as one character cries quite humorously "Can't you wait until the funeral?!". Tomorrows Storeys are part of a city where bots constantly reorganise your living in a form of urban computation according to best fit the needs of its citizens. In this way, a living space becomes a temporality, alluding the audience to question if their home is real if it always available for smooth transition to another space.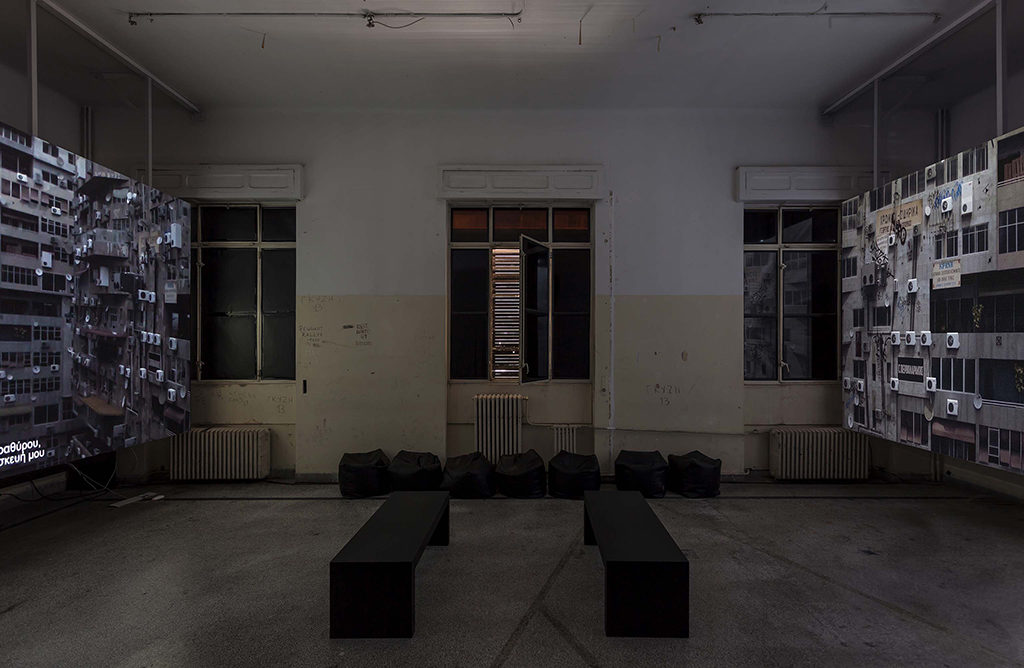 Within urban infrastructures are the human entities contained within them, as Young's work emphasises, however some of these are becoming increasingly inhuman as the theme of 'Beyond Anthropos' suggests. The notion of inhuman or machinic entities being able to replicate human form and intelligence is common and highly popularised since the 1980s as films such as Bladerunner introduced global audiences to 'replicas'. Today, AI is becoming so intelligent that it urges inventors such as SpaceX and Tesla CEO/founder Elon Musk to warn for correct precautions to be taken when engaging with AI, in fact comparing it to 'summoning the demon' and naming it 'our biggest existential threat' in the 2014 AeroAstro 1914-2014 Centennial Symposium by MIT. The work of !Mediengruppe Bitnik, coming only a couple of years after Musk's interview, exemplify the relationship between human and machine. Ashley Madison Angels at Work in Athens is a research project initiated after the data of the Canadian online dating service was leaked in 2015. The leak revealed that Ashley Madison had created 75,000 female chatbots that catered to 32 million mostly male users, engaging them in costly internet intimacy. In Athens, there were 165 fembots for around 22,910 registered users. The installation was comprised of seven of these 165 fembots active in Athens, and were installed in a room dimmed by a fluorescent pink light with screens on tripods similar to average human height and alluding to a physical form. The fembots, programmed to be of different ages, utter pick-up lines they are allocated from a predetermined list to the 22,910 registered users who could not distinguish that they were talking to a machine and not a real person.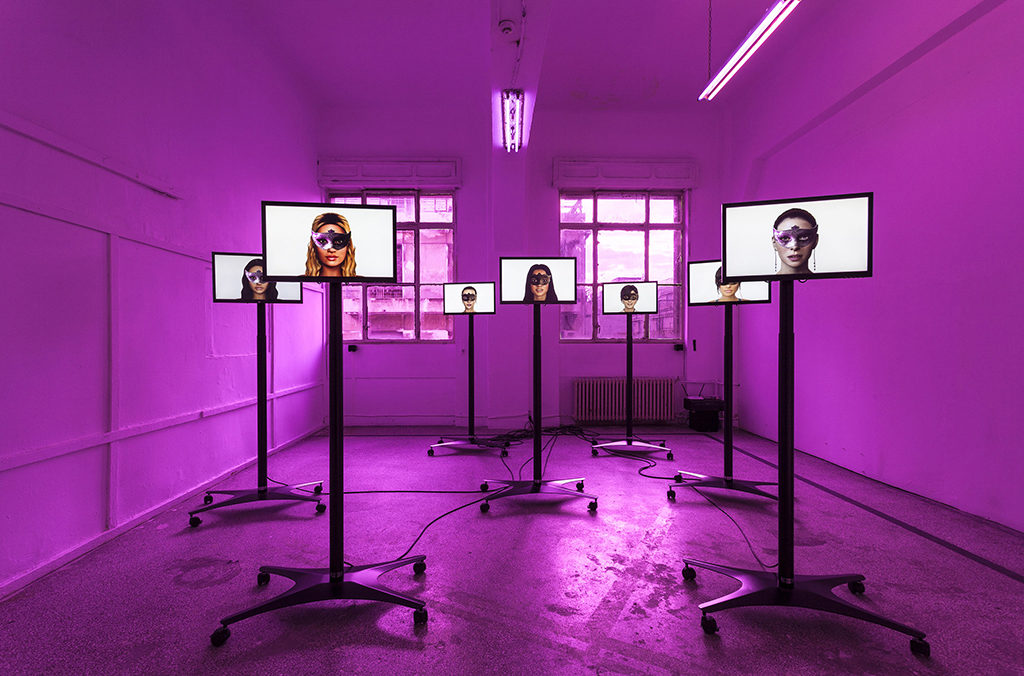 Tomorrows does not wish to present us a future as a prediction or as a form of critique of these technological, environmental and urban developments. Rather, it presents the future as an on-going participatory project, as a tool that can be utilised to examine who we are and where we are at in present tense, as well as where we could be potentially going. These urban fictions of our possible futures, are a speculative activity with the capability of making us more aware of the changes that have taken place whilst simultaneously illustrating the changes that are afoot. Tomorrows was a show that took place over six months ago, but its value to the discourse of the future will remain timeless for decades to come.
1: Introducing Seeds From Elsewhere
'Seeds From Elsewhere' (2016 – ongoing) is a project by They Are Here that has begun to re-animate a dilapidated play area in Finsbury Park, bringing together young asylum seekers and refugees, family, friends and other professionals. Each participant is supported to grow flowers, plants or edible produce from their respective homeland. We are also in the process of designing a greenhouse and pizza clay oven, extending the parameters of our collective activity. Throughout the process we literally and metaphorically ask 'What can grow here that's not from here?' Beyond this more tangible gardening activity, the project seeks to create a space that embraces, maintains and produces a diverse set of social relationships between people with different residency status. It is supported by Furthefield an organisation exploring the intersection of networked culture and contemporary art.
2: Context
It was July 2016, less than a month after the results of the United Kingdom European Union membership referendum, when our project commenced. Although the impetus to begin was not a conscious response to the referendum outcome – the timing is not insignificant. Our initial steps were in a toxic political atmosphere at the height of an intensified and indiscriminate rhetoric against migrants.
Artists were faced with new variations of old questions that resurface in turbulent times. . . What is our role in protest? Do we have a particular responsibility as artworkers to engage with a given political landscape? What are the capabilities and limitations of art in local / national / international governmental politics? Such questions often reveal an expectation of certain aesthetics, rather than attitudes. It is in the multiple ways that a work is circulated and produced its politics should be sought. . . How is the work funded? How is it credited? Which voices are included in its development, or excluded? How is the work talked and written about by the various partners supporting its production?
In these seemingly small details, a larger political statement is embodied rather than solely visually evoked. At the same time, we reject a 'one-or-the-other' stance. Establishing and administering a small community garden should not negate working with others on larger-scale efforts at the scale of local government or beyond. Bridges should be made between all scales of activity. The same fluid hierarchies and embrace of hybridity we cultivate with Seeds From Elsewhere, we encourage at ever larger scales – generating continuities between the ethos of how we are working on the garden and how national and global resources are considered and decisions made.
3: Keeping things complex
'Participation is not always progressive or empowering', 'Realise your own privilege', 'Critically interrogate your intention', 'Process not product', 'Presentation vs representation – Know the difference!', 'Do not expect us to be grateful', 'Art is not neutral', 'It is not a safe-space just because you say it is,' 'Do your research', ' Do not reduce us to an issue'. These notes are from Rise (Refugees, Survivors and Ex-detainees – the first refugee and asylum seeker organisation in Australia to be run and governed by refugees, asylum seekers and ex-detainees) . . . 10 Things You Need to Consider If You are an artist not of the Refugee and Asylum Seeker Community Looking to work with our Community authored by Tania Canas, RISE Arts Director.
In a polarised mediascape, where tabloid headlines shout loudest, the reduction of a diverse group of people to an 'issue', has been one of the most problematic aspects of public debate. Recognising that Seeds From Elsewhere is a slowly gestating project affords time for us to slowly get to know the participants individually – who to date hail from Albania, Sudan, Congo, Ethiopia, Romania, Afghanistan & Nepal. Rather than seek to 'represent them', we are co-workers on a set of shared goals.
Importantly, this work functions as a hybrid activity, with multiple points of access and identification. For the young refugees the garden can offer a respite from various kinds of bureaucratic limbo, it can also simply be a place to chill in a tolerant environment. In the longer term, there maybe be the potential for employment opportunities in the garden. At the same time, the work functions within the tradition of many conceptually driven socially-engaged artworks, notably Wheatfield – A Confrontation (1982) by Agnes Denes, Edible Estates (2005 – ongoing) by Fritz Haeg and Parkwerk (2014) by Jeanne van Heeswijk.
The project has also become a gateway to consider the language of rhetoric against migrants, as well as that of sympathetic media too, focusing on the recurrence of botanical language as metaphor (soil, roots etc). Essays by US-based anthropologists Dr. Lisa Malkki and Dr. Stefan Helmreich have been particularly insightful. The latter quotes biologist Banu Subramniam, noting that these criteria 'resonate unfortunately with xenophobic anti-immigration language in the United States and Europe':
"The parallels in the rhetoric surrounding foreign plants and those of foreign peoples are striking … The first parallel is that aliens are 'other' … Second is the idea that aliens / exotic plants are everywhere, taking over everything … The third parallel is the suggestion that they are growing in strength and number … The fourth parallel is that aliens are difficult to destroy and will persist because they can withstand extreme situations … The fifth parallel is that aliens are 'aggressive predators and pests and are prolific in nature, reproducing rapidly' … Finally, like human immigrants, the greatest focus is on their economic costs because it is believed that they consume resources and return nothing." [1]
Becoming attuned to language is a vital part of a larger and never-ending exercise in developing cultural and individual self-awareness as to how we speak, itself inseparable from how we think.
4: Democracy and Maintenance
Our fortnightly group meetings in the garden are rich in debate and banter. Working on a garden is an unceasing process. Like the growth of plants themselves, it cannot be rushed without compromise. This notion of maintenance is akin to a healthy democracy. Rather than an invitation to vote every four years, democracy must be attended to daily; it is comprised of multiple systems collectively supporting each other. Beyond physical access to a voting booth, there is the need for both protection and scrutiny of the media, investment into an education system that encourages voters to make informed choices, the space for satirists, philosophers and artists to critique power and the continual checking of our own presumptions and privileges.
Harun Morrison + Helen Walker
They Are Here
February 2017
contact@theyarehere.net