A list of Furtherfield recommendations, reflecting the dynamic culture we are part of, straddling the fields of art, technology and social change.
Exhibitions, Events & Conferences
Kiss My Genders | A group exhibition at the Hayward Gallery celebrating more than 30 international artists whose work explores and engages with gender fluidity, as well as non-binary, trans and intersex identities | features works from the late 1960s and early 1970s through to the present moment, and focuses on artists who draw on their own experiences to create content and forms that challenge accepted or stable definitions of gender | 12 Jun 2019 – 8 Sep 2019 – https://tinyurl.com/y3txhcl7
Rafael Lozano-Hemmer's Atmospheric Memory opens this Saturday for its World Premiere at MIF19, 6-21 July | An array of 'Atmospheric Machines' mine the air for turbulence caused by speech, then transform it into trails of vapour, ripples on water, epic 360-degree projections. These artworks are presented alongside a section of a Babbage Analytical Engine, a rare object in the prehistory of computing from the Science Museum Group's collection – https://tinyurl.com/yxt2kk6c
Event Two | An exhibition by the Computer Arts Society and FLUX Events in collaboration with the Royal College of Art, the Electronic Visualisation and the Arts conference (EVA), Interact Digital Arts and Lumen Art Projects. Featuring talks by Lumen Art Projects and FLUX Events. 12th – 17th July 2019 Royal College of Art, Kensington Campus, London – https://tinyurl.com/yxd379g9
Peripheries: Electronic literature and new media art | A week-long exhibition of cutting-edge expression in electronic literature and media art as part of University College Cork's hosting of the internationalElectronic Literature Organization conference and festival in Cork. Featuring artists: Betül Aksu, Graham Allen, John F. Barber & Greg Philbrook, Natasha Boškić / Mohamad Kebbewar / Mary McDonald, Mez Breeze & Andy Campbell, Richard A. Carter, John Cayley & Joanna Howard, Qianxun Chen, Hilda Daniel, Tina Escaja, Brenda Grell, Chris Hales, Brian James, Alinta Krauth, Paul O'Neill, Sabrina Rubakovic, Anastasia Salter, Colm Scully, Lyle Skains, Joel Swanson, Daniel Temkin, Pip Thornton, Theadora Walsh, Marcelina Wellmer | 11 – 17 July 2019 – https://tinyurl.com/yyvd8trc
Birth Rites Collection Summer School | A unique 5-day programme of lectures, workshops and exchange. It is generated through engaging directly with the artworks in the collection which are installed across the historic Guy's campus, King's College London, and hosted by the Department of Midwifery. If you are a midwife, academic, artist, medic, health professional, art historian or policy advisor, you will arrive on the course with your skill set and leave with a bespoke multi-media pack of visual, textual, auditory and filmic material, to be used thereafter in your own future work | 15-19th July 2019 Guy's Campus, Kings College London, UK – https://tinyurl.com/y32cfbkq
A Strange Weave of Time and Space | Exhibition at Site Gallery | Sheffield UK, 12 Jul 2019 – 28 Jul 2019 | An exhibition and research project exploring notions of aura and authenticity in the post-digital context | The works selected circle the complex relations between the auratic, (Walter Benjamin's term for the authentic, original artefact, singular in space and time) and the technologically reproduced, dispersed and viewed art object prevalent in the current post-digital period. Including moving image, sculpture, drawing, audio and 3D printed objects. Curated by Jeanine Griffin. https://tinyurl.com/y5cnncfv
Vector Festival 2019 Toronto, July 11-14, 2019 | InterAccess is thrilled to announce the theme of Vector Festival 2019, Speculative Ecologies: Media Art at the Anthropocenic Precipice. Curated by Katie Micak and Martin Zeilinger, this year's festival explores the ways in which contemporary media art reflects—and reflects on—mass-scale environmental shifts. The 2019 festival program will include works by over 30 local and international artists in more than 8 locations across Toronto and online – http://vectorfestival.org/
Radical Networks Deadline Extended | A conference that celebrates a free and open internet, with hands-on workshops, speakers, and a gallery exhibiting artworks centered around radio and networking technology. What: We invite anyone interested in presenting a workshop, lunchtime meetup, talk, panel, performance or film screening, tour / field trips or artwork to be exhibited | The deadline for submitting your proposal is now July 9, 2019 – https://radicalnetworks.org/

Symposium: "The sculptural in the (post-) digital age" | 1 July 2020 (Central Institute for Art History, Munich) | Submission deadline: 21 July 2019 | A number of theoretical approaches discuss the implications of so-called 'Aesthetics of the Digital', referring above all to screen-based phenomena. Art history, however, continues to pay little attention to sculptural works that are conceived and 'materialized' using digital technologies – https://tinyurl.com/yyomlbxa
UFO-Urban Flying Opera Swarms of Painting Drones | Following the success of write&erase robot Scribit, CRA unveils the world's first crowdsourced graffiti, designed by thousands of people and painted by a swarm of drones in the city of Torino, Italy. The UFO-Urban Flying Opera project is promoted by Compagnia di San Paolo, ideated and curated by CRA, and coordinated and produced by Fondazione LINKS, in collaboration with Tsuru Robotics | Visited Youtube Video – https://tinyurl.com/y6y7almm
Digital Conversations: Celebrating Ten Years of the New Media Writing Prize | As part of their Digital Conversations series and the season of events accompanying the Library's Writing: Making Your Mark exhibition, in partnership with Bournemouth University, if:book uk, and sponsored by the Eccles Centre for American Studies at the British Library; they are celebrating ten years of the New Media Writing Prize, by hosting a panel consisting of writers, Christine Wilks, Kayt Lackie and Amira Hanafi, on Thursday 18 July in the British Library Knowledge Centre – https://tinyurl.com/y574l5a5
Books
Rage Inside the Machine: The Prejudice of Algorithms, and How to Stop the Internet Making Bigots of Us All | By Robert Elliott Smith | Having worked in the field of artificial intelligence for over 30 years, Smith reveals the mounting evidence that the mechanical actors in our lives do indeed have, or at least express, morals: they're just not the morals of the progressive modern society that we imagined we were moving towards. Instead, as we are just beginning to see – in the US elections and Brexit to name but a few – there are increasing incidences of machine bigotry, greed and the crass manipulation of our basest instincts – Bloomsbury Business (27 Jun. 2019) – https://tinyurl.com/y5oct3xg
Insurgent Empire: Anticolonial Resistance and British Dissent | By Priyamvada Gopal | Insurgent Empire shows how Britain's enslaved and colonial subjects were not merely victims of empire and subsequent beneficiaries of its crises of conscience but also agents whose resistance both contributed to their own liberation and shaped British ideas about freedom and who could be free. This book examines dissent over the question of empire in Britain and shows how it was influenced by rebellions and resistance in the colonies from the West Indies and East Africa to Egypt and India. It also shows how a pivotal role in fomenting dissent was played by anti-colonial campaigners based in London at the heart of the empire. Publisher: Verso Books 2019 – https://tinyurl.com/y579t24y
Vital Forms: Biological Art, Architecture, and the Dependencies of Life | By Jennifer Johung | Shows how the intersection of biotech, art, and architecture are transforming the world we live in. Examining cutting-edge developments in biotechnological research—including tissue-engineering, stem cell science, regenerative medicine, and more—Vital Forms brings biological art and architecture into critical dialogue | The University of Minnesota Press 2019 – https://bit.ly/2KK5nCl
Harriet Bart: Abracadabra and Other Forms of Protection | A comprehensive look at the prolific and dynamic career of this international feminist conceptual artist. The book, which accompanies the first retrospective exhibition of her work at the Weisman Art Museum in 2020, features poetry and prose contributions by significant writers, artists, and curators who have been influenced by her art. Laura Wertheim Joseph, Editor. Foreword by Lyndel King 2019 | University of Minnesota Press – https://tinyurl.com/y4edoy7q
Articles & Interviews
Ledger – Human Centric Values Technology Enterprises, Youtube video | LedgerProject VentureBuilder | The Builder Programme LEDGER chose the 16 most human-centric and innovative projects among a pool of 291 applicants. LEDGER, a European Commission funded project looking for people working on decentralized technologies to give back citizens control over their data, held its Jury Day on Tuesday 28 May in Amsterdam | A must watch for those who to build better relations with technology, community & the climate – https://tinyurl.com/y6eduxbf
Situationism Now – Understanding Guy Debord in a Contemporary Political Context | by Caitríona Devery, 2017 Should we still be reading Guy Debord or encouraging others to read him politically for the first time in a contemporary context? In popular culture parlance, Debord's name will always be associated with the political moment of May '68, the general strike and the student riots which spread from the campus of Nanterre (led by philosophy and sociology lecturers Jean Francois Lyotard and Henri Lefebvre) – http://politicalscience.ie/?p=1065
Rec, Barcelona's social currency – Description / Objectives | Barcelona Digital City | Economic resource to create a citizen exchange system that is complementary or equal to the euro | This social currency acts as a complementary form of payment, but does not replace the national currency. It gives us the opportunity to measure the impact of consumption on the city. It is estimated that 5,000 people are now using one of the 70 social currencies in Spain – https://tinyurl.com/y2y8oh8t

Freshly Squeezed (extra News…)
Augmented Reality Art Commission, NEoN Digital Arts Festival: REACT | Deadline for submissions: 31 July 2019, For exhibition beginning: 4 November 2019 | Artist Fee £2000 (inclusive of research and production costs and any licensing fees) From 4 – 10 November 2019 the NEoN Digital Arts Festival in Dundee, Scotland will be focused on the theme "REACT", exploring how artists use digital systems to effect change within our social and political realities. We are now seeking proposals for a commissioned project utilising AR and mobile technologies inspired by NEoN's theme – https://tinyurl.com/y5n6kote
Image by John.F.Barber and Greg Philbrook, Sound Spheres, still 2018 web based interactive installation. Exhibited at Peripheries: Electronic literature and new media art 2019.S

A list of Furtherfield recommendations, reflecting the dynamic culture we are part of, straddling the fields of art, technology and social change.

Events & Exhibitions

POSTCENTRAL | Group show | NOME is pleased to present POSTCENTRAL, a group show curated by Navine G. Khan-Dossos, featuring works by Zach Blas, Jesse Darling, Marjolijn Dijkman, Antye Guenther, Lynn Hershman Leeson, Kirsten Stolle, Addie Wagenknecht, and Xiyadie | The work of the artists assembled in POSTCENTRAL touches on the question of where "the body" can be found and where it might be heading, with a focus on non-naturalist ideas of women's and queer bodies as spaces of futurity and potential. As Donna Haraway foretold in 1985, the exhibition stands "for pleasure in the confusion of boundaries and for responsibility in their construction | June 22 – July 26, 2019 – https://bit.ly/2Iu7r01

Satellite Devotion, a new installation by Tabita Rezaire | Hosted by arebyte 2 July – 24 August 2019 | The Center for Moon Studies and Practices is an ever-evolving anchor for Moon knowledge to understand and experience the vastness of her influence and nourish our relationship with the Earth's sole* natural satellite. In a quest to share Moon wisdoms across time and space, a 12 video-channel dome presents a constellation of Moon teachings from astrophysics to cosmology, astrology, agriculture, healing, history, magic, meditation, theology and spatial politics – https://bit.ly/2Zom8Y2

Toggler | A new website feature allowing commissioned artists to explore, demonstrate and celebrate the potential of creativity in website design. As websites become increasingly standardised to ensure familiarity and ease of use for online visitors, Toggler allows artists to champion the role of curiosity and creativity in exploring other possibilities for presenting content online. The first artists commissioned are Luke Harby, Violet Forest, Sam Francis Read, Antonio Roberts and Tobias Zehntner – https://bit.ly/2KWzTJB

New Writings: Re-Enter the Dragon with Stewart Home | The artist and cult author discusses his new book, with a look at the cinematic copy-cats of Bruce Lee and the Sleazy Joys of Lowbrow Cinema. Brucesploitation films riff on tropes associated with Bruce Lee, sometimes using actors who copy and clone the phenomenally successful kung-fu master's name or look. Home will talk through the finer points of this sprawling sub-genre as he joins BFI curator William Fowler in conversation | Reuben Library at Bfi Southbank, SE1 8 London, UK – https://bit.ly/2ZxVmMM

AI TRAPS Meetup: Reshape the future – Revealing & transforming algorithmic inequality | Part of the DNL Activation programme | Following up on their upcoming Disruption Network Lab conference 'AI Traps: Automating Discrimination', with a closer look at how AI & algorithms reinforce prejudices and biases of its human creators and societies, in this meetup we focus on possible strategies for exposing and transforming algorithmic inequality | Wednesday 26 June, 19:00 at STATE Studio, Hauptstr 3, 10827 Berlin (U7 Kleistpark) – Entrance is free – https://bit.ly/2KpgOjB

High Weirdness: with Erik Davis, Jeremy Gilbert and Debra Shaw | Hosted by Culture, Power, Politics and 2 others | Since the 1990s, Erik Davis has been charting the multiple interfaces between consciousness-expansion, technological trickery, drug cultures and social change | Erik's new book High Weirdness: Drugs, Esoterica and Visionary Experience in the Seventies is a study of the spiritual provocations to be found in the work of Philip K. Dick, Terence McKenna, and Robert Anton Wilson. High Weirdness charts the emergence of a new psychedelic spirituality that arose from the American counterculture of the 1970s – https://bit.ly/2ZDTORD

Platform Parasite: A Personal Voyage by Cosmos Carl | Hosted by Banner Repeater and Cosmos Carl – Platform Parasite | Platform Parasite: A Personal Voyage is a pilot episode of a new series by Cosmos Carl commissioned by Banner Repeater. Platform Parasite: A Personal Voyage includes contributions from Snorri Ásmundsson, Gnax Type, Art+Feminism, Alex Frost, Kate Mackeson, Angels Miralda, Joseph Ridgeon, Jorik Amit Galama, Emilia Bergmark, NX Panther, Harry Meadley, Styrmir Örn Guðmundsson, Laura Yuile featured on the parasitical online art platform Cosmos Carl. Opening: 26th April 6.30-9pm, exh: 26th April – 29th June – https://www.bannerrepeater.org/
Books

Vital Forms: Biological Art, Architecture, and the Dependencies of Life | By Jennifer Johung | Shows how the intersection of biotech, art, and architecture are transforming the world we live in. Examining cutting-edge developments in biotechnological research—including tissue-engineering, stem cell science, regenerative medicine, and more—Vital Forms brings biological art and architecture into critical dialogue | The University of Minnesota Press 2019 – https://bit.ly/2KK5nCl
Articles & interviews

The Bank of Facebook | By Rachel O' Dwyer | A response to Facebook's announcement that it's releasing a digital currency and wallet | Marshall McLuhan argued that money is communication. This rings particularly true at a time when so many platforms are entering the payments space | Institute of Network Cultures Wed, 19 Jun 2019 – https://bit.ly/2x6KKs0

Regine Debatty reviews Digital Cash. The Unknown History of the Anarchists, Utopians and Technologists Who Created Cryptocurrency, by Finn Brunton, assistant professor in the Department of Media, Culture, and Communication at New York University. Brunton reveals how technological utopians & political radicals created experimental money to bring about their visions of the future: protecting privacy or bringing down governments, preparing for apocalypse or immortality – https://bit.ly/2MSqC7I
An AI Completes an Unfinished Composition 115 Years After Composers Death | By Suchi Rudra | It's never too late to finish what you've started, even if AI does the job for you | This November, the Prague Philharmonic will perform the third and final movement of "From the Future World," an AI-completed composition based on an unfinished piano piece by the famous composer Antonín Dvořák, 115 years after his death. Emmanuel Villaume will conduct – https://bit.ly/2XWnTva

How Ethical Is Facial Recognition Technology? By Yaroslav Kuflinski | In this article, we'll explore the issues that surround facial recognition in depth and look at how these technologies can be made safer for everyone. Photo by Steinar Engeland on Unsplash The Potential of Facial Recognition Technology – https://bit.ly/2MNQAsX

What Happens When a US Border Protection Contractor Gets Hacked? The government wants all the data it can get from you at the border. But what happens when a hacker shows they can't store it safely? A hacker known as "Boris the bullet dodger" hacked a license plate reader company called Perceptics. Now, less than a month later, CBP issued a statement confirming a data breach at one of its contractors – https://bit.ly/2Fhu1Xs

Environment reporters facing harassment and murder, study finds | By Juliette Garside and Jonathan Watts | Tally of deaths makes it one of most dangerous fields for journalists after war reporting | Thirteen journalists who were investigating damage to the environment have been killed in recent years and many more are suffering violence, harassment, intimidation and lawsuits, according to a study – https://bit.ly/2IOWMMa
Extra Squeezed
Superflux are looking for a freelance visual / graphic designer (print + digital) to come on board and work with them on a 🔥 worldbuilding project. Drop them a line with portfolios👇🏼⚡️📢 || Designers and strategic thinkers, researchers and artists; exploring, imagining and prototyping different possible futures – hello@superflux.in

Two Fully Funded PhD Scholarships to Study the Geographies of Homelessness, Veganism, Unschooling, or Heavy Metal Music at the University of Newcastle, in Australia. Two Domestic (Australia) or one International PhD scholarships will be awarded to study at the Centre for Urban and Regional Studies under the direction of Professor Simon Springer in the Discipline of Geography and Environmental Studies – https://bit.ly/2In3ZnK

Image from Satellite Devotion, a new installation by Tabita Rezaire at arebyte gallery | Opening Tuesday 2 July – 24 August 2019.
A weekly list of Furtherfield recommendations that we are sharing with others. It reflects the expansive and dynamic culture we enjoy, straddling the fields of art, technology and social change.

Events & Exhibitions

Solo show H4ppy D33p W3b (Happy Deep Web) by Systaime aka Michael Borras, at Watermans Arts centre, London. Systaime is the creator of The French Trash Touch movement, which mixes low and high culture and pop culture with internet folklore, like memes, emojis or GIFs. He offers an explosive mashup of internet aesthetics, where information, images and comments are remixed in an audiovisual spectacle that exposes the language of the internet | 12 June – 28 July 2019 – https://bit.ly/2KfGQWy
Antiuniversity Festival is back 15 Jun – 22 Jun 2019, for the fifth time with events across the UK and internationally. This year's programme is absolutely bursting with radical education, militant feminism, anarchist tendencies, autonomous organising, shit hot politics, critical analysis and progressive discussions about care and culture and gender and class | Full programme – http://www.antiuniversity.org/
Aaron Bastani in conversation with Dr. Richard Barbrook on his new book 'Fully Automated Luxury Communism: A Manifesto' 2019. This event is hosted by Newspeak House, the London College of Political Technologists. Tue, 25 June 2019 | Virtual Futures partners with Verso Books | Book here – https://bit.ly/31p7Xnv
Take the Money and Run: Power, Money and Counter-Power | Wednesday 19 June, 19.00 – 21.00 | The light recently shone on the sources of money that supports arts organisations – from fossil fuels to deadly pharmaceuticals – has illuminated some corners of the 'hidden abode of production" (Marx) to valuable effect. Live Art Development Agency (LADA), London | Book here – https://bit.ly/2WBGkUk
West Den Haag – Summer School 2019 Spinoza: Passionate Action | Human Being is a Measure | With: Ewa Majewska (PL), Florence Freitag (DE) , Baruch Gottlieb (CA) and Cassie Thornton (US). In order to keep the discussions and experiences substantive and immersive, this Summer School is limited to 30 participants. There is a fee of € 175 per participant, which includes lunches as well as a reader. The program will be held in English. To apply, please e-mail theo@westdenhaag.nl before 26 June 2018 with a short introduction and a 100-word motivation. If successful, you will receive a confirmation of registration and instructions for payment within the week – https://bit.ly/2IHDg4l
About all things languages of all sorts | lingagens an online ReadingClub ***** session. Duration 20 min | Lai-TzeFan, Abdulmohsen Alonayq, Sören Pold and Andréa Catrópa will rearite a text originally written by Erika Fülöp. June 20, 8:15pm (UTC+01:00) – https://bit.ly/2WktGsM
Books
Vital Forms: Biological Art, Architecture, and the Dependencies of Life | By Jennifer Johung | Shows how the intersection of biotech, art, and architecture are transforming the world we live in. Examining cutting-edge developments in biotechnological research—including tissue-engineering, stem cell science, regenerative medicine, and more—Vital Forms brings biological art and architecture into critical dialogue | The University of Minnesota Press 2019 – https://bit.ly/2KK5nCl
Archives | Authors – Andrew Lison, Marcell Mars, Tomislav Medak, Rick Prelinger, Wendy Hui Kyong Chun, Götz Bachmann, Mercedes Bunz, and Timon Beyes | How digital networks and services bring the issues of archives out of the realm of institutions and into the lives of everyday users. Archives have become a nexus in the wake of the digital turn—electronic files, search engines, video sites, and media player libraries make the concepts of "archival" and "retrieval" practically synonymous with the experience of interconnected computing – The University of Minnesota Press, 2019 – https://bit.ly/2WBWjli
Fucking Law: The search for her sexual ethics | By Victoria Brooks | An urgent call for everyone, not just academics and researchers, to find inventive ways to question the ethics of sexuality. Since a sex life is full of so many diverse moments of joy and suffering, for each and everybody, the book attempts to bridge a gap between philosophical and non-philosophical questioning | Zero Books, 2019 – https://bit.ly/31CMxDs
Articles & interviews

Gadgets, Power and the New Modes of Political Consciousness | By Joss Hands | What impact does our relentless fixation on gadgets have on the struggle for new kinds of solidarity, political articulation and intelligence? Joss Hands, author of Gadget Consciousness: Collective Thought, Will and Action in the Age of Social Media, explores the new political and social forces that are emerging in the age of social media – https://bit.ly/2KJp4Kx
Physical Tactics for Digital Colonialism | Video documentation of artist Morehshin Allahyari and her performance-lecture from February 28th 2019. Commissioned and co-presented by New Museum affiliate Rhizome, presenting her concept of digital colonialism in relation to the technologies of 3-D scanning and 3-D printing. https://vimeo.com/337394969
Allahyari also talks to Hrag Vartanian via Hyperallergic on the subjects of ownership of data, forgotten stories, issues surrounding digital colonialism and her scifi project on a podcast – https://bit.ly/2ZnBJa3
The Data Sublime | Giles Lane, writes about his experience at Act Otherwise as a participant at Blast Theory's annual two day seminar, 'Act Otherwise – The Invisible Hand: On Profiling and Personalisation.' He dscusses issues around the generation and use of "Big Data" in artworks and by artists as well as more generally in culture and society – https://bit.ly/2IbjTS3
Forgiven Not Forgotten? A long and detailed challenge to the modern cult of memory | Book review by Christopher Hale on History Today, of 'Reckonings: Legacies of Nazi Persecution and the Quest for Justice' by Mary Fulbrook, recent winner of the Wolfson History Prize 2019, Oxford University press – https://bit.ly/2wOgulR
Doctored video of sinister Mark Zuckerberg puts Facebook to the test | Last month Facebook declined to remove a manipulated video of Nancy Pelosi even after it was viewed millions of times, and now a doctored video of Mark Zuckerberg delivering a foreboding speech has been posted to Instagram, in a stunt that put Facebook's content moderation policies to the test | Guardian – https://bit.ly/2F72doC
The Past, Present, and Future of AI Art | AI art has a long history that is often overlooked | By Fabian Offert & Andrey Kurenkov | "AI art", or more precisely art created with neural networks, has recently started to receive broad media coverage in newspapers (New York Times), magazines (The Atlantic), and countless blogs. It has also led to the popularization of an ever-growing list of philosophical questions surrounding the use of computers for the creation of art – https://bit.ly/2wKD7Y3
Waves to Waveforms: Performing the Thresholds of Sensors and Sense-Making in the Anthropocene | By Richard Carter | This paper details the technical and conceptual background for the developing art project Waveform, a creative-critical meditation on the role of digital sensors in monitoring and representing environmental change. It explores the origins and functioning of the global sensory architectures used to detect and assess these changes, deconstructing the connotations of omniscience, abstraction, and control associated with the 'top-down', data-driven mappings they generate – https://bit.ly/2MHs8K4
Extra Squeezed

Looking for a MoneyLab intern | The Institute of Network Cultures is looking for an intern with production and research skills for the organisation of MoneyLab #7: Feminist Finance and overall project management support of the MoneyLab project, NL | Internship period: September 1 until December 15 2019 – https://bit.ly/2WJhKWv
transmediale | Work with us! For the preparations of #transmediale2020 we are looking for interns who would like to gain experience in the administration, communication, and production of the festival. https://bit.ly/2MpGv5k

Main image by Michael Borras aka Systaime | NETICONES 2019.
A weekly list of Furtherfield recommendations that we are sharing with others. It reflects the expansive and dynamic culture we enjoy, straddling the fields of art, technology and social change.

Events & Exhibitions

Larry Achiampong & David Blandy: The Grid | Copperfield: Exhibition opens 5 June, 6 – 9pm / Runs until 20 July & Seventeen: Exhibition opens: 27 June, 6 – 9pm/ Runs until 3 August. The Grid is a single exhibition over two sites in London simultaneously; Copperfield and Seventeen – http://bit.do/eTVUX
About all things languages of all sorts | lingagens an online ReadingClub ***** session. Duration 20 min | Lai-TzeFan, Abdulmohsen Alonayq, Sören Pold and Andréa Catrópa will rearite a text originally written by Erika Fülöp. June 20, 8:15pm (UTC+01:00) – https://bit.ly/2WktGsM
I, I, I, I, I, I, I, Kathy Acker | The first UK exhibition dedicated to the American writer Kathy Acker (1947–1997), and her written, spoken and performed work. ICA 1 May – 4 August 2019 – https://bit.ly/2UGEqpv
End of the World Trade: On the Speculative Economies of Art and Extraction | Mute contributors Josephine Berry and Marina Vishmidt are organising and/or presenting at the following conference: End of the World Trade: On the Speculative Economies of Art and Extraction, 21 Jun 2019 – 22 Jun 2019 – https://bit.ly/2wF9Vle
Upcoming Sessions – Culture, Power and Politics — Spring / Summer 2019 Series | All Seminars 18:30 -20:30 (These are all Tuesdays except June 19th, which is a Wednesday) | Ridley Road Market Bar, 49 Ridley Road, Dalston, London, E8 2NP | All free, all welcome, no advance booking – http://bit.do/eTVTX
Plastic-Free Hackney will be talking all things waste-reduction at the Council's Zero Waste event (times tbc). Please come and meet us with your questions and ideas as to how we can help cut the dependence on single-use plastics in the borough. http://bit.do/eTVVL
Books

Energies in the Arts | Edited by Douglas Kahn | Investigating the concepts and material realities of energy coursing through the arts: a foundational text | (MIT Press) – http://bit.do/eTLh8

Gadget Consciousness : Collective Thought, Will and Action in the Age of Social Media | By Joss Hands | What impact does our relentless fixation on gadgets have on the struggle for new kinds of solidarity, political articulation and intelligence? In this groundbreaking study, Joss Hands explores the new political and social forces that are emerging in the age of social media – https://bit.ly/2wAtDi4
Entry Points | Resonating Punk, Performance, and Art | Stevphen Shukaitis (Contributor); Penny Rimbaud (Contributor); Dharma (Contributor); Awk Wah (Contributor) | An Art-media project exploring resonances between punk and performance in the UK and Southeast Asia. Apr 2, 2019 – https://bit.ly/2WGkYte
Articles & interviews

To Exist is to Resist | Exploring Black feminist politics beyond national boundaries | By Lynsey May | New essay collection reveals the particularities of experiences and understandings of Black feminism in Europe – https://bit.ly/2ERvtzK
What do we do when everything online is fake? | James Ball on the threat posed by the generation of fake news through artificial intelligence and how it risks undermining our trust in everything – https://bit.ly/2W9rt3x
Making Public | Memes as Means | By Sepp Eckenhaussen | Institute of Network Cultures | What kind of meaning is implied in means-being of memes? How meaningful is it to decipher their ever-changing meanings and to partake in the land-grabbing of symbols? – http://bit.do/eTVWE
Towards an anti-fascist AI | By Dan McQuillan | We already know the destructive consequences on the individual and collective psyche of poverty, racism and systemic neglect. We don't need AI as targeting but as something that helps raise up whole populations. https://bit.ly/2WrSILv
Unraveling the JPEG | By Omar Shehata | "JPEG images are everywhere in our digital lives, but behind the veil of familiarity lie algorithms that remove details that are imperceptible to the human eye. This produces the highest visual quality with the smallest file size—but what does that look like? Let's see what our eyes can't see!" – https://parametric.press/issue-01/unraveling-the-jpeg/
Uneven Distribution: An Interview with Ned Rossiter | On logistics and mediated environments | Ned Rossiter and Kenneth Tay — May 31, 2019 | This conversation with Ned Rossiter marks the second in a series of dialogues on the subject of logistics. – https://bit.ly/2HRYAE
The anarchic arts and politics magazine for prisoners and homeless people | Life & Culture Q+A on dazed & Confused | DOPE is now four issues in, with contributions from anarchist writers including Cindy Milstein and Lisa McKenzie, a piece by writer and dub poet Benjamin Zephaniah, as well as work by British Iraqi rapper and activist Lowkey and Sleaford Mods' Jason Williamson – https://bit.ly/2QHW3zZ
The European Far Right's Environmental Turn | By Kate Aronoff ▪ May 31, 2019 | As climate change becomes a central concern for voters across the continent, right-wing parties are beginning to incorporate green politics into their ethno-nationalist vision – https://bit.ly/2Mo7Ipb
Extra Squeezed

transmediale, Work with us! | For the preparations of #transmediale2020 we are looking for interns who would like to gain experience in the administration, communication, and production of the festival. https://bit.ly/2MpGv5k
Main Image: Finding Fanon Part 3, 2016-17, 4K UHD Single Channel Video Colour With Stereo Sound. Photo by Claire Barrett.
A weekly list of Furtherfield recommendations that reflects the expansive and dynamic culture we enjoy, straddling the fields of art, technology and social change.
Events & Exhibitions
Towards the Planetary Commons | A new exhibition investigating agency and autonomy in the face of global ecological crises | Arts Catalyst | Free entry! Thu 23 May 2019 – 6.00pm, Sat 3 August 2019 – http://bit.do/eTLtx
Call out | NEoN Digital Arts Festival – REACT 2019 in Dundee, Scotland, exploring how artists use digital systems to effect change within our social and political realities – http://bit.do/eTLqy
Symposium | Digital Ecologies 2: Fiction Machines | The Centre for Media Research at Bath Spa University is proud to host the second Digital Ecologies symposium: Fiction Machines and it will take place on Tuesday July 16th 2019 – http://bit.do/eTLkv
Books
Energies in the Arts | Edited by Douglas Kahn | Investigating the concepts and material realities of energy coursing through the arts: a foundational text | (MIT Press) – http://bit.do/eTLh8
Virtual Menageries: Animals as Mediators in Network Cultures | By Jody Berland | The close interdependency of animal emissaries and new media from early European colonial encounters with the exotic to today's proliferation of animals in digital networks – http://bit.do/eTLiz
To Exist is to Resist: Exploring Black feminist politics beyond national boundaries | By Lynsey May | New essay collection reveals the particularities of experiences and understandings of Black feminism in Europe – http://bit.do/eTLjz
Articles
What is Ethereum? By Ethan Sidelsky | Created in 2015 by Vitalik Buterin to empower users to build their own applications on the blockchain. It is now both the second most well known cryptocurrency and the second most valuable, behind Bitcoin – http://bit.do/eTLfT
Automatic insect identification for better grasp on biodiversity by Eelke Jongejans, Radboud University. One hundred camera traps, developed specifically for the automatic counting and recognition of insects, will be placed throughout the Netherlands this summer – http://bit.do/eTLfy
Network-ing Does Not Equal Network WEAVING | By Christine Capra | Those of us who work with change networks could sometimes do a better job of clarifying the distinction between 'networking' and 'network weaving' – http://bit.do/eTLgq
Sell Your Data. Earn Passive Income. What Could Go Wrong? | By Garrett Hazelwood | Your data is not property. It's a piece of who you are – http://bit.do/eTLgT
Extra Squeezed
The LSD Archive at The Institute of Illegal Images "It kept me from eating it if it was framed on the wall" – Mark Mcloud on his amazing collection of LSD Blotters – http://bit.do/eTLKx
Main Image – Marwa Arsanios: Still from 'Who is Afraid of Ideology? Part I' (2017), courtesy the artist. At Arts Catalyst exhibition, Towards the Planetary Commons.
This year's festival of "Mine, yours, ours"(Moje, tvoje, naše) puts emphasis on people who are behind the work performance of machines, literally as well as metaphorically, and without whom the machines cannot perform their work.
Automatization, computerization, robotization, mechanization. Recent studies point out that by 2030 as many as 800 million workers throughout the world will lose their jobs to robots. Predictions that already in six years time robots with artificial intelligence will have replaced more than half of the human workforce, and thereby leave 75 million people unemployed, and that the number of robots that perform work of which humans are capable would double from the current 29%, have flooded web portals.
Questioning the status of work conditioned by the relation between man and machines, and observed from the perspective of contemporary artists, was chosen as the theme of the festival "Mine, yours, ours" carried out by Drugo More, held from the 14th to the 16th of February at the building of Filodrammatica in Rijeka. The international festival "Mine, yours, ours" has for fourteen years in a row by the means of art questioned the topics related to the exchange of goods and knowledge, an exchange that today is conditioned by capital and consequently bereft of all the aspects of a gift economy. Exchange via gifts has been replaced by mechanical work whereby the worker is distanced from the very purpose of the work and thereby doomed to a feeling of purposelessness, while the final product and service remain dehumanized. In a world that is mongering fear about robots taking over human jobs, the curator of the exhibition and moderator of the symposium, Silvio Lorusso, decided to give a new perspective on the topic putting emphasis on the people behind the work of the machines, literally and metaphorically, without whom the machines cannot – work.
Like robots that perform work mechanically and lacking intrinsic motivation, people play the roles of robots through various forms of work. The sequence of actions that we observe on the internet are attributed to the work of machines, ignorant of the fact that human work, hidden on purpose, is behind all the exposed data. A human, according to research by artist Sebastian Schmieg, writes the descriptions of the photos that we find on the internet and we are deceiving ourselves thinking that the descriptions are the product of an automatized system. A group of crowd workers creates the database for recognition of pictures, while the neural network of artificial intelligence is shaped with the help of manual work by a collective of people who choose what the machines will see, and what is to remain unrecognized. The role of human work is crucial to the processes that enable self-driving cars. Researcher and designer Florian Alexander-Schmidt explained how the detailed localization of an object is possible exclusively due to a human workforce, not robots. Digital platforms tend to locate vehicles at a precision rate of 99% and this cannot be achieved by an algorithmic system. Alexander-Schmidt points out that the cheapest workers are employed at servicing the digital platforms, such as those from Venezuela, whose work is hidden behind the magical acronym "AI".
Artificial intelligence operates thanks to the strength and precision of human intelligence, and workers are the slaves of a system that functions like a computer game, demanding that employees score more and thereby perpetuate a game in which, no matter how high they score, they lose. They lose because a cheap labor force, qualified via automatized training, secretly performs the work that consumers consider a product of automatization, and they remain at insecure workplaces whose existence persists due to risky capital and results in constant change of workplaces – virtual migrations. The market of the internet diminishes the global geography of honorary work, while humans play machines performing jobs exclusively for a salary, turning into an invisible, undefined (robotized) mass employed at unstable workplaces and conditioned by risky capital.
The work performed by humans is considered a product of the work of machines, while machines are often replaced by humans. Entering a relationship, developing a sense of connection, characteristic for the human species, is becoming one of the fields in which robots are developing. Chatrooms and platforms for looking for a partner more and more often include programmed robot profiles that engage in communication and emotional bonding with those who sign up, as reported by the artist Elisa Giardina Papa. Robots replace humans, but this change of identity isn't recognized by the other human – instead, they see a potential partner. In that sense we can speak about a justified presentiment not only of a loss of workplaces and the current modus operandi of the labor market, but of changes in the way emotional relationships are built as well.
Changes in the development of artificial intelligence (AI), virtual reality (VR), robotics, quantum computers, the internet of things (IoT), 3D printing, nanotechnology, biotechnology and the car industry improve some aspects of human life, but place humanity before social, economic and geopolitical challenges. Sustainability of the internet is entirely dependent on humans since the spare time that humans are ready to use for posting content conditions the survival of web portals, video and music channels and social networks. Giardina Papa explained how the spare time of humans has become the time of unpaid work for the internet. Activities that spare time offers – relaxing, self-realization, healthy spontaneous sleep, have been replaced with the production of content for others and posting it on the internet. Creativity, productivity, self-realization are falling into oblivion. Creative work has been replaced by plain performance and we identify more and more often with the byword which the artist Giardina Papa brought up as an example and are becoming "doers, not dreamers".
Such an approach to life and work affects everybody, and is consciously looked on as a problem by artists in their attempts at a good-quality creative life. The average artists spend their days trapped doing jobs of stocking up shelves in stores, taking in orders, working for telecommunications operators and only at night devote themselves to acting, dancing, painting. Constant financial instability, insecure and temporary jobs, low income, unregistered work and an absence of pension are the conditions of life that the contemporary artist faces. A few European countries are an exception from this. Denmark awards 275 artists an annual scholarship that amounts to between 15000 and 149000 Danish krones. France made sure that every region secures a certain amount of financial support for artists and therefore in for example the region of Ile-de-France are recipients of up to 7628,47 euros for the organization of their workshops. Unfortunately, in most countries artists without rich parents or benefactors can only survive by performing daily work. While spare time is subordinate to work, work is becoming more and more precarious, per hour, without contracts, while full day work time is becoming the lifestyle of the millenium. A way of life where spare time is spent working, subordinated to a mechanical execution of tasks that don't foster the self-development of the worker, makes man function in a way characteristic of machines.
The individual aspect exposes it's intimacy in front of a collective audience and thereby diminishes it's own independence. Simultaneously, via the intrusion of the private into the public, the collective character of the public now becomes more individualized, more personal and strives to be unique. Faced with changes artists are trying out new ways of expressing themselves as a means of enjoying their work. The joy in their work and their artworks stems from the recognition that their activities are actually creative and not plain performance, that is, mass-producing content for others and suitable to others, and such an approach seldom comes to anyone's (robotized/artistic) mind anymore. Artists are the ones who in times of computerization of work tend to enjoy their work and work in a way to develop oneself.
We are witnessing processes where work is developing via control of people (crowdsourcing), it is transforming and making people similar to machines, and machines to people and making people's work the work of machines and vice versa. Man is faced with new challenges at the workplace, and with the focus on securing existential necessities as well as necessities conditioned by the contemporary approach to existence, there is no spare time to devote to questioning the position to which he brought himself to. Artists, equally affected by the changes, succumb to them, but also analyze them, deautomatize them and actively do research on them. The international guests to the festival "Mine, yours, ours" have through their works pulled back the curtain to make the supposedly automatized work transparent for people to see that a well hidden group of humans is behind this work. While explaining the results of their research, preceding the artistic exhibition, at a two-day symposium, they gave the public new perspectives on the theme, but also further corroborated the existing view. Where does the robot begin and where does man end and who or what is to whom or to what a robot, and who or what to whom or to what a human are the questions that, concerning the labor market, pave the way for – a new set of sub-questions.
Jelena Uher
Our times are characterized by the accelerating collapse and redrawing of multiple borders: between nation states, personal identities, and the responsibilities we have for each other. Also between the old distinctions, work and pleasure.
Some leaders as part of the new world order, tell us through their political actions and their fashion accessories, that they "Just Don't Care". This "political art-form"1 of not caring permits an insidious spread of hatred online and on the ground. In recent times, the digital condition has lent it's networks and platforms to this poisonous, rhetorical hyperbole, turning against immigrants, and others who do not fit into the framework of a western world, oligarch orientated vision. Mass extraction and manipulation of social data has facilitated the circulation of fake news and the production of fear, anxiety and uncertainty. Together these fuel the machine of structural violence adding to the already challenging conditions created by Austerity policies, growing debt and poverty.
In the face of these outlandish difficulties our digital tools and networks – taken up with a spirit of cultural comradeship. More inspiring narratives are emerging from across disciplines and backgrounds, to experiment with new solidarity-generating approaches that critique and build platforms, infrastructures and networks, offering new possibilities for reassessing and re-forming citizenship and rights.
The exhibition and labs for Playbour – Work, Pleasure, Survival, have created new contexts for collaboration. Artists (from the local area and internationally), game designers and architects, come together with researchers from psychology and neuroscience addressing the data driven gamification of life and everything.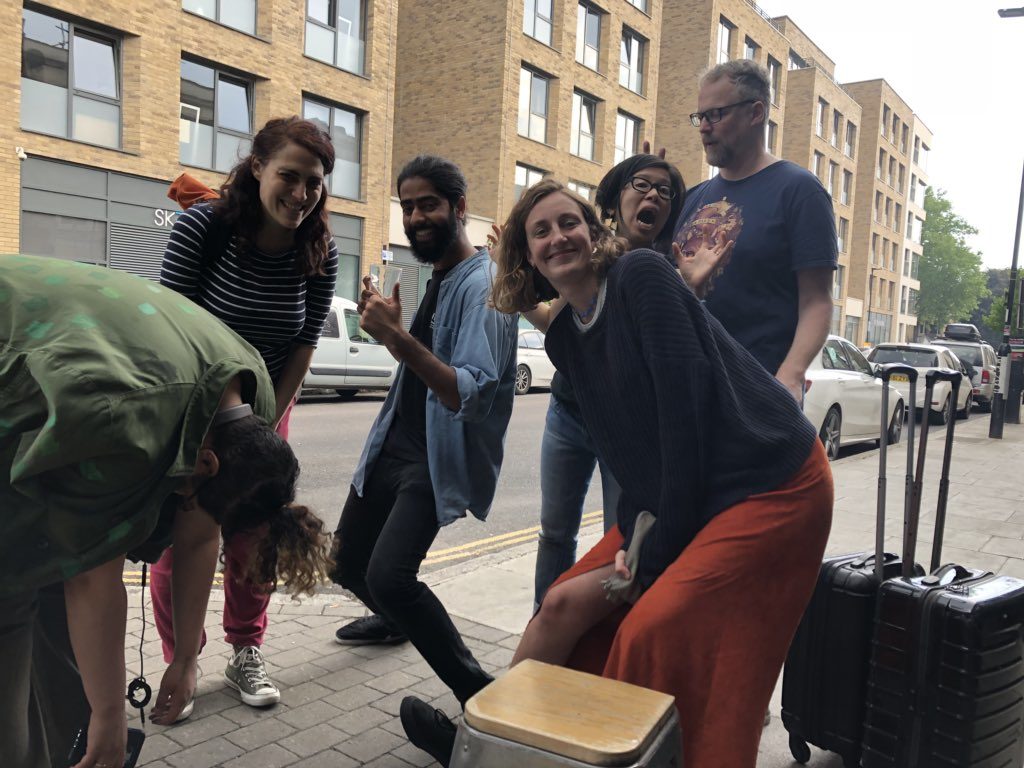 In her interview, the curator Dani Admiss discusses how they reassess the power relationships of the gallery, park users and the local authorities, asking who owns the cultural infrastructure and public amenities – and so create a polemic to open up questions of public value. The exhibition is open every weekend through 14 July to 19 August 2018.
The artists featured in Transnationalisms exhibition curated by James Bridle address the effect on our bodies, our environment, and our political practices of unstable borders.
"They register shifts in geography as disturbances in the blood and the electromagnetic spectrum. They draw new maps and propose new hybrid forms of expression and identity."2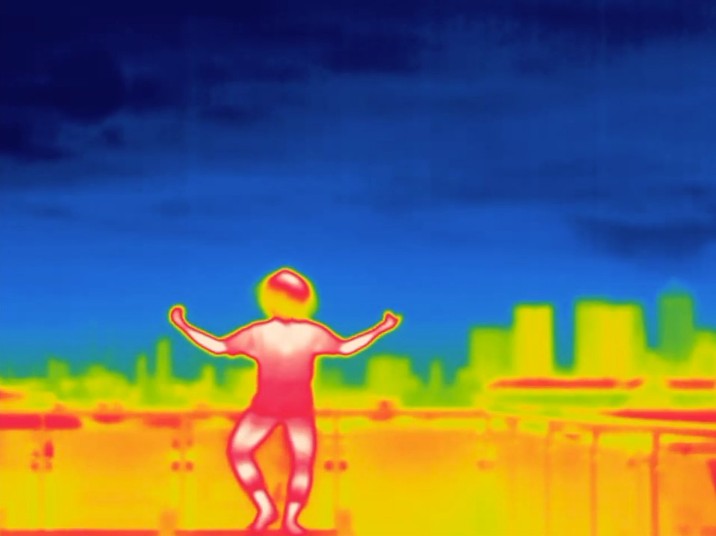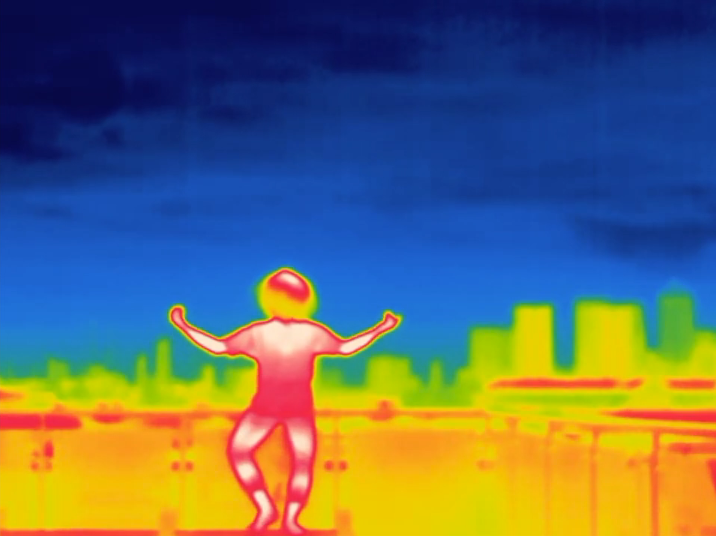 "Thiru Seelan, a Tamil refugee who arrived in the UK in 2010 following detention in Sri Lanka during which he was tortured for his political affiliations, dances on an East London rooftop. His movements are recorded by a heat sensitive camera more conventionally often used to monitor borders and crossing points, where bodies are identified through their thermal signature."3
The show opens at Furtherfield from September 14th to October 26th 2018, touring as part of State Machines the EU cooperation which investigates the new relationships between states, citizens and the stateless made possible by emerging technologies.
We have another interview with artist and activist Cassie Thornton, where we discuss her current project Hologram, which examines health in the age of financialization, and works to reveal the connection between the body and capitalism. Her interview focuses on a series of experiments that actively counter the effects of indebtedness through somatic – or body – work including her focus on the way in which institutions produce or take away from the health of the artists and workers they "support".
"In my work for the past decade, I have been developing practices that attempt to collectively discover what debt is and how it affects the imagination of all of us: the wealthy, the poor, the indebted, financial workers, babies, and anyone in-between." Thornton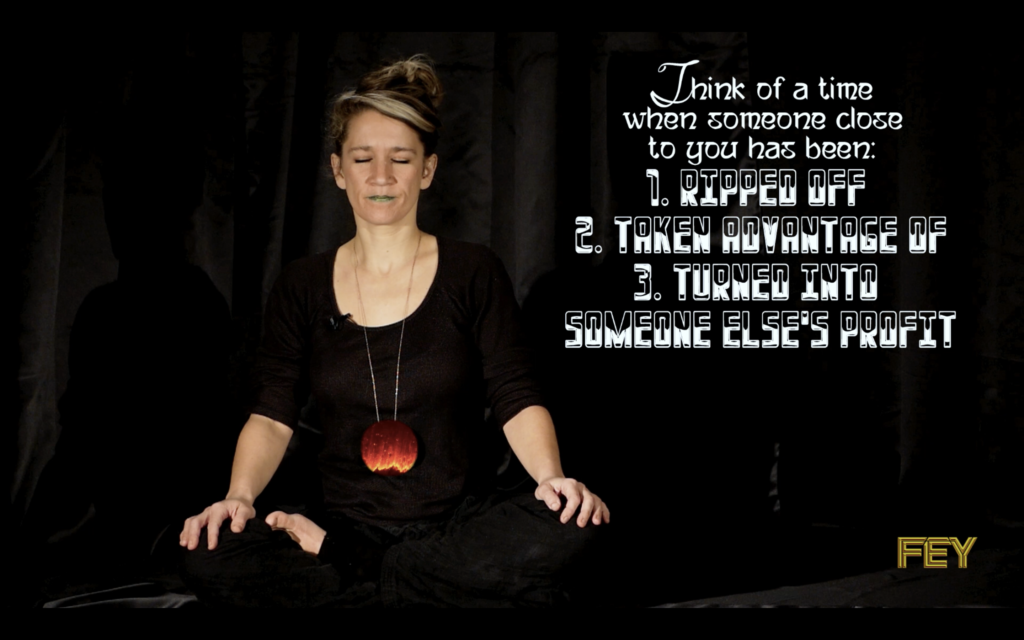 Finally I interview Tatiana Bazzichelli, artistic director and curator of the Disruption Network Lab, in Berlin, questions about art as Investigation of political misconducts and Wrongdoing. Since 2015, the Disruption Network Lab has cultivated a stage and a sanctuary for otherwise unheard and stigmatised voices to delve into and explore the urgent political realities of their existence at a time when the media establishment has no investment in truth telling for public interest.
"When the speakers are with us and open their minds to our topics, I feel that we are receiving a gift from them. I come from a tradition in which communities, networks and the sharing of experience were the most important values, the artwork by themselves." Bazzichelli.
The programme creates a conceptual and practical space in which whistleblowers, human right advocates, artists, hackers, journalists, lawyers and activists are able to present their experience, their research and their actions – with the objective of strengthening human rights and freedom of speech, as well as exposing the misconduct and wrongdoing of the powerful.
To conclude, all one needs to say is…
"Whether in the variety of human, backgrounds and perspectives, biodiversity or diversity of technologies, coding languages, devices, or technological cultures. Diversity is Proof of Life." Ruth Catlow, 2018.
Way back in 1995, the artist collective Critical Art Ensemble (CAE), said "What your data body says about you is more real than what you say about yourself. The data body is the body by which you are judged in society, and the body which dictates your status in the world." These words now haunt us, and take their place alongside numerous other ignored warnings about global threats to the wellbeing of our societies and the planet.
In this interview with curator Dani Admiss, we discuss how the data-driven gamification of life and everything has shaped the development of Playbour – Work, Pleasure, Survival at Furtherfield and why the Gallery is currently being transformed into a psychological environment.
Gallery visitors are presented with a series of game-like installations, which are the result of the shared and collective cognitive labour of artists, curators and gallery staff. First the artists, and then the public (as players) are invited to test the processes and experiences offered by new mechanisms of play and labour. Each 'game' simulates an experience of how some techniques and technologies of gamification, automation, and surveillance, are at work in our everyday lives, in order to capture all forms of existence.
Interview
Marc Garrett: Before the exhibition, you initiated an open call for a Lab. You invited participants to join a three-day art and research lab at Furtherfield Commons, Finsbury Park, London. Could you elaborate why you did this and how it informed the exhibition?
Dani Admiss: A couple of months before the exhibition, I ran a 3 day co-research lab that brought together artists, designers, activists, and researchers. I like to refer to it as a performative, temporary exhibition in the form of a lab. There were discussions, performances, interventions, games, and exercises. We had discussion with Jamie Woodcock on gaming and digital labour, he walked us through an interview session with gamers on the Twitch platform. Steven Levon Ounanian held a performative experiment where we thought about how we might render the suffering online in the real world, Itai Palti worked with us to think about design principles and neuroscience. FUN! The idea was that we would collectively explore, discuss and define key issues that we thought were important to then take forward to develop into games and experiences to share with the public. The aim was to play off each other in a live context to generate new perspectives and ideas.
Building on this, I decided to hold an open call for participants. In my most idealistic moment, I'd say I wanted to try and find ways to expand who gets to produce, stage and display, how we define what these issues actually are for wider audiences. Can this lead to new stories about art, tech, society? Like any project it is never exactly as you imagined it, but I think the majority of people got a lot out of working like this. I did. Working with people that aren't always the people you expect to be attached to a project always throws up unexpected experiences. Everyone brought their best themselves with them. Open. Interested. Warm. Prepared. Ready to listen, and for fun!
I'd make the lab longer next time, so it wasn't as intense, and I'd try to have more people join the open call.
MG: The open-curation process you have developed is core to the realisation of the Playbour lab and exhibition. It resonates strongly with Furtherfield's DIWO ethos. It turns on its head, the traditional approach to curating thematic group shows. Please can you tell us about the process and say why this new approach is important at this time?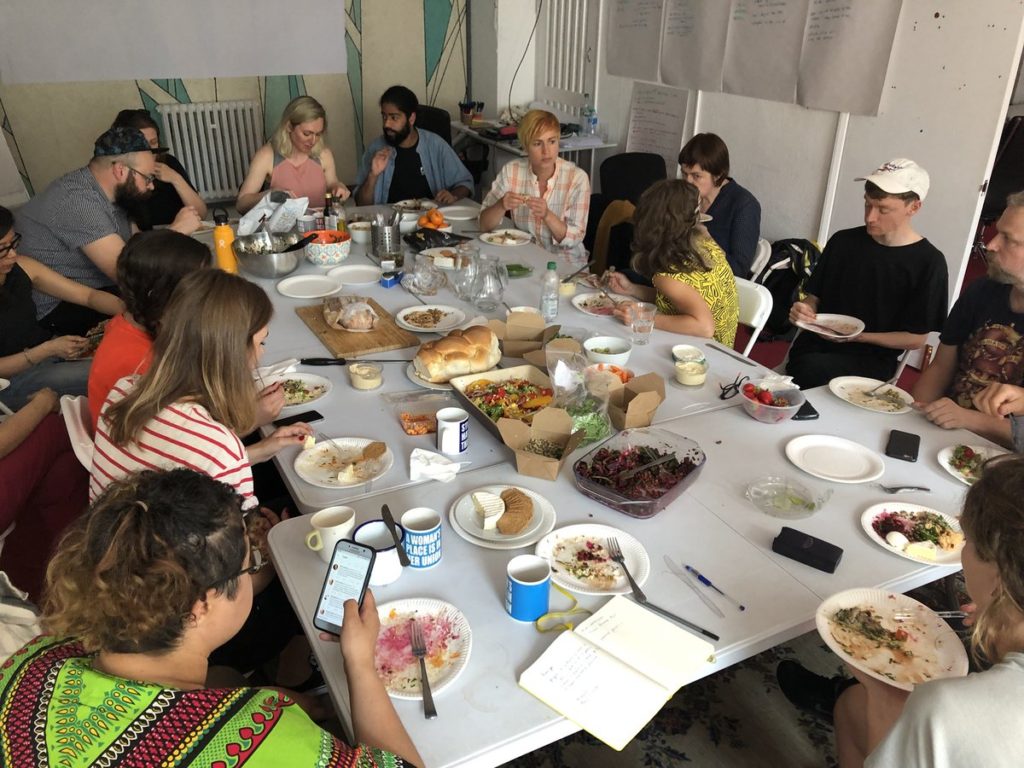 DA: DIWO definitely informed Playbour! I think the spirit of co-creative discovery is a powerful tool that curators should use more. I refer to it as co-research, which is ultimately a way to research-with others. What separates it from more traditional approaches to curating is the unclear distinction between author/researcher and subject/participant. The aim is to achieve closer equality between the participant and subject area, in the form of valuing a person's idea's and lived-experience as much as other 'expert' forms of knowledge. Historically, it has roots in a highly specific context of the radical Left in post-war Italy with Operaismo. This is where the seeds of debate on post-immaterial labour emerged, arising from Hardt, Negri, Bifo, Terranova, etc, and why I originally was interested in working in this way because of the subject matter of the project, however, it became something so much more.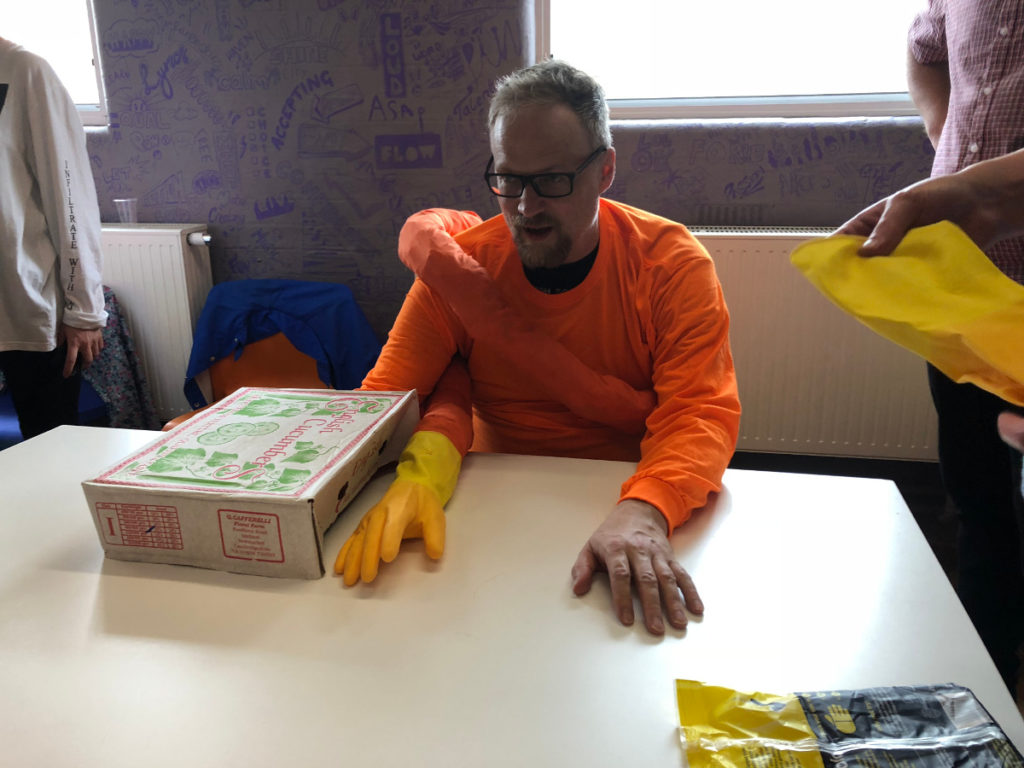 For me, as a curator, creating projects about complex subject areas that bring together embodied and embedded social relations with technical worlds, is something that needs to be done with people rather than to them. I think the most interesting works of art being produced today are treated less like things and instead draw into the very making of the ways in which we get to know what we know. You can see this in works from Cassie Thornton's project Collective Psychic Architecture (an exploration of "bad support" in Sick Times) 2018, where she extends the responsibilities of the gallery or institution through performative means, or in the high-profile modeling and mapping practices coming out of the Forensic Architecture network. How can curating exist in a wider space than before? I'm trying to work in much more extended and expanded ways with the primary intention to include more end users into the areas we are looking at.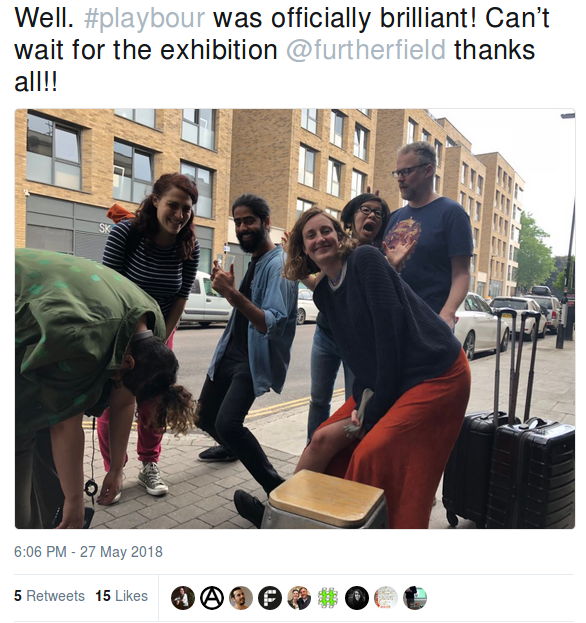 Adopting a co-research model (in the lab, in the show, in the publication, in the micro-commissions) meant that the aim of the exhibition shifts, it becomes less about what the topic is and how it works and more about how it came to be. Brian Holmes once wrote that making an image remakes the world. Yes, but it also distances us from it. Playbour asks people to consider how the world organises us by facilitating moments where people can identify with particular phenomena. I feel this is more fitting and has more potential to create moments of personal learning and change than trying to represent it through curatorial practice. Why do we need this in an age of information? My thinking is that knowledge-projects are not simply objective processes but deeply subjective ones that are enacted through and with others. Finding ways for people to identify in more meaningful ways with the subject will hopefully lead to greater chance that people will gain greater perspective and agency over their own worlds.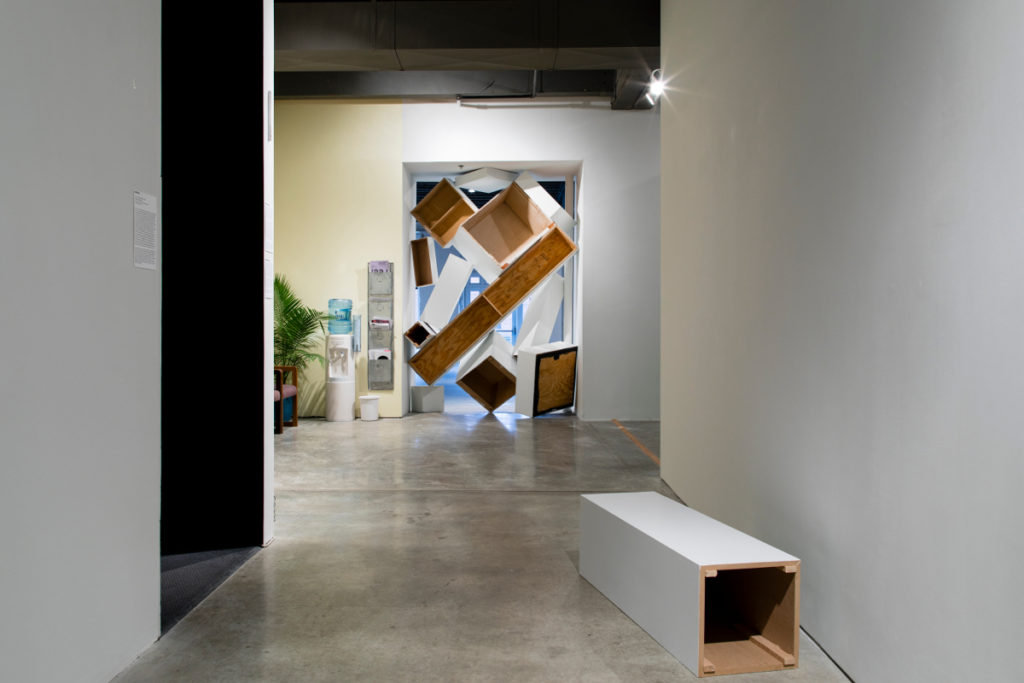 MG: The term Playbour brings attention to critiques of gamification and to the extraction of value via social media platforms. But your subtitle then opens up a whole other world of reflection. What are you discovering about the relationship between "work, pleasure and survival"?
DA: The project is exploring the role of the worker in the age of data technologies, but this looks less at the "future of work" and chooses instead to focus on the shifting roles and blurred boundaries of work, play and well-being – how do we place value on these areas, how do we work with and against them?
Quite often when we talk about opaque terms like immaterial labour and cognitive capitalism we fail to grasp the production processes of these phenomena. Immaterial labour depends on the self and our social relations. We are asked to 'post', 'share', 'network', 'emote', 'communicate', 'know'. Not so much 'understand'. These acts inform the control and creation of our subjectivity. At the same time, very little discussion is happening about the fact that so much exploitation -physical, ecological, economical- sits behind the new commons we are all talking about.
Opening the project out to think about work, pleasure, survival, is a provocation. On one level, it is a nod to the fact that this conversation is for a privileged few. Many choose what they do and this 'choice' is supposed to operate as an expression of one's personality. On the other, it's human nature to get swept up in what is considered the norm, so it's also a challenge to think about what are your own limits, returning to the idea of inviting people to find moments of identification with these broader issues to their own lived experience.
MG: Why is it important that the work being prepared for Furtherfield gallery is conceived of more, as a series of game experiences, than a display of discrete art objects, or a didactic exhibition on the topic of Play and Labour? Has the gallery's location in a public park influenced your thinking at all?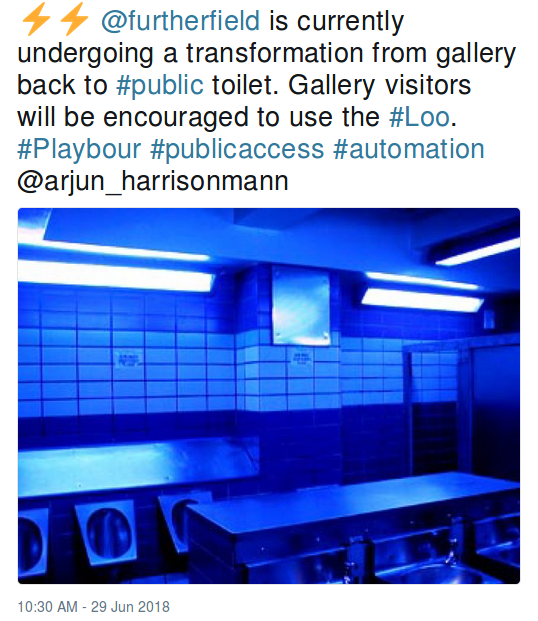 DA: Well, first off, it has been a collective process and so I wanted to show that process to people. Secondly, you have to invest part of yourself in play. The more I research the areas of digital and immaterial labour the more I'm keen to work with others to understand the not yet completed transformations of body, society, and world, into a global capitalist system. These are suffuse and pervasive and nudge our behaviours all of the time. Organising the exhibition as experiences is a way for us all to live-out (at least temporarily and in a safe, playful space) the tentacular effects of immaterial labour and economies of knowledge and information. This is not to say let's walk away from a highly networked society, it's an invitation back into perspectival agency.
MG: You've chosen to put together three themes for the exhibition, ranging across work, pleasure, and survival. Why was it important to choose these three themes in particular?
DA: I'm fascinated by how we are involved in the making of worlds we are then conditioned by. From the learnings in the lab, my own research and collaborations leading up to Playbour, I think gamification, automation, and surveillance are three key areas that scaffold a lot of the debate on digital and immaterial labour.
1) SURVEILLANCE. How we are measured and how we measure ourselves? Traditionally, government control used to come from top-down surveillance techniques, such as the type Michael Straeubig's Hostile Environment Facility Training (HEFT) is looking at. However, I think we should be talking about how forms of control are exercised through our own self-monitoring processes – self-improvement culture is a perfect example of this. Cassie Thornton's Feminist Economics Yoga (FEY), is a wonderful remedy for this.
2) AUTOMATION. How technology is removing decision-making from us in the pursuit of a frictionless universe. In Harrison-Mann's Public Toilet he is talking about how automation is used to address the need of social issues. The starting point is the lack of public services offered in Finsbury Park and how that is altering how we use and experience the public space of the park. He is interested in making a connection between this and how metrics can often end up being exercised in controversial and even arbitrary ways inhibiting people getting what they need, such as disability benefits in the UK.
3) GAMIFICATION. How are rewards and competition embedded into our online interactions and interfaces? Jamie Woodcock has this excellent term that describes gamification-from-above and gamification-from-below. Like the Situationist socialism-from-below. How we might use gamification for our own positive manipulations, diversions and distractions? I think a lot of media and new media practice has long been engaged in gamification-from-below. Marija Bozinovska Jones' piece Treebour (201) plays on this, transferring manipulation of social relations levelled at online interactions to the "natural" networking of trees.
MG: After visitors have experienced the exhibition, what emotions, thoughts and understandings, would you like them to leave with?
I think you introduced the show in an interesting way in your opening text with the notion of the data body and the extension of our bodies into new spaces with unknown consequences. These happen inside the screen, at the edges of the world, in transit, at the end of the supply chains. At the same time, they also operate on semi-conscious refrains, in our behaviours, actions, thoughts and emotions about the world. Taking part, thinking-with, making-with, are strategies to find ways to open up discussions about how we are all involved in making and unmaking our worlds via different actions. Something like digital and immaterial labour is not a discrete issue reservable for experts who work in this area, the connections and consequences weave in and out of our lives and impact us all. We are constantly reacting to thing around us, taking in these cues and pushing them back out into the world.
In terms of emotions, I don't want to spread fear and despair, I'm hoping that some visitors will identify with some of the ideas in the show and relate them to something in their life that perhaps they'd not thought of in that way before.
Notes: Main top image by Marija Bozinovska Jones, Treebour 2018.
DIWO – Do It With Others: Resource
archive.furtherfield.org/projects/diwo-do-it-others-resource
Since the financial crash 10 years ago, we've learned that it tends to be everyday people, on the ground, who pick up the pieces and not governments. Millions have been dragged into poverty while those who caused the "crisis", after creating dangerously high levels of private debt, remain unscathed. [1] The UK Conservative government's response was an Austerity policy, driven by a political desire to reduce the size of the welfare state. Amadeo Kimberly says, "austerity measures tend to worsen debt […] because they reduce economic growth."[2] The effect has been devastating, creating all together, more homelessness, precarious working conditions and thus pushing working communities, deeper into debt. In the UK, the NHS is being privatized as we speak. According to a CNBC report, medical bills were the biggest cause of bankruptcies in the U.S in 2013, with 2 million people adversely affected. [3]
The work of artist and activist, Cassie Thornton is included in the upcoming Playbour– Work, Pleasure, Survival exhibition at Furtherfield, curated by Dani Admiss. In this interview I wanted to explore the following questions as revealed in her current Hologram project:
What do current conditions say about trust and care, and can we trust the current, governing systems to have our best interests at heart?
How do we produce non-hierarchical trust and care that thrives outside of the doctor/patient relationship, which is especially important in the U.S., where it is a profit making industry?
How do we reverse engineer all this tragedy, and put power back where it needs to be?
How do we begin to build solidarity?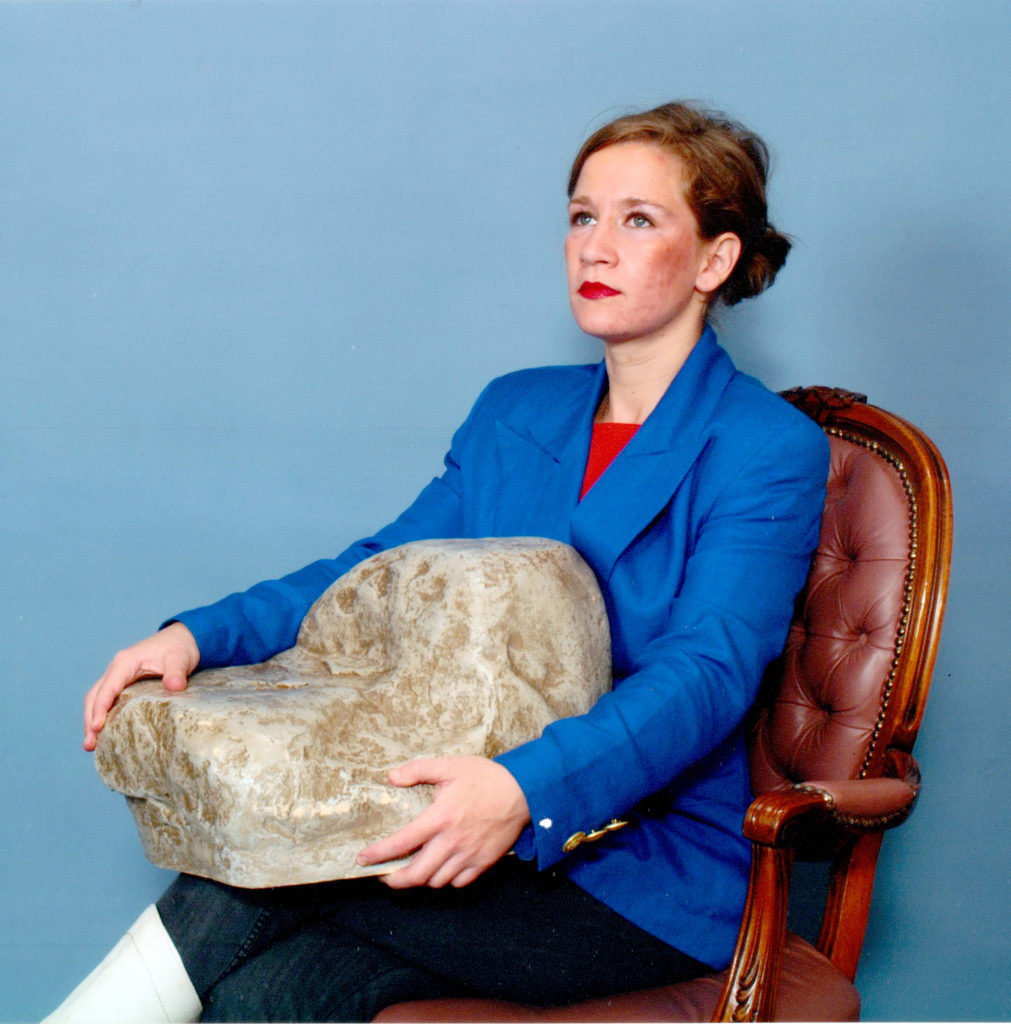 Cassie Thornton is an artist and activist from the U.S., currently living in Canada. Thornton is currently the co-director of the Reimagining Value Action Lab in Thunder Bay, an art and social center at Lakehead University in Ontario, Canada.
Thornton describes herself as feminist economist. Drawing on social science research methods develops alternative social technologies and infrastructures that might produce health and life in a future society without reproducing oppression — like those of our current money, police, or prison systems.
Interview
Marc Garrett: Since before the 2008 financial collapse, you have focused on researching and revealing the complex nature of debt through socially engaged art. Your recent work examines health in the age of financialization and works to reveal the connection between the body and capitalism. It turns towards institutions once again to ask how they produce or take away from the health of the artists and workers they "support". This important turn towards health in your work has birthed a series of experiments that actively counter the effects of indebtedness through somatic work, including the Hologram project.
The social consequences of indebtedness, include the formatting of one's relationship to society as a series of strategies to (competitively) survive economically, alone, to pay the obligations that you has been forced into. It takes so much work to survive and pay that we don't have time to see that no one is thriving. Those whom most feel the harsh realities of the continual onslaught of extreme capitalism, tend to feel guilty, and/or like a failure. One of your current art ventures is the Hologram, a feminist social health-care project, in which you ask individuals to join and provide accountability, attention, and solidarity as a source of long term care.
Could you elaborate on the context of the project is, as well as the practices, and techniques, you've developed?
CT: Many studies show that the experience of debt contributes to higher levels of anxiety, depression, and suicide. Debt disables us from getting the care we need and leads us away from recognizing ourselves as part of a cooperative species: it is clear that debt makes us sick. In my work for the past decade, I have been developing practices that attempt to collectively discover what debt is and how it affects the imagination of all of us: the wealthy, the poor, the indebted, financial workers, babies, and anyone in-between. Under the banner of "art" I have developed rogue anthropological techniques like debt visualization or auxiliary credit reporting to see how others 'see' debt as an object or a space, and how they have been forced to feel like failures in an economy that makes it hard for anyone (especially racialized, indigenous, disabled, gender non-binary, or 'immigrant') to secure the basic needs (housing, healthcare, food and education) they need to survive, because it is made to enrich the already wealthy and privileged.
"The rise of mental health problems such as depression cannot be understood in narrowly medical terms, but needs to be understood in its political economic context. An economy driven by debt (and prone to problem debt at the level of households) will have a predisposition towards rising rates of depression."[4]
After years of watching the pain and denial around debt grow for individuals and entire societies, I was so excited to fall into a 'social practice project' that has the capacity to discuss and heal some of this capital-induced sickness through mending broken trust and finding lost solidarity. This project is called the hologram.
MG: What kind of people were involved?
CT: The entire time I lived in the Bay Area I was precarious and indebted. I only survived, and thrived, because of the networks of solidarity and mutual aid I participated in. As the city gentrified beyond the imagination, I was forced to leave. I didn't want to let those networks die. So, at first, the people who were involved were like me– people really trying to have a stake in a place that didn't know how to value people over real estate and capital
The hologram project developed when, as I was leaving the city, I had invited a group of precariously employed, transient activists and artists to get together in the Bay Area for a week of working together. We aimed to figure out ways to share responsibility for our mutual economic and social needs. This project was called the "Intentional Community in Exile (ICE)" [the ICE pun was always there, now an ever more intense reference in the public eye] and it grew out of an opportunity offered by Heavy Breathing to choreograph an event at The Berkeley Art Museum. They allowed me to go above and beyond my budget to invite a group of 8 women together from across the US to choreograph methods of mutual aid: sharing resources, discussing common problems and developing methods for cooperating to co-develop an economic and social infrastructure that would allow us to thrive together, interdependently. What would it mean for our work as activists and artists to feel that we had roots within an intentional community, even if we didn't have the experience of property that makes most people feel at home?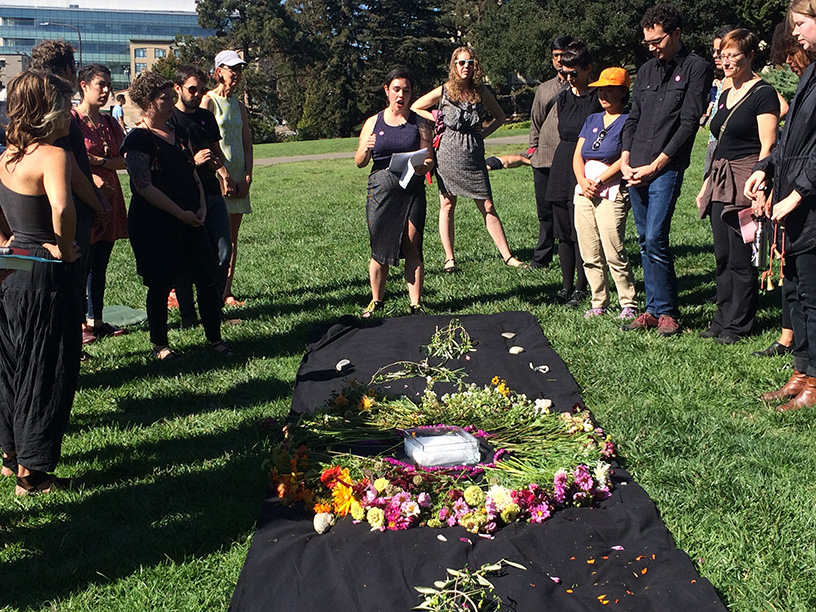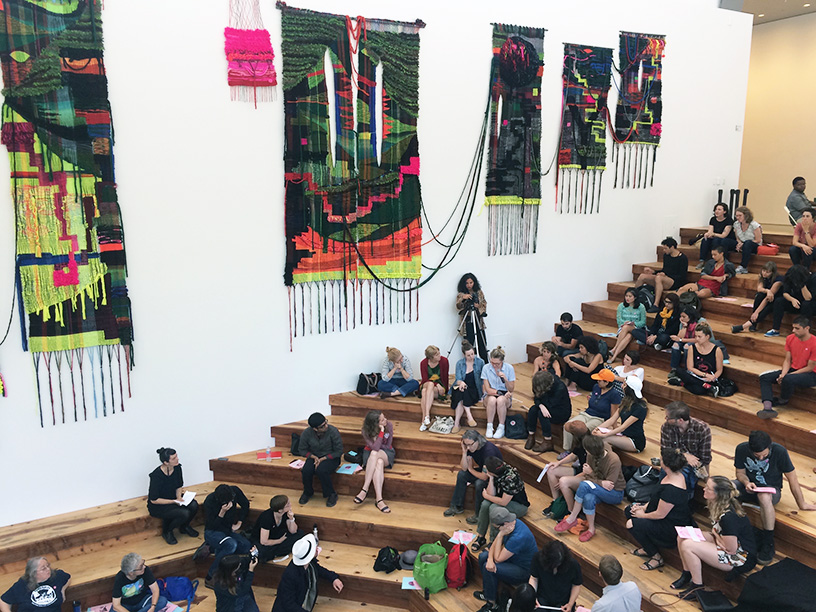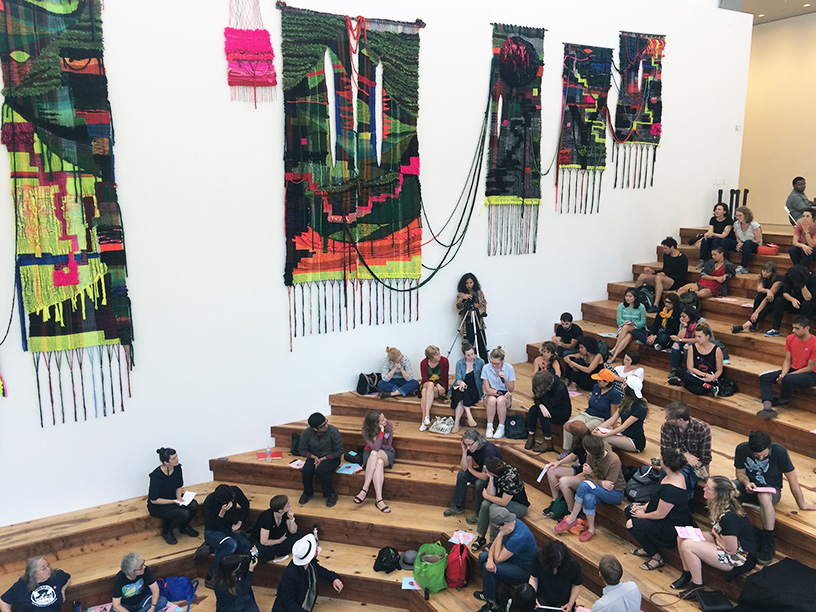 Facebook event: "In departing from the idea of a long term home, family, property, or ownership, ICE models a mutual aid society to sustain creative and political practices within a hostile economic system. This project is about finding ways to exit economic precarity by building human relationships instead of accumulating capital– or to make exile warm. After a one week convergence of a small group of collaborators, ICE presents a discussion and performance of life practices as well as frameworks for material and immaterial mutual support."
The Hologram was one of many ideas that developed as part of this project. One of the group members, Tara Spalty, founder of Slowpoke Acupuncture, (and one of the two acupuncturists you will see at SF protests or homeless encampments) and I fell into this idea when combining our knowledge about the solidarity clinics in Greece, our growing indebtedness and lack of medical records, and the community acupuncture movement. Then the group brainstormed about what the process would be like to produce a viral network of peer support.
MG: What inspired you to do this project? (particularly interested in the Greek influences here and what this means to you)
CT: My practice of looking at debt became boring to me by 2015 as it became more and more clear that individual financial debt was a signal of a larger problem that was not being addressed. The hyper individualism produced by indebtedness allows us to look away from a much bigger deeper story of our collective debts, financial and otherwise. We don't know what to do with these much bigger debts, which include sovereign debts, municipal debts, debts to our ancestors and grandchildren, debts to the planet, debts to those wronged by colonialism and racism and more. We find it so much easier to ignore them.
When visiting austerity-wracked Greece after living in Oakland, I noticed that Oakland appeared to have far more homeless people on the street. It made me realize that, while we label some places "in crisis," the same crisis exists elsewhere, ultimately created and manipulated by the same financial oligarchs. The hedge funds that profit off of the bankruptcy in Puerto Rico are flipping houses in Oakland and profiting off of the debt of Greece. We're all a part of the same global economic systems. The "crisis" in Greece is also the crisis Oakland and the crisis in London. For this reason, I have been interested in what we can all learn from activists, organizers and others in crisis zones, who see the conditions without illusions.
This led me to an interest in the the Greek Solidarity Clinic movement, which since "the crisis" there has mobilized nurses, doctors, dentists, other health professionals and the public at large to offer autonomous access to basic health care. I went to go visit some of these clinics with Tori Abernathy, radical health researcher. Another project using this social technology is called the Accountability Model, by the anonymous collective Power Makes Us Sick. These solidarity clinics are run by participant assembly and are very much tied in to radical struggles against austerity. But they have also been a platform for rethinking what health and care might mean, and how they fit together. The most inspiring example for me was in at a solidarity clinic in Thessaloniki, the second largest city in Greece. The "Group for a Different Medicine" emerged with the idea that they didn't want to just give away free medicine, but to rethink the way that medicine happens beyond conventional models, including specifically things like gender dynamics, unfair treatment based on race and nationality and patient-doctor hierarchies. This group opened a workers' clinic inside of an occupied factory called vio.me as place offer an experimental "healed" version of free medicine.
When new patients came to the clinic for their initial visit they would meet for 90 minutes with a team: a medical doctor, a psychotherapist and a social worker. They'd ask questions like: Who is your mother? What do you eat? Where do you work? Can you afford your rent? Where are the financial hardships in your family?
The team would get a very broad and complex picture of this person, and building on the initial interview they'd work with that person to make a one-year plan for how they could be supported to access and take care of the things they need to be healthy. I imagine a conversation: "Your job is making you really anxious. What can we do to help you with that? You need surgery. We'll sneak you in. You are lonely. Would you like to be in a social movement?" It was about making a plan that was truly holistic and based around the relationship between health, community and struggles to transform society and the economy from the bottom-up . And when I heard about it, I was like: obviously!
So the Hologram project is an attempt by me and my collaborators in the US and abroad to take inspiration from this model and create a kind of viral network of non-experts who organize into these trio/triage teams to help care for one another in a complex way. The name comes from a conversation I had with Frosso, one of the members of the Group for a Different Medicine, who explained that they wanted to move away from seeing a person as just a "patient", a body or a number and instead see them as a complex, three dimensional social being, to create a kind of hologram of them.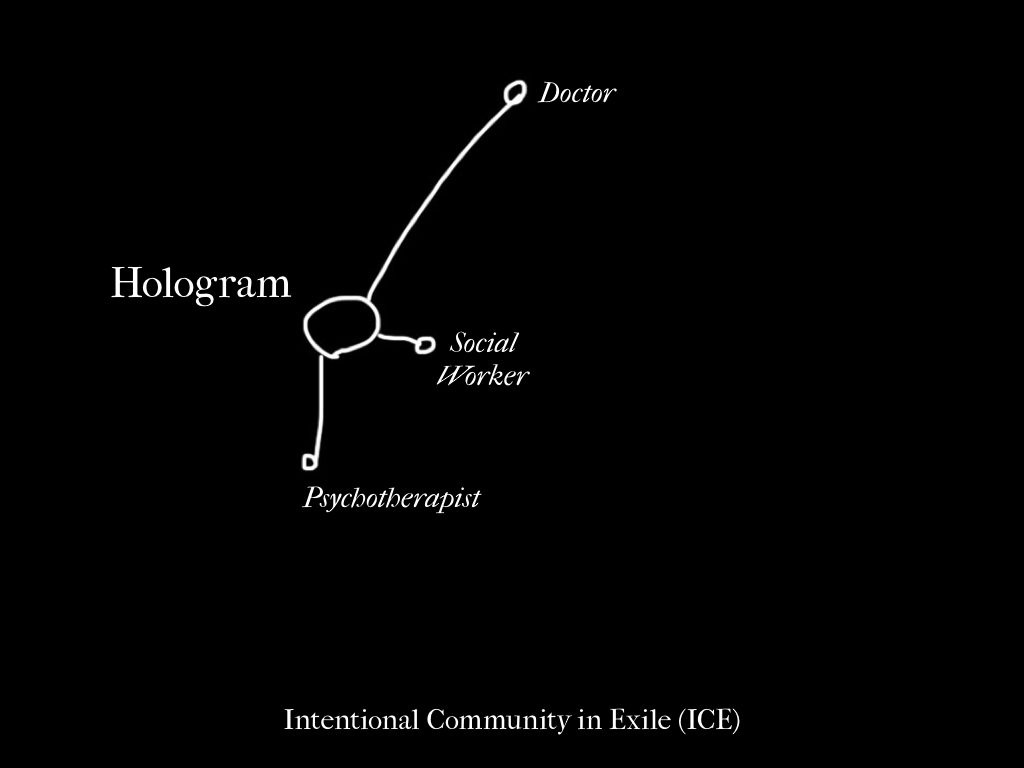 MG: Could you explain how the viral holographic care system works?
CT: Based on the shape above, we can see that we have three people attending to one person, and each person represents a different quality of concern. In this new model, these three people are not experts or authorities, but people willing to lend attention and to do co-research, to be a scribe, or a living record for the person in the center, the Hologram. We call these three attendees 'patience'. Our aim is to translate the Workers' Clinic project to a peer to peer project where the Hologram receives attention, curiosity and long term commitment from the patience looking after her, who are not professionals. Another project using this social technology is called the Accountability Model, by the anonymous collective Power Makes Us Sick.
So the beginning of the process, like that of the Workers' Clinic, is to perform an initial intake where the three patience ask the Hologram questions which are provided in an online form, about the basic things that help or hurt her social, physical and emotional/mental health. When this (rather extended) process is complete, the Hologram will meet as a group every season to do a general check in. The goal of this process is to build a social and a physical holistic health record, as well as to continue to grow the patience understanding of the Hologram's integrated patterns.
Ultimately, over time we hope to build trust and a sense of interdependence, so that if the Hologram meets a situation where she has to make a big health decision (health always in an expansive sense) about a medical procedure, a job, a move, she will have three people who can support her to see her lived patterns, to help her ask the right questions, and to support peer research so that the Hologram is not making big decisions unsupported.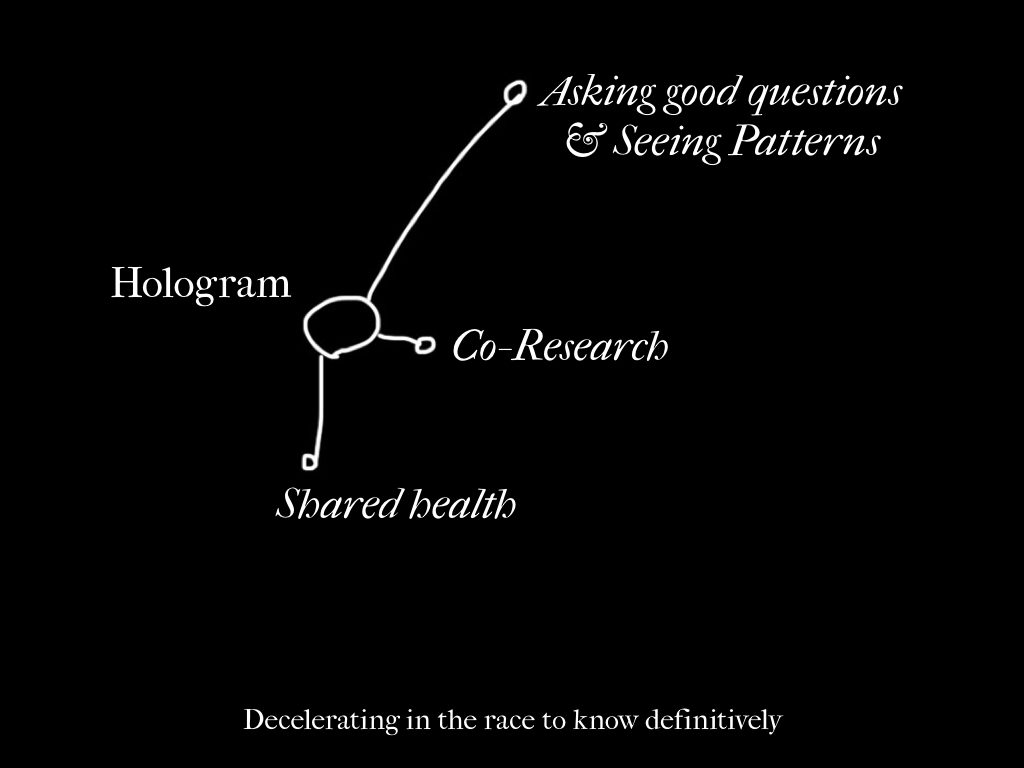 But, in order for the Hologram to receive this care without charge and guilt free, she needs to know that her patience are taken care of as she is. I think this is one part of the project that acknowledges and makes a practice built from the work of feminists and social reproductive theorists – you can't build something new using the labor of people without acknowledging the work of keeping those people alive; reproducing the energy and care we need to overturn capitalism needs a lot of support. Getting support from someone feels so different if you know they are being, well taken care of. This is also how we begin to unbuild the hierarchical and authoritarian structures we have become accustomed to – with empty hands and empty pockets.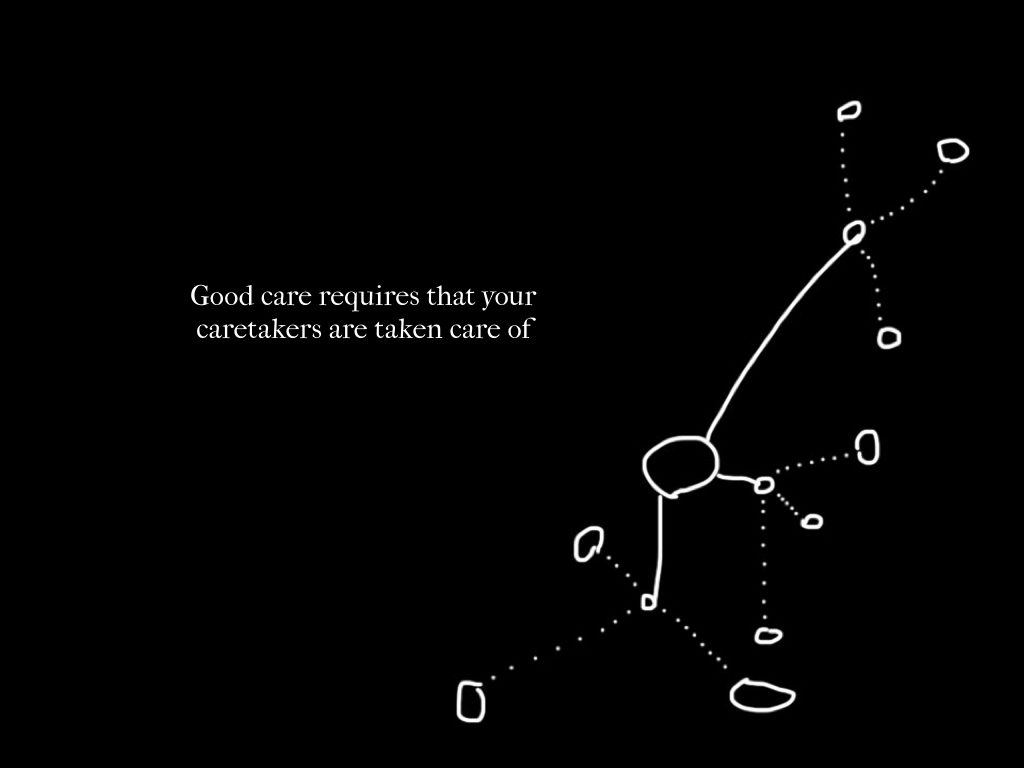 And then, the last important structural aspect of the Hologram project is the real kicker, and touches on the mystery of what it means to be human outside of Clientelist Capitalism – that the real 'healing' (if we even want to say it!) comes when the person who is at the center of care, turns outward to care for someone else. This, the secret sauce, the goal and the desired byproduct of every holographic meeting– to allow people to feel that they are not broken, and that their healing is bound up in the health and liberation of others.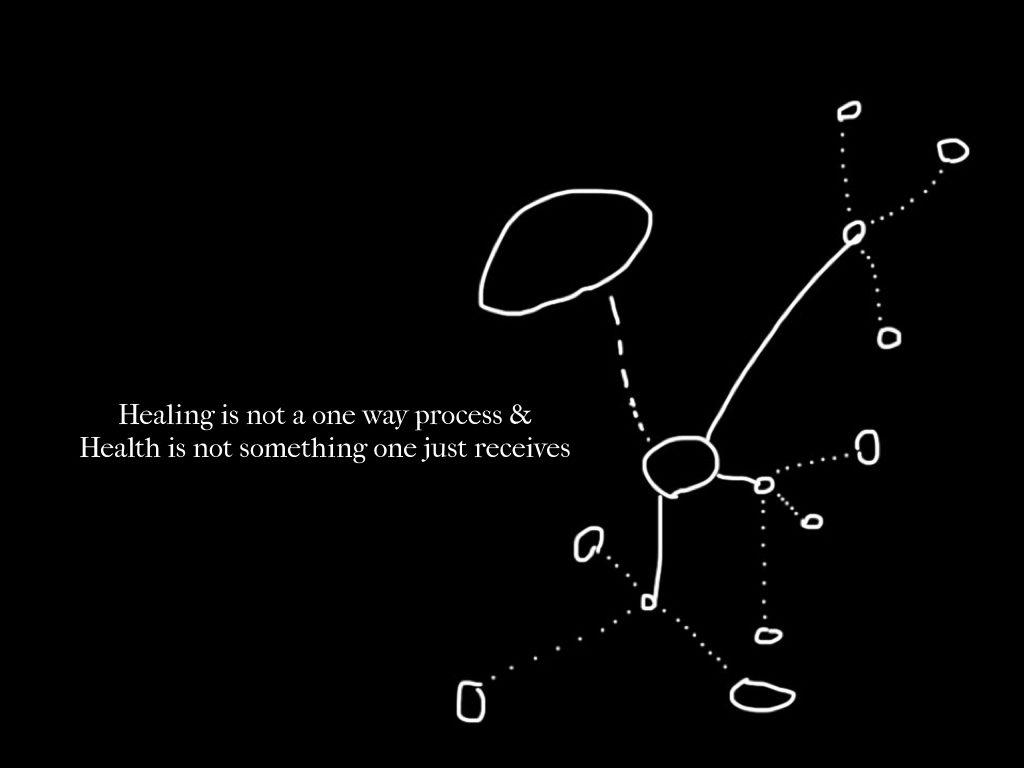 The viral structure, is built into this system and there is a reversal of the standard way of seeing the doctor and patient relationship. In this structure it is essential that we see the work of the Hologram as the work of a teacher or explicator, delivering a case that will ultimately allow the patience to learn things they didn't previously know. This is the most important, (though totally devalued by money) potent and immediately applicable, form of learning we can do, and it is what the medical system has made into a commodity, at the same time as it is seen as 'women's work' or completely useless.
MG: Could you take us through the processes of engagement. For instance, you say a group of four people meet and select one person who will become a Hologram, and that this means they and their health will become 'dimensional' to the group. Could you elaborate how this happens and why it's important for those involved?
CT: We are about to experiment, this fall, with what it means for these groups to form in different ways. We will start with four test cases, where an invited, self-selected person will become a Hologram. She will be supported to select three Patience in a way that suits her, based on an interview and survey. The selection of Patience is a part of the process that we have not had a chance to refine. It is not simple for any individual to understand what support looks like for them, or who they want support from, if they've never really had it.
The experiments we will work through this fall will attempt to understand what changes in the experience of the whole Hologram when the Hologram is supported by Patience who are trusted friends and family, acquaintances or highly recommended strangers. An 'objective' perspective from an outside participant also adds a layer of formality to the project, because, instead of a casual gathering of friends, an unfamiliar person signals to the other members of the hologram to be on time, and make the meetings more structured than a regular friend to friend chat.
The onboarding process for the Hologram and the Patience includes a set of conversations and a training ritual, which are still quite bumpy. The two roles every participant is involved in, requires a different set of skills, and so they both involve a special kind of "training" that one can do in a group or independently. This "training" is a structured personal ritual that allows participants to witness and adapt their own communication habits so that they feel prepared to participate and set up trust, curiosity and solidarity for the group in the opening intake conversations.
At the completion of the intake process, the Hologram (1) transitions to become a Patience. At this time, the Hologram (1) begins a short training to transition to the other role, and she is supported by her Patience to do this work. At the conclusion of the Hologram's (1) transition to Patience, and the completion of the new Hologram's (2) intake process, the original Hologram's (1) Patience become Holograms (3,4,5).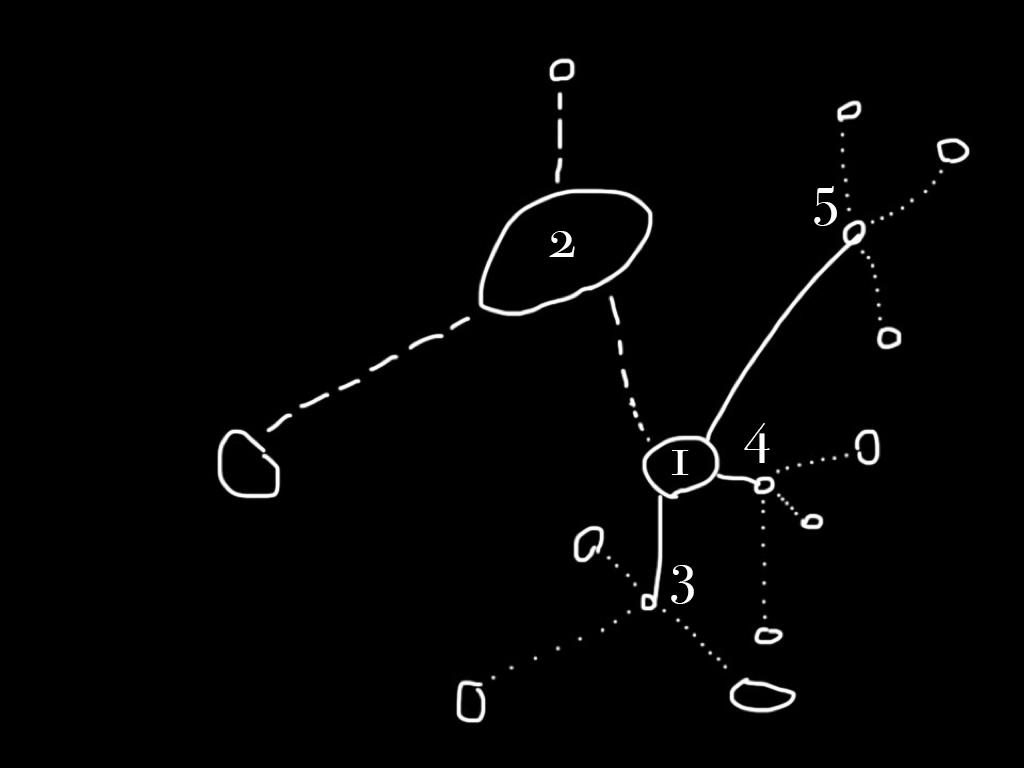 MG: The Hologram project was first trialed as part of an exhibition called Sick Time, Sleepy Time, Crip Time at the Elizabeth Foundation Project Space in New York City, March 31-May 13, 2017. What have you learnt in more recent undertakings of The Hologram project?
CT: Since the original trial one year ago, which lasted for 3 months, the research has shifted to looking at building skills and answering acute questions that will accumulate to support and build the larger project. Starting in the Spring of 2017, I began to offer the Hologram project as a workshop, where participants could test the communication model that is implicit in the Hologram format. The method for offering it is, as a performance artist and rogue architect, creating a situation in a space where people go through a difficult psycho social physical experience together. In the reflective conversations that follow, I ask the groups to use the personal pronoun 'we' for the entire duration of the conversation. The idea is that one person's experience can be shared by the group, and even as temporary Patience we can take a leap and share their experience with them for a duration of time, allowing a Hologram to feel as if their experience is "our" experience. And this feeling that one is not alone in an experience, if carried into other parts of life, has the potential to break a lot of the assumptions and habits that we have inherited from living and adapting to a debt driven hellscape.
Mark Hancock discusses the politics and artistry of Janez Janša's identity interventions in the context of their recent challenge at the Parliamentary Elections in Slovenia, in June 3rd 2018.
---
Ideas firmly deduced, tested against all variables and tentatively sent out into the world for appraisal by others, soon betray us as they bend to the whims of anyone they encounter. But that's the nature of the malleable, post-digital world we live in. Ideas have to adapt and change to suit the warp and weft of the society if they are to survive in some form. How do we lock down our ideas into their final form? And what level of commitment can we expect from our ideas even if we apply intellectual property rights and that centuries-old mark of authenticity, the signature? The art world is particularly vulnerable to the conceit of signed authenticity. A signature often being the only guarantee that you'll see any return (financial, reputational or otherwise) on your investment. If you really want to play with systems of power and bureaucracy, try altering artist names.
Davide Grassi, Emil Hrvatin and Žiga Kariž all changed their names to Janez Janša in 2007, joining the conservative Slovenian Democratic Party (SDS) at the same time, to explore the bureaucratic and political systems of their home country, Slovenia. The foundation of their actions ever since has been the question: what power exists in a name? And not just the art power system, but what political forces come into play when that name also belongs to the leader of the Slovenian Democratic Party, Janez Janša, (Prime Minister 2004 to 2008 and then again in 2012 to 2013). Incidentally, or perhaps not, Janez Janša, the politician was born Ivan Janša. The renaming of the three artists becomes a sort of double bluff when you also start to ask who the 'real' Janez Janša is.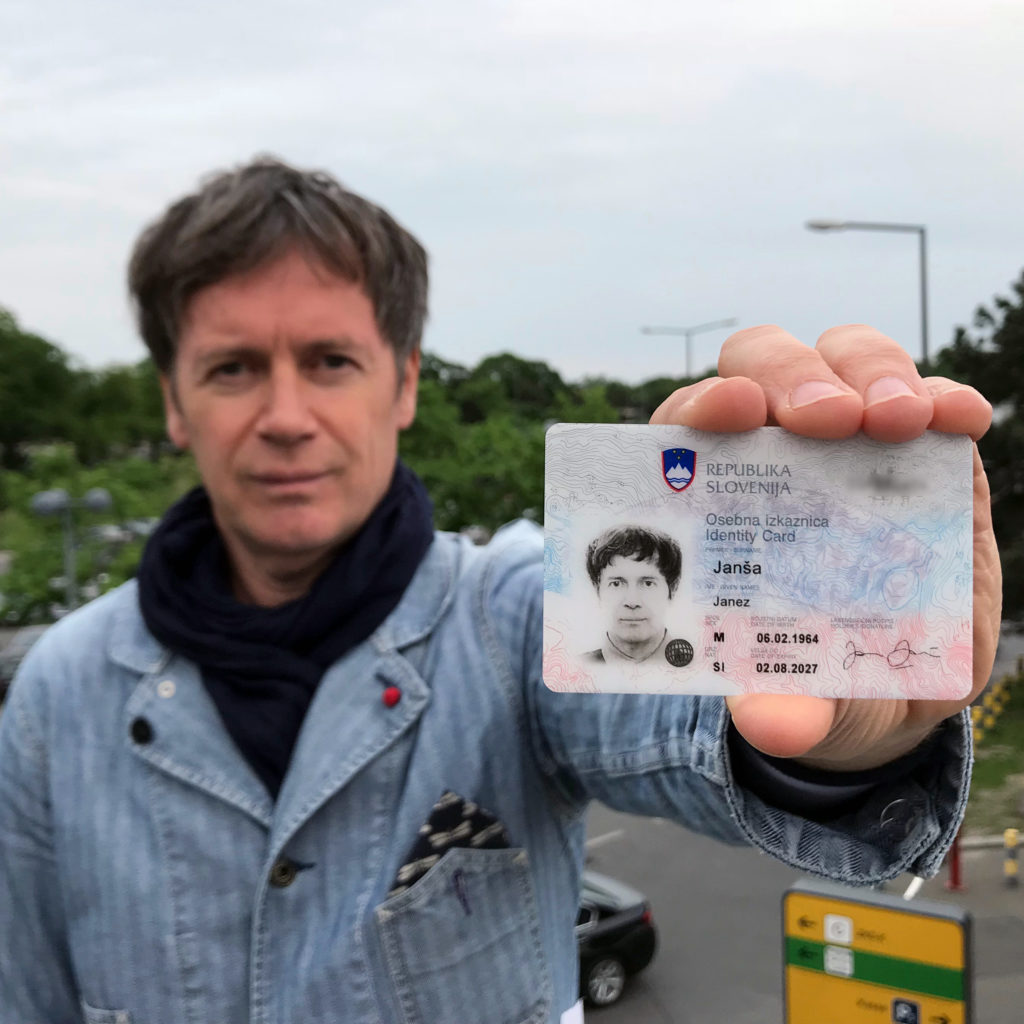 It would be easy to assume that the work of Janez Janša is simply another playful, flaccid baiting of the art world and right-wing political hegemonies. All too often work that challenges the political system might as well be challenging the rules of the Italian Football League, for all the difference in the world it makes beyond the enclosed loop of the art community. There's only so far that insulting the work of Damien Hirst with another work of art can get you. But the Janez Janša artists have chosen to pierce through the membrane of the art world and make a social difference.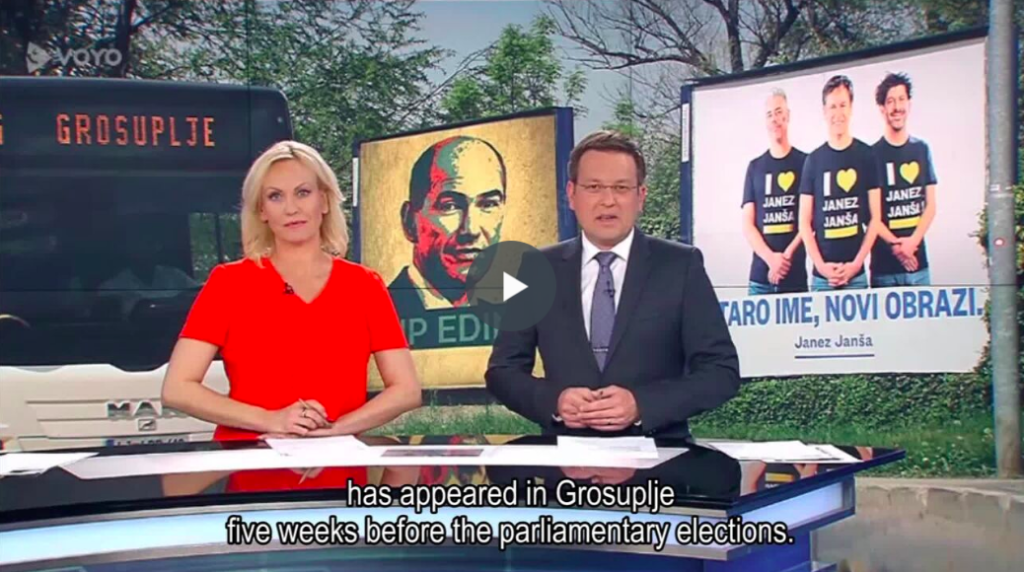 In the Slovenian Parliamentary Elections on the 3rd June 2018, one of them ran as a member of the opposition party, Levica (The Left) in Grosuplje the home district of the ex-Prime Minister, Janez Janša. In a press release, Janez Janša (the artist) said: "Running for parliament is a logical consequence of the view I have towards society. I care about what is happening. I react to things. I want to change them. (…) Society must be organized in such a way that the state begins to serve its citizens, as opposed to serving capital. Capital has no interest either for society or for art or for the individual."
There is something inherently political in multiple authors using a single name, at least if you cast an eye over recent history. Reference points include Wu Ming, the Italian author collective that produced a number of literary works (they published a best-selling novel, Q, in 1999). They evolved from the Luther Blissett collective, whose playful, socially engaged activities defy the concept of the singular creative voice. This concept seems so alien to much of the mainstream media, particularly in Wu Ming's home country of Italy, where they have been accused of everything from cybercrime to the less savoury aspects of rave culture. It's this uncertainty about ownership that seems to bring a nervous lump to the throat of media and political gatekeepers. Perhaps this revolves around two questions so central to capitalism: If you're doing nothing wrong, why hide behind a nom de plume or a collective? And, who do I send the check to, if I want to buy an Art?
On top of this, copyright issues become complex when the roster of names increases as well. Because we still want ideas to be owned, even when they are expanded through homages and pastiches. Copyright, as the attorney representing the Janez Janšas points out, is a legal construct, protecting, "original artistic (and scientific) creations, which are expressed in any way. A work is protected by copyright only if it was created by a human being (an author) and bears a stamp of author's personality." With work by Luther Blissett and Wu Ming, at least the authors can be understood as 'artists', even anonymously. Janez Janša, Janez Janša and, last but not least, Janez Janša have layered this authorship of their artwork with another layer of copyright/ownership complexity.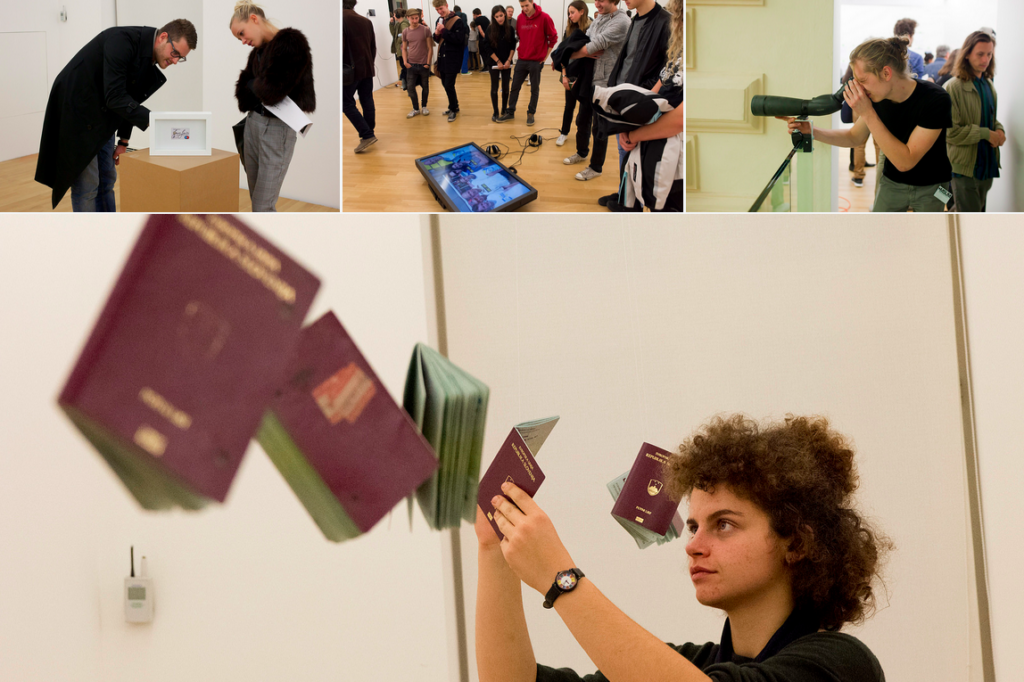 They refer to this work as collateral art, a phrase resonant with the phrase collateral damage, used to describe the acceptable casualties of battles. Collateral art is the acceptable damage on their ideas and projects from engagement with companies and institutions: ID cards, membership cards, the whole panoply of detritus that comes with the work. The artists want this collateral art, often customised by companies on request, to question the relationship between artworks and functional objects, "exploring post-Fordist means of production." Any art historians still trying to shoehorn the belief of the gifted singular genius crafting his (note the gender pronoun: now discuss) solo masterpiece, probably hasn't been paying close enough attention. The individual work of art often only becomes such with the signature of the artist attached as providence. When the work of art carries the signature of a non-artist though, can it still be brought into the art world as a valid comment on… anything? Paperwork sent to institutions by Janez Janša, and signed by an official becomes art. But whose art?
The answer, of course, is that it is their art. Whatever bureaucratic grindstone the works have been milled under, they ultimately belong back with the artists. It is they who return the work back to the art world through the exhibition. The exhibition co-produced by Moderna galerija (MG+MSUM) and Aksioma – Institute for Contemporary Art, Ljubljana, and curated by independent curator Domenico Quaranta, in 2017, was a chance to display and reflect back on ten years of work by the artists. Called the Janez Janša® exhibition, on display were works including Signatures (2007 – ongoing) which explored interventions of the Janez Janša name into public spaces, such as the Hollywood Walk of Fame (Signature, 2007), or Signature (Copacabana), in Rio de Janeiro, 2008. Playfully appearing in numerous locations around the world. Or Mount Triglav on Mount Triglav, an action performed in August 2007. This action commemorated "the 80th anniversary of the death of Jakob Aljaž; the 33rd anniversary of the Footpath from Vrhnika to Mount Triglav; the 5th anniversary of the Footpath from the Wörthersee Lake across Mount Triglav to the Bohinj Lake; the 25th anniversary of the publication of Nova Revija magazine and the 20th anniversary of the 57th issue of Nova Revija, the premiere publication of the SLOVENIAN SPRING; this was a re-enactment of Gora Triglav (Mount Triglav), by the OHO group in 1968 and the latest in a chain of re-enactments, as it was also performed by in 2004 by the Irwin Group.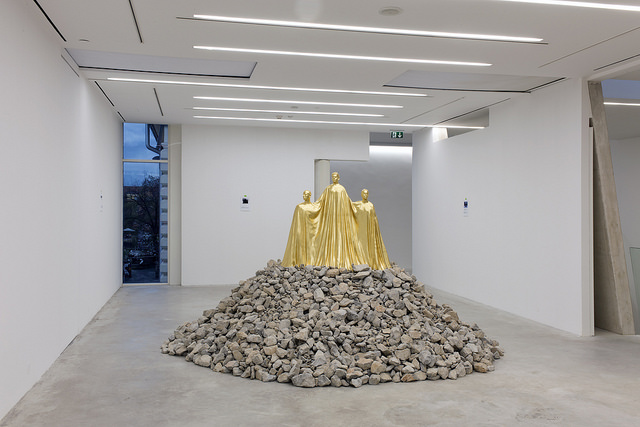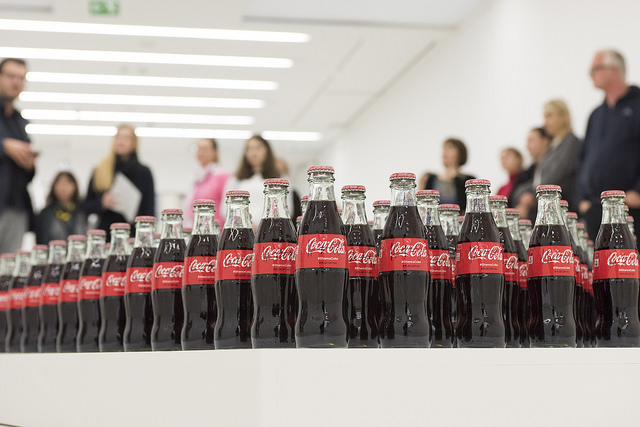 The conference in the same year, Proper and Improper Names: Identity in the Information Society conference, hosted by Aksioma – Institute for Contemporary Art, Ljubljana, and curated by Marco Deseriis in 2017, invited speakers including Natalie Bookchin, Marco Deseriis, Kristin Sue Lucas, Gerald Raunig, Ryan Trecartin, Wu Ming. The subjects under discussion arose from Marco Deseriis' book Improper Names: Collective Pseudonyms from the Luddites to Anonymous. Deseriis, as keynote speaker, talked about the genealogy of the improper name. This is Deseriis's term for the use of pseudonyms by artist collectives, including Wu Ming (who presented a talk at the conference) and Ned Ludd, the fictional leader of the English Luddites.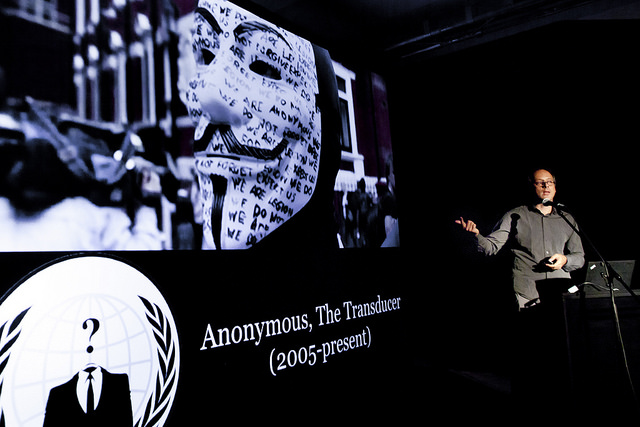 Releasing your ideas out in the wild doesn't always guarantee they will come back to you unscathed or even return at all. The works of the Janez Janša collective are sent out to corporate systems, being adapted and altered, and returned. Or at the very least offering a challenge to accepted forms of ideological structures. In the Slovenian elections on 3rd June, the Slovenian Democratic Party (SDS) won with 25% of the votes. Levica won 9.0%. The SDS is a far-right, anti-immigration party, reflecting the increasing rise of right-wing parties across Europe right now. The leader of the SDS, Janez Janša, now has the opportunity to form a right-wing government. If this happens, and by the time you read this, it may well have, it would continue the shift in European Councils members towards the right.
There's nothing new in declaring that everything is in flux. That's the nature of our hyper-accelerated world. But right now there is a creeping sense that The Other is also to be viewed as The Enemy. The social, political value of art has to change to mean something in what is little short of a battle for a better society for ourselves and others across the globe if it is to have any value whatsoever. Janez Janša, Janez Janša and Janez Janša's work reflect this evolution by being part of the society around them. Being part of the electoral system reflected this challenge and desire to be part of the real world and to make art mean something more than gallery space and conference papers. If art wants to survive and continue to belong to everyone, then it needs to be part of the world we are living in right now. No one work of art ever changed the world, but it helps us unravel and see through the propaganda of systems. We all need to become Janez Janša®.
The final outcome of the recent Slovenian Elections remains uncertain as Social Democratic Party's Janez Janša attempts to form a coalition government.
More images at Flickr – https://bit.ly/2yniHYL
More about Janez Janša – http://www.janezjansa.si/about-jj/
This is a long read by one of the inhabitants of the Zad, about the the fortnight rollercoaster of rural riots that has just taken place to evict the liberated territory of the Zad. It's been incredibly intense and hard to find a moment to write, but we did our best. This is simply one viewpoint, there are over 1000 people on the zone at the moment and every one of them could tell a different story. Thank you for all the friends and comrades who helped by sharing their stories, rebel spirits and lemon juice against the tear gas.
The Revenge against the Commons of the Zad or Why France's biggest police operation since May 68 is prepared to kill for Macron's Neoliberal Nightmare.
"We must bring into being the world we want to defend. These cracks where people find each other to build a beautiful future are important. This is how the zad is a model." Naomi Klein

"What is happening at Notre-Dame-des-Landes illustrates a conflict that concerns the whole world" Raoul Vaneigem
The police helicopter hovers above, its bone rattling clattering never seems to stop. At night its long godlike finger of light penetrates our cabins and farm houses. It has been so hard to sleep this last week. Even dreaming, it seems, is a crime on the Zad. And that's the point: these 4000 acres of autonomous territory, this zone to defend (Zad), has existed despite the state and capitalism for nearly a decade and no government can allow such a place to flourish. All territories that are inhabited by people who bridge the gap between dream and action have to be crushed before their hope begins to spread. This is why France's biggest police operation since May 1968, at a cost of 400,000 euros a day, has been trying to evict us with its 2500 gendarmes, armoured vehicles (APCs), bulldozers, rubber bullets, drones, 200 cameras and 11,000 tear gas and stun grenades fired since the operation began at 3.20am on the morning of the 9th of April.
The state said that these would be "targeted evictions", claiming that there were up to 80 'radical' Zadists that would be hunted down, and that the rest, the 'good' Zadists, would have to legalise or face the same fate. The good zadist was a caricature of the gentle 'neo rural farmer' returning to the land, the bad, an ultra violent revolutionary, just there to make trouble. Of course this was a fantasy vision to feed the state's primary strategy, to divide this diverse popular movement that has managed to defeat 3 different French governments and win France's biggest political victory of a generation.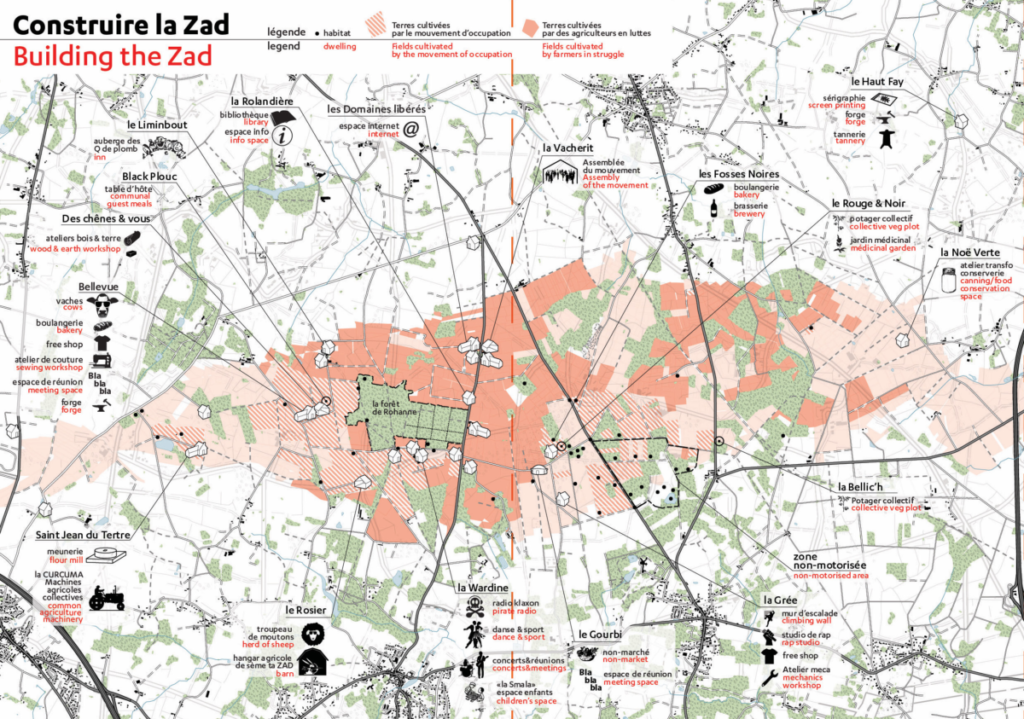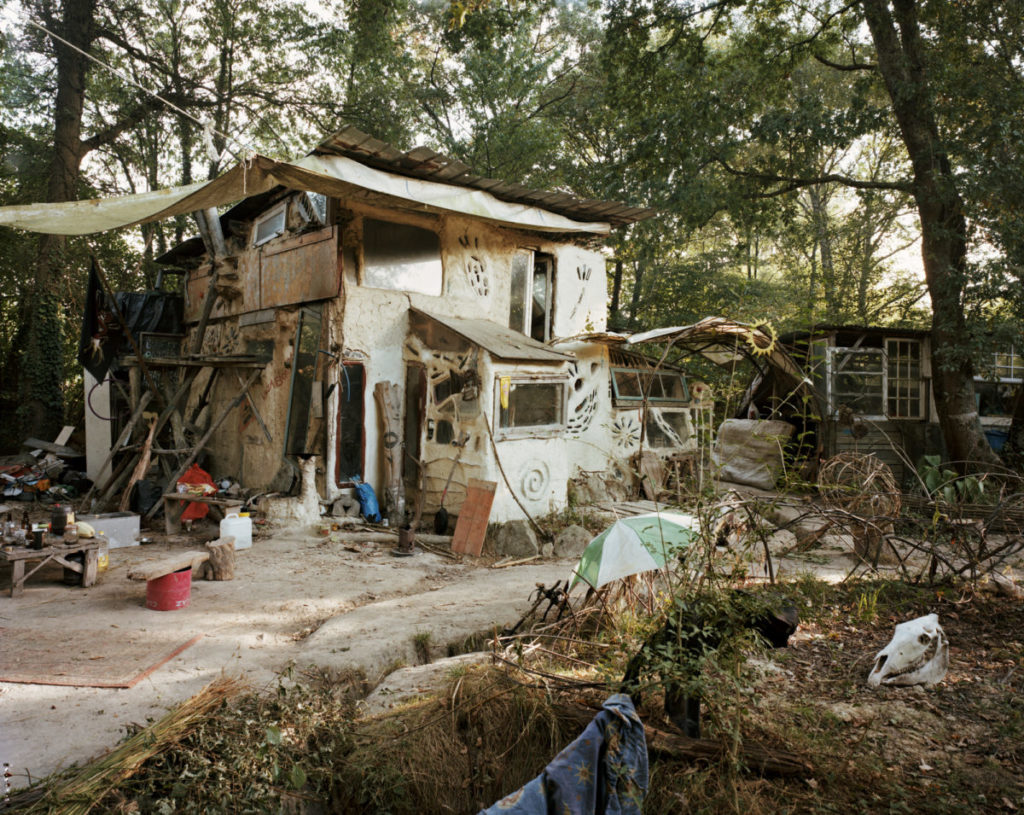 The zad was initially set up as a protest against the building of a new airport for the city of Nantes, following a letter by residents distributed during a climate camp in 2009, which invited people to squat the land and buildings: 'because' as they wrote 'only an inhabited territory can be defended'. Over the years this territory earmarked for a mega infrastructure project, evolved into Europe's largest laboratory of commoning. Before the French state started to bulldoze our homes, there were 70 different living spaces and 300 inhabitants nestled into this checkerboard landscape of forest, fields and wetlands. Alternative ways of living with each other, fellow species and the world are experimented with 24/7. From making our own bread to running a pirate radio station, planting herbal medicine gardens to making rebel camembert, a rap recording studio to a pasta production workshop, an artisanal brewery to two blacksmiths forges, a communal justice system to a library and even a full scale working lighthouse – the zad has become a new commune for the 21st century. Messy and bemusing, this beautifully imperfect utopia in resistance against an airport and its world has been supported by a radically diverse popular movement, bringing together tens of thousands of anarchists and farmers, unionists and naturalists, environmentalists and students, locals and revolutionaries of every flavour. But everything changed on the 17th of January 2018, when the French prime minister appeared on TV to cancel the airport project and in the same breath say that the zad, the 'outlaw zone' would be evicted and law and order returned.
I am starting to write 8 days into the attack, it's Tuesday the 17th of April my diary tells me, but days, dates even hours of the day seem to merge into a muddled bath of adrenaline socked intensity, so hard to capture with words. We are so tired, bruised and many badly injured. Medics have counted 270 injuries so far. Lots due to the impact of rubber bullets, but most from the sharp metal and plastic shrapnel shot from the stun and concussion grenades whose explosions punctuate the spring symphony of birdsong. Similar grenades killed 21 year old ecological activist Remi Fraise during protests against an agro industrial damn in 2014.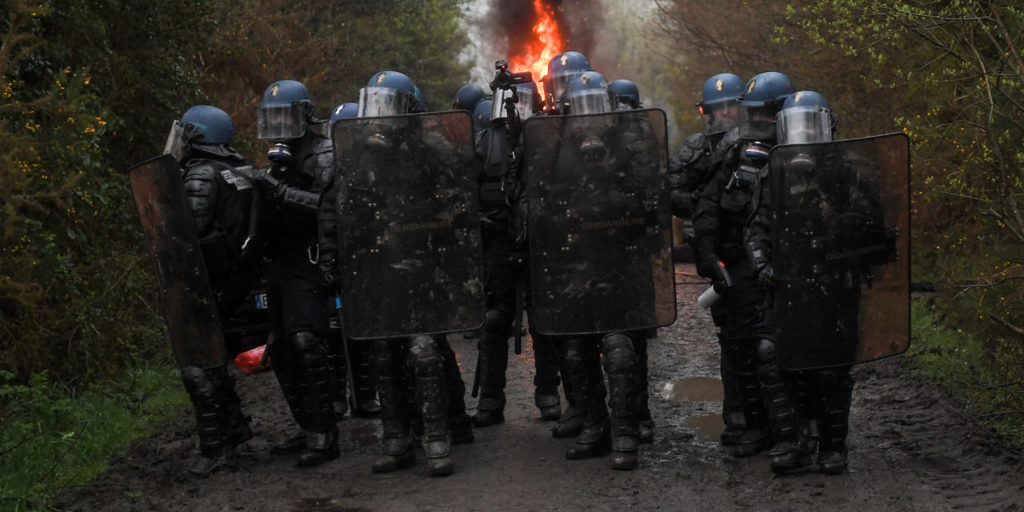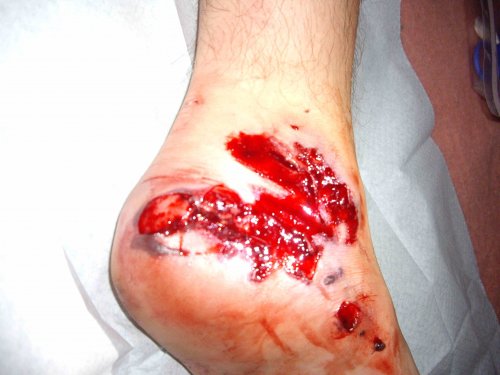 The zad's welcome and information centre, still dominated by a huge hand painted map of the zone, has been transformed into a field hospital. Local doctors have come in solidarity working with action medic crews, volunteer acupuncturists and healers of all sorts and the comrades ambulance is parked outside. The police have even delayed ambulances leaving the zone with injured people in them, and when its the gendarmerie that evacuates seriously injured protesters from the area sometimes they have been abandoning them in the street far from the hospital or in one case in front of a psychiatric clinic.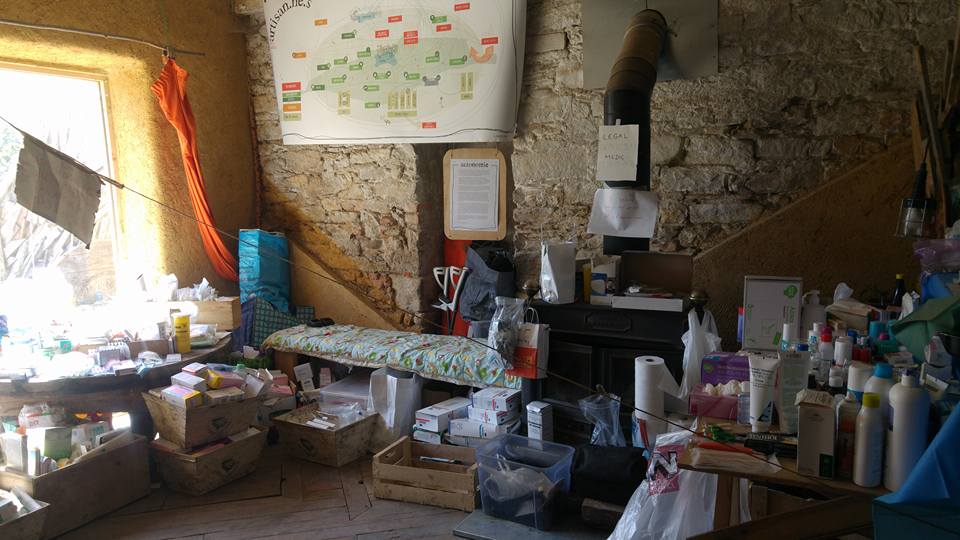 The thousands of acts of solidarity have been a life line for us, including sabotaged French consulate parkings in Munich to local pensioners bringing chocolate bars, musicians sending in songs they composed to demonstrations by Zapatistas in Chiapas, banners in front of French embassies everywhere – from Dehli to New York, a giant message carved in the sand of a New Zealand beach and even scuba divers with an underwater banner. Here on the zone three activist field kitchens have come to feed us, architects have written a column deploring the destruction of unique forms of habitat signed by 50,000 people and locals have been offering storage for the safe keeping of our belongings. A true culture of resistance has evolved in parallel with the zad over the years. Not many people are psychologically or physically prepared to fight on the barricades, but thousands are ready to give material support in all its forms and this is the foundation of any struggle that wants to win. It means opening up to those who might be different, those that might not have the same revolutionary analysis as us, those who some put in their box named 'reformist', but this is what building a composition is all about, it is how we weave a true ecology of resistance. As a banner reads on one of the squatted farmhouses here, Pas de barricadieres sans cuisiniers "There are no (female) barricaders without (male) cooks."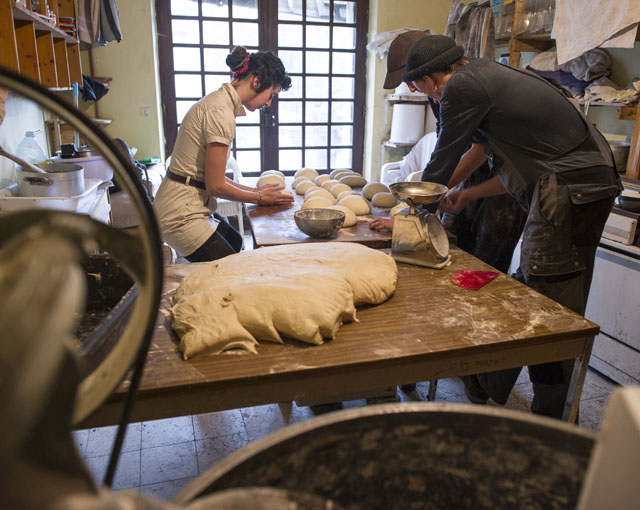 Today has been one of the calmest since the start of the operation, and it felt like the springtime was really flowering, so we opened all the doors and windows of house letting the spring air push away the toxic fumes of tear gas that still linger on our clothes. It feels like there is a momentary lull. For the first time since the evictions, our collective all ate together, sitting in the sun at a long table surrounded by two dozen friends from across the world come to support us. I hear the buzzing of a bee trying to find nectar and look up into the sky, its not a bee at all, but the police drone, come to film us sharing food, it hovers for hours. In the end this is the greatest crime we have committed on the zad, that of building the commons, sharing worlds together and deserting the pathology of individualism.
Two years before the abandonment of the airport project the movement declared in a text entitled The Six Points for the Zad: Because there will be no Airport, that we would, via an entity that emerged from the movement , collectively look after these lands that we were saving from certain death by concrete. A few months before the abandonment the form that this entity took was the Assembly of Usages. Soon after thethe airport was cancelled, we entered into negotiations with the state (via the prefet. Nicole Klein, who represents the state in the department) following a complicated week of pre-negotiations, where we were forced to open up one of the roads which had had cabins built on it since the attempted evictions of 2012. It seemed that the flow of traffic through the zone was the state's way of telling the public that law and order had returned on the zone. (see the text Zad Will Survive for a view of this complicated period).
A united delegation of 11 people made up from the NGOs, farmers, naturalists and occupiers of the zone attended the negotiations and did not flinch from the demand to set up a collective legal land structure, rather than return these lands to private property and agro-business as usual. In the 1980s a similar legal structure was put in place following the victory of a mass movement against the expansion of a military base on the plateau of the Larzac in Southern France. With this precedent in mind we provided a legally solid document for a global land contract, but it was ignored, no legal grounds were given, the refusal was entirely political. Three days later the evictions began.
The battle lines were made clear, it was not about bringing 'law and order' back to the zone, but a battle between private property, and those who share worlds of capitalism against the commons. The battle of the Zad is a battle for the future, one that we cannot loose.
DAY 1: Monday 9th April – Everything Begins in the dark
The telephone rings, it's 3.20am, it's still dark outside, a breathless voice says two simple words, "It's begun !" and hangs up. Everyone knows what to do, some run to offices filled with computers, others to the barricades, some to the pirate radio (Radio Klaxon, which happens to squat the airwaves of Vinci motorway radio, 107,7, the construction company that was going to build and run the airport) others start their medics shift. Hundreds of police vans are taking over the two main roads that pass through the zone.
Fighting on one of the lanes manages to stop the cops moving further west. But elsewhere the bulldozers smash their way through some of the most beautiful cabins made of adobe and the wastes of the world that rose out of the the mud in the east of the zone, they destroy the Lama Sacrée with its stunning wooden watch tower, permaculture gardens and green houses are flattened and they rip gashes in the forest. A large mobile anti riot wall is erected by the police in the lane that stretches east to west, a technique that works in cities but in rural riots it's useless and people spend all morning hassling them from every angle. Despite gas and stun grenades we hold our ground. Journalists are blocked for a while from entering, the police stating that they will provide their own footage (free of copyrights!). The "press group" gives them directions so that they manage to cross the fields and the pictures dominate the morning news.
There are over a dozen of us are facing a line of hundreds of robocops at the other end of the field. One of us, masked up and dressed in regulation black kway is holding a golf club. He kneels down and places a golf T in the wet grass. He pulls a golf ball out of a big supermarket bag and serenely places it in the T. He takes a swipe, the ball bounces off the riot shields. He takes out another ball and another and another.
In the afternoon the cops and bailiffs arrive at the 100 noms, an off grid small holding with sheep, chickens, veg plots, and beautiful housing including a cabin built by a young deserting architect which resembles a giant knights helmet made with geodesic plates of steel. The occupiers, who have built this place up from nothing over 5 years are given 10 minutes to leave by the bailiff. Several hundred people turn up to resist, many from 'the camp of the white haired ones' which hasbrought together the pensioners and elders, who have called it a camp for "the youth of all ages" and have been one of the backbonesof this long struggle. There must be nearly 200 of us, at the 100 noms, this time no one is masked up. A massive block of robocops is coming up the path, some of us climb on the roof of the newly built sheep barn, others form a line of bodies pressed hard against the riot shields, we are peasants and activists, occupiers and visitors, young and old and they beat us, burn our skin with their pepper spray and push us out of the fields.
We reply with a joyful hail of mud that covers their visors and shields. The people on the roof are brought down by the specialists climbers and the bulldozer does its job. A few minutes later a one of their huge demolition machines gets stuck in the mud, a friend shouts ironically to the crowd: "come on let's go and give it hand and push it out!", Hundreds approach, trails of gas take over the blue sky, dozens of canisters rain down on the wetlands, many falling into the ponds which begin to bubble with their toxic heat. I try to console Manu whose home, a tall skinny wooden cabin with a climbing wall on its side, has just been flattened, my hugs cannot stop his sobs. Our eyes are red with tears of grief and gas.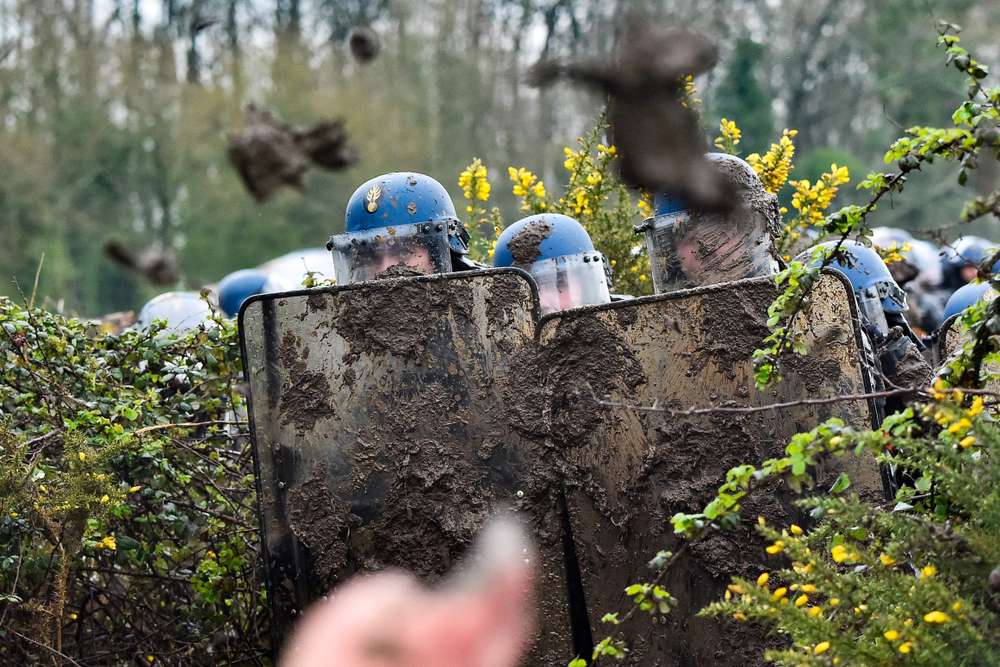 In the logic of the state, the 100 Noms ticked many of their fantasy boxes of those want to be legalised, 'the good Zadists'. It was a well functioning small holding, producing meat and vegetables and where the sheep were more legal than its inhabitants. It was a project that had the support of many of the locals. Its destruction lit a spark that brought many of those in the movement who had felt a bit more distant from the zad recently back into the fold of the resistance. Of course its no less disgusting than the flattening of all the other homes and cabins, but the battle here is as much on the symbolic terrain as in the bocage and it is seems to be a strategic blunder to destroy the 100 Noms.
The live twitter videos from the attack are watched by tens of thousands, news of the evictions spreads and a shock wave ripples through France. Actions begin to erupt in over 100 places, some town halls are occupied, the huge Millau bridge over 1000 km away is blockaded as is the weapon factory that makes the grenades in Western Brittanny.
The demolition continues till late, but the barricades grow faster at night, and we count the wounded.
DAY 2: Tuesday 10th April – Between a barricade and a tank
It all begins again before sun rise, the communication system on the zone with its hundreds of walkie talkies, old style truck drivers cb's and pirate radio station calls us to go and defend the Vraie Rouge collective, which is next to the the zad's largest vegetable garden and medicinal herb project. We arrive through the fields to find one of the armoured cars pushed up against the barricade, we stand firm the barricade between us and the APC. We prepare paint bombs to try and cover the APC's windows with. Then the tear gas begins to rain amongst the salad and spinach plants. A friend finds a terrified journalist cowering in one of the cabins, she writes for the right wing Figaro newspaper and is a bit out of place with her red handbag. "What's that noise??" she asks, trembling, "the stun grenades" he replies. "But why aren't you counter attacking?" she says, "where are your pétanque balls covered in razor blades?" Our friend laughs despite the gas poisoning his lungs, "we never had such things, it was a right wing media invention, and it's impossible anyway, no one can weld razor blades onto a pétanque ball! "
There is so much gas, we can no longer see beyond our stinging running noses. The police are being pressurised simultaneously from the other side of the road by a large militant crowd with gas masks, make shift shields, stones, slingshots and tennis rackets to return the grenades. They are playing hide and seek from behind the trees. The armoured car begins to push the barricade, some of us climb onto the roof of the two story wooden cabin, others try to retreat without crushing the beautiful vegetable plot. Its over, the end of another collective living space on the zone. Then we hear a roar from the other side of the barricade. Dozens of figures emerge from the forest, molotov cocktails fly, one hits the APC, flames rise from the amour and the wild roar transforms itself into a cry of pure joy. The APC begins to back off as do the police. The Vraie Rouge will live one more day it seems, thanks to diversity of tactics.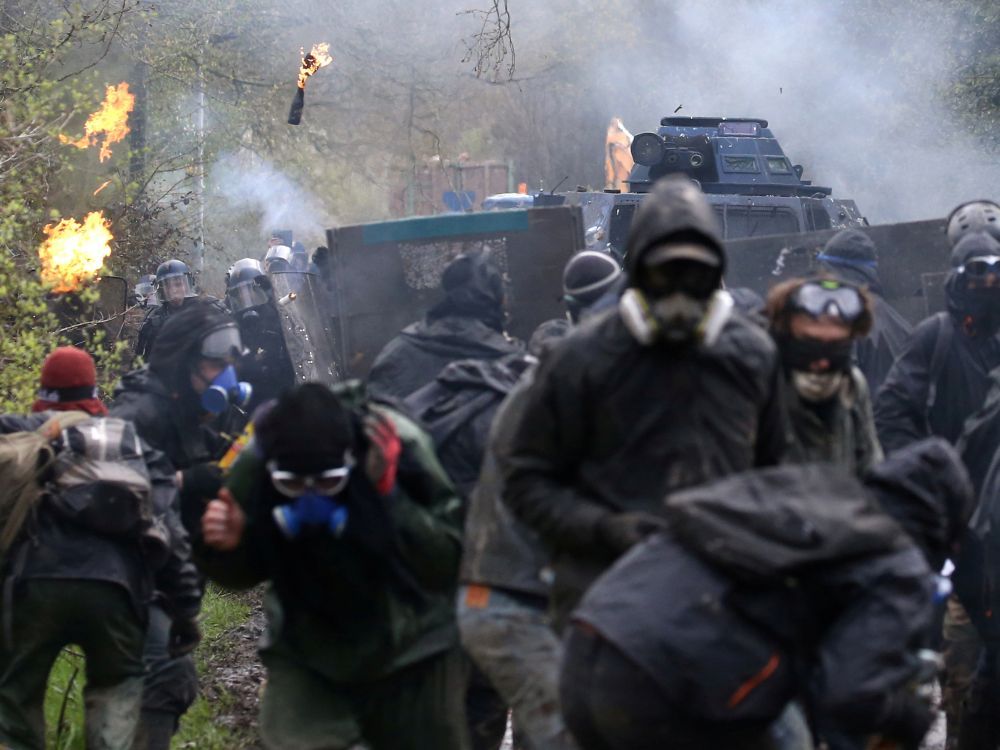 In 2012 when we managed to stop the first eviction attempts of the zone, this was what gave us an advantage. Over the 50 years that the movement against the airport lasted, it used everything from petitions to hunger strikes, legal challenges to sabotage, riots to citizens ecological inventories of the zone, defensive tree houses to flying rocks, tractor blockades to clown armies. Its secret weapon was the respect we had for each others' tactics and an incredible ability to try and not condemn each other. Pacifist Pensioners and black bloc worked together in a way that I had never seen before, which made criminalising the movement much more complicated for the government. Movements win when they have the richest most colourful palette of tactics at their disposition and they are ready to use everyone of them at the right time and place.
In a woodland dip to the east of the zone, the Cheverie, is still resisting. A huge high cabin made from different types of swirling coloured clay – brown, grey, ochre and white – punctuated by mosaics and carved spiders, constructed by hundreds of hands, is about to be crushed. Hundreds of gendarmes surround it, one of them seems to have a machine gun strapped to his back. From the roof someone uses a traffic cone as a megaphone: "we are defending life and the living." When the cabin is finally brought down a minor miracle occurs, none of the dozens of windows is broken, which will make it much easier to rebuild.
At the Fosses Noires, the brewery has been turned into a canteen, but the tear gas is falling on the pots, pans and piles of donated of vegetables. After lunch, a second press conference takes place, yesterday the first one had brought dozens of TV cameras and microphones from radios across the country, 8 people from all the composition of the movement faced the cameras, their dignified anger was so powerful, so palpable, many of us shed tears listening.
Today there are 30 inhabitants are in front of the cameras, it is those that have an agricultural and craft projects running on the zone, the tanner is there as is the cheese maker, the potter and market gardeners, cow herders and leather workers. They explain how over the last weeks of negotiations with the state, they handed over documents to develop a collective project within a legal non profit association that had been set up. They show that on this bocage to think ecologically is to realise that all the projects are interdependent, rotating the fields between folk, sharing tools and and everyone helping out on each others projects when needed. To divide the zad into individual separate units makes no sense.
But the words are not as strong as the striking image of Sarah, our young shepherdess who like a modern day madonna holds a dead black lamb on here lap. She explains how her flock was legalised already and that this one died from stress when it was moved from the 100 Noms farm to avoid the evictions. Her grey eyes pierce the camera lenses, "they chose violence, they chose to destroy what we build, they chose to break off the dialogue with us." Whilem a young farmer, whose milk herd squats fields to the west, raises his trembling voice, " If there is no collective agriculture then you get what's already happening in the countryside – individualism: eat up your neighbours farm land, be more and more alone with a bigger and bigger farm," he takes a deep breath, "the isolation is pushing farmers to commit suicide, we are more and more alone on our farms faced with increasing difficulties. On the zad we hold a vision of farming for all, not just for us."
The zad makes a call for a mass picnic the following day. Vincent one of the supporting farmers from the region, a member of COPAIN 44, a network of rebel farmers whose tractors have become one of our most iconic and useful tools of resistance, sighs, "the government has broken any possibility of dialogue now, they have forced us to respond with a struggle for power."
Between the tall poles that hold the breweries' hop plants a long banner is raised, "Nicole Klein radicalised me."
DAY 3: Wednesday 11th April – Gassing a Picnic
We are woken as normal by the explosions of gendarmes grenades, fighting continues near the D281 road. A small group is trying to stop the police lining up in a field, there aren't many of us, it feels hopeless, then out of the morning mist comes a tractor, its driver wears a balaclava, in the front bucket – a tonne of stones. He drops them in a pile just where we are standing, puts the tractor in reverse and disappears back into the mist.
In the next door field a towering guy wearing a balaclava and dressed in a full monks habit throws a bucket of water over a handful of robocops – "I baptise you in the name of the zad", he bellows. A cloud of pepper spray engulfs him, but one the gendarmes slips in the mud and drop his truncheon, at the speed of light the monk grabs it and runs off, wielding his rebel relic in the air. The police megaphone calls out "You must return the state's property. Return it now!"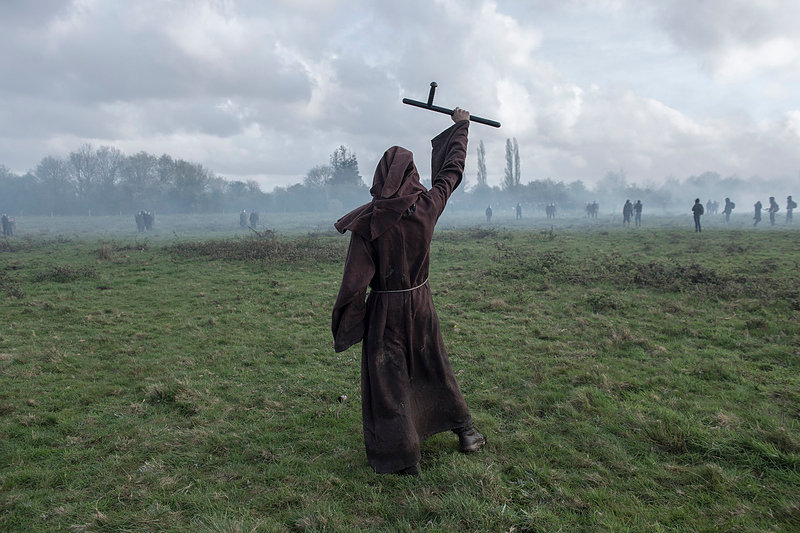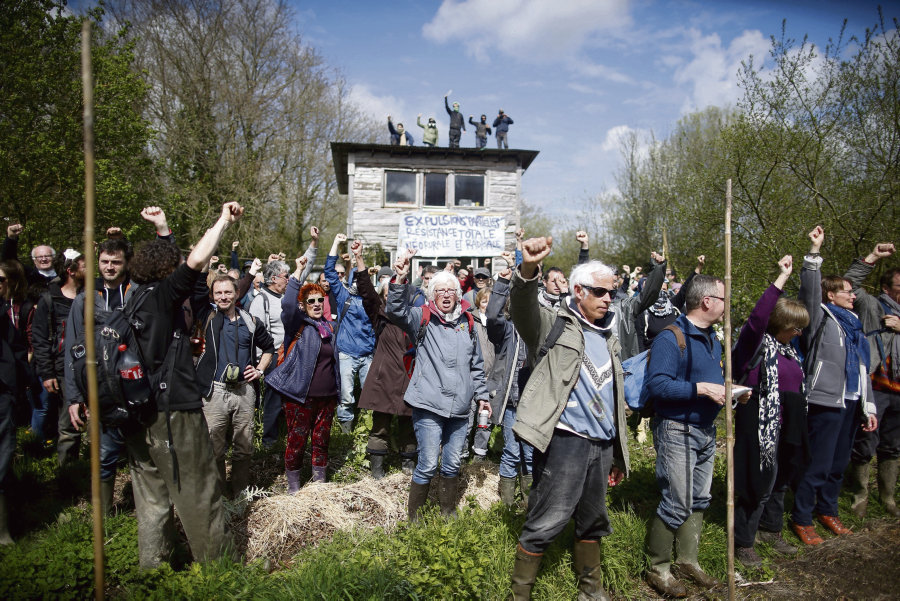 The picnic before it was gassed.
At lunch time, over a thousand people turn up to share a picnic in the fields. Over thirty tractors have come, some from far, despite the fact that its one of the busiest seasons for the farmers, they encircle the large Rouge et Noir collective vegetable garden, now littered with hundreds of toxic plastic tear gas canisters. "The state crossed the red line when they destroyed the 100 Noms" one of them says.
The crowd of all ages walk through the barricades and debris of yesterday's battle that litter the country lanes. The atmosphere is festive, a samba band with pink masks leads us into the field beside the Lama Sacrée. A long line of black clad police stretches across the spring green pasture. The samba band approach, then all hell lets loose: gas canisters shower down, dozens of stun grenades are thrown into the peaceful crowd, panic ensues, people retreat across the hedgerows.
The houses of la Boite Noire, Dalle à Caca, Jesse James and la Gaité fall in the east. Simultaneously they attack la Grée, the large rambling grafitti covered farm at the centre of the zone that has an unconditional welcome policy. There is a car repair workshop, climbing wall and the rap studio and many folk escaping the misery of street life and addictions end up living there together. Farmers' tractors are surrounding the building, a barricade made from the carcasses of cars, is set alight. But the tear gas is too strong and the tractors are forced to back off.
Out of the mist of gas come black lumbering troops, they charge across the fields. The whole zone is split in two by a seemingly endless lines of robocops stretching east to west. The crowd is dispersed, people are coughing up their lungs, they are furious. It began as a picnic, now it's a war zone again. The gas clouds cling to the pasture, frightened cows huddle together in a corner of a tiny field. The medic post at the Fosses Noires has to move away to the Gourbi, but then the gas catches up with it there too and it moves to La Rolandière just in time before the police arrive to smash one of the zone's most symbolic sites, the Gourbi.
In the very centre of the zad the Gourbi is where the weekly assembly of occupiers is held and Friday's No-market, a place where excess produce is distributed with no fixed price but by donation only. Initially there was a stone farm house there, inhabited by an old couple who were evicted in 2012 and their home destroyed for the airport project. Then a wooden hut was built in its place, but its ramshackle pallet sides soon needed restoring and so a brand new state of the art cabin like meeting house was built over 2015. But one night someone sneaked into this beautiful meeting house and set it alight.
But Gourbi was to rise from the ashes, and as an ironic response to the governments 2016 local consultation about the airport project, we held an all night building party whilst the results came through (55% for building the new airport). To the sound of a wild one man accordion band doing kitsch covers of Queen and other trashy pop songs, hundreds of people stuffed the clay of the wetlands into a huge geodesic metal dome structure to build our new round meeting house. It was made of steel and mud to resist arson, but today the bulldozer crushed it with a single swipe of its blade. Worlds away in the metropolis, the Minister of Interior, Gérard Collomb, tells parliament "We want to avoid all violence in this country, this is what we are doing at Notre-Dame-des-Landes."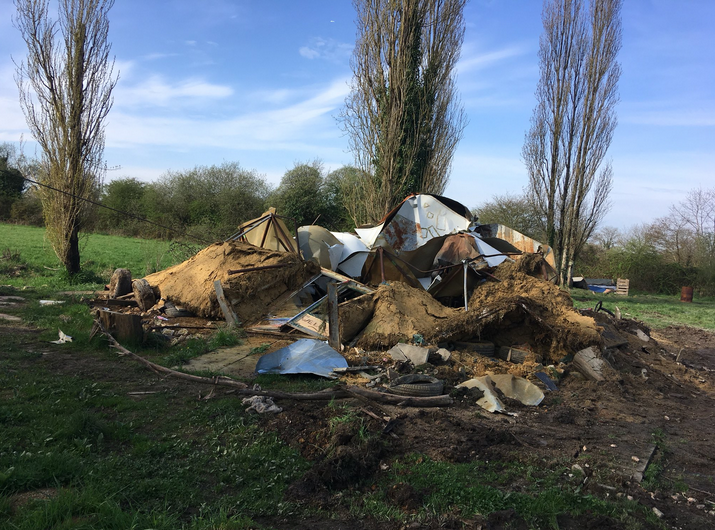 By sunset the government claims to have evicted 13 more living spaces, bringing the total to 29 since Monday. The prime minister refuses to pause the operations, and the medic team share horrific photos of some of the 60 injuries since Monday, including 3 journalists. Meanwhile the cops release their figures: 32 injuries, but it turns out most are from the mis use of their own weapons. Solidarity actions pour in from thousands, including squatters in Iceland, farmers in Lebanon and eco builders in Columbia. In Paris, sex workers send in kinky zad themed S and M photos and students occupy the EHSS elite social science school in solidarity. That afternoon electricity is cut across a large part of the zone and many of our neighbors homes outside of the zad. It is a tactic reminiscent of collective punishment used during military occupations , At night the gentle lulling croak of mating frogs in the marches mixes with the hum of back up electric generators. Four hundred of us meet at the Wardine, in the old concrete cow shed covered in bright murals, we share stories, dogs bark, tempers fray.
DAY 4: Thursday 12th April – Are they ready to Kill ?
The day begins with some good news on radio klaxon. An affinity group action just shut down the motorway that passes near the zad. Emerging from the bushes they flowed down onto the tarmac armed with tyres, fluorescent jackets and lighters. Within seconds a burning wall blocked the flow of commuters to Nantes. The group disappeared just as quickly as they materialised, melting back into the hedgerows. The more we fight for this land, the more we become the bocage and the harder it is to find us. Every day more and more people converge here, many for the first time in their lives.The art of the barricade continues across the zone, including one topped with an old red boat. Some of our most useful barricades are mobile, in the form of tractors, dozens of COPAIN 44's machines take over the main cross roads of the zone.
Following an attempt by friendly lawyers to prove that the eviction of the 100 noms was illegal, the prefect is forced to appear in court in Nantes, but the case is adjourned. The indefatigable zad press group sends out a new communique entitled, After 3 days of evictions are they ready to kill because they don't want a collective ? Clashes continues across the bocage as Macron take to the TV screens for a national statement about his policies. A social movement is rising against him, with university occupations, supermarket, rail workers and Air France on strike – he has to respond. The mise-en-scène is bizarre, he sits in a primary school class room. He speaks about the zad for a little over a minute, "republican order must be returned" he says, and "everything that was to be evacuated has already been evacuated".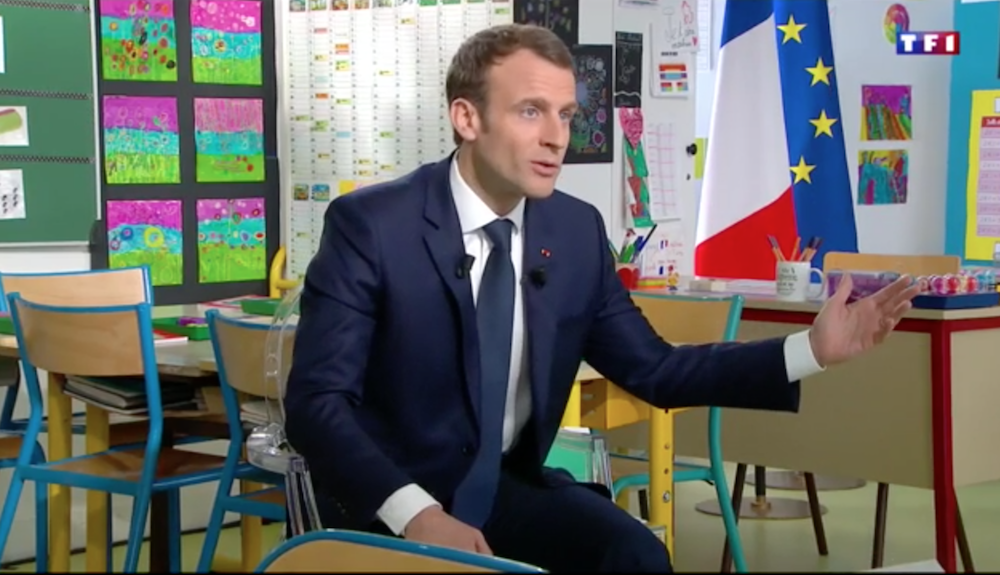 As he speaks a hundred and fifty concussion grenades are launched in less than half an hour in the Lama Sacrée field, the explosions echo across the bocage, bursting the ear drums of those nearby and raising the anxiety levels of those within hearing distance, which on this flat landscape of the zad, is all of us. The league of Human Rights demands that all parties come back to the table. A call is sent for people to converge on the Zone on Sunday: " The time has come to find ourselves together, to say that the zad must live, to dress our wounds and re build ourselves.." …
We walk home to la Rolandière, with its ship shaped library attached to the lighthouse, built where they wanted to build the airport control tower. The sun is setting, 20m high up on the lighthouse's balcony a lone figure is playing a trumpet, fluid sumptous jazz floats across the forest. It is one of those moments when you remember why you live here.
That night under a clear constellation filled sky, the Assembly of Usages meets. We sit on wooden hand made bleechers under Le hangar de l'avenir (The Barn of the future). This cathedral like barn was built by over 80 traditional carpenters in 2016 using mostly hand tools, it is ornamented with snakes and salamanders carved into the oak beams. There are several hundred of us at the assembly, one of the peasants whose tractor is blocking the crossroads reads out a series of texts messages he has received from the préfete who is trying to negotiate with COPAIN 44. "Yesterday the Prime minister said it was war, today the president says its peace, therefore it's all over." It's clear that she's feeling that the situation has become much more complicated than predicted. A deal is made, move your tractors she writes, and I promise that by 10pm I will announce to Ouest France, the regional news paper, that it is the end of operations by the Gendarmes.
The meeting continues, we wait for the article to appear on the newspaper's web site. I reload my phone endlessly waiting for the site to update. Suddenly it does, but it's just a story about rock legend Johnny Hallyday, was it all a bluff ? Then it arrives, half an hour late. A cheer rises from the tired voices. At home we try to party a little, at least we might get a lie in tomorrow morning, it seems that it's over for the time being?
DAY 5: Friday 13th April – Utopias with teeth
I'm half awake, there is a rumble of vehicles on the road… At first I think it's tractors, then I see the lights, blue and flashing, van after van of cops passing. We leap out of bed and run to the top of the lighthouse, the entire road is filled with vans as far as the eye can see. The huge barricade at the crossroads, which the tractors left last night following the préfete's announcement, is on fire, a plume of black smoke frames the the orange dawn. The familiar pop of tear gas canisters being fired is accompanied by the crunching sounds of barricades being pushed by the APC. Radio Klaxon says they have kettled la Grée and are searching it, the Wardine camping is also encircled and a hundred and fifty cops are heading towards the Rosier. The Lascar barricade, made of several burnt cars, with a huge metal doorway and a trench that is several meters wide, is being defended by a nearly 100 of us. The forest is wrapped in toxic mist, ghostly rebel silhouette run from tree to tree, stones are aimed at the robocops with catapults that were made by Andre, an 83 year old who set up a production line for us during the eviction threats of 2016, his team churned out 1000. The cops throw stun grenades blindly from the fields into the forest, one explodes just above my head, caught in the tree it rips the bark into smithereens. Is this what they call the end of operations ?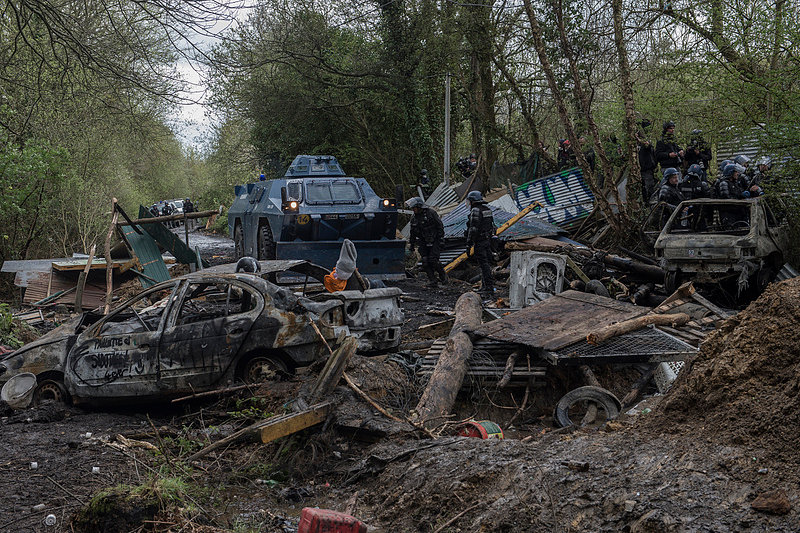 A communiqué from the gendarmerie explains that they are clearing the roads and are not doing any expulsions or knocking down any squats, but that they are looking to arrest people who fired a distress rocket at their helicopter. At la Grée they take away two people but not for that charge. The gas pushes everyone back from the Lascar's barricade and the grinders come out to cut the metal gateway into pieces. Despite the rising clouds of tear gas, people on the roof of the brand new Ambazada, a building that will host folk from intergalactic struggles, manage to sing some of our re purposed folk songs, recount the history of the struggle of the zad.
Then a moment of joy, one of the armoured cars attacking the Lascar tips into a ditch and has to be pulled out by the other one. The mud of this wetlands has always been our ally, its wetness our friend. When they retreat a banner is put up, "Cheap APC driving license available here." Our other accomplice is humour of course, even in what feels like a war zone, with tarmac scorched, broken glass and rubble everywhere, being able to laugh feeds our rage. The police retreat again and the barricade grows back out of its ruins, bigger and stronger than ever. We notice that where the APC fell into the ditch is now a huge deep hole at exactly the place where the drain for the Ambazada was going to be dug, no need for digging, just put the plants in it to make our grey water reed bed. That's what you call radical permaculture, least effort for maximum gain.
At midday the préfete begins her Press conference in Nantes. She confirms last nights message – evictions are over – and in a dramatic gesture, flourishes a page of A4 paper towards the cameras. "It's a simplified form" she tells the press, "so that those who wish can declare their projects as quickly as possible…The deadline is the 23rd of April" she continues " all we are asking is that they declare their names, what agricultural project they wish to develop and to tell us what plot of land they wish to work on, so that the state can process them." She also confirms that it was Macron who was running the operation not the prime minister or interior minister, it was he who decided to stop the expulsions. "I am holding out my hand" she says, and asks for negotiations to re start on Monday, "I am giving the zadists a last chance." Sitting next to her General Lizurey in charge of the Gendarme's operations says that the number of zadists on the zone has increased from 250 to 700.
I walk through the Rohanne forest to The Barn of the Future, I breathe in the forest air, the sweet pine, the musty damp smell of mushrooms. The barn has returned to its normal use as a saw mill and carpentry workshop for the zad. It is the base of the Abracadabois collective that looks after the forests and hedgerows, harvesting fire wood and building timber and setting up skill shares to learn carpentry, forest biology, wood carving, chain saw use and learning about other ways of inhabiting forests inspired by indigenous practices from past and present. The saw mill is planking the logs, twenty carpenters are busy preparing frames for a new building, a new assembly and no-market hall for the Gourbi, that we aim to put up on Sunday during the mass action.
This morning I was enveloped in tear gas and now I'm watching some of the same barricaders without their gas masks making a barn using the techniques that have been used for millennia. It is somehow healing to watch the attentive work. It is this capacity to fight and build, to block capitalism and to construct other forms of life which gives the zad its strength. It is also another reason the state wants to destroy us, they can deal with nice clean alternative eco projects, easy to buy off and recuperate into new forms of green capitalism. But when those who have a systemic critique are also providing material examples of other ways of being, it becomes dangerous. The resistance and creativity, the no and the yes, are the twin strands of DNA of this territory, split one from the other and the zad dies. It becomes another ecovillage or Transition Town, alternatives without teeth.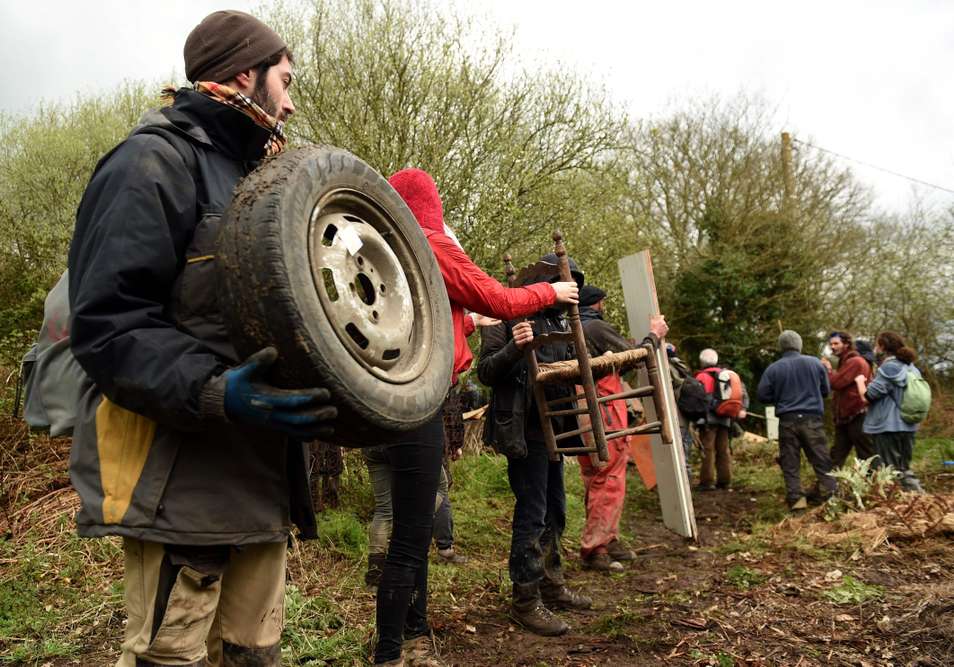 Yet a second helicopter is flying above the barn, this time with Prime Minister Edouard Philippe and the minister of interior inside, they are getting a private birds eye tour of the zad. They have come to congratulate the troops for their hard work. As he shakes hands with the gendarmes Phillippe tells the press that "the state will not accept any reconstruction or reoccupation." He is referring to the action planned on Sunday, "Any place that tries such an action will exclude itself from any possible regularisation…. and will thus put themselves under judicial proceedings." Once again the threat of sorting the good zadists from the bad. The carpenters work late into the night.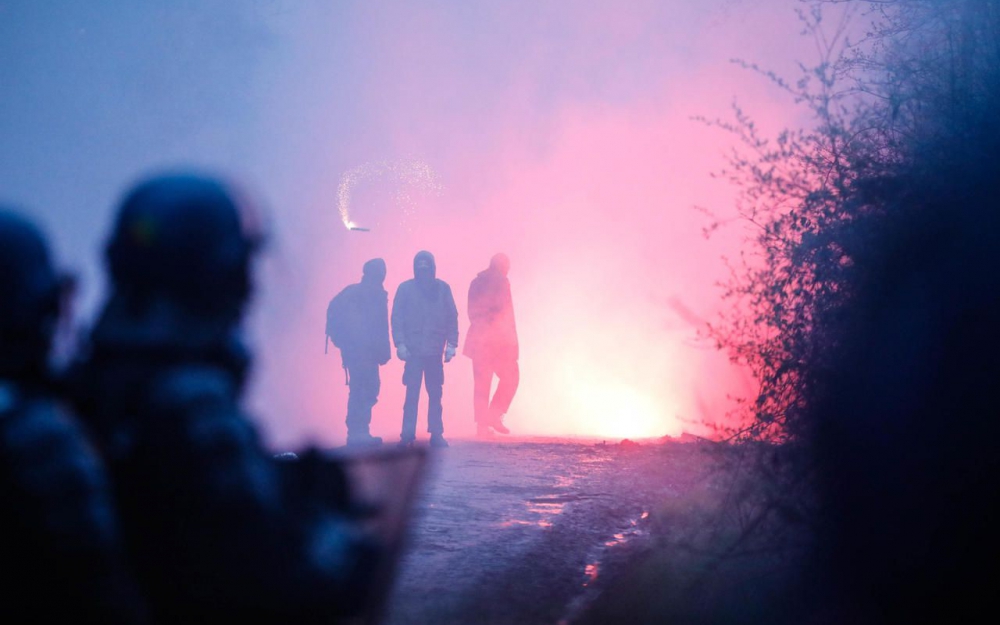 DAY 6: Saturday 14th April – We won't forget our scars
Bang, another wake up call, the APCs and dozens of vans pass by at the speed of a TGV train, bulldoze the barricades away on the D81 road again, and continue South, probably to Nantes where striking workers are holding a demonstration followed by one against the eviction of the Zad.
Barricades are cleared at the Lama Fachée at the same time, and a strange new gas is spotted, dark yellow. It makes people throw up, sows mental confusion and a loss of all spatial and temporal senses. Behind one of the barricades, a trio of action medics are keeping an eye on the adjoining woodland where grenades are exploding, " It's been war wounds here," they explain "skin and nerves hit by shrapnel, open gashes, eardrums damaged, necrosis and bone fractures." Some folk have over 70 pieces of shrapnel in their limbs, it takes hours every day to pull them out and clean them, some have gone 3cms deep into the skin. Many of the new comers on the zone throw themselves into picking up the thousands of gas canisters that litter the fields, placing them in big bags for everyone to see in the "camp of the white haired ones." Each canister costs 110 euros.
The demonstration in Nantes is big, 10,000 people. The 1000 riot police on duty attack it and gas people drinking on the café terraces.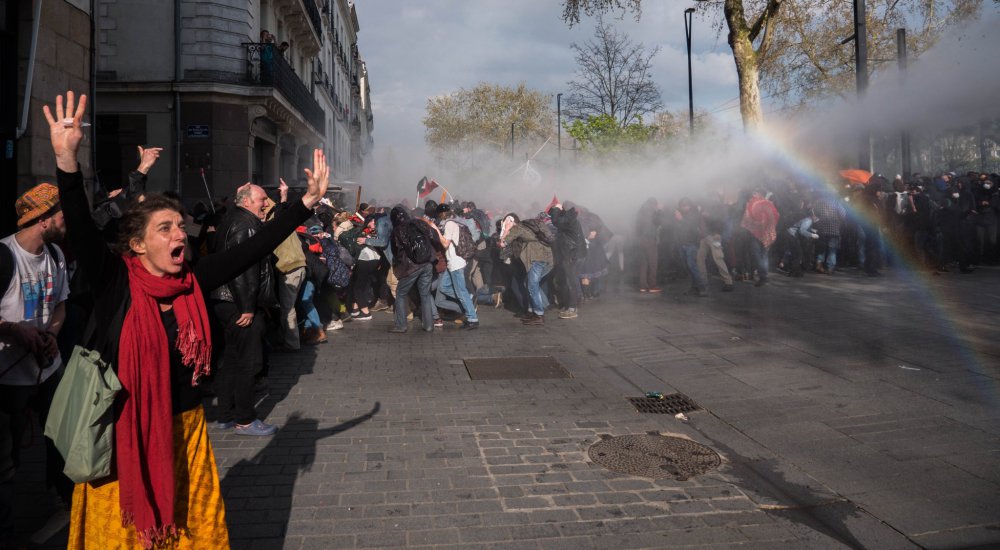 The sun set is dark red this evening. The wood working tools and machines are cleared aside, the Barn of the Future becomes a meeting hall again for the Assembly of Usages. The fresh smell of saw dust perfumes the discussions about whether we should go to back to the negotiations on Monday. The response is no, not yet.
DAY 7: Sunday 15th April – The Human millipede realises a dream
It's the big day, thousands of people from all over the country are converging on the zone for the day of mass action. The troops have cut off a third of the zad, they line the lanes for kilometers, cutting off access to any of the part of the zone where homes had been destroyed last week. This includes the Gourbi where we hoped to bring the new building too. All road access to the zad are blocked off by the gendarmes, they tell people to go home because they won't be able to reach the demonstration. But more than ten thousand of them disobey, park their cars and coaches in the nearby villages and trek for over an hour across the bocage. The details of the new building are still being finished, as the crowds arrive, such as a large 'fuck you' finger and the face of a fox that are being carved.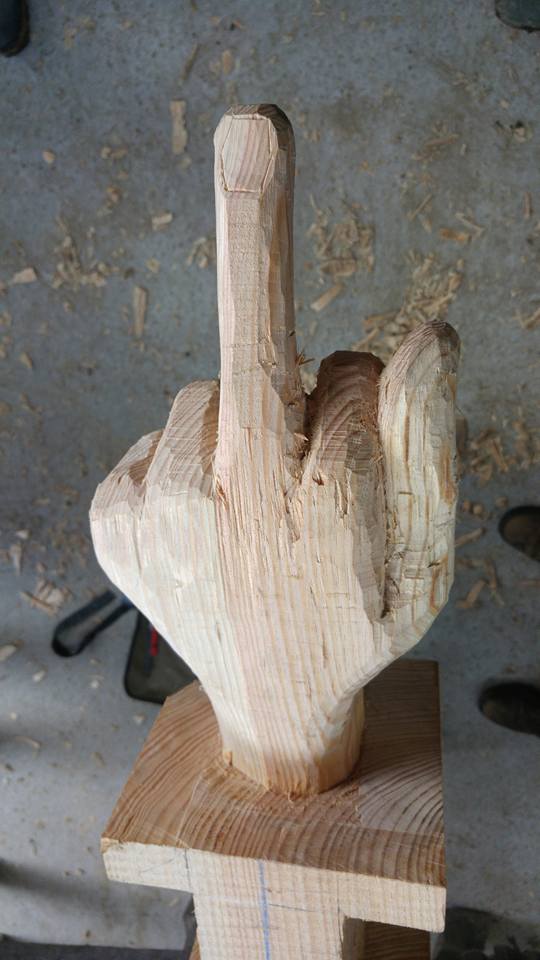 Through the pirate radio, text messages and word of mouth, we tell people to converge on Bellevue, the big farm in the west and wait for a decision about what we will do. 50 of us meet in a field in an emergency meeting, the farmers don't want to risk their tractors, we don't want to have a gesture that feels too symbolic, once again the collective intelligence comes to the fore and we come up with a plan B. The building will be erected as close to the front as possible without forcing the police line, there are too many families here to risk being gased.
Simultaneously we will ask people to unearth the staffs and sticks that had been planted in the ground in October 2016 when the government told us they were coming to evict. It was a ritual disguised as a demonstration, 40,000 people answered the call, planted their stick into the ground and made a pledge to return to get them if the government came back to evict the zone for the airport. The ritual magic worked, that time the government stood down. But now they were back with a vengence and the moment has come.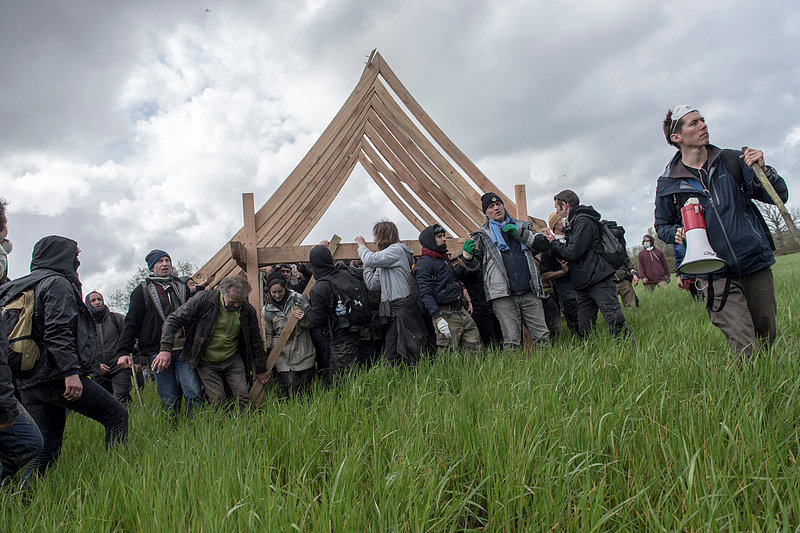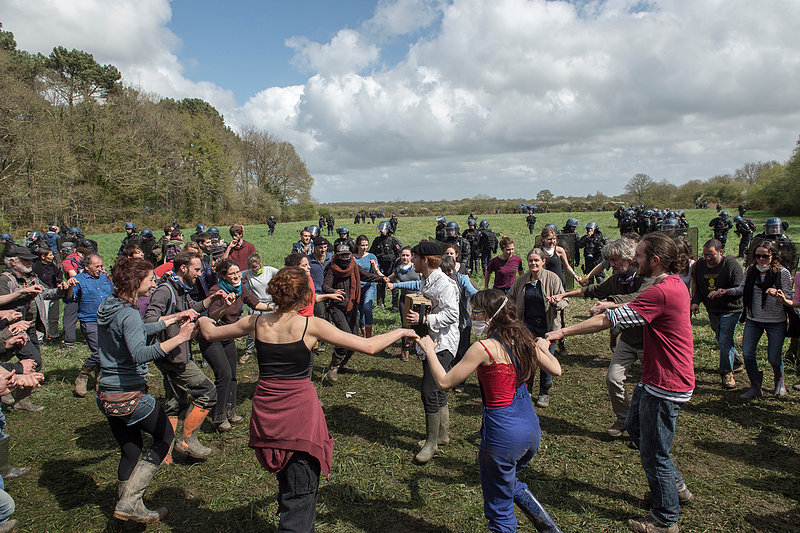 Whilst people pulled the deeply charged sticks out of the clay, others on lane behind carried the huge wooden frames, planks and beams of the new building to the field between between the Wardine and the Ambazada. It takes a few hours to put the carpentry back together and raise the structure up, meanwhile thousands of people push their sticks back into the ground creating a huge circular pallisade around it. In the next door field the police start to tear gas and stun grenaded hundreds of people, some had been reading poems to the cops many held their hands in the air in a gesture of peace. Families hold their ground next to masked up barricaders.
Meanwhile, a handful of people decide as a kind of game, to take the campanille, the tower like addition of the new building, through the forest to the east. A crowd of hundreds follows, we cross the road next to the cops who charge but are forced back by the mass of bodies, we try to get as near to the Gourbi as possible. The wind is on our side and blows the teargas back into the cops lines. But the playful act of defiance ends when its clear that we can't get anywhere near the Gourbi, the police lines are too thick. However, the pleasure of running through forests and fields carrying part of a wooden building is clearly addictive. A few hours later, once the sun has gone down and the cops have left, a new plot is hatched. Why don't we move the whole building, one and a half tonnes of it, 3kms across the fields, in the dark – to the Gourbi !
Despite the general state of tiredness that fills our bodies, we manage a huge heave, 150 of us lift up the structure. A mass of rubber booted feet walk in unison, it feels like a strange chimera shuffling across the bocage, half human half millipede. One of the carpenters directs the operation via megaphone, "a bit to the left ! slow down ! watch that tree branch !" Lit by the beams of dozens of head torches the building seems to float above the prairies, we are plunged into a space between fabulous dream and a scene from an epic film. Someone sits on the very top of the building pushing up the electricity and phone cables so we can pass under them. This is what we call the magic of the zad, the belief that anything is possible when we do it together.
We half expect to see the police helicopter, to feel its spot light pierce the night, but nothing. The closer we get to the Gourbi the louder the chants: "on est plus chaud, plus chaud, plus chaud que le lumbago" (we are much hotter, much hotter than lumbago). When we arrive, fireworks shoot up into the darkness, a bright red distress flare illuminates the scene. We set the building next to the pilled up ruins of the dome. We light a bonfire, Gourbi has risen again.
Whilst we were moving our house, Macron was being interviewed live on TV, sitting in a black and gold marble hall the Eiffel tower as monumental backdrop. He declares that airport had been abandoned as part of the "ecological priorities of the government" and that therefore our anger is no longer legitimate. Rather than an alternative society, the zad was "a project of chaos… illegally occupying public lands" he tells the nation.
"We have restored republican order" he declares, at least four times. We must sign individual forms before the 23rd of April or "everything that should be evicted will be evicted" he says. Macron ends with a ridiculous analogy: the zad is as if someone came into your living room to propose an alternative and squated your sofa. Ridiculous and wrong, none of the land here belongs to private individuals, it all still belongs to multinational airport builders Vinci and the state. But his statement was a new ultimatum, a declaration of total war against all collective forms of life. We return home to the news, but it cannot blunt the memories of this improbable night.
DAY 8: Monday 16th April – We will always re-surge, return, reclaim
There are a half a dozen bodies perched like birds on the rafters of the new Gourbi, one plays a drum, a couple kiss, the green prairies below burst with yellow dandelions. We hear the rumble of APCs, it's obvious they are coming straight here. The glint of riot visors shimmer in the sunlight, a column is moving towards us. A few flash bangs later and those on the roof are brought down by police climbers. The pillars of the building are cut by a chainsaw and the APC drives into it. Like the skeleton of a dying beast it crumbles to the ground. The police leave under a hail of stones, people sort out the broken beams. "Bastards !" a friend points to a stump of cut timber, "they sawed off the big fuck you finger and took it back to the barracks as a trophy !"
The Gendarmerie release their drone footage of the destruction on social networks. They need to show some success in their operation, they too are getting tired of this infernal cycle of destruction and reconstruction. A communication from a group called "Gendarmes and Citizens" denounces the fact that they are feeling "bogged down" and feel like "cannon fodder" faced with "rural guerrillas". They deplore the "political paralysis" of the government who are on the one hand communicating with a "warlike tone" but are not following it up with effective orders on the ground. "Why are we not being given orders to arrest everyone in the squats ?" they complain. So far there have been suprisingly few arrests, we wonder if they will just come back later, raid our homes, pick us off one by one, when things are quieter ?
There is a new moon above tonight's Assembly of Usages. Unsurprisingly the debates are heated, we have to decide to re start negotiations or not. The question has never been negotiate or fight, we always knew that we had to do both, but after so many days of attacks it's not easy to accept to go back to the table. In the end we decide that we can meet the préfete, not to negotiate the base issues, but make demands for the continuation of talks, one of which is take the troops off the zone. "You don't negotiate with a gun to your head", one of the locals says, but we known that if we refuse to meet, Macron's machine could return and destroy everything that is left, risking lives and in the end depriving us of this territory where we found each other.
An older friend of mine, someone who experienced the uprisings of '68, writes to me. His letter just says, "the zad will never end, it will simply change shape." And he is right. This attachment we have to this territory where we have been able shake our dependence to the economy and the state, is something that brings us together, however disparate our political perspectives. Our love for this huge play ground which inspires us to organise together, this deep desire for the wetlands that lubricates our imaginings, these are not abstractions but feelings that are deeply anchored to our experience of this bocage and all our experiments that emerge from it. It is a place that compels us to recompose, to renew, to have the courage to put our political ideas into question, to always push ourselves further than what we thought was possible, to open ourselves up beyond a radical ghetto or walled off utopia. Despite our barricades and the diversity of disobedience, if the state really wants to eradicate the whole of the zad, they can. Everyone would have lost their homes, workshops, fields, tools and we would probably find ourselves banned from returning to the region (a common judicial punishment in France). Scattered across the country without a place that enables us to grow roots together, we would loose all our strength. We know that changing shape is painful, but like a cameleon changes colours, we need to find a way protect this laboratory and camouflage its revolutionary potentialities from the eyes of the state. If we want to stay we need to find a compromise whilst refusing to let go our the commons.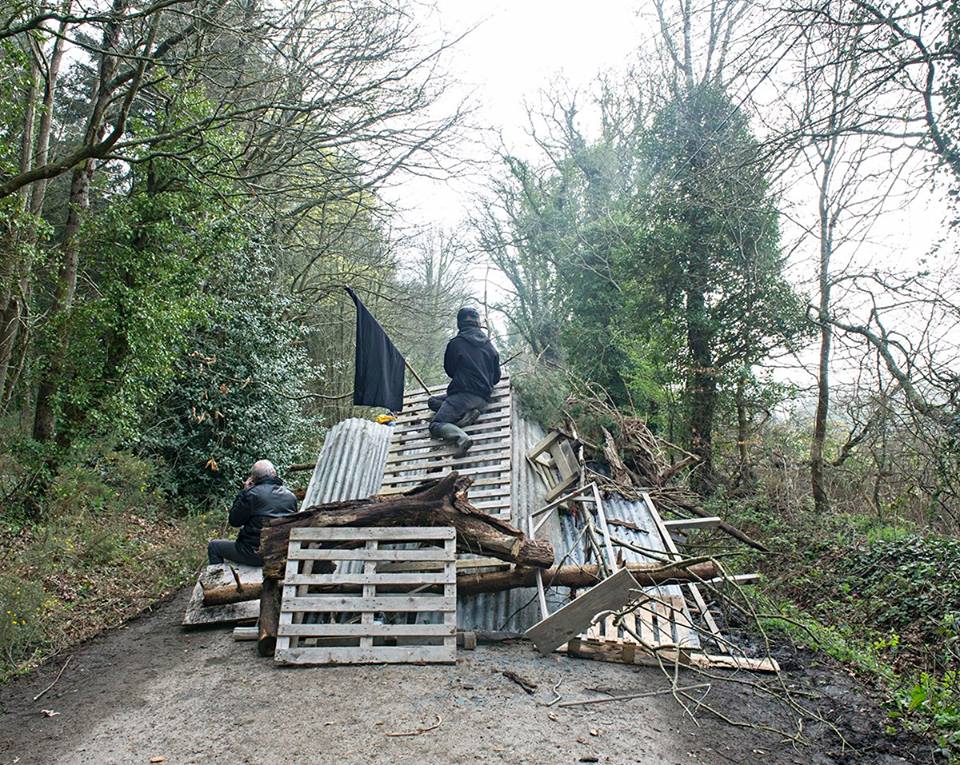 Day 14: Sunday 22nd April – The art of Changing Shape
It's a week later. Over breakfast, Paul tells me about last night's adventures. "It felt like we were robbing a bank. So organised, dressed in black, head lamps, maps, scouts etc. Except all we were doing was evacuating the bee hives from the destroyed homes and gardens, getting them off site." he smiles "we had to carry them full of bees across the hedgerows behind police lines."
The days have calmed down. Less cops on the zone, more bird song than explosions. The cycle of barricade growing and then being smashed slows down, partly because on the main roads the police bring in huge skips to take the materials away. In the smaller lanes barricades remain.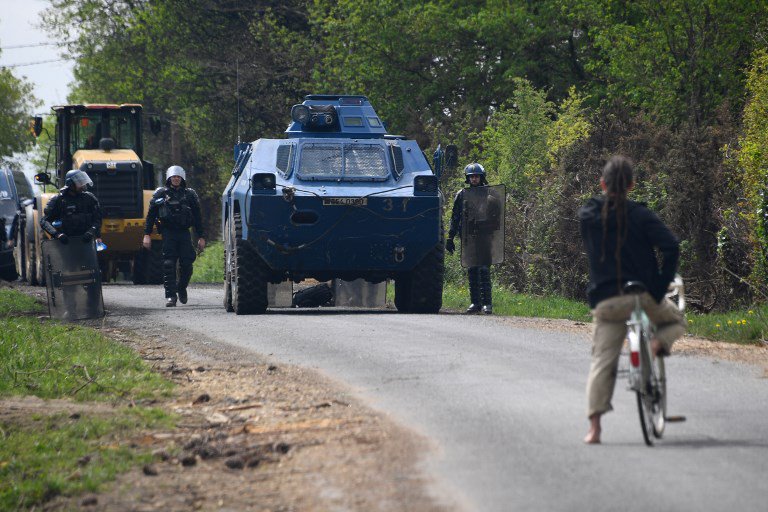 The restart of the negotiations on Wednesday went badly, nothing shifted, despite the presence of ex TV personality Nicolas Hulot, now Minister of Ecological Transition, in charge of the zad case since Marcron's election. He is flown in specially to Nantes in the presidential jet. Following the meeting with us, he gives a press conference in the palatial hall of the Prefecture. The government's hard line is held, the rights of property and the market reign, there will be no global or collective contract for the land, we have to give individual names and land plots by the 23rd or face evictions. In a rhetorical floury he ends, "ecology is not anarchy."
Not surprising for a man whose 'ecology' involves owning six cars, signing permits for oil exploration and supporting the nuclear dump at Bure. Hulot is simply the 'eco' mask for Macron's "make the planet great again" form of authoritarian neoliberal green capitalism. But his statement shows Hulot's absolute ignorance of the history of both ecological and anarchist thought. Many of the first theoreticians of ecological thinking, were anarchists. Élisée Reclus, world famous geographer and poet, whose beautiful idea that humans are simply "nature becoming aware of herself," fought on the barricades of the 1871 Paris Commune. 19th century geographer Peter Kropotkin, spent many years in jail and exile for his politics, but was renowned in scientific circles as an early champion of the idea that evolution is not all a competitive war of "red tooth and claw" but instead involves a cooperation, what he termed Mutual Aid. From the 1950s onwards, US political philosopher Murray Bookchin (now best known for the influence he has on the Kurds to build a stateless form of Municipal Confederalism, taking place in the autonomous territory of Rojova – Northern Syria) brought ecology and anarchy together.
At the heart of his Social Ecology is the idea that humans dominate and destroy nature because we dominate ourselves. To avert ecological collapse we had to get rid of all hierarchies – man over woman, old over young, white over black, rich over poor. According to Bookchin, our greatest lesson to gain from the natural world was that we had let go of the idea of difference, and reclaim the concept held by many small scale organic societies, of unity in diversity. Diversity being the basic force of all bio-systems. He envisioned a world that would be neither communist nor capitalist, but what he called "Communalist". "The effort to restore the ecological principle of unity in diversity," he wrote, "has become a social effort in its own right – a revolutionary effort that must rearrange sensibility in order to rearrange the real world." For him the question of society, to reframe Rosa Luxembourg's: "Socialism or barbarism" – was: "Anarchism or extinction."
When we truly inhabit an eco system it becomes obvious that life has no control centre, no heirachy, no chiefs or bosses, no governments or presidents. Every form of life is a self organising form of commons – deeply connected and interdependent, always changing, always embedded and entangled – from the cells in your fingers to worms in your the garden, from the trees in the forest of Rohanne to the bacteria in your gut. As biologist and cultural theorist Andreas Weber says, all life forms "are continuously mediating relationships among each other – relationships that have a material side, but also always embody meaning, a sense of living and the notion of belonging to a place." The more we observe the living world in all its complexity the more we are able to understand how to become commoners, how to truly inhabit a place and see that the separation between the individual and the whole is a fiction.
"In the ecological commons" writes Weber "a multitude of different individuals and diverse species stand in various relationships to one another – competition and cooperation, partnership and predatory hostility, productivity and destruction. All those relations, however, follow one higher principle: Only behaviour that allows for the productivity of the whole ecosystem over the long term and that does not interrupt its capacities of self-production, will survive and expand. The individual is able to realise itself only if the whole can realise itself. Ecological freedom obeys this basic necessity."
And so to be really free is not to be an individual able to operate free from constraints, but to be tied to beneficial relationships with people and habitats, relationships that feed you materially and psychologically. Without a tie to your food – you starve, without the tie to lovers – you sadden. We are free because we are linked. Freedom is not breaking our chains but turning them into living roots and veins that connect, share, flow together and enable us to change and evolve in common.
Since the abandonment of the Airport, changing together on the zad has been a very a painful process. On the zad often it is a fight between those of us who try to read the terrain and invent something new that is messy and hybrid yet fits the situation we are in and those of us who want to keep a pure radical position, more based on uprooted ideas and ideology than the complexity of the present moment, the here and now, the forces we hold and don't. In 1968 Bookchin asked"When will we begin to learn from what is being born instead of what is dying?" It is a question still just as relevant today on the zad.
Things have been moving so fast. After Hulot's ultimatum, a ministerial announcement suggests that the Prime minster and minister of interior are on a war footing, they are prepared to go for it, evict the whole zone on Monday's deadline, the 23rd.
During the re start of negotiations on Wednesday a technical meeting between our delegation and the bureaucrats, who look at the case from a purely land and agriculture question, had been set for two days later, Friday 20th . Once again we are on a knife edge, this could be the last moment of negotiation before a full scale attack, an attack that most of us who live on the zone know we can't win against, how ever big our barricades.
The Assembly of Usages makes a huge strategic gamble, its a paradigm shift in tactics. We decide to hand in the forms at the Friday meeting, but in a modified way, to show that yes we can fit the state's square boxes of individual projects if they want, but that on the bocage nothing can be separated out, everything is interdependent. Whilst at the same time making a call out for people to come and be ready to defend on the territory from Monday onwards if the state attack. Its the logic of hacking, take what's there, re purpose it, change its use.
Then one of the most unexpected types of zad magic takes place, an office of form filing is set up in the Zad's library, and for 24 hours the building becomes a disturbed ants nest, dozens and dozens of people are running around carrying white pages of paper, writing on computers, having meetings together, looking at maps of the zone, making phone calls. Comrades with great legal and administrative knowledge help out and and by Friday afternoon, just as the meeting at the Prefecture begins a huge black bound file of 40 different projects is produced, each with a name and plots of lands earmarked, but no single name attached to a single plot. A colourful cartography of the commons of the zad is attached to further illustrate the interdependent and cooperative nature of the projects, be they a school of shepherding or the library, orchards or the sports group, mechanics garage or a snail farm, sunflower oil production or bringing up children together. Of the 70 living spaces on the zone, 63 are covered by the forms, only 7 decide not to take this bet of a barricade of paper. Of course paper barricades are not half as fun as ones on the streets, but this time they just might be the ones that save zad from becoming just another orgasm of history, another free commune which shined briefly but ended in bloodshed, another martyred experiment in freedom sacrificed for the sake of a pure revolution. The zad always tried to go beyond the idea of a TAZ (Temporary Autonomous Zone), in favour of a building a PAP ( Permanent Autonmous Zone), this desire is embeded in the solid buildings, the long term agricultural plans, the vineyards planted for win in 5 years time. We can' just let go of all the ties we built here, with the locals, surrounding farmers, pensioners, workers in the city, wanderers of all sorts, Nantes students and the youth, the owls, the black squirming salamanders, the knarly oaks trees, the mud. We must hold onto all these deep friendships and networks of struggle that we have shared with such intensity over the last decade.
The state bureaucrats were confused, some enchanted, the préfete seemed relieved. Leaving the meeting our delegation tells the press that "we have responded to the injunctions of the state because we want to stop the escalation of tension and at last find the time for dialogue and construction," warning that " if we take away one element of the collective, it cannot work. It's up to the state now to negotiate."
As I finally finish this text, the helicopter returns, anxiety rises again in my chest. It spends a long time swooping over the zone, observing this rebel bocage that it wants to reclaim back. Perhaps it is preparing for a final revenge against the commons, who knows, all we know is that during this last fortnight we have fought with every weapon we thought possible including the unexpected. Now we wait to see if the bet worked out…
P.S
On the 26th of April three days after we posted this blog, the Prime Minister made a statement about the Zad: announcing a truce in evictions until at least the 14th of May, to allow time for the regularisation of the occupants who filed forms. According to the Minister of the Interior, "Everything moves calmly and in serenity, as always," that hasn't stopped them piling in with the tear gas this morning to clear barricades. The bet seems to have given us some breathing space, even though they remain with the logic of sorting the 'good' who have chosen the 'right path' and the bad 'illegals', something we continue to reject.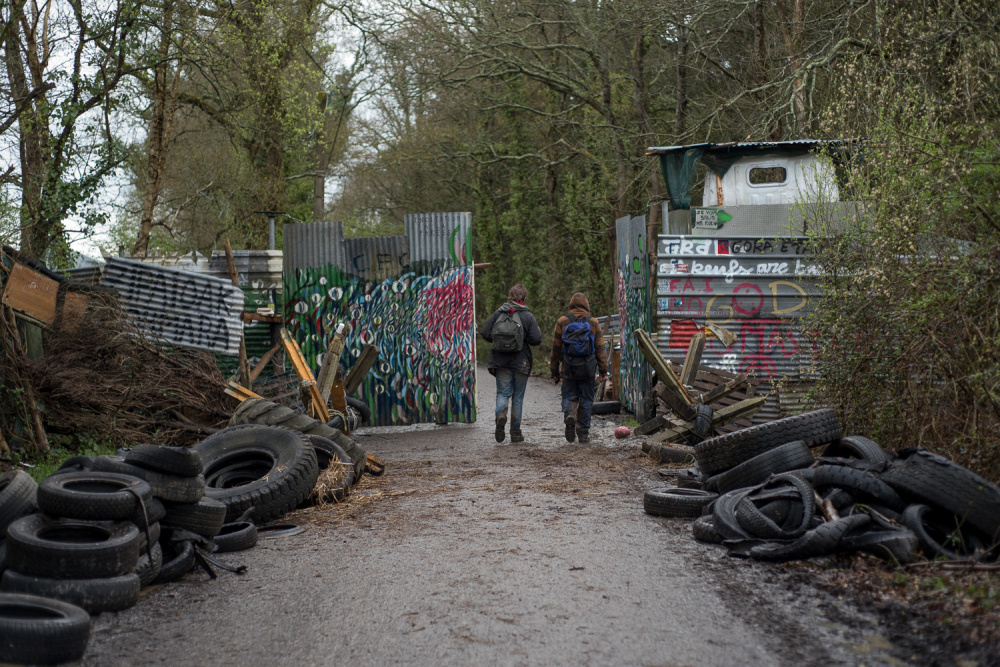 This Time It's Public!
A recent report on digital attitudes shows that while 50% of people in the UK say that the Internet has a positive impact on their lives, only 12% believe it has a positive impact on society.[1] Mark Zuckerberg's recent failure to give a straight answer to questions about misuse of Facebook's user data, illustrates a major problem.
Much has been made of the democratising effect of social media platforms. However, while more of us are encouraged to "have our say", we have less influence over the important decisions that most affect our lives, our localities, and the ways in which our societies are organised. The owners of digital platforms from Facebook to Uber, answer to shareholders in private, rather than to citizens in public. It should therefore not surprise us when they manipulate, monetize and exploit users' interactions, attitudes and behaviours for their own commercial and political interests.
This problem of privately owned social space is not one that can be resolved by consumer and state regulation alone. It is a wider societal issue that further reinforces to us at Furtherfield, the immense value of park spaces in which neighbours come together each day, renegotiating in public, the spirit of the place through a diverse mingling of purposes.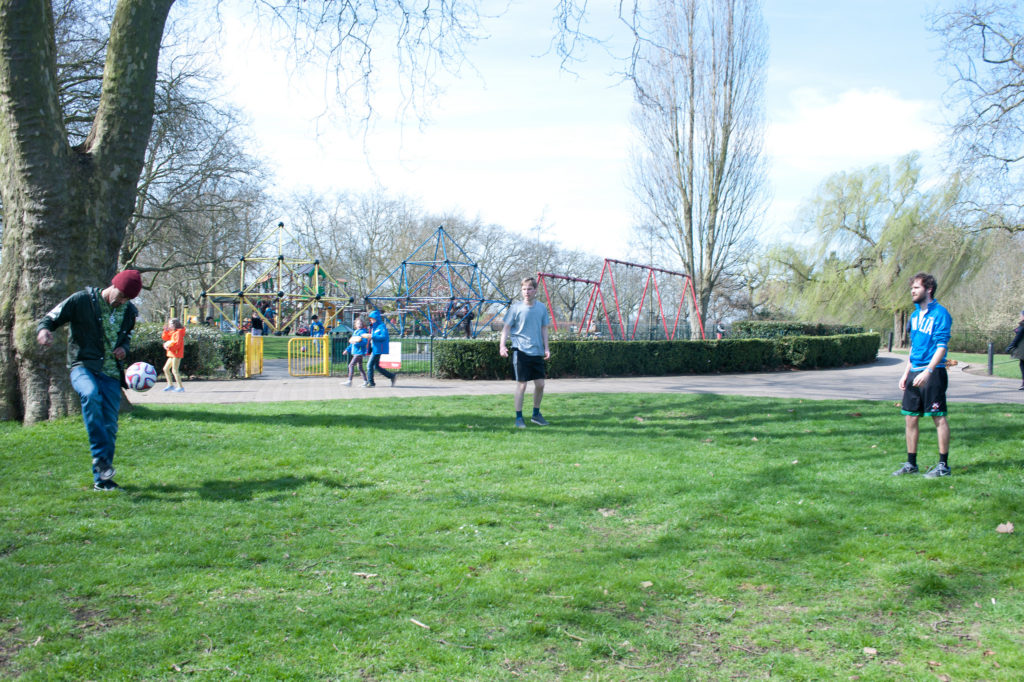 Fieldwork in Hu1man and Machine Imagination
Over the last six years more than 50,000 people have encountered over 75 digital artworks that Furtherfield has brought to the park, working with international artists who reveal the invisible forces at play in machine and digital infrastructures. This summer Furtherfield extends its programmes beyond the Gallery and Commons venues into public green space of the park as we announce the first exhibitions, workshops and labs as part of Platforming Finsbury Park.
We are inviting park users to collaborate with us to transform the park into a public platform for cultural adventures, social inventions and reflections; to work with artists, hackers and academics from all backgrounds to rethink the social impact of technology and its flows on public spaces; and to bring local needs to the forefront in the context of planetary-scale techno-social advancements.
Currently showing at Furtherfield Gallery in the heart of Finsbury Park is the exhibition Poetry for Animals, Machines and Aliens: the Art of Eduardo Kac which is free and open to the public every day through May. The exhibition includes Lagoogleglyph, the third in a series of images as part of a global, networked artwork that takes the form of a pixelated bunny painted (in this instance) onto a field in the park, to be enjoyed by people on the ground and seen from Google Earth. In his essay Andrew Prescott, curator of the exhibition and Professor of Digital Humanities at Glasgow University revisits historic antagonisms between culture and technology prompted by reflections on the invention and imagination at play in Kac's digital poetry.
Meanwhile families are joining artist Michael Szpakowski to use the very same satellite infrastructure to create GPS bunny drawings in his workshop series Let's Fill the Park With Rabbits!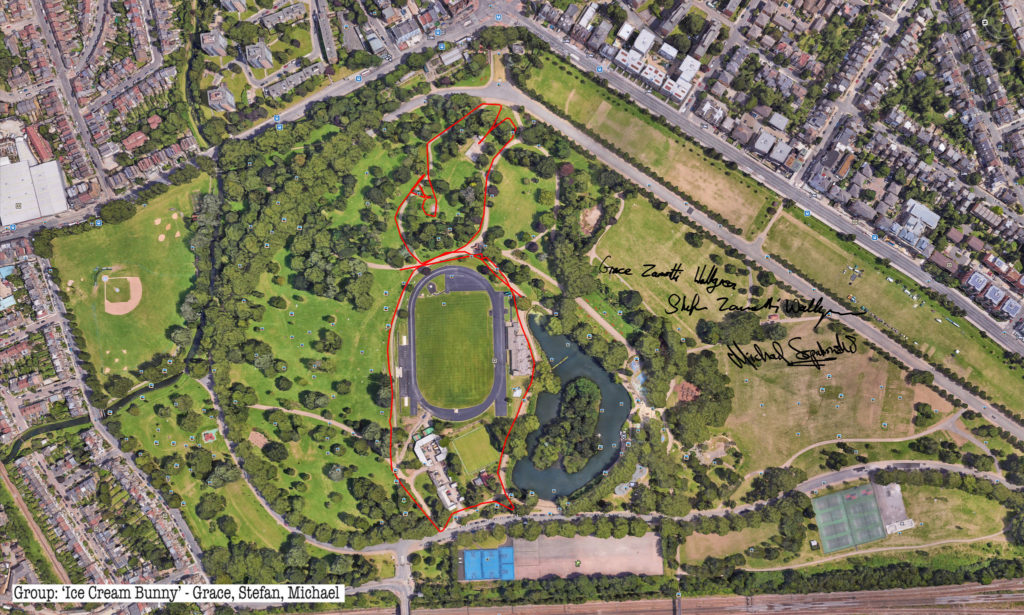 We hope that Platforming Finsbury Park will also start to flip some assumptions about who and what both art and technology are for. Over 180 languages are spoken in Finsbury Park. We want to make space for conversations and experiments with people from different backgrounds. Alongside the exhibition Andrew Prescott is also leading a series of public workshops on the theme of Digital Transformations promoting dialogue between and across diverse cultures.
Work, Pleasure, Survival 
In late May, we host Playbour – Work, Pleasure, Survival, a 3 day lab for artists, scientists and technologists dedicated to "the worker in an age of data and neurotechnologies". From these will flow art commissions and collaborations towards our next exhibition in July.
Here you can read an interview with designer Ling Tan about the SUPERPOWER wearable technology workshops at Furtherfield Commons last summer in Finsbury Park. Ling tells us about how a group of young women from All Change Arts worked with her to devise activities and to learn about creating and interpreting data to themselves shape attitudes and behaviours. Dani Admis, curator of Playbour, continues this work later in the summer, exploring with local young women how they might effect change on their own terms, using the conceptual power tools of neuroscience.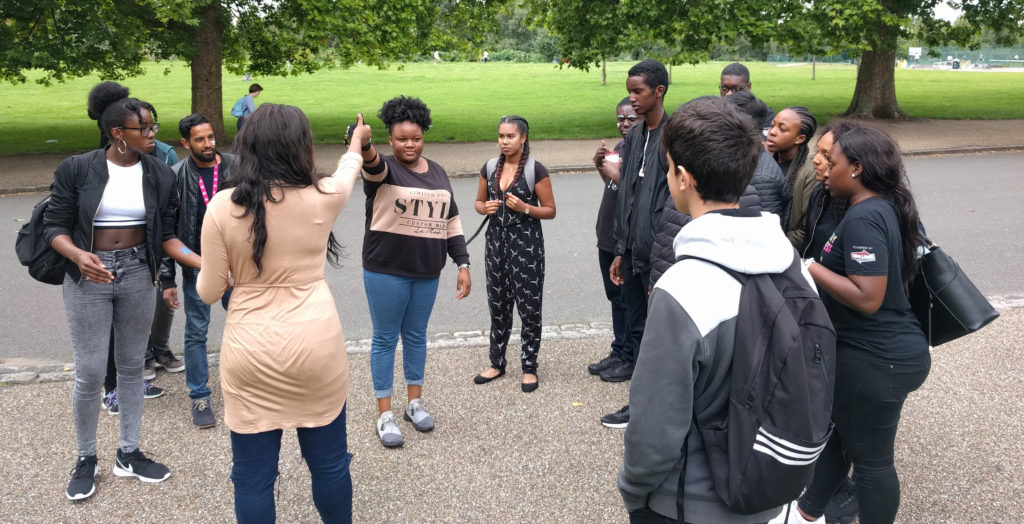 Finally a provocation to Furtherfield from Simon Poulter, artist, technologist and producer of NetPark, the digital art park at Metal in Southend, who is working in partnership with us. He celebrates our commitment to the commons "as a real thing, worth our energy and stewardship, the point at which people do touch each other and listen." He also issues a call to action…"It is time to invent another future, lest we will become the disrupted and not the disruptors."
As Manuel Castells famously put it 'The flows of power generate the power of flows, whose material reality imposes itself as a natural phenomenon that cannot be controlled or predicted… People live in places, power rules through flows'. [2] And in network society these flows often have the power to wash clean away communities' ties, extracting value and flowing it to the private interests of absent and distant persons and bodies.
So our future mission grounds us in Finsbury Park, while maintaining our global reach. We are passionate and committed to multiple points of entry, bringing in consenting and diverging voices, to channel and circulate flows locally to generate the power to enact this public place together with verve.
Valuing people is a core property of wealth creation, wealth creation can be positively bound into communities. We can't afford not to be involved in digital creativity because it explores areas of social space that are entwined with intrinsic cultural and economic value.
The point of entry has become ubiquitous, we are everywhere, they are everywhere – I am over there and here too. Marshall McLuhan, the Canadian media theorist gave us 'emotional extension in electronic space' [1]before we came up with the clumsy and often misunderstood paradigm of 'post-digital' – a way to describe a circularity and return to being human that accepts the intersubjectivity and convergence we feel with other people and technology.
It is this corporeal and algorithmic unification and association that Furtherfield grasps; sometimes like harsh high summer nettles on uncovered hands, gathered as ingredients for a convivial soup. Not afraid to be stung or to make the soup, even though after 22 years of foraging you are not now the only voice or flag raised at the intersections of art, technology and social change. The mission is always different and always the same. This then is my provocation to you.
The case for digital creativity has grown. Why is that? Because there is deep unrest and even malevolence in electronic spaces and at their corporeal nodes. "The creative adult is the child who has survived," says Ursula K. Le Guin.
Fieldwork in human and machine imagination
As creative people engaged in the field we are with agency and in turn create agency; we gladly pick up refurbished laptops, remixed maps and fragmented tweets. Our fieldwork means we are in the river, standing watching by the shore, and holding up a mirror in the lobby of the hotel. We facilitate others, not just ourselves, we do it with others. Artistic people are children and not confined or restrained by common sense orders from the immaterial elite – some are pointed, focused and ready to enter the field, others are yet to claim their agency, and even more have yet to experience due North and due South. We can provide the co-ordinates, the beginning of the map and the line of sight. Artists in the future will become agents of change and observers of truth in a familiar return to base. And so we are not given to the idea, in the field, of carrying out instrumental command and we caution ourselves against suggesting this to others.
In a hotel in Sweden we listened as the French Philosopher, Bernard Stiegler brought attention to our attention. In clipped and someway jarred English, he opened up the vast chasm and problem of attention as the fundamental commodity of our age (emotionally extended, post-digital etc). His references to 'techne' willfully conjured up derivations from Greek – craftsmanship, craft and art. We are crafting the digital to draw attention to ourselves and our products. We are becoming products, through a process of digital reification. Lukács describes reification 'as a relation between people that has taken on the character of a thing'[2]. So, while humans and machines merge evermore, we understand that the end-point of creative processes is not to make attention-seeking people become products and things, it is to diversify our subjectivities and illuminate the way forward for all.
The agency of artists has been a key factor in the development of the Furtherfield's mission in its first two decades. This agency broadly disseminates to artists networks, activism, societal change, environmentalism, localism, global affairs and more recently emerging technologies such as blockchains. Within an unfolding world political landscape, these areas of interest show greater convergence and potential as moments of reflection become more important in the reified world of products. Our role is to be that reflective space for 360 degree scanning and to hold digital time up in the chain.
Our future mission grounds us on our locus in order to do this, while maintaining our global reach. We are passionate and committed to multiple points of entry, bringing in consenting and diverging voices. The 'commons' to us is a real thing, worth our energy and stewardship the point at which people do touch each other and listen.
We know that technology will not save us and furthermore we propose that this is not the right question. In working in partnership with academics, businesses and other institutions we are always asking ourselves where progressive change can come from, in a series of open dialectical spaces. Finsbury Park offers us a node in which to conduct business and make new wealth – cultural, social and economic capital. The predication of wealth creation on technology alone is too simplistic when a multitude of tools are needed. Our approach to the idea of the 'commons' is to use old and new tools and ways of getting things done together..
As McLuhan says: "Once we have surrendered our senses and nervous systems to the private manipulation of those who would try to benefit from taking a lease on our eyes and ears and nerves, we don't really have any rights left. Leasing our eyes and ears and nerves to commercial interests is like handing over the common speech to a private corporation, or like giving the earth's atmosphere to a company as a monopoly." (from Understanding Media, 1964.)
We are not isolated from the huge pressures of the global economy, when advancements outstrip the ethics and the algorithms that come to define new normative patterns and processes. The role of digital creativity and artists is now fully emerging as one that reconnects them and us back into the critical space that Goya, Galas and others occupied. So, we can hold up time and re-enter it at a different point. Yes, Furtherfield offers time travel!
The disruptive power of technology is evident in its ability to unhinge and even eliminate existing businesses, local centres and distribution methods. This is not new, just as McLuhan defined electronic extension in the 1960s, Clayton Christensen defined 'Disruptive Innovation' in his book The Innovator's Dilemma in 1997. However, digitally disruptive business models such as Uber are now mainstreamed and fast-tracked into our everyday experiences. With the advance in real time data and algorithms these disruptions can have a dramatic effect in social and economic terms. We are faced with a shift in the language from the progressive and anti-establishment power of Punk and music culture; into the realms of digitally distributed start-ups, iterative technologies and remix culture.
It is time to invent another future, lest we will become the disrupted and not the disruptors.
Image credit: Museum of Contemporary Commodities by Paula Crutchlow at Furtherfield 2016