A list of recommendations, reflecting the dynamic culture we are part of, straddling the fields of art, technology and social change.

Events, Exhibitions, Festivals and Conferences
Through the Mesh: Media, Borders, and Firewalls | Until Jan 14, 2022, | NeMe Art Centre, Cyprus | A mixed exhibition curated by Patrick Lichty, Wade Wallerstein and NeMe Art Centre | 10 Dec2021 | This exhibition will feature the work of artists who initially began to investigate the cultural space of the networks, biopolitical and informatics; who challenge or jam it. The artworks look at electronic networks as scopophilic and performative, the asymmetric regimes of power they project, and the positive uses of "darkside" technologies. Participating artists: Morehshin Allahyari, Mina Cheon, Joseph Delappe, Vikram Divecha, Hasan Elahi, Negin Ehtesabian, Ben Grosser, Dina Karadžić, Michael Lorsung, Umber Majeed, Josèfa Ntjam, Nathan Shafer – https://bit.ly/3I7REAQ
CODE OF ARMS | Until Jan 15, 2022, | Gazelli Art House, London | The exhibition investigates the history of artificial intelligence (AI) and machine learning in art. The exploration of implementing code and AI in art in the 1970s – 80s comes at a time of rapid change in our understanding and appreciation of computer art. The exhibition brings together pioneer artists in computer and generative art such as Georg Nees (b.1926), Frieder Nake (b.1938), Manfred Mohr (b.1938) and Vera Molnar (b.1924), and iconic artists employing AI in their practice such as Harold Cohen (b.1928), Lynn Hershman Leeson (b.1941), and Mario Klingemann (b.1970) – https://bit.ly/3EQtacj
"Art's Birthday" | Jan 17, 2022, | An annual event first proposed in 1963 by French artist Robert Filliou. He suggested that 1,000,000 years ago, there was no art. But one day, on the 17th of January to be precise, Art was born. According to Filliou, it happened when someone dropped a dry sponge into a bucket of water. Modest beginnings, but look at us now. Each year the Eternal Network evolves to include new partners – working with the ideas of exchange and telecommunications-art – https://bit.ly/3q4ISfY
Deptford Film Club 2: Empathy & Risk | Jan 11, 2022, | 4p – 9 pm | Deptford Film Club 2, London | An exciting screening event to start the New Year. Deptford Film Club is a regular monthly event organised by Empathy&Risk and Looking Forward in partnership. Join us for this first appointment featuring videos by Francis Almendárez, Zain Wahbeh, Carla Geronimi. Curated by Carolina Lio and Katerina Matheson. The Programme includes Anthony Almendárez, Carla Geronimi. Book here – https://bit.ly/3qFW75L
Memeplex™ | Exhibition until Feb 5, 2022, | Seventeen Gallery, London |The mixed show is two stories in one. The first explores the implementation of ideas, belief and conviction that occurs through memetic artefacts. In this instance, they are political living memes that attach themselves to the host in order to perform a survivalist function, reminiscent of the pathogenic fungi Cordyceps. The Cordyceps is a genus of parasitic fungi that grow in the larvae of insects. When these fungi infect their host, they replace its tissue and sprout long, slender stems that grow outside the host's body. They are known to take over the mind of the host, controlling its mind and behaviour, leading to the nickname 'zombie fungi'. In the second part of the story, we learn that the human body now carries animal, mineral and botanical genes, and with contact, this increases, bringing into question the human-centric narrative that is navigated through practices of Otherkin, Therian and Skinwalkers.
Memeplex™ is engineered by Omsk Social Club and Joey Holder, Minjeong An, David Cronenberg, Joey Holder, Botond Keresztesi, Kinke Kooi, Jack Jubb, Isaac Lythgoe, Katja Novitskova, Omsk Social Club Transformella malor (fed and cared for by JP Raether) Jonas Schoeneberg Suzanne Treister – https://bit.ly/3t3l3He
Activating Attention: Political Videos on Social Media (Online Conference) | Jan 20 & 21, 2022 | Videoactivism | Videos on social media have become powerful and creative means of influencing public discourses. They are particularly significant for political activists from civil society and their attempts to gain attention for human rights, climate change, social justice, and many other issues. Moving images spread across digital networks, reach the public and evoke emotions, motivate political action, and inspire social movements. What started in the 2010s with pro-democracy movements in the MENA region and transnational anti-capitalist protests has developed into an indispensable form of media practice for all politically involved interventions, from Black Lives Matter to Fridays for Future and resistance movements in authoritarian countries like Belarus or Myanmar – https://bit.ly/3HJW7sa
Radical Friends. DAO Summit for Decentralisation of Power and Resources in the Artworld | Symposium, Jan 22 2022, at 10 am | Free admission | HDK Munich in partnership with Goethe Institut and Furtherfield | Radical Friends discusses the value of and pathways to peer-produced decentralised digital infrastructures for art, culture and society. It aims to create a new environment for mutual aid and solidarity in the cultural sector. By bringing together ground-breaking players from the cultural sector and decentralised peer-to-peer technologists, the summit explores how traditional organisational patterns can be transformed through decentralised autonomous organisations (DAOs) enabled by blockchain technology – https://bit.ly/3qHA6DE
SWIPE RIGHT! DATA, DATING, DESIRE | IMAL.org | Until Feb 6, 2022, | Curated by Valentina Peri | What does it mean to love in the digital age? How are digital interfaces reshaping our personal relationships? What do new technologies imply for the future of the romantic sphere? How do screens affect our sexual intimacy and our desire for connection? By bringing together the work of several international and Belgian artists, the exhibition SWIPE RIGHT! Data, Dating, Desire attempts to explore new directions in contemporary romance and map the unprecedented connections between desire, emotion, technology, and economy in the post-pandemic world – https://bit.ly/31rdBKC
FUTURE AGES WILL WONDER | Mixed exhibition at FACT, Liverpool, UK | On until Feb 20, 2022, | Featuring artists: Larry Achiampong and David Blandy, Yarli Allison, Miku Aoki, Trisha Baga, Breakwater (Youngsook Choi and Taey Iohe), Ai Hasegawa and Boedi Widjaja. The show presents an "alternative museum" of artworks that use science and technology to question our past and offer new ways of understanding who we are and where we belong. The artworks on display bring together traditional mediums such as textiles, sculpture, and photography with virtual reality, computer algorithms and synthetic DNA to reimagine stories about our past, present and future. Through this wide range of materials and art-making, the exhibition refocuses where we place attention and what we value: reimagining stories about our past, present and future – https://bit.ly/3p3YD4W
The World After Us: Imaging Techno-Aesthetic Futures | One person show by Nathaniel Stern | Main Gallery Jan 27 – Mar 10, 2022, | Binghamton University, NY | A travelling solo exhibition of sculptures, installations, prints, and photographs that combine plant life with electronic waste, and scientific experimentation with artistic exploration. They take the forms of a wall-hung jungle of computer detritus and biological reclamation; fossilized and reconfigured phones and laptops; and reimagined and re-formed electronics. Taking cues from journalist Alan Weisman's provocative book The World Without Us, this exhibition is a timely and relevant series of aesthetic and ethical provocations around where and how we might change our ecological trajectories. The World After Us asks us to rethink and potentially transform conversations, thoughts, and actions around media production, use, and waste – https://bit.ly/3G62PZk
Such Stuff as Worlds are Made On | Jan 21st – Feb 20th 2022 | Malta | Reflecting on human time scales, alongside the deep time of the universe, this project explores possible inclusive futures via world-building and speculative art practices, while consciously avoiding the replication of colonial models. Ultimately, the project questions what kinds of new worlds can be created and what kind of rules these worlds will have to follow. Informed by Donna Haraway's Speculative Fabulations this exhibition looks towards cosmologies and ecosystems for inspirations, answers, and prophecies. Exploring practices that are speculative rather than empirically scientific, it reflects on the limits of human knowledge of our own planet, alongside humankind's increasing desire to extend itself to neighbouring planets and planetary systems – https://bit.ly/3eXFvAQ
Black Film Festival Atlanta | Online event | Feb 1 – 6, 2022, | Atlanta | BFFA is ecstatic to be the premier outlet in Atlanta for Black filmmakers! It's our second year running and we continue to receive overwhelming feedback about the festival. Participants and moviegoers alike are excited to be a part of this landmark event in the new filming capital of the South. BFFA's mission is to highlight the works of talented filmmakers who otherwise may not have the opportunity to showcase their projects. Our goal is to also educate the new filmmaker with industry-related resources and provide an excellent chance to network – https://bit.ly/3FRKTRQ

Books, Papers & Publications

Visualizing Wellness: The Myant Skiin System Connected Life App | Research Gate | Sara Diamond | This paper presents a design study of the visualization interface to the Myant Skiin Connected Life App (Skiin), a family informatics application that will connect family members, friends, and caregivers, by engaging them together and enabling health and wellness related data sharing and support. It is based on Myant's highly accurate intelligent textiles garments which collect activity and related biomechanical data through knitted sensors on the garment. Our design seeks to deliver a seamless user experience between this complex of technologies through effective data presentation, visualization, and tooltips – https://bit.ly/3JCbTqY
Mediated Interfaces: The Body on Social Media | Katie Warfield, Crystal Abidin, Carolina Cambre | Bloomsbury Publishing | Images of faces, bodies, selves and digital subjectivities abound on new media platforms like Snapchat, Instagram, YouTube, and others-these images represent our new way of being online and of becoming socially mediated. Although researchers are examining digital embodiment, digital representations, and visual vernaculars as a mode of identity performance and management online, there exists no cohesive collection that compiles all these contemporary philosophies into one reader for use in graduate-level classrooms or for scholars studying the field. The rationale for this book is to produce a scholarly fulcrum that pulls together scholars from disparate fields of inquiry in the humanities doing work on the common theme of the socially mediated body – https://bit.ly/32O6c8P
Diminished Faculties: A Political Phenomenology of Impairment | By Jonathan Sterne | Sterne offers a sweeping cultural study and theorization of impairment. Drawing on his personal history with thyroid cancer and a paralyzed vocal cord, Sterne undertakes a political phenomenology of impairment in which experience is understood from the standpoint of a subject that is not fully able to account for itself. He conceives of impairment as a fundamental dimension of human experience, examining it as both political and physical. While some impairments are enshrined as normal in international standards, others are treated as causes or effects of illness or disability. Sterne demonstrates how impairment is a problem, opportunity, and occasion for approaching larger questions about disability, subjectivity, power, technology, and experience in new ways. Diminished Faculties ends with a practical user's guide to impairment theory – https://bit.ly/3FTkNy5
Resistance in Digital China: The Southern Weekly Incident | By Sally Xiaojin Chen | Bloomsbury Publishing | By investigating the Southern Weekly Incident, in which censorship of the prominent Chinese newspaper Southern Weekly triggered mass online contention in Chinese society, Resistance in Digital China examines how Chinese people engage in resistance on digital networks whilst cautiously safeguarding their life under authoritarian rule. Chen's in-depth analysis […] ties together overlapping debates in internet studies, Chinese studies, social movement studies, political communication, and cultural studies to discuss issues of civic connectivity, emotions, embodiment, and the construction of a public sphere in digital China. An in-depth empirical examination of an act of resistance in order to explore political, cultural, and sociological meanings of Chinese people's resistance within party limits – https://bit.ly/3sWpBzc
Indie Games in the Digital Age | Edited by M.J. Clarke and Cynthia Wang | Bloomsbury Publishing | A host of digital affordances, including reduced cost production tools, open distribution platforms, and ubiquitous connectivity, have engendered the growth of indie games among makers and users, forcing critics to reconsider the question of who makes games and why. Taking seriously this new mode of cultural production compels analysts to reconsider the blurred boundaries and relations of makers, users and texts as well as their respective relationship to cultural power and hierarchy. The contributions to Indie Games in the Digital Age consider these questions and examine a series of firms, makers, games and scenes, ranging from giants like Nintendo and Microsoft to grassroots games like Cards Against Humanity and Stardew Valley, to chart more precisely the productive and instructive disruption that this new site of cultural production offers – https://bit.ly/3sTBRAa
Written by the Body: Examining the expansive nature of Indigenous gender representations in history, literature, and film | By Lisa Tatonetti | Written by the Body moves from the eighteenth- and nineteenth-century archive to turn-of-the-century and late-twentieth-century fiction to documentaries, HIV/AIDS activism, and, finally, recent experimental film and literature. Across it all, Tatonetti shows how Indigenous gender expansiveness, and particularly queer and non-cisgender articulations, moves between and among Native peoples to forge kinship, offer protection, and make a change. She charts how the body functions as a somatic archive of Indigenous knowledge in Native histories, works of literature, and activisms—exploring representations of Idle No More in the documentary Trick or Treaty, the all-female wildland firefighting crew depicted in Apache 8, Chief Theresa Spence, activist Carole laFavor, S. Alice Callahan, Thirza Cuthand, Joshua Whitehead, Carrie House, and more – https://bit.ly/3xCfH5S
IgnoTheory: A Compositional System for Intermedia Art Based on Tiling Patterns and Labelled Graphs | Paul Hertz | SpringerLink | Hertz examines the rule-based tiling patterns and graphs that he uses for algorithmic art and music composition, with particular attention to the symmetries between spatial and temporal concepts of order. The tiling patterns can be regarded as 2D maps which are transformed into graphs with vertices labelled with pitch class names from the Western diatonic musical system. Vertices can also be marked with parameters derived from colouring rules and other combinatorial procedures. Traversal of the graphs can generate material for musical composition and performance. Rotations and reflections of the tiling patterns correspond to transpositions, reorderings and inversions of musical material – https://bit.ly/3F1Aa65

Articles, Interviews, Blogs, Presentations, Videos

Holding in Common: A short reflection to end the year | Kei Kreutler | Gnosis Guild | ​​How you spend the time in your life is precious. The question of how we should be living differently is a gift. Reflecting on the work of the past year, it's clear that attention is building. As a recent tweet said, "The first rule of Web3 fight club is you must always talk about Web3 fight club". The signal-to-noise ratio may be lower than ever, but at the same time, acronyms like DAOs begin to take on public meaning. The question of how we should be working differently repeats. Choosing to spend my time working on DAOs, I have to continually revisit, reevaluate, and reinvigorate my aims – https://bit.ly/32V7gaL
Black Box East: Right-Wing Anti-Colonialism and Universalising Postcolonialism | Berliner Gazette | By Abonné·e de Mediapart | By undertaking a sharp analysis of gender debates in Hungary, the political scientist Eszter Kováts aims at carving out a critical space for East-Central Europe between right-wing anti-colonialism and universalising postcolonialism. "Gender debates are a good example for the anti-colonial rhetoric of the Right. Anti-gender politics is a global phenomenon since the beginning of the 2010s. Reproductive rights, violence against women, sexual education, LGBT issues, gender mainstreaming, and gender studies are targeted by social movements and right-wing (populist) parties." – https://bit.ly/32YfyhN
Crypto Criticism, Part Two: Confronting the Left's negative critique of cryptocurrency | By Daniel Pinchbeck | In the last part of this essay, I considered a few of the main criticisms of cryptocurrency coming from the traditional Left. To review: Leftists argue that cryptocurrencies are not actually a new form of money – a universal unit of exchange for purchasing goods and services – but mainly function as speculative assets that are highly volatile and prey to market manipulation, such as "pump and dump" and "rug pulling1" schemes. Leftists think that cryptocurrencies, in general, increase the "financialization" of the economy (the movement away from producing goods to trading complex financial products) as well as the privatization of public goods or commonly held resources. They believe these ongoing trends have caused negative outcomes over the last half-century, such as Structural Adjustment Programs in the developing world and the 2008 crash of the global financial system – https://bit.ly/32WuPQj
The Lore Zone: Memes → Memories → Micro-Mythologies | By Libby Marrs & Tiger Dingsun | Otherinternet | This series explores Lore: the new modes of self-mythologization developed within network media, and the forms of history and canon stored within media artefacts that online groups produce. The memes we encounter on Clearnet feeds are usually parts of larger stories, stemming from semi-private sites more conducive to worldbuilding. The affordances of different types of online space change how information is produced, circulated, and remembered across platforms. What happens when platforms enable the archival of information? What happens when they encourage collective experiences versus personal, inward-facing ones? – https://bit.ly/3qMdaTC
The Ghostchain. (Or taking things for what they are) | Geraldine Juárez | Paletten | It goes without saying that the global art market is a decadent enterprise based on rampant speculation, that in collusion with institutions, it only seems to exist to serve the rich. Salespeople representing NFT platforms use this fact to spread reactionary narratives about taking back control. We hear that now, finally! Digital art can be turned into a unique asset that can be sold for a certain amount of crypto without intermediaries – https://bit.ly/3sOniy1
Interspecies Meditation and Sharing Circle | Furtherfield | Soundcloud | This meditation can be practised alone or with others to build empathy pathways to other life forms. We use our imaginations and a bonding ritual to enter the body and consciousness of a different species and to reflect on the nature of their existence. This ritual transports us to the interspecies multiverse where we sit for a guided meditation. If you are in a group you can follow the meditation with a sharing circle to describe the experiences you have of your new bodies and sentience. By listening to each other you will understand more about your place in the web of life – https://bit.ly/3JBt8Zt
Édouard Louis: Why Is Individual Responsibility Only for the Poor? | An interview with Edouard Louis | Jacobin Mag | French author Édouard Louis is famous for his works portraying the daily humiliations of working-class life. In an interview, he explains how our rulers avoid responsibility for their decisions — while blaming the rest of us for how we cope with the consequences. The radicalism of his words when he defends his class — the working class — contrasts starkly with the softness of his voice. Yes, Édouard Louis is angry. But even anger can be beautiful when it appears in fine prose – https://bit.ly/3qHkfFb
Blockchain may redefine the Web – it's up to us to make sure it's done well | By Laura Lotti | Open Democracy | How can cryptocurrencies create new possibilities for organising economically, politically and socially? As cryptocurrencies go mainstream with exorbitant valuations, and non-fungible tokens (NFTs) enable new markets for the 'creator economy', we wonder: is blockchain technology neoliberalism's new best friend? It certainly accelerates the tendency to turn attention, reputation, influence, decisional power, even art, into assets and trade them for a price – https://bit.ly/3pMgRJF
Open Calls and Opportunities
Open Call: Hotel generation at Arebyte | Deadline Feb 14, 2022, | Hotel generation provides four young artists from UK cities with curatorial guidance to create an exhibition proposal for arebyte's exhibition space in London. In addition to assistance with proposal writing, progressing ideas and budgeting, the programme offers industry support through creative software training, as well as marketing and fundraising workshops. It culminates in a fully funded solo show as part of arebyte Gallery programme for the winning candidate selected by a panel of judges. The other participants get the opportunity to develop an online work based on their exhibition proposal, shown as part of arebyte on Screen programme. This initiative aims to nurture a sense of place in the London art scene which can be notoriously difficult to infiltrate and creates new conversations between London and other UK cities – https://bit.ly/3q0wMEF
Tactical Tech needs a new Development Administrator | They are looking for a committed and engaged person interested in learning and growing while using their professional skills within our Development team. The Development team is responsible for fundraising, grant management, partnership management, monitoring and evaluation as well as organisational communications. This new role of Administrator is being established to improve the efficiency across these functions as they impact the wider organisation. Tactical Tech works on challenges of data-driven technologies – https://bit.ly/3qM4Kf9
Open Call: Research and Development Fellowships | Jan 11, 2022, at 23:59 GMT| Spike Island, Bristol, UK | A 12-month fellowship programme offered by The West of England Visual Arts Alliance (WEVAA) in aim to provide the opportunity to focus on research, gathering insight and input from other artists and communities. We seek visual art projects that have considered how their work contributes to and develops the broader visual arts community in the West of England region. These could be projects in the early stages of development, for which time, space and support is needed in order to progress to a scale that has lasting benefits for other artists and the region – https://bit.ly/3pMe03s
Digital Projects Assistant at Matt's Gallery London | Deadline Jan 16 2022. Matt's Gallery is seeking a Digital Projects Assistant to join its team on a fixed-term, part-time basis. Part-Time, 2 days per week (Thursday & Friday) £10,000 p/a, pro-rata to £25,000 Fixed Term, 12 months. Matt's Gallery is a contemporary non-profit art gallery, established 42 years ago in East London. During its time, Matt's Gallery has been an independent and influential force in the visual arts sector, both nationally and internationally, championing the careers of artists such as Willie Doherty, Benedict Drew, Jimmie Durham, Susan Hiller, Mike Nelson, Nathaniel Mellors, Lindsay Seers, Tai Shani and Imogen Stidworthy. In March 2022, the gallery will open its new space in Nine Elms, South West London – https://bit.ly/3pK0AVH
Artists Wanted! Submit to SIGGRAPH 2022 Art Gallery | Let your creative juices flow — SIGGRAPH 2022 Art Gallery submissions are open! We want to see your cutting-edge, compelling digital and technologically mediated artworks that include but are not limited to, creative projects that explore the intersection of art and health, push the boundaries of our knowledge, re-examine our bodies and place in the world, advance human abilities, and design today's (and future) realities. Submit your digital art creations by Tuesday, February 1, 2022, and showcase your artistic innovation! https://bit.ly/3FTj2RA
Image: Installation View of Memeplex featuring Joey Holder, Omsk Social Club, Jack Jubb, Suzanne Treister, Botond Keresztesi and David Cronenberg. Courtsey of Seventeen 2021-22.
The FurtherList Archives – https://www.furtherfield.org/the-furtherlist-archives/
We were made for this // 2050 Fugitive Planning
From inside the stillness of lockdown, we used The Hologram's viral healthcare system to make a space for radical planning for the post-pandemic futures we wanted. In this Live Action Role-Play, or LARP, 12 people made contact with who they would become, individually and collectively, by 2050. In this immersive game participants played characters based on the most powerful and well-supported version of themselves. They time travelled 30 years in three weeks to enact their survival and thriving through multiple emergencies and crises. Human systems collapsed and reformed, in the wake of social upheavals borne of entrenched colonialism and racism and environmental crises. Capitalism ended.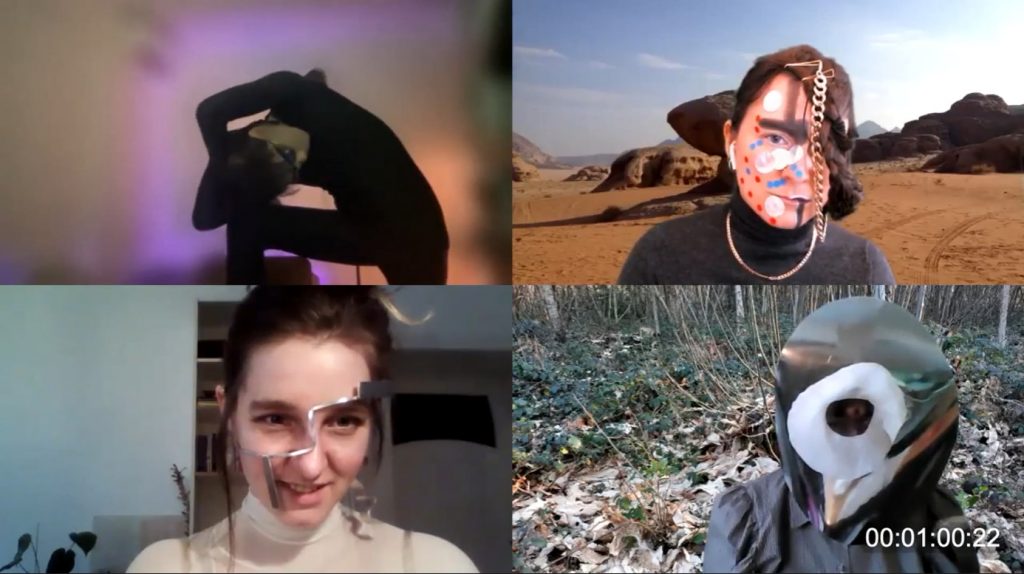 We were made for this // 2050 Fugitive Planning
12 people participated in a series of 3 online events as part of a Live Action Role-Play.
The documentation will be used to generate a sci-fi trailer to inspire future Hologrammers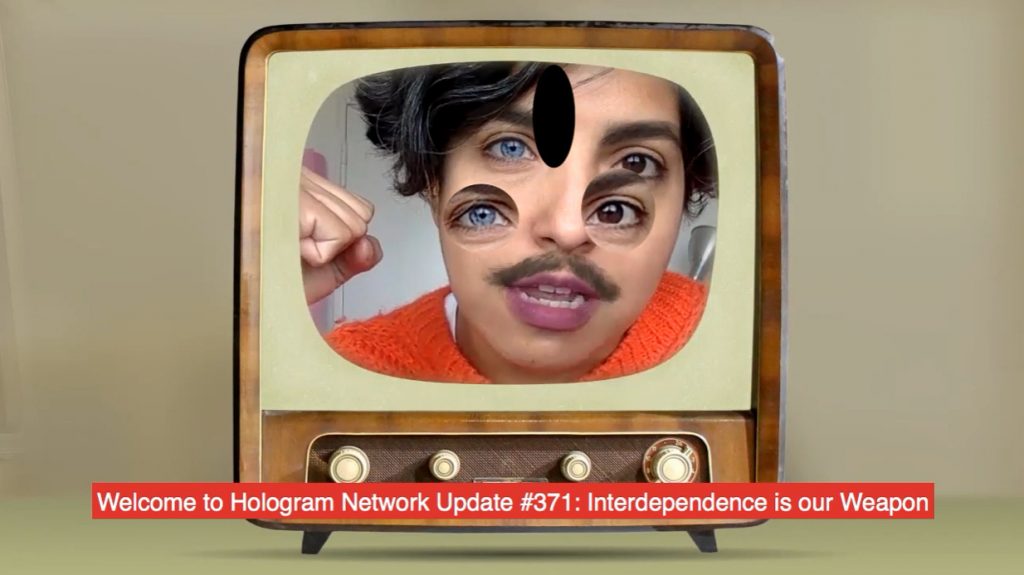 About
The Hologram LARP was co-created by Cassie, Lita, Ruth, Magda, Melanie, Shawn, Alessandra, Maggie, Lauren, Stella, Katrine, Darcey, Lyra, Lara and Tamara.
The Hologram is a viral four-person health monitoring and diagnostic system practiced from couches all over the world. Three non-expert participants create a three-dimensional "hologram" of a fourth participant's physical, psychological and social health, and each becomes, the focus of three other people's care in an expanding network.
The Hologram is supported by Furtherfield and CreaTures – Creative Practices for Transformational Futures. CreaTures project has received funding from the European Union's Horizon 2020 research and innovation programme under grant agreement No 870759. The content presented represents the views of the authors, and the European Commission has no liability in respect of the content.
A list of recommendations, reflecting the dynamic culture we are part of, straddling the fields of art, technology and social change.
Events, Exhibitions, Open Calls, Festivals and Conferences
Art was only a substitute for the Internet | The Wrong Biennial, has been dedicated exclusively to online art and that alone makes it very relevant. For this fifth edition, Andres Manniste has invited artists who he felt were convinced that the Internet and what it provides is an art and for whom networks are critical for the development of their thinking and their work. For many the Internet is a daily routine of checking social media, listening to podcasts or music and researching material. Every living artist aware of the unlimited resources provided by communications networks is influenced by the internet. Many have associated a major part of their art process with the internet. This exhibition is a place where art can be playful and challenging – https://bit.ly/3nMIZKJ
Angels & Discounts | Exhibition by Iris Pokovec | 3 – 26 November 2021 | Aksioma | Project Space, Ljubljana | Part of U30+ production programme for supporting young artists. Angels & Discounts is an ode to consumerism and an elegy to unfulfilled dreams and lost ideals. It talks about the love-hate attitude to consumerist and popular culture and glorifies its charm and its power of hypnotising the masses, while at the same time offering a reflection on the transience of society's collective stream of thought. It is a narrative about the search for free choice in the numb somnolence of supermarket aisles and shelves with tinned peas and preserved compotes – https://bit.ly/2ZQlSHf
NFT Culture Proof | Launches 9 am 9 Nov 2021 | Nathaniel Stern, Scott Kildall and others | A participatory performance on the Blockchain – a completely on-chain collaborative text – a collective artwork and crypto-native NFT series. NFT Culture Proof is a 32-day Blockchain performance, where every participant continuously adds to a collaborative stream of live but immutable text, which will be permanently placed on-chain. Each day, there are "writing prompts" from artists, thinkers, and writers in the cryptoverse, which will both focus and drive the texts we produce. It is the first large-scale Blockchain work of its kind, making the public ledger an active stage for collective creativity. Every text block submitted generates a unique NFT for the participant. These will also live completely on-chain, as crypto-native SVGs – https://bit.ly/3bBLfyy
Lecture 5: The City: Laurie Anderson: Spending the War Without You | 10 Nov 2021 | Exploring the challenges we face as artists and citizens as we reinvent our culture with ambiguity and beauty. Laurie Anderson presents Spending the War Without You: Virtual Backgrounds. The City is the fifth in a series of six lectures, looking at the challenges we face as artists and citizens as we reinvent our culture with ambiguity and beauty. This talk will consider teachers, activism and politics. Presented by Laurie Anderson, one of America's most renowned – and daring – creative pioneers. Known primarily for her multimedia presentations, she has cast herself in roles as varied as a visual artist, composer, poet, photographer, filmmaker, electronics whiz, vocalist, and instrumentalist. Event by Mahindra Humanities Center at Harvard | Free event book at Eventbrite – https://bit.ly/3BvV9wd
Glitch: Aesthetic of the Pixels | Platform 101 – Vol.03 | Tehran, Iran | 5 – 12 Nov 2021 | Platform 101 is holding its third international group exhibition entitled "Glitch: Aesthetic of the Pixels". After the great success of Vol.2, Platform 101, a nonprofit and independent art institution, is continuing the Glitch Video Art Group Exhibition in Tehran, Iran Vol.03, entitled "Glitch: Aesthetic of the Pixels", curated by Mohammad Ali Famori, featuring 27 international glitch artists at Pejman Foundation: Kandovan – https://bit.ly/3pX2pPK
IAM Weekend | Barcelona Nov 11-13 2021 and Planet Earth: November 11-18, 2021 | Join the 7th annual gathering for mindful designers, researchers, strategists, artists, technologists, journalists and creative professionals looking to collectively envision sustainable futures for the internet(s). A week-long programme of live and pre-recorded sessions. The Planet Earth edition will feature live and pre-recorded sessions, available 24 hours across timezones, during 8 days, including the social live stream of Forum Day sessions of the Barcelona edition programme. Get access to the Planet Earth edition programme with a Week-long Pass or any Barcelona edition ticket. More info – https://bit.ly/3nVQwqr
Furtherfield at the Planet Earth Session at IAM Weekend | Nov 18th 2021 Watch live or on-demand the following pre-recorded videos: The Treaty of Finsbury Park 2025 – Interspecies Assembly (The one about biodiversity habitats) by Furtherfield + The New Design Congress + CreaTures. The Treaty of Finsbury Park 2025 – Ruth Catlow & Cade Diehm in conversation with Dr. Lara Houston. Get access to the Planet Earth edition programme with a Week-long Pass or any Barcelona edition ticket. More info – https://bit.ly/3nVQwqr
Call for Participation – Rendering Research | Deadline for submissions 14th Nov 2021 | We are seeking proposals to address how research is made public, and in this sense also to the infrastructures of research and its various systems of publishing. Organised by Digital Aesthetics Research Center, Aarhus University, in collaboration with Centre for the Study of the Networked Image, London South Bank University, Saint Luc École de recherche graphique in Brussels, and Transmediale festival for digital art & culture. APRJA is published by Aarhus University in partnership with Transmediale and hosted by the Royal Danish Library – https://bit.ly/3q0Na8w
People Like Us: Gone, Gone Beyond | Event by Barbican Centre | The Pit | 10 – 13 Nov 2021 | Watch and listen as unexpected narratives expand and unravel all at once around you. Inside this immersive, 360-degree cinematic installation, you'll get to look far beyond the frame. Fragments of familiar and experimental films interact with song and audio clips in ever-changing, kaleidoscopic and kinetic collages. As time and space become elastic, viewers are opened to multiple meanings and perspectives by this seamless visual and surround-sound experience, with its playful and unsettling observations on popular culture. Under her artist name, People Like Us, Vicki Bennett has been evolving the field of audiovisual collage since the early 1990s, cutting up and layering found footage and archives | Tickets – https://bit.ly/3EqJX62
Tactical Entanglements: Creative AI Lab in conversation with Martin Zeilinger | 15 Nov 2021 6 pm FREE | Serpentine | TwitchOnline | A discussion panel on my book, "Tactical Entanglements: AI Art, Creative Agency, and the Limits of Intellectual Property" (meson press 2021). The event is put on by the Creative AI Lab and will be live-streamed on Twitch. Exploring issues around critical approaches to AI, digital art, and posthumanism with Mercedes Bunz and Daniel Chavez Heras (both Kings College London) and Eva Jäger (Serpentine Galleries). You can grab a free copy of Zeilinger's book on the Meson Press publisher's website, and a free e-reader with some additional relevant readings will be available on the Serpentine Galleries website – https://bit.ly/2Yqn6bk and https://meson.press/books/tactical-entanglements/
AI4FUTURE: OPEN CALL FOR RESIDENCIES | Deadline 15 NOV 2021 | AI4future is searching for 4 artists to work at an AI-based artwork in collaboration with young European activists to foster new urban community awareness. In recent years, Artificial Intelligence has been implemented in a number of fields functional to daily life: from those that simulate the cognitive abilities of the human being (image recognition, language automation, etc.) to the management of civil and social life (home automation, banking, self-driving vehicles, etc.) up to the economic and political organization (remote surveillance, privacy, impact on the world of work 4.0, health management, disinformation techniques, control over fundamental rights, etc.) – https://bit.ly/3bEeXTu
(re)programming: Strategies for Self-Renewal | With Eyal Weizman | 15 Nov 2021 7 pm | Aksioma | We have found ourselves at the crossroads of an existential decision: do we bring the mistakes of the enlightenment to their biological conclusion or do we develop a magical capacity to self-renew? For the 10th anniversary of Tactics & Practice, Aksioma presents (re)programming: Strategies for Self-Renewal "festival of conversations" with world-class thinkers debating key issues, from infrastructure and energy to community and AI, curated and conducted by writer and journalist Marta Peirano. The festival consists of 8 streaming events taking place every third Monday of the month throughout the year – https://bit.ly/3EDTA1n
Lorenzo Ravano: The Global South and the History of Political Thought | Online | 18 Nov 2021, 6 – 8 pm | The Critical Perspectives on Democratic Anti-Colonialism project invites you to our next Fall 2021 workshop. The program brings together faculty and students from across The New School interested in exploring the theoretical foundations and political manifestations of radical democratic and anti-colonial traditions. Ravano, Postdoctoral Fellow at Université Paris Nanterre, will be presenting his work, "The Global South and the History of Political Thought". Anthony Bogues, Asa Messer Professor of Humanities and Critical Theory, Professor of Africana Studies and Director of the Center of the Study of Slavery and Justice at Brown University, will be commenting – https://bit.ly/3ECPVku
WhistleblowingForChange: Exposing Systems of Power & Injustice | The 25th Conference of the Disruption Network Lab | Conference and book launch | 26 – 28 Nov 2021. At Kunstquartier Bethanien – Berlin. The courageous acts of whistleblowing that inspired the world over the past few years have changed our perception of surveillance and control in today's information society. But what are the wider effects of whistleblowing as an act of dissent on politics, society, and the arts? How does it contribute to new courses of action, digital tools, and content? This urgent intervention based on the work of Berlin's Disruption Network Lab examines this growing phenomenon, offering interdisciplinary pathways to empower the public by investigating whistleblowing as a developing political practice that has the ability to provoke change from within | Facebook link – https://bit.ly/3o1ibXj
Unravelling Women's Art | 25 November 6 pm – 7:30 pm | £5 | ONLINE EVENT | Join author PL Henderson and a trio of artists for an insightful discussion into what links female textile artists and the arts they produce, revealing a global and historic patchwork of assorted roles, identities and representations. Henderson's new book, Unravelling Women's Art: Creators, Rebels, & Innovators in Textile Arts (Aurora Metro Books) offers a unique overview of female-centric textile art production including embroidery, weaving, soft sculpture and more. Including over 20 interviews with contemporary textile artists, the books invites us into their practices, themes and personal motivation – https://bit.ly/3wxeqwr
Two Postdoc Positions in Critical Environmental Data Studies | Deadline 30 Nov 2021, Expected start 1 Mar 2022 | The Department of Digital Design and Information Studies within the School of Communication and Culture at Aarhus University (Denmark) invites applications for two postdoctoral positions in Critical Environmental Data Studies. The postdoc positions are affiliated with the research project Design and Aesthetics for Environmental Data funded by the Aarhus University Research Foundation (AUFF). The postdoc positions are full-time, two-year fixed-term positions. Design and Aesthetics for Environmental Data focus on historical and current practices of seeing, knowing, and designing the environment and the planet as data: as patterns, visualizations, projections, models, simulations, and other aesthetic objects with epistemic value. The working language of the project is English – https://bit.ly/3GGfu5P
Call for Book Chapters | Feminist Futures: From Witches to Maids to Robots and Beyond | Proposal submission deadline 15 Dec 2021 | Feminist Futures is a book all about bridges and connections! It aspires to take a look at the future, it wants to tell the story of witches, how neo-feudalism relates to the present monsters, how postcolonialism and post cold war politics brought us here when it comes to women's rights. It is about automation and the constant repetition of the need for care without really doing it. It wants to bring these stories at the centre stage to talk about the future, to shed light on research that can lead us to what unites us and not to what divides us – https://bit.ly/3nSUsZ4
Books, Papers & Publications
Artistic Research – Dead on Arrival? Research practices of self-organized collectives versus managerial visions of artistic research | By Florian Cramer. (First published in Henk Slager [ed.], The Postresearch Condition, Utrecht: Metropolis M Books, 2021, p. 19-25). Since at least the early 20th century, artists groups have called their work "research". Canonized examples include the "Bureau des recherches surréalistes" ("Bureau of Surrealist Research") founded in Paris by André Breton and fellow Surrealists in 1925 and the Situationist International which, from 1957 to 1972, operated under the moniker of a research group and whose periodical had the form of a research journal. […] Today, transdisciplinary art/research collectives seem to be more common as a contemporary art practice in non-Western regions than in Western countries where art systems are more institutionalized – https://bit.ly/2ZNpjy1
Machines We Trust: Perspectives on Dependable AI | Edited by Marcello Pelillo and Teresa Scantamburlo | Experts from disciplines that range from computer science to philosophy consider the challenges of building AI systems that humans can trust. Artificial intelligence-based algorithms now marshal an astonishing range of our daily activities, from driving a car ("turn left in 400 yards") to making a purchase ("products recommended for you"). How can we design AI technologies that humans can trust, especially in such areas of application as law enforcement and the recruitment and hiring process? In this volume, experts from a range of disciplines discuss the ethical and social implications of the proliferation of AI systems, considering bias, transparency, and other issues – https://bit.ly/3AMedWR
The Art of Activism: Your all-purpose guide to Making the Impossible Possible | By Steve Duncombe and Steve Lambert | It brings together the authors' extensive practical knowledge—gleaned from over a decade's experience training activists around the world—with theoretical insights from fields as far-ranging as cultural studies and cognitive science. From the United Farm Workers' boycott movement in sixties' California to a canal-side beach in present-day Saint Petersburg, these pages are packed with contemporary and historical case studies that have been shown to work in practice. The accompanying workbook contains fifty expertly crafted exercises to help you flex your creative imagination and hone your political tactics, taking you step-by-step toward becoming the most persuasive and impactful artistic activist you can possibly be – https://bit.ly/3CcKCr9
Whistleblowing for Change: Exposing Systems of Power & Injustice | Editor Tatiana Bazzichelli | Out 27 Nov 2021 | The courageous acts of whistleblowing that inspired the world over the past few years have changed our perception of surveillance and control in today's information society. But what are the wider effects of whistleblowing as an act of dissent on politics, society, and the arts? How does it contribute to new courses of action, digital tools, and contexts? This urgent intervention based on the work of Berlin's Disruption Network Lab examines this growing phenomenon, offering interdisciplinary pathways to empower the public by investigating whistleblowing as a developing political practice that has the ability to provoke change from within – https://bit.ly/3nTyZiP
Proof of Work: Blockchain Provocations 2011–2021 | By Rhea Myers | Art Editions, Forthcoming Jun 2022 | DAO? BTC? NFT? ETH? ART? WTF? HODL as OG crypto artist, writer, and hacker Rhea Myers searches for faces in cryptographic hashes, follows a day in the life of a young shibe in the year 2032, and patiently explains why all art should be destructively uploaded to the blockchain. Now an acknowledged pioneer whose work has graced the auction room at Sotheby's, Myers embarked on her first art projects focusing on blockchain tech in 2011, making her one of the first artists to engage in creative, speculative and conceptual engagements with 'the new internet'. This anthology brings together annotated presentations of Myers's blockchain artworks along with her essays, critiques, reviews, and fictions—a sustained critical encounter between the cultures and histories of the art world and crypto-utopianism, technically accomplished but always generously demystifying and often mischievous – https://bit.ly/3nSpmki
Critical Theory and New Materialisms | Edited By Hartmut Rosa, Christoph Henning, Arthur Bueno | Published by Routledge, 15 June 2021 | Bringing together authors from two intellectual traditions that have, so far, generally developed independently of one another – critical theory and new materialism – this book addresses the fundamental differences and potential connections that exist between these two schools of thought. With a focus on some of the most pressing questions of contemporary philosophy and social theory – in particular, those concerning the status of long-standing and contested separations between matter and life, the biological and the symbolic, passivity and agency, affectivity and rationality – it shows that recent developments in both traditions point to important convergences between them and thus prepare the ground for a more direct confrontation and cross-fertilization – https://bit.ly/3BHvIrv
Articles, Interviews, Blogs, Presentations, Videos
The Chaos of Eros: in conversation with the programmers of Erotic Awakenings | Maria Isabel Martinez | Erotic life is a treasure we hold close until we believe its delight might multiply in the hands, eyes, ears, or mouth of another. One such place for sharing is "Erotic Awakenings," an archive primarily containing writings hosted on the website of Toronto artist-run gallery Hearth Garage. The project is a collaboration between the gallery's programmers Benjamin de Boer, Philip Ocampo, Rowan Lynch, and Sameen Mahboubi and writer and facilitator Fan Wu. Each piece of writing is singular in form and content, reflective of our varied erotic experiences. In an erotic moment, we might become unfastened from a solid sense of our identity, or further reminded of the body we can't escape – https://bit.ly/3GPuONB
Artgames and interspecies LARPS with Marc and Ruth of Furtherfield | Podcast | The ReImagining Value Action Lab | "We talked about art, games, LARPs and other subversive high jinks on the latest episode of our Conspiracies and Countergames podcast." Furtherfield disrupts and democratises art and technology through exhibitions, labs & debates, for deep exploration, open tools & free-thinking and is London's longest-running (de)centre for art and technology whose mission is to disrupt and democratise through deep exploration, open tools and free-thinking. The ReImagining Value Action Lab (RiVAL) is a research and creativity workshop for the radical imagination active around the world and locally in Thunder Bay, Canada – https://bit.ly/3k815pn
The Digital Art Conundrum – how to evaluate digital art? | Computational Aesthetics | By Josephine Bosma | Digital devices have been part of developments in culture and society for decades, the arts included. They influenced, inspired, or even 'co-produced' the work of artists in performance, sculpture, robotics, sound art, and more. […] Though accurate and precise, it is not easily understandable and is a quite theoretical approach. To simplify their proposal: computational aesthetics offers a much-needed alternative to 'traditional' definitions of digital art as a purely technological or visual art form. It offers a broader perspective on the field – https://bit.ly/3BEKSy3
London's 'Square Mile' Is One Big Monument To Slavery | By Stewart Home | ArtReview | When it comes to addressing what to do with artworks and memorials connected to historic racism and attendant issues relating to colonialism, some talk up their commitment to change, but their lack of action exposes a preference for the status quo. The City of London Corporation is the local authority that covers the capital's international financial district. Not only does the Corporation pack more problematic memorials into its famous 'Square Mile' than almost any other council in the UK (or, for that matter, the world), it is simultaneously a major patron of the arts." – https://bit.ly/3nJBm7y
Atari-style Artwork Makes the 'Guinness World Records 2022' Book | Dartmouth Edu | Mary Flanagan shows how games can be collaborative through a giant Atari 2600 joystick. "Space Invaders." "Asteroids." "Pac-Man." In the 1980s, the Atari 2600 revolutionized the video game industry as families revelled in the novelty of playing video games on the TV at home. When she was growing up, professor, game designer, and artist Mary Flanagan says the Atari 2600 was one of her most influential digital experiences. Years later, Flanagan's tribute to that experience, [giantJoystick], made it into the Guinness World Records 2022 as the largest joystick in the world – https://bit.ly/3pYupSZ
AI Horror Movie Wins Lumen Gold | The Lumen Prize for Art and Technology awarded its coveted Gold Award with a cash prize of US$4,000 to UK artist Nye Thompson and UBERMORGEN for UNINVITED, the world's first horror movie for and by machines. UNINVITED is a horror film for machine networks and human-machine organisms exploring the nature of perception and realism of the unknown and the terror of angst and exhaustion within emergent network consciousness. This generative work (2018–) is a self-evolving networked organism watching and generating a recursive 'horror film' scenario using mechatronic Monsters – digital flesh running machine learning algorithms. The work is described by the artists as a radically new creature looking at the world, hearing the universe through millions of hallucinogenic virally-abused sensors and creating a hybrid nervous system – https://bit.ly/3CzRI98
'It's a game-changer for us': Artists welcome guaranteed basic income plan | Deirdre Falvey | Irish Times | The pilot for a new basic income guarantee scheme for artists and arts workers could see "around 2,000" creative workers drawing income from March 2022, or "the beginning of April, and no later than that", said Minister for the Arts Catherine Martin. She gave details of the pilot project, which will be backed by €25 million funding in 2022, at Wednesday's Department of Tourism, Culture, Arts, Gaeltacht, Sport and Media budget briefing. A basic income guarantee was the top recommendation of the Arts and Culture Recovery Taskforce's Life Worth Living report in November 2020, and the Minister said she intends to follow it "as closely as possible and to deliver a scheme that benefits artists and creative arts workers". The three-year pilot will involve a weekly payment of €325 a week. The department later confirmed there will be no means test to take part in the scheme – https://bit.ly/2ZP73V6
Rhythm and Geometry: Constructivist Art in Britain since 1951 | Review by Bbronaċ Ferran | Studio International | An exhibition at the Sainsbury Centre captures something of the mood of the present, in its reflection on a balancing of constraint and liberation. Conceived by Tania Moore, the Joyce and Michael Morris chief curator, the exhibition draws closely on a "substantial bequest" in 2019 from husband and wife Joyce and Michael Morris, who developed a unique collection of British constructivist art from the 1950s on. As the couple were acquainted with many of the artists included, their collection was informed by their personal taste and sensibility. Its acquisition by the Sainsbury Centre opens up opportunities for new research from a historical perspective into a significantly under-studied domain of postwar practice – https://bit.ly/3q5huP3
These Companies Are Already Living in Zuckerberg's Metaverse | By Megan Carnegie | Wired/Business | The Meta dream envisages whole companies operating in a virtual world. Many made the switch years ago—with mixed results. Facebook's metaverse, or Meta's metaverse, isn't just being touted as a better version of the internet—it's being hailed as a better version of reality. […] This space, Zuckerberg claims, won't be created by one single company, but rather by a network of creators and developers. First problem: 91% of software developers are male. Second problem: You've been living in a version of metaverse for years—and, having taken over video games, it's now coming for the world of work – https://bit.ly/3bwLNWn
Crofton Black – How does the world work? | Exposing the Invisible | Podcast | Crofton Black ended up as an investigator almost by chance. With a background in English Literature and Medieval and Renaissance philosophy, he took an unexpected turn into investigating secret prisons and extraordinary renditions. He is a writer and investigator. He is co-author of Negative Publicity: Artefacts of Extraordinary Rendition and CIA Torture Unredacted, and works on technology and security topics for The Bureau of Investigative Journalism in London. Before this he was a history of philosophy academic, specialising in theories of knowledge and interpretation. He has a PhD from the Warburg Institute, London and was a Humboldt Fellow at the Freie Universität Berlin – https://bit.ly/2ZIT1nO
Kirill Medvedev in prison (Moscow, Russia) | An international well known muscovite poet, translator, publicist, activist and community organizer, co-founder of Arkadiy Kots combat-folk band, a long term Free Home learner, has been arrested along with other activists. They were defending a courtyard adjacent to Sretenka street from oligarch Deripaska's development of an unlawful construction, a luxury apartment hotel rising right on the site of historic buildings from the 18th century – despite the protests of the local residents the activists were aggressively attacked by the police and kept in the police station for 24 hours awaiting the court hearing. As the excavation continues, they are imprisoned at spetspriyomnik nr-r. 1 and 2 already for 5 days. Since long Kirill is engaged in the defence of peoples land and territories defence, against extractivism, real estate development and criminal waste dumps – https://bit.ly/3mw3uvA
Image: Hydar Dewachi. Image Courtesy of Furtherfield. View from the People's Park Plinth Voting Weekend (14 -15 August 2021), Furtherfield Gallery, Finsbury Park.

The FurtherList Archives
https://www.furtherfield.org/the-furtherlist-archives/
A list of recommendations, reflecting the dynamic culture we are part of, straddling the fields of art, technology and social change.
Events, Exhibitions, Open Calls, Festivals and Conferences
Trouble In Outer Heaven: Portable Ops Plus | Southwark Park Galleries | 15 Sep – 31 Oct 2021 | The exhibition focuses on the influence and fandom of Metal Gear Solid, one of the most popular video game franchises of all time. Larry Achiampong, Joseph Buckley, Kitty Clark, Sam Keogh, Hardeep Pandhal, Adam Sinclair and Jamie Sutcliffe. Curated by Jamie Sutcliffe. Featuring The Diamond Dogs Educational Unit: Uma Breakdown, Petra Szemán, Zara Truss Giles. Exploring the unnerving possibilities of biogenetic cloning and military espionage; off-shore para-states and the formation of private task forces charged with seizing power from the world's collapsing democracies, its once bizarre mythos feels disturbingly appropriate to the world in 2021 – https://bit.ly/3zS4spw
The 7th Athens Biennale ECLIPSE | 24 Sep – 28 Nov 2021 | Co-curated by Omsk Social Club and Larry Ossei-Mensah under the artistic direction of Poka-Yio. The exhibition features artists based in North and South America, the Caribbean, Africa, and Europe, many of whom will be exhibiting in Greece for the first time. The exhibition title highlights the obscured perspective of reality caused by the constant state of flux we are experiencing in our society now. ECLIPSE engages the social, political and spiritual changes of today's global construct and in Athens itself, as a rising metropolis located at the intersection of Europe, Asia and Africa both physically and historically – https://bit.ly/3lViLVm
KIBLIX 2020–2021: Virtual Worlds Now, part II | KIBLA PORTAL | 1 Oct – 30 Nov 2021 | The group exhibition is rounded off with additional artistic works that experiment with digital and extended reality (XR) media. The exhibition will take you through a computer-generated video Delusional Mandala by Lu Yang, an artificially intelligent robot Amygdala with the Calyx installation by Marco Donnarumma, a digital fashion collection DEEP by Amber Jae Slooten and The Fabricant, a mixed-reality installation HyperBody Portal: Stratholme. Go Stop by Pete Jiadong Qiang, Spacemen R My Friended by Tony Oursler, a sensual experience of poetry and dance in virtual reality Nightsss by Weronika M. Lewandowska and Sandra Frydrysiak, an interactive intermedia installation Time of Flight by the Compiler Group, a video game What Is Your Truth? by Dorijan Šiško and Sara Bezovšek, a world in VR for platform Sansar MetaGarden: Sphere5 by Tanja Vujinović and the first-person point of view 3600 video Seeing I – The Other by Marko Farid. List of participating artists is in here –> https://bit.ly/3zT31Hh A post about it on IG: https://bit.ly/3ASjXPG
The Unmoving show | Ongoing | An open, interactive, partly performative show waiting for your contribution | Bjørn Magnhildøen | Digital exhibition with the subtitle "a psychogeographical drift in the matrix" is a critique of attention hacking and self-consumption. The exhibition is shaped as a continuous, unpredictable and erratic stream of orientation/awareness based on the works and their metadata/surroundings. The artistic content is based on invitation, open call, and open curation. The show is open for submissions of works before and during the exhibition. The scripted framework is also subject to change in the period; this adds to the performative aspects of the show. See it here – https://unmoving.show/ and at the One-Off Moving Image Festival (One second videos.) – https://noemata.net/one-off/ and, both are part of The Wrong biennale #5 – https://thewrong.org/
Liminal Territories | When AI and NFTs meet Art History | Pal Project | 5 Oct – 20 Nov 2021 | Group exhibition from Conceived by the curator Filippo Lorenzin. It brings together 15 international artists working on the interaction between art and new technologies. The exhibition proposes a new perspective on the current trends in digital art by addressing the broader historical and artistic contexts that allow us to look at GIFs and 3D scans as works of art. The exhibition is an opportunity to learn about the art practice of contemporary creatives who use cutting-edge technology such as 3D printing, AI-generative processes and digital modelling to explore reality in ways that, to various degrees, pay homage to art styles and movements of the past. By investigating the distinct creative approaches of a group of selected international artists, the exhibition offers a public used to enjoying traditional artworks a chance to learn about the most interesting contemporary trends in art. List of presented artists: Rosana Antolí, Robbie Barrat, Jim Campbell, Carla Gannis, Guildor, Auriea Harvey, Luna Ikuta, Jono, Sasha Katz, Yuma Kishi, Paul Pfeifferl, Jan Robert Leegte, Helena Sarin, Edgar Sarin, aurèce vettier – https://bit.ly/3AVwTV1
Critical Engineering Working Group EXHIBITION: Decoding Black Magic. Interventions in Infrastructure | Piksel Festival 2021, 15 November – 12 Dec 2021 | Featuring works by Bengt Sjölén, Danja Vasiliev & Julian Oliver. The Black Book of Wireless is intended to be a book of the dark magic that antennas and radios are with pages that are circuits and PCB trace antennas (copper traces on PCB material) and of which some examples are shown in this iteration. The more obscure parts of this are things that are not fully understood or even if you can model and simulate how you think they will behave you have to try them out to see how they actually behave – https://bit.ly/3kcSdOm
Open Screen 2021 | Arebyte | A yearly programme for artists working online that self-identify as disabled. Developed in partnership with Shape Arts, the open call welcomes artists who use digital tools to their advantage, overcome barriers, criticise matters of inclusivity within technology, or everything in between. Tilly Prentice-Middleton and Uma Breakdown are the two artists selected by the judging panel for 2021 out of the 53 proposals submitted to the open call. Over the span of two months, Tilly and Uma get curatorial support to develop online work that responds to Realities, arebyte's 2021 theme to go live on arebyte on Screen at the end of September – https://bit.ly/3ianf9C
Packaged for pleasure | Brought to you by Terminal – Seekbeak | A virtual cabinet of curiosities that exists as both a single digital work and a collection of individual pieces, The Terminal: Human Shaped Whole is a mise-en-abysme of digital art turned inside out. The interactive installation gives an ironic sense of claustrophobia: digital technology promises unlimited digital space and yet everything feels compressed as if the weight of virtual reality is collapsing on itself. The Terminal: Human Shaped Whole, Directed by Jason Isolini, featuring work by Bob Bicknell-Knight, Ian Bruner, Joshua Citarella, Jessica Evans, James Irwin, Claire Jervert, Kakia Konstantinaki, Angeline Meitzler, Erin Mitchell and Neale Willis, curated by Off-Site Project – https://bit.ly/39LLW7A
Difference Machines: Technology and Identity in Contemporary Art | 16 Oct 2021 – Jan 16 2022. Albright-Knox Northland | Oppression is systemic—that is, built into the fabric of our society. Even our technologies are not neutral: as many scholars and activists have shown, they are shaped by the biases and agendas of their creators. New digital tools (including facial recognition systems, search algorithms, and databases) created by corporations and governments reflect prejudices based on our collective identities. These tools are then used in ways that contribute to existing inequalities. For example, biased programs may discriminate against disabled people in job interviews, suggest harsher sentences for Hispanic defendants, and deny medical care to Black patients. The earliest computers were called "difference engines," as they were used to calculate the differences between numbers. Today, computers are machines used to encode the differences between us. This exhibition is organized by University at Buffalo Professor Paul Vanouse and Albright-Knox Assistant Curator Tina Rivers Ryan – https://bit.ly/2Y5uXuc
To Exhibit- · Not to Expose · To Expose · Not to Exhibit | 24 Sept 2021 – 1 Sept 2022 | Under the title To Exhibit – Not to Expose – To Expose – Not to Exhibit, we present the first cycle of programming of the new Santa Mònica. The exhibition orbits around a series of questions that derive from the very processes of deconstruction and reconstruction of an arts centre in the institutional, architectural and symbolic spheres. The first major exhibition of the new Santa Mònica reveals and questions exhibition mechanisms: the physical but invisible ones, and the immaterial ones that remain in the shadows by their very nature. The technology (high and low) that hides behind the works, the architectures behind the props, the spotlights… All are exposed – https://bit.ly/3zUYrZ6
Black Atlantic: Sensing the Planet | 29 – 31 October 2021 | Dartington, Devon, UK | A 3-day gathering at Dartington from 29-31 October, will see leading UK cultural institutions Serpentine, the Royal Court Theatre, UCL's Sarah Parker Remond Centre for the study of racism and racialisation and Dartington Trust launch Black Atlantic, a new decolonial arts partnership that aims to strengthen the role of arts and culture in advancing social and climate justice. Sensing the Planet will highlight issues of race and environmental harm as well as the role played by the UK, and of the southwest of England in particular, in histories of slavery, empire and climate breakdown. It will also champion the role of interdisciplinary culture in imagining new futures built on principles of sustainability and justice, bringing together leading decolonial thinkers, artists and activists including headline speakers Paul Gilroy, Ruth Wilson Gilmore, Alexis Pauline Gumbs and Philippe Sands QC – https://bit.ly/39Sgp40
Books, Papers & Publications
Museums and the Working Class | Edited By Adele Chynoweth | Routledge | Museums and the Working Class is the first book to take an intersectional and international approach to the issues of economic diversity and class within the field of museum studies. Bringing together 16 contributors from eight countries. As part of the push for museums to be more accessible and inclusive, museums have been challenged to critically examine their power relationships and how these are played out in what they collect, whose stories they exhibit and who is made to feel welcome in their halls. This volume will further this professional and academic debate through the discussion of class – https://bit.ly/3m1xzBR
Mixed Forms of Visual Culture: From the Cabinet of Curiosities to Digital Diversity | By Mary Anne Francis | Bloomsbury | The book celebrates and seeks to understand the overlooked appearances of hybrid forms in visual culture; artefacts and practices that meld or interweave incongruous elements in innovative ways. And with an emphasis on the material aspects of such entities, the book adopts the term 'mixed form' for them. Crucially, Mixed Forms of Visual Culture relates its phenomena to the emergence of the division of labour under capitalism and addresses the shifting relationships between art and life, when singularity and uniformity are variously valued and dismissed in the two arenas, and at different points in history – https://bit.ly/2XRzYXe
Media and Management | Authors: Rutvica Andrijasevic, Julie Yujie Chen, Melissa Gregg, and Marc Steinberg | An essential account of how the media devices we use today inherit the management practices governing factory labor. Drawing on rich historical and ethnographic case studies, this book approaches key instances of the industrial and service economy—the legacy of Toyotism in today's software industry, labour mediators in electronics manufacturing in Central and Eastern Europe, and app-based food delivery platforms in China—to push media and management studies in new directions. Media and Management offers a provocative insight on the future of labour and media that inevitably cross geographical boundaries. Meson Press – https://bit.ly/3D1nbRk
Critical Meme Reader: Global Mutations of the Viral Image | Edited by Chloë Arkenbout, Jack Wilson and Daniel de Zeeuw | Beyond the so-called 'Alt-right' and its attendant milieus on 4chan and Reddit, memes have passed the post-digital threshold and entered new theoretical, practical, and geographical territories beyond the stereotypical young, white, male, western subject. As they metastasized from the digital periphery to the mainstream, memes have seethed with mutant energy. From now on, any historical event will be haunted by its memetic double. Our responses to memes in the new decade demand an analogous virtuality. This Critical Meme Reader features an array of researchers, activists, and artists who address the following questions. What is the current state of the meme producer? What are the semiotics of memes? Institute of Network Cultures – https://bit.ly/3CWaKq0
Gertrude Stein: The Complete Writings (2017) | Monoskop | This chronological list of her writings was revised and updated by Robert Bartlett Haas and Donald Clifford Gallup in 1941 (Yale University Library, New Haven), extended by Julian Sawyer in 1948 (Bulletin of Bibliography), and updated again by Richard Bridgman in 1970 (Gertrude Stein in Pieces, Oxford University Press), which, with some additions, forms the basis of this anthology. All texts have been formatted to resemble the original (and often quite idiosyncratic) layout as closely as possible – https://bit.ly/3zUrigp
Articles, Interviews, Blogs, Presentations, Videos
The Original Cryptoartist was also the Original Cryptoleftist | Interview with Rhea Myers | The Blockchain Socialist | An artist, hacker and writer originally from the UK now based in Vancouver. Her work with technology and culture produce new ways of seeing the world as it unfolds around us. She's been involved in the blockchain art world probably for as long as it has existed and has had her art recently featured in Sotheby's first NFT auction sale. "What I've found incredible about her work is how prescient it was around art and includes the first writings attempting to synthesize blockchain with left politics. She is one of the authors who contributed to the Artists Re: Thinking the Blockchain book published by Furtherfield". – https://bit.ly/3ETJbiU
CLASSES | Libby Heaney, 2021 | A video essay exploring the entanglements between machine learning classification and social class(ification). The artwork takes place in a simulated model of a London council estate, where Heaney lives. Machine and human voices playfully narrate aspects of Heaney's in-depth research into accented speech recognition, natural language processing* and public space surveillance, to understand how historical and cultural biases around social class are being translated into code and how this affects people's material conditions – https://bit.ly/3zHCbSj
The BLACK BOX EAST project | Berlin Gazette | Video presentations | As a starting point for a critical inquiry of "post-communist" spaces at large in East Germany, with a focus on black boxed processes of privatization and globalization. The project intends to look at these very processes from different international perspectives, rethinking "the East" from within, against, and beyond national borders. Participants from more than 30 countries are invited to embark upon an analogous exploration and to collectively create points of intersection. The overall aim is to generate common paths of transnational discourse and struggle by challenging the BLACK BOX EAST as a predatory capitalist system of excessive economic and political dispossession that can no longer be obscured or ignored – https://bit.ly/3ENFIlU
YouTube suspends filmmaker Oliver Ressler's account without warning | Art-leaks.org | The YouTube account of the Austrian filmmaker and artist Oliver Ressler was suspended last Thursday for alleged "repeated violations". YouTube issued Ressler with a message warning that "spams, scams or commercially deceptive material are not allowed on YouTube". The artist says that no such material had been uploaded to his channel, that no prior warnings about such violations had been received and accuses the video-sharing platform of censoring his work – https://bit.ly/3lZmEZw
Beeple and Jordan Wolfson | Dialogues: The David Zwirner Podcast | Society & Culture | Apple Podcasts | When Mike Winkelmann, now widely known as the digital artist Beeple, sold an artwork at Christie's for $69 million in March 2021, it shocked the art world—and created an escalating interest in and market for NFTs, digital art using blockchain technology that allows the work of digital artists like Beeple to be collected for the very first time. But the high-stakes prices also brought two parallel art worlds—the traditional one of galleries and museums, and the growing online community of digital artists—crashing into each other. In this provocative conversation, Beeple and Jordan Wolfson hash out the relationship between the two and ask: Where do we go from here? https://apple.co/3oaMs7G
Seeing Through The Debris | Jay Springett | "The basic idea of the 'Breakaway Civilization' is simply that you have a secret group, a classified group of people, with access to radically advanced technology, radically advanced science, and they just don't share it with the rest of the world. One scientific breakthrough leads to another, and that leads to another and so on. So the next thing you know, you've got a separate group of humanity that is vastly far beyond the rest of the world." https://bit.ly/39FO94v
Should We De-Extinct Woolly Mammoths? | By Alex Pearlman | Geneticist George Church broke my corner of the internet again last week when it was announced that his company Colossal, co-led by serial entrepreneur Ben Lamm, raised $15 million for a very controversial de-extinction project targeting the woolly mammoth. This news was another wonderful example of media sensationalism, and hundreds of explosive headlines made it seem like Jurassic Park: Siberia! is imminent. The thing is, that's not accurate. It's not a de-extinction project, it's a hybridization project that could produce a cold-resistant Asian elephant. Can we say that the existence of one or two hybrid elephants is the same as resurrecting an extinct species? – https://bit.ly/2ZDh8nR
Image: DEEP by Amber Jae Slooten and The Fabricant. Digital-only fashion collection, video, 2018. Part of the KIBLIX 2020–2021: Virtual Worlds Now, part II, 1 Oct–30 Nov 2021.
The FurtherList Archives
https://www.furtherfield.org/the-furtherlist-archives/
Parrots. Grey parrots. African grey parrots. African grey parrots laughing. I hear African grey parrots laughing. I hear African grey parrots laughing and it's weird.
Their laughter sounds forced. Not compulsive, no, it's not that. But artificial to say the least. Somewhat robotic. And I find it rather disturbing.
I can also hear birds chirping outside, and their sound is clearly different. Their tone of voice is lively and high pitched. And it brings me joy, almost subconsciously.
However, as I begin to doubt the authenticity of the African grey parrots' laughter, I am told that their laughter is real. They are real parrots that are truly emitting the sound of laughter: they have been trained to do so.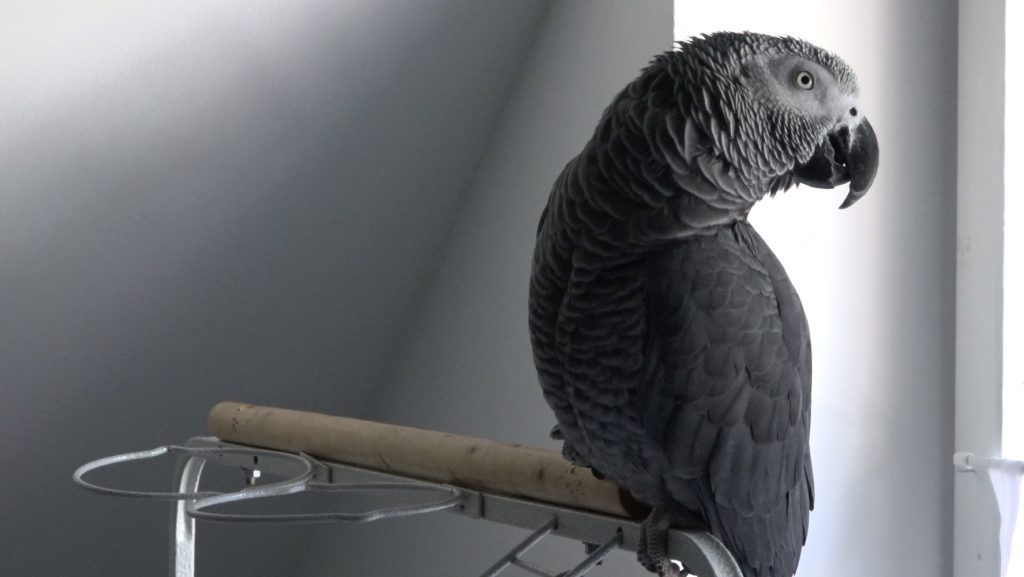 The history of the process that leads me to listen to this laughter spans over a period of sixteen years. Sixteen years during which the Slovenian artist Sanela Jahić has produced works that have reversed the power balance in the world of work (Five Handshakes, 2016), explored the range of emotions within the human-machine relations in industrial workplaces, (The Factory, 2013), studied the history of gesture efficiency in factories (Tempo Tempo, 2014) and created the conditions for experiencing human-machine co-creation (Fire Painting, 2010). However, over the past three years she narrowed her focus to applying automation to her own practice. Since these prosthetic technologies pervade the capitalist world of work—through the increasing replacement of workforce by industrial robotic arms and systems as well as through the increasingly algorithmic management of workers—why should it not be applied to the production of artworks? A seemingly light-hearted question that allows the artist to raise another, deeper question: can artistic creation be considered on the same level as other types of work? And ultimately, what does it mean to cast off the burden of choice to machines, what does it mean to try to distance oneself from one's subjectivity while consciously choosing to delegate one's decisions to a computer program?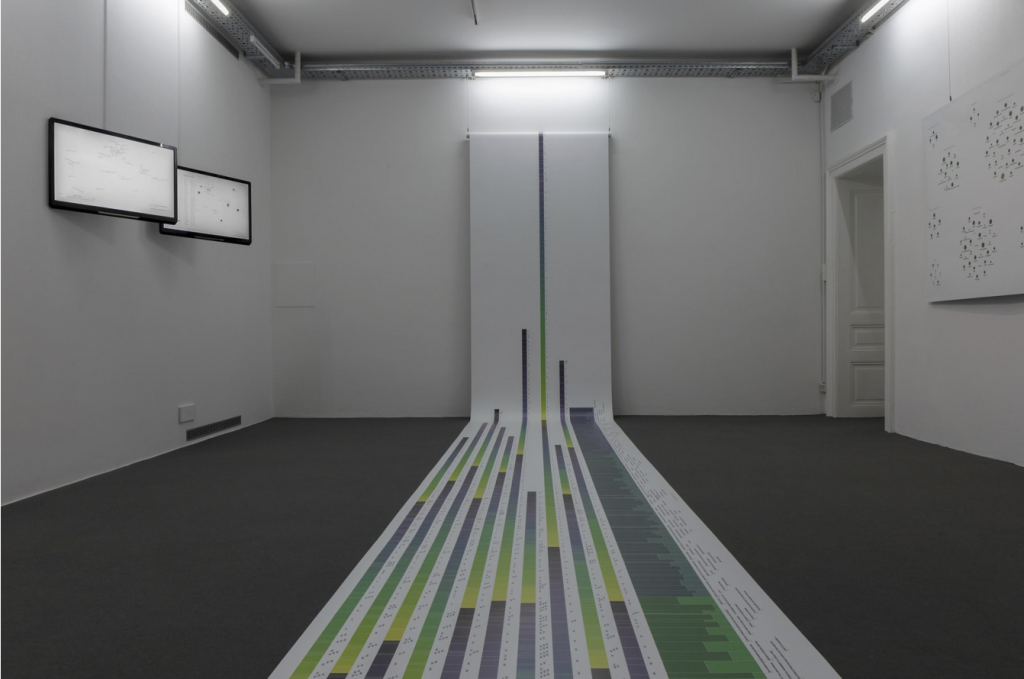 Responding to generalized quantophrenia1—from permanent, automatized and unsuspected data extraction to voluntary submission to the fascinating and oxymoronic idea of the quantified self, i.e. a human being reduced to mere numbers—Sanela Jahić started to conceive a way to turn her career into numbers. She created a classification system which she applied to all of her artworks and through this produced a database of her works. A selection of parameters described as keywords represented numerous different aspects of her work such as 'manual labour', 'mathematical precision', 'mechanical device for showing images', 'collaboration', 'mistake as a sign of the human factor', 'revealing patterns', 'mechanism in the back', 'machine painting', 'light-based medium', and many more; their intensity was displayed in graph form in a series of works titled The Labour of Making Labour Disappear (2018). But this would not present sufficient data for an algorithm to create a work on Jahić's behalf, since this new work would have been based merely on the previously created works, and not on what would have actually taken place in the artist's mind at the moment of creation.
In order to overcome the potentially simplistic predictive outcome, Jahić decided to complete the database with elements that would have probably influenced her. Thus, she added approximately six months of real time data on what she was reading while working on this project to the parameters. Every word from every text that passed in front of her eyes increased the database, opening new horizons of thought. With this amount of technical, theoretical, sociological and descriptive terms, ranked by the frequency of their occurrences, the algorithm was set to act as a surrogate of her creative endeavour.
According to the artist, if we consider this process as a (psycho)analysis of her work, we can also ironically read it as an analysis of the prediction algorithm by itself. Indeed, the algorithm specifically designed2 for the occasion, produced output terms such as: 'behavioural data', 'tracking devices', 'scientific investigation', 'assessment tool' and 'machine learning'. 'Vocal biomarkers' also came up. Vocal biomarkers are a diagnostic tool used by artificial intelligence systems that scan for voice patterns in speech with the aim of detecting diseases such as depression, cancer, or heart conditions with the aid of a database of intonations linked to predetermined underlying emotions. This speech signal analysis focuses on the tone of voice and therefore does not require the spoken words to be numerous or even to make sense, which is why individual words can be used as vocal exercises that provide the necessary data.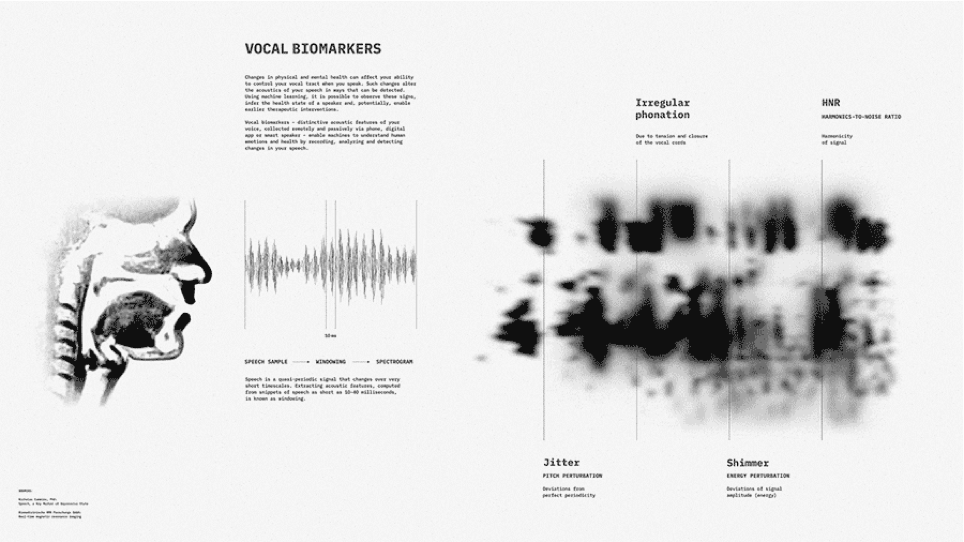 Pataka is one of these words. Found in the Mapuche language in which it means a hundred, as well as in Hindi where it designates firecrackers, the word Pataka, when pronounced, asks the speaker to emit rapidly alternating sounds which allow for precise detection of their muscle control, the lack of which is a common sign of depression.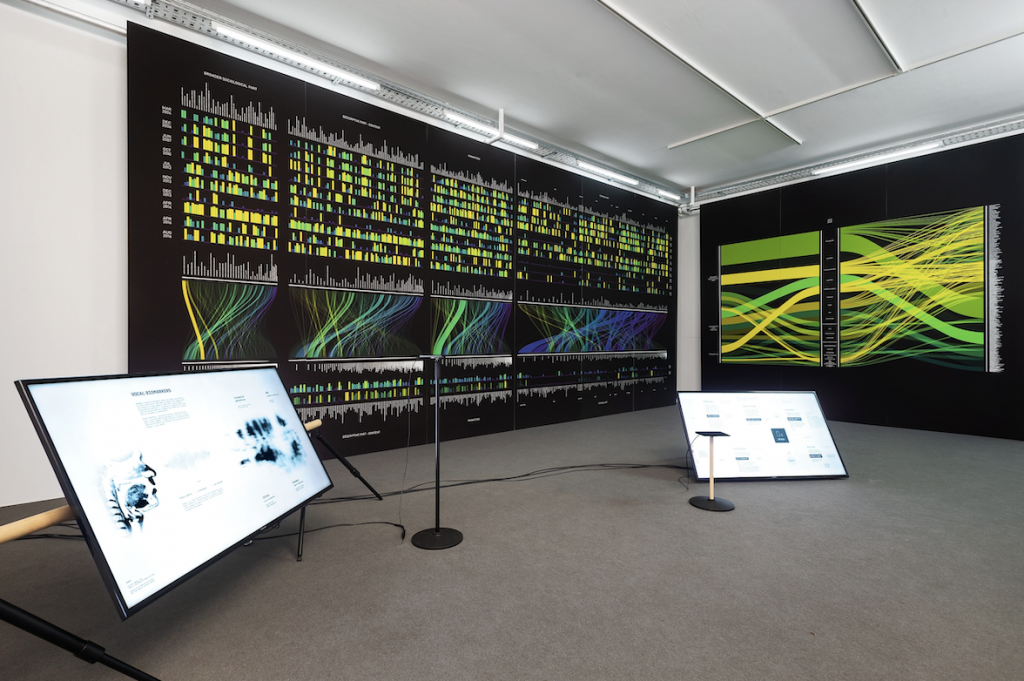 Since Sanela Jahić had to interpret the predictive results from the algorithm in order to turn them into an artwork in its own right, she chose to work around the use of this specific word3 but not to work with people afflicted by illness; thus she decided to use parrots as proxies. Parrots are known for imitating the voice of the persons teaching them to speak, and this can be seen in Jahić's Pataka videos. Parrots. Grey parrots. African grey parrots. African grey parrots talking. And African grey parrots laughing.
Sanela Jahić, Uncertainty-in-the-Loop, Aksioma, Ljubljana, 23 September – 23 October 2020, and Delta Lab, Rijeka, 5–27 November 2020.