A list of recommendations, reflecting the dynamic culture we are part of, straddling the fields of art, technology and social change.
Events, Exhibitions, Open Calls, Festivals and Conferences
Art was only a substitute for the Internet | The Wrong Biennial, has been dedicated exclusively to online art and that alone makes it very relevant. For this fifth edition, Andres Manniste has invited artists who he felt were convinced that the Internet and what it provides is an art and for whom networks are critical for the development of their thinking and their work. For many the Internet is a daily routine of checking social media, listening to podcasts or music and researching material. Every living artist aware of the unlimited resources provided by communications networks is influenced by the internet. Many have associated a major part of their art process with the internet. This exhibition is a place where art can be playful and challenging – https://bit.ly/3nMIZKJ
Angels & Discounts | Exhibition by Iris Pokovec | 3 – 26 November 2021 | Aksioma | Project Space, Ljubljana | Part of U30+ production programme for supporting young artists. Angels & Discounts is an ode to consumerism and an elegy to unfulfilled dreams and lost ideals. It talks about the love-hate attitude to consumerist and popular culture and glorifies its charm and its power of hypnotising the masses, while at the same time offering a reflection on the transience of society's collective stream of thought. It is a narrative about the search for free choice in the numb somnolence of supermarket aisles and shelves with tinned peas and preserved compotes – https://bit.ly/2ZQlSHf
NFT Culture Proof | Launches 9 am 9 Nov 2021 | Nathaniel Stern, Scott Kildall and others | A participatory performance on the Blockchain – a completely on-chain collaborative text – a collective artwork and crypto-native NFT series. NFT Culture Proof is a 32-day Blockchain performance, where every participant continuously adds to a collaborative stream of live but immutable text, which will be permanently placed on-chain. Each day, there are "writing prompts" from artists, thinkers, and writers in the cryptoverse, which will both focus and drive the texts we produce. It is the first large-scale Blockchain work of its kind, making the public ledger an active stage for collective creativity. Every text block submitted generates a unique NFT for the participant. These will also live completely on-chain, as crypto-native SVGs – https://bit.ly/3bBLfyy
Lecture 5: The City: Laurie Anderson: Spending the War Without You | 10 Nov 2021 | Exploring the challenges we face as artists and citizens as we reinvent our culture with ambiguity and beauty. Laurie Anderson presents Spending the War Without You: Virtual Backgrounds. The City is the fifth in a series of six lectures, looking at the challenges we face as artists and citizens as we reinvent our culture with ambiguity and beauty. This talk will consider teachers, activism and politics. Presented by Laurie Anderson, one of America's most renowned – and daring – creative pioneers. Known primarily for her multimedia presentations, she has cast herself in roles as varied as a visual artist, composer, poet, photographer, filmmaker, electronics whiz, vocalist, and instrumentalist. Event by Mahindra Humanities Center at Harvard | Free event book at Eventbrite – https://bit.ly/3BvV9wd
Glitch: Aesthetic of the Pixels | Platform 101 – Vol.03 | Tehran, Iran | 5 – 12 Nov 2021 | Platform 101 is holding its third international group exhibition entitled "Glitch: Aesthetic of the Pixels". After the great success of Vol.2, Platform 101, a nonprofit and independent art institution, is continuing the Glitch Video Art Group Exhibition in Tehran, Iran Vol.03, entitled "Glitch: Aesthetic of the Pixels", curated by Mohammad Ali Famori, featuring 27 international glitch artists at Pejman Foundation: Kandovan – https://bit.ly/3pX2pPK
IAM Weekend | Barcelona Nov 11-13 2021 and Planet Earth: November 11-18, 2021 | Join the 7th annual gathering for mindful designers, researchers, strategists, artists, technologists, journalists and creative professionals looking to collectively envision sustainable futures for the internet(s). A week-long programme of live and pre-recorded sessions. The Planet Earth edition will feature live and pre-recorded sessions, available 24 hours across timezones, during 8 days, including the social live stream of Forum Day sessions of the Barcelona edition programme. Get access to the Planet Earth edition programme with a Week-long Pass or any Barcelona edition ticket. More info – https://bit.ly/3nVQwqr
Furtherfield at the Planet Earth Session at IAM Weekend | Nov 18th 2021 Watch live or on-demand the following pre-recorded videos: The Treaty of Finsbury Park 2025 – Interspecies Assembly (The one about biodiversity habitats) by Furtherfield + The New Design Congress + CreaTures. The Treaty of Finsbury Park 2025 – Ruth Catlow & Cade Diehm in conversation with Dr. Lara Houston. Get access to the Planet Earth edition programme with a Week-long Pass or any Barcelona edition ticket. More info – https://bit.ly/3nVQwqr
Call for Participation – Rendering Research | Deadline for submissions 14th Nov 2021 | We are seeking proposals to address how research is made public, and in this sense also to the infrastructures of research and its various systems of publishing. Organised by Digital Aesthetics Research Center, Aarhus University, in collaboration with Centre for the Study of the Networked Image, London South Bank University, Saint Luc École de recherche graphique in Brussels, and Transmediale festival for digital art & culture. APRJA is published by Aarhus University in partnership with Transmediale and hosted by the Royal Danish Library – https://bit.ly/3q0Na8w
People Like Us: Gone, Gone Beyond | Event by Barbican Centre | The Pit | 10 – 13 Nov 2021 | Watch and listen as unexpected narratives expand and unravel all at once around you. Inside this immersive, 360-degree cinematic installation, you'll get to look far beyond the frame. Fragments of familiar and experimental films interact with song and audio clips in ever-changing, kaleidoscopic and kinetic collages. As time and space become elastic, viewers are opened to multiple meanings and perspectives by this seamless visual and surround-sound experience, with its playful and unsettling observations on popular culture. Under her artist name, People Like Us, Vicki Bennett has been evolving the field of audiovisual collage since the early 1990s, cutting up and layering found footage and archives | Tickets – https://bit.ly/3EqJX62
Tactical Entanglements: Creative AI Lab in conversation with Martin Zeilinger | 15 Nov 2021 6 pm FREE | Serpentine | TwitchOnline | A discussion panel on my book, "Tactical Entanglements: AI Art, Creative Agency, and the Limits of Intellectual Property" (meson press 2021). The event is put on by the Creative AI Lab and will be live-streamed on Twitch. Exploring issues around critical approaches to AI, digital art, and posthumanism with Mercedes Bunz and Daniel Chavez Heras (both Kings College London) and Eva Jäger (Serpentine Galleries). You can grab a free copy of Zeilinger's book on the Meson Press publisher's website, and a free e-reader with some additional relevant readings will be available on the Serpentine Galleries website – https://bit.ly/2Yqn6bk and https://meson.press/books/tactical-entanglements/
AI4FUTURE: OPEN CALL FOR RESIDENCIES | Deadline 15 NOV 2021 | AI4future is searching for 4 artists to work at an AI-based artwork in collaboration with young European activists to foster new urban community awareness. In recent years, Artificial Intelligence has been implemented in a number of fields functional to daily life: from those that simulate the cognitive abilities of the human being (image recognition, language automation, etc.) to the management of civil and social life (home automation, banking, self-driving vehicles, etc.) up to the economic and political organization (remote surveillance, privacy, impact on the world of work 4.0, health management, disinformation techniques, control over fundamental rights, etc.) – https://bit.ly/3bEeXTu
(re)programming: Strategies for Self-Renewal | With Eyal Weizman | 15 Nov 2021 7 pm | Aksioma | We have found ourselves at the crossroads of an existential decision: do we bring the mistakes of the enlightenment to their biological conclusion or do we develop a magical capacity to self-renew? For the 10th anniversary of Tactics & Practice, Aksioma presents (re)programming: Strategies for Self-Renewal "festival of conversations" with world-class thinkers debating key issues, from infrastructure and energy to community and AI, curated and conducted by writer and journalist Marta Peirano. The festival consists of 8 streaming events taking place every third Monday of the month throughout the year – https://bit.ly/3EDTA1n
Lorenzo Ravano: The Global South and the History of Political Thought | Online | 18 Nov 2021, 6 – 8 pm | The Critical Perspectives on Democratic Anti-Colonialism project invites you to our next Fall 2021 workshop. The program brings together faculty and students from across The New School interested in exploring the theoretical foundations and political manifestations of radical democratic and anti-colonial traditions. Ravano, Postdoctoral Fellow at Université Paris Nanterre, will be presenting his work, "The Global South and the History of Political Thought". Anthony Bogues, Asa Messer Professor of Humanities and Critical Theory, Professor of Africana Studies and Director of the Center of the Study of Slavery and Justice at Brown University, will be commenting – https://bit.ly/3ECPVku
WhistleblowingForChange: Exposing Systems of Power & Injustice | The 25th Conference of the Disruption Network Lab | Conference and book launch | 26 – 28 Nov 2021. At Kunstquartier Bethanien – Berlin. The courageous acts of whistleblowing that inspired the world over the past few years have changed our perception of surveillance and control in today's information society. But what are the wider effects of whistleblowing as an act of dissent on politics, society, and the arts? How does it contribute to new courses of action, digital tools, and content? This urgent intervention based on the work of Berlin's Disruption Network Lab examines this growing phenomenon, offering interdisciplinary pathways to empower the public by investigating whistleblowing as a developing political practice that has the ability to provoke change from within | Facebook link – https://bit.ly/3o1ibXj
Unravelling Women's Art | 25 November 6 pm – 7:30 pm | £5 | ONLINE EVENT | Join author PL Henderson and a trio of artists for an insightful discussion into what links female textile artists and the arts they produce, revealing a global and historic patchwork of assorted roles, identities and representations. Henderson's new book, Unravelling Women's Art: Creators, Rebels, & Innovators in Textile Arts (Aurora Metro Books) offers a unique overview of female-centric textile art production including embroidery, weaving, soft sculpture and more. Including over 20 interviews with contemporary textile artists, the books invites us into their practices, themes and personal motivation – https://bit.ly/3wxeqwr
Two Postdoc Positions in Critical Environmental Data Studies | Deadline 30 Nov 2021, Expected start 1 Mar 2022 | The Department of Digital Design and Information Studies within the School of Communication and Culture at Aarhus University (Denmark) invites applications for two postdoctoral positions in Critical Environmental Data Studies. The postdoc positions are affiliated with the research project Design and Aesthetics for Environmental Data funded by the Aarhus University Research Foundation (AUFF). The postdoc positions are full-time, two-year fixed-term positions. Design and Aesthetics for Environmental Data focus on historical and current practices of seeing, knowing, and designing the environment and the planet as data: as patterns, visualizations, projections, models, simulations, and other aesthetic objects with epistemic value. The working language of the project is English – https://bit.ly/3GGfu5P
Call for Book Chapters | Feminist Futures: From Witches to Maids to Robots and Beyond | Proposal submission deadline 15 Dec 2021 | Feminist Futures is a book all about bridges and connections! It aspires to take a look at the future, it wants to tell the story of witches, how neo-feudalism relates to the present monsters, how postcolonialism and post cold war politics brought us here when it comes to women's rights. It is about automation and the constant repetition of the need for care without really doing it. It wants to bring these stories at the centre stage to talk about the future, to shed light on research that can lead us to what unites us and not to what divides us – https://bit.ly/3nSUsZ4
Books, Papers & Publications
Artistic Research – Dead on Arrival? Research practices of self-organized collectives versus managerial visions of artistic research | By Florian Cramer. (First published in Henk Slager [ed.], The Postresearch Condition, Utrecht: Metropolis M Books, 2021, p. 19-25). Since at least the early 20th century, artists groups have called their work "research". Canonized examples include the "Bureau des recherches surréalistes" ("Bureau of Surrealist Research") founded in Paris by André Breton and fellow Surrealists in 1925 and the Situationist International which, from 1957 to 1972, operated under the moniker of a research group and whose periodical had the form of a research journal. […] Today, transdisciplinary art/research collectives seem to be more common as a contemporary art practice in non-Western regions than in Western countries where art systems are more institutionalized – https://bit.ly/2ZNpjy1
Machines We Trust: Perspectives on Dependable AI | Edited by Marcello Pelillo and Teresa Scantamburlo | Experts from disciplines that range from computer science to philosophy consider the challenges of building AI systems that humans can trust. Artificial intelligence-based algorithms now marshal an astonishing range of our daily activities, from driving a car ("turn left in 400 yards") to making a purchase ("products recommended for you"). How can we design AI technologies that humans can trust, especially in such areas of application as law enforcement and the recruitment and hiring process? In this volume, experts from a range of disciplines discuss the ethical and social implications of the proliferation of AI systems, considering bias, transparency, and other issues – https://bit.ly/3AMedWR
The Art of Activism: Your all-purpose guide to Making the Impossible Possible | By Steve Duncombe and Steve Lambert | It brings together the authors' extensive practical knowledge—gleaned from over a decade's experience training activists around the world—with theoretical insights from fields as far-ranging as cultural studies and cognitive science. From the United Farm Workers' boycott movement in sixties' California to a canal-side beach in present-day Saint Petersburg, these pages are packed with contemporary and historical case studies that have been shown to work in practice. The accompanying workbook contains fifty expertly crafted exercises to help you flex your creative imagination and hone your political tactics, taking you step-by-step toward becoming the most persuasive and impactful artistic activist you can possibly be – https://bit.ly/3CcKCr9
Whistleblowing for Change: Exposing Systems of Power & Injustice | Editor Tatiana Bazzichelli | Out 27 Nov 2021 | The courageous acts of whistleblowing that inspired the world over the past few years have changed our perception of surveillance and control in today's information society. But what are the wider effects of whistleblowing as an act of dissent on politics, society, and the arts? How does it contribute to new courses of action, digital tools, and contexts? This urgent intervention based on the work of Berlin's Disruption Network Lab examines this growing phenomenon, offering interdisciplinary pathways to empower the public by investigating whistleblowing as a developing political practice that has the ability to provoke change from within – https://bit.ly/3nTyZiP
Proof of Work: Blockchain Provocations 2011–2021 | By Rhea Myers | Art Editions, Forthcoming Jun 2022 | DAO? BTC? NFT? ETH? ART? WTF? HODL as OG crypto artist, writer, and hacker Rhea Myers searches for faces in cryptographic hashes, follows a day in the life of a young shibe in the year 2032, and patiently explains why all art should be destructively uploaded to the blockchain. Now an acknowledged pioneer whose work has graced the auction room at Sotheby's, Myers embarked on her first art projects focusing on blockchain tech in 2011, making her one of the first artists to engage in creative, speculative and conceptual engagements with 'the new internet'. This anthology brings together annotated presentations of Myers's blockchain artworks along with her essays, critiques, reviews, and fictions—a sustained critical encounter between the cultures and histories of the art world and crypto-utopianism, technically accomplished but always generously demystifying and often mischievous – https://bit.ly/3nSpmki
Critical Theory and New Materialisms | Edited By Hartmut Rosa, Christoph Henning, Arthur Bueno | Published by Routledge, 15 June 2021 | Bringing together authors from two intellectual traditions that have, so far, generally developed independently of one another – critical theory and new materialism – this book addresses the fundamental differences and potential connections that exist between these two schools of thought. With a focus on some of the most pressing questions of contemporary philosophy and social theory – in particular, those concerning the status of long-standing and contested separations between matter and life, the biological and the symbolic, passivity and agency, affectivity and rationality – it shows that recent developments in both traditions point to important convergences between them and thus prepare the ground for a more direct confrontation and cross-fertilization – https://bit.ly/3BHvIrv
Articles, Interviews, Blogs, Presentations, Videos
The Chaos of Eros: in conversation with the programmers of Erotic Awakenings | Maria Isabel Martinez | Erotic life is a treasure we hold close until we believe its delight might multiply in the hands, eyes, ears, or mouth of another. One such place for sharing is "Erotic Awakenings," an archive primarily containing writings hosted on the website of Toronto artist-run gallery Hearth Garage. The project is a collaboration between the gallery's programmers Benjamin de Boer, Philip Ocampo, Rowan Lynch, and Sameen Mahboubi and writer and facilitator Fan Wu. Each piece of writing is singular in form and content, reflective of our varied erotic experiences. In an erotic moment, we might become unfastened from a solid sense of our identity, or further reminded of the body we can't escape – https://bit.ly/3GPuONB
Artgames and interspecies LARPS with Marc and Ruth of Furtherfield | Podcast | The ReImagining Value Action Lab | "We talked about art, games, LARPs and other subversive high jinks on the latest episode of our Conspiracies and Countergames podcast." Furtherfield disrupts and democratises art and technology through exhibitions, labs & debates, for deep exploration, open tools & free-thinking and is London's longest-running (de)centre for art and technology whose mission is to disrupt and democratise through deep exploration, open tools and free-thinking. The ReImagining Value Action Lab (RiVAL) is a research and creativity workshop for the radical imagination active around the world and locally in Thunder Bay, Canada – https://bit.ly/3k815pn
The Digital Art Conundrum – how to evaluate digital art? | Computational Aesthetics | By Josephine Bosma | Digital devices have been part of developments in culture and society for decades, the arts included. They influenced, inspired, or even 'co-produced' the work of artists in performance, sculpture, robotics, sound art, and more. […] Though accurate and precise, it is not easily understandable and is a quite theoretical approach. To simplify their proposal: computational aesthetics offers a much-needed alternative to 'traditional' definitions of digital art as a purely technological or visual art form. It offers a broader perspective on the field – https://bit.ly/3BEKSy3
London's 'Square Mile' Is One Big Monument To Slavery | By Stewart Home | ArtReview | When it comes to addressing what to do with artworks and memorials connected to historic racism and attendant issues relating to colonialism, some talk up their commitment to change, but their lack of action exposes a preference for the status quo. The City of London Corporation is the local authority that covers the capital's international financial district. Not only does the Corporation pack more problematic memorials into its famous 'Square Mile' than almost any other council in the UK (or, for that matter, the world), it is simultaneously a major patron of the arts." – https://bit.ly/3nJBm7y
Atari-style Artwork Makes the 'Guinness World Records 2022' Book | Dartmouth Edu | Mary Flanagan shows how games can be collaborative through a giant Atari 2600 joystick. "Space Invaders." "Asteroids." "Pac-Man." In the 1980s, the Atari 2600 revolutionized the video game industry as families revelled in the novelty of playing video games on the TV at home. When she was growing up, professor, game designer, and artist Mary Flanagan says the Atari 2600 was one of her most influential digital experiences. Years later, Flanagan's tribute to that experience, [giantJoystick], made it into the Guinness World Records 2022 as the largest joystick in the world – https://bit.ly/3pYupSZ
AI Horror Movie Wins Lumen Gold | The Lumen Prize for Art and Technology awarded its coveted Gold Award with a cash prize of US$4,000 to UK artist Nye Thompson and UBERMORGEN for UNINVITED, the world's first horror movie for and by machines. UNINVITED is a horror film for machine networks and human-machine organisms exploring the nature of perception and realism of the unknown and the terror of angst and exhaustion within emergent network consciousness. This generative work (2018–) is a self-evolving networked organism watching and generating a recursive 'horror film' scenario using mechatronic Monsters – digital flesh running machine learning algorithms. The work is described by the artists as a radically new creature looking at the world, hearing the universe through millions of hallucinogenic virally-abused sensors and creating a hybrid nervous system – https://bit.ly/3CzRI98
'It's a game-changer for us': Artists welcome guaranteed basic income plan | Deirdre Falvey | Irish Times | The pilot for a new basic income guarantee scheme for artists and arts workers could see "around 2,000" creative workers drawing income from March 2022, or "the beginning of April, and no later than that", said Minister for the Arts Catherine Martin. She gave details of the pilot project, which will be backed by €25 million funding in 2022, at Wednesday's Department of Tourism, Culture, Arts, Gaeltacht, Sport and Media budget briefing. A basic income guarantee was the top recommendation of the Arts and Culture Recovery Taskforce's Life Worth Living report in November 2020, and the Minister said she intends to follow it "as closely as possible and to deliver a scheme that benefits artists and creative arts workers". The three-year pilot will involve a weekly payment of €325 a week. The department later confirmed there will be no means test to take part in the scheme – https://bit.ly/2ZP73V6
Rhythm and Geometry: Constructivist Art in Britain since 1951 | Review by Bbronaċ Ferran | Studio International | An exhibition at the Sainsbury Centre captures something of the mood of the present, in its reflection on a balancing of constraint and liberation. Conceived by Tania Moore, the Joyce and Michael Morris chief curator, the exhibition draws closely on a "substantial bequest" in 2019 from husband and wife Joyce and Michael Morris, who developed a unique collection of British constructivist art from the 1950s on. As the couple were acquainted with many of the artists included, their collection was informed by their personal taste and sensibility. Its acquisition by the Sainsbury Centre opens up opportunities for new research from a historical perspective into a significantly under-studied domain of postwar practice – https://bit.ly/3q5huP3
These Companies Are Already Living in Zuckerberg's Metaverse | By Megan Carnegie | Wired/Business | The Meta dream envisages whole companies operating in a virtual world. Many made the switch years ago—with mixed results. Facebook's metaverse, or Meta's metaverse, isn't just being touted as a better version of the internet—it's being hailed as a better version of reality. […] This space, Zuckerberg claims, won't be created by one single company, but rather by a network of creators and developers. First problem: 91% of software developers are male. Second problem: You've been living in a version of metaverse for years—and, having taken over video games, it's now coming for the world of work – https://bit.ly/3bwLNWn
Crofton Black – How does the world work? | Exposing the Invisible | Podcast | Crofton Black ended up as an investigator almost by chance. With a background in English Literature and Medieval and Renaissance philosophy, he took an unexpected turn into investigating secret prisons and extraordinary renditions. He is a writer and investigator. He is co-author of Negative Publicity: Artefacts of Extraordinary Rendition and CIA Torture Unredacted, and works on technology and security topics for The Bureau of Investigative Journalism in London. Before this he was a history of philosophy academic, specialising in theories of knowledge and interpretation. He has a PhD from the Warburg Institute, London and was a Humboldt Fellow at the Freie Universität Berlin – https://bit.ly/2ZIT1nO
Kirill Medvedev in prison (Moscow, Russia) | An international well known muscovite poet, translator, publicist, activist and community organizer, co-founder of Arkadiy Kots combat-folk band, a long term Free Home learner, has been arrested along with other activists. They were defending a courtyard adjacent to Sretenka street from oligarch Deripaska's development of an unlawful construction, a luxury apartment hotel rising right on the site of historic buildings from the 18th century – despite the protests of the local residents the activists were aggressively attacked by the police and kept in the police station for 24 hours awaiting the court hearing. As the excavation continues, they are imprisoned at spetspriyomnik nr-r. 1 and 2 already for 5 days. Since long Kirill is engaged in the defence of peoples land and territories defence, against extractivism, real estate development and criminal waste dumps – https://bit.ly/3mw3uvA
Image: Hydar Dewachi. Image Courtesy of Furtherfield. View from the People's Park Plinth Voting Weekend (14 -15 August 2021), Furtherfield Gallery, Finsbury Park.

The FurtherList Archives
https://www.furtherfield.org/the-furtherlist-archives/
The 22nd conference of the Disruption Network Lab, "HATE NEWS vs. FREE SPEECH", explored polarization and pluralism in Georgian media, opening on 12 December 2020 in partnership with the Regional Democratic Hub – Caucasus.
Introduced by Tatiana Bazzichelli and Lieke Ploeger, the Programme and Community Director of the Disruption Network Lab, the two-day-event brought together journalists, activists and experts from based in Georgia and Germany to look into the manifestations as well as the consequences of information manipulation and deliberate hate speech within the Georgian media landscape.
The conference, held at Kunstquartier Bethanien in Berlin as a combination of online and on-site formats, investigated a hyper-polarised system, in which exploitative manipulation of facts and orchestrated attempts to mislead people through delivering false information are dangerously eroding media independence, pluralism and freedom of speech. In the context of deliberate technology-fuelled disinformation, spread by news outlets of religious and political influence, hostile countries and other malign sources, the work of independent Georgian journalists is often delegitimised by public authorities and denigrated in a wave of generalisations against media objectivity, to undermine independent information and stifle criticism.
As Bazzichelli stressed in her introductory statement, independent journalists reporting on information that is in the public interest are targeted because of the role they play in ensuring an informed society. At the same time, a global process of mystification is progressively blurring the boundary between what is false and what is real, growing to such a level that traditional media seems incapable of protecting society from a tide of disinformation, and becomes part of the problem.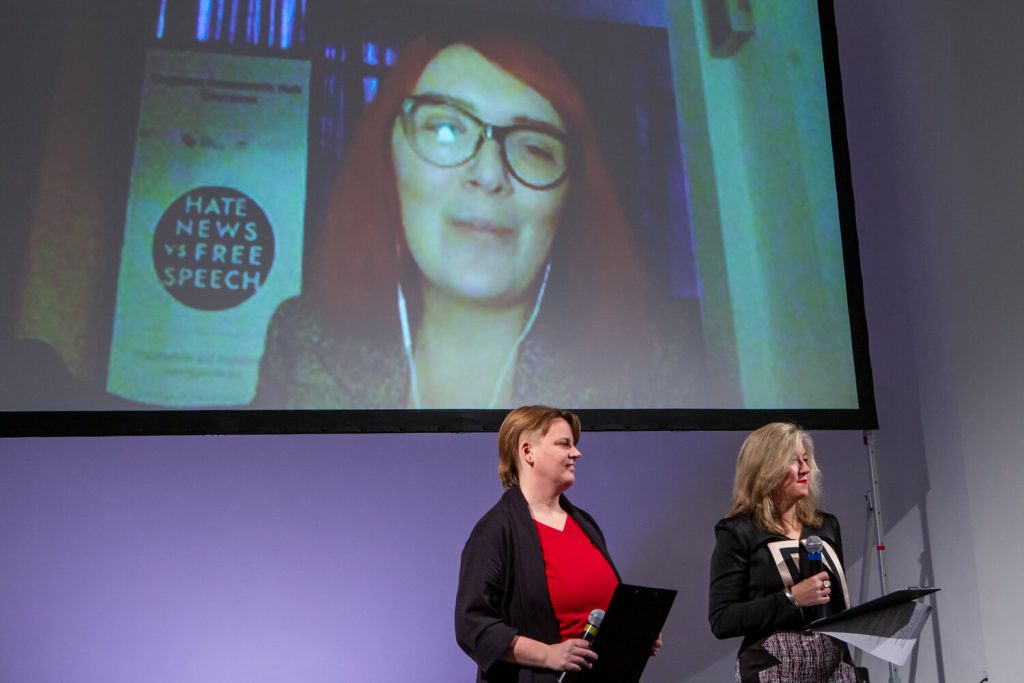 POLARIZATION AND MEDIA ETHICS IN GEORGIA
Opening the first panel, "Polarization and Media Ethics in Georgia", the moderator Maya Talakhadze, Co-Founder of the Regional Democratic Hub – Caucasus explained that, similar to other former Soviet Union countries, the political environment in Georgia has been polarized since the independence of the country. This has led to highly partisan media and to a marked divergence of political attitudes to ideological extremes within the around 3.7 million Georgians. Although the widespread of the internet guaranteed access to new media outlets and social media opened the way to a more pluralistic media environment, Georgian society soon faced the new challenges of widespread online disinformation, ethics violations and hate speech.
Professor Tamar Kintsurashvili, Executive Director of the Media Development Foundation and Associate Professor at Ilia State University, referred to Georgia as the country with the most pluralistic and free media environment in South Caucasus region. Nevertheless, according to Freedom House and Reporters Without Borders, its information system appears weaker and weaker, public broadcasters have been accused of favouring the government and lawmakers have repeatedly attempted to restrict freedom of expression.
Professor Kintsurashvili stressed how such an environment cannot be considered independent and negatively contributes to the polarization of the country. In her critical analysis, Georgian media pluralism could be described as the product of competing political interests, rather than a sign of strong freedom of expression and an independent press in the country. Despite this, Georgian civil society is widely praised for its diversity and strength.
In Georgia, most media have a political affiliation and align themselves with the agenda of a candidate or a party. This results in the actual instrumentalization of mainstream media and the concentration of ownership of TV stations, online media outlets and newspapers in the hands of the dominant political parties, which are shaping the overall media environment.
Professor Kintsurashvili recalled that in 2017 the ownership of pro-opposition Georgian TV channel Rustavi 2 was transferred to the businessman Kibar Khalvashi, its previous owner, after a ruling by the European Court of Human Rights (ECHR). The case is instructive of the complexity of the Georgian media landscape. Khalvashi's opponents accused him of having close ties to the government and warned that the new ownership could not guarantee freedom of expression and independence for journalists and broadcasts. Following the ECHR ruling, two new opposition broadcasters emerged.
Professor Kintsurashvili highlighted that, to come to a full understanding of the country, one must consider the possible sympathies of the Georgian politicians toward the Russian Federation, despite the 2008 war and its continuous interferences in domestic affairs.
Many critical voices and independent investigations observe that Russia is supporting a galaxy of media outlets active all over the Caucasus, characterised by a lack of transparency and accountability. These actors promote anti-Western propaganda and are partially responsible for the radicalisation and antagonization of the Georgian society, leveraged to disrupt social cohesion and push the country away from the EU's Eastern Partnership with the six countries of its Eastern neighbourhood –Armenia, Azerbaijan, Belarus, Georgia, Moldova and Ukraine.
Professor Kintsurashvili points out that while outlets such as Sputnik or Russia Today are openly funded by the Russian government or by Russian oligarchs, the ownership structures of dozens of online platforms remain unclear, and many vanish after a few weeks of activity.
In addition to this, the panellist considered that economic resources for independent media are limited and a lack of transparency of financing – especially in online media – which poses a serious problem for the independence and impartiality of many media outlets, as they are not accountable to the Georgian public but to their owners. Neutral newsrooms with no political affiliation are not self-sufficient and manage to have a small impact on the overall environment; nothing compared to big TV channels, which remain the major source of information in the country.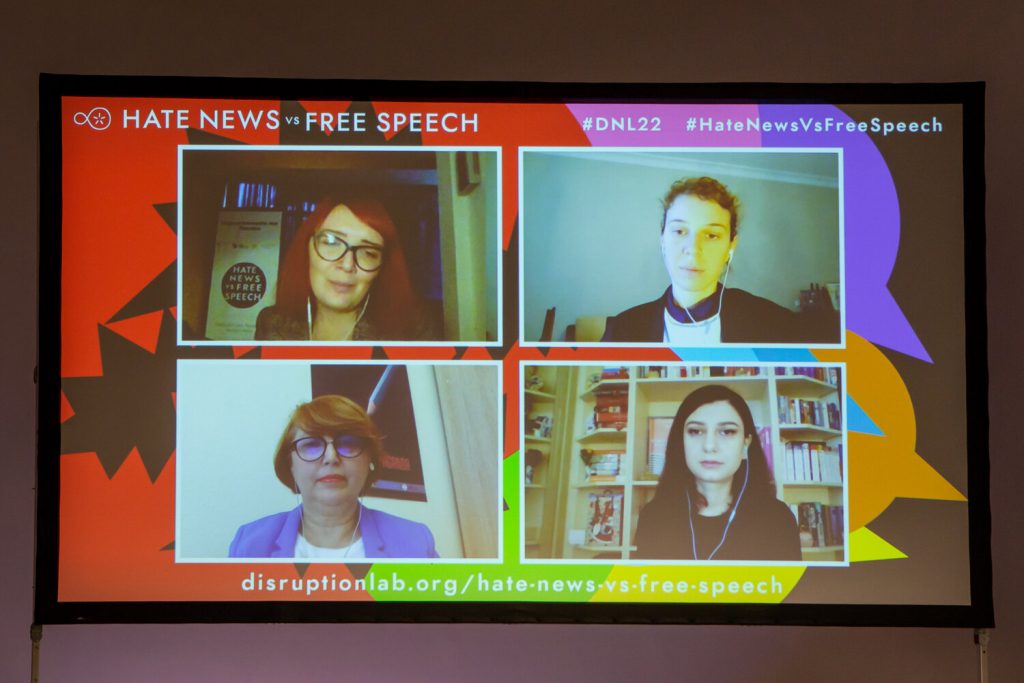 Taking a step from such a polarized environment shaped by domestic and foreign actors with a political agenda, the second panellist Nata Dzvelishvili, Executive Director at Indigo Publishing, focused on the current state of media ethics in Georgia and the lack of media literacy among Georgians. She considered that, in such a polluted disinformation ecosystem, the majority have almost no reliable instruments to orientate and discern good independent journalism, fake news and poor-quality reporting, which means also that the capability to identify verifiable information in the public interest, and information that does not meet precise ethical standards, is limited.
Dzvelishvili is the former Executive Director of the Georgian Charter of Journalistic Ethics, the self-regulatory body of media in Georgia. She pointed out that by decoding the authenticity of online news we can see how, alongside with the so-called fake news, there is also an alarming degree of laxity and journalistic errors arising from poor research and superficial verification. She listed a few frequent unethical behaviours and violations, from the lack of accuracy to unprofessional coverage of facts reported to arouse curiosity or broad interest through the inclusion of exaggerated or lurid details. In Georgia, this last aspect is mirrored in an unfair and hyper-partisan selection of facts, too.
The Georgian Charter of Journalistic Ethics – a body composed of 400 member journalists, which processes complaints and makes decisions on issues regarding ethical standards and principles – warned that Georgian media too often spread news based on unverified facts, or even simple errors, generating misinformation. Bad information undermines the credibility of media, and unprofessional journalism opens the way for widespread disinformation and misinformation.
Dzvelishvili explained that in Georgia the most critical topics subject to manipulation due to political interest are those related to religious sentiment, LGBTQI identities, migration and nationalism. In her intervention she presented examples of campaigns fuelling homophobia, racism and reopening historic traumas, fruitful ground for the growth of ultra-nationalistic, conservative, and pro-Russian narratives.
Many of the media outlets accused of spreading anti-Western and pro-Russian propaganda acted all over the Caucasus to disseminate disinformation about Georgia's position on the Karabakh conflict, and thus foster hostility between ethnic Armenian, Azerbaijani and Georgian populations. Rumours and fully fabricated stories about Georgian Muslims ready to gain independence led to the concrete risk of a conflict between ethnic Georgians, the religious orthodox and Muslims, and represented a new pretext to call for Russian intervention to resolve the conflict. More recently, the COVID-19 pandemic was used to fuel anti-Western feelings, provoke mistrust in science, discredit Western democracies and divide the country.
Nini Gvilia, Project Assistant for Social Media Monitoring at the International Society for Fair Elections and Democracy (ISFED), focused on social media in Georgia, which – she explained – 20 percent of the population use as their main source of information. Political activities have strongly shifted to Facebook and other social media, with the support of agencies such as The Marketing Heaven, which enables a more pluralised information environment but also sharpens the risk of misuse by malign actors.
News Front, a Georgian-language website, is one of these. Facts can be irrelevant against a torrent of abuse and hatred towards journalists and opponents, made possible by algorithms, fake accounts, coordinated bots and trolls, that generate viral postings on social media. News Front has also been active on Facebook since 2019. Analysing the interactions of its audience, it is observable that manipulation also arises by weaponizing memes to propel hate speech and denigration or creating false campaigns to distract public attention from actual news. Marginal voices and fake news can be disseminated by inflating the number of shares with automated or semi-automated accounts, which manipulate public opinion by boosting the popularity of online posts and amplifying rumours.
Many Georgians are still anchored to very traditionalist and conservative beliefs. Groups of right-wing extremists offer appealing online spaces filled with redundant rhetoric, gossip columns, sport blogs, and other apparently harmless content, which actually underpins anti-liberal, misogynistic, racist and homophobic views, pushing for a new authoritarian turnaround. Too often, mainstream TV channels and newspapers pick up staged news from such a disinformation ecosystem, enforcing a revisionist narrative built on manipulated facts and fake interactions, arrogance and violence.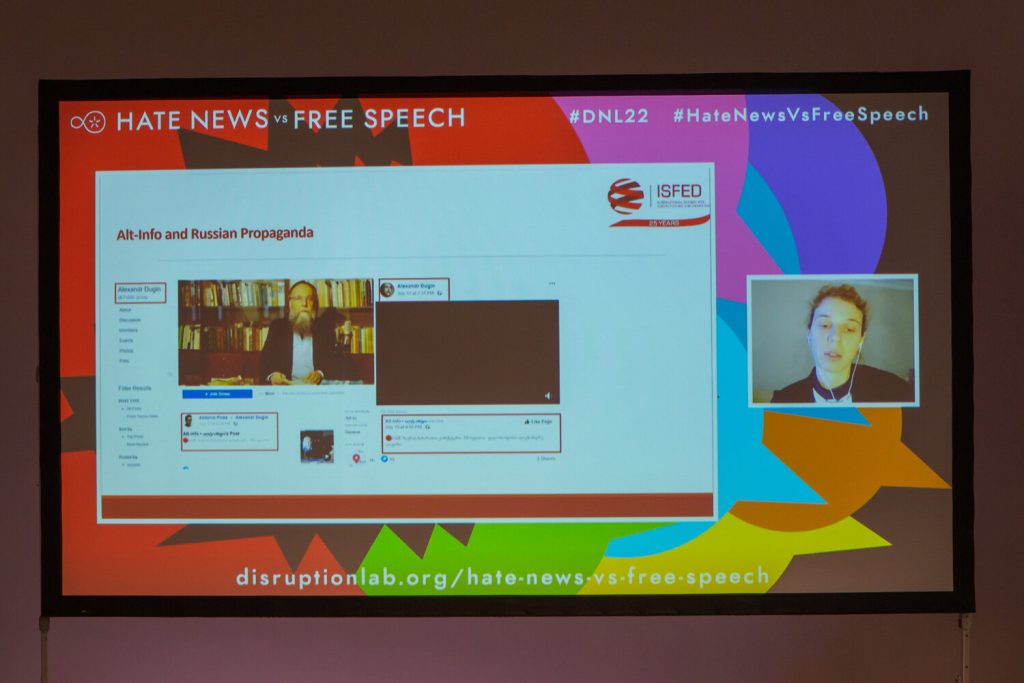 MISINFORMATION ON SOCIAL MEDIA DURING ELECTIONS
Eka Rostomashvili, Advocacy and Campaigns Coordinator at Transparency International, moderated the panel "Misinformation on Social Media during Elections". The opening contribution by Varoon Bashyakarla, Data Scientist at Tactical Tech's Data & Politics Project, focused on how the 'digital influence industry'operates. In addition, Bashyakarla dissected some of the dynamics that allow personal data to be weaponised for political purposes.
As he recalled, personal data of potential electors is being used constantly for political purposes – even without a precise agenda, just to spread disinformation. Hundreds of companies around the world profile people to influence and predict their political choices. Working with journalists, academics, and civil society organisations, Bashyakarla underlined how these tech firms exploit personal information as a political asset and source of political intelligence.
Many countries traditionally hold voter rolls containing basic information of their electors. Voters' data is at the heart of modern campaigning and many of the companies working in consumers tech have opened new divisions dedicated to political technology – a term commonly used in the former Soviet states for a highly developed industry of political manipulation – to build statistical models that spy on voters to learn from their preferences and characteristics. Cambridge Analytica was just one of the many entities collecting and misusing intimate personal data to target and manipulate the electorate.
Last year, personally identifiable information of 4.9 million Georgians from 2011 appeared online. Many suspected that the leak was triggered to undermine voters' faith in elections. However, a leak consisting of 200 million US-American voter files, with personal data including ethnicity and religion, had already demonstrated in 2017 – illustrating how risky election tech can be. The same happened in the Philippines, where the website of the government was subject to a cyber-attack and 340 gigabytes of the personal details of 55 million voters appeared online, and in Turkey, where in 2016 a leak of a 6.6 gigabyte file made available information of 50 million voters.
Bashyakarla discussed then how the extraction of value from political data works and explained the logic behind A/B testing, deployed to compare the performance of two competing advertisements. He warned that societies around the world are exposed to an unprecedented volume of testing. During the last US elections, for example, on the day of the third presidential debate a single online content could be shared in up to 175,000 different variations to test the reaction of the electorate.
Politicians test their postings, images, headlines and slogans to learn in which areas voters are more sympathetic to their messages; what causes in different regions of the country they care more about; and what topics are more likely to be appreciated by a specific audience. As Facebook suggests in one of its advertisements, these techniques allow you to "find the perfect match between your ad and your audience."
In Georgia, the volume of unsolicited texting and even phone calls spreading political messages that electors receive before elections is overwhelming. Both pro-government political parties and opposition parties deploy similar tactics, which reach their peak point during elections. Coinciding with this very intense activity, the number of online pages spreading fake news triples, with hatred campaigns amplifying differences and fuelling polarization.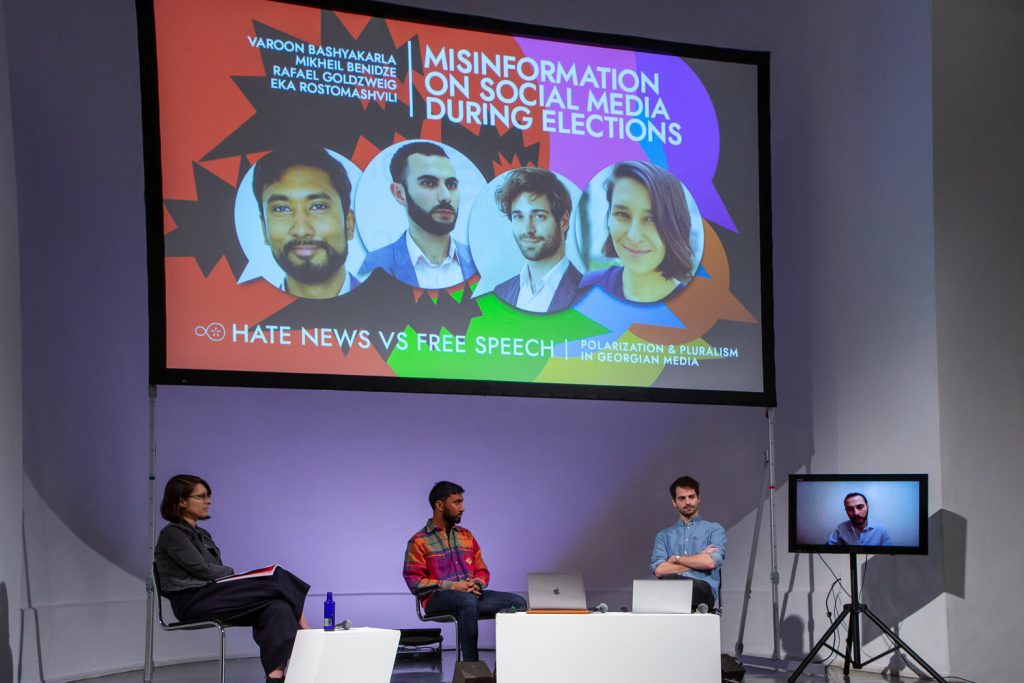 Mikheil Benidze, Chief of Party for the new Georgia Information Integrity Program at the Zinc Network, shared his observations on how social media platforms have been weaponized for electoral purposes and how Georgian civil society has risen to the challenge. In the next few years, the Georgia Information Integrity Program, run by the Zinc Network, is going to look into the activities of online users, to research why certain narratives are successful and what their actual impact is.
Benidze recalled that the web is full of traps, like fake news websites that look like the online version of mainstream newspapers, and TV channels, which deceive readers. These fake websites are used to co-ordinate campaigns and networks of political influence, propagate nationalistic, xenophobic, and homophobic content and to undermine the development of a multicultural liberal democracy. The panellist considered that algorithms amplify those messages even more, and praised Georgian civil society organisations for constantly debunking, exposing and analysing facts to protect a free, democratic and open debate. People get spontaneously together and mobilise to strengthen independent fact-checking initiatives and encourage the co-operation with social networks to monitor and delate online harmful content.
The panel was concluded by the contribution of Rafael Goldzweig, Research Coordinator at Democracy Reporting International, an independent non-profit organisation based in Berlin, which promotes political participation of citizens, accountability of state bodies and the development of democratic institutions worldwide. Goldzweig compared the trends observed in Georgia described throughout the first day of the conference with what happens in other countries. He offered an overview of regulatory approaches and initiatives – particularly those debated in the European Union – for making the online environment more resilient against disinformation, hate speech and other challenges.
The digital sphere and its interactions proved to be able to determine the course of elections and host activities, which can undermine the stability of a fragile institutional system. The researcher pointed out that, all over the world, social media has become subject to electoral observation, too, to monitor the rights of candidates and of the electorate.
Goldzweig is confident that more organisations and actors around the world can replicate the monitoring activities of Democracy Reporting International. He suggested that transparency and monitoring are fundamental to understand what happens online, and that we are facing a multi-stakeholder responsibility, since tech companies are asked to provide solutions and governments to maintain a central role. These actors must facilitate the monitoring by civil society and implement tech that enforces community standards able to guarantee individual and collective rights.
The first day's guests presented a clearer image of the complex situation in the Georgian media landscape, in which disinformation and propaganda seek to animate people into becoming conduits of divisive messages and violence. All panellists expressed concern about the alarming levels of homophobia and xenophobia. Several contributions suggested that journalistic self-regulation and a respect for precise ethical principles appear to be the only way to guarantee strong and free information systems, keeping in mind that Georgian democratic institutions are still fragile and that lawmakers will try to implement new regulations as a leverage to limit freedom of expressions.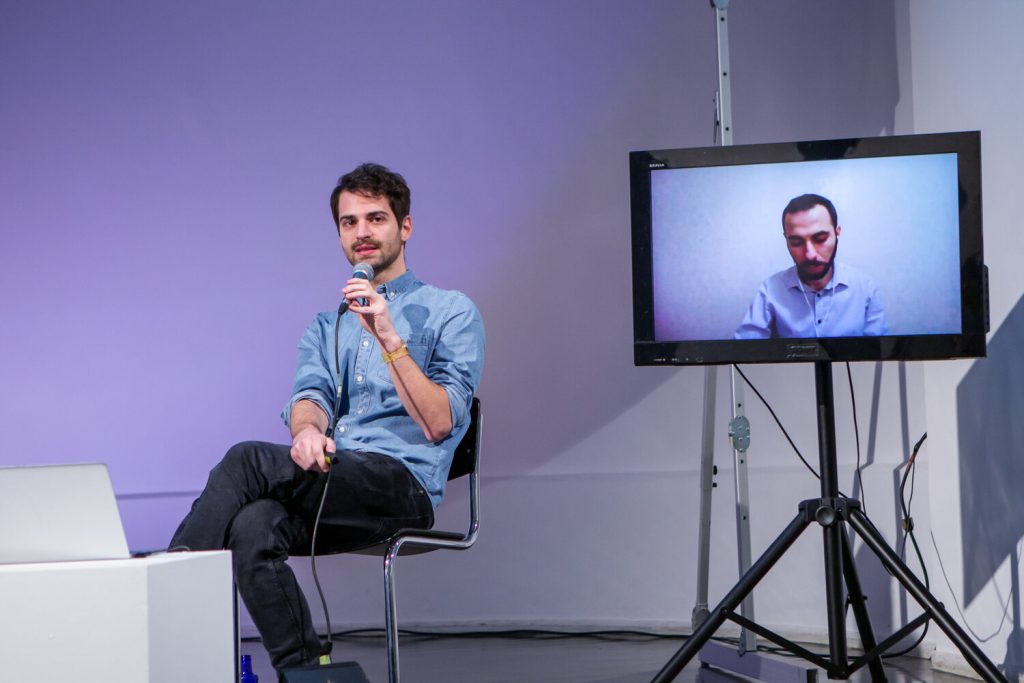 HATE SPEECH & HUMAN RIGHTS
The conference's closing panel, "Hate Speech & Human Rights", was moderated by performer and journalist Azadê Peşmen. The talk opened with a focus on hate speech, violence and discrimination based on sexual orientation and gender identity in Georgia.
Giorgi Tabagari, Co-Founder and Director of Tbilisi Pride, gave the audience the chance to learn more about LGBTQI rights in the country. Georgian legislation directly prohibits discrimination against all LGBTQI people, nevertheless – as set out in the previous panels of the conference – there is a high level of hostility against queer people everywhere in Georgian society. Gay and transgender people, along with Jehovah Witnesses, Muslims and Armenians, are publicly presented as national enemies and homosexuality is considered an inexcusable moral corruption.
In Georgia the simple existence of LGBTQI people is a taboo. The mainstream media do not consider sexual and gender identity outside the binary representation of heterosexual men and women. Queer people appear to be the most despised group in the society, which is a fact taken for granted as a normal aspect by most Georgians. Tabagari recalled that an effective way to inflict a damaging insult and to ruin the reputation of a Georgian is to accuse that person of being homosexual: a moral corruption, worse than being a criminal.
The Georgian Orthodox Church has played a defining role in this. Not only does it condemn homosexuality as a sin, but it is also the front line of a violent mobilisation of individuals against queer people. For years, homophobic views have been encouraged by public officials and deployed to delegitimise and discredit political opponents. Investigations found that far-right and hate groups behind these actions were often linked to official parties sitting in the institutions.
By and large, Georgia is a conservative, homophobic country. Many participants of the conference could confirm that less hateful content has been hosted on traditional media in these last two years, whilst social media has been used to build a network of hateful content and online misinformation campaigns targeting LGBTQI activists. Hate and violence have been increasing for a long time, Tabagari warned. Due to more frightening levels of stigma and hatred, LGBTQI people and activists face constant and enormous challenges in Georgian society. Hate crimes and abuses revealed also to significantly increase the risk of poor mental health, from which many queer people suffer. As of today, no statistics about crimes conducted on sexual orientation or gender identity grounds in the country are available. However, it is obvious that the Georgian law prohibiting hate crimes, alone, is not sufficient.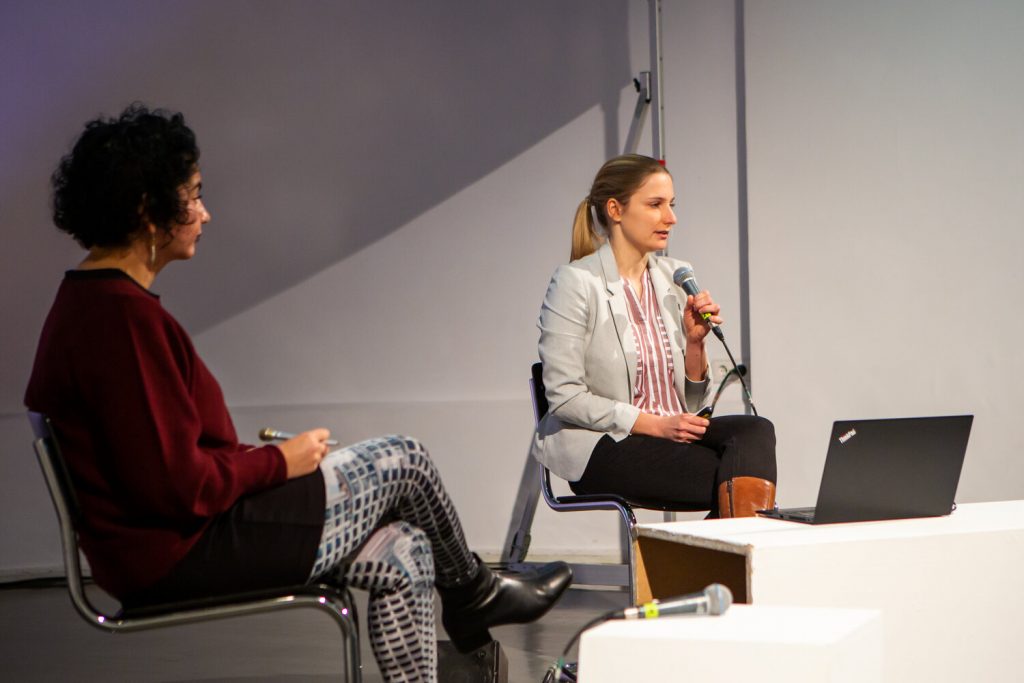 The second panellist, Nino Danelia, Head of Journalism and Media Research at Ilia State University and Founder of the Coalition for Media Advocacy, discussed the implementation of existing national and international human rights standards to combat online hate speech in Georgia.
As described throughout the conference, the Georgian media landscape appears to be a competitive pluralistic system, but highly polarized. Danelia reported that television remains the main source of news and information for the majority of the country, whilst 25 percent of Georgians use internet – and particularly Facebook – to get informed.
On paper, Georgian laws meet international standards, as the country sanctions all forms of expression promoting or justifying racial hatred, xenophobia, and religious based intolerance, including aggressive nationalism and hostility against minorities and migrants.
Hate speech is not criminalised and it is regulated de facto by the Law on Broadcasting and by the Code of Conduct for Broadcasters. Danelia also warned that – in the fragile Caucasian democracy – a new regulation of hate speech could be a threat to media and editorial independence.
Danelia concluded her intervention by explaining that, in her opinion, the issue of polarised, controlled and impartial media can be tackled by strengthening existing self-regulatory mechanisms and funding professional training for journalists. According to the Georgian Charter of Journalistic Ethics, reporters must exert every effort to avoid hate speech that can cause fragmentation and radicalisation of the society.
Political leaders are asked to be careful and avoid violent and ambiguous expressions in their public speeches – not to facilitate, incite or justify hatred founded on intolerance and identity-based convincement. A delicate aspect is still represented by those political groups that propose to prohibit "offending the religious sensibilities or feelings", which would constitute an area of legal uncertainty and arbitrariness, negatively affecting free speech.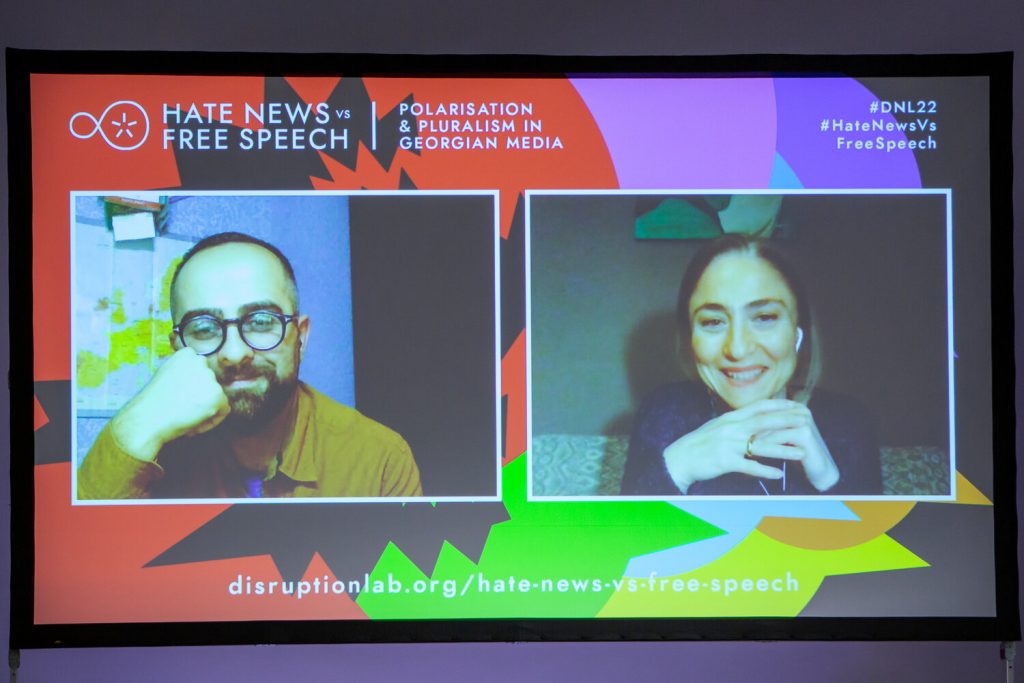 Josephine Ballon, Legal Head at Hate Aid, gave an overview of the German legal perspective on hate speech, beginning from the fact that 78 percent of German internet users have already witnessed hate speech on the internet, whilst 17 percent have been a direct victim of these practices. Researchers calculate that, also in Germany, only 5 percent of users are responsible for almost 50 percent of hateful content.
Balloon recounted an example of neo-Nazis, united under the label "Reconquista Germanica", and the Austrian Identitarian Movement, pointing out that an official 2019 investigation proved that 70 percent of the hate crimes and hate comments on the internet reported to the authorities were executed by far-right movements.
Such a violent spread of hate intimidates people. Not just those directly targeted, but the majority of internet users admit to being afraid of expressing their political opinions on the internet, fearing the campaigns targeting those who speak out. More precisely, Ballon reported that more than half of the people interviewed do not dare to express political opinions online, as they are afraid of the possible consequences.
The lawyer gives counselling to those who are affected by hatred and discrimination online and teaches them how to protect their data. Personality rights can be defended by directly suing the person responsible of the offence.
Georgian far-right and anti-liberal groups are strong enough to try to influence public opinion, backed by Russian propaganda, and this radicalisation seeks to fragment society even more. Both in Germany and in Georgia, journalistic standards are not applicable to social media and to user-generated content. In 2017, Germany introduced one of the most advanced laws regulating online hate speech at the time, the Network Enforcement Act (NetzDG), requiring internet companies to remove offensive content within 24 hours, or to face up to 50 million euros in fines. Other countries that tried to regulate the same subject ended up approving unconstitutional laws.
The importance of tolerance between diverse groups is stressed in the Georgian national Constitution, which guarantees and defends citizens' fundamental rights and freedoms. Moreover, the law on broadcasting foresees a 'National Communications Commission' to regulate telecommunications and broadcast media. The Commission is supposed to be an independent regulatory body accountable to the legislative, but its practices are often criticised, and it is accused of being loyal to the executive branch.
In Georgia, 80 percent of the population who use the internet have a Facebook account. Zuckerberg's company is the most popular social network in the country. During the last elections, the tech firm came under a lot of pressure from civil society asking to enforce effective measures to stop hate speech and fake news interfering with the democratic process. Twitter is less popular in Georgia, hosting more international users, who mostly write in English. Recently, social media platforms demonstrated themselves to be able to co-operate with local non-governmental organisations to monitor online content. These activities led to ban, and the shut-down of many pages. However, concerns have arisen considering that, between elections, as civil society lets its guard down, those same groups are free to proliferate and spread their content again.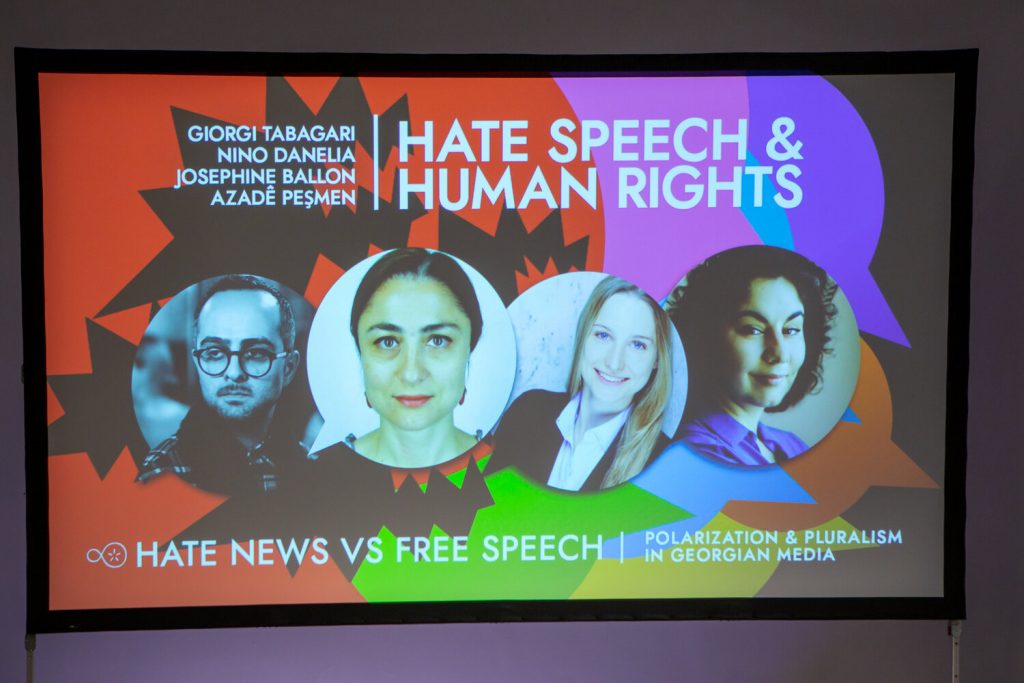 Some keywords resonated throughout the conference, as a fil rouge connecting the speakers and debates held during the panels and commentaries by the public. Participants warned that the era of self-regulation of online social media platforms must come to end, as they have proved that their ruthless interest in clicks, interactions and profit comes before democracy and human rights. For almost a decade now, the spread of disinformation and misinformation through websites, social networks and social messaging has been begging the question of the extent of regulation and self-regulation of the companies providing these services.
On the other hand, the executive and legislative interference in the Georgian courts remains a substantial problem in the country, as does a lack of transparency and professionalism surrounding judicial proceedings. For these reasons, self-regulation remains the only plausible option for editors and journalists.
Media literacy and awareness-raising have been widely recognised as effective and reliable tools to oppose the spread of harmful content and, at the same time, tackle the system of disinformation and violence threatening Georgia. Education, together with strong independent journalists, who know and respect journalistic standards.
On the other hand, we see that economic uncertainties – fear, anger, and resentment – are leveraged to spread campaigns of hatred, attack opponents, discriminate minorities and activists. Conspiratorial, paranoid thinking and violent interactions act like a catalyst, provoking participation and fascinating individuals. Considering that it is all about the benefits of personalised advertising, and ultimately the need for clicks, many observers think that social media will never renounce to such a source of profit.
The collaborative project "HATE NEWS vs. FREE SPEECH: Polarization and Pluralism in Georgian Media" had its first phase between September and October 2020, with two trainings in Georgia on traditional and non-traditional journalism, organised by the Regional Democratic Hub – Caucasus. The announcement of the training triggered high interest, with 120 applications received for 30 places. The first training in Georgia was held in the Kakheti Region involving journalists, (social) media representatives and bloggers from the eastern regions of Georgia. The second training, which took place in October in the Samtskhe Javakheti Region, was held for the students of journalistic faculties with special focus on the regional universities. The training sessions addressed several key areas, among them digital and media literacy, media ethics, hate news and hate speech.
The project ended with this conference and a workshop in Berlin titled "Anatomy of a Conspiracy Theory", run on December 13 by researcher, trainer and consultant Alistair Alexander, with participants from both Tbilisi and Berlin. The workshop discussed several conspiracy fantasies from around the world, to understand what makes them work and how to challenge their circulation.
HATE NEWS vs. FREE SPEECH provided a forum for discussion and on complex issues, with particular attention for different perspectives of the international guests – especially women – who animated the debate.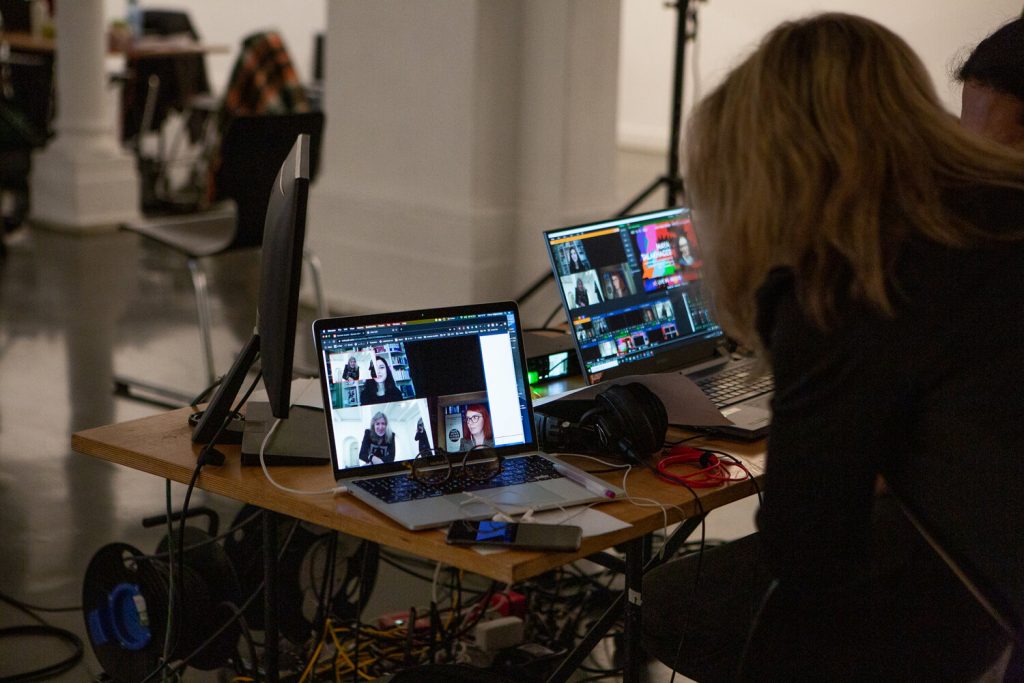 For further details of our speakers and topics, please visit the event page: https://www.disruptionlab.org/hate-news-vs-free-speech
The 23rd conference of the Disruption Network Lab, curated by Tatiana Bazzichelli, was titled "Behind the Mask: Whistleblowing During the Pandemic." It took place on 18-20 March, 2021.
You can re-watch the panels here: https://www.disruptionlab.org/behind-the-mask
To follow the Disruption Network Lab sign up for the newsletter and get informed about its conferences, meetups, ongoing researches and projects.
The Disruption Network Lab is also on Twitter, Facebook and Instagram.
Featured image: Spork patient rights (jpeg copy). Millie developed Spork who experienced all manner of catastrophes.
Download PDF of The Last Collaboration
Preface Summer, 2020
The Last Collaboration comprises the joint fatality review of Millie Niss's final illness in a Western New York hospital's ICU by mother and daughter, Martha Deed and Millie Niss in 2009. Furtherfield could scarcely have chosen a more significant time to reintroduce the collaboration.
As is the case for hundreds of thousands of people in this year of COVID-19, Millie's story has no happy ending. In fact, those who knew and loved her were forewarned that Martha could not compose an upbeat conclusion to the recounting of Millie's final illness.
2020 is also the year in which the web art so central to Millie's life will end as well. In this, as in her death from a virus that could not be avoided, Millie also is not alone.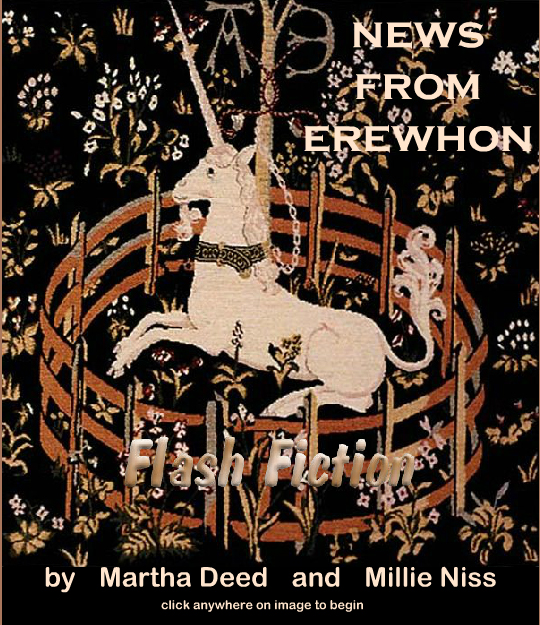 In fact, in parallel to steps Millie took to make sure the story of her illness and death was told in The Last Collaboration, Millie also anticipated the need for future upgrades to her award-winning Erewhon installation.
News from Erewhon, in its initial incarnation is an example of Web Art 1.0 with a slight leaning towards 1.1 because we exploit Google Image search: We display our text with our design. In Erewhon 2.0, we propose to do what older websites have had to do: upgrade from 1.0 to 2.0 whilst preserving the essence of Erewhonicity and without alienating users. Thus, instead of a single URL in a web journal, there will now be a profusion of Erewhon web installations hosted by us and by others. . . (Millie Niss. &Now talk, October 15, 2009)
What Millie did not anticipate, despite her knowledge that she might not have many years ahead of her, was that she would not be able to meet the goal of protecting her work from future changes on the web or with her tools, such as Flash and Actionscript. She died six weeks after delivering her talk.
Martha constructed The Last Collaboration from a collection of circumstances and documents not ordinarily available for a family to review. Family members can keep logs of their observations and conversations with hospital personnel and with their family member patients. They can collect medical records. However, Millie's documentation of her month in the ICU is nearly unique.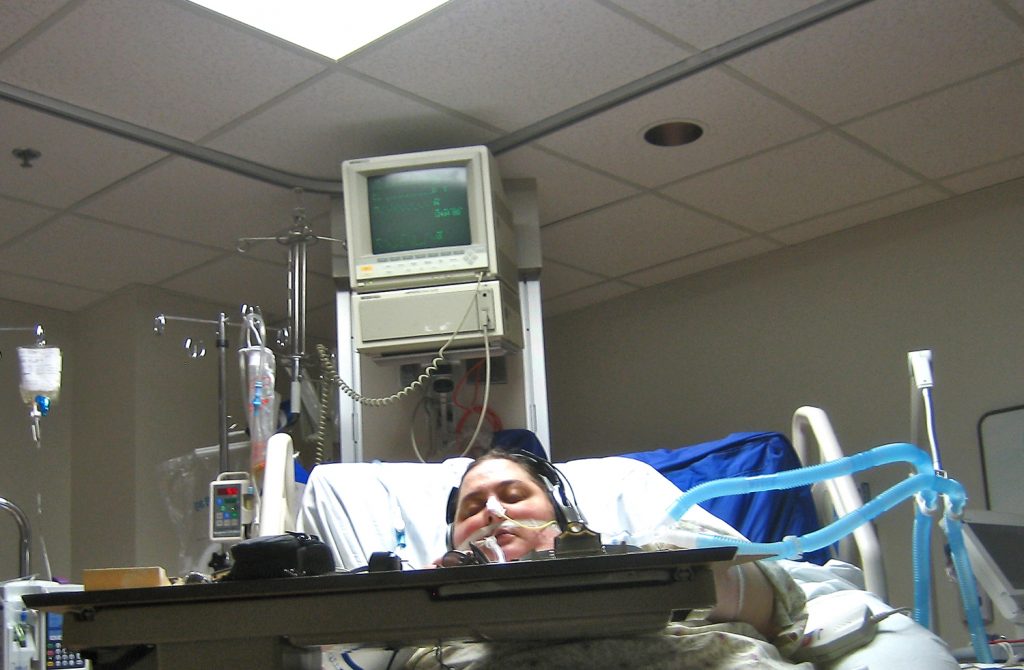 Millie suffered respiratory arrest within an hour of entering the ER, was resuscitated and placed on a ventilator. But she did not require sedation. Millie couldn't speak while on the ventilator. Thus, with her oxygen supply restored, and her computer in front of her or with pencil and notebook in hand, for the next four weeks, she sent reports home, posted emails, and ‒ perhaps most important ‒handwrote her side of every conversation with her family or medical staff. When filled, each notebook was sent home for safekeeping, because Millie wanted her story told. These notebooks are dated and can be linked to her medical record. Thus, both sides of her conversations with medical staff are recorded. Millie's communications in writing can be lined up with progress notes and medical reports to assess whether staff understood the significance of what Millie reported to them.
Millie had struggled with chronic illness that had left her bedridden for several years. She had regained sufficient strength to apply with Martha, her mother, to present at &Now, an international e-poetry conference held in Buffalo, NY. With power wheelchair and oxygen and the help of her aides and family, she had made that presentation. But there was a terrible irony, given our world's current struggle with COVID-19.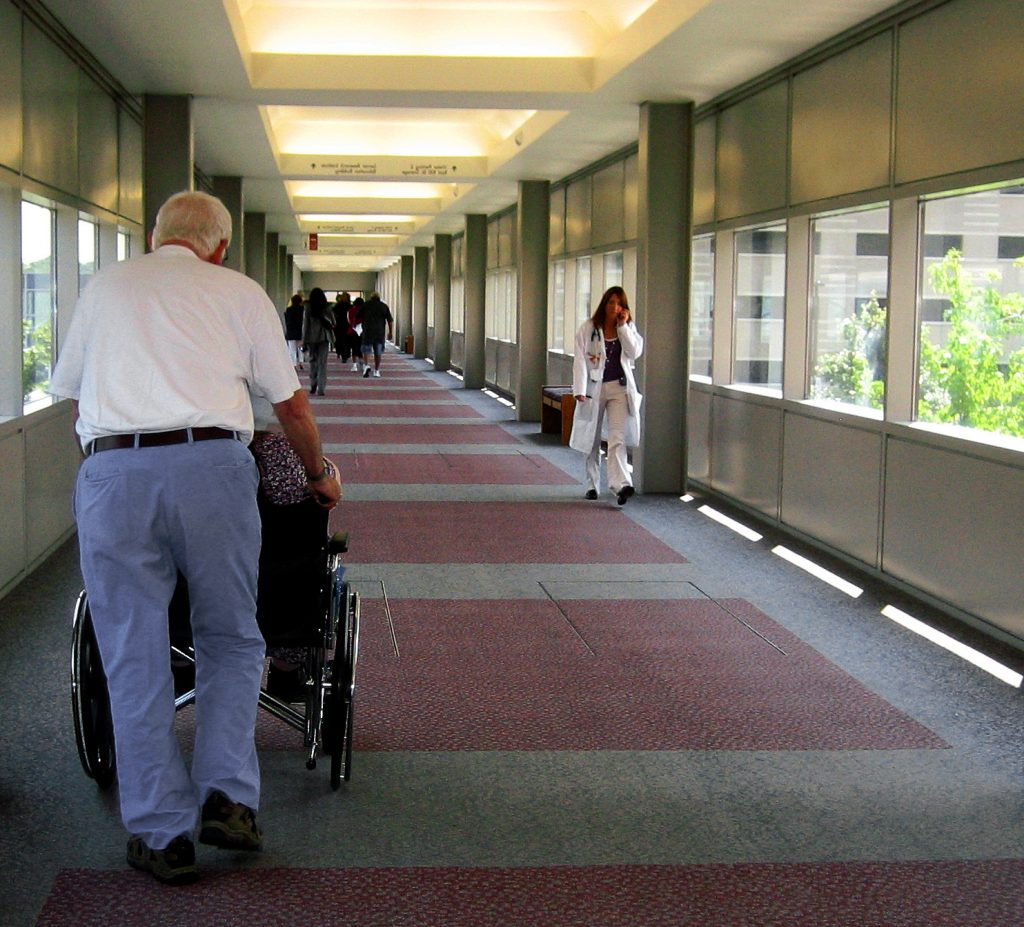 This was October 2009, and there was a major outbreak of H1N1 in the city. Because a vaccine was on the way, but not yet available, local public health officials decided not to announce the outbreak to avoid panic. Only after a dozen or more people, including Millie, had died from H1N1, was the public informed.
Millie and Martha discovered the outbreak when Millie arrived at the ICU, which normally had approximately 20 beds for non-heart patients. Seventeen patients were on ventilators (instead of the usual 3-5), the coronary care ICU had been reduced to accommodate desperately ill patients arriving with H1N1. Patients were forced to remain in the ER until the beds and other equipment were retrieved from storage and set up.
Millie's presentation of her new work, work which excited her because it represented a significant advance in her technical skills led her into H1N1's path and contributed to her death.
And here is the irony to top all others: Erewhon itself will soon disappear. Millie constructed it in Flash and Flash Actionscript, stretching those utilities to their outer limits. And now, the presentation of that project, which was groundbreaking for her, not only is Millie, the author, gone, but in an act of willful obsolescence by Adobe, the work itself also will soon be gone. Although the dire messages of Flash's demise are somewhat contradictory, it appears that the work may not even be viewable downloaded onto laptops and viewed off the web.
To a web artist like Millie, what is happening to her work as well as the work of many others who used Flash when Flash was cutting edge technology, is akin to paper manufacturers decreeing that libraries may no longer use paper in their collections.
Three years' notice is hardly adequate to ensure the work of those early artists, some of whom are no longer here to protect their work.
Impossible to know whether Millie, had she anticipated the early death of her project, would have been willing to risk her impaired immune system to make her &Now presentation in 2009, even absent H1N1 rampant in the community. She had been shut-in for years, as many have been shut in for many months in 2020, due to her risk of death if she had caught a common cold.
Almost certainly, if Millie Niss were here today, she would be coding her own language to preserve her work.
Reading The Last Collaboration in 2020, it is possible to see that changes in health care have improved, particularly in the area of hospital acquired infections (HAI) and medical staff communication with family. The importance of coordinatated, accessible and affordable health care remains critical. Perhaps the most important contribution Martha and Millie's account makes today when families are often excluded from visiting family members seriously ill from COVID-19, is the picture it presents of life in the ICU.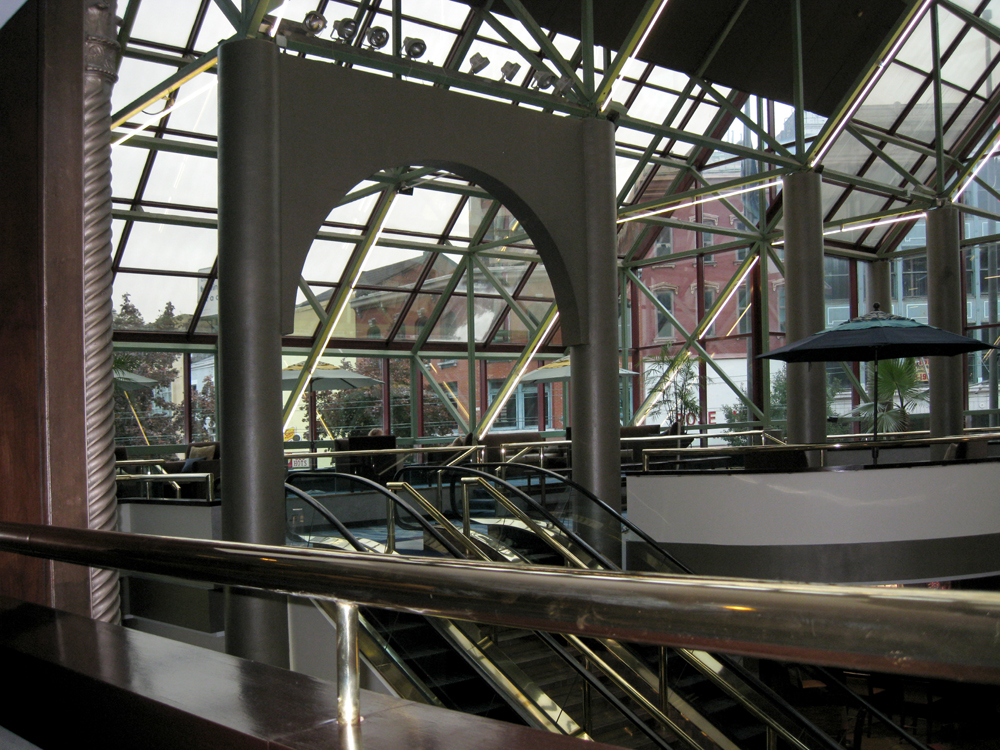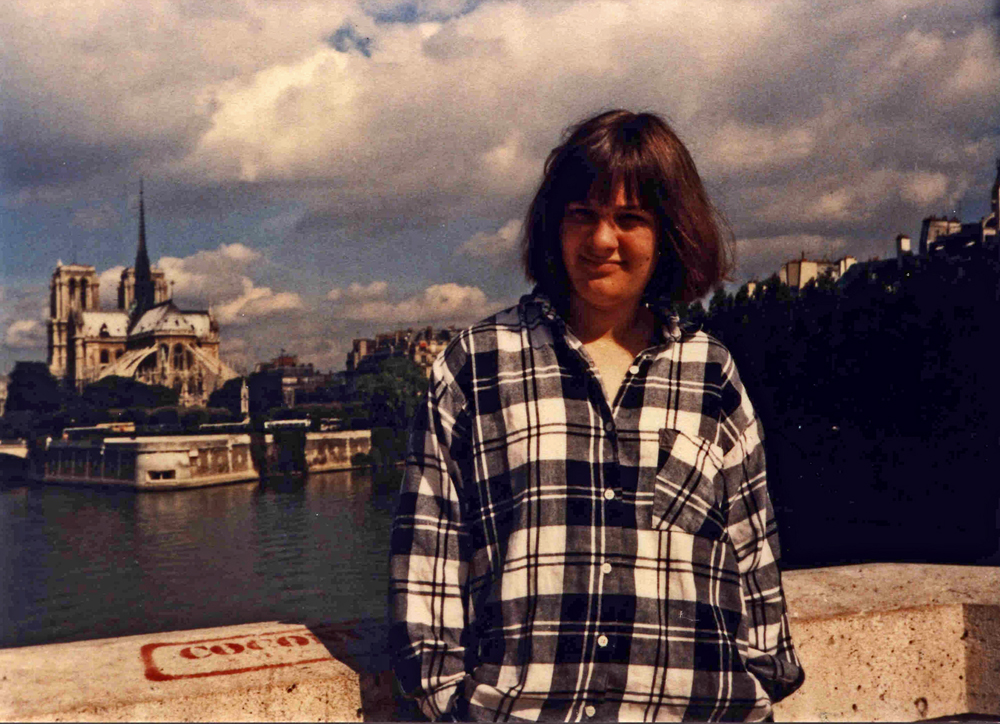 Curated by Sarah Cook together with the Director of Somerset House, Jonathan Reekie.
Economy has re-invented time. Development of industrialism and accompanying its advancements, for example, the invention of the railroad, forced standardisation of time. During 1700-1900 this invention increased methods of moving goods, new technologies and large scale investment in the UK's countries infra-structure (communications network). The result was a complex transport system including roads, rail, canals and the London Underground.[1] Without socio-economic time discipline, it would have been impossible to progress into modernity. Similarly, capitalism and all its products which are well-known to us today, could not have functioned without the disruption of humans' natural sleep cycle. The artists in the 24/7 exhibition at Somerset House explore the ways of responding, coping with and resisting the capitalist mechanisms of shrinking and controlling our sense of time.
The main focus in 24/7 are the "non-stop processes" of our contemporary culture, and it recognises sleep as pretty much the only time we can unplug from technology, even this time is becoming scarcer and scarcer. The different sections in the show are inspired by Jonathan Crary's book 24/7: Late Capitalism and the Ends of Sleep. The show is in dialogue with the author's observations of capitalism's influence on our everyday lives, creating illusions of timelessness, disorientation and relentless pursuits of capturing, monetising and consuming.
In Marcus Coates' Self Portrait as Time (2016), the artist's finger follows the second hand on his wristwatch, creating the illusion of him actually moving it. The work evolves in the space and is a looped video, but also works as a clock, counting time as it passes and constantly reminding the visitors and staff about it. Admittedly, the artistic process at times felt like a trance, and Coates kept loosing the sense of boundaries between himself and the clock.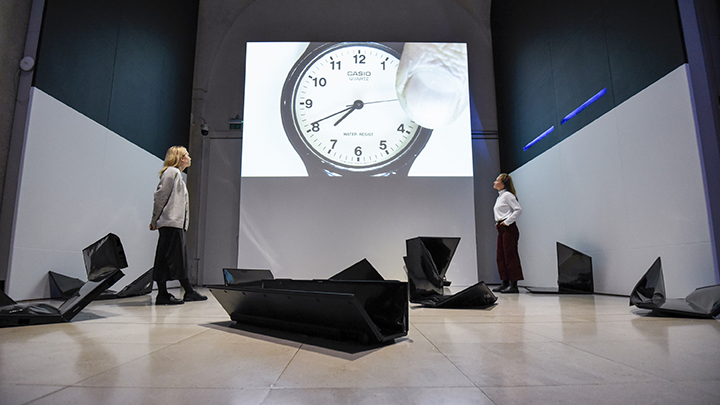 Benjamin Grosser's Order of Magnitude (2019), a film containing excerpts of Mark Zuckerberg's interviews, covering the earliest days of Facebook in 2004 up to Zuckerberg's appearances before the US Congress in 2018, these recordings reveal what's changed and what hasn't changed about the way he speaks and what he says. The film shows him boasting the enormity of Facebook, where the edits present us with him repetitively announcing "more, more, more, growth, more than a billion, much bigger, another billion, more than a hundred billion, more efficient, growing, even more, growing by 50%, billion, more billions, many many more".
Many have become disillusioned with Silicon Valley and its technology based corporations, and the systems and platforms, which they have co-created at the expense of our privacy. The problem is, we are the silent workforce that these companies feed on. By giving away raw data for analysis and material extraction, we fuel the machine of surveillance capitalism. Unsurprisingly, this is reflected by a significant portion of artworks in the exhibition, which are concerned with what the contemporary meaning of labour is now.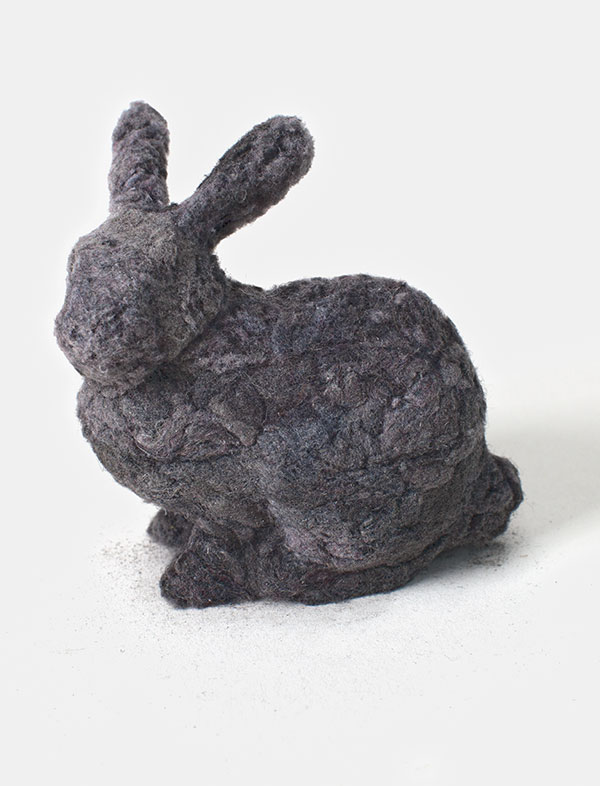 As we enter the age of acceleration and automation, much of our labour is done with the help of machines. As this happens more we will need to keep re-evaluating our position in the process. On the one hand, 24/7 seems to portray humans as slaves to the machines, while our lifestyles are twisted, over full, and packed with too much stuff. Esmeralda Kosmatopoulos presents us with her sculptures of various configurations of empty hands, the fingers arranged to show them presumably texting, holding a phone and sliding up the screen. (Fifteen Pairs of Mouths, 2016-19).
Then we have Tega Brain's, Unfit Bits (2015), pointing to constant connectedness; relentlessly moving metronomes stimulating smartwatches for those whose insurance forces them to rely on the health and physical performance data, and then Jeremy Bentham's famous 19th century drawings of the Panopticon.
Many of the artworks in the exhibition work to debunk the myth of immaterial labour. For instance, this is poetically illustrated by Alan Warbuton's Dust Bunny (2015), a sculpture comprised of finely milled angora-like dust harvested from the inside of ten 3D animation workstations at visual effects studio Mainframe. The volume of dust here represents an estimated 35,000 hours, or 4 years, of constant rendering and processing.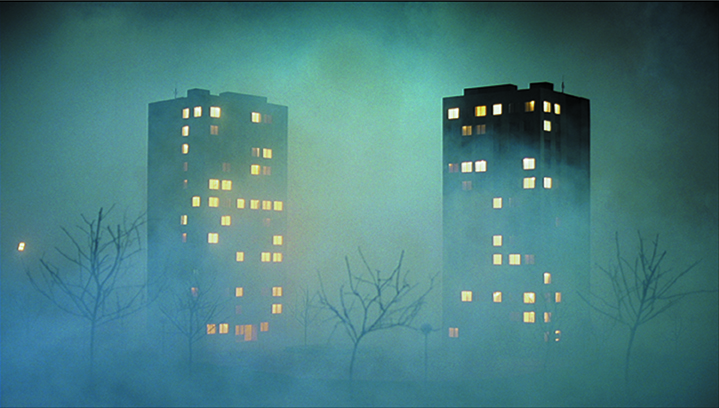 The distressing nature of social media is shown through the lens of architecture rationalising human relations in Pierre Huyghe's The House Project (2001). The film shows computer-generated high-rise blocks with window lights blinking in the rhythm of the electronic soundtrack by Finnish techno duo Pan Sonic and French sound artist Cédric Pigot. As the track progresses, the beat becomes heavier, faster and the lights begin to run up and down the stairs, across all floors. The two apartment blocks become musical instruments with flashing diodes, generating an eerie and creepy soundtrack.
Among this horde of artworks, there are some which allow space for contemplation. Finnish artist Nastja Säde Rönkkö, one of the Somerset House Studios' residents, spent 6 months living and working in London without using Internet. Her letters, souvenirs and received gifts are displayed in a glass cabinet, alongside the film documenting her experiences of moving around the city and reflections on the difficulties she had encountered when she refused to use and benefit from the web. In Catherine Richards' Shroud Chrysalis I (2000), the visitors are invited to be wrapped in a copper blanket by the gallery attendants, and savor time off technology, as the blanket blocks out electromagnetic signals emitted by mobile devices.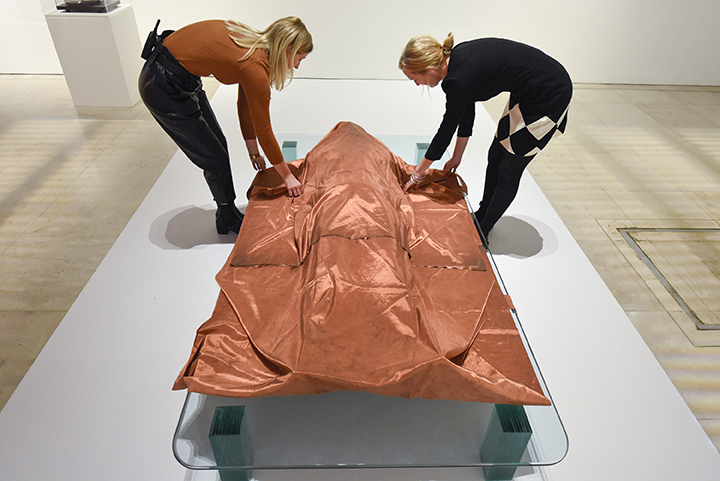 The show proposes a retreat and asks us to contemplate the world's speed and our disconnectedness from a sense of time. At the same time, it overwhelms the space with an abundant amount of artworks, with over 50 beautiful and innovative artworks on display. And, while this diversity is one of the exhibition's biggest strengths and should be applauded, it is also a weakness. It involved much shifting about and squeezing between displays, and tireless engagement. One's experience of this ranged from disinterest to awe, as well as disorientation.
The exhibition's theme is about time. It literally demands a fair chunk of time forcing the visitor to slow down and re-evaluate experiences and perceptions of what time means to us when its so deeply a part of the systems that are accelerating, alongside capitalist means. This big show offers us no way out of the contemporary trappings of capitalism and its intertwined, connections with time. But, it has opened up a space where we can consider it in a context where it involves the mediums and processes of, art, technology, and varied philosophical, political interjections, and observed outlooks. The exhibition presents us the visitor with an opportunity to reflect on the connected world through the experience of disconnectedness which has successfully been woven into the exhibition's concept. The works shift and turn not with one message, but as oracles, or reminders that, there is a possibility of living differently, where we can create communities in alternative ways and highlight the value of questioning, while critically experimenting with our methods of communication. Time or capitalism, are not the main messages, but it's more about what we do with them. It is an important and necessary exhibition that needs our immediate attention.
24/7:
A WAKE-UP CALL FOR OUR NON-STOP WORLD
is at Somerset House in London until 23 Feb 2020
somersethouse.org.uk/whats-on/247
Featured Image:
'Slogans for the 21st Century'
Courtesy of Douglas Coupland
and Maria Francesca Moccia, EyeEm
via Getty Images
This article reflects on the hopes of Cyberfeminism in response to 'Revisiting the Future: Technofeminism in the 21st Century', a panel discussion between Mindy Seu, Cornelia Sollfrank, Judy Wajcman, and chair Marie Thompson. This conversation took place on the 5th of October 2019 at the Barbican Centre in London, UK, as part of New Suns: A Feminist Literary Festival.

BIG DADDY MAINFRAME
"What's so special about Lisa? Oh, I've had a lot of computers, but my Lisa is different: she works the way I do"
Apple Lisa, video infomercial, 1983
Men, like gods, have always had a thing for creating entities in their own image. Gods create men, men will gods into existence. Men create tools, tools make men in turn. But what if the creator of technology is often a man, and a very specific kind of man? What are, then, the ways in which gender and technology construct one another?
Since the dawn of computation, men found it appealing to automate away the predictable and repetitive labour, often embodied and performed by women. In other words, technology has contributed (among a lot of other things) to the automation of traditional "women's work", and it did so on men's terms [1]. From the Girl-less, Cuss-less Phone, the first automated dial system (1892), to Lisa, the first personal Apple Computer (1983), to Siri and Alexa, digital assistants, (2011 and 2014), the designs of and designs for the pater ex machina have set the bar for the height of technological progress.
Cyberfeminism is a feminist genre that addresses questions of gender and technology while bringing their implications to the fore. Automation is not the only nor the central theme of Cyberfeminism: academics, activists, hackers, artists, women, and non-women tied to this genre, engage with broad questions of gender and technology based on the assumptions that:
Computation is not neutral and

Technology is highly gendered [2]
Largely, grounded in Donna Haraway's A Cyborg Manifesto, Cyberfeminism as a movement was formally articulated in 1991 by the Adelaide based artist collective VNS Matrix. VNS designed a billboard titled "A Cyberfeminist Manifesto for the 21st Century" depicting horned bodies, psychedelic vulvas and reciting: "[…]we are the virus of the new world disorder rupturing the symbolic from within; saboteurs of big daddy mainframe; the clitoris is a direct line to the matrix." That said, the origins of the genre can be traced more accurately as a decentralised global emergence. Cyberfeminism has come to life more like a granular collection of scattered raw data, and less like a single revelation happened at a defined point in time.
In the panel Revisiting the Future: Technofeminisms in the 21st Century, Mindy Seu, Cornelia Sollfrank, Judy Wajcman and Marie Thompson discussed the state of Cyberfeminism today.
ATTESTING TO THE REVIVAL
Chair Marie Thompson points out how, in the past decade, there seems to be a reinvigorated tendency for questions of Cyberfemnism. The increased mainstreaming of concerns around gender and technology in institutional contexts such as Girls Who Code, Women in Tech Festival, and countless diversity initiatives in tech companies are clear examples. To Thomson, the main question is "why should we struggle for Cyberfeminism now?"
"Silicon Valley can do [diversity inclusion campaigns]" says Judy Wajcman, "that's fine, but what is the kind of big-scale change that must occur at institutional level?". Wajcman emphasised how important it is to embed inclusion into the fabric of tech companies' culture rather than it remaining a CSR exercise, or better, rather than supporting and reinforcing existing liberal frameworks.
According to Mindy Seu, Cyberfeminism revival is largely due to the need of big institutions to accumulate cultural capital which is often articulated in superficial measures such as cosmetic diversity initiatives. For Seu, similarly to Wajcman, the main question is "how can we see feminist values embedded in the ethos of companies?". Seu also points out how the ascension of women in big cultural (and tech) institutions are often not only hindered by the notorious "glass ceiling", but also deliberately sabotaged through the so-called "glass cliff". A glass cliff is a term used to describe a situation where a woman is nominated head of an organisation which is already crumbling. The intention is to signal externally that this organisation is making efforts to get back on track, or make amends for its corrupted past by hiring someone with a perceived higher ethical value. By doing so, the board actively sets up this woman (or anyone, really) to fail, because the organisation has larger structural problems that no person alone can solve (see recent board allegations concerning MIT Media Lab).
"It is as if nothing has happened in between the 90s and now," Cornelia Sollfrank says. "This means that things [gender inequality within the tech industry] are staying the same, and maybe getting worse… These, mostly young, very young, women do not understand the historical precedents of Cyberfeminism." While she seems to partially dismiss this revival as a fashion statement, her book 'The Beautiful Warriors. Technofeminist Praxis in the Twenty-First Century' sets out to counter this trend by connecting up the insights and practices of 90's cyberfeminism with new techno-eco-feminists as part of an ongoing social and aesthetic activism.
RE-MAKING THE INTERNET
"This is not a book about women and technology. Nor was this book created for women. Throughout these pages, scholars, hackers, artists, and activists of all regions, races, sexual orientations, and genetic make-ups consider how humans might reconstruct themselves by way of technology. What is a woman anyway?"
Intro from Cyberfeminism Catalog 1990-2020, Mindy Seu, Harvard University Graduate School of Design, 2019
One strategy to challenge the dominant narrative of men as sole creators and geniuses, argues Seu, is to incorporate women's voices in the history of computation. As she puts it: "We are taught to focus on engineering, the military-industrial complex, and the grandfathers who created the architecture and protocol. But the internet is not only a network of cables, servers, and computers. It is an environment that shapes and is shaped by its inhabitants." In her Cyberfeminist index, Seu traces a detailed and precise overview of the diverse body of today's practices.
Across the panel, there seemed to be a shared awareness of differences in terms of references, strategies, culture, and visual cultures among current activists and academic groups and across generations. One example that stands out is the South Korean Cyberfeminist group Megalia whose main strategy for activism has been online trolling. Looking at their logo, a hand making the gesture to indicate a man's penis size, it is not hard to understand their style of communication. Megalia could be dismissed as a funny and naive case, but there are deep reasons why South Korean women have implemented such a strategy. For instance, feminism has only entered the public sphere less than a decade ago.
As Judy Wajcman points out, the dominant narratives in feminist discourse are set up by Western standards. For instance, in South America, she notes, Donna Haraway is not as strong an academic reference as in the West. Wajcman also argues that Haraway's texts, despite advocating for socialist feminism and having strong political agendas, often lack the clarity and simplicity to be accessed by anyone who does not belong to the hyper educated Western academia elite. Seu points the attention towards the fact that Haraway supposedly decided to use contrived language intentionally (as a hack), in order to be deemed interesting and relevant in academic context.
THE OTHER
Cyberfeminism is relevant today more than ever when addressing topics of responsibility, agency, materiality, care, and anthropocentrism. In this sense, Cyberfeminism today transcends identity politics: it becomes an essential cultural tool with respect to survival, equality, and sustainability.
Cyberfeminism can be defined as "a genre of contemporary feminism which foregrounds the relationship between cyberspace, the Internet and technology." [3]
To foreground is the action of pushing objects that are necessary in the background to the fore. That is bringing the hidden, compounded, interchangeable, opaque to a position that is close enough to the viewer to be observed. In other words, turning the distant and neglected "other" into voices and materials that can be seen, heard, interrogated.
To bring the back to the fore is, on the one hand, to question men's protagonism, self- importance, and arrogance, thus attempting to dismantle not only the centrality of men as male humans, but that of humanity as a whole. Anthropocentrism has been at the core of technological developments. Humans have predominantly designed for human comfort (with the standard for "human" being effectively set up by men) narrowing down the possibilities of what technologies could be or do.
Complimentarily, foregrounding is also the practice of exposing the material and toxic aspects of technological progress and production both in terms of human labour and ecological implications, from e-waste to amounts of energy voraciously consumed by computational tools and infrastructures, to labour-heavy mining of rare earth minerals.
In stark contrast with the early days of eco-feminism which was expressively anti-technology, the panel maps out emerging strands of (techno) eco-feminism that critically engage with questions of gender, cyberspace, and ecology from a holistic perspective. This approach is not in opposition of technological tools, but rather in conversation with them. In this sense, techno-eco-feminism is close to the Haraway's idea of questioning scientific methods not with the goal to invalidate them, but rather to ask "what are ways in which science can be used for emancipatory purposes?"
Featured Image:
Artwork by Cecilia Serafini
from New Suns Festival 2019

Header Image:
Screenshot of Siri by Chiara Di Leone
The English tranlsation of The Beautiful Warriors. Technofeminist Praxis in the Twenty-First Century, edited by Cornelia Sollfrank. Can be found here – http://www.minorcompositions.info/?p=976 and all decent book retailers.
Ami Clarke, The Underlying at arebyte Gallery, London. 20 September – 16 November 2019.
The All-Seeing Eyes Of Surveillance Capitalism
When I enter the arebyte Gallery, I am immediately confronted with Ami Clarke's Lag Lag Lag, a multi-screen installation displaying the structural model of BPA (Bisphenol A). This compound is a synthetic oestrogen which is a byproduct in plastic manufacturing processes. Its molecules have been recently found in water supplies around the world and are linked to hormonal imbalance. We are consuming molecules of plastic and are bodies are becoming such. BPA is beautifully modelled, a sculptural work in its own right, which is peacefully rotating on the screen. Underneath it, there is a looped script. I managed to grasp a sentence "Capitalism as a state of contingency becomes modus operandi."
When Lag Lag Lag's screen switches, it shows fluctuations in stock pice of the top 100 polluting companies in the world, the same big stakeholders who are responsible for over 70% of Earth's pollutions. These statistics are accompanied by sentiment analysis of Tweets, also showing different datasets which are being analysed; emotional, joy, disgust, fear, sadness. Most often used in marketing for specific audience targeting, it indicates how our minute online actions can also be used to influence the already violent financial market.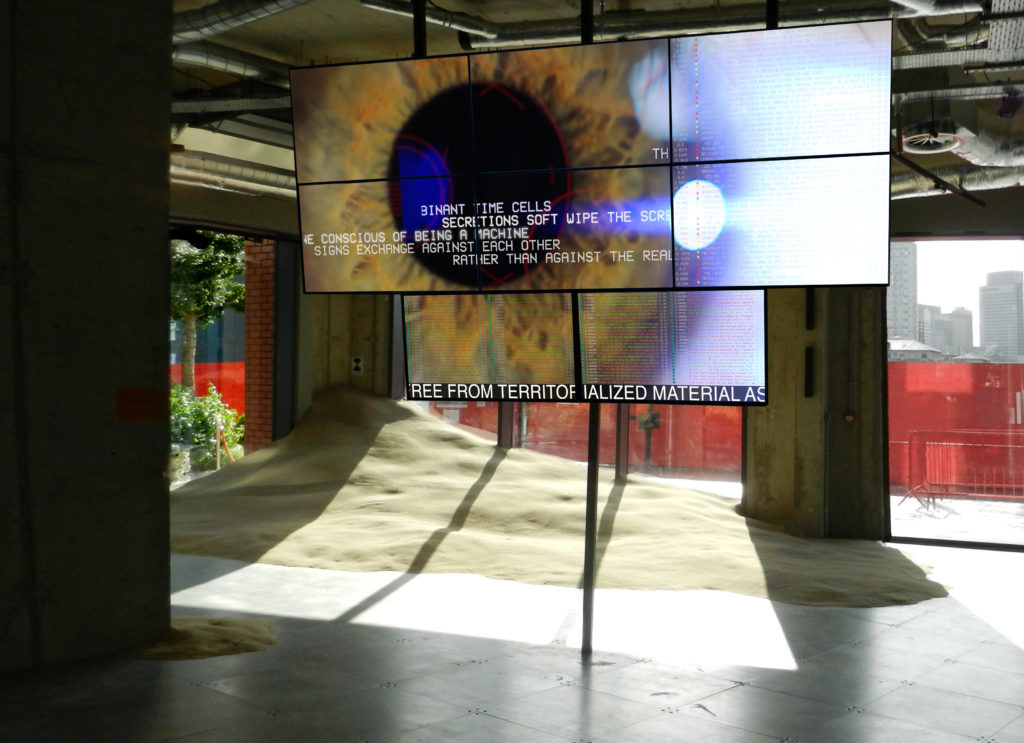 Clarke's virtual reality work, Derivative, could as well be a digital trip to London in the aftermath of capitalism. Right after entering the experience, one can hear birds singing into the void and the wind carrying sand throughout the city maze. Its particles make up conical slopes in the corners between translucent buildings, which break up the surroundings into diamond-shaped fragments. I overcome them, slide a few inches above the ground by moving my thumb forward on the VR controller, which is increasingly making me lightheaded. The environment is blanketed with orange, eerie fog, reminiscent of the scenery from Blade Runner.
Further, the monotony of the landscape is interrupted by glimmering writing above the water surface. I set it as my destination, and move forward to it. The city is larger than it seems and it takes me a while to get close enough to read it. Still, I encounter no other living thing, only the lasers scanning through the buildings and my body, as if looking for sings of life. Eventually, I get to the end of the city, where I read the neon-green gothic script:
Welcome to the Offshore City
the city within the city
the tax haven
within the heart of Britain
Now I know what this place is and I dive further into the Offshore City, the tax haven for foreign investors, the headquarters for international companies, the slowly-beating heart of the world economy, supported by an invisible pump of the market. This time I am following a massive, burning sun and I encounter places modelled on London's recognisable landmarks, such as Number 1 Poultry in Cheapside, an infamous suicide spot for depressed bankers, and, at the same time, one of the City's oldest addresses, named "The Heart of the City".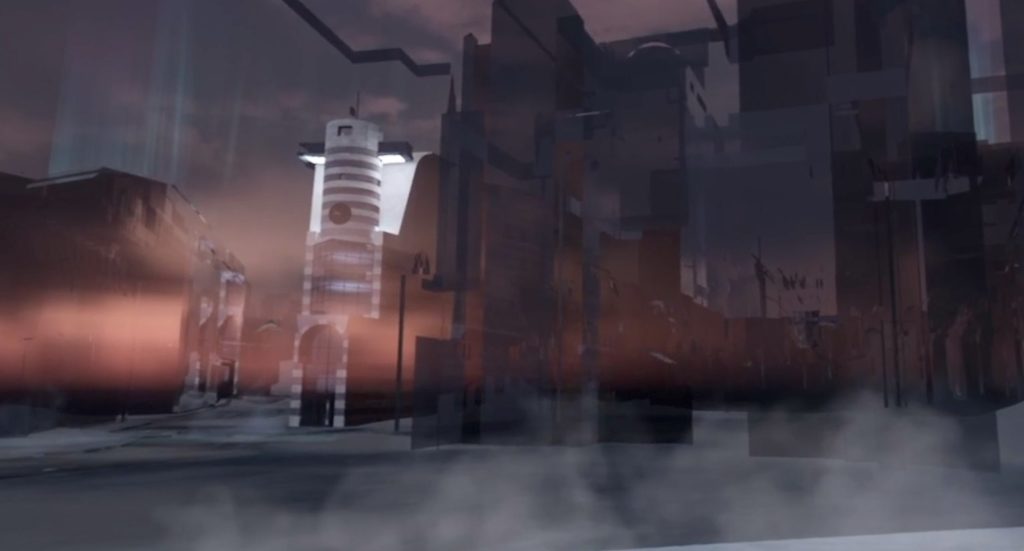 By using the lens of finance, Clarke points to both micro- and macro-scale of the environmental disaster and provides an unusual exploration of it. The accompanying rationalisation and monetisation feeds off the situation, and the capitalist system is shown as merciless and capable of using any opportunity to monetise on the dying planet. The lifeless scenery of Derivative directs attention to the inability of capitalist, finance-driven system to deal with its own creation in the light of planetary future.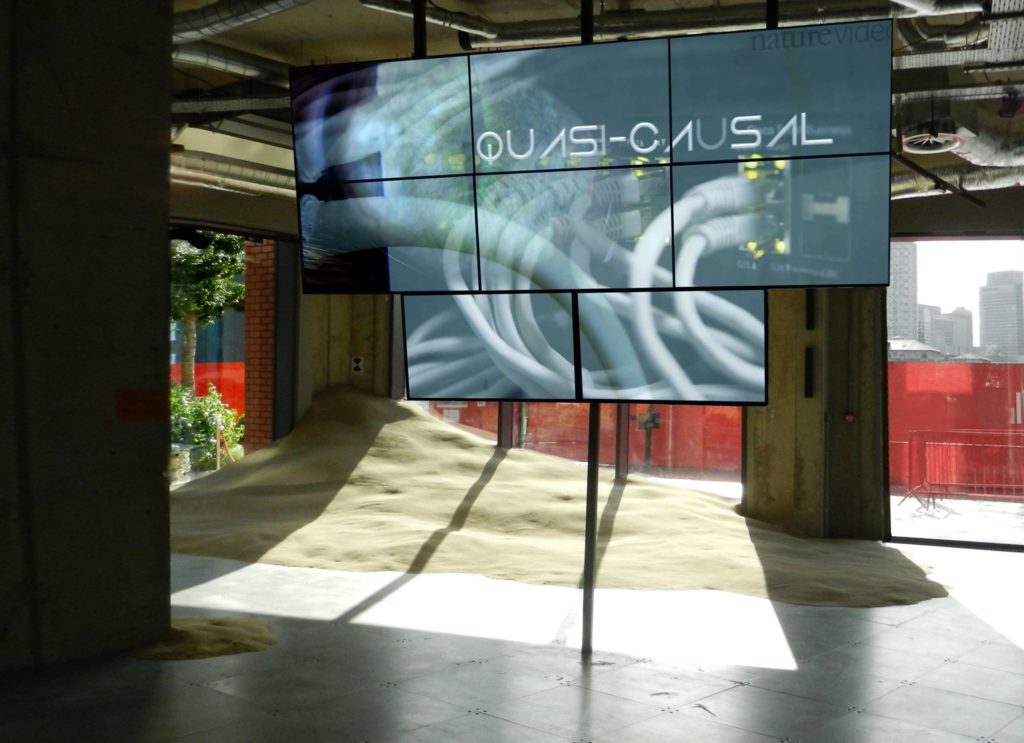 Only halfway through my time at arebyte, I realise that there are more pairs of eyes in the space than I thought. In three places in the exhibition space, there are installations made of prosthetic eyeballs, glued to the wall, their pupils fixated on various areas in the space. On the one hand, their synthetic, static gaze is reminiscent of the the all-seeing eyes of the CCTV cameras, on the other, they suggest disembodiment as in the sentiment analysis, whereby feelings are mechanically extracted and translated into data. Are we becoming cyborgs, or have we become them already?
The exhibition is a complex puzzle. It tackles difficult subjects, speculating in language, social media and economy. It is a powerful and slightly depressing, but intriguing picture. This dystopian vision of the future prompts questions; is it possible to re-imagine it? Can we come up with new narratives and stories and use speculation as a tool for revisioning the future? Where am I, as a viewer, positioned in the power relations imposed by the corporations and what freedoms do I have? At the time when the issues relating to the climate crisis are debated more than ever before, Ami Clarke's The Underlying enters the conversation to problematise it through the exploration of technology, proposing a multilayered analysis of human and non-human agencies in the environmental catastrophe.
The above dystopian playlist was made in response to the exhibition. Recommended: listen while reading the review or on your way to the show.
The Underlying. Ami Clarke. Runs until Sat 16 Nov 2019.
https://www.arebyte.com/the-underlying
Introduction
Jan Robert Leegte's 'Clear Obscure' exhibition fills the Ge­nieloods with draw­ings and per­for­mances. The draw­ings refer to the prac­tice of chiaroscuro from the Re­nais­sance pe­riod. The com­puter per­for­mances range from doc­u­ment per­for­mances and syn­thetic wilder­nesses to recita­tions from be­hind the wall of the black box. As ar­chi­tec­ture the in­stal­la­tion mir­rors the en­vi­ron­ment of Fort bij Vijfhuizen, cre­ating an im­mer­sive land­scape of mul­tiple per­spec­tives, frag­ments and times – http://tiny.cc/4ojibz
Review: Synthetic wilderness and performative machines
Often when media art is exhibited, all the cables, media players, screws and other wires are carefully hidden, taped away or painted over, concealing the items that are necessary to exhibit the artwork. Not with Jan Robert Leegte, in his solo exhibition 'Clear Obscure' at Kunstfort bij Vijfhuizen, all the structures of the projection panels are visible on the back, the climate system is obviously present in the space and his pastel drawings are 'naked' within the frame without any glass to protect them. This choice is representative for Leegte's interest in transparency in relation to technology, which was introduced as a term in computer programming in in 1969 that "would form the foundation of computer interaction that everyone could intuitively understand – at the cost of hiding all inner workings of the machine." [1] In 2019 almost all complexities, such as code, are carefully hidden behind intuitive user-friendly interfaces. But if we can't really see it, can we still fully understand what is going on behind our LCD screens?
Within the exhibition, that took place in the industrial Genieloods of the Kunstfort, several pastel drawings are hanging from the metal walls. These drawings are simple in design but extremely powerful in form; in thin white and black lines Leegte translates digital forms like clickable tabs or bars to the physical world, moving closer to the bodily act of actually pressing buttons.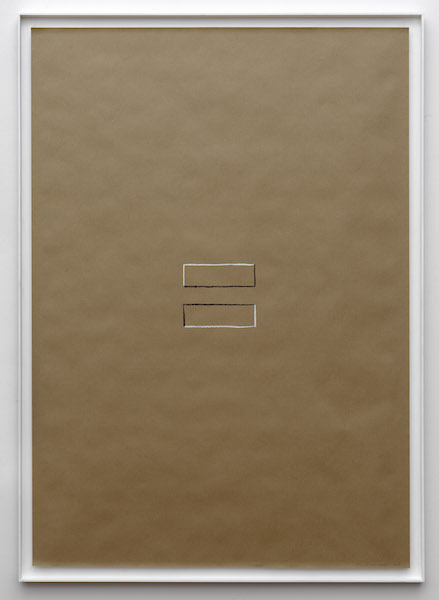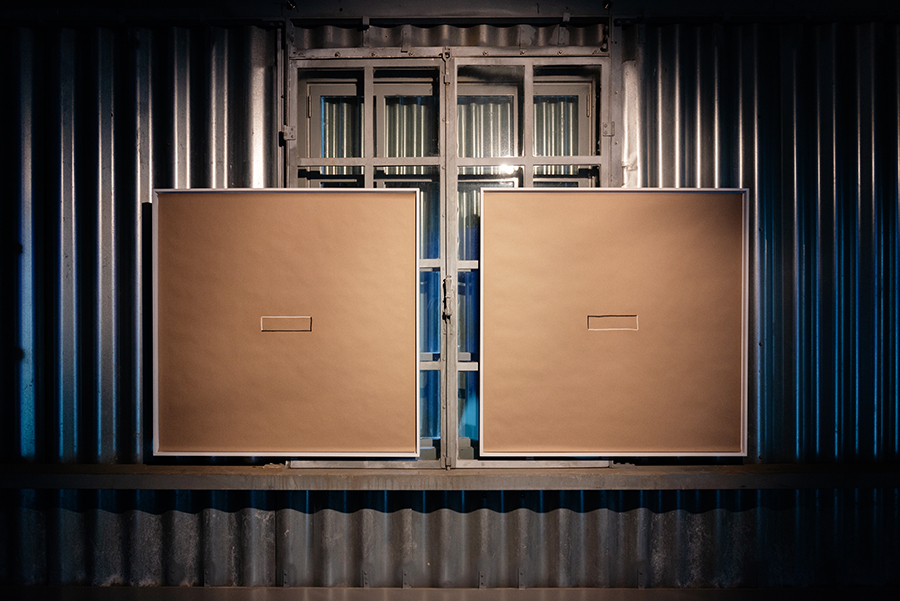 With these works (and maybe also with the brilliant title of the exhibition), he directly refers to the art historical tradition of chiaroscuro, the strong contrast between light and dark, essential to his 2D sculptures on brown paper. Next to 2D works, the space is also filled with the sound of a voice, monotonously reciting names and email addresses. No Consent (A recitation of everybody I ever emailed with) (2018), is a single channel audio work exploring the boundaries of exposing digital private information. Like a dadaist poem, the software uses existing data – Leegte's mailbox – to compile a exhibitionistic ballad, exposing everyone Leegte has ever emailed with.
Another theme, often occurring in Leegte's works is the relation with nature and tradition of land art, perfectly fitting with the green surroundings of Kunstfort bij Vijfhuizen situated in the middle of the polder of the Haarlemmermeer. Leegte is no stranger when it comes to connecting land art with the digital; in 2013 he recreated the Robert Smithson's iconic landmark 'Spiral Jetty' (1970) in Minecraft. At the Kunstfort, the relation with nature and how nature is read through technology becomes clear in his work Repositions (2018-2019), consisting of three larger than life projections. The three projected landscapes, all different in color and feel, hypnotically shift into new positions before the viewers eyes. Most striking must be the Yves Klein blue monochrome landscape, which is as a matter of fact, a Google Maps screenshot of one of the deepest parts of the ocean in the middle of the pacific. On the other side one of the highest point of the world in Tibet deviates within the frame of the projection in pink/orange tones interspersed with white snow and emerald green spots – representing man-made lithium mines. While the landscapes continuously move and tilt within the frame, every composition seems to be different.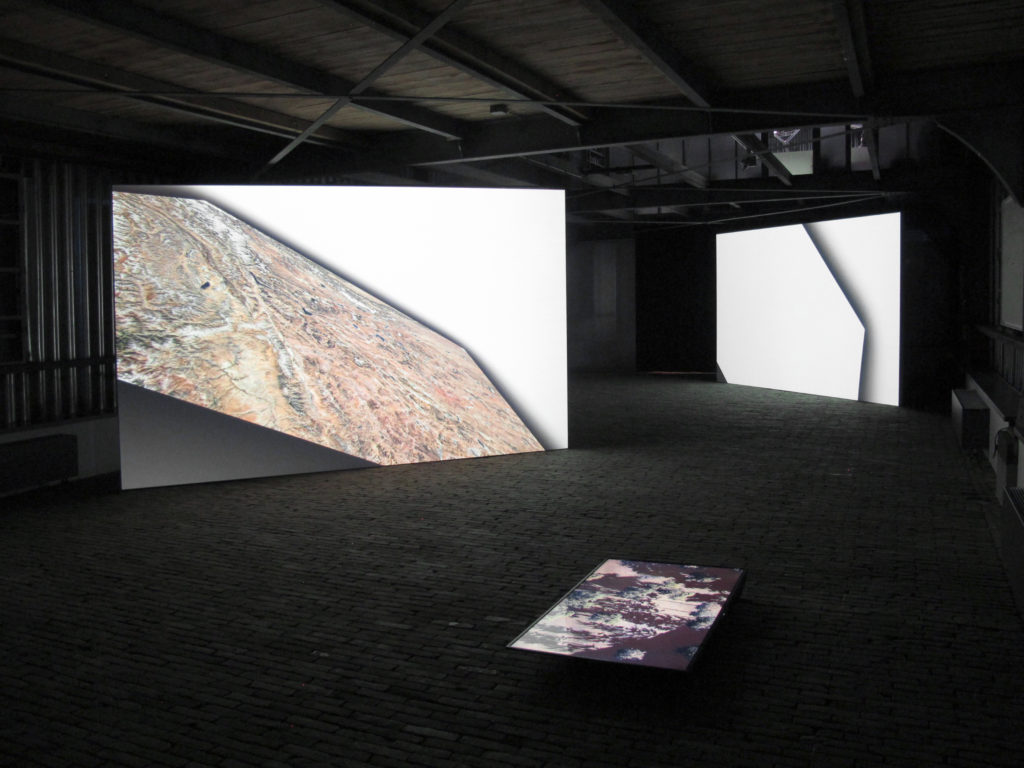 By using live algorithms, Leegte makes the landscapes dance, while performing a sequence of poses like two vogue dancers battling against each other at a ball. This dance, set in motion by a human through code but performed by a machine reminds of Bruce Nauman's Wall/Floor Positions (1968) where the artist moves through numerous poses in relation to the wall and floor, using his body to analyze the space. At the Kunstfort the computer is the performer that explores the space of its own frame. Performativity has not always been linked to technology because it has traditionally has been associated with "intentionality, reflexivity, sense-making, embodiment, repetition and transgression", while the technological "refers to deterministic operations without semiotic or affective qualities." [2] But in current times and within processes that require human input in the form of data or code the separation between human agency and nonhuman procedurality has blurred and have entered a steady relation of performativity.
Just like the landscapes of Repositions, the nature within the single channel video Synthetic Wilderness is not inhabited by humans. The new wilderness seen from above is completely computer simulated and looks like a perfect green environment at first sight with leafs crackling soothing in the wind while casting light shadows in the lush grass. At the same time this picture of paradise is quite alarming; we struggle to preserve nature on our planet and battle climate change but we keep improving in creating digital nature in video game engines. What if that is all we have left in the end?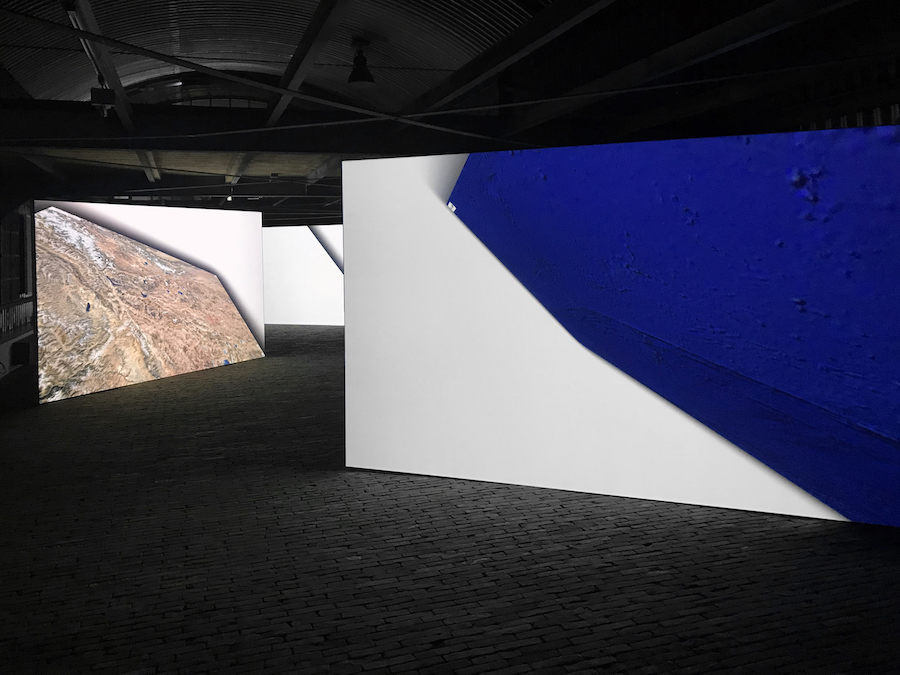 Leegte's oeuvre is filled with art historical references, explorations between the digital and nature, between human presence and absence, transparency and opaqueness. The world that Leegte presents to spectators is one that is often abstracted but still recognizable, visually attractive and beautiful. At the same time his interpretations of notions of privacy online and the way we see nature through technology are a warning; we should have a closer look at the non-transparent omnipresent technologies that shape our daily lives and the way we look at the world.
—
Jan Robert Leegte (1973, the Nether­lands) lives and works in Amsterdam. He re­cently par­tic­i­pated in sem­inal ex­hi­bi­tions such as Electronic Superhighway at Whitechapel Gallery in London, and Open Codes at ZKM Karl­sruhe. His work has been ex­hib­ited in venues such as MAAT Lisbon, MOTI Breda, iMal Brus­sels, and No­made Art Space in Hangzhou. Leegte's first solo show was Sculpting the Internet (2017) at Up­stream Gallery.
I discovered a tiny new slice of London just a short walk away from Furtherfield. It was an unused car park tucked away on the edge of a commercial estate once host to a vibrant textile industry, transformed temporarily into a project space dubbed as Tottenham Pavilion.
For six weekends from August with its pop-up tent and rustic outdoor furniture, it hosted hands-on experiences on art-making which culminated in a public exhibition featuring an eclectic accumulation of pictures, texts, objects, and structures made on site by locals for locals.
A mixed media installation emerged as a focal point, sprawling under the marquee with bamboo sticks planted on blocks of concrete like the skeleton of a building under construction. Works on paper and textile hung like leaves on a tree: from collages of found images mixing religious iconography, mass media, and art history; to hand-stitched and woven fabrics gently combined with colourful beads; and zines with micro-stories in poetry and prose.
Elsewhere, there were sculptures made from styrofoam, wooden sticks, reflective sheets, and plaster that altogether seemed like artefacts from an ancient tribe; a figurative mural depicting a changing urban landscape with different buildings that seem to rise up and fall back unto itself; abstract paintings filled with familiar gestures of freedom laid by several hands; and a map of drawings by visitors attempting to visualise their journey to the site – altogether weaving a sense of place in an otherwise vacuous space.
It can be hard to tell where a body of work begins and ends, which may have been its strength. The works collectively function as a singular site-specific installation of disparate components tethered together by a shared conceptual and spacial approach.
Yet this idea is not a new concept as such. The Serpentine Pavilion in Hyde Park exists for roughly the same purposes; Peckham Levels in south London similarly transformed a seven-storey car park into a creative hub; and Furtherfield itself revitalised two spaces in Finsbury Park to decentralise art and technology. Well-known artists like Tania Bruguera and Jeremy Deller have also been known to engage with communities, often to much fanfare. All these projects are admittedly on a bigger scale in comparison, which is precisely what seems remarkable here.
Tottenham Pavilion embraced a hyperlocal focus to engage this community at their doorstep, specifically aiming its free workshops and activities to residents of its immediate vicinity encompassing Woodbury Down, Seven Sisters Road, and the Haringey warehouse of artists who led the project, all within walking distance of each other.
In doing so, it managed to not only provide local artists a platform to develop and showcase their practices conveniently within their own turf, but equally offer opportunities for local residents, their neighbours, access to creative activities that may otherwise be unavailable or even unknown to some. This ethos attracted much-needed funding from City Hall, which currently supports this agenda through a local funding stream, modest but nevertheless positive for an area that may be artistically underserved and missing out from the benefits of art.
There is always something new to explore in this city, and it is more rewarding when it involves maximising the potential of places and spaces as a conduit for accessible arts and culture. What began as an empty gazebo on a soulless patch of land ended up as a vessel for potent marks and traces between adjacent communities that for brief moments came together to make something for themselves, potentially activating new paths for connection and creativity within this locality and even beyond.
Tottenham Pavilion ran between 10 August and 15 September 2019, on Seven Sisters Road corner Eade Road. Organised by Carolina Khouri, with creative workshops led by SWG (creative writing), Surya de Wit (painting and collage), Helen Bur (murals), Nicola Woollon (embroidery), Wojciech Antoni Sobczynski (sculpture and installation), and Jenna Jardine (materials). Funded by Mayor of London's Culture Seeds, and Spaces for Creatives.
Featured image: Tottenham Pavilion. Image credit West Creative
1 May – 4 August 2019
Featured image: Portrait of Kathy Acker, San Francisco, 1991. Photo: Kathy Brew
The latest exhibition at the London's Institute of Contemporary Arts remembers the postmodernist writer Kathy Acker. The many Is in the exhibition title are suggestive of her focus on the exploration of identity and acknowledge the impact she made on the generations of artists following her. Apart from examples of Acker's practice, such as the documentation of live readings and performances, music and text, this first exhibition dedicated to her in the UK, encompasses works by over 40 artists inspired by her legacy.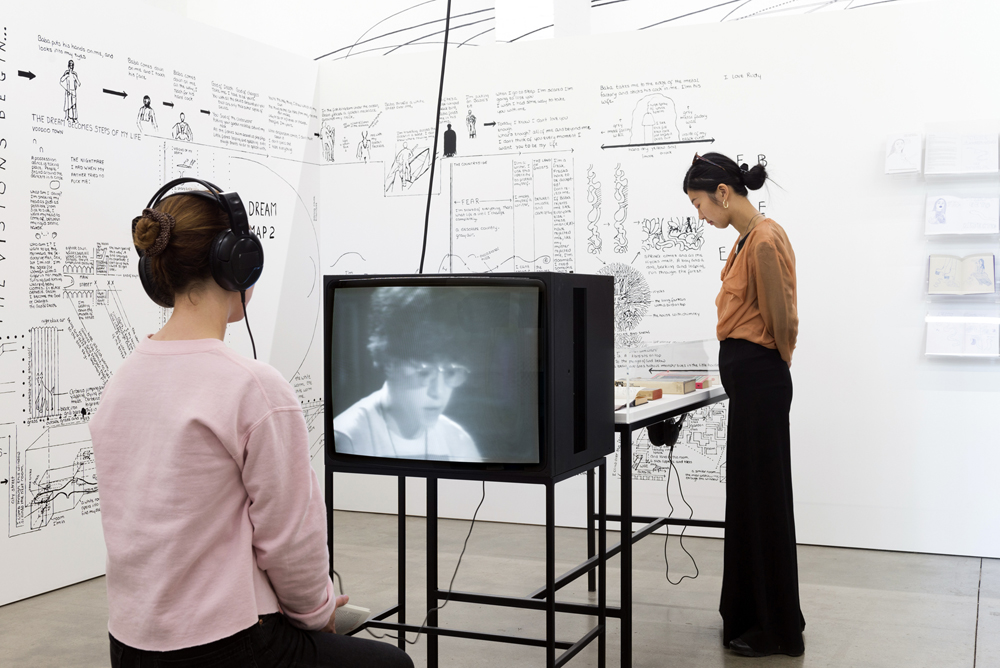 Acker's relationship with the ICA has begun when she first moved to London, where she lived between 1983 and 1989. At that time, her anti-establishment and anti-patriarchal deconstructive philosophy fit perfectly in time with the atmosphere of the post-punk Tatcher England. She became a significant figure within the cultural landscape and a regular contributor to events at the ICA.
Kathy Acker was a writer who shook the punk art scene in the 70s and 80s New York. She was a lonesome figure in the East Village avant-garde, which at the time was dominated by men. In her prose, Acker often experimented with what being oneself meant. She herself said, "I was splitting the I into false and true I's and I just wanted to see if this false I was more or less real than the true I, what are the reality levels between false and true and how it works". Through her practice, she established a performative relationship to one's identity, a means of exploration into the relationship between sexual desire and violence.
The language was her weapon. She treated it as a means of strong resistance towards patriarchal and heteronormative narratives in the public sphere. Throughout her writings displayed on the walls within the exhibition space, one can see her words from the book Empire of the Senseless (1994), where she declared: "Language, on one level, constitutes a set of codes and social and historical agreements. Nonsense doesn't per se break down the codes; speaking precisely that which the codes forbid breaks the codes". The two floors of the ICA are divided into eight sections, each corresponding to one of her books, with appropriate excerpt displayed. Her writing is at the core of the exhibition, on the walls, screens and in glass cases. There is a bit of inconsistency between the ways the literary works are displayed. On the one hand, the exhibition aims at bringing her legacy closer to the public, on the other some of them look hermeneutic when closed off behind a glass, like relics in an ethnographic museum.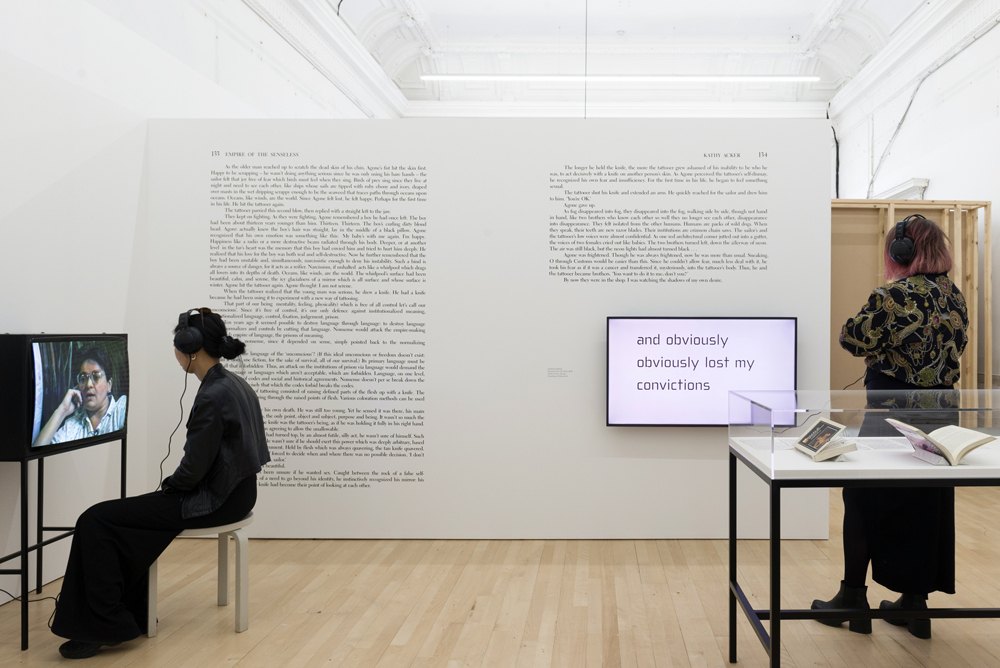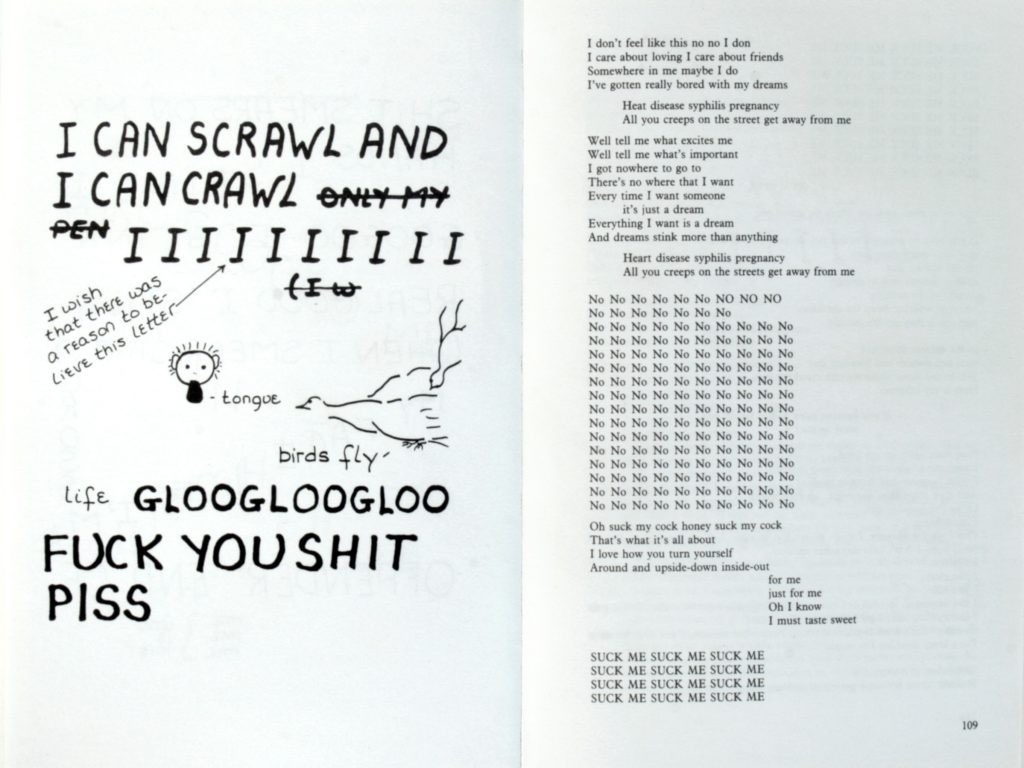 However, the other works in the exhibition animate the space and the texts. The binding material between them is the preoccupation with the conflict between personal desires and the domineering narratives in society. Some of the first works to be seen are Jimi DeSana's Masking Tape (1979) and Refrigerator (1975). The first one depicts a human figure wrapped in masking tape, only genitals exposed and the other shows a woman tied in the refrigerator. These black and white photographs contain suggestive and poetic qualities, also distinctive for Kathy Acker's work. Further on, Acker's pictographic "dream maps" which originally existed as large-scale drawings, are juxtaposed with works exploring the female desire in contemporary society, for instance, Reba Maybury's The Goddess and the Worm (2015), a book telling a story of a dominatrix.
Acker critically assessed the societal norms, declared political relevance of one's body and focused on marginalised groups. In one of her books presented in the gallery, Don Quixote (1994), the writer transformed the 17th-century canonical protagonist into a female, who becomes a knight by having an abortion and embarks on a journey to address the inequalities of Nixon's America. Continuing to the second floor, one finds artists addressing the experiences of people who do not confine into the strict gender binary categories and the limitations of our language to describe them. At a back wall of a room, positioned opposite David Wojnarowicz's works from the Arthur Rimbaud series, are three drawings by Jamie Crewe. Glaire takes Estradiol (2017), Potash takes Spironolactone (2016) and Saltpeter takes Verdigris (2012) show pairs of figures inscribed with the possible side effects of taking steroid hormones, compared with other substances.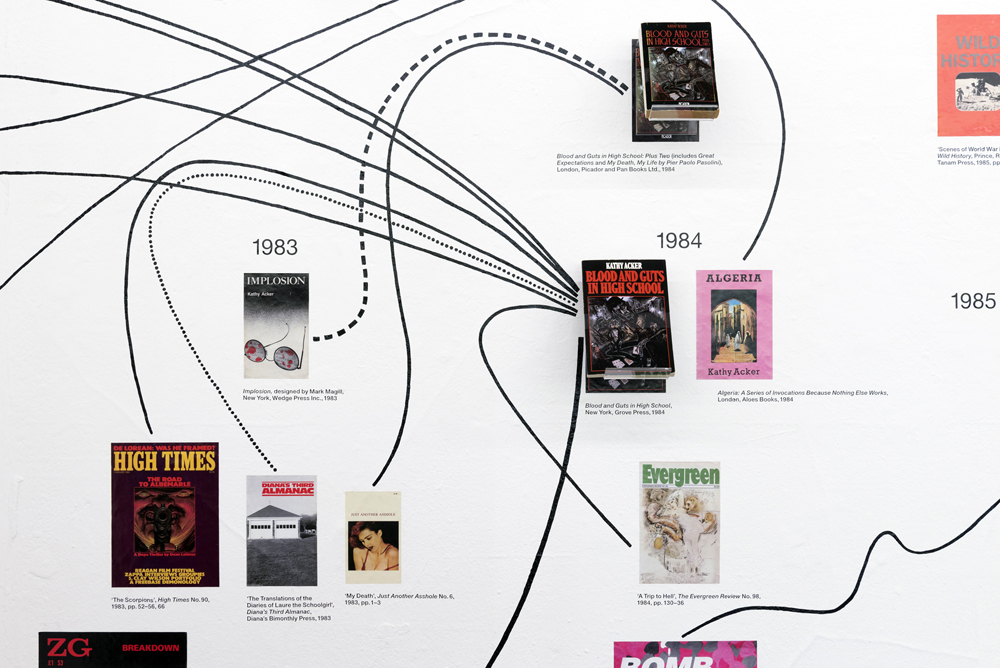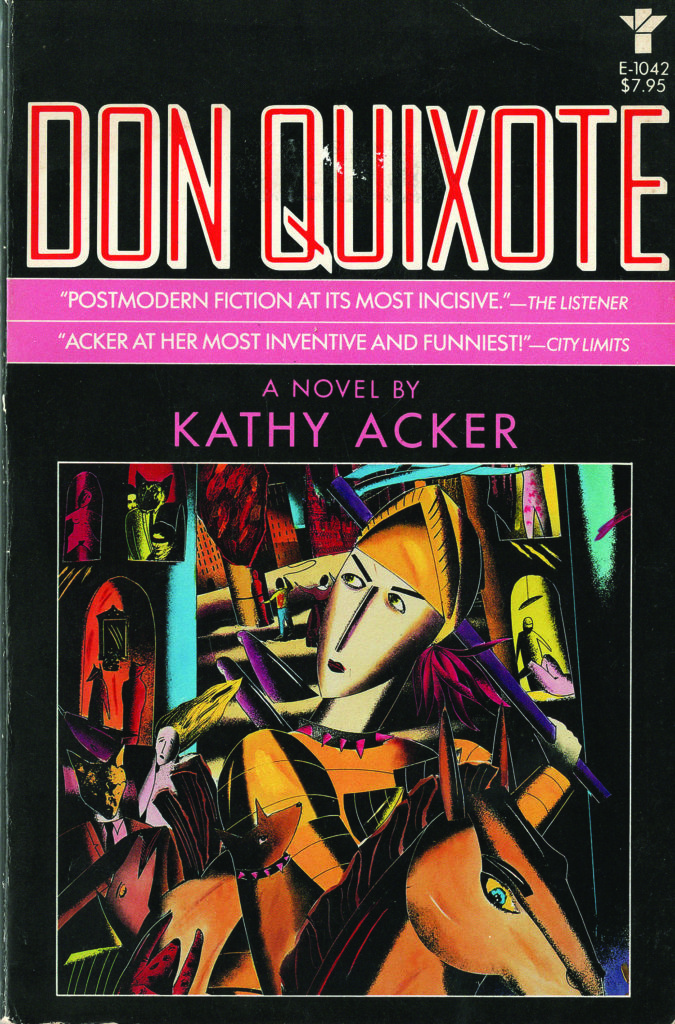 The exhibition might leave the viewer in awe and with a head full of ideas. It is an ambitious project, as it addresses the integrative nature of Acker's practice and evaluates her concepts. It is particularly successful at recognising the writer's role in the experimental literature scene and the power of her legacy. At times when the society is becoming increasingly politically divisive and the inclusivity comes at a high price for some, it is crucial to remember the pioneers who promoted diversity in the arts. Conceptually speaking, the exhibition structure works well with the aesthetic premise of Acker's work and creates a dialogue between all the participating artists. However, at times the experience might be overwhelming and becomes an exhibition-goer's nightmare as it is heavily loaded with text.
I, I, I, I, I, I, I, Kathy Acker finishes with a wall drawing by Linda Stupart, A dead writer exists in words, and language is a type of virus (2019). In it, organic elements, serpents' eyes and stones are tied to a blueish core resembling a cloud. Around it, there are red tentacles which enliven the virus, which spreads around the wall surface. It is mesmerising, twisted, creating a web of influences. Likewise, it corresponds with the exhibition structure, which is at times challenging to navigate, but ultimately transformative.
Dates:23 May – 3 Aug 2019
Artists: Marwa Arsanios, Paloma Polo, Lorenzo Sandoval, They Are Here
I'm sitting in front of my laptop to type this review. In front of my laptop at a well-equipped common space at my university. In the UK. Where I am pursuing a Master's degree. And as I opened my laptop here, today, I believed that I had agency. I saw my individual journey, my immediate surroundings, my imagined future and saw a battle against oppressive structures that I seemed to be winning. Until Towards the Planetary Commons burst my bubble of delusion with ease.
Hosted by Arts Catalyst, London, Towards the Planetary Commons is an exhibition that investigates "agency and autonomy in the face of global ecological crises". Through visual, auditory, and tactile elements, visitors are allowed to completely immerse themselves in the theme of the project. While Marwa Arsanios' and Paloma Polo's films pull the visitor headlong into contemporary ecopolitical struggles and local modes of resistance, the "living room", featuring installations by Lorenzo Sandoval and They Are Here, draws the visitor back out to confront their own reality, and to become a part of a collective movement. The gallery is thus transformed, from a site of mere observation and reflection, to one where knowledge is produced and actions initiated.
I take my hands off the keyboard and look around. The vending machine behind me whirrs, begging me to unburden it of the many Coca-Cola cans that inhabit it. A black plastic bin bag peeps out of the bin, hiding not too subtly an alarming future. Fluorescent lights glimmer, suddenly making it impossible for me to forget the material excess that surrounds me. My eyes turn to the windows for respite. Trees. The peaceful green expanse of the South Downs is however failing to put my mind at ease. I am forced to confront not only my complicity in furthering destructive modes of consumerism and governance, but also the inadequacy of my individual acts of resistance thus far. In purchasing my reusable coffee cup, or researching alone the nuances of development work, I have, unfortunately, anchored myself to myopic individualism.
Towards the Planetary Commons spans across two rooms. The "living room", with its huge windows and brightly coloured interiors is inevitably where the visitor is drawn into first. Lorenzo Sandoval's site-specific modular environment hosts an exciting and very international array of research material on ecofeminism, agriculture, geopolitics, and related movements. Featured on the wall is Paloma Polo's animation work, What is Thought in the Thought of People, made in collaboration with Leonilo Doloricon. Becoming Planetary, a soundwork by They Are Here persists in the background and it is a struggle to find firm footing in an environment as stimulating as this. Next door, in a sparsely furnished room Marwa Arsanios's films Who is Afraid of Ideology? Part 1 and Who is Afraid of Ideology? Part 2, play in a loop—each around 30 minutes long. There are no 'blurbs' on the walls of the rooms, no explanations offered, and it is clear that nothing here is 'on display'. The environment makes evident the overarching theme of the works and curiosity compels one to sit down and dig deeper.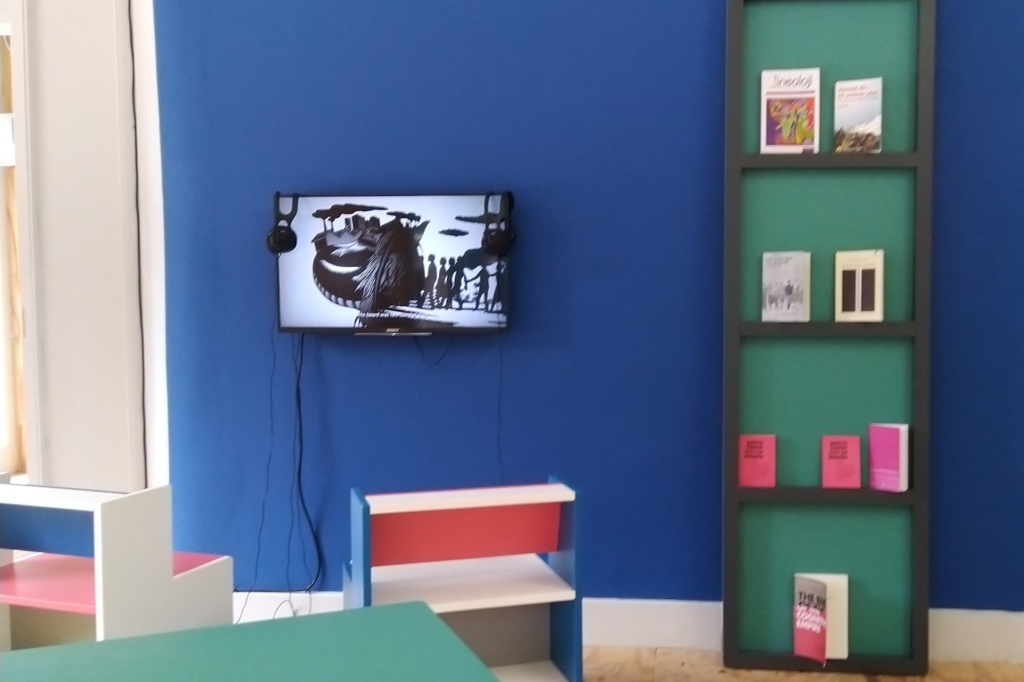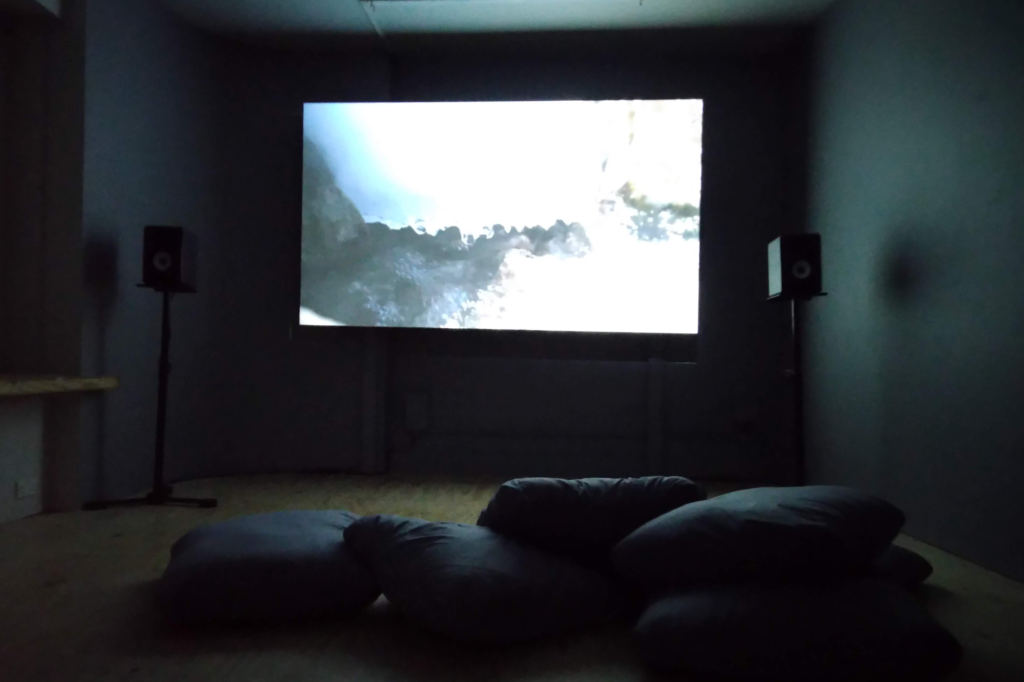 Critiquing the destructive neoliberal policies undertaken by corporations and governments, Towards the Planetary Commons offers its viewers a chance to evaluate their lack of agency within an inherently exploitative system and to discover resistance through self governance and autonomy. While Polo's work, alongside Doloricon's hauntingly poetic imagery, peels back the layers of an ongoing democratic struggle in the countryside of the Philippines, Arsanios's films leverage a highly nuanced narrative style to shed light on the means of knowledge production within the autonomous women's movements and ecofeminist groups in Syria. The context for the exhibition is thus a global one, with the "living room" bridging the gap between the stories on the screens and its material presence in central London. The indelible impact Towards the Planetary Commons leaves on its viewers is as much a result of adept curation as it is of the rich reserve of knowledge and personal expertise brought in by the individual artists.
I cast my mind back. Confronted by the thus far unfamiliar task of using an axe, a woman in Arsanios' Who is Afraid of Ideology? Part 1 had told me of the day she "realized all the things that were stolen from us". The images on the screen, in turn, had transfixed me. Mountains and mud, women in the kitchen, women building a village, women with weapons, animals roaming, a book of plants. Arsanios's raw and deliberately visible editing techniques had forced me to ask, how is knowledge produced?, who has autonomy?, who is afraid of ideology?. I see my blurred reflection on the now black screen of my laptop and this time I see the history of feminist struggle, a tenaciously postcolonial identity, a long list of neo-liberal policies and a longer list of 'collateral damage'. I see a collective.
As an exhibition, Towards the Planetary Commons, is unique in its multi-layered approach to addressing knowledge production. The shared resources, the "living room", and the workshops organised in tandem with the exhibition are a fantastic attempt at making expert knowledge accessible. The exhibition is part of Arts Catalyst's Test Sites programme, the model of which intends to "foster an ecology of practices, in which artists, curators, scientists, specialist experts and people with situated knowledge come together to co-produce knowledge around a shared matter of concern".
As a curatorial practice, this is an exciting step forward and pushes the remit of curatorial activism. With the films featuring two distinct geo-political contexts, the viewer, however, must be wary of ignoring the historical inequalities that persist in these contexts and the power structures that dictated the work's presence within a gallery in the UK. It is also important to acknowledge the theoretically heavy content of Who is Afraid of Ideology? Part 1 and the improbability of most visitors being able to truly utilise the research materials. Experiencing Towards the Planetary Commons is certainly not a leisurely exercise for a weekday lunch-break. But perhaps, its virtue is in the commitment it demands from its visitors, and its ability to shake us out of our absentmindedness in occupying a world that demands our attention.
Now I will stop typing and start reading, and listening. Droughts, floods, systemic oppression. It is time to feel and become part of the collective resistance.
When I first heard about MoneyLab, it was back in 2013 or the beginning of 2014, when I was doing my masters in London. A friend of mine handed a flyer to me and I was intrigued by the strange typography and the combination of bright colours. However, I didn't quite believe that any kind of initiative could really start an alt-economy movement. Not that I didn't believe in local currency or creative commons, but those gentle approaches generally seemed to lack traction, just like liberals do with voters. I naturally thought MoneyLab was one of those initiatives.
However, as Bitcoin was becoming a hype, the name popped up again; MoneyLab itself was also becoming a hype. While bitterly regretting not being able to be associated as the first wave of participants, I started to think that maybe MoneyLab might be the framework that can really push out alternative economic attempts as mainstream culture. My stance towards economic shifts was somewhat similar to that of William Gibson's; he said in an interview with the British newspaper The Guardian, 'What would my superpower be? Redistribution of wealth'. How did that change after reading the MoneyLab Reader 2?
Digital payments spaces as a driving force
Before going into the details of what blockchain technology can really do, it is crucial to understand a new "unit of value" created in modern society (Pine and Gilmore 1999). Since the most prominent piece of technology of our era is undoubtedly smartphones (with Apple being the first 1 trillion dollar publicly listed company in the US), a lot of transactions are inevitably conducted through apps and web services. The proliferation of the so-called "payments space" signifies the era of UX design, which is the third paradigm of HCI (Human-Computer Interaction), "tak[ing] into account…affect, embodiment, situated meaning, values and social issues" (Tkacz and Velasco 2018). In other words, experience has become the deciding factor of customers' choices. With vast amounts of data generated at the back of sleek interfaces, one can precisely oversee the users' behaviour, which then is fed back into the system.
All the payments spaces are essentially digital. This means transactions leave digital traces whether you like it or not. The idea of a cashless society exactly stems from this interest, the authorities can have better understandings of how people make money; in other words, where black money flows. Brett Scott has been pointing out the danger of a cashless society for quite some time now, I saw another variation in this book.
Money becoming programmable
According to Jaya Klara Brekke, blockchain technology can make money programmable, "allow[ing] for very fine-grained (re)programming of the medium of money, from what constitutes, and how to measure, value-generating activity to the setting of parameters on the means and conditions of exchange – what is spendable, where and by whom" (Brekke 2018). The overall impression I got from the MoneyLab Reader 2 about what blockchain technology can really do is basically this. Making a currency programmable using smart contracts.
More than a couple of authors discuss how "contingency" should take place in designed currencies. Contingency is different from randomness; in fact, it could mean exactly the opposite. For example, when coins are distributed in a perfectly random manner, you have absolutely no control in the handling process. If contingency is embedded in a system, it means there are exploitable gaps, which seem to almost randomly benefit people. On the other hand, some individuals would find ways to make use of these gaps, which are considered to be legitimate. Brekke discusses how the way in which contingency is programmed into a currency will be a key for the future of finance, both in terms of experience and redistribution of wealth. Therefore, currency designers will be the next UX designers.
Everything blockchain?
A number of ideas applying blockchain technology to both physical and cultural objects are mentioned in this book, from a self-maintaining forest to blockchain-based marriage. "Terra0" is the concept of an autonomous forest which can "self-harvest its own value" (Lotti 2018). Utopian views of a human-less world are prevalent, but in reality, a healthy forest requires an adequate amount of human intervention. In addition, the value of a forest cannot be determined by itself; trade routes, demand and supply, they are all drawn by human movements. For example in Japan, domestic wood resources are generally not profitable because of the expensive labour costs. Illegally cut trees without certification from Southeast Asia dominate the market, putting domestic ones in a bad position. When a forest itself is not profitable, how can it accumulate capital autonomously? Besides, the oracle problem has not been discussed at all. Unless everything is digital in the first place, there always needs to be somebody to put data onto the blockchain. In other words, the transcendence of the boundaries between the physical and the digital is not possible without human intervention. Blockchain marriage would face a similar problem; who might be the witness if circumventing the government official? Max Dovey investigates the notion of "crypto-sovereignty" while introducing an example of a real blockchain marriage where they "turn[ed] 'proof of work'… into 'proof of love'"(Dovey 2018). Just as the sacramental bond between spouses can be broken before Death Do Them Part, so can any cryptographic marriage unravel despite having been recorded in an immutable ledger. Whatever repercussions may exist for divorce, there are no holy or technological mechanisms to prevent it.
Platform Cooperativism or Platform Parasitism?
Platform co-ops is one of the largest topics in the book besides Universal Basic Income (UBI). A platform co-op is often a cooperatively owned version of a major platform that is supposed to be able to pay better fees to the workers. Also, a platform co-op is often associated with "lower failure rate"; 80% of them survive the first five years when only 41% of other business models do (Scholz 2018). While embracing the positive aspects of platform co-ops, I have this question stuck in my head: can you not make a platform co-op based on a new idea rather than copying existing ones?
Most platform co-ops seem that they are looking at already successful and established concepts such as rental marketplaces for rooms and ride hailing services. As a result, platform co-ops are considered more to be a social movement than an innovation. Why not just run a business right at the centre of Capitalism without being motivated by profit? Many platform co-ops challenge the main stream services such as Airbnb or Uber, however those services operate based on scale; if they have the largest user base, it will be very difficult to take them on, unless they die themselves like Myspace… Moreover, more hardware side of development can be happening around co-ops, but I don't hear anything except for Fairphone. When can I stop using my ThinkPad with Linux on it?
After reading the MoneyLab Reader 2: Overcoming the Hype, now I'm thinking of how I should design my own currency. Of course whether cryptocurrencies are actually currencies is up to debate; depending on who you ask, Ethereum is a security (SEC), a commodity (CFTC), taxable property (IRS) or a currency (traders).
MoneyLab 2 authors overall suggest that we should not limit our imagination to fit in the existing finance systems, but think beyond. You don't necessarily need to cling to cryptocurrencies but they may help you shape your ideal financial system.
Featured Image: Stock photography from Google Image search "happy creative tech startup"
Neoliberal Lulz: Constant Dullaart, Femke Herregraven, Émilie Brought & Maxime Marion, and Jennifer Lyn Morone.
Showed at the Carroll/Fletcher Gallery 12 February – 2 April 2016.
Neoliberal Lulz asserts to have born witness, arm-in-arm with rest of us, to an unprecedented shift in the volatility and increasing speculative power of financial markets and the dissolution of value indexing to physical commodities. This relationship has been made particularly palpable in the realization that investment banks and corporations hold a tremendous sway (perhaps even tremendous to an unknowable degree) over our lives. The four artist/groups brought together make work as a way of trying to bring this dynamic into knowing.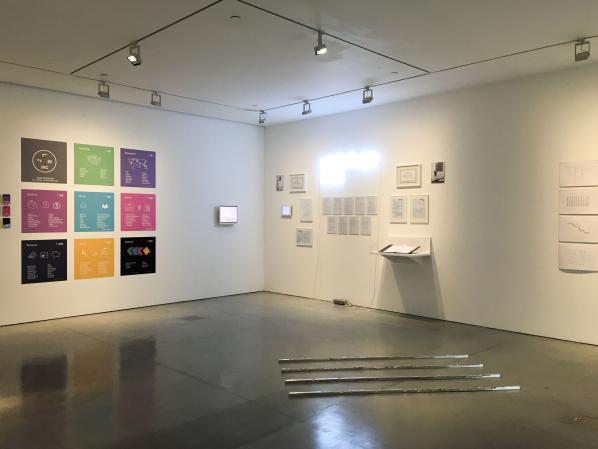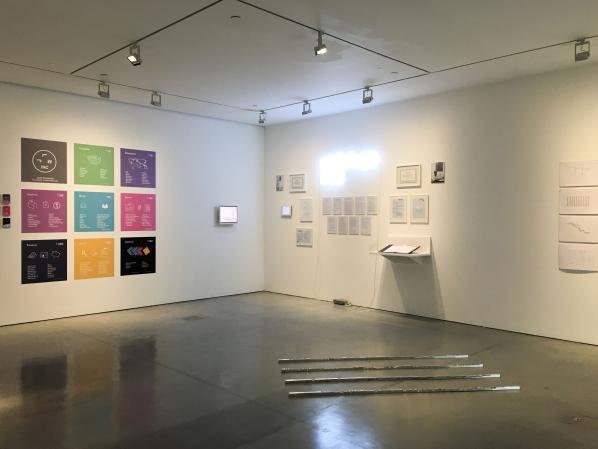 Neoliberal Lulz is not so much about this relationship, or the realization of this relationship, between market forces and lived experience. It's more accurate to say that the exhibition and the artworks contained within it rather serve as a populist blueprint for how individuals can talk to the market. If political economies speak in the limited language of supply and demand, then how can we make ourselves heard?
New media is a particularly good way of addressing this question because of the way hardware and software must constantly negotiate the terms of inter-communication. The success of media is dependent on this trafficking in translations, between file formats, online and IRL, technical apparatuses, outdated and current softwares. So when artists like Constant Dullaart, Femke Herregraven, Émilie Brought & Maxime Marion, and Jennifer Lyn Morone make themselves "corporate," mimicking the neoliberal virus, this move feels right at home with the kinds of techno-alchemist work being displayed.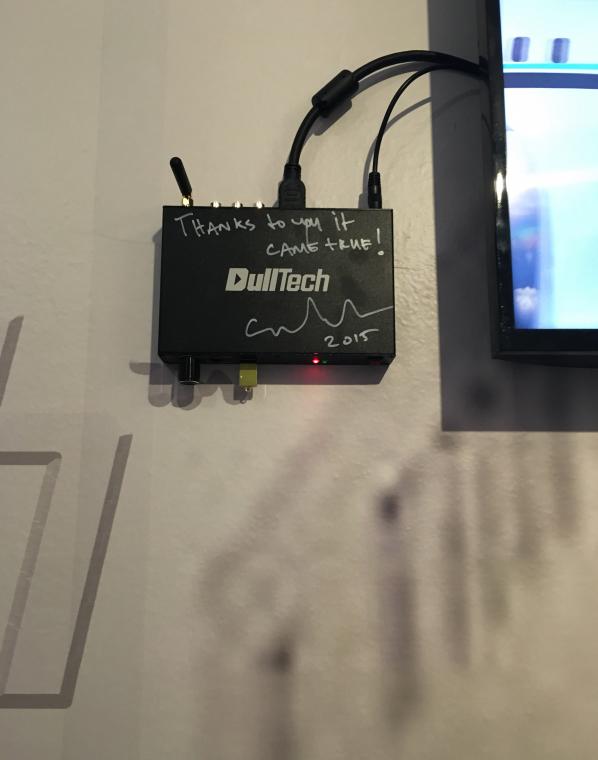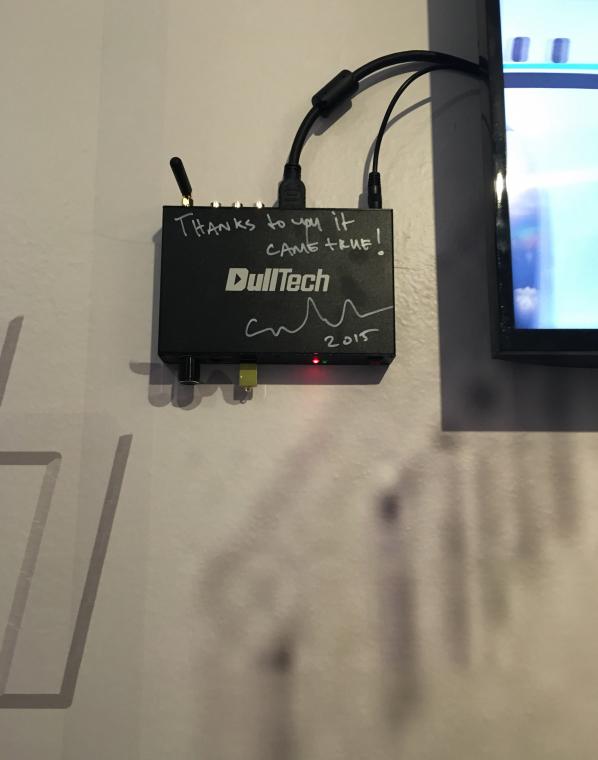 Femke Herregraven makes the mystifying lifespan of high frequency trading material, which feels a lot like spinning straw into gold (or perhaps the other way around). Her works rehearse this slippery, ambivalent relationship between value and objects, indexes and standards. In this way Herregraven's works ground the exhibition in a similar way as does Constant Dullaart's Most likely involved in sales of intrusive privacy breaching software and hardware solutions to oppressive governments during so called Arab Spring: by memorliaizing in cold, clunky materiality the "immaterial" processes that are active under the banner of neoliberalism everyday. Three of the four artists on display have incorporated—Jennifer Lyn Morone™ Inc, Untitled SAS (that's Émilie Brought & Maxime Marion), and DullTech™ (Constant Dullaart). Between these companies the process of how to become a company is cracked open, revealing how sophomorically simple and complicated the process is, how much paper detritus and nondescript stuff is secreted as byproduct. Constant Dullaart here adds a lesson on the aesthetics of startups with an entire room dedicated to the oddly-familiar B-roll shots of airplanes cut with inspirational platitudes. Jennifer Lyn Morone adopts the the aesthetics of a kind of good life marketing that is gender-targeted, and operates by corroding away what's already there (mental health, well-being) to make its own market gap.
But I tell you this: the best part of the exhibition isn't on display. Ask the front desk about buying shares of either Untitled SAS or Jennifer Lyn Morone™ Inc. This is the heart of the exhibition, and it's either lamentably sidelined or a brilliantly premeditated that just inquiring about the purchase can reveal so many gaps and uncertainties.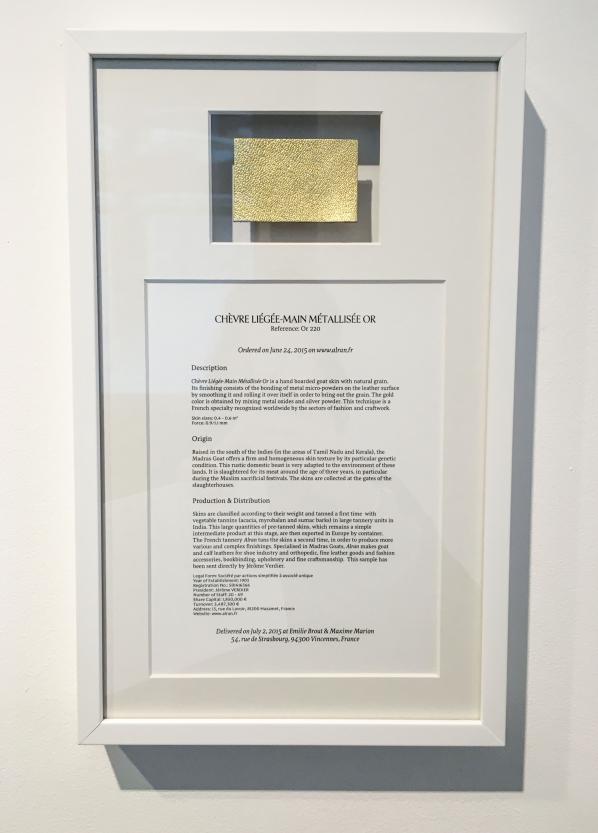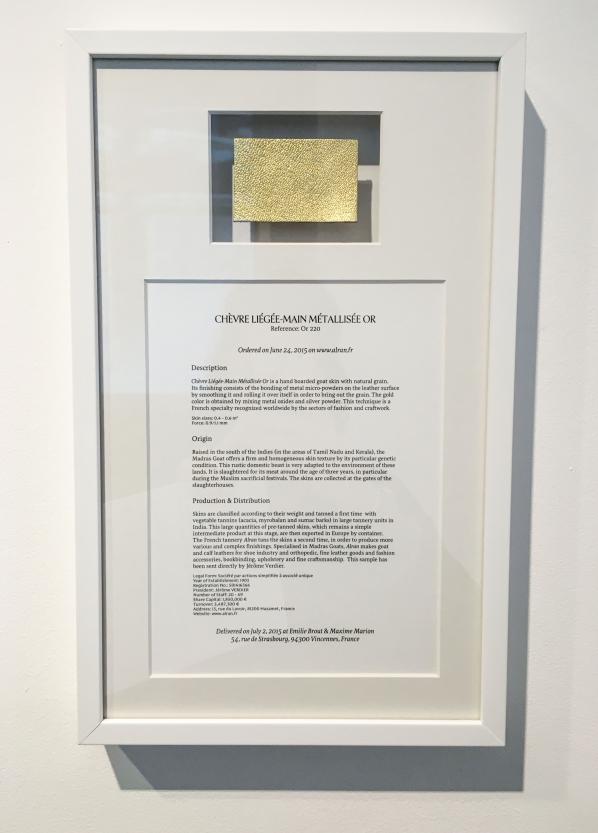 When I visited the exhibition, gallery attendants very kindly filled me in on the bold point details of buying shares, to the best of their ability. They explained that Unititled SAS shares sold for €30.00, with a €25.00 admin fee that went straight to Émilie and Maxime. It is not split with the gallery, as often the the sales of an art object are. Was the gallery entitled to any part of the sale of shares of Untitled SAS? Sort of: fifty-percent went to the French government, twenty-five percent went to Émilie and Maxime, and half of the remaining twenty-five percent went to the gallery. Did a new contract have to be drawn up to negotiate the profit negotiations between the gallery and artists who had incorporated some capacity? No, the normal consignment contracts were used (they did not share what the terms of these contracts are; I did not inquire).
What about shares of Jennifer Lyn Morone™ Inc.— how much did they cost? This was a decidedly trickier question, with nationality and class-based restrictions and allowances. The general gist was that since Jennifer Lyn Morone™ Inc. is registered in the U.S.A., that American citizens are subject to tax; English citizens are not. For English citizens there are also different price points and clauses for lower-income prospective investors. This does not apply to U.S. citizens, who are required to prove salary requirements before purchase can be approved.
Had anyone bought any shares yet, for either company? No.
Eventually, the attendants printed me a Jennifer Lyn Morone™ Inc. Instructions for Prospective Investors document: four-pages single-sided, unceremoniously stapled together. For those unfamiliar with this kind of legalese, it's a bizarre artifact from another planet. Everyone should ask for a copy.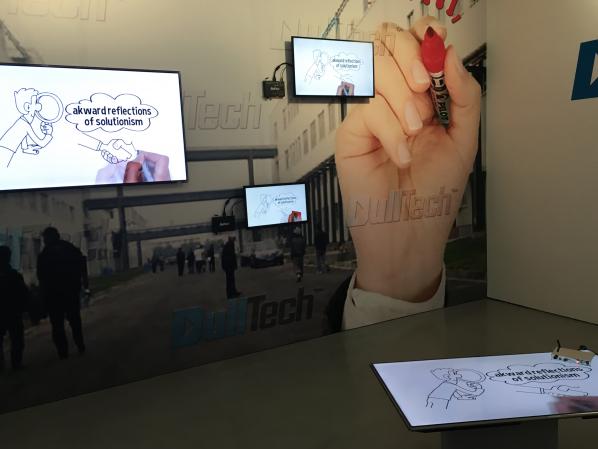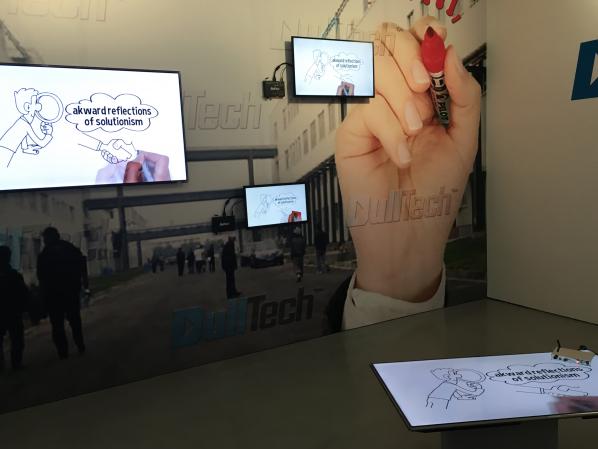 The title Neoliberal Lulz might tip its hat to the tradition of online trolls and their persistent, agnostic vitriol, but the exhibition itself feels like it sets out some very real stakes. This is a good thing, because an exhibition interrogating the asymmetrical relations of production and profit taking place at a prominent art gallery in Fitrovia (a borough in itself that is paradigmatic of these inequities) could have really been smug, smarmy, shit. The hypocrisy of an exhibition that singularly railed against the unmitigated growth of big business while standing amongst its spoils would be too much. But Neoliberal Lulz is not this: it is far more nuanced in its message, far more unclear on its value judgments. As an art exhibition Neoliberal Lulz did well to espouse the artist-as-researcher model. It helps make sure that the exhibition has legs outside of the exhibition space. The fact that most of these artworks have a life outside of the domain of art, circulating within the very thing they're critiquing, legitimates their output. The other thing that Neoliberal Lulz does well is not to dwell on the narrative of the disenfranchised. I don't say this because it's not important but rather because it just simply wouldn't read.
Neoliberal Lulz feels like a prompt that comes at a timely moment, slotting in to conversations like this, this, and this. It criticizes at the same time as it offers options, which seems like a rare combination these days. "What is to become of the future for young artists?"–the people wail, lamenting that much of the young, creative elite inevitably ends up siphoned off into the tech startup culture. Neoliberal Lulz seems to say this doesn't have to be a bad thing, and I'm inclined to agree. All's not lost when artists adopt an if you can't beat 'em, join 'em ethos, particularly when they do so with a critical bent. Deeply sardonic and ruthlessly interrogative, Neoliberal Lulz is a successful venture into addressing the malleability of contemporary political economies to more progressive ends.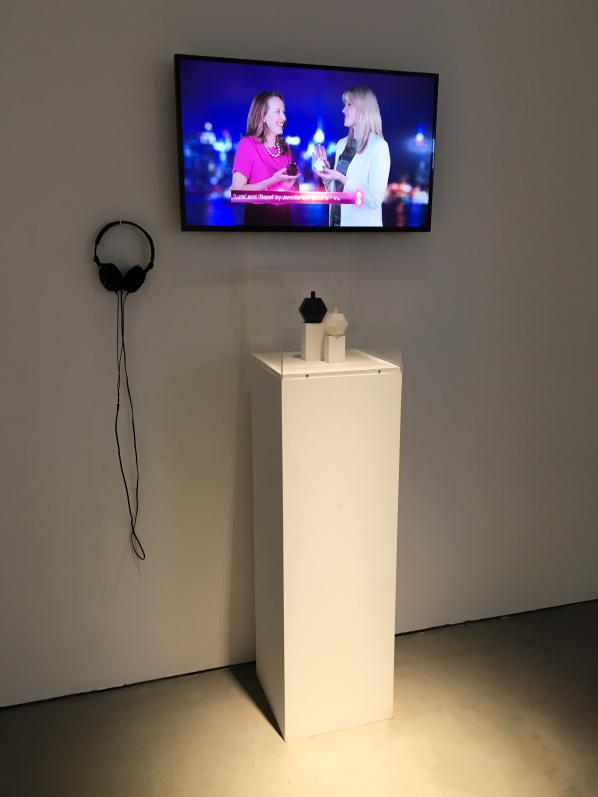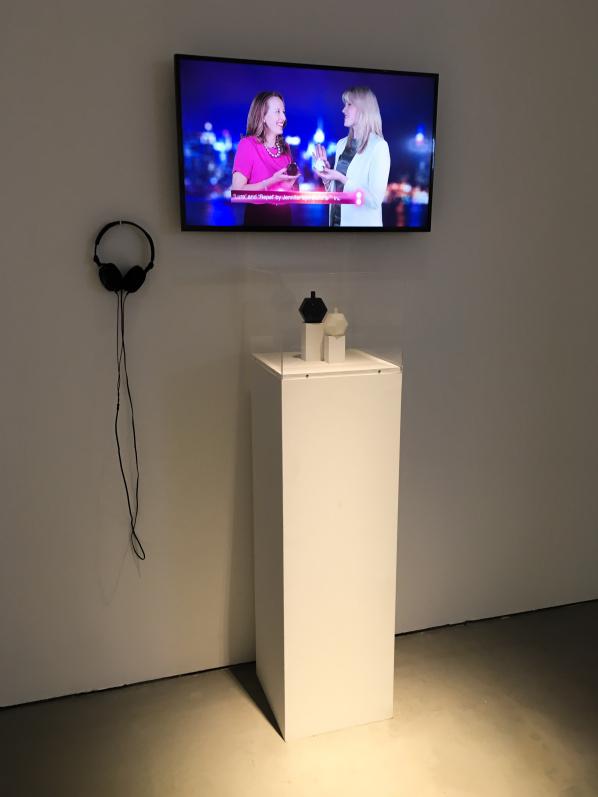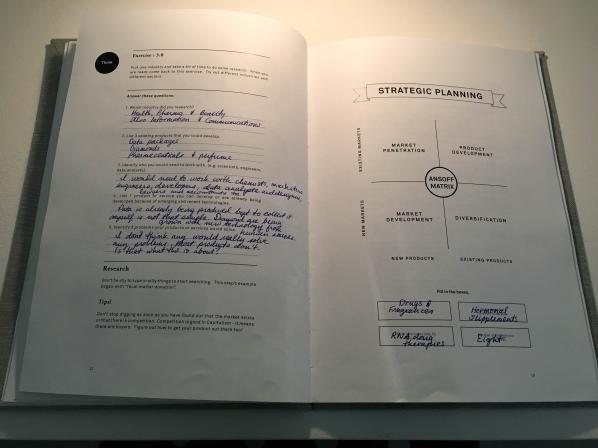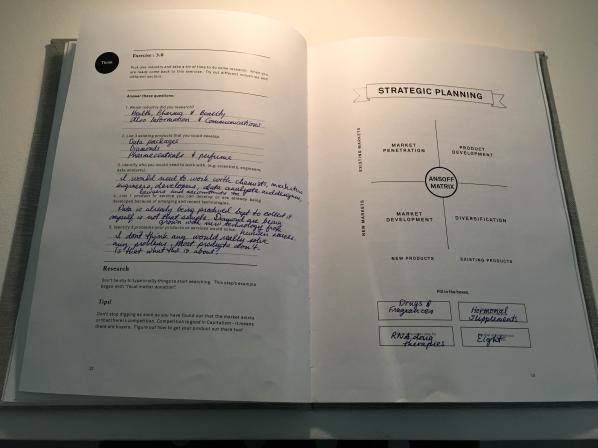 Carroll/Fletcher Gallery
56-57 Eastcastle St.
London W1W 8EQ