Join us in London at the DAOWO 'Blockchain & Art Knowledge Sharing Summit'
DAOWO (Distributed Autonomous Organisations With Others) Summit UK facilitates cross-sector engagement with leading researchers and key artworld actors to discuss the current state of play and opportunities available for working with blockchain technologies in the arts. Whilst bitcoin continues to be the overarching manifestation of blockchain technology in the public eye, artists and designers have been using the technology to explore new representations of social and cultural economies, and to redesign the art world as we see it today.

Discussion will focus on potential impacts, technical affordances and opportunities for developing new blockchain technologies for fairer, more dynamic and connected cultural ecologies and economies.
Programme

9.00 Registration
9.30 Welcome and Scene Setting

State of the Arts: Blockchain's Impact in 2019 and Beyond | A comprehensive overview of developments from critical artistic practices and emergent blockchain business models in the arts. DAOWO Arts and Blockchain pdf download (Catlow & Vickers 2019).

Presentation and hosted discussion with Ruth Catlow and Ben Vickers

10.30 Coffee

10.45 Protecting the Rights of Indigenous Australian Artists. What part can Blockchain technologies play?

The Copyright Agency, Australia in conversation with Mark Waugh, DACS UK

11.30 Towards a Decentralised Arts Economy
The launch of Zien, the new dApp for artists will be followed by a presentation and panel discussion with Peter Holsgrove, and artists of A*NA around the implications of tokenising artistic practices.

12.15 Digital Catapult panel

12.45 Wrap up, takeaways and final discussion
Ruth Catlow, Ben Vickers & Mark Waugh
Contributors include:
Ruth Catlow Co-founder of Furtherfield & DECAL Decentralised Arts Lab
Peter Holsgrove, Founder of A*NA
Ben Vickers, CTO Serpentine Galleries, Co-founder unMonastery
Mark Waugh, Business Development Director DACS

Through two UK summits, the DAOWO programme is forging a transnational network of arts and blockchain cooperation between cross-sector stakeholders, ensuring new ecologies for the arts can emerge and thrive.

DAOWO Summit UK is a DECAL Decentralised Arts Lab initiative – co-produced by Furtherfield and Serpentine Galleries in collaboration with the Goethe-Institut London. This event is realised in partnership DACS, UK.
SEE IMAGES FROM THE PRIVATE VIEW
Octavia E Butler had a vision of time as circular, giving meaning to acts of courage and persistence. In the face of social and environmental injustice, setbacks are guaranteed, no gains are made or held without struggle, but societal woes will pass and our time will come again. In this sense, history offers solace, inspiration, and perhaps even a prediction of what to prepare for.

The Time Portals exhibition, at Furtherfield Gallery and online spaces, celebrates the 150th anniversary of Finsbury Park. As one of London's first 'People's Parks', designed for free movement and thought, it is the perfect location to create a mass investigation of radical pasts and futures, circling back to the start as we move forwards.

Each artwork invites audience participation – either in its creation or in the development of a parallel 'people's' work – turning every idea into a portal to countless more imaginings of past and future urban green spaces and beyond.

Time Portals from Furtherfield on Vimeo.
What We Can Do, Antonio Roberts, Studio Hyte (2019)
An interactive wall depicting the urban green space of Finsbury Park as a machine for radical re-assemblage. The external billboard can be scanned with an Augmented Reality app to reveal the secret of realising progressive visions for the future. Scan the message in the Gallery to see the billboard image animated.

Future Machine, Rachel Jacobs (2019)
An interactive machine designed and built to respond to environmental change and inspire new rites for our troubled times. A slideshow of the machine as it is imagined and built will be presented alongside a ritualised unveiling in the Autumn.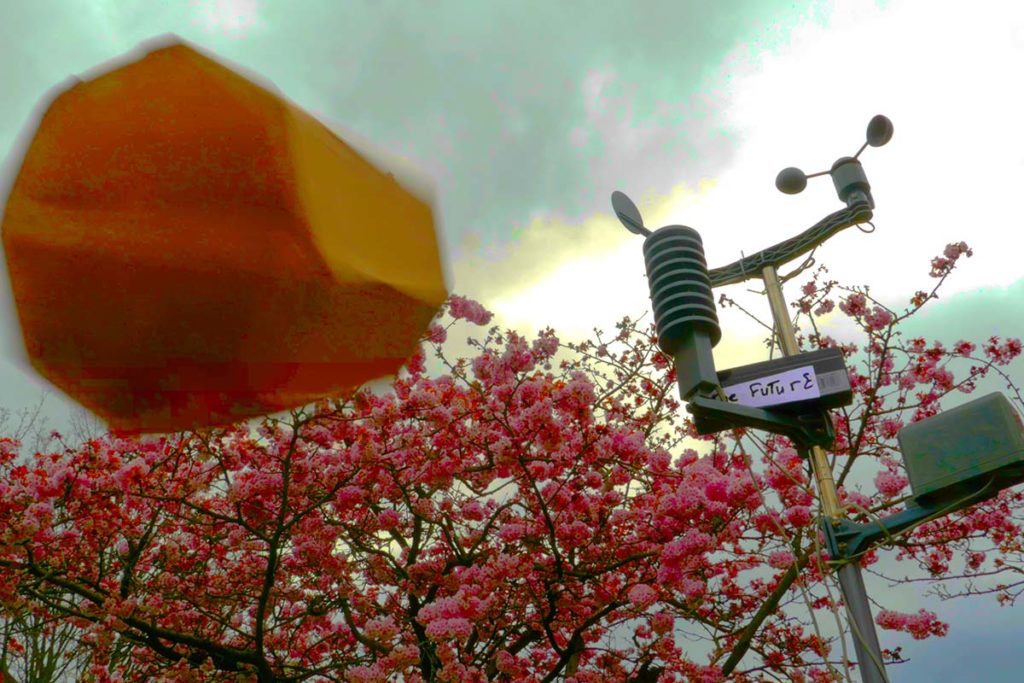 Join the Future Machine design team at Furtherfield Commons in Finsbury Park to build a new artwork that will help us to respond to environmental change…as the future unfolds. Sign up to take part in up to 4 workshops that involve talking, thinking & making, using interactive technology and scientific sensors, helping to design and build the Future Machine itself.
Workshop times/dates and sign-ups:

Tuesday 26th March 3-6,
Saturday 20th April 1-4,
Saturday 11th May 1-4,
Tuesday 18th June 3-6
ArchaeaBot: A Post Singularity and Post Climate Change Life-form, Anna Dumitriu, Alex May (2018)
In collaboration with Amanda Wilson (MARA Project/Imperial College) and Professor Daniel Polani (University of Hertfordshire). Supported by EMAP and Arts Council England
An underwater robotic installation which explores what 'life' might mean in a future transformed by climate change and artificial intelligence. The work is based on new research into archaea, which are single-celled, ancient microbes that can survive in hot, polluted environments, combined with the latest innovations in machine learning. Now living at Furtherfield Gallery the "ArchaeaBot" is the 'ultimate' species for the end of the world as we know it.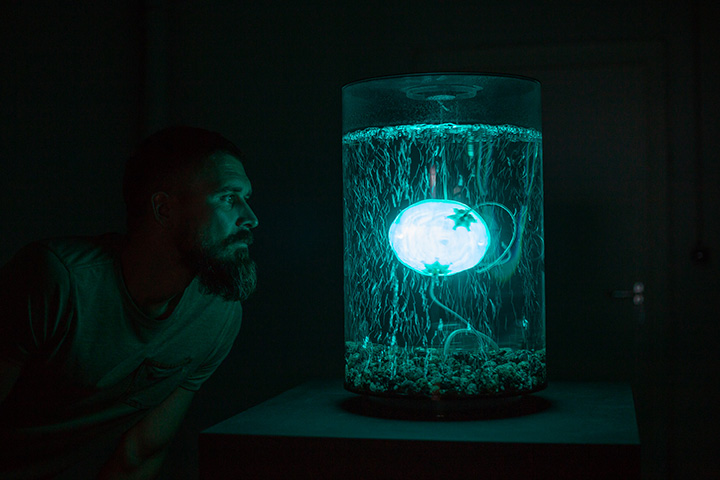 Circle of Blackness: Part 1 – Meet Ann E. Styles, Elsa James (2019)
With creative team: Hugo Stanbury, Nick Lambert, Marius Matesan, Carl Smith, James E. Marks, Chris Szkoda

Through in-depth research James revisits a historical black woman who lived in the Finsbury Park area 150 years ago, embodies and reimagines her then and 150 years into the future. Produced together with Ravensbourne University PlayLabZ and Holotronica, experience time travel and holographic mixed reality at the Furtherfield Gallery throughout the summer.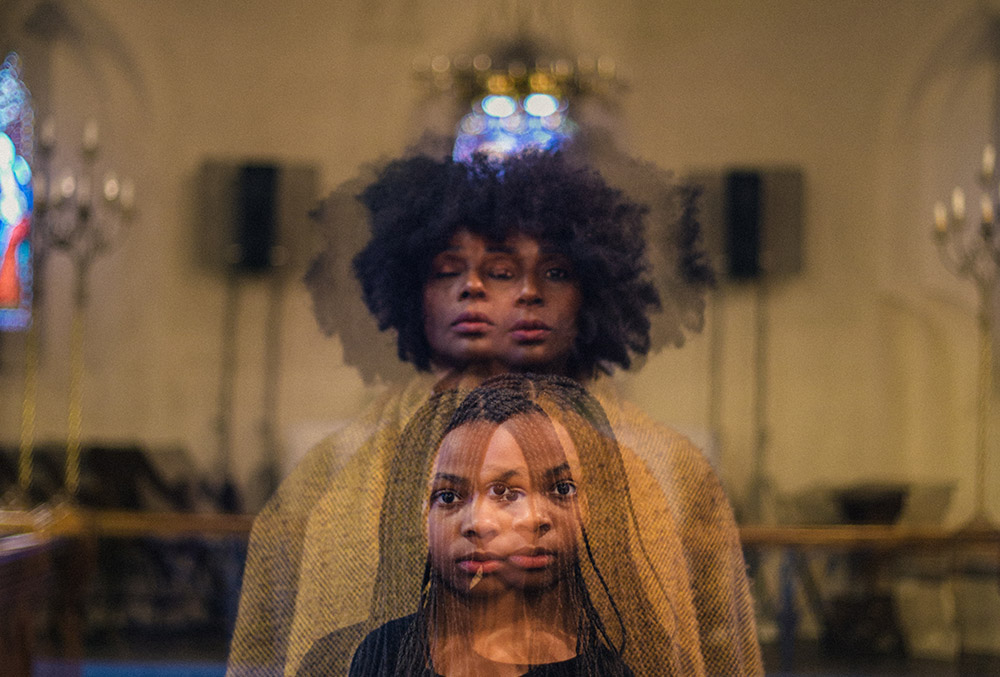 Part 2 of Circle of Blackness will be revealed later in the summer.
The Time Machine in Alphabetical Order, Thomson and Craighead (2010)
This video work is a complete rendition of the 1960s film version of HG Wells Novella re-edited by Thomson & Craighead into alphabetical order from beginning to end. In doing this, the artists attempt to perform a kind of time travel on the movie's original timeline through the use of a system of classification.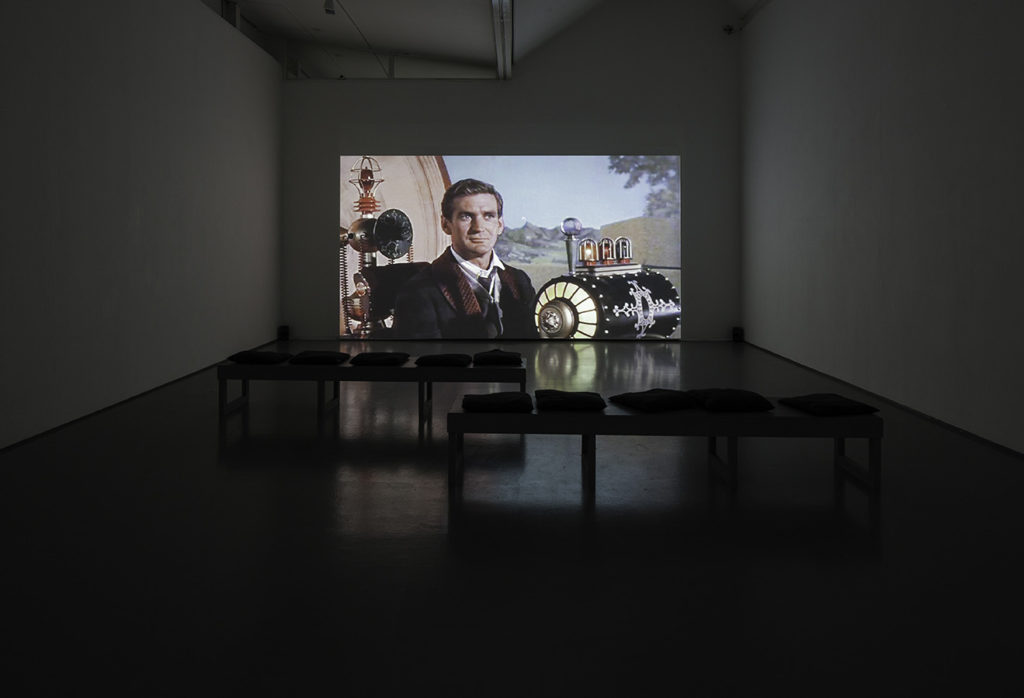 Time Portals Events and Activities
Future Machine Artwork Workshops:
26 Mar, 20 Apr, 11 May, 18 Jun, 13 Jul, Furtherfield Commons
Book Launch Event for Jugaad Time by Amit S. Rai:
27 Apr 14.00-16.00, Furtherfield Commons
Find a Line to Follow and Face The Future! 'Walkshops':
5 May 18 May, 10 Aug, Furtherfield Commons
Free, Fair, and Alive! A People's Park Play Day:
10 Aug 10.00-17.00, Furtherfield Commons
Future of Money Workshops:
10 Aug, 10.00-17.00, Furtherfield Commons, other dates TBC,
Citizen Sci-Fi 3-Day Artworkers Lab Event:
14-15 Sept, time TBC, Furtherfield Commons
Future Machine Artwork Opening Event:
Date and time TBC, Furtherfield Commons
Circle of Blackness Special Event:
28 Sept, time TBC, Furtherfield Gallery and Commons
Citizen Sci-Fi Programme 2019-2021

This 3-year programme combines citizen science and citizen journalism by crowdsourcing the imagination of local park users and community groups to create new visions and models of stewardship for public, urban green space. By connecting these with international communities of artists, techies and thinkers we are co-curating labs, workshops, exhibitions and Summer Fairs as a way to grow a new breed of shared culture.

3 years and 3 themes
50+ Citizen Sci-Fi events
1000s of local residents
Stories, movies, machines and more!
#CitSciFi – crowdsourcing creative and technological visions of our communities and public spaces, together.

Artist Bios

Anna Dumitriu is a British artist who works with BioArt, sculpture, installation, and digital media to explore our relationship to infectious diseases, synthetic biology and robotics. She has an extensive international exhibition profile including ZKM, Ars Electronica, BOZAR, The Picasso Museum, The V & A Museum, Philadelphia Science Center, MOCA Taipei, LABoral, Art Laboratory Berlin, and The Museum of the History of Science Oxford. She was the 2018 President of the Science and the Arts section of the British Science Association and holds visiting research fellowships at the University of Hertfordshire, Brighton and Sussex Medical School, and Waag Society, as well as artist-in-residence roles with the Modernising Medical Microbiology Project at the University of Oxford, and with the National Collection of Type Cultures at Public Health England. Dumitriu is a renowned speaker and has presented her work at venues including TATE Modern, Princeton University, Imperial College, La Musee de la Chasse et de la Nature, The Mendel Museum and UCLA. Her work is featured in many books including "Bio Art: Altered Realities" published by Thames and Hudson in 2016 and many other significant publications across contemporary art and science including Artforum International Magazine, Leonardo Journal, The Art Newspaper, Art Quarterly, Nature and The Lancet. Dumitriu's work has a strong focus on the ethical implications of emerging technologies drawing threads across time, exploring future scenarios by reflecting on the past.
Elsa James is a visual artist, activist and producer based in Southend-on-Sea, Essex, who grew up in west London during the 1970s and '80s. Her solo practice encompasses lens-based performance, language and text, and recently the use of aural and the archive to explore regionality of race; black subjectivity; and the historical, temporal and spatial dimensions of what it means to be black in Britain. She is currently developing work exploring alienation and outsiderness experienced as a black woman living in Essex since 1999. Forgotten Black Essex (2018) embodies two place-specific narratives from our national archives of two overlooked, under-researched and recognised black women in Essex. Her social practice includes advocating for the inclusion of marginalised communities in the arts sector. New Ways of Seeing, Telling and Making (2018), a visual provocation and participatory lab at the Social Art Summit, asked questions about how we can 'genuinely' address barriers to participation and involvement in the arts for BAME communities. In 2015 she was commissioned to research the asylum and refugee community in Southend. This culminated in a 38-page report exposing the council's lack of provision for the needs of asylum seekers, failed asylum seekers and refugees living in Southend.
Rachel Jacobs is an artist, researcher and games designer. She co-founded the artist-led collective Active Ingredient in 1996 and the commercial games company Mudlark Production Company in 2007. She completed a Doctorate in Computer Science in 2014. Rachel is a practising artist exhibiting nationally and internationally, and a Research Associate at the Horizon Digital Economy Institute, University of Nottingham. Her artworks include the award winning 'Heartlands (Ere Be Dragons)' one of the first mobile games that took place on city streets in Sao Paulo, Yokhama, Berlin, Paris, Cambridge, Bristol and Nottingham; 'A Conversation Between Trees', a touring artwork and schools exchange using environmental sensors to connect forests in the UK and Brazil; and 'The Prediction Machine', an interactive installation that predicts the future impacted by climate change. Rachel is currently developing a series of artists interventions 'Creating Rituals for When The Future Comes', alongside a mobile interactive artwork the 'Future Machine'.
Dr Nick Lambert is Director of Research at Ravensbourne University London, where immersive environments and mixed reality experiences are being developed. He researches the application of technology in contemporary art and visual culture. He has written on the history of computer art and engaged with artists and theorists in this field. He has also created artworks for immersive environments including fulldome, and interactive exhibits.
James E. Marks, PsychFi – A natural born new media pioneer, award winning social video, & dimensional computing arts for good maker, curator & speaker. With 4 decades of hands-on experience & experimental knowledge collaborating on Brand / Crowd / Arts Council funded "Sub & Pop Culture Mixed Up Reality Experiences". Recent collaborations include V&A, London Design Festival, Boomtown Fair, Mobile World Congress, Ravensbourne University, Bethesda, SubPac, Modern Panic, Sci-Fi-London & BBC Click

Marius Matesan is creating narratives using real and virtual installation art, noted mostly for his work on theatre stages across Europe and more recently for his Mixed Reality experiences. Mixing reality with the imaginary, using sound, projection mapping, spatial computing and virtual reality. His work revolves around pushing the boundaries of perception, awareness and reality, creating installations that are often addressing social issues with a psychedelic twist.

Alex May is a British artist creating digital technologies to challenge and augment physical and emotional human boundaries on a personal and societal level in a hyper-connected, software mediated, politically and environmentally unstable world. He works with light, code, and time; notably algorithmic photography, robotic artworks, video projection mapping installations, interactive and generative works, video sculpture, performance, and video art. Alex has exhibited internationally including at the Francis Crick Institute (permanent collection), Eden Project (permanent collection), Tate Modern, Ars Electronica (Austria), LABoral (Spain), the Victoria & Albert Museum, Royal Academy of Art, Wellcome Collection, Science Museum, Bletchley Park, One Canada Square in Canary Wharf, the Museum of Contemporary Art in Caracas (Venezuela), the Science Gallery in Dublin, Princeton University, University of Calgary (international visiting artist 2016), Texas A&M University, and the Beall Center for Art + Technology, University of California, Irvine. Alex is a Visiting Research Fellow: Artist in Residence with the School of Computer Science of University of Hertfordshire, and a Digital Media Arts MA sessional lecturer at the University of Brighton.

http://www.alexmayarts.co.uk
Antonio Roberts is a new media artist and curator based in Birmingham, UK. He uses technology-driven processes to explore issues surrounding open source software, free culture and collaborative practices. His visual and performance work has been featured at galleries and festivals including databit.me in Arles, France (2012), Glitch Moment/ums at Furtherfield Gallery, London (2013), Loud Tate: Code at Tate Britain (2014), glitChicago at the Ukrainian Institute of Modern Art in Chicago, US (2014), Permission Taken at Birmingham Open Media and University of Birmingham (2015-2016), Common Property at Jerwood Visual Arts, London (2016), Green Man Festival, Wales (2017) and Barbican, London (2018). He has curated exhibitions and projects including GLI.TC/H Birmingham (2011), the Birmingham editions of Bring Your Own Beamer (2012, 2013), µChip 3 (2015), Stealth (2015), and No Copyright Infringement Intended (2017).
Carl H Smith is Director of the Learning Technology Research Centre (LTRC) and Principal Research Fellow at Ravensbourne University London. His background is in Computer Science and Architecture. He has 17 years experience conducting R+D into the application of hybrid technologies for perceptual, cognitive and creative transformation. He has worked on a number of large-scale FP7 and Leonardo Life Long Learning European projects. He is currently working on 4 EU projects including the Horizon 2020 project '[WEKIT] Wearable Experience for Knowledge Intensive Training' which aims to create 'Wearable Experience (WE)' – an entirely new form of media. His research interests include Embodied Cognition, Spatial Literacy, Perceptual Technology and Hyperhumanism. His other projects involve Context Engineering, Umwelt Hacking, Natural Media, Sensory Augmentation, Memory Palaces, Artificial Senses and Body Hacking. He is co-founder of the London Experimental Psychonautics Club and co-founder of the Cyberdelic Society. Both organisations explore the myriad of ways it is possible to produce and examine Altered States of Consciousness. He has previously worked at the Computing departments at London Metropolitan University, Glasgow University and Sheffield University. The Learning Technology Research Centre (LTRC) conducts design research into the application of information and communication technologies to augment, support and transform cognition.
Hugo Stanbury has worked in the event and entertainment industry for over a decade. Inspired most by the area where cutting edge technology is used for properties rather than purpose, he works hard to balance sound technical delivery with new creative concept. He currently works as Operations Director at Holotronica – the UK company behind Hologauze. Hologauze is the world leading gauze for holographic effects with clients from BMW to Beyonce. Holotronica are specialists in a range of holographic displays, analogue holography and 3D content.
Studio Hyte is a London based multidisciplinary design studio who place research and concept above medium. Working between graphic design, interaction and emergent forms of visual communication, we aim to create meaningful and thought provoking work. Formed of a small group of individual practitioners, Studio Hyte is the middle ground where all of our interests and practices meet. As such our collective practice and research covers a broad spectrum of topics including; language, inclusion & accessibility, egalitarian politics & alternative protest and technology & the human. With an emphasis on process, we often create critical narratives through our work in order to conceptualise through making. Collectively, our visual practice is a means through which we can plot out a conceptual landscape in order to understand and explore real-world scenarios. Studio Hyte works on self-directed research projects, commissions and client-led projects for a small pool of like minded organisations and individuals.
Chris Szkoda, Kaws Infinity – Games Designer/ VFX Artist, works on designing mixed/virtual reality apps for a social mixed reality experience playground at Ravensbourne University London. Keen to support social good & diversity projects, working directly with students and helping them make their creative ideas a reality. He has expertise in immersive technology, VR modelling and painting in Google Tilt Brush and MasterpieceVR software.

Jon Thomson (b. 1969) and Alison Craighead (b. 1971) are artists living and working in London. They make artworks and installations for galleries and specific sites including online spaces. Much of their recent work looks at live networks like the web and how they are changing the way we all understand the world around us. Having both studied at Duncan of Jordanstone College of Art in Dundee, Jon is Reader in Fine Art at The Slade School of Fine Art, University College London, while Alison is a reader in contemporary art and visual culture at University of Westminster and lectures in Fine Art at Goldsmiths University.
http://www.thomson-craighead.net/
Come and Build a Machine for the Future with Rachel Jacobs
Artist Rachel Jacobs is working in partnership with Furtherfield to build a Future Machine in Finsbury Park and you are invited to help build it.
Location:
Furtherfield Commons
269-271 Seven Sisters Road
Finsbury Park
N4 2DE
Sign up to take part in four workshops that will involve thinking about the future (in response to environmental change) and helping to design and build the Future Machine, towards an unveiling at Furtherfield Gallery this Autumn and tour of England in 2019/2020.

The workshops are designed to bring together people with ALL views on environmental change – denier, worrier, eco-warrior, confused, conspiracy theorist, lover of trees – everyone is welcome! The workshops will involve talking, thinking, making things with all kinds of arts and craft materials, as well as using interactive technology and scientific sensors. You are welcome to sign up to one or all of the workshops, you don't need to attend them all to take part.
Furtherfield Commons is a wheelchair accessible venue. Please email the artist at: promises@thepredictionmachine.org if you want to discuss any accessibility requirements.

Workshop times/dates:

Tuesday 26th March 3-6
Saturday 20th April 1-4
Saturday 11th May 1-4
Tuesday 18th June 3-6
Book now!
Refreshments will be provided
The Future Machine Artwork

The Future Machine sits on a hand cart ready for the journey, travels the country and plugs into a greater whole of many parts. It stands as a witness to the places, people, stories and events of these turbulent times, as the Earth changes, and we take a journey into an uncertain future.
The Future Machine is a new artwork, a large interactive machine, built to help us to respond to environmental change as the future unfolds. The machine will record people's visions of the future, make predictions, facilitate new rituals and helps us to make decisions about the future we want, not one we fear.
The artwork will be created in collaboration with a team of engineers, programmers, climate scientists from the British Antarctic Survey, researchers from the University of Nottingham, and participants in a series of artist-led workshops, scheduled to take place in London and Nottingham in 2019.
The Future Machine will be built by YOU over the coming months and unveiled in an Autumn ritual – details to follow
The Future Machine is part of Furtherfield's 2019 programme: Time Portals.
"It's amazing what we can do if we simply refuse to give up. The word again is persist." Octavia E Butler
In 2019 we celebrate the 150th anniversary of Finsbury Park, and we time travel through its past and future with the launch of our Citizen Sci-fi programme and methodology. Dominant sci-fi franchises of our time, from Black Mirror to Westworld, have captured popular attention by showing us their apocalyptic visions of futures made desperate by systems of dominance and despair.
What is African-American author, Octavia E. Butler's prescription for despair? Sci-fi and persistence. Sci-fi as a tool for getting us off the beaten-track and onto more fertile ground, and persistent striving for more just societies.The 2015 book Octavia's Brood honoured her work, with an anthology of sci-fi writings from US social justice movements and this inspired us to try a new artistic response to the histories and possible futures of Finsbury Park.
Furtherfield's Citizen Sci-Fi methodology combines citizen science and citizen journalism by crowdsourcing the imagination of local park users and community groups to create new visions and models of stewardship for public, urban green space. By connecting these with international communities of artists, techies and thinkers we are co-curating labs, workshops, exhibitions and Summer Fairs as a way to grow a new breed of shared culture.
Each artwork in the forthcoming exhibition invites audience participation – either in it's creation or in the development of a parallel 'people's' work – turning every idea into a portal to countless more thoughts and visions of the past and future of urban green spaces and beyond.
So where do we start? Last year we invited artists, academics and technologists to join us in forming a rebel alliance to fight for our futures across territories of political, cultural and environmental injustice. This year both our editorial and our exhibition programme are inspired by this alliance and the discoveries we are making together.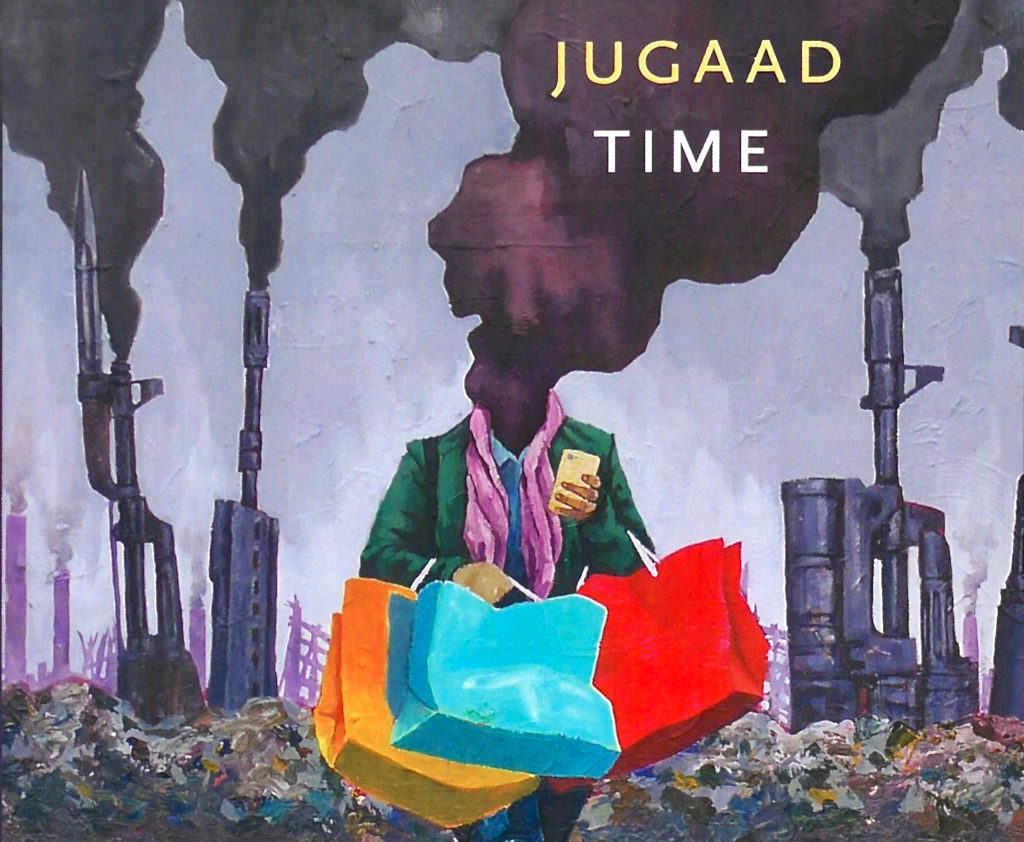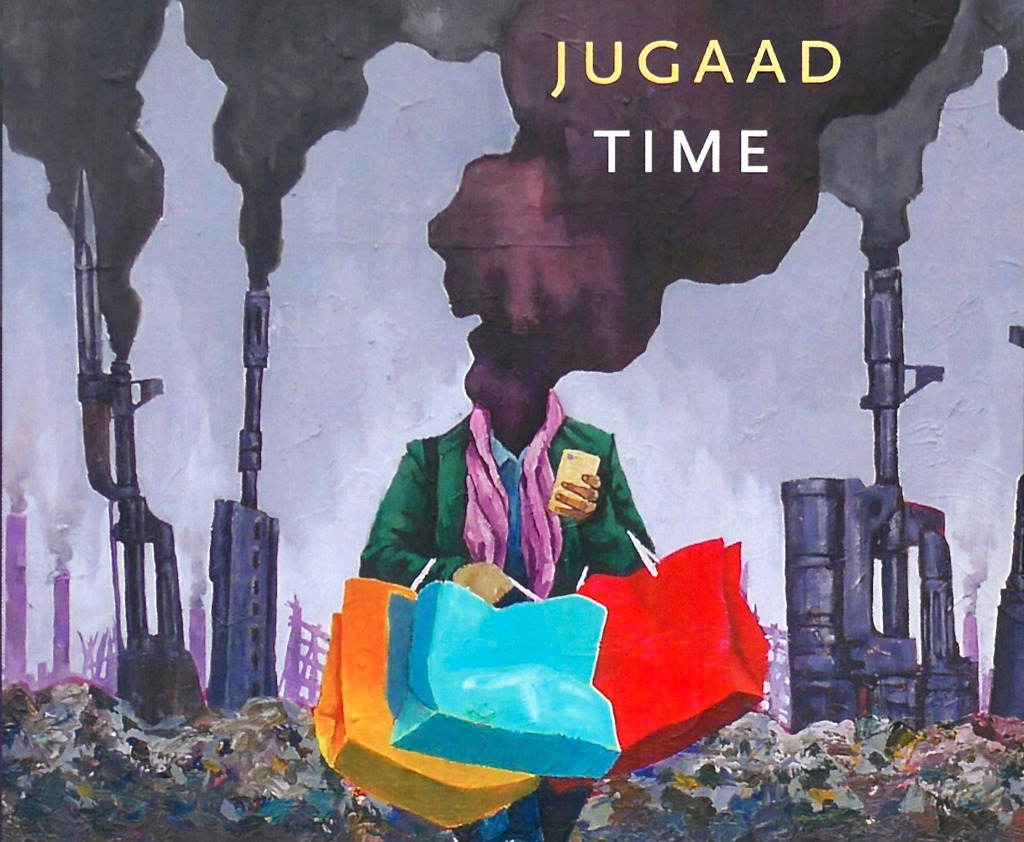 To kick off this year's Time Portals programme at Furtherfield, in April we will host the launch and discussion around Jugaad Time, Amit Rai's forthcoming book. This reflects on the postcolonial politics of what in India is called 'jugaad', or 'work around' and its disruption of the neoliberal capture of this subaltern practice as 'frugal innovation'. Paul March-Russell's essay Sci-Fi and Social Justice: An Overview delves into the radical roots and implications of Mary Shelley's Frankenstein (1818). This is a topic close to our hearts given our own recent exhibitions Monsters of the Machine and Children of Prometheus, inspired by the same book. Meanwhile we've been hosting workshops with local residents exploring our visions for Finsbury Park 150 years into the future. To get a flavour of these activities Matt Watkins' has produced an account of his experience of the Futurescapes workshop at Furtherfield Commons in December 2018.
In May we will open the Time Portals exhibition which features several new commissions. These include Circle of Blackness by Elsa James. Through local historical research James will devise a composite character to embody the story of a black woman from the locality 150 years ago and 150 years in the future. James will perform a monologue that will be recorded and produced by hybrid reality technologist Carl Smith and broadcast as a hologram inside the Furtherfield Gallery throughout the summer. While Futures Machine by Rachel Jacobs is an Interactive machine designed and built through public workshops to respond to environmental change – recording the past and making predictions for the future while inspiring new rituals for our troubled times. Once built, the machine occupies Furtherfield Gallery, inviting visitors to play with it.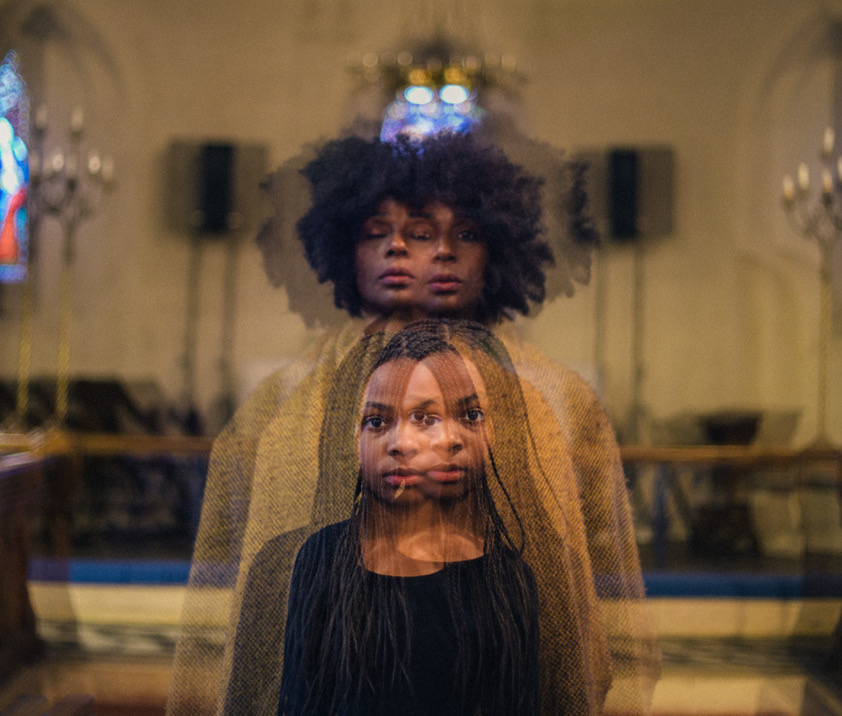 Time Portals opens on May 9th (2019) with other time traveling works by Thomson and Craighead, Anna Dumitriu and Alex May, Antonio Roberts and Studio Hyte. Visitors will be invited to participate in an act of radical imagination, responding with images, texts and actions that engage circular time, long time, linear time and lateral time in space towards a collective vision of Finsbury Park in 2169.
From April onwards, a world of activities, workshops with local families and their enriching noises, reviews, interviews and an array of experiences will unfold. Together we dismiss the dystopian nightmares and invite communities to join us in one of London's first "People's Parks" to revisit and recreate the future on our own terms together.
Marc Garrett will be interviewing Elsa James, about her artwork Circle of Blackness, and Amit Rai about his book Jugaad Time. Both will soon be featured on the Furtherfield web site.
Join us in Edinburgh at the first DAOWO 'Blockchain & Art Knowledge Sharing Summit' of 2019
DAOWO (Distributed Autonomous Organisations With Others) Summit UK facilitates cross-sector engagement with leading researchers and key artworld actors to discuss the current state of play and opportunities available for working with blockchain technologies in the arts. Whilst bitcoin continues to be the overarching manifestation of blockchain technology in the public eye, artists and designers have been using the technology to explore new representations of social and cultural economies, and to redesign the art world as we see it today.
This summit will focus on potential impacts, technical affordances and opportunities for developing new blockchain technologies for fairer, more dynamic and connected cultural ecologies and economies.
Programme
1.00 Registration
1.30 Welcome and Scene Setting
'State of the Arts: Blockchain's Impact in 2019 and Beyond' Presentation by Ruth Catlow and Ben Vickers offering a comprehensive overview of developments from critical artistic practices and emergent blockchain business models in the arts. DAOWO Arts and Blockchain pdf download (Catlow & Vickers 2019). Followed by a discussion hosted by Clive Gillman
2.15 Coffee
2.30 'Make / Do / Block' Panel Discussion with 5 creative practitioners whose work allows us to experience the otherwise abstract technology of blockchain.
Although the term 'blockchain' has trickled downstream into the public domain, the principles behind the technology remain mysterious to many. Embodied within physical assemblages or social interventions that mine, hash and seal the evidence of human practices, creatives have provided important 'coordinates' in the form of artworks that help us to unpick the implications of the technology and the extent to which it re-configures power structures.
Hosted by Prof Chris Speed and Mark Daniels with panellists:
Pip Thornton – The Value of Words in an Age of Linguistic Capitalism
Bettina Nissen & Ailie Rutherford – Designing feminist cryptocurrency for Govanhill
Evan Morgan – GeoPact
Jonathan Rankin – OxChain, Pizza Block
Larissa Pschetz – Karma Kettles

4.00 Coffee
4.15 Conversation
What Value Does The Blockchain Bring To Collecting Art? | Ruth Catlow in conversation with Marianne Magnin, Arteïa UK Managing Director.
4.45 Wrap up, takeaways and final discussion | Ben Vickers to lead into drinks
5.00 – 6.00 Drinks
Contributors include:
Ruth Catlow, Furtherfield and DECAL
Mark Daniels, New Media Scotland
Clive Gillman, Creative Scotland
Marianne Magnin, Arteïa
Prof Chris Speed, Design Informatics, University of Edinburgh
Ben Vickers, Serpentine Galleries
Through two UK summits, the DAOWO programme is forging a transnational network of arts and blockchain cooperation between cross-sector stakeholders, ensuring new ecologies for the arts can emerge and thrive.
DAOWO Summit UK is a DECAL initiative – co-produced by Furtherfield and Serpentine Galleries in collaboration with the Goethe-Institut London. This event is realised in partnership with the Department of Design Informatics at the University of Edinburgh and New Media Scotland.

OxChain is a major EPSRC research project which explores how Blockchain technologies can be used to reshape value in the context of international development and the work of Oxfam, involving the Universities of Edinburgh, Northumbria and Lancaster.
When I first heard about MoneyLab, it was back in 2013 or the beginning of 2014, when I was doing my masters in London. A friend of mine handed a flyer to me and I was intrigued by the strange typography and the combination of bright colours. However, I didn't quite believe that any kind of initiative could really start an alt-economy movement. Not that I didn't believe in local currency or creative commons, but those gentle approaches generally seemed to lack traction, just like liberals do with voters. I naturally thought MoneyLab was one of those initiatives.
However, as Bitcoin was becoming a hype, the name popped up again; MoneyLab itself was also becoming a hype. While bitterly regretting not being able to be associated as the first wave of participants, I started to think that maybe MoneyLab might be the framework that can really push out alternative economic attempts as mainstream culture. My stance towards economic shifts was somewhat similar to that of William Gibson's; he said in an interview with the British newspaper The Guardian, 'What would my superpower be? Redistribution of wealth'. How did that change after reading the MoneyLab Reader 2?
Digital payments spaces as a driving force
Before going into the details of what blockchain technology can really do, it is crucial to understand a new "unit of value" created in modern society (Pine and Gilmore 1999). Since the most prominent piece of technology of our era is undoubtedly smartphones (with Apple being the first 1 trillion dollar publicly listed company in the US), a lot of transactions are inevitably conducted through apps and web services. The proliferation of the so-called "payments space" signifies the era of UX design, which is the third paradigm of HCI (Human-Computer Interaction), "tak[ing] into account…affect, embodiment, situated meaning, values and social issues" (Tkacz and Velasco 2018). In other words, experience has become the deciding factor of customers' choices. With vast amounts of data generated at the back of sleek interfaces, one can precisely oversee the users' behaviour, which then is fed back into the system.
All the payments spaces are essentially digital. This means transactions leave digital traces whether you like it or not. The idea of a cashless society exactly stems from this interest, the authorities can have better understandings of how people make money; in other words, where black money flows. Brett Scott has been pointing out the danger of a cashless society for quite some time now, I saw another variation in this book.
Money becoming programmable
According to Jaya Klara Brekke, blockchain technology can make money programmable, "allow[ing] for very fine-grained (re)programming of the medium of money, from what constitutes, and how to measure, value-generating activity to the setting of parameters on the means and conditions of exchange – what is spendable, where and by whom" (Brekke 2018). The overall impression I got from the MoneyLab Reader 2 about what blockchain technology can really do is basically this. Making a currency programmable using smart contracts.
More than a couple of authors discuss how "contingency" should take place in designed currencies. Contingency is different from randomness; in fact, it could mean exactly the opposite. For example, when coins are distributed in a perfectly random manner, you have absolutely no control in the handling process. If contingency is embedded in a system, it means there are exploitable gaps, which seem to almost randomly benefit people. On the other hand, some individuals would find ways to make use of these gaps, which are considered to be legitimate. Brekke discusses how the way in which contingency is programmed into a currency will be a key for the future of finance, both in terms of experience and redistribution of wealth. Therefore, currency designers will be the next UX designers.
Everything blockchain?
A number of ideas applying blockchain technology to both physical and cultural objects are mentioned in this book, from a self-maintaining forest to blockchain-based marriage. "Terra0" is the concept of an autonomous forest which can "self-harvest its own value" (Lotti 2018). Utopian views of a human-less world are prevalent, but in reality, a healthy forest requires an adequate amount of human intervention. In addition, the value of a forest cannot be determined by itself; trade routes, demand and supply, they are all drawn by human movements. For example in Japan, domestic wood resources are generally not profitable because of the expensive labour costs. Illegally cut trees without certification from Southeast Asia dominate the market, putting domestic ones in a bad position. When a forest itself is not profitable, how can it accumulate capital autonomously? Besides, the oracle problem has not been discussed at all. Unless everything is digital in the first place, there always needs to be somebody to put data onto the blockchain. In other words, the transcendence of the boundaries between the physical and the digital is not possible without human intervention. Blockchain marriage would face a similar problem; who might be the witness if circumventing the government official? Max Dovey investigates the notion of "crypto-sovereignty" while introducing an example of a real blockchain marriage where they "turn[ed] 'proof of work'… into 'proof of love'"(Dovey 2018). Just as the sacramental bond between spouses can be broken before Death Do Them Part, so can any cryptographic marriage unravel despite having been recorded in an immutable ledger. Whatever repercussions may exist for divorce, there are no holy or technological mechanisms to prevent it.
Platform Cooperativism or Platform Parasitism?
Platform co-ops is one of the largest topics in the book besides Universal Basic Income (UBI). A platform co-op is often a cooperatively owned version of a major platform that is supposed to be able to pay better fees to the workers. Also, a platform co-op is often associated with "lower failure rate"; 80% of them survive the first five years when only 41% of other business models do (Scholz 2018). While embracing the positive aspects of platform co-ops, I have this question stuck in my head: can you not make a platform co-op based on a new idea rather than copying existing ones?
Most platform co-ops seem that they are looking at already successful and established concepts such as rental marketplaces for rooms and ride hailing services. As a result, platform co-ops are considered more to be a social movement than an innovation. Why not just run a business right at the centre of Capitalism without being motivated by profit? Many platform co-ops challenge the main stream services such as Airbnb or Uber, however those services operate based on scale; if they have the largest user base, it will be very difficult to take them on, unless they die themselves like Myspace… Moreover, more hardware side of development can be happening around co-ops, but I don't hear anything except for Fairphone. When can I stop using my ThinkPad with Linux on it?
After reading the MoneyLab Reader 2: Overcoming the Hype, now I'm thinking of how I should design my own currency. Of course whether cryptocurrencies are actually currencies is up to debate; depending on who you ask, Ethereum is a security (SEC), a commodity (CFTC), taxable property (IRS) or a currency (traders).
MoneyLab 2 authors overall suggest that we should not limit our imagination to fit in the existing finance systems, but think beyond. You don't necessarily need to cling to cryptocurrencies but they may help you shape your ideal financial system.
ART AFTER MONEY, MONEY AFTER ART is a workshop with Max Haiven, author of Art After Money, Money After Art: Creative Strategies Against Financialization.
In a world turned into a casino is it any wonder that corporate gangsters increasingly run the show? What are the prospects for a democratization of the economy when new technologies appear to further enclose us in a financialized web where every aspect of life is transformed into a digitized asset to be leveraged? Ours seems to be an age when art seems helpless in the face of rising authoritarianism, or like the plaything of the worlds speculator-plutocrats, and age when "creativity" has become the buzzword for the violent reorganization of work and urban life towards an endless "now" of competition and austerity.
And yet… we are witnessing an effervescence of imaginative struggles to challenge, hack and reinvent "the economy." Artists, technologists and activists are working together not only to refuse the hypercapitalist paradigm but reinvent the methods and measures of cooperation towards different futures. This workshop brings together many of these protagonists and their allies for a discussion on the occasion of the publication of Max Haiven's new book Art After Money, Money After Art: Creative Strategies Against Financialization.
Haiven will kick off the conversation with a short presentation of key themes in the book as they impinge upon the question of working at the intersection of "art" and new technologies (including but not limited to blockchains) to create alternative economic paradigms. The central question is, to what extent can these efforts surpass the (important) desire to redistribute wealth in a world of growing inequalities and, additionally, aim for a much more profound and radical collective reimagining of who and what is valuable.
Respondents include:
Austin Houldsworth
Dan Edlestyn
Brett Scott
Cassie Thornton
Kate Genevieve
Emily Rosamond
Jonathan Harris
Ruth Catlow and Martin Zeilinger will chair discussions and the event is sponsored by Anglia Ruskin University
---
Pluto Press are happy to offer a Furtherfield discount on the book. Add Art After Money to the cart and use the discount code ART15 to get the book at £15.
What happens to the hole when the cheese is gone?
Bertolt Brecht
Transient Hole (Variations) is a hybrid curatorial project and symposium by Viennese artist and curator Alexander Felch. The project`s title refers to a concept for a media artwork, that cannot, properly speaking, be materialized for it deals with a moving void – a transient hole.
Across the floor of a white, three-dimensional room a little black hole is constantly and randomly moving. The hole is simultaneously there and not there. It is a portal to nowhere. But is it really? Might it not lead to transcendence, to another reality, or perhaps our reality can only be understood through this liminal presence of nothingness?
The participants are invited to provide their own interpretation for this problem and develop means to represent it, whether through art or science, to display processes that cannot be depicted in reality. The aim of the project is obviously not to find a solution to this existential paradox but to bring about a reflection on the topic from a myriad of disciplines and different perspectives, which explore the limits of representation. The various responses to the THR problematic will be gathered in a collected volume that is in itself a reflection on the boundary between art and science, reality and fantasy.
The project appears – just like the transient hole – in different cities popping up in various forms and is accompanied by lectures, talks and (sound-) performances.
Contributions by:
Atzgerei Productions, Arnold Berger, Ryan Mc Donagh, Sophie Dvorak, Alexander Felch / Aisek Ifraimov, Mariana Ferreira / Dayjon Edwards, Christoph Höschele, Hrvoje Hirsl, Harald Hund, Sandy Leong, Stefan Lutschinger, Nicholas Moloney, Anja Nowak, Jaysha Obispo, Shinji Toya, Jeroen van Amelsvoort, Anna Vasof, Stefan Voglsinger, Jan Vormann, Yilin Wang, David Wauters, Hui Ye.
Featuring concepts developed by students of Middlesex University London – BA Digital Media and BA Media and Cultural Studies
Transient Hole (Variations) X (ten) – Preview

Monday 12 November – Friday 16 November 2018
Middlesex University
FREE
Transient Hole (Variations) X (ten) – Exhibition View
Saturday 17 November 2018, 11:00 – 16:00
Furtherfield Gallery
FREE
13:00
Opening
14:30
Introduction and Guided Tour
Alexander Felch "Transient Hole Research – Instationarity as an artistic concept / a scientific particularity"
Cybersalon feat. Transient Hole Research
Saturday 17 November 2018, 16:00 – 21:00
Furtherfield Commons
FREE
16:00
Limehouse Hole Atlas Datathon
Navino Evans and Sean McBride (http://histropedia.com/)
18:00
Sound Performances
ABOUT THE ARTISTS
Karl Salzmann (A) is a sound & visual artist, curator and researcher currently based in Vienna / Austria. Within process-oriented and experimental setups, he develops and presents works that study the materiality of sound and its social, cultural and metaphorical levels of meaning. His artistic activities mainly concern the interaction between sound and visual arts and often relate to works and topics of (sound) art history.
http://www.karlsalzmann.com/
T_A-Z (Paul Gründorfer) (A) is using process-related setups to explore sonic worlds and to realise site specific interventions, developing real time audio systems, that act autonomous or in reference to the spatial constellation. While considering the encounters between analog and digital, structured or improvised elements, he is focusing on the abstract occurrence of sound and its physical impact.
Electronic circuits are interconnected to cause semi-natural entities, autonomous organisms. Voice and articulation are generated through loops in feedback networks. Onomatopoeia.
His artistic activities examine variable connections between transmitter-receiver networks, which function as a conceptual framework for experimentation with sound and transmission of information.
http://tricx.net/
Monsterfrau Lena Wicke Aengenheyster (A/D) – MONSTERFRAU PJ (Performance Jockey) – Part III of the performance serial MONSTERFRAU The voices' bodies: MONSTERFRAU triggers, mixes and morphes dance music rythms, samples and sounds with her movement. STAATSAFFAIRE: Production of and reflection through artistic projects in music and performance art. Beyond that it is the common optimisation of production environments and network.
http://www.staatsaffaire.com/
–
Visuals:
Simon Sarginson (live coding) (UK)
London edition curated by Alexander Felch + Stefan Lutschinger
Realised in cooperation with Cybersalon, Middlesex University London and the Austrian Cultural Forum London – with kind support by the Federal Chancellery Of Austria.
–
www.facebook.com/transienthole/
www.mdx.ac.uk
www.cybersalon.org
www.furtherfield.org
DOWNLOAD CURATORIAL STATEMENT

SEE IMAGES FROM THE PRIVATE VIEW
Feature image: Jeremy Hutchison, Movables, 2017. Photo courtesy of the artist.
We live in a time of stark and often violent paradoxes: the increasing liberalisation of social values in some parts of the world compared to increasing fundamentalism in others; the wealth of scientific discovery and technological advances in contrast to climate denialism, "post-factual" and conspiracy-driven politics; freedom of movement for goods and finance while individual movement is ever more constricted and subject to law; a drive towards agency, legibility and transparency of process while automation, computerisation and digitisation, render more of the world opaque and remote. At every level, mass movement of peoples and the rise of planetary-scale computation is changing the way we think and understand questions of geography, politics, and national identity.
These ever-increasing contradictions are seen most acutely at the border. Not merely the border between physical zones and between nation states, with their differing legal jurisdictions and requirements for entry and residency, but also the border between the physical and digital, when we apparently – but perhaps misleadingly and certainly temporarily – cross over into a different zone of possibility and expression.
This contradiction is also clear in the balkanisation of newly independent and fragmenting states, and in the rising current of nationalism across Europe, which seems to run in parallel to, and might even be accelerated by, digital connectivity. Some of the most outwardly regressive powers themselves employ what Kremlin theorist Vladislav Surkov has called "non-linear strategy": a strategy of obfuscation and deliberate contradiction clearly indebted to the convolutions and confusions of the digital terrain – and of art. As ever more varied expressions of individual identity are encouraged, revealed, made possible and validated by online engagement, so at the same time a desperate rearguard action is being fought to codify and restrain those identities – online and off. These new emergent identities are, inevitably and by necessity, transient and contingent, slippery and subject to change and redefinition.
The artists featured in Transnationalisms address the effect of these pressures on our bodies, our environment, and our political practices. They register shifts in geography as disturbances in the blood and the electromagnetic spectrum. They draw new maps and propose new hybrid forms of expression and identity. In this exhibition Transnationalisms acknowledges and even celebrates the contradictions of the present moment, while insisting on the transformative possibilities of digital tools and networks on historical forms of nationalism, citizenship, and human rights. While the nation state is not about to disappear, it is already pierced and entangled with other, radically different forms. Alternative models and protocols of citizenship, identity, and nationhood are being prototyped and distributed online and through new technologies. Transnationalisms examines the ways in which these new forms are brought into the physical world and used to disrupt and enfold existing systems. It does not assume the passing of old regimes, but proclaims the inevitability of new ones, and strives to make them legible, comprehensible, and accessible.
Raphael Fabre CNI, 2017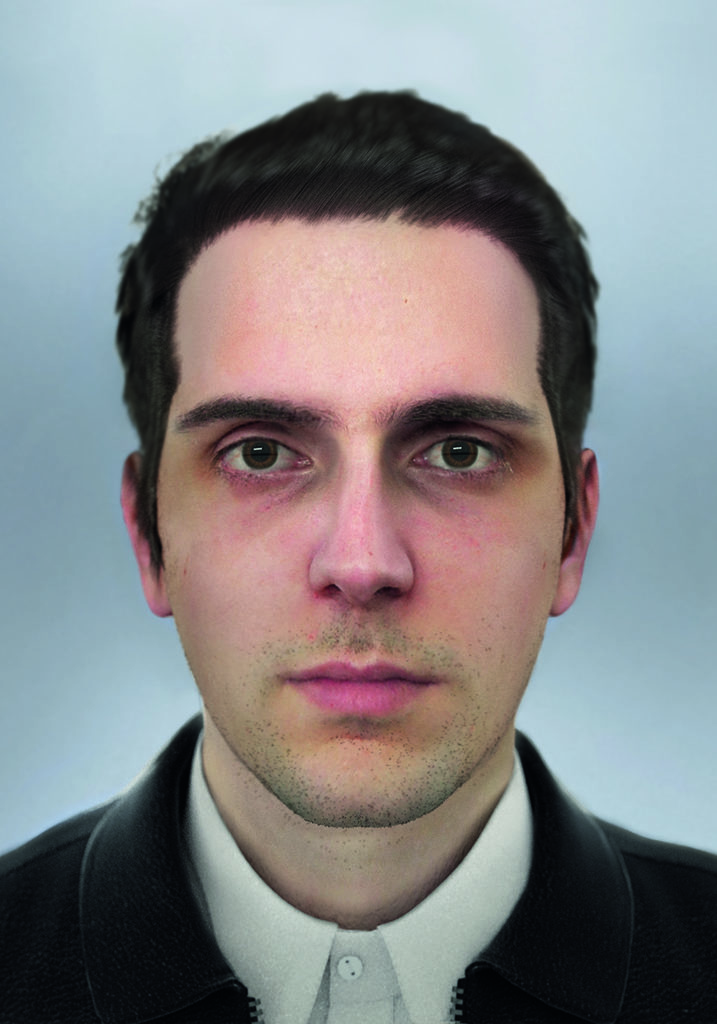 On April 7th, 2017, Raphael Fabre submitted a request for a French ID card. All of his papers were deemed to be legal and authentic and so the demand was accepted and a new national ID card was issued. In fact, the photo submitted to accompany this request was created on a computer, from a 3D model, using several different pieces of software and special effects techniques developed for movies and video games. Just as our relationship with governments and other forms of authority is increasingly based on digital information, so the image on the ID is entirely virtual. The artist's self-portrait suggests the way in which citizens can construct their own identities, even in an age of powerful and often dehumanising technologies.
Jeremy Hutchison Movables, 2017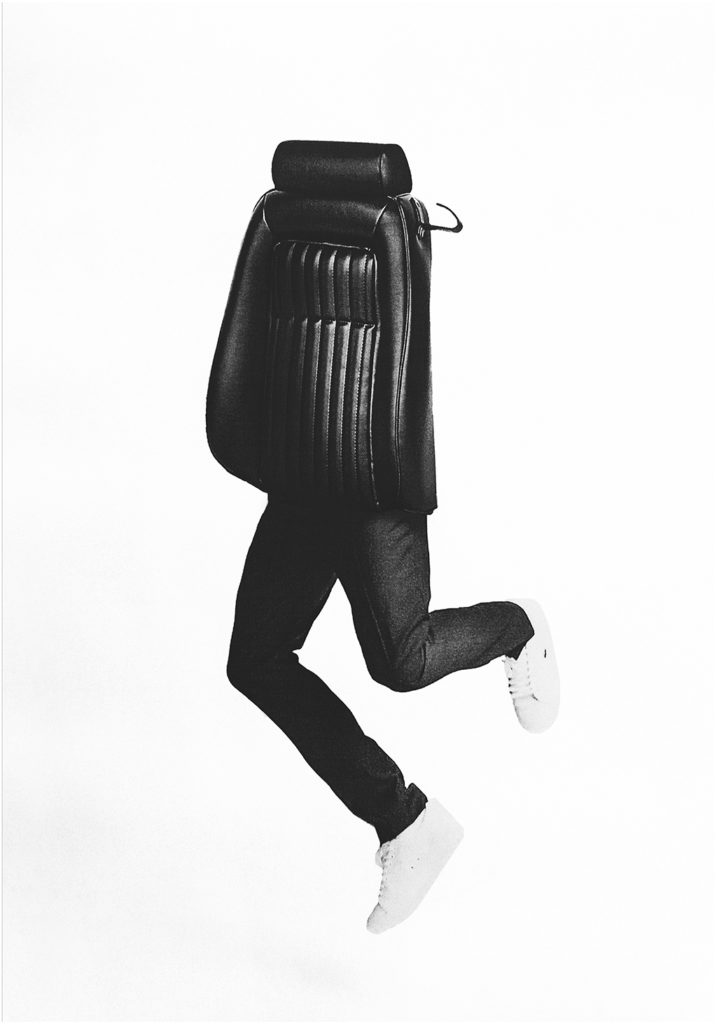 The starting point for this work was a found photograph, taken by police at a border point somewhere in the Balkans. It showed the inside of a Mercedes, the headrests torn open to reveal a person hiding inside each seat. This photograph testifies to a reality where human bodies attempt to disguise themselves as inanimate objects, simply to acquire the same freedom of movement as consumer goods. Movables translates this absurdity into a series of photo collages, combining elements of high-end fashion and car adverts, enacting an anthropomorphic fusion between the male form and the consumer product. The results are disquieting yet familiar, since they appropriate a visual language that saturates our everyday urban surroundings, highlighting the connections between transnational freedoms and limitations, and international trade.
They Are Here
We Help Each Other Grow, 2017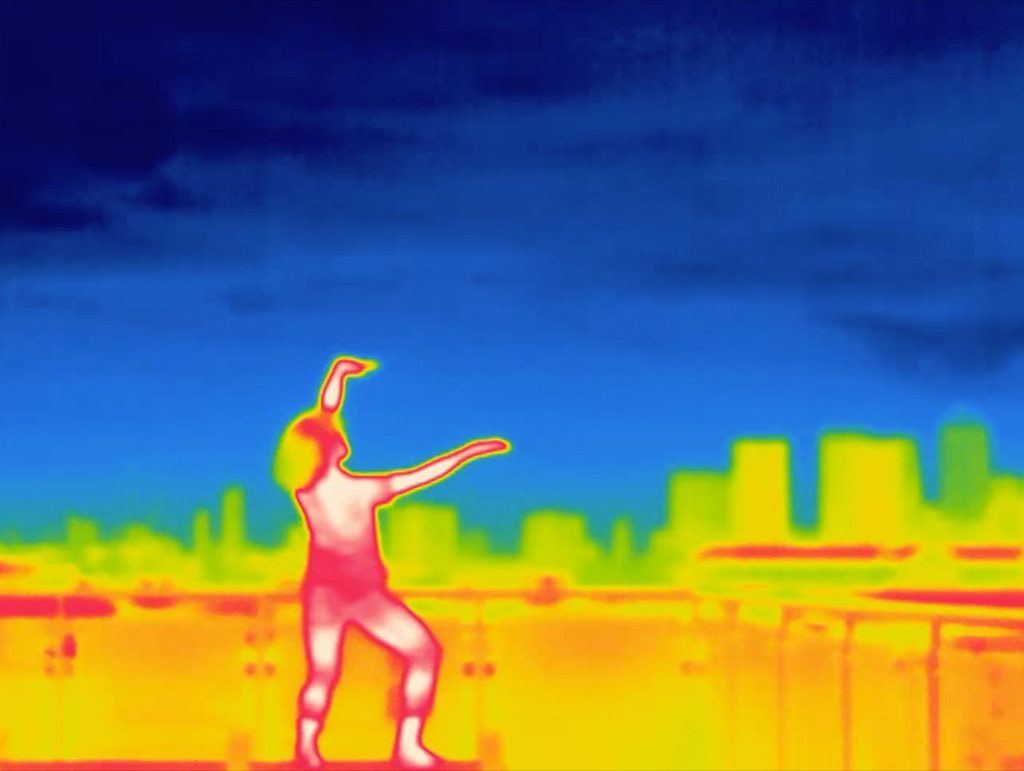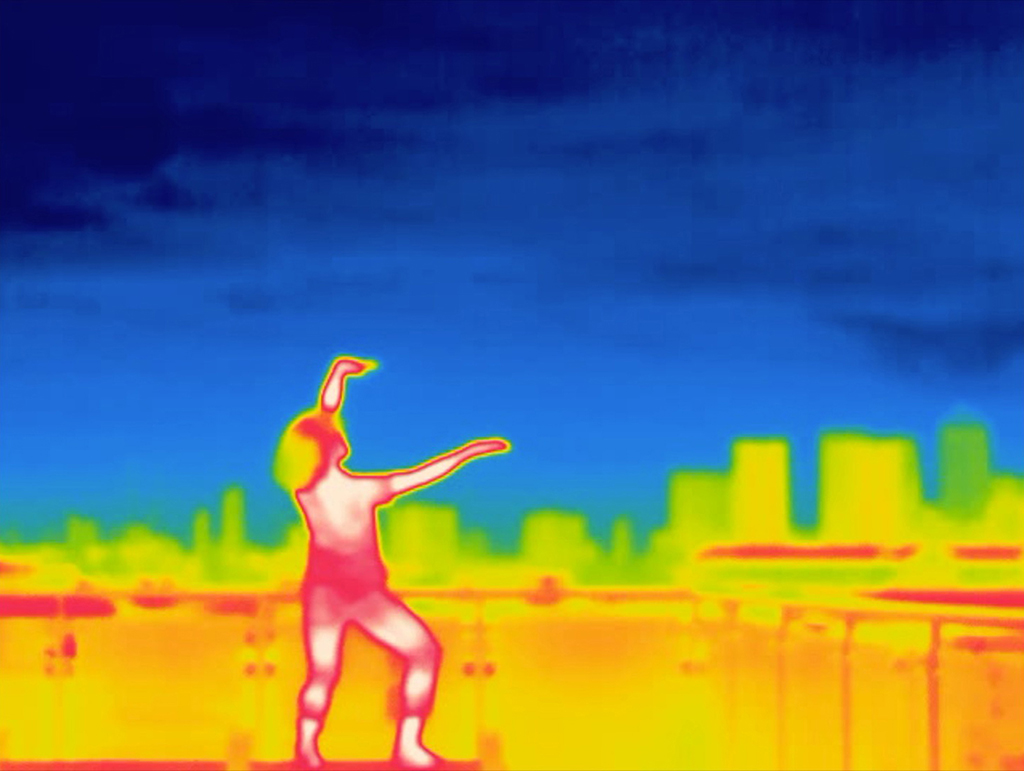 Thiru Seelan dances on an East London rooftop, looking out towards the skyline of the Canary Wharf financial district. His movements are inspired by the dance form Bharatanatyam, traditionally only performed by women and taught to Thiru in secret by his younger sister. Thiru is a Tamil refugee and when he arrived in the UK in 2010, following six months of detention in Sri Lanka during which he was tortured for his political affiliations, Canary Wharf was his first home. His movement is recorded by a heat sensitive camera more conventionally used as surveillance technology and deployed to monitor borders and crossing points, where bodies are recorded and captured through their thermal signature. The song 'We've helped each other grow', composed and performed by London based Mx World, was chosen with Thiru to soundtrack the performance. Mx is a prefix that does not indicate gender. In the UK, it can be used on many official documents – including passports. The repeated refrain, 'We've helped each other grow' suggests a communal vision for self and social development.
Daniela Ortiz
Jus Sanguinis, 2016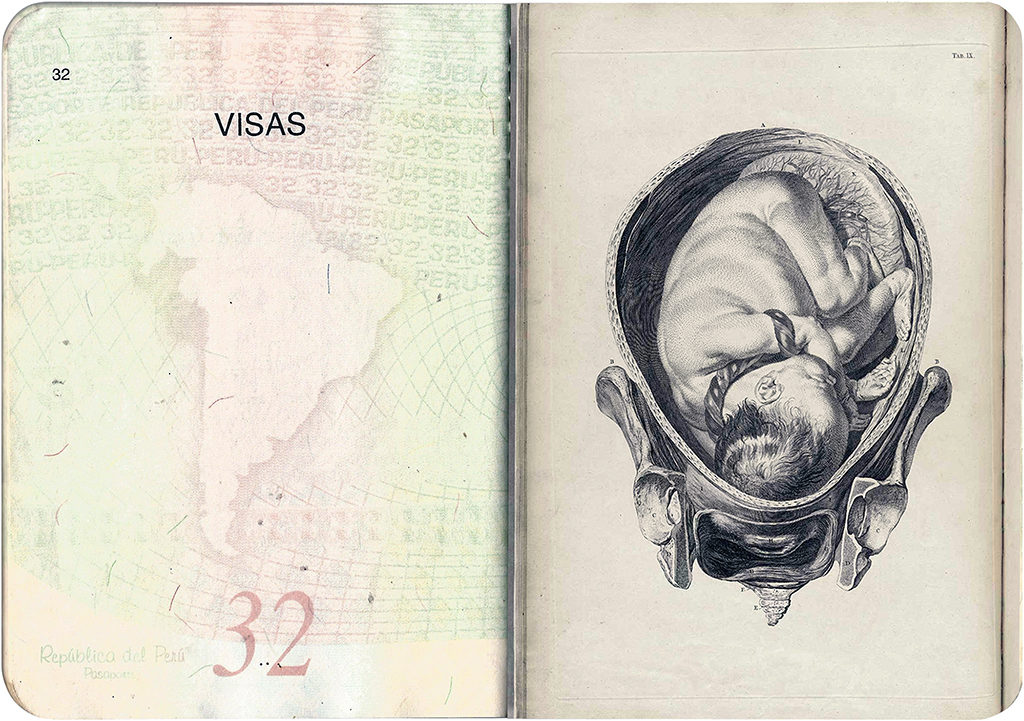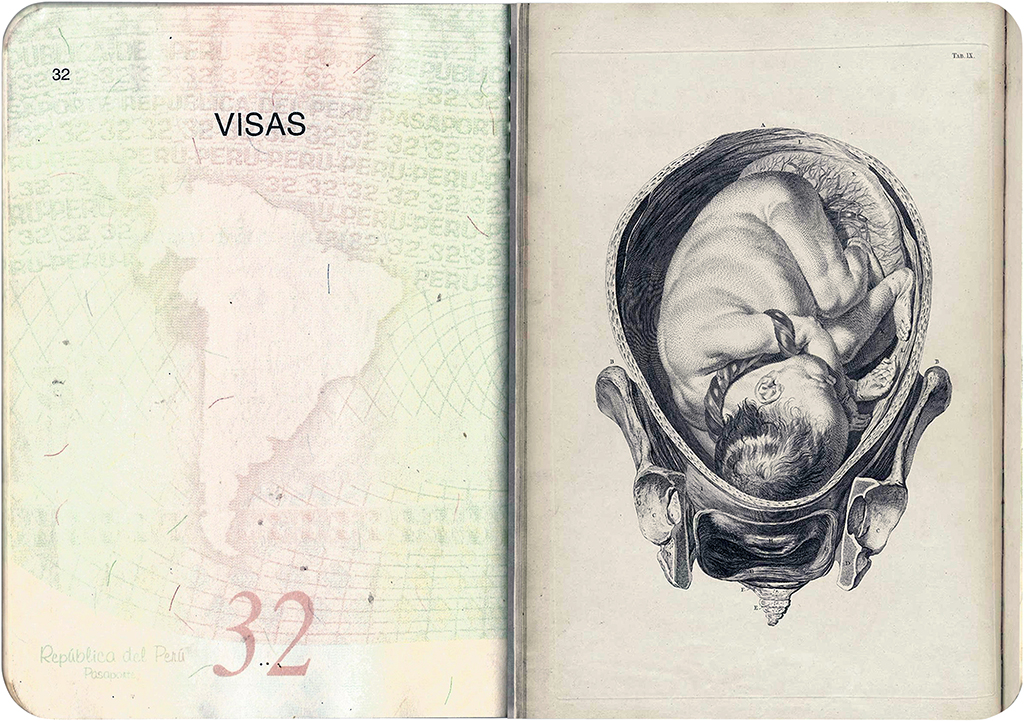 Jus sanguinis, meaning 'the right of the blood', is one of the main ways in which people acquire citizenship: from the blood of their parents. Daniela Ortiz is an artist of Peruvian descent living in Spain, where only babies with Spanish blood are recognized as subjects with the right to the nationality at the moment of the birth. As a result, her child would not have access to Spanish nationality. In this performance, undertaken when Ortiz was four months pregnant, she receives a blood transfusion from a Spanish citizen, directly challenging the racist and nationalist regime of citizenship which would classify her Spanish-born child as an immigrant.
The Critical Engineering Working Group (Julian Oliver and Danja Vasiliev)
VPN, 2018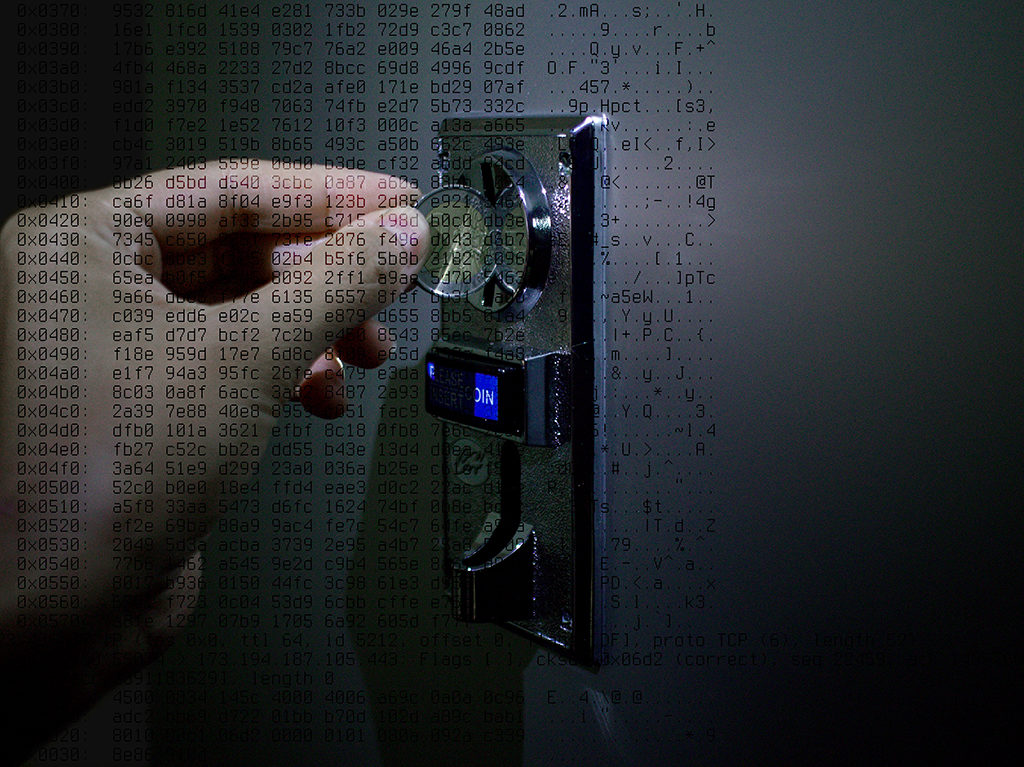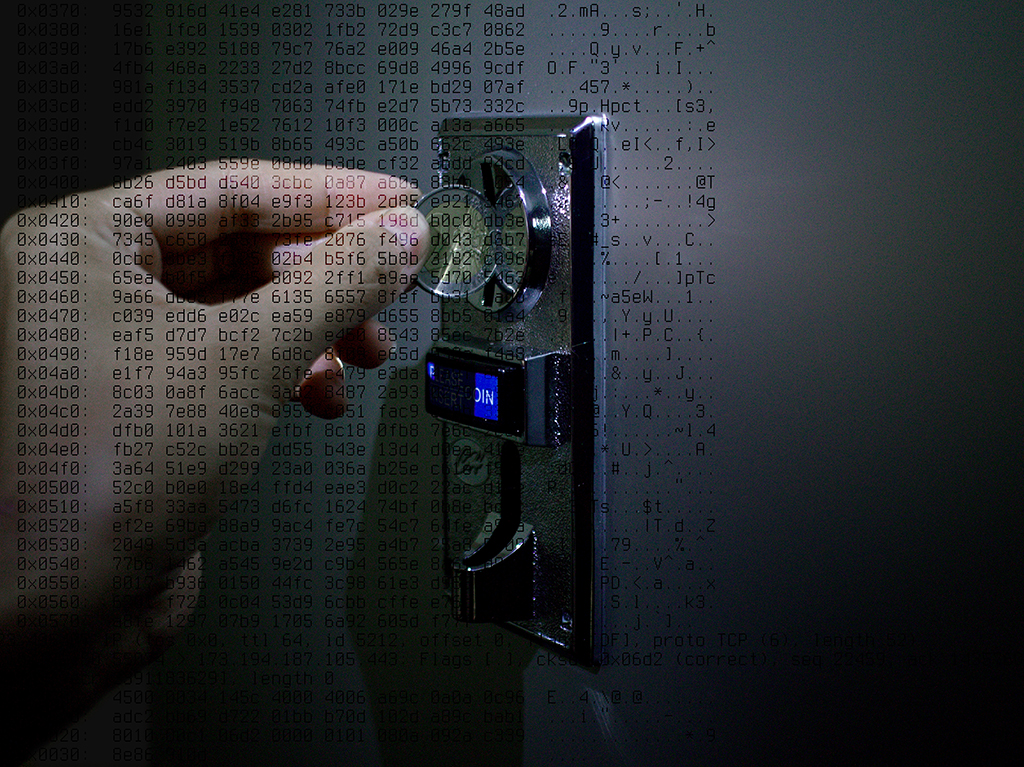 Virtual Private Networks (VPNs) have come into increasing demand in recent years, providing route encryption through hostile networks. In China, Vietnam, Turkey and Pakistan they also serve to mitigate government censorship, so that foreign sites otherwise blocked by state firewalls are made available to VPN users (Twitter, Facebook, Wikipedia, activist sites and digital libraries being the most common).
Vending Private Network takes the form of a condom vending machine, such as those typically seen in toilets. Equipped with mechanical buttons, a coin-slot and USB ports, it offers 4 VPN routes, each adorned with an animated graphic depicting a fantasy destination. Audiences are invited to insert a USB stick into the slot, and a coin into the machine, then to select a VPN destination by pressing a mechanical button, a unique VPN configuration file is then written onto their USB stick. Special instructions (in the form of a README.txt) will also be copied to the USB stick that explain how to use the VPN in a special 'sheathed' mode that evades detection methods (namely Deep Packet Inspection, or DPI) used by corporations and state-controlled infrastructure administrators. This is the only means known to work against state controlled firewalls, for instance and requires an extra install of freely available, open source software and leverage economic and cultural privilege to benefit those not included. With each VPN config generated, another is covertly shipped to contacts in Turkey, China, Vietnam and Iran (and other countries to be confirmed).

Jonas Staal New Unions, 2016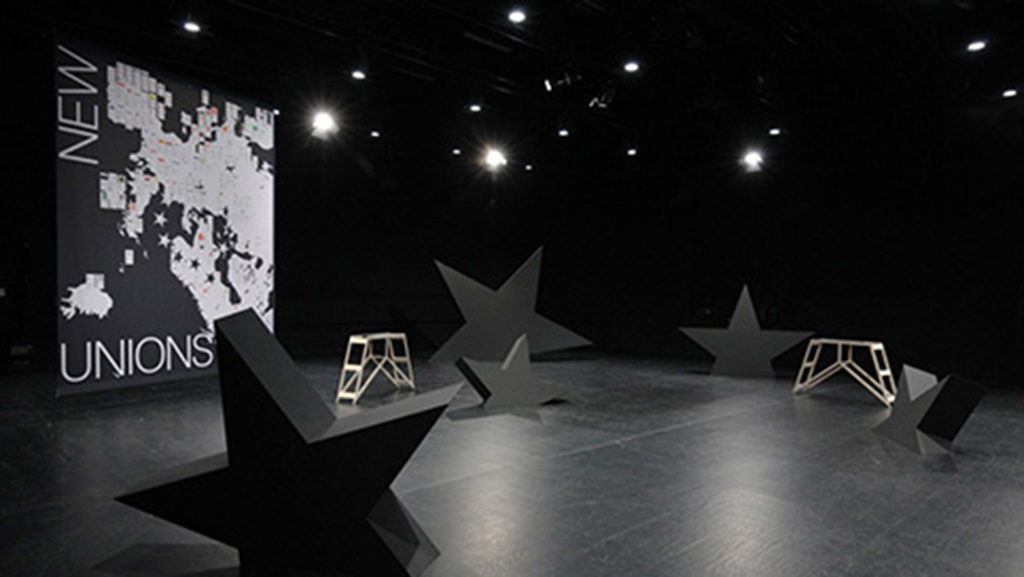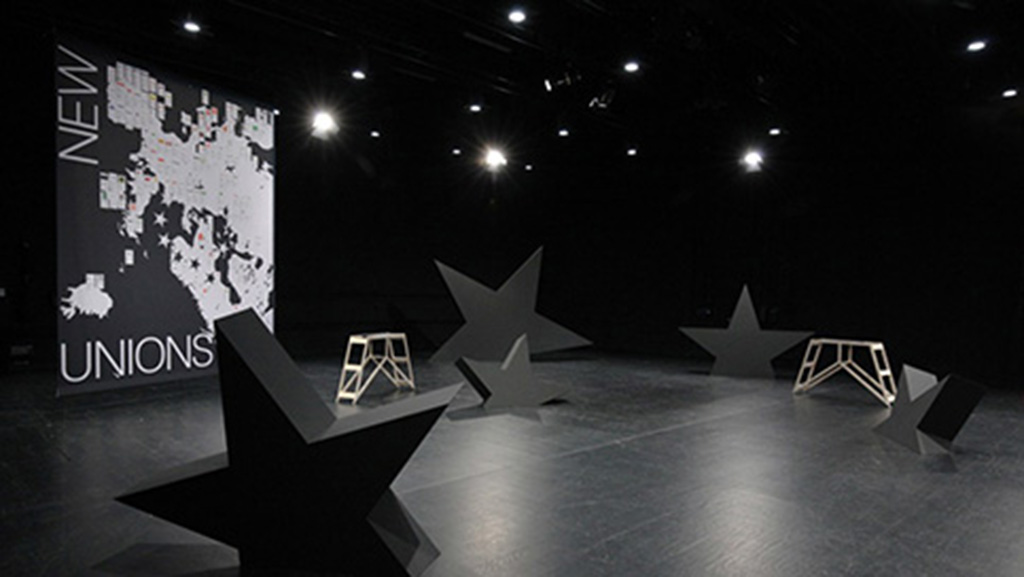 Jonas Staal's New Unions is an artistic campaign supporting progressive, emancipatory, and autonomist movements all over Europe, and proposing the creation of a "transdemocratic union" which is not limited by the boundaries of nation states. The New Unions map illustrates the recent, massive rise in social movements and new political parties which are creating new models of political assembly and decision making while challenging traditional national and institutional structures. From the civil initiative in Iceland to collectively rewrite the constitution after the economic crash, to regional independence movements and pan-European solidarity groups, these emerging political experiments propose new forms of transdemocratic practices. This map is the first in a series which is continuously updated to reflect the evolving geography of transdemocracy.
ABOUT THE ARTISTS
The Critical Engineering Working Group is a collaboration between Julian Oliver and Danja Vasiliev. Their manifesto begins: "The Critical Engineer considers Engineering to be the most transformative language of our time, shaping the way we move, communicate and think. It is the work of the Critical Engineer to study and exploit this language, exposing its influence."
criticalengineering.org
Raphaël Fabre works on the interference of fictions and narrative storytelling in the real world, using techniques ranging from digital 3D technologies to set decoration. Born in 1989, he lives and works in Paris.
raphaelfabre.com
Jeremy Hutchison works with situational performance. Operating in sites of production and consumption, he often collaborates with factory employees, migrant labourers, online workers and jobseekers to examine the structures that limit human existence. How are unequal human relations constructed by global capital? How do consumer products function as portraits of exploitative material structures? In the process of developing these works, each context becomes a stage; a metaphor for the production of reason. To some extent, his projects are rehearsals for an uncertain kind of freedom. He was recently a member of the Whitney Independent Study Program in New York.
jeremyhutchison.com
Daniela Ortiz (Cusco, 1985) lives and works in Barcelona. Through her work, she generates spaces of tension in which the concepts of nationality, racialization, social class and gender are explored in order to critically understand structures of inclusion and exclusion in society. Her recent projects and research revolve around the issue of migration control, its links to colonialism, and its management by Europeanwhite states and societies. At the same time, she has produced projects about the Peruvian upper class and its exploitative relationship with domestic workers. Daniela gives talks and participates in discussions on Europe's migration control system and its ties to coloniality in different contexts.
daniela-ortiz.com
Jonas Staal lives and works in Rotterdam (NL). He has studied monumental art in Enschede (NL) and Boston (US) and received his PhD for research on Art and Propaganda in the 21st Century from the University of Leiden (NL). His work includes interventions in public space, exhibitions, theater plays, publications and lectures, focusing on the relationship between art, democracy and propaganda. Staal is the founder of the artistic and political organization New World Summit and, together with BAK, basis voor actuele kunst, Utrecht (NL), of the New World Academy.
jonasstaal.nl
They Are Here (f. 2006) is a collaborative practice steered by Helen Walker and Harun Morrison. They are currently based in London and on the River Lea. Their work can be read as a series of context specific games. The entry, invitation or participation can be as significant as the game's conditions and structure. Through these games, they seek to create ephemeral systems and temporary, micro-communities that offer an alternate means of engaging with a situation, history or ideology. In parallel, they initiate multiyear socially engaged projects that become generative spaces for further works. They Are Here work across media and types of site, particularly civic spaces.
theyarehere.net
ABOUT THE CURATOR
James Bridle is an artist and writer working across technologies and disciplines. His artworks and installations have been exhibited in Europe, North and South America, Asia and Australia, and have been viewed by hundreds of thousands of visitors online. He has been commissioned by organisations including the Victoria & Albert Museum, the Barbican, Artangel, the Oslo Architecture Triennale, the Istanbul Design Biennial, and been honoured by Ars Electronica, the Japan Media Arts Festival, and the Design Museum, London. His writing on literature, culture and networks has appeared in magazines and newspapers including Frieze, Wired, Domus, Cabinet, the Atlantic, the New Statesman, and many others, in print and online, and he has written a regular column for the Observer. "New Dark Age", his book about technology, knowledge, and the end of the future, is forthcoming from Verso (UK & US) in 2018. He lectures regularly on radio, at conferences, universities, and other events, including SXSW, Lift, the Global Art Forum, Re:Publica and TED. He was been a resident at Lighthouse, Brighton, the White Building, London, and Eyebeam, New York, and an Adjunct Professor on the Interactive Telecommunications Programme at New York University.
jamesbridle.com
ABOUT FURTHERFIELD
Furtherfield is an internationally-renowned digital arts organisation hosting exhibitions, workshops and debate for over 20 years. We collaborate locally and globally with artists, academics, organisations and the public to explore digital culture and the changing world we live in. From our unique venues in Finsbury Park we offer a range of ways for everyone to get hands on with emerging technologies and ideas about contemporary society. Our aim is to make critical digital citizens of us all. We can make our own world.
Furtherfield Gallery
McKenzie Pavilion
Finsbury Park, London, N4 2NQ
Visiting Information
PARTNERS
This project has been funded with the support from the European Commission. This communication reflects the views only of the author, and the Commission cannot be held responsible for any use which may be made of the information contained therein.
Transnationalisms is realised in the framework of State Machines, a joint project by Aksioma (SI), Drugo More (HR), Furtherfield (UK), Institute of Network Cultures (NL) and NeMe (CY).
The Alternative UK write about Transnationalisms: We live in an age of transnationalisms. At Furtherfield, artists test all the borders
Join Stacco Troncoso & Ann Marie Utratel (Commons Transition) and Ruth Catlow (Furtherfield) to play Commonspoly – the resource-access game where we win by working as a community.
Commonspoly is a hack and a critique of the game Monopoly. Players aim first to re-municipalize private goods and then turn them into a Commons – you'll learn why this is the best strategy while playing the game.
Rather than compete against each other, players must overcome their conditioning and 'rational, self-interest' to instead maximize cooperative behaviours and create a commons-oriented locality. Who wins? Everyone in the community! Unless the speculators take over…which we must fight at all costs. United we stand!
This event at Design Museum in partnership with Furtherfield forms part of Convivial Tools, a programme of talks, debates and workshops exploring new strategies for a more cooperative society, based on the thinking of the late philosopher Ivan Illich.
ABOUT THE COORDINATORS
Stacco Troncoso is the advocacy coordinator for Commons Transition and the P2P Foundation, and a co-founder of the Guerrilla Translation collective. He is the designer and content editor for CommonsTransition.org, the P2P Foundation blog and the Commons Strategies Group website.
Ann Marie Utratel is part of the Commons Transition team, and is a co-founder of the Guerrilla Translation collective. Her work helps connect a widening network of people involved in forward-thinking communities including the Commons and P2P movement, collaborative economy, open licensing, open culture, open cooperativism, and beyond.
Ruth Catlow, artist, curator, and co-founder and co-director of Furtherfield, is a recovering web-utopian and has worked since the mid-90s with network practices in arts, technology and social change.
SEE IMAGES FROM THE PRIVATE VIEW
Would you like to monetise your social relations? Learn from hostile designs? Take part in (unwitting) data extractions in exchange for public services?
Examining the way that the boundaries between 'play' and 'labour' have become increasingly blurred, this summer, Playbour: Work, Pleasure, Survival, will transform Furtherfield Gallery into an immersive environment comprising a series of games. Offering glimpses into the gamification of all forms of life, visitors are asked to test the operations of the real-world, and, in the process, experience how forms of play and labour feed mechanisms of work, pleasure, and survival.
What it means to be a worker is expanding and, over the last decade, widening strategies of surveillance and new sites of spectatorship online have forced another evolution in what can be called 'leisure spaces'. From the self-made celebrity of the Instafamous to the live-streaming of online gamers, many of us shop, share and produce online, 24/7. In certain sectors, the seeming convergence of play and labour means work is sold as an extension of our personalities and, as work continues to evolve and adapt to online cultures, where labour occurs, what is viewed as a product, and even, our sense of self, begins to change.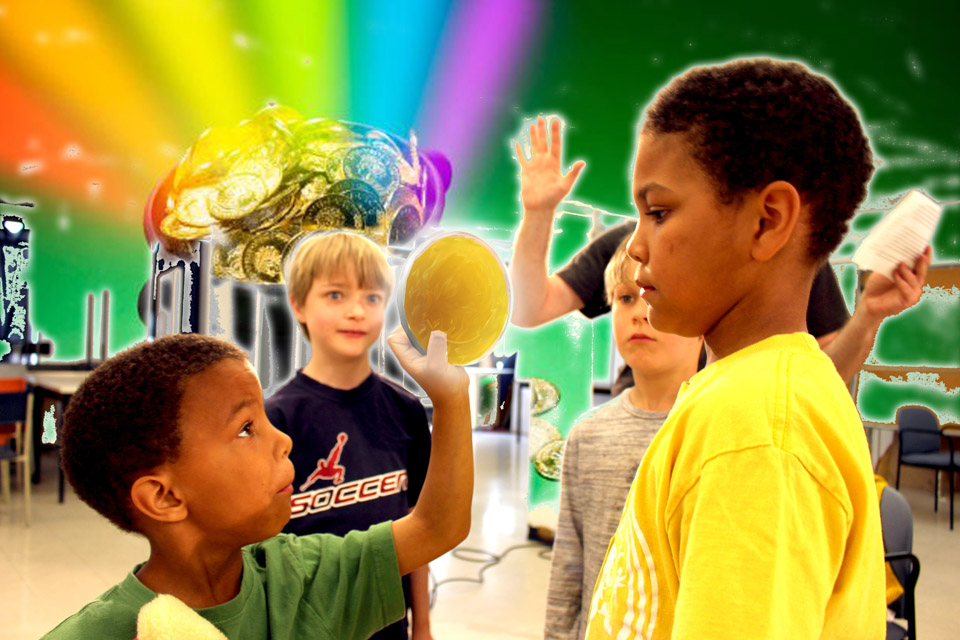 Today, workers are asked to expand their own skills and build self-made networks to develop new avenues of work, pleasure and survival. As they do, emerging forms of industry combine the techniques and tools of game theory, psychology and data science to bring marketing, economics and interaction design to bear on the most personal of our technologies – our smartphones and our social media networks. Profiling personalities through social media use, using metrics to quantify behaviour and conditioning actions to provide rewards, have become new norms online. As a result, much of public life can be seen as part of a process of 'capturing play in pursuit of work'.
Although these realities affect many, very little time is currently given over to thinking about the many questions that arise from the blurring between work and play in an age of increasingly data-driven technologies: How are forms of 'playbour' impacting our health and well-being? What forms of resistance could and should communities do in response?
To gain a deeper understanding of the answers to these questions, we worked with artists, designers, activists, sociologists and researchers in a three-day co-creation research lab in May 2018. The group engaged in artist-led experiments and playful scenarios, conducting research with fellow participants acting as 'workers' to generate new areas of knowledge. This exhibition in Furtherfield Gallery is the result of this collective labour and each game simulates an experience of how techniques of gamification, automation and surveillance are applied to the everyday in the (not yet complete) capture of all forms of existence into wider systems of work.
In addition to a performance by Steven Ounanian during the Private View, the 'games' that comprise this exhibition are:
Public Toilet by Arjun Harrison-Mann & Benjamin Redgrove, which asks visitors whether the Furtherfield building should be a gallery or a toilet… and also who has the right to make this type of decision.
Treebour by Marija Bozinovska Jones (with special thanks to Robert Gallagher) is a sound work in which three anthropomorphised 'trees' personify the different kinds of work trees are required to do in contemporary society.
Feminist Economics Yoga (FEY) by Cassie Thornton, The Feminist Economics Department (FED), invites us to think about how our screen addictions connect us to the predatory workings of the economy at large.
Hostile Environment Facility Training (HEFT) by Michael Straeubig enables visitors to create their own 'hostile environment', a design approach used by governments in a variety of settings – schools, banks, universities, hospitals, places of work – to make staying in this country as difficult as possible for migrants.
Lab session leads and participants: Dani Admiss, Kevin Biderman, Marija Bozinovska Jones, Ruth Catlow, Maria Dada, Robert Gallager, Beryl Graham, Miranda Hall, Arjun Harrison Mann, Maz Hemming, Sanela Jahic, Annelise Keestra, Steven Levon Ounanian, Manu Luksch, Itai Palti, Andrej Primozic, Michael Straeubig, Cassie Thornton, Cecilia Wee, Jamie Woodcock.
Curated by Dani Admiss.
Concept development Dani Admiss and Cecilia Wee.
ACCOMPANYING EVENTS
Mask Making for Children
Sunday 22 July and 12 August 2018, 11:00 – 16:30
Furtherfield Gallery
FREE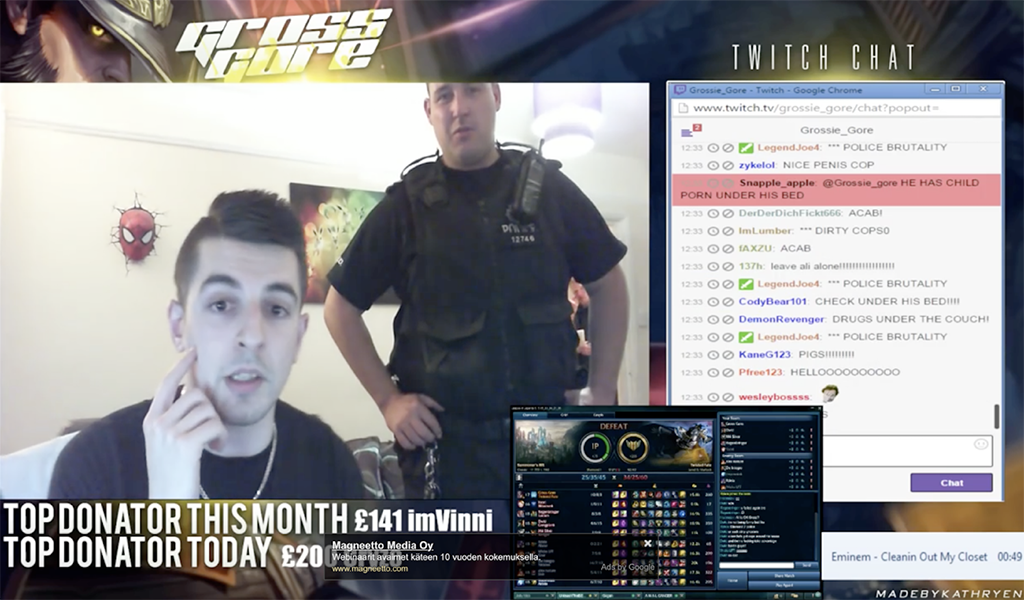 INTERNET CONFESSIONS
Dani Admiss
When I was 16 I was in a band. I couldn't sing that well so I used to write lyrics (about vampires) and put them into Babelfish to translate them into French thinking it made me sound automatically cooler.
@daniadmiss
Kevin Biderman
First met you in a dial up world; green block letters on a black screen. Later we traversed through neon colours, pixelated images and imperfect designs. I always knew you were an army brat born out of apocalyptic fears but I never thought you'd turn your back on the counter-culture who raised you. Maybe there will be a third act…
@act3
Marija Bozinovska Jones
The internet has concurrently enhanced and diminished life, yet I appear no longer able to recall life before it. Adding to Jameson's quote: it is easier to imagine the end of the world, than the end of TECHNOcapitalism.
Ruth Catlow
I am a recovering Web Utopian – decentralised infrastructure does not, it turns out, lead automatically to decentralised power. However i am still most excited by art that happens in wild flows, through collaboration on open channels, rather than being owned, certified and traded like dead matter. I am Ruth and I am one of the voices and pairs of eyes.
@furtherfield
Maria Dada
I regularly translate whole books from German to English using Google Translate. I then take the transcripts and print them using lulu.com. I take pride in the design of the covers for each book. Not all of them are unreadable but most of them just sit on my shelf untouched.
@mariadada
Beryl Graham
I confess:
To buying a mobile phone so that I could text my sweetie.
To being mildly obsessed with weather apps that work best in the North.
To using online dating 15 years ago. The respectable Guardian rather than Tindr of course – hey I'm not an animal.
@berylgraham
Miranda Hall
After school, my friend and I would take screenshots of penises on ChatRoulette then save them in a desktop folder on the family computer called 'cool fish'
@Miranda__Hall
Arjun Harrison-mann
For Much Longer than I Would Care to Admit, Every Since I Got Msn at the Age of 12, My Msn Profile Picture Was (and I Just Checked, Still Is), a Photoshopped Collage of Michael Jordan.
@arjun_harrisonmann
Maz Hemming
When I was 11, lying about my age to sign up on msn chat to chat about neopets, I ended up as one of the chatroom moderators. Which sometimes ended up with me leaving the window open to idle overnight (or the room would close). On the bonus side when my parents ended up with a bill at the end of the month of £200 (which I didn't know would happen) we did get broadband. Much cheaper.
@MazHem_
Robert Gallagher
The unread emails in my inbox currently outnumber my Twitter followers by a factor of 47.7461024499 to 1.
@r_gealga
Sanela Jahić
Once my inbox got flooded with promotions of an online store. So my boyfriend and I composed a simple bot, which took random quotes from our sci-fi eBooks collection and posted them as customer reviews on their product pages.
Annelise Keestra
Until more recently than I would admit, I genuinely didn't think there was any correlation between the file size of a download and data use. As if, there were two kinds of "GB". Please don't judge me.
@aut0mne
Steven Levon Ounanian
I think the internet loves me, but just doesn't know how to show it.
@levontron
Manu Luksch
Our dream rewired. Our powers of prediction grow with every new circuit crammed in. Leap into tomorrow – one trillion calculations a second. And it grows more powerful, becomes smaller. Smart, mobile, personal. Today – in our pockets. Tomorrow – woven into our bodies. Create and share, everything, everywhere. Life in the cloud… with a chance of blue skies. Our time is a time of total connection. Distance is zero. The future is transparent. To be, is to be connected – the network seeks out everyone." (Dreams Rewired; 2015 – my latest feature film about our hopes and fears of being hyper-connected).
@ManuLuksch
Itai Palti
I started visiting an architecture news forum as a teenager, excited about updates on local building projects. I still visit regularly for the updates, but also make sure to check on an exceptionally cringeworthy, decades-long feud between a couple of regular posters. I think they'd really miss each other if it all stopped.
@ipalti
Joana Pestana
Back in 1999, frustrated, I nurtured no love for my iMacG3 as I had to bare with 1-song-download-per-week for not having Napster.
@joanampestana
Michael Straeubig
Before social networks and Reddit, newsgroups were the places for online discussions. Catering to my interests was comp.ai.philosphy, a group notorious for debates going haywire.
Once I had a very heated discussion with someone I considered to be an immature and irrational teenager. It turned out it was a professor in Artificial Intelligence.
@crcdng
Cassie Thornton
I own/owned these URLs: bizzykitty.com, temporaryartbeautyservices.biz, infinitemuseum.com, evilarchitexture.net, teachingartistunion.org, sfluxuryrealestatejewelry.org, mastercalendar.biz, debtimage.work, institutionaldreaming.com, poetsecurity.net, universityofthephoenix.com, debt2space.info, secretchakra.net, wombco.in, givemecred.com, wealthofdebt.com, strikedebtradio.org, matterinthewrongplace.info, futureunincorporated.com, feministeconomicsdepartment.com, projectherapy.org, and many more I will never remember.
@femnistecondept
Cecilia Wee
The first time I went on the internet was about 1 year after Cyberia cafe opened in central London. I somehow convinced my mum to make a detour from a shopping trip so I could go online to look at 2 websites. Everyone else there was working very hard.
@ceciliawee
Jamie Woodcock
I decided it would be a fun idea to learn to play League of Legends as part of the fieldwork for an esports project. However, I was so bad at it that instead I had to study before playing, reading up on guides and watching streams/videos.
@jamie_woodcock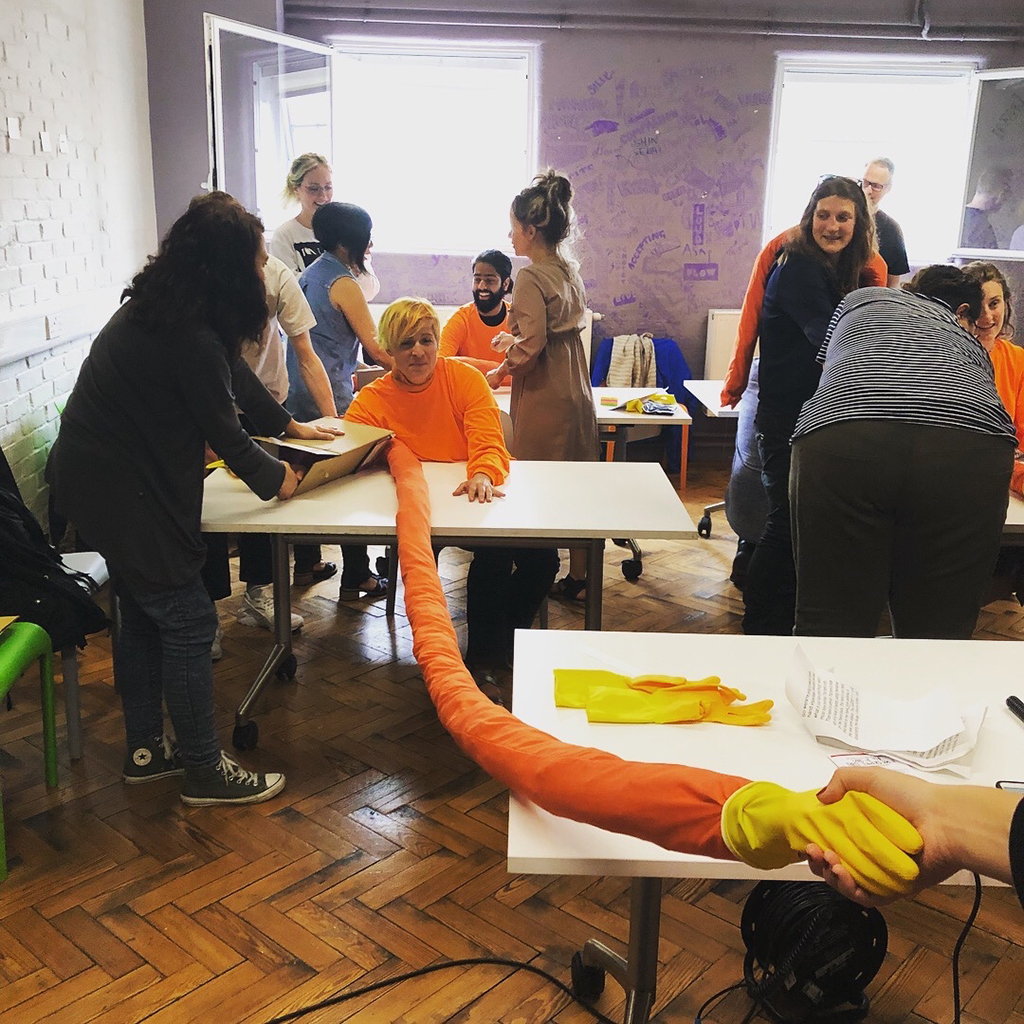 PLAYBOUR ARTIST SOCIAL MEDIA TAKEOVER
In the lead up to Furtherfield's Playbour: Work, Pleasure, Survival exhibition Maria Dada, Miranda Hall and Cassie Thornton will be taking over the social media channels on Twitter, Instagram, and Facebook. Each micro-commission is an online space to take in different directions related ideas and themes of #playbour.
Our first week kicks off with Maria. Researcher in the fields of design and material culture, Dada's Confessional Viral Hoax Engine brings together an interest in the infrastructures and processes used to spread misinformation online with themes of transparency, anxiety, and virtue signalling.
The second week is headed by Miranda Hall, who is a freelance journalist and research assistant at SOAS specialising in digital labour.
In the final week Cassie Thornton, artist, activist and feminist economist, will take-over Furtherfield's social media channels. You can learn more about her here and her new project being launched on Kickstarter. Her take-over explores ideas surrounding yoga, feminist economics, class war, collective revenge, and social technology.
ABOUT THE CURATOR
Dani Admiss is an independent curator and researcher working across art, design, and networked cultures. Her work employs world-building and co-creation to explore changes happening to our social, technological, and ecological, contexts. She is particularly interested in working with others to understand not yet completed transformations of body, society, and earth, into global capitalist systems. She is Founder of Playbour: Work, Pleasure, Survival, an art and research platform dedicated to the study of the worker in an age of data technologies. daniadmiss.com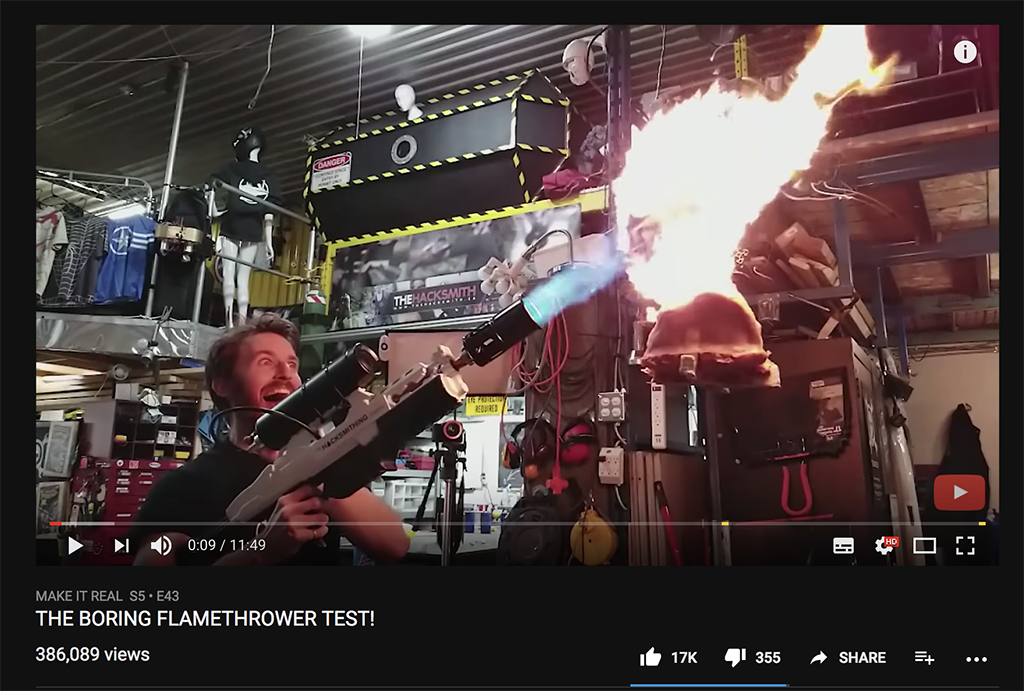 ABOUT FURTHERFIELD
Furtherfield is an internationally renowned arts organisation specialising in labs, exhibitions and debate for increased, diverse participation with emerging technologies. At Furtherfield Gallery and Furtherfield Lab in London's Finsbury Park, we engage more people with digital creativity, reaching across barriers through unique collaborations with international networks of artists, researchers and partners. Through art Furtherfield seeks new imaginative responses as digital culture changes the world and the way we live.
Furtherfield Gallery
McKenzie Pavilion
Finsbury Park, London, N4 2NQ
Visiting Information
PARTNERS
This project would not have been possible without the kind support of our partners.
This project has been funded with the support from the European Commission. This communication reflects the views only of the author, and the Commission cannot be held responsible for any use which may be made of the information contained therein.
Playbour: Work, Pleasure, Survival, is realized in the framework of State Machines, a joint project by Aksioma (SI), Drugo More (HR), Furtherfield (UK), Institute of Network Cultures (NL) and NeMe (CY).
This is a long read by one of the inhabitants of the Zad, about the the fortnight rollercoaster of rural riots that has just taken place to evict the liberated territory of the Zad. It's been incredibly intense and hard to find a moment to write, but we did our best. This is simply one viewpoint, there are over 1000 people on the zone at the moment and every one of them could tell a different story. Thank you for all the friends and comrades who helped by sharing their stories, rebel spirits and lemon juice against the tear gas.
The Revenge against the Commons of the Zad or Why France's biggest police operation since May 68 is prepared to kill for Macron's Neoliberal Nightmare.
"We must bring into being the world we want to defend. These cracks where people find each other to build a beautiful future are important. This is how the zad is a model." Naomi Klein

"What is happening at Notre-Dame-des-Landes illustrates a conflict that concerns the whole world" Raoul Vaneigem
The police helicopter hovers above, its bone rattling clattering never seems to stop. At night its long godlike finger of light penetrates our cabins and farm houses. It has been so hard to sleep this last week. Even dreaming, it seems, is a crime on the Zad. And that's the point: these 4000 acres of autonomous territory, this zone to defend (Zad), has existed despite the state and capitalism for nearly a decade and no government can allow such a place to flourish. All territories that are inhabited by people who bridge the gap between dream and action have to be crushed before their hope begins to spread. This is why France's biggest police operation since May 1968, at a cost of 400,000 euros a day, has been trying to evict us with its 2500 gendarmes, armoured vehicles (APCs), bulldozers, rubber bullets, drones, 200 cameras and 11,000 tear gas and stun grenades fired since the operation began at 3.20am on the morning of the 9th of April.
The state said that these would be "targeted evictions", claiming that there were up to 80 'radical' Zadists that would be hunted down, and that the rest, the 'good' Zadists, would have to legalise or face the same fate. The good zadist was a caricature of the gentle 'neo rural farmer' returning to the land, the bad, an ultra violent revolutionary, just there to make trouble. Of course this was a fantasy vision to feed the state's primary strategy, to divide this diverse popular movement that has managed to defeat 3 different French governments and win France's biggest political victory of a generation.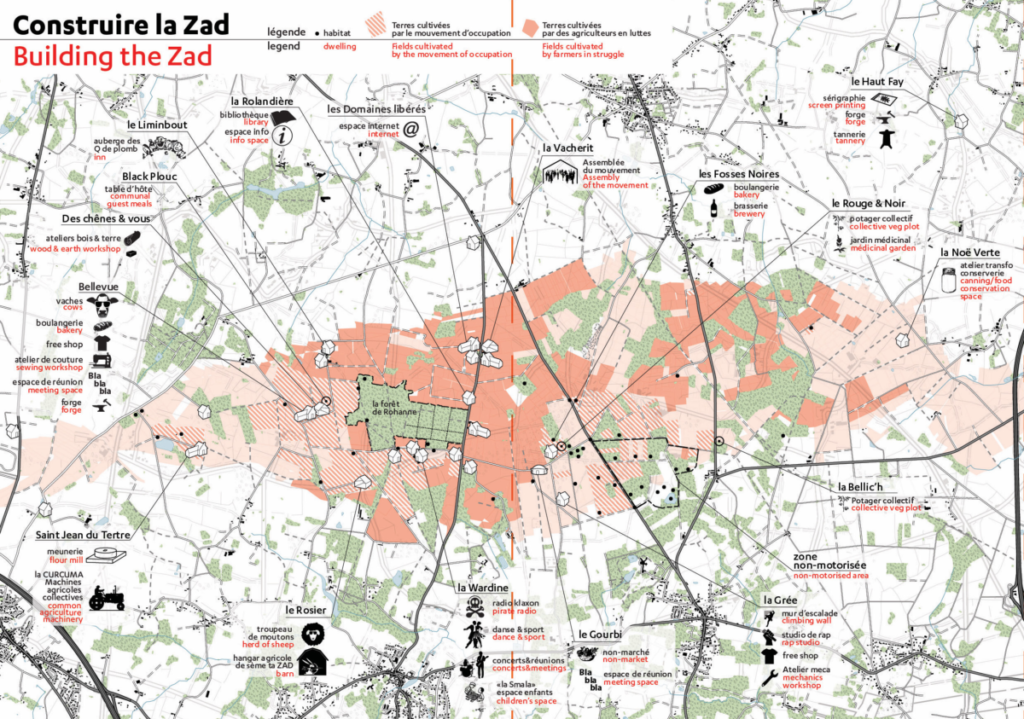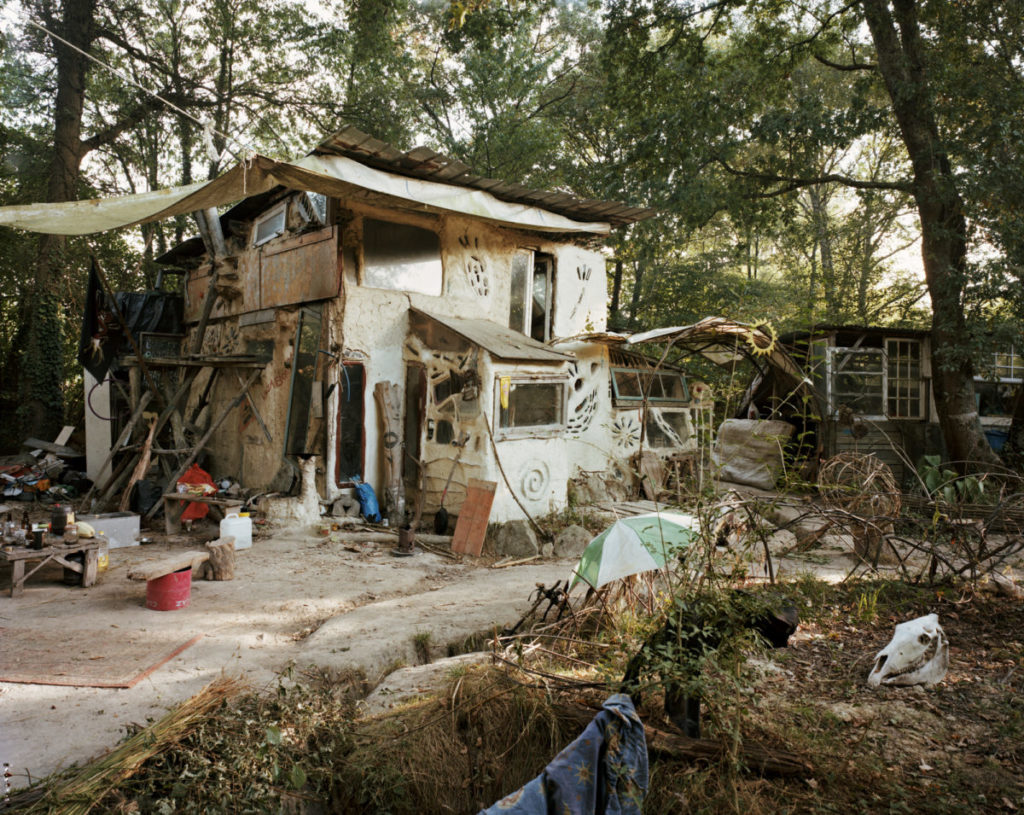 The zad was initially set up as a protest against the building of a new airport for the city of Nantes, following a letter by residents distributed during a climate camp in 2009, which invited people to squat the land and buildings: 'because' as they wrote 'only an inhabited territory can be defended'. Over the years this territory earmarked for a mega infrastructure project, evolved into Europe's largest laboratory of commoning. Before the French state started to bulldoze our homes, there were 70 different living spaces and 300 inhabitants nestled into this checkerboard landscape of forest, fields and wetlands. Alternative ways of living with each other, fellow species and the world are experimented with 24/7. From making our own bread to running a pirate radio station, planting herbal medicine gardens to making rebel camembert, a rap recording studio to a pasta production workshop, an artisanal brewery to two blacksmiths forges, a communal justice system to a library and even a full scale working lighthouse – the zad has become a new commune for the 21st century. Messy and bemusing, this beautifully imperfect utopia in resistance against an airport and its world has been supported by a radically diverse popular movement, bringing together tens of thousands of anarchists and farmers, unionists and naturalists, environmentalists and students, locals and revolutionaries of every flavour. But everything changed on the 17th of January 2018, when the French prime minister appeared on TV to cancel the airport project and in the same breath say that the zad, the 'outlaw zone' would be evicted and law and order returned.
I am starting to write 8 days into the attack, it's Tuesday the 17th of April my diary tells me, but days, dates even hours of the day seem to merge into a muddled bath of adrenaline socked intensity, so hard to capture with words. We are so tired, bruised and many badly injured. Medics have counted 270 injuries so far. Lots due to the impact of rubber bullets, but most from the sharp metal and plastic shrapnel shot from the stun and concussion grenades whose explosions punctuate the spring symphony of birdsong. Similar grenades killed 21 year old ecological activist Remi Fraise during protests against an agro industrial damn in 2014.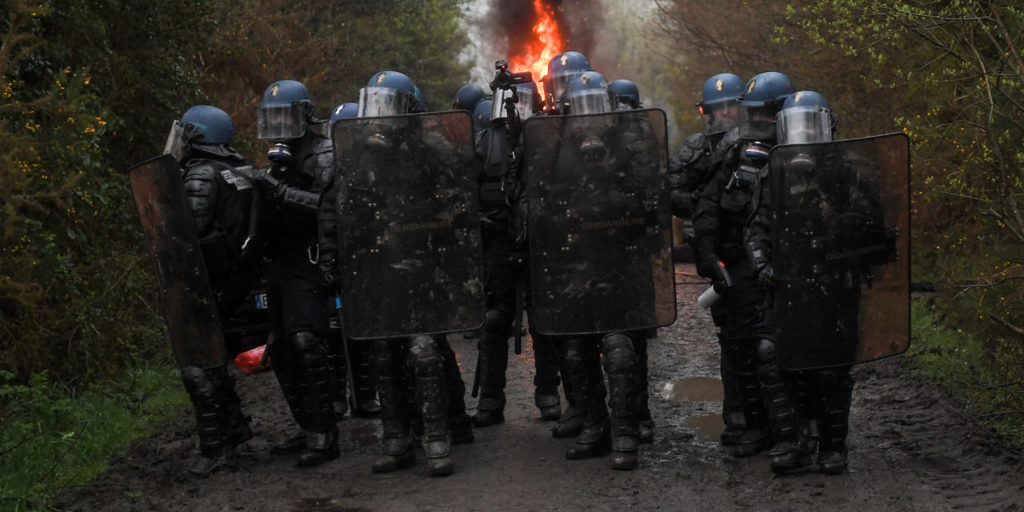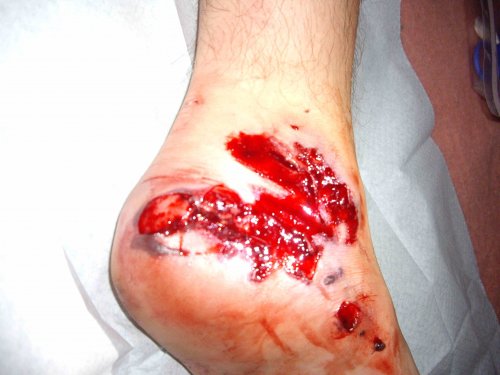 The zad's welcome and information centre, still dominated by a huge hand painted map of the zone, has been transformed into a field hospital. Local doctors have come in solidarity working with action medic crews, volunteer acupuncturists and healers of all sorts and the comrades ambulance is parked outside. The police have even delayed ambulances leaving the zone with injured people in them, and when its the gendarmerie that evacuates seriously injured protesters from the area sometimes they have been abandoning them in the street far from the hospital or in one case in front of a psychiatric clinic.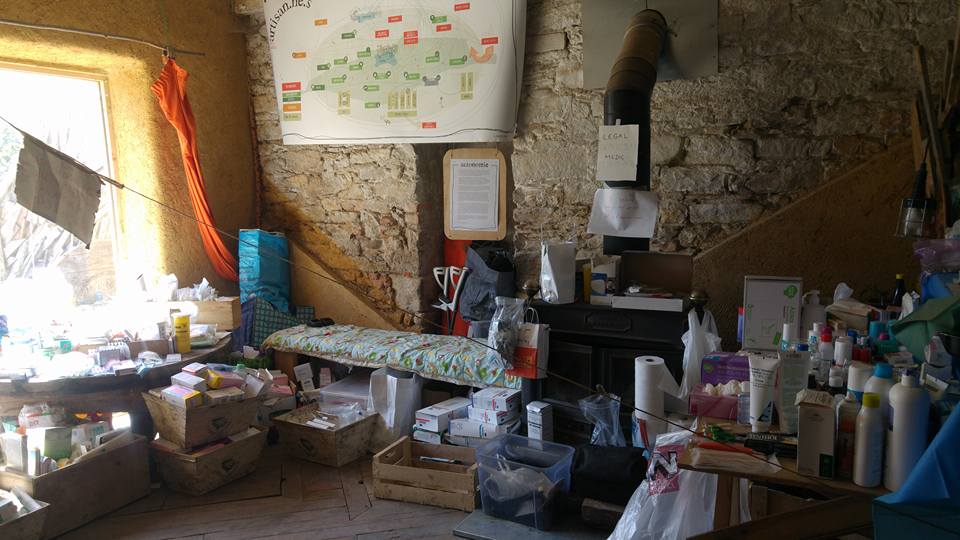 The thousands of acts of solidarity have been a life line for us, including sabotaged French consulate parkings in Munich to local pensioners bringing chocolate bars, musicians sending in songs they composed to demonstrations by Zapatistas in Chiapas, banners in front of French embassies everywhere – from Dehli to New York, a giant message carved in the sand of a New Zealand beach and even scuba divers with an underwater banner. Here on the zone three activist field kitchens have come to feed us, architects have written a column deploring the destruction of unique forms of habitat signed by 50,000 people and locals have been offering storage for the safe keeping of our belongings. A true culture of resistance has evolved in parallel with the zad over the years. Not many people are psychologically or physically prepared to fight on the barricades, but thousands are ready to give material support in all its forms and this is the foundation of any struggle that wants to win. It means opening up to those who might be different, those that might not have the same revolutionary analysis as us, those who some put in their box named 'reformist', but this is what building a composition is all about, it is how we weave a true ecology of resistance. As a banner reads on one of the squatted farmhouses here, Pas de barricadieres sans cuisiniers "There are no (female) barricaders without (male) cooks."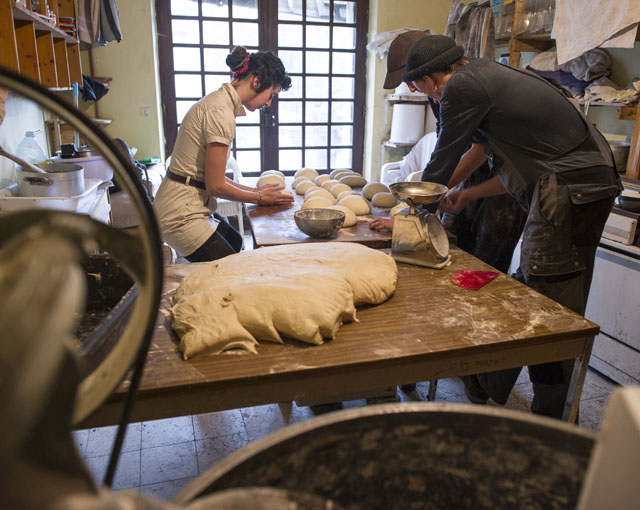 Today has been one of the calmest since the start of the operation, and it felt like the springtime was really flowering, so we opened all the doors and windows of house letting the spring air push away the toxic fumes of tear gas that still linger on our clothes. It feels like there is a momentary lull. For the first time since the evictions, our collective all ate together, sitting in the sun at a long table surrounded by two dozen friends from across the world come to support us. I hear the buzzing of a bee trying to find nectar and look up into the sky, its not a bee at all, but the police drone, come to film us sharing food, it hovers for hours. In the end this is the greatest crime we have committed on the zad, that of building the commons, sharing worlds together and deserting the pathology of individualism.
Two years before the abandonment of the airport project the movement declared in a text entitled The Six Points for the Zad: Because there will be no Airport, that we would, via an entity that emerged from the movement , collectively look after these lands that we were saving from certain death by concrete. A few months before the abandonment the form that this entity took was the Assembly of Usages. Soon after thethe airport was cancelled, we entered into negotiations with the state (via the prefet. Nicole Klein, who represents the state in the department) following a complicated week of pre-negotiations, where we were forced to open up one of the roads which had had cabins built on it since the attempted evictions of 2012. It seemed that the flow of traffic through the zone was the state's way of telling the public that law and order had returned on the zone. (see the text Zad Will Survive for a view of this complicated period).
A united delegation of 11 people made up from the NGOs, farmers, naturalists and occupiers of the zone attended the negotiations and did not flinch from the demand to set up a collective legal land structure, rather than return these lands to private property and agro-business as usual. In the 1980s a similar legal structure was put in place following the victory of a mass movement against the expansion of a military base on the plateau of the Larzac in Southern France. With this precedent in mind we provided a legally solid document for a global land contract, but it was ignored, no legal grounds were given, the refusal was entirely political. Three days later the evictions began.
The battle lines were made clear, it was not about bringing 'law and order' back to the zone, but a battle between private property, and those who share worlds of capitalism against the commons. The battle of the Zad is a battle for the future, one that we cannot loose.
DAY 1: Monday 9th April – Everything Begins in the dark
The telephone rings, it's 3.20am, it's still dark outside, a breathless voice says two simple words, "It's begun !" and hangs up. Everyone knows what to do, some run to offices filled with computers, others to the barricades, some to the pirate radio (Radio Klaxon, which happens to squat the airwaves of Vinci motorway radio, 107,7, the construction company that was going to build and run the airport) others start their medics shift. Hundreds of police vans are taking over the two main roads that pass through the zone.
Fighting on one of the lanes manages to stop the cops moving further west. But elsewhere the bulldozers smash their way through some of the most beautiful cabins made of adobe and the wastes of the world that rose out of the the mud in the east of the zone, they destroy the Lama Sacrée with its stunning wooden watch tower, permaculture gardens and green houses are flattened and they rip gashes in the forest. A large mobile anti riot wall is erected by the police in the lane that stretches east to west, a technique that works in cities but in rural riots it's useless and people spend all morning hassling them from every angle. Despite gas and stun grenades we hold our ground. Journalists are blocked for a while from entering, the police stating that they will provide their own footage (free of copyrights!). The "press group" gives them directions so that they manage to cross the fields and the pictures dominate the morning news.
There are over a dozen of us are facing a line of hundreds of robocops at the other end of the field. One of us, masked up and dressed in regulation black kway is holding a golf club. He kneels down and places a golf T in the wet grass. He pulls a golf ball out of a big supermarket bag and serenely places it in the T. He takes a swipe, the ball bounces off the riot shields. He takes out another ball and another and another.
In the afternoon the cops and bailiffs arrive at the 100 noms, an off grid small holding with sheep, chickens, veg plots, and beautiful housing including a cabin built by a young deserting architect which resembles a giant knights helmet made with geodesic plates of steel. The occupiers, who have built this place up from nothing over 5 years are given 10 minutes to leave by the bailiff. Several hundred people turn up to resist, many from 'the camp of the white haired ones' which hasbrought together the pensioners and elders, who have called it a camp for "the youth of all ages" and have been one of the backbonesof this long struggle. There must be nearly 200 of us, at the 100 noms, this time no one is masked up. A massive block of robocops is coming up the path, some of us climb on the roof of the newly built sheep barn, others form a line of bodies pressed hard against the riot shields, we are peasants and activists, occupiers and visitors, young and old and they beat us, burn our skin with their pepper spray and push us out of the fields.
We reply with a joyful hail of mud that covers their visors and shields. The people on the roof are brought down by the specialists climbers and the bulldozer does its job. A few minutes later a one of their huge demolition machines gets stuck in the mud, a friend shouts ironically to the crowd: "come on let's go and give it hand and push it out!", Hundreds approach, trails of gas take over the blue sky, dozens of canisters rain down on the wetlands, many falling into the ponds which begin to bubble with their toxic heat. I try to console Manu whose home, a tall skinny wooden cabin with a climbing wall on its side, has just been flattened, my hugs cannot stop his sobs. Our eyes are red with tears of grief and gas.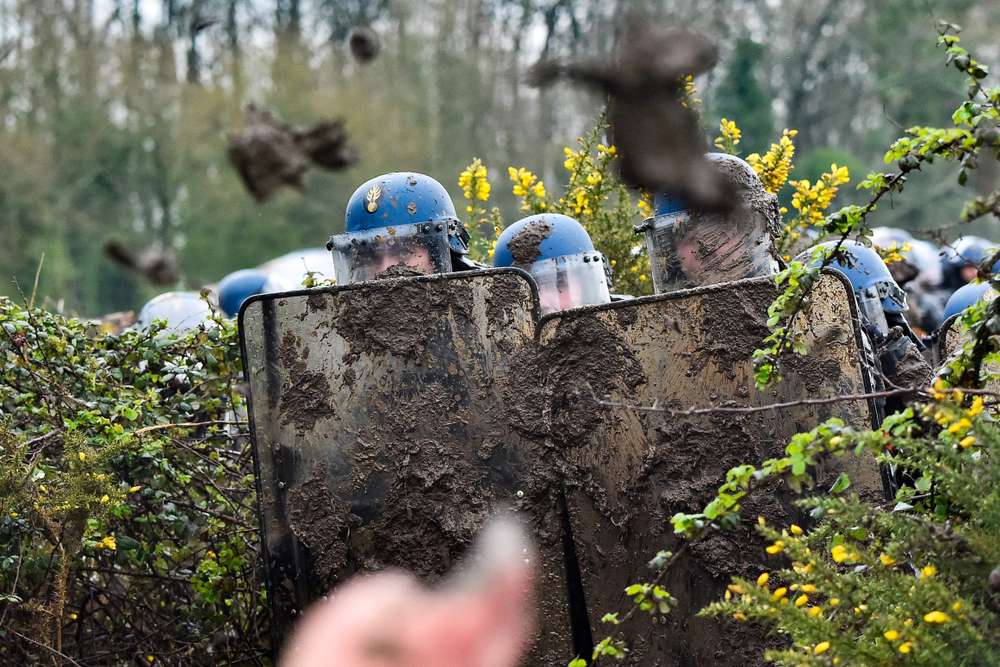 In the logic of the state, the 100 Noms ticked many of their fantasy boxes of those want to be legalised, 'the good Zadists'. It was a well functioning small holding, producing meat and vegetables and where the sheep were more legal than its inhabitants. It was a project that had the support of many of the locals. Its destruction lit a spark that brought many of those in the movement who had felt a bit more distant from the zad recently back into the fold of the resistance. Of course its no less disgusting than the flattening of all the other homes and cabins, but the battle here is as much on the symbolic terrain as in the bocage and it is seems to be a strategic blunder to destroy the 100 Noms.
The live twitter videos from the attack are watched by tens of thousands, news of the evictions spreads and a shock wave ripples through France. Actions begin to erupt in over 100 places, some town halls are occupied, the huge Millau bridge over 1000 km away is blockaded as is the weapon factory that makes the grenades in Western Brittanny.
The demolition continues till late, but the barricades grow faster at night, and we count the wounded.
DAY 2: Tuesday 10th April – Between a barricade and a tank
It all begins again before sun rise, the communication system on the zone with its hundreds of walkie talkies, old style truck drivers cb's and pirate radio station calls us to go and defend the Vraie Rouge collective, which is next to the the zad's largest vegetable garden and medicinal herb project. We arrive through the fields to find one of the armoured cars pushed up against the barricade, we stand firm the barricade between us and the APC. We prepare paint bombs to try and cover the APC's windows with. Then the tear gas begins to rain amongst the salad and spinach plants. A friend finds a terrified journalist cowering in one of the cabins, she writes for the right wing Figaro newspaper and is a bit out of place with her red handbag. "What's that noise??" she asks, trembling, "the stun grenades" he replies. "But why aren't you counter attacking?" she says, "where are your pétanque balls covered in razor blades?" Our friend laughs despite the gas poisoning his lungs, "we never had such things, it was a right wing media invention, and it's impossible anyway, no one can weld razor blades onto a pétanque ball! "
There is so much gas, we can no longer see beyond our stinging running noses. The police are being pressurised simultaneously from the other side of the road by a large militant crowd with gas masks, make shift shields, stones, slingshots and tennis rackets to return the grenades. They are playing hide and seek from behind the trees. The armoured car begins to push the barricade, some of us climb onto the roof of the two story wooden cabin, others try to retreat without crushing the beautiful vegetable plot. Its over, the end of another collective living space on the zone. Then we hear a roar from the other side of the barricade. Dozens of figures emerge from the forest, molotov cocktails fly, one hits the APC, flames rise from the amour and the wild roar transforms itself into a cry of pure joy. The APC begins to back off as do the police. The Vraie Rouge will live one more day it seems, thanks to diversity of tactics.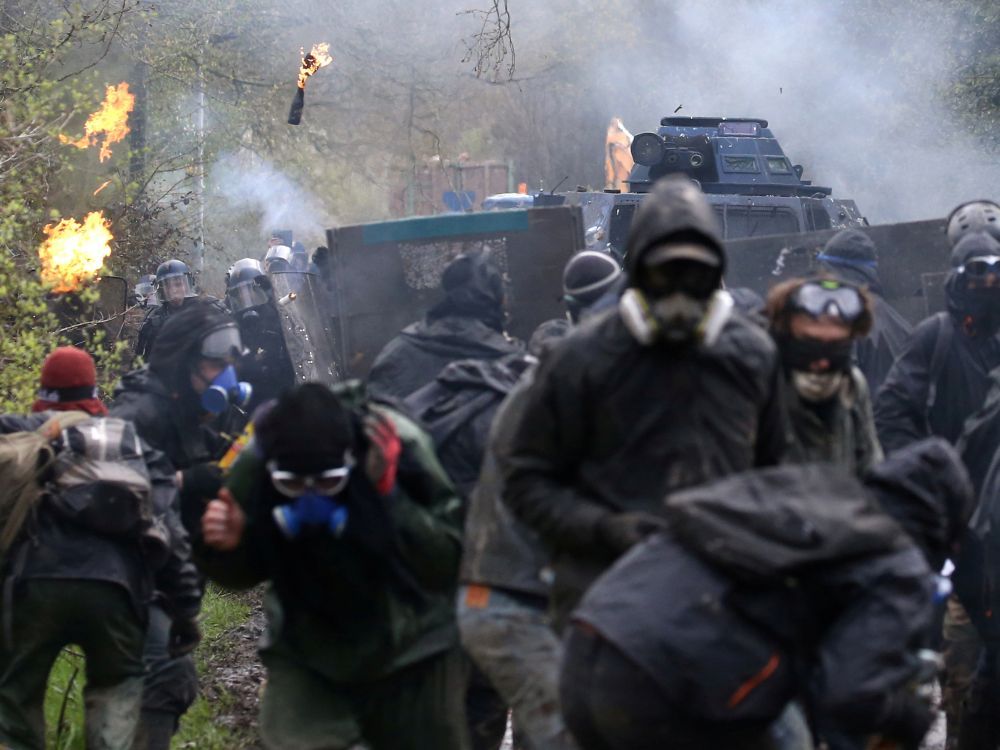 In 2012 when we managed to stop the first eviction attempts of the zone, this was what gave us an advantage. Over the 50 years that the movement against the airport lasted, it used everything from petitions to hunger strikes, legal challenges to sabotage, riots to citizens ecological inventories of the zone, defensive tree houses to flying rocks, tractor blockades to clown armies. Its secret weapon was the respect we had for each others' tactics and an incredible ability to try and not condemn each other. Pacifist Pensioners and black bloc worked together in a way that I had never seen before, which made criminalising the movement much more complicated for the government. Movements win when they have the richest most colourful palette of tactics at their disposition and they are ready to use everyone of them at the right time and place.
In a woodland dip to the east of the zone, the Cheverie, is still resisting. A huge high cabin made from different types of swirling coloured clay – brown, grey, ochre and white – punctuated by mosaics and carved spiders, constructed by hundreds of hands, is about to be crushed. Hundreds of gendarmes surround it, one of them seems to have a machine gun strapped to his back. From the roof someone uses a traffic cone as a megaphone: "we are defending life and the living." When the cabin is finally brought down a minor miracle occurs, none of the dozens of windows is broken, which will make it much easier to rebuild.
At the Fosses Noires, the brewery has been turned into a canteen, but the tear gas is falling on the pots, pans and piles of donated of vegetables. After lunch, a second press conference takes place, yesterday the first one had brought dozens of TV cameras and microphones from radios across the country, 8 people from all the composition of the movement faced the cameras, their dignified anger was so powerful, so palpable, many of us shed tears listening.
Today there are 30 inhabitants are in front of the cameras, it is those that have an agricultural and craft projects running on the zone, the tanner is there as is the cheese maker, the potter and market gardeners, cow herders and leather workers. They explain how over the last weeks of negotiations with the state, they handed over documents to develop a collective project within a legal non profit association that had been set up. They show that on this bocage to think ecologically is to realise that all the projects are interdependent, rotating the fields between folk, sharing tools and and everyone helping out on each others projects when needed. To divide the zad into individual separate units makes no sense.
But the words are not as strong as the striking image of Sarah, our young shepherdess who like a modern day madonna holds a dead black lamb on here lap. She explains how her flock was legalised already and that this one died from stress when it was moved from the 100 Noms farm to avoid the evictions. Her grey eyes pierce the camera lenses, "they chose violence, they chose to destroy what we build, they chose to break off the dialogue with us." Whilem a young farmer, whose milk herd squats fields to the west, raises his trembling voice, " If there is no collective agriculture then you get what's already happening in the countryside – individualism: eat up your neighbours farm land, be more and more alone with a bigger and bigger farm," he takes a deep breath, "the isolation is pushing farmers to commit suicide, we are more and more alone on our farms faced with increasing difficulties. On the zad we hold a vision of farming for all, not just for us."
The zad makes a call for a mass picnic the following day. Vincent one of the supporting farmers from the region, a member of COPAIN 44, a network of rebel farmers whose tractors have become one of our most iconic and useful tools of resistance, sighs, "the government has broken any possibility of dialogue now, they have forced us to respond with a struggle for power."
Between the tall poles that hold the breweries' hop plants a long banner is raised, "Nicole Klein radicalised me."
DAY 3: Wednesday 11th April – Gassing a Picnic
We are woken as normal by the explosions of gendarmes grenades, fighting continues near the D281 road. A small group is trying to stop the police lining up in a field, there aren't many of us, it feels hopeless, then out of the morning mist comes a tractor, its driver wears a balaclava, in the front bucket – a tonne of stones. He drops them in a pile just where we are standing, puts the tractor in reverse and disappears back into the mist.
In the next door field a towering guy wearing a balaclava and dressed in a full monks habit throws a bucket of water over a handful of robocops – "I baptise you in the name of the zad", he bellows. A cloud of pepper spray engulfs him, but one the gendarmes slips in the mud and drop his truncheon, at the speed of light the monk grabs it and runs off, wielding his rebel relic in the air. The police megaphone calls out "You must return the state's property. Return it now!"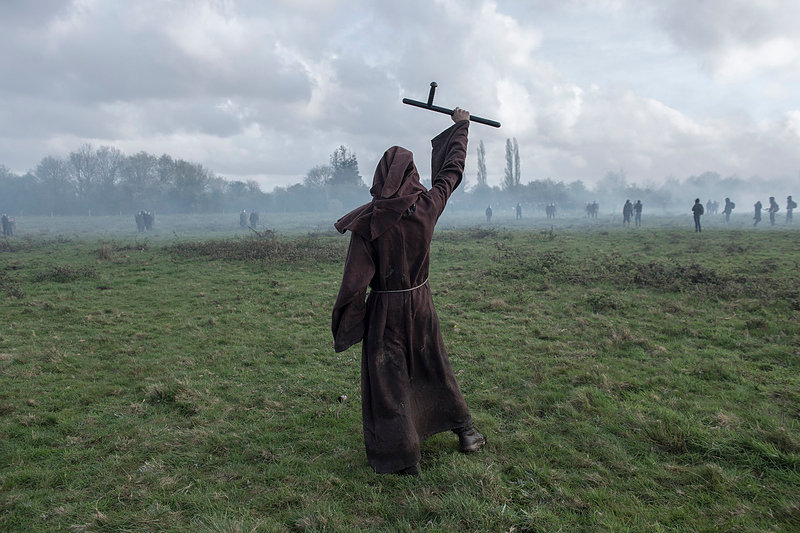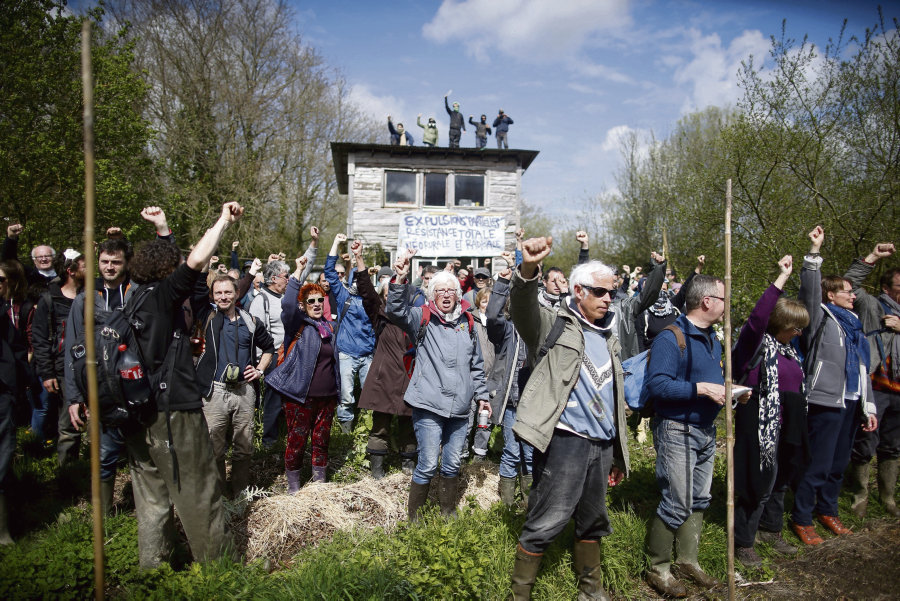 The picnic before it was gassed.
At lunch time, over a thousand people turn up to share a picnic in the fields. Over thirty tractors have come, some from far, despite the fact that its one of the busiest seasons for the farmers, they encircle the large Rouge et Noir collective vegetable garden, now littered with hundreds of toxic plastic tear gas canisters. "The state crossed the red line when they destroyed the 100 Noms" one of them says.
The crowd of all ages walk through the barricades and debris of yesterday's battle that litter the country lanes. The atmosphere is festive, a samba band with pink masks leads us into the field beside the Lama Sacrée. A long line of black clad police stretches across the spring green pasture. The samba band approach, then all hell lets loose: gas canisters shower down, dozens of stun grenades are thrown into the peaceful crowd, panic ensues, people retreat across the hedgerows.
The houses of la Boite Noire, Dalle à Caca, Jesse James and la Gaité fall in the east. Simultaneously they attack la Grée, the large rambling grafitti covered farm at the centre of the zone that has an unconditional welcome policy. There is a car repair workshop, climbing wall and the rap studio and many folk escaping the misery of street life and addictions end up living there together. Farmers' tractors are surrounding the building, a barricade made from the carcasses of cars, is set alight. But the tear gas is too strong and the tractors are forced to back off.
Out of the mist of gas come black lumbering troops, they charge across the fields. The whole zone is split in two by a seemingly endless lines of robocops stretching east to west. The crowd is dispersed, people are coughing up their lungs, they are furious. It began as a picnic, now it's a war zone again. The gas clouds cling to the pasture, frightened cows huddle together in a corner of a tiny field. The medic post at the Fosses Noires has to move away to the Gourbi, but then the gas catches up with it there too and it moves to La Rolandière just in time before the police arrive to smash one of the zone's most symbolic sites, the Gourbi.
In the very centre of the zad the Gourbi is where the weekly assembly of occupiers is held and Friday's No-market, a place where excess produce is distributed with no fixed price but by donation only. Initially there was a stone farm house there, inhabited by an old couple who were evicted in 2012 and their home destroyed for the airport project. Then a wooden hut was built in its place, but its ramshackle pallet sides soon needed restoring and so a brand new state of the art cabin like meeting house was built over 2015. But one night someone sneaked into this beautiful meeting house and set it alight.
But Gourbi was to rise from the ashes, and as an ironic response to the governments 2016 local consultation about the airport project, we held an all night building party whilst the results came through (55% for building the new airport). To the sound of a wild one man accordion band doing kitsch covers of Queen and other trashy pop songs, hundreds of people stuffed the clay of the wetlands into a huge geodesic metal dome structure to build our new round meeting house. It was made of steel and mud to resist arson, but today the bulldozer crushed it with a single swipe of its blade. Worlds away in the metropolis, the Minister of Interior, Gérard Collomb, tells parliament "We want to avoid all violence in this country, this is what we are doing at Notre-Dame-des-Landes."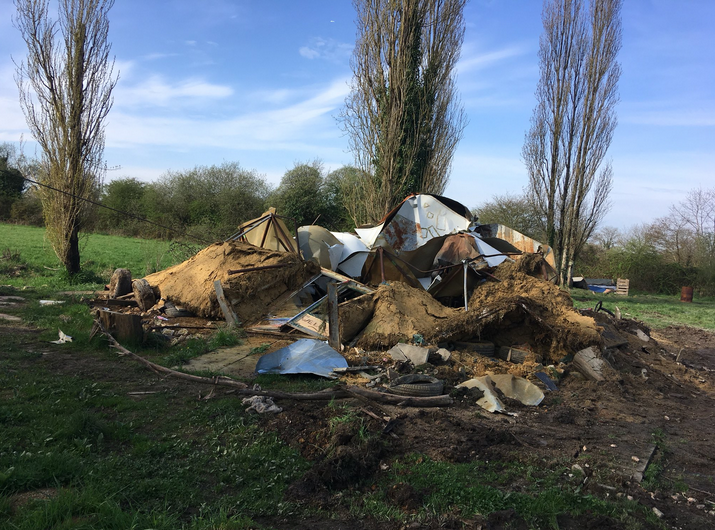 By sunset the government claims to have evicted 13 more living spaces, bringing the total to 29 since Monday. The prime minister refuses to pause the operations, and the medic team share horrific photos of some of the 60 injuries since Monday, including 3 journalists. Meanwhile the cops release their figures: 32 injuries, but it turns out most are from the mis use of their own weapons. Solidarity actions pour in from thousands, including squatters in Iceland, farmers in Lebanon and eco builders in Columbia. In Paris, sex workers send in kinky zad themed S and M photos and students occupy the EHSS elite social science school in solidarity. That afternoon electricity is cut across a large part of the zone and many of our neighbors homes outside of the zad. It is a tactic reminiscent of collective punishment used during military occupations , At night the gentle lulling croak of mating frogs in the marches mixes with the hum of back up electric generators. Four hundred of us meet at the Wardine, in the old concrete cow shed covered in bright murals, we share stories, dogs bark, tempers fray.
DAY 4: Thursday 12th April – Are they ready to Kill ?
The day begins with some good news on radio klaxon. An affinity group action just shut down the motorway that passes near the zad. Emerging from the bushes they flowed down onto the tarmac armed with tyres, fluorescent jackets and lighters. Within seconds a burning wall blocked the flow of commuters to Nantes. The group disappeared just as quickly as they materialised, melting back into the hedgerows. The more we fight for this land, the more we become the bocage and the harder it is to find us. Every day more and more people converge here, many for the first time in their lives.The art of the barricade continues across the zone, including one topped with an old red boat. Some of our most useful barricades are mobile, in the form of tractors, dozens of COPAIN 44's machines take over the main cross roads of the zone.
Following an attempt by friendly lawyers to prove that the eviction of the 100 noms was illegal, the prefect is forced to appear in court in Nantes, but the case is adjourned. The indefatigable zad press group sends out a new communique entitled, After 3 days of evictions are they ready to kill because they don't want a collective ? Clashes continues across the bocage as Macron take to the TV screens for a national statement about his policies. A social movement is rising against him, with university occupations, supermarket, rail workers and Air France on strike – he has to respond. The mise-en-scène is bizarre, he sits in a primary school class room. He speaks about the zad for a little over a minute, "republican order must be returned" he says, and "everything that was to be evacuated has already been evacuated".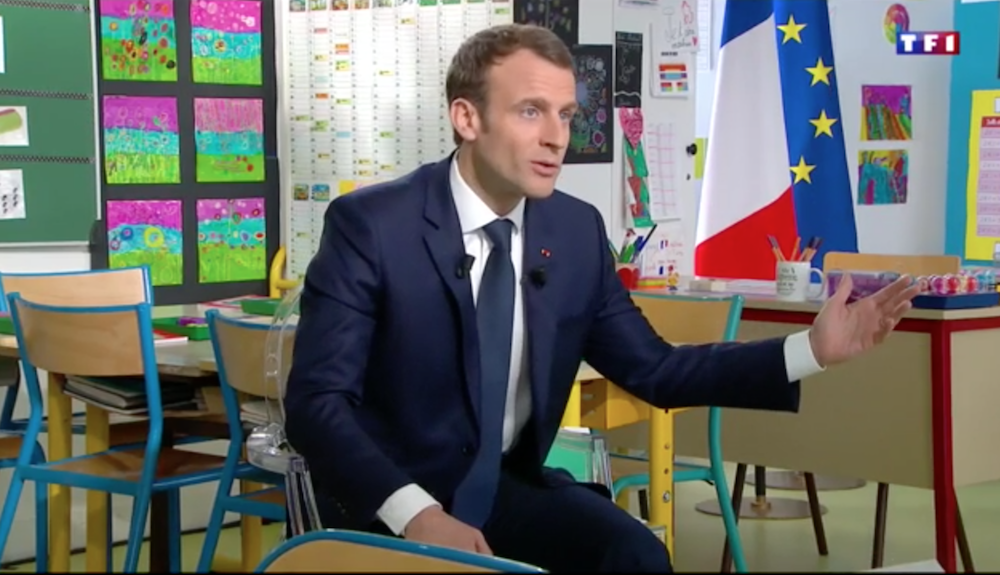 As he speaks a hundred and fifty concussion grenades are launched in less than half an hour in the Lama Sacrée field, the explosions echo across the bocage, bursting the ear drums of those nearby and raising the anxiety levels of those within hearing distance, which on this flat landscape of the zad, is all of us. The league of Human Rights demands that all parties come back to the table. A call is sent for people to converge on the Zone on Sunday: " The time has come to find ourselves together, to say that the zad must live, to dress our wounds and re build ourselves.." …
We walk home to la Rolandière, with its ship shaped library attached to the lighthouse, built where they wanted to build the airport control tower. The sun is setting, 20m high up on the lighthouse's balcony a lone figure is playing a trumpet, fluid sumptous jazz floats across the forest. It is one of those moments when you remember why you live here.
That night under a clear constellation filled sky, the Assembly of Usages meets. We sit on wooden hand made bleechers under Le hangar de l'avenir (The Barn of the future). This cathedral like barn was built by over 80 traditional carpenters in 2016 using mostly hand tools, it is ornamented with snakes and salamanders carved into the oak beams. There are several hundred of us at the assembly, one of the peasants whose tractor is blocking the crossroads reads out a series of texts messages he has received from the préfete who is trying to negotiate with COPAIN 44. "Yesterday the Prime minister said it was war, today the president says its peace, therefore it's all over." It's clear that she's feeling that the situation has become much more complicated than predicted. A deal is made, move your tractors she writes, and I promise that by 10pm I will announce to Ouest France, the regional news paper, that it is the end of operations by the Gendarmes.
The meeting continues, we wait for the article to appear on the newspaper's web site. I reload my phone endlessly waiting for the site to update. Suddenly it does, but it's just a story about rock legend Johnny Hallyday, was it all a bluff ? Then it arrives, half an hour late. A cheer rises from the tired voices. At home we try to party a little, at least we might get a lie in tomorrow morning, it seems that it's over for the time being?
DAY 5: Friday 13th April – Utopias with teeth
I'm half awake, there is a rumble of vehicles on the road… At first I think it's tractors, then I see the lights, blue and flashing, van after van of cops passing. We leap out of bed and run to the top of the lighthouse, the entire road is filled with vans as far as the eye can see. The huge barricade at the crossroads, which the tractors left last night following the préfete's announcement, is on fire, a plume of black smoke frames the the orange dawn. The familiar pop of tear gas canisters being fired is accompanied by the crunching sounds of barricades being pushed by the APC. Radio Klaxon says they have kettled la Grée and are searching it, the Wardine camping is also encircled and a hundred and fifty cops are heading towards the Rosier. The Lascar barricade, made of several burnt cars, with a huge metal doorway and a trench that is several meters wide, is being defended by a nearly 100 of us. The forest is wrapped in toxic mist, ghostly rebel silhouette run from tree to tree, stones are aimed at the robocops with catapults that were made by Andre, an 83 year old who set up a production line for us during the eviction threats of 2016, his team churned out 1000. The cops throw stun grenades blindly from the fields into the forest, one explodes just above my head, caught in the tree it rips the bark into smithereens. Is this what they call the end of operations ?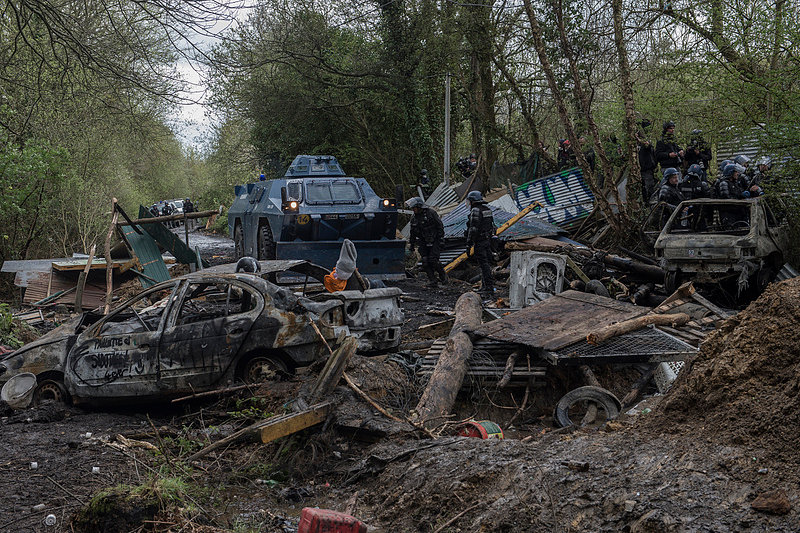 A communiqué from the gendarmerie explains that they are clearing the roads and are not doing any expulsions or knocking down any squats, but that they are looking to arrest people who fired a distress rocket at their helicopter. At la Grée they take away two people but not for that charge. The gas pushes everyone back from the Lascar's barricade and the grinders come out to cut the metal gateway into pieces. Despite the rising clouds of tear gas, people on the roof of the brand new Ambazada, a building that will host folk from intergalactic struggles, manage to sing some of our re purposed folk songs, recount the history of the struggle of the zad.
Then a moment of joy, one of the armoured cars attacking the Lascar tips into a ditch and has to be pulled out by the other one. The mud of this wetlands has always been our ally, its wetness our friend. When they retreat a banner is put up, "Cheap APC driving license available here." Our other accomplice is humour of course, even in what feels like a war zone, with tarmac scorched, broken glass and rubble everywhere, being able to laugh feeds our rage. The police retreat again and the barricade grows back out of its ruins, bigger and stronger than ever. We notice that where the APC fell into the ditch is now a huge deep hole at exactly the place where the drain for the Ambazada was going to be dug, no need for digging, just put the plants in it to make our grey water reed bed. That's what you call radical permaculture, least effort for maximum gain.
At midday the préfete begins her Press conference in Nantes. She confirms last nights message – evictions are over – and in a dramatic gesture, flourishes a page of A4 paper towards the cameras. "It's a simplified form" she tells the press, "so that those who wish can declare their projects as quickly as possible…The deadline is the 23rd of April" she continues " all we are asking is that they declare their names, what agricultural project they wish to develop and to tell us what plot of land they wish to work on, so that the state can process them." She also confirms that it was Macron who was running the operation not the prime minister or interior minister, it was he who decided to stop the expulsions. "I am holding out my hand" she says, and asks for negotiations to re start on Monday, "I am giving the zadists a last chance." Sitting next to her General Lizurey in charge of the Gendarme's operations says that the number of zadists on the zone has increased from 250 to 700.
I walk through the Rohanne forest to The Barn of the Future, I breathe in the forest air, the sweet pine, the musty damp smell of mushrooms. The barn has returned to its normal use as a saw mill and carpentry workshop for the zad. It is the base of the Abracadabois collective that looks after the forests and hedgerows, harvesting fire wood and building timber and setting up skill shares to learn carpentry, forest biology, wood carving, chain saw use and learning about other ways of inhabiting forests inspired by indigenous practices from past and present. The saw mill is planking the logs, twenty carpenters are busy preparing frames for a new building, a new assembly and no-market hall for the Gourbi, that we aim to put up on Sunday during the mass action.
This morning I was enveloped in tear gas and now I'm watching some of the same barricaders without their gas masks making a barn using the techniques that have been used for millennia. It is somehow healing to watch the attentive work. It is this capacity to fight and build, to block capitalism and to construct other forms of life which gives the zad its strength. It is also another reason the state wants to destroy us, they can deal with nice clean alternative eco projects, easy to buy off and recuperate into new forms of green capitalism. But when those who have a systemic critique are also providing material examples of other ways of being, it becomes dangerous. The resistance and creativity, the no and the yes, are the twin strands of DNA of this territory, split one from the other and the zad dies. It becomes another ecovillage or Transition Town, alternatives without teeth.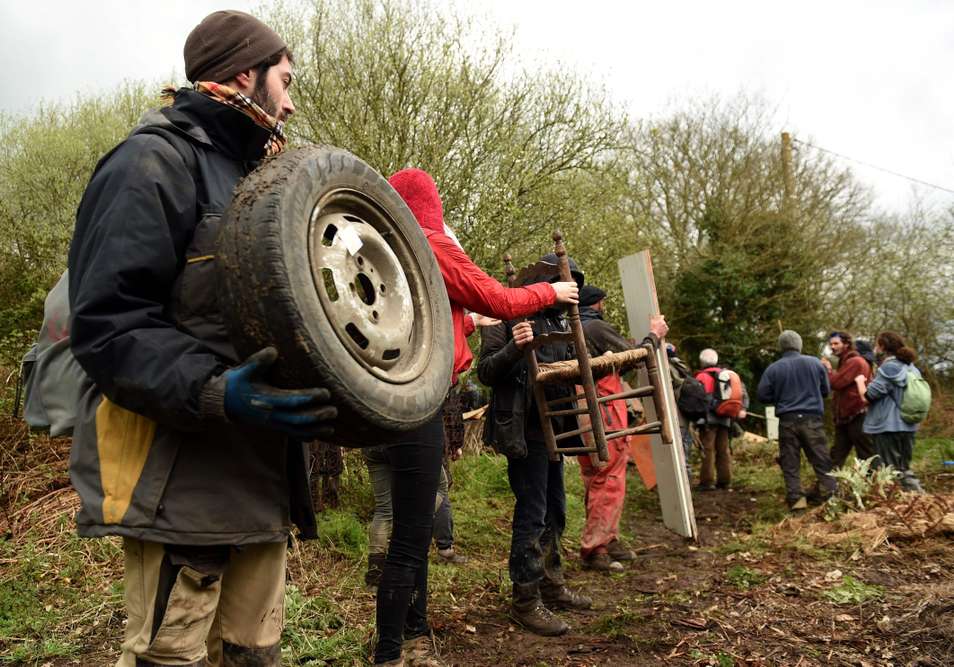 Yet a second helicopter is flying above the barn, this time with Prime Minister Edouard Philippe and the minister of interior inside, they are getting a private birds eye tour of the zad. They have come to congratulate the troops for their hard work. As he shakes hands with the gendarmes Phillippe tells the press that "the state will not accept any reconstruction or reoccupation." He is referring to the action planned on Sunday, "Any place that tries such an action will exclude itself from any possible regularisation…. and will thus put themselves under judicial proceedings." Once again the threat of sorting the good zadists from the bad. The carpenters work late into the night.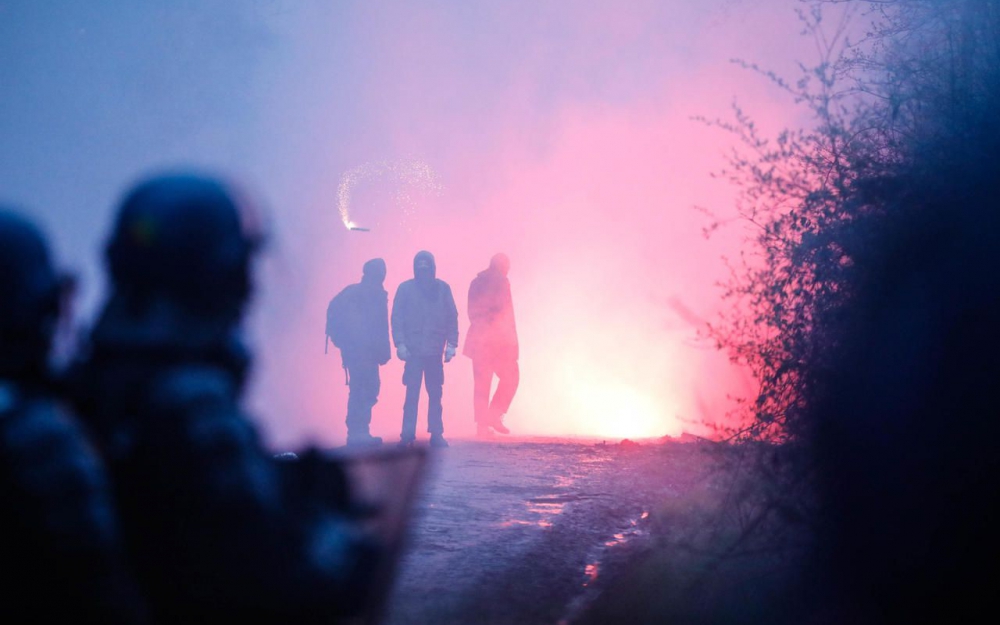 DAY 6: Saturday 14th April – We won't forget our scars
Bang, another wake up call, the APCs and dozens of vans pass by at the speed of a TGV train, bulldoze the barricades away on the D81 road again, and continue South, probably to Nantes where striking workers are holding a demonstration followed by one against the eviction of the Zad.
Barricades are cleared at the Lama Fachée at the same time, and a strange new gas is spotted, dark yellow. It makes people throw up, sows mental confusion and a loss of all spatial and temporal senses. Behind one of the barricades, a trio of action medics are keeping an eye on the adjoining woodland where grenades are exploding, " It's been war wounds here," they explain "skin and nerves hit by shrapnel, open gashes, eardrums damaged, necrosis and bone fractures." Some folk have over 70 pieces of shrapnel in their limbs, it takes hours every day to pull them out and clean them, some have gone 3cms deep into the skin. Many of the new comers on the zone throw themselves into picking up the thousands of gas canisters that litter the fields, placing them in big bags for everyone to see in the "camp of the white haired ones." Each canister costs 110 euros.
The demonstration in Nantes is big, 10,000 people. The 1000 riot police on duty attack it and gas people drinking on the café terraces.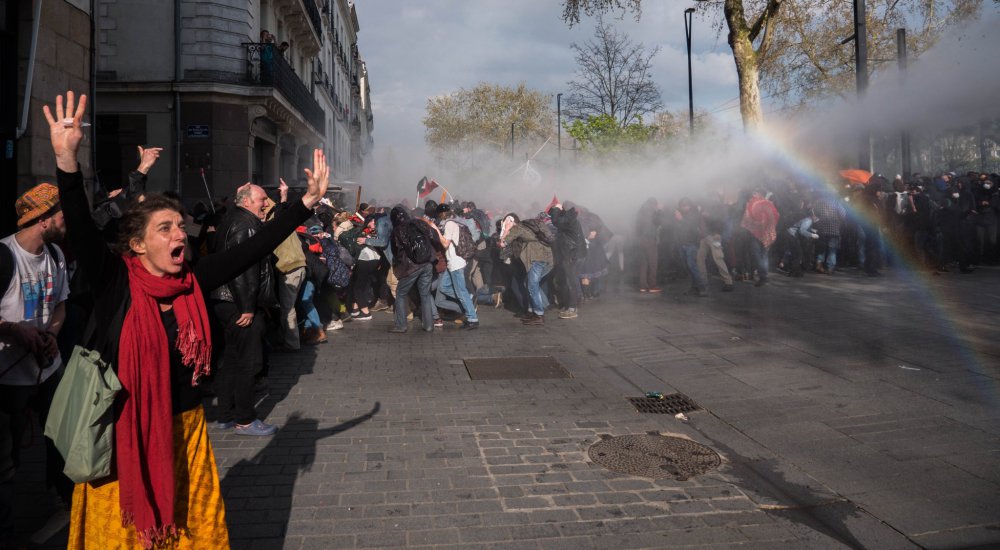 The sun set is dark red this evening. The wood working tools and machines are cleared aside, the Barn of the Future becomes a meeting hall again for the Assembly of Usages. The fresh smell of saw dust perfumes the discussions about whether we should go to back to the negotiations on Monday. The response is no, not yet.
DAY 7: Sunday 15th April – The Human millipede realises a dream
It's the big day, thousands of people from all over the country are converging on the zone for the day of mass action. The troops have cut off a third of the zad, they line the lanes for kilometers, cutting off access to any of the part of the zone where homes had been destroyed last week. This includes the Gourbi where we hoped to bring the new building too. All road access to the zad are blocked off by the gendarmes, they tell people to go home because they won't be able to reach the demonstration. But more than ten thousand of them disobey, park their cars and coaches in the nearby villages and trek for over an hour across the bocage. The details of the new building are still being finished, as the crowds arrive, such as a large 'fuck you' finger and the face of a fox that are being carved.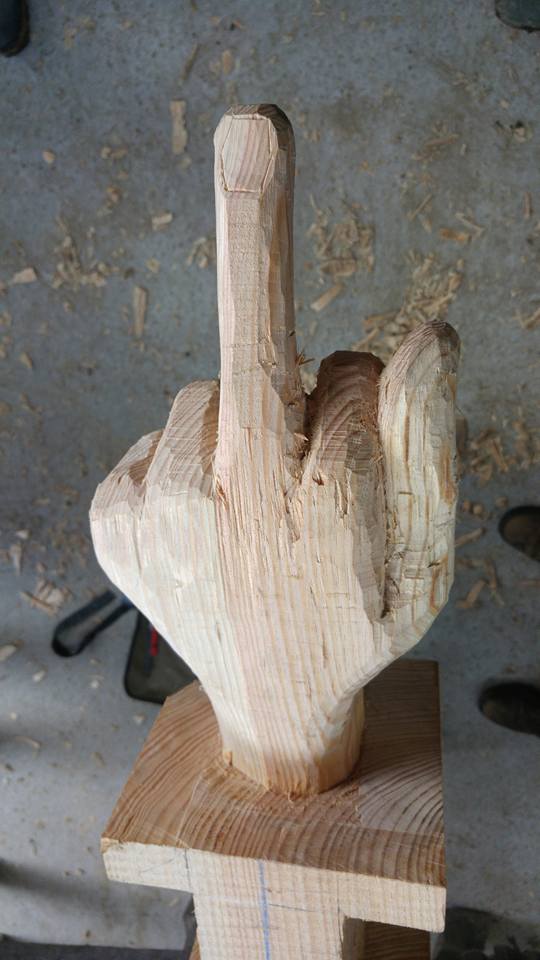 Through the pirate radio, text messages and word of mouth, we tell people to converge on Bellevue, the big farm in the west and wait for a decision about what we will do. 50 of us meet in a field in an emergency meeting, the farmers don't want to risk their tractors, we don't want to have a gesture that feels too symbolic, once again the collective intelligence comes to the fore and we come up with a plan B. The building will be erected as close to the front as possible without forcing the police line, there are too many families here to risk being gased.
Simultaneously we will ask people to unearth the staffs and sticks that had been planted in the ground in October 2016 when the government told us they were coming to evict. It was a ritual disguised as a demonstration, 40,000 people answered the call, planted their stick into the ground and made a pledge to return to get them if the government came back to evict the zone for the airport. The ritual magic worked, that time the government stood down. But now they were back with a vengence and the moment has come.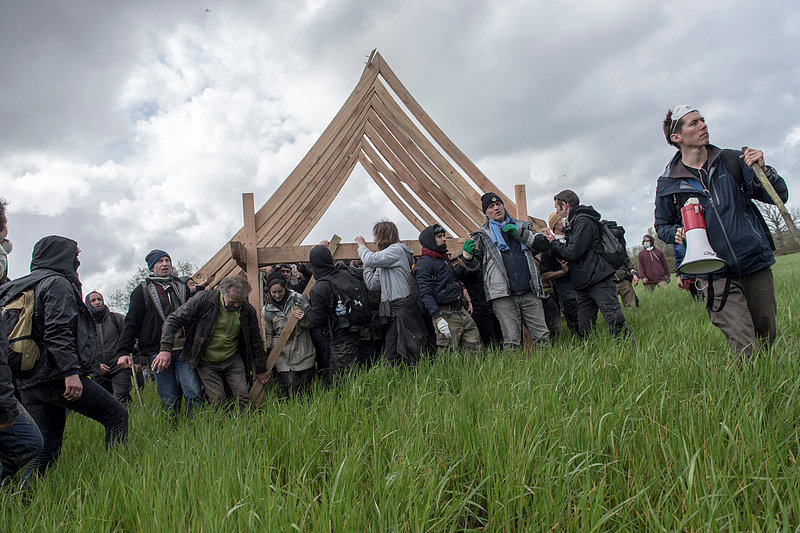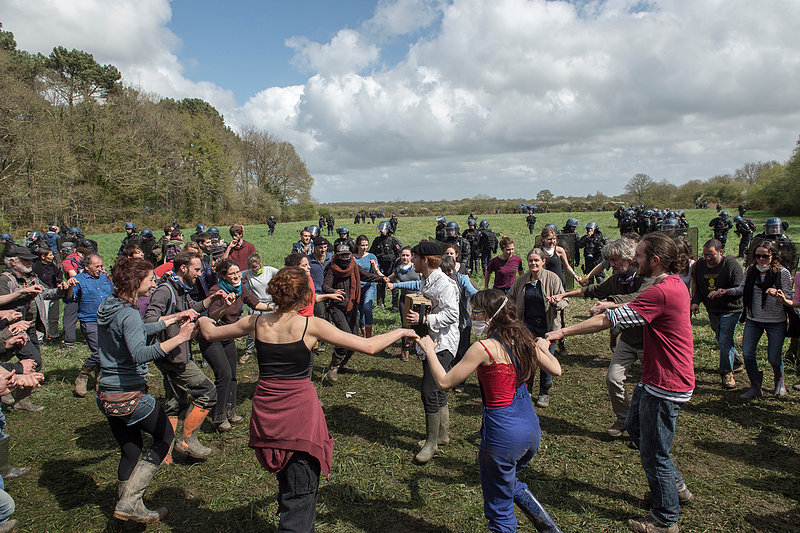 Whilst people pulled the deeply charged sticks out of the clay, others on lane behind carried the huge wooden frames, planks and beams of the new building to the field between between the Wardine and the Ambazada. It takes a few hours to put the carpentry back together and raise the structure up, meanwhile thousands of people push their sticks back into the ground creating a huge circular pallisade around it. In the next door field the police start to tear gas and stun grenaded hundreds of people, some had been reading poems to the cops many held their hands in the air in a gesture of peace. Families hold their ground next to masked up barricaders.
Meanwhile, a handful of people decide as a kind of game, to take the campanille, the tower like addition of the new building, through the forest to the east. A crowd of hundreds follows, we cross the road next to the cops who charge but are forced back by the mass of bodies, we try to get as near to the Gourbi as possible. The wind is on our side and blows the teargas back into the cops lines. But the playful act of defiance ends when its clear that we can't get anywhere near the Gourbi, the police lines are too thick. However, the pleasure of running through forests and fields carrying part of a wooden building is clearly addictive. A few hours later, once the sun has gone down and the cops have left, a new plot is hatched. Why don't we move the whole building, one and a half tonnes of it, 3kms across the fields, in the dark – to the Gourbi !
Despite the general state of tiredness that fills our bodies, we manage a huge heave, 150 of us lift up the structure. A mass of rubber booted feet walk in unison, it feels like a strange chimera shuffling across the bocage, half human half millipede. One of the carpenters directs the operation via megaphone, "a bit to the left ! slow down ! watch that tree branch !" Lit by the beams of dozens of head torches the building seems to float above the prairies, we are plunged into a space between fabulous dream and a scene from an epic film. Someone sits on the very top of the building pushing up the electricity and phone cables so we can pass under them. This is what we call the magic of the zad, the belief that anything is possible when we do it together.
We half expect to see the police helicopter, to feel its spot light pierce the night, but nothing. The closer we get to the Gourbi the louder the chants: "on est plus chaud, plus chaud, plus chaud que le lumbago" (we are much hotter, much hotter than lumbago). When we arrive, fireworks shoot up into the darkness, a bright red distress flare illuminates the scene. We set the building next to the pilled up ruins of the dome. We light a bonfire, Gourbi has risen again.
Whilst we were moving our house, Macron was being interviewed live on TV, sitting in a black and gold marble hall the Eiffel tower as monumental backdrop. He declares that airport had been abandoned as part of the "ecological priorities of the government" and that therefore our anger is no longer legitimate. Rather than an alternative society, the zad was "a project of chaos… illegally occupying public lands" he tells the nation.
"We have restored republican order" he declares, at least four times. We must sign individual forms before the 23rd of April or "everything that should be evicted will be evicted" he says. Macron ends with a ridiculous analogy: the zad is as if someone came into your living room to propose an alternative and squated your sofa. Ridiculous and wrong, none of the land here belongs to private individuals, it all still belongs to multinational airport builders Vinci and the state. But his statement was a new ultimatum, a declaration of total war against all collective forms of life. We return home to the news, but it cannot blunt the memories of this improbable night.
DAY 8: Monday 16th April – We will always re-surge, return, reclaim
There are a half a dozen bodies perched like birds on the rafters of the new Gourbi, one plays a drum, a couple kiss, the green prairies below burst with yellow dandelions. We hear the rumble of APCs, it's obvious they are coming straight here. The glint of riot visors shimmer in the sunlight, a column is moving towards us. A few flash bangs later and those on the roof are brought down by police climbers. The pillars of the building are cut by a chainsaw and the APC drives into it. Like the skeleton of a dying beast it crumbles to the ground. The police leave under a hail of stones, people sort out the broken beams. "Bastards !" a friend points to a stump of cut timber, "they sawed off the big fuck you finger and took it back to the barracks as a trophy !"
The Gendarmerie release their drone footage of the destruction on social networks. They need to show some success in their operation, they too are getting tired of this infernal cycle of destruction and reconstruction. A communication from a group called "Gendarmes and Citizens" denounces the fact that they are feeling "bogged down" and feel like "cannon fodder" faced with "rural guerrillas". They deplore the "political paralysis" of the government who are on the one hand communicating with a "warlike tone" but are not following it up with effective orders on the ground. "Why are we not being given orders to arrest everyone in the squats ?" they complain. So far there have been suprisingly few arrests, we wonder if they will just come back later, raid our homes, pick us off one by one, when things are quieter ?
There is a new moon above tonight's Assembly of Usages. Unsurprisingly the debates are heated, we have to decide to re start negotiations or not. The question has never been negotiate or fight, we always knew that we had to do both, but after so many days of attacks it's not easy to accept to go back to the table. In the end we decide that we can meet the préfete, not to negotiate the base issues, but make demands for the continuation of talks, one of which is take the troops off the zone. "You don't negotiate with a gun to your head", one of the locals says, but we known that if we refuse to meet, Macron's machine could return and destroy everything that is left, risking lives and in the end depriving us of this territory where we found each other.
An older friend of mine, someone who experienced the uprisings of '68, writes to me. His letter just says, "the zad will never end, it will simply change shape." And he is right. This attachment we have to this territory where we have been able shake our dependence to the economy and the state, is something that brings us together, however disparate our political perspectives. Our love for this huge play ground which inspires us to organise together, this deep desire for the wetlands that lubricates our imaginings, these are not abstractions but feelings that are deeply anchored to our experience of this bocage and all our experiments that emerge from it. It is a place that compels us to recompose, to renew, to have the courage to put our political ideas into question, to always push ourselves further than what we thought was possible, to open ourselves up beyond a radical ghetto or walled off utopia. Despite our barricades and the diversity of disobedience, if the state really wants to eradicate the whole of the zad, they can. Everyone would have lost their homes, workshops, fields, tools and we would probably find ourselves banned from returning to the region (a common judicial punishment in France). Scattered across the country without a place that enables us to grow roots together, we would loose all our strength. We know that changing shape is painful, but like a cameleon changes colours, we need to find a way protect this laboratory and camouflage its revolutionary potentialities from the eyes of the state. If we want to stay we need to find a compromise whilst refusing to let go our the commons.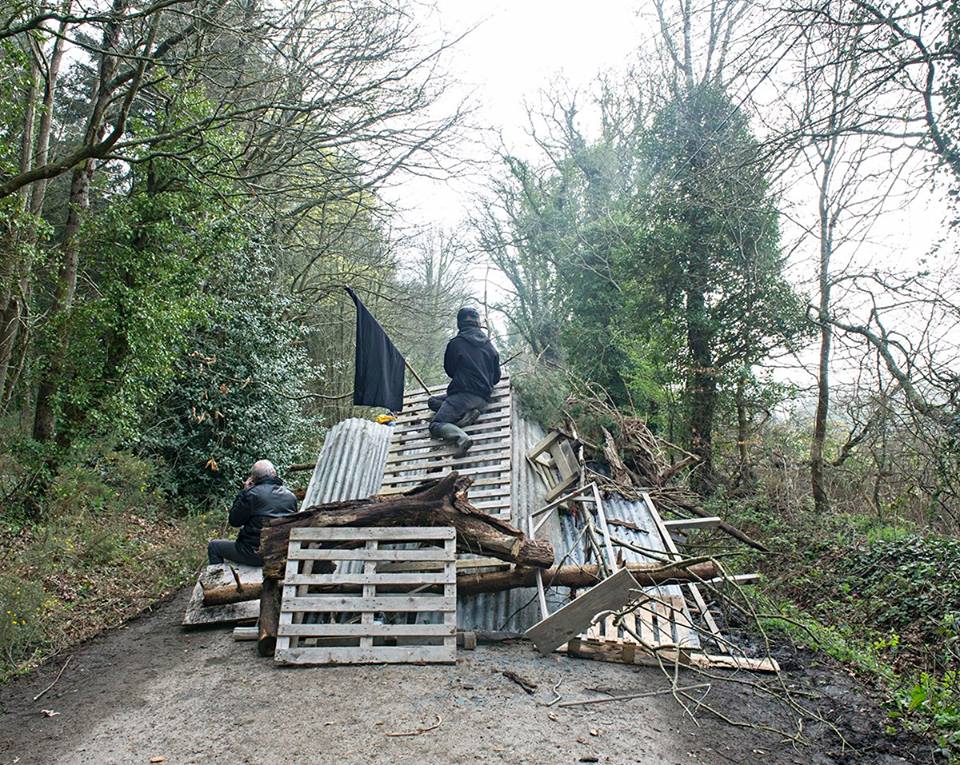 Day 14: Sunday 22nd April – The art of Changing Shape
It's a week later. Over breakfast, Paul tells me about last night's adventures. "It felt like we were robbing a bank. So organised, dressed in black, head lamps, maps, scouts etc. Except all we were doing was evacuating the bee hives from the destroyed homes and gardens, getting them off site." he smiles "we had to carry them full of bees across the hedgerows behind police lines."
The days have calmed down. Less cops on the zone, more bird song than explosions. The cycle of barricade growing and then being smashed slows down, partly because on the main roads the police bring in huge skips to take the materials away. In the smaller lanes barricades remain.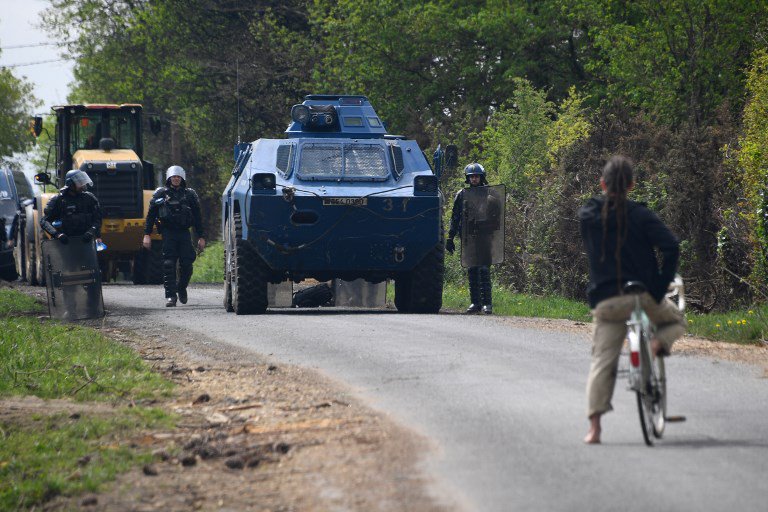 The restart of the negotiations on Wednesday went badly, nothing shifted, despite the presence of ex TV personality Nicolas Hulot, now Minister of Ecological Transition, in charge of the zad case since Marcron's election. He is flown in specially to Nantes in the presidential jet. Following the meeting with us, he gives a press conference in the palatial hall of the Prefecture. The government's hard line is held, the rights of property and the market reign, there will be no global or collective contract for the land, we have to give individual names and land plots by the 23rd or face evictions. In a rhetorical floury he ends, "ecology is not anarchy."
Not surprising for a man whose 'ecology' involves owning six cars, signing permits for oil exploration and supporting the nuclear dump at Bure. Hulot is simply the 'eco' mask for Macron's "make the planet great again" form of authoritarian neoliberal green capitalism. But his statement shows Hulot's absolute ignorance of the history of both ecological and anarchist thought. Many of the first theoreticians of ecological thinking, were anarchists. Élisée Reclus, world famous geographer and poet, whose beautiful idea that humans are simply "nature becoming aware of herself," fought on the barricades of the 1871 Paris Commune. 19th century geographer Peter Kropotkin, spent many years in jail and exile for his politics, but was renowned in scientific circles as an early champion of the idea that evolution is not all a competitive war of "red tooth and claw" but instead involves a cooperation, what he termed Mutual Aid. From the 1950s onwards, US political philosopher Murray Bookchin (now best known for the influence he has on the Kurds to build a stateless form of Municipal Confederalism, taking place in the autonomous territory of Rojova – Northern Syria) brought ecology and anarchy together.
At the heart of his Social Ecology is the idea that humans dominate and destroy nature because we dominate ourselves. To avert ecological collapse we had to get rid of all hierarchies – man over woman, old over young, white over black, rich over poor. According to Bookchin, our greatest lesson to gain from the natural world was that we had let go of the idea of difference, and reclaim the concept held by many small scale organic societies, of unity in diversity. Diversity being the basic force of all bio-systems. He envisioned a world that would be neither communist nor capitalist, but what he called "Communalist". "The effort to restore the ecological principle of unity in diversity," he wrote, "has become a social effort in its own right – a revolutionary effort that must rearrange sensibility in order to rearrange the real world." For him the question of society, to reframe Rosa Luxembourg's: "Socialism or barbarism" – was: "Anarchism or extinction."
When we truly inhabit an eco system it becomes obvious that life has no control centre, no heirachy, no chiefs or bosses, no governments or presidents. Every form of life is a self organising form of commons – deeply connected and interdependent, always changing, always embedded and entangled – from the cells in your fingers to worms in your the garden, from the trees in the forest of Rohanne to the bacteria in your gut. As biologist and cultural theorist Andreas Weber says, all life forms "are continuously mediating relationships among each other – relationships that have a material side, but also always embody meaning, a sense of living and the notion of belonging to a place." The more we observe the living world in all its complexity the more we are able to understand how to become commoners, how to truly inhabit a place and see that the separation between the individual and the whole is a fiction.
"In the ecological commons" writes Weber "a multitude of different individuals and diverse species stand in various relationships to one another – competition and cooperation, partnership and predatory hostility, productivity and destruction. All those relations, however, follow one higher principle: Only behaviour that allows for the productivity of the whole ecosystem over the long term and that does not interrupt its capacities of self-production, will survive and expand. The individual is able to realise itself only if the whole can realise itself. Ecological freedom obeys this basic necessity."
And so to be really free is not to be an individual able to operate free from constraints, but to be tied to beneficial relationships with people and habitats, relationships that feed you materially and psychologically. Without a tie to your food – you starve, without the tie to lovers – you sadden. We are free because we are linked. Freedom is not breaking our chains but turning them into living roots and veins that connect, share, flow together and enable us to change and evolve in common.
Since the abandonment of the Airport, changing together on the zad has been a very a painful process. On the zad often it is a fight between those of us who try to read the terrain and invent something new that is messy and hybrid yet fits the situation we are in and those of us who want to keep a pure radical position, more based on uprooted ideas and ideology than the complexity of the present moment, the here and now, the forces we hold and don't. In 1968 Bookchin asked"When will we begin to learn from what is being born instead of what is dying?" It is a question still just as relevant today on the zad.
Things have been moving so fast. After Hulot's ultimatum, a ministerial announcement suggests that the Prime minster and minister of interior are on a war footing, they are prepared to go for it, evict the whole zone on Monday's deadline, the 23rd.
During the re start of negotiations on Wednesday a technical meeting between our delegation and the bureaucrats, who look at the case from a purely land and agriculture question, had been set for two days later, Friday 20th . Once again we are on a knife edge, this could be the last moment of negotiation before a full scale attack, an attack that most of us who live on the zone know we can't win against, how ever big our barricades.
The Assembly of Usages makes a huge strategic gamble, its a paradigm shift in tactics. We decide to hand in the forms at the Friday meeting, but in a modified way, to show that yes we can fit the state's square boxes of individual projects if they want, but that on the bocage nothing can be separated out, everything is interdependent. Whilst at the same time making a call out for people to come and be ready to defend on the territory from Monday onwards if the state attack. Its the logic of hacking, take what's there, re purpose it, change its use.
Then one of the most unexpected types of zad magic takes place, an office of form filing is set up in the Zad's library, and for 24 hours the building becomes a disturbed ants nest, dozens and dozens of people are running around carrying white pages of paper, writing on computers, having meetings together, looking at maps of the zone, making phone calls. Comrades with great legal and administrative knowledge help out and and by Friday afternoon, just as the meeting at the Prefecture begins a huge black bound file of 40 different projects is produced, each with a name and plots of lands earmarked, but no single name attached to a single plot. A colourful cartography of the commons of the zad is attached to further illustrate the interdependent and cooperative nature of the projects, be they a school of shepherding or the library, orchards or the sports group, mechanics garage or a snail farm, sunflower oil production or bringing up children together. Of the 70 living spaces on the zone, 63 are covered by the forms, only 7 decide not to take this bet of a barricade of paper. Of course paper barricades are not half as fun as ones on the streets, but this time they just might be the ones that save zad from becoming just another orgasm of history, another free commune which shined briefly but ended in bloodshed, another martyred experiment in freedom sacrificed for the sake of a pure revolution. The zad always tried to go beyond the idea of a TAZ (Temporary Autonomous Zone), in favour of a building a PAP ( Permanent Autonmous Zone), this desire is embeded in the solid buildings, the long term agricultural plans, the vineyards planted for win in 5 years time. We can' just let go of all the ties we built here, with the locals, surrounding farmers, pensioners, workers in the city, wanderers of all sorts, Nantes students and the youth, the owls, the black squirming salamanders, the knarly oaks trees, the mud. We must hold onto all these deep friendships and networks of struggle that we have shared with such intensity over the last decade.
The state bureaucrats were confused, some enchanted, the préfete seemed relieved. Leaving the meeting our delegation tells the press that "we have responded to the injunctions of the state because we want to stop the escalation of tension and at last find the time for dialogue and construction," warning that " if we take away one element of the collective, it cannot work. It's up to the state now to negotiate."
As I finally finish this text, the helicopter returns, anxiety rises again in my chest. It spends a long time swooping over the zone, observing this rebel bocage that it wants to reclaim back. Perhaps it is preparing for a final revenge against the commons, who knows, all we know is that during this last fortnight we have fought with every weapon we thought possible including the unexpected. Now we wait to see if the bet worked out…
P.S
On the 26th of April three days after we posted this blog, the Prime Minister made a statement about the Zad: announcing a truce in evictions until at least the 14th of May, to allow time for the regularisation of the occupants who filed forms. According to the Minister of the Interior, "Everything moves calmly and in serenity, as always," that hasn't stopped them piling in with the tear gas this morning to clear barricades. The bet seems to have given us some breathing space, even though they remain with the logic of sorting the 'good' who have chosen the 'right path' and the bad 'illegals', something we continue to reject.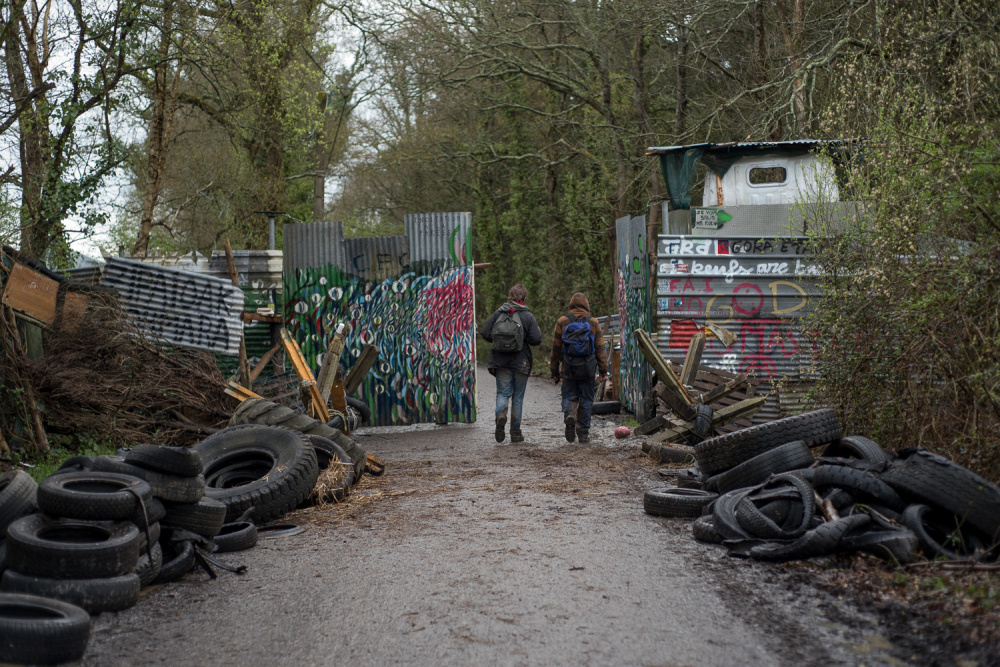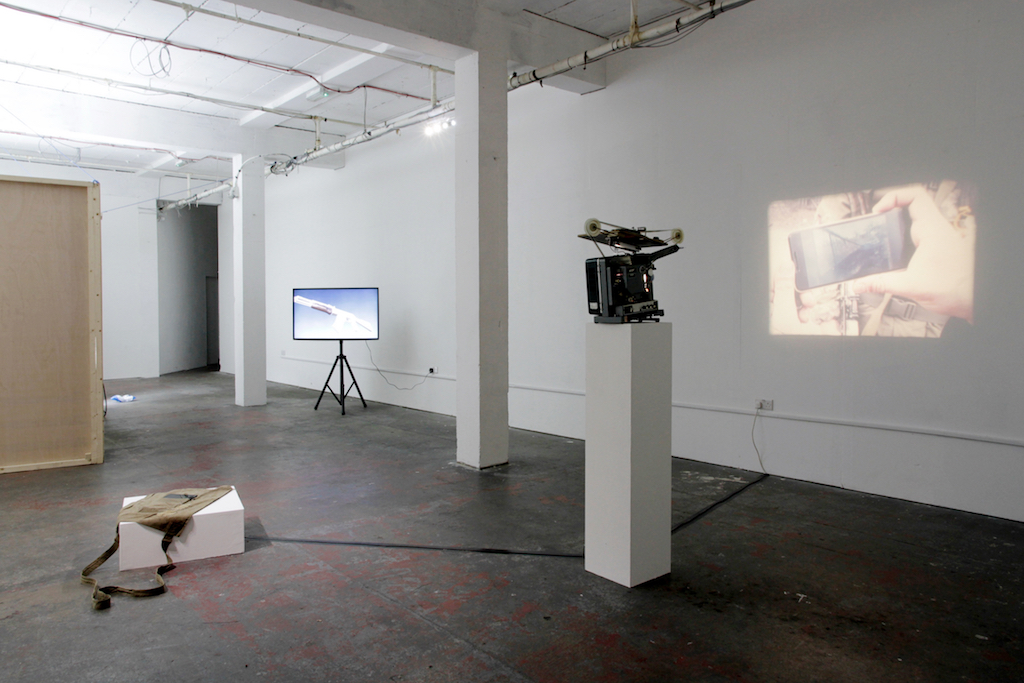 Referring to Ernst Jünger's proto-fascist concept of the 'front experience,' Dani Ploeger's fronterlebnis takes us to a frontline where digital consumer culture and traditional warfare meet. Combining filmed footage of a journey to the frontline in the Donbass War, Ukraine, alongside vintage military paraphernalia, Ploeger puts the artist in the field with the 'real' soldier. These soldiers are men from the far-right Ukraine Volunteer Corps, affiliated with the Right Sector, and remind Ploeger of 'the weird and wonderful mix of action heroes in Sylvester Stallone's Expendables series, albeit without the body builder physiques and less carefully manicured.' Here, Ploeger not only conceives an exhibition which examines the relationship between the cleanliness of modern day technology and the grittiness of traditional warfare, but also highlights wider issues around society's continued masculinised and fetishised relationship to conducting, and, as some of these pieces show, documenting war. With Ploeger's 'weird and wonderful' group made up exclusively of men, featuring masculine nom de guerres such as Bear and Carpenter, fronterlebnis is an exhibition in which masculinity is in the crosshairs as much as anything else.
The four-piece exhibition is part of Ploeger's current exploration into the militarisation of public spaces across Western Europe in connection with our increasingly fetishised relationship with consumer technologies, and how these apparently disparate elements converge in various conflicts, ranging from the Donbass War to public security in cities like Brussels and Paris. The soldier's body has arguably shifted in its role since the latter part of the 20th century, with the advent of sophisticated warfare technologies moving the human body away from the process of killing, at least in popular imaginations of conflict. With this development, the methods of war appear to have shifted, but it is in fronterlebnis that we are able to see how in the Donbass War in Ukraine, traditional warfare not only remains but has now become intertwined with advanced techno-consumer culture.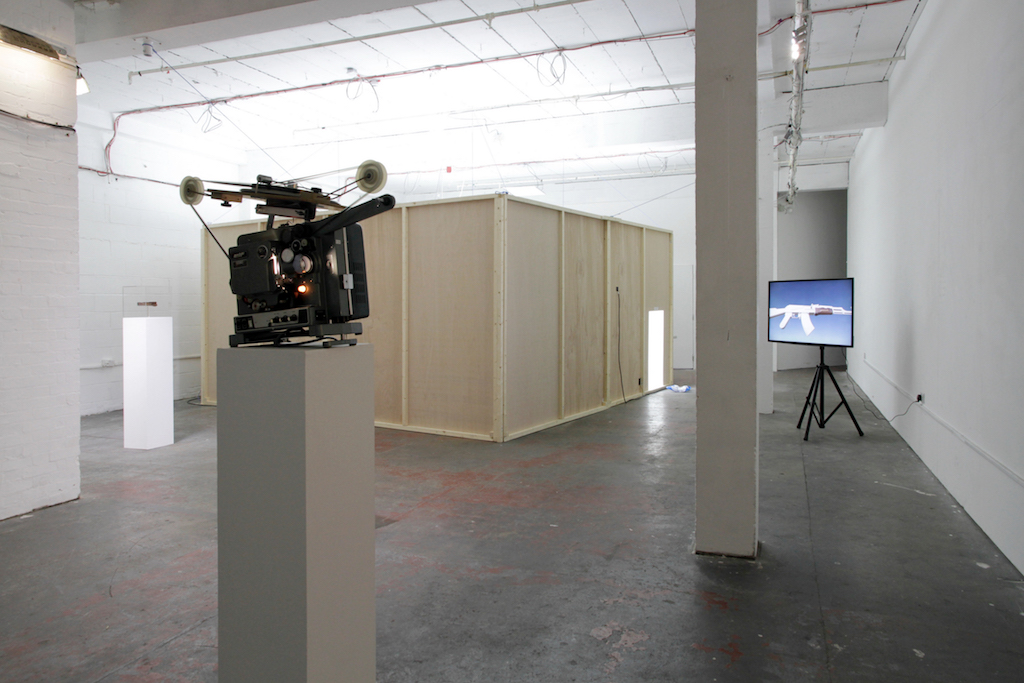 This juxtaposition of the old and new is present in the first piece you encounter as you enter the gallery. In Patrol (2017), Ploeger captured a firefight on his smartphone. The footage has been transferred to 16mm film and is being projected onto the wall of the gallery in a continuous loop. In the film, we see three soldiers – Bear, Carpenter and Steinar – escort Ploeger around the frontline on the edge of the destroyed seaside village, Shyrokyne. These men, in an assortment of vintage and contemporary battle array, many carrying the iconic Kalashnikov rifle, are seen sharing footage of their exploits on the frontline with each other, which they have captured on their smartphones and GoPros. Steinar, the youngest and, as Ploeger told me, the most fashion conscious in his choice of military gear, is filmed by Ploeger watching footage of the moment where he and Carpenter blow up an unexploded mortar shell. In this piece, the 16mm film echoes the era of the weapons that the men are carrying. The manner in which this film is projected reveals the peculiarity of watching a modern day firefight where many of the weapons and uniforms are from the Soviet era, but the men are astute in their engagement of consumer technology in order to document their experiences of the conflict. In Patrol, the Kalashnikov and the smartphone appear to have made an unlikely pairing.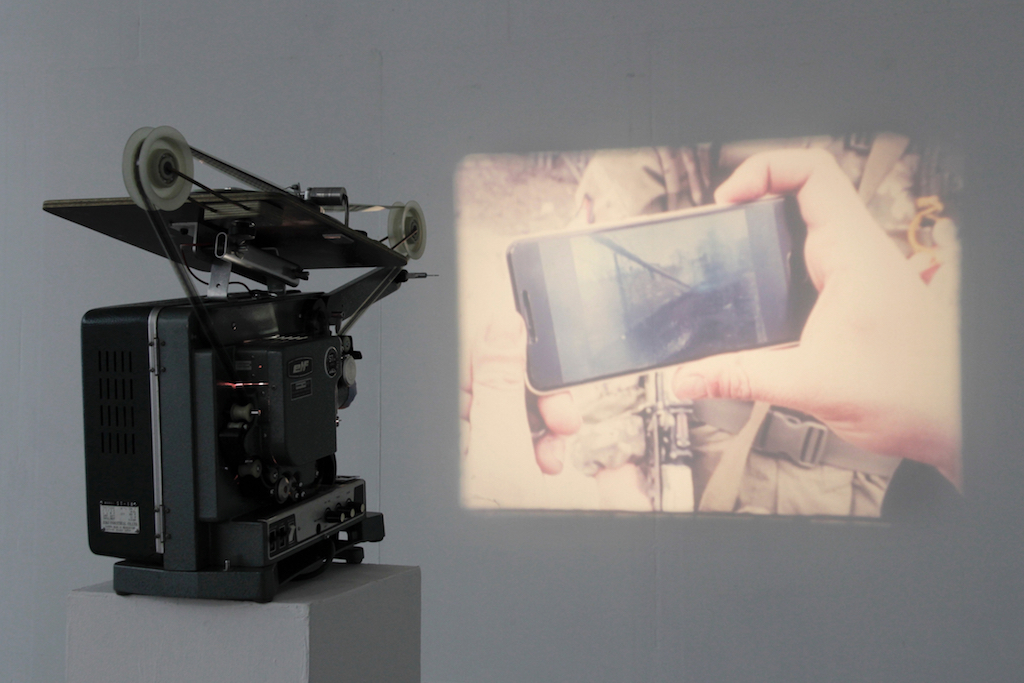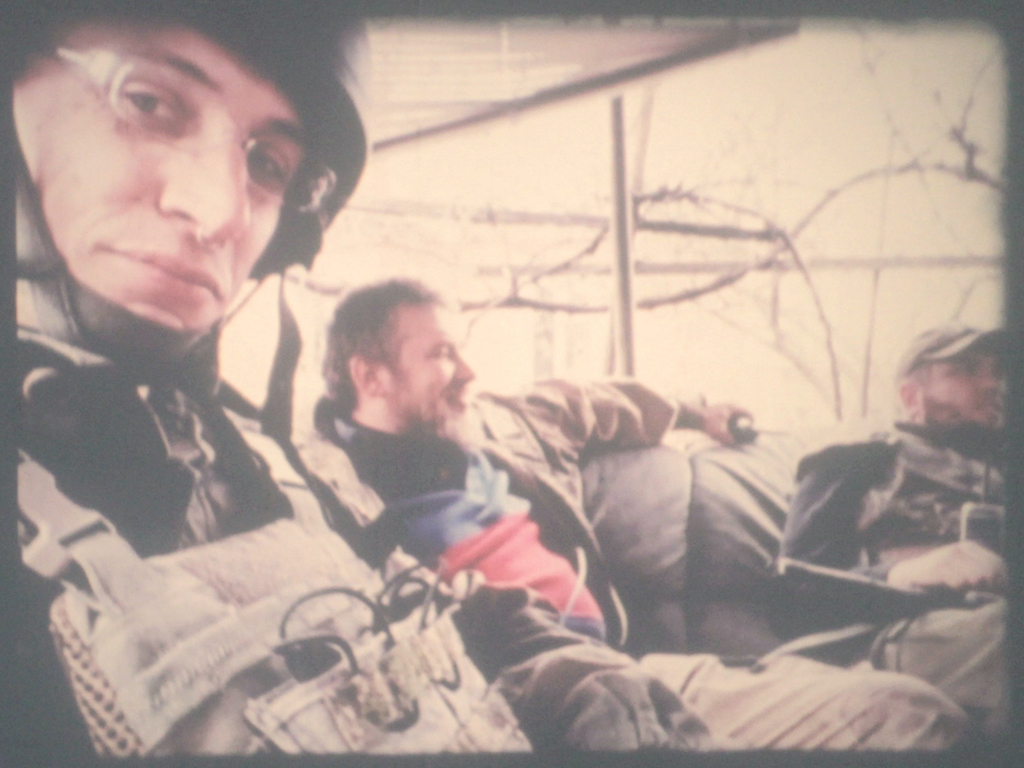 The other work in the show features such seemingly unlikely pairings of traditional paraphernalia of warfare coupled with different pieces of consumer technology. In artefact (2017), the wooden handguard of a Kalashnikov assault rifle is exhibited like an archaeological artefact. Presented on a white plinth, encased in Perspex glass, you can see that the wood of the handguard has been worn with the indents of many hands, signalling its intense use. This carefully exhibited object is just one half of this piece though. The other half consists of digital video animation in which a high-resolution 3D scan of the handguard is inserted onto a digital model of an AK-47. Presented on a large television screen, the digital model, set against a standard blue sky backdrop reminiscent of game development engines, highlights how many of us only come into contact with these types of weapons in a digitised form; whether that be in video games or through action movies. Ploeger's engagement with firearms here reminds me of some of his past work that seems to suggest an interest in these weapons in relation to masculinity and phallic imagery. Dead Ken /Less Pink (2016), a short video installation in which Ploeger fires a small revolver at a Ken doll, speaks to the seemingly indelible relationship between firearms and masculinity. When seen in relation to this video installation, artefact signals an enduring fascination in our shared social psyche with these weapons, but also speaks to how these weapons continue to be consumed and represented in relation to masculine identities.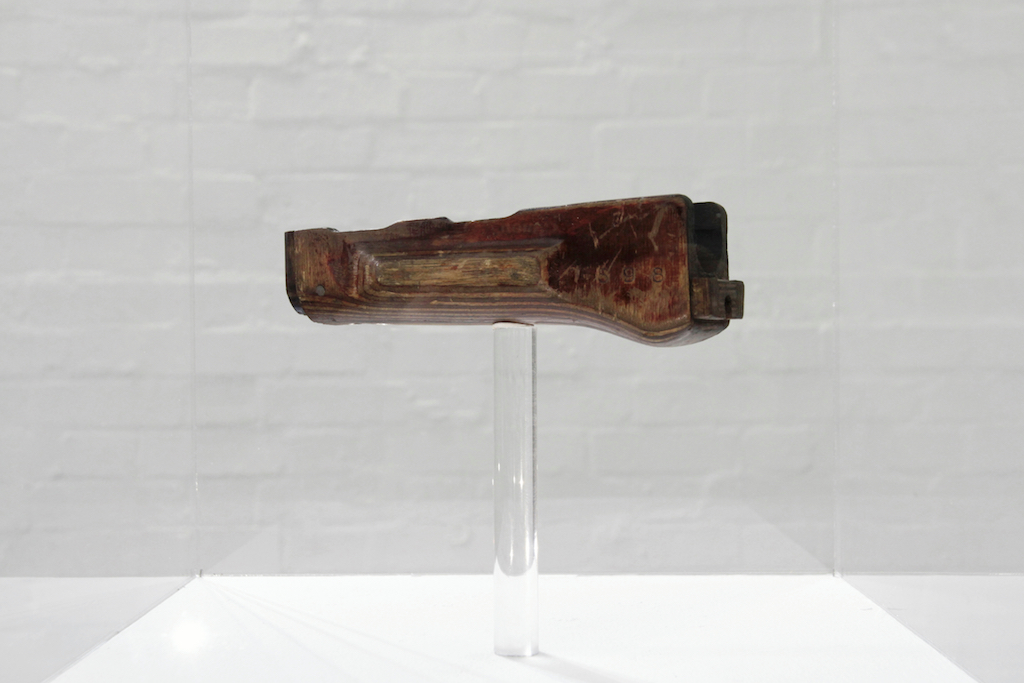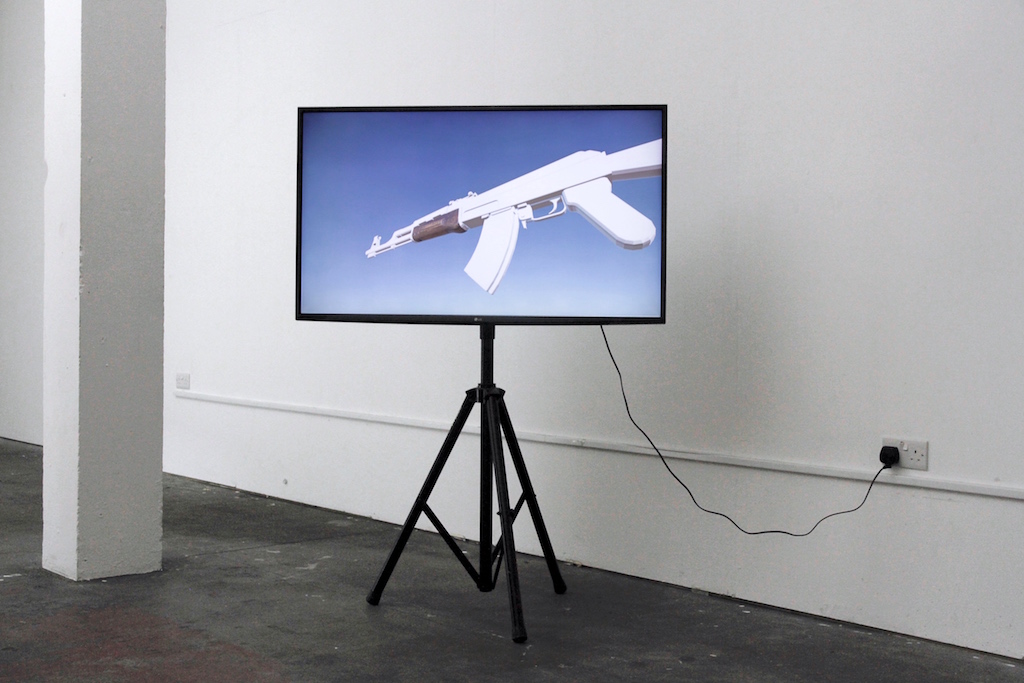 In worse than the quick hours of open battle, was this everlasting preparedness (2017), we can see a more tangible engagement with the co-existence of war artefacts and digital technology. Held in the front pocket of a Soviet army backpack from the Afghanistan War period is a damaged tablet computer which displays a bouncing screensaver, featuring a piece of text from Ernst Jünger's proto-fascist novel Storm of Steel (1920). Jünger describes his experiences of fighting on the frontline during the First World War and the title of this piece is a translation of the text we see displayed on the tablet. Here, the mediatised depictions of war that are so pervasive in popular culture are delineated from the lived experience of Jünger, who discusses this perennial notion of prepared waiting that is a common, though rarely shown, aspect of war. Here, the worn backpack which has been roughly patched and repaired, presumably by the hands of the man to which it used to belong (men's hands are for holding guns rather than sewing needles this bag appears to suggest), holds the similarly worn and damaged tablet. These damaged items speak to Ploeger's past work with electronic waste, which explored our society's proclivity for abandoning technologies when they become outdated or damaged. In this exhibition, however, Ploeger brings together the old and new, using pieces of (almost) electronic waste alongside other material artefacts to further explore the relationship between the material and digital.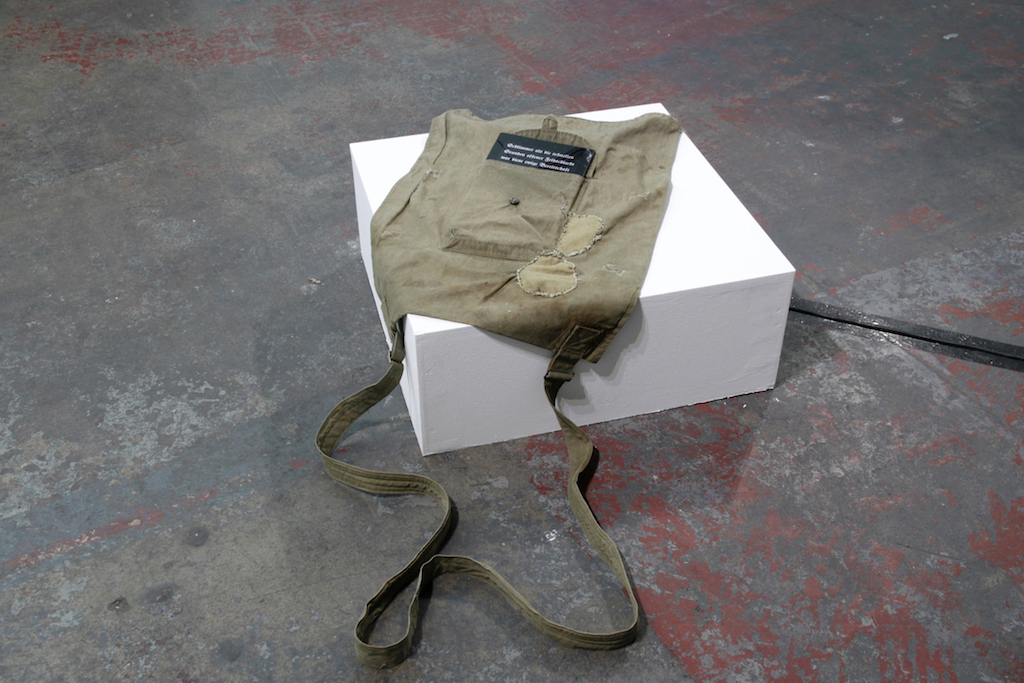 The largest piece of the exhibition, frontline (2016-17), deploys this new and 'clean' technology in order to take us to the frontline. The work consists of a big wooden enclosure of about 5 by 5 meters which can be entered through a small opening on its side. The entirely white inside of the space is brightly lit by a large grid of office LED lighting that hangs above it. This enclosed space speaks to the ways in which Westernised notions of conducting war are now considered clean and sterile as a result of the technology that they use. Before entering the space, you are asked to place foot coverings over your shoes, as if you would be entering a sterile space, a futile gesture it would seem as the same coverings are used again and again. This action, however, also references the cultural shift in how Western nations like to represent high-tech warfare as a clean affair.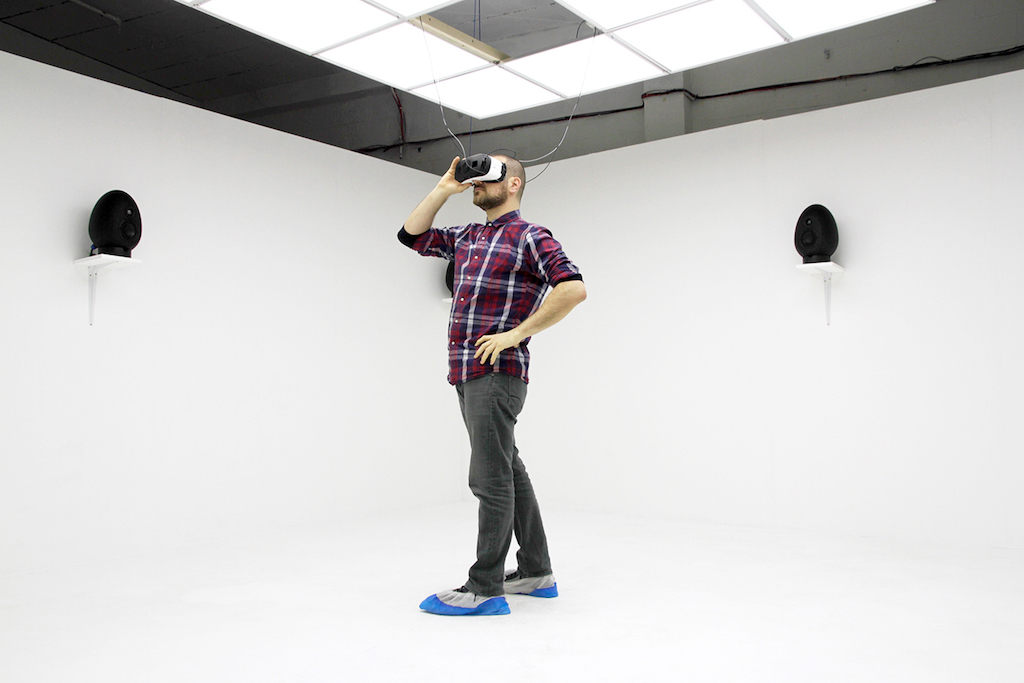 When you enter the enclosure a sensor is triggered and a soundscape of intense gunfire and explosions suddenly surrounds you. It is only until the you place the VR headset on to your eyes that this soundtrack, fit for an action movie, ceases. Roused by the noise, you are then met with a starkly contrasted image to what was suggested through the preceding gunfire soundscape. Rather than an action scene which complements the sounds previously heard, you enter an uneventful immersive video of soldiers smoking and sitting on the frontline. Using an intricate combination of partial video loops, the men appear to be on a never ending smoking break. frontline, subverts our spectacular expectations of warfare and VR technology by creating a VR experience that – after using sound to further heighten our expectations – foregrounds the mundanity of waiting for something to happen that makes up most of everyday life in an area of conflict.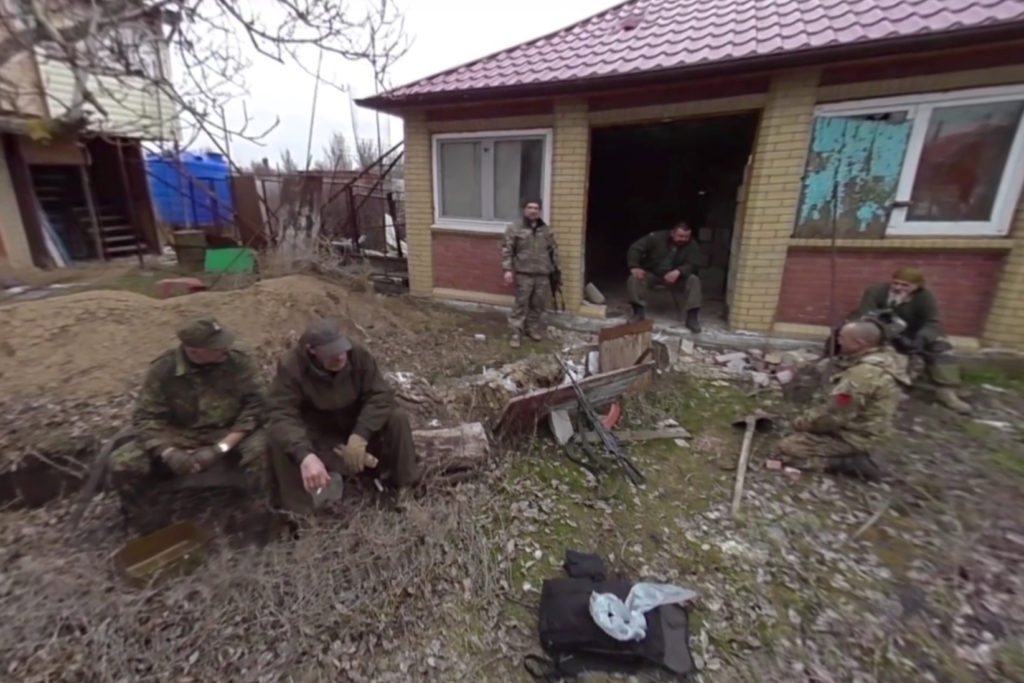 ---
In frontline, as in all of the pieces that are exhibited as part of fronterlebnis, Ploeger subverts our expectations by combining and repurposing technology to make us question our relationship with our technological devices and how we perceive and engage with them in everyday life. In addition to its examination of digital culture, fronterlebnis also seems to suggest that warfare remains a man's game. We encounter men who are still prone to having their boy's toys, but it would seem that in this case they are a GoPro in one hand, and a Kalashnikov in the other. Ploeger's documentation of these conflicts, made with his own personal technological devices, arguably envelopes him in similar mechanisms of fetishization as the soldiers he was with. Neither soldier nor artist seem able to extract themselves from the seductive realm of audiovisual gadgets and self-mediatization in an era of omnipresent digital consumer culture that even reaches as far as the trenches of a dirty ground war.