Our times are characterized by the accelerating collapse and redrawing of multiple borders: between nation states, personal identities, and the responsibilities we have for each other. Also between the old distinctions, work and pleasure.
Some leaders as part of the new world order, tell us through their political actions and their fashion accessories, that they "Just Don't Care". This "political art-form"1 of not caring permits an insidious spread of hatred online and on the ground. In recent times, the digital condition has lent it's networks and platforms to this poisonous, rhetorical hyperbole, turning against immigrants, and others who do not fit into the framework of a western world, oligarch orientated vision. Mass extraction and manipulation of social data has facilitated the circulation of fake news and the production of fear, anxiety and uncertainty. Together these fuel the machine of structural violence adding to the already challenging conditions created by Austerity policies, growing debt and poverty.
In the face of these outlandish difficulties our digital tools and networks – taken up with a spirit of cultural comradeship. More inspiring narratives are emerging from across disciplines and backgrounds, to experiment with new solidarity-generating approaches that critique and build platforms, infrastructures and networks, offering new possibilities for reassessing and re-forming citizenship and rights.
The exhibition and labs for Playbour – Work, Pleasure, Survival, have created new contexts for collaboration. Artists (from the local area and internationally), game designers and architects, come together with researchers from psychology and neuroscience addressing the data driven gamification of life and everything.
In her interview, the curator Dani Admiss discusses how they reassess the power relationships of the gallery, park users and the local authorities, asking who owns the cultural infrastructure and public amenities – and so create a polemic to open up questions of public value. The exhibition is open every weekend through 14 July to 19 August 2018.
The artists featured in Transnationalisms exhibition curated by James Bridle address the effect on our bodies, our environment, and our political practices of unstable borders.
"They register shifts in geography as disturbances in the blood and the electromagnetic spectrum. They draw new maps and propose new hybrid forms of expression and identity."2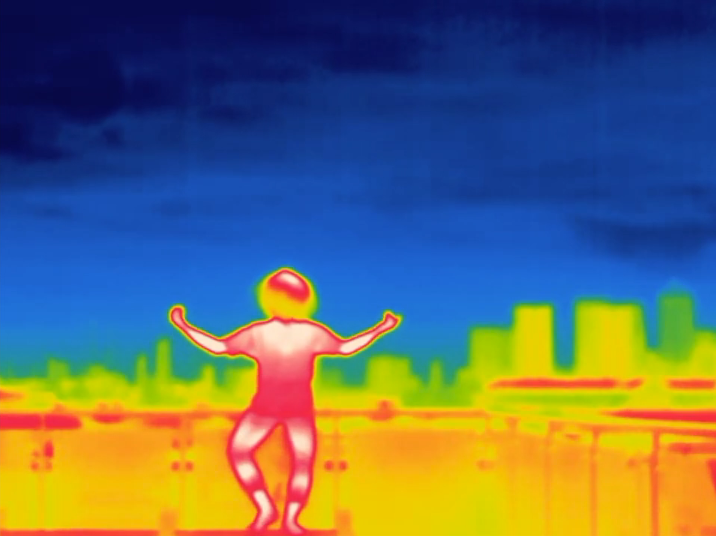 We Help Each Other Grow, 2017 from They Are Here.
"Thiru Seelan, a Tamil refugee who arrived in the UK in 2010 following detention in Sri Lanka during which he was tortured for his political affiliations, dances on an East London rooftop. His movements are recorded by a heat sensitive camera more conventionally often used to monitor borders and crossing points, where bodies are identified through their thermal signature."3
The show opens at Furtherfield from September 14th to October 26th 2018, touring as part of State Machines the EU cooperation which investigates the new relationships between states, citizens and the stateless made possible by emerging technologies.
We have another interview with artist and activist Cassie Thornton, where we discuss her current project Hologram, which examines health in the age of financialization, and works to reveal the connection between the body and capitalism. Her interview focuses on a series of experiments that actively counter the effects of indebtedness through somatic – or body – work including her focus on the way in which institutions produce or take away from the health of the artists and workers they "support".
"In my work for the past decade, I have been developing practices that attempt to collectively discover what debt is and how it affects the imagination of all of us: the wealthy, the poor, the indebted, financial workers, babies, and anyone in-between." Thornton
Finally I interview Tatiana Bazzichelli, artistic director and curator of the Disruption Network Lab, in Berlin, questions about art as Investigation of political misconducts and Wrongdoing. Since 2015, the Disruption Network Lab has cultivated a stage and a sanctuary for otherwise unheard and stigmatised voices to delve into and explore the urgent political realities of their existence at a time when the media establishment has no investment in truth telling for public interest.
"When the speakers are with us and open their minds to our topics, I feel that we are receiving a gift from them. I come from a tradition in which communities, networks and the sharing of experience were the most important values, the artwork by themselves." Bazzichelli.
The programme creates a conceptual and practical space in which whistleblowers, human right advocates, artists, hackers, journalists, lawyers and activists are able to present their experience, their research and their actions – with the objective of strengthening human rights and freedom of speech, as well as exposing the misconduct and wrongdoing of the powerful.
To conclude, all one needs to say is…
"Whether in the variety of human, backgrounds and perspectives, biodiversity or diversity of technologies, coding languages, devices, or technological cultures. Diversity is Proof of Life." Ruth Catlow, 2018.
In this interview with Tatiana Bazzichelli, artistic director and curator of the Disruption Network Lab, in Berlin, we discuss questions about art as a process for investigating political misconduct and wrongdoing.
Disruption Network Lab is an ongoing platform of events and research focused on art, digital rights, hacktivism and disruption. So far, they have hosted twelve conference events in Berlin and one in London. The programme creates a conceptual and practical space in which whistleblowers, human right advocates, artists, hackers, journalists, lawyers and activists are able to present their experience, their research and their actions – with the objective of strengthening human rights and freedom of speech, as well as exposing the misconduct and wrongdoing of the powerful. The programme has been covering topics such as the drone war, whistleblowing, counter-surveillance, ISIS media propaganda, hate speech, and artistic and activist strategies in times of increased geopolitical control (see: disruptionlab.org).
Interview
Marc Garrett: Why do we need the Disruption Network Lab now?
Tatiana Bazzichelli: The goal of the Disruption Network Lab is to present and to generate new possible routes of social and political action within the framework of hacktivism, digital culture and information technology, focusing on the disruptive potential of artistic practices. We aim to investigate projects that disrupt the field of information technology in unexpected ways, shedding light on interventions that provoke political and social change from within closed systems. The curatorial strategy aims to connect and to bring into dialogue experts that unfold inner structures of political, economical and technological systems, therefore promoting an in-depth understanding of digital culture in everyday life and society.
I believe that the Disruption Network Lab is necessary because we create a dialogue among people and practices that not necessarily meet often. For example, we connect whistleblowers and artists, policy makers and hackers, investigative journalists and activists. Most of the time, these people are acting within specific scenes, without having occasions of exchange. The curatorial methodology is based on a montage of practices, as well as of fieldwork, to create a conceptual network of multiple points of view.
Each event starts with an in-depth investigation of a subject that is pressing and urgent, and that sometimes needs to be revealed or exposed to the general public. It is not only about organising events, but also to research on what is important to cover according to what is happening in politics, culture and society at a specific moment.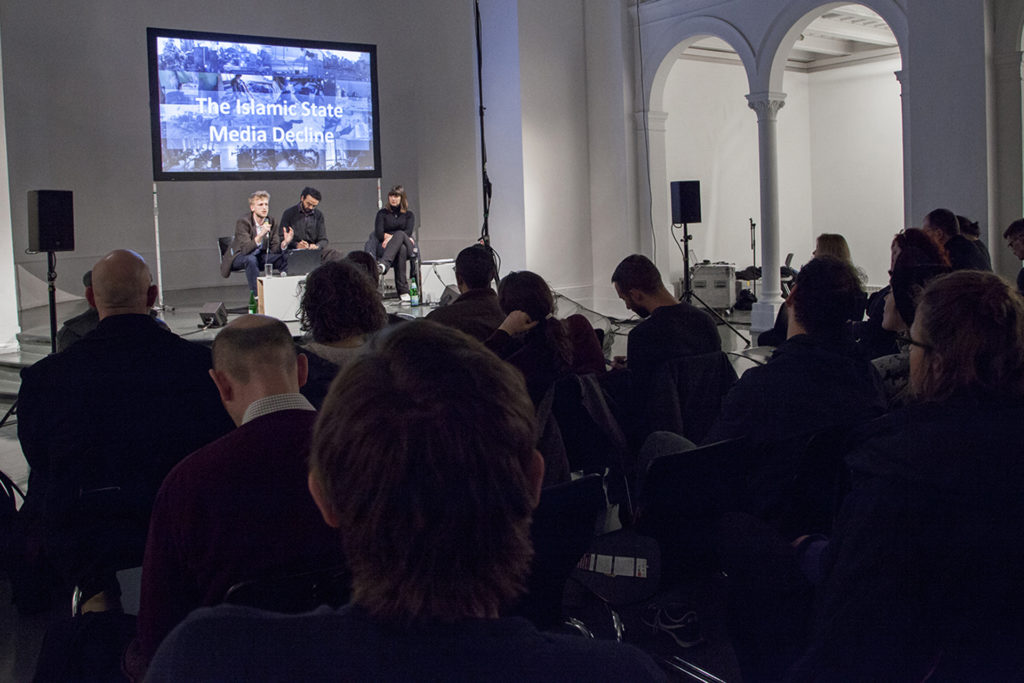 MG: An aspect I find really interesting about DNL is its investigative approach. It deals with those current issues usually tackled by journalism, but manages to go much deeper through the lab and conference formats. It also bridges other political, economical and technological systems, and digital culture. I'm wondering why you've chosen an investigative approach?
TB: Our aim is not only to comment on subjects of analysis, but to invite people that experience such subjects themselves, often at a high personal risk, and are able to offer to the public concrete advice and countermeasures that go beyond theoretical speculation. Our objective is to provoke change: change of opinion, practical change in our everyday life, and change in political and cultural terms.
At the core of my curatorial and research analysis is the reflection on practices that work from the inside of social, political and technological systems, questioning such systems themselves. This research path follows my theoretical investigation initiated with my PhD research "Networked Disruption: Rethinking Oppositions in Art, Hacktivism and the Business of Social Networking" (published in 2013 by the Digital Aesthetic Research Centre of Aarhus University in Denmark, and followed by a traveling exhibition in various European venues: aksioma.org/networked.disruption).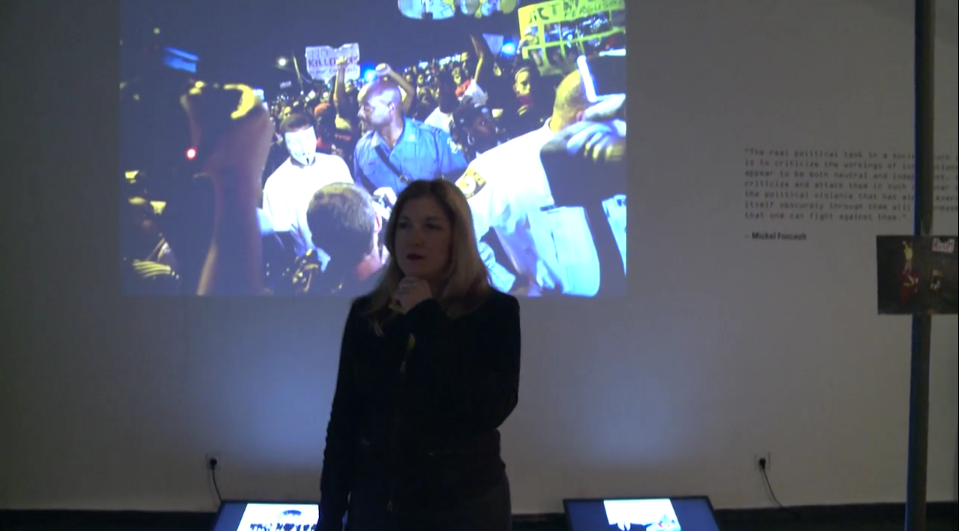 Since the first conference in April 2015, the Disruption Network Lab has been investigating the concept of whistleblowing, bringing attention to abuses of governments and large corporations, involving speakers such as Laura Poitras, Brandon Bryant, John Kiriakou, Annie Machon, Cian Westmoreland, Mustafa Al-Bassam, Abdalaziz Alhamza, Trevor Paglen, Henrik Moltke, a.o.
I come from a practical and theoretical background that combined art, hacking and political activism, but since 2014 my attention has been oriented to art as a act of investigation, thanks also to the work of Laura Poitras that deeply inspired me. I am progressively getting interested in artistic practices and investigations that provoke concrete outcomes, that are even difficult to be defined as "art". Hacker art was my field of interest since the emergence of hacker culture in the 1990s, but thanks to the Disruption Network Lab activity I got even more concrete, and I started being passionate about the field of investigative journalism.
My intent is to combine the culture of investigation with artistic practice, or even operate a conceptual shift, by starting to define investigative journalism and whistleblowing as art.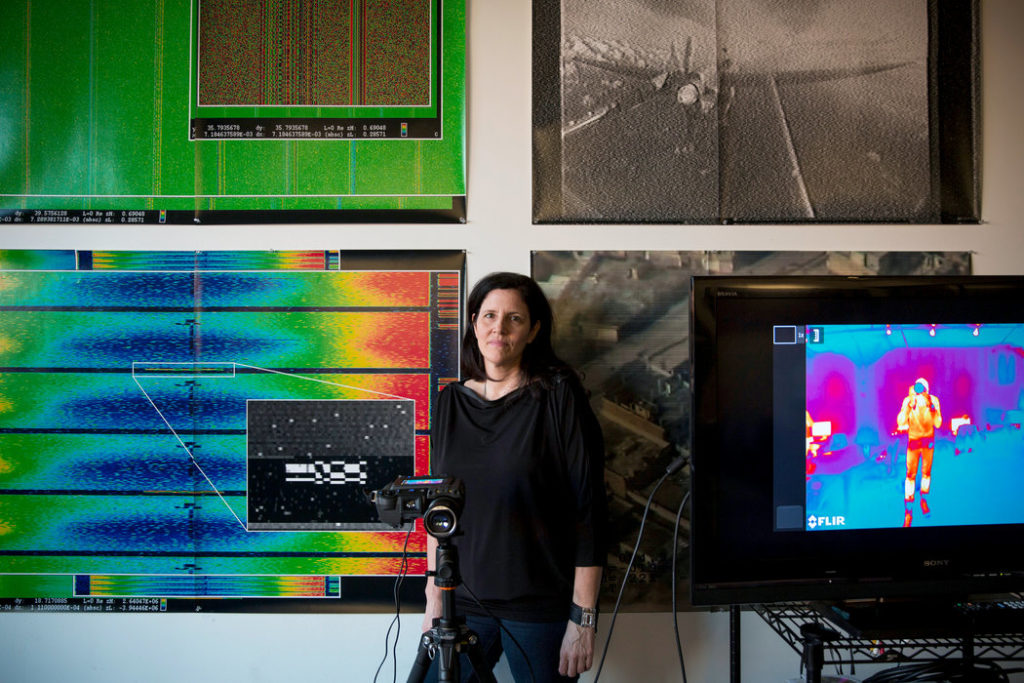 In the act of whistleblowing is embedded a deep change of perspective, where the unexpected emerges. This search for a radical change of point of views, which results in a deep disruption of individual life is something extremely valuable not only in political and cultural terms, but also on an artistic level. It is the contemporary Avant-garde, the search for a profound unexpected gesture that interferes with society and politics at a global level.
The investigative approach is necessary not only in the realm of journalism and whistleblowing, but also in the art context. It is thanks to an artistic approach that many discoveries can be done because artists are able to see reality as a challenge, and in a sense there is an important thread that connects them with whistleblowers. When I brought together these expertise during the Disruption Network Lab conferences, I could really see how it was possible to combine such methodologies and how whistleblowers and artists were intellectually benefiting from each other.
MG: To what degree does your investigative approach stem from what in the media art world has been termed as Tactical Media or Post-Tactical Media?
TB: There is for sure a connection with the tradition of tactical media strategies, and the discourse of post-digital interventions. The idea is to go beyond the digital per se, to focus on the impact of technology on the everyday life, culture, society and politics. However, I like to involve people that do not necessarily theorise on the methods, but that are coming from concrete fields of investigation and would never define themselves as "artists". It is my conceptual "pleasure" to define them as such, but I know that for them it is not really necessary to present their practices via such definition.
A whistleblower wants to provoke real change, she/he/they is a person that was part of a specific institution or organisation and often is a person that believes in systemic structures. It is perhaps because this person believes so much in them that gets frustrated and decides to disrupt an entire life to reveal a wrongdoing. I find this gesture something impressive, it is a work of art by itself. My question would be how much many established artists would be able to risk to provoke changes. Is actually contemporary art able to provoke concrete changes? For sure the meaning of artistic practice is making us reflect on the concept of change, but I feel that nowadays we need more than that. Power is becoming stronger and more pervasive, my opinion is that art needs to have a stronger and more pervasive impact, beyond distribution of ephemeral privileges.
Just to say something about this curatorial approach: it is absolutely not easy. I see the difficulties when I am looking for funds for the Disruption Network Lab. Cultural funders have difficulty to understand how investigative journalism might be considered useful in the realm of art; alongside, political funders don't like us to use the word art because they want to give money to something that appears more impactful on society. I like to connect dots, and to be in between, because it is thanks to this liminal zone that change can really emerge and that we can provoke it. Therefore I am choosing the most difficult path, but luckily until now we managed…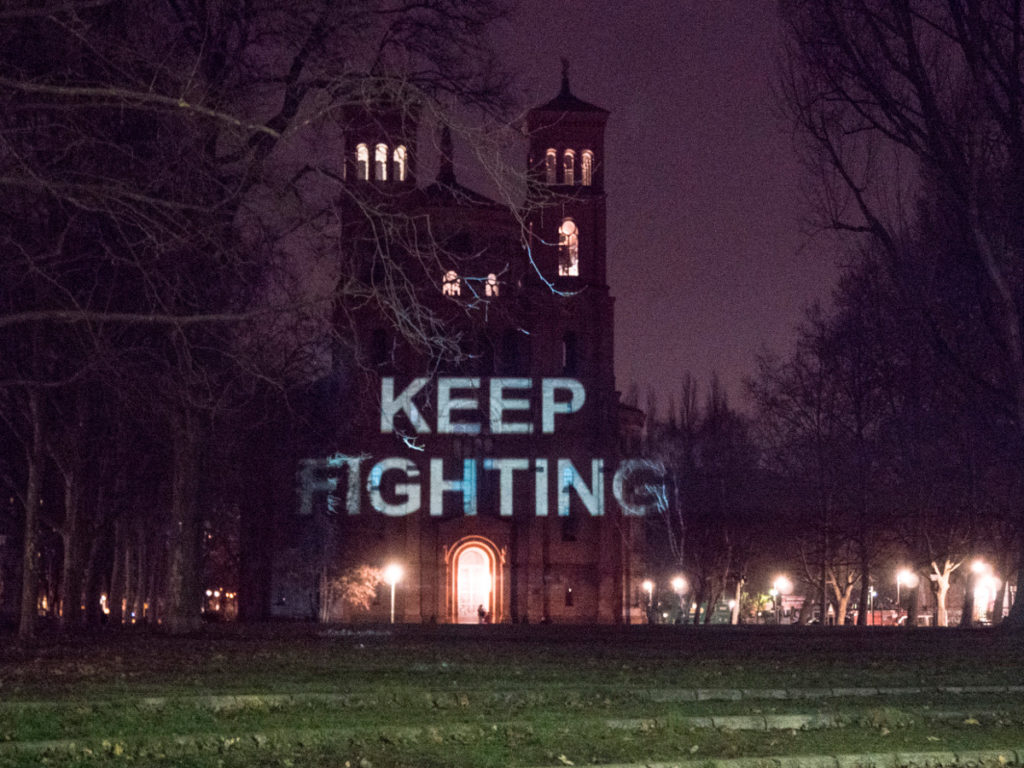 MG: What values are you trying to communicate through this way of working with others?
TB: We want to provide challenging debates within local and international communities, developing a context of critical reflection and analysis beyond what is usually communicated by mainstream media. The format of two-days events with a keynote and a panel each day encourages a very strong community sharing, which works on two levels: first, between the participants altogether, as they often know each other's work, allowing them to meet for the first time in person and engage in actual discussions about their research; second, among the audience, that is usually formed by real experts working on the topics under analysis, as well as by people interested in getting a deep insight.
This unique combination of expertise creates a solid space for critical questions and discussions during the collective moments of sharing, as well as during breaks and dinners, which add to the Lab's credibility to handle and discuss sensitive topics in a safe context.
Since each of our events requires a deep content research before the finalisation of the programme, it is extremely important to us to feel supported by organisations that we can trust and allow our research becoming concrete. The challenge of being independent while also looking for funding is very hard, and often some team members have to handle parallel jobs and sustainability struggles. Considering that we work with whistleblowers and people at risk, as it happened in the November 2017 event "TERROR FEEDS", in which we needed to hire private security, having precarious finances is a severe challenge to the realisation of the project. This is the reason why we try to sensitise our network to sustainability issues in culture production.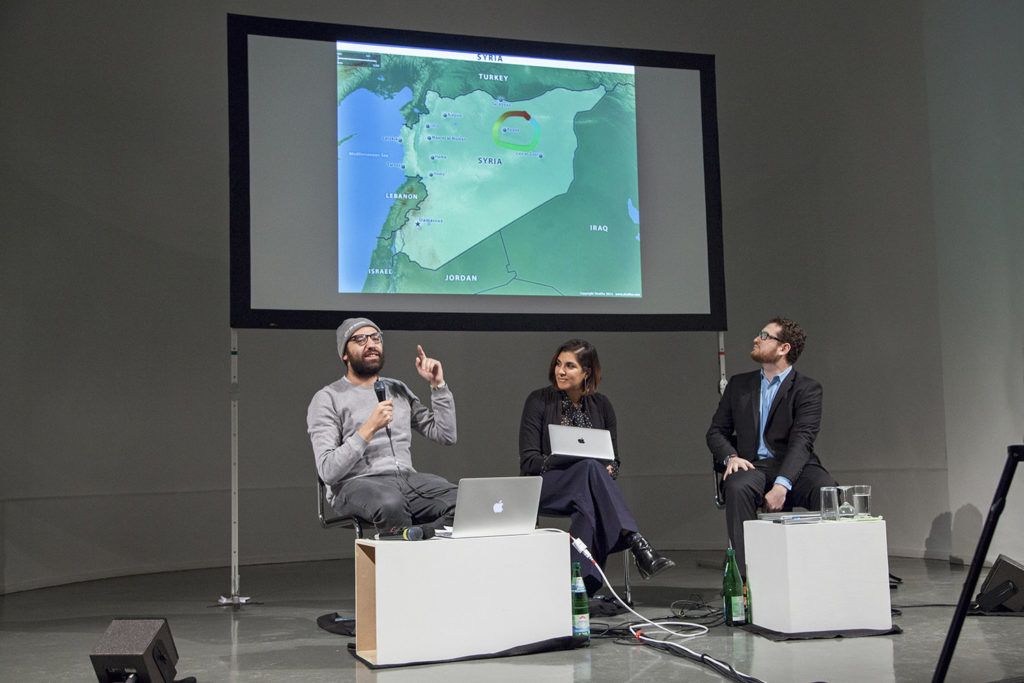 Since 2014 I have been working with wonderful and competent women in my team: Daniela Silvestrin, Kim Voss and Nada Bakr (Project Managers), Claudia Dorfmüller and Rahel Währer (Project Managers and Administration Officers), and with Jonas Frankki that has been shaping the visual identity of the conference programme since the start.
The Disruption Network Lab project was founded in 2014, and since 2016 it is a registered non-profit association in Germany (Disruption Network Lab e.V. – gemeinnütziger eingetragener Verein). The Disruption Network Lab e.V. produces the Disruption Network Lab programme.
The founding of the association was a solid step towards presenting and promoting the topic of digital culture in Berlin and internationally. We evolved from a single, private initiative, to an organisation devoted to digital culture and its applications on politics, technology, and society, locally and internationally. The grounding of the association was supported in 2016 by the Open Society Foundations (OSF) with a structural funding. For the organisation of the events, however, the association has been dependent on external private and (mostly) public funding. The first series of events in 2015 started thanks to the support of the Capital Cultural Funds of Berlin.
I want to be open on these details because they are really important for the way we shape our work. Often organisations in our field do not speak about the "making of", but to be transparent it is part of our values. In our organisation we unfortunately do not benefit regularly of structural grants, and we have to search for grants event after event. During the production of our conferences, we have to undertake fundraising activities and this makes our lives very precarious.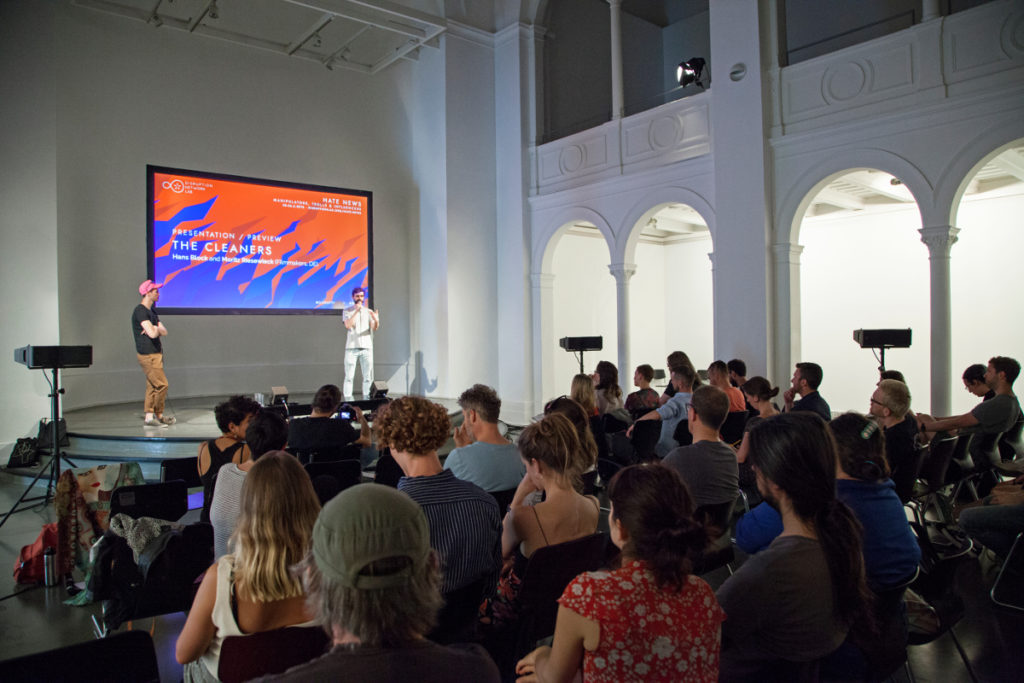 While in 2015, 2016 and 2018 we got funding support from the City of Berlin, this did not happen in 2017. This pushed us to look for international funds, which was a very complex task while being busy with production – thing that almost compromised the whole conference series. This search opened us toward international foundations that are working with human rights, social justice and investigative journalism, such as the Reva and David Logan Foundation, the Bertha Foundation and the Mozilla Advocacy Fund, which supported us in 2017 (and in the case of the Reva and David Logan Foundation, also afterward). This pushed me to research more extensively the field of investigative journalism, because I understood that there was a concrete need for such practices and approaches in the cultural production scenario, and at an international level.
MG: Could you give us an idea of what the composition of the audiences at the DNL conferences
TB: The audience of our conferences is formed by activists, artists, journalists, computer experts, cultural producers, human right and whistleblower advocates, students and researchers. Entrance ticket is very accessible, only 5 Euro per day. After the conference, we provide a video documentation of the events to reach a broader international audience (youtube.com/c/DisruptionNetworkLab).
We have been collecting a lots of video material in the past four years. At the moment I am researching possible grants to see if we will be able to support the activity of archiving such contents in a systematic way, providing additional references and creating useful infographic. This would be something really important to offer to our public in the future.
MG: I was fortunate enough to be asked to chair two different DNL conferences. The one which affected me most, was "DRONES: Eyes from a Distance" which took place in April 2015, at Kunstquartier Bethanien in Berlin. The keynote speaker Brandon Bryant, was whistleblower and former drone-operator. It all felt very intense. The space was full, and the audience were very inquisitive, they wanted to know more. The length of the panels and discussions are longer than usual panel discussions. Yet, strangely, they go very quickly.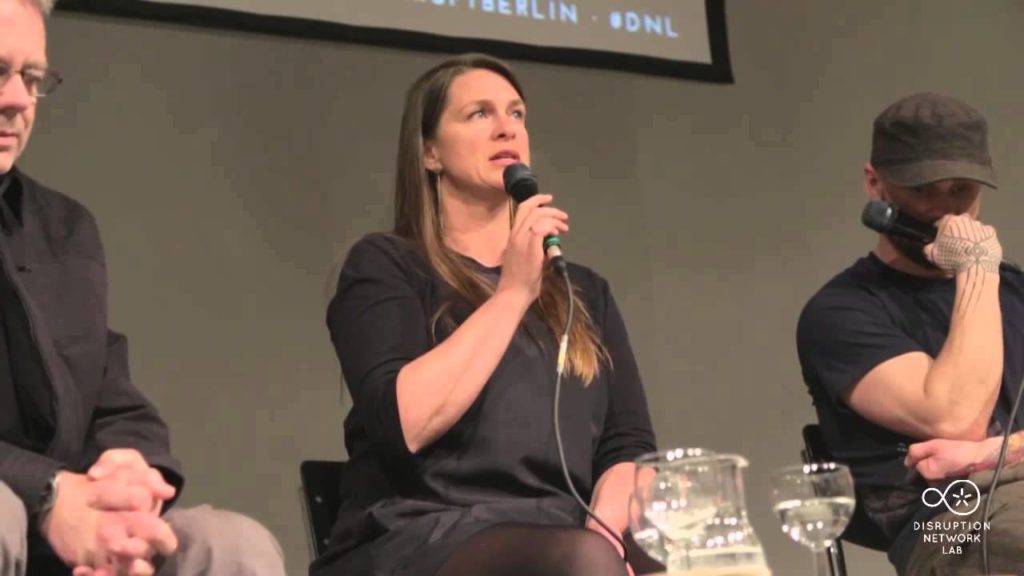 Could you expand on how and why you choose this way of presenting a cultural forum as a platform?
TB: Since 2015 the Disruption Network Lab e.V. produced thirteen conference events (in Germany, UK and Austria). The conference "DRONES" with keynote Brandon Bryant was the first of the series. After that we kept investigating on related subjects, such as activist and resistance strategies after the Snowden-Leaks ("SAMIZDATA": keynotes Laura Poitras and Jacob Appelbaum); whistleblowing ("TRUTH-TELLERS": keynotes Grace North and Mustafa Al-Bassam; "PRISONERS OF DISSENT": keynote John Kiriakou), the ISIS media propaganda ("TERROR FEEDS": keynotes Charlie Winter, Sue Turton, and Abdalaziz Alhamza): hate speech and political misinformation ("HATE NEWS": keynotes Nanjala Nyabola and Andrea Noel).
Currently we are working on developing a new conference on the subjects of populism, right-wing extremism, and alt-right, and the effects of such phenomena in art, media, politics and society, under the title of INFILTRATION: Challenging Supremacism (September 7-9 in Berlin at Kunstquartier Bethanien).
Each conference requires a previous research, and an analysis of the topics that are important at the moment. This allows us to be exactly on time for the investigation of current phenomena. It was the case of the last conference, HATE NEWS, which was the result of a funding application done in December 2017, but since the production started later in 2018, I could focus on the "hot news" of the Cambridge Analytica debate, and be really fortunate to have with us David Carroll and Nanjala Nyabola.
Sometimes the topics are also the result of a common sharing within my own community (which actually crosses many communities). It was the case for the first conference event "DRONES" in April 2015. During some months I was sharing ideas with my friends and colleagues Chantal Meloni (criminal lawyer at the ECCHR in Berlin) and Laura Lucchini (freelance journalist) about the topic of the consequences both on military networks and civil society of an increasing automatism of conflicts. Chantal Meloni suggested me to contact former drone operator Brandon Bryant, that at the moment was not well-known as today – she saw him speaking at the ECCHR during an event related to human rights and the drone war. I reached out to him and we decided together how to shape his Keynote – you saw the results. Brandon Bryant was really important for the start of the Disruption Network Lab, his gesture of coming to us was really brave, generous and impactful. In a sense, it was the beginning that shaped the future of our activity.
MG: What responses have you received from your audiences in respect of this way of presenting and the content being explored?
TB: Our audience is usually really committed. I am always impressed when after four hours of discussions, at the Q&A in the late evening, I see people asking very deep, incredibly detailed and specific questions. I have to say that this has been my deep surprise in Berlin since I moved here 15 years ago, to experience that people are so committed, critical and well-informed during events. But of course at the Disruption Network Lab the feedback it brings a more intense value, because I have the feeling that people are enjoying the unexpected connections that I put together after hard work. And the most fulfilling result is when they got them!
However, it is not always easy to keep the public interested in such deep topics, especially because in Berlin the competition with openings, clubs, and parties during the weekend is tough. In the past 4 years we have been shaping our community of passionate people that are regularly coming and following us, even from abroad. The challenge for me now it is to open up more, and to reach new people that are constantly flowing in the city. The support of our close community is important also for this scope, we need to support each other to keep doing what we do.
MG: Since starting DNL what highlights do you remember that have made you feel you are part of something special?
TB: The work before each conference is hard, we are only five people, and in the past we were just three. So at a production level, there is a lots of work which implies fundraising, press and communication, the whole organisation of the logistic and speakers presence. Plus of course, the curatorial work and the research beforhead. We often arrive to the conference very excited but also really tired. However, every time, it is thanks to the speakers and the audience that we get our energy back. In the past conferences we had really unique and wonderful speakers that shared with us their stories, many of them really difficult, heartbreaking and a real challenge to be communicated. This was the case of (among others) Brandon Bryant, Cian Westmoreland, John Kiriakou, Laura Poitras, Jake Appelbaum, Annie Machon, Andrea Noel, Grace North, Mustafa Al-Bassam, Abdalaziz Alhamza, and the constant very important presence of the Chelsea Manning Initiative before Chelsea Manning was released.
I felt that all these people were trusting us and our public by sharing their stories with us. Each conference has been offering an important context at a human level, a moment of reflection, revelation, and also the sensation to belong to a community. With some people I am still in contact, other entered in contact with each other and are still working together on other projects. This is for me the most important result, to see that the Disruption Network Lab is useful not only to inform, but also to make people feel part of something in common.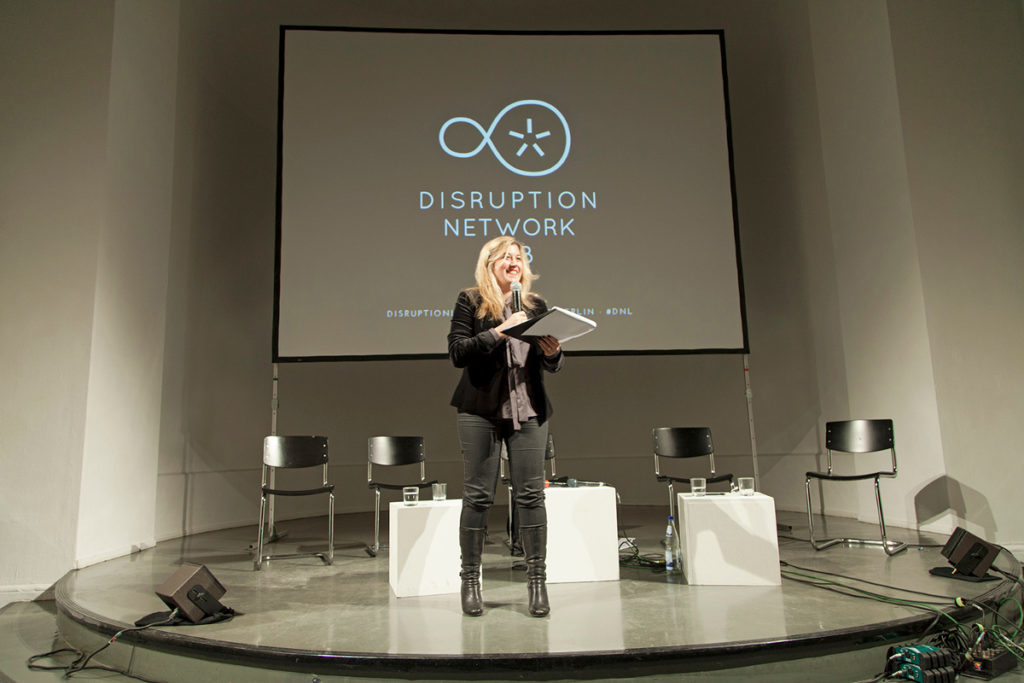 When the speakers are with us and open their minds to our topics, I feel that we are receiving a gift from them. I come from a tradition in which communities, networks and the sharing of experience were the most important values, the artwork by themselves. By combining all these expertise, I feel the responsibility of creating each time the context for a collective artwork, And this is something special, especially nowadays in which the discourse of networking has been completely commercialised. I feel to thank all these people, not only the ones that worked with me and supported us, but also all the people that shared their experiences and the ones that came to listen to them. I am sure that this path will go on, either with us, or among the people that found themselves related thanks to our conferences.
Notes
Tatiana Bazzichelli (1974, Rome) is artistic director and curator of the Disruption Network Lab, a program of conference events at Kunstquartier Bethanien in Berlin. She is currently visiting lecturer at the Fachhochschule Potsdam at the Department of Applied Culture. She has been based in Berlin since 2003. Bazzichelli received a Ph.D. in Information and Media Studies (2011) at Aarhus University in Denmark. In 2012–2014 she was postdoctoral researcher at the Centre for Digital Cultures, Leuphana University of Lüneburg. She founded the networking project Activism-Hacking-Artivism in Rome in 2001 and managed the aha@ecn.org mailing list on art activism. She was program curator at transmediale festival, where she developed the year-round initiative reSource transmedial culture berlin and curated several conference events, workshops and installations (2011–2014). Bazzichelli wrote the books Networking (2006), Networked Disruption (2013), and co-edited Disrupting Business (2013). She curated exhibitions such as Hack.it.art (2005), HACK.Fem.EAST (2008), Networked Disruption (2015), and SAMIZDATA (2015).
The next Disruption Network Lab conference event is INFILTRATION: Challenging Supremacism, as part of the 2018 thematic series "Misinformation Ecosystems", scheduled on September 7-8, 2018, at Kunstquartier Bethanien in Berlin.
The conference wants to reflect on the practice of political, investigative and activist infiltration as a form of betterunderstanding aims, lifestyles and methods of right-wing extremist groups. What is the reason for people to join extremist groups? How can we analyse their dynamics from the inside? What are the reasons of fascination among young generations of right-wing propaganda and supremacist outrage?
Among the confirmed speakers are Daryl Davis (Musician & Author, USA) famous for being a black American befriending members of the KKK since the 1990s and making possible to convert around 200 of them (the film "Accidental Courtesy:Daryl Davis, Race & America" will be screened at the DNL event on September 9). Other participants are Patrik Hermansson (Anti-racist Activist, "Hope Not Hate" Researcher, SE/UK), Julia Ebner (Terrorism and Extremism Researcher and Author, DE/UK), Stewart Home (Artist and Author, UK), Florian Cramer (Research Professor in New Media at Hogeschool Rotterdam, DE/NL), Janez Jansa (artist, SI), and others. Stay tuned at: disruptionlab.org/newsletter/
Main Image: Brandon Bryant, Former US-Drone Operator speaks at Disruption Network Lab, DRONES, April 17 2015, Berlin. Photo by Nadine Nelken.
Bio
Tatiana Bazzichelli is the artistic director and founder of the Disruption Network Lab. Former programme curator at transmediale festival in Berlin from 2011 to 2014, she developed the year-round 'reSource transmedial culture berlin' project and curated several conference events. She was visiting lecturer at the Fachhochschule Potsdam at the
Department of Applied Culture in 2016 and 2017, where she taught classes about art, hacktivism and whistleblowing. You can read more about her here.
Next Disruption Network Lab event
INFILTRATION: Challenging Supremacism
September 7-8 · Studio 1
Kunstquartier Bethanien · Mariannenplatz 2 · Berlin
Partner Event @ Spektrum · September 9
More info: disruptionlab.org/infiltration
Way back in 1995, the artist collective Critical Art Ensemble (CAE), said "What your data body says about you is more real than what you say about yourself. The data body is the body by which you are judged in society, and the body which dictates your status in the world." These words now haunt us, and take their place alongside numerous other ignored warnings about global threats to the wellbeing of our societies and the planet.
In this interview with curator Dani Admiss, we discuss how the data-driven gamification of life and everything has shaped the development of Playbour – Work, Pleasure, Survival at Furtherfield and why the Gallery is currently being transformed into a psychological environment.
Gallery visitors are presented with a series of game-like installations, which are the result of the shared and collective cognitive labour of artists, curators and gallery staff. First the artists, and then the public (as players) are invited to test the processes and experiences offered by new mechanisms of play and labour. Each 'game' simulates an experience of how some techniques and technologies of gamification, automation, and surveillance, are at work in our everyday lives, in order to capture all forms of existence.
Interview
Marc Garrett: Before the exhibition, you initiated an open call for a Lab. You invited participants to join a three-day art and research lab at Furtherfield Commons, Finsbury Park, London. Could you elaborate why you did this and how it informed the exhibition?
Dani Admiss: A couple of months before the exhibition, I ran a 3 day co-research lab that brought together artists, designers, activists, and researchers. I like to refer to it as a performative, temporary exhibition in the form of a lab. There were discussions, performances, interventions, games, and exercises. We had discussion with Jamie Woodcock on gaming and digital labour, he walked us through an interview session with gamers on the Twitch platform. Steven Levon Ounanian held a performative experiment where we thought about how we might render the suffering online in the real world, Itai Palti worked with us to think about design principles and neuroscience. FUN! The idea was that we would collectively explore, discuss and define key issues that we thought were important to then take forward to develop into games and experiences to share with the public. The aim was to play off each other in a live context to generate new perspectives and ideas.
Building on this, I decided to hold an open call for participants. In my most idealistic moment, I'd say I wanted to try and find ways to expand who gets to produce, stage and display, how we define what these issues actually are for wider audiences. Can this lead to new stories about art, tech, society? Like any project it is never exactly as you imagined it, but I think the majority of people got a lot out of working like this. I did. Working with people that aren't always the people you expect to be attached to a project always throws up unexpected experiences. Everyone brought their best themselves with them. Open. Interested. Warm. Prepared. Ready to listen, and for fun!
I'd make the lab longer next time, so it wasn't as intense, and I'd try to have more people join the open call.
MG: The open-curation process you have developed is core to the realisation of the Playbour lab and exhibition. It resonates strongly with Furtherfield's DIWO ethos. It turns on its head, the traditional approach to curating thematic group shows. Please can you tell us about the process and say why this new approach is important at this time?
DA: DIWO definitely informed Playbour! I think the spirit of co-creative discovery is a powerful tool that curators should use more. I refer to it as co-research, which is ultimately a way to research-with others. What separates it from more traditional approaches to curating is the unclear distinction between author/researcher and subject/participant. The aim is to achieve closer equality between the participant and subject area, in the form of valuing a person's idea's and lived-experience as much as other 'expert' forms of knowledge. Historically, it has roots in a highly specific context of the radical Left in post-war Italy with Operaismo. This is where the seeds of debate on post-immaterial labour emerged, arising from Hardt, Negri, Bifo, Terranova, etc, and why I originally was interested in working in this way because of the subject matter of the project, however, it became something so much more.
For me, as a curator, creating projects about complex subject areas that bring together embodied and embedded social relations with technical worlds, is something that needs to be done with people rather than to them. I think the most interesting works of art being produced today are treated less like things and instead draw into the very making of the ways in which we get to know what we know. You can see this in works from Cassie Thornton's project Collective Psychic Architecture (an exploration of "bad support" in Sick Times) 2018, where she extends the responsibilities of the gallery or institution through performative means, or in the high-profile modeling and mapping practices coming out of the Forensic Architecture network. How can curating exist in a wider space than before? I'm trying to work in much more extended and expanded ways with the primary intention to include more end users into the areas we are looking at.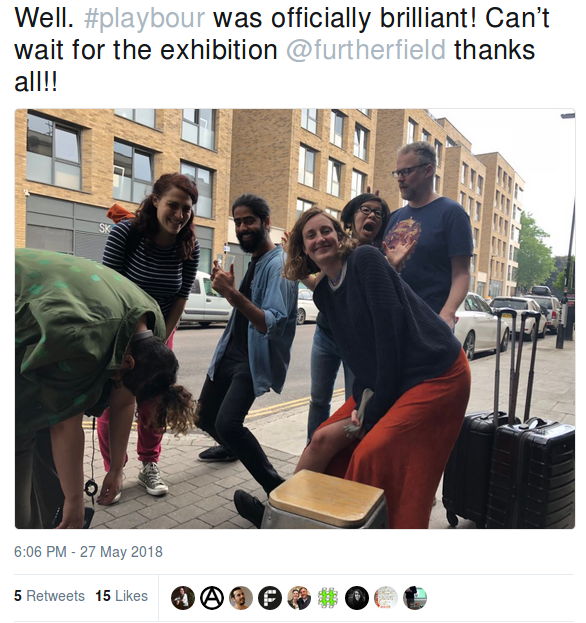 Adopting a co-research model (in the lab, in the show, in the publication, in the micro-commissions) meant that the aim of the exhibition shifts, it becomes less about what the topic is and how it works and more about how it came to be. Brian Holmes once wrote that making an image remakes the world. Yes, but it also distances us from it. Playbour asks people to consider how the world organises us by facilitating moments where people can identify with particular phenomena. I feel this is more fitting and has more potential to create moments of personal learning and change than trying to represent it through curatorial practice. Why do we need this in an age of information? My thinking is that knowledge-projects are not simply objective processes but deeply subjective ones that are enacted through and with others. Finding ways for people to identify in more meaningful ways with the subject will hopefully lead to greater chance that people will gain greater perspective and agency over their own worlds.

MG: The term Playbour brings attention to critiques of gamification and to the extraction of value via social media platforms. But your subtitle then opens up a whole other world of reflection. What are you discovering about the relationship between "work, pleasure and survival"?
DA: The project is exploring the role of the worker in the age of data technologies, but this looks less at the "future of work" and chooses instead to focus on the shifting roles and blurred boundaries of work, play and well-being – how do we place value on these areas, how do we work with and against them?
Quite often when we talk about opaque terms like immaterial labour and cognitive capitalism we fail to grasp the production processes of these phenomena. Immaterial labour depends on the self and our social relations. We are asked to 'post', 'share', 'network', 'emote', 'communicate', 'know'. Not so much 'understand'. These acts inform the control and creation of our subjectivity. At the same time, very little discussion is happening about the fact that so much exploitation -physical, ecological, economical- sits behind the new commons we are all talking about.
Opening the project out to think about work, pleasure, survival, is a provocation. On one level, it is a nod to the fact that this conversation is for a privileged few. Many choose what they do and this 'choice' is supposed to operate as an expression of one's personality. On the other, it's human nature to get swept up in what is considered the norm, so it's also a challenge to think about what are your own limits, returning to the idea of inviting people to find moments of identification with these broader issues to their own lived experience.
MG: Why is it important that the work being prepared for Furtherfield gallery is conceived of more, as a series of game experiences, than a display of discrete art objects, or a didactic exhibition on the topic of Play and Labour? Has the gallery's location in a public park influenced your thinking at all?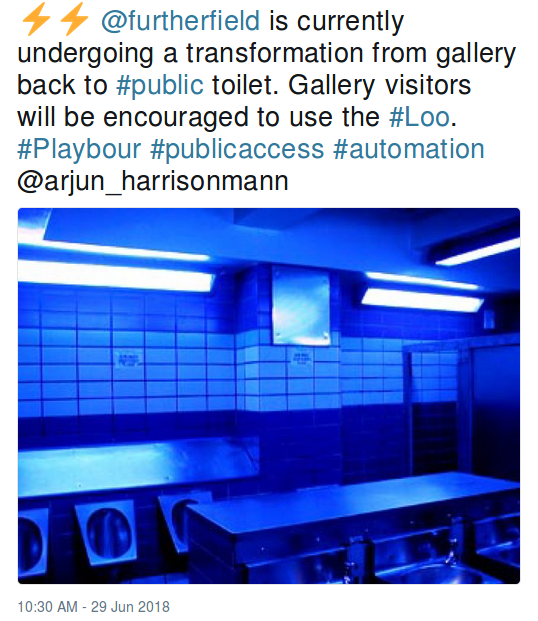 DA: Well, first off, it has been a collective process and so I wanted to show that process to people. Secondly, you have to invest part of yourself in play. The more I research the areas of digital and immaterial labour the more I'm keen to work with others to understand the not yet completed transformations of body, society, and world, into a global capitalist system. These are suffuse and pervasive and nudge our behaviours all of the time. Organising the exhibition as experiences is a way for us all to live-out (at least temporarily and in a safe, playful space) the tentacular effects of immaterial labour and economies of knowledge and information. This is not to say let's walk away from a highly networked society, it's an invitation back into perspectival agency.
MG: You've chosen to put together three themes for the exhibition, ranging across work, pleasure, and survival. Why was it important to choose these three themes in particular?
DA: I'm fascinated by how we are involved in the making of worlds we are then conditioned by. From the learnings in the lab, my own research and collaborations leading up to Playbour, I think gamification, automation, and surveillance are three key areas that scaffold a lot of the debate on digital and immaterial labour.
1) SURVEILLANCE. How we are measured and how we measure ourselves? Traditionally, government control used to come from top-down surveillance techniques, such as the type Michael Straeubig's Hostile Environment Facility Training (HEFT) is looking at. However, I think we should be talking about how forms of control are exercised through our own self-monitoring processes – self-improvement culture is a perfect example of this. Cassie Thornton's Feminist Economics Yoga (FEY), is a wonderful remedy for this.
2) AUTOMATION. How technology is removing decision-making from us in the pursuit of a frictionless universe. In Harrison-Mann's Public Toilet he is talking about how automation is used to address the need of social issues. The starting point is the lack of public services offered in Finsbury Park and how that is altering how we use and experience the public space of the park. He is interested in making a connection between this and how metrics can often end up being exercised in controversial and even arbitrary ways inhibiting people getting what they need, such as disability benefits in the UK.
3) GAMIFICATION. How are rewards and competition embedded into our online interactions and interfaces? Jamie Woodcock has this excellent term that describes gamification-from-above and gamification-from-below. Like the Situationist socialism-from-below. How we might use gamification for our own positive manipulations, diversions and distractions? I think a lot of media and new media practice has long been engaged in gamification-from-below. Marija Bozinovska Jones' piece Treebour (201) plays on this, transferring manipulation of social relations levelled at online interactions to the "natural" networking of trees.
MG: After visitors have experienced the exhibition, what emotions, thoughts and understandings, would you like them to leave with?
I think you introduced the show in an interesting way in your opening text with the notion of the data body and the extension of our bodies into new spaces with unknown consequences. These happen inside the screen, at the edges of the world, in transit, at the end of the supply chains. At the same time, they also operate on semi-conscious refrains, in our behaviours, actions, thoughts and emotions about the world. Taking part, thinking-with, making-with, are strategies to find ways to open up discussions about how we are all involved in making and unmaking our worlds via different actions. Something like digital and immaterial labour is not a discrete issue reservable for experts who work in this area, the connections and consequences weave in and out of our lives and impact us all. We are constantly reacting to thing around us, taking in these cues and pushing them back out into the world.
In terms of emotions, I don't want to spread fear and despair, I'm hoping that some visitors will identify with some of the ideas in the show and relate them to something in their life that perhaps they'd not thought of in that way before.
Notes: Main top image by Marija Bozinovska Jones, Treebour 2018.
DIWO – Do It With Others: Resource
archive.furtherfield.org/projects/diwo-do-it-others-resource

Since the financial crash 10 years ago, we've learned that it tends to be everyday people, on the ground, who pick up the pieces and not governments. Millions have been dragged into poverty while those who caused the "crisis", after creating dangerously high levels of private debt, remain unscathed. 1 The UK Conservative government's response was an Austerity policy, driven by a political desire to reduce the size of the welfare state. Amadeo Kimberly says, "austerity measures tend to worsen debt […] because they reduce economic growth."2 The effect has been devastating, creating all together, more homelessness, precarious working conditions and thus pushing working communities, deeper into debt. In the UK, the NHS is being privatized as we speak. According to a CNBC report, medical bills were the biggest cause of bankruptcies in the U.S in 2013, with 2 million people adversely affected. 3
The work of artist and activist, Cassie Thornton is included in the upcoming Playbour– Work, Pleasure, Survival exhibition at Furtherfield, curated by Dani Admiss. In this interview I wanted to explore the following questions as revealed in her current Hologram project:
What do current conditions say about trust and care, and can we trust the current, governing systems to have our best interests at heart?
How do we produce non-hierarchical trust and care that thrives outside of the doctor/patient relationship, which is especially important in the U.S., where it is a profit making industry?
How do we reverse engineer all this tragedy, and put power back where it needs to be?
How do we begin to build solidarity?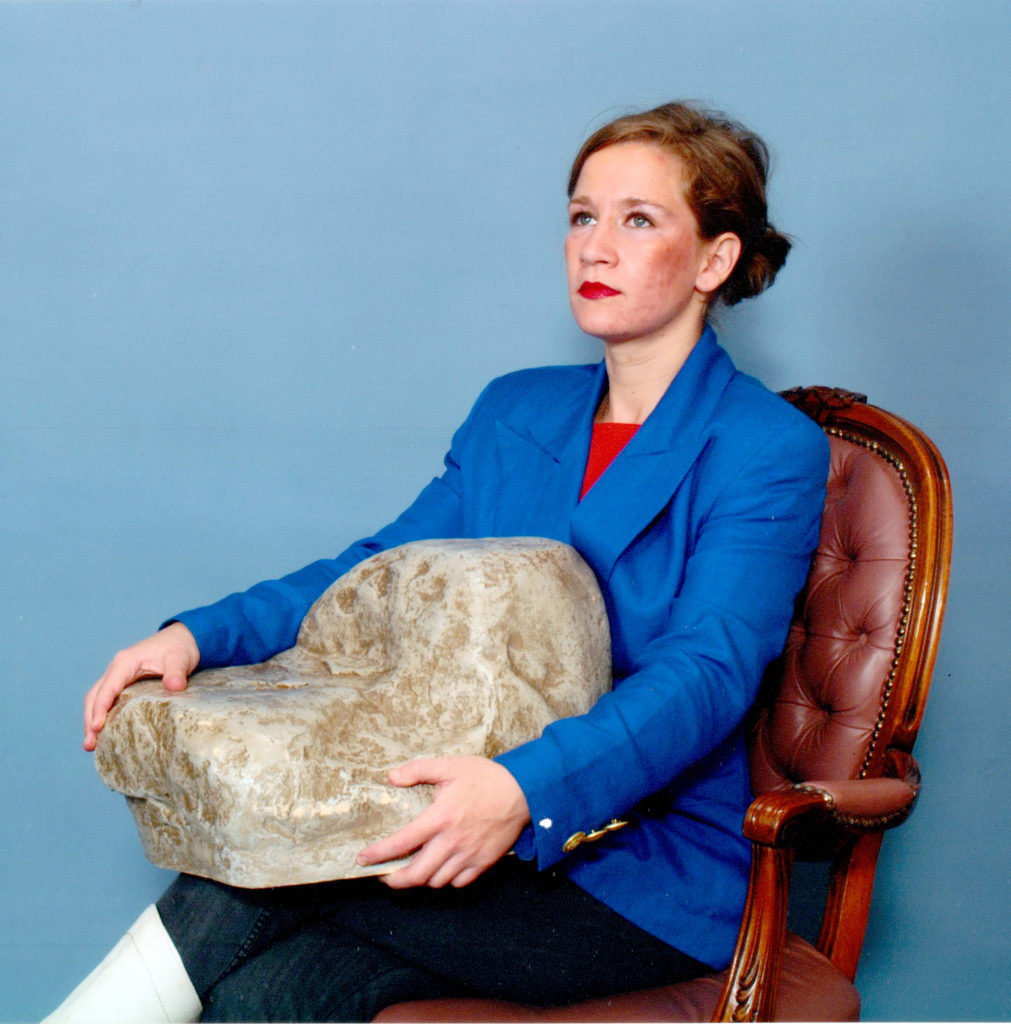 Cassie Thornton is an artist and activist from the U.S., currently living in Canada. Thornton is currently the co-director of the Reimagining Value Action Lab in Thunder Bay, an art and social center at Lakehead University in Ontario, Canada.
Thornton describes herself as feminist economist. Drawing on social science research methods develops alternative social technologies and infrastructures that might produce health and life in a future society without reproducing oppression — like those of our current money, police, or prison systems.
Interview
Marc Garrett: Since before the 2008 financial collapse, you have focused on researching and revealing the complex nature of debt through socially engaged art. Your recent work examines health in the age of financialization and works to reveal the connection between the body and capitalism. It turns towards institutions once again to ask how they produce or take away from the health of the artists and workers they "support". This important turn towards health in your work has birthed a series of experiments that actively counter the effects of indebtedness through somatic work, including the Hologram project.
The social consequences of indebtedness, include the formatting of one's relationship to society as a series of strategies to (competitively) survive economically, alone, to pay the obligations that you has been forced into. It takes so much work to survive and pay that we don't have time to see that no one is thriving. Those whom most feel the harsh realities of the continual onslaught of extreme capitalism, tend to feel guilty, and/or like a failure. One of your current art ventures  is the Hologram, a feminist social health-care project, in which you ask individuals to join and provide accountability, attention, and solidarity as a source of long term care.
Could you elaborate on the context of the project is, as well as the practices, and techniques, you've developed?
CT: Many studies show that the experience of debt contributes to higher levels of anxiety, depression, and suicide. Debt disables us from getting the care we need and leads us away from recognizing ourselves as part of a cooperative species: it is clear that debt makes us sick. In my work for the past decade, I have been developing practices that attempt to collectively discover what debt is and how it affects the imagination of all of us: the wealthy, the poor, the indebted, financial workers, babies, and anyone in-between. Under the banner of "art" I have developed rogue anthropological techniques like debt visualization or auxiliary credit reporting to see how others 'see' debt as an object or a space, and how they have been forced to feel like failures in an economy that makes it hard for anyone (especially racialized, indigenous, disabled, gender non-binary, or 'immigrant') to secure the basic needs (housing, healthcare, food and education) they need to survive, because it is made to enrich the already wealthy and privileged.
"The rise of mental health problems such as depression cannot be understood in narrowly medical terms, but needs to be understood in its political economic context. An economy driven by debt (and prone to problem debt at the level of households) will have a predisposition towards rising rates of depression." 4
After years of watching the pain and denial around debt grow for individuals and entire societies, I was so excited to fall into a 'social practice project' that has the capacity to discuss and heal some of this capital-induced sickness through mending broken trust and finding lost solidarity. This project is called the hologram.
MG: What kind of people were involved?
CT: The entire time I lived in the Bay Area I was precarious and indebted. I only survived, and thrived, because of the networks of solidarity and mutual aid I participated in. As the city gentrified beyond the imagination, I was forced to leave. I didn't want to let those networks die. So, at first, the people who were involved were like me– people really trying to have a stake in a place that didn't know how to value people over real estate and capital
The hologram project developed when, as I was leaving the city, I had invited a group of precariously employed, transient activists and artists to get together in the Bay Area for a week of working together. We aimed to figure out ways to share responsibility for our mutual economic and social needs. This project was called the "Intentional Community in Exile (ICE)" [the ICE pun was always there, now an ever more intense reference in the public eye] and it grew out of an opportunity offered by Heavy Breathing to choreograph an event at The Berkeley Art Museum. They allowed me to go above and beyond my budget to invite a group of 8 women together from across the US to choreograph methods of mutual aid: sharing resources, discussing common problems and developing methods for cooperating to co-develop an economic and social infrastructure that would allow us to thrive together, interdependently. What would it mean for our work as activists and artists to feel that we had roots within an intentional community, even if we didn't have the experience of property that makes most people feel at home?
Facebook event: "In departing from the idea of a long term home, family, property, or ownership, ICE models a mutual aid society to sustain creative and political practices within a hostile economic system. This project is about finding ways to exit economic precarity by building human relationships instead of accumulating capital– or to make exile warm. After a one week convergence of a small group of collaborators, ICE presents a discussion and performance of life practices as well as frameworks for material and immaterial mutual support."
The Hologram was one of many ideas that developed as part of this project. One of the group members, Tara Spalty, founder of Slowpoke Acupuncture, (and one of the two acupuncturists you will see at SF protests or homeless encampments) and I fell into this idea when combining our knowledge about the solidarity clinics in Greece, our growing indebtedness and lack of medical records, and the community acupuncture movement. Then the group brainstormed about what the process would be like to produce a viral network of peer support.
MG: What inspired you to do this project? (particularly interested in the Greek influences here and what this means to you)
CT: My practice of looking at debt became boring to me by 2015 as it became more and more clear that individual financial debt was a signal of a larger problem that was not being addressed. The hyper individualism produced by indebtedness allows us to look away from a much bigger deeper story of our collective debts, financial and otherwise. We don't know what to do with these much bigger debts, which include sovereign debts, municipal debts, debts to our ancestors and grandchildren, debts to the planet, debts to those wronged by colonialism and racism and more. We find it so much easier to ignore them.
When visiting austerity-wracked Greece after living in Oakland, I noticed that Oakland appeared to have far more homeless people on the street. It made me realize that, while we label some places "in crisis," the same crisis exists elsewhere, ultimately created and manipulated by the same financial oligarchs. The hedge funds that profit off of the bankruptcy in Puerto Rico are flipping houses in Oakland and profiting off of the debt of Greece. We're all a part of the same global economic systems. The "crisis" in Greece is also the crisis Oakland and the crisis in London. For this reason, I have been interested in what we can all learn from activists, organizers and others in crisis zones, who see the conditions without illusions.
This led me to an interest in the the Greek Solidarity Clinic movement, which since "the crisis" there has mobilized nurses, doctors, dentists, other health professionals and the public at large to offer autonomous access to basic health care. I went to go visit some of these clinics with Tori Abernathy, radical health researcher. Another project using this social technology is called the Accountability Model, by the anonymous collective Power Makes Us Sick. These solidarity clinics are run by participant assembly and are very much tied in to radical struggles against austerity. But they have also been a platform for rethinking what health and care might mean, and how they fit together. The most inspiring example for me was in at a solidarity clinic in Thessaloniki, the second largest city in Greece. The "Group for a Different Medicine" emerged with the idea that they didn't want to just give away free medicine, but to rethink the way that medicine happens beyond conventional models, including specifically things like gender dynamics, unfair treatment based on race and nationality and patient-doctor hierarchies. This group opened a workers' clinic inside of an occupied factory called vio.me as place offer an experimental "healed" version of free medicine.
When new patients came to the clinic for their initial visit they would meet for 90 minutes with a team: a medical doctor, a psychotherapist and a social worker. They'd ask questions like: Who is your mother? What do you eat? Where do you work? Can you afford your rent? Where are the financial hardships in your family?
The team would get a very broad and complex picture of this person, and building on the initial interview they'd work with that person to make a one-year plan for how they could be supported to access and take care of the things they need to be healthy. I imagine a conversation: "Your job is making you really anxious. What can we do to help you with that? You need surgery. We'll sneak you in. You are lonely. Would you like to be in a social movement?" It was about making a plan that was truly holistic and based around the relationship between health, community and struggles to transform society and the economy from the bottom-up . And when I heard about it, I was like: obviously!
So the Hologram project is an attempt by me and my collaborators in the US and abroad to take inspiration from this model and create a kind of viral network of non-experts who organize into these trio/triage teams to help care for one another in a complex way. The name comes from a conversation I had with Frosso, one of the members of the Group for a Different Medicine, who explained that they wanted to move away from seeing a person as just a "patient", a body or a number and instead see them as a complex, three dimensional social being, to create a kind of hologram of them.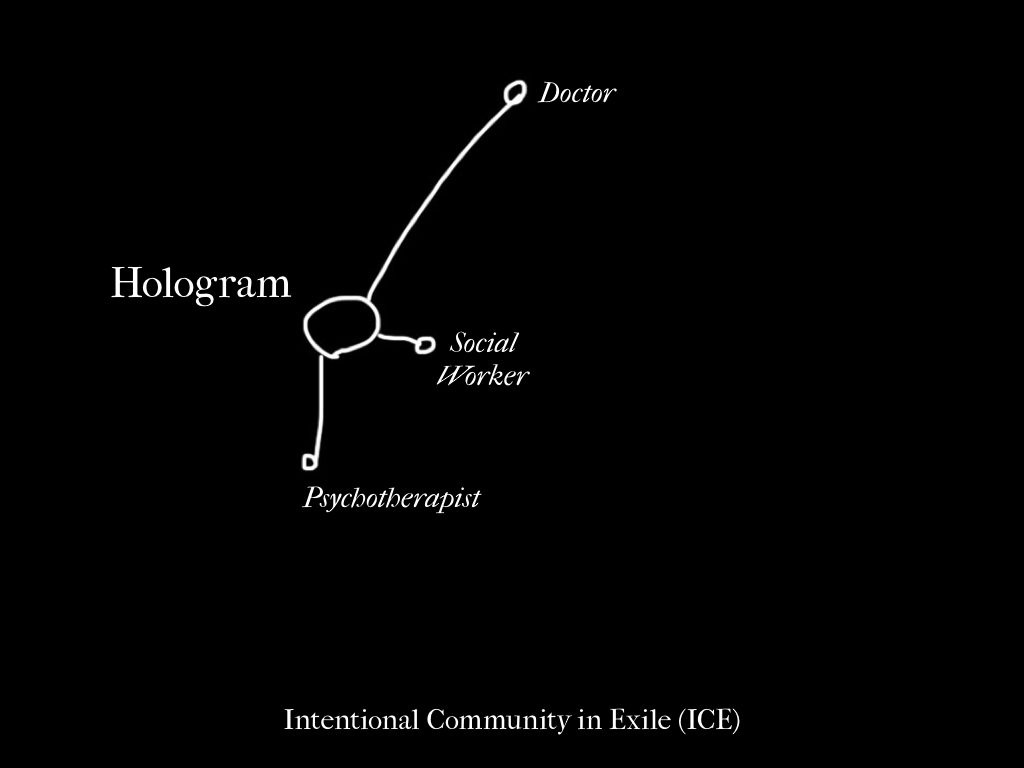 MG: Could you explain how the viral holographic care system works?
CT: Based on the shape above, we can see that we have three people attending to one person, and each person represents a different quality of concern. In this new model, these three people are not experts or authorities, but people willing to lend attention and to do co-research, to be a scribe, or a living record for the person in the center, the Hologram. We call these three attendees 'patience'. Our aim is to translate the Workers' Clinic project to a peer to peer project where the Hologram receives attention, curiosity and long term commitment from the patience looking after her, who are not professionals. Another project using this social technology is called the Accountability Model, by the anonymous collective Power Makes Us Sick.
So the beginning of the process, like that of the Workers' Clinic, is to perform an initial intake where the three patience ask the Hologram questions which are provided in an online form, about the basic things that help or hurt her social, physical and emotional/mental health. When this (rather extended) process is complete, the Hologram will meet as a group every season to do a general check in. The goal of this process is to build a social and a physical holistic health record, as well as to continue to grow the patience understanding of the Hologram's integrated patterns.
Ultimately, over time we hope to build trust and a sense of interdependence, so that if the Hologram meets a situation where she has to make a big health decision (health always in an expansive sense) about a medical procedure, a job, a move, she will have three people who can support her to see her lived patterns, to help her ask the right questions, and to support peer research so that the Hologram is not making big decisions unsupported.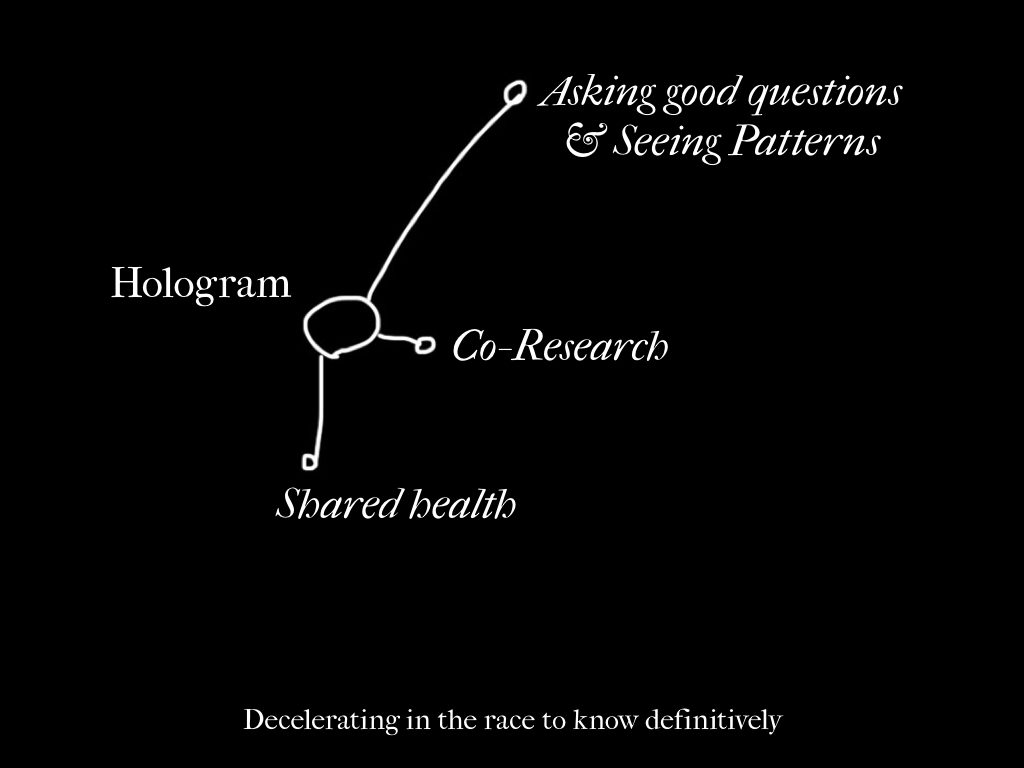 But, in order for the Hologram to receive this care without charge and guilt free, she needs to know that her patience are taken care of as she is. I think this is one part of the project that acknowledges and makes a practice built from the work of feminists and social reproductive theorists – you can't build something new using the labor of people without acknowledging the work of keeping those people alive; reproducing the energy and care we need to overturn capitalism needs a lot of support. Getting support from someone feels so different if you know they are being, well taken care of. This is also how we begin to unbuild the hierarchical and authoritarian structures we have become accustomed to – with empty hands and empty pockets.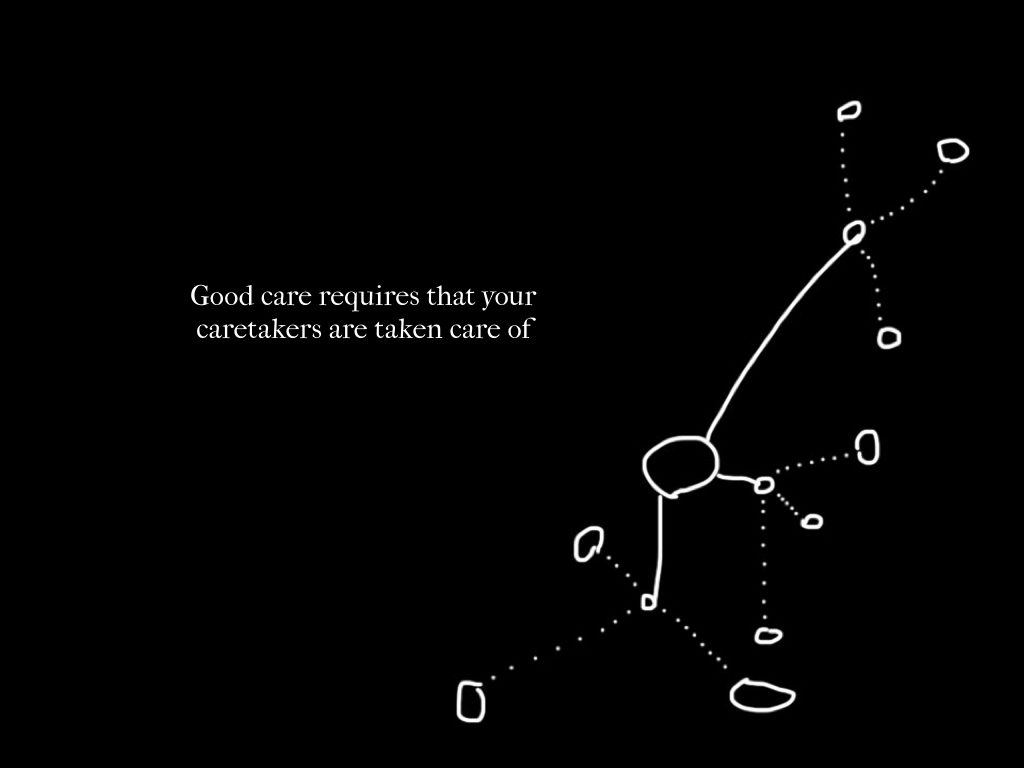 And then, the last important structural aspect of the Hologram project is the real kicker, and touches on the mystery of what it means to be human outside of Clientelist Capitalism – that the real 'healing' (if we even want to say it!) comes when the person who is at the center of care, turns outward to care for someone else. This, the secret sauce, the goal and the desired byproduct of every holographic meeting– to allow people to feel that they are not broken, and that their healing is bound up in the health and liberation of others.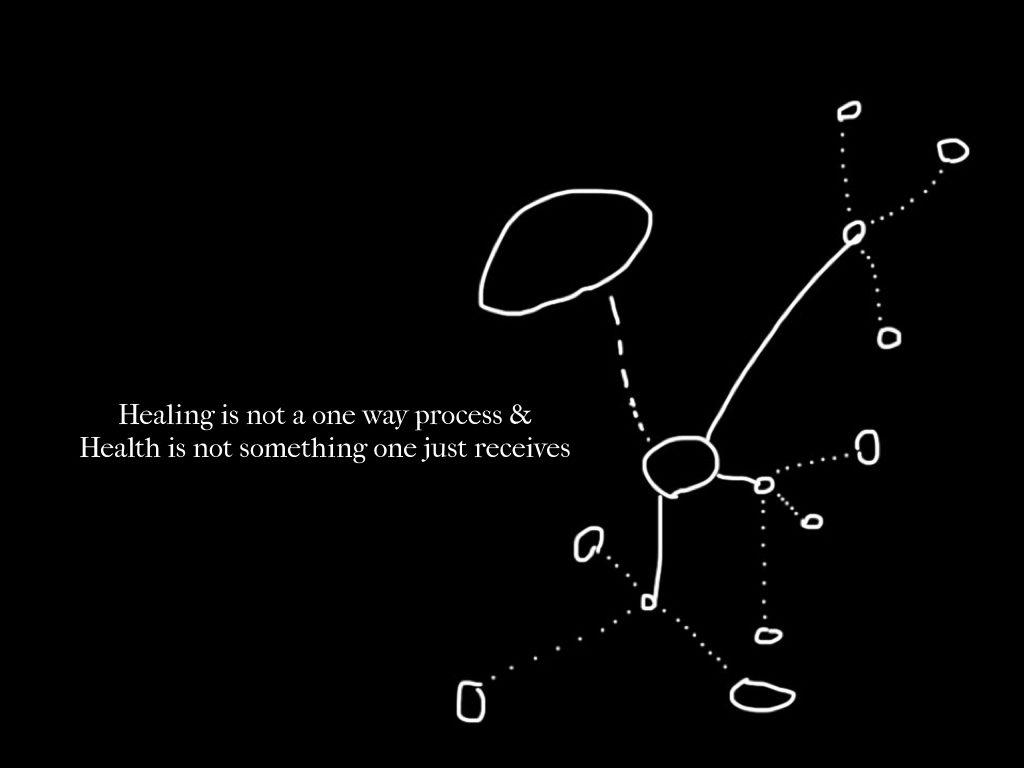 The viral structure, is built into this system and there is a reversal of the standard way of seeing the doctor and patient relationship. In this structure it is essential that we see the work of the Hologram as the work of a teacher or explicator, delivering a case that will ultimately allow the patience to learn things they didn't previously know. This is the most important, (though totally devalued by money) potent and immediately applicable, form of learning we can do, and it is what the medical system has made into a commodity, at the same time as it is seen as 'women's work' or completely useless.
MG: Could you take us through the processes of engagement. For instance, you say a group of four people meet and select one person who will become a Hologram, and that this means they and their health will become 'dimensional' to the group. Could you elaborate how this happens and why it's important for those involved?
CT: We are about to experiment, this fall, with what it means for these groups to form in different ways. We will start with four test cases, where an invited, self-selected person will become a Hologram. She will be supported to select three Patience in a way that suits her, based on an interview and survey. The selection of Patience is a part of the process that we have not had a chance to refine. It is not simple for any individual to understand what support looks like for them, or who they want support from, if they've never really had it.
The experiments we will work through this fall will attempt to understand what changes in the experience of the whole Hologram when the Hologram is supported by Patience who are trusted friends and family, acquaintances or highly recommended strangers. An 'objective' perspective from an outside participant also adds a layer of formality to the project, because, instead of a casual gathering of friends, an unfamiliar person signals to the other members of the hologram to be on time, and make the meetings more structured than a regular friend to friend chat.
The onboarding process for the Hologram and the Patience includes a set of conversations and a training ritual, which are still quite bumpy. The two roles every participant is involved in, requires a different set of skills, and so they both involve a special kind of "training" that one can do in a group or independently. This "training" is a structured personal ritual that allows participants to witness and adapt their own communication habits so that they feel prepared to participate and set up trust, curiosity and solidarity for the group in the opening intake conversations.
At the completion of the intake process, the Hologram (1) transitions to become a Patience. At this time, the Hologram (1) begins a short training to transition to the other role, and she is supported by her Patience to do this work. At the conclusion of the Hologram's (1) transition to Patience, and the completion of the new Hologram's (2) intake process, the original Hologram's (1) Patience become Holograms (3,4,5).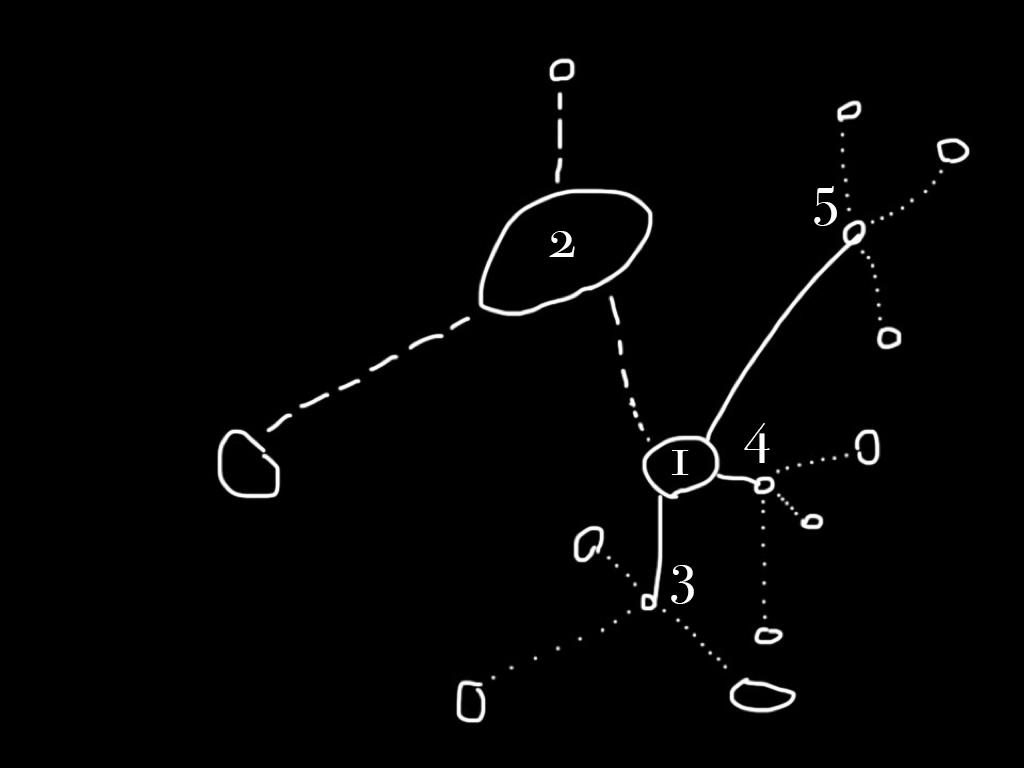 MG: The Hologram project was first trialed as part of an exhibition called Sick Time, Sleepy Time, Crip Time at the Elizabeth Foundation Project Space in New York City, March 31-May 13, 2017. What have you learnt in more recent undertakings of The Hologram project?
CT: Since the original trial one year ago, which lasted for 3 months, the research has shifted to looking at building skills and answering acute questions that will accumulate to support and build the larger project. Starting in the Spring of 2017, I began to offer the Hologram project as a workshop, where participants could test the communication model that is implicit in the Hologram format. The method for offering it is, as a performance artist and rogue architect, creating a situation in a space where people go through a difficult psycho social physical experience together. In the reflective conversations that follow, I ask the groups to use the personal pronoun 'we' for the entire duration of the conversation. The idea is that one person's experience can be shared by the group, and even as temporary Patience we can take a leap and share their experience with them for a duration of time, allowing a Hologram to feel as if their experience is "our" experience. And this feeling that one is not alone in an experience, if carried into other parts of life, has the potential to break a lot of the assumptions and habits that we have inherited from living and adapting to a debt driven hellscape.
Artist and designer Ling Tan talks about the SUPERPOWER! workshop that explored ways to empower young women through a creative exploration of wearable technology in public space.
Last summer, artist and designer Ling Tan worked with young peer leaders from All Change Arts, and the Furtherfield team to devise a project called SUPERPOWER! Finsbury Park. It brought together young women from different walks of life to discuss their relationship with the city. The project explored the ability for technology to bring about female empowerment, and question the participant's role as female in regards to decision making about our city.
Three common themes by the participants were collectively identified, and linked to a place in Finsbury Park. Using the themes to co-create a series of wearable devices that enabled them to record their subjective perceptions of the city using gesture sensing technology. These were: Cultural diversity and inclusivity in our community; Safety of individuals in the London Borough of Islington and; Wheelchair accessibility around Finsbury Park area
It was all co-scripted and used for an exploration walk, involving the team walking around a specific area of Finsbury Park, performing and recording their subjective experiences using the wearable devices that catalogued their gestures. During the workshop, participants designed body gestures using the wearable technology which track their body gestures and communicate remotely with each other through haptic/audio sensors.
Marc Garrett: Where did the idea for the workshops come from and how did the concept of superpower shape what participants did with your wearable technology.
Ling Tan: In SUPERPOWER! Finsbury Park, the participants were young women aged 15-25 years old and almost all of them have no prior knowledge of electronics and coding. Instead of the workshop being about coding and making, I wanted it to focus on empowerment, challenging them to go beyond their comfort zones. Hence the term "superpower" became a powerful concept to get them to think about technology as a form of superpower that extends their perception into the environment. The idea for the workshop built upon a couple of projects I was doing over the past few years; WearAQ and Fakugesi Social Wearables. The projects use wearable technology to enable different communities to actively record and map out their relationship with their cities through individual subjective perception in the form of body gestures. For example, perception of air quality in London, UK and perception of safety on the streets in Johannesburg, South Africa.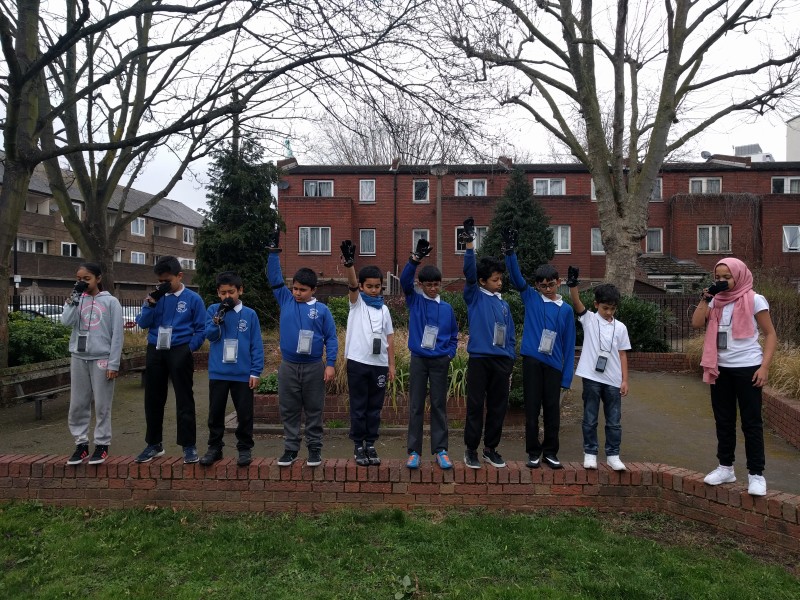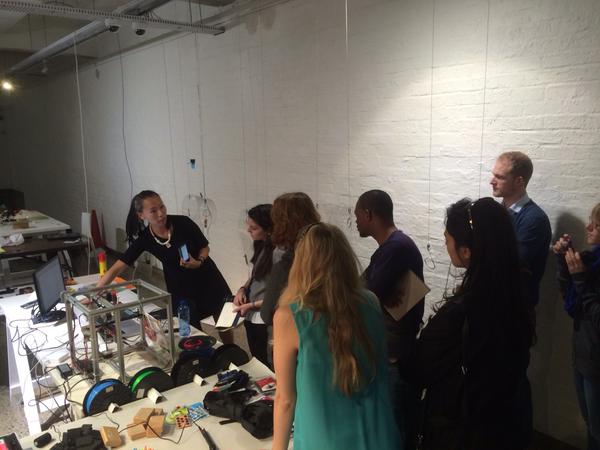 In the workshop, participants discussed about their relationship with Finsbury Park, designed experiments and body gestures to map out their own relationship through the use of an existing set of wearable devices, went out into public space and run with experiments with strangers, park users. For me, learning about what they want to do with technology is more important than picking up skills like coding or fabrication.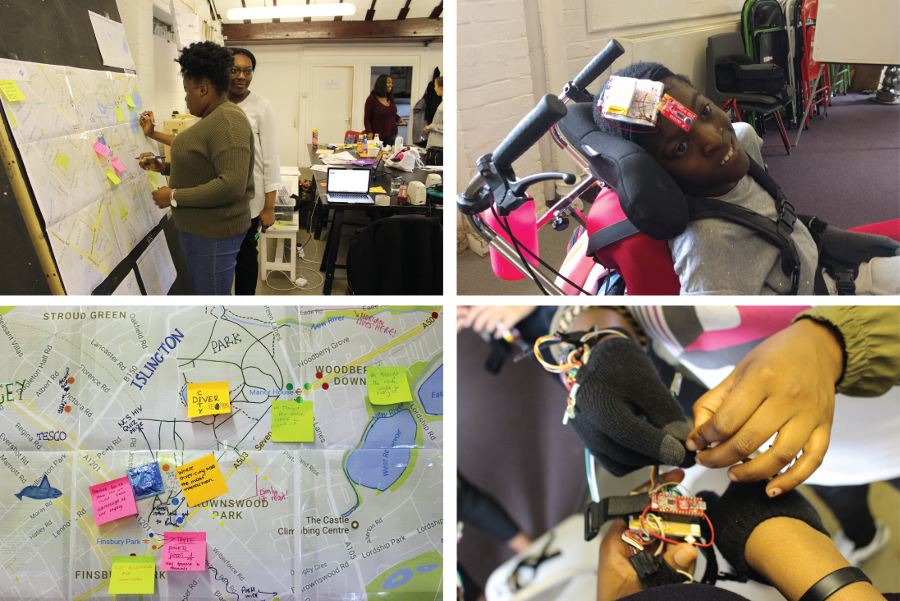 MG: We were surprised to hear how much the young women had appreciated being taught in depth about how the wearable technologies worked as part of this workshop. Do you think this informal workshop format offers a different way of supporting learning about and working with technology? What most surprised you about the way that the young women responded?
LT: I wanted to steer away from a conventional technology workshop where participants would focus on coding and fabrication, than design, because these are skills that they can pick up themselves through on-line documentation and support. For me, what is more important is to figure out what their own interests are with technology, by learning it through hands on design activities with ready made wearable technology. That way, it makes them feel comfortable with tackling complex technology and it also gives them the opportunity to learn about issues that might occur when technology is tested in the real world, checking it out when it does not work and why.

I was most astonished by their speed of learning and how well they picked up the tech knowledge. For example, one part of the workshops involved learning about the body gesture and what the wearables can detect through decoding "1" and "0" read via the body gesture sensors. I was very surprised that they were able to quickly translate that into their own body gesture design.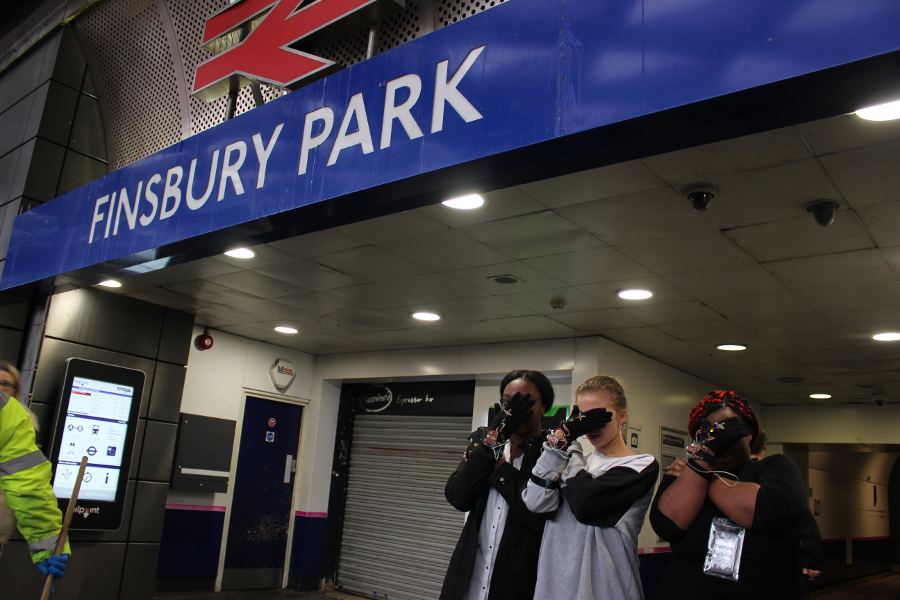 MG: Your workshop addressed questions of value in technology innovation, in the particular context of working in the public space of the park. Please tell us about how you approached these questions and why this is important to you.
LT: I think its is important to demystify technology especially given that we are living in an era where technology is so embedded into our everyday life that we take it for granted and do not notice its impact. It is important for the younger generation to learn about ethics of technology, to be curious about who and why companies are designing specific types of technology, and most importantly, to learn that technology does not always work, that technology cannot solve all our problems. They need to learn to be proactive and have a sense of agency in tackling issues concerning their own environment. For example, issues such as safety on the streets cannot be solved entirely by technology, it also needs other input such as citizen vigilance, policy and law changes.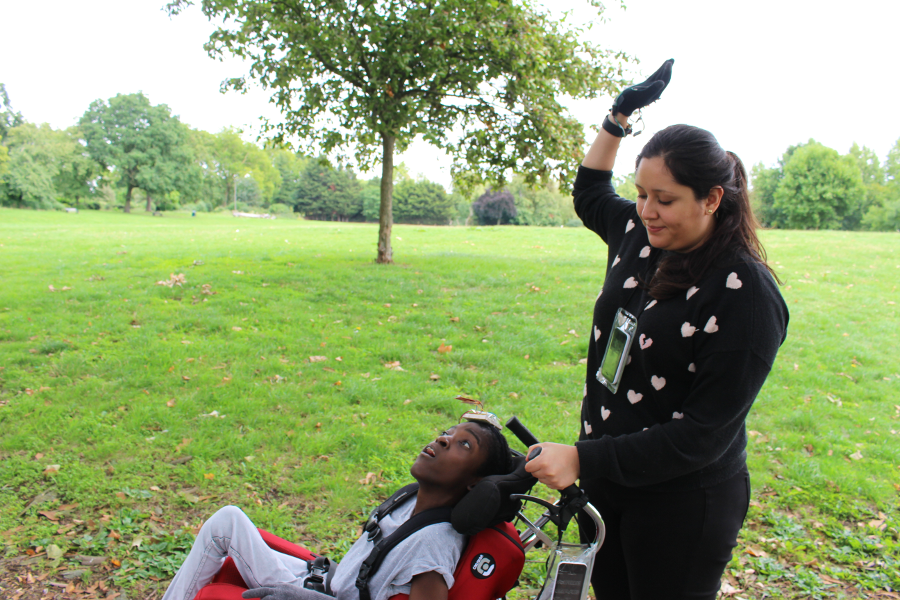 SUPERPOWER! Finsbury Park was a part of the B Creative Summer School, a programme of arts projects created by young women for young women aged 16 – 25 in Islington.
Special thanks to:
All the participants involved in the project
Peer leaders from All Change
Ella Medley Whitfield
Commissioned and supported by: Furtherfield and All Change
This project has been funded with the support from the European Commission. This communication reflects the views only of the author, and the Commission cannot be held responsible for any use which may be made of the information contained therein.
This interview was originally printed in Artists Re:Thinking the Blockchain published in partnership with Torque Editions in 2017.
Marc Garrett: One of many interesting and experimental things about the album Platform, released with Holly Herndon in 2015, is the decision to break away from the perspective of singular genius, and involve a variety of collaborators. This included artist Spencer Longo, Claire Tolan (of Tactical Tech), and Dutch design studio Metahaven. On the 4AD press release page it says that it 'underscores the need for new fantasies and strategic collective action.' Under the name of Holly Herndon, along with Holly, you all became a kind of cooperative, collective construction. What inspired you and Holly to explore what could be seen as a decentralized body, or assemblage of individuals as a collective? Or how would you describe your working identity and the importance of this move?
MD: To put it in pretty boring terms, it has become a core part of our mission to be pretty candid about what we do. Holly had been making albums and touring by herself, and then during the early experiments that later became Platform (Chorus and Home) we had begun working together, as we were occupying this tiny apartment in San Francisco, and I was working on this weird net concrete stuff in one room, and Holly was writing for voice in the other, and I think both of us picked up from the ambient sound that the two worked really well together! For the Chorus video we had seen the work of the Japanese artist Akihiko Taniguchi, and really enjoyed the collaborative process of putting that video together, and so then sought out Metahaven, who we'd been in touch with for some time out of aligned interests. Basically most art production at a certain high level is collaborative, and I think it's just part of our idealistic view on the world that this be transparent and celebrated. Beyond that, when we were coming up with the vision for Platform it also felt very necessary as a political gesture to make a point of the project being aligned with certain political interests, and a politicized way of working and acknowledging others. Working this way has changed my life, and made everything more fun and exciting without diminishing the importance of any individual contributions. It makes for better results, I feel, better general feeling, and also creates these very tangible collaborative connections between fields. It's also just an interesting experiment to run in music when it feels like so many sonic experiments have been done to death – I'm personally interested in how decentralized practices, collaboration and connectivity, can change the construction and dissemination of music, and ultimately it's power to be a force in the world.
HH: It sometimes feels like our society is 'every person for themselves'. We promote hyper individualism at the cost of the planet and social health, and the music industry largely parrots this mentality. We realized how problematic this is, and if we are going to be true to ourselves, then the practice should reflect that concern. It's been a learning curve for me; learning to not control every single aspect (I tend to micromanage), to hear other opinions, to let go, and not feel threatened if someone else's idea is better than my own. Releasing my debut album solo was an important step in building my confidence, however ultimately the work itself is the most important, and not the ego. Not to mention that we spend a lot of time on computers, which can be lonely, so working with other people helps us to unplug and see the world around us a little more.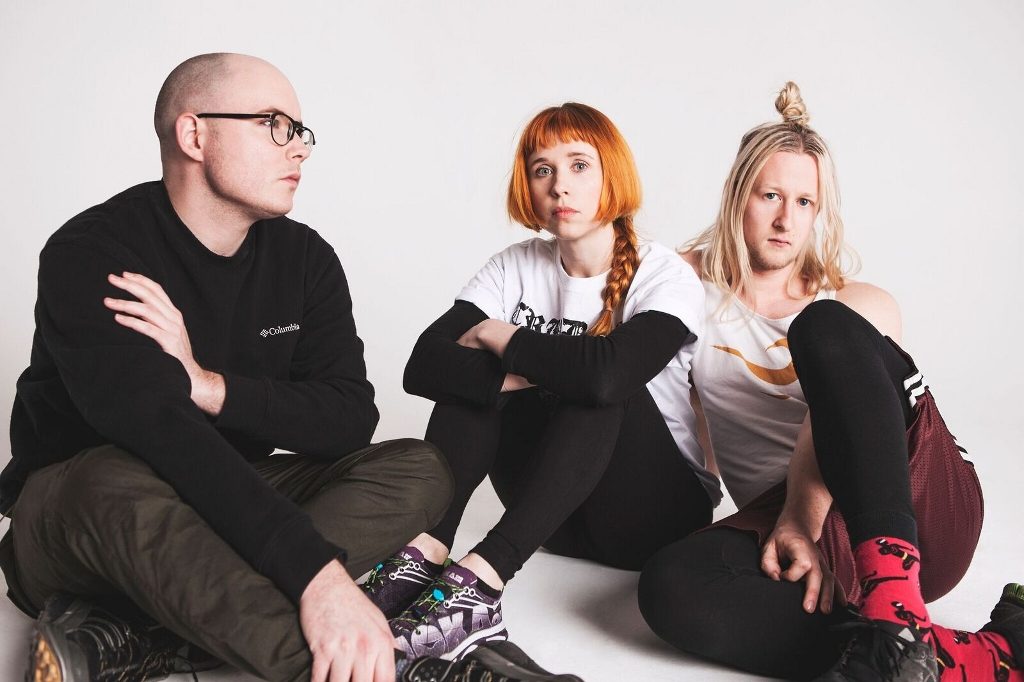 MG: In a world that traditionally, economically and politically, supports the values of individuality above community, or peer to peer collaboration. How did the audience, the music industry, and others in the world (presuming they have) come to terms with this adventurous, creative intention?
HH: It was varied, but overwhelmingly positive. When we were doing press around the record, it was difficult to get some journalists to write about the other artists and thinkers that I was collaborating with, or even just referencing. Those that understood the gesture really embraced the idea, and that successfully provided a platform to highlight everyone's work.
There are a few industry complications; for example, the project is released under my birth name, so in some ways I am still at the centre of the orbit, which is a problematic professional necessity, but also helps somehow. We used the idea of the Trojan Horse a lot, as in a way my easily understood singular presence served as a gateway into this whole other universe of people. It's a balancing act, as in various different scenarios you feel different expectations as to what the industry wants; on a pop level they want a simple narrative of my face, and tend to focus on often mundane characteristics such as my gender and education. On other levels you see that the experiment has opened up a different narrative potential, where people's interest in the record and it's cast forks off into the direction of their choosing.
It's really noticeable live, where the audiences have been really supportive. After the shows you experience all kinds of people who come along, hanging out with different people who were on stage – Mat has his own audience somehow, and the same with Colin Self, who often tours with us. As a result of opening up the process and allowing the full breadth of interests and approaches to shine through a little more than is standard, at different shows we have people come up to talk to us about the music, or nerd out about cryptocurrencies and ICO's, or Chelsea Manning. It feels meaningful, and gratifying for that. We always address the location of the show, whether through the visual or sound, and try to always be alert and responsive. It's a special privilege to share that time with people, and I think that the concept comes across quite effectively in a live situation as each individual serves a very different purpose in constructing the collective experience.
MD: I think that Platform was received really well. Holly opening up her practice didn't diminish her signature on the artworks, and I think that it has really won a lot of people over. I think you can feel at our shows that we have a greater principle to what we do, and I think it has maybe made a lot of space for people to conceive of their own experiments and maybe not be concerned at how being ambitious on a conceptual level will affect the ability for the art to travel in the world. Naturally there is also a throttling effect within aspects of the creative industry, where maybe they didn't want to deal with the bigger ideas around the record, however I feel that the music is strong enough to kind of live in those circles without knowing the story behind it. Overall I think people were refreshed and encouraged by the idea, and transparency of the whole thing. For us now it is a way of being. In my mind, there is more room for individuality to shine when you can guarantee that someone's work and ideas will be respected and celebrated. The canon of artistic history has omitted so many people's ideas and contributions for the purpose of having a simpler market narrative, and yet we live in a time when people can and want to dig deeper, and perhaps have a greater capacity for complexity of information – so we want to try and harness that for something positive. Particularly given our interests in subcultural music history, software, crypto etc. there is really no other option but to put the community first. Without community literally none of this exists. Zero. All of our talents and ideas have been incubated in community environments, so channelling that legacy is important.
MG: On Platform you released the track called DAO. I am always interested in shifts between the use of technologies as metaphor and as tools that change practice. So, what was interesting to you about Decentralized Autonomous Organizations (DAOs)?
MD: I'll let Holly talk more about where DAO came from, with the telematic performance work she was doing at Stanford. Regarding the blockchain, I've been developing my own decentralized publishing framework for the past few years, that shares a lot of the same principles as the Ethereum logic, and I'm looking to have it interact with the blockchain in its next iteration. A lot of the spirit behind the crypto community is so synonymous with the models of collectivity we have already been exploring in our work that it's the logical next step. I'm particularly interested in what this architectural/infrastructural new capacity can mean for the medium of music itself. With Saga you have this whole other performative dimension added to media with the ability to version work, fork it, and have it perform in real time to it's surroundings online, which I think is a whole other proposition for the medium very much worth exploring. It's also fascinating regarding the question of attribution and collaboration, as we have grown to understand that the web as it stands currently is very much designed to privilege those who appropriate and curate others creative work and ideas for free – mirroring greater society, it is a winner takes all environment. I want systems of virtuous attribution that do not consolidate the DRM era of copyright takedowns, but instead build markets and new interactions around collaboration, augmentation and live interaction. There is so much more that could be done, and a lot of the blockchain tech emerging offers clues as to how we can get there quickly. There are also a lot of old ideas masquerading as something shiny and new, so you kind of have to read the small print to distinguish what is a genuinely new proposition, but it is our job as members of marginal communities to educate ourselves and anticipate the best options.
HH: DAO came out of a piece that I wrote called Crossing the Interface, with a libretto by Reza Negarestani. The piece was my first venture into telematic performance, where a soprano (Amanda DeBoer) was in another geographic location, but the audience could hear her physical body moving throughout the space using ambisonics. I wanted her to be hyper present, and physically super human, moving in ways impossible to a human body, to be able to be in multiple places in the room at once, as eventually her voice and her body separate, stalking the room. I was trying to find a way to make something so clearly highly mediated, feel extremely personal and embodied at the same time, which seems appropriate for the DAO concept as it exists in the world – this simultaneously complex and distributed network that is also hyper intimate and moves with collective intent.
The vocal work that Amanda delivered while workshopping that performance was really great, so I used some of those outtakes for the vocal work in DAO. With the instrumental I was simply just trying to capture an atmosphere, a heavy energy with lots of wide stereo movement. It's also really fun to play live with Colin, because he sings the soprano line with live processing, which creates a nice contrast of heavy electronics with extremely expressive alien vocals, taking the entire gender spectrum and contorting it into a circle.
MG: Do you have any plans to formalize any part of your creative collaboration to work on the blockchain?
MD: Holly and I are starting a studio after we finish this next album to more formally develop work and devices that exist in this new frontier, as it has been so instrumental in our discussions for the past few years. I describe it as a frontier deliberately, as if we are to task ourselves with actually experimenting with our work then it feels almost like a duty to get our hands dirty in these areas. We have already started work on two new projects in this domain, but it's hard to tell when they will be ready to show to people, and what shape they will eventually take.
MG: OK. Last question, in light of the current suppression of the spirit of humanity by despots, and the rich buying up democracy for their own ends, what part do you see artists playing in the world of blockchain, to disrupt the regurgitation of an already bankrupt system?
MD: IMHO, there are two dimensions to this. First, I encourage artists to become familiar with the language and potential of blockchain technology, as there are a lot of opportunities to attempt to re-engineer how we experience, transact and grow community in the arts outside of centralized traditional channels. Real money is being made, and there is a lot of good will amongst the crypto community who invest faith that better systems can and will be constructed using these logics.
I also encourage artists to develop some fluency around the blockchain ecosystem, for exactly the reason that there needs to be wary and critical voices guarding the community from the business-as-usual corporate crowd, who are increasingly flexing their muscles and influencing the course of its development and maturity. By getting involved early, and being vocal, there is an opportunity to intercept plans for how this next internet runs, and who ultimately it will benefit.
The best case scenario is that we can develop our own systems along the blockchain to change music and the arts for the better. Alternately, we need critical voices active within these conversations to avert the worst case scenario of power consolidating itself even further outside of the greater public awareness.
I should say that the third wild card possibility is that blockchain technology is inherently flawed and infeasible once it has been properly stress tested at scale. Irrespective, if your mandate is to be experimenting, and abreast of where things may be going, there are fewer areas of interest more dynamic and potentially transformative. It's a lot of fun to think about.
Most households have an unsolved Rubix Cube but you can easily solve it learning a few algorithms.
We produce a mass of data about our personal successes and failures, dysfunctions and interactions, for perpetual digital harvest

Through our interactions with digital devices and systems us humans are now a diverse resource to other humans and machines. And we are changing in accordance with the processes and demands of contemporary, technological market systems, designed to extract as much data from us as possible. In his recent article Our minds can be hijacked, Paul Lewis of the Guardian revealed that those in the know, those who helped to create Google, Twitter and Facebook, are now disconnecting themselves from the Internet as, like millions of people in the world, they are feeling the effects of addiction to social networking platforms, and fear its wider consequences to society.
The hazards of this kind of tech-contagion have been the staple food of sci-fi for decades – a mysterious woman shares a strange but simple VR game in the 1991 episode of Next Generation Star Trek, The Game. It spreads like wildfire, taken up with enthusiasm by the crew, only later revealed to be a brainwashing tool invented by an alien captain to seize control of first the ship, and then all of Starfleet. Let's look at ourselves for a moment – if we can tear our gaze away from our screens. How has our public behaviour changed – on the streets, on public transport, in buildings and parks? Our attention transfixed by our devices, online via our phones and tablets – bumping into each other, and even walking into the road endangering their own and others' lives.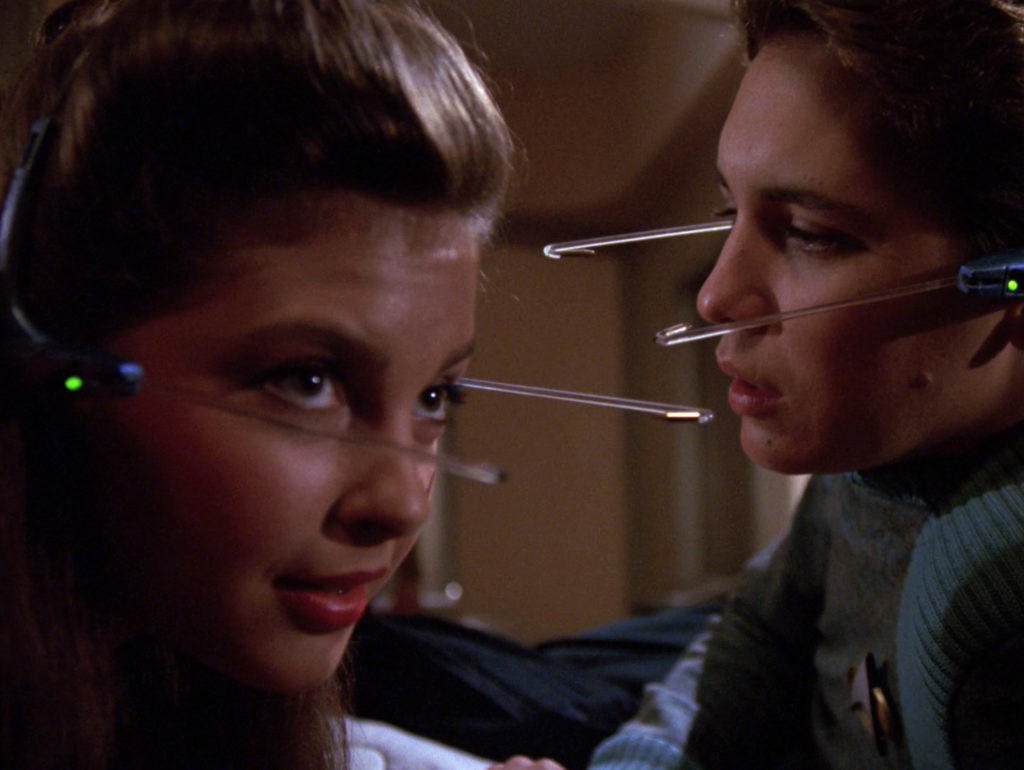 Internet addiction is the perfect child trap
Professor of psychology Jean M. Twenge studies post-millennials and argues that a whole younger generation in the US, would rather stay in doors than going out and partying. Even though they are generally safer from material harm they are on the brink of a mass mental-health crisis. She says this dramatic shift in social behavior emerged at exactly the moment when the proportion of Americans who owned a smartphone surpassed 50 percent. Twenge has termed those born between 1995 and 2012, as generation iGen. With no memory of a time before the Internet, they grew up constantly using smartphones and having Instagram accounts. In her article Have Smartphones Destroyed a Generation? Twenge writes "Rates of teen depression and suicide have skyrocketed since 2011. It's not an exaggeration to describe iGen as being on the brink of the worst mental-health crisis in decades. Much of this deterioration can be traced to their phones."
Internet addiction is like having your head perpetually inside a magical mirror of hypnotically disembodying power #addictsnow pic.twitter.com/DFkl1jaKER

— furtherfield (@furtherfield) August 31, 2017
From the #addictsnow Twitter commission by Charlotte Webb and Conor Rigby, 2017
Like cows nonchalantly munching at the metaphorical graze
We offer three features as part of Furtherfield's 2017 Autumn editorial theme of digital addiction, in parallel with the exhibition Are We All Addicts Now? at the Furtherfield Gallery, until 12th November 2017. Artist Katriona Beales has developed the exhibition and events programme in collaboration with artist-curator Fiona MacDonald: Feral Practice, clinical psychiatrist Dr Henrietta Bowden-Jones, and curator Vanessa Bartlett. She explores the seductive qualities, and the effects of our everyday digital experiences. Beales suggests that in succumbing to on-line behavioural norms we emerge as 'perfect capitalist subjects' informing new designs, driving endless circulation, and the monetisation of our every swipe, click and tap.
Firstly we present this interview with Katriona Beales* from the new book Digital Dependence (eds Vanessa Bartlett and Henrietta Bowden-Jones, 2017) in which she discusses her work and her research into the psychology of variable reward, "one of the most powerful tools that companies use to hook users… levels of dopamine surge when the brain is expecting a reward. Introducing variability multiplies the effect" and creates a frenzied hunting state of being.
Pioneer of networked performance art, Annie Abrahams, creates 'situations' on the Internet that "reveal messy and sloppy sides of human behaviour" in order to awaken us to the reality of our networked condition. In this interview, Abrahams reflects on the limits and potentials of art and human agency in the context of increased global automation.
Finally a delicious prose-poem-hex from artist and poet Francesca da Rimini (aka doll yoko, GashGirl, liquid_nation, Fury) who traces a timeline of network seduction, imaginative production and addictive spaces from early Muds and Moos.
"once upon a time . . .
or . . .
in the beginning . . .
the islands in the net were fewer, but people and platforms enough
for telepathy far-sight spooky entanglement
seduction of, and over, command line interfaces
it felt lawless
and moreish
"
---
And a final recommendation – The Glass Room, curated by Tactical Tech
Tactical Tech are in London until November 12 with The Glass Room, exhibition and events programme. A fake Apple Store at 69-71 Charing Cross Road, operates as a Trojan horse for radical art about the politics of data and offers an insight into the many ways in which we are seduced into surrendering our data. "At the Data Detox Bar, our trained Ingeniuses are on hand to reveal the intimate details of your current 'data bloat'; who capitalises on it; and the simple steps to a lighter data count."
*This interview is published with permission from the publishers of the book Digital Dependence edited by Vanessa Bartlett and Henrietta Bowden-Jones, available to purchase from the LUP website here.
DOWNLOAD PRESS RELEASE
The blockchain is widely heralded as the new internet – another dimension in an ever-faster, ever-more powerful interlocking of ideas, actions and values. Principally the blockchain is a ledger distributed across a large array of machines that enables digital ownership and exchange without a central administering body. Within the arts it has profound implications as both a means of organising and distributing material, and as a new subject and medium for artistic exploration.
This landmark publication brings together a diverse array of artists and researchers engaged with the blockchain, unpacking, critiquing and marking the arrival of it on the cultural landscape for a broad readership across the arts and humanities.
Contributors: César Escudero Andaluz, Jaya Klara Brekke, Theodoros Chiotis, Ami Clarke, Simon Denny, The Design Informatics Research Centre (Edinburgh), Max Dovey, Mat Dryhurst, Primavera De Filippi, Peter Gomes, Elias Haase, Juhee Hahm, Max Hampshire, Kimberley ter Heerdt, Holly Herndon, Helen Kaplinsky, Paul Kolling, Elli Kuru , Nikki Loef, Bjørn Magnhildøen, Rob Myers, Martín Nadal, Rachel O Dwyer, Edward Picot, Paul Seidler, Hito Steyerl, Surfatial, Lina Theodorou, Pablo Velasco, Ben Vickers, Mark Waugh, Cecilia Wee, and Martin Zeilinger.
Read a review of the book by Regine Debatty for We Make Money Not Art
Read a review of the book by Jess Houlgrave for Medium
Choose Your Muse is a series of interviews where Marc Garrett asks emerging and established artists, curators, techies, hacktivists, activists and theorists; practising across the fields of art, technology and social change, how and what has inspired them, personally, artistically and culturally.
Ryota Matsumoto is a principal and founder of an interdisciplinary design office, Ryota Matsumoto Studio, and an artist, designer and urban planner. Born in Tokyo, he was raised in Hong Kong and Japan. After studies at Architectural Association in London and Mackintosh School of Architecture, Glasgow School of Art in early 90's, he received a Master of Architecture degree from University of Pennsylvania in 2007. Before establishing his office, Matsumoto collaborated with a cofounder of the Metabolist Movement, Kisho Kurokawa, and with Arata Isozaki, Cesar Pelli, the MIT Media Lab and Nihon Sekkei Inc. He is currently an adjunct lecturer at the Transart institute, University of Plymouth.
Interview

Marc Garrett: Could you tell us who has inspired you the most in your work and why?
Ryota Matsumoto: As I have collaborated with the founders of the Metabolist movement of the 60s, Kisho Kurokawa and Arata Isozaki, and had the opportunity to meet Cedric Price at Bedford Square, I am keenly aware of the participatory techno-utopian projects by the Situationist International group. Some of the projects by Japanese Metabolism, Yona Friedman, and Andrea Branzi drew inspiration from the concept of unitary urbanism and further developed their own critical perspectives. Their work has helped me to create my own theoretical platform for the status quo urbanism and its built environment.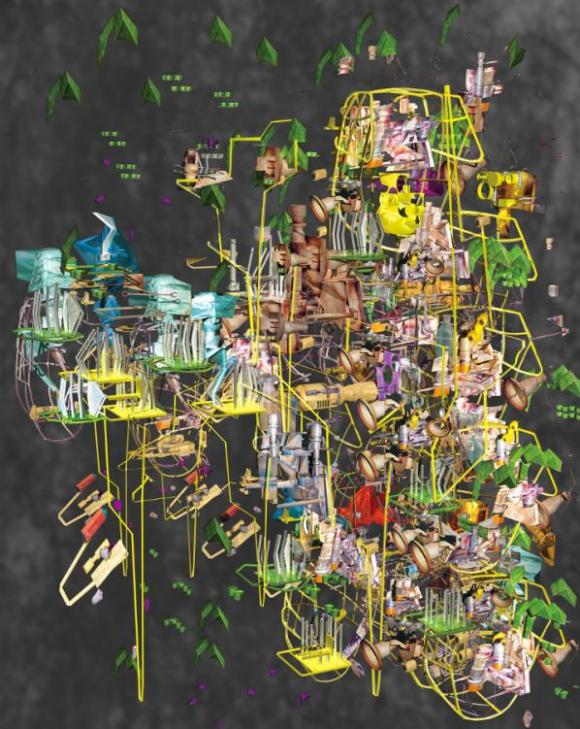 MG: How have they influenced your own practice and could you share with us some examples?
RM: I identify with the free-spirited and holistic approaches of these theorists on the relationship between language, narrative, and cognition. They embraced a wide range of media for visual communication that simultaneously defied categorization as either art or architecture and denounced the rigid policy-driven urban planning. Who would have thought of using photomontage, computer chips, PVC, or anything else they could get their hands on for architectural visualization in those days? Furthermore, their urban strategy of mobile/adaptable/expandable architecture and the theory of psychogeography dérive resonate with my own creative thinking. I interpret urbanization as the outcome of self-generating, spontaneous and collective intelligence design process and believe that the strategic use of hybrid media with incorporation of multi-agent computing provides an alternative approach for both art and design practice.
MG: How is your work different from your influences and what are the reasons for this?
RM: The utopian aspirations of the groups in the 60s were very much the product of the counter-cultural movement of the time: they were politically engaged and had optimistic outlooks for technology-driven progress of cities. In contrast, while I tend to address the current socio-cultural agendas of urban and ecological milieus, my work doesn't necessarily evoke or represent the utopian or dystopian visions of spatial cities.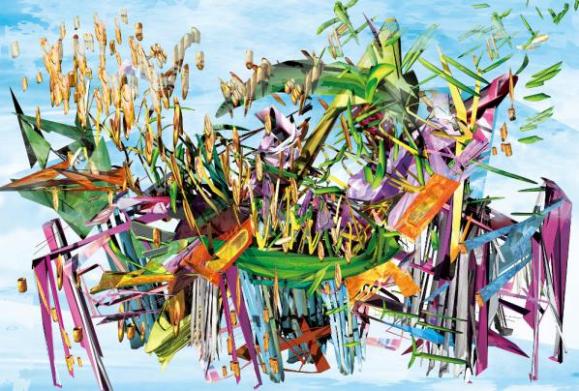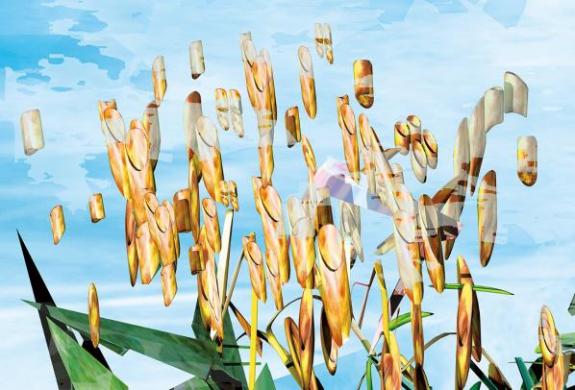 MG: Is there something you'd like to change in the art world, or in fields of art, technology and social change; if so, what would it be?
RM: I explore and question both sustainable and ethical issues of the urban environment that have been influenced by the socio-political realities of the Anthropocene, using visual/cognitive semantics, analogical reasoning, and narrative metaphors. As human population and energy use have grown exponentially with great acceleration, the interactive effects of the planet transforming processes on the environment are impending issues that we have to come to terms with. Thus, my projects hinge on how trans-humanism, the emergence of synthetic biotechnology, and nano-technological innovations can help us respond to the current ecological crisis.
"The themes of my work hinge on how the scientific tenets of trans-humanism, the emergence of synthetic biotechnology and Nano technological innovations might respond to the Anthropocene epoch, and, eventually foster critical thinking in relation to the underlying agendas of the increasing dominance of human-centric biophysical processes and the subsequent environmental crisis." [1] (Matsumoto 2017)
With my recent work, the symbiotic interplay of the advanced biosynthetic technologies and the preexisting obsolete infrastructures has been explored to search for an alternative trajectory of future environmental possibilities. In short, new technologies can complement old ones instead of completely replacing them, to avoid starting over from a blank slate or facing further ecological catastrophes.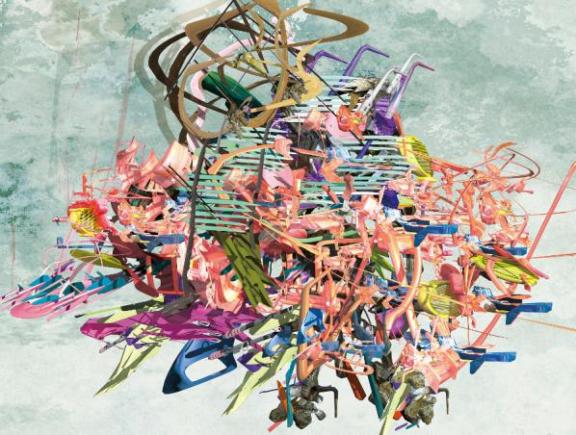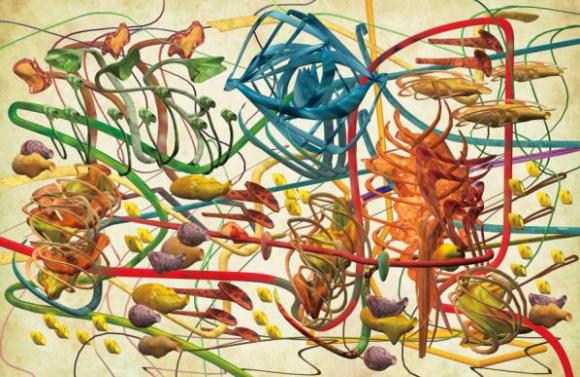 MG: Describe a real-life situation that inspired you and then describe a current idea or art work that has inspired you?
RM: I was fortunate enough to experience firsthand Hong Kong's rapid urbanization driven by the staggering economic growth throughout 70s and early 80s. In hindsight, it could be called the beginning of rising prosperity in the Pearl River Delta region. I was fascinated by the fact that both the unregulated Kowloon Walled City and the newly-built Shanghai Bank Tower stood only a few miles apart from each other around the same period. They could be seen as two sides of the same coin, as they both represented the rapid and chaotic economic growth of Hong Kong at that time. It suddenly dawned on me that the juxtaposition and coexistence of polar-opposite elements connoted both visual tension and harmony in a somewhat intriguing way, regardless of their nature, function, and field. That contradiction nurtured and defined my own aesthetic perceptions in both visual art and urban design.
MG: What's the best piece of advice you can give to anyone thinking of starting up in the fields of art, technology and social change?
Although it might sound like a career detour at first, it is always helpful to go off the beaten path before starting out as an artist. In my case, my experience as an architectural designer and urban planner certainly helped me to break the creative mold and approach my work with a broader perspective. Even now, I still firmly believe that it is always helpful to learn and acquire the wider knowledge and skills from other fields, and that opening up your mind to new ideas will allow you to discover your own unique path in your life.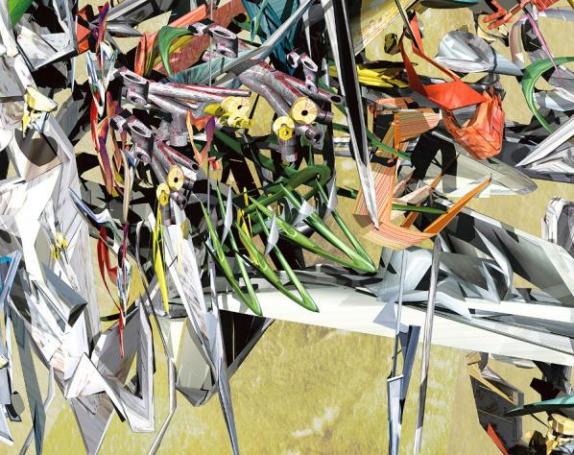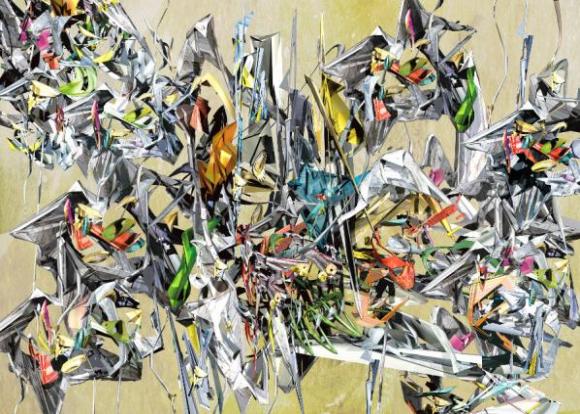 RM: Finally, could you recommend any reading materials or exhibitions past or present that you think would be great for the readers to view, and if so why?
The retrospective of Le Corbusier's work is the last exhibition I've seen and it was very fascinating. He is a great innovator, who had managed to continually reinvent himself to stay ahead of the curve over the course of his life. If you are interested in 20th century architecture encompassing early modernism and the Brutalist movement, it is definitely worth visiting.
As curator of the exhibition Monsters of the machine: Frankenstein in the 21st Century, I thought it necessary to interview the artists in the exhibition, while it is shown in the magnificent gallery space at Laboral, in Spain, until August 31st 2017. I wanted to get more of an idea of how they see their work in the show relates to the core themes. Mary Shelley's book Frankenstein; or, The Modern Prometheus, has been interpreted in numerous ways since was written in 1816, and then published anonymously in London in 1818.
Eugenio Tisselli is a Mexican artist and programmer. He is a PhD candidate at Z-Node, the Zurich Node of the Planetary Collegium. Previously, he worked as an associate researcher at the Sony Computer Science Lab in Paris and was also a teacher and co-director of the Masters in Digital Arts program at the Pompeu Fabra University in Barcelona. In his role as director of the ojoVoz project, he has carried out extended workshops with small-scale farming communities in different parts of the world. The ojoVoz project may be accessed at http://ojovoz.net. His personal projects may be accessed at http://motorhueso.net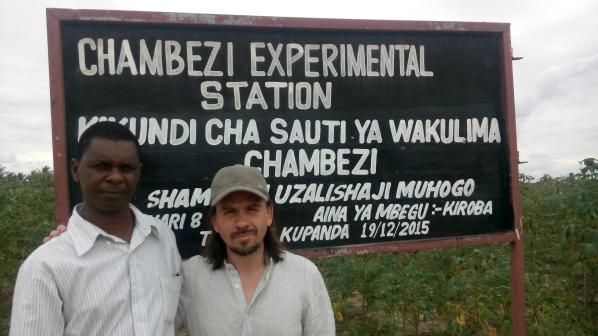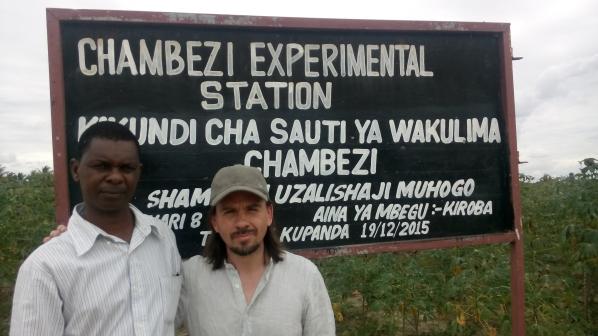 Interview.
Marc Garrett: Can you explain how and why the Sauti ya wakulima, "The voice of the farmers" project came about?
Eugenio Tisselli: In 2010, I came to realize that the way we feed ourselves is actually one of the main drivers of the accelerated destruction of societies and ecosystems that is currently underway. I felt like I had been living in La-La-Land before the veil was ripped off. My life changed radically. At that time, I was collaborating in the megafone.net project which had worked since 2004 with several groups of people at risk of social exclusion in different parts of the world. By offering an unfiltered communications platform, consisting of mobile and web applications, the megafone project tried to help these groups to make their voices widely heard. But, in 2011, I left the project with the purpose of offering its tools and methodologies to farming communities who wished to seek recognition and explore different forms of communication.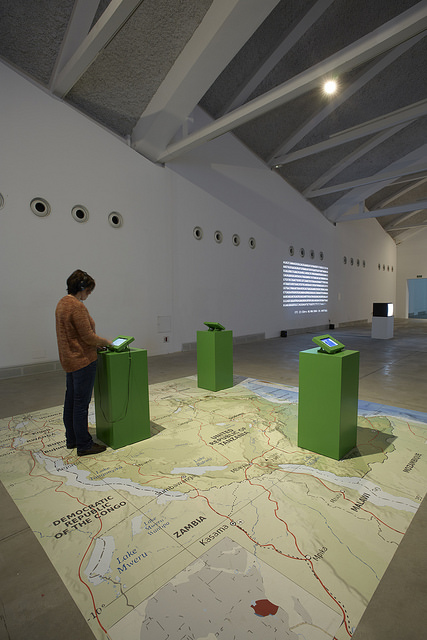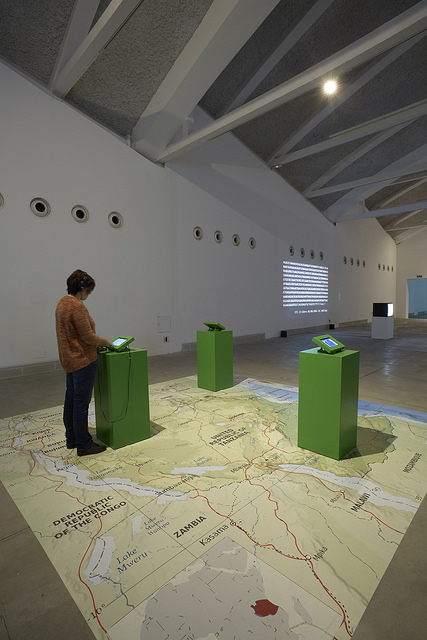 The voice of the farmers" installation. Monsters of the machine exhibition, at Laboral, in Spain. Image by Marcos Morilla.
The first opportunity took shape in Bagamoyo, Tanzania, where a group of farmers expressed their interest in trying out these tools. I came in contact with this group through a scientific project that studied the direct and indirect effects of climate change on agriculture. The original goal of 'Sauti ya wakulima' was that the farmers would use smartphones and a web application to create a collaborative, audiovisual knowledge base of weather-related events, such as droughts, floods or crop diseases. However, the farmers eventually discovered that they could reshape this goal, and started to use the phones to interview other farmers with the purpose of creating a network of mutual exchange of knowledge about agricultural practices and techniques.
Episodes of fruitful learning have happened since then: one farmer learned the proper way to grow maize thanks to a picture taken by one of his colleagues. Another one learned a clever way to build chicken sheds during a trip to an agricultural fair. He took pictures of the sheds and when he came back to his community, he formed a cooperative for chicken production together with three of his colleagues. I could go on, but the project is still active after six years and that is probably the best thing that can be said of 'Sauti ya wakulima'. It is alive because farmers find it useful, and it's inspiring to learn from them that the mutual exchange of knowledge can become a key to a more resilient and interesting life. To me, the agricultures depicted in the photos posted by the Tanzanian farmers are not echoes of 'the past', but pathways to the future.
MG: What particular themes in the exhibition do you feel relate to the "The voice of the farmers" installation?
ET: I imagine 'The monster in the machine' not as a horrible, threatening ghoul, but as a weird and tricky creature made of language. The 'body' of this creature is made up of what we would call 'principles', 'values' and even 'ideologies'. And it silently lurks inside the technological artifacts we use every day. The smartphone, for instance, epitomizes the ideal 21st century citizen: a self-sufficient, competitive and efficient individual. And, indeed, the monster that lives inside our smartphones is made of those values: its presence is inscribed in the device's circuits and from there it casts its spell. What I mean is that technologies are not neutral. They are not empty: they are haunted by whispering ghosts.
If you look at technologies used in agriculture, you will also find a multitude of monsters that softly dictate from the insides of things. Perhaps not by coincidence, genetically modified (GM) seeds speak the same things as mobile phones, only with different words. They tell farmers: "stop sharing seeds with your community, it's a waste. Become an entrepreneur, there are shitloads of money to be made! Buy me! I'll make you rich!" The sad thing is that these words are a trap: farmers ultimately become entangled in monetized loops that are beyond their control. Desperation sets in and, in absurdly horrible cases, such as GM cotton farmers in India, suicide becomes the only exit. But there are, indeed, other exits.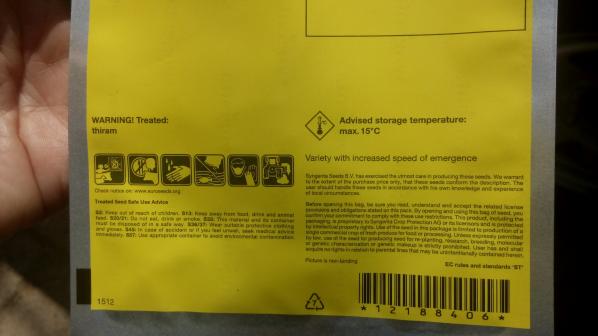 The small print on a packet of hybrid tomato seeds obtained through industrial processes, as sold to small-scale farmers in Tanzania. Photo by Eugenio Tisselli.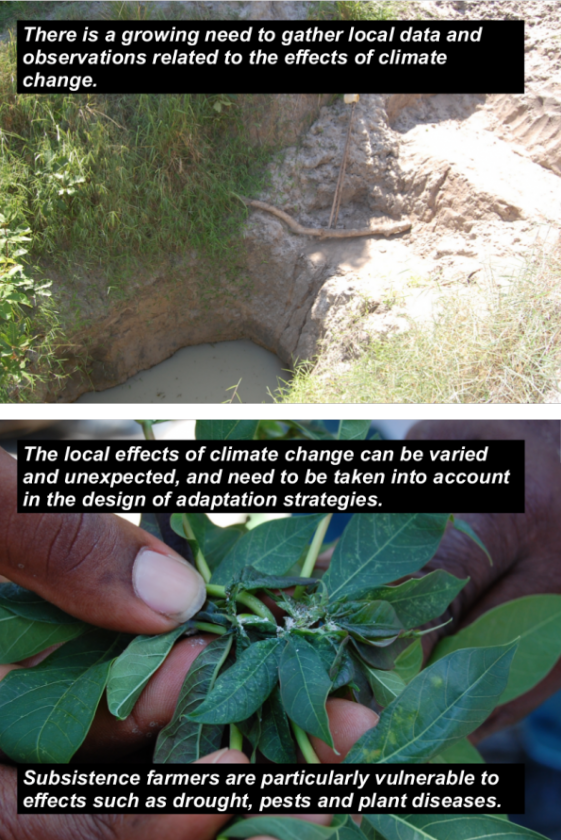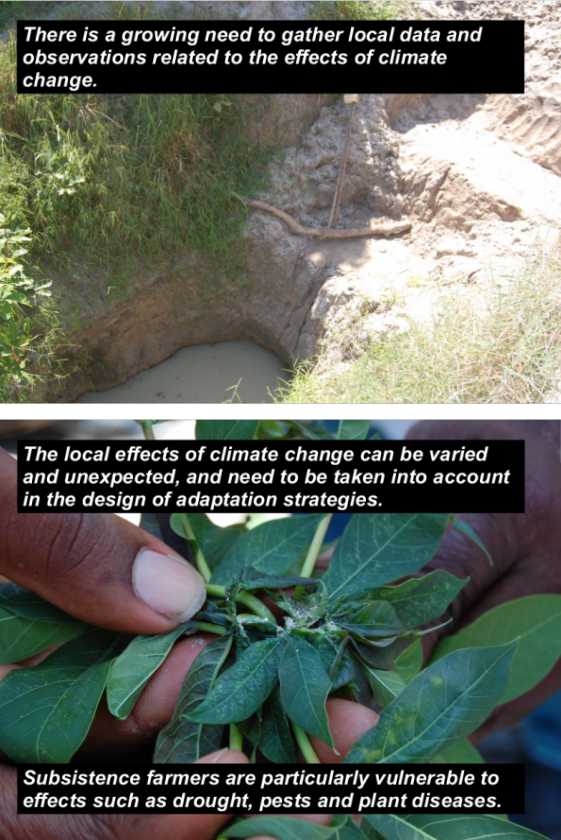 It is possible to rewrite the values and ideologies inscribed in technologies, in order to make them speak words that will do less harm. This is one of the key components of Sauti ya wakulima. From the very beginning of the project, the farmers agreed to redefine the smartphones as communal tools for collaborative documentation. They still share them and, when it is someone's turn to use one, that person knows that she will not be taking pictures and recording sounds with a personal device, but with one that belongs to the group. These dynamics of sharing can create or strengthen reciprocal bonds. Renalda Msaki, a farmer who participates in Sauti ya wakulima, once said that the project had brought the group closer together. When I reflect upon her words, I can see how the monster in the machine can be transformed into a gentler creature that, nevertheless, remains weird and tricky.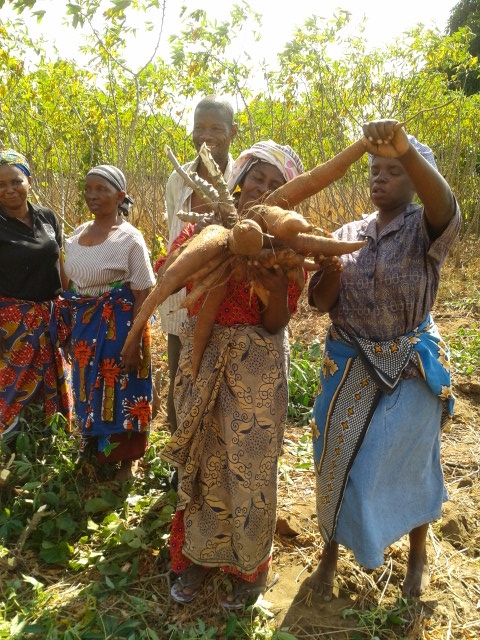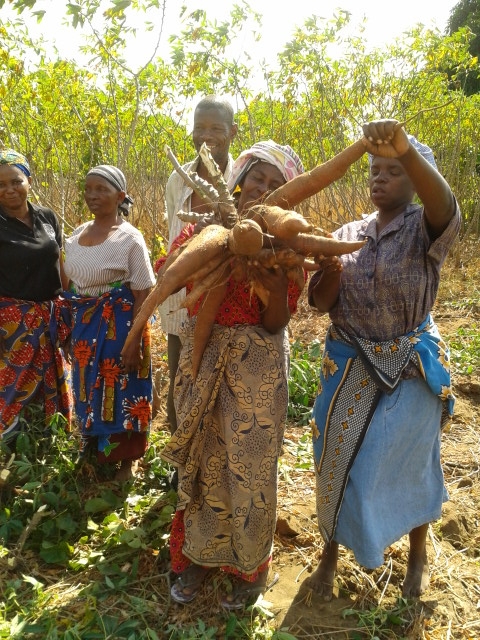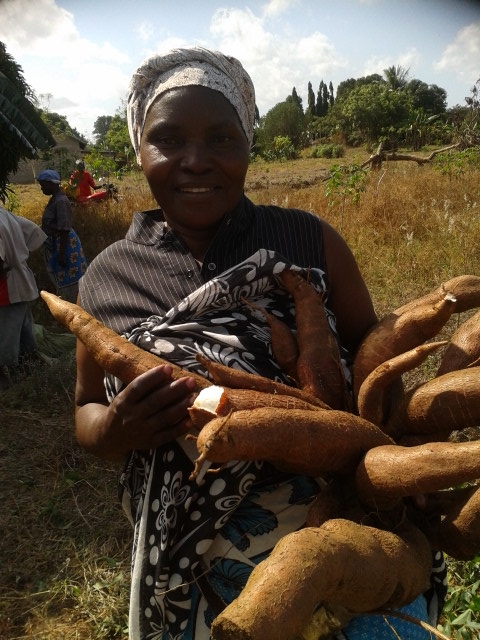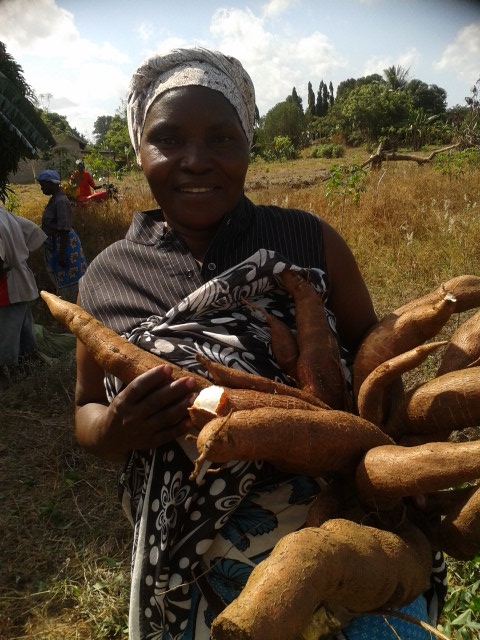 MG: What role do you think the artist has when dealing with questions such as Monsters of the Machine exhibition?
ET: I think the artist can take up an incredibly vast range of roles when dealing with machines. But, whatever one does, one shouldn't be naive about technology. Happily, the times when media artists created huge and complex pieces filled with little technological wonders just because it was exciting to celebrate their 'magic' is (almost) over. I used to say that (most) media art was the smiling face of techno-capitalism. Now I would add that, while technology was generally understood as a mediator between us and the world, it has now become a vector that uses humans to create its own mediations with the world. The roles have shifted, and things have taken a perverse turn. There's a growing chorus of techno-objects that insistently asks us, humans, to drill the Arctic, build pipelines, burn coal, destroy forests and dig up more minerals. And we obey: we must feed the monster. Artists who approach technologies as materials to play with need to be aware of these power relations. We must acknowledge that technologies of all sorts have become overpowering actors that like to command.
Conclusion
Tisselli warns us that we need to be more aware of our responsibilties when implementing technologies into the environment. An important factor of the exhibition was to bring about a vision where the art was not just one type of art. This means different engagements in how we see and work with technology, are reflected as part of its context. Also, technology is not only a human skill, '21st century scientific studies indicate that other primates and certain dolphin communities have developed simple tools and passed their knowledge to other generations.'[2]
As I write this conclusion, 'Trump is poised to sign an executive order that will dramatically reduce the role that climate change has in governmental decision-making. The order could impact everything from energy policy to appliance standards.'[3] We live in a time where US policies are written via Twitter, and the rich are typically risking ours and the world's future for their own ends. Tisselli and the farmers, remind us that, we need to be connecting with the land once more. We need to reclaim the soil before it is lost forever.
Mary Shelley's distrust of the  patriarch in the form of Dr. Victor Frankenstein, is as relevant now as it was 200 years ago. 'Her portrayal of Dr. Frankenstein as an egocentric obsessive who will stop at nothing until he completes his mission in bringing his creature to life; represents man's blind quest in pushing on until the precarious end, at whatever cost.'[4] Tisselli echoes this with his own critique towards artists working in technology. If we are to rethink what innovation can be now, what would that look like if we were to update it in a way that included indigenous voices, other levels of equality, and practices beyond what now seems like tired, machismo, and over obsessive, tech-enchantment?
The 'Monsters of the machine: Frankenstein in the 21st Century' exhibition is on at at Laboral, in Spain until August 31st 2017. http://www.laboralcentrodearte.org/en/exposiciones/monsters-of-the-machine
Notes:
Those involved in the Sauti ya wakulima / The voice of the farmers project.
The farmers: Abdallah Jumanne, Mwinyimvua Mohamedi, Fatuma Ngomero, Rehema Maganga, Haeshi Shabani, Renada Msaki, Hamisi Rajabu, Ali Isha Salum, Imani Mlooka, Sina
Rafael.
Group coordinator / extension officer: Mr. Hamza S. Suleyman
Scientific advisors: Dr. Angelika Hilbeck (ETHZ), Dr. Flora Ismail (UDSM)
Programming: Eugenio Tisselli, Lluís Gómez
Translation: Cecilia Leweri
Graphic design: Joana Moll, Eugenio Tisselli
Project by: Eugenio Tisselli, Angelika Hilbeck, Juanita Schläpfer-Miller
Sponsored by The North-South Center, Swiss Federal Institute of Technology – Zürich
With the support of The Department of Botany, University of Dar es Salaam (UDSM)
References:
[1] Garrett, Marc. Laboral. Monsters of the Machine: Frankenstein in the 21st Century. 2016.
http://www.laboralcentrodearte.org/en/exposiciones/monsters-of-the-machine
[2] Technology. (last checked March 14th 2017)
https://en.wikipedia.org/wiki/Technology
[3] Tarantola, Andrew. Trump to sign sweeping rollback of Obama-era climate change rules. End Gadget. March 15th 2017.
https://www.engadget.com/2017/03/14/trump-to-sign-sweeping-rollback-of-obama-era-climate-change-rule/
[4] Garrett, Marc. Prometheus 2.0: Frankenstein Conquers the World! Furtherfield. 03/06/2014.
http://www.furtherfield.org/features/prometheus-20-and-our-god-complex
Choose Your Muse is a new series of interviews where Marc Garrett asks emerging and established artists, curators, techies, hacktivists, activists and theorists; practising across the fields of art, technology and social change, how and what has inspired them, personally, artistically and culturally.
Gannis is informed by art history, technology, theory, cinema, video games, and speculative fiction, expressing her ideas through many mediums, including digital painting, animation, 3D printing, drawing, video projection, interactive installation, performance, and net art. However, Gannis's core fascinations, with the nature(s) and politics of identity, were established during her childhood in North Carolina. She draws inspiration from her Appalachian grandparents singing dark mountain ballads about human frailty, her future-minded father working in computing, and a politicized Southern Belle of a mother wearing elaborate costumes, performing her prismatic female identity.
"I am fascinated by contemporary modes of digital communication, the power (and sometimes the perversity) of popular iconography, and the situation of identity in the blurring contexts of technological virtuality and biological reality. Humor and absurdity are important elements in building my nonlinear narratives, and layers upon layers of history are embedded in even my most future focused works." Gannis.
We begin…
1. Could you tell us who has inspired you the most in your work and why?
The complete list of people who have inspired me is inordinately long. I'm sharing with you here clusters of some of the "most most" inspiring.
Lynn Hershman Leeson, Maya Deren, Lady Ada Lovelace, Mary Wollstencraft – I saw Lynn Hershman Leeson's Conceiving Ada in the late 90s. It was my first introduction to her work, and
I have been blown away by her prescience ever since. Deren, Lovelace, and Wollstencraft, like Leeson, have all been groundbreaking in their creative, scientific and intellectual contributions to humankind.
Yael Kanarek, Marge Piercy, Octavia Butler, Sadie Plant, Jonathan Lethem, Harry Crews and Flannery O'Connor – Artist Yael Kanarek's "World of Awe" was one of the first net art pieces, through its poetry and world building, to inspire me to transition from painting into a new media arts practice. Piercy and Butler are two favorite authors, and they have both written novels where women travel into the past and to the future to reconcile their identities, to come to terms with their present selves — themes that constantly recur throughout my work. Plant opened up broad vistas to me as a woman and feminist working with technology, and the melange of genres Lethem mashes up in his fictional works: sci fi, noir, autobiography, and fantasy, appeals to my own hybrid sensibilities. Crews and O'Connor testify to the absurdity of the human condition, and being a native of the "American South," their gothic sensibilities resonate with me deeply.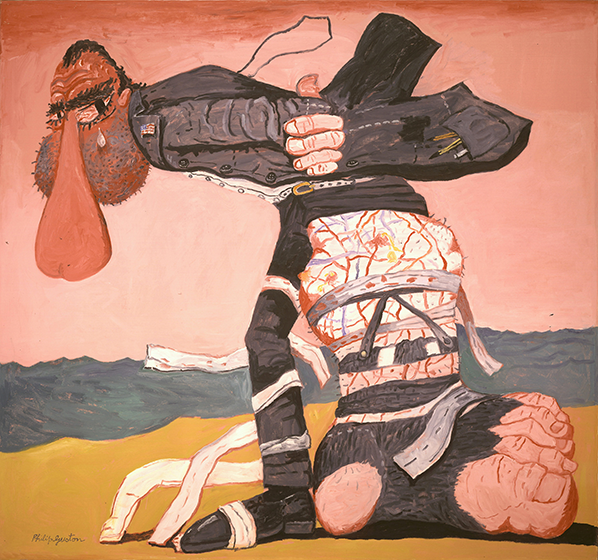 Philip Guston, San Clemente, 1975, Oil on canvas, 68 x 73 1/4 inches
Philip Guston, Suzanne Valadon, Artemisia Gentileschi, Louise Bourgeois, Hieronymus Bosch and Giotto di Bondone – I studied painting at a school where Guston had taught (many years before I arrived there), and coincidentally we share the same birthday. I have always felt a very strong connection to his work, particularly to his late work, where he resisted the art establishment and made pictures that he felt truly represented his time. Valadon, an autodidact, likewise bucked the conventions of 19th century "lady painting" focusing on the female nude throughout her oeuvre. Gentilsechi in the 17th Century established herself as an artist who painted historical and mythological paintings, rendering women with more agency and strength than her male contemporaries. Bourgeois's work, the rawness of her drawings particularly, were quite significant to me as a young artist. Twice I got to attend her Sunday Salons in New York, sharing my work with her. She was a tough critic by the way. Bosch and Giotto have long been favorites, the enigmatic quality of Bosch's vision, and the amalgam of Medieval and Renaissance perspectives colliding in Giotto's paintings.
Charlie White, Laurie Simmons, Gregory Crewdson, Renee Cox & Cindy Sherman – I think of these photographers as important conceptual forerunners of a Post-Photography movement that seems to be reaching its apogee now. They were each essential to me as I searched for a new aesthetic language, after throwing away my oil paints and canvases.
And today there are so many younger artists who I have deep respect for, Gretta Louw, Angela Washko, RAFiA Santana, Jeremy Bailey, Lorna Mills, Andrea Crespo, Clement Valla, Faith Holland, Jacolby Satterwhite, Morehshin Allahyari and Alfredo Salazar-Caro (to name only a few). They all have significant presences online, and I encourage readers to "google them" for glimpses into the contemporary visions that are shaping and predicting our future."
2. How have they influenced your own practice and could you share with us some examples?
In my teens and 20s I copied much of the work of my sheroes and heroes. There is little I can share with you of that work now, as I'd copy then delete back then. To be more accurate, since it was physical work, I'd copy and destroy. I destroyed more work than I saved until I found a way to absorb and remix through the filter of my own identity.
Today I identify as a visual storyteller who cuts and pastes from the threads of googleable art history, speculative fiction and networked communication in efforts to aggregate some kind of meaningful narrative. Appropriation feels like an authentic artistic response to mediated culture, registering at a different conceptual frequency than simple mimicry. I mean making a painting like Giotto or Bosch doesn't make sense in the 21st century, well, unless you "emojify" it (wink). Here is one recent work where my quotation is obvious, "The Garden of Emoji Delights." In the other works below, a collection of influences are embedded, but perhaps less perceptible on first glance.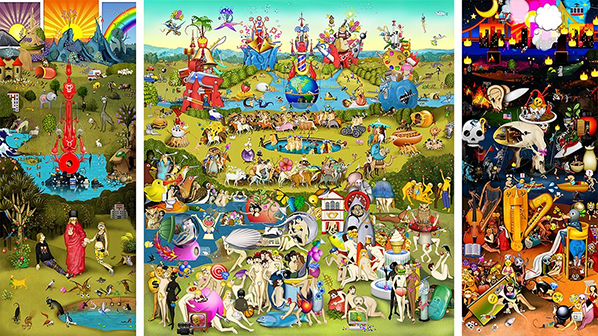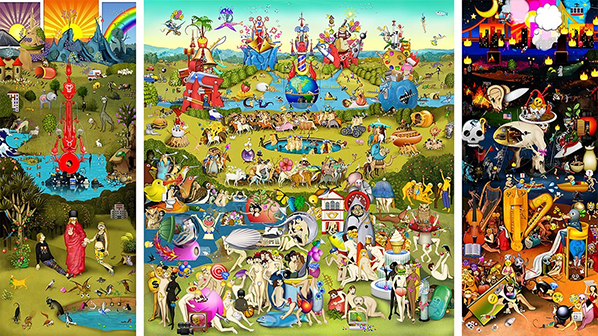 Carla Gannis, The Garden of Emoji Delights, 2014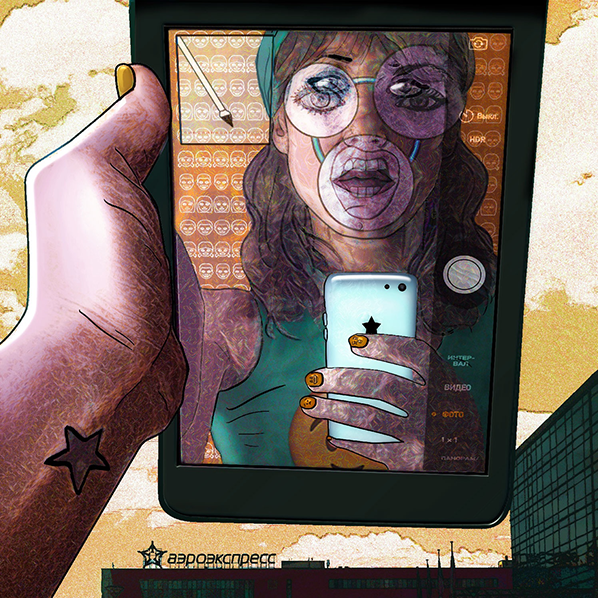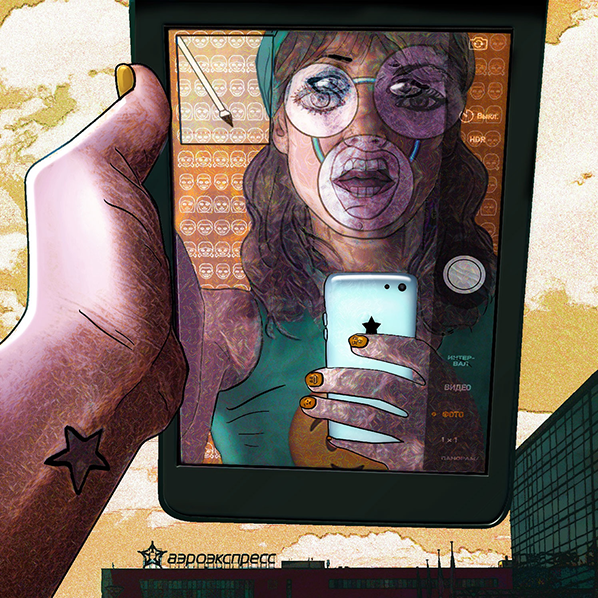 Carla Gannis, Selfie Drawing 36 Universal Translator, 2015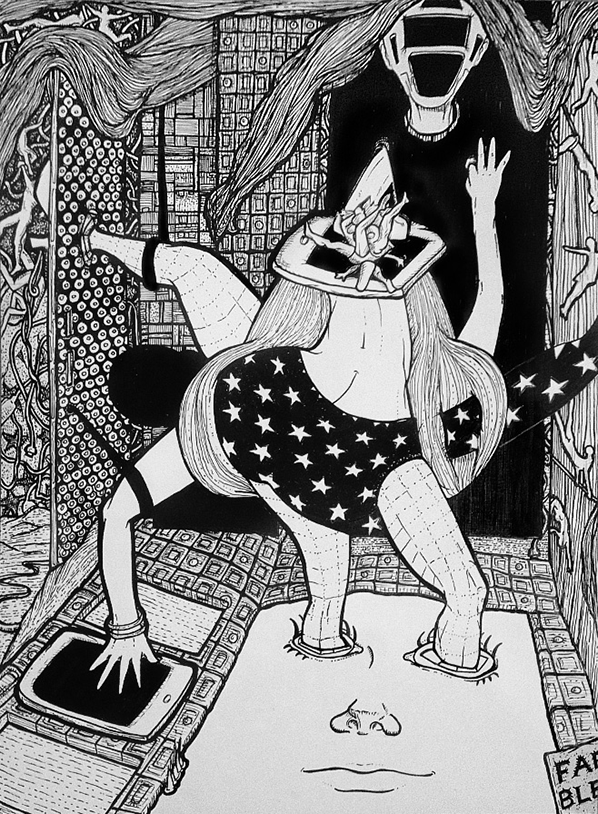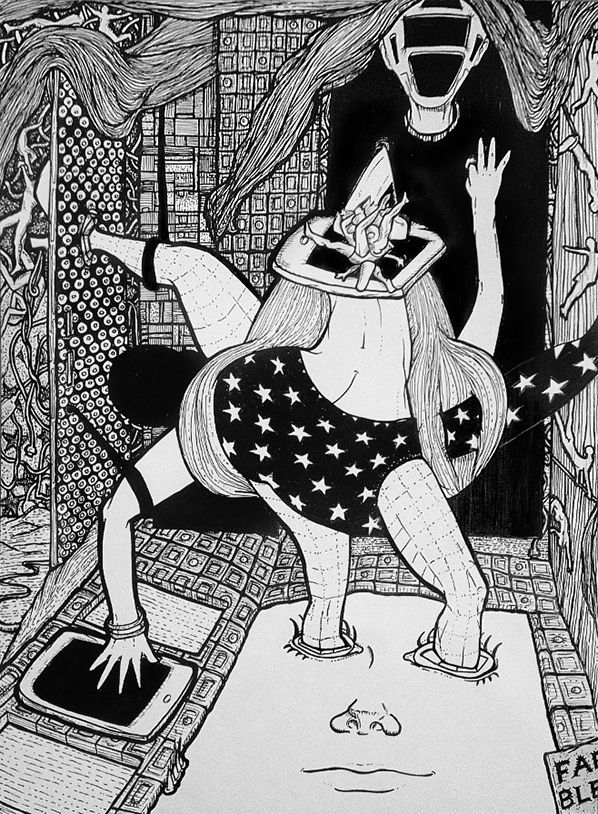 Carla Gannis, Fable, from the project in collaboration with poet Justin Petropoulos, pen and ink on paper, 2013, 8.5 x 11 inches
 3. How is your work different from your influences and what are the reasons for this?
It is essential that my work be different semiotically from the historical influences I mentioned above, if I am to actually understand the nature and power of their work — how each of them were incredibly perceptive and responsive to "their time." They produced authentic images or texts (or code) that were assembled from aspects of their cultural milieu. Their expressions were comprehensible to their contemporaries, even if at times only a few of their peers engaged. Communication is key to every human enterprise. Nonetheless the infinite (and often futureminded) perspectives of these historical figures still reverberate in our contemporary collective consciousness and influence us to "perceive differently" in our own time.
To be different from influences who are of my own time also involves comprehending why they have an impact on me. They avoid any kind of creative and intellectual status quo. Being unique seems improbable in the internet age, but there are still innumerable ways that we can creatively parse our relationships to the past, present and future, both in concert and contrast to one another.
4. Is there something you'd like to change in the art world, or in fields of art, technology and social change; if so, what would it be?
There are many art worlds. In the more mainstream, celebrity-dominated, auctioneer enabled art world, whose market I rarely follow, but when I do, I find it to be bloated by One Percenters consumed by commodities trading, I would advocate for, if I had the power to do so, more economic temperance, less aura fetishization, and yeah, VR headsets that provide clothes for hackneyed metaphors.
It's demoralizing that I cannot foresee, at least in the short term, a world without radical income inequality. Our world continues to be populated by a majority of "have nots" who are dominated by a tiny dominion of "haves." It seems in every financial, social, educational, and entertainment sector, including the visual arts, capital obstructs as much as it supports creativity. Still I believe that the "other art worlds" can and will affect, actually currently are affecting change (incremental as it may seem), through social advocacy programs that embrace and foster diversity; through economic and technological models that celebrity the ubiquity instead of the scarcity of contemporary digital art; through independent artists who define their success in terms of cultural, instead of, or in addition to market value.
Positive changes are happening. Compare our cultural landscape to even two decades ago, and we see a much more diverse population represented in the arts. A new generation of artists and technologists are hopeful about their capacity to shape a better future, while being mindful of what's a stake if they do not.
That said, and to finally answer your question directly, I'd like to see a change — a major turn in the tides of fascism, racism, xenophobia, and misogyny that are flooding countries around the world — so that the various art worlds, the ones that frustrate me, and the ones that inspire me, can survive.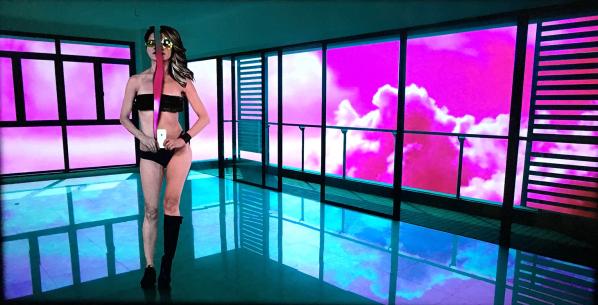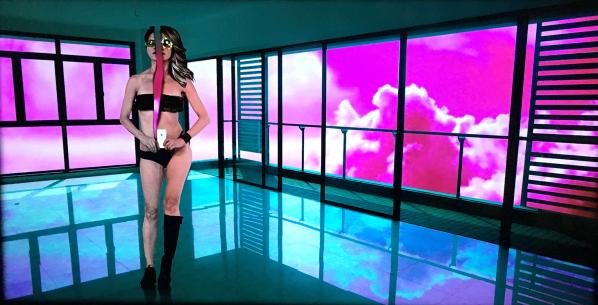 Faultline :: Watch video: https://vimeo.com/156980152
5. Describe a real-life situation that inspired you and then describe a current idea or art work that has inspired you?
Sitting with and drawing digital portraits of my 99 year old Grandma Pansy Mae in January of 2015 inspired me to begin "The Selfie Drawings" project. Being in the presence of someone who has witnessed so much radical social and cultural change, over the course of almost a century, motivated me to interpret, and then stage a series of reinterpretations of myself/selves, within the context of a post-digital age. Pansy Mae was a woman born before women had the right to vote in the United States, a woman with only an 8th grade education who raised my mother, and myself to never let our gender or our class (personally) deter us from pursuing our ambitions. Grandma is now 101 years old, and I wished her Happy Birthday in binary code this past December 31st.
"Nasty Woman" is a current meme that has really struck a chord with me. I have worn a "Nasty Woman" necklace everyday, since November 7th, (the day I picked it up from the studio of artist Yael Kanarek). Embracing the nomenclature that was meant to denigrate a woman has instead empowered and galvanized a collective of women as they face, and resist, the alarming possibilities of increased subjugation under Trump's leadership.
I recently participated in the NASTY WOMEN exhibition in New York city, (which raised over $42,000 for Planned Parenthood), because I am such a woman, a nasty woman, a bitch, a Jezebel — a complex and empathetic human being who believes change and equality can only occur when we speak up, when we eschew "politeness" in the face of serious threats to our autonomy and personhood.
6. What's the best piece of advice you can give to anyone thinking of starting up in the fields of art, technology and social change?
I've got a few bits of advice. First, as an artist, work; as a technologist, feel; and as an advocate for social change, empathize. Then toss up your FEW cards (feel, empathize and work) and apply them to other aspects of your life as well.
Secondly I suggest losing, if you possess, the sense of what you think you're entitled to because you are more special and deserving than others. This doesn't mean you deny the gifts you possess. Nor does it mean you eschew your ambitions or balk at your successes. Brand yourself, or your cause, by all means, if that informs your practice or generates support for your work. But the "I'm a genius, so I have the right to be licentious, egotistical and completely selfserving at the sacrifice of others" trope may (temporarily) get a man into the White House, but generally is tiresome, if not loathsome, to progressive art professionals.
7. Finally, could you recommend any reading materials or exhibitions past or present that you think would be great for the readers to view, and if so why?
What I've been reading lately: Object Oriented Feminism edited by Katherine Behar; Artemisia Gentileschi, The Language of Painting by Jesse Locker; Lynn Hershman Leeson Civic Radar edited by Peter Weibel; Hope in the Dark | Untold Histories, Wild Possibilities by Rebecca Solnit; The Year of the Flood by Margaret Atwood
I recommend these books as a resistance to sophomoric twitter threads usurping all of your attention.
Exhibitions:
Pipilloti Rist : Pixel Forest New Museum, http://www.newmuseum.org/exhibitions/view/pipilotti-rist-pixel-fores
It is okay for art to wash over you, so that you can revel, even relax, in its beauty…for a while.
____________________________________________________________________
Monster of the Machine : Laboral
curated by Marc Garrett http://www.laboralcentrodearte.org/en/exposiciones/monsters-of-the-machine
A timely and provocative exhibition (thrilled to have work included).
__________________________________________________________________
Dreamlands: Immersive Cinema and Art 1905-2016
http://whitney.org/Exhibitions/Dreamlands
A landmark show for moving image works!
__________________________________________________________________
Protests:
Women's March On Washington (Saturday, January 21st!) https://www.womensmarch.com/
…or one of the other 386 protests taking place on the same day around the world!
https://www.womensmarch.com/sisters
#notmypresident
Other Choose Your Muse Interviews on Furtherfield
Choose Your Muse Interview: Jeremy Bailey | By Marc Garrett – 26/06/2015
http://furtherfield.org/features/interviews/choose-your-muse-interview-jeremy-bailey
Choose Your Muse Interview: Annie Abrahams | By Marc Garrett – 10/09/2015
http://www.furtherfield.org/features/interviews/choose-your-muse-interview-annie-abrahams
Choose Your Muse Interview: Lynn Hershman Leeson | By Marc Garrett – 13/07/2015
http://www.furtherfield.org/features/interviews/choose-your-muse-interview-lynn-hershman-leeson
Choose Your Muse Interview: Stanza | By Marc Garrett – 03/11/2015
http://www.furtherfield.org/features/interviews/choose-your-muse-interview-stanza
Choose Your Muse Interview: Igor Štromajer | By Marc Garrett – 09/06/2015 http://www.furtherfield.org/features/interviews/choose-your-muse-interview-igor-%C5%A1tromajer
Choose Your Muse Interview: Mike Stubbs, Director of Fact in Liverpool, UK | By Marc Garrett – 20/05/2015
http://www.furtherfield.org/features/interviews/choose-your-muse-interview-mike-stubbs-director-fact 
Introduction
In the introduction of Civic Radar, editor Peter Weibel sets out the motivation, layout and journey of the book. This first comprehensive monograph of Lynn Hershman Leeson's artistic career, spanning across five decades. It must have been a dizzying publication to work on, when compiling her pioneering work in the fields of photography, video, film, performance, installation, and interactive and net-based media art. It is noteworthy that Hershman Leeson collaborated in its production. One feels her personal involvement in the book – its richness, care and detail, shows in its nearly 400 pages, and approximately 500 illustrations. It also features supporting texts by other writers, curators, theorists, and artists, such as: Andreas Beitin, Pamela Lee, Peggy Phelan, Ruby Rich, Jeffrey Schnapp, Kyle Stephan, Kristine Stiles, Tilda Swinton, Peter Weibel and interview by Hou Hanru and Laura Poitras with the artist.
Review.
"I try to live in the present, because most people live in the past. If you live in the present, most people think you live in the future, because they don't know what happens in their own time." Lynn Hershman Leeson.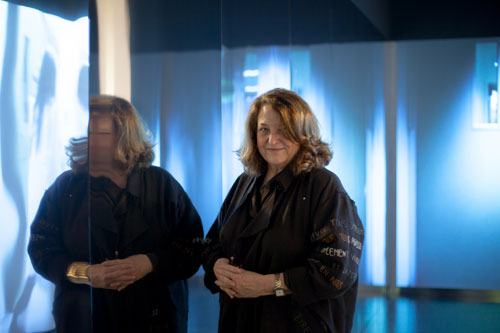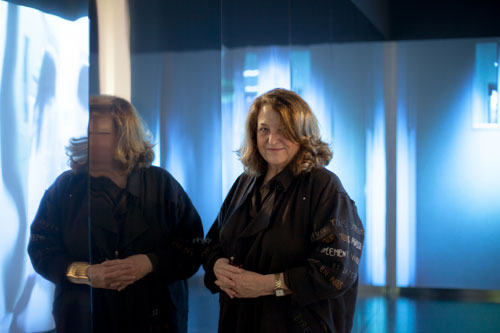 Lynn Hershman Leeson has pioneered uses of new technologies, recognized as key to the workings of our society today. She tackles the big questions surrounding: identity in a time of mass, overpowering consumerism; privacy in an era of surveillance; the interfacing of humans and machines; the relationship between real and virtual worlds; and new bio-ethics surrounding practices such as growing parts of the human body from DNA samples. We can think of Hershman Leeson as a direct artistic descendant of Mary Shelley. Consider Shelley's celebrated publication, Frankenstein: Prometheus Unbound, published in 1818, and its challenges towards macho revolutionaries of 'reason', and her critique of the misuses of science and technology by the patriarch. We can see strong parallels between both women. They are feminists, who have managed to find ways around (and to work with) traditional forms of dominant, patriarchal frameworks, so to express personal, creative and cultural identities, on their own terms.
"Lynn Hershman Leeson's mission statement seems to be that the body is a programmable software embedded in a changeable hardware. Therefore, she shows us so many hybrids and mutants, aliens and agents, actors and avatars, in real life and second life. From Dolls to clones, she demonstrates the paradox plurality of identities especially in the age of total observation." [1] (Weibel 2016)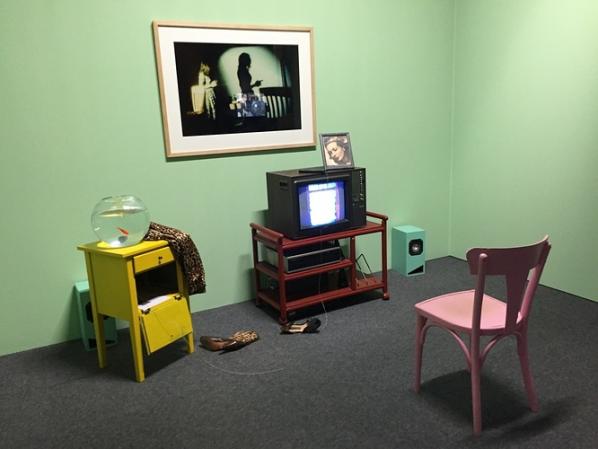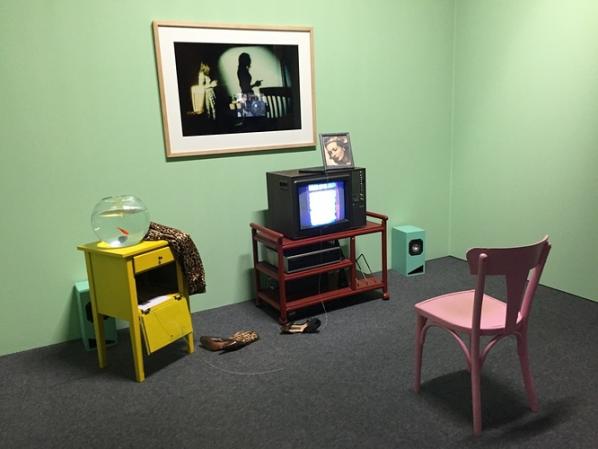 Lynn Hershman Leeson, Installation View from "Lorna" 1979–1982.
Hershman Leeson's artistic process however does not keep its distance from the processes of science and technology. She leaps into the depths of our fears and unreservedly engulfs herself, and her imagination in their material influences and modifications. Like Donna Haraway, Hershman Leeson takes cyborgs, misfits, biology, mutation and transformation as her inspiration, contexts and materials. And also like Haraway, she playfully and critically owns concerns around science and technology, along with the ethical issues that may arise out of their continuously shifting, influences on society; and, thus not owned by or weighed down by them. Every work put forward by Hershman Leeson, is an experiment. Her interests and knowledge inspired by science and technology reflects her constant state of contemporariness. Her work directly correlates to breaking down systems of perceived values.
"Hershman Leeson confronted conventional gender roles and exposed the normative construction of gender identity. Some of her videos have included cross-dressers and transgender men and women, as in Double Cross Click Click (1995), and her assumed male pseudonyms at a time when the art world was dominated by men who mostly ignored women." [2] (Beitin 2016)
Hershman Leeson's art moves fluidly between different formats, contexts and disciplines. This of course is not easy to brand. The art market survives by promoting art that fits into particular roles and products that are easy to promote, predict and consume. The irony here is that the art world promotes the idea of itself as a site of novelty and insights, but in reality represents a deeply conservative culture. Some artists, Hershman Leeson is one of them, transcend the contemporary artworld norm and build alternative universes, contexts and identities, where the art is so investigatory and esoteric, traditional conventions are challenged.
When I interviewed Hershman Leeson last year for Furtherfield she talked about how she'd like to "eradicate censorship, and make more transparent the capitalistic underpinnings that are polluting access, value and visibility". In the 70's, she was the first artist working on a prison art project in San Quentin, and many of her early public art works "geared toward social change." [3]
Civic Radar shows us that her work is not reduced to a singular, reflection of her own creative self. There is a wider story and it includes the voices of many others as part of the narrative of her life and her work, as well as reclaiming a history in a male dominated society.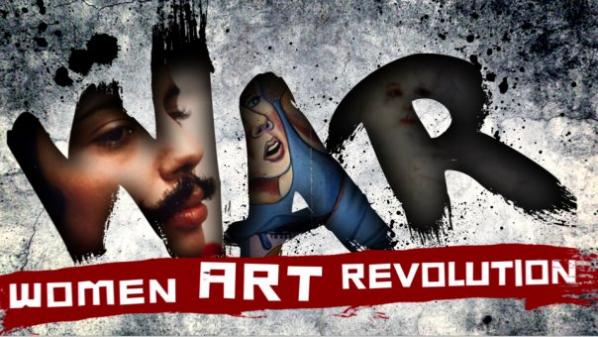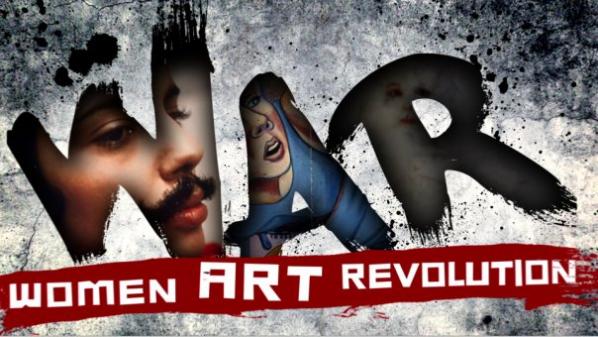 We see reaffirmed a varied and dynamic history where she has been involved in strengthening the role of women in society, as part of an extension of her art process. One excellent example of this rich history is that over a period of 40 years she interviewed an extensive array of women artists, historians, activists, and critics who integrated personal and political content into their work. Then, some of that gathered material was made into a film project !Women Art Revolution, in 2010.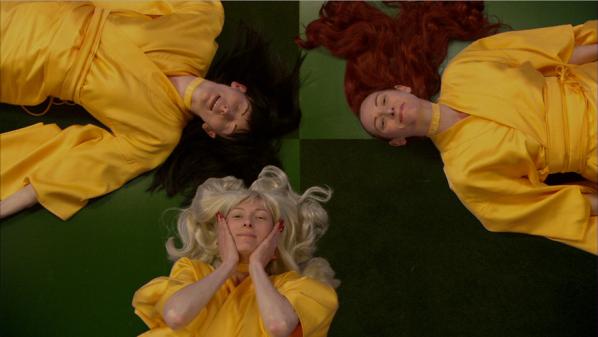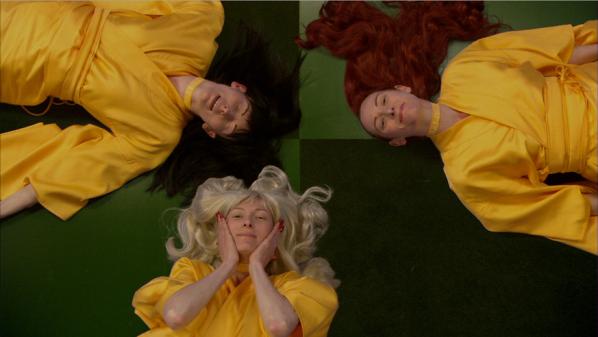 Lynn Hershman Leeson, »Teknolust« Film starring Tilda Swinton. 2002.
Lynn Hershman Leeson has not only achieved pioneering work as an artist, but also as filmmaker. She has collaborated with actor and Oscar winner Tilda Swinton in several feature films that have gone on to receive numerous awards at international film festivals on account of their outstanding quality and innovative themes. »Teknolust« is an absurd, amusing and scientifically highly topical science-fiction drama on the subjects of cyber-identities, biogenetics, gender constructions and sexual self-determination in the age of the Internet. The plot turns on the scientist Rosetta Stone (Tilda Swinton), who illegally produces three clones of herself. The artificial entities can only be distinguished by the color of their clothing and live in an enclosed cyberspace. Because they are dependent for survival on the male Y chromosome, Ruby, the femme fatale among the clones, goes in regular pursuit of men. Sexual contact with Ruby leads to impotence in her lovers as well as to an allergic reaction triggered by a computer virus which is transferable to human beings. The FBI becomes aware of the clone family's machinations following the increased incidents of infection among men, and begins to investigate. Note*
Her work has crossed into many different fields and formats. Which includes: installations, videos, films, sculptures, robots, avatars, contracts, computer programs, photography, paintings, drawings, collages, browser based art, artificial intelligence, bio-matter, network communication systems and devices. Synthia Stock Ticker and Dollie Clones are just two examples that demonstrate how ahead she has been with her ideas and her integration of digital technologies into art. Synthia Stock Ticker, is a networked-based media artwork made in 2000. It refers to the stock ticker invented by Thomas Edison and is unusually prescient in its portrayal of the emotional life of global markets. Inside a glass casing sits a small monitor screen, showing a video of a woman character named Synthia. "When the market is up, the character dances and shops at Christian Dior: when the market is down, she chain smokes, has nightmares, and shops at Goodwill." [4]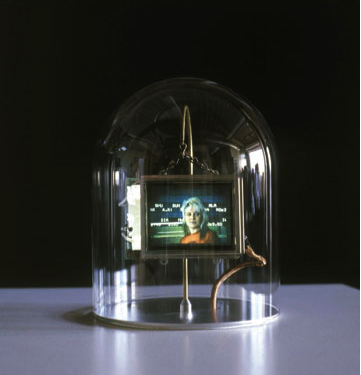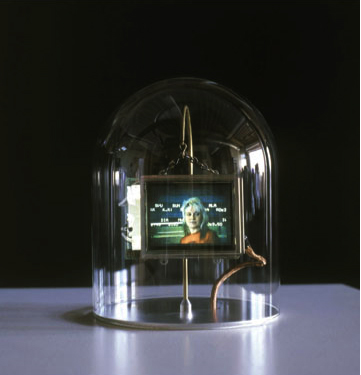 Lynn Hershman Leeson, Synthia. Custom software, microprocessor. Edition of 3. 2000-02.
Again The Dollie Clones 1995-96 predate a contemporary artistic obsession with creeping surveillance. Two telerobotic dolls, Tillie the Telerobotic Doll and CyberRoberta, whose eyes have been replaced with cameras. Each doll has a website that allows users to view the images taken by the webcams and click on an "eyecon" to telerobotically turn the doll's head 180 degrees to survey the gallery.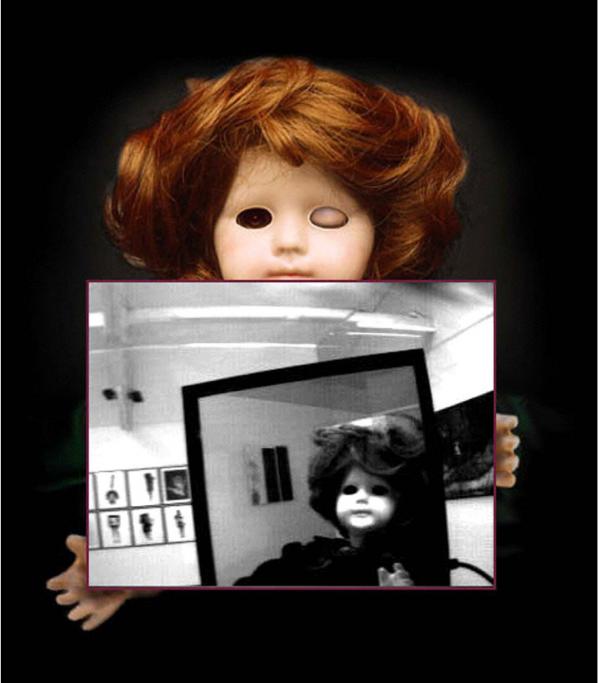 Lynn Hershman Leeson, Tillie and CyberRoberta. 1995-98.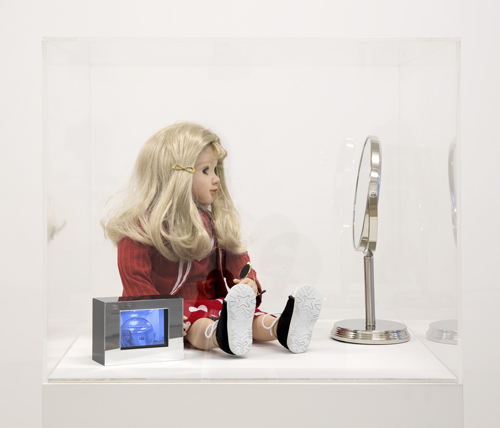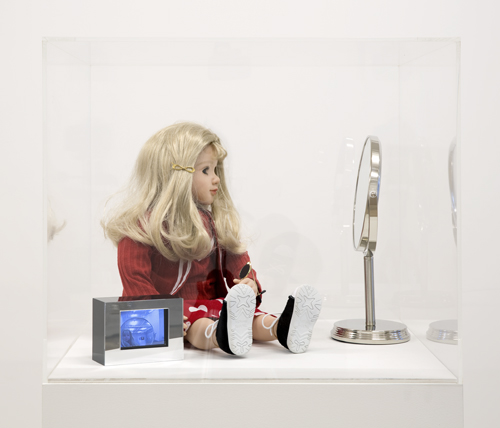 Lynn Hershman Leeson, 'CyberRoberta,' 1996, Courtesy Bridget Donahue, New York.

Hershman Leeson's most prominent performance work was as another woman, Roberta Breitmore. This elaborate alter ego existed between 1973 and 1978. The Breitmore character was well developed, possessing different behaviors and attitudes to Hershman Leeson's own personal identity. Roberta Breitmore had her own handwriting, clothing, wig, makeup, driver's license, apartment, psychologist, bank account, credit cards, acquaintances, life story, and adventures. Hershman Leeson took the audacious leap and sporadically became Roberta Breitmore for 5 years. Other women also lived as Roberta Breitmore and sometimes simultaneously. [5]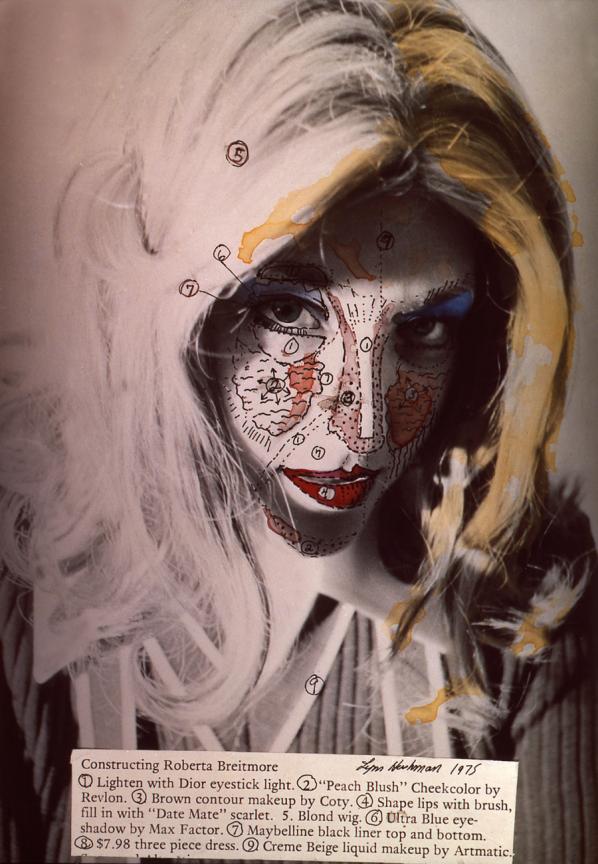 Lynn Hershman Leeson, Roberta Construction Chart #1, 1975.
"Hershman Leeson hired three additional performers, all women, to play Roberta. They wore costumes identical to the ones Hershman Leeson herself wore, and they treated Roberta essentially as a professional (albeit part-time) gig. They undertook some of Roberta Breitmore's correspondence and went on some of her dates (which were documented in photos and audio recordings). Eventually, Hershman Leeson stopped enacting Breitmore, reducing the instantiations of Roberta Breitmore from 4 to 3." [6] (LaFarge 2007)
The spirit of Hershman Leeson's radical art persona can be seen in younger, contemporary artists today. For instance, Heath Bunting's Identity Kits, part of his larger The Status Project consist of various items, personal business cards, library cards, a national railcard, T-Mobile top-up card, national lottery card and much more. "They take a few months to compile each of them because they are actual items that everybody uses in their everyday lives, involving evidence of identity. There is also a charge for the package of 500.00 GBP, which is cheap for a new identity." [7] (Garrett 2014) Then we have Karen Blissett, an Internet artist who suddenly decided to go multiple by opening up all of her email, Twitter, Facebook and Google accounts to many different women around the world. "A torrent of provocative, poetic, and often contradictory voices issued proclamations, made auto portraits, and shared psalm-like meditations on her existential transformation; distributed across online platforms and social spaces, in text, image and video." [8] (Catlow 2014)
Towards the end of Civic Radar a collection of pages show us various images of the exhibition by the same name at the ZKM Museum of Contemporary Art, in Germany 2014. When viewing the images of her work in the large gallery spaces you realize the scale of it all, and how substantial her work is.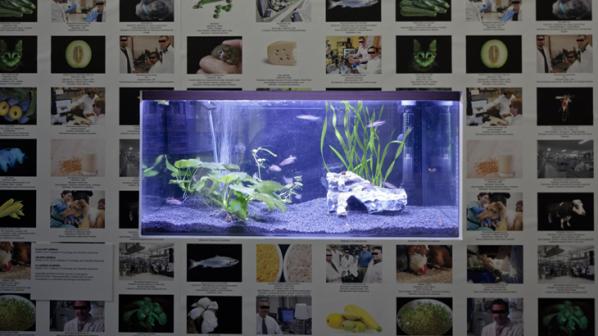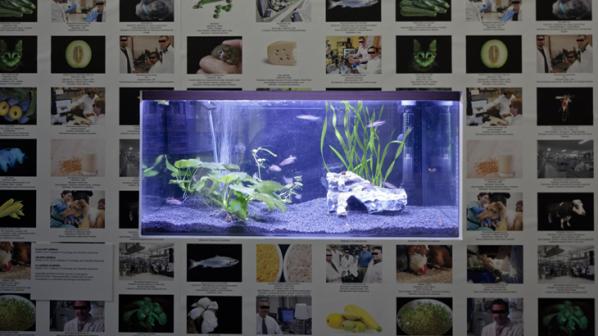 Lynn Hershman Leeson, Installation at ZKM. The Infinity Engine – genetically modified fishes 2015.
Moving on after the images of the works in ZKM, there is a selection of Hershman Leeson's texts written, from 1984 and 2014. These writings, take us through different stages of her career, revealing ideas and intentions behind much of her work and also some of the work included in the publication. In the last paragraph of the last text in a short essay, titled The Terror of Immortality she writes about the contexts that have given rise to her most recent work. "As organic printing and DNA manipulation reshapes the identities of newly manipulated organisms, so too the culture of absorbed surveillance has dynamically shifted. In the next 100 years, the materials used to create DNA will become increasingly distributed and hybridized. The implications of this research include not only the creation of a sustainable planet of hybrid life forms that can survive a sixth extinction and incorporate into to its existence a morally responsible future." (Leeson 2016)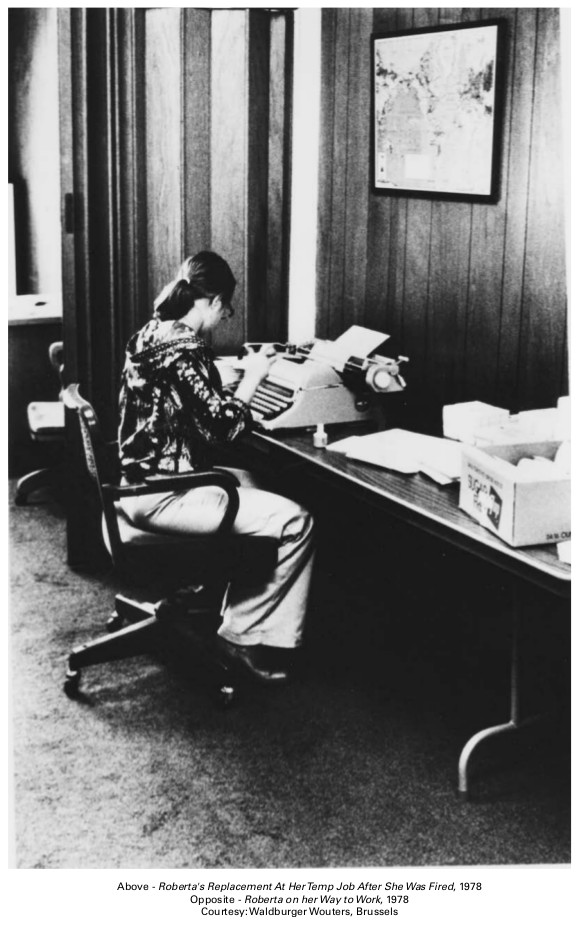 This book is a profound read, offering an insight to this generous and profound artists' fantastical journey in an era marked by accelerating change. And what's so amazing is that the content, the narratives, and the histories, are real. It is an Aladdin's Cave of rich, exceptional artworks, flowing with brilliant ideas. Hershman Leeson has had her finger right on the pulse of what's relevant in the world for a long time, and transmuted the knowledge she unearths in her examination of identity, feminism, science, technology and more into her own artistic language.
Her work is way ahead of most contemporary artists showing now. This book should be read everywhere. Not just because it features great art, but also because features a woman with a great mind. I am not a fan of the words genius or masterpiece; I find them tiresome terms reflecting a form of male domination over women and the non-privileged classes. Yet, after spending time with Civic Radar, I cannot help myself thinking that I have just witnessed something equivalent without the negative baggage attached.
Preferences:

[1] Weibel, Peter. A Panoply of Identities. Civic Radar. Hatje Cantz; 01 edition (15 Mar. 2016). P. 55.
[2] Beitin, Andreas. Face, Surface, Interface: The Motif of the Mask. Civic Radar. Hatje Cantz; 01 edition (15 Mar. 2016).

[3] Garrett, Marc. Choose Your Muse Interview: Lynn Hershman Leeson. June 2015.http://www.furtherfield.org/features/interviews/choose-your-muse-interview-lynn-hershman-leeson
[4] Hershman leeson, Lynn. Civic Radar. Hatje Cantz; 01 edition (15 Mar. 2016).
[5] Beitin, Andreas. Face, Surface, Interface: The Motif of the Mask. Civic Radar. Hatje Cantz; 01 edition (15 Mar. 2016). P. 205.

[6] Breitmore, Roberta (Lynn Hershman Leeson). Antoinette LaFarge. 2007.http://fictive.arts.uci.edu/roberta_breitmore
[7] Garrett, Marc. Heath Bunting, The Status Project & The Netopticon. Furtherfield, May 2012.http://www.furtherfield.org/features/articles/heath-bunting-status-project-netopticon
[8] Catlow, Ruth. Karen Blissett is Revolting. Critical Personas. New Criticals. May 24, 2014.http://www.newcriticals.com/karen-blissett-is-revolting
[9] Leeson, Hershman Lynn. The Terror of Immortality. Civic Radar. Hatje Cantz; 01 edition (15 Mar. 2016). P. 365.
*Text from ZKM – Teknolust. With Lynn Hershman Leeson at the cinema.
http://zkm.de/en/event/2015/03/teknolust-with-lynn-hershman-leeson-at-the-cinema

In 2015, ZKM in cooperation with the Deichtorhallen Hamburg / Sammlung Falckenberg exhibited the first comprehensive retrospective of Leeson's work, including her most recent productions of art. Last year Modern Art Oxford hosted a major solo exhibition of her work Origins of a Species, Part 2 and she also has work in The Electronic Superhighway, at Whitechapel Gallery, in London.

Introduction.
I arrived at the Transmediale festival late Friday afternoon, which was hosted as usual at Das Haus der Kulturen der Welt (The House of World Cultures) in Berlin. The area where the building is sited was destroyed during World War II, and then at the height of the Cold War, it was given as a present from the US government to the City of Berlin. As a venue for international encounters, the Congress Hall was designed as a symbol of 'freedom', and because of its special architectural shape the Berliners were quick to call the building "pregnant oyster" [1] The exterior was also the set for the science fiction action film Æon Flux in 2005. Both past references link well with this festival's use of the building. I remember during my last visit, in 2010, standing outside the back of the building watching an Icebreaker cracking apart the thick ice in the river. The sound of the heavy ice in collision with the sturdy boat was loud and crisp. This sound has stayed with me so that whenever I hear a sound that is similar I'm immediately transported back to that point in time. Unfortunately, this time round there was no snow, instead the weather was wet, warm and slighty stormy.
Last year's festival explored the marketing of big data in the age of social control. This year, the chosen format was entitled conversationpiece, with the aim of enabling a series of dialogues and participatory setups to talk about the most burning topics in post-digital culture today. To give it grounding and historical context the theme was pinned to the "backdrop of different processes of social transformation, 17th and 18th century European painters perfected the group portrait painting known as the "Conversation Piece" in which the everyday life of the aristocracy was depicted in ideal scenes of common activity." In recent years the festival has scafolded its panels, workshops and keynotes to grand, central themes to guide its peers and visitors, along with a large-scale curated exhibition. If we view the four interconnected thematic streams- Anxious to Act, Anxious to Make, Anxious to Share and Anxious to Secure – we might guess that the festival curators are also anxious to save all the resources (and celebrations) for next year, which is after all, Transmediale's 30th birthday.
So, I was curious to see how my brief time here would unfold…
Off-the-Cloud-Zone.

This review is focused on the hybrid event Off-the-Cloud-Zone. It featured presentations, talks and workshops, starting at 11 am, going on until 8pm. Hardcore indeed. It demanded total dedication, which unfortunately I was not able to give. However, I did offer my attention to the rest of the proceedings from lunch time until the end. It was moderated by Panayotis Antoniadis, Daphne Dragona, James Stevens and included a variety of speakers such as: Roel Roscam Abbing, Ileana Apostol, Dennis de Bel, Federico Bonelli, James Bridle, Adam Burns, Lori Emerson, Sarah T Gold, Sarah Grant, Denis Rojo aka Jaromil, George Klissiaris, Evan Light, Ilias Marmaras, Monic Meisel, Jürgen Neumann, Radovan Misovic aka Rad0, Natacha Roussel, Andreas Unteidig, Danja Vasiliev, Christoph Wachter & Mathias Jud, and Stewart Ziff.
The Off-the-Cloud-Zone day event was a continuation of last year's offline networks unite! panel and workshops. Which also originated from discussions on a mailing list called 'off.networks' with researchers, activists and artists working together around the idea of an offline network operating outside of the Internet. The talks concentrated on how over recent years there has been a growing scene of artists, hackers, and network practitioners, finding new ways to ask questions through their practices that offer alternatives in community networks, ad-hoc connectivity, and autonomous systems of sensing and data collecting.
Snowden Archive-in-a-Box.
Disillusionment with the Internet has spread widely since 2013, when Edward Snowden the US whistleblower leaked information on numerous global surveillance programs. Many of these programs are run by the NSA and Five Eyes with the cooperation of telecommunication companies and European governments raising big questions about privacy and exploitation of our online (interaction) data. This concern is not only in relation to spying corporations, dodgy regimes and black hat hackers, but also our governments. "The idea of privacy has been flipped on its head. People don't have to disclose their own information voluntarily anymore; it's being taken from them regardless of their wishes." [2] (Nowak 2015)
"The NSA's principal tool to exploit the data links is a project called MUSCULAR, operated jointly with the agency's British counterpart, the Government Communications Headquarters . From undisclosed interception points, the NSA and the GCHQ are copying entire data flows across fiber-optic cables that carry information among the data centers of the Silicon Valley giants." [3] (Gellman and Soltani, 2013)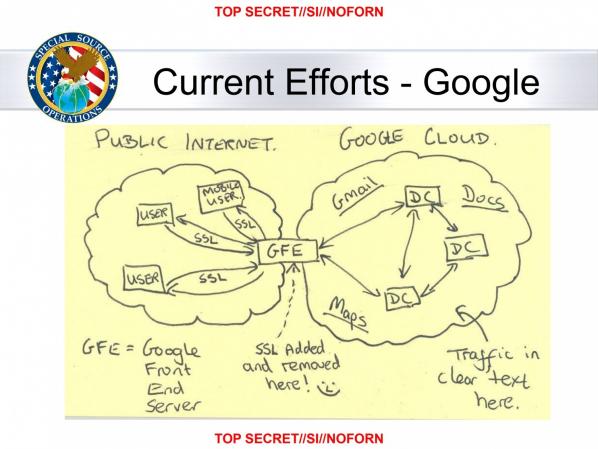 The above slide is from an NSA presentation on "Google Cloud Exploitation" from its MUSCULAR program. The sketch shows where the "Public Internet" meets the internal "Google Cloud" where user data resides. [4]

A legitimate concern for anyone wishing to read the contents of the leaked Snowden files, is that they will be spied upon as they do so. Evan Light has been working on finding a way around this problem, and at the Off-the-Cloud-Zone day event he presented his project Snowden Archive-in-a-Box. A stand-alone wifi network and web server that permits you to research all files leaked by Edward Snowden and subsequently published by the media. The purpose of the portable archive is to provide end-users with a secure off-line method to use its database without the threat of surveillance. Light says, usually the wifi network is open, but users do have the option to make their own wifi passwords and also choose their encryption standard.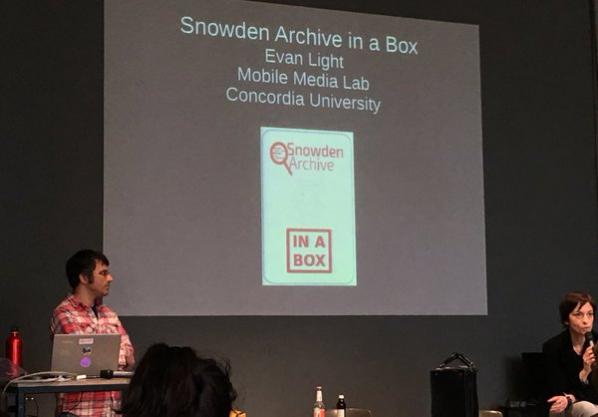 Snowden Archive-in-a-Box is based on the PirateBox, originally created by David Darts who made his in order to distribute teaching materials to students without the hassle of email. It is based on a RaspberryPi 2 mini-computer and the Raspbian operating system. All the software is open-source and its most basic setup can run on one RaspberryPi. In his talk Light said that a more elaborate version would use high-quality battery packs and this adds power for autonomy, along with the wifi sniffer that is running on a secondary RaspberryPi and a flat-screen for playing back IP traffic. If you're interested in building your own private, pirate Archive-in-a-Box, visit Light's web site for instructions on how to.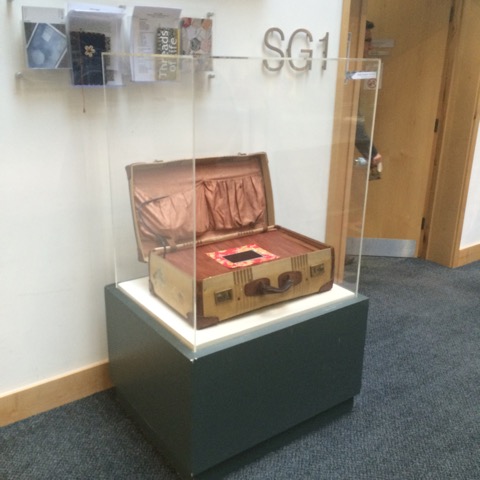 Snowden Archive-in-a-Box. Cambridge University's museum piece installation. Evan Light.

Qaul.net and Can You Hear Me?
Christoph Wachter's and Mathias Jud's work, directly engages with refugees and asylum seeker's social situations, policies, and the migrant crisis. They've worked together on participatory community projects since 2000 and have received many awards. For instance, take a look at their digital communications tool qaul.net which is designed to counteract communication blackouts. It has been used successfully in Egypt, Burma, and Tibet, and works as an alternative to already existing government and corporate controlled communication pathways. But, it also offers vital help when large power outages occur, especially in areas in the world suffering from natural disasters. The term qaul is Arabic and means 'opinion, say, talk or word'. Qaul is pronounced like the English word 'call'.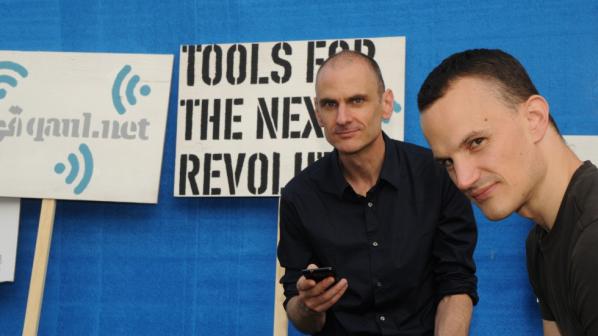 It creates a redundant, open communication code where wireless-enabled computers and mobile devices can directly initiate a fresh, unrestricted and spontaneous network. This includes the enabling of Chat, twitter functions and movie streaming, independent of Internet and cellular networks. It is also accessible to a growing Open Source Community who can modify it freely.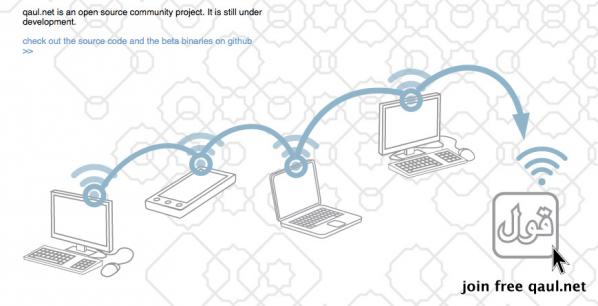 Wachter and Jud also discussed another project of theirs called "Can You Hear Me?", a WLAN / WiFi mesh network with can antennas installed on the roofs of the Academy of Arts and the Swiss Embassy in Berlin, which was located in close proximity to NSA's Secret Spy Hub. These makeshift antennas made of tin cans were obvious and visible for all to see. The Academy of Arts joined the project building a large antenna on the rooftop, situated exactly between the listening posts of the NSA and the GCHQ to enable people to directly address surveillance staff listening in. While installing the work they were observed in detail by a helicopter encircling overhead with a camera registering each and every move they made, and on the roof of the US Embassy, security officers patrolled.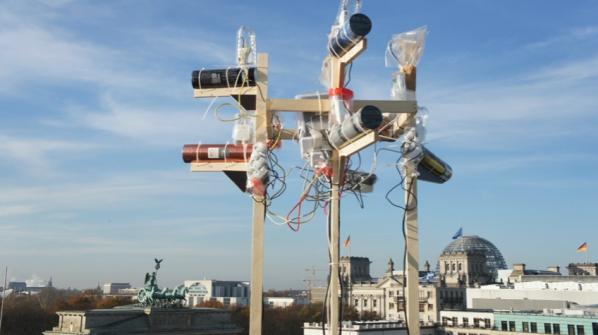 "The antennas created an open and free Wi-Fi communication network in which anyone who wanted to would be able to participate using any Wi-Fi-enabled device without any hindrance, and be able to send messages to those listening on the frequencies that were being intercepted. Text messages, voice chat, file sharing — anything could be sent anonymously. And people did communicate. Over 15,000 messages were sent." [5] (Jud 2015)

A the end of their presentation, they said that they will be implementing the same system at hotspots deployed in Greece by the end of the month. And I believe them. What I find refreshing with these two, is their can do attitude whilst dealing with political forces bigger than themselves. It also gives a positive message that anyone can get involved in these projects.
Dowse.
And then, it was the turn of the well known team at Dyne.org to discuss a project of theirs called Dowse, which is 'The Privacy Hub for the Internet of Things'. They said (taking turns, there was about 5 of them) that the purpose of Dowse is to perceive and affect all devices in the local, networked sphere. As we push on into the age of the Internet of Things, in our homes everything will be linked up.
"Those bathroom scales and home thermostats already talk to our smartphones and in some cases think for themselves." [6] (Nowak 2015)
As these ubiquitous computers communicate to each other even more, control over these multiple connections will be essential. We will need to know how to interact beyond the GUI interfaces and think about who has access to our private, common and public information. A whole load of extra information will be available without our consent.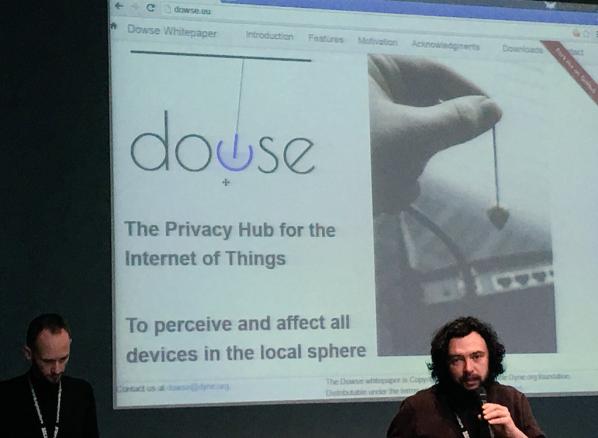 Dowse was conceived in 2014 as a proof of concept white paper by Denis Rojo aka Jaromil. Early contributors to the white paper and its drafting process includes: Hellekin O. Wolf, Anatole Shaw, Juergen Neumann, Patrick R McDonald, Federico Bonelli, Julian Oliver, Henk Buursen, Tom Demeyer, Mieke van Heesewijk, Floris Kleemans and Rob van Kranenburg. I downloaded the white paper and is definitely worth reading.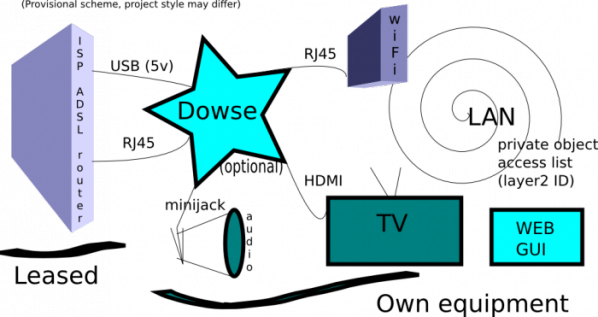 The Dowse project aims to abide to the principles stated in the Critical Engineers Manifesto, (2011). Near the very end of the talk they announced to the audience an open call for artists and techies everywhere to get involved and jump into the project to see what it can do. This is a good idea. If there is no community to make or break platforms, hardware and software, then there is a limited dialogue around the possibilties of what a facility realistically might achieve. Not just that, they want artists to make art out of it. I know there are some pretty clever tech-minded geeks out there, who will in no doubt take on the challenge. However, once those who are not so literate in the medium are able to exploit the project, it will surely fly. It's going to be interesting, because if you look at the 3rd point in the Critical Engineers Manifesto, it says "The Critical Engineer deconstructs and incites suspicion of rich user experiences." I'm thinking, that this number 3 element needs to treated with caution. If they really wish to open it up to a diverse user base, to engage with its potentialities, creatively and practically; thus, allow new forms of social emancipation to evolve as 'freedom with others'. There needs to be an active intent to avoid a glass ceiling based on technical know-how. It's a promising project and I intend to explore it myself and see what it can do and will invite other people within Furtherfield's own online, networks to join in and play, break, and create.
The Sarantaporo Project.
Our final entry is the Sarantaporo Project which is situated in the North of Greece. A village in the mountains just west of Mount Olympus in Central Greece close to Thessaloniki, Macedonia and Larisa. The country has been in recession for over 6 years now, and many communities have had to create alternative ways of working with each other in order to survive the crisis. Over this troubling period, new forms of grass-roots coexistence, solidarity and innovation have evolved. The Sarantaporo Project is an impressive example of how people can come together and experiment in imaginative ways and exploit physical and digital networks.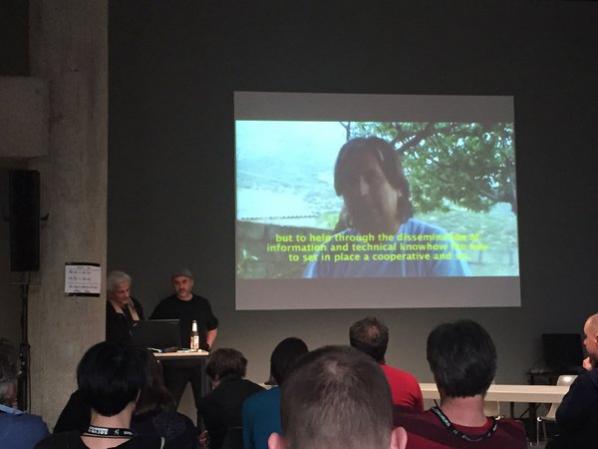 Even before the economic crisis the region was already hit by poverty, and with the added pressures of imposed Austerity measures, life got even tougher. All the young were leaving and then migrating to the cities or abroad. Before the project in Sarantaporo, there was no Internet nor digitally connected networks for local people to use. This situation contributed to the digital divide and made it difficult to work in a contemporary society, when so many others in the world have been using technology to support their civic, academic and business for so many years already.
"In Greece, where unemployment reaches 30% in all ages and genders, and among the youth overpasses 50%, immediate solution for the "social issue" is more than urgent.' [7] (Marmaras).
Conclusion."Besides maintaining the network in a DIWO (Do It With Others) manner, and creating an atmosphere of cooperation among far-flung communities that were previously strangers, the Sarantaporo network is incorporating different groups of people into the community, like Farmer's Cooperatives and techies. It is also creating an intergenerational space for learning." [9] (Bezdommy 2016)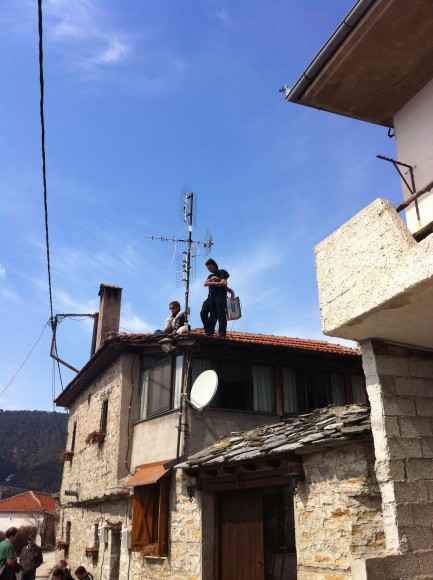 To resolve this issue a group of friends decided to deal with this problem by setting up a community D.I.Y wireless network to provide free internet access to 15 villages in the municipality of Elassona. "Sarantaporo.gr is an open source wireless mesh networking system that relies greatly on voluntary work both for its development and maintenance. Some volunteers are involved in the project by simply installing an antenna on their roof. Others, more actively engaged with the project, are responsible for sustaining the network by hosting meetings and answering technical questions." [8] (Kalessi 2014) The audience was presented with snippets from a film made by the filmmaking collective Personal Cinema, about the project. It was made so the story of Sarantaporo's DIY wireless network gets a wider reach, and that others are also inspired to do similar projects themselves.
These projects are dedicated to creating socially grounded and engaged alternatives to the proprietorial, networked frameworks that currently dominate our communication behaviours. These proprietorial systems, whether they are digital or physical are untrustworthy, and control us in ways that reflect their top-down demands but not our common needs. This reflects a wider conversation about who owns our social contexts, our conversations, our fields of practice, the structures we use, the land, the cables, our history, and so on.
Looking at the state of the planet right now you'd be forgiven for betting on a future not far from the director Neill Blomkamp's vision in the sci-fi movie Elysium where, in the year 2159, humanity is sharply divided between two classes of people: the ultra-rich whom live aboard a luxurious space station called Elysium, and the rest who live a hardscrabble existence in Earth's ruins. However, in the Off-the-Cloud-Zone talks we encountered an ecology of strategies to protect our own indegenous cultures from the crush of neo-liberalism, we felt part of a grounded movement discovering new conversations and new methodologies that may provide some protection against future colonisation. Perhaps there is a chance, we can build and rebuild stronger relations with each other, beyond: privilege, nation, status, gender, class, race, religion, and career.
The festival this year was less structured and more nuanced than usual. It gave conversation a greater role and a deeper social context, and opened up the process for the many to connect with the ideas being explored. The whole affair seemed to be slowed down and less caught up in the hyper-macho trappings of accelerationism. It seemed less neurotic and spending less effort to impress. I'm sure, next year, on it's 30th anniversary, all will be sharp and amazing. However, I liked this less glossy, more messy version of Transmediale and I hope it manages to impress the wrong people again, and again.
References:
[1] The Site and its History .
https://www.hkw.de/en/hkw/geschichte/ort_geschichte/ort.php
[2] Peter Nowak Humans 3.0: The Upgrading of Our Species. The Lyons Press (6 Jan. 2015). P.132.
[3] NSA infiltrates links to Yahoo, Google data centers worldwide, Snowden documents say. Washington Post. By Barton Gellman and Ashkan Soltani October 30, 2013. http://wapo.st/1Ty1nTX
[4] File:NSA Muscular Google Cloud.jpgs. From Wikipedia, the free encyclopedia.
https://en.wikipedia.org/wiki/File:NSA_Muscular_Google_
[5] Mathias Jud: Art that lets you talk back to NSA spies. Subtitles and Transcript. TED.com. September 2015. http://bit.ly/1UkiMPn

[6] Peter Nowak Humans 3.0: The Upgrading of Our Species. The Lyons Press (6 Jan. 2015). P.6.
[7] "Building Communities of Commons in Greece", Ilias Marmaras. Personal Cinema.
https://en.goteo.org/project/building-communities-of-commons
[8] Theodora Kalessi. Sarantaporo.gr: Bridging the digital divide in rural Greece. August 11, 2014
http://oipolloi.co/sarantaporo-gr-bridging-the-digital-divide-in-rural-greece/
[9] Bezdomny. Sarantaporo Residents Create Commons in Rural Greece Through a DIY Wireless Mesh Network. January 3, 2016.
http://www.shareable.net/blog/sarantaporo-residents-create-commons-in-rural-greece-through-a-diy-wireless-mesh-network