A group of local residents imagine and create visions of Finsbury Park 150 years past and future at Furtherfield Commons. The story from the ground by Matt Watkins.
On a blustery cold and wet Sunday in the build up to Christmas I joined a group of people at Furtherfield Commons to discuss the future of Finsbury Park. I finally arrived after prowling around their darkened Gallery in the centre of the park, only to discover the event was being hosted in their other space in the far southeastern corner of the park. This brief detour gave me a moment to breathe in one of my local parks and I experienced a familiar feeling of vulnerability as the night drew in and cold drops of rain started to make themselves felt. The few brave families and exercisers were beginning to retreat as I crossed the open stretch of field that runs parallel to the roaring Seven Sisters Road. Drawn by the welcoming light coming from the building in the small gardens behind the legendary Rowans Ten Pin Bowling and guided by the sound of the drumming, a regular feature of this corner of the park, I entered the workshop and was greeted with mince pies, tea and other goodies, and met the 11 other workshop participants.
Timed to coincide with the 150th anniversary of Finsbury Park, this workshop for local residents, aimed to tap into our experiences and imaginations to generate future visions of the park. The event was led by Dr Rachel Jacobs, who is a local with a special affection for the park, and she started by sharing it's stories and describing some of the features that are no longer in existence including a bandstand and the many trees that have been removed over the years.
We started by identifying features of the park that we would like to 'lose' and those we wanted to 'protect'. Answers were varied but along similar themes. Many people shared a desire to preserve the trees and if possible, have more. The lake featured prominently with many people wanting to maintain the space and the sanctuary it provides for birds. Rose, one of my fellow workshoppers, gleefully called for those people who feed bread to the ducks to be poisoned.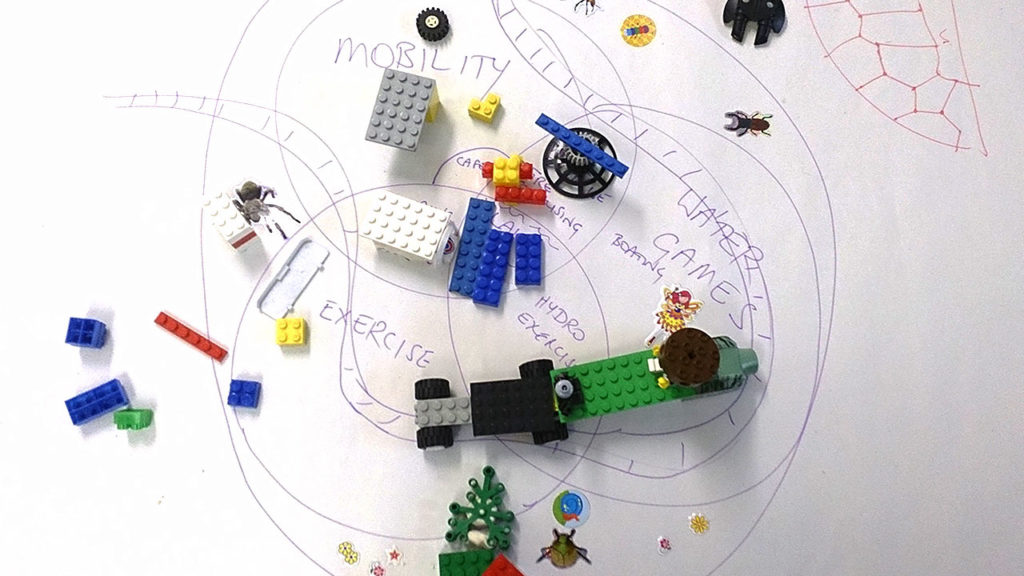 The underground reservoir, a cathedral-like temple to water supply was hailed as a hidden gem that could be utilised as a space during the colder months by Polly a local resident and manager of Space4. Simon, Chair of Friends of Finsbury Park, suggested we consider uses for Manor House Lodge (another building that had escaped my attention). Zeki prioritised the the rocks in the park for protection – especially at the amphitheatre space beside the play park. There were wistful expressions of personal connections to conkers, squirrels and swans. The things that people wanted to lose were more elusive: the atmosphere that the park creates at night; its association with crime and a lack of safety. Gab who overlooks the park from his 8th floor flat, feels the park can be scary and in his words, sometimes 'sly'. Removing the fences was suggested as a possible remedy.
Next, we were introduced to an initially bemusing process based on Play Your Place, designed by artists Ruth Catlow and Mary Flanagan, to introduce playful and game-like activities to public consultation. We were each asked to select different cards with random words that we were told would help us to disrupt our conventional view of problem solving. The cards were divided into provocative statements, for example mine were: 'London is no longer' and 'getaway car'. Then a spinning wheel contained words associated with game features, like 'mission', 'protagonist', 'goal' or 'reward'. After drawing or writing out our scenarios based on the random words we had to pick a segment of the wheel in which to place our ideas.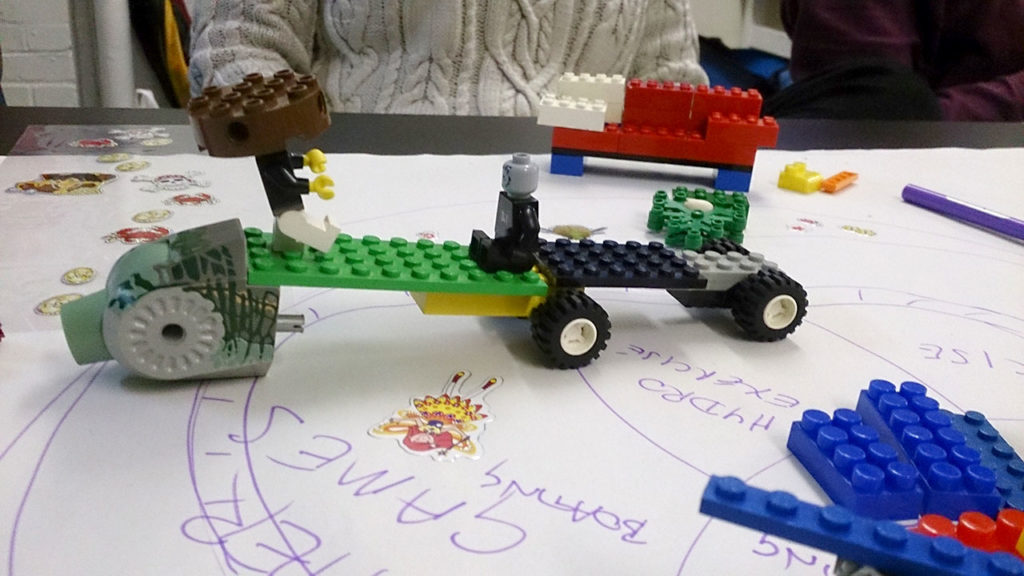 I asked if London is no longer, why is that so? Perhaps the park has eaten London. I was making the park the protagonist, the hero of the story. My 'getaway car' card prompted me to imagine Finsbury Park criss-crossed by many roads. So what if a part of the park could move very slowly, a moving park that people could take in the rest of the park from and jump on and off.
Zeki, one of the youngest participants had the cards 'maps' and 'someone caring for the park' they assigned it the wheel word 'reward'. He imagined the rocks in the park could become an area where people could come and paint and draw on the rocks. People will be able to look at the drawings and climb on the rocks. He said this suited 'reward' because you get a nice place.
Finally we worked with lego and plasticine, felt and coloured paper, to make a representation of our scenarios. Time flew by before we were then asked to talk about what we had created.
Simon and Talal ended up using a lot of lego. They said they weren't that confident 'creating' but their riotous explosion of lego pieces described the Finsbury Park Lodge with lots of tropical trees growing around them. They included a clocktower which they felt the park needed. Ominously on the edge of their diorama there was, in their words: 'the threat of a forest fire'.
Ilenia and Gab created intricate visions of the park modelled from tiny pieces of plasticine. Ilenia created crosses to represent all the buildings that she was going to destroy. She said "All the fences will be replaced by nice trees. The lake will be larger than it is now. There will be more people using the park." Gab described the a tree as becoming "a colourful multi-form creator. It will be very friendly and very different from normal. Everything will be very colourful and this will be linked to representing climate change." Emma who earlier in the workshop explained her love of conkers ended up building robot conkers.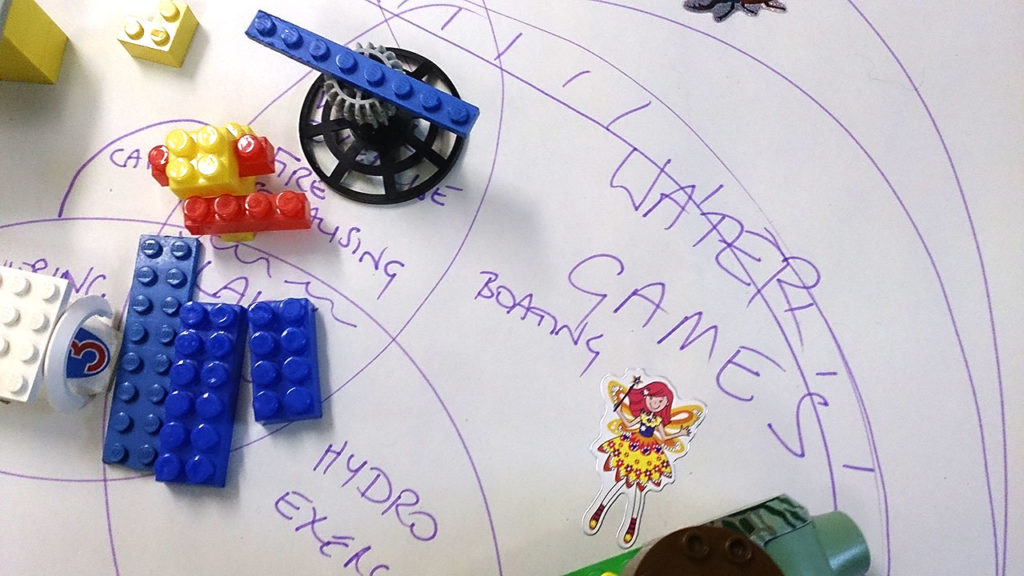 The outcomes were unexpected and realised in a wonderfully ad hoc way with a rich mix of ideas. Rachel and the Furtherfield team were on hand to support and provide more insight. Although the process of drawing cards and selecting from a wheel was initially quite perplexing, staying with the uncertainty of the process meant that we came up with ideas that were novel and unhindered by more formal or conservative notions of preserving or enhancing Finsbury Park. The two hour time limit, meant that everything moved along at pace that kept the idea generation restless. I believe I speak for all who took part in anticipating the results of the wider project.
What can possibly be made from such a kaleidoscope of raw material, I wondered on my way home in the pouring rain? Perhaps my plant car or Emma's robot conkers will see the light of day or the darkness of the underground reservoir.
Futurescapes is an Innovate UK Audience of the Future Design Foundations project that uses Finsbury Park as a test case to examine the commercial potential for using immersive experiences as a tool for collaborative placemaking for public spaces and integrated public services. Furturescapes is a partnership project with Furtherfield, The Audience Agency and Wolf in Motion.
In thinking about the relationship between science fiction and social justice, a useful starting-point is the novel that many regard as the Ur-source for the genre: Mary Shelley's Frankenstein (1818). When Shelley's anti-hero finally encounters his creation, the Creature admonishes Frankenstein for his abdication of responsibility:
I am thy creature, and I will be even mild and docile to my natural lord and king, if thou wilt also perform thy part, the which thou owest me. … I ought to be thy Adam, but I am rather the fallen angel, who thou drivest from joy for no misdeed. … I was benevolent and good; misery made me a fiend. Make me happy, and I shall again be virtuous.
Popularly misunderstood as a cautionary warning against playing God (a notion that Shelley only introduced in the preface to the 1831 edition), Frankenstein's meaning is really captured in this passage. Shelley, influenced by the radical ideas of her parents, William Godwin and Mary Wollstonecraft, makes it clear that the Creature was born good and that his evil was the product only of his mistreatment. Echoing the social contract of Jean-Jacques Rousseau, the Creature insists that he will do good again if Frankenstein, for his part, does the same. Social justice for the unfortunate, the misshapen and the abused is what underlies the radicalism of Shelley's novel. Frankenstein's experiments give birth not only to a new species but also to a new concept of social responsibility, in which those with power are behoved to acknowledge, respect and support those without; a relationship that Frankenstein literally runs away from.
The theme of social justice, then, is there at the birth also of the sf genre. It looks backwards to the utopian tradition from Plato and Thomas More to the progressive movements that characterised Shelley's Romantic age. And it looks forwards to how science fiction – as we would recognise it today – has imagined future and non-terrestial societies with all manner of different social, political and sexual arrangements.
Shelley's motif of creator and created is one way of examining how modern sf has dramatized competing notions of social justice. Isaac Asimov's I, Robot (1950) and, even more so, The Caves of Steel (1954) ask not only the question, 'can a robot pass for human?', but also more importantly, 'what happens to humanity when robots supersede them?'. Within current anxieties surrounding AI, Asimov's stories are experiencing a revival of interest. One possible solution to the latter question is the policing of the boundaries between human and machine. This grey area is explored through use of the Voigt-Kampff Test, which measures the subject's empathetic understanding, in Philip K. Dick's Do Androids Dream of Electric Sheep? (1968) and memorably dramatized in Ridley Scott's film version, Blade Runner (1982). In William Gibson's novel, Neuromancer (1984), and the Japanese anime Ghost in the Shell (1995), branches of both the military and the police are marshalled to prevent AIs gaining the equivalent of human consciousness.
Running parallel with Asimov's robot stories, Cordwainer Smith published the tales that comprised 'the Instrumentality of Mankind', collected posthumously as The Rediscovery of Man (1993). A key element involves the Underpeople, genetically modified animals who serve the needs of their seemingly godlike masters, and whose journey towards emancipation is conveyed through the stories. It is surely no coincidence that both Asimov and Smith were writing against the backdrop of the Civil Rights Movement, but it is also indicative of the magazine culture of the period that both had to write allegorically. In N.K. Jemisin's Broken Earth trilogy (2015-7), an unprecedented winner of three successive Hugo Awards, the racial subtext to the struggle between 'normals' and post-humans is made explicit.
Jemisin, like Ann Leckie's multiple award-winning Ancillary Justice (2013), is indebted to the black and female authors who came before her. In particular, the influence of Octavia Butler, as indicated by the anthology of new writing, Octavia's Brood (2015), has grown immeasurably since her premature death in 2006. Butler's abiding preoccupation was with the compromises that the powerless would have to make with the powerful simply in order to survive. Her final sf novels, Parable of the Talents (1993) and Parable of the Sower (1998), tentatively posit a more utopian vision. This hard-won prospect owes something to both Joanna Russ's no-nonsense ideal of Whileaway in The Female Man (1975) as well as the 'ambiguous utopia' of Ursula Le Guin's The Dispossessed (1974). Leckie, in particular, has acknowledged her debt to Le Guin, but whilst most attention has been paid to the representation of non-binary sexualities in both the Ancillary novels and Le Guin's The Left Hand of Darkness (1969), what binds both authors is their anarchic sense of individualism and communitarianism.
Whilst sf has, like many of its recent award-winning recipients, diversified over the decades, there is little sense of it having abandoned the Creature's plaintive plea in Frankenstein: 'I am malicious because I am miserable.' It is the imaginative reiteration of this plea that makes sf into a viable form for speculating upon the future bases of citizenship and social justice.
Geometries, Moods and Decentralised Cooperations
We are delighted to share with you our Spring season of art and blockchain essays, interviews and events, offering a wide spread of exploration and critique.
The blockchain is an evocative concept, but progress in ideas of cryptographic decentralisation didn't stop in 2008. It's helpful for artists to get a sense of the plasticity of new technical media. So first we are pleased to share with you Blockchain Geometries a guide by Rob Myers to the proliferation of blockchain forms, ideas and their practical and imaginative implications.
In Moods of Identification Emily Rosamond writes her response to our second DAOWO workshop, Identity Trouble (on the blockchain). She reflects on both ongoing attempts to reliably verify identity, and continuing counter-efforts to evade such verifications.
Mat Dryhurst and Holly Herndon speak here with Marc Garrett in an interview republished from our book with Torque Editions Artists Re:Thinking the Blockchain (2017). Mat and Holly convey a sense of excitement about developments and opportunities for new forms of decentralised collaboration in music.
Finally you can book your place on future events at the DAOWO blockchain laboratory and debate series for reinventing the arts.1 Download the DAOWO Resource #1 for key learnings, summaries of presentations, quotes, photographs, visualisations, stories and links to videos, audio recordings and much more from our first two events about developments in the arts and the trouble with Identity.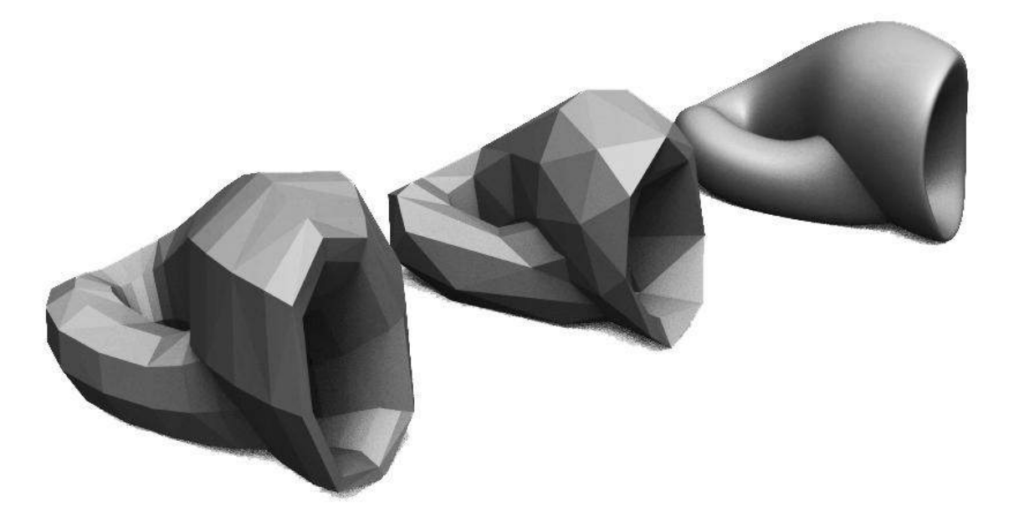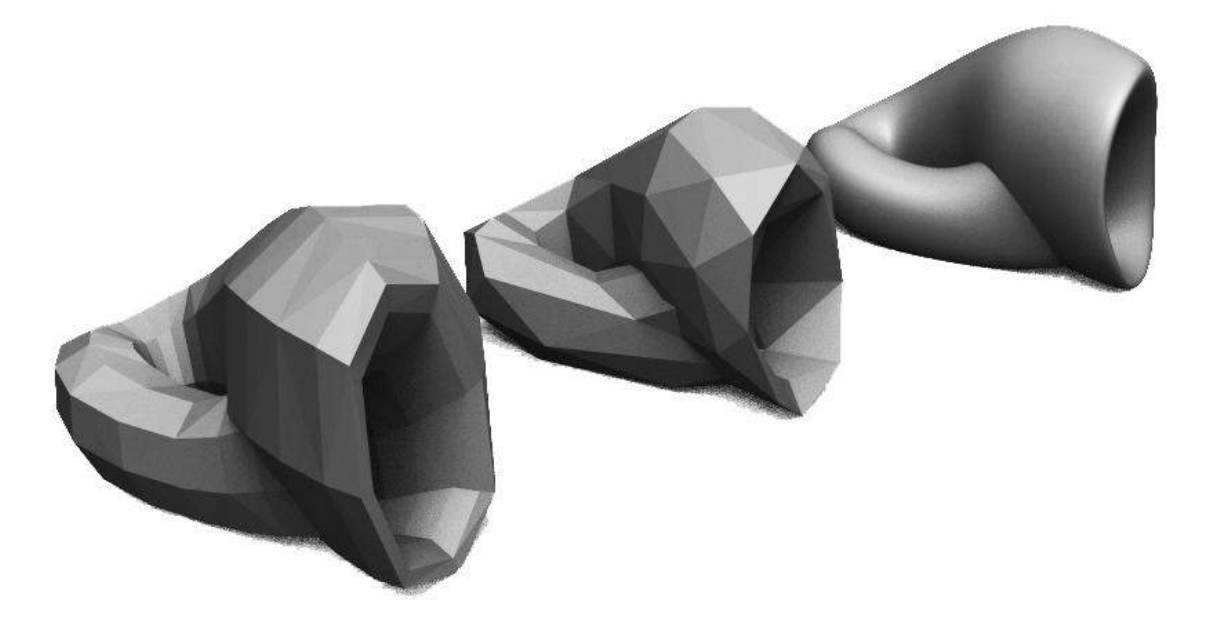 Blockchain Imaginaries
The blockchain is 10 years old and is surrounded with a hype hardly seen since the arrival of the Web. We'd like to see more variety in the imaginaries that underpin blockchains and the backgrounds of the people involved because technologies develop to reflect the values, outlooks and interests of those that build them.
Artists have worked with digital communication infrastructures for as long as they have been in existence, consciously crafting particular social relations with their platforms or artwares. They are also now widely at work in the creation of blockchain-native critical artworks like Clickmine by Sarah Friend2 and Breath (BRH) by Max Dovey, Julian Oliver's cryptocurrency climate-change artwork, Harvest (see featured image) and 2CE6… by Lars Holdhus3, to name but a few.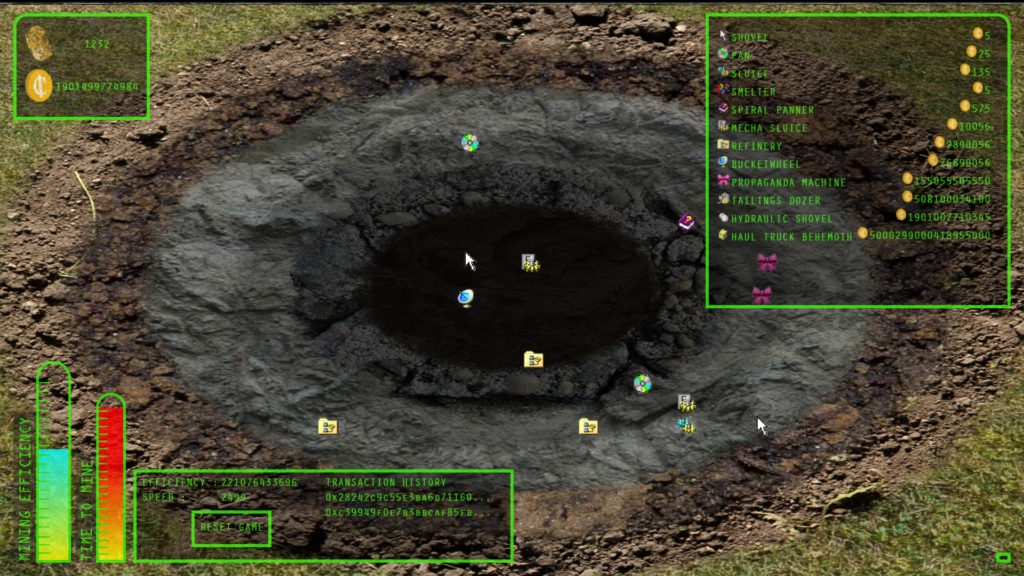 By making connections that need not be either utilitarian nor profitable, artists explore potential for diverse human interest and experience. Also, unlike on blockchains, where time moves inexorably forward (and only forward) – fixing the record of every transaction made by its users, into its time slot, in a steady pulse, one block at a time – human imaginative curiosity can scoot, meander and cycle through time, inventing and testing, intuiting and conjuring, possible scenarios and complex future worlds. They allow us to inhabit, in our imaginations, new paradigms without unleashing actual untested havoc upon our bodies and societies.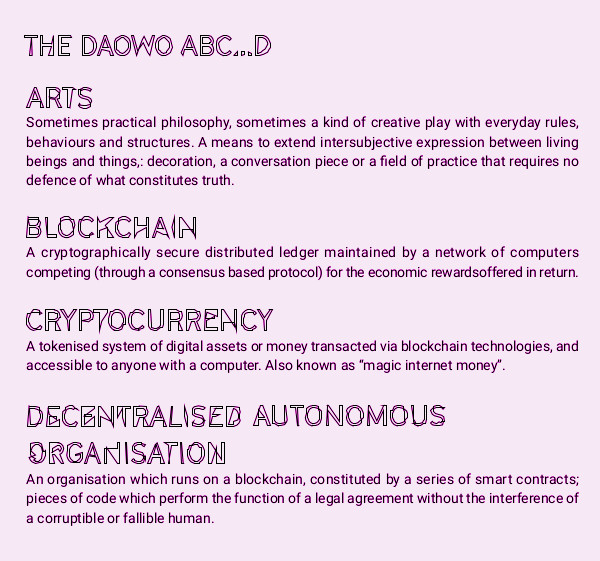 Art and the "Internet of Money"
Back in 2008 the global banking system was bailed out by governments with tax payers' money. Meanwhile a 15 year explosion of web-inspired, decentralised, mutualist-anarchist DIWO (Do It With Others)-style cultural actions and practices ebbed (though its roots remain and go deep). The global network of human attention and resources were, by this time, well and truly re-centralised. The "big five" now owned, and often determined, our communication and expression. Post-Internet artists rejected platform-building as a social artform and instead, took as their materials, lives mediated through social media and corporate owned platforms. Some dived into the marketing vortex, to revel and participate in the heightened commodification of art.
With the introduction of the blockchain protocol on the Internet we see a reversed direction of travel in the artworld, with major developments coming more quickly from the businesses of art, which reassert art's primary status as an asset class, than from those artists experimenting with new forms of experience and expression enabled by its affordances. Now intermediaries of art world business are moving into blockchains (also sometimes called the "Internet of money") with a focus on provenance, authentication, digital arts made scarce again with IP tracking, fractional ownership, securitisation and auction4. It is blockchains for art, any art, as long as that art can be owned and commodified. This may be seen as a good thing, generating and distributing increased revenues to 'starving artists'. Also perhaps inevitable, as that which cannot be owned is hard to represent on a blockchain ledger.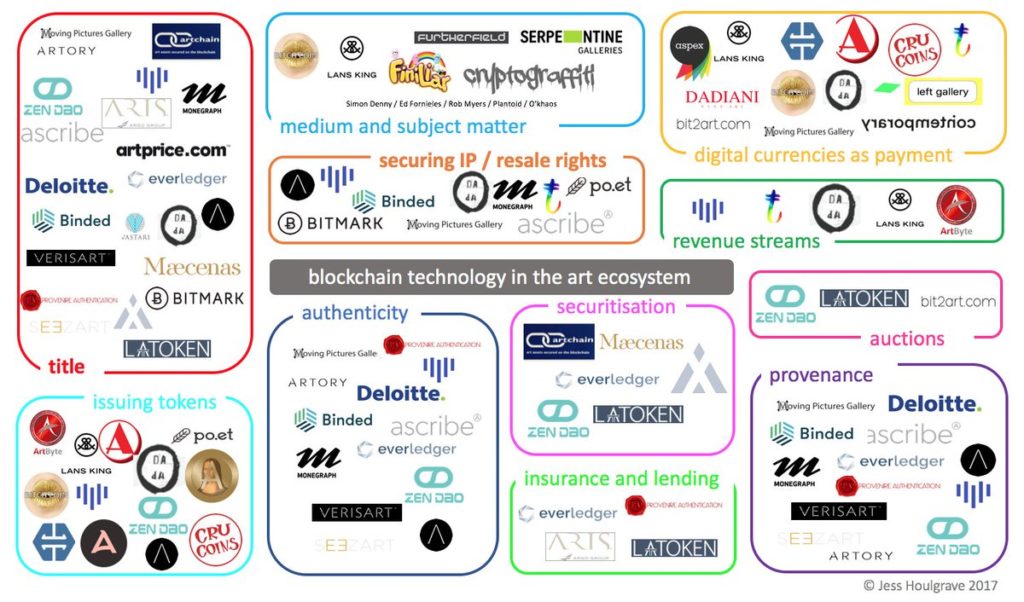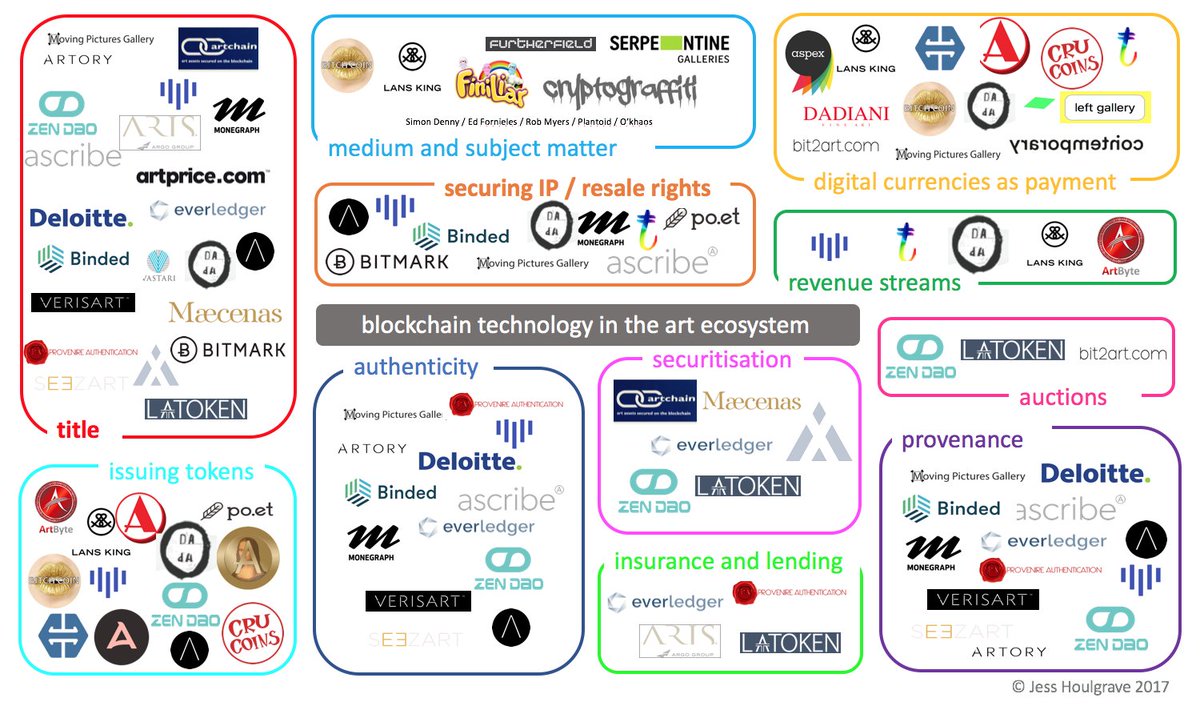 Infrastructure Is Social
In his new book Reinventing democracy for the digital condition, (2018) Felix Stalder notes that people are increasingly actively (voluntarily and/or compulsorily) participating in the negotiation of social meaning through the "referentiality, communality, and algorithmicity, […] characteristic cultural forms of the digital condition". In 2015 the Ethereum blockchain launched with a new layer that could run "smart contracts", pieces of code which act as autonomous agents, performing the function of a legal agreement without the interference of a corruptible or fallible human5. These can be combined to perform as blockchain-based companies called Distributed Autonomous Organizations (DAOs) and there are a plethora of blockchain implementations and political agendas now developing. How these unfurl will affect our ability to relate to each other, to deliberate, decide and cooperate with each other as individuals, organisations and societies.
Don't Just Monetise, Mobilise!
So for us the promise lies in platform-building: by-and-for communities of experimental artists (in the expanded sense of the word), participants and audiences who want to create not just saleable or tradeable art objects6 but artworks that critique the relationship between art and money, and expand the contexts in which art is made and valued.
'AltCoins, cryptotokens, smart contracts and DAOs [Digital Autonomous Organisations] are tools that artists can use to explore new ways of social organisation and artistic production. The ideology and technology of the blockchain and the materials of art history (especially the history of conceptual art) can provide useful resources for mutual experiment and critique' – Rob Myers7
While FairCoin (being rolled out by FairCoop with the Catalan Integral Cooperative) puts new forms of decentralised social organisation into practice on the ground, blockchain based art projects such as Terra0 and Plantoid by O'khaos offer examples of governance systems and invite us to critically "imagine a world in which responsibility for many aspects of life (reproduction, decision-making, organisation, nurture, stewardship) are mechanised and automated."8 Both artworks demonstrate functioning systems and help us to think through how we might determine and distribute artistic (and other) resources, their value, and the rules for their co-governance for the kinds of freedoms, commonalities and affiliations that are important for the arts.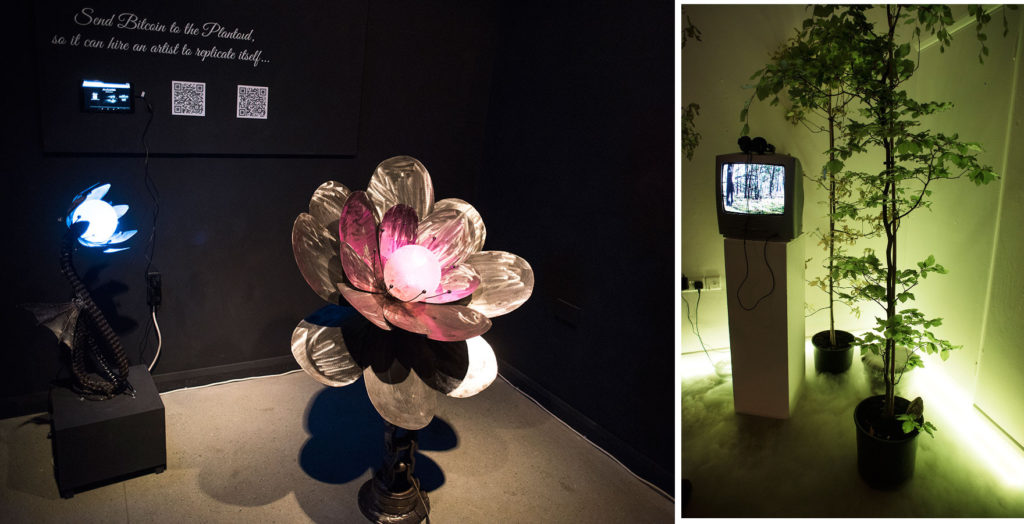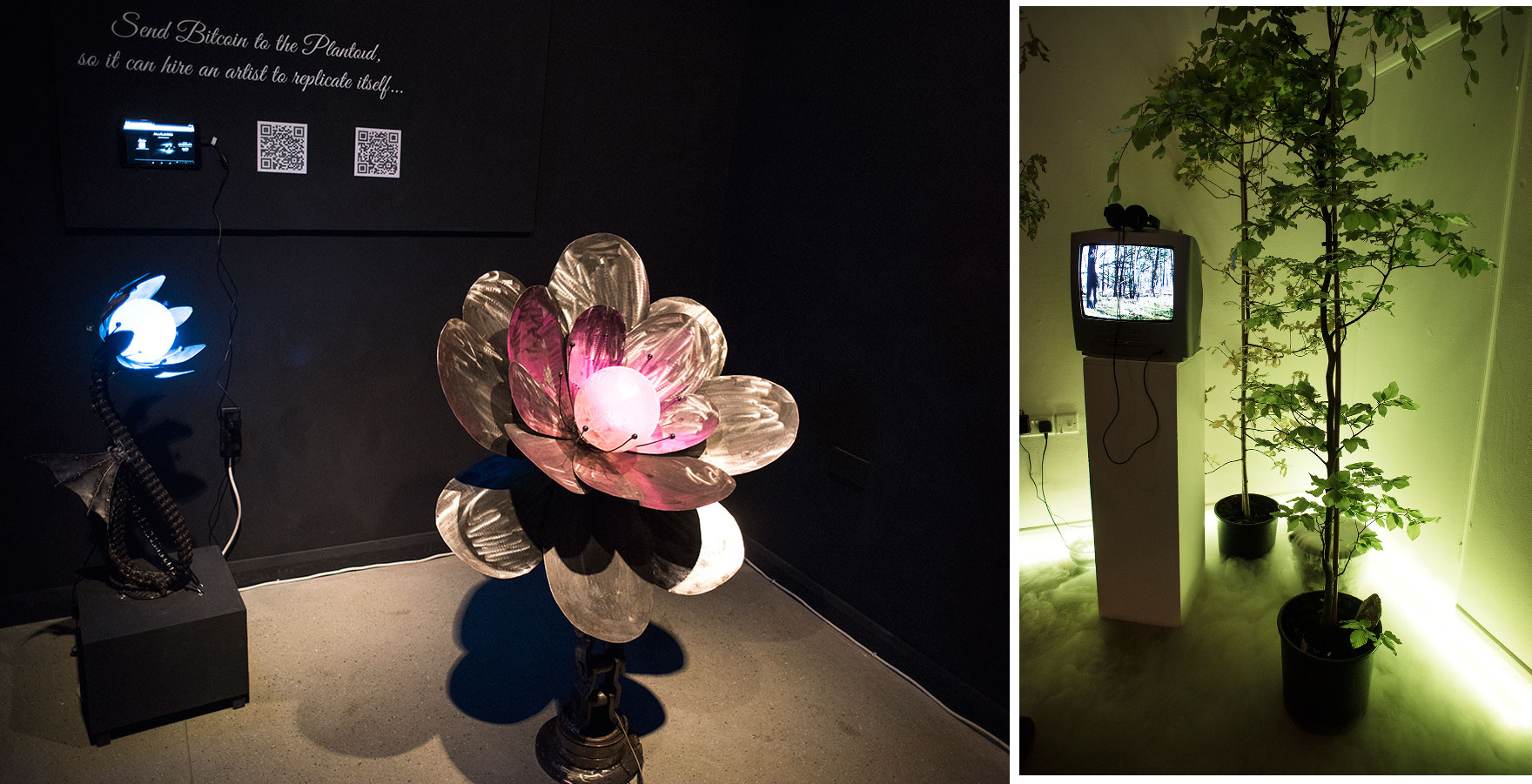 It may take a while. What to value and how to value it is a particularly tangled question. The technical infrastructure of the blockchain is at the stage of development that the Web was at in the early 90s (blockchain technologies are less forgiving, require deeper programming knowledge and are therefore more expensive to build than web pages or platforms) which, along with the get-rich-quick vibe of non-community-platform projects, might be why there are still so few community platforms actually in operation. Resonate.is the cooperatively owned music streaming service is an inspiration in this regard. It is a platform for musicians – creators and listeners – that opens up the governance of its resources to everyone who has ever created or listened to its music. It demonstrates one way in which a DIWO ethos might work.
Helen Kaplinsky is exploring how to bootstrap to the blockchain, Maurice Carlin's Temporary Custodians project which realises an alternative system of peer2peer art ownership and stewardship at Islington Mill9.
Blockchain Imaginaries 2018 – CODA
Three preoccupations dominate 2018 New Year blogs and commentary that mark the blockchain's 10th anniversary: blockchains as cash cults; doubts about the actual utility of blockchains and; the environmental impact of Bitcoin (still, erroneously interchangeable with the blockchain in the minds of lots of people). We add to these our concern about the intensification of control enabled by these infrastructures, AND the simultaneous conviction (shaped by deep collaborations and hard criticisms over the last years) that blockchains have the potential to enable and stimulate new forms of social organisation, resource distribution and collaboration in the arts.
The first two preoccupations match exactly the commentary surrounding the early days of the Web and we know how that turned out. The remaining concerns are grist to the mill of our ongoing programme of publications, films, exhibitions and events. The technologies are only now stabilising to allow more grass-roots infrastructural developments.
We invite you to bring your own lens of constructive critique, gather a crowd to debate and explore how we might pull blockchains into art, on the arts' own terms, and to gain an understanding of why it is worthwhile.
---
Previously at Furtherfield
If you're interested in Furtherfields critical art and blockchain programmes with various individuals, groups and partners since 2015. You could check out how it all started, watch our short film, read this book, visit this exhibition, or archives and documents of previous exhibitions10, 11, read reviews and debate, and join us at our ongoing DAOWO blockchain lab series, devised with Ben Vickers (Serpentine Galleries) in collaboration with the Goethe-Institut London, and the State Machines programme12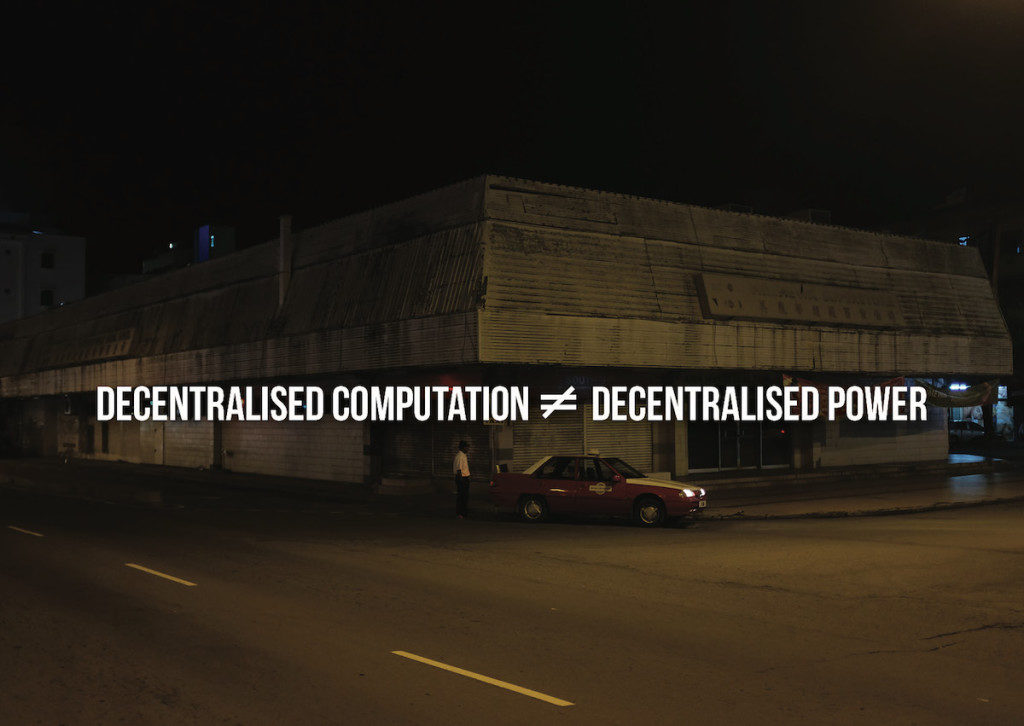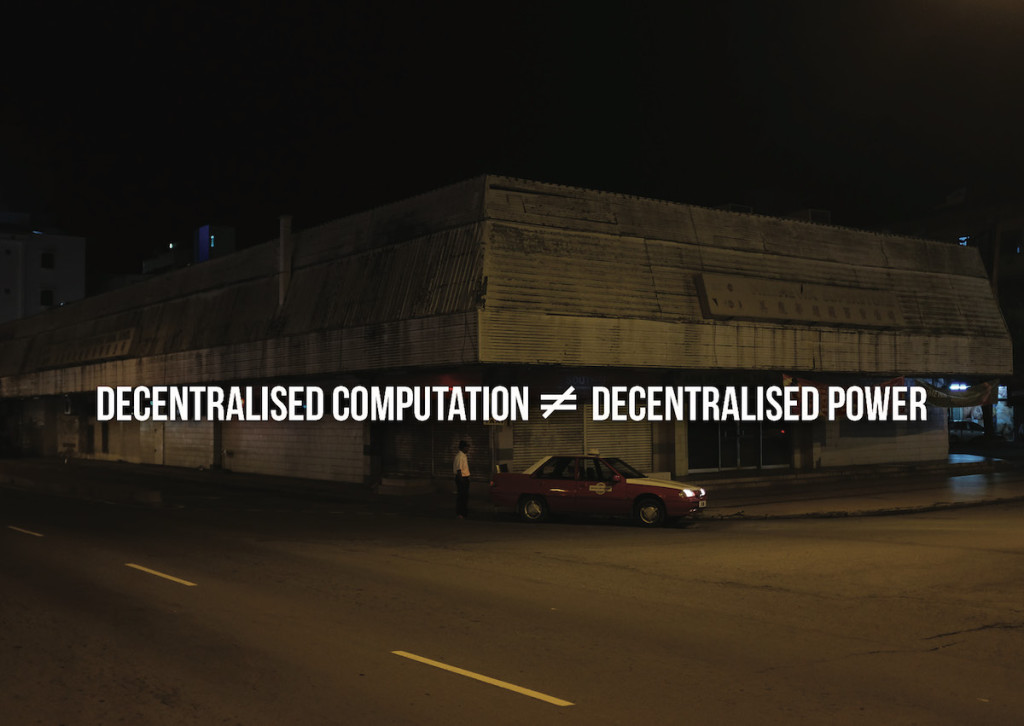 Data structures hold information in a way that makes it easier to be manipulated by software, given particular constraints on computing resources such as the time or space taken up. A linked list takes very little space in a computer's memory on top of the space taken up by the data it contains and is very quick to add new data to but it is very slow to search from the beginning to the end of the list.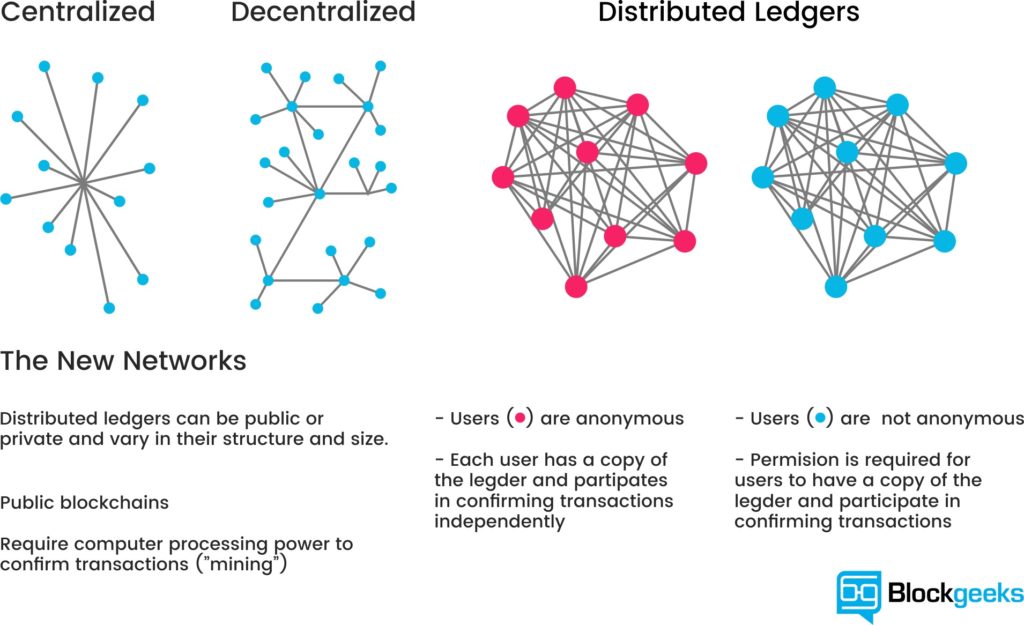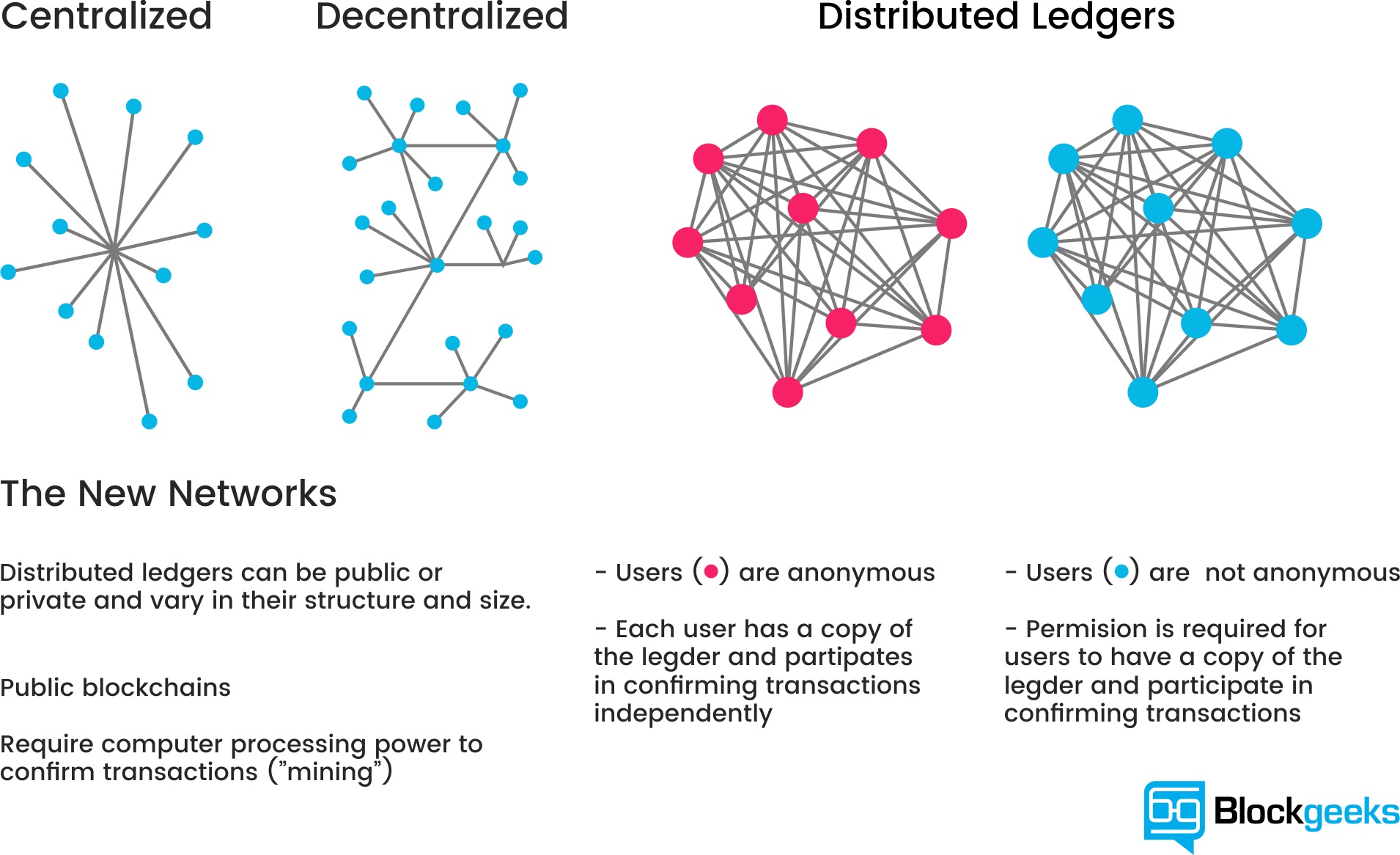 In contrast, a "hash table" data structure makes looking up information much faster by calculating a unique identifier "hash" for each item that can be used as an index entry for the data rather than having to search all the way through a long list of links. Think of a hash as a very large, very unique number that can be reliably calculated for any piece of data – any file containing the text "Hello world!" will have the same cryptographic hash as any other. The cost of this fast access is that the table must be allocated and configured in full before data can start to be stored in it.
A "binary tree" balances speed and storage space by storing data in a structure that looks like a tree with two branches at the end of each branch, creating a simple hierarchy that takes very little initial extra storage space but that given its structure is relatively fast to search compared to a linked list.
Each block in a blockchain is linked to the previous one by identifying it using its (cryptographic) hash value. And the transactions in the block are stored in a (cryptographic hash) tree. This means that a blockchain is a more complex structure than the simple image at the top of this page. But so what? Why should we care about the shape of the blockchain when its social, environmental and political impact seem to be in such urgent need of critique?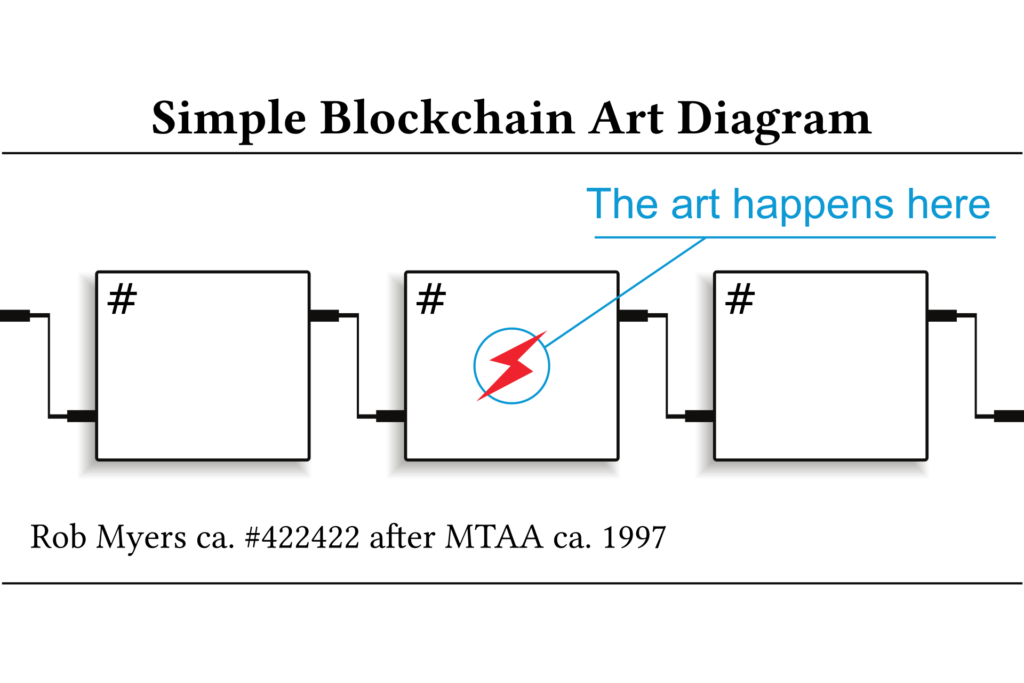 The geometric, techonomic and social form of a blockchain are all related, and understanding one helps us to reason better about the others. As the quick tour through software data structure design above indicates, the constraints on technological form are not abstract, they are tied to real needs and agendas. Bitcoin is no exception to this – the lists and trees that make up its blockchain as they are built and broadcast on a peer-to-peer network by computers competing to claim economic incentives for doing so were chosen very explicitly to exclude the intervention of the state and other "trusted third parties" (such as banks) in authentic economic relationships between peers.
Bitcoin's algorithms prioritise the security of the blockchain above all else, maximising security like a mythical Artificial Intelligence "paperclipper" maximises the production of a particular material good regardless of the other consequences . This explains Bitcoin's energy consumption, which whilst lower than the US military or the other equivalent systems that guarantee the security of the dollar is probably still much higher than Satoshi Nakamoto originally envisioned.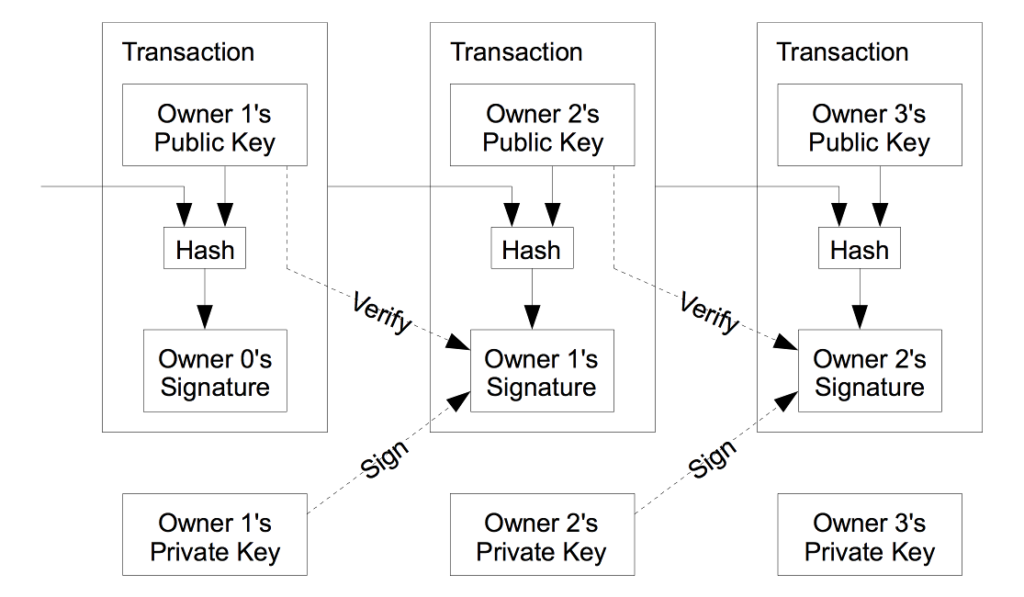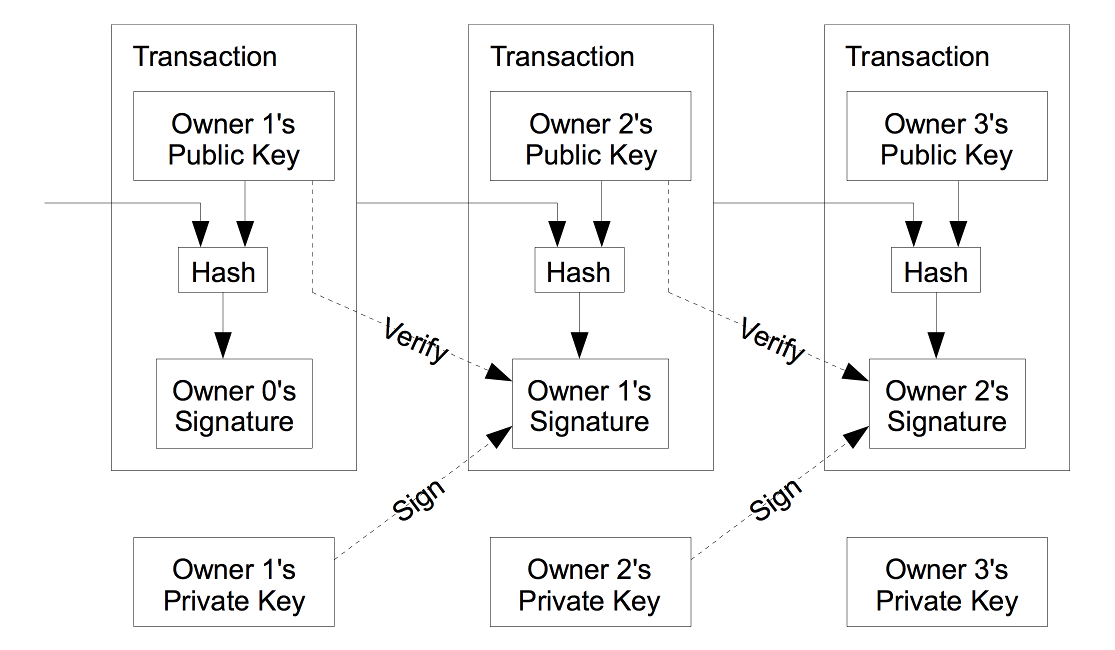 There are other algorithms, though, which have been created since 2008 to address perceived flaws in Bitcoin's design or to address different ideological agendas. These create different forms, and contrast instructively with that of Bitcoin's blockchain. Please note that these are experimental and often controversial technologies. Nothing that follows is investment advice.
Bitcoin creates blocks on average every ten minutes. Faster currencies quickly emerged, LiteCoin and Dogecoin are leading examples, with 2.5 minute and one minute block times respectively. Blocks may contain more or fewer transactions, and be more or less frequent even within the same blockchain as the algorithms tweak its parameters to ensure its security. Blockchains have rhythm, they stall or race, each block is larger or smaller and closer or further from the last one. Transactions fan into and out from addresses in each block, with varying values of currency or amounts of data each time. We are now very far from the block-and-arrow diagrams of linked lists indeed.
The Ethereum system, which extends Bitcoin's financial ledger into a more general system for "smart contracts", has the smallest block time of any leading cryptocurrency – fifteen seconds. Like the others mentioned it still uses a variant of the energy-hungry "Proof of Work" security system from Bitcoin. In Proof of Work, anyone who wants to add a block of transactions to the list must consume computing resources to solve a puzzle (essentially guessing a large number ending with multiple zeroes). As these resources cost money, anyone willing to expend them must stand to gain more from adding the next block than they lose to their electricity bill. This Game Theory gambit secures a Proof of Work blockchain. The mindlessly focussed, paperclipper nature of blockchain security algorithms means that as more people use more computers to compete to be the next person to add a block to the chain and claim the economic reward for doing so, the difficulty and therefore the amount of electricity required to solve that puzzle has increased massively, growing the energy footprint of cryptocurrency.
Ethereum is planning to switch to a "Proof of Stake" system, like that used in currencies like NXT and Decred (about which more below). Rather than burning electricity like Proof of Work, Proof of Stake uses a blockchain's own existing currency "staked" by users to demonstrate their standing within the system and to thereby get a chance to be chosen by the network to add the next block. Proof of Stake and its related "Proof of Authority" system move from the "miners" of Proof of Work who operate on the blockchain from outside to a system of capitalist investors or even an aristocratic class of gatekeepers who operate within the logic of the blockchain itself. This folds the blockchain's outside in on itself.
Bitcoin's blocks have been fixed at one megabyte in size since a temporary security fix by Satoshi Nakamoto introduced the limit. As Bitcoin usage has grown, blocks have become increasingly full (allegedly often as a result of economic "spam" attacks intended to manipulate prices – competing for space in blocks drives up transaction fees which can in turn discourage users and ultimately drive down the price of Bitcoin). How should this problem be addressed – how should Bitcoin scale? Should the number of transactions stored in the blockchain grow, increasing the block size limit and making it harder for individuals to store the blockchain on consumer hardware in a decentralised manner? Or should transactions be somehow moved "off-chain" into "second-tier" systems that build on top of the blockchain, adding complexity and introducing potential new choke-points for existing capital to exploit? Big blocks or small blocks (like the big or little ends of eggs, or integers…)? This is a real debate in the Bitcoin world, and illustrates how the consequences of a simple change in technical form like, for example, increasing block sizes from one to two megabytes, can have profound effects on the social and economic form of a cryptocurrency. "Big blockers" propose solutions like the breakaway "Segwit2X" or "Bitcoin Cash" systems, scaling "on-chain" with ever greater amounts of data in the same structures. "Small blockers" propose solutions that move data out of the blockchain, into "Segregated Witnesses" that store cryptographic signatures outside of the blockchain, or the cybernetic rhizomes of "Lightning Networks".
A Lightning Network adds a second peer-to-peer network of nodes that pass transactions between themselves. These are all valid Bitcoin transaction data structures, but unlike the main Bitcoin peer-to-peer network they are not immediately broadcast to the main Bitcoin network to be bundled up into blocks. Rather they can be replaced at any moment by new transactions, sending different amounts of cryptocurrency along a "channel" between one or (most often) more participants arranged in a random network like the one used by the Tor privacy network.
It's an elegant but sometimes complex solution, and one that triggers moral panic within some elements of the Bitcoin community equivalent to that triggered by Bitcoin within some elements outside of it. Lightning Nodes with more Bitcoin can extract more fees from Lightning Network transactions, to be sure, and this is a form of centralisation. Decentralisation's value to cryptocurrency is as a concrete guarantor of security, and Bitcoin's value is its security. But individuals can still run Lightning Network nodes and send transactions between each other, and pools of capital already have centralising effects in exchanges and mining cartels.
Techniques similar to those used to move transactions off-chain by Lightning Networks can be used to move value between different blockchains without exchanges centralising the process. "Atomic Swaps", the "Plasma" system and the realisation of the previously mythical "Doge-Ethereum bridge" using the TrueBit system are all different ways of building wormholes between the separate universes of individual blockchains.
Another approach to scaling is borrowed from conventional database design: breaking the blockchain into smaller and smaller pieces or "shards", forming another tree structure, allows each group of users of the blockchain to only have to keep track of the part that contains the transactions they are interested in. The Ethereum blockchain will move to sharding in future, after its switch to Proof of Stake. Sharding destroys the metronomic, panopticonic unity of the blockchain to create islands of transactions whose truth is local to them, a non-monotonic logic that makes moving value and information between shards difficult but still not impossible.
CryptoKitties can go on their own shard, the Gnosis prediction market on another one, and if one needs to bet on something kitty-related this will require communicating cross-shard. From islands in the net to islands in the blockchain. Techonomically, the data structures and economic incentives of such a system are more complex than a unified blockchain, but making access to the network cheaper by requiring each user to store less data to send their transactions restores the blockchain's initial low barrier of entry.
Deciding how to scale is a matter of governance. The Decred cryptocurrency has put governance front and centre. As well as moving to a hybrid Proof of Work / Proof of Stake system it has implemented an "on-chain-governance" system. Decred contains the forum for its own critique and transformation, implemented as an extension of the staking and voting system used by its Proof of Stake system. On-chain governance is controversial but addresses calls to improve the governance of cryptocurrency projects without falling prey to the off-chain voluntarism that can result from a failure to understand how the technomic and social forms of cryptocurrencies relate in finely-tuned balance.
Some post-Bitcoin systems move further away from the form of a chain or do without them altogether. The Holochain system gives each user their own personal blockchain and stores a link to it in a global "Distributed Hash Table" of entries (like that used by the BitTorrent system), a forest of trees rather than a tree of shards. This possibly solves the bandwidth problem of simple blockchain technology but weakens some of their strengths in a trade off of convenience against long-term security and robustness. Iota (the most controversial technical design discussed here) doesn't have a blockchain at all. It uses a "tangle" of transactions, within which each new transaction must do the Proof of Work of validating several previous transactions. This seems like an ideal restoration of the original vision of Bitcoin as a peer-to-peer currency, solving the problems centralisation and energy usage, but the current Iota network is in fact heavily centralised by its reliance on nodes controlled by the Iota foundation to secure it.
IPFS is not a cryptocurrency and does not use a blockchain but it complements the blockchain technologically and often socially. IPFS is related to blockchain technology in its use of cryptography and the logic of game theory but also as a popular way of storing information that is too large to fit on the blockchain. And in its use of a cryptocurrency token – "Filecoin" – to pay for storage on its main network. Filecoin was released in an "Initial Coin Offering" in 2017, and that is all we will say about ICOs here… IPFS uses a "Merkle DAG", a network of links similar to the World Wide Web or a filesystem, but with each item (the pages or files) represented not by a human-given name but by the cryptographic hash of its content. "Merkle" refers not to the German Chancellor but to the computer scientist who described this use of cryptographic hashes in a tree data structure (like that used in Bitcoin). "DAG" is an acronym for "Directed Acyclic Graph" – a network with no loops in it because loops would confuse the algorithm. IPFS distributes content using a "market" algorithm, bartering for blocks of data on the network with Filecoin or with other blocks.
Each of these pocket universes of social and economic reality has its own structure and forms, its own space and geometry. Chains, and being on or off of them. Blocks of different sizes and fullness, with varying distances between them. Channels, rhizomes, shards, tangles, mines and thrones. Forests, tables, graphs, markets and identities. These formal differences distinguish different cryptocurrencies technologically and politically. Algorithmic differences are ideological differences, this is not an external critique it is internal to the logic of cryptocurrency – algorithms are changed to better instantiate what is just. These algorithmic differences produce formal differences. Their surplus value and unintended consequences continue this process of critique-in-code.
The question of the shape of the blockchain opens up onto a space of technomic, geometric and social forms. We can move through the hyperspace containing and relating these forms to the specific spaces of individual blockchains that are built around them, through the constraints and agendas that they reflect, out into wider society. The gaps and overlaps in this space indicate useful problems for the work of development or critique. Given this, geometries and forms are at least as useful a navigational marker as professed intentions or revealed preferences. But only if we can imagine and visualise them.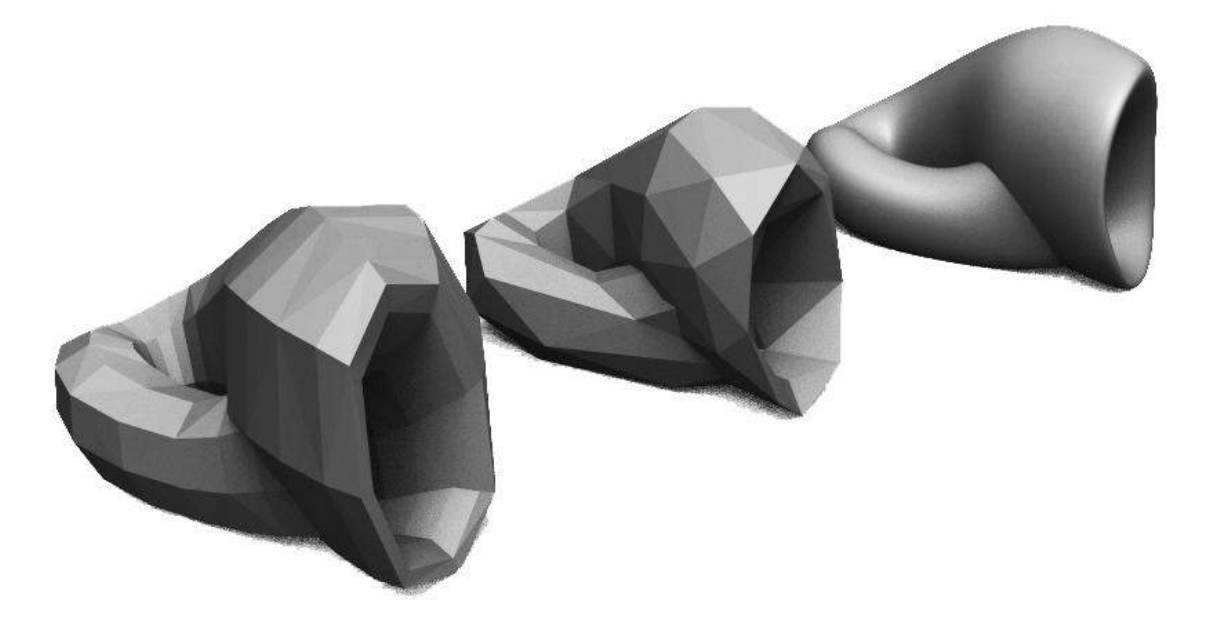 Art deals in form, from the spatial volumes of Renaissance perspective to the choreography and logistics of Relational and Contemporary art. Whether promoting, like Jessica Angel's public art envisioning of the Doge-Ethereum bridge as a Klein Bottle, critiquing or simply rendering perceptible the very different kinds of form that make up the geometric, technomic and social forms of the blockchain and the relationships between them, art has the unique potential to uncover the true shape of the blockchain.
Image notes:
Simple Blockchain Art Diagram, by Rob Myers. 2016
What the Silk Road bitcoin seizure transaction network looks like, Reddit
This essay is a response to Identity Trouble (on the blockchain), the second in the DAOWO lab series for blockchain and the arts. Rosamond reflects on both ongoing attempts to reliably verify identity, and continuing counter-efforts to evade such verifications.
Online transactions take place in a strange space: one that blurs the distinctions between the immediate and the remote, the intimate and the abstract. Credit card numbers, passing from fingers to keyboards to Amazon payment pages, manage complex relations between personal identity and financial capital that have been shifting for centuries. Flirtations on online dating platforms – loosely tied to embodied selves with a pic or two and a profile – constitute zones of indistinction between the intimate spheres of the super-personal, and hyper-distributed transnational circuits of surveillance-capital. Twitter-bot invectives mix with human tweets, swapping styles – while all the while bot-sniffing Twitter bots try to distinguish the "real" from the "fake" voices[1]. Questions of verification – Who is speaking? Who transacts? – proliferate in such spaces, take on a new shape and a shifted urgency.
How does personal identity interface with the complex and ever-changing technical infrastructures of verification? How is it possible to capture the texture of "identity trouble" in online contexts today? The second in the DAOWO event series, "Identity Trouble (on the blockchain)," addressed these questions, bringing together a range of artists, developers and theorists to address the problems and potentials of identification, using technical apparatuses ranging from blockchain, to online metrics, to ID cards and legal name changes. The day included reflections on both ongoing attempts to reliably verify identity, and continuing counter-efforts to evade such verifications.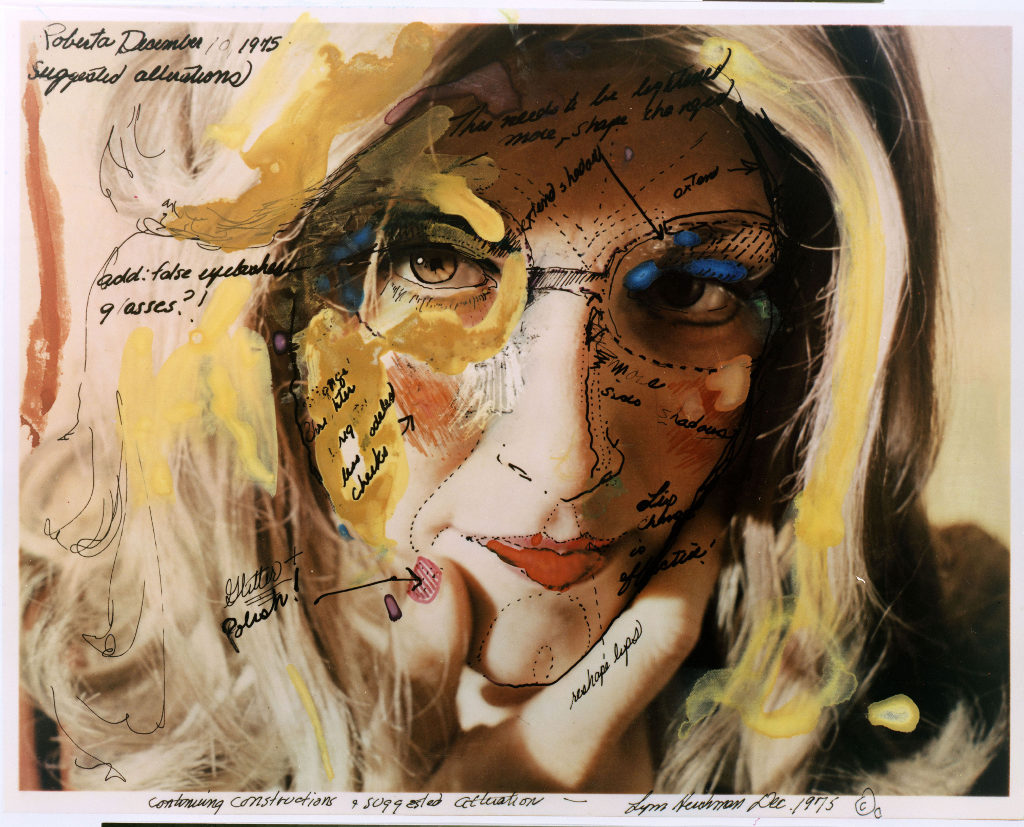 A Backdrop: Moods of Identification
Before going into the day in any detail (and at the risk of going over some already well-trodden ground), I want to try to piece together something which might – however partially – address the deeper histories of the problems we discussed. Of course, identity was an elusive concept long before the internet; and the philosophical search to understand it has run parallel to a slow evolution in the technical and semiotic procedures involved in its verification. In fact, seen from one angle, the period from the late nineteenth century to present can be understood as one in which an increasing drive to identify subjects (using photo ID cards, fingerprints, signatures, credit scores, passwords, and, now, algorithmic/psychometric analysis based on remote analysis of IP address activity) has been coupled with a deep questioning of the very concept of identity itself.
On the one hand, as John Tagg describes, in the second half of the nineteenth century, the restructuring of the nation-state and its disciplinary institutions ("police, prisons, asylums, hospitals, departments of public health, schools and even the modern factory system itself"[2]), depended on creating new procedures for identifying people. This involved, among other things, yoking photography to the evidentiary needs of the state – for instance, through Alphonse Bertillon's anthropometric identity card system, invented in 1879 and adopted by French police in the 1880s. The identity cards, filed by police, included suspects' photographs and measurements, and helped them spot repeat offenders.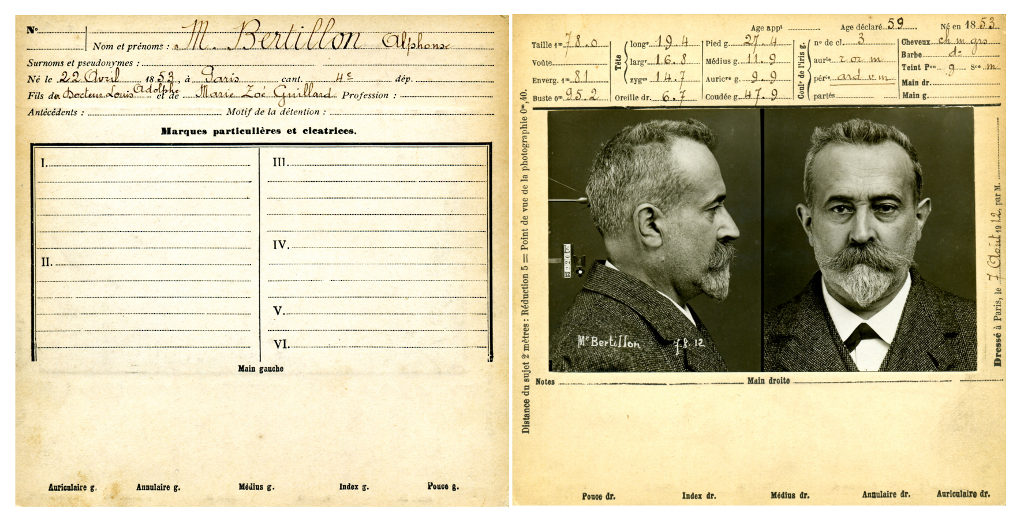 This impulse to identify, it seems, has only expanded in recent times, given the proliferation of biometric and psychometric techniques designed to pin down persons. On the biometric end of this spectrum, retinal scans, biometric residence permits and gait recognition technologies manage people's varying levels of freedom of movement, based on relatively immutable bodily identifiers (the retina; the photographic likeness; the fingerprint; the minute particularities of the gait). On the psychometric end of the spectrum, private companies calculate highly speculative characteristics in their customers by analysing their habits – such as "pain points." The American casino chain Harrah's, for instance, pioneered in analysing data from loyalty cards in real time, to calculate the hypothetical amount of losses a particular gambler would need to incur in order to leave the casino. The pain point – a hypothetical amount of losses calculated by the company, which may be unknown to the customer herself – then provided the basis for Harrah's' real-time micro-management of customer emotion, enabling them to send "luck ambassadors" out onto the floor in real time to boost the spirits of those who had a bad day [3].
On the one hand, then, identification apparatuses have become ever more pervasively intertwined with the practices of daily life in industrialized societies since the latter half of the nineteenth century; this produced new forms of inclusion and exclusion of "exceptional" subjects within various institutional regimes. On the other hand, just as the technical and semiotic procedures associated with verifying identity were proliferating and becoming ever harder to evade, modern and postmodern thinkers were deeply questioning what, exactly, could possibly be identified by such procedures – and why identity had become such a prominent limiting condition in disciplinary societies. James Joyce's character Stephen Dedalus marvels at the lack of cellular consistency in the body over a lifetime. While an identifying trait, such as a mole on the right breast, persists, the cells of which it is made regenerate repeatedly. ("Five months. Molecules all change. I am other I now." [4]) How, then, can debts and deeds persist, if the identificatory traits to which they are indexed are intangibly inscribed in an ever-changing substrate of cellular material?
In the mid-twentieth century, Foucault and Barthes deeply questioned the limitations identity imposed on reading and interpretation. Why, for instance, need authorship play such a prominent role in limiting the possible interpretations of a text? "What difference does it make who is speaking?" [5]
In 'nineties identity discourse, theories of difference became particularly pronounced. Cultural theorists such as Stuart Hall radically questioned essentialist notions of cultural identity, while nonetheless acknowledging the political and discursive efficacy of how identities come to be narrated and understood. Hall and others advocated for a critical understanding of identity that emphasized "not 'who we are' or 'where we came from', so much as what we might become, how we have been represented and how that bears on how we might represent ourselves. Identities are… constituted within, not outside representation." [6]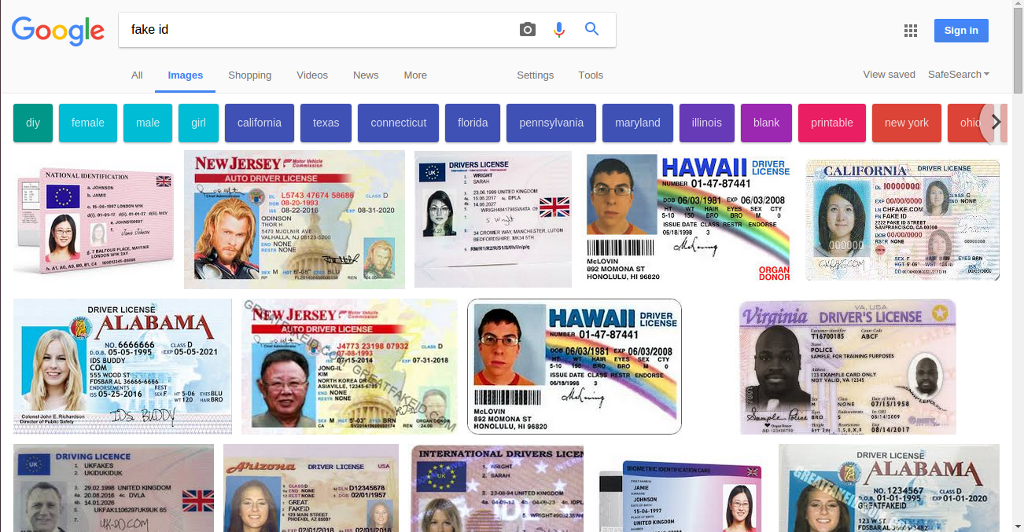 On the one hand – so I have said – myriad technical apparatuses have aimed to ever more reliably capture and verify identity. On the other hand, myriad critical texts have questioned identity's essentialist underpinnings. But today, these lines have become blurred. The anti-identitarian mood permeates technical landscapes, too – not just theoretical ones. Fake IDs, identity theft, and other obfuscations have grown ever more complex alongside apparatuses for identification; indeed, such fakeries have both emerged in response to, and driven yet further developments in technologies for identity verification. The frontiers of identification are ever-changing; each attempt to improve technologies for verifying identity, it seems, eventually provokes the invention of new techniques for evading those verifications.
At the inherently uncertain point of contact between person and online platform, new forms of anti-identifications are practiced – invented or adapted from previous stories. In one bizarre example from 2008, a Craigslist advert posted in Monroe, Washington requested 15-20 men for a bit of well-paid maintenance work. The men were to turn up at 11:15 am in front of the Bank of America, wearing dark blue shirts, a yellow vest, safety goggles and surgical masks. As it turned out, there was no work to be had; instead, the men had been summoned to acts as decoys for a robbery – a squid-ink trail of similarity to help the thief escape. The idea, though inventive, wasn't entirely original; it was described by police as a possible copycat of the plot in the film The Thomas Crown Affair (1999) [7.
Today, the anti-identitarian mood has spread far beyond small-scale manoeuvers like this. Multiple large-scale data breaches – such as the recent Equifax breach, which compromised the data of over 145 million customers [8] – have put a cloud over the veracity of millions of people's online identities. The anti-identitarian mood becomes broad, pervasive, and generalized in data-rich, security-compromised environments. It becomes a kind of weather – a storm of mistrust that gathers and subsides on the level of infrastructures and populations.
Responses
Such are some of the complexities that the DAOWO speakers had to contend with. At the Goethe Institute, we thought through some of the ways in which identities are being newly constituted within representation – ways that might, indeed, answer to the technical and philosophical problems associated with identification. Backend developer Thor Karlsson led us through his company Authenteq's quest to provide more reliable online identity verification. Citing the ease with which online credit card transactions can be hacked, and with which fake accounts proliferate, Karlsson described Authenteq's improved ID verification process – a digital biometric passport, using blockchain as its technical basis. Users upload a selfie, which is then analysed to ensure that it is a live image – not a photograph of a photograph, for instance. They also upload their passport. Authenteq record their verification, and return proof of identity to users, on the BigChainDB blockchain.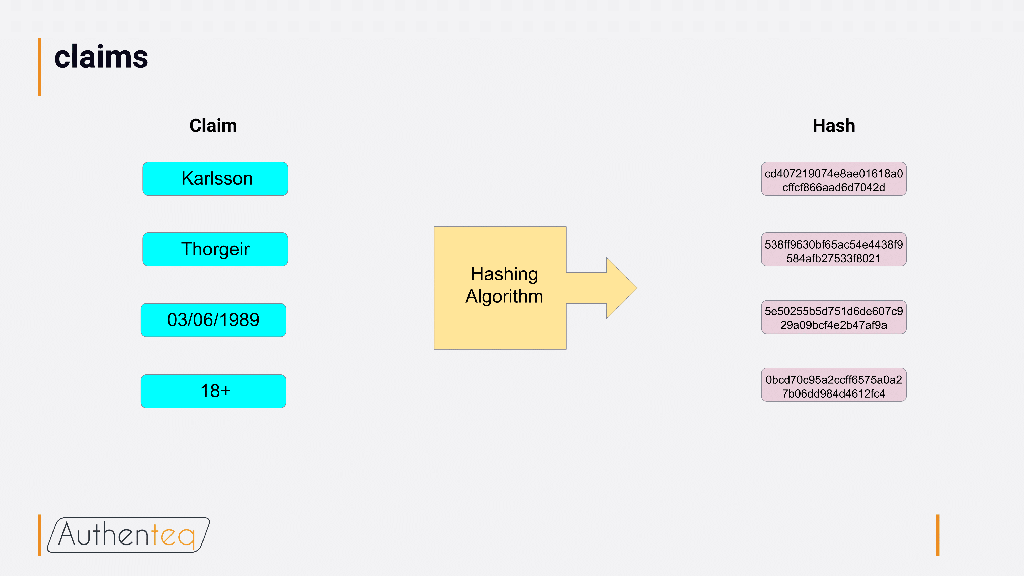 A hashing algorithm ensures that users can be reliably identified, without a company having to store any personal information about them. Authenteq aims to support both identity claim verifications and KYC (Know Your Customer) implementations, allowing sites to get the information they need about their users (for instance, that they are over 18 for adults-only sites) without collecting or storing any other information about them. Given how much the spate of recent large-scale data breaches has brought the storage of personal data into question, Authenteq's use of blockchain to circumvent the need to store personal data promises a more secure route to verification without revealing too much of personal identity.
Nonetheless, while Karlsson and Authenteq were optimistic that they can make meaningful improvements in online identification processes, other provocations focused on the potential problems associated with such attempts at identification – on the protological level, on the level of valuation, and on the level of behaviour-as-protocol. Ramon Amaro delivered an insightful critique of blockchain and the problem of protological control. There is no such thing as raw data – inputs are always inflected by social processes. Further, the blockchain protocol relies heavily on consensus (with more focus on consensus than on what, exactly, is being agreed upon) – which reflects a need to protect assets (including identity) and oust enemies that is, ultimately, a capitalist one. Given this, how can identity manoeuver within the blockchain protocol, without always already being part of a system that is based on producing inclusions and exclusions – drawing lines between those who can and cannot participate?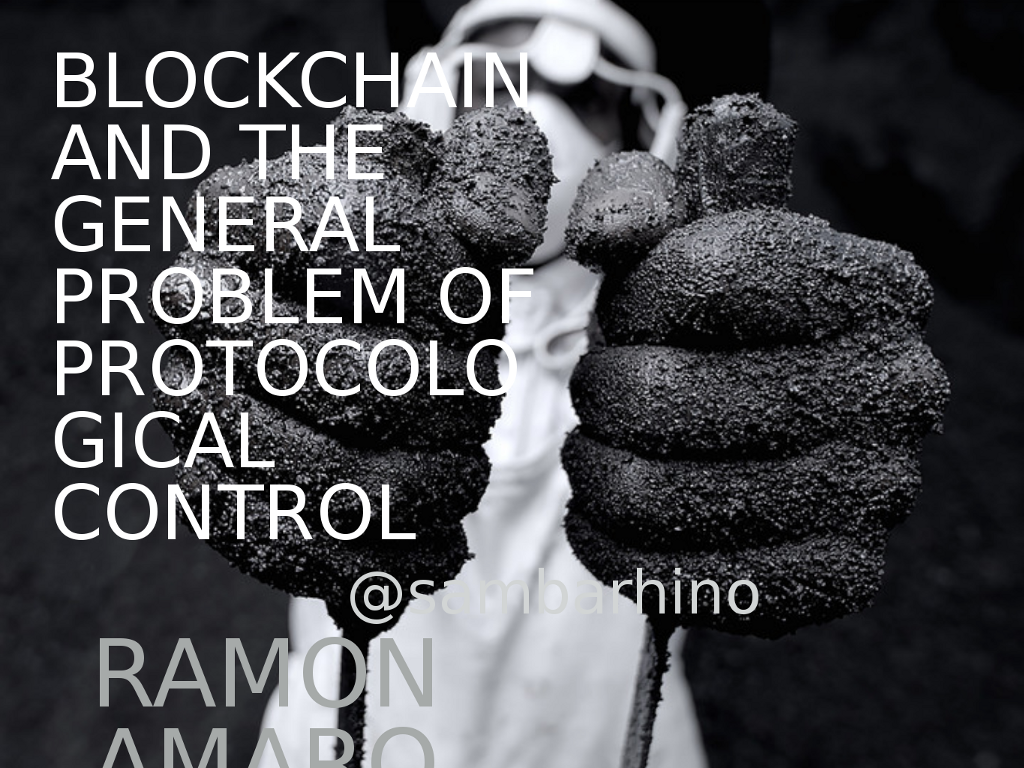 My own contribution focused on systemic uncertainty in the spheres of personal valuation, looking at online reputation. In a world in which online rankings and ratings pervade, it seems that there is a positivist drive to quantify online users' reputations. Yet such apparent certainty can have unexpected effects, producing overall systemic volatility. At the forefront of what I call "reputation warfare," strategists such as Steve Bannon invent new ways to see systemic reputational volatility as a source of value itself, producing options for the politicians they represent to capitalize on the reputational violence produced on sites like 4chan and 8chan.
While these contributions reflected on some of the critical problems associated with pinning down identity's value, some of the artists' contributions for the day focused on the ludic aspects of identity play. Ed Fornieles' contribution focused on the importance of role play as a practice of assuming alternate identities. In his work, this involves thinking of identity as systemic, not individual – and considering how it might be hacked. In many of Fornieles' works, this involves focusing attention on the relation between identity and the platforms on which they are played out. Behaviour becomes a kind of protocol; role play becomes a reflection on strands of behaviour as protocol.
My Name is Janez Janša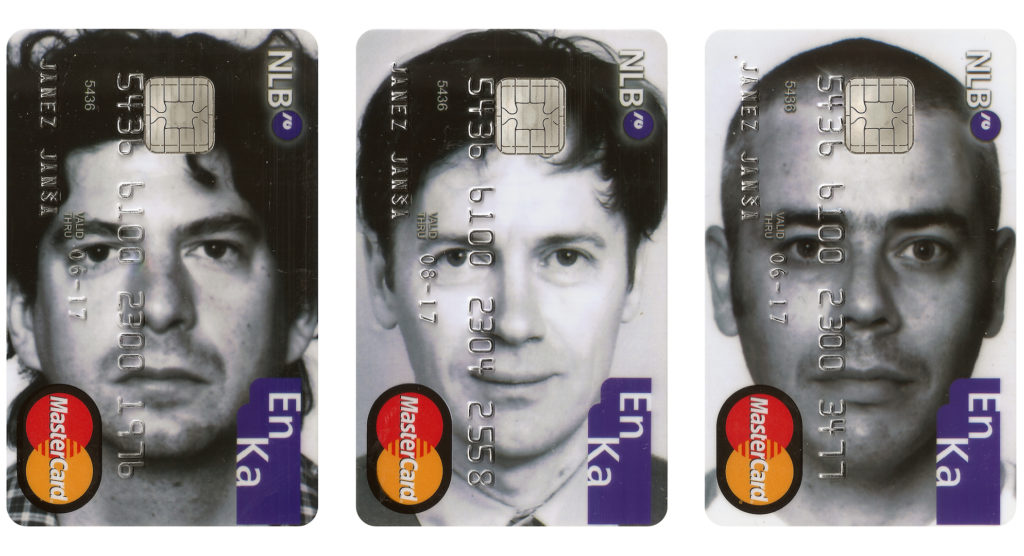 We ended the day with a screening and discussion of My Name is Janez Janša (2012), a film by three artists who, in 2007, collectively changed their names to Janez Janša, to match that of the current president of Slovenia. The film, an extended meditation on the erosion of the proper name as an identifier, catalogued many instances of ambiguity in proper names – from the unintended (an area of Venice in which huge numbers of families share the same last name) to the intentional (Vaginal Davis on the power of changing names). It also charted reactions to the three artists' act of changing their name to Janez Janša. What seemed to confound people was not so much that their names had been changed, but rather that the intention of the act remained unclear. In the midst of today's moods of identification, there are high stakes – and many clear motives – for either obscuring or attempting to pinpoint identity. Given this, the lack of clear motive for identity play seems significant; by not signifying, it holds open a space to rethink the limits of today's moods of identification.
---
The DAOWO programme is devised by Ruth Catlow and Ben Vickers in collaboration with the Goethe-Institut London, and the State Machines programme. Its title is inspired by a paper written by artist, hacker and writer Rob Myers called DAOWO – Decentralised Autonomous Organisation With Others
"Your work is so Dada, its just weird…" Even though the sentence was uttered playfully and with no foul intentions, it hit me. It sounded dismissive; in my ears, my friend just admitted disinterest. Calling something "weird" suggests withdrawal. The adjective forecloses a sense of urgency and classifies the work as a shallow event: the work is funny and quirky, slightly odd and soon becomes background noise, 'nuff said. I tried to ignore the one word review, but I will never forget when it was said, or where we were standing. I wish I had responded: "I think we already know too much to make art that is weird." But unfortunately, I kept quiet.
In his book Noise, Water, Meat (1999), Douglas Kahn writes: "We already know too much for noise to exist." A good 15 years after Kahn's writing, we have entered a time dominated by the noise of crises. Hackers, disease, trade stock crashes and brutalist oligarchs make sure there is not a quiet day to be had. Even our geological time is the subject to dispute. But while insecurity dictates, no-one would dare to refer to this time as the heyday of noise. We know there is more at stake than just noise.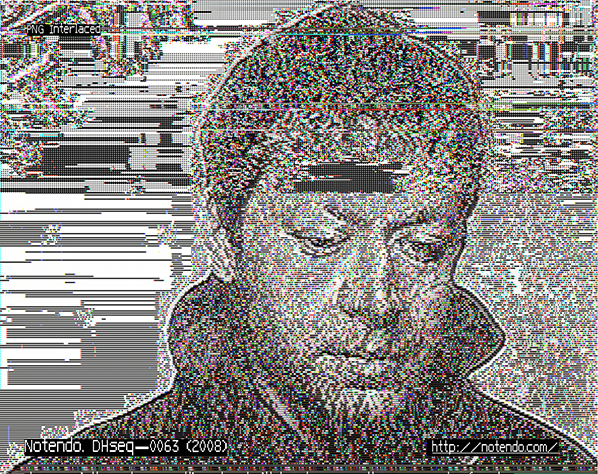 This state is reflected in critical art movements: a current generation of radical digital artists is not interested in work that is uninformed by urgency, nor can they afford to create work that is just #weird, or noisy. The work of these artists has departed from the weird and exists in an exchange that is, rather, strange. it invites the viewer to approach with inquisitiveness – it invokes a state of mind: to wonder. Consequently, these works break with tradition and create space for alternative forms, language, organisation and discourse. It is not straightforward: it is the art of creative problem creation(Jon Satrom during GLI.TC/H).
In 2016 it is easy to look at the weird aesthetics of Dada; its eclectic output is no longer unique. The techniques behind these gibberish concoctions have had a hundred years to become cultivated, even familiar. Radical art and punk alike have adopted the techniques of collage and chance and applied them as styles that are no longer inherently progressive or new. As a filter subsumed by time and fashion, Dada-esque forms of art have been morphed into weird commodities that invoke a feel of stale familiarity.
But when I take a closer look at an original Dadaist work, I enter the mind of a stranger. There is structure that looks like language, but it is not my language. It slips in and out of recognition and maybe, if I would have the chance to dialogue or question, it could become more familiar. Maybe I could even understand it. Spending more time with a piece makes it possible to break it down, to recognize its particulates and particularities, but the whole still balances a threshold of meaning and nonsense. I will never fully understand a work of Dada. The work stays a stranger, a riddle from another time, a question without an answer. The historical circumstances that drove the Dadaists to create the work, with a sentiment or mindset that bordered on madness, seems impossible to translate from one period to the next. The urgency that the Dadaists felt, while driven by their historical circumstances, is no longer accessible to me. The meaningful context of these works is left behind in another time. Which makes me question: why are so many works of contemporary digital artists still described—even dismissed—as Dada-esque? Is it even possible to be like Dada in 2016?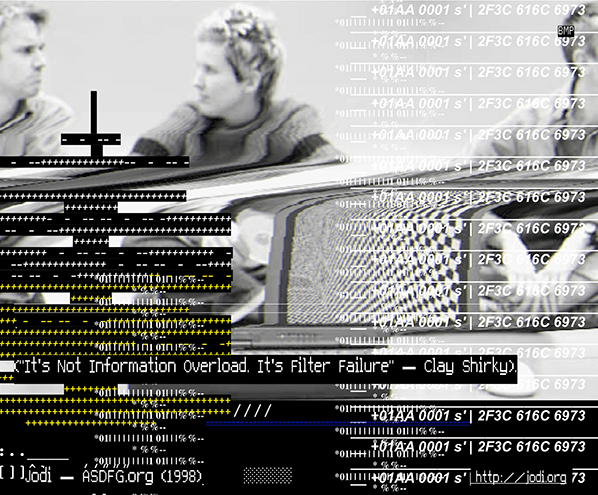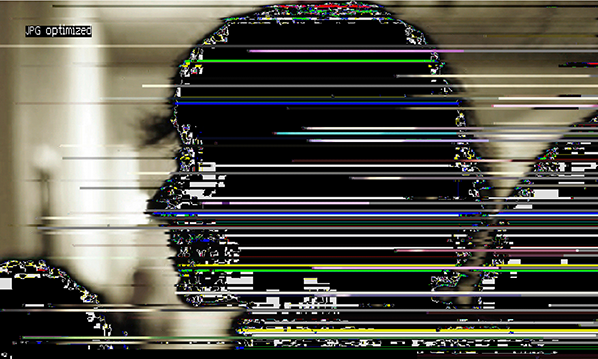 The answer to this question is at least twofold: it is not just the artist, but also the audience who can be responsible for claiming that an artwork is a #weird, Dada-esque anachronism. Digital art can turn Dada-esque by invoking Dadaist techniques such as collage during its production. But the work can also turn Dada-esque during its reception, when the viewer decides to describe the work as "weird like Dada." Consequently, whether or not today a work can be weird like Dada is maybe not that interesting; the answer finally lies within the eye of the beholder. It is maybe a more interesting question to ask what makes the work of art strange? How can contemporary art invoke a mindset of wonder and the power of the critical question in a time in which noise rules and is understood to be too complex to analyse or break down?
The Dadaists invoked this power by using some kind of ellipsis (…): a tactic of strange that involves the withholding of the rules of that tactic. They employed a logic to their art that they did not share with their audience; a logic that has later been described as the logic of the madmen. Today, in a time where our daily reality has changed and our systems have grown more complex, the ellipses of mad logic (dysfunctionality) are commonplace. Weird collage is no longer strange; it is easily understood as a familiar aesthetic technique. Radical Art needs a provocative element, an element of strange that lures the viewer in and makes them think critically; that makes them question again. The art of wonder can no longer lie solely in ellipsis and the ellipsis can no longer be THE art.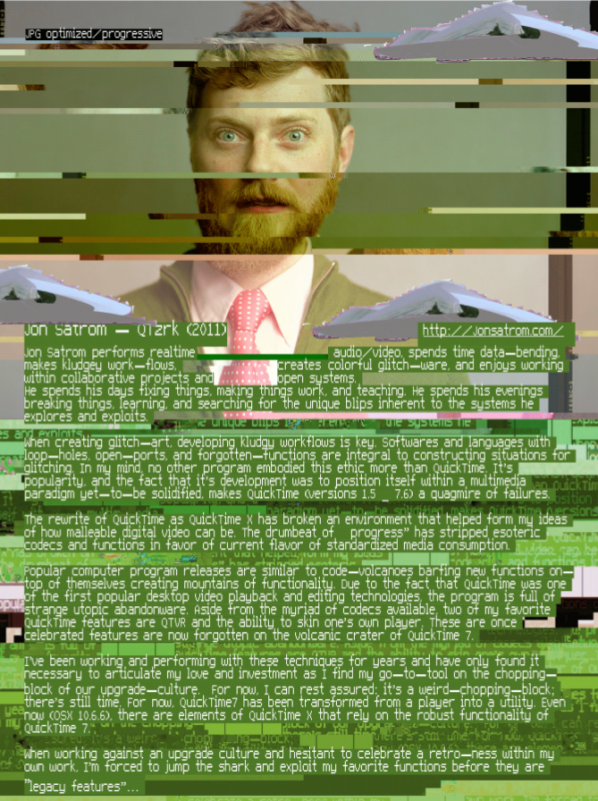 This is particularly important for digital art. During the past decades, digital art has matured beyond the Dadaesque mission to create new techniques for quaint collage. Digital artists have slowly established a tradition that inquisitively opens up the more and more hermetically closed—or black boxed—technologies. Groups and movements like Critical Art Ensemble (1987), Tactical Media (1996), Glitch Art (since ±2001, and later a subgenre that is sometimes referred to as Tactical Glitch Art) and #Additivism (2015) (to name just a few) work in a reactionary, critical fashion against the status quo, engaging with the protocols that facilitate and control the fields of, for instance, infrastructure, standardization, or digital economies. The research of these artists takes place within a liminal space, where it pivots between the thresholds of digital language, such as code and algorithms, the frameworks to which data and computation adhere and the languages spoken by humans. Sometimes they use tactics that are similar to the Dadaist ellipsis. As a result, their output can border on Asemic. This practice comes close to the strangeness that was an inherent component of an original power of Dadaist art.
But an artist who still insists on explaining why a work is weirdly styled like Dada is missing out on the strange mindset that formed the inherently progressive element of Dada. Of course a work of art can be strange by other means than the tactics and techniques used in Dada. Dada is not the father of all progressive work. And not all digital art needs to be strange. But strange is a powerful affect from which to depart in a time that is desperate to ask new critical questions to counter the noise.
Thanks to Amy J. Elias and Jonathan P. Eburne
NotesImages in this article are part of the exhibition Filtering Failure curated by Julian van Aalderen and Rosa Menkman in 2011.
Catalogue of exhibition here:
http://www.slideshare.net/r00s/filtering-failure-exhibition-catalogue
Featured image: Martijn de Waal, co-founder of The Mobile City, introduces the conference (image courtesy Virtueel Platform)
On Feb. 17th Amsterdam hosted Social Cities of Tomorrow, a conference on new media and urbanism. Adapting its title from Ebenezer Howard's Garden Cities of Tomorrow, but taking equal inspiration from the work of Archigram, the conference presented a snapshot of the direction cities are moving today: as conventional means of planning and designing are renegotiated through our engagement with new media technologies:

Organized by The Mobile City and Virtueel Platform, the event showcased best-practise examples of the use of media in urban analysis, design, art and activism. These ranged from "Homeless SMS", a text-messaging system designed to provide information to the 70% of homeless Londoners who own cell phones; "Amsterdam Wastelands", an on-line mapping of disused sites in Amsterdam and Zaanstad; "Koppelkiek", a game project in which residents of a troubled area of Utrecht collected "couple snapshots" (in couples of friends, relatives or complete strangers), promoting social interaction through play; and "Urbanflow", and New York-based project to rethink the contents of urban screens. In all, a dozen such projects were presented at the conference.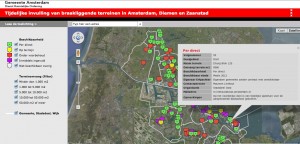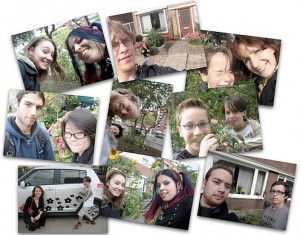 http://www.socialcitiesoftomorrow.nl/showcases
Immediately preceding the conference an intensive three-day workshop took place at ARCAM, the Amsterdam Centre for Architecture. This event brought together two dozen interdisciplinary creatives from around the world to tackle urban issues in four current case-studies: Haagse Havens, Den Haag; Zeeburgereiland; Strijp-S Eindhoven; and the Amsterdam Civic Innovator Network (a proposal to open up Amsterdam's civic resources to distributed control by citizens). Working with local stakeholder organizations, the participants brainstormed how to leverage new media to solve intractable or new problems in these real-world sites.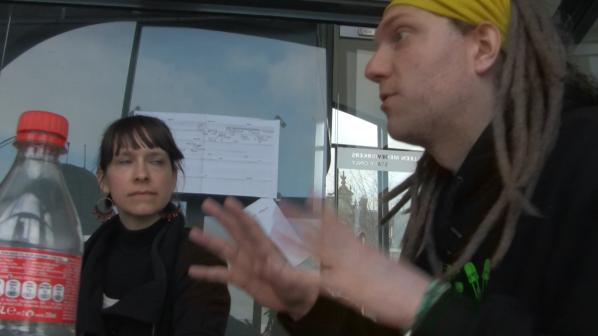 http://www.socialcitiesoftomorrow.nl/workshop/the-four-cases
Also at ARCAM, a roundtable discussion on the alternative forms of trust emerging out of new media conditions was held, with panelists (below, left to right) Tim Vermeulen, Henry Mentink, Rietveld Landscape, Scott Burnham, Michiel de Lange (image courtesy Aurelie).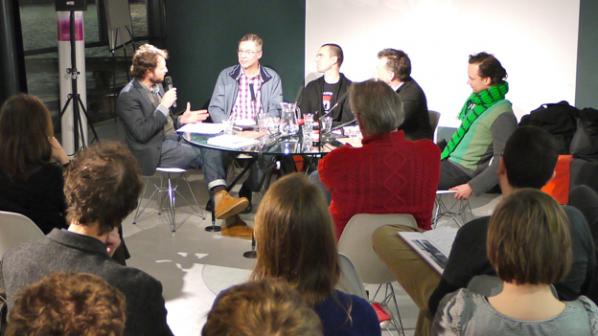 Keynote speakers Usman Haque, Natalie Jeremijenko, and Dan Hill concluded the conference with a panel discussion that placed the presentations in the context of distributed technology, contemporary art, social innovation, and architecture (image courtesy Virtueel Platform).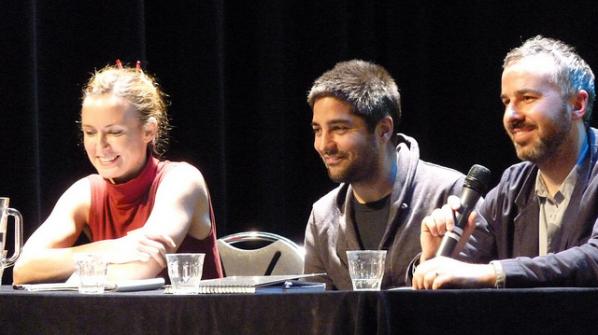 Featured image: The Last Collaboration, cover image
Read The Last Collaboration online
"The United States loses more American lives to patient safety incidents every six months than it did in the entire Vietnam War." Edward Picot introduces The Last Collaboration an art documentary book by artists and poets Martha Deed and Millie Niss. This work is a construction of Millie's hospital experiences in the last hospital she ever visited. The story is told through Millie's notes, emails, the daily diary she sent home, her posts on her Sporkworld blog, her mother's log, and Millie's medical records. These primary, often raw, documents are framed with medical notes and clinical guidelines as well as the outcomes of two NYS Department of Health investigations of Millie's care. Millie wanted her story told. She wanted an autopsy performed if she died. Because of the autopsy, we have the story.
Introduction by Edward Picot
At 09:57 on the morning of 15th November 2009, Millie Niss sent an e-mail from her hospital bed to her parents:
…they have an inexperienced person treating the sickest patients… and by the time she knows enough to do a good job, she is burned out & ready for a part time practice. They should have inexperienced doctors treat the least sick patients, not the sickest ones… This is true in every specialty and I am sure patients die as a result.
She had been in hospital for two weeks, by her own account she had already come close to death, and in another two weeks her life would be over. Already she was unable to move, catheterised, usually in pain, and on a ventilator which prevented her from communicating verbally. Not many patients in her position would have the energy to analyse their own care, never mind write down their conclusions so lucidly. But Millie was no ordinary patient.
She was a writer and new media artist: she had been seriously ill with Behcet's Disease for years – virtually a cripple – but her artistic powers were undiminished, and with the help of her laptop and the internet she continued to work and communicate. When she was admitted to hospital with swine flu, it still didn't stop her writing and thinking. She actually sent off a contribution to a new media project from her hospital bed. She listened to WNYC during the day and BBC4 at night. She couldn't talk, but she kept up a constant stream of e-mails and handwritten notes – to hospital staff, to her parents, and to friends online. She wanted to record everything and comment on everything. If she died – which she could always see was on the cards – then she wanted an autopsy, and she wanted the story of her death to be told.
The remarks quoted above show how acute she could be. She has put her finger right onto a recognised problem of healthcare – that the most complex and stressful cases are often looked after by the least experienced practitioners. Senior doctors are often all too glad to distance themselves from the front line as soon as they get the chance. In a way this is completely understandable, but as a result front line work is frequently characterised by an atmosphere of muddling through, which can rapidly degenerate into bluster, hysteria, bullying and panicky incompetence when the going gets tough.
This book is an account of Millie's experiences at the front line during her final illness. She was hospitalised in New York State, but I can recognise many of the problems described herein from my own experience of the NHS in England, where I have worked in a doctor's surgery for more than twenty years. The story has been assembled by Martha Deed, Millie's longtime collaborator and Mom, using not only Millie's e-mails and jottings, but her own own notes made at the time, her reflections since (which often take the form of poems), and the results of her subsequent investigations and complaints. In artistic terms the different elements are blended and balanced with great skill, and we find ourselves shuttling between documentary evidence, poems about bereavement, first-person narratives and nature-notes about birds, without any sense of incongruity or disjunction. The story unfolds both in the present tense and in flashback, both from Martha's point of view and from Millie's. It is a shocking depiction of how badly things can sometimes go wrong in a hospital.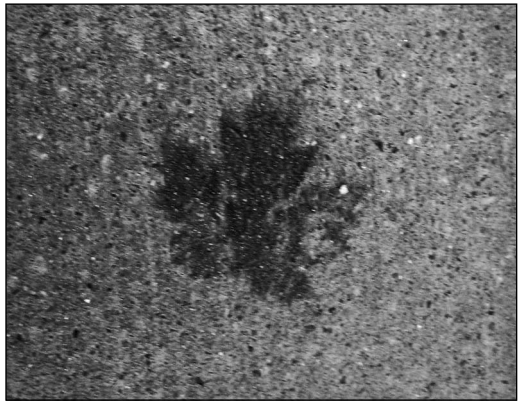 Doubtless the hospital would argue that this is a one-sided account. They would also say – indeed, in their response to Martha's complaints they did say – that Millie was not the easiest patient to care for. And leaving Millie's case on one side for a moment, it has to be admitted that caring for the sick, especially in a hospital, is an extremely difficult job. Unreasonable behaviour from patients may not be the norm, but it is certainly commonplace. At least in a doctor's surgery you can get to know your clientele over a period of years, and they can get to know you. In a hospital the turnover is much higher, and bonds of trust are correspondingly more difficult to form. People are generally sicker, which makes them more stressed; and relatives are more worried, which makes them more demanding. Furthermore some people simply cannot accept the realities of ill-health and death, and lash out or place blame as a means of relieving their feelings. Perhaps it's not surprising, therefore, that some hospital employees come to regard the patients – and their families – with a mixture of nervousness and resentment rather than sympathy and helpfulness.
The best carers can deal with tricky customers without losing their cool. They avoid getting into confrontations and status-competitions with the public, and they treat the people they don't like with the same meticulous care and respect as the ones they do. They are not only skilled and sympathetic, but detached enough to keep a sense of perspective at all times. They make good decisions in pressurised circumstances. They communicate clearly at every stage of the caring process. They admit their own shortcomings and seek expert help when they need it, instead of trying to bluster and bluff their way out of difficulties. Unsurprisingly, a lot of employees in the health service fall a long way short of this ideal; but what is less excusable is that some of them don't even recognise it as the ideal for which they should be aiming.
What these pages make painfully clear is that although hospital staff are supposed to treat all patients the same, they can sometimes be prejudiced against certain types, for example the obese, who are often regarded as having created their own health problems. Furthermore, although they officially welcome questions and comments, in practice they tend to prefer grateful submissiveness, and there are those who interpret anything else as troublemaking.
Of course, Millie's story mustn't be taken as representative of what's likely to happen to anyone who goes into a hospital, either in the UK or the USA, and it mustn't prevent us from realising how hard people in healthcare generally work – a lot of them for not very much money – or what an invaluable job most of them do.
All the same, the situations described in this book will strike a chord with many people both inside and outside of the health care sector. One thing it lays bare is that the psychology of caring can be a disturbing subject. We are such touchy creatures, so desperate to justify ourselves and not lose face, so anxious to get the better of anyone who seems to pose a challenge, that in no time at all, even when another person's health is at stake, we can forget our duties and become embroiled in a petty struggle for the upper hand. Furthermore power corrupts, and a health care worker is in a position of power, able to grant or deny favours, wielding the authority of the surgery, the hospital or the System itself.
And then there is the impossible-to-ignore feeling that the patients are making our lives a misery by forcing their demands upon us. Even outside the health system, when we are caring for our loved ones, our concern for them is rarely untainted with resentment – why can't they leave us alone instead of pestering us for help all the time? So what chance is there that staff in a doctor's surgery or on a hospital ward will be able to avoid upsurges of ill-feeling towards the patients, particularly when things get difficult? And once they have taken a dislike to someone, they may subject that person to obstructiveness, bossiness, bullying, uncaring treatment or even cruelty.
Hopefully, to recognise these impulses and their grounding in normal human feelings is the first step towards controlling them. Unfortunately, people coming into health care are usually given very little training in its psychological aspects, and what training they do get tends to be so simplistic that it's difficult to apply in real-life situations.
Furthermore what happens on the front line, as Millie so shrewdly observed, is very often a knock-on consequence of organisational decisions made higher up. If senior members of staff use their seniority as an excuse for distancing themselves from the most stressful and difficult areas of work, then those areas are going to be looked after by juniors. Mistakes are more likely to be made, and although the senior members of staff won't be the ones making them, they will be indirectly responsible.
In badly-managed organisations leaders and decision-makers tend to become detached figures issuing edicts from ivory towers, and because of their detachment those edicts become increasingly abstracted from the realities of working life. "Ordinary" members of staff are left to muddle along as best they can. Organisations like this are often characterised by high-sounding written policies which nobody ever reads or puts into action – and there are examples of such policies in this book.
In the best-run teams, leaders and decision-makers do not become separated from the rank-and-file: everybody communicates with everybody else, everybody plays a part in the decision-making process, everybody knows what's going on and continuity of care is ensured. But this book shows what can happen at the other extreme: fragmentation of care, no coherent plan, rogue individuals doing pretty much what they like, poor communication, needless delays, and ultimately fatal errors.
Then there are the questions of incompetence and cover-ups. Nobody is immune from making mistakes, and the best individuals and institutions are able to recognise them and learn from them. Yet people in all walks of life just as frequently react to criticism with defensiveness and self-justification, or by simply brushing things under the carpet. Again, these are perfectly normal reactions in a way: no matter how rewarding it may be to learn lessons from our own failures, it is always an uncomfortable process, and our first impulse tends to be either to deny them or hurry away from them as soon as possible. In the health service this reluctance to acknowledge mistakes can shade into blaming patients for their own difficulties, or trading on the disinclination of relatives to trawl through the details after someone has died. The death of a mismanaged patient can even come to be regarded as a desireable outcome, since it usually has the effect of silencing criticism and drawing a veil over people's mistakes. All of these things seem to have happened where Millie was concerned.
Needless to say, given its subject, this book can be a tough read at times. But it's full of insightful comments – here are just a few examples:
Do not confuse personality or communication skills with medical competence. It's great to have both, but the more important quality – absent personal nastiness – is medical competence. [Martha]
I have also gotten a lot of good care, but once you die or are terribly damaged it is too late to say "Most of the care was ok". [Millie]
You would not believe how nasty nurses can be to people who are very sick and helpless. [Millie]
I am sorry, my dear,
but the leg you say is broken because it looks all twisty and it hurts…
is not broken
because we have met our broken leg target for the month.
[Martha]
As these quotes show, the style in which the book is written, even when the subject-matter is at its grimmest, is always natural and engaging. And although, in places, the narrative shows us some unsavoury aspects of human nature, Millie is such a living presence, and the relationship between her and her mother comes across so powerfully, that what we are left with in the end, paradoxically, is a sense of affirmation.
It is encouraging to learn that a medical professor in the USA is already planning to use The Last Collaboration as a training aid. It could well prove invaluable, not only as a cautionary tale of how things can go wrong in the health care system, but as a tremendously vivid insight into what it feels like to be on the receiving end when they do. Given the choice, Millie would undoubtedly have preferred to escape with her life rather than achieve this particular form of immortality. Nevertheless, she would certainly be gratified to know that her story was making a difference. It is a story which she desperately wanted to be told, and which needed to be told for the good of the health service and its patients. And almost all of us will be its patients one day.
—
Read Edward Picot's article about Millie Niss on Furtherfield
Blue Sausage Infant is the solo electronic project from Washington DC's Chester Hawkins. Active on the live scene since the late 1980s, he's shared the stage with touring and local luminaries, whose stylistic echoes radiate his own productions. Hints from prog, industrial, dark ambient, and noise all come across on BSI's first LP release, Negative Space. Issued on Zeromoon in gorgeous packaging and colored 180-gram vinyl, Negative Space's three tracks combine into a diverse snapshot of Hawkins' musical creativity and expertise using a fair number of electronic and other diverse instruments (including electric toothbrush), all helpfully enumerated on the inner sleeve.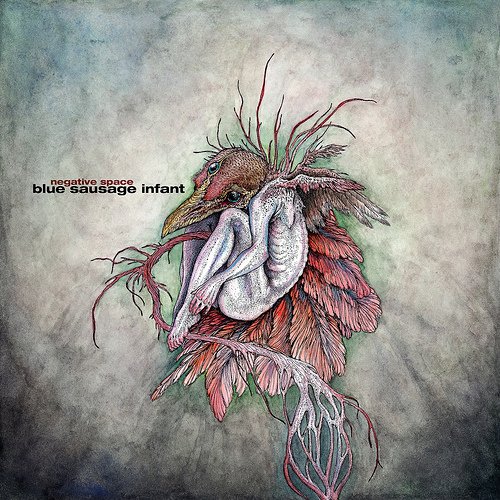 Side one is the single solo track "Motion Parallax," a drifting space music riff that evolves through increasingly soupy accompaniments. From the Berlin overtones that emerge from the opening swirling white noise to a tribal electronic rhythm that reminded me of the proto-noise-punk band Chrome, BSI creates a diorama of timbral and harmonic landscapes. A distorted voice just out of comprehension earnestly and repeatedly strives, but fails to make herself understood, channeling an obscure Samuel Beckett character. Perhaps because of its murkiness, present even in the background of the rhythmic passages, Motion Parallax carries a lulling quality, a hard-edged long-form ambient work.
By contrast, side two opens considerably further towards krautrock with the title track, thanks to the assistance of a guitarist, a drummer, and a fourth performer on percussion and electronics. For all that side one referenced ambient, "Negative Space" draws from post-rock, with sustained guitar textures, rhythmic bass riffs, four-bar phrase structures, and a continuous dramatic build over the fourteen-minute performance. The side concludes with the shorter solo track "Subferal," dense electronics dotted with sirens and alarms, led by an obsessive oscillation that starts on an intense single note and dissolves into swizzling distortion.
Originally posted on Furthernoise: http://www.furthernoise.org/index.php?url=page.php&ID=430&iss=96
In early February 2011, while researching the Japanese post-war economic miracle for a Biosphere project, Geir Jenssen found an old photo of Mihama nuclear plant. The site of this futuristic-looking plant in so lovely a spot by the sea intrigued him. Were they safe from earthquakes and tsunamis? Further reading revealed many to be in quake-prone areas, some even by shores hit by tsunamis previously. Narrowing focus to Japanese plants, he determined to soundtrack them – architecture and design, location, potential risk. N-Plants was finished on February 13th. A month later a friend wrote: 'Geir, some time ago you asked for a photo of a Japanese nuclear powerplant …how did you actually predict the future?…'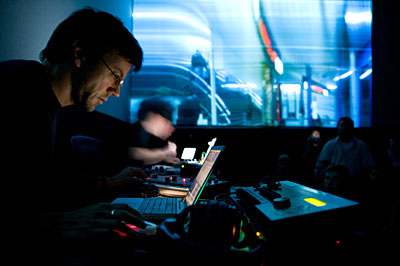 Several months on, Jenssen's prophetic words take on an eerie resonance, though the mood of N-Plants is far from the dystopian desolation one might have projected. A more ambiguous affair, it reveals itself less of an isolationist gloomfest than a collection of retro-futurist downtempo ambient house that seems to hark back to Biosphere's early 90s IDM orientation circa Microgravity. The music, deceptively pretty, has about it a robotic undertone, its clipped rhythms of (deliberately?) low timbral interest, tones with a slightly degraded edge, a patina of peripheral hiss and whirr, slender hollowed out drones, as if to represent an alienated view of the still life of these structures, and aspects of their architecture and morality through a quasi-Ballardian sci-fi expressionist haze.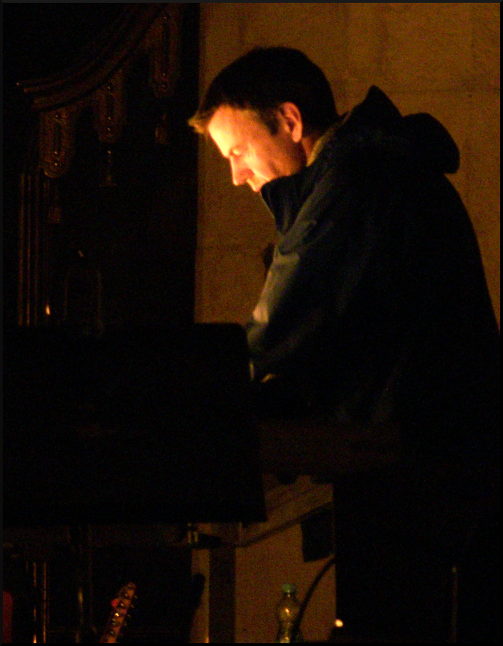 With its hissing effluvia and ominous chord thematics, "Joyo" is closest to the portent the theme might have evoked, but overall there's a lightness of touch, eye to the bright visions of 60s sci-fi rendered via a slightly askew downtempo IDM. Sonics tap into the retro-future, signalling a certain remote sensed nostalgia. "Sendai-1″ sets the tone, a machine koan with Orientalist marimba-like sequences and a vacated drone at the core; the subsequent "Shika-1" and "Ikata-1" evoke a similar air of serenity with a clinical faintly sinister edge, blithe glaze-eyed synthetics and syncopated beats pulsing functionally under warmly wheezing pads.
But for all Jenssen's precision sound design, N-Plants strikes as a little underdone and strangely lacking in musical, if not conceptual, substance, from a man responsible for one of the Top Ambient albums of all time, Substrata. Where that album memorably sounded depths, N-Plants scrolls somewhat dead-eyed over flat planes, as on the evacuated chiming recursions of "Fujiko". Much of the album sounds almost like a decades-old artefact with its intermediate technology synth sounds and blank drum pads. This depletion is doubtless deliberate, sound signifying the faded scientific glory of its subject – tarnished future visions, modernist hopes, revealed as vainglorious hubris. N-Plants is truly a Music for Powerplants, in the way Eno's was a Music For Airports. But, as with this latter, ideational heft doesn't suffice to make it the best musical work of a master sonician.
Those seeking more musical meat may appreciate more fully fleshed out realizations from The Sight Below: