"It's amazing what we can do if we simply refuse to give up. The word again is persist." Octavia E Butler
In 2019 we celebrate the 150th anniversary of Finsbury Park, and we time travel through its past and future with the launch of our Citizen Sci-fi programme and methodology. Dominant sci-fi franchises of our time, from Black Mirror to Westworld, have captured popular attention by showing us their apocalyptic visions of futures made desperate by systems of dominance and despair.
What is African-American author, Octavia E. Butler's prescription for despair? Sci-fi and persistence. Sci-fi as a tool for getting us off the beaten-track and onto more fertile ground, and persistent striving for more just societies.The 2015 book Octavia's Brood honoured her work, with an anthology of sci-fi writings from US social justice movements and this inspired us to try a new artistic response to the histories and possible futures of Finsbury Park.
Furtherfield's Citizen Sci-Fi methodology combines citizen science and citizen journalism by crowdsourcing the imagination of local park users and community groups to create new visions and models of stewardship for public, urban green space. By connecting these with international communities of artists, techies and thinkers we are co-curating labs, workshops, exhibitions and Summer Fairs as a way to grow a new breed of shared culture.
Each artwork in the forthcoming exhibition invites audience participation – either in it's creation or in the development of a parallel 'people's' work – turning every idea into a portal to countless more thoughts and visions of the past and future of urban green spaces and beyond.
So where do we start? Last year we invited artists, academics and technologists to join us in forming a rebel alliance to fight for our futures across territories of political, cultural and environmental injustice. This year both our editorial and our exhibition programme are inspired by this alliance and the discoveries we are making together.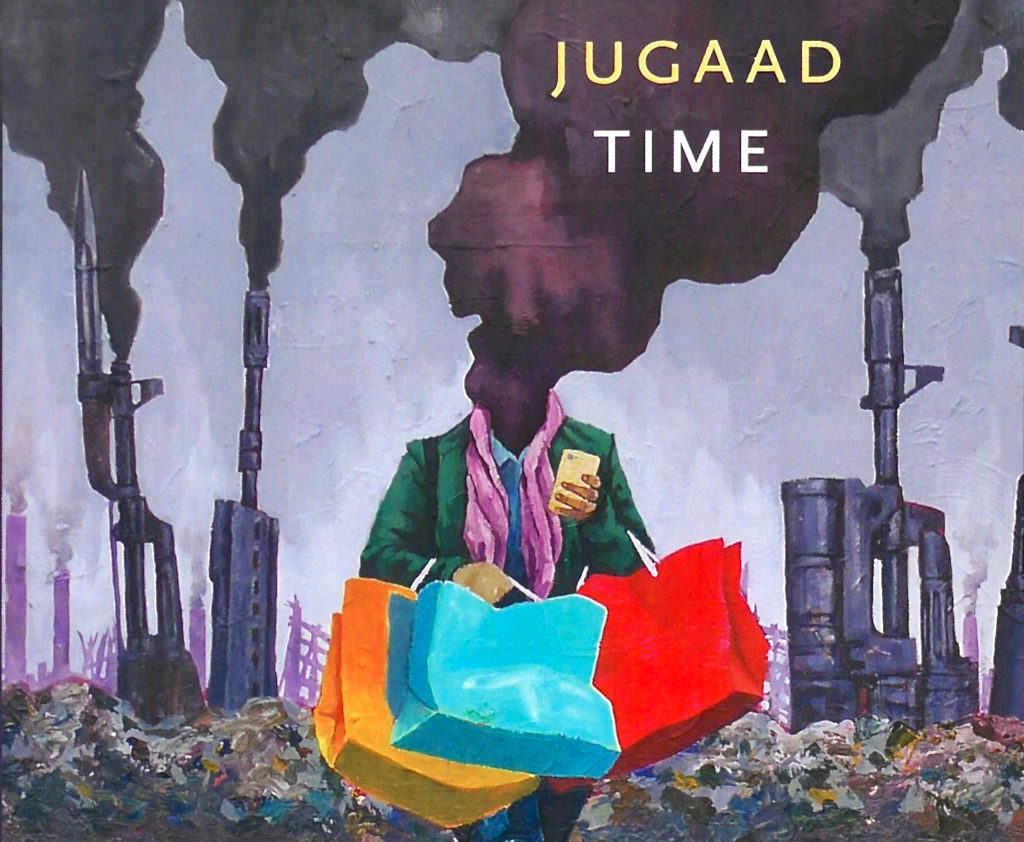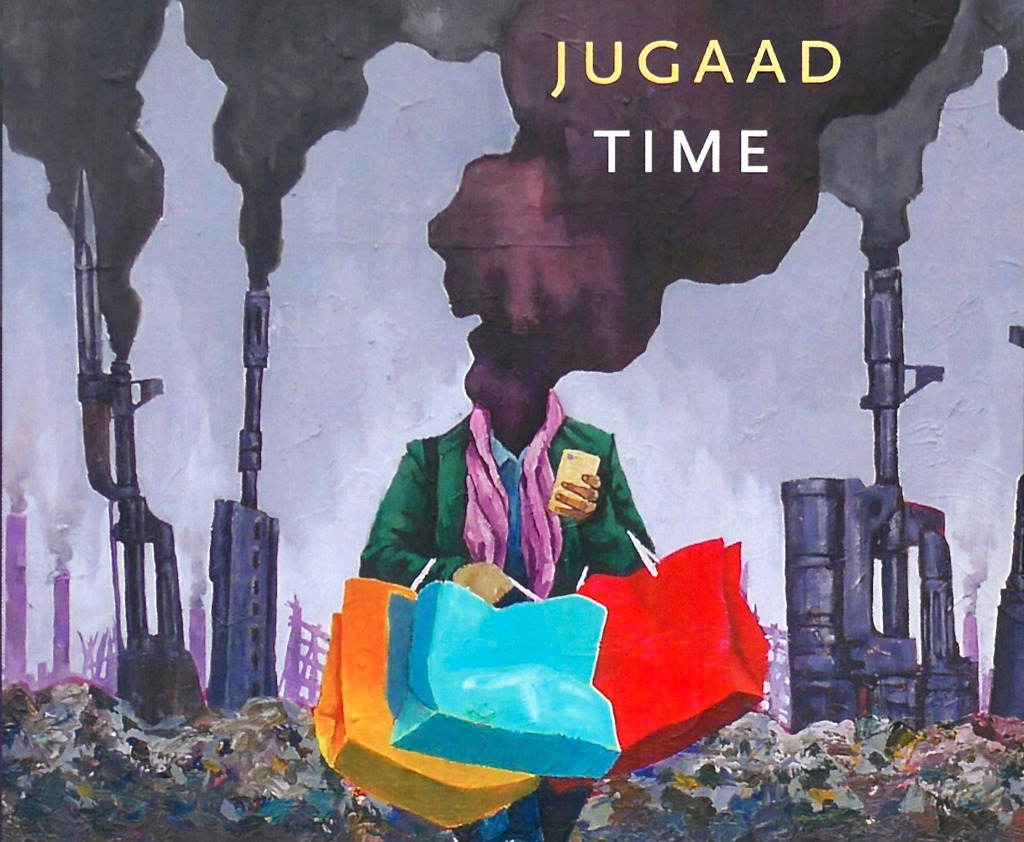 To kick off this year's Time Portals programme at Furtherfield, in April we will host the launch and discussion around Jugaad Time, Amit Rai's forthcoming book. This reflects on the postcolonial politics of what in India is called 'jugaad', or 'work around' and its disruption of the neoliberal capture of this subaltern practice as 'frugal innovation'. Paul March-Russell's essay Sci-Fi and Social Justice: An Overview delves into the radical roots and implications of Mary Shelley's Frankenstein (1818). This is a topic close to our hearts given our own recent exhibitions Monsters of the Machine and Children of Prometheus, inspired by the same book. Meanwhile we've been hosting workshops with local residents exploring our visions for Finsbury Park 150 years into the future. To get a flavour of these activities Matt Watkins' has produced an account of his experience of the Futurescapes workshop at Furtherfield Commons in December 2018.
In May we will open the Time Portals exhibition which features several new commissions. These include Circle of Blackness by Elsa James. Through local historical research James will devise a composite character to embody the story of a black woman from the locality 150 years ago and 150 years in the future. James will perform a monologue that will be recorded and produced by hybrid reality technologist Carl Smith and broadcast as a hologram inside the Furtherfield Gallery throughout the summer. While Futures Machine by Rachel Jacobs is an Interactive machine designed and built through public workshops to respond to environmental change – recording the past and making predictions for the future while inspiring new rituals for our troubled times. Once built, the machine occupies Furtherfield Gallery, inviting visitors to play with it.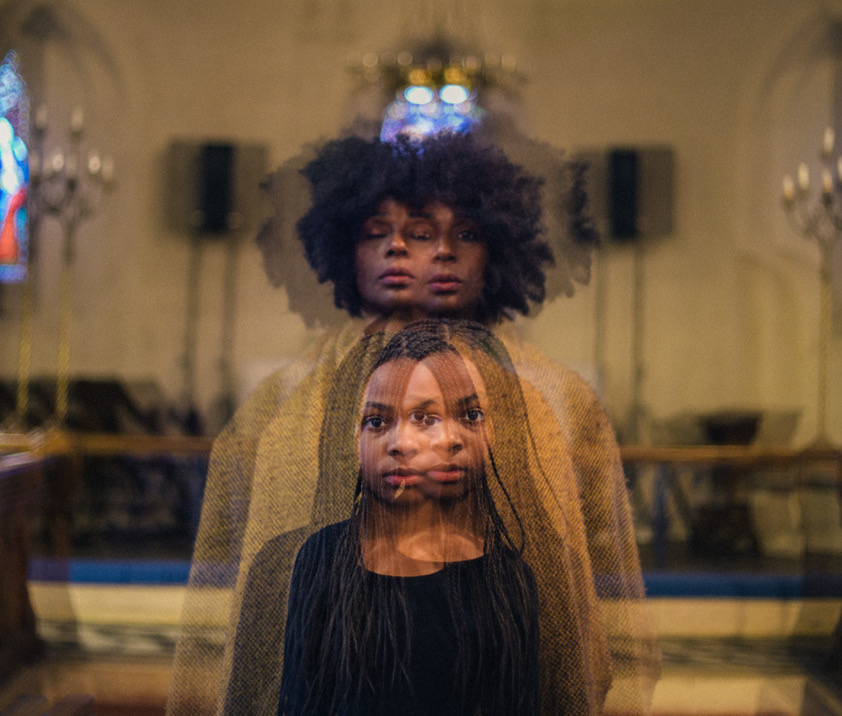 Time Portals opens on May 9th (2019) with other time traveling works by Thomson and Craighead, Anna Dumitriu and Alex May, Antonio Roberts and Studio Hyte. Visitors will be invited to participate in an act of radical imagination, responding with images, texts and actions that engage circular time, long time, linear time and lateral time in space towards a collective vision of Finsbury Park in 2169.
From April onwards, a world of activities, workshops with local families and their enriching noises, reviews, interviews and an array of experiences will unfold. Together we dismiss the dystopian nightmares and invite communities to join us in one of London's first "People's Parks" to revisit and recreate the future on our own terms together.
Marc Garrett will be interviewing Elsa James, about her artwork Circle of Blackness, and Amit Rai about his book Jugaad Time. Both will soon be featured on the Furtherfield web site.
Futurescapes connects local groups with our wider team of designers, researchers, techies and visionaries, to co-create new visions of Finsbury Park using immersive technology.
Crowd-Sourced Visions of the Future
Furtherfield disrupt and democratise arts and technology so that more people can be involved in the business of shaping their cultures and places. Our current focus is on ways to connect the governance and funding of culture to the communities that they serve.
We are currently developing a three year programme called Citizen Sci-Fi, in the heart of Finsbury Park where we have 2 venues: a gallery and a lab. Using the model of citizen science and citizen journalism we are crowdsourcing the imagination of park users and local community groups to create new visions and models of stewardship for public, urban green space.
Like many other public spaces, Finsbury Park has immense economic, social and natural value, yet there is a disconnect between the 'owners' of public space and the people that use (or should be) using them. Local councils have limited funds, the 'superdiverse' local population are not engaged in public consultations; and there are conflicts between park users and stakeholders.
Planning Together
Immersive models can be used as a tool for engagement through co-design, to discover how the council, park stakeholders including nearby property developers, and park users imagine its future and their involvement with it. Placemaking is recognised as a core part of regeneration, requiring a foundation of strong partnerships cutting across the public and private sectors, where social, cultural and 'natural' capital interleave to create stronger bonds and local identity.
We aim to co-design an immersive platform to facilitate the co-design of development in and around public spaces. It will engage with and directly benefit a number of stakeholders:
Citizens: members of the public/park users (special interest groups e.g. older women's group, gallery visitors, dog walkers, tourists…)
Businesses: Thames Water, adjacent shops, cafes, local property developers, commercial fitness groups e.g. Military Fitness Group)
Government (Haringey Council) as landowner, facility/service manager, adjacent authorities Islington and Hackney, planning authorities
Creative industries professionals (architects, game designers, artists, filmmakers)
By coordinating and connecting Furtherfield's international community of artists, techies and thinkers, and the groups that we work with in Finsbury Park, we have the opportunity to combine the powerful insights of grounded communities with experimental practitioners. We want to find a way to empower a long term collaboration across all these layers.
Futurescapes is an Audiences of the Future Design Foundations project, funded by Innovate UK (part of UK Research & Innovation)
Project Partners
Join Stacco Troncoso & Ann Marie Utratel (Commons Transition) and Ruth Catlow (Furtherfield) to play Commonspoly – the resource-access game where we win by working as a community.
Commonspoly is a hack and a critique of the game Monopoly. Players aim first to re-municipalize private goods and then turn them into a Commons – you'll learn why this is the best strategy while playing the game.
Rather than compete against each other, players must overcome their conditioning and 'rational, self-interest' to instead maximize cooperative behaviours and create a commons-oriented locality. Who wins? Everyone in the community! Unless the speculators take over…which we must fight at all costs. United we stand!
This event at Design Museum in partnership with Furtherfield forms part of Convivial Tools, a programme of talks, debates and workshops exploring new strategies for a more cooperative society, based on the thinking of the late philosopher Ivan Illich.
ABOUT THE COORDINATORS
Stacco Troncoso is the advocacy coordinator for Commons Transition and the P2P Foundation, and a co-founder of the Guerrilla Translation collective. He is the designer and content editor for CommonsTransition.org, the P2P Foundation blog and the Commons Strategies Group website.
Ann Marie Utratel is part of the Commons Transition team, and is a co-founder of the Guerrilla Translation collective. Her work helps connect a widening network of people involved in forward-thinking communities including the Commons and P2P movement, collaborative economy, open licensing, open culture, open cooperativism, and beyond.
Ruth Catlow, artist, curator, and co-founder and co-director of Furtherfield, is a recovering web-utopian and has worked since the mid-90s with network practices in arts, technology and social change.
Artist and designer Ling Tan talks about the SUPERPOWER! workshop that explored ways to empower young women through a creative exploration of wearable technology in public space.
Last summer, artist and designer Ling Tan worked with young peer leaders from All Change Arts, and the Furtherfield team to devise a project called SUPERPOWER! Finsbury Park. It brought together young women from different walks of life to discuss their relationship with the city. The project explored the ability for technology to bring about female empowerment, and question the participant's role as female in regards to decision making about our city.
Three common themes by the participants were collectively identified, and linked to a place in Finsbury Park. Using the themes to co-create a series of wearable devices that enabled them to record their subjective perceptions of the city using gesture sensing technology. These were: Cultural diversity and inclusivity in our community; Safety of individuals in the London Borough of Islington and; Wheelchair accessibility around Finsbury Park area
It was all co-scripted and used for an exploration walk, involving the team walking around a specific area of Finsbury Park, performing and recording their subjective experiences using the wearable devices that catalogued their gestures. During the workshop, participants designed body gestures using the wearable technology which track their body gestures and communicate remotely with each other through haptic/audio sensors.
Marc Garrett: Where did the idea for the workshops come from and how did the concept of superpower shape what participants did with your wearable technology.
Ling Tan: In SUPERPOWER! Finsbury Park, the participants were young women aged 15-25 years old and almost all of them have no prior knowledge of electronics and coding. Instead of the workshop being about coding and making, I wanted it to focus on empowerment, challenging them to go beyond their comfort zones. Hence the term "superpower" became a powerful concept to get them to think about technology as a form of superpower that extends their perception into the environment. The idea for the workshop built upon a couple of projects I was doing over the past few years; WearAQ and Fakugesi Social Wearables. The projects use wearable technology to enable different communities to actively record and map out their relationship with their cities through individual subjective perception in the form of body gestures. For example, perception of air quality in London, UK and perception of safety on the streets in Johannesburg, South Africa.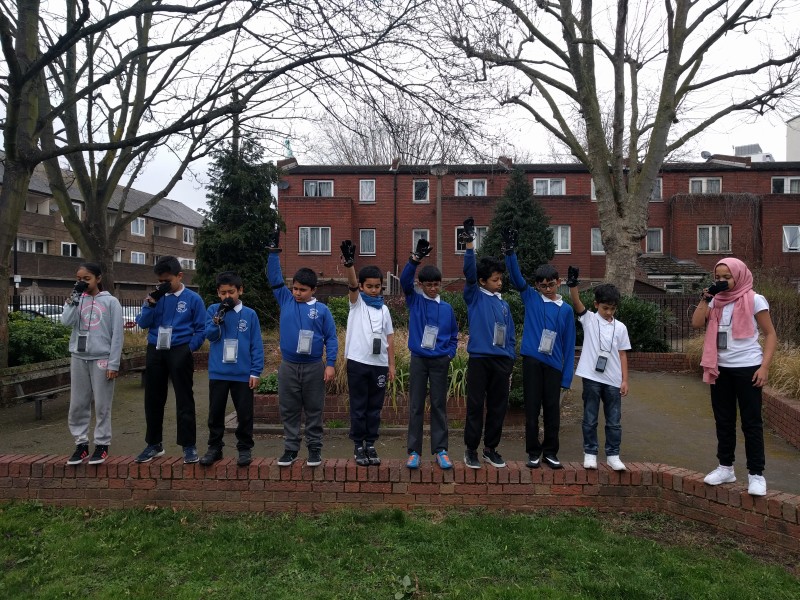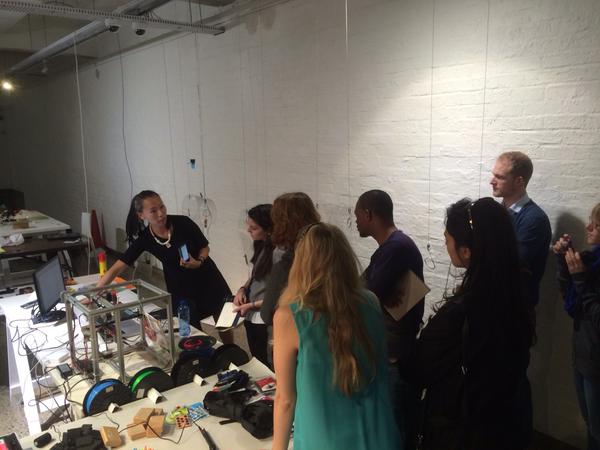 In the workshop, participants discussed about their relationship with Finsbury Park, designed experiments and body gestures to map out their own relationship through the use of an existing set of wearable devices, went out into public space and run with experiments with strangers, park users. For me, learning about what they want to do with technology is more important than picking up skills like coding or fabrication.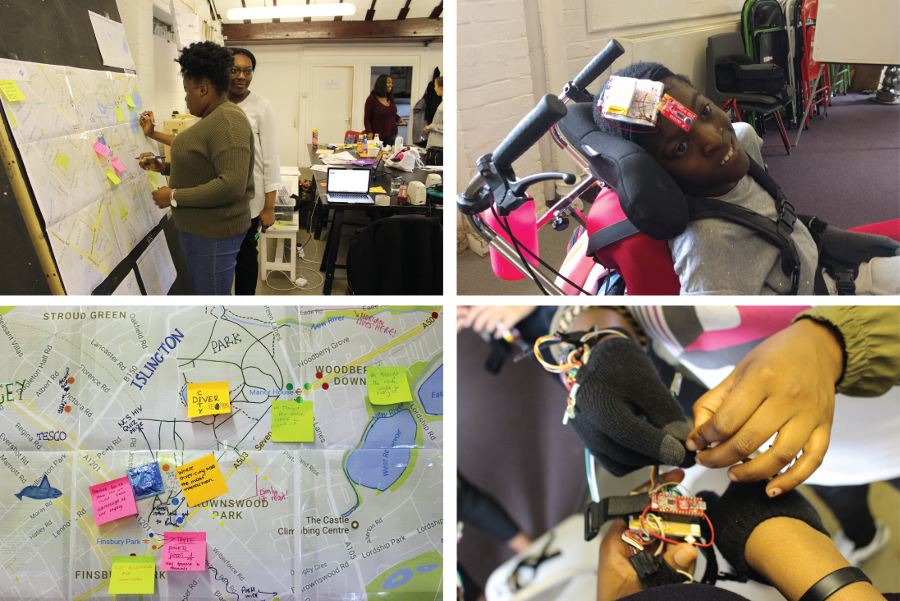 MG: We were surprised to hear how much the young women had appreciated being taught in depth about how the wearable technologies worked as part of this workshop. Do you think this informal workshop format offers a different way of supporting learning about and working with technology? What most surprised you about the way that the young women responded?
LT: I wanted to steer away from a conventional technology workshop where participants would focus on coding and fabrication, than design, because these are skills that they can pick up themselves through on-line documentation and support. For me, what is more important is to figure out what their own interests are with technology, by learning it through hands on design activities with ready made wearable technology. That way, it makes them feel comfortable with tackling complex technology and it also gives them the opportunity to learn about issues that might occur when technology is tested in the real world, checking it out when it does not work and why.

I was most astonished by their speed of learning and how well they picked up the tech knowledge. For example, one part of the workshops involved learning about the body gesture and what the wearables can detect through decoding "1" and "0" read via the body gesture sensors. I was very surprised that they were able to quickly translate that into their own body gesture design.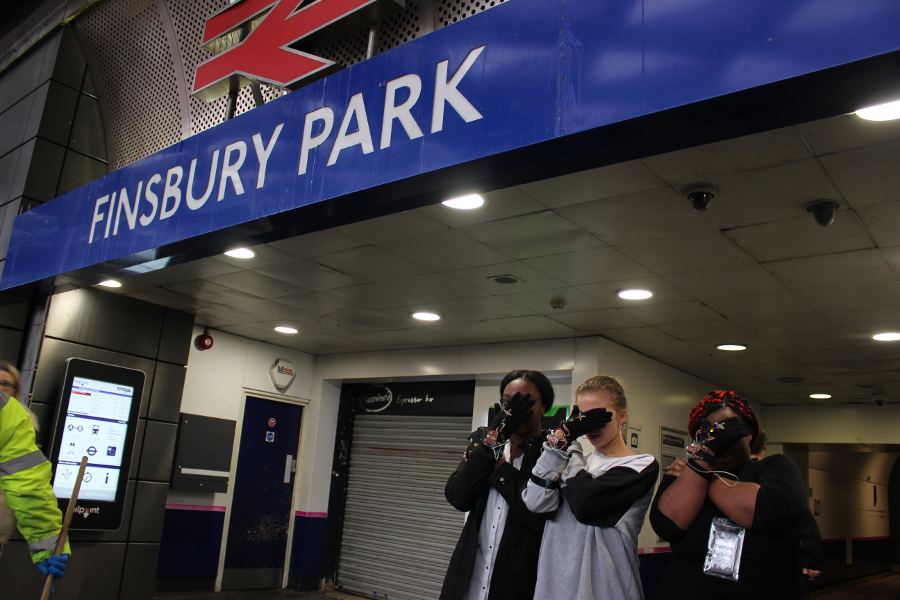 MG: Your workshop addressed questions of value in technology innovation, in the particular context of working in the public space of the park. Please tell us about how you approached these questions and why this is important to you.
LT: I think its is important to demystify technology especially given that we are living in an era where technology is so embedded into our everyday life that we take it for granted and do not notice its impact. It is important for the younger generation to learn about ethics of technology, to be curious about who and why companies are designing specific types of technology, and most importantly, to learn that technology does not always work, that technology cannot solve all our problems. They need to learn to be proactive and have a sense of agency in tackling issues concerning their own environment. For example, issues such as safety on the streets cannot be solved entirely by technology, it also needs other input such as citizen vigilance, policy and law changes.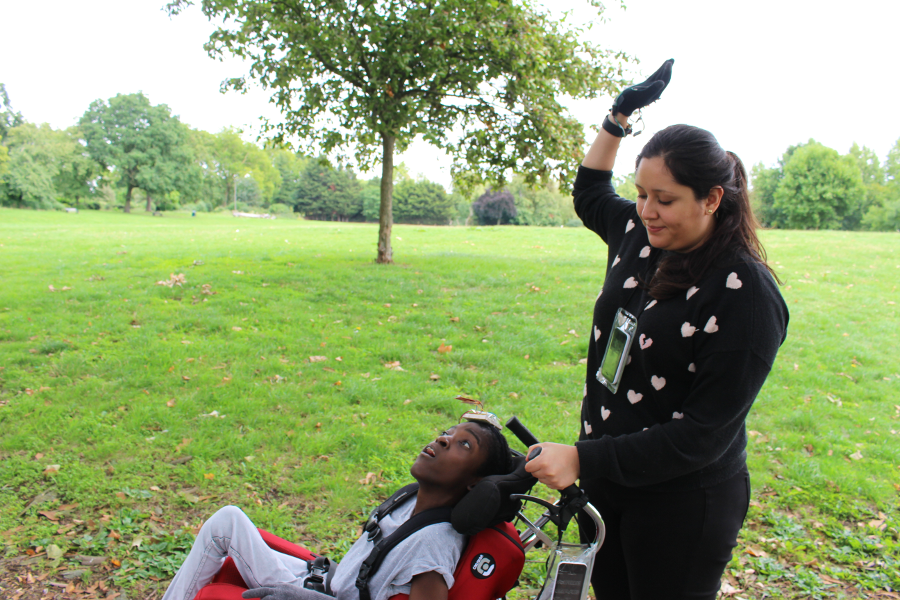 SUPERPOWER! Finsbury Park was a part of the B Creative Summer School, a programme of arts projects created by young women for young women aged 16 – 25 in Islington.
Special thanks to:
All the participants involved in the project
Peer leaders from All Change
Ella Medley Whitfield
Commissioned and supported by: Furtherfield and All Change
This project has been funded with the support from the European Commission. This communication reflects the views only of the author, and the Commission cannot be held responsible for any use which may be made of the information contained therein.
London's Permaculture Design Course – Design 4 ACTION (Active Community Transformation In Our Neighbourhoods) is a different kind of permaculture course – positive design for your life, your community and your world by empowering the genius inside all of us! D4A is about regenerative learning, enabling individuals, organisations and communities to come together over six weekends to create empowering solutions to the real world challenges we are all facing in these times of change. Adapted from the Permaculture Association (Britain)'s PDC core curriculum, this is a person-centred, fun, lively and inclusive course, exploring and utilising concepts such as Systems Thinking, Holistic Design, Community Empowerment, 'Whole Person' Health, Skill Sharing, Critical Thinking, Appreciative Inquiry, Right Livelihoods and much more.
The format is participatory and dynamic using diverse visual, audio and kinesthetic learning methods such as individual and group work, games, problem solving, discussion, observation, field trips, practical activities, lectures and slideshows. This course will be hosted at Furtherfield Commons in Finsbury Park, a new and exciting partnership project at the cutting edges of dynamic cultural change:"We believe that through creative and critical engagement with practices in art and technology people are inspired and enabled to become active co-creators of their cultures and societies."
Learn more about Design 4 Action Permaculture Course
Venue: Furtherfield Commons and Edible Landscapes London, Finsbury Park, London
Led By: The course will be taught by Graham Burnett (Dip. Perm Des) and some great guest teachers.
Dates: 6 weekends, May – July 2018
5 – 6 May
19 – 20 May
2 – 3 June
16 – 17 June
30 June – 1 July
14 – 15 July
Cost: Full cost £590 for 12 days. Note that we are able to offer a strictly LIMITED number of subsidised/bursary places for people on lower incomes. We also offer a higher rate payment option in order to help support a subsidised place for those less able to pay. Below is a suggested scale of fees that we feel fairly reflects the income disparities among our attendees. Before booking we ask you to make an honest assessment of where you place yourself on this scale. Please contact us if you wish to apply for a subsidised/bursary place. We would also ask you to read our article 'Can't Afford A Course?' for other creative ideas for raising your fees such as crowdfunding, available grants, etc before applying for a subsidised place.
£790 – Supporters rate – paying our upper rate will help to support a subsidised place for somebody less able to pay.
£590 – Individual, waged (suggested income more than £25k)
£390 – Individual, waged (suggested income less than £25k subsidised place)
£250 – Individual, concessionary rate (suggested unwaged subsidised place)
NB. Your place on the course will be reserved upon receipt of a £95 deposit and secured upon receipt of full payment.
1: Introducing Seeds From Elsewhere
'Seeds From Elsewhere' (2016 – ongoing) is a project by They Are Here that has begun to re-animate a dilapidated play area in Finsbury Park, bringing together young asylum seekers and refugees, family, friends and other professionals. Each participant is supported to grow flowers, plants or edible produce from their respective homeland. We are also in the process of designing a greenhouse and pizza clay oven, extending the parameters of our collective activity. Throughout the process we literally and metaphorically ask 'What can grow here that's not from here?' Beyond this more tangible gardening activity, the project seeks to create a space that embraces, maintains and produces a diverse set of social relationships between people with different residency status. It is supported by Furthefield an organisation exploring the intersection of networked culture and contemporary art.
2: Context
It was July 2016, less than a month after the results of the United Kingdom European Union membership referendum, when our project commenced. Although the impetus to begin was not a conscious response to the referendum outcome – the timing is not insignificant. Our initial steps were in a toxic political atmosphere at the height of an intensified and indiscriminate rhetoric against migrants.
Artists were faced with new variations of old questions that resurface in turbulent times. . . What is our role in protest? Do we have a particular responsibility as artworkers to engage with a given political landscape? What are the capabilities and limitations of art in local / national / international governmental politics? Such questions often reveal an expectation of certain aesthetics, rather than attitudes. It is in the multiple ways that a work is circulated and produced its politics should be sought. . . How is the work funded? How is it credited? Which voices are included in its development, or excluded? How is the work talked and written about by the various partners supporting its production?
In these seemingly small details, a larger political statement is embodied rather than solely visually evoked. At the same time, we reject a 'one-or-the-other' stance. Establishing and administering a small community garden should not negate working with others on larger-scale efforts at the scale of local government or beyond. Bridges should be made between all scales of activity. The same fluid hierarchies and embrace of hybridity we cultivate with Seeds From Elsewhere, we encourage at ever larger scales – generating continuities between the ethos of how we are working on the garden and how national and global resources are considered and decisions made.
3: Keeping things complex
'Participation is not always progressive or empowering', 'Realise your own privilege', 'Critically interrogate your intention', 'Process not product', 'Presentation vs representation – Know the difference!', 'Do not expect us to be grateful', 'Art is not neutral', 'It is not a safe-space just because you say it is,' 'Do your research', ' Do not reduce us to an issue'. These notes are from Rise (Refugees, Survivors and Ex-detainees – the first refugee and asylum seeker organisation in Australia to be run and governed by refugees, asylum seekers and ex-detainees) . . . 10 Things You Need to Consider If You are an artist not of the Refugee and Asylum Seeker Community Looking to work with our Community authored by Tania Canas, RISE Arts Director.
In a polarised mediascape, where tabloid headlines shout loudest, the reduction of a diverse group of people to an 'issue', has been one of the most problematic aspects of public debate. Recognising that Seeds From Elsewhere is a slowly gestating project affords time for us to slowly get to know the participants individually – who to date hail from Albania, Sudan, Congo, Ethiopia, Romania, Afghanistan & Nepal. Rather than seek to 'represent them', we are co-workers on a set of shared goals.
Importantly, this work functions as a hybrid activity, with multiple points of access and identification. For the young refugees the garden can offer a respite from various kinds of bureaucratic limbo, it can also simply be a place to chill in a tolerant environment. In the longer term, there maybe be the potential for employment opportunities in the garden. At the same time, the work functions within the tradition of many conceptually driven socially-engaged artworks, notably Wheatfield – A Confrontation (1982) by Agnes Denes, Edible Estates (2005 – ongoing) by Fritz Haeg and Parkwerk (2014) by Jeanne van Heeswijk.
The project has also become a gateway to consider the language of rhetoric against migrants, as well as that of sympathetic media too, focusing on the recurrence of botanical language as metaphor (soil, roots etc). Essays by US-based anthropologists Dr. Lisa Malkki and Dr. Stefan Helmreich have been particularly insightful. The latter quotes biologist Banu Subramniam, noting that these criteria 'resonate unfortunately with xenophobic anti-immigration language in the United States and Europe':
"The parallels in the rhetoric surrounding foreign plants and those of foreign peoples are striking … The first parallel is that aliens are 'other' … Second is the idea that aliens / exotic plants are everywhere, taking over everything … The third parallel is the suggestion that they are growing in strength and number … The fourth parallel is that aliens are difficult to destroy and will persist because they can withstand extreme situations … The fifth parallel is that aliens are 'aggressive predators and pests and are prolific in nature, reproducing rapidly' … Finally, like human immigrants, the greatest focus is on their economic costs because it is believed that they consume resources and return nothing." [1]
Becoming attuned to language is a vital part of a larger and never-ending exercise in developing cultural and individual self-awareness as to how we speak, itself inseparable from how we think.
4: Democracy and Maintenance
Our fortnightly group meetings in the garden are rich in debate and banter. Working on a garden is an unceasing process. Like the growth of plants themselves, it cannot be rushed without compromise. This notion of maintenance is akin to a healthy democracy. Rather than an invitation to vote every four years, democracy must be attended to daily; it is comprised of multiple systems collectively supporting each other. Beyond physical access to a voting booth, there is the need for both protection and scrutiny of the media, investment into an education system that encourages voters to make informed choices, the space for satirists, philosophers and artists to critique power and the continual checking of our own presumptions and privileges.
Harun Morrison + Helen Walker
They Are Here
February 2017
contact@theyarehere.net
Calling 13-18 year-olds!
Become a digital media artist. Design your own digital game, make a robot, or design a selfie app. Create small 'geocached' artwork for people to find in Finsbury Park, or narrate an audio guide for gallery visitors. Meet and learn with leading artists, and at the end of the programme you can keep your own 'Raspberry Pi' pocket computer
FREE, booking essential, limited places so BOOK HERE NOW

For more information contact: alicia.furtherfield@gmail.com
Young Digital Artists in Residence: Adventures in Art and Technology is part of Islington Council's Summerversity programme.
Introduction.
I arrived at the Transmediale festival late Friday afternoon, which was hosted as usual at Das Haus der Kulturen der Welt (The House of World Cultures) in Berlin. The area where the building is sited was destroyed during World War II, and then at the height of the Cold War, it was given as a present from the US government to the City of Berlin. As a venue for international encounters, the Congress Hall was designed as a symbol of 'freedom', and because of its special architectural shape the Berliners were quick to call the building "pregnant oyster" [1] The exterior was also the set for the science fiction action film Æon Flux in 2005. Both past references link well with this festival's use of the building. I remember during my last visit, in 2010, standing outside the back of the building watching an Icebreaker cracking apart the thick ice in the river. The sound of the heavy ice in collision with the sturdy boat was loud and crisp. This sound has stayed with me so that whenever I hear a sound that is similar I'm immediately transported back to that point in time. Unfortunately, this time round there was no snow, instead the weather was wet, warm and slighty stormy.
Last year's festival explored the marketing of big data in the age of social control. This year, the chosen format was entitled conversationpiece, with the aim of enabling a series of dialogues and participatory setups to talk about the most burning topics in post-digital culture today. To give it grounding and historical context the theme was pinned to the "backdrop of different processes of social transformation, 17th and 18th century European painters perfected the group portrait painting known as the "Conversation Piece" in which the everyday life of the aristocracy was depicted in ideal scenes of common activity." In recent years the festival has scafolded its panels, workshops and keynotes to grand, central themes to guide its peers and visitors, along with a large-scale curated exhibition. If we view the four interconnected thematic streams- Anxious to Act, Anxious to Make, Anxious to Share and Anxious to Secure – we might guess that the festival curators are also anxious to save all the resources (and celebrations) for next year, which is after all, Transmediale's 30th birthday.
So, I was curious to see how my brief time here would unfold…
Off-the-Cloud-Zone.

This review is focused on the hybrid event Off-the-Cloud-Zone. It featured presentations, talks and workshops, starting at 11 am, going on until 8pm. Hardcore indeed. It demanded total dedication, which unfortunately I was not able to give. However, I did offer my attention to the rest of the proceedings from lunch time until the end. It was moderated by Panayotis Antoniadis, Daphne Dragona, James Stevens and included a variety of speakers such as: Roel Roscam Abbing, Ileana Apostol, Dennis de Bel, Federico Bonelli, James Bridle, Adam Burns, Lori Emerson, Sarah T Gold, Sarah Grant, Denis Rojo aka Jaromil, George Klissiaris, Evan Light, Ilias Marmaras, Monic Meisel, Jürgen Neumann, Radovan Misovic aka Rad0, Natacha Roussel, Andreas Unteidig, Danja Vasiliev, Christoph Wachter & Mathias Jud, and Stewart Ziff.
The Off-the-Cloud-Zone day event was a continuation of last year's offline networks unite! panel and workshops. Which also originated from discussions on a mailing list called 'off.networks' with researchers, activists and artists working together around the idea of an offline network operating outside of the Internet. The talks concentrated on how over recent years there has been a growing scene of artists, hackers, and network practitioners, finding new ways to ask questions through their practices that offer alternatives in community networks, ad-hoc connectivity, and autonomous systems of sensing and data collecting.
Snowden Archive-in-a-Box.
Disillusionment with the Internet has spread widely since 2013, when Edward Snowden the US whistleblower leaked information on numerous global surveillance programs. Many of these programs are run by the NSA and Five Eyes with the cooperation of telecommunication companies and European governments raising big questions about privacy and exploitation of our online (interaction) data. This concern is not only in relation to spying corporations, dodgy regimes and black hat hackers, but also our governments. "The idea of privacy has been flipped on its head. People don't have to disclose their own information voluntarily anymore; it's being taken from them regardless of their wishes." [2] (Nowak 2015)
"The NSA's principal tool to exploit the data links is a project called MUSCULAR, operated jointly with the agency's British counterpart, the Government Communications Headquarters . From undisclosed interception points, the NSA and the GCHQ are copying entire data flows across fiber-optic cables that carry information among the data centers of the Silicon Valley giants." [3] (Gellman and Soltani, 2013)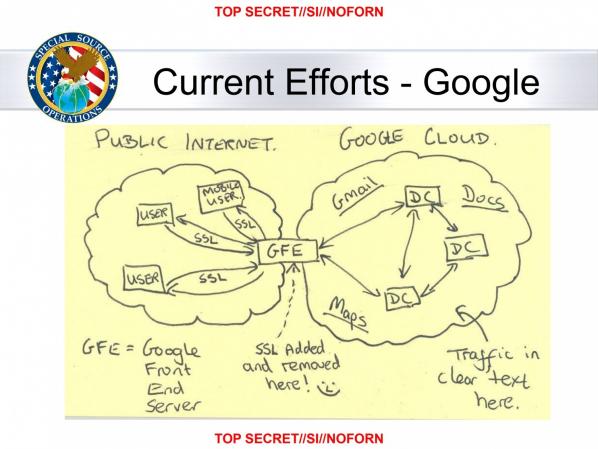 The above slide is from an NSA presentation on "Google Cloud Exploitation" from its MUSCULAR program. The sketch shows where the "Public Internet" meets the internal "Google Cloud" where user data resides. [4]

A legitimate concern for anyone wishing to read the contents of the leaked Snowden files, is that they will be spied upon as they do so. Evan Light has been working on finding a way around this problem, and at the Off-the-Cloud-Zone day event he presented his project Snowden Archive-in-a-Box. A stand-alone wifi network and web server that permits you to research all files leaked by Edward Snowden and subsequently published by the media. The purpose of the portable archive is to provide end-users with a secure off-line method to use its database without the threat of surveillance. Light says, usually the wifi network is open, but users do have the option to make their own wifi passwords and also choose their encryption standard.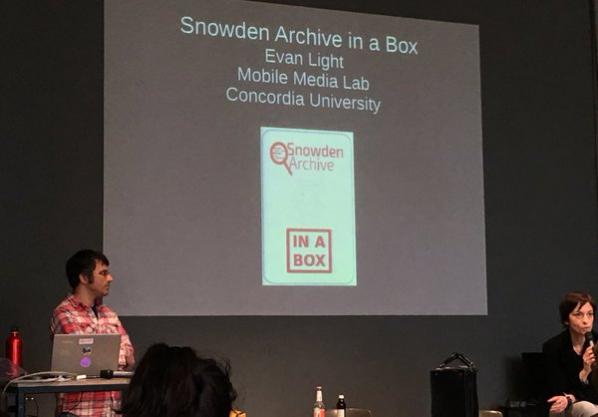 Snowden Archive-in-a-Box is based on the PirateBox, originally created by David Darts who made his in order to distribute teaching materials to students without the hassle of email. It is based on a RaspberryPi 2 mini-computer and the Raspbian operating system. All the software is open-source and its most basic setup can run on one RaspberryPi. In his talk Light said that a more elaborate version would use high-quality battery packs and this adds power for autonomy, along with the wifi sniffer that is running on a secondary RaspberryPi and a flat-screen for playing back IP traffic. If you're interested in building your own private, pirate Archive-in-a-Box, visit Light's web site for instructions on how to.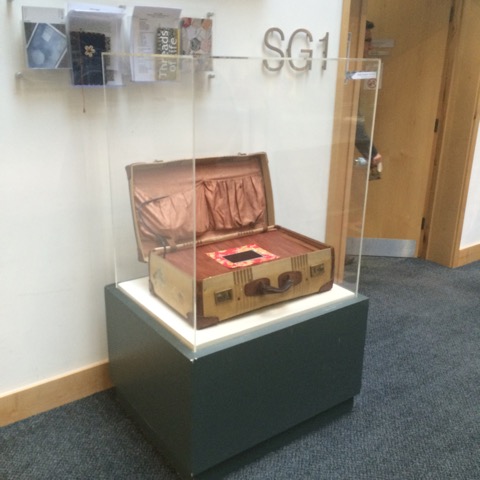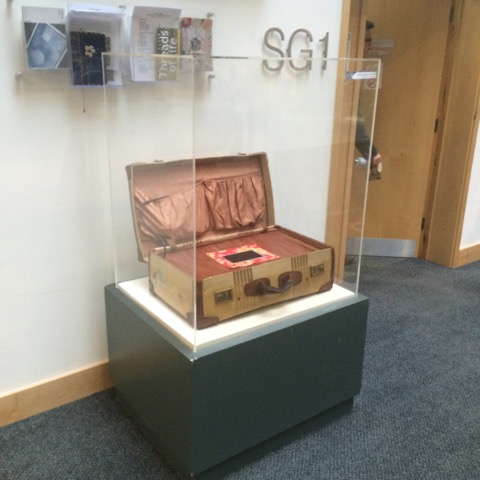 Qaul.net and Can You Hear Me?
Christoph Wachter's and Mathias Jud's work, directly engages with refugees and asylum seeker's social situations, policies, and the migrant crisis. They've worked together on participatory community projects since 2000 and have received many awards. For instance, take a look at their digital communications tool qaul.net which is designed to counteract communication blackouts. It has been used successfully in Egypt, Burma, and Tibet, and works as an alternative to already existing government and corporate controlled communication pathways. But, it also offers vital help when large power outages occur, especially in areas in the world suffering from natural disasters. The term qaul is Arabic and means 'opinion, say, talk or word'. Qaul is pronounced like the English word 'call'.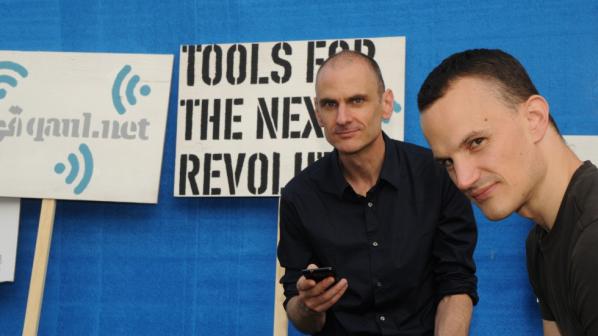 It creates a redundant, open communication code where wireless-enabled computers and mobile devices can directly initiate a fresh, unrestricted and spontaneous network. This includes the enabling of Chat, twitter functions and movie streaming, independent of Internet and cellular networks. It is also accessible to a growing Open Source Community who can modify it freely.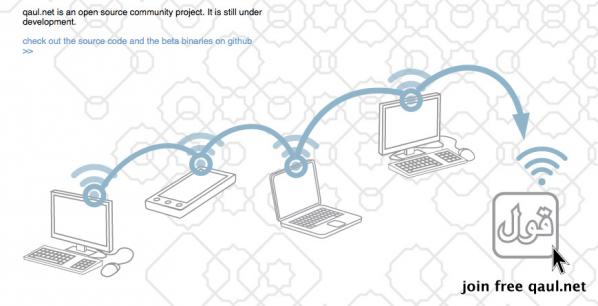 Wachter and Jud also discussed another project of theirs called "Can You Hear Me?", a WLAN / WiFi mesh network with can antennas installed on the roofs of the Academy of Arts and the Swiss Embassy in Berlin, which was located in close proximity to NSA's Secret Spy Hub. These makeshift antennas made of tin cans were obvious and visible for all to see. The Academy of Arts joined the project building a large antenna on the rooftop, situated exactly between the listening posts of the NSA and the GCHQ to enable people to directly address surveillance staff listening in. While installing the work they were observed in detail by a helicopter encircling overhead with a camera registering each and every move they made, and on the roof of the US Embassy, security officers patrolled.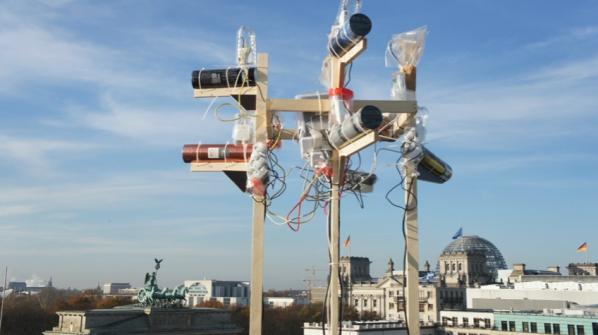 "The antennas created an open and free Wi-Fi communication network in which anyone who wanted to would be able to participate using any Wi-Fi-enabled device without any hindrance, and be able to send messages to those listening on the frequencies that were being intercepted. Text messages, voice chat, file sharing — anything could be sent anonymously. And people did communicate. Over 15,000 messages were sent." [5] (Jud 2015)

A the end of their presentation, they said that they will be implementing the same system at hotspots deployed in Greece by the end of the month. And I believe them. What I find refreshing with these two, is their can do attitude whilst dealing with political forces bigger than themselves. It also gives a positive message that anyone can get involved in these projects.
Dowse.
And then, it was the turn of the well known team at Dyne.org to discuss a project of theirs called Dowse, which is 'The Privacy Hub for the Internet of Things'. They said (taking turns, there was about 5 of them) that the purpose of Dowse is to perceive and affect all devices in the local, networked sphere. As we push on into the age of the Internet of Things, in our homes everything will be linked up.
"Those bathroom scales and home thermostats already talk to our smartphones and in some cases think for themselves." [6] (Nowak 2015)
As these ubiquitous computers communicate to each other even more, control over these multiple connections will be essential. We will need to know how to interact beyond the GUI interfaces and think about who has access to our private, common and public information. A whole load of extra information will be available without our consent.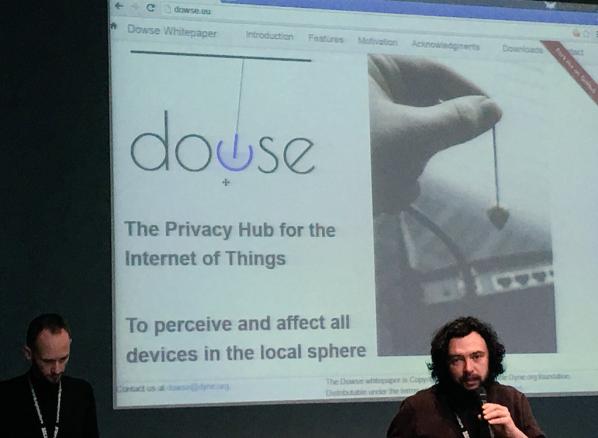 Dowse was conceived in 2014 as a proof of concept white paper by Denis Rojo aka Jaromil. Early contributors to the white paper and its drafting process includes: Hellekin O. Wolf, Anatole Shaw, Juergen Neumann, Patrick R McDonald, Federico Bonelli, Julian Oliver, Henk Buursen, Tom Demeyer, Mieke van Heesewijk, Floris Kleemans and Rob van Kranenburg. I downloaded the white paper and is definitely worth reading.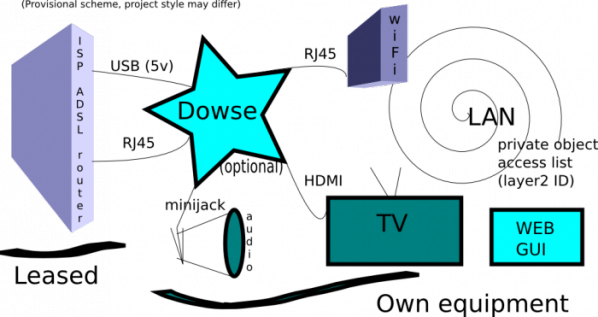 The Dowse project aims to abide to the principles stated in the Critical Engineers Manifesto, (2011). Near the very end of the talk they announced to the audience an open call for artists and techies everywhere to get involved and jump into the project to see what it can do. This is a good idea. If there is no community to make or break platforms, hardware and software, then there is a limited dialogue around the possibilties of what a facility realistically might achieve. Not just that, they want artists to make art out of it. I know there are some pretty clever tech-minded geeks out there, who will in no doubt take on the challenge. However, once those who are not so literate in the medium are able to exploit the project, it will surely fly. It's going to be interesting, because if you look at the 3rd point in the Critical Engineers Manifesto, it says "The Critical Engineer deconstructs and incites suspicion of rich user experiences." I'm thinking, that this number 3 element needs to treated with caution. If they really wish to open it up to a diverse user base, to engage with its potentialities, creatively and practically; thus, allow new forms of social emancipation to evolve as 'freedom with others'. There needs to be an active intent to avoid a glass ceiling based on technical know-how. It's a promising project and I intend to explore it myself and see what it can do and will invite other people within Furtherfield's own online, networks to join in and play, break, and create.
The Sarantaporo Project.
Our final entry is the Sarantaporo Project which is situated in the North of Greece. A village in the mountains just west of Mount Olympus in Central Greece close to Thessaloniki, Macedonia and Larisa. The country has been in recession for over 6 years now, and many communities have had to create alternative ways of working with each other in order to survive the crisis. Over this troubling period, new forms of grass-roots coexistence, solidarity and innovation have evolved. The Sarantaporo Project is an impressive example of how people can come together and experiment in imaginative ways and exploit physical and digital networks.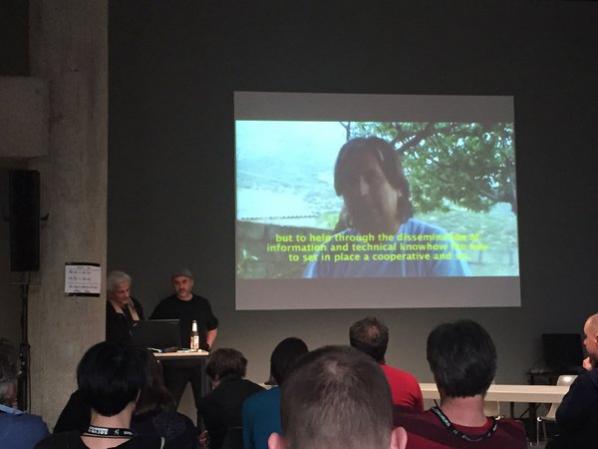 Even before the economic crisis the region was already hit by poverty, and with the added pressures of imposed Austerity measures, life got even tougher. All the young were leaving and then migrating to the cities or abroad. Before the project in Sarantaporo, there was no Internet nor digitally connected networks for local people to use. This situation contributed to the digital divide and made it difficult to work in a contemporary society, when so many others in the world have been using technology to support their civic, academic and business for so many years already.
"In Greece, where unemployment reaches 30% in all ages and genders, and among the youth overpasses 50%, immediate solution for the "social issue" is more than urgent.' [7] (Marmaras).
Conclusion.
"Besides maintaining the network in a DIWO (Do It With Others) manner, and creating an atmosphere of cooperation among far-flung communities that were previously strangers, the Sarantaporo network is incorporating different groups of people into the community, like Farmer's Cooperatives and techies. It is also creating an intergenerational space for learning." [9] (Bezdommy 2016)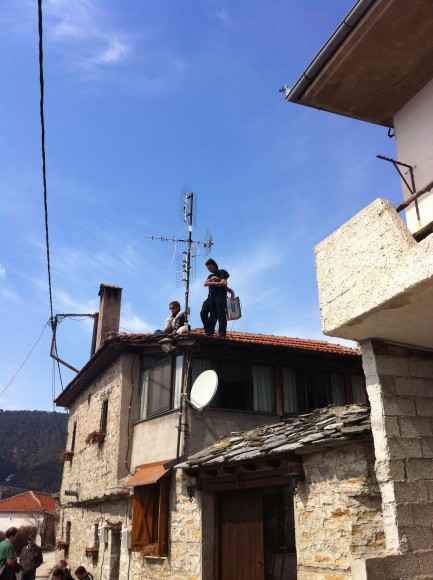 To resolve this issue a group of friends decided to deal with this problem by setting up a community D.I.Y wireless network to provide free internet access to 15 villages in the municipality of Elassona. "Sarantaporo.gr is an open source wireless mesh networking system that relies greatly on voluntary work both for its development and maintenance. Some volunteers are involved in the project by simply installing an antenna on their roof. Others, more actively engaged with the project, are responsible for sustaining the network by hosting meetings and answering technical questions." [8] (Kalessi 2014) The audience was presented with snippets from a film made by the filmmaking collective Personal Cinema, about the project. It was made so the story of Sarantaporo's DIY wireless network gets a wider reach, and that others are also inspired to do similar projects themselves.
These projects are dedicated to creating socially grounded and engaged alternatives to the proprietorial, networked frameworks that currently dominate our communication behaviours. These proprietorial systems, whether they are digital or physical are untrustworthy, and control us in ways that reflect their top-down demands but not our common needs. This reflects a wider conversation about who owns our social contexts, our conversations, our fields of practice, the structures we use, the land, the cables, our history, and so on.
Looking at the state of the planet right now you'd be forgiven for betting on a future not far from the director Neill Blomkamp's vision in the sci-fi movie Elysium where, in the year 2159, humanity is sharply divided between two classes of people: the ultra-rich whom live aboard a luxurious space station called Elysium, and the rest who live a hardscrabble existence in Earth's ruins. However, in the Off-the-Cloud-Zone talks we encountered an ecology of strategies to protect our own indegenous cultures from the crush of neo-liberalism, we felt part of a grounded movement discovering new conversations and new methodologies that may provide some protection against future colonisation. Perhaps there is a chance, we can build and rebuild stronger relations with each other, beyond: privilege, nation, status, gender, class, race, religion, and career.
The festival this year was less structured and more nuanced than usual. It gave conversation a greater role and a deeper social context, and opened up the process for the many to connect with the ideas being explored. The whole affair seemed to be slowed down and less caught up in the hyper-macho trappings of accelerationism. It seemed less neurotic and spending less effort to impress. I'm sure, next year, on it's 30th anniversary, all will be sharp and amazing. However, I liked this less glossy, more messy version of Transmediale and I hope it manages to impress the wrong people again, and again.
London's Permaculture Design Course – Spring Into Action! and Design 4 A.C.T.I.O.N (Active Community Transformation In Our Neighbourhoods) are a different kind of permaculture course – positive design for your life, your community and your world by empowering the genius inside all of us! The format is participatory and dynamic, using diverse visual, audio and kinesthetic learning methods such as group work, games, problem solving, discussion, observation, field trips, practical activities, lectures and slideshows during course sessions. This course will be hosted at The Furtherfield Commons in Finsbury Park, a new and exciting partnership project:
'We believe that through creative and critical engagement with practices in art and technology people are inspired and enabled to become active co-creators of their cultures and societies.'
Led By: The course will be taught by Graham Burnett (Dip. Perm Des), Claire White (Dip. Perm Des), James Taylor (MSc. Human Ecology) and some great guest teachers.
Cost: We are pleased to announce that we are holding our course fees for another year £780 full cost, £580 – Individual, waged (income less than £25k), £380 concessions/low waged.
The booking form for the course is now live and we are accepting participants.Please note that this course is not organised by Spiralseed – all queries re. booking and accommodation should be made to the course organisers.
LAB #1 in the Art Data Money series
Walkshop and Commodity Consultation
Come for one or both sessions, or just drop in for a chat about MoCC over tea and cake.
For both the morning and afternoon session please BOOK HERE.
10:30am – 1:30pm Walkshop – BOOK HERE.
Join us for a walkshop exploring places, moments and technologies of trade and exchange in the Finsbury Park retail area. We will be out and about for around 90 minutes followed by a group conversation on relations between data, trade and values and how they are affecting our daily lives and spaces. Please dress for the weather and bring a smart phone/camera and means to download images. Coffee and cake provided.
2.00-4:30pm Commodity Consultation – BOOK HERE.
Use LEGO re-creations and animated gifs to explore the values held in your own experiences of trade and exchange. Our Commodity Consultant will be available throughout the afternoon to research your commodity questions, helping you add your own things of value to the Museum of Contemporary Commodities.
Part of Furtherfield's Art Data Money programme.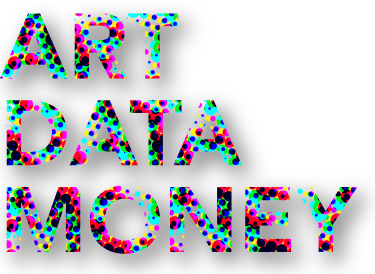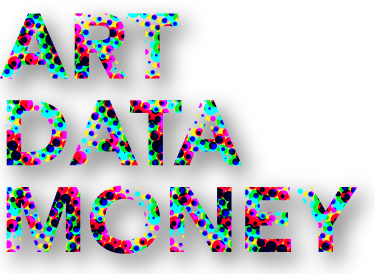 FURTHER INFO
The Museum of Contemporary Commodities (MoCC) is neither a building nor a permanent collection of stuff – it's an invitation. To consider every shop, online store and warehouse full of stuff as if it were a museum, and all the things in it part of our collective future heritage.
MoCC is an art-social science project led by artist Paula Crutchlow (Blind Ditch) and cultural geographer Ian Cook (University of Exeter) in collaboration with Furtherfield.
The project is supported by the Economic and Social Science Research Council, Islington Council, All Change Arts, Exeter City Council and University of Exeter.
Park visitors of all ages… Free your office scanner and get your creative juices flowing in Finsbury Park this Summer!

Join us to build a collective portrait of Finsbury Park to be shown at Furtherfield Gallery and in an online exhibition.
With Furtherfield's artist in residence, Carlos Armendariz, you will create intriguing images of the park with hacked scanners inspired by the Rippling Images of commissioned US artist Nathaniel Stern.
All are welcome, including children with their guardians. The workshops are free but BOOKING IS ESSENTIAL. Click here to book any of these dates:

tweet your images using #wescanfinsburypark
Nathaniel Stern has been using hacked desktop scanners to create beautiful images for over a decade. As part of the exhibition Beyond the Interface – London, he hung 21 large scale prints outside of the Furtherfield Gallery and produced a complete new series of images available online: Rippling Images of Finsbury Park.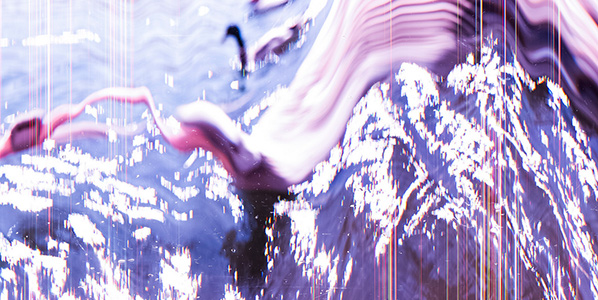 Stern hacks desktops scanners to transform them in portable image capturing devices, and uses them to "perform images into existence". This process create interesting connections between his body, the scanned environment, and their movement at the time of capturing. Stern himself explained his process in detail in his TEDx talk: Ecological Aesthetics.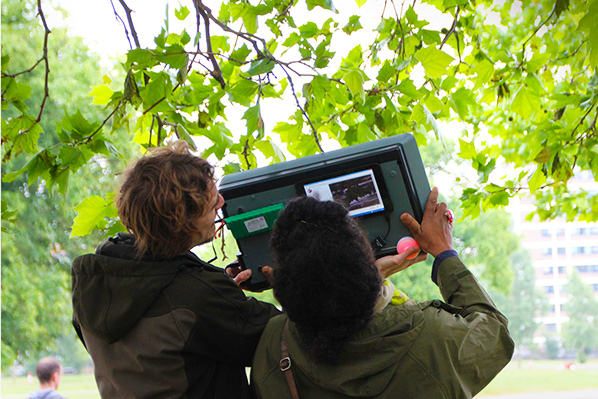 Now Furtherfield Gallery is offering a series of workshops for all ages which will allow the participants to experience Stern's artistic process. You will learn how to hack a scanner and use one of the artist's scanners to create your own images. The goal is to create a collective portrait of Finsbury Park and there is a chance to show your work in Furtherfield Gallery.
Furtherfield in partnership with MAT PhD programme, Queen Mary University. Pictures of the workshops by Alison Ballard.
Walkshop, making session and drop-in day
Come for one or both sessions, or just drop in for a chat about MoCC over tea and cake.
11am-1pm – Data Walkshop with data activist Dr Alison Powell (LSE)
Explore and discuss the data surveillance processes at play in Finsbury Park through a process of rapid group ethnography. Arrive from 10.30am at Furtherfield Commons for a short introduction to the project. We will leave at 11am for a 60 minute walk around the area followed by snacks and discussion. Please bring:
appropriate dress for the weather.
a camera or smart phone for documentation.
BOOK HERE (places limited to 12 on a first come first served basis)
2pm-4.30pm – Making session: LEGO Re-creations & Interactive Posters
Work with Cultural Geographer Dr Ian Cook to turn your commodity stories into activist LEGO re-creations. Inspired by Nathaniel Stern's hacked scanner, artist Carlos Armendariz will help you translate your data findings into visual events. Produce arresting images for an interactive poster for public display, then track and count its impact.
You are welcome to bring your own smart phones and computers along.

BOOK HERE
FURTHER INFO
This event is part of the research and development for the Museum of Contemporary Commodities, an art and social project led by artist Paula Crutchlow (Blind Ditch) and cultural geographer Ian Cook (Univeristy of Exeter).
More info: http://www.moccguide.net/
Lately, I have noticed in myself a tendency to sign up for events which reveal little of what to expect beforehand. This leads to a heady mix of anticipation and mild terror. Dark Days, the brainchild of Ellie Harrison fitted that description, although I felt that at 16hrs long, it was a mere blip on my riskometer, compared to week-long excursions I've previously taken into the unknown. In short, I would be spending the night in Glasgow's Gallery of Modern Art (GoMA), in a pop-up community of 99 strangers, contemplating how we might manage to live together (put up with each other) in a future where buildings might need to be used in ways which serve the needs of the population better…Count me in!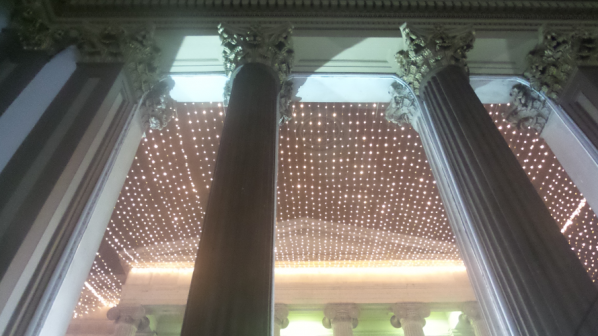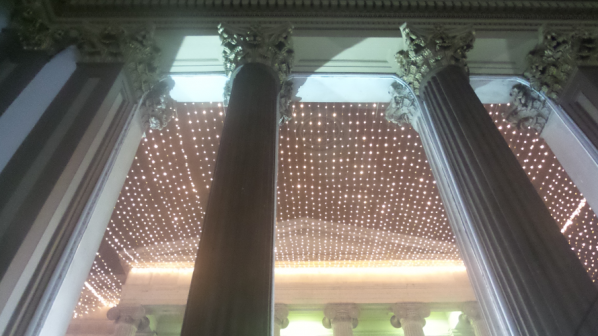 The camp manual gave thorough and due attention to health & safety issues like pyjamas and woollen blankets, but scant reassurance on how the experiment would avoid a rapid descent into anarchy. In the absence of concrete information, my mind ran amok. I therefore decided, that on arrival we would be immersed in an imagined scenario where all manner of crises has befallen our village, that it would be up to us to work out how we would rebuild society. This would be a tense, high adrenaline experience involving sleep deprivation, maybe starvation, and intractable social issues, to be debated until we all came to a common vision. We might never make it out of there.
As it turned out, Dark Days was none of those things; it was a whole lot more. On arrival in Glasgow, I succumbed to mild panic and bought myself a sleeping pad, twinpack of nougat caramel chocolate, and a bottle of fizzy pop (in direct contravention of the bring a bottle of water mandate), to supplement the food I already had in my rucksack. Provisions bolstered, I relaxed & enjoyed my pilgrimage to GoMA; I felt carefree, adventurous and rebellious; none of the strangers walking beside me had a clue what I was about to do. I felt dangerous and daring.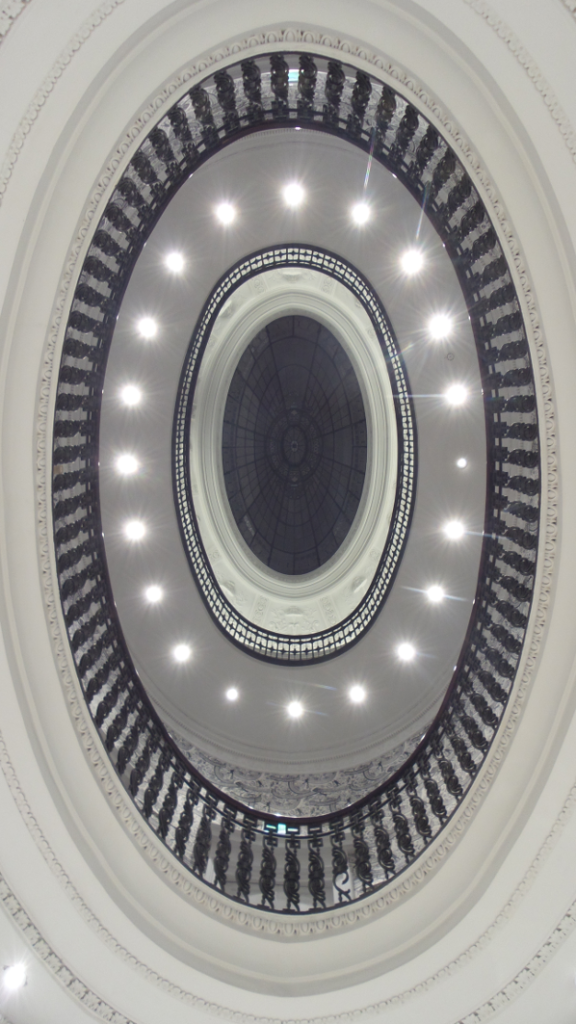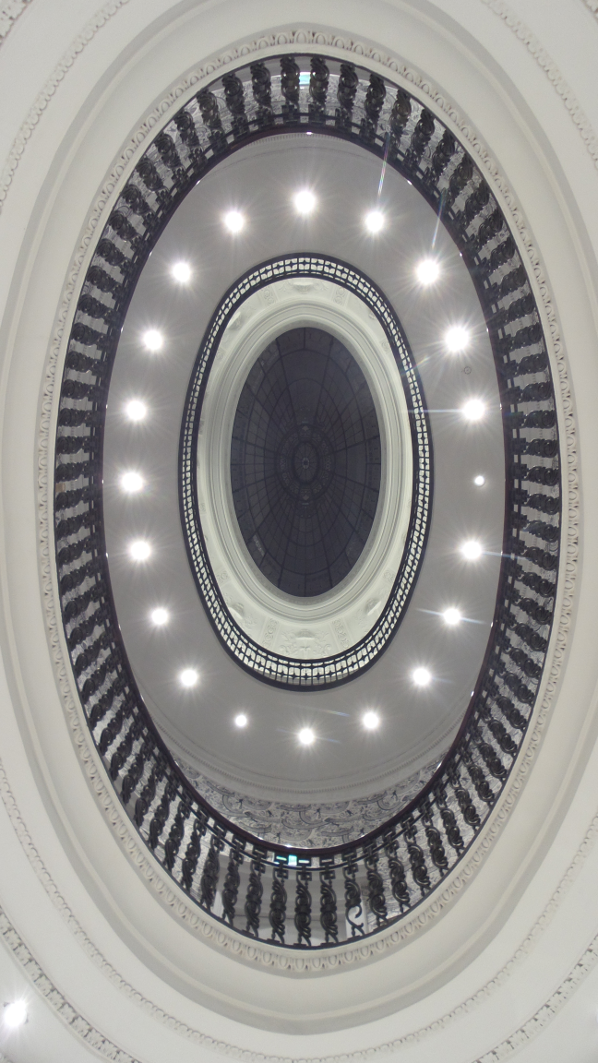 I joined the short queue outside GoMA, exchanging nervous banter with fellow participants ("Is this where the over-excited and slightly nervous should queue for the coming apocalypse?"). We eyed each other up, I began to relax. We all looked pretty 'normal and balanced' individuals. Who could predict what would surface once the pressure was on, though? A child walking past was overheard saying "you're the worst Mum ever". He was joking of course, or was he? Was society breaking down already? When the doors opened, we edged inside, one and two at a time. We were subjected to challenging initiative tests – first to register with the clipboard on the right if your surname is A-L. I was standing on the left, I dithered. My surname begins with a 'G'. My faculties were already leaving me. Through the archway to the welcome desk, I shuffled forward and joined the queue on the right. More nervous exchanges. The queue on the left was faster, we silently wondered whether it would be impolite to skip over to the other line. No one moved. A couple of minutes later, I spotted a notice 'A-L' taped to the left side of the desk. A dastardly ploy! Somewhere, a hidden camera would be watching me, a witness to my ineptitude. This was before the evening had even begun. My nerves jangled. Beyond the mysterious white cube that had blocked our view of the great hall (was that where the mind games would take place?), we placed our belongings around the edges and sat in the large circle of chairs which awaited. More nervous chatter, it was clear that no one had the faintest notion what the night would hold. I was reassured. Speakers, microphones and video cameras (with red light already flashing) were dotted around the space, we did our best to ignore them. There will be screenings in March in Glasgow, and the film will be made available online #ohdear. Someone noticed that there were not enough chairs for all members of the community to have a seat. 20ish people stood, or sat on the floor. Was this a lack of resources on GoMA's part, or was it intentional? Time would tell.
An entertaining and enlightening journey followed, into the challenges of consensus decision making, based around the formation of 'affinity groups'. The groups were determined by allowing anyone who felt brave enough to make suggestions of how we might spend our time together, members of the community chose which group they wanted to join. The options were many and varied; building a Tower of Awesome; a general knowledge quiz; game playing; climate change discussion group; music & dance; a group with no plan; a manifesto writing group; a skills sharing group and a community focused 'hub' group. This was the fascinating moment for me, as my intended plan for the evening was abandoned. Along with my keen interest in community building, I was at GoMA to write poetry, to create a distillation of the night's happenings for future posterity. Logic would dictate that I should go where the most words would be; but I was filled with an irresistible urge to play games. I had already co-dreamed an impressive list of sleeping bag related games with the person sitting to my left (slug, husky races, who can wear the most sleeping bags, sack races to name a few).
We gathered in our groups to discuss what we would do, what we would need, what format the evening should take and (as it turns out, crucially) what time we would like the lights to go out. A spokesperson was selected to represent each group on a 'spokescouncil', where the representatives would reach a consensus on the issues of how the evening would go, any conflicts over resources and at what time the lights should go out. The facilitators did a magnificently heroic job of keeping the discussions focused; 'brief' overviews spiralled out of control, the facilitator gently herded the kittens. "I'll say again: Each spokesperson is to give a brief outline of what their group will do tonight" quickly became "Each person has 30 seconds to tell us". Those not on the spokescouncil chortled and tried to stifle the mounting hysteria. The only spokesperson not tempted to flout the guidance was from the 'no plan' group, because well, they had 'no plan'. It became clear that with the proposed 'Tower of Awesome' and sub-idea of sleeping bag fort, that chairs were the key resource to be negotiated. Turning out the lights also became a decision to be much wrangled over; there were lots of needs, ranging from 'pretty much now' to 'what the hell, let's stay up all night'.
Negotiations were funny, tense, agonising and did I mention funny? At one point, I was weeping with laughter; we were tantalisingly close to reaching consensus when out of leftfield came a demand for an opening ceremony. Fine we all said, have your opening ceremony, let's just get this done. The sage advice of the facilitators was beginning to hit home – only use consensus decision making for important decisions and ask yourself 'do I want to spend all night making decisions, or do I want to have some fun?'. By now it was heading towards 11pm, and there were games waiting to be played. We were close. We were restless. The facilitator then fulfilled the most crucial obligation of consensus decision making, and asked the spokescouncil whether there were any objections. We held our breath, pleading inwardly for no one to speak up. Come on spokescouncil, you could do it! Hands went up. Sigh. 15mins of jaw-clenching tension followed, as the universal 'need to be heard' surfaced in a few last desperate arm waves; "Well, this isn't exactly an objection, but I'd just like to say…". "Any final objections?" our facilitator said, possibly through gritted teeth. Silence. We breathed a collective sigh of relief. "I think we have a consensus". We cheered. Let the games begin.
The opening ceremony was a resounding success, as we all 'became the chairs' in a self-supporting and poignant human chair circle. Next, we lined up in small groups, ran the length of the gallery, and then turned and felt the breeze on our faces. It was magical. We smiled broad smiles, laughed, and revelled in a joyful camaraderie for the rest of the night. How could anyone think of going to sleep when there was crowdsurfing to be done, wink murder to be played (epic) and thigh drumming to be learned? It was a fascinating experience. I observed an interesting phenomenon; each time an activity gained a certain number of people, others noticed and ran to join. The wink murder circle doubled in size while the detective was behind a column and the silent disco grew within minutes, without a word being spoken. We generally didn't stay segregated in our own groups, we welcomed others in unreservedly, and joined other groups when the mood took us. We were a model society, just for one night. We self-organised, and ensured that there were enough chairs to meet the needs of towers, forts, hubs and deep discussions. It was beautiful and inspiring. It was epic and poetic. We had survived. No, we had flourished.
Extract from my #DarkDays poem:
Dissent can be difficult,
blocks disrupt.
Build a safe environment
for breaking power,
freefall into your position,
annex yourself from your ideas;
interrupt silence,
with or without permission,
be the instigator of your rebellion.
Move the chairs
Wind-down at 2am came all too soon, and we made ourselves cosy for the night. My mind was skipping and crowdsurfing, and reliving dramatic wink murder deaths; how on earth was I going to sleep?? I didn't. Well, maybe an hour or so. I lay under my blanket (not woollen) and listened to the rise and fall of contented breathing, with the occasional soft, acoustically augmented, echo-y snoring (cautionary note; snorers should choose their sleeping spot carefully). I contemplated how different the experience might have been in the 'real world', where people wouldn't be so accommodating, wouldn't be on their best behaviour. I suspect there might have been less laughter and fewer games, certainly no Tower of Awesome or sleeping bag fort. Time will tell.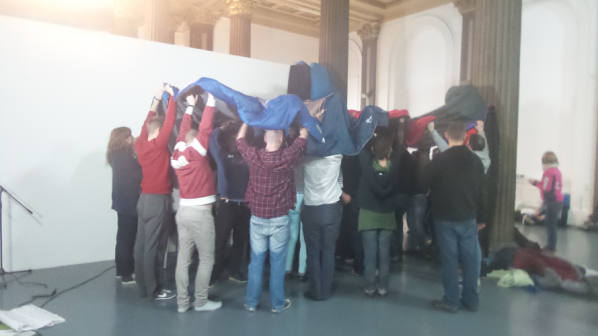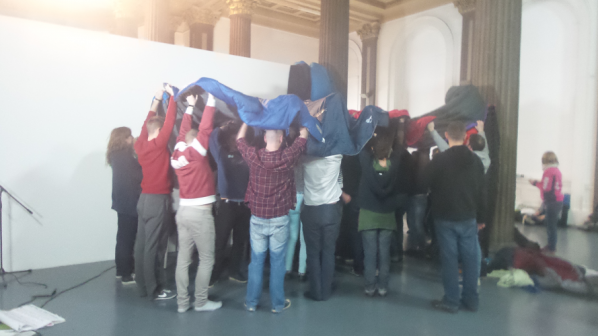 There is a distinct buzz that goes with embracing the opportunity to stay in a public building overnight, I encourage everyone reading this to add such an experience to their bucket list. You might have to go to some lengths, might have to personally orchestrate an event, in order to create your opportunity. Whatever it takes, it will be worth it. I promise. Think 'Night in the Museum', meets giant slumber party, with midnight feast thrown in, but with no adults to tell you what you can and can't do. We were the adults, we made our own rules. Even when a camper was scaling internal walls in the importance of building the most spectacular sleeping bag fort ever seen, no one came to tell us to stop. We all learned something valuable from that endeavour; the fort was unbearably hot inside, so could only be tolerated for short periods of time. Next time – ventilation. One participant put our limited imaginations to shame, by bringing a hammock to sleep in. We all wanted to be that guy. We ate chocolate and muffins for breakfast.
All of your dreams for a different world, made real in one spectacular night in a museum, art gallery, library, school or conference room (the possibilities are endless). Life will never be the same again, you will be changed, and you will want to do it again and again.
Note from reviewer: Names have been omitted in order to protect the subversive, the wall-scaling, the almost-pyjama-wearing, the non-sleeping campers.