"It's amazing what we can do if we simply refuse to give up. The word again is persist." Octavia E Butler
In 2019 we celebrate the 150th anniversary of Finsbury Park, and we time travel through its past and future with the launch of our Citizen Sci-fi programme and methodology. Dominant sci-fi franchises of our time, from Black Mirror to Westworld, have captured popular attention by showing us their apocalyptic visions of futures made desperate by systems of dominance and despair.
What is African-American author, Octavia E. Butler's prescription for despair? Sci-fi and persistence. Sci-fi as a tool for getting us off the beaten-track and onto more fertile ground, and persistent striving for more just societies.The 2015 book Octavia's Brood honoured her work, with an anthology of sci-fi writings from US social justice movements and this inspired us to try a new artistic response to the histories and possible futures of Finsbury Park.
Furtherfield's Citizen Sci-Fi methodology combines citizen science and citizen journalism by crowdsourcing the imagination of local park users and community groups to create new visions and models of stewardship for public, urban green space. By connecting these with international communities of artists, techies and thinkers we are co-curating labs, workshops, exhibitions and Summer Fairs as a way to grow a new breed of shared culture.
Each artwork in the forthcoming exhibition invites audience participation – either in it's creation or in the development of a parallel 'people's' work – turning every idea into a portal to countless more thoughts and visions of the past and future of urban green spaces and beyond.
So where do we start? Last year we invited artists, academics and technologists to join us in forming a rebel alliance to fight for our futures across territories of political, cultural and environmental injustice. This year both our editorial and our exhibition programme are inspired by this alliance and the discoveries we are making together.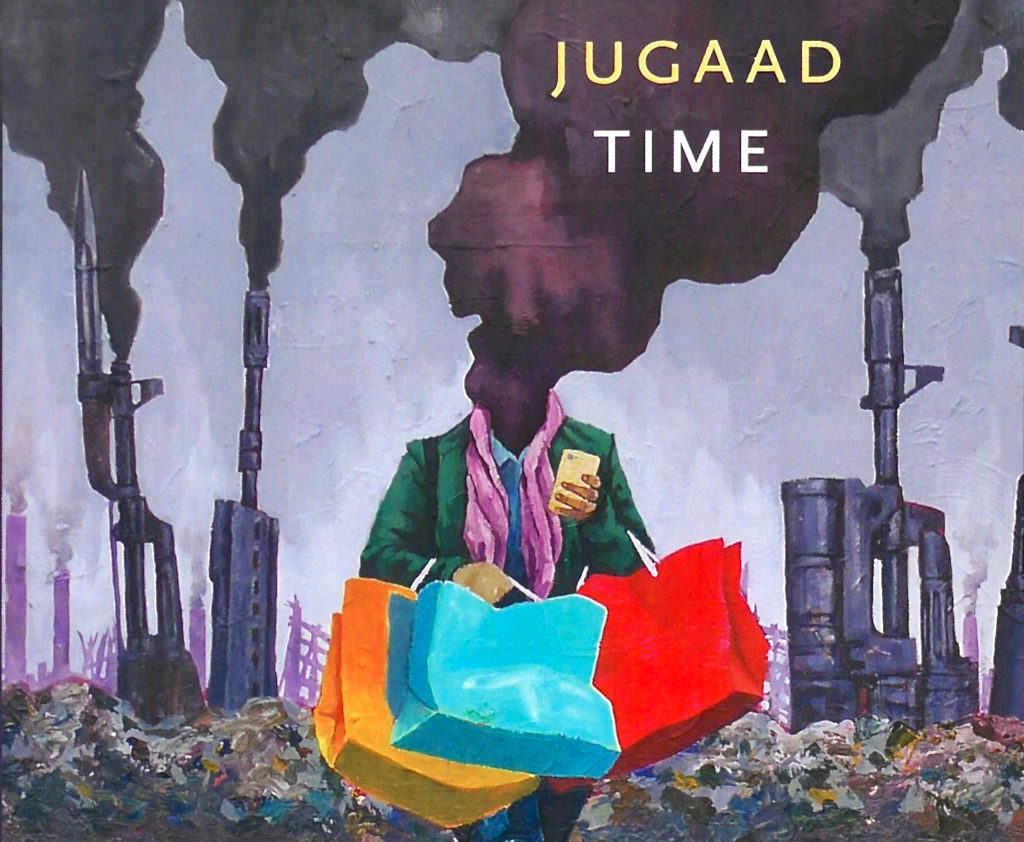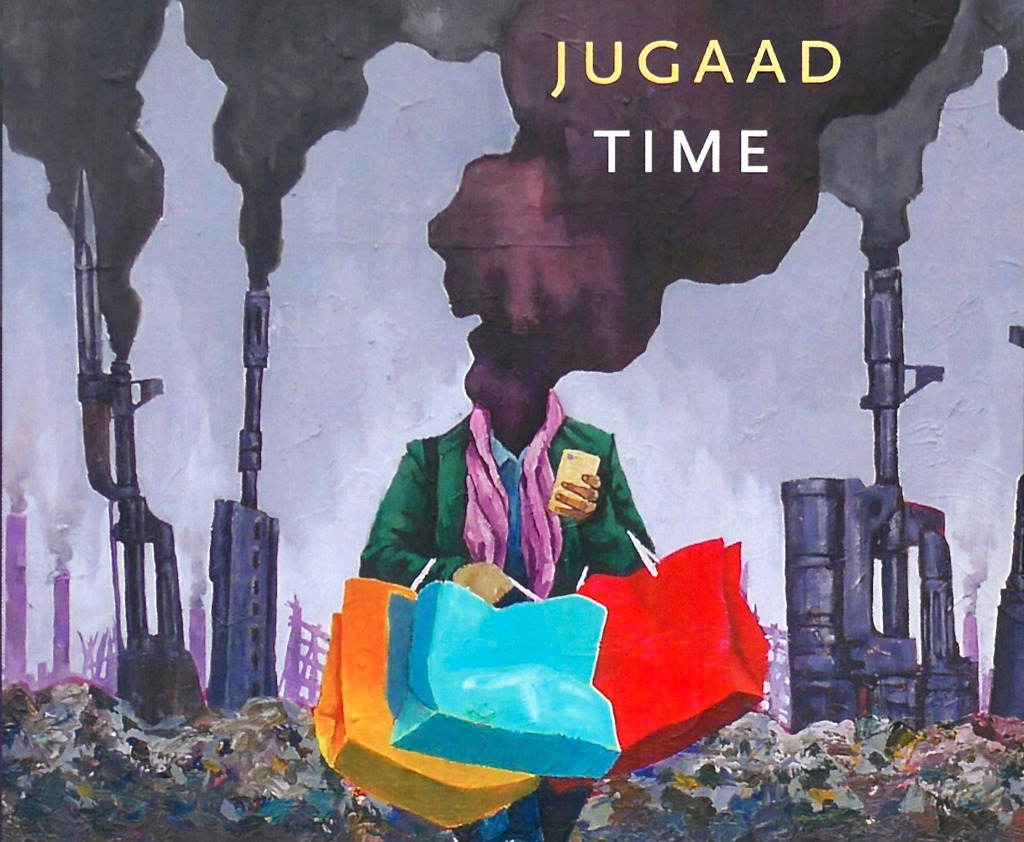 To kick off this year's Time Portals programme at Furtherfield, in April we will host the launch and discussion around Jugaad Time, Amit Rai's forthcoming book. This reflects on the postcolonial politics of what in India is called 'jugaad', or 'work around' and its disruption of the neoliberal capture of this subaltern practice as 'frugal innovation'. Paul March-Russell's essay Sci-Fi and Social Justice: An Overview delves into the radical roots and implications of Mary Shelley's Frankenstein (1818). This is a topic close to our hearts given our own recent exhibitions Monsters of the Machine and Children of Prometheus, inspired by the same book. Meanwhile we've been hosting workshops with local residents exploring our visions for Finsbury Park 150 years into the future. To get a flavour of these activities Matt Watkins' has produced an account of his experience of the Futurescapes workshop at Furtherfield Commons in December 2018.
In May we will open the Time Portals exhibition which features several new commissions. These include Circle of Blackness by Elsa James. Through local historical research James will devise a composite character to embody the story of a black woman from the locality 150 years ago and 150 years in the future. James will perform a monologue that will be recorded and produced by hybrid reality technologist Carl Smith and broadcast as a hologram inside the Furtherfield Gallery throughout the summer. While Futures Machine by Rachel Jacobs is an Interactive machine designed and built through public workshops to respond to environmental change – recording the past and making predictions for the future while inspiring new rituals for our troubled times. Once built, the machine occupies Furtherfield Gallery, inviting visitors to play with it.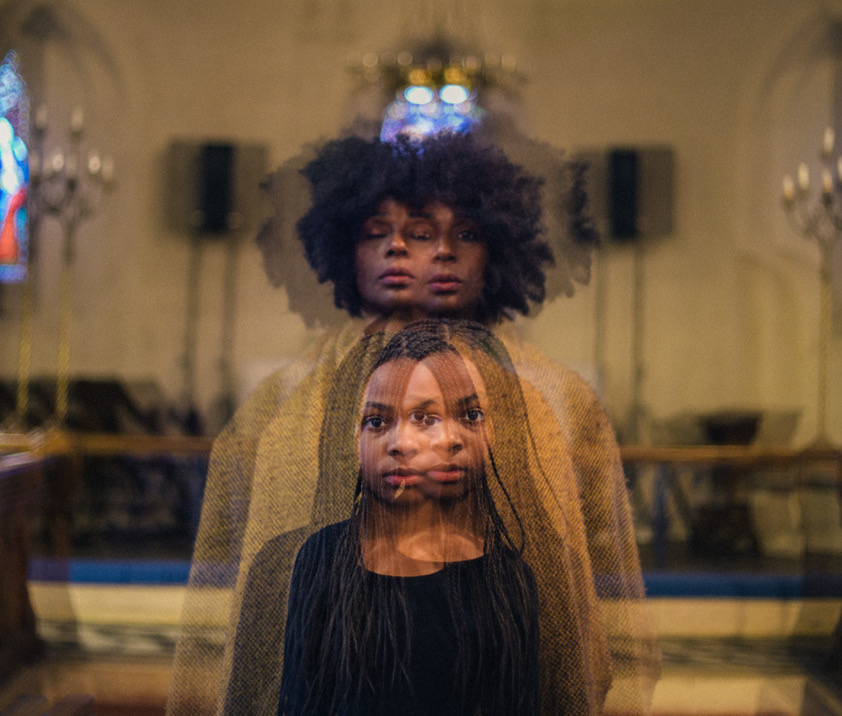 Time Portals opens on May 9th (2019) with other time traveling works by Thomson and Craighead, Anna Dumitriu and Alex May, Antonio Roberts and Studio Hyte. Visitors will be invited to participate in an act of radical imagination, responding with images, texts and actions that engage circular time, long time, linear time and lateral time in space towards a collective vision of Finsbury Park in 2169.
From April onwards, a world of activities, workshops with local families and their enriching noises, reviews, interviews and an array of experiences will unfold. Together we dismiss the dystopian nightmares and invite communities to join us in one of London's first "People's Parks" to revisit and recreate the future on our own terms together.
Marc Garrett will be interviewing Elsa James, about her artwork Circle of Blackness, and Amit Rai about his book Jugaad Time. Both will soon be featured on the Furtherfield web site.
Futurescapes connects local groups with our wider team of designers, researchers, techies and visionaries, to co-create new visions of Finsbury Park using immersive technology.
Crowd-Sourced Visions of the Future
Furtherfield disrupt and democratise arts and technology so that more people can be involved in the business of shaping their cultures and places. Our current focus is on ways to connect the governance and funding of culture to the communities that they serve.
We are currently developing a three year programme called Citizen Sci-Fi, in the heart of Finsbury Park where we have 2 venues: a gallery and a lab. Using the model of citizen science and citizen journalism we are crowdsourcing the imagination of park users and local community groups to create new visions and models of stewardship for public, urban green space.
Like many other public spaces, Finsbury Park has immense economic, social and natural value, yet there is a disconnect between the 'owners' of public space and the people that use (or should be) using them. Local councils have limited funds, the 'superdiverse' local population are not engaged in public consultations; and there are conflicts between park users and stakeholders.
Planning Together
Immersive models can be used as a tool for engagement through co-design, to discover how the council, park stakeholders including nearby property developers, and park users imagine its future and their involvement with it. Placemaking is recognised as a core part of regeneration, requiring a foundation of strong partnerships cutting across the public and private sectors, where social, cultural and 'natural' capital interleave to create stronger bonds and local identity.
We aim to co-design an immersive platform to facilitate the co-design of development in and around public spaces. It will engage with and directly benefit a number of stakeholders:
Citizens: members of the public/park users (special interest groups e.g. older women's group, gallery visitors, dog walkers, tourists…)
Businesses: Thames Water, adjacent shops, cafes, local property developers, commercial fitness groups e.g. Military Fitness Group)
Government (Haringey Council) as landowner, facility/service manager, adjacent authorities Islington and Hackney, planning authorities
Creative industries professionals (architects, game designers, artists, filmmakers)
By coordinating and connecting Furtherfield's international community of artists, techies and thinkers, and the groups that we work with in Finsbury Park, we have the opportunity to combine the powerful insights of grounded communities with experimental practitioners. We want to find a way to empower a long term collaboration across all these layers.
Futurescapes is an Audiences of the Future Design Foundations project, funded by Innovate UK (part of UK Research & Innovation)
Project Partners
Join Stacco Troncoso & Ann Marie Utratel (Commons Transition) and Ruth Catlow (Furtherfield) to play Commonspoly – the resource-access game where we win by working as a community.
Commonspoly is a hack and a critique of the game Monopoly. Players aim first to re-municipalize private goods and then turn them into a Commons – you'll learn why this is the best strategy while playing the game.
Rather than compete against each other, players must overcome their conditioning and 'rational, self-interest' to instead maximize cooperative behaviours and create a commons-oriented locality. Who wins? Everyone in the community! Unless the speculators take over…which we must fight at all costs. United we stand!
This event at Design Museum in partnership with Furtherfield forms part of Convivial Tools, a programme of talks, debates and workshops exploring new strategies for a more cooperative society, based on the thinking of the late philosopher Ivan Illich.
ABOUT THE COORDINATORS
Stacco Troncoso is the advocacy coordinator for Commons Transition and the P2P Foundation, and a co-founder of the Guerrilla Translation collective. He is the designer and content editor for CommonsTransition.org, the P2P Foundation blog and the Commons Strategies Group website.
Ann Marie Utratel is part of the Commons Transition team, and is a co-founder of the Guerrilla Translation collective. Her work helps connect a widening network of people involved in forward-thinking communities including the Commons and P2P movement, collaborative economy, open licensing, open culture, open cooperativism, and beyond.
Ruth Catlow, artist, curator, and co-founder and co-director of Furtherfield, is a recovering web-utopian and has worked since the mid-90s with network practices in arts, technology and social change.
1: Introducing Seeds From Elsewhere
'Seeds From Elsewhere' (2016 – ongoing) is a project by They Are Here that has begun to re-animate a dilapidated play area in Finsbury Park, bringing together young asylum seekers and refugees, family, friends and other professionals. Each participant is supported to grow flowers, plants or edible produce from their respective homeland. We are also in the process of designing a greenhouse and pizza clay oven, extending the parameters of our collective activity. Throughout the process we literally and metaphorically ask 'What can grow here that's not from here?' Beyond this more tangible gardening activity, the project seeks to create a space that embraces, maintains and produces a diverse set of social relationships between people with different residency status. It is supported by Furthefield an organisation exploring the intersection of networked culture and contemporary art.
2: Context
It was July 2016, less than a month after the results of the United Kingdom European Union membership referendum, when our project commenced. Although the impetus to begin was not a conscious response to the referendum outcome – the timing is not insignificant. Our initial steps were in a toxic political atmosphere at the height of an intensified and indiscriminate rhetoric against migrants.
Artists were faced with new variations of old questions that resurface in turbulent times. . . What is our role in protest? Do we have a particular responsibility as artworkers to engage with a given political landscape? What are the capabilities and limitations of art in local / national / international governmental politics? Such questions often reveal an expectation of certain aesthetics, rather than attitudes. It is in the multiple ways that a work is circulated and produced its politics should be sought. . . How is the work funded? How is it credited? Which voices are included in its development, or excluded? How is the work talked and written about by the various partners supporting its production?
In these seemingly small details, a larger political statement is embodied rather than solely visually evoked. At the same time, we reject a 'one-or-the-other' stance. Establishing and administering a small community garden should not negate working with others on larger-scale efforts at the scale of local government or beyond. Bridges should be made between all scales of activity. The same fluid hierarchies and embrace of hybridity we cultivate with Seeds From Elsewhere, we encourage at ever larger scales – generating continuities between the ethos of how we are working on the garden and how national and global resources are considered and decisions made.
3: Keeping things complex
'Participation is not always progressive or empowering', 'Realise your own privilege', 'Critically interrogate your intention', 'Process not product', 'Presentation vs representation – Know the difference!', 'Do not expect us to be grateful', 'Art is not neutral', 'It is not a safe-space just because you say it is,' 'Do your research', ' Do not reduce us to an issue'. These notes are from Rise (Refugees, Survivors and Ex-detainees – the first refugee and asylum seeker organisation in Australia to be run and governed by refugees, asylum seekers and ex-detainees) . . . 10 Things You Need to Consider If You are an artist not of the Refugee and Asylum Seeker Community Looking to work with our Community authored by Tania Canas, RISE Arts Director.
In a polarised mediascape, where tabloid headlines shout loudest, the reduction of a diverse group of people to an 'issue', has been one of the most problematic aspects of public debate. Recognising that Seeds From Elsewhere is a slowly gestating project affords time for us to slowly get to know the participants individually – who to date hail from Albania, Sudan, Congo, Ethiopia, Romania, Afghanistan & Nepal. Rather than seek to 'represent them', we are co-workers on a set of shared goals.
Importantly, this work functions as a hybrid activity, with multiple points of access and identification. For the young refugees the garden can offer a respite from various kinds of bureaucratic limbo, it can also simply be a place to chill in a tolerant environment. In the longer term, there maybe be the potential for employment opportunities in the garden. At the same time, the work functions within the tradition of many conceptually driven socially-engaged artworks, notably Wheatfield – A Confrontation (1982) by Agnes Denes, Edible Estates (2005 – ongoing) by Fritz Haeg and Parkwerk (2014) by Jeanne van Heeswijk.
The project has also become a gateway to consider the language of rhetoric against migrants, as well as that of sympathetic media too, focusing on the recurrence of botanical language as metaphor (soil, roots etc). Essays by US-based anthropologists Dr. Lisa Malkki and Dr. Stefan Helmreich have been particularly insightful. The latter quotes biologist Banu Subramniam, noting that these criteria 'resonate unfortunately with xenophobic anti-immigration language in the United States and Europe':
"The parallels in the rhetoric surrounding foreign plants and those of foreign peoples are striking … The first parallel is that aliens are 'other' … Second is the idea that aliens / exotic plants are everywhere, taking over everything … The third parallel is the suggestion that they are growing in strength and number … The fourth parallel is that aliens are difficult to destroy and will persist because they can withstand extreme situations … The fifth parallel is that aliens are 'aggressive predators and pests and are prolific in nature, reproducing rapidly' … Finally, like human immigrants, the greatest focus is on their economic costs because it is believed that they consume resources and return nothing." [1]
Becoming attuned to language is a vital part of a larger and never-ending exercise in developing cultural and individual self-awareness as to how we speak, itself inseparable from how we think.
4: Democracy and Maintenance
Our fortnightly group meetings in the garden are rich in debate and banter. Working on a garden is an unceasing process. Like the growth of plants themselves, it cannot be rushed without compromise. This notion of maintenance is akin to a healthy democracy. Rather than an invitation to vote every four years, democracy must be attended to daily; it is comprised of multiple systems collectively supporting each other. Beyond physical access to a voting booth, there is the need for both protection and scrutiny of the media, investment into an education system that encourages voters to make informed choices, the space for satirists, philosophers and artists to critique power and the continual checking of our own presumptions and privileges.
Harun Morrison + Helen Walker
They Are Here
February 2017
contact@theyarehere.net
Introduction.
I arrived at the Transmediale festival late Friday afternoon, which was hosted as usual at Das Haus der Kulturen der Welt (The House of World Cultures) in Berlin. The area where the building is sited was destroyed during World War II, and then at the height of the Cold War, it was given as a present from the US government to the City of Berlin. As a venue for international encounters, the Congress Hall was designed as a symbol of 'freedom', and because of its special architectural shape the Berliners were quick to call the building "pregnant oyster" [1] The exterior was also the set for the science fiction action film Æon Flux in 2005. Both past references link well with this festival's use of the building. I remember during my last visit, in 2010, standing outside the back of the building watching an Icebreaker cracking apart the thick ice in the river. The sound of the heavy ice in collision with the sturdy boat was loud and crisp. This sound has stayed with me so that whenever I hear a sound that is similar I'm immediately transported back to that point in time. Unfortunately, this time round there was no snow, instead the weather was wet, warm and slighty stormy.
Last year's festival explored the marketing of big data in the age of social control. This year, the chosen format was entitled conversationpiece, with the aim of enabling a series of dialogues and participatory setups to talk about the most burning topics in post-digital culture today. To give it grounding and historical context the theme was pinned to the "backdrop of different processes of social transformation, 17th and 18th century European painters perfected the group portrait painting known as the "Conversation Piece" in which the everyday life of the aristocracy was depicted in ideal scenes of common activity." In recent years the festival has scafolded its panels, workshops and keynotes to grand, central themes to guide its peers and visitors, along with a large-scale curated exhibition. If we view the four interconnected thematic streams- Anxious to Act, Anxious to Make, Anxious to Share and Anxious to Secure – we might guess that the festival curators are also anxious to save all the resources (and celebrations) for next year, which is after all, Transmediale's 30th birthday.
So, I was curious to see how my brief time here would unfold…
Off-the-Cloud-Zone.

This review is focused on the hybrid event Off-the-Cloud-Zone. It featured presentations, talks and workshops, starting at 11 am, going on until 8pm. Hardcore indeed. It demanded total dedication, which unfortunately I was not able to give. However, I did offer my attention to the rest of the proceedings from lunch time until the end. It was moderated by Panayotis Antoniadis, Daphne Dragona, James Stevens and included a variety of speakers such as: Roel Roscam Abbing, Ileana Apostol, Dennis de Bel, Federico Bonelli, James Bridle, Adam Burns, Lori Emerson, Sarah T Gold, Sarah Grant, Denis Rojo aka Jaromil, George Klissiaris, Evan Light, Ilias Marmaras, Monic Meisel, Jürgen Neumann, Radovan Misovic aka Rad0, Natacha Roussel, Andreas Unteidig, Danja Vasiliev, Christoph Wachter & Mathias Jud, and Stewart Ziff.
The Off-the-Cloud-Zone day event was a continuation of last year's offline networks unite! panel and workshops. Which also originated from discussions on a mailing list called 'off.networks' with researchers, activists and artists working together around the idea of an offline network operating outside of the Internet. The talks concentrated on how over recent years there has been a growing scene of artists, hackers, and network practitioners, finding new ways to ask questions through their practices that offer alternatives in community networks, ad-hoc connectivity, and autonomous systems of sensing and data collecting.
Snowden Archive-in-a-Box.
Disillusionment with the Internet has spread widely since 2013, when Edward Snowden the US whistleblower leaked information on numerous global surveillance programs. Many of these programs are run by the NSA and Five Eyes with the cooperation of telecommunication companies and European governments raising big questions about privacy and exploitation of our online (interaction) data. This concern is not only in relation to spying corporations, dodgy regimes and black hat hackers, but also our governments. "The idea of privacy has been flipped on its head. People don't have to disclose their own information voluntarily anymore; it's being taken from them regardless of their wishes." [2] (Nowak 2015)
"The NSA's principal tool to exploit the data links is a project called MUSCULAR, operated jointly with the agency's British counterpart, the Government Communications Headquarters . From undisclosed interception points, the NSA and the GCHQ are copying entire data flows across fiber-optic cables that carry information among the data centers of the Silicon Valley giants." [3] (Gellman and Soltani, 2013)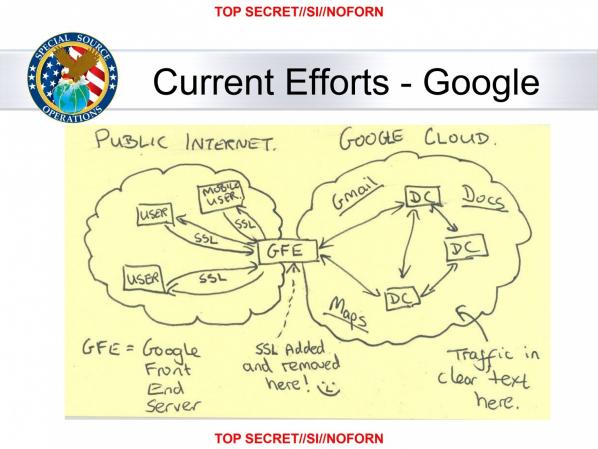 The above slide is from an NSA presentation on "Google Cloud Exploitation" from its MUSCULAR program. The sketch shows where the "Public Internet" meets the internal "Google Cloud" where user data resides. [4]

A legitimate concern for anyone wishing to read the contents of the leaked Snowden files, is that they will be spied upon as they do so. Evan Light has been working on finding a way around this problem, and at the Off-the-Cloud-Zone day event he presented his project Snowden Archive-in-a-Box. A stand-alone wifi network and web server that permits you to research all files leaked by Edward Snowden and subsequently published by the media. The purpose of the portable archive is to provide end-users with a secure off-line method to use its database without the threat of surveillance. Light says, usually the wifi network is open, but users do have the option to make their own wifi passwords and also choose their encryption standard.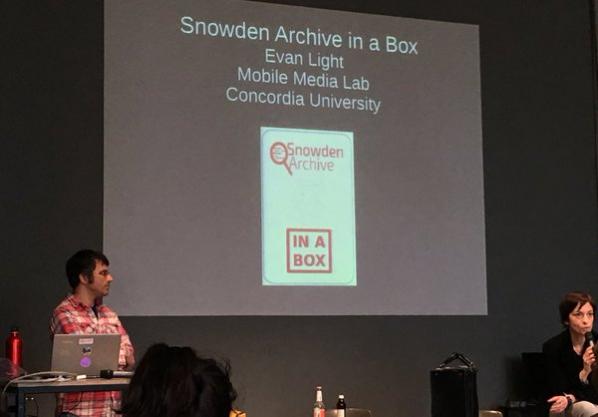 Snowden Archive-in-a-Box is based on the PirateBox, originally created by David Darts who made his in order to distribute teaching materials to students without the hassle of email. It is based on a RaspberryPi 2 mini-computer and the Raspbian operating system. All the software is open-source and its most basic setup can run on one RaspberryPi. In his talk Light said that a more elaborate version would use high-quality battery packs and this adds power for autonomy, along with the wifi sniffer that is running on a secondary RaspberryPi and a flat-screen for playing back IP traffic. If you're interested in building your own private, pirate Archive-in-a-Box, visit Light's web site for instructions on how to.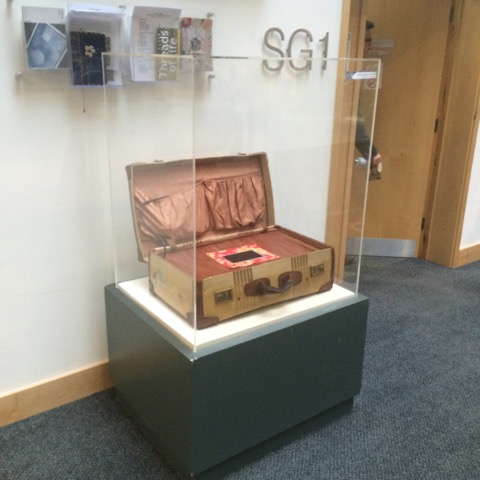 Snowden Archive-in-a-Box. Cambridge University's museum piece installation. Evan Light.

Qaul.net and Can You Hear Me?
Christoph Wachter's and Mathias Jud's work, directly engages with refugees and asylum seeker's social situations, policies, and the migrant crisis. They've worked together on participatory community projects since 2000 and have received many awards. For instance, take a look at their digital communications tool qaul.net which is designed to counteract communication blackouts. It has been used successfully in Egypt, Burma, and Tibet, and works as an alternative to already existing government and corporate controlled communication pathways. But, it also offers vital help when large power outages occur, especially in areas in the world suffering from natural disasters. The term qaul is Arabic and means 'opinion, say, talk or word'. Qaul is pronounced like the English word 'call'.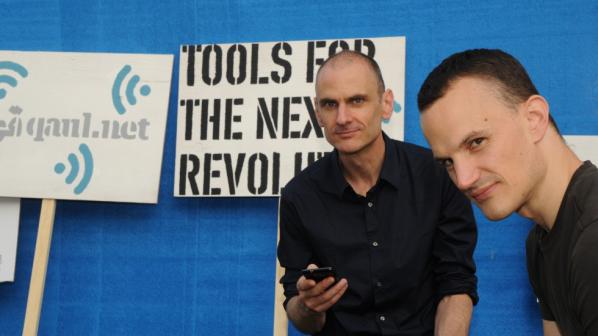 It creates a redundant, open communication code where wireless-enabled computers and mobile devices can directly initiate a fresh, unrestricted and spontaneous network. This includes the enabling of Chat, twitter functions and movie streaming, independent of Internet and cellular networks. It is also accessible to a growing Open Source Community who can modify it freely.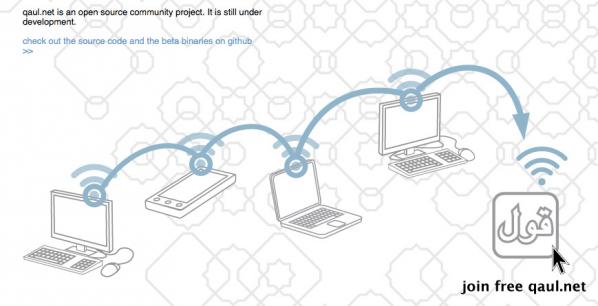 Wachter and Jud also discussed another project of theirs called "Can You Hear Me?", a WLAN / WiFi mesh network with can antennas installed on the roofs of the Academy of Arts and the Swiss Embassy in Berlin, which was located in close proximity to NSA's Secret Spy Hub. These makeshift antennas made of tin cans were obvious and visible for all to see. The Academy of Arts joined the project building a large antenna on the rooftop, situated exactly between the listening posts of the NSA and the GCHQ to enable people to directly address surveillance staff listening in. While installing the work they were observed in detail by a helicopter encircling overhead with a camera registering each and every move they made, and on the roof of the US Embassy, security officers patrolled.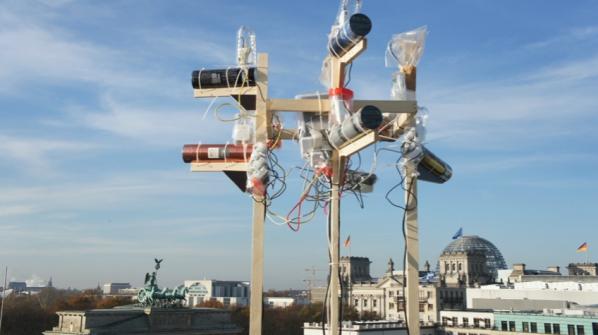 "The antennas created an open and free Wi-Fi communication network in which anyone who wanted to would be able to participate using any Wi-Fi-enabled device without any hindrance, and be able to send messages to those listening on the frequencies that were being intercepted. Text messages, voice chat, file sharing — anything could be sent anonymously. And people did communicate. Over 15,000 messages were sent." [5] (Jud 2015)

A the end of their presentation, they said that they will be implementing the same system at hotspots deployed in Greece by the end of the month. And I believe them. What I find refreshing with these two, is their can do attitude whilst dealing with political forces bigger than themselves. It also gives a positive message that anyone can get involved in these projects.
Dowse.
And then, it was the turn of the well known team at Dyne.org to discuss a project of theirs called Dowse, which is 'The Privacy Hub for the Internet of Things'. They said (taking turns, there was about 5 of them) that the purpose of Dowse is to perceive and affect all devices in the local, networked sphere. As we push on into the age of the Internet of Things, in our homes everything will be linked up.
"Those bathroom scales and home thermostats already talk to our smartphones and in some cases think for themselves." [6] (Nowak 2015)
As these ubiquitous computers communicate to each other even more, control over these multiple connections will be essential. We will need to know how to interact beyond the GUI interfaces and think about who has access to our private, common and public information. A whole load of extra information will be available without our consent.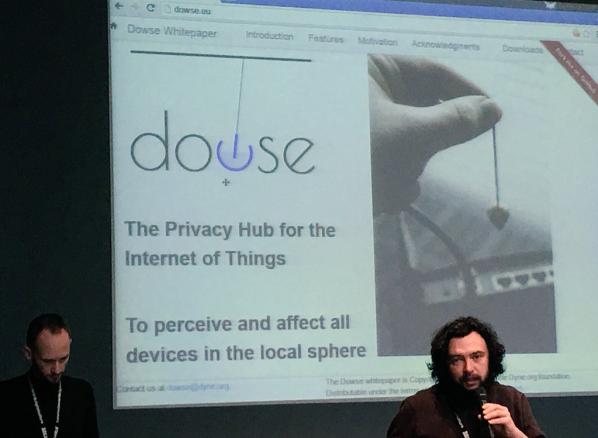 Dowse was conceived in 2014 as a proof of concept white paper by Denis Rojo aka Jaromil. Early contributors to the white paper and its drafting process includes: Hellekin O. Wolf, Anatole Shaw, Juergen Neumann, Patrick R McDonald, Federico Bonelli, Julian Oliver, Henk Buursen, Tom Demeyer, Mieke van Heesewijk, Floris Kleemans and Rob van Kranenburg. I downloaded the white paper and is definitely worth reading.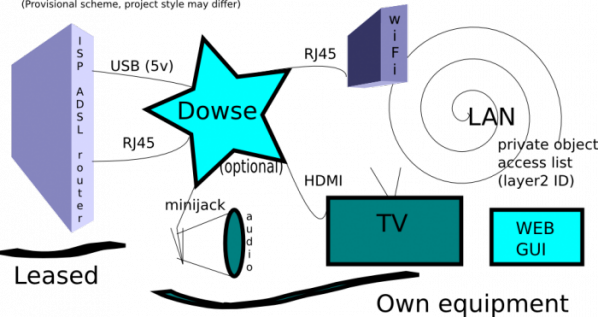 The Dowse project aims to abide to the principles stated in the Critical Engineers Manifesto, (2011). Near the very end of the talk they announced to the audience an open call for artists and techies everywhere to get involved and jump into the project to see what it can do. This is a good idea. If there is no community to make or break platforms, hardware and software, then there is a limited dialogue around the possibilties of what a facility realistically might achieve. Not just that, they want artists to make art out of it. I know there are some pretty clever tech-minded geeks out there, who will in no doubt take on the challenge. However, once those who are not so literate in the medium are able to exploit the project, it will surely fly. It's going to be interesting, because if you look at the 3rd point in the Critical Engineers Manifesto, it says "The Critical Engineer deconstructs and incites suspicion of rich user experiences." I'm thinking, that this number 3 element needs to treated with caution. If they really wish to open it up to a diverse user base, to engage with its potentialities, creatively and practically; thus, allow new forms of social emancipation to evolve as 'freedom with others'. There needs to be an active intent to avoid a glass ceiling based on technical know-how. It's a promising project and I intend to explore it myself and see what it can do and will invite other people within Furtherfield's own online, networks to join in and play, break, and create.
The Sarantaporo Project.
Our final entry is the Sarantaporo Project which is situated in the North of Greece. A village in the mountains just west of Mount Olympus in Central Greece close to Thessaloniki, Macedonia and Larisa. The country has been in recession for over 6 years now, and many communities have had to create alternative ways of working with each other in order to survive the crisis. Over this troubling period, new forms of grass-roots coexistence, solidarity and innovation have evolved. The Sarantaporo Project is an impressive example of how people can come together and experiment in imaginative ways and exploit physical and digital networks.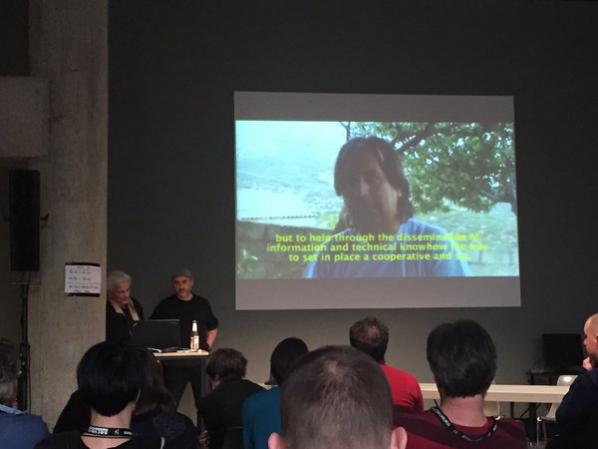 Even before the economic crisis the region was already hit by poverty, and with the added pressures of imposed Austerity measures, life got even tougher. All the young were leaving and then migrating to the cities or abroad. Before the project in Sarantaporo, there was no Internet nor digitally connected networks for local people to use. This situation contributed to the digital divide and made it difficult to work in a contemporary society, when so many others in the world have been using technology to support their civic, academic and business for so many years already.
"In Greece, where unemployment reaches 30% in all ages and genders, and among the youth overpasses 50%, immediate solution for the "social issue" is more than urgent.' [7] (Marmaras).
Conclusion."Besides maintaining the network in a DIWO (Do It With Others) manner, and creating an atmosphere of cooperation among far-flung communities that were previously strangers, the Sarantaporo network is incorporating different groups of people into the community, like Farmer's Cooperatives and techies. It is also creating an intergenerational space for learning." [9] (Bezdommy 2016)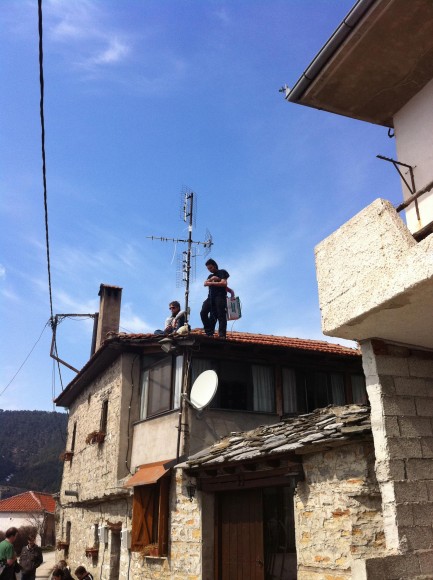 To resolve this issue a group of friends decided to deal with this problem by setting up a community D.I.Y wireless network to provide free internet access to 15 villages in the municipality of Elassona. "Sarantaporo.gr is an open source wireless mesh networking system that relies greatly on voluntary work both for its development and maintenance. Some volunteers are involved in the project by simply installing an antenna on their roof. Others, more actively engaged with the project, are responsible for sustaining the network by hosting meetings and answering technical questions." [8] (Kalessi 2014) The audience was presented with snippets from a film made by the filmmaking collective Personal Cinema, about the project. It was made so the story of Sarantaporo's DIY wireless network gets a wider reach, and that others are also inspired to do similar projects themselves.
These projects are dedicated to creating socially grounded and engaged alternatives to the proprietorial, networked frameworks that currently dominate our communication behaviours. These proprietorial systems, whether they are digital or physical are untrustworthy, and control us in ways that reflect their top-down demands but not our common needs. This reflects a wider conversation about who owns our social contexts, our conversations, our fields of practice, the structures we use, the land, the cables, our history, and so on.
Looking at the state of the planet right now you'd be forgiven for betting on a future not far from the director Neill Blomkamp's vision in the sci-fi movie Elysium where, in the year 2159, humanity is sharply divided between two classes of people: the ultra-rich whom live aboard a luxurious space station called Elysium, and the rest who live a hardscrabble existence in Earth's ruins. However, in the Off-the-Cloud-Zone talks we encountered an ecology of strategies to protect our own indegenous cultures from the crush of neo-liberalism, we felt part of a grounded movement discovering new conversations and new methodologies that may provide some protection against future colonisation. Perhaps there is a chance, we can build and rebuild stronger relations with each other, beyond: privilege, nation, status, gender, class, race, religion, and career.
The festival this year was less structured and more nuanced than usual. It gave conversation a greater role and a deeper social context, and opened up the process for the many to connect with the ideas being explored. The whole affair seemed to be slowed down and less caught up in the hyper-macho trappings of accelerationism. It seemed less neurotic and spending less effort to impress. I'm sure, next year, on it's 30th anniversary, all will be sharp and amazing. However, I liked this less glossy, more messy version of Transmediale and I hope it manages to impress the wrong people again, and again.
References:
[1] The Site and its History .
https://www.hkw.de/en/hkw/geschichte/ort_geschichte/ort.php
[2] Peter Nowak Humans 3.0: The Upgrading of Our Species. The Lyons Press (6 Jan. 2015). P.132.
[3] NSA infiltrates links to Yahoo, Google data centers worldwide, Snowden documents say. Washington Post. By Barton Gellman and Ashkan Soltani October 30, 2013. http://wapo.st/1Ty1nTX
[4] File:NSA Muscular Google Cloud.jpgs. From Wikipedia, the free encyclopedia.
https://en.wikipedia.org/wiki/File:NSA_Muscular_Google_
[5] Mathias Jud: Art that lets you talk back to NSA spies. Subtitles and Transcript. TED.com. September 2015. http://bit.ly/1UkiMPn

[6] Peter Nowak Humans 3.0: The Upgrading of Our Species. The Lyons Press (6 Jan. 2015). P.6.
[7] "Building Communities of Commons in Greece", Ilias Marmaras. Personal Cinema.
https://en.goteo.org/project/building-communities-of-commons
[8] Theodora Kalessi. Sarantaporo.gr: Bridging the digital divide in rural Greece. August 11, 2014
http://oipolloi.co/sarantaporo-gr-bridging-the-digital-divide-in-rural-greece/
[9] Bezdomny. Sarantaporo Residents Create Commons in Rural Greece Through a DIY Wireless Mesh Network. January 3, 2016.
http://www.shareable.net/blog/sarantaporo-residents-create-commons-in-rural-greece-through-a-diy-wireless-mesh-network
Lately, I have noticed in myself a tendency to sign up for events which reveal little of what to expect beforehand. This leads to a heady mix of anticipation and mild terror. Dark Days, the brainchild of Ellie Harrison fitted that description, although I felt that at 16hrs long, it was a mere blip on my riskometer, compared to week-long excursions I've previously taken into the unknown. In short, I would be spending the night in Glasgow's Gallery of Modern Art (GoMA), in a pop-up community of 99 strangers, contemplating how we might manage to live together (put up with each other) in a future where buildings might need to be used in ways which serve the needs of the population better…Count me in!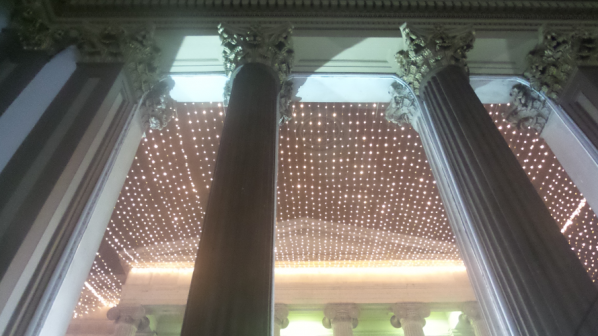 GoMA columns and stars Photo: Caren Gilbert
The camp manual gave thorough and due attention to health & safety issues like pyjamas and woollen blankets, but scant reassurance on how the experiment would avoid a rapid descent into anarchy. In the absence of concrete information, my mind ran amok. I therefore decided, that on arrival we would be immersed in an imagined scenario where all manner of crises has befallen our village, that it would be up to us to work out how we would rebuild society. This would be a tense, high adrenaline experience involving sleep deprivation, maybe starvation, and intractable social issues, to be debated until we all came to a common vision. We might never make it out of there.
As it turned out, Dark Days was none of those things; it was a whole lot more. On arrival in Glasgow, I succumbed to mild panic and bought myself a sleeping pad, twinpack of nougat caramel chocolate, and a bottle of fizzy pop (in direct contravention of the bring a bottle of water mandate), to supplement the food I already had in my rucksack. Provisions bolstered, I relaxed & enjoyed my pilgrimage to GoMA; I felt carefree, adventurous and rebellious; none of the strangers walking beside me had a clue what I was about to do. I felt dangerous and daring.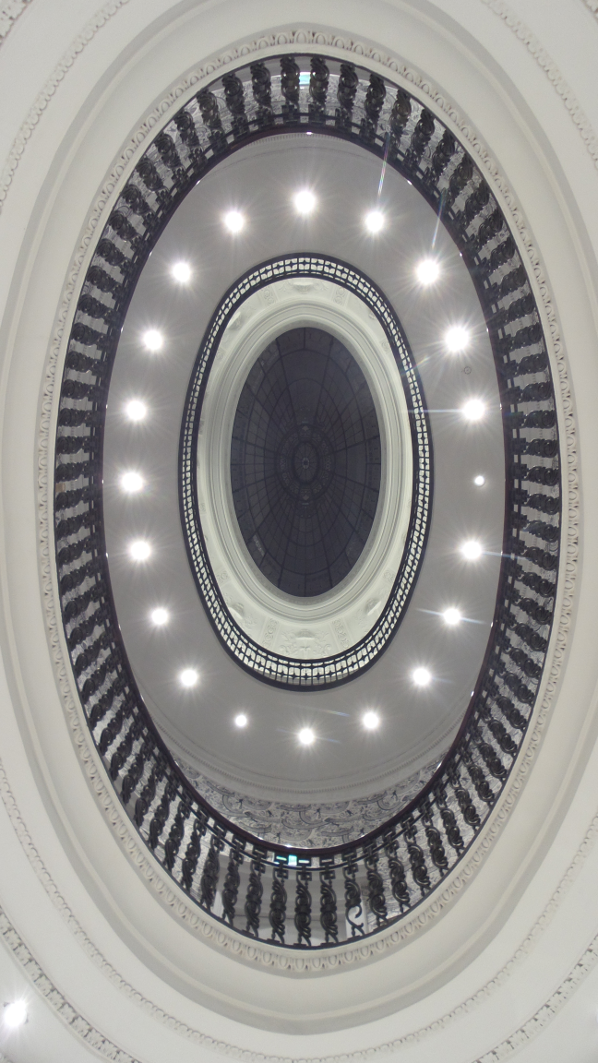 How often do you get to lie down in an art gallery? Photo: Caren Gilbert
I joined the short queue outside GoMA, exchanging nervous banter with fellow participants ("Is this where the over-excited and slightly nervous should queue for the coming apocalypse?"). We eyed each other up, I began to relax. We all looked pretty 'normal and balanced' individuals. Who could predict what would surface once the pressure was on, though? A child walking past was overheard saying "you're the worst Mum ever". He was joking of course, or was he? Was society breaking down already? When the doors opened, we edged inside, one and two at a time. We were subjected to challenging initiative tests – first to register with the clipboard on the right if your surname is A-L. I was standing on the left, I dithered. My surname begins with a 'G'. My faculties were already leaving me. Through the archway to the welcome desk, I shuffled forward and joined the queue on the right. More nervous exchanges. The queue on the left was faster, we silently wondered whether it would be impolite to skip over to the other line. No one moved. A couple of minutes later, I spotted a notice 'A-L' taped to the left side of the desk. A dastardly ploy! Somewhere, a hidden camera would be watching me, a witness to my ineptitude. This was before the evening had even begun. My nerves jangled. Beyond the mysterious white cube that had blocked our view of the great hall (was that where the mind games would take place?), we placed our belongings around the edges and sat in the large circle of chairs which awaited. More nervous chatter, it was clear that no one had the faintest notion what the night would hold. I was reassured. Speakers, microphones and video cameras (with red light already flashing) were dotted around the space, we did our best to ignore them. There will be screenings in March in Glasgow, and the film will be made available online #ohdear. Someone noticed that there were not enough chairs for all members of the community to have a seat. 20ish people stood, or sat on the floor. Was this a lack of resources on GoMA's part, or was it intentional? Time would tell.
An entertaining and enlightening journey followed, into the challenges of consensus decision making, based around the formation of 'affinity groups'. The groups were determined by allowing anyone who felt brave enough to make suggestions of how we might spend our time together, members of the community chose which group they wanted to join. The options were many and varied; building a Tower of Awesome; a general knowledge quiz; game playing; climate change discussion group; music & dance; a group with no plan; a manifesto writing group; a skills sharing group and a community focused 'hub' group. This was the fascinating moment for me, as my intended plan for the evening was abandoned. Along with my keen interest in community building, I was at GoMA to write poetry, to create a distillation of the night's happenings for future posterity. Logic would dictate that I should go where the most words would be; but I was filled with an irresistible urge to play games. I had already co-dreamed an impressive list of sleeping bag related games with the person sitting to my left (slug, husky races, who can wear the most sleeping bags, sack races to name a few).
We gathered in our groups to discuss what we would do, what we would need, what format the evening should take and (as it turns out, crucially) what time we would like the lights to go out. A spokesperson was selected to represent each group on a 'spokescouncil', where the representatives would reach a consensus on the issues of how the evening would go, any conflicts over resources and at what time the lights should go out. The facilitators did a magnificently heroic job of keeping the discussions focused; 'brief' overviews spiralled out of control, the facilitator gently herded the kittens. "I'll say again: Each spokesperson is to give a brief outline of what their group will do tonight" quickly became "Each person has 30 seconds to tell us". Those not on the spokescouncil chortled and tried to stifle the mounting hysteria. The only spokesperson not tempted to flout the guidance was from the 'no plan' group, because well, they had 'no plan'. It became clear that with the proposed 'Tower of Awesome' and sub-idea of sleeping bag fort, that chairs were the key resource to be negotiated. Turning out the lights also became a decision to be much wrangled over; there were lots of needs, ranging from 'pretty much now' to 'what the hell, let's stay up all night'.
Negotiations were funny, tense, agonising and did I mention funny? At one point, I was weeping with laughter; we were tantalisingly close to reaching consensus when out of leftfield came a demand for an opening ceremony. Fine we all said, have your opening ceremony, let's just get this done. The sage advice of the facilitators was beginning to hit home – only use consensus decision making for important decisions and ask yourself 'do I want to spend all night making decisions, or do I want to have some fun?'. By now it was heading towards 11pm, and there were games waiting to be played. We were close. We were restless. The facilitator then fulfilled the most crucial obligation of consensus decision making, and asked the spokescouncil whether there were any objections. We held our breath, pleading inwardly for no one to speak up. Come on spokescouncil, you could do it! Hands went up. Sigh. 15mins of jaw-clenching tension followed, as the universal 'need to be heard' surfaced in a few last desperate arm waves; "Well, this isn't exactly an objection, but I'd just like to say…". "Any final objections?" our facilitator said, possibly through gritted teeth. Silence. We breathed a collective sigh of relief. "I think we have a consensus". We cheered. Let the games begin.
The opening ceremony was a resounding success, as we all 'became the chairs' in a self-supporting and poignant human chair circle. Next, we lined up in small groups, ran the length of the gallery, and then turned and felt the breeze on our faces. It was magical. We smiled broad smiles, laughed, and revelled in a joyful camaraderie for the rest of the night. How could anyone think of going to sleep when there was crowdsurfing to be done, wink murder to be played (epic) and thigh drumming to be learned? It was a fascinating experience. I observed an interesting phenomenon; each time an activity gained a certain number of people, others noticed and ran to join. The wink murder circle doubled in size while the detective was behind a column and the silent disco grew within minutes, without a word being spoken. We generally didn't stay segregated in our own groups, we welcomed others in unreservedly, and joined other groups when the mood took us. We were a model society, just for one night. We self-organised, and ensured that there were enough chairs to meet the needs of towers, forts, hubs and deep discussions. It was beautiful and inspiring. It was epic and poetic. We had survived. No, we had flourished.
Extract from my #DarkDays poem:
Dissent can be difficult,
blocks disrupt.
Build a safe environment
for breaking power,
freefall into your position,
annex yourself from your ideas;
interrupt silence,
with or without permission,
be the instigator of your rebellion.
Move the chairs
Wind-down at 2am came all too soon, and we made ourselves cosy for the night. My mind was skipping and crowdsurfing, and reliving dramatic wink murder deaths; how on earth was I going to sleep?? I didn't. Well, maybe an hour or so. I lay under my blanket (not woollen) and listened to the rise and fall of contented breathing, with the occasional soft, acoustically augmented, echo-y snoring (cautionary note; snorers should choose their sleeping spot carefully). I contemplated how different the experience might have been in the 'real world', where people wouldn't be so accommodating, wouldn't be on their best behaviour. I suspect there might have been less laughter and fewer games, certainly no Tower of Awesome or sleeping bag fort. Time will tell.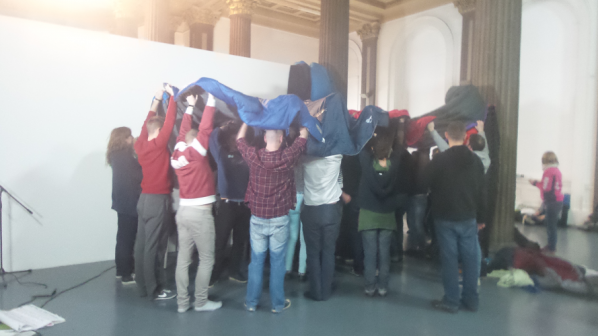 Building the Epic Sleeping Bag Fort Photo: Caren Gilbert
There is a distinct buzz that goes with embracing the opportunity to stay in a public building overnight, I encourage everyone reading this to add such an experience to their bucket list. You might have to go to some lengths, might have to personally orchestrate an event, in order to create your opportunity. Whatever it takes, it will be worth it. I promise. Think 'Night in the Museum', meets giant slumber party, with midnight feast thrown in, but with no adults to tell you what you can and can't do. We were the adults, we made our own rules. Even when a camper was scaling internal walls in the importance of building the most spectacular sleeping bag fort ever seen, no one came to tell us to stop. We all learned something valuable from that endeavour; the fort was unbearably hot inside, so could only be tolerated for short periods of time. Next time – ventilation. One participant put our limited imaginations to shame, by bringing a hammock to sleep in. We all wanted to be that guy. We ate chocolate and muffins for breakfast.
All of your dreams for a different world, made real in one spectacular night in a museum, art gallery, library, school or conference room (the possibilities are endless). Life will never be the same again, you will be changed, and you will want to do it again and again.
Note from reviewer: Names have been omitted in order to protect the subversive, the wall-scaling, the almost-pyjama-wearing, the non-sleeping campers.
Just think about the ordinary, and by that I mean not an ordinary life, event, custom, or thing (at least not yet), but the ordinary as such. 
We can never fully exhaust the ordinary – how could we? For as sure as we try to get close, the ordinary becomes something else. Elusive – in the same way that words, peoples, names and symbols become strange if we concentrate on them too long. Neither does anyone grasp the ordinary in sheer ignorance, because its ordinariness just evaporates in retrospect. The ordinary claims little attention only because it is ordinary and is implicitly taken on that account. The extraordinariness of the ordinary has to be rejected if its implicitness becomes something we unavoidably accept. Yet, its givenness appears unproblematic insofar as it remains unacknowledged. The ordinary is what happens when we're concentrating on something else: it is what constitutes the ontological furniture of the world.
Nevertheless, the ordinary remains drastically important, as it always was: and yet its implicitness already remains curiously forgotten, waiting to be exposed or made present. As Charles Bernstein writes in The Art and Practice of the Ordinary, "any attempt to fix the ordinary pulls it out of the everydayness in which it is situated, from which it seems to derive its power." Representations and objectifications of the ordinary claim transparency to its own cost.
"Science" wishes to naturalise the ordinary into a neat little piecemeal encroachments of textbook knowledge and then move towards the next eliminative paradigm. Technology commandeers the ordinary seeking to render it more efficient and effective for the benefits of, well, hardly anyone but futurists. Traditionalists seek to undermine the ordinary in favour of some primordial ordinary which benefits some reactionary stupor. Global neo-liberalism commandeers the ordinary even further, waging that no-one will change anything in it for lack of time or for opposing the marketplace. Everyone has access to the ordinary, even though the ordinary remains unaccessible.
Yet it seems that whatever we do, whatever new particle is discovered, whatever new economic theory found, or new conceptual scheme offered – the coordinates of "normality" and "convention" might change, for some at least, but soon after the ordinary returns, with a hidden shrug and an hour to kill. Faster computation and digital transmission may have egged a generational shift of Western production, knowledge, communication, control, community, yet the ordinary still prevails only by re-shifting and re-configuring itself: different uses, words, things, together with different uses of words and things. The concrete acknowledgement of banal yet entirely extra-ordinary things constitute the bizarre ecology of the ordinary, which operates regardless: detached memes, first-world jokes, boredom, mediocre top 10s, compassion, political intrigue, scoops, as well as emotional heartache.
Different cultures, tribes, gangs, and communities have their ordinaries: everyday customs and uses, most different, some utterly indifferent to one other. Some ordinary customs hold the relevancy of others to account. Yet the ordinary is clearly there, unshakeable and implicit, yet also unmistakable and haunting, without any essence of natural custom to which it can be easily assigned. It has just a background assumption of 'bleh', or 'meh' with no distinctive features to explicitly signal its silent functioning.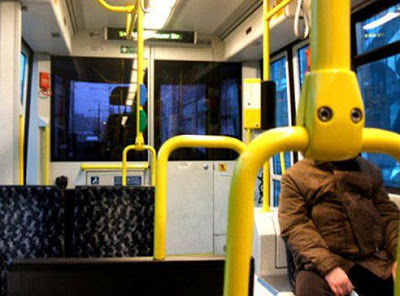 Why am I waxing lyrical abut such matters? I do so in the effort of introducing an underdeveloped but convergent alternative. Not one that has any justification nor merit of its own, but one that exists, for the most part, as an epistemological alternative to what has hitherto been called accelerationism: and how the tensions and similarities of both positions impact art, literature, science and especially systems.
The Self-Mastery of Thought
The doctrine of accelerationism is accelerating, as it should be (Twitter hashtags and all) making giant leaps in art and cultural theory circles. By no means does it signal anything concrete, (at least not yet) than it provokes the insistent beginnings of a modern political doctrine: one that joins up similar threads of interest across disparate thinkers and topics. Of late, it has enjoyed multiple discussions online, a recent symposium in Berlin, the sole topic for an e-flux journal on aesthetics, a forum held last year, and an expectant anthology from Urbanomic.
Coined by Benjamin Noys in The Persistence of the Negative: A Critique of Contemporary Continental Theory, the acceletrationist doctrine takes many forms, but by and large, its aim is to accelerate, conceive, invert and uproot capitalist infrastructures and abstractions using the abstract epistemic resources of capitalism itself. For Marx and Engels this required the dialectical development of capitalist contraction towards its 'inevitable' destruction. Deleuze and Guattari famously mused that the process of capital was to be accelerated, and in its darker, more heightened levels (most famously, the macabre futurist machinic practice of Nick Land), it meant pushing the social deterritorialising force of capitalism into its inevitable post-capitalist future.
In its early stages, accelerationism established a darker, more virulently techno-nihilistic strain of theoretical terror. Land was spellbound by the 90s demonic growth of neoliberalism: for it possessed, not just some freaky quality of being utterly impervious to any resistance of leftist critique, but the singular quality of accelerating unparalleled technological progress. Land's future was a rumbling techno-capital singularity smuggling itself within collapsing human civilisations until the latter would eventually be creamed off. These views eventually drove Land out of academia but remained a curious alternative to other political responses: a darker alternative to fields of protest, against disruption, antonomist intervention, situationist détournement, hackitivism or a resuscitated dialectical antagonism.
Filtering out the hysteric reactionary stupor of Land's thought, contemporary thinkers have begun to rethink accelerationism beyond the squalid drive of accelerating capitalist contradiction. Nick Srnicek and Alex Williams, who co-authored the widely circulated Accelerationist Manifesto, have clearly articulated this view, rejecting Land's singularity but endorsing the use of capitalist quantification techniques, engineering, infrastructure, persuasive models, and advanced computational affordances to accelerate the modern left. Whereas leftist thought has sought to question, undermine or even reverse modernity, Srnicek and Williams suggest that radical thought must accelerate the mediums of capitalist production into a post capitalist future. They proudly assert that "if the political left is to have a future it must be one in which it max­im­ally embraces this suppressed acceler­a­tionist tendency."
Against what Srnicek and Williams term "folk politics" (the title for their forthcoming publication) – defined as "loc­alism, direct action, and re­lent­less ho­ri­zont­alism" – an accelerationist politics preserves neoliberal infrastructure, but intends to push its affordances faster than neoliberalism would allow: in particular a basic universal income and the reduction of work (through automation). For them, folk politics has no big picture, nor any infrastructural plan beyond a 'the party' or a 'horizontal network': no method of effectivity or material advancement. In a separate article they condemn the conservative left for reducing themselves into "traf­ficking in the politics of fear, rather than the politics of freedom and the pro­ject for a more just so­ciety".
Technology is to be used as method of "furthering leftist goals", that is, building a material platform for a genuine post-capitalist societal framework. The emphasis is on accelerating modernity and progress, not accelerating contradictory speed (the latter evident in, say, high frequency trading), investing an understanding of post-capitalist infrastructure through new economic models and repurposed machinery. There is no wiggle-room here for Srnicek and Williams: either build a post-capitalist future or don't. Either establish or experiment towards a broad ideological vision for accelerating the future or repeatedly fail. Failure, in their eyes, is not a thing of beauty, but a path towards an alternative future. Instead of leftist faith, Srnicek and Williams advocate alternative means of building an infrastructure of the future.
And there's a lot here to agree for the most part. The left has instigated a lot of its own irrelevancy by ignoring or rejecting the often affective affordances of technology – rather than changing its use, or learning how to build a more just society. Yet, accelerationism's major problem concerns itself with peddling a systematic theory to explain the practice of doing all the stuff the left failed to realise. What happens to the ordinary?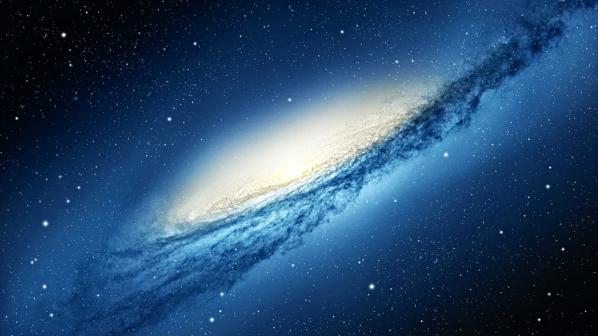 Within the accelerationist doctrine lies an old epistemological assumption that the problem with political thought is the rejection of progress, and the mastering of knowledge: that folk politics has suppressed knowledge and progress to its cost, whilst capitalism marched onwards and upwards, mostly upwards. All of this is partly accurate. Yet philosophically, accelerationism is more than these insightful remarks, and justifiable political demands. For Srnicek and Williams:
"The move­ment to­wards a sur­passing of our cur­rent constraints must include more than simply a struggle for a more ra­tional global society. We be­lieve it must also include re­cov­ering the dreams which trans­fixed many from the middle of the Nineteenth Century until the dawn of the neo­lib­eral era, of the quest of Homo Sapiens to­wards expan­sion beyond the lim­it­a­tions of the earth and our immediate bodily forms. These vis­ions are today viewed as relics of a more innocent mo­ment. Yet they both diagnose the stag­gering lack of imagina­tion in our own time, and offer the promise of a fu­ture that is af­fect­ively in­vig­orating, as well as intel­lec­tu­ally en­er­gising."
Accelerationism then, is not just a new doctrine for the left whom have failed to reignite the dream for a better future, endlessly squabbling over moralistic games of trumpery, but a renewed praxis (and only that) of enlightened self-knowledge. Accelerationism is a renewed humanism that seeks to re-master the world. As a "Right-Accelerationist" this is as much as Land wants, accelerating reactionary aristocracy past democratic values (Land's so-called Dark Enlightenment). As "Left-Accelerationists, Srnicek and Williams declare that only a radical "maximal mastery" of renewed Enlightenment values will secure victory over capital, in an age where modern infrastructure is constituted by complexity and systemic automation.
"This mas­tery must be dis­tin­guished from that be­loved of thinkers of the original Enlightenment. […] But this is not to align ourselves with the tired residue of post­mod­ernity, de­crying mastery as proto-​fascistic or au­thority as in­nately il­le­git­imate. Instead we pro­pose that the prob­lems be­set­ting our planet and our spe­cies ob­lige us to re­fur­bish mas­tery in a newly com­plex guise; whilst we cannot pre­dict the pre­cise result of our ac­tions, we can de­termine prob­ab­il­ist­ic­ally likely ranges of out­comes. What must be coupled to such com­plex systems ana­lysis is a new form of ac­tion: im­pro­visatory and cap­able of ex­ecuting a design through a prac­tice which works with the con­tingen­cies it dis­covers only in the course of its acting, in a politics of geo­so­cial artistry and cun­ning rationality. A form of abductive ex­per­i­ment­a­tion that seeks the best means to act in a complex world."
In this guise (as well as Land's), accelerationism resumes the Enlightenment's dictum of 'dare to know' – to pursue moral knowledge under the name of rational universalism, to which the 'daring' or 'cunning' part isn't limited to empirically tracking or modelling post-capital infrastructures, nor of resuscitating the modern ethos (quite why Enlightenment thinkers are assumed to be beloved isn't addressed, but hey ho). Instead, their task consists in expanding human rationality beyond its current epistemic state and limit, to test the critical faculties of human knowledge, and extend them without apologising, without any dint of skepticism. That it really could demonstrate the "best means" of acting in a post-industrial society. It aims to accelerate the human mastery of the concepts as well as the technical infrastructures to which it cohabits. The human 'we' must be self-constructed, such that – in their words – we "collect­ively come to grasp our world such that we might change it."
Such a grasping or understanding wants to, at the bottom of everything, reduce or eliminate the ordinary. Thus capitalist infrastructure isn't just an infrastructure but also a manifest limit of what it means to be familiar in a community: within that it must be universally unified into a rational community of self-knowledge. It is our concepts and rational freedom, our everyday experience which is to be extended, sustained, accelerated, even beyond the pale vagaries of our solar system. The ordinary is inherently set to be eliminated in accelerationism: and this becomes a problem.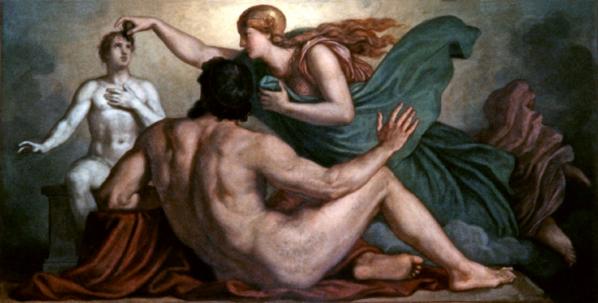 By all means, accelerationism's recent trajectory and increasing prominence (especially in Berlin) is a moving target, and so not all the arrows fired at it intend to halt that movement, nor what it might spawn. Our provocation towards, what I call 'ordinaryism' is less of a tactical move, not a hostile polemic, certainly not a threat, than it is a sympathetic twin operating alongside accelerationism's endorsement of universal self-mastery. The philosophical fate of the human creature, tends to re-assert self-mastery from time to time, until it runs out of steam, or submits to itself that the best "science" undercuts its own majestic foundations, leading to critical revisions. Ordinaryism is not intended to trump accelerationism, than it is presented as an alternative to think about the ignorance of limitations within human finitude and of human creatures, which constitute the very presence of the ordinary. Ordinaryism doesn't advocate a traditional 'ordinary', natural, 'way of life' against future mastery – nothing of the sort – rather, it seeks to expose the hidden wound of human mastery which becomes unavoidable.
Ordinaryism is presented as what might be left over once accelerationism has finished in avenging the limits of rational concepts (and the violence in doing so), such that the ordinary always returns, inherently unwelcome, but always ambiguous. That accelerationism will be beset by the mark of tragedy, finitude and disappointment: but in ordinaryism's eyes, this is to be accepted and resettled. Of course accelerationism, by its own definition, cannot abide disappointment: manifestos are not the best means of articulating disappointments. 
It is only after a state of affairs has been accelerated, that ordinaryism begins and works with the reconstruction or resettlement of the everyday, of what we already took for granted. Whilst accelerationism reimagines the future by eliminating the everyday, ordinaryism reimagines the entanglement of the everyday which weaves in and out of our collective grasp endlessly. We might indeed change the world, but in most cases, it feels like the ordinary changes us. Ordinaryism resembles and works through the difficult unsolvable left-overs of accelerationism, where it must be collectively reconstructed, rather than collectively mastered.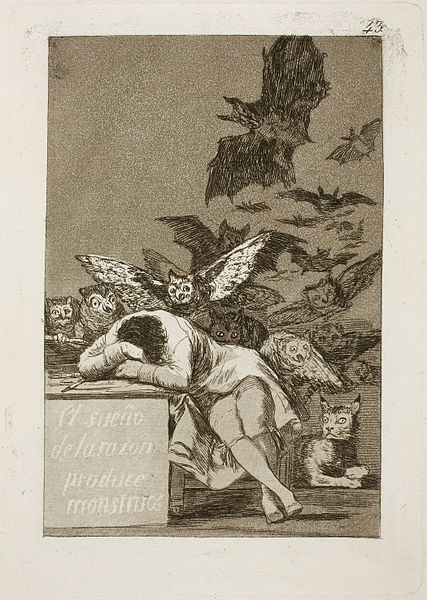 Sellars and Cavell
To prise open this debate further, we have to set up a philosophical/historical split that encompasses both world-views – namely, a set of philosophical attributes which partly make up accelerationism and ordinaryism's similarities and tensions. All philosophical topics are quite good at this from time to time: historical figures count as manifest gaps, whom might inherit one particular zeitgeist, but whose differences from it continue to play out in subsequent world-views. The transcendent forms of Plato, vs. the individual forms of Aristotle: the determinate computational rationality of Leibniz vs. the determinate horizontal immanence of Spinoza: The scepticism of Kant's concepts to never know the 'thing in itself' vs. Hegel's absolute motions of the concept that can: Heidegger's horizon of withdrawn Being vs. Wittgenstein's later 'forms of life.'
Without preaching to anachronism, the split between accelerationism and ordinaryism follows these gaps in various ways. The split discussed may be established within the predominant influence of two American analytic philosophers, who have had little recognition in continental philosophy and scarcely their political vicissitudes. They are Wilfrid Sellars and Stanley Cavell, and both of their contemporary philosophical systems are cited here for a number of reasons: both philosophers are prolific contemporaries, who from the 1950s, worked tirelessly after the rejection of logical positivism (Sellars in founding a materialist, nominalist inferentialism – Cavell as a second-generation ordinary language philosopher, writing after Wittgenstein and J. L Austin). Both are completely influenced by the foundations of Kant and the teachings of Wittgenstein, albeit different stages. Both jointly understand the human condition to be a product of the rules and standards of language, holistically used in a social community and both have dedicated their careers to moral and ethical questions that are produced from such insights. That's about where the similarities end, important as they are.
More controversially, both thinkers have in some method or other, been cited as attempting to represent a bridge between analytic and continental philosophy, despite such a incessant institutional divide remaining. Clearly, to establish any such divide is prone to error, insofar as the term 'continental' – established by analytics – only pithily defined other thinkers who 'don't do what they do'. What's interesting here, is the sense of the world-view to which such bridge-building is actioned.
The 'continental' use of Sellars is fairly recent, and has taken place conterminously with the rational analytic wing of (what is usually referred to as) speculative realism, most notably Ray Brassier's recent work (despite him rejecting the movement entirely). Brassier himself, has sought to make Sellarsian epistemology central to the materialist future of continental philosophy, appealing to thinkers who seek to break away from an affirmation-vitalist induced metaphysics (Deleuze & Guattari), deconstructionist accounts (Derrida, Butler), or a post-Hegelian dialectical materialism (Žižek/Badiou).
What is pivotal for Brassier is that a Sellarsian legacy points towards a recoding of continental post-Hegelian framework set within an analytic project of scientific realism. This is where accelerationism finds its enlightened humanist teeth, even if it isn't explicitly Sellarsian: an analytic-continental framework, which accurately establishes a set of arguments enlightening human conception (that we can scientifically speculate on what human rationality is) and to go to work putting these tools into pragmatic action, with the hope of extending our reign of knowledge. That in its scientific efficacy, both Sellars and the return to Hegel reflects one basic insight: that the special human affordance of 'knowing' must be identical with what it knows.
In his recent article The Labor of the InHuman: (parts [1] and [2]) Reza Negarestani has promoted similar accelerationist principles within a similar universalising project of humanism. Quoting Negarestani, Inhumanism establishes the same accelerationist dictum: which "stands in concrete opposition to any paradigm that seeks to degrade humanity either in the face of its finitude or against the backdrop of the great outdoors." In any case, Sellarsian tropes are all over Negarestani's and the accelerationist enterprise: such as how one justifies what one says in the "space of reasons". How reasoning exists as a universal, meta-linguistic evolutionary natural function, which once grasped, eliminates the ambiguities of using it. Even Sellar's students (notably Robert Brandom) have begun to reengage with the systematic potentials of Hegelian philosophy. All equally share an implicit rejection of romantic thought.
A Sellarsian future is unquestionably wrapped up in an accelerationism one, insofar as a) both distinguish what functions are essential to human rationality (inferential sapience), from biological functions (animal sentience), and then b) use such epistemic assurances to take account of discursive practices and establish moral actions. The Hegelian end-game, as it were, is to not only establish (with certainty) the laws of thought, but to show how the possibilities of the world's laws (Being) and rational laws (appearance) are one and the same: that is, rationally accessible through enlightened reason. What is important to such insights are that the conditions of finitude cannot be attached to such accounts: i.e. Sellars' account of what concepts are in a community (that is inferential semantics) have no bearing on what can or can't be known by an individual. All intuitive ambiguity must be rooted out: such that 'what I can deduce is what I know' and that such 'ought to dos' are necessary yet speculative features of grasping the best moral actions.
Stanley Cavell however is immeasurably harder to pin down: not least because whilst recognised as a major analytic American philosopher, he has never been discussed with much, if any, resounding depth in continental circles, and remains substantially unknown to various audiences who would stand to benefit from his work. Cavell's thought is thoroughly respected, maybe referred to, yes, but was historically disregarded once the analytic mission 'to know everything' through cognitive science resumed itself and sidelined ordinary language philosophy. Secondary literature on Cavell continues to grow however, particularly on studies of literature, film (literary studies in general), American studies, Shakespeare, animal studies, political philosophy and even pedagogy.
Yet, if there is one thinker who attempted to unite both analytic and continental world views since the 50s it is Cavell, only he tried it in reverse. Usually, the analytic way of treating continental texts is to de-romanticise them, by eking out or condemning what is purported to be rational arguments. Cavell went the other way, and sought to romanticise the analytic tradition by showing that it never had any absolute rational arguments in the first place. Thus, Cavell was emphasising ambiguity and the instability of language, independent of Saussure, Lacan, Habermas, even Derrida, and way before structuralist and poststructuralist texts arrived on our Anglophone shores in the 60s. Before Continental philosophy ever thought Žižek (or perhaps Baudry before him) was radical in combining philosophical insight into American cinema, Cavell caused disconcerting ripples in analytic circles when he starting doing it in the late 60s, and arguably did it better.
More significantly Cavell's style of writing, like his thought and world-view, screams prose which is most un-analytic: ambiguity. His work does not fit into any noticeable philosophical idiom. Largely auto-biographical, entirely playful, but never simple – his insights are analytically complex, but written with an attitude much akin to the continental tradition: which is to say, staggeringly allusive yet direct. This, of course, matches Cavell's heroes, whose prose preys upon and exudes ambiguity: namely the giants of Emerson and Wittgenstein. No wonder Cavell often expresses little interest in meaning anything bar "the accuracy of wording an intuition". (In Quest of the Ordinary: 53). From here on in, unless otherwise stated, all citations are from In Quest of the Ordinary.
If Sellars is compelling for accelerationists because of his rigorous, technical accounts of what abstract concepts are in a scientific realism, Cavell is compelling because he presents an alternative difficulty: one that proceeds from not knowing: or a willingness to forgo it. There is no technically demanding jargon in Cavell: and barely a consistent systematic technique. He constructs arguments through atmosphere and intuitive lines of enquiry. Sentences which hold moments of stillness, generating an idea and then ending abruptly, but following on through wispy moments of insight, much like a musical score (Cavell began his career as a musical prodigy). His general register freely embraces philosophical insights with auto-biographical notes (philosophy just is autobiographical for Cavell), abstract deductions with concrete experiments, literary ideas with film experiences, Shakespearian tragedy with jazz overtones.
But Sellars and Cavell's differences are exemplified not just by style, but also by the content and reception of their philosophical outlook. Reception wise: Sellars technical prose, which borders on being life-threateningly dull, provides the kind of challenge which the muscular philosophers among us feel the need to measure up to and surpass, like a scientific research grant or an unsolved mathematical problem. Ineffably technical to the end, Sellars excels in the matter of deductively writing in a certain way, to get out the theorems one is looking for. That reason, and reason only, is the true method of grasping things. To read Sellars then, is to know what one wants (to resolve the gap between oneself and one's world) and to expect a result at the end of it: an account that answers the thorny issue of explaining, accounting or defining the ordinary within the "scientific image" and proceeding from there.
Cavell, unsurprisingly, establishes the complete opposite: the reader has no quick response, no general method of opposition to his ideas. There isn't meant to be one. This is a philosopher, who takes pride in admitting that he tried to make Thoreau's Walden more difficult, not on the adoption of jargon, but on the basis of how it educates problems in philosophy. Philosophy for Cavell, never makes any genuine progress, so neither should his writings. Philosophy will never be able to model itself successfully on the sciences, as it never thrives on deductive answers. Philosophy does not command a privileged relationship to reality, as it thinks science does or science thinks of itself: only the knowledge of science would purport the demolition of the ordinary, to which it's own practice depends on. Accelerationism, likes other disciplines renders matters as supreme to themselves, such that the ordinary, monotonous means of how they got there are lost: their complexity squandered into an easy simple vision (its no surprise that Cavell was a close friend of Thomas Kuhn at UC Berkeley, and amongst other influential affinities, introduced him to Wittgenstein).
The Cavellian method actively incites disturbances and tensions in the reader, but ones that cannot be assimilated into one easy position or framework, where an effective solution is baldly asserted. Reading Cavell is akin to finding one's own voice, in the midst of accompanying Cavell's own. This is an important quality. And so, both Sellars and Cavell differ immeasurably in their accounts of what can be rationally asserted as real, and how the possibilities for how human language can be used. In fact, its not so much a differing account, but a diametric opposition. 
Cavell's relationship to what I'm calling ordinaryism, matches Sellars relationship to accelerationism in one formal sense: a collection of world-view tools set to work on two separate problems occurring in post-Kantian philosophy. For Sellars, the aim of philosophy from Kant onwards is to blatantly 'solve' Kant's transcendentalism, insofar as philosophising operates as a "stereoscopic fusion" accounting for one privileged insight of knowing how one's concepts work and how one functions. As Cavell puts it, "the aim of reason [is] to know, objectively, without stint; to penetrate reality itself." [The Claim of Reason, 431]
In this regard, Cavell's approach to language and humanity, is presented as a legitimate alternative to the latter: namely that the ordinary is a worthwhile avenue for philosophy and political change, not to eliminated out of existence: to be looked for and lived in, but not to be known. What does it mean to abide with reality? Is that even enough? This is the question of the ordinary.

To that effect, the entire epistemological role of the human creature changes (Cavell prefers 'human creature' to subject or rational agents): for Sellars and the accelerationist world-view, the human creature's basis in the world must self-master its own conceptual possibilities for freedom, like a cognitive open-source self. For Cavell and the ordinaryist world-view, the ordinary human creature's basis in the world, takes interest in its skeptical limits. In Cavell's words, "the human creature's basis in the world as a whole, its relation to the world as such, is not that of knowing, anyway not what we think of as knowing." (The Claim of Reason: 241) That the skeptical limitations of knowledge are not failures of it, but an attempt to bargain with the things-in-themselves.
Bargaining with Skepticism: Thanks for Nothing
I emphasise this contrast between Sellars and Cavell, mainly to bring about an old Cavellian insight as to why accelerationism originates in the form that it does, and why it does.
This issue is present in Cavell's understanding of modern skepticism: the deceptive fraudulence of what one experiences, the feeling of distrust to that which becomes given. Cavell's innovative treatment of scepticism is never given its dues: perhaps as the broader interpretation of recent theory in the midst of ecological catastrophe, technological infrastructure and global networks, has done away with concentrating on such banal philosophical problems. When the environment is disintegrating and a just world seems more unlikely, old problems of wondering whether 'we're dreaming' or not, seem less and less justifiable.
Fair enough: but this is not Cavell's insight into skepticism. Skepticism for Cavell is less a rigorous method or intellectual exercise than it is a relation to the world that establishes itself within living in the everyday. "My idea", as Cavell writes in In Quest of the Ordinary, "is that what in philosophy is known as skepticism is a relation to the world, and to others, and to myself, and to language, that is known to what you might call literature." (155) Skepticism, following Wittgenstein and Heidegger, is not about whether one refutes knowing anything outright, but a mark or basic feature of finitude that constitutes human existence. It is not the case that skepticism is true, (i.e. relativism) but of re-emphasising the irrefutability of truth within skepticism. In his words, written elsewhere, the problem of skepticism does "not consist in denying the conclusion of skepticism but in reconceiving its truth" [The Senses of Walden, 133].
The legitimacy of scepticism reminds us of the contingency of criteria that a society possesses of itself. We can never be absolutely certain of ourselves and our relation to the world, nor of our words, nor of securing what they mean. To understand what we mean by a moral utterance, or command is to already bring the ambiguity of the world to such utterances, and any attempt to narrow such definitions, of making them explicit, or grounded in certainty, is utterly doomed. Language does not await precise explicit, functional use, but is unintentionally bubbling through us within contingent slips, mistakes and failures. What we mean, must forever stay implicit if we are to communicate at all.
Cavell's target of course were the logical positivists, who did aspire to such certainty. Cavell reinterpreted their philosophy thus: instead of actually knowing a truth, or claiming some cast-iron logical proposition which brings human knowledge closer to reality, the logical positivists distanced themselves from the ambiguity of the ordinary even further. The logical positivists evacuated the ordinary, attempting to fill it with an artificial, scientific theoretical language of functional certainty, whereupon deductive answers, much like scientific theories would emerge, hard won and settled as fact. Cavell allied himself as an American interpreter of Oxford's ordinary language philosophy (particularly J. L. Austin' work), a new technique of undermining logical semantic certainty by emphasising how a certain word or game is used within a society, as established in Wittgenstein's Philosophical Investigations.
Yet Cavell went further and deeper than other ordinary language philosophers by aligning their insights towards a renewed focus on post-Kantian scepticism (in the same historical manner Sellars achieved with his own philosophy) – on how one lives, or how a society functions despite these irrevocable conditions of finitude. No doubt of course that fundamental to the human condition is to know: to make the world more present, to solve skepticism. This is what Kant ultimately achieved: to bargain with skepticism and establish a conceptual stability founded on epistemological mastery, which Sellars thinks he has extended and accelerationism follows in equal measure.
But such stability comes at a price. The bargaining of building Kant's transcendental a priori synthetic knowledge, assures us that the thing-in-itself exists, yet we are forced to give up true knowledge of it. At the cost of preventing human thought from lapsing into crippling doubt, Kant prevents us from gaining knowledge about the world we know exists beyond us. In short, Cavell argues that Kant gave up intimacy with the things in themselves in order to establish conceptual certainty. "You don't – do you?" Cavell laments, "have to be a romantic to feel sometimes about that settlement: Thanks for nothing." (31)
Cavell's interpretation of logical positivism followed this line of diagnosis: the human creature performs a certain kind of violent satisfaction in response to the discovery of its limitations, where our relation to the world is contested. And its this sense of anti-romantic satisfaction which accelerationism excels at: not stopping at self-mastery, but of suspending illusions, and building a platform for Promethean expansion. Its own form of bargaining with human mastery and planning for a more 'just' world, may appear effective, but still carries with it all the same Kantian bargaining tools of a settlement which it has little hope of fully mastering. That's the trouble with bargaining with the noumenon: the other party (the things in themselves) might deceive and hoodwink the terms of agreement.
Caught in the bind of disappointment with the world, and of being a disappointed species because of it: we are a set of creatures who are continually ordinary. Accelerationism appears less a system of bargaining, than a wish fulfilment. One that accelerates Kant's bargain into some unknown techno-future, on a foolhardy whim that rationality is somehow more significant than everything else, or rather, such mastering will always get on the best side of the agreement. A revenge against the romantic that dared to suggest something else.
Ordinaryism offers no such remedies, and any appeals to such expansions are fragile, fraught with tragedy or crafting goals out of the banal facets of the ordinary. Bargaining with skepticism, is in Cavell's eyes, simply a redirection of its difficulty. In his preface to Must We Mean What We Say? he presses his finger on this salient point:
"The idea that there is no absolute escape from (the threat of) illusions and the desires constructed from them says there is no therapy for this, in the sense of a cure for it … [that] was evidently something that captured my fascination halfway through Must We Mean What We Say? with Samuel Beckett's Endgame––in effect a study of the circumstances that, "You're on Earth, there is no cure for that." [Must We Mean What We Say, 129]
Au contraire, demands accelerationism, we have the moral cure! But to know it, you're going to have to sacrifice the ordinary, and why not? As Cavell notes, the enlightenment's conscience is likely to herald Kant's achievement intact: the Sellarsian response may feel, yes Kant, "thanks for everything." (53) However, in The Claim of Reason, Cavell utterly dismantled philosophy's quest for the foundations of moral obligation, by showing that it too had bargained with Kant's foundations for knowledge: that somehow, the dream, as is accelerationism's dream, to fully render some natural method of grasping a common world to which everyone 'reasons' in a space. That reason: inferential reason, is supposedly enough of a confrontation to be, quoting Cavell, "sufficiently powerful [that] it must work on people at random, like a ray." [The Claim of Reason, 326]
But the ordinary doesn't exist as an implicit fallacy to be eliminated away by the confrontations of 'science'. Instead it operates as a romantic supplement to monitor the stability of accelerationism's settlement: both of satisfaction and dissatisfaction. There is then, a new profound sense of 'thanks for nothing' in accelerationism: one that is a measure of dissatisfaction with Romantic attitudes and of their current instability, under attack from speculative realism (of what Meillassoux terms correlationism), amongst other positions. Ordinaryism will argue that this measure of satisfaction with Kant's settlement is a measure of its stability, one that has persisted to this day: and speculative realism is nothing if not a movement that has become entirely dissatisfied with it. In other words, acceptance of this settlement heralds the conflict of a different version, upgrade, or application of skepticism. A different bargaining.
Romanticism's answer was to fully justify the existence of the world outside thought, and that the act of enlightenment's self-mastery had itself lost nature, or even tried to kill it off. For the Romantics (Cavell being one) the task set before them, proceeds in how we can recover, or cure the world from the violence of this Kantian settlement. But this, as Cavell fully admits is also another bargaining, set up from scepticism itself. The first generation's response to this Kantian settlement was romantic animism, another 'thanks for nothing' type of bargaining: that the world lives and dies, as if it were another being (55-56).
Cavell's own response is to return to the ordinary, as per his interpretation of Wittgenstein. The return to the everyday and ordinary things, which must now bargain with scepticism, and not successfully. That is, "the drift toward skepticism as the discovery of the everyday, a discovery of exactly what it is that skepticism would deny … the impulse to take thought about our lives inherently seeks to deny" (170-71) The way that ordinary language is expressed, or, pushing Cavell further, how ordinary things are used is the challenge of acceptance – with the emphasis placed on challenge rather than acceptance. The issue becomes one of paring knowledge as one fragment of the ordinary, together with Cavell's suggestion that:
"the existence of the world . . . is not a matter to be known, but one to be acknowledged. And now what emerges is that what is to be acknowledged is this existence as separate from me, as if gone from me. . . . the world must be regained every day, in repetition, regained as gone." [172]
But to take this further, ordinaryism – and its romantic slant – now has to orient towards a different bargaining strategy, as accelerationism chooses to do. Accelerationism takes Sellarsian tropes and moves them further than Sellars ever realistically envisaged. Its form of bargaining enlists that which is most contemporary: science, computation and quantifiable knowledge. Accelerationism brings forth its ray-like vision, onto the realm of automated systems, extended science and machines. It is the site where rational progress becomes constitutive of a deterministic machine, following rules to an-already decided, method of reason, unanswerable to anything other than more reasons of settlement.
For ordinaryism, language is out of date and out of time. Ordinaryism must keep up with such developments, but not under the banner of progress or knowledge. Instead ordinaryism understands the ordinary within the entangled ecologies of media and machine: of that which we took, and still take for granted. Of what became radically altered once the ordinary mysteriously entered the realms of automation.
Cavell notes that the ordinary changed significantly after the abstraction of logical positivism: ordinary language looked uncanny after it, as if analytic philosophers were discovering for the first time how language, through little reason of its own, operates within the lost meadows of un-graspedness. Just as accelerationism enlists technology for its own sceptical bargaining, ordinaryism enlists the affordances of technology too – how we live in an ecology where such everyday automatedness is continually un-grasped. We must realign, as Cavell does, overlapping regions, "not in [the] deflections of skepticism but in … respect for it, as for a worthy other; I think of it as [a] recognition not of the uncertainty of failure of our knowledge but of our disappointment with its success." [Emerson's Transcendental Etudes: 118].
To this end, ordinaryism's uncanniness must be taken up in automated systems and computational networks, but these appear not as extensions of knowledge, but as separate, wider fields of acknowledgment, to which knowledge is one fragment: not the defining mechanism. That complex systems produced from us within the ordinary, solidify dissappointments with reason's success: of its extension and operation. And the opportunity to regain the ordinary still stands, but in the time of machines, and systems executing beyond ones finite knowledge: an ecological pluralism of finitude awaits those who wish to bargain anew: of our finitude and theirs.
Ordinaryism's new dissatisfaction with scepticism specifies nothing more than to inject a romantic slant back into the heart of the machine.
————————
With sincere thanks to Paul Ennis who read through an earlier draft.
Tatiana Bazzichelli is a researcher, networker and curator, working in the field of hacktivism and net culture. She is part of the transmediale festival team in Berlin, where she develops the reSource for transmedial culture, an ongoing distributed project of networking and research within the transmediale festival. She received a Ph.D. in Information and Media Studies from Aarhus University (DK), conducting research on disruptive art practices in the business of social media (title: Networked Disruption: Rethinking Oppositions in Art, Hacktivism and the Business of Social Networking). Bazzichelli is also a Postdoc Researcher at the Centre for Digital Cultures /Leuphana University of Lüneburg (DE).
Introduction.
In light of absolute domination by market forces over all of our lives, and with the top-down orientated power systems' bias towards business and the implementation of a consumer class. New ways of thinking around the problem is called for. There has been a dramatic shift of unethical companies such as BP funding art's and technology projects, and mainstream museums and galleries in the UK. [1] Alongside this, those hoping to receive arts funding are told to be innovative and more entrepreneurial than they already are. What they really mean by 'innovative and entrepreneurial' is, get in line with the values of a corporate mentality, and not be contextual or critical in one's art practice. This wholesale move towards business as it further dominates the content, ideas, societal context, and missions by artists and art collectives – is of deep concern for all who wish to explore freedoms of expression on their own terms and not inline with the state's or a corporation's set of diverting agendas.
Art activism in media art and transdiscilpnary arts culture has engaged with political and societal issues while under the gaze of neoliberalism quite successfully. However, what changes have occured that we can draw upon to say we have built real alternative values for others to work with? There are plenty of people from the dark side calling us to join them, like that eirie voice from the original Evil Dead movie.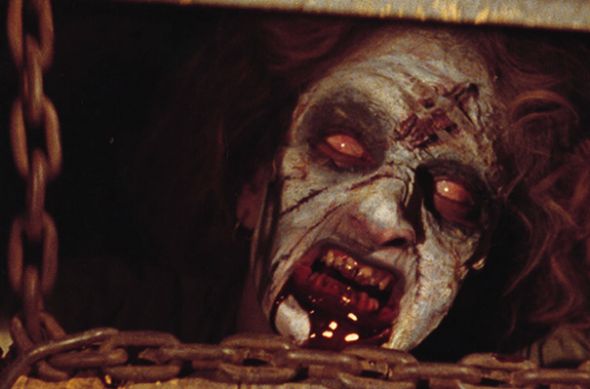 I'm reminded of Thomas Frank's insightful words in his article TED talks are lying to you, that those who urge us to "think different" almost never do so themselves. [2] And this is the nub, what will become us if we step over into their world and adapt our minds to their visions?
"To expect or even wish those who rule and those serving them to change, and challenge their own behaviours and seriously critique their own actions is as likely as winning the National Lottery, perhaps even less." [3] (Garrett 2013)
So, this brings us Tatiana Bazzichelli who has been thinking about this stuff a lot. Her Proposition is that we need climb out of these oppositional loops in order to find different ways of being, and refocus on potential art strategies in relation to a broken economy. In her publication Networked Disruption: Rethinking Oppositions in Art, Hacktivism and the Business of Social Networking, Bazzichelli puts forward the notion of disruptive business and it "becomes a means for describing immanent practices of hackers, artists, networkers and entrepreneurs", and sheds "light on two different but related critical scenes: that of Californian tech culture and that of European net culture – with a specific focus on their multiple approaches towards business and political antagonism."
Interview.
Marc Garrett: In your book you examine a breadth of disruptive practices of networked art and hacking culture in California and Europe. You propose your main objective is to rethink the meaning of critical practices in art, hacktivism and social networking, analyzing them through business instead of being in opposition to it.
Could you explain how this would change situations and what it would bring to artists exploring disruption as part of their practice, networked art culture and the wider community, and what this may look like?
Tatiana Bazzichelli: I will begin answering your question by adding another one: Why do we need to rethink artistic and hacktivist oppositions in the context of social media and after the emergence of Web 2.0? This question is at the core of my book, and also the main link that connects together my previous book, Networking: The Net as Artwork (2006), and the following ones centered on the concept of networked disruption and disrupting business.
The idea of conscious participation in media practices is central to analyse the evolution and transformation of the concept of "networking" in the age of social media. My reflections are the consequence of a process of direct involvement within the activist (or rather "artivist") scene in Italy since the mid-90s, and furthermore, they are based on the analysis of a more international fieldwork of practices between the Europen tradition of netculture, and the development of cyberculture in California. Practically all my books are to be thought of as subjective, and as consequences of a personal experience which aims to create connections between very diverse fields of action, applying the idea of networking both in theory and practice, and as a methodology of writing.
Between the end of the 1990s and the early 2000s, many actions of media criticism were often very dialectical, and rooted on the idea of antagonism as radical opposition. I am for example thinking about what was (erroneously) called "the anti-globalization movement", the protests in Seattle, Prague, Goteborg, Genoa, etc.: somehow it was easier to identify an "enemy", for everyone to unite against the same power. Unfortunately this also meant that it was easier to identify the members of the movement(s) themselves, and many protests faced violent chains of repression by the authorities. In particular in Genoa, the Italian movement and its global counterparts were hit hard. My personal opinion is that the frontal opposition, the idea of assaulting the "red zone" during the protests, did not work at all: we basically played the game of the police. Without dismissing this experience, which was very important in itself and for the start of new activist projects, after Genoa 2001 I started searching for a new way of activism that was not black and white, and which would be harder to appropriate. This was also the reason why I started entering in contact with many projects in the queer, pink, and independent porn culture, which were combining ludic strategies and playful disruption beyond oppositional confrontation. I was trying to connect those to the concept of hacking – mixing the codes to create disturbance, to generate subliminal interventions, to give rise to paradoxes, fakes and pranks, as previous projects based on multiple identities, from Luther Blissett to Neoism and Monty Cantsin, had done before.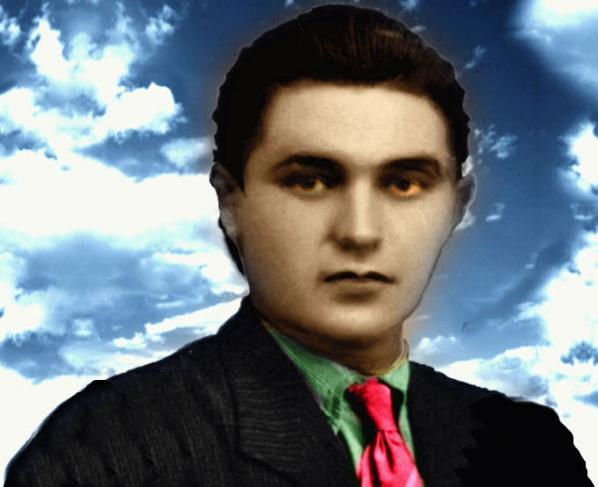 "In 1994, hundreds of European artists, activists and pranksters adopted and shared the same identity. They all called themselves Luther Blissett and set to raising hell in the cultural industry. It was a five year plan. They worked together to tell the world a great story, create a legend, give birth to a new kind of folk hero." Luther Blissett.
But after 2004, which is also the time of the emergence of Web 2.0, the critical framework of art and hacktivism shifted: networking, a concept which had informed the Avant-garde since the 1960s, became a tool for a wider audience, and a pervasive business strategy. The ideas of openness, do it yourself, sharing, the "mottos" of the hacker culture in the 1990s, became the main rhetoric of the Web 2.0 companies based on the appropriation of "free culture". This meant to me that also artistic and hacker practices needed to be recontextualised, since the concept of social networking became something completely different from its roots, and the business companies themselves were applying the concept of disruption as main business logic. Is it possible to oppose disruption with disruption?
In the era of immaterial economy and increasing flexibility, the act of responding with radical opposition no longer looks like an effective practice, since the risk is to simply feed the same machine replicating the capitalistic logic of competitiveness and power conflicts. In my opinion, and here I speak through my "artivist" experience, even the concept of the multitude as a model of resistance against the capitalist system – which runs at a theoretical level – is difficult to apply on a pragmatic level without having to recreate the traditional dynamics of the "power-contra power" conflict. The point is to try to figure out how to imagine new forms of participation that go beyond dualistic conflict – and that go beyond the creation of a hegemonic and holistic entity, although presented as a plural (the multitude, indeed). As a result, it is definitely necessary to reformulate the language, which enters the sphere of production and the political, as Paolo Virno states, but most of all, activists practices and critical strategies need to be rethought.
What my book Networked Disruption suggests is the act of performing within the capitalist framework, not against it, keeping the dialectic open through coexisting oppositions. The notion of disruptive business is useful for reflecting on different modalities of generating criticism, shedding light on contradictions and ambiguities both in capitalistic logics and in artistic and hacktivist strategies, while rethinking oppositional practices in the context of social networking. In this book the concept of the Art of Disrupting Business must be interpreted beyond categorical definitions, and as a new input for imagination. "Disruption" implies a multi-angled perspective and it is a two-way process, where business and the antagonism of business intertwine. Adopting a hacker's strategy, hacktivists and artists take up the challenge of understanding how capitalism works, transforming it into a context for intervention and trying to alter business logics. Rethinking strategies and modalities of opposition implies that new forms of interventions and political awareness should be proposed without antagonising them, but rather by playing with them and disrupting them from the inside of the machine. The vision of a distributed network of practices, participations and relationships can only be fragmented, and based on multiple layers of imagination.
Today there are artists and activists who are inspired by a certain tradition of "disruption", creating interventions from within, critically appropriating the business logics, stretching its limits, or proposing alternative models to it. Many of them are the case studies of my book, where I propose a constellation of social networking projects that challenge the notion of power and hegemony, and where social networking is not only technologically determined. Projects and experiences such as mail art, Neoism, The Church of the SubGenius, Luther Blissett, Anonymous, Anna Adamolo, Les Liens Invisibles, the Telekommunisten collective, The San Francisco Suicide Club, The Cacophony Society, the early Burning Man Festival, the NoiseBridge hackerspace, and many others. Of course there are many more of these. Holes in the system are everywhere, ready to be performed and disrupted.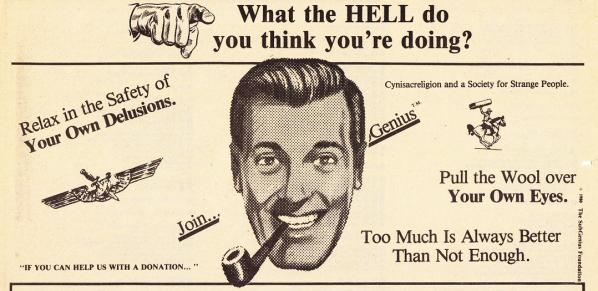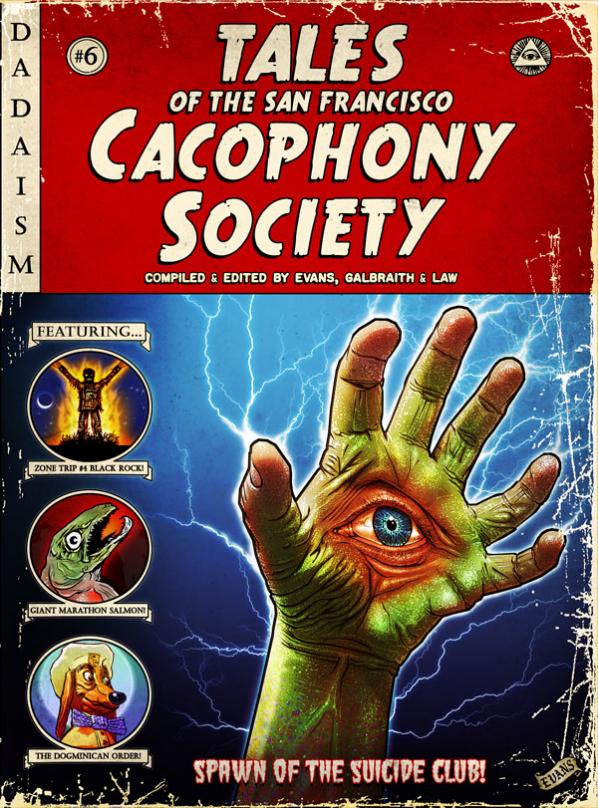 MG: There is a quote in the book that it says, "Innovation is rooted in Desire, not need. Desire is the motivation for behaviour. Desire leads to goals, and goals lead to motivation, the internal condition that gives rise to what we want to do, based on our goals, what can we do – based on the norms of behaviour – and what we will do – the actions that we voluntarily decide to undertake. Motivation is the ethos of goal-oriented behaviour, and a company's ability to understand motivation directly contributes to the success of their products and services in the marketplace" (Manu, 2010, p. 3).
I'm wondering, coming from an activist background myself where do you think free culture fits into this dialogue, especially in respect as a critique of products and services in the marketplace, as well as social forms of emancipation?
TB: The quote you are referring to comes from a book entitled Disrupting Business: Desire, Innovation and the Re-design of Business (Alexander Manu, 2010). As we can read in the business literature, the concept of disruptive business is rooted in the idea of disruptive innovation. Disruptive innovation, a term coined in 1997 by Clayton Christensen, Professor at the Harvard Business School, is used in business contexts to describe innovations that introduces a product or service in ways that the market does not expect. In the business culture, disruption not only means rupture, but links to the idea of innovation and re-design of behavioural tendencies. Therefore performing disruption shows a process that interferes with business, whilst at the same time generating new forms of business. This mutual feedback loop is at the core of my analysis.
However in my book business is neither analysed through classical business school methodologies, nor seen as positive or negative, but it is a means for working consciously on political practices – and for raising questions on art and media criticism. In 2009 I was a visiting scholar at Stanford University where I was researching the reasons of the progressive commercialisation of networking contexts after the emergence of Web 2.0, through the development of hacker culture in the Silicon Valley. From the interviews that I conducted, and also via the close reading of the book From Counterculture to Cyberculture by Fred Turner, it was evident that since the development of the early cyberculture hackers and members of the so-called "counterculture" have been trying to disrupt business via their practices, and in parallel, business corporations have been trying to do the same through technological innovation. Since the 1960´s, hackers and artists in California have been active agents in business innovation while at the same time also undermining business. This is also very evident today in the business context of Web 2.0 where many hackers are working at the core of business, while disrupting it – the Anonymous entity is one of the most successful examples of this.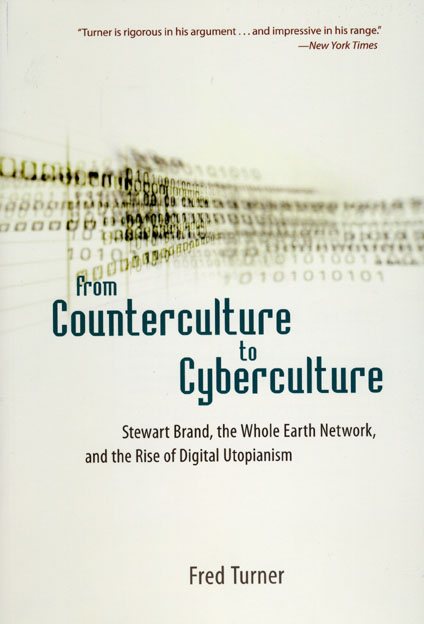 In my book I compare what the concept of business disruption meant in the European context and in the US, especially in Silicon Valley. When I was interviewing computer engineer Lee Felsenstein he told me that in California hackers would refuse hegemony but not business. This is also why many of them have no problem in working for Google, which is actually employing the best hackers of the area. In Italy we always claimed that hacking is politics, and politics is an "attitude", which informs your everyday life and lifestyle. What I discovered in the Silicon Valley is that libertarian practices are often linked with the refusal of the political, and this is the position of many members of the hacker culture in California. Therefore, what for me was the initial "problem", the contamination of business and free culture, was not considered as such among the hackers that I met between San Francisco and Palo Alto.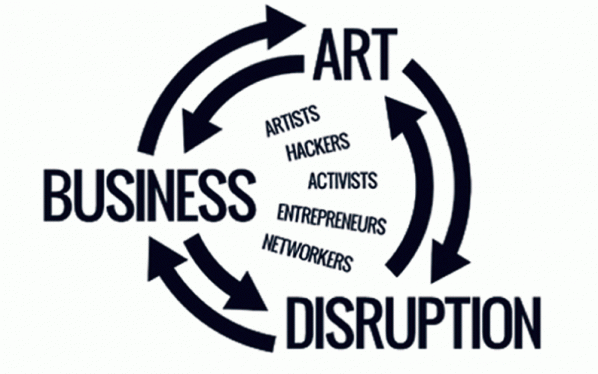 This consideration leads me to create a model of analysis named the "disruptive feedback loop", based on the idea of layering instead of cooptation – such an idea of "layering" rather than cooptation, was proposed by Fred Turner in the lecture "The Bohemian Factory: Burning Man, Google and the Countercultural Ethos of New Media Manufacturing" (2009), while discussing the social phenomenon of Burning Man. The idea of the "mutual feedback loop" between business and hacker culture is instead the result of a conversation in 2009 with Jacob Appelbaum, who at the time was an active member of NoiseBridge in San Francisco, when we were reflecting on the development of hacker spaces in California. In my disruptive loop model, artists and hackers use disruptive techniques of networking in the framework of social media and web-based services to generate new modalities for using technology, which, in some cases, are unpredictable and critical; business enterprises apply disruption as a form of innovation to create new markets and network values, which are also often unpredictable. Networked disruption is a place where the oppositions coexist, and it is a reconfiguration of practices into a structure of mutual feedback instead of opposition.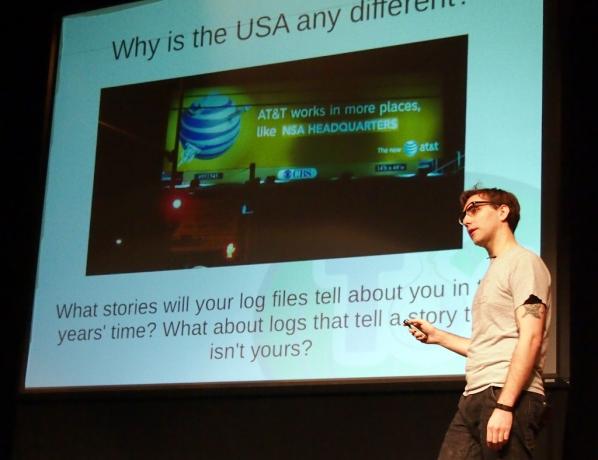 Here I propose disrupting business as an art practice: artists and hackers adopt viral and flexible strategies, as does contemporary networking business, and by provoking contradictions, paradoxes and incongruities, business logic is détourned. This model can be applied both in the analysis of business contexts of social networking and of critical practices generated by hackers and artists. For example, projects such as Anna Adamolo and Seppukoo reflect on the tensions between the open and closed nature of social media, stressing the limits of Facebook's platform, and working on unpredictable consequences generated by a disruptive use of it. Paradoxically, to be critical of business we should learn from it.
The Telekommunisten collective explains this well, and it is not a coincidence that Dmytri Kleiner comes from a Neoist background: the experiences of Luther Blissett and Neoism made it hard to see any "truth", they forced us to question and examine our identities. If you claim to have the truth, you will fail – someone else will proclaim the truth, and perhaps with much more strength and power than you. The Miscommunication Technologies by the Telekommunisten show that the enemy can eat you up and that the capitalist system has endlessly more resources to force its "truth" on you. We have to learn from business, understand how to be pervasive. My point is that we should stop looking for the enemy, because who is the enemy today when disruption and its opposition are feeding the same machine? The challenge is to unite where the system can't get you, and you're not playing into its hands, exposing contradictions, generating disturbance, to disrupt and perform the feedback loop at once. The challenge facing the art of disruptive business is to dissipate oppositions through a network of multiple, distributed, playful and disruptive practices.
MG: It was licensed under a peer Production License (http://p2pfoundation.net/Copyfarleft), similar to a Copyfarleft License (http://p2pfoundation.net/Peer_Production_License). Very different than a Creative Commons Licence, and drawn up by one of the artists you write about in the book Dmytri Kleiner. It feels relevant to be on the P2P Foundation wiki, however it would be useful know how it relates to the context of your publication?
TB: As it is stated on the P2P Foundation website, based on the text published in The Telekommunist Manifesto, "the Peer Production License is an example of the Copyfarleft type of license, in which only other commoners, cooperatives and nonprofits can share and re-use the material, but not commercial entities intent on making profit through the commons without explicit reciprocity". The Peer Production License is a hack of the Creative Commons licenses. Where the Creative Commons is mostly used for sharing works non-commercially, the Peer Production License wants to contribute in expanding a non-capitalist economy, generating earnings that are shared equally. Commercial use is therefore encouraged for independent and collective/common-based users only, proposing a business logic that does not lead to a private appropriation of community-created value.
This logic is also at the core of the "Venture Communism" concept coined by Dmytri Kleiner in 2001, which proposes to allocate equally the collectively owned material wealth, and to create a peer-to-peer social commons as an alternative to venture capitalism.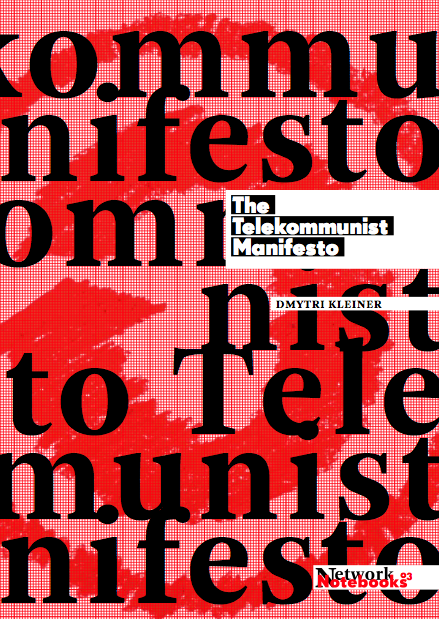 I decided to release the Networked Disruption book under this license because I consider it a coherent intellectual gesture, and also a "business experiment". From what Dmytri told me this is the first book released under this license after the Telekommunist Manifesto, and hopefully the use of such license, if increased, will be part of poking a small hole in the capitalist economy, generating value which is not going into few owners' pockets, but is shared equally among the workers and producers. This is also the reason why all my publications exist both online and on paper and are freely downloadable from the web, because it would be contradictory to write about certain topics and then release my toughts under proprietary licenses. In this case, since the book is about disrupting business, I decided to apply a disrupting business license, and to my point of view this is what the Peer Production License is.
Conclusion:
Bazzichelli's investigation is a timely and necessary critique on how to free up networked forms of freedom of expression and its varied practice. At first, I was suspicious. Indeed, in a later publication on the subject co-edited by Tatiana Bazzichelli & Geoff Cox, called Disrupting Business: Art and Activism in Times of Financial Crisis; "Bifo" Berardi, in his article EMPTINESS says "Business is, in my opinion, the most despicable word in the vocabulary. Well, I will try to express it better: the meaning and implications of the word 'business' in contemporary culture and daily life, and the positive emphasis placed on this term, are the most telling symptoms of the abysmal alienation of our time." On this I agree.
We are all emersed in the sea of neoliberalism and we are struggling to keep our heads above the water at various levels. Some are aware of it and are not dealing with it, most are unconscious of it and are drowning in it, and then there are those actively awake and exploring different and innovative ways to survive and hack 'around, in between and through' this deep totalising ocean.
Whether we like it or not, business unfortunately is the dominating regime controlling our interactions, and this includes our cultural, digital interfaces and social contexts. Bazzichelli asks us to stare into the monster's face – what Bifo sees as a deep emptiness. She pulls out of the slimey depths a glimmer of hope and an advancement for playful and critically aware forms of artistic disruption. It is an academic and cultural hack and reminds me of Donna Haraway's proposition in the mid 90s for Situated Knowledges. Haraway realised with other collaborators that it was a fantasy to think that the patriarch was going to somehow willingly hand over control and be enlightened to the idea that women scientists should be accepted as equal in history and academia.
"We seek not the knowledges ruled by phallogocentrism (nostalgia for the presence of the one true world) and disembodied vision. We seek those ruled by partial sight and limited voice – not partiality for its own sake but, rather, for the sake of the connections and the unexpected openings situated knowledges make possible. Situated knowledges are about communities, not isolated individuals." [4] (Haraway 1996)
Her proposition is not suggesting that critical, ethical artists and pranksters give up and put down their tools and become business men and women instead. Using terms such as 'disrupting business' is not conforming or giving up the fight. It is a shift in strategy. She has successfully illustrated that there is a continual rise in imaginative experimentation where artistic hacking with the protocols, interfaces, code, data and surveillance is alive and well. It is about infiltration of these ideological defaults and the power systems that rely on them. Resistance is not futile, it is just changing direction from reliance for absolute desire (which lets face it is rarely fullfilled) from momentary tactics and momentary hacks, into informed hacking with socially aware and engaged strategies. She is asking for an intelligent response, a less macho way in dealing with the problem. This means building deeper relations with others through affinities and sharing critical knowledges while disrupting the business of neoliberalism. And most of all, carry on playing…
The artist and curator Art Clay was born in New York and lives in Basel. He is a specialist in the performance of self created works with the use of intermedia and has appeared at international festivals, on radio and television television in Europe, Asia and North America. His recent output focuses on large media based performative works and spectacles using mobile phone devices. He has received prizes for performance, theatre, new media art, music composition and curation. As an educator, he has taught media and interactive arts at various art schools and universities in Asia, Europe and North America including the University of the Arts in Zurich. He is the initiator and Artistic Director of the 'Digital Art Weeks International' and the Virtuale Switzerland.
Eva Kekou: Could you tell us about your work and what inspires you?
Arthur Clay: The question about inspiration has been posed to me before and most often in the moment when people first see the program that the Digital Art Weeks (DAW) is offering. As an artist I am very much inspired by the every day. I think it is important to be aware of the things around you and by so doing, my artwork seems to have more of a present day dialogue and the events I curate more to do what is actually going on in the society around me. So basically, everything and nothing and all the things in between inspire me. There are no rules, but with a lot of effort to try and come closer to things might be the one I apply the most.
On the one hand, I am a practicing artist and most of this work is concerned with sound. On the other hand, I believe that curation is an art in itself and requires a high level of creativity. It is easier for me to make an artwork in comparison to harmonizing a group of artworks. The two meet in the fact that I grounded the DAW projects in order to provide a platform for my own work and that of others, who think in like minded ways.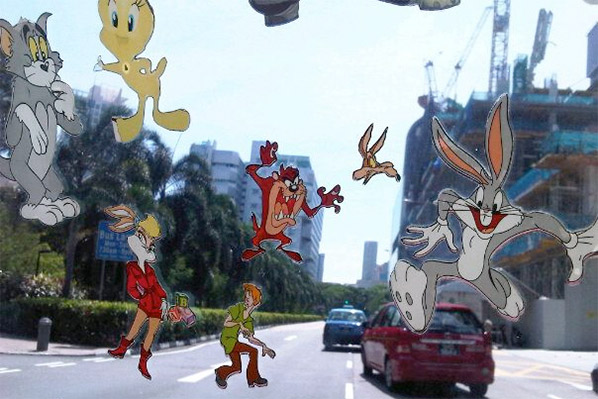 Cartoon stickers on a Taxi Window driving down Orchard Road in Singapore
EK: You were the curator for the Augmented Reality exhibit "Window Zoos & Views" in collaboration with the participation of the School of Digital Media and Infocomm Techology from Singapore Polytechnic. On the project site, it mentions that the main element of the project was inspired by an image of a car driving down Singapore's legendary Orchard Road. Could you tell us a bit more about this and the project?
AC: As DAW Director, I am confronted with the same situation each time we bring the festival: Representation and integration. By representation is meant that we have institutions both public and private that act as stakeholders and in turn expect a high level of visibility; talking about integration is much more complex, because there are many levels of integration that must be addressed. First off, the festival structure demands that we integrate local artists into the program along with the international artists participating. Integration of local artists can also mean or entail a high level of knowledge and skill transfer. We do all this during what we like to call the "Exploratory Phase", which is basically entails dropping the DAW team into a unfamiliar city and making every effort to make it familiar. This includes becoming aware of the general culture the festival will address, how digital that culture is, the art and non art spaces that will become the stage of the festival, and of course trying to find out who is doing what in terms of arts and technology.
To get back to your question about the image of the car driving down the street, the most important element of integration is becoming aware of what is going on in the world of things in which the festival is to be presented. The car we are talking about was a car whose windshield was plastered with cartoon stickers. So, imagine you're self-sitting at the wheel of that car driving down Singapore's Orchard Road. It is a really surreal experience; the stickers take on a kind virtual elelment as it floats down Orchard road. The image sparked my imaginations and the AR Parade project was born, which was a very important part of the "Window Zoos and Views" exhibit. Basically, the AR Parade mimicked the effect of the stickers on the car window, but instead of a car windshield, we used an iPhone app to view the images. It was very cool, popular on the street and got a lot of clicks.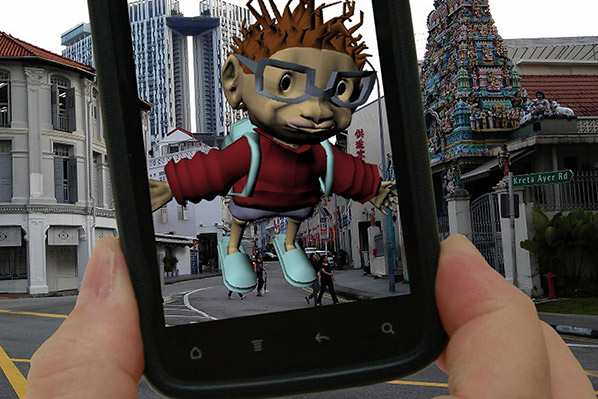 AR Float Parade in Singapore with Curious Minds, concept; Singapore Polytechnic students, Objects (DAW Singapore 2013)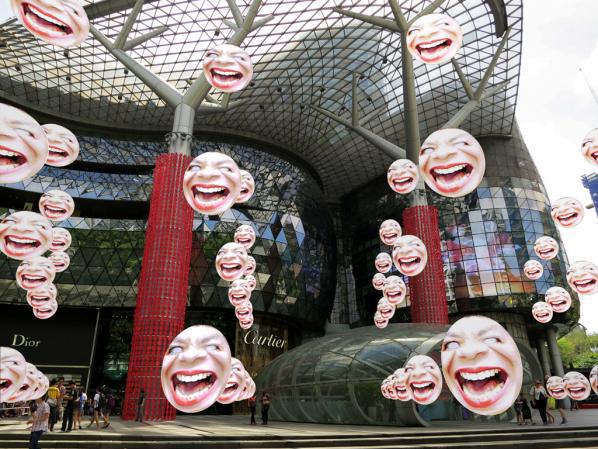 Tamiko Thiel. ARt Critic Face Matrix" at Ion Orchard, Orchard Road, Singapore, (DAW Singapore 2013)
EK: There were various artists in the festival showing Augmented Reality art as installations. This included artists such as Tamiko Thiel (DEU), John Cleater (USA), Will Pappenheimer (USA), Lily & Honglei (CHN), Marc Skwarek (USA), Lalie S. Pascual (CHE), John Craig Freeman (USA), and Curious Minds (CHE). It must of have taken a lot of time and energy to organize this, especially the technological aspects of the project. How difficult was it to set all of this up?
AC: In one word: impossible. It is new area of technology, a new approach to curating art, and above all you are dealing with a non-art public – basically anyone who is on the street. That is a big challenge. Add to it the new type of management skills that such an international project work requires and I think you are close to the impossible that I am referring to. For such exhibitions, "Management 2.0" skills are a necessity. The artists, the tech people, and the curators and admins meet and work solely in virtual space. So there are no walls, no tables, and there is no going for coffee together after the meeting. It is a different world from all sides.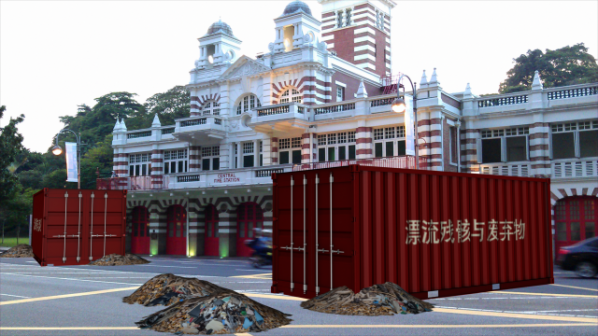 Flotsam & Jetsam, John Craig Freeman, (DAW Singapore 2013)
Another interesting aspect of this work is that you have to develop a feel for the city and develop a dialogue with it. For the Hong Kong show we did for SIGGRAPH Asia, Monika Rut and I spent about a week working on site, visiting the different areas of the city to check things out and to get a feeling for which works should go where and why. We travel with a lot of special equipment so that we can make tests on site and produce a mock up of the exhibition and test how the experience of viewing the exhibit will be. It is very inspiring but exhausting work and the dialog between Monika and I helped greatly in making all the decisions. Basically, we get to know the cities we are working in quite well and the kick back is, you get to know where the best coffee houses and local restaurants are.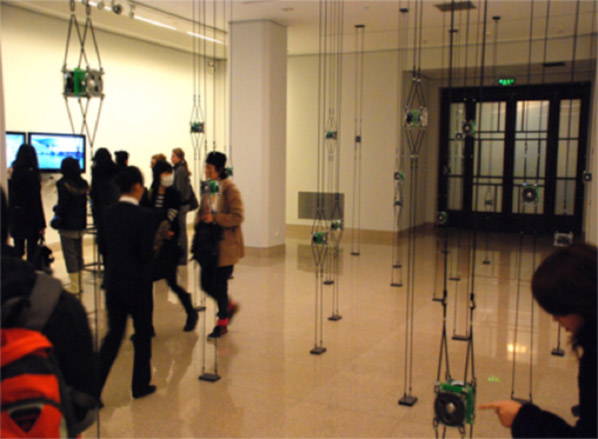 HoerRoom by Art Clay (Participatory artwork at NAMOC, Peking 2009)
EK: Why hold the DAW in Asia, and what kind of differences do you experience culturally when working in Asia compared to working in Europe?
AC: The DAW is at home in Asia and much of our curating has to do with having visitors get pro-active. This means that it is not just about looking at an artwork, it also entails actually touching the artworks in many cases. In Asia, the museum visitors are not that schooled in museum etiquette. They like to touch things and this is great for the kind of work we like to do. Things break, but it is kind of a "I Like" thing for us.
The other aspect to consider is that you have a language barrier, because no one is going to understand anything if it is not translated. Here, it is also important to know that the approach Europeans take in terms of explaining artworks, does not really come over so well in Asia. Things are often inspired by poetics of nature in Asia and are much less conceptual than works coming from Europa.
Last but not least, the role of size also plays a large part in Asian arts. When a dynasty was at its peek, it produced very large artworks, monuments etc. So size is historically a sign of wealth and prosperity in Asia. When a dynasty fell, they produced much smaller works. So the bigger the better, so to say. For a European artist this is completely meaningless, however, bigger artworks have more visibility. So when you are curating group exhibits in Asia that artists from diverse countries, it is a challenge to keep balance in terms of impact of the works.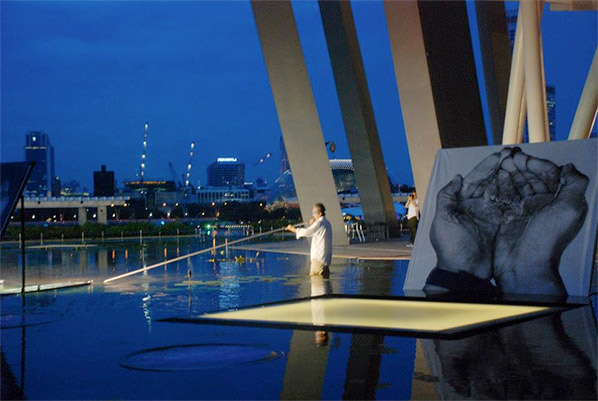 HandFalls installation an performance by Ichi Ikeda. (DAW Singapore 2012 at ArtScience Museum Marina Bay Sands)
EK: Getting back to There DAW AR Float Parade, which was the first of its kind and celebrated as the coming age for Augmented Reality art. Could you tell us more about this aspect of the festival's project and how it turned out?
AC: Knowledge transfer plays a major role in getting a project like the AR Parade to work. The DAW has an "OutReach Program". This is a program that invites creative leaders from around the world to hold workshops before or during the festival. The contents of the AR Parade in Singapore were the results of a workshop with the AR artist John Craig Freeman and the Curious Minds group. John Craig dealt with the technical details and the bootstrapping a group of twenty-five creative industry students from the Singapore Polytechnic. The members of the Curious Minds art group hung around, integrated the group into the DAW, taught the students about public interaction, and came up with how to go about actually making the AR Parade happen and come to life.
The proof of a good project for me is when it takes on its own life on after its initial presentation. After the Singapore DAW, the AR parade went to Hong Kong and in 2015 it will be shown marching down the Bahnhofstrasse in Zurich as part of the Virtuale Switzerland festival – the world's first festival "virtual biennale" that focuses solely on virtual artwork. For this we want to go a bit deeper into the creative industry world and see if we can act as modern alchemists and pick up on the float parade from New York and turn Miss Kitty into an artwork by shifting context from the real to the virtual.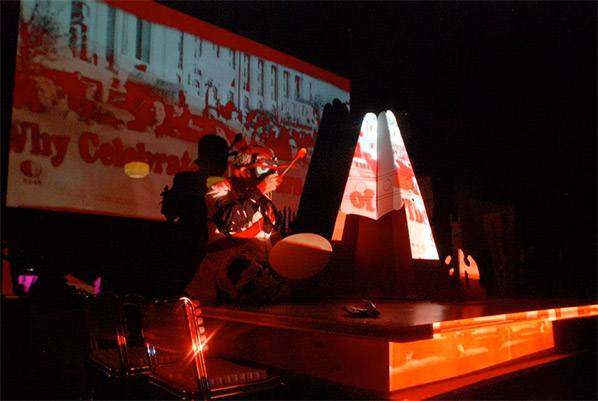 Live- Performance "Beads are the Breath of the Landbridge " with 1st Nations artists, Peter Morin. (DAW Singapore 2013)
EK: What is your view regarding the social contexts of the DAW?
AC: Basically, we are concerned about things and we make an effort to improve things that are within our reach to improve. For the festival in Taipei that will take place in 2015, we are really trying to make people aware of the role of creativity in general. Artists are highly creative people and the world really needs good ideas as well as a more social approach. We try to provide an answer to the question: "How is what we do of benefit to the society in which we are operating?" We think this should be more a question that businesses should be asking themselves. The future needs fewer companies who are "profit first, prosperity second" and more social entrepreneurships that embrace social needs as part of their business model.
EK: Could you tell us what themes and aims we can expect from of the DAW project in the future?
AC: We are off to Seoul, South Korea in 2014 and the theme there is "Creativity and Convergence", which is a hot topic in Asia, because the government feels that innovation is intimately connected to being creative and thinking out of the box. I think they're thinking of what makes the West tick and in an odd and ironic way to imitate – which is not exactly creative, but then again I have lot of respect for Asia and admire the work ethic of Asian people. So I think they will do well by addressing these themes. In 2015, we are off to Taipei and the theme (working title) there is "ImagiNation" and here we are trying to run a kind of "Skills-Festival" and platform creative businesses and the approaches that they have taken. It is a new approach and if you think about what Beuys said, "Everyone is an artists", we might stretch it a bit and also say "everything is art." At least this is the start and interestingly enough we are working with groups from the labor department in Taiwan, with knowledge transfer departments of universities, and with spin off and start up companies from Switzerland. It is very exciting and really what the DAW is about: creating a platform for research and experiments in social-cultural context.
---
Digital Art Weeks International
The DAW INTERNATIONAL's is concerned in general with the bridge between the arts and sciences in cultural context with the application of digital technology in specific. Consisting of symposia, workshops and cultural events, the DAW program offers insight into current research and innovations in art and technology as well as illustrating resulting synergies, making artists aware of impulses in technology and scientists aware of the possibilities of application of technology in the arts.
The Virtuale Switzerland
The Virtuale Switzerland is a biennale for virtual arts. It focuses on the use of public space and mobile communication technologies, inventing "playful" new strategies to coax the public into the festival as "real" visitors with a unique experience of the virtual. The Virtuale Switzerland encompasses Artworks using Augmented Reality, Urban or Location Based Gaming, and Digital Heritage applications. It is interdisciplinary in nature, bridging areas such as art and technology, digital heritage and tourism, as well as digital culture and art mediation.
Introduction.
For over 17 years Furtherfield has been working in practices that bridge arts, technology, and social change. Over these years we have been involved in many great projects, and have collaborated with and supported a variety of talented people. Our artistic endeavors include net art, media art, hacking, art activism, hacktivism and co-curating. We have always believed it is essential that the individuals at the heart of Furtherfield practice in arts and technology and are engaged in critical enquiry. For us art is not just about running a gallery or critiquing art for art's sake. The meaning of the art is in perpetual flux, and we examine its changing relationship with the human condition. Furtherfield's role and direction as an arts collective is shaped by the affinities we identify among diverse independent thinkers, individuals and groups who have questions to ask in their work about the culture.
Here I present a selection of Furtherfield projects and exhibitions featured in the public gallery space, we have ran in Finsbury Park in North London for the last two years. I set out some landmarks on the journey we have experienced with others, and end my presentation with news of another space we have recently opened (also in the park) called the Furtherfield Commons.
Running themes in this presentation include how Furtherfield has lived through and actively challenged the disruptions of neoliberalism. The original title for this presentation was 'Artistic Survival in the 21st Century in the Age of Neoliberalism'. The intention was to stress the importance of active and open discussion about the contemporary context with others. The spectre of neoliberalism has paralleled Furtherfield's existence, affecting the social conditions, ideas and intentions that shape the context of our work: collaborators, community and audience. Its effects act directly upon ourselves as individuals and around us: economically, culturally, politically, locally, nationally and globally. Neoliberalism's panoptic encroachment on everyday life has informed Furtherfield's own motives and strategies and, in contrast with most galleries and institutions that engage with art, we have stayed alert to its influence as part of a shared dialogue. The patriarch, neoliberalism, de-regulated market systems, corporate corruption and bad government; each implement the circumstances where us, everyday people are only useful as material to be colonized. This makes us all indigenous peoples struggling under the might of the wealthy few. Hacking around and through this impasse is essential if we are to maintain a sense of human integrity and control over our own social contexts and ultimately to survive as a species.
"The insights of American anarchist ecologist Murray Bookchin, into environmental crisis, hinge on a social conception of ecology that problematises the role of domination in culture. His ideas become increasingly relevant to those working with digital technologies in the post-industrial information age, as big business daily develops new tools and techniques to exploit our sociality across high-speed networks (digital and physical). According to Bookchin our fragile ecological state is bound up with a social pathology. Hierarchical systems and class relationships so thoroughly permeate contemporary human society that the idea of dominating the environment (in order to extract natural resources or to minimise disruption to our daily schedules of work and leisure) seems perfectly natural in spite of the catastrophic consequences for future life on earth (Bookchin 1991). Strategies for economic, technical and social innovation that fixate on establishing ever more efficient and productive systems of control and growth, deployed by fewer, more centralised agents have been shown conclusively to be both unjust and environmentally unsustainable (Jackson 2009). Humanity needs new strategies for social and material renewal and to develop more diverse and lively ecologies of ideas, occupations and values." [1] (Catlow 2012)
It is no longer critical, innovative, experimental, avant-garde, visionary, evolutionary, or imaginative to ignore these large issues of the day. If we as an arts organization, shy away from what other people are experiencing in their daily lives and do not examine, represent and respect their stories, we quite rightly should be considered as part of an irrelevant elite, and seen as saying nothing to most people. Thankfully, there are many artists and thinkers seriously taking on these human themes in their work in various ways, on the Internet and in physical spaces. So much so, this has introduced a dilemma for the mainstream art world regarding its own relevance, and whether it is really contemporary anymore.
Furtherfield has experienced in recent years a large-scale shift of direction in art across the board. And this shift has been ignored (until recently) by mainstream art culture, within its official frameworks. However, we do not only need to thank the artists, critical thinkers, and hackers and independent groups like ours for making these cultural changes, although all have played a big role. It is also due an audience hungry for an art that reflects and incorporates their own social contexts, questions, dialogues, thoughts and experiences. This presentation provides evidence of this change in art culture, and its insights flow from the fact that we have been part of its materialization. This is grounded knowledge based on real experience. Whether it is a singular movement or multifarious, is not necessarily important. But, what is important is that these artistic and cultural shifts are bigger than mainstream art culture's controlling power systems. Make no mistake, this is only the beginning and it will not go away. It is an extraordinary swing of consciousness in art practice forging other ways of seeing, being, thinking, making and becoming.
Furtherfield is proud to have stuck with this experimental and visionary culture of diversity and multiplicity. We have learned much by tuning into this wild, independent and continuously transformative world. On top of this, new tendencies are coming to the fore such as re-evaluations and ideas examining a critical subjectivity that echo what Donna Haraway proposed as 'Situated Knowledges' and what the Vienna based art's collective Monochrom call 'Context Hacking'. Like the DADA and the Situationist artists did in their time; many artists today are re-examining current states of agency beyond the usually well-promoted, proprietorial art brands, controlling hegemonies and dominating, mainstream art systems.
Slide Presentation
Most Art Says Nothing To Most People.
"The more our physical and online experiences and spaces are occupied by the state and corporations rather than people's own rooted needs, the more we become tied up in situations that reflect officially prescribed contexts, and not our own." [2]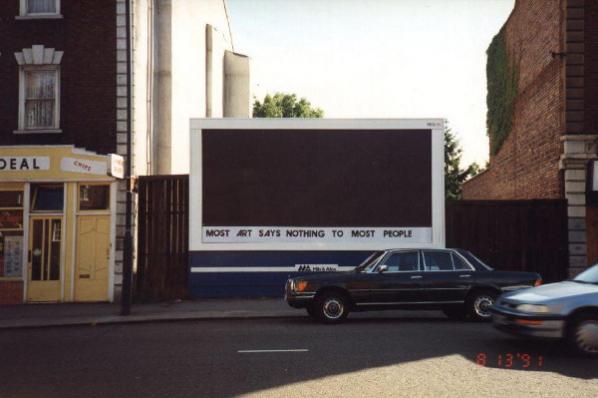 To start things off, I want to refer to a past work that myself and Heath Bunting (co-founder of irational.org) were involved with in 1991. The above image is a large paste-up displayed on billboards around Bristol in the UK. At the time, as well as being part of other street art projects, pirate radio and BBS boards, Heath and I and others were members of the art activist collective Advertising Art. It was street art that critiqued a presumed ownership of art culture by the dominating elites. The words "Most Art Says Nothing To Most People" has remained as an inner mantra in my mind ever since.
Furtherfield is inspired by ideas that reach for a grass roots form of enlightenment, and so nurture progressive ideas and practices of social and cultural emancipation.The Oxford English Dictionary describes Emancipation as "the fact or process of being set free from legal, social, or political restrictions; liberation: the social and political emancipation of women and the freeing of someone from slavery."
"Kant thought that Enlightenment only becomes possible when we are able to reason and to communicate outside of the confines of private institutions, including the state." [3] (Hind 2010)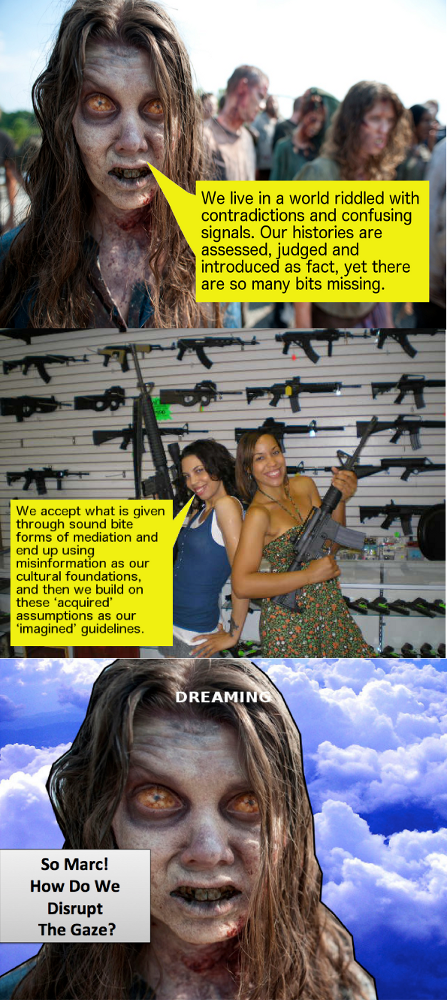 Well, a start would be to get organized and build something of value with others.
As usual, it is up to those people who know that something is not working and those feeling the brunt of the issues affecting them who end up trying to change the conditions. It is unlikely that this pattern of behaviour will change.
To expect or even wish those who rule and those serving them to change, and challenge their own behaviours and seriously critique their own actions is as likely as winning the National Lottery, perhaps even less.
Art critic Julian Stallabrass proposes that there needs to be an analysis of the operation of the art world and its relation to neoliberalism. [4]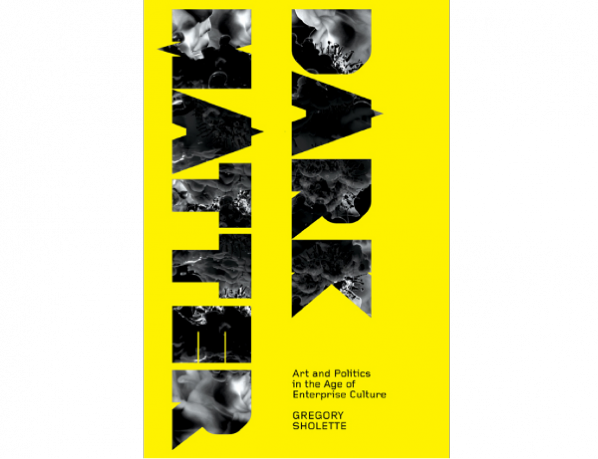 In the above publication Gregory Sholette argues, "that imagination and creativity in the art world thrives in the non-commercial sector, shut off from prestigious galleries and champagne receptions. This broader creative culture feeds the mainstream with new forms, and styles that can be commodified and utilized to sustain the few elite artists admitted into the elite. […] Art is big business: a few artists command huge sums of money, the vast majority are ignored; yet these marginalized artists remain essential to the mainstream cultural economy serving as its missing creative mass. At the same time, a rising sense of oppositional agency is developing within these invisible folds of cultural productivity. Selectively surveying structures of visibility and invisibility, resentment and resistance […] when, the excluded are made visible, when they demand visibility, it is always ultimately a matter of politics and rethinking history." [5] (Sholette 2013)
Drawing upon Sholette's inspirational, unambigious and comprehensive critique of mainstream art culture. I would like to consider examples that are closer to home blocking avenues of artistic and social emancipation that also need an urgent critique. And this blockage resides within media art culture (or whatever we call it now) itself. Recently, I read a paper about 'Post-Media' – said to "unleash new forms of collective expression and experience" [6]- which featured in its text only established names. Furtherfield is native to 'Post-Media' processes, a concept that theorists in media art culture are only just beginning to grasp. This is because they tend to rely on particular theoretical canons and the defaults of institutional hierarchies to validate their concepts. Also, most of the work they include in their research is either shown in established institutions and conferences. They assume that because a particular art work or practice is accepted within the curatorial remits of a conference theme, that this means the art shown is representative of what is actually happening, thus more valid than other works and groups not included. This is a big mistake. It only serves to reinforce the conditions of a systemic, institutionalised, privileged elite and enforces a hierarchy that will reinforce the same myopic syndromes of mainstream art culture. The extra irony here, is that many of these supposedly insightful art historians and theorists advocate a decentralised, networked culture in their writings, or as a relational context. However, many of them are not actually either engaged in supporting or creating these alternative structures with others. The real problem is how they acquire their knowledge. Presently the insular and hermetically sealed dialectical restraints and continual reliance on central hubs as official reference is distancing them from the actual culture they propose to be part of.
Furtherfield and Hack Value.
"We must allow all human creativity to be as free as free software" [7] (Steiner, 2008)
Furtherfield comes from a cultural hacking background and has incorporated into its practice ideas of hacking not only with technology but also in everyday life. In fact, Furtherfield is one big social hack. Hack Value advocates an art practice and cultural agency where the art includes the mechanics of society as part of its medium as well as social contexts with deeper resonances, and a critical look at the (art) systems in place. It disrupts and discovers fresh ways of looking and thinking about art, life and being. Reclaiming artistic and human contexts beyond the conditions controlled by elites.
Hack Value can be a playful disruption. It is also maintenance for the imagination, a call for a sense of wonder beyond the tedium of living in a consumer, dominated culture. It examines crossovers between different fields and practices, in relation to their achievements and approaches in hacking rather than as specific genres. Some are political and some are participatory. This includes works that use digital networks and physical environments as well as printed matter. What binds these examples together is not only the adventures they initiate when experimenting with other ways of seeing, being and thinking. They also share common intentions to loosen the restrictions, distractions and interactions dominating the cultural interfaces, facades and structures in our everyday surroundings. This relates to our relationship with food, tourism, museums, galleries, our dealings with technology, belief systems and community ethics.
Donna Haraway proposes a kind of critical subjectivity in the form of Situated Knowledges.
"We seek not the knowledges ruled by phallogocentrism (nostalgia for the presence of the one true world) and disembodied vision. We seek those ruled by partial sight and limited voice – not partiality for its own sake but, rather, for the sake of the connections and the unexpected openings situated knowledges make possible. Situated knowledges are about communities, not isolated individuals." [8] (Haraway 1996)
Furtherfield's move to the heart of a North London park.
Furtherfield had run [HTTP], London's first public gallery for networked media art, since 2004 from an industrial warehouse in Haringey. In 2012 the gallery moved to a public location at the McKenzie Pavilion in the heart of Finsbury Park, North London.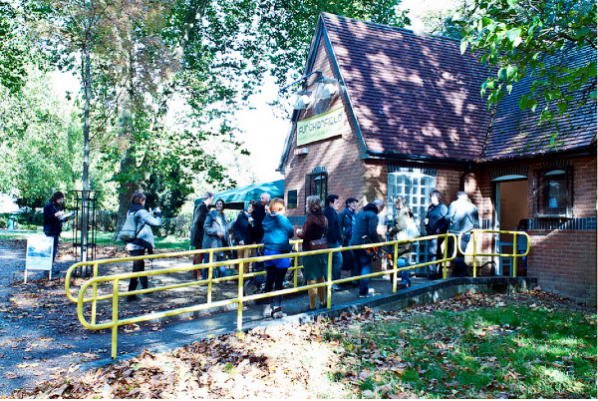 However, we are not just a gallery, we are a network connecting beyond a central hub.
"It is our contention that by engaging with these kinds of projects, the artists, viewers and participants involved become less efficient users and consumers of given informational and material domains as they turn their efforts to new playful forms of exchange. These projects make real decentralised, growth-resistant infrastructures in which alternative worlds start to be articulated and produced as participants share and exchange new knowledge and subjective experiences provoked by the work." [9] (Garrett & Catlow 2013)
The park setting informs our approach to curating exhibitions in a place with a strong local identity, a public green space set aside from the urban environment for leisure and enjoyment by a highly multicultural population.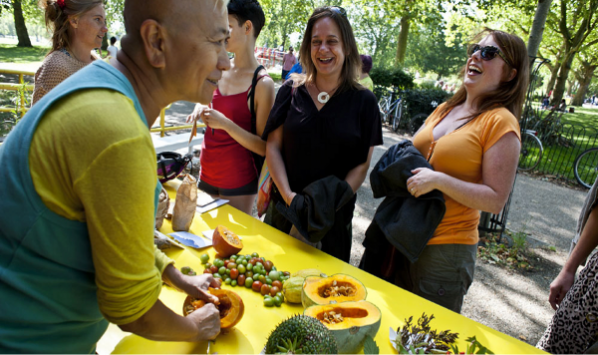 Seeds Underground Party by Shu Lea Cheang. Aug – Oct 2013.
We are simultaneously connected to a network of international critical artists, technologists thinkers and activists through our online platforms and communities, as well as a wider networked art culture. We get all kinds of visitors from all backgrounds and this includes those who do not normally visit art spaces. We are not interested in pushing the mythology of high-art above other, equally significant art practices. Being accessible has nothing to do with dumbing down it concerns making the effort to examine deeper connections between people and the social themes effecting theirs and our lives. We don't avoid big issues and controversies and are constantly engaged in a parallel dialogue between these online communities and those meeting us in the park.
We feature works that incorporate the contributions of local people and this brings them closer to the art and engagement of a social dialogue. For instance, London Wall, N4 by Thomson and Craighead, that reflected a collective stream of consciousness of people all around Finsbury Park, gathering their Tweets to print out and paste onto the gallery walls. By retweeting the images of the tweet posters we were able to gather many of the original authors in the gallery to see their words physically located among others made in the vicinity.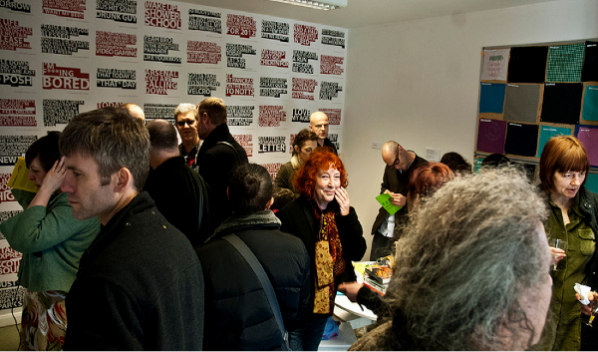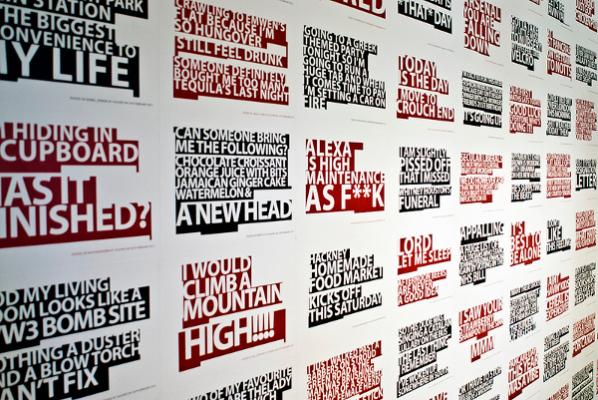 Above: London Wall, N4 by Thomson and Craighead, as part of Being Social, Feb – April 2012. Other artists included , Annie Abrahams, Karen Blissett, Ele Carpenter, Emilie Giles, moddr_ , Liz Sterry. See more info about the exhibitio Also to Flickr
Crow_Sourcing by Andy Deck invited people to tweet animal expressions from around the world – illuminating the link between the formation of human language and our relationships with other wild webs of animal life. Gallery visitors illustrated their own animal idioms, drawing directly onto the gallery walls, inspired by the ducks, crows, squirrels and dogs that inhabit the park.
We feature works that deal with the human and social effects of networked and pervasive technologies. Web 2.0 Suicide Machine by moddr_ proposed an improvement to our 'real' lives by providing a one click service to remove yourself, your data, and your profile information forever, from Facebook, Twitter and MySpace, replacing your icon (again, forever) with a logo depicting a noose. They also reflect on new forms of exposure and vulnerabilities they give rise to such as Kay's Blog, by Liz Sterry, which replicated in physical space the unkempt bedroom of an 18 year old Canadian girl based only on her blog posts, to eirie effect. The intention is to reach people in a way that has people question their own relationship with those technologies. This does not mean promoting technology as a solution to art culture but exploiting it to connect with others and also critique technologies at the same time.
Below: Selection of images from original slide presentation – exhibitions & events.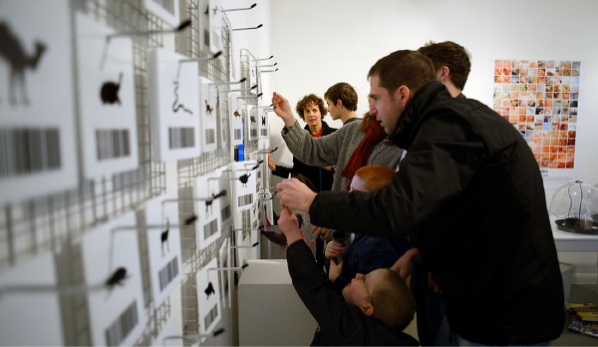 Crow_Sourcing by Andy Deck, WWW: World Wild Web Oct – Dec 2012.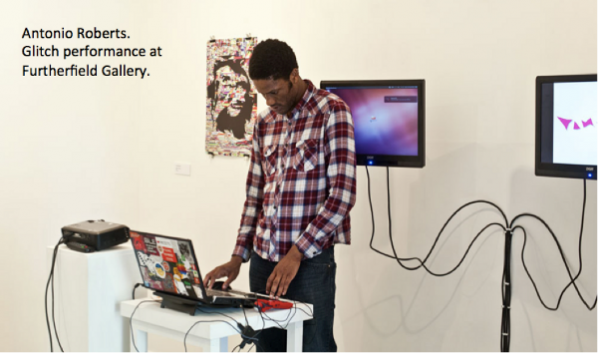 Glitch Moment/ums Exhibition June – July 2013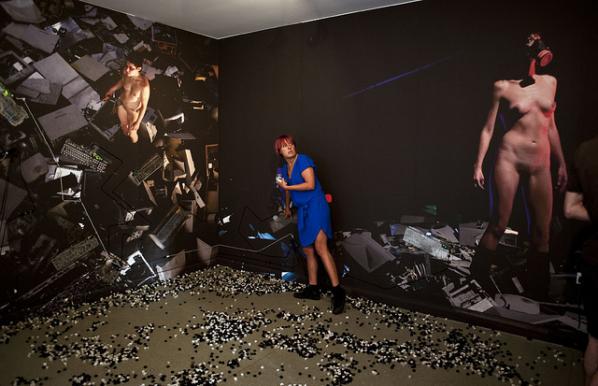 Shu Lea Cheang & Mark Amerika. UKI – Viral Love by Shu Lea Cheang. Aug – Oct 2013.
The Furtherfield Commons.
On the 23rd of November we opened our second space in the park 'The Furtherfield Commons'. It kicked off with The Dynamic Site: Finsbury Park Futures, an exhibition by students from the Writtle School of Design (WSD) featuring ideas and visions for future life in Finsbury Park, coinciding with the launch.
This new lab space for experimental arts, technology and community sets out to explore ways to establish commons in the 21st Century. It draws upon influences from 1700s when everyday people in England such as Gerrard Winstanley and collaborators forged a movement known as the Diggers also known as the True Levellers, to reclaim and claim common land from the gentry for grass roots, peer community interests. Through various workshops, residencies, events & talks we will explore what this might mean to people locally and in connection with our international networks. These include free software works, critical approaches to gardening, gaming and other hands-on practices where people can claim direct influence in their everyday environments in the physical world, to initiate new skills and social change on their terms. From what we have learned from our years working with digital networks we intend to apply tactical skills and practices into everyday life.
"You have created a true Peer 2 Peer philosophy of art, with a great network and reach!" – Michel Bauwens, Founder of the P2P foundation
Notes:
Furtherfield is a network across different time zones, platforms & places – online & physical, existing as various decentralised entities. A culture where people interact: to create, discuss, critique, review, share information, collaborate, build new artworks & alternative environments (technological, ecological, social or both), examine & try out value systems. "A rhizome has no beginning or end; it is always in the middle, between things, interbeing, intermezzo." (Brian Massumi 1987)
What Influences Furtherfield?
DADA, Situationism, punk, Occupy, hacktivism, networks, Peer 2 Peer Culture, feminism, D.I.Y, DIWO, Free Software Movement, independent music labels, independent thinkers, people we work with, artists, activism, grass roots culture, community…
This comprises technological and physical forms of hacking. It also includes aspects and actions of: agency-generation, skill, craft, disruption, self-education, social change, activism, aesthetics, re-contextualizing, claiming or reclaiming territories, independence, emancipation, relearning, rediscovering, play, joy, being imaginative, criticalness, challenging borders, breaking into and opening up closed systems, changing a context or situation, highlighting an issue, finding ways around problems, changing defaults, and restructuring things – Claiming social contexts & artistic legacies with others!
Extra Notes & References:
This text is a re-edited slide presentation first shown at the ICA, London UK on 16th November 2013 (Duration 25 min). Intermediality: Exploring Relationships in Art. Speakers Katrina Sluis, Peter Ride, Sean Cubitt & Marc Garrett.
http://www.ica.org.uk/39077/Talks/Intermediality-Exploring-Relationships-in-Art.html 
Transdisciplinary Community (TDC) Leicester UK 27th Nov 2013 (45 min). Institute of Creative Technologies. De Montfort University.
Two projects Gregory Sholette is currently involved in:
It's the Political Economy, Stupid. Curated by Oliver Ressler & Gregory Sholette
http://gallery400.uic.edu/exhibitions/its-the-political-economy-stupid
Matt Greco & Greg Sholette | Saadiyat Island Workers Quarters Collectable, 2013
http://bit.ly/1eSI5kX
—————————————————————
[1] Ruth Catlow. We Won't Fly For Art Culture Magazine, special themed issue Paying Attention: Towards a Critique of the Attention Economy. Special Issue of CULTURE MACHINE VOL 13 2012 by Patrick Crogan and Samuel Kinsley.
[2] Marc Garrett. DIWO (Do-It-With-Others): Artistic co-creation as a decentralized method of Peer-2-peer empowerment in today's multitude. From chapter – DIWO, Emancipation and Mainstream Culture. Page 2. (2013.) http://seadnetwork.wordpress.com/white-paper-abstracts/final-white-papers/diwo-do-it-with-others-artistic-co-creation-as-a-decentralized-method-of-peer-empowerment-in-todays-multitude-diwo-do-it-with-others-artistic-co-creation-as-a-decentralized-method-of-pe/
[3] Dan Hind. The Return of the Public: Democracy, Power, and the Case for Media Reform. Verso 2010. pp 155.
[4] Julian Stallabrass. Art Incorporated: The Story of Contemporary Art. OUP Oxford 2004.
[5] Gregory Sholette. Author of Dark Matter: Art and Politics in the Age of Enterprise Culture. Pluto press. (2011)
[6] About the Post-Media Lab By Post-Media Lab, 20 January 2012. Metamute.
http://www.metamute.org/editorial/lab/about-post-media-lab
[7] Hans-Christoph Steiner. Floss + Art. Compiled and Edited by Aymeric Mansoux and Marloes de Valk. GOTO10 in Association with OpenMute. 2008. P.151.
[8] Donna Haraway. Situated Knowledges: The science Question in Feminism and the Privilege of partial Perspective. Feminism and Science. Editors, Evelyn Fox Kellor and Helen E. Longino. Oxford University Press. 1996. P.259.
[9] DIWO: Do It With Others – No Ecology without Social Ecology. By Marc Garrett, Ruth Catlow. 2013. First published in Remediating the Social 2012. Editor: Simon Biggs University of Edinburgh. Pages 69-74. https://www.furtherfield.org/features/articles/diwo-do-it-others-%E2%80%93-no-ecology-without-social-ecology
—————————————————–
All exhibitions, events & projects at Furtherfield – https://www.furtherfield.org/programmes/exhibitions
He looks around to make sure no one is watching him and sets the phone down next to the boxes of cheese. The little silver telephone fits the spot strangely well. It looks as though it has always been sitting there. Having left Shirakawa's hand, it is now part of the 7-Eleven. –Haruki Murakami, After Dark
Murakami's novel After Dark (2007) which refers to both the mobile phone as well as the retail environment of the 7-Eleven seems a fitting place to begin a review of a new media art project that uses communication technology to explore and inhabit the space of shopping malls. Digital technologies have enabled the emergence of new forms of participatory art, design and creative practices that inhabit urban, communal and personal spaces in a variety of interesting ways. In June 2012, as part of the Midsummer Festival in Cork, Ireland, the German group Ligna, which consists of media theorists and radio artists, created a radio ballet entitled The First International of Shopping Malls. The ballet was part of a series of events called Parallel Cities that was curated by Lola Arias and Stefan Kaegi.
The First International of Shopping Malls builds on over a decade of new media art that has transformed and appropriated city spaces. For example, in 2003, the Chaos Computer Club's Project Blinkenlights took, as its canvas, the façade of the former East German Department of Education in order to create a massive urban game board and visual display by programming the lights in each of the windows. Similarly, at the neighborhood level, in 2011, Timo Arnal created, Immaterials: Light Painting WiFi, a project that used Arduino-boards equipped with sensors to illustrate the shape of wireless networks on the streets of Oslo. Finally, at the level of the body, Mark Shepard's Sentient City Survival Kit included an umbrella outfitted with infrared LEDs that are only visible to surveillance cameras.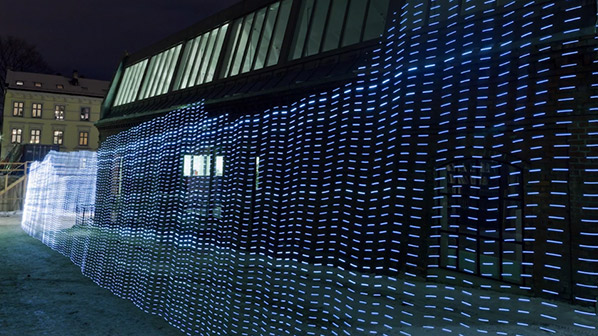 Immaterials: Light Painting WiFi (Image Credit: Timo Arnall)
One of the factors that has made it possible to use communication technologies to create interactive art of this nature is the decline in the cost of interfaces such as urban screens, devices including radio transmitters/receivers and portable computers, as well as sensors and LEDs. These technologies (as well as their invisible properties) offer artists, designers and programmers new materials with which to work. In addition, as art and design move outside of established institutions such as museums and galleries, city spaces and other non-traditional spaces become attractive settings for public and participatory projects.
These projects challenge the separation of physical from digital, global from local, private from public, and individual from community, which are relevant to the understanding of the way in which digital technologies are enabling hybrid spaces of creativity, curation and innovation. These hybrid spaces are the locus of emergent forms of organizing (Humphreys, 2008), new modes of citizen engagement (Foth, 2008; Foth, Forlano, Gibbs, & Satchell, 2011) and novel ways of experiencing urban space (Ito, 2003). Specifically, terms such as net locality (Gordon & Silva, 2011), code/space (Kitchin & Dodge, 2011), situated technologies (Shepard, 2011), and codescapes (Forlano, 2009) have been introduced in order to better articulate the ways in which digital interfaces, artifacts and networks have been integrated into urban space.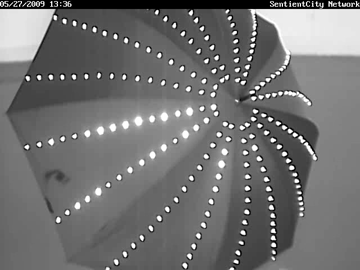 Sentient City Survival Kit (Image Credit: Mark Shepard)
For the The First International of Shopping Malls, the artists built on the pervasive presence of earbuds and headsets among urban dwellers in order to take participants on a one-hour journey through a typical suburban shopping mall. About 25 participants were given a radio headset tuned to a specific station along with instructions about how to interact with the people, objects and spaces that they encounter as they navigate the mall. The artists created stories that gave voice, quite literally, to the architecture and the objects within the mall. The artists describe the shopping mall as, "a utopian place. It's like a whole city is assembled in an idealised form below a glass roof. The goods displayed in shop windows sit there and patiently await their future owners."
According to the curators of Parallel Cities, the suburban shopping mall, which is typically thought of merely as a functional space is an "observation station for urban life" that is "instantly recognizable" anywhere in the world. The First International of Shopping Malls appropriates this functional and commercial setting for the purpose of critique, reflection and participation — using the geography of radio receivers to demarcate the boundaries of the project. For example, if one wandered too far away from the transmitter on one side of the mall or moved to a different level of the mall, one would suffer from static interruptions and lose reception, thereby temporarily disappearing from the network of participants, which was constituted by people and their radio receivers (along with other devices and objects that they carried on their person).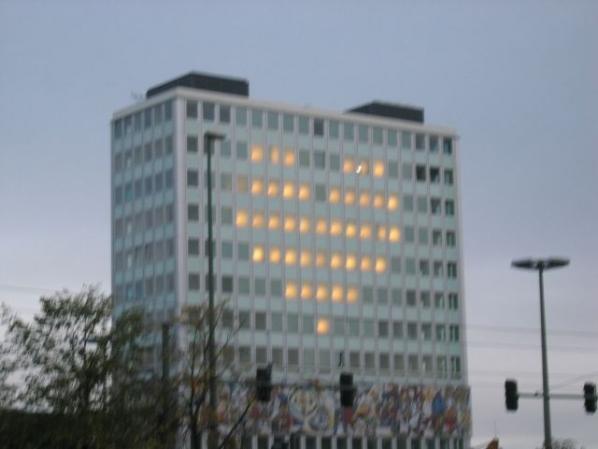 Chaos Computer Club's blinkenlights (Image Credit: Laura Forlano, Oct. 2004)
One of the objectives of Parallel Cities is to render personal, local and contextual that which has been designed for anonymous groups of strangers. In addition to the shopping mall, they include hotels, factories, train stations, rooftops and libraries in their project. In The First International of Shopping Malls, participants alternate between their individual and collective experiences of the radio-ballet. For example, while many of the activities that participants are encouraged to conduct in the mall can be done independently (such as walking quickly or slowly), at key points, participants are asked to follow a stranger around the mall mimicking their body language or join a group of other participants in a flash mob-like cluster for a few strides and then quickly disperse. Unlike a typical museum setting, which allows individuals to form relationships with specific artworks, or theatrical settings, which allow for the formation of a communal experience, this project allowed, people participate in temporary assemblages that traverse the terrain of the mall.
At one point, participants are asked to reimagine the space of the shopping mall with an alternative purpose in mind. We scribble our ideas on small, white, square slips of paper and, upon spotting other participants, discretely exchanged them without speaking. "Coworking space," I had scrawled hastily, only to find that the participant with whom I'd exchanged slips had the exact same vision for the mall. In this way, the project challenged participants to engage in a dialogue and critique about the resources available in the mall without speaking a word aloud to one another.
Digital technologies have enabled new forms of surveillance and control. In the case of The First International of Shopping Malls, at the beginning of the broadcast, participants are given a brief history of the architecture of the shopping mall. The artists reference the similarity between Bentham's panopticon, which was designed for the surveillance of prisoners, and the typical design of a suburban mall. This includes the oval structure of the inner walkways as well as the multiple levels, which can be observed at one time.
Because the artists had not gotten permission from the mall, participants were specifically asked not to mention the venue of the event using social media, which would have put an abrupt end to the project. In our case, towards the end of the hour-long event, the mall security became aware that something unusual was going on. This is because our coordinated behavior—walking quickly and slowly, joining together and breaking apart, jumping, exchanging notes—was noticeably bizarre. This caused several security guards to cluster together, wondering what was going on and, perhaps, questioning the location of the transmitter. We had been told specifically not to acknowledge any recognition of the event's facilitator. While uneasy about the possibility of being confronted by the security guard, I was temped to capture photos of the congregating guards and succeeded in my own act of sousveillance.
Another unique feature of the event was the way in which the architecture and objects were animated in the space of the mall. Specifically, participants were asked to gaze at a window display, enter a store, and pick up an object, all the while listening to a fictional dialogue with the object itself. For example, through the narration on the headset, an object such as a hat would seem to call out "Choose me," and, meanwhile, another object such as a scarf would seem to clamor for attention saying, "No, choose me." In this way, the artists were able to bring to life the sentiments, social lives and working conditions of the objects themselves in order to create greater awareness about consumer culture.
In summary, The First International of Shopping Malls, uses radio technology to move artistic practice outside of traditional venues and appropriates commercial space for public participation. While the interaction between the artists and the participants is primarily one-way (the participation itself is not being captured or recorded and there is no way for the participants to talk back to the artists), the project relies on the participants to create the project. While this approach uses technology to go beyond traditional artistic practice, one might imagine ways in which the project might be made even more interactive and participatory using mobile devices to document and record different instantiations of the event. Furthermore, using radio technology, which demarcated the physical boundaries of the event, the artists were able to create a kind of community of practice (Lave & Wenger, 1991) within the space of the shopping mall that was engaged in a critique of consumer culture.
[1] http://www.ciudadesparalelas.com/cork.html Accessed on August 31, 2012.
Bibliography
Forlano, L. (2009). WiFi Geographies: When Code Meets Place. The Information Society, 25, 1-9.
Foth, M. (2008). Handbook of Research on Urban Informatics: The Practice and Promise of the Real-Time City. Hershey, PA: IGI Global.
Foth, M., Forlano, L., Gibbs, M., & Satchell, C. (2011). From Social Butterfly to Engaged Citizen. Cambridge, MA: MIT Press.
Gordon, E., & Silva, A. d. S. e. (2011). Net locality : why location matters in a networked world. Chichester, West Sussex ; Malden, MA: Wiley-Blackwell.
Humphreys. (2008). Mobile Social Networks and Social Practice: A Case Study of Dodgeball. Journal of Computer-Mediated Communication, 13(1), 341-360.
Ito, M. (2003). Mobile Phones, Japanese Youth, and the Re-Placement of Social Contact. Front Stage – Back Stage: Mobile Communication and the Renegotiation of the Social Sphere. Grimstad, Norway. http://www.itofisher.com/PEOPLE/mito/ mobileyouth.pdf
Kitchin, R., & Dodge, M. (2011). Code/space : software and everyday life. Cambridge, Mass.: MIT Press.
Lave, J., & Wenger, E. (1991). Situated Learning: Legitimate Peripheral Participation. Cambridge, England: Cambridge University Press.
Murakami, H. (2007). After Dark. New York: Vintage Books.
Shepard, M. (Ed.). (2011). Sentient City: Ubiquitous Computing, Architecture, and the Future of Urban Space. Cambridge, MA: MIT Press.
Use the Rubik's Cube simulator if you don't have a real puzzle to play with. Set a random scramble and try to figure out the solution!
"None but those who have experienced them can conceive of the enticements of science." Mary Shelley, Frankenstein.
Rachel Falconer writes about the cyberfeminist art collective subRosa, a group using science, technology, and social activism to explore and critique the political traction of information and bio technologies on women's bodies, lives and work.
Following a recent interview with the founding members of the collective, Hyla Willis and Faith Wilding, this article presents subRosa's trans-disciplinary, performative practice and questions what it means to claim a feminist position in the mutating economies of biotechnology and techno-science.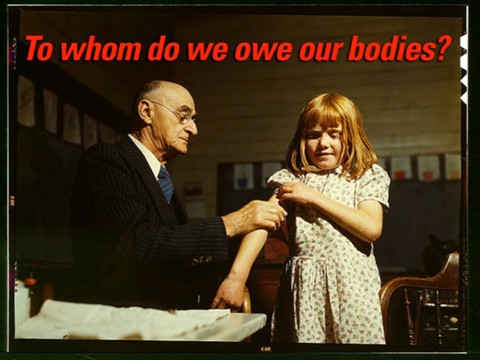 Cyberfeminism Interrogates Biotechnology: subRosa's Participatory Information Performances video.
The technological redesigning and reconfiguration of bodies and environments, enacted through the economies of the biotech industry, is an emerging feature of contemporary life. As these new 'bits of life' enter the biotech network, there is a slippage in our mental model of what constitutes the body, and more specifically, 'life' itself. As radically new biological entities are generated through the processes of molecular genetic engineering, stem cell cultivation, cloning, and transgenics, bio-artists and bio-hackers co-opt the laboratory as a site of critical cultural practice and knowledge exchange. Human embryos, trans-species and plants are constructed, commodified, and distributed across the biotech industry, forming the raw materials for bio-art, DIY biologists and open science culture.[1] These corporeal products and practices exist within new and alien categories, transgressing the physical and cognitive boundaries set by biopunk science fiction and edging towards the possibility of a destiny driven by genetics and life sciences. With the eternal rhetoric of a high-tech humanity, and the threat of Michel Foucault's[2] biopolitics constantly on the horizon, today Harraway's[3] myth of the cyborg exists in the form of corporeal commodities travelling through the global biotech industry. Scientific research centres stock, farm, and redistribute biological resources, (often harvested from the female scientists themselves). Cells, seeds, sperm, eggs, organs and tissues float on the biotech market like pork belly and gold. Seeds are patented, and other agro-industrial elements are remediated and distributed as bits of operational data across the biotech network. We/cyborgs[4], are manifested as a set of technologies and scientific protocols, and, as a result, the female body in particular, is reconfigured into a global mash-up of cultural, political and ethical codes.
The increasingly pragmatic realisation of the biotech revolution has provoked a 'cultural turn' in science and technology studies in general, and feminist science studies in particular. Carolyn Christov-Bakargiev's dOCUMENTA (13) proposed an interdisciplinary approach to the role of science for 'culture at large'. Certainly, by foregrounding the heavy hitters in the field such as Donna Haraway and Vandana Shiva, dOCUMENTA (13) laid claim to addressing the global conflicts of biotechnology. However, the feminist agenda was not specifically addressed, and the key issues of the impact of biotechnologies on feminist subjectivities were only paid minimal lip service. With the exception of Shiva[5], the tone of dOCUMENTA (13) hinted at a positivist, emancipatory take on biotechnology and technoscience without assuming a critical position. There was very little public debate or critical analysis engaging the philosophical, ethical, and political issues of feminism and female subjectivities within the realm of biotechnology.
Notably absent from last year's dOCUMENTA (13), the activist feminist collective subRosa's performative, interdisciplinary projects are channelled towards embodying feminist content, practices, and agency, and laying bare the impact of new technologies on women's sexuality and subjectivities – with a particular emphasis on the conditions of production and reproduction. Through their research-led practice and pedagogical mission, the collective analyse the implications and conditions of the constantly surveyed female body, whilst mapping new possibilities for feminist praxis. subRosa interrogate the conditions of surveillance, private property rights, and other control mechanisms the female body is subjected to by ART(Assisted Reproductive Technologies). The collective's hybrid, interdisciplinary practice navigates the multiple identities the female body has taken on through techno-scientific development, including: the distributed body, the socially networked body, the cyborg body, the medical body, the citizen body, the soldier body and the gestating body. In contrast to the overarching and pervasive illustration of the technoscientific cultural landscape painted by dOCUMENTA(13), the current members and founders of the collective, Hyla Willis and Faith Wilding, are very clear in their critical intent. The collective choreograph and place themselves within globalized bio-scenarios in order to question the potential for resistance and activism within these constructs.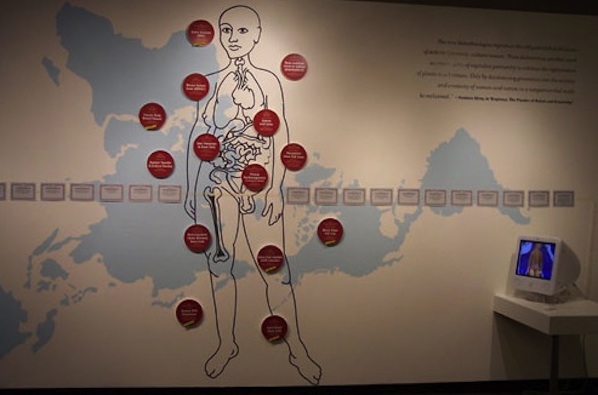 Cell Track: Mapping the Appropriation of Life Materials, subRosa, Chicago 2004.
subRosa's overarching vision to create discursive frameworks where feminist interdisciplinary conversations and experiments can take place, is research-led and takes its cue from the canon of radical feminist art practices. Cell Track: Mapping the Appropriation of Life Materials has featured in a number of exhibitions, most recently in Soft Power. Art and Technologies in the Biopolitical Age, Vitoria-Gasteiz, Spain. This project consists of an installation and website examining the privatization and patenting of human, animal and plant genomes in the context of the history of eugenics. Cell Track highlights the disparity between the bodies that produce stem cells and the corporations that control the products generated from them. Bringing together scientists, cultural practitioners and wider publics in the construct of the gallery space, subRosa generate discourse around the patenting and licensing of DNA sequences, engineered genes, stem cell lines and transgenic organisms. The project's participatory aim is to set up an activist, feminist embryonic stem cell research lab in order to produce non-patented stem cell lines for distribution to citizen scientists, artists and independent biotechnologists. This environment of shared knowledge production and speculative, alternative, research activity is at the heart of subRosa's social practice.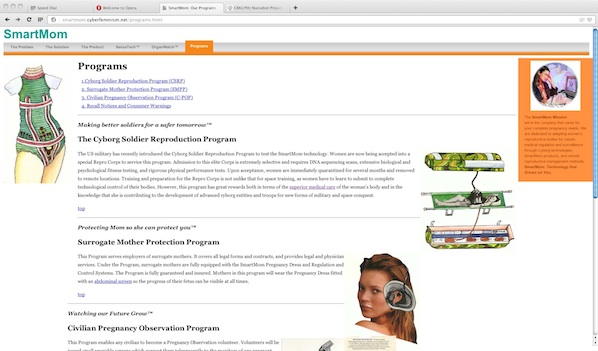 Smart Mom, website, subRosa, 2009
Due to the pedagogical nature of subRosa's activities, the collective's critical stance towards IVF and ART has proven to be particularly provocative, and their scepticism towards the emancipatory language of 'choice' co-opted by ART, has been met with some resistance by other feminist practitioners. However, it is in this very agonism[6] that subRosa wish to become more visible, and they welcome criticism and debate in the public discursive spaces that they create.  In a recent interview, Faith Wilding and Hyla Willis both expressed their desire to generate an expanded, and deeper discussion about the wider issues involved in ART in particular and biotechnology's effect on female identity in general. subRosa's potential to reach wider publics and audiences is partially determined by the socio-political context of the communities in which they operate. Perhaps in reaction to this, subRosa's focus is now shifting towards embracing the aforementioned 'cultural turn' in science as they address the position of feminist scientists themselves.
The imperative to reclaim feminist discourses and narratives in science is of growing concern to subRosa, as they believe that feminist agency lies in the practice of science itself. By relocating lab-work from the dominant scientific institutions to the public environment of the gallery, subRosa provide the critical space in which new feminist scientific praxis can operate,[7] and new dialogues and discourses can be created. Their conviction that political and critical traction lies in practice as discourse, and the potential of face to face encounters, is demonstrated in their recent project for the Pittsburgh Bienal: Feminist Matter(s): Propositions and Undoings (2011). In this installation, SubRosa take Virginia Woolf's[8] assertion that 'tea-table thinking' provides an effective antidote to the male-driven 'war-mentality brewed in boardrooms and command centers' as their main conceit.  Redeploying Woolf's idea toward the rethinking of the traditionally male-dominated discipline of science, Wilding and Willis' installation brings traces of the science laboratory to the intimacy and hospitality of the kitchen table, and in turn, also situates what is normally a private, feminized space in a more public domain.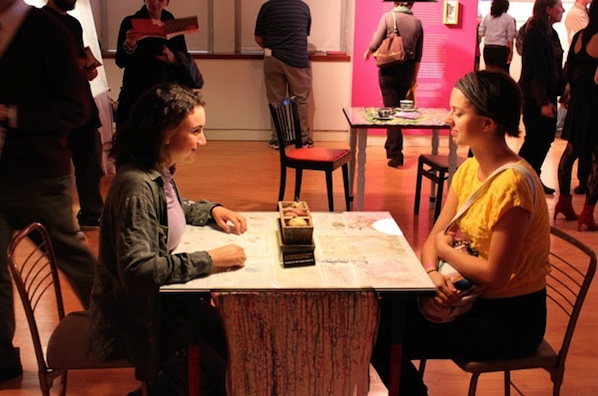 Feminist Matter(s): Propositions and Undoings, opening reception, subRosa, 2011. Photo: Tom Little, Miller Gallery.
These tables stage a dialogue between one or two visitors in response to the presentation of female figures in science, both the popularly acknowledged and the underexposed. subRosa foreground women scientists past and present and reimagine an alternative, feminized history of science and technology. The installation explores feminism and participatory practices as modes of scientific research, with the aim of generating dialogue and discourse around the questioning of the dominant historical narrative of science. Specially tailored installations reside on each table, evoking lab work while celebrating the history of the women protagonists they play host to – from anarchist painter Remedios Varo to geneticist Barbara McClintock.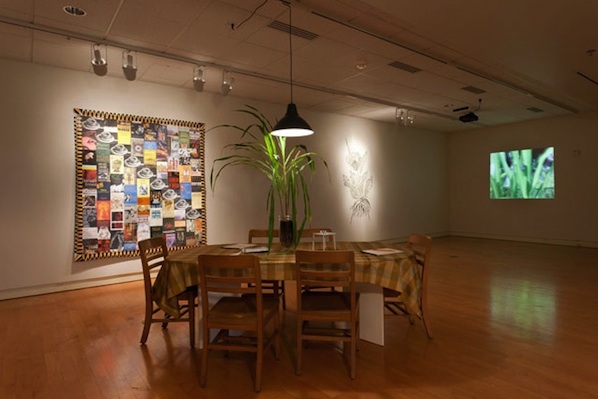 Feminist Matter(s): Propositions and Undoings, opening reception, subRosa, 2011. Photo: Tom Little, Miller Gallery.
subRosa's pedagogical imperative is at once inclusive and provocative, and their role as facilitators of a discursive space outside the traditional institutions and control structures of science, is where their radical aspirations lie. Pedagogical art practices often teeter on the brink of propaganda, and subRosa are quite comfortable with the propagandistic label. Considering the economic and cultural climate in the USA with regard to the politics of reproduction, their work has been particularly well received in the context of European cultural institutions, whereas in the USA there is greater interest for the work in academic institutional settings. Perhaps this could be symptomatic of the general privileging of discourses around intersex, transgender and queer subjectivities. The dominant bias of the gatekeepers of the artworld to showcase queer practices is evident in the promotion of artists such as Ryan Trecartin and Carlos Motta on the international circuit. Curators have tended to position artists addressing the gendered 'Other' within a contemporary queer framework, whilst keeping feminist art practices on the peripheries of 1960s/1970s retrospective nostalgia. This tendency presents a muddying of the waters for contemporary feminist art practices such as subRosa.
This may also be part of a more general tendency to demonize and move away from feminist identities and discourses in wider society. The academic shape shifting from 'women's studies' to 'gender studies' to 'queer studies' has diminished the feminist conversation and, therefore, the impact and receivership of feminist art practices. This has rendered the popular conception of  'Queer' as acceptable and non-aggressive. Furthermore, the term 'Queer' and the subsequent morphing into the verb 'queering', has been co-opted by transdisciplinary academic discourse, and is now an expansive, all embracing cultural term – a phenomenon that has met with a certain amount of scepticism from the queer community.
This privileging of the expansive 'othering' of queer rhetoric has often resulted in feminism being rejected as a radical and out-dated political identity by art practitioners themselves. This ambivalent attitude is perhaps also indicative of the wider feminist debate, in which post-feminism has splintered into fragmented, diluted groups, each policing their own identity politics with little sense of a bigger struggle. However, the collaborative, interdisciplinary environments orchestrated by subRosa signal a return to the indisputably material actuality of the female body. Through their insistence on the possibilities of feminist bench-side practices, and the forensic unpicking of the power/control structures inherent in biotechnology, subRosa expands the feminist lexicon through the empirically re-appropriated organic materiality of the body.
References:
[1]Eduardo Kac's fluorescent glow in the dark rabbit, Alba and Critcial Art Ensemble's bio-art practices are popularly cited historical examples of the artworld's forays into biotechnology and transgenics. C-Lab and Rüdiger Trojok recently showed at Art Laboratory Berlin, August 2013.
[2] In his theory, Michel Foucault describes the related term "Biopower" as the governance of population through the control of the body, the mind and every aspect of human life, particularly those directly related to subjectivity. Michel Foucault The History of Sexuality Vol 1 p.140 (1976)
[3]Haraway, Donna Jeanne ,"A Cyborg Manifesto: Science, Technology, and Socialist-Feminism in the Late Twentieth Century". Simians, Cyborgs and Women: The Reinvention of Nature. Routledge. (1991).
[4] Ibid.
[5]Shiva, Vandana The Corporate Control of Life in Documenta 13: The Book of Books (2011
[6] Relating to Chantal Mouffe's conviction of the positive channelling of political conflict
[7]Other subRosa projects which have appropriated and staged the conventions of the science industry and pedagogical investigation include Expo EmmaGenetics (2001),a faux biotech trade show, Epidermic!DIY Cell Lab, (2005), an amateur science performance and experimental lab
[8] Woolf, Virginia, Thoughts of Death in an Air Raid, 1940,(Penguin), 2009
Over the last few years there has been a keen interest in discussing the notion of public space; demonstrations, camps, collaborative projects, artistic interventions, community projects, social activism are just a few names that exemplify the different forms of engagement that deal with the complexities of it. Despite their different aims and impact most of these actions have given evidence of the need to re-appropriate the public space; through collective and networked practices individuals, groups and organizations 'challenge the conventional notion of public and the making of space'[1]. Although the liveness and even virality of these events, projects or actions hinder any prediction about its midterm effects or endurance, the fact is that there is an emerging legacy that is already dismantling certain assumed thoughts about 'the public'.
The retiree Hüseyin Çetinel's initiative of painting a public stairway with rainbow hues in his neighbourhood in Istanbul has been the last case involving cultural transformation, virality and social activism. After he painted the local stairs to 'make people smile' and 'not as a form of activism' the municipal cleaning service painted over the stairs in dull grey provoking a chain reaction that mobilized citizens to paint stairways throughout the city. Local communities and social movements appropriated this beautiful participatory action as a form of protest after Çetinel's stairway became viral in the social media. This example shows the intricacies of the public space and its expanded performativity. As Gus Hosein Executive Director of Privacy International argues 'there is a confusion as to what is public space is and how it relates to our personal and private space' in a social context where the emergence of the use of social media and surveillance as well as the appropriations of the space by private corporations and social movements and individuals are constantly questioning its boundaries[2].
Istambul Stairways. Image from InEnArt.
From my point of view, some of these actions that play in-between the social, political and artistic might be considered re-enactments of the public space as they aim to reconstruct the term itself by applying alternative procedures and by generating at the same time transductive pedagogies. However, in order to give a comprehensive understanding of the implications of the public space and its controversies it is essential to rethink the notion of the private space. Traditionally, home has been recognized as the physical private space; home is the main representative of the private sphere that encompasses the domestic and intimate. According to Joanne Hollows, 'the distinction between the public and the private has been a key means of organizing both space and time'[3] and consequently to promote a clear functional division.
This traditional perspective has been questioned and altered due to some current issues and events that are noticeably interconnected with those of the public space; an increasing number of evictions and homeless peoples, housing policies, escraches[4] in front of the houses of politicians, the appearance of ghost neighbourhoods due to real estate speculation, home as an alternative space for performance practice and community development, among others. Thus, home might be conceived as a container of individuals and actions, as a social product or instrument, as topographical placement or as a relational structure. Home entangles interesting layers of analysis that might serve to establish new relational and yet responsive parameters to understand both the private and public space. Some of the following examples that perform between art, activism and affections corroborate the significance of home; as Blunt and Dowling state 'home is not separated from public, political worlds but it constituted through them: the domestic is created through the extra-domestic and viceversa'[5].
Where is home?
In Barcelona, the city where I live there have been noticeable factors that have stressed the importance of home as a topic of interest. Probably the most significant case is the increasing number of evictions―over 350.000 in the last four years―as many families cannot afford their rent or mortgage after losing their jobs (the unemployment rate is 26.3%). Beyond the personal implications and devastating effects that evictions have on families, they also indicate that home is not anymore our secure space or refuge; on the contrary, if the individual does not respond to the production and consumption requirements is physically displaced to the streets. Consequently, many citizens are trying to find shelter back again in the public space.
If the 70s Richard Sennett announced the decay of the public space by the emergence of an 'unbalanced personal life and empty public life'[6], the related problems with housing have provoked the reactivation of the public space at many levels. At the same time, there is an increasing culture of the debt that ties together individuals and financial institutions in long-term relationships. As Hardt and Negri explain 'Being in debt is becoming today the general condition of social life. It is nearly impossible to live without incurring debts—a student loan for school, a mortgage for the house, a loan for the car, another for doctor bills, and so on. The social safety net has passed from a system of welfare to one of debtfare, as loans become the primary' means to meet social needs'[7].
These ideas can be exemplified by the actions of PAH (The Platform of People Affected by Mortgage Debt), an activist group of citizens that stops evictions through demonstrations and guerrilla media actions in the streets and that also helps struggling borrowers to negotiate with banks and promotes social housing[8]. This organized group of citizens has been awarded this year the Citizen Award by the European Union for denouncing abusive clauses in the Spanish mortgage law and battling social exclusion. PAH has received the support of the collective Enmedio that generates actions in the midst of art, social activism and media. For example, their photographic campaign 'We are not numbers' consisted in the design of a collection of postcards each one containing a portrait of a person that was affected by the mortgage debt by a local bank entity. The postcards were delivered in front of the bank's main building for people to write a message. The written postcards were then stuck in the front door main door turning numbers into a collage of human struggle. PAH and Enmedio actions become highly effective thanks to their media impact and their virality in the social media. Invisible individuals isolated in their struggle, find alternatives through an assemblage of support that connects the public and private space and that is also mediated by informative and constitutive tools that the virtual space offers. As Paolo Gerbaudo claims 'social media have been chiefly responsible for the construction of a choreography of assembly as a process of symbolic construction of public space which facilitates and guides the physical assembling of highly dispersed and individualized constituency'[9].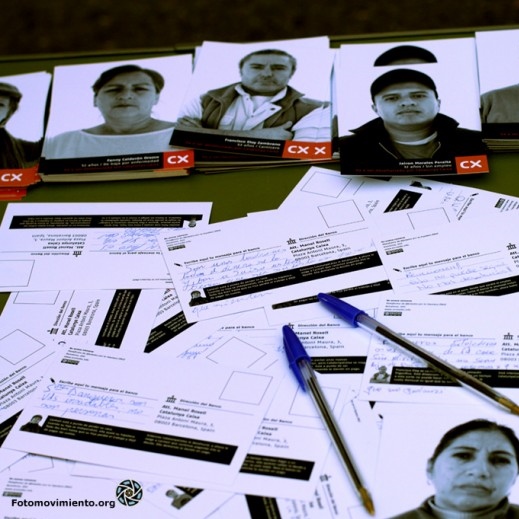 Image of 'We Are Not Numbers' by Enmedio Collective.
Processes of speculation, gentrification and eviction can be found in many western cities as well as different kinds of collectives and groups working for human rights advocacy. This is also the case of the Brooklyn based collective Not an Alternative has also carried out different guerrilla actions concerned with the problem of housing and eviction such as their series of workshops and media actions of 'Occupy Real State' or 'Occupy Sandy'.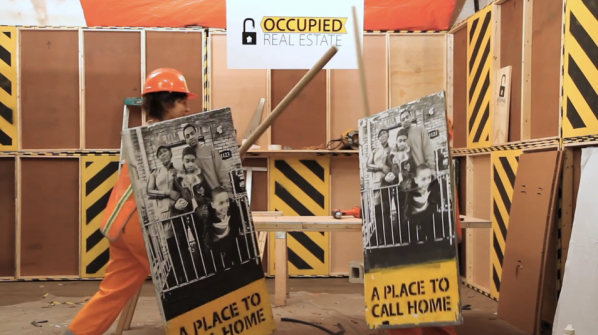 Occupied Real Estate (rough) from Not An Alternative, on Vimeo. https://vimeo.com/36647951
Many of the actions that these collectives promote might be understood as DIY activism as they are based on the empowerment and the development of skills. In this regard, it is interesting to observe how DIY that traditionally has been related to activities in the domestic space serves as a strategy to protect it and to trigger new forms of protest in the public space while enhancing the creation of an expanded family (or at least a sense of togetherness) through the social media.
Despite these actions, the public space is still home for many individuals. In the UK, different associations are concerned about the impact that the implementation of the bedroom tax might have, especially in London where the number of rough sleepers rises every year with an increase of the 62% since 2010-2011. The scenario is not different in many other European cities where beyond these worrying numbers there is also an increasing number of regulations and policies that difficult the life in the public space. As Suzannah Young stresses, 'homeless people often need to use public space to survive, but are regularly driven off those spaces to satisfy commercial or even state interests'. Public space is often only open to 'those who engage in permitted behaviour, frequently associated with consumption'[10]. The increasing number of quasi-public spaces―'spaces that are legally private but are a part of the public domain, such as shopping malls, campuses, sports grounds' and so forth― questions again the boundaries of the private and public space, especially when 'some EU cities use the criminal justice system to punish people living on the streets for doing things they do in order to survive, such as sleeping, eating and begging'[11]. All these policies have clear implications in the use of space and it is potential possibilities. The fact that the public space becomes home involves the reconsideration of the uses of the public space and the understanding of it through the eyes of the people that fully inhabit it. The London collective The SockMob run the Unseen Tours, alternative city tours guided by a group of homeless. Their embodied knowledge appears as a key aspect to develop these DIY versions of the city while promoting relationships between the homeless and the tour participants.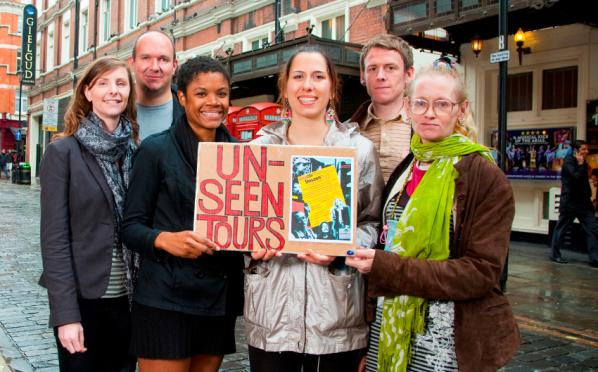 The London collective SockMob.
Where is home? In which ways access to spaces gives us opportunities and rights as individuals? In which ways all these site-specific initiatives that often have a transnational reach re-construct the notions of private and public space? How these DIY and media actions are generating new forms of visual arts activism? Despite the fact that these queries might need further analysis, I believe that the qualities of space becomes visible and tangible through these interactive and responsive actions with the spaces. Recently, an international group of activists, visual artists and scholars have published a handbook in which their consider these forms of activism militant research. According to them, 'militant research involves participation by conviction, where researchers play a role in the actions and share the goals, strategies, and experience of their comrades because of their own committed beliefs and not simply because this conduct is an expedient way to get their data. The outcomes of the research are shaped in a way that can serve as a useful tool for the activist group, either to reflect on structure and process, or to assess the success of particular tactics'[12]. Hence, the idea of some hands-on, the acquisition of skills and the performance of theory appear as key aspects to disentangle and analyse the qualities of the space.
From an artistic perspective home has been crucial in many historical periods of dictatorship to construct an underground scene of the arts; in many of these cases, the evidence of artistic practice appears through testimonials and documentation (photographs, fanzines, recordings, etc.). Again different forms of media help to make the clandestine public, crossing the sphere of the private into the public realm. Thus, the importance of documentation enhances different temporalities of reception and impact in the public realm. In this regard, a differed presentation of the artistic works triggers a reconsideration of the attributes of the spaces too. Currently, homes serve as a basic space for artists to present their work; in the case of music, this is a widely known practice in the US that is becoming more and more common in other countries and other art forms. Homes serve as a personal curatorial space for fine arts artists through the open studio festivals too; artists make their private space open for others as a strategy to show their work publicly. At the same time, in some artistic disciplines self-curation through digital portfolios is becoming increasingly used to showcase artworks. One way or another, home remains often the main space for creativity, production and curation through and expanded DIY conception of their profession.
Home becomes even more crucial in a context marked by the arts cuts and the economic crisis. In this regard, there are initiatives that see an opportunity in the relationship between the public and private space not only to exhibit or perform art but also to trigger a counter-performative form of showing works. This is the case of the domestic festivals that try to challenge the concepts of cultural enterprise and institution by proposing home as a legitimate space of the artistic experience. Friends, neighbours and acquaintances offer a room or a space in their house for artists to perform there (examples can be found in different cities such as Santiago de Chile, Madrid, Berlin, Barcelona, etc.). At the same time, the format wishes to transform the spatial and affective relationships that citizens have with the space, by inverting the spatial dichotomy between the public and the private. Hence, the idea goes beyond to a practical solution to have a space to perform as it also aims to give visibility to performing practices that have not been yet legitimized by the public sphere and they are in danger to remain in a sort of clandestinity (as they are not part of the current cultural market). In this regard, there is also a sense of evicted or homeless art that is trying to produce a social context of experience and articulation beyond the immediate effects of the power that governs at many level the public sphere. These kinds of initiatives generate 'an activity that undermines the exclusion by letting occur, at the very boundary which separates the public from the "secret"', an articulation which challenges the prevailing framework of representation and legitimation'[14].
The intersection between art, activism and affections help to explain the multiple and complex questions that configure the notion of home. With these examples I just wanted to stress the importance of home in the discourses that address the concepts of public space/public sphere/publicly. Thus homes 'are thereby metaphorical gateways to geopolitical contestation that may simultaneously signify the nation, the neighbourhood or just one's streets'[15]. From a transnational perspective, home seems to pose the crucial questions that connect us with what is happening inside, outside and in-between the spaces and gives us a different perspective to analyse current artistic and social practices that engage with our mode of action, production and identity.
I guess this is all from my home.
---