What happens to the hole when the cheese is gone?
Bertolt Brecht
Transient Hole (Variations) is a hybrid curatorial project and symposium by Viennese artist and curator Alexander Felch. The project`s title refers to a concept for a media artwork, that cannot, properly speaking, be materialized for it deals with a moving void – a transient hole.
Across the floor of a white, three-dimensional room a little black hole is constantly and randomly moving. The hole is simultaneously there and not there. It is a portal to nowhere. But is it really? Might it not lead to transcendence, to another reality, or perhaps our reality can only be understood through this liminal presence of nothingness?
The participants are invited to provide their own interpretation for this problem and develop means to represent it, whether through art or science, to display processes that cannot be depicted in reality. The aim of the project is obviously not to find a solution to this existential paradox but to bring about a reflection on the topic from a myriad of disciplines and different perspectives, which explore the limits of representation. The various responses to the THR problematic will be gathered in a collected volume that is in itself a reflection on the boundary between art and science, reality and fantasy.
The project appears – just like the transient hole – in different cities popping up in various forms and is accompanied by lectures, talks and (sound-) performances.
Contributions by:
Atzgerei Productions, Arnold Berger, Ryan Mc Donagh, Sophie Dvorak, Alexander Felch / Aisek Ifraimov, Mariana Ferreira / Dayjon Edwards, Christoph Höschele, Hrvoje Hirsl, Harald Hund, Sandy Leong, Stefan Lutschinger, Nicholas Moloney, Anja Nowak, Jaysha Obispo, Shinji Toya, Jeroen van Amelsvoort, Anna Vasof, Stefan Voglsinger, Jan Vormann, Yilin Wang, David Wauters, Hui Ye.
Featuring concepts developed by students of Middlesex University London – BA Digital Media and BA Media and Cultural Studies
Transient Hole (Variations) X (ten) – Preview

Monday 12 November – Friday 16 November 2018
Middlesex University
FREE
Transient Hole (Variations) X (ten) – Exhibition View
Saturday 17 November 2018, 11:00 – 16:00
Furtherfield Gallery
FREE
13:00
Opening
14:30
Introduction and Guided Tour
Alexander Felch "Transient Hole Research – Instationarity as an artistic concept / a scientific particularity"
Cybersalon feat. Transient Hole Research
Saturday 17 November 2018, 16:00 – 21:00
Furtherfield Commons
FREE
16:00
Limehouse Hole Atlas Datathon
Navino Evans and Sean McBride (http://histropedia.com/)
18:00
Sound Performances
ABOUT THE ARTISTS
Karl Salzmann (A) is a sound & visual artist, curator and researcher currently based in Vienna / Austria. Within process-oriented and experimental setups, he develops and presents works that study the materiality of sound and its social, cultural and metaphorical levels of meaning. His artistic activities mainly concern the interaction between sound and visual arts and often relate to works and topics of (sound) art history.
http://www.karlsalzmann.com/
T_A-Z (Paul Gründorfer) (A) is using process-related setups to explore sonic worlds and to realise site specific interventions, developing real time audio systems, that act autonomous or in reference to the spatial constellation. While considering the encounters between analog and digital, structured or improvised elements, he is focusing on the abstract occurrence of sound and its physical impact.
Electronic circuits are interconnected to cause semi-natural entities, autonomous organisms. Voice and articulation are generated through loops in feedback networks. Onomatopoeia.
His artistic activities examine variable connections between transmitter-receiver networks, which function as a conceptual framework for experimentation with sound and transmission of information.
http://tricx.net/
Monsterfrau Lena Wicke Aengenheyster (A/D) – MONSTERFRAU PJ (Performance Jockey) – Part III of the performance serial MONSTERFRAU The voices' bodies: MONSTERFRAU triggers, mixes and morphes dance music rythms, samples and sounds with her movement. STAATSAFFAIRE: Production of and reflection through artistic projects in music and performance art. Beyond that it is the common optimisation of production environments and network.
http://www.staatsaffaire.com/
–
Visuals:
Simon Sarginson (live coding) (UK)
London edition curated by Alexander Felch + Stefan Lutschinger
Realised in cooperation with Cybersalon, Middlesex University London and the Austrian Cultural Forum London – with kind support by the Federal Chancellery Of Austria.
–
www.facebook.com/transienthole/
www.mdx.ac.uk
www.cybersalon.org
www.furtherfield.org
A three-day arts + research lab at Furtherfield Commons.
From the self-made celebrity of the Instafamous to the personal live-streaming of gamers, online sites of spectatorship are the emerging factories and playgrounds of the 21st century. We shop, share, and produce online, 24/7. As we do we alter the processes of how we work, what is viewed as a product, and our sense of self: work is like play and labour is seemingly without work. Playbour– Work, Pleasure, Survival, is dedicated to the study of the worker as they are asked to draw on internal resources and self-made networks to develop new avenues of work, pleasure and survival.
Over the three days we will form a community-led action research lab that brings together artists, researchers, data scientists, and activists, as well as community participants in an ambitious and intensive programme of experiments, interventions and performances. Led by a diverse community, and working towards a group exhibition at Furtherfield in July 2018, we will explore the converging spaces of work, play and well-being, as well as examine the role of the worker in the age of the Internet.
THE LAB
Playbour– Work, Pleasure, Survival, is an art and research platform dedicated to the study of the worker in an age of data technologies. Our first event is a three-day lab at Furtherfield Commons and we are currently welcoming submissions for people to join us!
We are looking for applications from a range of applicants artists, designers, researchers, curators, and activists, with an interest in the relationship between arts, technology, and design, and who are working on an art or research project relating to shifting realities of work, the worker, and the self, via cognitive capital, digital labour, play and entertainment spaces.
WHAT WILL WE DO?
We will explore the contours and value systems we place on work, play, and well-being, and use this to work towards an exhibition at Furtherfield opening mid-July, 2018.
Each day will consist of three sessions DISCUSS, TEST, and PLAY, convened and co-led by artists, academics, designers, and activists. Participants will critically analyze and thoughtfully engage in conversations, conduct research with "workers", test out ideas through hands-on making activities, and engage in play-driven interventions and performances. Then working in groups, develop the foundation for newly commissioned works for the upcoming exhibition at Furtherfield gallery in July 2018.
THE SCHEDULE
Friday 25 May, Playbour, will examine shifting realities of work and professionalism in play and entertainment spaces. Participants will DISCUSS with sociologist Dr. Jamie Woodcock (Oxford Internet Institute) and explore the concepts of playbour, digital labour, immaterial labour, and cognitive capitalism – linking these explicitly to work and play through the example of video games. We will then CONNECT with live streamers. In the afternoon, we will PLAY in a "collective empathy" session with artist Steven Ounanian looking into how pain and suffering are experienced in online contexts.
Saturday 26 May, Body/Machine/Capital, investigates data-driven decision making and the colonisation of body and machine via capital systems. The first half of the day will DISCUSS and TEST with special guests. Later that day participants will begin to develop their "game installation" projects.
Sunday 27 May, Unwitting Extraction, participants will DISCUSS and develop their "game installation" with architect Dr. Itai Palti. Using behavioural science and data technology participants will TEST ideas and thinking for game-based installations through a scientific lens in anticipation of the Furtherfield exhibition. This will be followed by a group lunch and feedback session with Dani Admiss and illustrator, Maz Hemming. To apply for a place please submit your application by midnight GMT Sunday 25 April 2018, to info@workpleasuresurvival.org
A complete application must include the following:
Name and phone number.
A short written statement discussing how you value work, play, well-being (250 words max).
How this opportunity will assist your personal development of a new project. (250 words max).
Provide one supporting image relating to work and play. The image can be created by you or found material but must include a caption (up to 50 words) explaining where it is from. Please supply all images as JPEG or PDF.
The lab has been organised with its partner Furtherfield Gallery as a pre-event to the Playbour– Work, Pleasure, Survival, exhibition opening in Friday 13 July 2018.Curated by Dani AdmissConcept development Dani Admiss and Cecilia Wee
Playbour – Work, Pleasure, Survival, is realized in the framework of State Machines, a joint project by Aksioma (SI), Drugo more (HR), Furtherfield (UK), Institute of Network Cultures (NL) and NeMe (CY).
This project has been funded with the support from the European Commission. This communication reflects the views only of the author, and the Commission cannot be held responsible for any use which may be made of the information contained therein.
You are invited to join us for a research workshop responding to the Are We All Addicts Now? exhibition at Furtherfield Gallery.
The visual matrix is a new psychosocial research technique that we are using to generate audience response to the project. Vanessa Bartlett has written a blog about this fascinating curatorial research process which is designed to test how a broad range of arts, science and technology audiences respond to interdisciplinary arts projects. Content generated during this session will inform our evaluation of Are We All Addicts Now?
Participants will be invited to view the exhibition at Furtherfield Gallery. Then, over the course of 45 minutes, participants will engage in a process of generating images and associations related to their experience of the work that they have seen. You will be seated throughout, engage with other participants and be encouraged to provide verbal associations if and when you are comfortable speaking. The visual matrix will be audio recorded. Following this there will be a short break and a second session lasting 45 minutes where participants will be asked to consider the images and associations generated by the group in a discussion. Optional five-minute 'exit interviews' with individual participants will take place at the end of the process.
Our research team will study the material that we have recorded. Anonymised excerpts will be used for further research and publication including conference and journal articles.
If you are interested in participating please contact v.bartlett [at] unsw.edu.au for more information.
The visual matrix method was created and developed by Lynn Froggett and her team at the Psychosocial Research Unit at University of Central Lancashire.
Research Team: Dr Elizabeth Muller and Miss Vanessa Bartlett, UNSW Australia. Ethics Approval No: HC16612
Email v.bartlett [at] unsw.edu.au to book your place.
Furtherfield Gallery
McKenzie Pavilion
Finsbury Park, London, N4 2NQ
Visiting Information
First of 6 articles as part of the Piratbyrån and Friends exhibition at Furtherfield. Mariana Delgado Coordinator of El Proyecto Sonidero (Mexico), writes about the Polymarchs posters (1980-1990) by Jaime Ruelas. Translation by Tess Wheelwright.
Panther / Jaime Ruelas / Polymarchs. On How We Came To a World of Legend By Mariana Delgado, Coordinator of El Proyecto Sonidero I met José Luis Lugo in 2009, in the office above the Publicidades Panther print shop in Mexico City. We were introduced by Lupita La Cigarrita: sonidera, collaborator and number one follower of Sonido La Changa, el Rey de Reyes – the King of Kings. Later we learned from Lupita that José Luis had an important collection of sonidero event posters and flyers. Marco Ramírez, co-founder of El Proyecto Sonidero, grew enthusiastic.
As soon as we released the book Sonideros en las aceras, véngase la gozadera (roughly Sonideros on the Sidewalks: Bring on the Revelry) in 2012, we began to see what should come next. In 2013 we launched the Proyecto de Gráfica Sonidera, in association with Panther, and in collaboration with draftspeople, poster artists, graphic designers, graffiti writers, sign painters, printers, promoters, collectors and researchers.
We are taken back to the origins of the tropical sonidero movement, which began in the 60s with turntables and LPs – loudspeakers and tweeters set up in the streets, dances thrown in the barrio. Over time various sound systems are added, each with its own crew; soon the multicolored Aztec or robotic lights are streaming. The biggest parties feature close to 50 systems at once, working simultaneously for hundreds of thousands of people. Music is introduced and mixed the Mexican way. Equipment is fiddled with; beats are slowed. Bass rumbles out from walls of speakers. Followers take their places and multiply along with vernacular genres. Transsexual dance clubs form circles on the dance floor; here a family, there a group of insiders – la banda – make their way through the crowd. The mic starts up, amplifying the shout-outs that will circulate the continent on CD and DVD, through streaming, links, posts. From Peñon de los Baños aka Colombia Chiquita to Neza York; from the barrio Tepito aka Puerto Rico to Chimalwaukee, out to all the brothers in Illinois.
In this world, all hatched from La Sonora Matancera. Cumbia and salsa are the queens of a grand court of rhythms. The Virgin of Guadalupe reigns supreme; it's her congregation. Changó, San Judas Tadeo, and the Santa Muerte share the power thereafter. Epic is important, and family, too. What begins as a passion for Cuba soon builds: music from Colombia, Puerto Rico, Venezuela, Ecuador, Panama, Peru, the Dominican Republic, Buenos Aires, New York… The sonideros leave behind the established Mexican labels and their standardizing limitations, heading out on their own to comb the continent. They become vinyl diggers, import records, discover bands and musicians; they turn into promoters, create record companies and pirate labels, compile mixtapes to disseminate in the street markets and plazas, at parties and on commercial stands, through the internet.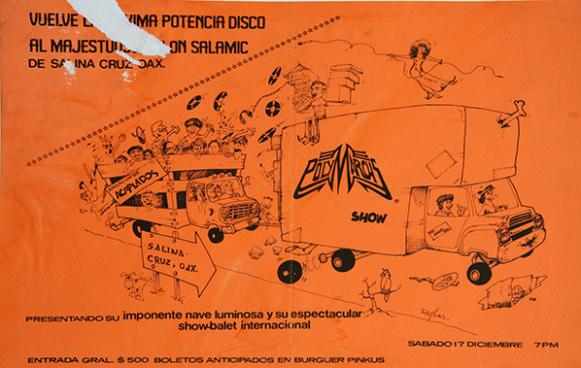 In the margin within – those more notorious neighborhoods of the Distrito Federal – embroidered logo jackets circulate, lending publicity to the sonidos along with their cards, posters, flyers, banners. Nonetheless, fewer and fewer dance parties are thrown. The city government has issued a discretionary ban of sonidero events in public spaces, canceling even traditional dances like the anniversary celebrations of Tepito's markets. In the outer margins, ringing the DF and beyond, painted walls announce upcoming events and sonido trailers take over the streets. The dances go on.
We aren't as familiar with the electronic scene, headed by Polymarchs. Our inroad is through the graphic materials comprising the collection Panther has amassed since 1979, which he rightly considers his primary asset. It all began in the Zona Rosa, where he used to go to trade posters, leaflets, stickers. At thirteen he formed part of the Polymarchs crew, coiling cables. Later he became a publicist, promoter, producer. He never stopped his gathering; stacks of paper tower in the office. Hundreds of posters and dozens of original drawings from the golden age of Hi-NRG pass in front of the camera, as José Luis remembers key scenes and events from this world: when they brought Gloria Gaynor to Mexico for the first time, when Sylvester came, when they packed the World Trade Center.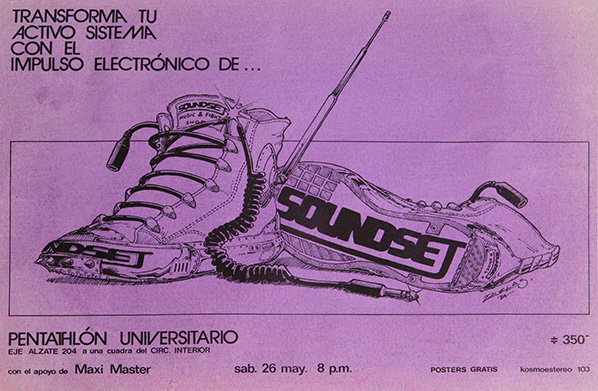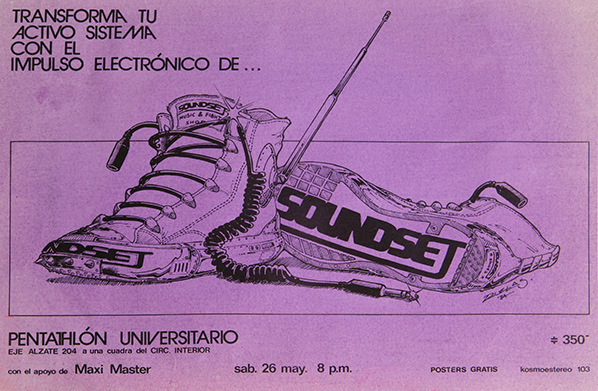 We are introduced to the world of artists and designers who created an imaginary to suit the precursors of the genre: pharaonic, galactic, utopian, spectacular, and futuristic. Always epic. Tailored to the moment, to the experience of the fans. The posters of the electronic sonidero movement are unique in format, employing unexpected techniques and materials; they are distinct, painstaking, sensational, new. In contrast, the works of tropical sonidos follow in the typographic vein of Mexico's Gráfica Popular – reminiscent of the wrestling, taking the freedoms of the tropics, whether with box cutter or in full pixel. In the world of disco, Hi-NRG, and techno, the graphics are like the sound system: cult objects, concepts, myth.
"Do you want to meet Jaime Ruelas?" asks José Luis. The master of ink drawing, creator of logos and illustrations as iconic as La Changa or Polymarchs themselves. Of course we do. We are his fans, and we are an army. We arrive nearly punctually to the interview, with photography, audio and video gear in tow. Nearly punctually, because Jaime is already waiting; the son of a watchmaker, he knows machines, design and sound from the inside. He also knows the history of Polymarchs well, and from the beginning. Polymarchs's first gig took place in his apartment in Tlatelolco. Later, Jaime became the sonido's first DJ, before switching his focus to images.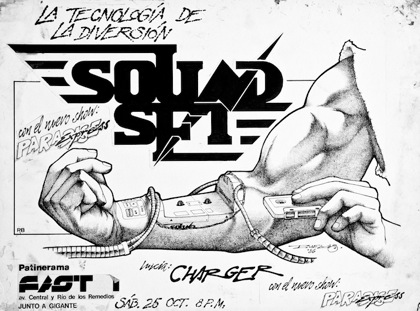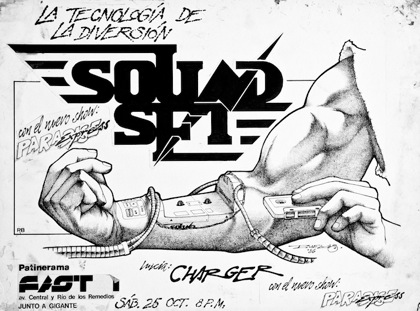 Like the sonidos thriving now in the capital, Polymarchs began in Puerto Ángel, on the Oaxaca coast, with a modest set-up – just a single Telefunken console and two baffles. The collective was formed by three siblings in 1975: Apolinar, Elisa and María de los Ángeles Silva Barrera. In 1978 they moved to Mexico City. Apolinar took charge of the sonido, and with Jaime Ruelas he discovered disco and Hi-NRG. The tenacity of Polymarches transcends mere selection of musical genres; the approach here is different. With tropical sonidos, the music, the equipment, the role of DJ and MC are the purview of one person, a single all-powerful figure operating from behind the console. Polymarchs is coming from somewhere else, assembling great towers of scaffolding, creating a spectacle, an experience, an environment. Neither DJ or MC, this is an entire machine. Polymarchs designs, produces and operates structures of light and sound as have never been seen before, radiant vessels that travel, carrying immense tech crews and companies of retro-futuristic dancers, from Tenochtitlan to outer space. There are explosions in the cosmos. On the floor all hands are up, cellphones by the thousands.
When Apolinar Silva and the Polymarchs team arrive at the Centro Cultural de España to give a conference in the context of the Proyecto de Gráfica Sonidera, the auditorium is brimming. Followers sport the distinctive t-shirts and jackets, hold up posters they've collected, wave cellphones. Apolinar is glowing; he is the supreme authority and, more than mythic, he is mystic. The audience takes the microphone to share their experiences. Like the time a Polymarchs event was organized in Mexico City's Zócalo and what people thought was an earthquake turned out to be the earth shuddering under such dance. Below, in one of the exhibition spaces, Polymarchs set up a kind of black-light temple, aglow with, among many others, the visions we now share now with you.
The Proyecto de Gráfica Sonidera was an intensive program that resulted in records and research, specialized workshops and others for children, the painting of walls, the exhibition of graphic, photographic, and video material, and a series of talks along with book and documentary releases. We had the honor of including a drawing by Jaime Ruelas, and we kicked off with a dance party dedicated to Polymarchs… which was epic. There was a little boy who stole the dance floor, winning it against the odds from the more seasoned dancers.
All this was made possible thanks to many people and institutions. Shout-outs to the following generous collaborators: Marco Ramírez, José Luis Lugo, Javier Echavarría, Jaime Ruelas, Livia Radwanski, Mark Powell, Mirjam Wirz, Rocío Montoya, Tonatiuh Cabello, Diego Delgado, Alan Lazalde, Sonido Fajardo, Luis Sánchez, Héctor Rubí, Julio Díaz Corona, Sonido Leo, Christian Cañibe, Eduardo "Aníbal" Dueñas, Eleazar "Canuto" Escobar and the shop personnel of Publicidades Panther, Publicidades Lupano, Aisel Wicab, Citlali López Maldonado, Pedro Sánchez, Marisol Mendoza, Lupita La Cigarrita, Sonido Pío, Víctor Hernández, Edgar Ramírez, Laura Zárate, Griska Ramos, Mirna Roldán. Official respects to FONCA, to CONACULTA, to the Fundación Alumnos 47 and to the Centro Cultural de España.
Featured image: XRay by Claude Chuzel
Introduction.
"One of the most consequential outcomes of this ubiquitous mode of organization of social life is that we have become so accustomed to relating to space in "either/or" and "here/there" terms that we have become mentally trapped inside this binary border-based model, making it difficult to imagine alternative ways of territorial organization." Popescu [1a]
Maps inform us where things are situated. The borders depicted in each map propose a different view on the social conditions, attitudes, and interactions with others in the world. The AntiAtlas of borders project shows us different approaches for understanding "the mutations of control systems along land, sea, air and virtual states" and their borders. It has done this through the combined contributions of social and 'hard' science researchers and artists, all engaged in creative practices including Internet art, tactical geography, filmmakers, performers and hackers. The project also includes other relevant actors such as people working as professionals for customs agencies, surveillance industries and the military.
This is the first of two interviews with Isabelle Arvers who has collaborated with the IMERA team (the Mediterranean Institute for Advanced Research of Aix-Marseille University), to curate this expansive and dynamic project. The first interview discusses the operational side of the project and the next interview examines selected writings, artworks, projects and ideas featured as part of the project.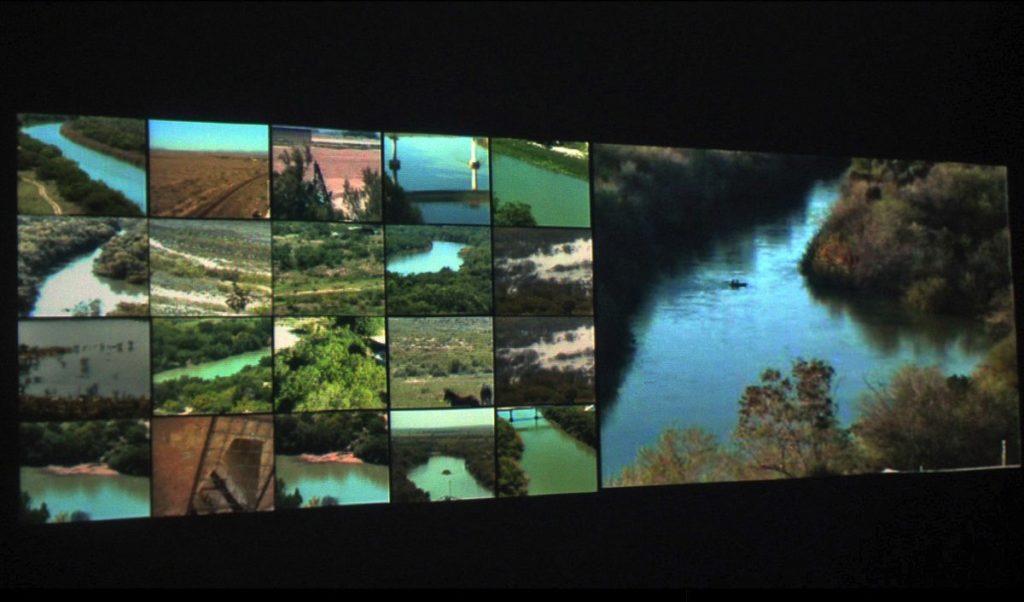 Marc Garrett: Before we begin the interview it would great if you could tell us when and where the exhibitions, events, publications and other parts of the project begin?
Isabelle Arvers: The AntiAtlas programme will run from 30 September 2013 to 1 March 2014 and will be composed of five initiatives: an inaugural international symposium, two exhibitions, a website and the publication of a book. The International Conference will be held from 30 September – 2 October 2013 at the New Conservatory of Aix en Provence. The main aim of this conference is to present the results of the interdisciplinary workshops that took place in the last two years at IMéRA et at the Higher School of Art of Aix-en-Provence.
The AntiAtlas of borders will present two interlinked exhibitions. The first will take place in Aix-en-Provence at the Musée des Tapisseries from 1 October to 3 November 2013. The second will take place in Marseille at La Compagnie creative arts centre from 13 December 2013 to 1 March 2014. The two exhibitions will present works developed in collaboration with social scientists, researchers in the hard sciences and artists. They will offer several levels of reading and forms of participation. Visitors will discover new works, engage with transmedia documentation and participate in experiments. They will interact directly with robots, drones, video games, walls and systems. The aim is to encourage everyone to reflect on how we are directly and personally affected by the transformations of borders in the 21st century.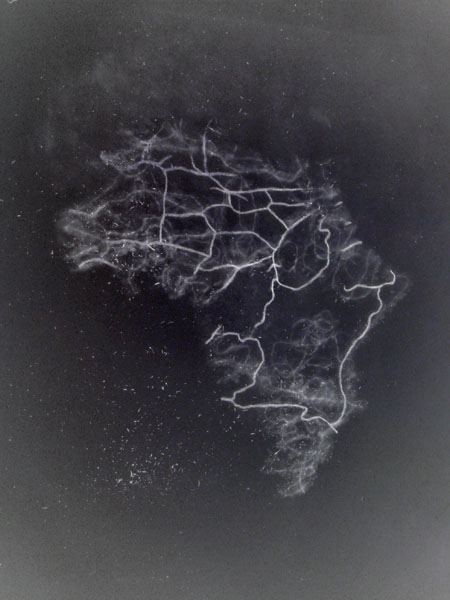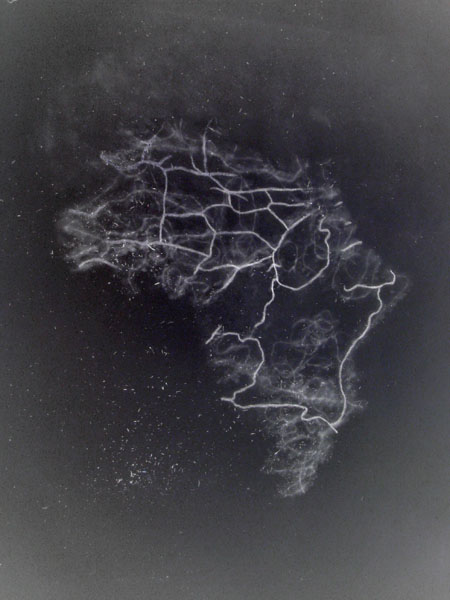 The final version of the website www.antiatlas.net/eng is an online extension of the exhibitions. Most importantly, the website provides access to works of net.art and artistic interventions in the form of an online gallery of works. This website and its documentation will extend the progress and reach achieved by the project. It will act as an archive and documentation site for the general public, artists, researchers and institutions.
In 2014, an AntiAtlas of border publication will be produced, gathering publications of researchers and artists on different and selected themes of the international conference and the two exhibitions.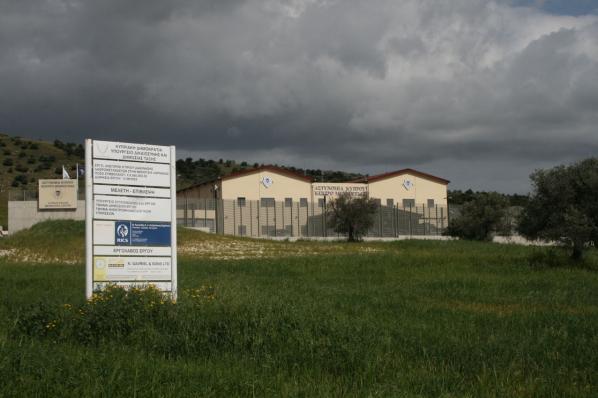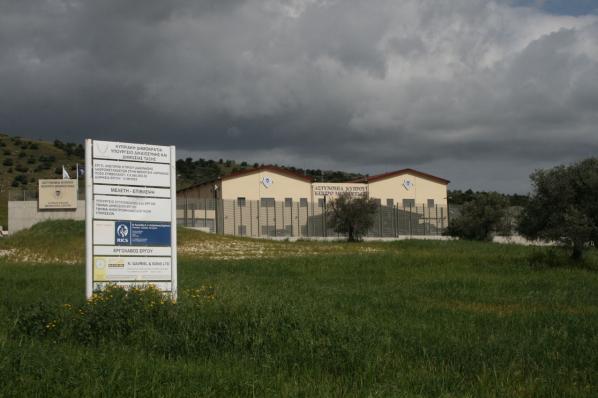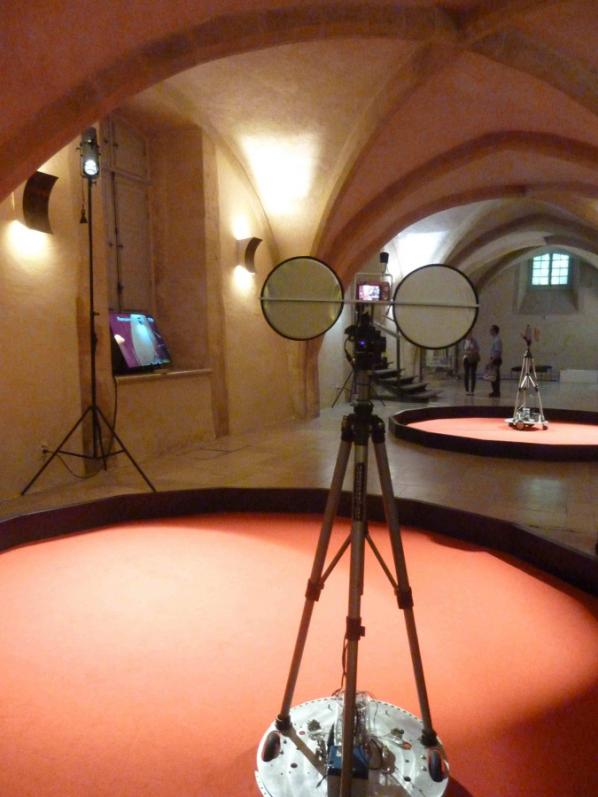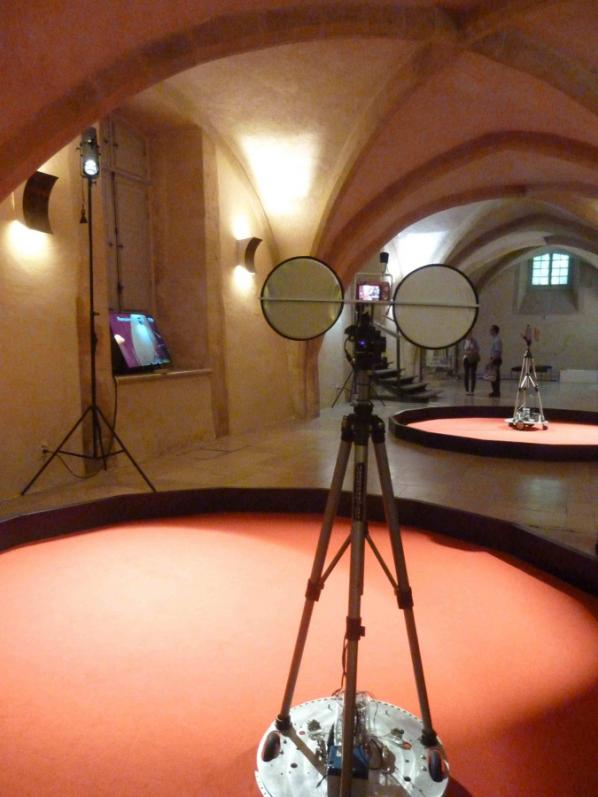 MG: What has been your involvement with AntiAtlas?
IA: When I met the IMERA team (the Mediterranean Institute for Advanced Research of Aix-Marseille University), they were looking for a curator in order to disseminate the outcomes of the past three years of seminars they conducted on borders. I saw this project as a great opportunity as there was a political dimension within it that attracted me. Also, I am deeply interested in tactical media and tactical geography and by new forms of visualisation and new aesthetics related to systems of control like drones, robots, satellites or surveillance cameras.
I wanted to create a participatory event that would allow people to follow our work online and offline. I also wanted to mix different kinds of works from research in the hard and social sciences to artistic installations, websites, games and videos. To do so, we decided to create a website www.antiatlas.net that would gather artworks, research articles and interviews, an online gallery and also all the presentations given during the different seminars conducted by IMERA on borders during the last three years. Thanks to the website, we were able to launch a call for proposals as I wanted to get the testimonies and the voice of migrants about their vision on borders.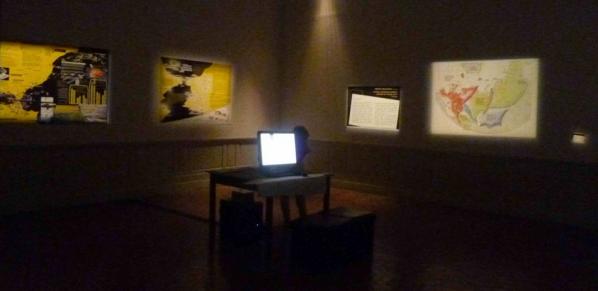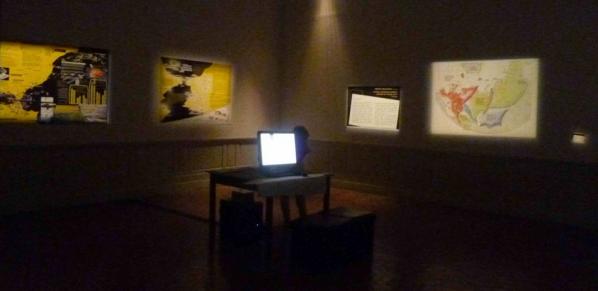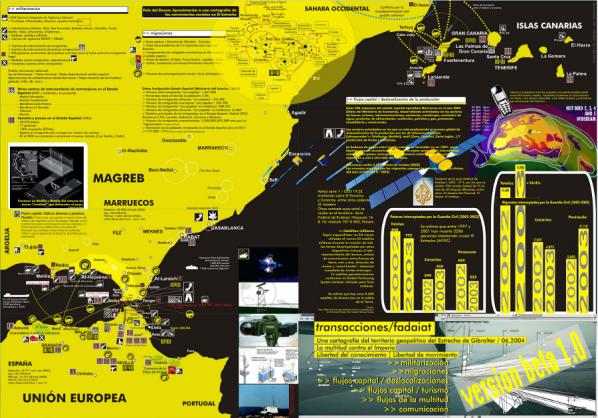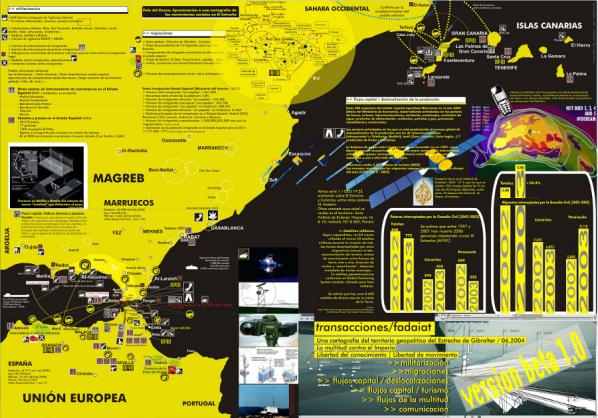 Very quickly we understood that we needed to get more funding and partners, so I offered to seek media, private and institutional partnerships as well as to manage the communication of the entire event. This fundraising was needed to promote a global vision of the antiAtlas of borders and to link all the parts of the event: from the website, to the call for proposal, till the international seminar and the two exhibitions. Because of my multiple engagements in the project, I became one of the 5 co-producers of the programme.
MG: This is a complex project. It is noticeable that there is a diverse and dynamic, cross section of different practices being bridged to make it all happen. Has it been difficult to combine all of these practices so they can relate to each other coherently?
IS: Combining all these different practices was a wonderful and exciting adventure. During one year and a half, we worked very closely with the scientific and artistic committee and tried to exchange as much as possible between different visions and ways of working. I learned a lot from researchers and was amazed by the deep understanding and knowledge they have on the subject of borders. Thanks to their research and to their approaches to this issue, I was able to get a very diverse understanding of this complex subject. From me, they discovered the online communication and the power of the web and social networks to diffuse and share the information. They also got a better understanding of the tactical media field and we learned so much from each other that this experience is already a beautiful success in sharing and learning from passionate human beings. I come from media art world and I tried to respond to a scenario that the committee conceived with artists' works, which is a very different way for me to work. This time I had a script to follow; the way I did it was to try to find some ludic interactive installations, as well as documentary projects or games, in order to allow the experimentation of the subject by the audience. They trusted me even if it wasn't a field they knew well.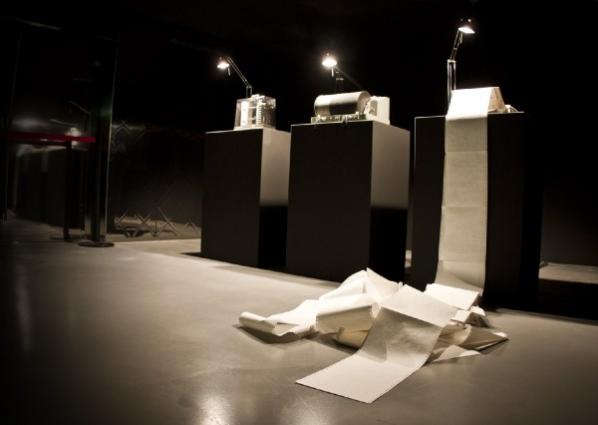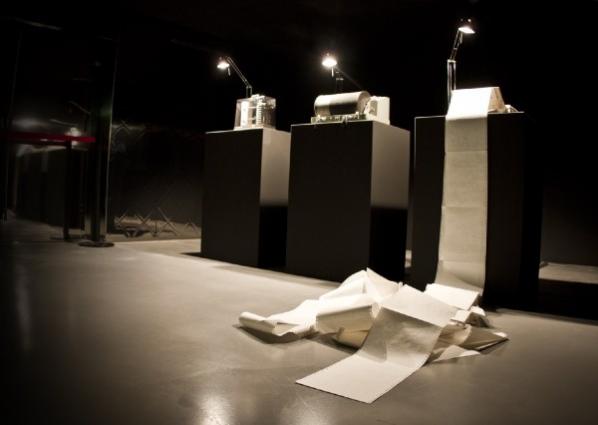 MG: Do you feel that it has de-compartmentalised these varied fields of knowledge successfully?
IS: What was particularly positive in the last seminars on borders we organised was that they allowed plenty of time to discuss and facilitate the exchange between the different perspectives. A specific example is a game project resulting from the collaboration between an anthropologist – Cédric Parizot – and a interactive laboratory from the Superior art School of Aix-en-Provence, which is led by the artist and game designer Douglas Edric Stanley. The idea is to create a "crossing industry game" drawing on the data collected by Cédric Parizot on trafficking. The collaboration addressed the visualisation, contextualisation and re-appropriation of a field of knowledge through game mechanics. I think that this experience really enriched all the team. The anthropologist was able to analyse his data in a different way, while the interactive students got closer to the reality of trafficking as they were experiencing through a game.
There are many other cross-disciplinary projects made in the framework of the AntiAtlas. I would say that what we want is to multiply different experiences and forms of knowledge on borders across and between the separate but intersecting fields of art and science. The exhibition is conceived to mix everything: research through the documentation space, researchers' interviews, counter cartographies, interactive installations on biometrics and surveillance technologies, applications to divert control systems and documentaries providing a wider point of view on multiple dimensions of borders and their representations. Artists and researchers meet three times per year, some of them collaborate on trans-disciplinary projects, so that the conditions to meet and de-compartmentalise these fields are created. This is only the beginning. The process still needs to be pushed and facilitated as the antiAtlas is an attempt to create a new kind of cross-disciplinary encounter, let's see how it will evolve!
Conclusion.
This first interview with Arvers attended to organisational and operational aspects of the inter-disciplinary border-crossing within AntiAtlas project. The complex task of collating, sharing and collaborating to make it all happen at all could use its own map. The processes and engagements that evolved as the project took shape involved a collaboration of many different fields and practices, individuals, groups, organisations and cross cultural relations. This transdisciplinary approach helps us to unpack the deep levels of the meanings and value of crossing borders, in an organisational sense. Their dedication to transcend the seemingly 'scripted' blockages and restraints echoes a strong feeling that we need to re-assess the maps given to us, and what this means.
"What is needed to escape the modern mental "territorial trap" are ways of seeing and drawing that reveal what the geographical abstraction of the borderline obscures. It is only in this way, then, that we will acquire the necessary tools to think through a technologically enabled world of border flows and portals" Popescu.[1b]
Notes:
Isabelle Arvers is an independent author, critic and exhibition curator. She specializes in the immaterial, bringing together art, video games, Internet and new forms of images by using networks and digital imagery. She has organized a large number of exhibitions in France and overseas (Australia, Canada, Brazil, Norway, Italy, Germany) and collaborates regularly with the Centre Pompidou and French and international festivals. http://www.isabellearvers.com/
Featured image: Fundamental Forces by Robert Henke and Tarik Barri
In its current state "Fundamental Forces" is a pre-rendered high definition multiple screen projection with surround sound. The visual component is based on Tarik Barri's 'Versum' – a self-programmed computer animation engine. And the auditive component comes from Robert Henke, using MaxMSP, Max4Live and Ableton Live, a software he co-developed. It has been initially commissioned for the RML Cinechamber system which consists of 10 1080p projections and 8 channels of sound (FF00 – FF01). A later version was adapted to work with 5-6 screens and a 5.2 soundsystem. This was used during the sound:frame Festival in Vienna, and it had a highly immersive presence.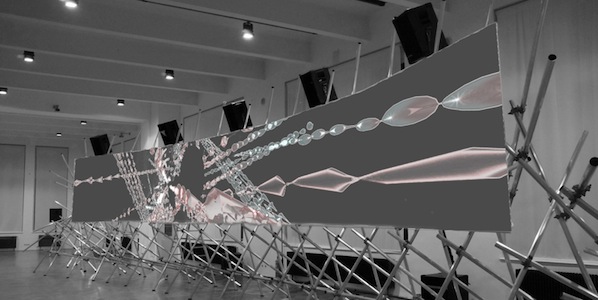 When experiencing the work I enjoyed the absence of narrative. Although I noticed some references alluding to concepts based on physics, and basic foundations of the universe. This led me to ask some questions to both artists about their "audiovisual research project".
Robert Henke is active as composer, AV artist and professor in sound design at the University of Arts in Berlin. As founder and main member of his solo-project "Monolake", he gained international reputation as one of the leading artists in the field of electronic club music culture. Henke has released more than twenty albums. His performances and installations have been shown and others at the Tate Modern in London, the Centre Pompidou in Paris, the PS1 in New York and the Experimental Media and Performing Arts Center (EMPAC) in Troy. His work "Layering Buddha" received an honorary mention at Ars Electronica in 2007.
Natascha Fuchs: "Fundamental Forces" is presented at sound:frame Festival this year and you worked on it together with Tarik Barri. How your collaboration has started?
Robert Henke: I was looking for Max programmer a few years ago. Tarik replied, but told me that he had no time for that, even if he would like to. However, later he sent me some video stuff he did and I thought that his work could be integrated into Monolake Live. That's how it all came together.
NF: You call Fundamental Forces 'an audiovisual research project'. What exactly do you call research? And how much of research involved into your life?
RH: The research part of it is simply the experimentation with the format: what kind of sound can be combined with which of Tarik's visual ideas and vice versa. We try to find a common language. And since his work does not suggest a common narrative, we also need to come up with our own large scale structures. Where do we start, where do we stop? What kind of timeframes make sense? How can we shape transitions? Questions like this…
NF: You are involved into many different activities.. Is there anything what you like most of all? Music production, performing, visual ideas development, teaching students maybe? What gives you the feeling of 'life is great and I am satisfied with everything'?
RH: This always changes, but I am most satisfied in moments when my own sense of achievement finds its counterpart in the perception of what I do in public. If I for myself gave a lecture which I felt was really good, and afterwards students come to me and share that notion, – I am happy. If I had a great day in the studio and afterwards play the music to some friends and they like it too, – I am happy. And if things simply do not work out the way I want to, if I have an idea, but every attempt to turn in into sound or visuals does not satisfy me, then I am most frustrated.
NF: You live in Berlin. How does the city and different generations grown up there change together with technology changes? You see many students probably for whom technology is something ready to use now, and it was different at a time when Ableton Live was not yet created..
RH: The biggest transition in general is from a situation that is characterized by a lack of tool in the early 1990s to the total abundance of tools in 2012. The question today is not: how do I do something, but rather: what am I really interested in? All is possible with current technology. Finding your personal language is the biggest challenge these days.
NF: Currently in the interview to Bleep you said that you have so many ideas to explore yourself in the next future. Could you share one of them, what is Robert Henke's the next?
RH: The biggest project I am working on is a large scale laser and sound installation called 'Fragile Territories'. It is a challenge in many ways; technically and artistically. I want it to be very good, it is an important work for me, and I still need to do a lot of research. Laser is a very limited media, and in order to create something that is more than a technology demo one needs to invest a lot of time thinking about what exactly to do with it and also find out how to make the best out of the limitations.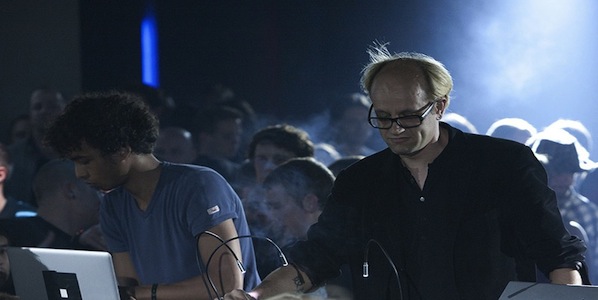 Tarik Barri is a Dutch audiovisual composer and software developer. He started programming at the age of seven and has been making electronic music since he was a teenager. After his first official musical releases at the age of twenty one, he quit his studies in biological psychology to pursue the study of music and technology at the Utrecht School of Music and Technology. During this studies he saw how the methods he used to create music could be adapted for the moving image. He programmed his own software to develop new tools for audio-visual performance, composition and data representation.
Natascha Fuchs: You live in the Netherlands, which is famous for successful promoting of media and digital arts/sound. Which Dutch institutions, festivals do you support?
Tarik Barri: I've been living in Berlin for a little while now, but definitely living in The Netherlands has been very very good for me to develop my work and my working methods. After I finished school, there was the WWIK, which is a government funding to help new artists develop their work. Also the Netherlands Foundation for Visual Arts, Design and Architecture helped me a lot by giving me a stipend to develop my work. Then there were organisations and festivals like TodaysArt, Sonic Acts and V2 that helped me introduce my work to the general public. Unfortunately many programs are getting cut these days in a new political climate where art in general seems to be regarded a left wing hobby for elitist snobs. Very sad, especially since I don't agree that 'art' in general would be class related or have any specific political color.
NF: You were graduated from Utrecht School of Arts. What exactly did you study there?
TB: Within the Utrecht School of Arts I studied at their School of Music and Technology. And within thát school I graduated in Audio Design. It was the most technical study they had, where I learned about music programming, sound synthesis, acoustics, etc. Especially the programming courses in Max/MSP given by my teacher Marcel Wierckx inspired me to combine music, realtime visuals and programming into one discipline.
NF: What is your participation in collaboration with Monolake?
TB: Within Monolake the roles of Robert Henke and myself are clearly defined: he does the music, I do the visuals. But of course we discuss the visuals and music intensively together and there's a constant dialog going on between both ourselves as individuals and the works that we produce. This continuous dialog has been of great value for my development in the last couple of years, both artistically and technically.
NF: The artwork which will be presented at sound:frame called 'audiovisual research project'. What is this continuous research in your life, your aim in it?
TB: Both Robert and I constantly develop our own methods for the creation of music and visuals, and we research the aesthetical results that can be achieved through these methods. Through the combination of sound and visuals, I aim to create a sense of reality. To achieve this I've developed software that establishes 3d virtual audiovisual worlds. I then populate these realities with a multitude of objects of various shapes, sizes and other properties. Those objects behave according to laws taken from the real reality. While thus creating a completely new world, with its own sets of objects, elements of what we know can still be recognized within this virtual space. For me this contrast between the new and the known highlights the sense of wonder and possibility that emerges from the space between strict rules and the imagination that tries to defy and transform them. Through a window of strict and rigid laws we enter into infinite, colorful, playful, imaginary worlds.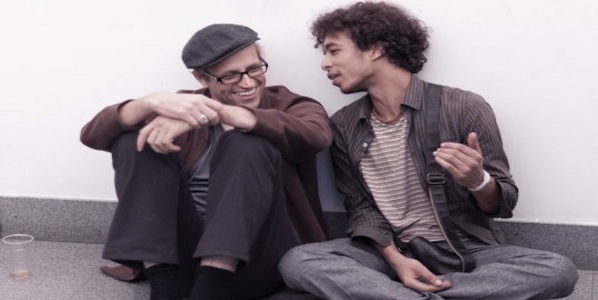 Other information:
May / June 2012: Fundamental Forces in Canada, Montreal @ MUTEK Festival
Robert Henke aka Monolake: www.monolake.de
Tarik Barri: www.tarikbarri.nl
sound:frame Festival: www.soundframe.at
(c) Natascha Fuchs is independent expert in cultural projects management and international public relations, graduate of the University of Manchester (Cultural Management) in 2008. She has been living in Vienna, Austria, studying History of Media Arts at the Donau-Universität and collaborating with sound:frame Festival for audio:visual expressions, since her move from Moscow, Russia in 2011. In Russia she was related to MediaArtLab and Media Forum — the special program of the Moscow International Film festival dedicated to media arts, experimental films and digital context with more than 10 years history. As a researcher and practitioner, she works in a variety of topics and participates different international projects focused on media arts, cinema and sound. Columnist and writer for several online magazines.