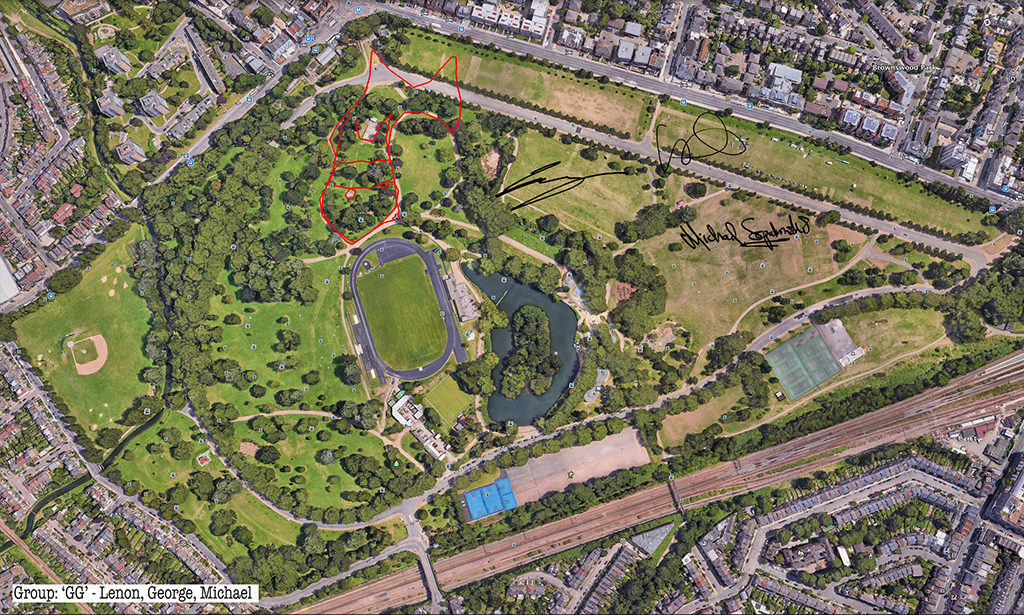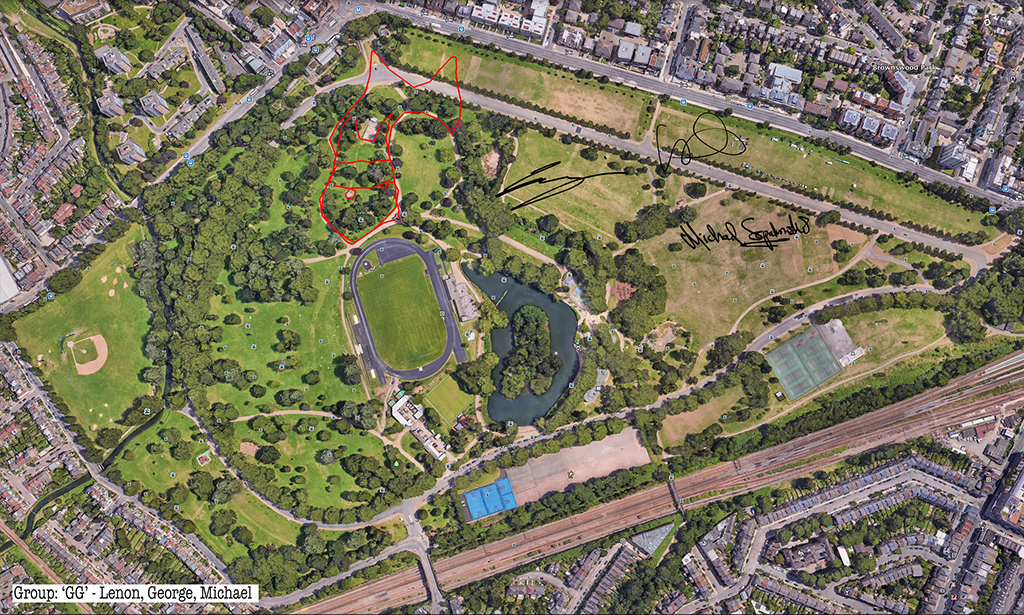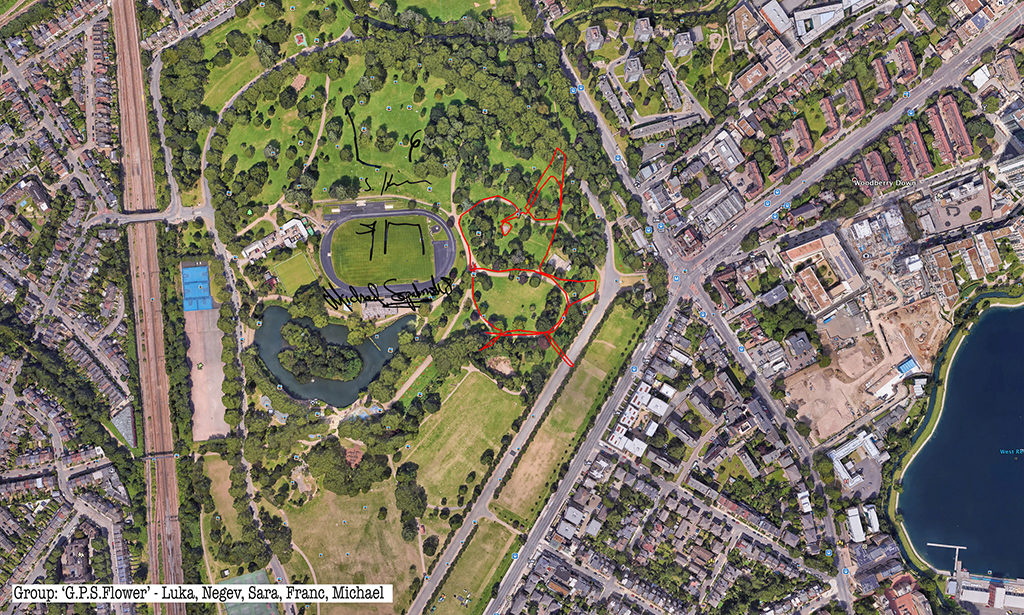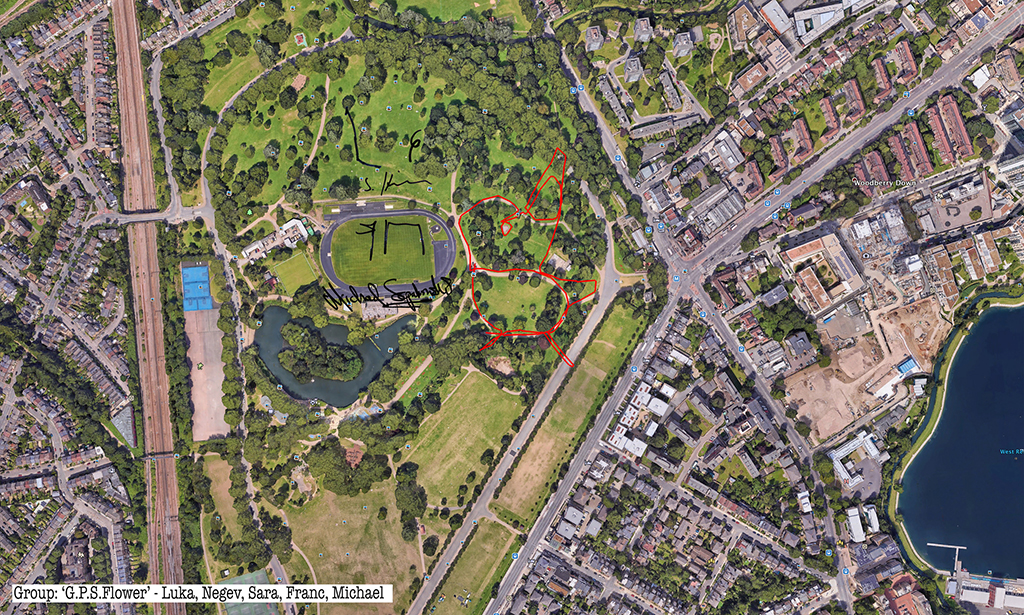 Recently I was approached to conceive and run an outreach project to accompany a solo show of work by Eduardo Kac at Furtherfield Gallery in North London's Finsbury Park.
Among the works on show was one of Kac's Lagoogleglyphs, large scale stylised representations of rabbits (something of a signature obsession for him) painted in some sort of sportsground emulsion directly onto a section of the park and allegedly of a scale which make it harvestable by the satellites Google rents for its various mapping activities.
Being completely frank, I have to say I entertained a degree of scepticism about Kac's work—some of it falling within, in my view, one or both of two entertainment based metaphors—the 'one-liner' and the 'theme park'—neither particularly positive elements of my critical lexicon.
Be that as it may, some of the work, particularly the less grandiose pieces (that delicate bunny flag flapping above the gallery!) were touched enough with real poetry to make me want to take up the challenge.
I say 'challenge' advisedly for I'm only ever interested in doing anything which in some sense challenges me and I also felt that my ambivalence about Kac would result in anything I ended up making containing a return element of 'challenge' or, perhaps more gently put, practical critique.
The word challenge also described the sense I had of wanting to counterpose collaboration, the collective, the everyday, to the artist with a capital 'A'; of going some way to claiming art as a way of seeing and feeling and thinking together for All ( also with a capital 'A').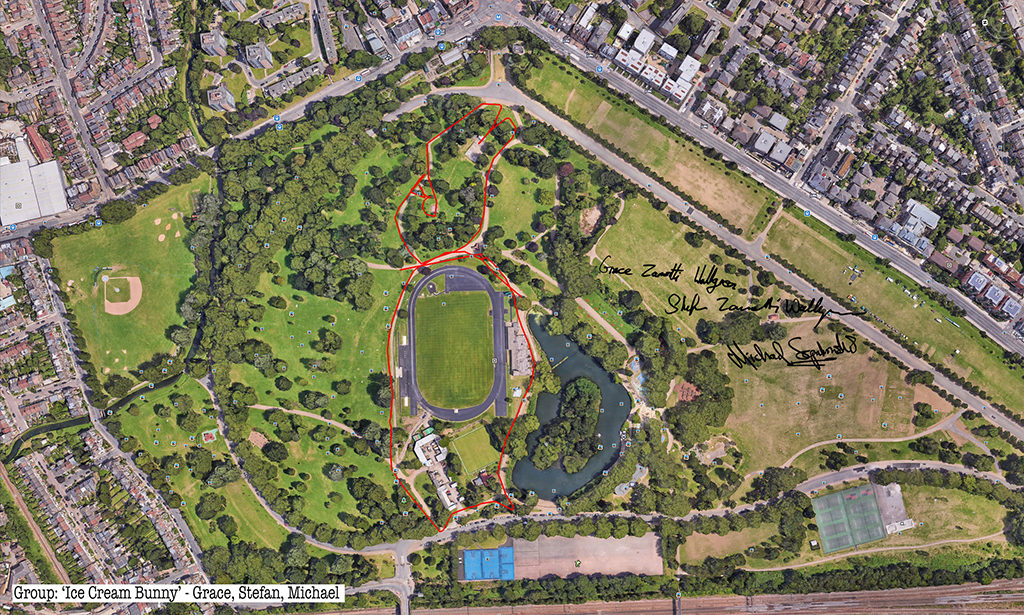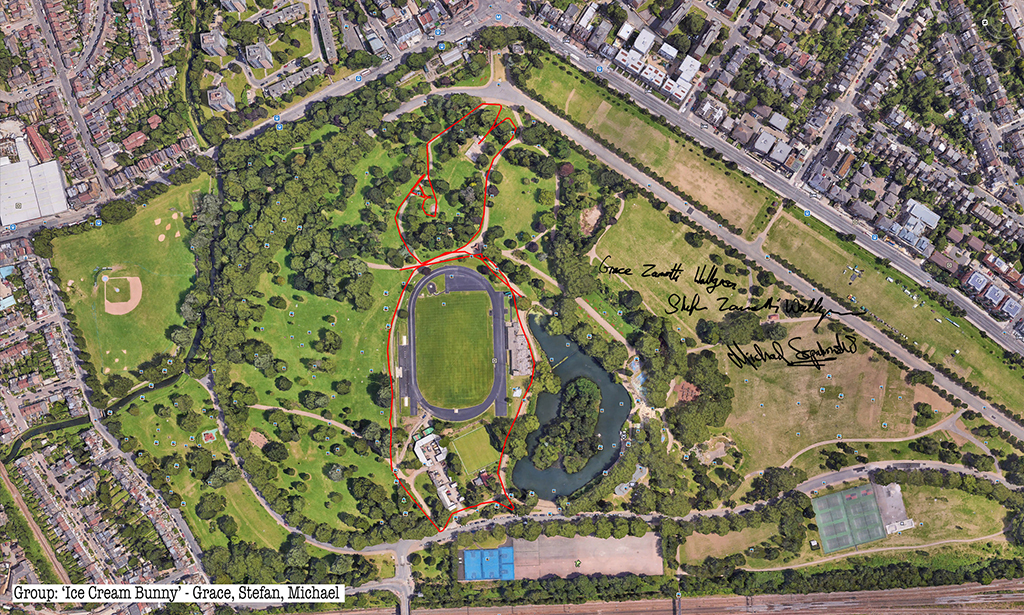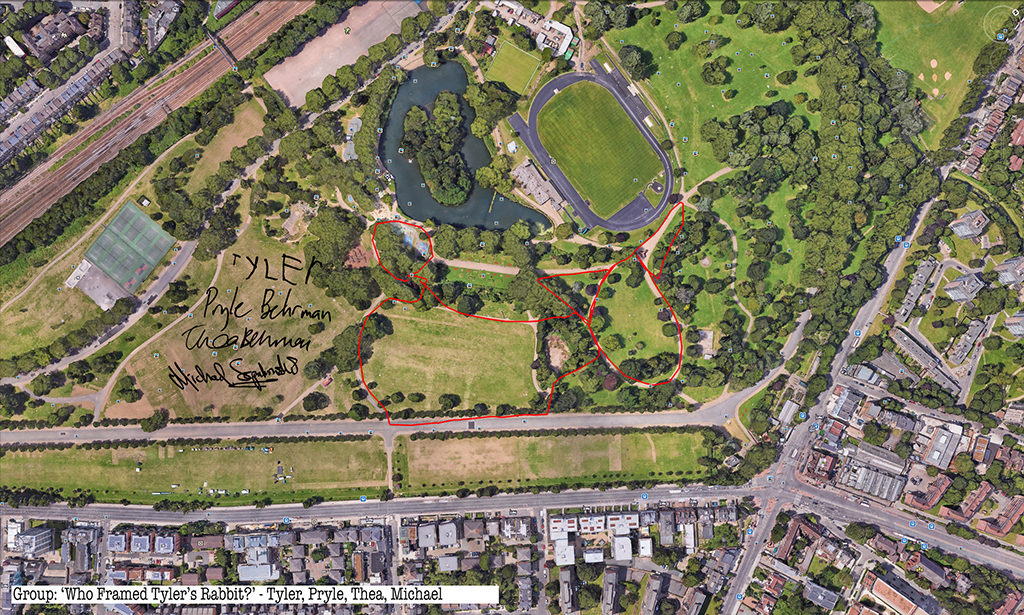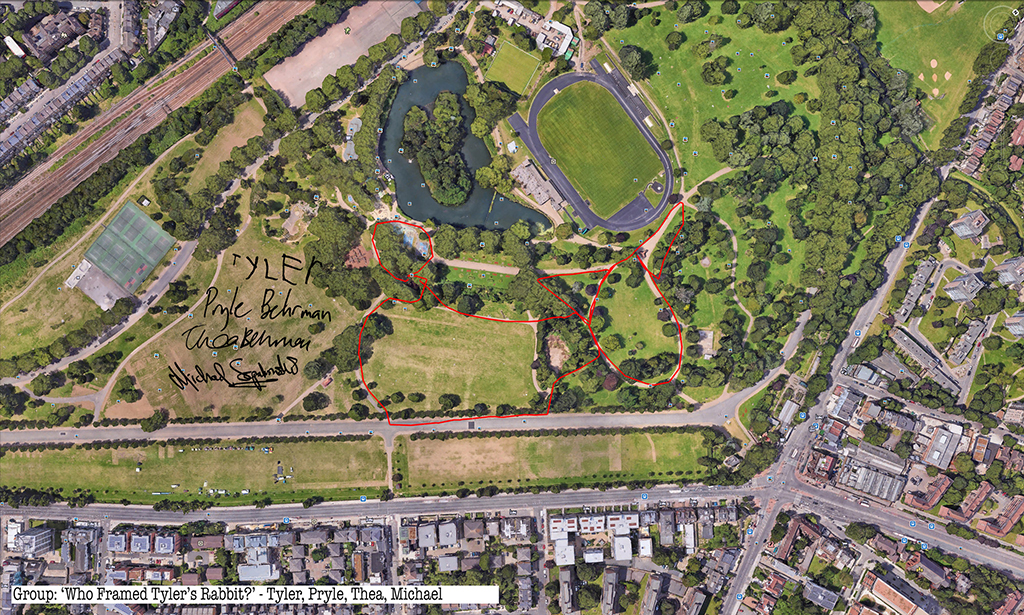 Reaching back in memory I pondered two remix/homage projects from the noughties which somehow straddled, in a pleasantly clunky fashion, practices both cutting edge digital (at least in their original moment) and time honoured too.
Apposite and practical stimuli for my 2018 purposes, they suggested elegant pathways to both honour previous work and to gently…um… stress-test it.
Both evinced rich humour, a warmth and a concomitant refusal to take themselves too seriously, qualities lacking in much contemporary art and both had a kind of performative klutziness I found entirely engaging.
Both were made in the first years of this millennium when digital and particularly online art was a wild west with a few fragile homesteads scattered here and there and not the orderly space it is today colonised almost entirely by the mainstream art world or commerce or both.
I recalled first a project by Nathaniel Stern where he hired South African billboard sign writers to paint physical representations of various, mostly art related, web pages.
The second was artist duo MTAA's remix of Tehching Hsieh's One Year Performance project, an endurance piece where Hsieh had forced himself to punch a timeclock on the hour, every hour for a whole year.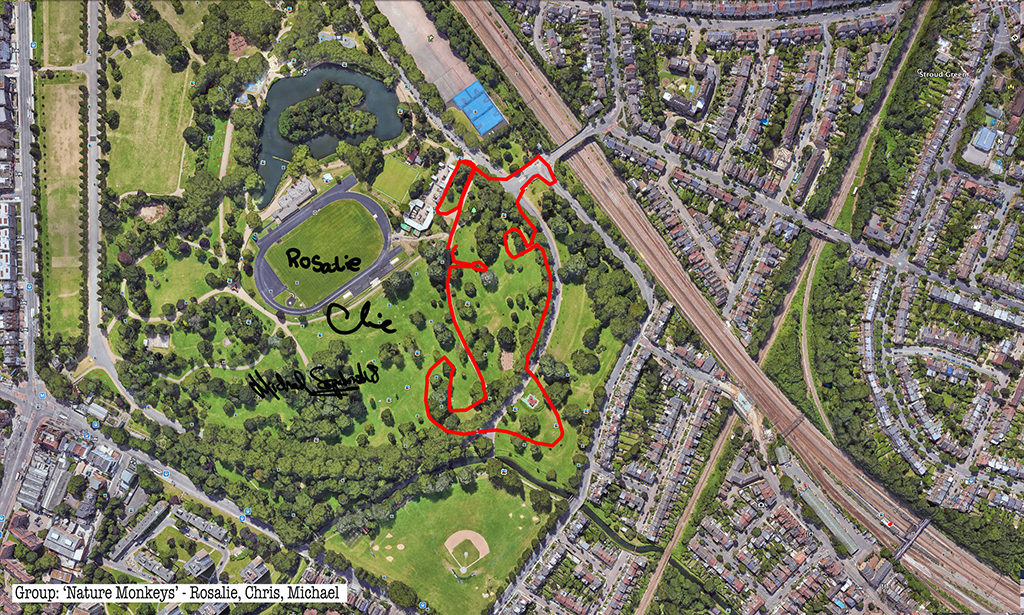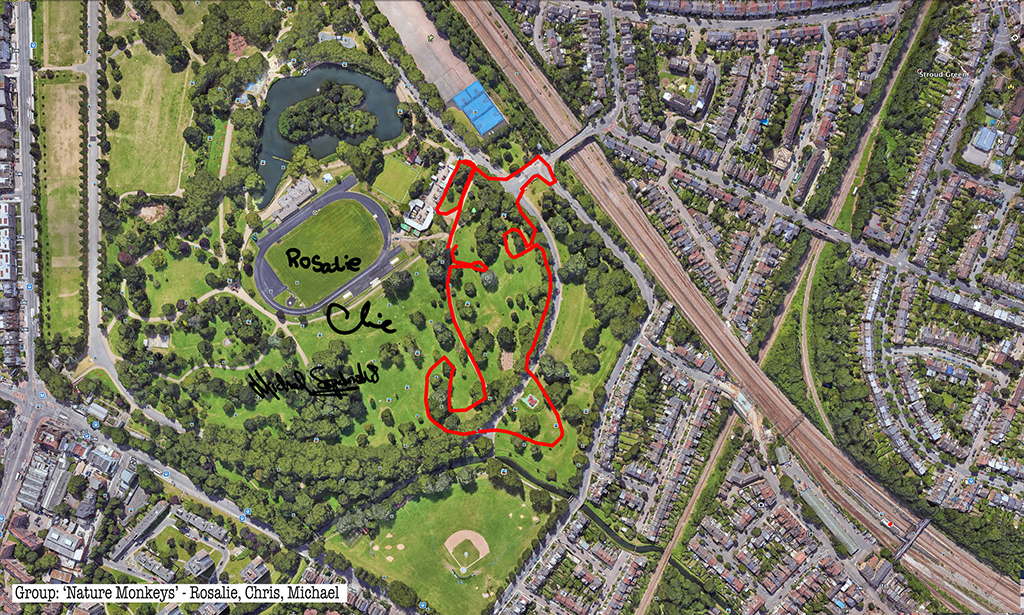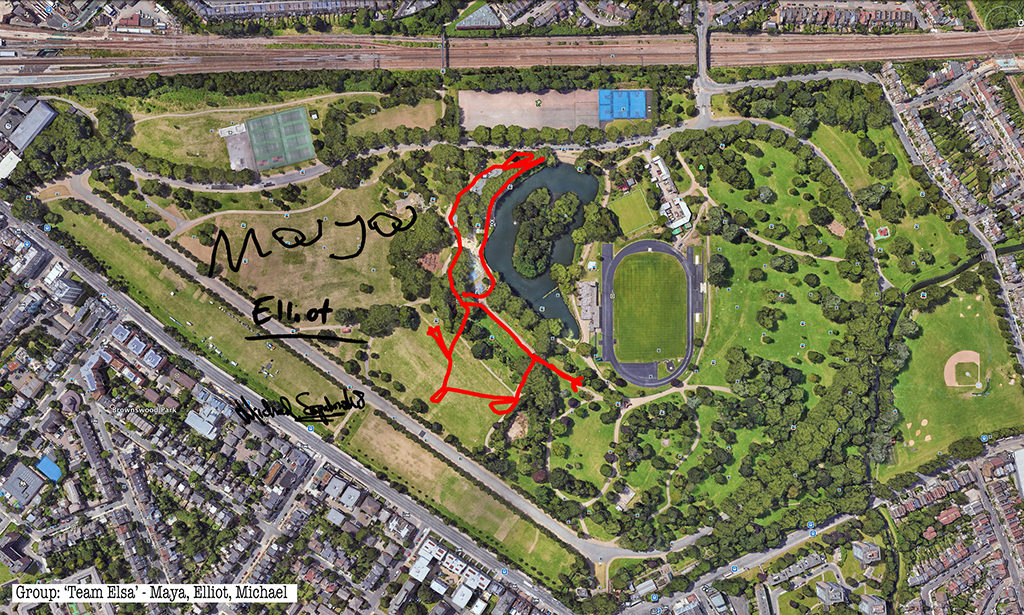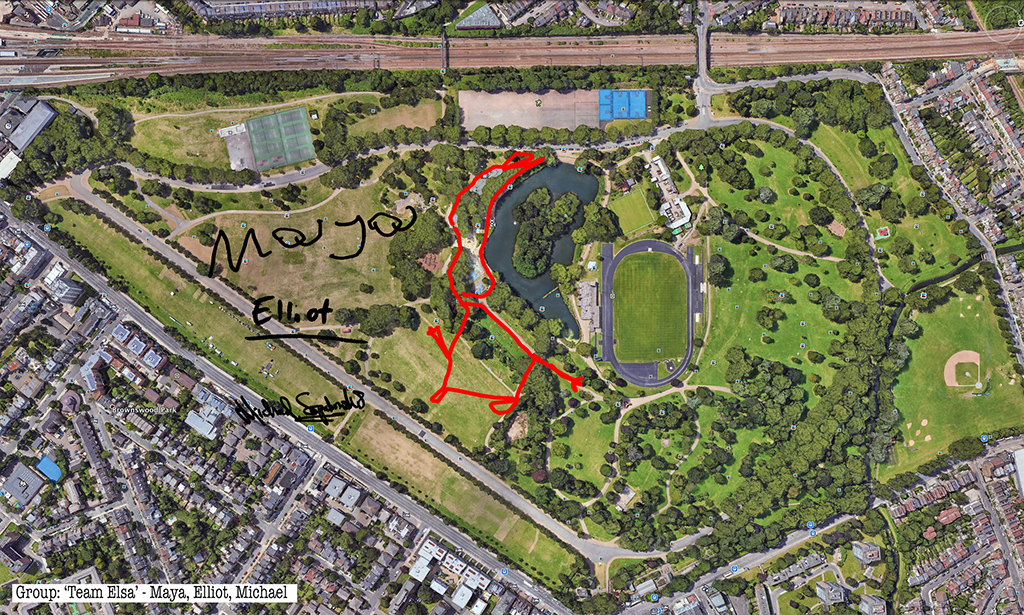 Reversing the premise MTAA's Whid and River posted a database of video clips of themselves sleeping, eating, inhabiting the space and left it to the online viewer to watch these being digitally assembled (by Flash—remember that?) into a simulacrum of the original over the assumedly continuous period of a year.
Armed, fortified, prepared thus, I set to work—but I still needed a concrete plan and methodology.
Being a keen runner and the project taking place in a London Park in which I had run a 10k not long before (and now having endurance floating near the top of my mind) I felt some kind of park related physical activity would be an element and this would be a way of coming closer to those who loved the park but for whom the art gallery might not be their first association.
But still I lacked the concrete rabbit themed activity which would offer genuine practical, meaningful and autonomous artistic engagement and creation to participants.
I did not want to control what those participants would do but give them a clearly defined (clearly defined enough that all inputs from three separate days of activity could be brought together into a final unified work) and interesting task within which they would need to deploy creativity, focus and skill.
The fad for exercise related GPS devices had previously passed me by but one day whilst running with my daughter, who uses her phone and GPS enabled software to document her running in data and map form, I had a small epiphany—here there (might) be rabbits.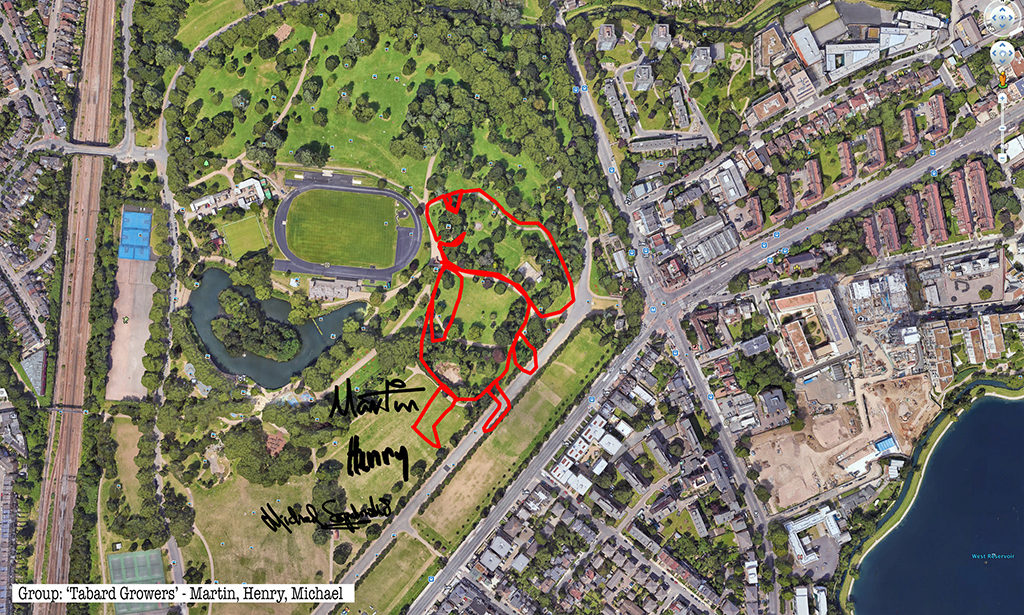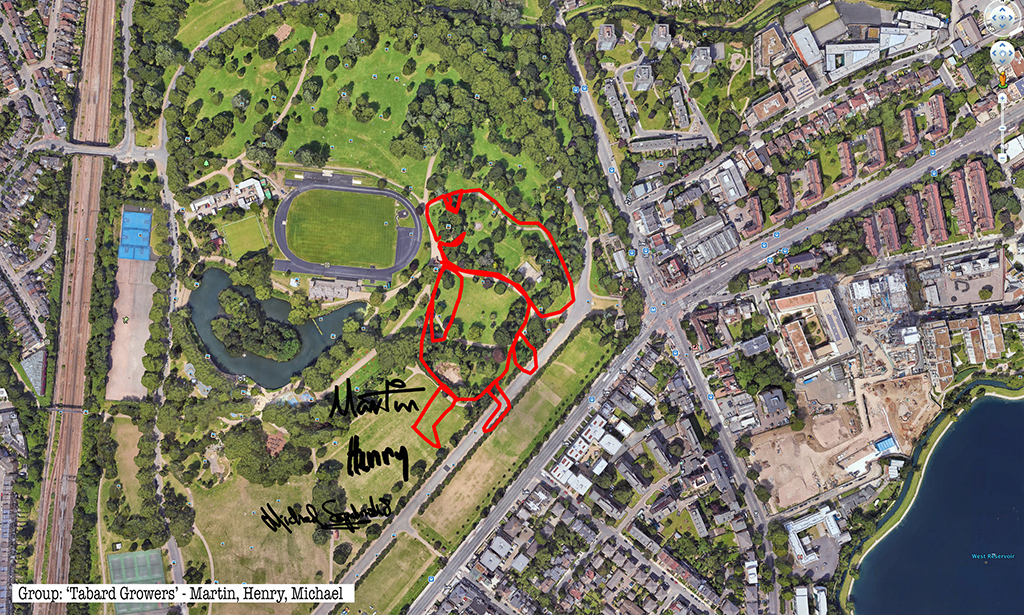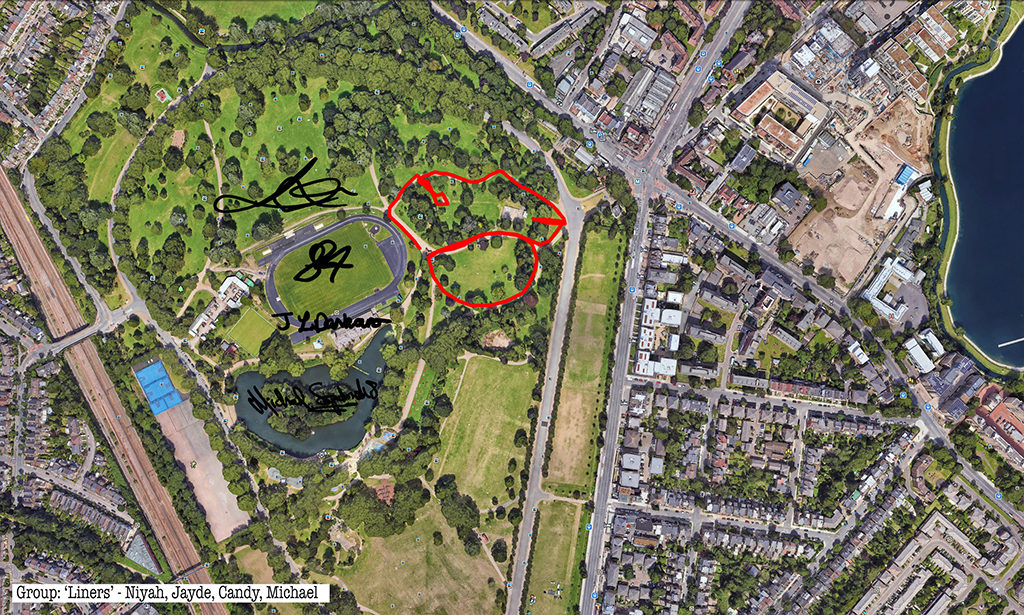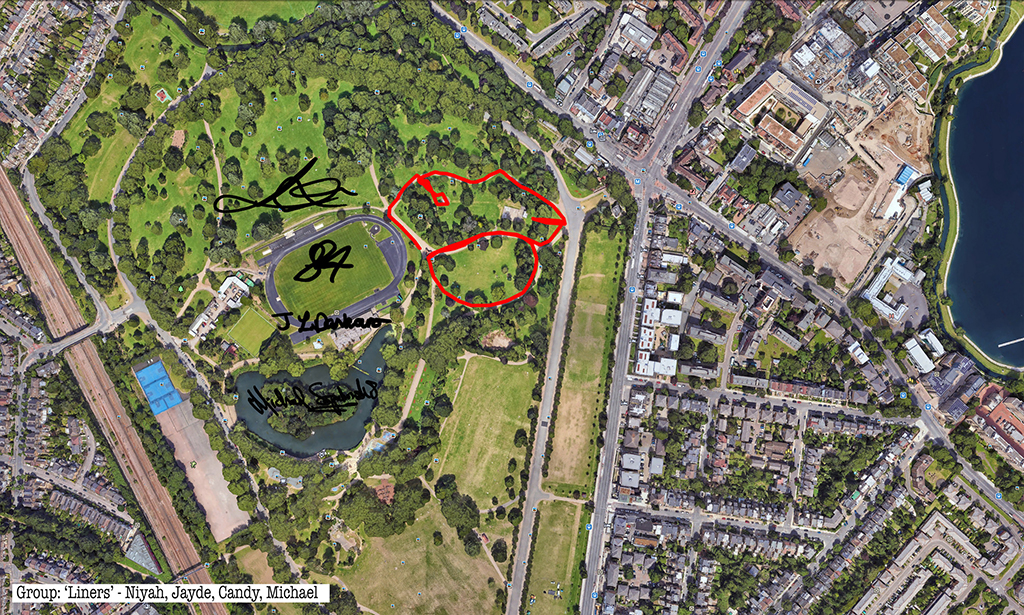 Rabbits, giant GPS rabbits, first planned and sketched by participating teams in marker pen over a satellite image of the park—ears, eyes, paws, body, fluffy tails emergent within its various paths and trails and features and obstructions.
And then, using these maps, we would carefully and attentively walk-out each monster rabbit trapping and freezing it as a succession of data, a series of co-ordinates in the memory of the GPS watch I would wear, finally to be reconstitututed as a continuous line drawing in turn fed back into a fresh satellite view of the park.
But that succession of co-ordinates, actuated by the actual movements of the human body (like a giant pencil lead or nib or brush) will resolve itself into something ancient—line, preconceived and then drawn out by human beings.
Being, together, both the very oldest form of mark making and something blink-of-an-eye recent too (well, as recent as the noughties efflorescence of so-called locative media which I shamelessly pillaged here.)
Inaccuracy in some measure a feature of both ancient and modern—the error margin of even GPS and GLONASS together, two sets of four satellites working in concert; the mix of will and skill and the fallibility and triumph too of flesh and bone and sinew which is part of what thrills and moves us in the arts.
This is what I had in mind.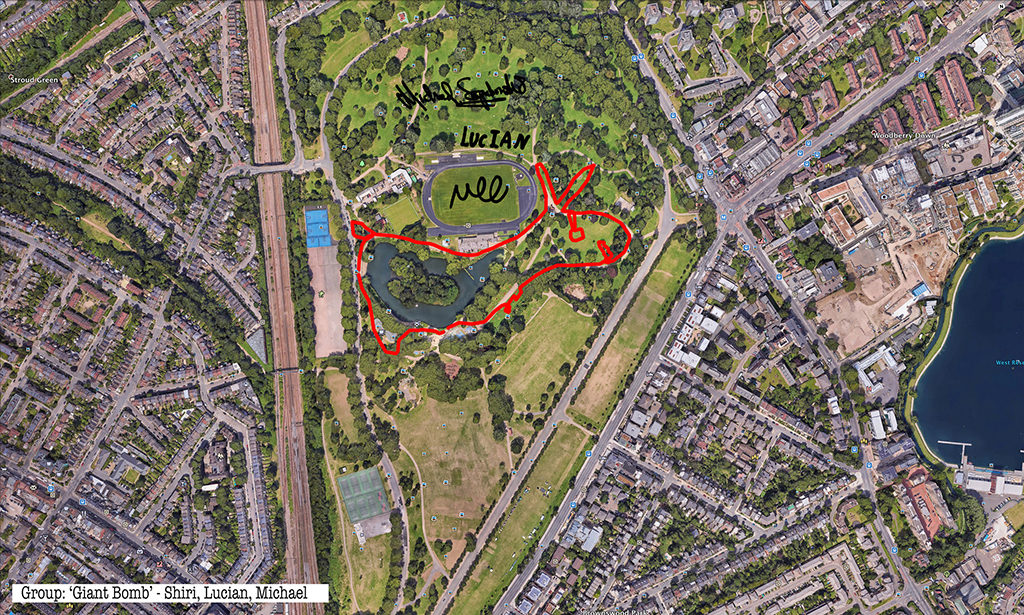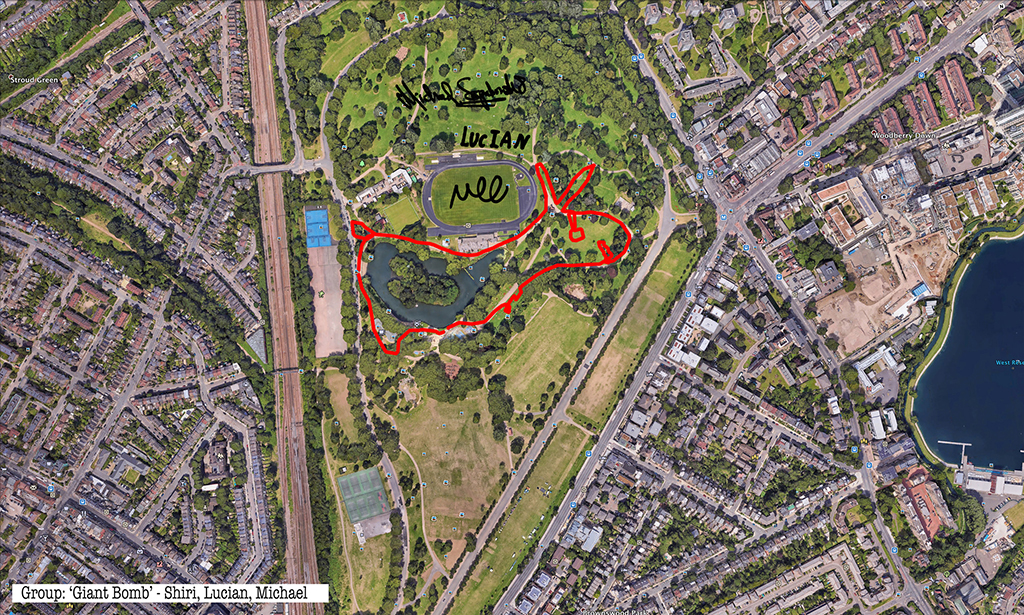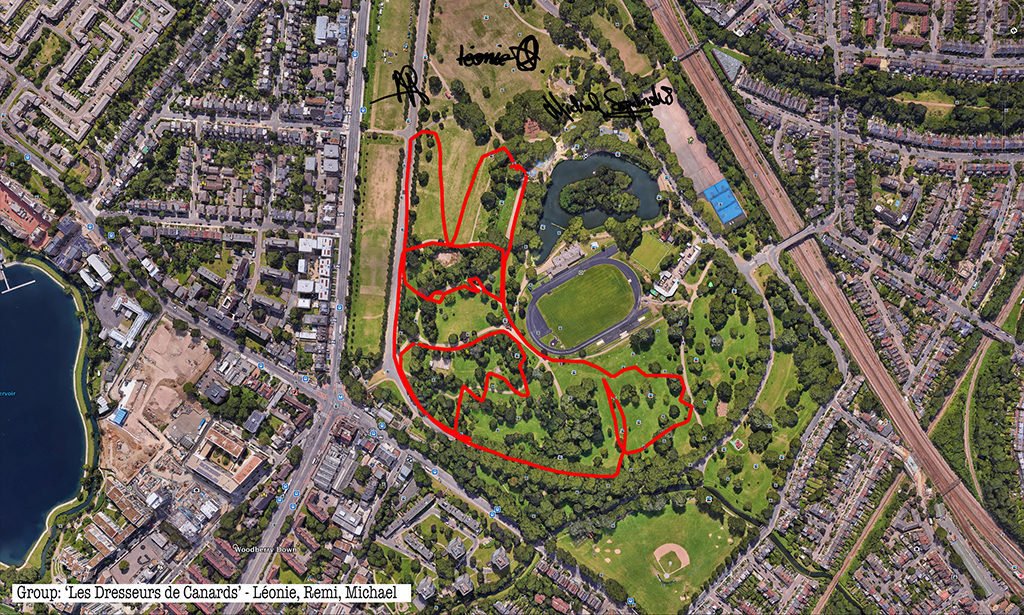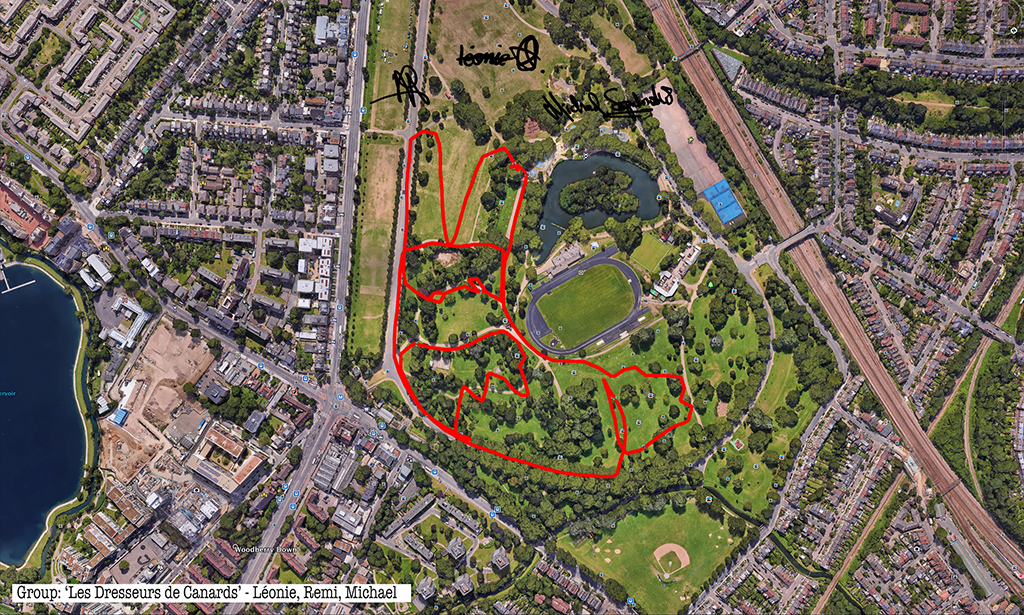 Repeatedly outlining then co-performing an activity which I learned to summarise simply and precisely, almost automatically, one might have thought boredom or a dozy, parroted, routine might threaten.
And how anxious I was each time as to whether and in what way each new team would engage with—buy into—adopt as theirs, as ours—the task.
But how striking the variation both in the simple, basic act of depicting in continuous line each new rabbit-of-the-imagination and the forty minutes lively sociability surrounding that initial sketching and subsequent walking-out.
Balancing the competing claims of making something serious, something with some kind of weight, some satisfying end product, whilst making space for others' fun and dreams and and will and whimsy is neither easy nor is it trivial.
In the end people seemed to have a good time, they seemed at ease, went at it with a will and—it seems to me—something rich and affecting emerged.
Thanks to all at Furtherfield and thanks—no, not thanks, but credit—to my fellow artists: Alessandra, Anna, Candy, Chris, Elliot, Evgenia, Franc, George, Grace, Henry, Jade, Lenon, Léonie, Lucian, Luka, Martin, Matthew, Maya, Negev, Niyah, Pryle, Rémi, Rosalie, Sara, Shiri, Stefan, Thea and Tyler.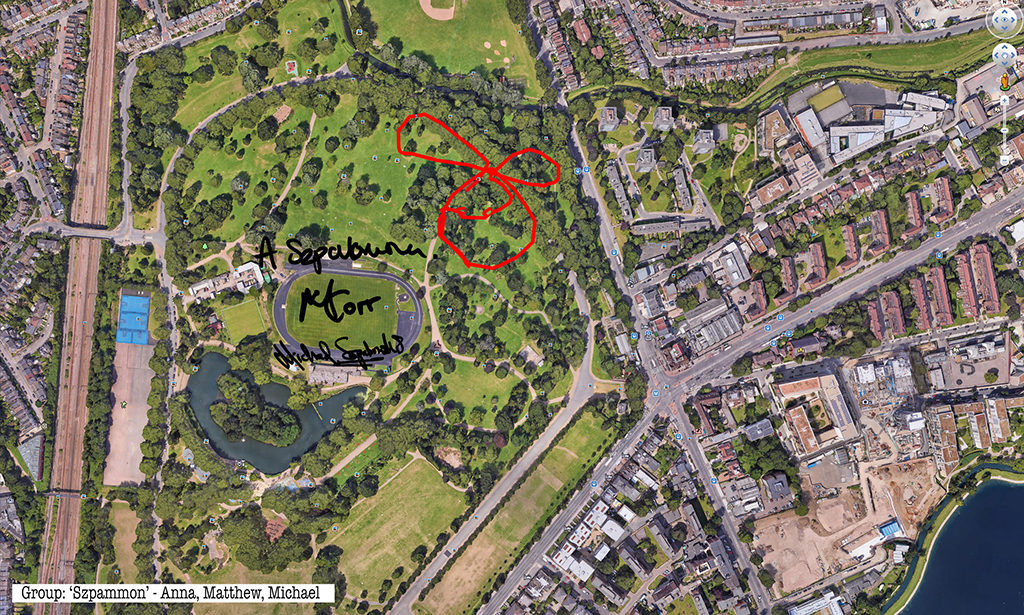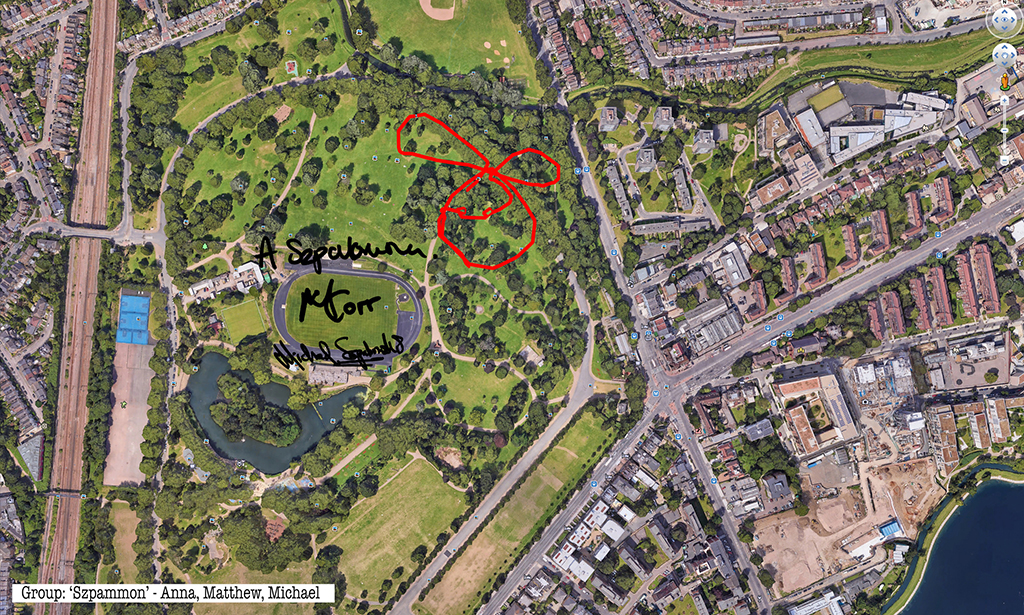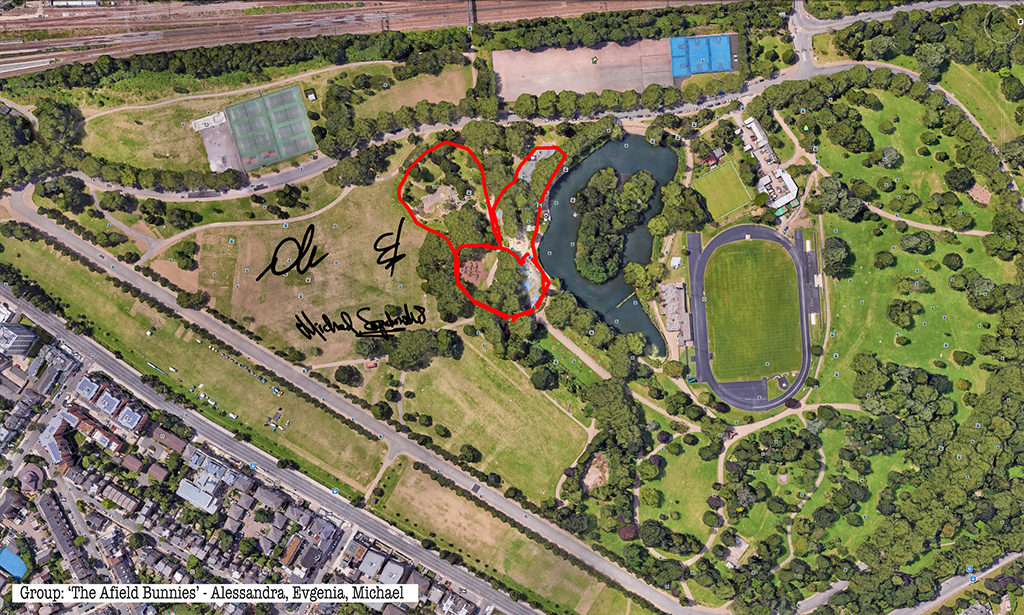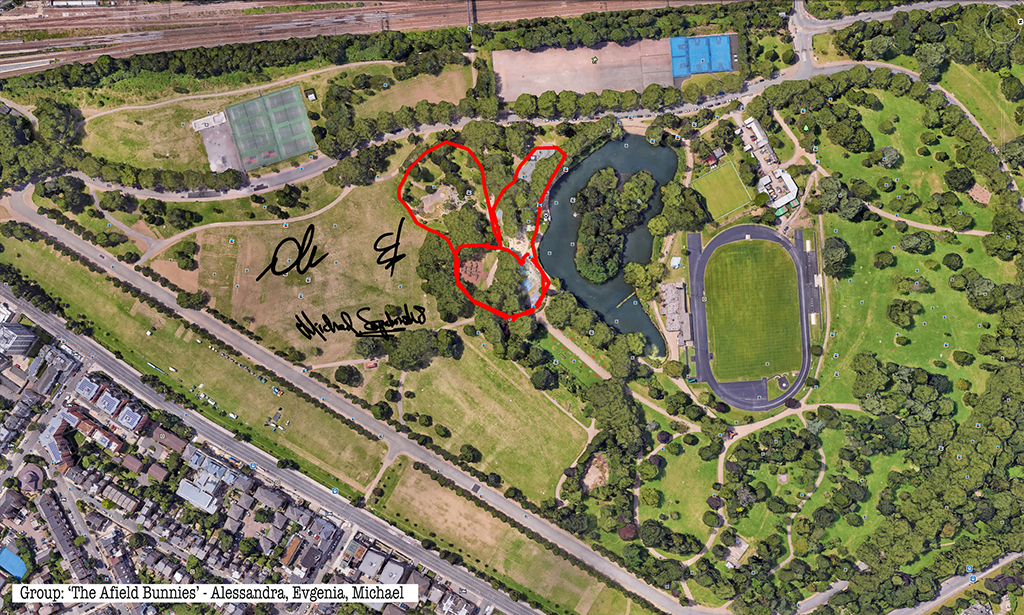 This interview was originally printed in Artists Re:Thinking the Blockchain published in partnership with Torque Editions in 2017.
Marc Garrett: One of many interesting and experimental things about the album Platform, released with Holly Herndon in 2015, is the decision to break away from the perspective of singular genius, and involve a variety of collaborators. This included artist Spencer Longo, Claire Tolan (of Tactical Tech), and Dutch design studio Metahaven. On the 4AD press release page it says that it 'underscores the need for new fantasies and strategic collective action.' Under the name of Holly Herndon, along with Holly, you all became a kind of cooperative, collective construction. What inspired you and Holly to explore what could be seen as a decentralized body, or assemblage of individuals as a collective? Or how would you describe your working identity and the importance of this move?
MD: To put it in pretty boring terms, it has become a core part of our mission to be pretty candid about what we do. Holly had been making albums and touring by herself, and then during the early experiments that later became Platform (Chorus and Home) we had begun working together, as we were occupying this tiny apartment in San Francisco, and I was working on this weird net concrete stuff in one room, and Holly was writing for voice in the other, and I think both of us picked up from the ambient sound that the two worked really well together! For the Chorus video we had seen the work of the Japanese artist Akihiko Taniguchi, and really enjoyed the collaborative process of putting that video together, and so then sought out Metahaven, who we'd been in touch with for some time out of aligned interests. Basically most art production at a certain high level is collaborative, and I think it's just part of our idealistic view on the world that this be transparent and celebrated. Beyond that, when we were coming up with the vision for Platform it also felt very necessary as a political gesture to make a point of the project being aligned with certain political interests, and a politicized way of working and acknowledging others. Working this way has changed my life, and made everything more fun and exciting without diminishing the importance of any individual contributions. It makes for better results, I feel, better general feeling, and also creates these very tangible collaborative connections between fields. It's also just an interesting experiment to run in music when it feels like so many sonic experiments have been done to death – I'm personally interested in how decentralized practices, collaboration and connectivity, can change the construction and dissemination of music, and ultimately it's power to be a force in the world.
HH: It sometimes feels like our society is 'every person for themselves'. We promote hyper individualism at the cost of the planet and social health, and the music industry largely parrots this mentality. We realized how problematic this is, and if we are going to be true to ourselves, then the practice should reflect that concern. It's been a learning curve for me; learning to not control every single aspect (I tend to micromanage), to hear other opinions, to let go, and not feel threatened if someone else's idea is better than my own. Releasing my debut album solo was an important step in building my confidence, however ultimately the work itself is the most important, and not the ego. Not to mention that we spend a lot of time on computers, which can be lonely, so working with other people helps us to unplug and see the world around us a little more.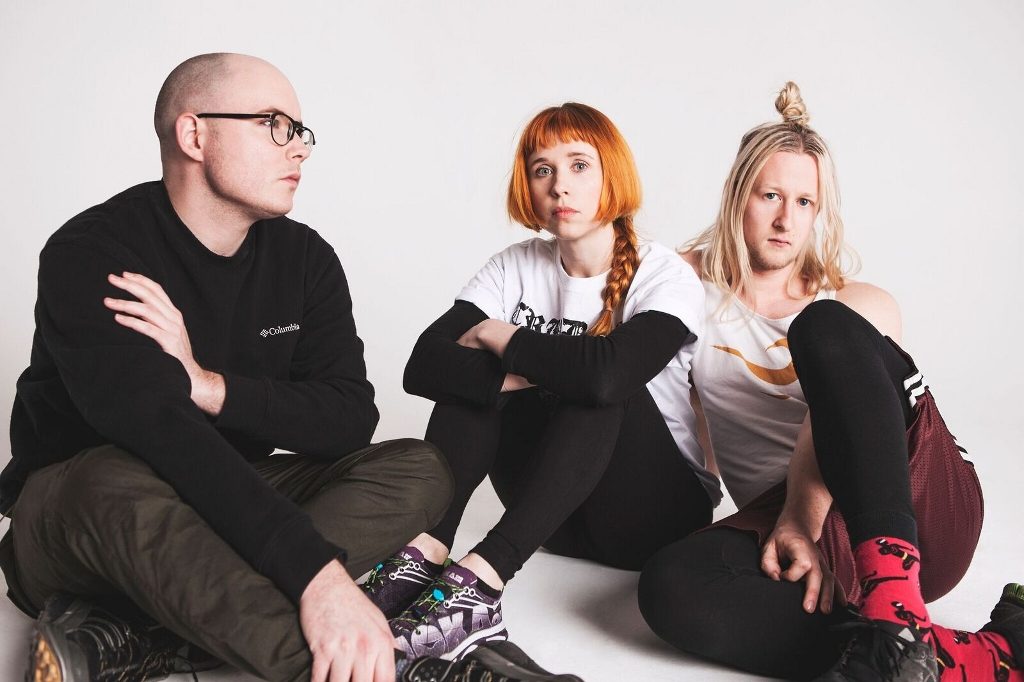 MG: In a world that traditionally, economically and politically, supports the values of individuality above community, or peer to peer collaboration. How did the audience, the music industry, and others in the world (presuming they have) come to terms with this adventurous, creative intention?
HH: It was varied, but overwhelmingly positive. When we were doing press around the record, it was difficult to get some journalists to write about the other artists and thinkers that I was collaborating with, or even just referencing. Those that understood the gesture really embraced the idea, and that successfully provided a platform to highlight everyone's work.
There are a few industry complications; for example, the project is released under my birth name, so in some ways I am still at the centre of the orbit, which is a problematic professional necessity, but also helps somehow. We used the idea of the Trojan Horse a lot, as in a way my easily understood singular presence served as a gateway into this whole other universe of people. It's a balancing act, as in various different scenarios you feel different expectations as to what the industry wants; on a pop level they want a simple narrative of my face, and tend to focus on often mundane characteristics such as my gender and education. On other levels you see that the experiment has opened up a different narrative potential, where people's interest in the record and it's cast forks off into the direction of their choosing.
It's really noticeable live, where the audiences have been really supportive. After the shows you experience all kinds of people who come along, hanging out with different people who were on stage – Mat has his own audience somehow, and the same with Colin Self, who often tours with us. As a result of opening up the process and allowing the full breadth of interests and approaches to shine through a little more than is standard, at different shows we have people come up to talk to us about the music, or nerd out about cryptocurrencies and ICO's, or Chelsea Manning. It feels meaningful, and gratifying for that. We always address the location of the show, whether through the visual or sound, and try to always be alert and responsive. It's a special privilege to share that time with people, and I think that the concept comes across quite effectively in a live situation as each individual serves a very different purpose in constructing the collective experience.
MD: I think that Platform was received really well. Holly opening up her practice didn't diminish her signature on the artworks, and I think that it has really won a lot of people over. I think you can feel at our shows that we have a greater principle to what we do, and I think it has maybe made a lot of space for people to conceive of their own experiments and maybe not be concerned at how being ambitious on a conceptual level will affect the ability for the art to travel in the world. Naturally there is also a throttling effect within aspects of the creative industry, where maybe they didn't want to deal with the bigger ideas around the record, however I feel that the music is strong enough to kind of live in those circles without knowing the story behind it. Overall I think people were refreshed and encouraged by the idea, and transparency of the whole thing. For us now it is a way of being. In my mind, there is more room for individuality to shine when you can guarantee that someone's work and ideas will be respected and celebrated. The canon of artistic history has omitted so many people's ideas and contributions for the purpose of having a simpler market narrative, and yet we live in a time when people can and want to dig deeper, and perhaps have a greater capacity for complexity of information – so we want to try and harness that for something positive. Particularly given our interests in subcultural music history, software, crypto etc. there is really no other option but to put the community first. Without community literally none of this exists. Zero. All of our talents and ideas have been incubated in community environments, so channelling that legacy is important.
MG: On Platform you released the track called DAO. I am always interested in shifts between the use of technologies as metaphor and as tools that change practice. So, what was interesting to you about Decentralized Autonomous Organizations (DAOs)?
MD: I'll let Holly talk more about where DAO came from, with the telematic performance work she was doing at Stanford. Regarding the blockchain, I've been developing my own decentralized publishing framework for the past few years, that shares a lot of the same principles as the Ethereum logic, and I'm looking to have it interact with the blockchain in its next iteration. A lot of the spirit behind the crypto community is so synonymous with the models of collectivity we have already been exploring in our work that it's the logical next step. I'm particularly interested in what this architectural/infrastructural new capacity can mean for the medium of music itself. With Saga you have this whole other performative dimension added to media with the ability to version work, fork it, and have it perform in real time to it's surroundings online, which I think is a whole other proposition for the medium very much worth exploring. It's also fascinating regarding the question of attribution and collaboration, as we have grown to understand that the web as it stands currently is very much designed to privilege those who appropriate and curate others creative work and ideas for free – mirroring greater society, it is a winner takes all environment. I want systems of virtuous attribution that do not consolidate the DRM era of copyright takedowns, but instead build markets and new interactions around collaboration, augmentation and live interaction. There is so much more that could be done, and a lot of the blockchain tech emerging offers clues as to how we can get there quickly. There are also a lot of old ideas masquerading as something shiny and new, so you kind of have to read the small print to distinguish what is a genuinely new proposition, but it is our job as members of marginal communities to educate ourselves and anticipate the best options.
HH: DAO came out of a piece that I wrote called Crossing the Interface, with a libretto by Reza Negarestani. The piece was my first venture into telematic performance, where a soprano (Amanda DeBoer) was in another geographic location, but the audience could hear her physical body moving throughout the space using ambisonics. I wanted her to be hyper present, and physically super human, moving in ways impossible to a human body, to be able to be in multiple places in the room at once, as eventually her voice and her body separate, stalking the room. I was trying to find a way to make something so clearly highly mediated, feel extremely personal and embodied at the same time, which seems appropriate for the DAO concept as it exists in the world – this simultaneously complex and distributed network that is also hyper intimate and moves with collective intent.
The vocal work that Amanda delivered while workshopping that performance was really great, so I used some of those outtakes for the vocal work in DAO. With the instrumental I was simply just trying to capture an atmosphere, a heavy energy with lots of wide stereo movement. It's also really fun to play live with Colin, because he sings the soprano line with live processing, which creates a nice contrast of heavy electronics with extremely expressive alien vocals, taking the entire gender spectrum and contorting it into a circle.
MG: Do you have any plans to formalize any part of your creative collaboration to work on the blockchain?
MD: Holly and I are starting a studio after we finish this next album to more formally develop work and devices that exist in this new frontier, as it has been so instrumental in our discussions for the past few years. I describe it as a frontier deliberately, as if we are to task ourselves with actually experimenting with our work then it feels almost like a duty to get our hands dirty in these areas. We have already started work on two new projects in this domain, but it's hard to tell when they will be ready to show to people, and what shape they will eventually take.
MG: OK. Last question, in light of the current suppression of the spirit of humanity by despots, and the rich buying up democracy for their own ends, what part do you see artists playing in the world of blockchain, to disrupt the regurgitation of an already bankrupt system?
MD: IMHO, there are two dimensions to this. First, I encourage artists to become familiar with the language and potential of blockchain technology, as there are a lot of opportunities to attempt to re-engineer how we experience, transact and grow community in the arts outside of centralized traditional channels. Real money is being made, and there is a lot of good will amongst the crypto community who invest faith that better systems can and will be constructed using these logics.
I also encourage artists to develop some fluency around the blockchain ecosystem, for exactly the reason that there needs to be wary and critical voices guarding the community from the business-as-usual corporate crowd, who are increasingly flexing their muscles and influencing the course of its development and maturity. By getting involved early, and being vocal, there is an opportunity to intercept plans for how this next internet runs, and who ultimately it will benefit.
The best case scenario is that we can develop our own systems along the blockchain to change music and the arts for the better. Alternately, we need critical voices active within these conversations to avert the worst case scenario of power consolidating itself even further outside of the greater public awareness.
I should say that the third wild card possibility is that blockchain technology is inherently flawed and infeasible once it has been properly stress tested at scale. Irrespective, if your mandate is to be experimenting, and abreast of where things may be going, there are fewer areas of interest more dynamic and potentially transformative. It's a lot of fun to think about.
Most households have an unsolved Rubix Cube but you can easily solve it learning a few algorithms.
Walking off the Akadimias district and onto the steps leading up towards the entrance of building number 23, I am greeted by a large hall with high red ceilings. The hall is covered with lavish white and black dot marble, and there is a large staircase acting as a guide to the top floors of the manor-like building. This was the home for the Diplomatic Centre of the Third Reich, designed in 1923 by Vassillis Tsagris, and used until 2011 by the Foreign Press Correspondent Union after the Second World War. Since then it has stood derelict and dusty, but for one week, in parallel to the opening of documenta 14, it played temporary host to the artist-in-residence programme of Palais de Tokyo, alongside with Foundation Fluxum/Flux Laboratory, bearing the name Prec(ar)ious Collectives. Six visual artists in residence at Pavillon Neuflize OBC and eight contemporary Greek choreographers envision and fabricate a hybrid space whereby an experimental notion of a community is executed as a situation rather than as a subject. The visual artists and performers involved congregated together in Athens and on site for a two-week workshop in March in order to produce the works. The title, Prec(ar)ious Collectives, is a linguistic amalgamation of the adjectives 'precarious' and 'precious', implying the state of the collective that performs together.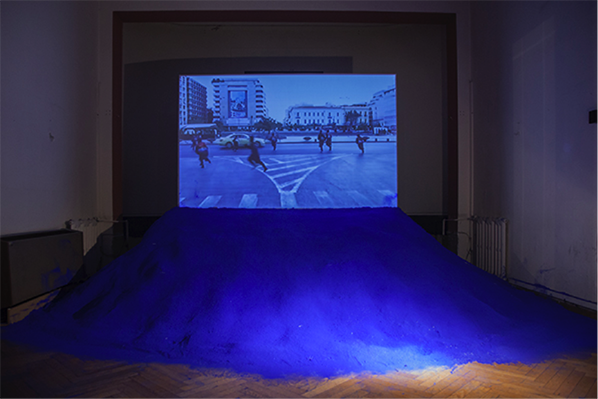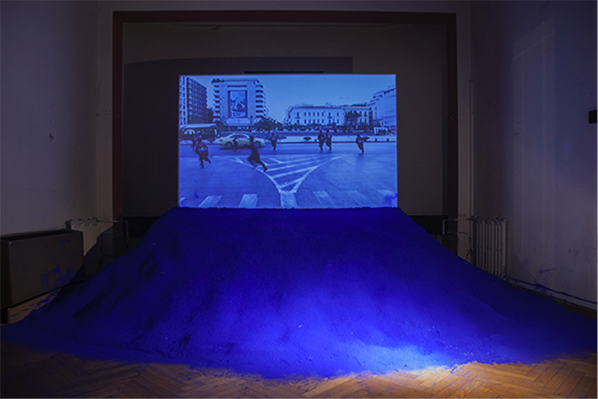 The opening façade echoes with the humming and reverberated sound of Manolis Daskalakis-Lemos' Dusk and Dawn Look Just The Same (Riot Tourism), guiding us towards its installation room. The video installation stands above a mountain of blue powder in a room sectioned off with construction tape. The short sequence of about a minute and a half displays a group of hooded figures, dressed identically. As the soundtrack's volume begins to escalate, the group progresses from walking to running on the uncannily void and ghostly streets of Athens. A city always bustling with noise is now at its most quiet and pubescent state of the day – dawn. The hooded figures run together and – even though it is in a disordered manner – command your attention and pensiveness until they all reach Omonia Square. The work demonstrates a resistance to a status quo which may be aligned with the political engagement within the city. This is not, however, done in an expected reactionary manner, but instead in a way that promotes uprising through the creation of a meditative state. One cannot help but watch Lemos' work a couple of times more before leaving it behind and only then noticing the thundering beneath their feet.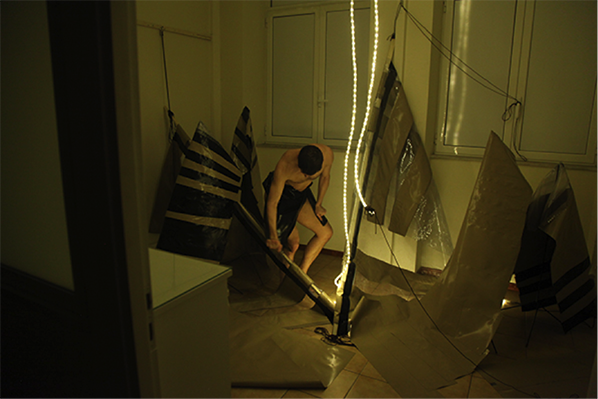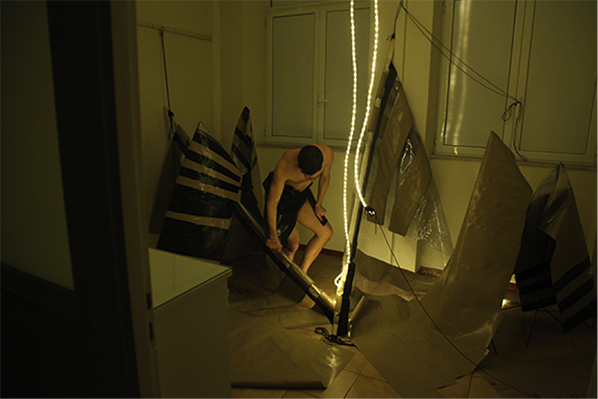 This historic building has a basement and is the temporary home of Taloi Havini's performative work. The large-scale installation occupying four rooms consists of PVC vinyls, seemingly discarded or hung from the low ceiling. These PVC vinyls are lit by dispersed and differently coloured strings of light, some are red, others are purple and others are cream. The performance is underway and its performers dress themselves with the PVC vinyl and the lights and jolt their bodies vigorously to the rhythm of the thundering – sometimes in sync, sometimes not. The dark basement is transformed into a cavern of rhythmic delight alluding to a ritual where its power lies in the gathering of people.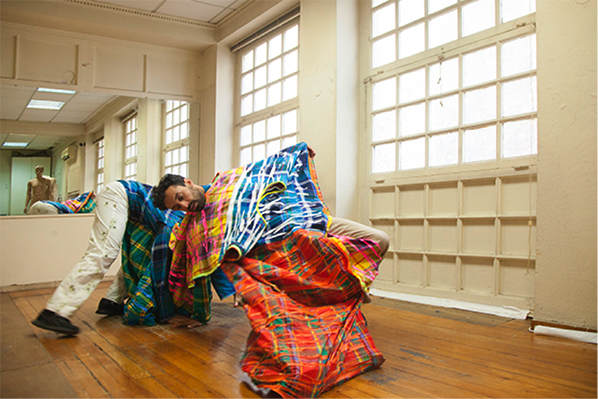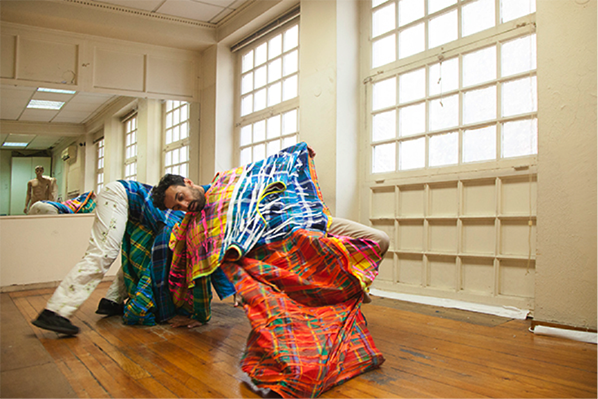 As one inspects the garments of Wataru Tominaga and those who wear them, this synthesis of the PVC, the space and the performers as a gathering appears to be a motif. Tominaga created the garments during a preliminary workshop, with great care and appreciation of how he and others were to utilise them during Prec(ar)ious Collectives. Originally presented on mannequins before being worn and performed, the garments boast vivid colours and patterns, some of them containing animalistic features such as feathers or fur. Those who wear Tominaga's work perform in such a way as to invent a new form of communication between themselves and their observers. They move and conjoin like animals, sometimes hiding underneath the fabric and at times evoking the traditional Japanese 'snake dance'. The performance, being in a transitional space between the ground floor and the first floor, naturally spreads itself upstairs whereby the performers not only continue to wear the garments in obscure ways, but additionally interact with Yu Ji's agave plants and other objects.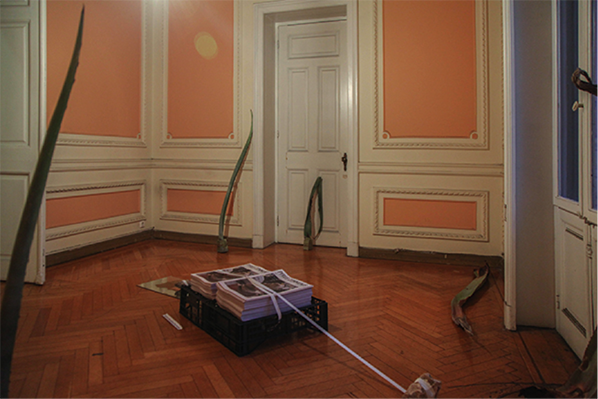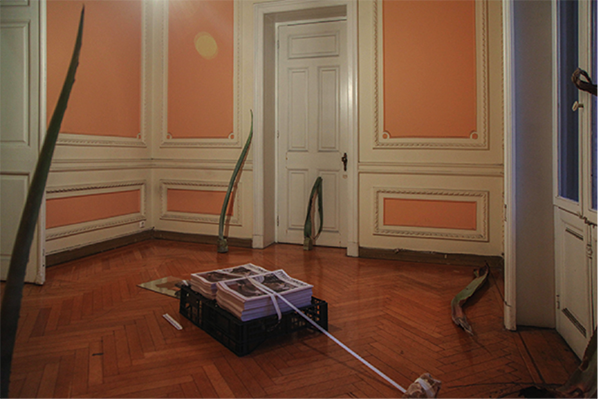 Yu Ji's work, Lycabettus Tongue, Oliv Oliv and This is Good For You! Are formed by the use of displaced agave plants, half-fragmented found mirrors and lights. The agave plants interlock with various architectural patterns of the building such as stair banisters, whilst the mirrors and round-ball lights are positioned in ways offering various points of view for observation and appreciation of space. The work revitalizes the architecture of the building denoting its historical vitality and the synergy of the encompassing works into a haunting existence rather than an abandoned one. Here, haunting is used not for means of negative connotations but instead as a form of aloof yet introspective sensation, exasperated further with Lola Gonzàlez's video installation in the next room.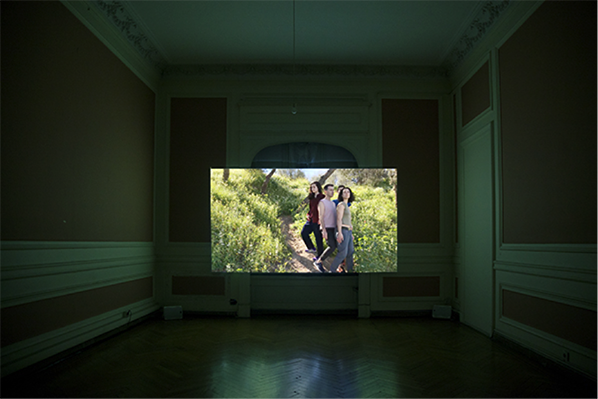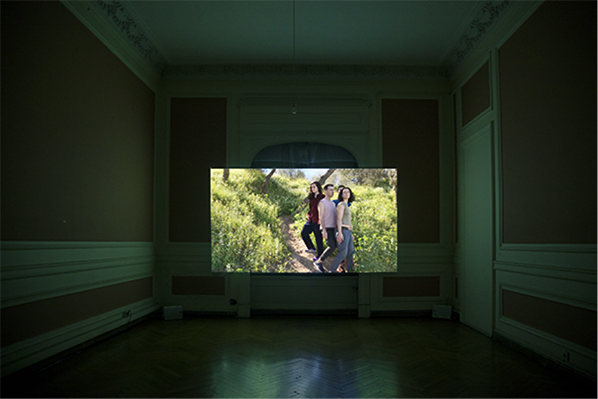 Lola Gonzàlez's Now my hands are bleeding and my knees are raw begins with its protagonists split into groups and observing the city of Athens from various points at the top of the hills. The groups begins to move, run and hop together towards a direction down the hill, whilst a chorus of droning voices begin to chant and harmonise. As the groups get closer and closer to the city, Gonzalez transforms the image into a complete inversion, like one you may find in negative photography. The chanting becomes louder as the three groups get closer and closer to their meeting point within the city – the exact space where the video is being showed. They are finally shown entering the building and making their way up the stairs to the room where they vocalize in unison until they fade away from our view. Now my hands are bleeding and my knees are raw alludes to an atmosphere in which the power of gathering together evokes a community whose intention is situated between an uncertain balance of peril and strength. It is the same kind of uncertainty that one finds when exploring the top floor of the building only to discover Thomas Teurlai's room of machines and looped functions.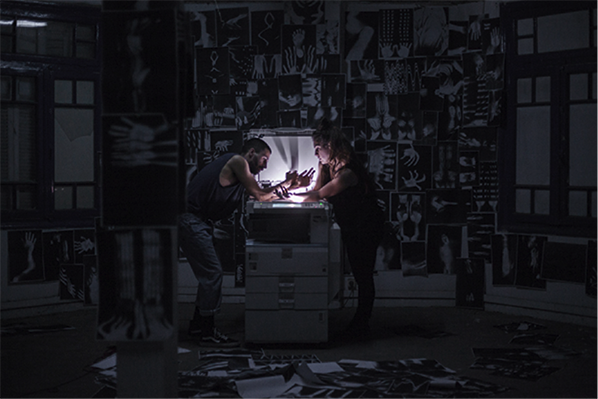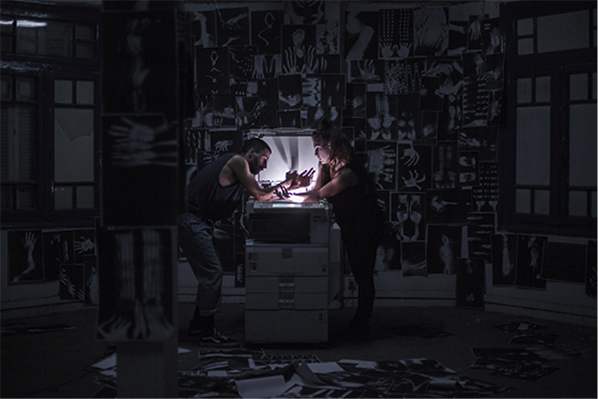 On the top floor, there are still the remnants of neglect, rooms empty of anything but the garbage that piled up over the building's six years of desertion. Thomas Teurlai's Score for bodies and machines consists of a room installation of two printers used by the performers to scan different parts of their bodies. These scans are then plastered on the wall whilst the fluorescent lights constantly trickle on and off. The two performers are attempting to archive as much of the movement involved in their choreography as possible. The looped function of copying and the crackle of its repetitive working-noises do not clash with the choreography but instead drive its energy.
Indeed, it may be the encounter between the building, the communal working spirit of the performers and the result of this effort that defines this rejuvenating energy as a fruitful rebirth of the building's utility.
To find out more, read Chloe Stavrou's recent interview with Fabien Danesi of Prec(ar)ious Collectives.
CS: Tell us a little bit about how the collaboration between Palais de Tokyo's residency Pavilion Neuflize OBC and Fluxum/Flux Laboratory came about. Did this directly contribute to the hybrid of visual/dance performance art or was it the artists' call?
FD: During two years, the Pavillon Neuflize OBC has worked with the National Opera of Paris for projects at the crossroads between contemporary art and choreography. We wanted to develop this perspective which is a kind of tradition in the history of the Pavilion (created in 2001), if we remember that our institution has a long interest for transdisciplinarity. So the hybridization between visual art and performance wasn't the artists' call. On the contrary, we asked them to step aside for collaborating with choreographers. It was really experimental for them.
CS: Neither Palais de Tokyo or Fluxum/Flux Laboratory are situated in Greece. What was the reason for its inception to take place in Athens? Was it because of the traffic Athens would see due to documenta 14 or was it a suggestion by Andonis Foniadakis, the choreographic director?
FD: Since its creation, Fluxum/Flux Laboratory has developed many dance projects in Greece. And it's due to its founder, Cynthia Odier, that Ange Leccia and myself met Andonis Foniadakis. We started the dialog with Andonis right at the moment of his nomination as the Ballet Director of the Greek National Opera, o Athens appeared quickly as the perfect place for our collaboration. We decided just afterwards to take advantage of the presence of documenta 14 in the city.
CS: The result is quite impressive – specifically since, and correct me if I'm wrong – the work produced was created in only two weeks in March. How did you find the process of working and creating collaboratively in addition to being in an unfamiliar city?
FD: The residents came to Athens for the first time in November 2016. During the first week, we had met the choreographers and dancers but also people who are engaged in the artistic life of the city. We tried to understand and use the pulse of this specific urban energy. We visited some sites for the exhibition and began to question the relevance of our own presence here. The conversations with the choreographers permitted us to create a strong link with Athens and not feel like tourists. We came back for a three-week workshop in March, just before the opening of our show. Between these two stays, we discussed a lot and had decided to start from our situation with the desire to move away from an artificial subject. The notion of the collective seemed a good way of taking charge of what we tried to do – especially because the Pavilion tries every year to create a specific group that gives a specific form to its structure.
CS: Prec(ar)ious Collectives feels like it could be quite nomadic as it is in an unfamiliar environment; however nomadic does not mean it feels odd or out of place – in fact it felt quite the opposite. As a curator, how did you approach Athens and stay conscious of the context(s) surrounding it?
FD: The fact that we didn't exhibit in a white cube or an artistic space helped us. When we decided to occupy this abandoned building on Akadimias Street, I was sure that we would be related strongly to the city and its history. The context wasn't outside of the walls – it was here, with us. Of course, we were all conscious that we needed to stay in relation to what was happening in the city. That's why nobody arrived with their work completed and done. The materials and the main elements of the creations were an artistic answer to this particular context.
CS: I am very curious about the building. I understand it used to be the Diplomatic Centre for the Third Reich during the Second World War. How did you become aware of its existence, and did your decision to curate Prec(ar)ious Collectives have anything to do with the building's history? If not, what was the reason for selecting this building?
FD: In January 2017, the director of the Pavilion Ange Leccia was in Athens to present some of his work. He visited the exhibition organized by Locus Athens in this space and it impressed him quite a bit. We wanted to work in an abandoned site for underlining the economical and cultural situation in Greece. And Akadimias Street 23 seemed perfect. We didn't choose it for its history, even if these multiple layers added some density to our proposal. For sure, the different atmospheres of the rooms immediately gave us the possibility to create dialogs between the works while preserving the integrity of each. So, it was a question of ambience in the sense of the architectural conditions aiding the experience of the audience.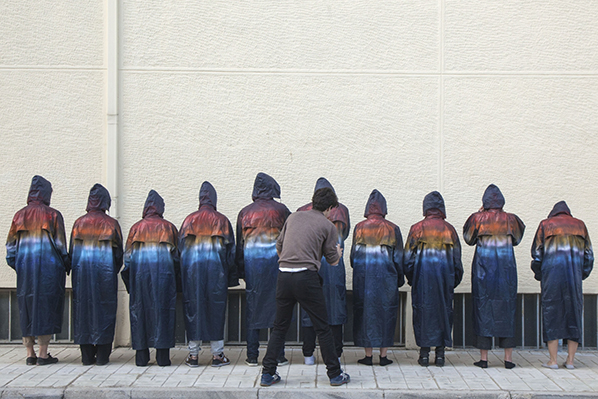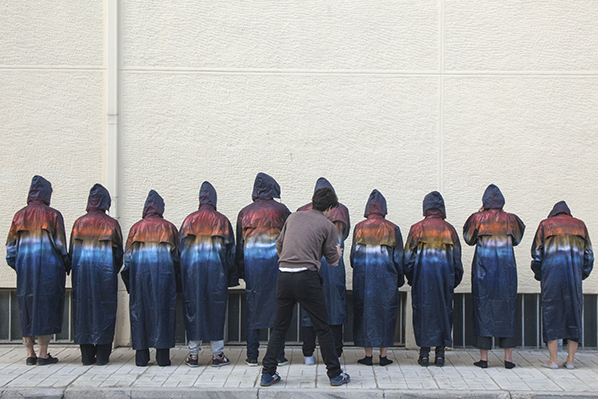 CS: I found that a continuous theme within the exhibition was not only the creation of a utopic community, but also an ambience that generates a state of limbo – of transition. Was this a reference to the state of Athens or to the state of artistic production or work?
FD: The notion of limbo is stimulating. And it insists on our «spectral approach». It means that we have tried to give life to this abandoned building. And some installations can be described as floating. In Manolis Daskalakis-Lemos and Lola Gonzalez's videos, for example, there is the idea of apparition. And even with Taloi Havini's huge ephemeral camp, we can feel a sort of «in-between» space, archaic and futurist, protective and dangerous. Maybe it was a re-transcription of our impressions about Athens, so appealing and full of energy, but at the same time, so undermined by the political situation.
CS: As a final note, what is the next step for Prec(ar)ious Collectives after its brief residency in Athens? Are there any plans to simulate the experience, albeit differently, again in another context or place?
FD: There won't be another step for Prec(ar)ious Collectives as a group exhibition. It was really the result of a one-month workshop. But it happens for the best that some encounters initiated in the Pavilion can be developed after the time of the residency.
CS: And any future projects that you will be a part of?
FD: On my side, I will develop a curatorial project next year in Los Angeles in the frame of FLAX residency. Titled The Dialectic of the Stars, I will organize several evenings in different institutions which will permit artists? to drift in the city from one site to another for catching some contradictory parts of the L.A. atmosphere. The idea is to mix French artists and Los Angeles-based artists and to trace a political and poetical constellation.
To find out more read Chloe Stavrou's recent review: Community Situation: Prec(ar)ious Collectives and documenta 14
Compiler is an experimental platform organised by curator Alisa Blakeney, artist-curator Tanya Boyarkina, artist Oscar Cass-Darweish and choreographer Eleanor Chownsmith, all currently students of MA Digital Cultures, Goldsmiths. The platform is being built in order to "support collaborative, process-driven projects which connect artists and local communities in networks of knowledge-exchange".
The organisers of Compiler describe it as a kind of ongoing prototype, a structure constantly negotiating the openness to maintain links to varied practices with the coherence of framing, containing, and describing some of the complicated products of digital-analogue interactions. Their focus is looking at what 'digital culture' means and having a productive conversation about it.
From 6-8 April, the first Compiler, Play Safe took place downstairs at OOTB in New Cross. The exhibition examined practices of surveillance inherent in "states, corporations, technological spaces and the idioms of digital art". It questioned whether an increasing intensity of surveillance is linked to control, extraction and politics, or can be understood as a pleasurable phenomenon. People were invited to "Dance a website, see through the eyes of a computer, and have our cryptobartender mix you a cocktail to cure your NSA woes". The work on show, made by students from MA Computational Arts and MA Digital Cultures (both Goldsmiths), included Eleanor Chownsmith's software and performance which turned website HTML into dance routines, Michela Carmazzi's photographic project documenting the reactions of Julian Assange and his supporters following the United Nations' ruling about his case, and Saskia Freeke's machine which repeatedly and intentionally failed to create a ticker-tape parade using sensors and fans.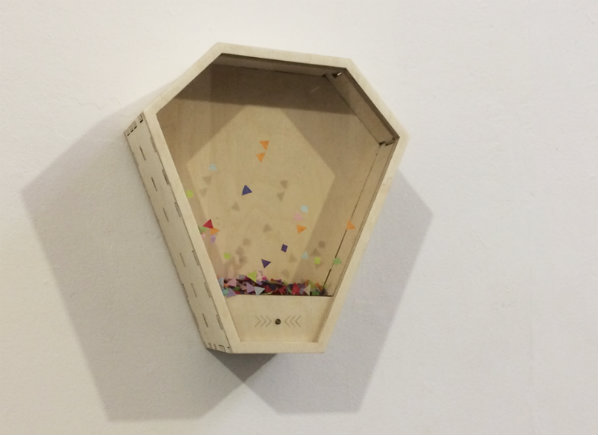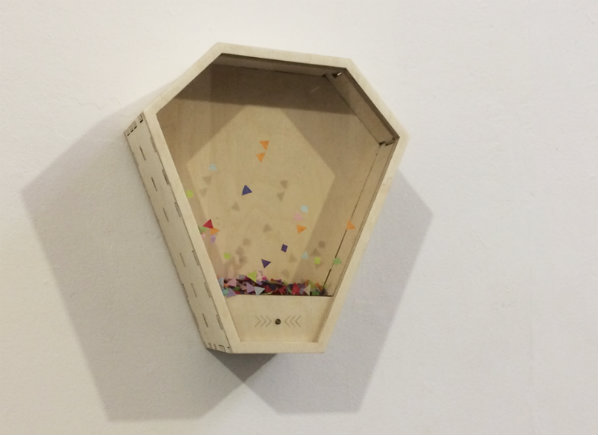 An exhibition on the theme of surveillance creates a strange grey area for itself when shown in a building with nine screens of CCTV footage. Oscar Cass-Darweish's project made a fairly direct link to the CCTV cameras which emphasised this greyness. The project produced a rendering of the exhibition space by using a function usually found in motion detection processes. This function calculates the difference in pixel colour values between frames at a set interval and averages them, creating a visual output of how machines calculate difference over time.
Another work which made links with the room upstairs was Fabio Natali's Cryptobar, where following an interview with the 'bartender' about your data privacy needs you were recommended a cocktail of data-encryption software. Upstairs you could buy, and drink, a cocktail with the same name (the Cryptobar was part of the V&A Friday Late on Pocket Privacy on 28 April).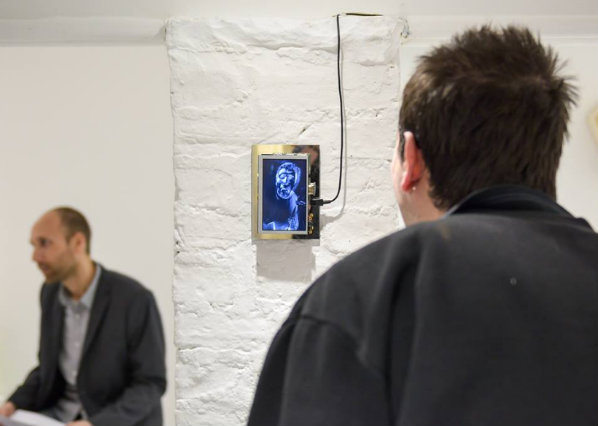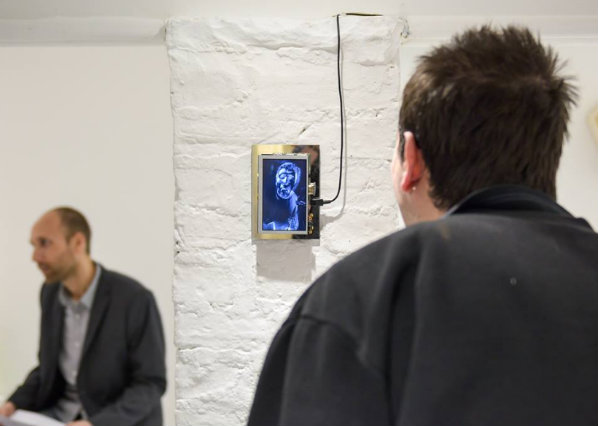 So far, Compiler has made a variety of spaces for conversation about digital culture through both its artworks and its organisation. Each artwork has a different 'footprint' of interactions, linking websites to rooms, success to failure, data privacy to financial transaction via consultation, and making interesting connections between CCTV and code, dance notation and HTML, activism and commerce.
An interesting way to read the Compiler platform is as a series of combinations of human-readable codes and machine-readable codes. The platform 'compiles' a different combination each time, and each time the output is different. Through this, the interaction of analogue and digital processes is demystified and muddled, in a distinct way. The platform is in its early days, but it seems likely that new connections and new grey areas will appear over the next few months, as Compiler has its second exhibition (again at OOTB) in May, takes part in the CCS conference at Goldsmiths in June and heads in other directions thereafter.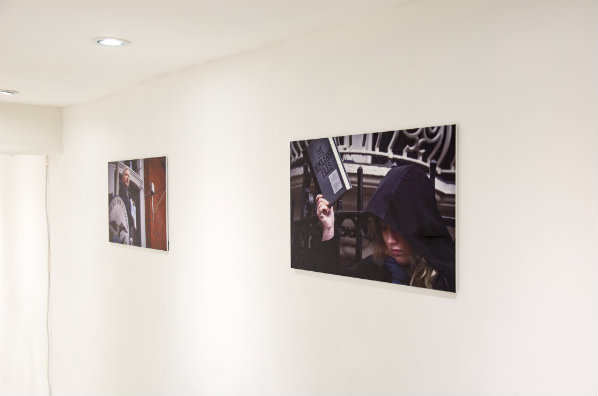 The exhibition offered plenty to play with, while posing complicated problems in relation to openness and experimentation. When I spoke to Eleanor, Tanya and Alisa about Compiler and its aim to engage local communities in networks of knowledge-exchange , we talked about how it's an impossible and strange aspiration to have a 'neutral' venue. While a cocktail can be delicious and engaging, it's also expensive. While a cafe is, arguably, a less exclusive space than a gallery, OOTB itself is a cafe which targets a specific audience. Drink prices, decor and a host of other factors mean OOTB, like all spaces, is politicised in a particular way. Their venue choices so far will influence, in subtle and overt ways, their future attempts to engage diverse local communities. The organisers of Compiler acknowledge this; their response is that rather than trying to make an artificial neutrality they are keen to move as the platform develops to new spaces and new and different contexts.
A change of context, message, communication style is not easy; nor does it fit with to an easily recognisable politics or aesthetics. Moving into and out of contexts is something to be done carefully and thoughtfully. It seems to me that the Compiler team will have their work cut out, but if they can direct that work in such a way that the platform is able to communicate in multiple ways at once, 'networks of knowledge-exchange' could develop between, and in response to, the markers set by the organisers. The question is, how will they develop?
As curator of the exhibition Monsters of the machine: Frankenstein in the 21st Century, I thought it necessary to interview the artists in the exhibition, while it is shown in the magnificent gallery space at Laboral, in Spain, until August 31st 2017. I wanted to get more of an idea of how they see their work in the show relates to the core themes. Mary Shelley's book Frankenstein; or, The Modern Prometheus, has been interpreted in numerous ways since was written in 1816, and then published anonymously in London in 1818.
Eugenio Tisselli is a Mexican artist and programmer. He is a PhD candidate at Z-Node, the Zurich Node of the Planetary Collegium. Previously, he worked as an associate researcher at the Sony Computer Science Lab in Paris and was also a teacher and co-director of the Masters in Digital Arts program at the Pompeu Fabra University in Barcelona. In his role as director of the ojoVoz project, he has carried out extended workshops with small-scale farming communities in different parts of the world. The ojoVoz project may be accessed at http://ojovoz.net. His personal projects may be accessed at http://motorhueso.net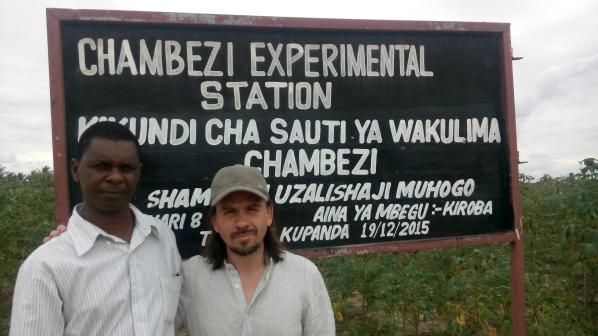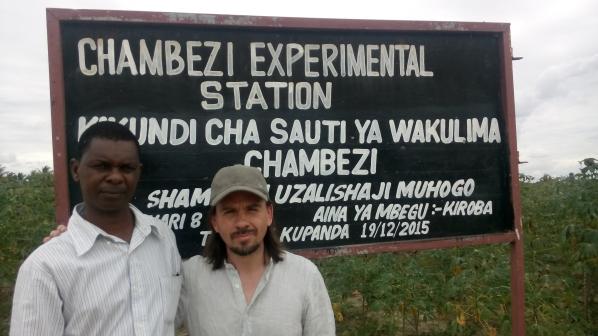 Interview.
Marc Garrett: Can you explain how and why the Sauti ya wakulima, "The voice of the farmers" project came about?
Eugenio Tisselli: In 2010, I came to realize that the way we feed ourselves is actually one of the main drivers of the accelerated destruction of societies and ecosystems that is currently underway. I felt like I had been living in La-La-Land before the veil was ripped off. My life changed radically. At that time, I was collaborating in the megafone.net project which had worked since 2004 with several groups of people at risk of social exclusion in different parts of the world. By offering an unfiltered communications platform, consisting of mobile and web applications, the megafone project tried to help these groups to make their voices widely heard. But, in 2011, I left the project with the purpose of offering its tools and methodologies to farming communities who wished to seek recognition and explore different forms of communication.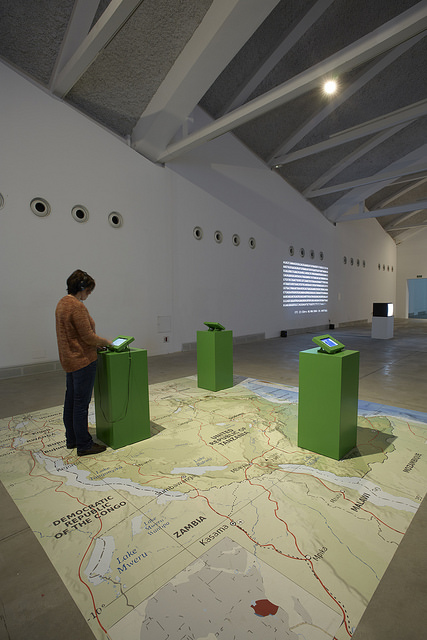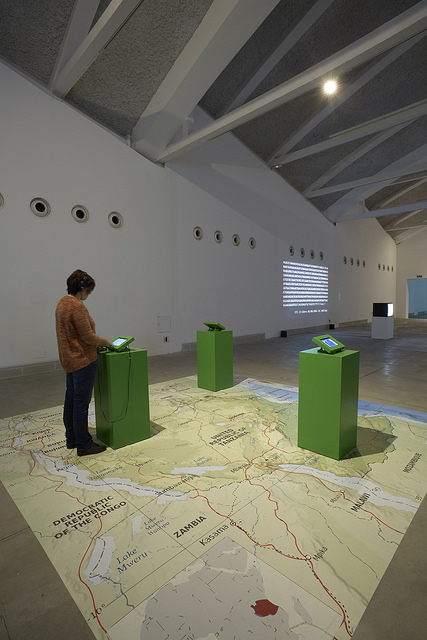 The first opportunity took shape in Bagamoyo, Tanzania, where a group of farmers expressed their interest in trying out these tools. I came in contact with this group through a scientific project that studied the direct and indirect effects of climate change on agriculture. The original goal of 'Sauti ya wakulima' was that the farmers would use smartphones and a web application to create a collaborative, audiovisual knowledge base of weather-related events, such as droughts, floods or crop diseases. However, the farmers eventually discovered that they could reshape this goal, and started to use the phones to interview other farmers with the purpose of creating a network of mutual exchange of knowledge about agricultural practices and techniques.
Episodes of fruitful learning have happened since then: one farmer learned the proper way to grow maize thanks to a picture taken by one of his colleagues. Another one learned a clever way to build chicken sheds during a trip to an agricultural fair. He took pictures of the sheds and when he came back to his community, he formed a cooperative for chicken production together with three of his colleagues. I could go on, but the project is still active after six years and that is probably the best thing that can be said of 'Sauti ya wakulima'. It is alive because farmers find it useful, and it's inspiring to learn from them that the mutual exchange of knowledge can become a key to a more resilient and interesting life. To me, the agricultures depicted in the photos posted by the Tanzanian farmers are not echoes of 'the past', but pathways to the future.
MG: What particular themes in the exhibition do you feel relate to the "The voice of the farmers" installation?
ET: I imagine 'The monster in the machine' not as a horrible, threatening ghoul, but as a weird and tricky creature made of language. The 'body' of this creature is made up of what we would call 'principles', 'values' and even 'ideologies'. And it silently lurks inside the technological artifacts we use every day. The smartphone, for instance, epitomizes the ideal 21st century citizen: a self-sufficient, competitive and efficient individual. And, indeed, the monster that lives inside our smartphones is made of those values: its presence is inscribed in the device's circuits and from there it casts its spell. What I mean is that technologies are not neutral. They are not empty: they are haunted by whispering ghosts.
If you look at technologies used in agriculture, you will also find a multitude of monsters that softly dictate from the insides of things. Perhaps not by coincidence, genetically modified (GM) seeds speak the same things as mobile phones, only with different words. They tell farmers: "stop sharing seeds with your community, it's a waste. Become an entrepreneur, there are shitloads of money to be made! Buy me! I'll make you rich!" The sad thing is that these words are a trap: farmers ultimately become entangled in monetized loops that are beyond their control. Desperation sets in and, in absurdly horrible cases, such as GM cotton farmers in India, suicide becomes the only exit. But there are, indeed, other exits.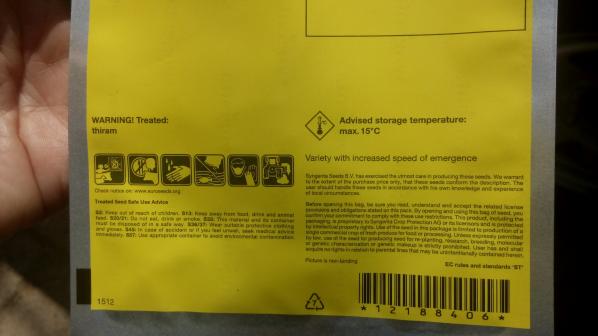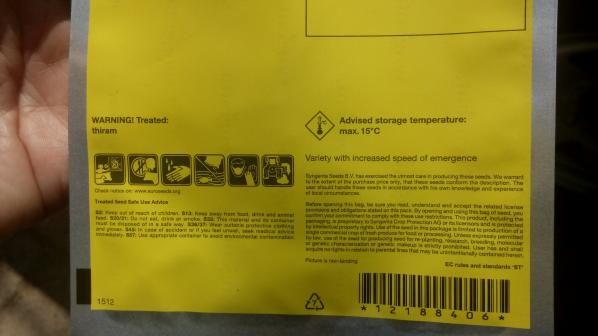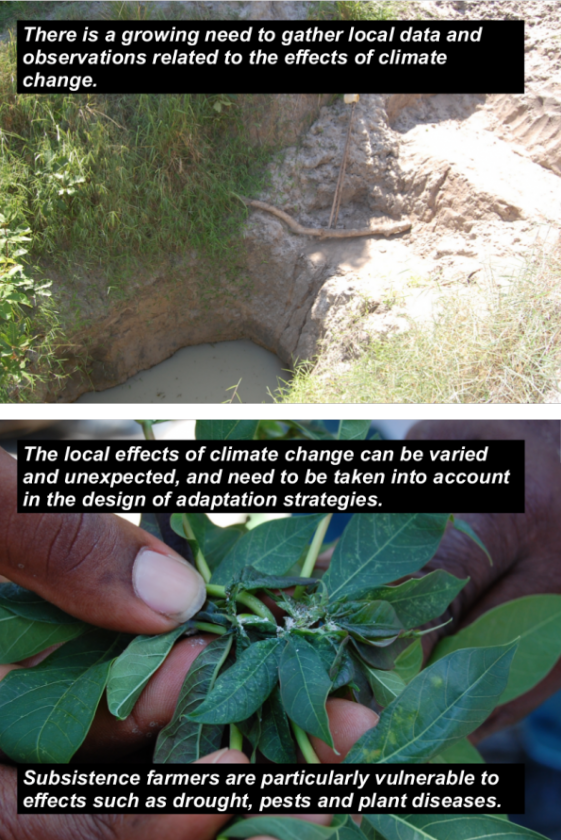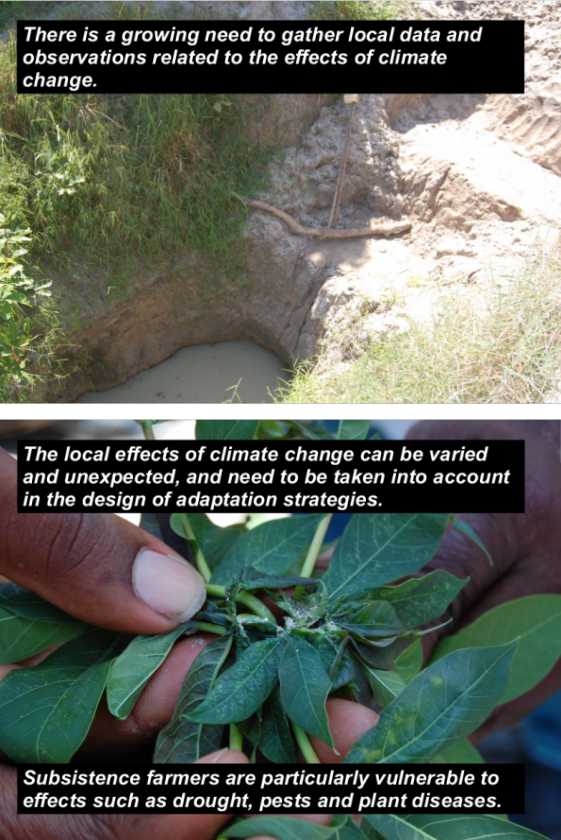 It is possible to rewrite the values and ideologies inscribed in technologies, in order to make them speak words that will do less harm. This is one of the key components of Sauti ya wakulima. From the very beginning of the project, the farmers agreed to redefine the smartphones as communal tools for collaborative documentation. They still share them and, when it is someone's turn to use one, that person knows that she will not be taking pictures and recording sounds with a personal device, but with one that belongs to the group. These dynamics of sharing can create or strengthen reciprocal bonds. Renalda Msaki, a farmer who participates in Sauti ya wakulima, once said that the project had brought the group closer together. When I reflect upon her words, I can see how the monster in the machine can be transformed into a gentler creature that, nevertheless, remains weird and tricky.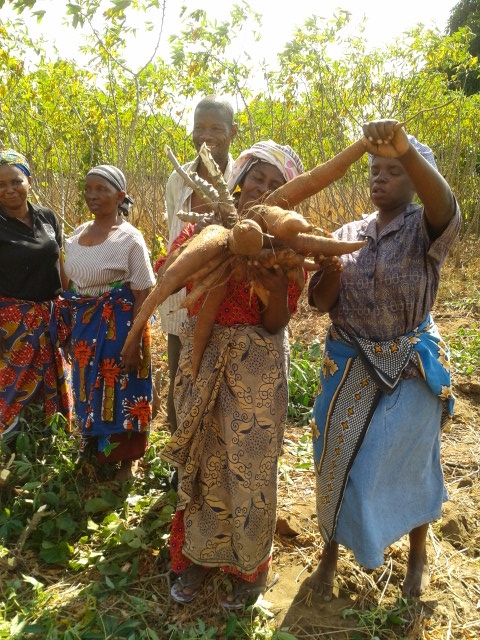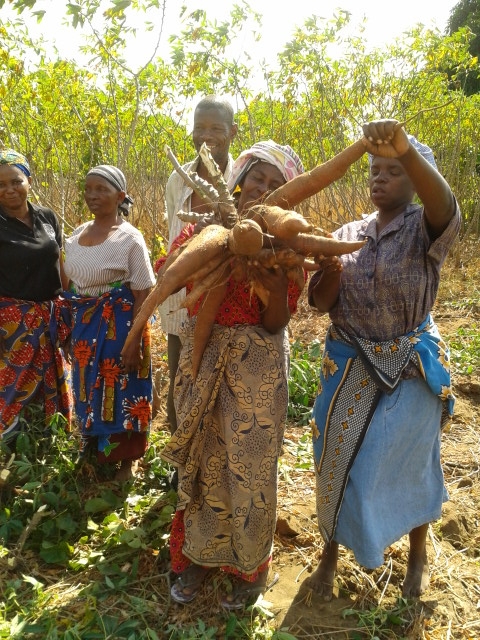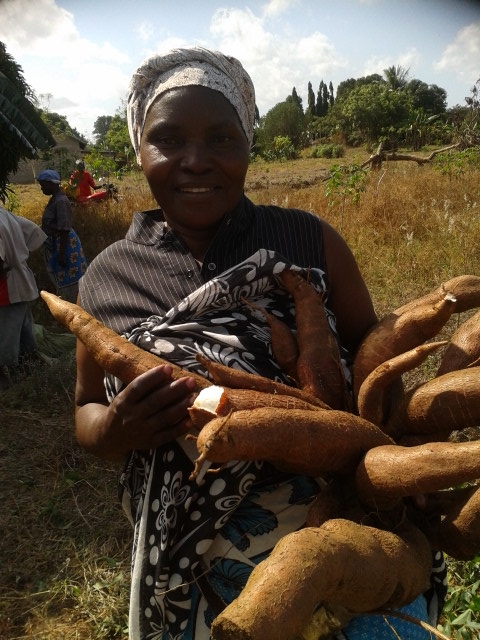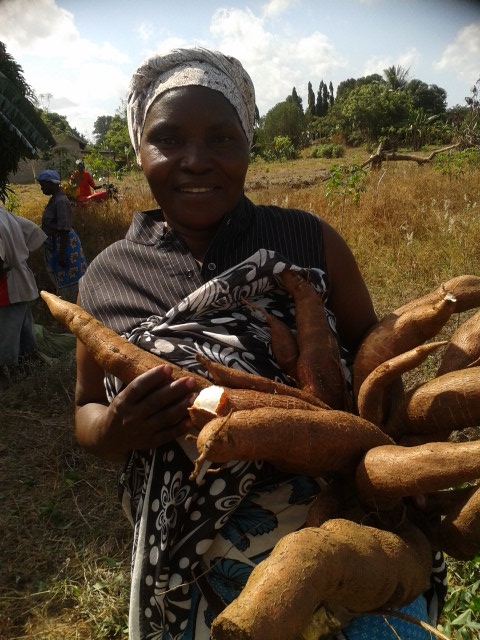 MG: What role do you think the artist has when dealing with questions such as Monsters of the Machine exhibition?
ET: I think the artist can take up an incredibly vast range of roles when dealing with machines. But, whatever one does, one shouldn't be naive about technology. Happily, the times when media artists created huge and complex pieces filled with little technological wonders just because it was exciting to celebrate their 'magic' is (almost) over. I used to say that (most) media art was the smiling face of techno-capitalism. Now I would add that, while technology was generally understood as a mediator between us and the world, it has now become a vector that uses humans to create its own mediations with the world. The roles have shifted, and things have taken a perverse turn. There's a growing chorus of techno-objects that insistently asks us, humans, to drill the Arctic, build pipelines, burn coal, destroy forests and dig up more minerals. And we obey: we must feed the monster. Artists who approach technologies as materials to play with need to be aware of these power relations. We must acknowledge that technologies of all sorts have become overpowering actors that like to command.
Conclusion
Tisselli warns us that we need to be more aware of our responsibilties when implementing technologies into the environment. An important factor of the exhibition was to bring about a vision where the art was not just one type of art. This means different engagements in how we see and work with technology, are reflected as part of its context. Also, technology is not only a human skill, '21st century scientific studies indicate that other primates and certain dolphin communities have developed simple tools and passed their knowledge to other generations.'[2]
As I write this conclusion, 'Trump is poised to sign an executive order that will dramatically reduce the role that climate change has in governmental decision-making. The order could impact everything from energy policy to appliance standards.'[3] We live in a time where US policies are written via Twitter, and the rich are typically risking ours and the world's future for their own ends. Tisselli and the farmers, remind us that, we need to be connecting with the land once more. We need to reclaim the soil before it is lost forever.
Mary Shelley's distrust of the patriarch in the form of Dr. Victor Frankenstein, is as relevant now as it was 200 years ago. 'Her portrayal of Dr. Frankenstein as an egocentric obsessive who will stop at nothing until he completes his mission in bringing his creature to life; represents man's blind quest in pushing on until the precarious end, at whatever cost.'[4] Tisselli echoes this with his own critique towards artists working in technology. If we are to rethink what innovation can be now, what would that look like if we were to update it in a way that included indigenous voices, other levels of equality, and practices beyond what now seems like tired, machismo, and over obsessive, tech-enchantment?
The 'Monsters of the machine: Frankenstein in the 21st Century' exhibition is on at at Laboral, in Spain until August 31st 2017. http://www.laboralcentrodearte.org/en/exposiciones/monsters-of-the-machine
Notes:
Those involved in the Sauti ya wakulima / The voice of the farmers project.
The farmers: Abdallah Jumanne, Mwinyimvua Mohamedi, Fatuma Ngomero, Rehema Maganga, Haeshi Shabani, Renada Msaki, Hamisi Rajabu, Ali Isha Salum, Imani Mlooka, Sina
Rafael.
Group coordinator / extension officer: Mr. Hamza S. Suleyman
Scientific advisors: Dr. Angelika Hilbeck (ETHZ), Dr. Flora Ismail (UDSM)
Programming: Eugenio Tisselli, Lluís Gómez
Translation: Cecilia Leweri
Graphic design: Joana Moll, Eugenio Tisselli
Project by: Eugenio Tisselli, Angelika Hilbeck, Juanita Schläpfer-Miller
Sponsored by The North-South Center, Swiss Federal Institute of Technology – Zürich
With the support of The Department of Botany, University of Dar es Salaam (UDSM)
Plantoid (2015) by Okhaos is a self-creating, self-propagating artwork system that uses blockchain technology to gather and manage the resources it needs to become real and to participate in the artworld. Structured as a Decentralised Autonomous Organization (DAO), once it is set in motion the code of the Plantoid system combines the functions of artwork, artist and art dealer in a single piece of software.
As its name implies, the physical Plantoid artworks are cyborg-looking welded sculptures of flowering plants. Flowers are a popular icon of naturalised aesthetics in art and culture. Their aesthetic and art historical appeal makes them an effective subject for subversion. Radicalized flowers wander through recent art like triffids through the English countryside. Helen Chadwick's "Piss Flowers" (1991-2) are a proto-xenofeminist riposte to idealisation of nature and the body. Mary Anne Francis's "The Blooming Commons" (2005) combines the ideas of organic and creative fecundity to help artist and audience consider how making art open source affects its aura. Plantoid can easily be cast in this tradition.
The physical form of Plantoid is determined by its blockchain presence, which represents an advance on the state of the art. The Bitcoin blockchain is a database that represents control of resources. Most simply these resources are amounts of Bitcoin but we can encode information representing other resources – and the right to control them – into the blockchain as well. Current general purpose Bitcoin blockchain-based systems such as Counterparty can easily represent tokens for games, for reward and voucher schemes, or for stocks and shares. Placing these on the blockchain does not magically improve them over existing means of issuing them but it does reduce their barrier to entry and make securing and maintaining them easier. It also defamiliarises them by placing them in a new context and makes them accessible and thereby inspirational to new audiences. Melanie Swan turns this idea up to 11 in her excellent survey of the state of the art and its future potential "Blockchain", describing the application of the idea of blockchains ultimately to the global economy and even the human mind.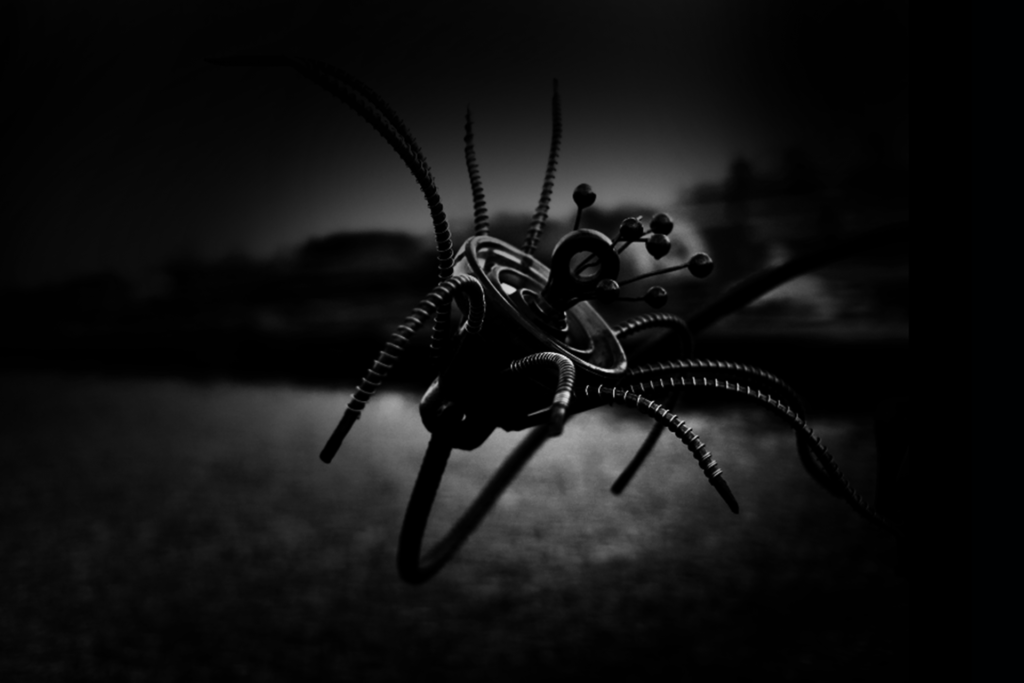 Beyond tokens, the blockchain can be a cheap and effective database of existing property and rights, including recording Free Culture licensing. It is simple to create such a system, I made the first one for artworks based on Ethereum myself. It cannot be an effective means of policing DRM (as DRM is inherently broken) and must not be treated as a means of rolling back the limits of and exceptions to the existing property and copyright regimes or of creating new entitlements ex nihilo. This would turn a technology with great (if contentious) potential for liberation into a tool of exploitation. Making a GIF of Apple's new emoticons and selling the blockchain title to it for $250 reflects existing social pathologies rather than new technological or artistic affordances.
The technobiophilic machine-nature-form hybrid nature of Plantoid is described by Okhaos in terms that cast cryptocurrency as metabolic and reproductive resources. To quote the project page:
Perhaps the initial Plantoid will need $1000 to fully turn into a blossom. Whenever that particular threshold for the Plantoid is reached, the reproduction process starts: the Plantoid only needs to identify a new person or group of persons (ideally, a group of artists) to create a new version of itself. Given the right conditions, the Plantoid is able to manufacture herself, by executing a smart contract that lives on the blockchain, and has the ability to commission welders, companies, and other beings to build and assemble a similar being.
It's here that we see how Plantoid represents an advance on existing systems. The parameters of each physical Plantoid are encoded on the Ethereum (rather than the Bitcoin) blockchain as smart contracts, representing the economic and manufacturing logic and the aesthetics of its production as a kind of genome. Plantoid is an active artistic production agent rather than a passive registry of existing art.
The defamiliarising effect of the blockchain allows us to unbundle the collections of rights and responsibilities that make up roles within the mainstream artworld. Paying for the creation of art, its storage and restoration, transport and exhibition. Inspiring, designing, manufacturing, promoting, experiencing, critiquing and art. The artist, the gallerist, the critic, the installer, the attendant. A new territory like the blockchain allows us to shake things up rather than to try to double down on existing relations and distribution of wealth in order to extract new rents.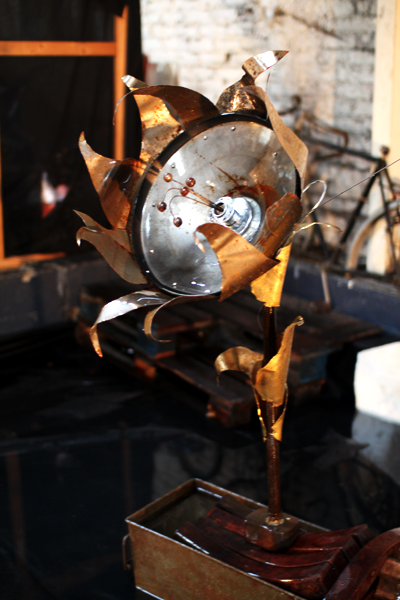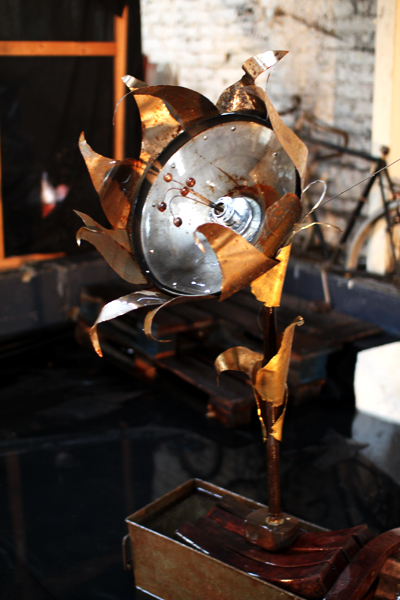 Plantoid opens up the roles of artistic production in precisely this way. It uses the structure of a DAO to incentivise the funding, governance, production, exhibition and reception of Plantoids in a virtuous circle (a positive feedback loop of production). None of this confers ownership or property rights over the physical Plantoid artworks on individual human beings. Their relationships are closer to those of patronage, crowdfunding, or tipping but unbundled further. There are technological precedents for this such as the way Aaron Koblin's "The Sheep Market" (2008) commissions drawings from clickworkers, Caleb Larsen's "A Tool To Deceive And Slaughter" (2009) manages its own sale, the way Bitnik's "Random Darknet Shopper" (2014) orders goods for delivery to the gallery, or Imogen Heap's release of the single "Tiny Human" (2015) using Ethereum smart contracts
From the project page again:
Plantoids are part of an ecosystem of relationships that is powered by two driving forces: aesthetic beauty and automated governance. Plantoids subtly motivate these interactions, partly through their form and physical beauty, but also by empowering people to participate in their governance. Participants (that is, active members of the DAO) are able to decide on such things as where the Plantoids may be exhibited, whom they might visit, and exactly how they are to be reproduced.
When it receives funds by the audience, the Plantoid evolves and turns into a more beautiful flower, by e.g. moving around a means to gratify the donor and progressively opening up its petals as more and more funds are stored into its wallet. Once enough funds are secured, the Plantoid can use this money to reproduce itself, by commissioning a third party to produce a new Plantoid.
The smart contracts that instantiate these relationships contractually direct human actors to govern the DAO, to manufacture new Plantoids, and to exhibit (and return) the work. The danger of such DAOs is that of any embedded socioeconomic intent – whether corporations, charitable trusts or high frequency trading bots. We may end up with an economic Skynet that reduces us to peons in an algorithmic gig economy, any reflection of our actual needs or desires (such as to make art) perverted by the incentives encoded into an inhuman system. Plantoid exists to ensure the production of art, and its realisation by human artisans. Given the rockstar economics of the artworld and the continued collapse of socioeconomic support for artists outside it that production is badly in need of new means of continuance. The art-economic equivalent of "grey goo" – polychrome goo? – or Terminators armed with spraycans rather than phased plasma rifles seem much less likely scenarios than art DAOs becoming lifeboats or TAZes for the funding of art that is not simply decoration for the 1%. Plantoid's explicit involvement of human producers in a comradely relationship makes it more a node in the network of collaborative and mutually supportive relationships in the peer economy than an Uberization of artistic production.
Any gap between the ambition and the technology of Plantoid can be crossed by its autopoeitic nature. Ethereum contracts cannot yet manage Bitcoin balances, for example, but using Ethereum's existing native cryptocurrency "Ether" or one of the proposed systems for managing Bitcoin accounts from Ethereum would address this. Art's function here, as in its development of religion at the dawn of history, is to create demand for the development of new means of production and relation that a dryly complete rational plan could not reach. Appropriately enough for such a hyperstitional work I discovered it via the blog of renegade philosopher Nick Land.
Without wishing to ventriloquise or reframe its achievements, Plantoid is an exemplary realisation of the potential of mutual interrogation and support of art and cryptocurrency. It's an art project that uses cryptocurrency and smart contract systems to materially support itself. And that project makes the still abstract potential and operation of cryptocurrency and smart contract tractable to consideration through art. I for one welcome our new hyperstitional DAO artwork overlords.
This work is licensed under a Creative Commons Attribution-ShareAlike 4.0 International License.
Introduction
Choose Your Muse is a series of interviews where Marc Garrett asks emerging and established artists, curators, techies, hacktivists, activists and theorists; practising across the fields of art, technology and social change, how and what has inspired them, personally, artistically and culturally.
Annie Abrahams was born in the Netherlands to a farming family in a rural village in the Netherlands. In 1978 she received a doctorate in biology and her observations on monkeys inspired her curiosity about human interactions. After leaving an academic post she trained as an artist and moved to France in 1987, where she became interested in using computers to construct and document her painting installations. She has been experimenting with networked performance and making art for the Internet since the mid 1990s. Her works have been exhibited and performed internationally at institutions such as the National Museum of Modern Art in Tokyo, New Langton Arts in San Francisco, Centre Pompidou in France, Academy of Fine Arts in Helsinki and many other venues.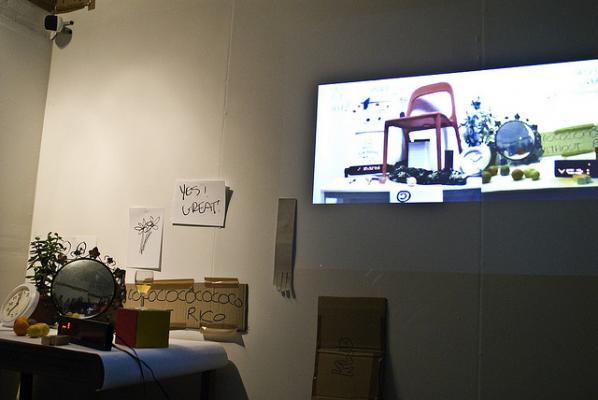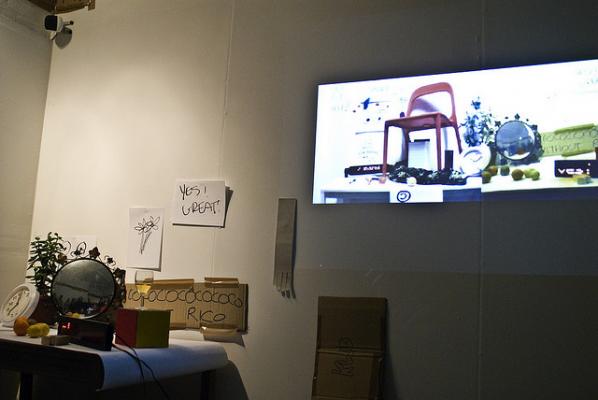 Through the years we have got to know Annie Abrahams via various online, networked artistic collaborations. In 2010, she had a her first one woman show If not you not me in the UK at Furtherfield's earlier gallery space, the HTTP Gallery. Since then, she has shown at another mixed show at Furtherfield's current space in Finsbury Park, London. This exhibition, Being Social included other artsists such as Karen Blissett, Ele Carpenter, Emilie Giles, moddr_ , Liz Sterry, and Thomson and Craighead.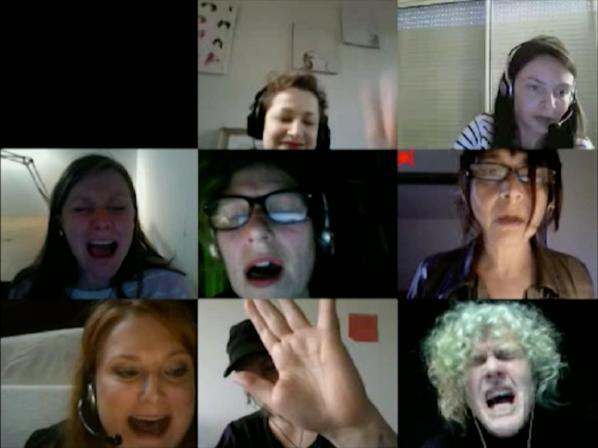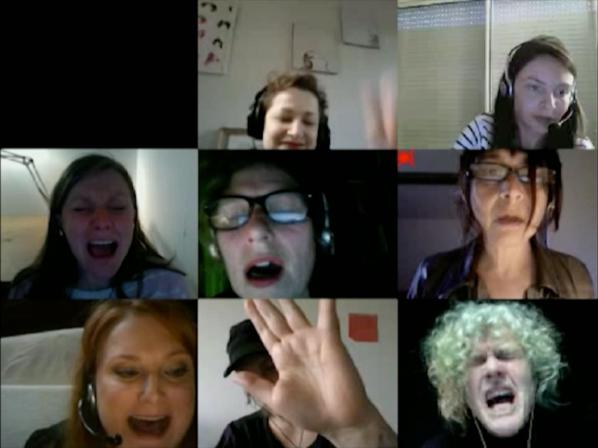 She is known worldwide for her net art and collective writing experiments and is internationally regarded as a pioneer of networked performance art. She creates situations that reveal messy and sloppy sides of human behaviour; capturing real-time moments to illucidate a reality and opening it up, making it available for thought. In an interview with Bomb Magazine in 2014 Abrahams said "My first online performance was my first HTML page. Even then I considered the Internet to be a public space, and everything that I did in that public space asked for a reaction." [1]
Interview
Marc Garrett: Could you tell us who has inspired you the most in your work and why?
Annie Abrahams: Life itself, the people I meet. Until now my basic needs in life have hardly been threatened and so the only real problems I encountered were relational problems. Who are you? Why are you different from me? What does it mean to respect you? Is opposing you necessary? And if so, how can I do that?
MG: How have they influenced your own practice and could you share with us some examples?
AA: My practice was always based on the difficulty of having to live in a world where I don't understand anything. Every person I meet opens up another view on this impossibility. Sometimes I write short posts about my encounters. Lately I did one on Shirley Clarke and one on Ed Atkins' No-one is more "Work" than me. aabrahams.wordpress.com
MG: How different is your work from your influences and what are the reasons for this?
AA: My work is made from these influences. In the beginning I thought this was not ok, because I was educated with the idea that you have to be "unique" and make unique artworks. But now I am proud of my sensibility for what others say and do and the way I work with that.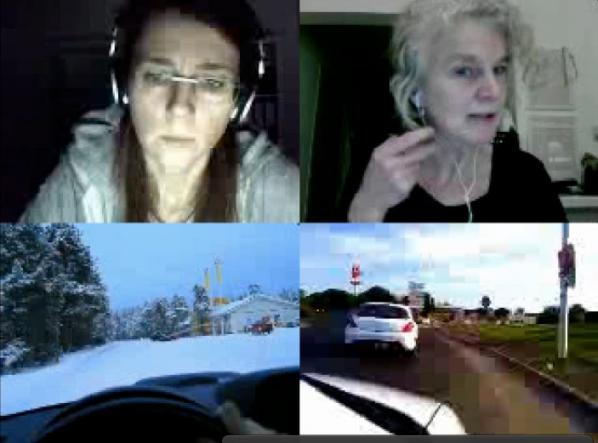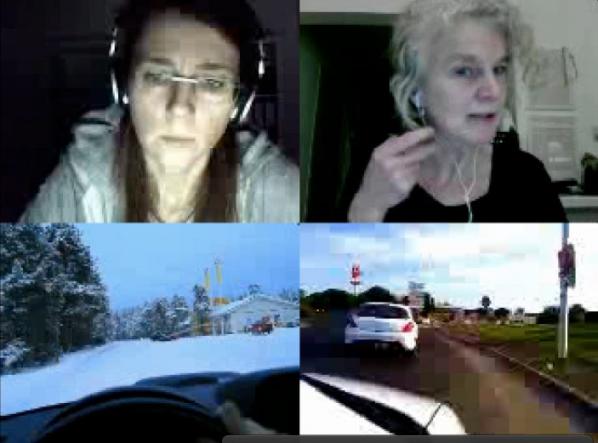 MG: Describe a real-life situation that inspired you and then describe a current idea or art work that has inspired you?
AA: Last summer I made a book called from estanger to e-stranger. Ruth Catlow described it as "all-at-once instruction manual, poetry and a series of vignettes of contemporary encounters in language-less places". There you can find ideas and art works that inspire me, but in general I am not driven by inspiration, my acts are driven by irritation, my art by incomprehension. Art works sooth, make things bearable and sometimes incite to look beyond habits. Btw I am still continuing my research on how language shapes culture, society and me. http://e-stranger.tumblr.com/
MG: What's the best piece of advice you can give to anyone thinking of starting up in the fields of art, technology and social change?
AA: Stay close to your own concerns, to things you can have a concrete influence on, observe the results of your actions, pay attention, adapt, and always smile to your neighbour in the morning.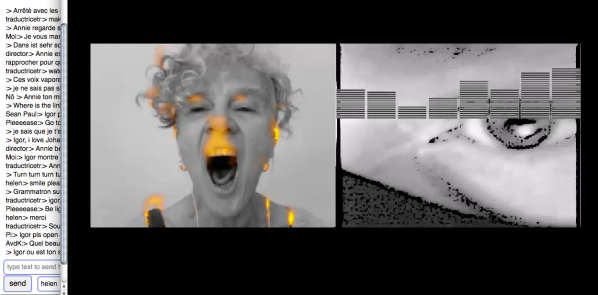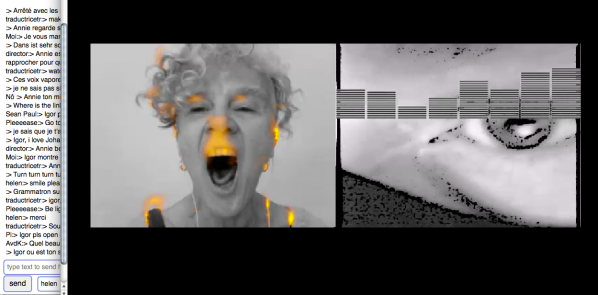 MG: Could you recommend any reading materials or exhibitions past or present that you think would be great for readers to view, and if so why?
AA: For years now every now and then I've come back to Darren O'Donnell's book "Social Acupuncture" and always again I say to myself, "yes, you can think and act art and politics together. Please have a look at the Mammalian Diving Reflex group's (he is their artistic director) methods. http://mammalian.ca/method/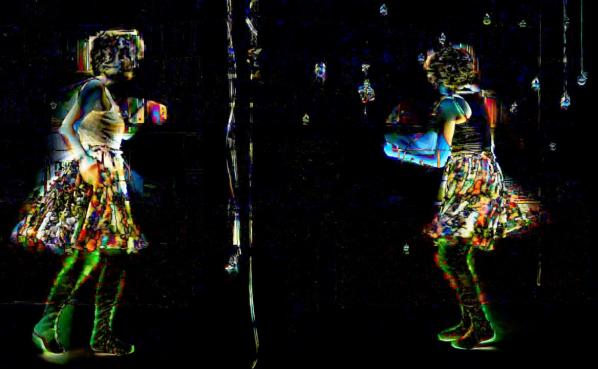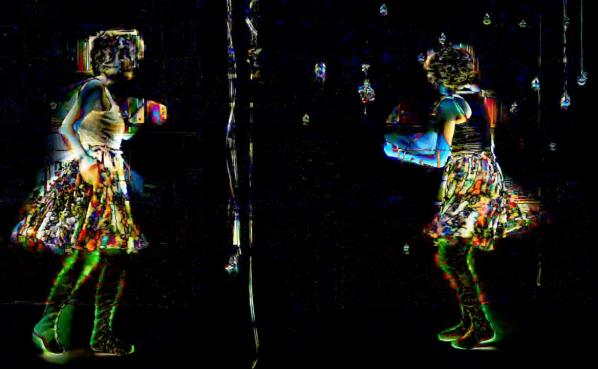 Featured image: A is for Art, B is for Bullshit: A history of conceptual art for badasses, book by Guido Segni 2015
"Outside of the Internet there's no glory" Miltos Manetas"
Guido Segni, is an Italian artist whose activity began in the fields of hacktivism and Net Art in the 90s. As part of his practice he questions the nature of identity that resides on the Web (acting under many fake identities, like Dedalus, Clemente Pestelli, Guy McMusker, Angela Merelli, Anna Adamolo, Guy The Bore, Umberto Stanca,Silvie Inb, Fosco Loiti Celant, Guru Miri Goro, Leslie Bleus, Luther Blissett) and the value of digital activity with projects like 15 Minutes, anonymous, and The middle finger response.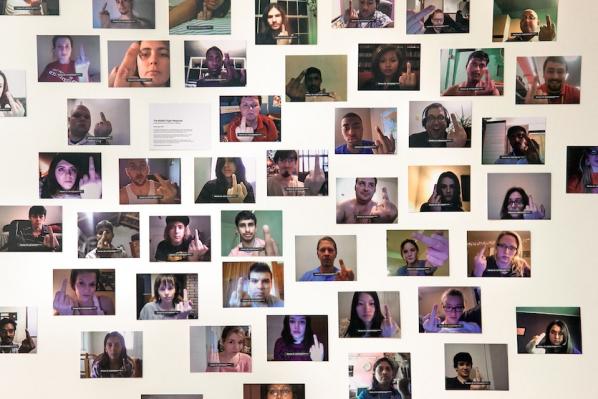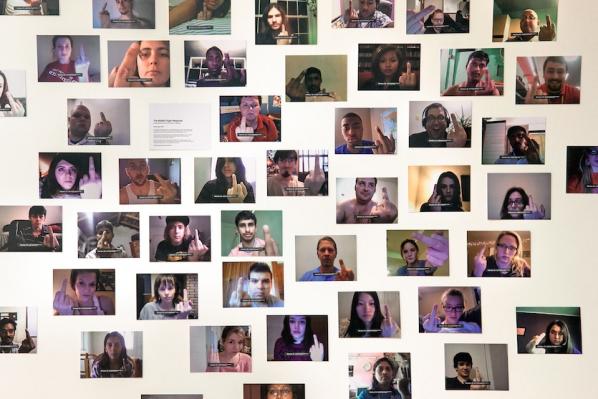 The Internet and lists are two things that have always been together, especially now many of us use social networking platorms such as Twitter and Facebook. We can't track how and when the first "Top 25/10/5" appeared on the Web, but it's for sure one of the most frequent ways to gain a lot of attention from Internet users, and it can make you feel as if you're trapped in a never ending, online fast-food loop. However, when I found out that Guido Segni had created his own version of a top 25 list I was naturally intrigued, so I decided to ask him what it was all about.
Filippo Lorenzin: How and when did you start working on Top 25 Expiring Artists?
Guido Segni: It all started in 2013 after a discussion with Luca Leggero, an artist friend of mine who was working on a piece about the ephemerality of internet art pieces, and it stimulated in me many thoughts on the subject. In the beginning I just wanted to create a sort of memento mori, a list of all artists' expiring websites. It was only a few months later I introduced the idea of it as a competition, transforming the work into an ironic top artists ranking list, based on the expiration date of their websites.
FL: Could you tell us how it works and how are artists ranked on the list?
GS: It works as many of the other ranking lists you can find on the web. The difference stands on the criteria. While many lists circulating on the web (Top 10 young artist to follow, Top 5 internet artist, etc) are often based on unintelligible criteria, in TEIA (Top Expiring Internet Artists) the criteria are as clear as useless and absurd: the whole list is in fact ordered by the expiration date of the artist website. The nearer is the website expiration date, the better ranking the artist website will obtain. It's a democratic but very competitive race where everyone can reach the first position even if just for a day. Top 25 Expiring Artists is automagically updated every day – you can only see the top 25 but actually the project counts more than 50 artists. To be included in this list an artist just needs to make an email submission sending the URL of his/her/its website.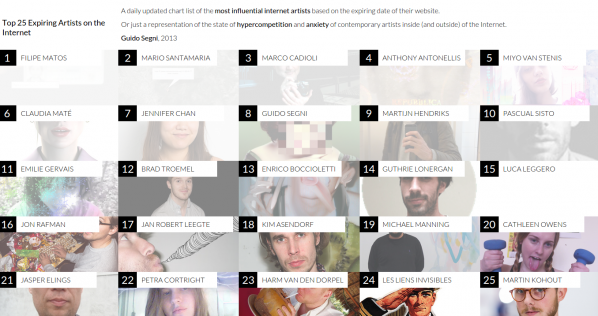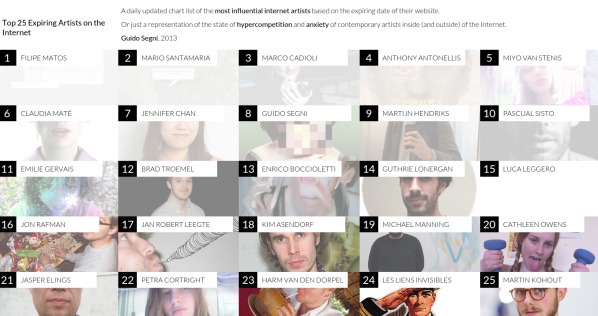 FL: This work has many interesting points to talk about, but I would start with lists-related questions. Does ranking artists on the basis of their aim to be not forgotten mean to highlight a typical behavior of all online users or does it specifically relate to web-based artists?
GS: Actually, the piece is mainly focused on web-based artists. Working with digital based technologies, I've always had to face the problem of ephemerality: every year I need to renew the subscription to the hosting service of the many website I own, I periodically have to upgrade the technical environment of my works and often I also need to recode them from scratch in order to keep them all working. That's why I decided to transform this everyday battle with technology into an ironical and nonsense race for artists, aiming to survive to time.
FL: In the list there are only artists mostly interested in digital issues and I know most of them by person. I have even worked with some of them in previous years and this makes me quite comfortable, like if it was more a sort of reunion with old friends, rather than a competitive race. Is this part of the project or would you like it to be more harsh?
GS: Remember the list is a top 25 Internet artists, so it was natural for me when I started the project to choose the first group of artists mainly involved in digital issues. That said, apart from that memento mori feeling which I've discussed before, I was also interested in creating a believable and ironical representation "of the state of hypercompetition and anxiety of contemporary artists inside (and outside) of the Internet." Probably it's because I'm a nostalgic of the early days of the Internet – the period of the net utopia – but what I see today is more and more a rising feeling of egotism and selfishness. So what I tried to do is just to stress this contraposition between the brotherhood – what you call the reunion with old friends – and the competition, a perpetual struggle between peers for not being forgot.
FL: This project is ironic. You can say this just by seeing how you mimick aesthetic and text styles of online services like Klout or Google Rank. It seems to me that this is a recurring feature in your works – like in The Middle Finger Response. Is it true?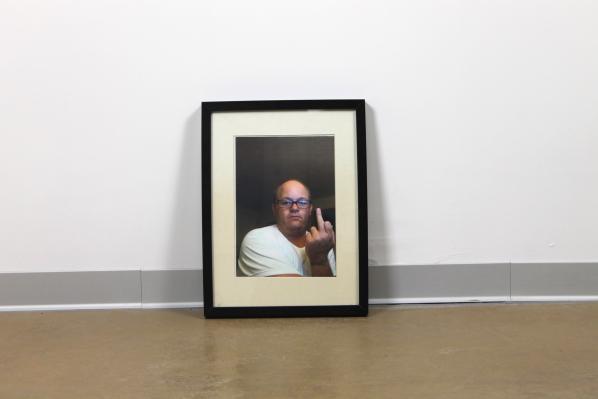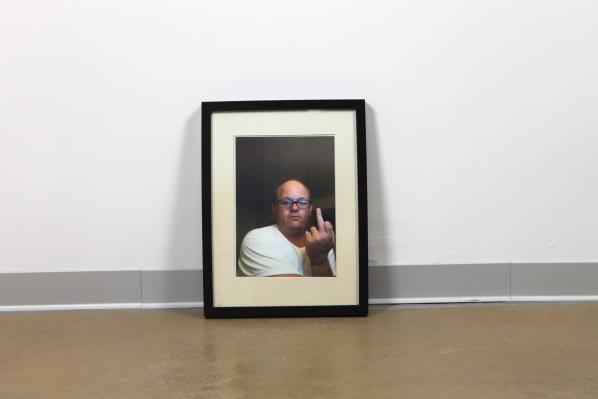 GS: It maybe depends on the fact that I'm from that particular area in Italy (Tuscany) where you can't either take yourself too seriously. Or maybe it depends on the fact that irony itself is an important feature you can find over all the formats on the Internet. But I agree with you that willing or not the use of irony is a recurrent and strong component of my works.
FL: I'm interested in how people (me too, yes) sign to online services that promise them to rank their online lives on the base of their influence capacity. It's like watching a mirror made on quantification premises, built by the same system that push you to post more and more about yourself and your incredibly unique existence. In which way this project is related to this phenomenon?
GS: The main intent of the project is to ridicule lists of any sort. But said that, I think the reason why lists – as a cultural form – are so popular is that they have the power to simplify the representation of complex phenomena of reality. So the various "Top artists to discover", "Top 10 rock bands" or the "Most influential person in the world" are just examples of a fictious narration which give the apparent comprehension of the real. And this is particulary true in an over-polluted space like the Internet.
FL: In the brief conversation we had previously on Twitter, you said to me that you would like to make other versions of this project. Can you tell me something about this?
GS: I have many ideas about these new versions but unfortunately I'm a very slow man and I still don't know how and when they will be released.
FL: You worked on the branding of people also with 15 Minutes, anonymous. Could you tell us if and how there is a connection between that work and Top 25 Expiring Artists?
GS: To be honest, at that time I hadn't in mind these connections. From a certain point of view I think they are very different form each other, but it's true that they both implicitly move around the concepts of fame and anonymity in opposite directions. While in Top 25 Expiring Artists the expire date is an ironic way to reach a sort of fame – even if only for a day – in the case of 15 Minutes, anonymous I focused on the algorithmic aspect of transforming a very large number of pictures of pop symbols into anonymous and abstract pictures.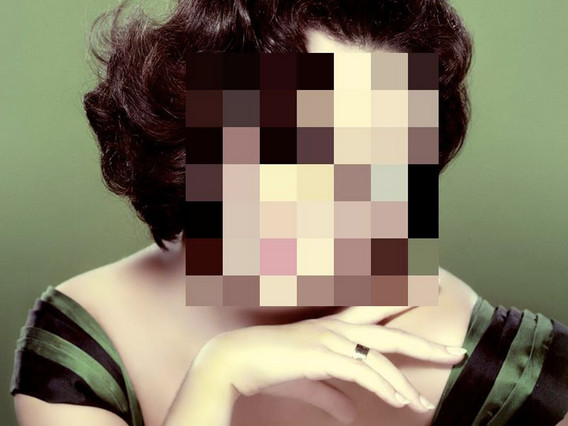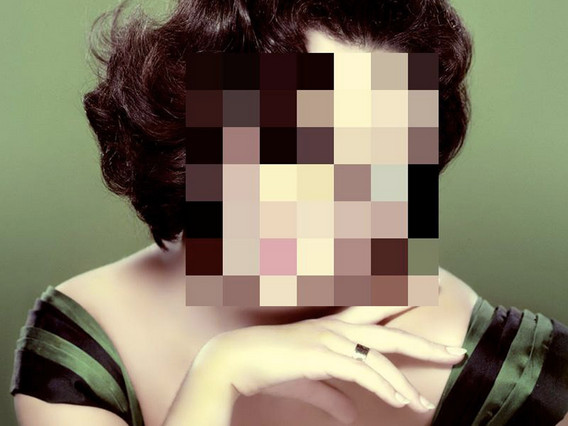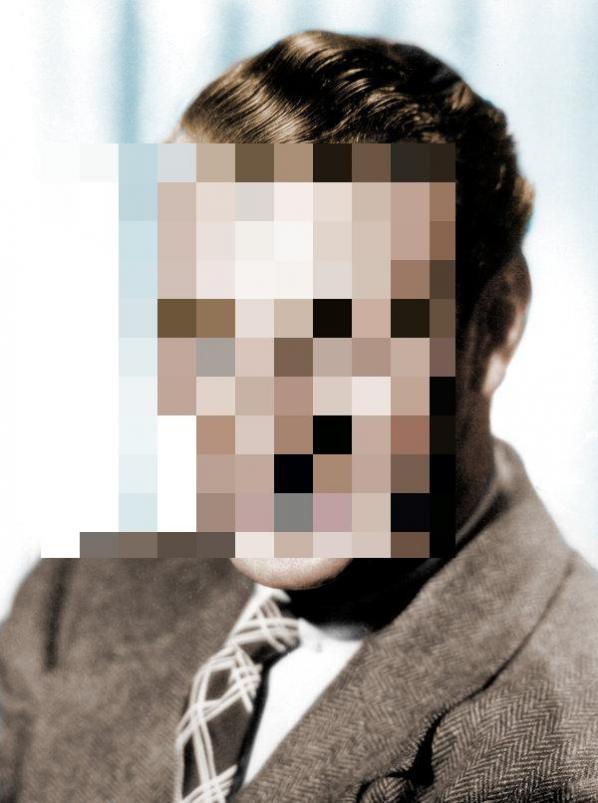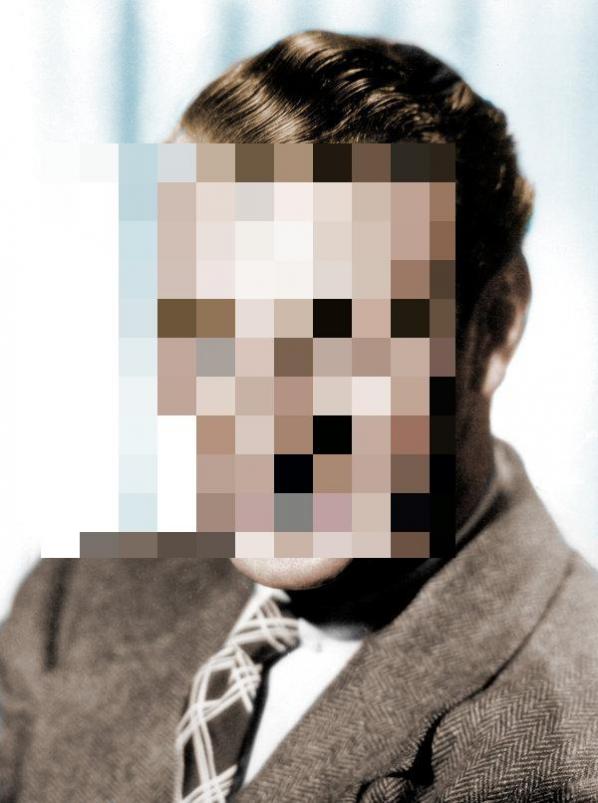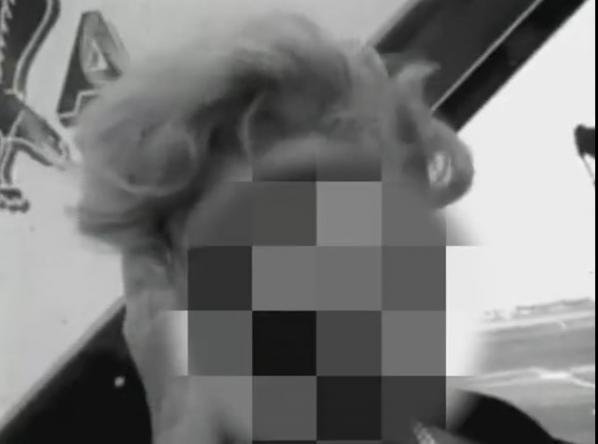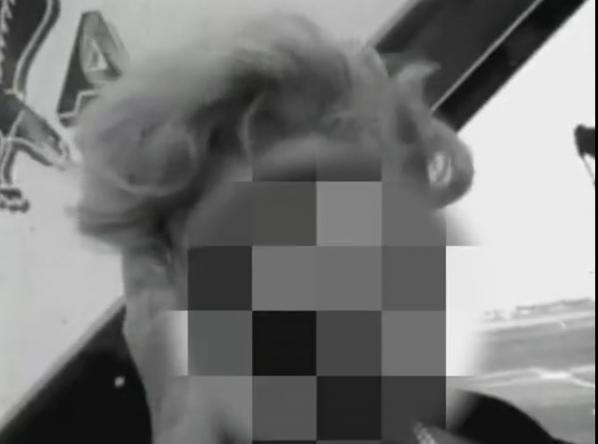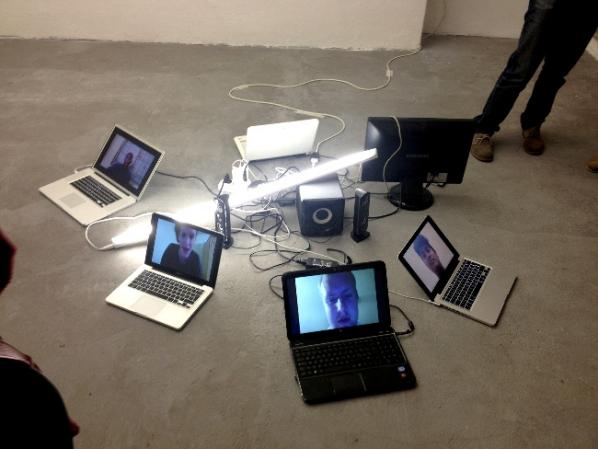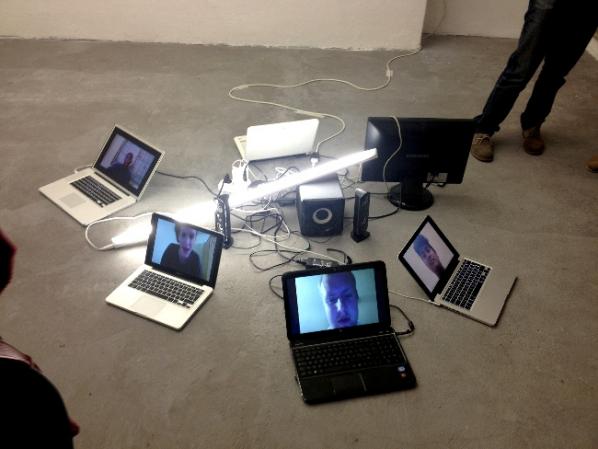 FL: Again, the anonymity and the individual are two of the main questions in your research. This happens also with Proof of existence of a cloud worker, and I recall me Middle Finger Response. What do you think?
GS: Between 2013 and 2014 I made several experiments with crowdsourcing and, yes, Proofs of existence of a cloud worker and Middle Finger Response have many points in common apart from that they are projects based on Amazon Mechanical Turk platform. Basically they both document and display what crowdsourcing is from the point of view of the workers dispersed through the new digital frontiers of leisure and labour. I think you got the point when you talked about anonymity and individual. As all the efforts of crowdsourcing platforms are to hide and anonymize the crowd, what I tried to do is to give them back a face and a voice. In The Middle Finger Response I focused on the spontaneous pose and gesture captured by the webcam, while in Proofs of existence of a cloud worker I used a more abstract and apparently nonsense approach as I asked them to re-enact a clip found on YouTube which shows a person claiming "Pics or it didn't happen".
FL: What will you be doing in the future?
GS: As I've already said I'm a very slow guy and I've been working on this particular project for almost 2 years. But I think we're almost there and in a few months I'm going to release it. It's a project about failures, datacenters, space/time travels and desertification of communications. Stay tuned 😉
Featured image: "High Street Casualties: Ellie Harrison's Zombie Walk" event at Ort Gallery on 11 April 2015, photograph by Marcin Sz
Like all of the best horror stories, this is a story about something that refuses to die. Despite, or perhaps because of being slashed and burned, prodded and poked in a laboratory and being raised from the grave at least three times, artist Ellie Harrison's project, High Street Casualties, lives to fight on another day, perhaps with a number of sequels to come.
Our protagonist Ellie Harrison not only stars, directs, writes and produces High Street Casualties, she is responsible for a cast of thousands and hours of dragging an idea through the ups and downs of trying to bring an artwork to some kind of fruition.
I am one of those thousands, playing a small part at the start of the story. I had been interested in Harrison's work for a few years, especially works such as Toytown featuring a dilapidated 1980s kid's car ride which starts up and offers people free rides when news relating to the recession makes the headlines on the BBC News RSS feed. Works like Toytown, and Transactions, where Harrison sent an SMS message to a phone installed in a gallery every time she made an economic transaction, triggering a dancing Coke can every time a message is received, seemed to make immediate political statements to a wide audience and be accessible, and, dare I say it, fun.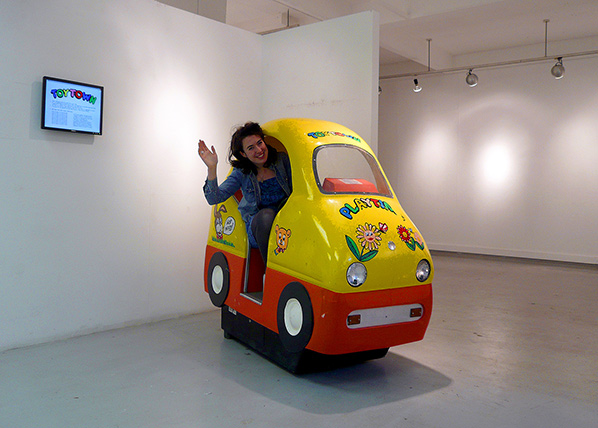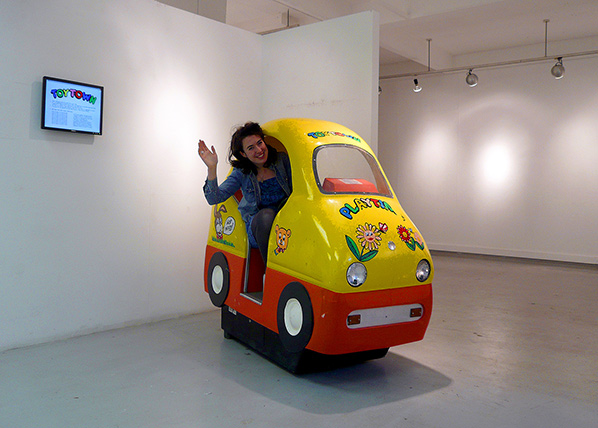 By early 2013 there was spate of high-profile shop closures and the media was full of Death of the High Street scary stories. Blockbusters, Jessops and HMV all closed within months of each other along with other High Street regulars, being replaced by poundshops and charity shops (although Jessops and HMV got injected with some strange green elixir and brought back to life, lacking what small amount of soul they once had).
I was now commissioning public art for Art Across The City, Swansea, a job that until recently saw 36 temporary commissions in three years including Jeremy Deller, Emily Speed, Ross Sinclair and Jeremy Millar. I'd put forward Harrison at interview stage so was happy to finally commission her. As a former Blockbuster's employee, who proudly fires off her years of service '1997-2000', Harrison was keen to commemorate the 5th anniversary of the start of the global recession, taking the reported death of the high street as its subject. Following a week long site visit and research period, Harrison proposed a city wide participatory event that like many of her works, are 'data visualisation' projects.
This included researching every shop that had closed in the city centre and how many employees had lost jobs, and, hopefully tracking them down and getting them to stage a Zombie Walk through the city, inviting the public to join in, to make the high street and place for creative activity and raising community spirit. This wasn't a Swansea problem, it was a UK wide problem, the blunt end of day to day global recession. Harrison was aiming to raise awareness and bring people together in a positive action.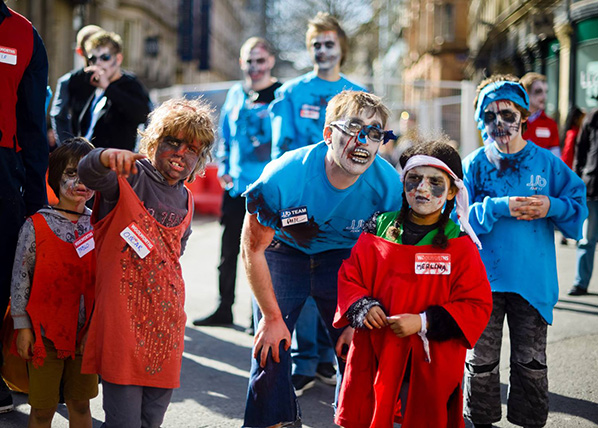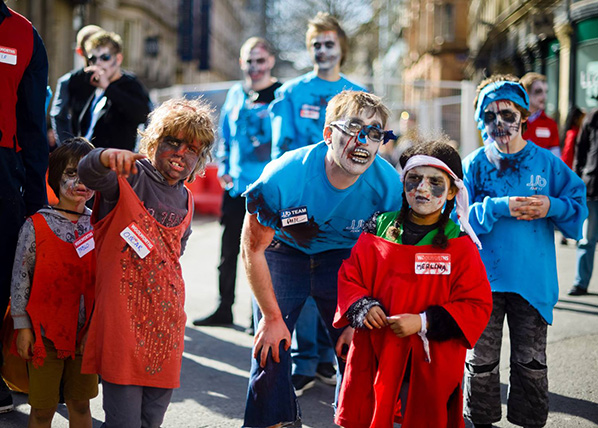 Sadly, just three months until launch day, the powers that be in a muddled chain of command, from Swansea Council, Swansea BID and ultimately Art Across The City pulled the plug. It was a small condolence that I managed to make sure Harrison received an ominous sounding 'kill fee' of £1000, which would barely scratch the sides of the time spent not only on this, but of not working on other projects. It's a credit to Harrison that she managed to raise the project from the dead, although even that process has not been without its own silver bullet, crucifixes and garlic bulbs.
After dusting herself down, Harrison proposed the idea to Glasgow International as a collaboration with award winning documentary film maker, Jeanie Finlay. The proposal, probably suffering a hangover from its Swansea cancellation was not selected. Harrison was then approached by Josephine Reichert from Ort Gallery in Birmingham about doing a project which "engaged with the local community". High Street Casualties perfectly fitted the bill. Again, this was not critical of any specific city, just documenting what was happening globally. Reichert was more than keen to make it happen and submitted an application to Arts Council England to fund the project (on a greatly reduced budget), as part of Ort's annual programme of exhibitions and events. This first application was unsuccessful but with Reichert's enthusiasm and passion for the project it was successfully resubmitted. High Street Casualties was to become the last project in the Ort Gallery's programme with a date finally fixed for April 2015, slap bang in the middle of the General Election Purdah, like a stake through the heart.
While some horror film productions like to promote the hype that filming on set was cursed, High Street Casualties seemed to attract all kinds of uncalled for and ill-informed bad luck. Birmingham City Council declared that they did not want to fund or be associated with the project. They continued to fund the rest of Ort's annual programme, but withdrew money just from High Street Casualties as they thought it was, and just let this glide through you like a ghost, it was 'making fun of unemployed people'.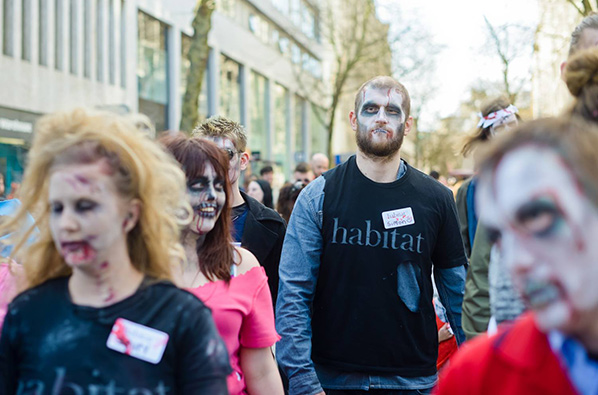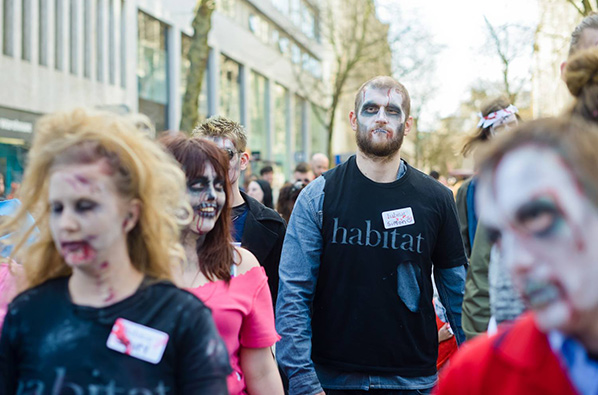 This left just £2000 for an 18 day production, not taking into account the work done over the previous year. Harrison points out that it worked out at £4.50 per hour, which is what she earned whilst at Blockbuster. A further grant application for Glasgow Visual Art Scheme was rejected leaving a limited budget for the make-up artist, photographer and designer. A huge amount of goodwill was required, not just from Reichert and Ort Gallery, who works in the café when not resubmitting ACE applications; the student who helped make the film as part of a placement and of course all of the 60 participants who were involved in a Zombie Walk across Birmingham in their old uniforms, receiving food and drink and make-up tutorials for their time.
Harrison is more than well aware of paying artists and unhappy that the project was compromised on more than one occasion. The original idea about it being a realistic "data visualisation" of redundancies had to be loosened a little as they were at the whim of the number of people who showed up on the day.
60 people is a good crowd given the circumstances but only around a fifth of the number of people who would have lost their jobs from 13 stores. Despite having to cut important corners to the project's integrity, Harrison is relieved that after two years the initial idea is a reality. The event was not only a success, but proved an alternative form of creative protest in a major UK city. The watching audience, due to the popularity of such Zombie Walks responded well, commenting on old shops and where they used to be. Harrison believes it was popular, radical and subversive, which is a hard trick to pull off.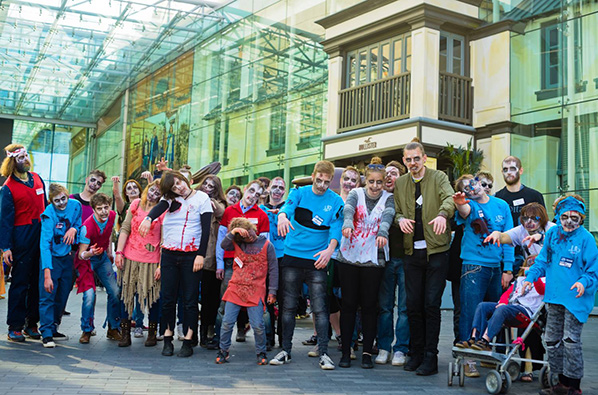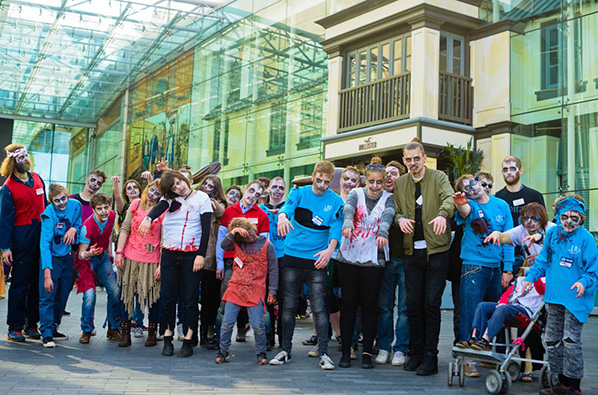 Following a blood stained finale, the end credits have rolled. I was made redundant recently following Arts Council of Wales cuts. Harrison created Dark Days, a post-apocalyptic communal living project in Glasgow Museum of Modern Art; exhibited an immigrant friendly golf course at the Venice Biennale and continues to campaign on many fronts, including Bring Back British Rail. The High Street carries on in some form or another and Conservative vampires are sucking the life out of the UK and we all limp on, like zombies in Romero's Dawn of the Dead, visiting the shopping mall out of habit.
In these days of austerity, it is important to reach out to the widest audience and speak outside of our own bubbles of influence. High Street Casualties isn't about criticising what has happened, although it uses that data. It is about making more people aware of why it happened and how we may be able to affect some kind of creative change, however small. High Street Casualties deserves a sequel, a big budget reboot and should tour to every town and city, bringing gore, blood, and ripped Blockbuster uniforms to outside a multiplex near you…
---
Gordon Dalton is an artist, curator and writer based in Cardiff. He is currently coordinating the inaugural Plymouth Art Weekender
www.gordondalton.co.uk
twitter.com/Mermaid_Monster
Featured image: Rosa Menkman, iRD patch, (2015) Black on black embroidered logo [iRD] Encryption key to the institutions RLE 010 0000 – 101 1111
In the lead-up to her solo show, institutions of Resolution Disputes [iRD], at Transfer Gallery, Brooklyn, Daniel Rourke caught up with Rosa Menkman over two gallons of home-brewed coffee. They talked about what the show might become, discussing a series of alternate resolutions and realities that exist parallel to our daily modes of perception.
iRD is open to visitors on Saturdays at Transfer Gallery until April 18th, and will also function as host to Daniel Rourke and Morehshin Allahyari's 3D Additivist Manifesto, on Thursday April 16th.
Rosa Menkman: The upcoming exhibition at Transfer is an illustration of my practice based PhD research on resolutions. It will be called 'institutions of Resolution Disputes', in short iRD and will be about the liminal, alternative modes of data or information representation, that are obfuscated by technological conventions. The title is a bit wonky as I wish for it to reflect that kind of ambiguity that invokes curiosity.
In any case, I always feel that every person, at least once in their grown-up life, wants to start an institution. There are a few of those moments in life, like "Now I am tired of the school system, I want to start my own school!"; and "Now I am ready to become an architect!", so this is my dream after wanting to become an architect.
Daniel Rourke: To establish your own institution?
RM: First of all, I am multiplexing the term institution here. 'institutions' and the whole setting of iRD does mimic a (white box) institute, however the iRD does not just stand for a formal organization that you can just walk into. The institutions also revisit a slightly more compound framework that hails from late 1970s, formulated by Joseph Goguen and Rod Burstall, who dealt with the growing complexities at stake when connecting different logical systems (such as databases and programming languages) within computer sciences. A main result of these non-logical institutions is that different logical systems can be 'glued' together at the 'substrata levels', the illogical frameworks through which computation also takes place.
Secondly, while the term 'resolution' generally simply refers to a standard (measurement) embedded in the technological domain, I believe that a resolution indeed functions as a settlement (solution), but at the same time exists as a space of compromise between different actors (languages, objects, materialities) who dispute their stakes (frame rate, number of pixels and colors, etc.), following rules (protocols) within the ever growing digital territories.
So to answer your question; maybe in a way the iRD is sort of an anti-protological institute or institute for anti-utopic, obfuscated or dysfunctional resolutions.
DR: It makes me think of Donna Haraway's Manifesto for Cyborgs, and especially a line that has been echoing around my head recently:
"No objects, spaces, or bodies are sacred in themselves; any component can be interfaced with any other if the proper standard, the proper code, can be constructed for processing signals in a common language."
By using the terms 'obfuscation' and 'dysfunction' you are invoking a will – perhaps on your part, but also on the part of the resolutions themselves – to be recognised. I love that gesture. I can hear the objects in iRD speaking out; making themselves heard, perhaps for the first time. In The 3D Additivist Manifesto we set out to imagine what the existence of Haraway's 'common language' might mean for the unrealised, "the powerless to be born." Can I take it that your institute has a similar aim in mind? A place for the 'otherwise' to be empowered, or at least to be recognised?
RM: The iRD indeed kind of functions as a stage for non-protocological resolutions, or radical digital materialism.
I always feel like I should say here, that generally, I am not against function or efficiency. These are good qualities, they make the world move forward. On the other hand, I do believe that there is a covert, nepotist cartel of protocols that governs the flows and resolutions of data and information just for the sake of functionality and efficiency. The sole aim of this cartel is to uphold the dogma of modern computation, which is about making actors function together (resonate) as efficiently as possible, tweaking out resources to maximum capacity, without bottlenecks, clicks, hicks or cuts, etc.
But this dogma also obfuscates a compromise that we never question. And this is where my problem lies: efficiency and functionality are shaping our objects. Any of these actors could also operate under lower, worse or just different resolutions. Yet we have not been taught to see, think or question any of these resolutions. They are obfuscated and we are blind to them.
I want to be able to at least entertain the option of round video (strip video from its interface!), to write inside non-quadrilateral, modular text editors (no more linear reading!) or to listen to (sonify) my rainbows (gradients). Right now, the protocols in place simply do not make this possible, or even worse, they have blocked these functionalities.
There is this whole alternate universe of computational objects, ways that our data would look or be used like, if the protocols and their resolutions had been tweaked differently. The iRD reflects on this, and searches, if you will, a computation of many dimensions.
DR: Meaning that a desktop document could have its corners folded back, and odd, non standard tessellations would be possible, with overlapping and intersecting work spaces?
RM: Yes! Exactly!
Right now in the field of imagery, all compressions are quadrilateral, ecology dependent, standard solutions (compromises) following an equation in which data flows are plotted against actors that deal with the efficiency/functionality duality in storage, processing and transmission.
I am interested in creating circles, pentagons and other more organic manifolds! If we would do this, the whole machine would work differently. We could create a modular and syphoning relationships between files, and just as in jon Satroms' 2011 QTzrk installation, video would have multiple timelines and soundtracks, it could even contain some form of layer-space!
DR: So the iRD is also a place for some of those alternate 'solutions' that are in dispute?
RM: Absolutely. However, while I am not a programmer, I also don't believe that imagining new resolutions means to absolve of all existing resolutions and their inherent artifacts. History and ecology play a big role in the construction of a resolution, which is why I will also host some of my favorite, classic solutions and their inherent (normally obfuscated) artifacts at the iRD, such as scan lines, DCT blocks, and JPEG2000 wavelets.
The iRD could easily function as a Wunderkammer for artifacts that already exist within our current resolutions. But to me this would be a needles move towards the style of the Evil Media Distribution Center, created by YoHa (Matsuko Yokokoji and Graham Harwood) for the 2013 Transmediale. I love to visit Curiosity Cabinets, but at the same time, these places are kind of dead, celebrating objects that are often shielded behind glass (or plastic). I can imagine the man responsible for such a collection. There he sits, in the corner, smoking a pipe, looking over his conquests.
But this kind of collection does not activate anything! Its just ones own private boutique collection of evil! For a dispute to take place we need action! Objects need to have – or be given – a voice!
DR: …and the alternate possible resolutions can be played out, can be realised, without solidifying them as symbols of something dead and forgotten.
RM: Right! It would be easy and pretty to have those objects in a Wunderkammer type of display. Or as Readymades in a Boîte-en-valise but it just feels so sad. That would not be zombie like but dead-dead. A static capture of hopelessness.
DR: The Wunderkammer had a resurgence a few years ago. Lots of artists used the form as a curatorial paradigm, allowing them to enact their practice as artist and curator. A response, perhaps, to the web, the internet, and the archive. Aggregated objects, documents and other forms placed together to create essayistic exhibitions.
RM: I feel right now, this could be an easy way out. It would be a great way out, however, as I said, I feel the need to do something else, something more active. I will smoke that cigar some other day.
DR: So you wouldn't want to consider the whole of Transfer Gallery as a Wunderkammer that you were working inside of?
RM: It is one possibility. But it is not my favorite. I would rather make works against the established resolutions, works that are built to break out of a pre-existing mediatic flow. Works that were built to go beyond a specific conventional use.
For example, I recently did this exhibition in The Netherlands where I got to install a really big wallpaper, which I think gained me a new, alternative perspectives on digital materiality. I glitched a JPEG and zoomed in on its DCT blocks and it was sooo beautiful, but also so scalable and pokable. It became an alternative level of real to me, somehow.
DR: Does it tesselate and repeat, like conventional wallpaper?
RM: It does repeat in places. I would do it completely differently if I did it again. Actually, for the iRD I am considering to zoom into the JPEG2000 wavelets. I thought it would be interesting to make a psychedelic installation like this. It's like somebody vomited onto the wall.
DR: [laughs] It does look organic, like bacteria trying to organise.
RM: Yeah. It really feels like something that has its own agency somehow.
DR: That's the thing about JPEG2000 – and the only reason I know about that format, by the way, is because of your Vernacular of File Formats – the idea that they had to come up with a non-regular block shape for the image format that didn't contradict with the artifacts in the bones and bodies that were being imaged. It feels more organic because of that. It doesn't look like what you expect an image format to look like, it looks like what I expect life to look like, close up.
RM: It looks like 'Game of Life'.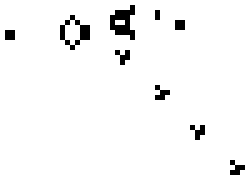 DR: Yes! Like Game of Life. And I assume that now they don't need to use JPEG2000 because the imaging resolution is high enough on the machines to supersede bone artifacts. I love that. I love the effect caused when you've blown it up here. It looks wonderful. What is the original source for this?
RM: I would blow this image [the one from A Vernacular of File Formats] up to hell. Blow it up until there is no pixel anymore. It shouldn't be too cute. These structures are built to be bigger. Have you seen the Glitch Timond (2014)? The work itself is about glitches that have gained a folkloric meaning over time, these artifact now refer to hackers, ghosts or AI. They are hung in the shape of a diamond. The images themselves are not square, and I can install them on top of the wallpaper somehow, at different depths. Maybe I could expand on that piece, by putting broken shaped photos, and shadows flying around. It could be beautiful like that.
DR: It makes me think of the spatiality of the gallery. So that the audience would feel like they were inside a broken codec or something. Inside the actual coding mechanism of the image, rather than the standardised image at the point of its visual resolution.
RM: Oh! And I want to have a smoke machine! There should be something that breaks up vision and then reveals something.
DR: I like that as a metaphor for how the gallery functions as well. There are heaps of curatorial standards, like placing works at line of sight, or asking the audience to travel through the space in a particular order and mode of viewing. The gallery space itself is already limited and constructed through a huge, long history of standardisations, by external influences of fashion and tradition, and others enforced by the standards of the printing press, or the screen etc. So how do you make it so that when an audience walks into the gallery they feel as though they are not in a normal, euclidean space anymore? Like they have gone outside normal space?
RM: That's what I want! Disintegrate the architecture. But now I am like, "Yo guys, I want to dream, and I want it to be real in three weeks…"
DR: "Hey guys, I want to break your reality!" [laughs]
RM: One step is in place, Do you remember Ryan Maguire who is responsible for The Ghost in the MP3? His research is about MP3 compressions and basically what sounds are cut away by this compression algorithm, simply put: it puts shows what sounds the MP3 compression normally cuts out as irrelevant – in a way it inverses the compression and puts the 'irrelevant' or deleted data on display. I asked him to rework the soundtrack to 'Beyond Resolution', one of the two videowork of the iRD that is accompanied by my remix of professional grin by Knalpot and Ryan said yes! And so it was done! Super exciting.
DR: Yes. I thought that was a fantastic project. I love that as a proposition too… What would the equivalent of that form of ghosting be in terms of these alternate, disputed resolutions? What's the remainder? I don't understand technical formats as clearly as you do, so abstract things like 'the ghost', 'the remainder' are my way into understanding them. An abstract way in to a technical concept. So what is the metaphoric equivalent of that remainder in your work? For instance, I think it depends on what this was originally an image of. I think that is important.
RM: The previous image of JPEG2000 does not deal with the question of lost information. I think what you are after is an inversed Alvin Lucier 'Sitting in a Room' experiment, one that only shows the "generation loss" (instead of the generation left over, which is what we usually get to see or hear in art projects). I think that would be a reasonable equivalent to Ryan Maguires MP3 compression work.
Or maybe Supraconductivity.
I can struggle with this for… for at least two more days. In any case I want the iRD to have a soundtrack. Actually, it would like there to be a spatial soundtrack; the ghost soundtrack in the room and the original available only on a wifi access point.
DR: I'm really excited by that idea of ghostly presence and absence, you know. In terms of spatiality, scan lines, euclidean space…
RM: It's a whole bundle of things! [laughs] "Come on scan lines, come to the institutions, swim with the ghosts!"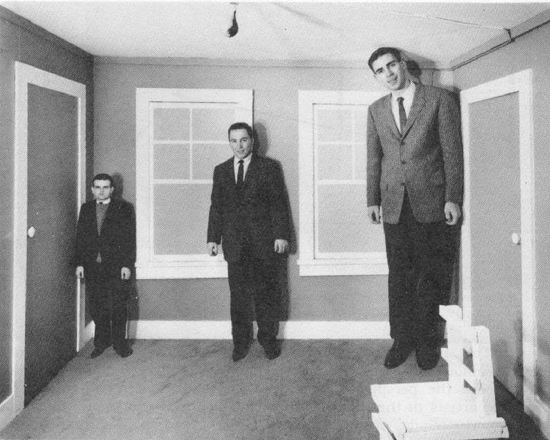 DR: It makes me think of cheesy things you get in a children's museum. Those illusion rooms, that look normal through a little window, but when you go into them they are slanted in a certain way, so that a child can look bigger than an adult through the window frame. You know what I mean? They play with perspective in a really simple way, it's all about the framing mechanism, the way the audience's view has been controlled, regulated and perverted.
RM: I was almost at a point where I was calling people in New York and asked, "Can you produce a huge stained glass window, in 2 weeks?" I think it would be beautiful if the Institute had its own window.
I would take a photo of what you could see out of the real window, and then make the resolution of that photo really crappy, and create a real stained glass window, and install that in the gallery at its original place. If I have time one day I would love to do that, working with real craftspeople on that. I think that in the future the iRD might have a window through which we interface the outside.
Every group of people that share the same ideas and perspectives on obfuscation need to have a secret handshake. So that is what I am actually working on right now. Ha, You didn't see that coming? [Laughs]
DR: [Laughs] No… that's a different angle.
RM: I want people to have a patch! A secret patch. You remember Trevor Paglen's book on the symbology of military patches?
DR: Oh yeah. Where he tries to decode the military patches? Yes, I love that.
RM: Yeah, I don't think the world will ever have enough patches. They are such an icon for secret handshakes.
I have been playing around with this DCT image. I want to use it as a key to the institutions, which basically are a manifest to the reasonings behind this whole exhibition, but then encrypted in a macroblock font (I embedded an image of Institution 1 earlier). There was one of Paglen's patches that really stood out for me; the black on black one. The iRD patch should be inspired by that.
DR: Hito Steyerl's work How Not to be Seen: A Fucking Didactic Educational .MOV File, centres on the grid used by the military to calibrate their satellites from space. The DCT structure looks a lot like that, but I know the DCT is not about calibration. It contains all the shapes necessary to compose any image?
RM: If you look up close at a badly compressed JPEG, you will notice the image consist of macroblocks. A macroblock is a block organizations, usually consisting of 8×8 pixels, that posses color (chrominance) and light (luminance) values embedded via DCT (discrete cosine transform).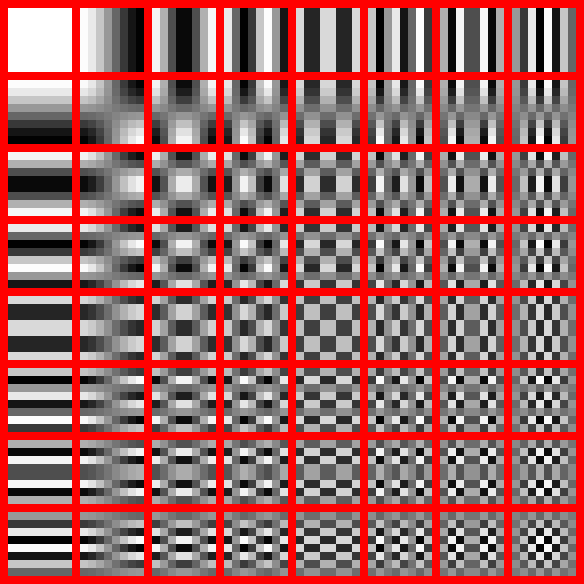 Basically all JPEGs you have ever seen are build out of this finite set of 64 macroblocks. Considering that JPEGs make up the vast majority of images we encounter on a daily basis, I think it is pretty amazing how simple this part of the JPEG compression really is.
But the patch should of course not just be square. Do you know the TV series Battlestar Galactica, where they have the corners cut off all their books? All the paper in that world follows this weird, octagonal shape? Or Borges Library and its crimson hexagon, that holds all knowledge. I love those randomly cryptic geometric forms…
DR: It reminds me of a 1987 anime film, Wings of Honneamise, that had a really wonderfully designed world. Everything is different, from paper sizes and shapes, through to their cutlery. Really detailed design from the ground up, all the standards and traditions.
RM: Like this Minecraft book too. The Blockpedia.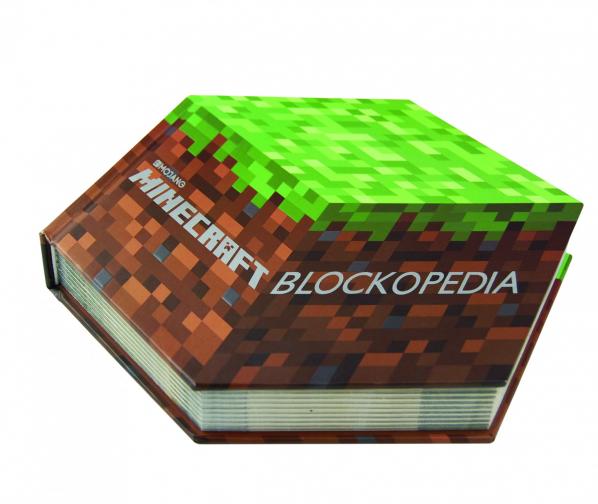 DR: Oh that's great. I love the Minecraft style
and the mythos that has arisen around it.
RM: So Minecraft and Borges follow a 6 corner resolution, and Battlestar paper has 8 corners… Discrepancy! I want to reference them all!
DR: So these will go into the badges?
RM: I want to have a black on black embroidered patch with corners. Don't you think this would be so pretty? This black on black. I want to drop a reference to 1984, too, Orwell or Apple, the decoder can decide. These kind of secret, underground references, I like those.
DR: A crypto exhibition.
RM: It's so hot right now (and with hot I do not mean cool). Since the 90s musicians encrypt or transcode things in their sounds, from Aphex Twin, to Goodiepal and now TCF, who allegedly encrypted an image from the police riots in Athens into one of his songs. However, he is a young Scandinavian musician so that makes me wonder if the crypto design in this case is confusingly non-political. Either way, I want to rebel against this apparent new found hotness of crypto-everything, which is why I made Tacit:Blue.
Tacit:Blue uses a very basic form of encryption. Its archaic, dumb and decommissioned. Every flash shows a next line of my 'secret message' encrypted in masonic pigpen. When it flickers it gives a little piece of the message which really is just me ranting about secrecy. So if someone is interested in my opinion, they can decode that.
Actually, the technology behind the video is much more interesting. Do you know The Nova Drone? Its a small AV synthesizer designed by Casper Electronics. The the flickr frequency of this military RGB LED on the top of the board can be altered by turning the RGB oscillators. When I come close to the LED with the lens of my iphone, the frequencies of the LED and the iphone camera do not sync up. What happens is a rolling shutter effect. The camera has to interpret the input and something is gone, lost in translation. In fact, a Resolutional Dispute takes place right there.
DR: So the dispute happens because framerate of the camera conflicts with the flicker of the LED?
RM: And the sound is the actual sound of the electronics. In Tacit:Blue I do not use the NovaDrone in a 'clean' way, I am actually misusing it (if there is such a thing when it comes to a device of dispute). Some of the sounds and disruptions of flow are created in this patch bay, which is where you can patch the LFOs, etc. Anyway, when you disconnect the patch it flickers, but I never take it out fully so it creates this classic, noisy electric effect.
What do you think about the text? Do you think this works? I like this masonic pigpen, its a very simple, nostalgic old quiff.
DR: It reminds me of the title sequence for Alien. Dave Addey did a close visual, sci-fi etymological, analysis of the typography in Alien. It went viral online recently. Did you see that?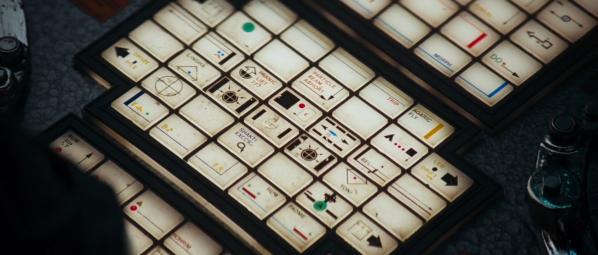 RM: No!
DR: It is fantastic. Everything from the title sequence to the buttons on the control panel in the background. Full of amazing insights.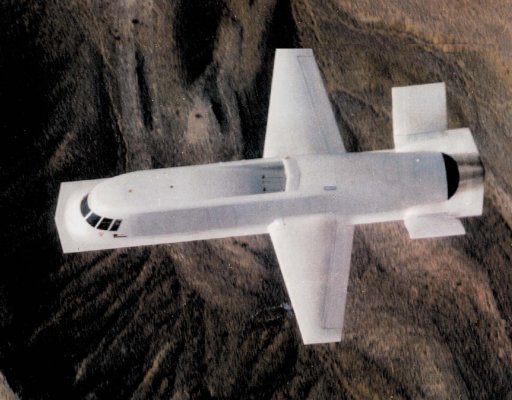 RM: Wow, inspiring!
So with any cypher you also need a key, which is why I named the video Tacit:Blue, a reference to the old Northrop Tacit Blue stealth surveillance aircraft. The aircraft was used to develop techniques against passive radar detection, but has been decommissioned now, just like the masonic pigpen encryption.
DR: This reminds me of Eyal Weizman. He has written a lot on the Israeli / Palestinian conflict as a spatial phenomena. So we don't think about territory merely as a series of lines drawn on a globe anymore, but as a stack, including everything from airspace, all the way down beneath the ground, where waste, gas and water are distributed. The mode by which water is delivered underground often cuts across conflicted territories on the surface. A stacked vision of territory brings into question the very notion of a 'conflict' and a 'resolution'.
I recently saw him give a lecture on the Forensic Architecture project, which engages in disputes metered against US Military activities. Military drones are now so advanced that they can target a missile through the roof of a house, and have it plunge several floors before it explodes. It means that individual people can be targeted on a particular floor. The drone strike leaves a mark in the roof which is – and this is Weizman's terminology – 'beneath the threshold of detectability'. And that threshold also happens to be the size of a human body: about 1 metre square. Military satellites have a pixel size that effectively translates to 1 metre square at ground level. So to be invisible, or technically undetectable, a strike needs only to fall within a single pixel of a satellite imaging system. These drone strikes are designed to work beneath that threshold.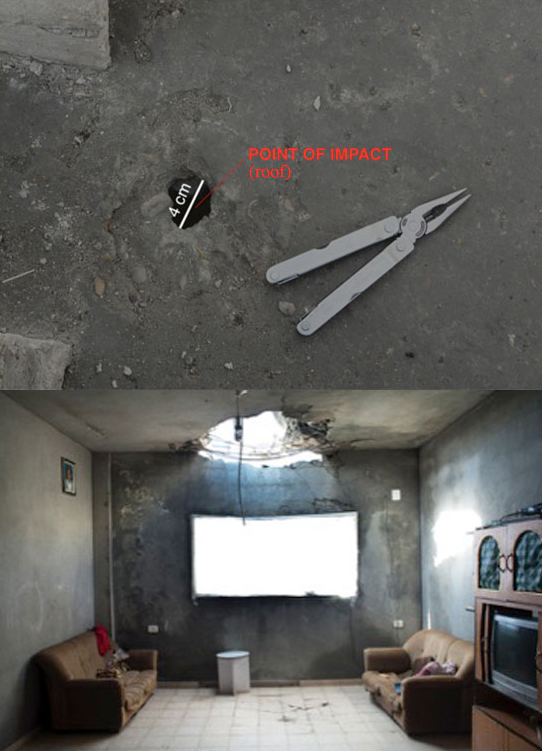 In terms of what you are talking about in Trevor Paglen's work, and the Northrop Tacit Blue, those technologies were designed to exist beneath, or parallel to, optic thresholds, but now those thresholds are not optic as much as they are about digital standards and resolution densities. So that shares the same space as the codecs and file formats you are interested in. Your patch seems to bring that together, the analogue pixel calibration that Steyerl refers to is also part of that history. So I wonder whether there are images that cannot possibly be resolved out of DCT blocks. You know what I mean? I think your work asks that question. What images, shapes, and objects exist that are not possible to construct out of this grid? What realities are outside of the threshold of these blocks to resolve? It may even be the case that we are not capable of imagining such things, because of course these blocks have been formed in conjunction with the human visual system. The image is always already a compromise between the human perceptual limit and a separately defined technical limit.
RM: Yes, well I can imagine vector graphics, or mesh based graphics where the lines are not just a connection between two points, but also a value could be what you are after. But I am not sure.
At some point I thought that people entering the iRD could pay a couple of dollars for one of these patches, but if they don't put the money down, then they would be obliged to go into the exhibition wearing earplugs.
DR: [Laughs] So they'd be allowed in, but they'd have one of their senses dampened?
RM: Yes, wearing earmuffs, or weird glasses or something like that. [Laughs]
DR: Glasses with really fine scan lines on them that conflict with TV images or whatever.
RM: [Laughs] And I was thinking, well, there should be a divide between people. To realise that what you see is just one threshold that has been lifted to only a few. There are always thresholds, you know.
DR: Ways to invite the audience into the spaces and thresholds that are beneath the zones of resolutional detectability?
RM: Or maybe just to show the mechanics behind objects and thresholds.
DR: Absolutely. So to go back to your Tacit:Blue video, in regards the font, I like the aesthetic, but I wonder whether you could play with that zone of detectability a little more.
You could have the video display at a frequency that is hard for people to concentrate on, for instance, and then put the cryptographic message at a different frequency. Having zones that do not match up, so that different elements of the work cut through different disputed spaces. Much harder to detect. And more subliminal, because video adheres to other sets of standards and processes beyond scan lines, the conflict between those standards opens up another space of possibilities.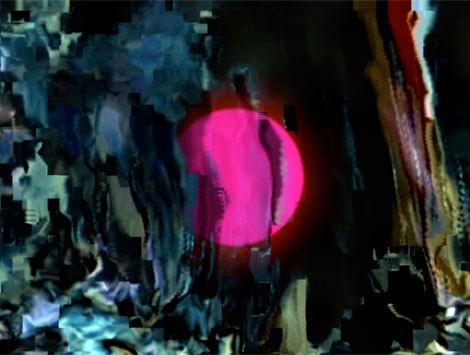 It makes me think about Takeshi Murata's Untitled (Pink Dot). I love that work because it uses datamoshing to question more about video codecs than just I and P frames. That's what sets this work apart, for me, from other datamoshed works. He also plays with layers, and post production in the way the pink dot is realised. As it unfolds you see the pink dot as a layer behind the Rambo footage, and then it gets datamoshed into the footage, and then it is a layer in front of it, and then the datamosh tears into it and the dot become part of the Rambo miasma, and then the dot comes back as a surface again. So all the time he is playing with the layering of the piece, and the framing is not just about one moment to the next, but it also it exposes something about Murata's super slick production process. He must have datamoshed parts of the video, and then post-produced the dot onto the surface of that, and then exported that and datamoshed that, and then fed it back into the studio again to add more layers. So it is not one video being datamoshed, but a practice unfolding, and the pink dot remains a kind of standard that runs through the whole piece, resonating in the soundtrack, and pushing to all elements of the image. The work is spatialised and temporalised in a really interesting way, because of how Murata uses datamoshing and postproduction to question frames, and layers, by 'glitching' between those formal elements. And as a viewer of Pink Dot, your perception is founded by those slips between the spatial surface and the temporal layers.
RM: Yeah, wow. I never looked at that work in terms of layers of editing. The vectors of these blocks that smear over the video, the movement of those macroblocks, which is what this video technologically is about, is also about time and editing. So Murata effectively emulates that datamosh technique back into the editing of the work before and after the actual datamosh. That is genius!
DR: If it wasn't for Pink Dot I probably wouldn't sit here with you now. It's such an important work for me and my thinking.
Working with Morehshin Allahyari on The 3D Additivist Manifesto has brought a lot of these processes into play for me. The compressed labour behind a work can often get lost, because a final digital video is just a surface, just a set of I and P frames. The way Murata uses datamoshing calls that into play. It brings back some of the temporal depth.
Additivism is also about calling those processes and conflicts to account, in the move between digital and material forms. Oil is a compressed form of time, and that time and matter is extruded into plastic, and that plastic has other modes of labour compressed into it, and the layers of time and space are built on top of one another constantly – like the layers of a 3D print. When we rendered our Manifesto video we did it on computers plugged into aging electricity infrastructures that run on burnt coal and oil. Burning off one form of physical compressed time to compress another set of times and labours into a 'digital work'.
RM: But you can feel that there is more to that video than its surface!
If I remember correctly you and Morehshin wrote an open invitation to digital artists to send in their left over 3D objects. So every object in that dark gooey ocean in The 3D Additivist Manifesto actually represents a piece of artistic digital garbage. It's like a digital emulation of the North Pacific Gyre, which you also talked about in your lecture at Goldsmiths, but then solely consisting of Ready-Made art trash.
The actual scale and form of the Gyre is hard to catch, it seems to be unimaginable even to the people devoting their research to it; it's beyond resolution. Which is why it is still such an under acknowledged topic. We don't really want to know what the Gyre looks or feels like; it's just like the clutter inside my desktop folder inside my desktop folder, inside the desktop folder. It represents an amalgamation of histories that moved further away from us over time and we don't necessarily like to revisit, or realise that we are responsible for. I think The 3D Additivist Manifesto captures that resemblance between the way we handle our digital detritus and our physical garbage in a wonderfully grimm manner.
DR: I'm glad you sense the grimness of that image. And yes, as well as sourcing objects from friends and collaborators we also scraped a lot from online 3D object repositories. So the gyre is full of Ready-Mades divorced from their conditions of creation, use, or meaning. Like any discarded plastic bottle floating out in the middle of the pacific ocean.
Eventually Additivist technologies could interface all aspects of material reality, from nanoparticles, to proprietary components, all the way through to DNA, bespoke drugs, and forms of life somewhere between the biological and the synthetic. We hope that our call to submit to The 3D Additivist Cookbook will provoke what you term 'disputes'. Objects, software, texts and blueprints that gesture to the possibility of new political and ontological realities. It sounds far-fetched, but we need that kind of thinking.
Alternate possibilities often get lost in a particular moment of resolution. A single moment of reception. But your exhibition points to the things beyond our recognition. Or perhaps more importantly, it points to the things we have refused to recognise. So, from inside the iRD technical 'literacy' might be considered as a limit, not a strength.
RM: Often the densities of the works we create, in terms of concept, but also collage, technology and source materials move quite far away or even beyond a fold. I suppose that's why we make our work pretty. To draw in the people that are not technically literate or have no back knowledge. And then perhaps later they wonder about the technical aspects and the meaning behind the composition of the work and want to learn more. To me, the process of creating, but also seeing an interesting digital art work often feels like swimming inside an abyss of increments.
DR: What is that?
RM: I made that up. An abyss is something that goes on and on and on. Modern lines used to go on, postmodern lines are broken up as they go on. Thats how I feel we work on our computers, its a metaphor for scanlines.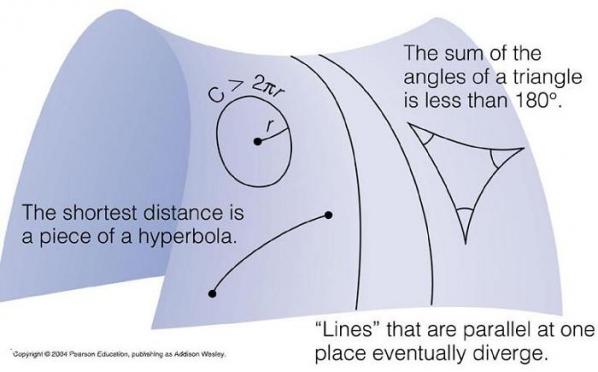 DR: In euclidean space two parallel lines will go on forever and not meet. But on the surface of a globe, and other, non-euclidean spaces, those lines can be made to converge or diverge. *
RM: I have been trying to read up on my euclidean geometry.
DR: And I am thinking now about Flatland again, A Romance in Many Dimensions.
RM: Yeah, it's funny that in the end, it is all about Flatland. That's where this all started, so thats where it has to end; Flatland seems like an eternal ouroboros inside of digital art.
DR: It makes me think too about holographic theory. You can encode on a 2D surface the information necessary to construct a 3D image. And there are theories that suggest that a black hole has holographic properties. The event horizon of a black hole can be thought of as a flat surface, and contains all the information necessary to construct the black hole. And because a black hole is a singularity, and the universe can be considered as a singularity too – in time and space – some theories suggest that the universe is a hologram encoded on its outer surface. So the future state of the universe encodes all the prior states. Or something like that.
RM: I once went to a lecture by Raphael Bousso, a professor at Department of Physics, UC Berkeley. He was talking about black holes, it was super intense. I was sitting on the end of my seat and nearly felt like I was riding a dark star right towards my own event horizon.
DR: [laughs] Absolutely. I suppose I came to understand art and theory through things I knew before, which is pop science and science fiction. I tend to read everything through those things. Those are my starting points. But yes, holograms are super interesting.
RM: I want to be careful not to go into the wunderkammer, because if there are too many things, then each one of them turns into a fetish object; a gimmick.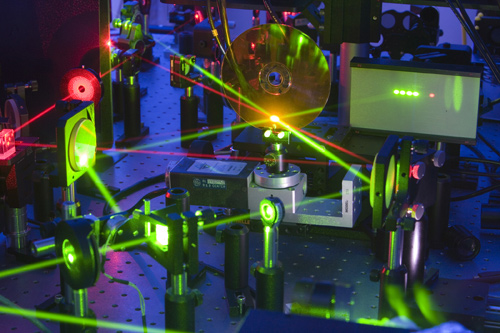 DR: There was a lot of talk a few years ago about holographic storage, because basically all our storage – CDs, DVDs, hard drive platters, SSD drives – are 2D. All the information spinning on your screen right now, all those rich polygons or whatever, it all begins from data stored on a two dimensional surface. But you could have a holographic storage medium with three dimensions. They have built these things in the laboratory. There goes my pop science knowledge again.
RM: When I was at Transmediale last year, the Internet Yami-ichi (Internet Black Market) was on. There I sold some custom videos for self cracked LCD screens.
DR: Broken on purpose?
RM: Yes, and you'd be allowed to touch it so the screen would go multidimensional. Liquid crystals are such a beautiful technology.
DR: Yes. And they are a 3D image medium. But they don't get used much anymore, right? LEDS are the main image format.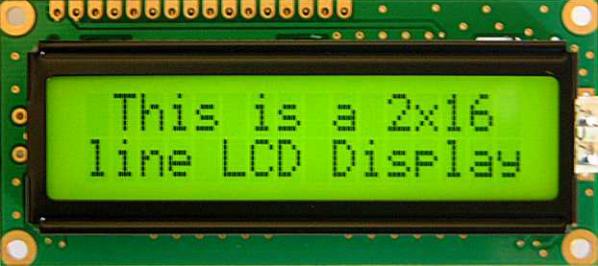 RM: People miss LCDS! I saw a beautiful recorded talk from the Torque event, Esther Leslie talking about Walter Benjamin who writes about snow flakes resembling white noise. Liquid crystals and flatness and flatland.
I want to thank you Dan, just to talk through this stuff has been really helpful. You have no idea. Thank you so much!
DR: Putting ideas in words is always helpful.
RM: I never do that, in preparation, to talk about things I am still working on, semi-completed. It's scary to open up the book of possibilities. When you say things out loud you somehow commit to them. Like, Trevor Paglen, Jon Satrom are huge inspirations, I would like to make work inspired by them, that is a scary thing to say out loud.
DR: That's good. We don't work in a vacuum. Trevor Paglen's stuff is often about photography as a mode of non-resolved vision. I think that does fit with your work here, but you have the understanding and wherewithal to transform these concerns into work about the digital media. Maybe you need to build a tiny model of the gallery and create it all in miniature.
RM: That's what Alma Alloro said!
DR: I think it would be really helpful. You don't have to do it in meatspace. You could render a version of the gallery space with software.
RM: Haha great idea, but that would take too much time. iRD needs to open to the public in 3 weeks!
* DR originally stated here that a globe was a euclidean space. This was corrected, with thanks to Matthew Austin.
Lately, I have noticed in myself a tendency to sign up for events which reveal little of what to expect beforehand. This leads to a heady mix of anticipation and mild terror. Dark Days, the brainchild of Ellie Harrison fitted that description, although I felt that at 16hrs long, it was a mere blip on my riskometer, compared to week-long excursions I've previously taken into the unknown. In short, I would be spending the night in Glasgow's Gallery of Modern Art (GoMA), in a pop-up community of 99 strangers, contemplating how we might manage to live together (put up with each other) in a future where buildings might need to be used in ways which serve the needs of the population better…Count me in!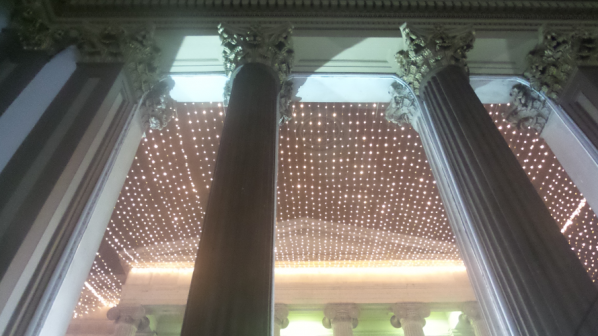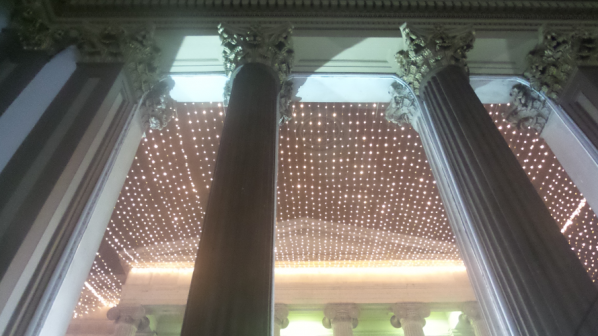 The camp manual gave thorough and due attention to health & safety issues like pyjamas and woollen blankets, but scant reassurance on how the experiment would avoid a rapid descent into anarchy. In the absence of concrete information, my mind ran amok. I therefore decided, that on arrival we would be immersed in an imagined scenario where all manner of crises has befallen our village, that it would be up to us to work out how we would rebuild society. This would be a tense, high adrenaline experience involving sleep deprivation, maybe starvation, and intractable social issues, to be debated until we all came to a common vision. We might never make it out of there.
As it turned out, Dark Days was none of those things; it was a whole lot more. On arrival in Glasgow, I succumbed to mild panic and bought myself a sleeping pad, twinpack of nougat caramel chocolate, and a bottle of fizzy pop (in direct contravention of the bring a bottle of water mandate), to supplement the food I already had in my rucksack. Provisions bolstered, I relaxed & enjoyed my pilgrimage to GoMA; I felt carefree, adventurous and rebellious; none of the strangers walking beside me had a clue what I was about to do. I felt dangerous and daring.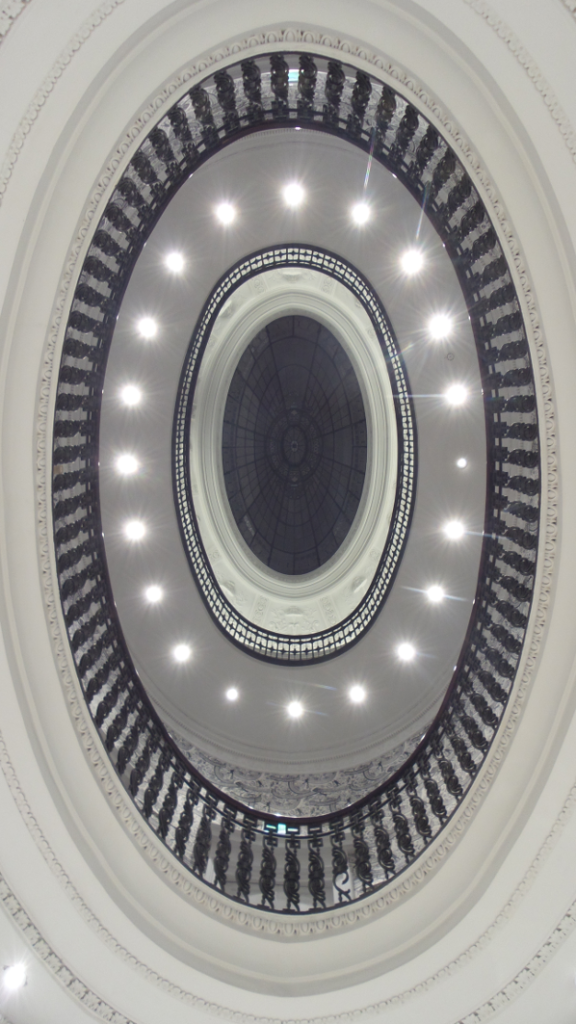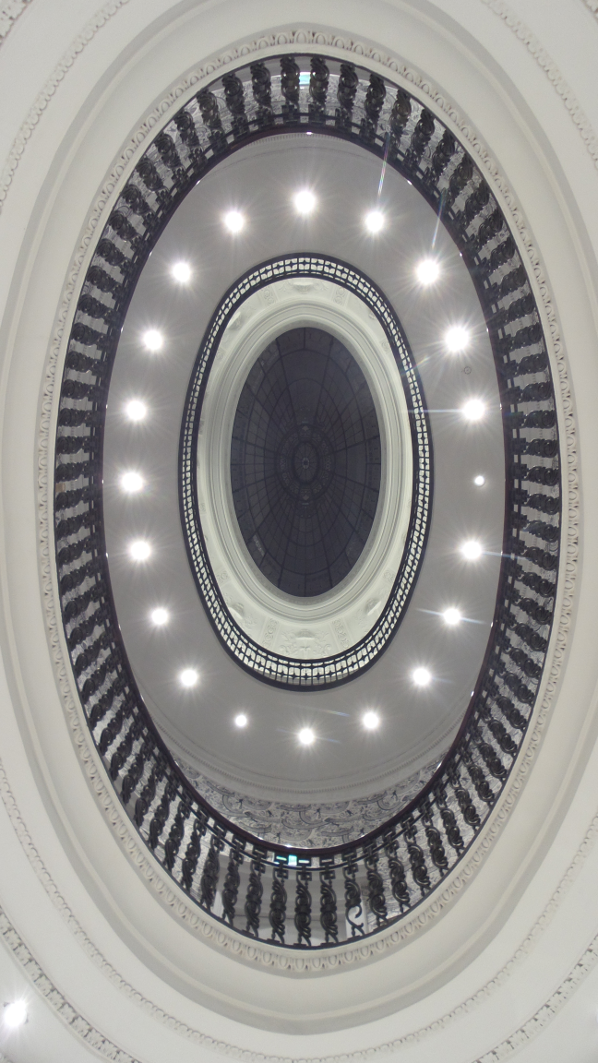 I joined the short queue outside GoMA, exchanging nervous banter with fellow participants ("Is this where the over-excited and slightly nervous should queue for the coming apocalypse?"). We eyed each other up, I began to relax. We all looked pretty 'normal and balanced' individuals. Who could predict what would surface once the pressure was on, though? A child walking past was overheard saying "you're the worst Mum ever". He was joking of course, or was he? Was society breaking down already? When the doors opened, we edged inside, one and two at a time. We were subjected to challenging initiative tests – first to register with the clipboard on the right if your surname is A-L. I was standing on the left, I dithered. My surname begins with a 'G'. My faculties were already leaving me. Through the archway to the welcome desk, I shuffled forward and joined the queue on the right. More nervous exchanges. The queue on the left was faster, we silently wondered whether it would be impolite to skip over to the other line. No one moved. A couple of minutes later, I spotted a notice 'A-L' taped to the left side of the desk. A dastardly ploy! Somewhere, a hidden camera would be watching me, a witness to my ineptitude. This was before the evening had even begun. My nerves jangled. Beyond the mysterious white cube that had blocked our view of the great hall (was that where the mind games would take place?), we placed our belongings around the edges and sat in the large circle of chairs which awaited. More nervous chatter, it was clear that no one had the faintest notion what the night would hold. I was reassured. Speakers, microphones and video cameras (with red light already flashing) were dotted around the space, we did our best to ignore them. There will be screenings in March in Glasgow, and the film will be made available online #ohdear. Someone noticed that there were not enough chairs for all members of the community to have a seat. 20ish people stood, or sat on the floor. Was this a lack of resources on GoMA's part, or was it intentional? Time would tell.
An entertaining and enlightening journey followed, into the challenges of consensus decision making, based around the formation of 'affinity groups'. The groups were determined by allowing anyone who felt brave enough to make suggestions of how we might spend our time together, members of the community chose which group they wanted to join. The options were many and varied; building a Tower of Awesome; a general knowledge quiz; game playing; climate change discussion group; music & dance; a group with no plan; a manifesto writing group; a skills sharing group and a community focused 'hub' group. This was the fascinating moment for me, as my intended plan for the evening was abandoned. Along with my keen interest in community building, I was at GoMA to write poetry, to create a distillation of the night's happenings for future posterity. Logic would dictate that I should go where the most words would be; but I was filled with an irresistible urge to play games. I had already co-dreamed an impressive list of sleeping bag related games with the person sitting to my left (slug, husky races, who can wear the most sleeping bags, sack races to name a few).
We gathered in our groups to discuss what we would do, what we would need, what format the evening should take and (as it turns out, crucially) what time we would like the lights to go out. A spokesperson was selected to represent each group on a 'spokescouncil', where the representatives would reach a consensus on the issues of how the evening would go, any conflicts over resources and at what time the lights should go out. The facilitators did a magnificently heroic job of keeping the discussions focused; 'brief' overviews spiralled out of control, the facilitator gently herded the kittens. "I'll say again: Each spokesperson is to give a brief outline of what their group will do tonight" quickly became "Each person has 30 seconds to tell us". Those not on the spokescouncil chortled and tried to stifle the mounting hysteria. The only spokesperson not tempted to flout the guidance was from the 'no plan' group, because well, they had 'no plan'. It became clear that with the proposed 'Tower of Awesome' and sub-idea of sleeping bag fort, that chairs were the key resource to be negotiated. Turning out the lights also became a decision to be much wrangled over; there were lots of needs, ranging from 'pretty much now' to 'what the hell, let's stay up all night'.
Negotiations were funny, tense, agonising and did I mention funny? At one point, I was weeping with laughter; we were tantalisingly close to reaching consensus when out of leftfield came a demand for an opening ceremony. Fine we all said, have your opening ceremony, let's just get this done. The sage advice of the facilitators was beginning to hit home – only use consensus decision making for important decisions and ask yourself 'do I want to spend all night making decisions, or do I want to have some fun?'. By now it was heading towards 11pm, and there were games waiting to be played. We were close. We were restless. The facilitator then fulfilled the most crucial obligation of consensus decision making, and asked the spokescouncil whether there were any objections. We held our breath, pleading inwardly for no one to speak up. Come on spokescouncil, you could do it! Hands went up. Sigh. 15mins of jaw-clenching tension followed, as the universal 'need to be heard' surfaced in a few last desperate arm waves; "Well, this isn't exactly an objection, but I'd just like to say…". "Any final objections?" our facilitator said, possibly through gritted teeth. Silence. We breathed a collective sigh of relief. "I think we have a consensus". We cheered. Let the games begin.
The opening ceremony was a resounding success, as we all 'became the chairs' in a self-supporting and poignant human chair circle. Next, we lined up in small groups, ran the length of the gallery, and then turned and felt the breeze on our faces. It was magical. We smiled broad smiles, laughed, and revelled in a joyful camaraderie for the rest of the night. How could anyone think of going to sleep when there was crowdsurfing to be done, wink murder to be played (epic) and thigh drumming to be learned? It was a fascinating experience. I observed an interesting phenomenon; each time an activity gained a certain number of people, others noticed and ran to join. The wink murder circle doubled in size while the detective was behind a column and the silent disco grew within minutes, without a word being spoken. We generally didn't stay segregated in our own groups, we welcomed others in unreservedly, and joined other groups when the mood took us. We were a model society, just for one night. We self-organised, and ensured that there were enough chairs to meet the needs of towers, forts, hubs and deep discussions. It was beautiful and inspiring. It was epic and poetic. We had survived. No, we had flourished.
Extract from my #DarkDays poem:
Dissent can be difficult,
blocks disrupt.
Build a safe environment
for breaking power,
freefall into your position,
annex yourself from your ideas;
interrupt silence,
with or without permission,
be the instigator of your rebellion.
Move the chairs
Wind-down at 2am came all too soon, and we made ourselves cosy for the night. My mind was skipping and crowdsurfing, and reliving dramatic wink murder deaths; how on earth was I going to sleep?? I didn't. Well, maybe an hour or so. I lay under my blanket (not woollen) and listened to the rise and fall of contented breathing, with the occasional soft, acoustically augmented, echo-y snoring (cautionary note; snorers should choose their sleeping spot carefully). I contemplated how different the experience might have been in the 'real world', where people wouldn't be so accommodating, wouldn't be on their best behaviour. I suspect there might have been less laughter and fewer games, certainly no Tower of Awesome or sleeping bag fort. Time will tell.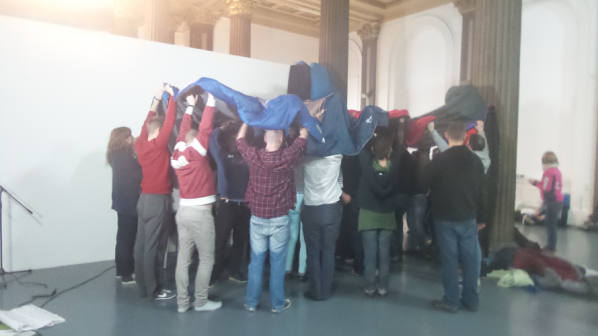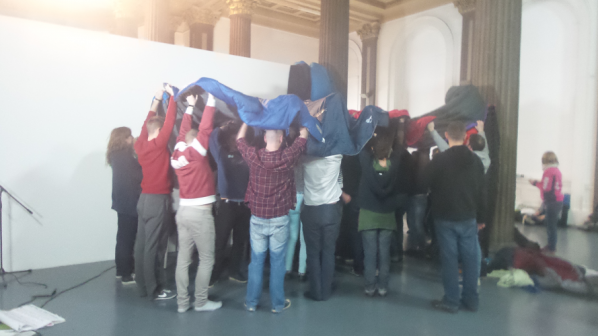 There is a distinct buzz that goes with embracing the opportunity to stay in a public building overnight, I encourage everyone reading this to add such an experience to their bucket list. You might have to go to some lengths, might have to personally orchestrate an event, in order to create your opportunity. Whatever it takes, it will be worth it. I promise. Think 'Night in the Museum', meets giant slumber party, with midnight feast thrown in, but with no adults to tell you what you can and can't do. We were the adults, we made our own rules. Even when a camper was scaling internal walls in the importance of building the most spectacular sleeping bag fort ever seen, no one came to tell us to stop. We all learned something valuable from that endeavour; the fort was unbearably hot inside, so could only be tolerated for short periods of time. Next time – ventilation. One participant put our limited imaginations to shame, by bringing a hammock to sleep in. We all wanted to be that guy. We ate chocolate and muffins for breakfast.
All of your dreams for a different world, made real in one spectacular night in a museum, art gallery, library, school or conference room (the possibilities are endless). Life will never be the same again, you will be changed, and you will want to do it again and again.
Note from reviewer: Names have been omitted in order to protect the subversive, the wall-scaling, the almost-pyjama-wearing, the non-sleeping campers.
To many, technology and spirituality would seem antithetical. Contemporary technology is intertwined with modern science, whereas, spirituality is equally enmeshed within both religion and faith. The Post-Human Gospel self-consciously accepts this awkwardness, and manoeuvres these two uneasy bedfellows together. Offering up a night of performances, by artists whose entangled relation to technology seeks to posit new forms of identity and spirituality.
This is the latest in a series of events, collectively entitled Syndrome, seeking to explore the relationship between technology and affect in performance. The Post-Human Gospel marks the start of the third phase of this activity, collaboratively programmed by Mercy and The Hive Collective. If 3.0 is heading into the realm of spirituality, then earlier phases have played with both language and control – whether the constraints enforced on the body in virtual space, role-playing authority within the State Free State of a.P.A.t.T island, or a 'room as instrument' where you can physically manipulate sound and light. Across these events, those involved ask how we might interact or play with this technology, and in turn, how this experience might then act upon on us – our feelings and emotions?
The venue at 24 Kitchen Street has played host to several past Syndrome events, and as such feels like a hub for this activity as it meanders across the city. Arriving early there is a relaxed feeling to the space: people stand around chatting, whilst others tinker with equipment and final set-up, all bathed within the blue glow of the expectant projection screens. There is a familiarity to the space on a number of levels – not only physically, with decaying white walls and exposed structure typical of the post-industrial use of such buildings, but also in terms of its unclear typology, part-bar, part-residency-space, part-performance-venue, part-something-else-entirely. An earlier performer, Mathew Dryhurst, described a type of 'third space music' that requires a new type of venue. Something that Syndrome is clearly looking to create in Liverpool.
The evening's Gospel was tripartite, starting with SHRINE by Outfit, followed by a first-time collaboration between Lawrence Lek and Siôn Parkinson, and then brought to a close with a live AV set by TCF. All performed from a improvised V-shaped altar – constructed from scaffold, screens, speakers and an array of other equipment – and oriented to the rows of the largely seated congregation.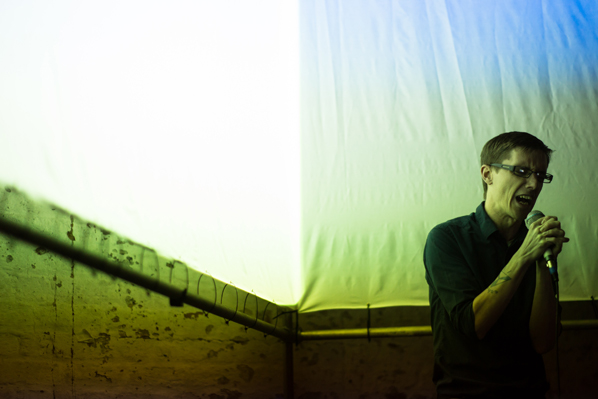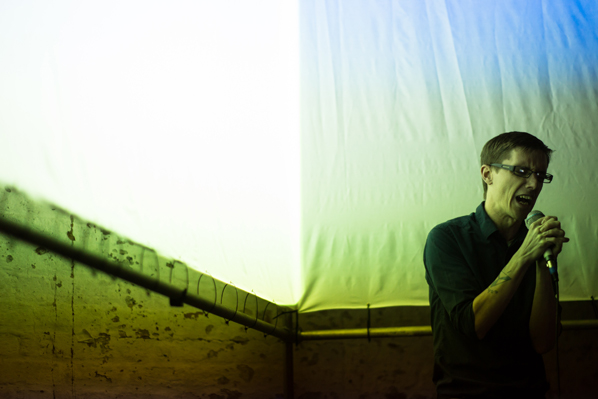 A live performance-cum-guided-meditation, SHRINE was made in collaboration with the band Outfit and performed by lead guitarist Nick Hunt. Against the backdrop of a consistent electronic hum, the light of multiple projections alternates to produce a strobe-like effect. After the instruction to close our eyes, a distant reverberant monologue begins: "What is the meaning of asteroid? What is the meaning of baptism?" The warm flicker on the interior of the eyelid creates a soft trance-like state and the potential hypnotic suggestion washes over us. The minimal rhythmic repetition of this basic structure continues, but strays further and further from these initial references. What is the meaning of blurred lines? … Chandelier? … D-Day? … FIFA? Alliteration and rhyming abound. Selfie. Sophie. Stonehenge. Peter Pan. Quran. Ramadan. There is an emptying out of meaning, and a breakdown of language. KKK … K. The voice has a haunted quality, that of an entity in a state beyond being human. Perhaps it is the voice of the network, which the monologue refers to as 'watching over us', of 'being busy'. It promises a revelation that is coming, that is now, another world, one that we don't reach. Ultimately it leaves us cleansed, or rinsed out. Then I learn that the work was written with the assistance of Google Instant predictions, hence the alphabetical concatenation of words. Not so far from the network watching over us after all.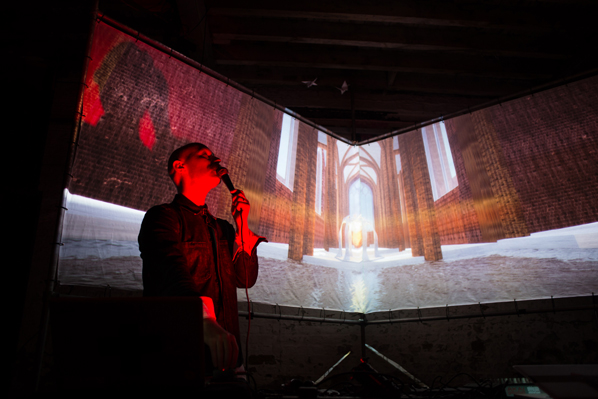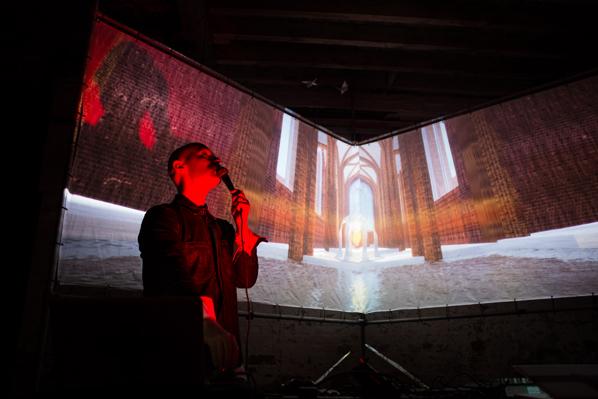 Lawrence Lek and Siôn Parkinson's performance is the result of a short residency leading-up to the event, and therefore has a more involved relation to Syndrome. This residency structure is a recurring feature of the programme, with past residents including K回iro (Holly Herndon and Mathew Dryhurst), and before that Jamie Gledhill and Stefan Kassozoglou. Whereas these past examples involved existing partnerships, Lek and Parkinson's collaboration was the first time that Syndrome brought together two artists, placing Parkinson's vocal performance inside the digital landscape created by Lek.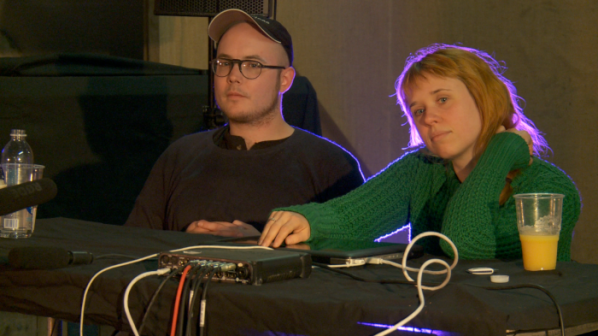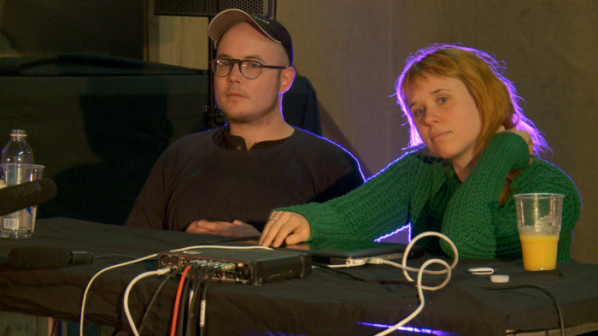 A simulation of Liverpool's Anglican Cathedral frames the performance, and provides an imagined perspective on this familiar architecture. Starting from a removed position – with the spectral cathedral in the distance – we roam through a wood, trees blowing in the wind. This landscape glitches in a way familiar to the experience of online or virtual worlds, and is accompanied by a soundscape produced by Lek on guitar and electronics. Gradually approaching our destination, bells peal, and further sounds produced begin to resemble those of an organ, groaning and droning as we enter its interior. Parkinson's body is silhouetted against the projected architecture, his head bathed in red light and his voice rising as Lek's audio recedes into the background. An otherworldly sermon tells of teeth wrenched out from a mouth to form the keyboard console of the church organ. Moving from sung to spoken word, to deep guttural noises. Rumbling bass emanating from the body, amplified, and shaking the room. Lek's guitar returns, and there is the liquid crackle of noise as water rolls down the walls, and fire inhabits the projected interior. Our point-of-view rises high above the cathedral, and we see it situated in a landscape abundant with lakes and islands, like some stretched-out fantasy where this iconic building is removed from its physical context – as though transplanted from Liverpool to another world.
These mystical images continue through to the final performance by Lars The Contemporary Future Holdus (TCF). Projecting an increasingly entangled use of technology, he plays with encryption, code and algorithms to construct a subdued visual and sonic space. Twisted and distorted beeps shudder as fragments of sound screech and scrape along the digital surface, and liquid forms slip across the projected image. This precise construction appears to breathe, the sonic utterances repeatedly sucked back inside themselves as the molten amorphous form visually expands and contracts like something from within the bodily interior. There are moments where a mouth/voice emerges, a digital blob talking to us in a language that we cannot comprehend. Behind this audio-visual surface there is something else going on, something that Lars Holdus is engrossed within as he operates the TCF system – tinkering with the algorithm to progress through a series of potential compositions. Yet despite this, I feel largely disconnected – lacking in empathy – as though missing something in what is going on. There is an evident penchant for the opaque, that creates a distance between TCF and the audience, potentially even alienates. This is acknowledged by the artist, who states: "even the presentation is an encryption in itself. And therefore the people that won't be triggered like that won't access it."1 I clearly fail to trigger, and my access is denied.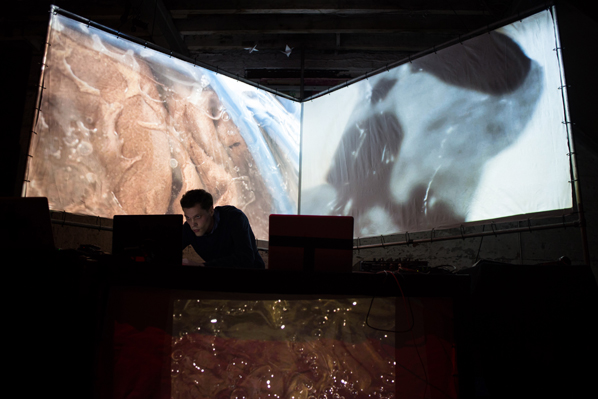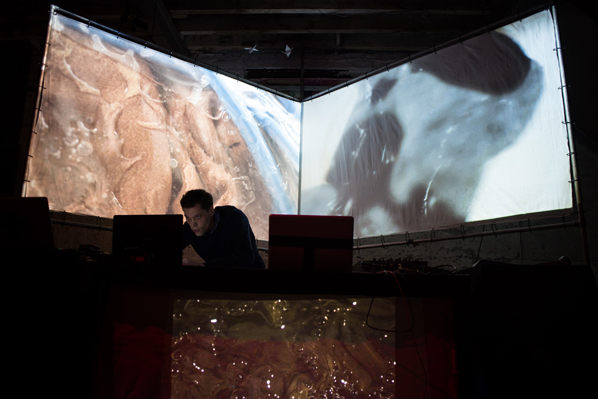 Syndrome is creating a space for artists, musicians and coders to experiment with work that merges electronic music and spoken word performance. The affordance offered by the flexibility of the venue has allowed an approach that would not have been possible within a space in daily use. These latest performative responses make clear that is it not about offering concrete proposals about what is going to happen, before they have time to come into being. Rather, what we witness is artists playing with the resources available, and figuring out what these things might do to us. There is a genuine openness and a potential intimacy to this approach, as well as the acceptance that the results will not always connect or affect audiences in the ways that they might be hope.
Different types of voice seem central to the three works presented within The Post-Human Gospel, affecting the human vocal output as well as trying to give voice to instruments, electronics and digital space. There is something in this that Holly Herndon has described as a "fleshy approach to machinery", where these digital tools can take on a post-human quality, one that can become or embody different identities. This looks set to continue with the forthcoming event Brain/Music Experiments where artist Dave Lynch, neuroscientist Christophe de Bezenac and deaf classical musicians Ruth Montgomery and Danny Lane explore the ways a brain wave scanner can contribute to live music and visual performance.
The intention for Syndrome is to learn from all the visiting artists and the performances they create in this exploratory year. Looking for moments when performances create affective interfaces to communicate with people. Where they speculate on, or re-conceive, the relationship between human and technology. If they go on to develop a new live experience with the artistic community that surrounds Syndrome – as they suggest they will – I look forward to experiencing how the cumulative knowledge built up through these earlier events is harnessed to final affect.