Octavia E Butler had a vision of time as circular, giving meaning to acts of courage and persistence. In the face of social and environmental injustice, setbacks are guaranteed, no gains are made or held without struggle, but societal woes will pass and our time will come again. In this sense, history offers solace, inspiration, and perhaps even a prediction of what to prepare for.

The Time Portals exhibition, at Furtherfield Gallery and online spaces, celebrates the 150th anniversary of Finsbury Park. As one of London's first 'People's Parks', designed for free movement and thought, it is the perfect location to create a mass investigation of radical pasts and futures, circling back to the start as we move forwards.

Each artwork invites audience participation – either in its creation or in the development of a parallel 'people's' work – turning every idea into a portal to countless more imaginings of past and future urban green spaces and beyond.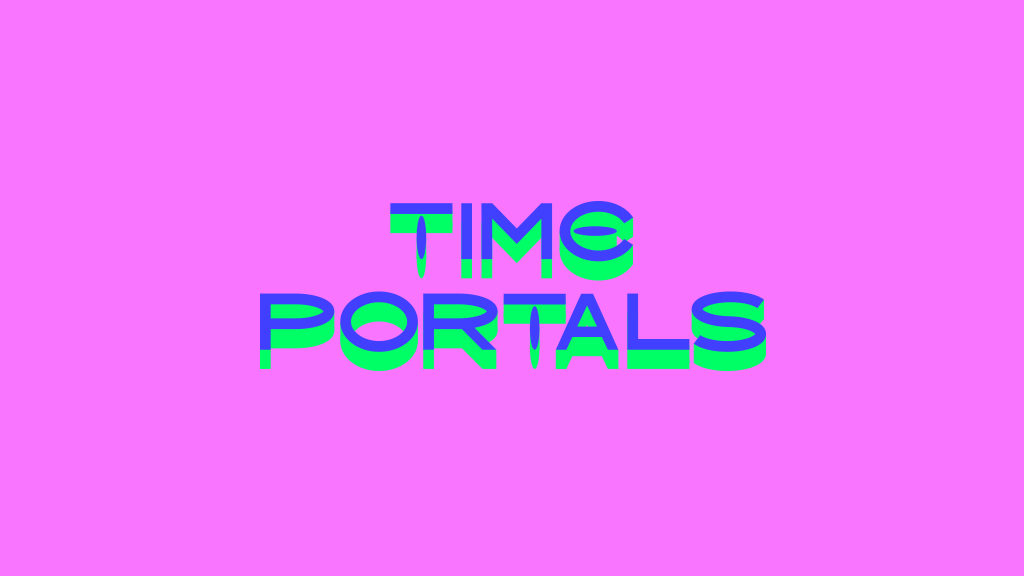 What We Can Do, Antonio Roberts, Studio Hyte (2019)
An interactive wall depicting the urban green space of Finsbury Park as a machine for radical re-assemblage. The external billboard can be scanned with an Augmented Reality app to reveal the secret of realising progressive visions for the future. Scan the message in the Gallery to see the billboard image animated.

Future Machine, Rachel Jacobs (2019)
An interactive machine designed and built to respond to environmental change and inspire new rites for our troubled times. A slideshow of the machine as it is imagined and built will be presented alongside a ritualised unveiling in the Autumn.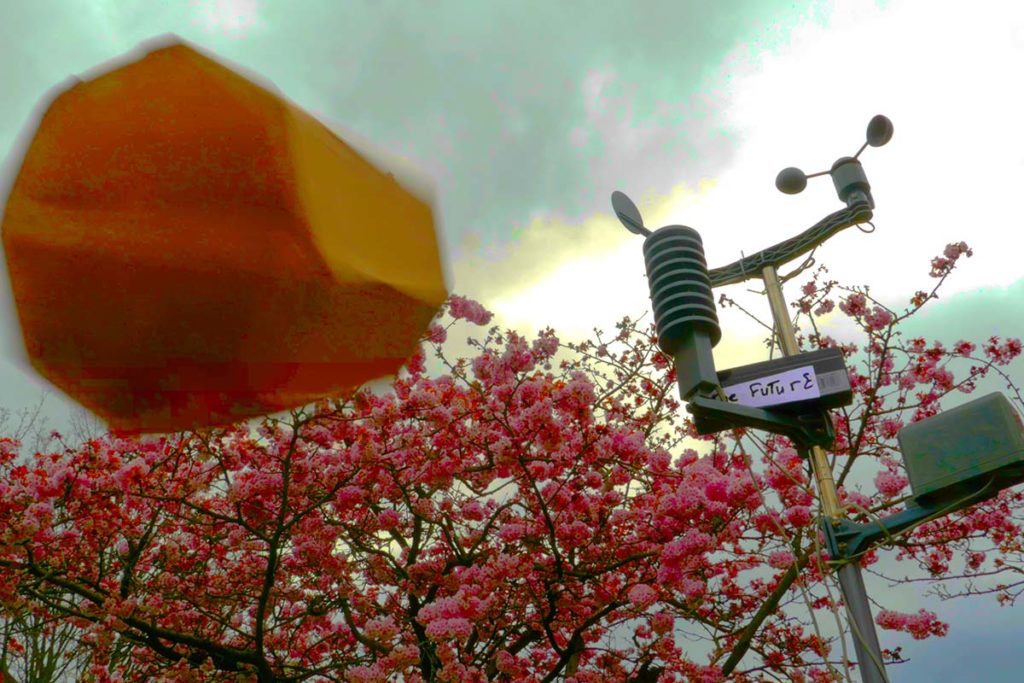 Join the Future Machine design team at Furtherfield Commons in Finsbury Park to build a new artwork that will help us to respond to environmental change…as the future unfolds. Sign up to take part in up to 4 workshops that involve talking, thinking & making, using interactive technology and scientific sensors, helping to design and build the Future Machine itself.
Workshop times/dates and sign-ups:

Tuesday 26th March 3-6,
Saturday 20th April 1-4,
Saturday 11th May 1-4,
Tuesday 18th June 3-6
ArchaeaBot: A Post Singularity and Post Climate Change Life-form, Anna Dumitriu, Alex May (2018)
In collaboration with Amanda Wilson (MARA Project/Imperial College) and Professor Daniel Polani (University of Hertfordshire). Supported by EMAP and Arts Council England
An underwater robotic installation which explores what 'life' might mean in a future transformed by climate change and artificial intelligence. The work is based on new research into archaea, which are single-celled, ancient microbes that can survive in hot, polluted environments, combined with the latest innovations in machine learning. Now living at Furtherfield Gallery the "ArchaeaBot" is the 'ultimate' species for the end of the world as we know it.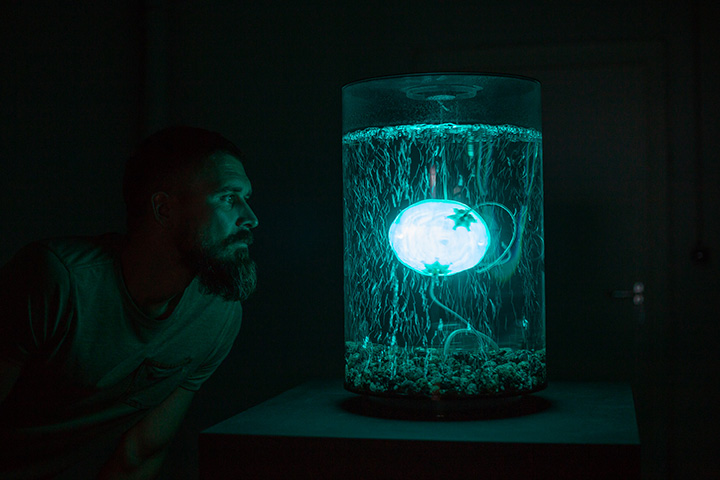 Circle of Blackness: Part 1 – Meet Ann E. Styles, Elsa James (2019)
With creative team: Hugo Stanbury, Nick Lambert, Marius Matesan, Carl Smith, James E. Marks, Chris Szkoda

Through in-depth research James revisits a historical black woman who lived in the Finsbury Park area 150 years ago, embodies and reimagines her then and 150 years into the future. Produced together with Ravensbourne University PlayLabZ and Holotronica, experience time travel and holographic mixed reality at the Furtherfield Gallery throughout the summer.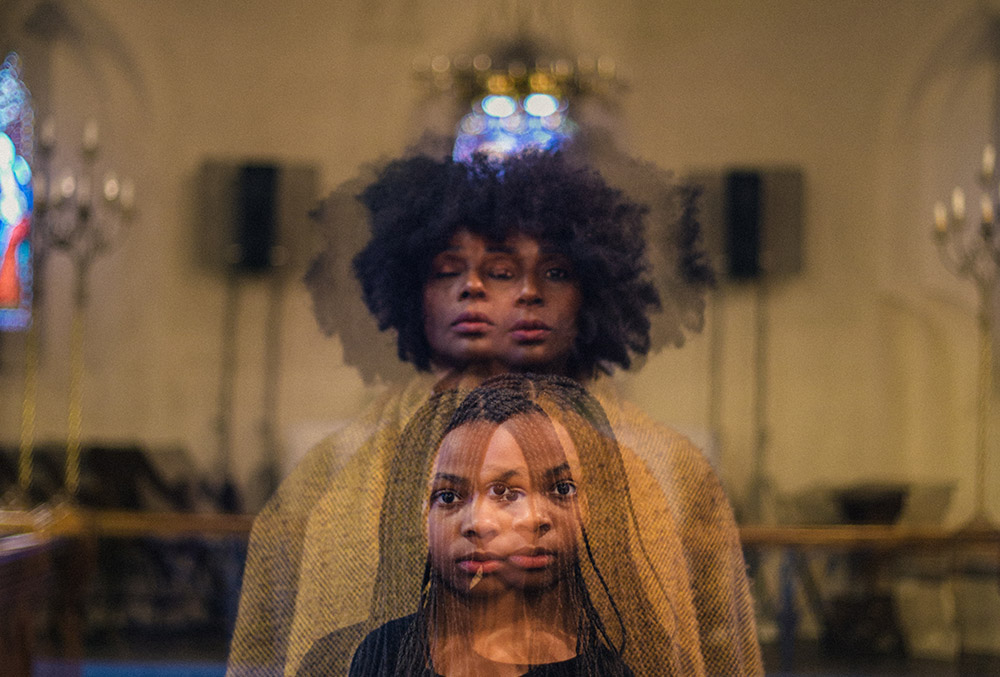 Part 2 of Circle of Blackness will be revealed later in the summer.
The Time Machine in Alphabetical Order, Thomson and Craighead (2010)
This video work is a complete rendition of the 1960s film version of HG Wells Novella re-edited by Thomson & Craighead into alphabetical order from beginning to end. In doing this, the artists attempt to perform a kind of time travel on the movie's original timeline through the use of a system of classification.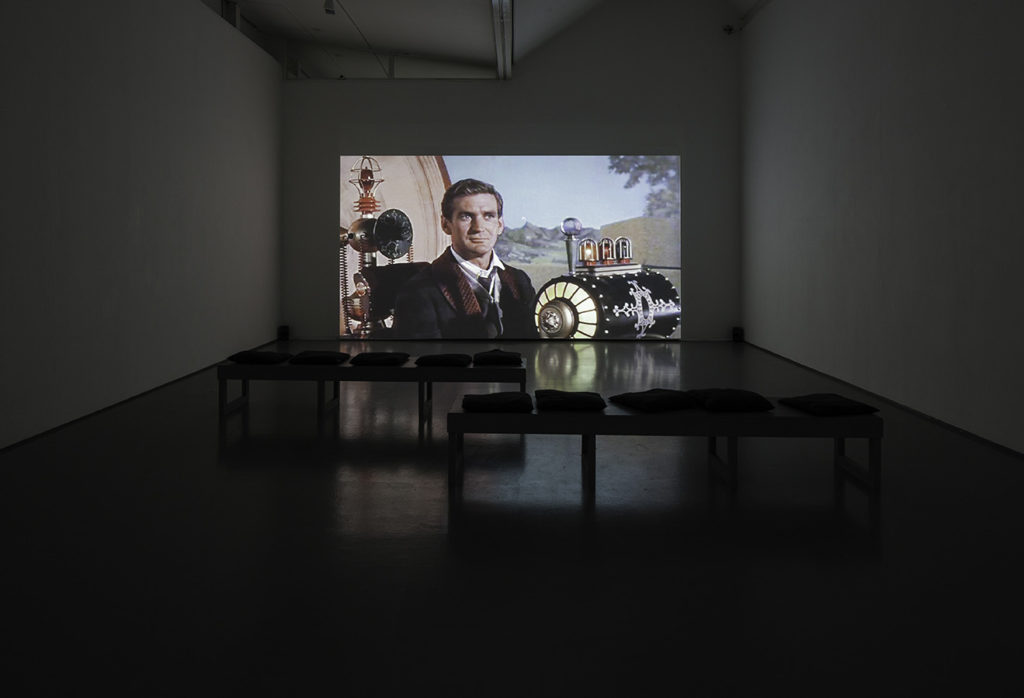 Time Portals Events and Activities
Future Machine Artwork Workshops:
26 Mar, 20 Apr, 11 May, 18 Jun, 13 Jul, Furtherfield Commons
Book Launch Event for Jugaad Time by Amit S. Rai:
27 Apr 14.00-16.00, Furtherfield Commons
Find a Line to Follow and Face The Future! 'Walkshops':
5 May 18 May, 10 Aug, Furtherfield Commons
Free, Fair, and Alive! A People's Park Play Day:
10 Aug 10.00-17.00, Furtherfield Commons
Future of Money Workshops:
10 Aug, 10.00-17.00, Furtherfield Commons, other dates TBC,
Citizen Sci-Fi 3-Day Artworkers Lab Event:
14-15 Sept, time TBC, Furtherfield Commons
Future Machine Artwork Opening Event:
Date and time TBC, Furtherfield Commons
Circle of Blackness Special Event:
28 Sept, time TBC, Furtherfield Gallery and Commons
Citizen Sci-Fi Programme 2019-2021

This 3-year programme combines citizen science and citizen journalism by crowdsourcing the imagination of local park users and community groups to create new visions and models of stewardship for public, urban green space. By connecting these with international communities of artists, techies and thinkers we are co-curating labs, workshops, exhibitions and Summer Fairs as a way to grow a new breed of shared culture.

3 years and 3 themes
50+ Citizen Sci-Fi events
1000s of local residents
Stories, movies, machines and more!
#CitSciFi – crowdsourcing creative and technological visions of our communities and public spaces, together.

Artist Bios

Anna Dumitriu is a British artist who works with BioArt, sculpture, installation, and digital media to explore our relationship to infectious diseases, synthetic biology and robotics. She has an extensive international exhibition profile including ZKM, Ars Electronica, BOZAR, The Picasso Museum, The V & A Museum, Philadelphia Science Center, MOCA Taipei, LABoral, Art Laboratory Berlin, and The Museum of the History of Science Oxford. She was the 2018 President of the Science and the Arts section of the British Science Association and holds visiting research fellowships at the University of Hertfordshire, Brighton and Sussex Medical School, and Waag Society, as well as artist-in-residence roles with the Modernising Medical Microbiology Project at the University of Oxford, and with the National Collection of Type Cultures at Public Health England. Dumitriu is a renowned speaker and has presented her work at venues including TATE Modern, Princeton University, Imperial College, La Musee de la Chasse et de la Nature, The Mendel Museum and UCLA. Her work is featured in many books including "Bio Art: Altered Realities" published by Thames and Hudson in 2016 and many other significant publications across contemporary art and science including Artforum International Magazine, Leonardo Journal, The Art Newspaper, Art Quarterly, Nature and The Lancet. Dumitriu's work has a strong focus on the ethical implications of emerging technologies drawing threads across time, exploring future scenarios by reflecting on the past.
Elsa James is a visual artist, activist and producer based in Southend-on-Sea, Essex, who grew up in west London during the 1970s and '80s. Her solo practice encompasses lens-based performance, language and text, and recently the use of aural and the archive to explore regionality of race; black subjectivity; and the historical, temporal and spatial dimensions of what it means to be black in Britain. She is currently developing work exploring alienation and outsiderness experienced as a black woman living in Essex since 1999. Forgotten Black Essex (2018) embodies two place-specific narratives from our national archives of two overlooked, under-researched and recognised black women in Essex. Her social practice includes advocating for the inclusion of marginalised communities in the arts sector. New Ways of Seeing, Telling and Making (2018), a visual provocation and participatory lab at the Social Art Summit, asked questions about how we can 'genuinely' address barriers to participation and involvement in the arts for BAME communities. In 2015 she was commissioned to research the asylum and refugee community in Southend. This culminated in a 38-page report exposing the council's lack of provision for the needs of asylum seekers, failed asylum seekers and refugees living in Southend.
Rachel Jacobs is an artist, researcher and games designer. She co-founded the artist-led collective Active Ingredient in 1996 and the commercial games company Mudlark Production Company in 2007. She completed a Doctorate in Computer Science in 2014. Rachel is a practising artist exhibiting nationally and internationally, and a Research Associate at the Horizon Digital Economy Institute, University of Nottingham. Her artworks include the award winning 'Heartlands (Ere Be Dragons)' one of the first mobile games that took place on city streets in Sao Paulo, Yokhama, Berlin, Paris, Cambridge, Bristol and Nottingham; 'A Conversation Between Trees', a touring artwork and schools exchange using environmental sensors to connect forests in the UK and Brazil; and 'The Prediction Machine', an interactive installation that predicts the future impacted by climate change. Rachel is currently developing a series of artists interventions 'Creating Rituals for When The Future Comes', alongside a mobile interactive artwork the 'Future Machine'.
James E. Marks, PsychFi – A natural born new media pioneer, award winning social video, & dimensional computing arts for good maker, curator & speaker. With 4 decades of hands-on experience & experimental knowledge collaborating on Brand / Crowd / Arts Council funded "Sub & Pop Culture Mixed Up Reality Experiences". Recent collaborations include V&A, London Design Festival, Boomtown Fair, Mobile World Congress, Ravensbourne University, Bethesda, SubPac, Modern Panic, Sci-Fi-London & BBC Click

Marius Matesan is creating narratives using real and virtual installation art, noted mostly for his work on theatre stages across Europe and more recently for his Mixed Reality experiences. Mixing reality with the imaginary, using sound, projection mapping, spatial computing and virtual reality. His work revolves around pushing the boundaries of perception, awareness and reality, creating installations that are often addressing social issues with a psychedelic twist.

Alex May is a British artist creating digital technologies to challenge and augment physical and emotional human boundaries on a personal and societal level in a hyper-connected, software mediated, politically and environmentally unstable world. He works with light, code, and time; notably algorithmic photography, robotic artworks, video projection mapping installations, interactive and generative works, video sculpture, performance, and video art. Alex has exhibited internationally including at the Francis Crick Institute (permanent collection), Eden Project (permanent collection), Tate Modern, Ars Electronica (Austria), LABoral (Spain), the Victoria & Albert Museum, Royal Academy of Art, Wellcome Collection, Science Museum, Bletchley Park, One Canada Square in Canary Wharf, the Museum of Contemporary Art in Caracas (Venezuela), the Science Gallery in Dublin, Princeton University, University of Calgary (international visiting artist 2016), Texas A&M University, and the Beall Center for Art + Technology, University of California, Irvine. Alex is a Visiting Research Fellow: Artist in Residence with the School of Computer Science of University of Hertfordshire, and a Digital Media Arts MA sessional lecturer at the University of Brighton.

http://www.alexmayarts.co.uk
Antonio Roberts is a new media artist and curator based in Birmingham, UK. He uses technology-driven processes to explore issues surrounding open source software, free culture and collaborative practices. His visual and performance work has been featured at galleries and festivals including databit.me in Arles, France (2012), Glitch Moment/ums at Furtherfield Gallery, London (2013), Loud Tate: Code at Tate Britain (2014), glitChicago at the Ukrainian Institute of Modern Art in Chicago, US (2014), Permission Taken at Birmingham Open Media and University of Birmingham (2015-2016), Common Property at Jerwood Visual Arts, London (2016), Green Man Festival, Wales (2017) and Barbican, London (2018). He has curated exhibitions and projects including GLI.TC/H Birmingham (2011), the Birmingham editions of Bring Your Own Beamer (2012, 2013), µChip 3 (2015), Stealth (2015), and No Copyright Infringement Intended (2017).
Carl H Smith is Director of the Learning Technology Research Centre (LTRC) and Principal Research Fellow at Ravensbourne University London. His background is in Computer Science and Architecture. He has 17 years experience conducting R+D into the application of hybrid technologies for perceptual, cognitive and creative transformation. He has worked on a number of large-scale FP7 and Leonardo Life Long Learning European projects. He is currently working on 4 EU projects including the Horizon 2020 project '[WEKIT] Wearable Experience for Knowledge Intensive Training' which aims to create 'Wearable Experience (WE)' – an entirely new form of media. His research interests include Embodied Cognition, Spatial Literacy, Perceptual Technology and Hyperhumanism. His other projects involve Context Engineering, Umwelt Hacking, Natural Media, Sensory Augmentation, Memory Palaces, Artificial Senses and Body Hacking. He is co-founder of the London Experimental Psychonautics Club and co-founder of the Cyberdelic Society. Both organisations explore the myriad of ways it is possible to produce and examine Altered States of Consciousness. He has previously worked at the Computing departments at London Metropolitan University, Glasgow University and Sheffield University. The Learning Technology Research Centre (LTRC) conducts design research into the application of information and communication technologies to augment, support and transform cognition.
Studio Hyte is a London based multidisciplinary design studio who place research and concept above medium. Working between graphic design, interaction and emergent forms of visual communication, we aim to create meaningful and thought provoking work. Formed of a small group of individual practitioners, Studio Hyte is the middle ground where all of our interests and practices meet. As such our collective practice and research covers a broad spectrum of topics including; language, inclusion & accessibility, egalitarian politics & alternative protest and technology & the human. With an emphasis on process, we often create critical narratives through our work in order to conceptualise through making. Collectively, our visual practice is a means through which we can plot out a conceptual landscape in order to understand and explore real-world scenarios. Studio Hyte works on self-directed research projects, commissions and client-led projects for a small pool of like minded organisations and individuals.
Chris Szkoda, Kaws Infinity – Games Designer/ VFX Artist, works on designing mixed/virtual reality apps for a social mixed reality experience playground at Ravensbourne University London. Keen to support social good & diversity projects, working directly with students and helping them make their creative ideas a reality. He has expertise in immersive technology, VR modelling and painting in Google Tilt Brush and MasterpieceVR software.

Jon Thomson (b. 1969) and Alison Craighead (b. 1971) are artists living and working in London. They make artworks and installations for galleries and specific sites including online spaces. Much of their recent work looks at live networks like the web and how they are changing the way we all understand the world around us. Having both studied at Duncan of Jordanstone College of Art in Dundee, Jon is Reader in Fine Art at The Slade School of Fine Art, University College London, while Alison is a reader in contemporary art and visual culture at University of Westminster and lectures in Fine Art at Goldsmiths University.
http://www.thomson-craighead.net/
Buy Now and use code: CSF19ASRA for a 30% discount
In India, the practice of jugaad—finding workarounds or everyday, usually non-technical hacks to solve problems—emerged out of subaltern strategies of negotiating poverty, discrimination, and violence. Yet it is now celebrated in management literature as 'disruptive innovation'. In this book Rai considers how these time-efficiencies always exceed their role in neoliberal and authoritarian postcolonial economies and are put into motion by subaltern practitioners themselves.
On Sat 27 Apr from 14.00-16.00 Rai will introduce this important work to guests followed by a Q and A session with Furtherfield Co-Founding Director, Marc Garrett – with plenty for time for discussion.
This event is hosted at Furtherfield Commons in Finsbury Park* and has been supported by the Borderlines Research Group in Creative Economies and Postcolonial Intersectionality at Queen Mary, University of London.
Praise for the book
"This original and innovative work will enable a new and perhaps paradigm-shattering interpretation of the coimplication of digital assemblages, temporality, and affect. Drawing on a rich ethnographic archive, Amit S. Rai is deeply sensitive to how gender, class, and caste are implicated in emergent techno-perceptual assemblages. His invaluable book is also an effective antidote to the Eurocentricity of digital media studies." — Purnima Mankekar, author of Unsettling India: Affect, Temporality, Transnationality
"Jugaad Time is an important intervention into cartographies of postdigital media cultures. By drawing on the specificity of South Asian cultures, it enriches our understanding of the heterogeneity of these processes. The postcolonial study of media technologies is a vibrant and crucial field of inquiry; Amit S. Rai's outstanding work is an essential contribution to global approaches to new media scholarship." — Tiziana Terranova, author of Network Culture: Politics for the Information Age
Furtherfield 2019 Programme
The event form parts of Furtherfield's 2019 programme Time Portals.
Octavia E Butler had a vision of time as circular, giving meaning to acts of courage and persistence. In the face of social and environmental injustice, setbacks are guaranteed, no gains are made or held without struggle, but societal woes will pass and our time will come and again. In this sense, history offers solace, inspiration, and perhaps even a prediction of what to prepare for.
The Time Portals exhibition, held at Furtherfield Gallery (and across our online spaces), celebrates the 150th anniversary of the creation of Finsbury Park. As one of London's first 'People's Parks', designed to give everyone and anyone a space for free movement and thought, we regard it as the perfect location from which to create a mass investigation of radical pasts and futures, circling back to the start as we move forwards.
Each artwork in the exhibition therefore invites audience participation – either in it's creation or in the development of a parallel 'people's' work – turning every idea into a portal to countless more thoughts and visions of the past and future of urban green spaces and beyond.
*Please not this is a separate building to our Gallery and is at the Finsbury Park station entrance to the Park.
Editors present: Yiannis Colakides, Marc Garrett, Inte Gloerich
About The Book
State Machines: Reflections and Actions at the Edge of Digital Citizenship, Finance, and Art
Today, we live in a world where every time we turn on our smartphones, we are inextricably tied by data, laws and flowing bytes to different countries. A world in which personal expressions are framed and mediated by digital platforms, and where new kinds of currencies, financial exchange and even labor bypass corporations and governments. Simultaneously, the same technologies increase governmental powers of surveillance, allow corporations to extract ever more complex working arrangements and do little to slow the construction of actual walls along actual borders. On the one hand, the agency of individuals and groups is starting to approach that of nation states; on the other, our mobility and hard-won rights are under threat. What tools do we need to understand this world, and how can art assist in envisioning and enacting other possible futures?
This publication investigates the new relationships between states, citizens and the stateless made possible by emerging technologies. It is the result of a two-year EU-funded collaboration between Aksioma (SI), Drugo More (HR), Furtherfield (UK), Institute of Network Cultures (NL), NeMe (CY), and a diverse range of artists, curators, theorists and audiences. State Machines insists on the need for new forms of expression and new artistic practices to address the most urgent questions of our time, and seeks to educate and empower the digital subjects of today to become active, engaged, and effective digital citizens of tomorrow.
Contributors
James Bridle, Max Dovey, Marc Garrett, Valeria Graziano, Max Haiven, Lynn Hershman Leeson, Francis Hunger, Helen Kaplinsky, Marcell Mars, Tomislav Medak, Rob Myers, Emily van der Nagel, Rachel O'Dwyer, Lídia Pereira, Rebecca L. Stein, Cassie Thornton, Paul Vanouse, Patricia de Vries, Krystian Woznicki.
Join editors Yiannis Colakides, Marc Garrett, Inte Gloerich, contributors Max Dovey and Helen Kaplinsky, and respondent Ruth Catlow on Tue 23 Apr from 18.00-20.30 for short presentations with plenty for time for discussion.
This event is hosted at Furtherfield Commons in Finsbury Park*
*Please note this is a separate building to our Gallery and is at the Finsbury Park station entrance to the Park.
Come and Build a Machine for the Future with Rachel Jacobs
Artist Rachel Jacobs is working in partnership with Furtherfield to build a Future Machine in Finsbury Park and you are invited to help build it.
Location:
Furtherfield Commons
269-271 Seven Sisters Road
Finsbury Park
N4 2DE
Sign up to take part in four workshops that will involve thinking about the future (in response to environmental change) and helping to design and build the Future Machine, towards an unveiling at Furtherfield Gallery this Autumn and tour of England in 2019/2020.

The workshops are designed to bring together people with ALL views on environmental change – denier, worrier, eco-warrior, confused, conspiracy theorist, lover of trees – everyone is welcome! The workshops will involve talking, thinking, making things with all kinds of arts and craft materials, as well as using interactive technology and scientific sensors. You are welcome to sign up to one or all of the workshops, you don't need to attend them all to take part.
Furtherfield Commons is a wheelchair accessible venue. Please email the artist at: promises@thepredictionmachine.org if you want to discuss any accessibility requirements.

Workshop times/dates:

Tuesday 26th March 3-6
Saturday 20th April 1-4
Saturday 11th May 1-4
Tuesday 18th June 3-6
Book now!
Refreshments will be provided
The Future Machine Artwork

The Future Machine sits on a hand cart ready for the journey, travels the country and plugs into a greater whole of many parts. It stands as a witness to the places, people, stories and events of these turbulent times, as the Earth changes, and we take a journey into an uncertain future.
The Future Machine is a new artwork, a large interactive machine, built to help us to respond to environmental change as the future unfolds. The machine will record people's visions of the future, make predictions, facilitate new rituals and helps us to make decisions about the future we want, not one we fear.
The artwork will be created in collaboration with a team of engineers, programmers, climate scientists from the British Antarctic Survey, researchers from the University of Nottingham, and participants in a series of artist-led workshops, scheduled to take place in London and Nottingham in 2019.
The Future Machine will be built by YOU over the coming months and unveiled in an Autumn ritual – details to follow
The Future Machine is part of Furtherfield's 2019 programme: Time Portals.
Furtherfield has worked with decentralised arts and technology practices since 1996 inspired by free and open source cultures, and before the great centralisation of the web.
Who cares about decentralisation?
10 years ago, blockchain technologies blew apart the idea of money and value as resources to be determined from the centre. This came with a promise, yet to be realised, to empower self-organised collectives of people through more distributed forms of governance and infrastructure. Now the distributed web movement is focusing on peer-to-peer connectivity and coordination with the aim of freeing us from the great commercial behemoths of the web.
What does decentralisation mean for the arts?
There is an awkward relationship between the felt value of the arts to the majority and the financial value of arts to a minority. The arts garner great wealth, while it is harder than ever to sustain arts practice in even the world's richest cities.
In 2015 we launched the Art Data Money programme of labs, exhibitions and debates to explore how blockchain technologies and new uses of data might enable a new commons for the arts in the age of networks. This was followed by a range of critical art and blockchain research programming:
Building on this and our DAOWO lab series, we have developed DECAL – our Decentralised Arts Lab and research hub.
Working with leading visionary artists and thinkers, DECAL opens up new channels between artworld stakeholders, blockchain and web3.0 businesses. Through the lab we will mobilise research and development by leading artists, using blockchain and web 3.0 technologies to experiment in transnational cooperative infrastructures, decentralised artforms and practices, and improved systems literacy for arts and technology spaces. Our goal is to develop fairer, more dynamic and connected cultural ecologies and economies.
2019 DECAL projects:
Collective – an artist led research project on value creation for collecting 21st Century art forms, with Arteïa.
CultureStake – a system for equitable opt-in for cultural community stakeholders. With oscoin, the decentralised network to allow a fair economy for world's open source software.
DAOWO World Tour of the blockchain laboratory and debate series for reinventing the arts – with Ruth Catlow, and Ben Vickers, Serpentine Galleries with Goethe-Institut London.
For more see our Art and Blockchain resource page.

This family-friendly 'albion' style fair is a co-production between Furtherfield and 2NQ for Finsbury Park's 150th anniversary. It forms part of our 3-year programme Citizen Sci-Fi – crowdsourcing creative and technological visions of our communities and public spaces, together.
Mixing music, games, story-telling, experiments and hacking with a focus on social justice and designing the futures we want for all life forms we invite you to book ahead, or drop by on the day to take part in this expanding range of activities:
Activities Include: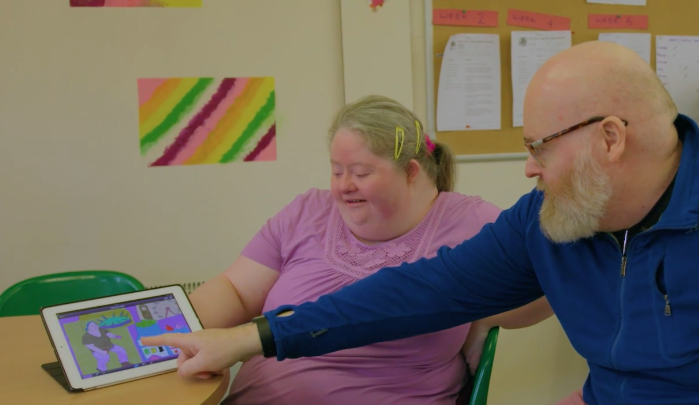 Jason and the Argonauts
Jason Wilsher-Mills

AR- enabled sculptures and inflatables that are produced with and for learning disabled communities telling wild and magical stories about their experiences of the world. This live interaction with the works marks the beginning of a collaboration between Jason, Furtherfield and Pedal Power to produce an interactive sculpture with their members for Finsbury Park.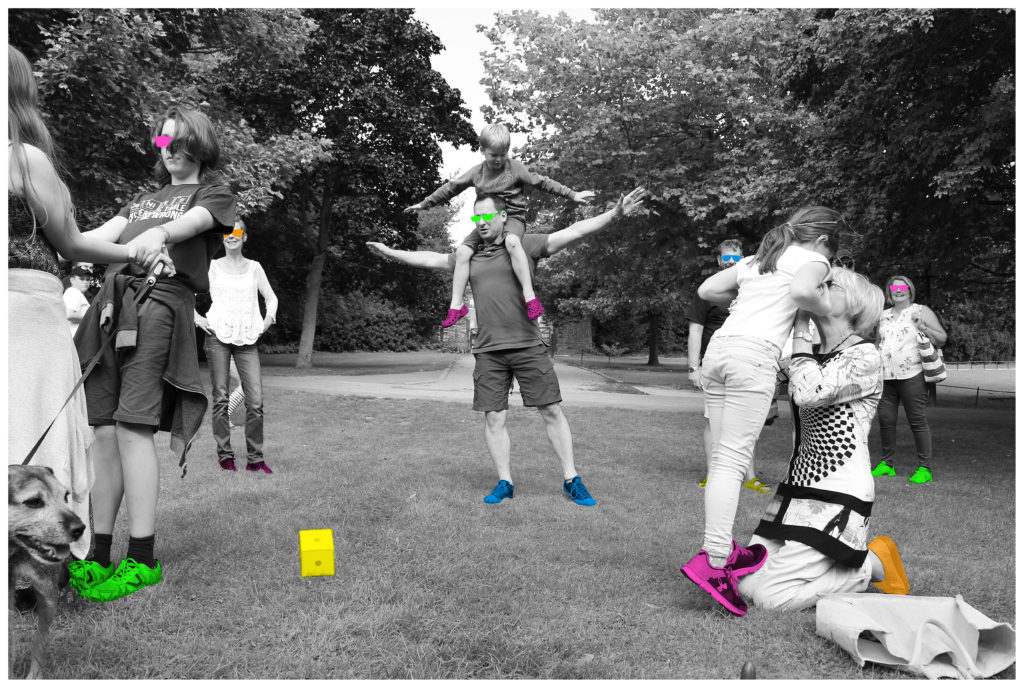 Find a Line to Follow and Face The Future! 'Walkshops'
Helen Stratford and Idit Nathan

Find a line to follow and face the future! Join the artists for playful time-bending walks. Dice will roll, cards will solicit and props will inspire. The walkshops will inform the creation of playful prompts for a map and a digital mobile app that will act as provocations for future park users. The app is launching at Free, Fair and Alive.

Book Now for 5th May workshop (11.00-13.00 & 14.30-16.30)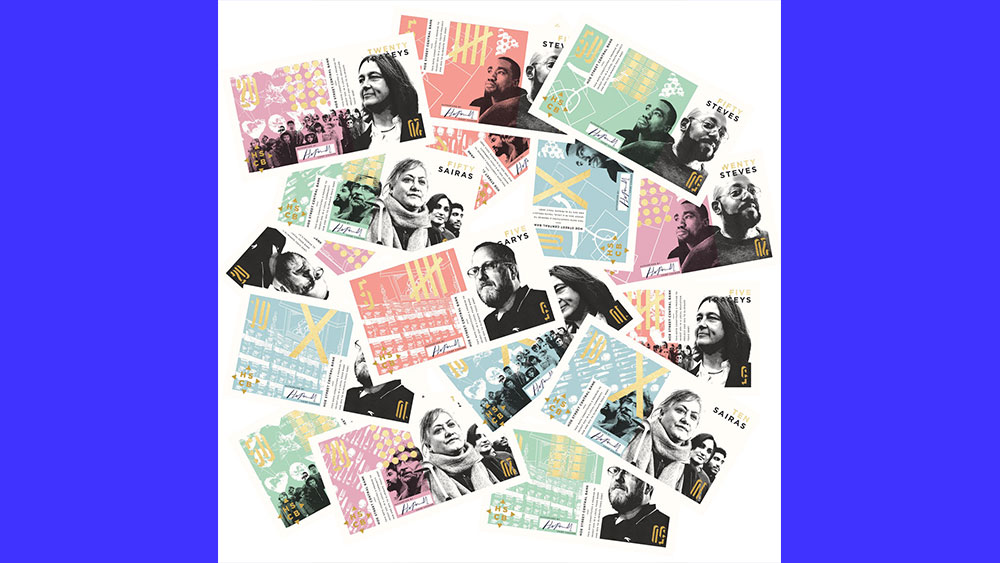 Future of Money Workshops
Martin Zeilinger

Gathering together young people to explore the future of money in a world increasingly dominated by digital payments. These summer 2019 workshops include experts in alternative currencies and will culminate in the production of a graphic novel about London's future monies, copies of which will function as alternative currency notes. At Free, Fair and Alive there will be a mini-version of this workshop series for local people to design their own 'park pounds'.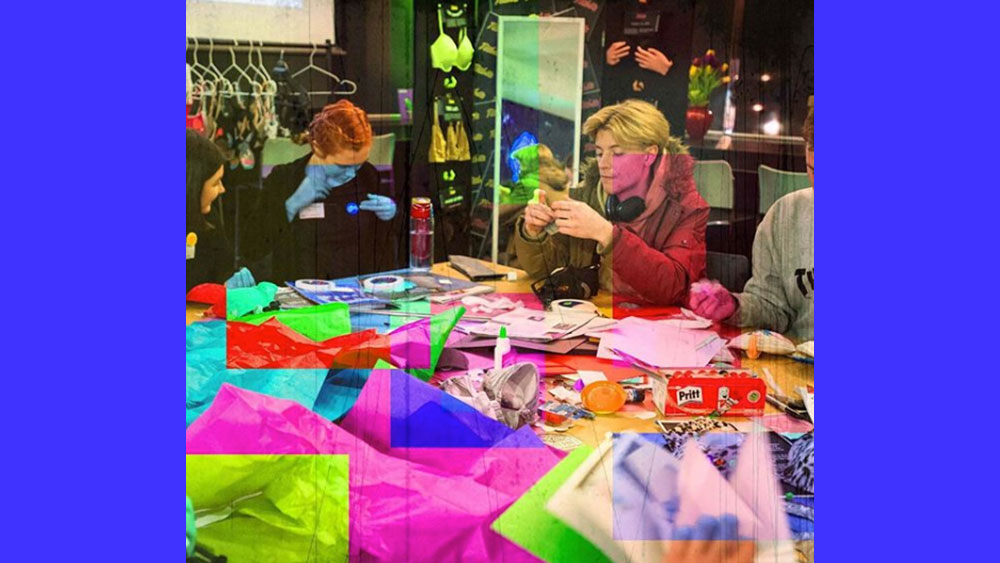 Podcasting the People's Park
Feminist Internet

Uncovering the feminist and queer history of Finsbury Park through interviews and historical research. Led by Conor Rigby and Andrew Mallinson of Feminist Internet the project will seek out dialogues embedded in the Park's material history. A Feminist Internet Podcast and further material will be created to share the site-specific research.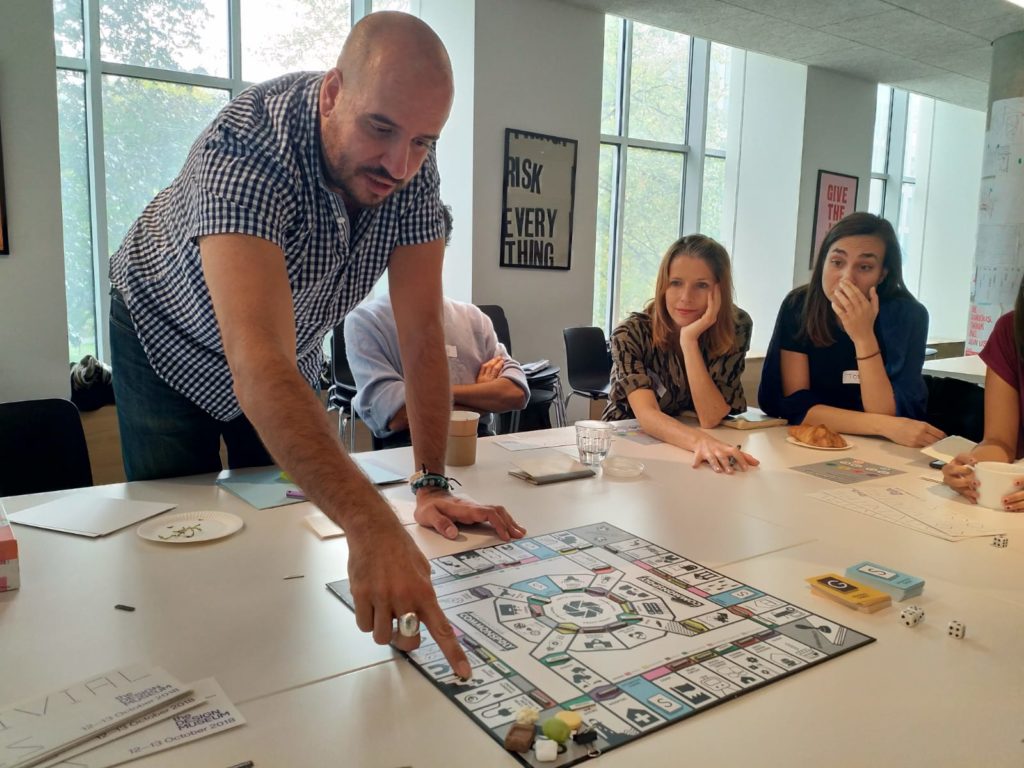 Commonspoly
Commons Transition (Ann Marie Utratel and Stacco Troncoso)

Commonspoly is a free licensed board game with which to reflect and playfully experiment with the possibilities and limits of commons oriented changes in our societies. For this day only players may introduce their own sci-fi inspired technologies and special powers to achieve their goal. This board game is a device to transport us, through fun and instruction, to a future in which cooperative ways of living together are the norm.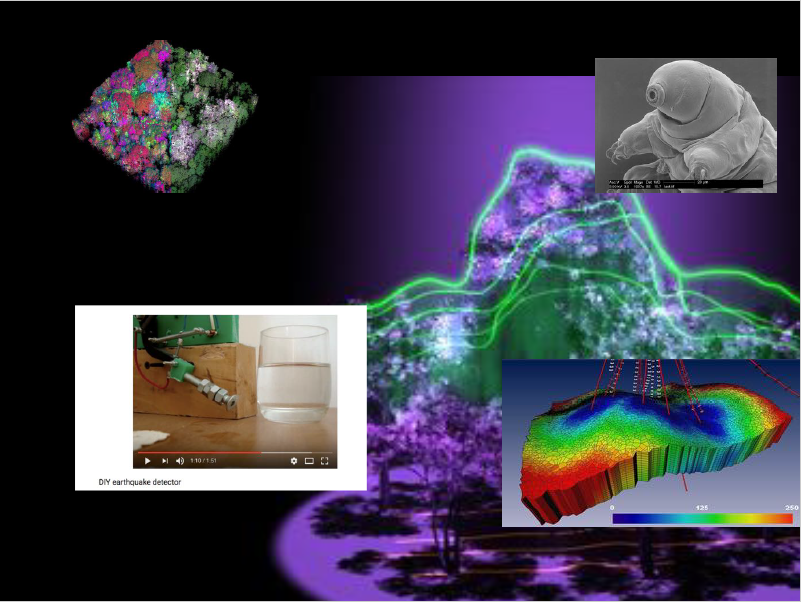 The Extended Trans*Feminist Rendering Program
Possible Bodies (Helen Pritchard, Femke Snelting, Jara Rocha)

Investigating contemporary scanning practices for tectonic and cosmic imaging (such as Terrestrial Light Detection and Ranging, magnetic resonance, UltraSound, and Computer Tomography) together with fiction writers, earth techno-scientists and trans*feminist device problematizers. Come and find Finsbury Park's hidden underground worlds.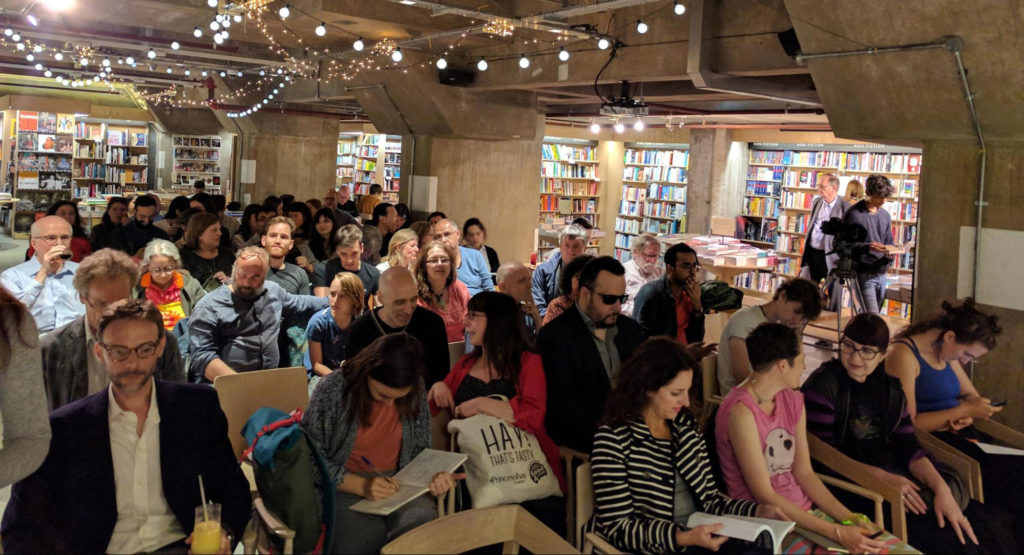 Future Fictions
In partnership with Virtual Futures and authors Mud Howard and Stephen Oram

Readings and discussions of locally-inspired works of science fiction. Writers Howard and Oram are immersing themselves in local culture, meeting and talking with residents, and consulting with scientists in order to create new stories about a Finsbury Park of the future.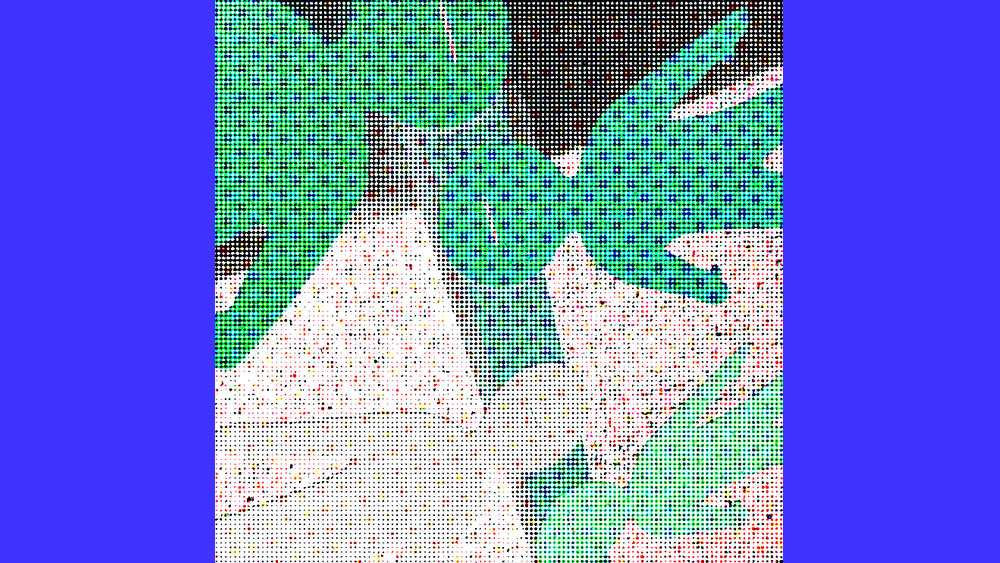 Minutes in the Park
Local&&Ledger (Larisa Blazic)
Future park self-governance starts with learning about present! We gather for a public reading of stakeholders meeting minutes in the style of the Theatre of the Oppressed. This is a part of Furtherfield Micro Residencies programme during which Larisa will experiment with a radical new form of peer production and set of innovative governance tools to engage all members of the public in the analysis of power and governance in the park.

And much, much more! (to be announced soon)
Artist Bios
Larisa Blazic is a London based digital artisan, educator and feminist hacker with practice ranging from net.art to FLOSS art and design. In her most recent work, Data Union Fork, part of Vertigo STARTS Residency, she explores collective response to personal data abuses by state and corporate sector and creates experiments based on technologies developed within the DECODE project and investigates local governance in Local&&Ledger project.
www.e-w-n-s.net/localledger/localledger.html
Feminist Internet is a group of artists and designers working to advance online and offline equalities for women and other marginalised groups through creative and critical practice.
Mud Howard (they/them) is a gender non-conforming poet, performer and activist from the states. mud creates work that explores the intimacy and isolation between queer and trans bodies. mud is a Pushcart Prize nominee. they are currently working on their first full-length novel: a queer and trans memoir full of lies and magic. they were the first annual youth writing fellow for Transfaith in the summer of 2017. their poem "clearing" was selected by Eduardo C. Corral for Sundress Publication's the Best of the Net 2017. mud is a graduate of the low-res MFA Poetry Program at the IPRC in Portland, OR and holds a Masters in Creative Writing from the University of Westminster. you can find their work in THEM, The Lifted Brow, Foglifter, and Cleaver Magazine. they spend a lot of time scheming both how to survive and not perpetuate toxic masculinity. they love to lip sync, show up to the dance party early and paint their mustache turquoise and gold.
Stephen Oram writes thought provoking stories that mix science fiction with social comment, mainly in a recognisable near-future. He is one of the writers for SciFutures and, as 2016 Author in Residence at Virtual Futures – described by the Guardian as "the Glastonbury of cyberculture" – he was one of the masterminds behind the new Near-Future Fiction series and continues to be a lead curator. Oram is a member of the Clockhouse London Writers and a member of the Alliance of Independent Authors. He has two published novels: Fluence and Quantum Confessions, and a collection of sci-fi shorts, Eating Robots and Other Stories. As the Author in Residence for Virtual Futures Salons he wrote stories on the new and exciting worlds of neurostimulation, bionic prosthetics and bio-art. These Salons bring together artists, philosophers, cultural theorists, technologists and fiction writers to consider the future of humanity and technology. Recently, his focus has been on collaborating with experts to understand the work that's going on in neuroscience, artificial intelligence and deep machine learning. From this Oram writes short pieces of near-future science fiction as thought experiments and use them as a starting point for discussion between himself, scientists and the public. Oram is always interested in creating and contributing to debate about potential futures.
Possible Bodies is a collaborative research project, interrogating the concrete and at the same time fictional entities of "bodies" in the context of 3D-tracking, -modelling and -scanning.
www.possiblebodies.constantvzw.org
Jara Rocha is an independent researcher/mediator who tends to attend to the semiotic-material urgencies of present cultures with a trans*feminist sensibility. Works with infrastructural politics and aesthetics, text logistics, body inscriptions and tests non-formal ways of learning in collective situations like Euraca Seminar, Las promesas de los algos, Relearn Summerschool, or The Darmstadt Delegation.
Femke Snelting works as artist and designer, developing undisciplined research at the intersection of feminisms and free software. In various constellations she explores how digital tools and cultural practices might co-construct each other. She is member of Constant, a non-profit, artist-run association for art and media based in Brussels.
www.snelting.domainepublic.net
Helen Pritchard is an artist and researcher, whose interdisciplinary work brings together the fields of Computational Aesthetics, Geography and Feminist TechnoScience. Helen's practice is both one of writing and making and these two modes mutually inform each other in order to consider the impact of computational practices on our engagement with environments. Helen is the head of Digital Art and a lecturer in Computational Art at Goldsmiths, University of London.
Helen Stratford and Idit Nathan – Working collaboratively as Play Anywhere Now or Never! and combining backgrounds in theatre and architecture, Idit and Helen have worked in partnership with Wysing Arts Centre, Kettles Yard, Cambridge and METAL and in locations across the UK (Bristol, Sunderland, Peterborough, Southend and London). In 2015 they formulated Play The City Now or Never! (PCNN) working with METAL Peterborough and Southend to develop the PCNN App, a site-specific geo-locative App for mobile devices positioned at the intersection of art, play and technology. The PCNN App, like other low-tech resources they have developed, such as a compilation of games and scores as well as DIY die, solicits playful engagement with spaces and sites. Other recent and ongoing collaborative projects include developing a mobile artwork for Yorkshire Sculpture Park as well as walkshops for Cambridge Junction, Festival of Ideas Cambridge, CounterPlay '16 Aarhus, Wellcome Trust, Live Art Development Agency and the National Theatre.
www.playanywherenowornever.com
Jason Wilsher-Mills is a disabled digital artist who is based in the East Midlands, using iPads to create paintings which detail his disability, childhood memories, popular culture, social history/heritage, creating new biographical narratives, through theatrical artifice and humour. He initially painted traditionally, with oils, but since becoming disabled has found the iPad screen more manageable – affording him the opportunity to create large pieces of artwork, through high-resolution files, modern Giclée printing methods & projection methods. It has also given him the chance to work collaboratively, due to its connectivity and accessibility. The primary themes of his work include memory, childhood, disability and illness. In parallel to his own artistic practice Wilsher-Mills conducts public art commissions and residencies working primarily with learning disabled collaborators on wild and wacky interactive sculptures.
Martin Zeilinger is a London-based interdisciplinary researcher, curator, and media practitioner. Currently he works as Senior Lecturer in Media at Anglia Ruskin University (Cambridge/UK), and also serves as curator of the Vector Festival (Toronto/CAN). His research interests include digital art, appropriation-based art practices, experimental uses of financial technologies in contemporary art, theories of cultural ownership and intellectual property, political economies of new media, live coding and creative computing, videogame culture, and experimental game art.
Commons Transition (Ann Marie Utratel and Stacco Troncoso):
A native New Yorker now living in Spain, Ann Marie Utratel is part of the P2P Foundation global core team, focused on advocacy and infrastructure. Her work helps connect a widening network of people involved in forward-thinking communities including the P2P/Commons movement, activism, open licensing, environmentalism, alternative currencies, collaborative economy, cooperativism, and more. She is also a co-founder of Guerrilla Translation, a P2P translation collective.

Stacco Troncoso is the advocacy coordinator of the P2P Foundation as well as the project lead for Commons Transition, an organization dedicated to spreading and strengthening the Commons worldwide. He is also co-founder of the P2P translation collective Guerrilla Translation. His work in communicating commons culture extends to public speaking and relationship-building with prefigurative communities, policymakers and potential commoners.

"It's amazing what we can do if we simply refuse to give up. The word again is persist." Octavia E Butler
In 2019 we celebrate the 150th anniversary of Finsbury Park, and we time travel through its past and future with the launch of our Citizen Sci-fi programme and methodology. Dominant sci-fi franchises of our time, from Black Mirror to Westworld, have captured popular attention by showing us their apocalyptic visions of futures made desperate by systems of dominance and despair.
What is African-American author, Octavia E. Butler's prescription for despair? Sci-fi and persistence. Sci-fi as a tool for getting us off the beaten-track and onto more fertile ground, and persistent striving for more just societies.The 2015 book Octavia's Brood honoured her work, with an anthology of sci-fi writings from US social justice movements and this inspired us to try a new artistic response to the histories and possible futures of Finsbury Park.
Furtherfield's Citizen Sci-Fi methodology combines citizen science and citizen journalism by crowdsourcing the imagination of local park users and community groups to create new visions and models of stewardship for public, urban green space. By connecting these with international communities of artists, techies and thinkers we are co-curating labs, workshops, exhibitions and Summer Fairs as a way to grow a new breed of shared culture.
Each artwork in the forthcoming exhibition invites audience participation – either in it's creation or in the development of a parallel 'people's' work – turning every idea into a portal to countless more thoughts and visions of the past and future of urban green spaces and beyond.
So where do we start? Last year we invited artists, academics and technologists to join us in forming a rebel alliance to fight for our futures across territories of political, cultural and environmental injustice. This year both our editorial and our exhibition programme are inspired by this alliance and the discoveries we are making together.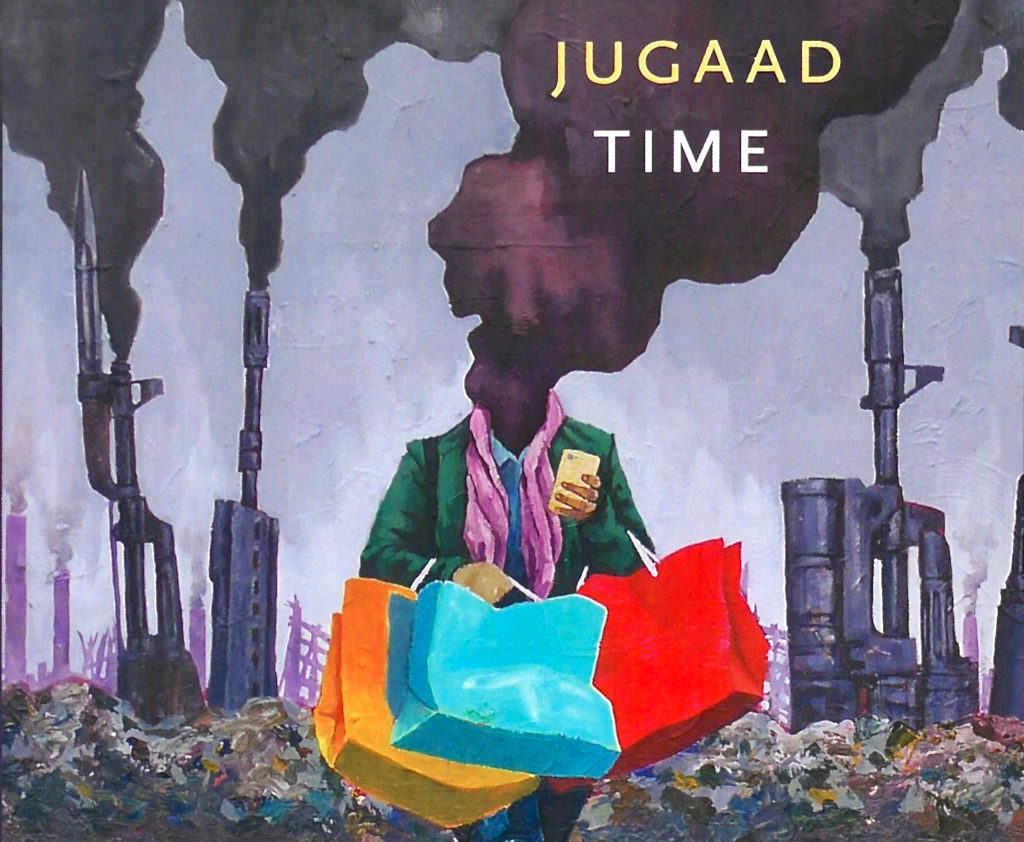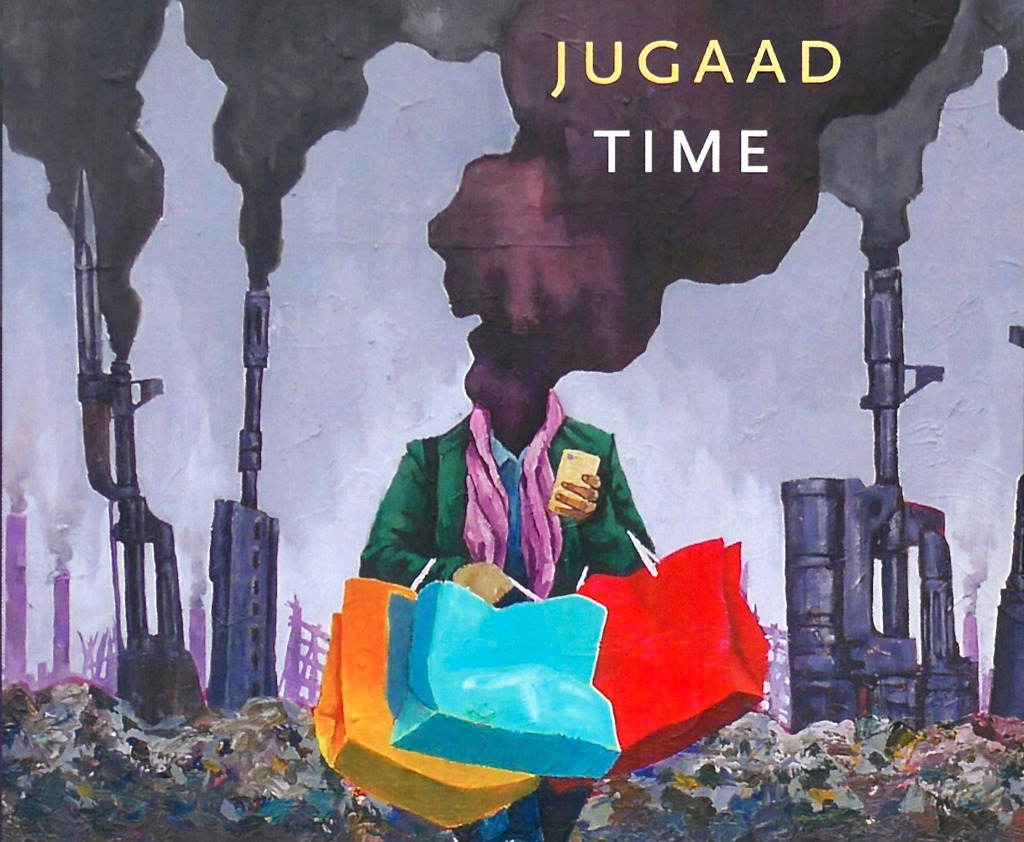 To kick off this year's Time Portals programme at Furtherfield, in April we will host the launch and discussion around Jugaad Time, Amit Rai's forthcoming book. This reflects on the postcolonial politics of what in India is called 'jugaad', or 'work around' and its disruption of the neoliberal capture of this subaltern practice as 'frugal innovation'. Paul March-Russell's essay Sci-Fi and Social Justice: An Overview delves into the radical roots and implications of Mary Shelley's Frankenstein (1818). This is a topic close to our hearts given our own recent exhibitions Monsters of the Machine and Children of Prometheus, inspired by the same book. Meanwhile we've been hosting workshops with local residents exploring our visions for Finsbury Park 150 years into the future. To get a flavour of these activities Matt Watkins' has produced an account of his experience of the Futurescapes workshop at Furtherfield Commons in December 2018.
In May we will open the Time Portals exhibition which features several new commissions. These include Circle of Blackness by Elsa James. Through local historical research James will devise a composite character to embody the story of a black woman from the locality 150 years ago and 150 years in the future. James will perform a monologue that will be recorded and produced by hybrid reality technologist Carl Smith and broadcast as a hologram inside the Furtherfield Gallery throughout the summer. While Futures Machine by Rachel Jacobs is an Interactive machine designed and built through public workshops to respond to environmental change – recording the past and making predictions for the future while inspiring new rituals for our troubled times. Once built, the machine occupies Furtherfield Gallery, inviting visitors to play with it.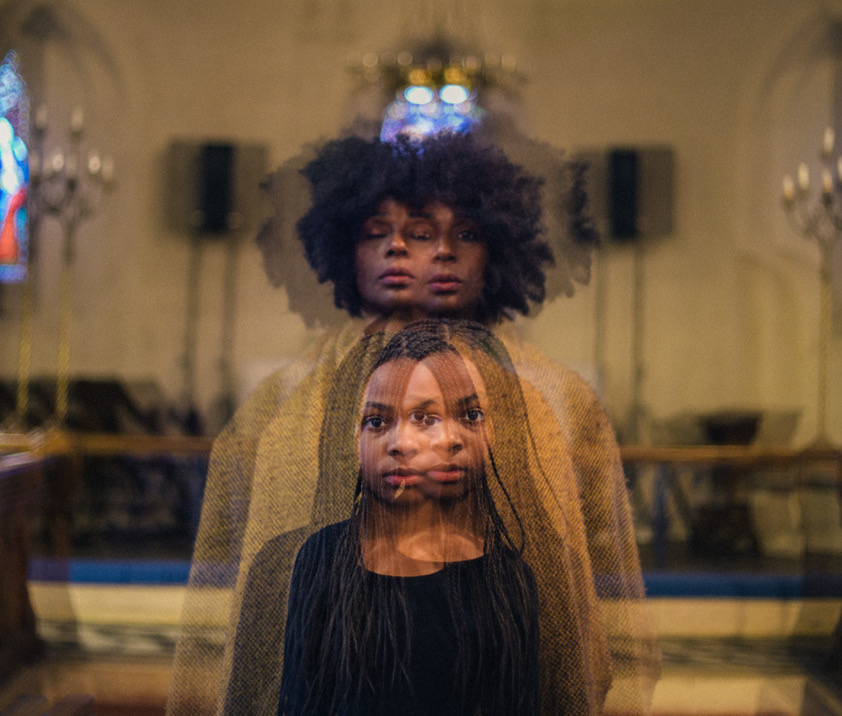 Time Portals opens on May 9th (2019) with other time traveling works by Thomson and Craighead, Anna Dumitriu and Alex May, Antonio Roberts and Studio Hyte. Visitors will be invited to participate in an act of radical imagination, responding with images, texts and actions that engage circular time, long time, linear time and lateral time in space towards a collective vision of Finsbury Park in 2169.
From April onwards, a world of activities, workshops with local families and their enriching noises, reviews, interviews and an array of experiences will unfold. Together we dismiss the dystopian nightmares and invite communities to join us in one of London's first "People's Parks" to revisit and recreate the future on our own terms together.
Marc Garrett will be interviewing Elsa James, about her artwork Circle of Blackness, and Amit Rai about his book Jugaad Time. Both will soon be featured on the Furtherfield web site.
Join us in Edinburgh at the first DAOWO 'Blockchain & Art Knowledge Sharing Summit' of 2019
DAOWO (Distributed Autonomous Organisations With Others) Summit UK facilitates cross-sector engagement with leading researchers and key artworld actors to discuss the current state of play and opportunities available for working with blockchain technologies in the arts. Whilst bitcoin continues to be the overarching manifestation of blockchain technology in the public eye, artists and designers have been using the technology to explore new representations of social and cultural economies, and to redesign the art world as we see it today.
This summit will focus on potential impacts, technical affordances and opportunities for developing new blockchain technologies for fairer, more dynamic and connected cultural ecologies and economies.
Programme
1.00 Registration
1.30 Welcome and Scene Setting
'State of the Arts: Blockchain's Impact in 2019 and Beyond' Presentation by Ruth Catlow and Ben Vickers offering a comprehensive overview of developments from critical artistic practices and emergent blockchain business models in the arts. DAOWO Arts and Blockchain pdf download (Catlow & Vickers 2019). Followed by a discussion hosted by Clive Gillman
2.15 Coffee
2.30 'Make / Do / Block' Panel Discussion with 5 creative practitioners whose work allows us to experience the otherwise abstract technology of blockchain.
Although the term 'blockchain' has trickled downstream into the public domain, the principles behind the technology remain mysterious to many. Embodied within physical assemblages or social interventions that mine, hash and seal the evidence of human practices, creatives have provided important 'coordinates' in the form of artworks that help us to unpick the implications of the technology and the extent to which it re-configures power structures.
Hosted by Prof Chris Speed and Mark Daniels with panellists:
Pip Thornton – The Value of Words in an Age of Linguistic Capitalism
Bettina Nissen & Ailie Rutherford – Designing feminist cryptocurrency for Govanhill
Evan Morgan – GeoPact
Jonathan Rankin – OxChain, Pizza Block
Larissa Pschetz – Karma Kettles

4.00 Coffee
4.15 Conversation
What Value Does The Blockchain Bring To Collecting Art? | Ruth Catlow in conversation with Marianne Magnin, Arteïa UK Managing Director.
4.45 Wrap up, takeaways and final discussion | Ben Vickers to lead into drinks
5.00 – 6.00 Drinks
Contributors include:
Ruth Catlow, Furtherfield and DECAL
Mark Daniels, New Media Scotland
Clive Gillman, Creative Scotland
Marianne Magnin, Arteïa
Prof Chris Speed, Design Informatics, University of Edinburgh
Ben Vickers, Serpentine Galleries
Through two UK summits, the DAOWO programme is forging a transnational network of arts and blockchain cooperation between cross-sector stakeholders, ensuring new ecologies for the arts can emerge and thrive.
DAOWO Summit UK is a DECAL initiative – co-produced by Furtherfield and Serpentine Galleries in collaboration with the Goethe-Institut London. This event is realised in partnership with the Department of Design Informatics at the University of Edinburgh and New Media Scotland.

OxChain is a major EPSRC research project which explores how Blockchain technologies can be used to reshape value in the context of international development and the work of Oxfam, involving the Universities of Edinburgh, Northumbria and Lancaster.
We are based in the heart of Finsbury Park, which is used by roughly 55,000 people weekly in a neighbourhood described as 'superdiverse' for the nearly 200 languages spoken locally. Working with park users and stakeholders, artists, techies, researchers, policy-makers, and other local arts organisations we have developed a new approach to cultural co-creation in this much loved shared public space: 'Platforming Finsbury Park'.
Our aims are to:
Grow and maintain the natural and cultural value of the park with, and in the interest of all of its diverse users
Discover new ways with local people and partners to shape, and enjoy cultural activities safely in the interest of the neighbourhood
Create open and accessible digital platforms for artistic and learning experiences and use for many years
Try new ways of engaging people, working with natural and social environment and ethical data gathering insights
Connect and share knowledge with international networks of cultural innovation in public parks
An important part of this work is our 2019-21 programme, Citizen Sci-Fi, designed to engage our local community in creative imaginings of the future of Finsbury Park. We are producing a range of participatory networked art practices that respond to today's important questions, in this unique urban park context, that empower local participants, and draw on international areas of practice.
By transforming Finsbury Park into a canvas for participatory digital arts we want to explore how insights drawn from the locality, and meaningful co-created cultural experiences can improve wellbeing for people, establishing new arts practices for Finsbury Park and other public spaces and localities.
Read more about this project in our Spring 2018 Editorial
Citizen Sci-Fi Programme 2019-2021
This 3-year programme combines citizen science and citizen journalism by crowdsourcing the imagination of local park users and community groups to create new visions and models of stewardship for public, urban green space. By connecting these with international communities of artists, techies and thinkers we are co-curating labs, workshops, exhibitions and Summer Fairs as a way to grow a new breed of shared culture.
3 years and 3 themes
50+ Citizen Sci-Fi events
1000s of local residents
Stories, movies, machines and more!
#CitSciFi – crowdsourcing creative and technological visions of our communities and public spaces, together.
Citizen Sci-Fi: Time Portals 2019
The Time Portals exhibition, held at Furtherfield Gallery (and across our online spaces), celebrates the 150th anniversary of the creation of Finsbury Park. As one of London's first 'People's Parks', designed to give everyone and anyone a space for free movement and thought, we regard it as the perfect location from which to create a mass investigation of radical pasts and futures, circling back to the start as we move forwards.

Each artwork in the exhibition therefore invites audience participation – either in its creation or in the development of a parallel 'people's' work – turning every idea into a portal to countless more imaginings of the past and future of urban green spaces and beyond.

Citizen Sci-Fi: Love Machines 2020
For this Olympic year we will consider the health and wellbeing of humans and machines.

Citizen Sci-Fi: Land Oracles 2021
For this year of predicted peak heat rises we will consider how machines can work with nature.
Opening Event: Saturday 18 February 2017, 3-5pm (register)
Open 11am – 5pm, Sat 18 & Sun 19 Feb, Thu 23 to Sun 26 Feb 2017, or by appointment.
ADMISSION FREE
DOWNLOAD PRESS RELEASE (.pdf)
IMAGES FROM THE OPENING EVENT
Furtherfield presents Superdiversity: Picturing Finsbury Park, an exhibition collaboration between researcher and artist Katherine Stansfeld and local people and communities in London's Finsbury Park. Support gratefully acknowledged from Ordnance Survey, the Economic and Social Research Council, and the Royal Holloway Centre for the GeoHumanities.
"My roots are here, I'm very proud to be where I am, I'm happy to be where I am…I have very good memories and bad I guess, I felt like one of the key things for my children is to make sure they fit in, it's so important to fit in and feel part of something and I think that was my struggle…" – Finsbury Park worker and ex-resident
Superdiversity: Picturing Finsbury Park questions what the area means for different people. It is an exploration of what place and difference mean in the context of a neighbourhood in today's London, a global city. It attempts to re-socialise 'the map' through a social research practice.
The diversity of contemporary urban life reflects and creates its complexity. This is particularly true of Finsbury Park, an area of London which is home to people from all backgrounds. Conceptualising place as open and shifting, the exhibition focuses on the different ways local place is understood and experienced in the super-diverse area of Finsbury Park. 'Superdiversity' is a concept that attempts to conceptualise the complexity, mobility and unpredictability of this form of diversity, recognising the 'diversification of diversity'.
"The area has got a lot busier. Different types of people are coming in from all walks of life. I saw lots of different faces that I'd never seen before and it was weird to me at first but I've kind of got used to it now. I'm okay with it now." – Finsbury Park resident
Tens of thousands of people move through Finsbury Park, people spill off pavements, landscapes alter as buildings rise and impending verticality threatens sought-after sunshine. This exhibition explores city dwellers' experiences of the city's increasing density and accelerated transformation, alongside so many others, and how it affects the meaning of neighbourhood space.
Photographic 'place portraits' created by Stansfeld as part of walking interviews acknowledge the everyday places that matter, accompanied by audio narrations by participants explaining their significance. Stansfeld's films of urban encounters and maps of vernacular geographies, constructed using digital mapping tools, explore whether a new cultural cartography is possible – one that is fluid and dynamic – a shifting platform to express super-diversity.
"It feels more homely being around people from everywhere" – Finsbury Park resident
Using visual ethnography: video, photography, and mapping, the exhibition explores how lives and trajectories overlap in the area. Stansfeld observes and encounters many different people to find out what type of space fosters conviviality or causes contestation. Through this process, Stansfeld not only uncovers social relations but captures the experience of super-diversity, evoking the particular practices, rhythms and moods that create the urban multicultural place of Finsbury Park.
"Anything old is slowly being knocked down, especially in these parts. I've lived in this area since 1994, so 22 years. So I've seen things unfolding and things changing for the better even though you're missing the old faces, some of the old people, they've moved on, they're no longer in this area" – Woodberry Down resident
ACCOMPANYING EVENTS
Geohumanities Exhibition Tour and Seminar: The Multiplicity of Place
Wednesday 22 February 2-4pm – Furtherfield Gallery & Commons – BOOK HERE
'Place is increasingly theorised as elusive, multiple, a constellation of trajectories' (Massey, 2005). Hosted by Furtherfield in Finsbury Park, N4, this event will combine a short pre-circulated reading with an Exhibition Tour by RHUL PhD student Katherine Stansfeld and Furtherfield co-director Ruth Catlow in order to open up a wider discussion of the multiplicity of place.
FREE – Limited places, booking essential
Passengerfilms presents Conviviality
Friday 24 February, 6-9pm – Furtherfield Commons – BOOK HERE
Join Passengerfilms for an evening of film and discussion on the themes of documentary encounters, multiculture and the city with Marc Isaacs, Emma Jackson, Andy Lee, chaired by Katherine Stansfeld.
FREE – Donation on the door – Limited places, booking essential
Walk and Talk in Finsbury Park
Saturday 25 February, 2-5pm – Furtherfield Gallery
Whether you're spending your Saturday afternoon outdoors or just passing from A-B, share your stories with researcher Katherine Stansfeld and artist Alison Ballard as you walk through Finsbury Park. They'll be out and about recording between 2-5pm. If you'd like to share your stories, or just have a chat, pop in to Furtherfield Gallery and ask the invigilators to track them down. They won't be far away.
ABOUT FINSBURY PARK
Finsbury Park is an area which faces large population churn and includes areas, just streets apart, which vary from being among the 2% most deprived in the country compared to the 50% least deprived. The area straddles official and vernacular boundaries and is home to people from all backgrounds. It sits within Islington, Hackney and Haringey where almost two-thirds of the population, and over 70% of young people are from ethnic minority backgrounds and over 100 languages are spoken. In Islington, a third of the population (36%) were born out of the UK and a quarter of households have an individual with a long term health problem or disability. In Hackney 1 in 10 people define as LGBT and the borough has significantly higher proportions of Buddhist, Jewish and Muslim residents than the rest of the UK.
ABOUT FURTHERFIELD
Furtherfield was founded in 1997 by artists Marc Garrett and Ruth Catlow. Since then Furtherfield has created online and physical spaces and places for people to come together to address critical questions of art and technology on their own terms.
Furtherfield Gallery
McKenzie Pavilion
Finsbury Park, London, N4 2NQ
Visiting Information
Furtherfield Gallery is supported by Haringey Council and Arts Council England.




"Decentralised computer infrastructure does not necessarily mean decentralised power" *
---
Announcing a new film and groundbreaking collaboration
The Blockchain: Change everything forever WATCH HERE
This new film released online on 3 October 2016 by Furtherfield in collaboration with Digital Catapult broadens the current debate about the impact of emerging blockchain technologies.
The underpinning technology of Bitcoin digital currency, the Blockchain is reshaping concepts of value, trust, law and governance. This film sets out to diversify the people involved in its future by bringing together leading thinkers, computer scientists, entrepreneurs, artists and activists who discuss:
What can a blockchain do?
Who builds this new reality?
How will we rule ourselves?
How will the future be different because of the Blockchain?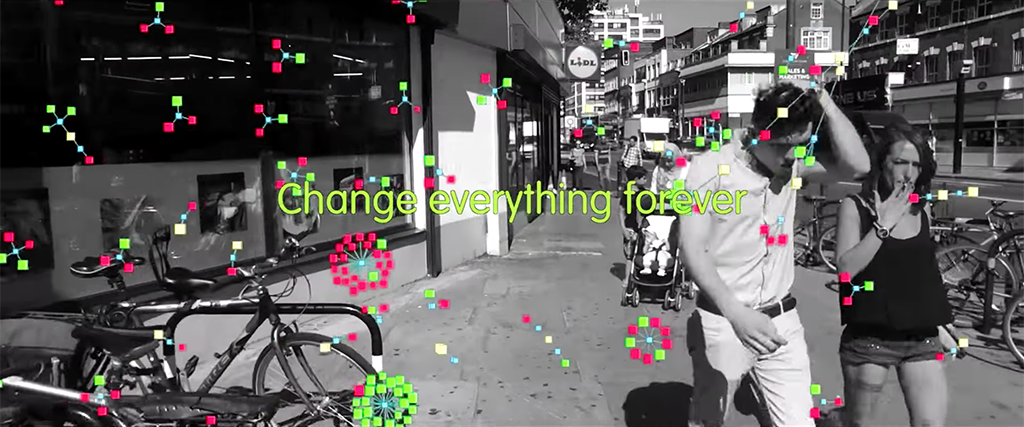 A groundbreaking collaboration
This is a unique collaboration between Furtherfield, dedicated to new forms of cooperation in arts, technology and society and Digital Catapult, an organisation dedicated to growing the UK digital economy.
DOWNLOAD
PRESS RELEASE (.pdf)
TRANSCRIPT (.pdf)
Film credits
Directed by Pete Gomes
Concept, research and development by Ruth Catlow, Furtherfield, Co-founder and Co-director.
Contributors: Dr Anat Elhalal, Digital Catapult; Ben Vickers, Co-founder unMonastery and Curator of Digital, Serpentine Galleries; Dr Catherine Mulligan, Research Fellow, Associate Director – Centre for Cryptocurrency Research, Imperial College; Elias Haase, Developer, Thinker, Beekeeper, Founder of B9lab; Irra Ariella Khi, Co-founder and CEO Vchain Technology; Jaime Sevilla, developer, researcher, GHAYA , #hackforgood; Jaya Klara Brekke, digital strategy, design, research and curating, Durham University; Kei Kreutler, Independent Researcher, Co-founder unMonastery; Pavlo Tanasyuk, CEO BlockVerify; Rob Myers, artist, writer, hacker; Sam Davies, Lead Technologist – Creative Programmes, Digital Catapult; Vinay Gupta, resilience guru, Hexayurt
Screenings and debate
Pixelache Festival 2016, Helsinki, Finland. 22-25 September 2016
BLOCKCHAIN MEETUP, London Digital Catapult Centre, London, UK. 27 October 2016
INAUGURAL BRISBANE BLOCKCHAIN SYMPOSIUM 2016, Brisbane, Australia. 3 November 2016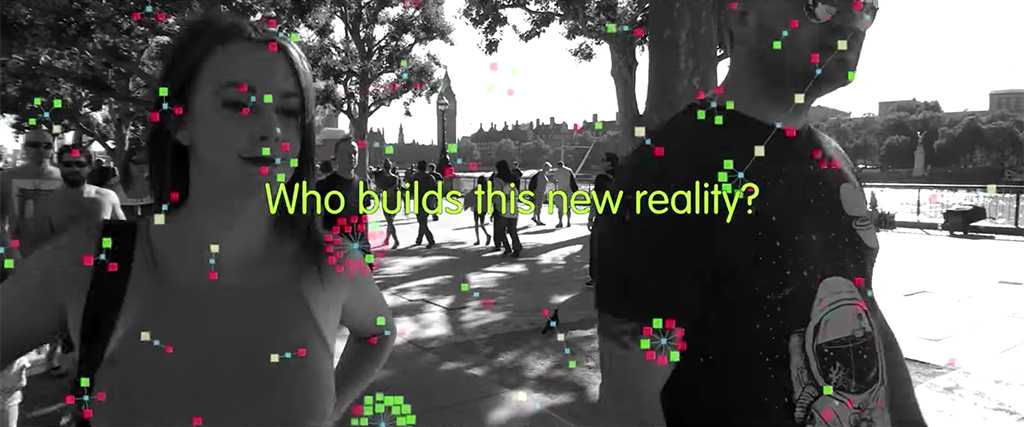 The Blockchain – Change everything forever has been made as part of Furtherfield's Art Data Money programme which seeks to build a commons for the arts in the network age. A book, Artists Re:Thinking The Blockchain in partnership with itinerant publisher and arts organisation Torque will be published in Spring 2017 with the prequel due out November 2016.
Furtherfield is an international hub for arts, technology and social change. Since 1997, Furtherfield has created online platforms and physical places for exhibitions, labs and debates where different types of people explore today's important questions. Furtherfield is an Arts Council England 'National Portfolio' organisation with a Gallery and Lab in London's Finsbury Park http://furtherfield.org/
Digital Catapult works with SMEs to help them grow and scale faster. It helps larger corporates in their digital transformation. It does this through programmes of collaboration and open innovation, by bringing academic leading edge expertise into the mix combined with the organisation's own business and technological expertise. https://digital.catapult.org.uk
For any additional materials and interviews
Please contact Ruth Catlow
ruth.catlow@furtherfield.org
@furtherfield
A Furtherfield film made in collaboration with Digital Catapult, with support from Arts Council England and Southbank Centre.
Notes for editors about the film
Blockchain: Change everything forever
What is the Blockchain?
The Blockchain is the underpinning technology for Bitcoin digital currency, and is said to be at the same stage of development as the World Wide Web in the late 1980s. Its promoters claim that the global deployment of smart contracts via this new decentralised protocol will change everything forever.
The Blockchain in Context
In 2008 Bitcoin, the first global digital currency was described in a white paper by the pseudonymous Satoshi Nakamoto. While the WWW facilitated a worldwide (economic and social) revolution in the global distribution of information, the Blockchain, would facilitate secure, decentralised record-keeping, exchange of digital assets and the mining and exchange of computationally secured value.
Since 2013 blockchains have become a focus for investment by world banks, FinTechs and corporations who predict a fourth industrial revolution of super-automation and hyperconnectivity. This is also accompanied by predictions from the World Economic Forum of increased global inequity.
In this version of the future, code replaces legislation. "Code becomes law". Decentralised Autonomous Organisations (DAOs) route around systems of regulation and taxation via immutable smart contracts, globally deployed across the Blockchain.
The film The Blockchain: Change everything forever proposes that people from diverse disciplines and backgrounds should be involved to work out how Blockchain technologies can be shaped for more decentralised power, diverse needs and interests into the future.
*Jaya Klara Brekke, Digital strategy, design, research and curating, Durham University
Open
Wed – Fri 10am – 7pm
Sat and Sun 12pm – 7pm
More info on opening times
IMAGES FROM THE OPENING EVENT
Participating artists: [AOS] Art is Open Source, Cristina Busto, Equipo Sauti ya wakulima, Mary Flanagan, Carla Gannis, Genetic Moo, Fernando Gutiérrez, Lynn Hershman Leeson, Shu Lea Cheang, Gretta Louw & Warnayaka Art Centre, Regina de Miguel, Joana Moll & Cédric Parizot, Guido Segni, Karolina Sobecka, Alan Sondheim, Thomson & Craighead.
Monsters of the Machine is a contemporary take on Mary Shelley's Frankenstein and asks us to reconsider her warning, that scientific imagining and all technologies have unintended and dramatic consequences for the world. It also invites us to ask the same about the arts and human imagination. Shelley's classic, gothic horror and science fiction novel, has inspired millions since it was written 200 years ago in 1816, and then published anonymously in London in 1818. It offers a lens through which to look at the practices of arts and sciences today and how they shape society's relationship with technology.
Dr. Frankenstein plays the role of the Promethean scientist, a creative genius, and also a narcissist tangled up in his own individual desires, exploiting others in an irresponsible and abusive drive to control nature. However, who is the real monster? Dr. Frankenstein or the poor wretched mutant he brought to life? Are we Dr. Frankenstein, or the suffering mutant, or both? This question posed by the exhibition considers the roles of our arts and science traditions and examines these issues as part of everyday life; as they are played out in the anthropocene, and climate change, gender politics, ethics, governance, surveillance, posthumanism, transhumanism, hacking, biohacking, colonialism, neoliberalism, biopolitics and accelerationism.
In this exhibition, visitors can experience artworks in which the human genome is used as the basis for a poetry machine for a self-assembling video montage spanning the thirteen years – a memorial work and an algorithmic visualisation for an historic scientific landmark. 3d printed avatars, representing distorted bodies in pain, in relation to virtual worlds, where there's no geography and the result is the crack / wound, everywhere and nowhere. Visitors participate in a software-driven installation, a performative social neuroscience experiment to discover our shared psychological biases. A surreal video installation shows us a dystopian blend of 'reality' out in the remote Australian desert with traditional ghost stories and dreamtime stories, mixed with science fiction. The Sahara Desert is remapped by a custom bot in an algorithmically scripted performance, traversing the data-scape of Google Maps and filling a Tumblr blog and its data-centres. Artists take our bio-matter and the inconceivable quantities of data which we generate in our daily lives as materials with an inherent recombinant intelligence and the power to generate (without the intervention of human will) the narratives of human destiny and more. Do we inhabit our own bodies anymore, or do we share our body materials out for others to measure, reshape and construct, data-scrape and manage remotely. Arthur Kroker in Body Drift: Butler, Hayles, Haraway says that, "we no longer inhabit a body in any meaningful sense of the term but rather occupy a multiplicity of bodies – imaginary, sexualized, disciplined, gendered, laboring technologically augmented bodies." [2]
Artists and scientists work with the same tools, frameworks and archetypes. There are crossovers, it's no surprise that we find the boundaries of imaginative fantasy and objective reality breaking down. Take for instance, the jellyfish invasions around nuclear reactors in Japan, Israel, Sweden, and the Scottish plant in Torness. The natural world is writing its own science fiction into a new reality, with vivid images and outlandish outcomes. Right now, the classic techno-utopian dream of computers liberating us all and providing the tools that will underpin global democratisation, seem a long way off and even somewhat sterile. Since the news stories broke of mass surveillance of Internet users by NSA and Prism, we've experienced new formulations of mutual surveillance and manipulation everyday. So now we stand at a precipice, what choice do we have but to jump into this sea of dysfunctional dystopias, and to directly observe for ourselves, what we have become and what we will be, the Monsters of the Machine.
Notes:
[1] Body Drift: Butler, Hayles, Haraway (Posthumanities). Author Arthur Kroker. University of Minnesota Press (22 Oct. 2012).
[2] Body Drift: Butler, Hayles and Haraway. Review by Marc Garrett 15/08/2015.
http://www.furtherfield.org/features/reviews/body-drift-butler-hayles-and-haraway
The exhibition draws upon ideas originally written in an essay. Prometheus 2.0: Frankenstein Conquers the World! Marc Garrett.
http://www.furtherfield.org/features/prometheus-20-and-our-god-complex
Curated by: Marc Garrett, co-director of Furtherfield.org
Graphic Design: Carmen Vázquez
Production:
Part of the proyect: European Digital Art and Science Network:

With the support of: