On the day of the General Data Protection Law (GDPR) going into effect in Europe, on the 25th May, the Disruption Network Lab opened its 13th conference in Berlin entitled "HATE NEWS: Manipulators, Trolls & Influencers". The two-day-event looked into the consequences of online opinion manipulation and strategic hate speech. It investigated the technological responses to these phenomena in the context of the battle for civil rights.
Between hate and hope: lessons from Kenya on hate speech and political manipulation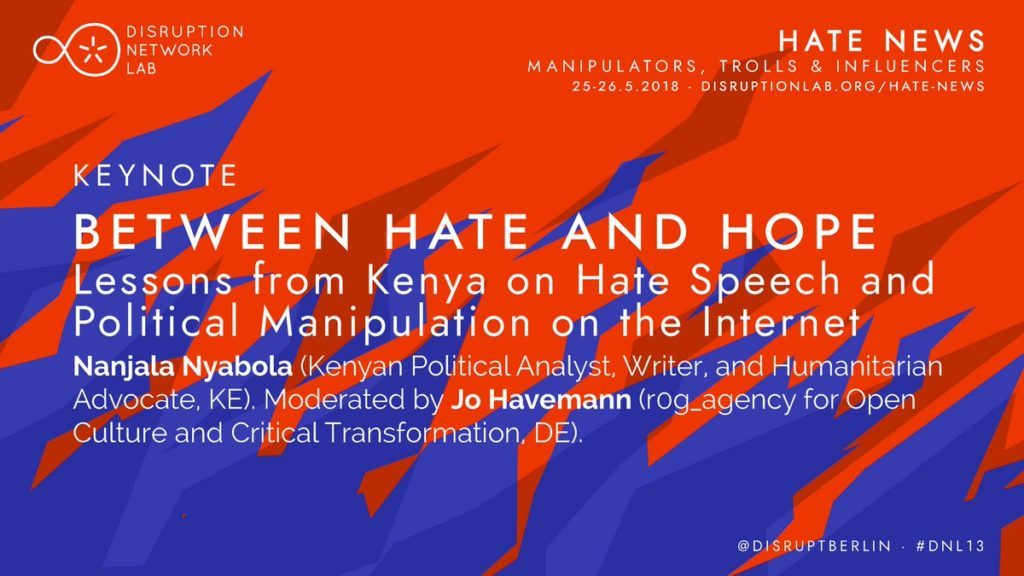 The conference began with Jo Havemann presenting #DefyHateNow, a campaign by r0g_agency for open culture and critical transformation, a community peace-building initiative aimed at combating online hate speech and mitigating incitement to offline violence in South Sudan. More than ten years ago the bulk of African countries' online ecosystem consisted of just a few millions of users, whilst today's landscape is far different. This project started as a response to the way social media was used to feed the conflicts that exploded in the country in 2013 and 2016. It is a call to mobilize individuals and communities for civic action against hate speech and social media incitement to violence in South Sudan. Its latest initiative is the music video #Thinkbe4uclick, a new awareness campaign specifically targeted at young people.
In Africa, hate campaigns and manipulation techniques have been causing serious consequences for much longer than a decade. The work of #DefyHateNow counters a global challenge with local solutions, suggesting that what is perceived in Europe and the US as a new problem should instead be considered in its global dimension. This same point of view was suggested by the keynote speaker of the day, Nanjala Nyabola, writer and political analyst based in Nairobi. Focusing on social media and politics in the digital age, the writer described Kenya´s recent history as widely instructive, warning that manipulation and rumours can not only twist or influence election results, but drive conflicts feeding violence too.
The reliance on rumours and fake news was the principle reason that caused the horrifying escalation of violence following the Kenyan 2007 general election. More than 1,000 people were killed and 650,000 displaced in a crisis triggered by accusations of election fraud. The violence that followed unfolded fast, with police use of brutal force against non-violent protesters causing most of the fatalities. The outbreak of violence was largely blamed on ethnic clashes inflamed by hate speech. It consisted of revenge attacks for massacres supposedly carried out against ethnic groups in remote areas of the country. Unverified rumours about facts that had not taken place. Misinformation and hate were broadcast over local vernacular radio stations and with SMS campaigns, inciting the use of violence, animating different groups against one another.
The general election in 2013 was relatively peaceful. However, ethnic tensions continued to grow across the whole country and ethnic driven political intolerance appeared increasingly on social media, used mainly by young Kenyans. Online manipulation and disinformation proliferated on social media again before and after the 2017 general election campaign.
Nyabola explained that nowadays the media industry in Kenya is more lucrative than in most other African regions, which could be considered a positive aspect, suggesting that within Kenya the press is free. Instead a majority media companies depend heavily on government advertising revenue, which in turn is used as leverage by authorities to censor antagonistic coverage. It should be no wonder Kenyans appear to be more reliant on rumours now than in 2007. People are increasingly distrustful of traditional media. The high risk of manipulation by media campaigns and a duopoly de facto on the distribution of news, has led to the use of social media as the principle reliable source of information. It is still too early to have a clear image of the 2017 election in terms of interferences affecting its results, but Nyabola directly experienced how misinformation and manipulation present in social media was a contributing factor feeding ethnic angst.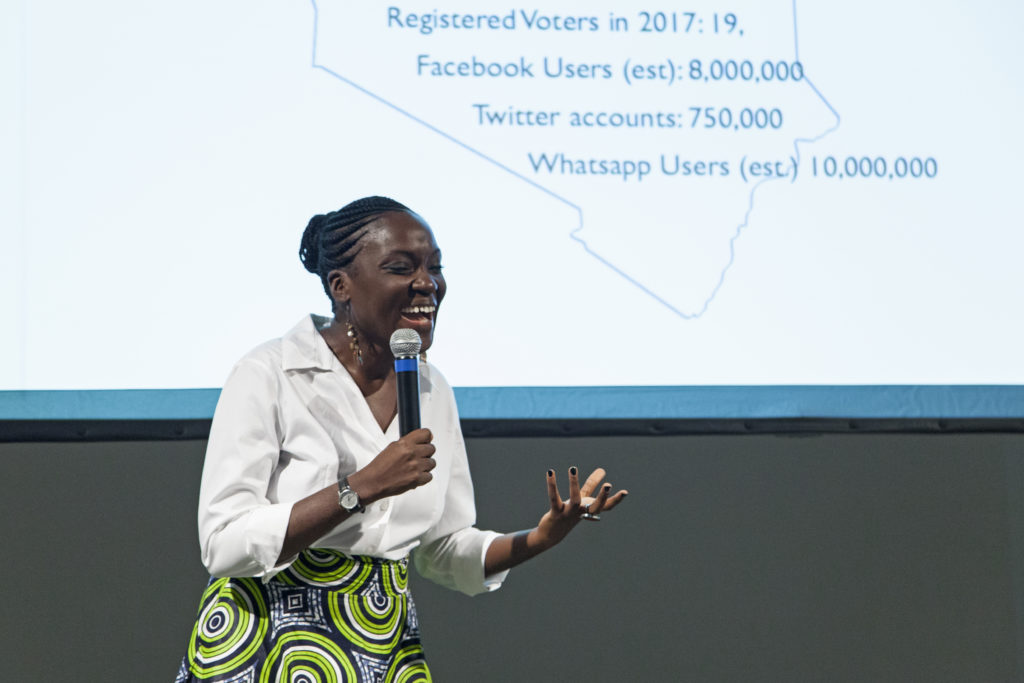 Rafiki, the innovative Kenyan film presented at the Cannes Film Festival, is now the subject of a controversy over censorship due to its lesbian storyline. Nyabola is one of the African voices expressing the intention to support the distribution of the movie. "As something new and unexpected this movie might make certain people within the country feel uncomfortable" she said, "but it cannot be considered a vehicle for hate, promoting homosexuality in violation of moral values." It is actually essential not to confuse actual hate speech with something that is labeled as hate speech for the purpose discredit upon it. Hate speech can be defined as something intended to offend, insult, intimidate, or threaten an individual or group based on an attribute, such as sexual orientation, religion, colour, gender, or disability. The writer from Nairobi reminded the audience that, when we talk about hate speech it is important to focus both on how it makes people feel and what it wants to accomplish. We should always consider that we regulate hate speech since it creates a condition, in which social, political and economic violence is fed, affecting the way we think about groups and individuals (and not just because it is offensive).
Nyabola indicated few key factors that she considers able to increase the consequences of hate speech and manipulation on social media. Firstly, information travels fast and can remain insulated. Whilst Twitter is a highly public space where content and comments flow freely, Facebook is a platform where you connect just with a smaller group of people, mostly friends, and WhatsApp is based on groups limited to a small number of contacts. The smaller the interaction sphere is, the harder it is for fact-checkers to see when and where rumours and hate speech go viral. It is difficult to find and stop them and their impact can be calculated just once they have already spread quickly and widely. Challenges which distinguish offline hate speech and manipulation from online ones are also related to the way information moves today among people supporting each other without a counterpart and without anyone being held to account.
Nowadays Kenya boasts an increasingly technological population, though not all rural areas have as yet been able to benefit from the country being one of the most connected ones in sub-Saharan Africa. In this context, reports indicate that since 2013 the British consulting firm Cambridge Analytica had been working in the country to interfere with elections, organizing conventions, orchestrating campaigns to sway the electorate away from specific candidates. It shall be no surprise that the reach of Cambridge Analytica extended well beyond United Kingdom and USA. In her speech, Nyabola expressed her frustration as she sees that western media focus their attention on developing countries just when they fear a threat of violence coming from there, ignoring that the rest of the world is also a place for innovation and decision making too.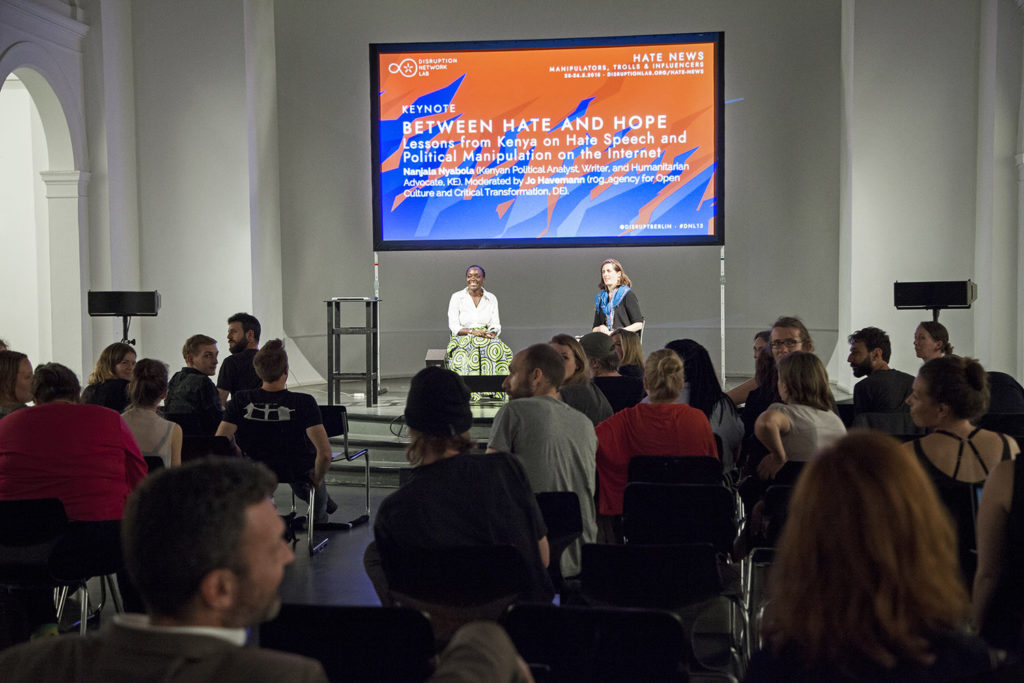 Kenya has one of the highest rates of Internet penetration in Africa with millions of active Kenyan Facebook and Twitter accounts. People using social media are a growing minority and they are learning how to defeat misinformation and manipulation. For them social media can become an instrument for social change. In the period of last year's election none of the main networks covered news related to female candidates until the campaigns circulating on social media could no longer be ignored. These platforms are now a formidable tool in Kenya used to mobilize civil society to accomplish social, gender and economic equality. This positive look is hindered along the way by the reality of control and manipulation.
Most of the countries globally currently have no effective legal regulation to safeguard their citizens online. The GDPR legislation now in force in the EU obliges publishers and companies to comply with stricter rules within a geographic area when it comes to privacy and data harvesting. In Africa, national institutions are instead weaker, and self-regulation is often left in the hands of private companies. Therefore, citizens are even more vulnerable to manipulation and strategic hate speech. In Kenya, which still doesn't have an effective data protection law, users have been subject to targeted manipulation. "The effects of such a polluted ecosystem of misinformation has affected and changed personal relationships and lives for good," said the writer.
On social media, without regulations and control, hatred and discriminations can produce devastating consequences. Kenya is just one of the many countries experiencing this. Hate speech blasted on Facebook at the start of the Rohingya crisis in Myanmar. Nyabola criticized that, as in many other cases, the problem was there for all, but the company was not able to combat the spread of ethnic based discrimination and hate speech.
Targeted, profiled and influenced: on Cambridge Analytica and beyond
Moving from the interconnections of traditional and online media in Kenyan misinformation ecosystem, the second part of the day focused on privacy implications of behavioural profiling on social media, covering the controversy about Cambridge Analytica. The Friday's panel opened with the analyses of David Carroll, best known as the professor who filed a lawsuit against Cambridge Analytica in the UK to gain a better understanding of what data the company had collected about him and to what purpose. When he got access to his voter file from the 2016 U.S. election, he realized the company had been secretly profiling him. Carroll was the first person to receive and publish his file, finding out that Cambridge Analytica held personal data on the vast majority of registered voters in the US. He then requested the precise details on how these were obtained, processed and used. After the British consulting firm refused to disclose, he decided to pursue a court case instead.
As Carroll is a U.S. citizen, Cambridge Analytica took for granted that he had neither recourse under federal U.S. legislation, nor under UK data protection legislation. They were wrong. The legal challenge in British court case that centred on Cambridge Analytica's compliance with the UK Data Protection Act of 1998 could be applied because Carroll's data was processed in the United Kingdom. The company filed for bankruptcy not long after it was revealed that it used the data of 87 million Facebook users to profile and manipulate them, likely in contravention of UK law. Professor Carroll could never imagine that his activity would demolish the company.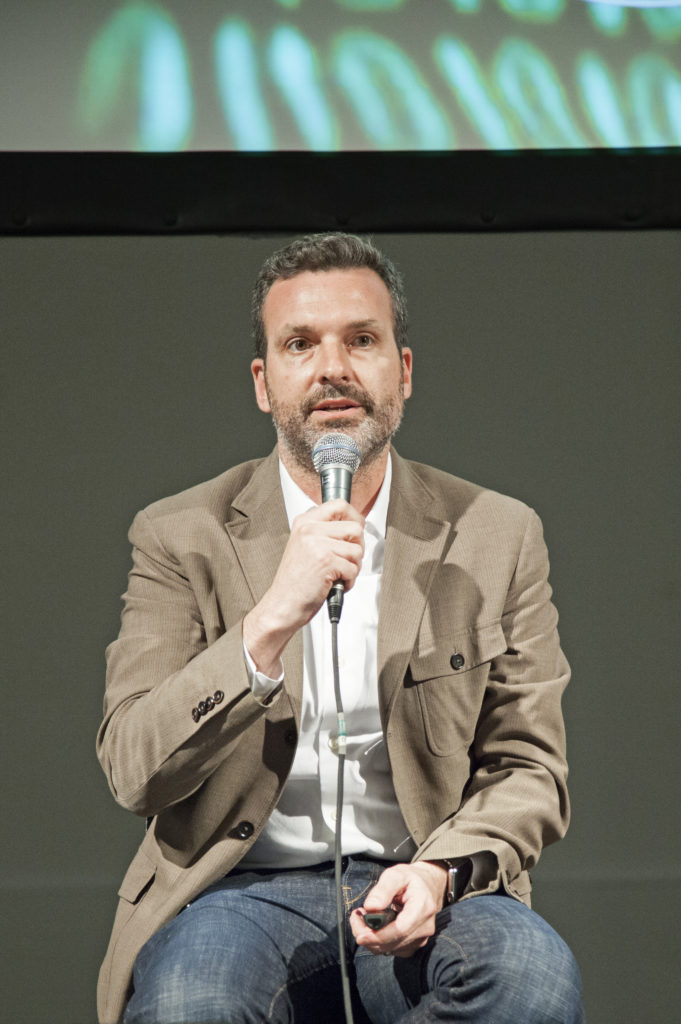 Cambridge Analytica, working with an election management firm called SCL Group, appears to have been a propaganda machine master, able to manipulate voters through the combination of psychometric data. It exploited Facebook likes and interactions above all. Its technique disguised attempts at political manipulation since they were integrated in the online environment.
Carroll talked about how technology and data were used to influence elections and popular voting for the first time in countries like USA and UK, whereas for a much longer time international campaign promoters were hired to act on an international scale. In Carroll's opinion Cambridge Analytica was an 'oil spill' moment. It was an epiphany, a sudden deep understanding of what was happening on a broader scale. It made people aware of the threat to their privacy and the fact that many other companies harvest data.
Since 2012 Facebook and Google have been assigning a DoubleClick ID to users, attaching it to their accounts, de-anonymizing and tracking every action. It is an Ad-tracker that gives companies and advertisers the power to measure impressions and interactions with their campaigns. It also allows third-party platforms to set retargeting ads after users visit external websites, integrated with cookies, accomplishing targeted profiling at different levels. This is how the AdTech industry system works. Carroll gave a wide description of how insidious such a technique can be. When a user downloads an app to his smartphone to help with sport and staying healthy, it will not be a secret that what was downloaded is the product of a health insurance or a bank, to collect data of potential customers, to profile and acquire knowledge about individuals and groups. Ordinary users have no idea about what is hidden under the surface of their apps. Thousands of companies are synchronizing and exchanging their data, collected in a plethora of ways, and used to shape the messages that they see, building up a tailor-made propaganda that would not be recognizable, for example, as a political aid. This mechanism works in several ways and for different purposes: to sell a product, to sell a brand or to sell a politician.
In this context, Professor Carroll welcomed the New European GDPR legislation to improve the veracity of the information on the internet to create a safer environment. In his dissertation, Carroll explained that the way AdTech industry relates to our data now contaminates the quality of our lives, as singles and communities, affecting our private sphere and our choices. GDPR hopefully giving consumers more ownership over their data, constitutes a relevant risk for companies that don't take steps to comply. In his analyses the U.S. professor pointed out how companies want users to believe that they are seriously committed to protecting privacy and that they can solve all conflicts between advertising and data protection. Carroll claimed though that they are merely consolidating their power to an unprecedented rate. Users have never been as exposed as they are today.
Media companies emphasize the idea that they are able to collect people's data for good purposes and that – so far – it cannot be proved this activity is harmful­. The truth is that these companies cannot even monitor effectively the Ads appearing on their platforms. A well-known case is the one of YouTube, accused of showing advertisements from multinational companies like Mercedes on channels promoting Nazis and jihad propaganda, who were monetizing from these ads.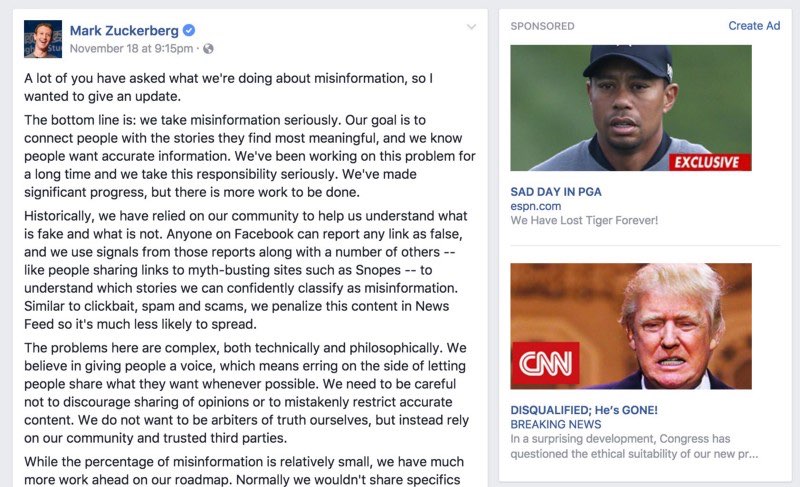 Carroll then focused on the industry of online advertisement and what he called "the fraud of the AdTech industry." Economic data and results from this sector are unreliable and manipulated, as there are thousands of computers loading ads and making real money communicating to each other. This generates nowadays a market able to cheat the whole economy about 11 billion dollar a year. It consists of bots and easy clicks tailor-made for a user. The industries enabled this to happen and digital advertising ecosystem has evolved leading to an unsafe and colluded environment.
Alphabet and Facebook dominate the advertising business and are responsible for the use of most trackers. Publishers as well as AdTech platforms have the ability to link person-based identifiers by way of login and profile info.
Social scientists demonstrated that a few Facebook likes can be enough to reveal and accurately predict individual choices and ideas. Basic digital records are so used to automatically estimate a wide range of personal attributes and traits that are supposed to be part of a private sphere, like sexual orientation, religious beliefs, or political belonging. This new potential made politicians excited and they asked external companies to harvest data in order to generate a predictive model to exploit. Cambridge Analytica's audience-targeting methodology was for several years "export-controlled by the British government". It was classified as weapon by the House of Commons, at a weapons-grade communications tactics. It is comprehensible then that companies using this tech can easily sell their ability to influence voters and change the course of elections, polarizing the people using social networks.
The goal of such a manipulation and profiling is not to persuade everybody, but to increase the likelihood that specific individuals will react positively and engage with certain content, becoming part of the mechanism and feeding it. It is something that is supposed to work not for all but just for some of the members of a community. To find that small vulnerable slice of the U.S. population, for example, Cambridge Analytica had to profile a huge part of the electorate. By doing this it apparently succeeded in determining the final results, guiding and determining human behaviours and choices.
Bernd Fix, hacker veteran of the Chaos Computer Club in Germany, entered the panel conversation describing the development from the original principle of contemporary cybernetics, in order to contextualize the uncontrollable deviated system of Cambridge Analytica. He represented the cybernetic model as a control theory, by which a monitor compares what is happening into a system with a standard value representing what should be happening. When necessary, a controller adjusts the system's behaviour accordingly to again reach that standard expected by the monitor. In his dissertation, Fix explained how this model, widely applied in interdisciplinary studies and fields, failed as things got more complex and it could not handle a huge amount of data in the form of cybernetics. Its evolution is called Machine Learning (or Artificial Intelligence), which is based on the training of a model (algorithm) to massive data sets to make predictions. Traditional IT has made way for the intelligence-based business model, which is now dominating the scene.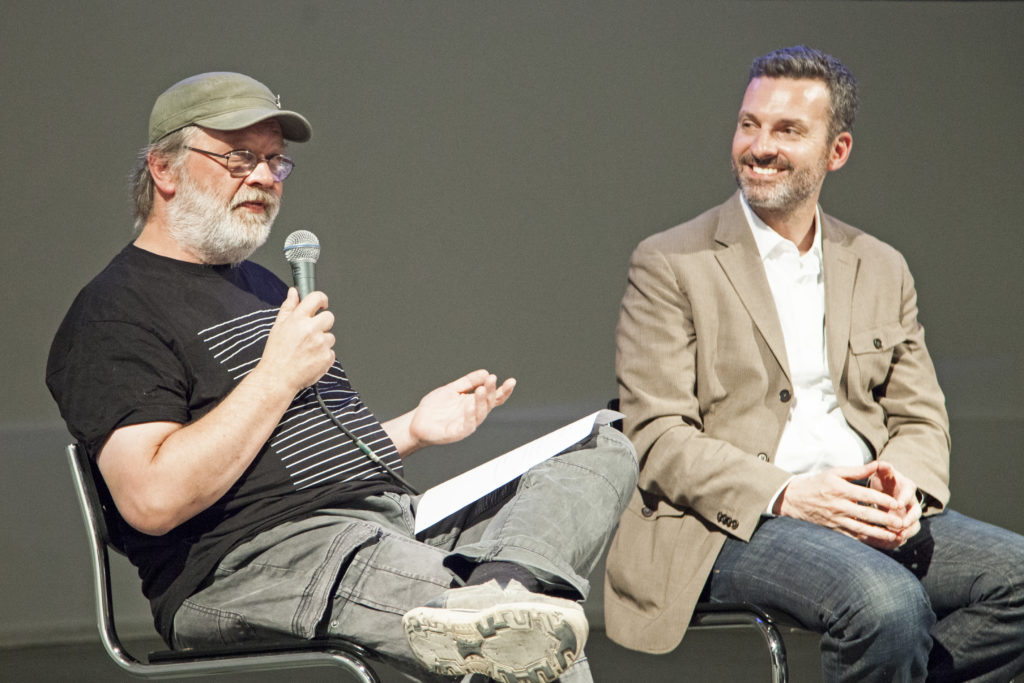 Machine learning can prognosticate with high accuracy what it is asked to, but – as the hacker explained – it is not possible to determine how the algorithm achieved the result. Nowadays most of our online environment works through algorithms that are programmed to fulfil their master's interests, whereas big companies collect and analyse data to maximize their profit. All the services they provide, apparently for free, cost users their privacy. Thanks to the predictive model, they can create needs which convinces users to do something by subtle manipulating their perspective. Most of the responsibilities are on AdTech and social media companies, as they support a business model that is eroding privacy, rights and information. The challenge is now to make people understand that these companies do not act in their interest and that they are just stealing data from them to build up a psychometric profile to exploit.
The hacker reported eventually the scaring case of China's platform "social credit," designed to cover every aspect of online and offline existence and wanted by the national authorities. It is supposed to monitor each person and catalogue eventual "infractions and misbehaviours" using an algorithm to integrate them into a single score that rates the subjective fidelity into accepted social standards. A complex kind of ultimate social control, still in its prototype stages, but that could become part of our global future where socio-political regulation and control are governed by cybernetic regulatory circuits. Fix is not convinced that regulation can be the solution: to him, binding private actors and authorities to specific restriction as a way to hold them accountable is useless if people are not aware of what is going on. Most people around us are plugged into this dimension where the bargain of data seems to be irrelevant and the Big Three – Google, Facebook and Amazon – are allowed to self-determine the level of privacy. People are too often happy consumers who want companies to know their lives.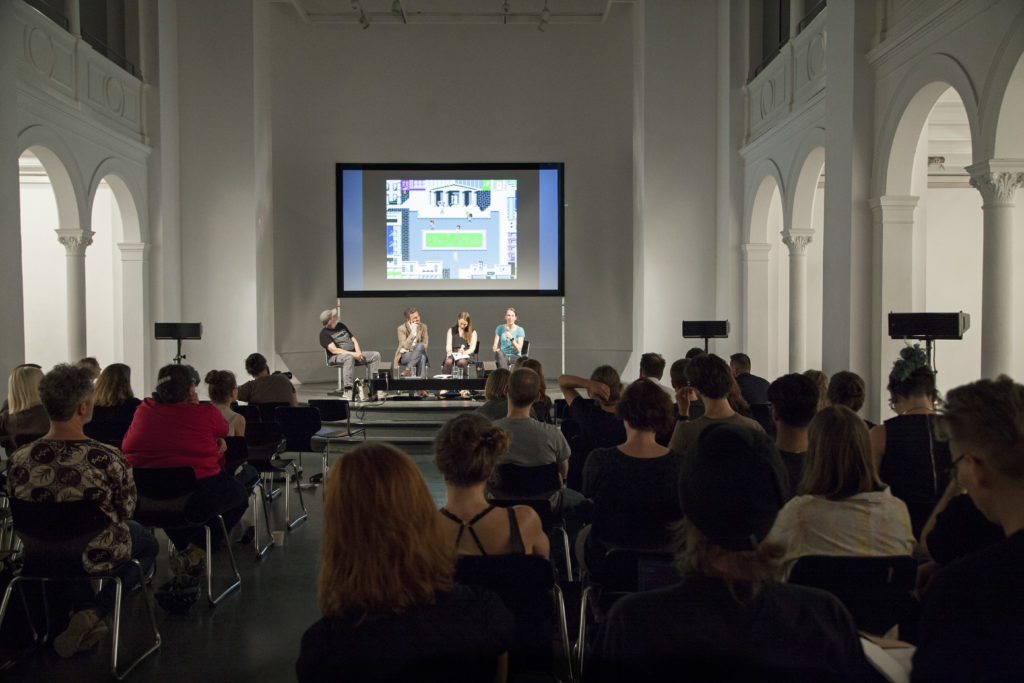 The last panellist of the afternoon was the artist and researcher Marloes de Valk, who co-developed a video game for old 1986 Nintendo consoles, which challenges the player to unveil, recognize and deconstruct techniques used to manipulate public opinion. The player faces the Propaganda Machine, level after level, to save the planet.
"Acid rains are natural phenomena", "passive smoke doesn't affect the health," "greenhouse´s effects are irrelevant." Such affirmations are a scientific aberration nowadays, but in the '80s there were private groups and corporations struggling to make them look like legitimate theorizations. The artist from Nederland analysed yesterday´s and today's media landscape and, basing her research on precise misinformation campaigns, she succeeded in defying how propaganda has become more direct, maintaining all its old characteristics. De Valk looked, for example, for old documents from the American Tobacco Institute, for U.S. corporations'leaked documents and also official articles from the press of the ´80s.
What remains is a dark-humoured game whose purpose is that of helping people to orientate inside the world of misinformation and deviated interests that affects our lives today. Where profit and lobbyism can be hidden behind a pseudoscientific point of view or be the reason rumours are spread around. The artist and researcher explained that what you find in the game represents the effects of late capitalism, where self-regulation together with complacent governments, that do not protect their citizens, shape a world where there is not room for transparency and accountability.
In the game, players get in contact with basic strategies of propaganda like "aggressively disseminate the facts you manufactured" or "seek allies: create connections, also secret ones". The device used to play, from the same period of the misinformation campaigns, is an instrument that reminds with a bit of nostalgia where we started, but also where we are going. Things did not change from the '80s and corporations still try to sell us their ready-made opinion, to make more money and concentrate more power.
New international corporations like Facebook have refined their methods of propaganda and are able to create induced needs thus altering the representation of reality. We need to learn how to interact with such a polluted dimension. De Valk asked the audience to consider official statements like "we want to foster and facilitate free and open democratic debate and promote positive change in the world" (Twitter) and "we create technology that gives people the power to build community and bring the world closer together" (Facebook). There is a whole narrative built to emphasize their social relevance. By contextualising them within recent international events, it is possible to broad the understanding of what these companies want and how they manipulate people to obtain it.
Uncovering corruption: on strategic harassment, Mexican trolls and election manipulation
What is the relation between deliberate spread of hate online and political manipulation?
As part of the Disruption Network Lab thematic series "Misinformation Ecosystems" the second day of the Conference investigated the ideology and reasons behind hate speech, focusing on stories of people who have been trapped and affected by hate campaigns, violence, and sexual assault both online and offline. The keynote event was introduced by Renata Avila, international lawyer from Guatemala and a digital rights advocate. Speaker was Andrea Noel, journalist from Mexico, "one of the most dangerous countries in the world for reporters and writers, with high rates of violence against women" as Avila remembered.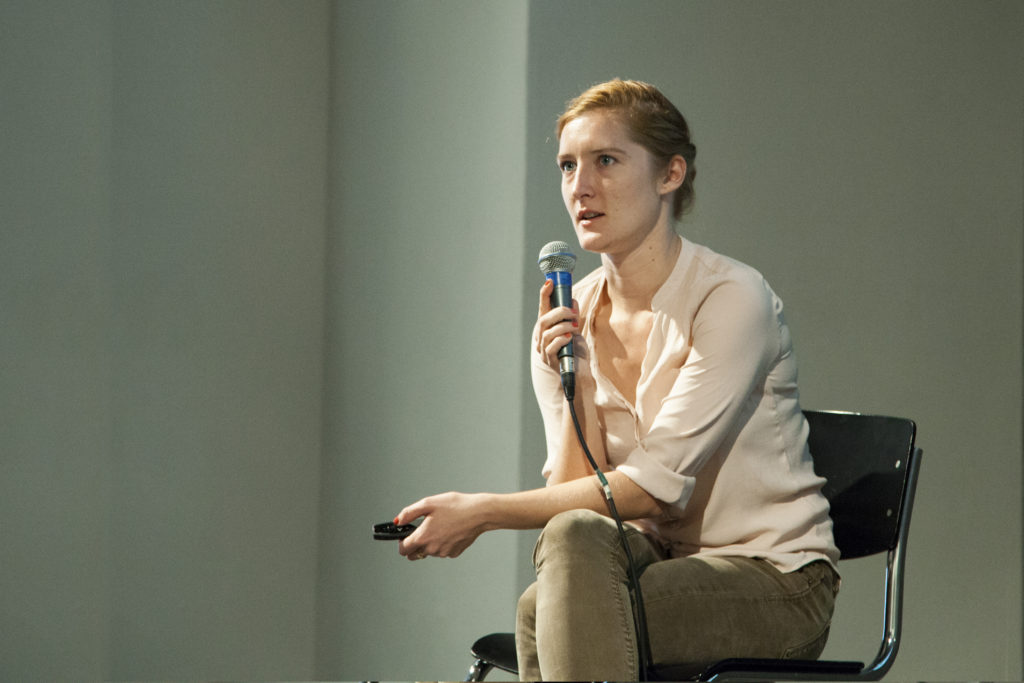 Noel has spent the last two years studying hate speech, fake news, bots, trolls and influencers. She decided to use her personal experience to focus on the correlation between misinformation and business, criminal organizations and politics. On March 8, 2016 it was International Women's Day, and when Noel became a victim of a sexual assault. Whilst she was walking down the street in La Condesa (Mexico City) a man ran after her, suddenly lifted up her dress, and pulled her underwear down. It all lasted about 3 seconds.
As the journalist posted on twitter the surveillance footage of the assault commenting: "If anyone recognizes this idiot please identify him," she spent the rest of the evening and the following morning facing trolls, who supported the attacker. In one day her name became trend topic on twitter on a national level, in a few days the assault was international news. She became so subject of haters and target of a misogynistic and sexist campaign too, which forced her to move abroad as the threat became concrete and her private address was disclosed. Trolls targeted her with the purpose of intimidating her, sending rape and death threats, pictures of decapitated heads, machetes and guns.
In Mexico women are murdered, abused and raped daily. They are victims of family members, husbands, authorities, criminals and strangers. Trolls are since ever active online promoting offensive hashtags, such as #MujerGolpeadaMujerFeliz, which translates as 'a beaten woman is a happy woman'. It is a spectrum of the machismo culture affecting also many Latin American countries and the epidemic of gender-based violence and sexual assault.
Facts can be irrelevant against a torrent of abuse and hate toward journalists. Noel also received hundreds of messages telling her that there was a group of famous pranksters named "master trolls" that used to assault people on the streets in that same way, to make clicks and money out of it. Noel found out that they became best known for pulling down people's pants and underwear in public, and that this brought them directly to popular tv shows. A profitable and growing business.
The journalist decided to face her trolls one by one and later realized that they were mostly part of an organized activity, not from a TV show but from a political group targeting her, a fact that made everything way more intricate. In two years she "got to know her trolls" as she said, and she studied their ecosystem. The description of the whole story is available on podcast Reply All.
Moving from her story, Noel focused in her second part of dissertation on the relation linking together trolls, criminal organizations, political and social manipulation. She described how, by using algorithms, bots and trolls, it is possible to generate political and election related postings on Facebook and Twitter that go viral. Manipulation comes also by weaponizing memes to propel hate speech and denigration, creating false campaigns to distract public attention from real news like corruption and atrocious cartel crimes.
Marginal voices and fake news can be spread by inflating the number of retweets and shares. Hashtags and trends are part of orchestrated system, where publishers and social media are not held in account for the fraud. Automated or semi-automated accounts, which manipulate public opinion by boosting the popularity of online posts and amplifying rumours. There is a universe of humans acting like bots, controlling hundreds of fake accounts.
Noel is particularly critical against Twitter. Its legal team expressed their engagement facing this "new major problem and novel threats". The journalist hypothesized that the company had been well aware of the issue since 2010 but decided not to intervene to weed out organized groups manipulating its environment. Moreover, they knew that organized campaigns of discredit can water down the impact of real grassroot spontaneous protests and movements.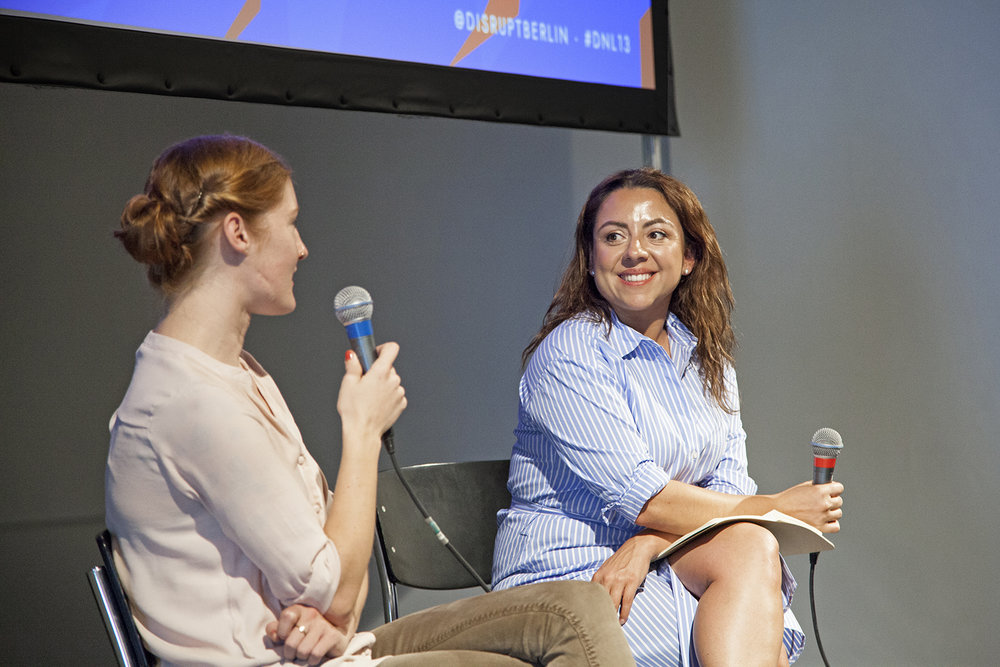 These manipulation techniques are responsible for digitally swaying the 2016 election toward the candidate Peña Nieto, organizing an army of thousands of bots to artificially generate trends on Twitter. Trends on this social media move up and down based on the number of tweets in a topic or hashtag related to the speed of sharing or retweeting. Trolls and bots can easily control the trending topic mechanism with their intense spamming activity.
Noel reported that false stories are shared via WhatsApp too, they are difficult to track and the most challenging to debunk. Her portrayal of social media and information market is not different from the description on the first day of the Conference by the writer Najala Nyabola.
To see the future of social media manipulation in politics we need to look at Mexico. All parties in Mexico have used bots to promote their own campaigns, journalists and opponents are overwhelmed with meaningless spam and denigrating hashtags. Offline, media landscape across Mexico is not free and organised crime has been using propaganda and manipulation to further its own aims. President Peña Nieto's administration spent hundreds of millions of dollars on advertising, making media dependent and colluded. This system suppresses investigative articles and intimidates reporters.
The next general election is scheduled for July 1st. Andrea Noel warned that manipulation, trolls and bots are already irreversibly polluting the debate, in a country where more than 100 candidates have already been murdered (at the time of the Conference) and a history of corruption makes media and authorities unreliable in the eyes of people.
As a response, universities and NGOs formed an anti-fake news initiative called "Verificado" a platform that encourages people to forward stories found on social media using the hashtag #QuieroQueVerifiquen, 'I want you to verify this'. The researchers of this project answer with fact-checking and publish their findings online. When asked, Noel expressed appreciation for the efforts of organizations and civil society. However, she is becoming increasingly disillusioned. She can see no immediate prospect of finding solutions able to slow or halt the impact of misinformation and hate speech online. In her opinion projects like Verificado can be easily hijacked. On the other side genuine social media campaigns are still an effective tool in the hands of civil society but the lack of trust in media fed by corruption often undermines all efforts to mobilize society, leading the public to routinely dismiss initiative to fight injustice.
When asked about the possibility to shut down social networks as a solution, Noel could not say she did not think of it. A first step could be to oblige media like Twitter and Facebook to guarantee users a safe environment where the economic interest comes after the need of a hate speech and manipulation free environment. The way they operate confirms they are content platforms and as such media entities they lack of transparency and accountability. These companies shirk their obligation for publishing responsibly. They should be held to account when they spin lies and allow groups to act unethically or against target single or communities.
The Cleaners
The program of the second day continued with the presentation of the documentary The Cleaners, by Hans Block and Moritz Riesewieck, a project started in 2013 and in the cinemas at the time of the Conference. Initially, the authors wanted to learn more about the removal of pedo-pornographic content and sexualised images of children on Facebook. Social networks have largely pledged to work harder to identify and remove illegal, offensive and improper content, to limit violations and deny hate speech. But how does it work? Who decides what shall be cancelled and on what basis? These questions arose frequently during the first part of the Hate News conference and the German authors could answer it in relation to the social media Facebook, subject of their documentary.
The choice about what shall and what shall not belong the internet is a subjective one. Content moderators, who censor postings and content on platforms like Facebook, have indeed a controversial and central role. Their work is subject to almost no open scrutiny. However, it shapes attitudes and trends of both individuals and social groups, impacting the public discourse and the cultural dialectic. When a social network decides to censor content and delate videos about the effects of drone bombings, since by showing civilian victims Daesh builds its propaganda, it makes a choice that affects the narration of events and the perception of facts.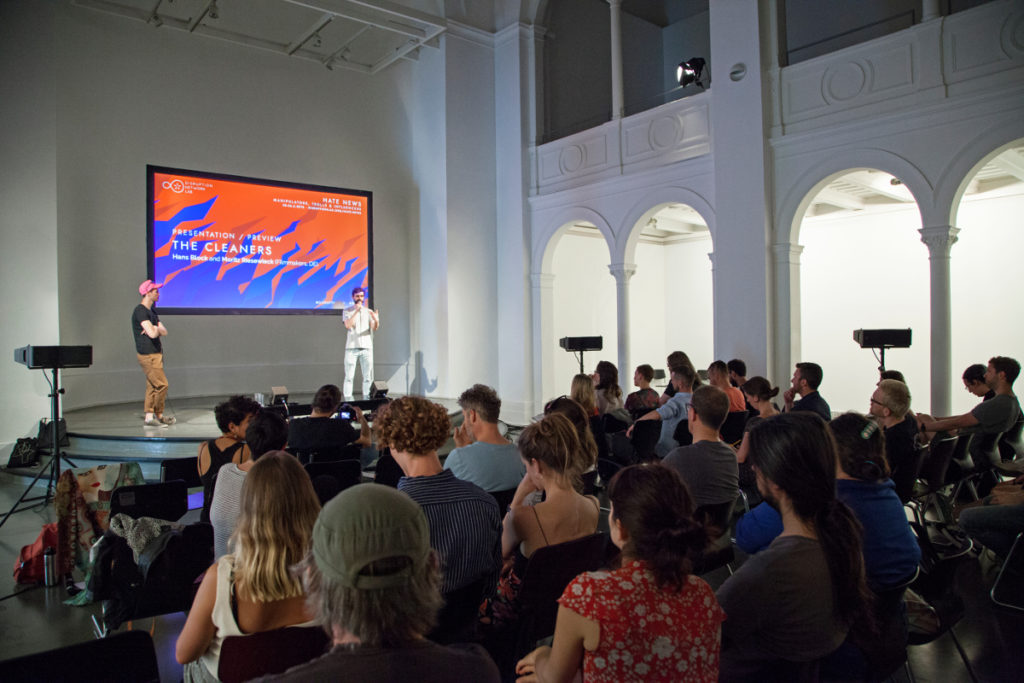 Investigating how the social media platform Facebook polices online content, and the direct impact of these decisions on the users' interactions, Block and Riesewieck ended up in the Manila, where Facebook boasts its biggest department for content moderation, with more than 10,000 contractors. The Cleaners shows how this platform sees its responsibilities, both toward people moderating and censoring the content and its users. Based on interviews with Philippine content moderators at work, the documentary contributes to the debate about the public responsibilities of social media and online platforms for publishing, from political manipulation and propaganda to data protection.
Humans are still the first line of content moderation and they suffer horrible consequences and traumas for they see daily the worst of the web. Companies like Facebook have developed algorithms and artificial-intelligence tools able to work as a first level, but the most of this technology cannot substitute human capabilities. Certain content moderators describe themselves as custodians of moral values, as their work turns into decisions that can shape social media and consequently society. There are indeed countries where people consider Facebook as the Internet, ignoring that the world wide web is much more than that social media.
The authors go beyond, showing that Manila cleaners are influenced by their cultural background and social believes. They build a parallel between Philippines' Catholicism and discourse about universal enslavement of humans to God and sacrifice, photographed in the years of the government of Rodrigo Duterte, controversial president who is leading a war against drugs and moral corruption, made of extrajudicial killings and a violent, abusive approach.
Despite denials by the company, cleaners in Manila also moderate Europeans' posts and they are trained for that. A single world, a historical reference, together with a picture can make all the difference between an innocent joke and hate speech. Whilst memes can be used as weapons, for example by the alt-right groups or by reactionary movements against gender equality, cleaners have just few seconds to decide between removing and keeping a content, checking more than 35,000 images per day. The authors of the documentary explained how it is almost impossible for them to contextualize content. As a result, there is almost no control over their work, as a team leader can just proof 3% of what a cleaner does.
Facing ideologies and strategies of hate: hate speech, online violence and digital rights
The last panel closing the conference on the second day was moderated by the curator, artist and writer Margarita Tsomou. American independent online harassment researcher Caroline Sinders focused her dissertation on online protests and political campaigns in the frame of the hate speech discourse. She recalled recent events able to pollute the public debate by creating chaotic and misleading messages to enhance a reactionary anti-progressive culture. Misogyny thrives on social media and hatred of women and entrenched prejudice against them are everywhere in the Internet. Fake online campaigns are often subtly orchestrated targeting women.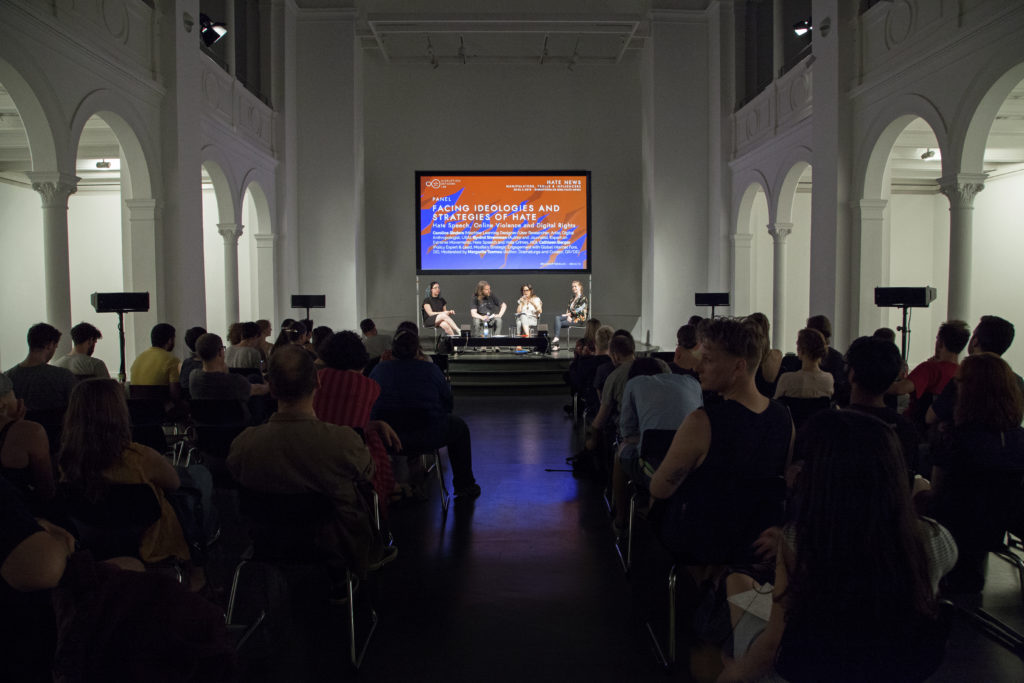 In 2014 on social networks appeared an organised action associated with the hashtag #EndFathersDay, presented as a feminist political campaign to eradicate the celebration of Father's Day as a "celebration of patriarchy and oppression". That campaign had nothing to do with feminism and grassroots movements, it was a harassment campaign against women, a fake with manipulated images and hundreds of trolls to feed a sentiment of hatred and hostility against activists for civil rights and equality.
It is not the only case of its genre. The #Gamergate campaign, that in 2014 targeted several women from the video game industry (on Twitter, Reddit, 4chan, and 8chan) falls into this context. The campaign was not immediately perceived as a harassment instrument due to attempts of making it appear as a movement against political correctness and bad journalistic ethics. It was though a misogynistic reactionary campaign against female game developers, that soon revealed its true face as right-wing sexist backlash. Under this hashtag women were indeed victims of doxing, threats of rape and death.
Sinders explained that in the last several years we have seen a shift from a sectorial market to a global dimension where we are all potentially identifiable as gamers. Video games and gaming culture are now mainstream. People are continuously connected to all kind of devices that enable the global gaming industry to generate more than 100 billion dollar every year. The Gamergate controversy reopened the debate that gaming is a world for (white) males, pointing out how the video game industry has a diversity problem, as sexism, racial and gender discrimination in video game culture appear to be a constant factor.
A relevant aspect of the controversy is related to how trolls organised and tried to reframe the narrative of the harassment campaign. Instead of a misogynistic and violent action, they claimed it was about journalistic integrity and candid reviewing, thus denouncing a collusion between the press and feminists and social critics. Most of the trolls and supporters were anonymous, ensuring that the campaign be defined merely by the harassment they have committed against women and as a reaction to what they reported as the increasing influence of feminism on video game culture.
Sinders concluded her speech explaining that organised actions and campaigns like those described above are structured on precise tactics and harassment techniques that have already entered in our vocabulary. Words like doxing, swatting, sealioning and dogpiling are neologisms that describe strategies of hate speech and harassment nowadays common.
The Norwegian journalist Øyvind Strømmen, author and managing editor of Hate Speech International, has extensively researched and written about how extreme right movements and religious fundamentalism are able to build an effective communication online and use the web as an infrastructure to strategically enhance their activities. He joined the panel explaining that despite his intense international activity, he has never been subjected to harassment and death threats like his female colleagues, whilst he finds daily-organised activities to sow hatred and intolerance to repress women.
Cathleen Berger, former International cyber policy coordination staff at the German Foreign Office and currently lead of Mozilla's strategic engagement with global Internet fora, closed the conference with an analyses of the new German NetzDG legislation, defined by media as an extreme example of efforts by governments to make social media liable for what circulates on their pages. The law was adopted at the end of 2017 to combat illegal and harmful content on social media platforms. It is defined also as anti-hate-speech law as it was written in the historical context of the refugees' mass migration to Europe and the new neo-nazi propaganda from political formations like the Alternative for Germany (AfD). At the time, fake news and racist material were shared online on several mainstream channels for the first time, with relevant impact on public opinion.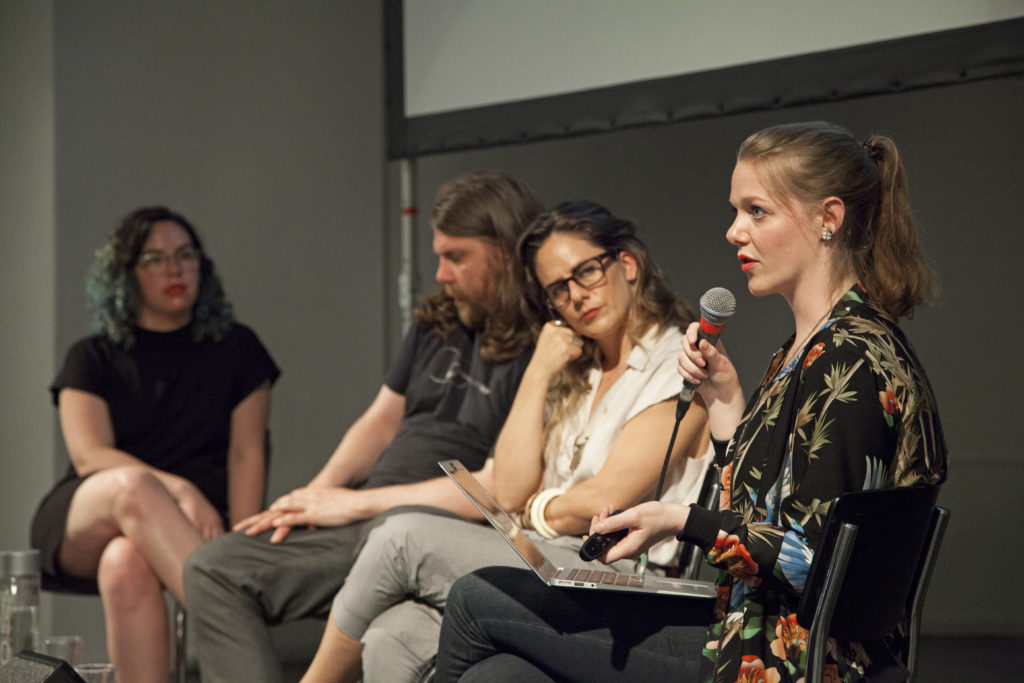 The new German law requires social media companies to provide users with a wide-ranging complaints structure to make sure that discriminatory and illegal posts can quickly be reported. It is left to social media platforms to decide if a certain reported content represents a promotion of or an incitement to terrorism, child abuse, hate or discrimination of any kind.
The law forces social media to act quickly too. Under NetzDG, social media platforms with more than 2 million users in Germany have 24 hours to remove posts reported by users for being illegal. Facebook, Twitter and YouTube seem to be the law's main focus. Failure to comply with the law carries a fine up to € 50 million.
The German government's Network Enforcement Act has been criticised for its risks of controversial inadvertent censorship, limiting legitimate expressions of opinion and free speech. Once again private companies, that are neither judges nor any kind of public authority, have the power to decide whether reported content is in fact unlawful.
The 13th Disruption Network Lab Conference
All credit is due to Tatiana Bazzichelli and the Disruption Network Lab, who provided once again a forum for discussion and exchange of information that provokes awareness on matters of particular concern from the different perspectives of the guests – especially women – able to photograph with their international activities and their researches several topical issues.
This 13th Conference (https://www.disruptionlab.org/hate-news/) was a valid opportunity to discuss and rationalise the need for civil society to remain globally vigilant against new forms of hate speech, manipulation and censorship. Ideological reasons behind hate speech and online manipulation are on the table and the framing is clear enough to hold online media and publishing companies accountable for the spread of frauds, falsehood and discrimination within their networks.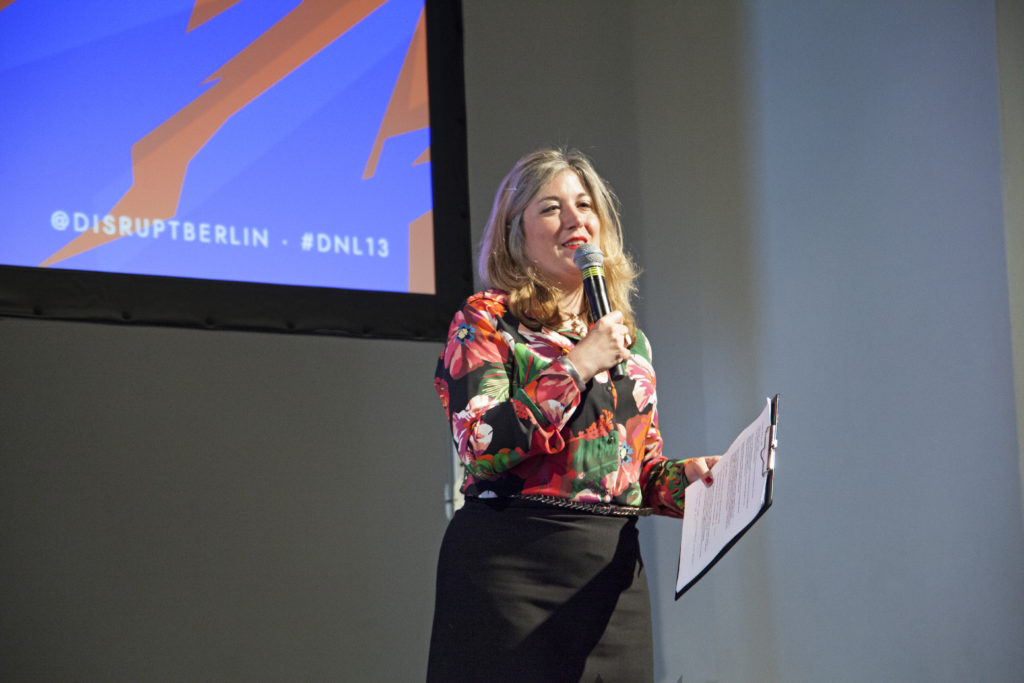 Companies like Facebook and Twitter have demonstrated their inability to recognise real threats and appear to be thinking of profit and control without considering the repercussions that their choices have. However, we are delegating them the power to define what is legal and what is not. Their power of censorship shapes society, interfering with fundamental rights and freedoms, feeding conflicts and polarization. This legal response to hate speech and manipulation in the context of the battle for privacy and civil rights is completely inadequate.
Propaganda and hate speech have historically been tools used in all countries to influence decision making and to manipulate and scare public opinion. Forms of intrusive persuasion that use rumours or manipulation to influence people's choices, beliefs and behaviours are now occupying the web too. Individuals should be able to give due value to their online interactions, focusing on the risks that they run when they click on something. There is too little awareness of how companies, aggressive trolls, criminals, private groups and advertisers subtly manipulate online environment for political and economic interest.
Such a corrupted online ecosystem – where almost nothing of what we meet can be trusted and where individuals and communities are exposed to private interest – generates often hate campaigns targeting women and minorities, normalising crimes, reactionary gender stereotyping and deplorable cultural customs. As all speakers suggested, Cyber-ethnography can be a worthwhile tool as an online research method to study communities and cultures created through computer-mediated social interaction. It could be helpful to study local online exchanges and find local solutions. By researching available data from its microcosmos, it is possible to prevent ethnic, socioeconomic, and political conflicts linked to the online activity of manipulators, destructive trolls and influential groups, to disrupt the insularity of closed media and unveil the economic and political interest behind them.
---
HATE NEWS: Manipulators, Trolls & Influencers
May 25-26, 2018 – Kunstquartier Bethanien, Berlin
disruptionlab.org/hate-news/
Info about the 13th Disruption Network Lab Conference, its speakers and thematic is available online here:
https://www.disruptionlab.org/hate-news
To follow the Disruption Network Lab sign up for its Newsletter and get informed about its Conferences, ongoing researches and projects. The next Disruption Network Lab event is planned for September. Make sure you don´t miss it!
The Disruption Network Lab is also on Twitter and Facebook
Photocredits: Maria Silvano for Disruption Network Lab
Mark Hancock discusses the politics and artistry of Janez Janša's identity interventions in the context of their recent challenge at the Parliamentary Elections in Slovenia, in June 3rd 2018.
---
Ideas firmly deduced, tested against all variables and tentatively sent out into the world for appraisal by others, soon betray us as they bend to the whims of anyone they encounter. But that's the nature of the malleable, post-digital world we live in. Ideas have to adapt and change to suit the warp and weft of the society if they are to survive in some form. How do we lock down our ideas into their final form? And what level of commitment can we expect from our ideas even if we apply intellectual property rights and that centuries-old mark of authenticity, the signature? The art world is particularly vulnerable to the conceit of signed authenticity. A signature often being the only guarantee that you'll see any return (financial, reputational or otherwise) on your investment. If you really want to play with systems of power and bureaucracy, try altering artist names.
Davide Grassi, Emil Hrvatin and Žiga Kariž all changed their names to Janez Janša in 2007, joining the conservative Slovenian Democratic Party (SDS) at the same time, to explore the bureaucratic and political systems of their home country, Slovenia. The foundation of their actions ever since has been the question: what power exists in a name? And not just the art power system, but what political forces come into play when that name also belongs to the leader of the Slovenian Democratic Party, Janez Janša, (Prime Minister 2004 to 2008 and then again in 2012 to 2013). Incidentally, or perhaps not, Janez Janša, the politician was born Ivan Janša. The renaming of the three artists becomes a sort of double bluff when you also start to ask who the 'real' Janez Janša is.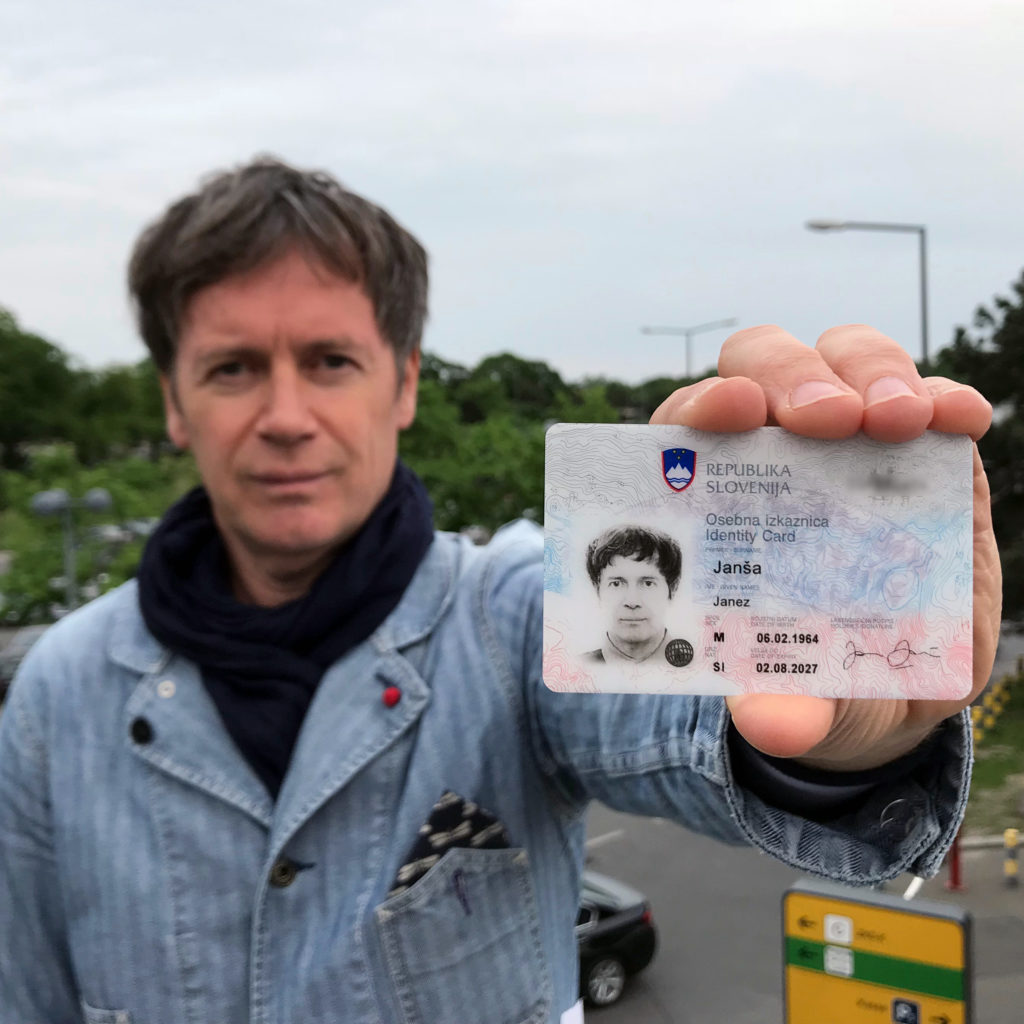 It would be easy to assume that the work of Janez Janša is simply another playful, flaccid baiting of the art world and right-wing political hegemonies. All too often work that challenges the political system might as well be challenging the rules of the Italian Football League, for all the difference in the world it makes beyond the enclosed loop of the art community. There's only so far that insulting the work of Damien Hirst with another work of art can get you. But the Janez Janša artists have chosen to pierce through the membrane of the art world and make a social difference.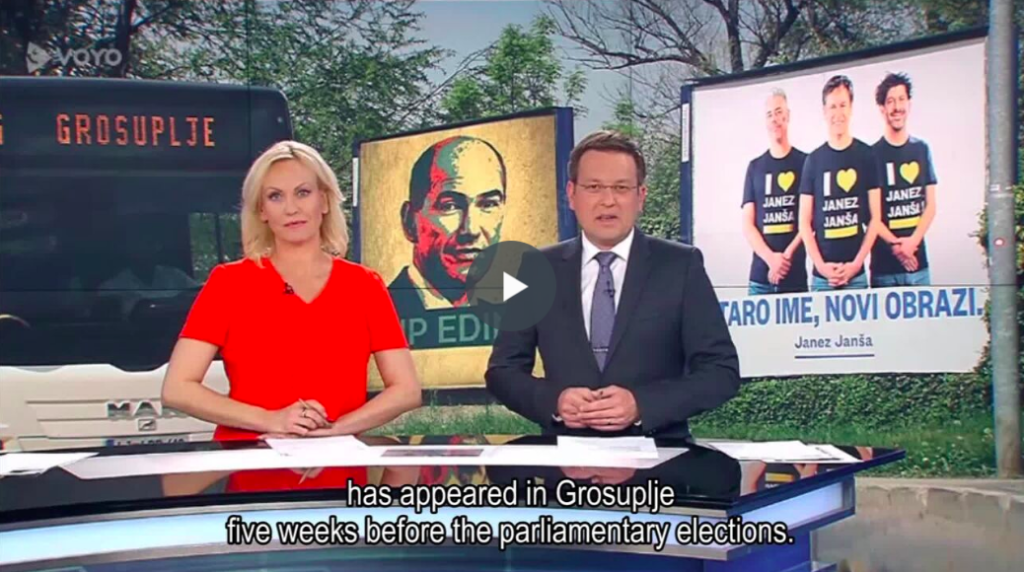 In the Slovenian Parliamentary Elections on the 3rd June 2018, one of them ran as a member of the opposition party, Levica (The Left) in Grosuplje the home district of the ex-Prime Minister, Janez Janša. In a press release, Janez Janša (the artist) said: "Running for parliament is a logical consequence of the view I have towards society. I care about what is happening. I react to things. I want to change them. (…) Society must be organized in such a way that the state begins to serve its citizens, as opposed to serving capital. Capital has no interest either for society or for art or for the individual."
There is something inherently political in multiple authors using a single name, at least if you cast an eye over recent history. Reference points include Wu Ming, the Italian author collective that produced a number of literary works (they published a best-selling novel, Q, in 1999). They evolved from the Luther Blissett collective, whose playful, socially engaged activities defy the concept of the singular creative voice. This concept seems so alien to much of the mainstream media, particularly in Wu Ming's home country of Italy, where they have been accused of everything from cybercrime to the less savoury aspects of rave culture. It's this uncertainty about ownership that seems to bring a nervous lump to the throat of media and political gatekeepers. Perhaps this revolves around two questions so central to capitalism: If you're doing nothing wrong, why hide behind a nom de plume or a collective? And, who do I send the check to, if I want to buy an Art?
On top of this, copyright issues become complex when the roster of names increases as well. Because we still want ideas to be owned, even when they are expanded through homages and pastiches. Copyright, as the attorney representing the Janez Janšas points out, is a legal construct, protecting, "original artistic (and scientific) creations, which are expressed in any way. A work is protected by copyright only if it was created by a human being (an author) and bears a stamp of author's personality." With work by Luther Blissett and Wu Ming, at least the authors can be understood as 'artists', even anonymously. Janez Janša, Janez Janša and, last but not least, Janez Janša have layered this authorship of their artwork with another layer of copyright/ownership complexity.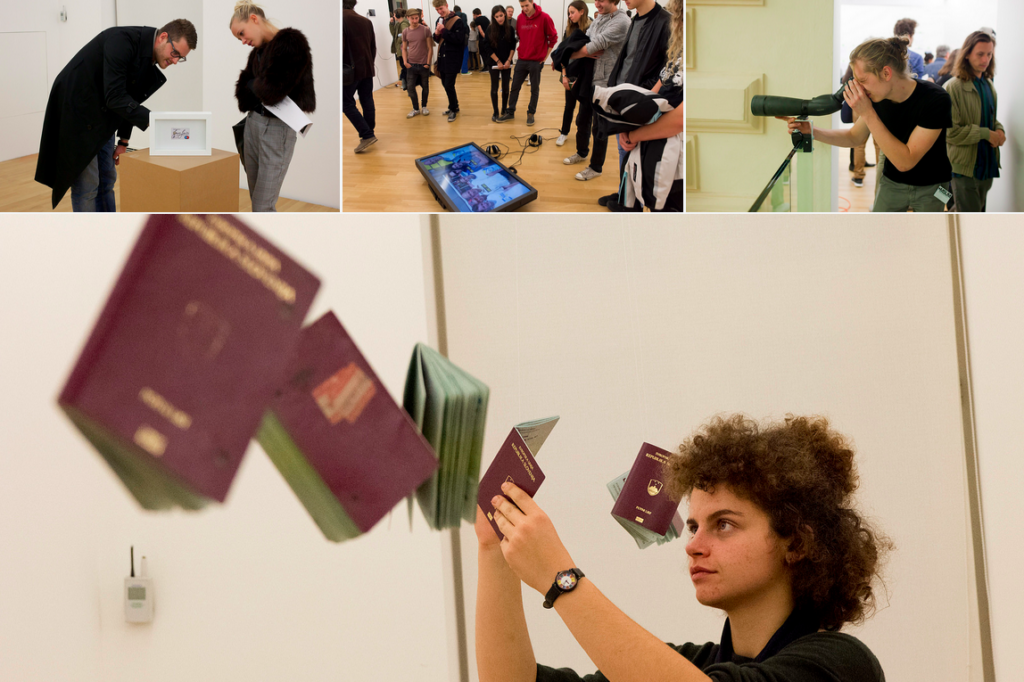 They refer to this work as collateral art, a phrase resonant with the phrase collateral damage, used to describe the acceptable casualties of battles. Collateral art is the acceptable damage on their ideas and projects from engagement with companies and institutions: ID cards, membership cards, the whole panoply of detritus that comes with the work. The artists want this collateral art, often customised by companies on request, to question the relationship between artworks and functional objects, "exploring post-Fordist means of production." Any art historians still trying to shoehorn the belief of the gifted singular genius crafting his (note the gender pronoun: now discuss) solo masterpiece, probably hasn't been paying close enough attention. The individual work of art often only becomes such with the signature of the artist attached as providence. When the work of art carries the signature of a non-artist though, can it still be brought into the art world as a valid comment on… anything? Paperwork sent to institutions by Janez Janša, and signed by an official becomes art. But whose art?
The answer, of course, is that it is their art. Whatever bureaucratic grindstone the works have been milled under, they ultimately belong back with the artists. It is they who return the work back to the art world through the exhibition. The exhibition co-produced by Moderna galerija (MG+MSUM) and Aksioma – Institute for Contemporary Art, Ljubljana, and curated by independent curator Domenico Quaranta, in 2017, was a chance to display and reflect back on ten years of work by the artists. Called the Janez Janša® exhibition, on display were works including Signatures (2007 – ongoing) which explored interventions of the Janez Janša name into public spaces, such as the Hollywood Walk of Fame (Signature, 2007), or Signature (Copacabana), in Rio de Janeiro, 2008. Playfully appearing in numerous locations around the world. Or Mount Triglav on Mount Triglav, an action performed in August 2007. This action commemorated "the 80th anniversary of the death of Jakob Aljaž; the 33rd anniversary of the Footpath from Vrhnika to Mount Triglav; the 5th anniversary of the Footpath from the Wörthersee Lake across Mount Triglav to the Bohinj Lake; the 25th anniversary of the publication of Nova Revija magazine and the 20th anniversary of the 57th issue of Nova Revija, the premiere publication of the SLOVENIAN SPRING; this was a re-enactment of Gora Triglav (Mount Triglav), by the OHO group in 1968 and the latest in a chain of re-enactments, as it was also performed by in 2004 by the Irwin Group.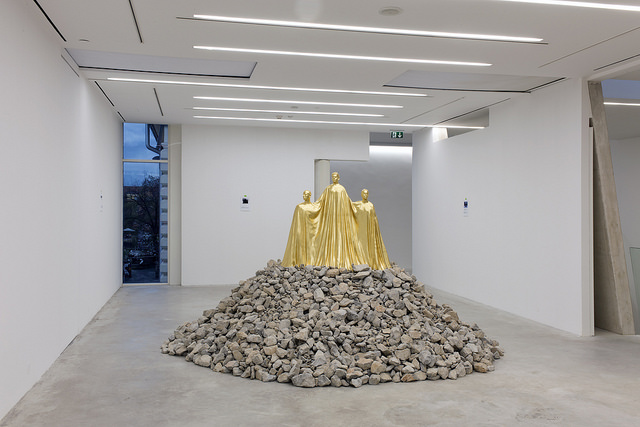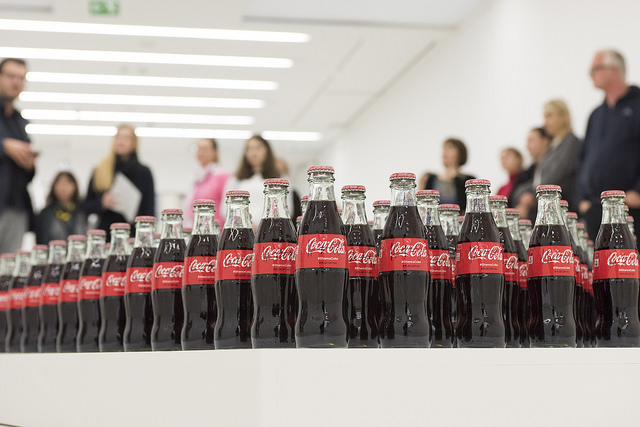 The conference in the same year, Proper and Improper Names: Identity in the Information Society conference, hosted by Aksioma – Institute for Contemporary Art, Ljubljana, and curated by Marco Deseriis in 2017, invited speakers including Natalie Bookchin, Marco Deseriis, Kristin Sue Lucas, Gerald Raunig, Ryan Trecartin, Wu Ming. The subjects under discussion arose from Marco Deseriis' book Improper Names: Collective Pseudonyms from the Luddites to Anonymous. Deseriis, as keynote speaker, talked about the genealogy of the improper name. This is Deseriis's term for the use of pseudonyms by artist collectives, including Wu Ming (who presented a talk at the conference) and Ned Ludd, the fictional leader of the English Luddites.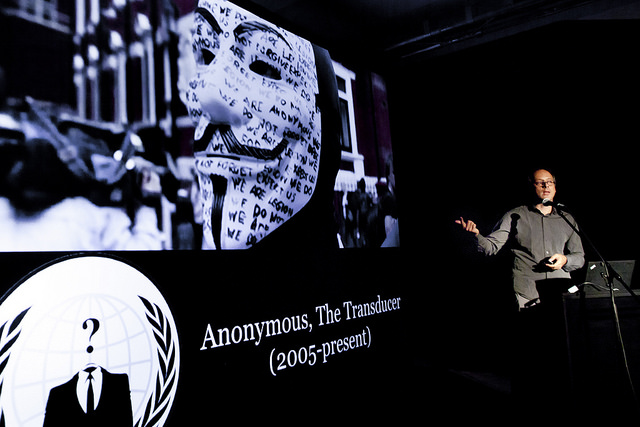 Releasing your ideas out in the wild doesn't always guarantee they will come back to you unscathed or even return at all. The works of the Janez Janša collective are sent out to corporate systems, being adapted and altered, and returned. Or at the very least offering a challenge to accepted forms of ideological structures. In the Slovenian elections on 3rd June, the Slovenian Democratic Party (SDS) won with 25% of the votes. Levica won 9.0%. The SDS is a far-right, anti-immigration party, reflecting the increasing rise of right-wing parties across Europe right now. The leader of the SDS, Janez Janša, now has the opportunity to form a right-wing government. If this happens, and by the time you read this, it may well have, it would continue the shift in European Councils members towards the right.
There's nothing new in declaring that everything is in flux. That's the nature of our hyper-accelerated world. But right now there is a creeping sense that The Other is also to be viewed as The Enemy. The social, political value of art has to change to mean something in what is little short of a battle for a better society for ourselves and others across the globe if it is to have any value whatsoever. Janez Janša, Janez Janša and Janez Janša's work reflect this evolution by being part of the society around them. Being part of the electoral system reflected this challenge and desire to be part of the real world and to make art mean something more than gallery space and conference papers. If art wants to survive and continue to belong to everyone, then it needs to be part of the world we are living in right now. No one work of art ever changed the world, but it helps us unravel and see through the propaganda of systems. We all need to become Janez Janša®.
The final outcome of the recent Slovenian Elections remains uncertain as Social Democratic Party's Janez Janša attempts to form a coalition government.
More images at Flickr – https://bit.ly/2yniHYL
More about Janez Janša – http://www.janezjansa.si/about-jj/
Ryan Bishop, Kristoffer Gansing, Jussi Parikka & Elvia Wilk (eds.) across and beyond: A transmediale Reader on Post-digital Practices, Concepts, and Institutions, Sternberg Press, 2017, pp.352, €15.00 (paperback), ISBN 978-3-95679-289-2
Introduction
Although the notion of the "post-digital" has gained some prominence in media art and theory, the uptake of the term in the humanities and social sciences has so far been more muted: whilst the field of "post-digital" art scholarship is by no means new (see Berry & Dieter, 2015), the term itself is often used quite sparsely and ambiguously such that it risks becoming a vague referent for almost any form of human and nonhuman entanglement with media. This rich collection of 25 essays and artwork contributions, many from world-renowned artists and media theorists, seeks to remedy this by developing the notion of the "post-digital" as something that gains specific expression through certain kinds of critical practice. As the editors note in the introduction, across & beyond does so by focussing on the "post-digital conditions for critical media practices…for understanding and working in the transversal territories between theory, technology, and art" (p.5). Organised around a series of contributions presented in recent years by participants of the annual transmediale festival in Berlin, the transversal explorations in this reader are critical insofar as they aim to engage with the "material complexities of digital culture" beyond what the editors describe as the "phantasm" of the supposed "immaterial reality" of digital media (p.16).
To be clear, across & beyond is not strictly a theory book but a gathering of diverse academic and artistic contributions that variously approach questions concerning the "post-digital". Some of the stakes of "post-digital" media theory are set out in this reader, and will be noted in this review, but it should be said that this is not merely a theoretical intervention into technological media.
The "post-digital" describes a set of "speculative strategies and poetics" (p.13) that act as a "heuristic to understand the historical and material contexts of media art and culture" (p.12). In this sense the "post-" of "post-digital" does not designate a temporal period after a bygone 'Digital Age', but instead describes an opening up of a whole "field for material but also imaginary, alternative practices" (p.13) that concern the different temporalities and spaces produced through and with media. The post-digital, then, is presented here as a field of study into the material and imaginary practices of media, which aims to offer "new means of critically linking technology, culture and nature" (p.15).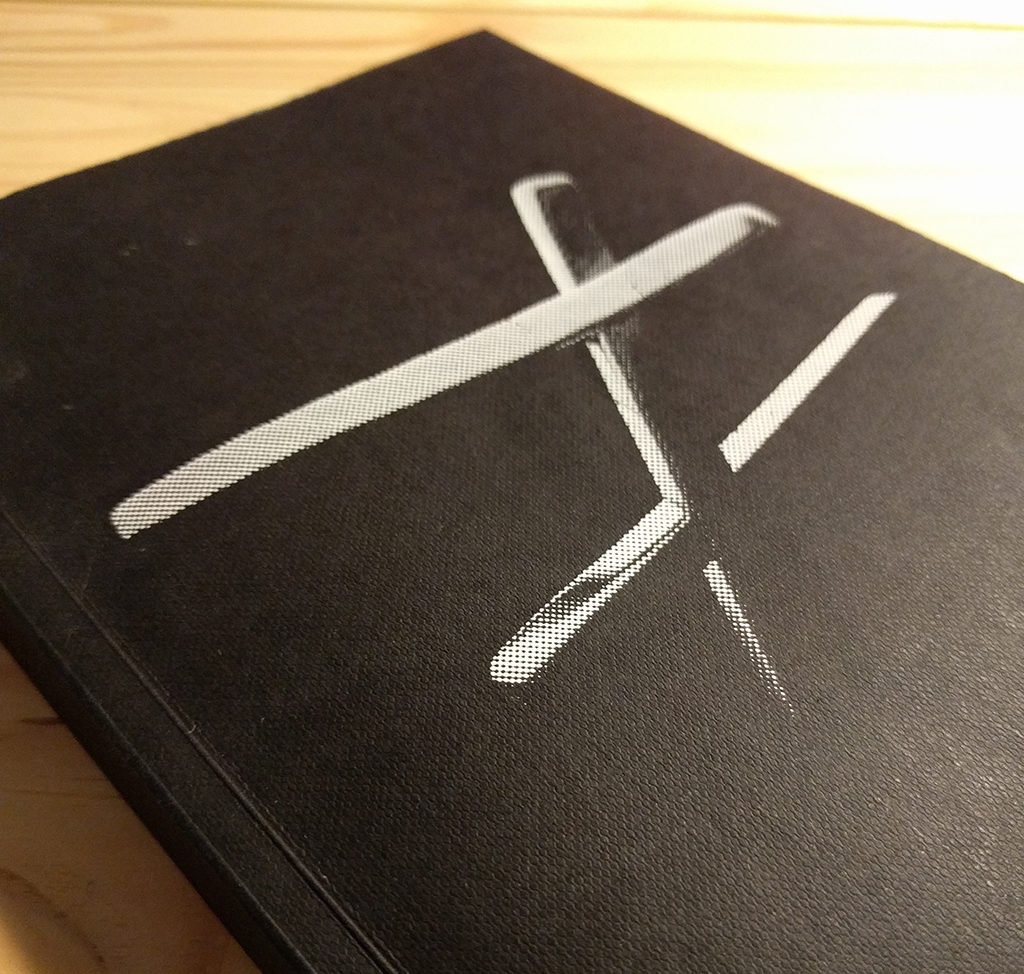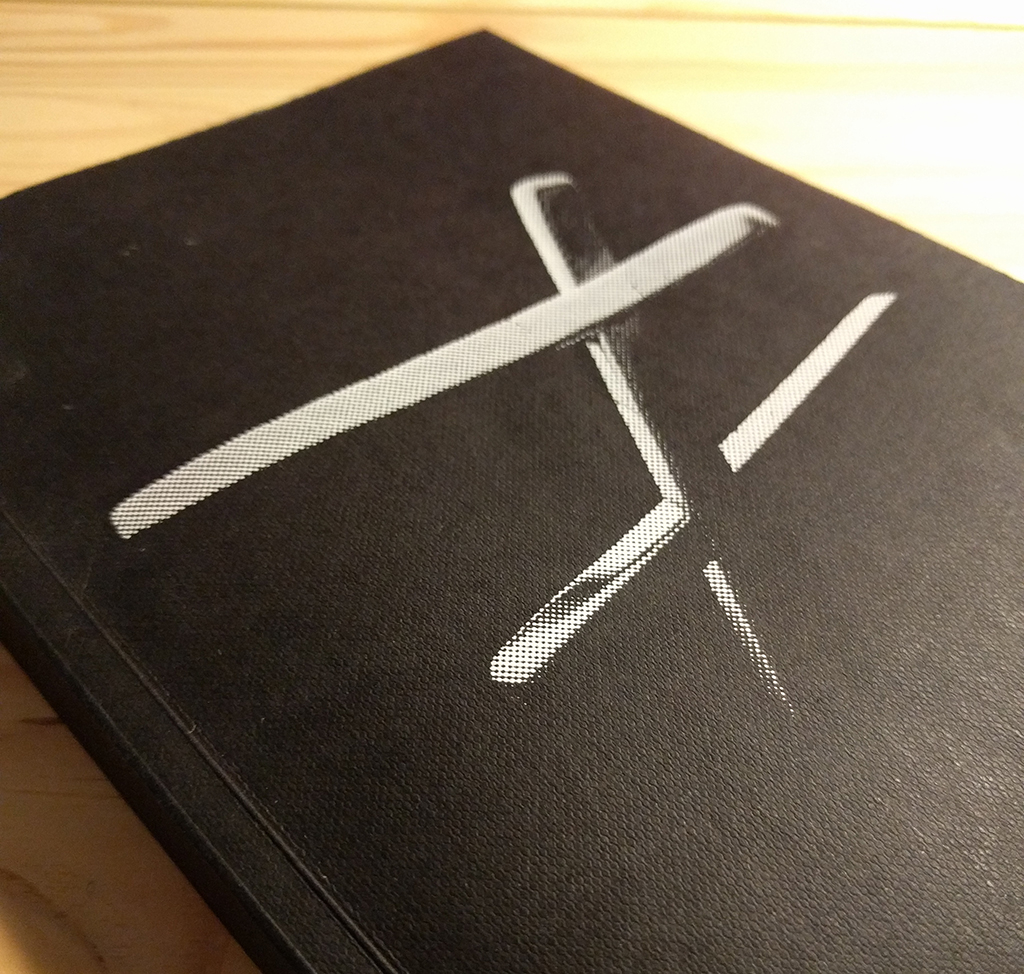 To thematise some of these traversal territories for thinking about the post-digital conditions of media, the essays and artworks in this reader are split into three themed subsections: "Imaginaries," "Interventions," and "Ecologies." Rather than organising this review by treating each individual chapter, I will instead briefly suggest how certain chapters develop each of these three themes, and end by reflecting on how these themes intervene in the political stakes of social scientific engagements with digital media more widely.
At least in part, the first subsection – "Imaginaries" – develops a number of responses to the idea that the post-digital would be a field of study that rethinks the relationship between technological culture and time (see especially chapters by Gansing; Ludoivo; Daniels; Parikka; Menkman). In the opening chapter, Kristoffer Gansing develops the 'problem of time' for post-digital approaches to media by analysing the CD-ROM as a noteworthy "offline art form" (p.41). Rather than thinking about the CD-ROM as a redundant media of a bygone era, Gansing instead highlights the way that the "offline experience" (p.36) of the CD-ROM counters certain contemporary structures of digital surveillance. This intervention is post-digital, perhaps, insofar as the CD-ROM is seen to present specific opportunities for disrupting both processes of online surveillance, but also the reductive tendency to rush towards new, à la mode forms of digital media.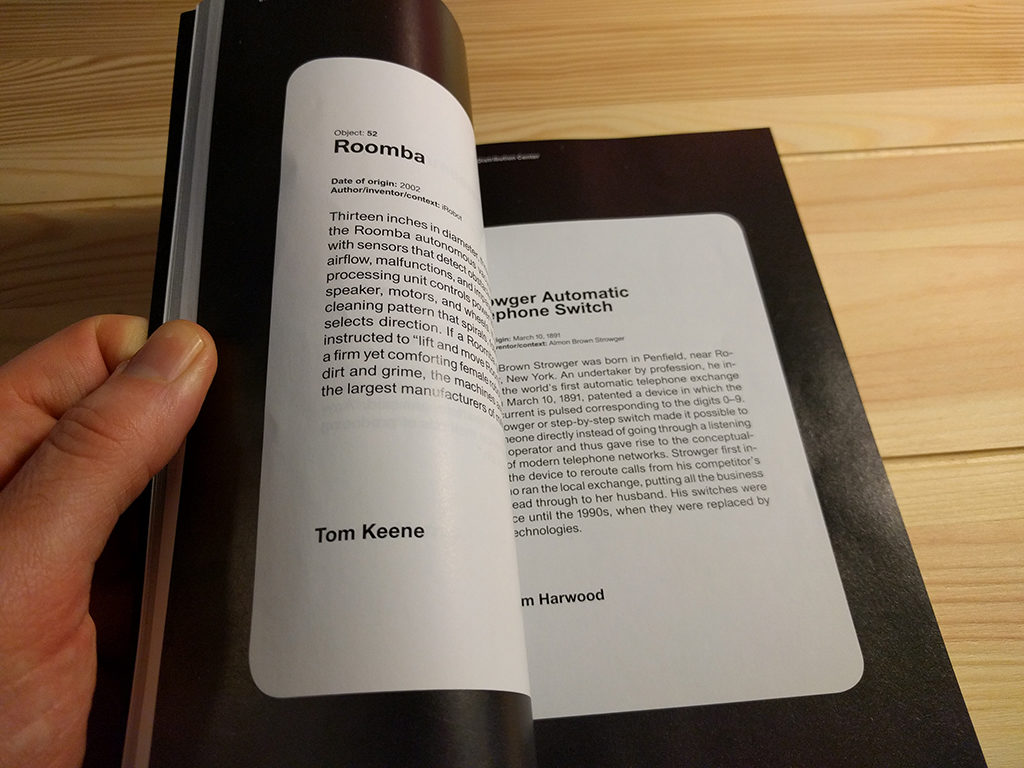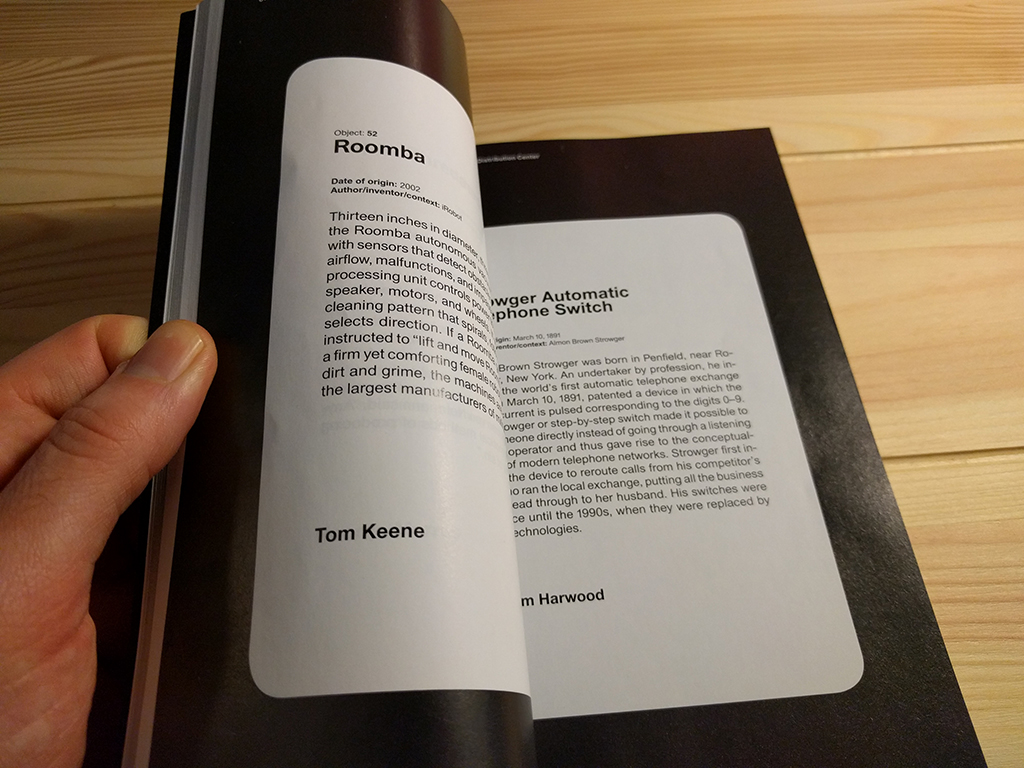 Likewise, Jussi Parikka's chapter focuses on the question of time in the context of laboratory media and draws attention to the way that certain "time-critical technical media" (p.86) produce "micro-temporalities" that are irreducible to human perception (p.86). In producing a series of situated micro-temporalities, these laboratory media contribute to post-digital approaches to media more widely insofar as they allude to a sense of media time that exceeds humanity. Theorising the micro-temporalities of laboratory media is important because they are involved in fabricating and sustaining certain "situated practices" (p.87) of time that often exceed human perception (p.86) – a line of thought that will be familiar to those have read Parikka's other contributions to developing a "geology" of media (Parikka, 2015).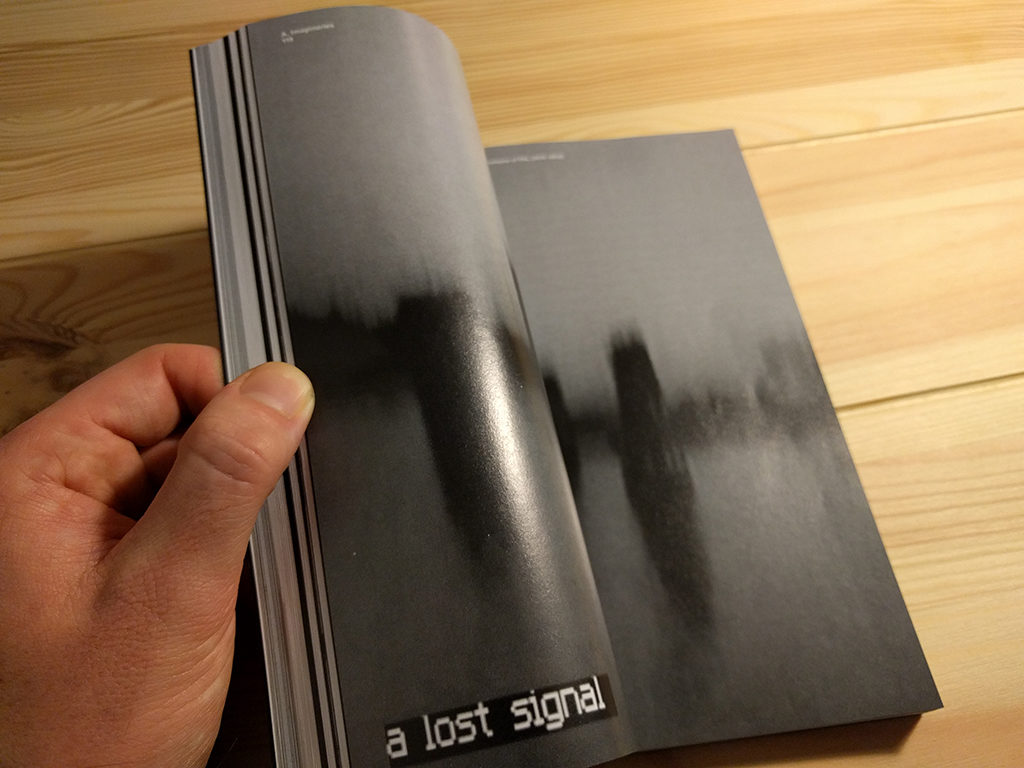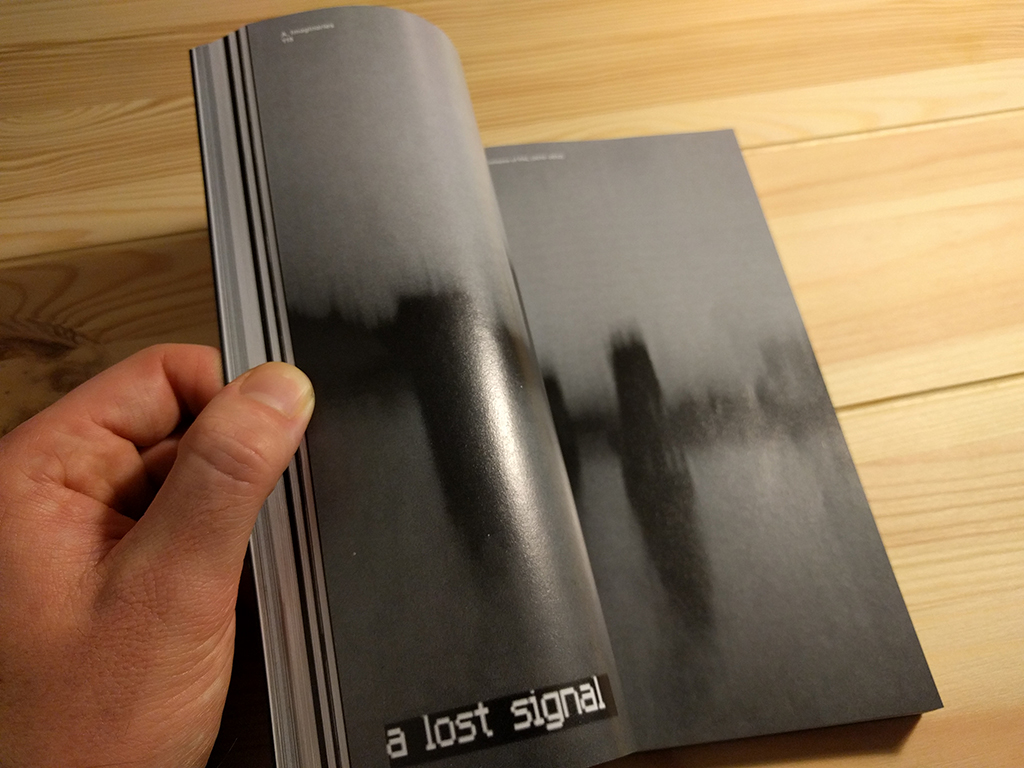 The second subsection – "Interventions" – foregrounds uses of technological media for activist and political purposes (see especially Dragona; de Lagasnerie; Oliver & Vasiliev; Sollfrank; Terranova; Juárez & Allen). In doing so, a number of chapters approach the politics of technological media through a critical engagement with its supposedly transformative power. As Jamie Allen – writing in dialogue with Geraldine Juárez's artwork Hello Bitcoin – pointedly asks: "[w]hy is it that we cannot seem to stop regaling ourselves with hyperbolic, mythic tales of technological heroism?" (p.223). Put differently, how might media art and theory engage with 'new' digital media without overplaying its transformative political power? One answer to these questions revealed in across & beyond concerns the task of developing techniques for storying digital media. As Cornelia Sollfrank's piece on "cyberfeminism" concludes, the task attending to the political power of technologies is not simply about affirming new advances in technological media, "but rather the use of imagination" (p.245): it is a task of remaking the clichéd stories told about technical cultures.
Yet, at a time when the drone and the TV series Black Mirror have gained prominence in invoking a certain unease about future technological change, what might it take to tell different stories about the political implications of technological culture? Decidedly, Daphne Dragona inflects this political question in a stellar essay on the role of "subversion" in media art. Classically, the problem of "artistic subversion" is its tendency to become appropriated into existing regimes of power, such as "media corporations and state surveillances agencies" (p.184). Identifying strategies that are already at work in "subversive" practices in media art – namely: "obfuscation", "overidentification", and "estrangement" – Dragona attempts the ambitious task of redefining the role of artistic subversion. Referring to an example of glitch artists, Dragona (p.191-192) notes that for such work processes of subversion and "estrangement" require a methodological approach attentive to the "hacks, errors and glitches" that "disrupt and challenge user experiences with digital media" (p.191).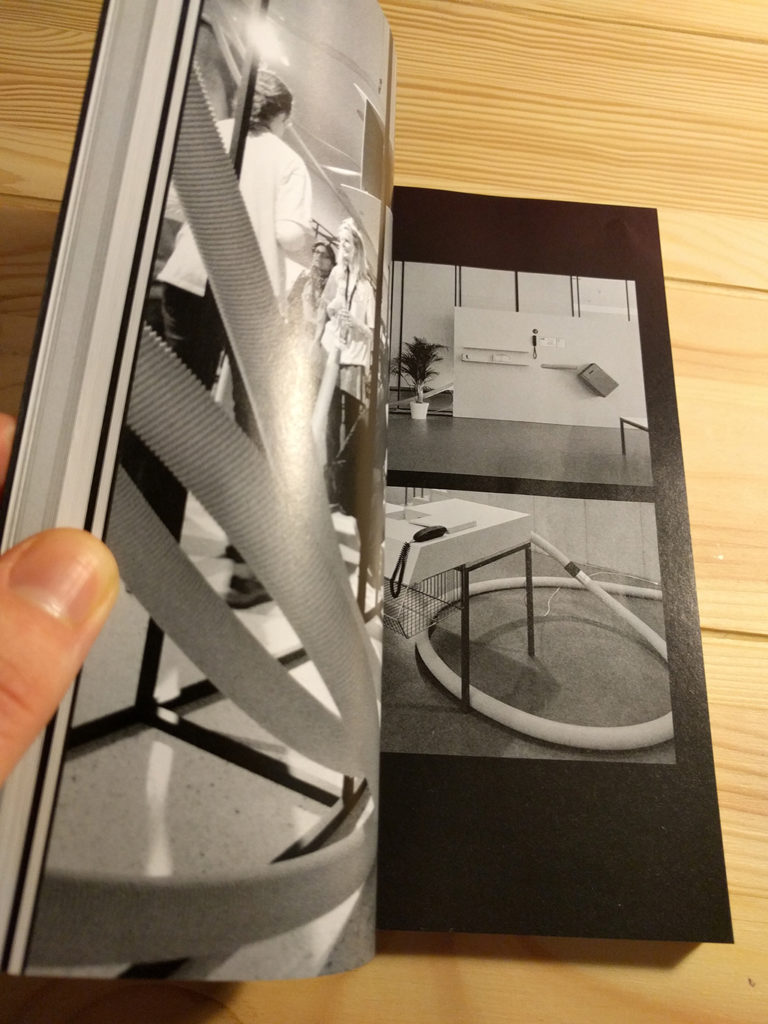 Terranova's chapter also considers how and whether the political power of technologies might offer opportunities for political transformation, but in doing so draws upon a different question around the relationship between the notion of the "commons" and certain kinds of "techno-political experiments" (p.211-215) – experiments that include, but are not limited to, certain cryptocurrencies and internet-based political parties. These experiments are noteworthy because they offer opportunities for transforming capitalist social, political and technical assemblages – assemblages that, as they are currently configured, not only produce restrictive forms of consumption and surveillance, but also limit freedoms at the level of desire through processes of subjectivation (p.213-217).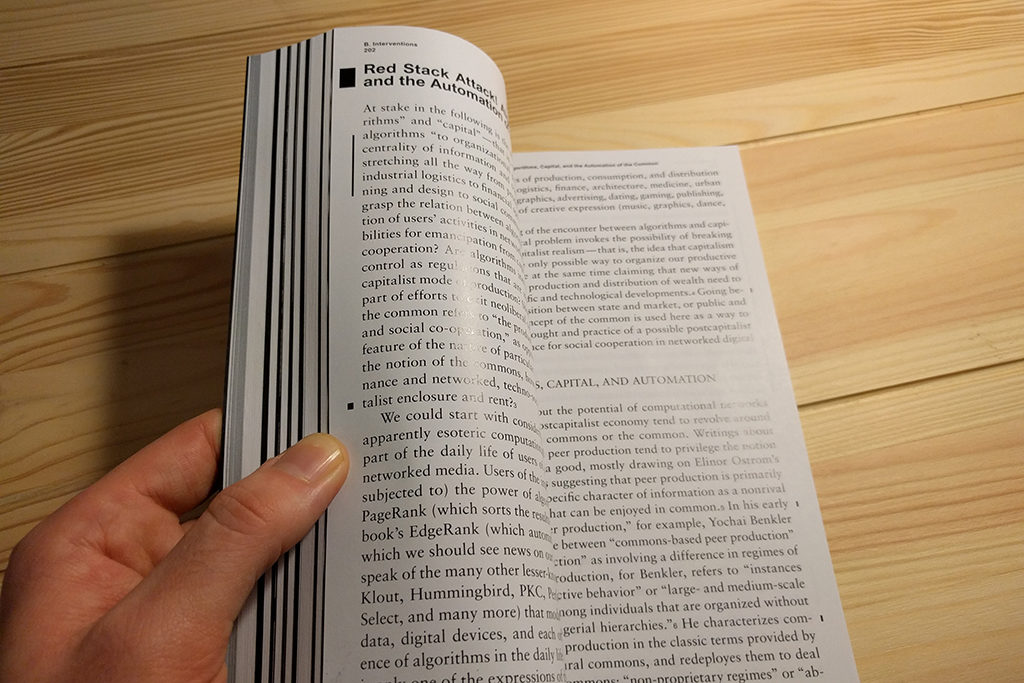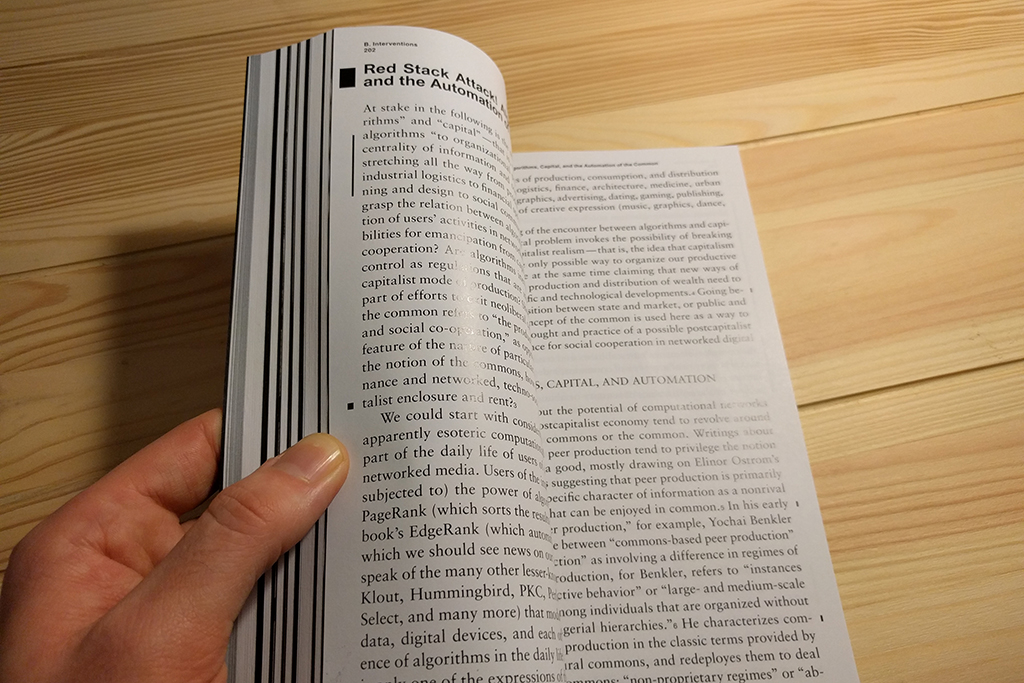 The third subsection – "Ecologies" – concerns the relationship between post-digital readings of technological media and certain kinds of technological infrastructure. In doing so it intervenes in a number of timely and ongoing social scientific debates about technology's relationship to subjectivity (Bishop; Rossiter & Apprich; Bratton), materiality (Allen & Gauthier; Henderson; Goriunova), and affect (Goriunova; Allahyari & Rouke) – amongst others. Approaching the theme of infrastructure via user interfaces like Apple's Siri and Amazon's Alexa, Benjamin Bratton (p.322-323) notes that "[h]uman intelligence and machine intelligence may be radically different (one need not be the model for the other) but they are never isolated or independent of one another". Bratton calls for a more complex reading of artificial intelligence that resists both the simple equivocation of human and machine 'intelligence', and the tendency to suggest that human or machine intelligence exists as an isolable entity.
Directly engaging with the question of post-digital approaches to technological infrastructure, Jamie Allen & David Gauthier – commenting on their Critical Infrastructure project – foreground the need to attend not only to spectacular forms of technological infrastructure, but also those "banal systems" (p.266) and infrastructures that "we are not supposed to notice" (p.266). The point here is to force media art and theory to generate new forms of critique and thought about technical culture beyond some of the tendencies of human perspectivism – what Morehshin Allahyari & Daniel Rourke's chapter differently refers to as technology's "unintended affects" (p.328).
One critical concern throughout across & beyond is the sense that the various contributions (artworks, films, photos, essays) do not always easily fit together as a contribution to post-digital scholarship and practice. Whilst the book benefits from a precise introduction, it is not always obvious how certain chapters, and their corresponding subthemes, critically engage with whether or not this field of study would be preferable to other approaches to digital media. Indeed, is the "digital" the problem to be addressed for the task of rethinking technical culture today or – as a moving composite expressed by numerous media – does it form what Deleuze (1988: 16-17) refers to as a "false problem": that is, a problem that merely discovers pre-existing terms for its solution?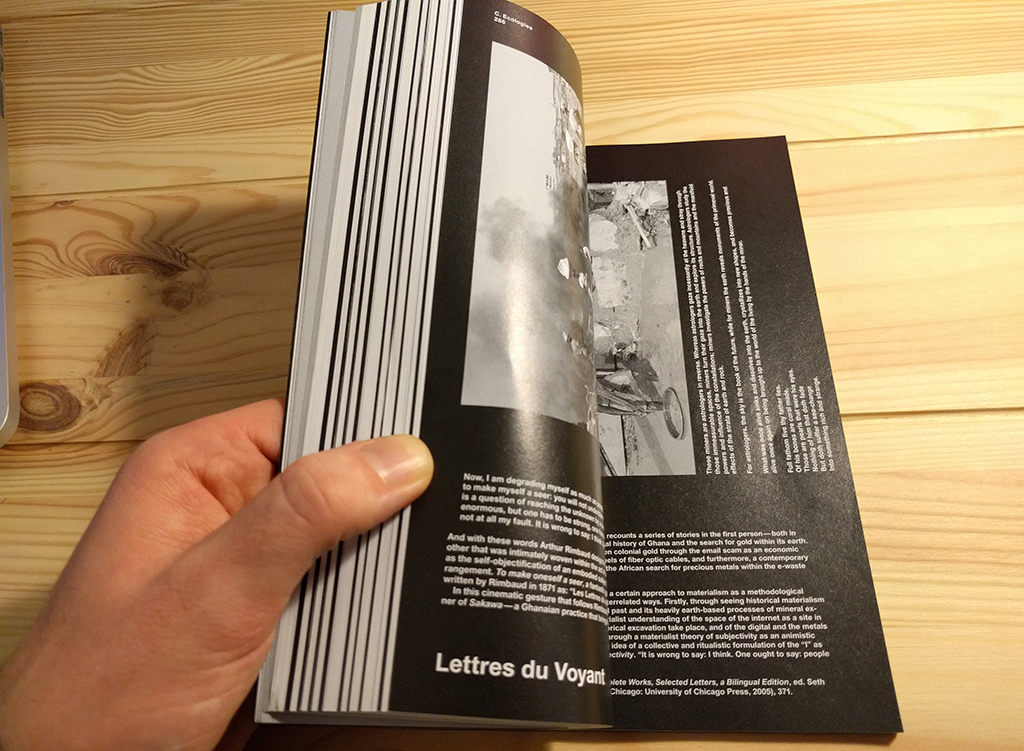 This critical question notwithstanding, and to conclude, across & beyond is highly successful in opening up novel questions about technological media: those mundane and overlooked technological processes that nonetheless offer opportunities for experimenting with profound mediations between humans and nonhumans (see here the chapter by Yokokoji & Harwood). These post-digital registers would engender a different focus from a recent emphasis in the arts, humanities and social sciences on the ways that certain dominant technological figures are variously weaponized and monetized (see chapter by Bazzichelli). In countering the logics of weaponization and monetization, this reader – like the transmediale festival – will have a wider appeal to those interested in how media art and theory keeps apace with changes to those overlooked forms of technical culture.
"In a world full of conflicts and shocks," has the past year become the, arguably, most standardized introduction, preempting, in an almost doomsday manner, articles, political speeches and curatorial statements alike. The world has turned Political (with capital P) and even the most mundane event is quickly made part of current politics, which in turn, seems to occupy a space somewhere between reality TV and satire. One feels the same dreadful fascination as when watching accident videos on YouTube; with eyes hypnotically fixed to the screen as we observe our world digress into an ever-growing state of chaos. A general unease can be traced throughout the world, and even the most apolitical communities are mobilizing at each side of the spectrum, in the desperate search for ways to overcome the immediate and underlying threats-at-hand.
It is within this urgent search for solutions, that this year's Venice Biennale positions itself. The 57th biannual gathering of today's most prominent instances of Contemporary Art, offer, under the lead of curator Christine Macel, its own proposal as to how we might address our sometimes-hopeless situation. And, perhaps surprisingly, we are in fact given an answer, which eschews the otherwise often-ambiguous and overly-complicated musings traditionally marking the Art World. Within the manifesto of the biennale, immediately greeting you as you enter the Giardini venue located South of the City, Macel calls for a return to humanism, expressing the need for a new-found believe in the power and agency of humans. And not just any human; particular emphasis is given to the Artist, the persona through which, supposedly, "the world of tomorrow takes shape."
Structurally, the role of the artist is explored over the course of nine chapters, spanning themes as distinct as 'earth', 'colors' and 'time and infinity'. Each, we are told, does not only account for the artist's practice in isolation, they further set out to investigate how such creative acts resonate and bring about change in the world.
1 and 2: Arts and Books and Joys and Fears
One misses immediately this latter concern within the two first pavilions Artists and Books and Joys and Fears. We are invited into the space and mind of the artist, in what quickly becomes an introvert, almost nostalgic account of the studio, presented here as a place which escapes the neoliberal ideals of progress and productivity. One senses an immediate contradiction, being surrounded by pieces which literally embody the immaterial value so indicative of modern capitalism.
This haunting sense of conflict is occasionally placated, if only because many of the individual pieces go further than the prescribed curation, integrating a sense of criticality in their exploration of the art practice. As in the breathtaking video by Taus Makhacheva, in which a tightrope walker carries paintings between two cliffs, over a lethal fall, seemingly free, while caught in a pointless, repetitive and dangerous act, dictated by guidelines which goes beyond his immediate control. Or in the, now infamous work, by John Walter, Study Art Sign, which appropriates the language of advertisement in simple catch phrases such as "art – for fun or fame," and in doing so, highlights the entanglement of any artistic act with commercial viability.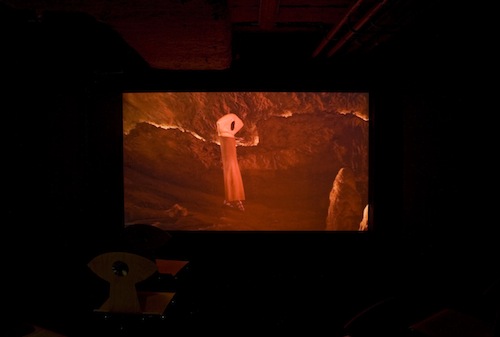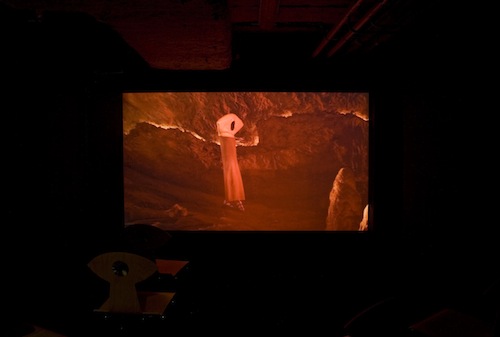 3 and 4: Commons and Earth
A 20-minute walk, and the habitual crossing of at least 5 Venetian bridges, brings you to the Arsenal pavilions, and the home of the next 7 chapters. The first two of these, Commons and Earth, are (at least superficially) more successful in exploring the link between the artist and the world at large. The exhibited pieces are centered around the creation of community or situations. They echo in this sense the much-disputed Relational Aesthetics as advocated by Nicolas Bourriaud, which defines contemporary art, as one of "interactive, user-friendly and relational concepts."(1)
What Bourriaud and the Biennale both seem to overlook, is the inescapable mediation and exclusivity of artistic acts, despite any willingness to advocate inclusivity and openness. Because, let's face it, none of the presented practices can be equaled to just another social situation – each and single one has been extensively documented, carefully edited and analyzed, to finally make their way into one of the most prestigious temples of contemporary art: The Venice Biennale anno 2017.
This does not make them insignificant, it simply means that one cannot feign apparent neutrality, as the emphasis on 'anthropological approaches,' seems to suggest. In fact, the more 'honest' pieces are the ones which embrace such mediation, exposing it, rather than hiding it behind a layer of innocent interaction. This is done brilliantly in the video piece of Charles Atlas, A Tyranny of Consciousness – an epic compilation of sunsets, countdowns and disco. The groovy lyrics, 'You were the one, I blew it, it's my own damn fault,' sung by the iconic drag queen Lady Bunny, is given new meaning in the context of environmental, human-provoked disasters.
This is done, while avoiding any moralistic undertones. Rather, the piece dares to reflect the ambiguity which defines the actual human-earth-relation, and through this, overcomes the simplified 'if we all work together it'll be fine' attitude, otherwise permeating the majority of the exhibited work.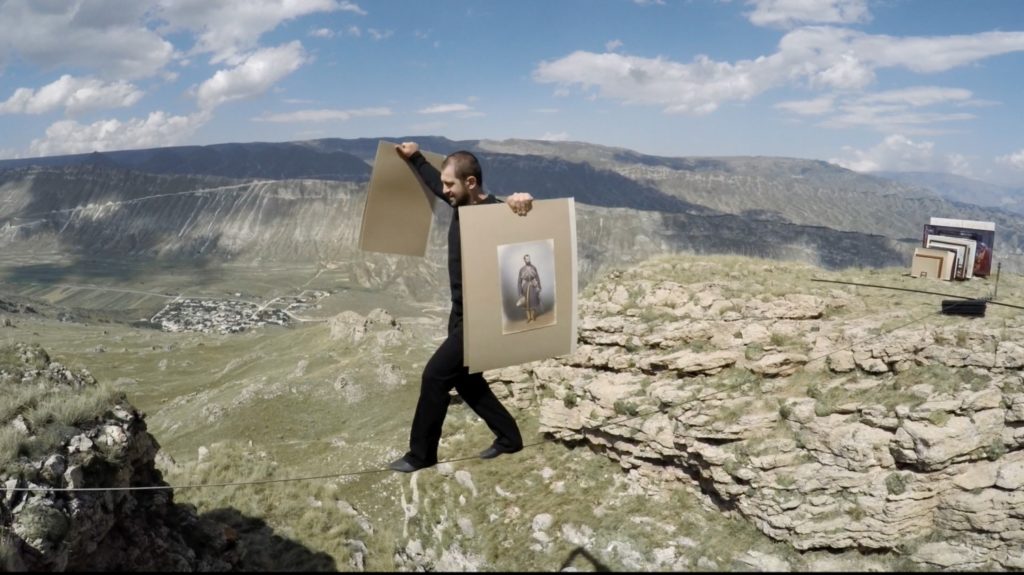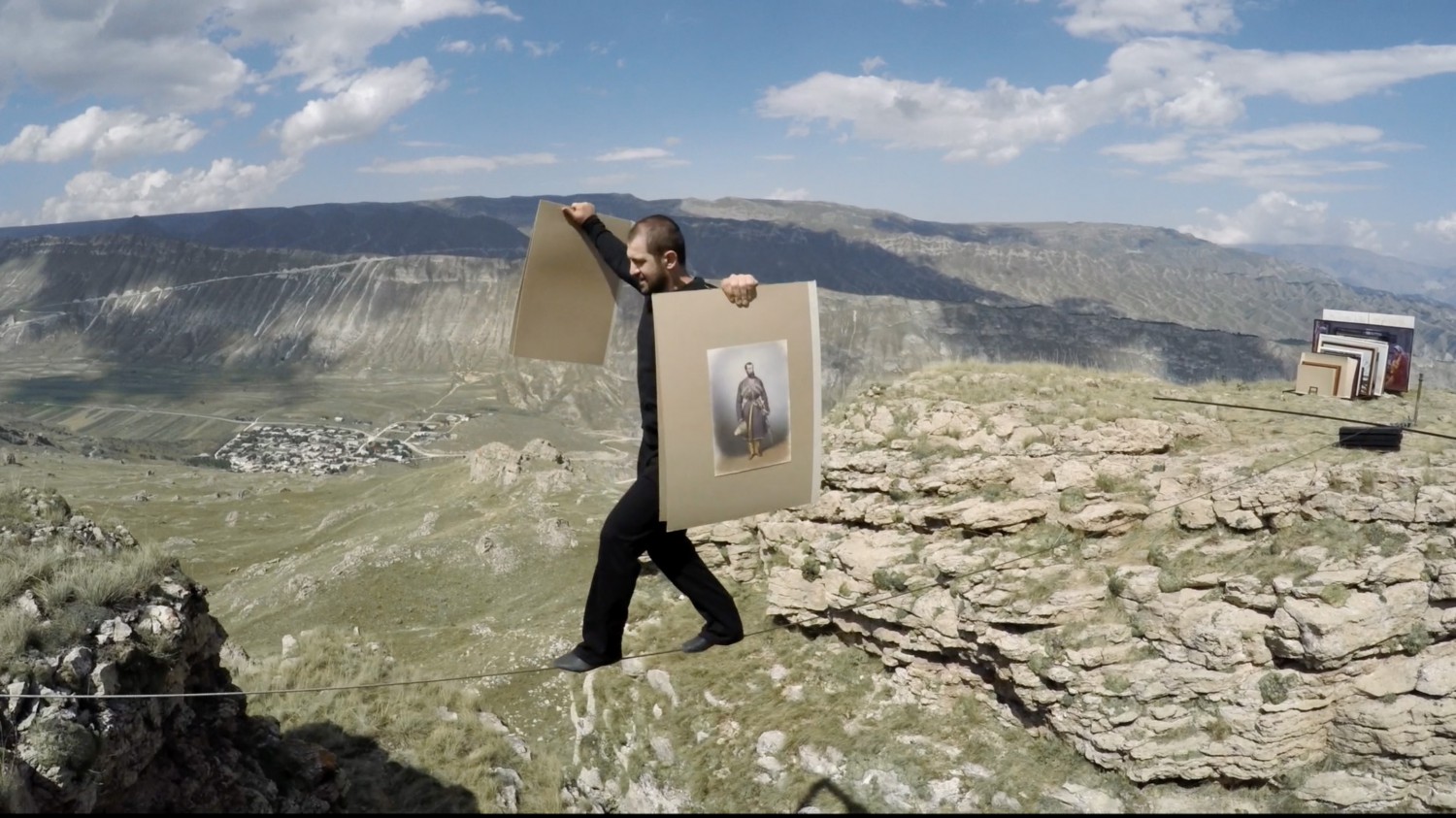 5, 6 and 7: Traditions, Shamanism and Dionysian
Within Traditions, the chapter following, the most successful pieces are similarly those which allow for complexity and move beyond an often much-too-obvious contrasting of the old with the new. One notable example, is the piece by Guan Xiao, which traces the famous statue David by Michelangelo. In bringing together numerous amateur-looking clips capturing this iconic figure, she humorously points to how objects ironically become invisible, through our extensive documentation of them; as hidden behind the connotations and expectations which come to shape the way we perceive our cultural heritage.
On entering the next theme of Shamanism, the first piece which meets the visitor is by Ernesto Neto – a tent-like installation made up of robes, under which guests are offered a place to rest. The otherwise beautiful piece come to look like a feature of Burning Man, with hippie-esque slogans such as 'with love and gratitude to mother earth' or ''war is not good, gold is life," covering the surrounding walls.
What Macel here wants to explore is the artist as magician or healer. While attempts of healing is sympathetic (and needed), such efforts are undermined by, a once again, rather naïve approach. It seems as if the striking similarity to the peace-promoting, but notoriously exclusive, festival is not only aesthetic. There is a failure at acknowledging the difference between giving the (very specific demographic of) biennale goers a place for momentary reflection, and the large-scale healing announced in the curatorial statement.
This pseudo-commitment to seventies politics carries over to the Dionysian Pavilion, which 'celebrates the female body and its sexuality'. The decision to dedicate a pavilion specifically to female artists and femaleness implicitly tells us that
a) womanhood is still something distinct, which should be explored separately from other identity politics
b) women artists need their own space, neatly separated from the rest of the pavilion (which is, interestingly, dominated by male artists)
We see here not only a return to humanism, but the ugliest of humanisms, one which still insists on highlighting an assumed distinction between manhood and womanhood. Such essentialist undertones are only enforced by the first part of the pavilion which greets you with pastels, vaginas and a propensity for weaving.
While the theme might be questionable, we do, while moving through the pavilion, find some incredibly strong pieces, which insists on addressing the individual in its many nuances and confused nature. This is particularly present in the all-encompassing installation/sound/performance work of artists Pauline Curnier Jardin, Mariechen Danz and Kadar Attia.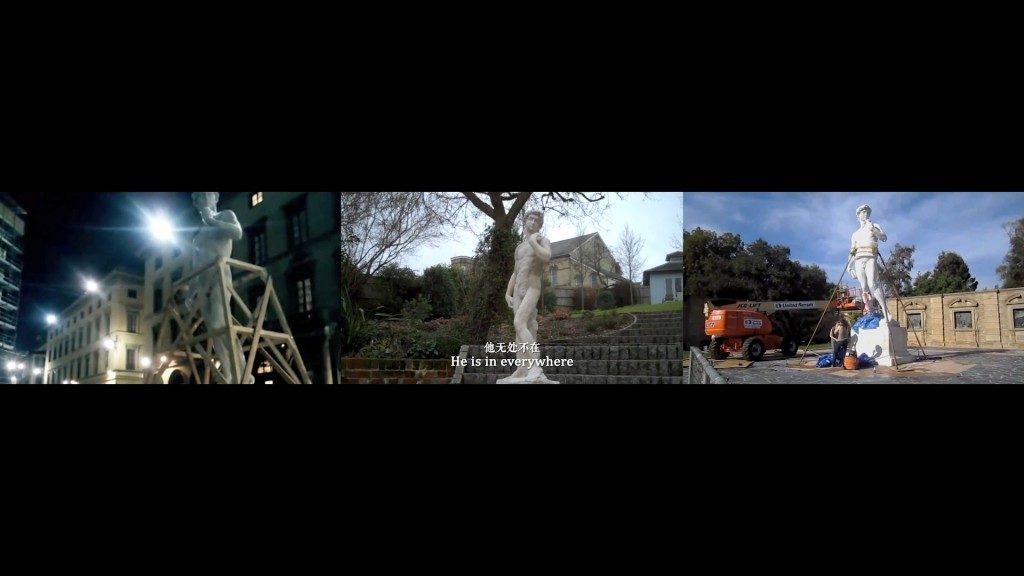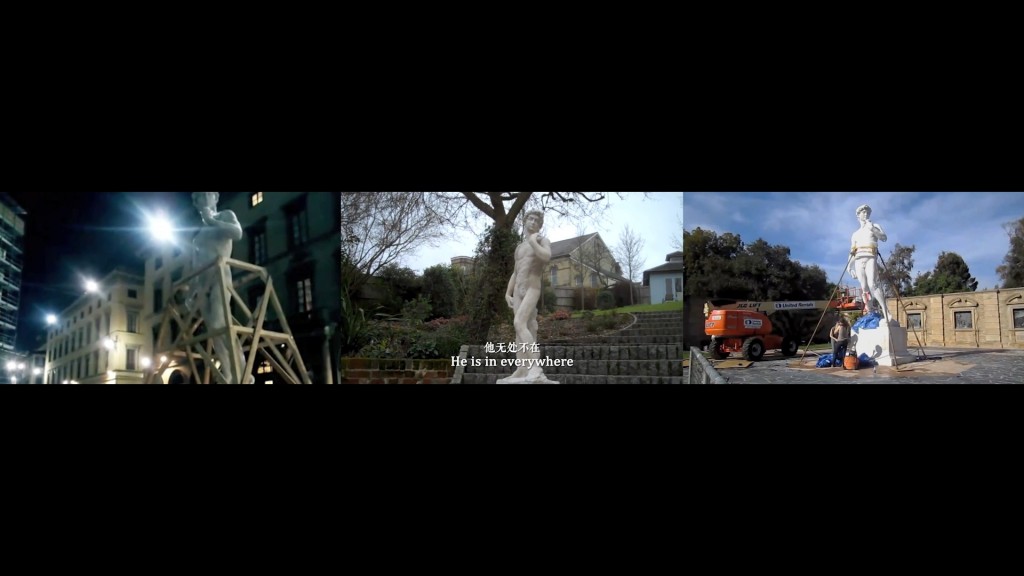 6 and 7: Colours and Time and Infinity
This far-reaching journey culminates in the chapters Colours and Time and Infinity which bombastically sets out to explore the way artist come to influence that which exists outside and before a human sphere. Within both pavilions, there is a distinct failure at acknowledging the specificity of the individual works, which, besides from their formal qualities, seems to have little to do with either Colours or Time. Once more the curation, ironically, overshadows, rather than enhances, the complexity of the individual works at stake.
It is symptomatic of the, perhaps biggest, misunderstanding of this year's biennale: That a return to the artist, or the human more generally, is what will allow us to understand and surpass our current state of crisis. It seems to overlook that our anthropocentric attitude is what originally brought us into trouble. Just as the individual pieces of art are diluted by insisting on the narrow focus of the artist, so does humanism distract us from the complexity of the world in which the human is only one part out of many. It simply seems outdated to return to the human-figure, conceptually broken by critical theory and practically threatened by developments in AI. Rather we need to accept, as many of the brilliant pieces do, a state in which humans are not in control; which allows for spaces of ambiguity and contingency. We do not need a return to humanism. Rather, now is a time to be humble, to look outside of humanity and think beyond that which already was, and never really worked in the first place.
Featured image: Donald Trump as a God
"There I was faced with my nemesis, reading. It isn't that I flubbed the words, or stumbled and mispronounced; I even placed the emphasis on the right syllable. I just lack personality when I read. The second day I was introduced to the rushes. This is the custom of going at the end of each day's work and seeing on the screen what you shot the previous day. What a shock it was!"
-Ronald Reagan in 1937
Donald Trump has a face moulded from a slowly drooping wall of pitch. The languorous slump of his chin is accentuated by a zealous orange complexion and hi-definition makeup creases—his physiognomy would be an intricate though grotesque addition to the faces scarring the side of Mount Rushmore. Topographically speaking though, his jib is markedly less stately than Lincoln's staunch jaw: the line from The Donald's chin-to-neck sloping lazily in a curve that flaps and wobbles with the exaggerated gymnastics of his puckering-unpuckering mouth.
Trump's iconic visage has dominated the memeplex for months, corrupting our newsfeeds with bust-like portraits of a man whose Tang-coloured tanning cream has since inspired a litany of derogatory epithets. Yet one of the remarkable characteristics of his campaign and its corresponding media coverage was how effortlessly both so-called mainstream media and internet culture latched on to Trump's face as a cultural and political meme.
We can see the reproduction of iconographic power at work with a brief review of the 2016 election cycle. While campaigning for his ascensions to the Presidency, news networks depicted Trump's head as visually emancipated from the fleshly anchor of his body, utilizing a close-cropped frame as a political device to craft caricatures by leveraging his most noticeable features—a lumpy chin, puckered mouth, wispy hairpiece. Here we see the head of God-Emperor Trump. Trump's profile an image figurative of the head of state, the corporeal body transformed into the body politic that is an icono-graphy ready for reproduction and primed for cross-pollination with the memeplex. In fact, images of Trump's face were so abundant during the lead-up to the election that an ur-typology of Trump media began to crystallize as campaign season progressed: Trump, face isolated, with hair-piece captured in striking relief against a backdrop of blurry patriotic signifiers. (The vertiginous swoop of sallow hair and recumbent double chin looms as pervasive and recognizable as the gaminesque contours of a perverse Pixar character in profile.)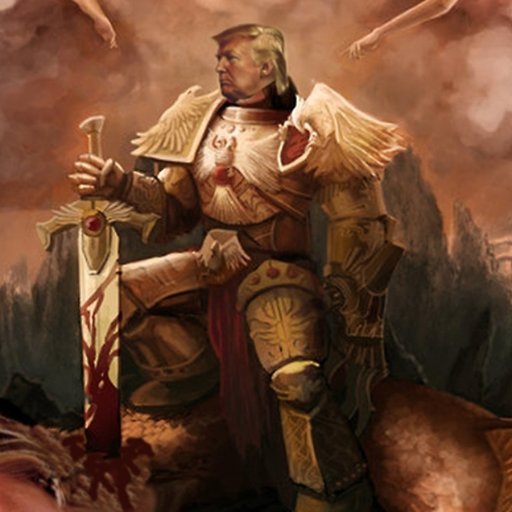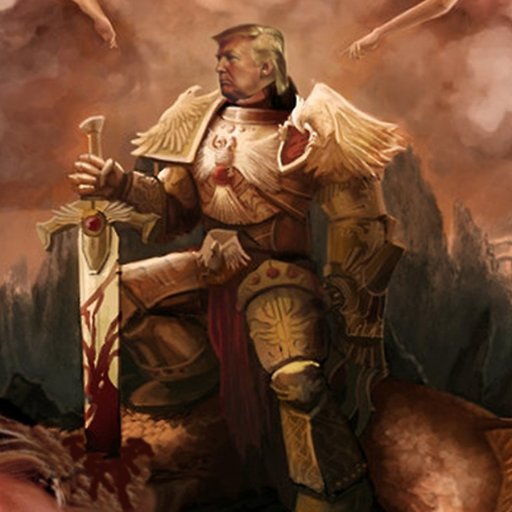 Trump entered the 2016 race with decades of brand-management experience: his reality TV presence cemented the immediate recognisability of the TRUMP trademark, endowing his face with the universality and divine potency normally associated with the glittering icons of Byzantine Christianity. So, I wonder what Trump thinks when he looks in the mirror—he does not seem to grapple with contemplating himself in the eyes of others, as the professional actor-cum-president Reagan did, enshrining his Presidential role as the ultimate piece of character acting, fraught with tortured considerations about the role of self-image, self-perception and the externalization of the indexical viewpoint of the acting eye. Reagan was concerned with how others perceived him, as Trump is. But Trump is a businessman and seems to outsource concern for his image, treating it as a theatrical production supported by the labour of an elaborate team of technicians, brand-managers, lawyers, make-up artists, photographers…As an actor, however, Reagan was fastidious about contemplating his own performance, making and remaking himself to suit his own ever-changing, idealized self, performing his image as he wanted others to see it.
***
The most recent internet exhibition from the German collective UBERMORGEN continues the obsession with Trump's visage in an online exhibition recently hosted by London gallery Carroll / Fletcher, which features the faces of Donald Trump and Melania Trump rendered in .gif format and created by UBERMORGEN, the Swiss-Austrian-American duo consisting of lizvlx and Hans Bernhard. Their recent work, Neue Ehrlichkeit (trans. "New Honesty") contains two gifs: one of Trump and one of Melania, the frame cropped so close to their faces that you can see Trump's ear piece and discern the mascara clumps adhering to Melania's eyelashes. The gifs move manically, flipping over the y axis, invisibly bisecting the frame at vertigo-inducing speed. As you continue to watch the gif flicker, it seems to accelerate uncontrollably even though the timing of the gif loop is unvarying. Combined with the drooping jowls and brillo-pad eyebrows of Trump – details that linger for a static nanosecond in the mind's eye – the effect is even nauseating.
UBERMORGEN preface this recent work with the following exclamation:
"The post-factual world is not a new phenomenon, not at all! But I love that the world has finally come to an agreement and I love the idea that there are so many others consensually hallucinating with us in understanding the fact that we are part of a post-factual world without ever having been in a factual world." UBERMORGEN, Truth-Tellers Conference, Berlin, 2016
The "fact that we are part of a post-factual world" is a resolvable contradiction – UBERMORGEN's idea of "new honesty" in a nutshell. The new honesty of post-factuality expresses anxieties about the transformations brought forward by digital technologies, but seems to (incorrectly) cite the internet as the culprit causing the erosion of trust in utterances made both off and online. (And if we learned anything from continental philosophy's critique of empiricism, it's that empiricism as an epistemic framework places truth and falsehood on the same fragile fulcrum, separated only by a collective delusion known as "evidence.") One kind of post-factual phenomenon, fakeness, seems to elicit particularly virulent and hysterical reactions. Fakeness feeds on the production of virality. Fake news flourishes not only because of the viral networks that seed, transmit, and accelerate its reproduction across the social media platforms and carefully cultivated echo chambers of the web, but because fakeness marvels at the speed of its own-reproduction. Fakeness is a narcissistic vortex; it is the viral subject celebrating its own hysterical recirculation, thriving on the spectacles of hysteria and disbelief that it stokes to fuel its continued seeding of newsfeeds.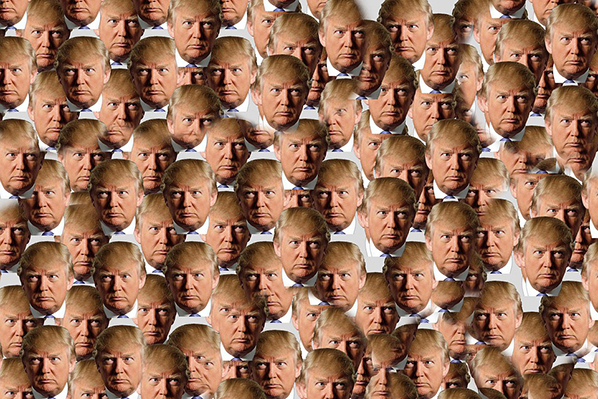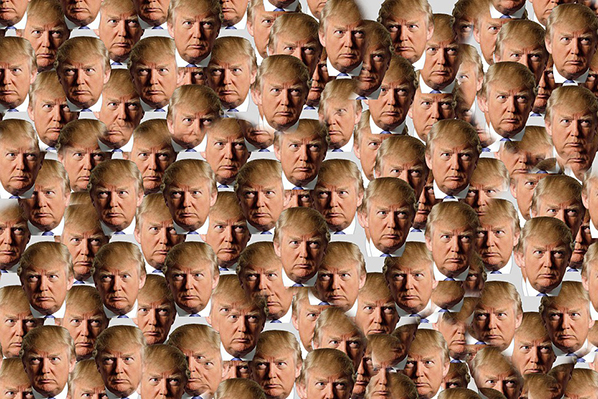 Trump's face is a fake, a simulacrum of a face—caked in makeup, sweating under the bright bulbs of cameras, and creased with the lines of fake-tan fissures, the surface of his skin looks like an aerial photograph of the Sahara during sunset. His face is there, but it isn't real: it operates on the level of the Imaginary. On a Zizekian interpretation of Lacanian epistemology, this is to say: Trump's carefully curated, commodified image is a simulation, but a simulation that occupies a position of so much power that the image's artificiality is (im)material. T R U M P the copyright, trademarked, licensed image is more real than the man himself. And, like "fakenews", Trump has a vested commercial and now political interest in circulating his image, spreading his brand and colonizing new territories of financial opportunity that leverage and license the attention that the TRUMP exploits for profit.
***
Even though the obsession with The Donald's face has not abated (reverberating duh), the relationship between Trump's body and the media-memeplex dyad is quite different. Photographs of Trump that expand the optical frame to encompass his whole body portray him as a lumpy bundle of poorly tailored suits, wrinkled folds, and a protruding mass of flesh hoisted around his middle. Despite his wealth, status, and power, Trump owns a body much like that of middle-America, although his constituents are nourished on government subsidies of high-fructose corn syrup, fast food, and snakeoil dietary fads rendered (unsurprisingly) unsuccessful, rather than Mar-A-Lago brunches and Trump Tower hamburgers. Still, Trump looks as fit as the average American; his physique psychically resonates with his supporters and functions as the punctuation mark to the fanatical authoritarian-pseudo-populism of his speeches: Look! his round-shouldered posture and huddled gut proclaims: I look just like you! Vote for this body! Admittedly, Trump's physique is not a new object of scrutiny: reflecting on the apocalyptic Presidential Portrait produced by Jonathan Horowtiz, Jerry Saltz remarks that Trump is:
"…strange, always swathed in a lot of clothes, large but unformed, awkward because he has no clear shape or outline."
In Parables for the Virtual, Brian Massumi elaborates on the affective valences of the body as image and body without image. Body-without-image is the corruption of the normative way that bodies are produced and how they generate affective frequencies in relation to the connections and fissures that form between other bodies. The body-without-image is an aberrant figure for Massumi, which he describes as occurring when "Subject, object, and their successive emplacements in empirical space are subtracted, leaving the pure relationality of process." (68)
If we try to image Trump in all his fleshiness, it becomes difficult. Trump the man has "no clear shape or outline", and our collective Imagination staggers and stumbles as we try to map the boundary-lines of this man. (We might, perhaps, find it easy to caricature his "tiny hands", but how much of our hallucination is rendered accurately, and how much of it is reposing on citing the hysteria of a tiny hands-meme for artistic direction?) If someone says TRUMP, it's his face that we imagine, not his physique.
Further along in Parables of the Virtual, Massumi rigorously plumbs the affective resonances of the bleed, the planes where the virtual and the real intersect and erupt into productions of affect. To seriously consider the interstitial spaces where the hallmarks of reality and the virtual co-exist in neurotic states of indeterminacy requires rethinking what it would mean to give a logical consistency to the in-between. On Massumi's view, the logic of the in-between demands:
"realigning with a logic of relation. For the in-between, as such, is not a middling being but rather the being of the middle-the being of a relation. A positioned being, central, middling, or marginal, is a term of a relation." (70)
Another, though narrow, way of framing the need for a new logic of the in-between is to call for a radically recalibrated understanding of the "middle class" and its interposition. To whom is it designed to relate, for what ends, and by which design? If the middle class is a "positioned being, central, middling, or marginal" as Massumi argues, then it must also be seeking a reconciliation with one of the poles that bookends this relation. It is drawn towards stabilization, which is another way of saying that is oscillates unevenly, polarizing the relationships on either side. It migrates towards Trump, whose words and gestures – and physique – are like a magnet. According to the deluge of thinkpieces on Trump supporters that were churned out following the election, we know that middle-America thinks Trump is "just like us". And we know another axiom: like attracts like.
But if Trump's body looks like the "middle-class", it is also a kind of hallucination—Trump's body is the product of a lifestyle of luxurious, conspicuous excess. Any similarities are accidental, since Trump has never been in the position of foregoing diabetes medication due to rising medication prices; has never had to settle for junk food while living in an economically depressed food desert littered with high fat, high salt, edible detritus; he does not know what it is like to stitch up his own lacerated hand because the thought of incurring several thousand dollars in Emergency Room bills might provoke yet another psychic and physical trauma. In a way, Trump is not a body-without image, but image-without-body.
Here we have arrived at a key oxymoron of Trump: he is fake body attached to a simulated image.
His image is an incarnation that desires its own reproduction. It is the simulation of a man, the materialization of a God-Emperor, the embodiment of the TRUMP brand. Trump's visage is that Paterfamilial image spiralling towards its historic manifestation, driven by a self-replication that can impregnate the memeplex with his iconographic face and drive more and more money towards the TRUMP Empire.
But Trump is also a grotesquely physical body, one that has used the powers its girth commands to physically assault women or wrestle awkward handshakes out of self-assured world-leaders. Even that, though, is a kind of hallucination: in our collective media-conscious, Trump's body offers itself up as fodder for the refashioning of the flesh in the image of the Great American Hero, the hard-working, downtrodden, blue-collar, temporarily-embarrassed millionaire man—one who is always being dragged out of the dustbin of history, resurrected to reassure us that the America Dream can speak to us, too, if we hallucinate hard enough.
1: Introducing Seeds From Elsewhere
'Seeds From Elsewhere' (2016 – ongoing) is a project by They Are Here that has begun to re-animate a dilapidated play area in Finsbury Park, bringing together young asylum seekers and refugees, family, friends and other professionals. Each participant is supported to grow flowers, plants or edible produce from their respective homeland. We are also in the process of designing a greenhouse and pizza clay oven, extending the parameters of our collective activity. Throughout the process we literally and metaphorically ask 'What can grow here that's not from here?' Beyond this more tangible gardening activity, the project seeks to create a space that embraces, maintains and produces a diverse set of social relationships between people with different residency status. It is supported by Furthefield an organisation exploring the intersection of networked culture and contemporary art.
2: Context
It was July 2016, less than a month after the results of the United Kingdom European Union membership referendum, when our project commenced. Although the impetus to begin was not a conscious response to the referendum outcome – the timing is not insignificant. Our initial steps were in a toxic political atmosphere at the height of an intensified and indiscriminate rhetoric against migrants.
Artists were faced with new variations of old questions that resurface in turbulent times. . . What is our role in protest? Do we have a particular responsibility as artworkers to engage with a given political landscape? What are the capabilities and limitations of art in local / national / international governmental politics? Such questions often reveal an expectation of certain aesthetics, rather than attitudes. It is in the multiple ways that a work is circulated and produced its politics should be sought. . . How is the work funded? How is it credited? Which voices are included in its development, or excluded? How is the work talked and written about by the various partners supporting its production?
In these seemingly small details, a larger political statement is embodied rather than solely visually evoked. At the same time, we reject a 'one-or-the-other' stance. Establishing and administering a small community garden should not negate working with others on larger-scale efforts at the scale of local government or beyond. Bridges should be made between all scales of activity. The same fluid hierarchies and embrace of hybridity we cultivate with Seeds From Elsewhere, we encourage at ever larger scales – generating continuities between the ethos of how we are working on the garden and how national and global resources are considered and decisions made.
3: Keeping things complex
'Participation is not always progressive or empowering', 'Realise your own privilege', 'Critically interrogate your intention', 'Process not product', 'Presentation vs representation – Know the difference!', 'Do not expect us to be grateful', 'Art is not neutral', 'It is not a safe-space just because you say it is,' 'Do your research', ' Do not reduce us to an issue'. These notes are from Rise (Refugees, Survivors and Ex-detainees – the first refugee and asylum seeker organisation in Australia to be run and governed by refugees, asylum seekers and ex-detainees) . . . 10 Things You Need to Consider If You are an artist not of the Refugee and Asylum Seeker Community Looking to work with our Community authored by Tania Canas, RISE Arts Director.
In a polarised mediascape, where tabloid headlines shout loudest, the reduction of a diverse group of people to an 'issue', has been one of the most problematic aspects of public debate. Recognising that Seeds From Elsewhere is a slowly gestating project affords time for us to slowly get to know the participants individually – who to date hail from Albania, Sudan, Congo, Ethiopia, Romania, Afghanistan & Nepal. Rather than seek to 'represent them', we are co-workers on a set of shared goals.
Importantly, this work functions as a hybrid activity, with multiple points of access and identification. For the young refugees the garden can offer a respite from various kinds of bureaucratic limbo, it can also simply be a place to chill in a tolerant environment. In the longer term, there maybe be the potential for employment opportunities in the garden. At the same time, the work functions within the tradition of many conceptually driven socially-engaged artworks, notably Wheatfield – A Confrontation (1982) by Agnes Denes, Edible Estates (2005 – ongoing) by Fritz Haeg and Parkwerk (2014) by Jeanne van Heeswijk.
The project has also become a gateway to consider the language of rhetoric against migrants, as well as that of sympathetic media too, focusing on the recurrence of botanical language as metaphor (soil, roots etc). Essays by US-based anthropologists Dr. Lisa Malkki and Dr. Stefan Helmreich have been particularly insightful. The latter quotes biologist Banu Subramniam, noting that these criteria 'resonate unfortunately with xenophobic anti-immigration language in the United States and Europe':
"The parallels in the rhetoric surrounding foreign plants and those of foreign peoples are striking … The first parallel is that aliens are 'other' … Second is the idea that aliens / exotic plants are everywhere, taking over everything … The third parallel is the suggestion that they are growing in strength and number … The fourth parallel is that aliens are difficult to destroy and will persist because they can withstand extreme situations … The fifth parallel is that aliens are 'aggressive predators and pests and are prolific in nature, reproducing rapidly' … Finally, like human immigrants, the greatest focus is on their economic costs because it is believed that they consume resources and return nothing." [1]
Becoming attuned to language is a vital part of a larger and never-ending exercise in developing cultural and individual self-awareness as to how we speak, itself inseparable from how we think.
4: Democracy and Maintenance
Our fortnightly group meetings in the garden are rich in debate and banter. Working on a garden is an unceasing process. Like the growth of plants themselves, it cannot be rushed without compromise. This notion of maintenance is akin to a healthy democracy. Rather than an invitation to vote every four years, democracy must be attended to daily; it is comprised of multiple systems collectively supporting each other. Beyond physical access to a voting booth, there is the need for both protection and scrutiny of the media, investment into an education system that encourages voters to make informed choices, the space for satirists, philosophers and artists to critique power and the continual checking of our own presumptions and privileges.
Harun Morrison + Helen Walker
They Are Here
February 2017
contact@theyarehere.net
What is serendipity? Notoriously difficult to translate1, it is described as a trivial encounter, a pleasing coincidence, or a moment or encounter that was unplanned and occurred without intentionally looking for it. For Olma there appears to be much more at stake than a charming French accident. In the book 'In Defence of Serendipity: For a Radical Politics of Innovation' (2016), Olma gallops through the oppressive apparatus of the creative industries and the tireless illusion of innovation that captivates the hearts of young creatives and designers all over Europe, before finally resting on a call to arms for a radical politics of innovation that encompasses creativity, citizenship and social emancipation.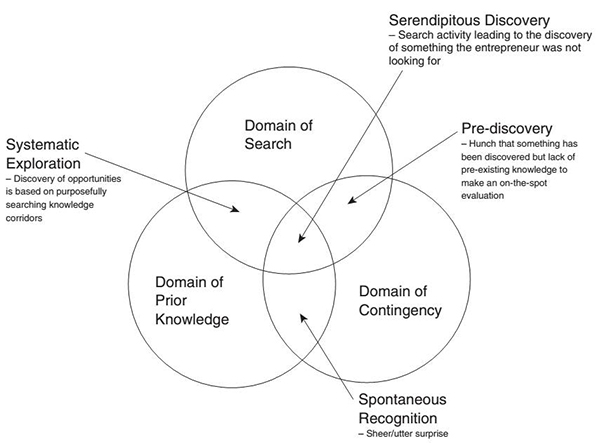 The notion of serendipity – with its playful innocent charm that promises the unexpected or unplanned potential from the incidental – represents much more than the romantic possibility of chance. As part of his research for the book Olma co-organised a conference on creativity with the Institute of Network Cultures in 20142, where social scientist Pek van Andel 3 provided an anecdotal sentence, which for Olma describes what is at stake in defending serendipity –
"The new and unknown cannot be extrapolated logically from the old and the known" (Andel, 2014).
There are many assumptions surrounding creativity and the production of knowledge, and this possibility to discover the new or the unknown with methods outside of the structures or logic enforced by institutional programs is quite a cunning place to situate a critique on cultural production. After all what is more valuable in contemporary culture than producing the new & the unknown?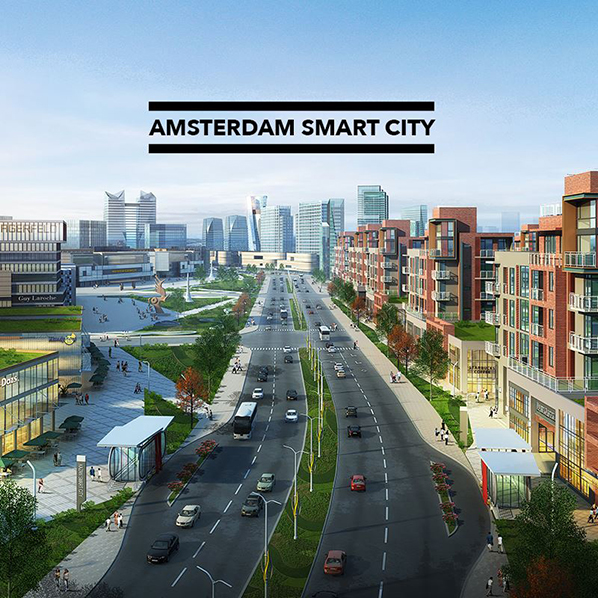 The New is Quickly Getting Old.
For Olma, the aims of culture programs for creatives and designers to create, build and imagine the 'new' are misguided, and form part of the many 'false sleeves of innovation' in which he seeks to re-instate a political vision for innovation. (Un)fortunately for Olma, he is sat right in the epicentre of this 'slack innovation culture', based in a small studio in East Amsterdam where the majority of the artist-run spaces have quickly become boutique hotels, co-work spaces and commercial creative labs. Amsterdam is perhaps only matched by Berlin in its ability to brand a certain lifestyle – a concoction of social innovation and tech entrepreneurism – connected through flexible work spaces, fab labs and start-up hubs that all contributed to the city becoming the official European city of Innovation in 20164.As an artist who moved to the Netherlands to participate in the wide variety of workshops, conferences and collaborative enterprises offered by the wide range of labs, media organisations and institutions in Amsterdam I found Olma's critique on the lack of political agenda from Dutch cultural organisations thoroughly devastating. For Olma, much of this type of creative activism is an empty political gesture, a speculation and an ideological indulgence for a lost millennial generation attempting to engineer a game-changing prototype or white paper that could make the world a better place (if it ever became anything more than a 5 minute Prezi). To borrow the term coined by Evgeny Morozov, the creative sector has long been adapting the approach of 'Technological Solutionism' – programming or designing a technical solution to a social problem – and this is ultimately leading to what Olma describes as 'Changeless change'. Olma sees this as a dominant, restrictive logic that has pervaded not just the creative economy but other sectors of education, healthcare and state services for years. He insists that defending the possibility of spontaneity, chance and coincidence in the face of regulated, market-driven creative programs is the way to make innovation innovative again.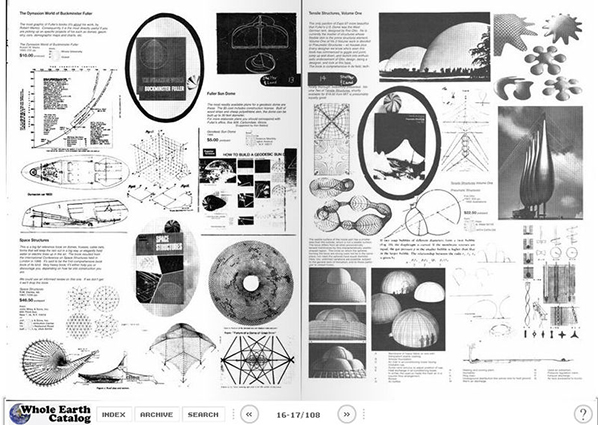 Multi-disciplinary, Trans-disciplinary, Cyber-disciplinary
"The paradox is that while relying on informal and idiosyncratic forms of interpersonal exchange, cybernetics spawned a techno-social ontology, reducing human beings to increasingly calculable, controllable and predictable factors within systems" (pg 160, 2016)
Olma occasionally describes conditions in the past century where serendipity was openly facilitated and creative innovation demonstrated radical political values. Universities – such as the well cited Black Mountain college (whose students included John Cage & Buckminster Fuller) – and co-working spaces originally provided much potential for chance encounters at little or no cost, and even the invention of cybernetics involved a degree of spontaneity. The hippy counter-culture movement and the communalists of the late 1960s were making a radical attempt to form an alternative social transformation and organise flexible communes and temporary networks. If you go back to this starting point it is easier to grasp how the premise of Silicon Valley originated from a radical politics of innovation. Buckminster Fuller, Stuart Brand and even Steve Jobs were designing and building alternative visions of the world which are now perpetually carried in the pockets of over 160 million people. These were creatives, designers, hackers and hippies who built their own vision of reality and successfully sold it to the western world. It is little wonder then that even after half a century creatives still believe in the emancipatory potential for technological design to engineer large-scale social change. This attitude resides in young creatives like a hangover, with many believing the most important part of any project is the ability to harness the power of the network and 'scale up' or utilize the latest technologies (e.g. IoT blockchain, A.I) in order to 'build a better world'.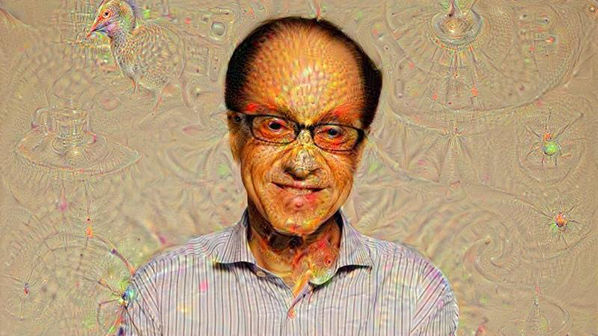 Imagining the Future
The global dominance that Silicon Valley has managed to groom over the creative economy has left very little room for creatives, designers and technologists to imagine future(s) other than the ones packaged and sold by the CEOs of the four major tech companies (GAFA5). Olma dives into the disillusion perpetuated by figures like Ray Kurzweil and Elon Musk and offers some insight into how the idea of the singularity is proliferated as an artificial salvation from a crisis that – arguably – they are responsible for. What is so powerful about these myths is the way they are presented as an inevitability, a natural outcome of what is known as 'Moore's law' (the theory that computing power grows exponentially). Aside from the fact that, as Olma highlights, this theory (it's not a law) is beginning to look more and more unlikely due to increasing demand and finite resources, 6 the mythical fantasy is also a fantastic narrative that – regardless of plausibility – enchants the masses, enticing them towards the promise of a techno-spiritual enlightenment. The singularity, similar to The Enlightenment, is an alternative way to defy the gods and transcend both space and time (whether that is flying to Mars with Elon Musk or staying alive forever by eating nothing but berries with Ray Kurzweil 7). It also reintroduces the notion of a collective consciousness and mobilises the technologists, hackers and creative programmers towards a transcendent , spiritual (post-human) awakening. What distresses me is how often artists and designers (including myself!) are encouraged either through directed funding programs or just through their own curiosity to unwittingly contribute free or intellectual labour to improve, train and develop the latest technology. This is very familiar in the development and production of Artificial intelligence. When Google releases the source code for A.I products such as DeepMind's neural network 8, they are doing so predominantly to crowd-source the development of the software and improve the 'machine learning' process of the application. This way, the countless enthusiasts creating their own 'neural nets' or simply sharing more 'slug dog puppies' 9 incidentally form an army of free researchers, crowd-sourcing the big data and enabling companies to train and deploy more powerful machine learning systems. The sweeping tide towards Artificial Intelligence and eventual leap towards the singularity – whilst being very good for sensationalising and selling further tech products – lures over the collective creative imagination of many artists and creative technologists and consequently makes it increasingly challenging to design an mobilise an alternative vision that does not just further the one sided Singularity story. In the final chapters of the book, Olma quotes Julian Assange who famously said "there are only two types of belief systems that are capable of transforming change on a global scale, that of silicon valley libertarianism and that of radical Islam"(pg 211, 2016). The way in which Olma maps out how Californian hippy counter-culture advanced into techno-libertarianism to the prospect of a technological enlightenment, highlights how 'a belief system [can] turn populations into docile followers of the dominant logic of power' (pg 119, 2016) The conclusive effect of Olma's analysis is that there is a generation of young people who assume that transformative social change can be engineered through programming, code and technical design, and not through politics. Furthermore, the promise of a collective consciousness in the form of the singularity propagates the belief that this particular strain of Randian individualism will eventually give way to something egalitarian, collective and enlightening.
"Today, a radical politics of innovation must be directed toward the recapture of the state by an ideology that is a polemic for the reinvention of a public sphere whose accidental sagacity will generate potential futures we don't even dare dream about" (pg 217, 2016)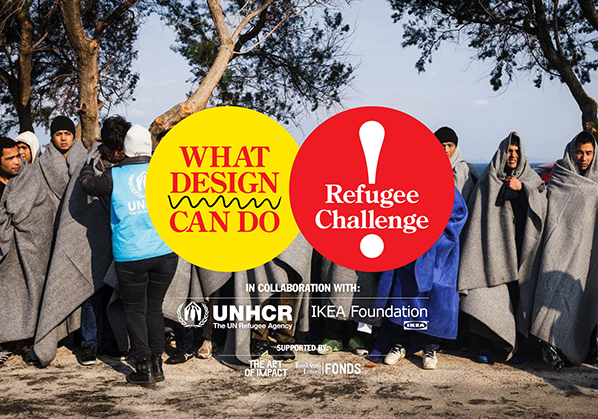 Creativity and citizenship should be two sides of the same coin
While admitting that the odds of reclaiming a practice of innovation that is genuinely alternative, transformative and political are slim, Olma offers us some potential new directions to consider. After relentlessly exposing the libertarian attitude that has permeated through technological innovation into creative culture, Olma considers how to collectively care for the imaginary 'we'. Rather than champion a Luddite perspective in relation to digital technology, Olma asks us to re-consider the effect tech culture has had on creative practices up to this point. He asks us to distance ourselves from creative programs that provide 'simulations of serendipity', which are in-fact co-ordinated idealogical parameters that only produce vague, washy attempts to 'make the world a better place'. Olma asks us to call their bluff and put an end to intellectual entrepreneurialism and champion creative engagements that are political to their core. No more tinkering prototypes or speculative designs that show no political agenda than simply 'making the world a better place'– a reactionary counter culture is needed. Fixing this creative depression is key to articulating and mobilising a collective response to neo-liberal politics and free market economics. Olma goes on to state that "Creativity and citizenship should be two sides of the same coin". If artists and designers are able to direct their own autonomous practices that are not based on imitating the same technological solution-ism we have been subject to till now, then a vehicle for alternative political programs through creative expression is possible. However, my concern is that the current creative and start-up infested world might be so deeply ingrained that it becomes difficult, if not impossible, to try and distinguish between what Olma describes as 'false innovation' and identify what qualifies as 'good innovation'. Making such a distinction is based on political subjectivity, which will always fall short on a old framework of left and right ideological values. Take for example a typical Dutch design competition called What Design Can Do, which last year asked designers to respond to what they call the 'refugee challenge' 10. 3D printed modular homes, food trucks, democratic voting apps and interactive maps provided business, charities and NGOs with a huge selection of ideas and concepts to help contribute towards improving the humanitarian crisis. Now, even without fully evaluating the impact of each project I would still find it difficult to dismiss all the endeavours as nothing more than what Olma describes as 'change-gymnastics' (pg77,2016). I think what Olma is requesting in his writing is for a more audible and self-reflective practice of innovation so that "the social contexts of the technologies used [are] part and parcel of its practice" (pg 68, 2016). In this sense, perhaps a greater critical evaluation is required when determining the value of social innovation. When considering Olma's analysis in the context of 2017, forming a radical politics in the face of neo-liberal or neo-fascist regimes should hopefully galvanize and mobilise a unified resistance, however one has to be aware of the fused social corporate structure in which these common forms of resistance will eventually manifest. Brands are quickly tapping into and attempting to integrate alongside social activism 11 and an agency I was recently introduced to titled Doyougetme.world? specialises in connecting brands with 'radical' activism12. Although these initiatives may appear to be the latest attempts from corporations to engage with young consumers I believe they highlight the hybrid culture in which this radical politics of innovation will need to emerge. What if a mass mobilisation was initiated or deployed by a brand or corporation, as imagined in this uncanny piece of short fiction that was published this month by Andrea Phillips entitled 'The Revolution, as bought to you by Nike' 13. In this story, Nike launch a pitch perfect campaign in order to start a social revolution and the strategies of brand engagement become the tools with which to manifest large scale disruption to globalized power and corruption. The plausibility of such an attempt is very credible at a time when both citizens and companies are converging to protest against president Donald Trump and his decisive actions seem to divide citizens and open up new markets of political consumers. Considering these manoeuvres, one should be prepared for a radical politics of innovation to be a multifaceted, multi-political project, and not rely on a traditional political framework to evaluate creativity, innovation and citizenship. It is an important time to ask how creativity, social innovation and tech culture can support social mobility and radical politics, when what feels like an uncontrollable rise of neo-fascism, rather than dismiss existing creative practises of innovation it is an opportunity to consider how creativity can once again become the vehicle to take us out of 'changeless change' and into a radical politics of innovation.
Max Dovey
'In Defence of Serendipity : For a Radical Politics of Innovation' by Sebastian Olma is out now from Repeater Books http://repeaterbooks.com/books/in-defence-of-serendipity-sebastian-olma/
Max Dovey is a researcher, artist and critic based in Netherlands.
Www.maxdovey.com
Despite its image of rapid technological change, progress under capitalism has stalled. Spinning ever faster is not the same as going somewhere. Contemporary Accelerationism wants to take off the brakes, and it is enlisting art's help to do so.
Taking its name (like every good movement) from one of its critics – Benjamin Noys claims credit for naming the historical tendency in 2008 – contemporary Accelerationism has both a philosophical and a political form with the latter only weakly related to the former. What Epistemic (philosophical) and Left (political) Accelerationism have in common is an attitude of "prometheanism", of amplifying our capabilities, of rationally overcoming intellectual and material limits. Of hacking the systems of philosophical and political thought to find the exploits that will allow us to increase our knowledge of them, our control of them, our reach through them. Hopefully this will work out better than it did for the original Prometheus of Greek myth (or for Ridley Scott).
Contemporary Accelerationism may seem heretical compared to the "folk politics" and philosophy that it contrasts itself with but it is not (however some people may start essays) the capital-intensifying Accelerationism of 1970s continental philosophy or its killer-robot-welcoming successor in 1990s cyberculture. From the point of view of the former it is too immediately critical of capitalism and from the point of view of the latter it is an off-ramp on the road to the singularity. It is also not the pure speed of Paul Virilio's dromology, or the experience of lack of time of the overworked neoliberal subject.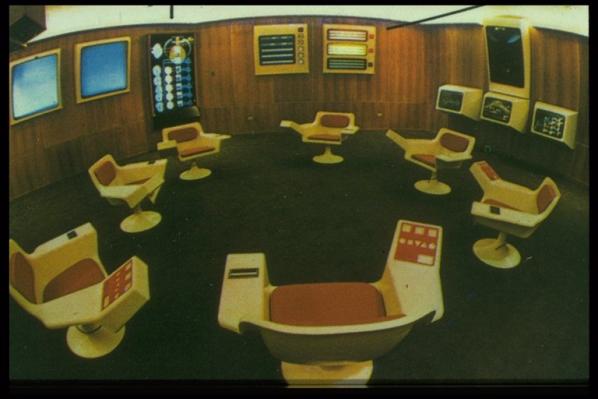 Accelerationism is a progressive attitude towards the liberation of reason and production – and therefore selectively technology – rather than the fetishisation of them. The "real" accelerationists in these senses aren't working at Google, although they might in time exploit technology developed there. Chile's early 1970s Cybersyn project provides an informative precedent. It sought to accelerate transition to a socialist economy using limited and almost obsolete mainframe and teleprinter technology. Its Accelerationism lay in the attempt to rationally analyse and spur growth in industry to increase the rate at which it developed, not in technofetishism.
Epistemic Acceleration
Philosophical Accelerationism is "Epistemic Accelerationism", represented in the writing of Ray Brassier, Reza Negarestani, Peter Wolfendale and others. This is a neo-rationalist philosophy, a programme of "maximizing rational capacity" and the ability to reason about or navigate our knowledge of the world. This is a self-revising, non-monotonic, socially situated reason very different from the logicism of 20th century rationalism and its detractors (although logics have advanced considerably as well).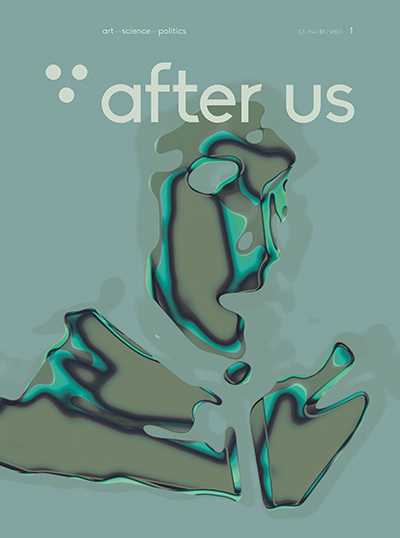 Two new journals are taking an Epistemic Accelerationist approach to art and culture. In the UK, "After Us" shares a designer with former CCRU member Kode9's Hyperdub record label. In France, "Glass Bead" takes its name from Herman Hesse's imaginary game of knowledge described in his novel of the same name. Both are haunted by the legacy of C. P. Snow's 1950s "Two Cultures" of science and the humanities, with "After Us" explicitly invoking the need to reconcile them. This isn't the first time such a move has been called for, and previous attempts make clear that scientists tend to make as bad artists as artists make scientists. The contemporary artworld is also not under-populated by transversal and interdisciplinary research and its aesthetics. Regardless, both provide thought-provoking cultural insights and resources. And the first issue of Glass Bead features, among other articles and interviews, Colombean mathematician Fernando Zalamea, whose accessible promotion of contemporary mathematics and production of a synthetic philosophy based on it deserves much wider attention.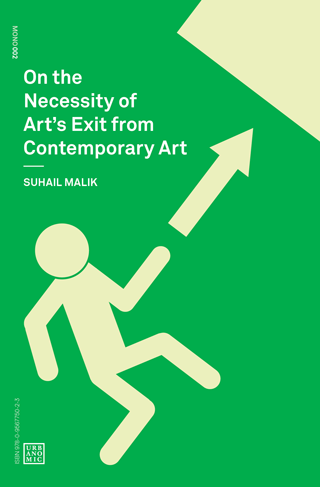 Escaping the radial velocity of asset-class zombie formalism is the focus of Suhail Malik's "On the Necessity of Art's Exit from Contemporary Art" (I'll be reviewing the book for Furtherfield). Malik describes Contemporary Art's self-image of escape (from society and art's own limitations into a space of freedom) that disguises an inescapable and complicit recuperation of novelty. To move beyond this he proposes a strategy of exit (which contrasts interestingly with designer Benedict Singleton's discussion of traps). This is not a seasteading-style fantasy of libertarian secession, rather it is an attempt to identify the next move in the game of art after a long impasse and to return art to a more grounded and constructive role in society.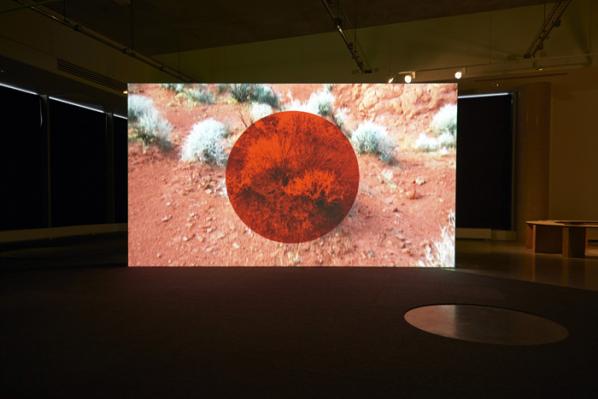 A group centred around The New Centre For Research (whose events and video archives I cannot recommend highly enough) are seeking to apply neo-rationalism to art in order to effect just such an escape from the outsideless beige singularity of Contemporary Art. This would be an art intentionally constructed to make the rules of contemporary art and of its own construction explicit, allowing artists to reason about this and to thereby come to understand how to escape the seemingly irresistible aesthetic and political cage of contemporary art. Amanda Beech's "Final Machine" (2013) prefigures this kind of analysis of the structure of images and their situatedness in the networks of power that produce contemporary art. Diann Bauer's collaboration on the art and finance R&D project "Real Flow" is another good example. Bauer has also produced videos for Laboria Cuboniks (see below) and for accelerationism-related events. Beech, Bauer and others have held a series of discussion panels on the subject of "Art and Reason" (one) (two).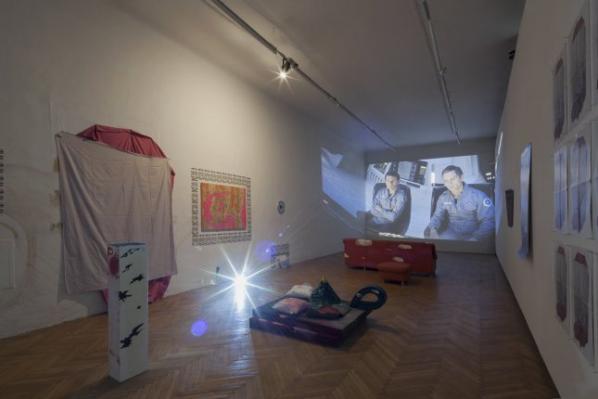 Curator and critic Mohammad Salemy has curated a series of art shows with Epistemic Accelerationist themes – "Encyclonospace Iranica" in Vancouver, "For Machine Use Only" in Vienna, and most recently "Artificial Cinema" in Prague. Each of these has created an artistic critical context for networked systems of perception and knowledge, engaging with the political possibility of their being repurposed to more emancipatory ends in the future.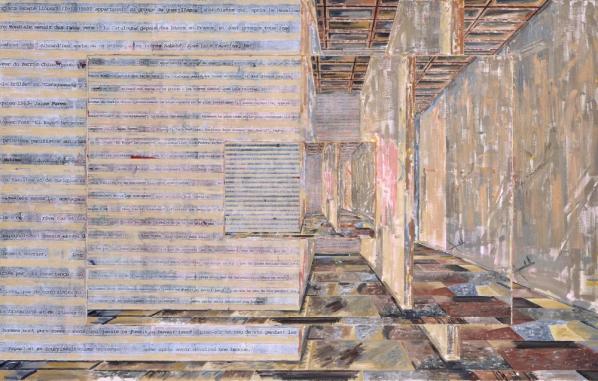 A self-aware, critical, politically committed art aware of its institutional context that is nonetheless still recognisable as art may sound like a stretch but there are precedents in the work of veteran conceptual art collective Art & Language, most obviously in their early "Index" installations and in their later "Incident In The Museum" paintings. There is another way in which Art & Language provide a precedent for the New Centre group – a decade ago they theorised genre as a means of interrupting the frictionless misrepresentations of Contemporary Art, similarly to Malik's (and, as we shall see, Beech's) emphasis on recategorisation.
Left Acceleration
Contemporary political Accelerationism is "Left Accelerationism", exemplified by the writing of Nick Srnicek and Alex Williams. Initiated by the "Manifesto For An Accelerationist Politics" and fleshed out in the book "Inventing The Future", Left Accelerationism claims that some of the technologies created by capitalism can be repurposed and even intensified to enable an achievable socialist future and unleash the creative forces in society that they currently repress. As Srnicek and Williams make clear in "Inventing The Future", this is not in opposition to other struggles but rather a means of materially supporting them.
As a group that often struggles with basic material support, the Left Accelerationist project can hold some appeal for artists. Universal Basic Income (pursued as Srnicek and Williams propose – within rather than as a reason to dismantle the rest of the Welfare State) for example would benefit artists (and musicians, actors and other creatives) in much the same way as earlier welfare state provisions. Artists can support this, rather than having to make the specific moral case for artworld subsidies, as an effective means of solidarity.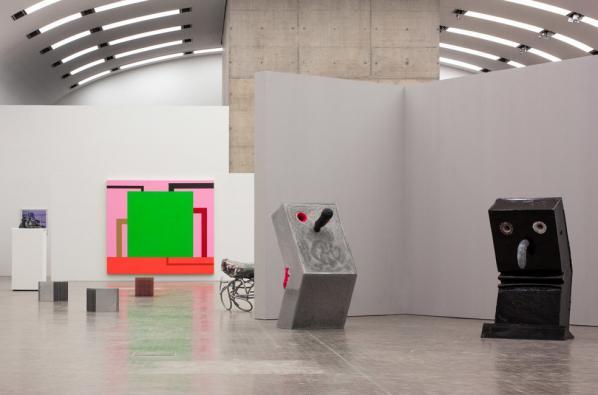 Full automation, another of Srnicek and Williams' proposals, is the theme of the show at Kunsthalle Wien. The diverse work included drives home that art and curation needn't be propagandistic, uncritical or overly serious to promote or engage with Accelerationist themes.
In their essay in the book "Speculative Aesthetics" (2014), Nick Srnicek proposes an Accelerationist aesthetics of transforming a "data sublime" into forms comprehendible by human beings, an aesthetic of user interface-style efficiency and transparency rather than beauty. The example Snicek gives is of transforming a complex economic model into a tool for the manipulation of economies. In the same volume, Amanda Beech (again) argues that rather than "asking what images mean, or if it is possible to mean what we say" we should produce an art that leaves behind the category of the uncategorisable in order to unravel the political project that contemporary art is subject to.
Likewise Alex Williams' consideration of Accelerationist aesthetics in the article "Escape Velocities" (2013) emphasises aesthetics as a means of presentation of conceptual spaces, rendering them tractable to the human imagination, as well as explicitly discussing interface aesthetics with reference to Cybersyn. They also mention the concept of Hyperstition, which we will return to below.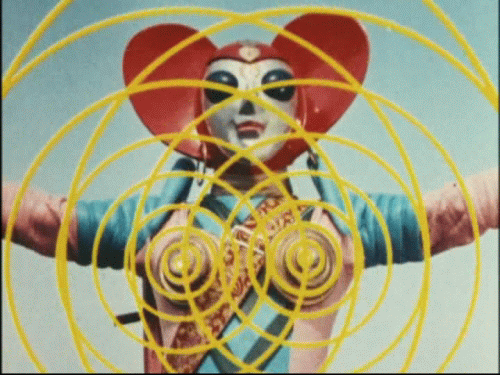 Laboria Cuboniks are a pseudonymous collective who have produced the "Xenofeminism" accelerated feminist manifesto. It's a strikingly designed production (the website was designed by artist Patricia Reed) that is already inspiring artistic production. The "3rdspace" show describes itself as "a response to XF and an exploration into the potentials of technology to escape modern structures of control", building on Promethean themes.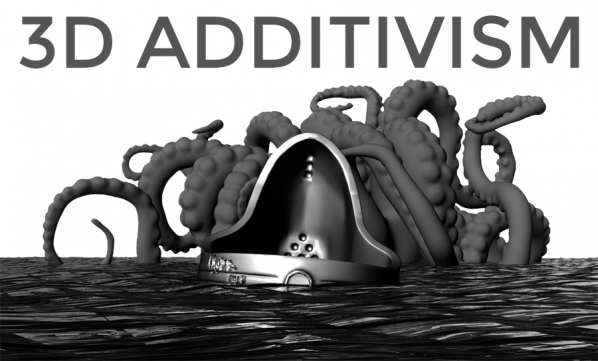 Morehshin Allahyari & Daniel Rourke have produced the Additivist Manifesto for art in the Anthropocene (the video for it features the "Urinal" 3D printable model I commissioned from Chris Webber). They "…call for you to accelerate the 3D printer and other technologies to their absolute limits and beyond into the realm of the speculative, the provocative and the weird". This is the kind of acceleration through (and into) art that works as both epistemic and left accelerationism without merely illustrating the program of or being instrumentalised by either. It is accelerated critical theory.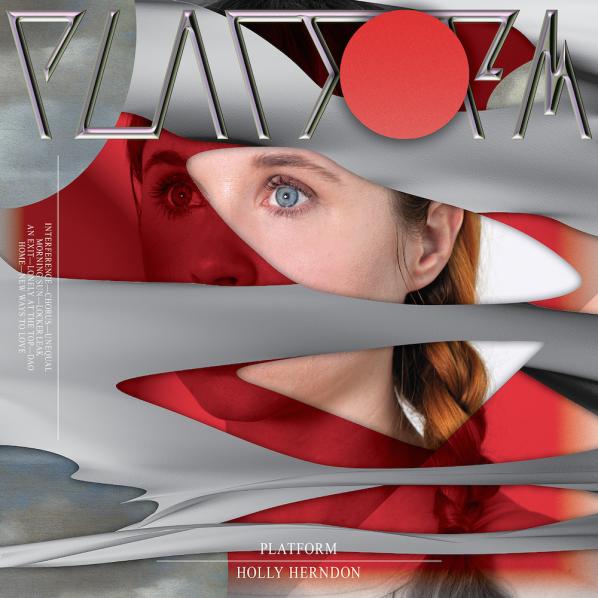 And beyond the visual arts, musician Holly Herndon's most recent album was described by collaborator Mat Dryhurst as being designed to support Left Accelerationism.
Hyperstition
While contemporary accelerationism is at pains to signal how far removed it is from CCRU-era Nick Land (let alone their contemporary work), the CCRU's instrumentalised mythological theory-fiction has resources that are of interest. The slippery concept of "hyperstition", essentially self-creating science fictional or mythical entities, is key. Cyberspace is hyperstitional, as was the writing of H. P. Lovecraft, as was Neoliberalism, and the music of Hyperdub. They are all unreal entities that bootstrapped themselves into reality via the human imagination. Hyperstition is an example of rational irrationality, or at least rationalised irrationality.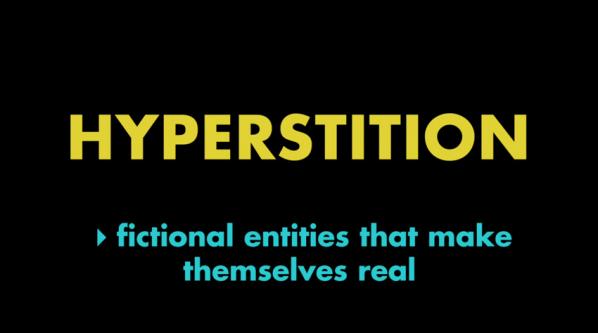 Seeking to harness hyperstition for a moral or political programme has something of the air of trying to summon Cthulhu for social justice, or to turn Skynet into a phone tree, but Williams' "Escape Velocity" mention of Hyperstition as a means of creating visions of a better future as something that will have been possible is compelling. Hyperstition should be more (mis-)used in art than it currently is, and its creation all but demands activity outside the existing artworld.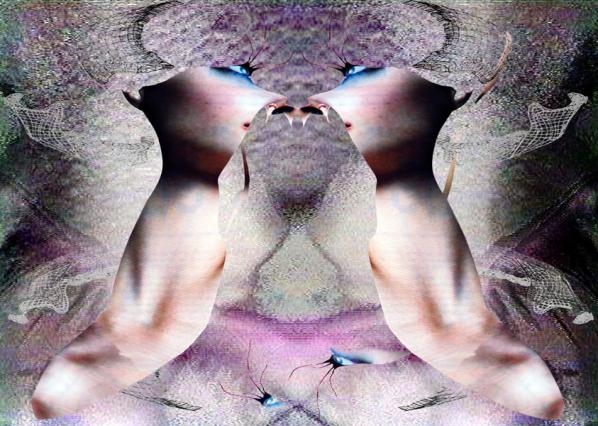 International art collective (and CCRU collaborators) Orphan Drift's autopoietic mythologies realised in glitch art videos, installations and writing provide a historical point of reference here.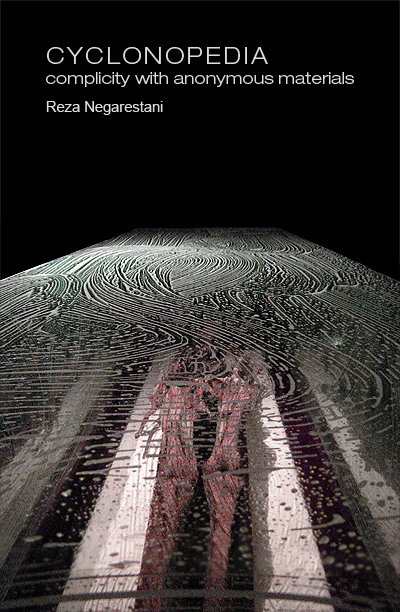 The earlier work of Reza Negarestani serves as a bridge between the CCRU era and the present. His novel of theory-fiction "Cyclonopedia", 2008, evokes hyperstitional entities from the layers of trauma present in the politics and geology of oil and the Middle East.
Conclusion
In art, reason and rationality may inspire memories of dry conceptualism or stern Soviet abstraction but contemporary art's hidden and totalising rules are no less binding and are in desperate need of exposure and critique. The task of uncovering and overcoming them presents a challenge to perception and representation that meeting will amount to much more than "art about art". Perhaps we can use Deep Learning and neural nets to pull the ghosts of genre and medium specificity out of contemporary art then intensify them rather than make puppyslug kitsch… but that's another story.
Left Accelerationism's design tasks and the hyperstitional making of its future seems to have always been possible to provide more challenging alternative projects to the manufacturing of yet more zombie formalism, and as "The Promise Of Total Automation" demonstrates this needn't take the form of uncritical propaganda.
In contrast to these approaches, I feel it's worth asking what a direct equivalent to Left Accelerationism for Contemporary Art would look like. Which aspects of the contemporary artworld would be worth intensifying, appropriating and pushing further to create an alternative? And what would the vanishing point for such an art be in order to avoid recuperation into the generic space of Contemporary Art?
Accelerationist art is working out how to climb over the event horizon of contemporary art, helping to make a better future seem possible, analysing and transforming technocapital, and ironically intensifying the trajectories of new technology to critical excess. As the logic of neoliberalism colonizes personal space, time and identity, suggesting that we need to move faster in any way may seem perverse or complicit. Accelerationist art is part of a project to grab the wheel rather than slam on the brakes and to thereby move beyond the exhausted constraints and artistic apologetics of the logic that is eating the world.
(Updated 2016-05-18 to include more examples.)
Accelerationist Art by Rob Myers is licensed under a Creative Commons Attribution-ShareAlike 4.0 International License.
Featured image: System Map by Andrea Crespo, 2015, image
Fear is easily attributable to a cause—we fear something in particular. Anxiety, however, can be described as fear without the source. Yet, anxiety is also a safety mechanism. Without it, we would walk in the face of danger. In the online exhibition Body Anxiety, curated by Leah Schrager and Jennifer Chan, the disquiet is experienced in the flesh, whether this is as a symptom or sublimation.
Whatever your gender, your body is politicised in ways you cannot control. If you are female, or gender queer, there is also a fight against power. The works in Body Anxiety specifically problematise the image of women in the media and in the art world. Women artists, they claim with good arguments, are powerless; sothe show gives time and space to a group of artists the curators call 'female painters'. Even though few paint (in fact, probably only Schrager herself does), Schrager puts forward the argument of painting as the highest artistic form, one dominated my males. She recontextualises painting for this exhibition, where most artists use their own bodies as canvases for video performances, sound works, photographs and writing. Perhaps this is peinture féminine to Helene Cixous' écriture féminine.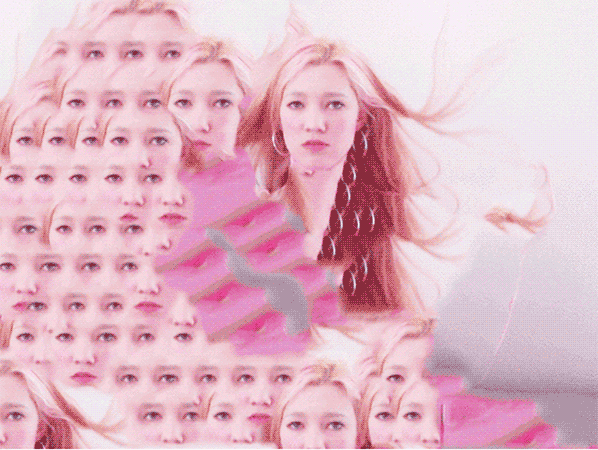 Good examples of the symptomatic are Victoria Campbell's The Penelope Files, an auto-interview video with a reflexive sound monologue where she explores her thoughts on images of herself while browsing through her computer files. We hear her; we only see the screen. Exploring her relation to image, authorship, labour and the body, something about photography is revealed in the repetitive moving of files on her desktop's finder window. Narrative also inhabits the work of Randon Rosenbohm. She presents a scan of a handwritten diary entry where artistic labour, exploitation and male artists feature. Her other work consists of a tumblr blog of rejected selfies. Both are pieces we should not see. This is also the case in Ann Hirsh's video. Dance party just us girls shows footage that should be for private consumption, part of a home video, a laugh, documentation of a personal exploration. Using generic distorting video software available in most computers, the two-channel work shows the torso of a woman bobbing away to a song next to an image of moving genitalia, in a feminist version of Courbet's painting The origin of the world. The two images share a pair of glasses and the genitalia is converted into a talking face, like in Denis Diderot's libertine novel The Indiscreet Jewels.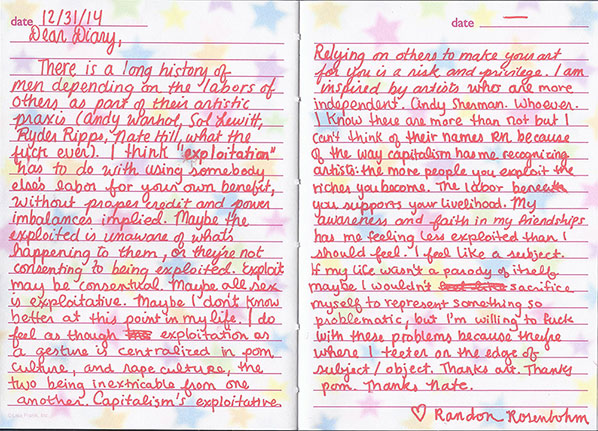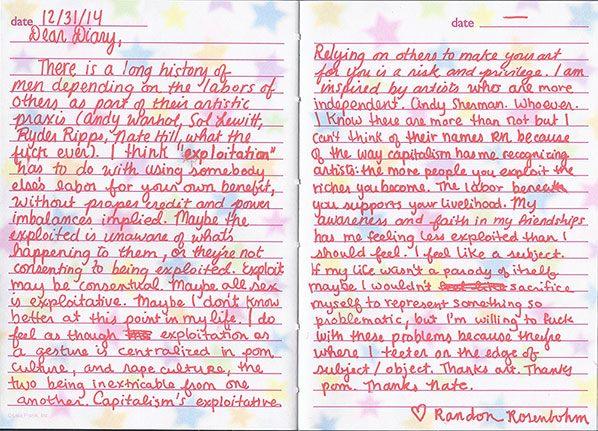 Saoirse Walls' Den Perfekte Saoirse(2012) quotes Jurgen Leth's The Perfect Human. She replicates some of the famous body poses and music from the classic black and white film, showing us the best of her individual self in a sublimation. She can do a side crow, twerk, walk in heels and, thanks to camera tricks, have a 100% symmetrical face. The work gets more and more bizarre with the appearance of make up and hair extensions. Where has Leth's serious exploration of perfection gone in her quote? What are we demanding of Saoirse Walls? Another good example of an impossible demand and how this conflict is shown in a work of art is Nancy Leticia's video. Her youthful, gorgeous self plays piano in her underwear. She plays very well, but how does this relate to the image setting?
Screenshot of Den Perfekte Saoirse by Saoirse Wall, 2012, video, 2:22 mins
The writer Marie Calloway—an alt lit writer, also a female painter in the way Schrager intends—features in Rachel Rabbit White's work A Story In The Shape Of A Selfie Of The Writer And Her Friend, Marie Calloway. Her writing with images addresses the issue of anxiety head on. 'Refresh', 'refresh', 'refresh', she writes at the end of a blog post-merging stories about Marie, public events, selfies, feminist writers and artists, and social media.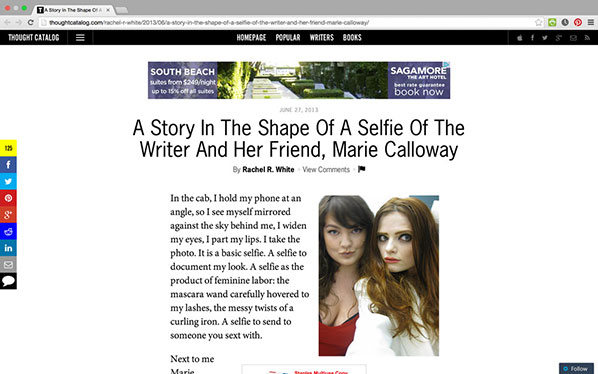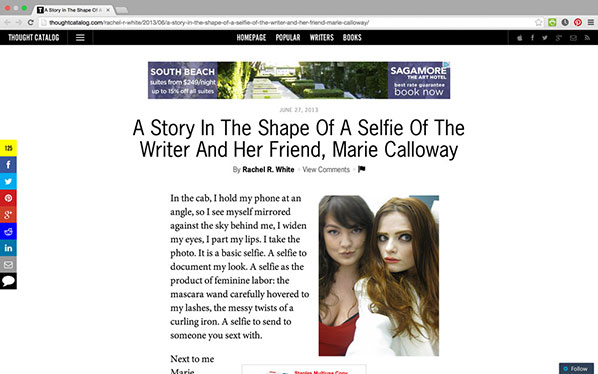 These diverse works are playful, at times irreverent, and certainly thought provoking. The curation is purposeful, direct and erudite. Yet, I have some issues with the display, with the sidebar prefaced by curatorial statements and with links to the artists' biographies and websites. It feels more a catalogue than an exhibition. I don't have a solution, though, as maybe this is a constraint of the medium. A few of the works are hosted on external websites—vimeo, red tube. Some of them even require passwords and this provokes a particular way of looking, a gaze, then a click, a search away from what is presented in front of us. I am an active viewer, often in the position of a Peeping Jane.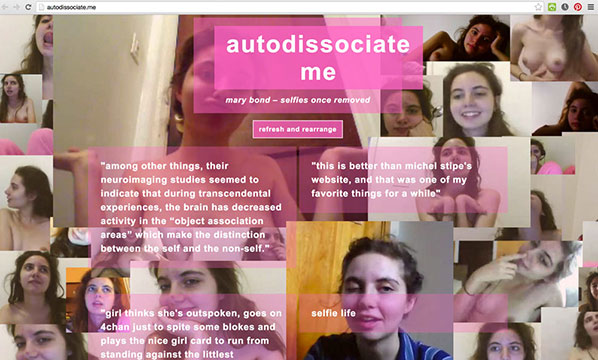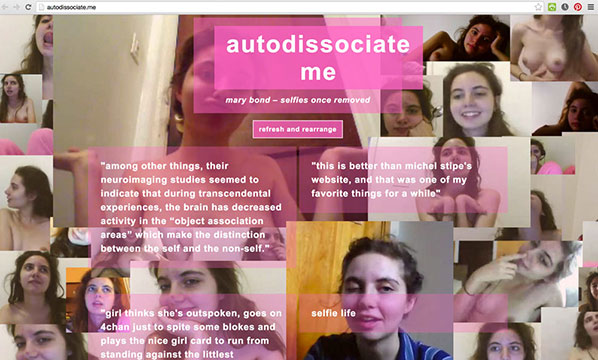 In her 1975 essay 'Visual Pleasure and Narrative Cinema' Laura Mulvey examines scopophilia, the pleasure in looking. This is not an innocent act. She argued that the relation between looker and looked is unequal in cinema, with woman as image and man as bearer of the look. If woman is a 'one dimensional fetish', as Mulvey writes (a thought which will be later echoed in Nina Power's 2009 book One Dimensional Woman), the artists in Body Anxiety take this to its hysterical consequences, attempting to break the Master-Slave bond, making woman image AND bearer of the look. Let me return to the title for a moment. Anxiety, Sigmund Freud wrote, is neurotic fear, as distinct from real fear. So one is a reality, something tangible and worthy of our concern whereas the other sounds like is made up, accusation of fabrication (like hysteria). It is this last idea the show is trying to contend. The anxiety felt and displayed in these bodies, the imperative to conform to a certain standard and behaviour, the manipulation of femaleness in pornography, the shutting down of the woman's voice are indeed neurotic, but not because of it they are less real. As a body of work, the exhibition is convincing and raises clear issues around female empowerment, agency and exploitation, and how these are linked to flesh. Converting the anxiety into an intelligible fear that can be stood up against, as these artists do, might be the first step towards overcoming it.
Featured image: Image "earth" by Beth Scupham https://goo.gl/ZMBzuw (Creative Commons Attribution)
Brett Scott is the author of The Heretic's Guide to Global Finance: Hacking the Future of Money (Pluto Press: 2013). And writes for various publications, including The Guardian, Wired Mag and New Scientist, and commentate on issues like financial reform, cryptocurrency and peer-to-peer systems. he is also involved in projects related to alternative finance, financial activism, and economic justice, such as Action Aid, World Development Movement, Open Oil, The Finance Innovation Lab, and MoveYourMoney UK.
---
In Kim Stanley Robinson's epic 1993 sci-fi novel Red Mars, a pioneering group of scientists establish a colony on Mars. Some imagine it as a chance for a new life, run on entirely different principles from the chaotic Earth. Over time, though, the illusion is shattered as multinational corporations operating under the banner of governments move in, viewing Mars as nothing but an extension to business-as-usual.
It is a story that undoubtedly resonates with some members of the Bitcoin community. The vision of a free-floating digital cryptocurrency economy, divorced from the politics of colossal banks and aggressive governments, is under threat. Take, for example, the purists at Dark Wallet, accusing the Bitcoin Foundation of selling out to the regulators and the likes of the Winklevoss Twins.
Bitcoin sometimes appears akin to an illegal immigrant, trying to decide whether to seek out a rebellious existence in the black-market economy, or whether to don the slick clothes of the Silicon Valley establishment. The latter position – involving publicly accepting regulation and tax whilst privately lobbying against it – is obviously more acceptable and familiar to authorities.
Of course, any new scene is prone to developing internal echo chambers that amplify both commonalities and differences. While questions regarding Bitcoin's regulatory status lead hyped-up cryptocurrency evangelists to engage in intense sectarian debates, to many onlookers Bitcoin is just a passing curiosity, a damp squib that will eventually suffer an ignoble death by media boredom. It is a mistake to believe that, though. The core innovation of Bitcoin is not going away, and it is deeper than currency.
What has been introduced to the world is a method to create decentralised peer-validated time-stamped ledgers. That is a fancy way of saying it is a method for bypassing the use of centralised officials in recording stuff. Such officials are pervasive in society, from a bank that records electronic transactions between me and my landlord, to patent officers that record the date of new innovations, to parliamentary registers noting the passing of new legislative acts.
The most visible use of this technical accomplishment is in the realm of currency, though, so it is worth briefly explaining the basics of Bitcoin in order to understand the political visions being unleashed as a result of it.
The technical vision 1.0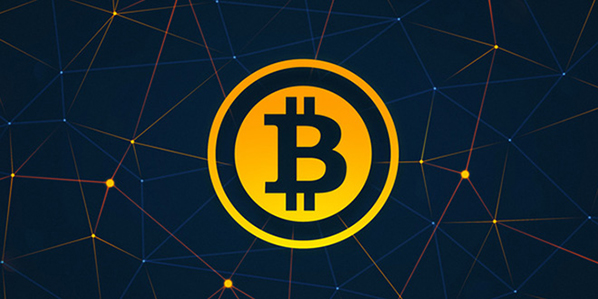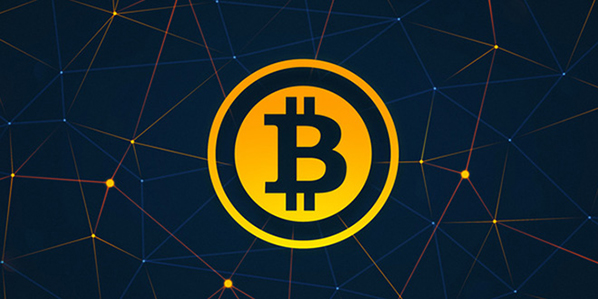 Banks are information intermediaries. Gone are the days of the merchant dumping a hoard of physical gold into the vaults for safekeeping. Nowadays, if you have '£350 in the bank', it merely means the bank has recorded that for you in their data centre, on a database that has your account number and a corresponding entry saying '350' next to it. If you want to pay someone electronically, you essentially send a message to your bank, identifying yourself via a pin or card number, asking them to change that entry in their database and to inform the recipient's bank to do the same with the recipient's account.
Thus, commercial banks collectively act as a cartel controlling the recording of transaction data, and it is via this process that they keep score of 'how much money' we have. To create a secure electronic currency system that does not rely on these banks thus requires three interacting elements. Firstly, one needs to replace the private databases that are controlled by them. Secondly, one needs to provide a way for people to change the information on that database ('move money around'). Thirdly, one needs to convince people that the units being moved around are worth something.
To solve the first element, Bitcoin provides a public database, or ledger, that is referred to reverently as the blockchain. There is a way for people to submit information for recording in the ledger, but once it gets recorded, it cannot be edited in hindsight. If you've heard about bitcoin 'mining' (using 'hashing algorithms'), that is what that is all about. A scattered collective of mercenary clerks essentially hire their computers out to collectively maintain the ledger, baking (or weaving) transaction records into it.
Secondly, Bitcoin has a process for individuals to identify themselves in order to submit transactions to those clerks to be recorded on that ledger. That is where public-key cryptography comes in. I have a public Bitcoin address (somewhat akin to my account number at a bank) and I then control that public address with a private key (a bit like I use my private pin number to associate myself with my bank account). This is what provides anonymity.
The result of these two elements, when put together, is the ability for anonymous individuals to record transactions between their bitcoin accounts on a database that is held and secured by a decentralised network of techno-clerks ('miners'). As for the third element – convincing people that the units being transacted are worth something – that is a more subtle question entirely that I will not address here.
The political vision 1.0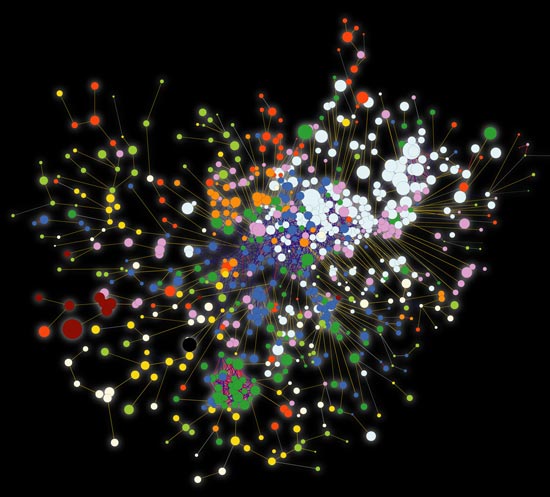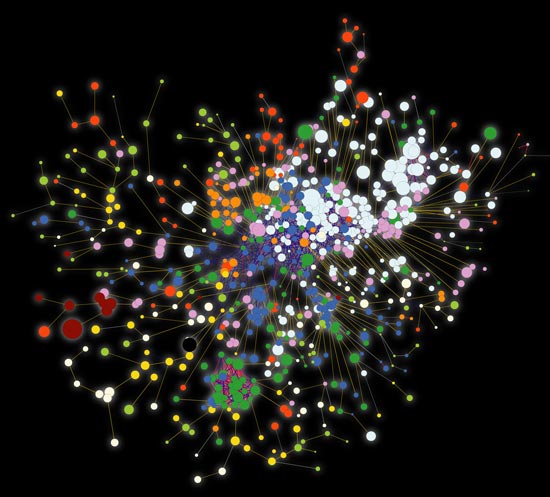 Note the immediate political implications. Within the Bitcoin system, a set of powerful central intermediaries (the cartel of commercial banks, connected together via the central bank, underwritten by government), gets replaced with a more diffuse network intermediary, apparently controlled by no-one in particular.
This generally appeals to people who wish to devolve power away from banks by introducing more diversity into the monetary system. Those with a left-wing anarchist bent, who perceive the state and banking sector as representing the same elite interests, may recognise in it the potential for collective direct democratic governance of currency. It has really appealed, though, to conservative libertarians who perceive it as a commodity-like currency, free from the evils of the central bank and regulation.
The corresponding political reaction from policy-makers and establishment types takes three immediate forms. Firstly, there are concerns about it being used for money laundering and crime ('Bitcoin is the dark side'). Secondly, there are concerns about consumer protection ('Bitcoin is full of cowboy operators'). Thirdly, there are concerns about tax ('this allows people to evade tax').
The general status quo bias of regulators, who fixate on the negative potentials of Bitcoin whilst remaining blind to negatives in the current system, sets the stage for a political battle. Bitcoin enthusiasts, passionate about protecting the niche they have carved out, become prone to imagining conspiratorial scenes of threatened banks fretfully lobbying the government to ban Bitcoin, or of paranoid politicians panicking about the integrity of the national currency.
The technical vision 2.0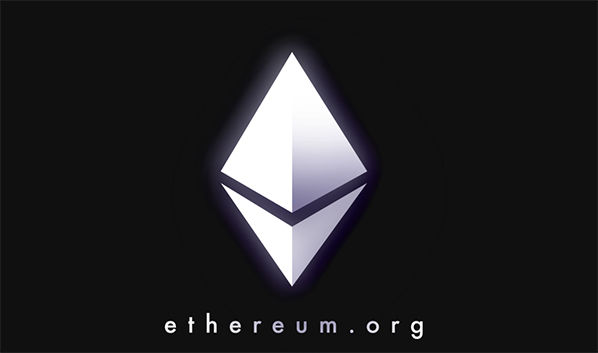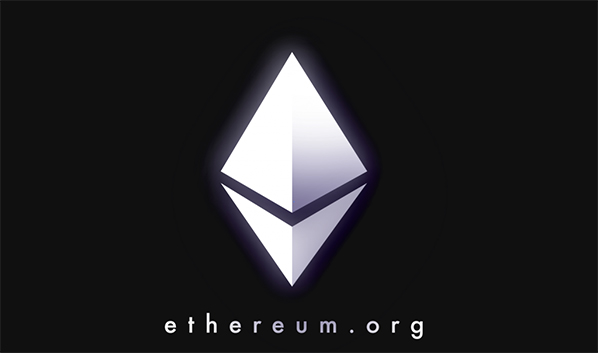 Outside the media hype around these Bitcoin dramas, though, a deeper movement is developing. It focuses not only on Bitcoin's potential to disrupt commercial banks, but also on the more general potential for decentralised blockchains to disrupt other types of centralised information intermediaries.
Copyright authorities, for example, record people's claims to having produced a unique work at a unique date and authoritatively stamp it for them. Such centralised 'timestamping' more generally is called 'notarisation'. One non-monetary function for a Bitcoin-style blockchain could thus be to replace the privately controlled ledger of the notary with a public ledger that people can record claims on. This is precisely what Proof of Existence and Originstamp are working on.
And what about domain name system (DNS) registries that record web addresses? When you type in a URL like www.e-ir.info, the browser first steers you to aDNS registry like Afilias, which maintains a private database of URLs alongside information on which IP address to send you to. One can, however, use a blockchain to create a decentralised registry of domain name ownership, which is what Namecoin is doing. Theoretically, this process could be used to record share ownership, land ownership, or ownership in general (see, for example, Mastercoin's projects).
The biggest information intermediaries, though, are often hidden in plain sight. What is Facebook? Isn't it just a company that you send information to, which is then stored in their database and subsequently displayed to you and your friends? You log in with your password (proving your identity), and then can alter that database by sending them further messages ('I'd like to delete that photo'). Likewise with Twitter, Dropbox, and countless other web services.
Unlike the original internet, which was largely used for transmission of static content, we experience sites like Facebook as interactive playgrounds where we can use programmes installed in some far away computer. In the process of such interactivity, we give groups like Facebook huge amounts of information. Indeed, they set themselves up as information honeytraps in order to create a profit-making platform where advertisers can sell you things based on the information. This simultaneously creates a large information repository for authorities like the NSA to browse. This interaction of corporate power and state power is inextricably tied to the profitable nature of centrally held data.
But what if you could create interactive web services that did not revolve around single information intermediaries like Facebook? That is precisely what groups like Ethereum are working towards. Where Bitcoin is a way to record simple transaction information on a decentralised ledger, Ethereum wants to create a 'decentralised computational engine'. This is a system for running programmes, or executing contracts, on a blockchain held in play via a distributed network of computers rather than Mark Zuckerberg's data centres.
It all starts to sounds quite sci-fi, but organisations like Ethereum are leading the charge on building 'Decentralised Autonomous Organisations', hardcoded entities that people can interact with, but that nobody in particular controls. I send information to this entity, triggering the code and setting in motion further actions. As Bitshares describes it, such an organisation "has a business plan encoded in open source software that executes automatically in an entirely transparent and trustworthy manner."
The political vision 2.0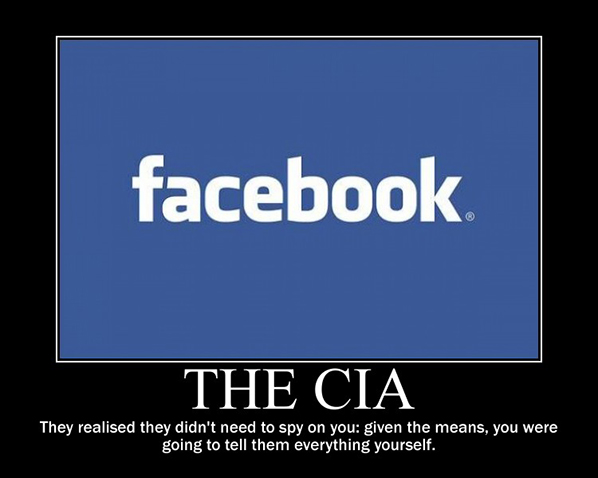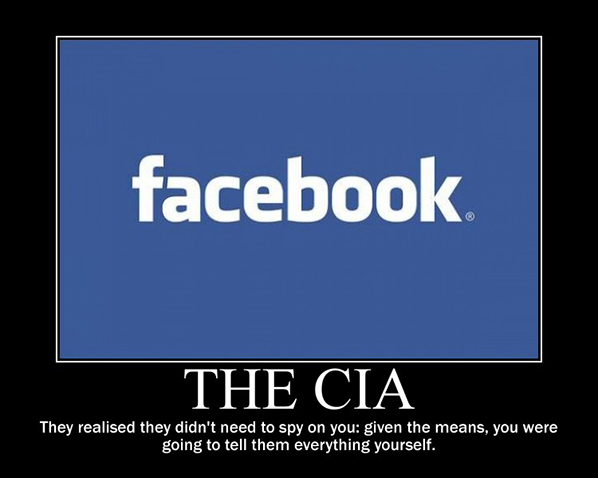 By removing a central point of control, decentralised systems based on code – whether they exist to move Bitcoin tokens around, store files, or build contracts – resemble self-contained robots. Mark Zuckerberg of Facebook or Jamie Dimon of JP Morgan Chase are human faces behind the digital interface of the services they run. They can overtly manipulate, or bow in to pressure to censor. A decentralised currency or a decentralised version of Twitter seems immune from such manipulation.
It is this that gives rise to a narrative of empowerment and, indeed, at first sight this offers an exhilarating vision of self-contained outposts of freedom within a world otherwise dominated by large corruptible institutions. At many cryptocurrency meet-ups, there is an excitable mix of techno-babble infused with social claims. The blockchain can record contracts between free individuals, and if enforcement mechanisms can be coded in to create self-enforcing 'smart contracts', we have a system for building encoded law that bypasses states.
Bitcoin and other blockchain technologies, though, are empowering right now precisely because they are underdogs. They introduce diversity into the existing system and thereby expand our range of tools. In the minds of hardcore proponents, though, blockchain technologies are more than this. They are a replacement system, superior to existing institutions in every possible way. When amplified to this extreme, though, the apparently utopian project can begin to take on a dystopian, conservative hue.
Binary politics


When asked about why Bitcoin is superior to other currencies, proponents often point to its 'trustless' nature. No trust needs be placed in fallible 'governments and corporations'. Rather, a self-sustaining system can be created by individuals following a set of rules that are set apart from human frailties or intervention. Such a system is assumed to be fairer by allowing people to win out against those powers who can abuse rules.
The vision thus is not one of bands of people getting together into mutualistic self-help groups. Rather, it is one of individuals acting as autonomous agents, operating via the hardcoded rules with other autonomous agents, thereby avoiding those who seek to harm their interests.
Note the underlying dim view of human nature. While anarchist philosophers often imagine alternative governance systems based on mutualistic community foundations, the 'empowerment' here does not stem from building community ties. Rather it is imagined to come from retreating from trust and taking refuge in a defensive individualism mediated via mathematical contractual law.
It carries a certain disdain for human imperfection, particularly the imperfection of those in power, but by implication the imperfection of everyone in society. We need to be protected from ourselves by vesting power in lines of code that execute automatically. If only we can lift currency away from manipulation from the Federal Reserve. If only we can lift Wikipedia away from the corruptible Wikimedia Foundation.
Activists traditionally revel in hot-blooded asymmetric battles of interest (such as that between StrikeDebt! and the banks), implicitly holding an underlying faith in the redeemability of human-run institutions. The Bitcoin community, on the other hand, often seems attracted to a detached anti-politics, one in which action is reduced to the binary options of Buy In or Buy Out of the coded alternative. It echoes consumer notions of the world, where one 'expresses' oneself not via debate or negotiation, but by choosing one product over another. We're leaving Earth for Mars. Join if you want.
It all forms an odd, tense amalgam between visions of exuberant risk-taking freedom and visions of risk-averse anti-social paranoia. This ambiguity is not unique to cryptocurrency (see, for example, this excellent parody of the trustless society), but in the case of Bitcoin, it is perhaps best exemplified by the narrative offered by Cody Wilson in Dark Wallet's crowdfunding video. "Bitcoin is what they fear it is, a way to leave… to make a choice. There's a system approaching perfection, just in time for our disappearance, so, let there be dark".
The myth of political 'exit'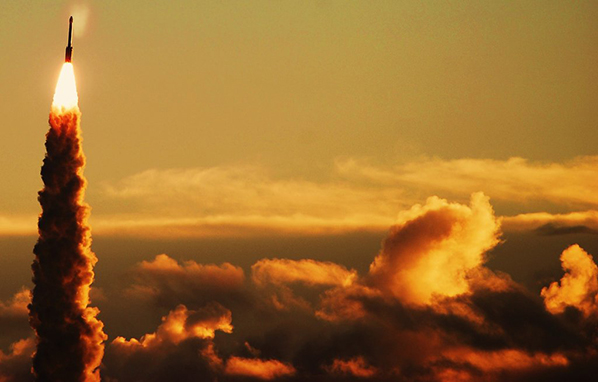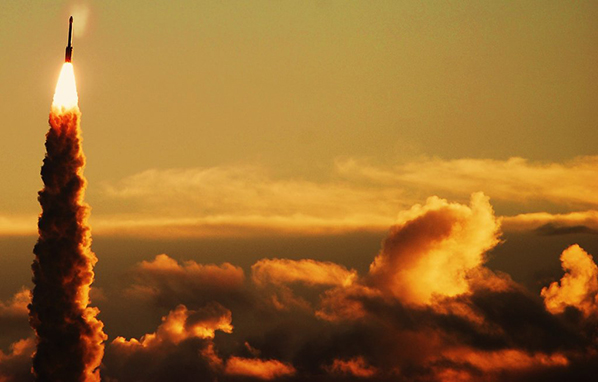 But where exactly is this perfect system Wilson is disappearing to?
Back in the days of roving bands of nomadic people, the political option of 'exit' was a reality. If a ruler was oppressive, you could actually pack up and take to the desert in a caravan. The bizarre thing about the concept of 'exit to the internet' is that the internet is a technology premised on massive state and corporate investment in physical infrastructure, fibre optic cables laid under seabeds, mass production of computers from low-wage workers in the East, and mass affluence in Western nations. If you are in the position to be having dreams of technological escape, you are probably not in a position to be exiting mainstream society. You are mainstream society.
Don't get me wrong. Wilson is a subtle and interesting thinker, and it is undoubtedly unfair to suggest that he really believes that one can escape the power dynamics of the messy real world by finding salvation in a kind of internet Matrix. What he is really trying to do is to invoke one side of the crypto-anarchist mantra of 'privacy for the weak, but transparency for the powerful'.
That is a healthy radical impulse, but the conservative element kicks in when the assumption is made that somehow privacy alone is what enables social empowerment. That is when it turns into an individualistic 'just leave me alone' impulse fixated with negative liberty. Despite the rugged frontier appeal of the concept, the presumption that empowerment simply means being left alone to pursue your individual interests is essentially an ideology of the already-empowered, not the vulnerable.
This is the same tension you find in the closely related cypherpunk movement. It is often pitched as a radical empowerment movement, but as Richard Boase notes, it is "a world full of acronyms and codes, impenetrable to all but the most cynical, distrustful, and political of minds." Indeed, crypto-geekery offers nothing like an escape from power dynamics. One merely escapes to a different set of rules, not one controlled by 'politicians', but one in the hands of programmers and those in control of computing power.
It is only when we think in these terms that we start to see Bitcoin not as a realm 'lacking the rules imposed by the state', but as a realm imposing its own rules. It offers a form of protection, but guarantees nothing like 'empowerment' or 'escape'.
Techno-Leviathan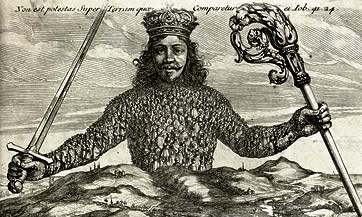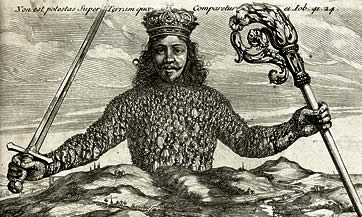 Technology often seems silent and inert, a world of 'apolitical' objects. We are thus prone to being blind to the power dynamics built into our use of it. For example, isn't email just a useful tool? Actually, it is highly questionable whether one can 'choose' whether to use email or not. Sure, I can choose between Gmail or Hotmail, but email's widespread uptake creates network effects that mean opting out becomes less of an option over time. This is where the concept of becoming 'enslaved to technology' emerges from. If you do not buy into it, you will be marginalised, and thatis political.
This is important. While individual instances of blockchain technology can clearly be useful, as a class of technologies designed to mediate human affairs, they contain a latent potential for encouraging technocracy. When disassociated from the programmers who design them, trustless blockchains floating above human affairs contains the specter of rule by algorithms. It is a vision (probably accidently) captured by Ethereum's Joseph Lubin when he says "There will be ways to manipulate people to make bad decisions, but there won't be ways to manipulate the system itself".
Interestingly, it is a similar abstraction to that made by Hobbes. In his Leviathan, self-regarding people realise that it is in their interests to exchange part of their freedom for security of self and property, and thereby enter into a contract with aSovereign, a deified personage that sets out societal rules of engagement. The definition of this Sovereign has been softened over time – along with the fiction that you actually contract to it – but it underpins modern expectations that the government should guarantee property rights.
Conservative libertarians hold tight to the belief that, if only hard property rights and clear contracting rules are put in place, optimal systems spontaneously emerge. They are not actually that far from Hobbes in this regard, but their irritation with Hobbes' vision is that it relies on politicians who, being actual people, do not act like a detached contractual Sovereign should, but rather attempt to meddle, make things better, or steal. Don't decentralised blockchains offer the ultimate prospect of protected property rights with clear rules, but without the political interference?
This is essentially the vision of the internet techno-leviathan, a deified crypto-sovereign whose rules we can contract to. The rules being contracted to are a series of algorithms, step by step procedures for calculations which can only be overridden with great difficulty. Perhaps, at the outset, this represents, à la Rousseau, the general will of those who take part in the contractual network, but the key point is that if you get locked into a contract on that system, there is no breaking out of it.
This, of course, appeals to those who believe that powerful institutions operate primarily by breaching property rights and contracts. Who really believes that though? For much of modern history, the key issue with powerful institutions has not been their willingness to break contracts. It has been their willingness to use seemingly unbreakable contracts to exert power. Contracts, in essence, resemble algorithms, coded expressions of what outcomes should happen under different circumstances. On average, they are written by technocrats and, on average, they reflect the interests of elite classes.
That is why liberation movements always seek to break contracts set in place by old regimes, whether it be peasant movements refusing to honour debt contracts to landlords, or the DRC challenging legacy mining concessions held by multinational companies, or SMEs contesting the terms of swap contracts written by Barclays lawyers. Political liberation is as much about contesting contracts as it is about enforcing them.
Building the techno-political vision 3.0
The point I am trying to make is that you do not escape the world of big corporates and big government by wishing for a trustless set of technologies that collectively resemble a technocratic crypto-sovereign. Rather, you use technology as a tool within ongoing political battles, and you maintain an ongoing critical outlook towards it. The concept of the decentralised blockchain is powerful. The cold, distrustful edge of cypherpunk, though, is only empowering when it is firmly in the service of creative warm-blooded human communities situated in the physical world of dirt and grime.
Perhaps this means de-emphasising the focus on how blockchains can be used to store digital assets or property, and focusing rather on those without assets. For example, think of the potential of blockchain voting systems that groups like Restart Democracy are experimenting with. Centralised vote-counting authorities are notorious sources of political anxiety in fragile countries. What if the ledger recording the votes cast was held by a decentralised network of citizens, with voters having a means to anonymously transmit votes to be stored on a publicly viewable database?
We do not want a future society free from people we have to trust, or one in which the most we can hope for is privacy. Rather, we want a world in which technology is used to dilute the power of those systems that cause us to doubt trust relationships. Screw escaping to Mars.
---
If you enjoyed this article, please consider…

I sometimes spend weeks writing these articles, and don't generally get paid to do it, so if you enjoyed please consider doing one or two of the following:
1. Donate by buying me a virtual beer
2. Tweet: You can tweet it out here
3. Share it on your Facebook wall here
4. Email it to a friend from here
5. Leave a comment!
6. Submit to Reddit
7. Link to the article from your own blog so your readers can see it too
Cheers!
(Please note that I originally wrote this essay for E-International Relations, and I have republished it here on a Creative Commons licence. If you wish to republish this piece, please respect E-IR's republishing guidelines)
Eva Kekou met Tobias Rosenberger at the international e-MobiLArt workshop which took place in Athens, Vienna and Rovaniemi, in turn these led to a number of exhibitions and successful collaborations between artists and theorists. She now invites him to discuss his work, issues of surveillance and how a young European artist views the situation in China and what he expects from his interaction with the Chinese art scene.
Tobias Rosenberger (b. 1980) is a German media artist who works at the crossroads of media art, visual arts, and performance. He has produced art works in Yemen, Spain, Mexico, India, and Ukraine etc. Since 2011 he has been based in China, where he teaches at the College of New Media Art, Shanghai Institute of Visual Art.
"Nowadays, anyone who wants to combat lies and ignorance and to write the truth must overcome at least five difficulties. He must have the courage to write the truth when it is suppressed everywhere; the wisdom to recognize it, although it is concealed everywhere; the skill to use it as a weapon; the judgment to choose those in whose hands it will be effective; and the cunning to spread the truth among such people." (Bertolt Brecht)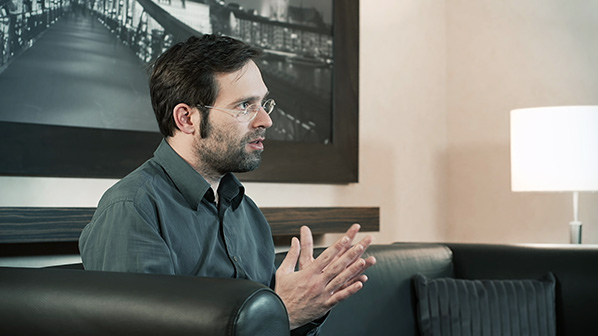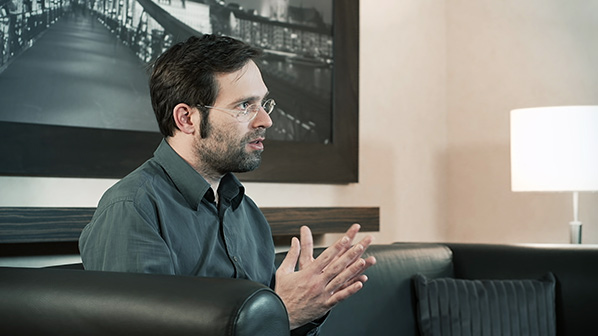 Eva Kekou: I would like to start this interview with this quote which seems to be significant for your work and in particular the recent one – the secret race film and discussion at Goethe Institut Washington. As you well state in your event invite: "It was pure coincidence that for a few days in the summer of 2013, two unrelated events simultaneously dominated the major headlines in the German press: the monitoring and spying scandal of 2013, triggered by Edward Snowden's leaks of National Security Agency top-secret classified documents, and the official acknowledgement of the prevalence of doping in competitive sports, best symbolized by Lance Armstrong's televised confession." What is the significance of surveillance in a globalized social and political context and where is the place of art within it? There are obvious reasons you decided to launch this in Washington through Goethe but I would like you to comment on this.
Tobias Rosenberger: Surveillance and espionage are as old as civilization. Power was always constructed, maintained, and expanded through the monitoring, categorization, repression and exclusion of people. We all know that the digital apparatus opens a new world of possibilities to organize, quantify and control life and society in a before unknown scale, speed and efficiency. While I agree that we need early warning models to anticipate and fight cruelty and injustice whenever possible, I don't believe that we can draw a sharp border between an evil surveillance that fuels unfair and inhuman systems and a necessary one that pretends to save dignity and a lawful order. The challenges of our time can no longer be met by elitism and secretiveness, but require the joint efforts from the middle of society. An independent art that rejects the simple desire for (self-)confirmation does not only open a non-biased discursive space for critical reflection, but it also has the potential to demask and break the mechanisms of power, as long as it takes its audience seriously. But to be able to do so, art also has to find its audience.
The Secret Race, on Vimeo
EK: It occurs to me that place and space play a very important role in your work and inspiration. How do these relate with each other with pieces of your work in a globalized and mobile network underlined by politics?
TR: I have a very pragmatic approach to what I am trying to do: Not following a specific agenda and always staying as curious and open as possible. This requires both a certain naivety and an observing attitude. I never start an artistic process with a specific idea or question, but i get attracted by places and spaces that i try to discover without too much of my personal baggage. But since space and place are never abstract but segmented by politics both on macro and micro layers, the resulting works often deal with political questions.
EK: How did you become interested in China and what do you find fascinating or difficult working there? Is it interesting for you as a European?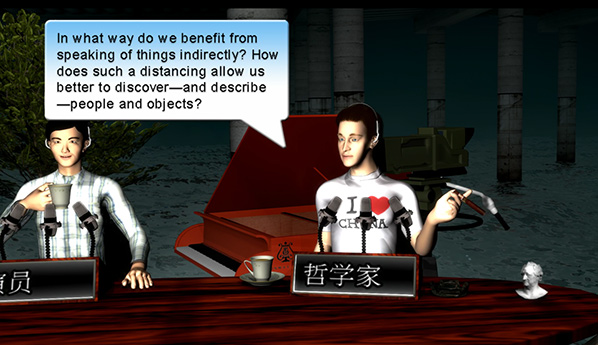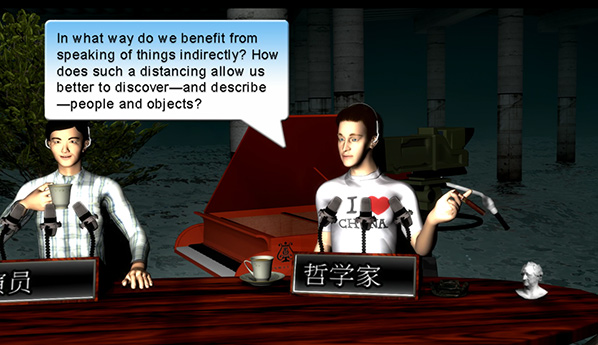 TR: I have a very special relationship to China. With my Chinese wife I decided three years ago to move there and to found a family. I was always fascinated by China as a cultural space, with a tradition of art and philosophy at least as long as in Europe. I also really like the food and the people there. As a foreigner I experience it as very fruitful to see things from a specific distance, both if I try to understand the culture, but also especially if I look back from there to where I come from. It is very interesting to observe the relation between art and politics, how the government here really appreciates art and how it is also afraid of it.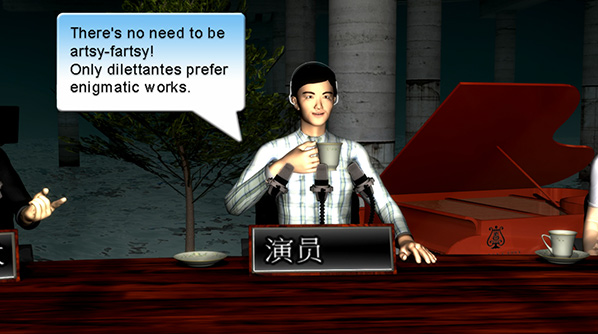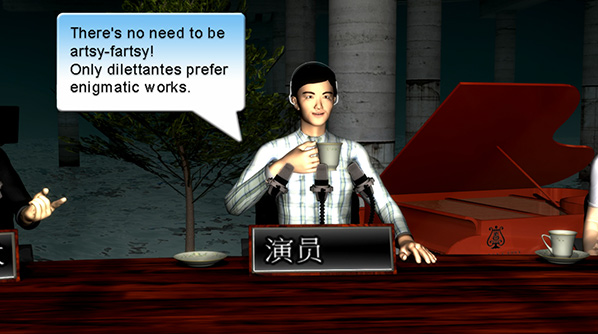 How artists, critics and curators fight for free space, a career, or both. In Shanghai you have both the global economy and the local life at your house-door. The country faces a lot of problems, and very often one can get the impression that things are not happening at all just because there is a small possibility that something unexpected could happen. So many people behave very pro-actively in a way that they won't run into any problems themselves. But this maxim "to have everything running smooth" you certainly don't only encounter in China.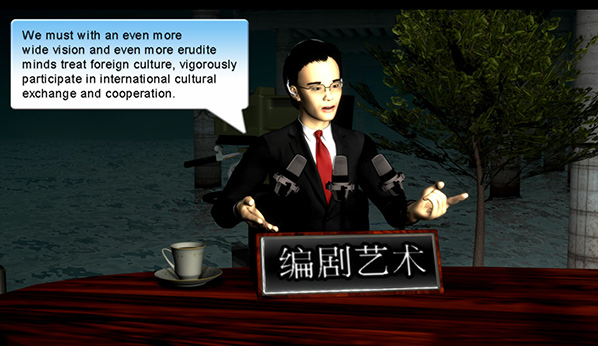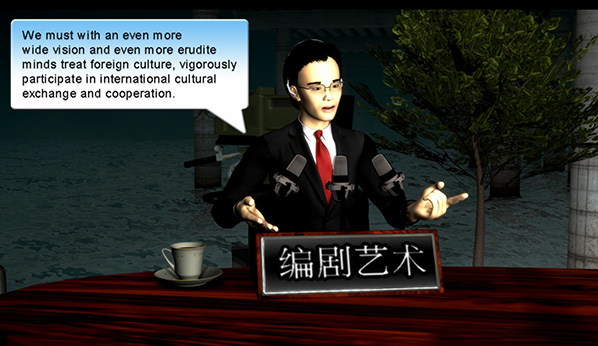 EK: Referring to some of your recent works (installation and performance): Choose any you like… How do you reach out to audiences and what is the main aim in your own work?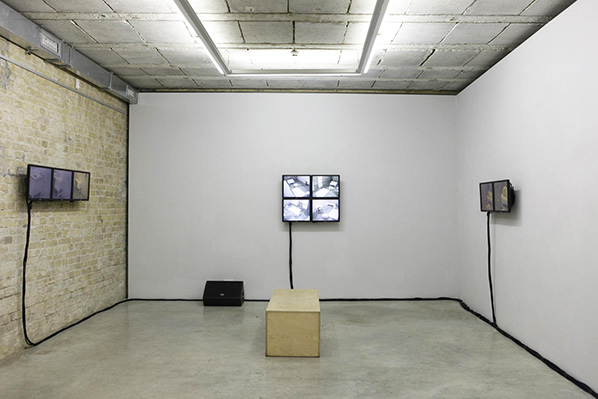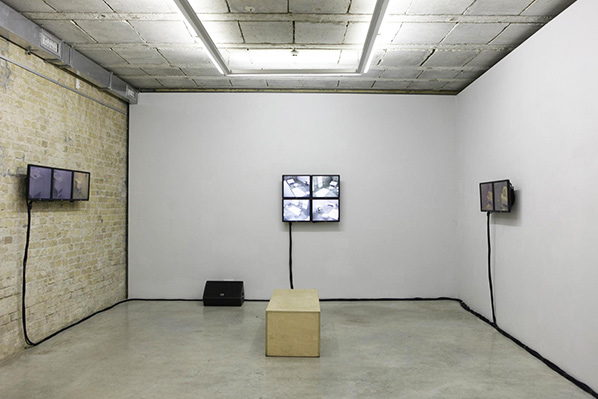 TR: "The First Twenty Years" is an installation that was shown in two different versions at the end of 2012 in Kiev and Dnipropetrovsk. I developed the basic idea for that work in 2011, when I was invited to spend some time in a small Ukrainian village near Kiev at a private artist residency programme. During that time the nation celebrated the 20th anniversary of its independence. There was a strange, partly paralyzed mood. But I also witnessed very controversial discussions with artists, curators and critics, and a new generation that seemed not anymore willing to accept living in a nation that was more and more perceived as a prison. So when I was approached during that time to do a work based on my experiences in the Ukraine, I decided to base it on Xavier de Maistres "Journey around my room" and Schuberts Music, which was inspired by a poem by Christian Friedrich Daniel Schubart.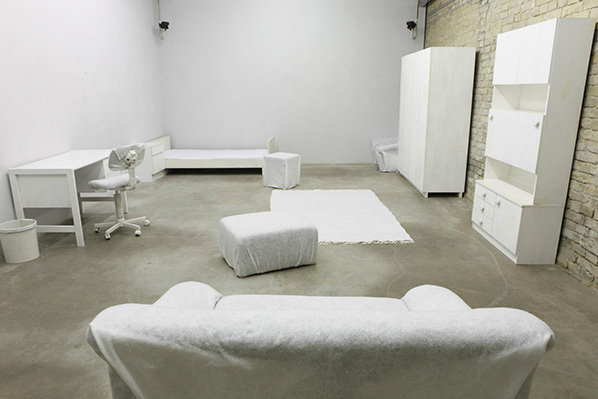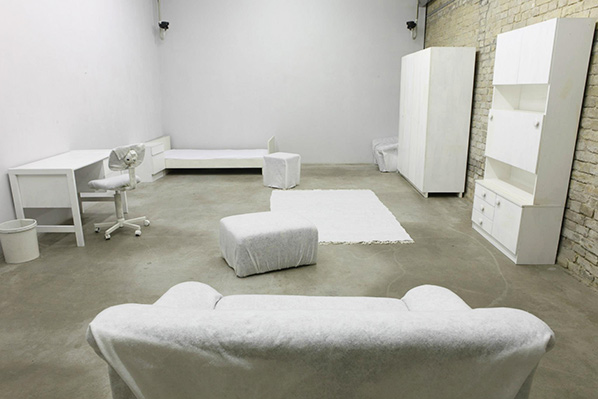 I didn't intent to comment directly on the situation there, but rather was trying to understand for myself what was happening. For me, art is not about expression but about the creation of a space where everybody is invited to take a bit of distance so to be able discover something from different perspectives and to think in his/her own way.
Surveillance Cameras dancing to Schubert, on Vimeo
EK: Can you give us a bit more information about a project that you have described alsewhere in the following way: "Right now working on a light sculpture for permanent setup in a former WWII Top secret military site, where some crazy NS-Germany scientist wanted to invent an x-ray wonder-weapon to shoot planes and soldiers, this involves an always transforming multichannel-sound installation, motorized miniatures (arduino-controlled), 2 projectors and led-objects. I will make an extra independent video of this work, filmed with multiple moving surveillance cams."?
TR: I was approached by a cultural initiative that runs today a small history museum in a former research bunker, which was secretly constructed in 1942 / 1943 underneath a camouflage building. I came across a letter in which a certain Professor, Dr. Ernst Schiebold, proposed "An additional weapon to fight and eliminate the crews of hostile airplanes and ground troops in the defensive via x-ray and electron radiation".
A weird ten pages male war fantasy about a new kind of tubular x-ray canon, written in a crude mixture of physical pseudo-science, soft patriotic enthusiasm and German pedantism. Schiebold really got his bunker built to start with his research. Everything was kept top secret, but stopped 18 months later without results. I decided to bring Schiebold's proposal back into the space which only existed because of it: As a pure proposal, enhanced and communicated with new media technology.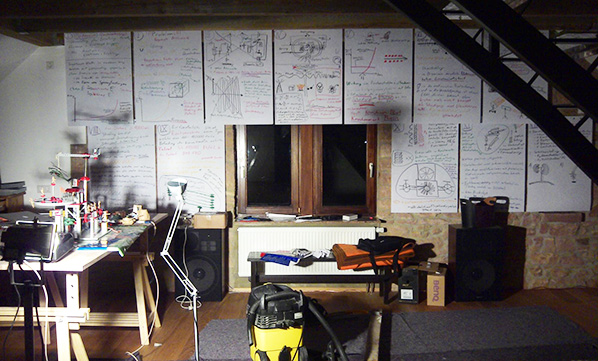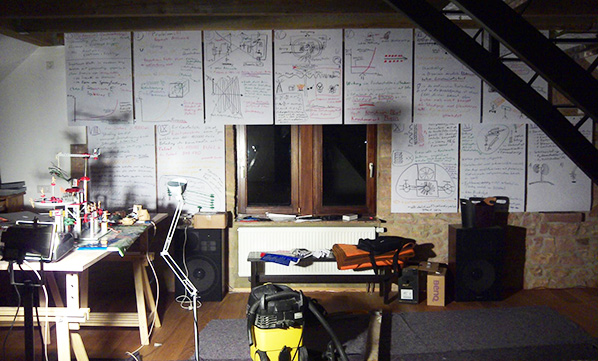 A lot of the tools that we are using as new media artists exist mainly through military development. So my intention was also to give something back. The audience will listen to single sentences that are randomly taken out of Schiebold's letter and re-arranged into a constantly transforming synthetic sound atmosphere, which is synchronized with light beams crossing a motorized miniature military model. The toy miniatures cast shadows of moving soldiers and airplanes onto the walls. LED lights are flashing out of a tubular manhole, which was originally constructed to be used with a Betatron. All the technology that I use is quite low-budget and geeky. Last week I started to install the parts on site, and I have to admit that it is also a very weird experience for me to spend nights working alone in a former military research bunker, climbing down in a manhole and setting up the mockup of a "super-weapon" people researched in the darkest years of German history. Sure I will also try to document it properly.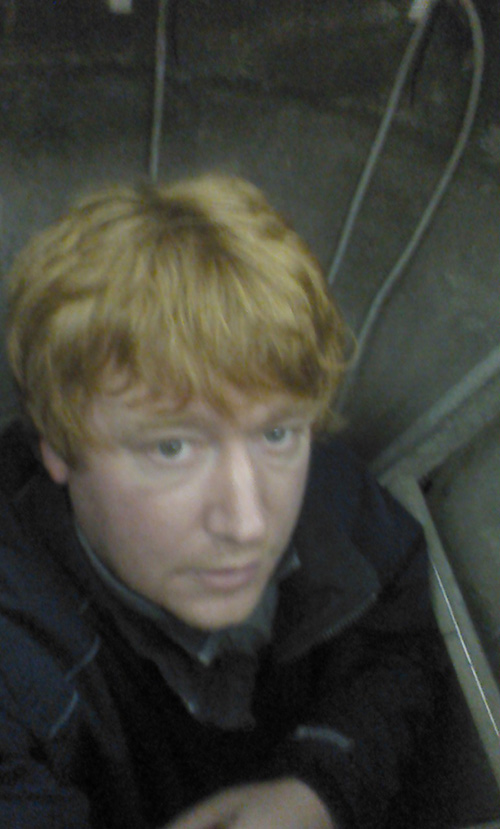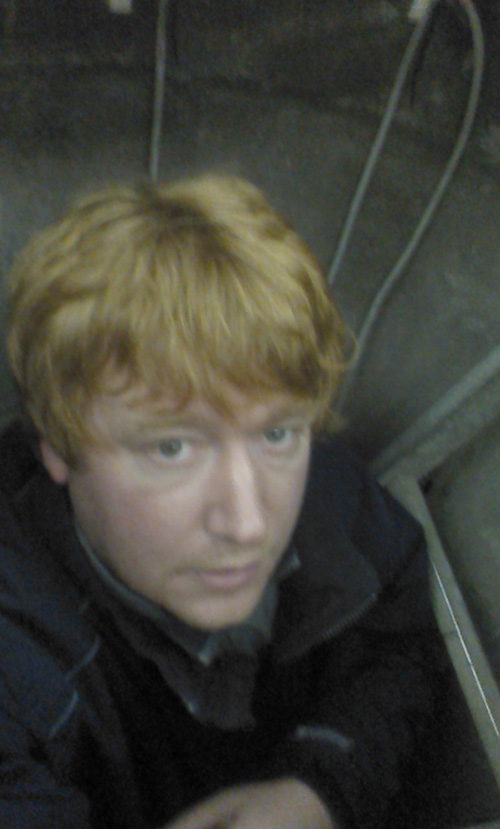 EK: Do you think art can be global and political, if not, what are the main restrictions we are all subjected to? How can art and artists make a difference in this respect?
TR: I think that art is per se political, since it deals with and also influences our perception of reality. And while all our lives are clearly connected in a global economy of good and information-exchange, art does also always operate on a global scale. As an artist I believe that it is worth to be curious and to investigate the (media) apparatuses and dispositifs that surround us, to take them apart and re-design them. What are they good for, what effects do they cause? While the world is getting closer, the world is never the same – people have different histories, problems, possibilities and hopes. As Europeans we take many things for granted, that other people see differently – or vice versa. I think artists can always make a difference, as long as they stay independent and continue to tackle serious questions, but don't take themselves too seriously while doing so. We should laugh more together.
EK: What are your future aims and plans?
TR: I am looking forward to the new semester in Shanghai, where I will mentor the graduate works of eight students. I will also collaborate with Chinese artist Mujin (Lixin Bao) – a fellow teacher at the Shanghai Institute of Visual Art – on a series of works exploring the notion of the "Chinese Dream" and its perception both nationally and globally. I guess this dialogue will become quite interesting.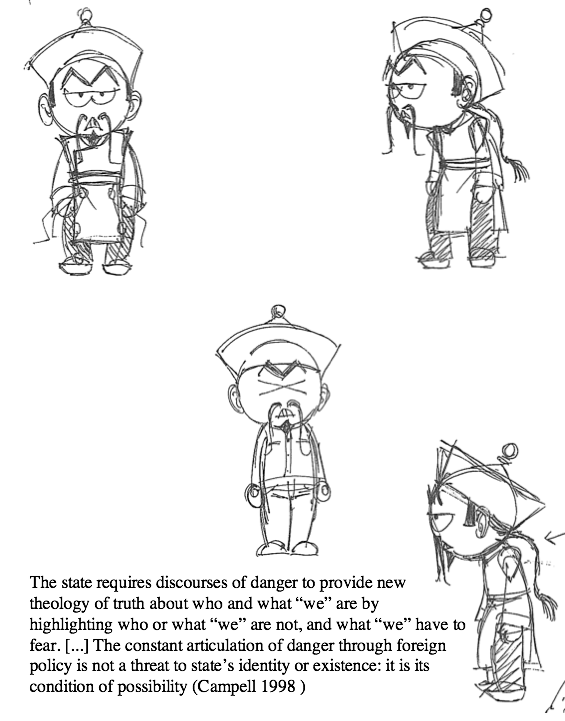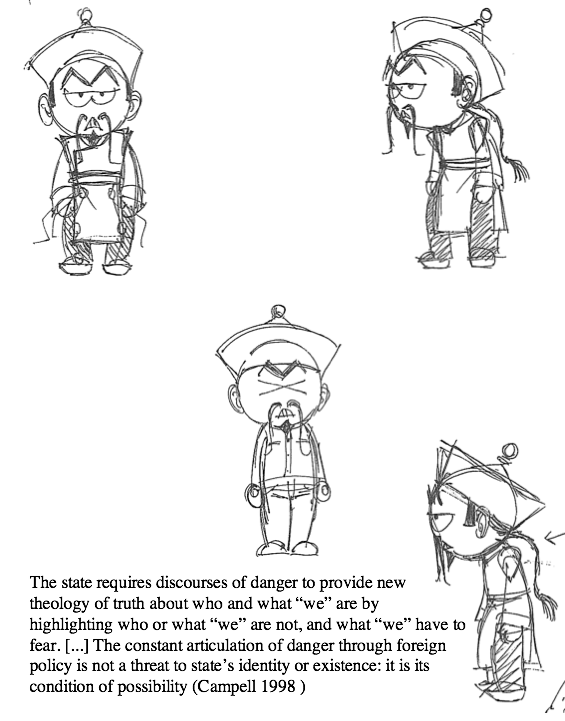 Marc Garrett reviews Stefan Szczelkun's book Agit Disco. He is an artist and author interested in culture and democracy. In the early Seventies he was fortunate to be part of the Scratch Orchestra and has since been involved with a series of artists collectives. His doctoral research into the Exploding Cinema collective was completed at the RCA in 2002. Recently his collaborative project Agit Disco was published as a Mute book in 2012. He has been on the Mute magazine editorial board since 2009, and currently working on photographic and performance projects.
Introduction: Entering The Zombie Apocalypse.
"Just cause we can't see the bars
Don't mean we ain't in prison."
Kate Tempest (2009) [1]
The subtle and not so subtle domination by market interests of cultural production and dialogue denies us all access to a wide spectrum of creative expression, especially those that engage in subjects that conflict with the agendas of those in power. Agit Disco by Stefan Szczelkun combats this contemporary trend by focusing on music, politics, DIY culture, and freedom of expression. In doing so he starts to redress the lack of representation across the board for those in grass roots culture and working class lives, whose freedoms to have a voice in society are so commonly restricted.
The future does not look good for those who value cultural and social diversity; who look for a variety of activist histories and experiences to be seen and represented on their own terms. The UK government is changing university regulations so that private companies can become universities. This means tutors will end up replacing educational courses once devised with the public good in mind with modules designed for maximum profit. Luke Martell, a critic of the marketisation and privatisation of education and lecturer of Sociology at the University of Sussex, says "This will lead to a different content to education. Critical thinking is being replaced by conformity to cash. Money-spinning management and business courses are expanding and lower-income adult education is being closed down." [2] (Martell 2013) Already, most researchers, academics and those in professional fields of practice mainly work within insider frameworks, "there is a qualitative difference between the conditions of people living in marginalized communities and those in middle-class suburbia." [3] (Smith 2012)
The knock on effect of an unquestioning culture of compliance with the 'free market' is enormous. How ironic it is that the term 'free market' is attributed with so much value and (a presumed) logic when in actuality it constrains people's freedoms and makes those who are already rich even richer. Because the politicians are not effected by the results personally, and because it also serves their interests, they have handed over their social responsibilities to these market systems. The neoliberal defaults that caused the financial crisis are untouched by our democratic processes. These out of reach, distant power systems are fixed towards property bias and occupy and govern our everyday experiences. How does freedom of expression fit into this and on whose terms?
"The more our physical and online experiences and spaces are occupied by the state and corporations rather than people's own rooted needs, the more we become tied up in situations that reflect officially prescribed contexts, and not our own."[4] (Garrett 2013)
Review of Agit Disco.
Agit Disco offers a breath of fresh air, in the fug of the developing marketisation of everything. It presents grounded examples of difference that contrast with the dominating view of entertainment systems. Published through Mute Books in 2012, it features 23 playlists put forward by 23 different writers, artist and activists. It began as a set of mixed CDs and images, each chapter includes annotations and illustrations. Its contributors are Sian Addicott, Louise Carolin, Peter Conlin, Mel Croucher, Martin Dixon, John Eden, Sarah Falloon, Simon Ford, Peter Haining, Stewart Home, Tom Jennings, DJ Krautpleaser, Roger McKinley, Micheline Mason, Tracey Moberly, Luca Paci, Room 13 – Lochyside Scotland, Howard Slater, Johnny Spencer, Stefan Szczelkun, Andy T, Neil Transpontine, and Tom Vague.
Mostly from working class backgrounds the contributors were invited to focus on politics and music, and share memories relating to what the tunes meant to them at the time. In the preface Szczelkun states, his selection of contributors comes from his own worldview and personal contacts. Anthony Iles, in his introduction says most who have contributed "are closely associated with anti-authoritarian politics and DIY culture."[5] (Iles 2012) Contributors offer insights into the connections between their music and the politics of the time. Louise Carolin says, "When I was a teenager in the '80s I lived through one of the golden ages of British chart pop, listening to music that was by turns, political, danceable, challenging and entertaining. I attended CND rallies, marched against South African Apartheid, ran the feminist group at school and went to GLC-funded music festivals."[6] (Carolin 2011)
What adds depth to Louise's story, as with the rest of the contributions is that many readers feel connected with these histories, and I am one of them. It highlights an indigenous, working class culture and their personal struggles in a period when neoliberalism was in its early stages of world domination. To say that these are merely anecdotal or subjective would completely miss the point. It calls for an awareness and understanding about people giving an account for themselves in relation to music, politics and their social contexts on their own terms.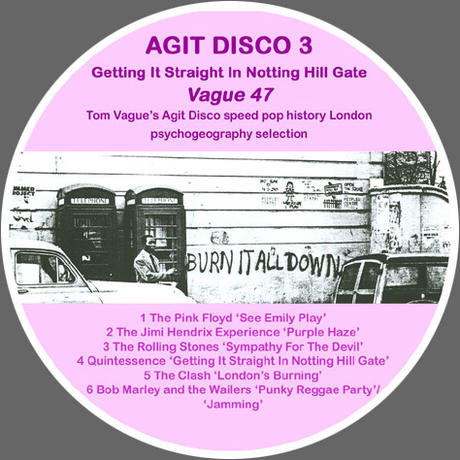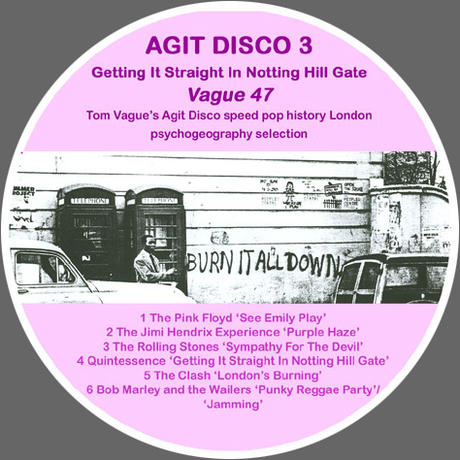 Just as it is important to ask contextual and critical questions of why a particular artwork is being shown at a certain venue or seen in an art magazine. It is also necessary to observe who published Agit Disco and why? It is no coincidence that it's a Mute publication, Szczelkun has been on its editorial board since 2009, and has written various articles, reviews and interviews for Mute.
Agit Disco resonates with Mute's dedication to DIY culture. Indeed, Mute has an excellent history in independent publishing alongside its DIY methods of production. Mute's earliest incarnation used Financial Times' pink paper, broadsheet printing cast offs. Later on a traditional magazine format. From 2005 onwards it moved onto its online site, and developed a publishing platform that allowed the publication of its POD (Print On Demand) magazine. [7] The design and production of Mute and its platforms have come a long way enabling a pamphlet-like production and distribution, echoing Thomas Paine's own DIY releases of the Rights of Man.[8]
DIY Culture (and its distribution channels) offer a vital alternative to mainstream frameworks and their dominating hegemonies as a way to route around the restrictions to content, freedom of thought and free exchange. We have to contend with networked surveillance strategies initiated by corporations and state secret services. Censorship exists in many forms and recently there has been a rise of self censorship by workers and academics worried about losing their jobs if bosses see their interactions on Facebook or similar Web 2.0 social networks.[9] And the worrying antics of Britain's GCHQ, in collaboration with America's National Security Agency (NSA), targeting organisations such as the United Nations development programme, the UN's children's charity Unicef [10] reveal a greater investment in the surveillance of everyone, and the downgrading of privacy and fundamental human rights.
The credo that Anyone Can Do It reached a mass of individuals and groups not content with their assigned cultural roles as disaffected consumers watching the world go by. Like the Situationists, Punk was not merely reflecting or reinterpreting the world it was also about transforming it at an everyday level. Sadie Plant states that with the "emergence of punk in the late 70s […] lay the possibility of a threatening political response to the vacant superficiality of contemporary society." [11] From this, a whole generation of diverse artists emerged; and through their practices they critiqued the very society they lived in, questioning authority and the authenticity of established politics, language, art, history, music and film.
Has the process of appropriating people's civilian personas, and then replacing their social contexts with a corporate role as consumer created a more selfish world, lacking compassion for others and less interest for societal and ethical change? Ubermorgan discussed in a recent interview with Stevphen Shukaitis that people are in a state of 'mediality'. "What we refer to as reality very often is just mediality, and also because that's how human nature often prefers to observe reality, you know, via some media." [12] Perhaps our constant interactions through different interfaces of proprietorial frameworks distances ourselves to what is important. In the 21st Century demonstrations and civil disobedience are policed intensively, and even though much of contemporary activism exists on-line. The frontline, or the heart of politics is still mainly a physical matter; it is still in our streets, our homes, our bodies, in our neighbourhoods and communities.
As Oxblood Ruffin a Canadian hacker and member of the hacker group Cult of the Dead Cow (cDc) and the founder/director of Hacktivismo, said "I know from personal experience that there is a big difference between street and on-line protest. I have been chased down the street by a baton-wielding police officer on horseback. Believe me, it takes a lot less courage to sit in front of the computer." [13]
So Agit Disco reminds us that music is a vital way of both bringing people together in a space, story telling and communicating with each other, sharing what is happening with people's lives. It is usually at the moment of censorship that we then realise how essential this freedom of expression stuff really is. For instance, nine months after Islamic militants had taken over in northern Mali they announced that all music is banned. "It's hard to imagine, in a country that produced such internationally renowned music as Ali Farka Touré's blues, Rokia Traoré's soulful vocals and the Afro-pop traditions of Salif Keita. […] The armed militants sent death threats to local musicians; many were forced into exile. Live music venues were shut down, and militants set fire to guitars and drum kits. The world famous Festival in the Desert was moved to Burkina Faso, and then postponed because of the security risk." [14] (Fernandes 2013)
In her article The Mixtape of the Revolution, Fernandes says that in Africa many rappers are "speaking boldly and openly about a political reality that was not being otherwise acknowledged, rappers hit a nerve, and their music served as a call to arms for the budding protest movements."[15] Regarding Egypt, the rapper Mohamed el Deeb in an interview with Fernandes said, "shallow pop music and love songs got heavy airplay on the radio, but when the revolution broke out, people woke up and refused to accept shallow music with no substance." [16] Music, politics and grass roots dissent are concrete expressions and an essential part of our collective freedoms. Alongside this, independent publishing as an alternative voice to the marketed franchises that dominate our gaze, sight, ears and minds, are needed more than ever. Yet, independent voices are being silenced and whittled down by wars, oppression and the neoliberal created financial crisis and its resulting austerity cuts.
What is to become of us if we lose our skills of discernment and slump into a homogenous consumer class, to define ourselves solely through marketed stereotypes and ideologies?
Agit Disco offers a festival of dance and dialogue for independent minded individuals and groups around the upturned burning car in the barricade against the coming zombie apocalypse.
It has been fun listening to all of the playlist contributions provided in Agit Disco. Below is my own Agit Disco playlist. You are welcome to add your own playlist in the comments section below (with links)…
Agit Disco 24. Marc Garrett.
Damien Dempsey – 'Dublin Town' (2000)
http://www.youtube.com/watch?v=brhO8pqTNHU
Asian Dub Foundation – 'Modern Apprentice' (2000)
http://www.youtube.com/watch?v=zgtWhjaOgQ4
Dan Le Sac & Scroobius Pip – 'Great Britain' (2010)
http://www.youtube.com/watch?v=YeV2cExvnMI
Kirsty MacColl – 'Fifteen Minutes' (2005)
http://www.youtube.com/watch?v=MSQrH3JUQ2s
Jeffrey Lewis – 'Do They Owe Us A Living?' (2007)
http://www.youtube.com/watch?v=jWU-W0SzVE0
The Pop Group – 'Forces of oppression' (1979)
http://www.youtube.com/watch?v=Txzmbu6o-gg
Kieron Means – 'I Worry For This World' (2005)
https://play.spotify.com/track/6AI2QujkrP6B2nfIUK55lY
Robyn Archer – 'Ballad on Approving of the World' (1984)
https://play.spotify.com/album/3hNQY8q9sO3M0R6es2d3ka
Robyn Hitchcock – 'Point it at Gran' (1986)
http://www.youtube.com/watch?v=_HFkimK9FAU
Sound of Rum – 'End Times' (2011)
http://www.youtube.com/watch?v=9dWPe7Au68A
Silver bullet – '20 Seconds to comply (final conflict)' (1990)
http://www.youtube.com/watch?v=24b6pYGT9MM
Maze – 'Color Blind (Featuring Frankie Beverly)' (1977)
http://www.youtube.com/watch?v=COY4gKLwV2I
Akala – 'Bullshit' (2006)
http://www.youtube.com/watch?v=mxpxpQ7j8Sg
Sarah Jones – 'Your Revolution' DJ Vadim (2000)
http://www.youtube.com/watch?v=E62SZ1CmBOI
Julian Cope – 'Soldier Blue' (1991)
http://www.youtube.com/watch?v=8dGOr-JpOmI
June Tabor – 'A place called England' (2009)
https://play.spotify.com/track/3YB6sSlLfB8kmMrrm5COKX
"None but those who have experienced them can conceive of the enticements of science." Mary Shelley, Frankenstein.
Rachel Falconer writes about the cyberfeminist art collective subRosa, a group using science, technology, and social activism to explore and critique the political traction of information and bio technologies on women's bodies, lives and work.
Following a recent interview with the founding members of the collective, Hyla Willis and Faith Wilding, this article presents subRosa's trans-disciplinary, performative practice and questions what it means to claim a feminist position in the mutating economies of biotechnology and techno-science.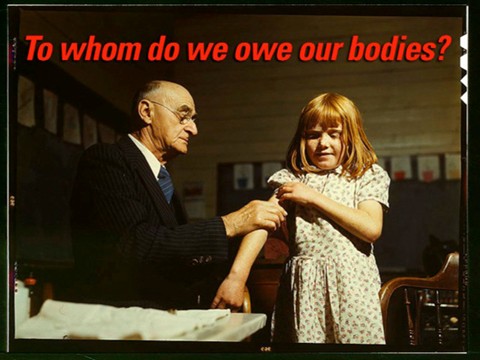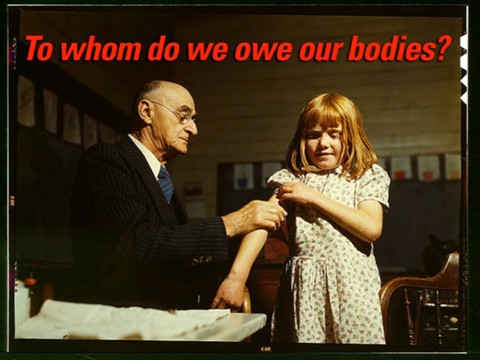 The technological redesigning and reconfiguration of bodies and environments, enacted through the economies of the biotech industry, is an emerging feature of contemporary life. As these new 'bits of life' enter the biotech network, there is a slippage in our mental model of what constitutes the body, and more specifically, 'life' itself. As radically new biological entities are generated through the processes of molecular genetic engineering, stem cell cultivation, cloning, and transgenics, bio-artists and bio-hackers co-opt the laboratory as a site of critical cultural practice and knowledge exchange. Human embryos, trans-species and plants are constructed, commodified, and distributed across the biotech industry, forming the raw materials for bio-art, DIY biologists and open science culture.[1] These corporeal products and practices exist within new and alien categories, transgressing the physical and cognitive boundaries set by biopunk science fiction and edging towards the possibility of a destiny driven by genetics and life sciences. With the eternal rhetoric of a high-tech humanity, and the threat of Michel Foucault's[2] biopolitics constantly on the horizon, today Harraway's[3] myth of the cyborg exists in the form of corporeal commodities travelling through the global biotech industry. Scientific research centres stock, farm, and redistribute biological resources, (often harvested from the female scientists themselves). Cells, seeds, sperm, eggs, organs and tissues float on the biotech market like pork belly and gold. Seeds are patented, and other agro-industrial elements are remediated and distributed as bits of operational data across the biotech network. We/cyborgs[4], are manifested as a set of technologies and scientific protocols, and, as a result, the female body in particular, is reconfigured into a global mash-up of cultural, political and ethical codes.
The increasingly pragmatic realisation of the biotech revolution has provoked a 'cultural turn' in science and technology studies in general, and feminist science studies in particular. Carolyn Christov-Bakargiev's dOCUMENTA (13) proposed an interdisciplinary approach to the role of science for 'culture at large'. Certainly, by foregrounding the heavy hitters in the field such as Donna Haraway and Vandana Shiva, dOCUMENTA (13) laid claim to addressing the global conflicts of biotechnology. However, the feminist agenda was not specifically addressed, and the key issues of the impact of biotechnologies on feminist subjectivities were only paid minimal lip service. With the exception of Shiva[5], the tone of dOCUMENTA (13) hinted at a positivist, emancipatory take on biotechnology and technoscience without assuming a critical position. There was very little public debate or critical analysis engaging the philosophical, ethical, and political issues of feminism and female subjectivities within the realm of biotechnology.
Notably absent from last year's dOCUMENTA (13), the activist feminist collective subRosa's performative, interdisciplinary projects are channelled towards embodying feminist content, practices, and agency, and laying bare the impact of new technologies on women's sexuality and subjectivities – with a particular emphasis on the conditions of production and reproduction. Through their research-led practice and pedagogical mission, the collective analyse the implications and conditions of the constantly surveyed female body, whilst mapping new possibilities for feminist praxis. subRosa interrogate the conditions of surveillance, private property rights, and other control mechanisms the female body is subjected to by ART(Assisted Reproductive Technologies). The collective's hybrid, interdisciplinary practice navigates the multiple identities the female body has taken on through techno-scientific development, including: the distributed body, the socially networked body, the cyborg body, the medical body, the citizen body, the soldier body and the gestating body. In contrast to the overarching and pervasive illustration of the technoscientific cultural landscape painted by dOCUMENTA(13), the current members and founders of the collective, Hyla Willis and Faith Wilding, are very clear in their critical intent. The collective choreograph and place themselves within globalized bio-scenarios in order to question the potential for resistance and activism within these constructs.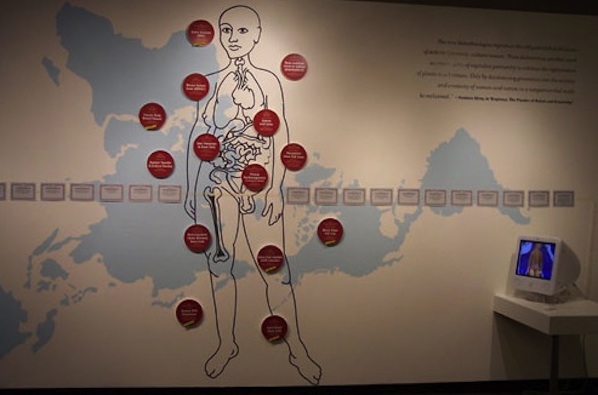 subRosa's overarching vision to create discursive frameworks where feminist interdisciplinary conversations and experiments can take place, is research-led and takes its cue from the canon of radical feminist art practices. Cell Track: Mapping the Appropriation of Life Materials has featured in a number of exhibitions, most recently in Soft Power. Art and Technologies in the Biopolitical Age, Vitoria-Gasteiz, Spain. This project consists of an installation and website examining the privatization and patenting of human, animal and plant genomes in the context of the history of eugenics. Cell Track highlights the disparity between the bodies that produce stem cells and the corporations that control the products generated from them. Bringing together scientists, cultural practitioners and wider publics in the construct of the gallery space, subRosa generate discourse around the patenting and licensing of DNA sequences, engineered genes, stem cell lines and transgenic organisms. The project's participatory aim is to set up an activist, feminist embryonic stem cell research lab in order to produce non-patented stem cell lines for distribution to citizen scientists, artists and independent biotechnologists. This environment of shared knowledge production and speculative, alternative, research activity is at the heart of subRosa's social practice.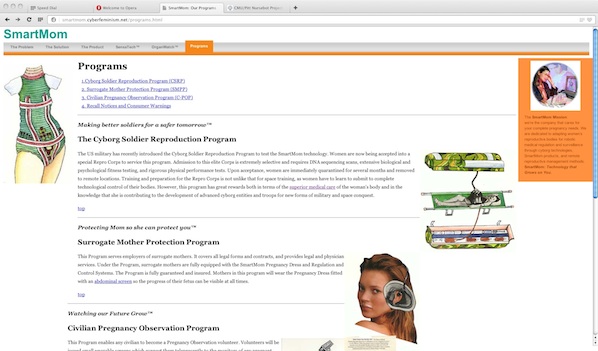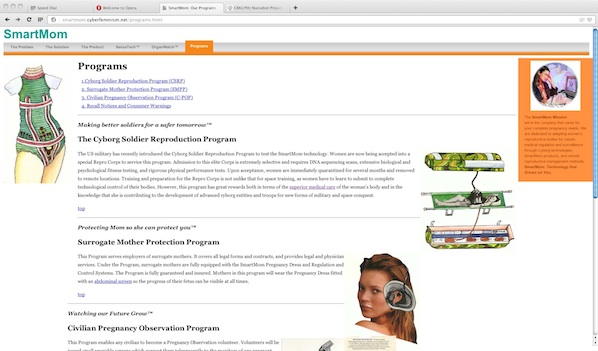 Due to the pedagogical nature of subRosa's activities, the collective's critical stance towards IVF and ART has proven to be particularly provocative, and their scepticism towards the emancipatory language of 'choice' co-opted by ART, has been met with some resistance by other feminist practitioners. However, it is in this very agonism[6] that subRosa wish to become more visible, and they welcome criticism and debate in the public discursive spaces that they create. In a recent interview, Faith Wilding and Hyla Willis both expressed their desire to generate an expanded, and deeper discussion about the wider issues involved in ART in particular and biotechnology's effect on female identity in general. subRosa's potential to reach wider publics and audiences is partially determined by the socio-political context of the communities in which they operate. Perhaps in reaction to this, subRosa's focus is now shifting towards embracing the aforementioned 'cultural turn' in science as they address the position of feminist scientists themselves.
The imperative to reclaim feminist discourses and narratives in science is of growing concern to subRosa, as they believe that feminist agency lies in the practice of science itself. By relocating lab-work from the dominant scientific institutions to the public environment of the gallery, subRosa provide the critical space in which new feminist scientific praxis can operate,[7] and new dialogues and discourses can be created. Their conviction that political and critical traction lies in practice as discourse, and the potential of face to face encounters, is demonstrated in their recent project for the Pittsburgh Bienal: Feminist Matter(s): Propositions and Undoings (2011). In this installation, SubRosa take Virginia Woolf's[8] assertion that 'tea-table thinking' provides an effective antidote to the male-driven 'war-mentality brewed in boardrooms and command centers' as their main conceit. Redeploying Woolf's idea toward the rethinking of the traditionally male-dominated discipline of science, Wilding and Willis' installation brings traces of the science laboratory to the intimacy and hospitality of the kitchen table, and in turn, also situates what is normally a private, feminized space in a more public domain.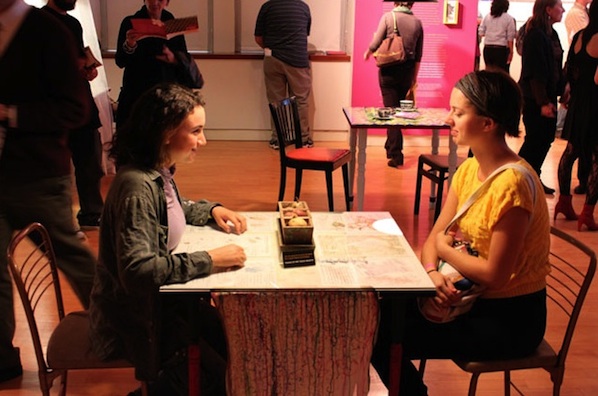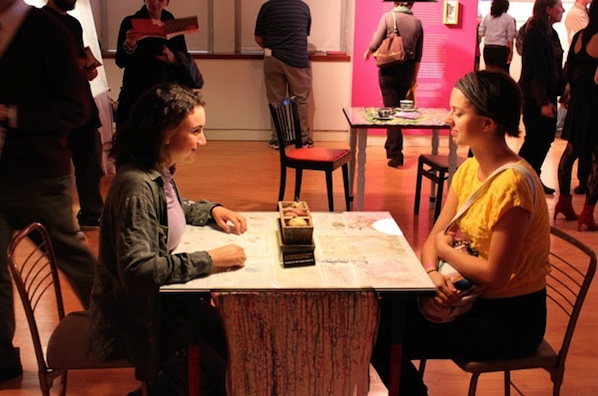 These tables stage a dialogue between one or two visitors in response to the presentation of female figures in science, both the popularly acknowledged and the underexposed. subRosa foreground women scientists past and present and reimagine an alternative, feminized history of science and technology. The installation explores feminism and participatory practices as modes of scientific research, with the aim of generating dialogue and discourse around the questioning of the dominant historical narrative of science. Specially tailored installations reside on each table, evoking lab work while celebrating the history of the women protagonists they play host to – from anarchist painter Remedios Varo to geneticist Barbara McClintock.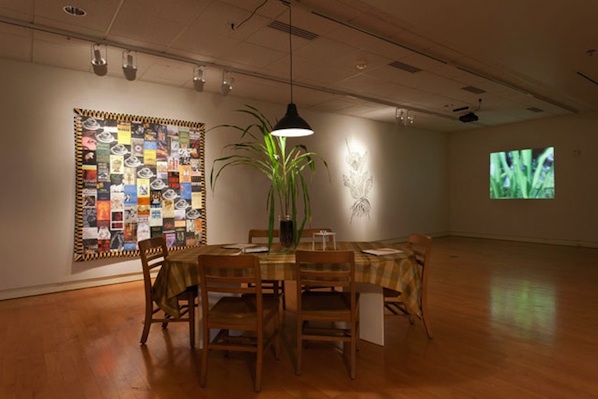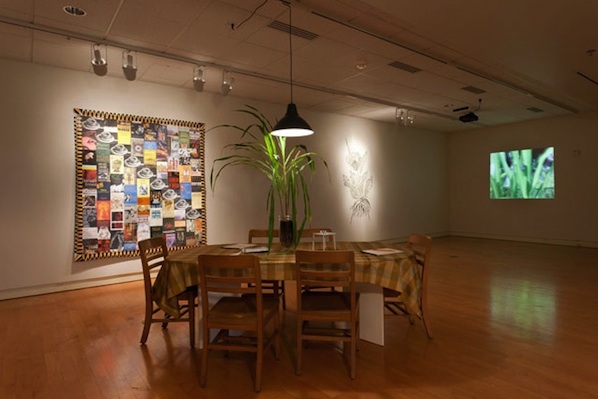 subRosa's pedagogical imperative is at once inclusive and provocative, and their role as facilitators of a discursive space outside the traditional institutions and control structures of science, is where their radical aspirations lie. Pedagogical art practices often teeter on the brink of propaganda, and subRosa are quite comfortable with the propagandistic label. Considering the economic and cultural climate in the USA with regard to the politics of reproduction, their work has been particularly well received in the context of European cultural institutions, whereas in the USA there is greater interest for the work in academic institutional settings. Perhaps this could be symptomatic of the general privileging of discourses around intersex, transgender and queer subjectivities. The dominant bias of the gatekeepers of the artworld to showcase queer practices is evident in the promotion of artists such as Ryan Trecartin and Carlos Motta on the international circuit. Curators have tended to position artists addressing the gendered 'Other' within a contemporary queer framework, whilst keeping feminist art practices on the peripheries of 1960s/1970s retrospective nostalgia. This tendency presents a muddying of the waters for contemporary feminist art practices such as subRosa.
This may also be part of a more general tendency to demonize and move away from feminist identities and discourses in wider society. The academic shape shifting from 'women's studies' to 'gender studies' to 'queer studies' has diminished the feminist conversation and, therefore, the impact and receivership of feminist art practices. This has rendered the popular conception of 'Queer' as acceptable and non-aggressive. Furthermore, the term 'Queer' and the subsequent morphing into the verb 'queering', has been co-opted by transdisciplinary academic discourse, and is now an expansive, all embracing cultural term – a phenomenon that has met with a certain amount of scepticism from the queer community.
This privileging of the expansive 'othering' of queer rhetoric has often resulted in feminism being rejected as a radical and out-dated political identity by art practitioners themselves. This ambivalent attitude is perhaps also indicative of the wider feminist debate, in which post-feminism has splintered into fragmented, diluted groups, each policing their own identity politics with little sense of a bigger struggle. However, the collaborative, interdisciplinary environments orchestrated by subRosa signal a return to the indisputably material actuality of the female body. Through their insistence on the possibilities of feminist bench-side practices, and the forensic unpicking of the power/control structures inherent in biotechnology, subRosa expands the feminist lexicon through the empirically re-appropriated organic materiality of the body.