DOWNLOAD PRESS RELEASE
The blockchain is widely heralded as the new internet – another dimension in an ever-faster, ever-more powerful interlocking of ideas, actions and values. Principally the blockchain is a ledger distributed across a large array of machines that enables digital ownership and exchange without a central administering body. Within the arts it has profound implications as both a means of organising and distributing material, and as a new subject and medium for artistic exploration.
This landmark publication brings together a diverse array of artists and researchers engaged with the blockchain, unpacking, critiquing and marking the arrival of it on the cultural landscape for a broad readership across the arts and humanities.
Contributors: César Escudero Andaluz, Jaya Klara Brekke, Theodoros Chiotis, Ami Clarke, Simon Denny, The Design Informatics Research Centre (Edinburgh), Max Dovey, Mat Dryhurst, Primavera De Filippi, Peter Gomes, Elias Haase, Juhee Hahm, Max Hampshire, Kimberley ter Heerdt, Holly Herndon, Helen Kaplinsky, Paul Kolling, Elli Kuru , Nikki Loef, Bjørn Magnhildøen, Rob Myers, Martín Nadal, Rachel O Dwyer, Edward Picot, Paul Seidler, Hito Steyerl, Surfatial, Lina Theodorou, Pablo Velasco, Ben Vickers, Mark Waugh, Cecilia Wee, and Martin Zeilinger.
Read a review of the book by Regine Debatty for We Make Money Not Art
Read a review of the book by Jess Houlgrave for Medium
It has been a long time since an exhibition shocked and confused me. In fact, I cannot even remember when it last happened. Yet the exhibition Whistleblowers & Vigilanters has managed to do just that. Curators Inke Arns and Jens Kabisch of the Dortmund art institution Hartware Medienkunst Verein (HMKV) have put up a show in which complete nut cases are presented side by side with political activists, artists and whistleblowers a la Edward Snowden. This makes the exhibition ask for quite some flexibility from the audience. Visitors have to work hard in order to understand the connection made here between, for example, racist conspiracy theories expressed through YouTube videos and the ordeal of a whistleblower like Chelsea Manning.

Lutz Dammbeck, Letter to Me (Unabomber manifesto, handcorrected) 2003 and Go to Trial (video about Unabomber) 2016
The very short introduction text to the exhibition guide is part of the puzzle we are presented with. The basic premises of the exhibition are explained in what I think is not the best possible manner, because it leaves out any mentioning or analysis of the huge political differences among the people and works presented. At the same time the use of words like higher law and self-legitimization easily creates a feeling of unease about each practitioner or type of activism in the show:
"The exhibition asks what links hacktivists, whistleblowers and (Internet) vigilantes. What is the legal understanding of these different actors? Do they share certain conceptions? Who speaks and acts for whom and in the capacity of which (higher) law? Among other issues the exhibition will examine the differing legal conceptions and strategies of self-legitimisation put forth by activists, whistleblowers, hackers, online activists and artists to justify their actions."
By placing the revelations of Edward Snowden next to the complete print out of the manifesto of the Unabomber or (more harmless but still of a different level of impact) the battle over a hostile domain name takeover in Toywar the first impression is a levelling of the practices and people involved. To make some sort of distinction between the various represented rebellious or activist positions in the exhibition guide the whole is divided into sections. The sections however do not indicate socio-political position or relevance, but rather imply the ways people legitimize their actions (1).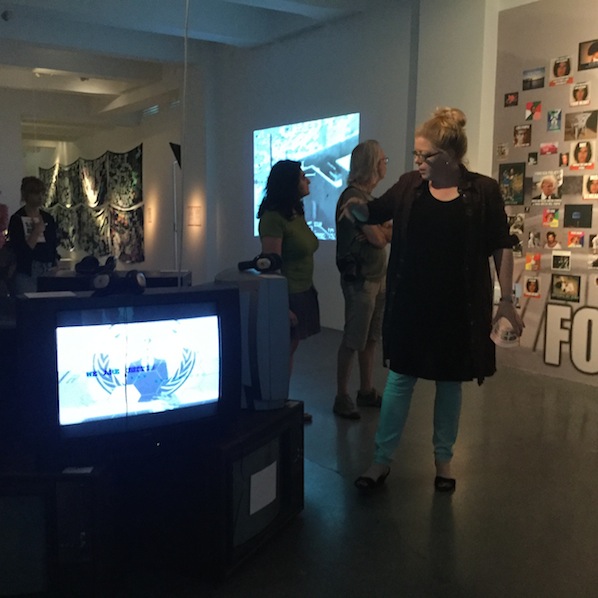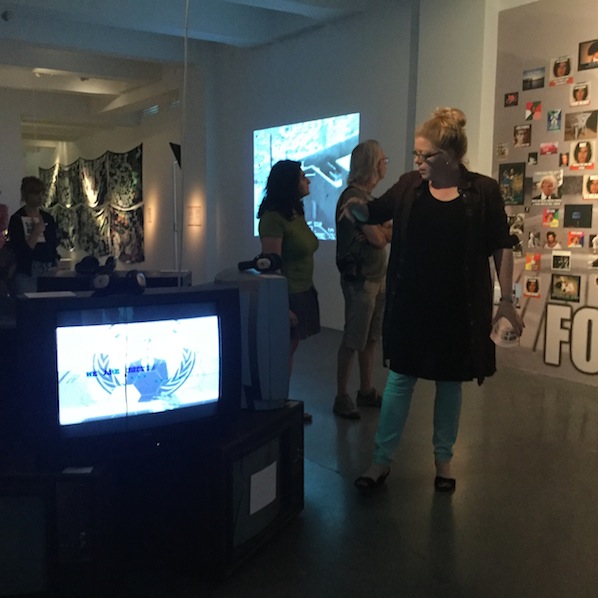 Inke Arns giving a tour of the exhibition. Anonymous (left), Metahaven (far left), Wikileaks' Collateral Murder (middle),  Lulz (right)
The spatial design and mapping of the exhibition seem to give some indication of political direction, but it is accidental. To the far right of the entry we find all installations labeled 'Vigilantes': a website collecting images of online fraudsters (419eater.com), two videos about Anders Breivik and Dominic Gagnon's collection of mostly right-wing extremist YouTube videos. Slightly controversial is how the Vigilantes section puts together these quite obvious nut cases and criminals with Anonymous and what the curators call 'Lulz', the near troll-like jokesters who ridicule anything they don't like with razor sharp memes. I am not sure whether these two products of the online forum 4chan deserve this simple pairing to YouTube hate preachers. A finer distinction between the various Internet underbelly representatives might have been better here. That this could have been done is shown by Lutz Dammbeck's archive on the Unabomber's placement in the Vigilante section, which has two labels. It is the sole representative of the Critique of Technology section as well. Another strange pairing happens in the Antinomism section, where an installation around a video with Julian Assange and a rightwing terrorist bomb disguised as soda machine are the only examples.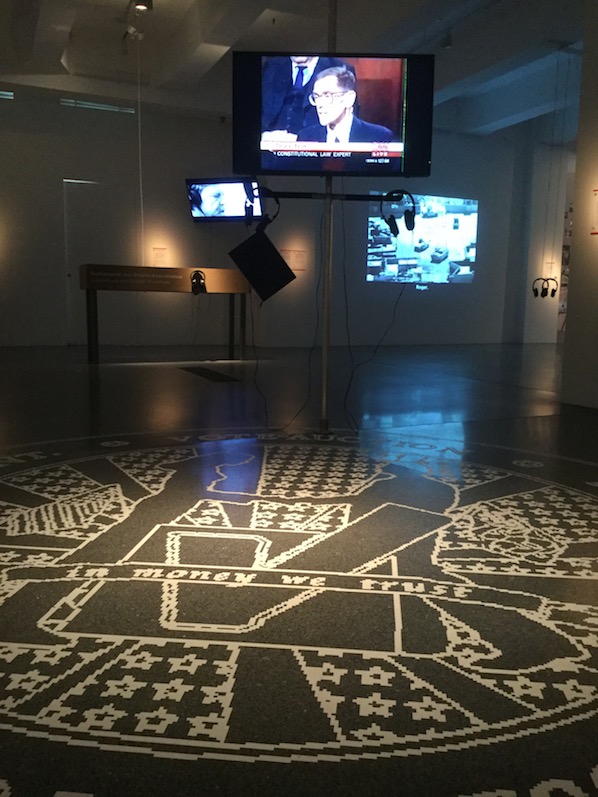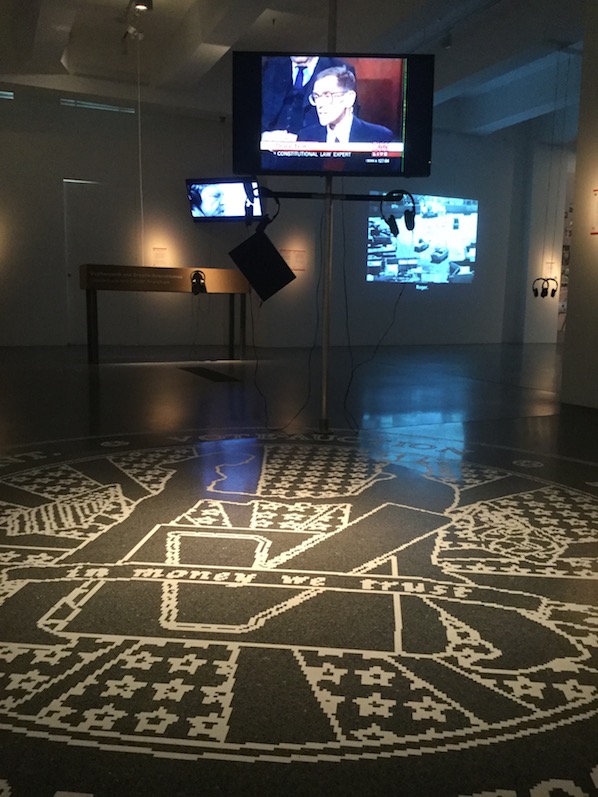 Ubermorgen's Vote Auction installation (center). Crypto-anarchist content & John Perry Barlow talking about the Declaration of the Independence of Cyberspace (background) Wikileaks' Collateral Murder (far right).
The middle ground of the exhibition shows a mix of artist activism and hacker culture. Mediengruppe Bitnik are here with a video of their Delivery for Mr. Assange. Black Transparency by Metahaven is represented through one utopian architecture model and printed wall cloths. The Peng! Collective's Intelexit: Call-A-Spy has a telephone stand in the exhibition. The provocative sale of US votes in Vote-Auction by Ubermorgen is here as docu-installation. Etoy's legendary Toywar is represented as well, with -in my opinion- too small a stand. Traces of many other art works and activist projects are presented in display cases, which give some more background or context to the theme. These were one of my favorite parts of the exhibition, next to the amazingly diligent and meticulous hand-drawn documentation of the Manning trial by Clark Stoeckley.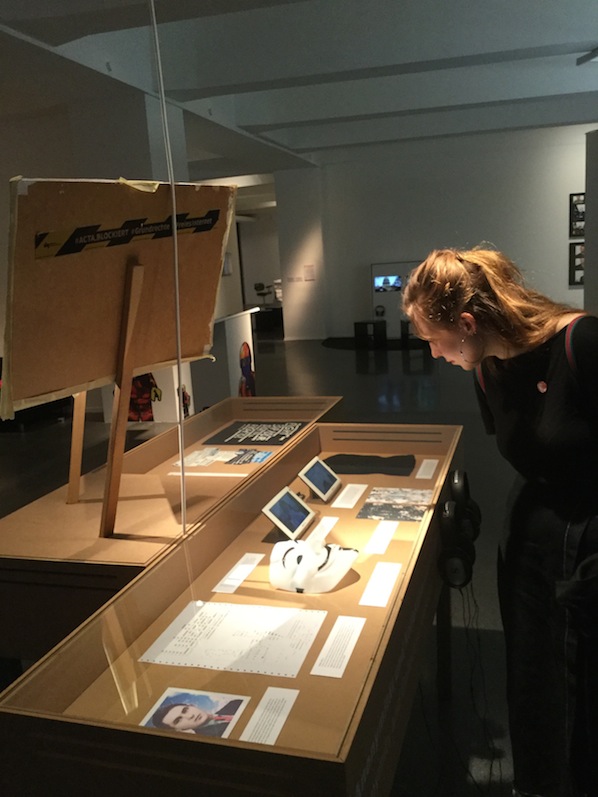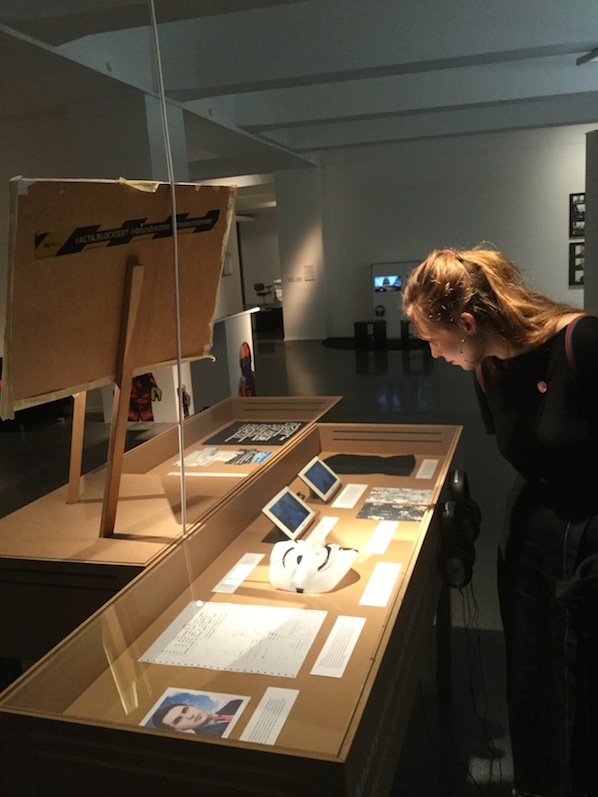 Display cases showing Luther Blissett and Anonymous (front), and  Netzpolitik (back).
The display cases are dedicated to freedom of speech, tools of online resistance, the Netzpolitik case, anonymity and collective identities and cypherpunk and crypto-anarchism. They provide an important insight into the context within which the other practices in the exhibition exist.
Here we find Luther Blissett, the Italian born collective online identity, with a name borrowed from a former football player. The Blissett identity is related to pre-Internet art practices, in particular Neoism, and has been used for various art pranks and activist projects, particularly in Southern Europe.
Other art projects include the influential book Electronic Civil Disobedience by Critical Art Ensemble, the German hacker art collective Foebud's battle for free speech and privacy (presented with one of Addie Wagenknecht's anonymity glasses), and the Electronic Disturbance Theater's Floodnet. The latter is a DDoS attack software that was used in actions for the Mexican freedom fighters the Zapatistas, by the Yes Men and for Etoy's Toywar project.
There is also a print out of the Cypherpunk mailinglist. The cypherpunk crypto-anarchist community is responsible for some of the most influential elements of the free Internet. They produced the PGP encryption technology, cryptocurrency such as Bitcoin, TOR, the idea of WIKI and torrent platforms and marketplaces like the Silk Road. Julian Assange was one of its members.
Last but not least the presentation of the Netzpolitik.org case, which covers a German censorship scandal from last year, had to be part of this exhibition. Journalists from the online magazine Netzpolitik were arrested for treason after they had published about classified Internet surveillance plans of the German secret service. A copy of the accusation letter from the state prosecutor is oddly signed with 'Mit freundlichen Grüßen' ('With kind regards').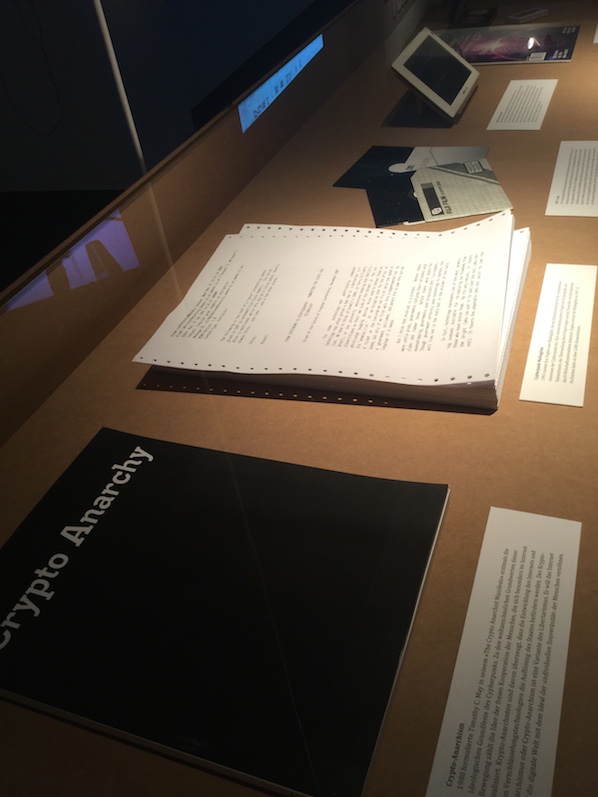 Display case showing crypto anarchy, cypherpunk mailinglist, early PGP software on floppy discs and bitcoin/cryptocurrency.
All in all the display cases made me happy to see some of the events and works that have been so hugely influential to the development of the Internet (and thus to the development of our current culture and politics) represented in a physical cultural space. They show a side of Internet culture that is heavily underrepresented in the general discourse around new media technologies in both mainstream media and art. During a private tour of Whistleblowers & Vigilantes for visitors of the simultaneously running Hito Steyerl exhibition Inke Arns explained how for her this exhibition is long overdue as well. According to Arns the threat to our freedom through abuse of new technologies should receive as much attention in art as the anthropocene. HMKV sees it as its responsibility to do something about it.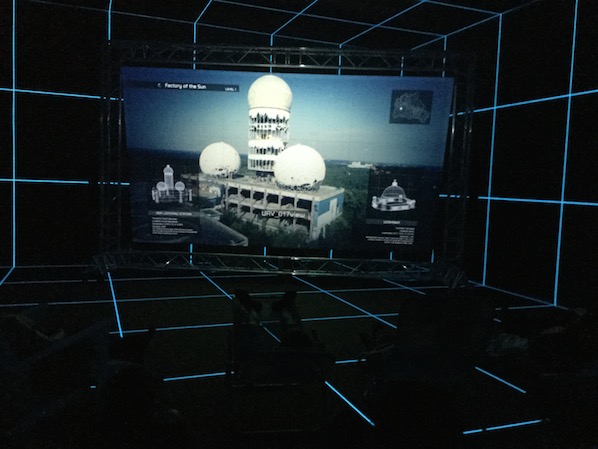 Hito Steyerl's Factory of the Sun. On the screen the old NSA listening post in former West-Berlin. The video is presented in a faux holodeck.
Whistleblowers & Vigilantes however does not make a straightforward statement. Its structure, both physically and content-wise, is too complex for that. This does not mean it is a bad exhibition. The bringing together of the 'Lulz', Anonymous, the Unabomber, net art, hacktivism, hackers and Manning, Snowden, Assange and even Breivik in one space definitely creates a lively exhibition, which cannot leave a visitor unaffected. This strange assembly then needs to be unraveled and this is where the curators take quite some risk. The addition of Hito Steyerl's installation Factory of the Sun, an exhibition that runs simultaneously on a different floor, could help to bring the serious, crazy and light elements of the show together for that part of the audience that loses its way. In her smart playful manner Steyerl blends science fiction, humor and critique of the surveillance society in a faux holodeck cinema experience. The exhibition also includes a few live events that steer the whole into safe waters. Netzpolitik journalist Markus Beckedahl has given a presentation and so has Jens Kabisch. Kabisch wrote a text about whistleblowers that is available on the website, but this text is unfortunately only available in German. My advice to the non-German audience is to download the press kit in order to get more background information.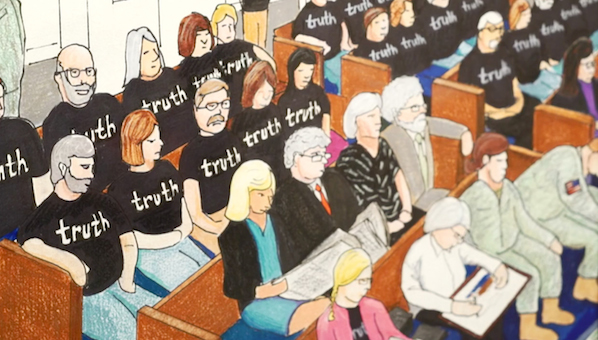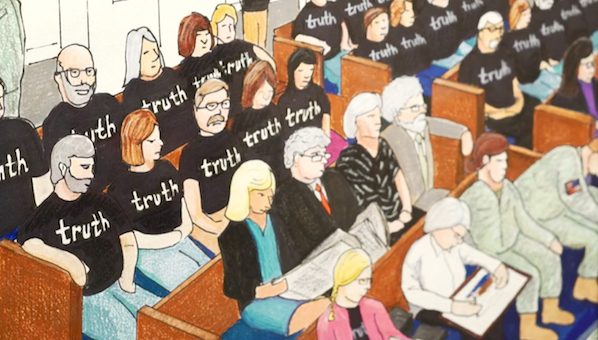 Clark Stoeckley, The United States vs Pvt. Chelsea Manning © State of the Arts NJ
Whistleblowers & Vigilantes is a challenge to the audience. It asks for more reflection and time to take in than most exhibitions. After getting some more grip on it the complexity and scope of the exhibition, however, is impressive. It not only brings together many important, interesting and sometimes scary examples of contemporary forms of resistance and rebellion. What is also represented is the space of resistance and play that escapes attempts at systematic control, even in a full-on surveillance state. Once recovered from my initial shock this is what stayed with me the most. The wide-ranging documents, objects and installations reveal the system's shadow spaces and vulnerabilities. Whistleblowers & Vigilanters differs from the flood of other art exhibitions themed around surveillance and control by reflecting on the legitimacy of online autonomous political action in general. Indirectly this means it also reflects upon the space of life that exists beyond all control. Rather than create another horror show around the future of privacy and freedom, with Whistleblower & Vigilanten we are presented with the persistence of fringe cultures and of free thinkers. For me this makes this an exhibition of hope.
Endnote
(1). The six sections are called Natural Law, Contractualism, Antinomism, Transparency, Critique of Technology and Vigilantism. Roughly these point to people who believe in a 'higher' ('natural') law which each juridical law can be compared to, people who step around an elected (contracted) authority when it breaks an agreement, those who do not believe in the validity of any law (antinomism), those who think practically rather than ideologically that transparency is simply a matter of optimizing societal processes, Luddites who want to destroy technology and last but not least the vigilantes who believe their subjective views are simply a legitimate base for rebellion and radical action.
Exhibition Info:
Whistleblowers & Vigilantes. Figures of Digital Resistance
HMKV, Dortmund
9/4/16-14/8/16
https://www.hmkv.de/_en/programm/programmpunkte/2016/Ausstellungen/2016_VIGI_Vigilanten.php
Download exhibition catalogue:
https://www.hmkv.de/_pdf/Ausstellungsfuehrer/2016_VIGI_Kurzfuehrer_Web.pdf
"A glitch is more than an error: It is a rupture in our collective techno-hypnosis, a herald of underlying realities." – Paul Hertz
If you haven't heard about Chicago glitch, you haven't been paying attention to all the "noise" emanating from the Windy City. The self-proclaimed "dirty new media" crowd in Chicago has captured the imagination of artists around the world with their funky (as in Chicago blues), punk-inspired disruptions and hacked creations. As of this writing, glitChicago: An Exhibition of Chicago Glitch Art at the Ukranian Institute of Modern Art is about to close after an impressive two-month run, with works, performances, and discussions involving 22 artists heralding from Chicago and beyond.
While glitch may have a raw, subversive, outlier sensibility, it has also catalyzed a cohesive and collaborative group of artists that has organized an impressive array of community-based conferences, DIY workshops, exhibitions, and spontaneous happenings within the local media culture over the past five years. Ironically, the Chicago high-art academy is also a co-conspirator, as many of the glitch artists are based at the School of the Art Institute of Chicago, which has become the de facto experimental laboratory for the study and practice of glitch.
I spoke via web-conference with the show's main organizer, artist and historian Paul Hertz, along with two of the artists and co-organizers, Nick Briz and Jon Satrom, in a collective effort to unpack the glitch phenomenon.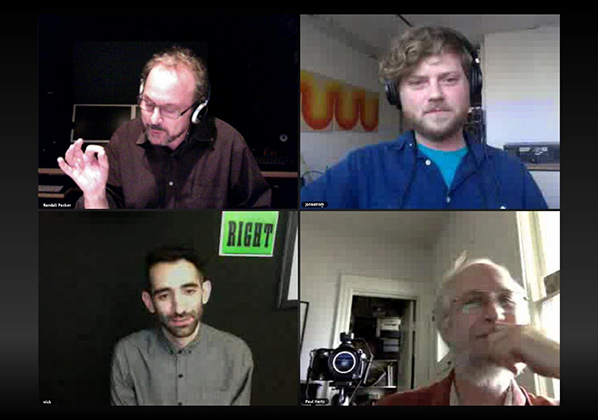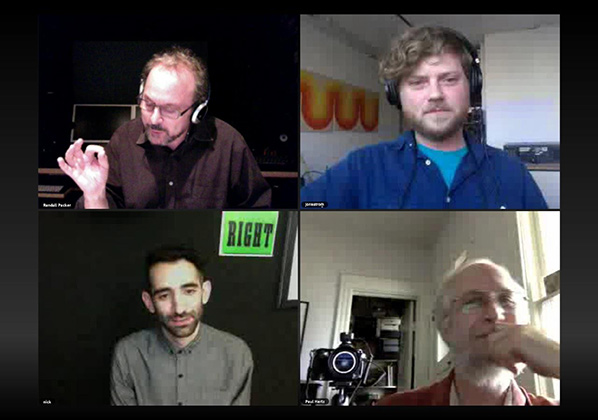 clockwise from upper left: Randall Packer, Jon Satrom, Paul Hertz, Nick Briz.
Randall Packer: Nice to meet everyone in the third space. I am going to begin with Paul because you were primarily responsible for organizing glitChicago. There are many artists in the show who do not reside in Chicago. Is the work intended to demonstrate Chicago glitch tendencies and influences, or perhaps to situate Chicago as a spiritual home of glitch, like say Chicago blues?
Paul Hertz: I think the latter to some extent, but it's also a joke about location in a networked society.
RP: From the perspective of being outside of Chicago, I can't think of another place in the world right now that has a more cohesive community of artists working together, building things together, breaking things together, it's quite an extraordinary moment in time in Chicago. So my question is: how much diversity, difference of opinion, even polemical positioning is there between the artists who are part of the glitch community.
PH: He wants us to wash our underwear!
Nick Briz: I'm glad it looks so cohesive on the outside, there is disagreement, but it's a respectful community kind of disagreement.
RP: Nick, as the author of the Glitch Codec Tutorial, in which you describe a method of making glitch, is the idea of a "glitch tutorial" perhaps contradictory to glitch as accident, mistake or rupture?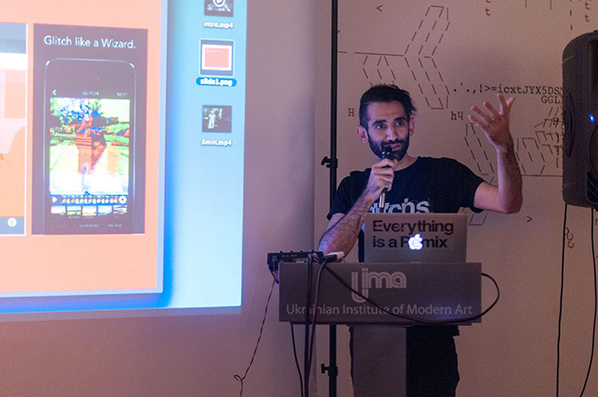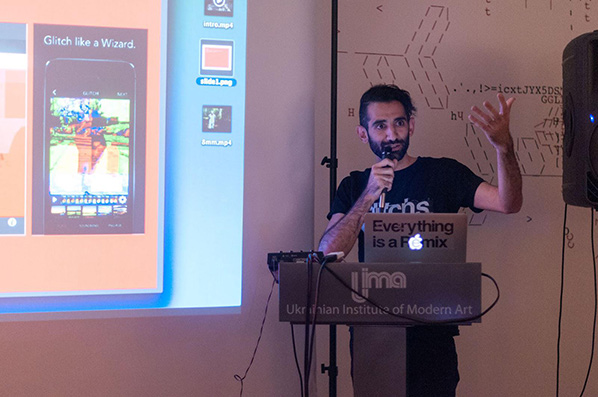 Performance / lecture by Nick Briz
NB: No, I think it's the most appropriate format, because it's not a glitch tutorial, it's a glitch art tutorial and that's an important distinction for me. Glitch is this unexpected occurrence within a system that we come to with a certain set of expectations, and a glitch is when those expectations are broken. Glitch art is when that happens intentionally. For me, this is a personal thing. What's really special about glitch art as a practice are the realizations you come to when you instigate those moments, the political potential for drawing certain connections, for exposing certain invisible politics within a system. That happens in process. So to produce a tutorial is not only, technically, how you produce glitches for your work, but also for people to have those realizations themselves, really experiencing glitches.
RP: So, how does that relate to the idea of intentionality, accident, and indeterminacy in glitch. Is there a right or a wrong way of doing glitch?
Jon Satrom: No, I don't think there is a right way to do the wrong thing. I think Nick said it in his performance: "do it wrong the right way."
NB: Do it wrong, but also doing it wrong. As in doing it wrong is the way that you do it. And then I quoted you, Jon: "there are no right ways to provoke the glitch, only the wrong ways prevail."
JS: I think the right way to do it wrong is to always cycle back or "level up" or go "meta" to a point where you are able to view what you are doing as a structure so that you can then glitch it again.
PH: Once you have a formula though, in a sense, you've captured something, but it is no longer glitching when you start saying that there is a right way and a wrong way.
RP: I am curious about this problem of glitch as style, glitch as genre, glitch as a pre-determined method. It seems there is a need to avoid stylization, avoid the predictable, to avoid the preset. So it does seem as though there are boundaries to glitch, there is an area where you don't want to go.
JS: I feel like everything is fair game.
PH: There were places we had already gone where we weren't likely to go again and so you could say farewell to jpeg glitching, farewell to png glitching, jpeg2 glitching, to datamoshing. I have argued that those are more like tools that we have and it's about the new technologies. Going into the show I was quite prepared actually to say that glitch is now art historical, that's why I was doing the show. But I was surprised at how lively the subculture is, how lively the artists are who have gone on to do new things. I think glitch belongs in many ways to an earlier tradition of noise, and in that sense, it has a history, it has a future in all kinds of directions.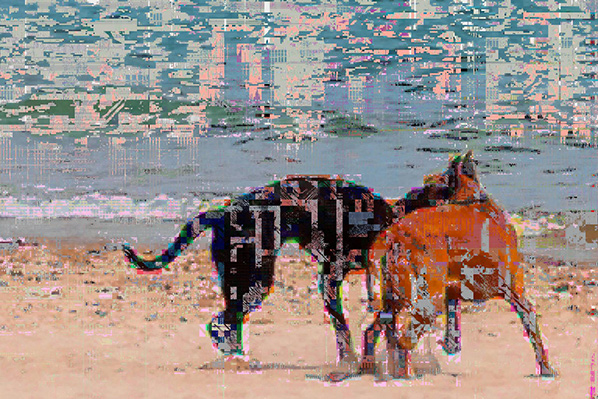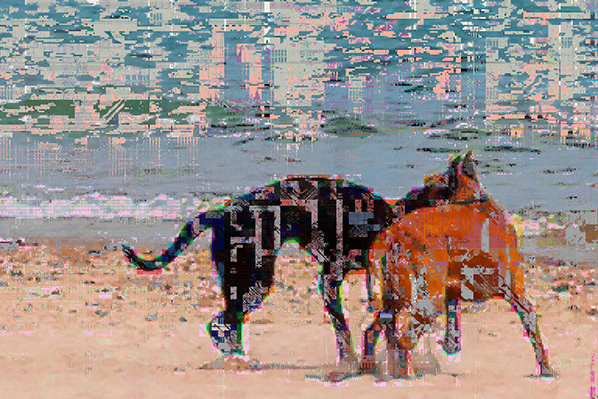 Paul Hertz, Dogs 001 (Foster Avenue Beach, Chicago),
digital print, 2013 (from the series Glitch Nation)
RP: The idea of history seems like a dark cloud that hangs over the practice of glitch, to avoid becoming rigid or formed. In regard to the roundtable discussion you just had, Paul asked the question: "once we induct glitch art into art history, is glitch art dead?" What was the outcome of this discussion? Is glitch as we know it history, has it already become part of the art-historical discourse?
PH: We did shift the conversation a little and started by talking about glitch as having a memory and glitch as having a potential future. And I think we sidestepped the history question by and large. But it was stated by a number of people, including Curt Cloninger in his essay for the show that as long as there are new technologies, there are going to be new glitches.
RP: So is there a reason why the historical question was avoided?
PH: I think it became uninteresting as time went on. We're having so much fun just doing it, it doesn't seem like such a serious question. It seems like a question an art historian would ask.
RP: But Paul, you're an art historian!
PH: We all got around to being artists again.
JS: I think that when you look at history as a rigid structure and if you take a glitch perspective towards a rigid structure you're looking at it as something that isn't as static as may come across. Histories are presented in different ways, different agendas, different people, and I think it's more interesting to consider our job as glitch artists to create structures that are radically inclusive, and experimental, and have enough space for agency, and individuality moving forward, rather than considering whether or not it is dead.
RP: Returning to the glitChicago show, which aspired to the inclusive, open source, community-based, DIY nature of glitch: Nick, you're project is called 0p3nr3p0…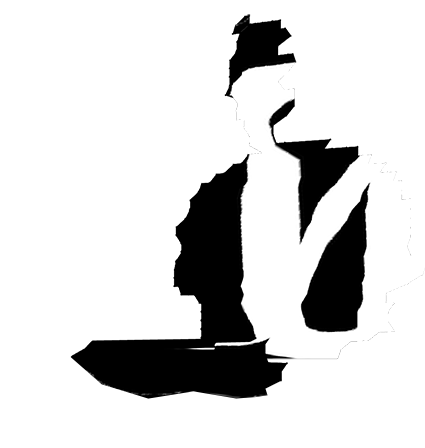 0P3NR3P0.NET .gif logo
NB: It's pronounced "open repo," short for open repository.
RP: How does this project involve the local community as well as expand itself through the network to engage a more globally social reach?
NB: 0p3nr3p0 is at the moment a project that myself and Joseph Yolk Chiocchi maintain, an unfiltered, open port for uploading glitch art. It was an offspring of the GLI.TC/H conferences in 2010, 2011, and 2012 in Chicago. It was a result of our paranoia to be radically inclusive as a conference. So we didn't do a call for works that last time, instead what we did was a call for threads, which is we tried to carve out spaces for other people to bring in certain conversations. And while we showed and exhibited work in the evening, all that work as best as we could was actually the result of those communities coming together. There is only so much space, there are only so many people who could show, but there are a lot of people online who we could recognize and include and so 0p3nr3p0 would become that back door entrance to the physical exhibition via the network.
RP: It seems to me that there is something about the nature of glitch that encourages democratization and inclusivity in terms of the accessibility of its practice and the techniques involved.
JS: It comes back to social structure. One way to get around the hierarchies of a social structure is to try and present things in a more populist, more open, more democratized way.
PH: There is also this transgressive aspect to glitch. Glitch itself represents a rupture, instability, of images and media. And that instability has an ideological function, as Nick is very careful to point out in the Glitch Codec Tutorial. If we are transgressing both the technology and exposing the ideology, there are reasons for us to want to expand that kind of rupture to online communities.
RP: I spoke with jonCates in an earlier interview for Hyperallergic about dirty new media. I would like to get your perspectives. Jon (Satrom), it seems like your work particularly reflects this idea as a reaction against the clean, glossy, polish of technology, a reaction against the fetish of the technological object.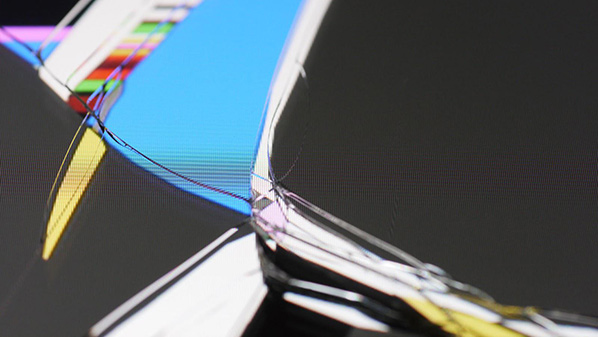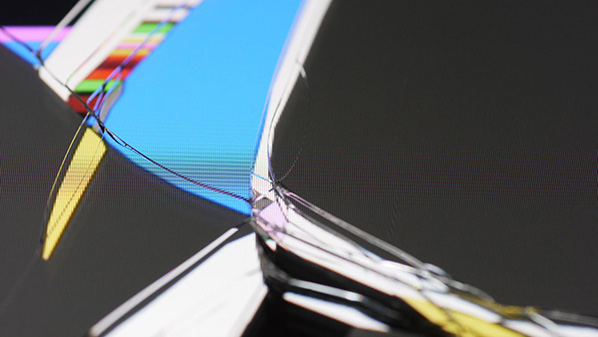 Jon Satrom's Cracked iPads
JS: Yes, it is a reaction to the sleek, brushed metal of new technology. When I think of dirty new media in terms of Chicago, there is an organic quality to it, literally you can think about dirt. This dirty style: it's the grit, it's the rust, it's the realization of a false promise of technology that many of us just accept and are fine with. We're purchasing things that are broken and need updates, and yet our agency of not being part of these updates has been stripped from us. Things are changing under our feet all the time. With dirty new media, you don't bother hiding the cords, you don't bother sweeping up, there's a sense of realism to it, there's the grit, and there is also a kind of a comfort in that. It's not trying to hide behind these mirrored surfaces.
RP: Perhaps it's a critique of our relationship with technology in terms of humanizing that relationship.
NB: Maybe trying to take agency back in that relationship. In the computer industry, a very specific relationship has been imposed, we're told how we're supposed to use these things, both as consumers and as producers. As consumers we're told this is what you are supposed to do with your technology, to have a kind of reverence for technology. Dirty new media is an irreverent response to that. And then as producers they've imposed a certain relationship. There are "right" ways to do things as programmers, and "right" ways to do things as media artists and dirty new media tends to be kind of punk: how can you finagle the technology. It's through experimentation that you learn how to do things with these systems. And just like the punk ethic, once you learn those first three chords you can start a band and you'll learn the rest of them along the way. Once the reverence is defused, and it's OK to break things and experiment, all these things become possible.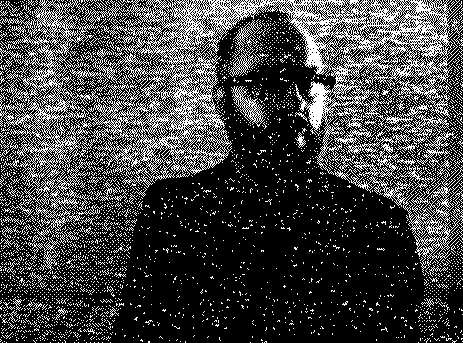 jonCates, POST-STATIXXX
PH: I would also say there is a differentiation in dirty new media between an aesthetic and a capture of instability. There are the pleasures of the glitchy image but at the same time it's very much about the underlying systems. It seems to me that they play off of one another and there is a certain tension there, and a healthy one.
RP: I believe there is also a tension in glitch in terms of constantly needing to move forward. This leads me to a question about Rosa Menkman, a significant artist and writer in the international glitch community. She's written some very influential pieces such as The Glitch Moment(um) and the Glitch Studies Manifesto. Her writing critiques this tension while theorizing glitch, putting it into an art-historical perspective, perhaps encouraging its formalization. Is glitch now an actual genre, to be taught in art schools? What's going on in Chicago seems very healthy because that's where the locus of glitch is, but what happens when glitch is taught in all the other art schools around the world and everybody is imitating it?
JS: I think it becomes a powerful moment and I think it can be utilized very well in education, just in terms of giving students agency to break something and learn about its guts.
NB: But are you asking, what if glitch becomes a kind of Adobe Photoshop class? Here's how you reproduce that exact artifact? Because that would be cool in its own sort of way if it happens, but I wouldn't necessarily call that glitch art. You can perhaps draw a line between glitch artifacts and certain aesthetics and then glitch as a process, or as an ethic, as a practice, as an impetus for triggering these unexpected moments within systems for the plethora of reasons that artists like to do that. But glitch is not necessarily wedded to any particular aesthetic. Sure, if you search glitch art on Google, you get certain things that look the same, but that's just because that's what glitch art happens to look like now. But as technology and as systems change, and as the methods for exploiting those systems change, it will look, sound, taste, feel, and augment in totally different ways.
RP: So how do you feel about datamoshing, for example, which is working its way out into popular culture, where mainstream musicians, media artists are using glitch techniques straight out of the book.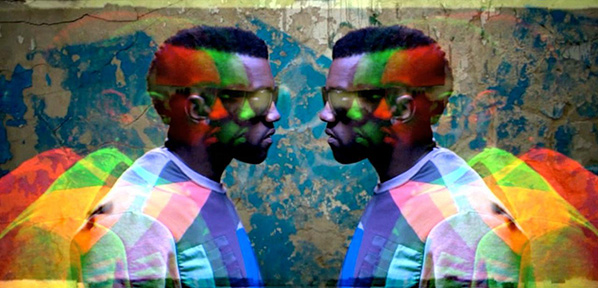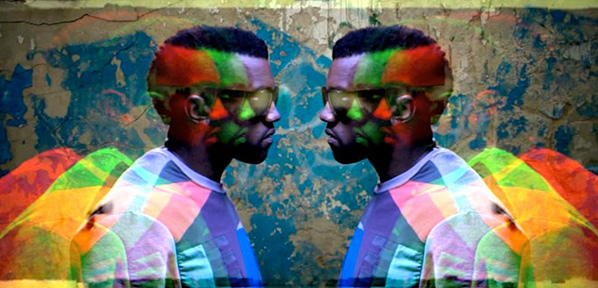 Kanye West, Wecome to Heartbreak, from Storify's A Glitch Art Primer
PH: Kanye West's Welcome to Heartbreak is the example most people think of. Datamoshing is used as a preset of a certain kind, which is OK, but it also means those problems were already solved. We know if we "hit" the header of a jpeg there are all kinds of things we can do. Once you go through the process, then it's another effects module in a certain sense. But there is a point in which it's all a surprise. Datamoshing is no longer a surprise for us, but it's probably a surprise for nationwide television audiences. And even for them it's going to eventually cease to be a surprise.
RP: Then what do you do in Chicago to stay on the edge, when everybody is practicing glitch?
NB: You can only stay on the edge if everybody is practicing glitch. The Kanye West example is a beautiful moment as initially I was upset because I felt co-opted, the pop culture aesthetic is going to destroy it. A lot of folks had that sort of sentiment and rhetoric. But the reality is that people are introduced to the aesthetic and look of glitch through that video and then are curious to know how to do that and then they fall down that rabbit hole. So more people join the conversation and like any conversation it gets better when more people join and there is more to talk about. And when everybody knows how to bend a jpeg, it means the general literacy level is up, the glitch literacy level is up. You can't get into more complicated concepts, the next chapter, until everybody can have that conversation.
PH: And on the aesthetic side, it broadens the lexicons that people have to think about images, to think about media. It means that the aesthetics of punk, the aesthetics of noise creep in as something we should get used to. The popularization of glitch makes it possible to say, yes, we're going to learn to live with the instability of technology, because we have to.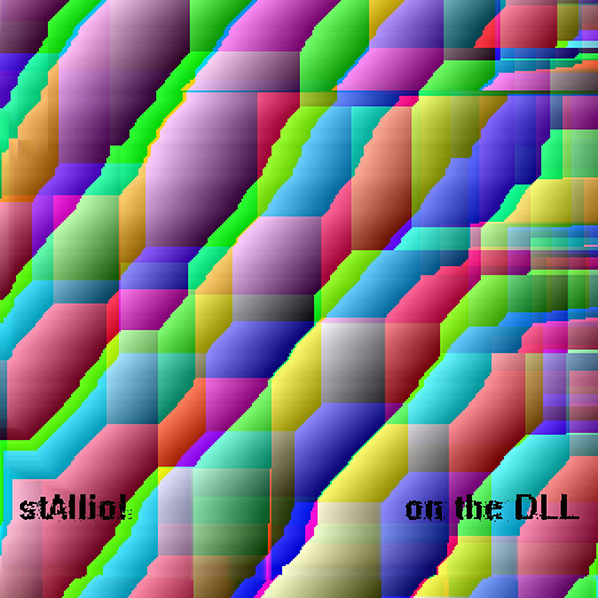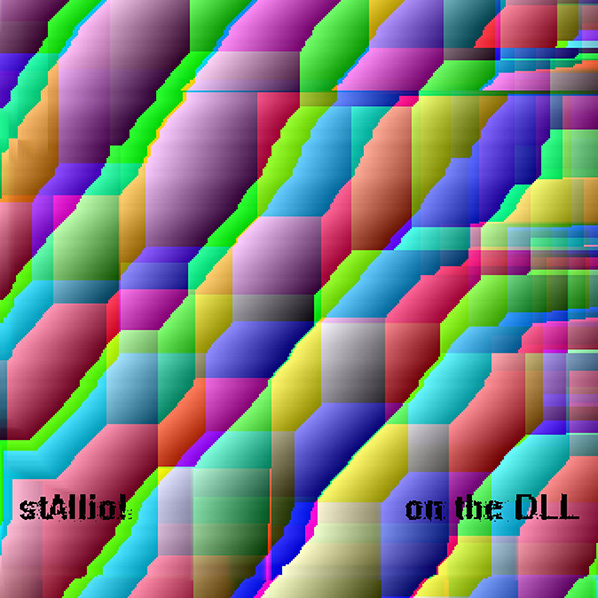 Stallio, Cover art for On the DLL
---
glitChicago: An Exhibition of Chicago Glitch Art, Ukranian Institute of Modern Art, with works by: Melissa Barron, Benjamin Berg aka Stallio, Nick Briz, jonCates, ChannelTWo, Joseph Yolk Chiocchi, Curt Cloninger, James Connolly, Kyle Evans, Paul Hertz, shawné michaelain Holloway, Nick Kegeyan, Jeff Kolar, A. Bill Miller, Pox Party, Rob Ray, Antonio Roberts, Alfredo Salazar-Caro, Jon Satrom, Lisa Slodki, Jason Soliday, Ben Syverson, I "heart" Presets, and OP3NR3PO.
Randall Packer is an artist, educator, and writer who critiques the unfolding media culture from his underground studio bunker in Washington, DC. Follow him at Reportage from the Aesthetic Edge.
AS FOUNDER/DIRECTOR OF THE MEDIA ARCHEOLOGY LAB IN COLORADO, LORI EMERSON HAS (since 2009) been surrounding herself with "dead" media technologies in order to help make sense of (and critique) today's much-hyped alive ones. Being also a scholar and critic of contemporary poetics, she is keenly aware of how such devices are equipped to influence and constrain our writing/thinking.
Emerson's work celebrates and calls for a "frictional media archeological analysis" aimed at the continual "unmooring" of the accepted conventions of reading and writing. Towards this end, she critiques consumer-oriented trends in computing–trends which unfortunately seek to "efface the interface" in the name of so-called user-friendliness. Montgomery Cantsin conducted the following interview by email upon the release of Lori's new book, Reading Writing Interfaces (recently published by University of Minnesota Press).
Montgomery Cantsin: First, I want to point out that your new book is part of a series which was founded by Mark Poster, who passed away not too long ago. Can you talk about how your work fits into his "Electronic Mediations" series and what (if any) influence Poster has had on you?
Lori Emerson: Mark Poster has been an underlying, though subtle, influence on my work as I first read him in a graduate seminar I took on "cybercultures" in the mid- to late-90s with the Victorianist and early hypertext theorist Christopher Keep. That class and Poster's work–his deeply political readings of digital media structures–stayed with me long afterwards. In fact, about seventeen years ago I gave a presentation on "Postmodern Virtualities" in that class and while I have no memory at all of what I said or even what I learned from reading his work back then, it's remarkable that his opening sentence rings so true to the kind of work I now find myself doing–he writes that "a critical understanding of the new communications systems requires an evaluation of the type of subject it encourages, while a viable articulation of postmodernity must include an elaboration of its relation to new technologies of communication." And so the point at which I realized I was, to my surprise, writing a political book that meshed together poetics and media studies was the point at which I realized that my work would likely fit in best (or, given its reputation in media studies, I wanted to make my work fit in) with the Electronic Mediations series, especially because of their books on tactical media, glitch and error, as well as the politics of archives and networks. It's such a thrill and an honor to have my book included in that series.
MC: How did your Media Archeology Lab come about?
LE: I was fortunate enough to have the support of the past director of the Alliance for Technology, Learning, and Society when I was first hired here at the University of Colorado at Boulder in 2008. In 2009, the director, John Bennett, offered me a $20,000 startup grant to build a lab, any lab, that Atlas and English Department students could both use. I then began looking for a way to build a lab that wasn't just another venue on campus to celebrate the perpetual new in computing and, since I was at the time fascinated with how the Canadian poet bpNichol wrote one of the first kinetic digital poems, "First Screening," in 1983 using Basic on an Apple IIe, I decided to create a lab that had enough Apple IIe's to teach bpNichol in a classroom full of 20 English majors. It didn't take long before I moved on to acquiring Commodore 64's and then to where we find ourselves now, with a collection of about a thousand pieces of still functioning hardware and software from the mid-1970s to the early 2000s. I also have to admit that the MAL wouldn't be what it is now if we weren't flying under the radar of the university for the first three years or so. The relative obscurity of the lab in those early years meant that we had little to no oversight, no one to report to, no metrics or outcomes to adhere to, and so on which meant we were free to be as wild as we wanted.
MC: In trying to explain your book to a friend, I admit I had some difficulty. I found that it was (for me) hard to do without making the subject of the book sound obscure. And yet I feel that the issues raised in the book are actually quite significant/fundamental. …Let's delve right into the concept of the interface. As you point out, digital interfaces are now being made "invisible" by manufacturers in the name of "naturalness," and so it is hard now to even point to a modern interface and say "this is an interface." At one point you quote Alexander Galloway, who defines an interface as a "point of transition." (In other words it is a sort of boundary?) You also quote Johanna Drucker, who says that a book can qualify as an interface!? …Is it useful here to ask what's NOT an interface??!
LE: I think that, similar to Marshall McLuhan's notion of 'medium' which he even extended to roads (and then had to endure a couple decades of ridicule from academics), interface can indeed be anything that's an intermediary between a human user or creator and what is being created. But unlike using 'medium', 'interface' seems to allow us to focus our thinking on the particular affordances of specific intermediary structures. It's not especially unusual or even useful to point out that paper is a medium but, by contrast, calling it an interface summons up not only the material qualities of paper (the grain, size, texture, limits and possibilities for inscription) but also pens and pencils along with that crucial point of interaction that's between–between writer or artist and their materials. But I also suspect that some of the significance of the concept as I'm using is lost when you start from an arbitrary point in the past and think about needles as interfaces for needlework, or rocks as interfaces for etchings or engravings. Instead, 'interface' gains traction when we use contemporary notions of it to have a see-saw relationship between present and past–reading contemporary interfaces through past interfaces and vice-versa. In this way, my book is resolutely of the present because I tend not to delude myself into thinking I can have a pure, direct access to the past. Instead, I start with the closed interfaces of the present moment whose manufacturers try to convince us that a closed device is the only way for us to have a supposedly "natural," "intuitive," "seamless" experience with our digital devices; I then work my way back in time to reread typewriters and fascicles or handmade books as profoundly open and configurable interfaces but still with their own limitations.
MC: I was delighted to see that the first scholarly name you drop into your text is that of the amazingly awesome Florian Cramer, the second-wave Neoist. You say he importantly identified eight different types of interfaces. Of these eight, the type that you identify as being of particular interest to you is the "human-to-hardware" interface?
LE: I'm interested in thinking about how certain (largely profit-driven) decisions about interfaces for human-computer-interaction fundamentally affect the human user–determining their access to information along with what and how they're able to create. This uneven distribution of power between user and digital computer is most obvious when we start to think about why the keyboard/screen/mouse interface has become the only way for us to interact with our machines or when we look at the history of how a particular notion of the Graphical User Interface was used to advance an ideology of the user-friendly. While I am obviously quite dedicated to certain aspects of media archaeology that believe in the value of looking at the operational undersides of machines and the ways in which these machines can now operate quite independently of humans, in Reading Writing Interfaces I'm most concerned with how humans are now almost totally unable to think outside of the current dominant paradigm in computing. This is why I'm less interested in hardware-to-hardware configurations and more interested in the space between human and hardware–as well as software.
MC: I like how you point out that the closed interface can be a sort of metaphor for ideology ('that which we are not aware of'). This part of the book blew my mind and I'd love it if you could expand on this here.
LE: I'm fast and loose with how I use 'ideology' but, after going through every issue of Byte magazine from the late 70s through the mid-1980s after the release of the Apple Macintosh–mostly just to see what I'd find–I became convinced not even that contemporary computing interfaces are metaphors for ideology but that they are themselves expressions of an ideology. Somehow what was at first a battle between competing philosophies in the 1970s–between a model of computing based on openness and a model of computing based on a closed interface for the sake of a very particular notion of user friendliness–gradually turned into an all-out marketing campaign by Apple that was so successful users/consumers are barely even aware of other possible versions of computing. These closed interfaces have become so familiar, so accepted as the so-called 'natural' way for users to access their computers, that we are mostly utterly unable to imagine any other alternative. Over and over again, we're told: "Computers are only getting easier, more intuitive, more natural to use!" Or so the story goes, until you either try to understand how exactly our digital devices work. Or until you try to create outside of a corporation's rigid developer guidelines. Or until you come up against the impossibility of working with a closed device whose "seamless," "natural," "intuitive" user interface doesn't in any way conform to your own sense of nature or intuition and can't be rebuilt, remade, or reassembled in your own image because in computing words like "seamless" and "natural" are code for "closed."
Something I'd love to research more is how this ideology of invisibility is not a reflection of a particular aspect of capitalism (as I thought when I wrote Reading Writing Interfaces) but is actually one of the key underpinnings of a capitalist economy. I recently learned from reading Kirstyn Leuner's dissertation that the diorama–which emerged in the 1820s in Paris not coincidentally at the same time as early industrial capitalism began to get its legs (and only twenty years before Marx would move to Paris and begin formulating Capital)–was also produced and marketed as a "magical" device whose inner workings were kept hidden from viewers in the interests of providing an immersive experience. But I admit this is all just a hunch.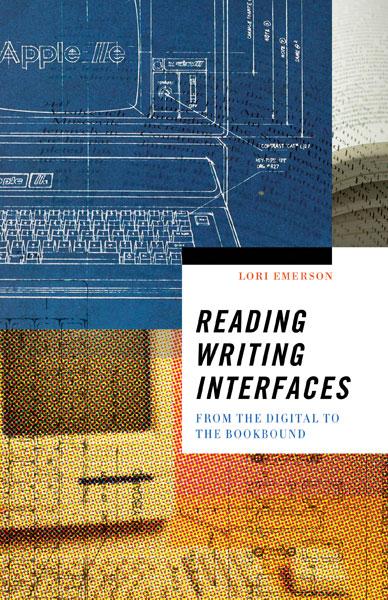 MC: The Situationists called for a seizing of the "means of conditioning." Should we also aim to seize the means of programming? And what connections might we draw between these two projects?
LE: As I try to imply above, contemporary computing is one of the most profound manifestations of late capitalism–I only have a superficial understanding of the Situationists but, ultimately, the only reason why our devices are now not only closed to us but gradually disappearing under the guise of 'seamlessness' is because, from a profit-oriented perspective, a universal homogeneity of devices is the ideal; and now, to accelerate that homogeneity, these devices must also be invisible. It does seem to me that the way out is to hack, appropriate, seize, rebuild in our own image. The only problem is that even 'hacking' and 'making' have become big business, as Make Magazine and all its spin-off projects (Maker Faire, Craft Magazine, Maker Television etc.) continue to be enormously profitable and as mega corporations such as Google and Facebook hire hackers and even hire Occupy Wall Street activists. Nonetheless, I have a tremendous amount of respect for utterly unprofitable experiments in taking control of our technology–I've begun working on my next project I'm calling OTHER NETWORKS which looks at networks that exist outside of or before that behemoth "the internet" came to dominate our online interactions. One project in particular, Occupy.Here, seems to fit in nicely as a Situationist-inspired seizing of the means of programming in that it is a network that exists entirely outside of the internet via a wifi router near Zuccotti Park in New York City which anyone with a smartphone or laptop can access through a portal website. In other words, it offers us a beautifully simple, elegant way out of the way the internet disempowers us through a system of distributed control.
MC: It used to be that people could take apart and reassemble the mechanical devices in their lives (toasters for example), and these devices were constructed with universal parts (screws, etc) …How can the tinkering impulse survive in the face of smart devices, blackboxing, proprietary components, etc.? (Maybe not everyone is a tinkerer, but…)
LE: I've wondered the same thing but projects such as Occupy.Here and devices such as Raspberry Pi (that are as inexpensive as a book) or platforms such as Arduino that are meant to help us build other devices give me hope. But also I think it's important to remember this blackboxing is largely (but of course not only) driven by Apple and that, as I've come to learn, this tinkering impulse is alive and well in countries outside of the U.S. For example, I recently met a graduate student from Israel who assured me that nearly all of her friends and family members living in Israel used PCs or Linux devices and everyone regularly takes apart and fixes their machines. This was quite a revelation to me, to realize that the overwhelming push to disempower users/consumers with closed devices may be a western phenomenon.
MC: Your book suggests that an interface that is truly going to be a "friend" to the user is NOT necessarily an interface that is going to make all the fundamental decisions in advance for the user, etc. Maybe talk about how future interfaces might possibly instead more fully engage the creativity of the user (and/or invite the user to engage at a deeper level with the capabilities of computers)? Also, can such be accomplished in a way that draws in all users and not just geeks?
LE: Uncovering documentation from the 1970s on Smalltalk and on Alan Kay's vision of a Dynabook (as a device that would have given users the ability to create their own ways to view and manipulate information) demonstrated to me that there are real alternatives to the binary of experts on one side and everyday users on the other. This is a false dichotomy, a convenient construction invented to convince people that closed devices were, as an advertisement for Apple Macintosh put it, computers "for the rest of us." It is perfectly possible in theory for us to have interfaces in the future that are open, extensible, and configurable to the expert or novice user. The problem is, first, that there's no way to avoid the need to institute nationwide education in programming and digital literacy in public schools as I imagine that any device built for configurability will also have to be programmable; and second, it's hard to imagine a configurable, programmable device that will generate maximum profit – companies and western consumers would have to change in a radical way that seems unsupportable by the dictates of late capitalism.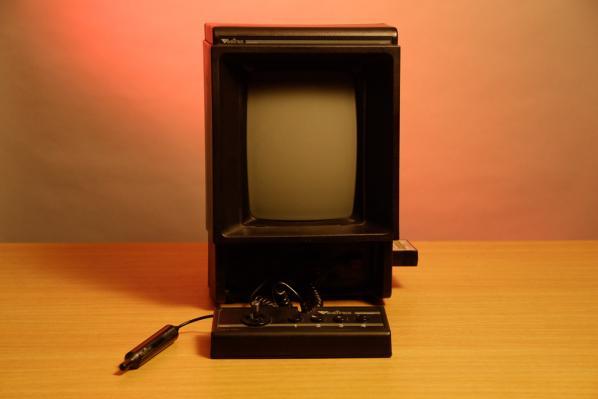 [photo by Diane Lynn Bolluck]
MC: The computer's identity as tool for efficiency seems to overshadow the computer's poetic potential. I use 'poetic' here to mean "the development of absolutely new forms of behavior"–a Lettrist definition of poetics which is notably similar to Mckenzie Wark's definition of hacking (which you cite): "creating the possibility of new things entering the world." …Has the poet always been a sort of hacker?
LE: I think so! Seeing writing, especially innovative poetry that lives on the edges of acceptability, as studies of media has brought about a profound shift in my thinking so that I'm no longer interested in trying to seeing through letters and words to get at the representational meaning but instead I think about how the writing registers media effects. I'm not sure how far back you can go in literary history and make this work, but there's no question in my mind that poets such as Emily Dickinson, Stéphane Mallarmé, and of course a whole host of experimental early twentieth century poets were pushing up against the limits of what the media of their time could and could not do for/with writing. And to the extent that these poets are engaged in a continuous cycling of tinkering with the limits and possibilities of writing media of their time which in turn re-enlivens our language, it does seem like poetry [defined as such] could be seen as hacking.
MC: Diane di Prima wrote: "THE ONLY WAR THAT MATTERS IS THE WAR AGAINST THE IMAGINATION / ALL OTHER WARS ARE SUBSUMED IN IT" [emphasis in the original]. Do you think we have the means to win this war (which is also, it would seem, Richard Bailey's "war against conventionality")? To what degree is it a question of interface?
LE: Nearly all of our tools, no matter how simple, are interfaces for accessing other sets of tools (think of hammers and pens as interfaces to access nails and paper) so that not only are nearly all our actions mediated by interfaces of some sort but also there may not be such a thing as an unmediated, interface-free interaction. So, it's possible to say that it's always been a question of interface–the problem now is that corporations are making it as difficult as possible to perceive these interfaces and to see how they're mediating and even determining our experience.
To get to your question about imagination, it's getting harder and harder to be weird, or even encounter the truly weird which, for me, is "imagination"–existing in or seeing the world askew, envisioning new kinds of existence in the world because everything is indeed mediated tightly and thoroughly for us, making it next to impossible to be anything but a consumer. In this sense, winning the war could come down to making or producing either as an end in itself or as a means to just exercise imagination.
Die GstettenSaga: The Rise of Echsenfriedl review. SPOILER WARNING!
Johannes Grenzfurthner's Post-Apocalyptic DIY Epic on Makers, Hacktivism and Media Culture.
"A mad post-collapse satire of information culture and tech fetishism, in a weird sort of melding of Stalker, Network, and The Bed-Sitting Room." (Richard Kadrey)
Die GstettenSaga: The Rise of Echsenfriedl is an Austrian hackploitation art house film by Johannes Grenzfurthner, mastermind of the international art-technology-philosophy group monochrom, co-produced by the media collective Traum & Wahnsinn. Reimagining the makerspace as grindhouse, the story is set in the post-apocalyptic aftermath of the "Google Wars" – an armed global conflict between the last two remaining superpowers China and Google – which has turned what remained of the Alps into a Gstetten.
In Austrian German, "Gstetten" translates to wasteland, outback or 'fourth world' (Manuel Castells) and is a popular name for provincial towns – and sometimes just the less sophisticated parts of them. The area's biggest semi-urban sprawl is Mega City Schwechat, the former home of Vienna International Airport, a refinery and a beer brewery. It is governed by the evil media mogul Thurnher von Pjölk (Martin Auer), a pretender who claims to be the inventor of key publishing technologies such as letterpress printing and rules the area with his tabloid newspaper. But the hegemony of his yellow press empire is contested by – spoiler alert! – makers, hackers and nerds, who are more leaning towards electronic media such as the recently rediscovered television. In order to get rid off this bothersome opposition, Pjölk devises an evil plan for wiping out Schwechat's insubordinate creative class.

In an insidious political move, he pretends to reach out for the technophile faction by commissioning two of his reporters, the bootlicking opportunist Fratt Aigner (Lukas Tagwerker) and the brainy geek girl Alalia Grundschober (Sophia Grabner), to conduct an exclusive TV interview with the ultimate Gstetterati icon, the legendary innovator Echsenfriedl ("Lizard Freddy") – on the basis of precarious employment conditions. The title character, who turns out to be an basilisk, embodies a mix of Steve Jobs, Richard Stallman and Julian Assange and lives in the depths of Niederpröll in his hideout much like Subcomandante Marcos – partly in order to protect the world from his killing gaze, which would, audio-visually transmitted, turn the whole of his fan base immediately to stone.
Grenzfurthner's sci-fi-horror adaption of the Divine Comedy takes us on a retro-futuristic post-cyberpunk adventure in the tradition of cinema grotesque back to the dark days which preceded the Internet. The journey of our heroes – distinctively resembling Tarkovsky's 'stalkers' – is a quest for extinct media technologies but their search for Echsenfriedl eventually leads the two protagonists to a deepened understanding of who they really are: the media industry's precarious workforce under spectacular capitalism. While Fratt's dirt track to enlightenment is paved with stumbling blocks, his brainy Beatrice advances with the determination of a Harawayian cyborg who makes use of her superior technical skills to save them from the zombified folk populating the Gstetten: uncanny creatures from the Kafkaesque bestiarium of Austria's undead bureaucracy and its hanger-ons like armed-to-the-teeth Postal Service subcontractors (brilliant: monochrom's Evelyn Fürlinger, also Grenzfurthner's ex-wife) or the once powerful Farmers Association led by Jeff Ricketts (Firefly, Buffy the Vampire Slayer), who are worshipping antique pre-war EU funding applications as their sacred scriptures. Our friends receive the final hints for their search from the Sphinx Philine-Codec Comtesse de Cybersdorf (Eva-Christina Binder), a fantasy femme fatale who is torn between Plöjlk and Echsenfriedl, and the bearded drag queen Heinz Rand of Raiká (David Dempsey), an eccentric agricultural cooperative banker and possible descendant of Conchita Wurst.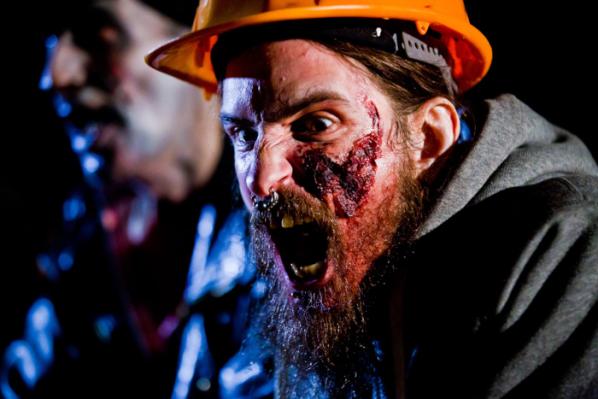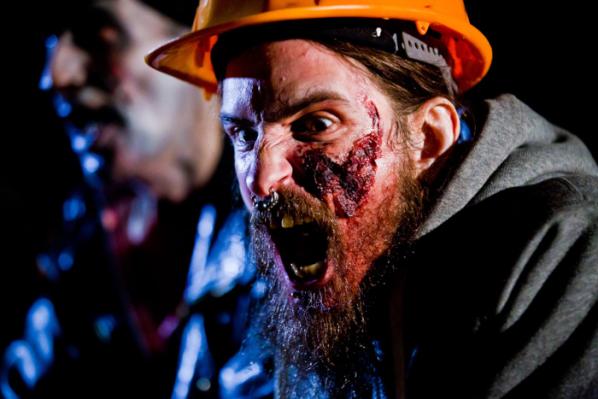 The Gstettensaga's fascinating cinematic pastiche is more than just a firework of rhizomatic intertextuality, a symptom of the depthlessness of postmodern aesthetics or excessive enthusiasm for experimentation in the field of form. In their infamous 1972 book Anti-Oedipus, Gilles Deleuze and Félix Guattari have identified the technique of bricolage as the characteristic mode of production under "schizophrenic" capitalism, a facet triumphantly magnified by the filmmakers. If every discourse is bricoleur, like Jacques Derrida suggested, suddenly 'context' can become the artist's material or even a form of art in its own right:
"The more artists are consigned to an existence within a patchwork of niches, the more dependent they become on information resources, communication and networking. In this respect, aesthetic artefacts must take a stance toward a plethora or markedly heterogeneous contexts that sediment in one way or another: the conditions and circumstances surrounding their production, their various social fields from which (and for or against which) they speak: real or imagined audiences toward (or against) whose values a work, an approach or a position is targeted. This play with the factors affecting it and among which it must mediate has become an essential trait on an art form that might best be described as 'Contextualism'." [1]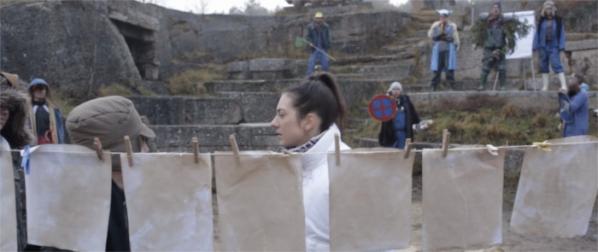 What I found especially intriguing about the Gstettensaga is how the filmmakers responded to the various challenges of the feature film format by contextualising the whole production process, distribution, language adaptions (subtitles are an integral part of the story), soundtrack and even the viewing experience.
The film was initially commissioned by Austrian public broadcasting station ORF III as part of the series Artist-in-Residence for a budget of only €5000, set to be produced within a six months period. In response, monochrom used an embedded prank to raise money. The movie contains a text insert similar to watermarks used in festival viewing copies, which asks the viewer to report the film as copyright infringement by calling a premium-rate phone number (1.09 EUR/minute) and enabled Grenzfurthner to co-finance the film with proceeds from this new strategy he has named 'crowdratting'. [2]
The Contextualist script – including outlines of scenes for improvisation – was written by Grenzfurthner and Roland Gratzer in just a couple of days in November 2013 in a Viennese restaurant. They also incorporated ideas that came up during their weekly meeting with the entire production crew, whereas some of the backstory was first created for monochrom's pen-and-paper role-playing theatre performance Campaign. Principal photography – the camera work of Thomas Weilguny deserves the highest praise – commenced on December 2, 2013 and ended January 19, 2014, which left nearly 5 weeks for post-production and editing. Due to the fast production process and the financial limitations, no film score was composed for the Gstettensaga – instead, Grenzfurthner used an assortment of 8bit, synth pop and electronica tracks especially for their specific retro quality because "they may sound old-school to us, but not in the world of the Gstettensaga, where all retro electronic music is still impossible and futuristic." [3]
The retro-futuristic world of Echsenfriedl is coming to a film festival, hacker con or Pirate Bay near you.
Official Homepage
http://www.monochrom.at/gstettensaga/
Festival screenings
Tamtam (Seara de proiectie la TT) / May 7, 2014 (Timisoara, Romania)
KOMM.ST Festival / May 11, 2014 (Anger, Austria)
Supermarkt (Dismalware) / June 7, 2014 (Berlin, Germany)
Fusion Festival / June 25-29, 2014 (Lärz Airfield, Mecklenburg, Germany)
Roswell International Sci Fi Film Festival / June 26-29, 2014 (Roswell, NM, USA)
iRRland movie night / June 30, 2014 (Munich, Germany)
qujochö Film Summer / July 3, 2014 (Linz, Austria)
HOPE X / July 18-20, 2014 (New York, New York, USA)
Fright Night Film Fest / August 1-3, 2014 (Louisville, KY, USA)
Gen Con Indy Film Festival 2014 / August 14-17, 2014 (Indianapolis, Indiana, USA)
San Francisco Global Movie Fest / August 15-17, 2014 (San Jose, CA, USA)
Rostfest / August 21-24, 2014 (Eisenerz, Austria)
Noisebridge / August 29, 2014 (San Francisco, USA)
/slash Filmfestival / September 18-28, 2014 (Vienna, Austria)
Simultan Fest / October 6-11, 2014 (Timisoara, Romania)
Phuture Fest / October 11, 2014 (Denver, Colorado, USA)
prol.kino / October 14, 2014 (Graz, Austria)
References:
[1] Friesinger, G., Grenzfurthner, J. and Schneider, F. (2013) 20 Years of Context Hacking. In: Friesinger, G., Grenzfurthner, J. and Schneider, F. (eds.) Context Hacking: How to Mess with Art, the Media System, Law and the Market. Vienna: edition mono. Available from:  http://www.monochrom.at/context-hacking-essay/
[2] Grenzfurthner, J. (2014) Crowdratting works: "Die Gstettensaga: The Rise of Echsenfriedl". monochrom. [Blog]. Available from: http://monochrom.at/blog/index.php?op=ViewArticle&articleId=2237&blogId=1
[3] Grenzfurthner, J. (2014) Interview. In: FM4 radio, 10th March. Available from: http://www.monochrom.at/info-monochrom/gstettensaga_fm4_interview__03102013.MP3 (German)
Tatiana Bazzichelli is a researcher, networker and curator, working in the field of hacktivism and net culture. She is part of the transmediale festival team in Berlin, where she develops the reSource for transmedial culture, an ongoing distributed project of networking and research within the transmediale festival. She received a Ph.D. in Information and Media Studies from Aarhus University (DK), conducting research on disruptive art practices in the business of social media (title: Networked Disruption: Rethinking Oppositions in Art, Hacktivism and the Business of Social Networking). Bazzichelli is also a Postdoc Researcher at the Centre for Digital Cultures /Leuphana University of Lüneburg (DE).
Introduction.
In light of absolute domination by market forces over all of our lives, and with the top-down orientated power systems' bias towards business and the implementation of a consumer class. New ways of thinking around the problem is called for. There has been a dramatic shift of unethical companies such as BP funding art's and technology projects, and mainstream museums and galleries in the UK. [1] Alongside this, those hoping to receive arts funding are told to be innovative and more entrepreneurial than they already are. What they really mean by 'innovative and entrepreneurial' is, get in line with the values of a corporate mentality, and not be contextual or critical in one's art practice. This wholesale move towards business as it further dominates the content, ideas, societal context, and missions by artists and art collectives – is of deep concern for all who wish to explore freedoms of expression on their own terms and not inline with the state's or a corporation's set of diverting agendas.
Art activism in media art and transdiscilpnary arts culture has engaged with political and societal issues while under the gaze of neoliberalism quite successfully. However, what changes have occured that we can draw upon to say we have built real alternative values for others to work with? There are plenty of people from the dark side calling us to join them, like that eirie voice from the original Evil Dead movie.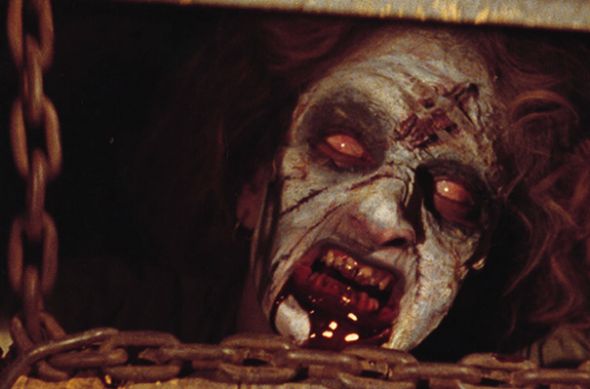 I'm reminded of Thomas Frank's insightful words in his article TED talks are lying to you, that those who urge us to "think different" almost never do so themselves. [2] And this is the nub, what will become us if we step over into their world and adapt our minds to their visions?
"To expect or even wish those who rule and those serving them to change, and challenge their own behaviours and seriously critique their own actions is as likely as winning the National Lottery, perhaps even less." [3] (Garrett 2013)
So, this brings us Tatiana Bazzichelli who has been thinking about this stuff a lot. Her Proposition is that we need climb out of these oppositional loops in order to find different ways of being, and refocus on potential art strategies in relation to a broken economy. In her publication Networked Disruption: Rethinking Oppositions in Art, Hacktivism and the Business of Social Networking, Bazzichelli puts forward the notion of disruptive business and it "becomes a means for describing immanent practices of hackers, artists, networkers and entrepreneurs", and sheds "light on two different but related critical scenes: that of Californian tech culture and that of European net culture – with a specific focus on their multiple approaches towards business and political antagonism."
Interview.
Marc Garrett: In your book you examine a breadth of disruptive practices of networked art and hacking culture in California and Europe. You propose your main objective is to rethink the meaning of critical practices in art, hacktivism and social networking, analyzing them through business instead of being in opposition to it.
Could you explain how this would change situations and what it would bring to artists exploring disruption as part of their practice, networked art culture and the wider community, and what this may look like?
Tatiana Bazzichelli: I will begin answering your question by adding another one: Why do we need to rethink artistic and hacktivist oppositions in the context of social media and after the emergence of Web 2.0? This question is at the core of my book, and also the main link that connects together my previous book, Networking: The Net as Artwork (2006), and the following ones centered on the concept of networked disruption and disrupting business.
The idea of conscious participation in media practices is central to analyse the evolution and transformation of the concept of "networking" in the age of social media. My reflections are the consequence of a process of direct involvement within the activist (or rather "artivist") scene in Italy since the mid-90s, and furthermore, they are based on the analysis of a more international fieldwork of practices between the Europen tradition of netculture, and the development of cyberculture in California. Practically all my books are to be thought of as subjective, and as consequences of a personal experience which aims to create connections between very diverse fields of action, applying the idea of networking both in theory and practice, and as a methodology of writing.
Between the end of the 1990s and the early 2000s, many actions of media criticism were often very dialectical, and rooted on the idea of antagonism as radical opposition. I am for example thinking about what was (erroneously) called "the anti-globalization movement", the protests in Seattle, Prague, Goteborg, Genoa, etc.: somehow it was easier to identify an "enemy", for everyone to unite against the same power. Unfortunately this also meant that it was easier to identify the members of the movement(s) themselves, and many protests faced violent chains of repression by the authorities. In particular in Genoa, the Italian movement and its global counterparts were hit hard. My personal opinion is that the frontal opposition, the idea of assaulting the "red zone" during the protests, did not work at all: we basically played the game of the police. Without dismissing this experience, which was very important in itself and for the start of new activist projects, after Genoa 2001 I started searching for a new way of activism that was not black and white, and which would be harder to appropriate. This was also the reason why I started entering in contact with many projects in the queer, pink, and independent porn culture, which were combining ludic strategies and playful disruption beyond oppositional confrontation. I was trying to connect those to the concept of hacking – mixing the codes to create disturbance, to generate subliminal interventions, to give rise to paradoxes, fakes and pranks, as previous projects based on multiple identities, from Luther Blissett to Neoism and Monty Cantsin, had done before.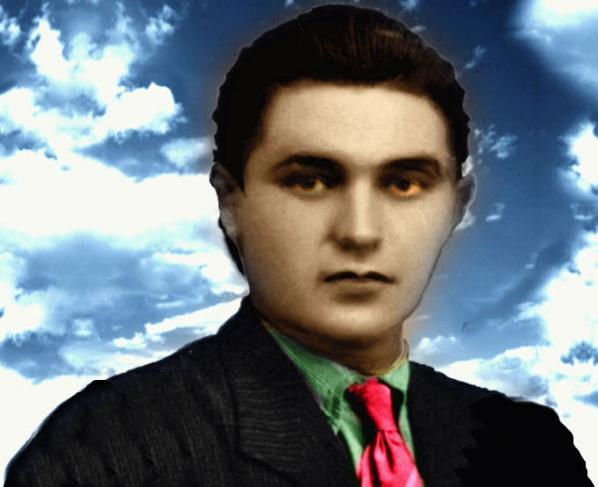 "In 1994, hundreds of European artists, activists and pranksters adopted and shared the same identity. They all called themselves Luther Blissett and set to raising hell in the cultural industry. It was a five year plan. They worked together to tell the world a great story, create a legend, give birth to a new kind of folk hero." Luther Blissett.
But after 2004, which is also the time of the emergence of Web 2.0, the critical framework of art and hacktivism shifted: networking, a concept which had informed the Avant-garde since the 1960s, became a tool for a wider audience, and a pervasive business strategy. The ideas of openness, do it yourself, sharing, the "mottos" of the hacker culture in the 1990s, became the main rhetoric of the Web 2.0 companies based on the appropriation of "free culture". This meant to me that also artistic and hacker practices needed to be recontextualised, since the concept of social networking became something completely different from its roots, and the business companies themselves were applying the concept of disruption as main business logic. Is it possible to oppose disruption with disruption?
In the era of immaterial economy and increasing flexibility, the act of responding with radical opposition no longer looks like an effective practice, since the risk is to simply feed the same machine replicating the capitalistic logic of competitiveness and power conflicts. In my opinion, and here I speak through my "artivist" experience, even the concept of the multitude as a model of resistance against the capitalist system – which runs at a theoretical level – is difficult to apply on a pragmatic level without having to recreate the traditional dynamics of the "power-contra power" conflict. The point is to try to figure out how to imagine new forms of participation that go beyond dualistic conflict – and that go beyond the creation of a hegemonic and holistic entity, although presented as a plural (the multitude, indeed). As a result, it is definitely necessary to reformulate the language, which enters the sphere of production and the political, as Paolo Virno states, but most of all, activists practices and critical strategies need to be rethought.
What my book Networked Disruption suggests is the act of performing within the capitalist framework, not against it, keeping the dialectic open through coexisting oppositions. The notion of disruptive business is useful for reflecting on different modalities of generating criticism, shedding light on contradictions and ambiguities both in capitalistic logics and in artistic and hacktivist strategies, while rethinking oppositional practices in the context of social networking. In this book the concept of the Art of Disrupting Business must be interpreted beyond categorical definitions, and as a new input for imagination. "Disruption" implies a multi-angled perspective and it is a two-way process, where business and the antagonism of business intertwine. Adopting a hacker's strategy, hacktivists and artists take up the challenge of understanding how capitalism works, transforming it into a context for intervention and trying to alter business logics. Rethinking strategies and modalities of opposition implies that new forms of interventions and political awareness should be proposed without antagonising them, but rather by playing with them and disrupting them from the inside of the machine. The vision of a distributed network of practices, participations and relationships can only be fragmented, and based on multiple layers of imagination.
Today there are artists and activists who are inspired by a certain tradition of "disruption", creating interventions from within, critically appropriating the business logics, stretching its limits, or proposing alternative models to it. Many of them are the case studies of my book, where I propose a constellation of social networking projects that challenge the notion of power and hegemony, and where social networking is not only technologically determined. Projects and experiences such as mail art, Neoism, The Church of the SubGenius, Luther Blissett, Anonymous, Anna Adamolo, Les Liens Invisibles, the Telekommunisten collective, The San Francisco Suicide Club, The Cacophony Society, the early Burning Man Festival, the NoiseBridge hackerspace, and many others. Of course there are many more of these. Holes in the system are everywhere, ready to be performed and disrupted.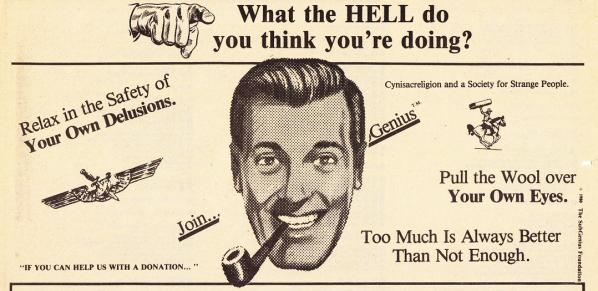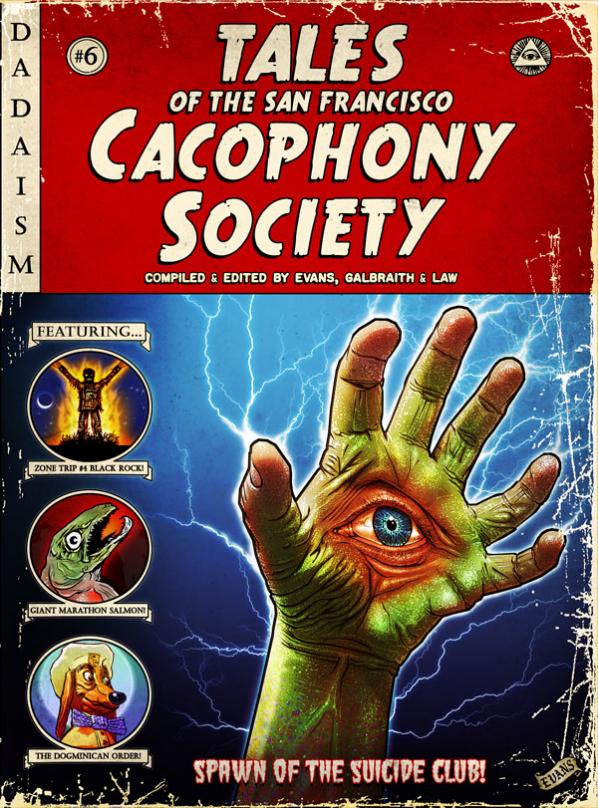 MG: There is a quote in the book that it says, "Innovation is rooted in Desire, not need. Desire is the motivation for behaviour. Desire leads to goals, and goals lead to motivation, the internal condition that gives rise to what we want to do, based on our goals, what can we do – based on the norms of behaviour – and what we will do – the actions that we voluntarily decide to undertake. Motivation is the ethos of goal-oriented behaviour, and a company's ability to understand motivation directly contributes to the success of their products and services in the marketplace" (Manu, 2010, p. 3).
I'm wondering, coming from an activist background myself where do you think free culture fits into this dialogue, especially in respect as a critique of products and services in the marketplace, as well as social forms of emancipation?
TB: The quote you are referring to comes from a book entitled Disrupting Business: Desire, Innovation and the Re-design of Business (Alexander Manu, 2010). As we can read in the business literature, the concept of disruptive business is rooted in the idea of disruptive innovation. Disruptive innovation, a term coined in 1997 by Clayton Christensen, Professor at the Harvard Business School, is used in business contexts to describe innovations that introduces a product or service in ways that the market does not expect. In the business culture, disruption not only means rupture, but links to the idea of innovation and re-design of behavioural tendencies. Therefore performing disruption shows a process that interferes with business, whilst at the same time generating new forms of business. This mutual feedback loop is at the core of my analysis.
However in my book business is neither analysed through classical business school methodologies, nor seen as positive or negative, but it is a means for working consciously on political practices – and for raising questions on art and media criticism. In 2009 I was a visiting scholar at Stanford University where I was researching the reasons of the progressive commercialisation of networking contexts after the emergence of Web 2.0, through the development of hacker culture in the Silicon Valley. From the interviews that I conducted, and also via the close reading of the book From Counterculture to Cyberculture by Fred Turner, it was evident that since the development of the early cyberculture hackers and members of the so-called "counterculture" have been trying to disrupt business via their practices, and in parallel, business corporations have been trying to do the same through technological innovation. Since the 1960´s, hackers and artists in California have been active agents in business innovation while at the same time also undermining business. This is also very evident today in the business context of Web 2.0 where many hackers are working at the core of business, while disrupting it – the Anonymous entity is one of the most successful examples of this.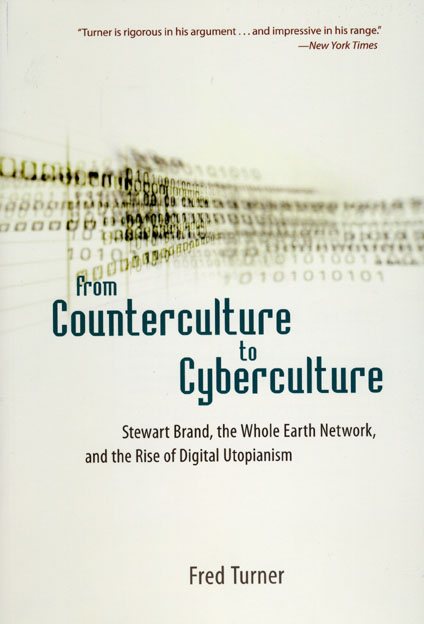 In my book I compare what the concept of business disruption meant in the European context and in the US, especially in Silicon Valley. When I was interviewing computer engineer Lee Felsenstein he told me that in California hackers would refuse hegemony but not business. This is also why many of them have no problem in working for Google, which is actually employing the best hackers of the area. In Italy we always claimed that hacking is politics, and politics is an "attitude", which informs your everyday life and lifestyle. What I discovered in the Silicon Valley is that libertarian practices are often linked with the refusal of the political, and this is the position of many members of the hacker culture in California. Therefore, what for me was the initial "problem", the contamination of business and free culture, was not considered as such among the hackers that I met between San Francisco and Palo Alto.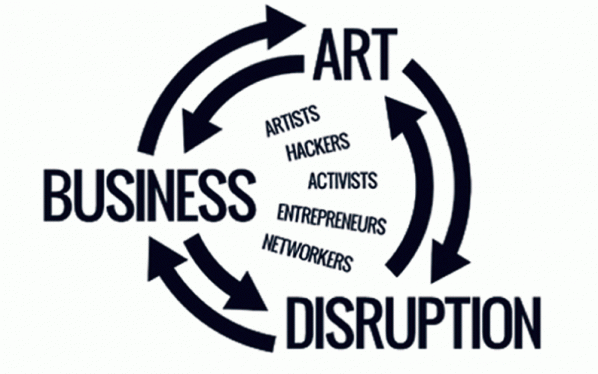 This consideration leads me to create a model of analysis named the "disruptive feedback loop", based on the idea of layering instead of cooptation – such an idea of "layering" rather than cooptation, was proposed by Fred Turner in the lecture "The Bohemian Factory: Burning Man, Google and the Countercultural Ethos of New Media Manufacturing" (2009), while discussing the social phenomenon of Burning Man. The idea of the "mutual feedback loop" between business and hacker culture is instead the result of a conversation in 2009 with Jacob Appelbaum, who at the time was an active member of NoiseBridge in San Francisco, when we were reflecting on the development of hacker spaces in California. In my disruptive loop model, artists and hackers use disruptive techniques of networking in the framework of social media and web-based services to generate new modalities for using technology, which, in some cases, are unpredictable and critical; business enterprises apply disruption as a form of innovation to create new markets and network values, which are also often unpredictable. Networked disruption is a place where the oppositions coexist, and it is a reconfiguration of practices into a structure of mutual feedback instead of opposition.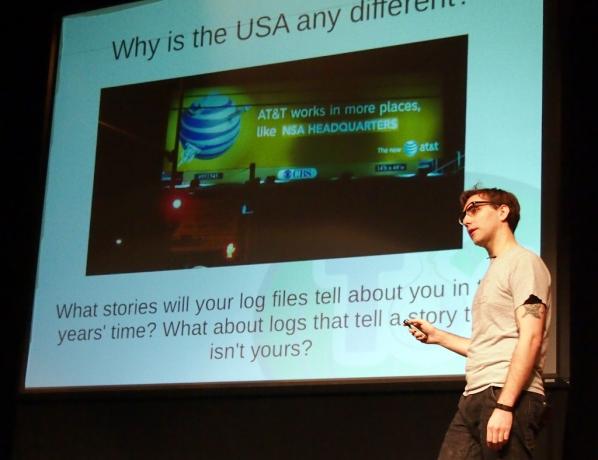 Here I propose disrupting business as an art practice: artists and hackers adopt viral and flexible strategies, as does contemporary networking business, and by provoking contradictions, paradoxes and incongruities, business logic is détourned. This model can be applied both in the analysis of business contexts of social networking and of critical practices generated by hackers and artists. For example, projects such as Anna Adamolo and Seppukoo reflect on the tensions between the open and closed nature of social media, stressing the limits of Facebook's platform, and working on unpredictable consequences generated by a disruptive use of it. Paradoxically, to be critical of business we should learn from it.
The Telekommunisten collective explains this well, and it is not a coincidence that Dmytri Kleiner comes from a Neoist background: the experiences of Luther Blissett and Neoism made it hard to see any "truth", they forced us to question and examine our identities. If you claim to have the truth, you will fail – someone else will proclaim the truth, and perhaps with much more strength and power than you. The Miscommunication Technologies by the Telekommunisten show that the enemy can eat you up and that the capitalist system has endlessly more resources to force its "truth" on you. We have to learn from business, understand how to be pervasive. My point is that we should stop looking for the enemy, because who is the enemy today when disruption and its opposition are feeding the same machine? The challenge is to unite where the system can't get you, and you're not playing into its hands, exposing contradictions, generating disturbance, to disrupt and perform the feedback loop at once. The challenge facing the art of disruptive business is to dissipate oppositions through a network of multiple, distributed, playful and disruptive practices.
MG: It was licensed under a peer Production License (http://p2pfoundation.net/Copyfarleft), similar to a Copyfarleft License (http://p2pfoundation.net/Peer_Production_License). Very different than a Creative Commons Licence, and drawn up by one of the artists you write about in the book Dmytri Kleiner. It feels relevant to be on the P2P Foundation wiki, however it would be useful know how it relates to the context of your publication?
TB: As it is stated on the P2P Foundation website, based on the text published in The Telekommunist Manifesto, "the Peer Production License is an example of the Copyfarleft type of license, in which only other commoners, cooperatives and nonprofits can share and re-use the material, but not commercial entities intent on making profit through the commons without explicit reciprocity". The Peer Production License is a hack of the Creative Commons licenses. Where the Creative Commons is mostly used for sharing works non-commercially, the Peer Production License wants to contribute in expanding a non-capitalist economy, generating earnings that are shared equally. Commercial use is therefore encouraged for independent and collective/common-based users only, proposing a business logic that does not lead to a private appropriation of community-created value.
This logic is also at the core of the "Venture Communism" concept coined by Dmytri Kleiner in 2001, which proposes to allocate equally the collectively owned material wealth, and to create a peer-to-peer social commons as an alternative to venture capitalism.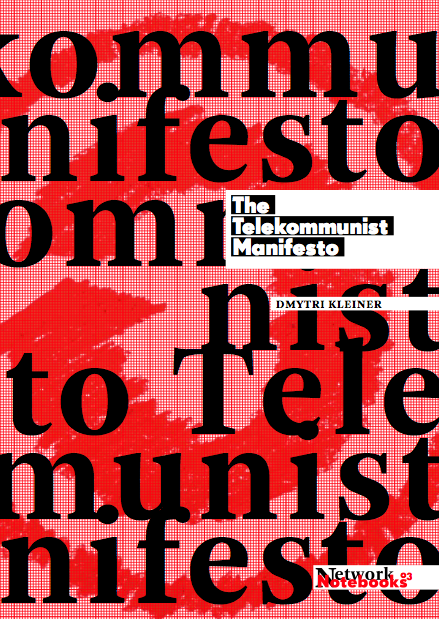 I decided to release the Networked Disruption book under this license because I consider it a coherent intellectual gesture, and also a "business experiment". From what Dmytri told me this is the first book released under this license after the Telekommunist Manifesto, and hopefully the use of such license, if increased, will be part of poking a small hole in the capitalist economy, generating value which is not going into few owners' pockets, but is shared equally among the workers and producers. This is also the reason why all my publications exist both online and on paper and are freely downloadable from the web, because it would be contradictory to write about certain topics and then release my toughts under proprietary licenses. In this case, since the book is about disrupting business, I decided to apply a disrupting business license, and to my point of view this is what the Peer Production License is.
Conclusion:
Bazzichelli's investigation is a timely and necessary critique on how to free up networked forms of freedom of expression and its varied practice. At first, I was suspicious. Indeed, in a later publication on the subject co-edited by Tatiana Bazzichelli & Geoff Cox, called Disrupting Business: Art and Activism in Times of Financial Crisis; "Bifo" Berardi, in his article EMPTINESS says "Business is, in my opinion, the most despicable word in the vocabulary. Well, I will try to express it better: the meaning and implications of the word 'business' in contemporary culture and daily life, and the positive emphasis placed on this term, are the most telling symptoms of the abysmal alienation of our time." On this I agree.
We are all emersed in the sea of neoliberalism and we are struggling to keep our heads above the water at various levels. Some are aware of it and are not dealing with it, most are unconscious of it and are drowning in it, and then there are those actively awake and exploring different and innovative ways to survive and hack 'around, in between and through' this deep totalising ocean.
Whether we like it or not, business unfortunately is the dominating regime controlling our interactions, and this includes our cultural, digital interfaces and social contexts. Bazzichelli asks us to stare into the monster's face – what Bifo sees as a deep emptiness. She pulls out of the slimey depths a glimmer of hope and an advancement for playful and critically aware forms of artistic disruption. It is an academic and cultural hack and reminds me of Donna Haraway's proposition in the mid 90s for Situated Knowledges. Haraway realised with other collaborators that it was a fantasy to think that the patriarch was going to somehow willingly hand over control and be enlightened to the idea that women scientists should be accepted as equal in history and academia.
"We seek not the knowledges ruled by phallogocentrism (nostalgia for the presence of the one true world) and disembodied vision. We seek those ruled by partial sight and limited voice – not partiality for its own sake but, rather, for the sake of the connections and the unexpected openings situated knowledges make possible. Situated knowledges are about communities, not isolated individuals." [4] (Haraway 1996)
Her proposition is not suggesting that critical, ethical artists and pranksters give up and put down their tools and become business men and women instead. Using terms such as 'disrupting business' is not conforming or giving up the fight. It is a shift in strategy. She has successfully illustrated that there is a continual rise in imaginative experimentation where artistic hacking with the protocols, interfaces, code, data and surveillance is alive and well. It is about infiltration of these ideological defaults and the power systems that rely on them. Resistance is not futile, it is just changing direction from reliance for absolute desire (which lets face it is rarely fullfilled) from momentary tactics and momentary hacks, into informed hacking with socially aware and engaged strategies. She is asking for an intelligent response, a less macho way in dealing with the problem. This means building deeper relations with others through affinities and sharing critical knowledges while disrupting the business of neoliberalism. And most of all, carry on playing…
…the machine is always social before it is technical.
(Gilles Deleuze)
Though the term 'lab' conjures the image of a fairly sanitised environment optimised for scientific experiments and populated by people in white coats, media labs – centres for creative experimentation – are quite different. At their most basic, they are spaces – mostly physical but sometimes also virtual – for sharing technological resources like computers, software and even perhaps highly expensive 3D printers; offering training; and supporting the types of collaborative research that do not easily reside elsewhere. In the early-to-mid-1990s, partly propelled by the exciting possibilities of the internet and associated web browser technologies, groups began to coalesce, bent on developing access to the inherent potential of collective creativity. With the exuberant new dot.com businesses fuelling a 'creative economy', the Californian 'cybercafé' (surf the internet and slurp the coffee) was emulated in urban centres around the UK and in some cases artists were heavily involved. They saw the internet's myriad ways of changing the way we make, think about and share art – not to mention its capacity for social empowerment – and wanted to harness these qualities quickly and effectively. With many practitioners coming from the spaces, practices and communities forged by the independent film and video movement, the phenomenon of the UK media lab was born. However, despite the importance of these spaces as the hybrid homes of the then emergent and now embedded creative activities that characterise today's rich field of digital and media practices, their history and contribution to current lab environments has been little discussed outside a niche arena.
History
Early Media Labs
Two of the earliest UK media labs were Artec and Backspace (aka Bakspc), both based in London. Artec, which was established in 1990, was initially funded by Islington Council and ESF (the European Social Fund), but soon won additional support from Arts Council England. Conceived by Frank Boyd and Derek Richards, its focus from the outset was to deploy technology for social empowerment and, early on, it provided valuable professional training to the long-term unemployed. In this sense, it did not operate from within an arts context proper, but combined art and technology in the name of social integration. Creative projects were led by Graham Harwood, whose own artistic practice and his collective Mongrel were formed through associations at Artec.
Harwood and Mongrel's practice is known widely for scrutinising social, political and cultural divisions through a framework of technology. A notable piece from this period was Rehearsal of Memory (1995), which took the collective experiences of staff and patients at Ashworth high security mental hospital, near Liverpool, and presented them as a unified and anonymous computer-based group portrait. Now available as a CD-ROM, the work strongly undermines the assumptions we make about mental health, blurring the line between those branded 'normal' or not. It is an excellent example of the way artists and media labs habitually combine creative activities with technology to give people a renewed agency. Around 1995, Peter Ride was brought on board to curate a stream of activity called Channel, which lead to further powerful artworks including Ubiquity (1997) by David Bickerstaff and Susan Collins' In Conversation (1997).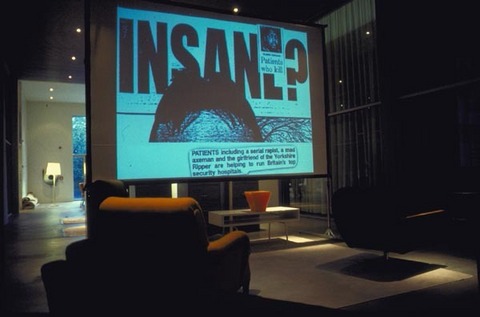 Graham Harwood (Mongrel) «Rehearsal of Memory» 1995. Installation V2, Rotterdam. Photograph: Jan Sprij. © Graham Harwood (Mongrel)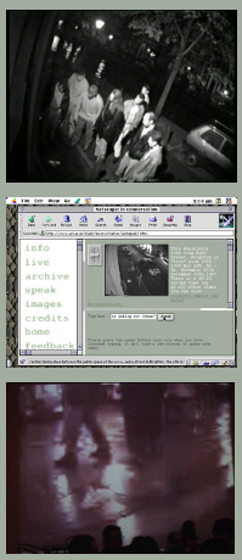 In Conversation. A www/street/gallery installation by Susan Collins first installed in November/December 1997 at Fabrica in Brighton it was subsequently sited in Amsterdam (Oude Kerk) 1998, Helsinki (Gallery Otso, Espoo) 1998, Cardiff (Chapter Arts) 2000 and Berlin (British Council) 2001.
Without regular public funding, Backspace started out as an independent self-organised cybercafé. Initiated by James Stevens as a 'soft space' adjunct to his commercial web design business, Obsolete, it had a physical studio and lounge on Clink Street. People could drop in and use the web access and computer terminals in exchange for a nominal membership fee and commitment to maintain the space. What is notable about the Backspace model is how it attempted to foster a co-operatively managed resource. It exemplified a preoccupation amongst internet culture devotees with autonomy and new forms of governance, and struggled with all the contradictions of such ideals alongside the fact of its commercial parent entity. Obsolete shared its (at that time) capacious bandwidth. This gave people web hosting and streaming capabilities that would otherwise have been prohibitively expensive; allowed for the hosting of many artistic projects produced within the space itself; and facilitated many early streaming experiments with link-ups between other European media labs including as E-lab in Riga, Lativa and Ljudmila in Llubljana, Slovenia. Early attendees and co-facilitators of Backspace now list some central figures of the Digital and New Media art fields including: Matt Fuller, Simon Pope, Armin Medosch, Heath Bunting, Ruth Catlow, Pete Gomes, Manu Luksch and Thomson and Craighead – even Turner Prize winner Mark Lecky was a regular for a while.
Globally distributed discussion networks provided a discursive layer for these media labs, with early mailing lists such as Nettime, Rhizome and Syndicate forging international connections around technology, art and politics. Likewise, Mute (at first a newspaper, then a glossy magazine, now a web journal) provided regular critical commentary on burgeoning digital culture.
Foundationally different, Artec and Backspace were united by a belief in the importance of access to tools and training within a social context. In slightly differing ways, they put creative experimentation and social concerns at the centre of the agenda via technology. This was to become an important organisational strategy for this sector. Though both spaces have since closed, Stevens continues to build social and technological infrastructure as Deckspace, at Borough Hall, Greenwich. Without a physical space, Frank Boyd has evolved his media lab system into an industry-orientated programme called Crossover, which assembles creative professionals to workshop cross-platform 'experiences' from a variety of creative arenas including film TV and the computer games industry. Crossover is one of many peripatetic media lab models that privilege collaborative creative processes, although it is more goal-orientated than most as participants often pitch to a panel of industry commissioners.
DECKSPACE is an SPC MediaLab in Borough Hall, Greenwich. A serious climb with prime views and an evolution of environment for tea drinkers node builders and code meddlers to relay power and light into public space fit for use. (via bitnik)

Process over Product
With less of an eye on industry and an abiding interest in the creative process itself, PVA MediaLab was formed in 1997 by artists Simon Poulter and Julie Penfold. In its first incarnation, it took up residence at Dartington College of the Arts, with funding from South West Arts. While there, artists were offered a well-equipped space in which to experiment with technology and develop ideas. In fact it is this developmental freedom that forms another core operational component of the media lab. Rather than asking artists to arrive with pre-formulated projects, or expecting them to see a piece through from start to finish, media labs have consistently placed value on self-determined exploration. PVA helps artists to manufacture methodologies rather than final artworks, fully designed products or content packages. They have also led the way in assisting other media labs to produce a similar system, through their Labculture programme. Highly itinerant, the Labculture model adjusts itself to host organisations, like Vivid, in Birmingham, so they can learn how to set and achieve goals while building the sorts of lasting partnerships that will sustain future activity.
This shared or Open Source way of working integral to media lab culture is also exemplified by GYOML (Grow Your Own Media Lab). A collaborative project between media labs Folly, Access Space and the Polytechnic, GYOML was designed to help generate more media lab initiatives. It has included: 'GYOML in a Kitchen', a sound recording and editing workshop by Steve Symons (Lancaster); 'GYOML in a Van', which staged an introductory workshop in media-lab culture for community group leaders (Lancaster); a game-centred 'GYOML for teenagers' (Rochdale); and 'GYOML at the Canteen', catering to film-makers and professional artists with an interest in open source (Barrow-in-Furness). Legacies of this project include the Digital Artists Handbook, an impressive guide to Open Source tools and techniques and 'Grow Your Own Media Lab (the graphic novel)', a set of inspiring case studies. Folly continue to work very much in this manner, forming essential infrastructural relationships as and where needed and guiding others through the adoption of free software.
Another example of this attention to operation and openess comes from GIST Lab, in Sheffield, which energises community-based projects through a space that hosts meetings and workshops. Even without a dedicated tech suite, their knowledge-exchange is a short-cut to all manner of original cross-over work, and they have supported yet another project that literally and metaphorically recreates aspects of the media lab model. 3D printing (or rapid prototyping) is increasingly popular in producing anything from car parts to jewellery, by layering materials like plastic into finished three-dimensional objects. RepRap, however, is able to print the spare parts it needs to be built while it is still itself under construction. Just like media labs, this self-replicating 3D Printer is all about sharing access to a successful system.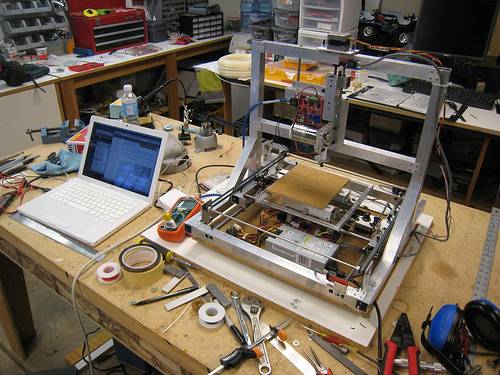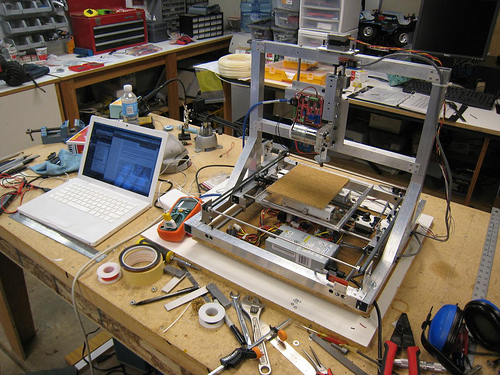 "Parametrically Designed XY Motion Stage", part of the thesis "Rapid Prototyping of Rapid Prototyping Machines" by Ilan Ellison
Ideas over Technology
If media labs are not driven by material production, neither are they all about technology. Arising from the work of the art group, Redundant Technology Initiative, Access Space in Sheffield established its media lab through the use of free and recycled technology and learning. Given our cultural predisposition for wanting the latest, fastest equipment and our reprehensible dumping of perfectly serviceable technology, abundant hardware is sourced from all manner of locations. The latest Free and Open Source software is installed on the hardware where expensive proprietary software once lay and the media lab space, complete with this equipment, is opened to the public five days a week. The one proviso placed on this access – continuing the recycling theme – is that once a media lab participant has learnt how to do something, they should pass this knowledge on. As evidence of the success of this system Access Space boasts impressive outreach capacity: more than a thousand regular visitors, of which only about thirty-five percent are university educated, and over half are unemployed, and they habitually work with people experiencing disabilities, learning disorders, poor health, homelessness or other measures of exclusion.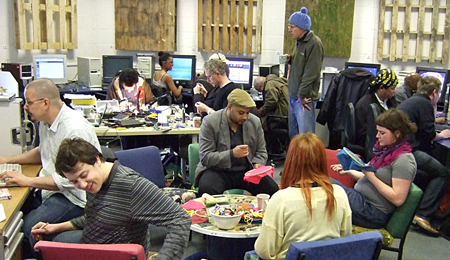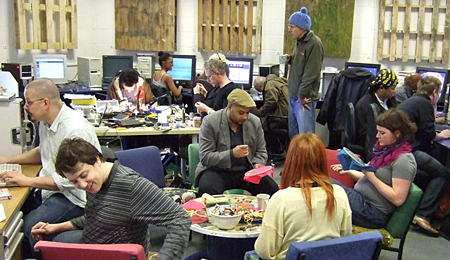 Access Space is the longest running free internet learning centre in the UK. The centre brings together old computers and new open source software to create a radical, sustainable response to industrial decline and social dislocation.
One of the projects that clearly shows what they do is Zero Dollar Laptop, a collaboration with the Furtherfield organisation and community. Through a series of workshops, homeless participants are given the ability to use and maintain a free laptop complete with free software in self-led creative projects. It is this model of learning through self-directed creativity that arises again and again in media labs because it provides demonstrable results in helping people acquire and retain the skills they need. Without 'bells and whistles' new technology, Access Space emphasise the importance of ideas over technology and demystify all manner of computer-based skills. SPACE Studio's MediaLab is also an excellent example of a lab working at a range of levels to offer beneficial specialised training. They teach software packages at a professional level to film makers, artists and a range of media industry workers, as well as offering film-making and media training for NEET (Not in Education, Employment or Training) teenagers in the local area. There are also a number of DIY Technology workshops including those regularly hosted by MzTEK who have expanded their operation as a result of their connections with SPACE. MzTEK are all about encouraging women to build technical skills and enter the new media sector. Growing from a small group to wide and supportive network they answer underdeveloped areas of knowledge. In addition to this, SPACE's PERMACULTURES residency series has, to date, hosted eight residencies supporting over eleven artists, helping them explore technology and go on to show in a range of spaces.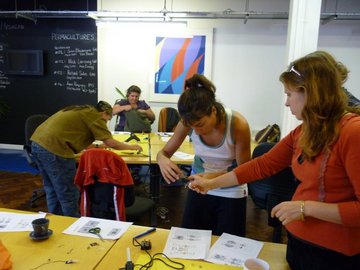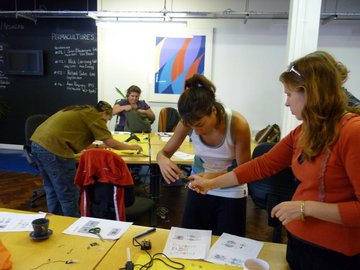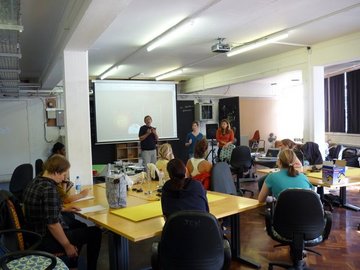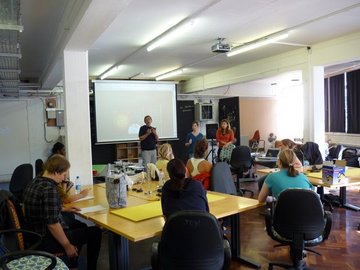 MzTEK is a nonprofit collective with the aim of encouraging women artists to pick up technical skills in the fields of new media, computer arts, and technology.
Partnering Galleries
The media lab also plugs an important gap in the art gallery and museum network. Digital and New Media arts are distinctive for collapsing boundaries between the place of production and exhibition. As a result, few existing art spaces have been in a position to fully represent it. Media labs, as well as community websites like Furtherfield and Rhizome, international festivals including ISEA and Transmediale and curatorial resources like CRUMB (the Curatorial Resource for Upstart Media Bliss) have imaginatively responded to this situation. Media labs in particular have been very successful in fostering relationships between artists and galleries. They have helped to translate not only the ideas expressed by this type of art – which can require much additional contextualisation – but also their physical installation in spaces not designed for this new breed of work.
For example, Folly recently collaborated on an experiment in the exhibition and acquisition of New Media art with the Harris Museum and Art Gallery. Entitled Current, the project saw expert panels first select works to be exhibited at the gallery (in Spring 2011) and then choose one to enter the permanent collection. Not only did this give the gallery the chance to add a timely contemporary work to their collection but it formed a useful public case study showing other institutions how they might engage with emergent art forms in various new media.
Collaboration, Interdisciplinarity and the University
Media labs greatly contribute to the collaborative working methods the creative sector now thrives upon. Cross or interdisciplinary partnerships involve people from very different industries or working cultures combining and even reinventing the way they work in order to unearth all manner of new practices and products. Many universities, having born witness to a boom in research which straddles different academic subjects and industry sectors (due in some part to government funding imperatives around 'knowledge transfer'), have established their own media labs. A relatively early example of this was i-DAT (the Institute of Digital Art and Technology) at the School of Computing, Communication and Electronics at the University of Plymouth. A large project with many interrelated strands is their op-sys (operating systems) network of research into architectural, biological, social and economic data and how it can be made publicly available and useful. The University of Nottingham has the Mixed Reality Lab, which was established in 1999 with £1.2 million in funding from the JREI (Joint Research and Equipment Initiative) programme as well as ongoing grants and investments. Run by Steve Benford, it hosts around eighteen PhD students providing resources for researchers and post-graduates working in areas that intersect its host department, the School of Computer Science, and associated training facility, the Horizon Doctoral Training Centre. It maintains a number of diverse projects, some of which have won prestigious awards and award nominations including Can You See Me Now, a collaboration with Blast Theory. The CoDE (Cultures of the Digital Economy) Institute at Anglia Ruskin University in Cambridge has a digital performance laboratory that focuses on sound-based work. Culture Lab is Newcastle University's bespoke unit of media-lab-style flexibility, where artists work experimentally and across disciplines, and Sandbox, a similar resource, is located at the University of Central Lancashire. Another approach for universities is to partner with existing media labs. Pervasive Media Studio, a Bristol-located media lab, was set up by Watershed, a cross-artform production organisation, HP Labs and the South West Regional Development Agency. They have a partnership which runs for three years with the University of West England's Digital Cultures Research Centre and work in a number of different ways including offering Graduate and New Talent residencies for those just starting out in their careers. The Pervasive Media Studio has helped to establish events like Igfest, the Interesting Games festival, held annually in Bristol, as well as development platforms such as Theatre Sandbox, which helps theatre makers introduce technology to their practice. They also support artists, including: AntiVJ, Duncan Speakman and Luke Jerram.
Current Media Labs and the rise of the 'HackLab'
As we have seen, some labs have been nomadic or temporary while others have evolved into new incarnations. A media lab might be part of an array of dependencies with institutional responsibilities i.e. Folly, Isis Arts, Lighthouse, Pavilion, Pervasive Media Lab, PVA, Vivid and more, all of which regularly produce an abundance of quality experimentation in Digital art and culture. While new incarnations of the media lab may respond to three distinct but related phenomena: the rapidly evolving technology sector; the transient networks of geeks and digital experimenters; the need for sustainable models for innovation in industry. MadLab, in Manchester, provides space and facilitates meetings and workshops for 'geeks, artists, designers, illustrators, hackers, tinkerers, innovators and idle dreamers'. Their 'drop in' events, commonly known as 'Hacklabs' (for example *Hack to the Future* during the Edinburgh International Science Festival), give people instant hands-on experience with all sorts of code and kit. Although hacking is still seen as a specialist and somewhat murky activity, the term is being increasingly decoupled from its conventional criminal associations and made accessible to mainstream arts territory. In January 2011 the Royal Opera House facilitated a 'Culture Hack Day', bringing cultural organisations such as the Crafts Council and UK Film Council together with software developers and creative technologists to usefully open up and share data. Other HackLabs may have less of an arts focus, but do have impressive resources built using the open membership model (pioneered by the likes of Backspace). The London Hackspace boasts a laser cutter, digital oscilloscope and kiln, all donated or collectively purchased.
Scattered through many of our city centres are office/studio-based working spaces which cater to the creative industries by offering flexible working environments and abundant networking and training opportunities. The Hub, in London's Islington and Kings Cross areas (with up to thirty further Hubs in cities across the globe), gives fee-paying members access to facilities and a way of working orientated towards connecting people from across the network in cost-effective innovation. These spaces are indicative of the emphasis placed on the creative economy as the big hope for economic renewal driven by small entrepreneurs grabbing and shaping the opportunities in technology, entertainment and design.
Inspirational before Institutional
Looking briefly at some of the ways media labs have operated since the 1990s shows them as uniquely fertile spaces for all manner of shared expertise and creative innovation. They have made a fundamental contribution to Open Source culture. Working as openly and collaboratively as possible, participants have found ways of sharing process and product, while an interdisciplinary nature has revealed a plethora of creative possibilities. Fulfilling a difficult remit by offering a home for many of the emergent artistic practices currently transforming artistic activity, they have led us away from 'art for art's sake' and towards work which has demonstrable meaning and lasting social and economic benefit. Large institutions might be extremely well-versed in mounting financially advantageous blockbuster exhibitions, but the beauty of media labs derives from their ability to develop and disseminate the socially-transformative systems that have already and will continue to shape the future of the arts.
---
A big thank you to everyone who contributed to this research despite their incredibly busy schedules and a special shout to: Simon Poulter for pulling over his car, Clive Gillman for kindly kicking things off, Sarah Cook for an innovative approach to note sharing and Peter Ride for not taking a lunch break.
You can find Charlotte's original article on Collaboration and Freedom – The World of Free and Open Source Art http://p2pfoundation.net/World_of_Free_and_Open_Source_Art
As part of the Furtherfield collection commissioned by Arts Council England for Thinking Digital. 2011
Introduction.
Whether Bunting is climbing trees, skateboarding, canoeing or working with technology he approaches it all with the same critical attention. He hacks around systems, physical or digital. Right from when he built his first computer at the age of 14, his life has been an experimental research project. His practice consists of a dry sense of humour and an edgy, minimal-raw aesthetic, mixed with a hyper-awareness of his own artistic persona and agency in the world, whilst engaging with complex political systems, institutions and social contexts.
Even though the subjects he explores are likely to be the most topical or important issues of the day, it always includes playfulness and an element of the prankster in his work. His work regularly highlights issues around infringements on privacy or restriction of individual freedom, as well as contexts concerning the mutation of identity; our values and corporate ownership of our cultural/national 'ID's', as well as our DNA and investigations into Bio-technologies. In an age where we are submersed in frameworks and protocols, designed by a neo-liberal elite for a  generic consumer class, Bunting's work is well placed as observation and practical research into the 'depths' of legal and illegal territories in our contemporary, networked cultures.

North Herts Gazette Series Thursday, November 13, 1980.
The Status Project.
"our identity is constructed as human beings that can possess one or more natural persons and control one or more artificial persons. The higher up in the class system the better the access to status variety."(Bunting)
The Status Project, is a study of the construction of our 'official identities' and creates what Bunting describes as "…an expert system for identity mutation". His research explores how information supplied by the public in their interaction with organisations and institutions is logged. The project draws on his direct encounters with specific database collection processes and the information he was obliged to supply in his life as a public citizen in order to access specific services; this includes data collected from the Internet and information found on governmental databases. This data is then used to map and illustrate how we behave, relate, choose things, travel and move around in social spaces. The project surveys individuals on a local, national and international level producing maps of "influence and personal portraits for both comprehension and social mobility".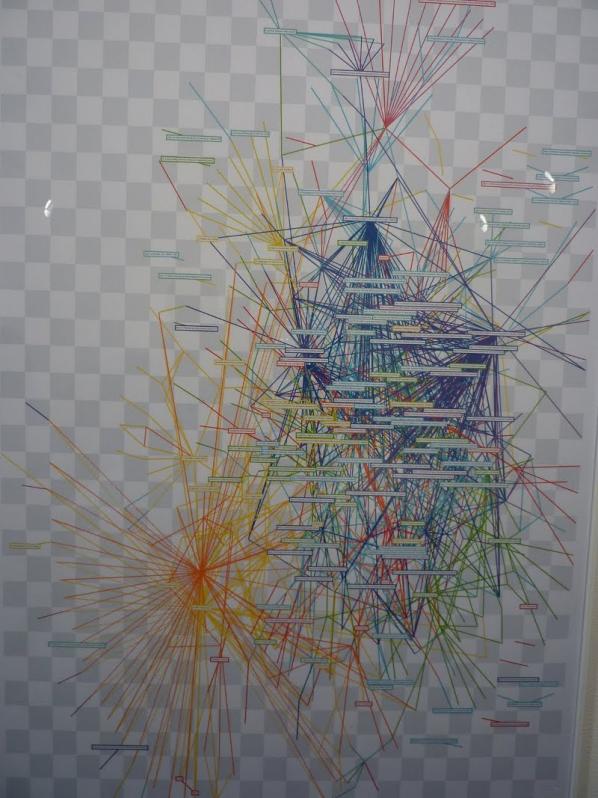 The use of data in contemporary life has made individuals an accessible resource to commercial and political interests. We are a rich source of data-mining material. Data-mining is a process that potentially commodifies our interactions. It's historical roots lie with the development of artificial intelligence (AI) and 20th Century statistical analysis. These two methods of formulating data have grown ever closer together backed by corporations and government initiated military funding. Social networks such as platforms like Facebook and Internet networked institutions such as Google, and the US military are all obsessed with our behaviours online. A good example of this, is NSA's recent rebirth in turning most of its surveillance apparatus to spy on the US and its citizens. They have built a super computer tracing through billions of people's emails, phone calls, online activities, but also in other countries outside of the US. The UK government is currently going through the political process of trying to implement similar spying protocols and systems to watch what UK citizens are up to also.[2]
"Google suffers from data obesity and is indifferent to calls for careful preservation. It would be naive to demand cultural awareness. The prime objective of this cynical enterprise is to monitor user behaviour in order to sell traffic data and profiles to interested third parties." [3] (Lovink)
Bunting is a Hacktivist Artist, acting (playing) out the role of a spy collecting and observing data content. Hacktivist Artists work with technology to explore how to develop their critical and imaginative practice in ways that exist beyond the frameworks of art establishment and its traditions. The established art arena is gradually catching up with this kind of artwork, although one could be forgiven for thinking that many of the art critics and galleries out there are still caught in the 20th Century.
Two other artists also working on people's data are Julian Oliver and Danja Vasiliev. They have collaborated on exploring alternative identities as the mysterious group, Men in Grey.[4] They detect online users vulnerabilities by tapping into and intervening into wireless network traffic – observing, tracing and copying user online activities. It is then redisplayed either online on their web site for others to view, or transfered onto a visual screen on the side of a briefcase as an intervention in cybercafes, for all to view. Although, no one actually knows other than themselves if the data is really hacked and then redisplayed on these briefcases, as proposed in their video featuring one of their interventions. One thing is for sure – they have touched upon issues concerning our fears about personal data being seen by other people who we'd prefer were not viewiing it.
The Status Project also taps into questions concerning technology, hierarchy and power. We are entwined in a complex game where the sacrifice of our information is part of the deal of being connected with others across digital networks. This opens up the issue of our 'human' status being aligned 'to and as' objects, of measurement. Through travel ports, our vehicles, passports, ID cards, library cards, mobile phones, alongside information about our health. We have mutated into networked (information carrying) beings. Bunting's own position on this matter is that "Technology is becoming more advanced and the administration of this technology is becoming more sophisticated and soon, every car in the street will be considered and treated as persons, with human rights. This is not a conspiracy to enslave human beings, it is a result of having to develop usable administration systems for complex relationships. Slaves were not liberated because their owners felt sorry for them, slaves were given more rights as a way to manage them more productively in a more technologically advanced society."[5]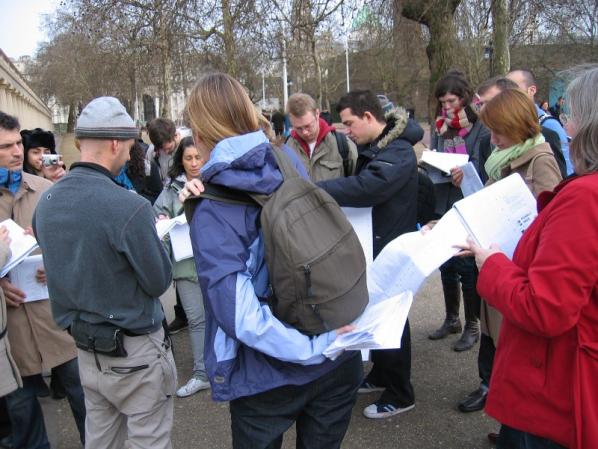 Identity orienteering competition, Piccadilly Circus, Institute of Contemporary Arts (ICA), London, United Kingdom (UK), 2008.
In the UK, in 2006 a research document called 'A Report on the Surveillance Society For the Information Commissioner' was published. Produced by a group of academics called the Surveillance Studies Network. This report was presented to the 28th International Data Protection and Privacy Commissioners' Conference in London, hosted by the Information Commissioner's Office. The publication begins by saying "Conventionally, to speak of surveillance society is to invoke something sinister, smacking of dictators and totalitarianism […] the surveillance society is better thought of as the outcome of modern organizational practices, businesses, government and the military than as a covert conspiracy. Surveillance may be viewed as progress towards efficient administration, in Max Weber's view, a benefit for the development of Western capitalism and the modern nation-state."[6]
We are not only under surveillance by entities we do not trust, we are also tracing each other online. Recently, in a show called 'Being Social'[7] at Furtherfield's new gallery, artist Liz Sterry showed her installation piece, 'Kay's Blog'. Sterry had "collated not only one form of online social engagements but all she could find about a Canadian blogger called Kay. Using everything from photographs to things Kay has mentioned in videos, blogs and posts on social networks, Sterry has recreated Kay's bedroom in the gallery."[8] (Scott)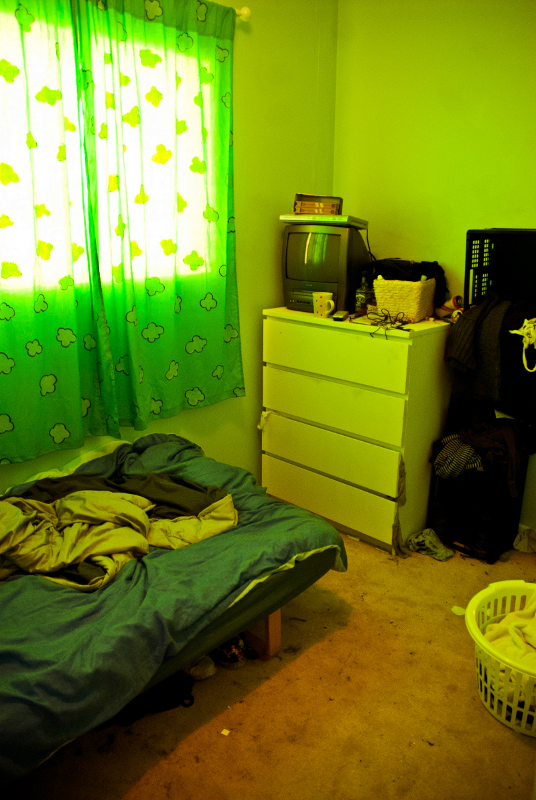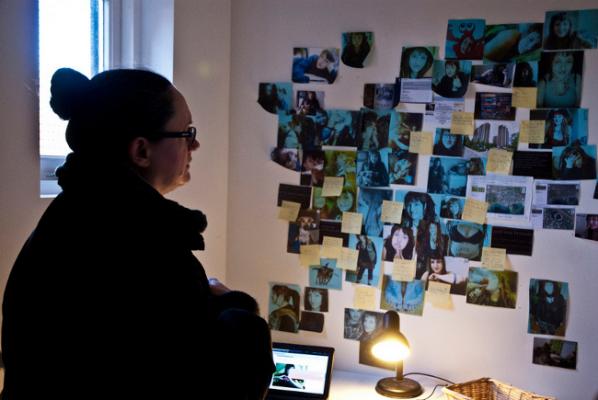 Installation shots. Kay's Blog. Liz Sterry. Being Social exhibition at Furtherfield Gallery,
Finsbury Park – 25 February – 28 April 2012. Images by Pau Ros.
""There were times when I felt quite creepy," says Liz, 28, as she shows me lists of Kay's Facebook friends and a Google Streetview of her apartment block while a playlist of her favourite songs plays in the background."[9]
Yet, as this ever-creeping surveillance culture grows and attaches its all seeing eyes onto us all. Whether we are referring to domestic interactions, organizational or deliberate, this is not the main issue. Neo-liberalism has developed so much now, we are all part of the Netopticon. English philosopher and social theorist Jeremy Bentham in the late Eighteenth Century designed the Panopticon. It allowed officers in institutions, particularly in prisons, to observe (-opticon) all (pan-) inmates without them knowing whether or not they are being watched. In the end it was not built, but the French philosopher Michel Foucault in his publication Discipline and Punish: The Birth of the Prison,[10] in 1975 said that we are not only monitored in prisons, but in all hierarchical structures like the army, schools, hospitals and factories. This process has evolved through history to resemble Bentham's Panopticon. The up-dated version of Panopticon, can now be thought of as the Netopticon – where individuals are complicit in feeding their own forms of collective co-surveillance, as well as being traced by corporations, governments and spammers.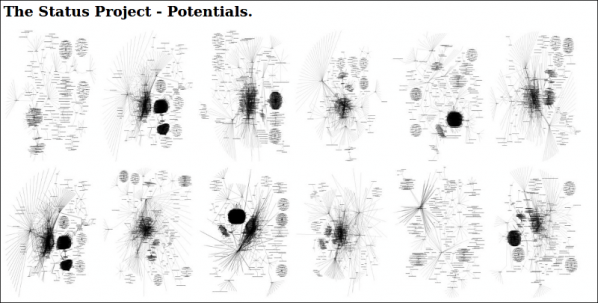 "What your data body says about you is more real than what you say about yourself. The data body is the body by which you are judged in society, and the body which dictates your status in the world. What we are witnessing at this point in time is the triumph of representation over being. The electronic file has conquered self-aware consciousness." [11] (Critical Art Ensemble)
So far, for the project he has created a functioning, sketch database of the UK system with over 10,000 entries – made over 50 maps of sub-sections of the system to aid sense of place and potential for social mobility. Bunting says he is also researching how to convert his identity generating software into a bot recognised under UK law as a person "covered by the human rights act i.e. right to life and liberty; freedom of expression; peaceful enjoyment of property. I am very close to achieving this."
This bring us to another part of the project what I call 'Identity Kits', and Bunting calls 'Synthetic off-the-shelf (OTS) British natural person'.[12] These kits consist of various items, personal business cards, library cards, a national railcard, t-mobile top-up card, national lottery card and much more. They take a few months to compile each of them because they are actual items that everybody uses in their everyday lives, involving evidence of identity. There is also a charge for the package of 500.00 GBP, which is cheap for a new identity.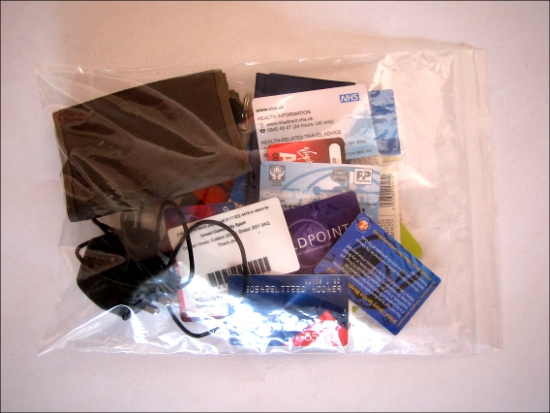 Bunting stresses that these UK identities are lawful and that there is no need for any official consulting or permission from an authority to use or make them. Through this he intends to illustrate a precise codification of class in the UK system. Currently, he defines three classes of identitiy: human being, person and corporate. What class of individual you are places you into categories of evaluation, this process allows others to judge your status, worth and value, within a hierarchy, which is clearly represented in the status maps.
This work touches on issues around our everyday status as a critique, but also as an investigative hack, and plays around with the quagmire of inequality currently in the UK. Inequality is built, constructed into the fabric our societies as an accepted default, through tradition, social or mechanistic, holding in place societal divisions. If there was a status project made in other countries reflecting their own status, worth and value of citizens there would be clear links defining where the connections and divisions lie, between each culture. In fact, another project worth mentioning here is 'The Spirit Level: Why More Equal Societies Almost Always Do Better'. [13] The authors Richard Wilkinson and Kate Pickett have done their own 'extensive', detailed research in highlighting through many different graphs, mapping out inequality around ther globe.
"We know there is something wrong, and this book goes a long way towards explaining what and why." [14] (Hanley)
Bunting's work expresses a discipline conscious of agency, autonomy and enactments for self and collective empowerment. Hacking different routes around what at first is seen as too big to deal with, lessens its power and awe. Like Burbank in the 'The Truman Show', what we have been told is not real. Bunting knows this instinctively, and is on a quest to upturn each stone to see what lies beneath. But at the same time these facilities created to crack the social, and data orientated codes, are shared. He then leaves the paths he has discovered wide open for others pass through, as we all struggle to survive the ever creeping strangle-hold, of the Netopticon.
———————————————————————-
This article was written for and will be published as part of Heath Bunting's presentation in Athens 'Workshop How to Build a New Legal Identity', May 5th 2012.
During the workshop, Heath Bunting will introduce us to techniques and strategies on how to form new identities. The distribution of the workshop How to Build a New Legal Identity across Europe aims at exploring the characteristics of identity in each country.
Artist's Talk: May 4, 2012 @ 19.00
Workshop How to Build a New Legal Identity: May 5, 2012 @ 12.00
Frown Tails, 6 Paramythias str, Keramikos, Athens
Organised by: Katerina Gkoutziouli and Frown Tails
http://www.frowntails.com/heathbunting.html
References:
[1] The NSA Is Building the Country's Biggest Spy Center (Watch What You Say). By James Bamford
– http://www.wired.com/threatlevel/2012/03/ff_nsadatacenter/all/1#
[2] Internet activity 'to be monitored' under new laws
http://www.telegraph.co.uk/technology/news/9179087/Internet-activity-to-be-monitored-under-new-laws.html
[3] Lifetracing 2. The Advent of the Engines. 2.2 Indexing and Privacy Issues. Anne Helmond.
http://helmond.networkedbook.org/lifetracing-2-the-advent-of-the-engines/
[4] Revisiting the Curious World of Art & Hacktivism. By Marc Garrett – 02/03/2012
http://www.furtherfield.org/features/articles/revisiting-curious-world-art-hacktivism
[5] The Status Project: Data-Mining Our Identities. An interview with Heath Bunting by Marc Garrett – 20/07/2010
http://www.furtherfield.org/interviews/status-project-data-mining-our-identities
[6] A Report on the Surveillance Society. For the Information Commissioner by the Surveillance Studies Network Sept 2006
http://news.bbc.co.uk/1/shared/bsp/hi/pdfs/02_11_06_surveillance.pdf
[7] Being Social. Since the mid-90s computers have changed our way of being together. First the Internet then mobile networks have grown as cultural spaces for interaction – wild and banal, bureaucratic and controlling – producing new ways of 'being social'. Visitors are invited to view art installations, software art, networked performances and to get involved with creative activities to explore how our lives – personal and political – are being shaped by digital technologies.
http://www.furtherfield.org/programmes/exhibition/being-social
[8] Furtherfield Gallery opens with exhibition questioning online society. wired.co.uk. By Katie Scott March 2012.
http://www.wired.co.uk/news/archive/2012-03/12/being-social-at-furtherfield-gallery
[9] The Furtherfield Gallery's debut show in its new Finsbury Park home will make you question what you put online. 7th March 2012. By George Nott. Enfield Independent http://tinyurl.com/c3o7bo9
[10] Discipline and Punish: The Birth of the Prison (Penguin Social Sciences). Michel Foucault (Author), Alan Sheridan (Translator). Penguin; New Ed edition (25 April 1991).
[11] The Mythology of Terrorism on the Net. Critical Art Ensemble. Summer 95.
http://www.t0.or.at/cae/mnterror.htm
[12] Synthetic off-the-shelf (OTS) British natural person.
http://status.irational.org/identity_for_sale/#
[13] The Spirit Level: Why More Equal Societies Almost Always Do Better'. by Richard Wilkinson and Kate Pickett. http://www.equalitytrust.org.uk/resource/the-spirit-level
[14] The way we live now: A hard-hitting study of the social effects of inequality has profound implications, says Lynsey Hanley. http://www.guardian.co.uk/books/2009/mar/13/the-spirit-level