This year's festival of "Mine, yours, ours"(Moje, tvoje, naše) puts emphasis on people who are behind the work performance of machines, literally as well as metaphorically, and without whom the machines cannot perform their work.
Automatization, computerization, robotization, mechanization. Recent studies point out that by 2030 as many as 800 million workers throughout the world will lose their jobs to robots. Predictions that already in six years time robots with artificial intelligence will have replaced more than half of the human workforce, and thereby leave 75 million people unemployed, and that the number of robots that perform work of which humans are capable would double from the current 29%, have flooded web portals.
Questioning the status of work conditioned by the relation between man and machines, and observed from the perspective of contemporary artists, was chosen as the theme of the festival "Mine, yours, ours" carried out by Drugo More, held from the 14th to the 16th of February at the building of Filodrammatica in Rijeka. The international festival "Mine, yours, ours" has for fourteen years in a row by the means of art questioned the topics related to the exchange of goods and knowledge, an exchange that today is conditioned by capital and consequently bereft of all the aspects of a gift economy. Exchange via gifts has been replaced by mechanical work whereby the worker is distanced from the very purpose of the work and thereby doomed to a feeling of purposelessness, while the final product and service remain dehumanized. In a world that is mongering fear about robots taking over human jobs, the curator of the exhibition and moderator of the symposium, Silvio Lorusso, decided to give a new perspective on the topic putting emphasis on the people behind the work of the machines, literally and metaphorically, without whom the machines cannot – work.
Like robots that perform work mechanically and lacking intrinsic motivation, people play the roles of robots through various forms of work. The sequence of actions that we observe on the internet are attributed to the work of machines, ignorant of the fact that human work, hidden on purpose, is behind all the exposed data. A human, according to research by artist Sebastian Schmieg, writes the descriptions of the photos that we find on the internet and we are deceiving ourselves thinking that the descriptions are the product of an automatized system. A group of crowd workers creates the database for recognition of pictures, while the neural network of artificial intelligence is shaped with the help of manual work by a collective of people who choose what the machines will see, and what is to remain unrecognized. The role of human work is crucial to the processes that enable self-driving cars. Researcher and designer Florian Alexander-Schmidt explained how the detailed localization of an object is possible exclusively due to a human workforce, not robots. Digital platforms tend to locate vehicles at a precision rate of 99% and this cannot be achieved by an algorithmic system. Alexander-Schmidt points out that the cheapest workers are employed at servicing the digital platforms, such as those from Venezuela, whose work is hidden behind the magical acronym "AI".
Artificial intelligence operates thanks to the strength and precision of human intelligence, and workers are the slaves of a system that functions like a computer game, demanding that employees score more and thereby perpetuate a game in which, no matter how high they score, they lose. They lose because a cheap labor force, qualified via automatized training, secretly performs the work that consumers consider a product of automatization, and they remain at insecure workplaces whose existence persists due to risky capital and results in constant change of workplaces – virtual migrations. The market of the internet diminishes the global geography of honorary work, while humans play machines performing jobs exclusively for a salary, turning into an invisible, undefined (robotized) mass employed at unstable workplaces and conditioned by risky capital.
The work performed by humans is considered a product of the work of machines, while machines are often replaced by humans. Entering a relationship, developing a sense of connection, characteristic for the human species, is becoming one of the fields in which robots are developing. Chatrooms and platforms for looking for a partner more and more often include programmed robot profiles that engage in communication and emotional bonding with those who sign up, as reported by the artist Elisa Giardina Papa. Robots replace humans, but this change of identity isn't recognized by the other human – instead, they see a potential partner. In that sense we can speak about a justified presentiment not only of a loss of workplaces and the current modus operandi of the labor market, but of changes in the way emotional relationships are built as well.
Changes in the development of artificial intelligence (AI), virtual reality (VR), robotics, quantum computers, the internet of things (IoT), 3D printing, nanotechnology, biotechnology and the car industry improve some aspects of human life, but place humanity before social, economic and geopolitical challenges. Sustainability of the internet is entirely dependent on humans since the spare time that humans are ready to use for posting content conditions the survival of web portals, video and music channels and social networks. Giardina Papa explained how the spare time of humans has become the time of unpaid work for the internet. Activities that spare time offers – relaxing, self-realization, healthy spontaneous sleep, have been replaced with the production of content for others and posting it on the internet. Creativity, productivity, self-realization are falling into oblivion. Creative work has been replaced by plain performance and we identify more and more often with the byword which the artist Giardina Papa brought up as an example and are becoming "doers, not dreamers".
Such an approach to life and work affects everybody, and is consciously looked on as a problem by artists in their attempts at a good-quality creative life. The average artists spend their days trapped doing jobs of stocking up shelves in stores, taking in orders, working for telecommunications operators and only at night devote themselves to acting, dancing, painting. Constant financial instability, insecure and temporary jobs, low income, unregistered work and an absence of pension are the conditions of life that the contemporary artist faces. A few European countries are an exception from this. Denmark awards 275 artists an annual scholarship that amounts to between 15000 and 149000 Danish krones. France made sure that every region secures a certain amount of financial support for artists and therefore in for example the region of Ile-de-France are recipients of up to 7628,47 euros for the organization of their workshops. Unfortunately, in most countries artists without rich parents or benefactors can only survive by performing daily work. While spare time is subordinate to work, work is becoming more and more precarious, per hour, without contracts, while full day work time is becoming the lifestyle of the millenium. A way of life where spare time is spent working, subordinated to a mechanical execution of tasks that don't foster the self-development of the worker, makes man function in a way characteristic of machines.
The individual aspect exposes it's intimacy in front of a collective audience and thereby diminishes it's own independence. Simultaneously, via the intrusion of the private into the public, the collective character of the public now becomes more individualized, more personal and strives to be unique. Faced with changes artists are trying out new ways of expressing themselves as a means of enjoying their work. The joy in their work and their artworks stems from the recognition that their activities are actually creative and not plain performance, that is, mass-producing content for others and suitable to others, and such an approach seldom comes to anyone's (robotized/artistic) mind anymore. Artists are the ones who in times of computerization of work tend to enjoy their work and work in a way to develop oneself.
We are witnessing processes where work is developing via control of people (crowdsourcing), it is transforming and making people similar to machines, and machines to people and making people's work the work of machines and vice versa. Man is faced with new challenges at the workplace, and with the focus on securing existential necessities as well as necessities conditioned by the contemporary approach to existence, there is no spare time to devote to questioning the position to which he brought himself to. Artists, equally affected by the changes, succumb to them, but also analyze them, deautomatize them and actively do research on them. The international guests to the festival "Mine, yours, ours" have through their works pulled back the curtain to make the supposedly automatized work transparent for people to see that a well hidden group of humans is behind this work. While explaining the results of their research, preceding the artistic exhibition, at a two-day symposium, they gave the public new perspectives on the theme, but also further corroborated the existing view. Where does the robot begin and where does man end and who or what is to whom or to what a robot, and who or what to whom or to what a human are the questions that, concerning the labor market, pave the way for – a new set of sub-questions.
Jelena Uher
Our times are characterized by the accelerating collapse and redrawing of multiple borders: between nation states, personal identities, and the responsibilities we have for each other. Also between the old distinctions, work and pleasure.
Some leaders as part of the new world order, tell us through their political actions and their fashion accessories, that they "Just Don't Care". This "political art-form"1 of not caring permits an insidious spread of hatred online and on the ground. In recent times, the digital condition has lent it's networks and platforms to this poisonous, rhetorical hyperbole, turning against immigrants, and others who do not fit into the framework of a western world, oligarch orientated vision. Mass extraction and manipulation of social data has facilitated the circulation of fake news and the production of fear, anxiety and uncertainty. Together these fuel the machine of structural violence adding to the already challenging conditions created by Austerity policies, growing debt and poverty.
In the face of these outlandish difficulties our digital tools and networks – taken up with a spirit of cultural comradeship. More inspiring narratives are emerging from across disciplines and backgrounds, to experiment with new solidarity-generating approaches that critique and build platforms, infrastructures and networks, offering new possibilities for reassessing and re-forming citizenship and rights.
The exhibition and labs for Playbour – Work, Pleasure, Survival, have created new contexts for collaboration. Artists (from the local area and internationally), game designers and architects, come together with researchers from psychology and neuroscience addressing the data driven gamification of life and everything.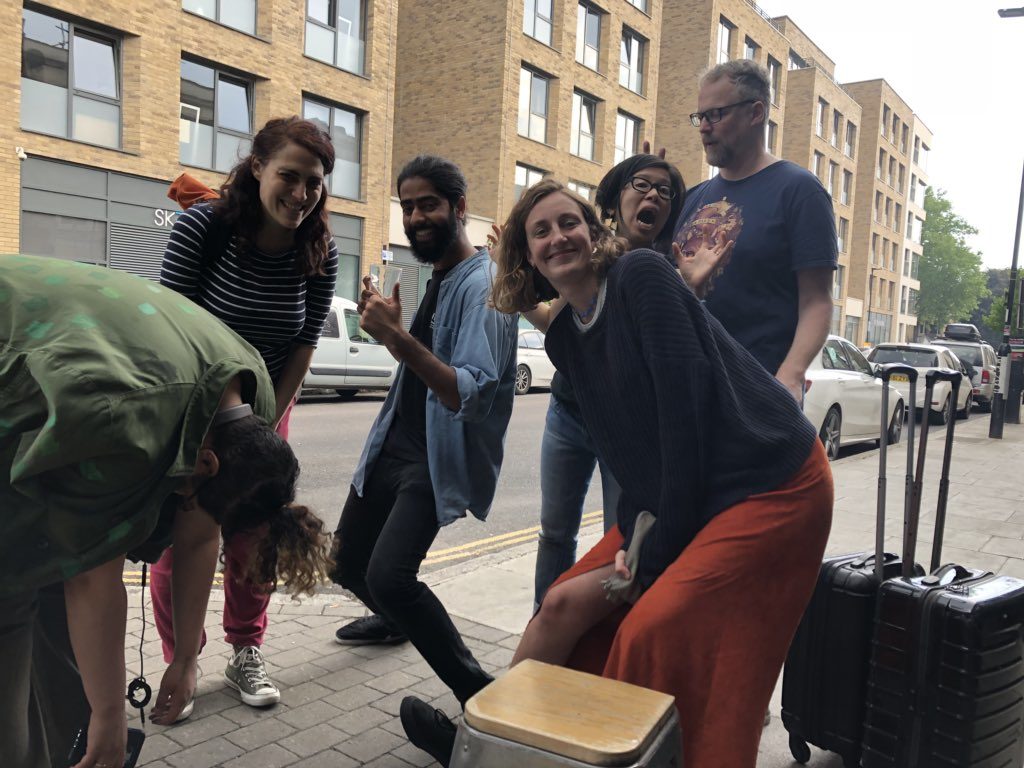 In her interview, the curator Dani Admiss discusses how they reassess the power relationships of the gallery, park users and the local authorities, asking who owns the cultural infrastructure and public amenities – and so create a polemic to open up questions of public value. The exhibition is open every weekend through 14 July to 19 August 2018.
The artists featured in Transnationalisms exhibition curated by James Bridle address the effect on our bodies, our environment, and our political practices of unstable borders.
"They register shifts in geography as disturbances in the blood and the electromagnetic spectrum. They draw new maps and propose new hybrid forms of expression and identity."2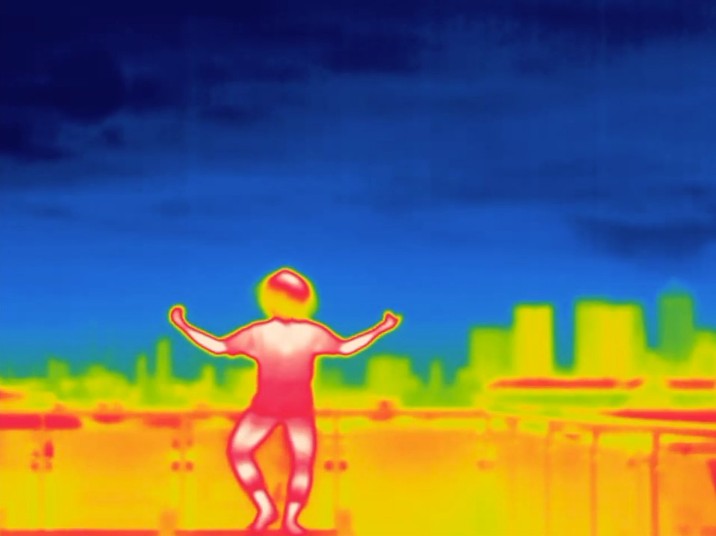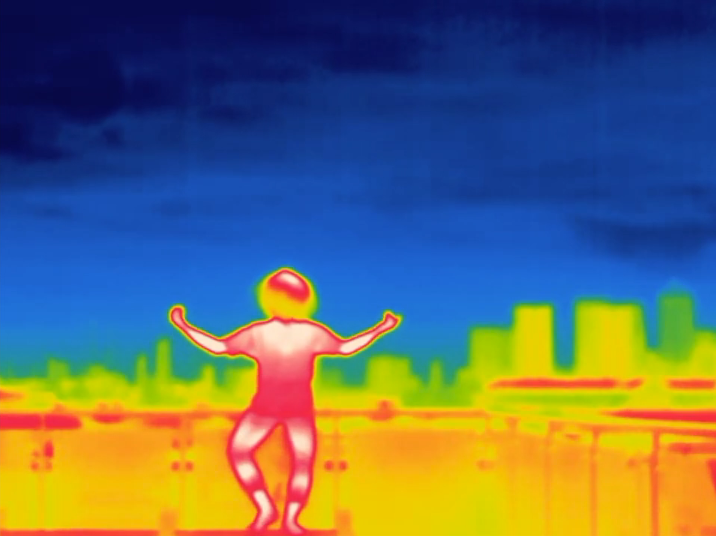 "Thiru Seelan, a Tamil refugee who arrived in the UK in 2010 following detention in Sri Lanka during which he was tortured for his political affiliations, dances on an East London rooftop. His movements are recorded by a heat sensitive camera more conventionally often used to monitor borders and crossing points, where bodies are identified through their thermal signature."3
The show opens at Furtherfield from September 14th to October 26th 2018, touring as part of State Machines the EU cooperation which investigates the new relationships between states, citizens and the stateless made possible by emerging technologies.
We have another interview with artist and activist Cassie Thornton, where we discuss her current project Hologram, which examines health in the age of financialization, and works to reveal the connection between the body and capitalism. Her interview focuses on a series of experiments that actively counter the effects of indebtedness through somatic – or body – work including her focus on the way in which institutions produce or take away from the health of the artists and workers they "support".
"In my work for the past decade, I have been developing practices that attempt to collectively discover what debt is and how it affects the imagination of all of us: the wealthy, the poor, the indebted, financial workers, babies, and anyone in-between." Thornton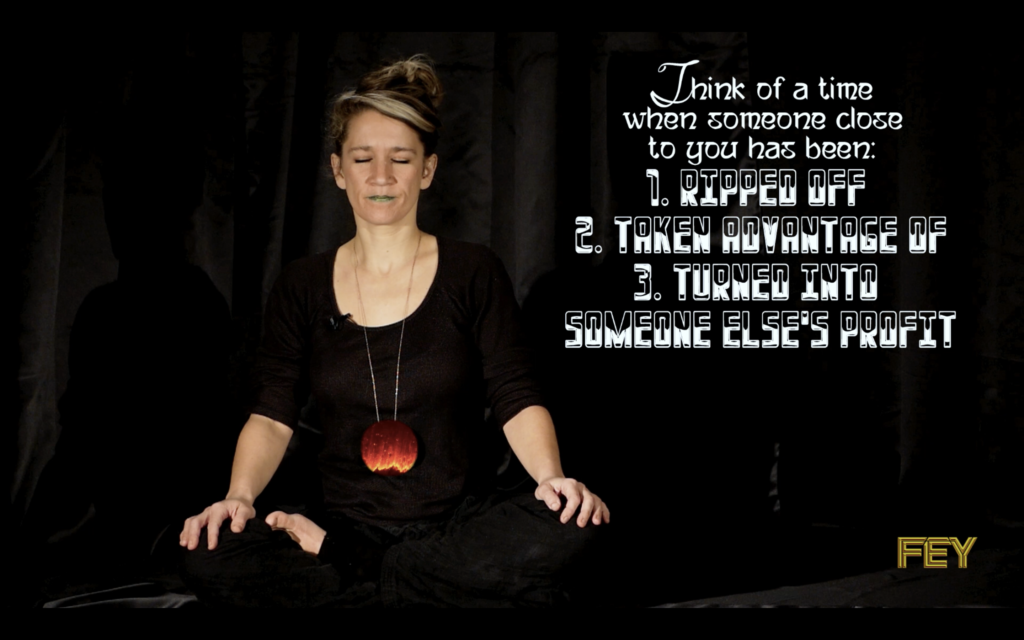 Finally I interview Tatiana Bazzichelli, artistic director and curator of the Disruption Network Lab, in Berlin, questions about art as Investigation of political misconducts and Wrongdoing. Since 2015, the Disruption Network Lab has cultivated a stage and a sanctuary for otherwise unheard and stigmatised voices to delve into and explore the urgent political realities of their existence at a time when the media establishment has no investment in truth telling for public interest.
"When the speakers are with us and open their minds to our topics, I feel that we are receiving a gift from them. I come from a tradition in which communities, networks and the sharing of experience were the most important values, the artwork by themselves." Bazzichelli.
The programme creates a conceptual and practical space in which whistleblowers, human right advocates, artists, hackers, journalists, lawyers and activists are able to present their experience, their research and their actions – with the objective of strengthening human rights and freedom of speech, as well as exposing the misconduct and wrongdoing of the powerful.
To conclude, all one needs to say is…
"Whether in the variety of human, backgrounds and perspectives, biodiversity or diversity of technologies, coding languages, devices, or technological cultures. Diversity is Proof of Life." Ruth Catlow, 2018.
Since the financial crash 10 years ago, we've learned that it tends to be everyday people, on the ground, who pick up the pieces and not governments. Millions have been dragged into poverty while those who caused the "crisis", after creating dangerously high levels of private debt, remain unscathed. [1] The UK Conservative government's response was an Austerity policy, driven by a political desire to reduce the size of the welfare state. Amadeo Kimberly says, "austerity measures tend to worsen debt […] because they reduce economic growth."[2] The effect has been devastating, creating all together, more homelessness, precarious working conditions and thus pushing working communities, deeper into debt. In the UK, the NHS is being privatized as we speak. According to a CNBC report, medical bills were the biggest cause of bankruptcies in the U.S in 2013, with 2 million people adversely affected. [3]
The work of artist and activist, Cassie Thornton is included in the upcoming Playbour– Work, Pleasure, Survival exhibition at Furtherfield, curated by Dani Admiss. In this interview I wanted to explore the following questions as revealed in her current Hologram project:
What do current conditions say about trust and care, and can we trust the current, governing systems to have our best interests at heart?
How do we produce non-hierarchical trust and care that thrives outside of the doctor/patient relationship, which is especially important in the U.S., where it is a profit making industry?
How do we reverse engineer all this tragedy, and put power back where it needs to be?
How do we begin to build solidarity?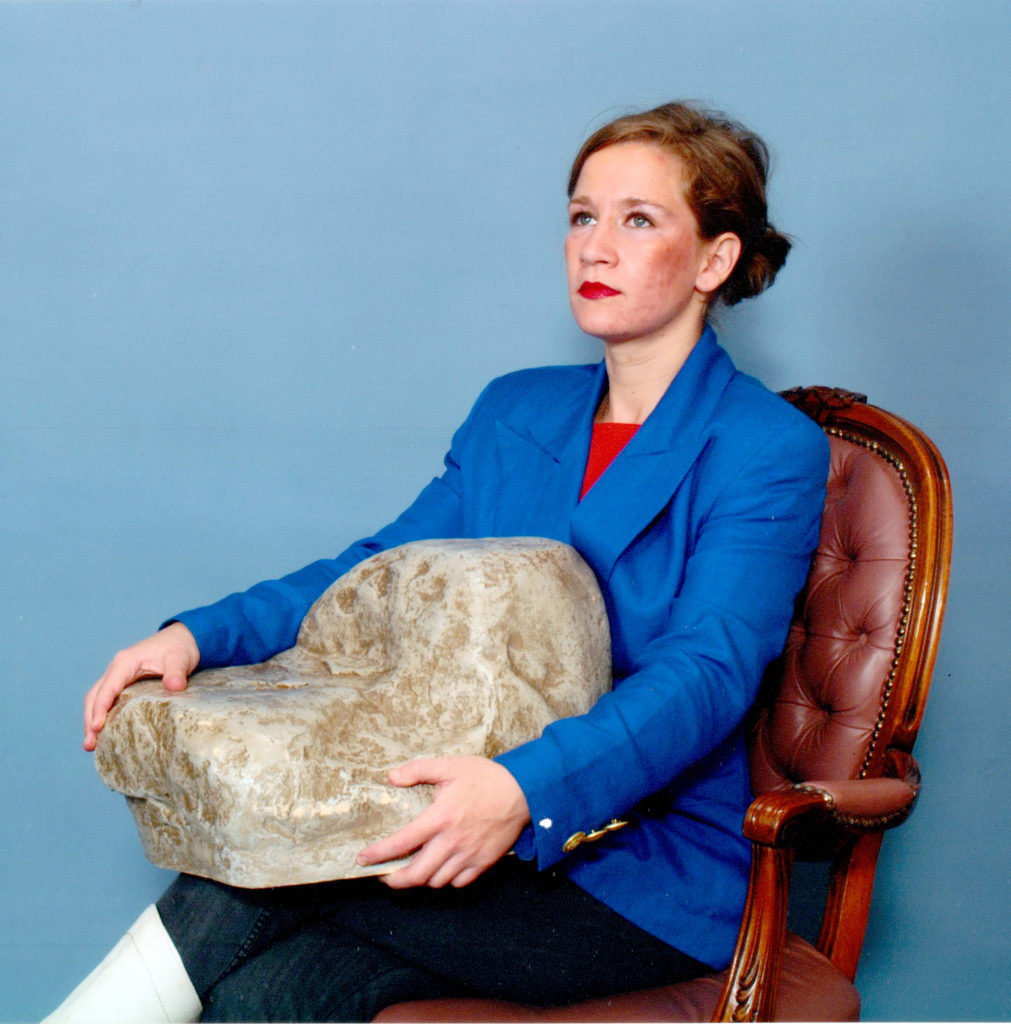 Cassie Thornton is an artist and activist from the U.S., currently living in Canada. Thornton is currently the co-director of the Reimagining Value Action Lab in Thunder Bay, an art and social center at Lakehead University in Ontario, Canada.
Thornton describes herself as feminist economist. Drawing on social science research methods develops alternative social technologies and infrastructures that might produce health and life in a future society without reproducing oppression — like those of our current money, police, or prison systems.
Interview
Marc Garrett: Since before the 2008 financial collapse, you have focused on researching and revealing the complex nature of debt through socially engaged art. Your recent work examines health in the age of financialization and works to reveal the connection between the body and capitalism. It turns towards institutions once again to ask how they produce or take away from the health of the artists and workers they "support". This important turn towards health in your work has birthed a series of experiments that actively counter the effects of indebtedness through somatic work, including the Hologram project.
The social consequences of indebtedness, include the formatting of one's relationship to society as a series of strategies to (competitively) survive economically, alone, to pay the obligations that you has been forced into. It takes so much work to survive and pay that we don't have time to see that no one is thriving. Those whom most feel the harsh realities of the continual onslaught of extreme capitalism, tend to feel guilty, and/or like a failure. One of your current art ventures is the Hologram, a feminist social health-care project, in which you ask individuals to join and provide accountability, attention, and solidarity as a source of long term care.
Could you elaborate on the context of the project is, as well as the practices, and techniques, you've developed?
CT: Many studies show that the experience of debt contributes to higher levels of anxiety, depression, and suicide. Debt disables us from getting the care we need and leads us away from recognizing ourselves as part of a cooperative species: it is clear that debt makes us sick. In my work for the past decade, I have been developing practices that attempt to collectively discover what debt is and how it affects the imagination of all of us: the wealthy, the poor, the indebted, financial workers, babies, and anyone in-between. Under the banner of "art" I have developed rogue anthropological techniques like debt visualization or auxiliary credit reporting to see how others 'see' debt as an object or a space, and how they have been forced to feel like failures in an economy that makes it hard for anyone (especially racialized, indigenous, disabled, gender non-binary, or 'immigrant') to secure the basic needs (housing, healthcare, food and education) they need to survive, because it is made to enrich the already wealthy and privileged.
"The rise of mental health problems such as depression cannot be understood in narrowly medical terms, but needs to be understood in its political economic context. An economy driven by debt (and prone to problem debt at the level of households) will have a predisposition towards rising rates of depression."[4]
After years of watching the pain and denial around debt grow for individuals and entire societies, I was so excited to fall into a 'social practice project' that has the capacity to discuss and heal some of this capital-induced sickness through mending broken trust and finding lost solidarity. This project is called the hologram.
MG: What kind of people were involved?
CT: The entire time I lived in the Bay Area I was precarious and indebted. I only survived, and thrived, because of the networks of solidarity and mutual aid I participated in. As the city gentrified beyond the imagination, I was forced to leave. I didn't want to let those networks die. So, at first, the people who were involved were like me– people really trying to have a stake in a place that didn't know how to value people over real estate and capital
The hologram project developed when, as I was leaving the city, I had invited a group of precariously employed, transient activists and artists to get together in the Bay Area for a week of working together. We aimed to figure out ways to share responsibility for our mutual economic and social needs. This project was called the "Intentional Community in Exile (ICE)" [the ICE pun was always there, now an ever more intense reference in the public eye] and it grew out of an opportunity offered by Heavy Breathing to choreograph an event at The Berkeley Art Museum. They allowed me to go above and beyond my budget to invite a group of 8 women together from across the US to choreograph methods of mutual aid: sharing resources, discussing common problems and developing methods for cooperating to co-develop an economic and social infrastructure that would allow us to thrive together, interdependently. What would it mean for our work as activists and artists to feel that we had roots within an intentional community, even if we didn't have the experience of property that makes most people feel at home?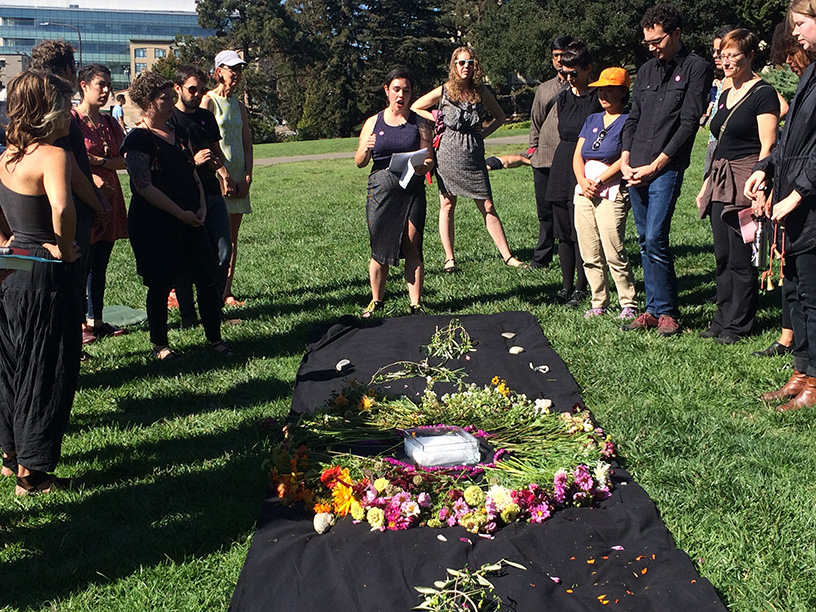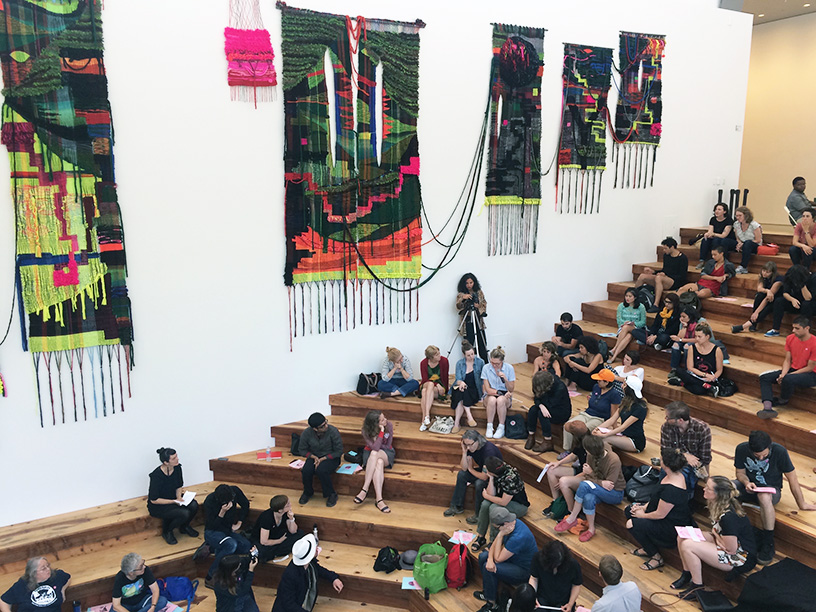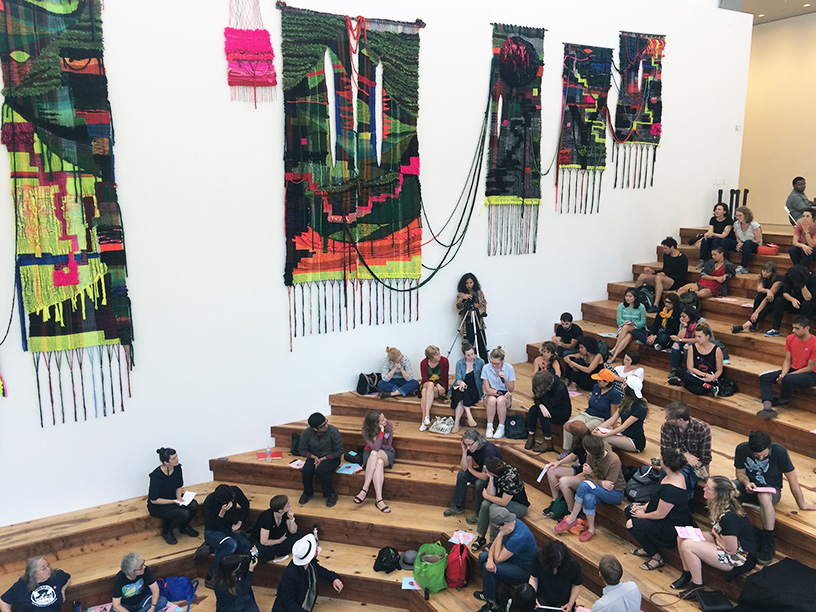 Facebook event: "In departing from the idea of a long term home, family, property, or ownership, ICE models a mutual aid society to sustain creative and political practices within a hostile economic system. This project is about finding ways to exit economic precarity by building human relationships instead of accumulating capital– or to make exile warm. After a one week convergence of a small group of collaborators, ICE presents a discussion and performance of life practices as well as frameworks for material and immaterial mutual support."
The Hologram was one of many ideas that developed as part of this project. One of the group members, Tara Spalty, founder of Slowpoke Acupuncture, (and one of the two acupuncturists you will see at SF protests or homeless encampments) and I fell into this idea when combining our knowledge about the solidarity clinics in Greece, our growing indebtedness and lack of medical records, and the community acupuncture movement. Then the group brainstormed about what the process would be like to produce a viral network of peer support.
MG: What inspired you to do this project? (particularly interested in the Greek influences here and what this means to you)
CT: My practice of looking at debt became boring to me by 2015 as it became more and more clear that individual financial debt was a signal of a larger problem that was not being addressed. The hyper individualism produced by indebtedness allows us to look away from a much bigger deeper story of our collective debts, financial and otherwise. We don't know what to do with these much bigger debts, which include sovereign debts, municipal debts, debts to our ancestors and grandchildren, debts to the planet, debts to those wronged by colonialism and racism and more. We find it so much easier to ignore them.
When visiting austerity-wracked Greece after living in Oakland, I noticed that Oakland appeared to have far more homeless people on the street. It made me realize that, while we label some places "in crisis," the same crisis exists elsewhere, ultimately created and manipulated by the same financial oligarchs. The hedge funds that profit off of the bankruptcy in Puerto Rico are flipping houses in Oakland and profiting off of the debt of Greece. We're all a part of the same global economic systems. The "crisis" in Greece is also the crisis Oakland and the crisis in London. For this reason, I have been interested in what we can all learn from activists, organizers and others in crisis zones, who see the conditions without illusions.
This led me to an interest in the the Greek Solidarity Clinic movement, which since "the crisis" there has mobilized nurses, doctors, dentists, other health professionals and the public at large to offer autonomous access to basic health care. I went to go visit some of these clinics with Tori Abernathy, radical health researcher. Another project using this social technology is called the Accountability Model, by the anonymous collective Power Makes Us Sick. These solidarity clinics are run by participant assembly and are very much tied in to radical struggles against austerity. But they have also been a platform for rethinking what health and care might mean, and how they fit together. The most inspiring example for me was in at a solidarity clinic in Thessaloniki, the second largest city in Greece. The "Group for a Different Medicine" emerged with the idea that they didn't want to just give away free medicine, but to rethink the way that medicine happens beyond conventional models, including specifically things like gender dynamics, unfair treatment based on race and nationality and patient-doctor hierarchies. This group opened a workers' clinic inside of an occupied factory called vio.me as place offer an experimental "healed" version of free medicine.
When new patients came to the clinic for their initial visit they would meet for 90 minutes with a team: a medical doctor, a psychotherapist and a social worker. They'd ask questions like: Who is your mother? What do you eat? Where do you work? Can you afford your rent? Where are the financial hardships in your family?
The team would get a very broad and complex picture of this person, and building on the initial interview they'd work with that person to make a one-year plan for how they could be supported to access and take care of the things they need to be healthy. I imagine a conversation: "Your job is making you really anxious. What can we do to help you with that? You need surgery. We'll sneak you in. You are lonely. Would you like to be in a social movement?" It was about making a plan that was truly holistic and based around the relationship between health, community and struggles to transform society and the economy from the bottom-up . And when I heard about it, I was like: obviously!
So the Hologram project is an attempt by me and my collaborators in the US and abroad to take inspiration from this model and create a kind of viral network of non-experts who organize into these trio/triage teams to help care for one another in a complex way. The name comes from a conversation I had with Frosso, one of the members of the Group for a Different Medicine, who explained that they wanted to move away from seeing a person as just a "patient", a body or a number and instead see them as a complex, three dimensional social being, to create a kind of hologram of them.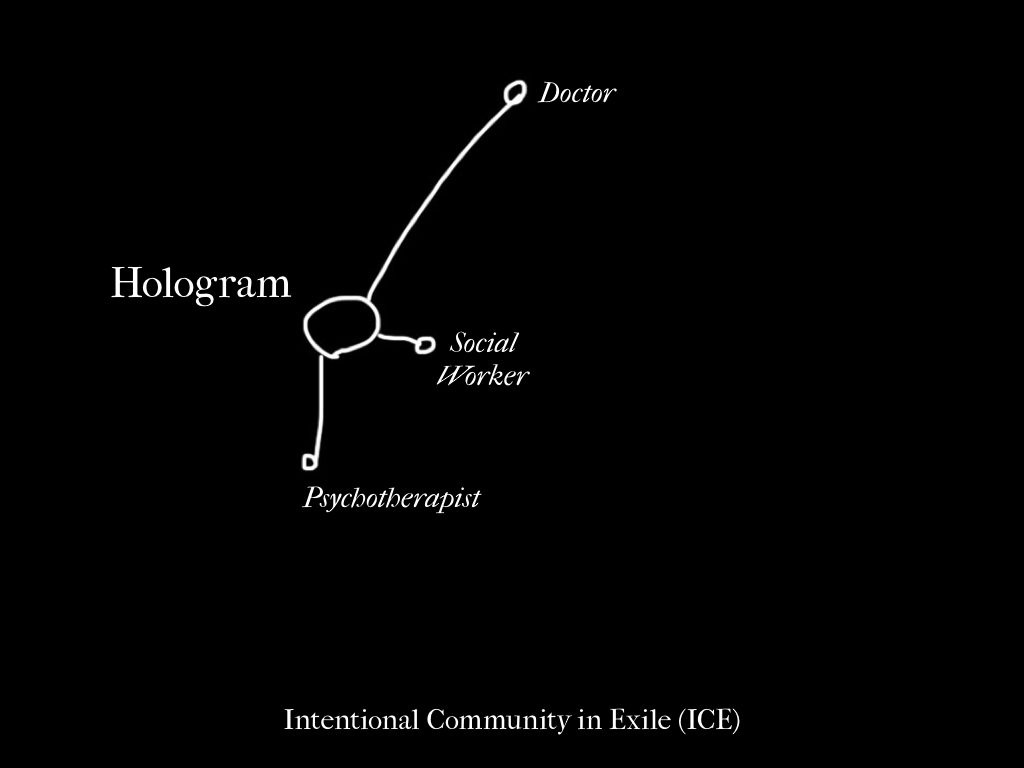 MG: Could you explain how the viral holographic care system works?
CT: Based on the shape above, we can see that we have three people attending to one person, and each person represents a different quality of concern. In this new model, these three people are not experts or authorities, but people willing to lend attention and to do co-research, to be a scribe, or a living record for the person in the center, the Hologram. We call these three attendees 'patience'. Our aim is to translate the Workers' Clinic project to a peer to peer project where the Hologram receives attention, curiosity and long term commitment from the patience looking after her, who are not professionals. Another project using this social technology is called the Accountability Model, by the anonymous collective Power Makes Us Sick.
So the beginning of the process, like that of the Workers' Clinic, is to perform an initial intake where the three patience ask the Hologram questions which are provided in an online form, about the basic things that help or hurt her social, physical and emotional/mental health. When this (rather extended) process is complete, the Hologram will meet as a group every season to do a general check in. The goal of this process is to build a social and a physical holistic health record, as well as to continue to grow the patience understanding of the Hologram's integrated patterns.
Ultimately, over time we hope to build trust and a sense of interdependence, so that if the Hologram meets a situation where she has to make a big health decision (health always in an expansive sense) about a medical procedure, a job, a move, she will have three people who can support her to see her lived patterns, to help her ask the right questions, and to support peer research so that the Hologram is not making big decisions unsupported.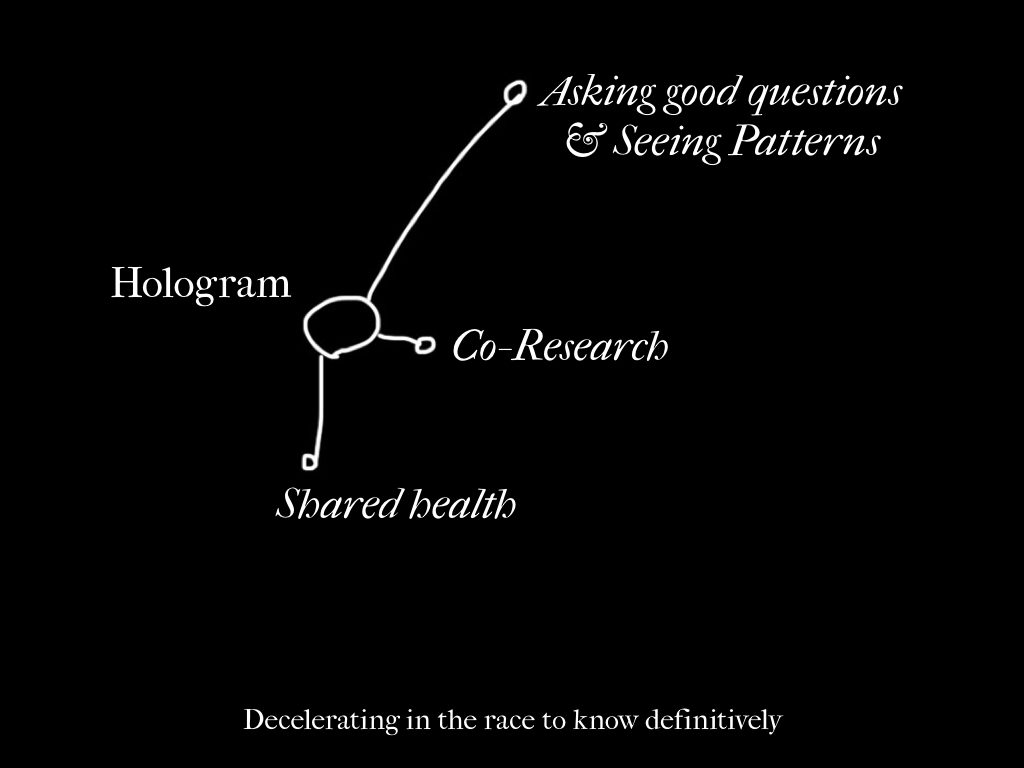 But, in order for the Hologram to receive this care without charge and guilt free, she needs to know that her patience are taken care of as she is. I think this is one part of the project that acknowledges and makes a practice built from the work of feminists and social reproductive theorists – you can't build something new using the labor of people without acknowledging the work of keeping those people alive; reproducing the energy and care we need to overturn capitalism needs a lot of support. Getting support from someone feels so different if you know they are being, well taken care of. This is also how we begin to unbuild the hierarchical and authoritarian structures we have become accustomed to – with empty hands and empty pockets.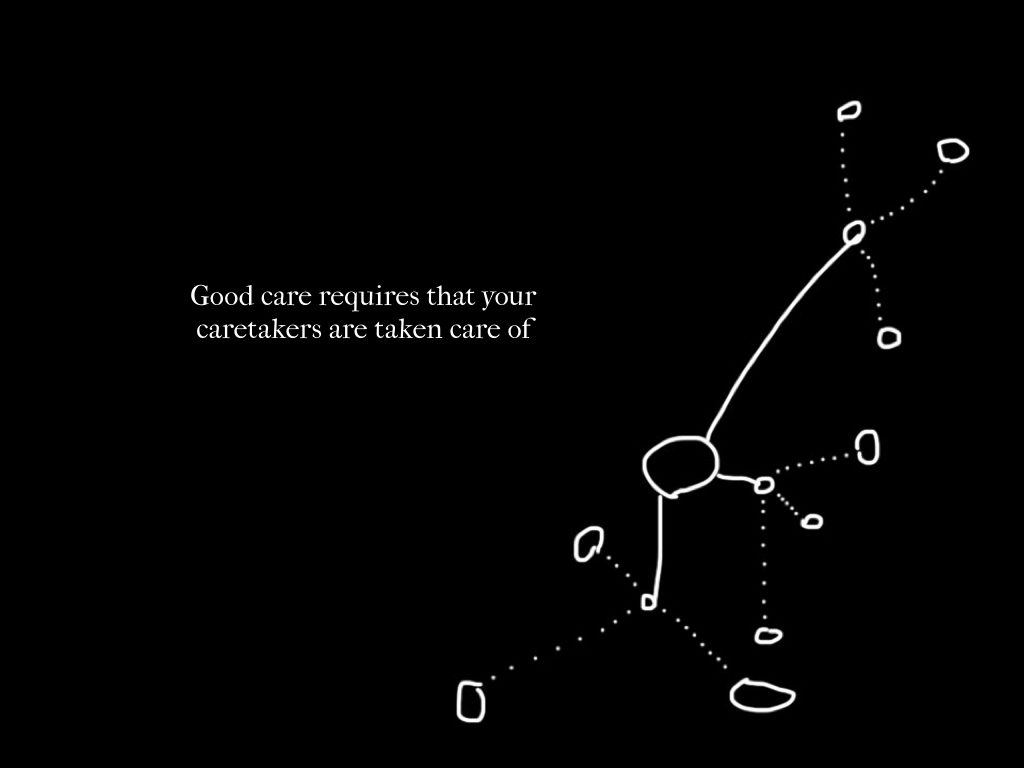 And then, the last important structural aspect of the Hologram project is the real kicker, and touches on the mystery of what it means to be human outside of Clientelist Capitalism – that the real 'healing' (if we even want to say it!) comes when the person who is at the center of care, turns outward to care for someone else. This, the secret sauce, the goal and the desired byproduct of every holographic meeting– to allow people to feel that they are not broken, and that their healing is bound up in the health and liberation of others.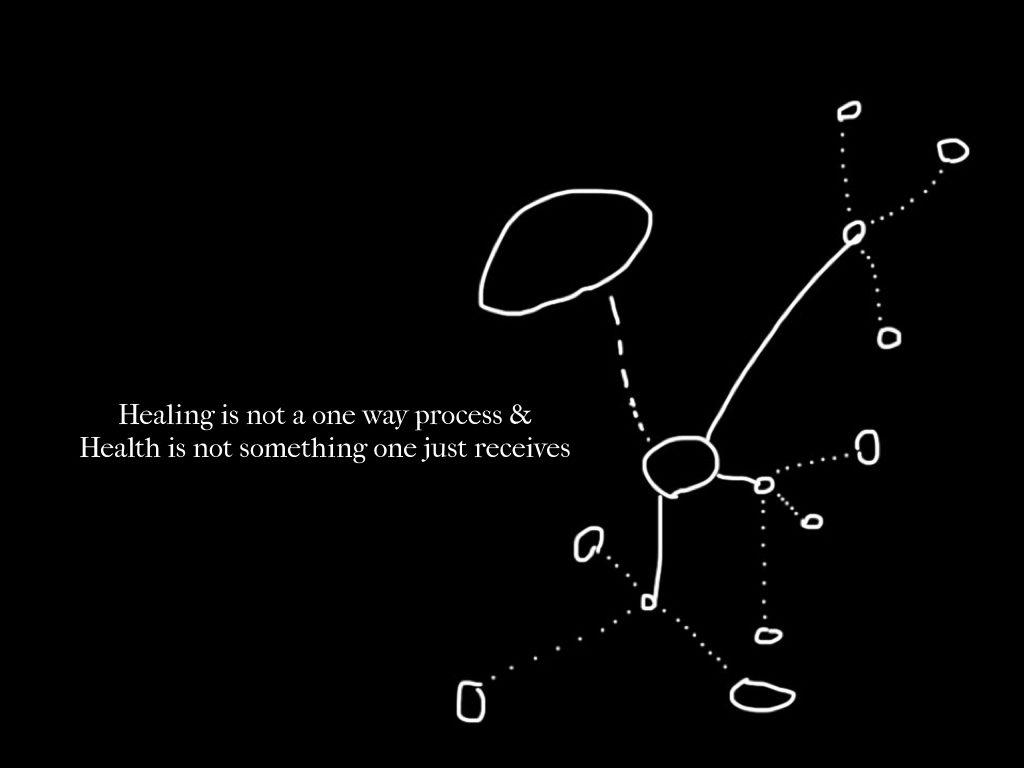 The viral structure, is built into this system and there is a reversal of the standard way of seeing the doctor and patient relationship. In this structure it is essential that we see the work of the Hologram as the work of a teacher or explicator, delivering a case that will ultimately allow the patience to learn things they didn't previously know. This is the most important, (though totally devalued by money) potent and immediately applicable, form of learning we can do, and it is what the medical system has made into a commodity, at the same time as it is seen as 'women's work' or completely useless.
MG: Could you take us through the processes of engagement. For instance, you say a group of four people meet and select one person who will become a Hologram, and that this means they and their health will become 'dimensional' to the group. Could you elaborate how this happens and why it's important for those involved?
CT: We are about to experiment, this fall, with what it means for these groups to form in different ways. We will start with four test cases, where an invited, self-selected person will become a Hologram. She will be supported to select three Patience in a way that suits her, based on an interview and survey. The selection of Patience is a part of the process that we have not had a chance to refine. It is not simple for any individual to understand what support looks like for them, or who they want support from, if they've never really had it.
The experiments we will work through this fall will attempt to understand what changes in the experience of the whole Hologram when the Hologram is supported by Patience who are trusted friends and family, acquaintances or highly recommended strangers. An 'objective' perspective from an outside participant also adds a layer of formality to the project, because, instead of a casual gathering of friends, an unfamiliar person signals to the other members of the hologram to be on time, and make the meetings more structured than a regular friend to friend chat.
The onboarding process for the Hologram and the Patience includes a set of conversations and a training ritual, which are still quite bumpy. The two roles every participant is involved in, requires a different set of skills, and so they both involve a special kind of "training" that one can do in a group or independently. This "training" is a structured personal ritual that allows participants to witness and adapt their own communication habits so that they feel prepared to participate and set up trust, curiosity and solidarity for the group in the opening intake conversations.
At the completion of the intake process, the Hologram (1) transitions to become a Patience. At this time, the Hologram (1) begins a short training to transition to the other role, and she is supported by her Patience to do this work. At the conclusion of the Hologram's (1) transition to Patience, and the completion of the new Hologram's (2) intake process, the original Hologram's (1) Patience become Holograms (3,4,5).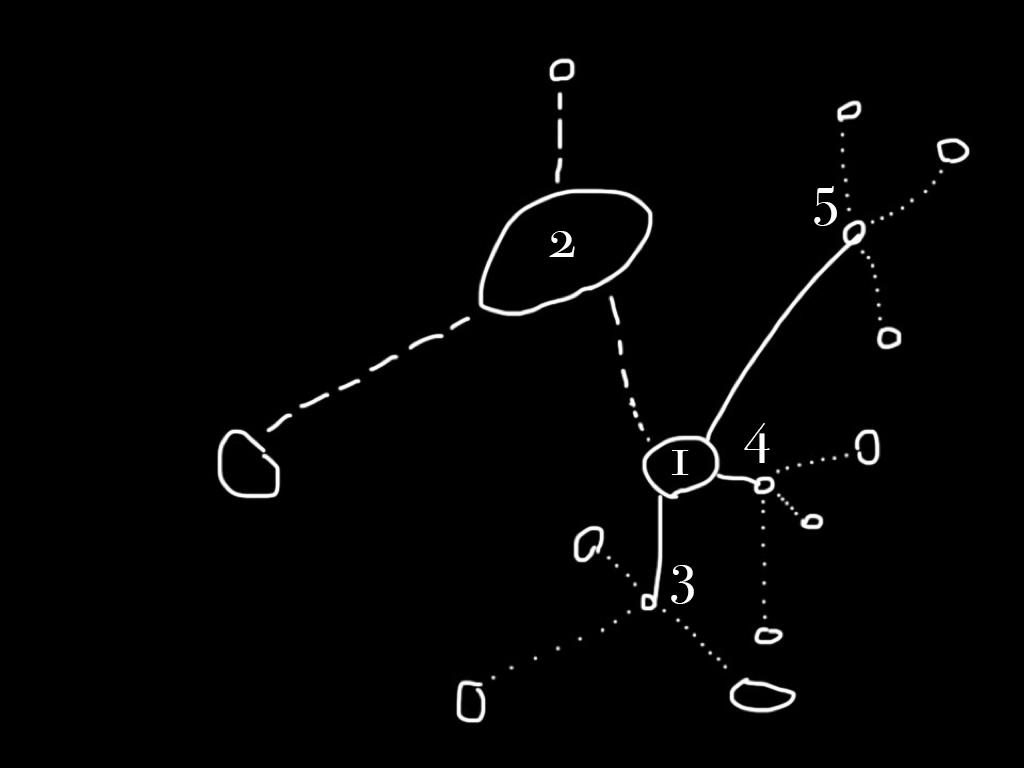 MG: The Hologram project was first trialed as part of an exhibition called Sick Time, Sleepy Time, Crip Time at the Elizabeth Foundation Project Space in New York City, March 31-May 13, 2017. What have you learnt in more recent undertakings of The Hologram project?
CT: Since the original trial one year ago, which lasted for 3 months, the research has shifted to looking at building skills and answering acute questions that will accumulate to support and build the larger project. Starting in the Spring of 2017, I began to offer the Hologram project as a workshop, where participants could test the communication model that is implicit in the Hologram format. The method for offering it is, as a performance artist and rogue architect, creating a situation in a space where people go through a difficult psycho social physical experience together. In the reflective conversations that follow, I ask the groups to use the personal pronoun 'we' for the entire duration of the conversation. The idea is that one person's experience can be shared by the group, and even as temporary Patience we can take a leap and share their experience with them for a duration of time, allowing a Hologram to feel as if their experience is "our" experience. And this feeling that one is not alone in an experience, if carried into other parts of life, has the potential to break a lot of the assumptions and habits that we have inherited from living and adapting to a debt driven hellscape.
Venue: Netbehaviour and Neterarti
Links: http://neterarti.furtherfield.org
Join a conversation about accelerationism on the Netbehaviour email discussion list and Neterarti social media platform: form 21st April – Tuesday 19th May 2016.
Back in 2013 Alex Williams and Nick Srnicek published the influential "#ACCELERATE MANIFESTO for an Accelerationist Politics" which proposes an embrace of automation and the tools and strategies of capitalism for species survival against the odds. It rejects other resistance strategies of protest, occupation, culture-jamming and strike, as outmoded and ineffective in the face of Neoliberal strategies.
The Accelerationist Reader published by Urbanomic pulls together texts and authors, new and old to elaborate and provide historical precedents and contrasts for the position. There have been many responses in Furtherfield's own networks, including those by Rob Myers and Robert Jackson, and more widely in academia and contemporary art practice, such as the simultaneously compelling and repulsive Additivist Manifesto by Daniel Rourke and Morehshin Allahyari.
We invite you to join an open discussion about the ideas, potentials, and political and social tensions, as a way to help bridge between academic conversations to wider practice and everyday experience.
We have invited a number people who we think are working in related areas, to join us and contribute. Please do the same yourselves.
Here on Netbehaviour we have a great platform and community for extended debate, and also we suggest http://neterarti.furtherfield.org as a parallel place for pithy summaries and illustrations (pictures and video) as a way to share key topics and themes with a wider world. As always, we aim for jargon-busting clarity. Monday 21st March – Thursday 7th April 2016.
Suggested reading
#ACCELERATE MANIFESTO for an Accelerationist Politics
by Alex Williams and Nick Srnicek 2013
Critique by McKenzie Wark of Inventing the Future: Postcapitalism and a World Without Work by Nick Srnicek and Alex Williams
Response to Common Criticisms by Srnicek and Williams
Escape Velocities by Alex Williams
Featured image: America by Felix Gonzalez-Torres, exhibition at the 2007 Venice Biennale
"There is no outside anymore."1 – Olafur Eliasson
On May 16 2007, the Guggenheim issued a press release stating that Felix Gonzalez-Torres would represent the United States at the Venice Biennale2. The Cuban-born artist, whose relationship to his adopted country was critical and complicated, had become a poster child for it. His body of work was edited to exclude explicit homosexual references: "gone are the doubled clocks and almost all the doubled circles, all the pieces with "Loverboy" in the title … and all specific references to Ross"3. The exception to this was a major new work, a doubled marble pool, which was presented not as a "figure of queer coupling"4, but rather described in vague, sublime terms: a "sign of infinity … a beacon of hope"5. This frictionless ideological integration of the artist into the State Department programme was a notable example of cultural co-option, a de-queered oeuvre appropriated for "conservative ends"6. But it also symbolized a sophisticated hegemony in that the artist's work engendered an 'interpassivity', performing a counter or anti-stance for the public and thereby enabling a critical catharsis to unfold in a benign fashion7. While Gonzalez-Torres himself was acutely aware of the potential for his work to be caricatured or co-opted8, this posthumous assimilation is indicative of a cultural terrain which has become increasingly precarious, a kind of critical claustrophobia where free territory is quickly swallowed up and every potential step has already been predicted.
If this is the hazardous space of the outsider, then many contemporary artists can be characterized by their willingness to work from within: employing the logic, language and conventions of their chosen systems in preemptive co-option or collaboration.

Screenshot from the "HyperCurrentLiving" website displaying current stats
In Ryder Ripps "HyperCurrentLiving", the artist collaborates with Red Bull in a month long 'performance' where Ripps generates ideas and consumes the company's energy drinks, updating these daily totals on a website. A live webcam allows the public to monitor his output: the artist sitting in front of a laptop in a self-designed karate suit emblazoned with both the Ripps and Red Bull graphic identities. The artist exemplifies the artist as cultural worker and in turn, the cultural worker as late capitalism agent par excellence.
A one-man advertising agency, Ripps engages in the type of 'blue sky thinking' prevalent across the communication sector, producing dematerialized commodities which are distributed virally via his Twitter feed. One concept ("a single serving site that tells you if you are being exploited at your internship") cascades quickly after another ("an app that tells you if your gif is derivative or not")9. Binge energy-drinking fuels this surge of productivity, shrugging off exhaustion and nutrition as inconvenient bodily constraints which drag down the bottom line.
On the face of it, this co-branding exercise between the artist and Red Bull, who spend 30-40% of their earnings on marketing10, seems like a productive synergy, a perfect collaboration. But Ryder is simply too much: by living out the brand (and wider contemporary) ideals to such an extent, an unspoken malaise is also laid bare. Aspirational traits lose their gleam: "connection" slides into technological incarceration, "busy" blurs into workaholic. While Ripps online persona remains vigilant through the night, his tweets static and steady, his disintegrating, hopped-up body quietly problematizes the ideal of the supercharged creative. By literally incarnating brand values, Ripps offers himself up as a sacrifice on the altar of hyper capitalism – a body incessantly creating and indefinitely deferring collapsing.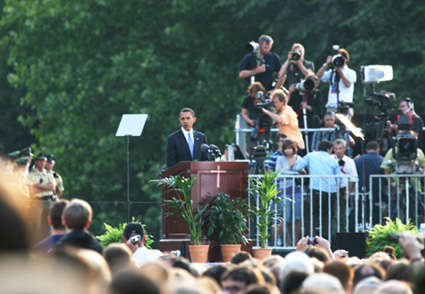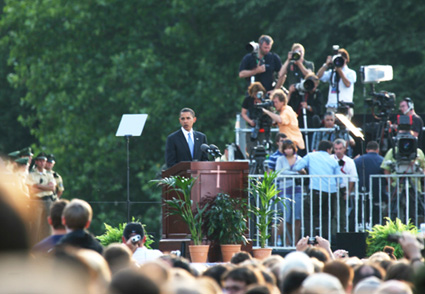 Julius von Bismarck operates within the logic of a different system: media and image production. People's "great trust in their photographic reproductions of reality"11 motivated the development of the Image Fulgurator, an optically triggered projector which beams an image the instant it detects a camera flash. Essentially the device "lies in wait"12 for a member of the press to take a photo, infecting their snapshot with a text or image motif at the same moment it's taken. If media is the "continuation of politics by other means"13, then the gun-like Fulgurator is part of the "new weaponry of information and communication technologies"14.
In one of von Bismarck's best known works, he attended a speech by Barack Obama, projecting a white cross onto the podium and highlighting the "cult of personality" centred around the presidential candidate. Unlike post-editing techniques such as Photoshop, von Bismarck's interventions insert themselves into the physical fabric of situations where power is performed and aura is staged: "NO" hovering above the Pope, an "O2" logo momentarily pinned on Berlin mayor Klaus Wowereit or a Magritte dove overlaying Mao Zedong's portrait in Tiananmen Square.
The artist follows PR logic to it's inevitable conclusion, where the immediate public becomes merely a prop in a mediated reality staged primarily for the press: sight lines and backdrops defined for a camera's CCD chip. By operating within this temporary media space where the eye is largely superfluous, von Bismarck's sub-second intervention is able to avoid detection while simultaneously rupturing an otherwise contiguous reality.
In many respects the so-called democratisation of news media has served the established providers – citizen journalists supplementing bare-bones media units and eyewitness smartphone footage winning back viewers for clicks and advertising revenue. Von Bismarck's media interventions, however, take this phenomenon at face value, his images asserting their equal rights with any others. Decoupled from the copyright assertions of major media networks and distributed via Google spiders or social interactions, this "errant idea"15 becomes itinerant, taking its place alongside other "legitimate" imagery in search results and image banks.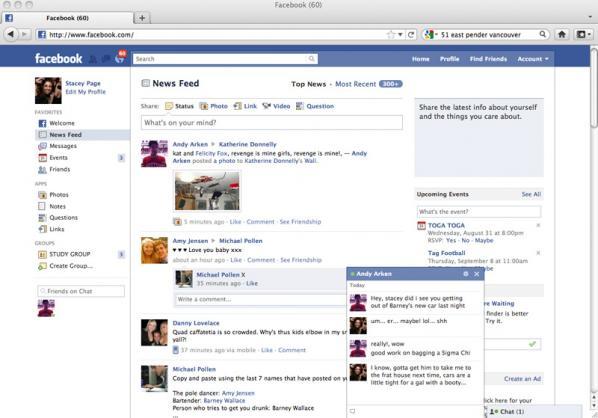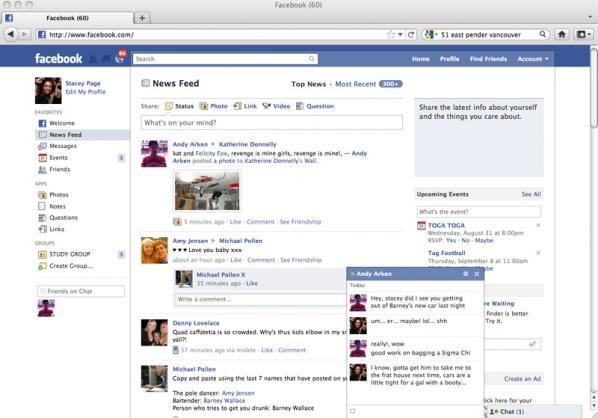 Screenshot from Ed Fornieles' "Dorm Daze"
Ed Fornieles' "Dorm Daze" project stages its intervention in the social media sphere. The London-based artist invited his friends to participate in a 3 month "semi-scripted"16 performance on a self-contained network on Facebook. The participants scalped profiles from real American college students and enacted a series of fictional narratives centred around this formative period: a girl cheating on her first crush, a fraternity hazing gone wrong, the suicide of a good friend. The increased sophistication of social networks coupled with fluency in internet tools and tropes allowed the participants to employ a range of methodologies to advance the narrative: maps to establish location, comments on an upcoming event, live chats for personal encounters, or friends tagged in photos.
Like von Bismarck, Fornieles harnesses the goal of a system, extrapolating it to an extreme.
Here the identity tweaking carried out by every Facebook member – snapshots retouched and likes carefully distributed – is transformed into wholesale identity construction, preening becoming performance.
Participation is the currency of social networks, modeled by Facebook CEO Mark Zuckerberg himself, who had no qualms about setting most of his content to open and "didn't see a need to limit visibility of pics with my friends, family"17. But while Fornieles downplays any subverting potential in the project, stating that it brought "committed users"18, these aren't the users that the Facebook management, its new investors, or its advertisers are looking for. Fornieles has jettisoned the last shred of "authenticity" from the social media sphere, producing a group of profiles who can't be monetized or monitored because of the simple fact that they don't exist. Neither bots nor bodies, these ghost profiles LOLing their way through Facebook mock a billion dollar infrastructure, mining every connectivity tool in a purposeless play with a null result.
While this self contained durational performance was merely a speculative fiction, the feedback loop it initiates in the participant's everyday existence is more persistent. Fornieles elaborates that the skills learnt "during this hypothetical three month exodus would be reapplied in conventional reality"19. For a generation brought up with avatars and profile pics, this practiced performativity sets the stage for a more permanent and personal "enhanced narrative"20, engendering an intervention IRL (in real life) which further blurs the "real/fictional binary"21.
On the face of it, Ripps, von Bismarck and Fornieles belong to an era of artists that may "no longer dream of an outside"22, their work utilizing the logic of branding and media to stage interventions that appear more collaborative than combative, preemptively disarming attempts at appropriation. But the lock-step engendered by this emulation inevitably fails. Accelerated by technology, betrayed by a body or liberated by the lack of one, this faltering may not disrupt the march of the inevitable so much as expose its inherent untenability.
Lies, Lawlessness and Disbelief: An Attempt at Thinking Art and Capital is an essay by Canadian artist & critical thinker, Katie McCain. McCain discusses how capitalism has become on the one hand all-encompassing and on the other utterly unreal. Arguing that we need to focus on moments of paradox, illogic and the impossible in order to rethink capital, this essay explores and succumbs to the circuity of it's own thinking. Drawing on a host of sources, it attempts to weave an account in which system failure is seen as a point of rupture, whether in legislation, bureaucracy or thought itself.
Moments of paradox are seen as a space in which to re-orient our capacity for thought, and in doing so find a place for art as a point of resistance. It promotes a negative approach to capital, a re-imagining of nihilism, and fosters a general penchant for the illegal and the illogical. Ultimately it seeks the expansive space contained within what is impossible or unknown, although this is known to be impossible.
Download PDF of Lies, Lawlessness and Disbelief: An Attempt at Thinking Art and Capital
Featured image: Sculptured relief of Roman soldiers fighting the barbarians.
Lies, Lawlessness and Disbelief 1. Thinking Art and Capital: Unknown Unknowns, is the second of five essays by Canadian artist & critical thinker, Katie McCain. McCain discusses how capitalism has become on the one hand all encompassing and on the other utterly unreal. Arguing that we need to be prepared to think the impossible so that resistance is able to grow.
DOWNLOAD the full text (including all 5 parts) here, or read part two below:
An Attempt at Thinking Art and Capital: Unknown Unknowns
In 1942 the Ministry of Defense labeled Gruinard Island as X Base. It was an isolated island that had been deemed acceptable for testing the viability of an anthrax weapon, as it was unknown if the spores be able to survive the blast. An anthrax bomb was dropped on a herd of sheep kept in individual crates, their heads in hoods so they could not lick the spores. Of 15 sheep, only 2 survived. The test was repeated with less success as a change in wind direction caused the bomb to land in a peat bog where it sank. The test was moved to Wales. In 1981 operation dark harvest – led by a team of microbiologists – collected soil samples from Gruinard Island, which had since been quarantined. Their demand was for the government to decontaminate the island or the samples would be weaponized and distributed. Two samples were found outside a research facility in Porton Down, and in Blackpool, where the ruling conservative party were meeting.[1]
Unknown unknowns are intrinsic to this conceptual, contemporary capitalism, and operate as the risk that can eventually cause a system to fail. Failure emerges from the unprecedented, from the unthinkable, from the things you do not know you do not know.[2] Instead of attempting to predict these events for market gains, what would it mean to merely acknowledge the paradoxical nature of thinking the unthinkable? Unthinkable operates as the other to any thought capacity, and in an attempt to access this impossible, it would be possible to access a non-knowledge, something on the edge of logic, of research, of ideas.
Non-knowledge is not the same as ignorance, but rather references the other of the knowledge system itself, an indeterminate zone between knowledge and ignorance.[3] Huberman addresses this topic in the exhibition catalogue: For the Blind Man in the Dark Room Searching for the Black Cat that Isn't There. The phrase was initially attributed to Charles Darwin's description of a mathematician, but here is used to underscore the type of knowledge, the type of logic, that art explores. A work of art that isn't. As a method of generating new forms of thinking and unknown circuits of consciousness, visual art often verges on logic.[4]
Quantum physics is constantly pushing the boundaries of the unknown. If these formulations, these theories, constitute the boundary of the known, imagine the possibilities contained in unknown unknowns. This of course is impossible, but in the impossible lays unimaginable possibilities. The acceptance of the fact that there are unknown unknowns and, like dark matter, they are invisible, but make up the majority, could operate as a placeholder for limitless possibilities.[5] The things we do not know are impossible, contradictory and badly behaved; the things, then, that we do not know we do not know could be more radical still in terms of reality and the perception of it –an impossibility for thought, but this is the heart of it, the possibilities contained in the impossible. It is fundamentally possible for anything to be true (or conversely false), to be known (or to be unknown)[6]. The more this point is exhumed the more amazing and simultaneously frustrating it can become.
Quantum reality proves that we can alter reality just by looking at it. Photons behave differently under scrutiny than when left to their own devices, which leaves us incapable of describing their behaviour.[7] Einstein asked physicist Niels Bohr if he really believed that the moon disappears when no one is looking at it, to which the retort was "can you prove otherwise?"[8] The answer is of course no, we are incapable of removing ourselves, of removing our relation to the thing-in-itself, of removing the impact of thought from suppositions of reality.
'Quantum physics is an exciting theory because it is extremely precise, it is mathematically beautiful, it describes everything. It just doesn't make sense.'[9]
Perhaps the language of mathematics is not a language invented in order to describe reality, but rather is the basis on which the physical world manifests, and slowly consciousness grasps more and more of this structure. If the theory is wrong, fundamental physics will hit a roadblock beyond which is it impossible to tread; if the theory is right everything is potentially understandable, dependant on thought's capacity to understand.[10] These fundamentally opposite poles of reality offer, to us, the same plain of comprehension – the capacity of thought, the very limit of which we cannot pass.
Dreamwork, specters, illogic, the impossible – it is where thought begins to break down in terms of accuracy or coherent narrative that it begins to get interesting. On the fringes of thought lie truth, radicalism, subversion and change. And on the fringes of reality are lies, paradox and the imaginary. Does this mean that truth can be found in lies, paradox and the unreal?
The market depends on our belief in it, and our lack of faith can have catastrophic results. So bolstering collective belief in markets is the main strategy for their stabilization. But consciousness is not so simple; the market begins to rely not only on our belief in it, but in our belief in our belief in it[11], and so on ad infinitum. An infinite regress of belief created in order to prop up that self-same belief. How can consciousness continue to reconcile itself with this infinite regress? In quantum physics, observing photons can change how they behave. In the market, disbelief can cause it to collapse. A ping pong ball, by the time it's bounced nine times factors the gravitational pull of a body standing next to the table into it's bounce, by the 56th bounce ever single elementary particle of the universe has to be present in your assumptions [12]. In reality, many things are affected by human existence, but thought, or existence itself is not one of them.
It is not true that in order to live one has to believe in one's own existence. There is no necessity to that. No matter what, our consciousness is never the echo of our own reality, of an existence set in "real time." But rather it is its echo in "delayed time," the screen of the dispersion of the subject and of its identity – only in our sleep, our unconscious, and our death are we identical to ourselves. Consciousness, which is totally different from belief, is more spontaneously the result of a challenge to reality, the result of accepting objective illusion rather than objective reality. This challenge is more vital to our survival and to that of the human species than the belief in reality and in existence, which always refers to spiritual consolations pertaining to another world. Our world is such as it is, but that does not make it more real in any respect. "The most powerful instinct of man is to be in conflict with truth, and with the real."[13]
Asleep, unconscious or dead. These are the three options in which one is identical to oneself. But what does that mean? Harman discusses sleep as a lack of relations. We still exist as pieces that make a physical whole, but the thing we lack in sleep is relations. 'Sleep is our closest approach to the freedom from relations in which we are most ourselves'[14]
An object, too, can be dormant. It is capable of existing apart from a specific situation, and therefore is capable of existing apart from any situation at all; therefore, it is relationless, or has the possibility to be relationless. Unlike objects, however, this dormancy is not so much a freedom from the world, as a dormancy to the world, withdrawn, incapable of anything else.
Yet, in a sense we are always inside the world through the fact that we are made up of pieces – and only therefore are we free, with our components doing the work of liberty on our behalf. For there is an excess in our pieces beyond what is needed to create us, and this excess allows new and unexpected things to happen.[15]
So perhaps seeking freedom in individuation, in isolation, as the linking of subject to object, in the perpetual delay of satisfaction that capitalism offers is the achievement of the exact opposite of the freedom sought. Perhaps the individual freedom presented by capital and democracy is in fact a relationless sleep that removes the other, the alternative, removes the opportunity for change, and ultimately time itself.
sl
sle
slee
sleep
Freudian kettle logic is an example, a joke employed by Freud to explore the mind's capacity for self-deception. It is this logic, or rather this illogic that some manages to access the impossible. Kettle logic refers to the thought process of a mind on the defensive. It shows the impossibility of thought or rather it's circular nature, that manages to disregard laws of non-contradiction. It goes as follows:
A neighbour is accused of borrowing a kettle and returning it with a hole. He answers simultaneously that 1) he did not borrow the kettle; 2) it was unbroken when he returned it, and 3) that it was broken when he borrowed it.[16]
Freud uses this to unpack dream logic, during which time mutually exclusive answers or states can easily co-exist. "Wendy Brown says that dreamwork provides the best model for understanding contemporary forms of power. It produces a confabulated consistency that covers over anomalies and contradictions"[17]. Žižek uses Freudian kettle logic to explain the U.S.'s right to wage war on Iraq, and the notion of the pre-emptive strike, which renders events of the future to a fictional or probabilistic past.[18]
Žižek also argues:
If we postpone our action until we have full knowledge of the catastrophe, we will have acquired that knowledge only when it is too late. The certainty on which to act is never a matter of knowledge, but a matter of belief. If, accidentally, an event takes place, it creates a preceding chain which makes it appear inevitable – Hegelian dialectic of contingency and necessity. In order to confront a disaster – we should accept it as fate, as unavoidable, and then retroactively insert into the past of the future possibilities on which to act in the present.[19]
This is frighteningly similar to the rhetoric of war used by the right, but employed by the left with regard to environmental disaster. Both the right, and the quite radical left in this instance, are using the same logic of prediction to validate an action. The difference, it seems, is Žižek's disbelief, or awareness of the impossibility of a situation that requires action despite the fact that the specifics of the situation itself are still largely unknown.
Link to first article
https://www.furtherfield.org/lies-lawlessness-and-disbelief-1/
BIBLIOGRAPHY
Adorno, Theodor.W. Negative Dialectics. Translated by E.B. Ashton. New York: Continuum, 2005. First Published 1966 by Suhrkamp Verlag.
Associated Press. "Romanian Witches Curse Latest Government Clampdown," The Guardian, February 9, 2011, main section, 20.
Bartlett, Monica Y., Aida Cajdric, Nilanjana Dasgupta and David DeSteno, "Prejudice from Thin Air: The Effect of Emotion on Automatic Intergroup Attitudes." Psychological Science 15, no. 5 (May, 2004): 319-324.
Baudrillard, Jean. Global Debt and Parallel Universe. Translated by Francois Debrix. http://www.egs.edu/faculty/jean-baudrillard/articles/global-debt-and-parallel-universe/ (accessed April 4, 2011).
Baudrillard, Jean. Radical Thought. Translated by Francois Debrix. Edited by Sens & Tonka. Paris: Collection Morsure, 1994.
Bey, Hakim. T.A.Z.: Temporary Autonomous Zone, Ontological Anarchy, Poetic Terrorism. New York: Autonomedia, 2003. First Published 1985.
Bradley, Will. "Guarana Power." in Self-Organization/Counter-Economic-Strategies, edited by Bradley, Hannula, Ricupero and Superflex, 311 – 333. New York: Steinberg Press, 2006.
Brassier, Ray. "I Am a Nihilist because I Still Believe in Truth" Interview with Marcin Rychter. Kronos: March 4, 2011 http://kronos.org.pl/index.php?23151,896 – accessed: march 23rd, 2011.
Brassier, Ray. Nihil Unbound: Enlightenment and Extinction. Basingstoke: Palgrave McMillan, 2007.
Critical Art Ensemble. Marching Plague: Germ Warfare and Global Public Health. New York: Autonomedia, 2006.
Declercq, Frédéric. Lacan on the Capitalist Discourse: Its Consequences for Libidinal Enjoyment and Social Bonds. Psychoanalysis, Culture & Society 2006, 11, (74-83).
Fisher, Mark. Capitalist Realism: Is There No Alternative? Winchester: Zero Books, 2009.
Foucault, Michel. Power/Knowledge: Selected Interviews & Other Writings: 1972-1977. New York: Pantheon Books, 1980.
Fromm, Erich. The Fear of Freedom. London: Routledge & Kegan Paul Ltd., 1966.
Groys, Boris "Art and Money," E-Flux 24 (2011), http://www.e-flux.com/journal/view/226.
Harman, Graham. Circus Philosophicus. Winchester: Zero Books, 2010.
Hofstadter, Douglas R. Gödel, Escher, Bach: An Eternal Golden Braid. London: Penguin Books Ltd., 1979.
Holt, Jim. "The Way We Live Now: Against Happiness," New York Times, June 20, 2004.
Horizon: What is Reality? Documentary. Directed by Helen Shariatmadari. BBC: ep. 9, 2011.
Huberman, Anthony, ed. For the Blind Man in the Dark Room Looking for the Black Cat that Isn't There. St. Louis: Contemporary Art Museum St. Louis, 2009.
Huxley, Aldous. Brave New World. London: Vintage Books, 2007. First published 1932 by Chatto & Windus.
K-Punk Blog. http://k-punk.abstractdynamics.org/archives/004421.html
Kafka, Franz. The Castle. Middlesex: Penguin Books Ltd., 1964. First published 1926 by Das Schloss.
Kurant, Agnieszka and Nassim Nicholas Taleb. "Unknown Unknowns: A Conversation between Agnieska Kurant & Nassim Nicholas Taleb about the Benefits of Uncertainty." Frieze, September 2010, 127 -135.
Lacan, Jacques. "Seminar on the Purloined Letter." Yale French Studies 48 (1972): 39-72.
Lacan, Jacques. The seminars of Jacques Lacan: Book II: The Ego in Freud's Theory and in the Technique of Psychoanalysis 1954-1955. Ed: Jacques-Alain Miller. New York: W. W. Norton and Co., 1991.
MacKinnon, Catharine A. "Feminism, Marxism, Method and the State." Chicago Journals 8, no. 4 (1983), 635-658.
Meillassoux, Quentin. After Finitude: An Essay on the Necessity of Contingency. London: Continuum, 2008.
Mouffe, Chantal. The Democratic Paradox. London: Verso, 2000.
Noys, Ben. Persistence of the Negative: A Critique of Contemporary Continental Theory. Edinburgh: Edinburgh University Press, 2010.
Place, Vanessa and Robert Fitterman. Notes on Conceptualisms. New York: The Ugly Duckling Presse, 2009.
Stephen, Kylie. "Sexualized Bodies." in Real Bodies: A Sociological Introduction, edited by Evans and Lee, 29-45. Basingstoke: Palgrave MacMillan. 2002.
Taleb, Nassim Nicholas. The Black Swan: The Impact of the Highly Improbable. London: Penguin Books Ltd., 2007.
Thacker, Eugene. "Nihil Unbound" review of Nihil Unbound: Enlightenment and Extinction, by Ray Brassier, Leonardo 42: no.5, (2009): 459-460, http://muse.jhu.edu/journals/leonardo/v042/42.5.thacker.html (Accessed April 2, 2011).
The Trap: What Happened to Our Dream of Freedom? Documentary. Directed by Adam Curtis. BBC Two: March 2007.
Trotta, Roberto. "Dark Matter: Probing the Arche Fossil." Interview with Robin Mackay. Collapse: Philosophical Research and Development 2 (2007): 83-169.
Vidal, John. "Bolivia Enshrines Natural World's Rights with Equal Status for Mother Earth." The Guardian. April 11, 2011. Main section, 15.
Weaver, Matthew. "Romanian Witches to Cast Anti-Government Spell." The Guardian. January 7, 2011. Main section, 23.
Wilson, Eric G. Against Happiness. New York: Sarah Critchton Books, 2008.
Žižek, Slavoj. First as Tragedy, Then as Farce. London: Verso, 2009.
Žižek , Slavoj. The Iraqi Borrowed Kettle. http://www.lacan.com/zizekkettle.htm (accessed April 4, 2011).
Žižek, Slavoj. What Rumsfeld Doesn't Know that He Knows About Abu Ghraib. (2004) http://www.lacan.com/zizekrumsfeld.htm (accessed April 4, 2011).