Our times are characterized by the accelerating collapse and redrawing of multiple borders: between nation states, personal identities, and the responsibilities we have for each other. Also between the old distinctions, work and pleasure.
Some leaders as part of the new world order, tell us through their political actions and their fashion accessories, that they "Just Don't Care". This "political art-form"1 of not caring permits an insidious spread of hatred online and on the ground. In recent times, the digital condition has lent it's networks and platforms to this poisonous, rhetorical hyperbole, turning against immigrants, and others who do not fit into the framework of a western world, oligarch orientated vision. Mass extraction and manipulation of social data has facilitated the circulation of fake news and the production of fear, anxiety and uncertainty. Together these fuel the machine of structural violence adding to the already challenging conditions created by Austerity policies, growing debt and poverty.
In the face of these outlandish difficulties our digital tools and networks – taken up with a spirit of cultural comradeship. More inspiring narratives are emerging from across disciplines and backgrounds, to experiment with new solidarity-generating approaches that critique and build platforms, infrastructures and networks, offering new possibilities for reassessing and re-forming citizenship and rights.
The exhibition and labs for Playbour – Work, Pleasure, Survival, have created new contexts for collaboration. Artists (from the local area and internationally), game designers and architects, come together with researchers from psychology and neuroscience addressing the data driven gamification of life and everything.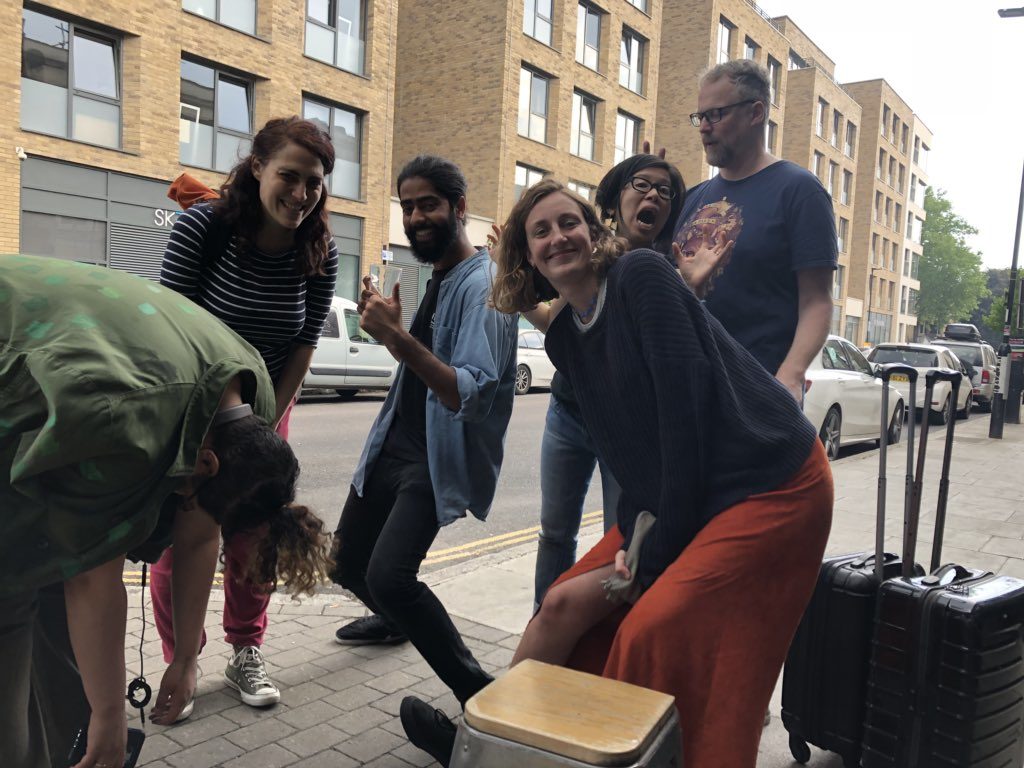 In her interview, the curator Dani Admiss discusses how they reassess the power relationships of the gallery, park users and the local authorities, asking who owns the cultural infrastructure and public amenities – and so create a polemic to open up questions of public value. The exhibition is open every weekend through 14 July to 19 August 2018.
The artists featured in Transnationalisms exhibition curated by James Bridle address the effect on our bodies, our environment, and our political practices of unstable borders.
"They register shifts in geography as disturbances in the blood and the electromagnetic spectrum. They draw new maps and propose new hybrid forms of expression and identity."2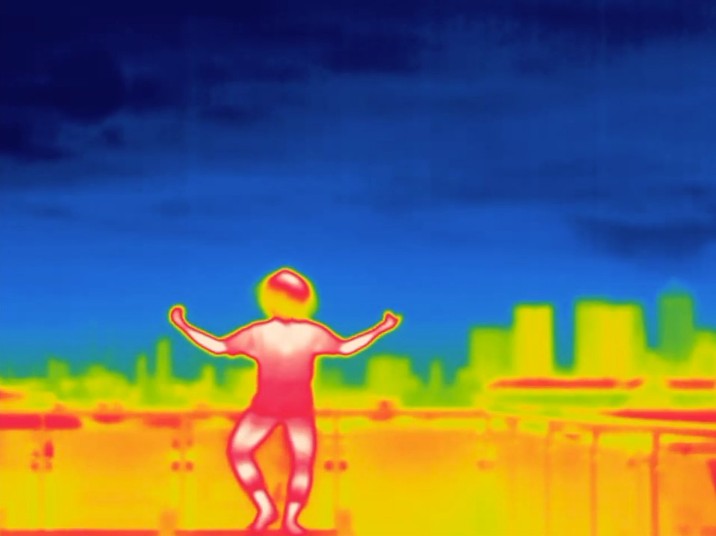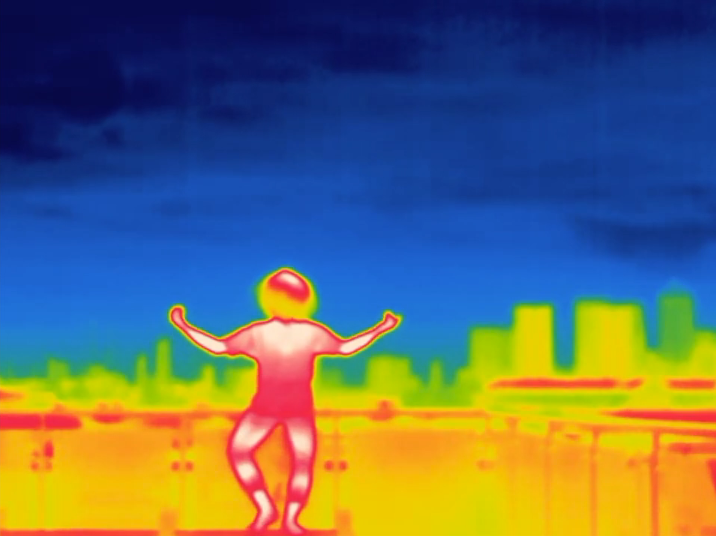 "Thiru Seelan, a Tamil refugee who arrived in the UK in 2010 following detention in Sri Lanka during which he was tortured for his political affiliations, dances on an East London rooftop. His movements are recorded by a heat sensitive camera more conventionally often used to monitor borders and crossing points, where bodies are identified through their thermal signature."3
The show opens at Furtherfield from September 14th to October 26th 2018, touring as part of State Machines the EU cooperation which investigates the new relationships between states, citizens and the stateless made possible by emerging technologies.
We have another interview with artist and activist Cassie Thornton, where we discuss her current project Hologram, which examines health in the age of financialization, and works to reveal the connection between the body and capitalism. Her interview focuses on a series of experiments that actively counter the effects of indebtedness through somatic – or body – work including her focus on the way in which institutions produce or take away from the health of the artists and workers they "support".
"In my work for the past decade, I have been developing practices that attempt to collectively discover what debt is and how it affects the imagination of all of us: the wealthy, the poor, the indebted, financial workers, babies, and anyone in-between." Thornton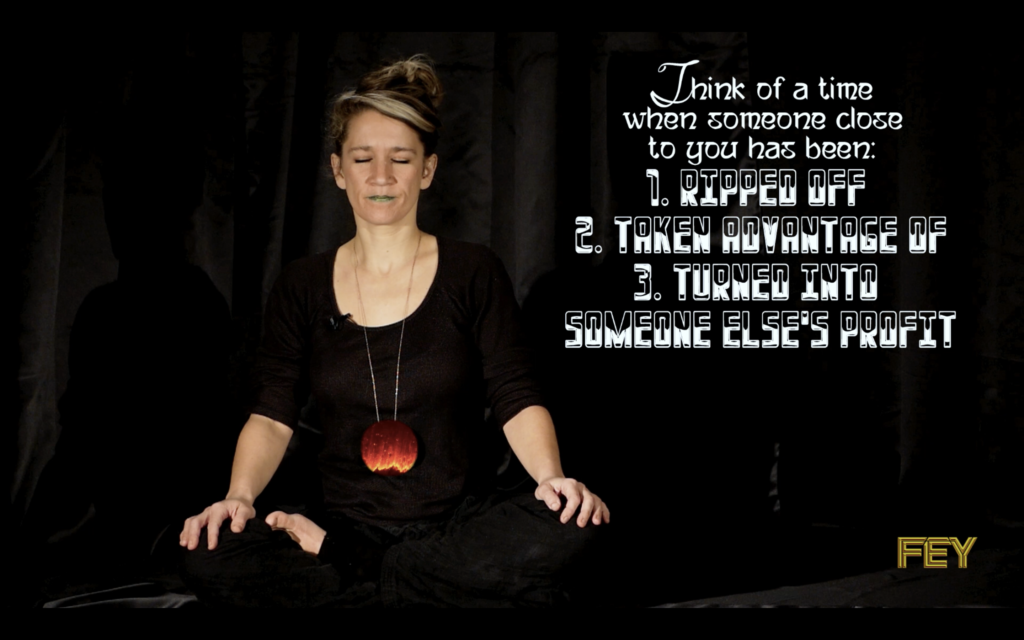 Finally I interview Tatiana Bazzichelli, artistic director and curator of the Disruption Network Lab, in Berlin, questions about art as Investigation of political misconducts and Wrongdoing. Since 2015, the Disruption Network Lab has cultivated a stage and a sanctuary for otherwise unheard and stigmatised voices to delve into and explore the urgent political realities of their existence at a time when the media establishment has no investment in truth telling for public interest.
"When the speakers are with us and open their minds to our topics, I feel that we are receiving a gift from them. I come from a tradition in which communities, networks and the sharing of experience were the most important values, the artwork by themselves." Bazzichelli.
The programme creates a conceptual and practical space in which whistleblowers, human right advocates, artists, hackers, journalists, lawyers and activists are able to present their experience, their research and their actions – with the objective of strengthening human rights and freedom of speech, as well as exposing the misconduct and wrongdoing of the powerful.
To conclude, all one needs to say is…
"Whether in the variety of human, backgrounds and perspectives, biodiversity or diversity of technologies, coding languages, devices, or technological cultures. Diversity is Proof of Life." Ruth Catlow, 2018.
Since the financial crash 10 years ago, we've learned that it tends to be everyday people, on the ground, who pick up the pieces and not governments. Millions have been dragged into poverty while those who caused the "crisis", after creating dangerously high levels of private debt, remain unscathed. [1] The UK Conservative government's response was an Austerity policy, driven by a political desire to reduce the size of the welfare state. Amadeo Kimberly says, "austerity measures tend to worsen debt […] because they reduce economic growth."[2] The effect has been devastating, creating all together, more homelessness, precarious working conditions and thus pushing working communities, deeper into debt. In the UK, the NHS is being privatized as we speak. According to a CNBC report, medical bills were the biggest cause of bankruptcies in the U.S in 2013, with 2 million people adversely affected. [3]
The work of artist and activist, Cassie Thornton is included in the upcoming Playbour– Work, Pleasure, Survival exhibition at Furtherfield, curated by Dani Admiss. In this interview I wanted to explore the following questions as revealed in her current Hologram project:
What do current conditions say about trust and care, and can we trust the current, governing systems to have our best interests at heart?
How do we produce non-hierarchical trust and care that thrives outside of the doctor/patient relationship, which is especially important in the U.S., where it is a profit making industry?
How do we reverse engineer all this tragedy, and put power back where it needs to be?
How do we begin to build solidarity?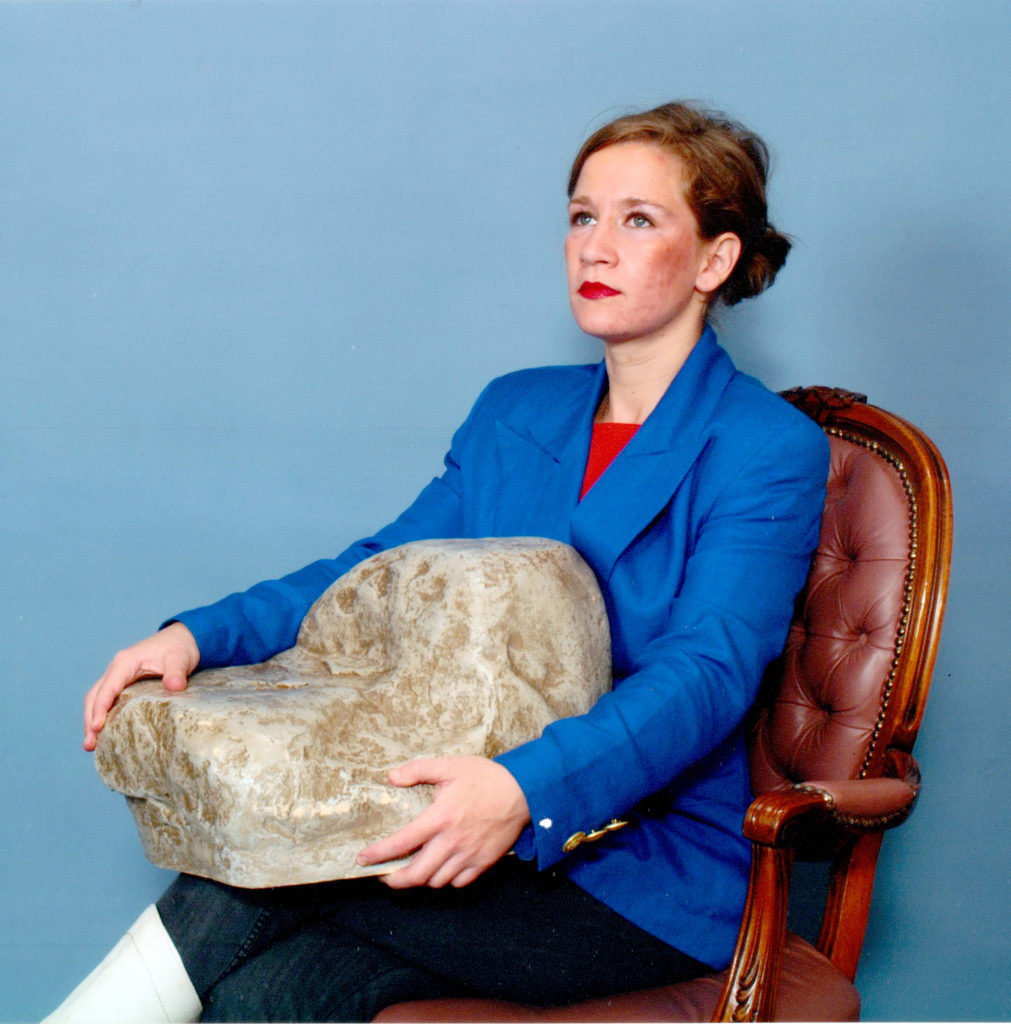 Cassie Thornton is an artist and activist from the U.S., currently living in Canada. Thornton is currently the co-director of the Reimagining Value Action Lab in Thunder Bay, an art and social center at Lakehead University in Ontario, Canada.
Thornton describes herself as feminist economist. Drawing on social science research methods develops alternative social technologies and infrastructures that might produce health and life in a future society without reproducing oppression — like those of our current money, police, or prison systems.
Interview
Marc Garrett: Since before the 2008 financial collapse, you have focused on researching and revealing the complex nature of debt through socially engaged art. Your recent work examines health in the age of financialization and works to reveal the connection between the body and capitalism. It turns towards institutions once again to ask how they produce or take away from the health of the artists and workers they "support". This important turn towards health in your work has birthed a series of experiments that actively counter the effects of indebtedness through somatic work, including the Hologram project.
The social consequences of indebtedness, include the formatting of one's relationship to society as a series of strategies to (competitively) survive economically, alone, to pay the obligations that you has been forced into. It takes so much work to survive and pay that we don't have time to see that no one is thriving. Those whom most feel the harsh realities of the continual onslaught of extreme capitalism, tend to feel guilty, and/or like a failure. One of your current art ventures is the Hologram, a feminist social health-care project, in which you ask individuals to join and provide accountability, attention, and solidarity as a source of long term care.
Could you elaborate on the context of the project is, as well as the practices, and techniques, you've developed?
CT: Many studies show that the experience of debt contributes to higher levels of anxiety, depression, and suicide. Debt disables us from getting the care we need and leads us away from recognizing ourselves as part of a cooperative species: it is clear that debt makes us sick. In my work for the past decade, I have been developing practices that attempt to collectively discover what debt is and how it affects the imagination of all of us: the wealthy, the poor, the indebted, financial workers, babies, and anyone in-between. Under the banner of "art" I have developed rogue anthropological techniques like debt visualization or auxiliary credit reporting to see how others 'see' debt as an object or a space, and how they have been forced to feel like failures in an economy that makes it hard for anyone (especially racialized, indigenous, disabled, gender non-binary, or 'immigrant') to secure the basic needs (housing, healthcare, food and education) they need to survive, because it is made to enrich the already wealthy and privileged.
"The rise of mental health problems such as depression cannot be understood in narrowly medical terms, but needs to be understood in its political economic context. An economy driven by debt (and prone to problem debt at the level of households) will have a predisposition towards rising rates of depression."[4]
After years of watching the pain and denial around debt grow for individuals and entire societies, I was so excited to fall into a 'social practice project' that has the capacity to discuss and heal some of this capital-induced sickness through mending broken trust and finding lost solidarity. This project is called the hologram.
MG: What kind of people were involved?
CT: The entire time I lived in the Bay Area I was precarious and indebted. I only survived, and thrived, because of the networks of solidarity and mutual aid I participated in. As the city gentrified beyond the imagination, I was forced to leave. I didn't want to let those networks die. So, at first, the people who were involved were like me– people really trying to have a stake in a place that didn't know how to value people over real estate and capital
The hologram project developed when, as I was leaving the city, I had invited a group of precariously employed, transient activists and artists to get together in the Bay Area for a week of working together. We aimed to figure out ways to share responsibility for our mutual economic and social needs. This project was called the "Intentional Community in Exile (ICE)" [the ICE pun was always there, now an ever more intense reference in the public eye] and it grew out of an opportunity offered by Heavy Breathing to choreograph an event at The Berkeley Art Museum. They allowed me to go above and beyond my budget to invite a group of 8 women together from across the US to choreograph methods of mutual aid: sharing resources, discussing common problems and developing methods for cooperating to co-develop an economic and social infrastructure that would allow us to thrive together, interdependently. What would it mean for our work as activists and artists to feel that we had roots within an intentional community, even if we didn't have the experience of property that makes most people feel at home?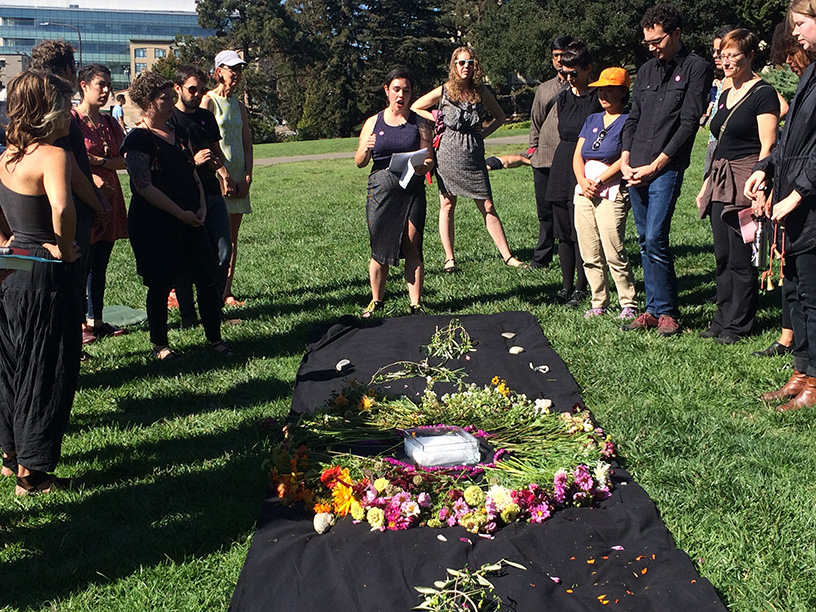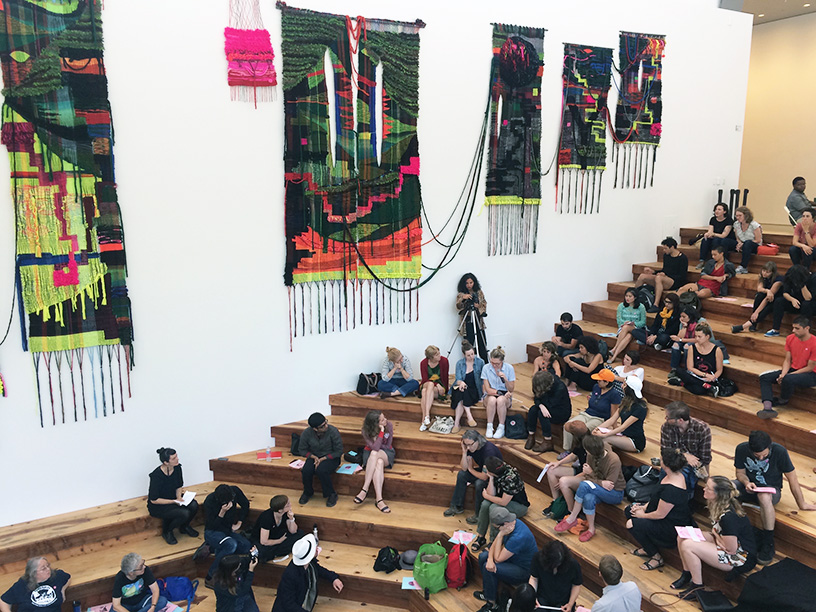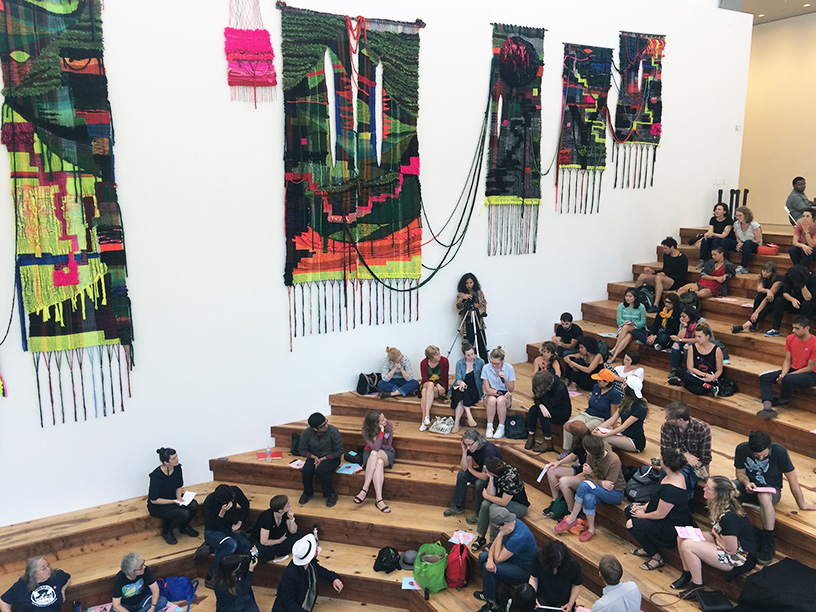 Facebook event: "In departing from the idea of a long term home, family, property, or ownership, ICE models a mutual aid society to sustain creative and political practices within a hostile economic system. This project is about finding ways to exit economic precarity by building human relationships instead of accumulating capital– or to make exile warm. After a one week convergence of a small group of collaborators, ICE presents a discussion and performance of life practices as well as frameworks for material and immaterial mutual support."
The Hologram was one of many ideas that developed as part of this project. One of the group members, Tara Spalty, founder of Slowpoke Acupuncture, (and one of the two acupuncturists you will see at SF protests or homeless encampments) and I fell into this idea when combining our knowledge about the solidarity clinics in Greece, our growing indebtedness and lack of medical records, and the community acupuncture movement. Then the group brainstormed about what the process would be like to produce a viral network of peer support.
MG: What inspired you to do this project? (particularly interested in the Greek influences here and what this means to you)
CT: My practice of looking at debt became boring to me by 2015 as it became more and more clear that individual financial debt was a signal of a larger problem that was not being addressed. The hyper individualism produced by indebtedness allows us to look away from a much bigger deeper story of our collective debts, financial and otherwise. We don't know what to do with these much bigger debts, which include sovereign debts, municipal debts, debts to our ancestors and grandchildren, debts to the planet, debts to those wronged by colonialism and racism and more. We find it so much easier to ignore them.
When visiting austerity-wracked Greece after living in Oakland, I noticed that Oakland appeared to have far more homeless people on the street. It made me realize that, while we label some places "in crisis," the same crisis exists elsewhere, ultimately created and manipulated by the same financial oligarchs. The hedge funds that profit off of the bankruptcy in Puerto Rico are flipping houses in Oakland and profiting off of the debt of Greece. We're all a part of the same global economic systems. The "crisis" in Greece is also the crisis Oakland and the crisis in London. For this reason, I have been interested in what we can all learn from activists, organizers and others in crisis zones, who see the conditions without illusions.
This led me to an interest in the the Greek Solidarity Clinic movement, which since "the crisis" there has mobilized nurses, doctors, dentists, other health professionals and the public at large to offer autonomous access to basic health care. I went to go visit some of these clinics with Tori Abernathy, radical health researcher. Another project using this social technology is called the Accountability Model, by the anonymous collective Power Makes Us Sick. These solidarity clinics are run by participant assembly and are very much tied in to radical struggles against austerity. But they have also been a platform for rethinking what health and care might mean, and how they fit together. The most inspiring example for me was in at a solidarity clinic in Thessaloniki, the second largest city in Greece. The "Group for a Different Medicine" emerged with the idea that they didn't want to just give away free medicine, but to rethink the way that medicine happens beyond conventional models, including specifically things like gender dynamics, unfair treatment based on race and nationality and patient-doctor hierarchies. This group opened a workers' clinic inside of an occupied factory called vio.me as place offer an experimental "healed" version of free medicine.
When new patients came to the clinic for their initial visit they would meet for 90 minutes with a team: a medical doctor, a psychotherapist and a social worker. They'd ask questions like: Who is your mother? What do you eat? Where do you work? Can you afford your rent? Where are the financial hardships in your family?
The team would get a very broad and complex picture of this person, and building on the initial interview they'd work with that person to make a one-year plan for how they could be supported to access and take care of the things they need to be healthy. I imagine a conversation: "Your job is making you really anxious. What can we do to help you with that? You need surgery. We'll sneak you in. You are lonely. Would you like to be in a social movement?" It was about making a plan that was truly holistic and based around the relationship between health, community and struggles to transform society and the economy from the bottom-up . And when I heard about it, I was like: obviously!
So the Hologram project is an attempt by me and my collaborators in the US and abroad to take inspiration from this model and create a kind of viral network of non-experts who organize into these trio/triage teams to help care for one another in a complex way. The name comes from a conversation I had with Frosso, one of the members of the Group for a Different Medicine, who explained that they wanted to move away from seeing a person as just a "patient", a body or a number and instead see them as a complex, three dimensional social being, to create a kind of hologram of them.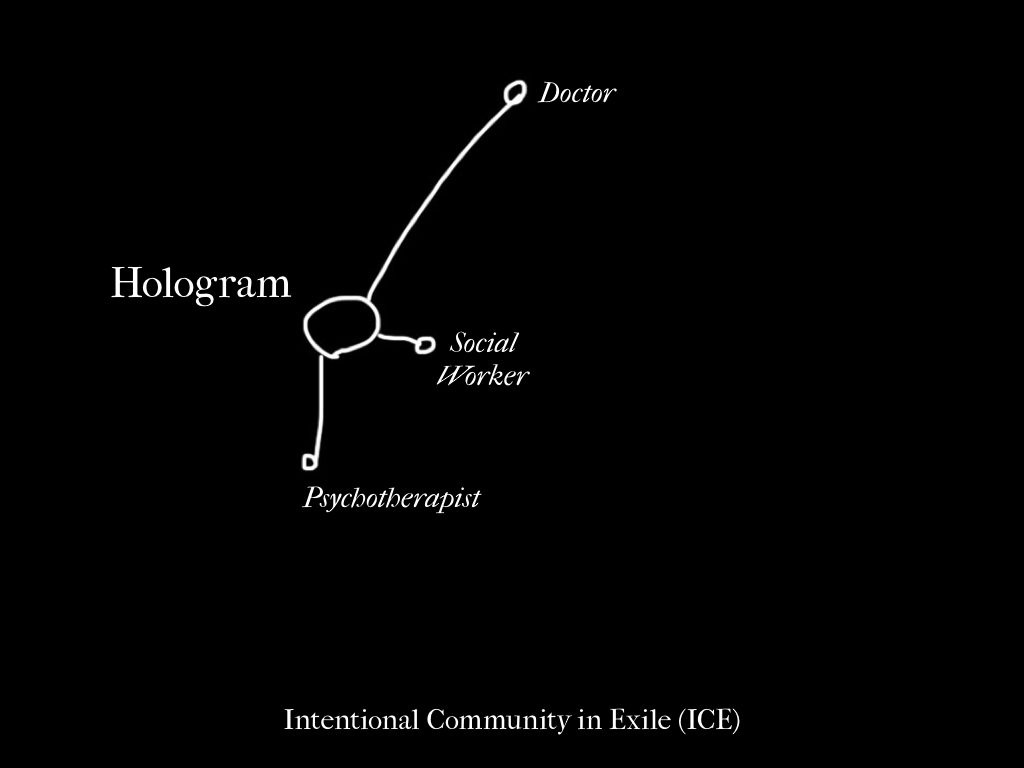 MG: Could you explain how the viral holographic care system works?
CT: Based on the shape above, we can see that we have three people attending to one person, and each person represents a different quality of concern. In this new model, these three people are not experts or authorities, but people willing to lend attention and to do co-research, to be a scribe, or a living record for the person in the center, the Hologram. We call these three attendees 'patience'. Our aim is to translate the Workers' Clinic project to a peer to peer project where the Hologram receives attention, curiosity and long term commitment from the patience looking after her, who are not professionals. Another project using this social technology is called the Accountability Model, by the anonymous collective Power Makes Us Sick.
So the beginning of the process, like that of the Workers' Clinic, is to perform an initial intake where the three patience ask the Hologram questions which are provided in an online form, about the basic things that help or hurt her social, physical and emotional/mental health. When this (rather extended) process is complete, the Hologram will meet as a group every season to do a general check in. The goal of this process is to build a social and a physical holistic health record, as well as to continue to grow the patience understanding of the Hologram's integrated patterns.
Ultimately, over time we hope to build trust and a sense of interdependence, so that if the Hologram meets a situation where she has to make a big health decision (health always in an expansive sense) about a medical procedure, a job, a move, she will have three people who can support her to see her lived patterns, to help her ask the right questions, and to support peer research so that the Hologram is not making big decisions unsupported.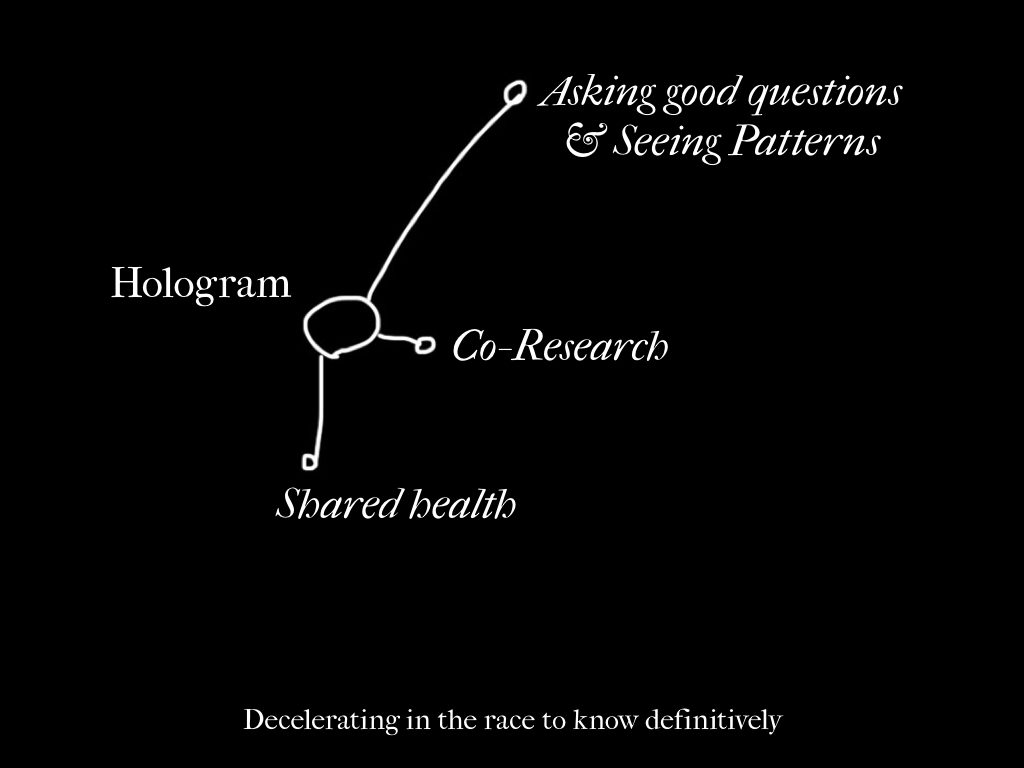 But, in order for the Hologram to receive this care without charge and guilt free, she needs to know that her patience are taken care of as she is. I think this is one part of the project that acknowledges and makes a practice built from the work of feminists and social reproductive theorists – you can't build something new using the labor of people without acknowledging the work of keeping those people alive; reproducing the energy and care we need to overturn capitalism needs a lot of support. Getting support from someone feels so different if you know they are being, well taken care of. This is also how we begin to unbuild the hierarchical and authoritarian structures we have become accustomed to – with empty hands and empty pockets.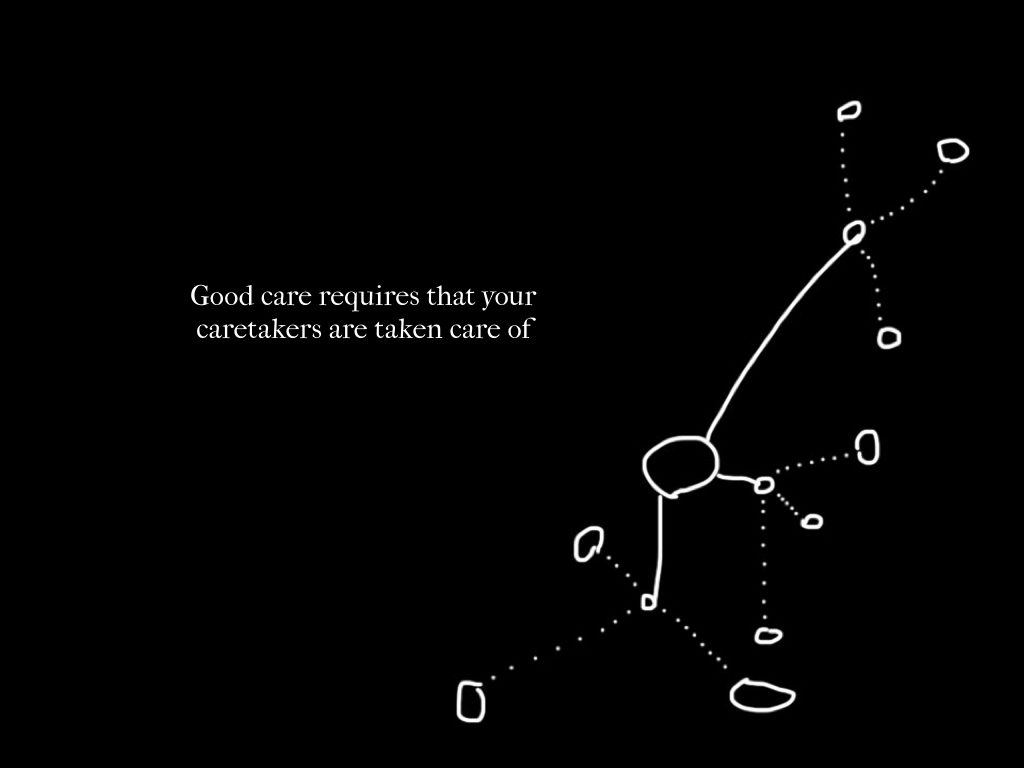 And then, the last important structural aspect of the Hologram project is the real kicker, and touches on the mystery of what it means to be human outside of Clientelist Capitalism – that the real 'healing' (if we even want to say it!) comes when the person who is at the center of care, turns outward to care for someone else. This, the secret sauce, the goal and the desired byproduct of every holographic meeting– to allow people to feel that they are not broken, and that their healing is bound up in the health and liberation of others.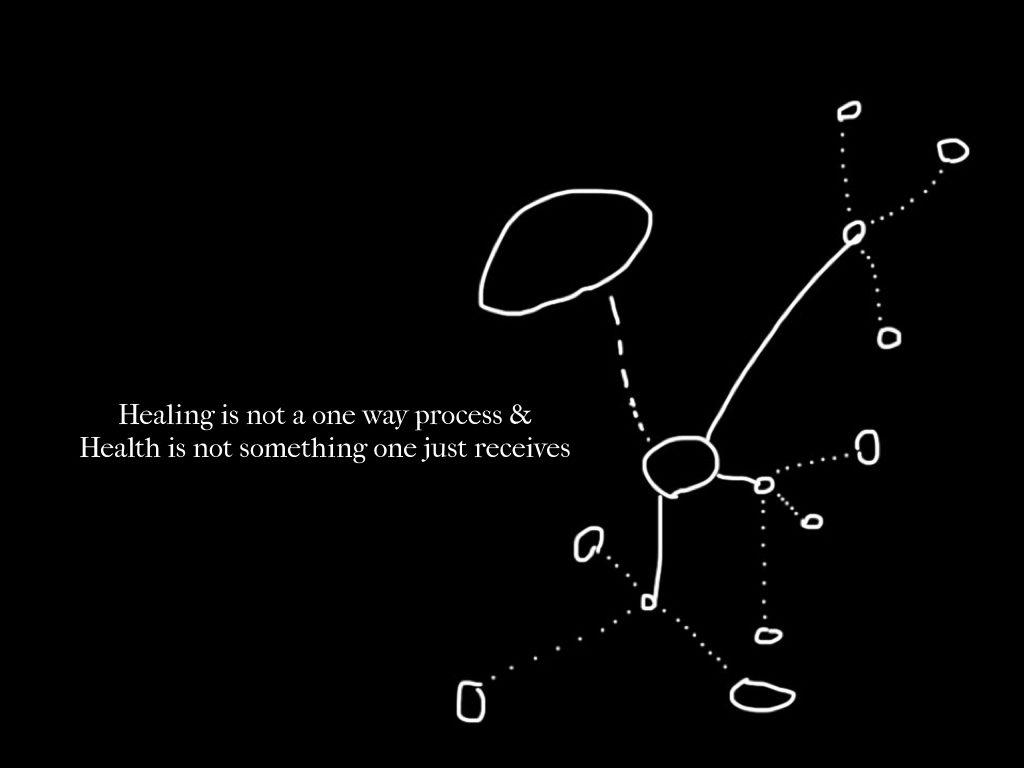 The viral structure, is built into this system and there is a reversal of the standard way of seeing the doctor and patient relationship. In this structure it is essential that we see the work of the Hologram as the work of a teacher or explicator, delivering a case that will ultimately allow the patience to learn things they didn't previously know. This is the most important, (though totally devalued by money) potent and immediately applicable, form of learning we can do, and it is what the medical system has made into a commodity, at the same time as it is seen as 'women's work' or completely useless.
MG: Could you take us through the processes of engagement. For instance, you say a group of four people meet and select one person who will become a Hologram, and that this means they and their health will become 'dimensional' to the group. Could you elaborate how this happens and why it's important for those involved?
CT: We are about to experiment, this fall, with what it means for these groups to form in different ways. We will start with four test cases, where an invited, self-selected person will become a Hologram. She will be supported to select three Patience in a way that suits her, based on an interview and survey. The selection of Patience is a part of the process that we have not had a chance to refine. It is not simple for any individual to understand what support looks like for them, or who they want support from, if they've never really had it.
The experiments we will work through this fall will attempt to understand what changes in the experience of the whole Hologram when the Hologram is supported by Patience who are trusted friends and family, acquaintances or highly recommended strangers. An 'objective' perspective from an outside participant also adds a layer of formality to the project, because, instead of a casual gathering of friends, an unfamiliar person signals to the other members of the hologram to be on time, and make the meetings more structured than a regular friend to friend chat.
The onboarding process for the Hologram and the Patience includes a set of conversations and a training ritual, which are still quite bumpy. The two roles every participant is involved in, requires a different set of skills, and so they both involve a special kind of "training" that one can do in a group or independently. This "training" is a structured personal ritual that allows participants to witness and adapt their own communication habits so that they feel prepared to participate and set up trust, curiosity and solidarity for the group in the opening intake conversations.
At the completion of the intake process, the Hologram (1) transitions to become a Patience. At this time, the Hologram (1) begins a short training to transition to the other role, and she is supported by her Patience to do this work. At the conclusion of the Hologram's (1) transition to Patience, and the completion of the new Hologram's (2) intake process, the original Hologram's (1) Patience become Holograms (3,4,5).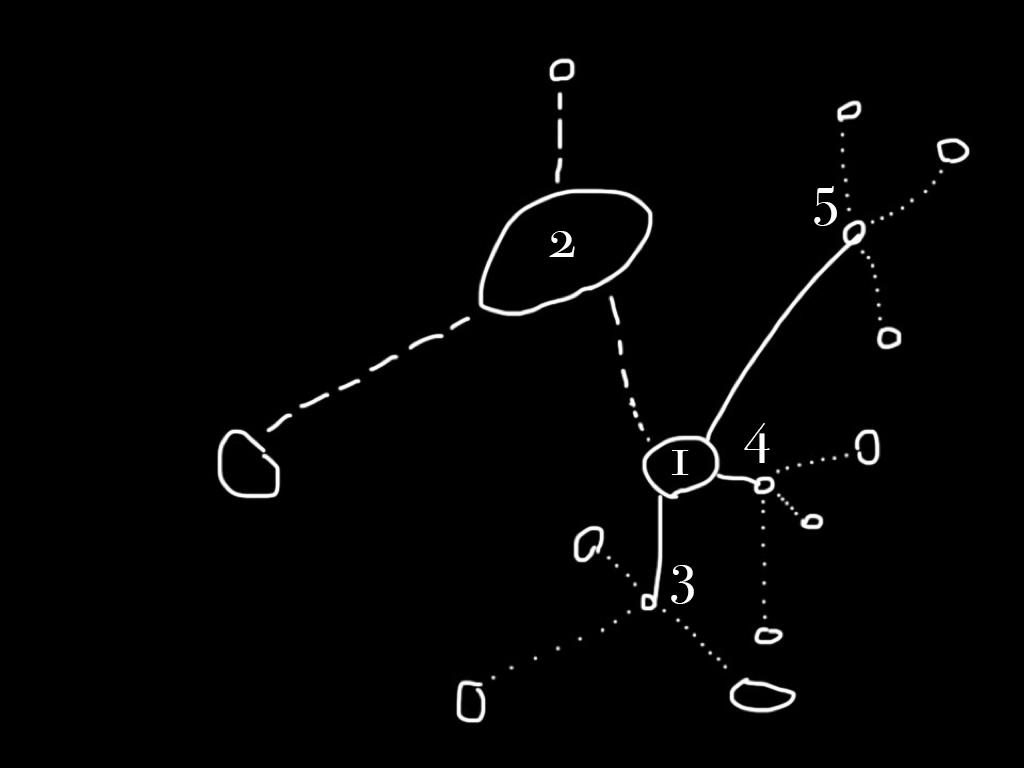 MG: The Hologram project was first trialed as part of an exhibition called Sick Time, Sleepy Time, Crip Time at the Elizabeth Foundation Project Space in New York City, March 31-May 13, 2017. What have you learnt in more recent undertakings of The Hologram project?
CT: Since the original trial one year ago, which lasted for 3 months, the research has shifted to looking at building skills and answering acute questions that will accumulate to support and build the larger project. Starting in the Spring of 2017, I began to offer the Hologram project as a workshop, where participants could test the communication model that is implicit in the Hologram format. The method for offering it is, as a performance artist and rogue architect, creating a situation in a space where people go through a difficult psycho social physical experience together. In the reflective conversations that follow, I ask the groups to use the personal pronoun 'we' for the entire duration of the conversation. The idea is that one person's experience can be shared by the group, and even as temporary Patience we can take a leap and share their experience with them for a duration of time, allowing a Hologram to feel as if their experience is "our" experience. And this feeling that one is not alone in an experience, if carried into other parts of life, has the potential to break a lot of the assumptions and habits that we have inherited from living and adapting to a debt driven hellscape.
Featured image: corporations are not people – the Overpass Light Brigade
Overpass Light Brigade in Tosa from Overpass Light Brigade on Vimeo.
Wisconsin has arguably been ground zero for union busting, DIY social movements, corporate takeover of government, and divisive – and often misinformed – political debate in the US for more than a year. And the Overpass Light Brigade (OLB), initiated by Milwaukee artists Lane Hall and Lisa Moline, have been a guiding light – literally – in how ground-up messaging and change can happen. Now a collaboration between many people, the OLB relies on an ever-widening community of activists, artists, thinkers, and do-ers for their "Signs of Resistance." After a few rounds of local rye whiskey at Milwaukee's Riverwest Public House Cooperative – one of the only co-op bars in the country – I did an email back and forth with OLB co-founder Lane Hall to find out more about what makes them tick, how they see themselves, and where the movement they are a part of is headed.
Nathaniel Stern: What is OLB? It feels more "struggle-" rather than "goal-" orientated, despite that its first mainstream recognition is in relation to a specific campaign. Can you talk a bit about its history: how it started, where it headed, and what it might become?
Lane Hall / Overpass Light Brigade (OLB): On November 15 of last year a rally was organized by grassroots groups in Wisconsin in order to kick off the Recall Walker campaign. It was to begin right after work, at 5:00 pm. Both Lisa Moline (co-founder of OLB) and I had been very active in what we now think of as the Wisconsin Uprising, and we asked ourselves the simple question, "How do we achieve visibility for graphic messages when it is dark at 4:30?" We began to tinker with off-the-shelf Christmas lights, and found some battery-powered strings of LEDs. We built our first sign, a 3′ x4′ panel that spelled out RECALL WALKER. When we arrived at the rally, we were immediately asked to be behind the speakers. That sign got on the Rachel Maddow and Ed Schultz show that evening, so we knew we had hit on something that afforded powerful visibility. That first sign is now, incidentally, in the archive of the Wisconsin State Historical Society.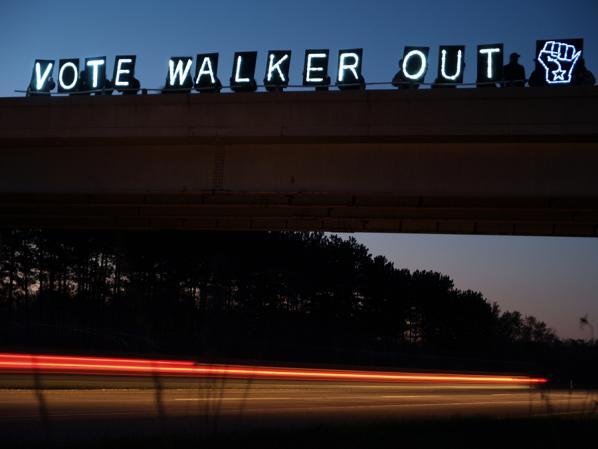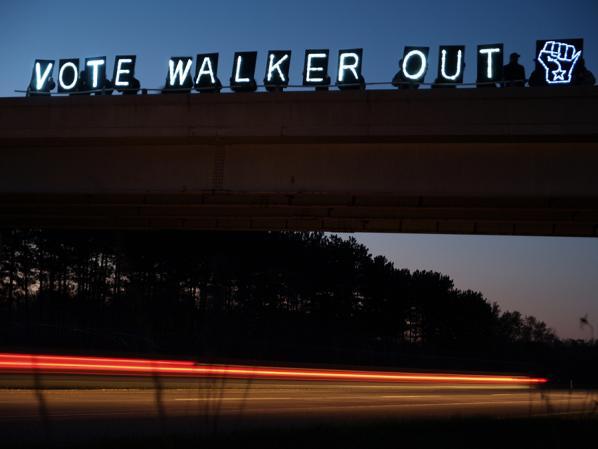 We then proposed a second design challenge to ourselves: how do we get messages out to masses of people, since we can't command the airwaves like Walker's Koch-fueled campaign? Once we decided to go out on highway overpasses, we "scaled-up" the letters so that we could spell out words, refrigerator magnet style, one letter per 2′ x 3′ placard.
Our first night out was on an overpass in South Milwaukee. It was very cold, fairly miserable really, with freezing winds kicking up from the passing semi-trucks. We had a few fellow activists to help, and our idea was to bungee-cord the signs to the fence while we stood by. We were accosted by a right-wing nut, a Young Republican, who was vehement in his insistence that we were breaking the law by affixing the signs to the fencing. He ended up in a physical altercation with Lisa in his insistence to rip our signs off the fence as well as forcefully take Lisa's video camera, since she was capturing his vigilante actions on video. When the police came, they did reiterate that nothing could be affixed to the bridges, though also supported our right to be there. From that night on, we realized that for OLB to work, we needed Holders of the Lights – one person per letter, as well as "spotters" for safety and a couple of people to take video and photos. This was a profound tweak of the original idea, in that it shifted our actions from mere signage to a form of witness or testimonial. It is very powerful to see one person per placard, positioned high above the highway, committed to the politics of physical presence.
We began to go out around the area, scoping out different overpasses, hooking up with different grassroots groups in Madison and Racine and Kenosha and Milwaukee. For about two months we took out RECALL to various locations, often getting hassled by people, questioned by cops, pushed to defend our rights to be out in these odd public spaces. We began to add letters and attract more volunteers who were attracted to our strange mix of Fluxus happening and focused message. RECALL WALKER, then 1% WALKER, then JOHN DOE (referring to an ongoing investigation into alleged campaign corruption when Walker was Milwaukee County Executive), then WALKER=JOBS FAIL and WALKER LIES and WALKER IS A CROOK, etc. We have always tried to index the message to what is breaking in the broader mediascape, so that there is resonance between multiple layers of information and our activist response.
Once Walker was officially recalled (he was "recalled to election") things really picked up. We were getting invited to hold actions around the state – Madison, Fond du Lac, Portage, Appleton, Kenosha, Racine – and more and more people began to join us. The 2 hour overpass occupations began to take on a real festive quality, with people bringing food, making music, chatting, singing, chanting and enjoying the angry and happy honks from the freeway. Our messages expanded, and our Bridge Parties have become somewhat legendary, with anywhere between 40 and 120 people commonly showing up. We even have a bagpiper who often leads us on and off the overpass.
A big part of the success of OLB is its mediagenic quality. Photographs and videos have been distributed freely and widely, at times even virally. We've been highlighted in the NY Times, CNN, Time Magazine, the Milwaukee Journal Sentinel, countless blogs and Facebook sites too numerous to even itemize. Our Facebook "reach" was hitting 182,000, and I was getting constant queries about the project. Our community of activists is extremely diverse, which is one of the things I am most appreciative of. It is odd how powerful holding a sign over a highway is, how many conversations happen in the two hours of bearing witness, and how compelling the action remains for our volunteers.
We immediately went out the night after the disappointing results of the recall. I felt that what I call "essential visibility" was even more important for the progressive community. WE SHALL OVERCOME and SOLIDARITY FOREVER graced the bridges, and we subsequently began to help some striking workers in Milwaukee pizza factory with BOYCOTT PALERMO'S. Since the recall, I feel we have gotten stronger and deeper, no longer relying on the easy binary of our disaffection towards our tea-bagger governor. Our issues are bigger and broader, more national. We just went out in Madison with CORPORATIONS ≠ PEOPLE and 56 volunteers showed up, along with some projector-shine activists, live-streamers, and a phalanx of videographers. We have also taken out QUESTION AUSTERITY and are integrating it with a social media #questionausterity campaign. I see the synthesis of physical and virtual space as the future of OLB actions, as well as our growing ties with the Occupy movement.
NS: This is more than inventive campaigning or even creative activism, but protest art with heavy political, aesthetic, ethical, and technological implications. The Graffiti Research Lab was first to use high technology to ask, "Can any public space be a blackboard?" You take that as given, provide the chalk, and ask for important messages to be broadcast on said blackboards. I'd like for the both of you to write a bit about your practice as artists, as activists, where they are one and the same, and where sometimes they differ.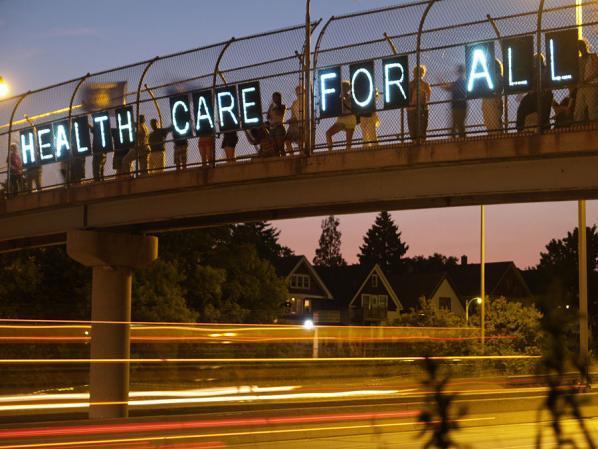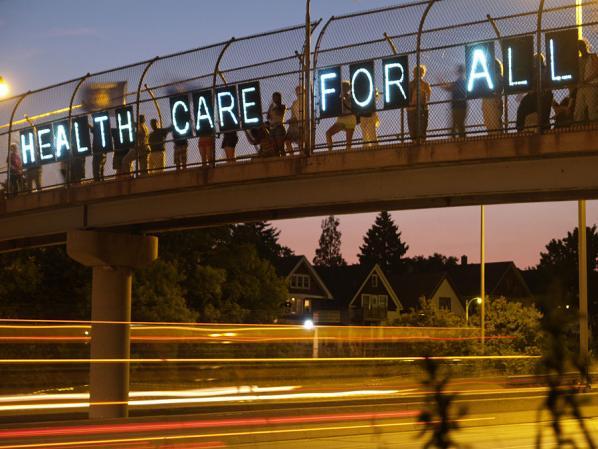 OLB: The Graffiti Research Lab is a continued inspiration for us in terms of their open-source ethos, and their bold pushing at the "public" aspect of "public space." I have great admiration for what they accomplished, yet have always felt frustrated that their messages generally stayed within existential parameters. That is, their presence in urban space was implicitly political, but their projections were generally, "I exist" with variations on the theme such as "Fuck you!" However, the way their events brought people together in the streets is also noteworthy. OLB has achieved some of these same dynamics, though with very directed and explicit political messaging. We are a fluid mix of relational aesthetic, Fluxus happening, street party and progressive messaging, all part of an inherently ethical practice. We think of ourselves as "the people's bandwidth," having found an open venue that takes a lot of dedication but only a small outlay of capitol, which is intrinsically public to thousands of passersby.
Our own work has been collaborative for a long time. Before the Wisconsin Uprising, our art – often about environmental issues and animal subjects – was implicitly political, but rarely pushed the boundaries of sanctified institutional spaces. Once the Uprising began, we got very involved with activist work, and took our creative efforts to the streets. We were inspired, set up a PAC called The Playground Legends with some other activists, and began working within some of Milwaukee's African American communities on voter education and Get Out The Vote campaigns. We set up "parties in the parks" for neighborhood groups, and used these relational activities to help create cohesion around a political purpose. This was exhausting and finally not sustainable for us, but some larger groups such as Wisconsin Jobs Now emulated our inventiveness and have really made a difference in spite of the Right's coordinated campaigns of disenfranchisement.
After working with this PAC, and struggling with the official requirements of a 501C3 and meetings with minutes and budgets and fundraising and reports, we chose to make OLB as flexible and open as possible. We are a loose affiliation of activists who show up on bridges and hold signs. It is very simple. Anyone can join. All ideas are welcome for consideration. Our community of activists is really the heart and key to sustainability with OLB. Most of them don't care whether this is art, or what the cultural precedents might be. All of them value this odd form of engagement, where they can see a beautiful and directed message reflected back through social media, and be a part of a much larger – and historical – emergence of a progressive political movement.
NS: Who do you want to follow your lead? Who do you want to help OLB progress to more innovative interventions? How can we help you help us?
OLB: We freely share the instructions for making the signs. They are very easy in concept, very DIY, and need only basic wood shop fabrication skills, akin to stretching canvasses or making a woodcut print. However, each sign does take a lot of concentrated construction, which can discourage some who have wanted to create their own. So far, we have 3 different chapters that have taken to the bridges: OLB-Fox Valley, OLB-Dane County (both in WI) and OLB-Harrisburg. We've also seen other iterations, such as a Madison based "Sign Brigade" doing daytime roadside actions. I see that OLB has a function as a model of empowerment, as well as the joy (or anger) one gets from seeing a message "done up in lights." One thing that hasn't happened yet is an ongoing series of "hacks" that extend and expand the idea. The off-the-shelf lights get expensive. Could someone figure out how to make battery powered (not big battery + inverter, but lightweight AA batteries) LED light strings so that we could build our own? How about other variations? This would be great to see, especially now that the Graffiti Research Lab's open inquiry with LEDs seems a thing of the past.
NS: What have been some favorite moments from the bridges?
It always amazes me when some random stranger pulls off the highway and comes to find us. Sometimes, especially at first, this would mean trouble, in that aggressors would want to direct anger at us. But one night in the bitter cold weather of January, an African American man came up to the bridge, told us he saw us and wanted to give us a gift, and offered each Holder a beautiful knit hat. He was a salesman of sports clothes, and had a lot of hats. We each left that night with a new Milwaukee Bucks hat!
Another time, just a few weeks ago, two women – an older woman and her adult daughter – came up to the overpass. Both were public school teachers. The teachers have been so demonized in Wisconsin – it is both ridiculous and shameful, but it obviously works to divide us, and as obviously takes its emotional toll on these new "enemies of the state." The older woman exclaimed that they were "so grateful to see us out there doing this" and she burst into tears. There were lots of hugs and they hung around for awhile, held a couple of letters, and left. It was very moving, as a lot of our Holders are themselves teachers.
We also hosted the famous "Nuns on the Bus" tour – the politically progressive group of Sisters who are going around the midwest to decry the austerity budgets of Paul Ryan and the Republicans. It was amazing when their bus pulled up by the overpass, and these elderly activists (along with the powerful Sister Simone) approached the bridge and saw the QUESTION AUSTERITY message we had created just for their tour. There were 96 people on the bridge that night, and they all sang happy birthday to one of the Sisters since it was her 72nd celebration that day. That was a wonderful event, and a great example of diverse activist communities coming together based on these joyful actions.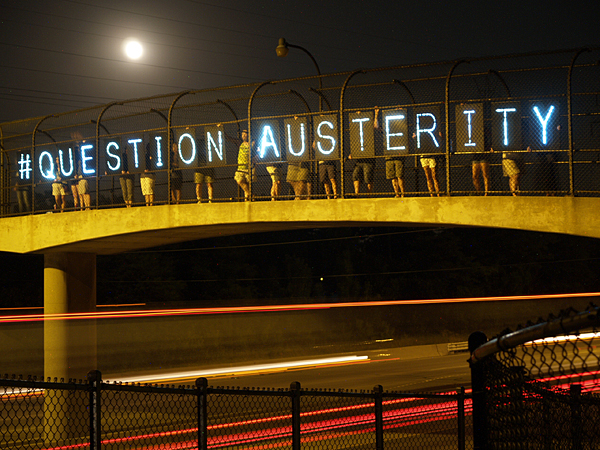 I could go on and on. Each action, each Bridge Party, is a whole narrative – interactions with police, with passersby, with neighbors both supportive and critical, and now and then with aggressors who have busted out our car windows or tried to shut us down. But it is all powerful, all a microcosm of the rifts in our country. The bridge is a forceful metaphor beyond its commanding physical presence over the geospatial distribution network function of our highways. It works both linguistically and architecturally, and affords a curious perch for our loose affiliation of committed brigadiers.
NS: How can we make our own stuff?
OLB: Check out our new site at http://overpasslightbrigade.org/
You can also find "noise of rain" posts on the Daily Kos site
http://www.dailykos.com/user/noise%20of%20rain
Featured image: "All Hail Damien Hirst!", Tamiko Thiel, 2012. Turbine Hall, Tate Modern, London.
Introduction.
Interest in Damien Hirst and his commercialized, celebrity status is well known. So when we heard that Tamiko Thiel was making the artwork "All Hail Damien Hirst!", we were immediately curious. Hirst is an extremely rich individual with powerful allies within wealthy, traditional art establishment circles. This includes Charles Saatchi, and commercially dedicated art mags and art institutions whom have all successfully helped in marketing his particular brand as part of their own economic strategy. With this in mind and acknowledging the potential risk in satirizing a well known art celebrity we thought it was a good idea to interview Thiel about her ideas and experience on the project?
Marc Garrett interviews Tamiko Thiel.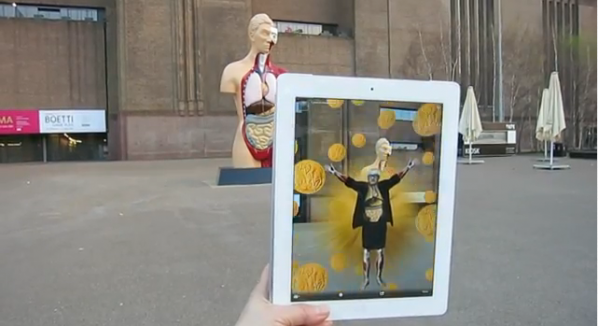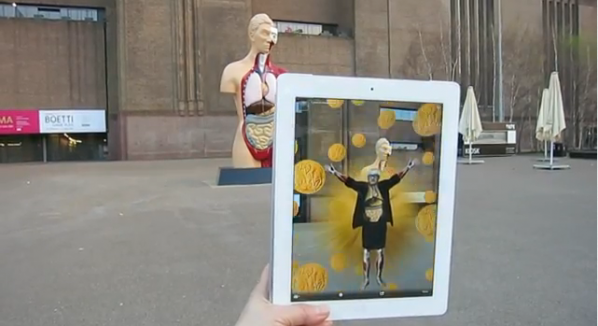 MG: Many are curious about your new augmented reality project "All Hail Damien Hirst!". It is an art installation and intervention. Why have you chosen to create an artwork aimed specifically at him, during his retrospective exhibition at the Tate Modern?
Tamiko Thiel: As a visual artist my projects start with having a strong image in my mind's eye that compels me to pursue the project further. When I heard of the retrospective at the Tate I immediately had an image of Hirst – depicted in a style relating to his own working methods – hovering in the vast space of the Tate Modern Turbine Hall. On findng out that the space was not going to be used except for the small room housing his diamond skull, I saw an opportunity to give visitors an experience that would utilize the space beautifully, compliment his own work and bring the contradictory feelings that many have about him and his work into sharper focus.
In my own work I often draw on the power of religious imagery. This aspect of Hirst's work, and also his themes of the body and death, are very compelling to me. On the other hand, he plays a master hand at making the art market dance to his tune. I find the market value of his carefully ordered spot paintings, for example, in marked contrast to the artistic power of Yayoi Kusama's spot obsessions, which were exhibited probably not by coincidence at the same time at the Tate Modern.
To top it off, while flipping through a United Airlines onboard magazine I chanced upon an image depicting the value of Hirst's artworks as an exaggerated – and spotted – version of the movement of the stock market: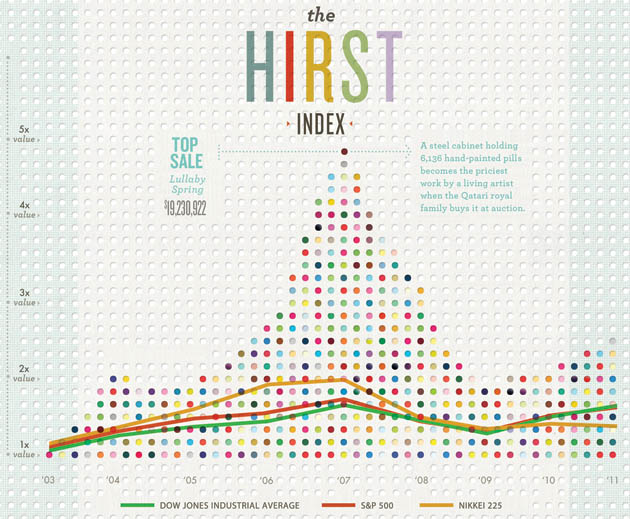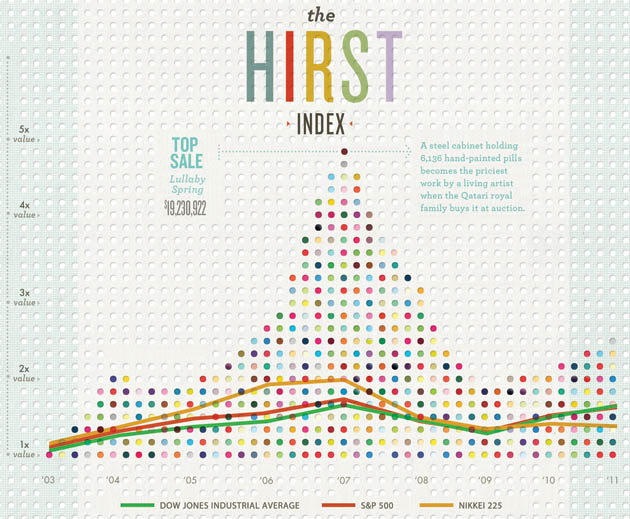 I wanted to make a work that addressed multiple issues surrounding Hirst as a person, as an artist and as a force in the art market at a time of extreme tension in the world's financial markets. I knew however that Hirst is very litigious, so I was careful to use none of Hirst's actual artworks, so I do not infringe on his copyright!
I had done an earlier augmented reality work, Reign of Gold, as part of the AR Occupy Wall Street project. In this work, viewers all over the world can chose the site at which to view the piece on their smartphones, and then see an animated rain of gold coins superimposed over the live camera view of their surroundings. I have photos of this work against the New York Stock Exchange, the Bank of England in London, TEPCO in Tokyo – the company that brought us the Fukushima nuclear disaster – and other choice sites around the world. You will see a clear visual relationship between the rain of gold coins and Hirst's spot paintings, which many say are destined to go through a similar boom and bust cycle as are the world financial markets.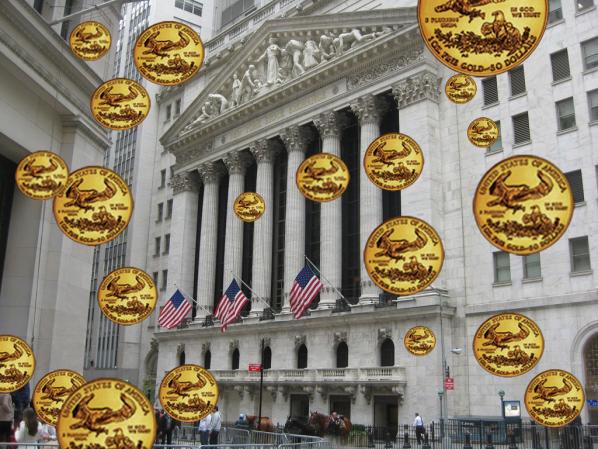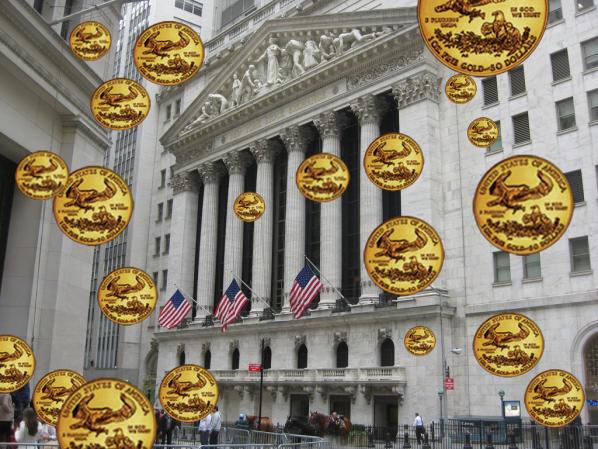 If I was a painter I would've gone off and made a painting, and that would have been the end of that. Since I work with augmented reality however I could place the image in and around the Tate Modern itself, the very site of Hirst's exhibition. This puts a whole different spin on the artwork, as having an artwork "in" a prominent arts venue is seen as a form of "canonization" in the art world, even if the artist places the work there by him- or herself, as did Banksy.
This brought in yet another level to the project, as the work functions now not only visually, but by dint of its location also questions the system by which the art world consecrates artists and artworks. What does the location of an artwork mean, if every artist decides for herself where to place the work? Walls cannot keep us out, nor can walls keep us in. Even Hirst, who is known as a control freak, cannot exercise control over augmented reality.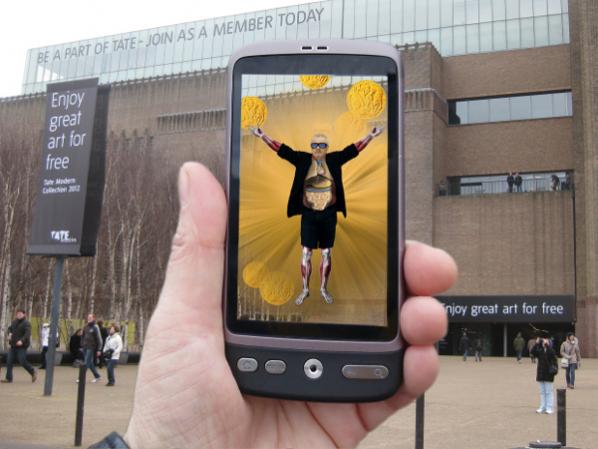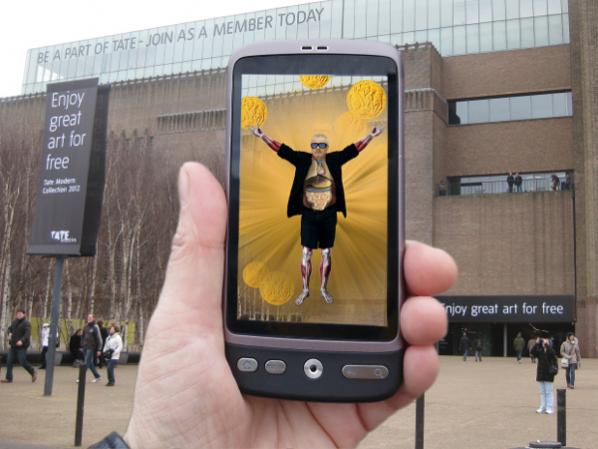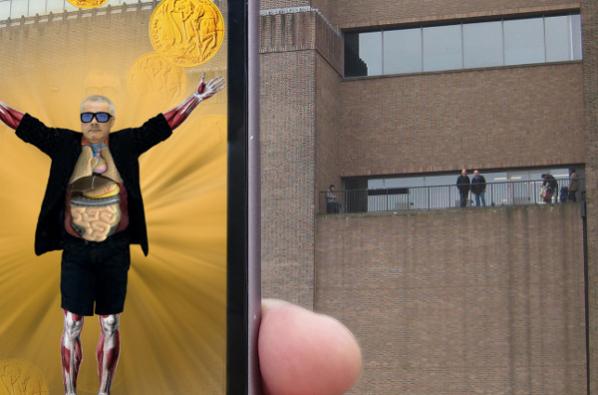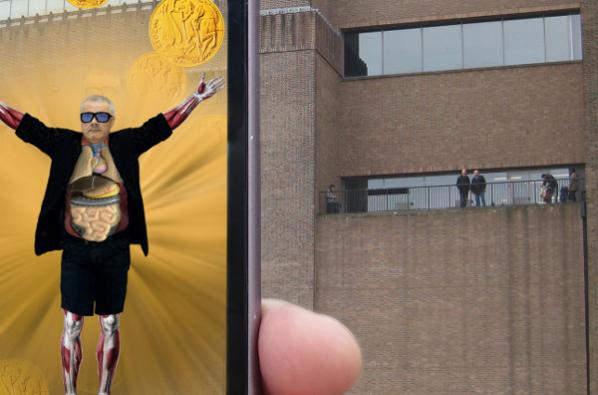 MG: You visited the Tate Modern and interacted with the public. What kind of responses did you receive by visitors to the intervention?
TT: Delight! Most had come to see Hirst's exhibit with contradictory feelings about the man and his art because of similar issues to those that had motivated me to make my artwork originally. They were delighted at how my artwork spoke to these feelings while leaving the conclusion open for the viewer. They liked the spatiality of the piece, how it surrounded them and filled the cavernous empty space of the Turbine Hall when viewed inside the Tate Modern, and reflected on Hirst's "Hymn" sculpture when viewed outside by the river. There was also fascination about this new technology which none had ever seen before, and of course some puzzlement about how it worked.
MG: What message are you hoping to communicate with this interventionist project?
TT: What attracts my attention as an artist are topics that provoke contradictory or unresolved emotions in myself. By their very nature I can't answer these topics with a simple message. Instead I try to create striking images and visual/kinesthetic experiences that evoke the contradictory feelings I have myself, in the hopes that my works can help focus or sharpen the issue, or at least provoke dialog in those who view them.
To cite a different work from my art practice: even in "Shades of Absence," in which I surround anonymous golden silhouettes of censored artists with terms of censorship, I am myself of two minds about many of the artworks I cite in the linked website on censored artists. I made Shades of Absence as an intervention into the 2011 Venice Biennale, at a time when Ai Wei Wei was imprisoned by his own government. In his case I am strictly against the censorship of him as an artist and a person, but in many other cases I have cited, I myself could not say I would always be against censorship when it could incite hate and physical violence against others.
MG: Is it mainly Hirst you are critiquing here or is he representative of something bigger in art and its culture that you are questioning?
Hirst is the British Jeff Koons! Every era and every country finds such a figure to represent the eternal tension between art as a sublime personal experience and art as the magnet for glamour and status and money. I wonder if it was any different for the artists of the cave paintings?
MG: In the publicity for the project, it says 'Augmented Reality is the Street Art of the 21st Century!'. Could you elaborate what this means to you, and share with us some examples of other interesting works in this field?
TT: In this regard, to be frank I think the work of my cyberartist collective Manifest.AR is the leading work in the field at this moment, perhaps because we are all so diverse and cross-fertilize each other!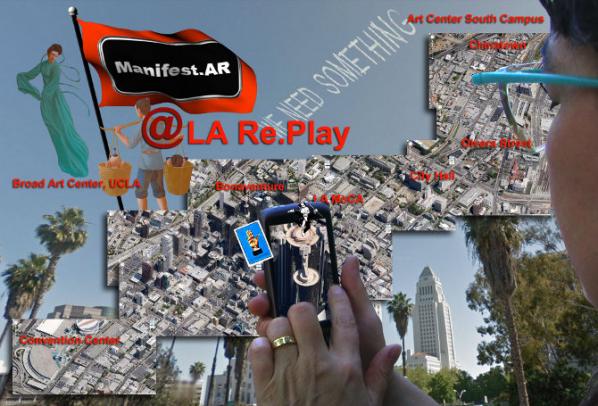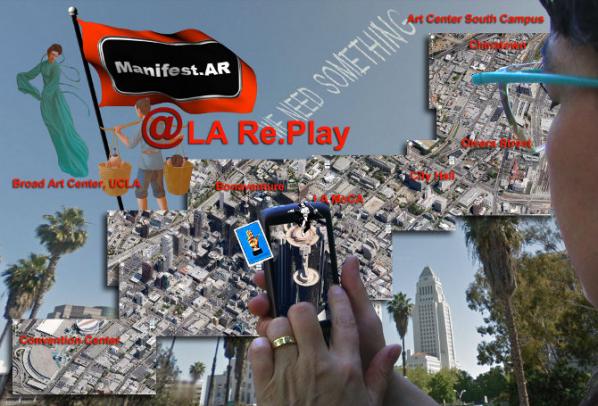 Of course augmented reality is not as visible as a graffiti on the side of a building – but it also cannot be removed, and we can place them wherever we want without fear – yet – of arrest or fines. Also, the smartphone or mobile tablet is becoming an extension of the self, and our primary interface with the extensive virtual society in which we are embedded. It is how we will communicate, how we will find information, how we will share our social space with everyone who is not standing in exactly the same room at exactly the same time, it will become our entertainment device, our payment device and god forbid our identification device. You do not go to someone's house to look through their photo album, you go to their Facebook site. Why shouldn't you start finding their thoughts and expressions as augmented reality images around you in space?
I just successfully co-wrote a major Rockefeller Foundation grant to help residents of a very poor area of a major city put up their own history and artwork in their neighborhood using augmented reality. I can't say much about it as the official publicity has not yet been released, but the organization I wrote it for is convinced that in a couple of years, more of their youth will look at art on smartphones than in museums and art galleries. Will the middle and upper classes lag behind, because they think the only art worthy of note is hanging on gallery walls?
Links:
All Hail Damien Hirst! An augmented reality installation celebrating Damien Hirst at the Tate Modern.
http://www.allhaildamienhirst.com/
"Reign of Gold" – part of AR Occupy Wall Street
http://www.mission-base.com/tamiko/AR/reign-of-gold.html
Tamiko Thiel – Online Portfolio
http://www.mission-base.com/tamiko/
Tamiko Thiel is a media artist developing the dramatic and poetic capabilities of various forms of virtual and augmented reality as media for exploring social and cultural issues.
A founding member of the cyberartist group Manifest.AR, she participated in the pathbreaking augmented reality exhibit "We AR in MoMA," an uninvited guerilla takeover of MoMA New York. Videos of Thiel's "Art Critic Face Matrix" were featured in articles in the New York Times and on WNYC (National Public Radio). In 2011 she led the Manifest.AR Venice Biennial AR Intervention, placing her work series "Shades of Absence," on censorship in the visual arts, in the Venice Giardini and in the German National Pavilion (which won the Golden Lion Award for best national pavilion). This led to an invitation to participate in the ISEA2011 exhibition UNCONTAINABLE, an official parallel program of the Istanbul Biennial, where she placed her artwork series "Captured Images" into the main biennial exhibition