The Disruption Network Lab (DNL) has been presenting in Berlin some of the finest platforms for the discussion of art, hacktivism and disruption, presenting academic debates on not-so-conventional forms of thought. In their event IGNORANCE: The Power of Non-Knowledge, the second in the series Art and Evidence, various scientists and researchers discussed ignorance, not merely as a subaltern issue but as a central tool in knowledge production.
In previous events, DNL debated how ignorance is deployed as a mechanism of truth and power negotiation, mainly through the omission of the known by the means of secrecy, obfuscation and military classification. There are many forms of understanding ignorance, and this program intended to elucidate the potentialities and pitfalls within the concept. According to DNL, the first step towards approaching ignorance is to recognise it and become aware of it. As co-curator of DNL Daniela Silvestrin said (despite the paradox) that it is necessary to render the "unknown unknown into a known unknown." The field of ignorance studies investigates the spread of ignorance, what kind of forms it takes depending on the context, how science "converts" it into probabilistic calculations of risk, and even how it can be used to push certain political, economical or religious agendas.
KEYNOTE: IGNORANCE: HOW TO KNOW ABOUT NOT KNOWING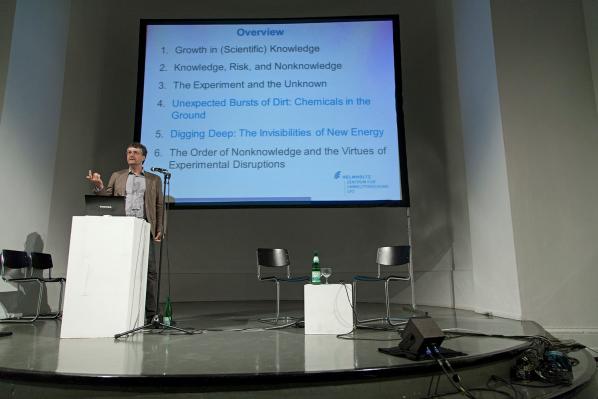 Matthias Gross. Photo by Maria Silvano.
In the opening keynote, Matthias Gross, a sociologist and science studies scholar who has written extensively on ignorance studies, co-editing with Linsey McGoey the "Handbook of Ignorance Studies," starts by stating that "new knowledge always creates new ignorance" and that throughout history humans have been in constant relation – acceptance, denial, resignation – with the unknown. Gross has covered how ignorance operates in different scientific milieus, namely, how risk is widely used in natural sciences as an attempt to project an idea of the future, as demonstrated in  weather forecasting, but also how not knowing operates in everyday life; through secrets, the spread of false knowledge, feigning ignorance, or even through actively not wanting to know.
Gross presented a compelling body of research, exposing numerous examples in which ignorance serves the purpose as a tool to acknowledge what we don't know in science (important in fields such as Epidemiology) or how positions of power use ignorance to manipulate public opinion within our social structures. However, the debate felt somehow stranded in an optimistic loop, where ignorance was seen mostly as a catalyst to search for further knowledge. Yet, I believe, while duelling with the binary knowledge vs ignorance, one should never forget to tackle the universalistic shape that 'knowledge' tends to adopt. In the end, the discussion felt insufficient, failing to examine knowledge/ ignorance from a non-hegemonic perspective when it would have been interesting to borrow criticism from postcolonial or feminist thought.
PANEL: THE FORBIDDEN, THE DOUBTFUL AND THE MORAL. WHAT COULD BE KNOWN BUT ISN'T.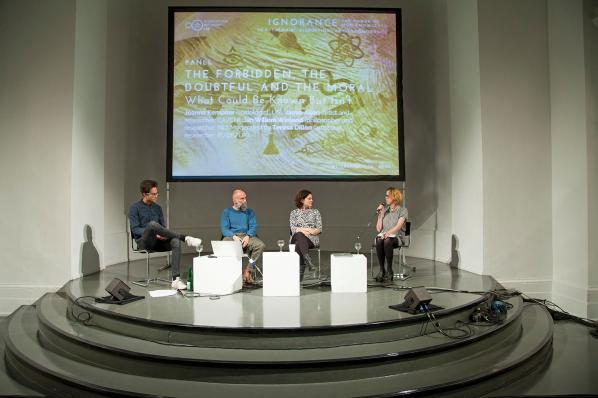 Jan Willem Wieland, Jamie Allen, Joanna Kempner and Teresa Dillon. Photo by Maria Silvano.
The first panel, moderated by Teresa Dillon, was deemed to shake the consensus in the room by joining the moralistic perspectives in science, the forbidden and undesired, the paranormal and the apocryphal together. Sociologist Joanna Kempner presented astonishing research focused on 'negative knowledge,' described as taboo, dangerous or threatening to the status quo. In an attempt to demystify the neutrality of knowledge production in sciences, Kempner interviewed various scientists to discover forbidden areas in their fields. The outcome of this research revealed that due to a fear of loss of funding and/ or sullying their reputation, scientists restrain themselves from researching illegitimate topics. For example, in Psychology one is expected not to study extra-sensory/ paranormal senses as these studies are usually associated to parasciences, a term that is in itself revealing of the hierarchies of knowledge. Kempner also exemplified how knowledge production is pressured by political interests and recalled the research-bans during the G.W.Bush government that cut funds to research related to sex and drugs under the assumption that remaining ignorant about any possible positive aspects (of recreational drug consumption) guarantees the maintenance of conservative moral values.
On the maintenance of moral values, the philosopher Jan Wieland presented an interesting experiment: "What would you do if you wouldn't know? And what would you do if you'd know?" Giving the example of a social experiment by Fashion Revolution, a movement that calls for "greater transparency in the fashion industry", Wieland examined consumers' choices as they acknowledged the conditions in which clothing is actually produced. The project invokes a sentimental story with an excerpt from the daily life of a young girl living in Dhaka, Bangladesh, who works in a garment factory. Coming to terms with the girl's story, the reactions differed — from not buying and empathically connecting with her situation to total indifference and still buying. Wieland attempts to analytically evaluate their intentions, good or bad, and how ignorance affects choices, stating that some of us might willfully remain ignorant  (willful ignorance) as a way to better cope with our habits of consumption. However, I find it difficult to extrapolate these findings to a moralistic and individualistic criticism of people's consumerist choices, since we know there is a structure that keeps consumers far from well-informed. A good example of how economy capitalises on ignorance, we know that the international division of labour is intentionally built to alienate the consumers from the "dirty" phases of production.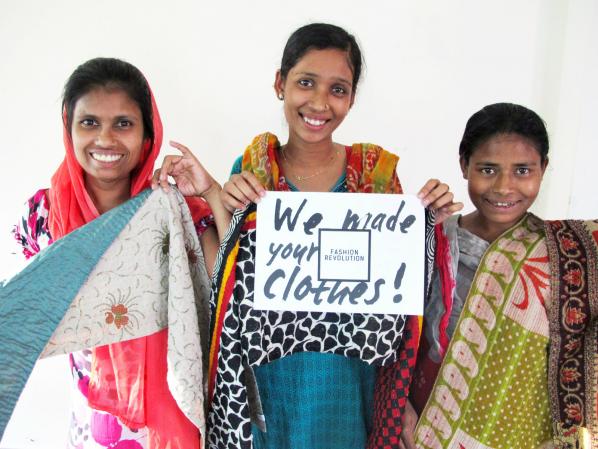 Jamie Allen, artist and researcher, also analyses at the economy of non-knowledge that is in the genesis of apocryphal technologies. "Do pedestrian's crossroads' buttons actually work?" We have all thought about this, yet has it stopped us from pressing the buttons? As long as we do not know whether a certain technology actually works, it "works". Such an economy is boosted by acknowledging that some things remain as common ignorance. If we are not sure whether a lie detector works or not, then it can be used to incriminate — amidst ignorance, it shall produce the truth.
SCREENING OF THE DOCUMENTARY "MERCHANTS OF DOUBT"
Still from "Merchants of Doubt"
Informative and somewhat frightening, "Merchants of Doubt", directed by Robert Kenner (2014), reveals how bendable 'truth' is in the interests of big corporations. The documentary investigates how the tobacco industry spread false information among firefighters, leading the world to believe that the domestic fires caused by cigarettes were the fault of the furniture rather than the cigarettes. This is where it goes from uncannily funny to scary. While interviewing scientists, whistleblowers and activists, the film unveils the dreadful story of corporate campaigns designed to unleash confusion and scientific scepticism among the masses, putting the life and security of millions at stake. This scepticism is not passive, thus it turns into a cynical endeavour. As corporations claim that there is no consensus surrounding issues such as global warming, conferences and books are forged to sustain their statement, while scientists who defend the existence of greenhouse gases are accused of ceding to their political biases in order to get funding for their research. What about facts? They seem to become irrelevant in the face of expensive lies.
Watch Merchants of Doubt's trailer here.
KEYNOTE – PRODUCING THEORIES, CONSPIRING IGNORANCE: ON THE RISE OF POPULIST MOVEMENTS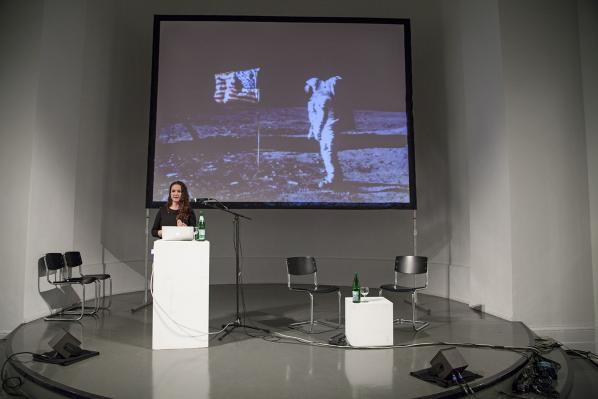 Karen Douglas. Photo by Maria Silvano.
Karen Douglas, a social psychologist, presented an empirical study of conspiracy theories whilst trying to trace a particular psychological profile of those more prone to elaborate and believe in them. Douglas used widely known conspiracy theories as examples, such as the infamous car crash that killed Princess Diana (which became a true "Schrödinger's cat" case, instigated by the media-produced hyperreality in which Diana was both alive and dead — along with Elvis Presley) and the theory that 9/11 was orchestrated by the United States government to instigate and justify the "war on terror". Douglas believes we are naturally hardwired to believe in conspiracy theories and sees them as a way to cope with things we are unable to answer. A socio-analytical view on conspiracy theories also seems to fail the complexity of forces that make us consider why certain theories are conspiracies and other perspectives are just theories. The issue with Douglas' approach lies within its socio-psychological analysis, which tries to find a pathological pattern in people who believe in conspiracy theories, such as describing these people as being intentionally biased, or stating that those who tend to perceive patterns in things or believe in more than one conspiracy theory all show the "symptoms" of a conspiracy theorist. Yet, as pointed out by a member of the audience, this approach seems to lack a sensibility to the entire concept of "conspiracy theory" as a political tool to dismiss and undermine other narratives, such as narratives from an undesired other (e.g. how Russia's government agenda is seen by the USA). Nevertheless, it is interesting to understand how these bodies of "disbelief", should you wish to call them conspiracy theories or not, have a huge impact on our lives and inevitably our deaths (e.g. global warming, vaccination). As with apocryphal technologies, certain forms of unknown seem to crystallise as forms of knowledge – we know that we do not know and that is the way it is.
PANEL: MANIPULATION INCORPORATED: ON SOCIAL MEDIA TARGETING, SELF-BRANDING, AND EMOTIONAL PORNIFICATION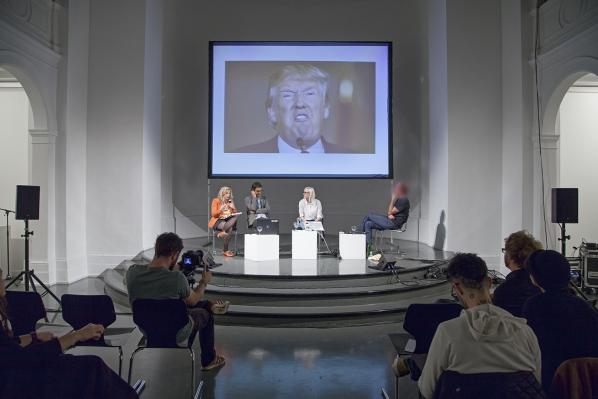 Tatiana Bazzichelli, Vladan Joler, Hannah Jane Parkinson and Ippolita group. Photo by Maria Silvano.
The closing panel, moderated by Tatiana Bazzichelli, has overseen our entanglement on social media and its algorithms, promising to be oracles of truth while their complex structures grow beyond our understanding. Ippolita, a group of activists and writers, warned how social media promotes emotional pornography, where our feelings are exploited by click baits in exchange for our personal data. By establishing clear metrics of interaction, like the number of likes and comments, social media creates an addictive game of forged interactivity, while we are scrutinised by biometric evaluation resultant from the same data we produce. Also analysing the manipulation of data and its weight in political agendas, Hannah Parkison, a journalist focused on digital culture, analysed Trump's run for presidency propaganda in digital media. By using mostly social networks, such as Facebook and Twitter, Trump has kept control of his narrative without entering into risky interviews broadcast on TV.  This is an effective way to get away with lies, regardless of the constant warnings from fact checkers – according to Politict 78% of what Trump said on the run for the election is not factually true. These lies spread across the internet, rendering their own truth.
Vladan Joler, chair of New Media Department at the University of Novi Sad, presented his project in which he tries to map the tentacular structure of the Facebook algorithm, an expansive database incorporating individuals' personal information that implies the fabrication of assumptions about potential consumers' habits, wants and needs. Facebook was thus framed as an immaterial factory of information, the functioning of its assembly line still unknown, constantly mutating and growing. A speculative visual image of Facebook's processes was rendered as Vladan tried to map something unknown; this mapping has similarities to the work of early cartographers. And much like early anthropological stances, the nodes of information produced have the potential to define thoughts and discussions about what we are and how we are supposed to behave. As Vladan ironically concluded, these are the tools used by the cybernet dominators – the digital monarchies that will accentuate asymmetries.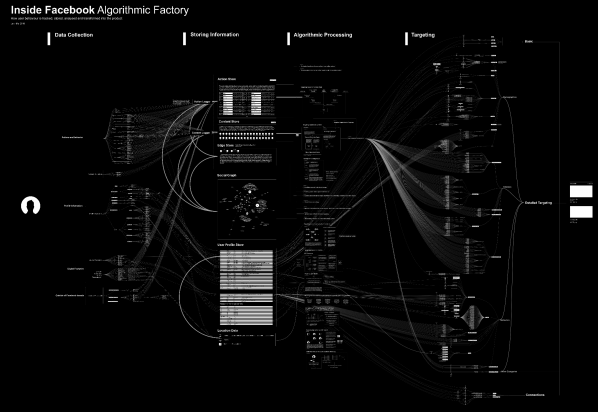 Inside Facebook: Algorithmic Factory. Slide from Vladan Joler's presentation
CLOSING THE EVENT AND DISCLOSING THE FUTURE
Ideas such as 'knowledge' find resistance and defiance from other epistemes that fall out from the western-centric productions of knowledge, such as the Amerindian 'perspectivism' defended by Viveiros de Castro or even the Alien phenomenologies (see Ian Bogost) that instigate the thought of non-anthropocentric ontologies. Bearing those in mind, I found that talking about the 'dark' side of knowledge is an invitation to dismantle and boycott its mechanisms of production, sustained in frail ideas of "truth", "reality", or "science". In addition to the initial concept of ignorance, the conference provided a fertile ground for questioning the multiple ways in which humans deal with intangible phenomena, try to bypass obscurity and profit from that same obscurity. It provided insight on the relevance of knowledge to map and create reality, while bodies of power render webs of mystification of the tangible – corporations forging lies, politics of manipulation, cultural colonisation – reproducing ad nauseam epistemic violence.
The third edition of the Art and Evidence series from Disruption Network Lab, which took place on the 25th and 26th of November, wrapped up with the event TRUTH-TELLERS: The Impact of Speaking Out. TRUTH-TELLERS asks a question that could not be more crucial at the moment: "Can we trust the sources and can the sources trust us?" We have recently experienced a presidential battle between Clinton and Trump in which one of the most divisive topics were the thousands of emails sent to and from Hillary Clinton's private email server while she was Secretary of State. A battle from which Trump left victorious despite having failed almost every fact-checking test. While Assange is forbidden to use the Internet for fear of him interfering with the presidential run in the USA, Chelsea Manning remains convicted, sentenced to 35 years of imprisonment due to her 2013 accusations of violating the Espionage Act. DNL gathered hacktivists, privacy advocates, investigative journalists, artists and researchers to "reflect on the consequences of leaking and whistleblowing from a political, cultural and technological perspective". Unfortunately, due to a lack of funding, this could have been the very last DNL event. Let's hope not, as these are vital, particularly in times of political despair.
After a full year of events focusing on several topics, from drones to surveillance, cyberfeminism to hacktivism, or even the famous Technoviking and a hot debate on the politics of the Porntubes, the Disruption Network Lab wraps up 2015 with its event STUNTS, focusing on political stunts, interventions, pranks and viralities. It was a year of great success for the DNL and proof of that was a full house, in the middle of a cold Berlin winter, full of people eager to take part of this last gathering on art research, hacktivism and disruption.
Just at the entrance, in the castle-like facade of Kunstquartier Bethanien, the Free Chelsea Manning Initiative projected a video including phrases of support, denouncing the system that violently charges against all the whistleblowers who bravely stand against state-crime. Chelsea Manning, sentenced in August 2013 to 35-years of imprisonment, turned 28 years old on the 17th December. The initiative took the occasion to celebrate her anniversary but also to remind us of her cause and of how vulnerable whistleblowers are under the purview of "justice".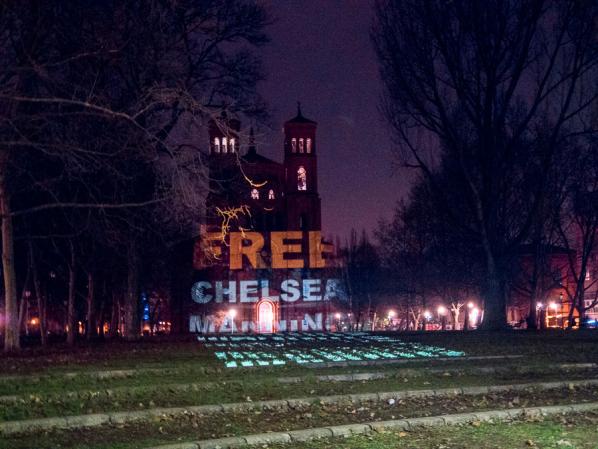 Peter Sunde, one of the founders of Peter Bay, has recently given an interview stating "I have given up" when asked about the current state of free and open internet. The pessimistic tone that might loom among hacktivism has its reasons. With a growing and raging state surveillance, invigorated politics of fear veiled as anti-terrorism propaganda, or the alienating neoliberal order, the seemingly scarce possibilities to fight back can be easily overtaken by a sense of hopelessness. Yet, the proposal of STUNTS claims the possibility of new futures; suggesting that new artistic militancies and political subversions of neoliberal networked digital technologies, hoping to provide a glimpse of another world. What can be done? There's still a lot to be done.
KEYNOTE: FIND OUT WHAT YOU ARE 'SUPPOSED TO DO' – THEN DO SOMETHING ELSE.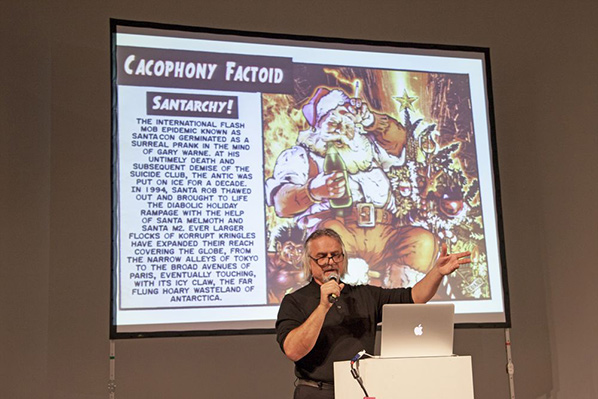 John Law, original member of the Suicide Club and the Cacophony Society. Image by Maria Silvano.
The opening keynote was reserved to John Law, original member of the Suicide Club and Cacophony Society, and one of the initiators of the Burning Man Festival, who gave an inspiring speech condensing 40 years of disruptive movements in the city of San Francisco. Law highlighted how important it was to live in San Francisco, a well-known refuge for many weirdos, hippies and punks, and how the city served as fertile ground for the foundation of many movements of disruption, such as the Suicide Club or the Cacophony Society.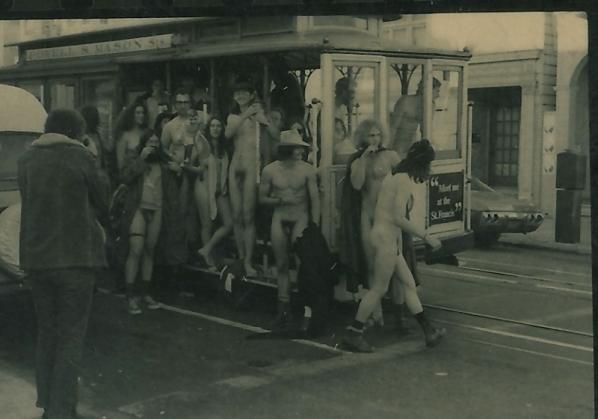 1977, Naked Cable Car : San Francisco Suicide Club http://bit.ly/1nKsD4M
The Suicide Club, born from a course at the Free School Movement (also known as Communiversity) in the late 70s, was one of the pioneers with its events of urban exploration, street theatre and pranks. For several years, its members engendered actions of occupation and appropriation of public spaces, aiming to subvert the order of these spaces and highjack the authorities. Later on, some of its members founded the Cacophony Society which followed the same footsteps, creating social experiments and stunts, which according to Law didn't necessarily mention being political but instead playful acts of liberation from the norm. Yet, in an age of overwhelming neoliberal labour exploitation, we can wonder if having fun among the working class isn't already a political act. As Law said, "the events were illegal but not immoral" reminding everyone that in ethics and politics of disruption, right and wrong should never be defined by law. It seems that disruption is intrinsically political in the sense it questions the ruling order while also being an emancipatory act of dissidence.
PANEL: STUNTS & DUMPS – THE MAKING OF A VIRAL CAUSE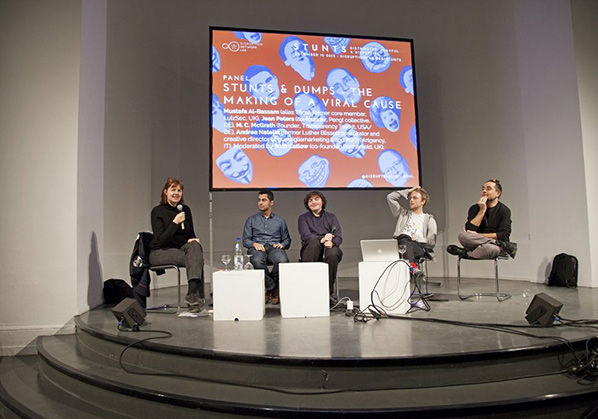 Ruth Catlow, Mustafa Al-Bassam, M.C.McGrath, Jean Peters and Andrea Natella. Image by Maria Silvano.
The panel, moderated by Ruth Catlow, one of the founders of Furtherfield, included a group of four hacktivists and disruptors, two of whom claimed to have once been Luther Blissett, an open-pseudonym used by several artists and activists as an hoax who has taken credit and responsibility over several stunts and pranks over the past 20 years. Following the thread of adopting an emancipatory praxis in the demand for privacy, M.C.McGrath presents the Transparency Toolkit. Motivated to refuse of data collection and the brute quantification that intelligence and corporations enforce as an interpretative lens for evaluating people's lives, with this toolkit McGrath intends to facilitate the access to a database that allows journalists and civilians to surveil the surveyors. Providing easy access to personal data of the intelligence community, he gives intelligence a taste of its own poison. In response to the predictive justice portrayed by nowadays algorithmic supremacy, the Transparency Toolkit disturbs the power asymmetry while possibly enabling for even some form of critical mob justice.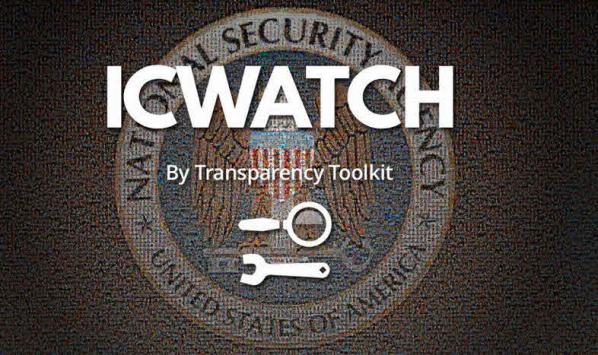 Andrea Natella, creative director of guerrigliamarketing.it and KOOK Artgency, seeks for justice by creating elaborate hoaxes that corrupt corporate advertisement. Hoaxes such as the fake air company Ryanfair which claimed to "welcome aboard refugees" under the Geneva Convention, enabling refugees to fly without a visa. The ingenious mockery resulted in a flamed response from the 'real' company debunking the advertisement while at the same time it has received a great attention from the media, resulting in a broader public discussion on the refugee situation. Once again, Natella presents us with the power of disruption by taking advantage of tools used by the prevailing order.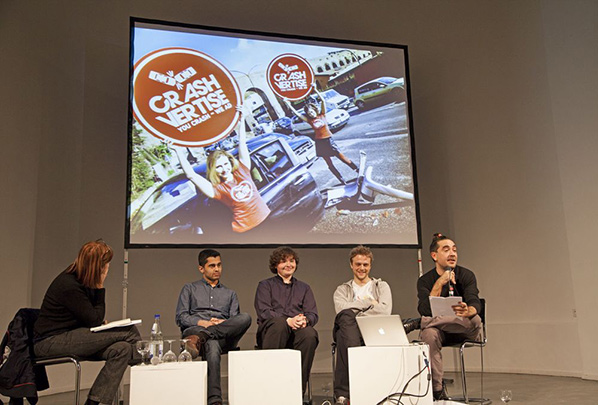 Image by Maria Silvano.
The undergraduate in Computer Sciences Mustafa Al-Bassam has gained notoriety for being a part of LulzSec, a computer hacking group responsible a number of high profile attacks, resulting in being legally banned from the Internet for two years. From an early age Mustafa focused his time in the creation of tools to unmask the tenacious mechanisms of domination. From ironically proving the negative correlation between tests scores and the amount of assigned homework to denouncing violations of online privacy and security perpetrated by state agencies such as the FBI, Mustafa has been a main character in the defence of human rights in the post-digital era.
To close the panel, Jean Peters, co-founder of the Peng! collective, shifts the perspective of the debate. What if instead of blaming or attacking members of intelligence we could provide them the tools to liberate them from their own institutions? Recognising that within the intelligence community resides a great number of whistleblowers, Intelexit, which started as a hoax, is now an initiative that helps people leave the secret service and build a new life. Aimed specially at members of agencies such as CGHQ or NSA, Intelexit offers safe and encrypted channels of communication through which intelligence members can get access to legal and moral support. Without the intention of dismissing responsibility of these members, claiming some banality of evil, by emancipating intelligence members Intelexit conceives another possibility to disrupt the system from within.
CELEBRATING AT SPEKTRUM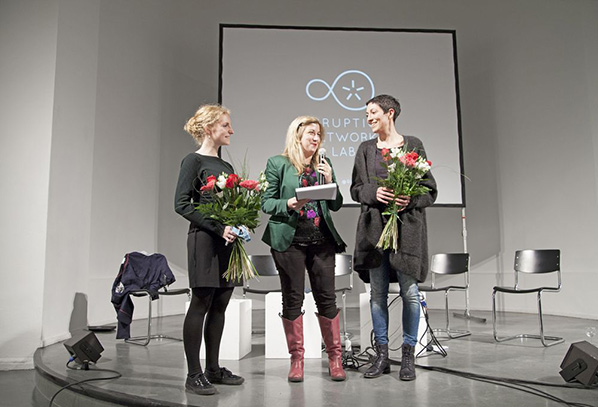 Kim Voss, Tatiana Bazzichelli and Daniela Silvestrin. Image by Maria Silvano.
With an incredible array of playfully disruptive tools and practices, the ending tone of the panel is of hope and optimism. Maybe this is the kind of optimism that inspired Chuck Palahniuk into writing the Fight Club, clearly influenced by the Cacophony Society of which he was a member. Optimistic disruption seems to pave way to new worlds of possibilities, into a new future envisioned with the help of DNL.
To close STUNTS in an even more optimistic way, the celebration of a year of DNL was at SPEKTRUM, another outstanding initiative in Berlin and another example of success. After less than a year of activity, SPEKTRUM, an open space that aims to link art and science, has already gathered a solid reputation in the field along with a trustee community of followers and participants. While we cross fingers for another year of funding for DNL, SPEKTRUM will continue to offer a rich program of concerts, performances, installations and debates.
Last Review – PORNTUBES: Reveals All @Disruption Network Lab, Berlin. By Pedro Marum, 2015
https://furtherfield.org/features/porntubes-reveals-all-disruption-network-lab-berlin
Finally I had the pleasure to attend to a session of the Disruption Network Lab. Physically, let's say. Even though this was the first time I've managed to be in Berlin for one of its events, I've been a compulsory virtual follower, watching the videos of their fully recorded sessions. This is a hint for anyone who would like to watch all the previous keynotes and talks.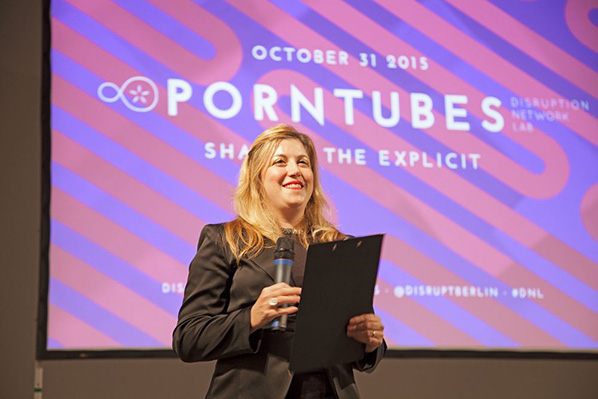 Tatiana Bazzichelli, Director and Curator of Disruption Network Lab. Image by Maria Silvano.
With its first edition in April, Disruption Network Lab is an ongoing platform of events and research on art, hacktivism and disruption, held at Studio 1 of Kunstquartier Bethanien, in partnership with Kunstraum Kreuzberg/Bethanien, in Berlin. On 31st of October it has held its 5th session, PORNTUBES: Sharing the Explicit. Aiming to discuss the role of porntubes in the sex and porn industry it gathered porn practitioners, entrepreneurs, sex work activists and researchers, to engage in a debate on the intertwining of porn with the Internet.
Pornography has always been a pioneer in using new technologies for its distribution and promotion. Internet, by allowing anonymous access to porn from the comfort of everyone's home it seemed to be the ultimate tool for the porn industry's expansion, to say the least. As pointed by Roy Klabin during the talk, 38,5% of the time we spend on the Internet is spent watching porn. As in many other spheres, it also seemed to be the beginning of a new era of labour liberation with an apparent decentralisation from the big porn production houses. This has allowed the blossoming of new small and independent companies with their own place in the market. But if cyberspace once seemed to offer a possibility to escape the tentacular control and exploitation exercised by the corporative monopolies, it is now known that the rebellion of the cybernetic innovators – creators of porntubes and new online sex tools – seems to be purely a coup d'etat.
KEYNOTE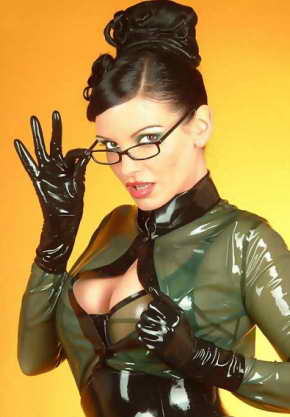 Carmen Rivera, a Mistress and Fetish-SM-performer
The opening keynote was by Carmen Rivera, a Mistress and Fetish-SM-performer, with a long history in the porn industry business, with an experience of the migration of porn from cinema to VHS and later to the Internet and then onto the porntubes. In conversation with Gaia Novati, a net activist and indie porn researcher, Carmen tells us her personal and professional story and immediately gives a better understanding on how porntubes – such as Redtube, X-Hamster or Youporn – have an ambiguous influence in the porn industry. Once perceived as a democratic tool allowing small porn producers to expand their radius of audience-reach, Rivera explains how much of a perverse tool of exploitation it has become and one that small producers have become too dependent on.
The fast pace of the Internet creates a lot of pressure to satisfy the hunger of porn consumers. As has become virtually infinite "fast-porn" is closely aligned with the capitalist paradigm of production, putting a bigger focus on quantity rather than quality. As the Internet leaves no space for durability — one day you're in, the next day you're out — careers become frail, the work of these companies are highly precarious and the concept of the "porn-star" is a short lived mirage.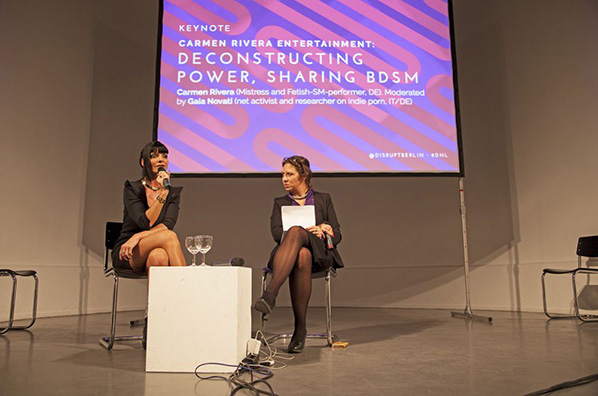 Carmen Rivera and Gaia Novati. Image by Maria Silvano.
Rivera also highlights how online piracy has become virtually unavoidable resulting in gigantic losses to the porn industry. As producers see their films ending up on porntubes free of access, lawsuits don't come as a viable solution but as financial black holes for any small or even medium companies. Even though the future doesn't seem bright, Rivera doesn't quit. Her battle cry: we need to create a bigger awareness of the pestilent system that controls the online porn industry. New tools of disruption need to be found to fight against these new power asymmetries established through the domination of cybernetic capital.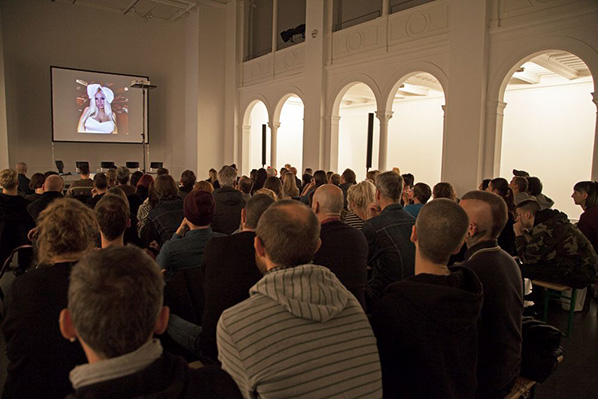 Image by Maria Silvano.
PIGGY BANK GIRLS
After the keynote, the discussion shifted to examining new tools of online sex work such as the project PiggyBankGirls, self-proclaimed as the first erotic crowdfunding for girls. Unfortunately, Sascha Schoonen, CEO of the project, wasn't able to attend. Instead a short promo video was presented introducing the project, giving some tongue-in-cheek examples on how girls could profit from this crowdsourcing tool.
Women upload videos pitching their ideas or projects – financing a shelter for stray animals, the payment of tuition fees, a trip to Japan, – and then share online porn performances in exchange for support from "occasional sugar daddies". Although one wonders if this isn't just a euphemism – a sanitised version, let's say – of already existing tools used by women who need money, regardless of them making public how they intend to spend money Nevertheless, it is true that the actual exploitative system needs to be dismantled, workers should be getting a bigger share for their labour and PiggyBankGirls poses as one more tool to do so, however this project also left many unanswered questions. Who are actually the women who can profit out of it? PiggyBankGirls promo tries to make this form of sex labour sound "cute", easy and accessible. However, is just another tool for established porn actresses to diversify their means of income?
TALK
The panel, moderated by Francesco Warbear Macarone Palmieri, socio-antrophologist and geographer of sexualities, included abstracts showing a wide array of perspectives on the issue of porntubes and online sex work. The researcher Nishant Shah opened the panel with a wonderful talk ranging from porn consumerism to porn politics and how porn is influencing our digital identities. In a porn-consuming society, from establishing clear distinctions between "love" and "porn", respectively meaningful and perverse, desirable and visceral desire, porn seems to be contingent on the morals of the spectator – as it only exists through the spectator it has also become a tool of puritan regulation. From Facebook teams of censorship and sanitisation of the virtual space to websites such as isitporn.com it is possible to understand that the concept of porn becomes itself a regulator of our sexual expressions, defining the line that separates decency from indecency. Paving the way to the pathologization of porn practices but yet dictating the meaning of authentic sexual performances, as the only visceral forms of sexual performances available, Shah pointed out how pornography, as a cultural and digital artefact, works in the regulation of our societies and in the production of our identities. Giving the example of Amanda Todd, who committed suicide after suffering from bullying for exposing her sexual body online, Shah shows how new forms of "porn" take place in the digital, from doxxing to unintended porn being perceived as such, enabling new forms of violence – let's say porn-shaming.
Also focusing on porn consumerism, Roy Klabin, investigative documentarist/filmmaker, goes back to the discussion initiated with Carmen Rivera on porntubes VS porn producers and how producers make money. According to Roy, MindGeek, the company that owns most of the porntubes – from Youporn to Redtube – has been one of the main entities responsible of the destruction of the porn industry. By creating piracy websites holding gigantic libraries of free access to porn and making revenue out of the advertisement, resulting in huge losses for the porn companies which at the same time had become dependent on the tubes to advertise their work. Roy makes an appeal to porn producers to diversify their strategies: from webcams to virtual reality, the porn industry needs to be one step ahead of the contemporary systems of digital exploitation.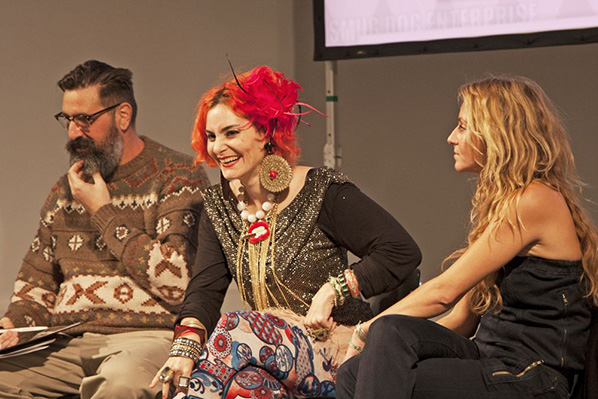 Francesco Warbear Macarone Palmieri, Liad Kantorowicz, MG Macioti. Image by Maria Silvano.
PG Macioti, a researcher and sex workers rights advocate and activist, together with Liad Kantorowicz, performer and sex workers' activist, presented an overview on how the Internet has reshaped sex work – from sustainability to work conditions – listing some of the outcomes, pros and cons, of the extension of sex work to the virtual spaces. Online sex work, namely erotic webcam work, has enabled a proliferation of sex work by offering safe, independent and anonymous services. On the other hand with the insertion of sex work on the capitalist mode of production, just like in many other forms of digital labour it has rendered a bigger alienation to the workers – who work mainly alone and, also due to stigma, don't share any contact with fellow colleagues – resulting in a more and more precarious labour, with sex workers being paid by minute, having to pay for their own means of production and usually paying a big share of their income to the middleman webcam services host agency.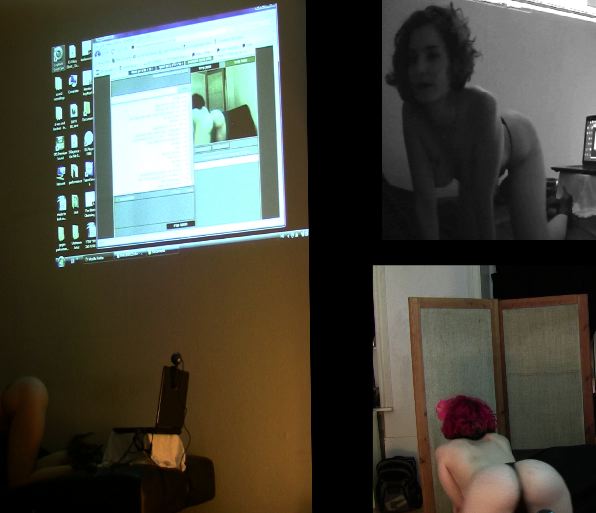 Liad Kantorowicz – Image from video of the live performance WATCH ME WORK
Overall, the Internet has enabled a multiplication of narratives on sex work but the power asymmetries between the online corporations and workers results in a growing exploitation and precariousness. The transversal message to all participants seems to urge for disruptive tools for online sex work, tools of self-empowerment and emancipation within the digital paradigm. Quoting the Xenofeminism manifesto by Laboria Cubonics, "the real emancipatory potential of technology remains unrealised" and the Disruption Network Lab might be the much needed spark for this revolution.
PARTY & STUNTS
The PORNTUBES event couldn't have had a better ending with a party held in the legendary KitKatClubnacht, a sex & techno club that is open since 1994, famous for both its music selection and its sexually uninhibited parties. It seems an exciting idea, to say the least, to bring all together researchers, porn entrepreneurs and activists to this incredible venue after an intense afternoon discussing the porntubes.
Concluding the series of conference events of Disruption Network Labs during 2015, the next event will be STUNTS: Distributed, Playful and Disrupted, taking place on the 12th of December, at the Studio 1 of Kunstquartier Bethanien, and the direct link is: http://www.disruptionlab.org/stunts/. This time the discussion will focus on political stunts as an imaginative and artistic practice, combining hacking and disruption in order to generate criticism of the status quo. As the immense dragnet of state-surveillance extends it becomes imperative to understand which are the available tools of obfuscation, how it is (still) possible to hack the system and which tools of political resistance can be deployed Disruption Network Lab wraps the year with a tempting offer, inviting artists, hackers, mythmakers, hoaxers, critical thinkers and disrupters to present practices of mixing the codes, creating disturbance, subliminal interventions, giving raise to paradoxes, fakes and pranks.