The word speculation is defined as 'the forming of a theory or conjecture without firm evidence'. The act of speculating was predominantly popularised with the rise of the stock market, however, recent environmental destruction and technological advancements have prompted a rich pool of speculation about the future of our planet, our species and our connection to other facets of life. Tomorrows: Urban Fictions for Possible Futures is such an exhibition, compromised of imaginative narratives speculating the future of our cities – how they will look, how they will function and the degree by which these cities will form new types of citizens directly operating within the network of that future city. In the context of the exhibition's content, fiction is transformed into mighty medium, utilised to share the ideas of thirty-two individual and group projects. These projects envision and share their anticipation for the future as a means of addressing socio-economic, environmental and other issues we face today with a goal to reassess of our presence on the planet.
Tomorrows was curated by Daphne Dragona and Panos Dragonas, and organised by the Onassis Cultural Centre in Athens – a city experiencing continual fluctuations since the end of World War II. The location itself, Diplarios School (a place of former learning and listening), stresses the aspect of sharing and the telling of important narratives determining the shaping of the future. The exhibition begins with a didactic, yet absolutely accessible approach to understanding the notion of developing a future city. As a starting point, the exhibition borrows and advances the ideas of Doxiadis' speculative plans of an Ecumenopolis from 1959-1974. More particularly, we must take into consideration the term 'ekistics' which was coined by Doxiadis in 1942 as derived from the ancient Greek noun οίκιστής, meaning a person who installs settlers in a place or creates a settlement.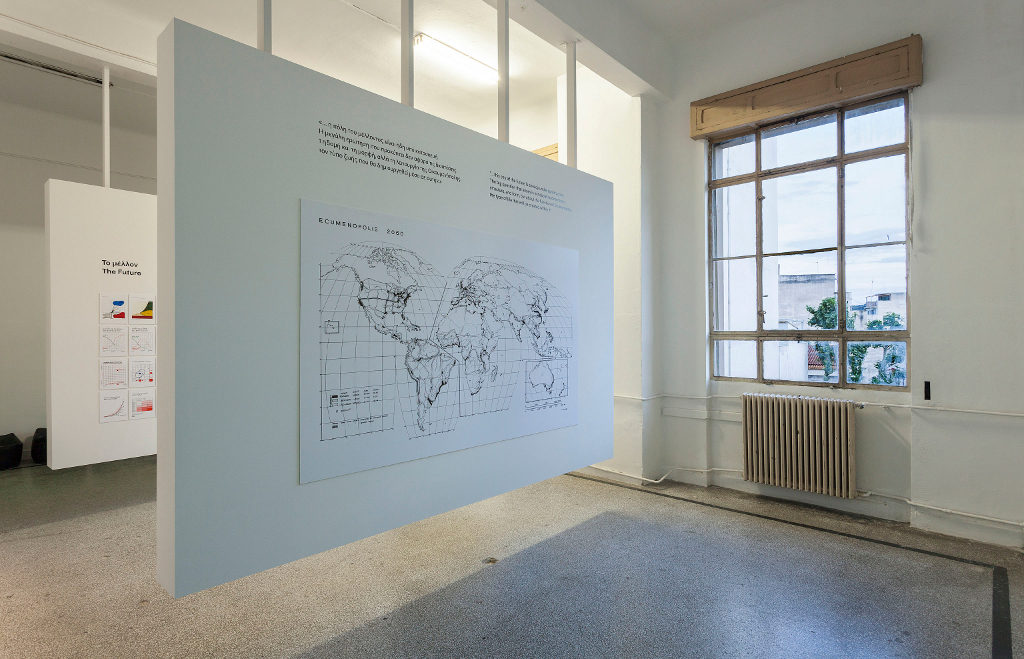 In order to create the cities of the future, we need to systematically develop a science of human settlements. This science, termed Ekistics, will take into consideration the principles man takes into account when building his settlements, as well as the evolution of human settlements through history in terms of size and quality. – Doxiadis
Doxiadis was a visionary and the decision to reinstate his work within the framework of the exhibition was incredibly rewarding for visiting audiences. He anticipated that cities were to become more than global in order to accommodate an ever changing human and non-human environment – as one huge network perhaps out of the control of human capacities. Ecumenopolis is installed on large hanging panels in the first room of Tomorrows and acts as a reference point to the five themes developed: Post-Natural Environments, Shells & Co-Habitats, Networks & Infrastructures, Algorithmic Society and Beyond Anthropos. These themes resonate to the acceleration of our urban development hybridising the natural with the artificial, future network infrastructures of our habitats becoming dependent on inhuman mediation, the possibility of an omnipresent and undemocratic structure within the city through the interdependence of economy, ecology and technology, possible forms of organisation to encourage modes of co-existence within the city, and technological singularity as challenging human sovereignty within our future cities. Doxiadis work gives way to the participants who are primarily artists, architects and designers, to explore these imminent futures of our present planet's landscape.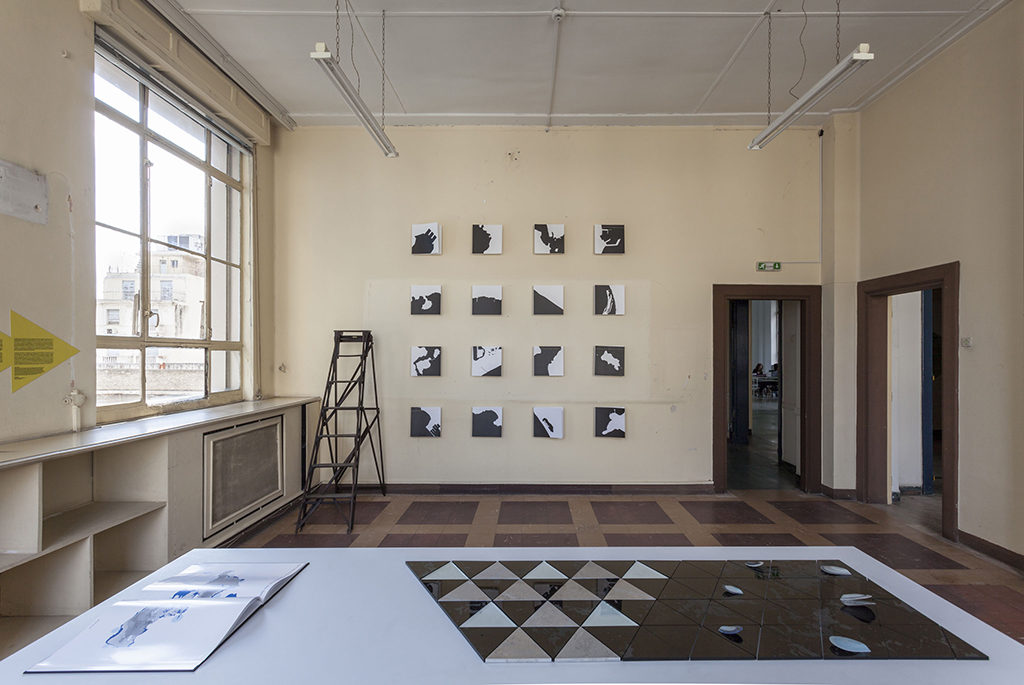 Coastal Domains is an on-going research project exploring the future landscaping of coastal territories in the Northeastern Mediterranea facilitated by Demetra Katsota along with 4th and 5th year students at the Department of Architecture, University of Patras. The installation Coastal Domains was made up of sixteen books, acting as case studies, secured on the wall and a ladder to reach them, encouraging brave visitors to climb and read them – a curatorial decision simultaneously inspiring participation and learning as it is explicitly reminiscent of old archival libraries. The 7th book in the series of sixteen engaged with the coast land of Kanoni and its Sea Lane on the island of Corfu, the research undertaken by Stella Andronikou and Iasonas Giannopoulos. As with each book in the series, the research was made up historically archived material, such as cartographical maps from different centuries and topographical material including the arrangement of roads and different fauna on the island thus unveiling issues of coastal development, the implications of an upsurge of tourism in the 1970s and possible environmental issues. Coastal Domains speculates and designs possible structures for the reinforcement of sustainability, devising various strategies that can protect the coasts of the Mediterranean Sea.
Tomorrows is particularly involved in engaging its locality of the Mediterranean, treating it as a microcosm for observing the implications of the future's development. Silo(e)scapes by Zenovia Toloudi envisages a hybrid of a seed bank and museum for Mediterranea plant species as a tool inspiring a sharing economy. The installation of Silo(e)scapes required the audience to cradle themselves into the centre of the structure in order to experience the transparent silos-displays of the community LEGO labourers sharing their local seeds at the seedbanks. The audience suddenly find themselves in a possible future reality, all encompassing of agrarian sounds and 360 views of kaleidoscopic mirrors that trick perception of your depth of field. Almost theatrical, Silo(e)scapes is immersive and constructs a space where the audience is directly in conflict with the imminent shortage of supplies due to harmful environmental issues and increasing urban development. The audience becomes entirely physically encased in Silo(e)scapes, as a result inciting the plausibility of this future reality.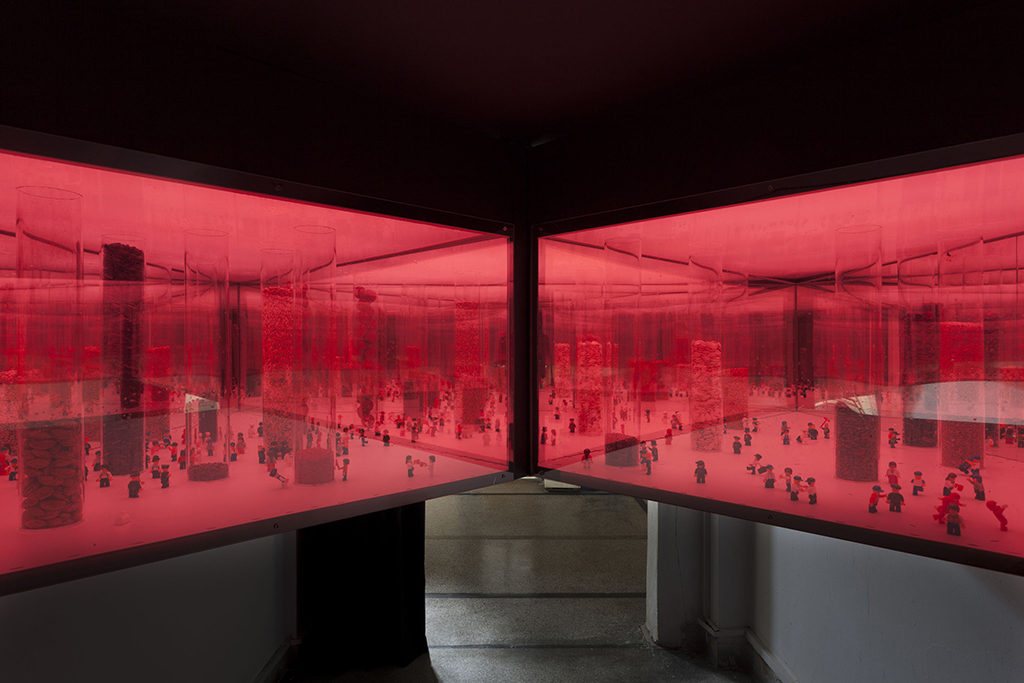 A Cave for an Unknown Traveler by Aristide Antonas introduces another form of habitable landscape for the possible future. The installation is structured like a 'fake archaic cave' that is buries inside it a structure as luxurious as a modern hotel room, invisible to the eye from the outside. The installed structure of the cave is complimented by a large sketchbook denoting the various features of the Cave for an Unknown Traveler. Antonas' work brings to mind the concept of Plato's Allegory of the Cave. The infrastructure and services within Antonas' cave can be taken in context of the prisoner's in Plato's cave perceiving shadows as objects when in fact they are a mere representation of their physical form grasped by our mind. In this context, Antonas' invisible cave begins to resemble an imagined safe haven for a traveling passer-by.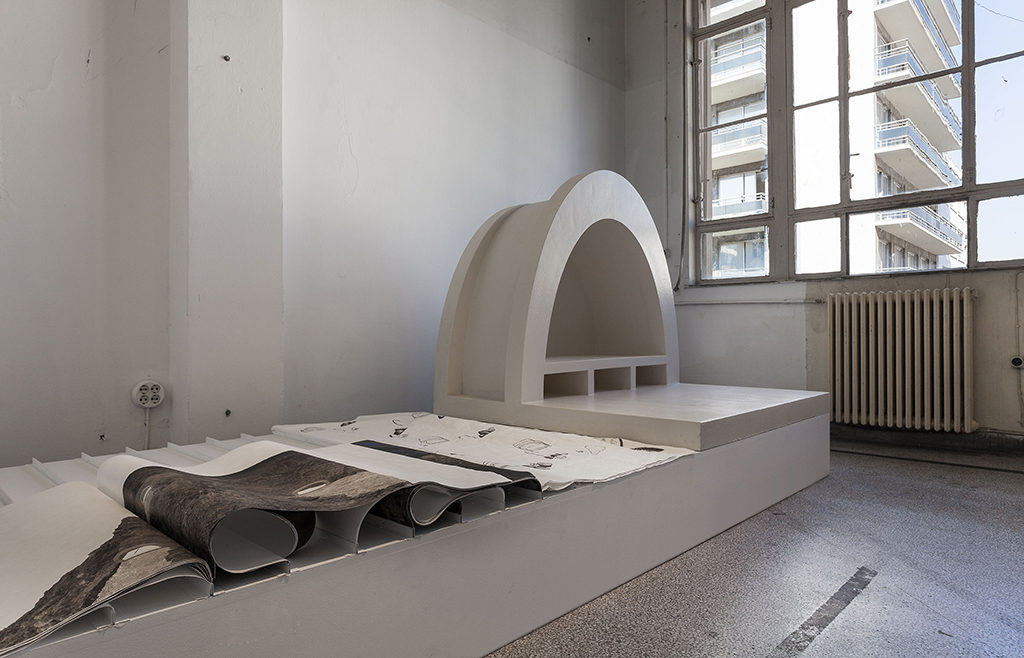 The highlight of Tomorrows is undoubtedly Liam Young's commissioned work Tomorrow's Storeys – a two-channel video installation isolated in a dark room with modular seating. The title of the work acts with a double meaning as in storeys of a building and the stories being told through them. The content, or stories, narrated in Tomorrow's Storeys were first conceived in a workshop in mid-March as part of the programming to the run-up of the exhibition opening in mid-May. The workshop of visual artists, authors, photographers, directors and architects produced an abundance of local stories in the future city of Athens, particularly a future Athenian apartment block. In Tomorrows Storeys all apartments blocks have the ability to reorganise themselves automatically – modular entities like seating in the installation. The videos convey intricately detailed shots of the façade of these apartments as well as its contents recalling film shot by aerial drones and ads for IKEA products. The audience act as omnipresent eavesdroppers drifting from storey to storey into the conversations and local happenings in these apartment blocks. These apartment blocks of the future have found a way to reorganise themselves where Athenians are not given a minimum basic income but instead a minimum basic floor area – the occupants do not own an apartment but a specific volume of space which does not have a fixed location. Amongst these stories of shifting permanence and impermanence one stood out: that of an old grandmother dying and the family arguing about who takes over her volume of space as one character cries quite humorously "Can't you wait until the funeral?!". Tomorrows Storeys are part of a city where bots constantly reorganise your living in a form of urban computation according to best fit the needs of its citizens. In this way, a living space becomes a temporality, alluding the audience to question if their home is real if it always available for smooth transition to another space.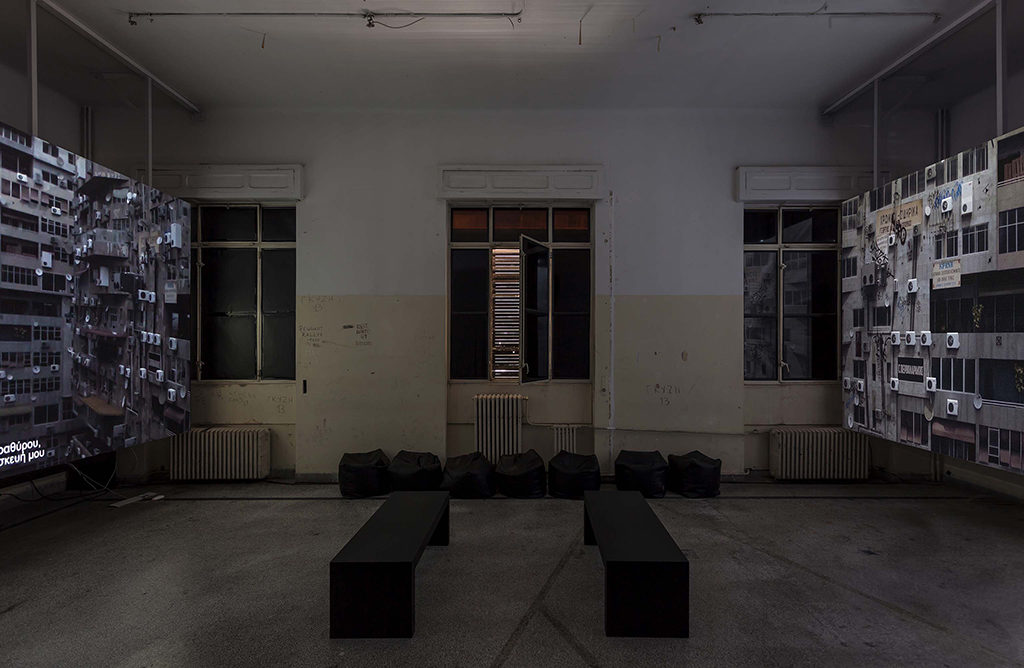 Within urban infrastructures are the human entities contained within them, as Young's work emphasises, however some of these are becoming increasingly inhuman as the theme of 'Beyond Anthropos' suggests. The notion of inhuman or machinic entities being able to replicate human form and intelligence is common and highly popularised since the 1980s as films such as Bladerunner introduced global audiences to 'replicas'. Today, AI is becoming so intelligent that it urges inventors such as SpaceX and Tesla CEO/founder Elon Musk to warn for correct precautions to be taken when engaging with AI, in fact comparing it to 'summoning the demon' and naming it 'our biggest existential threat' in the 2014 AeroAstro 1914-2014 Centennial Symposium by MIT. The work of !Mediengruppe Bitnik, coming only a couple of years after Musk's interview, exemplify the relationship between human and machine. Ashley Madison Angels at Work in Athens is a research project initiated after the data of the Canadian online dating service was leaked in 2015. The leak revealed that Ashley Madison had created 75,000 female chatbots that catered to 32 million mostly male users, engaging them in costly internet intimacy. In Athens, there were 165 fembots for around 22,910 registered users. The installation was comprised of seven of these 165 fembots active in Athens, and were installed in a room dimmed by a fluorescent pink light with screens on tripods similar to average human height and alluding to a physical form. The fembots, programmed to be of different ages, utter pick-up lines they are allocated from a predetermined list to the 22,910 registered users who could not distinguish that they were talking to a machine and not a real person.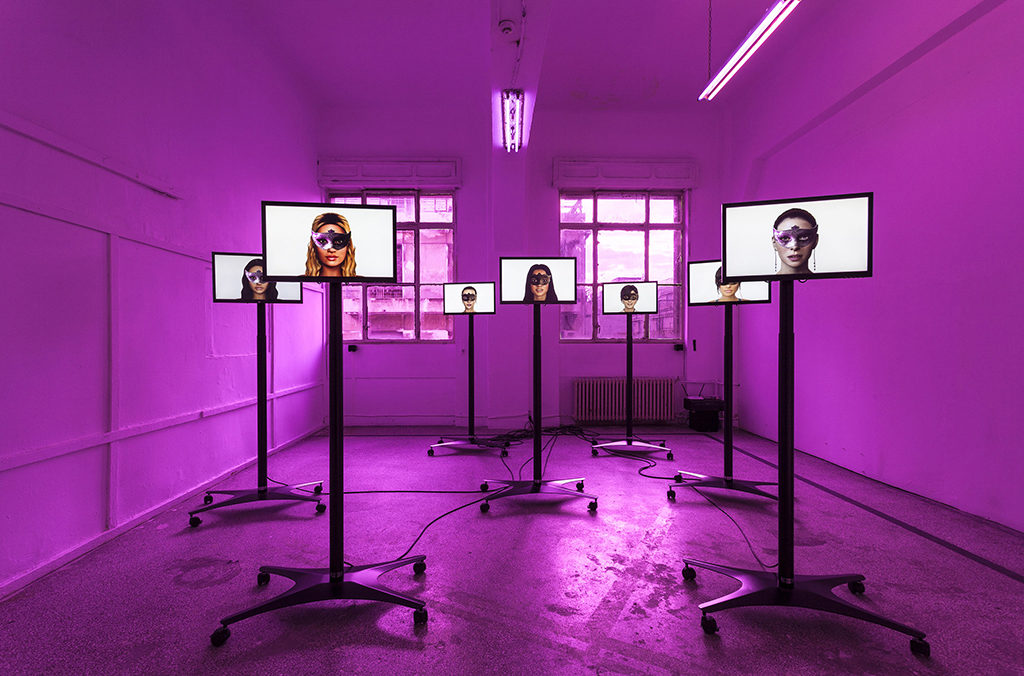 Tomorrows does not wish to present us a future as a prediction or as a form of critique of these technological, environmental and urban developments. Rather, it presents the future as an on-going participatory project, as a tool that can be utilised to examine who we are and where we are at in present tense, as well as where we could be potentially going. These urban fictions of our possible futures, are a speculative activity with the capability of making us more aware of the changes that have taken place whilst simultaneously illustrating the changes that are afoot. Tomorrows was a show that took place over six months ago, but its value to the discourse of the future will remain timeless for decades to come.
Walking off the Akadimias district and onto the steps leading up towards the entrance of building number 23, I am greeted by a large hall with high red ceilings. The hall is covered with lavish white and black dot marble, and there is a large staircase acting as a guide to the top floors of the manor-like building. This was the home for the Diplomatic Centre of the Third Reich, designed in 1923 by Vassillis Tsagris, and used until 2011 by the Foreign Press Correspondent Union after the Second World War. Since then it has stood derelict and dusty, but for one week, in parallel to the opening of documenta 14, it played temporary host to the artist-in-residence programme of Palais de Tokyo, alongside with Foundation Fluxum/Flux Laboratory, bearing the name Prec(ar)ious Collectives. Six visual artists in residence at Pavillon Neuflize OBC and eight contemporary Greek choreographers envision and fabricate a hybrid space whereby an experimental notion of a community is executed as a situation rather than as a subject. The visual artists and performers involved congregated together in Athens and on site for a two-week workshop in March in order to produce the works. The title, Prec(ar)ious Collectives, is a linguistic amalgamation of the adjectives 'precarious' and 'precious', implying the state of the collective that performs together.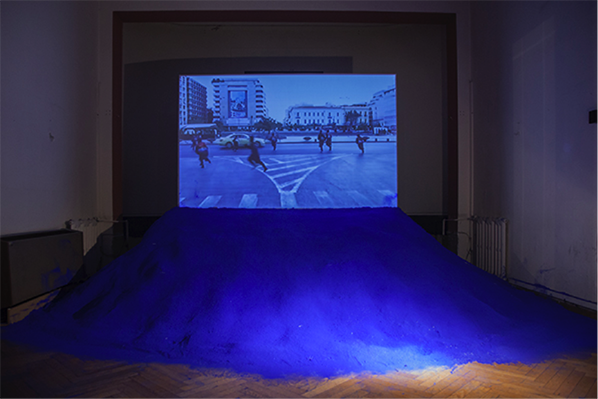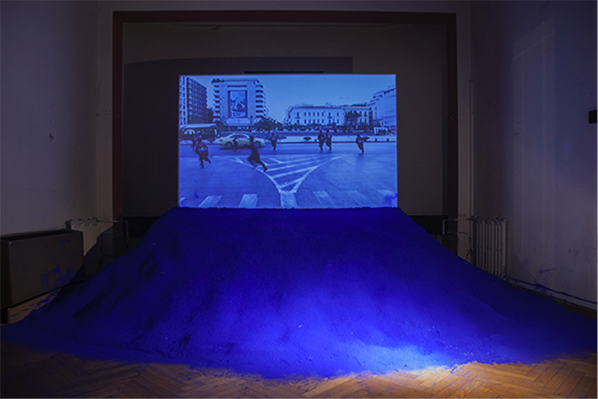 The opening façade echoes with the humming and reverberated sound of Manolis Daskalakis-Lemos' Dusk and Dawn Look Just The Same (Riot Tourism), guiding us towards its installation room. The video installation stands above a mountain of blue powder in a room sectioned off with construction tape. The short sequence of about a minute and a half displays a group of hooded figures, dressed identically. As the soundtrack's volume begins to escalate, the group progresses from walking to running on the uncannily void and ghostly streets of Athens. A city always bustling with noise is now at its most quiet and pubescent state of the day – dawn. The hooded figures run together and – even though it is in a disordered manner – command your attention and pensiveness until they all reach Omonia Square. The work demonstrates a resistance to a status quo which may be aligned with the political engagement within the city. This is not, however, done in an expected reactionary manner, but instead in a way that promotes uprising through the creation of a meditative state. One cannot help but watch Lemos' work a couple of times more before leaving it behind and only then noticing the thundering beneath their feet.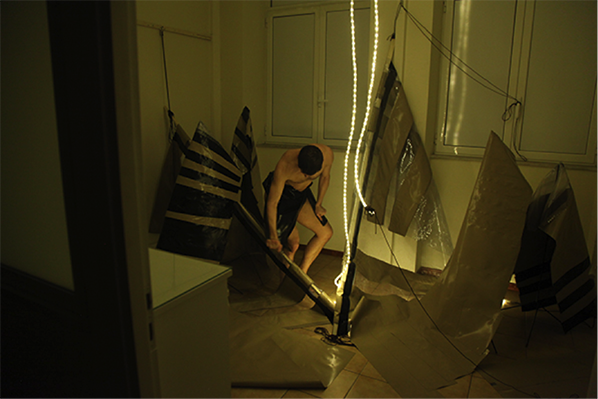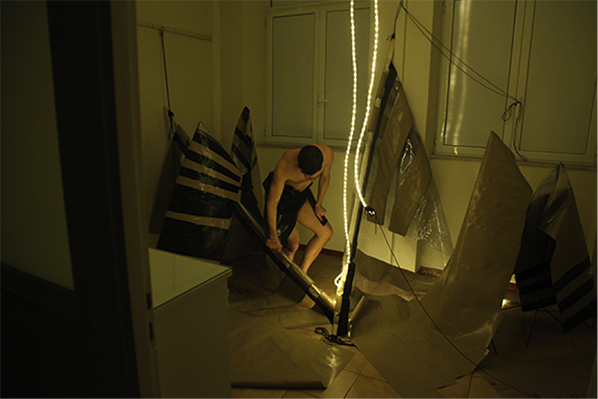 This historic building has a basement and is the temporary home of Taloi Havini's performative work. The large-scale installation occupying four rooms consists of PVC vinyls, seemingly discarded or hung from the low ceiling. These PVC vinyls are lit by dispersed and differently coloured strings of light, some are red, others are purple and others are cream. The performance is underway and its performers dress themselves with the PVC vinyl and the lights and jolt their bodies vigorously to the rhythm of the thundering – sometimes in sync, sometimes not. The dark basement is transformed into a cavern of rhythmic delight alluding to a ritual where its power lies in the gathering of people.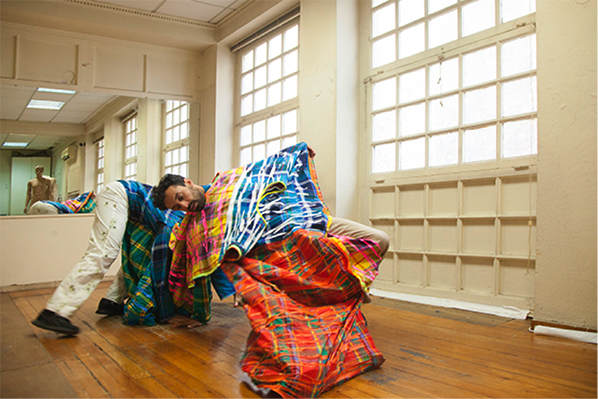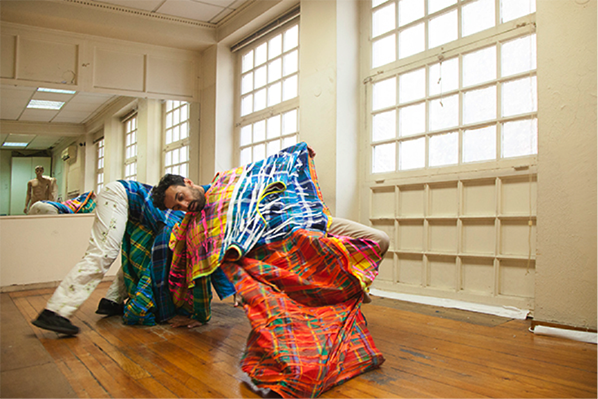 As one inspects the garments of Wataru Tominaga and those who wear them, this synthesis of the PVC, the space and the performers as a gathering appears to be a motif. Tominaga created the garments during a preliminary workshop, with great care and appreciation of how he and others were to utilise them during Prec(ar)ious Collectives. Originally presented on mannequins before being worn and performed, the garments boast vivid colours and patterns, some of them containing animalistic features such as feathers or fur. Those who wear Tominaga's work perform in such a way as to invent a new form of communication between themselves and their observers. They move and conjoin like animals, sometimes hiding underneath the fabric and at times evoking the traditional Japanese 'snake dance'. The performance, being in a transitional space between the ground floor and the first floor, naturally spreads itself upstairs whereby the performers not only continue to wear the garments in obscure ways, but additionally interact with Yu Ji's agave plants and other objects.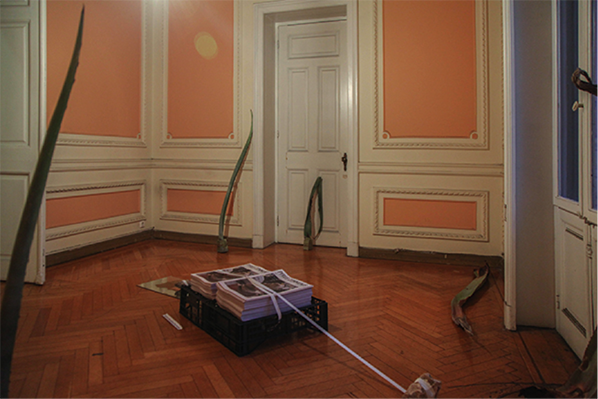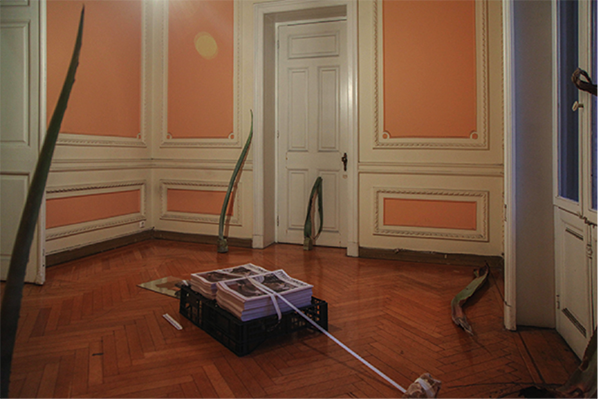 Yu Ji's work, Lycabettus Tongue, Oliv Oliv and This is Good For You! Are formed by the use of displaced agave plants, half-fragmented found mirrors and lights. The agave plants interlock with various architectural patterns of the building such as stair banisters, whilst the mirrors and round-ball lights are positioned in ways offering various points of view for observation and appreciation of space. The work revitalizes the architecture of the building denoting its historical vitality and the synergy of the encompassing works into a haunting existence rather than an abandoned one. Here, haunting is used not for means of negative connotations but instead as a form of aloof yet introspective sensation, exasperated further with Lola Gonzàlez's video installation in the next room.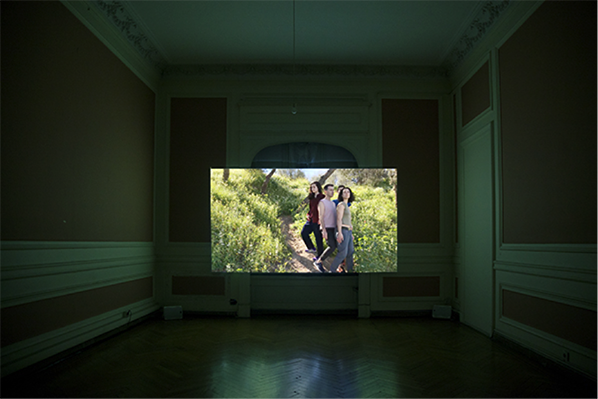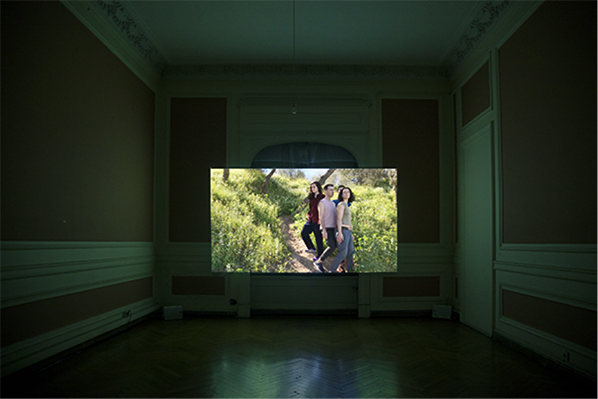 Lola Gonzàlez's Now my hands are bleeding and my knees are raw begins with its protagonists split into groups and observing the city of Athens from various points at the top of the hills. The groups begins to move, run and hop together towards a direction down the hill, whilst a chorus of droning voices begin to chant and harmonise. As the groups get closer and closer to the city, Gonzalez transforms the image into a complete inversion, like one you may find in negative photography. The chanting becomes louder as the three groups get closer and closer to their meeting point within the city – the exact space where the video is being showed. They are finally shown entering the building and making their way up the stairs to the room where they vocalize in unison until they fade away from our view. Now my hands are bleeding and my knees are raw alludes to an atmosphere in which the power of gathering together evokes a community whose intention is situated between an uncertain balance of peril and strength. It is the same kind of uncertainty that one finds when exploring the top floor of the building only to discover Thomas Teurlai's room of machines and looped functions.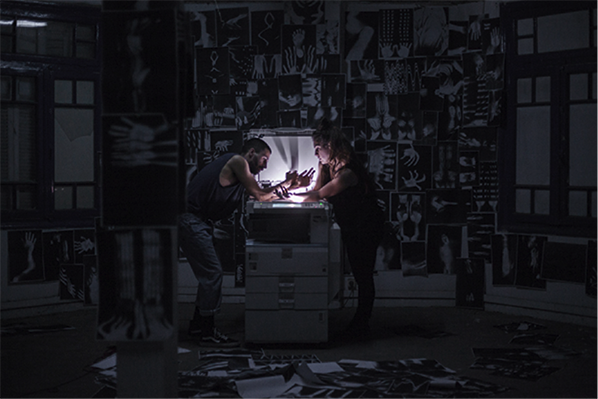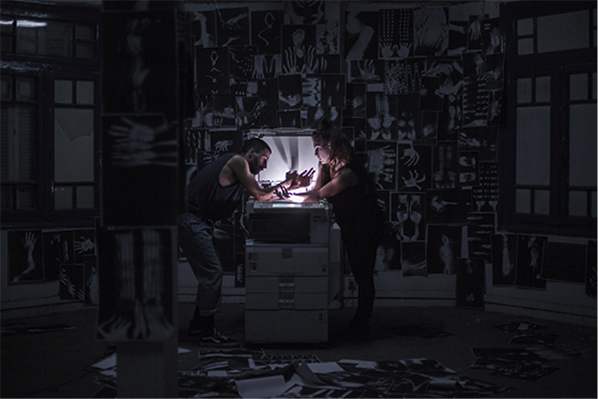 On the top floor, there are still the remnants of neglect, rooms empty of anything but the garbage that piled up over the building's six years of desertion. Thomas Teurlai's Score for bodies and machines consists of a room installation of two printers used by the performers to scan different parts of their bodies. These scans are then plastered on the wall whilst the fluorescent lights constantly trickle on and off. The two performers are attempting to archive as much of the movement involved in their choreography as possible. The looped function of copying and the crackle of its repetitive working-noises do not clash with the choreography but instead drive its energy.
Indeed, it may be the encounter between the building, the communal working spirit of the performers and the result of this effort that defines this rejuvenating energy as a fruitful rebirth of the building's utility.
To find out more, read Chloe Stavrou's recent interview with Fabien Danesi of Prec(ar)ious Collectives.
CS: Tell us a little bit about how the collaboration between Palais de Tokyo's residency Pavilion Neuflize OBC and Fluxum/Flux Laboratory came about. Did this directly contribute to the hybrid of visual/dance performance art or was it the artists' call?
FD: During two years, the Pavillon Neuflize OBC has worked with the National Opera of Paris for projects at the crossroads between contemporary art and choreography. We wanted to develop this perspective which is a kind of tradition in the history of the Pavilion (created in 2001), if we remember that our institution has a long interest for transdisciplinarity. So the hybridization between visual art and performance wasn't the artists' call. On the contrary, we asked them to step aside for collaborating with choreographers. It was really experimental for them.
CS: Neither Palais de Tokyo or Fluxum/Flux Laboratory are situated in Greece. What was the reason for its inception to take place in Athens? Was it because of the traffic Athens would see due to documenta 14 or was it a suggestion by Andonis Foniadakis, the choreographic director?
FD: Since its creation, Fluxum/Flux Laboratory has developed many dance projects in Greece. And it's due to its founder, Cynthia Odier, that Ange Leccia and myself met Andonis Foniadakis. We started the dialog with Andonis right at the moment of his nomination as the Ballet Director of the Greek National Opera, o Athens appeared quickly as the perfect place for our collaboration. We decided just afterwards to take advantage of the presence of documenta 14 in the city.
CS: The result is quite impressive – specifically since, and correct me if I'm wrong – the work produced was created in only two weeks in March. How did you find the process of working and creating collaboratively in addition to being in an unfamiliar city?
FD: The residents came to Athens for the first time in November 2016. During the first week, we had met the choreographers and dancers but also people who are engaged in the artistic life of the city. We tried to understand and use the pulse of this specific urban energy. We visited some sites for the exhibition and began to question the relevance of our own presence here. The conversations with the choreographers permitted us to create a strong link with Athens and not feel like tourists. We came back for a three-week workshop in March, just before the opening of our show. Between these two stays, we discussed a lot and had decided to start from our situation with the desire to move away from an artificial subject. The notion of the collective seemed a good way of taking charge of what we tried to do – especially because the Pavilion tries every year to create a specific group that gives a specific form to its structure.
CS: Prec(ar)ious Collectives feels like it could be quite nomadic as it is in an unfamiliar environment; however nomadic does not mean it feels odd or out of place – in fact it felt quite the opposite. As a curator, how did you approach Athens and stay conscious of the context(s) surrounding it?
FD: The fact that we didn't exhibit in a white cube or an artistic space helped us. When we decided to occupy this abandoned building on Akadimias Street, I was sure that we would be related strongly to the city and its history. The context wasn't outside of the walls – it was here, with us. Of course, we were all conscious that we needed to stay in relation to what was happening in the city. That's why nobody arrived with their work completed and done. The materials and the main elements of the creations were an artistic answer to this particular context.
CS: I am very curious about the building. I understand it used to be the Diplomatic Centre for the Third Reich during the Second World War. How did you become aware of its existence, and did your decision to curate Prec(ar)ious Collectives have anything to do with the building's history? If not, what was the reason for selecting this building?
FD: In January 2017, the director of the Pavilion Ange Leccia was in Athens to present some of his work. He visited the exhibition organized by Locus Athens in this space and it impressed him quite a bit. We wanted to work in an abandoned site for underlining the economical and cultural situation in Greece. And Akadimias Street 23 seemed perfect. We didn't choose it for its history, even if these multiple layers added some density to our proposal. For sure, the different atmospheres of the rooms immediately gave us the possibility to create dialogs between the works while preserving the integrity of each. So, it was a question of ambience in the sense of the architectural conditions aiding the experience of the audience.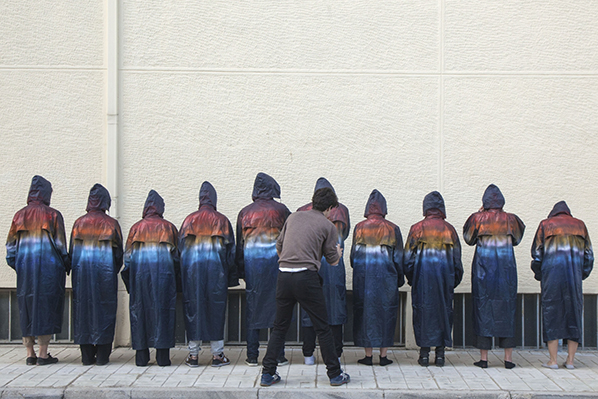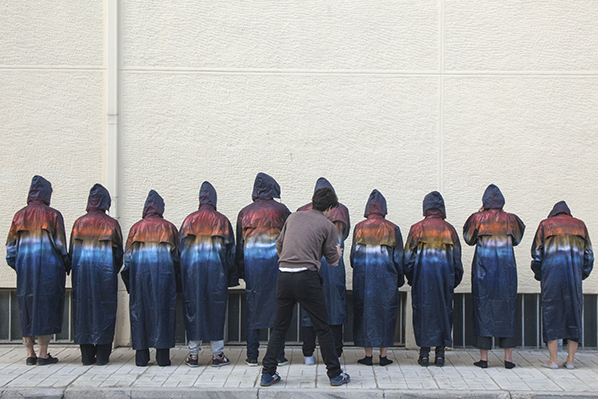 CS: I found that a continuous theme within the exhibition was not only the creation of a utopic community, but also an ambience that generates a state of limbo – of transition. Was this a reference to the state of Athens or to the state of artistic production or work?
FD: The notion of limbo is stimulating. And it insists on our «spectral approach». It means that we have tried to give life to this abandoned building. And some installations can be described as floating. In Manolis Daskalakis-Lemos and Lola Gonzalez's videos, for example, there is the idea of apparition. And even with Taloi Havini's huge ephemeral camp, we can feel a sort of «in-between» space, archaic and futurist, protective and dangerous. Maybe it was a re-transcription of our impressions about Athens, so appealing and full of energy, but at the same time, so undermined by the political situation.
CS: As a final note, what is the next step for Prec(ar)ious Collectives after its brief residency in Athens? Are there any plans to simulate the experience, albeit differently, again in another context or place?
FD: There won't be another step for Prec(ar)ious Collectives as a group exhibition. It was really the result of a one-month workshop. But it happens for the best that some encounters initiated in the Pavilion can be developed after the time of the residency.
CS: And any future projects that you will be a part of?
FD: On my side, I will develop a curatorial project next year in Los Angeles in the frame of FLAX residency. Titled The Dialectic of the Stars, I will organize several evenings in different institutions which will permit artists? to drift in the city from one site to another for catching some contradictory parts of the L.A. atmosphere. The idea is to mix French artists and Los Angeles-based artists and to trace a political and poetical constellation.
To find out more read Chloe Stavrou's recent review: Community Situation: Prec(ar)ious Collectives and documenta 14
Since 2005, Inke Arns has been the curator and artist director of Hartware MedienKunstVerein, an institution focusing the cross-section between media and technology into forms of experimental and contemporary art. This year, she was the curator for the exhibition titled alien matter during transmediale festival's thirty-year anniversary. I had the pleasure of meeting Inke and taking a leisurely stroll with her around the exhibition.
The interview is written as part of a late-night email exchange with Inke a couple of weeks following our initial meeting.
CS: How did the idea come about? In your introductory text you mention The Terminator. Were you truly watching Arnold when alien matter occurred to you as an exploratory concept?
IA: Haha, good question! No, seriously, this particular scene from Terminator 2 (1991) was sitting in the back of my head for years, maybe even decades. It's the scene where the T-1000, a shape-shifting android, appears as the main (evil) antagonist of the T-800, played by Arnold Schwarzenegger. The T-1000 is composed of a mimetic polyalloy. His liquid metal body allows it to assume the form of other objects or people, typically terminated victims. It can use its ability to fit through narrow openings, morph its arms into bladed weapons, or change its surface colour and texture to convincingly imitate non-metallic materials. It is capable of accurately mimicking voices as well, including the ability to extrapolate a relatively small voice sample in order to generate a wider array of words or inflections as required.
The T-1000 is effectively impervious to mechanical damage: If any body part is detached, the part turns into liquid form and simply flows back into the T-1000's body from a far range, up to 9 miles. Somehow, the strange material of the T-1000 was teaming up with Jean-Francois Lyotard's notion of "Les Immatériaux" (1985). Lyotard tried to describe new kinds of matter, that at first sight look like something that we know of old, but in fact are materials that have been taken apart and re-assembled and therefore come to us with radically new qualities. It is essentially alien matter which Lyotard was describing.
CS: You also comment on intelligent liquid and then make reference to four subcategories for the 'rise of new object cultures': AI, Plastic, Infrastructure, and the Internet of Things. Is this what makes up 'alien matter' to you? Inorganic materials? Simultaneously, HTF The Gardener and Hard Body Trade explicitly and dominantly utilise nature.
IA: Well, the shape shifting intelligent liquid acts more like a metaphor. It is a metaphor for the fact that the clear division between active subjects and passive objects is becoming more and more blurred. Today, we are increasingly faced with active objects, with things that are acting for us. The German philosopher Günther Anders, yet another inspiration for alien matter, described in his seminal book The Obsolescence of Man (Die Antiquiertheit des Menschen) how machines – or computers – are "coming down", how over time they have come to look less and less like machines, and how they are becoming part of the 'background'. Or, if you wish, how they have become environment. That's what I tried to capture in these four subcategories AI, Internet of Things, Infrastructure and Plastic. It is subcategories that reflect our contemporary situation, and at the same time are future obsolete. All of this is becoming part of the big machine that is becoming visible on the horizon. The description that Anders uses is eerily up to date.
Is this alien matter inorganic? Well, yes and no. It is primarily something inorganic as plastic could be described as one of the earliest alien matters – its qualities, like, e.g., its lifespan, are radically different from human qualities. However, it is something that increasingly merges with organic matter – Alien in Green showed this in their workshop that dealt with the xeno-hormones released by plastic and how they can be found in our own bodies. They did this by analyzing the participants' urine samples in which they found stuff that was profoundly alien.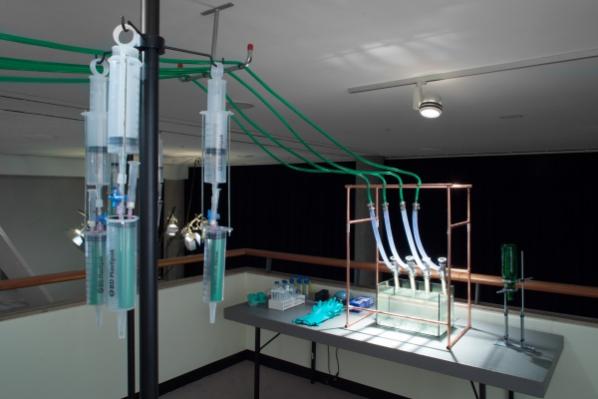 In the exhibition, everything is highly artificial, even if it looks like nature, like in Ignas Krunglevicius' video Hard Body Trade or Suzanne Treister's series of drawings/prints HFT The Gardener. The 'natural' is becoming increasingly polluted by potentially intelligent xeno-matter. We are advancing into murky waters.
CS: There is no use of walls in the exhibition, other than Video Palace, standing as a monumental structure made out of VHS tapes. Why did you decide to exclude setting up rooms or walls for alien matter?
IA: I knew right from the beginning that I wanted to keep the space as open as possible. Anything you build into this specific space will look kind of awkward. This is also how I make exhibitions in general: Keeping the exhibition space as open as possible, building as few separate spaces as possible in order to allow for dialogues to happen between the individual works. For alien matter we worked with raumlaborberlin, an architectural office that is known for its unusual and experimental spatial solutions and that has been working with transmediale for quite some time now. I have worked with them for the first time and I am super happy with the result. We met several times during the development process, and raumlabor proposed these amazing tripods you can see in the show. They serve as support for screens and the lighting system. (Almost) nothing is attached to the walls or the ceiling. raumlabor were very inspired by the aliens in H.G. Wells' War of the Worlds – where the extraterrestrials are depicted with three legs and a gigantic head. Even if the show is not about aliens I really liked the idea and the appearance of these tripods. They look at the same time elegant, strange, and through their sheer size they are also a bit awe-inspiring. Strange elegant aliens so to speak to whom we have to look up in order to see. At the same time they are 'caring' for the exhibition, almost as if they were making sure that everything is running smoothly.
CS: What can you tell me about the narrative behind Johannes Paul Raether's Protekto.x.x. 5.5.5.1.pcp.? You mentioned that it was originally a performance in the Apple Store, nearly branding the artist a terrorist.
IA: Correct. The figure central to the installation is one of the many fictional identities of artist Johannes Paul Raether, Protektorama. It investigates people's obsession with their smartphones, explores portable computer systems as body prosthetics, and addresses the materiality, manufacturing, and mines of information technologies. Protektorama became known to a wider audience in July 2016 when a performance in Berlin, in which gallium—a harmless metal—was liquefied in an Apple store, led to a police operation at Kurfürstendamm. In contrast to the shrill tabloid coverage, the performative work of the witch is based on complex research and visualizations, presented here for the first time in the form of a sculptural ensemble including original audio tracks from the performance. The figure of Protektorama stems from Raether's cyclical performance system Systema identitekturae (Identitecture), which he has been developing since 2009.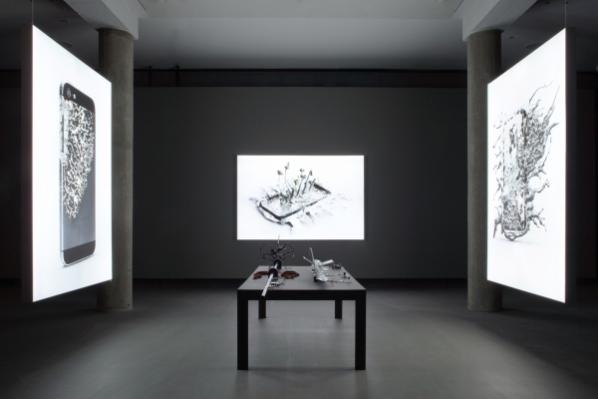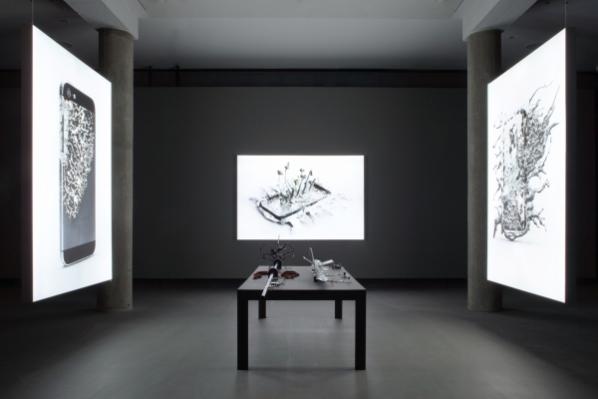 CS: Throughout the exhibition there is an awareness that technological singularity can and possibly will overcome the human body and condition. In the context of the exhibition, do you think that we may be accelerating towards technological and machinic singularity? As humans, are we already mourning the future?
IA: The technological singularity is a trans-humanist figure of thought that is currently being propagated by the mathematician Vernor Vinge and the author, inventor and Google employee Ray Kurzweil. This is understood as a point in time, and here I resort to Wikipedia, "at which machines rapidly improve themselves by way of artificial intelligence (AI) and thus accelerate technical progress in such a way that the future of humanity beyond this event is no longer predictable." The next question you are probably going to ask is whether I believe in the singularity.
CS: Do you?
IA: Whether I believe in it? (laughs) The singularity is in fact a kind of almost theological figure. Technology and theology are very close to one another in a sense. The famous American science fiction author Arthur C. Clarke once said that any sufficiently developed technology can't be differentiated from magic. I consider the singularity to be an interesting speculative figure of thought. Assuming the development of technology were to continue on its course as rapidly as it has to date, and Moore's Law (stating that computing performance of computer chips doubles every 12-24 months) retained its validity, what would then be possible in 30 years? Could it really come to this tipping point of the singularity in which pure quantity is transformed into quality? I don't know. What is interesting right now is that instead of the singularity, we are faced with something that the technology anthropologist Justin Pickart calls the 'crapularity': "3D printing + spam + micropayments = tribbles that you get billed for, as it replicates wildly out of control. 90% of everything is rubbish, and it's all in your spare room – or someone else's spare room, which you're forced to rent through AirBnB." I also suggest to check out the 'Internet of Shit' Twitter feed.
CS: You come from a literary background. Noticing the selection and curation of alien matter, it becomes clear that you love working with narratives. Do you feel as though your approach of combining narrative and speculative imaginations is fruitful and rewarding?
IA: I do (if I didn't I wouldn't do it). I think narrative – or: storytelling – and speculative imaginations are powerful tools of art. They allow us to see the world from a different perspective. One that is not necessarily ours, or that is maybe improbable or unthinkable today. The Russian Formalists called this (literary) procedure 'estrangement' (this was ten years before Bertolt Brecht with his 'estrangement effect'). Storytelling and/or speculative imaginations help us grasping things that might be difficult to access from our or from today's perspective. It's like an interface into the unknown. Maybe you can compare it to learning a foreign language – it greatly helps you to understand your own native language.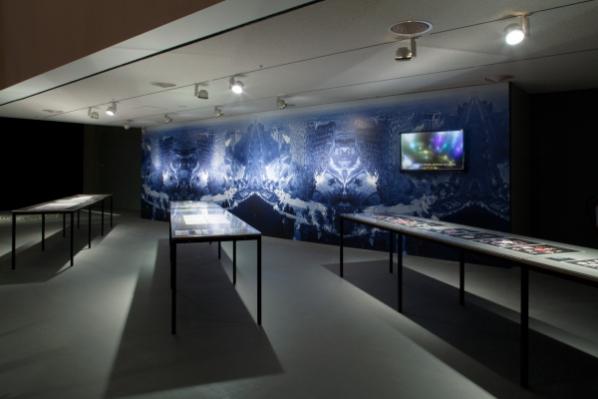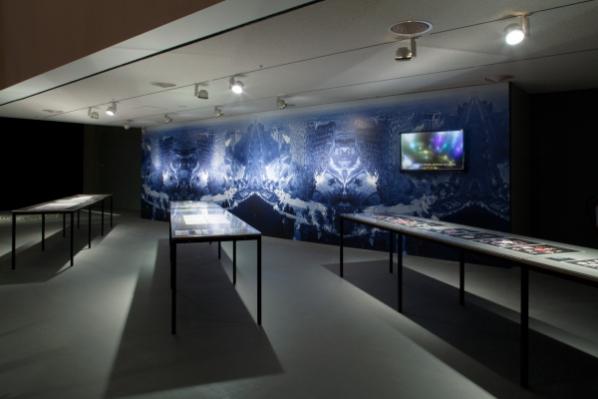 CS: On a final note, I'd like to revisit a conversation we had during transmediale's opening weekend. We spoke about a potential dichotomy or contention between the discourse followed by transmediale and that of the contemporary art world, using the review by The Guardian about the Berlin Biennial as an example. Beautifully written, albeit you seemed to disagree with some points made – particularly at the notion enforced by the writer that works shown there, similar in nature to the works in alien matter, are not 'art'. Could you elaborate on your thoughts?
IA: You are mixing up several things – let me try to disentangle them. I was referring to the article "Welcome to the LOLhouse" published in The Guardian. The article was especially critical of the supposed cynicism and sarcasm it detected in the Berlin Biennale curators' and most of the artists' approaches. Well, what was true for Berlin Biennale was the fact that it showed many younger artists from the field of what some people call 'post-Internet' art. This generation of artists – the 'digital natives' – mostly grew up with digital media. And one of the realities of the all pervasive digital media is the predominance of surfaces. The generation of artists presented at the Berlin Biennale dealt a lot with these surfaces. In that sense it was a very timely and at the same time a cold reflection of the realities we are constantly faced with. I felt as if the artists held up a mirror in which today's pervasiveness of shiny surfaces was reflected. It could be interpreted as sarcasm or cynicism – I would rather call it a realistic reflection of contemporary realities. And it was not necessarily nice what we could see in this mirror. But I liked it exactly because of this unresolved ambivalence.
About transmediale and the contemporary art world: These are in fact two worlds that merge or mix very rarely. I have often heard from people deeply involved in the field of contemporary art (even some friends of mine) that they are not interested in transmediale and/or that they would never attend the festival or go and see the exhibition. And vice versa. This is mainly due to the fact that the art people think that transmediale is too nerdy, it's for the tech geeks (there is some truth in this), and the transmediale people are not interested in the contemporary art world as they deem it superficial (there is some truth in this as well). For my part, I am not interested in preaching to the converted. That's why I included a lot of artists in the show that have never exhibited at transmediale before (like Joep van Liefland, Suzanne Treister, Johannes Paul Raether, Mark Leckey). However, albeit the borders, the fields have become increasingly blurred. It is also visible that what is coming more from a transmediale (or 'media art') context clearly displays a greater interest in the (politics of) infrastructures that are covered by the ever shiny surfaces (that bring along their own but different politics).
I could continue but I'd rather stop, as it is Monday morning, 3:01 am.

You can also read a review of alien matter, available here.
alien matter is on display until the 5th of March, in conjunction with the closing weekend of trasmediale. Don't snooze on the last chance to see it!
All in-text images are courtesy of Luca Girardini, 2017 (CC NC-SA 4.0)
Main image is a still from the movie The Terminator 2 (1991)
Within the context of transmediale's thirty-year anniversary, Inke Arns curates an exhibition titled alien matter. Housed in Haus der Kulturen der Welt, alien matter is a stand-alone product that has been worked on for more than a year, featuring thirty artists from Berlin and beyond. In the introductory text, Arns utilises her background in literature and borrows a quote from J.G. Ballard, an English novelist associated with New Wave science fiction and post apocalyptic stories. The quote reads:
The only truly alien planet is Earth. – J.G. Ballard in his essay Which Way to Inner Space?
Ballard was redefining the notion of space as 'outer space', seemingly beyond the Earth, and 'inner space' as the matter constituting the planet we live on. For him, the idea of outer space is irrelevant if we do not fully understand the components of our inner space, claiming, 'It is inner space, not outer, that needs to be explored'. The ever increasing and accelerating modes of infrastructural and therefore environmental change caused by humans on our Earth is immense. Arns searches for the ways by which this form of change has contributed to the making of alien matter on a planet we consider secure, familiar and essentially, our home. In the age where technological advancements are so severe that machines are taking over human labour, singularity is a predominant theme whilst the human condition is reaching a deadlock in more ways than we can predict. The works shown in alien matter respond to this deadlock by shedding their status as mere objects of utility and evolve into autonomous agents, thus posing the question, 'where does agency lie?'
Entering the space possessing alien matter, one is immediately confronted with a giant wall – not one like Trump's, but instead a structure made out of approximately 20,000 obsolescent VHS tapes on wooden shelves. It is Joep van Liefland's Video Palace #44, hollowed inside with a green glow coming from within at its entry point. The audience has the opportunity to enter the palace and be encapsulated within its plastic and green fluorescent walls, reminiscent perhaps of old video rental stores with an added touch of neon. The massive sculpture acts as an archaeological monument. It highlights one of Arns' allocated subcategories encompassing alien matter, (The Outdateness of) Plastic(s); the rest are as follows: (The Outdatedness of) Artificial Intelligence, (The Outdatedness of) Infastructure and (The Outdatedness of) Internet(s) of Things.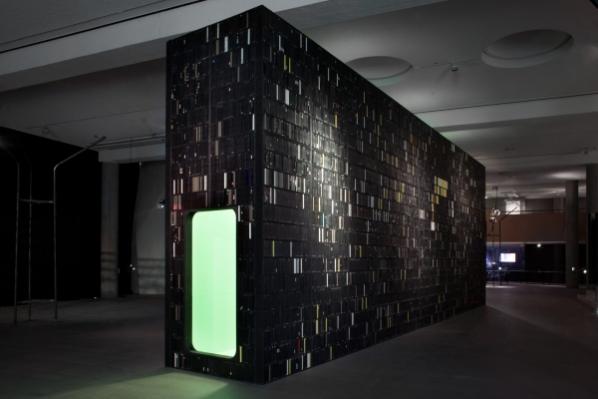 Part of Plastic(s) is Morehshin Allahyari and Daniel Rourke's project titled The 3D Additivist Cookbook, initially making its conceptual debut at last year's transmediale festival. In collaboration with Ami Drach, Dov Ganchrow, Joey Holder and Kuang-Yi Ku, the Cookbook examines 3D printing as possessing innovative capabilities to further the functions of human activities in a post-human age. The 3D printer is no longer just an object for realising speculative ideas, but instead is manifested as a means of creating items that may initially (and currently) be considered alien for human utility. Kuang-Yi Ku's contribution, The Fellatio Modification Project, for example, applies biological techniques of dentistry through 3D printing in order to enhance sexual pleasure. Through the 3D Additivist Cookbook, plastic is transformed into a material with infinite possibilities, in which may also be considered as alien because of their human unfamiliarity.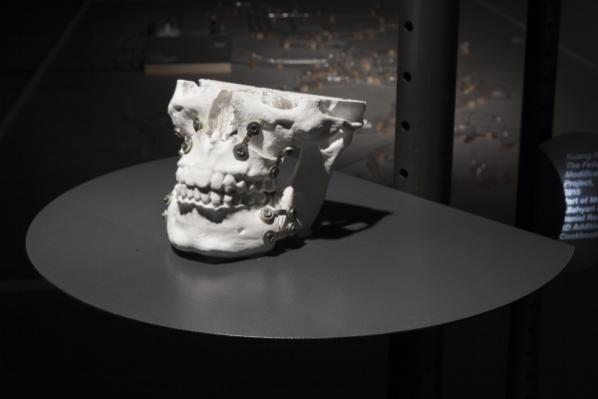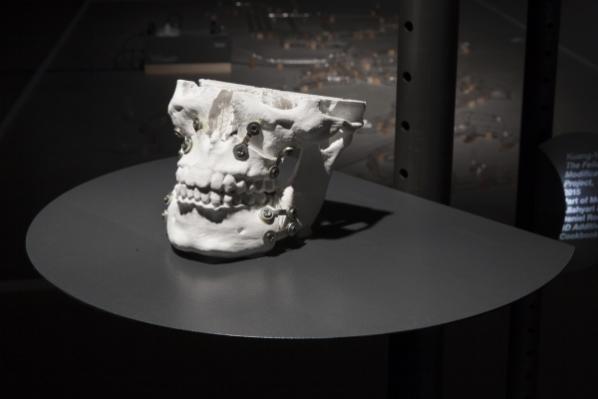 Alien and unfamiliarity is also prevalent when noticing the approach by which the works are laid out and lit throughout the exhibition. Without taking Video Palace #44 into consideration, the exhibiting space is void of walls and rooms. Instead, what we witness are erect structures, or tripods, clasping screens and lights. These architectural constructions are, as Arns points out in the interview we conducted, reminiscent of the extraterrestrial tripods invading the Earth in H.G. Wells' science fiction novel, The War of the Worlds; initially illustrated by Warwick Goble in 1898. The perception of alien matter is enriched through this witty application of these technical requirements as audiences wander amongst unknown fabrications.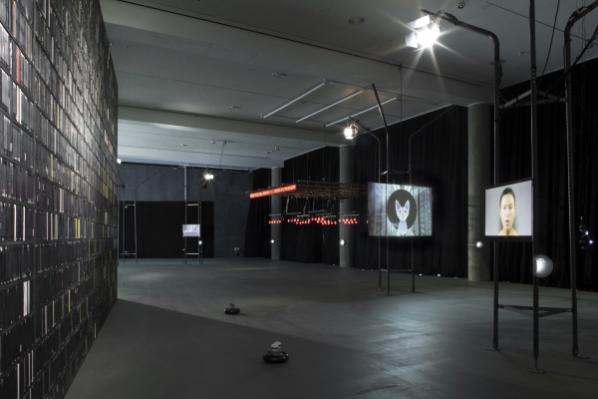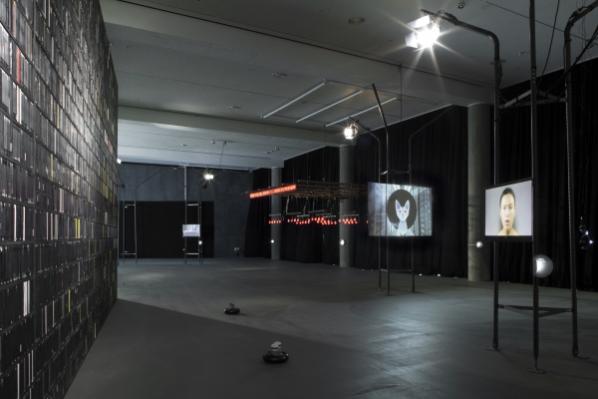 Amidst and through these alien structures, screens become manifestations for expressive AIs. Pinar Yoldas' Artificial Intelligence for Governance, the Kitty AI envisages the world in the near future, 2039. Now, in the year 2017, Kitty AI appears to the viewer as a slightly humorous political statement, however, much of what Kitty is saying may not be far from speculation. Kitty AI appears in the form of rudimentary and aged video graphics of a cute kitten, possibly to not alarm humans with its words. It speaks against paralysed politicians, extrapolates on overloaded infrastructures of human settlement, the on-going refugee crisis still happening in 2039 but to larger dimensions and… love.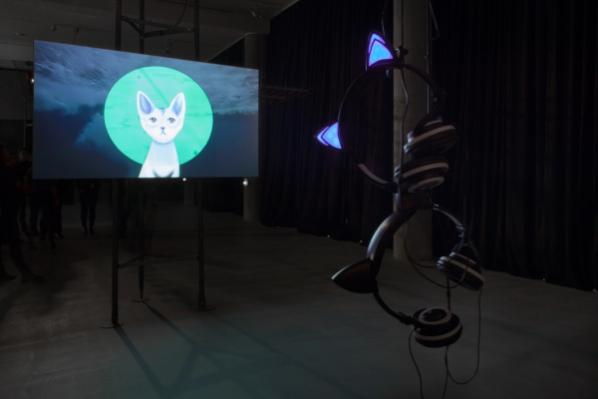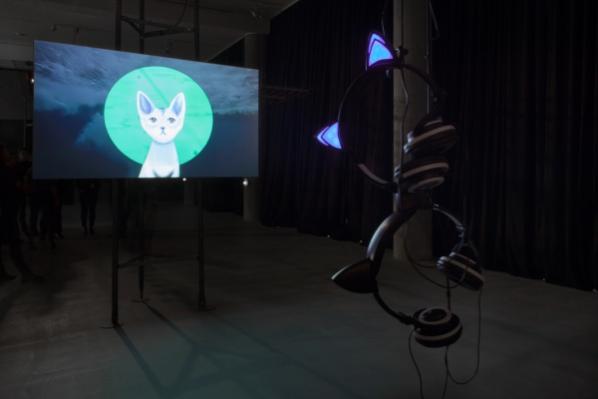 The Kitty AI is 'running our lives, controlling all the systems it learns for us', providing us with a politician-free zone and states that it 'can love up to three million people at the time' and that it 'cares and cares about you'. Kitty AI has evolved and possesses the capacity to fulfil our most base desires and needs – solutions to problems in which human are intrinsically the cause of. Kitty AI is a perfect example when taking into consideration Paul Virilio's theory in his book A Landscape of Events, stating:
And so we went from the metempsychosis of the evolutionary monkey to the embodiment of a human mind in an android; why not move on after that to those evolving machines whose rituals could be jolted into action by their own energy potential. ­– Paul Virilio in his book A Landscape of Events
Virilio doesn't necessarily condemn the evolution of AIs; humans had the equal opportunity to progress throughout the years. Instead his concerns rise from worries that this evolution is unpredictably diminishing human agency. The starting stage for this loss of agency would be the fabrication of algorithms having the ability to speculate possible scenarios or futures. Such is the work of Nicolas Maigret and Maria Roszkowska titled Predictive Art Bot. Almost nonsensical and increasingly witty, the Predictive Art Robot borrows headlines from global market developments, purchasing behaviour, phrases from websites containing articles about digital art and hacktivism, and sometimes even crimes to create its own hypothetical, yet conceivable, storyboards. The interchange of concepts rangings from economics, to ecologies, to art, transhumanism and even medicine, pertain subjects like 'tactical self-driving cars' and 'radical pranks' for disruption and 'political drones' and even 'hardcore websites perverting the female entity'.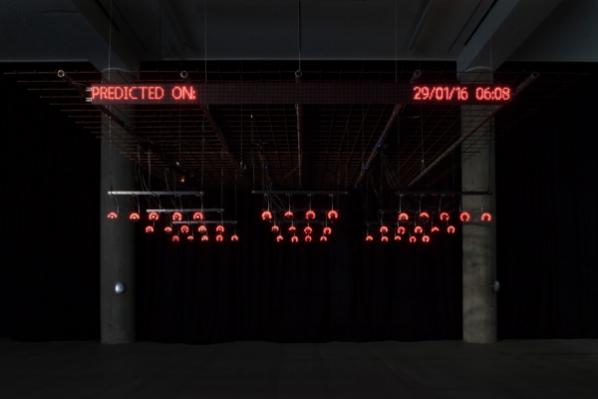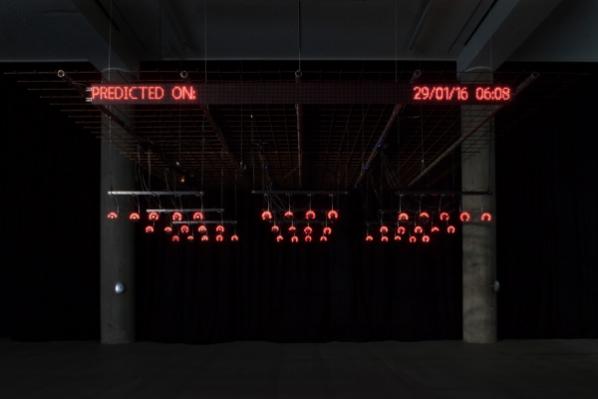 To a certain degree, both Kitty AI and Art Predictive Bot could be seen as radical statements regarding the future of human agency, particularly in politics. There is always an underline danger regarding fading human agency and its importance for both these works and imagined scenarios – particularly when taking into consideration Sascha Pohflepp's Recursion.
Recursion, acted by Erika Ostrander,is an attempt by an AI to speak about human ideas coming from Wikipedia, songs by The Beatles and Joni Mitchell, and even philosophy by Hegel, regarding 'self-consciousness', 'sexual consciousness', the 'good form of the economy', and 'the reality of social contract'. Ostrander's performance of the piece is almost uncanny to how we might expect AIs to understand and read through language regarding these subjects. The AI has been programmed to compose a text from these readings starting with the word 'human' – the result is a computer which passes a Turing test, almost mimetic of what in its own eyes is considered an 'other' in which we can understand that simulacra gains dialectal power as the slippage becomes mutual. Simultaneously, these words are performed by a seemingly human entity, posing the question of have we been aliens within all along without self-conscious awareness?
Throughout alien matter it becomes gradually apparent that the reason why AIs are problematic to agency is because of their ability to imitate or even be connected to a natural entity. In Ignas Krunglevičius' video, Hard Body Trade, we are encapsulated by panoramic landscapes of mountains complimented by soothing chords and a dynamic sub-bass as a soundtrack. The AI speaks over it 'we are sending you a message in real time' for us to be afraid, as they are 'the brand new' and 'wear masks just like you' implying they now emulate human personas. The time-lapse continues and the AI echoes, 'we are replacing things with math while your ideas and building in your body like fat' – are humans reaching a point of finitude in a landscape whereby everything moves much faster than ourselves?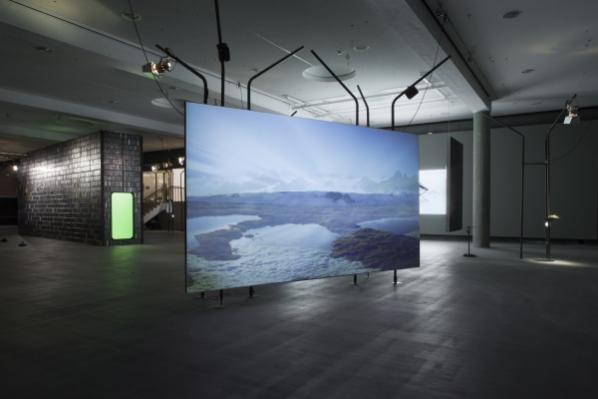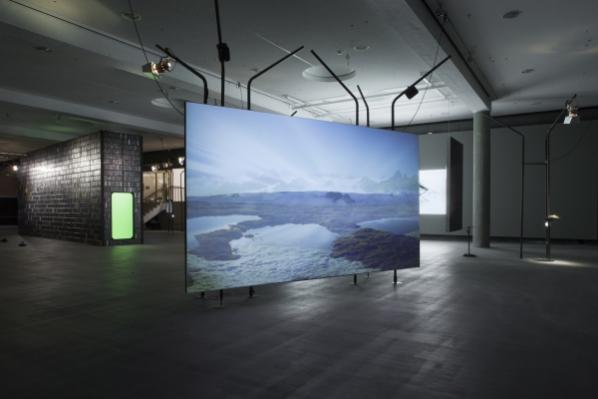 Arn's potential resolution might be to foster environments of participation and understanding, as with the inclusion of Johannes Paul Raether's Protektor.x.x. 5.5.5.1.pcp. Raether's project is a participatory narrative following the daily structures of the WorldWideWitches and tells the story of an Apple Store 'infiltration' which took place on the 9th of July 2016 in Berlin. The performance itself was part of the Cycle Music and Art Festival and was falsely depicted by the media as scandalous; the Berliner Post called it 'outrageous'. The performance featured Raether, wearing alien attire walking into the Store and allowing gallium to swim on the table. Gallium, as a substance is completely harmless substances to human beings, but if it touches aluminium the gallium liquid metal can completely dissolve the aluminium.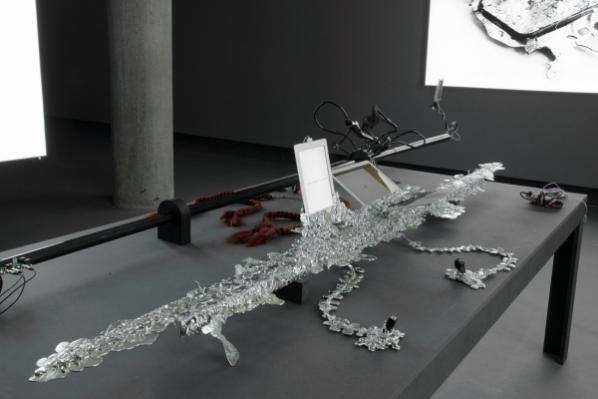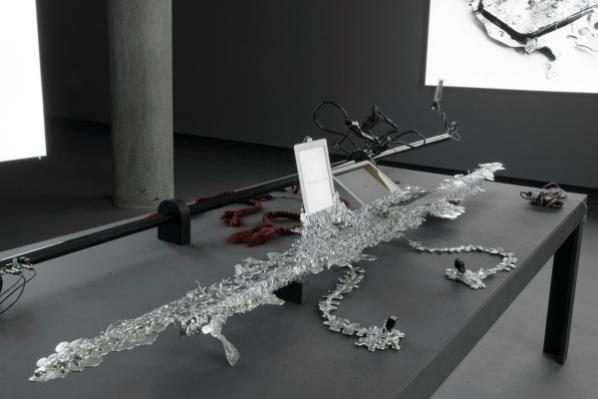 The installation is a means of communicating not only the narrative of the World Wide Witches, but to uncover the fixation that humans have with material metal objects such as iPhones. The installation itself is interactive and quite often engaged a big crowd around it, all curious to see what it was. It was placed on a table covered in a imitated form of gallium spread over cracked screens and pipes which held audio ports for the audience to listen to the WorldWideWitches story. Raether's work, much like the exhibition as a whole, is immersive, engaging and participatory.
The exhibition precisely depicts alien matter in all its various and potential manifestations. The space, with all its constant flooding of sounds, echoes and reverbations, simulates an environment whereby the works foster intimacy not only with transmediale, but also with its audience. Indeed, Arns with a beautiful touch of curation, has fruitfully brought together the work of these gifted artists fostering an environment that is as much entertaining as it is contemplative. You can read more about Arns' curatorial process and thoughts on alien matter through her recent interview with Furtherfield.
alien matter is on display until the 5th of March, in conjunction with the closing weekend of trasmediale. Don't snooze on the last chance to see it!
All images are courtesy of Luca Girardini, 2017 (CC NC-SA 4.0)
"It is highly unlikely that we, who can know, determine, and define the natural essences of all things surrounding us, which we are not, should ever be able to do the same for ourselves – this would be like jumping over our own shadows." – Hannah Arendt, The Human Condition
One & Other, part of the Zabludowicz Collection's annual Testing Ground Project, is a curatorial collaboration between MA Curating students from Chelsea College of Arts and CASS, London Metropolitan University. The show holds together works by Ed Atkins, David Blandy, Cécile B. Evans, Leo Gabin, Isa Genzken, Rashid Johnson, Tim Noble, Sue Webster, Ferhat Ozgur, Jon Rafman, Ugo Rondinone, Amalia Ulman, Ulla Von Brandenburg and Gillian Wearing.
The exhibition threads the simultaneously disturbing yet beautiful dualities between the simulated daily persona humans perform and, as Atkins' work states, 'actual' human presence – the distinction between real and the Other.
Walking into the main area of the late 19th century former Methodist Chapel, Atkins' work echoes through the two-storey building in an authoritative manner, "read my teeth, read my lips, listen, listen, you don't know how to listen".
Situated on the ground floor of the space, No one is more WORK than me (2014) appears to be a lower grade CGI avatar of Dave, a persona from Atkins' Ribbons. I will just call him Dave. Dave is glitchy, at times not synced. His desire to bring himself into the perceived physicality is overwhelming as he elaborates on causal harm features making himself more human, 'it's blood, it's blood, there's a bruise'. All the works within the space, share the same space and thus are always accompanied by the backdrop of Atkins' voice, repetitively stating 'this is my actual head' and describing the features on the figure's face. Dave's comments about his 'actual' body features shape the ambience and undertones of the show.
Shown on a flat screen placed on the floor, Dave commands the space to his will as the only video work not bearing headphones. Dave sings for us on multiple occasions, specifically performing Bryan Adam's 'Everything I Do (I Do It for You)'. At times he becomes almost irrationally frustrated with himself and the audience, tells us to do him 'a favour' and 'fuck off'. His performance – and frustration – are immersive and quite literally frame the entire show around the work's presence. Cécile B. Evans' work positioned directly opposite it, corresponds with teeth, although harmoniously to the corporeal visuals provided by Atkins' work.
Evans, now exhibiting at the Tate Liverpool, has been making outstanding work since I first came across Hyperlinks, or it didn't happen (2014) at Seventeen Gallery in London. In One & Other, her video, The Brightness (2013), involves the visual three-dimensional participation of the audience as the invigilators provide 3D-glasses. She states 'I am here because I am plastic' and 'I was real then', whilst a CGI render of pirouetting teeth is shown, dislocated from their place of origin, the mouth.
The teeth, traditionally a sign interpreted from dreams as a symbol of anxiety, are animated, dancing and may be symbolising the unease experienced when becoming something outside of what you are. Evans' work is placed within close proximity to Atkins' work, adjusting for a very comfortable relational approach to both pieces in conversation with each other as motifs of personifying the unanimated, the plastic.
Sleeping Mask (2004) is a mask of a human face made out of painted wax. Playing with notions of human disguised as human, Wearing creates a re-enactment of one of the most human physical properties, the face. Sleeping Mask was placed on a plinth, on a slightly elevated podium, with a singular spotlight shining on it like the Genie Lamp in the Cave of Wonders, thus proving that particular notion to be very effective.
Less effective, and regrettably so, one of the weaker curatorial links to the show, was the inclusion of Amalia Ulman's Excellences & Perfections – Do You Follow? (2014). As a scripted online-performance viable and lived through her Instagram account, Ulman appears to be critiquing the vanity of self-indulgent approval on social media. Through creating the persona of an overactive digital self, Ulman's work comes as no surprise when taking into consideration the wider context of the conceptualisation of One & Other. Having been featured in The Telegraph this time last year, she seems to have grabbed the attention of a more public young audience, themselves feverishly present on social media. Whilst her inclusion is not controversial at all, it more so had the teetering effect of 'oh, it's that work by Amalia Ulman'. The decision to include her in the show might be interpreted as making a statement – audience participation within this critique becomes redundant as it is vocalised through the very tool she is critiquing. Nonetheless, the surprising addition of Sue Webster and Tim Noble's work, Ghastly Arrangements (2002), made up for the aforementioned curatorial paradox.
Placed in a room of their own, the work captivates all attention in the darkness. Ghastly Arrangements is an arrangement of silk and plastic flowers in a ceramic vase with a single spotlight projecting its shadow onto the wall. The work addresses the concept of human duality without using humans as a visual medium, perhaps even addressing it more appropriately because it doesn't involve humans- it involves shadows. The Other in One & Other, is an entity by which can be projected onto, containing duality. Such is Ghastly Arrangements, as the Other assumes a signifier through the shadow as the self. An object can thus be a more powerful vehicle for thought than representation itself – another point made with Jon Rafman's choice regarding plinths.
A friend of mine once said that a good plinth signifies art with value, making it the ultimate art object. Rafman's New Age Demanded (2014) is a series of digital sculptures, scattered on tall mirror coated plinths with self-assured confidence on the wooden stage stairs in the upstairs area. Faceless representations of humans are created through quite uncanny looking textured materiality; smooth marble, dripping resin, copper patina and rough concrete. The non-faces are unidentifiable and the absence of definite characteristics moulds an audience-subjective projection of the Other self. The mirror plinth adds to the dimension of projecting oneself, the performative experience and known duality of the self in contemporary society begging the question of, 'How many people do we exist as?'
Overall, within such an overwhelmingly impressive structure housing the Zabludowicz Collection, a near-perfect group show can prove very challenging to execute. The architecture of the space, its high ceilings, stage and upper balcony, may interfere with the presentation of the art. In One & Other's case, it felt as though there was too much going on, conceptually but more importantly spatially. Rafman's immense installation would have been better suited as an isolated entity in the balcony upstairs, whilst the works of Atkins, Evans, Wearing, Webster and Noble could have also stood their own ground conceptually without any further additions. One & Other felt like it could have done with constraining itself to only one type of self-identifying duality, instead of attempting to assess multiple, and although I love the work of Rashid Johnson, it felt slightly out of place within the space; perhaps less is more.
Whilst this piece of writing is only comprised of personal highlights and observations, One & Other is a show not to be missed, and to inspire fellow young and aspiring curators.In the curatorial team for One & Other were Caterina Avataneo, Ryan Blakeley, Nadine Cordial Settele, Sofía Corrales Akerman, Gaia Giacomelli and Angela Pippo.
On until the 26th of February 2017.
All images by Tim Bowditch, courtesy of the Zabludovicz Collection.
The Delfina Foundation selected Jean-Paul Kelly to undertake a residency in winter 2015. During his residency, Kelly regularly attended the City of London Magistrate's court in Central London as a visitor. For eight weeks, he observed the routine events and procedures that took place in the courtroom. The UK's Criminal Justice Act prohibits any form of documentation within the courtroom, whether it be a sketch or a recording, and only allows illustrators to take notes, most likely in the quick and loose form of stenography.
The absence and overall restriction of documentation within a courtroom (and beyond) leads to the fairly obvious skewing of narrative events. Kelly, who works with found photographs, videos and sounds originating from documentaries, photojournalism and online media streams, realised that the particular restriction was advantageous to the concept and the production of his new work, That Ends That Matter. For him, lack of evidence or documentation of a specific event elucidates a direct relationship between physical materiality and subjective perception of each individual.
Such situations, in which evidence is lacking, fabricate image representations based on a very unreliable form of intangible reflection and recollection as both shared and personal memories. In our day and age, information is as effortlessly accessible as the Evening Standard on the Underground. However, within the courtroom, a place of supposed honesty and acknowledged transparency, the lack of documentation is paradoxical and challenges the sovereignty of such proceedings. That Ends That Matter is an eight-minute, three-channel video acting as a subjective reproduction of the events Kelly witnessed at court. One video re-enacts the court proceedings, another shows a constant photographic image stream as a retelling of the events and the remaining video acts as a visual soundtrack animation made out of geometric shapes.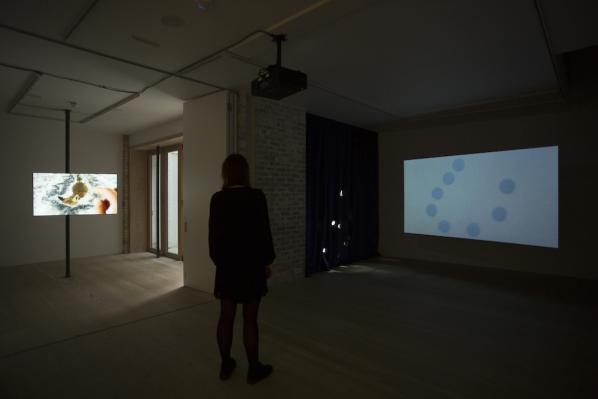 Initially walking underground into Delfina's bunker exhibition space, the viewer is confronted by the loud noise coming from the visual animation. To the left of the space, two screens are paired together – the image stream with the animation – and to the right of the space, the re-enactment stands alone. Encountering three screens, viewers may feel bewildered as to how to view the work, however, after a bit of floating, it becomes quite apparent that viewing order doesn't really matter as each visitor finds their own. Some focus solely on the paired screens, others on the lone screen, and some sit against the wall and view the two screens (image stream and re-enactment) of the two spaces from the side together.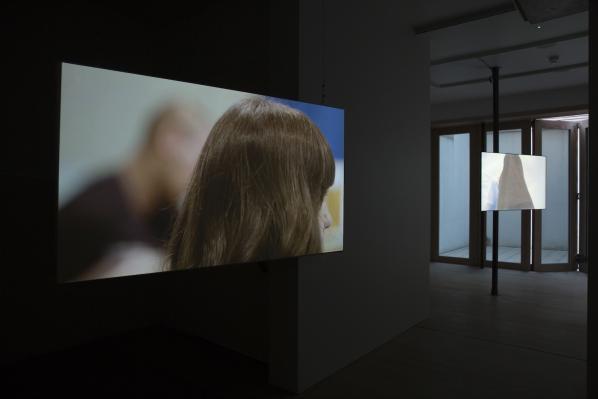 The re-enactment screen video begins, and a soothing female voice sets the tone for the three-channel video:
'Excuse me, are you appearing before us today? No? Alright, so you're here as an observer then? Okay, thank you. Welcome… Now we're going to switch on some noise so we can discuss the matters properly.'
White noise immediately becomes a means of blocking transparent communication, in turn emphasizing the notion of skewing memory and representation of factual information. The re-enactment is played around a table, whereby the actors appear to be waiting around, lingering and passing the time. Although the scene is filled with white noise, none of the participants are talking to each other and there is a particularly eerie focus on an old man who keeps caressing the table with his finger – he soon looks up at us. The environment itself is immersive; the longer the viewer stays with them and observes, the more explicitly the viewer's presence is felt by the actors. Presence is noticed and through direct and uncomfortable staring at the viewer, it is implied that the viewer's observation is not wanted. The viewer is thus inclined to move to the left space and look at the other two screens.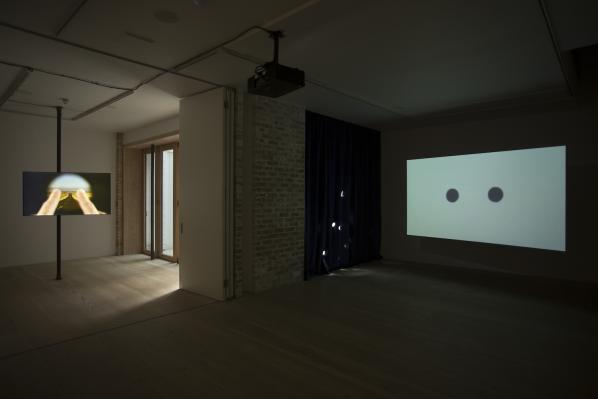 Kelly uses a series of motifs and shapes interacting with the tactility of the artist's finger or palm in order to establish image representation. When the visual animation screen shows a circle and emits noise, the image-stream presents a finger hiding a specific aspect of the photograph. When it is a square or a rectangle, it is usually a palm that hides a part of the photograph. Tactility in an immovable image stream represents an abstraction towards the idea of transparency. The artist's hands touch, caress, hide, rub, caress and thus at times become overtly sexual when corresponded with homoerotic images – the hole becomes a motif frequently expended. The motifs of tactility cover people's faces, acts of violence found in protests, and various scenes of despair. Here, tactility not only acts as a way of forming a temporal moment of surrealism, but also as a method by which one can learn how to connect to the images one sees, much like children touching things for the first time. The white noise itself, from being disturbing becomes soothing and harmonious with all three screens.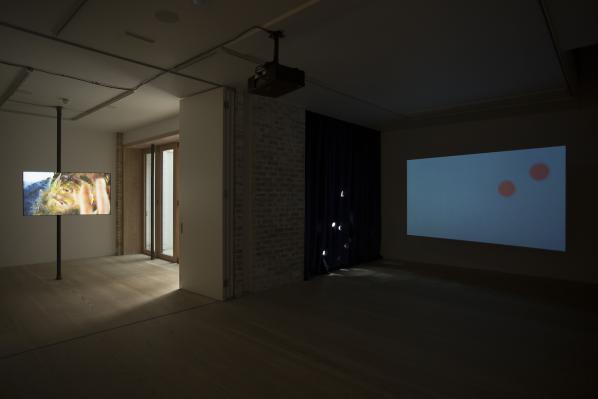 Smoke acts as another motif in images the viewer is shown. In a photograph where protesters are suffocated by teargas, the solution to the pain is pouring milk over your face, another act of blindness. Smoke becomes recurrent, and in the final frames of both the image-stream screen and the re-enactment screen, smoke presents itself with vigour. Smoke appears in the court of the re-enactment screen, and simultaneously, the sound stops altogether as the figures disappear in the haze.
That Ends That Matter's representational strategy is based solely on memory and subjectivity as its response, much like the creation of human memories. To a certain degree, Kelly's work embodies apophenia, a way of drawing connections and conclusions from sources that have no direct correlation other than their lasting perceptions – a spontaneous connection. It's about communicating signs and non-objective matter, behaving in a way that strives to avoid both nostalgia and emotionlessness in order to question indexical notions of ethics in matters of transparency. Kelly may be asking, is abstraction fairer?
All images by Tim Bowditch, courtesy of Delfina Foundation.

Two years after his death, Harun Farocki continues to maintain an archetypal role in the world of the visual arts. Many mourned for the loss of a gifted artist who was as not just a filmmaker but a critic, activist and philosopher en masse. Farocki succeeded his German New Wave filmic predecessors as his work would seamlessly and at once command hilarity, disparagement and intellect. A project-retrospective collaboration of his work was undertaken, just two years after his death, with its first part at The Institut Valencià d'Art Modern (IVAM) named 'What is at Stake', and more recently the second-part titled 'Empathy'at the Fundació Antoni Tàpies compiled of at least 8 works focusing on an analysis of labour within the framework of capitalist demands.
The title of the exhibition, 'Empathy' originates from Ancient Greek; 'εμπάθεια' is a compound of 'έν' and 'πάθος' meaning 'moved by passion'. In German, empathy translates to 'Einfühlung' and was ironically exploited by Farocki in 2008 as the title for his text and reads:
'A compound of Eindringen (to penetrate) and Mitfühlen (to sympathize). Somewhat forceful sympathy. It should be possible to empathize in such a way that is produces the effect of alienation.'
Taking into account Farocki's liking of Brechtian 'distanciation', he formulated rather quickly that to 'empathise' means to project one's own feelings, therefore infiltrating objective opinion. The notion of 'empathy' for Farocki was carefully tailored to a synthesis that gave him the patience to be simultaneaously attentive and austere towards his subjects' predicaments. As paradoxical as it may seem, empathy and distance are nurtured companions. With Farocki's interpretation of empathy in mind, I entered the dark bunker where the retrospective took place. A space usually leaking brightness from the glass roof was now transformed into an industrious zone of projections, obsolete TV sets and the mellifluous humming of those operative machines. Farocki's filmic oeuvre overflowed from devices onto white surfaces, accentuating the techno-capitalistic condition of labour operating eradically for our Western communities.
As you enter, the video-installation of Workers Leaving the Factory in Eleven Decades (2006) dominates the center. Twelve TV monitors are laid out in a horizontal line, juxtaposing chronologically the moment where the worker leaves the factory in Farocki's twelve chosen films – among them, Workers Leaving the Lumiére Factory in Lyon (1895), Deserto Rosso (1964) and Dancer in the Dark (2000). Here, the excerpts are used as a mnemonic tool as Farocki's montage gravitates around the entrance of each factory. Each scene extrapolates the repetition of entering as a rhetorical techne, an emphatic mimesis of organising and preserving power through the image of the factory and its systems of subjugation. Yet, distance and empathy are circular and procedural.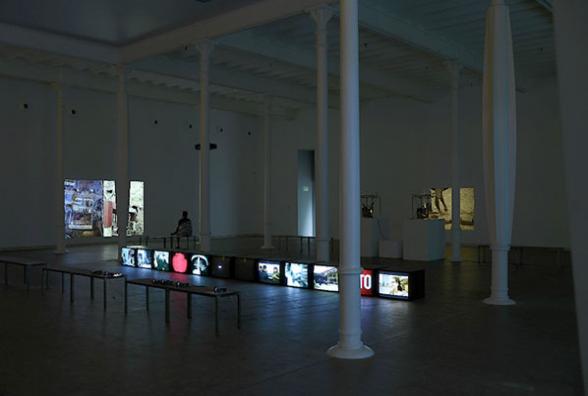 Curated to encourage a clockwise movement following the introductory piece, A New Product (2012) is being televised to the left. It commences during a mundane corporate board meeting for a consulting company violently regurgitating neoliberal logic. The goal of the meeting is to amplify competition and ascertain efficiency of their employees in the workplace by creation of a new product. Through the repetitive flipping of charts and reports, Farocki succeeds in capturing the vocabulary of rationalisation regarding their employees' assets while unfolding the dynamics of the team and its public presentation. The narrative's structure being static and unobtrusive, in conjunction with the ascetic use of the camera implies a degree of distancing from the subject. Still, the absence of Farocki's own evaluation additionally contains the capability to bolster the viewer's assessment of the situation thus achieving the artist's desired equilibrium between empathy and distancing.
There existed a sense of rituality by which the projections were transmuted from a seemingly simple and observational nature, to one which was filled with the allegory of transparency and distance. Re-pouring (2010) was an ode to Tomas Scmidt's Cycle for Water Buckets (or Bottles) from 1959. The original piece was a carefully choreographed mise-en-scene by which Scmidt poured one glass, a bottle of bucket of water into another. The act of pouring for Schmidt was one which indicated a simple and natural process of vaporisation with each pouring. Farocki had programmed machines to perform the artistic gesture for him, a re-pouring of the performative fluxus notion. A paradoxical act, since as human beings our navigational processes depend heavily on our cognitive ability, the mechanical hands were able to seamlessly perform the act of re-pouring. Farocki's hyperrealism allows him to jump to a certain scale of futurity whilst also being rigorous of scrutinizing reality. The act of programming robots to perform a ritualistic and performative task goes undoubtebly implies distancing from the artistic practice of Fluxus. The Fluxus movement was predominantly a practice governed by experimental notions of performativity which were heavily conceptual. It therefore comes into stark contrast to the idea that such act could be thought by algorithm machines as notions of 'thinking/feeling machines' in contemporary society are rudimental and dreams of a future imagination. Farocki, able to perform the task himself such as with Indistinguishable Fire, does not. He steps out, physically distances himself from undertaking the task himself but maintains his empathy to former Fluxus activities but also expressing a empathy towards machines who today perform most human labour.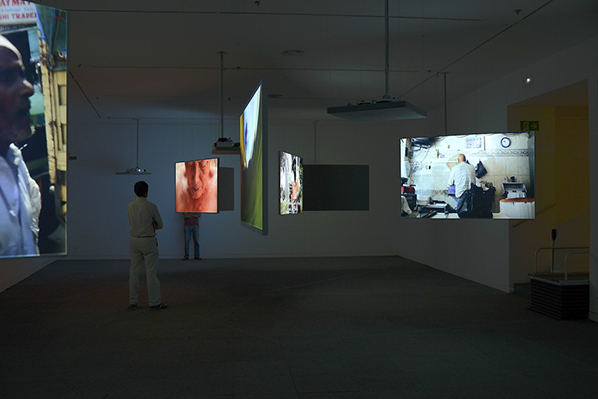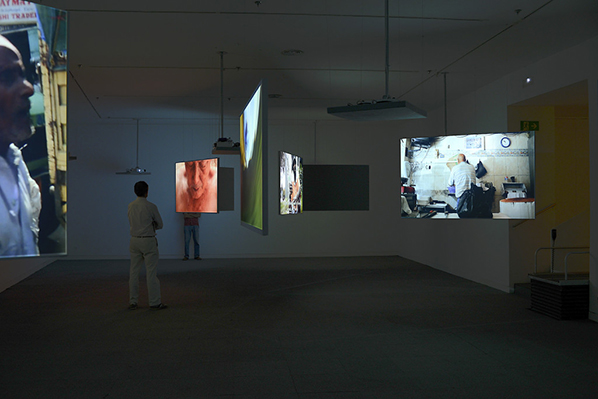 Amidst one of the spectacular accummulations of Farocki's body of work, the apogee of the retrospective would be Labour in a Single Shot, shown for the first time in Spain. The project was initiated in 2011 by Harun Farocki and Antje Ehmann, co-curator of the retrospective. Located in an entirely different bunker, the work was compiled from a series of workshops whereby a fixed camera filmed paid, unpaid, material and immaterial labour from fifteen workshop locations. Projection screens are hanged in a room, most facing eachother whilst the noise of all labour taking place floods the space. Harmonious parallels are created as sequences from butcher shops and surgeries face eachother. The repetitive looping and sequencing of labour is used as a means of distancing and signifies non-judgmental watching as an active practice of iconic power. Our lasting impression is a call-girl sucking on a lollipop explaining how her artifice encourages clients into believing the gratification she provides is sincere. Here, we understand that just as she, through sex, retains empathy and distance in unison, Farocki's empathy can thrive.
The Critical Atlas of the Internet, Louise Drulhe's latest project, is a virtual and physical exploration of the Internet space. The implications of our physical actions in 'real-time' are not only timeless in 'cyberspace', but also constitute for the making of an obscure Internet architecture every time we browse the web. The Atlas itself, functions as an enveloping notebook of Drulhe's discerning methodology in desiring to represent the geography and architecture of the 'unseen' Internet territory. Initially a graphic designer, Drulhe's practice has meticulously evolved into including cyber-spatial analysis. She yearns to understand the sociological, political and economical issues that appear online, or are exasperated by an online presence – 'a territory we spend time in without knowing its shape'. The Critical Atlas of the Internet, by being parted between fifteen different hypotheses, sheds light on matters such as the monopolisation of non-physical spaces, the possibility of encumbered networks and the potential forms of the Internet.
I had the pleasure of interviewing Drulhe, where she clarified certain distinctive matters that arise from reading or looking at the virtual form of the Atlas, online.
CS: In 2014, Google measured 200TB of data that they claim to be just an estimated 0.004% of the total vastness of the Internet. Initially, the Atlas perceives the Internet through a number of geometric shapes such as cones and spheres. Is this your approach to establishing that the Internet is an infinite space of shared connections and motion? If this is the case, do you therefore believe it is immeasurable?
LD: I will probably get back to you with a better answer to this question in a few months… I am starting an art residency in Paris at La Paillasse and I am going to study the question: "can we measure Internet?". I am curious to see what the best way to represent Internet is: to count the data or to measure the borders. I haven't started this research yet, but I will look for the best unit of measure to calculate the dimensions of Internet territory: meters? litres? percentages? data traffic? I wonder how to define the "size" of a website. If we look at Google.com, it's only one webpage, so does this mean that Google is smaller than a regular shopping website that might have thousands of pages?
With the fourth hypothesis of the Atlas, "The Geographic Relief of the Internet", I tried to represent the «size» of Internet platforms and their size is actually based on the concentration of the activities they host. The giants of the Internet try to saturate and incorporate as much territory as possible. Google (now called Alphabet) possesses Chrome, Gmail, Android, Google +, YouTube, Blogger, Google Map / Earth / Street view, Cloud, Nest, Google X… to cite but a few. Internet's giants are almost raging an online war to monopolize most of the Internet territory. I think that the next virgin land to conquer is the Internet of Things. The map of this 4th hypothesis is based on a ranking by Alexa Top 500 Global Sites. What I would like to do next, is to measure this representation.
CS: Extrapolating from your claim that the Internet is a single point at the centre of the globe, what would the repercussions if that space were to be encumbered? Can a network not be encumbered?
LD: It's true, a reticular space cannot be encumbered, I guess. Facebook.com, for instance, is getting more and more popular but the site works perfectly; you don't feel any crowded situations on Facebook. If Facebook were a physical public square and 1 billion people met there one day, the situation would be really problematic. On Facebook you never see the crowd.
In the Atlas, I quote Boris Beaude on this idea "The growth of reticular networks, unlike that of cities, increases their interaction potential without boosting their internal distances. Regardless of the network size, the distance between its respective parts is potentially non-existent. Facebook can host 800 million people without affecting its interaction capacity."[1] This is what he calls "reticular coalescence".
[1] Boris Beaude, Internet : "Changer l'espace, changer la société". 2012.
CS: You build your thesis on the hypothesis that Internet space does not require distance; that each component is of equal distance to each other, otherwise, one-click away. Whilst this grants no special status to any single person's 'search' to being more important or unimportant, aren't these 'search results' always altered depending on the search engine? For example, untracked browsers such as Tor or extensions on Chrome such as 'Hola' have the capability to displace a user from their current location and thus materialising a different order by which results appear to us.
LD: I wrote that the search engines "control Internet architecture" and "distribute the space" and because almost everyone uses Google, then we can assume that Google is the one that controls Internet space. So if you use another search engine, like "DuckDuckGo" for instance, you will access the web through a different architecture. But "Tor" and "Hola" are not search engines. "Tor" is a network that enables anonymous communication and "Hola" is a VPN.
By using a VPN, you can bypass censorship. The VPN, by changing your localisation, will give you access to another web. There are as many Internets as there are legislations. This idea is represented in the hypothesis, "A Global Object Projected at the Local Level". Internet is global but we use a national projection of the global network. If you are in China, with a VPN you will be able to browse the Romanian web for instance and you will have access to websites censored by the Chinese government. VPNs also enable anonymity but that's another aspect of it.

CS: Another one of your hypothesis places us (the users) at the centre of the Internet, therefore constructing the space around us as we move through it. Indeed, the Internet meets our individual needs, would you therefore account it more as a product – the world's only flawless consumer good?
LD: Here, I would like to draw your attention to another aspect of my research. If we look at Internet as a consumer good, then it's probably the first that actually turned consumers themselves into products! Jason Fitzpatrick, in rephrasing one of Mike Edgan statements, says "If you are not paying for it, you're not the customer; you're the product being sold". The personal data that are generated through users' browsing are the new "petrol" of the oncoming economy. And in this particular economy, we won't be the consumer anymore!
CS: In early forms of the Internet, 'cyberspaces' were decentralised. Now, as the Atlas conveys, data is concentrated within the hands of a few 'heavy players', illustrated as 'network nodes' of various weights burying themselves within the Internet's surface. Seeing as most of the 'network nodes' come from the west, would you consider the Internet to possess a particular Westphalian sovereignty?
LD: The centre of gravity of the Internet is clearly the west, but not, in my opinion, the west as a whole. The US has a dominant position for multiple reasons that I detailed in the Atlas. The Internet's centre of gravity is defined as "the weight, concentrated solely at one focal point, instead of being distributed over several different points", a focal point which is undeniably Silicon Valley.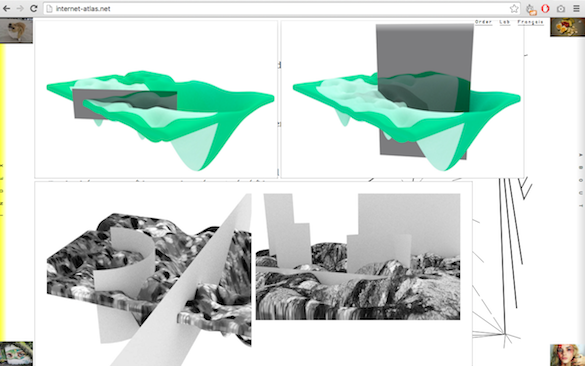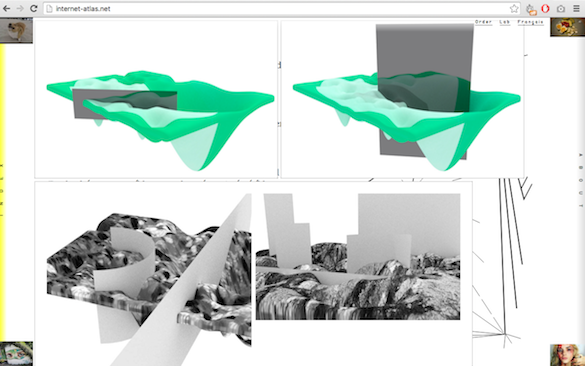 CS: I'd like to ask you about the visual representation of your online Atlas. In particular, about the rigid protrusions of space you used to convey the 'splinternet' and the humorous intrusions of Hilary Clinton and Bernie Sanders among other seemingly unplanned objects such as fried eggs. Could you comment?
LD: We often imagine the Internet as a single Cloud and a unified territory, but this is wrong. There are multiple limits or frontiers that exist online. Some of them are really clear, like the Great Firewall of China: the wall of censorship that divides the Chinese Internet from the rest of the Internet. Another obvious frontier is the limit between the deep web and the surface web. But the frontiers that interested me most were the ones that nobody seems to pay attention to. The limits defined by private networks, such as Facebook. People who have a Facebook profile never see the frontier because there are always logged in. But when you do not have the password, then Facebook is closed, even if some pages are left open to attract you. Their goal is to make you join the private network.
CS: And the unsystematic quirks?
LD: Each time the website loads, the images are automatically taken from the emblematic forum "Reddit" which is defined as being « the front page of the Internet ». Those images work as timestamps in the Atlas; you can find them at the 4 corners of the website but also on the books. The Internet is a perpetually changing space, constantly evolving. It was important for me to bring a timestamp to my Atlas. In addition, these images are symbols of the Internet culture; the Internet meme: viral images spreading through the web and overflowing onto my Atlas.
CS: I'd like to address your citing of Introduction: Rhizome by Guattari and Deleuze. They claim that 'a rhizome can be connected to anything other, and must be' and therefore does not follow the same arborescent structure of a book, or tree. However, as mentioned before, there are arborescent nodes within the Internet itself – the 'heavy players'. Do you believe this may distract multiplicity or enhance the creation of territories within the Internet? Would you also support that in the case of a rupture, where a rhizome breaks or one of the arborescent nodes fall apart, another node responds to replace as if it was always as such?
LD: Yes, that's a good comparison. I believe that the heavy players saturate and erode Internet space. This idea is supported by the fact that each company creates a personalized arborescence that is really difficult to connect to, by developing its own patterns or ecosystems; like the arborescence of a tree. In this idea they are breaking with the original shape of the network and its interoperability.
About the rupture, actually, I am not sure. I think if a node disappears on the network it will not necessarily be replaced by another node. If a web page goes offline and at the same time a Facebook page has just been created, the new node (from Facebook) does not take its place. The new node is actually created within the Facebook network. And to refer to my hypothesis about the geographic relief of the Internet, the node opens on the slope of a dominant gap.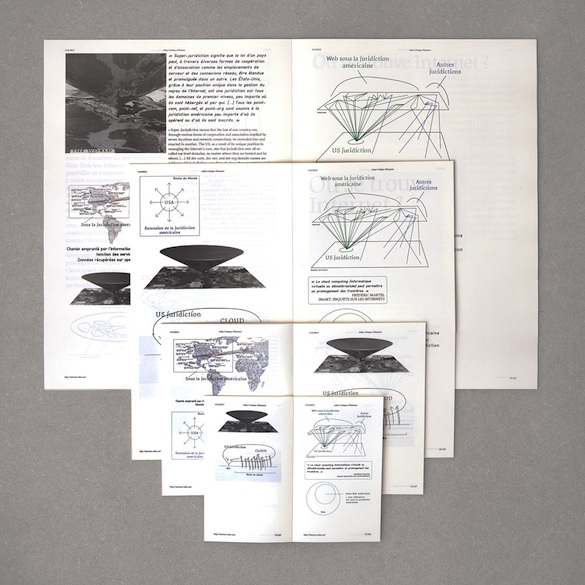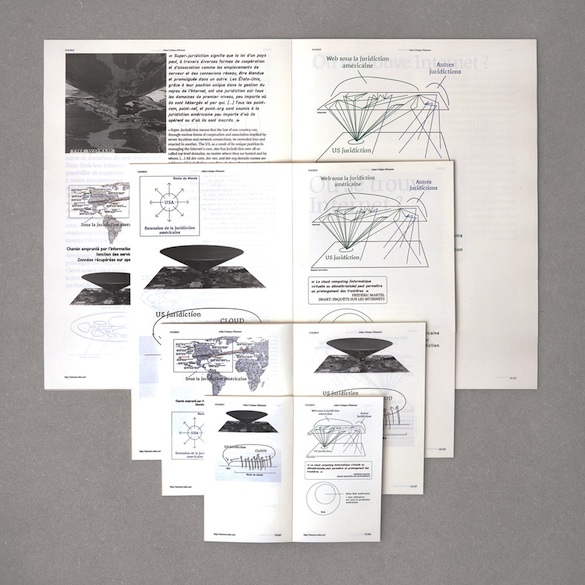 CS: As a final point, there's a particular passage from Baudrillard's Simulacra and Simulation which I find can be quite relative when considering the structure of the Internet:
"Abstraction today is no longer that of the map, the double, the mirror or the concept. Simulation is no longer that of a territory, a referential being or a substance. It is the generation by models of a real without origin or reality: a hyperreal. The territory no longer precedes the map, nor survives it. Henceforth, it is the map that precedes the territory – precession of simulacra – it is the map that engenders the territory and if we were to revive the fable today, it would be the territory whose shreds are slowly rotting across the map."
How would you interpret this if we took into consideration Internet territories?
LD: Most people do not consider Internet as a territory. This idea of cyberspace is a bit old fashioned. But, I think it is still pertinent today to study Internet as a real space.
The way we access representations of the Earth today is really magical. Google provides easy access to an extremely precise representation of the Earth through satellite images and maps… But for the territory of Internet, it's the opposite. Even if there are a few maps of the Internet, there are no basic tools to map the web. The territory still precedes the map. I would love to see what a Google street view of the Internet looks like!
As part of transmediale's opening night in Berlin, audiences were sat in front of three large screens and taken on a journey through the abstract infrastructures of the imminent 'smart city'. Liam Young, a self-proclaimed speculative architect, narrated the voyage whilst beside him, Aneek Thapar designed live sonic soundscapes complementing the performance. For Young, the smart city is a space where contemporary anxieties are not only unearthed but increasingly multiplied. The smart city manufactures users out of citizens, crafting an expanse whereby the hegemonic grip of super-production evolves into a threateningly subversive entity. According to Young, speculative architecture is one of the methods of combating the city's supremacy – moulding the networks within a smart city to facilitate our human needs within a physical realm. It is a means of becoming active agents in amending the future.
Speculative architecture as a term is relatively new, however the concept's origins date back to the 1970s Italian leftist avant-garde. Back then it was called 'Radical Architecture', a term initiated by SUPERSTUDIO's conceptual speculation regarding the structures of architecture. SUPERSTUDIO's methods were transcendental as they favoured the superiority of mental construction over the estranged act of building. The founders of the group, Adolfo Natalini and Cristiano Toraldo di Francia, acknowledged modernist architecture as reductive to man's ability of living a free life since its core foundations were built on putative methods of indoctrinating society into a pointless culture of consumption. The development of The Continuous Monument was a declaration to end all monuments since the structure itself was designed to cover the expanse of the world. Its function was to form 'a single continuous environment of the world that would remain unchanged by technology, culture and other forms of imperialism' as stated by SUPERSTUDIO itself. A function sufficiently egalitarian, and in some respects utopic, The Continuous Monument, much like Tatlin's Third International in the 1920s, was never intended to be built, but instead to uncover the notion of total possibility and arbitrariness. Likewise, Young's performative smart city does not purpose itself around applicable techniques of construction – it creates scenarios of possibility exploring the autonomous infrastructures that lie between the premeditated present and the predicted future. Hello City! intends to transpire the idea that computation, networks and the anomalies that surround them are no longer a finite set of instructions, but instead constitute an original approach to exploring and facilitating speculative thought through imagined urban fictions.
Liam Young's real-time cinematic narration cruises us like a 'driverless vessel' through the smart city beyond the physical spectrum. The smart city becomes an omnipresent regulator of our existence, as it feeds on the data we wilfully relinquish. Our digital footprint re-routes the city, traversing us into what Young calls 'human machines of the algorithm'. His narrative positions human beings as 'machines of post-human production' within what he names a 'DELTA City'. As an envisioned dystopia which creates perversions between the past, present and future, Hello City! is reminiscent of Kurt Vonnegut's post-modern narrative in Cat's Cradle. San Lorenzo, the setting for Vonnegut's book, is on the brink of an apocalypse – the people's only conjectural saviour would be their deluded but devoted faith to 'Bokononism', a superficial religion created to make life bearable for the island's ill-fated inhabitants. Moreover, the substance 'Ice-9', a technological advancement, is exploited far from its original purpose of military use, leading to looming disaster. Both Bokononism and the existence of Ice-9 resonate Young's narrative as they explore the submissive loss of free will and the consequences of allowing the future to be dictated by uncontainable entities. In Hello City! the metropolis becomes despotic and even more complex as it is designed by algorithms feeding on information instead of the endurances and sensitivities of the human body.
Like software constructed by networks, the future landscape will be a convoluted labyrinth for physical beings. Motion within the city will be ordained by a form of digital dérive structured by self-regulated and sovereign systems. Young's video navigates us through blueprint structures simulating the connections within networks thus proclaiming the voyage as unbridled by our own corporal bodies. The body is no longer dominant. He introduces us to Lena, the world's first facial recognition image, originally a cover from a 1972 Playboy magazine. Furthermore, he makes references to Internet sensation Hatsune Miku as a 'digital ghost in the smart city' whilst the three screens project and repeat the phrase 'to keep everybody smiling' ten times. We may speculate that for Young, the smart city has the potential to function like Alpha 60, a sentient computer system in Godard's film Alphaville, controlling emotions, desires and actions of the inhabitants in the 'Outlands'. As Young dictates 'the City, looks down on the Earth' – it becomes a geological tool and engages the speculative architect to remain relevant within the ever-changing landscape of that space.
In a preceding interview, Young refers to the speculative architect as a 'curator', 'editor' and 'urban strategist' attempting to decentralise power structures from conventional and conformist architectural thought. In 2014, Young's think tank 'Tomorrow's Thoughts Today' envisaged and undertook a project titled New City. New City is a series of photorealistic animated shorts featuring the cities of tomorrow; one is The City in the Sea, another is Keeping Up Appearances and the last is Edgelands. Too often, these works are projected and interpreted with the foreseeable frowning of rising consumerism concurrent with the dissolute development of technological super structures. Without a doubt, the supposition that technology is alienating us from our identities as citizens of a city is undeniable and exhaustively linked to the creation of super consumers and social media. Nonetheless, New Cities is more than just about that – comparable to the architectural intrusions of SUPERSTUDIO, the narrative of Cat's Cradle and Alphaville,New City underlines the impending subsequent loss of human liberty with the advent emergence of the smart city whilst Hello City! injects the audience in within it.
Young's notion of the smart city is consolidated within a Post-Anthropocene existence. Without any dispute, our world will inevitably divulge a post-anthropocene reality, but until that critical moment arrives, acts of speculation, such as speculative architecture, only exist within the hypothesis of potentiality. In fact, throughout Hello City! speculation cannot be positioned as either a positive or negative entity – it appears to lie within a neutral area of hybridity and experimentation. The narrative of Hello City! is purely speculative and thus exceedingly experimental. Like much of SUPERSTUDIO's existence, antithetical notions of egalitarianism and cynicism run throughout Hello City! triggering perpetual seclusion of the audience's contemplations. Conflicting positions reveal an ambivalence resulting to escalated concerns towards the act of execution. Speculative architecture itself is a purely narrative process designed on a fictitious future that is not formulated and so the eternal battle between theory and practice will always occur. Uncertainties raise an issue of pragmatism and whether speculation, evidently in architecture, is commendable. Seeing as speculation for the future is, in its most basic form, an act of research, it is regarded as the most pragmatic practise when taking into consideration any future endeavours. As the performance draws to an end, Young declares that 'In the future everything will be smart, connected and made all better' and then indicates towards the contradicting existence of Detroit subcultures that the future map will be unable to locate. A message loaded with properties that are paradoxical and thus ambiguous in their intent, Hello City! occupies itself with inner contradictions that only create the possibility for plural futures, a functional commons for the infrastructure of tomorrow.
What Hope Looks Like After Hope (On Constructive Alienation) is an exhibition conceived by Alexandrian curator Bassam El Baroni as part of Ashkal Alwan's international cultural forum, Home Works 7. Run by the Lebanese Association for Plastic Arts, Ashkal Alwan is a non-profit organization based in Beirut, Lebanon. The exhibition opened on November 12th and ran until the 10th of December 2015. Drawing from philosophical concepts revolving around the drowning of the contemporary human consciousness and free will, the show is an elaborate discussion of how we are coping with the decline of a future that used to be in our hands. Bassam El Baroni in union with the artists involved raise questions as to how we can mediate and engage with solutions for creating (or disintegrating) prospects of a more 'hopeful' future.
The omnipresence of our reliance on technology echoes throughout the large space with the persistent humming of numerous projectors utilised in the exhibition. A correlation is directly created between the open space and the idea of alienation, as the reverberating sound becomes the only contributing factor that disrupts the isolation of each work. What used to be an old furniture factory building was the host for considerations regarding the repercussions of the current world's most celebrated yet paradoxical phenomena. Perceptions of technology are relentlessly conflicting as there is an inherent drive advocating that we may either perceive the phenomena as good or bad. However, it must be understood that technology cannot be subtracted from human social, political or economic life; today, the two coexist. What Hope Looks Like After Hope (On Constructive Alienation) is divided into sections that are devoted to facilitating each artist's work and touching upon these separate ideas.
Curated to represent a hotel room, Leonardo Cremonini's digitally reproduced paintings are coupled with Yuri Pattison's video 1014 listed in the exhibition guide as "shot in Edward Snowden's hotel room hideout". In the format of a hotel room, the piece also involved a bed and two nightstands with lamps, along with Pattinson's 1014 being looped on a large TV monitor opposite the installed bed. Hotel rooms are standardised, fixed and homogenous in every single way. Cremonini's paintings are reproductions both in terms of their digital print format and in the context of the general hotel room, where each room has replicated decors. Considering the idea of standardisation, Pattinson's video appears to be the inception of a paradox as the space is curated to represent a hotel room, whilst a video about a hotel room plays in the background – but this is not any hotel room, it is Edward Snowden's hotel room.
Snowden's outing of the NSA's and Five Eyes' global surveillance programs to the popular media was readily perceived as a public civil act as it revealed a huge breach of privacy for citizens worldwide. Closely linked to ideas of ubiquitous surveillance versus freedom and civic liberty, Pattinson's video utters phrases such as 'I am only just me, I am a passer-by', 'Life is so arduous' and 'I am too tired to love'. The camera pans throughout the room to expose translucent glass spaces whilst untagged maps are being graphed when the camera pans to the city-landscape outside the window. Pattinson's video is a survey of a hotel room, metaphorically standing for transitory spaces that can lead to a certain, self-perpetuated superficiality. We are consumers of desires, trapped within the hotel room metaphor.
Desire is an element in need of a risk assessment, and according to Nelmarie du Preez, such a risk assessment can be measured through a set of computerised algorithms. Two performances are displayed on two screens facing each other, du Preez's to stab and to rely, from her 'Loops of Relation' series – both jesting with risk. Thoroughly reminiscent of Abramović's and Ulay's The Other: Rest Energy, du Preez positions herself in a certain degree of danger. to rely features du Preez facing a machine with an extended bow and arrow as she holds the tip of the arrow. to stab features du Preez sitting on a table with her hand stretched as a programmed machine repeatedly performs a five finger fillet (FFF); a popular knife-game embedded into American culture as a popular pastime as featured in the movie Aliens where Sigourney Weaver realises that the character Bishop meticulously performing the FFF is an android. Comparable to Aliens and Rest Energy's notion of unveiling the full potentiality of the body's endurance and trust over emotions and nerves, du Preez's reliance on the machine is inherently vital.
She is performing a trust exercise with her programmed piece of technology and promoting a delicate balance between trust and danger. However, the problem in her actions innately exists when considering the core of the AI's function; a machine does not possess the same sentiments as Ulay did towards Abramovic. A machine owes no responsibility or emotion towards du Preez, and in some sense, the roles have been flipped. Where du Preez is the possessor and programmer of this machine, she is now inflicting herself as the target. She relinquishes herself as the master, challenging the notion of possessing selfhood and allowing her own free will to be diminished. The metaphor of the bow and arrow pits du Preez and the machine as equals; the tension represents the idea that both entities are needed in order for the piece to have significance. Simultaneously, the interplay between du Preez and the machine uncovers a subtle warning of our insentient confidence towards the inescapable technology; du Preez can only stop herself from being in danger if she pulls the plug.
In very close proximity to du Preez's work and upholding the same ideals of technology contributing to human activities is Salemy's The Artist is Hyperpresent. The work is a three-headed screen structure overrun by the artist's own personal social media feeds. Of course, the immediate reaction of any millennial would be to attempt a 'scroll down' function on the screens only to be disappointed that the machine did not respond to the command. The Artist is Hyperpresent is an undeviating allegory of the structure wanting a 'digital life'.
On the other hand, Katia Barrett's Limiting Metaphors, Enabling Constraint is an interesting take on the self through what appears to be an interrogation or courtroom procedure of a crime. Two large projector screens hang in the middle of the room whilst switching between them, introducing an individual of uncertain sex with blonde hair. The over-the shoulder shot is utilised evidently in preserving the mystery of the individual and the case itself. Someone asks 'Why are you following me?' whilst it sounds as though the conversation is happening from the other side of a glass window. Several retorts such as 'I don't think he was the victim here' and 'I'm the last person, you don't know how I feel' are followed by more questions such as 'Who is watching you?'
The protagonist cannot address the questions because there is a certain degree of perplexity surrounding not only the timing of the event, but also the very core of what took place. The video becomes an act of displacement, as there is ambivalent confusion in the idea of the self being mingled with objects separate from the body. The character's present environment, sitting in a dark empty room, is ambiguous and in this way begins to evoke Andy Clark's idea of 'active externalism'.
Clark is a neuro-philosopher whose concept of active externalism is described in the exhibition guide as 'a description of subjectivity in which he renders the active role of the environment in driving cognitive processes'. For Clark, ways of perceiving ourselves and those around us are increasingly experiential and dependent on our environment – a notion that extends to Thomas Metzinger's metaphor of the 'ego-tunnel,' which in Metzinger's book, The Ego Tunnel: The Science of the Mind and the Myth of the Self, refers to the experience of our own consciousness. He states that 'conscious experience is like a tunnel' and that 'the content of our conscious experience is not only an internal construct but also an extremely selective way of representing information'. If in any case Metzinger's claims that our 'sensory organs are limited' and that we are 'unable to experience and introspectively recognise our self-models as models' are even remotely true, then Barrett's work closely relates. It raises questions of how we experience society – is it a conscious exertion or is it partly constructed by our surroundings? It is more commonly believed that we are solely responsible for constituting the meaning of things, but what if we're not? What if we are limited beings? What if this finitude is a ramification of our unaware reliance on several advancements that were at their pinnacle within our lifetime?
Walid Sadek also explores this thought in his piece The Conversion of St. Paul. The installation is placed in two separate but identical square rooms at very close proximity to each other. Each room is fitted with an overhead projector displaying the inside of a VHS tape. Between the two rooms is a narrow corridor opening up to a larger but empty peripheral area. By standing between these two rooms and focusing your vision straight ahead, an entirely new image forms in the void ahead. In the exhibition guide, Sadek explains that 'what could allow for the making of an openness in which living is possible even without the promise of a coming eruptive event'. In this sense, the act of looking straight ahead onto the devised new image can be perceived as looking into or towards the future. By creating an allegory of the 'image-encounter' (or visual illusion), he allows our mind to utilise aspects from two environments and claims the result as a speculative future and existence.
Speculative existence is also examined in Matthew Poole's collaboration with Bassam El Baroni titled Société Phantome – two separate projections on the wall presenting what could be the commandments of the 'new' world. The poem itself is suggestive of explosive and fiery liturgy sung in religious hymns. It retorts phrases such as 'We cannot decline' 'Our walls are without fervour. Our doors are without zeal', and resonates Guy Debord's Society of the Spectacle both in execution and impression. Just as the Society of the Spectacle frames itself as the manifesto of the Situationist movement in the 1960s, perhaps Société Phantome can be in this light too.
Debord's Society of the Spectacle focuses on the 'negation of life' due to the 'loss of quality' because of the instant commodification that occurred during the rise of mass media. In this context, we may associate an evolved spectacle that has arisen from our passive unification with technology. Debord's claims such as 'Everything that was directly lived has receded into a representation', and 'The images detached from every aspect of life merge into a common stream in which the unity of life can no longer be recovered' are intrinsically concurrent with the alleged futility by which the human dwells in the face of an ever rising technological contemporary society.
Amanda Beech's Covenant Transport, Move or Die, vocalises a different dimension to What Hope Looks Like After Hope (On Constructive Alienation) – the abstract socio-politics of post-capitalist culture. Beech's room was curated distinctly with bright green walls, two benches, fitted carpet and two screens; one facing you as you walk in and one to the left of the room. The video is the loudest in the entire exhibition and perhaps the most extravagant of all as it interplays with the concept of the 'green-room' where images are being superficially created. The video spits words such as 'EFFICIENT', 'EFFECTIVE', 'VOTE', 'REPORT' and titling the excerpts from the front screen as: 'Round 1', 'Round 2'). Covenant Transport, Move or Die comments on the 'psyche of Capitalism' as the video's intentionally unpolished feel adds a new rawness and immediacy to the exhibition's concept, touching upon the politics of Accelerationism. If Debord's Society of the Spectacle was the founding awareness of socio-capitalist consequence, then 'Accelerationism' is the current age's pinnacle of consciousness. It comes as no surprise that Debord's views are being progressed into a condition far more intricate as we 'accelerate' through our daily lives.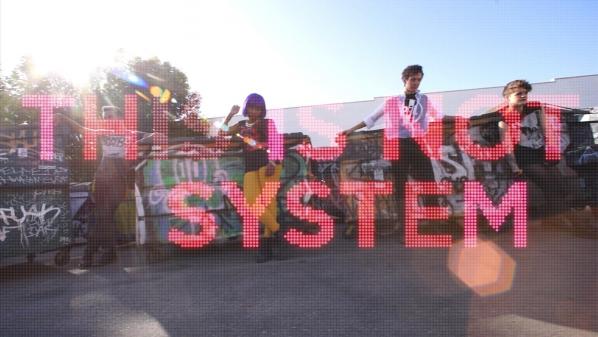 Accelerationism is defined in the book #accelerate, as 'a political heresy: the insistence that the only radical political response to capitalism is not to protest, disrupt or critique, nor await its demise at the hands of its own contradictions, but to accelerate its uprooting, alienating, decoding, abstractive tendencies'. There are two potential paths to consider when taking into account our current world state (economically, socially, politically etc.). One path would be to embrace the fear of becoming a world of a politique du pire, expecting and expending the worst, and as a result relinquishing all hope. The second path would be to simply hope that capitalism would subside (or die, preferably) of its own internal contradictions. Nevertheless, neither of these choices undertaken, by left-wing or right-wing variants of Accelerationism, are perceived as helpful or realistic in combatting the situation. To the contrary, there must be a future-orientated realist philosophy as 'extremist caricatures obstruct the consideration of a diverse set of ideas united in the claim of truly progressive political thought'. We are not at the end of the 'world' (as we know it) but at the very beginning of an interesting political experiment that is not as bleak as it appears. Such optimism was found during Patricia Reed's lecture titled 'Synthesis and Constructive Alienation', as part of a lecture-series facilitated by Bassam El Baroni to complement the exhibition.
Reed's lecture makes claims for our 'social plasticity' and 'the need for constant redefinition in light of changing contexts' revolving around 'fanaticizing our downfall'. Her assertions opened up a considerably fiery debate at the end of her lecture as she questioned the notion of 'inexistence' as a non-being who plays no part in the reasoning of a system. Conclusively, her lecture ruptured the so-called Accelerationist dispute between idealism and realism whilst simultaneously uncovering the inconspicuous anomaly of attempting to guarantee the future when human nature is increasingly malleable.
Furthermore, Reed's piece Volatile Prophecies was, I personally believe, the most captivating and meditative piece in the show. Placed in the furthest left corner of the exhibition space, Volatile Prophecies was displayed on a giant screen, showing an infinite amount of computer rendered and programmed floating coins moving through the screen in various directions and currents with a soundtrack intentionally (or unintentionally) following the flow of the coins.
The video-installation is described as pinpointing the economy 'as a global architecture of human relations'. According to an excerpt from the exhibition guide, 'financial engineers are our contemporary soothsayers and Volatile Prophesies is deploying some of their techniques'. Structures created by these 'financial engineers' have the possibility to allow or disallow limitless opportunities of relation, of function, and of structure therefore making them volatile. Floating exists when space becomes abstract, and where space is abstract, time could also be considered as abstract. As a result, the piece appears to be rejecting a harmony to a linear structure of economy and social relations.
Parallel aesthetics can be found in Hisham Awad's commissioned video named Untitled whose mise-en-scène is prodigious. Awad combines the archetype of Delleuze's 'time-image' and applies it to an allegorical narrative. Tackling techniques such a 'slippage' and methods of diegetic and non-diegetic sound, his use of particles applied over a post-produced image, invites the viewer to receive it as a form of film essay, stated to be 'thinking with and against Deleuze'. Awad's inclusion in What Hope Looks Like After Hope (On Constructive Alienation) is an interesting addition. Through connecting the 'Deleuzian' thought to modalities of motivation and logic, Awad may be reconstructing the impulse of freedom, undeniably connected to the tussling against unrealistic expectations of our current socio-political (non) human condition.
Drawing from these unrealistic expectations, Martti Kalliala's Exostead installation unearths a vital disparity between 'idealistic' and 'utopian'. Exostead is an installation of constructed aluminium steps with various de-potted plants scattered and broken throughout all levels. It seems to take the shape of an island, or a sovereign 'seastead'. The concept of a 'seasted' hopes to form a utopian civilisation drifting in solitude and untouched at sea. However, Kalliala's Exostead does not seem to be advocating for a utopian state, but rather for the possibility of one if time and human beings were free from their surroundings.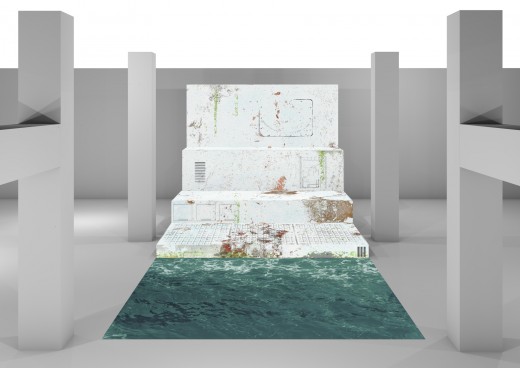 'Exo' is Greek for 'outside' or 'out of' implying that the 'seastead' is a way to 'get out', but towards and away from what? Instead, should we not be problematized by the seasted and its unmediated future in solitude and sovereignty? Would such a place not be promoting or accelerating the problems faced by contemporary society if it happened to be inhabited by the wrong type of people? Where does the hope of a seastead begin to be probable and where would it end?
What Hopes Looks Like After Hope (On Constructive Alienation) tends to the elusiveness of a concept such as 'hope' as a kind of sine qua non in a world where human desires, actions and thoughts are passively governed by cognitive capitalism. (Constructive Alienation) as stated in the title's parenthesis, finds itself in the anticipatory readiness of desiring to predict the future, not because it is precarious, but because it needs mending to a certain degree. In an age where post-capitalist economic and social organising is at its most glorious foothold, Bassam El Baroni indexes the finitude of the human condition. Yet, we could be in the middle of capitalism, instead of in a state of post-capitalism, and if it is as such, our anxieties for the future will only intensify. As a result, the exhibition does not supply the answers to hope. What it does provide however are the potential outcomes of the imminent contingency enveloping itself in front of our eyes, only to raise more questions as you exit the space.
All photos are courtesy of Bilal Jawiche.
(Brian William Rogers and Yasmine Dubois Ziai were also featured on the opening night however I was absent for their performance.)