An exhibition of works born of cooperation and knowledge exchange between Turkish, Greek, Serbian and British artists seeking translocal solidarity in a hyper-connected world.
SEE IMAGES FROM THE PRIVATE VIEW
EXHIBITION TEMPORARILY SUSPENDED
Due to universal restrictions from the COVID-19 pandemic, Furtherfield Gallery is currently closed until further notice for the safety of staff and visitors. Please contact us at info@furtherfield.org if you need any information or assistance. Thank you for your understanding and patience. Stay safe.
TransLocal Cooperation exhibition, Connect for Creativity from Furtherfield on Vimeo.
What is TransLocal Cooperation?
As our world has become hyper-connected it has enabled us to simultaneously occupy or travel through numerous physical and virtual locations. A result of this is that we increasingly each identify with more than one place or culture. This social and cultural aspect of globalisation is often described in terms of 'translocality', where the events, conditions, and attachments of one location can rapidly influence and connect with another.
This exhibition and the works within it consider how we might organise for care across distances and differences with and for our translocal communities. It features a selection of artworks from those created by Turkish, Greek, Serbian and British artists during art and technology residences at the creative hubs ATÖLYE in Turkey, Bios in Greece, and Nova Iskra in Serbia. These artworks ask how we might celebrate plural identities and their creative expressions while opening up and sharing these new connections for greater cooperation and empathy.
Selected by our team of translocal Turkish, Greek, Serbian and British curators, the artworks in this exhibition employ a variety of media and technologies, from VR and 3D printing, to probiotic fermentation and ethnographic documentation. The artists visualise the challenges of peoples, cultures, and ideas, displaced over space and time, and explore how to re-evaluate and reconceive them for translocal solidarity and knowledge exchange in a rapidly changing world.
Crossing between the here and now, the there and then, between the flooding and ongoing displacement of people in Hasankeyf in Turkey to the displacement of citizens through evictions in Belgrade, Serbia, the artists use this occasion to examine the effects of globalisation on specific localities, but most significantly, to highlight how local concerns can inform, respond and interconnect across borders and cultures.
Connect for Creativity
Connect for Creativity is an 18-month project led by the British Council, in collaboration with ATÖLYE and Abdullah Gül University in Turkey, Bios in Greece and Nova Iskra in Serbia. The project is part of the Intercultural Dialogue Programme that is led by the Yunus Emre Institute and is co-funded by the European Union and the Republic of Turkey. The project aims to form a network of creative hubs across Europe to foster creative exploration and collaboration that contributes to building a more cohesive, open and connected civil society.
Connect for Creativity's Art and Technology Residency Programme brought together artists from Greece, Serbia, Turkey and the UK with a focus on the intercultural collaborative experience. Held simultaneously in Athens, Belgrade, and Istanbul, the residency hosted four artists in each city for a total of 12 participants in the programme. Throughout the immersive six-week programme, participants explored how a networked culture can develop cohesion to deal with the uncertainty and change that pervades modern life.
Exhibition Location
The artworks are presented at Furtherfield Gallery in the heart of Finsbury Park. An urban green space used by roughly 55,000 people per week, Finsbury Park sits at the borders of three London boroughs in a neighbourhood described as 'superdiverse' for the nearly 200 languages spoken locally by large migrant communities. In particular, the area is home to the UK's largest Turkish and Greek communities and sits adjacent to the UK's largest Serbian community in West London.
Artworks
An Open Newspaper (You can't evict a movement) by Theo Prodromidis in collaboration with Theodoros Karyotis, Tonia Katerini, Stathis Mitropoulos, Nemanja Pantović and Ana Vilenica
Addressing the processes that led to a surge of housing evictions in Serbia, this work connects to the Greek context where the legal framework for the protection of primary housing is planned to "expire" in April 2020. This collectively produced printed work acts as a vehicle of information about struggles in an ever-increasing global housing crisis.
Download and distribute your own copies now
Probiotic Rituals by Ioana Man
Cities are complex ecosystems and human existence within them depends on layered relations of care. Probiotic Rituals sets out to establish new customs for a more-than-human life in the city. Scaled up microbes, an AR interface, a website and a series of rituals, bring the human observer on par with the buzz of the biosphere and show society's dependence on microscopic life. Multi-species rituals and imagery develop a process to improve cohabitation with the smaller elements of life in the city.
Selfmaking: Layers of Becoming With by Yağmur Uyanık
A 3D printed sandstone sculpture of a hybrid character created by fusing the digital models of two 'original' sculptures at the British Museum of: Alexander III of Macedon (commonly known as Alexander the Great); and Pericles of ancient Greek. Selfmaking combines sound and sculpture highlighting how creation, circulation and preservation of cultural information underlies geographical contexts, patterns of displacement, and statelessness. It reflects on how individual narrative and collective memory are shaped through cultural property, cultural currency, and their inherent symbolic meanings.
Stream of Consciousness / The Caves of Hasankeyf by Emmy Bacharach
In the form of a virtual reality experience, this work draws attention to the local and translocal significance of Hasankeyf, an ancient city in south-eastern Turkey whose existence is endangered by the Ilisu Dam project – which will cause the water levels of the Tigris river to rise and flood the town. It represents Hasankeyf using photogrammetry and visual material collected from the site, giving people a glimpse into the unique environment of the caves, many of which will shortly be flooded. Experienced from the point of view of the water, the viewer is present as the caves are gradually submerged, an experience that resonates with the trauma of a displaced local population.
Set In Stone by Tamara Kametani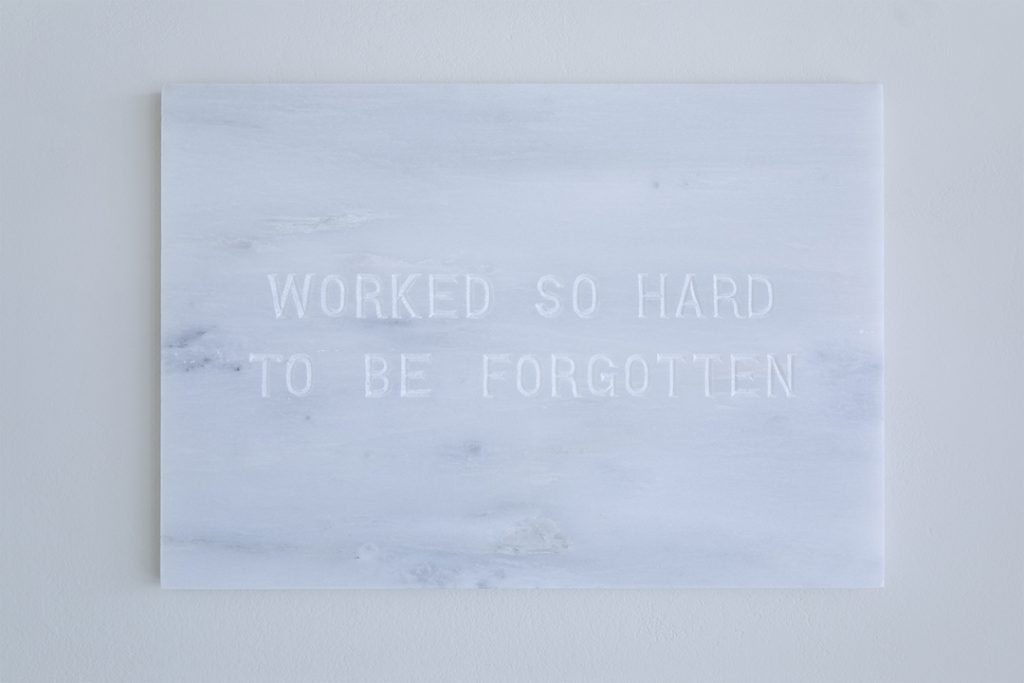 As part of GDPR (The General Data Protection Regulation of the European Union) 'the right to be forgotten' means a person can have negative information about themselves removed from search listings under certain arguable instances. Set In Stone therefore forms a poetic meditation on the effect of materials on often immaterial-seeming aspects of translocal cultures. While debates rage about legitimate uses and abuses of both privacy and freedom of speech online, this work presents phrases about the life of data etched by hand onto Athenian marble, to provoke a historic reflection on or even memorialisation of the consequences of actions on and offline.
Four stops to Kurtuluş by Georgios Makkas
This multichannel video explores the neighbourhood of Kurtuluş which has historically been known as 'little Athens' ( Küçük Atina in Turkish) thanks to a Greek population of over 20,000 people. Today this cosmopolitan neighborhood is home to Turkish, Greek, Armenian, Kurdish, and Jewish communities, while the historic Greek influence and population continue to dwindle. Centered around interviews with the Greek (Rum) people still living in the area, Makkas's work seeks to preserve the memory of the 'old Kurtuluş', seizing a chance to document something that is about to disappear forever.
Curators
Ruth Catlow, Lina Džuverović, Diana Georgiou, Huma Kabakcı
Exhibition Partners

Furtherfield is London's longest running art and technology (de)centre. With more than 20 years experience, through 50+ exhibitions, and over 100 international partnerships, they have developed a specialism in alternative systems of organisation and co-creation. Their work has been featured by the BBC, the Guardian, the New Scientist, Wired, the Art Newspaper and Hyperallergic. Highlighted on the Piccadilly Tube Line map of key destinations alongside Buckingham Palace, Furtherfield Gallery is in the Borough of Haringey – the UK's local authority with the highest levels of income inequality. They strive to produce work that gives people a shared sense of ownership of their lives and localities.
The British Council is the UK's international organisation for cultural relations and educational opportunities. They work with over 100 countries in the fields of arts and culture, English language, education and civil society. Last year, they reached over 65 million people directly and 731 million people overall including online, broadcasts and publications. They make a positive contribution to the countries we work with – changing lives by creating opportunities, building connections and engendering trust. Founded in 1934, they are a UK charity governed by Royal Charter and a UK public body. They receive 15 percent core funding grant from the UK government. https://www.britishcouncil.org.tr
ATÖLYE is a 21st-century creative organization with an award-winning Strategic Design Studio that is nested within a creative hub. A is a member of the European Creative Hubs Network and is represented in the Steering Committee. ATÖLYE is also part of the kyu Collective, a collective of strategically curated creative businesses whose purpose is to be a source of creativity which propels economies and societies forward. ATÖLYE's work encompasses all facets of creative consulting including strategy, design, architecture, and technology. It provides these services through a unique modern network of practitioners. https://atolye.io/en/home/
Bios is the independent cultural organisation of Athens that promotes the arts, new media, young creatives and new entrepreneurship since 2002. Bios supports the innovative creative force of Athens, creates interdisciplinary common space for the arts and science, for social and entrepreneurial life and it influences and contributes in the shaping of the cultural identity of Athens. http://www.romantso.gr
Nova Iskra is a pioneering creative hub in the Balkans. Nova Iskra is created with the idea to incite tangible connections between creative industries, technology, and the people, with the goal to support critical thinking, nurture ideas, design organizations and develop businesses that are future-proof, while remaining sensible to the ever-changing present. https://novaiskra.com/en/
Abdullah Gül University was founded by the Kayseri City Council and other city notables in 2007. The aim was to raise the profile of education in Kayseri in line with the city's own vision of its development. The University was named after the 11th president of the Turkish Republic, Abdullah Gül, who has accepted this honor, for the university is being dedicated to the quest to become a distinguished high-quality university in Turkey and be able to compete with international institutions. The university was formally founded on 21 July 2010 as Turkey's first foundation-supported State University. AGU admitted its first students in 2013 – 2014 Academic Year. Education is being conducted at the site of Turkey's first industrial complex, which is being transformed from a place of great historical significance to be a notable place of education. http://www.agu.edu.tr/
CFCU was established following the decision of the Helsinki Summit of the European Council on 10-11 December 1999 to accept Turkey as a candidate country. The main Framework of Turkey-EU financial cooperation has changed and EU financial assistance was directed towards the pre-accession goals and ultimately full membership. This change led Turkey to establish a 'Decentralised Implementation System (DIS)' under which the CFCU is also operating. The CFCU, as the Implementing Agency, is responsible for the overall budgeting, tendering, contracting, payments, accounting and financial reporting aspects of all procurement of services, supplies, works, and grants in the context of EU funded programmes. Under the responsibility of a 'Programme Authorising Officer (PAO)', the CFCU ensures that the EU rules, regulations and procedures pertaining to the procurement are adhered to and that a proper reporting system is functioning. The CFCU is administratively linked to the Undersecretariat of Treasury which is responsible for the financial management of EU funded programmes. https://www.cfcu.gov.tr/
Yunus Emre Foundation is a public foundation, which was founded to promote Turkey, Turkish language, its history and culture and art, make such related information and documents available for use in the world, provide services abroad to people who want to have education in the fields of Turkish language, culture and art, to improve the friendship between Turkey and other countries and increase the cultural exchange. As an institution affiliated to the Foundation, Yunus Emre Institute is carrying out studies for Turkish teaching in the cultural centers established abroad to accomplish the purposes of this law as well as conducting culture and art activities to promote our country, and giving support to scientific researches. https://www.yee.org.tr/en
The EU-Turkey Intercultural Dialogue Programme, led by the Yunus Emre Institute and co-financed by the European Union and Republic of Turkey will improve the cultural dialogue between the EU and Turkey by bringing different institutions with different cultural backgrounds together under a financial support allocated for arts and culture. https://icd.yee.org.tr
Contributor Biographies
Emmy Bacharach is a spatial practitioner, audio-visual artist, and DJ working at the intersection of architecture, sound, film and immersive technologies. Her work explores the social, political and spatial possibilities of appropriating digital technologies. Emmy's background is in architecture, which she studied at the University of Cambridge and later completed her masters at the Royal College of Art, where she began to explore moving image, sound and immersive technologies. Her installation work 'Proxy Architecture', which was featured at the Volumetric Ecologies: Environments, Bodies and Mediated Worlds showcase at Goldsmiths Digital Studios, immerses the viewer in a virtual world, a floating city composed of digital fragments of Istanbul, speculating on the collective potential of virtual space. Her research project 'Sonic Urbanism in Detroit: Techno as a Spatial Act', investigates the impact of urban space on musical subculture, arguing for the spatial agency of techno production and sonic collectivity in the context of Detroit's post-industrial urban condition. She is a co-founder of Xcessive Aesthetics, an interdisciplinary design collective exploring data and augmented reality in the built environment . https://www.rca.ac.uk/students/emmy-bacharach/
Ruth Catlow is Co-Founding Artistic Director of Furtherfield and a leading authority on emancipatory network cultures, practices and poetics. She has co-curated over 60 digital arts exhibitions around themes of placemaking, alternative economies and the commons. Keynote speaker and author of countless publications on art, technology and social change, including editing the internationally acclaimed Artists Re:Thinking the Blockchain. In 2019 her blockchain and the arts lab series, DAOWO, produced with Ben Vickers (Serpentine Galleries) and Goethe-Institut won a European Centre for Creative Economy 'NICE' award. She heads DECAL, Furtherfield's DeCentralised Arts Lab, developing cross sector partnerships for new economic models for the arts.
Dr Lina Džuverović is a curator and Lecturer in Arts Policy and Management at Birkbeck College, University of London. Her research focuses on ways in which the sphere of contemporary art can become a site of solidarity and community-building. Previously Lina taught at the University of Reading, at IZK –Institute for Contemporary Art, TU Graz, Austria, was Artistic Director of Calvert 22 Foundation, founding director of the London-based agency Electra and has held curatorial roles at ICA and the Lux Centre, London and Momentum Biennial, Norway. She was the 2006 Decibel Mid-Career Curatorial Fellow, Arts Council England.
Diana Georgiou is a writer and curator based in London. Her curatorial practice employs queer, feminist and decolonial practices and theories to generate spaces of encounter that can foster dialogue, experimentation and collaboration within and outside institutional parameters. Her most recent co-curated project EcoFutures (London, 2019) focused on the implications of ecological issues on gender, race and sexuality and involved 10 partner organisations with the participation of over 70 artists, theorists and activists. Selected projects include the touring video art exhibition Transitional States: Hormones at the Intersections of Art & Science (London, Lincoln, Barcelona, Bologna, 2017-18); Deep Trash Live Art Programme (London, 2017-18); the 2-week programme Now You Can Go which considered feminist thinking, art and activism, taking place across The Showroom, the ICA, Space Studios and Raven Row (London, 2015). Georgiou holds a PhD in Visual Culture from Goldsmiths, University of London, offering an innovative account of the relationship between art-writing and subjectivity through the lens of feminist psychoanalytic theories.
Huma Kabakcı (b. in 1990, London) is a second-generation collector, independent curator and founding director of Open Space, living and working between London and Istanbul. Kabakcı holds a BA in Advertising & Marketing from London College of Communication and a MA in Curating Contemporary Art from the Royal College of Art. She has worked at various galleries, museums and auction houses, both in the UK and Turkey, including Sotheby's Contemporary Art Sales department (London), The Albion Gallery (London) and Pera Museum (Istanbul). Kabakcı has a special interest in Turkish, Middle Eastern contemporary art and emerging contemporary art in London. Her curatorial research lies in subjects such as diaspora, migration, cultural identity, cross-cultural dialogue and memory. She has contributed to publications including Border_less, FAD Magazine, the Guggenheim Blog, IAN (Istanbul Art News) and SYRUP Magazine. In 2018 Kabakcı completed a curatorial fellowship at Liverpool Biennial. Most recent project includes Tender Touches (London) co-curated by Inês Neto dos Santos, organised by Open Space.
Tamara Kametani is a Slovak born London based visual artist working across a variety of media including installation, video, photography and sculpture with an emphasis on site-specificity. Amongst the underlying concerns in her practice are the topics surrounding power relations, surveillance, privacy, and access to information. She is particularly interested in the role that technology plays in the construction of contemporary and historical narratives and the new experiences it enables. She received her master's degree in Contemporary Art Practice from the Royal College of Art in 2017. Kametani has participated in a number of artist residencies and exhibited internationally. Recent commissions and exhibitions include Swayze effect, Platform Southwark curated by AGORAMA, London (2019); 404- Resistance in the Digital Age, RAGE Collective, CFCCA, Manchester (2019); For the Time Being, The Photographers' Gallery, curated by CCA Royal College of Art, London (2019); Digital Diaspora, Studio 44, Stockholm (2019); Summer Show, Florence Trust, London (2018) and Triennial of Photography, Hamburg (2018). https://www.tamarakametani.com/
Georgios Makkas was born in Athens in 1977 and had a strong interest in photography from an early age. He graduated from the Documentary Photography course in Newport, UK. His work about the depopulation of rural Albania won the first prize in the Observer Hodge Award. In 2010, Makkas participated in the artist in residence programme 'SETSE' at the Academy of Fine Arts in Poznan, Poland. His work has been exhibited at the National Portrait Gallery in London, Athens Photo Festival, MedPhoto Festival in Rethymno, Fotonoviembrein Valencia, Fotografia Europea in Reggio Emilia, Le Voci dell'Inchiesta in Pordenone, DUMBO Arts Festival in New York and the Istanbul Design Biennial, and also held in the permanent collection of the Thessaloniki Museum of Photography. Makkas is interested in the preservation of memory through lens-based media. His practice involves taking portraits, listening and filming people's stories and documenting the disappearing face of cities. More at https://www.gmakkas.com/about/index
Ioana Man is a multidisciplinary designer with a background in architecture, set design and critical practice. She produces new encounters between the fields of architecture, science, and rituals in order to shape, invent and reimagine alternative futures. Currently, her focus is on a long-term project that aims to bring architects closer to the microscopic scale and to the scientists that harness it. She has had work commissioned by Open Platform at the Wellcome Collection and exhibited at the Architectural Association in London.
www.ioanaman.com
www.probiotic-rituals.com
Theo Prodromidis is a visual artist and film director based in Athens. His work has been exhibited and screened in galleries, museums and festivals including Galerija Nova, State of Concept, 1st and 5th Thessaloniki Biennale, 4th Athens Biennale, Werkleitz Zentrum Für Medienkunst and Haus Der Kulturen Der Welt.Since 2017, he has been a Visiting Artist under the program Risk Change at the Department of History and Philosophy of Science of the National and Kapodistrian University of Athens and a volunteer at the Open School for Immigrants of Piraeus. Ηe is a member of the Institute of Radical Imagination and a member of the assembly of Solidarity Schools Network. He is currently a fellow of Artworks, Stavros Niarchos Foundation Artist Fellowship Program, 2019-2020. www.theoprodromidis.info
Yağmur Uyanık is a Turkish artist based in San Francisco with backgrounds in architecture, new media and music. Her work explores repetition, process and intangibility through creating instruments of displacement using light, sound and space with an aim to extend the digital media to a point that it becomes a physical experience. Uyanık has received her MFA in Art & Technology from San Francisco Art Institute as a Fulbright scholar. Her work was shown internationally at institutions including Ars Electronica, Sonar D+, Signal Light Festival, MUTEK, Exploratorium, California Academy of Sciences and Diego Rivera Gallery. https://yagmuruyanik.com
This publication was produced with the financial support of the European Union. Its contents are the sole responsibility of British Council and do not necessarily reflect the views of the European Union.
Furtherfield Gallery at the McKenzie Pavilion is located in the middle of Finsbury Park in North London, across the children's playground from the cafe, next to the boating pond. Accessible between the gates near Finsbury Park Station and Manor House Station.