September 1st – 23rd October 2005
Theatre of Restless Automata by artist duo Boredom Research comprises three animated universes modelled from variations of the same computational formula. Each universe has a distinct aesthetic quality, which ranges from geometric abstraction to decorative figuration. Using computer algorithms based on scientific modelling techniques, the artists demonstrate how simple programming rules can create an infinite number of elaborate patterns. From these mosaics of pixels emerge small robotic figures (beings), which perform in a digital theatre of life.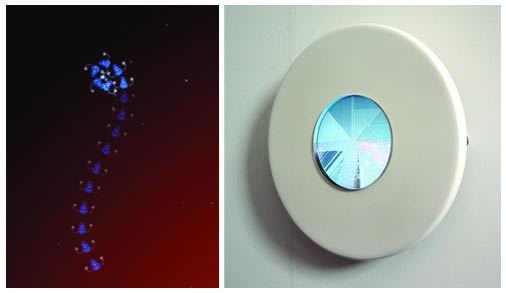 In RandomSeed Systems, groups of coloured pixels develop a pattern according to algorithms inspired by the mathematical model of cell growth known as Cellular Automata. The model designed by the artists produces patterns that evolve over time along an invisible grid of regular cells in a fashion reminiscent of tapestry weaving. The result is independent of the aesthetic control of the artists: a real computational creation.
A RandomSeed Event: see page online or download pdf.
A new work by boredomresearch, randomSeed Online [requires flash 8 plugin] launched on the 9th October 2005 at HTTP. For documentation of the artists' research and a fully illustrated text of their talk please click here.

Biome systems consist of a set of glass portholes hung on the wall through which viewers can peer and observe virtual universes of swarming automata. Evoking a natural world of insects and micro-organisms, the artificial creatures evolve in sealed environments called Biomes, which span an acre of terrain. Limited by the two-inch diameter of the portholes, viewers can only catch a glimpse of the toing and froing of the biomes' inhabitants.
Ornamental Bug Garden 001 features a formally arranged space, which is being colonized by simple mechanisms and plants created from the same algorithm. These colonies of bug like creatures are catapulted around the ornamental garden and sometimes collide with bubble pumping lifts. A sound piece is incidentally composed of the noise of these collisions.
boredomresearch are interested in building computational works, inspired by simple rules found in natural systems. They explore processes of computer modelling and the creative potential of genetic algorithms for the creation of nature-like phenomena.
About boredomresearch
Vicky Isley and Paul Smith have been collaborating as boredomresearch since 2000.
boredom research has produced a number of interactive sound applications, online projects and computational soundscapes. Their work has been recently shown at Transmediale.05, Germany; FILE04, Brazil; NOW festival 2004, Nottingham, Electrohype festival in Sweden, Garage festival in Germany, Database Media Event in Dublin and within online exhibitions such as VIDA 7.0 Art & Artificial Life International Competition, soundtoys.net, mobilegaze.com and Dots & Line online exhibition.
Ornamental Bug Garden 001 has been awarded an honorary mention in Transmediale 05, International Media Arts Festival, Berlin and VIDA 7.0, International A-Life Electronic Arts Competition, Madrid. Theatre of Restless Automata has been produced in collaboration with Aspex Gallery and Peterborough Digital Arts.
Theatre of Restless Automata has been produced in collaboration with Aspex Gallery and Peterborough Digital Arts.
'Theatre of restless automata' is a national touring exhibition commissioned by Aspex Gallery, Portsmouth in collaboration with HTTP House of Technologically Termed Praxis], London & Peterborough Digital Arts 2005/06. Supported by Arts Council England, South East & Southampton Solent University.