Furtherfield has worked with decentralised arts and technology practices since 1996 inspired by free and open source cultures, and before the great centralisation of the web.
Who cares about decentralisation?
10 years ago, blockchain technologies blew apart the idea of money and value as resources to be determined from the centre. This came with a promise, yet to be realised, to empower self-organised collectives of people through more distributed forms of governance and infrastructure. Now the distributed web movement is focusing on peer-to-peer connectivity and coordination with the aim of freeing us from the great commercial behemoths of the web.
What does decentralisation mean for the arts?
There is an awkward relationship between the felt value of the arts to the majority and the financial value of arts to a minority. The arts garner great wealth, while it is harder than ever to sustain arts practice in even the world's richest cities.
In 2015 we launched the Art Data Money programme of labs, exhibitions and debates to explore how blockchain technologies and new uses of data might enable a new commons for the arts in the age of networks. This was followed by a range of critical art and blockchain research programming:
Building on this and our DAOWO lab series, we have developed DECAL – our Decentralised Arts Lab and research hub.
Working with leading visionary artists and thinkers, DECAL opens up new channels between artworld stakeholders, blockchain and web3.0 businesses. Through the lab we will mobilise research and development by leading artists, using blockchain and web 3.0 technologies to experiment in transnational cooperative infrastructures, decentralised artforms and practices, and improved systems literacy for arts and technology spaces. Our goal is to develop fairer, more dynamic and connected cultural ecologies and economies.
2019 DECAL projects:
Collective – an artist led research project on value creation for collecting 21st Century art forms, with Arteïa.
CultureStake – a system for equitable opt-in for cultural community stakeholders. With oscoin, the decentralised network to allow a fair economy for world's open source software.
DAOWO World Tour of the blockchain laboratory and debate series for reinventing the arts – with Ruth Catlow, and Ben Vickers, Serpentine Galleries with Goethe-Institut London.
For more see our Art and Blockchain resource page.

Introduction.
I arrived at the Transmediale festival late Friday afternoon, which was hosted as usual at Das Haus der Kulturen der Welt (The House of World Cultures) in Berlin. The area where the building is sited was destroyed during World War II, and then at the height of the Cold War, it was given as a present from the US government to the City of Berlin. As a venue for international encounters, the Congress Hall was designed as a symbol of 'freedom', and because of its special architectural shape the Berliners were quick to call the building "pregnant oyster" [1] The exterior was also the set for the science fiction action film Æon Flux in 2005. Both past references link well with this festival's use of the building. I remember during my last visit, in 2010, standing outside the back of the building watching an Icebreaker cracking apart the thick ice in the river. The sound of the heavy ice in collision with the sturdy boat was loud and crisp. This sound has stayed with me so that whenever I hear a sound that is similar I'm immediately transported back to that point in time. Unfortunately, this time round there was no snow, instead the weather was wet, warm and slighty stormy.
Last year's festival explored the marketing of big data in the age of social control. This year, the chosen format was entitled conversationpiece, with the aim of enabling a series of dialogues and participatory setups to talk about the most burning topics in post-digital culture today. To give it grounding and historical context the theme was pinned to the "backdrop of different processes of social transformation, 17th and 18th century European painters perfected the group portrait painting known as the "Conversation Piece" in which the everyday life of the aristocracy was depicted in ideal scenes of common activity." In recent years the festival has scafolded its panels, workshops and keynotes to grand, central themes to guide its peers and visitors, along with a large-scale curated exhibition. If we view the four interconnected thematic streams- Anxious to Act, Anxious to Make, Anxious to Share and Anxious to Secure – we might guess that the festival curators are also anxious to save all the resources (and celebrations) for next year, which is after all, Transmediale's 30th birthday.
So, I was curious to see how my brief time here would unfold…
Off-the-Cloud-Zone.

This review is focused on the hybrid event Off-the-Cloud-Zone. It featured presentations, talks and workshops, starting at 11 am, going on until 8pm. Hardcore indeed. It demanded total dedication, which unfortunately I was not able to give. However, I did offer my attention to the rest of the proceedings from lunch time until the end. It was moderated by Panayotis Antoniadis, Daphne Dragona, James Stevens and included a variety of speakers such as: Roel Roscam Abbing, Ileana Apostol, Dennis de Bel, Federico Bonelli, James Bridle, Adam Burns, Lori Emerson, Sarah T Gold, Sarah Grant, Denis Rojo aka Jaromil, George Klissiaris, Evan Light, Ilias Marmaras, Monic Meisel, Jürgen Neumann, Radovan Misovic aka Rad0, Natacha Roussel, Andreas Unteidig, Danja Vasiliev, Christoph Wachter & Mathias Jud, and Stewart Ziff.
The Off-the-Cloud-Zone day event was a continuation of last year's offline networks unite! panel and workshops. Which also originated from discussions on a mailing list called 'off.networks' with researchers, activists and artists working together around the idea of an offline network operating outside of the Internet. The talks concentrated on how over recent years there has been a growing scene of artists, hackers, and network practitioners, finding new ways to ask questions through their practices that offer alternatives in community networks, ad-hoc connectivity, and autonomous systems of sensing and data collecting.
Snowden Archive-in-a-Box.
Disillusionment with the Internet has spread widely since 2013, when Edward Snowden the US whistleblower leaked information on numerous global surveillance programs. Many of these programs are run by the NSA and Five Eyes with the cooperation of telecommunication companies and European governments raising big questions about privacy and exploitation of our online (interaction) data. This concern is not only in relation to spying corporations, dodgy regimes and black hat hackers, but also our governments. "The idea of privacy has been flipped on its head. People don't have to disclose their own information voluntarily anymore; it's being taken from them regardless of their wishes." [2] (Nowak 2015)
"The NSA's principal tool to exploit the data links is a project called MUSCULAR, operated jointly with the agency's British counterpart, the Government Communications Headquarters . From undisclosed interception points, the NSA and the GCHQ are copying entire data flows across fiber-optic cables that carry information among the data centers of the Silicon Valley giants." [3] (Gellman and Soltani, 2013)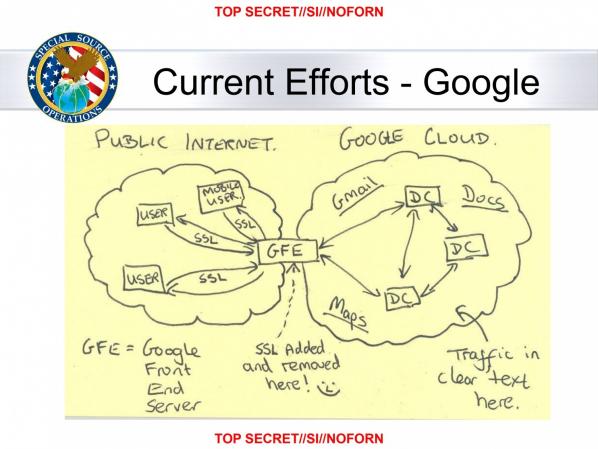 The above slide is from an NSA presentation on "Google Cloud Exploitation" from its MUSCULAR program. The sketch shows where the "Public Internet" meets the internal "Google Cloud" where user data resides. [4]

A legitimate concern for anyone wishing to read the contents of the leaked Snowden files, is that they will be spied upon as they do so. Evan Light has been working on finding a way around this problem, and at the Off-the-Cloud-Zone day event he presented his project Snowden Archive-in-a-Box. A stand-alone wifi network and web server that permits you to research all files leaked by Edward Snowden and subsequently published by the media. The purpose of the portable archive is to provide end-users with a secure off-line method to use its database without the threat of surveillance. Light says, usually the wifi network is open, but users do have the option to make their own wifi passwords and also choose their encryption standard.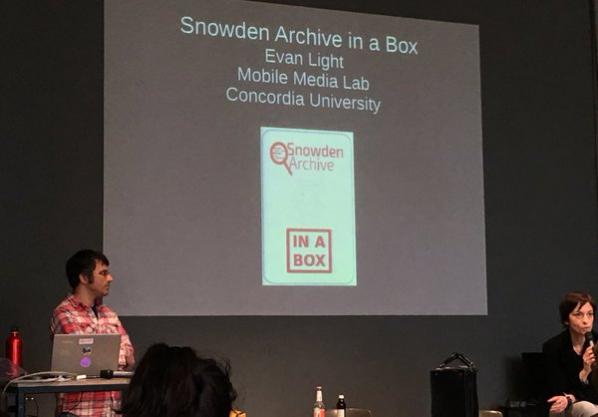 Snowden Archive-in-a-Box is based on the PirateBox, originally created by David Darts who made his in order to distribute teaching materials to students without the hassle of email. It is based on a RaspberryPi 2 mini-computer and the Raspbian operating system. All the software is open-source and its most basic setup can run on one RaspberryPi. In his talk Light said that a more elaborate version would use high-quality battery packs and this adds power for autonomy, along with the wifi sniffer that is running on a secondary RaspberryPi and a flat-screen for playing back IP traffic. If you're interested in building your own private, pirate Archive-in-a-Box, visit Light's web site for instructions on how to.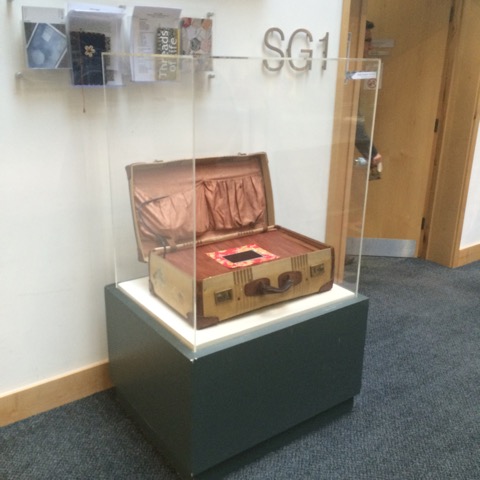 Snowden Archive-in-a-Box. Cambridge University's museum piece installation. Evan Light.

Qaul.net and Can You Hear Me?
Christoph Wachter's and Mathias Jud's work, directly engages with refugees and asylum seeker's social situations, policies, and the migrant crisis. They've worked together on participatory community projects since 2000 and have received many awards. For instance, take a look at their digital communications tool qaul.net which is designed to counteract communication blackouts. It has been used successfully in Egypt, Burma, and Tibet, and works as an alternative to already existing government and corporate controlled communication pathways. But, it also offers vital help when large power outages occur, especially in areas in the world suffering from natural disasters. The term qaul is Arabic and means 'opinion, say, talk or word'. Qaul is pronounced like the English word 'call'.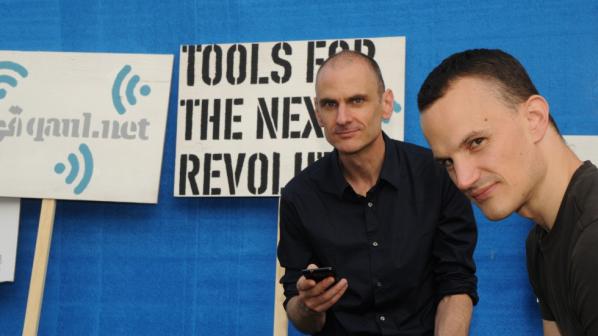 It creates a redundant, open communication code where wireless-enabled computers and mobile devices can directly initiate a fresh, unrestricted and spontaneous network. This includes the enabling of Chat, twitter functions and movie streaming, independent of Internet and cellular networks. It is also accessible to a growing Open Source Community who can modify it freely.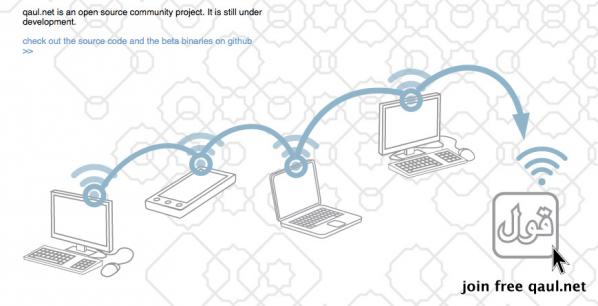 Wachter and Jud also discussed another project of theirs called "Can You Hear Me?", a WLAN / WiFi mesh network with can antennas installed on the roofs of the Academy of Arts and the Swiss Embassy in Berlin, which was located in close proximity to NSA's Secret Spy Hub. These makeshift antennas made of tin cans were obvious and visible for all to see. The Academy of Arts joined the project building a large antenna on the rooftop, situated exactly between the listening posts of the NSA and the GCHQ to enable people to directly address surveillance staff listening in. While installing the work they were observed in detail by a helicopter encircling overhead with a camera registering each and every move they made, and on the roof of the US Embassy, security officers patrolled.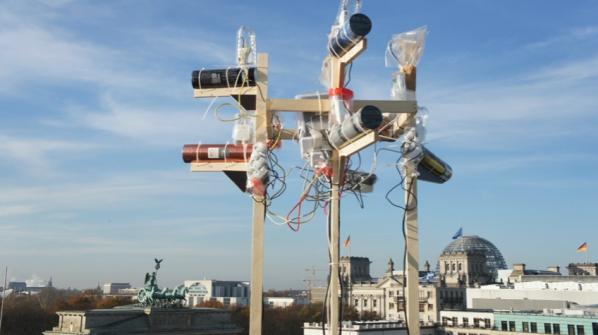 "The antennas created an open and free Wi-Fi communication network in which anyone who wanted to would be able to participate using any Wi-Fi-enabled device without any hindrance, and be able to send messages to those listening on the frequencies that were being intercepted. Text messages, voice chat, file sharing — anything could be sent anonymously. And people did communicate. Over 15,000 messages were sent." [5] (Jud 2015)

A the end of their presentation, they said that they will be implementing the same system at hotspots deployed in Greece by the end of the month. And I believe them. What I find refreshing with these two, is their can do attitude whilst dealing with political forces bigger than themselves. It also gives a positive message that anyone can get involved in these projects.
Dowse.
And then, it was the turn of the well known team at Dyne.org to discuss a project of theirs called Dowse, which is 'The Privacy Hub for the Internet of Things'. They said (taking turns, there was about 5 of them) that the purpose of Dowse is to perceive and affect all devices in the local, networked sphere. As we push on into the age of the Internet of Things, in our homes everything will be linked up.
"Those bathroom scales and home thermostats already talk to our smartphones and in some cases think for themselves." [6] (Nowak 2015)
As these ubiquitous computers communicate to each other even more, control over these multiple connections will be essential. We will need to know how to interact beyond the GUI interfaces and think about who has access to our private, common and public information. A whole load of extra information will be available without our consent.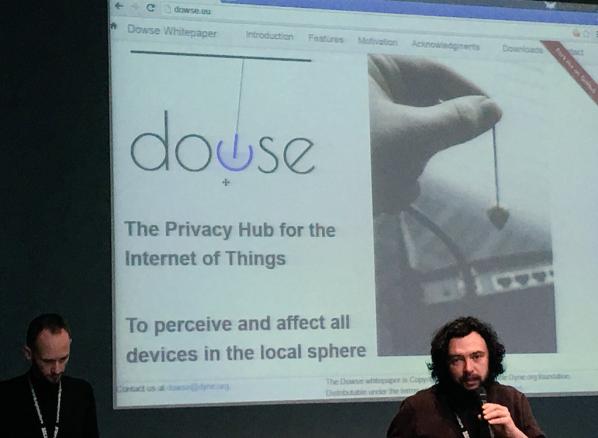 Dowse was conceived in 2014 as a proof of concept white paper by Denis Rojo aka Jaromil. Early contributors to the white paper and its drafting process includes: Hellekin O. Wolf, Anatole Shaw, Juergen Neumann, Patrick R McDonald, Federico Bonelli, Julian Oliver, Henk Buursen, Tom Demeyer, Mieke van Heesewijk, Floris Kleemans and Rob van Kranenburg. I downloaded the white paper and is definitely worth reading.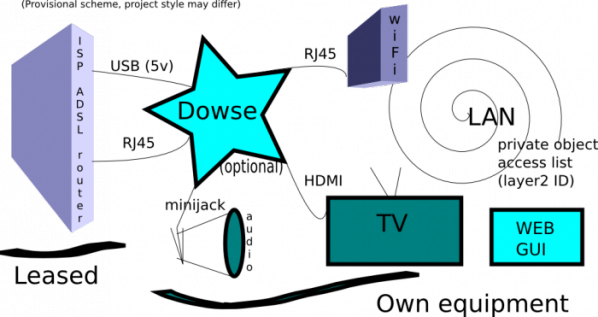 The Dowse project aims to abide to the principles stated in the Critical Engineers Manifesto, (2011). Near the very end of the talk they announced to the audience an open call for artists and techies everywhere to get involved and jump into the project to see what it can do. This is a good idea. If there is no community to make or break platforms, hardware and software, then there is a limited dialogue around the possibilties of what a facility realistically might achieve. Not just that, they want artists to make art out of it. I know there are some pretty clever tech-minded geeks out there, who will in no doubt take on the challenge. However, once those who are not so literate in the medium are able to exploit the project, it will surely fly. It's going to be interesting, because if you look at the 3rd point in the Critical Engineers Manifesto, it says "The Critical Engineer deconstructs and incites suspicion of rich user experiences." I'm thinking, that this number 3 element needs to treated with caution. If they really wish to open it up to a diverse user base, to engage with its potentialities, creatively and practically; thus, allow new forms of social emancipation to evolve as 'freedom with others'. There needs to be an active intent to avoid a glass ceiling based on technical know-how. It's a promising project and I intend to explore it myself and see what it can do and will invite other people within Furtherfield's own online, networks to join in and play, break, and create.
The Sarantaporo Project.
Our final entry is the Sarantaporo Project which is situated in the North of Greece. A village in the mountains just west of Mount Olympus in Central Greece close to Thessaloniki, Macedonia and Larisa. The country has been in recession for over 6 years now, and many communities have had to create alternative ways of working with each other in order to survive the crisis. Over this troubling period, new forms of grass-roots coexistence, solidarity and innovation have evolved. The Sarantaporo Project is an impressive example of how people can come together and experiment in imaginative ways and exploit physical and digital networks.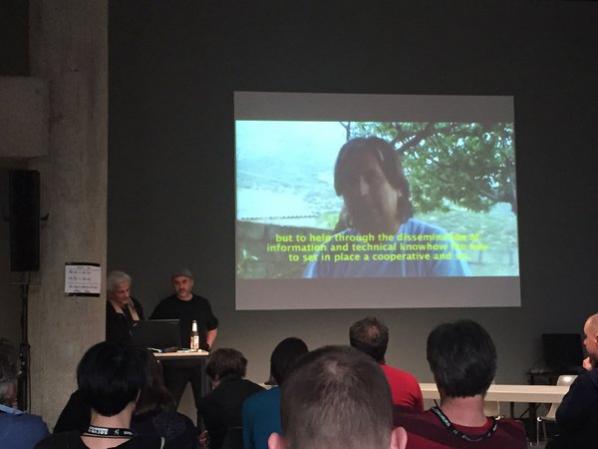 Even before the economic crisis the region was already hit by poverty, and with the added pressures of imposed Austerity measures, life got even tougher. All the young were leaving and then migrating to the cities or abroad. Before the project in Sarantaporo, there was no Internet nor digitally connected networks for local people to use. This situation contributed to the digital divide and made it difficult to work in a contemporary society, when so many others in the world have been using technology to support their civic, academic and business for so many years already.
"In Greece, where unemployment reaches 30% in all ages and genders, and among the youth overpasses 50%, immediate solution for the "social issue" is more than urgent.' [7] (Marmaras).
Conclusion."Besides maintaining the network in a DIWO (Do It With Others) manner, and creating an atmosphere of cooperation among far-flung communities that were previously strangers, the Sarantaporo network is incorporating different groups of people into the community, like Farmer's Cooperatives and techies. It is also creating an intergenerational space for learning." [9] (Bezdommy 2016)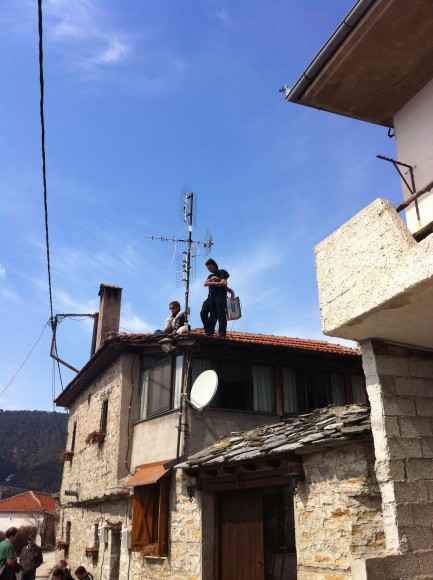 To resolve this issue a group of friends decided to deal with this problem by setting up a community D.I.Y wireless network to provide free internet access to 15 villages in the municipality of Elassona. "Sarantaporo.gr is an open source wireless mesh networking system that relies greatly on voluntary work both for its development and maintenance. Some volunteers are involved in the project by simply installing an antenna on their roof. Others, more actively engaged with the project, are responsible for sustaining the network by hosting meetings and answering technical questions." [8] (Kalessi 2014) The audience was presented with snippets from a film made by the filmmaking collective Personal Cinema, about the project. It was made so the story of Sarantaporo's DIY wireless network gets a wider reach, and that others are also inspired to do similar projects themselves.
These projects are dedicated to creating socially grounded and engaged alternatives to the proprietorial, networked frameworks that currently dominate our communication behaviours. These proprietorial systems, whether they are digital or physical are untrustworthy, and control us in ways that reflect their top-down demands but not our common needs. This reflects a wider conversation about who owns our social contexts, our conversations, our fields of practice, the structures we use, the land, the cables, our history, and so on.
Looking at the state of the planet right now you'd be forgiven for betting on a future not far from the director Neill Blomkamp's vision in the sci-fi movie Elysium where, in the year 2159, humanity is sharply divided between two classes of people: the ultra-rich whom live aboard a luxurious space station called Elysium, and the rest who live a hardscrabble existence in Earth's ruins. However, in the Off-the-Cloud-Zone talks we encountered an ecology of strategies to protect our own indegenous cultures from the crush of neo-liberalism, we felt part of a grounded movement discovering new conversations and new methodologies that may provide some protection against future colonisation. Perhaps there is a chance, we can build and rebuild stronger relations with each other, beyond: privilege, nation, status, gender, class, race, religion, and career.
The festival this year was less structured and more nuanced than usual. It gave conversation a greater role and a deeper social context, and opened up the process for the many to connect with the ideas being explored. The whole affair seemed to be slowed down and less caught up in the hyper-macho trappings of accelerationism. It seemed less neurotic and spending less effort to impress. I'm sure, next year, on it's 30th anniversary, all will be sharp and amazing. However, I liked this less glossy, more messy version of Transmediale and I hope it manages to impress the wrong people again, and again.
References:
[1] The Site and its History .
https://www.hkw.de/en/hkw/geschichte/ort_geschichte/ort.php
[2] Peter Nowak Humans 3.0: The Upgrading of Our Species. The Lyons Press (6 Jan. 2015). P.132.
[3] NSA infiltrates links to Yahoo, Google data centers worldwide, Snowden documents say. Washington Post. By Barton Gellman and Ashkan Soltani October 30, 2013. http://wapo.st/1Ty1nTX
[4] File:NSA Muscular Google Cloud.jpgs. From Wikipedia, the free encyclopedia.
https://en.wikipedia.org/wiki/File:NSA_Muscular_Google_
[5] Mathias Jud: Art that lets you talk back to NSA spies. Subtitles and Transcript. TED.com. September 2015. http://bit.ly/1UkiMPn

[6] Peter Nowak Humans 3.0: The Upgrading of Our Species. The Lyons Press (6 Jan. 2015). P.6.
[7] "Building Communities of Commons in Greece", Ilias Marmaras. Personal Cinema.
https://en.goteo.org/project/building-communities-of-commons
[8] Theodora Kalessi. Sarantaporo.gr: Bridging the digital divide in rural Greece. August 11, 2014
http://oipolloi.co/sarantaporo-gr-bridging-the-digital-divide-in-rural-greece/
[9] Bezdomny. Sarantaporo Residents Create Commons in Rural Greece Through a DIY Wireless Mesh Network. January 3, 2016.
http://www.shareable.net/blog/sarantaporo-residents-create-commons-in-rural-greece-through-a-diy-wireless-mesh-network
Post Digital Print
The Mutation of Publishing Since 1894
Alessandro Ludovico, 2012
Onamatopee 77
The sticky fingerprints on the black-and-pink 1970s photomechanical typography-style lettered cover of "Post Digital Print" speak volumes about the nature of physical print after the event of digital typography. It is this sense, of print in a state of technical and historical play after the full event of the digital rather than its end or irrelevance, that Alessandro Ludovico is considering history of print publishing here. But why 1894?
Ludovico dates the first announcement of "the death of print" to that year. More than a century later independent bookshops, large bookshop chains, newspapers and magazines are having to compete with Internet-based publishing or be wiped out. It's not clear whether physical print publishing believes it can survive this encounter with the digital. Ludovico explains how it can and why it is important that it should.
There are three main threads to "Post Digital Print". The first is a wide-ranging technical history of print, including technologies that were imagined or proposed but never became widespread. The second is a history of radical political and avant-garde historical use, misuse and critique of those technologies. And the third is an analysis of the social and technological networks that distributed the products of the first two. These threads tie together finally in a consideration of the current situation and future prospects of physical print publishing.
The mainstream history of printing goes from movable type through hot metal to photomechanical and finally PostScript-based publishing. This is how books and newspapers have reached millions of people. But not every print production technology has lasted or gained mass adoption. I was surprised to read that Ezra Pound once wrote a poem specifically for Bob Brown's "Readies" (an imagined 1930s motorized-paper-strip book replacement), and in the first half of the twentieth century newspapers were transmitted by telegraph, telephone and radio ready to be listened to or remotely printed.
The technical failings of dead media become aesthetic affordances in their afterlives. Letterpress embosses the paper it is printed on, lithography suffers misregistration and other artifacts, and newsprint smears and creases. These are now the very qualities people seek from those media. This is different from mere nostalgia, in that it is used to create a contemporary aesthetic, but what of the "Readies" and other book replacements that never were? They are the subconscious or the dreams of print technology, forgotten futures that help to understand the paths that were taken.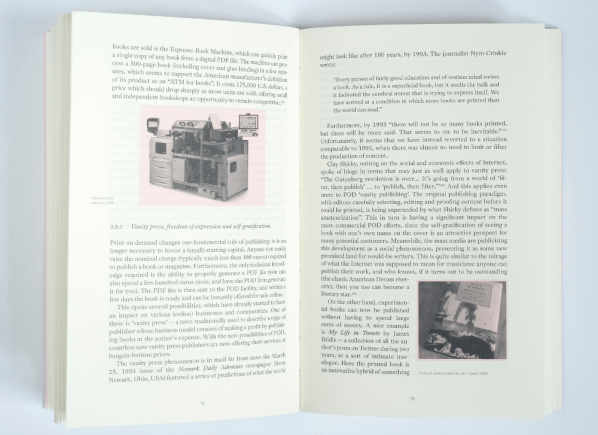 Not every print technology was designed to print millions of copies. Spirit duplicators, photocopiers and print-on-demand publishing all allowed democratic access to print for smaller print runs of projects with less mass appeal. Ludovico tracks this thread of print history from mid-twentieth-century science fiction fanzines through the alternative press to the contemporary fanzine scene.
Artists and political groups pushed the technology and aesthetics of each new print technology with pamphlets, unlicensed newspapers, the alternative press, fanzines, and books and journals. Ludovico uses avant-garde and culture jamming artistic publications, from the Dadaists and Futurists to the Yes Men and Decapitator to demonstrate how artists have pushed the form and content of print publications.
Once you have printed a publication you must distribute it. For publications outside of mainstream or official culture, this is a task that has varied in difficulty from inconvenient to deadly. British newspapers had to be licensed (and thereby censored) by the state in the early nineteenth century. Alternative political views were printed in unlicensed newspapers printed by sympathetic printers. These newspapers outsold the official press, and were subject to repression by the state, leading to funds being set up to support the families of arrested printers.
In the Soviet union, Samizdat copies of books were produced with stolen or smuggled paper and borrowed presses. Less dramatically but still outside the mainstream or official culture, the alternative press and fanzine scenes have survived through mail-order print and online catalogues and through conventions. And the Fluxus scene distributed its print products through an international network of distributors.
The "gesture" of publishing, as Ludovico calls it, is an editorial one and without this editorial control the Internet of blogs and social media presents a problem of filtering rather than access. Writing from the web can be taken into print cheaply through print-on-demand, led by the example of James Bridle's "My Life In Tweets", 2009. Where an artist led, business followed and there are now many services that will print your social media as books for you.
(What of eBooks? Ludovico considers their technology and its history in depth, but is not hopeful for them. They simulate print ever more closely, confirming Ludovico's argument that print is the better interface. They have an environmental impact that makes books look more appealing, and suffer all the problems of censorship and technological obsolescence that print now does not.)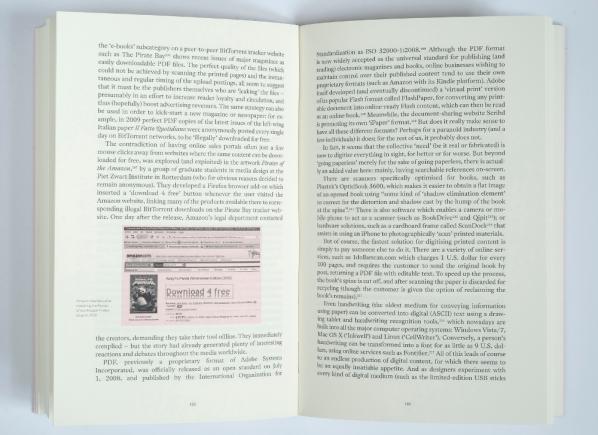 In the final chapter ("The Network") the author enters the story that he is telling. Since the early 1990s Ludovico has produced the magazine "Neural" (I'm a subscriber and I cannot recommend it highly enough), and has been involved in other art projects, events and interventions that have placed him in the thick of the action of the changes in publishing and textual media that have occurred over this period. Rather than affect a false objectivity, Ludovico lets you know where he is coming from and shares the particularities of his broad experience. This lends his conclusions a context and authority that mere theory might lack.
The history and experience that Ludovico lays out leads to the present crisis of print and answers it with the terms that he has established. How can we continue to print physical books? With the kinds of networks that have always propagated and paid for art and for the alternative press. Why should we continue to make them? Because they are better interfaces, archives, and art objects than purely digital objects.
Post-digital print is print with its production and in some ways its very meaning transformed. Print must adopt digital-inspired models of production and distribution to survive. As Ludovico argues it must adopt the digital strategy of the network, in a free and open way. If it does not, we lose a vital part of our collective cultural voice and memory.
"Paper is flesh, screen is metal. … Flesh and metal will thus merge as in a cyberpunk film, hopefully spawning useful new models for carrying and spreading unprecedented amounts of information and culture." (Post-Digital Print, p117)
The text of this review is licenced under the Creative Commons BY-SA 3.0 Licence.
(Thank you to Freek Lomme of Onomatopee for providing the book interior images.)
Someone said to me 'To you football is a matter of life or death!'
and I said 'Listen, it's more important than that'.
Bill Shankly
Drawing is one of the two oldest purely cultural – in the sense of playful, not directly concerned with keeping body and soul together like cooking or hunting or shelter – activities that comes down to us today directly in the form of artefacts from between 25 – 35 thousand years ago [1] (the other is music [2]). There is no known human culture that has not made representational and other marks with something, on something, for both fun and survival. Furthermore, as Patrick Maynard demonstrates in his steely eyed and magisterial Drawing Distinctions [3], it can be shown to be the practice which more than any other underpins not only all of present day visual culture (including photography, which, following Maynard [4], we read as a species of drawing) but also the technical developments of our advanced industrial age. With satisfying circularity, drawing, a fundamental tool for engineers and architects, scaffolds the level of production which (by guaranteeing surplus product) is the prerequisite for the very existence of our substantial caste of artists and designers, those useless and indispensable dreamers.
Arguably, then, in a perfect world its study might be counted, with literacy and numeracy, as a genuinely key skill to be studied by all. Certainly, perhaps a more realistic demand, it should be a practice both underpinning and overarching any systematic education in art and design. What concrete shape might this take within the Babel of practices which current art education encompasses?
Experimental teaching and peer-learning
A couple of years ago the two of us, both from a background in digital art/moving image, started teaching on two consecutive courses – a Foundation degree in Digital Art and Design and its top-up, a BA (Hons) degree in Art and Design Practice. Much of the formal documentation of the courses specified the use of particular kinds of software and allegedly real-world reasons for deploying them (many involving the demands of "industry"). From the start we were antagonistic to this approach. We wanted to "artify" the course – introduce as much experimental, speculative, exploratory, pleasurable and downright pointless (in the way that the best art is both pointless and hugely important) activity as possible. We didn't abandon the idea of teaching design, but we did decide that the core course programme would henceforth be art/design agnostic – it would deal with ways of making and thinking about images (as well as sound, performance, interactions or concepts) that could be used with profit by students moving in either or both or other directions. It would not be training; work would be driven by the imagination and shaped by the ambitions of students. Teachers would introduce new technical processes, but these would be embedded in thematically organised investigations of historic and contemporary precedents. Help with technique or software might be part of what teachers did, but this would be part of an organic investigation/development by student and teacher together. If a teacher knew something they would help; if they didn't, they might know where to look; if neither knew, they might search together; if the student knew, they could teach other students and the teacher too. In short we identified a peer-learning process as the only sensible approach sufficient for developing the necessary skills, knowledge and flair in a rapidly-developing field.
Moreover we wanted a course that integrated the digital with every other sort of visual (and conceptual, performative and sonic) practice. We were both impatient with the idea that work made using digital tools, or work created within and distributed across a network, was somehow qualitatively different from all that had preceded it (a not uncommon view often allied to a species of digital mysticism). Indeed we realised we both sensed, and gradually came to articulate clearly, that there was a continuum – a chain – from the cave painter to the contemporary artist. Not to say that social and historical concreteness plays no explicatory role, but that there is some still human centre to mark making (and to allied practices – singing, the telling of tales, etc.) which has persisted and will persist and is part of the territory of being human. 'A chain' is no loose metaphor, but a precise account of the reality. Inspiration and technique pass continuously from generation to generation. And this is cumulative – making much of the past of art available to its future. In a sense the terrain of art accretes, expands, as time passes. Even what is lost to famine or war, proscription, taste and changes in technology leaves traces, the possibility of reconstruction and re-use (and, often most creatively, misuse). This is what we wanted to instil in our students.
Teachers as learners: drawing and the digital
Our drawing sessions link to and are inspired by earlier instances of art powered pedagogy that place cross-form conversation at the heart of learning together. Joseph Beuys made drawings throughout his artistic life – often enigmatic constellations of media, concepts, entities, political figurations and material properties. However of particular relevance here are his extended works, Office of the Organization for Direct Democracy by Popular Vote for 100 days at documenta 5, 1972 and Honey Pump in the Workplace for documenta 6 in 1977, in which he demonstrates his expanded notion of art that is exactly congruous with his philosophy of teaching – 'to reactivate the "life values" through a creative interchange on the basis of equality between teachers and learners.' [5] Both pieces required the involvement of many people in processes outside of the realms of ordinary action (such as the maintenance of the plastic pipes of the honey pump as it circulated 2 tonnes of honey through the building) in order that they might connect with unfamiliar concepts and experiences. The artworks integrated many different categories of work (some, but not all, associated with art making) including performance and the practice of various disciplines (of dialogue, rhetoric, democratic processes of exchange and decision making). And yet, in an interview with Achille Bonito Oliva, Beuys makes it clear that he has no interest leading audiences towards an "activism devoid of content" [6]. The liberation of humankind through art (Beuys proposes that everyone is an artist and society is to be sculpted by everyone) depends on a more deliberate engagement of individual energies.
Drawing was particularly important to both of us. It was something Ruth had always done from an early age. Collections of drawings made by her between the ages of six and thirteen depict public street scenes of everyday social groupings and activities (a group of kids running with a dog, two mothers with two prams, businessmen waiting for a bus). The figures are too small to carry facial expressions. Nevertheless their interactions, mood, social status and relationships are expressed by their outfits, gaits, their gestures and their proximity to each other and other elements of the scene. Ruth now looks back on these as evidence of an early growing fascination with sociality. Through school she learned that 'drawing well' meant producing an image as much like a photograph as one might render. Praise and grades were awarded accordingly. Later, at art school, drawing became a liberating process of discovery. She generated abstract marks, as traces of energies within the body, rather than to create a deliberate composition within a pictorial plane. In this way she produced surfaces such as might be produced by soot covered animals (think monkey, gazelle, seal, tiger, crow) thrown together into a white room. This surface would then serve as a mirror (or crystal ball) from which entities, gestures and forms of light and shadow emerged to be drawn out in further explorations of aspects of her unconscious.
Drawing was something that Michael aspired to. Because he had come to moving image work – to "being an artist" – by a strange route through theatre, maths and music, he had both a fascination with and a terror of drawing. He had been the kid in the class who couldn't draw, and yet had loved the feeling, the deep engagement with both the act and with what it awoke inside him –his mind's eye – that it brought. In his moving image work he had attempted to confront this. The inverted commas that came with a certain species of conceptualism were a great help because he could frame himself performatively, comically almost, as an uncertain but oh-so-willing draftsperson, one with no eye or dexterity, a technical schlemiel.
In his secret heart, though, he knew he wanted to do this thing without (or at least largely without) irony.
Arising out of this obsession, in the early years of the new millennium, Michael had launched a little provocation where he challenged digital artists, as they were then still called, to create self-portraits, on the sole condition that this be done using non-digital means, and subsequently to photograph them for display in an online archive. Those who didn't baulk at the task produced a touching and intriguing panorama, of pen and paint and pencil but also of bathroom tile, egg tempera and iron filings… [7]
As part of a discussion about this Michael had opined on some listserv or other that the barriers between artistic practices were porous and that the true measure of anyone aspiring to be an artist (musician, film maker, poet) was that, if lost in a deep forest or desert isle, with only a rock to make some marks on and another rock to make those marks with, the putative artist would eventually produce something of interest, depth and value.
Early on we introduced chunks of drawing as an occasional workshop – Ruth introduces, and then builds on familiar art school, Bauhaus type exercises that attempt to separate process from outcome-anxiety, allowing students to engage with an inner dialogue about their looking and representation un-disrupted by fears of inadequacy. These include:
drawing without looking at the paper; from memory; without removing pencil from paper; drawing with the "wrong" hand; drawing in five minutes or five seconds; drawing only negative space; having the pencil trace the movement of the eyeball as the drawer observes an object, etc.
Michael felt the centrality of drawing calling him but these sessions still felt like a slightly naughty holiday, an activity that did not necessarily link to his background and formation as an artist. The teacher, like the student, was still exploring.
Students as teachers
The big epiphany came with the introduction of a weekly drawing session for all three years of the course. It happened and happens every Monday of term, without fail, and everyone in the room takes part, staff included. As many days as possible where more than one member of staff is present in the room, to make for debate, thus modelling civilised disagreement and forcing students, ultimately, to make up their own minds; there are usually two members of staff and occasionally more present. Each drawing session is led by a student who brings in an object, procedure or puzzle for the rest of us to address.
What happened is that we were rapidly out-Bauhaused by our students. Byzantine sets of instructions for tasks that we as teachers would have rejected out of hand as overly complex, impractical or confusing were carefully explained by students and then carried out by all of us in utter silence.
Half an hour elapses, we place our sets of images on the floor and we process around them all, discussing them. The important thing is that everyone has drawn. Everyone is both vulnerable and admirable. Teachers are not privileged. For students, it is understood that although the process carries course credit, what is being marked eventually is a series of drawings – some "good", some "bad", most neither – and that technique – whatever that is – is not the focus. There must be room for play in creative education; hence, for this part of the course, taking part in all of the sessions is enough to secure a pass.
With respect to collective feedback, our experience has been that perceptive kindness predominates. We search for the wonderful things, speculating on why they are wonderful, maybe asking questions of the person who has made this thing, trying to elicit that week's secret or lesson. The drawings are a pleasure to behold. We have no intention of reproducing any of them here, though many would bear reproduction – we do not want to betray the egalitarian, labouring-together ethos of the thing by selecting outside the sessions and group. We are not sentimentalists – it is precisely because we understand the necessary element of brutality involved in the fair administration of an assessed course that we want to create oases, visions of how things could be other. It is the collective production of shared work that matters – it is not, let us emphasise though, a privileging of "process over production". The production matters – desperately so. [8]
Over the weeks, our drawings are diverse in category, style, media and technique including: illustrations of the set task, abstractions, naïve figurations, diagrams, signs; some are performances of processes made in pencil, pen, paper, wood, charcoal, paint, collage, arrangements of plastic objects, paper-constructions; they reveal our choices and learning. Some students advance arguments in their drawings either with each other or with their own earlier work. As new tasks are set we each decide in the moment whether we understand the activity we are to involve ourselves with is mundane, ritualistic (perhaps even sacred), mad or wise, pointless or significant – our conclusions shape our drawings. In this way collective drawing has become central to the ethos of our courses as an integrative practice for negotiating a shared studio culture and shaping our learning together, our movement towards collegiality. Doing the drawing means the week has a start to it – we affirm ourselves as folk with a common interest, different but equal. The sessions have helped to provide a social glue, too, across the three years of the course.
Conclusion
There are areas where we as teachers know more than the students; both of us have track records of work in the art world, but the drawing sessions level us all – they enable a mutually supportive but acute look at progress on a common task. Since the drawing started we have also incorporated its lessons to other disciplines; staff and students share their photography work in a more horizontal way than the demands of the course would normally allow. We use new forms of social media, and have Flickr accounts in which all participants are contacts.[9] We comment on and "favourite" each other's works as equals and collaborators.
Both drawing and photography in these contexts devolve to something similar – filling a blank space by mark making, with valuable, experiential knowledge accrued: repeating processes many times over to find out what constitutes skill and when (often, it turns out, much more often than is often acknowledged) to accept the gifts brought by chance; discovering that the art happens in a social space between the maker, the wider world and the viewer; understanding the work of others because we do it side by side; and, finally, coming to grips with the question of personal style and the diversity of ways of doing things well and meaningfully.
Each week reveals both artistic phylogeny and ontogeny – we solve the problem here and now, as if for the first time ever and this illuminates the historical chain, the intertwining of theory and practice, our mutual dependence, all of us artists and all of us nourished by art too.
NOTES
1. Valladas, H., Clottes, J., Geneste, J.M., Garcia, M. A., Arnold, M., Cachier, H., Tisnérat-Laborde, N., (October 2001) Evolution of Prehistoric Cave Art, Nature Vol 413
2. Conard, N.J., Malina, M. & Münzel S. C. (6 August 2009) New Flutes Document the Earliest Musical Tradition in Southwestern Germany Nature Vol 460
3. Maynard, P. (2005) Drawing Distinctions: The Varieties of Graphic Expression, Cornell University Press.
4. Maynard, P. (1997) The Engine of Visualization: Thinking Through Photography, Cornell University Press.
5. Brenner, R. Political Art, Walker Arts Center | Joseph Beuys | Political Art [online]. Available at: http://www.walkerart.org/archive/F/9C4309B0B50D8AA36167.htm [Accessed 16th February 2012]
6. Beuys, J. (1990), Energy Plan for the Western Man, Joseph Beuys in America. Writings by and interviews with the artist, compiled by Kuoni, C. Four Walls Eight windows, NY, p. 159.
7. Self Portraits by Artists and Others [online] http://www.somedancersandmusicians.com/io/io.cgi [Accessed 16th February 2012]
8. If you want to see the work (and we would all love you to) you'll have to come along to a session and join in. Writtle School of Design, any Monday of the academic year, Design Studio #2, Room G08, 9:30am. http://writtle.ac.uk/design
9. Writtle Flickr group [online] Available at: http://www.flickr.com/groups/writtle/
—-
Originally written for Drawing Knowledge (2012). Tracey, The Journal of Drawing and Visualisation Research, Loughborough University.
Revised and republished Miller, A & Strong, J. (eds). (2012) Research-Led and Research-Informed Teaching. CREST Publishing.