Hi Shaina! Tell us about the genesis of CAMP? How are you part of it? Why are you called CAMP?
CAMP came together as a group in 2007, initially consisting of me, Shaina Anand (filmmaker and artist), Sanjay Bhangar (software programmer) and Ashok Sukumaran (architect and artist) in Mumbai, India. The intersection of our skills and different backgrounds created a vital spark in which to experiment with technology and ask deep questions about form and ways of making radical political work. We are called CAMP as we are not an artist's collective (though we began as a collaboration with KHOJ which was an artist's collective in Delhi, which you headed operations for) but we call ourselves a studio. In this process, we try to move beyond binaries of art vs non-art, commodity market vs free-culture and to build media for the future. Personally, it gives me the platform to eschew conservative approaches to documentary filmmaking with "the colonial male gaze."
How did you decide to create new-media and be part of CAMP coming from a strong documentary tradition?
Oh, for that I would like to describe the response my younger self (1992-2004) had to making traditional documentaries. Travelling around India with my mentor, filming a documentary about life in villages for the anniversary of Indian independence, I described how they'd turn up in jeeps, find the subjects, and ask important questions for the nation. I became increasingly disillusioned by what I saw as the repeated orchestration of finding a subject, interviewing, zooming in, asking questions until the subject ends up crying. So, once while analyzing the relationship between filmmaker and subject I echoed the question hovering over so many discussions, "who speaks for the subject and from where?"
That's when I decided that I had two choices, to either move into fiction which was perhaps less problematic, or to "stay with the trouble", to let the problems drive the work into becoming something more in line with my politics. I also wanted to "trouble" the triangular relationship of author, subject and technology, so that it favored the subject more.
Very interesting! You mentioned Haraway's "staying with the trouble". Were you influenced by her work? Say more! I relate to that experience, having switched from working in Bollywood to doing social documentaries and now learning new-media art. So, what role do you think technology plays in fostering that relationship between the subject and the author and more importantly, how does it "favor" the subject?
Well, yeah. I feel influenced by her as a woman media-maker where I draw from her reflections on race, technology and gender. In CAMP's work at various biennials, I have often felt that every part of the process of documentary-making had been deftly unpacked and put back together again to reflect vital contemporary political concerns within the actual structure of the work or even its distribution, not just its content. By that, I felt we succeeded in using technology to foster that relationship.
I find it fascinating that technology is not a toy or gimmick in your work but rather gives to access to places and people which traditional approaches to documentary wouldn't. In this context, could you throw some light on the use of CCTVs in your work esp. at a time when they were increasingly being used as a tool for surveillance?
In our work Al jaar qabla al daar (The Neighbour before the house- 2009), we used CCTV cameras and set them up to film the houses where eight Palestinian families had been forcibly evicted and are linked to remote controls in new homes or refugee places where the families now live. We were then able to zoom and tilt the cameras to spy up washing or as they went about their business. The complexities of the power relations between the observer and observed are dazzlingly deft and agile, giving energy to the otherwise hopeless situation of displaced Palestinians in Jerusalem. We only hear their voices as they trace the lines of personal memory in their old neighborhoods or stalk the new inhabitants of their former homes with the remotely operated CCTV placed on nearby rooftops. We see soldiers training, Orthodox Jews going to prayer, a boy skateboarding, roofs, water tanks, a veranda built by their own families. Their bodies exert a ghostly presence on the very image we see onscreen as a small boy exhorts his mother to "zoom, zoom"– to spy on one of the new inhabitants leaving the house. But nonetheless through the active manipulation of this technology we had "captured" a settler.
Do you think technology facilitates a democratic or rather liberal exchange for the subject? Let's say immersive technologies like virtual and augmented realities, which I'm interested in, blur the point of view of the author and the subject. What do you think?
The act of wrangling the technology to record the voices of the camera operators while simultaneously filming does create a power shift. For example, in our work, the Palestinian families may be physically invisible in the places they once lived, but their voices and ability to control how we see with even the crudest of cameras, exerts its own pressure. It acknowledges and celebrates the democratization of the camera and makes us question the veracity of all the other images we have seen about Palestine. We hear details about the neighborhoods, how the evictions happened through impossible laws or enforcements as the displaced families observe how the new families don't clean the stairs or water the lemon tree.
Yes, I liked the use of the footage as a timeline for viewers to edit which led you to form Pad. Ma (Public Access Digital Media Archive) which I was a part of too, at some point. Interestingly, here at UCSC, I met and heard Bernard Stiegler who had long ago worked with annotating found-footage with his students thereby that puts CAMP in that discourse. Say something about that.
Well, for me, the most radical and exciting approaches to documentary were in the 60s in India. Since then, what has changed? Nothing here. CAMP's work provides a sense of new possibilities as it steals back technology and puts it into that utopian discourse of Stiegler and others to shift our perspective closer to the subjects. By "troubling" the traditional methods of creation and dissemination it empowers both the viewer and the viewed with a fresh perspective.
Some of your work is about migrant population, home and displacement which strikes a chord with my interest in human-rights and immigration. Tell us about this work and its approach.
A privileged perspective into the worldview of another is contained in our work, From Gulf to Gulf invited by the Sharjah Biennial a few years ago.Yet again it is a document of a much richer process that began as an artwork/ community provocation/ friendship built over four years between CAMP and a group of sailors from the Gulf of Kutch in India. Initially CAMP produced radio programs culling material from sailors' songs, conversations, phone calls etc. and later that evolved into a new-media piece that showed this totally different space in a radically fresh way. It is composed of footage of their journeys and extended selfie- films shot by the sailors on their long voyages, often accompanied by songs which they Bluetooth to each other.
Fascinating! Lastly, I'm keen to hear about what CAMP wants to do with technology next?
At any given time, CAMPwants to challenge the triangular relationship of author, subject and technology, thereby splintering the privileged gaze and our standard mode of perception. That's our motivation behind whatever we have or will do.
Thank you Shaina for speaking as an artist from CAMP. It was great to talk to you and have worked with you all!
Choose Your Muse is a series of interviews where Marc Garrett asks emerging and established artists, curators, techies, hacktivists, activists and theorists; practising across the fields of art, technology and social change, how and what has inspired them, personally, artistically and culturally.
Ryota Matsumoto is a principal and founder of an interdisciplinary design office, Ryota Matsumoto Studio, and an artist, designer and urban planner. Born in Tokyo, he was raised in Hong Kong and Japan. After studies at Architectural Association in London and Mackintosh School of Architecture, Glasgow School of Art in early 90's, he received a Master of Architecture degree from University of Pennsylvania in 2007. Before establishing his office, Matsumoto collaborated with a cofounder of the Metabolist Movement, Kisho Kurokawa, and with Arata Isozaki, Cesar Pelli, the MIT Media Lab and Nihon Sekkei Inc. He is currently an adjunct lecturer at the Transart institute, University of Plymouth.
Interview

Marc Garrett: Could you tell us who has inspired you the most in your work and why?
Ryota Matsumoto: As I have collaborated with the founders of the Metabolist movement of the 60s, Kisho Kurokawa and Arata Isozaki, and had the opportunity to meet Cedric Price at Bedford Square, I am keenly aware of the participatory techno-utopian projects by the Situationist International group. Some of the projects by Japanese Metabolism, Yona Friedman, and Andrea Branzi drew inspiration from the concept of unitary urbanism and further developed their own critical perspectives. Their work has helped me to create my own theoretical platform for the status quo urbanism and its built environment.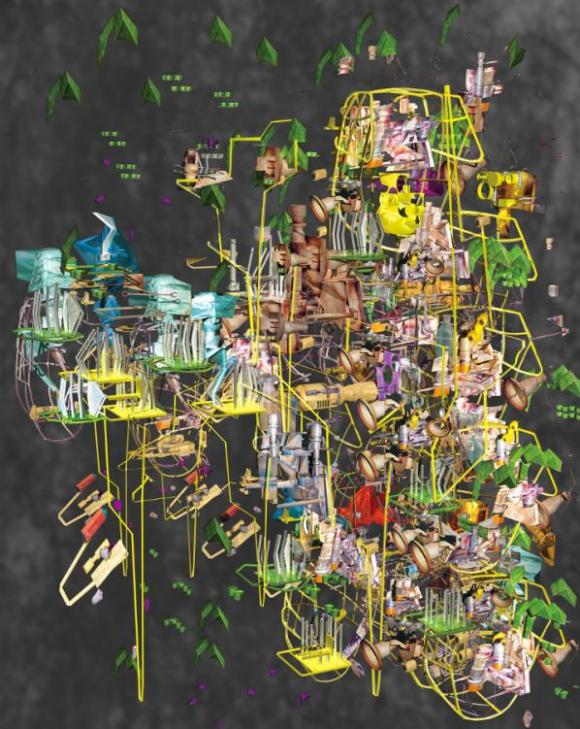 MG: How have they influenced your own practice and could you share with us some examples?
RM: I identify with the free-spirited and holistic approaches of these theorists on the relationship between language, narrative, and cognition. They embraced a wide range of media for visual communication that simultaneously defied categorization as either art or architecture and denounced the rigid policy-driven urban planning. Who would have thought of using photomontage, computer chips, PVC, or anything else they could get their hands on for architectural visualization in those days? Furthermore, their urban strategy of mobile/adaptable/expandable architecture and the theory of psychogeography dérive resonate with my own creative thinking. I interpret urbanization as the outcome of self-generating, spontaneous and collective intelligence design process and believe that the strategic use of hybrid media with incorporation of multi-agent computing provides an alternative approach for both art and design practice.
MG: How is your work different from your influences and what are the reasons for this?
RM: The utopian aspirations of the groups in the 60s were very much the product of the counter-cultural movement of the time: they were politically engaged and had optimistic outlooks for technology-driven progress of cities. In contrast, while I tend to address the current socio-cultural agendas of urban and ecological milieus, my work doesn't necessarily evoke or represent the utopian or dystopian visions of spatial cities.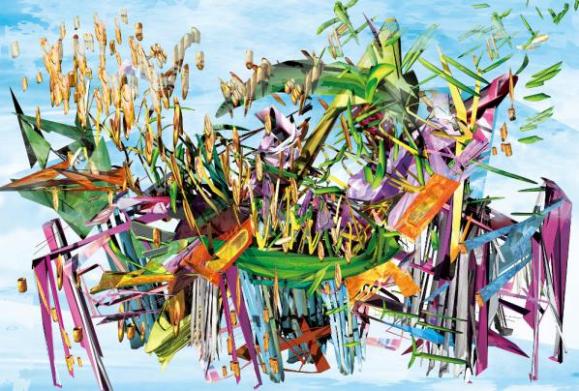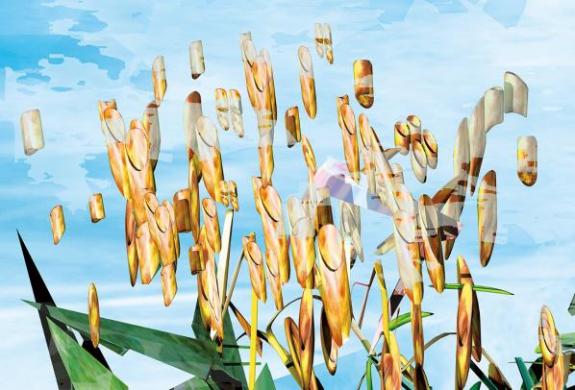 MG: Is there something you'd like to change in the art world, or in fields of art, technology and social change; if so, what would it be?
RM: I explore and question both sustainable and ethical issues of the urban environment that have been influenced by the socio-political realities of the Anthropocene, using visual/cognitive semantics, analogical reasoning, and narrative metaphors. As human population and energy use have grown exponentially with great acceleration, the interactive effects of the planet transforming processes on the environment are impending issues that we have to come to terms with. Thus, my projects hinge on how trans-humanism, the emergence of synthetic biotechnology, and nano-technological innovations can help us respond to the current ecological crisis.
"The themes of my work hinge on how the scientific tenets of trans-humanism, the emergence of synthetic biotechnology and Nano technological innovations might respond to the Anthropocene epoch, and, eventually foster critical thinking in relation to the underlying agendas of the increasing dominance of human-centric biophysical processes and the subsequent environmental crisis." [1] (Matsumoto 2017)
With my recent work, the symbiotic interplay of the advanced biosynthetic technologies and the preexisting obsolete infrastructures has been explored to search for an alternative trajectory of future environmental possibilities. In short, new technologies can complement old ones instead of completely replacing them, to avoid starting over from a blank slate or facing further ecological catastrophes.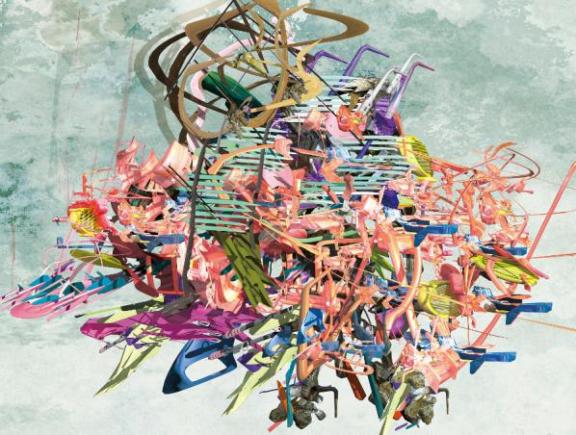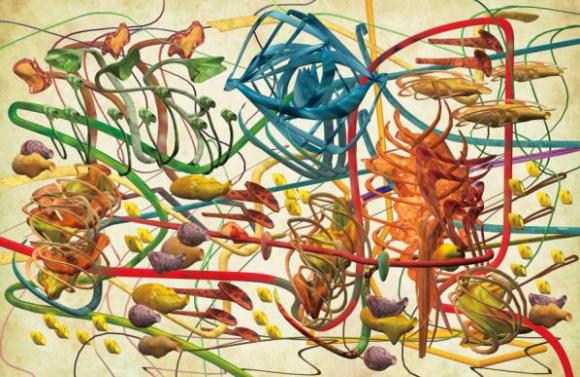 MG: Describe a real-life situation that inspired you and then describe a current idea or art work that has inspired you?
RM: I was fortunate enough to experience firsthand Hong Kong's rapid urbanization driven by the staggering economic growth throughout 70s and early 80s. In hindsight, it could be called the beginning of rising prosperity in the Pearl River Delta region. I was fascinated by the fact that both the unregulated Kowloon Walled City and the newly-built Shanghai Bank Tower stood only a few miles apart from each other around the same period. They could be seen as two sides of the same coin, as they both represented the rapid and chaotic economic growth of Hong Kong at that time. It suddenly dawned on me that the juxtaposition and coexistence of polar-opposite elements connoted both visual tension and harmony in a somewhat intriguing way, regardless of their nature, function, and field. That contradiction nurtured and defined my own aesthetic perceptions in both visual art and urban design.
MG: What's the best piece of advice you can give to anyone thinking of starting up in the fields of art, technology and social change?
Although it might sound like a career detour at first, it is always helpful to go off the beaten path before starting out as an artist. In my case, my experience as an architectural designer and urban planner certainly helped me to break the creative mold and approach my work with a broader perspective. Even now, I still firmly believe that it is always helpful to learn and acquire the wider knowledge and skills from other fields, and that opening up your mind to new ideas will allow you to discover your own unique path in your life.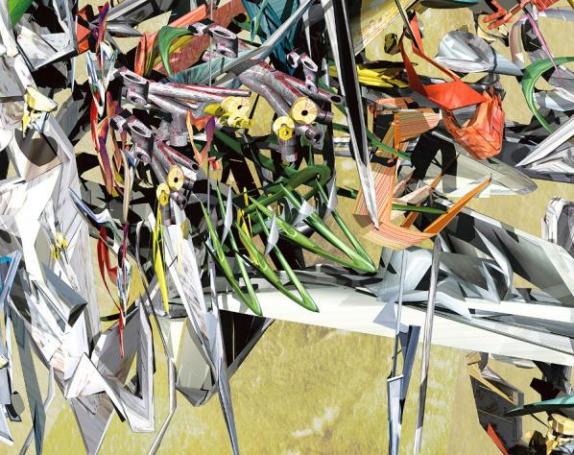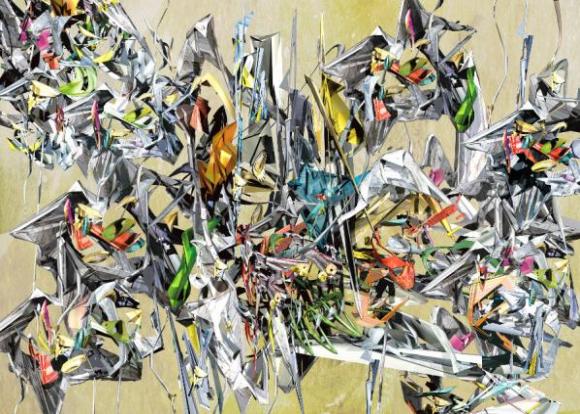 RM: Finally, could you recommend any reading materials or exhibitions past or present that you think would be great for the readers to view, and if so why?
The retrospective of Le Corbusier's work is the last exhibition I've seen and it was very fascinating. He is a great innovator, who had managed to continually reinvent himself to stay ahead of the curve over the course of his life. If you are interested in 20th century architecture encompassing early modernism and the Brutalist movement, it is definitely worth visiting.