Furtherfield has worked with decentralised arts and technology practices since 1996 inspired by free and open source cultures, and before the great centralisation of the web.
Who cares about decentralisation?
10 years ago, blockchain technologies blew apart the idea of money and value as resources to be determined from the centre. This came with a promise, yet to be realised, to empower self-organised collectives of people through more distributed forms of governance and infrastructure. Now the distributed web movement is focusing on peer-to-peer connectivity and coordination with the aim of freeing us from the great commercial behemoths of the web.
What does decentralisation mean for the arts?
There is an awkward relationship between the felt value of the arts to the majority and the financial value of arts to a minority. The arts garner great wealth, while it is harder than ever to sustain arts practice in even the world's richest cities.
In 2015 we launched the Art Data Money programme of labs, exhibitions and debates to explore how blockchain technologies and new uses of data might enable a new commons for the arts in the age of networks. This was followed by a range of critical art and blockchain research programming:
Building on this and our award winning DAOWO lab and summit series, we have developed DECAL – our Decentralised Arts Lab and research hub.
Working with leading visionary artists and thinkers, DECAL opens up new channels between artworld stakeholders, blockchain and web3.0 businesses. Through the lab we will mobilise research and development by leading artists, using blockchain and web 3.0 technologies to experiment in transnational cooperative infrastructures, decentralised artforms and practices, and improved systems literacy for arts and technology spaces. Our goal is to develop fairer, more dynamic and connected cultural ecologies and economies.
2019 DECAL projects:
Collective – an artist led research project on value creation for collecting 21st Century art forms, with Arteïa.
CultureStake – a system for equitable opt-in for cultural community stakeholders. With oscoin, the decentralised network to allow a fair economy for world's open source software.
DAOWO World Tour of the blockchain laboratory and debate series for reinventing the arts – with Ruth Catlow, and Ben Vickers, Serpentine Galleries with Goethe-Institut London.
For more see our Art and Blockchain resource page.

Copyright has been a relevant topic since the development of the printing press. It grants the author the exclusive right to reproduce, publish, and sell the content and form of intellectual property. The copy & paste mentality of the Internet user brought chaos to the system. Blockchain technology should now manage the author and marketing rights in a way that is more transparent, completely free of Bitcoin and monetary background. The idea had its origin in the art scene.
The Internet is a space without horizons or frontiers. It has changed our environment and also, thereby, our sensory perception. In 'the real world' we are confronted everywhere by people gazing deeply into smartphones: on the street, on the subway, in airplanes, in queues and cafés. Interpersonal dialogue is increasingly being conducted in the virtual sphere. How does the art scene react to new technological developments in arts? I asked Alain Servais (collector), Wolf Lieser (gallerist) and Aram Bartholl (artist.)
AD: Alain, you are collector of digital art since many years. How actively do you use the Internet and the possibilities that it brings for research into art?
AS: I have the opportunity to generally be able to experience art in the real. This is still an indispensable element in the process of acquiring. I'm a big user of the Internet when it's a question of looking for information on art that's of interest to me. The key information I always try to gather before acquiring a work is: – a document collating the works which have marked the evolution of the artist's practice –a piece of writing by an academic, curator or critic contextualizing the artist's work – an interview with the artist, as I want to hear his/her ' voice' speaking about on his/her art – and a biography.
AD: Wolf, how much do you use the Internet and its possibilities for better marketing in the art scene?WL: We have a presence on various social media and websites, for example, FB, FLICKR, Bpigs, ArtfactsNet, etc. But we try to limit it to those pages that are relevant to art. As an actual communication medium we primarily use Facebook.
AD: Aram, killyourphone.com provides relief and a critique of technology. What would your subjects be without the Internet?
AB: Despite rising levels of communication across devices and networks, I nonetheless notice how, when friends express their opinions on the social media channels, they do so ever more consciously and selectively. We've come to understand that all of the commentary and spontaneous utterances on Twitter, FB & co no longer just disappear, but are saved, analyzed and used. 'Private is the new public', said Geraldine Juarez recently. The belief that the net makes the world fantastically democratic and offers an equal chance for everyone has, at least since Snowden's revelations, been finally buried. To that extent, the theme 'how would it be without the Internet?' is very interesting! How could we communicate without central, monitoring services? Which low-tech DIY technologies are available in order to exchange data 'offline'? How can we live without Google?… (A self-test is strongly recommended).
The interplay between the old and new environments leads to numerous uncertainties and generational conflicts. While some nostalgic digital immigrants still assess the advantages of the digital world as being synthetic, alien and unsocial, to the generation of digital natives, the digital abundance is felt as entirely natural. For them, the new technologies were with them in the cradle.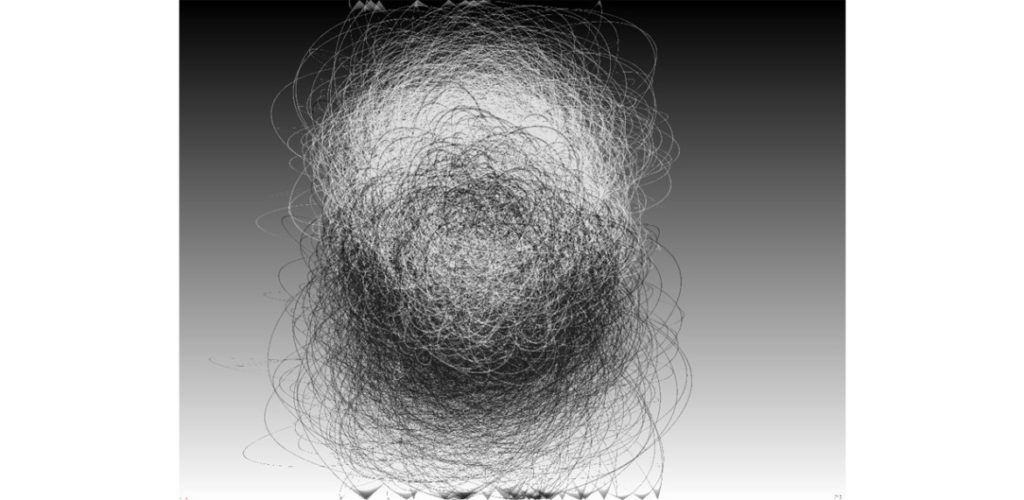 AD: Alain, you are a digital immigrant. What was the first media work in your collection? When did you buy it and why?
AL: My first experience with digital art was with bitforms gallery in NY, more than 10 years ago – at a time when it was really under the radar. I went to an exhibition by Mark Napier from whom I acquired a work at that time – one of the "Old Testament" pieces. That was very natural for me, because I was looking for some new kind of art. I knew enough of art history to know that every important movement in art was always linked to a social, economical, technological, psychological development in society. It was a time, when I was trying to collect works that were really addicted/connected to the actual world, the world around us. I was thinking, ok let's put myself in 2150: when I'll be using my third heart and my second brain, what will I say was important in the year 1999/ 2000? Without any doubt it will be the computer and the Internet 2.0 with Facebook and social networks and everything. Eventually I thought: wow people were creating art and it is digital. I immediately considered it to be a very important development for the arts.
AD: Wolf, you procure and sell digital art. What do you think today is the greatest obstacle to understanding the effect of new media?
WL: The sale and procurement via the Internet leads to superficiality. This is, at least, my perception. Experiencing art on a website, interactively or not, is often characterized by shorter cycles/loops compared to viewing the same website here in the gallery. I think we need, as we always did, a balance between the real and the virtual. And actually, this makes sense, because we ourselves do embody both. It's a reason why the digital natives often express themselves in analog media – it's no coincidence!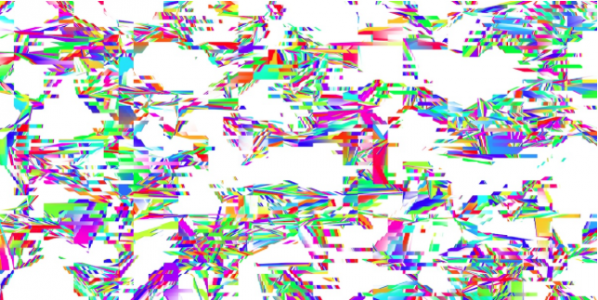 AD: Aram, your works stand at the charged interface between public and private, online and offline, between technological infatuation and everyday life, whereby you teach us how to better understand our new environment. ' Whoever sharpens our perception tends to [be] antisocial …', said media theorist Marshall McLuhan. Is it true?
AB: Especially TODAY it is more important than ever to sharpen perception with regard to the effects of technological development. Two and a half years after Snowden the public discussion on privacy and mass surveillance continues to level off. While the big secret services use their hefty budgets to snow us under, and to lock the doors to the NSA, the interest in further explosive leaks from the Snowden documents is fading. 'Nothing to hide' is the mantra of the 'Smart New World', in which we can neither see nor sense the complex mechanisms of surveillance. In contrast to the dystopic Matrix scenario, our world will ever be fluffier, smarter and more comfortable, unless one has the wrong passport or sits on a bus next to a presumed terrorist. Then reality will be brutal. Precisely for these reasons it is so important to make the hidden, abstract data world understandable, whether through concrete images, objects, or installations. If you were to hold 8 volumes with 4.7 million passwords of LinkedIn users in your hand hand, you would suddenly understand the significance of the security of our online identities.
Copyright has been a relevant topic since the development of the printing press. It grants the author the exclusive right to reproduce, publish, and sell the content and form of intellectual property. The copy & paste mentality of the Internet user brought chaos to the system. The blockchain technology should now manage the author and marketing rights in a way that is more transparent, completely free of Bitcoin and monetary background. The idea had its origin in the art scene.
AD: Alain, do you think the further development of the blockchain lead to more transparency and protection against forgery?
AS: I would not use the word forgery, but certainly [against] an unfair use of material or a copyright infringement. I suppose that the blockchain is one path that should be investigated and tested for the copyright protection of online works of art. I believe in a transformation of the economy of the market for online art towards the direction of a wider distribution through, perhaps, a 'renting' of the work rather than an illusory acquisition (taking into account the copyright stays with the artist anyway). i-tunes and Spotify both adapted well to the online art economy.
AD: Wolf, do you make use of these new possibilities within the marketing of digital art? And have you already thought about a new currency model?
WL: I've already been confronted by this and I think that it makes sense. With my artists though there's as yet no need or willingness. I've yet to engage with new currency models.
AD: Aram, to what extent is the blockchain and Bitcoin really discussed within artist circles?
AB: Services like Wikipedia, the Open-Source Software movement and, in principle, the entire World Wide Web wouldn't exist at all today had Telco-payment-services pushed through its fee-based BTX/videotext with pay-per-view, in the 1980s. Naturally the possibility turns the never-ending reproduction of classic markets on its head, and in recent years, there have been extensive debates about copyright and intellectual property. We shouldn't forget though, that a large part of the software that operates the Internet and millions of devices came about in the spirit of the sharing-culture. 
The blockchain is a powerful tool, which introduces a form of artificial scarcity into the digital environment. It's up to each artist himself or herself whether and how he or she chooses to distribute their work. The art market and the demand will certainly create some model or other for the sale and distribution of art that only exists in bits and bytes. Let's wait and see…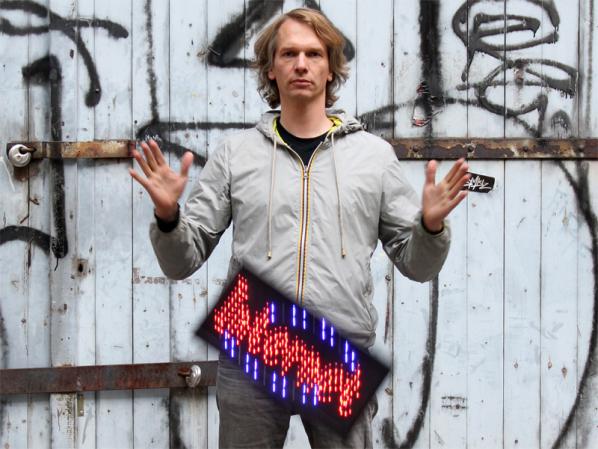 In September 2012, Italian tactical media artist Salvatore Iaconesi got the diagnosis. He had a glioma (glial cell brain cancer) of approximately 2×3 cm on the surface of his right hemisphere. Upon asking to see all the data relating to his condition, he found that all of the documents, MRI scans, and so on were in obscure not readily used formats. This meant that if one wanted to view the data, you needed specific or corporate software.
What he did then was remarkable. Iaconesi then hacked the formats of the documents and converted them into open-source ones that anyone could read could read with FLOSS (Free Libre Open Source) software. He then created the site, La Cura, where he presented his records as an "open source cure". People around the world could access his records and then add their recommendations and findings about his condition, cancer, and so on. I begin this interview with Salvatore on September 15, 2012, and the La Cura website already has a rapidly expanding database of information at http://www.artisopensource.net/cure/.
Patrick Lichty: Salvatore, thank you for having this conversation. I remember that it was only a year and a half ago when we were shop-giving copies of the REFF tactical media book from your project, Fake Press in Rome. So, it was a shock when I learned of the glioma the day you launched the site. Could you talk a little about what is on the La Cura site?
Salvatore Iaconesi: Hi Patrick! Yes I do remember, too. And that is also a great explanation on what can be found at La Cura site: it is like one of our "fakes", except that it is not a fake.
La Cura is about an alternative reality which I want to materialize on this planet, now. In this alternative reality, when someone has a serious disease, life does not end. One can be social, creative, and friendly. Work, art, design, fun and entertainment are possible for diseased people in this alternative reality, just as it is possible to reach out to find cures in any philosophy, time, strategy, culture or way one wishes. And consider that even technologies in this alternative reality are designed to enable and facilitate all this, actively promoting the freedom and autonomy of people.But, sadly, life is not like this alternative reality.
I wanted it to be my alternative reality, so I just did everything it took to bring that reality into the world. It's like when you make an Augmented Reality application: you do a series of things to "materialize" some other things into ordinary reality. And then you have them, right there. So, La Cura is my personal Augmented Reality, in which, if I want to, I have all the tools and information I need to find a "cure" for my disease in one of multiple ways and strategies, which are medical, cultural, technological, emotional, artistic, political etc.
To achieve this, I have had to go through a series of obstacles:
The first is connected to language and information, as the first thing you notice at the hospital is that they are not really talking to you. Medical language is difficult and complex, and they rarely take action to make things more understandable to you. One of the testimonies I received in La Cura was that of a lady who has found herself in front of a doctor shouting at her: "You really think that I will explain to you why your thyroid has to be removed? It has to be removed! That's it!"
This is really not "open", in any sense. And, in more than one way, it is an explicit evidence of the approach which medicine has towards patients: they cease to be "humans" and become sets of parameters on a medical record subject to certain protocols and standards. When you are in the hospital, it's often as if you're not there. The only thing that matters is your data: blood pressure, heartbeat, magnetic resonance etc.
And the way in which information reflects this if handled in this context. Data formats may be, technically "open", meaning that they are described somewhere but they're really an explicit reflection that when you're sick you "step out of society". That data is usable and accessible only to "professionals" and to those people who have tools and skills to handle them.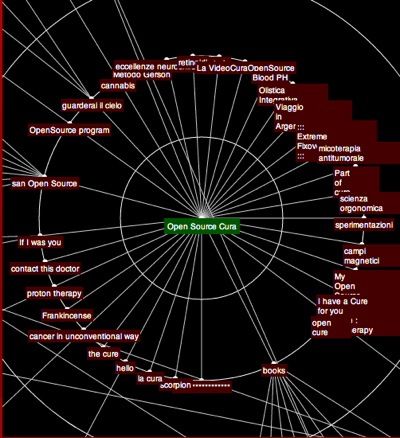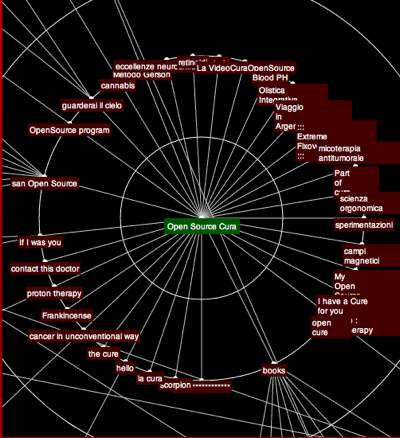 I, as someone with considerable expertise with computers, have had some difficulties in opening them. Imagine someone else with less skill! Most people would not have been able to benefit from all the types of "cure" which I am currently accessing from a variety of sources and modalities. They would not have access to a "cure" that doesn't end at a list of medicines and dosages, but spreads out into society.
To do that, I have had to hack into the information and convert it into really "open" data, using multiple formats that could be used by many kinds of people to do multiple things. In the format that the data was originally in, even if it was "technically open", that data would have been seen only by "professional doctors" and, instead of being a "human being", I would only have been a "patient", or worse yet, a "case".
PL: What do you want people to do with the information?
SI: Whatever they wish! Obviously! What is important in this case is that we must agree on what the "information" is… What I am publishing is my autonomous will to disclose my state of disease, including all data and medical information. I have my own purposes for this, but it does not necessarily mean that this purpose must/should be shared by others.
My personal purpose for this disclosure is to autonomously shape my own human condition. I have a disease but I am not a "diseased person". I am a person. And, as such, I wish to create my personal "cure", which has to do with my life, not with my disease. For what people know, I might even consider cancer as not being a "disease" at all! I might, for example, consider it an expression of the "cure", such as if I adhered to Hamer's theories. Which I don't, or, at least, not in the sense that "I believe" in Hamer's theories; I take them into consideration, but I don't believe in them, just as I don't believe in chemotherapy, in Aloe Vera, in Caisse Formula, in surgery, in shamanism, in healers, oncology or in any of these things. I take all of them into serious consideration, just as I seriously consider certain philosophies that say that we are made of energy, energy creates matter, and cancer is "matter" and so on. Therefore, cancer must be created by energy in some form. And so it could possibly be that I created cancer myself in a way or another.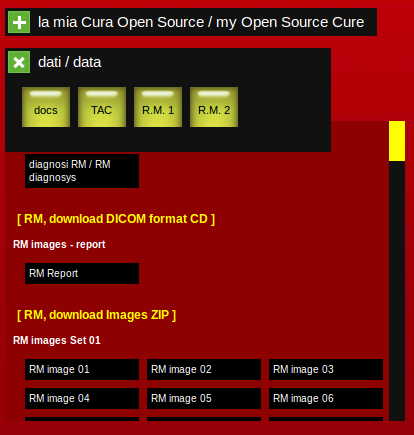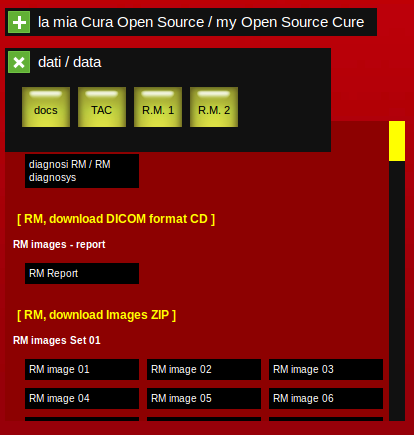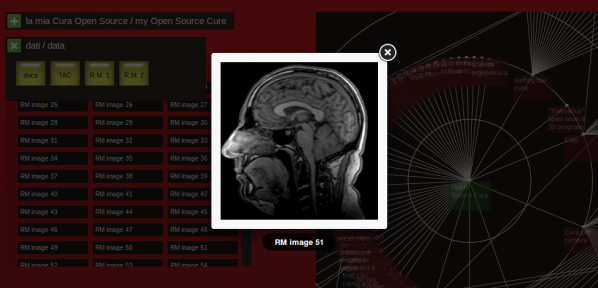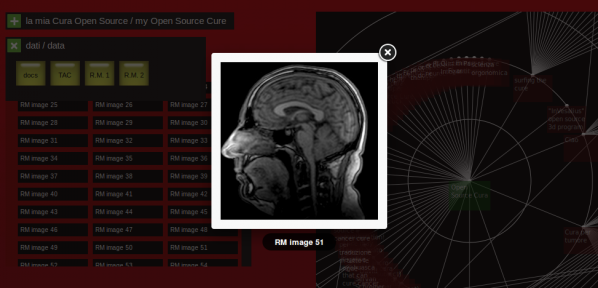 So in this sense, I think it is very important to be able to easily look at the images of my cancer and to say "hello" to them. It is important to turn them upside down, to edit them with GIMP, to make mosaics out of them, to speak to them, asking "hello?" What are you doing in there? Did I do something to cause you? Can I change something to make you/myself feel better?"
Both scientific and traditional evidence shows that art, positive emotions, laughter, reduced stress, and a good social life have great practical benefits to the human body, I want to seriously consider that part of my cure could be formed by receiving an image of my brain with a smiley face drawn across it over the tumor, or a picture of a friend of mine, or a video of a projection mapping done with Processing in which the images of my cancer cover a whole facade of a building.
And since I don't want to believe, but I want to take all of these things into serious consideration, I cannot focus only on the "medical" approach (and the related information, and its formats). I need to access all of my information in multiple ways, and I wish that everyone could do the same (as, from my point of view, it's part of my Cure). And, even if "technically open", the format in which my medical records have been disclosed is not enough, because it is "open for professionals" and so the only thing I could do with it would be "show it to professionals", missing out on all the other wonderful parts of the "cure" which are available in the world.
This for me, is an interesting starting point to think about what things such as "OpenData" could mean. This is far beyond the idea that some government can some data according to ways in which some "professionals" could grab it and, do something like make a visualization or an App out of them. Who knows? In this sense, instead, we would not be talking about "technology", we would be talking about "humanity".
In the end, this is exactly what I'd like people to do with the "information". I want the world to take the fact that I decided to disclose the fact that I have a disease and that I want to actively search for a cure for from all of these perspectives. In the meantime, I want to reconsider what it means to be "diseased" in current times and what new conceptions of the word "cure", "medicine" associated with my condition could mean.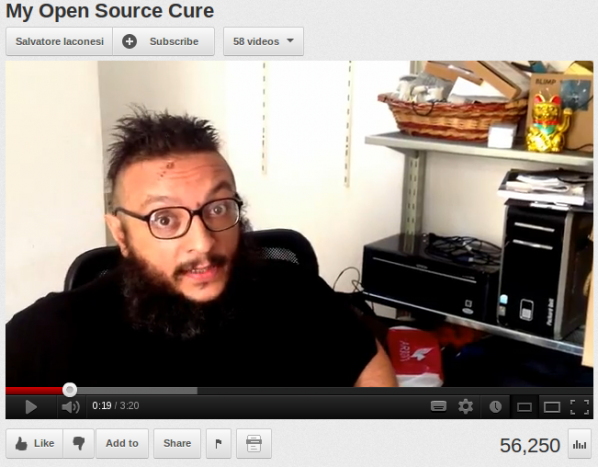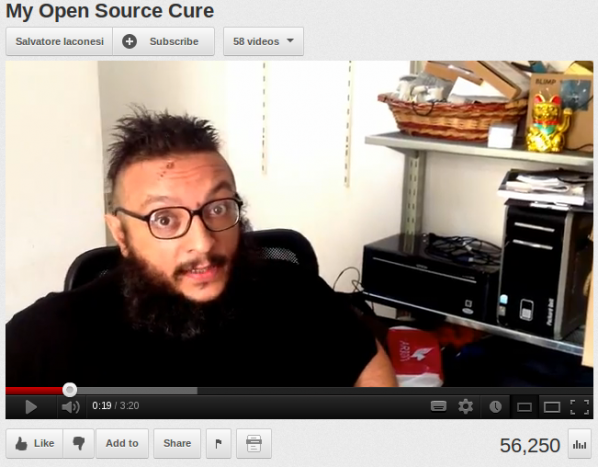 PL: What has happened since you launched the La Cura site?
SI: Lots of things. People are contributing and participating in multiple ways. There are testimonies, art, poetry, suggestions, videos, performances. Many doctors have called in to propose their methodologies and technologies. I have had very interesting and profound discussions with people who are prepared to deal with very complex things every day of their lives. I've communicated with doctors who are perfectly open to the possibility of such a paradigm change for the word "cure". Artists, designers, activists, are giving me wonderful parts of "cure". Many "patients", "ex-patients", "relatives" and "friends" of "diseased people" are sharing their experiences, are opening discussions, are sharing the information I found on possible medical cures. And so many people want to talk to someone in new and different ways, becoming again, simply, humans. Journalists from all kinds of media have started to ask for interviews, texts and videos. We stopped that after a while, as we don't wish to turn this into merely a "spectacle". We only keep on working on this with journalists which we know we can trust and which we know will not transform what we say to produce their news.
PL: For your information, I had an MRI in 2009 here in the States, due to my doctors' concerns of something similar (nothing was found), but when I asked for the data, I got a CD full of JPEG images. Were you surprised when you found out your records were in particular formats?
SI: They were not really in a proprietary format. Let's call them "exotic formats for professionals". And yes, I would have expected something which I could have shared easily (such as your JPEG images, and maybe some meta-data in some easy to use format such as XML, or even a spreadsheet). But this was a sort of paradox: an "open" format which is really hard to open and to use for something else other than putting the CD in an envelope and (snail)mailing to the next doctor.
PL: What do you think the line is between privacy and data oppression? Would that be when the patient is denied access to their rights to access the information and distribute it as they wish?
SI: We should all know this by now. Privacy is not a problem unless the "system" is made by lousy people. We have tools to protect ourselves and to promote ourselves, and these tools are dangerous only when who runs them is a lousy person. Privacy protection arises through education (understanding what is privacy and when/where/how/why would I want to protect it) and through the acquisition of decent ethics from the people and organizations which run the entire infrastructure through which all our digital data goes through. And obviously, and most importantly, our ethics is created by helping each other out in a P2P way, teaching each other what we know, what we discover and how we decided to handle it when we found out.
There is no single line between privacy and data oppression. Not one which everyone would agree on. We have the tools for each one of us to tune this line to our own wishes, according to what we want to do, what are our desires, what are our objectives etc. We "just" need more places (physical, digital, virtual, institutional, occasional…) in which to discuss and share our points of view, as every time this happens, many things are learned on all sides.
PL: Do you consider your site a form of radical tactical media intervention?
SI: I can now say "I have a radical tactical media intervention in my head". Cancer is the new Black. The Cancer is the Message. And we could go on. I don't know. I guess I could call it that. I also guess I could call it a performance. I guess I could call it life. I guess I could call it hacking or whatever. I will just call it La Cura.
PL: What has been the most inspirational information, art, or otherwise that has resulted from the launching of the La Cura site?
SI: The most enlightening thing that happened is the experience of talking about the same exact thing using dozens of different languages. I have spoken with neurosurgeons, shamans, nutritionists, pranotherapists, doctors, activists, macrobiotics, hippies, cyberpunks, punks, friends, relatives. Most of the time, I received incredibly good advice. When you look at that advice from different points of view, you start to understand that you are really talking about the same thing, but in different languages.
For example, two of the most important things which you deal with when you talk about cancer are the idea of creating alkaline environments in your body (because cancer cells cannot stand them) and the facts that anti-oxidants are a great tool in support of any type of therapy (because of the molecular reactions which are at the base of cancer).
Well, speaking of just these two, it occurred to me that multiple theories deal exactly with these two concepts. I have had an esoteric master describe my cancer as an invisible living being, and he suggested to drive it away using sulfur and Rosa Rubiginosa oil, in ways which turn them into two incredible anti-oxidants and creators of alkaline environments as well as powerful stimulants of the immune system. I have also spoken with nutritionists and macrobiotics communities and learned about their instructions on choosing food, cooking and eating, many of which are directed exactly to that: anti-oxidants and creating alkaline environments, but through food.
And when an oncologist explained us his therapy, that's exactly what it was about: powerful anti-oxidants and alkaline environments. And on, and on and on. Aloe Vera, Caisse formula, fungus theory, chemiotherapy, Di Bella method, potassium ascorbate, ketogenic diets, etc: all highlight cancer cells in some way; create an environment around them which is as alkaline as possible; anti-oxidate them; activate the immune system as powerfully as possible so that the highlighted weakened, cancer cells can be more easily "convinced" at mutating back to a decent form or to commit suicide with the help of the immune system. Realizing this is an enlightening experience: it spans across thousands of years and also helps you make some choices (things stand out when they speak about different things!).
Everything else that is going on in La Cura is wonderful, but having realized this fact is just incredible and fascinating. You start imagining about all the other things we discuss about in our daily lives using multiple languages (energy, politics, emotions…) and start to wonder what would happen if you turned on this shared, P2P modality in those cases as well.
PL: How do you hope that others will benefit from the conversation that you are starting through La Cura?
SI: I don't "hope" anything. I did this because I felt I needed to. When one talks about "revolution" dialogues start arriving at the point when one says, "Let's burn everything down!" "Let's destroy everything!" and so on.
We know we can't do it. We can't "destroy everything". It's not possible. What we can do is to create a reality as if everything already happened – as if the "revolution" already happened, as if the world had been burned down already, and rebuilt, just the way you like it. We can live life like this. It is a bit more than "seeing things". But you do Augmented Reality, Patrick. You know what I mean. It's a bit more than "writing", it's about creating worlds.
PL: As of this interview, what is the prognosis of your condition?
SI: Depends on what perspective you look at it from. From the medical point of view I have a low-grade glioma at intensity which is still undecided, between 1 and 2 (we will have to wait an histologic exam to know for sure). From the human point of view: I am fine! I have no apparent symptoms. I just need to be careful because if I find myself in stressful situations I could react by having an epileptic shock. So it is not advised that I drive or things like that. It's the perfect excuse! 🙂
PL: Don't you think it's funny that the abbreviation for your name is "si"?
SI: Sì! Obviously 🙂
How can designers and programmers work more harmoniously? How can the tools being created better meet the needs of users? There is a need for designers to have a greater role in the production of the tools that they use, aside from just reporting bugs, requesting features or designing logos for open source projects. This is where the Libre Graphics Research Unit comes in. The Libre Graphics Research Unit (LGRU) is a traveling lab where new ideas for creative tools are developed. The unit has grand aims, looking to bring aspects of open source software development to artistic practices. The programme, sponsored by many organisations in Europe, is split into four interconnected threads:
Networked graphics
Co-position
Piksels and lines
Abstracting craft
The first meeting, Networked Graphics, took place in Rotterdam from 7-10 December, 2011 and was Hosted by WORM. This second meeting, Co-Position, for which I was present, took place at venues across Brussels from 22-25 February 2012. Co-Position is described by LGRU as:
[…] an attempt to re-imagine lay-out from scratch. We will analyse the history of lay-out (from moveable type to compositing engines) in order to better understand how relations between workflow, material and media have been coded into our tools. We will look at emerging software for doing lay-out differently, but most importantly we want to sketch ideas for tools that combine elements of canvas editing, dynamic lay-out, networked lay-out, web-to-print and Print on Demand.
The meeting saw the coming together of many international artists, theorists and developers for four days of work around this subject. As some of the sessions of the meeting took place simultaneously I'm unable to give a full synopsis of the event. Instead, what is presented below are some of the key issues raised at the meeting.
Libre workflows
The subject of copyright cannot be avoided when discussing digital art and collaborative practices. There is a definite need to foster a safe and welcoming environment for artists and designers to produce, share and remix their work. Licensing of artwork under Copyleft licences – such as Creative Commons – helps to create this environment.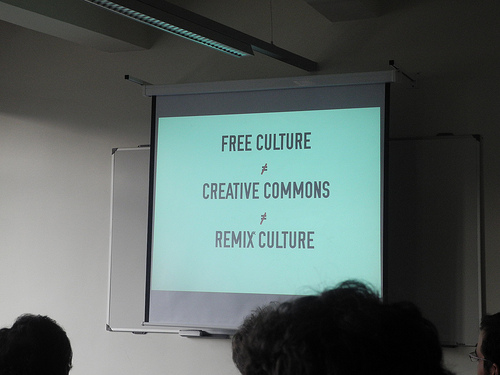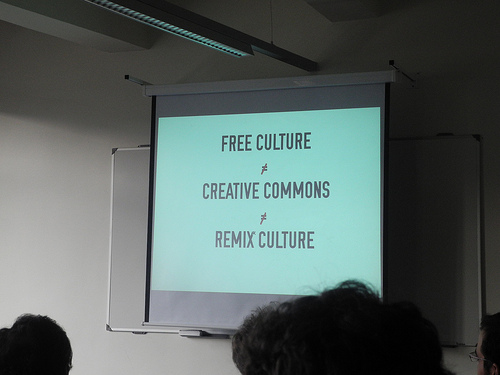 In his presentation, entitled "Libre Workflows – A Tragedy In 3 Acts", Aymeric Mansoux was quick to point out that Creative Commons licences do not cover the source of the artwork. To put it into context, a JPG is covered by a Creative Commons licence but is the XCF/PSD file? Mansoux also considered what is actually a finished piece of artwork? In a remix culture is an artwork ever finished? Mansoux refers to this quote from Michael Szpakowski for further elaboration:
I've found it helpful to think of any artwork, be it literary, visual art or music as a kind of fuzzy four dimensional manifold. So the "complete" artwork is the sum of all its instances in time, and all epiphenomena. The entire artwork, seen this way, is a real and precisely enumerable sum, a concrete, not imaginary, set, which could be knowable in its entirety by something long lived and far seeing enough.
Visual Versioning
From their home town of Porto, Portugal, Ana Carvalho and Ricardo Lafuente produce Libre Graphics Magazine with ginger coons who is based in Toronto, Canada. For the production of the magazine they use Git, with their repository being hosted on Gitorious. As a tool for sharing files between collaborators Git is very useful. However, they explained that they feel they are not making effective use of all that Git has to offer. Part of this comes from the complexity of using Git. There are more than 140 commands in Git, each with their own unique function. These are usually entered via the command-line, but there are a number of programs with a Graphical User Interface (GUI) available. Programs with a GUI are usually favoured over command-line programs as they remove some of the complexity. Carvalho and Lafuente have found, however, that many of of these GUI programs simply replace commands with buttons, which doesn't remove any of the complexity in using Git. What is needed is an easy to use specialised tool for the production of art.
Visual Versioning Work Session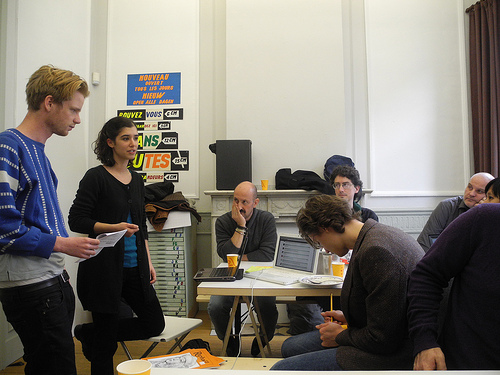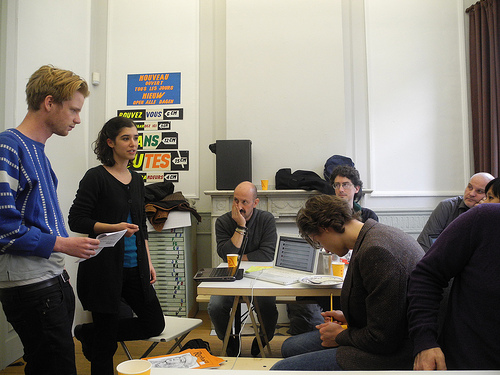 In this work session, presented by Ana Carvalho and Eric Schrijver, the work group imagined how to adapt existing version control tools to meet the needs of artists and designers. The session began by taking a look at how people currently implement version control. A common practice is to manually make backups, renaming files to differentiate between stages. This can be an effective way of making different versions, but it doesn't address other issues such as making comparisons or merging changes. The ineffectiveness of these manual methods is soon very apparent. The work group was introduced to the Open Source Publishing (OSP) Visual Repository viewer, which begins to respond to some problems with current version control systems by providing thumbnails of files in a repository.
Using this as a basis we began to look at other functions that the OSP Visual Repository viewer should have, such as the ability to compare graphical files in different ways and to revert back to previous versions or merge versions. Although there was no time to produce working code we did seek to address the complex task of merging and comparing not only the ouput file but also the working files (svg/xcf/psd).
Laidout
Every good work of software starts by scratching a developer's personal itch.
This quote from The Cathedral and the Bazaar by Eric Steve Raymond could not be more accurate in describing the motivations behind the development of Laidout, developed by Tom Lechner, a comic artist from Portland, Oregon. Perhaps one of the most impressive software demonstrations of LGRU, Laidout is a program for laying out artwork on pages with any number of folds, which don't even have to be rectangular.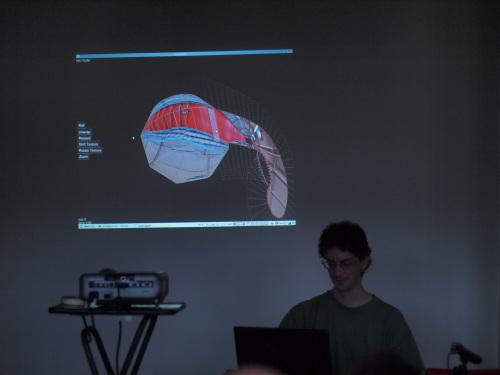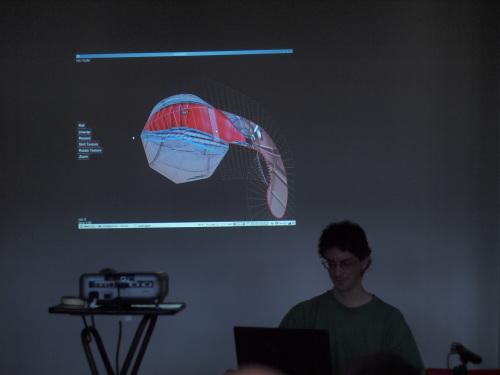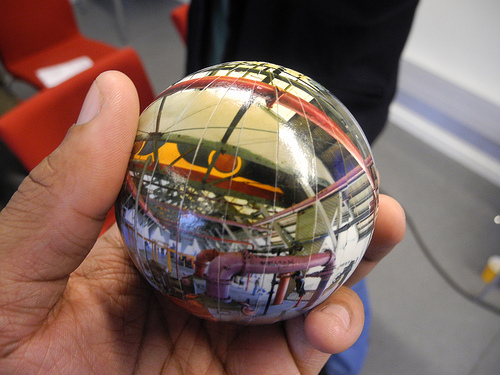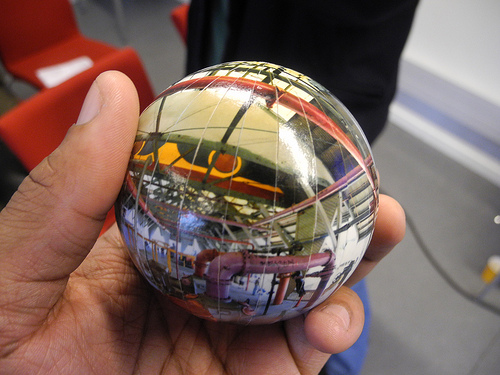 SVG from scratch
In an attempt to devise new tags that can be added to the SVG specification, Michael Murtaugh and Stephanie Villayphiou presented a work session that looked at the different ways language is interpreted by both humans and computers. To address this the work group took part in a task that saw them act as an interpreter of commands. With nothing more than a list of tags used in SVG files the work group would attempt to construct shapes.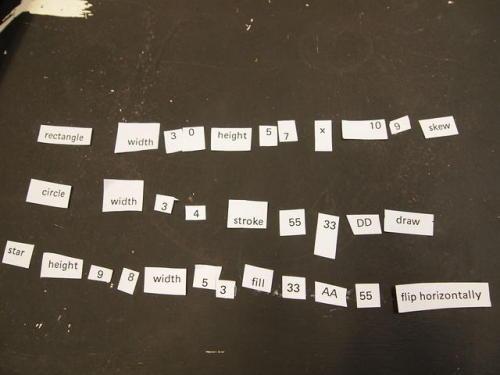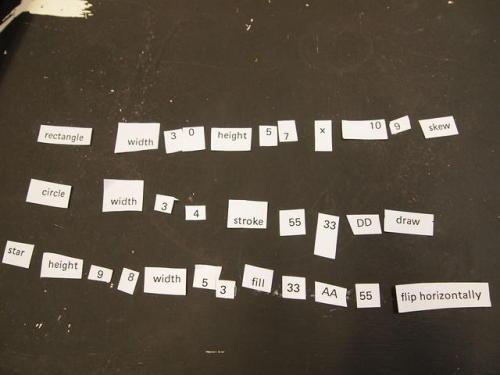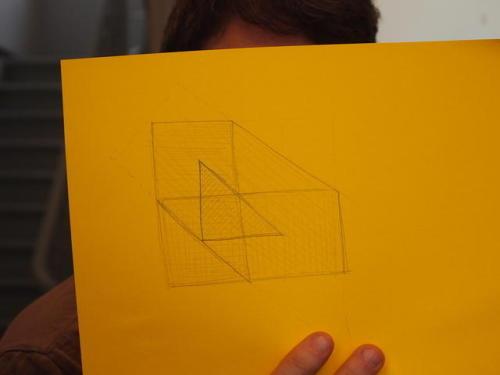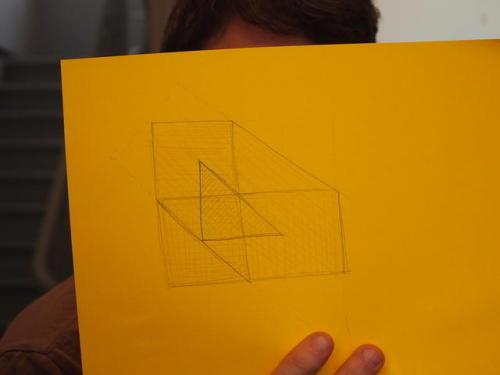 The results varied from person to person and highlighted an important question: How can computers interpret ambiguity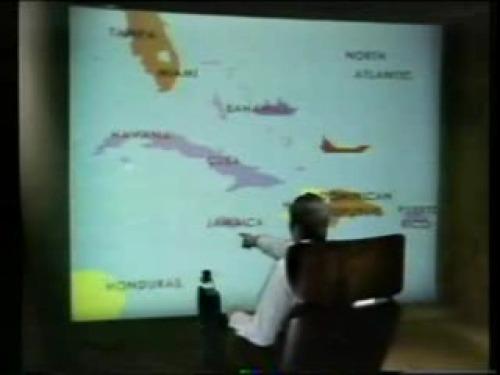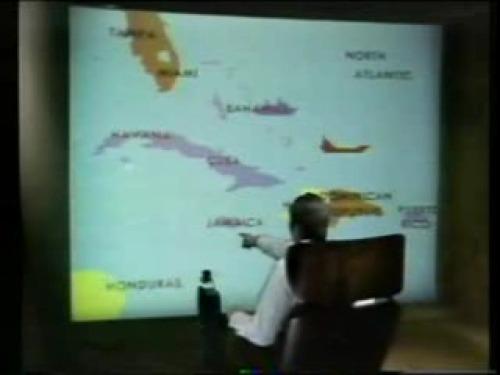 Using the Richard A Bolt "Put that there" demonstration, Murtaugh showed how human-computer interaction is still based around using very clear, unambiguous commands that can be easily interpreted by computers. In SVG only the most basic of shapes – rectangles, circles and lines – are represented. But, as the work group participants asked, could there be tags to represent more complex shapes, such as a horse?
Roundtable discussion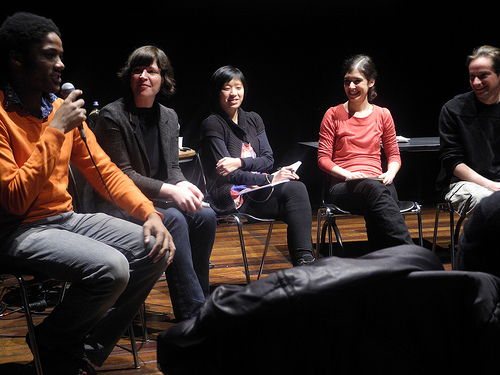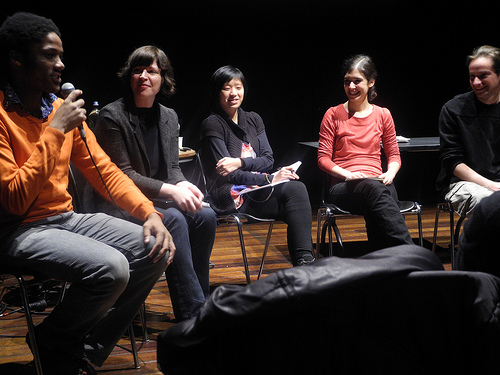 On the final day of the meeting I took part in a roundtable discussion, chaired by Angela Plohman and featuring myself, Stephanie Vilayphiou, Camille Bissuel and Ana Carvalho. The discussion first went over all that we had achieved over the four days at the meeting, and then the discussion focused on how and why we share our artwork. Expanding on the earlier quote from Szpakowski, how can we make sharing all of our artwork – including the early stages and inspirations behind it – an easier and integrated part of making artwork? In addition to sharing our final, "finished" artworks do we want to also share our processes and ideas behind the artwork? More importantly, can software easily aid this?
Other topics debated in the discussion revolved around opening up our artwork and processes to others. By opening up the development process of our artwork do we do so to invite collaborators and contributions or just observers? The Blender Open projects, for example, are highly regarded as an example of the work that can be made using open source software. The files used to make these projects are are released upon completion of the project, but the development process remains closed to the team of artists and developers. Would opening up this process to contributors add any value or could having too many ideas dilute the original vision of the project.
Although no conclusions around these topics were made, it was nonetheless important for everyone at the meeting to think critically about their practice
The Future of Layout
A concern of mine is that research is not always acted up on and exciting possibilities exist only as theory. However, I feel that the approach of Libre Graphics Research Unit, which combines research and practice, will ensure that the work undertaken at the meetings is implemented. It is actively working with developers and users to try and create solutions.
At the Co-Poistion meeting not one final product was made, but the initial vision for the future of layout was formed.
The next meeting, Piksels and Lines, takes place in Bergen, Norway and is organised by Piksel.