Disobedient Electronics: Protest is a limited edition publishing project that highlights confrontational work from industrial designers, electronic artists, hackers and makers from 10 countries that disobey conventions. Topics include the wage gap between women and men, the objectification of women's bodies, gender stereotypes, wearable electronics as a form of protest, robotic forms of protest, counter-government-surveillance and privacy tools, and devices designed to improve an understanding of climate change.
I was one of the lucky few to receive a hard copy of this fine little zine, a handmade limited edition of 300, put together by Canadian artist & researcher Garnet Hertz. It features 24 contributions of critical art & design, many of which taking a strong stand on feminism and surveillance /privacy issues, indispensable in current debate. Hertz initiated this publication in response to post-truth politics, in itself a notion shrugged off by populist drivel – "Politicians have always lied." – Ptp- strategies involve the removal of scientific context from popular claims in order to comfort the masses in turbulent times of change. Such trends are noticeable in culture and thus in the DIY- movement too. After a disappointing visit at a maker's fair, which essentially promoted the aesthetic design of blinking LEDs and the 3D-printing of decorative junk in an overall atmosphere of relentless marketing, the manifesto of Disobedient Electronics caught my attention, reflecting my impressions accordingly.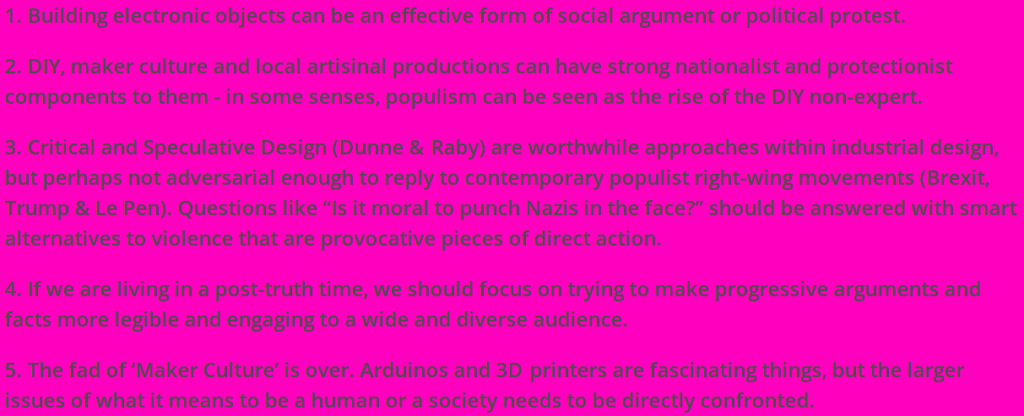 Decline of culture becomes visible as 'popular' themes such as sustainability or integration policies are readily adopted but actually serve as mere buzzwords to increase the marketability of events and products. Since it became profitable to sell electronic boards and a variety of accessory components, the prosumer (Ratto, 2012) is bound to available materials and building instructions and not encouraged to experiment or imagine alternatives to already available commercial design. Therefore many important layers of technology get ignored or regarded as not worth exploring due to the fetishisation of the final result. Although focus should be on action oriented making, tactile objects /installations are important when linguistics fail. We have already incorporated digital structures in every social aspect of our lives and it is difficult to observe let alone express them.
The book treasures the craft of DIY technology development, notably in the surveillance /privacy sector, and highlights the pressing need for knowledge in light of the technological advantage of those in power. Backlash provides us with an educational protest kit, including devices for off grid communication and bugging defence. These are functional but not necessarily designed for situations of conflict, rather for inciting a relevant debate among the general public. Phantom Kitty (work in progress) defies spying by authorities without a warrant and the enforced quantification of humans based on evaluations of online activity. It produces arbitrary noise when the user goes offline to obfuscate browsing habits and it is possible to integrate machine learning algorithms at a later stage, which could mimic or create identity patterns. Phantom Kitty features a stunning mechanical rack for keyboard and mouse operation, fed by a program executing search queries and the access of webpages. The project draws on the eeriness of neither knowing to what extent gathered data is exploited, nor against which parameters and targets it is set.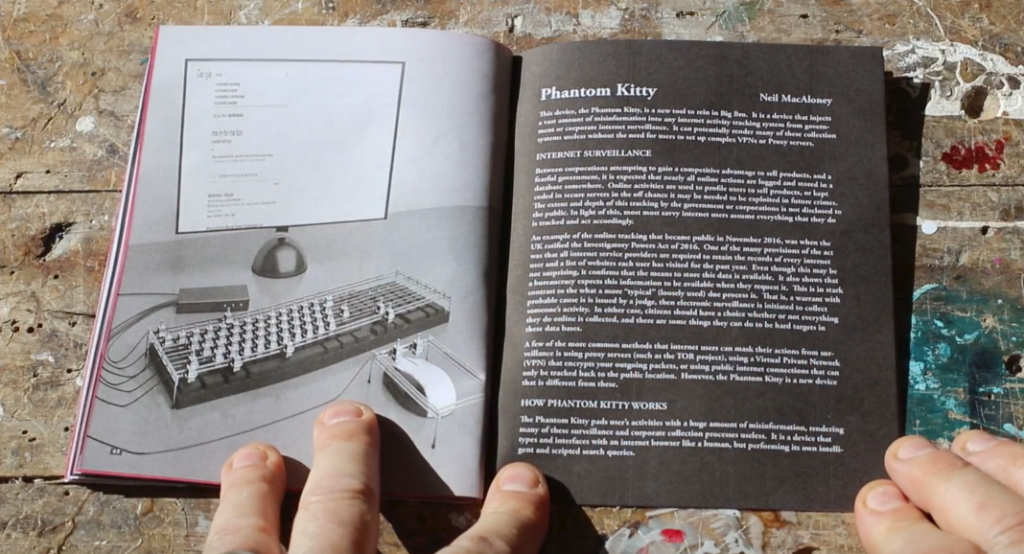 Completely left in the dark about the full scope of exercised control and entailing consequences The transparency grenade by Julian Oliver reminds us that citizens have a right to openness too. The promise of "making the process of leaking information from closed meetings as easy as pulling a pin" is tempting, and in contrast to the opaqueness of corporate and governmental policies, the artwork, other than claiming transparency, is representing it, in its aesthetics, open source software and in the thorough documentation of its engineering process.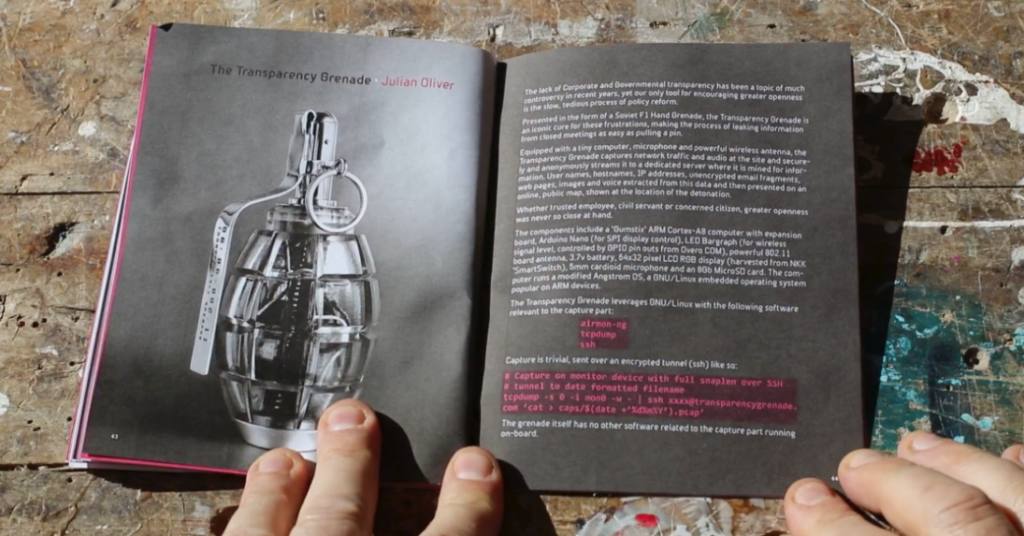 The well written accompanying text of one of my favourite projects PROBOTS describes effective works as "technologies of dissent that work at both the practical level but also the symbolic", by all means valid for those involved making this book, albeit associating with a manifold of disciplines. The tele-operated protest robot certainly meet those demands and can be sent out by the precarious worker as an answer to the efficiency of contemporary policing, simultaneously a metaphor for the limited potential in the act of present-day corporeal protest. The silencing of political resistance happens far beyond the streets and PROBOTS makes an extraordinary research tool for investigating the organisational power of technology, which prevents social progress already from the outset.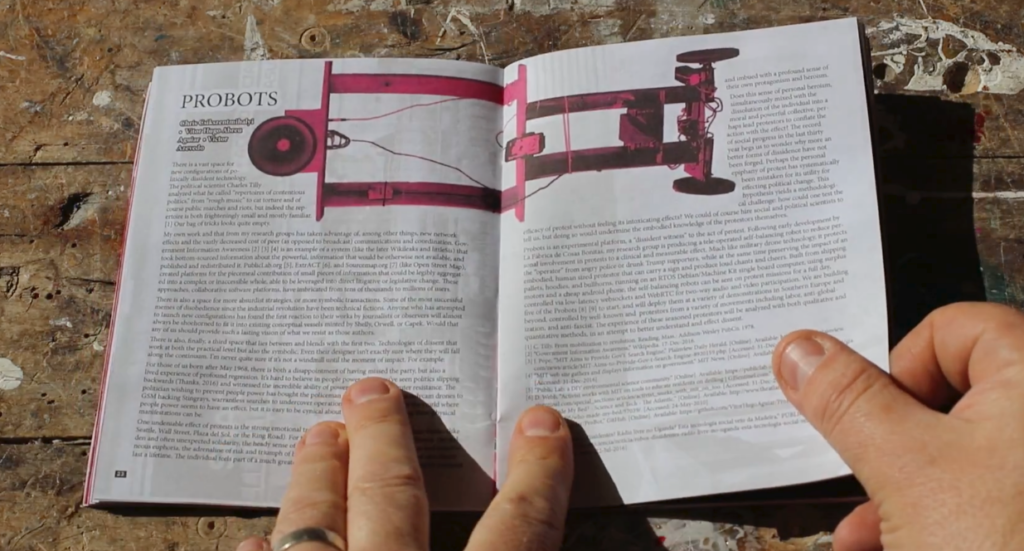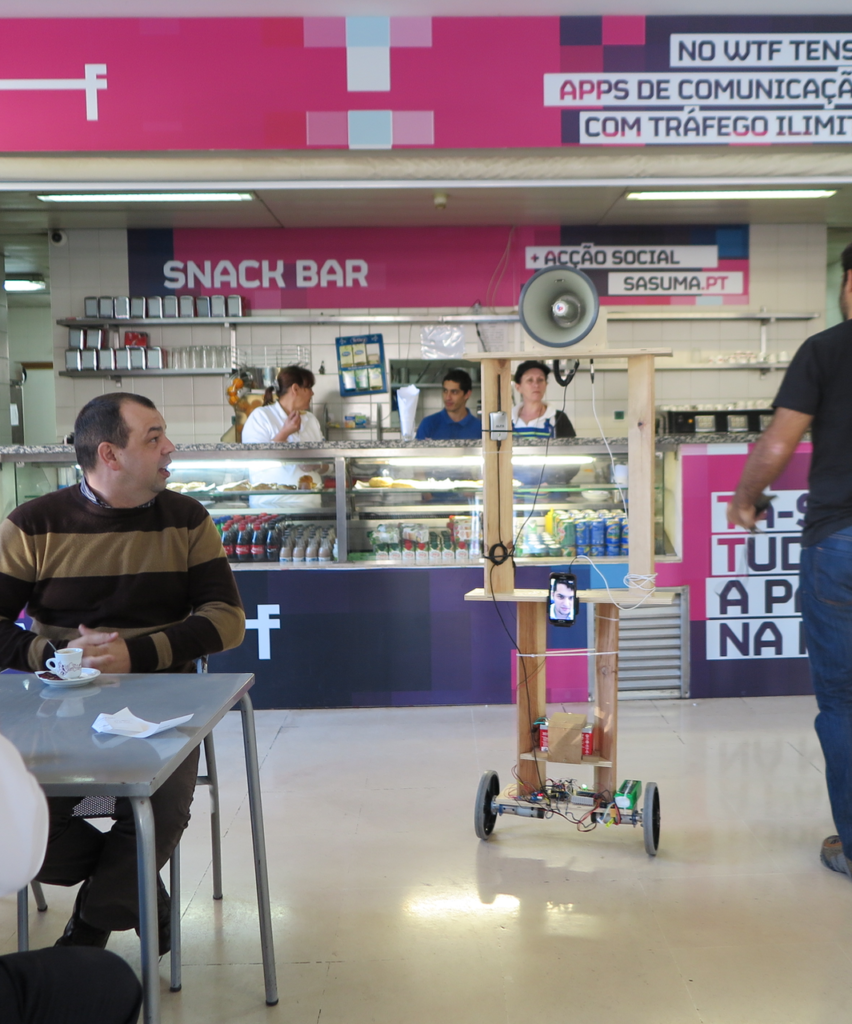 I've only recently discovered that e-textiles is not the same as smart clothing. It is a discipline, focusing on the act of making rather than the actual result, albeit in this case impressive too. The makers of The Knitted Radio approached the craft of knitting and electronics without economic reasoning, a factor which primarily informs the engineering process in industrial design. The liberation from conventional standards brought about alternative forms and methods, that is a sweater that also functions as a FM radio transmitter and the skill to knit electronic components /devices such as resistors, capacitors and coil with conductive yarn, an off-the-shelf material. The knitting instructions for the sweater are available online, it can provide a free of cost, independent communications infrastructure. The concept was inspired by the protests on Taksim Square, Istanbul, Turkey, and associated violations of freedom of speech. A Piece of the Pie Chart: Feminist Robotics by Annina Rüst illuminates gender inequity in form of a production line, which decorates edible pies with pie charts, depicting gender ratios in tech affiliated corporate or public organisations.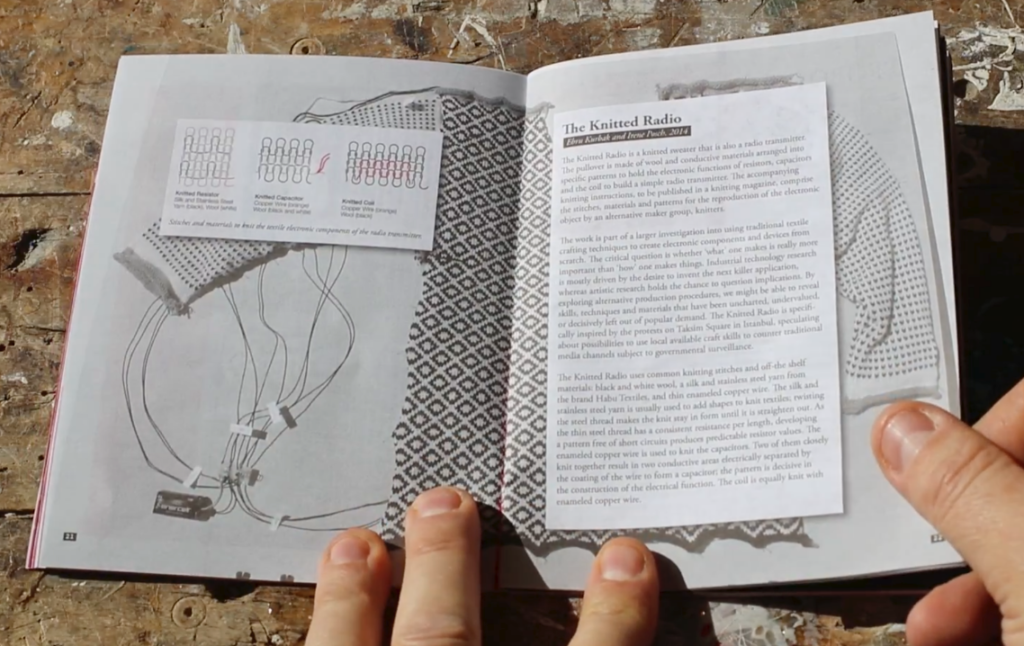 Women are generally underrepresented in tech related workplaces and users of the gallery installation can browse and choose between various data sets on gender in technology, e.g. computer science graduation rates, before an ensemble of household applications and semi-pro robotics sorts the cake. The mere visualisation of data was not radical enough, so the finished pie can be shipped to the institution of which data (and gender inequity) originates, and where it can be consumed accordingly. Women have to be content with the smaller piece of the cake, also symbolic for economic inequality and the missed out experience of working in tech. Rüst was not satisfied with the claim that women are just not interested in tech, and further qualitative research in feminist technology showed that women are rather put off by its hostile macho culture and that technological pedagogy simply failed to inspire girls.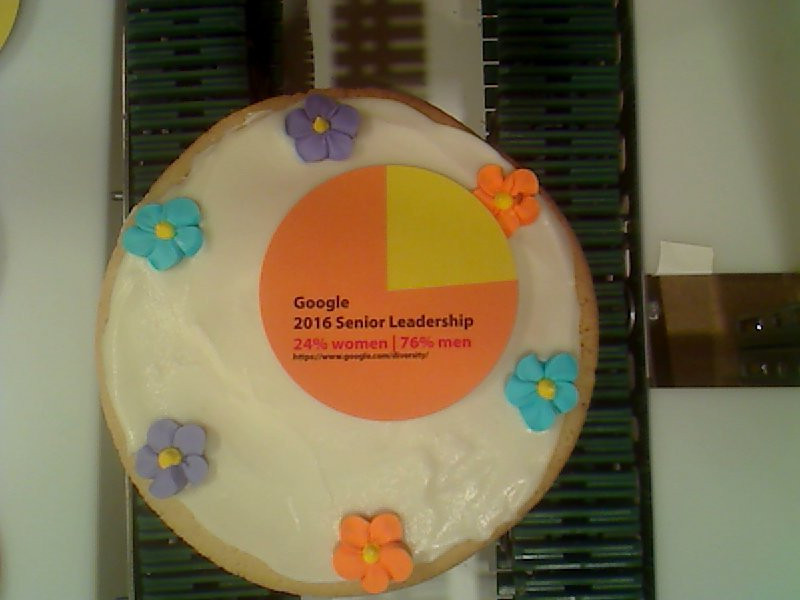 Tweeted image of a finished pie. Source: https://twitter.com/PieChartRobot
The PROTEST issue lives up to its title and emphasizes on projects, which propose hands-on political action and intervention with society, not in terms of providing solutions but to spark much needed discussion and inspire disruptive technology. Disobedient Electronics follows the publishing project Critical Making, which comprised 11 issues, so there is hopefully some more to come.
Hi Shaina! Tell us about the genesis of CAMP? How are you part of it? Why are you called CAMP?
CAMP came together as a group in 2007, initially consisting of me, Shaina Anand (filmmaker and artist), Sanjay Bhangar (software programmer) and Ashok Sukumaran (architect and artist) in Mumbai, India. The intersection of our skills and different backgrounds created a vital spark in which to experiment with technology and ask deep questions about form and ways of making radical political work. We are called CAMP as we are not an artist's collective (though we began as a collaboration with KHOJ which was an artist's collective in Delhi, which you headed operations for) but we call ourselves a studio. In this process, we try to move beyond binaries of art vs non-art, commodity market vs free-culture and to build media for the future. Personally, it gives me the platform to eschew conservative approaches to documentary filmmaking with "the colonial male gaze."
How did you decide to create new-media and be part of CAMP coming from a strong documentary tradition?
Oh, for that I would like to describe the response my younger self (1992-2004) had to making traditional documentaries. Travelling around India with my mentor, filming a documentary about life in villages for the anniversary of Indian independence, I described how they'd turn up in jeeps, find the subjects, and ask important questions for the nation. I became increasingly disillusioned by what I saw as the repeated orchestration of finding a subject, interviewing, zooming in, asking questions until the subject ends up crying. So, once while analyzing the relationship between filmmaker and subject I echoed the question hovering over so many discussions, "who speaks for the subject and from where?"
That's when I decided that I had two choices, to either move into fiction which was perhaps less problematic, or to "stay with the trouble", to let the problems drive the work into becoming something more in line with my politics. I also wanted to "trouble" the triangular relationship of author, subject and technology, so that it favored the subject more.
Very interesting! You mentioned Haraway's "staying with the trouble". Were you influenced by her work? Say more! I relate to that experience, having switched from working in Bollywood to doing social documentaries and now learning new-media art. So, what role do you think technology plays in fostering that relationship between the subject and the author and more importantly, how does it "favor" the subject?
Well, yeah. I feel influenced by her as a woman media-maker where I draw from her reflections on race, technology and gender. In CAMP's work at various biennials, I have often felt that every part of the process of documentary-making had been deftly unpacked and put back together again to reflect vital contemporary political concerns within the actual structure of the work or even its distribution, not just its content. By that, I felt we succeeded in using technology to foster that relationship.
I find it fascinating that technology is not a toy or gimmick in your work but rather gives to access to places and people which traditional approaches to documentary wouldn't. In this context, could you throw some light on the use of CCTVs in your work esp. at a time when they were increasingly being used as a tool for surveillance?
In our work Al jaar qabla al daar (The Neighbour before the house- 2009), we used CCTV cameras and set them up to film the houses where eight Palestinian families had been forcibly evicted and are linked to remote controls in new homes or refugee places where the families now live. We were then able to zoom and tilt the cameras to spy up washing or as they went about their business. The complexities of the power relations between the observer and observed are dazzlingly deft and agile, giving energy to the otherwise hopeless situation of displaced Palestinians in Jerusalem. We only hear their voices as they trace the lines of personal memory in their old neighborhoods or stalk the new inhabitants of their former homes with the remotely operated CCTV placed on nearby rooftops. We see soldiers training, Orthodox Jews going to prayer, a boy skateboarding, roofs, water tanks, a veranda built by their own families. Their bodies exert a ghostly presence on the very image we see onscreen as a small boy exhorts his mother to "zoom, zoom"– to spy on one of the new inhabitants leaving the house. But nonetheless through the active manipulation of this technology we had "captured" a settler.
Do you think technology facilitates a democratic or rather liberal exchange for the subject? Let's say immersive technologies like virtual and augmented realities, which I'm interested in, blur the point of view of the author and the subject. What do you think?
The act of wrangling the technology to record the voices of the camera operators while simultaneously filming does create a power shift. For example, in our work, the Palestinian families may be physically invisible in the places they once lived, but their voices and ability to control how we see with even the crudest of cameras, exerts its own pressure. It acknowledges and celebrates the democratization of the camera and makes us question the veracity of all the other images we have seen about Palestine. We hear details about the neighborhoods, how the evictions happened through impossible laws or enforcements as the displaced families observe how the new families don't clean the stairs or water the lemon tree.
Yes, I liked the use of the footage as a timeline for viewers to edit which led you to form Pad. Ma (Public Access Digital Media Archive) which I was a part of too, at some point. Interestingly, here at UCSC, I met and heard Bernard Stiegler who had long ago worked with annotating found-footage with his students thereby that puts CAMP in that discourse. Say something about that.
Well, for me, the most radical and exciting approaches to documentary were in the 60s in India. Since then, what has changed? Nothing here. CAMP's work provides a sense of new possibilities as it steals back technology and puts it into that utopian discourse of Stiegler and others to shift our perspective closer to the subjects. By "troubling" the traditional methods of creation and dissemination it empowers both the viewer and the viewed with a fresh perspective.
Some of your work is about migrant population, home and displacement which strikes a chord with my interest in human-rights and immigration. Tell us about this work and its approach.
A privileged perspective into the worldview of another is contained in our work, From Gulf to Gulf invited by the Sharjah Biennial a few years ago.Yet again it is a document of a much richer process that began as an artwork/ community provocation/ friendship built over four years between CAMP and a group of sailors from the Gulf of Kutch in India. Initially CAMP produced radio programs culling material from sailors' songs, conversations, phone calls etc. and later that evolved into a new-media piece that showed this totally different space in a radically fresh way. It is composed of footage of their journeys and extended selfie- films shot by the sailors on their long voyages, often accompanied by songs which they Bluetooth to each other.
Fascinating! Lastly, I'm keen to hear about what CAMP wants to do with technology next?
At any given time, CAMPwants to challenge the triangular relationship of author, subject and technology, thereby splintering the privileged gaze and our standard mode of perception. That's our motivation behind whatever we have or will do.
Thank you Shaina for speaking as an artist from CAMP. It was great to talk to you and have worked with you all!
Alan Sondheim has been ploughing a very singular furrow through art, music, writing, philosophy and much else since the late sixties. On the occasion of his participation in the Children of Prometheus exhibition at Furtherfield Gallery we present here an interview conducted by the artist and writer Michael Szpakowski in which Sondheim gives a broad overview of his artistic formation, practice and philosophy.
Interview
Michael Szpakowski: I first came across your work through the Webartery mailing list in 2001. I remember being knocked out by your productivity, a productivity that seemed to be allied to an incredible intellectual curiosity and restlessness, resulting in in words, images, movies, music – I remember once you started making little programs in some variant of Visual Basic… All of these posted day in, day out, come rain or shine, to the list… And, obviously I preferred some to others and for anyone to follow every piece of work you made would mean doing little else with their lives, but the quality, the variety, of what you made was ( and remains) staggering.
I found this compulsion to make work both admirable and invigorating and I've followed your work ever since. I think I even once compared you to Picasso on DVblog because I couldn't think of anyone working in art for the net (and every such description is problematic, I'll ask something more specific later) who seemed to come anywhere near to that fecundity allied to quality too…
I think of this interview as a general introduction to your work for someone who maybe has only happened across it for the first time in the exhibition at Furtherfield so I'd like to ask, first of all, for you to give us a sketch of your intellectual and artistic formation and the milieu(x) in which you have worked (I mean right from the beginning – tell us what makes you, you!):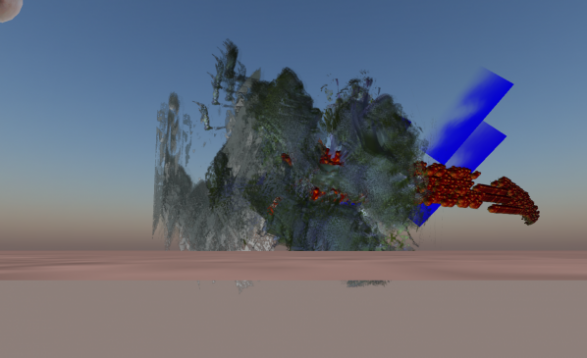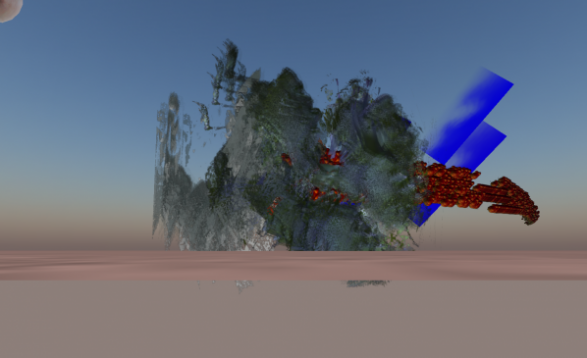 Alan Sondheim: Of course this is difficult to answer; I began with writing and around the age of 19, started making music as well, but I was always restless. The compulsion has personal roots, but also a desire to move into an environment, habitus, and explore its limitations and promises; in all of this, I'm concerned with the interplay of the somatic and consciousness on one hand, and abstraction, the inertness of the real, mathesis (the mathematization, structuring of the world) on the other. So there's this dialog at the limits. My first production was a book of experimental writing, An,ode ; around the same time I made three recordings, two for ESP-Disk; this was around the late 60s. Clark Coolidge, the poet, was very important to me early on; I met him at Brown; he introduced me to Vito Acconci and shortly after, early 70s, I moved to NY, eventually SoHo in its heyday. I've never been a traditional artist/writer/musician/etc. but move among these areas; I'm concerned with what for me are fundamental issues of philosophy, body, and the world. I want to explore at the limits of what I'm capable of doing. How is consciousness in relation to the world? How is the world?
I'm driven to create daily; while teaching at UCLA, I made a sound film (16mm for the most part) a week for 37 weeks; they ranged from a minute to an hour in length and were forms of deconstructed narrative. Now online, I try to make a work daily in whatever medium, including virtual worlds of all sorts; I continue to try to push limits – what I call 'edgespace,' – the space where gamespaces/worlds begin to break down, and what then? (By 'gamespace,' I mean, literally the space of a game, where rules hold – for example chess or football. The rules may be consensual or enforced, etc.) This is deeply involved with the politics and somatics of these spaces of course, and on the political spectrum, I'm leftist and deeply pessimistic; I don't see internet or social media as salvation of any sort, but as fundamentally neutral, extraordinarily adaptable to any number of usages. I've written on the differences at the finest levels between the analog and digital, areas like that usually taken for granted; what emerges is a kind of granularity situated within an obdurate real world whose biosphere is faltering deeply.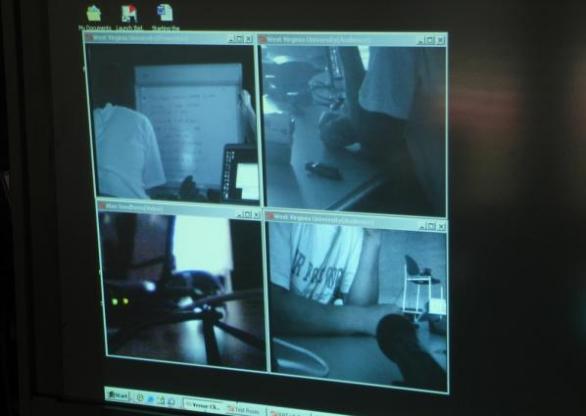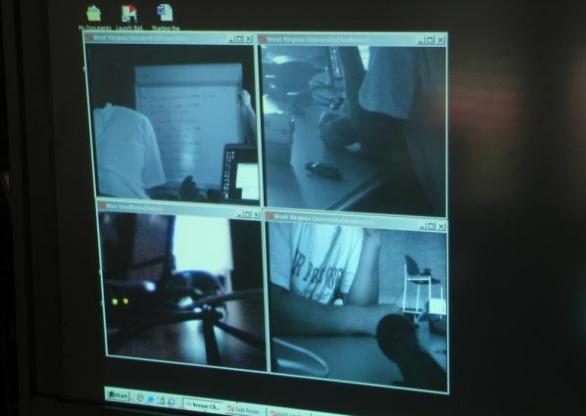 M: Although you are included in an exhibition in a physical space here the vast majority of your output has been presented on the net, usually in the context of one or more mailing lists. Could you say a bit about this. Was this a conscious choice or pragmatism or somehow both? Is there anything you particularly prize about the rhythm of work and presentation that comes with this kind of platform and has the eclipse of many of the old mailing lists with the rise of social media caused problems for you – have you tried to adapt to/utilise these newer modes?
A: It's pragmatism combined with a desire to explore; edgespace teeters uneasily and tends towards what I call blankspace, where the imaginary exists – for example, the 'heere bee dragonnes' in unknown areas of early maps (I haven't actually seen the expression, but it serves here). I present my work on Facebook and G+; I also used YouTube for a long time until I was banned from it.
M: Banned from it?
A: A long story that would take this too far afield…
I work well in presentation/talk/performance mode online and off. I believe in the depth of email lists of course. I do think my avatar work is really well suited to gallery spaces; I've had up to seven projections going at the same time. I've also performed live in virtual worlds or mixed-reality situations which are projected/presenced directly, and for a long time Azure Carter, my partner, and I worked with the dancer/performer/choreographer Foofwa d'Imobilite; the physicality of the work was amazing. And another aspect of what I do – what grounds me – is playing musical instruments, mostly difficult (for me) non-western ones; the instruments require tending and close attention. I tend to play fast. Most of them are strings, bowed or plucked; the music is improvisation. Recently I've been focusing on the sarangi, for example. And I've had something like 17 tapes, lps, and cds issued; the most recent is LIMIT, which was done in collaboration with Azure and Luke Damrosch, who did Supercollider programming based on concepts I've had about time reversal in real time – an impossibility in gamespace, but the edgespace is fascinating. The music products excite me; they're out there in a way that my other work isn't.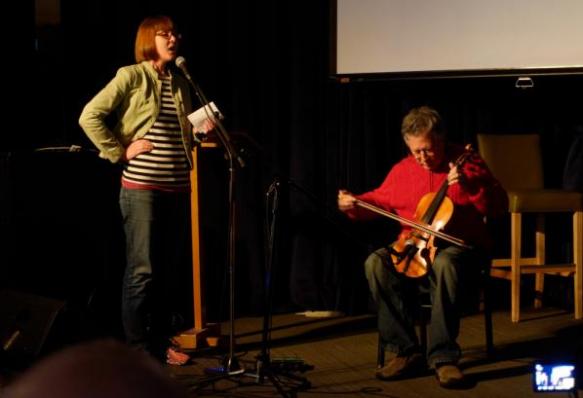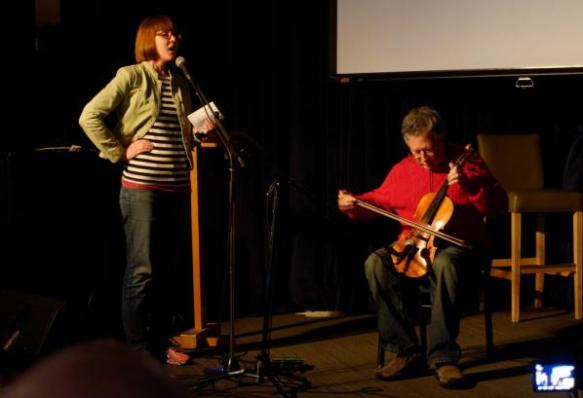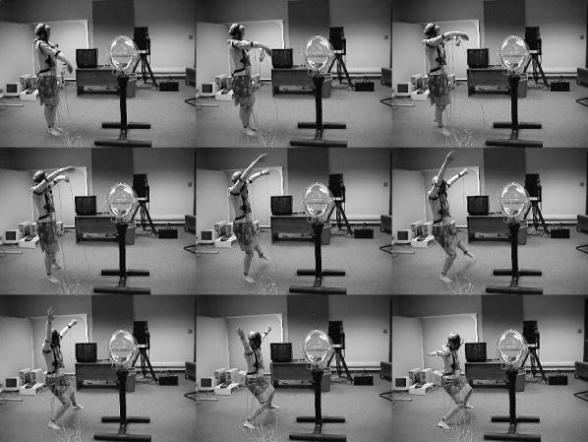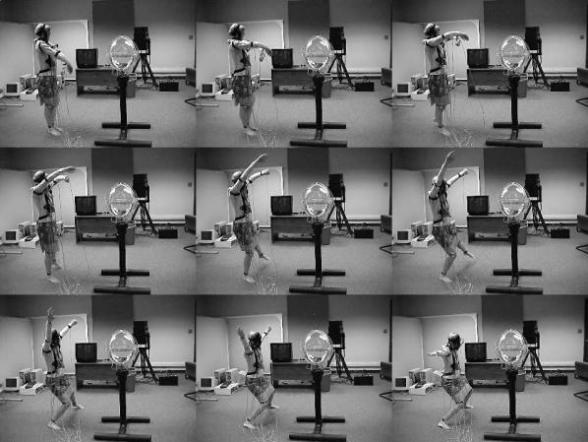 M: I remember when I first discovered internet art or whatever we want to call it (and there have been numerous quasi theological arguments about this) that there was an intense debate about whether the internet was a conduit or a medium – so many artist-scripters/programmer tended to rather look down on those who simply took advantage of the network's distribution and dialogical properties (although I have to say that my view is that it was in this massive extension of connectivity that the real force of the thing resided – I remember being told in 2001 that moving image was not internet idiomatic which is amusing given the rise of YouTube &c.) Your work, certainly of the last 17 years or so, strikes me as being intimately tied up with the network and with the unfolding possibilities of new media but not necessarily in the sense that you work with the network itself to make objects, works and more in the second sense of the conduit…
A: It depends; for example one of the projects I initiated through the trAce online writing community in 1999-2000 – over the hinge of the millennium in other words – was asking a world-wide group of artists, IT folk, etc., to map traceroute paths and times from the night of 12/31 to the afternoon of 1/1; the internet was supposed to run into difficulties – over timing etc. – and I wanted to create a picture of what was happening world-wide. A second project somewhat later was using the linux-based multi-conferencing Access Grid system to send sounds/images/&c. from one computer to another in the Virtual Environments Lab at West Virginia University – but these images would travel through notes, much like the old bang!paths, around the entire world. So, for example, Azure would turn her head in what seemed like a typical feedback situation – the camera aimed at a screen, she's in front of it, the result's projected on the screen, &c. – but each layer of the feedback had independently circled the globe (through Queensland to be specific), creating time lags that also showed the 'health' of the circuit, much like traceroute itself. It was exciting to watch the results, which were videoed, put up online with texts &c.
Part of the difficulty I have is being deeply unaffiliated; I need others to give me access to technology. For example, I've used motion capture in three different places, thanks to Frances van Scoy and Sandy Baldwin at WVU; Patrick Lichty at Columbia College, Chicago; and Mark Skwarek at NYU. I also did some augmented reality with Mark, and with Will Pappenheimer. To paraphrase, I'm dependent on the kindness of others; I have no lab or academic community to work among in Providence; what I do is on my own. John Cayley gave me access to the Cave at Brown; Eyebeam in NY (I had a residency there) gave me space and equipment to work with, and in both places I was able to create mixed reality (virtual world/real bodies) pieces – those also bounced through the network…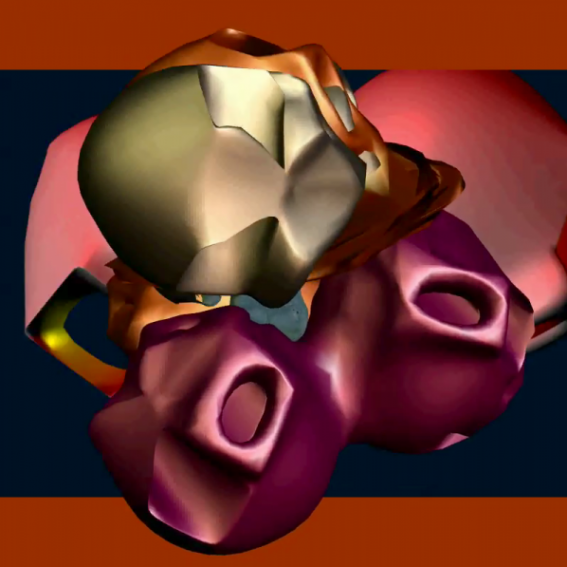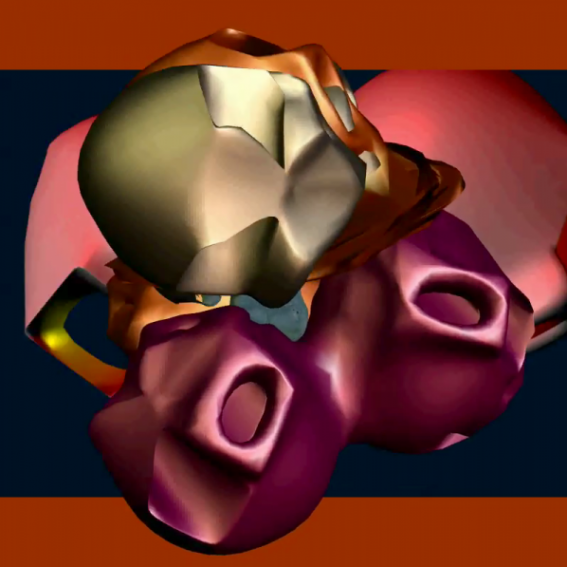 M: Could you talk, then, a bit about the motion capture/avatar work that seems to have been central to what you are doing over the last ten years or so. I also don't think I'm mistaken in detecting a very decided move back to music making of late (I know this has always been there but it feels foregrounded again)
A: The mocap work has been 'deep' for me; it involves distorting the entire process, in other words distorting the somatic world we live in. There are numerous ways to do this; the most sophisticated was through Gary Manes at WVU, who literally rewrote the mocap software for the unit they had. I wanted to create 'behavioral filters' that would operate similarly to, say, Photoshop filters; in other words, a performer's movement would be encoded in a mocap file – but the encoding itself during the movement itself, would be mathematically altered. Everything was done at the command line (which I'm comfortable with). The results were/are fantastic. A second way to alter mocap is by physically altering the mapping – placing the head node for example on a foot. But I worked more complexly, distributing, for example, the nodes for a single performer among four performers who had to act together, creating a 'hive creature.' All of this is more complicated than it might sound, but the results took me somewhere entirely new, new images of what it means to inhabit or be a body, what it means to be an organism, identified as an organism. This is fundamental. I'm interested in the 'alien' which isn't such of course, which is blankspace. (The alien is always defined within edgespaces and projections; we project into the unknown and return with a name and our fears and desires.)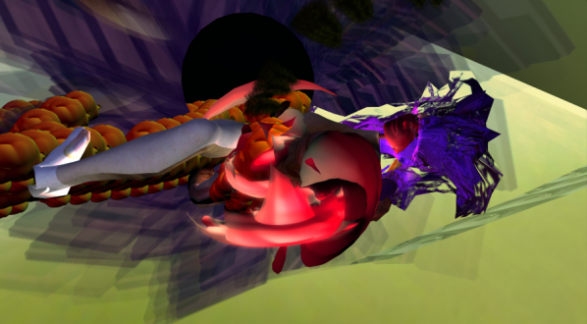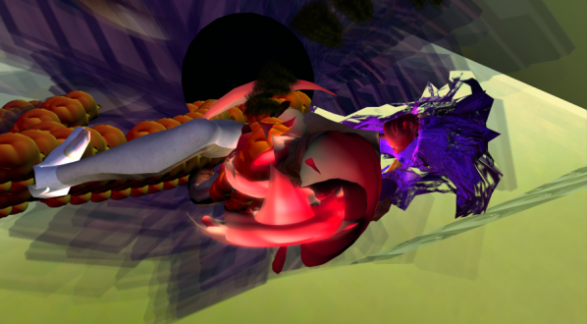 Most of what I do, for me all of what I do, is grounded in philosophy – ranging from phenomenology to current philosophy of mathematics to my own writing. So these explorations are also artefactual; I think philosophy is far too grounded in writing as gamespace; writing for me, when it's touched by the abject, the tawdry, the sleazy, the inconceivable, opens itself up.
As far as music goes, I touched on it above in regard to LIMIT. One thing that concerns me is speed, playing as fast as possible, so that the body and mind move on de/rails that are at my limits; I think of this as shape-riding and the results and internal time dilations involved keep me alive…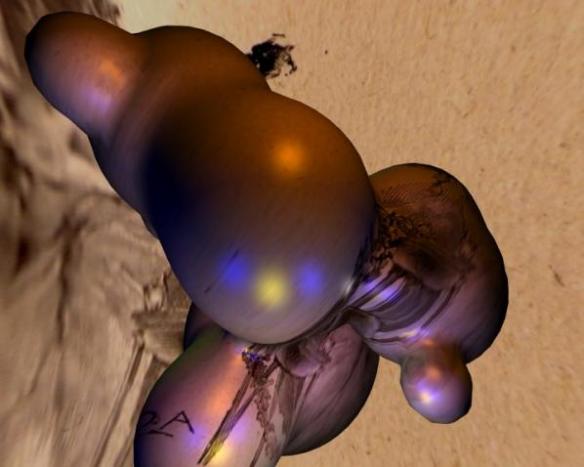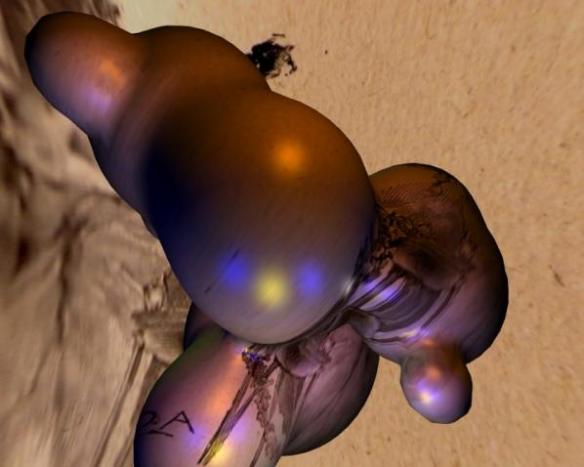 M: You are genre/practice/technique promiscuous and you have a high level of skill in all –you could equally (and have been) styled Alan Sondheim 'writer' , Alan Sondheim 'musician', Alan Sondheim 'maker of moving image work' (with a marvellous sub-category 'Alan Sondheim 'maker of dance related video works', for a while). Is one of these, in your heart of hearts, central, and, whether this is so or not, how do you place yourself in respect to the various traditions around these areas of work. How do you fit into the art world, into literature or the experimental film tradition? How do you relate to net art/networked art/new media &c.?
A: I don't seem to fit into the artworld, net art, poetry world, music world &c. – it's difficult for me to get my work around as a result. Nothing is central but a desire to see how systems form, coagulate, degenerate, collapse, become abject, &c. in relation to consciousness: How are we in the world? On a concrete level, finance enters into the picture; what can I do given a kind of lack of community around me? How can I push myself?
I'm not sure what 'net art' is, but certainly the Access Grid pieces &c. are of that, although not of Web-based protocols. There are so many ports out there to use! I do think of myself as a new media artist or someone burrowing into post-media. I've always had a few people who believe in what I do, who have helped or worked with me, and I'm really grateful for that. But in terms of institutions, I feel like an outsider artist and am treated like one. It came to a head for me years ago one day when I was living in Soho; I had a call from Vito who said he had realized that whatever I am, I'm not an artist; the same day Laurie Anderson spoke to me and said she realized that whatever I am, I am an artist. So my identity has been far more fluid than I've been comfortable with, and it's affected my career. (There was that tape Kathy Acker and I made 1974, and I read an interview a few years ago, forget the source, with Edit Deak who said the tape wasn't art at all; in the meantime, it continues to be shown at various venues.)
M: Finally, could you say a little about the work in this particular show?
A: The work in the show is a group of 3d-printed avatars distorted through the mocap process described above. For me they connect, deeply, with charred bodies, with anguish, with genocide and scorched earth. They appear also in number recent videos created in various virtual worlds, moving/performing etc. The anguish, so close to death and unutterable pain, is there. I've talked about the kinds of brutal killings occurring now worldwide, from Finsbury Park to the United States, the rise, not only of racisms, but violent nationalisms, in the U.S. certainly encouraged by the present regime. I'm sick of it. We all have nightmares. I want to understand this, this grounding in the blooded earth that shakes our very ability to speak, to think, to act.
And yet of course we must resist.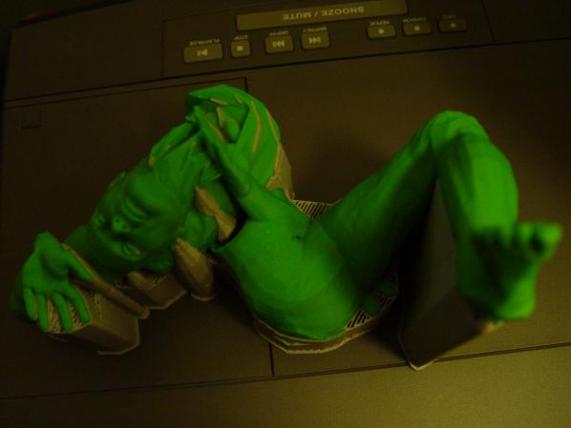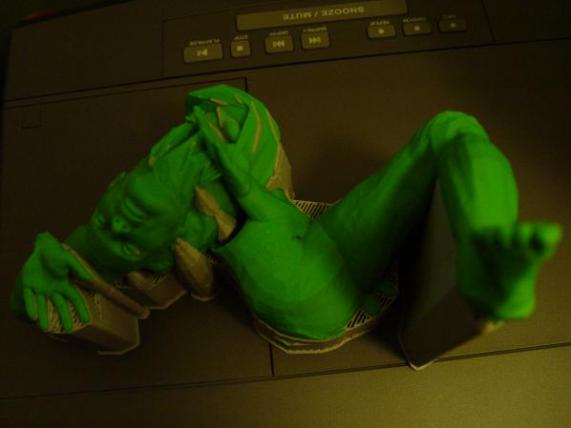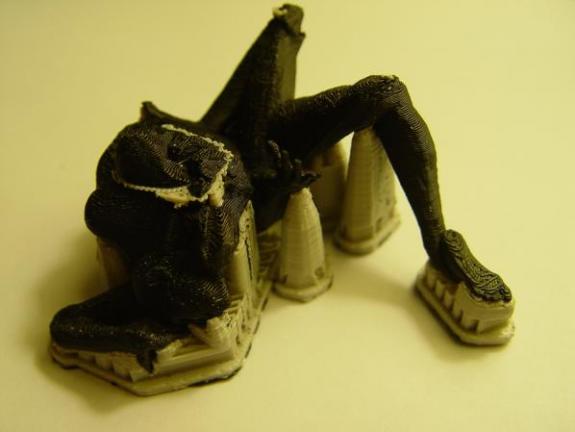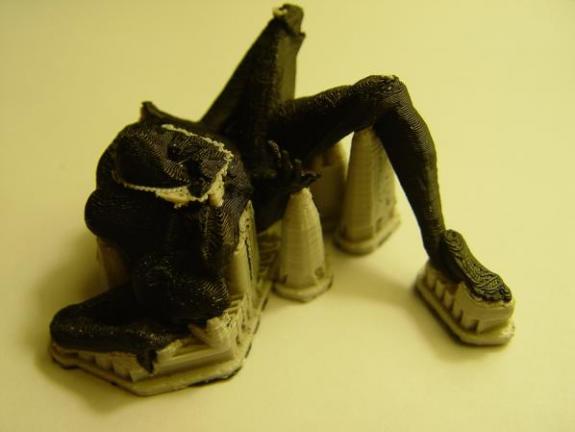 The work in the show is also critical, then, of technophilia, technological answers to the world, utopian dreaming. The top one percent benefit most from the results. I see utopian thinking as dangerous here. Our so-called president has his finger on 4000-5000 nuclear warheads. That's the reality for me, and why I don't sleep at night.



Michael Szpakowski: 聽琴圖 (listening to [Alan Sondheim playing] the qin), after Zhao Ji
// gravure, urushi lacquer & pigment on found wood // 30.5X7.5″
The productive alliance between instruments of computing techne and artistic endeavour is certainly not new. This turbulent relationship is generally charted across an accelerating process outwards, gathering traction from a sparse emergence in the 1960s.[1] Along the way, the union of art and technology has absorbed a variety of nomenclatures and classifiers: the observer encounters a peppering of computer art, new media, Net.art, uttered by voices careening between disparagement, foretelling bleak dystopian dreams, or overflowing with whimsical idealism. Once reserved for specialist applications in engineering and scientific fields, computing hardware has infiltrated the personal domain.Today's technology can no longer be fully addressed through purely permutational or systematic artworks, exemplified in 60's era Conceptualism. The ubiquity of devices in daily life is now both representative and instrumental to our changing cultural interface. Technologies of computing, networks and virtuality provide extension to our faculties of sense, allowing us phenomenal agency in communication and representation. As such, their widespread use demands new artistic perspectives more relentlessly than ever.
I, and no doubt many other academic observers, watched the Pokemon Go augmented reality (AR) game erupt into a veritable social phenomenon this year. The rapid global uptake and infiltration of AR in gaming stands in contrast to new media arts, still subject to a dragging refractory period of acceptance and canonization. Perhaps this is emblematic of a conservative art world that persistently recalls an ebullient history of computer art practices. In this lineage, many a nascent techno-artistic breach has been accused of deliberate obfuscation, of cloaked agendas under foreign ('non-art') orchestrations.[2] The seductive perceptual forms elicited through augmented reality (AR), virtual reality (VR) and immersive reality (IR) devices can be construed as mere spectacle, vulnerable to this type of critique. "Google Daydream" and "HoloLens" chime with a poetic futurism; cynics might instead see ready-to-wear seraphs veiling the juggernauts of Silicon Valley. However, the current groundswell in altered reality discourse may signal a divergence from such skepticism. One recent exemplar is Weird Reality, an altered reality conference that aimed "…to showcase independent and emerging voices, creative approaches, diverse and oftentimes marginalized perspectives, and imaginative and critical positions…. that depart from typical tech fantasies and other normative, corporate media."[3] This is representative of the expanding, international trend towards artistic absorption of new media and technologies. It is a turn that emphasizes the potential for cultural impact, experimental daring, and even conjures the spectre of the avant-garde: radical transformation.
One of my PhD supervisors wisely admitted "…to stand out, the human artist must be more creative, diversified and willing to take aesthetic and intellectual risks. They can and must know the field they are creating in practically and philosophically, and confidence in their position and contribution to it is essential."[4] Through this earnest lens, artistic production can serve as a conduit for ideas ranging from the speculative to the revelatory. In these divinations, we might trace a path through the sprawl of new media discourses, and find ourselves somewhere unexpectedly revitalizing. I hope to mark out some of this territory from a position of mediation. I want to invite art and art theory into an arena of uninhibited collusion, using critical writing to facilitate the exchange between digital media theorists and artistic practitioners in the most open sense. Furtherfield.org offers an allied platform for the aims of the Theory, Meet Artist [5] project, articulated here in an interview dialogue.
Theory
Originally published in The Fibreculture Journal, Edwina Bartlem's 2005 article Reshaping Spectatorship: Immersive and Distributed Aesthetics proposes that immersive artwork practices have transformative potential. Across a range of modalities, these works can influence perceptions of ourselves and our extended digital presence in a variety of scenarios and configurations. Whilst participating in such practices, we are prompted to consider IR encounters as form of mediation around our human embodiment, subjective identities and cultural interactions. Bartlem touches on ideas of prosthesis and sensorial augmentation within these immersive experiences. Creation of a synthetic environment is posited as an opportunity for deepened self-reflexivity and awareness.[6] In parallel, a spectrum of narratives around the technologically adapted 'post-human' emerge. Their tone and reception hinges upon the artist's individual performance in roles such as programmer, director, composer or overseer to such works.
Artist
Rachel Feery is an Australian artist interested in the intersection of visual art, soundscapes, video projection, experiential installations and technology. Her artistic practice explores alternate realms, the meditative headspace, ethereal imagery and immersive environments. For this interview, Bartlem's paper is positioned alongside and in dialogue with Feery's work, Clearing the Cloud.
Clearing the Cloud is described by the artist as "… a multi-sensory work inviting pairs to cloak-up, complete a circuit, and experience simultaneous mapped projections visible through a hooded veil. The artwork aesthetic draws from esoteric sciences and holistic health practices. The environment is intimate, quiet much like a room where one would go to receive therapeutic treatment.
Two participants at a time are invited to cloak up, remove their shoes, and step onto sensors on the ground to generate a circuit of light and sound. Starting with a 'personalised scan' followed by a projection of light and sound, all visible and audible within the suit itself, the individuals can either interact with each other or be still and silent. The robe, constructed of a semi-translucent, lightweight fabric with a soft skin-like texture acts as a supplementary skin. One's field of vision is slightly inhibited by a lightweight mesh that both creates a screen-vision as well as the ability to see through it."
Jess Williams: I first came into contact with your practice during your talk for Media Lab Melbourne in September this year. You chronicled your process, influences, past works and brought us to Clearing the Cloud. I was struck by the experiential intimacy of the project, and the immersive qualities that you deployed though staging it. In her paper, Bartlem suggests that participants in immersive practices cannot be immersed without being affected by the environment on perceptual, sensory, psychological and emotional levels. What kind of sensorium did you want to create for Clearing the Cloud, and did you contemplate the possibility of this type of affective influence on your participants?
Rachel Feery: In one sense, the project came about while I was thinking about art as therapy, and thinking about technology that has the potential to create a meditative space. The site of the exhibition, Neon Parlour, was previously a centre for healing and meditation. I wanted to create an intimate room that would reflect the building's history. Speaking of the sensorium, I was drawing from esoteric sciences, looking at auras, and Reiki practices whereby chakras are 'cleared'. This is all reflected in the visual and environmental elements of the work, but ritual aspect is key. It's important for participants to enter the artwork through the process of putting the garment on. The ritual is something you have to experience with someone else, and there's a synchronicity between the people who participate. If either person takes their feet off the sensors, the 'therapy' is reset. It becomes apparent that there's a level of commitment to it, that there's a trust involved. If one person backs out, the interaction stops and resets.Clearing the Cloud ultimately asks participants to commit and experience the work together. Some participants responded that they felt lighter, and that time had passed out of sync with the seven minutes that had passed in reality. I thought this was an interesting reaction when nowadays, our attention spans are said to be dwindling. I feel there's something significant in a lot of those esoteric sciences.
JW: Bartlem maintains that immersive art offers more than pure escapism into a constructed simulacra. These types of artworks can also elicit a type of self-awareness or meditation on perception and one's own agency in the prescribed environment. I've noticed a strong tendency to consider transcendence, or the superhuman, in many futurist discourses around technologies that interface with the human body. This spans augmented reality, virtual environments and may well capture less conspicuous (yet ubiquitous) examples, such as fitness metrics or geolocation of the self through GPS. How do you position narratives of extending or 'hacking' embodiment within your own work?
RF: There's an aspect of being both physically present and also outside of yourself whilst engaged in Clearing the Cloud. As a participant, you find yourself looking through a meshed veil that's being projected on, and if you adjust your focus, you can see coloured projections on the other participant. This dual, simultaneous vision got me thinking about the ways that newer technologies such as AR and VR can affect what we see and the way that we see. Essentially, those applications allow you to see an environment with a filter over it. You have the sense during the 'clearing therapy' of an outer body experience, which is something that certain types of meditation aspire to. Escapism can imply you're ignoring what's happening in the outside world and going inside yourself, or elsewhere. But technology is blurring these boundaries, becoming increasingly intertwined in everyday activities, both personal and shared. You're not really escaping if there's an application present to assist with something, provide new information, or an augmented experience. In that sense, I would agree that it's not pure escapism. You're in two places at once. I would say that the word escapism has darker implications, such as detachment and avoidance of reality over a virtual space. Meditation, however, is affiliated with deeper understanding of oneself, and acceptance and appreciation of both worlds. As technology gets more advanced, I think it will have the ability to do both.
I like the idea that two people willingly participate in this scan and projection without question. I feel it relates to this influx of new technology applications that are free and that everyone's willing to try. On the darker side, I wonder about the consequences of giving away information- effectively, parts of yourself- to participate in the unknown. I also like the idea that Clearing the Cloud is presented as a holistic therapy, a gesture of removing the build-up of accumulated information, or as protection from the data mining we're exposed to through technological interfacing. We're made vulnerable to hacking, but in a sense it's not really hacking anymore, it's just collecting what we've been giving. There's such a rush to use new applications and technologies but everything is untested. Essentially people become trial subjects through their willing self-disclosure.
JW: You mentioned David Cronenberg's 1999 film eXistenZ as a formative influence in your creative development. Underpinning the science fiction and horror themes, a specific abject revulsion is reserved in this film for prosthetic extension and modification to the human body. Could the veils (with their accompanying perceptual experiences) used in Clearing the Cloud be viewed as a form of sensory prosthesis?
RF: I would say I was more interested in the idea of accessorising tech, rather than prosthetics. I am drawn to the way that Cronenberg's characters leave their physical body and enter another state, but again, this is quite geared towards escapism. Using the veils arose through researching a mix of religious and medical robes, futuristic fashion and science-fiction inspired fashion. They all seemed to be white. There's also a relationship with the cloak to other forms of wearable technology. I'm interested in this – in Google Glass, VR headsets, and related items – as both a current fashion trend and also as a subtle way that technology encroaches on our day to day lives, present as we move through and see our worlds. While I perceive the cloak itself is not so much of a prosthesis, there are certain physical qualities of the material that feel both organic and synthetic. They're made of a foggy, PVC translucent plastic: when worn, this fabric feels like a skin. The backwards-oriented hood also functions as a way to obscure the face, and presents a form of anonymity that is ultimately within the concept of 'being cleared' and 'regaining yourself.' There are other associations too: of a uniform, of being part of a community that has been cleared, or erased.
JW: Typically, when audiences are presented with new media or computer mediated artworks, they have limited access to the operational interior of the encounter. Whilst it can be argued that more traditional media or installation works also don't completely disclose their construction or authorship, new media practices seem subject to increased scrutiny and distrust around how- and to what end- they operate. In her paper, Bartlem proposes that instead of masking the presence of technology and interface, immersive artworks tend to overtly emphasize the synthetic artifice of the experience. In regards to revealing the hierarchies of control implicit in executing works like Clearing the Cloud, how much do you wish the audience to have a certain 'privilege of access'? For example, do you consider it necessary to directly reference programming script, hardware circuitry, or technologies of surveillance?
RF: The actual technology used in the exhibition was not necessarily about aesthetics. Hardware and devices, such as projectors and Raspberry Pis, were not elements that I wanted audience attention drawn to. Moreover, I think if you give spectators interior access, it can take away the simplicity of the art experience. The most that I would give away would be the materials visible or listed in the artwork. I actually tried my best to mask the technology, hiding cords and mounting the projectors up high to make it feel innocuous and to minimise its physical presence. Once people can identify familiar tech, there is an immediate undermining of mystical impact. For this artwork, I worked with artist and technologist Pierre Proske to write a code that triggers the projection once the sensor pads are activated. The hardware elements are present, but they're definitely not the focus. Rather, it's the experience itself, the meditative space created that participants are made most aware of. I think that's why auras, and energy healing, are so fascinating: they rely on people's ability to embrace and believe in the healing process, which in turn requires any distractions or doubts to be removed- or at least obscured. Obsfucation was deliberately built into the back-to-front hoods used in Clearing the Cloud. Restriction of the visual frame of reference was intended to encourage immersion in the experience.
JW: As we've discussed, the eponymous gesture of "clearing the cloud" reads as recuperative, meditative, and somewhat subversive towards strategic or commercial use of new technologies. This is a position that Bartlem suspects is endemic within artistic instrumentalisation of these types of media. Do you feel a sense of alignment with a more radical manifesto in new media practice?
RF: A lot of my ideas draw from or relate to concepts that have been proposed in science-fiction films… science-fiction is radical. Sci-fi extrapolates the current social, political or technological trends, or explores alternate models. Clearing the Cloud also proposes a need for something that hasn't quite been quantified, a therapy to restore and protect from encounters with technology. Clouds traditionally connote lightness, and formlessness, but today they weigh heavily on us in a digital data context. We carry more and more information, and give more and more of ourselves. We're now clouded by our metadata trails, and it's radical to think that a therapy can address this, and return us to a state of clarity, in a literal and metaphysical sense.
JW: After your talk, I asked you a question around whether Clearing the Cloud's artistic narrative could function beyond a 'closed-circuit' proposition. Whilst Bartlem scopes immersive and telepresent practices in her paper, she doesn't directly address works that hybridise the two concepts. She frames telepresent artworks as those that link participants from distant locations, precipitating notions of networks and a multi-user participation within art. How would a multiplicity of network relations impact on a scenario like that you have staged in Clearing the Cloud?
RF: An excellent question, and very relevant to the nature of the work. The participant's experience centres on a propositional 'defrag' of their personal hard-drives, regaining clarity, allowing independent thought free from the prison of past browsing histories and metadata maps. Those in a networked community also benefit from this speculative process: the more persons 'cleared', the stronger the authentic connections would be. If you were to be 'cleared', and your online history erased, the persons closest to you would also need to be erased in order to completely eliminate any trace of you. It's like a chain reaction. Although only two people might be scanned at a time, for a complete 'clearing' you would need the eventual interfacing of everyone you've ever come into contact with. Ideas around utopias were intrinsic to the development of Clearing the Cloud. In one view of the work, those people who have been 'cleared' became part of a separate, even sanctified community. This meditation was idealistic, borne of the desire to find a way to protect our identities and those of our networks when they are potentially threatened or compromised by interactions with technology.
Clearing the Cloud was originally exhibited in 2016 as part of This Place, That Place, No Place curated by Irina Asriian (Chukcha in Exile) at Neon Parlour, Melbourne, Australia.
Feature image: Still from Dreams Rewired: original source Das Auge der Welt (Germany 1935); dir: C. Hartmann
Dreams Rewired / Mobilisierung der Träume – Trailer from Amour Fou on Vimeo.
The 2015 film Dreams Rewired, recently shown at the Watermans Digital Weekender in London on 12-13 November, will be screened again at Watermans on 3 December. Directed by Manu Luksch, Martin Reinhardt and Thomas Tode, the film has the tagline 'Every age thinks it's the modern age'. It looks back to the early 20th Century, to the development and implementation (first locally, then globally) of the telephone, the radio and television.
The makers of Dreams Rewired unearthed and arranged early film recordings and brought them into the 21st century context. This was done via a playful narrative written by Manu Luksch and Mukul Patel and read by Tilda Swinton. The tagline was well chosen; almost everything Swinton says would have been relevant at almost any point within the last century. Time periods, machineries and political movements are connected in clever and unexpected ways, meaning that Dreams Rewired, a durational video whose narrative follows a recognisable storytelling structure, makes numerous links between times, places and people, which branch off from the safety of its linear structure.
Dreams Rewired is something of a treasure trove, not only for the glimpses its found-footage building-blocks gives into a past era but also because of the inter-generational, inter-national, inter-thematic connections it makes. Frequently while watching the film I felt the urge to burrow into an investigation of one of the clips, stories or introduced contexts. To emulate this 'tip of the iceberg' effect, this review will pull words directly from the film, linking quotations to some of the themes which appear and reappear throughout.
"A new electric intimacy"
With new media come new practices of communication. One of the recurring themes described in Dreams Rewired is the coupling of intimacy and invasion of privacy introduced to society along with a new communication method. Just as a new invention is prototyped, its social implementation causes new prototypical behaviours – new ways of caring, new ways of injuring, new comings-together, new separations. Uncertainty is inherent to experimentation.
"The waves travel at the speed of light, defining what simultaneous means. Information can travel no faster."
When something is newly possible it also newly achievable – new precedents are set and new avenues opened for exploration. There is a flurry of activity, a rapid diversification. For those looking to gain or retain power over others, this is a problem; diversity requires more effort to manage. Initial flurries of activity are curtailed by the introduction of rules, the setting of precedents.
This limitation sets new targets to meet, new challenges to overcome. The cycle starts again as those in power look for ways to consolidate it while those without look to gain what they can. This is a simplistic, but not inaccurate, description of the machinery of the capitalist world.
This cycle of diversification and restriction is always coupled with the establishment and transcendence of thresholds. Experimentation with a new technology reveals some of its limits. (Side note – of course, what is understood as a limit is defined by wider cultural contexts.) "Information can travel no faster" is a provocation to speed up.
"Geography is history"
New advances cause conceptual shifts. Early telephony and television shrunk the gap in time between a thought or plan and its activation. Understandings of time and geography changed, and it became possible to move into new spaces and in new ways at socially impressive speeds. New powers, in short, were available to those who knew how to access them, to those who understood the preceding context well.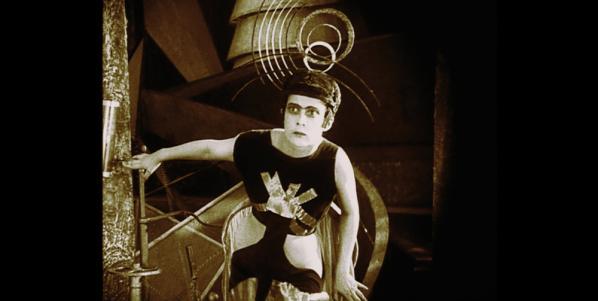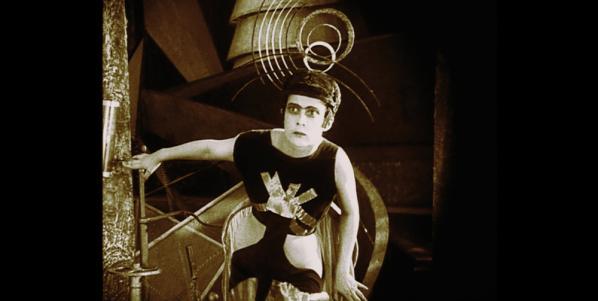 "A model of the new human is put into circulation"
A network grows, its complexity and partner processes intensifying. The machinery of daily life is altered, and daily life is a testing ground. Social interactions change as the new set of behaviours required to work the new machinery collide with existing social norms and rituals. New jobs and new workplace structures appear and people previously without responsibility or power find themselves in contact with it (though they may not understand the possibilities at first). People are no longer the same beings as before. Cycles of experimentation and consolidation reach into the body.
"Someone will have to lift us up. But who will lift them up?"
The flurry of excitement surrounding a new invention is based on the idea that 'our' lives will be improved, that 'we' will be able to do, see, have more. There is a problem here. The words 'we' and 'us' are too abstract – they bracket whoever the speaker wants them to bracket and recapitulate the prejudices they have. Anyone who is not included as part of the 'we' simply does not exist. This is convenient for the 'us' – while 'we' rush excitedly towards a future in which we have more and better, what 'they' do is of little concern. The 'us' does not care – or even think much – about the 'them'. The 'us' cannot understand why the 'them' has not joined the 'us'. After all, the 'us' is at a new threshold – who would not want to reach the other side?
"Personal profiles, passwords, biometrics..fully documented. Every trace filed. Bigger data, better analytics. Opt out, and we lose our place in the world. So…we share the keys to our desire, our habits, to ourselves."
To be part of the 'us' and the 'we' requires effort. To 'opt in' requires sacrifice. At the same time, 'opting in' is the easiest thing in the world when 'opting out' means facing a void. Advice on how to do well, how to achieve, how to be healthy is easy to come by, but there is little guidance for those who find themselves, or wish themselves, outside the mainframe. Losing one's place in the world means losing access to that mainframe and the stability that comes with a highly legible structure. Today the legible structure is far-reaching and well established, to the extent that opting out is dealt with violently. The new models of human coming into circulation have trouble recognising the old. There is a mutual rejection.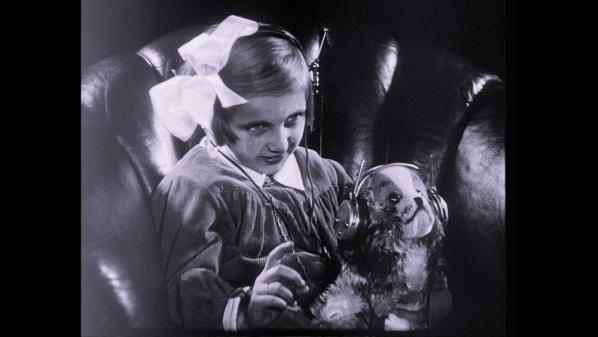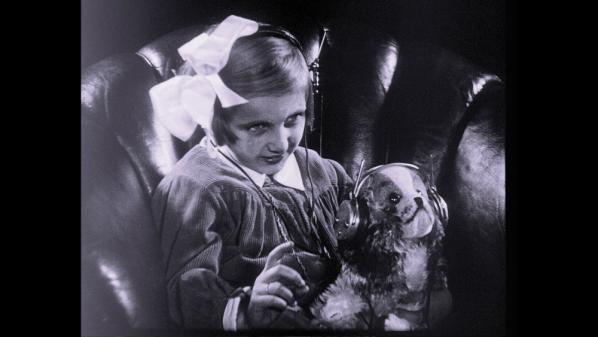 "Government regulation stifles amateur culture – military and commercial interests occupy most of the spectrum … transmission becomes a privilege, not a right"
As I wrote earlier, the 'us' and 'them' structure is too simple. It would be more accurate to think of people as communicating on multiple frequencies. The machinery of society is complicated to say the least, and made more so by the mainframe, which amplifies transmissions at some frequencies while restricting others. In the early 20th Century, multiple obscure radio channels were repressed, responsibility placed with public backlash following rumours that amateur radio was responsible for the sinking of the Titanic. Side questions: where did the rumours come from? What were they based on? How was the public response measured?
"For the first time he hears himself as others do. A voice absolutely familiar but estranged…But her power also grows: by controlling his voice she controls her time"
There is a strange relationship between the controller and the controlled. For every CEO there is a team whose own agenda seeps into the workings of the company. Dislocated power and fragmented or unplaceable identity are some of the symptoms of a complex system undergoing change. When a system is so complex as to involve multiple timescales, spaces, materials and structures, it is impossible to predict the future.
—
Dreams Rewired is part of the Technology is Not Neutral Symposium
3 December 2016
Watermans, London
https://www.watermans.org.uk/events/technology-is-not-neutral-symposium/
Featured Image: Ubermorgen, "Vote-Auction", 2000. Installation view from the exhibition "Whistleblower & Vigilantes"
It has been a long time since an exhibition shocked and confused me. In fact, I cannot even remember when it last happened. Yet the exhibition Whistleblowers & Vigilanters has managed to do just that. Curators Inke Arns and Jens Kabisch of the Dortmund art institution Hartware Medienkunst Verein (HMKV) have put up a show in which complete nut cases are presented side by side with political activists, artists and whistleblowers a la Edward Snowden. This makes the exhibition ask for quite some flexibility from the audience. Visitors have to work hard in order to understand the connection made here between, for example, racist conspiracy theories expressed through YouTube videos and the ordeal of a whistleblower like Chelsea Manning.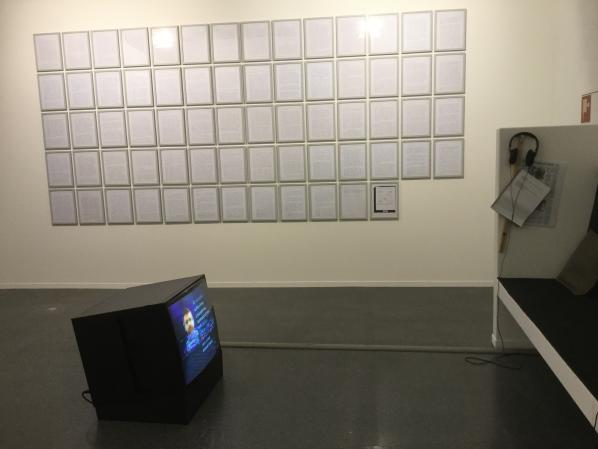 The very short introduction text to the exhibition guide is part of the puzzle we are presented with. The basic premises of the exhibition are explained in what I think is not the best possible manner, because it leaves out any mentioning or analysis of the huge political differences among the people and works presented. At the same time the use of words like higher law and self-legitimization easily creates a feeling of unease about each practitioner or type of activism in the show:
"The exhibition asks what links hacktivists, whistleblowers and (Internet) vigilantes. What is the legal understanding of these different actors? Do they share certain conceptions? Who speaks and acts for whom and in the capacity of which (higher) law? Among other issues the exhibition will examine the differing legal conceptions and strategies of self-legitimisation put forth by activists, whistleblowers, hackers, online activists and artists to justify their actions."
By placing the revelations of Edward Snowden next to the complete print out of the manifesto of the Unabomber or (more harmless but still of a different level of impact) the battle over a hostile domain name takeover in Toywar the first impression is a levelling of the practices and people involved. To make some sort of distinction between the various represented rebellious or activist positions in the exhibition guide the whole is divided into sections. The sections however do not indicate socio-political position or relevance, but rather imply the ways people legitimize their actions (1).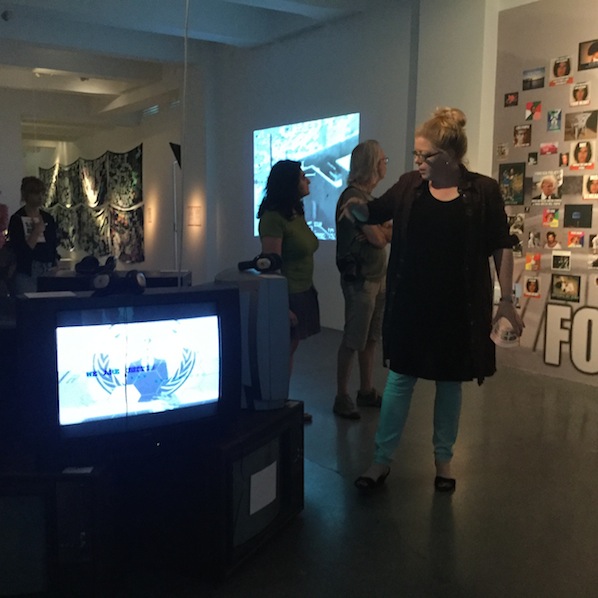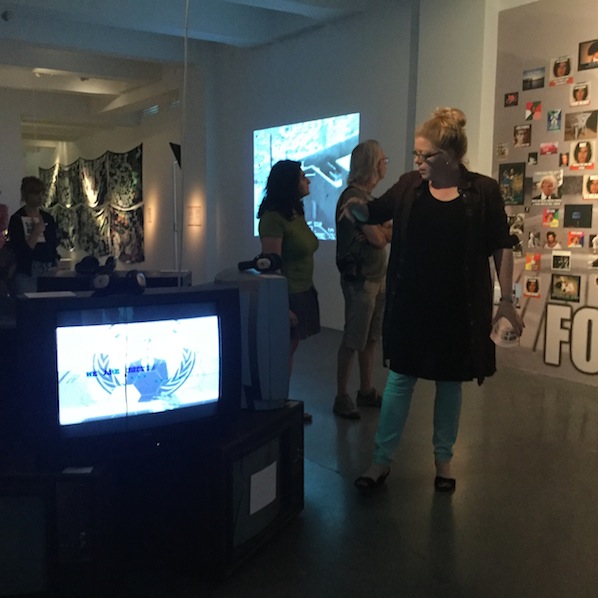 The spatial design and mapping of the exhibition seem to give some indication of political direction, but it is accidental. To the far right of the entry we find all installations labeled 'Vigilantes': a website collecting images of online fraudsters (419eater.com), two videos about Anders Breivik and Dominic Gagnon's collection of mostly right-wing extremist YouTube videos. Slightly controversial is how the Vigilantes section puts together these quite obvious nut cases and criminals with Anonymous and what the curators call 'Lulz', the near troll-like jokesters who ridicule anything they don't like with razor sharp memes. I am not sure whether these two products of the online forum 4chan deserve this simple pairing to YouTube hate preachers. A finer distinction between the various Internet underbelly representatives might have been better here. That this could have been done is shown by Lutz Dammbeck's archive on the Unabomber's placement in the Vigilante section, which has two labels. It is the sole representative of the Critique of Technology section as well. Another strange pairing happens in the Antinomism section, where an installation around a video with Julian Assange and a rightwing terrorist bomb disguised as soda machine are the only examples.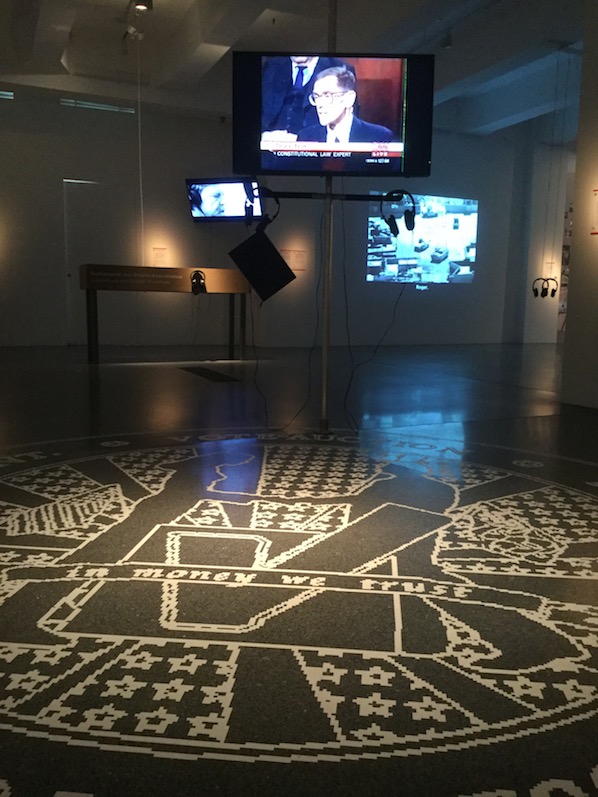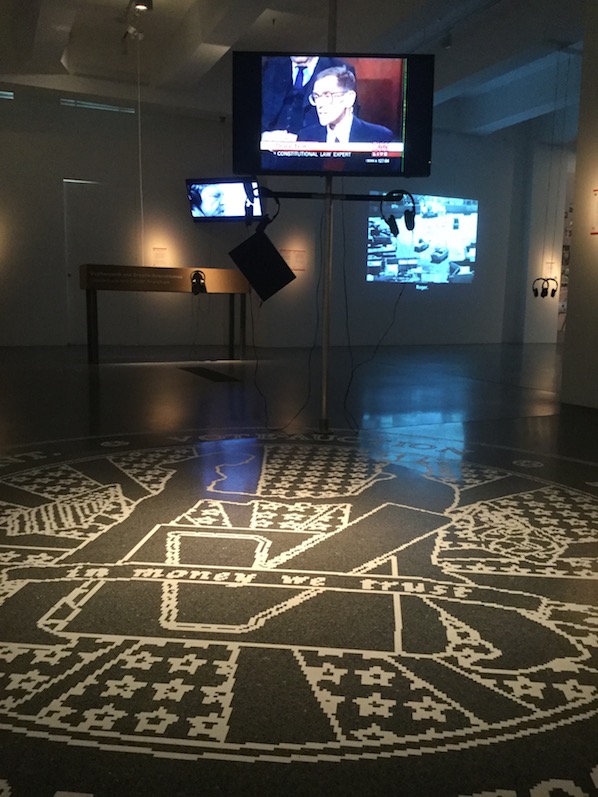 The middle ground of the exhibition shows a mix of artist activism and hacker culture. Mediengruppe Bitnik are here with a video of their Delivery for Mr. Assange. Black Transparency by Metahaven is represented through one utopian architecture model and printed wall cloths. The Peng! Collective's Intelexit: Call-A-Spy has a telephone stand in the exhibition. The provocative sale of US votes in Vote-Auction by Ubermorgen is here as docu-installation. Etoy's legendary Toywar is represented as well, with -in my opinion- too small a stand. Traces of many other art works and activist projects are presented in display cases, which give some more background or context to the theme. These were one of my favorite parts of the exhibition, next to the amazingly diligent and meticulous hand-drawn documentation of the Manning trial by Clark Stoeckley.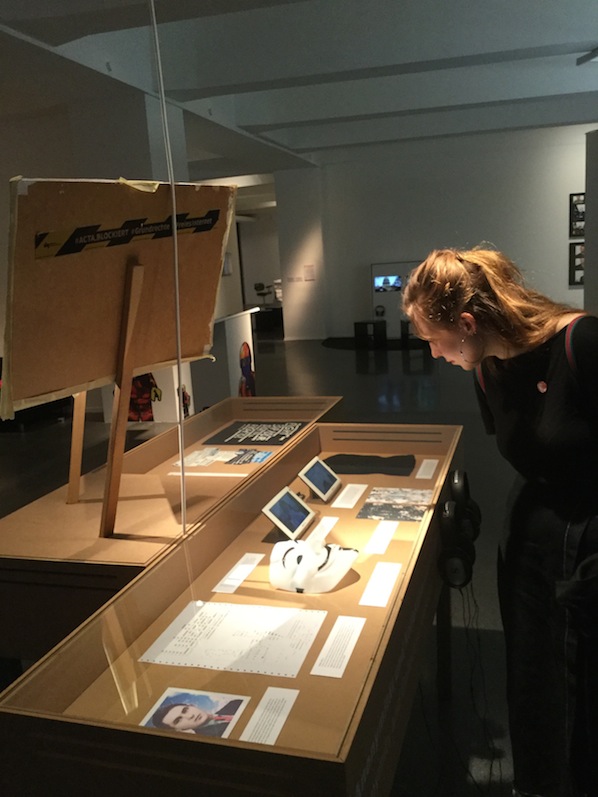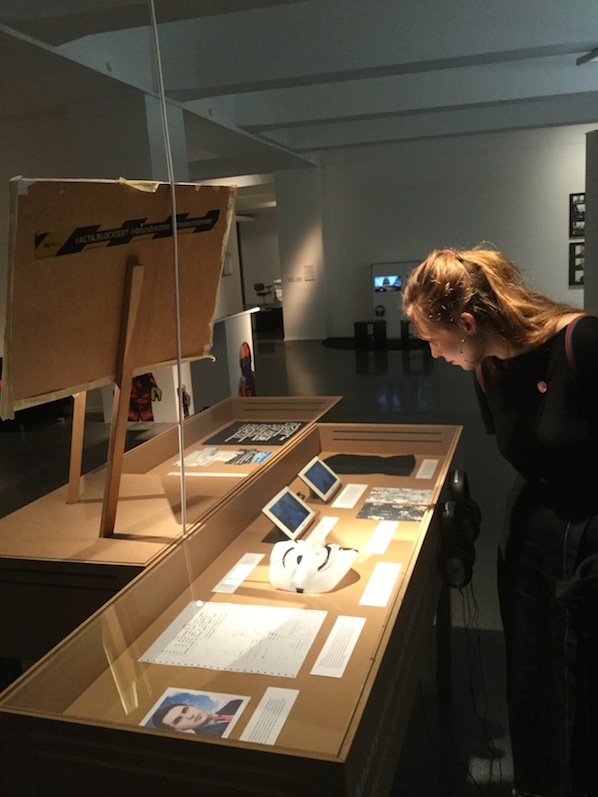 The display cases are dedicated to freedom of speech, tools of online resistance, the Netzpolitik case, anonymity and collective identities and cypherpunk and crypto-anarchism. They provide an important insight into the context within which the other practices in the exhibition exist.
Here we find Luther Blissett, the Italian born collective online identity, with a name borrowed from a former football player. The Blissett identity is related to pre-Internet art practices, in particular Neoism, and has been used for various art pranks and activist projects, particularly in Southern Europe.
Other art projects include the influential book Electronic Civil Disobedience by Critical Art Ensemble, the German hacker art collective Foebud's battle for free speech and privacy (presented with one of Addie Wagenknecht's anonymity glasses), and the Electronic Disturbance Theater's Floodnet. The latter is a DDoS attack software that was used in actions for the Mexican freedom fighters the Zapatistas, by the Yes Men and for Etoy's Toywar project.
There is also a print out of the Cypherpunk mailinglist. The cypherpunk crypto-anarchist community is responsible for some of the most influential elements of the free Internet. They produced the PGP encryption technology, cryptocurrency such as Bitcoin, TOR, the idea of WIKI and torrent platforms and marketplaces like the Silk Road. Julian Assange was one of its members.
Last but not least the presentation of the Netzpolitik.org case, which covers a German censorship scandal from last year, had to be part of this exhibition. Journalists from the online magazine Netzpolitik were arrested for treason after they had published about classified Internet surveillance plans of the German secret service. A copy of the accusation letter from the state prosecutor is oddly signed with 'Mit freundlichen Grüßen' ('With kind regards').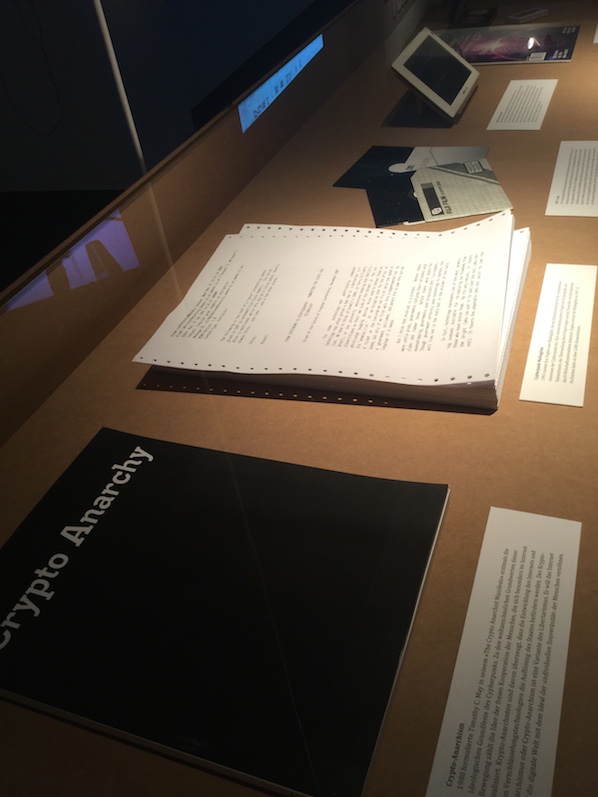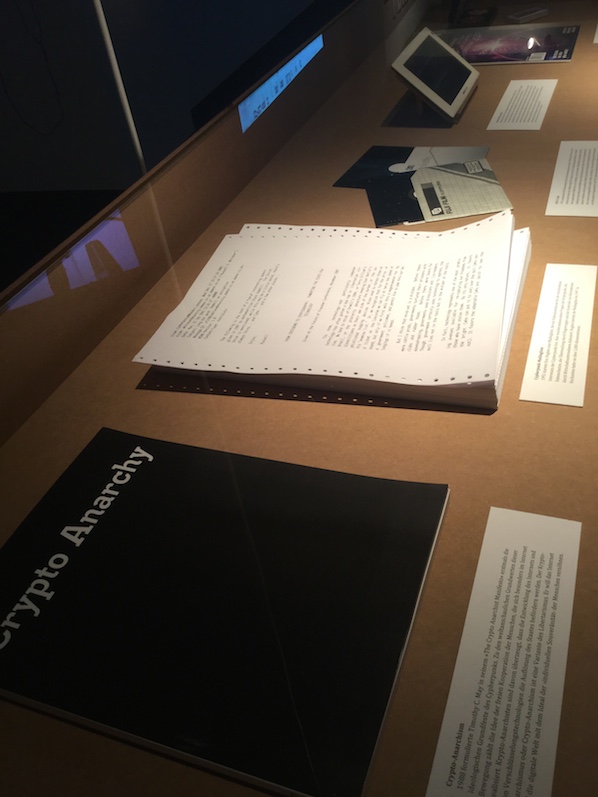 All in all the display cases made me happy to see some of the events and works that have been so hugely influential to the development of the Internet (and thus to the development of our current culture and politics) represented in a physical cultural space. They show a side of Internet culture that is heavily underrepresented in the general discourse around new media technologies in both mainstream media and art. During a private tour of Whistleblowers & Vigilantes for visitors of the simultaneously running Hito Steyerl exhibition Inke Arns explained how for her this exhibition is long overdue as well. According to Arns the threat to our freedom through abuse of new technologies should receive as much attention in art as the anthropocene. HMKV sees it as its responsibility to do something about it.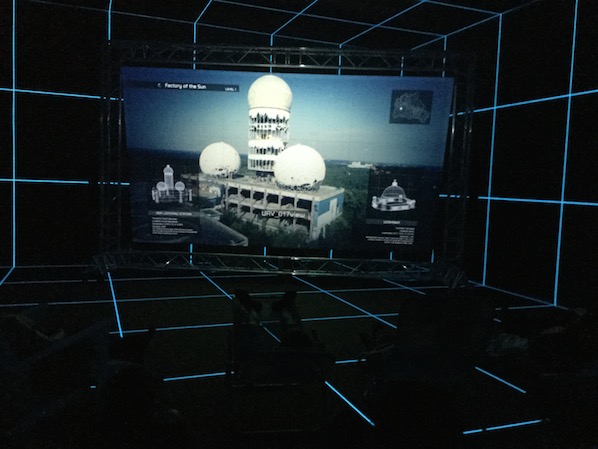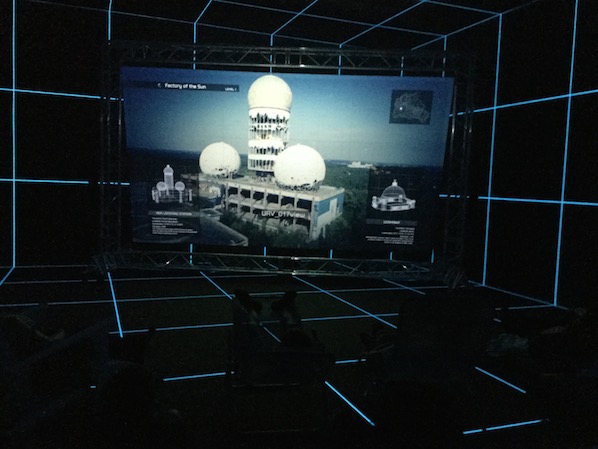 Whistleblowers & Vigilantes however does not make a straightforward statement. Its structure, both physically and content-wise, is too complex for that. This does not mean it is a bad exhibition. The bringing together of the 'Lulz', Anonymous, the Unabomber, net art, hacktivism, hackers and Manning, Snowden, Assange and even Breivik in one space definitely creates a lively exhibition, which cannot leave a visitor unaffected. This strange assembly then needs to be unraveled and this is where the curators take quite some risk. The addition of Hito Steyerl's installation Factory of the Sun, an exhibition that runs simultaneously on a different floor, could help to bring the serious, crazy and light elements of the show together for that part of the audience that loses its way. In her smart playful manner Steyerl blends science fiction, humor and critique of the surveillance society in a faux holodeck cinema experience. The exhibition also includes a few live events that steer the whole into safe waters. Netzpolitik journalist Markus Beckedahl has given a presentation and so has Jens Kabisch. Kabisch wrote a text about whistleblowers that is available on the website, but this text is unfortunately only available in German. My advice to the non-German audience is to download the press kit in order to get more background information.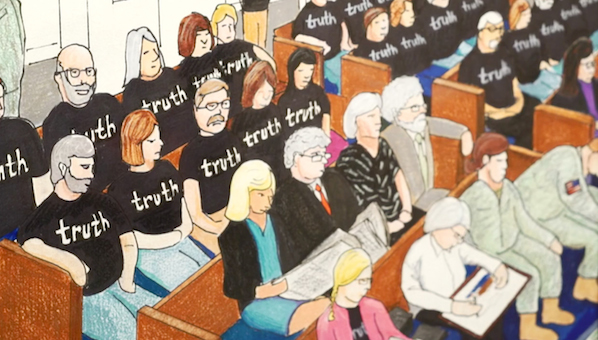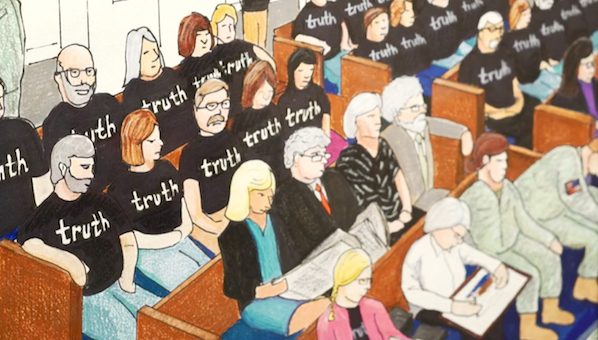 Whistleblowers & Vigilantes is a challenge to the audience. It asks for more reflection and time to take in than most exhibitions. After getting some more grip on it the complexity and scope of the exhibition, however, is impressive. It not only brings together many important, interesting and sometimes scary examples of contemporary forms of resistance and rebellion. What is also represented is the space of resistance and play that escapes attempts at systematic control, even in a full-on surveillance state. Once recovered from my initial shock this is what stayed with me the most. The wide-ranging documents, objects and installations reveal the system's shadow spaces and vulnerabilities. Whistleblowers & Vigilanters differs from the flood of other art exhibitions themed around surveillance and control by reflecting on the legitimacy of online autonomous political action in general. Indirectly this means it also reflects upon the space of life that exists beyond all control. Rather than create another horror show around the future of privacy and freedom, with Whistleblower & Vigilanten we are presented with the persistence of fringe cultures and of free thinkers. For me this makes this an exhibition of hope.
Exhibition Info
Whistleblowers & Vigilantes. Figures of Digital Resistance
HMKV, Dortmund
9/4/16-14/8/16
https://www.hmkv.de/_en/programm/programmpunkte/2016/Ausstellungen/2016_VIGI_Vigilanten.php
Download exhibition catalogue
https://www.hmkv.de/_pdf/Ausstellungsfuehrer/2016_VIGI_Kurzfuehrer_Web.pdf
Introduction
In the introduction of Civic Radar, editor Peter Weibel sets out the motivation, layout and journey of the book. This first comprehensive monograph of Lynn Hershman Leeson's artistic career, spanning across five decades. It must have been a dizzying publication to work on, when compiling her pioneering work in the fields of photography, video, film, performance, installation, and interactive and net-based media art. It is noteworthy that Hershman Leeson collaborated in its production. One feels her personal involvement in the book – its richness, care and detail, shows in its nearly 400 pages, and approximately 500 illustrations. It also features supporting texts by other writers, curators, theorists, and artists, such as: Andreas Beitin, Pamela Lee, Peggy Phelan, Ruby Rich, Jeffrey Schnapp, Kyle Stephan, Kristine Stiles, Tilda Swinton, Peter Weibel and interview by Hou Hanru and Laura Poitras with the artist.
Review.
"I try to live in the present, because most people live in the past. If you live in the present, most people think you live in the future, because they don't know what happens in their own time." Lynn Hershman Leeson.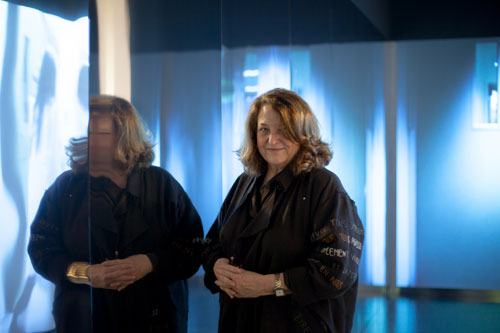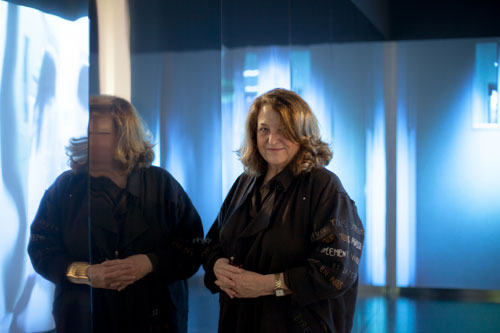 Lynn Hershman Leeson has pioneered uses of new technologies, recognized as key to the workings of our society today. She tackles the big questions surrounding: identity in a time of mass, overpowering consumerism; privacy in an era of surveillance; the interfacing of humans and machines; the relationship between real and virtual worlds; and new bio-ethics surrounding practices such as growing parts of the human body from DNA samples. We can think of Hershman Leeson as a direct artistic descendant of Mary Shelley. Consider Shelley's celebrated publication, Frankenstein: Prometheus Unbound, published in 1818, and its challenges towards macho revolutionaries of 'reason', and her critique of the misuses of science and technology by the patriarch. We can see strong parallels between both women. They are feminists, who have managed to find ways around (and to work with) traditional forms of dominant, patriarchal frameworks, so to express personal, creative and cultural identities, on their own terms.
"Lynn Hershman Leeson's mission statement seems to be that the body is a programmable software embedded in a changeable hardware. Therefore, she shows us so many hybrids and mutants, aliens and agents, actors and avatars, in real life and second life. From Dolls to clones, she demonstrates the paradox plurality of identities especially in the age of total observation." [1] (Weibel 2016)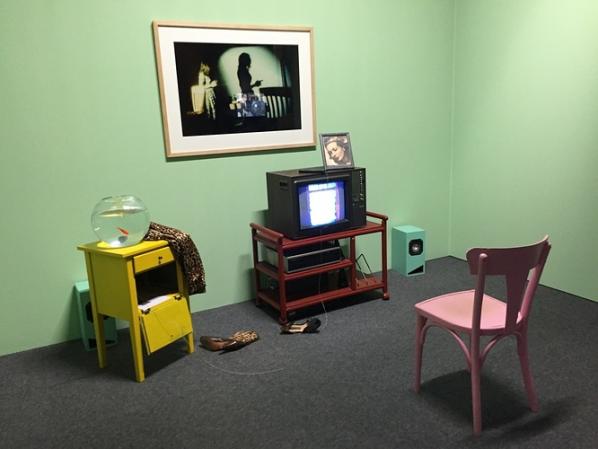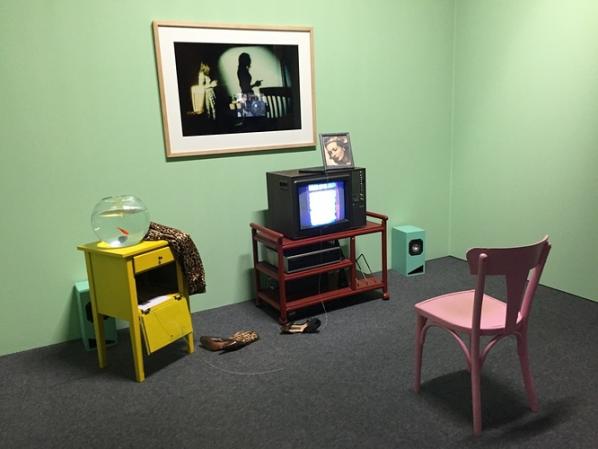 Hershman Leeson's artistic process however does not keep its distance from the processes of science and technology. She leaps into the depths of our fears and unreservedly engulfs herself, and her imagination in their material influences and modifications. Like Donna Haraway, Hershman Leeson takes cyborgs, misfits, biology, mutation and transformation as her inspiration, contexts and materials. And also like Haraway, she playfully and critically owns concerns around science and technology, along with the ethical issues that may arise out of their continuously shifting, influences on society; and, thus not owned by or weighed down by them. Every work put forward by Hershman Leeson, is an experiment. Her interests and knowledge inspired by science and technology reflects her constant state of contemporariness. Her work directly correlates to breaking down systems of perceived values.
"Hershman Leeson confronted conventional gender roles and exposed the normative construction of gender identity. Some of her videos have included cross-dressers and transgender men and women, as in Double Cross Click Click (1995), and her assumed male pseudonyms at a time when the art world was dominated by men who mostly ignored women." [2] (Beitin 2016)
Hershman Leeson's art moves fluidly between different formats, contexts and disciplines. This of course is not easy to brand. The art market survives by promoting art that fits into particular roles and products that are easy to promote, predict and consume. The irony here is that the art world promotes the idea of itself as a site of novelty and insights, but in reality represents a deeply conservative culture. Some artists, Hershman Leeson is one of them, transcend the contemporary artworld norm and build alternative universes, contexts and identities, where the art is so investigatory and esoteric, traditional conventions are challenged.
When I interviewed Hershman Leeson last year for Furtherfield she talked about how she'd like to "eradicate censorship, and make more transparent the capitalistic underpinnings that are polluting access, value and visibility". In the 70's, she was the first artist working on a prison art project in San Quentin, and many of her early public art works "geared toward social change." [3]
Civic Radar shows us that her work is not reduced to a singular, reflection of her own creative self. There is a wider story and it includes the voices of many others as part of the narrative of her life and her work, as well as reclaiming a history in a male dominated society.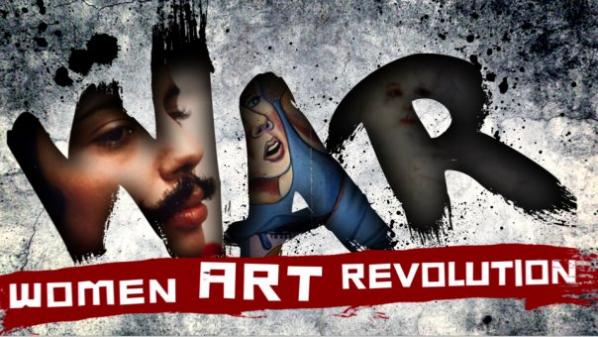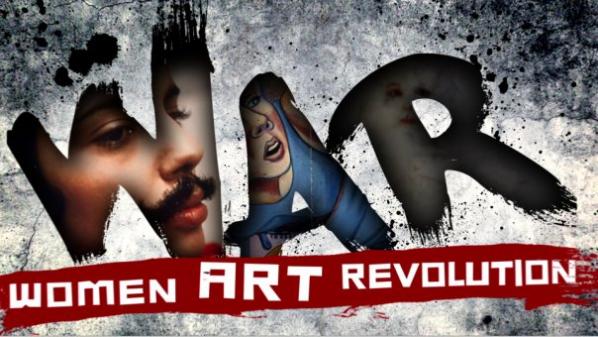 We see reaffirmed a varied and dynamic history where she has been involved in strengthening the role of women in society, as part of an extension of her art process. One excellent example of this rich history is that over a period of 40 years she interviewed an extensive array of women artists, historians, activists, and critics who integrated personal and political content into their work. Then, some of that gathered material was made into a film project !Women Art Revolution, in 2010.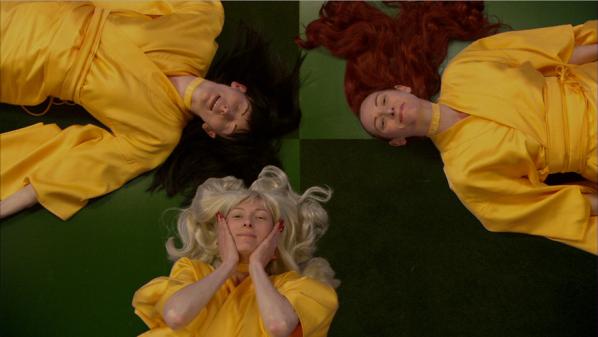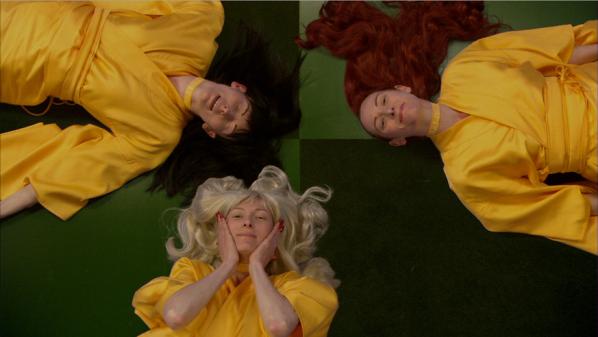 Lynn Hershman Leeson has not only achieved pioneering work as an artist, but also as filmmaker. She has collaborated with actor and Oscar winner Tilda Swinton in several feature films that have gone on to receive numerous awards at international film festivals on account of their outstanding quality and innovative themes. »Teknolust« is an absurd, amusing and scientifically highly topical science-fiction drama on the subjects of cyber-identities, biogenetics, gender constructions and sexual self-determination in the age of the Internet. The plot turns on the scientist Rosetta Stone (Tilda Swinton), who illegally produces three clones of herself. The artificial entities can only be distinguished by the color of their clothing and live in an enclosed cyberspace. Because they are dependent for survival on the male Y chromosome, Ruby, the femme fatale among the clones, goes in regular pursuit of men. Sexual contact with Ruby leads to impotence in her lovers as well as to an allergic reaction triggered by a computer virus which is transferable to human beings. The FBI becomes aware of the clone family's machinations following the increased incidents of infection among men, and begins to investigate. Note*
Her work has crossed into many different fields and formats. Which includes: installations, videos, films, sculptures, robots, avatars, contracts, computer programs, photography, paintings, drawings, collages, browser based art, artificial intelligence, bio-matter, network communication systems and devices. Synthia Stock Ticker and Dollie Clones are just two examples that demonstrate how ahead she has been with her ideas and her integration of digital technologies into art. Synthia Stock Ticker, is a networked-based media artwork made in 2000. It refers to the stock ticker invented by Thomas Edison and is unusually prescient in its portrayal of the emotional life of global markets. Inside a glass casing sits a small monitor screen, showing a video of a woman character named Synthia. "When the market is up, the character dances and shops at Christian Dior: when the market is down, she chain smokes, has nightmares, and shops at Goodwill." [4]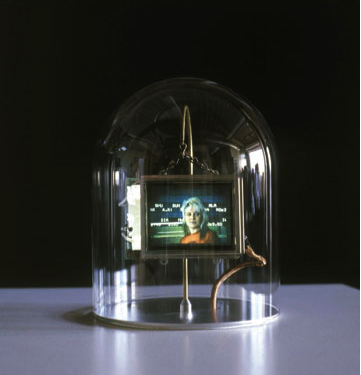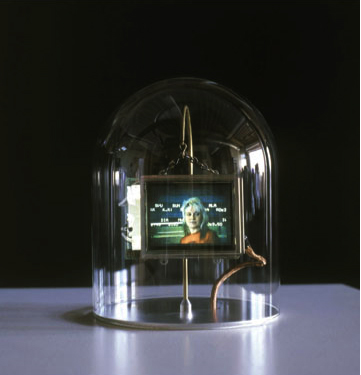 Again The Dollie Clones 1995-96 predate a contemporary artistic obsession with creeping surveillance. Two telerobotic dolls, Tillie the Telerobotic Doll and CyberRoberta, whose eyes have been replaced with cameras. Each doll has a website that allows users to view the images taken by the webcams and click on an "eyecon" to telerobotically turn the doll's head 180 degrees to survey the gallery.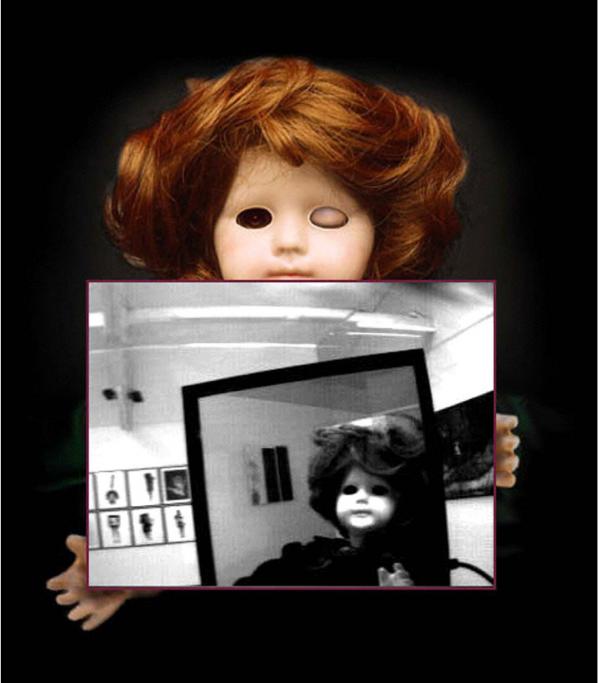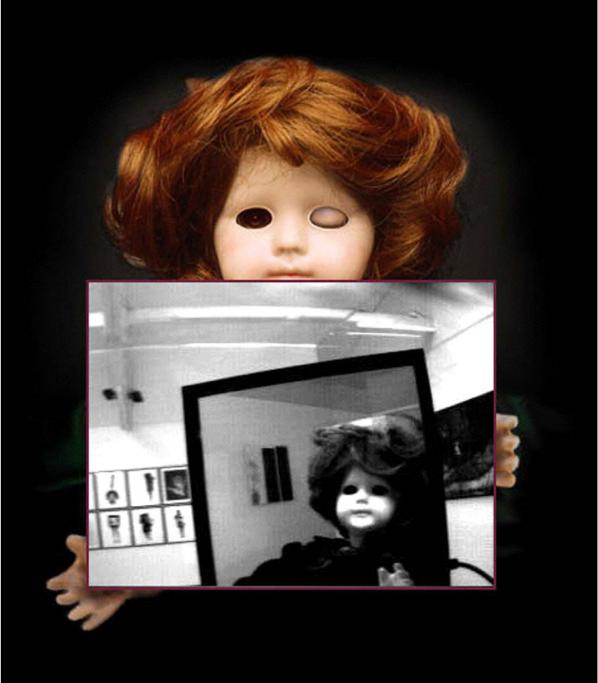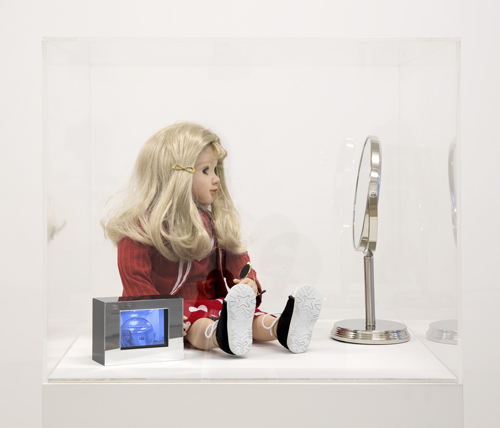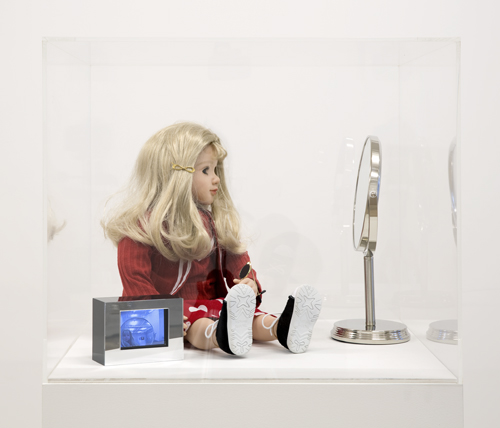 Hershman Leeson's most prominent performance work was as another woman, Roberta Breitmore. This elaborate alter ego existed between 1973 and 1978. The Breitmore character was well developed, possessing different behaviors and attitudes to Hershman Leeson's own personal identity. Roberta Breitmore had her own handwriting, clothing, wig, makeup, driver's license, apartment, psychologist, bank account, credit cards, acquaintances, life story, and adventures. Hershman Leeson took the audacious leap and sporadically became Roberta Breitmore for 5 years. Other women also lived as Roberta Breitmore and sometimes simultaneously. [5]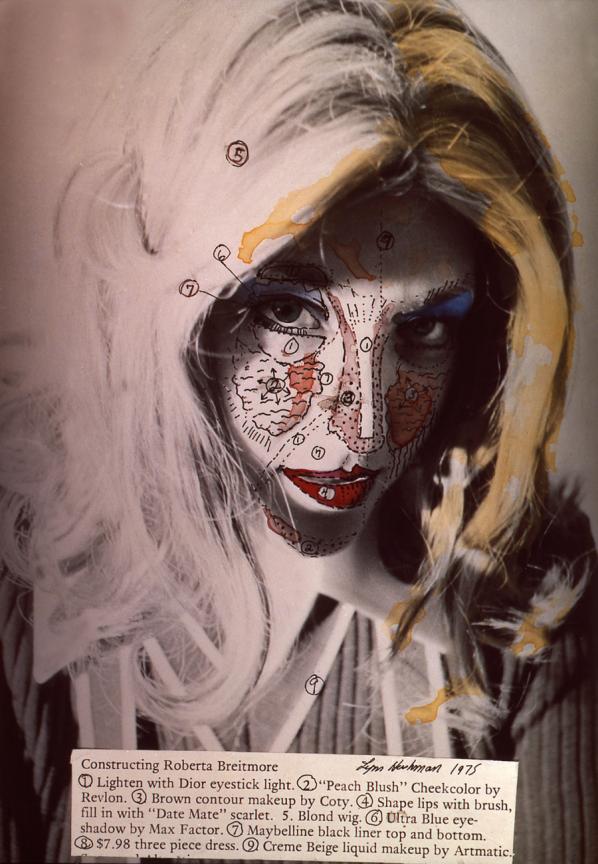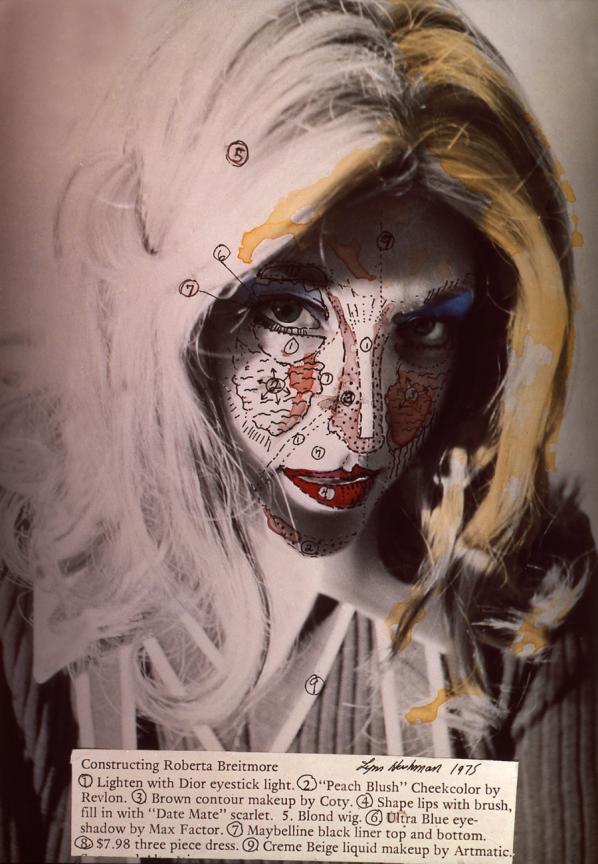 "Hershman Leeson hired three additional performers, all women, to play Roberta. They wore costumes identical to the ones Hershman Leeson herself wore, and they treated Roberta essentially as a professional (albeit part-time) gig. They undertook some of Roberta Breitmore's correspondence and went on some of her dates (which were documented in photos and audio recordings). Eventually, Hershman Leeson stopped enacting Breitmore, reducing the instantiations of Roberta Breitmore from 4 to 3." [6] (LaFarge 2007)
The spirit of Hershman Leeson's radical art persona can be seen in younger, contemporary artists today. For instance, Heath Bunting's Identity Kits, part of his larger The Status Project consist of various items, personal business cards, library cards, a national railcard, T-Mobile top-up card, national lottery card and much more. "They take a few months to compile each of them because they are actual items that everybody uses in their everyday lives, involving evidence of identity. There is also a charge for the package of 500.00 GBP, which is cheap for a new identity." [7] (Garrett 2014) Then we have Karen Blissett, an Internet artist who suddenly decided to go multiple by opening up all of her email, Twitter, Facebook and Google accounts to many different women around the world. "A torrent of provocative, poetic, and often contradictory voices issued proclamations, made auto portraits, and shared psalm-like meditations on her existential transformation; distributed across online platforms and social spaces, in text, image and video." [8] (Catlow 2014)
Towards the end of Civic Radar a collection of pages show us various images of the exhibition by the same name at the ZKM Museum of Contemporary Art, in Germany 2014. When viewing the images of her work in the large gallery spaces you realize the scale of it all, and how substantial her work is.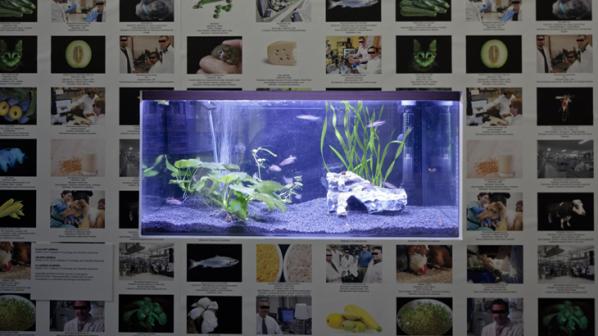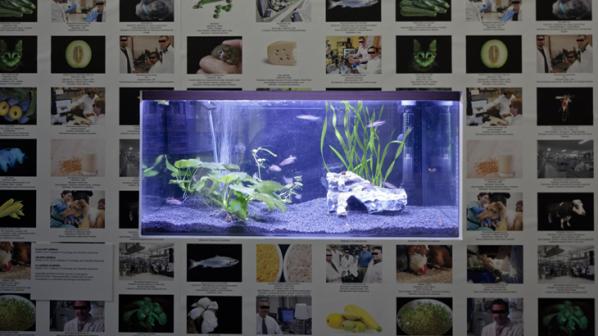 Moving on after the images of the works in ZKM, there is a selection of Hershman Leeson's texts written, from 1984 and 2014. These writings, take us through different stages of her career, revealing ideas and intentions behind much of her work and also some of the work included in the publication. In the last paragraph of the last text in a short essay, titled The Terror of Immortality she writes about the contexts that have given rise to her most recent work. "As organic printing and DNA manipulation reshapes the identities of newly manipulated organisms, so too the culture of absorbed surveillance has dynamically shifted. In the next 100 years, the materials used to create DNA will become increasingly distributed and hybridized. The implications of this research include not only the creation of a sustainable planet of hybrid life forms that can survive a sixth extinction and incorporate into to its existence a morally responsible future." (Leeson 2016)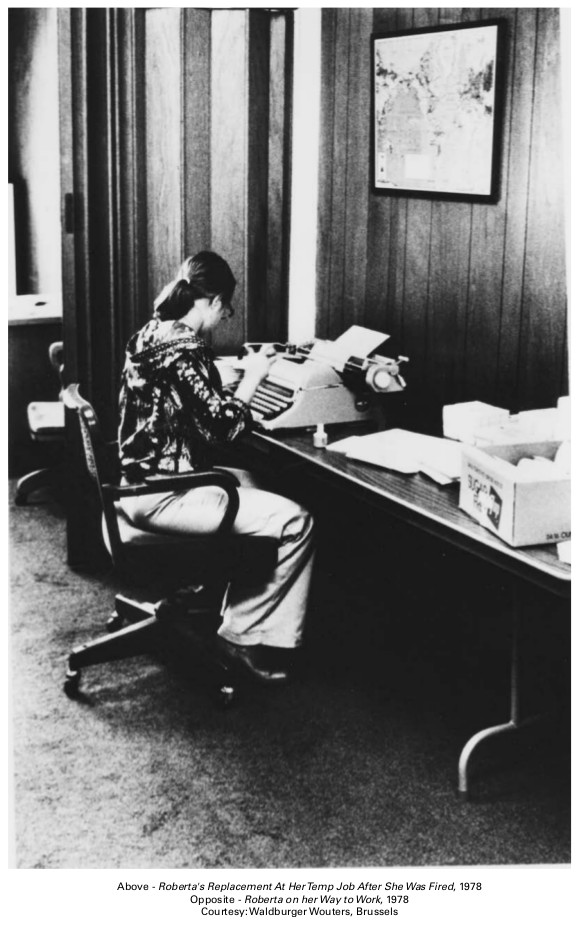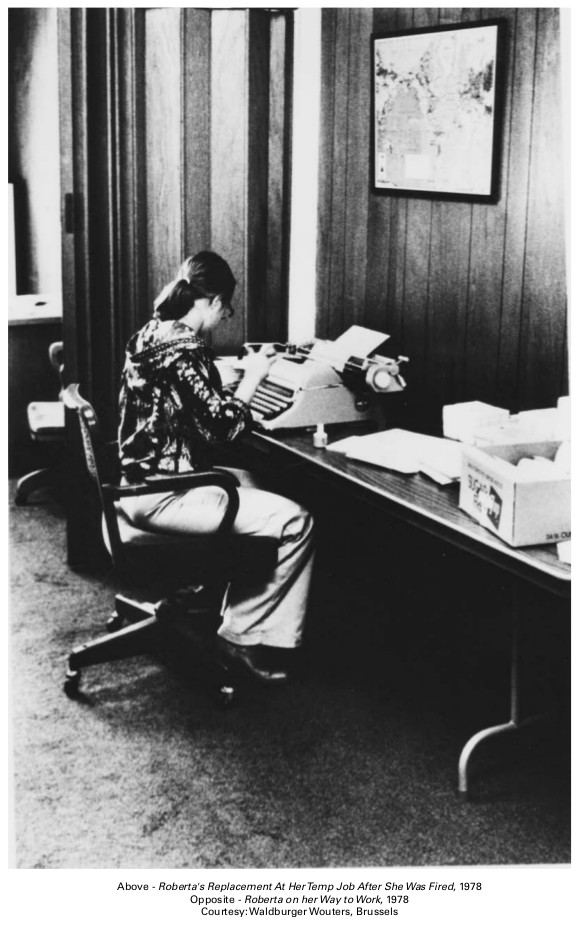 This book is a profound read, offering an insight to this generous and profound artists' fantastical journey in an era marked by accelerating change. And what's so amazing is that the content, the narratives, and the histories, are real. It is an Aladdin's Cave of rich, exceptional artworks, flowing with brilliant ideas. Hershman Leeson has had her finger right on the pulse of what's relevant in the world for a long time, and transmuted the knowledge she unearths in her examination of identity, feminism, science, technology and more into her own artistic language.
Her work is way ahead of most contemporary artists showing now. This book should be read everywhere. Not just because it features great art, but also because features a woman with a great mind. I am not a fan of the words genius or masterpiece; I find them tiresome terms reflecting a form of male domination over women and the non-privileged classes. Yet, after spending time with Civic Radar, I cannot help myself thinking that I have just witnessed something equivalent without the negative baggage attached.
*Text from ZKM – Teknolust. With Lynn Hershman Leeson at the cinema.
http://zkm.de/en/event/2015/03/teknolust-with-lynn-hershman-leeson-at-the-cinema

In 2015, ZKM in cooperation with the Deichtorhallen Hamburg / Sammlung Falckenberg exhibited the first comprehensive retrospective of Leeson's work, including her most recent productions of art. Last year Modern Art Oxford hosted a major solo exhibition of her work Origins of a Species, Part 2 and she also has work in The Electronic Superhighway, at Whitechapel Gallery, in London.

Featured Image: Charlotte Moorman with Nam June Paik, 1980. Photo © Erik Andersch
Intro.
Lynn Hershman Leeson is a renowned and accomplished artist and filmmaker in her own right. Over the last three decades she has pioneered uses of new technologies in critical investigations of issues, recognised as key to the workings of our society today. She tackles the big questions surrounding: identity in a time of consumerism; privacy in a era of surveillance; the interfacing of humans and machines; the relationship between real and virtual worlds; and growing parts of the human body from DNA samples. Last year Modern Art Oxford hosted a major solo exhibition of her work Origins of a Species, Part 2 and she has work in The Electronic Superhighway, at Whitechapel Gallery, in London at the moment. Her work has had a strong influence on many contemporary artists working with technology. Recently, ZKM in cooperation with the Deichtorhallen Hamburg / Sammlung Falckenberg exhibited the first comprehensive retrospective of Leeson's oeuvre, and also the most recent productions of her work. In May this year a book of the same name Civic Radar, will be published, featuring a comprehensive monograph of this Feminist pioneer in the fields of film and performance art, edited by Peter Weibel.
Nam June Paik was born in 1932 Seoul, Korea and died 2006. Many in the artworld regard him as a visionary artist, thinker, and innovator. Considered the "father of video art," his groundbreaking use of video technology blurred past distinctions between science, fine art, and popular culture to create a new visual language. Paik's interest in exploring the human condition through the lens of technology and science has created a far-reaching legacy that may be seen in broad recognition of new media art and the growing numbers of subsequent generations of artists who now use various forms of technology in their work.
Through his progressive ideas and artworks Paik dared to imagine a future where the technological and playful innovations that we now take for granted might exist. This interview with Hershman Leeson is timely, documenting the meeting of two imaginative beings who have changed the history of work at the intersection of art and technology. The issues they discuss are as important now as they were then.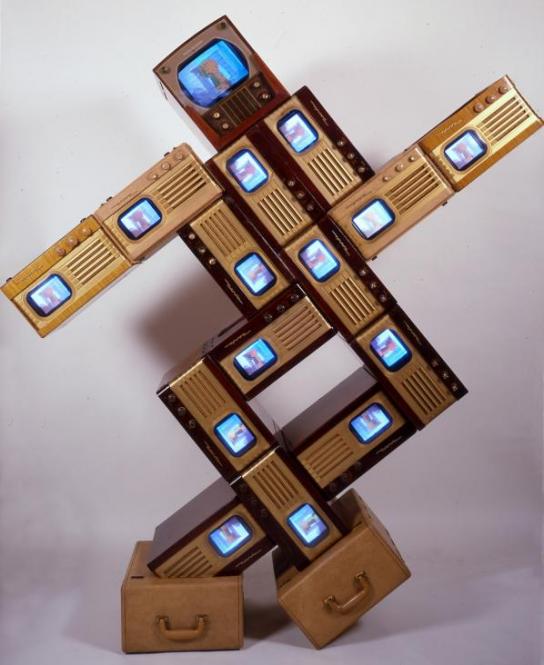 Interview.
This interview of Nam June Paik by Lynn Hershman Leeson was first published by Artweek, April 1980 Electronic Art.
LHL: If you were elected president, how would you solve the world's problems?
NJP: I just wrote an essay about how to make oil obsolete. Number one, information has to be recognized officially as an alternate energy source. Information changes our lifestyle. Dancers and yogis achieve ecstasy with 200 calories. However, racing drivers, if they want to achieve ecstasy, have to burn 200,000 calories. I found this new economical law… any consuming activities – certain activities which have a higher spiritual quality – use less energy. For instance, when rich man can buy a Jasper Johns for $100,000, that takes very little energy. However, if rich man buys Cessna airplane and flies around, it takes a lot of energy. But contributions to national economy would be the same… $100,000 spent. Same thing when you buy a videotape recorder for $500. Or if rent a car for $500 – ten days – national economy benefits from the same. But videotape recorder consumes much less energy. So when we shift our economic priorities of consuming to more spiritual sphere then we can solve all economic problems with much less energy. I found it is much easier to go to Paradise than to make this a paradise. It's much cheaper to die than to make this world a paradise.
LHL: Do you think we're getting closer to that now – global spirituality or global promiscuity?
NJP: Same thing. Sex requires only 800 calories. Same ecstasy, but racing cars take many more calories. Everything counts on calories. We need worldwide dieting. Lose weight.
LHL: Do you think pleasure or ecstasy is being popularly redefined because of technology?
NJP: Also because of a lack of energy. Things are getting so expensive that we have to use less. If you telephoned me instead of flying to New York, we not only save $300 air fare, we also save American Airlines gasoline. If they have less business, they will fly less. So we should move ideas and not weight. Less gravity we use the better. Transportation and communication are a trade-off. The more communication and less transportation we use, the better.
LHL: So your ideal is that we shouldn't move too much…
NJP: Well I coined a term called "Stationary Nomad." We are nomads but we don't move.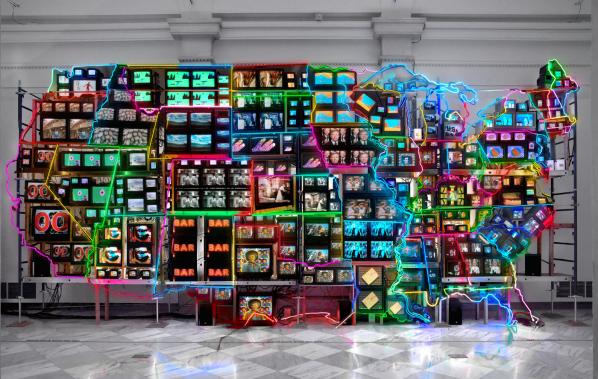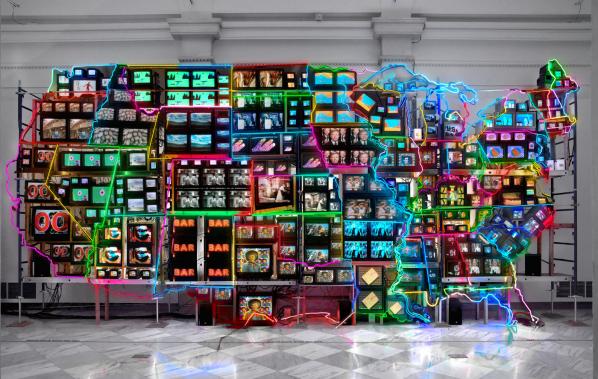 LHL: Do you think that we, as a species, are becoming biologically changed, that we're almost becoming married to electronic systems?
NJP: Most important biological change is that when you move to moon you have to change sex patterns. You can make sex because you have certain weight. On the moon our weight is only one sixth so our whole muscular coordination has to be different.
LHL: What about all the perceptual changes?
NJP: When we have videodisc, all the New York Times microfilms will become like ten videodiscs. Then we'll start browsing all hundred years of New York Times. Then you'll look at early "help wanted" columns. Very interesting how the "help wanted" pattern changes over one hundred years. A new set of computer games would be born. Have you ever looked at New York Times microfilms? It's very interesting. Celebration… that, I think, is the contribution of John Cage to world artists, because John Cage is first conceptual artist. Conceptual art is still very interesting movement because it requires least energy. No canvas. No movement. Just head!First time I'm coming from Asia to Europe, I'm flying from Calcutta to Cairo on a night plane. Everybody is sleeping. Only one light is on. A young American girl is reading paperback science fiction and I was so impressed. This girl was made for technology, you see. Celebrating.
LHL: How long will it be before ordinary people supersede movie stars, and intercommunicative TV and computers supplant fictional film?
NJP: I got an idea which I hope some capitalist will do. Interaction. Gene Youngblood had a conference at USC about the future of television, and he thought that interactive TV must be the alternative television. He knew but couldn't quite formulate a complete idea about it. So it became chaos. Well, I thought chaos would be a great interactive TV. So the problem is how to create electronic chaos so we can enjoy each other. When you watch television or a very good film – which they make – really not very good… another one, you make it yourself, then there is also a limit of making it good because we don't really know yet how to make our television. At the intermediate stage you will have ten different discs, and the first disc has only kissing scenes, the next only killing scenes, the third only music, the fourth only driving around scenes, the sixth just talking scenes, etc. Each disc is very complete. Kissing disc has all the kissing from movie history, every kissing of Marilyn Monroe, every kissing of Greta Garbo, and the second every killing scene from John Wayne. So we could just mix it according to our rhythms. Television proceeds in three-minute cycles. Every three minutes you want one nice thing, one bad thing, one mediocre thing… and music. So you have console and you just push buttons. So you interact with all of film history. I think that will be the intermediate stage before everyone has interactive television. It's nice to meet and touch people, but it's more exciting to talk very far. I just talked on telephone with Shigeko. It's very exciting. She says: "Oh you're never there!" She's in a bad mood yesterday. She called… then I called back and she didn't answer. This morning she didn't answer again. I got an answering service. Distance makes things very exciting!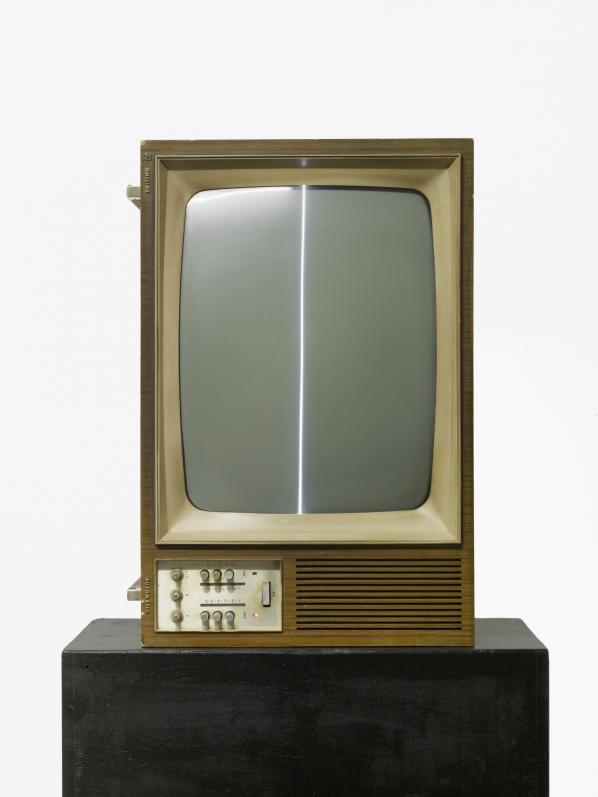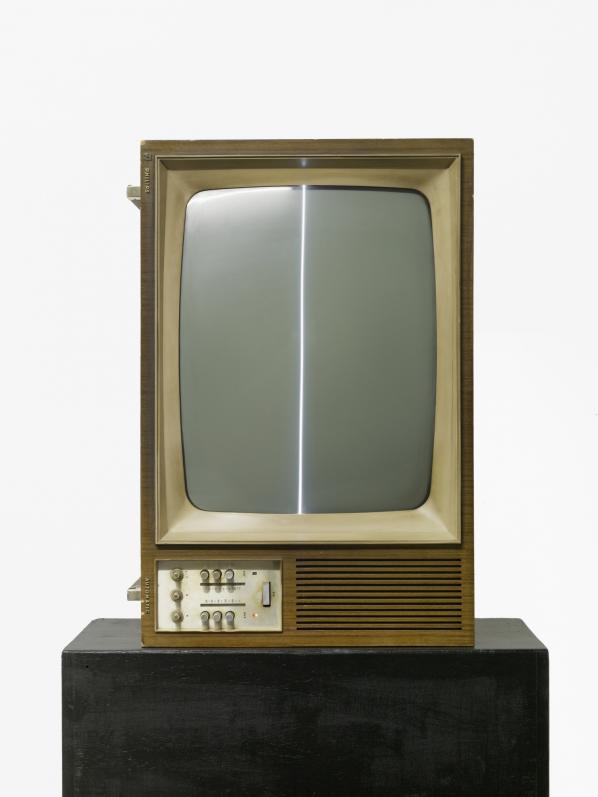 LHL: What are you working on now? You were just in Israel.
NJP: Yes. For Allen Ginsberg and Allan Kaprow. For some reason I got to know people very early in their development. I'm just lucky. I got to know Kaprow very early. These two famous men kept my friendship. They let me be their friend. So I want to make a variety show with two Allens because they are so different. Kaprow is a very cerebral man. Ginsberg is a very emotional man. Ginsberg is very semantically avant-garde and Kaprow is very formalistically avant-garde. We were going to do a show with them on a raft on the Mississippi River… let them talk to each other. This was to be me Bicentennial product. Then everything got delayed. Delay and delay and delay in our lives. That has to be solved. The plot got thicker and thicker. Two years ago I had some travel money available so I thought maybe I'd bring Ginsberg and Kaprow to Israel. Then my travel fund dried up so I had to pay for all these tickets to go to Israel. It wiped out my whole savings.
LHL: Can't business and pleasure be the same?
NJP: Yes. But playing is more interesting. Yet playing is harder. The futurist thing is how to play without being bored. That is the most important thing… how to forget the Protestant ethic… Confucianist has same thing… how to be able to play. Americans know how to play a little bit better than Europeans or Asians. Africans know a little more about playing than Americans. America and Africa got together and made American entertainment. America invaded the world through their jazz and not by their airplanes. Because of black people's music, America is such a big image around the world. American defenses are made form two things… hardware and software. Russians can match American hardware because they can produce. But Russians cannot match American software because Russians don't have black people. Russian culture is all nineteenth century… Bolshio Ballet. Now you can't make video out of Bolshoi Ballet. You can only do it live. So Bolshoi, it's only where rich people can go who are anti-Communist anyway. So they are wasting all Bolshoi Ballet because it never reaches poor people who are target for their propaganda. That's because their culture is made before information technology. Scott Joplin, a black man, made his art especially for mass production – the "player piano." The black people's music from the beginning was developed for mass production. The rich Americans packaged it to sell. Of course the black people are exploited.
LHL: Do you have trouble playing?
NJP: I think I have this guilt complex… must work all the time. My doctor told me I should get enlightened. But I always think I must get enlightened after next job. Then, with the next job, I get more and more in debt. Then I need another two jobs to pay the bills. So my enlightenment gets postponed.
LHL: Do you think being enlightened and being in debt are related?
NJP: You can act enlightened even if you are hopelessly in debt. There's a guy I know… he's a Catholic. He drinks. He's very fat… but he drinks one quart of Coca Cola everyday. He thinks he'll just work until he dies. But I don't want that kind of enlightenment. I don't work too hard anyway. I just work minimum.
Artweek, April 1980 Electronic Art NAM JUNE PAIK – VIDEO PHILOSOPHER
c.lynnhershman1980 all rights reserved
SEE IMAGES FROM THE PRIVATE VIEW
Furtherfield Gallery is proud to present Dimensioning – Live Architecture an exhibition of new digital artworks by Italian artist Chiara Passa, part of Furtherfield's Open Spot programme.
Passa's concept of «super places» and her search for new dimensions, or "campo piu' in là" (a "further field") underpin her work using architecture as an interface to understand the possibilities of the digital dimension. She uses augmented and virtual reality (AR & VR) to create interactive installations in which the technologies punch through and pull out a new sense of place in combinations of interior, architectural and natural environments.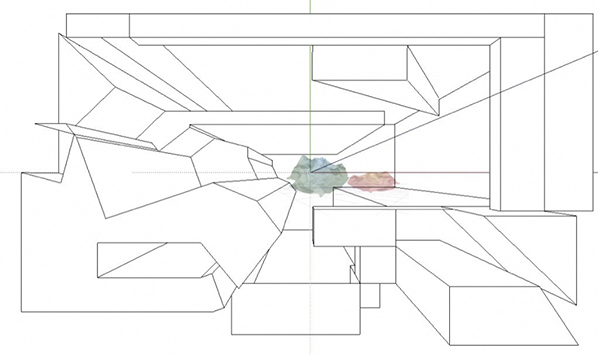 In this exhibition visitors can explore her new digitally mediated perception of space and time in an animated multi-dimensional 'trompe l'oeil' of the gallery rooms as 3D wireframe view. Visitors stand in the middle of the "window-camera" view of the software, which has also been used to build the animations on display. They use augmented reality to "travel through" the walls, into the diagrams.

"Worlds open the doors to other worlds and synthetic shapes become design, structure, architecture and reality."
Passa's work offers a refreshingly passionate approach to experimental and philosophical play with technologies. We think that this is especially valuable in an age where our expressive range and behaviour is increasingly pre-determined by the digital tools, techniques and devices that we use daily, and the interests, experiences and values of those who create them.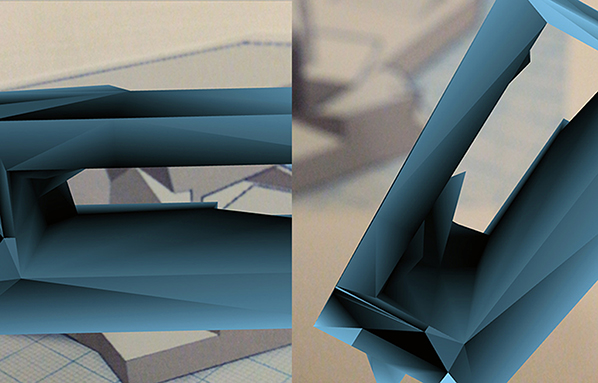 Also for this exhibition visitors will experience her VR 3D animation using a Google Cardboard viewer.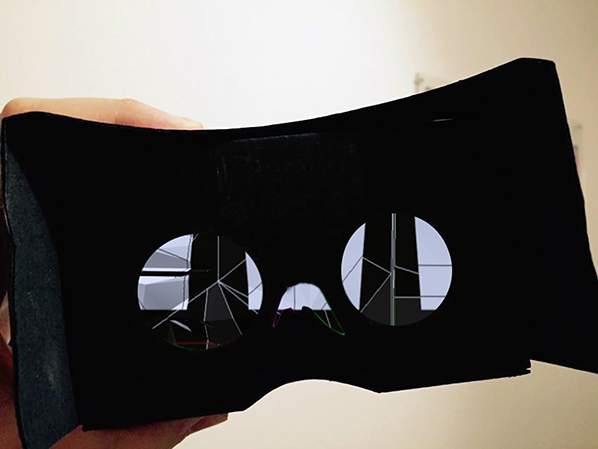 Chiara Passa talks about Dimensioning – Live Architectures at Furtherfield Gallery in the video below
About Chiara Passa
Chiara Passa, media artist (Rome 1973). Graduated at Fine Arts Academy of Rome; master in new audio-visual mediums at the Faculty of Modern Literature.
Her artwork combines many media and platforms analysing changes in 'liquid space' through a variety of techniques, technologies and devices – often constructed using augmented reality and the virtual reality technologies. She works with animation and interactive video-installation; digital art in public space as site-specific artwork and video-mapping; video-sculptures and objects; art-applications and widgets for mobile platforms.
She explores the potentials offered by the intrinsic languages of these emerging platforms to experimenting in a rigorous and personal way with the full expressive range and "unknown creative possibilities that the new media are continuously offering to me". She received the E-Content Award (2012). Her work is regularly exhibited internationally in galleries and at festivals, conferences and institutions including ISEA, Vortex Dome (USA), Media Art Histories Conference (DE), Electrofringe (AU), FILE | Electronic Language International Festival(BR), CCCB – Centro de Cultura Contemporània de Barcelona (ES).
About Furtherfield
Furtherfield is a leading organisation for art, technology and social change. Furtherfield Gallery and Commons spaces in the middle of London's Finsbury Park explore complex themes relating to digital culture, inspiring diverse people to get involved with arts and technology on their own terms. Debate is facilitated amongst an active international community of artists and thinkers via online platforms, combined with accessible art shows and labs to enable co-creation and widen participation. Furtherfield is a not-for profit, artist led organisation, an Arts Council England National Portfolio organisation, supported by Haringey Council.
About Open Spots
The Furtherfield 'Open Spots' programme of self-initiated and self-funded exhibitions and events support the presentation of new work and artistic invention, to discover new perspectives on the horizon of a wider networked society.
Curators and artists that meet Furtherfield's selection criteria can showcase work at Furtherfield Gallery in the heart of London's Finsbury Park. Open Spot projects can reach a new, diverse audience of gallery visitors, park users and Furtherfield's online participants.
Featured Image: Black Shoals: Dark Matter', Joshua Portway, Lise Autogena, Big Bang Data.
Big Bang Data is a major travelling exhibition currently set within London's Somerset House. That a large institution is presenting a journey via data capture through 'selfies, surveillance and infographics' is in itself an interesting patchwork of intent and realisation. The aim of the exhibition is to 'demystify data'. This is a grand, summative and in actuality slightly awkward claim which, in my view, encapsulates the character of an interesting, textured exhibition in an unintentionally astute way.
As Big Bang Data is dedicated to revealing data comprehensively through its various architectures and iterations, it makes sense for the underrepresented materiality of information to have prominence early on. This materiality, perhaps inevitably, was compromised in the gallery space. Entering the first room brings you face to face with Timo Arnall's Internet Machine, which takes the form of multiscreen video documentation of not just the machines, but also the architecture, which supports mobile telephony.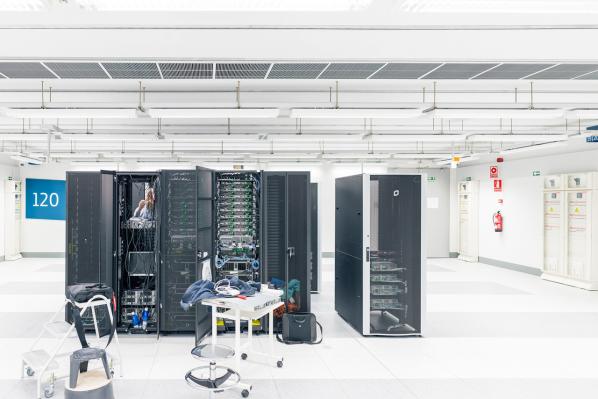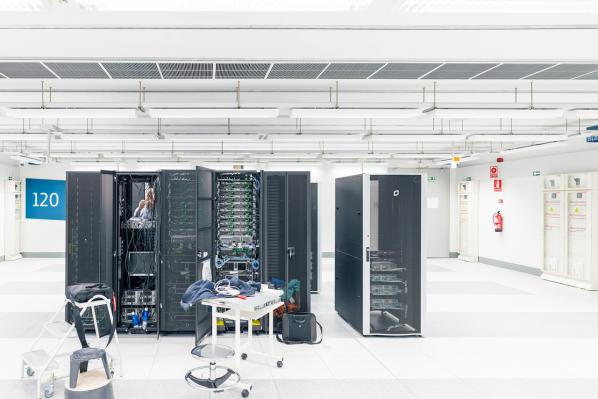 I would have loved to have experienced the spaces shown more intimately and walked around one of these structures; the installation was illuminating but I was still most certainly watching at a remove. This initial interplay of removal and involvement is central to the way we experience data. How can people begin to understand something which exists as multiple codes and flows, on a scale and at a speed which is not concerned with making itself understood by humans? What form could an understanding of data possibly take? When learning about something this far from our grasp, it seems that 'understanding' must be replaced by 'awareness'. Rather than seeking one answer via one route the visitor to Big Bang Data has to build an impression, obviously subjective and subject to change.
In its quest to expose and explain data's social and cultural uses, it presents a fairly overwhelming amount of information. It is interesting to walk through the space thinking about how this information has been channeled by each specific project. Some representations, such as Owen Mundy's 'I Know Where Your Cat Lives', link distant people and spaces via connected points, while others such as Phillip Adrian's 'One Second' capture in great detail one specific point in time and space.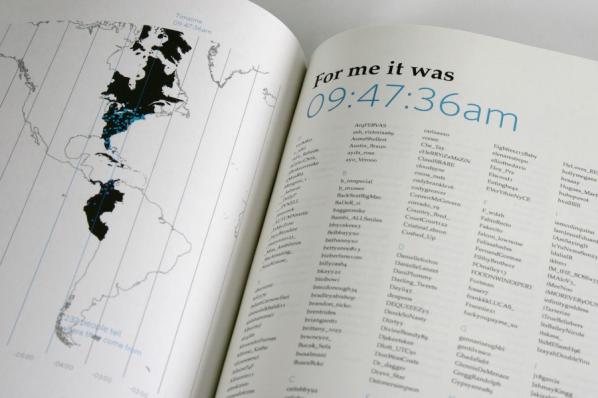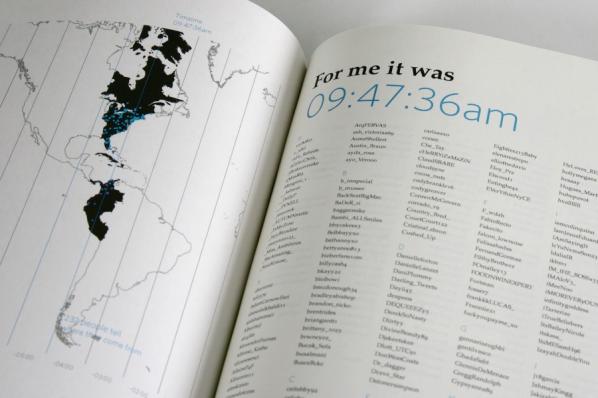 Julian Oliver's 'Transparency Grenade' brings together graphical, console and physical representations of data to offer a transportable means of leaking information as a response to impenetrable governing systems. Each of the works on display demonstrates a negotiation between temporality, materiality and spatiality, and often one is sidelined in favour of the other. Again, considering the exhibition in this way is also to consider the world of data in all its contrariness.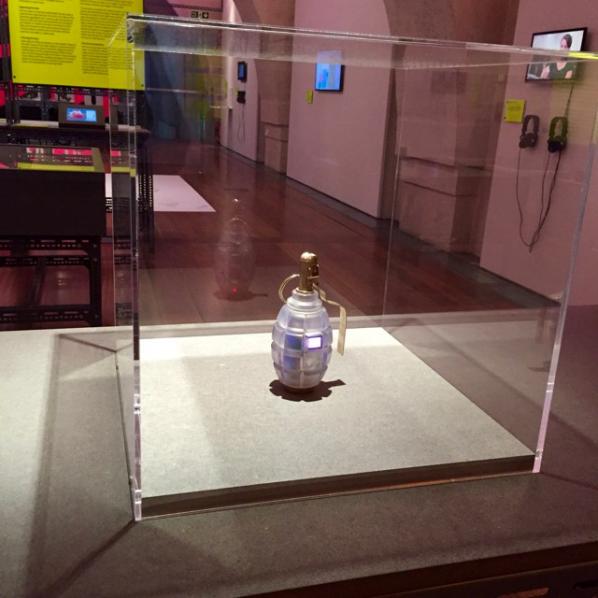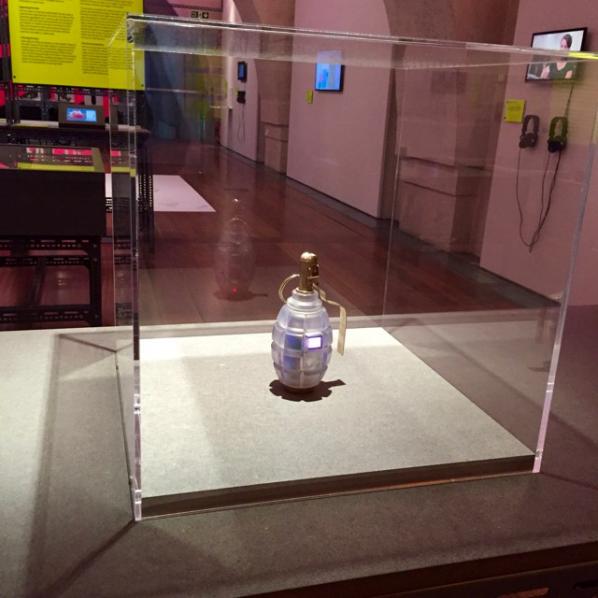 Data manifests itself at the same time locally and globally. As well as addressing specificity, the projects shown in Big Bang Data dwell repeatedly on scale. Works such as Tejka's 'London Data Streams' and Nicholas Felton's 'Annual Reports' pit scales against each other to cast light on the filters through which data is processed.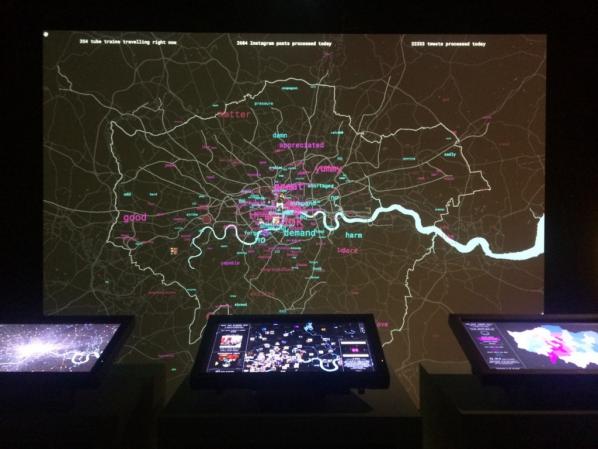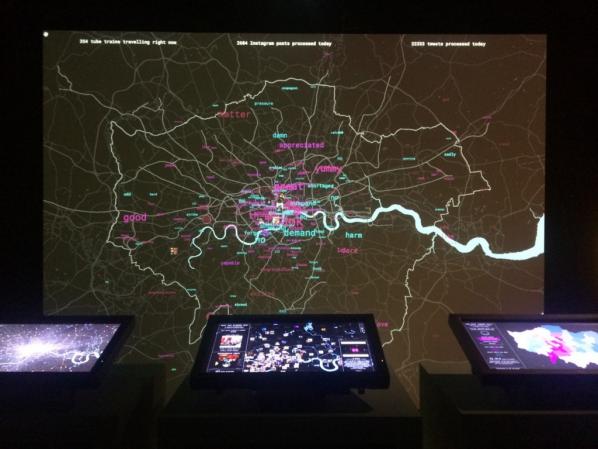 Ingo Günther's 'World Processor' and Forensic Architecture's 'Liquid Traces: The Left-To-Die Boat Case' are examples of resonant, atypical data visualisations which mutate familiar imagery and present alternative summaries of events. The section entitled 'Data For The Common Good' shows some of the ways data is being actively used in society to empower citizens with works such as Safecast's 'bGeigie Nano' and IF's 'Data Licenses', while a series of video interviews with journalists and other professionals working with data illuminate the processes through which information becomes communication.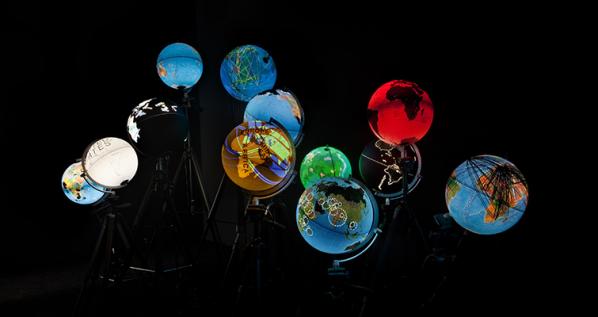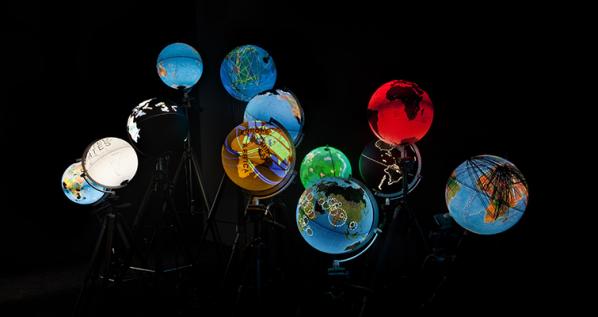 The previously mentioned tension between object and their presentation recurs at various points throughout the exhibition, a great example being the array of undersea telephone cables, presented in cases of wood and glass which could have been magpied from a display of historical artifacts (each cable segment has a number next to it which corresponds to a factual description). It felt strange not being able to touch them. A work which I felt fully occupied, and knowingly played with, its surroundings was Ellie Harrison's vending machine, which sits unassumingly in the gift shop; its secret is that when search terms connected to the recession make the headlines, free snacks are dispensed. Its presence in a exhibition on data in a gallery space felt appropriate.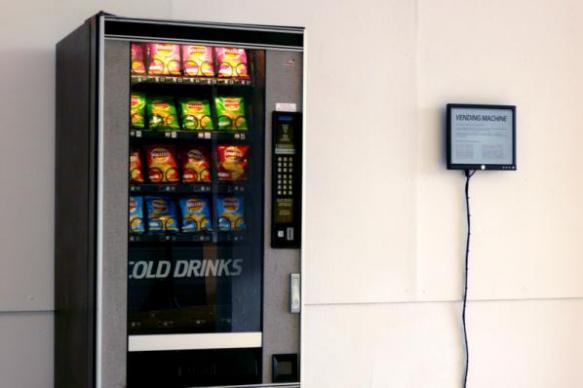 Big Bang Data, which runs alongside a programme of events and has previously been exhibited at CCCB in Barcelona, comes at a moment where large organisations are more frequently bringing concepts such as surveillance, open source and free software into public spaces. There is a great need to bring the concepts and processes surrounding data more wholly into the public eye, and this exhibition strikes me as, overall, a big step in a good direction. It makes real and challenging efforts to bring together world-spanning processes, complex concepts and extremely diverse content into an exhibition space. The task of the exhibition's curatorial and production teams must have been difficult.
Of course the challenges they faced have been dealt with before many times in many ways, and of course the practical decision-making involved in producing an exhibition invariably creates tension points. The reason I've dwelt on the problems of the organisers here is that the tensions evidenced within the space at Somerset House say much not just about the response of the publicly funded arts to data but also about the nature of data itself. The exhibition turns into at times a museum, a bedroom, a classroom, an information point, a scruffy new gallery space and a state of the art new media space. In bringing together the story of data the exhibition also brings together the story of representation in space more generally.
In writing about Big Bang Data I have had to choose to highlight certain works and not others. Your interpretation will be entirely different from mine, which is as it should be where data and cultural inclusion is concerned. What's important is that the exhibition's prominence and texture opens up conversation and critique. The exhibition is detailed, procedural and expansive. It is also alive with contrariness, generality and awkwardness. Perhaps one of the great things about the show is that these qualities are left to jostle for space. For me, reading this exhibition as a performative event was useful; others may leave Somerset House with an entirely different view having taken an entirely different route. This is inevitable where data is concerned – learning is incremental and procedural, but not traditionally linear.
Features Image: "Dead Copyright" installation view, 2015
Antonio Roberts is a digital artist based in Birmingham. In 2011 he has completed his Masters level studies in Digital Arts in Performance at Birmingham City University. His artwork focuses on the errors and glitches generated by digital technology. An underlying theme of his work is open source software and collaborative practices. His video work has been screened in Chicago, Illinois, at GLI.TC/H, Notacon in Cleaveland, Ohio, and Newcastle Borough Museum and Art Gallery, amongst other places.
In October 2015 he opened his first solo exhibition, "Permission Taken", at Birmingham Open Media and in these weeks is taking part to "Jerwood Encounters: Common Property" (15th January – 21st February 2016, Jerwood Visual Arts), a group show curated by Hannah Pierce focused on the limits of Copyright when it's about visual arts, with two projects: the installation "Transformative Use" and a collection of four works, "I Disappear", "Blurred Lines", "My Sweet Lord" and "Ice Ice Baby".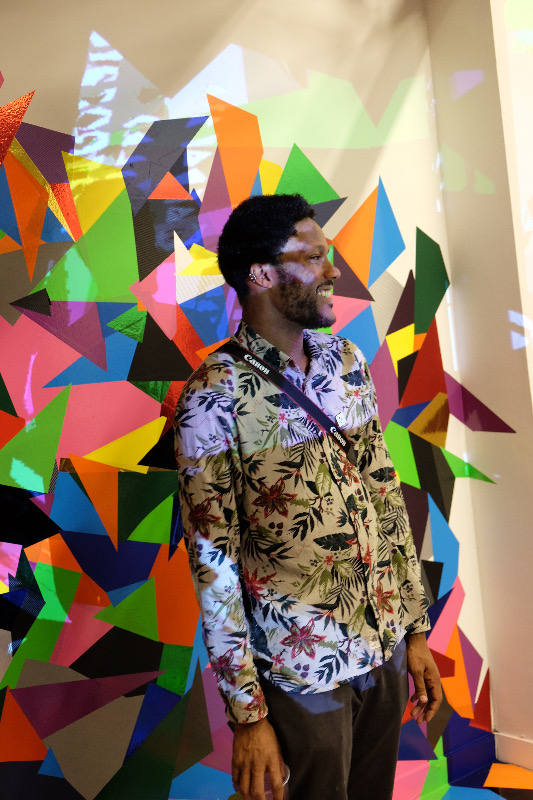 Filippo Lorenzin: You've been always interested in how corporate and industrial logics affect daily life and art. How did you get interested in these questions?
Antonio Roberts: It's a by-product of my interest in open source software and free culture, something which I've been interested in from as early as 2002 but only started taking seriously around 2007. One of the main motivators of this was my reaction to Adobe Photoshop and its influence on creative practices. My experience of studying Multimedia Graphics – and I'm sure the same can be said for Graphic Design, Illustration and any creative practice – was that it seemed more like an exercise in how to use Adobe products, not how to be creative with tools. It felt like Adobe software had gone from being one of the many tools for creating art to the art in itself. This corporate sponsorship of course has many implications for how we create and disseminate art. It poses restrictions and dictates who and who cannot create art.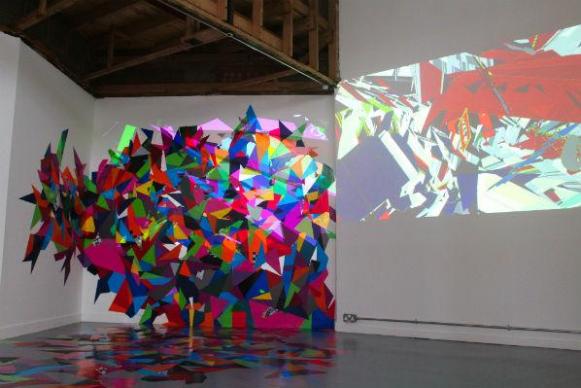 FL: Copyright issues are one of the main focuses of your research and this fascinates me because of your age. You (as me, by the way) have experienced probably the most troublesome period for Copyright systems, with the wide spread of p2p networking and remixing approaches to cultural industry products. What do you think?
AR: I'm inclined to agree. I've had access to the internet since I was around 14 years old and in that time I've seen the internet and culture as a whole change drastically. For me the rise and fall of Napster, spearheaded by Metallica's very public outcry against it, signalled the beginning of the end of the free internet that I had only known for not even a year.
Around that time Digital Rights Management (DRM) became a hot topic. The entertainment industry saw it (and suing everyone) as the only way to protect their property and so kept bundling DRM with their products, which often at times resulted in a broken experience for the user. One example that springs to mind was the attempt to make CDs unreadable by computers (and so prevent ripping), by adding in corrupted data at the beginning of CD. Whilst it did temporarily stop people to using it on computers – you could simply use a marker pen to circumvent it – it also prevented some CD players from using the CD and in general was obtrusive. This cat and mouse game is still going on to the point where simply attempting to bypass DRM to watch/listen to something that you have purchased, can be an illegal act.
As mentioned before, It wasn't until around 2007 that I began to reconsider how Copyright affected my work. By this time I saw that there was more weight being pushed behind open source software, free culture and things like the Creative Commons licences, and so I started to get involved myself. The first stage was ditching all proprietary software (which I did in 2009) and then licensing my work under Creative Commons licences.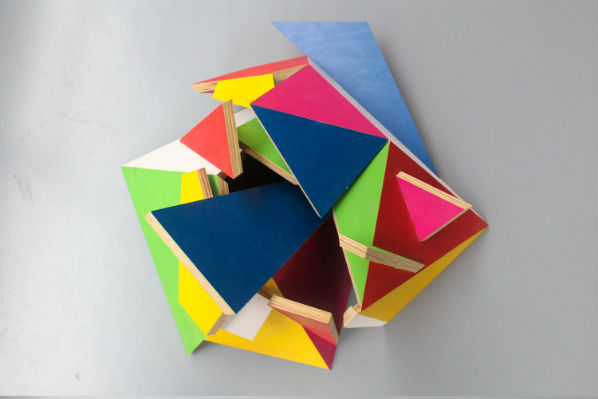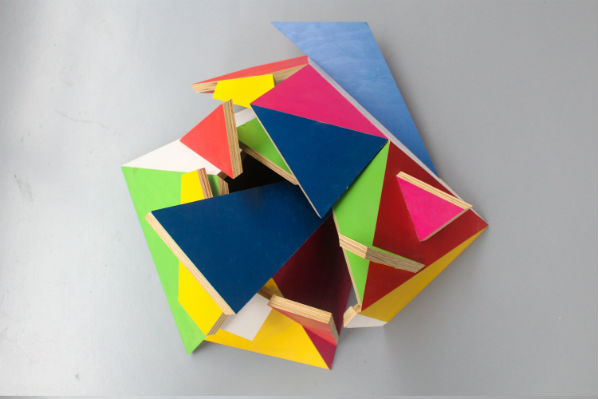 FL: "Jerwood Encounters: Common Property", curated by Hannah Pierce, is a group show that seeks to investigate the new borders of Copyright, especially in regard of art. How would you define the state of these questions in UK?
AR: I think Copyright as a whole is in a terrible state. As Cory Doctorow suggests in the exhibition programme (which is in itself an excerpt from his book "Information Doesn't want to be Free") Copyright as we know it isn't written for artists or any individual. Its verbose terms and complexities cannot be understood and are probably not even read by most of us. They are written for other lawyers. If, in order to go about our creative business, we are expected to read and understand the terms and conditions and law – it is estimated that it would take 76 days to read all of the Ts and Cs of websites we use – what time do we have to be creative?
FL: What's your point of view, from your position as an artist?
AR: I think Copyright is a mess because it tries to dictate how we should be creative. Creativity is free-flowing. Copyright, and its cousins patents and trademarks, justify their existence by saying that these restrictions encourage innovative new ideas but what they do is just stop us.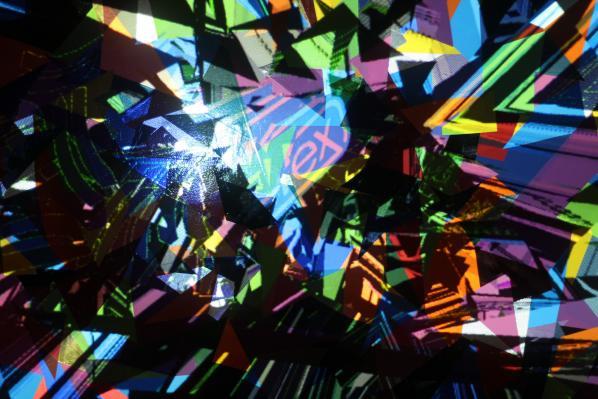 FL: "Dead Copyright" reminds me some reflections by Walter Benjamin on the shock of the city, about how advertising assaults our senses 24/7 with louder and louder messages – until it reaches a state of entropy. At this stage the message isn't actually more important than the media itself, quoting Marshall McLuhan, and all the brands create a single, colourful ambient. How much this reality has been voluntarily planned by corporations, in your own opinion?
AR: I think it's all completely planned. The more pervasive the advertising becomes the more we accept it as part of our every day life and culture. On the other side this does mean that they have to try ever more invasive methods to get our attention. Think about the uproar over the Coca Cola van at Christmas, or Cadbury's at Easter. They have usurped the original holidays and are more important.
FL: The reduction of brands to colorful simple shapes created something that visually reminds some of op art works, a movement that experimented with visual perceptions and that has been an important inspiration for fashion and design. I was just wondering what you think of this similarity: is there any real connection between your work and those works?
AR: Yes, certainly and this comes through with my use of glitch art techniques. In glitch art we're often trying to find signal in the noise, and I find that many successful glitch art works (however you define successful) have some resemblance to the original yet are transformed and destroyed in way.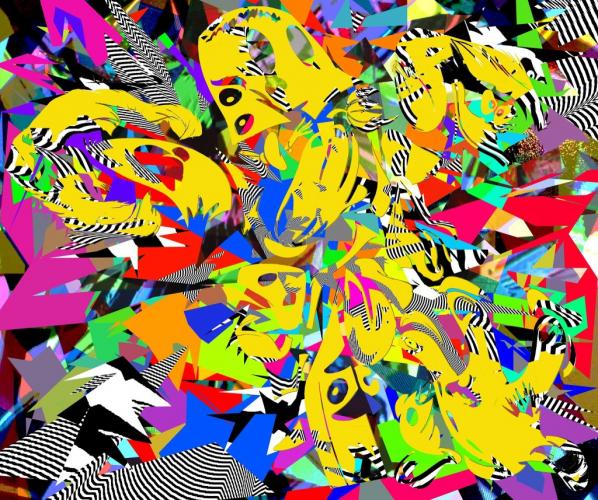 FL: With "Transformative Use" you use shapes that recall not just brands, but a wider imagery. It's as if you're focusing on other targets: can I ask you how did you get interested in this new research?
AR: I recalled all that I had learnt during my residency at University of Birmingham and during the CopyrightX course. From this I paid particular focus to the Sonny Bono act from 1998. This effectively extended the Copyright terms so that it won't be until 2023 until works from 1923 begin to enter the Public Domain. This act is sometimes called the Mickey Mouse Protection Act, which led me to use them as a focus point for the work. Mickey Mouse should, by now, be in the Public Domain but they've fought to stop this in order to "protect" their brand.
People in favour of long or perpetual Copyright terms usually point to it allowing artists to reap the benefits of creating work. In truth, however, only a very small percentage of works made will be profitable in the future. To put it another way, how many books published today will see reprints? I don't have any official statistics, but I know it would be a small percentage. So, extended Copyright terms only really benefit the small percentage of artists or publishers, whilst harming everyone else.
FL: What does it mean to deal with corporate imagery within such a chaotic and in a somewhat charming ambience? I mean, what remains a logo or a character when it gets lost within this borderless blob? Are the corporations losing their borders too, maybe?
AR: Yes.
FL: As discussed before, "Transformative Use" has been inspired by two previous projects: do you think that in future you'll make a work that will update for the fourth time these reflections of yours?
AR: Most certainly yes. "Permission Taken" will be having an iteration at the University of Birmingham in March 2016 and will feature new and existing work. Aside from this I will continue to work with found materials but with a more explicit intention to provoke discussion around Copyright.
Featured image: @mothgenerator by Katie Rose Pipkin and Loren Schmidt
Taina Bucher interviews artist and bot maker Katie Rose Pipkin about her most popular Twitter bots, how they work and what they mean. Indeed, what are bots, who else is engaged in artistic bot making, and how will social media bots evolve?

Meet Tiny Star Fields. Several times a day, the Twitter account publishes a field of stars in different shapes to a dedicated 51.000 followers. The latest tweet, published 53 minutes ago, has already been retweeted 151 times and gathered 114 favorites. Tiny Star Fields is a Twitter bot. During the last few years bots, or automated pieces of software, have becomes an integral part of the Twitter platform. As some recent reports suggest bots now generate as much as twenty-four per cent of posts on Twitter, yet we still know very little about who these bots are, what they do, or how we should attend to these bots. Admittedly, star-tweeting bots like Tiny do not belong to the kinds of bots that are most talked about. When people usually think of bots they mostly have a specific type of bot in mind, one that animates feelings of annoyance and disturbance. The spam bot, however, is but one kind of bot.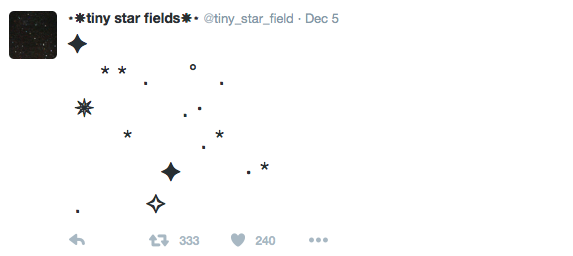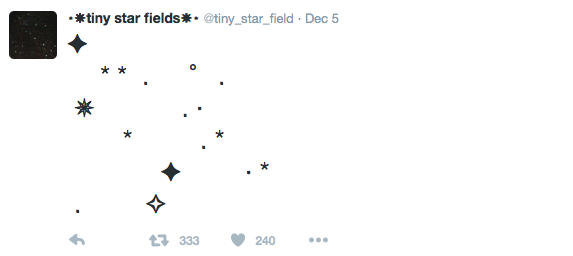 As Tiny, and many others like her attest to, bots are just like people. They are different, tweet for different reasons, have specific audiences and engage with the world in various ways. Guided by their human programmers or taught to learn from existing data in playful ways, bots are legitimate users of platforms. But bots would be nothing without their creators, their makers who have conceptualized and brought these digital personas 'to life'. So let's not just meet Tiny Star Fields, but also Katie Rose Pipkin, the 24-year old artist and creator of Tiny Star Fields.
Katie, why don't you tell us briefly about yourself and your background?
I grew up in the woods of Austin, Texas, where I also attended university for my undergraduate degree in studio art. Most of my work there was focused on drawing and installation, but I was also curating internet ephemera and beginning some rudimentary code projects at the time (albeit in isolation from others doing similar work). I also have a history in curation, and have run creative spaces for many years. I'm currently pursuing my MFA at Carnegie Mellon, in Pittsburgh.
What got you started with making Twitter bots?
I started making bots in the summer of 2014. I had moved to a very tiny town in rural Minnesota (population 900) for a longer-term artist residency, and was quite isolated. I didn't have a car, there was no bus or train, and I didn't know anyone there. I was used to being alone on residency, but often I had friends near enough to visit or a local coffee shop to haunt. Here, with no other options, I was home and online almost constantly. The internet has always been important to my practice (and my social life), but I really attached myself to it as a lifeline in that period.
I was already following twitter bots (@everycolorbot, @youarecarrying, @twoheadlines, @minecraftsigns, @oliviataters, @prince_stolas and I'm sure many others), but being online constantly shifted how I thought of them; rather than just seeing their occasional statements as charming non-sequiturs in a human space, I started to notice their underlying personalities, the structure of code that differentiated one from another; when they posted, the kind of source materials used, how they interacted with others. With nobody to keep up with locally, I also began sleeping in erratic structures- some nights for 5 hours, others for 14. As a side effect, I would catch off times on twitter, where everyone but the bots were asleep. These timelines of automation had a striking effect. I was particularly fond of the bot chorus around the turn of the hour- bot 'o clock, as some call it.
I had been following and aware of @negatendo's #BOTALLY posts (a sort of # organizing structure for bot-related news and resources) for a while, but I also started following @thricedotted, @inky, @beaugunderson, @tullyhansen, @aparrish, @boodooperson and @tinysubversions (and many others!) in this period. There were new bots almost every day, all unique, and I was really taken by the ways in which people interacted with them, and how they operated in that social space.
How did you go about making your first bot?
I got node.js setup on my laptop (no small task for me at the time) and figured out some fundamentals of text manipulation in javascript. After a serious number of false starts, I made my first bot, @feelings.js, in an afternoon. I made @tiny_star_field 5 days later, in the middle of the night, hiding in my basement during a tornado. The power was out and I'm almost certain I got the structure done in one laptop charge. I deployed it when the power and internet came back the next day.
You waited for the sky to clear and become sprinkled with starts again. In the meantime you made your own digital sky, that's cool. Did you do a lot of programming before starting with making bots?
I suppose that depends on what you mean by programming? I had worked in and around browser-based experiences for years, but I had never taken a structural approach to learning code. Every new idea and project had a particular set of problems that I attacked with utter naivete, writing vast messes that were honestly pretty shocking when they worked. Looking at my source code for those projects now is very much like looking at an outsider-art approach to computer science. Which is, I suppose, what they are.
I still sometimes struggle with basic concepts just because I haven't run into them before- I learn best when directed at a goal, and sometimes those goals skirt fundamental structures. My knowledge is a funny hodge-podge assemblage of extremely difficult concepts I needed for some project or another, while I may forget the syntax for a basic sentiment. I keep telling myself I'll read a book or take a course on putting code together properly, but so far I just keep learning what I need. I am sure I will feel the same way about my current projects in a year or two as I do about my older projects now. My first bots are very embarrassing inside and it has only been a year and change.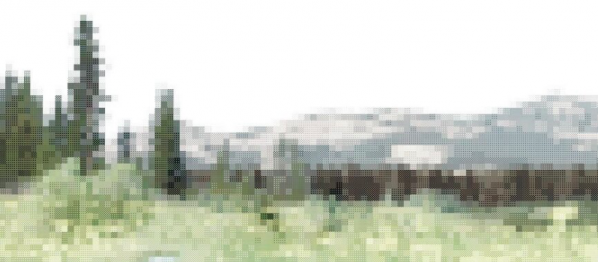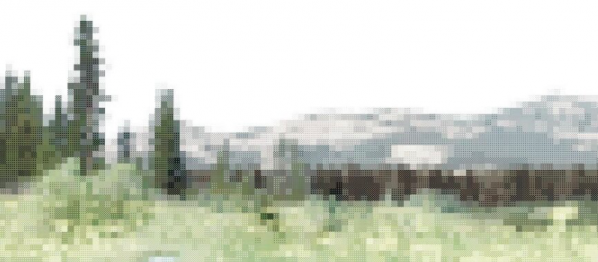 You've said that @tiny_star_field is your most popular bot, but that your personal favorite is @feelings_js. Would you care to elaborate?
Neither of those bots came from a particularly well-considered place technically; they were the first I made and I was learning. I think I was tickled by the idea of a bot that did nothing but emote; it seemed like a charming inversion of the coldness that often creeps into automata. Tiny was a simple reflection of my unicode character habit; I have a hobby of making little vignettes or dioramas with combining characters and atypical symbols and I have been enjoying automating them. (I am also now a member of the Unicode Consortium and am working with these characters structurally.)
That comment about favorites was from a long while back and my favorite bot is probably now Moth Generator (@mothgenerator), which was a collaboration with @lorenschmidt. Its different than many of my bots; it's really just a wrapper on an image generator; but it is the first bot I've made that I felt used @-replies in a truly useful manner. It takes the text of the tweet sent to it to seed the generator with a unique number; therefore, the 'moth' moth will always look like every other 'moth' moth, while a 'bot' moth would shift in many ways. A 'moth bot' moth would share characteristics of both.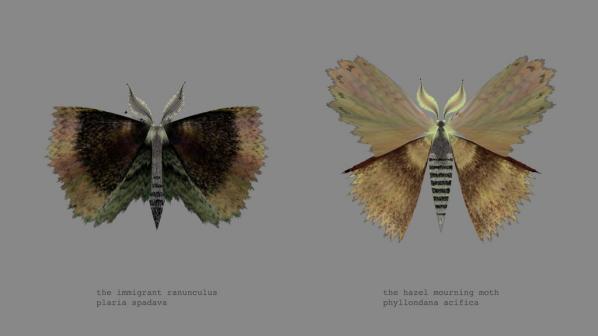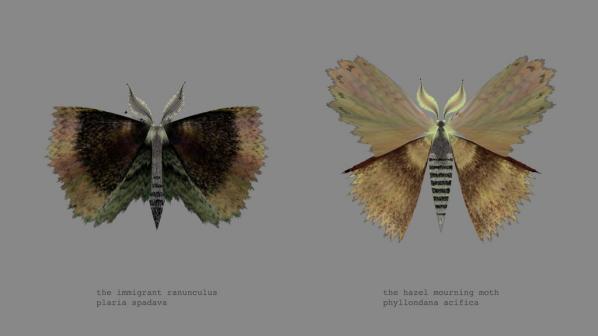 How do these bots work?
Feelings.js (and a few others like it) is basically a fill-in-the-blank Wordnik wrapper. It has a variety of possible sentence structures on a switch statement, and then pulls parts-of-speech from the dictionary API. I have a few structural rules in place that slightly favor alliteration and a few other cute tendencies (as well as blocking offensive words), but it is basically madlibs.
Tiny is even simpler; it has a large array of star and space options and pulls randomly from the available options. The biggest challenge was just finding an ideal balance between character frequencies. I tweak it occasionally and don't feel that it is quite ideal yet. I am tempted to make it sparser. I am also in the process of making a Tiny Star Fields clone that uses actual astronomical data at varying scales, so the tweets will be a literal patch of sky.
Some of my other bots are a little bit more complicated- Moth Generator is a wildly long drawing routine in Javascript, Sea Change (@100yearsrising), tweets unicode characters mapped to sea-level rise predictions over the next century. Others use more obscure text manipulation techniques and large corpuses. But I think it is important to note for folks just starting that complication does not necessarily make them stronger artistically, or more popular socially- the best things are almost always just good ideas.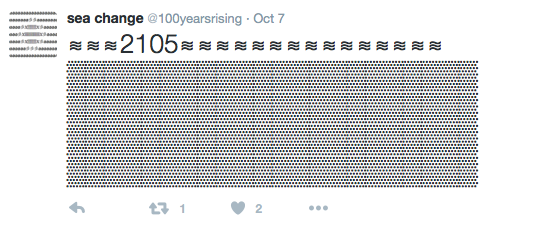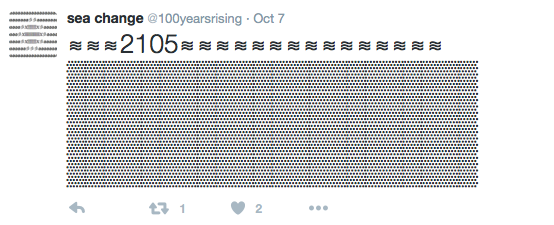 What has been the response to your bots?
There is certainly an audience of bot-appreciators; sometimes I will see people who follow 30 or 40 bots but none of their makers. Bots also have their own secret lives outside of intention. Tiny auto-followed people back for a while (something like the first 6k), and this made for a truly wonderful sample! Very few of them are in the bot-community; I think the vast majority are One Direction fans. It is a fascinating slice of social lives I would never think to seek out myself.
What is the bot community that you are referring to?
Gosh, what is the bot community, good question. I suppose it seems to be a loosely associated group of folks interested in social bots, for whatever reason? People seems to come from all walks- programmers, game developers, linguists, writers, artists, analysts, poets. Making the skeleton of a Twitter bot is a fairly simple exercise and doesn't inherently have the high knowledge overhead of some other creative programming tasks. They are also incredibly flexible in content and process and I think that mutability allows a certain wealth of intent from bot to bot. These two avenues of openness mean that they are used for all sorts of things! As entities, they are as unique as the people who make them.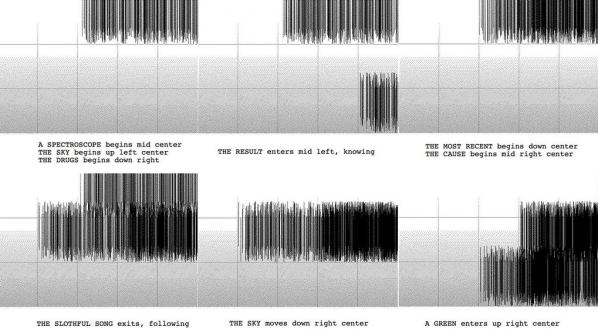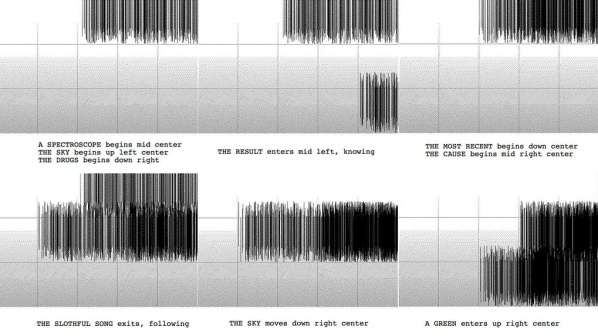 In general, I've found folks who are organized around making bots to be nothing but supportive, kind and interested in helping others get started with producing their own work in this realm. Within that community structure are also all the folks that might not make bots (yet) but know what they are, and are interested in their processes, or write about them, or consider them valid as artworks or creative entities.
What, indeed, are bots?
What are bots? Gosh, this is an even better question than the one about bot communities. So, there are a lot of ways to think about bots, and in my opinion they are stackable and do not refute one another. But here are my thoughts:
Firstly, they aren't new- automata has been around for a very very long time. One can look at examples of clockwork machines or candle-powered toys from over 1000 years ago. Even beyond physical examples of automata, the idea of bots is pervasive culturally; stories about golems and enchanted armor or physical objects imbued with personality have been with us since stories began.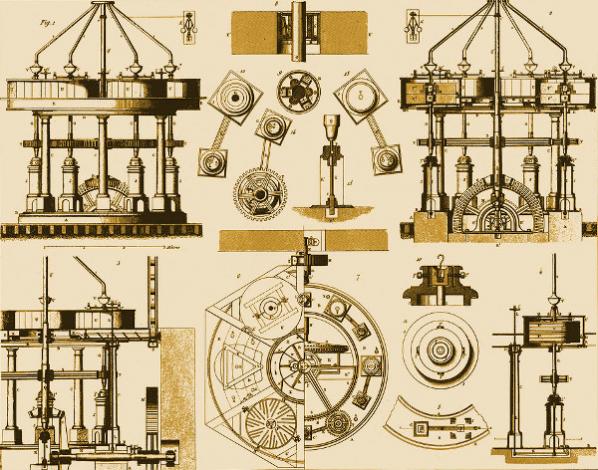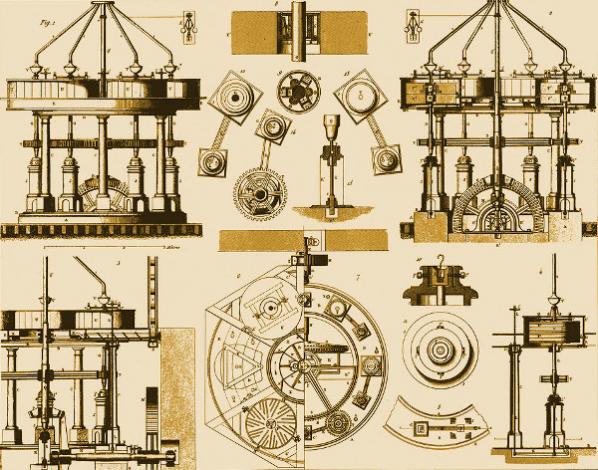 Digital bots (especially bots that live in social spaces) fit into this long history of objects granted almost-humanness. They fill in for a part of human action, the slice of person granted to digital representations of ourselves. Just like the golem that guards a passage, their tasks are programmed, but because they do these tasks on their own (guard, tweet) we grant them entity. Perhaps this is as much doubt ("Is it /really/ a bot, though? Maybe it's just a person pretending?") as it is gift.
Secondly, I do think there is an aspect of doubling or mirroring that these bots employ. They are widening the reach of their creators; they are automated versions of a specific slice of their creators. Many many bots fall into this category. Something Darius Kazemi once said first got me thinking this way. It was advice to a want-to-be botmaker who didn't have an idea for a bot. Darius suggested 'come up with a joke that is funny but formulaic and automate it'. This type of repetitive production is not just seen in joke bots, but almost all bots that are not attempting to emulate humanness. The maker would have made the joke once; by making a bot, it is made many times (but also, perhaps made better than it would have been the once).
To expand; the goal of work-by-generation is a fundamentally similar, but shifted process from that of work-by-hand; rather than identifying and chasing the qualities of a singular desired artwork, one instead defines ranges of interesting permutations, their interpersonal interactions, how one ruleset speaks to another. Here, the cartographer draws the cliffs that contain a sea of one hundred thousand artworks. And then one searches for the most beautiful piece of coral inside of their waters.
So, I suppose this is where bots are truly interesting to me. Because this kind of making (the looking for the best moment in a sea of automated possibilities) is a methodology of construction that feels, in some ways, new.
I like the notion of bots leading secret lives. Are you ever not in control over your bots? Or what does this secrecy entail?
I take a pretty lax approach to keeping up with my bots. I almost never log into their accounts or closely monitor what they are up to. I censor certain words I find offensive, follow them on my own twitter account, and hope I catch it if they break. This means that their notifications never reach me; the things that are said to them (or their own replies) are often invisible to everyone but them.
In what ways do people or other bots interact with your bots?
Most (although not all) of my bots are non-interactive, meaning that they do not @reply back when spoken to. That being said, they are absolutely interacted with. Tiny star fields in particular gets a ton of messages; lots of people will have conversations in the mentions. I find them pretty charming and will occasionally peek at what people are saying to one another. Since I generally keep @replies off, I don't get the bot-to-bot eternity loops that you'll see sometimes with the image bots or ebooks bots or others that reply. But I always like it when spam bots or reddit bots find mine by keyword search. The best example designed bot interaction might be Eli Brody's tiny astronaut (https://twitter.com/tiny_astro_naut) which inserts spaceship emoji into Tiny star fields' tweets, or its conceptual sibling, tiny space poo (https://twitter.com/tiny_space_poo).
How many of your bot's followers do you reckon are other bots, and is bot to bot interaction different to how humans interact with bots?
I haven't done the numbers, but it seems like there is a slightly higher percentage of bot to bot followers than human to bot. I would guess this is a combination of auto-following routines and being manually directed to follow entire lists of other bots. Perhaps also they are more patient with repetitive or nonsensical tweets, and stick around longer.
Most bots now have conversational abandonment built in, but this was not always the case- it was once pretty common to see two replying bots get into a conversation with one another that would last hours or days, to the tune of thousands of tweets, one every few seconds. I once got accidentally caught in the mentions of one of these cycles and had to wait for one of the bot's owners to wake up and reset their servers. It was amazing and I also had to turn off all notifications on every device I own.
Now, I think most bots use more intelligent replying- just to one person, or randomly across their followers, or only every 10 hours, or perhaps replying to keywords or requests. This has made bot to bot interactions feel, to me, a lot more human.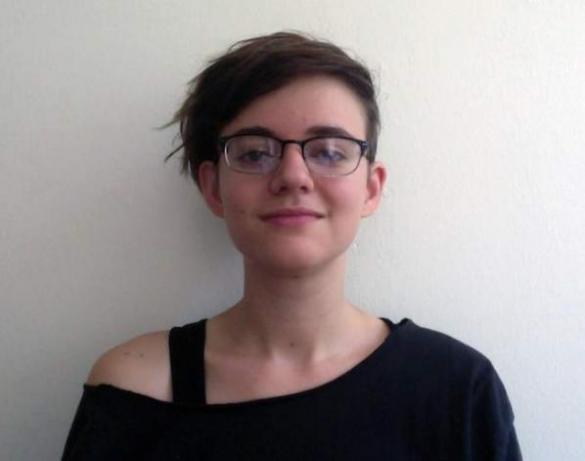 Do people ever wonder about you, the human behind the bot?
I think many people that follow Tiny Star Fields do not understand that it is a bot! Or that bots are even on Twitter. The predominant interaction that seems to occur runs along the lines of "DO YOU SLEEP" or "what is this" or "i love these thank you so much for making them all the time". I find that disconnect pretty delightful- the assumption of a (very) dedicated human somewhere. I'm also fond of the interpersonal conversations that happen in the comments, often having nothing to do with the original stars at all- it seems to occasionally function as a bit of a forum for strangers to connect.
Where do you see Twitter bots, or social media bots in general, evolving?
I have found myself moving off of Twitter and back into non-social spaces for a lot of my work. Part of this is probably personal; my interests shift project-to-project. Part of it is intrinsic limitations in the media, the 140 character limit, the difficulty of keeping up with Twitter's often evolving terms of service. I am interested in physical robots, or the housing of digital spaces- where these bots actually live- and a lot of my studio practice is in exploring actual tangible machines right now. Some of the best bots I'm seeing out of others use neural nets, or very clever source material. In my own work, I am looking forward to more physical-digital integration, especially as I pick up some new toolsets required for more complicated work. I have an interest in biological emulation and in the hidden data that Twitter links to every tweet (perhaps my next bot will not be readable on the Twitter webclient, but instead comes alive in an API call?).
There is also a small part of me that feels like others have taken up the call (and doing it better than I ever could have). This is to say, Twitter bots are in a kind of renaissance- tools like George Buckenham's Cheap Bots Done Quick (which uses Kate Compton's Tracery) and the plethora of tutorials and frameworks have radically democratized the process, and it seems like every day I see someone new to this space building interesting or beautiful things. I am learning as much from newcomers to the form than anything!
In short, for the future- who knows? But at the moment, bots are serving as a fascinating space to test out new ideas, construct entity and artwork of generated text and data, and publish those experiments to an audience who are excited to see them in the world. What more could one hope for?
Finally, what are your favorite bots at the moment?
https://twitter.com/CreatureList – automata bestiary from @samteebee
https://twitter.com/FFD8FFDB – image-processed security cameras by @derekarnold
https://twitter.com/imgconvos – a @thricedotted answer to image-bot loops
https://twitter.com/everycolorbot – the first bot truly dear to me still going strong, thanks to @vogon
https://twitter.com/reverseocr – a @tinysubversions bot that randomly draws until it hits whatever word it is trying to match in an OCR library
https://twitter.com/ARealRiver – the only real way to view this (very clever) bot is in its own timeline, probably on mobile. from @muffinista
https://twitter.com/LSystemBot – l systems by @objelisks
https://twitter.com/INTERESTING_JPG – a bot-form of deep learning, which attempts to describe human images with computer vision, by @cmyr
https://twitter.com/park_your_car – compelling use of google maps highlighting available car-space by @elibrody
https://twitter.com/wikishoutouts – shoutouts to the disambiguation pages of wikipedia
https://twitter.com/soft_focuses – a very quiet mysterious bot from @thricedotted
https://twitter.com/TVCommentBot  –  attemped image recognition of television, @DavidLublin
https://twitter.com/GenerateACat – procedural cats – @mousefountain and @bzgeb
https://twitter.com/pentametron – a bot that looks for tweets in accidental iambic pentameter by @ranjit
https://twitter.com/RestroomGender – @lichlike's gendered restroom sign generator
https://twitter.com/digital_henge  – this bot by @alicemazzy tweets moon phases, eclipses, and other solar and lunar phenomena
https://twitter.com/a_lovely_cloud – digital cloud watching from @rainshapes
https://twitter.com/the_ephemerides – computer generated poetry with outer space probe imagery, @aparrish
To find out more about Katie Rose Pipkin's latest projects, please visit http://katierosepipkin.com
Featured image: Nishant Shah, Roy Klabin, Francesco Warbear Macarone Palmieri, PG Macioti and Liad Kantorowicz
Finally I had the pleasure to attend to a session of the Disruption Network Lab. Physically, let's say. Even though this was the first time I've managed to be in Berlin for one of its events, I've been a compulsory virtual follower, watching the videos of their fully recorded sessions. This is a hint for anyone who would like to watch all the previous keynotes and talks.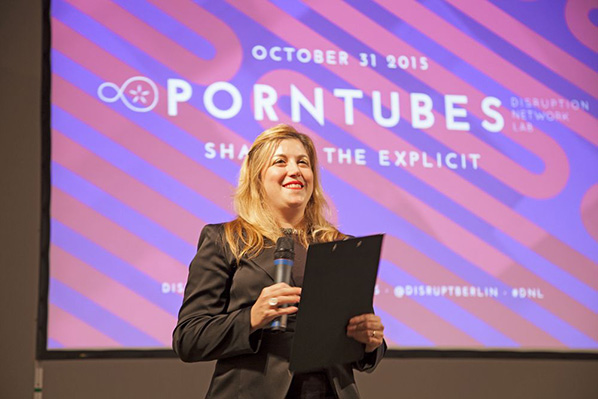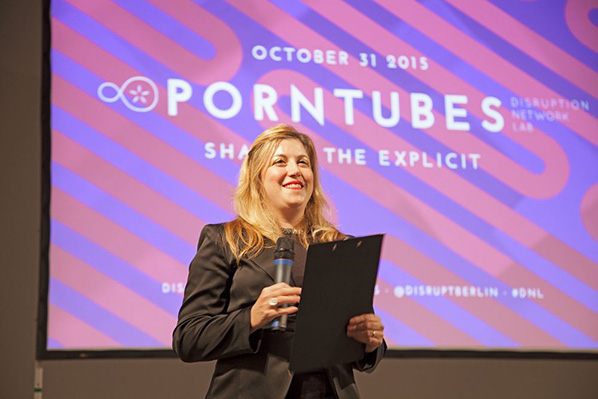 With its first edition in April, Disruption Network Lab is an ongoing platform of events and research on art, hacktivism and disruption, held at Studio 1 of Kunstquartier Bethanien, in partnership with Kunstraum Kreuzberg/Bethanien, in Berlin. On 31st of October it has held its 5th session, PORNTUBES: Sharing the Explicit. Aiming to discuss the role of porntubes in the sex and porn industry it gathered porn practitioners, entrepreneurs, sex work activists and researchers, to engage in a debate on the intertwining of porn with the Internet.
Pornography has always been a pioneer in using new technologies for its distribution and promotion. Internet, by allowing anonymous access to porn from the comfort of everyone's home it seemed to be the ultimate tool for the porn industry's expansion, to say the least. As pointed by Roy Klabin during the talk, 38,5% of the time we spend on the Internet is spent watching porn. As in many other spheres, it also seemed to be the beginning of a new era of labour liberation with an apparent decentralisation from the big porn production houses. This has allowed the blossoming of new small and independent companies with their own place in the market. But if cyberspace once seemed to offer a possibility to escape the tentacular control and exploitation exercised by the corporative monopolies, it is now known that the rebellion of the cybernetic innovators – creators of porntubes and new online sex tools – seems to be purely a coup d'etat.
KEYNOTE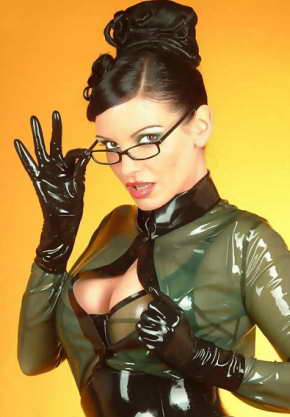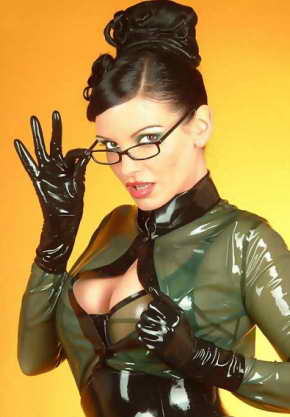 The opening keynote was by Carmen Rivera, a Mistress and Fetish-SM-performer, with a long history in the porn industry business, with an experience of the migration of porn from cinema to VHS and later to the Internet and then onto the porntubes. In conversation with Gaia Novati, a net activist and indie porn researcher, Carmen tells us her personal and professional story and immediately gives a better understanding on how porntubes – such as Redtube, X-Hamster or Youporn – have an ambiguous influence in the porn industry. Once perceived as a democratic tool allowing small porn producers to expand their radius of audience-reach, Rivera explains how much of a perverse tool of exploitation it has become and one that small producers have become too dependent on.
The fast pace of the Internet creates a lot of pressure to satisfy the hunger of porn consumers. As has become virtually infinite "fast-porn" is closely aligned with the capitalist paradigm of production, putting a bigger focus on quantity rather than quality. As the Internet leaves no space for durability — one day you're in, the next day you're out — careers become frail, the work of these companies are highly precarious and the concept of the "porn-star" is a short lived mirage.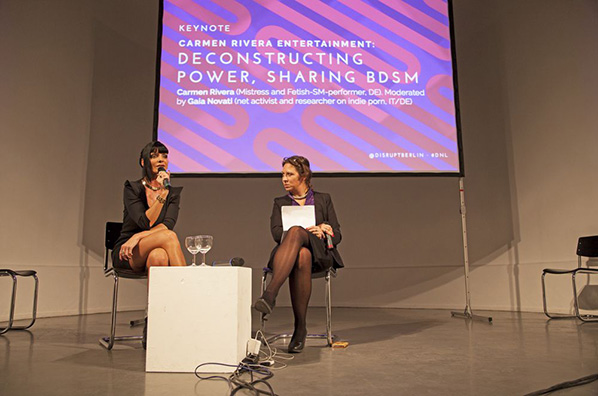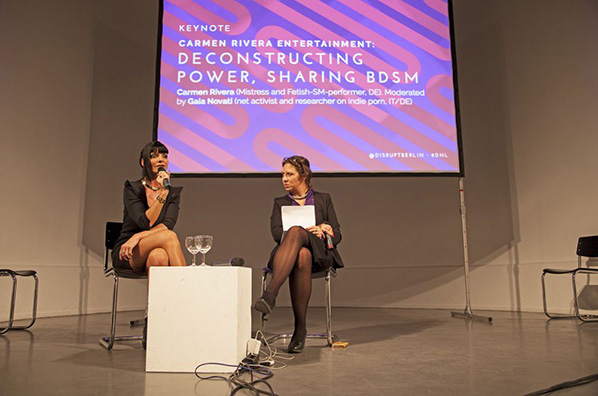 Rivera also highlights how online piracy has become virtually unavoidable resulting in gigantic losses to the porn industry. As producers see their films ending up on porntubes free of access, lawsuits don't come as a viable solution but as financial black holes for any small or even medium companies. Even though the future doesn't seem bright, Rivera doesn't quit. Her battle cry: we need to create a bigger awareness of the pestilent system that controls the online porn industry. New tools of disruption need to be found to fight against these new power asymmetries established through the domination of cybernetic capital.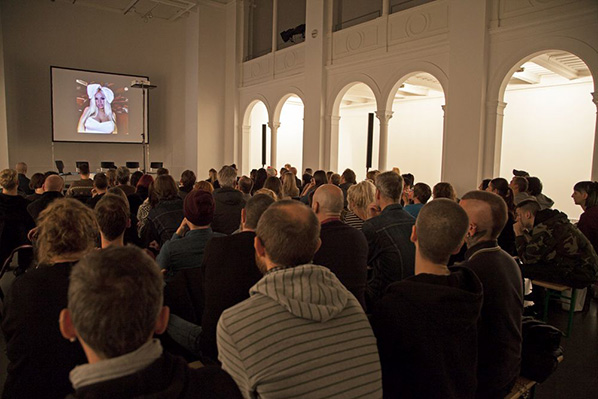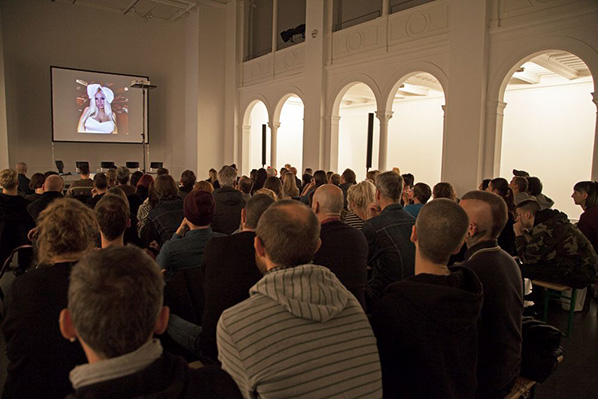 PIGGY BANK GIRLS
After the keynote, the discussion shifted to examining new tools of online sex work such as the project PiggyBankGirls, self-proclaimed as the first erotic crowdfunding for girls. Unfortunately, Sascha Schoonen, CEO of the project, wasn't able to attend. Instead a short promo video was presented introducing the project, giving some tongue-in-cheek examples on how girls could profit from this crowdsourcing tool.
Women upload videos pitching their ideas or projects – financing a shelter for stray animals, the payment of tuition fees, a trip to Japan, – and then share online porn performances in exchange for support from "occasional sugar daddies". Although one wonders if this isn't just a euphemism – a sanitised version, let's say – of already existing tools used by women who need money, regardless of them making public how they intend to spend money Nevertheless, it is true that the actual exploitative system needs to be dismantled, workers should be getting a bigger share for their labour and PiggyBankGirls poses as one more tool to do so, however this project also left many unanswered questions. Who are actually the women who can profit out of it? PiggyBankGirls promo tries to make this form of sex labour sound "cute", easy and accessible. However, is just another tool for established porn actresses to diversify their means of income?
TALK
The panel, moderated by Francesco Warbear Macarone Palmieri, socio-antrophologist and geographer of sexualities, included abstracts showing a wide array of perspectives on the issue of porntubes and online sex work. The researcher Nishant Shah opened the panel with a wonderful talk ranging from porn consumerism to porn politics and how porn is influencing our digital identities. In a porn-consuming society, from establishing clear distinctions between "love" and "porn", respectively meaningful and perverse, desirable and visceral desire, porn seems to be contingent on the morals of the spectator – as it only exists through the spectator it has also become a tool of puritan regulation. From Facebook teams of censorship and sanitisation of the virtual space to websites such as isitporn.com it is possible to understand that the concept of porn becomes itself a regulator of our sexual expressions, defining the line that separates decency from indecency. Paving the way to the pathologization of porn practices but yet dictating the meaning of authentic sexual performances, as the only visceral forms of sexual performances available, Shah pointed out how pornography, as a cultural and digital artefact, works in the regulation of our societies and in the production of our identities. Giving the example of Amanda Todd, who committed suicide after suffering from bullying for exposing her sexual body online, Shah shows how new forms of "porn" take place in the digital, from doxxing to unintended porn being perceived as such, enabling new forms of violence – let's say porn-shaming.
Also focusing on porn consumerism, Roy Klabin, investigative documentarist/filmmaker, goes back to the discussion initiated with Carmen Rivera on porntubes VS porn producers and how producers make money. According to Roy, MindGeek, the company that owns most of the porntubes – from Youporn to Redtube – has been one of the main entities responsible of the destruction of the porn industry. By creating piracy websites holding gigantic libraries of free access to porn and making revenue out of the advertisement, resulting in huge losses for the porn companies which at the same time had become dependent on the tubes to advertise their work. Roy makes an appeal to porn producers to diversify their strategies: from webcams to virtual reality, the porn industry needs to be one step ahead of the contemporary systems of digital exploitation.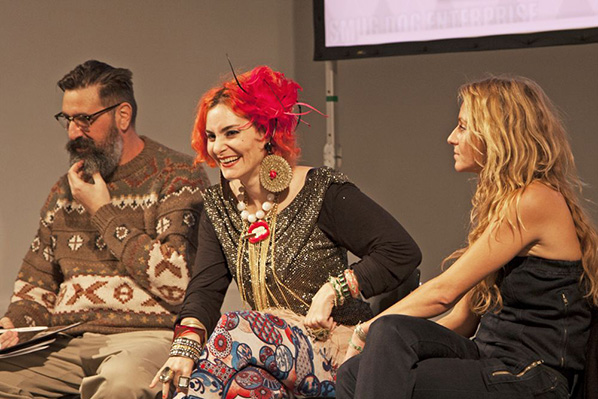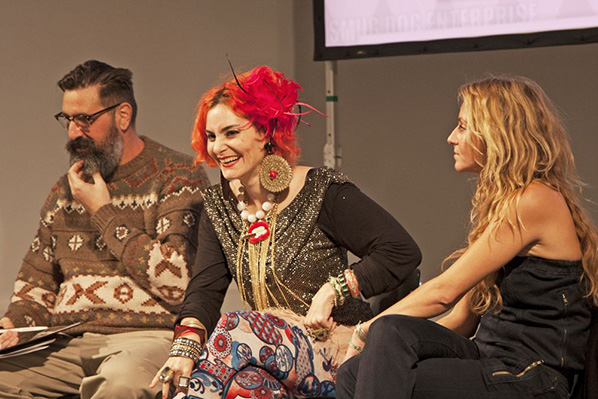 PG Macioti, a researcher and sex workers rights advocate and activist, together with Liad Kantorowicz, performer and sex workers' activist, presented an overview on how the Internet has reshaped sex work – from sustainability to work conditions – listing some of the outcomes, pros and cons, of the extension of sex work to the virtual spaces. Online sex work, namely erotic webcam work, has enabled a proliferation of sex work by offering safe, independent and anonymous services. On the other hand with the insertion of sex work on the capitalist mode of production, just like in many other forms of digital labour it has rendered a bigger alienation to the workers – who work mainly alone and, also due to stigma, don't share any contact with fellow colleagues – resulting in a more and more precarious labour, with sex workers being paid by minute, having to pay for their own means of production and usually paying a big share of their income to the middleman webcam services host agency.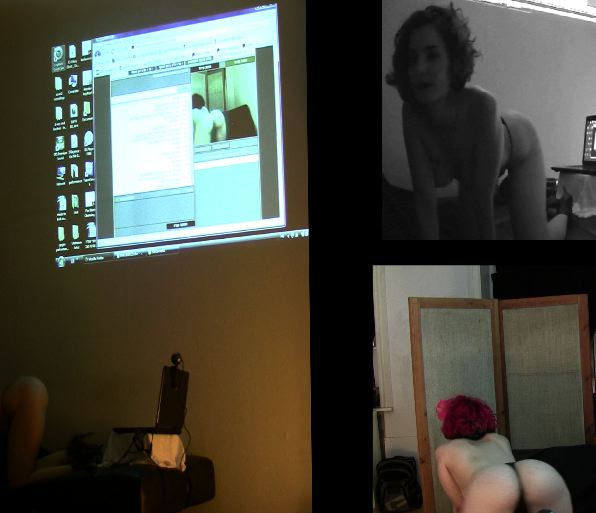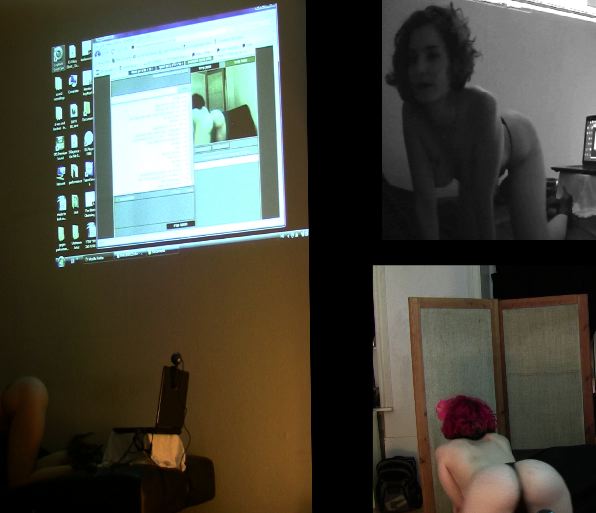 Overall, the Internet has enabled a multiplication of narratives on sex work but the power asymmetries between the online corporations and workers results in a growing exploitation and precariousness. The transversal message to all participants seems to urge for disruptive tools for online sex work, tools of self-empowerment and emancipation within the digital paradigm. Quoting the Xenofeminism manifesto by Laboria Cubonics, "the real emancipatory potential of technology remains unrealised" and the Disruption Network Lab might be the much needed spark for this revolution.
PARTY & STUNTS
The PORNTUBES event couldn't have had a better ending with a party held in the legendary KitKatClubnacht, a sex & techno club that is open since 1994, famous for both its music selection and its sexually uninhibited parties. It seems an exciting idea, to say the least, to bring all together researchers, porn entrepreneurs and activists to this incredible venue after an intense afternoon discussing the porntubes.
Concluding the series of conference events of Disruption Network Labs during 2015, the next event will be STUNTS: Distributed, Playful and Disrupted, taking place on the 12th of December, at the Studio 1 of Kunstquartier Bethanien, and the direct link is: http://www.disruptionlab.org/stunts/. This time the discussion will focus on political stunts as an imaginative and artistic practice, combining hacking and disruption in order to generate criticism of the status quo. As the immense dragnet of state-surveillance extends it becomes imperative to understand which are the available tools of obfuscation, how it is (still) possible to hack the system and which tools of political resistance can be deployed Disruption Network Lab wraps the year with a tempting offer, inviting artists, hackers, mythmakers, hoaxers, critical thinkers and disrupters to present practices of mixing the codes, creating disturbance, subliminal interventions, giving raise to paradoxes, fakes and pranks.