Artists Organise (on the blockchain) was the fourth event in the DAOWO blockchain laboratory and debate series for reinventing the arts, in collaboration with Goethe Institut London.
In this special event, hosted by Drugo more in Rijeka we learned from the Croatian cultural context before envisioning, devising and testing alternative forms of blockchain-based cultural production systems, for application at Furtherfield in London.
We talked with Davor Miskovic about Clubture, the non-profit initiative that has distributed national cultural funding between a network of peers in Croatia since 2002 according to decentralised, participatory principles.
Workshop participants then took Julian Oliver's Harvest, in which "wind energy is used to mine cryptocurrency to fund climate research", as their focus for new proposals for blockchain-based projects to connect park-based arts venues with their local communities. Then they took turns to perform the role of a select committee of skeptical park stakeholders who wanted to know how park users would benefit from the scheme in a time of cuts to public funding and climate change.
Read the semi-fictional Minutes of the Bunsfury Park Stakeholders Group Select Committee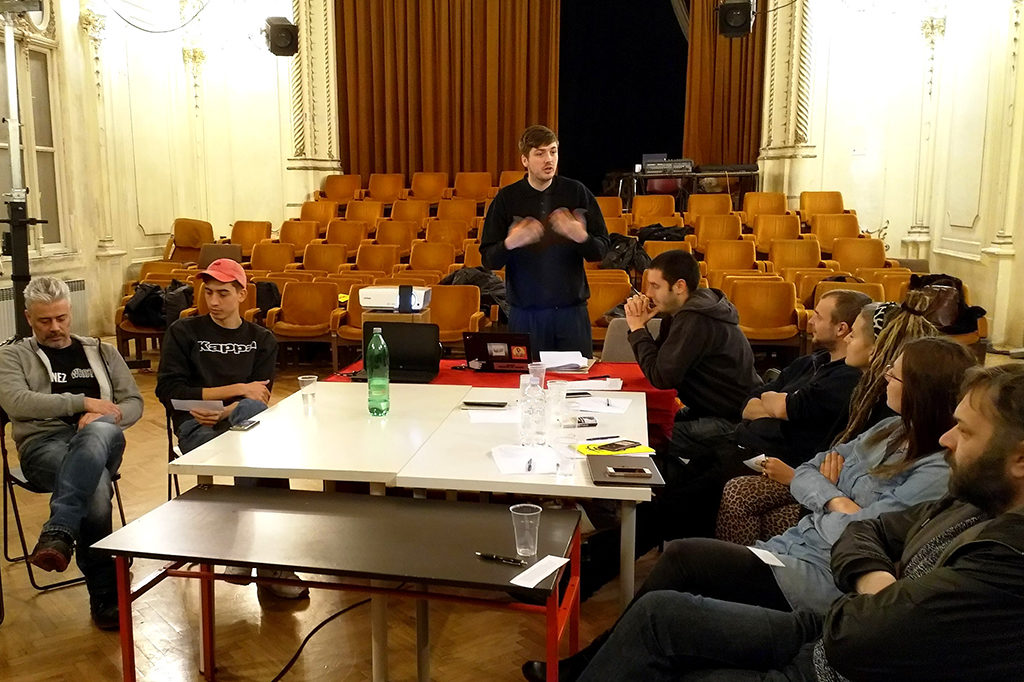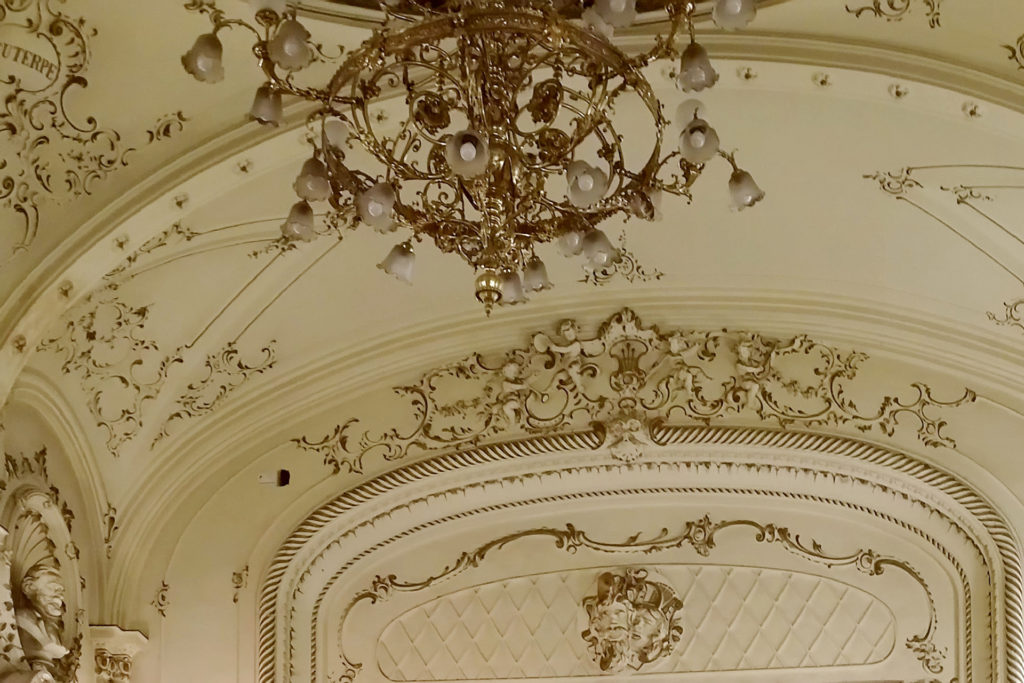 This special event, devised by Ruth Catlow and Max Dovey, and hosted by Drugo more formed part of a wider programme events in Rijeka to accompany the opening at Filodrammatica Gallery of the touring exhibition New World Order.
Thanks to all participants!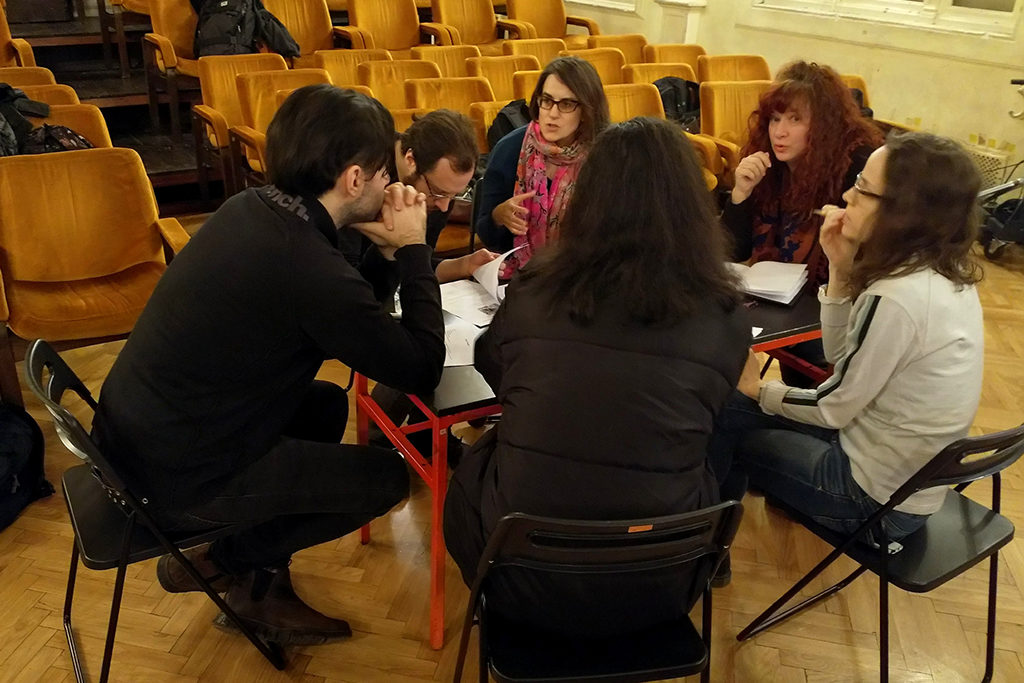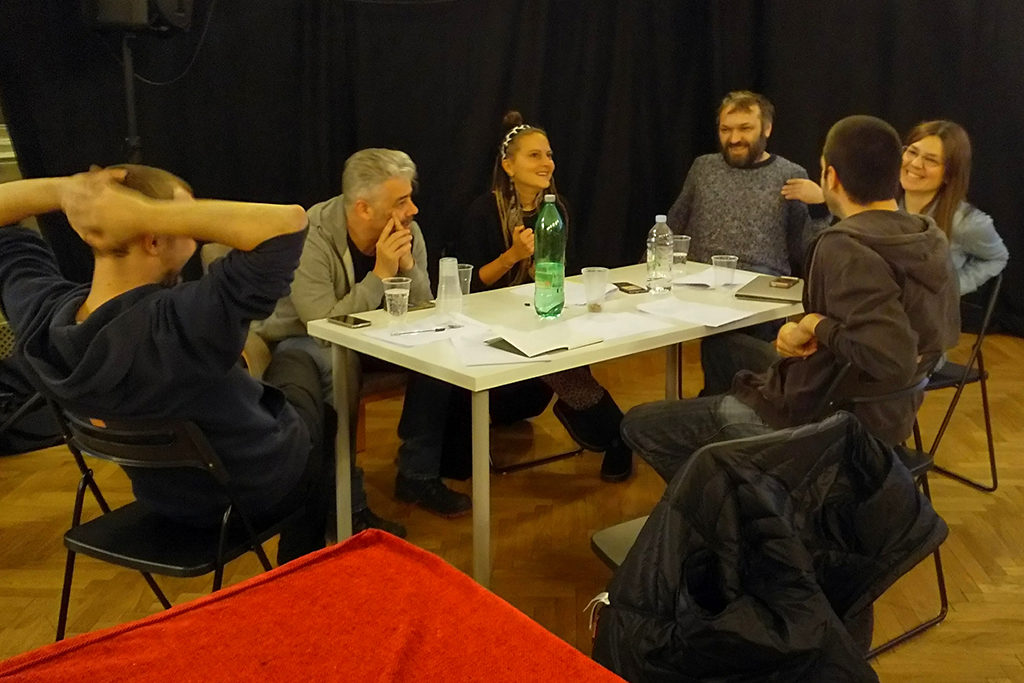 Exhibition tour as part of the European collaboration project State Machines
Furtherfield Gallery, London
20 May – 25 June 2017
Aksioma, Ljubljana
11 January – 9 February 2018
Gallery Filodrammatica, Drugo More, Rijeka
15 February – 9 March 2018
DOWNLOAD PRESS RELEASE
DOWNLOAD EXHIBITION CATALOGUE
Featuring Jaya Klara Brekke, Pete Gomes, HandFastr, Rob Myers, Primavera De Filippi of O'Khaos, Terra0, Lina Theodorou and xfx (aka Ami Clarke).
A mysterious and controversial technology is among us. The Blockchain underpins digital currencies and makes possible dramatic new conceptions of global governance and economy, that could permanently enrich or demote the role of humans – depending on who you talk to.
A self-owning forest with ideas of expansion, a self-replicating android flower, a tale of lost innocence, a DIY money making rig, a Hippocratic Oath for software developers, a five minute marriage contract; this exhibition presented by Furtherfield shows us life with blockchain technologies – through artworks by Jaya Klara Brekke, Pete Gomes, Rob Myers, Primavera De Filippi of O'Khaos, Terra0, Lina Theodorou and xfx (aka Ami Clarke).
Imagine a world in which responsibility for many aspects of life (reproduction, decision-making, organisation, nurture, stewardship) are mechanised and automated. Transferred, once and for all, from natural and social systems into a secure, networked, digital ledger of transactions and computer-executed contracts.
The artworks in this exhibition envision future world-making by machines, markets and natural processes, free from interference by states and other human institutions.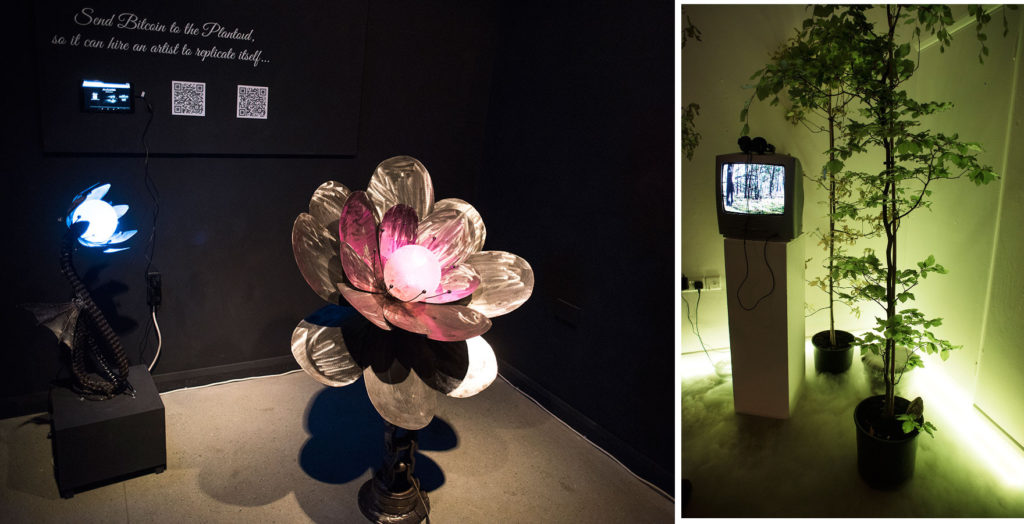 The exhibition is part of a large scale programme of publications, workshops and talks that brings together leading international artists and writers from across the globe. Launching at Furtherfield Gallery in London's Finsbury Park 19 May – 25 June 2017, the exhibition will then tour to Aksioma (Ljubljana, Slovenia) in October 2017, as part of State Machines: Art, Work, and Identity in an Age of Planetary-Scale Computation, a collaboration between Furtherfield, Aksioma, Drugo more (HR), Institute of Network Cultures (NL) and NeMe (CY).
'Artists Re:thinking the Blockchain' produced in collaboration with the experimental publishing group Torque and Liverpool University Press will be launched on 23 June 2017. Contributors include Helen Kaplinsky, Rob Myers, Hito Steyerl, Ben Vickers and Cecilia Wee. Chris Speed and the team from the Design Informatics Department at Edinburgh University will be embedding a new proto-blockchain experiment throughout print and digital versions, enabling readers to 'like' different parts of the book, sub-linked to a financial trading algorithm.
EVENTS, ACTIVITIES, WORKSHOPS & WEDDINGS

Manpowertop – free workshop by Network Diagnostics
Saturday 10 June, 2-5pm, Furtherfield Commons
Join Network Diagnostics (Dave Young and Niall Docherty) to discover how the promotional media of Silicon Valley companies envision the role of technology in society. In partnership with Antiuniversity
Booking is essential for this FREE event
GeoCoin – Bodystorming Blockchain in the City
Friday 23 June 10am – 5pm, Furtherfield Commons
A day of design-based research using the GeoCoin platform to explore novel ways of reconsidering and reinventing currency through location-specific value transactions. How can money be reprogrammed to interact with or react to everyday practices of value exchange in and around the city? Explore these and more questions with the Design Informatics team from the University of Edinburgh.
Booking is essential for this FREE event
This workshop is part of the ESRC funded research project After Money lead by Design Informatics at the University of Edinburgh.
Book launch – Artists Re:thinking the Blockchain
Friday 23 June, 6-8pm, Furtherfield Gallery
'Artists Re:thinking the Blockchain' produced in collaboration with the experimental publishing group Torque and Liverpool University Press
Wedding Event Day – Blockchain special
Saturday 24 June 11am – 5pm, Furtherfield Gallery
Ever wanted to join your partner in bitcoin matrimony? Or wanted to join another partnership for a short time only? You've come to the right place. For this day only, you can record your short-term bitcoin union via Handfastr on the blockchain in an immutable and ever growing ledger of bitcoin marriages at Furtherfield Gallery. A project developed by the Design Informatics team at Edinburgh University in collaboration with James Stewart, Max Dovey & Corina Angheloiu.
This project is part of the ESRC funded research project After Money lead by Design Informatics at the University of Edinburgh.
Book Here
Furtherfield Gallery
McKenzie Pavilion
Finsbury Park, London, N4 2NQ
Visiting Information
Furtherfield Gallery is supported by Haringey Council and Arts Council England
This project has been funded with the support from the European Commission. This communication reflects the views only of the author, and the Commission cannot be held responsible for any use which may be made of the information contained therein.
When Charlotte Webb asked me to write a piece about the future of work for Furtherfield, I immediately thought about Utopoly. Even though this game doesn't directly discuss how we will be employed or occupied in the future, it creates a rare space where people can re-imagine a different society in which values, forms of exchange and social relations are reconsidered and reconfigured.
To better understand the ethos behind Utopoly, I interviewed Neil Farnan, who is currently undertaking a PhD at University of the Arts London with the research title 'Art, Utopia and Economics'. He became an Utopoly advocate, introducing many ideas and concepts featured in its current iteration. Neil's interest in designing a utopian version of Monopoly was initially shaped by his previous studies in User Interface Design, where he developed an interest in Scandinavian design practice and Future Workshops.
Francesca Baglietto: What is Utopoly? More specifically, how does it relate to and differ from Elizabeth Magie's original version of Monopoly?
Neil Farnan: Utopoly is both a tool for utopian practice and a fun game. It draws on Robert Jungk's Future Workshop methodology to re-engage people's imagination and ideas for a better society and incorporates the results into a 'hack' of Monopoly.
Elizabeth Magie's original game (1904) was intended to show how landlords accumulate wealth and impoverish society. Players could choose either a winner takes all scenario or one where wealth was distributed evenly via a land tax. Magie also hoped that children's sense of fairness meant they would choose the latter and apply these ideas in adulthood. But the Monopoly we have today normalises and celebrates competitive land grabbing and rentier behaviour and Magie was airbrushed out of history and replaced with a more acceptable mythology of the American Dream.
Whilst Magie's game informed players about the current situation, Utopoly gives people the opportunity to imagine and incorporate values and attributes they would want in a more utopian world. Players are able to determine the properties, the chance and community cards and even rules of the game. The rules being determined by the players means the game is a work-in-progress, however some features that work well can get adopted and carried through to the next iteration.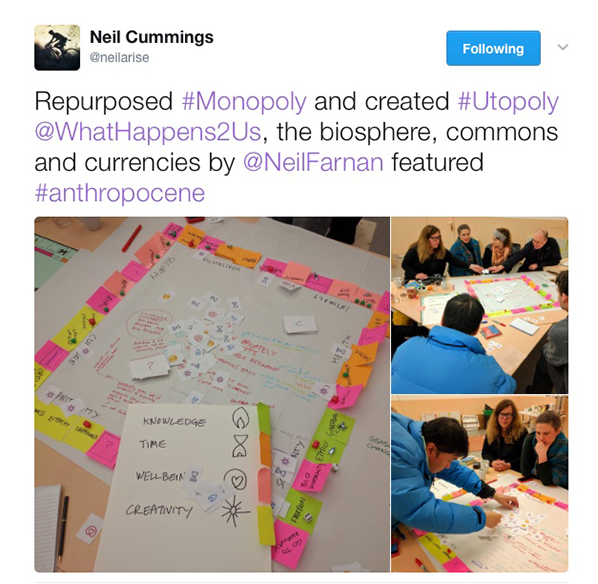 FB: As you just said, Utopoly doesn't have a definitive form and rules but changes with each interaction. So, while the future of Utopoly is still in progress, what I would like to know is who started the project and how has this evolved so far?
NF: Critical Practice, a research cluster at Chelsea College of Arts, played a central role. We were concurrently developing both Utopoly and an event #TransActing – A Market of Values, and the current version of Utopoly is a synergy of aspects of these two projects. The first 'hack' of Monopoly occurred at Utopographies, co-organised by Critical Practice (28th – 29th March 2014), where the elements of the game were redesigned to incorporate utopian values. Inspired, we decided to continue developing the ideas and a second 'hack' took place (December 2014). Some of the ideas and values that emerged from this iteration fed into and were represented in the design of the currencies used for #TransActing. A further opportunity presented itself for another 'hack' within the research event 'What Happens to Us' at Wimbledon College of Art. This iteration was hosted by Neil Cummings and I was invited to include the currencies developed for #TransActing. It was here that Utopoly as a 'method' began to emerge, a method for collectively producing possible futures. I have since convened a number of iterations using a large laminated board to facilitate design adaptations and ease of play.
Additionally, researchers from the international ValueModels project (modelling evaluative communities utilising blockchain technology) recently visited Chelsea – we played Utopoly and they loved the method. They have since been inspired to use Utopoly in their research, and I'm excited to receive their feedback on how their version develops.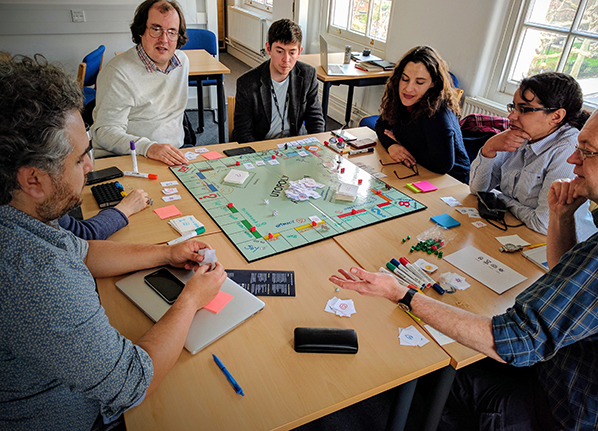 FB: Utopoly is experimenting with possible new monetary ecosystems in which multiple currencies and values might be exchanged. How might these currencies work and what are they inspired by?
NF: The currencies developed for #TransActing generated the concept of an ecosystem of value exchange and these are used in Utopoly. I have since come across the work of economist Bernard Lietaer, who highlights the problems of mono-currency economies and advocates for a monetary ecosystem using multiple currencies. With their origins in subjugation and taxation, mono-currencies are tools for value extraction. They also contribute to cycles of boom and bust, resulting in the withdrawal of money from the economy and the prevention of economic activity. Historical evidence suggests that economies operating multiple currencies are more resilient – they work in a counter cyclical manner compensating for this withdrawal and allow the economy to keep working.
The irony of Monopoly is that the winner is ultimately left in control of a non-functioning economy. A more preferable state would be to have a healthy flow of values in balance where people are able to exchange their contributions in a mutually beneficial way. A feature of Utopoly is that players no longer seek to own all the property but work together for the common good. The currencies are used to bring privately held properties back into the commons. The economist Elinor Ostrom won the Nobel prize for debunking the myth of the "tragedy of the commons" (Ostrom, 2015) demonstrating the benefits and effective use of common resources. Utopoly also allows economies of gifting and sharing.
I am currently working on ways of modelling innovations such as the blockchain and associated digital currencies.
FB: How would you interpret "work" in this utopian economy? For example, do you think the relation between paid work and unpaid work and/or people's dependence on employment might be shaped in an ecosystem in which assets/values are brought into the commons to generate value/wealth for all?
Whilst not directly about work, Utopoly reflects the future nature of wealth and values in a Utopian economy. It touches on the current abstract separation of paid work from non-paid work and people's employment dependency.
In Magie's original game the players collect wages as they pass 'Go'. They then buy properties and accumulate wealth extracted from other players. On one corner of Magie's game is the Georgist statement "Labor Upon Mother Earth Produces Wages", reminding us that land ownership should not provide unearned income.
As an economy develops people become less self-sufficient and more dependent on employment to meet their needs and a mono-currency makes the separation of paid and unpaid work even starker. The social contract that existed from 1950-70s where employers had a responsibility to their employees is disappearing. Outsourcing, short term and zero-hours contracts make the future of paid work increasingly precarious, and we also face further threats from automation and artificial intelligence.
Economist Mariana Mazzucato (2011) documents the substantial contribution of public investment to the success of today's businesses. These businesses stand not so much 'on the shoulders of giants' but on the shoulders of a multitude of diverse contributions from society at large. A new social contract is needed to take this into account.
Fintech companies make much of the term 'disintermediation', but we also need a new form of 'intermediation' where contributions are reconnected and recognised. An ecosystem of currencies which register currently unpaid valuable activities together with a basic income could meet this need. This approach is suggested in Utopoly where people collaborate to contribute values and are valued for their contributions. The properties are brought into the commons to generate value and wealth for all.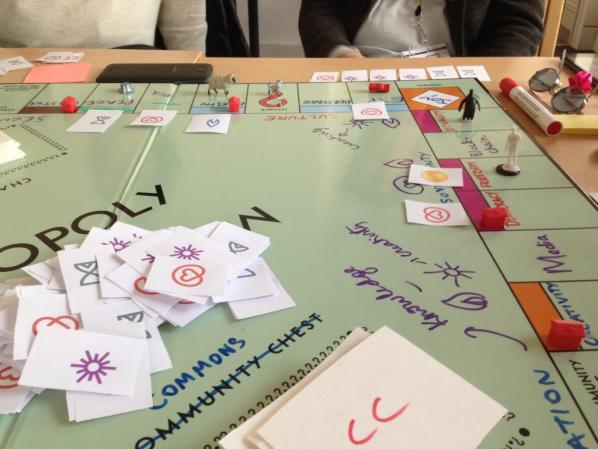 FB: Playing seems to provide a very rare space in which, by operating in an interstice between reality and fantasy (what the psychoanalyst Winnicott called a transitional space), it is still possible for the players to imagine alternatives to our current economic system. Would you agree that the main political purpose of Utopoly is to provide such a space in order to reopen the capacity to be imaginative about economic and societal organisations?
NF: This is the utopian aspect of Utopoly, using people's imagination as a means of prefiguring the future. We endure in a society where the mainstream orthodoxy would like us to accept that 'there is no alternative'. One of the last great taboos is money and the associated economic system. If you consider our mono-currency as a societal tool imposed from the top down, it shapes and informs how we behave and the values we are expected to live by. In a way, it is like DNA; if we can change the DNA of our economy we could create new exchanges, values and social relations. We have become so used to this abstract construct that it is the water we swim in and the box we need to think out of. In order for people to start thinking that another world is possible we need to open up a space for imagination to play out. Art, games and play are some of the few remaining arenas available to engage in speculation about the future. Utopoly fulfils many research functions including acting as a tool for inquiry and reflexion, and a means of modelling future possibilities. It is rare for people to have the opportunity to criticise the existing state of society and work out how to reshape it. By allowing people the space to consider different approaches we can start to encourage better societal norms of exchange and interaction and construct new social contracts.
Feature image: Winchester School of Art Exhibition of Data Asymmetries. Image Credit: Olcay Öztürk
Burak Arikan is one of Turkey's leading media artists, a figure who straddles the lines between technologist and practitioner. He explores relations between data and transactions, the regimes of datafication and identification as control, and maps relations of power and invisible infrastructures with network mapping tools. According to new media theorist Jussi Parikka, Burak's pieces "raise questions of the predictability of ordinary human behavior with MyPocket(2008); reveal insights into the infrastructure of megacities like Istanbul as a network of mosques, republican monuments and shopping malls (Islam, Republic, Neoliberalism, 2012); remap and organise recurring patterns in the official tourism commercials of governments with Monovacation (2012); explore the growth of networks via visual and kinetic abstraction with Tense (2007-2012); and showcase collective production of network maps from the Graph Commons platform."
Burak's creation of the Graph Commons, an online network mapping tool, is an open platform for the creation of networks that encourages its users to explore the functional limits of network architectures as a mechanism for storytelling, data visualization, and modelling our contemporary moment, from graphing financial microtransactions to mapping superstructures splayed across a continent.
Burak Arikan's most recent body of work, Data Asymmetry, was hosted at the Winchester School of Art from November 10-24, 2016. His network mapping tool, Graph Commons, is viewable here.
In the first of this two part interview series, Carleigh Morgan speaks to Burak Arikan about his practice. In the second part of the series Morgan interviews Jussi Parikka about Arikan's work and the way data and networks condition and build the way we view and interact within the world.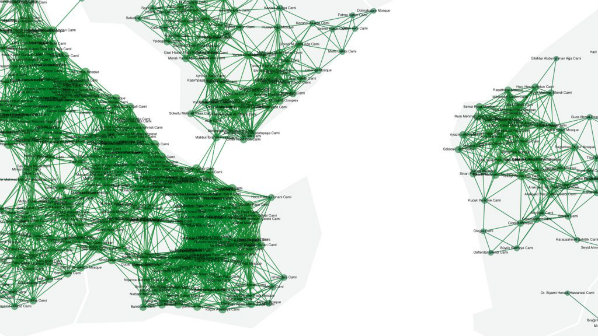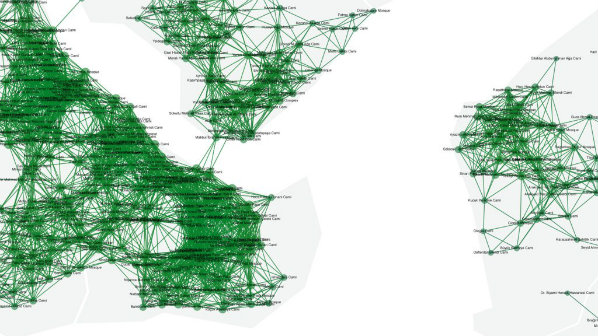 CM: The aim of the Graph Commons is to "empower people and projects through using network mapping, and collectively experiment with mapping as an ongoing practice." But every visualising methodology has its hermeneutical blindspots and invisible shortcomings.
With those boundary constraints and affordances in mind: What are networks in art, and how are they are extensions of or departures from the networks that they attempt to depict?
BA: I use network as a map vs network as an event separately in my work.
Network as a map is simply using dots and lines to represent observed or measured relationships in order to explore the structures of rather complex systems in life. For example, I am interested in revealing the institutionalization without walls in the world of art, so I look at relationships of artists exhibiting together with other artists, art institutions related by the artists they show, influence of collector-artist relations etc. Such network mapping reveals central actors, indirect connections, organic clusters, structural holes, bridging actors, outliers etc. Network mapping provides a view of such qualities about that particular art world that you wouldn't see otherwise.
A network map is both a visual and a mathematical language, that you can visually follow dots and lines with your eyes, as well as apply calculations on this data diagram. When you simply record and measure activities as data points, then you can link them to generate more insight and value from the linked whole than the sum of its parts. This is typical data linking method is commonly employed in security, marketing, finance, and social media industries by governments and corporations. One position I have in my art is to use such data mapping and analysis capacity on power relationships, mapping the ones who are mapping us. No need to say, my work is not necessarily about the internet of art things, but I've been interested in revealing the relations at scale in variety of fields ranging from juridical systems to cinematic languages.
Network as an event is a living substrate, it is people hanging out together, machines transmitting data packages, neurons firing signals, online platforms for social networking, physical ecosystems of humans and animals where widespread infectious disease can occur. These are physical, digital, hybrid living and multilayered systems maintained by diverse interactions between independent agents, where their small interactions governed by certain protocols together constitute an ever changing larger whole. Building a living network, or network as an event is another line of effort I've been pursuing in my work. For example, in 2007 I've built Meta-Markets, an experimental online stock market for trading social media profiles, where users did IPO (Initial Public Offering) their profiles and traded with others, with a goal to evaluate the value of a social media profile, the information you cannot get from the service provider company. It ran for 2 years and a community of members formed a dynamic trade network among a couple of thousand social media profiles.
CM: What types of agencies do network maps engender their makers with, and what kinds of constraints to they bring to bear on their creators? As an artist who works with the form of networks, have you witnessed a formal re-alignment of your thinking to reflect these structures? Through ongoing interrogations with and construction of networks as an aesthetic model, would you consider yourself more alert to the networks that condition our contemporary moment?
BA: As with any research, network maps are subjective too. Because by just measuring a reality you claim a subjective position. Thus, data points are always generated, rather than collected. Furthermore, network diagrams are usually totalizing and contemplative. As McKenzie Wark writes criticizing Frederic Jameson's cognitive mapping: network maps freeze into a contemplative totality that prescribes an ideal form of action that never comes.
My network mapping work starts with raising new questions on critical relations that scale. Then I conduct research to generate data about a "particular world", which enables many stories, interpretations, and use cases.
As a response to the lack of the "dialectical" in the frozen totality of static diagrams, I started using algorithmic interfaces in my installations. Such interactive network maps let you touch and change the positions of the dots on a map, yet browse the names without losing their relationality to each other as the software simulation continuously organizes the network layout. This way, normally invisible relations not just become visible, but also touchable, which enables us to effectively explore the chain of influences and relationality at scale. Touching the nodes also displays information cards, where you can get richer information about individual data points. By using an algorithmic interface you navigate back and forth between an abstract large picture and concrete juicy details of a complex issue. I think such encounters help the viewer to effectively interrogate the particular issue at hand and develop better insight. This aesthetic and pedagogical experience of interactive cartography is very different from a static diagram, that still lacks criticism.
CM: There's a resounding common thread in your work [the mapping of the urban infrastructure of Istanbul in terms of its mosques, malls and national monuments in Islam, Republic, Neoliberalism demonstrates this clearly] that seeks to articulate the imbricated matrices of politics, art, and the practices of everyday life that are often not apprehensible to the individual occupied with the attention-consuming projects of being and living.
How does your work position the actor within the network, and what kinds of political commitments do you see expressed from your position as the authoritative designer/person who captures these networks in artistic form?
BA: Since a network map provides a world rather than a story and is thus a nonlinear medium, there is no flow of introduction, development, and finalization, neither a single story. So you start exploring a network map from a "you are here" point, a familiar name or an interesting image, which may be different for every other viewer. Then you do an unplanned journey through a topology of connected information points, navigate from one connection to another. You experience a traversal, a situationist dérive on a data network.
In my workshops and lectures I tell people not to use network mapping against themselves. Network mapping is a powerful tool, it makes structures transparent. Keep the maps about yourself to yourself. Turn it around and map the ones who map you.
In fact, when you click on a follow button, swipe a metrocard, or use your credit card your data is being captured and mapped by data-driven oligarchies. Obviously, this is not just a concern of privacy violation, in this day and age, data capturing is about ownership and control, thus capital and power.
CM: MyPocket generates data from bank transactions, Monovacation from tourism commercials, Islam Republic Neoliberalism organises data collected about the urban infrastructure, Tense Series generates semi-random numbers and uses it as data.
How does your work foreground how data–as algorithmic material that exists at the level of computation, below the thresholds of human apprehension– conditions and structures the world we live in?
BA: Data about us, metadata, make our everyday behaviour more predictable. No one wants to live such a boring predictable life. In MyPocket (2008), by predicting and publishing what I will buy every other day, I demonstrated how easy it is to algorithmically predict our mundane behavior. With this work, in a way I sacrificed myself by making my data no more exclusive to a bank but available to anyone else, so that you can start thinking what corporations can predict about yourself and what it might mean to you.
By turning data around, we can reveal systematic yet invisible power structures. For example in 2012, I mapped a network of Istanbul's 3000 mosques based on their overlapping call to prayer sounds. Most people living in Istanbul are born into this and take it for granted. However, the mosque network constitutes a subtle power structure, which became quite apparent to many as the government used this network to make calls to city squares in the days following the coup d'etat attempt on July 15th, 2016.
In most of my mapping work, I simply investigate data about one critical relation that connects many agents and constitutes more power as it scales. When completed, a data network is formed and I put that particular world to use.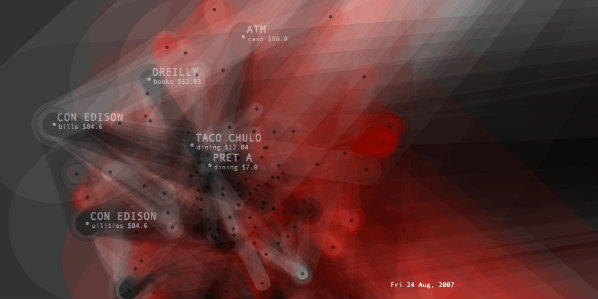 CM: MyPocket discloses your personal financial records to the internet public by exploring essential patterns in your transactions and deploying software to analyse those transactions. The software, which predicts future spending, sometimes determines your future spending choices. Mark B Hansen calls this a "feed-forward" relationship—one where statistical forecasting, future prediction, and probability calculation can code user behaviour "ahead of time," framing the future-oriented choices of a subject.
What is an example of a consumer choice you've exercised that you were directly influenced to make by this software prediction? Did knowing that your personal financial data was being tracked impact your financial management or change your spending behaviors at all?
BA: MyPocket software was able to successfully predict when and where am I going to buy coffee. It predicts ordinary futures. Our lives have such repetitive patterns, which are not so hard to guess right for a supervised algorithm. With MyPocket, I put myself in an experiment of living under excessive forecast about my everyday purchasing behavior. Would I change my habits, would I abide by the predictions, would I care, would I notice, would I ignore? All of these applied at various stages as I lived with this software system for 2 years.
Today, protecting your privacy is akin to quitting smoking or exercising a vegan lifestyle. Changing habits is clearly hard, but once it starts rolling, it causes a big positive change. I believe, in a society of control that monitors, simulates and pre-mediates individual identities in relation to their data trails, behavioural dissidence is superior to reactionary resistance.
CM: You are an artist and technologist. Does one of these identities emerge more frequently in your work? Did your programming skills drive you to explore the aesthetic possibilities of networking mapping? Was there a sequential logic to your artwork as a secondary and subsequent extension of your work in the computational sphere? How do you situate your artistic practice—one that is reliant on a high degree of technological literacy—to the tools of computer technologies?
BA: My art making is a subjective exploration raising questions, whereas my tool making always wants to be objective, tapping an issue with a solution. I practice them in parallel and they feed each other. Making tools helps me examine all kinds of infrastructures closely thus provides lenses for new questions in my artwork. Artistic inquiries help me change my beliefs about the world.
In the first class of an introduction to computer programming course at MIT, students are told that programming is unrelated to computers in a way that geometry is unrelated to geography. Mastering programming takes years. In fact, in my very early work, technology and algorithms had authority on the outcome, whereas later works have been freed from technological capacities.
BA: Do you find that the procedures for mapping with non-digital tools change your artistic strategies and the types of networks you produce? In a similar vein, is the medium of Graph Commons as a digital interface important to the co-collaborative possibilities that this online platform enables? Would you describe the network mapping that Graph Commons enables as an act that is inherently political, or aligned with activist models of representation?
BA: I always start modeling an idea by sketching on a paper, by discussing with people, by taking notes here and there. It is often a contemplative process that I don't find possible in a digital tool. As the idea gets mature, the amount of related material might not be manageable on paper – then I start organizing it using digital tools, write some code to scale it and observe its extents.
Obviously, digital tools on the Internet are best for asynchronous communication. The Graph Commons data mapping and publishing platform is great for internet-scale data mapping collaborations. Network mapping particularly is a powerful tool, it makes things more transparent. So activists, journalists, researchers, and civil society organizations around the world use it to untangle complex relations that impact them and their communities.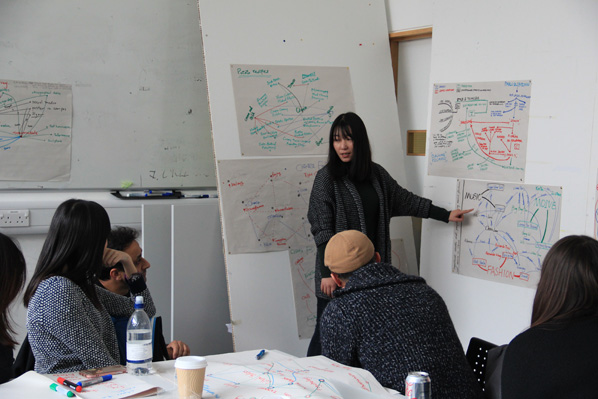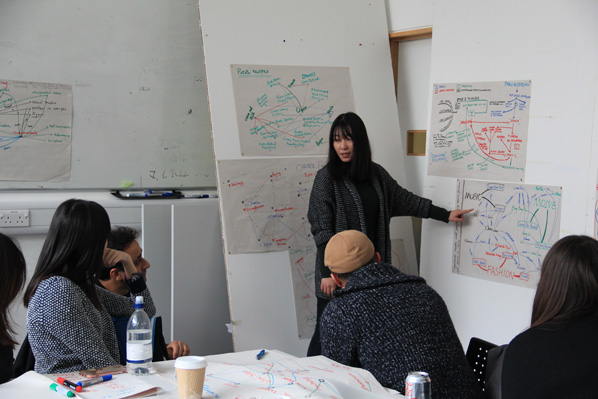 CM: Do you see networks as maps? Monovacation seems to deploy features of both in its networked parody of the commodity forms and repeated images that characterize the tourism commercial as a typology. What are some key distinctions that might separate these two forms from one another in their attempts to frame, visualize, and enclose data?
BA: As I mentioned earlier, I use network as a map vs network as an event separately in my work.
Monovacation introduced network traversal as a method to deconstruct and explore movies as databases. The official tourism commercials of countries in competition with each other have been selected and each film has been divided into the possible tiniest clips. The 3-4 second long clips have been coded with tags. Tags with shared clips are connected to each other (weighted with number of clips) on a network diagram, which runs as a self-organizing software simulation. A new movie has been algorithmically generated through a traversal on this network map, a program navigating from one node to another, following the weighted path among the tags. Seashores from Egypt to Portugal, women from Israel to India, mythological figures from Thailand to Turkey formed an extracted fantasy of "vacation".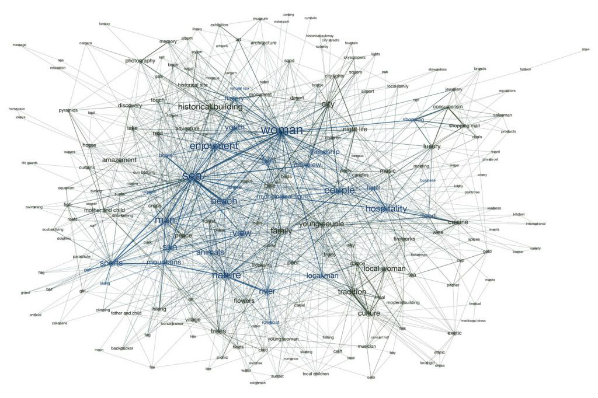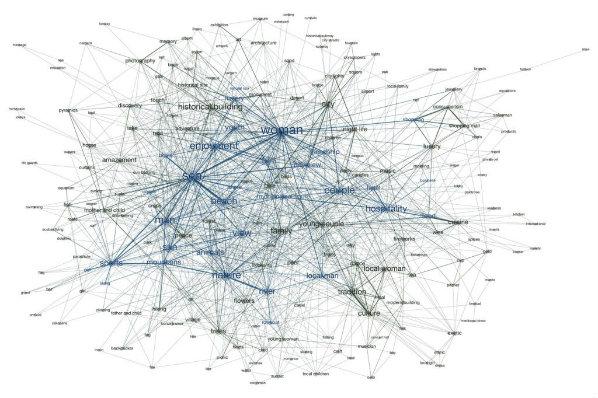 CM: The Graph Commons platform contains an additional axis that static graphics do not: time. How does working within digital media open up new models for orienting the user within data collections, particularly where the ability to represent change-over-time is at play?
BA: Networks are inherently dynamic, undergoing constant changes, both within the composition of nodes, and in the relations between nodes. To help you understand how the network changes and behaves over time, Graph Commons provides a timeline interface. It animates your network map as nodes leave and enter the network and the map expands or contracts in time. The network shape, radius, density, intensity, and emergence of clusters, central and peripheral actors all become observable and comparable using the timeline feature.
CM: Networks are the predominant and paradigmatic episteme of the information age. What kinds of relationalities, phenomena, data collections, or texts do they fail to capture? In other words:
a. What the network is NOT suited to do/perform
b. On speculating through an accelerated lens, what will the predominant formal and organisational structure of the next century look like? Will networks continue to play a role, or will they be completely surpassed by new organisational and structural logics?
BA: Bare network mapping may not be sufficient in studying multilayered diverse network dynamics where actors (nodes) and relations (edges) is not clearly distinguishable from one another as in swarms of species or molecular activity. Moreover, at the heart of capturing data lies the question of measurability. If something analogue can be measured it becomes digital, then it can be linked to other data points and become a subject of a network analysis. I think in this day and age, even emotions, intentions, and desires could be measured to a degree, if not socially reproduced.
In a world where every atom can be addressable with an IP address (IP6), discussion of the possibility of capturing analogue things is increasingly less relevant. What becomes critical is the question of who captures and controls what data owned by whom. Do you own a self-driving car's data captured from your neighbourhood? Are you in control of your data captured by the network medicine? Are you paid rent for the use of data that belongs to you? Data oligarchies will only continue to grow, and this situation of data dispossession will increasingly constitute what I call data asymmetry for many years to come, until we move from connectivity to collectivity, build purposeful exploitation-free autonomous zones, and reroute our life activities in solidarity.
Regarding the future of organizational structures as imagined to be constituted by cryptocurrencies, something clear from today is that decentralization is not necessarily democratic. It should be deliberately discussed that ones who design the protocols have power and network effects can generate inequality. A blind belief in decentralization would not be so different than a belief in free market ideology. When Poland, Chile, and Turkey opened their markets to the world in the 80s, globally networked corporations penetrated into these markets completely within the laws and yet left the small locally connected actors stagnant, this is one example how network effects could generate inequality.
What is the relationship between state corruption and economic collapse in Greece?
Lina Theodorou, artist and creator of the board game 'Pawnshop- Days of Mistrust', talks with Furtherfield's Ruth Catlow about Grexit, Brexit and crisis in Europe.
I met Lina Theodorou, the artist and creator of Pawnshop, in her apartment on a sunny Sunday morning in Berlin. It was just one week after the UK referendum resulted in a vote to leave the EU. I was in Berlin to take part in an event called Art, Money & Self Organization in Digital Capitalism, the first in a series of events called Arts and Commons, organised by Supermarkt.
Theodorou and I quickly got onto the topic of Brexit. We compared notes. She wondered if, like Greece, the UK government would choose to ignore the result of the referendum, fail to invoke Article 50, and stay in Europe after all. That possibility had not occurred to me. She talked about her memories surrounding the Grexit debate- the distress, the uncertainty, the shocking hatred and hostility expressed between family members and people previously considered friends. I had been deeply shaken by the upsurge of street-level racism on the streets of Britain.
Pawnshop, the artwork that is also a board game, was set up for play, laid out on a table in her studio. It is an inversion of Monopoly: the same square board, the pieces, the bank, the cards, the dice. However in this game the player starts the game with no money, only property – jewelery, a bouzouki, antique furniture, a flat- and pays a European tax of €1500 when they pass Go (if they get that far).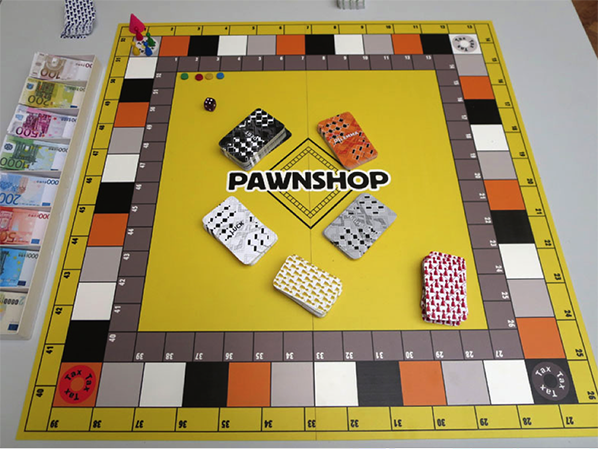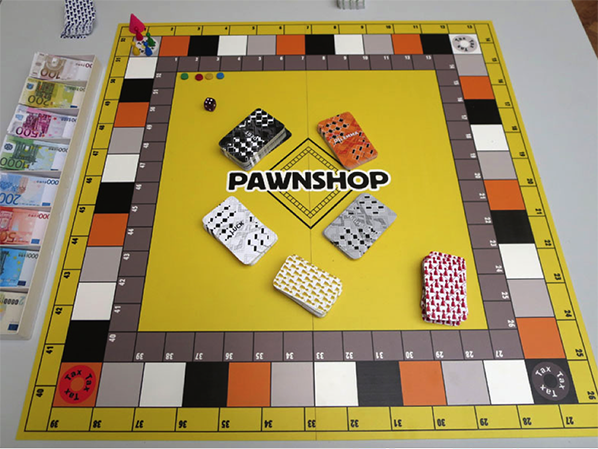 Players proceed around the board, according to the luck of the dice, along a path strewn with dilemmas. A second row of squares is used to keep track of the time spent dealing with the consequences of their choices- jail sentences, or hospitalizations for example. As they move around the board, they pick one of the cards, depending on their landing square, and must choose how they will respond to the given dilemmas.
Theodorou tells me that the game is based entirely in fact. For years she has collected newspaper stories in Greece. And here they are gathered in four categories of cards – Dilemma, Involvement, Debt and Luck- to encapsulate the experience of daily life, for everyone, in modern day Greece. "If you are honest you lose" she says.
Here an upbeat and colourful video sets out the rules.
On her website are photos of engrossed players at Bozar, Center for fine arts, Brussels; at the exhibition TWISTING C(R)ASH; at Bâtiment d'Art Contemporain « Le Commun » in Geneva; and at the exhibition It's Money Jim, but not as we know it, at Mario Mauroner Contemporary Art Vienna, and As Rights Go By, Museumsquartier, Vienna. She says it's important that at the beginning players laugh… but because of "synesthesia", the longer they play, the more uncomfortable they become, they feel the ethical discomfort in their bodies.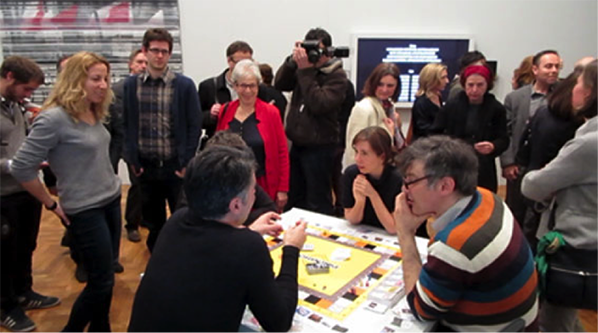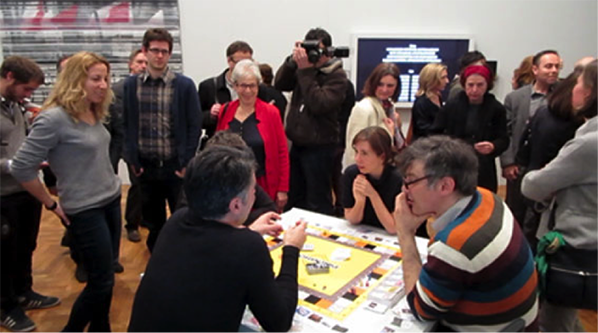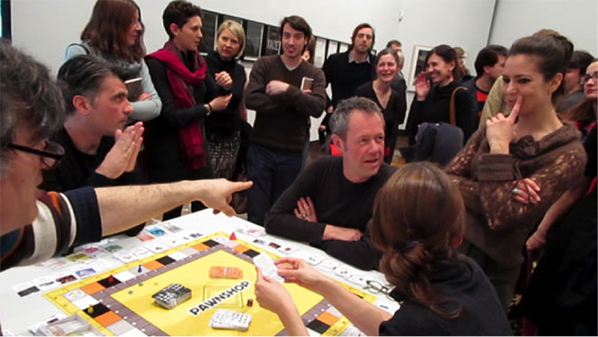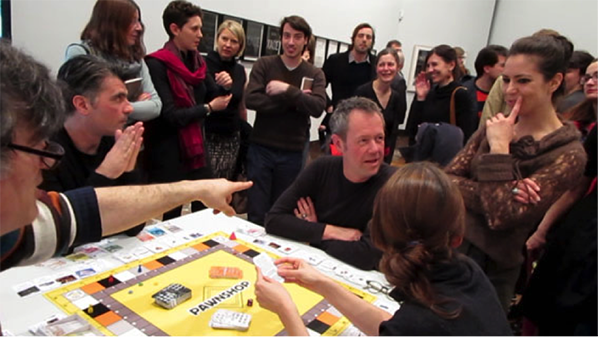 Theodorou and I digress again, coming back to the Europe question. Because I'm in Berlin I think about Germany's role. Germany at the heart of Europe is perhaps more part of the problem than they realise. The style of bureaucracy is molded to reflect the German mentality and their industrial system.This is coupled with a confidence in the correctness of the system – that Theodorou points out, is accompanied by the Northern European, Calvinist attitude – anyone who does not comply is wrong and must be punished. "But what is good for Germany is not necessarily what is good for Greece" she says. In Greece for many years the economy was made up of many small entrepreneurs, small businesses, shops, and a community focus" Why must we suddenly give this up in favour of big business. "Why do you have to destroy something that is healthy?"After the banking crisis in 2008 pawnshops started popping up on every street in every town in Greece.
Theodorou tells me that Pawnshop is the Greek reality board game.
"Your father is sick, do you pay his hospital bill?
Yes: pay €3000 and he lives for another 6 years,
No: unfortunately he dies, but you receive a life insurance pay out of €75,000"
Picking an 'Involvement' card means that that player's decision will have consequences for other people too; Debt (is the biggest pile of cards).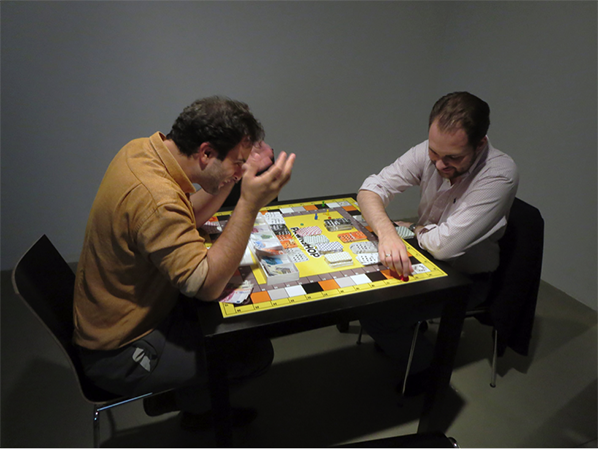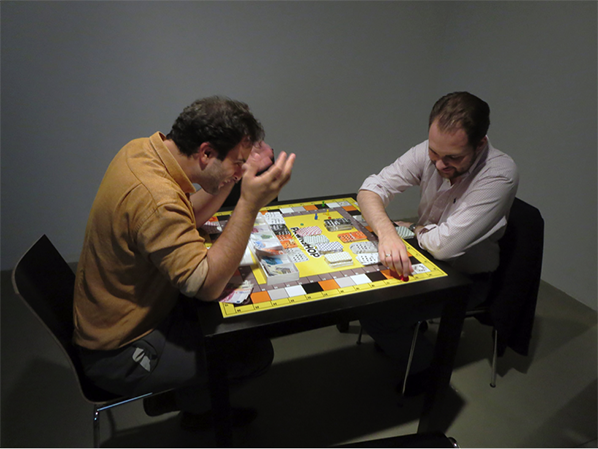 Gentrification strategies have failed in Athens. Back in 2006 the rich Greeks, many of whom were also art collectors, started to organise the large scale art events, (in which of course the artists worked for free), but it didn't take. Then in 2008 the banks collapsed, the economy became surreal, but somehow, Athens remained the same. Perhaps this because regeneration does not have the ever-rising bubble of property prices to support its economy. In Greece everyday people do not speculate on the housing market (as we do in the UK). Rather a house is something you keep for ever in the family.
Theodorou describes the real world Greek tax system as "insane". It changes every 3 months, Even the accountants have difficulty keeping up with the laws. This alone forces many people into the black market. Then the web of bureaucracy protects the hierarchical status quo and people in higher positions hold onto their power by putting obstacles in the way of others.
The only way to win this game (on the board and IRL in Greece) is with good luck. Good luck is the only way to avoid ethical discomfort or financial ruin.
The Luck cards (also based on fact as reported by the newspapers) are hilarious. "A politician hits you with her car, but fortunately the accident is witnessed by the media – collect €2500".
"Some rich ladies wish you a Merry Christmas and hand you €100".
Apparently Athens newspapers have reported tales, for the last few years, in which "ladies" have distributed money to "the poor" from black windowed limousines.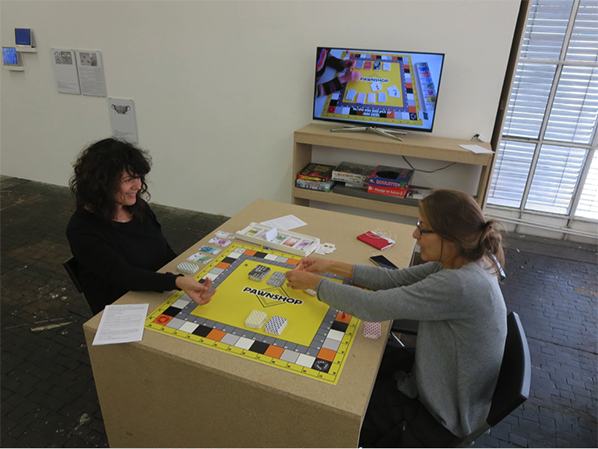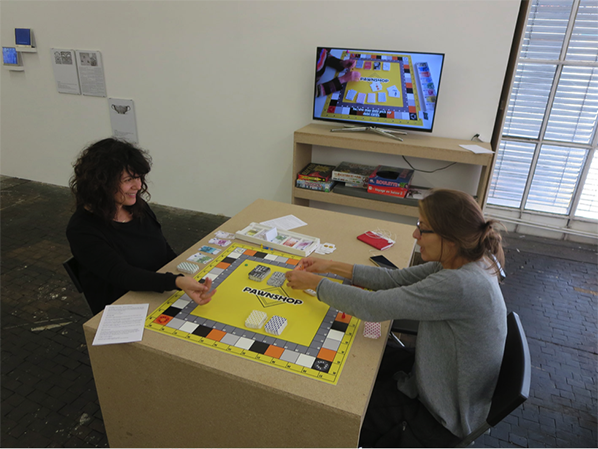 Pawnshop is a polemic on corruption. Small corruption. Long standing, Greek-style, everyday corruption from which no-one can escape. The universal, forced collusion in corruption, and its corrupting effect on the spirit of Greek citizens and society, is set out in the game mechanics. The playful and social medium of the game means that the impact of contemporary Neoliberal politics on the Greek 'everyman' is made legible, feelable and discussable: unending, ethical traps; the impossibility of old-style moral political clarity; the flushing of righteous action, solidarity, resistance or even survival. Corruption all the way up and down.
I question Theodorou carefully, because I have long been suspicious of the narrative that says that corruption is the cause of Greece's economic problems. But the corruption is a fact. While it is not necessarily the only or even the primary cause of its economic distress – which is very very real- the lack of trust in the state is debilitating and has a stagnating effect on the economy.
Pawnshop sits in an honourable tradition of artist's activist games: to change mindsets and attitudes by actively implicating players in a reconstruction of values – see Mary Flanagan persuasive research about crticial play and the many attitude-hacking games coming out of her lab Titlfactor. Also Brenda Romero's chilling Train game, Yoko Ono's Play it by Trust. And for games that train for resistance and solidarity in games such as Escape from Woomera, Debord's Game of War, and my own pacifist chess hack, Three Player Chess.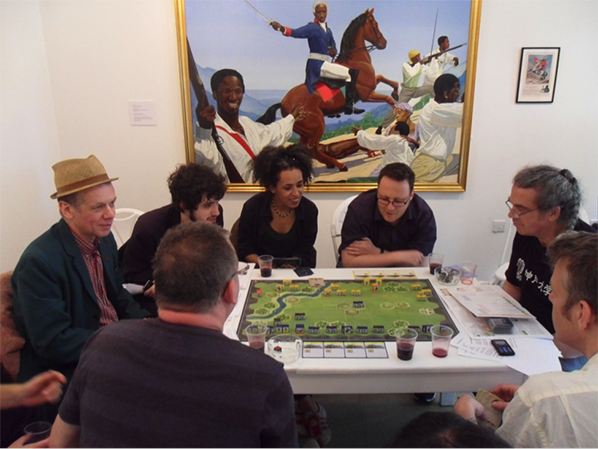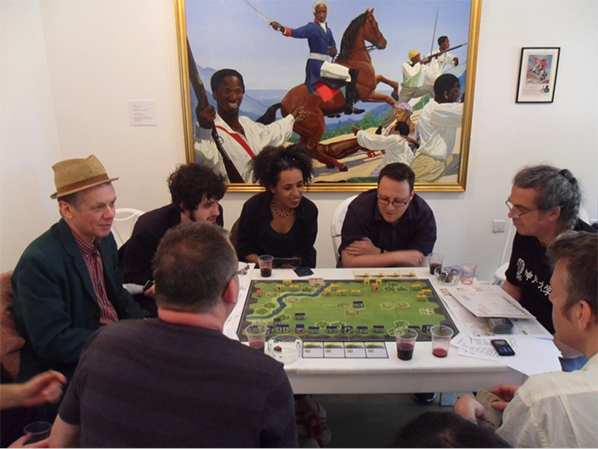 A look around Theodorous portfolios of works reveals a long practice that crosses agitprop, video, installations, and networked pieces.
The work all builds on close observations of contemporary political and social systems. Through graphical exuberance and humour these observations are rendered just (barely) bearable so that we are able to spend time with complex, difficult situations and suspend our certainties. And this is necessary and important. We need to face the complexities and ethical contradictions of contemporary politics. There's no time to lose.
Before the referendum, I found myself uneasy about actually campaigning for "Remain" in spite of my desire for a pan-European peoples' alliance. This was because I couldn't ally myself with the dominating political arguments proposed by the Conservative party (and backed up by big-business and the establishment). I also didn't want to participate in a binary campaign that stamped on the dignity of the layer of people in the UK who are already so disenfranchised by the effects of austerity cuts (and many years of other systemic injustices). This moment revealed for me, and for many others in the 'social liberal' layer, a chasm between my own values and experience and those who voted to 'Leave'. And a desire to find a way to connect. PostBrexit the reality board game may be just the thing we need to help us come together and play our way through the effects, consequences and possibilities.
Basic Income is often promoted as an idea that will solve inequality and make people less dependent on capitalist employment. However, it will instead aggravate inequality and reduce social programs that benefit the majority of people.
At its Winnipeg 2016 Biennial Convention, the Canadian Liberal Party passed a resolution in support of "Basic Income." The resolution, called "Poverty Reduction: Minimum Income," contains the following rationale: "The ever growing gap between the wealthy and the poor in Canada will lead to social unrest, increased crime rates and violence… Savings in health, justice, education and social welfare as well as the building of self-reliant, taxpaying citizens more than offset the investment."
The reason many people on the left are excited about proposals such as universal basic income is that they acknowledges economic inequality and its social consequences. However, a closer look at how UBI is expected to work reveals that it is intended to provide political cover for the elimination of social programs and the privatization of social services. The Liberal Party's resolution is no exception. Calling for "Savings in health, justice, education and social welfare as well as the building of self-reliant, taxpaying citizen," clearly means social cuts and privatization.
UBI has been endorsed by neoliberal economists for a long time. One of its early champions was the patron saint of neoliberalism, Milton Friedman. In his book Capitalism and Freedom, Friedman argues for a "negative income tax" as a means to deliver a basic income. After arguing that private charity is the best way to alleviate poverty, and praising the "private … organizations and institutions" that delivered charity for the poor in the capitalist heyday of the nineteenth century, Friedman blames social programs for the disappearance of private charities: "One of the major costs of the extension of governmental welfare activities has been the corresponding decline in private charitable activities."
To Friedman and his many powerful followers, the cause of poverty is not enough capitalism. Thus, their solution is to provide a "basic income" as a means to eliminate social programs and replace them with private organizations. Friedman specifically argues that "if enacted as a substitute for the present rag bag of measures directed at the same end, the total administrative burden would surely be reduced."
Friedman goes on to list some the "rag bag" of measures he would hope to eliminate: direct welfare payments and programs of all kinds, old age assistance, social security, aid to dependent children, public housing, veterans' benefits, minimum-wage laws, and public health programs, hospitals and mental institutions.
Friedman also spends a few paragraphs worrying whether people who depend on "Basic Income" should have the right to vote, since politically enfranchised dependents could vote for more money and services at the expense of those who do not depend on these. Using the example of pension recipients in the United Kingdom, he concludes that they "have not destroyed, at least as yet, Britain's liberties or its predominantly capitalistic system."
Charles Murray, another prominent libertarian promoter of UBI, shares Friedman's views. In an interview with PBS, he said: "America's always been very good at providing help to people in need. It hasn't been perfect, but they've been very good at it. Those relationships have been undercut in recent years by a welfare state that has, in my view, denuded the civic culture." Like Friedman, Murray blames the welfare state for the loss of apparently effective private charity.
Murray adds: "The first rule is that the basic guaranteed income has to replace everything else — it's not an add-on. So there's no more food stamps; there's no more Medicaid; you just go down the whole list. None of that's left. The government gives money; other human needs are dealt with by other human beings in the neighborhood, in the community, in the organizations. I think that's great."
To the Cato Institute, the elimination of social programs is a part of the meaning of Universal Income. In an article about the Finish pilot project, the Institute defines UBI as "scrapping the existing welfare system and distributing the same cash benefit to every adult citizen without additional strings or eligibility criteria". And in fact, the options being considered by Finland are constrained to limiting the amount of the basic income to the savings from the programs it would replace.
"Basic Income" Won't Alleviate Poverty
From a social welfare point of view, the substitution of social programs with market-based and charitable provision of everything from health to housing, from child support to old-age assistance, clearly creates a multi-tier system in which the poorest may be able to afford some housing and health care, but clearly much less than the rich — most importantly, with no guarantee that the income will be sufficient for their actual need for health care, child care, education, housing, and other needs, which would be available only by way of for-profit markets and private charities.
Looking specifically at the question of whether Friedman's proposal would actually improve the conditions of the poor, Hyman A. Minsky, himself a renowned and highly regarded economist, wrote the "The Macroeconomics of a Negative Income Tax." Minsky looks at the outcome of a "social dividend," which "transfers to every person alive, rich or poor, working or unemployed, young or old, a designated money income by right." Minsky conclusively shows that such a program would "be inflationary even if budgets are balanced" and that the "rise in prices will erode the real value of benefits to the poor … and may impose unintended real costs upon families with modest incomes." This means that any improved spending power afforded to citizens through an instrument such as UBI will be completely absorbed by higher prices for necessities.
Rather than alleviating poverty, UBI will most likely exacerbate it. The core reasoning is quite simple: the prices that people pay for housing and other necessities are derived from how much they can afford to pay in the first place. If you imagine they way housing is distributed in a modern capitalist society, the poorest get the worst housing, and the richest get the best. Giving everyone in the community, rich and poor alike, more money, would not allow the poorest to get better housing, it would just raise the price of housing.
If UBI came at the expense of other social programs, such as health care or child care, as Friedman intended, then the rising cost of housing would draw money away from other previously socially provisioned services, forcing families with modest incomes to improve their substandard housing by accepting worse or less childcare or healthcare, or vice versa. A disabled person whose mobility needs requires additional expenditure on accessible housing may not have enough of the basic income left for any additional health care they also require. Yet replacing means testing and special programs that address specific needs is the big idea of UBI.
The notion that we can solve inequality within capitalism by indiscriminately giving people money and leaving the provisioning of all social needs to corporations is extremely dubious. While this view is to be expected among those, like Murray and Friedman, who promote capitalism, it is not compatible with anticapitalism. UBI will end up in the hands of capitalists. We will be dependent on these same capitalists for everything we need. But to truly alleviate poverty, productive capacity must be directed toward creating real value for society and not toward "maximizing shareholder value" of profit-seeking investors.
There Is No Possibility of Another Kind of "Basic Income"
Many people don't dispute the fact that establishment promoters of UBI are only doing it in order to eliminate social programs, but they imagine that another kind of basic income is possible. They call for a basic income that disregards the "deal" that Charles Murray advocates, but want UBI in addition to other social program, including means-tested benefits, protections for housing, guarantees of education and child care, and so on.This view ignores the political dimension of the question. Proposing UBI in addition to existing program mistakes, a general consensus for replacing social programs with a guaranteed income for a broad base of support for increasing social programs. But, no such broad base exists.
Writing in 1943, with the wartime policies of "full employment" enjoying wide support, Michal Kalecki wrote a remarkable essay entitled "The Political Aspects of Full Employment." Kalecki opens by writing, "a solid majority of economists is now of the opinion that, even in a capitalist system, full employment may be secured by a government spending programme." Though he is talking about full employment, which means an "adequate plan to employ all existing labour power," the same is true of UBI. The majority of economists would agree that a plan to guarantee an income for all is possible.
However, Kelecki ultimately argues that full employment policies will be abandoned: "The maintenance of full employment would cause social and political changes which would give a new impetus to the opposition of the business leaders. Indeed, under a regime of permanent full employment, 'the sack' would cease to play its role as a disciplinary measure. The social position of the boss would be undermined, and the self-assurance and class-consciousness of the working class would grow."
The conflict between the worker and the capitalist, or between the rich and the poor, can not be sidestepped simply by giving people money, if capitalists are allowed to continue to monopolize the supply of goods. Such a notion ignores the political struggle between the workers to maintain (or extend) the "basic income" and the capitalists to lower or eliminate it in order to strengthen their social position over the worker and to protect the power of "the sack."
Business leaders fight tooth and nail against any increase of social benefits for workers. Under their dominion, only one kind of UBI is possible: the one supported by Friedman and Murray, the Canadian Liberal Party, and all others who want to subject workers to bosses. The UBI will be under constant attack, and unlike established social programs with planned outcomes that are socially entrenched and difficult to eliminate, UBI is just a number, one that can be reduced, eliminated, or simply allowed to fall behind inflation.
UBI does not alleviate poverty and turns social necessities into products for profit. To truly address inequality we need adequate social provisioning. If we want to reduce means testing and dependency on capitalist employment, we can do so with capacity planning. Our political demands should mandate sufficient housing, healthcare, education, childcare and all basic human necessities for all. Rather than a basic income, we need to demand and fight for a basic outcome — for the right to life and justice, not just the right to spend.

Featured image: Zombie Academic haunts the Market of Values
Critical Practice, a group of artists, designers, curators and researchers based at Chelsea College of Art recently organised #TransActing: A Market of Values – a pop-up market made up of over 60 'stall holders' invited to creatively explore and produce alternative economies of value.
During my visit, I first encountered a neo-liberal zombie academic, haunting the market with laments over the demise of an expensive art-education system, which extracts maximum value from students, whilst encouraging them to sell their creativity back to the market. At Becky Early and Bridget Harvey's 'Mending for Others' stall, I was taught to darn, and repaired a hole-ridden Sonia Rykiel hat. Here, mending was framed as 'giftivism', a way to build or reinforce a social bond.
At Speakers' Corner, I heard trade union United Voices of the World represented by Percy Yunganina, one of the #southerbys4. He gave a first-hand account of being banned from site by Sotheby's auction house for having joined a protest over sick pay and an end to trade union victimisation.
Nick Bell and Fabiane Lee-Perella invited me into Early Lab's economy of promises, inspired by their work with the Norfolk and Suffolk NHS Foundation Trust: in exchange for a cup of delicately flavoured water, I pledged to make a small intervention to help combat stigmatic preconceptions about mental health.
After these encounters, I #transacted with Critical Practice member Marsha Bradfield, to think about the implications of the Market of Values more deeply:
Charlotte Webb: In critiques of 'free labour' on the web, it is claimed that the affective labour of Internet users is exploited by the market. Did you see the Market of Values as a scenario in which the possibility for exploitation was circumvented?
Marsha Bradfield: The short answer is, no. This became acute as building the market ramped up in the days before the event. We became more and more aware how the project embodied our labour, with the vast majority of it being not only unpaid but also affective. We wondered together and apart: To what extent did saying 'yes' to the project, sticking with it and honouring our commitment to our peers and community, entail a form of self-exploitation—of us as individuals and as a group? I mean, #TransActing happened and was extraordinary because so many people cared so much—both about the project and each other. And this is, of course, a well-known secret in the worlds of art beyond the art market: their reproduction depends on the widespread exploitation of affective labour. But this isn't sustainable in the long term. So it's a valid critique, I think, that #TransActing didn't exactly buck this trend. Even though we did manage to secure money from the Arts Council and CCW to pay many of those involved, this remuneration was a pittance for what they personally invested. Like others in Critical Practice, I loathe the thought of every transaction being monetised, and in a way this was exactly the conundrum that #TransActing sought to explore by shining a light on types of value that aren't often valued, precisely because they're non-financial and cannot easily be accounted for in pounds and pence.
CW: I was intrigued by the uses of the terms 'value' and 'evaluation' in CP's description of the event. Are these terms interchangeable for you, or do they carry important nuances? I wondered whether there was something about the measurability of values at stake in the project?
MB: The project was initially called 'The Market of Evaluation,' which originated with our research on how value is produced and distributed. We considered, for instance, 'the value of waste' by walking around the Isle of Dogs with environmental lawyer Rosie Oliver. She helped us appreciate the social practices of evaluating, well, crap, and how they're situated, localised and embedded in specific places, buildings, systems, institutions, cultures and histories. The more research we did on evaluation, the more opaque it seemed when generalised. The word has managerial connotations too. So assuming evaluation is, in broad strokes, the assessment of value and that valorisation is the attribution of value, we realised that 'value' was the turnkey for our interest. Or rather, it was 'values' that so intrigued us, with this plurality opening up space for multiple ones to exist. We also began to appreciate values as transacted through evaluation and valorisation and with this shift, the Market as an event for showcasing these processes gathered steam.
Rather than foregrounding any singular value or type of exploration, our model of distributed curating meant that each Critical Practice member worked with several projects. Each of these explored value in ways that we personally and collectively valued. With 64+ stalls in the market, no one exploration or practitioner dominated. I think we needed this critical mass to make #TransActing a valuable event but not everyone agrees.
Commodification is another way of thinking about the value of #TransActing. The anthropologist David Graeber helped me to crystallise a distinction between value in the singular and values in the plural. David talks about the commoditisation of labour by markets, comparing this with labour like housework and other kinds of care that aren't commoditised. Of course, it's money as the so-called universal equivalent that not only allows but entrenches this split. So there's (singular) value, like that of money that depends on equivalence. And then there are (plural) values, like care, loyalty, generosity, faith, etc. that depend precisely on their refusal to be commensurate with each other.* And so coming back to your question about the measurability of value in #TransActing, Charlotte, I guess that's the heart of the matter. How do we, on the one hand, take stock of that which must be measured for our work, health, etc. while at the same time more fully appreciate things that can never be measured, but give meaning and significance to our lives?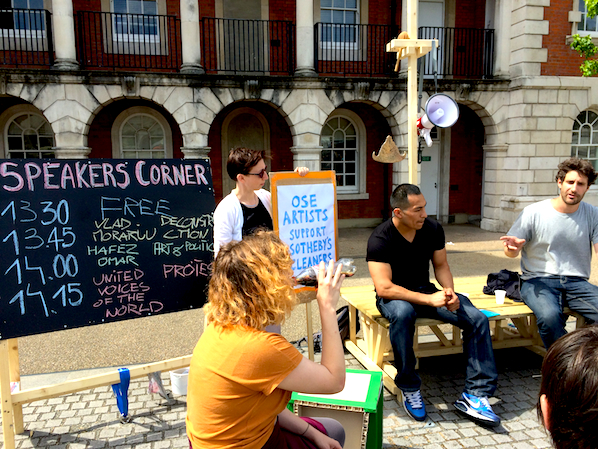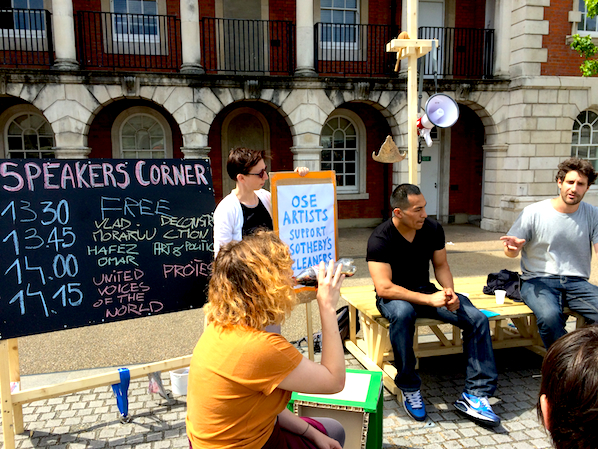 CW: Critical Practice created bespoke structures for the event, which inevitably created a kind of 'aesthetic experience'. This brought Claire Bishop's critique of participatory art to mind – how do you see the role of 'aesthetics' playing out in a socially engaged event like this?
MB: You're right. Tricky questions gather around the aesthetics of social engagement as art practice, especially in the long shadow of the participatory paradigm in contemporary cultural production. Enter politics. As one of many collaborators involved in this project over several years, the 'aesthetics' of my engagement has ebbed and flowed over a myriad of micro decisions that together form a kind of slipstream of experience. This makes decision making a prism for organising my insider's perspective: how I see, hear, and feel this process as it unfolds through sensations of togetherness and shared joy but also tension arising from disagreement.
Much of the decision making that led to #TransActing wasn't visible on market day. But I'd like to think that 'aesthetic markers' maybe signaled it in some way. By these markers I mean indicators that point to the project's process and all the considerations that it entails. Like the tip of an iceberg, the look and feel of the Market's stalls, for instance, which were made largely from recycled materials, in collaboration with the stall holders and the art/architectural practice Public Works, pointed to the complex material, conceptual, technical and social processes involved in the Market's making. I think markers like this help to explain why many who came to #TransActing acknowledged it was 'a lot of work!'. At the same time the residue of this labour, which filled the atmosphere, gave the impression that doing it was fun.
Decision making was a big part of the participants' experience too. So many different things were happening simultaneously at the stalls. You had to make moment-by-moment decisions about where to focus. Decision making leading to the market and what occurred on the day seem quite different, though. Much of the will and commitment to make this happen was based on long-term personal relationships. Many of us in Critical Practice are friends and have worked together for years. Exploring the aesthetics of decision making with reference to these tight ties and in contrast to the looser ones organising the experience of #Transacting as a one-day event strikes me as a revealing way to tap the complexity of socially engaged art as cultural production.
*For a concise discussion of theories of value in anthropology, see David Grabber, 'It is value that brings universes together' HAU: Journal of Ethnographic Theory 3, 2 (2013): 219-43.
——–
Critical Practice is: Metod Blejec, Marsha Bradfield, Cinzia Cremona, Neil Cummings, Neil Farnan, Angela Hodgson-Teal, Karem Ibrahim, Catherine Long, Amy McDonnell, Claire Mokrauer-Madden, Eva Sajovic, Kuba Szreder, Sissu Tarka and many more besides.
www.criticalpracticechelsea.org
criticalpracticeinfo@gmail.com
Charlotte Webb: @otheragent
Marsha Bradfield: @marshabradfield
Richard Stallman[1] the outspoken promoter for the Free Software movement, hates Facebook with a passion. He proposes that we should all leave Facebook and either find or build our own alternatives. The evidence offered by Stallman's and the Electronic Frontier Foundation's (EFF), who have been fighting for Internet freedoms since the 90s [2] shows how necessary it is that we understand and are more pro-active in managing the personal data that we give away through our online activities.
When we subscribe to Web 2.0 platforms such as Facebook we are at the mercy of the data brokers. These companies trade in people's personal data; information which is aggregated by monitoring user actions and interactions across social media. This information can include "names, addresses, phone numbers, details of shopping habits, and personal data such as whether someone owns cats or is divorced."[3] Fast moving developments in social media, make it difficult to keep up with the effects and consequences of these platforms. This is why the work of groups such as Commodify Inc. is so valuable. They bring imaginative and critical attention to the situation, sharing their knowledge of these daily networked complexities and correcting what they see as its negative effects.
Commodify Inc. is an artist-run Internet startup producing projects to help individuals capitalize on their online monetary potential. Their intention is to correct the imbalance of power in markets where users have no control over the transactions made with their personal data. They have completed various artistic projects and interventions on social media like, Fame Game, Give Me My Data, and Web 2.0 Suicide Machine. The co-founders are Birgit Bachler, Walter Langelaar, Owen Mundy, Tim Schwartz, with additional contributors Joelle Dietrick and Steven Alvarado.
Their new project Commodify.Us, was initiated when Owen Mundy and Tim Schwartz were invited by moddr_ to a residency in their lab in the summer of 2012 – when they were still a part of the WORM collective in Rotterdam. They worked on an initial idea that would succeed previous experiences of their already well-known and respected projects.
Commodify.Us is currently in beta phase. It promises to provide a platform for people to regain control over the commercial exploitation of their own personal data.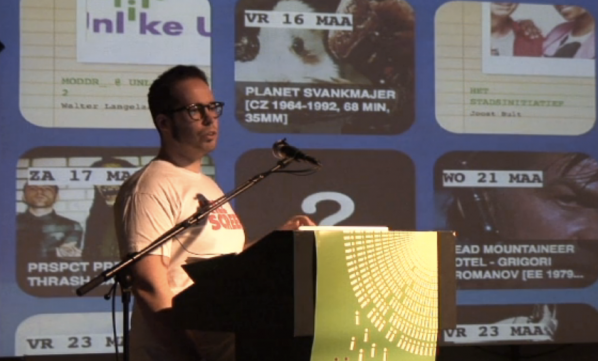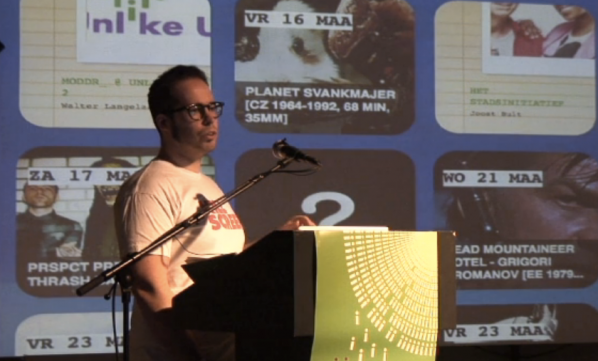 Intrigued by this project I contacted one of the co-founders, Walter Langelaar via email and asked him a few questions about this new platform.
Marc Garrett: Commodify.Us is for people to have greater control over their data. And it works when users export their data from social media websites and upload it to your platform. How will these users gain more control over their data and why is this important?
Walter Langelaar: Commodify.Us provides a platform for you to regain control over the commercial exploitation of your personal data. After exporting your profile data from social media websites and uploading the data to Commodify.Us, you can directly get in contact with interested buyers. On the importance for users I would say that it's part raising awareness surrounding the monetization of profile data, and part creating a platform where people might work out and discuss how to do this themselves.
MG: It proposes to re-imagine the potential of relational data, creating a casting agency for virtual personas. I'm wondering what this may look like?
WL: We were too. In an early stage of the project we played with the idea that peoples' various profiles could function like that within an agency; a client would ask for a specific set of qualities and/or characteristics within a set of profiles, and we could provide for this based on the uploads and their licensing options as set by the user. In the end we abandoned this idea for clarity.
MG: Commodify.Us offers people the opportunity to be part of an economy where interested buyers will pay to use the data supplied, unlike existing social media websites. How does this work?
WL: We are gearing up for a launch where the main goal will be to get a critical mass of around, a 1000 profiles. We anticipate that only with this kind of mass or volume will our initiative take hold with the potential buyers we have in mind, and the same goes for the more creative projects that could use the (open) data. Regarding the open profile data and otherwise licensed profiles that allow for reuse, we are researching the idea of 'Fair Data' (as in Fair Trade) and how to implement this as a profitable protocol for the end-user.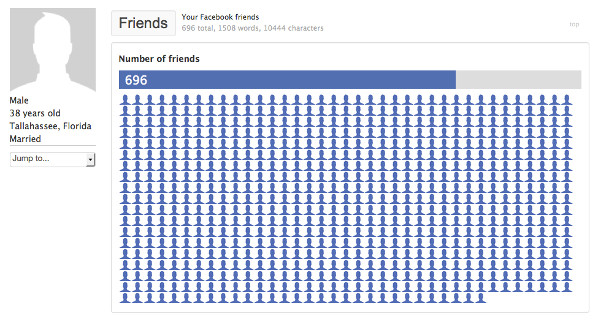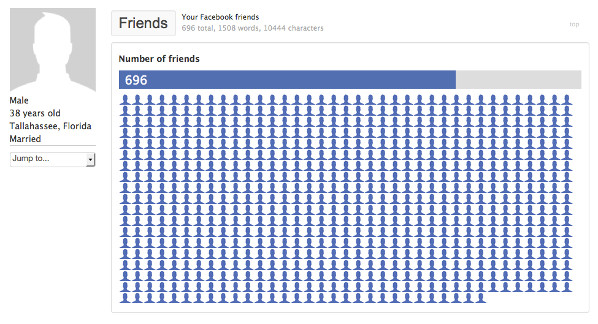 "Net activists construct tools whose intervention potential can be initiated by users under net conditions. These tools enable activists to develop new strategies in the data space of the Internet because they offer new means: New means afford new ends."[4] (Dreher)
In his publication Networks Without a Cause: A Critique of Social Media, Geert Lovink lays down the gauntlet and asks us to "collectively unleash our critical capacities to influence technology design and workspaces, otherwise we will disappear into the cloud." Anna Munster opens her excellent survey, Data Undermining: The Work of Networked Art in an Age of Imperceptibility, by saying "The more data multiplies both quantitatively and qualitatively, the more it requires something more than just visualisation. It also needs to be managed, regulated and interpreted into patterns that are comprehensible to humans."[5] Commodify.Us goes one step further by allowing users to manage, regulate, repattern and reappropriate their own data using tools that share an essential functionality (if not purpose) with the power tools of Web 2.0.
Those previously seen as rebellious hacktivists are moving into new territories that deal with concepts of service. There has been a significant rise of artists exploring technology to influence mass Internet activity, against the domination of corporations who are data mining and tracking our on-line activities. Another example is TrackMeNot developed by Daniel Howe and Helen Nissenbaum. This is an extension created for the Firefox browser. "It hides users' actual search trails in a cloud of 'ghost' queries, significantly increasing the difficulty of aggregating such data into accurate or identifying user profiles."[6]
Howe and Nissenbaum mention they are aware their venture is not an immediate solution. However, the more we hear of and join these imaginative strategies "whereby individuals resist surveillance by taking advantage of blind spots inherent in large-scale systems" [7], and the more we adapt our behaviours to adopt these new 'activist' services, the more we demonstrate the demand for these new alternatives. And by so doing, we argue for the value of services that we can trust not to steal or manipulate our social contexts for financial and political gain.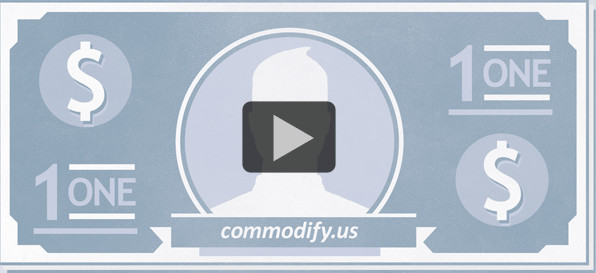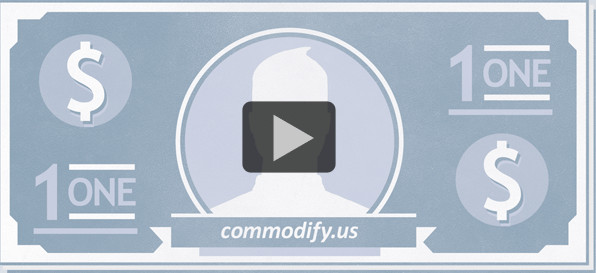 A significant value offered by the Commodify.Us platform is the power to manage our own data. The simple act of downloading our own data from Facebook, and then uploading it to Commodify.Us supports us to rethink what all this information is. What once was just abstract data suddenly becomes material that we can manipulate. Alongside this realization arrives the understanding that this material was made by our interactions with all these platforms, and that other people are spying on us and making money out of it all. Once this data material is uploaded onto the Commodify.Us platform, it asks if we want this stuff to be a product under our own terms, or if we wish to make art out of it using their tools.
This is a cultural shift that demonstrates how contemporary Hacktivists are developing software that promises to offer realistic service infrastrucutures. When I interviewed Charlie Gere in 2012[8] he said that these artists "are not part of the restricted economy of exchange, profit, and return that is at the heart of capitalism, and to which everything else ends up being subordinated and subsumed. Thus they find an enclave away from total subsumption not outside of the market, but at its technical core." For me, this kind of work is of central importance to the contemporary era, and it only occurs where artists cross over into territories where their knowledge of networks directly contributes to the building of alternative structures of social independence.