Join the discussion on Discord and share your questions with the speakers.
The Radical Friends Symposium discusses the value of and presents pathways to peer-produced decentralised digital infrastructures for art, culture and society – in particular through Decentralised Autonomous Organisations (DAOs) for the cultural sector. The symposium takes as its inspiration the defining principles of friendship – sustained intimacy, fellowship and camaraderie – which, when applied to complex difficulties (particularly those that might otherwise be invisible to us), offers excellent design patterns for social infrastructure. To end gatekeeping and elitism in the artworld we therefore bring this spirit of deep and radical friendship as a way to build resilient and mutable systems for scale-free interdependence and mutual aid.
DAOs provide new digital governance infrastructures that allow people to pool resources, exchange economic value, and form joint-ventures, that defy national borders. DAOs enable people to agree on how risks and rewards should be distributed and to reap the benefits (or otherwise) of a shared activity now and in the future.
At a time when the mainstream artworld is focused on the personal wealth that can be amassed through NFTs, artworld DAOs offer the potential to diversify collaboration and to lower the cost of translocal self-organising, leading to new visions, vehicles and configurations for communally grounded projects. The open source artworld DAOs we do (and don't) build now will have direct consequences for who owns the future and decides what this means for others.
So gather up your radical friends and grab your tickets for an expansive 8-hour program that includes: lectures; panel discussions; concerts; as well as hybrid talk and body-work formats. Throughout the event, participants are invited to analyse, discuss, and map the obstacles, opportunities, and implications of progressive, decentralised organisations and automation in the artworld. Plus, watch out for 4 prototype DAOs that will be unveiled during proceedings and take part in collectively awarding a 10,000 EURO development grant funded by the Goethe-Institut to 1 of them.
The Radical Friends Symposium is curated by Ruth Catlow (Furtherfield) and Penny Rafferty in dialogue with Sarah Johanna Theurer and Julia Pfeiffer (Haus Der Kunst, Munich). Participants include James Whipple (aka / M.E.S.H.), OMSK Social Club, Jaya Klara Brekke, Harm Van Den Dorpel, Cem Dagdelen, Aude Launay, Sarah Friend, Laura Lotti and Calum Bowden (Black Swan), Bhavisha Panchia and Carly Whitaker (Covalence Studios), Nicolay Spesivtsev and Dzina Zhuk (eeefff) and Massimiliano Mollona alongside Samson Young (Ensembl).
Radical Friends presents results from the DAOWO (Decentralised Autonomous Organisations with Others) project, co-founded by the Goethe-Institut London and Furtherfield with the support of Serpentine Galleries. The award-winning DAOWO is a transnational collaborative network that has been bringing together leading international institutions and communities from the arts and technology for three years to question the advantages and disadvantages of blockchain technologies for art, culture and society from a local perspective. The summit is part of the Goethe-Institut project "Lockdown Lessons". It searches for answers on what can be learned from the Covid-19 crisis on a global scale concerning social, technological, postcolonial and civil society concerns.
Reinventing the artworld with blockchain
Discover a new set of experimental projects to reinvent the future of arts with blockchain.
The Goethe-Institut London, Furtherfield and the Serpentine Galleries present The DAOWO Sessions, a new series of online events running from 28th January to 4th March 2021. The series explores the possibilities for the future of the artworld with blockchain by investigating what can be learned from DAOs (Decentralised Autonomous Organisations) working with Others (-WO). Each session is an eye-opening presentation and conversation around active experimentation that aims to hack, deconstruct and reinvent the arts in the emerging crypto space in response to people and their local contexts. This is a unique opportunity for cultural practitioners, representatives of arts, technology organisations, communities and anyone interested in the potential of blockchain to come together and question the future of art and society.
Curated by Ruth Catlow (artistic director Furtherfield), Penny Rafferty (writer and researcher) and Ben Vickers (CTO Serpentine Galleries) with the Goethe-Institut London, each event introduces one of five new progressive blockchain art prototypes created by DAO teams in Berlin, Hong Kong, Johannesburg and Minsk. Through live video conference, the teams will introduce their prototypes and address key questions about the potential of blockchain systems to decentralise power structures and to rewire the arts. The final session brings together the DAOWO curators in conversation with art critic Francesca Gavin.
The DAOWO Sessions are part of the award-winning blockchain programme for reinventing the arts, the DAOWO initiative, a partnership between the Goethe-Institut London, Furtherfield/DECAL and Serpentine Galleries.
All events take place at 9.00am GMT and are free to access with booking required.
(Video Broadcast in English, BSL interpretation)
For full event information and tickets please visit: goethe.de/daowo
THE DAOWO SESSIONS
Events and Dates:
28 Jan 2021 | BLACK SWAN DAO (Berlin)
The first event connects with Berlin to introduce BLACK SWAN DAO (Trust), an experimental initiative which responds to the increasing precarisation of cultural labour by providing cultural practitioners with tools to collaboratively organise and share resources.
4 Feb 2021 | COVALENCE STUDIO (Johannesburg)
This event connects with Johannesburg's DAO (Covalence Studio) to introduce a network of resources, skills and support for artists and creative practitioners with the goal to rethink equitable artistic practices that can thrive under restricted movements and collapsing economic infrastructures.
11 Feb 2021 | DAO AS CHIMERA (Minsk)
Speculating on future histories of blockchains, Minsk-based initiative DAO AS CHIMERA is a unique network and a live action role play. The project aims to provide a view on the cultural, tech and start-up sphere in Belarus and to unpack emancipatory potentialities of collectivities freed from the constraints of project-orientation.
25 Feb 2021 | ENSEMBL (Hong Kong)
An Ethereum-based platform for decentralised organising of artistic production. The project explores how can DAOs learn from improvised music about value and temporally dynamic collaborations? What's the "Score"?
4 Mar 2021 | The Machine to Eat the Artworld (online)
A conversation with the curators of the Artworld DAO think tank and the DAOWO programme, Ruth Catlow and Penny Rafferty interviewed by curator and writer Francesca Gavin. Catlow brings 25 years of experience as a curator, artist, and researcher exploring the intersection of arts and technology, emerging practices in art, decentralised technologies and the blockchain, alongside Berlin-based writer and visual theorist.
For full event information and tickets please visit: goethe.de/daowo
The Machine that Eats the Artworld for Lunch*

Presentation and open conversation with Penny Rafferty and Ruth Catlow
Artists Ruth Catlow and Penny Raffety will host an open conversation about their recent Artworld DAO think tank, a 52 hour immersive event employing technical talk, political discussion and uncanny working methods to create pathways to collective arts production, tools, capacities, resources, resistance and solidarity.

"We believe that by engaging with these spaces collectively we will strengthen and build quicker and better models for the future DAOs and hopefully make them a reality for all."

---
The intensive commodification of art over the last five decades has been accompanied by the hyper-individualization and beggering of artists on the ground in even the world's wealthiest countries. Decentralised Autonomous Organisations (DAOs) now allow people to exchange economic value, to pool resources and form joint-ventures, without control from the centre; to enjoy the benefits (or otherwise) of the shared activity in the future. DAOs provide both the technical underpinnings and the context for reimagining a full re-constellation of stakeholders for radical imagination and other possible art worlds.

Additionally because artworlds can provide timespaces for practical philosophy and creative play with everyday rules, behaviours and structures they have the potential to inject (into an over-mechanised technical space) radical imagination that produces new ways of being, feeling and knowing for collectives of people.

*The first Artworld DAO Think Tank was made possible with funding by Furtherfield/DECAL and Serpentine Galleries
Featured image: Woodcut (1888) Artist Anonymous
Geometries, Moods and Decentralised Cooperations
We are delighted to share with you our Spring season of art and blockchain essays, interviews and events, offering a wide spread of exploration and critique.
The blockchain is an evocative concept, but progress in ideas of cryptographic decentralisation didn't stop in 2008. It's helpful for artists to get a sense of the plasticity of new technical media. So first we are pleased to share with you Blockchain Geometries a guide by Rhea Myers to the proliferation of blockchain forms, ideas and their practical and imaginative implications.
In Moods of Identification Emily Rosamond writes her response to our second DAOWO workshop, Identity Trouble (on the blockchain). She reflects on both ongoing attempts to reliably verify identity, and continuing counter-efforts to evade such verifications.
Mat Dryhurst and Holly Herndon speak here with Marc Garrett in an interview republished from our book with Torque Editions Artists Re:Thinking the Blockchain (2017). Mat and Holly convey a sense of excitement about developments and opportunities for new forms of decentralised collaboration in music.
Finally you can book your place on future events at the DAOWO blockchain laboratory and debate series for reinventing the arts.1 Download the DAOWO Resource #1 for key learnings, summaries of presentations, quotes, photographs, visualisations, stories and links to videos, audio recordings and much more from our first two events about developments in the arts and the trouble with Identity.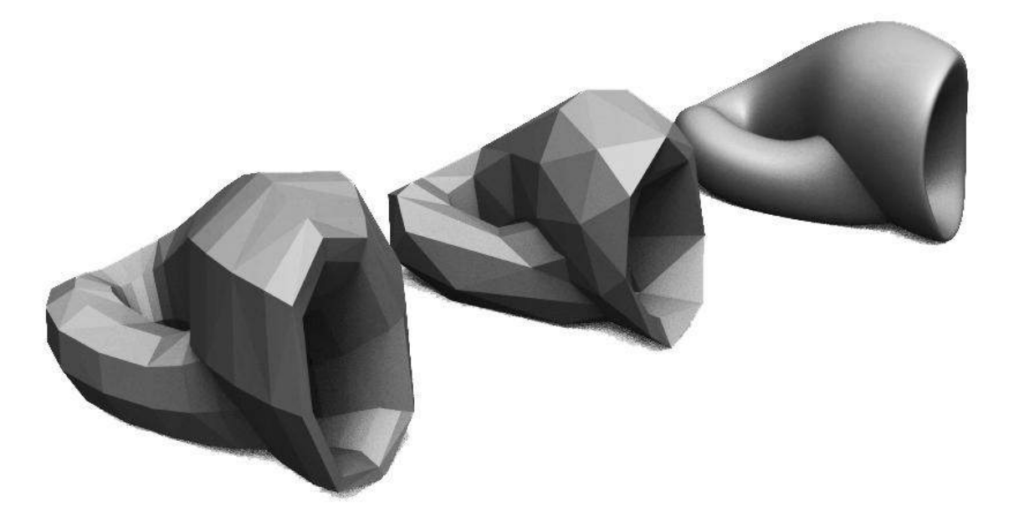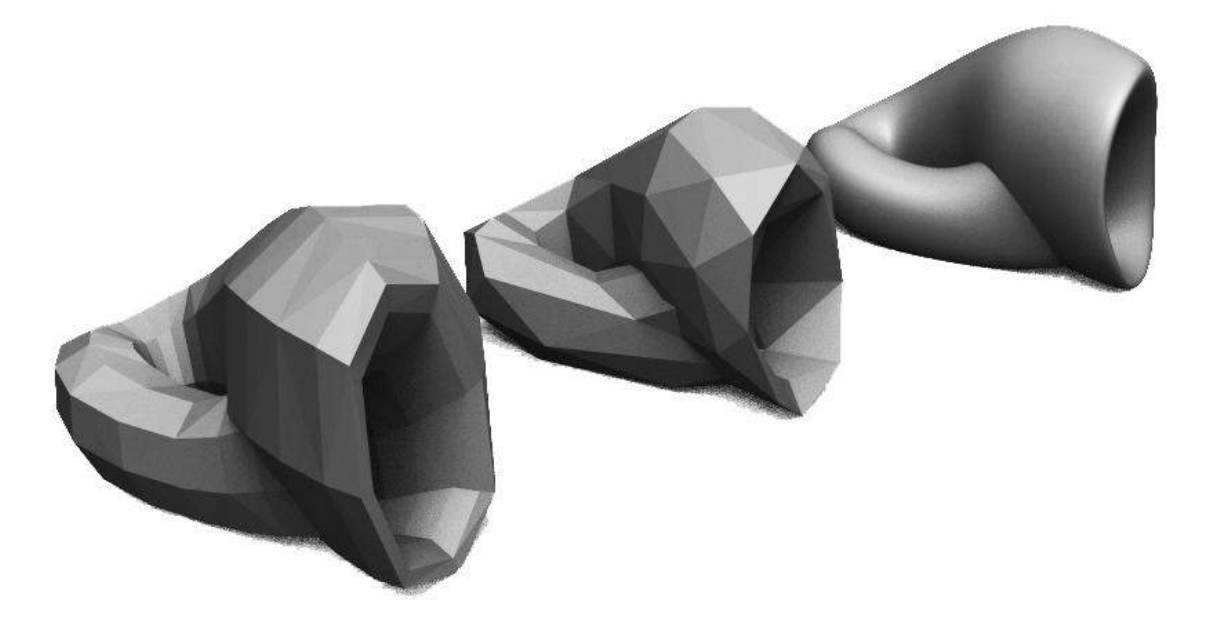 Blockchain Imaginaries
The blockchain is 10 years old and is surrounded with a hype hardly seen since the arrival of the Web. We'd like to see more variety in the imaginaries that underpin blockchains and the backgrounds of the people involved because technologies develop to reflect the values, outlooks and interests of those that build them.
Artists have worked with digital communication infrastructures for as long as they have been in existence, consciously crafting particular social relations with their platforms or artwares. They are also now widely at work in the creation of blockchain-native critical artworks like Clickmine by Sarah Friend2 and Breath (BRH) by Max Dovey, Julian Oliver's cryptocurrency climate-change artwork, Harvest (see featured image) and 2CE6… by Lars Holdhus3, to name but a few.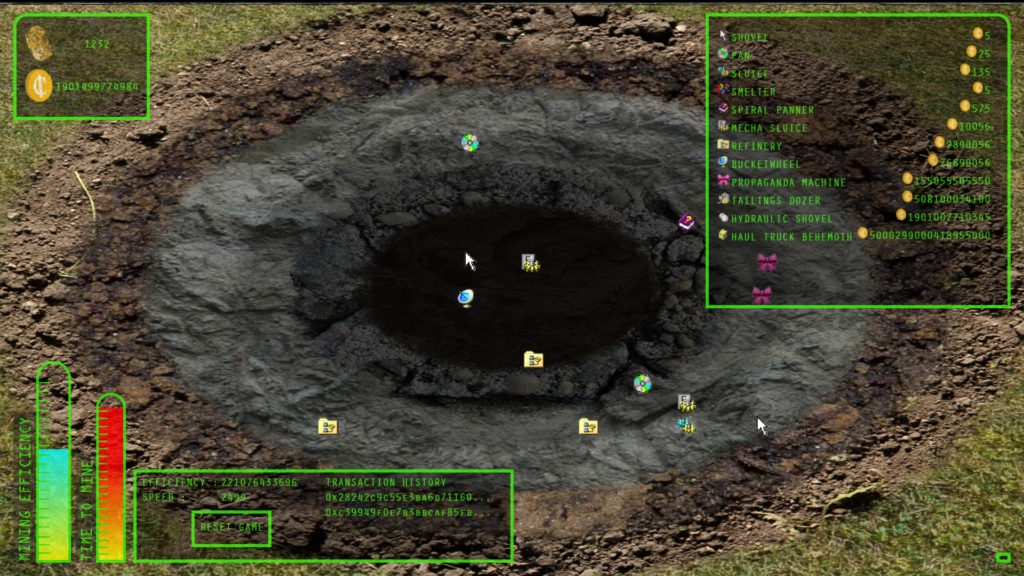 By making connections that need not be either utilitarian nor profitable, artists explore potential for diverse human interest and experience. Also, unlike on blockchains, where time moves inexorably forward (and only forward) – fixing the record of every transaction made by its users, into its time slot, in a steady pulse, one block at a time – human imaginative curiosity can scoot, meander and cycle through time, inventing and testing, intuiting and conjuring, possible scenarios and complex future worlds. They allow us to inhabit, in our imaginations, new paradigms without unleashing actual untested havoc upon our bodies and societies.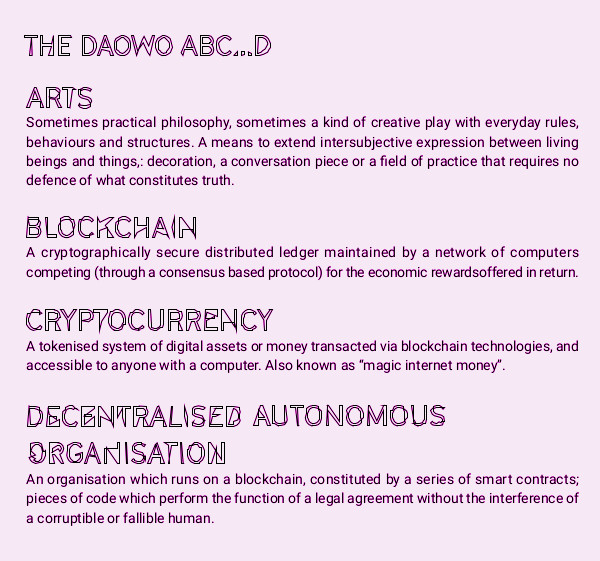 Art and the "Internet of Money"
Back in 2008 the global banking system was bailed out by governments with tax payers' money. Meanwhile a 15 year explosion of web-inspired, decentralised, mutualist-anarchist DIWO (Do It With Others)-style cultural actions and practices ebbed (though its roots remain and go deep). The global network of human attention and resources were, by this time, well and truly re-centralised. The "big five" now owned, and often determined, our communication and expression. Post-Internet artists rejected platform-building as a social artform and instead, took as their materials, lives mediated through social media and corporate owned platforms. Some dived into the marketing vortex, to revel and participate in the heightened commodification of art.
With the introduction of the blockchain protocol on the Internet we see a reversed direction of travel in the artworld, with major developments coming more quickly from the businesses of art, which reassert art's primary status as an asset class, than from those artists experimenting with new forms of experience and expression enabled by its affordances. Now intermediaries of art world business are moving into blockchains (also sometimes called the "Internet of money") with a focus on provenance, authentication, digital arts made scarce again with IP tracking, fractional ownership, securitisation and auction4. It is blockchains for art, any art, as long as that art can be owned and commodified. This may be seen as a good thing, generating and distributing increased revenues to 'starving artists'. Also perhaps inevitable, as that which cannot be owned is hard to represent on a blockchain ledger.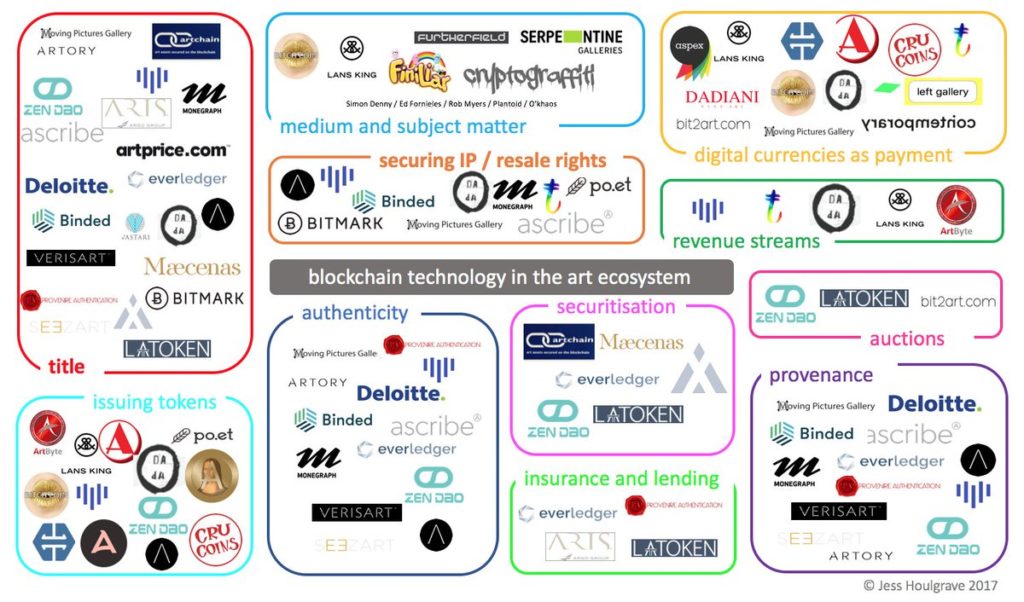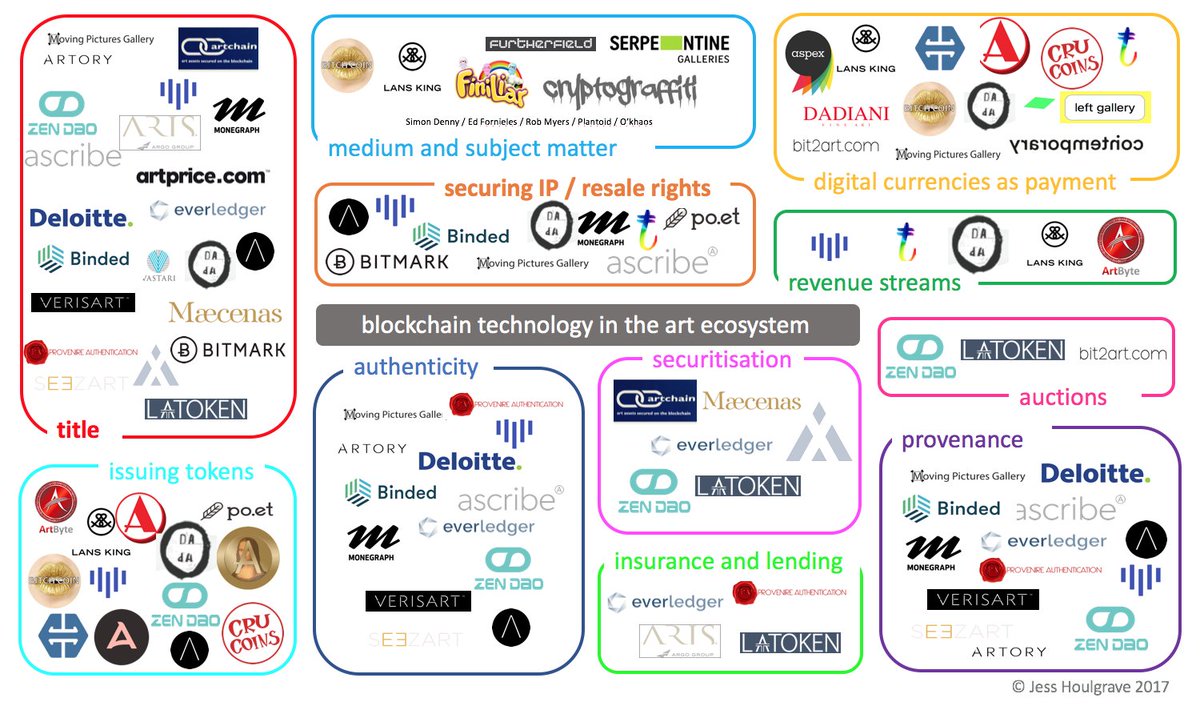 Infrastructure Is Social
In his new book Reinventing democracy for the digital condition, (2018) Felix Stalder notes that people are increasingly actively (voluntarily and/or compulsorily) participating in the negotiation of social meaning through the "referentiality, communality, and algorithmicity, […] characteristic cultural forms of the digital condition". In 2015 the Ethereum blockchain launched with a new layer that could run "smart contracts", pieces of code which act as autonomous agents, performing the function of a legal agreement without the interference of a corruptible or fallible human5. These can be combined to perform as blockchain-based companies called Distributed Autonomous Organizations (DAOs) and there are a plethora of blockchain implementations and political agendas now developing. How these unfurl will affect our ability to relate to each other, to deliberate, decide and cooperate with each other as individuals, organisations and societies.
Don't Just Monetise, Mobilise!
So for us the promise lies in platform-building: by-and-for communities of experimental artists (in the expanded sense of the word), participants and audiences who want to create not just saleable or tradeable art objects6 but artworks that critique the relationship between art and money, and expand the contexts in which art is made and valued.
'AltCoins, cryptotokens, smart contracts and DAOs [Digital Autonomous Organisations] are tools that artists can use to explore new ways of social organisation and artistic production. The ideology and technology of the blockchain and the materials of art history (especially the history of conceptual art) can provide useful resources for mutual experiment and critique' – Rhea Myers7
While FairCoin (being rolled out by FairCoop with the Catalan Integral Cooperative) puts new forms of decentralised social organisation into practice on the ground, blockchain based art projects such as Terra0 and Plantoid by O'khaos offer examples of governance systems and invite us to critically "imagine a world in which responsibility for many aspects of life (reproduction, decision-making, organisation, nurture, stewardship) are mechanised and automated."8 Both artworks demonstrate functioning systems and help us to think through how we might determine and distribute artistic (and other) resources, their value, and the rules for their co-governance for the kinds of freedoms, commonalities and affiliations that are important for the arts.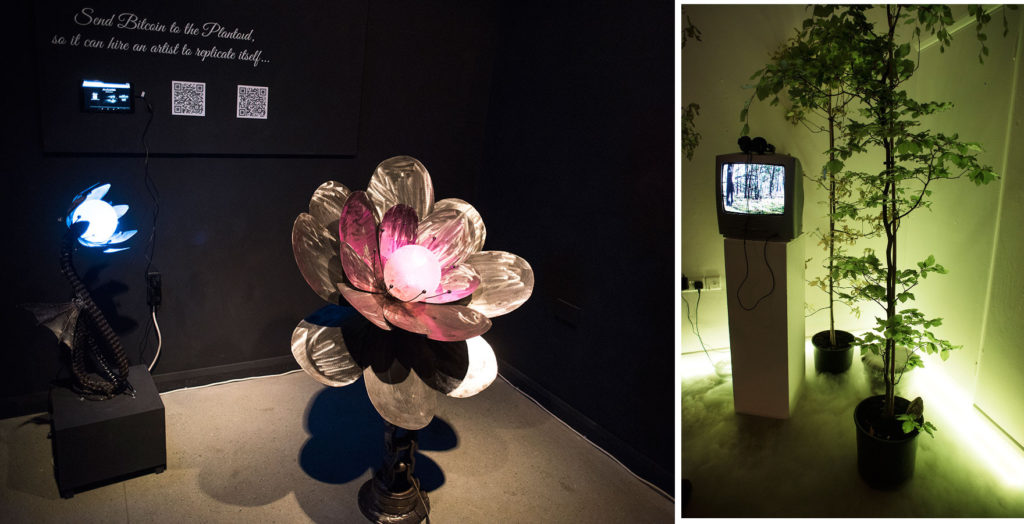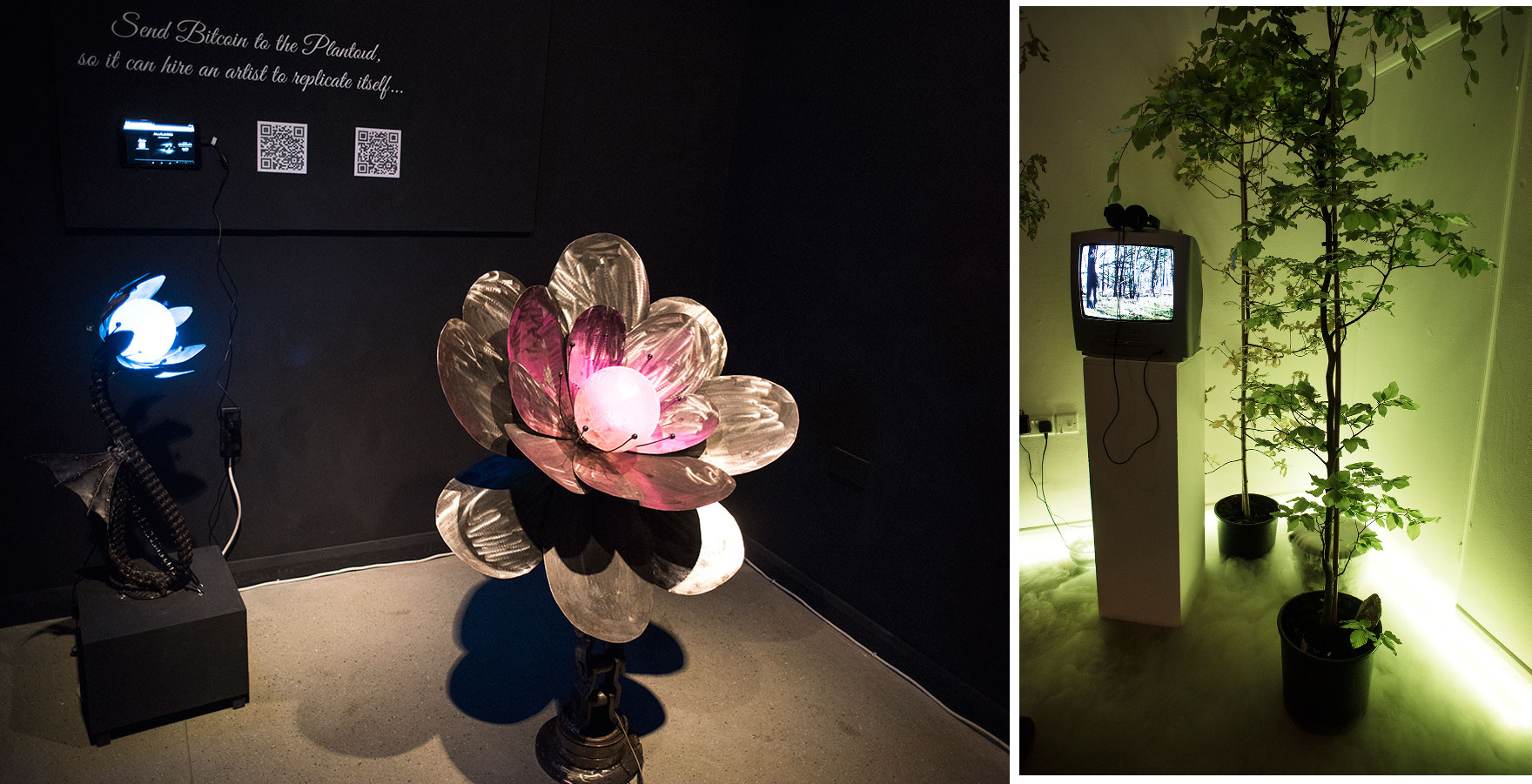 It may take a while. What to value and how to value it is a particularly tangled question. The technical infrastructure of the blockchain is at the stage of development that the Web was at in the early 90s (blockchain technologies are less forgiving, require deeper programming knowledge and are therefore more expensive to build than web pages or platforms) which, along with the get-rich-quick vibe of non-community-platform projects, might be why there are still so few community platforms actually in operation. Resonate.is the cooperatively owned music streaming service is an inspiration in this regard. It is a platform for musicians – creators and listeners – that opens up the governance of its resources to everyone who has ever created or listened to its music. It demonstrates one way in which a DIWO ethos might work.
Helen Kaplinsky is exploring how to bootstrap to the blockchain, Maurice Carlin's Temporary Custodians project which realises an alternative system of peer2peer art ownership and stewardship at Islington Mill9.
Blockchain Imaginaries 2018 – CODA
Three preoccupations dominate 2018 New Year blogs and commentary that mark the blockchain's 10th anniversary: blockchains as cash cults; doubts about the actual utility of blockchains and; the environmental impact of Bitcoin (still, erroneously interchangeable with the blockchain in the minds of lots of people). We add to these our concern about the intensification of control enabled by these infrastructures, AND the simultaneous conviction (shaped by deep collaborations and hard criticisms over the last years) that blockchains have the potential to enable and stimulate new forms of social organisation, resource distribution and collaboration in the arts.
The first two preoccupations match exactly the commentary surrounding the early days of the Web and we know how that turned out. The remaining concerns are grist to the mill of our ongoing programme of publications, films, exhibitions and events. The technologies are only now stabilising to allow more grass-roots infrastructural developments.
We invite you to bring your own lens of constructive critique, gather a crowd to debate and explore how we might pull blockchains into art, on the arts' own terms, and to gain an understanding of why it is worthwhile.
---
Previously at Furtherfield
If you're interested in Furtherfields critical art and blockchain programmes with various individuals, groups and partners since 2015. You could check out how it all started, watch our short film, read this book, visit this exhibition, or archives and documents of previous exhibitions10, 11, read reviews and debate, and join us at our ongoing DAOWO blockchain lab series, devised with Ben Vickers (Serpentine Galleries) in collaboration with the Goethe-Institut London, and the State Machines programme12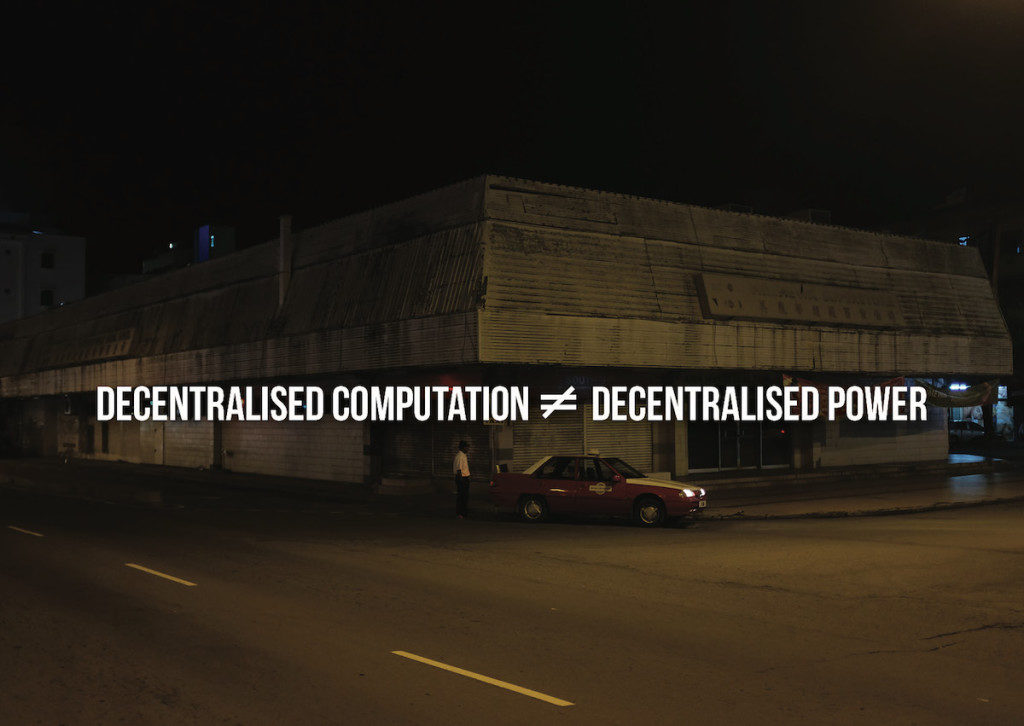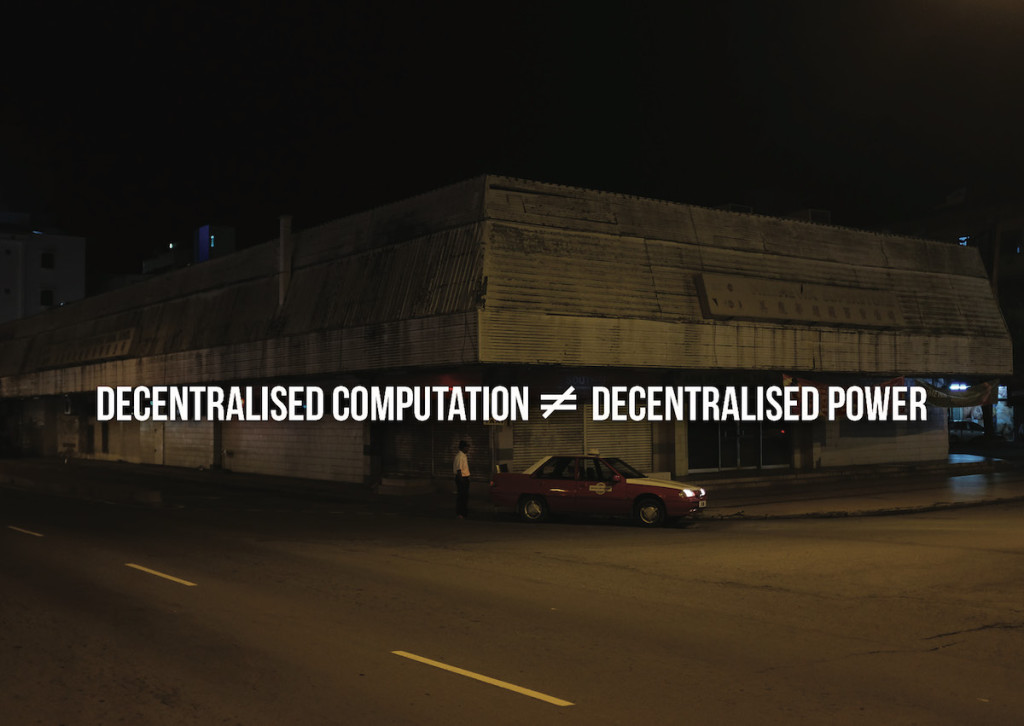 This interview was originally printed in Artists Re:Thinking the Blockchain published in partnership with Torque Editions in 2017.
Marc Garrett: One of many interesting and experimental things about the album Platform, released with Holly Herndon in 2015, is the decision to break away from the perspective of singular genius, and involve a variety of collaborators. This included artist Spencer Longo, Claire Tolan (of Tactical Tech), and Dutch design studio Metahaven. On the 4AD press release page it says that it 'underscores the need for new fantasies and strategic collective action.' Under the name of Holly Herndon, along with Holly, you all became a kind of cooperative, collective construction. What inspired you and Holly to explore what could be seen as a decentralized body, or assemblage of individuals as a collective? Or how would you describe your working identity and the importance of this move?
MD: To put it in pretty boring terms, it has become a core part of our mission to be pretty candid about what we do. Holly had been making albums and touring by herself, and then during the early experiments that later became Platform (Chorus and Home) we had begun working together, as we were occupying this tiny apartment in San Francisco, and I was working on this weird net concrete stuff in one room, and Holly was writing for voice in the other, and I think both of us picked up from the ambient sound that the two worked really well together! For the Chorus video we had seen the work of the Japanese artist Akihiko Taniguchi, and really enjoyed the collaborative process of putting that video together, and so then sought out Metahaven, who we'd been in touch with for some time out of aligned interests. Basically most art production at a certain high level is collaborative, and I think it's just part of our idealistic view on the world that this be transparent and celebrated. Beyond that, when we were coming up with the vision for Platform it also felt very necessary as a political gesture to make a point of the project being aligned with certain political interests, and a politicized way of working and acknowledging others. Working this way has changed my life, and made everything more fun and exciting without diminishing the importance of any individual contributions. It makes for better results, I feel, better general feeling, and also creates these very tangible collaborative connections between fields. It's also just an interesting experiment to run in music when it feels like so many sonic experiments have been done to death – I'm personally interested in how decentralized practices, collaboration and connectivity, can change the construction and dissemination of music, and ultimately it's power to be a force in the world.
HH: It sometimes feels like our society is 'every person for themselves'. We promote hyper individualism at the cost of the planet and social health, and the music industry largely parrots this mentality. We realized how problematic this is, and if we are going to be true to ourselves, then the practice should reflect that concern. It's been a learning curve for me; learning to not control every single aspect (I tend to micromanage), to hear other opinions, to let go, and not feel threatened if someone else's idea is better than my own. Releasing my debut album solo was an important step in building my confidence, however ultimately the work itself is the most important, and not the ego. Not to mention that we spend a lot of time on computers, which can be lonely, so working with other people helps us to unplug and see the world around us a little more.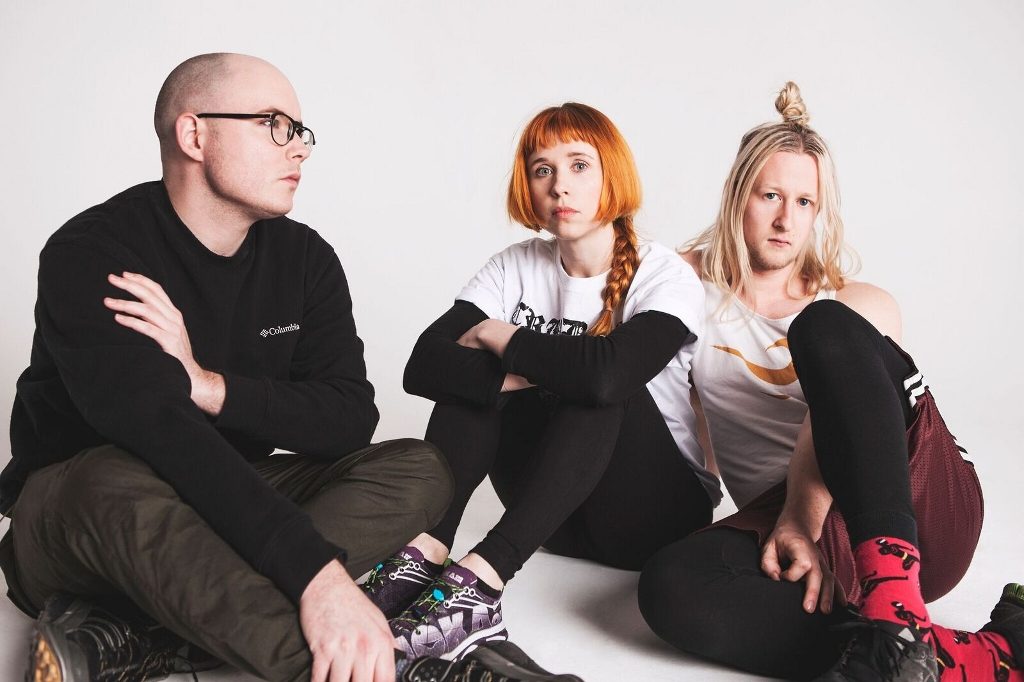 MG: In a world that traditionally, economically and politically, supports the values of individuality above community, or peer to peer collaboration. How did the audience, the music industry, and others in the world (presuming they have) come to terms with this adventurous, creative intention?
HH: It was varied, but overwhelmingly positive. When we were doing press around the record, it was difficult to get some journalists to write about the other artists and thinkers that I was collaborating with, or even just referencing. Those that understood the gesture really embraced the idea, and that successfully provided a platform to highlight everyone's work.
There are a few industry complications; for example, the project is released under my birth name, so in some ways I am still at the centre of the orbit, which is a problematic professional necessity, but also helps somehow. We used the idea of the Trojan Horse a lot, as in a way my easily understood singular presence served as a gateway into this whole other universe of people. It's a balancing act, as in various different scenarios you feel different expectations as to what the industry wants; on a pop level they want a simple narrative of my face, and tend to focus on often mundane characteristics such as my gender and education. On other levels you see that the experiment has opened up a different narrative potential, where people's interest in the record and it's cast forks off into the direction of their choosing.
It's really noticeable live, where the audiences have been really supportive. After the shows you experience all kinds of people who come along, hanging out with different people who were on stage – Mat has his own audience somehow, and the same with Colin Self, who often tours with us. As a result of opening up the process and allowing the full breadth of interests and approaches to shine through a little more than is standard, at different shows we have people come up to talk to us about the music, or nerd out about cryptocurrencies and ICO's, or Chelsea Manning. It feels meaningful, and gratifying for that. We always address the location of the show, whether through the visual or sound, and try to always be alert and responsive. It's a special privilege to share that time with people, and I think that the concept comes across quite effectively in a live situation as each individual serves a very different purpose in constructing the collective experience.
MD: I think that Platform was received really well. Holly opening up her practice didn't diminish her signature on the artworks, and I think that it has really won a lot of people over. I think you can feel at our shows that we have a greater principle to what we do, and I think it has maybe made a lot of space for people to conceive of their own experiments and maybe not be concerned at how being ambitious on a conceptual level will affect the ability for the art to travel in the world. Naturally there is also a throttling effect within aspects of the creative industry, where maybe they didn't want to deal with the bigger ideas around the record, however I feel that the music is strong enough to kind of live in those circles without knowing the story behind it. Overall I think people were refreshed and encouraged by the idea, and transparency of the whole thing. For us now it is a way of being. In my mind, there is more room for individuality to shine when you can guarantee that someone's work and ideas will be respected and celebrated. The canon of artistic history has omitted so many people's ideas and contributions for the purpose of having a simpler market narrative, and yet we live in a time when people can and want to dig deeper, and perhaps have a greater capacity for complexity of information – so we want to try and harness that for something positive. Particularly given our interests in subcultural music history, software, crypto etc. there is really no other option but to put the community first. Without community literally none of this exists. Zero. All of our talents and ideas have been incubated in community environments, so channelling that legacy is important.
MG: On Platform you released the track called DAO. I am always interested in shifts between the use of technologies as metaphor and as tools that change practice. So, what was interesting to you about Decentralized Autonomous Organizations (DAOs)?
MD: I'll let Holly talk more about where DAO came from, with the telematic performance work she was doing at Stanford. Regarding the blockchain, I've been developing my own decentralized publishing framework for the past few years, that shares a lot of the same principles as the Ethereum logic, and I'm looking to have it interact with the blockchain in its next iteration. A lot of the spirit behind the crypto community is so synonymous with the models of collectivity we have already been exploring in our work that it's the logical next step. I'm particularly interested in what this architectural/infrastructural new capacity can mean for the medium of music itself. With Saga you have this whole other performative dimension added to media with the ability to version work, fork it, and have it perform in real time to it's surroundings online, which I think is a whole other proposition for the medium very much worth exploring. It's also fascinating regarding the question of attribution and collaboration, as we have grown to understand that the web as it stands currently is very much designed to privilege those who appropriate and curate others creative work and ideas for free – mirroring greater society, it is a winner takes all environment. I want systems of virtuous attribution that do not consolidate the DRM era of copyright takedowns, but instead build markets and new interactions around collaboration, augmentation and live interaction. There is so much more that could be done, and a lot of the blockchain tech emerging offers clues as to how we can get there quickly. There are also a lot of old ideas masquerading as something shiny and new, so you kind of have to read the small print to distinguish what is a genuinely new proposition, but it is our job as members of marginal communities to educate ourselves and anticipate the best options.
HH: DAO came out of a piece that I wrote called Crossing the Interface, with a libretto by Reza Negarestani. The piece was my first venture into telematic performance, where a soprano (Amanda DeBoer) was in another geographic location, but the audience could hear her physical body moving throughout the space using ambisonics. I wanted her to be hyper present, and physically super human, moving in ways impossible to a human body, to be able to be in multiple places in the room at once, as eventually her voice and her body separate, stalking the room. I was trying to find a way to make something so clearly highly mediated, feel extremely personal and embodied at the same time, which seems appropriate for the DAO concept as it exists in the world – this simultaneously complex and distributed network that is also hyper intimate and moves with collective intent.
The vocal work that Amanda delivered while workshopping that performance was really great, so I used some of those outtakes for the vocal work in DAO. With the instrumental I was simply just trying to capture an atmosphere, a heavy energy with lots of wide stereo movement. It's also really fun to play live with Colin, because he sings the soprano line with live processing, which creates a nice contrast of heavy electronics with extremely expressive alien vocals, taking the entire gender spectrum and contorting it into a circle.
MG: Do you have any plans to formalize any part of your creative collaboration to work on the blockchain?
MD: Holly and I are starting a studio after we finish this next album to more formally develop work and devices that exist in this new frontier, as it has been so instrumental in our discussions for the past few years. I describe it as a frontier deliberately, as if we are to task ourselves with actually experimenting with our work then it feels almost like a duty to get our hands dirty in these areas. We have already started work on two new projects in this domain, but it's hard to tell when they will be ready to show to people, and what shape they will eventually take.
MG: OK. Last question, in light of the current suppression of the spirit of humanity by despots, and the rich buying up democracy for their own ends, what part do you see artists playing in the world of blockchain, to disrupt the regurgitation of an already bankrupt system?
MD: IMHO, there are two dimensions to this. First, I encourage artists to become familiar with the language and potential of blockchain technology, as there are a lot of opportunities to attempt to re-engineer how we experience, transact and grow community in the arts outside of centralized traditional channels. Real money is being made, and there is a lot of good will amongst the crypto community who invest faith that better systems can and will be constructed using these logics.
I also encourage artists to develop some fluency around the blockchain ecosystem, for exactly the reason that there needs to be wary and critical voices guarding the community from the business-as-usual corporate crowd, who are increasingly flexing their muscles and influencing the course of its development and maturity. By getting involved early, and being vocal, there is an opportunity to intercept plans for how this next internet runs, and who ultimately it will benefit.
The best case scenario is that we can develop our own systems along the blockchain to change music and the arts for the better. Alternately, we need critical voices active within these conversations to avert the worst case scenario of power consolidating itself even further outside of the greater public awareness.
I should say that the third wild card possibility is that blockchain technology is inherently flawed and infeasible once it has been properly stress tested at scale. Irrespective, if your mandate is to be experimenting, and abreast of where things may be going, there are fewer areas of interest more dynamic and potentially transformative. It's a lot of fun to think about.
Most households have an unsolved Rubix Cube but you can easily solve it learning a few algorithms.
Plantoid (2015) by Okhaos is a self-creating, self-propagating artwork system that uses blockchain technology to gather and manage the resources it needs to become real and to participate in the artworld. Structured as a Decentralised Autonomous Organization (DAO), once it is set in motion the code of the Plantoid system combines the functions of artwork, artist and art dealer in a single piece of software.
As its name implies, the physical Plantoid artworks are cyborg-looking welded sculptures of flowering plants. Flowers are a popular icon of naturalised aesthetics in art and culture. Their aesthetic and art historical appeal makes them an effective subject for subversion. Radicalized flowers wander through recent art like triffids through the English countryside. Helen Chadwick's "Piss Flowers" (1991-2) are a proto-xenofeminist riposte to idealisation of nature and the body. Mary Anne Francis's "The Blooming Commons" (2005) combines the ideas of organic and creative fecundity to help artist and audience consider how making art open source affects its aura. Plantoid can easily be cast in this tradition.
The physical form of Plantoid is determined by its blockchain presence, which represents an advance on the state of the art. The Bitcoin blockchain is a database that represents control of resources. Most simply these resources are amounts of Bitcoin but we can encode information representing other resources – and the right to control them – into the blockchain as well. Current general purpose Bitcoin blockchain-based systems such as Counterparty can easily represent tokens for games, for reward and voucher schemes, or for stocks and shares. Placing these on the blockchain does not magically improve them over existing means of issuing them but it does reduce their barrier to entry and make securing and maintaining them easier. It also defamiliarises them by placing them in a new context and makes them accessible and thereby inspirational to new audiences. Melanie Swan turns this idea up to 11 in her excellent survey of the state of the art and its future potential "Blockchain", describing the application of the idea of blockchains ultimately to the global economy and even the human mind.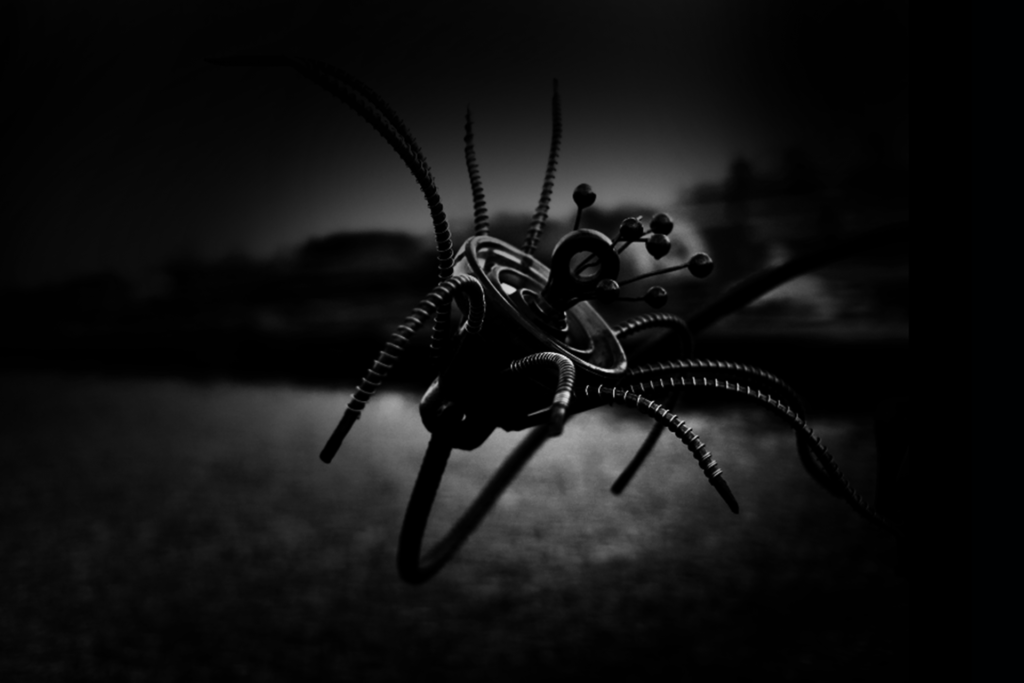 Beyond tokens, the blockchain can be a cheap and effective database of existing property and rights, including recording Free Culture licensing. It is simple to create such a system, I made the first one for artworks based on Ethereum myself. It cannot be an effective means of policing DRM (as DRM is inherently broken) and must not be treated as a means of rolling back the limits of and exceptions to the existing property and copyright regimes or of creating new entitlements ex nihilo. This would turn a technology with great (if contentious) potential for liberation into a tool of exploitation. Making a GIF of Apple's new emoticons and selling the blockchain title to it for $250 reflects existing social pathologies rather than new technological or artistic affordances.
The technobiophilic machine-nature-form hybrid nature of Plantoid is described by Okhaos in terms that cast cryptocurrency as metabolic and reproductive resources. To quote the project page:
Perhaps the initial Plantoid will need $1000 to fully turn into a blossom. Whenever that particular threshold for the Plantoid is reached, the reproduction process starts: the Plantoid only needs to identify a new person or group of persons (ideally, a group of artists) to create a new version of itself. Given the right conditions, the Plantoid is able to manufacture herself, by executing a smart contract that lives on the blockchain, and has the ability to commission welders, companies, and other beings to build and assemble a similar being.
It's here that we see how Plantoid represents an advance on existing systems. The parameters of each physical Plantoid are encoded on the Ethereum (rather than the Bitcoin) blockchain as smart contracts, representing the economic and manufacturing logic and the aesthetics of its production as a kind of genome. Plantoid is an active artistic production agent rather than a passive registry of existing art.
The defamiliarising effect of the blockchain allows us to unbundle the collections of rights and responsibilities that make up roles within the mainstream artworld. Paying for the creation of art, its storage and restoration, transport and exhibition. Inspiring, designing, manufacturing, promoting, experiencing, critiquing and art. The artist, the gallerist, the critic, the installer, the attendant. A new territory like the blockchain allows us to shake things up rather than to try to double down on existing relations and distribution of wealth in order to extract new rents.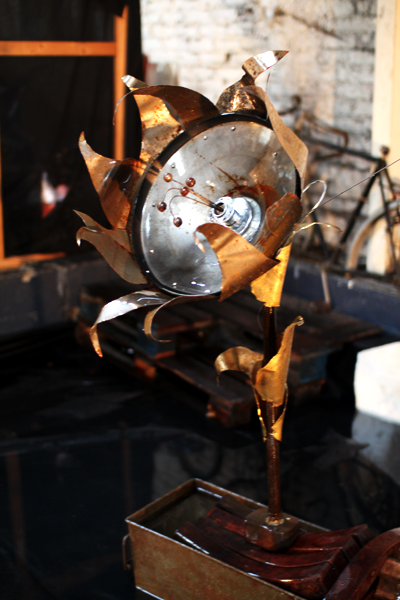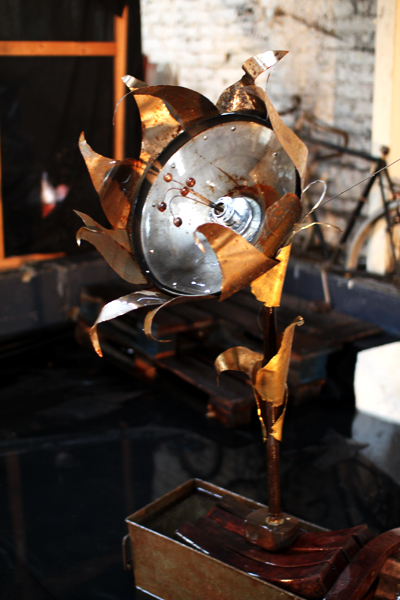 Plantoid opens up the roles of artistic production in precisely this way. It uses the structure of a DAO to incentivise the funding, governance, production, exhibition and reception of Plantoids in a virtuous circle (a positive feedback loop of production). None of this confers ownership or property rights over the physical Plantoid artworks on individual human beings. Their relationships are closer to those of patronage, crowdfunding, or tipping but unbundled further. There are technological precedents for this such as the way Aaron Koblin's "The Sheep Market" (2008) commissions drawings from clickworkers, Caleb Larsen's "A Tool To Deceive And Slaughter" (2009) manages its own sale, the way Bitnik's "Random Darknet Shopper" (2014) orders goods for delivery to the gallery, or Imogen Heap's release of the single "Tiny Human" (2015) using Ethereum smart contracts
From the project page again:
Plantoids are part of an ecosystem of relationships that is powered by two driving forces: aesthetic beauty and automated governance. Plantoids subtly motivate these interactions, partly through their form and physical beauty, but also by empowering people to participate in their governance. Participants (that is, active members of the DAO) are able to decide on such things as where the Plantoids may be exhibited, whom they might visit, and exactly how they are to be reproduced.
When it receives funds by the audience, the Plantoid evolves and turns into a more beautiful flower, by e.g. moving around a means to gratify the donor and progressively opening up its petals as more and more funds are stored into its wallet. Once enough funds are secured, the Plantoid can use this money to reproduce itself, by commissioning a third party to produce a new Plantoid.
The smart contracts that instantiate these relationships contractually direct human actors to govern the DAO, to manufacture new Plantoids, and to exhibit (and return) the work. The danger of such DAOs is that of any embedded socioeconomic intent – whether corporations, charitable trusts or high frequency trading bots. We may end up with an economic Skynet that reduces us to peons in an algorithmic gig economy, any reflection of our actual needs or desires (such as to make art) perverted by the incentives encoded into an inhuman system. Plantoid exists to ensure the production of art, and its realisation by human artisans. Given the rockstar economics of the artworld and the continued collapse of socioeconomic support for artists outside it that production is badly in need of new means of continuance. The art-economic equivalent of "grey goo" – polychrome goo? – or Terminators armed with spraycans rather than phased plasma rifles seem much less likely scenarios than art DAOs becoming lifeboats or TAZes for the funding of art that is not simply decoration for the 1%. Plantoid's explicit involvement of human producers in a comradely relationship makes it more a node in the network of collaborative and mutually supportive relationships in the peer economy than an Uberization of artistic production.
Any gap between the ambition and the technology of Plantoid can be crossed by its autopoeitic nature. Ethereum contracts cannot yet manage Bitcoin balances, for example, but using Ethereum's existing native cryptocurrency "Ether" or one of the proposed systems for managing Bitcoin accounts from Ethereum would address this. Art's function here, as in its development of religion at the dawn of history, is to create demand for the development of new means of production and relation that a dryly complete rational plan could not reach. Appropriately enough for such a hyperstitional work I discovered it via the blog of renegade philosopher Nick Land.
Without wishing to ventriloquise or reframe its achievements, Plantoid is an exemplary realisation of the potential of mutual interrogation and support of art and cryptocurrency. It's an art project that uses cryptocurrency and smart contract systems to materially support itself. And that project makes the still abstract potential and operation of cryptocurrency and smart contract tractable to consideration through art. I for one welcome our new hyperstitional DAO artwork overlords.
This work is licensed under a Creative Commons Attribution-ShareAlike 4.0 International License.