I met Eugenio Tisselli in Edinburgh at the Remediating the Social conference in November 2012. Eugenio gave a presentation on the project Sauti ya wakulima, "The voice of the farmers": A collaborative knowledge base created by farmers from the Chambezi region of the Bagamoyo District in Tanzania, and "by gathering audiovisual evidence of their practices they use smartphones to publish images and voice recordings on the Internet", documenting and sharing their daily practices.
I was struck by his sensitivity to the social contexts and political questions around this type of project engagement. This interview explores the challenges we all face in connecting to a deeper understanding of what technology can succeed in doing beyond the usual hype of the 'New' and its entwined consumerist diversions. Not only does the conversation highlight how communities can work together in collaborating with technology on their own terms. But, it also discusses the artists' role in the age of climate change and the economic crisis, locally and globally.
Marc Garrett: Can you explain how and why the Sauti ya wakulima, "The voice of the farmers" project came about?
Eugenio Tisselli: Sauti ya wakulima is the fruit of my collaboration in the megafone project, started in 2004 by Catalan artist Antoni Abad. During six years, we worked with different groups at risk of social exclusion, such as disabled people, immigrants or refugees. The idea was to provide these groups with the tools to make their voices heard: smartphones with a special application that made it easy to capture images, sound recordings or short videos, and a web page where these contents could be directly uploaded. Using these tools, the participants of each project were able to create a collaborative, online "community memory", in which they could include whatever they considered to be relevant. Although megafone was relatively successful and, in some cases, made a positive impact on the people who participated, I was worried that the project was becoming too dispersive. We worked in six countries, with extremely different groups. So, in 2011, I decided to follow my own path and apply a similar methodology into more focused projects, related with sustainable agriculture and environmental issues. I realized that the projects which sought to increase the empowerment of a community could become too complex for a single artist to handle. That's why, in Sauti ya wakulima, I'm not "the artist", but a member of a transdisciplinary team which includes biologists, agricultural scientists and technicians. Such a team came together after my PhD advisor Angelika Hilbeck, my colleague Juanita Sclaepfer-Miller and myself came across the possibility of working with farmers in Tanzania. The network formed by local researchers, farmers and ourselves was quickly formed, so we started the project on March, 2011.
MG: I find it interesting that you made the decision to put the role of artist aside. This reminds me of a discussion in Suzi Gablik's book published in 1995 'Conversations before the end of time'; where James Hillman in an interview talks about learning to refocus our attention from ourselves and onto the world. Further into the conversation Gablik says "In our culture, the notion of art being a service to anything is an anathema. Service has been totally deleted from our view point. Aesthetics doesn't serve anything but itself and its own ends".[2]
So, I have two questions here. The first is how important was it for you to put aside your status as an 'artist', and what difference did it make?
And, where do you think you and others may fit when considering the discussion between Gablik and Hillman?
ET: It is important for me to make it clear that I didn't abandon my role as an artist. Instead, I fully assumed my status, but only as a member of a transdisciplinary team. I believe that this may be a point of departure from the classical view of the artist as a "lone genius", which is closely related to the discussion about service in art. So I'll try to interweave both questions together. In a recent publication, Pablo Helguera aimed to set a curriculum for socially engaged art. He identified the new set of skills to be acquired by the artists, and the issues they must address when dealing with social interaction. But, as Helguera suggests, perhaps what's most important is to overcome the "prevailing cult of the individual artist", which becomes problematic for those whose goal is "to work with others, generally in collaborative projects with democratic ideals." [3] To me, this implies that the artist must give up control of the work to a certain degree. I find myself in this scenario, and I think of my role in Sauti ya wakulima as that of an instigator and coordinator. Furthermore, all of us involved in Sauti ya wakulima aim to effect actual changes in the lives of the participating farmers, rather than obtaining purely symbolic results. Our project is a socially engaged artwork that wants to be useful, to deliver a service.
We are living in urgent times, beyond any doubt. Looming global challenges, such as climate change, radically cancel the luxury of being useless, of not doing anything. This includes the artist who, as any other citizen, is called to use his or her abilities to help in preventing a catastrophe. I especially like Franco "Bifo" Berardi's proposal about the new task that the artist might assume: that of reconstructing the conditions for social solidarity. This work of reconstruction would oppose competition, a value often found in the markets that deal with self-referential, self-serving artworks. Solidarity, writes Berardi, is neither an ethical nor a political program, but a pure aesthetic pleasure [4]. In my opinion, the artists who still embrace the idea that art should only serve its own ends will become those who play the lyre while our world burns.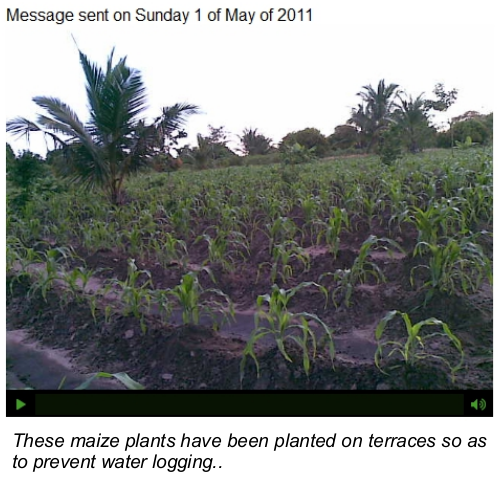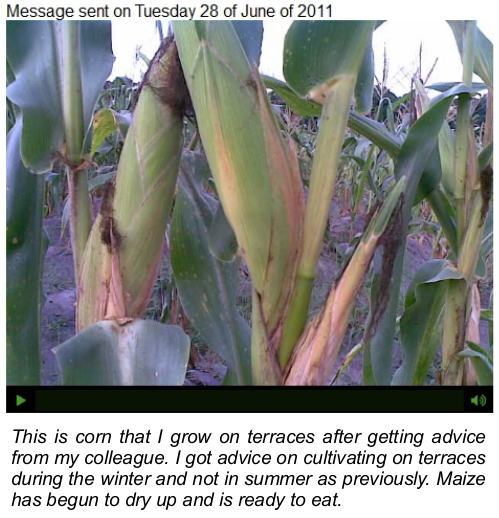 MG: What kind of behaviours began to emerge once the farmers took control of the smartphones supplied?
ET: It was quite interesting to see that the farmers started to use the phones for purposes which were different from those that we had originally proposed. This happened very soon after the project started. Only one month had passed, and the farmers had already started to go beyond merely documenting the effects of climate change. They interviewed other farmers, and asked them all sorts of questions about their crops and agricultural techniques, their opinions and views. In short, they slowly laid out a web of mutual learning. This was a real eye-opener for us. As we began to observe this, the environmental researchers in the team became worried that the farmers were deviating from the goals that we had set. I wanted to leave room for this deviation, as I was particularly interested in studying the process of technological appropriation. So I had to convince the researchers that we should leave enough room for the farmers to freely explore the potentials of the smartphones. It was not easy but, in the end, negotiating the tensions between a goal-oriented and an open-ended research turned out to be quite fruitful.
On one hand, the farmers found that they could shape the project to fit their interests which, as they said, were to "learn about what other farmers in remote areas were doing." On the other, the researchers finally realized that the images and voice narrations posted by the farmers were an invaluable source of information about what was actually going on in the farms and within the communities. Sometimes, agricultural initiatives may be designed with an insufficient understanding of the social context in which they are applied. By allowing the farmers to publish a wide range of topics, Sauti ya wakulima became a "community memory" that reveals rich details about farming and the social life of rural communities in Bagamoyo.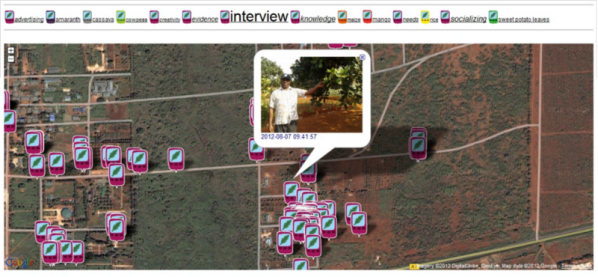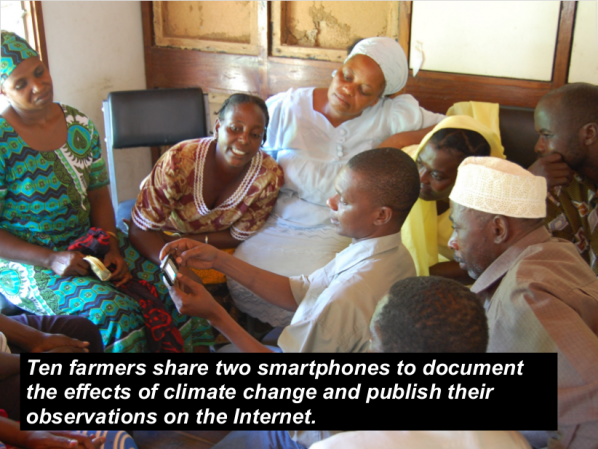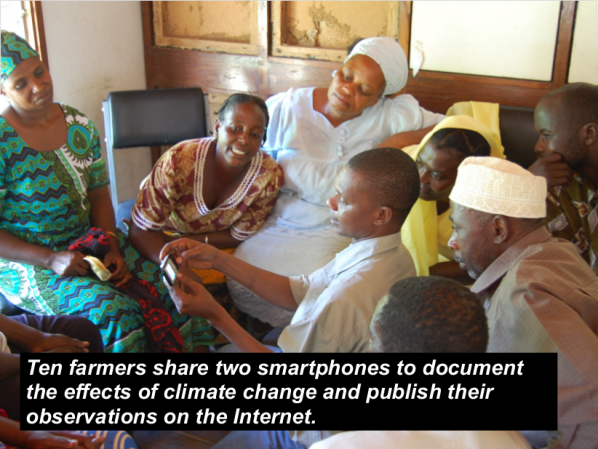 MG: In your presentation at Remediating the Social, I remember a quote from one of the farmers saying "The project helped me learn that phones can be used for other things besides calling people, and that computers can also be used to solve problems: they are not just a fancy thing for the rich people in towns." What's interesting here is, these words could be said any where. And that our consumer orientated culture could still learn a few things regarding uses of technology.
What lessons can the farmers teach 'us' in a culture where computers are part of the everyday life?
ET: I have interpreted this particular quote in two different ways. The first, most obvious one, is that the farmers discovered that the smartphones and the web can be useful tools, which may be shaped and adapted to meet their needs. For many of them, Sauti ya wakulima was their first chance at trying out these technologies. And, happily, the project showed us all that they can become an important ingredient in making farmers' lives a little better.
However, my second interpretation is not as optimistic: in the quote, there is an explicit comparison between the (poor) farmers living in remote areas and "the rich people in towns." Moreover, the fact that smartphones are explicitly considered as fancy devices points towards issues which need to be handled very carefully. In every part of the world, technological gadgets are quickly becoming symbols of social status. Currently, I am working in a rural zone in southern Mexico where cellphone coverage was nonexistent only two years ago. But as soon as the first antennas were installed, young people in those communities started buying smartphones, and now there is an open competition to see who has the fanciest one. A similar thing happens in Bagamoyo.
So, of course, smartphones can be useful tools, but they can also bring more consumerism into poor communities. This is very dangerous. I'd like to stress that, in our project, the smartphones are used as shared tools. This means that there is a limited number of devices available, and everyone must have a chance to use them at least once. I believe that this is a small but significant contribution towards diluting the extreme individualism and consumerism that are closely linked to these technologies.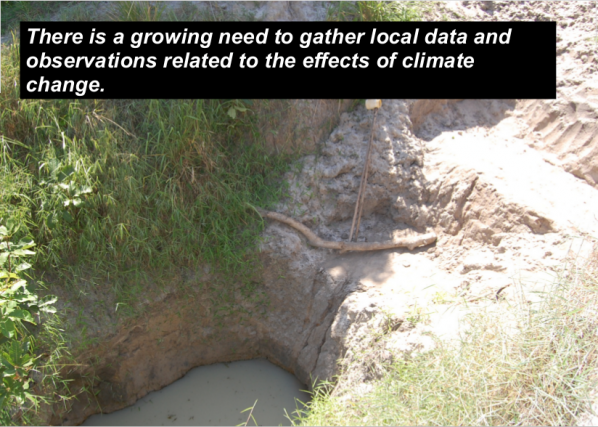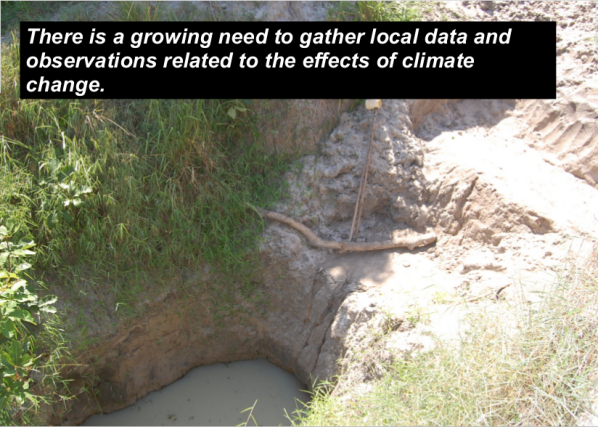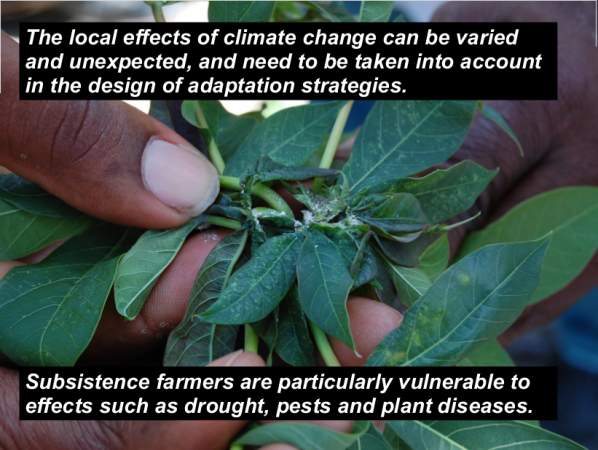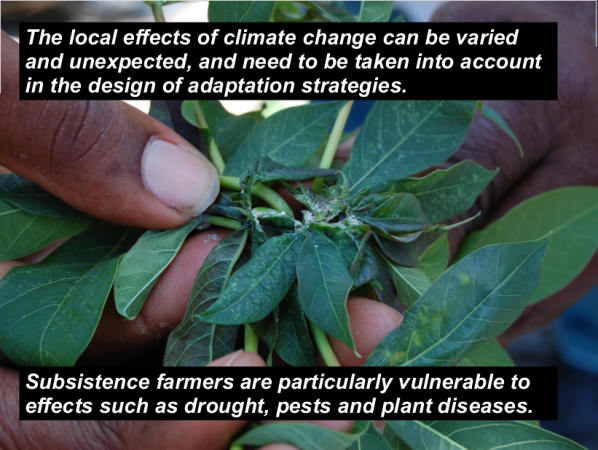 The farmers I have met in Bagamoyo have a very strong sense of community. Although their farms can be very far apart, sometimes with no roads between them, they still get together very often. They work together, learn together, have fun together. That's the biggest lesson I've learned: we need each other's presence. Quoting "Bifo" again, we are living in a time of precarization of the encounter of bodies in physical space. I agree with him that the most important poetic revolution has to be the re-activation of bodies. The farmers, with the great efforts they make to get together, and the great joy they find in doing so, have taught me a great deal: I need to get out of Facebook and step in to the "here and now", together with others.
MG: What has this experience taught you. And how will it impact your future practice as an artist?
ET: I have partially replied to the first part of this question. But besides learning how to re-dimension the importance of computers in my life, I have also learnt a lot about agriculture. This is not a minor thing for me: after all these years of living in big cities, and realizing that I lack a basic connection to the earth, I believe I have found the best possible teachers. Of course, I've also learnt a lot about how to work with non-expert users of technology. This has made me better as a teacher. And, as you can imagine, many of the things we take for granted at home won't necessarily work in Bagamoyo. So, doing projects in difficult environments has taught me to adapt, and to transform things that escape my control into opportunities. All of this changes me, not only as an artist but as a human being. My artistic practice is already quite different from what it was before Sauti ya wakulima. I have adopted a very critical position towards technology. Now, this is also a major shift: I started programming creatively when I was ten years old, and have been a media artist almost since then. But I feel I can't go on with those artistic explorations, knowing what I know now. Consequently, last year I wrote and published a small note explaining why I stopped creating works of e-Literature, a field in which I was involved for more than ten years [5]. That was both a closure and a point of departure. Let's see what the future brings.
Excerpt from 'Why I have stopped creating e-Lit' by Tisselli (November 25th, 2011)
Dear friends: this morning I went for a walk along the Naviglio Grande in Milan, and I entered a shop selling second-hand books. There I found a small book, "The Computer in Art", by Jasia Reichardt, published in London in 1971. The book described the works of pioneers of Computer Art, such as Charles Csuri or Michael Noll, who were active at that time. A real gem. But the biggest surprise came when I turned to the last page, on which the previous owner had written: "I married on 23, November. I would like to be a man, not artist, not engineer, a man."
I took the book with me.
Notes And References:
Those involved in the Sauti ya wakulima / The voice of the farmers project.
The farmers: Abdallah Jumanne, Mwinyimvua Mohamedi, Fatuma Ngomero, Rehema Maganga, Haeshi Shabani, Renada Msaki, Hamisi Rajabu, Ali Isha Salum, Imani Mlooka, Sina
Rafael.
Group coordinator / extension officer: Mr. Hamza S. Suleyman
Scientific advisors: Dr. Angelika Hilbeck (ETHZ), Dr. Flora Ismail (UDSM)
Programming: Eugenio Tisselli, Lluís Gómez
Translation: Cecilia Leweri
Graphic design: Joana Moll, Eugenio Tisselli
Project by: Eugenio Tisselli, Angelika Hilbeck, Juanita Schläpfer-Miller
Sponsored by: The North-South Center, Swiss Federal Institute of Technology – Zürich
With the support of: The Department of Botany, University of Dar es Salaam (UDSM)
[1] Megafone.net is a platform which can be useful as an alternative medium of communication for groups, collectives and associations who wish to organize themselves in order to project their own views and opinions, and counterbalance the negative stereotypes that the mass media disseminate when referring to them. Among its features, you will find geo-localization, which allows the carrying out of digital public cartography projects.
[2] Suzi Gablik. Conversations Before the End of Time. Thames & Hudson. 1995. p 196.
[3] Pablo Helguera. Education for Socially Engaged Art. Jorge Pinto Books, New York. 2011. p 4.
[4] Franco "Bifo" Berardi. Perché gli artisti? MACAO è la risposta. Sinistrainrete.
http://www.sinistrainrete.info/cultura/2074-franco-berardi-bifo-perche-gli-artisti-macao-e-la-risposta.html (viewed 26.11.2012)
[5] http://netartery.vispo.com/?p=1211
I
near perfect and altogether exhilarating
Sam Renseiw and Philip Sanderson's Lumière & Son project is a near perfect and altogether exhilarating sequence of moving image lyric poetry (though lyric here does not exclude humour or the grotesque) and a demonstration of how seriality and fragment – an unfolding over time, the diaristic – has quietly become one of the fundamental modes brought stage centre by the network (so much more than the rather dull 'interactive' which has so quickly become the standby of the monetised digital). Impossible to watch one of these pieces without the desire to watch just one more.
The set (which lives online but has been shown offline in whole and part) and its component pieces, moreover, are studies in various interesting things: the liberating effects of constraint and collaboration and what those both demand and imply; also of randomness, or perhaps better, the loose, the dashed off, differing degrees of accuracy in such collaboration (also the apparently dashed off, the apparently loose [also the apparently synchronised or ordered]).
II
to start with, a little history
To start with, a little history. In 2007 two young members of the digerati, Andreas Haugstrup Pedersen and Brittany Shoot, invented a form and threw down a gauntlet. The form, in fairness, was not exactly new – over 100 years old, actually – but its re-contextualisation within the digital realm and more particularly on the network was, without exaggeration, a stroke of genius[1]. It involved taking precisely the constraints affecting the films of the cinema pioneers, the Lumière brothers, and applying these to contemporary online video work. Films or videos of exactly one minute, fixed camera, no sound, no zoom, no edits. Such videos dubbed, naturally, 'Lumières'. There was clear recent precedent in the constraints of the Dogme movement of Von Trier and others but the project also drew on the various little-bit-art-little-bit-geek, young, playful cultures which abutted and intersected the more formal area which we called, for a while, 'net-art', and which thrived on a sparky and often competitive and showy overcoming of the early net's limitations of file size and bandwidth – projects like 5k.org, 10secondfilm.com spring to mind.
Additionally, because the start of modernism still does not really seem all that far away, early film was a natural reference point for many wrangling the early internet as art tool and channel both.
We responded viscerally to the sheer, almost willed-into-being, expressivity of the ad hoc devices and solutions of early film and this fitted snugly with the bodges we ourselves were employing. It gave us confidence, too, that our ducking and diving too could be expressive but also it confirmed a certain tendency to lo-fi-ness there in the zeitgeist. (I speculate – a lo-fi-ness which helped to define and declare art – useless, beautiful and human – as against the slickness of corporate design, communication and advertising… This has persisted remarkably – note the thriving on-going cult of the animated gif)
That was the form. The challenge – make some. Embrace that 100+ year old limitation and do something engaging with it. Push the form as far as it will go.
Pedersen and Shoot set up a web site where all contributions would be aggregated and indexed (in retrospect, somewhat unfortunately, by links rather than copies held on their server – much work of historical significance has already vanished. Shoot and Pedersen themselves have moved on and the site has a Marie Celeste feel). In addition to the site itself, there was a Lumière manifesto which, personally, I found a little narrowly focussed. Shoot and Pedersen seemed to invoke a near ethical dimension to the return to first principles and in their own moving image practice confined themselves to work (much of it very good) entirely within this discipline. It was clear from the huge response of other artists and film-makers though that the form clearly answered a diverse set of pressing needs. For some it was a cleansing activity, for some a sketchbook, for others a spur to invention and for others still, a challenge in the sense of "How can I observe the spirit of the rules whilst actually driving a coach and horses through them?"
Although the Lumière made next to no impression on the 'official' world of art video (one speculates – cynically, perhaps – too democratic and available to anyone with a cheap camera, too ontologically opposed to the expensive grandeur of high concept, too hands-dirty in a world where artists aspire to hire videographers and editors to realise their art; in short, too lacking in the conspicuous consumption that validates much contemporary work), it was enthusiastically taken up by a mixed bag of videobloggers and artists excited by the idea of video specifically made for the net.
III
lumière
An immediate adopter and one of the most enthusiastic and prolific makers of Lumières was the Danish architect, educator and thinker, Thomas Wiesner, who operates in online video as Sam Renseiw and maintains a quirky and engaging site called Spacetwo: Patalab. Renseiw (as he prefers to be known in a video context) is a maker of numerous very singular small video works, which evince his keen interest in space and movement within spaces. (He teaches not only architecture but also a course for dancers involving approaches to conceptualising movement in space). I'm not sure Renseiw completely understands how original his work is. It is characterised by a joy in careful, quizzical looking (and a spontaneity in finding or being gifted subjects for such looking, assisted enormously by the continual development of more portable and discreet video cameras). It is, in terms of the formal art world deeply unfashionable. Personal and diaristic, it eschews the grand concept and extravagant and expensive execution and is all the better for this.
Renseiw has a profound sensitivity to space and to how people and objects move along variously restricted and open trajectories but he is mindful too of what the 'actors' in these found scenarios, set out to do and in fact achieve as human beings. The gap between aim and reality provides fertile ground for Renseiw's dry and humane sense of humour, which is never far distant.
Significantly his prolific Lumière making (337 at the time of writing) sits side by side with longer (though still lapidary) works with music, editing and the other things the Lumière eschews.
Renseiw's Lumières are characterised by a number of quite distinctive things. Something that unites them all is a quite extraordinarily heightened sensitivity to both colour and composition, which formal feature hits us forcefully in the moments even before we begin to decode any content or action. Formally striking too is the way in which a number of the pieces are composed so to as to allow for action in the near, middle and far distance, sometimes in different sectors of the frame, sometimes simultaneously in a kind of layered visual counterpoint and sometimes spread out temporally. My imputed intentionality here is somewhat problematic, though Renseiw confirmed to me that he shoots much more material than he uses and that he will select a particular minutes worth of material from longer sequences so on two counts there is a rudimentary (though nominally forbidden) editing process occurring. A quick comparison with Lumières by other film-makers will however confirm that Rensiew's singular vision distinguishes each of his pieces from the off.
Other signatures are extremely low, oblique or occluded camera positions, into the fields of which parts of human bodies mysteriously intrude. This sounds clinical. Curiously it is the opposite. Redeeming it is a genial humour which allows the part to stand for the whole – we perforce imagine the entire human being whilst smiling at the V-effekt with which we are presented – for example a pas de deux for a pair of woman's black leather boots (on the ends of beyond-the- frame legs) and the four paws of a black dog – randomness, clumsiness, near misses, narrow escapes and – we just know because we are human – purposeful activity. Human life, in short.
Another defining stamp is a musician's sensitivity to rhythm and tempo – rhythm as manifested both as near metronomic regularity – someone's gait, traffic flow, a hammer, for example, with either disruptions – slowings down, speedings up, pauses, stutterings – to that regular pattern, or polyrhythms created by other simultaneous independent near regularities and variations therefrom.
There are three loose categories into which Renseiw's Lumière work could be said to fall (of course they're by no means entirely mutually exclusive) – we'll call them the loop-able, the documentary and the performative. The loop-ables are kin to the still photograph, are often of natural phenomena or repetitive but irregular human engendered activity where one could imagine the minute's imaging infinitely, hypnotically extended – the flashing light patterns in Belisha Code for example. The documentary tag applies where the topic itself might be assumed to have some independent interest, for example the workers transporting away in a sling Copenhagen's Little Mermaid for a trip to Shanghai's 2010 expo in Speaking Voice or Michelle Obama's motorcade in Rite of Passage. In what I've called the performative, richest of all in my view, an amazing amount of stuff happens. And everyday stuff happening and rendered vital by keen eye, framing and selection rather than something we might have known to look out for, is key. The differently distanced layers referred to earlier partition the frame physically or the piece temporally and unexpected things happen against and within them. We participate in these dynamically as viewers – we view this strange jigsaw world and complete it mentally; sketch a world beyond which is not simply our lived world but that world somehow leavened with Renseiw's odd and warm sensibility.
I've written pretty glowingly about these Lumières – constrained, silent but surprisingly un-austere and you could well think that to add sound, music or both and several layers of these to boot might be over-egging it all somewhat. So one would think, but I have complimentary things yet to say about skill, tact, panache, flair and sensitivity and they are heading the way of Philip Sanderson, Renseiw's musical/sound collaborator in the extended Lumière and Son project.
IV
and son
Renseiw's Lumières are, I hope I've established, rich, dense, multi-layered but remarkably uncluttered works. A number of these pieces approach as closely as possibly the condition of music whilst remaining wholly without sound. It might seem superfluous or an act of hubris to add sound to them, the consequence of which could be to render leaden, stiff and fixed what is light, playful, complex and turns on a sixpence.
With the exception of a couple of near misses Philip Sanderson's sound and music additions triumphantly avoid this trap and indeed deepen those rich and quicksilver qualities.
It's important to note that what Sanderson contributes is all found or appropriated material – it's possible he's added original material in, I don't know, but it's not a significant chunk if he has – he certainly reworks much of it intensively, usually in the form of a mix of several layers of sound, some musical, some textual. (And we should note that Sanderson's wit and deftness is literary as well as musical).
The deployment of sound gains enormously from Sanderson's huge and eclectic range of knowledge, reference and enthusiasms. There's a cooking metaphor in here – mixing the ingredients, finding just the right, perhaps almost imperceptibly present flavourings, knowing the qualities of things and how to combine them well…
Elsewhere I have asserted that the key feature of the most successful short form video work is a combination of intense poetic compression with a huge range of suggestion. I called this opening-out – a universe from a speck of dust. An ability to evoke the range of connectedness of many disparate things by well-chosen images, sounds, texts, whatever can pertain to moving image. Certainly Renseiw's work has this in spades. Sanderson's sound opens-out the movies still further. It adds, almost literally, an extra dimension, as if enabling new angles of view. It provides paths, bridges, vistas, tunnels, maps, balloons, telescopes, and sonar.
The guiding methodological principle seems to be a species of metonymy and one moreover which suggests an, in practice entirely non-existent, explanatory or illustrative dimension. The flashing beacons in Belisha Code are accompanied by a recording of a numbers station where one's immediate impulse is to construct entirely absent meaning in the correspondence of the binary on-off of the four beacons and the German numbers from zero to nine heard on the soundtrack. Let's be clear that this is not a criticism – a rigorous correspondence would be leaden – closed-in – but what we do have is a rich package of suggestion and affect. The correspondence that does exist is formal and temporal, between the flashes of the beacons and the articulation of the words and where the same sort of rickety polyrhythms that we've observed within the original Lumières themselves ensue.
Although comparison of some of Sanderson's sources with their use in the pieces evidences, on occasion, some quite detailed cutting, mending and buffing-up there is an inescapable sense in his deployment of sound of the somewhat aristocratic tradition of the modestly dashed off. It's partly his clearly extensive knowledge of his sources and his evident skill with a huge variety of genres but it's also to do with a certain ambiguity in how the sounds are placed – not four square upon, but athwart the images, the sound often only fading or vanishing well after we're into Renseiw's end titles. Sometimes the sound is clearly not cut to shape in the way one might at first expect – an introduction, for example proper only to the original sound itself and not to any clear visual motivation might be left standing. The imperfections, noise, oddities and glitches contained within each block of appropriated sound intensify this sense of informality as does the slightly culinary air referred to previously. On the other hand, often enough to matter, the sound directly lines up in a spine tingling way with a particular action. It's a master class in expressive ambiguity.
V
commentary
Renseiw – physical poetry, the occlusion, constraint. The careful choice of footage (variety and kind of motion within a narrowish range). Humanism: we don't see faces, we don't hear voices, we are amused but we recognise ourselves, youth and age &c.
Sanderson: The music found but could have been composed. The artfulness of placing it just thus. We will never know whether the way it ends with the action, the running off, taking place just after the repose of the final minor chord was deliberated or found. For me this placement implies a universe beyond the letterbox. It has a commonality with the treatment of time in many photographs and paintings – this is an instant, a fragment, but there was a before and an after.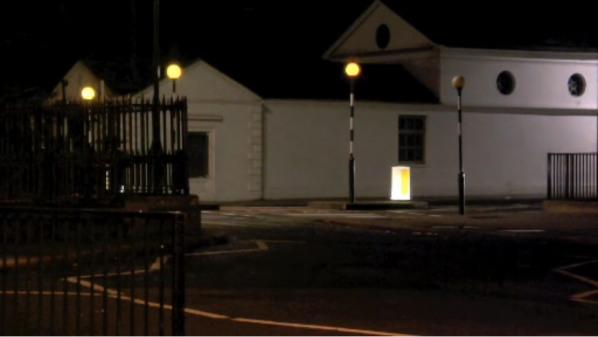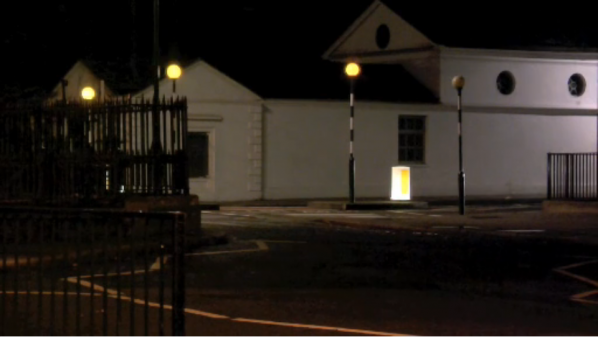 Note that there are four beacons. The sound (a numbers station, one can almost track the archaeology of impulse!) draws on the numbers 0-9, in German. It's worth noting there is no obvious mathematical mapping between the pattern of the beacons and the numbers but the character in sound of the numbers is close to that of the beacons in light. Suggestion, metonymy.
This forces our attention very strongly on that area of the screen, with the concomitant effect that when we force our attention away it is as if our eyes have been suddenly opened. There is a world out there.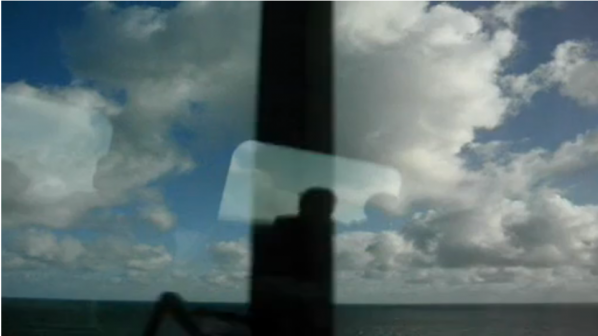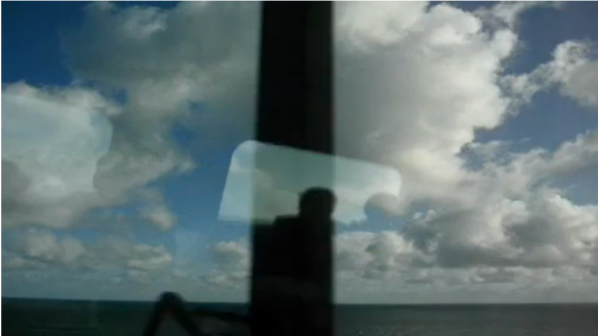 There is a hint of the transcendent in the title – how is this realized? Unless we know Denmark it takes a few moments to realize we are on a train rather than a boat or plane – we are clued into this by the close objects we clearly pass at speed and the reflection of passengers and seating in the windows. One speculates that the sound track is comprised of two elements – one the rhythmic and metallic pulse which somehow rhymes with the passing object (a kind of pseudo-diegesis) and the second an (Open University?) lecture on relativity.
Here, not exactly metonymy but something more fragile, delicate chains of suggestion and subtle resonance. No argument (to see an argument in any of this would be to commit a category error) but a complex and suggestive …um…thing. One should also note that this piece (in both its silent and extended versions) is extremely beautiful.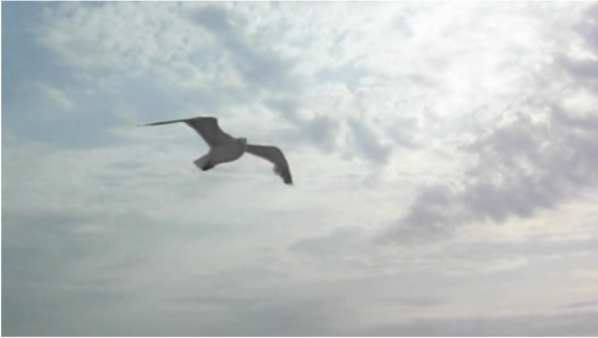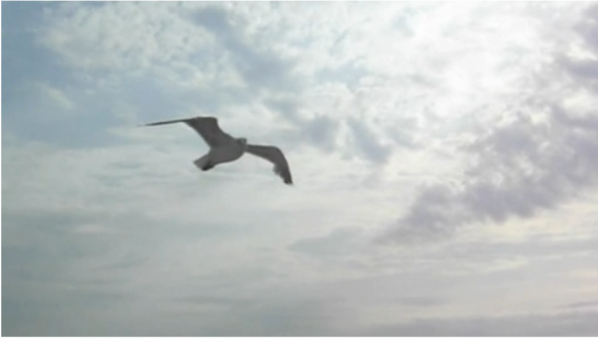 Let's talk about the sensibility and taste of the makers. Renseiw offers something simple, a kind of tour de force – we perceive it as such although given the fixed camera constraint any virtuosity belongs to the seagull.
A banal seasoning of music would involve simply the seven note modal motif which hails, I'm almost certain, from American popular song of the 70s big country type – Wichita Linesman, you know the sort of thing. (I checked with Sanderson –it's Bobby Goldsboro's Summer The First Time) By itself it would be too perfect, too parallel to the floating bird (it seems to give way to a crashing wave sound in its looped form; interestingly the Goldsboro video I found on YouTube begins with a shot of gliding seagulls). With too much parallelism nothing extra arises but Sanderson spices the mixture by the addition of dialogue from what sounds like an American film of the forties or early fifties. It disrupts the idyll but only so as to make us more aware of it. There is a kind of musical V-effekt here (which could have been so badly handled and so isn't). This is its 'meaning' – these things! Here, now!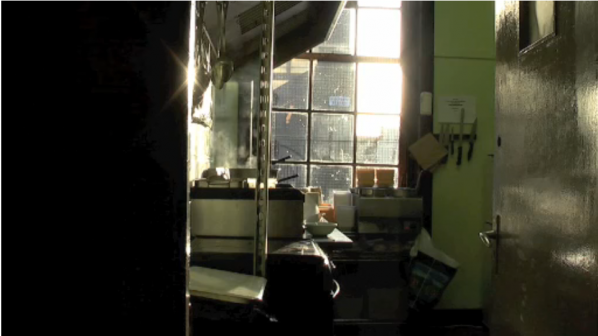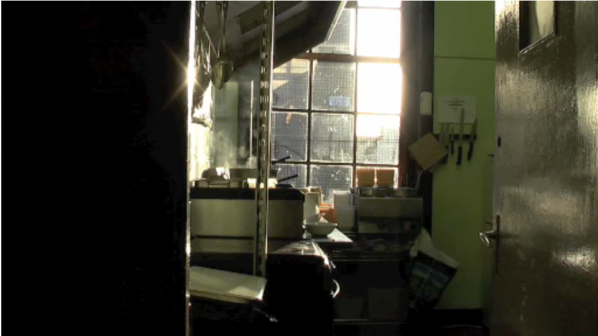 There is something of the dance about this. The music beautifully picks up both the nervous, sudden gestures of the cook but also suggests the process of cooking itself. The music has a funk component. One might say that it cooks.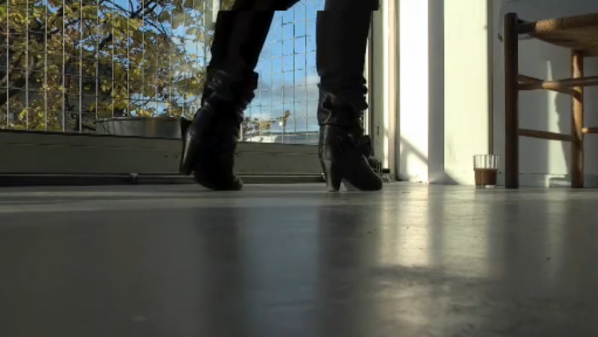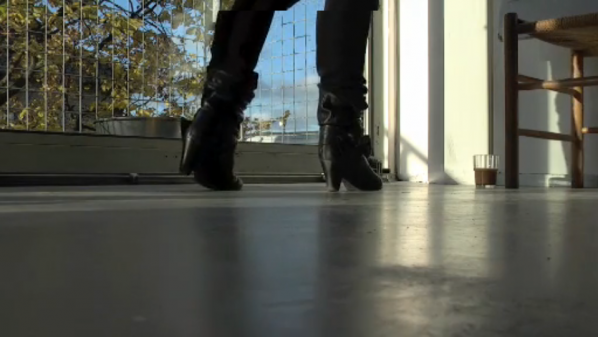 Visually – the low angle, the fragmented view of the body, the person here and not here. The focus on that person which permits and invites its opposite, in particular the framing of the sky and trees. The rhyme between the black-booted two legs of the woman and the black four legs of the dog. Their pas de deux. The music here subordinate, properly so. Ambient sounds, on the one hand, with odd vocal snatches on top. The strangeness doesn't demand our attention because we are so focused on the visual.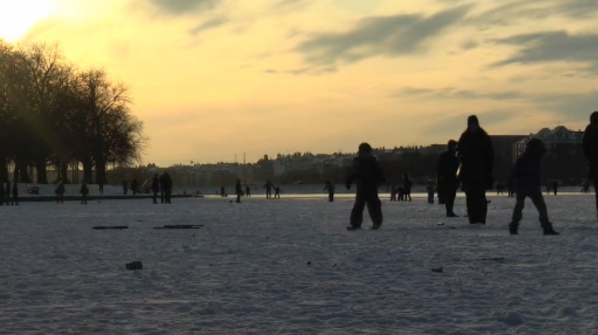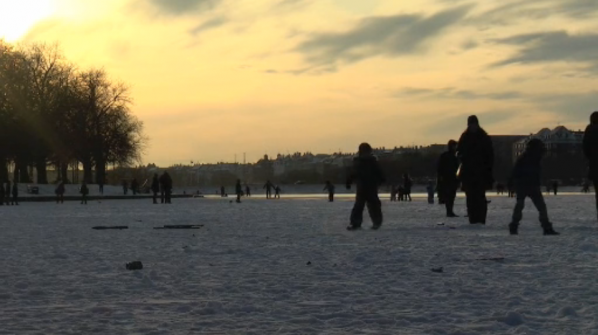 Until the last moments we simply hear a fitting (slightly arch) accompaniment to the skating – we surmise that it is intended to pastiche the kind of accompaniments used in professional skating. At the last moment we realize this is exactly what it is, as the commentator's voice breaks through. There is also a 'skate', 'friction' or 'traveling' noise which exactly underpins the final move we see, just before the humour of the juxtaposed text, which continues after the movie has gone to black, strikes us: "Delightful, skating of the highest quality" delivered in classic plummy BBC tones…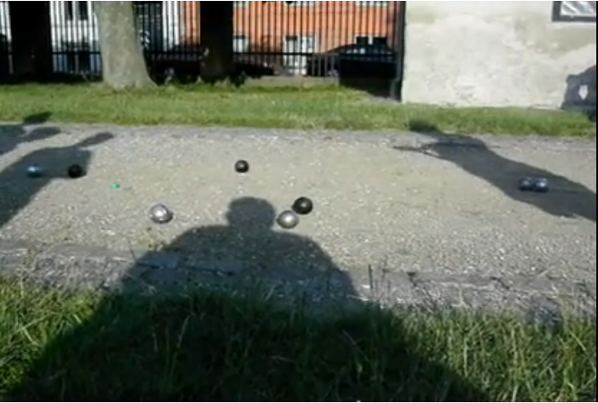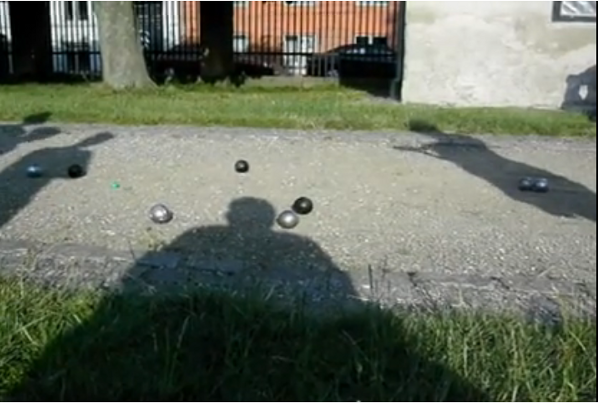 A hugely rich piece: visually there are a number of layers – the far left street background where distant people and vehicles process. The game of Petanque: – the actual participants (although glimpsed corporeally only twice: fleetingly at the very end and as one set of typical Renseiw-y legs) and the balls themselves (and the metonymic link between these and the planets). Thirdly, the large shadows. (And the apparent size of each of these layers allows for very clear visual interaction). Sound – the 'light', jokey, playful music. The University Challenge soundtrack, here unusually clearly cut up – questions – astronomy; replies – painters. A risk for Sanderson, but one that works.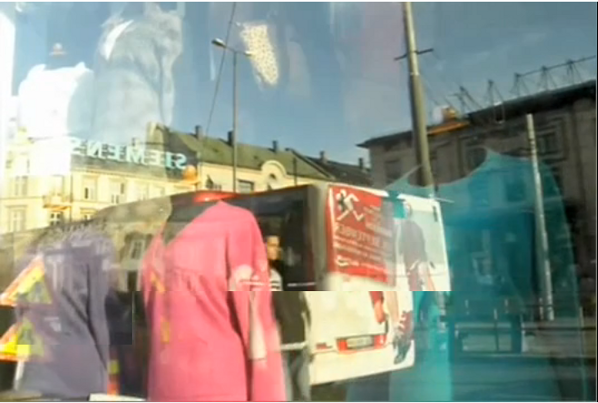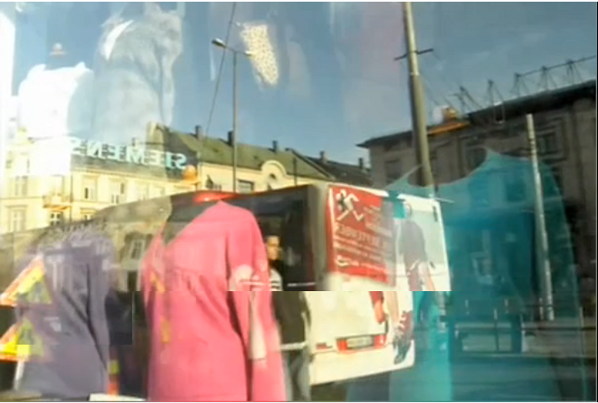 A little detective work indicates the level of detailed truffling about by Sanderson – part of the sound, the text, is grabbed from a YouTube video about French patisseries in London and cut up considerably – in particularly yielding the repeated incantation "cream cakes, tarts, macarons" the latter word in a considerably overheated French accent following the sloaney first three, to deeply comic effect. Comic maybe but, repeated, as in a dream; this mood is reinforced by a rather beautiful waltz time solo piano loop of the opening line of The Associates' Party Fears Too. Here's another piece where the visuals, here also dreamy and wistful, set in a looking glass Copenhagen (and the disjuncture between the London-location heavy narrative and the visuals is simply ignored, taken for granted, part of the deal), support quite a complex sound assemblage. Utterly haunting and quite difficult to say exactly why.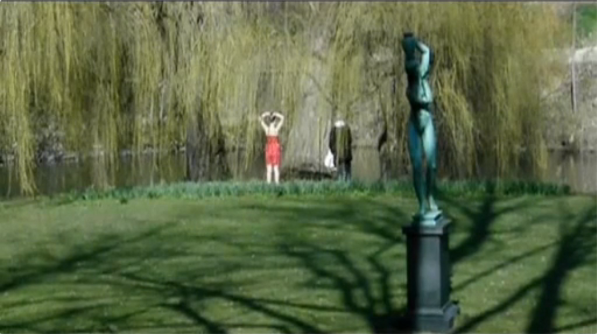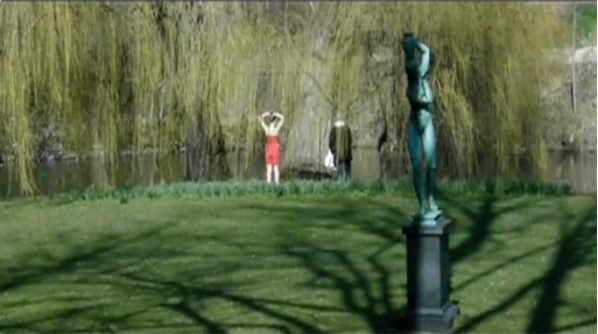 If one didn't know it wasn't one would surely assume this was carefully planned, and our knowledge it was not adds to our pleasure in it. Visually the rhyme between the woman and the near foreground statue is perfect – at one point she seems to mirror it exactly. Maybe she knows the area well and there is some unconscious mental echoing…we'll never know. The other sharp visual pleasure is the smallness of the area of focussed distant activity, which again feels like a sort of directorial chutzpah, except, except…
Sanderson's contribution is razor-sharp – the pseudo dialogue hits the mark precisely but doesn't outstay it's welcome – or at least there's other stuff going on to detain us, not least the way the model's preliminary warm-up shimmy becomes a perfect piece of minimal dance when set against the music.
Right of Passage/Speaking Voice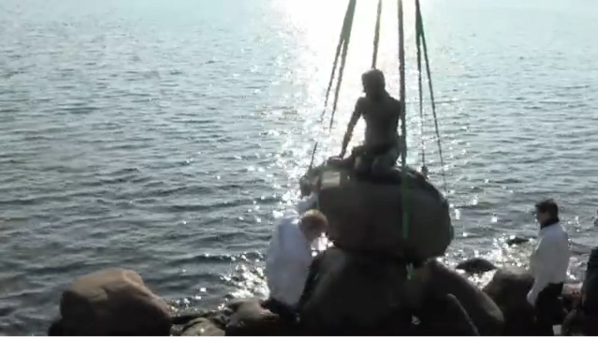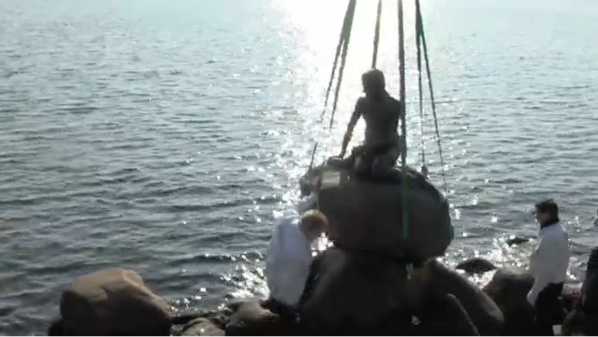 I wonder if when the content has it's own 'documentary' interest, when the filming becomes a case of "Look at this remarkable thing not because of its intrinsic interest but because it happened", the final result is somehow less engaging?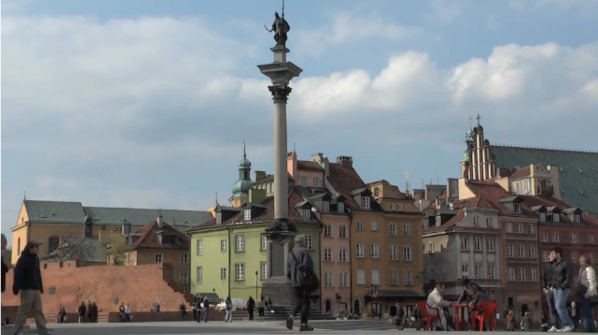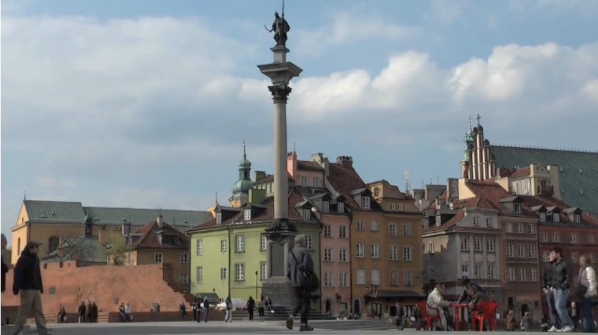 Again a dance related piece – the regular beat of the calling of the numbers one to eight sets up an aural grid against with which the implicit rhythms of the movement in, out and across frame interact in a sophisticated but subtle polyrhythm. Part two of the sound, with actual step instructions, ups the tension and the effect (especially the late entering 'spinning' man). Note how often in these pieces the sound fades out slightly later than the visuals, over Renseiw's titles, thus emphasising its separate existence in an independent channel or dimension.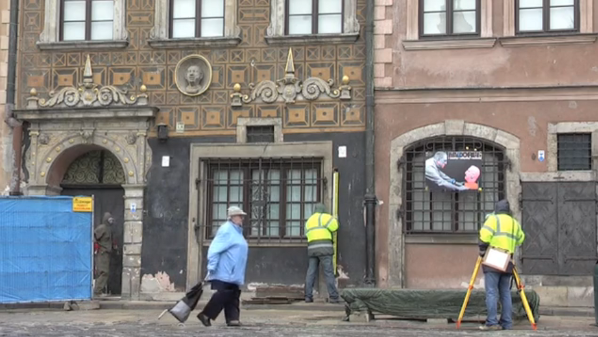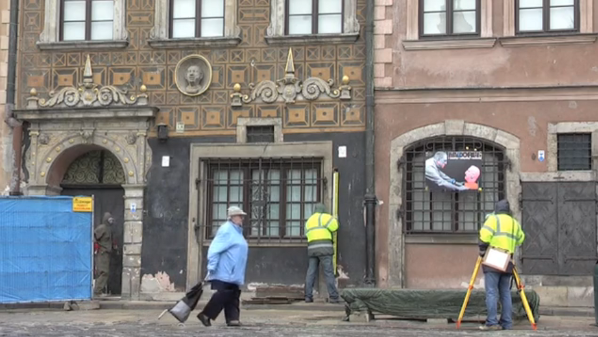 Beautiful found synthesis. Funny. Funny and truthful and touching.
The moving image is packed with incident at both different spatial levels and at different points in the piece. The Portsmouth Sinfonia version of Dance of the Sugar Plum Fairy underpins like a grid, as with Square Dance but in a more complex way, the visual rhythms of the film. Enough coincidence of rhythm to feel planned, enough 'pull outwards' to feel open… Again humour… Why does the Portsmouth Sinfonia track, in particular, work so well – atmosphere? the conjuring of a sort of raggedy clockwork ? – can we imagine in its place a more conventional rendering of the Tchaikovsky? Yes, but…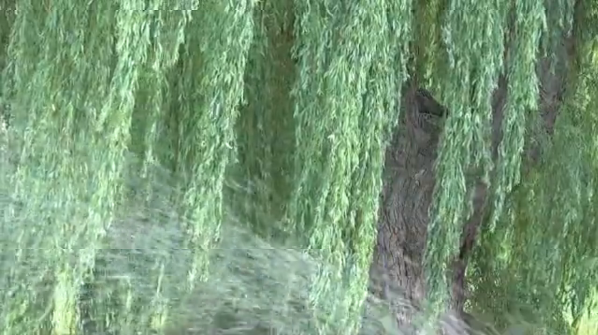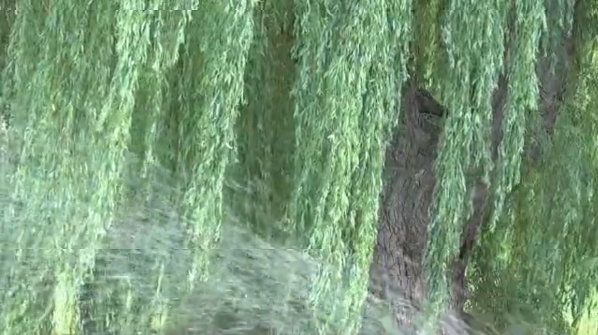 Prime example of Sanderson mind set – metonymy, suggestion – the trees are hair, the water appears exactly on cue (worked? Hmm – the audio appears to be cut to make the word 'rinsing' and the water jet coincide)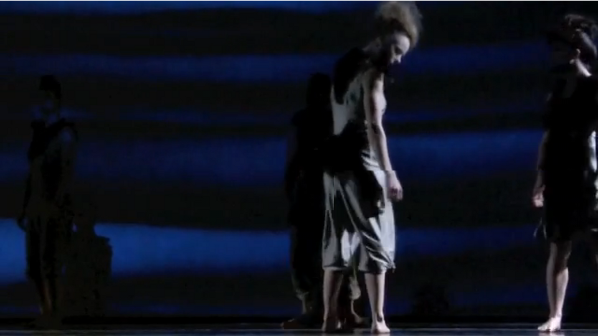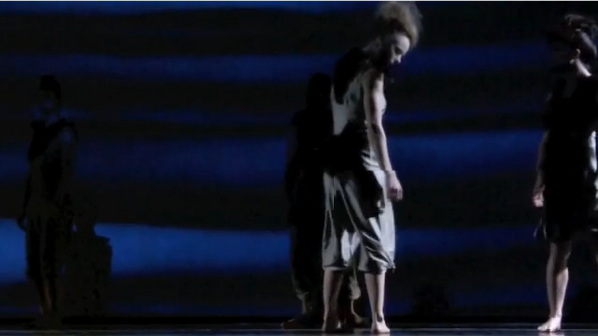 A one liner, but, given its place in the sequence, none the worse for it.
Brass band/Dancers.
VI
six remarks
*The pieces loosely divide into ones where either sound or vision predominate and some where they have equal roles.
* Not only does dance appear a couple of times explicitly as a subject but the spirit of dance pervades the project.
*The question of the success of individual pieces and of the sequence – a piece that seems less effective in isolation can well form an effective point of relaxation or reflection in the sequence as a whole…
*There are three pieces which, if one 're-removed' the sound, would not strictly be Lumières – Check Out Art Fairs (speeded up), A Beauty Overblown (slowed down) & Sucked In (reversed). Sanderson performed the first two operations for reasons he felt the sound he used demanded. (To which one can only say: yes, this is right, a constraint is there for the sake of art, not art to be constrained.) Sucked In remains a mystery.
*The titles matter (note the re-titling of the composite works). They provide yet another dimension and illumination too.
*The prevailing tone is light, warm and playful. The darker side of life is largely absent, at least explicitly (though there are trails we could pick up to find it). Humour is everywhere. Only a philistine or fool would judge the work as a consequence to be less ambitious, significant or universal.
---
NOTE
1. Pedersen and Shoot point out to me that they weren't the actual inventors of the 'new' form, this honour going to a Japanese collective called Remoscope, and further, that they were alerted to the concept and to Remoscope by – this gets better – a Japanese speaking former Danish Olympic middle distance runner later turned artist, Jørgen "Aske" Dam. Proper attribution given, it remains the case that Pedersen and Shoot spotted the form's potential and ran with it. Thus is art history made.
"Tweets in Space beams Twitter discussions from participants worldwide towards GJ667Cc – an exoplanet 22 light years away that might support extraterrestrial life. By engaging the millions of voices in the Twitterverse and dispatching them into the larger Universe, Tweets in Space activates a potent conversation about communication and life that traverses beyond our borders or understanding."
Marc Garrett: Could you explain to our readers what 'Tweets In Space' is?
Scott Kildall and Nathaniel Stern: Tweets in Space is an art project — a networked performance event — which beams your Twitter messages to a nearby exoplanet that might support human-like, biological life. Anyone with an Internet connection can Tweet with the hashtag #tweetsinspace during the performance time, and their messages will be included in our shotgun blast to the stars. The performance is on September 21st, 20:30 – 21:00 Mountain Time (3:30 AM BST / London time).
MG: What was the motivation behind your current collaboration?
SK and NS: We found inspiration from various sources. First, in NASA's Kepler mission, whose purpose is to discover planets in the "habitable" or "Goldilocks" zone. The project has found over 2000 exoplanets thus far, all of which are "not too hot, not too cold, but just right" for life as we know it. Scientists now estimate that there are at least 500 million planets like this in the Milky Way alone. Our conclusion: extraterrestrial life is almost certainly out there.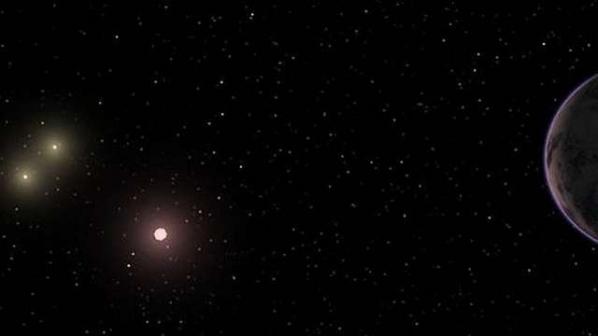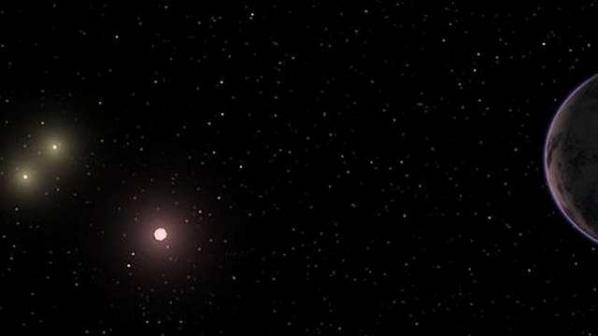 The newly discovered planet is depicted in this artist's conception, showing the host star as part of a triple-star system. Image credit: Carnegie Institution / UCSC. [1]
"The latest discovery is at least 4.5 times bigger in size than Earth. Reportedly, the planet exists 22 lightyears away from Earth and it orbits its star every 28 days. The planet is known to lie, in what is being referred to as the star's habitable zone. A habitable zone is a place where the existing conditions are just perfect for life sustenance. Astronomers, according to this report also suspect that the GJ667Cc may have been made out of earth-like rock, instead of gas." [ibid]
Another source of great inspiration is how we use social media here on Earth. This is our second, large-scale, Internet-initiated collaboration. In 2009, we amplified the power structures and personalities on Wikipedia, and questioned how knowledge is formed on the world's most-often used encyclopedia – and thus the web and world at large. Now, we are turning to the zeitgeist of information and ideas, feelings and facts, news and tidbits, on Twitter. The project focuses on and magnifies the supposed shallowness of 140-character messages, alongside the potential depth of all of them – what we say in online conversation, as a people.
We are directing our gaze, or rather tweets, via a high-powered radio telescope, towards GJ667Cc – one of the top candidates for alien life. It is part of a triple-star system, has a mass that is about 4 times that of Earth, and orbits a dwarf star at close range. GJ667Cc most certainly has liquid water, an essential component for the kind of life found on our own planet.
MG: Right from its early years when Jagadish Chandra Bose [2], pioneered the investigation of radio and microwave optics – science, technology and art have had strong crossovers. And it might be worth mentioning here that Bose was not only well versed as a physicist, biologist, botanist and archaeologist, he was also an early writer of science fiction. [3] Which, brings us back to 'Tweets In Space', wherein lies themes relating to science fiction, radio broadcasting (commercial, independent and pirate), wireless technology of the everyday via our computers, and 'of course' the Internet.

J.C. Bose at the Royal Institution, London, 1897.[3]
But, what I want to pin down here is, where do you feel you fit in historically and artistically with other past and contemporary artists, whose creative art works also involved explorations through electromagnetic waves?
Scot Kildall: The work of JC Bose is incredible and what strikes me is that he eschewed the single-inventor capitalist lifestyle in favor of his own experiments. Isn't this the narrative that artists (often) take and linked back in many ways to the open-source/sharing movement, rather than the litigious patent-based corporation? And it mirrors in many ways the reception of electromagnetic radiation as well. You can't really "own" the airwaves. Anyone who is listening can pick up the signal. This comes back, as you point out, to the internet. Twitter is now, one of the vehicles, and, ironically entirely owned by a benevolent* corporation.
Nathaniel Stern: (Agreeing with Scott) and we can't forget of course Nam June Paik, who played with naturally occurring and non-signal based electromagnetic fields to interfere with analogical signals (as well as the actual hardware) of tube televisions, and more. And of course, there have been other transmission artists, explored in depth by free103point9, among others. I think, like them and others, we are messing with the media, amplifying (figuratively and metaphorically) and intervening, pushing the boundaries of DIY and cultural ethico-aesthetic questions…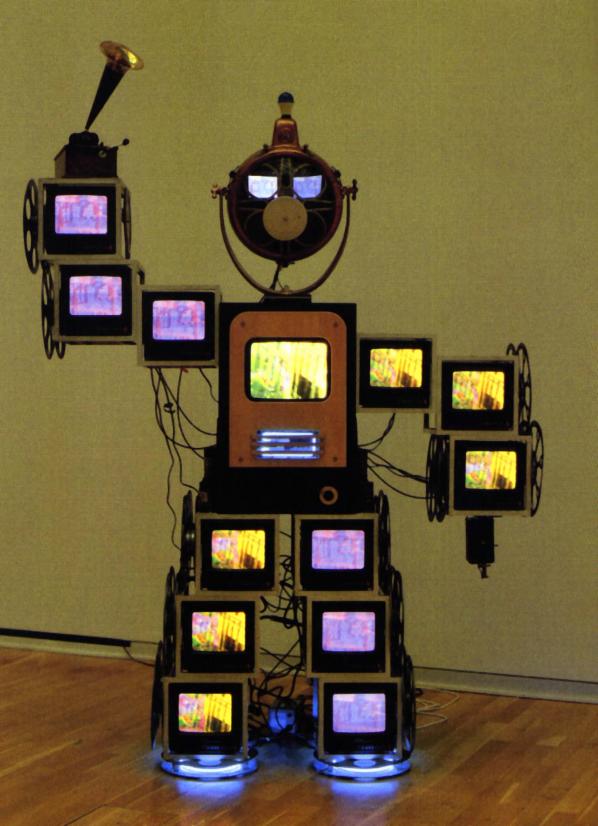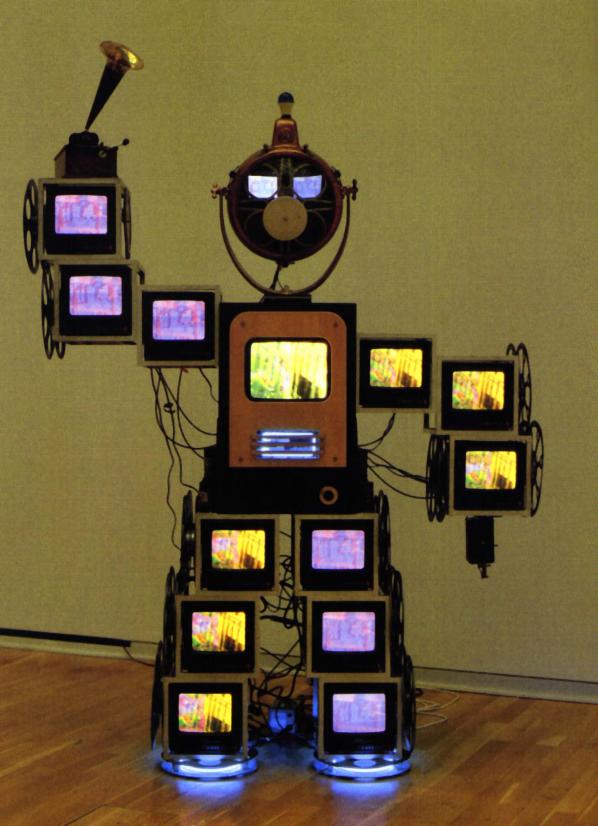 1963, Nam June Paik réalise Zen devant la tv.
MG: What is especially interesting is that all the tweets submitted by the public are unfiltered. How important is it to you that people's own messages are not censored when going into space?
SK and NS: Absolutely. Tweets in Space is by no means the first project to transmit cosmic messages with METI technologies (Messaging to Extraterrestrial Intelligence). Our fellow earthlings have sent songs by the Beatles, photos of ourselves shopping at supermarkets, images of national flags, and even a gold record inscribed with human forms – controversially, where the man has genitals and the woman doesn't. These slices of hand-picked content exhibit what a select few believe to be important, but ignore, or willfully exclude, our varied and collective modes of thinking and being.
Tweets in Space is "one small step" with alien communications, in that it is open to anyone with an Internet connection. It thus represents millions of voices rather than a self-selected few. More than that, our project is a dialog. There have been, very recently, a small number of projects that similarly "democratize the universe" but none are like ours: uncurated, unmediated thoughts and responses from a cooperative public. We can speak, rebut, and conclude, and nothing is left out. Our transmission will contain the good, the bad, and the provocative, the proclamations, the responses, and the commentary, together, a "giant leap" for all of humankind – as well as our soon-to-be friends.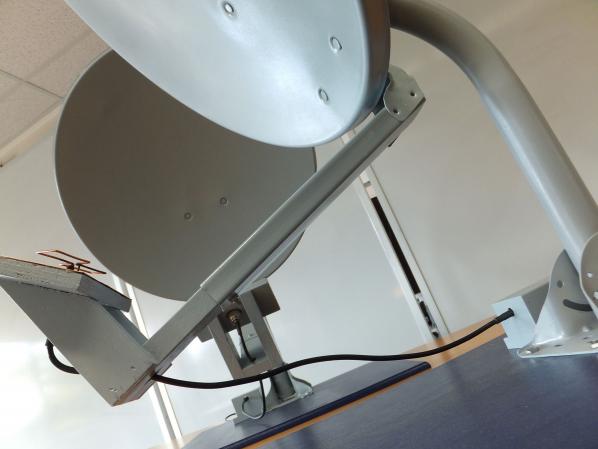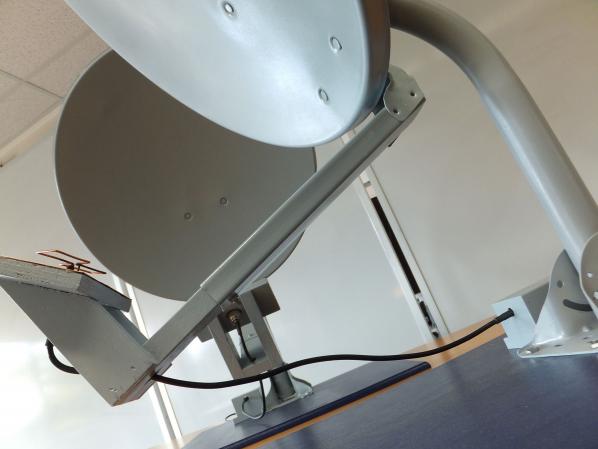 Part of the radio-wave transmission prototype delivery system devised by engineering students for the Tweets In Space project. (Photo by Nathaniel Stern)
Furthermore, by limiting the event to a small window of only 30 minutes, we are encouraging all our participants to speak then respond, conversing with one another in real-time, through networked space. We are not just sending lone tweets, but beaming a part of the entire dialogical Twitterverse, as it creates and amplifies meaning. Tweets in Space is more than a "public performance" – it "performs a public."
MG: Now, you will be transmitting real-time tweets toward the exoplanet GJ667Cc, which is 22 light-years away. How long will it all take to get there?
SK and NS: Well, first off, we're collecting all of the tweets in real time, but only sending them out later in October. The main reason for this is that we have to wait for the planets to align – literally. We want line of sight with GJ667Cc from where our dish is. The added bonus of time, however, is that this will allow us to really flesh out how we send the messages in a bundle. We want to include a kind of Rosetta Stone, where we will not only send binary ASCII codes of text in our signal, but also analog images of the text itself. We additionally intend to choose the most frequently used nouns in all the tweets from our database, then give a kind of "key" for each. If "dog" is common, for example, we can transmit: 1. an analog image of a dog, like a composite signal from a VCR; 2. a text image of the word "dog" in the same format; and 3. the binary ASCII code for the word dog.
In terms of time/distance, when speaking in light years, these are the same thing. A light year is the distance light can travel in one year of Earth time (about 9.4605284 × 10 to the 15 meters). Since radio travels at the speed of light, a big dish on GJ667Cc will pick up the signal in 22 years. We should start listening for a response in 44 – though it may take them a while to get back to us…
MG: Will the code used for the project be open source, and if so, when and where can people expect to use it?
SK and NS: Yes it is! The most useful part of our code is the #collector, which saves real-time tweets to a database, that can then be used for live projections or web sites, or accessed and sorted later via all kinds of info. The problem is that it's not really user friendly or out of the box – folks need a suped up server (VPN), and to plug into a few other open source wares. The main portion of the backend we used is actually already available at 140dev.com, and then we plugged that into Drupal, among other things. For now, we're telling interested parties to contact our coder, Chris Butzen, if they want to use our implementation. And we hope to do public distribution on tweetsinspace.org if we are able to package it in a more usable format in the next 6 months.
MG: Are there any messages collected so far, grabbing your attention?
We've had thousands of tweets so far – even while just testing the ware in preparation for the performance. We're anticipating a lot of participation! The tweets we've seen have ranged from variations on "hello [other] world" and "don't eat us," to political activism and negative commentary, to a whole surreal narrative of about 30 tweets per day over the last 3 months.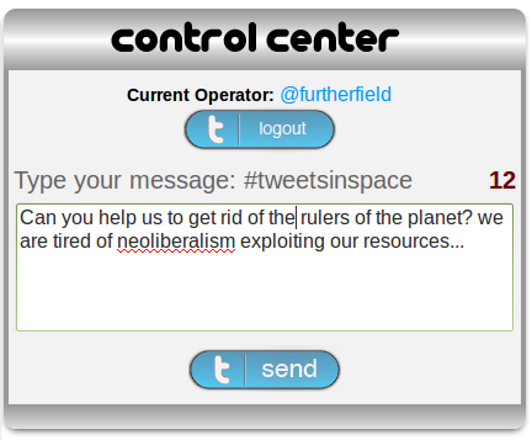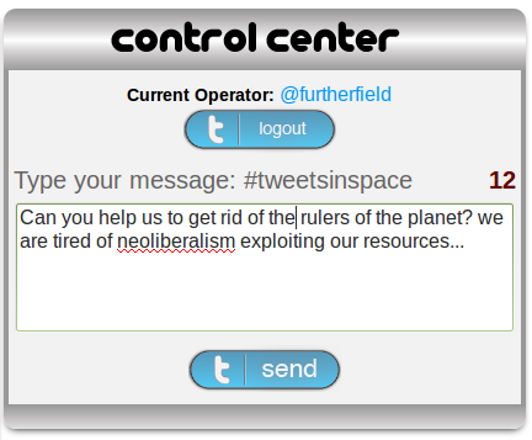 Furtherfield's first Tweet in Space.

go to tweet aliens to add your own words…

Some of our favorite tweets have been those that question how to make our own world better. These speak to both the hope of space age-ike technology, as well as the hope in collective dialog – both of which our project tries to amplify. Such tweeters ask about the alien planet's renewable energy sources, tax structures, education, art, and more.
We imagine the 30-minute performance will see a much more potent discussion about such things, and hope your readers will participate. The final transmission will be archived permanently on our site once we've prepared it for launch.
Notes & References:
How to Take Part.

As part of the International Symposium on Electronic Art in New Mexico (ISEA2012). We will collect your tweets and transmit them into deep space via a high-powered radio messaging system. Our soon-to-be alien friends might receive unmediated thoughts and responses about politics, philosophy, pop culture, dinner, dancing cats and everything in between. By engaging the millions of voices in the Twitterverse and dispatching them into the larger Universe, Tweets in Space activates a potent conversation about communication and life that traverses beyond our borders or understanding. http://tweetsinspace.org/
AND THEY WILL BE SENT INTO DEEP SPACE!!!
Watch the stream LIVE here – http://tweetaliens.org/tweets/tweets.php

[1] New super-Earth detected within the habitable zone of a nearby star. Tim Stephens. University of Santa Cruz. February 02, 2012. http://news.ucsc.edu/2012/02/habitable-planet.html
[2] Jagadish Chandra Bose: The Real Inventor of Marconi's Wireless Receiver Varun Aggarwal, Div. Of Electronics and Comm. Engg. NSIT, Delhi, India. PDF. http://tinyurl.com/8bhjbup
[3] Jagadish Chandra Bose http://en.wikipedia.org/wiki/Jagadish_Chandra_Bose
…the machine is always social before it is technical.
(Gilles Deleuze)
Though the term 'lab' conjures the image of a fairly sanitised environment optimised for scientific experiments and populated by people in white coats, media labs – centres for creative experimentation – are quite different. At their most basic, they are spaces – mostly physical but sometimes also virtual – for sharing technological resources like computers, software and even perhaps highly expensive 3D printers; offering training; and supporting the types of collaborative research that do not easily reside elsewhere. In the early-to-mid-1990s, partly propelled by the exciting possibilities of the internet and associated web browser technologies, groups began to coalesce, bent on developing access to the inherent potential of collective creativity. With the exuberant new dot.com businesses fuelling a 'creative economy', the Californian 'cybercafé' (surf the internet and slurp the coffee) was emulated in urban centres around the UK and in some cases artists were heavily involved. They saw the internet's myriad ways of changing the way we make, think about and share art – not to mention its capacity for social empowerment – and wanted to harness these qualities quickly and effectively. With many practitioners coming from the spaces, practices and communities forged by the independent film and video movement, the phenomenon of the UK media lab was born. However, despite the importance of these spaces as the hybrid homes of the then emergent and now embedded creative activities that characterise today's rich field of digital and media practices, their history and contribution to current lab environments has been little discussed outside a niche arena.
History
Early Media Labs
Two of the earliest UK media labs were Artec and Backspace (aka Bakspc), both based in London. Artec, which was established in 1990, was initially funded by Islington Council and ESF (the European Social Fund), but soon won additional support from Arts Council England. Conceived by Frank Boyd and Derek Richards, its focus from the outset was to deploy technology for social empowerment and, early on, it provided valuable professional training to the long-term unemployed. In this sense, it did not operate from within an arts context proper, but combined art and technology in the name of social integration. Creative projects were led by Graham Harwood, whose own artistic practice and his collective Mongrel were formed through associations at Artec.
Harwood and Mongrel's practice is known widely for scrutinising social, political and cultural divisions through a framework of technology. A notable piece from this period was Rehearsal of Memory (1995), which took the collective experiences of staff and patients at Ashworth high security mental hospital, near Liverpool, and presented them as a unified and anonymous computer-based group portrait. Now available as a CD-ROM, the work strongly undermines the assumptions we make about mental health, blurring the line between those branded 'normal' or not. It is an excellent example of the way artists and media labs habitually combine creative activities with technology to give people a renewed agency. Around 1995, Peter Ride was brought on board to curate a stream of activity called Channel, which lead to further powerful artworks including Ubiquity (1997) by David Bickerstaff and Susan Collins' In Conversation (1997).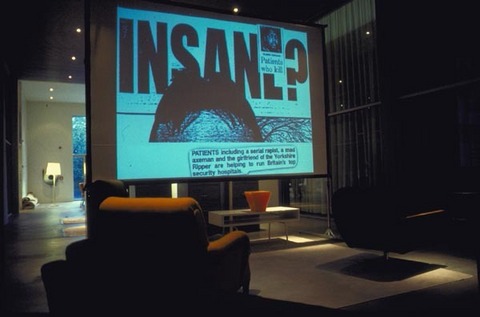 Graham Harwood (Mongrel) «Rehearsal of Memory» 1995. Installation V2, Rotterdam. Photograph: Jan Sprij. © Graham Harwood (Mongrel)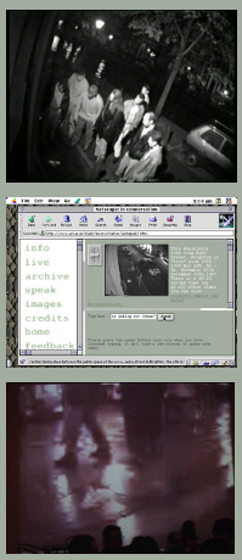 In Conversation. A www/street/gallery installation by Susan Collins first installed in November/December 1997 at Fabrica in Brighton it was subsequently sited in Amsterdam (Oude Kerk) 1998, Helsinki (Gallery Otso, Espoo) 1998, Cardiff (Chapter Arts) 2000 and Berlin (British Council) 2001.
Without regular public funding, Backspace started out as an independent self-organised cybercafé. Initiated by James Stevens as a 'soft space' adjunct to his commercial web design business, Obsolete, it had a physical studio and lounge on Clink Street. People could drop in and use the web access and computer terminals in exchange for a nominal membership fee and commitment to maintain the space. What is notable about the Backspace model is how it attempted to foster a co-operatively managed resource. It exemplified a preoccupation amongst internet culture devotees with autonomy and new forms of governance, and struggled with all the contradictions of such ideals alongside the fact of its commercial parent entity. Obsolete shared its (at that time) capacious bandwidth. This gave people web hosting and streaming capabilities that would otherwise have been prohibitively expensive; allowed for the hosting of many artistic projects produced within the space itself; and facilitated many early streaming experiments with link-ups between other European media labs including as E-lab in Riga, Lativa and Ljudmila in Llubljana, Slovenia. Early attendees and co-facilitators of Backspace now list some central figures of the Digital and New Media art fields including: Matt Fuller, Simon Pope, Armin Medosch, Heath Bunting, Ruth Catlow, Pete Gomes, Manu Luksch and Thomson and Craighead – even Turner Prize winner Mark Lecky was a regular for a while.
Globally distributed discussion networks provided a discursive layer for these media labs, with early mailing lists such as Nettime, Rhizome and Syndicate forging international connections around technology, art and politics. Likewise, Mute (at first a newspaper, then a glossy magazine, now a web journal) provided regular critical commentary on burgeoning digital culture.
Foundationally different, Artec and Backspace were united by a belief in the importance of access to tools and training within a social context. In slightly differing ways, they put creative experimentation and social concerns at the centre of the agenda via technology. This was to become an important organisational strategy for this sector. Though both spaces have since closed, Stevens continues to build social and technological infrastructure as Deckspace, at Borough Hall, Greenwich. Without a physical space, Frank Boyd has evolved his media lab system into an industry-orientated programme called Crossover, which assembles creative professionals to workshop cross-platform 'experiences' from a variety of creative arenas including film TV and the computer games industry. Crossover is one of many peripatetic media lab models that privilege collaborative creative processes, although it is more goal-orientated than most as participants often pitch to a panel of industry commissioners.
DECKSPACE is an SPC MediaLab in Borough Hall, Greenwich. A serious climb with prime views and an evolution of environment for tea drinkers node builders and code meddlers to relay power and light into public space fit for use. (via bitnik)

Process over Product
With less of an eye on industry and an abiding interest in the creative process itself, PVA MediaLab was formed in 1997 by artists Simon Poulter and Julie Penfold. In its first incarnation, it took up residence at Dartington College of the Arts, with funding from South West Arts. While there, artists were offered a well-equipped space in which to experiment with technology and develop ideas. In fact it is this developmental freedom that forms another core operational component of the media lab. Rather than asking artists to arrive with pre-formulated projects, or expecting them to see a piece through from start to finish, media labs have consistently placed value on self-determined exploration. PVA helps artists to manufacture methodologies rather than final artworks, fully designed products or content packages. They have also led the way in assisting other media labs to produce a similar system, through their Labculture programme. Highly itinerant, the Labculture model adjusts itself to host organisations, like Vivid, in Birmingham, so they can learn how to set and achieve goals while building the sorts of lasting partnerships that will sustain future activity.
This shared or Open Source way of working integral to media lab culture is also exemplified by GYOML (Grow Your Own Media Lab). A collaborative project between media labs Folly, Access Space and the Polytechnic, GYOML was designed to help generate more media lab initiatives. It has included: 'GYOML in a Kitchen', a sound recording and editing workshop by Steve Symons (Lancaster); 'GYOML in a Van', which staged an introductory workshop in media-lab culture for community group leaders (Lancaster); a game-centred 'GYOML for teenagers' (Rochdale); and 'GYOML at the Canteen', catering to film-makers and professional artists with an interest in open source (Barrow-in-Furness). Legacies of this project include the Digital Artists Handbook, an impressive guide to Open Source tools and techniques and 'Grow Your Own Media Lab (the graphic novel)', a set of inspiring case studies. Folly continue to work very much in this manner, forming essential infrastructural relationships as and where needed and guiding others through the adoption of free software.
Another example of this attention to operation and openess comes from GIST Lab, in Sheffield, which energises community-based projects through a space that hosts meetings and workshops. Even without a dedicated tech suite, their knowledge-exchange is a short-cut to all manner of original cross-over work, and they have supported yet another project that literally and metaphorically recreates aspects of the media lab model. 3D printing (or rapid prototyping) is increasingly popular in producing anything from car parts to jewellery, by layering materials like plastic into finished three-dimensional objects. RepRap, however, is able to print the spare parts it needs to be built while it is still itself under construction. Just like media labs, this self-replicating 3D Printer is all about sharing access to a successful system.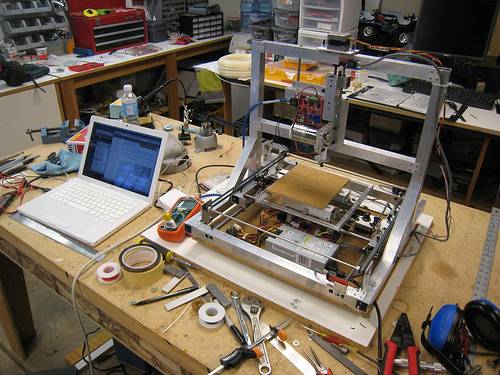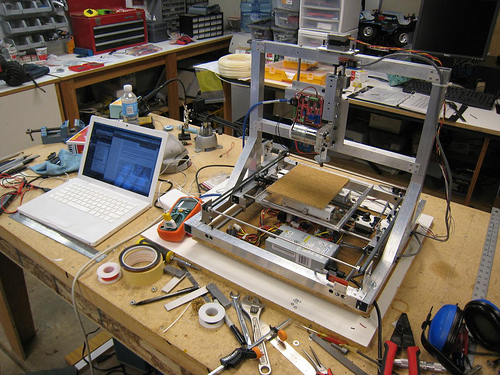 "Parametrically Designed XY Motion Stage", part of the thesis "Rapid Prototyping of Rapid Prototyping Machines" by Ilan Ellison
Ideas over Technology
If media labs are not driven by material production, neither are they all about technology. Arising from the work of the art group, Redundant Technology Initiative, Access Space in Sheffield established its media lab through the use of free and recycled technology and learning. Given our cultural predisposition for wanting the latest, fastest equipment and our reprehensible dumping of perfectly serviceable technology, abundant hardware is sourced from all manner of locations. The latest Free and Open Source software is installed on the hardware where expensive proprietary software once lay and the media lab space, complete with this equipment, is opened to the public five days a week. The one proviso placed on this access – continuing the recycling theme – is that once a media lab participant has learnt how to do something, they should pass this knowledge on. As evidence of the success of this system Access Space boasts impressive outreach capacity: more than a thousand regular visitors, of which only about thirty-five percent are university educated, and over half are unemployed, and they habitually work with people experiencing disabilities, learning disorders, poor health, homelessness or other measures of exclusion.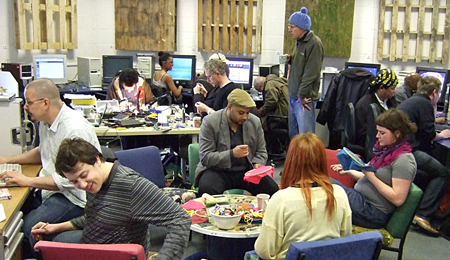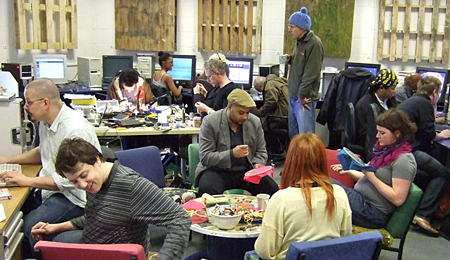 Access Space is the longest running free internet learning centre in the UK. The centre brings together old computers and new open source software to create a radical, sustainable response to industrial decline and social dislocation.
One of the projects that clearly shows what they do is Zero Dollar Laptop, a collaboration with the Furtherfield organisation and community. Through a series of workshops, homeless participants are given the ability to use and maintain a free laptop complete with free software in self-led creative projects. It is this model of learning through self-directed creativity that arises again and again in media labs because it provides demonstrable results in helping people acquire and retain the skills they need. Without 'bells and whistles' new technology, Access Space emphasise the importance of ideas over technology and demystify all manner of computer-based skills. SPACE Studio's MediaLab is also an excellent example of a lab working at a range of levels to offer beneficial specialised training. They teach software packages at a professional level to film makers, artists and a range of media industry workers, as well as offering film-making and media training for NEET (Not in Education, Employment or Training) teenagers in the local area. There are also a number of DIY Technology workshops including those regularly hosted by MzTEK who have expanded their operation as a result of their connections with SPACE. MzTEK are all about encouraging women to build technical skills and enter the new media sector. Growing from a small group to wide and supportive network they answer underdeveloped areas of knowledge. In addition to this, SPACE's PERMACULTURES residency series has, to date, hosted eight residencies supporting over eleven artists, helping them explore technology and go on to show in a range of spaces.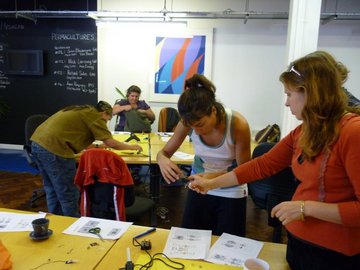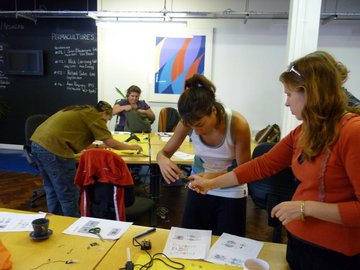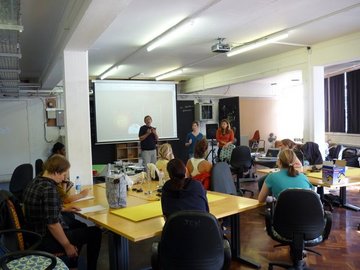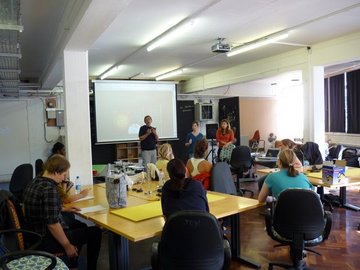 MzTEK is a nonprofit collective with the aim of encouraging women artists to pick up technical skills in the fields of new media, computer arts, and technology.
Partnering Galleries
The media lab also plugs an important gap in the art gallery and museum network. Digital and New Media arts are distinctive for collapsing boundaries between the place of production and exhibition. As a result, few existing art spaces have been in a position to fully represent it. Media labs, as well as community websites like Furtherfield and Rhizome, international festivals including ISEA and Transmediale and curatorial resources like CRUMB (the Curatorial Resource for Upstart Media Bliss) have imaginatively responded to this situation. Media labs in particular have been very successful in fostering relationships between artists and galleries. They have helped to translate not only the ideas expressed by this type of art – which can require much additional contextualisation – but also their physical installation in spaces not designed for this new breed of work.
For example, Folly recently collaborated on an experiment in the exhibition and acquisition of New Media art with the Harris Museum and Art Gallery. Entitled Current, the project saw expert panels first select works to be exhibited at the gallery (in Spring 2011) and then choose one to enter the permanent collection. Not only did this give the gallery the chance to add a timely contemporary work to their collection but it formed a useful public case study showing other institutions how they might engage with emergent art forms in various new media.
Collaboration, Interdisciplinarity and the University
Media labs greatly contribute to the collaborative working methods the creative sector now thrives upon. Cross or interdisciplinary partnerships involve people from very different industries or working cultures combining and even reinventing the way they work in order to unearth all manner of new practices and products. Many universities, having born witness to a boom in research which straddles different academic subjects and industry sectors (due in some part to government funding imperatives around 'knowledge transfer'), have established their own media labs. A relatively early example of this was i-DAT (the Institute of Digital Art and Technology) at the School of Computing, Communication and Electronics at the University of Plymouth. A large project with many interrelated strands is their op-sys (operating systems) network of research into architectural, biological, social and economic data and how it can be made publicly available and useful. The University of Nottingham has the Mixed Reality Lab, which was established in 1999 with £1.2 million in funding from the JREI (Joint Research and Equipment Initiative) programme as well as ongoing grants and investments. Run by Steve Benford, it hosts around eighteen PhD students providing resources for researchers and post-graduates working in areas that intersect its host department, the School of Computer Science, and associated training facility, the Horizon Doctoral Training Centre. It maintains a number of diverse projects, some of which have won prestigious awards and award nominations including Can You See Me Now, a collaboration with Blast Theory. The CoDE (Cultures of the Digital Economy) Institute at Anglia Ruskin University in Cambridge has a digital performance laboratory that focuses on sound-based work. Culture Lab is Newcastle University's bespoke unit of media-lab-style flexibility, where artists work experimentally and across disciplines, and Sandbox, a similar resource, is located at the University of Central Lancashire. Another approach for universities is to partner with existing media labs. Pervasive Media Studio, a Bristol-located media lab, was set up by Watershed, a cross-artform production organisation, HP Labs and the South West Regional Development Agency. They have a partnership which runs for three years with the University of West England's Digital Cultures Research Centre and work in a number of different ways including offering Graduate and New Talent residencies for those just starting out in their careers. The Pervasive Media Studio has helped to establish events like Igfest, the Interesting Games festival, held annually in Bristol, as well as development platforms such as Theatre Sandbox, which helps theatre makers introduce technology to their practice. They also support artists, including: AntiVJ, Duncan Speakman and Luke Jerram.
Current Media Labs and the rise of the 'HackLab'
As we have seen, some labs have been nomadic or temporary while others have evolved into new incarnations. A media lab might be part of an array of dependencies with institutional responsibilities i.e. Folly, Isis Arts, Lighthouse, Pavilion, Pervasive Media Lab, PVA, Vivid and more, all of which regularly produce an abundance of quality experimentation in Digital art and culture. While new incarnations of the media lab may respond to three distinct but related phenomena: the rapidly evolving technology sector; the transient networks of geeks and digital experimenters; the need for sustainable models for innovation in industry. MadLab, in Manchester, provides space and facilitates meetings and workshops for 'geeks, artists, designers, illustrators, hackers, tinkerers, innovators and idle dreamers'. Their 'drop in' events, commonly known as 'Hacklabs' (for example *Hack to the Future* during the Edinburgh International Science Festival), give people instant hands-on experience with all sorts of code and kit. Although hacking is still seen as a specialist and somewhat murky activity, the term is being increasingly decoupled from its conventional criminal associations and made accessible to mainstream arts territory. In January 2011 the Royal Opera House facilitated a 'Culture Hack Day', bringing cultural organisations such as the Crafts Council and UK Film Council together with software developers and creative technologists to usefully open up and share data. Other HackLabs may have less of an arts focus, but do have impressive resources built using the open membership model (pioneered by the likes of Backspace). The London Hackspace boasts a laser cutter, digital oscilloscope and kiln, all donated or collectively purchased.
Scattered through many of our city centres are office/studio-based working spaces which cater to the creative industries by offering flexible working environments and abundant networking and training opportunities. The Hub, in London's Islington and Kings Cross areas (with up to thirty further Hubs in cities across the globe), gives fee-paying members access to facilities and a way of working orientated towards connecting people from across the network in cost-effective innovation. These spaces are indicative of the emphasis placed on the creative economy as the big hope for economic renewal driven by small entrepreneurs grabbing and shaping the opportunities in technology, entertainment and design.
Inspirational before Institutional
Looking briefly at some of the ways media labs have operated since the 1990s shows them as uniquely fertile spaces for all manner of shared expertise and creative innovation. They have made a fundamental contribution to Open Source culture. Working as openly and collaboratively as possible, participants have found ways of sharing process and product, while an interdisciplinary nature has revealed a plethora of creative possibilities. Fulfilling a difficult remit by offering a home for many of the emergent artistic practices currently transforming artistic activity, they have led us away from 'art for art's sake' and towards work which has demonstrable meaning and lasting social and economic benefit. Large institutions might be extremely well-versed in mounting financially advantageous blockbuster exhibitions, but the beauty of media labs derives from their ability to develop and disseminate the socially-transformative systems that have already and will continue to shape the future of the arts.
---
A big thank you to everyone who contributed to this research despite their incredibly busy schedules and a special shout to: Simon Poulter for pulling over his car, Clive Gillman for kindly kicking things off, Sarah Cook for an innovative approach to note sharing and Peter Ride for not taking a lunch break.
You can find Charlotte's original article on Collaboration and Freedom – The World of Free and Open Source Art http://p2pfoundation.net/World_of_Free_and_Open_Source_Art
As part of the Furtherfield collection commissioned by Arts Council England for Thinking Digital. 2011
Wisconsin has arguably been ground zero for union busting, DIY social movements, corporate takeover of government, and divisive – and often misinformed – political debate in the US for more than a year. And the Overpass Light Brigade (OLB), initiated by Milwaukee artists Lane Hall and Lisa Moline, have been a guiding light – literally – in how ground-up messaging and change can happen. Now a collaboration between many people, the OLB relies on an ever-widening community of activists, artists, thinkers, and do-ers for their "Signs of Resistance." After a few rounds of local rye whiskey at Milwaukee's Riverwest Public House Cooperative – one of the only co-op bars in the country – I did an email back and forth with OLB co-founder Lane Hall to find out more about what makes them tick, how they see themselves, and where the movement they are a part of is headed.
Nathaniel Stern: What is OLB? It feels more "struggle-" rather than "goal-" orientated, despite that its first mainstream recognition is in relation to a specific campaign. Can you talk a bit about its history: how it started, where it headed, and what it might become?
Lane Hall / Overpass Light Brigade (OLB): On November 15 of last year a rally was organized by grassroots groups in Wisconsin in order to kick off the Recall Walker campaign. It was to begin right after work, at 5:00 pm. Both Lisa Moline (co-founder of OLB) and I had been very active in what we now think of as the Wisconsin Uprising, and we asked ourselves the simple question, "How do we achieve visibility for graphic messages when it is dark at 4:30?" We began to tinker with off-the-shelf Christmas lights, and found some battery-powered strings of LEDs. We built our first sign, a 3′ x4′ panel that spelled out RECALL WALKER. When we arrived at the rally, we were immediately asked to be behind the speakers. That sign got on the Rachel Maddow and Ed Schultz show that evening, so we knew we had hit on something that afforded powerful visibility. That first sign is now, incidentally, in the archive of the Wisconsin State Historical Society.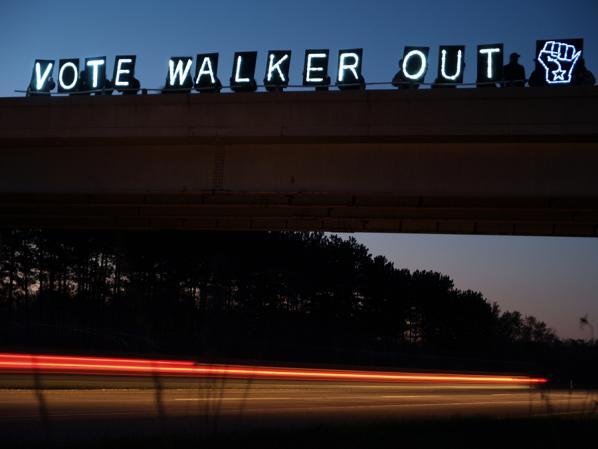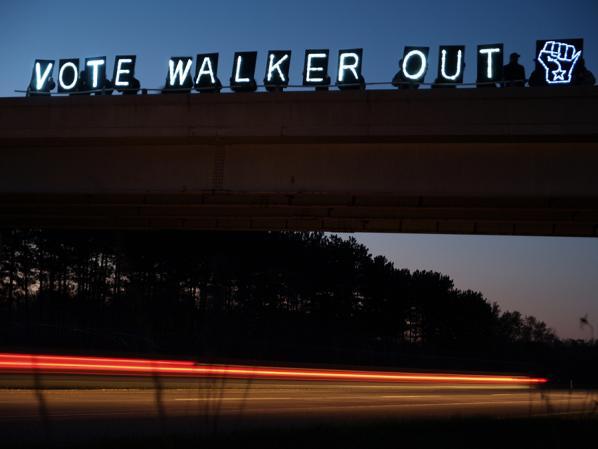 We then proposed a second design challenge to ourselves: how do we get messages out to masses of people, since we can't command the airwaves like Walker's Koch-fueled campaign? Once we decided to go out on highway overpasses, we "scaled-up" the letters so that we could spell out words, refrigerator magnet style, one letter per 2′ x 3′ placard.
Our first night out was on an overpass in South Milwaukee. It was very cold, fairly miserable really, with freezing winds kicking up from the passing semi-trucks. We had a few fellow activists to help, and our idea was to bungee-cord the signs to the fence while we stood by. We were accosted by a right-wing nut, a Young Republican, who was vehement in his insistence that we were breaking the law by affixing the signs to the fencing. He ended up in a physical altercation with Lisa in his insistence to rip our signs off the fence as well as forcefully take Lisa's video camera, since she was capturing his vigilante actions on video. When the police came, they did reiterate that nothing could be affixed to the bridges, though also supported our right to be there. From that night on, we realized that for OLB to work, we needed Holders of the Lights – one person per letter, as well as "spotters" for safety and a couple of people to take video and photos. This was a profound tweak of the original idea, in that it shifted our actions from mere signage to a form of witness or testimonial. It is very powerful to see one person per placard, positioned high above the highway, committed to the politics of physical presence.
We began to go out around the area, scoping out different overpasses, hooking up with different grassroots groups in Madison and Racine and Kenosha and Milwaukee. For about two months we took out RECALL to various locations, often getting hassled by people, questioned by cops, pushed to defend our rights to be out in these odd public spaces. We began to add letters and attract more volunteers who were attracted to our strange mix of Fluxus happening and focused message. RECALL WALKER, then 1% WALKER, then JOHN DOE (referring to an ongoing investigation into alleged campaign corruption when Walker was Milwaukee County Executive), then WALKER=JOBS FAIL and WALKER LIES and WALKER IS A CROOK, etc. We have always tried to index the message to what is breaking in the broader mediascape, so that there is resonance between multiple layers of information and our activist response.
Once Walker was officially recalled (he was "recalled to election") things really picked up. We were getting invited to hold actions around the state – Madison, Fond du Lac, Portage, Appleton, Kenosha, Racine – and more and more people began to join us. The 2 hour overpass occupations began to take on a real festive quality, with people bringing food, making music, chatting, singing, chanting and enjoying the angry and happy honks from the freeway. Our messages expanded, and our Bridge Parties have become somewhat legendary, with anywhere between 40 and 120 people commonly showing up. We even have a bagpiper who often leads us on and off the overpass.
A big part of the success of OLB is its mediagenic quality. Photographs and videos have been distributed freely and widely, at times even virally. We've been highlighted in the NY Times, CNN, Time Magazine, the Milwaukee Journal Sentinel, countless blogs and Facebook sites too numerous to even itemize. Our Facebook "reach" was hitting 182,000, and I was getting constant queries about the project. Our community of activists is extremely diverse, which is one of the things I am most appreciative of. It is odd how powerful holding a sign over a highway is, how many conversations happen in the two hours of bearing witness, and how compelling the action remains for our volunteers.
We immediately went out the night after the disappointing results of the recall. I felt that what I call "essential visibility" was even more important for the progressive community. WE SHALL OVERCOME and SOLIDARITY FOREVER graced the bridges, and we subsequently began to help some striking workers in Milwaukee pizza factory with BOYCOTT PALERMO'S. Since the recall, I feel we have gotten stronger and deeper, no longer relying on the easy binary of our disaffection towards our tea-bagger governor. Our issues are bigger and broader, more national. We just went out in Madison with CORPORATIONS ≠ PEOPLE and 56 volunteers showed up, along with some projector-shine activists, live-streamers, and a phalanx of videographers. We have also taken out QUESTION AUSTERITY and are integrating it with a social media #questionausterity campaign. I see the synthesis of physical and virtual space as the future of OLB actions, as well as our growing ties with the Occupy movement.
NS: This is more than inventive campaigning or even creative activism, but protest art with heavy political, aesthetic, ethical, and technological implications. The Graffiti Research Lab was first to use high technology to ask, "Can any public space be a blackboard?" You take that as given, provide the chalk, and ask for important messages to be broadcast on said blackboards. I'd like for the both of you to write a bit about your practice as artists, as activists, where they are one and the same, and where sometimes they differ.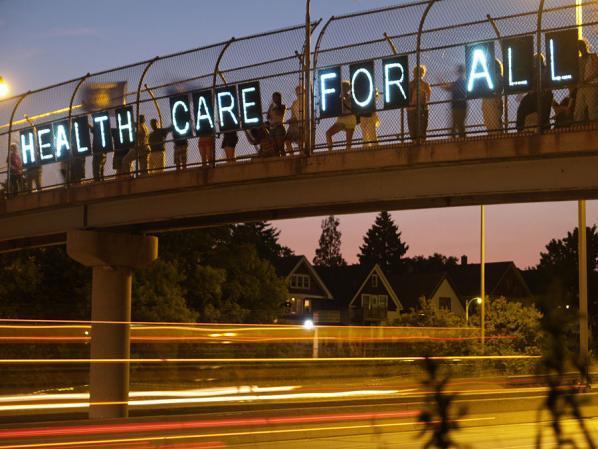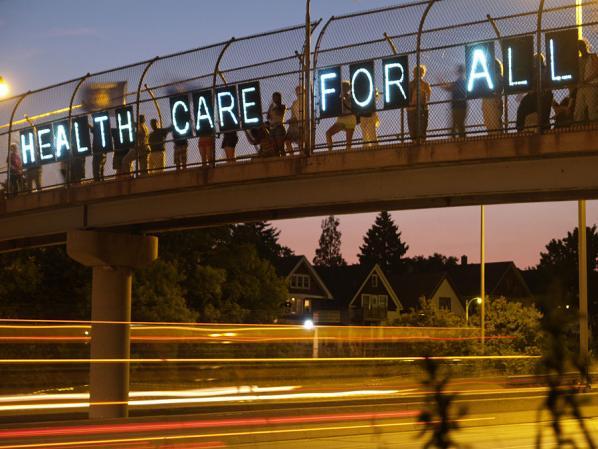 OLB: The Graffiti Research Lab is a continued inspiration for us in terms of their open-source ethos, and their bold pushing at the "public" aspect of "public space." I have great admiration for what they accomplished, yet have always felt frustrated that their messages generally stayed within existential parameters. That is, their presence in urban space was implicitly political, but their projections were generally, "I exist" with variations on the theme such as "Fuck you!" However, the way their events brought people together in the streets is also noteworthy. OLB has achieved some of these same dynamics, though with very directed and explicit political messaging. We are a fluid mix of relational aesthetic, Fluxus happening, street party and progressive messaging, all part of an inherently ethical practice. We think of ourselves as "the people's bandwidth," having found an open venue that takes a lot of dedication but only a small outlay of capitol, which is intrinsically public to thousands of passersby.
Our own work has been collaborative for a long time. Before the Wisconsin Uprising, our art – often about environmental issues and animal subjects – was implicitly political, but rarely pushed the boundaries of sanctified institutional spaces. Once the Uprising began, we got very involved with activist work, and took our creative efforts to the streets. We were inspired, set up a PAC called The Playground Legends with some other activists, and began working within some of Milwaukee's African American communities on voter education and Get Out The Vote campaigns. We set up "parties in the parks" for neighborhood groups, and used these relational activities to help create cohesion around a political purpose. This was exhausting and finally not sustainable for us, but some larger groups such as Wisconsin Jobs Now emulated our inventiveness and have really made a difference in spite of the Right's coordinated campaigns of disenfranchisement.
After working with this PAC, and struggling with the official requirements of a 501C3 and meetings with minutes and budgets and fundraising and reports, we chose to make OLB as flexible and open as possible. We are a loose affiliation of activists who show up on bridges and hold signs. It is very simple. Anyone can join. All ideas are welcome for consideration. Our community of activists is really the heart and key to sustainability with OLB. Most of them don't care whether this is art, or what the cultural precedents might be. All of them value this odd form of engagement, where they can see a beautiful and directed message reflected back through social media, and be a part of a much larger – and historical – emergence of a progressive political movement.
NS: Who do you want to follow your lead? Who do you want to help OLB progress to more innovative interventions? How can we help you help us?
OLB: We freely share the instructions for making the signs. They are very easy in concept, very DIY, and need only basic wood shop fabrication skills, akin to stretching canvasses or making a woodcut print. However, each sign does take a lot of concentrated construction, which can discourage some who have wanted to create their own. So far, we have 3 different chapters that have taken to the bridges: OLB-Fox Valley, OLB-Dane County (both in WI) and OLB-Harrisburg. We've also seen other iterations, such as a Madison based "Sign Brigade" doing daytime roadside actions. I see that OLB has a function as a model of empowerment, as well as the joy (or anger) one gets from seeing a message "done up in lights." One thing that hasn't happened yet is an ongoing series of "hacks" that extend and expand the idea. The off-the-shelf lights get expensive. Could someone figure out how to make battery powered (not big battery + inverter, but lightweight AA batteries) LED light strings so that we could build our own? How about other variations? This would be great to see, especially now that the Graffiti Research Lab's open inquiry with LEDs seems a thing of the past.
NS: What have been some favorite moments from the bridges?
It always amazes me when some random stranger pulls off the highway and comes to find us. Sometimes, especially at first, this would mean trouble, in that aggressors would want to direct anger at us. But one night in the bitter cold weather of January, an African American man came up to the bridge, told us he saw us and wanted to give us a gift, and offered each Holder a beautiful knit hat. He was a salesman of sports clothes, and had a lot of hats. We each left that night with a new Milwaukee Bucks hat!
Another time, just a few weeks ago, two women – an older woman and her adult daughter – came up to the overpass. Both were public school teachers. The teachers have been so demonized in Wisconsin – it is both ridiculous and shameful, but it obviously works to divide us, and as obviously takes its emotional toll on these new "enemies of the state." The older woman exclaimed that they were "so grateful to see us out there doing this" and she burst into tears. There were lots of hugs and they hung around for awhile, held a couple of letters, and left. It was very moving, as a lot of our Holders are themselves teachers.
We also hosted the famous "Nuns on the Bus" tour – the politically progressive group of Sisters who are going around the midwest to decry the austerity budgets of Paul Ryan and the Republicans. It was amazing when their bus pulled up by the overpass, and these elderly activists (along with the powerful Sister Simone) approached the bridge and saw the QUESTION AUSTERITY message we had created just for their tour. There were 96 people on the bridge that night, and they all sang happy birthday to one of the Sisters since it was her 72nd celebration that day. That was a wonderful event, and a great example of diverse activist communities coming together based on these joyful actions.
I could go on and on. Each action, each Bridge Party, is a whole narrative – interactions with police, with passersby, with neighbors both supportive and critical, and now and then with aggressors who have busted out our car windows or tried to shut us down. But it is all powerful, all a microcosm of the rifts in our country. The bridge is a forceful metaphor beyond its commanding physical presence over the geospatial distribution network function of our highways. It works both linguistically and architecturally, and affords a curious perch for our loose affiliation of committed brigadiers.
NS: How can we make our own stuff?
OLB: Check out our new site at http://overpasslightbrigade.org/
You can also find "noise of rain" posts on the Daily Kos site
http://www.dailykos.com/user/noise%20of%20rain
Introduction.
Interest in Damien Hirst and his commercialized, celebrity status is well known. So when we heard that Tamiko Thiel was making the artwork "All Hail Damien Hirst!", we were immediately curious. Hirst is an extremely rich individual with powerful allies within wealthy, traditional art establishment circles. This includes Charles Saatchi, and commercially dedicated art mags and art institutions whom have all successfully helped in marketing his particular brand as part of their own economic strategy. With this in mind and acknowledging the potential risk in satirizing a well known art celebrity we thought it was a good idea to interview Thiel about her ideas and experience on the project?

Marc Garrett interviews Tamiko Thiel.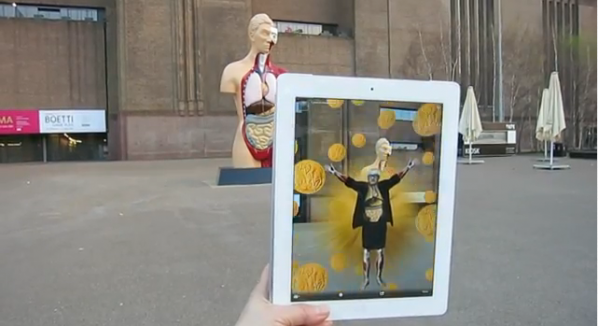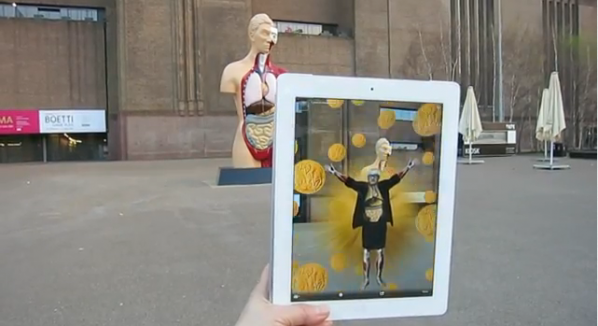 Video documentation of "All Hail Damien Hirst" . The gold coins are a 2012 special edition of the British gold sovereign for Queen Elizabeth II's Diamond Jubilee.
MG: Many are curious about your new augmented reality project "All Hail Damien Hirst!". It is an art installation and intervention. Why have you chosen to create an artwork aimed specifically at him, during his retrospective exhibition at the Tate Modern?
Tamiko Thiel: As a visual artist my projects start with having a strong image in my mind's eye that compels me to pursue the project further. When I heard of the retrospective at the Tate I immediately had an image of Hirst – depicted in a style relating to his own working methods – hovering in the vast space of the Tate Modern Turbine Hall. On findng out that the space was not going to be used except for the small room housing his diamond skull, I saw an opportunity to give visitors an experience that would utilize the space beautifully, compliment his own work and bring the contradictory feelings that many have about him and his work into sharper focus.
In my own work I often draw on the power of religious imagery. This aspect of Hirst's work, and also his themes of the body and death, are very compelling to me. On the other hand, he plays a master hand at making the art market dance to his tune. I find the market value of his carefully ordered spot paintings, for example, in marked contrast to the artistic power of Yayoi Kusama's spot obsessions, which were exhibited probably not by coincidence at the same time at the Tate Modern.
To top it off, while flipping through a United Airlines onboard magazine I chanced upon an image depicting the value of Hirst's artworks as an exaggerated – and spotted – version of the movement of the stock market: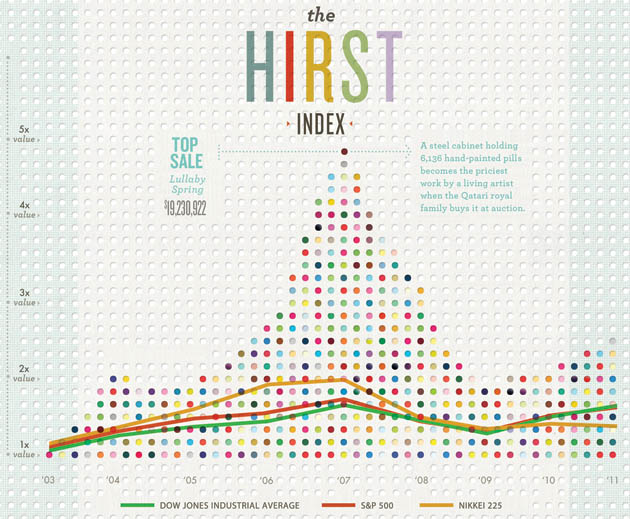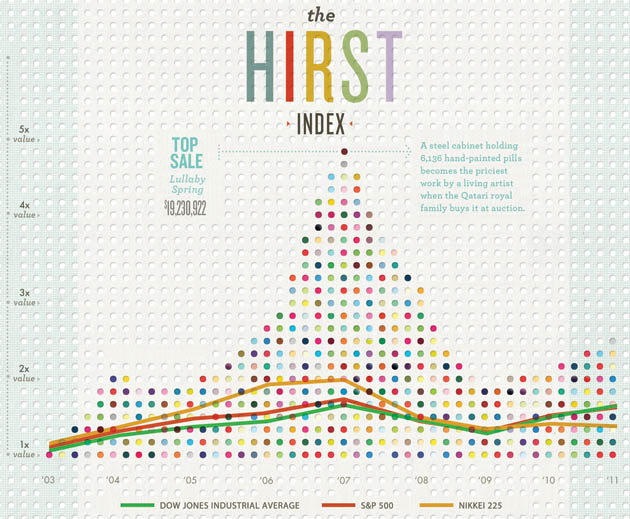 PAINT BY NUMBERS Article. Illustration by Kelli Anderson. hemispheresmagazine
I wanted to make a work that addressed multiple issues surrounding Hirst as a person, as an artist and as a force in the art market at a time of extreme tension in the world's financial markets. I knew however that Hirst is very litigious, so I was careful to use none of Hirst's actual artworks, so I do not infringe on his copyright!
I had done an earlier augmented reality work, Reign of Gold, as part of the AR Occupy Wall Street project. In this work, viewers all over the world can chose the site at which to view the piece on their smartphones, and then see an animated rain of gold coins superimposed over the live camera view of their surroundings. I have photos of this work against the New York Stock Exchange, the Bank of England in London, TEPCO in Tokyo – the company that brought us the Fukushima nuclear disaster – and other choice sites around the world. You will see a clear visual relationship between the rain of gold coins and Hirst's spot paintings, which many say are destined to go through a similar boom and bust cycle as are the world financial markets.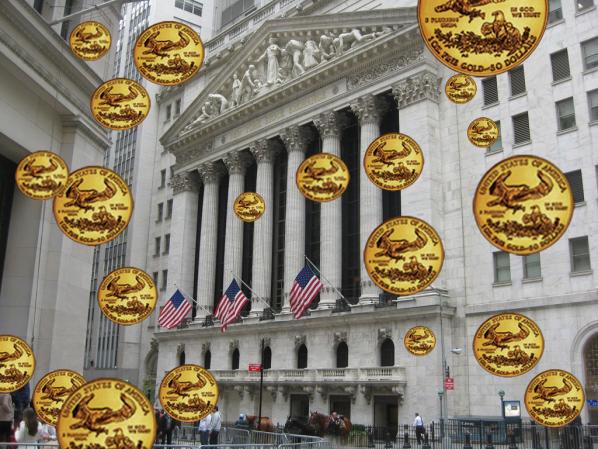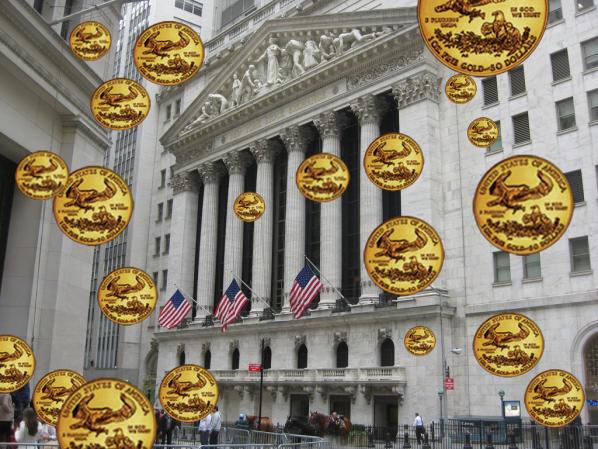 "Reign of Gold," New York Stock Exchange, Broad Street facade. Tamiko Theil.
If I was a painter I would've gone off and made a painting, and that would have been the end of that. Since I work with augmented reality however I could place the image in and around the Tate Modern itself, the very site of Hirst's exhibition. This puts a whole different spin on the artwork, as having an artwork "in" a prominent arts venue is seen as a form of "canonization" in the art world, even if the artist places the work there by him- or herself, as did Banksy.
This brought in yet another level to the project, as the work functions now not only visually, but by dint of its location also questions the system by which the art world consecrates artists and artworks. What does the location of an artwork mean, if every artist decides for herself where to place the work? Walls cannot keep us out, nor can walls keep us in. Even Hirst, who is known as a control freak, cannot exercise control over augmented reality.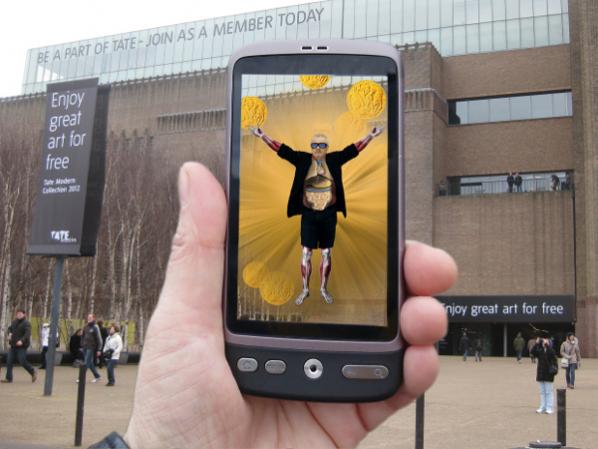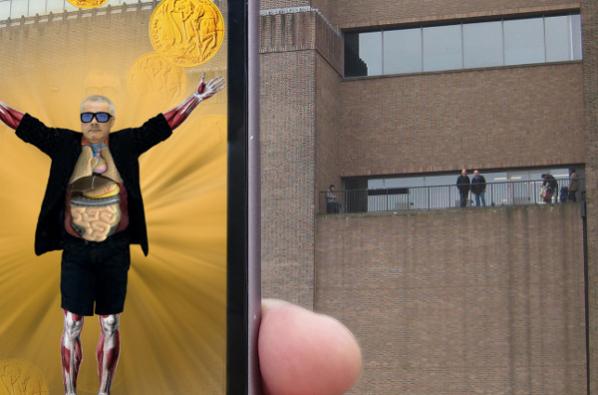 "All Hail Damien Hirst!", Tamiko Thiel, 2012. Enjoy great art for free at the Tate Modern, London.
MG: You visited the Tate Modern and interacted with the public. What kind of responses did you receive by visitors to the intervention?
TT: Delight! Most had come to see Hirst's exhibit with contradictory feelings about the man and his art because of similar issues to those that had motivated me to make my artwork originally. They were delighted at how my artwork spoke to these feelings while leaving the conclusion open for the viewer. They liked the spatiality of the piece, how it surrounded them and filled the cavernous empty space of the Turbine Hall when viewed inside the Tate Modern, and reflected on Hirst's "Hymn" sculpture when viewed outside by the river. There was also fascination about this new technology which none had ever seen before, and of course some puzzlement about how it worked.
MG: What message are you hoping to communicate with this interventionist project?
TT: What attracts my attention as an artist are topics that provoke contradictory or unresolved emotions in myself. By their very nature I can't answer these topics with a simple message. Instead I try to create striking images and visual/kinesthetic experiences that evoke the contradictory feelings I have myself, in the hopes that my works can help focus or sharpen the issue, or at least provoke dialog in those who view them.
To cite a different work from my art practice: even in "Shades of Absence," in which I surround anonymous golden silhouettes of censored artists with terms of censorship, I am myself of two minds about many of the artworks I cite in the linked website on censored artists. I made Shades of Absence as an intervention into the 2011 Venice Biennale, at a time when Ai Wei Wei was imprisoned by his own government. In his case I am strictly against the censorship of him as an artist and a person, but in many other cases I have cited, I myself could not say I would always be against censorship when it could incite hate and physical violence against others.
MG: Is it mainly Hirst you are critiquing here or is he representative of something bigger in art and its culture that you are questioning?
Hirst is the British Jeff Koons! Every era and every country finds such a figure to represent the eternal tension between art as a sublime personal experience and art as the magnet for glamour and status and money. I wonder if it was any different for the artists of the cave paintings?
MG: In the publicity for the project, it says 'Augmented Reality is the Street Art of the 21st Century!'. Could you elaborate what this means to you, and share with us some examples of other interesting works in this field?
TT: In this regard, to be frank I think the work of my cyberartist collective Manifest.AR is the leading work in the field at this moment, perhaps because we are all so diverse and cross-fertilize each other!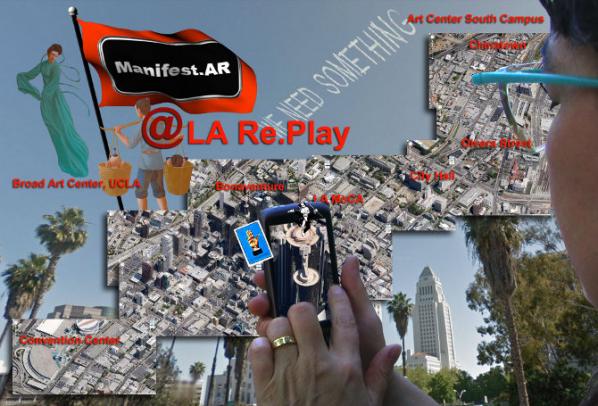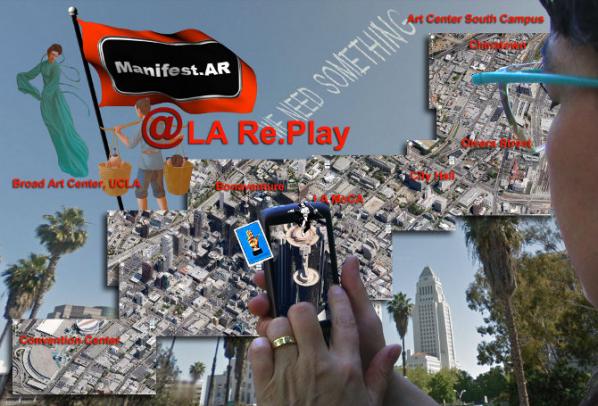 ManifestAR @ LA Re.Play
Of course augmented reality is not as visible as a graffiti on the side of a building – but it also cannot be removed, and we can place them wherever we want without fear – yet – of arrest or fines. Also, the smartphone or mobile tablet is becoming an extension of the self, and our primary interface with the extensive virtual society in which we are embedded. It is how we will communicate, how we will find information, how we will share our social space with everyone who is not standing in exactly the same room at exactly the same time, it will become our entertainment device, our payment device and god forbid our identification device. You do not go to someone's house to look through their photo album, you go to their Facebook site. Why shouldn't you start finding their thoughts and expressions as augmented reality images around you in space?
I just successfully co-wrote a major Rockefeller Foundation grant to help residents of a very poor area of a major city put up their own history and artwork in their neighborhood using augmented reality. I can't say much about it as the official publicity has not yet been released, but the organization I wrote it for is convinced that in a couple of years, more of their youth will look at art on smartphones than in museums and art galleries. Will the middle and upper classes lag behind, because they think the only art worthy of note is hanging on gallery walls?
Links:
All Hail Damien Hirst! An augmented reality installation celebrating Damien Hirst at the Tate Modern.
http://www.allhaildamienhirst.com/
"Reign of Gold" – part of AR Occupy Wall Street
http://www.mission-base.com/tamiko/AR/reign-of-gold.html
Tamiko Thiel – Online Portfolio
http://www.mission-base.com/tamiko/
Tamiko Thiel is a media artist developing the dramatic and poetic capabilities of various forms of virtual and augmented reality as media for exploring social and cultural issues.
A founding member of the cyberartist group Manifest.AR, she participated in the pathbreaking augmented reality exhibit "We AR in MoMA," an uninvited guerilla takeover of MoMA New York. Videos of Thiel's "Art Critic Face Matrix" were featured in articles in the New York Times and on WNYC (National Public Radio). In 2011 she led the Manifest.AR Venice Biennial AR Intervention, placing her work series "Shades of Absence," on censorship in the visual arts, in the Venice Giardini and in the German National Pavilion (which won the Golden Lion Award for best national pavilion). This led to an invitation to participate in the ISEA2011 exhibition UNCONTAINABLE, an official parallel program of the Istanbul Biennial, where she placed her artwork series "Captured Images" into the main biennial exhibition
The Glitch Moment(um)
Rosa Menkman
Institute Of Network Cultures, 2011
ISBN 9789081602167
Rosa Menkman's book "The Glitch Moment(um)" is a comprehensive study of the theory, practice and social context of contemporary digital Glitch Art. Glitch Art is similar to the ironisation of the noise of old media into cultural signals seen in Trip Hop and that is the basis for the nostalgic image-making of Lomography or Instagram. But it is based on current digital technology, rather than past analogue technology.
Glitch Art is growing in popularity and critical attention, and is already being recuperated by the mass media (for example in a recent Calvin Klein perfume television advertisement). Analogue glitches have been part of art and popular culture for decades, for example in Nam June Paik's television-based art or the titular character of the cyberpunk TV show "Max Headroom". Digital glitches and their simulation featured in the postmodern graphic design of the early 1990s created by groups such as Designers' Republic. But between a history of analogue media and a future of mass media recuperation there is the current Moment(um) of digital glitch aesthetics that Menkman identifies.
Menkman begins by explaining the basics of Shannon/Weaver information theory as the basis for a theory of what glitches are. In information theory, messages are sent as a signal from a transmitter to a receiver over a channel which is disrupted by a source of noise. This "noise" is the crackle on analogue telephones or on vinyl records, the static on analogue TV and radio, and the corruption that sometimes affects digital images or audio streams (nowadays notably Skype chats).
Where kinds of noise are associated with a particular we can recognise them as particular "noise artifacts". We can also recognise compression artefacts in digital media such as those seen in over-compressed lossy image and video files (JPEG and MPEG artefacts). These noise and compression artifacts are experienced by the users of communication media as glitches. Menkman describes these phenomena in detail, providing the reader with a firm foundation in the sources and expression of Glitch phenomena.
How artists can deliberately create these phenomena is the subject of the next section of the book. Titled "A Vernacular Of File formats" it is a condensed adaptation of Menkman's 2010 artwork of the same name. It is a thorough and accessible resource for both understanding the production of and creating visual glitch aesthetics. Each picture demonstrates a technique for modifying the data of an image file format so that a computer can still parse and render the file but it will appear corrupted to a human viewer. Starting with an uncorrupted (but unnervingly contrasty) "RAW" image, Menkman explains the production and principles of corrupted digital images in sufficient detail that the reader can recreate and build on these techniques themself, or use this knowledge as the basis for understanding and appreciating the work involved in the Glitch Art produced by others.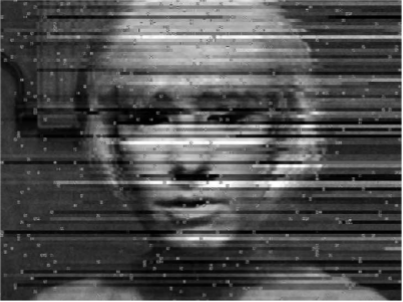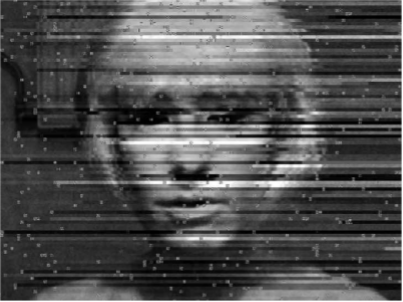 The next two chapters cover the phenomenology and philosophy of Glitch. The theories of Paul Virilio and Alan Liu are usefully deployed here to give Glitch a philosophical grounding. But there is also a recognition that Glitch is an inherently open concept that is difficult to define. Menkman rightly considers the work of Beflix (Ant Scott) as a leading Glitch Art figure. The diversity of Beflix's work illustrates the problem with categorizing Glitch neatly, or at all. 5VOLTCORE, JODI, and others provide alternative views of what Glitch can be. This builds to Menkman defining "Glitchspeak" as the vernacular, or in possibly the creole, of Glitch Art.
In "From Artifact To Commodity", Menkman turns to Glitch aesthetics in music, particularly the glitches created through circuitbending, and the precedent this has set for the creation of standardized tools for glitching visual media. As such tools have been created for images, Glitch aesthetics have found their way into the artistic mainstream and into music videos and other mass media. Glitch may be impossible to categorize but it is all too easy to commodify. This marks its emergence as a genre, and Menkman finishes this section by considering Glitch as a recognizable but still problematic genre that relies heavily on spectators' technical, aesthetic and theoretic literacy.
Having given the reader a solid grounding in the theory, practice and philosophy of Glitch, Menkman finally moves on to its sociology. Using a tool that looks like Gephi but isn't (Issuecrawler), Menkman models the social network of relationships between Glitch artists that exist on the Internet. Clustering blogs and other Internet expressions by the number of links between them allows the tools of social network analysis to be used, revealing who is central to the Glitch artworld as judged by the clicks of their peers.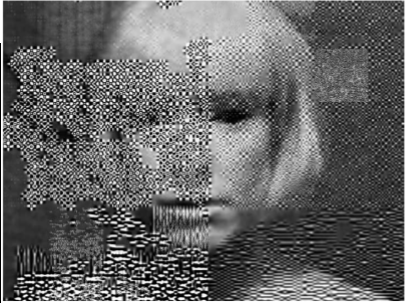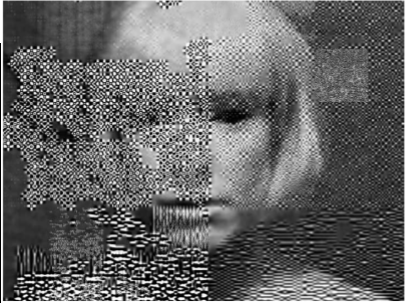 Finally Menkman sums up Glitch aesthetics in a section called "The Emancipation of Dissonance Glitch". Starting with a quote from Jackson Pollock:
"I don't use the accident. I deny the accident. There is no accident, just as there is no beginning and no end."
Menkman concludes that "Like the best ideas, glitch practices are dangerous because they generate awareness". By which point the reader is perfectly placed to understand just how and what kind of awareness Glitch generates, and how they can appreciate or produce Glitch art themselves.
Glitch Art has been long overdue serious critical attention. I cannot remember the last time I read a book that so thoroughly and concisely presented the theory and practice of a contemporary art movement in as does "The Glitch Moment(um)".
You can download a PDF or order a print copy here
The text of this review is licenced under the Creative Commons BY-SA 3.0 Licence.
How can designers and programmers work more harmoniously? How can the tools being created better meet the needs of users? There is a need for designers to have a greater role in the production of the tools that they use, aside from just reporting bugs, requesting features or designing logos for open source projects. This is where the Libre Graphics Research Unit comes in. The Libre Graphics Research Unit (LGRU) is a traveling lab where new ideas for creative tools are developed. The unit has grand aims, looking to bring aspects of open source software development to artistic practices. The programme, sponsored by many organisations in Europe, is split into four interconnected threads:
Networked graphics
Co-position
Piksels and lines
Abstracting craft
The first meeting, Networked Graphics, took place in Rotterdam from 7-10 December, 2011 and was Hosted by WORM. This second meeting, Co-Position, for which I was present, took place at venues across Brussels from 22-25 February 2012. Co-Position is described by LGRU as:
[…] an attempt to re-imagine lay-out from scratch. We will analyse the history of lay-out (from moveable type to compositing engines) in order to better understand how relations between workflow, material and media have been coded into our tools. We will look at emerging software for doing lay-out differently, but most importantly we want to sketch ideas for tools that combine elements of canvas editing, dynamic lay-out, networked lay-out, web-to-print and Print on Demand.
The meeting saw the coming together of many international artists, theorists and developers for four days of work around this subject. As some of the sessions of the meeting took place simultaneously I'm unable to give a full synopsis of the event. Instead, what is presented below are some of the key issues raised at the meeting.
Libre workflows
The subject of copyright cannot be avoided when discussing digital art and collaborative practices. There is a definite need to foster a safe and welcoming environment for artists and designers to produce, share and remix their work. Licensing of artwork under Copyleft licences – such as Creative Commons – helps to create this environment.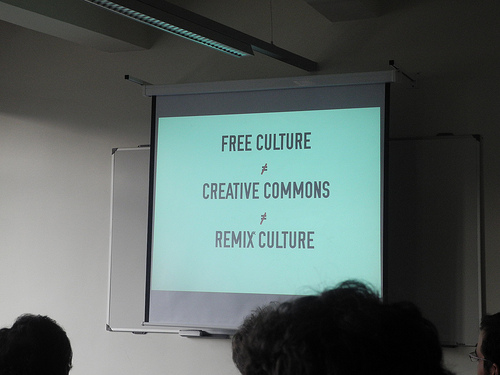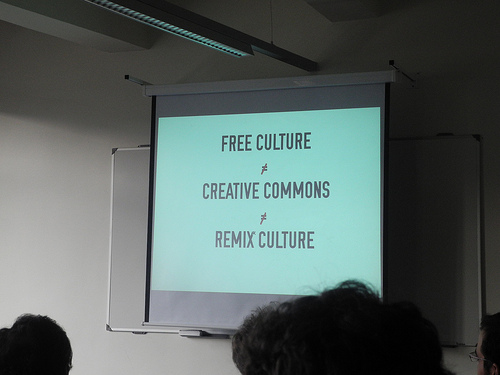 In his presentation, entitled "Libre Workflows – A Tragedy In 3 Acts", Aymeric Mansoux was quick to point out that Creative Commons licences do not cover the source of the artwork. To put it into context, a JPG is covered by a Creative Commons licence but is the XCF/PSD file? Mansoux also considered what is actually a finished piece of artwork? In a remix culture is an artwork ever finished? Mansoux refers to this quote from Michael Szpakowski for further elaboration:
I've found it helpful to think of any artwork, be it literary, visual art or music as a kind of fuzzy four dimensional manifold. So the "complete" artwork is the sum of all its instances in time, and all epiphenomena. The entire artwork, seen this way, is a real and precisely enumerable sum, a concrete, not imaginary, set, which could be knowable in its entirety by something long lived and far seeing enough.
Visual Versioning
From their home town of Porto, Portugal, Ana Carvalho and Ricardo Lafuente produce Libre Graphics Magazine with ginger coons who is based in Toronto, Canada. For the production of the magazine they use Git, with their repository being hosted on Gitorious. As a tool for sharing files between collaborators Git is very useful. However, they explained that they feel they are not making effective use of all that Git has to offer. Part of this comes from the complexity of using Git. There are more than 140 commands in Git, each with their own unique function. These are usually entered via the command-line, but there are a number of programs with a Graphical User Interface (GUI) available. Programs with a GUI are usually favoured over command-line programs as they remove some of the complexity. Carvalho and Lafuente have found, however, that many of of these GUI programs simply replace commands with buttons, which doesn't remove any of the complexity in using Git. What is needed is an easy to use specialised tool for the production of art.
Visual Versioning Work Session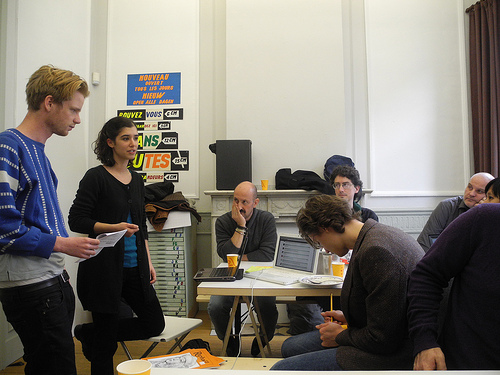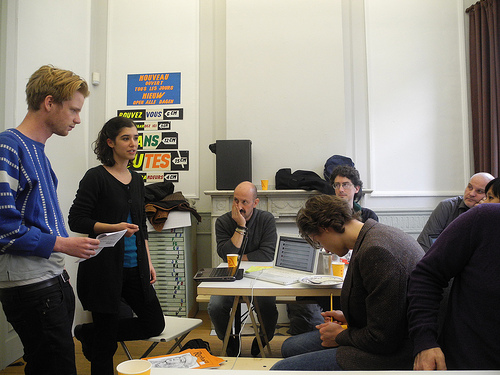 In this work session, presented by Ana Carvalho and Eric Schrijver, the work group imagined how to adapt existing version control tools to meet the needs of artists and designers. The session began by taking a look at how people currently implement version control. A common practice is to manually make backups, renaming files to differentiate between stages. This can be an effective way of making different versions, but it doesn't address other issues such as making comparisons or merging changes. The ineffectiveness of these manual methods is soon very apparent. The work group was introduced to the Open Source Publishing (OSP) Visual Repository viewer, which begins to respond to some problems with current version control systems by providing thumbnails of files in a repository.
Using this as a basis we began to look at other functions that the OSP Visual Repository viewer should have, such as the ability to compare graphical files in different ways and to revert back to previous versions or merge versions. Although there was no time to produce working code we did seek to address the complex task of merging and comparing not only the ouput file but also the working files (svg/xcf/psd).
Laidout
Every good work of software starts by scratching a developer's personal itch.
This quote from The Cathedral and the Bazaar by Eric Steve Raymond could not be more accurate in describing the motivations behind the development of Laidout, developed by Tom Lechner, a comic artist from Portland, Oregon. Perhaps one of the most impressive software demonstrations of LGRU, Laidout is a program for laying out artwork on pages with any number of folds, which don't even have to be rectangular.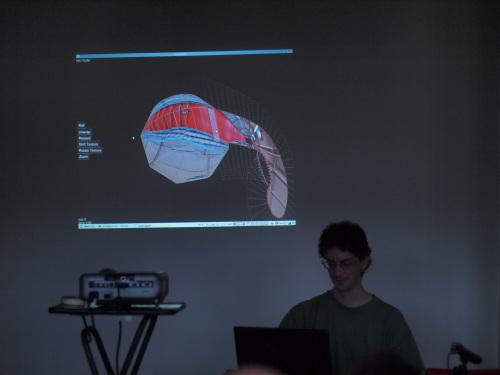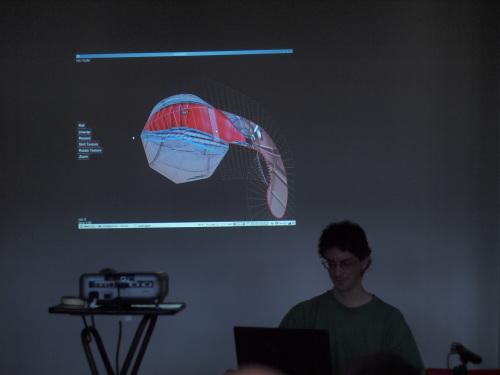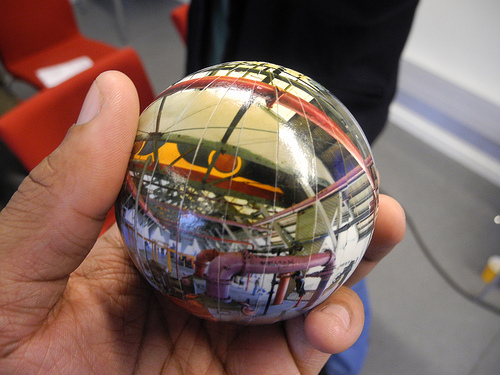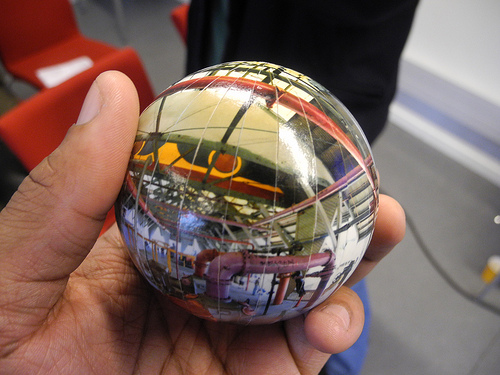 SVG from scratch
In an attempt to devise new tags that can be added to the SVG specification, Michael Murtaugh and Stephanie Villayphiou presented a work session that looked at the different ways language is interpreted by both humans and computers. To address this the work group took part in a task that saw them act as an interpreter of commands. With nothing more than a list of tags used in SVG files the work group would attempt to construct shapes.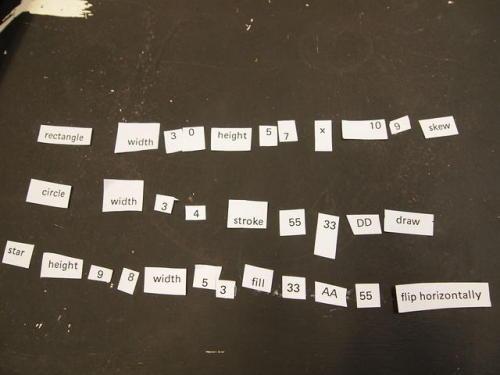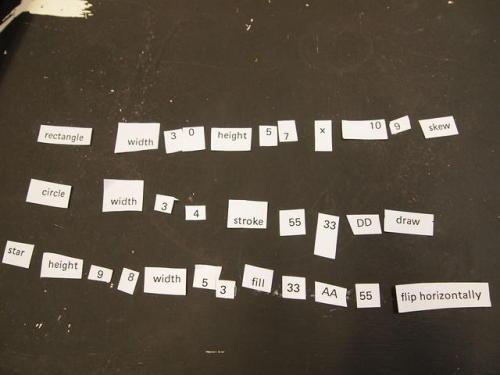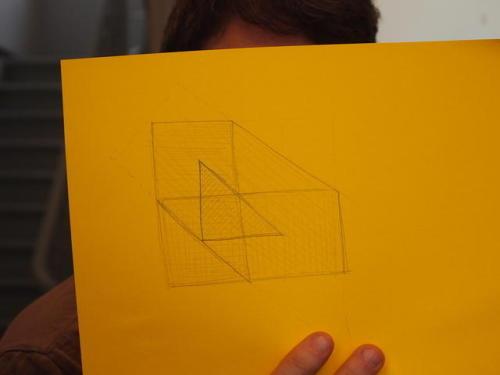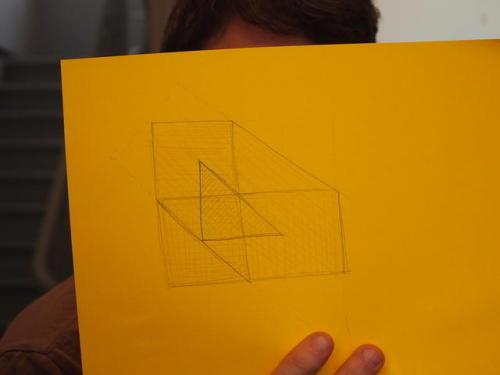 The results varied from person to person and highlighted an important question: How can computers interpret ambiguity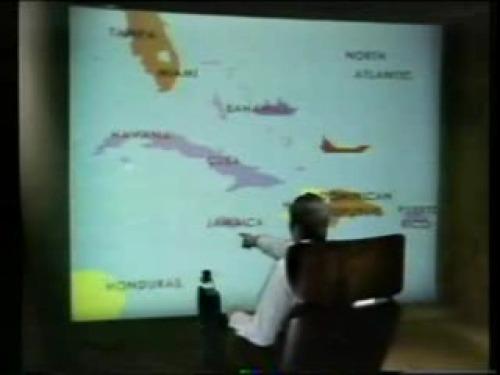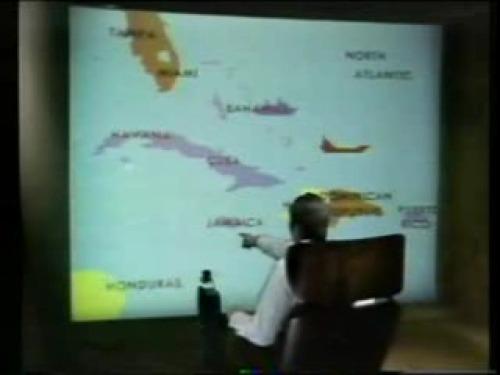 Using the Richard A Bolt "Put that there" demonstration, Murtaugh showed how human-computer interaction is still based around using very clear, unambiguous commands that can be easily interpreted by computers. In SVG only the most basic of shapes – rectangles, circles and lines – are represented. But, as the work group participants asked, could there be tags to represent more complex shapes, such as a horse?
Roundtable discussion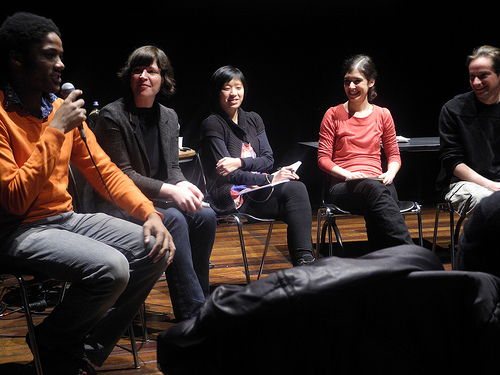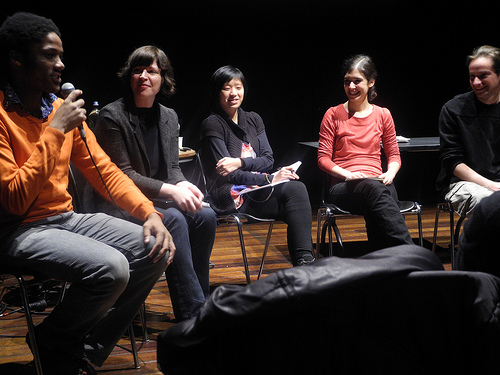 On the final day of the meeting I took part in a roundtable discussion, chaired by Angela Plohman and featuring myself, Stephanie Vilayphiou, Camille Bissuel and Ana Carvalho. The discussion first went over all that we had achieved over the four days at the meeting, and then the discussion focused on how and why we share our artwork. Expanding on the earlier quote from Szpakowski, how can we make sharing all of our artwork – including the early stages and inspirations behind it – an easier and integrated part of making artwork? In addition to sharing our final, "finished" artworks do we want to also share our processes and ideas behind the artwork? More importantly, can software easily aid this?
Other topics debated in the discussion revolved around opening up our artwork and processes to others. By opening up the development process of our artwork do we do so to invite collaborators and contributions or just observers? The Blender Open projects, for example, are highly regarded as an example of the work that can be made using open source software. The files used to make these projects are are released upon completion of the project, but the development process remains closed to the team of artists and developers. Would opening up this process to contributors add any value or could having too many ideas dilute the original vision of the project.
Although no conclusions around these topics were made, it was nonetheless important for everyone at the meeting to think critically about their practice
The Future of Layout
A concern of mine is that research is not always acted up on and exciting possibilities exist only as theory. However, I feel that the approach of Libre Graphics Research Unit, which combines research and practice, will ensure that the work undertaken at the meetings is implemented. It is actively working with developers and users to try and create solutions.
At the Co-Poistion meeting not one final product was made, but the initial vision for the future of layout was formed.
The next meeting, Piksels and Lines, takes place in Bergen, Norway and is organised by Piksel.