Ludic Science Club Sunday Sessions, starting at 2PM
2 March: 1812 Crossing of the Berezina scenario for Richard Borg, Commands & Colors Napoleonics.
6 April: Mac Gerdts, Imperial 2030
4 May: Bruce Quarrie and Russell King, Apokalypse 1945
1 June: Ty Bomba and Joseph Miranda, Russian Civil War 1918-1922
13 July: Greg Costikyan, Pax Britannica. CANCELLED
3 August: H.G. Wells, Little Wars.
Training in Ludic Science for the Situationist Revolution
"Political theories are only made to die in the war of time. Like military units, they must be sent into battle at the right moment; and whatever their merits or insufficiencies, they can only be used if they're at hand when they're needed." – Guy Debord.
Ludic Science Club Sunday Sessions
Clausewitz v. Jomini at the Ludic Science Club. 1812 Crossing of the Berezina scenario for Richard Borg, Commands & Colors Napoleonics.
The first of 5 monthly board game 'Ludic Science Club Sunday Sessions' organised by Class Wargames at the Furtherfield Commons. This Sunday join writer and academic Dr Richard Barbrook with Class Wargame collaborators for the 1812 Crossing of the Berezina scenario for Richard Borg, Commands & Colors Napoleonics. All Welcome.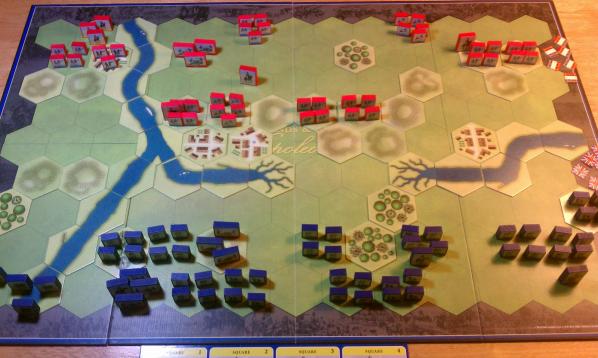 Dr Richard Barbrook is the author of Imaginary Futures: From Thinking Machines to the Global Village. In 2008 it won the Marshall McLuhan Award for Outstanding Book of the Year in the Field of Media Ecology. He is a founding member of Class Wargames and co-wrote the script to the group's film: Ilze Black (director), Class Wargames Presents Guy Debord's The Game of War.
Next Sessions.
6th April: Mac Gerdts, Imperial 2030.
4th May: Bruce Quarrie and Russell King, Apokalypse 1945.
6th July: Greg Costikyan, Pax Britannica.
3rd August: H.G. Wells, Little Wars.
All sessions begin at 2.00pm.
To book sessions please contact: ale AT furtherfield DOT org
Furtherfield Commons,
Finsbury Park,
London N4 2PF
To Visit view link – http://www.furtherfield.org/gallery/visit
Featured image: Screen capture of Joseph DeLappe's intervention in America's Army
Introduction.
The Fresno Art Museum, in collaboration with the Fresno State Center for Creativity and the Arts, is exhibiting "Social Tactics," a mini-retrospective of the work of Joseph DeLappe, a new media artist and director of the Digital Media Program at the University of Nevada, Reno. The exhibit has been running alongside the construction of a to-scale sculptural reproduction of an MQ1 Predator Drone on the campus of Fresno State, coordinated by DeLappe and executed by students and volunteers. I had the opportunity to interview DeLappe about his work, and the way it connects to militarism, memorialization, and embodiment. His work has been an ongoing critique of games that look like war, and warfare that looks like gaming – insisting that, within the hall of mirrors that forms "simulation culture," reality still must be accounted for, and attended to.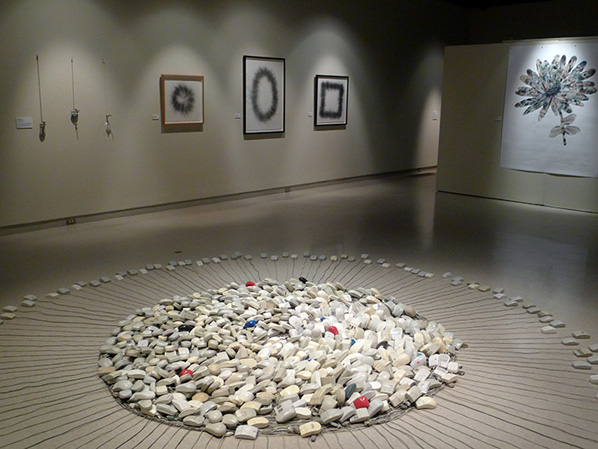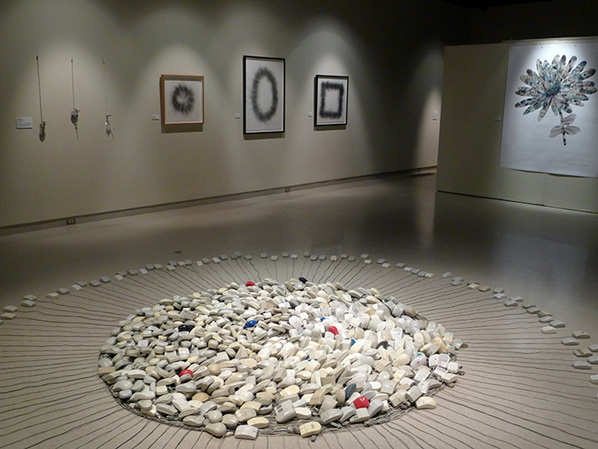 The earliest work in the show is a series of riffs on the computer mouse. The "Mouse Mandala" (2006) splits the difference between a trash heap and an object of meditation – a small sargasso of computer mice is ringed by a circle of yet more mice. The outer radius, tethered to the central mass by extended mouse cords, makes the whole sculpture resemble a dingy grey sun – one that has been pawed by innumerable, invisible fingers. His "Artist's Mice," first begun in 1998, are a series of mice that have drawing implements attached to them, so that the mice can draw while being utilized for their normal activities. The drawing attachments resemble braces, as though the mice are being rehabilitated from an injury – the drawings produced by them are beautiful abstractions, circular or square scribblings that give the illusion that, while working or gaming or goofing off, we could also be making art – skimmed off the surface of our interface with our machines.
All these mice, removed from the context of their guiding hands, inevitably – if ambiguously – echo with a pair of outsized sculptural hands, titled "Taliban Hands" (2011). Modeled from white plastic polygons, the left hand in particular looks as if it could be cradling an invisible, equally outsized mouse. The right hand has its pointer finger extended, as if it were about to press a button. The fact that the hands are upturned short-circuits those prosaic possibilities of gesture, turning them into gestures of supplication. The hands were constructed from 3D data extracted from the model of a Taliban fighter in the game "Medal of Honor," and once you learn that, it's easy to imagine the right hand gripping a gun, the extended finger wrapped around the trigger. The disembodied nature of the hands is discomfortable – it feels like a dismemberment, a pair of hacked war trophies offered up for display.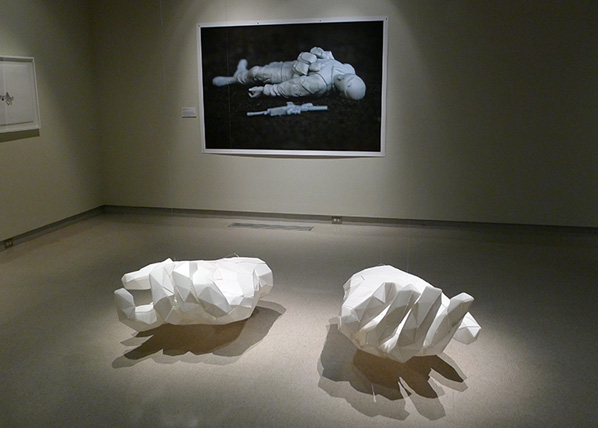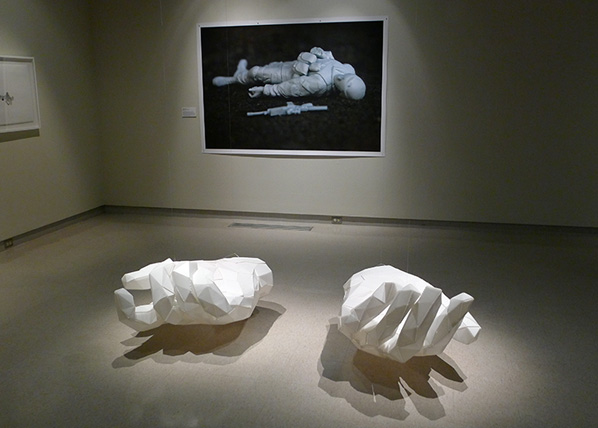 DeLappe also used polygon modeling for a small replica of a US military Drone that hangs in the gallery, which served as a prototype for the life-size drone constructed as a memorial on the grounds of Fresno State. Where the "Taliban Hands" and drone prototype are white and pristine, the Drone Memorial was designed to be inscribed upon. In a public ceremony, volunteers wrote the names of 334 civilian casualties of drones on the faceted surface of the sculpture.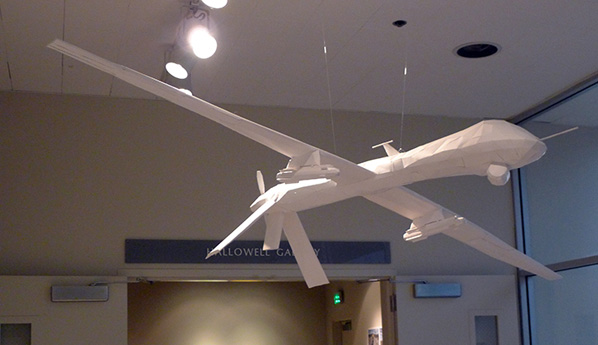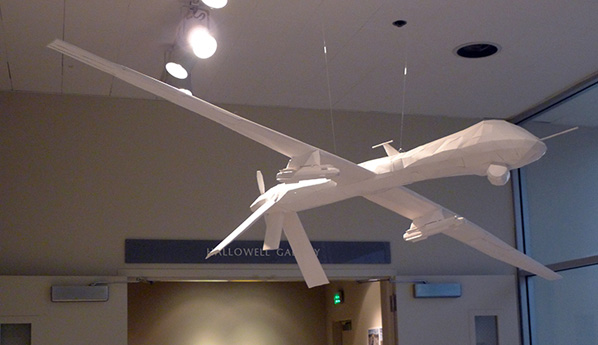 DeLappe's years-long project "dead-in-iraq" (2006-2011) is represented by a machinima video and a large-scale digital print modeled after his fallen avatar in the US Army recruitment game America's Army. Over the course of the American war with Iraq, DeLappe entered the multiplayer first person shooter game, and at the start of each mission threw down his weapon and began typing in the names of US military personnel who had been killed in Iraq. His avatar was invariably shot, either by the opposing team or by members of his own team. In the latter case, it's as though his killers are trying to gun down an itch of conscience – or the nuisance of reality itself. In the machinima of this intervention, when Delappe positions his camera above his virtual corpse, there is sometimes a very profound effect of quietude. The body occasionally twitches, in a gruesome effluvium of game physics, or puffs of smoke are kicked up by stray bullets – but those filigrees of activity only heighten the feeling that the game has moved on. It brings to mind bodies left on real battlefields, unattended to, abandoned to the weather and the birds and the insects while the important business of fighting continues.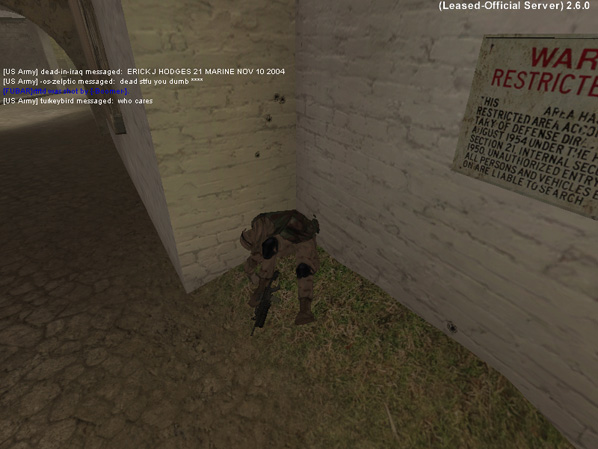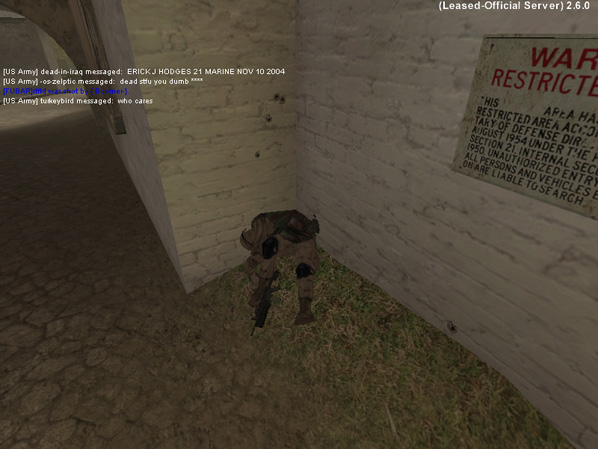 "Project 929: Mapping the Solar" (2013) echoes the circularity of the Mouse Mandala. For the project, DeLappe rode a bicycle 460 miles in a circuit around Nellis Air Force Base in Southern Nevada. The bicycle was outfitted with an apparatus that held a series of pieces of chalk to the road – DeLappe was both marking a chalk outline around the base, and mapping out the dimensions of a solar farm that could power the entire United States, based on a size estimate from the Union of Concerned Scientists. The project is shown through a series of photographs, a video, and the modified bike itself, with a circle of chalk stubs positioned under the frame. In some ways, the piece expands the logic of the "Artist's Mice" to a different scale. Instead of the hand being the driving force, the whole body is the recorded object, and rather than being confined to the top of a desk, the drawing itself is allowed to range across hundreds of miles. In this case, the drawing is the opposite of accidental – it's utopian.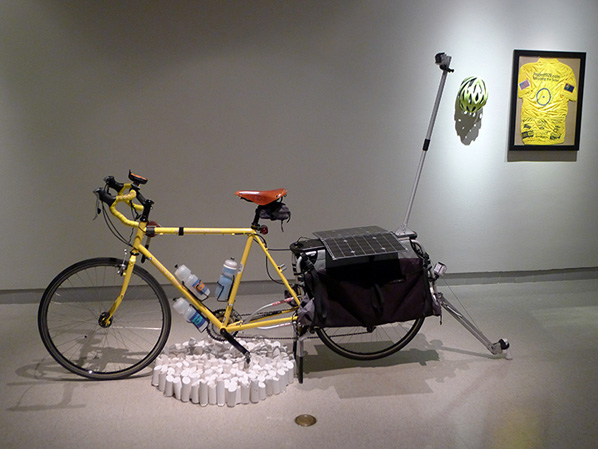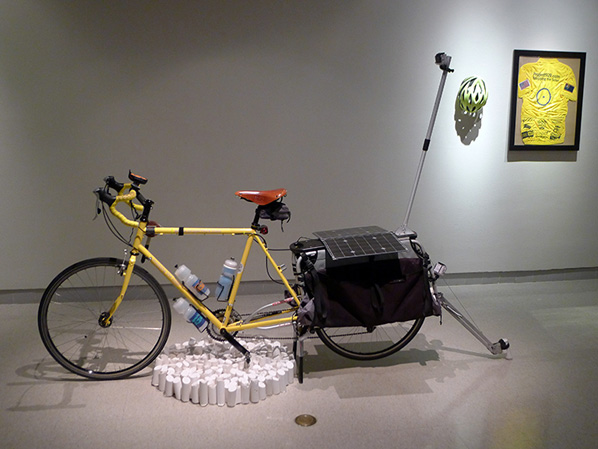 Not represented in the show – but a point of discussion in our interview – was the "Salt Satyagraha Online" (2008), a 26-day durational performance which used a customized treadmill to control the movement of a Second Life avatar modeled after Mahatma Gandhi. On the treadmill, installed at Eyebeam Art and Technology in New York, DeLappe walked the 240 miles Gandhi marched in protest of a British Salt tax – driving his avatar, step by step, across the territory of Second Life. That project was yet another of DeLappe's exploratory reconfigurations of the relationship between protest, performance, and physicality.
Interview.
Chris Lanier: With the mouse-derived work, from the "Mouse Mandala" to "The Artist's Mouse" and the drawings that are made as you're playing a game – what was it like putting those things together at this time, when it's possible to imagine the disappearance of the mouse? Right now there is eye-controlled software , and even thought-controlled software…
Joseph DeLappe: Part of my thought process when doing the mouse pieces was doing a sort of reverse engineering, and trying to figure out what that thing is, because it really is a useless little object otherwise. It's not a hammer, it's not a screwdriver, it doesn't have a function beyond plugging into a computer to allow you to move around this detached marker on a screen. There's already something separate happening, and so attaching a pencil to it was a way of perhaps returning it to its roots. It's sort of a drawing device, a pointer, all these things that a pencil might be, but I was intrigued by the possibilities of extracting some kind of meaning out of it.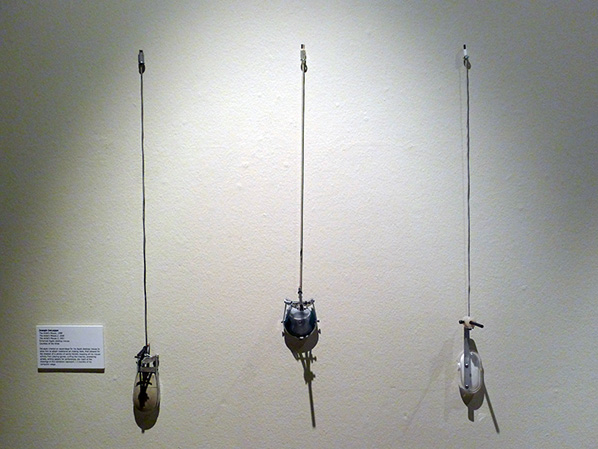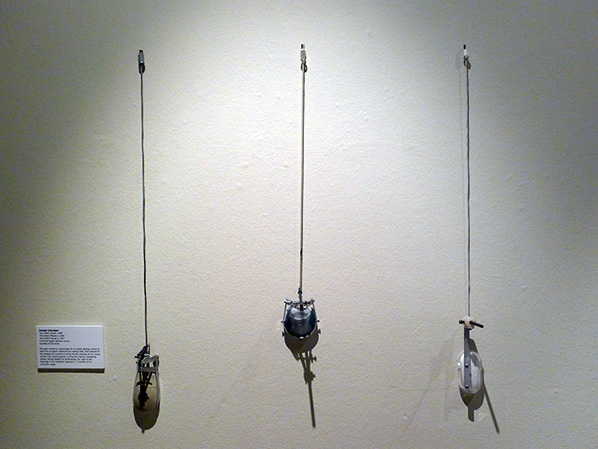 CL: It's funny because it's an extension from the computer to the human, like an organ that extends itself to us, and I wonder what you think of that interface becoming even more disembodied. If the hand is taken out of that circuit, what do you think that says about our relationship to the screen?
JD: I think it will change it. I can really only speak from my experience, not having played the wii, or things like that. I messed around with the kinect a little bit. When you're putting the body into works like what I did in the Gandhi project (which is something that's not in the exhibition) – I placed myself on a treadmill to actually interact with Gandhi, walking him through Second Life. My body became the game controller in a kind of way, the mouse – or however you want to refer to it. I didn't realize it at first but there was an intrinsic alteration of my relationship to the experience going on, on the screen. I wonder if that deterioration of that awkward physical thing you have to do with the mouse or track ball, if that's going to bring us closer to our machines. As it becomes gestural and everyday, I suspect it will become more naturalistic.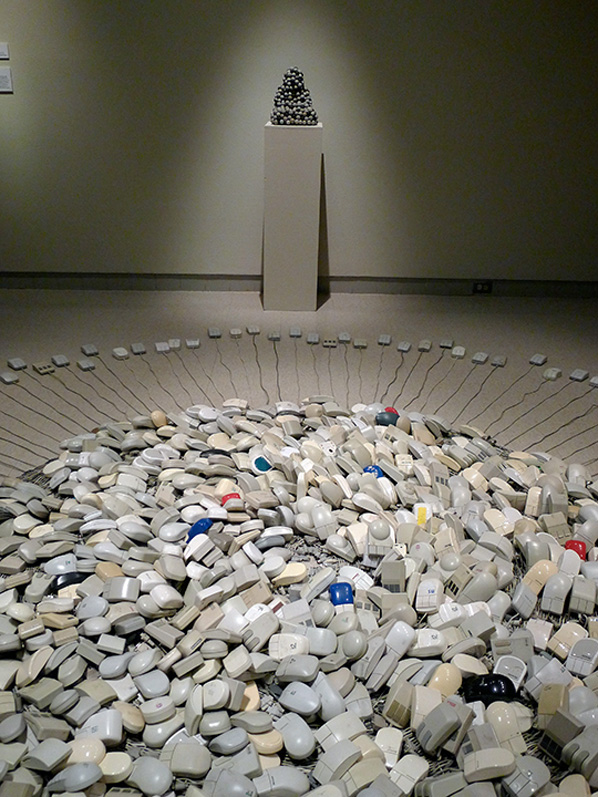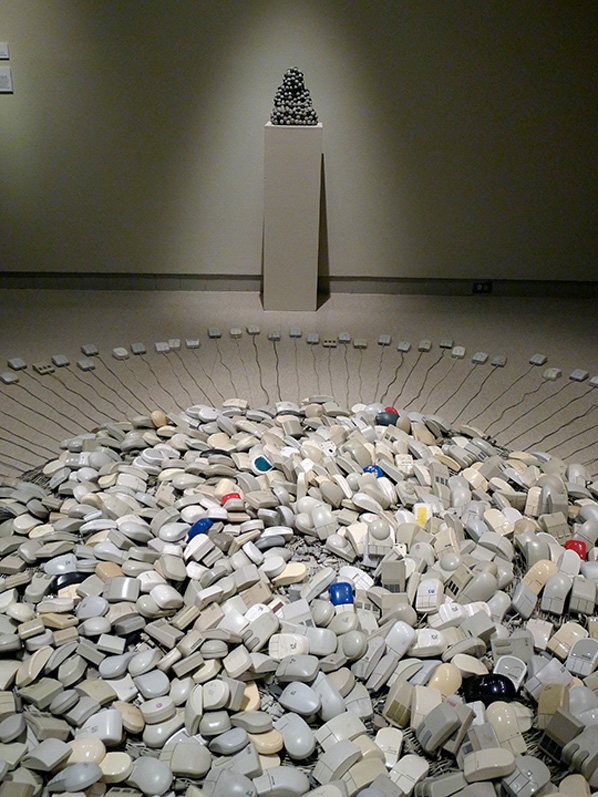 CL: Listening to you talk about the Gandhi project, it seemed to bring you more directly and somatically into that virtual world.
JD: Which was very unexpected. I went into that project from a conceptual durational performance ideation – this would be an examination of "performance," in quotes. Performance and protest. It was done at Eyebeam in New York, and I was thinking about the many durational performances that had taken place in New York, from Tehching Hsieh, to Linda Montano, to Joseph Beuys. I had done performance works online for almost a decade prior to that piece, but that action that the body involves, that was just transformative. It was amazing and intriguing and kind of disconcerting in a way, because I found myself completely drawn into that experience, and connected to my avatar in a way that I never had previously. I was walking in Second Life, which you're really not supposed to do – you're supposed to teleport – so I was navigating over mountains and in places people don't generally walk. And Gandhi would fall off a mountain-side into the next region, and I'd find myself almost falling off the treadmill. Or, after finishing the performance for the day, walking to the subway and thinking I could click on someone to get information. It became this mixed reality in my head.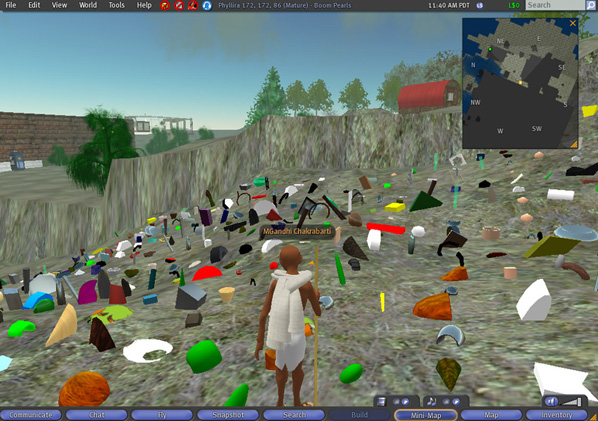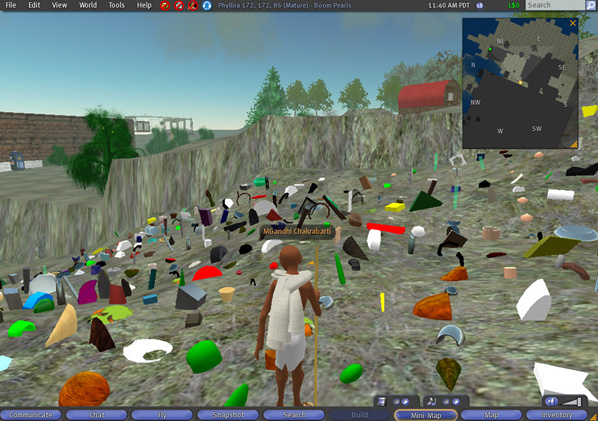 CL: Embodiment seems to be a crucial part of your practice. With "Taliban Hands," you extracted hands from Medal of Honor, and brought them into physical space. In the "dead-in-iraq" project you brought the names of the dead soldiers into the game space of America's Army. It seems that bringing bodies into that space, or extracting bodies out of that virtual world, is important to you.
JD: Well, each of those pieces had different but connected intents. With the America's Army project, "dead-in-iraq," the intent was to embody the reality of the war, to bring it to this virtual space. So when you're dying and or you're killing in that virtual space, and you see these names go across the screen, you realize that this is an actual person that died in that conflict. That might change another player's thought process about what they're doing, and about that visualization – when you get shot you end up hovering over your fallen avatar. So there is this attempt to change how one considers that experience.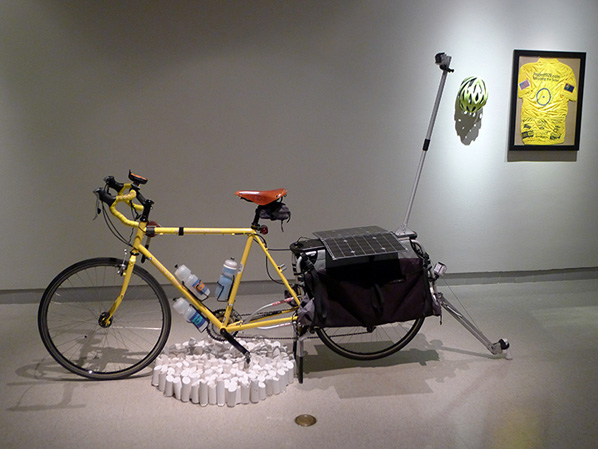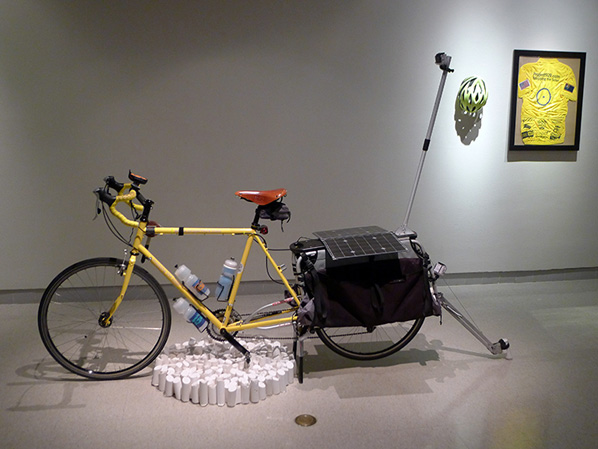 CL: It's interesting, with the self-portrait as dead soldier – the way of marking yourself as dead is to show the body within the game. Moving you from a first-person space, a first-person-shooter space, into a third-person space. The body becomes a marker of death.
JD: That is certainly a problematic aspect of that game. I think the vast majority of the people playing the game – certainly there are some veterans and active military – but there are more people who aren't in that situation. So there is this kind of temporary inhabiting of the US military. Bringing this out into real space is an attempt to drive home the connection of that fantasy pretend space to a very real space. It's like bringing it to a sort of mid-ground. The America's Army game is in fact official US military virtual space. I mean they own it. It is federal space – it's part of the system of hundreds of bases around the world.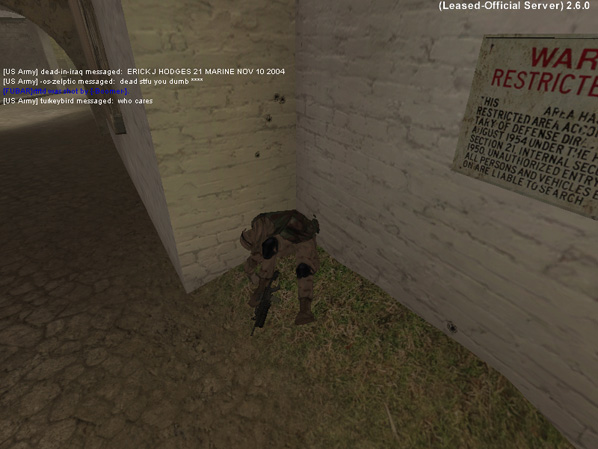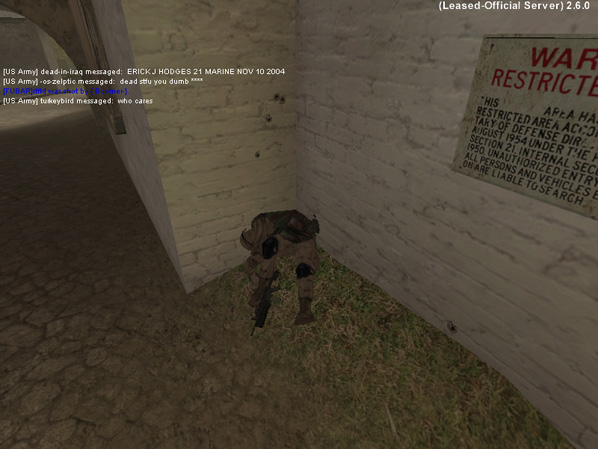 With the Taliban hands, it's a similar attempt, but with a different thought process. With the America's Army game, one of the most devilish things they did with that game is that they've created a system where everybody gets to be a good guy. There are two teams, and you see your team of 2 to 12 cohorts playing against 2 to 12 other cohorts. You always see yourself as Americans. They always see themselves as Americans, but you see each other as terrorist enemies. So there's this digital switching, where they see your avatar as a Middle Eastern terrorist and vice versa.
CL: The strange thing that happens is that you're inhabiting two bodies.
JD: Yeah, at the same time, exactly. But in the Medal of Honor game it's not like that. That was a controversial game when it came out in 2010 because you could play as a Taliban killing American soldiers. It was the only game that was actually banned from military bases. They ended up changing it before they released it – they weren't called "Taliban," they were called OP 4, which stands for opposition forces. But you're still Taliban. So anytime that game is being played as an online match, 50% of the players are being American and 50% are being Taliban.
I found that really curious. I started extracting these maps from that particular game, and then diving into this incredible morass of 3-D data. I would have to dig through all of this wireframe stuff to find these objects, and I found the Taliban and started deleting everything else, and landed at one point with the hands. It was just so intriguing – these hands were gorgeous. When they became disembodied from their source and I started visualizing them in the 3-D software, they took on a kind of Da Vinci-esque quality – like the hand of God or something.
CL: There is a gestural quality to it.
JD: Yeah, exactly.
CL: I'm curious if this work has brought you more into contact with the idea of simulation. Simulation can be useful, obviously – it allows you to think through a situation before it's actually encountered. But then it can actually introduce errors into the actual [situation], because the simulation doesn't correspond absolutely to reality.
JD: I don't know if this connects to your question at all, but if you die in America's Army – this is standard in most shooter games – they have something called the ragdoll effect. It's a simulation of your body going limp. It's meant to give a naturalistic [simulation of] you collapsing, and you're dead. But the effect is actually quite different – there are points where your avatar, in that space – it can be almost comical, like you're going to do a somersault. And every time you actually die, your body – because of that ragdoll effect – you watch the video and the avatars do this kind of shaking thing, that's part of this ragdoll effect. When I first saw it I thought it was this macabre death spasm, but it's just part of the simulation. It's not meaningful in the context of the game, but it becomes meaningful in the work that I did and in the recording of it.
CL: It's funny that a simulation can have these unintentional, almost poetic, effects – if you are attuned to it.
JD: And that's a good metaphor for the whole project, right? It's taking this simulated wargame – this recruiting tool – and re-branding it, remaking it. It's a way to say: "No, let's see if we can make this game be about this, not about that." I appropriated the space – I took it over in a simple way, and I think it was quite effective.
CL: You frame yourself as an activist as well as an artist.
JD: Yeah, and sometimes uncomfortably. I drift in and out of that. There's a difference between being an artist and activist. And right now I'm feeling rather reticent [about the "activist" label] – but I'm an artist at base. It's a little bit more symbolic I guess…
CL: Making a political act in a virtual space – is that inherently symbolic?
JD: That's a really interesting question because in the progression of my work, I think my work has slowly emerged towards existing in a real space – with the bike-riding around the Air Force base, and now building a life-sized predator drone down in Fresno.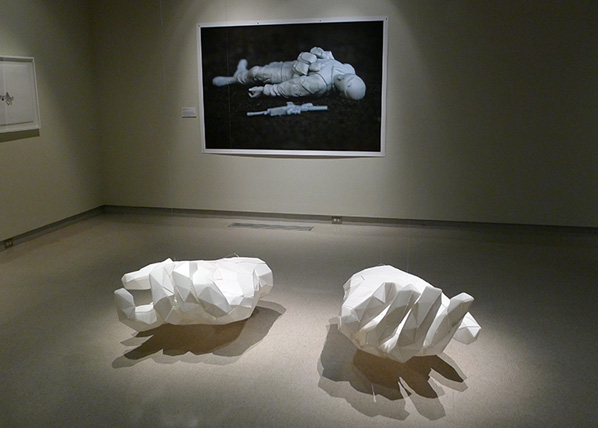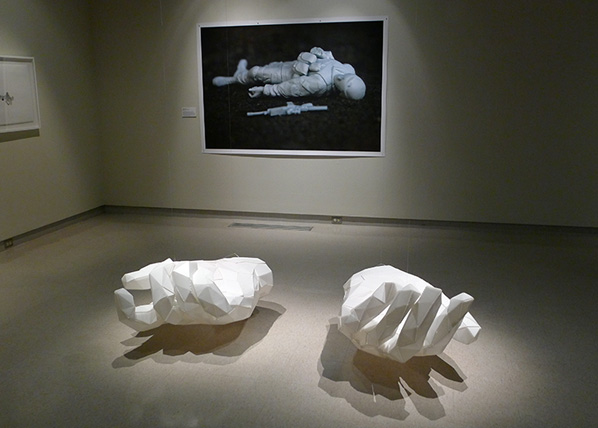 As an artist you do deal with a kind of symbolic reality – metaphor and symbolism, and things that communicate ideas through form. As an activist it seems there would always be a goal of actually fostering change, making change happen in the world. Whether activism is effective at doing that – that's a really big question too, right? I'm not sure sure if that's the case these days. That's one of the reasons I was interested in going into the America's Army project. It was seeing the – I wouldn't say the complete failure – but the invisibility of traditional forms of protest. You had the world's largest worldwide gatherings of protest, a year before we started that war, which was totally under-reported…
CL: And under-counted.
JD: Right. And I'm not saying that I never want you to go protest in these places, but you do have to push that envelope into places where people would not expect it, to actually reach people. And that was a surprise actually, that that piece resonated so powerfully with others – and became a viral thing that, by accident, was disseminated to a huge audience. That was good. But I'm not sure how I feel about it as a kind of permanent venue for trying to do that kind of thing.
With the "dead-in-iraq" project, there were some people who were criticizing it, saying, "Well, you're just sitting there at your keyboard." It's like: "Yeah? Right. I know that – that's part of the point. Everybody playing that game is sitting at their keyboard."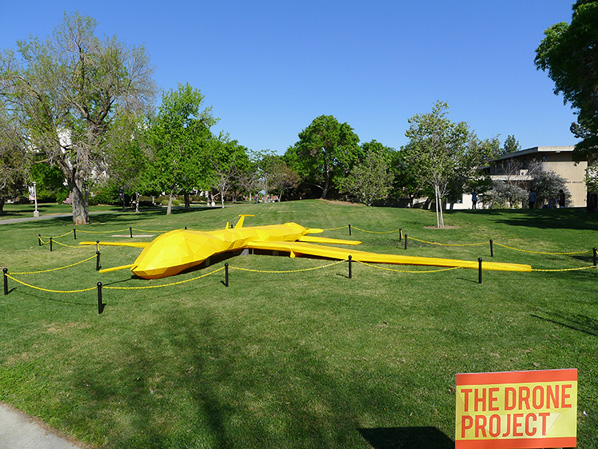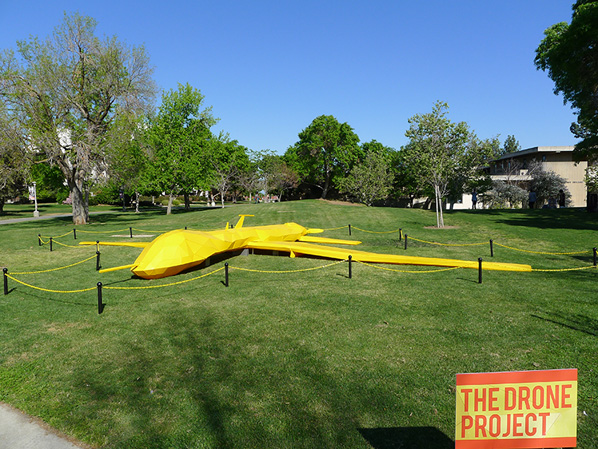 CL: And the people who are manning drones are sitting at their keyboards.
JD: Precisely, and that's exactly one of the reasons I'm so interested in drones. Speaking of embodiment, the drones –it's like a perfect synthesis of computer gaming culture, and our militarism, and our love for the latest possibilities of technology. It's like somebody bashed those things together and out came this perfect system for blowing shit up on the other side of the planet – sitting in your comfortable gamer's chair.
CL: The way you're activating the Drone Memorial as an extension of your art activism – I'm wondering if part of the appeal is doing it within an educational institution, where you're enlisting students to help you out, so it actually becomes part of an educative process. How much do they know about the drone policy?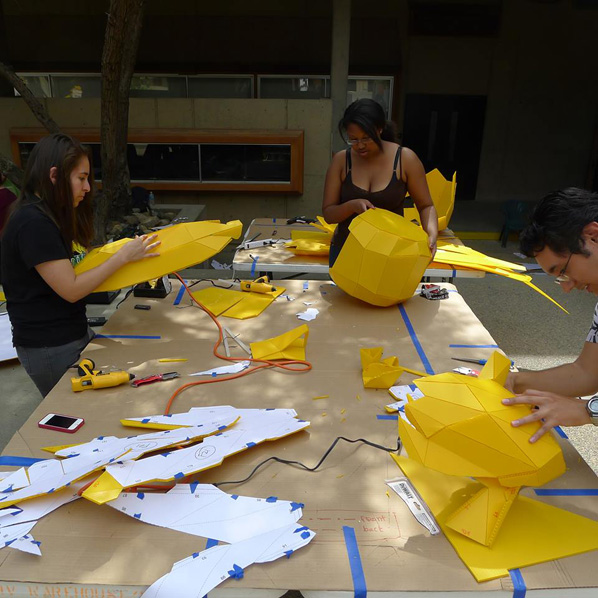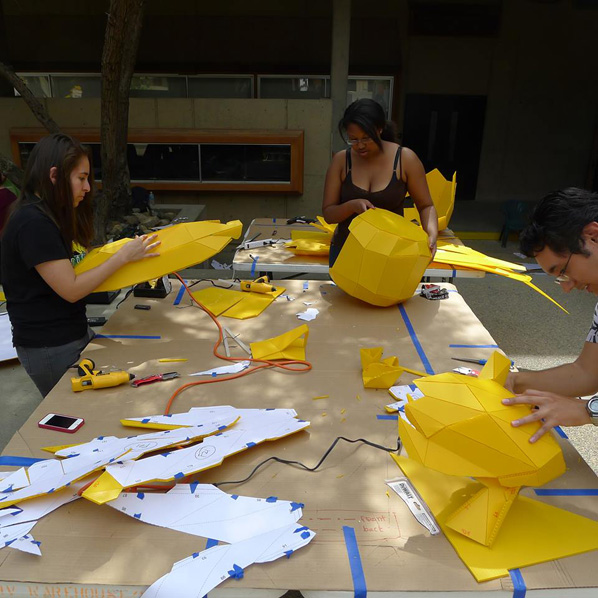 JD: What's interesting with that project is that they brought up these different groups – art students, design students, and there has been a group of activists from Fresno called Peace Fresno who've come out to work. There have been some TV interviews, and there's a journalism class – they're taking turns, every day there's a different crew and they're documenting the process and interviewing the people that are involved. And it's been interesting talking to some students because there have been a number of students that are like: "What, drones? We can blow stuff up in Pakistan, from sitting in Las Vegas at Creech Air Force Base?" They don't know about it, so there is a kind of basic informational aspect of the project.
But what I'm finding most interesting is that the students and volunteers – and myself – at this stage of the work we're so absorbed in the embodiment, if you will, of the physical sculpture. It's a building process and there's a kind of pleasure in that. There's the hands-on aspect of building, and seeing this form come into being. What I'm waiting for is that realization when we get the whole thing together, and it has this 48 foot wing span and 27 foot fuselage, sitting on the ground at the campus – and then we write the names [of the civilian casualties on the sculpture] – we have 334 names in English and Urdu.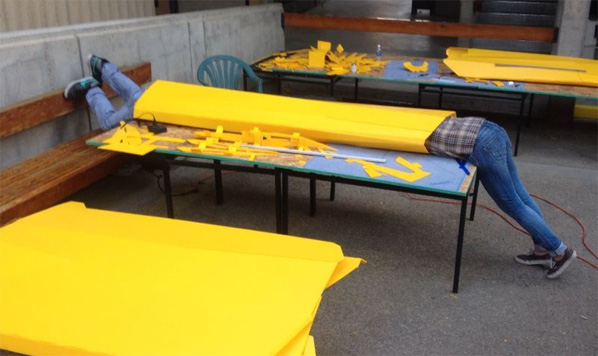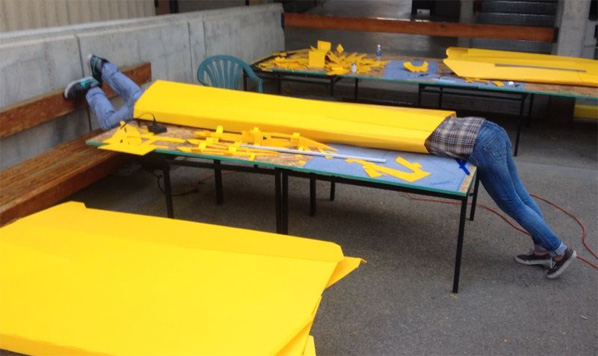 I think that's going to have a powerful impact, that's going to completely flip the equation. Not just to give them a sense of their making something as a community build – but that we own these drones – we are this policy. These victims that are on the drone are connected to us, right? There's a direct lineage from that pilot sitting in Creech Air Force Base, from the missile that rained down on that village and killed a 12-year-old girl, to you and me. It may be tentative, but it's our government – it's us.
Conclusion.
The interview was conducted several days before the completion of the Drone Memorial. After the sculpture was assembled and installed, there was a public ceremony at the site. Afterward, I asked Joseph if the effect of the ceremony was in fact what he envisioned, and he sent me the following reply via email:
We finished the drone just as the ceremony was scheduled to commence. There was a crowd of about 75 people – I made some brief comments thanking the volunteers and the CCA. The actual ceremony was being coordinated by a wonderful group, "Peace Fresno", who coordinated the creation of individual, hand written index cards, each with the name, date of death and age (if available), of each of the 334 Pakistani drone victims. These were read aloud by individuals from Peace Fresno of Pakistani or Indian descent to ensure that the names were correctly pronounced. Those gathered for the event stood in line to take possession of a name after it was read aloud – walking towards the drone where they were given a pen. Each name was written with the associate dated of death and age of the victim when available. Several volunteers followed this process by filling in the names translated into Urdu.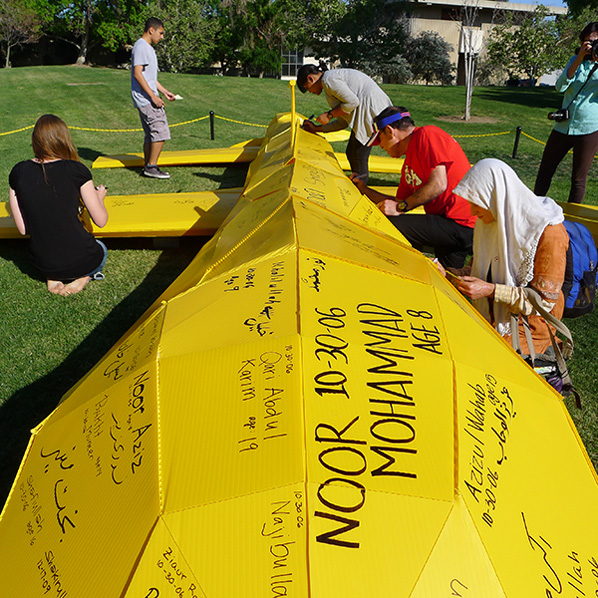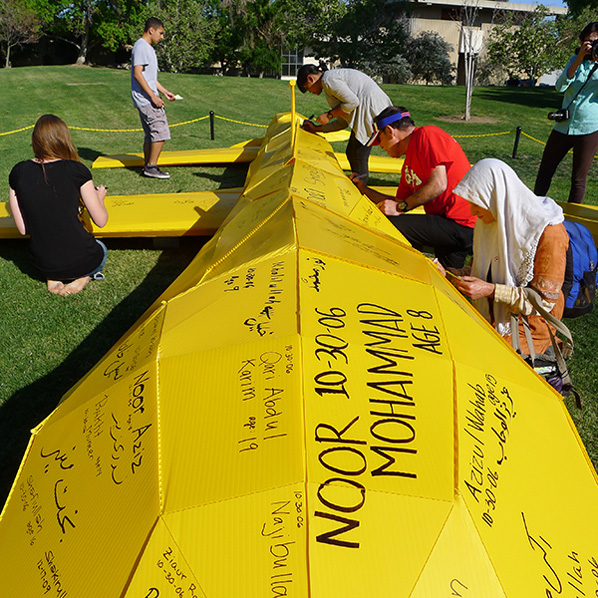 I personally completed the process of standing in line, taking a pen and writing names on the drone 7-10 times, I lost count. The most memorable was that of an 8 year old girl – I don't recall her name but after writing on the drone the realization of the death of a child was quite overwhelming. Others had similar experiences – there were several walking away from the drone after writing their name who were in tears. This cycle of writing, standing in line and continuing the process went on for perhaps 45 minutes until all 334 names were written upon the drone. All the while there were passersby stopping, asking what we were doing, some joined us. I recall a father on a bicycle have a discussion with his young son about drones, "are you ok with being surveilled 24/7?", that kind of thing.
In my exhaustion after working 2 weeks followed by an additional weekend of 11 hour work days, the experience was moving and quite overwhelming. There was indeed a palpable realization of the nature of the project. The camaraderie established among the workers and volunteers evolved into a collaborative process of memorialization.
"Social Tactics" runs through April 27, and the Drone Memorial will be on display through May 31.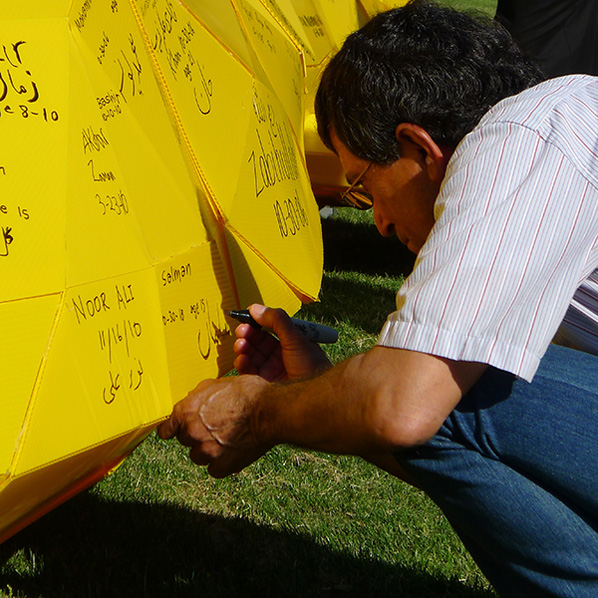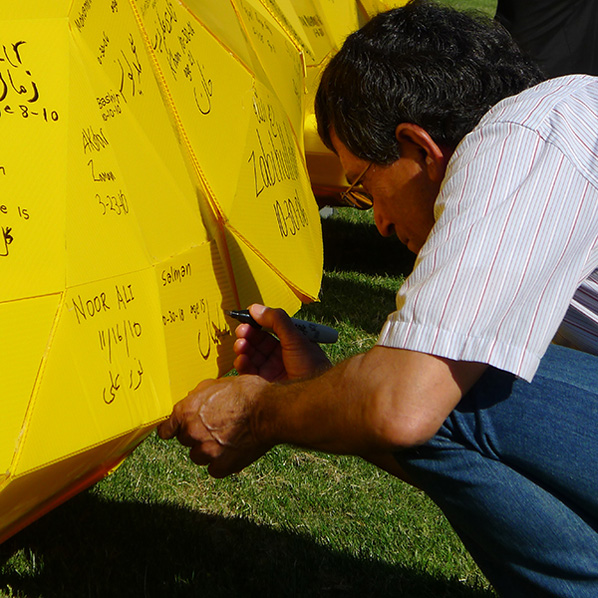 Further Reading.
Joseph DeLappe's website: http://www.delappe.net
A previous furtherfield interview on another drone-related project by DeLappe:
The 1,000 Drones Project, by Marc Garrett – 05/02/2014, furtherfield.org
http://furtherfield.org/features/interviews/1000-drones-project-interview-joseph-delappe
News story on US Military objections to 'Medal of Honor':
Sales of new 'Medal of Honor' video game banned on military bases, by Anne Flaherty – 09/09/2010, Washington Post
http://www.washingtonpost.com/wp-dyn/content/article/2010/09/08/AR2010090807219.html
News story and video on the Drone Memorial:
Drone project at Fresno State a call for 'contemplation' (video), by Carmen George – 03/26/2014, The Fresno Bee
http://www.fresnobee.com/2014/03/26/3845089/drone-project-at-fresno-state.html
Fresno College Newspaper story on the Drone Memorial:
Drone sculpture construction begins, by Collegian Staff – 03/18/2014, The Collegian at Fresno State
Drone sculpture construction begins
Essay on the visualization of the "Enemy" in military games, with a focus on "America's Army":
The Unreal Enemy of America's Army, by Robertson Allen – 01/2011, Games and Culture 6(1):38–60
http://www.academia.edu/231295/The_Unreal_Enemy_of_Americas_Army
Eva Kekou met Tobias Rosenberger at the international e-MobiLArt workshop which took place in Athens, Vienna and Rovaniemi, in turn these led to a number of exhibitions and successful collaborations between artists and theorists. She now invites him to discuss his work, issues of surveillance and how a young European artist views the situation in China and what he expects from his interaction with the Chinese art scene.
Tobias Rosenberger (b. 1980) is a German media artist who works at the crossroads of media art, visual arts, and performance. He has produced art works in Yemen, Spain, Mexico, India, and Ukraine etc. Since 2011 he has been based in China, where he teaches at the College of New Media Art, Shanghai Institute of Visual Art.
"Nowadays, anyone who wants to combat lies and ignorance and to write the truth must overcome at least five difficulties. He must have the courage to write the truth when it is suppressed everywhere; the wisdom to recognize it, although it is concealed everywhere; the skill to use it as a weapon; the judgment to choose those in whose hands it will be effective; and the cunning to spread the truth among such people." (Bertolt Brecht)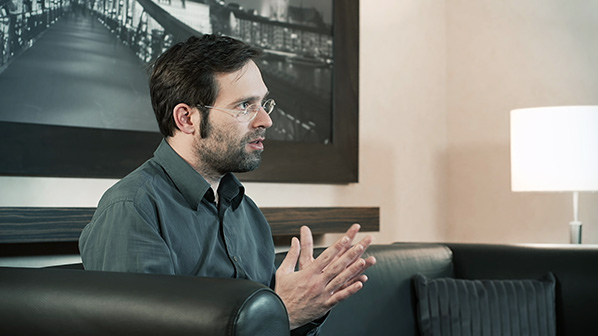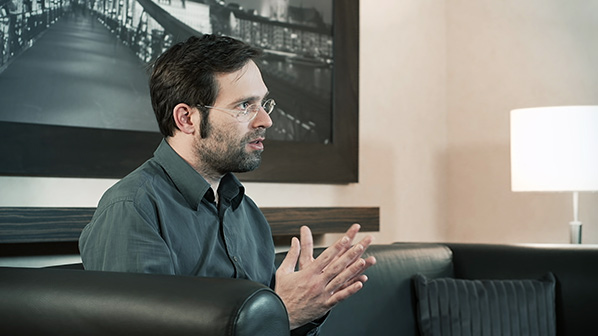 Eva Kekou: I would like to start this interview with this quote which seems to be significant for your work and in particular the recent one – the secret race film and discussion at Goethe Institut Washington. As you well state in your event invite: "It was pure coincidence that for a few days in the summer of 2013, two unrelated events simultaneously dominated the major headlines in the German press: the monitoring and spying scandal of 2013, triggered by Edward Snowden's leaks of National Security Agency top-secret classified documents, and the official acknowledgement of the prevalence of doping in competitive sports, best symbolized by Lance Armstrong's televised confession." What is the significance of surveillance in a globalized social and political context and where is the place of art within it? There are obvious reasons you decided to launch this in Washington through Goethe but I would like you to comment on this.
Tobias Rosenberger: Surveillance and espionage are as old as civilization. Power was always constructed, maintained, and expanded through the monitoring, categorization, repression and exclusion of people. We all know that the digital apparatus opens a new world of possibilities to organize, quantify and control life and society in a before unknown scale, speed and efficiency. While I agree that we need early warning models to anticipate and fight cruelty and injustice whenever possible, I don't believe that we can draw a sharp border between an evil surveillance that fuels unfair and inhuman systems and a necessary one that pretends to save dignity and a lawful order. The challenges of our time can no longer be met by elitism and secretiveness, but require the joint efforts from the middle of society. An independent art that rejects the simple desire for (self-)confirmation does not only open a non-biased discursive space for critical reflection, but it also has the potential to demask and break the mechanisms of power, as long as it takes its audience seriously. But to be able to do so, art also has to find its audience.
The Secret Race, on Vimeo
EK: It occurs to me that place and space play a very important role in your work and inspiration. How do these relate with each other with pieces of your work in a globalized and mobile network underlined by politics?
TR: I have a very pragmatic approach to what I am trying to do: Not following a specific agenda and always staying as curious and open as possible. This requires both a certain naivety and an observing attitude. I never start an artistic process with a specific idea or question, but i get attracted by places and spaces that i try to discover without too much of my personal baggage. But since space and place are never abstract but segmented by politics both on macro and micro layers, the resulting works often deal with political questions.
EK: How did you become interested in China and what do you find fascinating or difficult working there? Is it interesting for you as a European?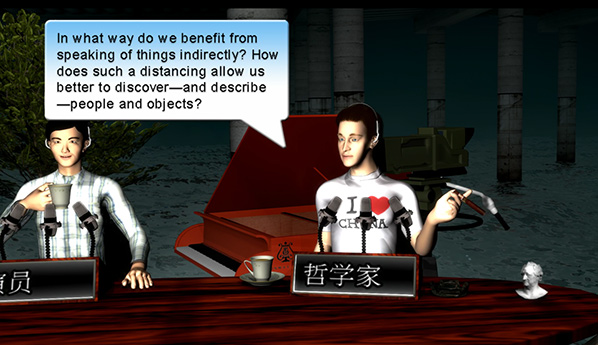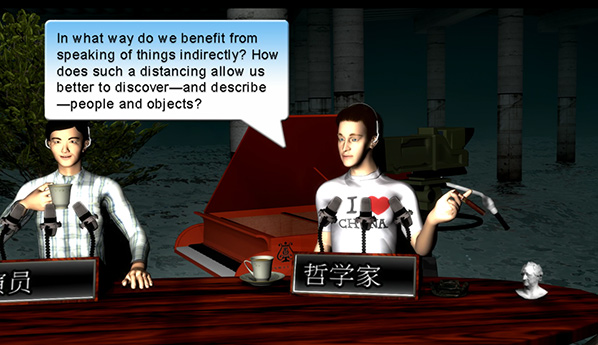 TR: I have a very special relationship to China. With my Chinese wife I decided three years ago to move there and to found a family. I was always fascinated by China as a cultural space, with a tradition of art and philosophy at least as long as in Europe. I also really like the food and the people there. As a foreigner I experience it as very fruitful to see things from a specific distance, both if I try to understand the culture, but also especially if I look back from there to where I come from. It is very interesting to observe the relation between art and politics, how the government here really appreciates art and how it is also afraid of it.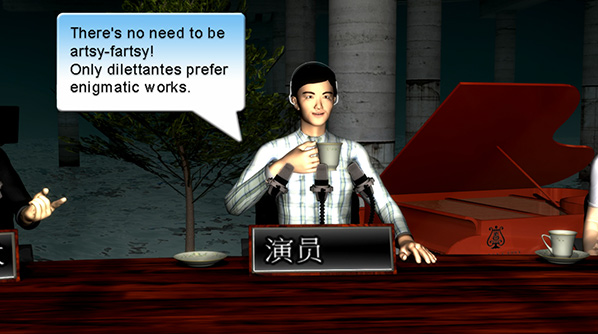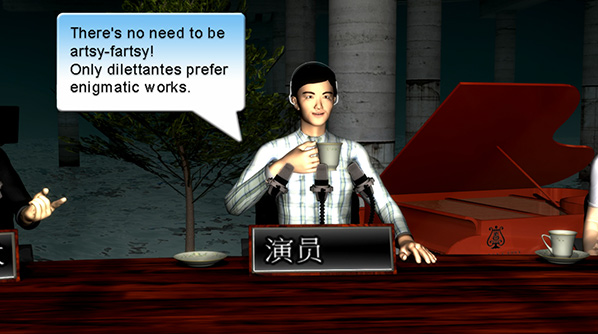 How artists, critics and curators fight for free space, a career, or both. In Shanghai you have both the global economy and the local life at your house-door. The country faces a lot of problems, and very often one can get the impression that things are not happening at all just because there is a small possibility that something unexpected could happen. So many people behave very pro-actively in a way that they won't run into any problems themselves. But this maxim "to have everything running smooth" you certainly don't only encounter in China.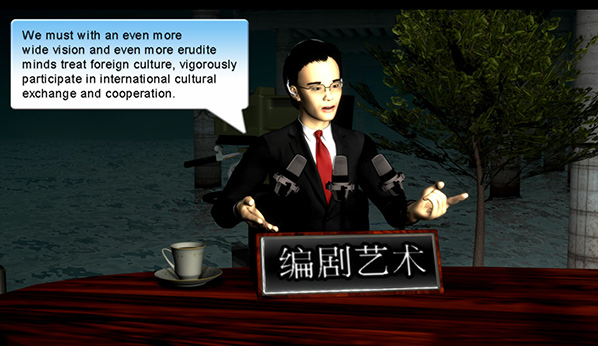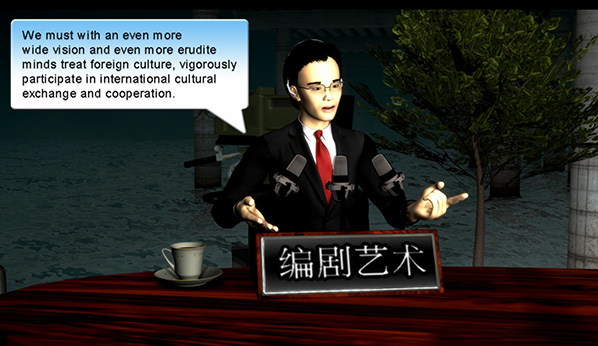 EK: Referring to some of your recent works (installation and performance): Choose any you like… How do you reach out to audiences and what is the main aim in your own work?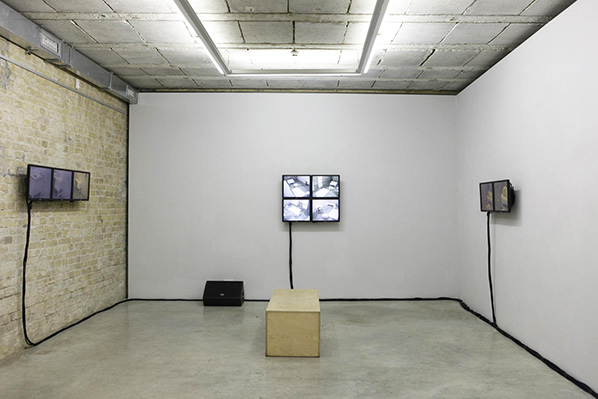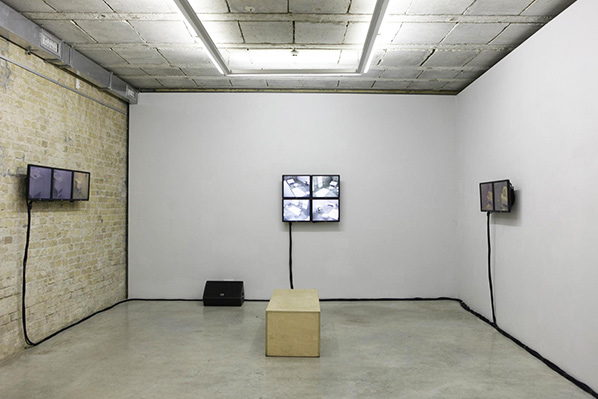 TR: "The First Twenty Years" is an installation that was shown in two different versions at the end of 2012 in Kiev and Dnipropetrovsk. I developed the basic idea for that work in 2011, when I was invited to spend some time in a small Ukrainian village near Kiev at a private artist residency programme. During that time the nation celebrated the 20th anniversary of its independence. There was a strange, partly paralyzed mood. But I also witnessed very controversial discussions with artists, curators and critics, and a new generation that seemed not anymore willing to accept living in a nation that was more and more perceived as a prison. So when I was approached during that time to do a work based on my experiences in the Ukraine, I decided to base it on Xavier de Maistres "Journey around my room" and Schuberts Music, which was inspired by a poem by Christian Friedrich Daniel Schubart.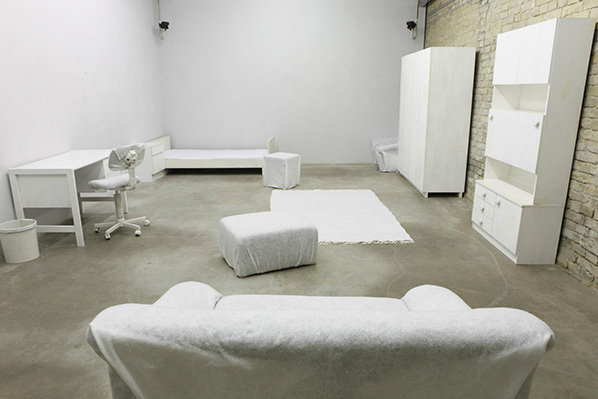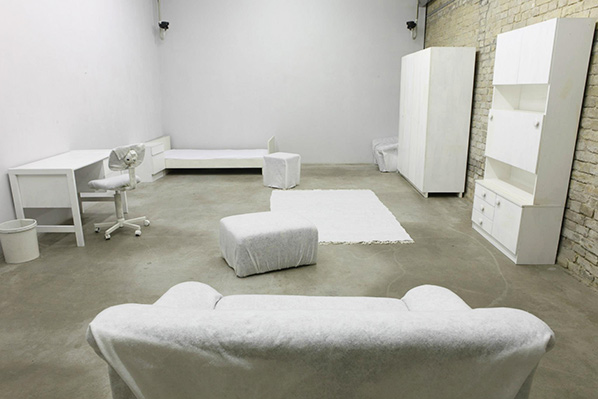 I didn't intent to comment directly on the situation there, but rather was trying to understand for myself what was happening. For me, art is not about expression but about the creation of a space where everybody is invited to take a bit of distance so to be able discover something from different perspectives and to think in his/her own way.
Surveillance Cameras dancing to Schubert, on Vimeo
EK: Can you give us a bit more information about a project that you have described alsewhere in the following way: "Right now working on a light sculpture for permanent setup in a former WWII Top secret military site, where some crazy NS-Germany scientist wanted to invent an x-ray wonder-weapon to shoot planes and soldiers, this involves an always transforming multichannel-sound installation, motorized miniatures (arduino-controlled), 2 projectors and led-objects. I will make an extra independent video of this work, filmed with multiple moving surveillance cams."?
TR: I was approached by a cultural initiative that runs today a small history museum in a former research bunker, which was secretly constructed in 1942 / 1943 underneath a camouflage building. I came across a letter in which a certain Professor, Dr. Ernst Schiebold, proposed "An additional weapon to fight and eliminate the crews of hostile airplanes and ground troops in the defensive via x-ray and electron radiation".
A weird ten pages male war fantasy about a new kind of tubular x-ray canon, written in a crude mixture of physical pseudo-science, soft patriotic enthusiasm and German pedantism. Schiebold really got his bunker built to start with his research. Everything was kept top secret, but stopped 18 months later without results. I decided to bring Schiebold's proposal back into the space which only existed because of it: As a pure proposal, enhanced and communicated with new media technology.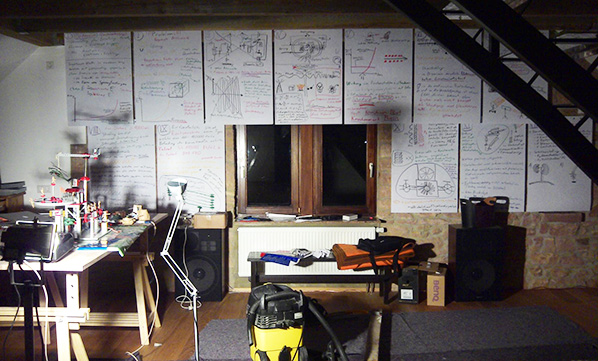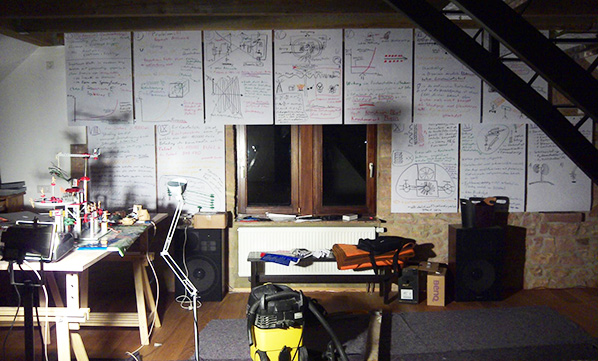 A lot of the tools that we are using as new media artists exist mainly through military development. So my intention was also to give something back. The audience will listen to single sentences that are randomly taken out of Schiebold's letter and re-arranged into a constantly transforming synthetic sound atmosphere, which is synchronized with light beams crossing a motorized miniature military model. The toy miniatures cast shadows of moving soldiers and airplanes onto the walls. LED lights are flashing out of a tubular manhole, which was originally constructed to be used with a Betatron. All the technology that I use is quite low-budget and geeky. Last week I started to install the parts on site, and I have to admit that it is also a very weird experience for me to spend nights working alone in a former military research bunker, climbing down in a manhole and setting up the mockup of a "super-weapon" people researched in the darkest years of German history. Sure I will also try to document it properly.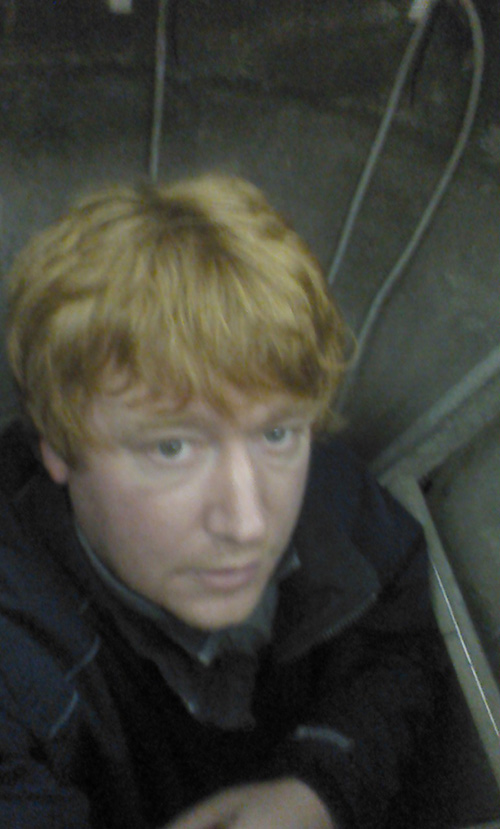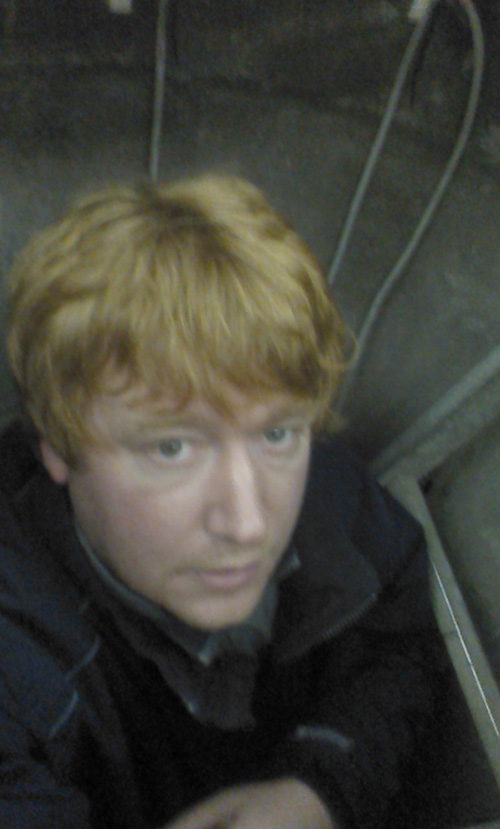 EK: Do you think art can be global and political, if not, what are the main restrictions we are all subjected to? How can art and artists make a difference in this respect?
TR: I think that art is per se political, since it deals with and also influences our perception of reality. And while all our lives are clearly connected in a global economy of good and information-exchange, art does also always operate on a global scale. As an artist I believe that it is worth to be curious and to investigate the (media) apparatuses and dispositifs that surround us, to take them apart and re-design them. What are they good for, what effects do they cause? While the world is getting closer, the world is never the same – people have different histories, problems, possibilities and hopes. As Europeans we take many things for granted, that other people see differently – or vice versa. I think artists can always make a difference, as long as they stay independent and continue to tackle serious questions, but don't take themselves too seriously while doing so. We should laugh more together.
EK: What are your future aims and plans?
TR: I am looking forward to the new semester in Shanghai, where I will mentor the graduate works of eight students. I will also collaborate with Chinese artist Mujin (Lixin Bao) – a fellow teacher at the Shanghai Institute of Visual Art – on a series of works exploring the notion of the "Chinese Dream" and its perception both nationally and globally. I guess this dialogue will become quite interesting.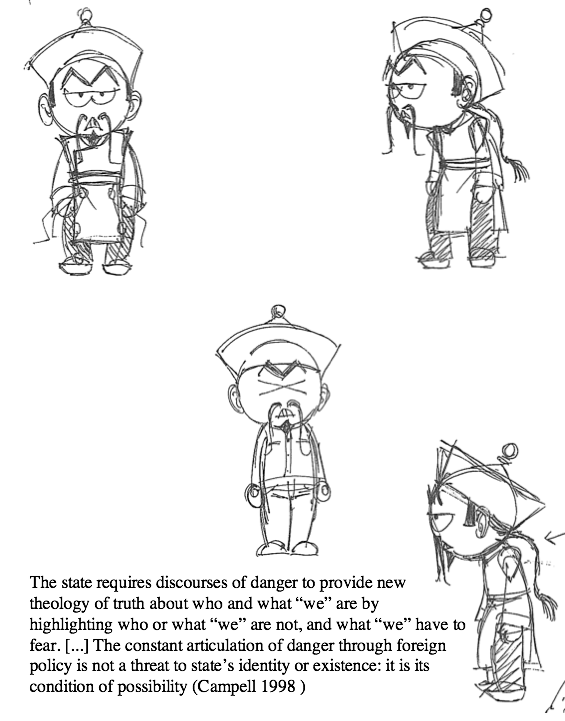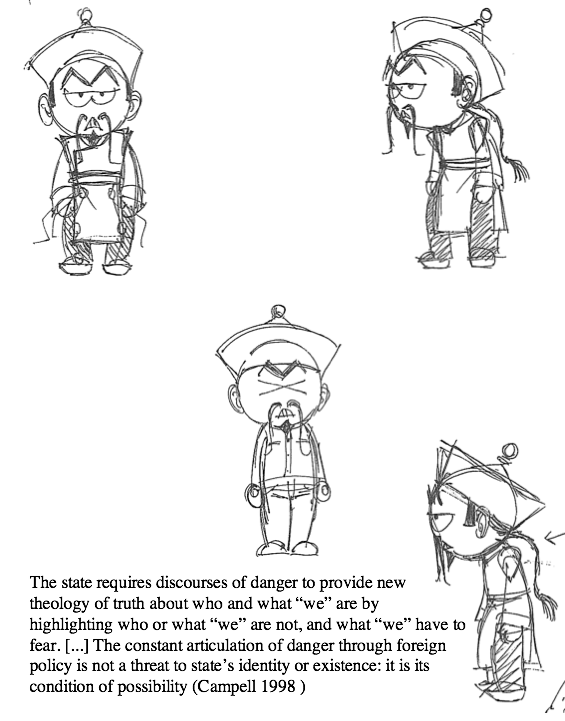 Tatiana Bazzichelli is a researcher, networker and curator, working in the field of hacktivism and net culture. She is part of the transmediale festival team in Berlin, where she develops the reSource for transmedial culture, an ongoing distributed project of networking and research within the transmediale festival. She received a Ph.D. in Information and Media Studies from Aarhus University (DK), conducting research on disruptive art practices in the business of social media (title: Networked Disruption: Rethinking Oppositions in Art, Hacktivism and the Business of Social Networking). Bazzichelli is also a Postdoc Researcher at the Centre for Digital Cultures /Leuphana University of Lüneburg (DE).
Introduction.
In light of absolute domination by market forces over all of our lives, and with the top-down orientated power systems' bias towards business and the implementation of a consumer class. New ways of thinking around the problem is called for. There has been a dramatic shift of unethical companies such as BP funding art's and technology projects, and mainstream museums and galleries in the UK. [1] Alongside this, those hoping to receive arts funding are told to be innovative and more entrepreneurial than they already are. What they really mean by 'innovative and entrepreneurial' is, get in line with the values of a corporate mentality, and not be contextual or critical in one's art practice. This wholesale move towards business as it further dominates the content, ideas, societal context, and missions by artists and art collectives – is of deep concern for all who wish to explore freedoms of expression on their own terms and not inline with the state's or a corporation's set of diverting agendas.
Art activism in media art and transdiscilpnary arts culture has engaged with political and societal issues while under the gaze of neoliberalism quite successfully. However, what changes have occured that we can draw upon to say we have built real alternative values for others to work with? There are plenty of people from the dark side calling us to join them, like that eirie voice from the original Evil Dead movie.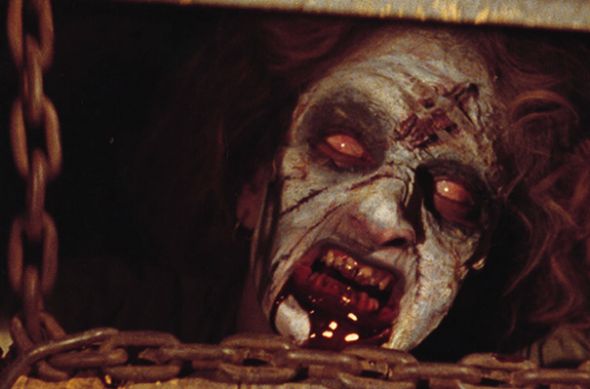 I'm reminded of Thomas Frank's insightful words in his article TED talks are lying to you, that those who urge us to "think different" almost never do so themselves. [2] And this is the nub, what will become us if we step over into their world and adapt our minds to their visions?
"To expect or even wish those who rule and those serving them to change, and challenge their own behaviours and seriously critique their own actions is as likely as winning the National Lottery, perhaps even less." [3] (Garrett 2013)
So, this brings us Tatiana Bazzichelli who has been thinking about this stuff a lot. Her Proposition is that we need climb out of these oppositional loops in order to find different ways of being, and refocus on potential art strategies in relation to a broken economy. In her publication Networked Disruption: Rethinking Oppositions in Art, Hacktivism and the Business of Social Networking, Bazzichelli puts forward the notion of disruptive business and it "becomes a means for describing immanent practices of hackers, artists, networkers and entrepreneurs", and sheds "light on two different but related critical scenes: that of Californian tech culture and that of European net culture – with a specific focus on their multiple approaches towards business and political antagonism."
Interview.
Marc Garrett: In your book you examine a breadth of disruptive practices of networked art and hacking culture in California and Europe. You propose your main objective is to rethink the meaning of critical practices in art, hacktivism and social networking, analyzing them through business instead of being in opposition to it.
Could you explain how this would change situations and what it would bring to artists exploring disruption as part of their practice, networked art culture and the wider community, and what this may look like?
Tatiana Bazzichelli: I will begin answering your question by adding another one: Why do we need to rethink artistic and hacktivist oppositions in the context of social media and after the emergence of Web 2.0? This question is at the core of my book, and also the main link that connects together my previous book, Networking: The Net as Artwork (2006), and the following ones centered on the concept of networked disruption and disrupting business.
The idea of conscious participation in media practices is central to analyse the evolution and transformation of the concept of "networking" in the age of social media. My reflections are the consequence of a process of direct involvement within the activist (or rather "artivist") scene in Italy since the mid-90s, and furthermore, they are based on the analysis of a more international fieldwork of practices between the Europen tradition of netculture, and the development of cyberculture in California. Practically all my books are to be thought of as subjective, and as consequences of a personal experience which aims to create connections between very diverse fields of action, applying the idea of networking both in theory and practice, and as a methodology of writing.
Between the end of the 1990s and the early 2000s, many actions of media criticism were often very dialectical, and rooted on the idea of antagonism as radical opposition. I am for example thinking about what was (erroneously) called "the anti-globalization movement", the protests in Seattle, Prague, Goteborg, Genoa, etc.: somehow it was easier to identify an "enemy", for everyone to unite against the same power. Unfortunately this also meant that it was easier to identify the members of the movement(s) themselves, and many protests faced violent chains of repression by the authorities. In particular in Genoa, the Italian movement and its global counterparts were hit hard. My personal opinion is that the frontal opposition, the idea of assaulting the "red zone" during the protests, did not work at all: we basically played the game of the police. Without dismissing this experience, which was very important in itself and for the start of new activist projects, after Genoa 2001 I started searching for a new way of activism that was not black and white, and which would be harder to appropriate. This was also the reason why I started entering in contact with many projects in the queer, pink, and independent porn culture, which were combining ludic strategies and playful disruption beyond oppositional confrontation. I was trying to connect those to the concept of hacking – mixing the codes to create disturbance, to generate subliminal interventions, to give rise to paradoxes, fakes and pranks, as previous projects based on multiple identities, from Luther Blissett to Neoism and Monty Cantsin, had done before.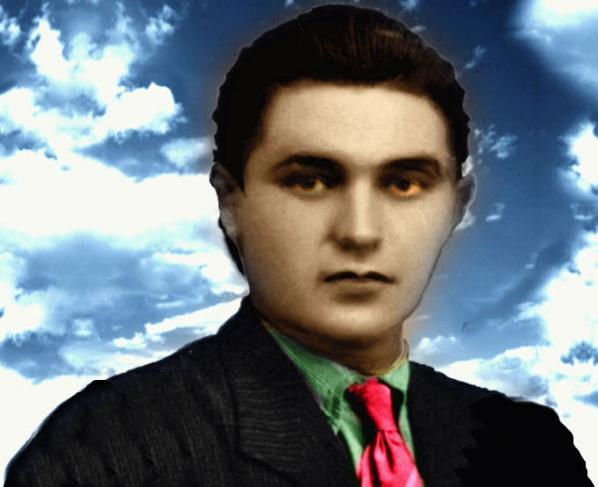 "In 1994, hundreds of European artists, activists and pranksters adopted and shared the same identity. They all called themselves Luther Blissett and set to raising hell in the cultural industry. It was a five year plan. They worked together to tell the world a great story, create a legend, give birth to a new kind of folk hero." Luther Blissett.
But after 2004, which is also the time of the emergence of Web 2.0, the critical framework of art and hacktivism shifted: networking, a concept which had informed the Avant-garde since the 1960s, became a tool for a wider audience, and a pervasive business strategy. The ideas of openness, do it yourself, sharing, the "mottos" of the hacker culture in the 1990s, became the main rhetoric of the Web 2.0 companies based on the appropriation of "free culture". This meant to me that also artistic and hacker practices needed to be recontextualised, since the concept of social networking became something completely different from its roots, and the business companies themselves were applying the concept of disruption as main business logic. Is it possible to oppose disruption with disruption?
In the era of immaterial economy and increasing flexibility, the act of responding with radical opposition no longer looks like an effective practice, since the risk is to simply feed the same machine replicating the capitalistic logic of competitiveness and power conflicts. In my opinion, and here I speak through my "artivist" experience, even the concept of the multitude as a model of resistance against the capitalist system – which runs at a theoretical level – is difficult to apply on a pragmatic level without having to recreate the traditional dynamics of the "power-contra power" conflict. The point is to try to figure out how to imagine new forms of participation that go beyond dualistic conflict – and that go beyond the creation of a hegemonic and holistic entity, although presented as a plural (the multitude, indeed). As a result, it is definitely necessary to reformulate the language, which enters the sphere of production and the political, as Paolo Virno states, but most of all, activists practices and critical strategies need to be rethought.
What my book Networked Disruption suggests is the act of performing within the capitalist framework, not against it, keeping the dialectic open through coexisting oppositions. The notion of disruptive business is useful for reflecting on different modalities of generating criticism, shedding light on contradictions and ambiguities both in capitalistic logics and in artistic and hacktivist strategies, while rethinking oppositional practices in the context of social networking. In this book the concept of the Art of Disrupting Business must be interpreted beyond categorical definitions, and as a new input for imagination. "Disruption" implies a multi-angled perspective and it is a two-way process, where business and the antagonism of business intertwine. Adopting a hacker's strategy, hacktivists and artists take up the challenge of understanding how capitalism works, transforming it into a context for intervention and trying to alter business logics. Rethinking strategies and modalities of opposition implies that new forms of interventions and political awareness should be proposed without antagonising them, but rather by playing with them and disrupting them from the inside of the machine. The vision of a distributed network of practices, participations and relationships can only be fragmented, and based on multiple layers of imagination.
Today there are artists and activists who are inspired by a certain tradition of "disruption", creating interventions from within, critically appropriating the business logics, stretching its limits, or proposing alternative models to it. Many of them are the case studies of my book, where I propose a constellation of social networking projects that challenge the notion of power and hegemony, and where social networking is not only technologically determined. Projects and experiences such as mail art, Neoism, The Church of the SubGenius, Luther Blissett, Anonymous, Anna Adamolo, Les Liens Invisibles, the Telekommunisten collective, The San Francisco Suicide Club, The Cacophony Society, the early Burning Man Festival, the NoiseBridge hackerspace, and many others. Of course there are many more of these. Holes in the system are everywhere, ready to be performed and disrupted.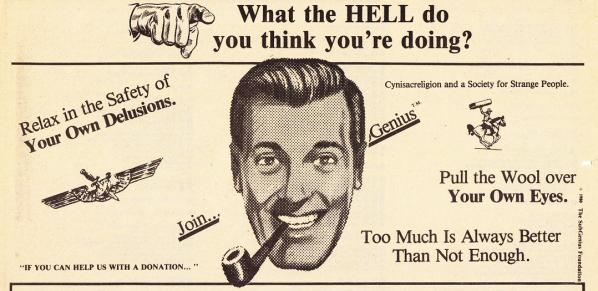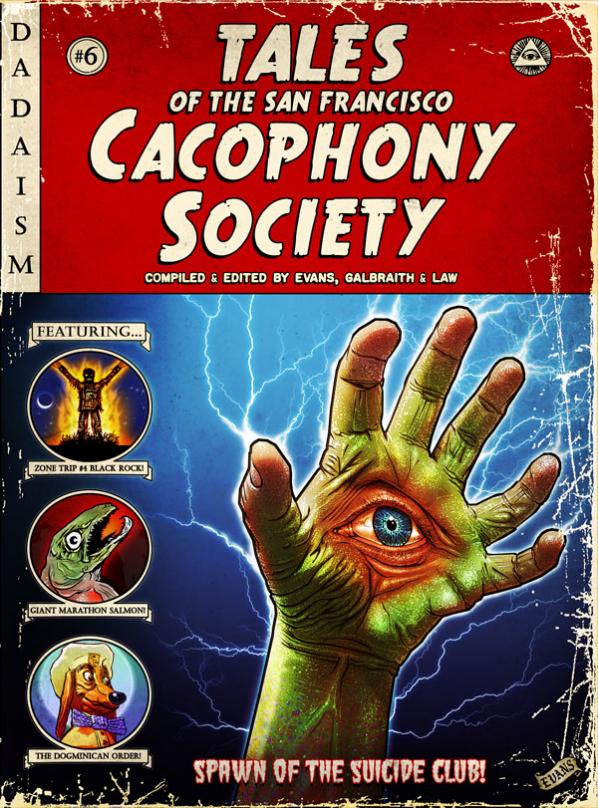 MG: There is a quote in the book that it says, "Innovation is rooted in Desire, not need. Desire is the motivation for behaviour. Desire leads to goals, and goals lead to motivation, the internal condition that gives rise to what we want to do, based on our goals, what can we do – based on the norms of behaviour – and what we will do – the actions that we voluntarily decide to undertake. Motivation is the ethos of goal-oriented behaviour, and a company's ability to understand motivation directly contributes to the success of their products and services in the marketplace" (Manu, 2010, p. 3).
I'm wondering, coming from an activist background myself where do you think free culture fits into this dialogue, especially in respect as a critique of products and services in the marketplace, as well as social forms of emancipation?
TB: The quote you are referring to comes from a book entitled Disrupting Business: Desire, Innovation and the Re-design of Business (Alexander Manu, 2010). As we can read in the business literature, the concept of disruptive business is rooted in the idea of disruptive innovation. Disruptive innovation, a term coined in 1997 by Clayton Christensen, Professor at the Harvard Business School, is used in business contexts to describe innovations that introduces a product or service in ways that the market does not expect. In the business culture, disruption not only means rupture, but links to the idea of innovation and re-design of behavioural tendencies. Therefore performing disruption shows a process that interferes with business, whilst at the same time generating new forms of business. This mutual feedback loop is at the core of my analysis.
However in my book business is neither analysed through classical business school methodologies, nor seen as positive or negative, but it is a means for working consciously on political practices – and for raising questions on art and media criticism. In 2009 I was a visiting scholar at Stanford University where I was researching the reasons of the progressive commercialisation of networking contexts after the emergence of Web 2.0, through the development of hacker culture in the Silicon Valley. From the interviews that I conducted, and also via the close reading of the book From Counterculture to Cyberculture by Fred Turner, it was evident that since the development of the early cyberculture hackers and members of the so-called "counterculture" have been trying to disrupt business via their practices, and in parallel, business corporations have been trying to do the same through technological innovation. Since the 1960´s, hackers and artists in California have been active agents in business innovation while at the same time also undermining business. This is also very evident today in the business context of Web 2.0 where many hackers are working at the core of business, while disrupting it – the Anonymous entity is one of the most successful examples of this.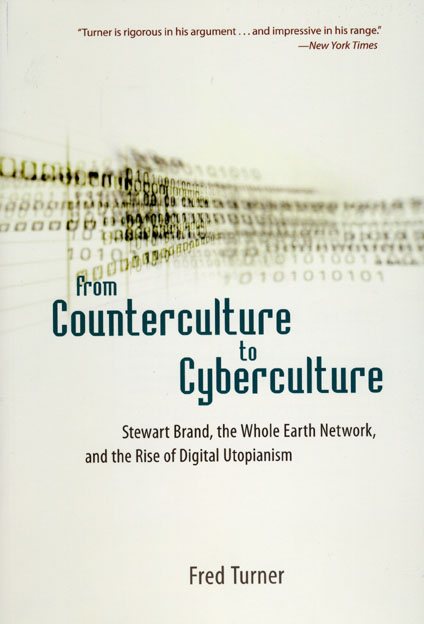 In my book I compare what the concept of business disruption meant in the European context and in the US, especially in Silicon Valley. When I was interviewing computer engineer Lee Felsenstein he told me that in California hackers would refuse hegemony but not business. This is also why many of them have no problem in working for Google, which is actually employing the best hackers of the area. In Italy we always claimed that hacking is politics, and politics is an "attitude", which informs your everyday life and lifestyle. What I discovered in the Silicon Valley is that libertarian practices are often linked with the refusal of the political, and this is the position of many members of the hacker culture in California. Therefore, what for me was the initial "problem", the contamination of business and free culture, was not considered as such among the hackers that I met between San Francisco and Palo Alto.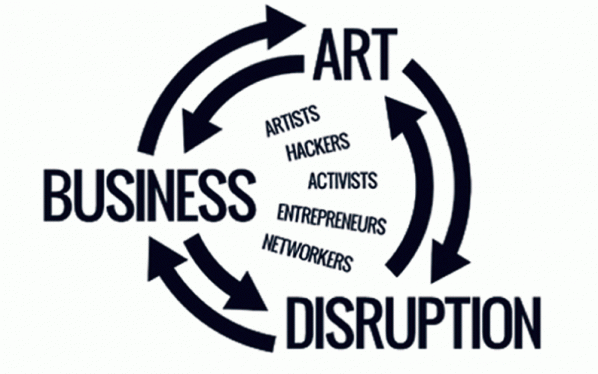 This consideration leads me to create a model of analysis named the "disruptive feedback loop", based on the idea of layering instead of cooptation – such an idea of "layering" rather than cooptation, was proposed by Fred Turner in the lecture "The Bohemian Factory: Burning Man, Google and the Countercultural Ethos of New Media Manufacturing" (2009), while discussing the social phenomenon of Burning Man. The idea of the "mutual feedback loop" between business and hacker culture is instead the result of a conversation in 2009 with Jacob Appelbaum, who at the time was an active member of NoiseBridge in San Francisco, when we were reflecting on the development of hacker spaces in California. In my disruptive loop model, artists and hackers use disruptive techniques of networking in the framework of social media and web-based services to generate new modalities for using technology, which, in some cases, are unpredictable and critical; business enterprises apply disruption as a form of innovation to create new markets and network values, which are also often unpredictable. Networked disruption is a place where the oppositions coexist, and it is a reconfiguration of practices into a structure of mutual feedback instead of opposition.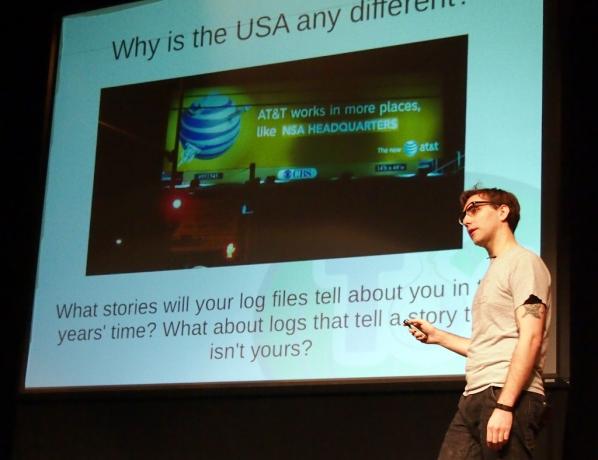 Here I propose disrupting business as an art practice: artists and hackers adopt viral and flexible strategies, as does contemporary networking business, and by provoking contradictions, paradoxes and incongruities, business logic is détourned. This model can be applied both in the analysis of business contexts of social networking and of critical practices generated by hackers and artists. For example, projects such as Anna Adamolo and Seppukoo reflect on the tensions between the open and closed nature of social media, stressing the limits of Facebook's platform, and working on unpredictable consequences generated by a disruptive use of it. Paradoxically, to be critical of business we should learn from it.
The Telekommunisten collective explains this well, and it is not a coincidence that Dmytri Kleiner comes from a Neoist background: the experiences of Luther Blissett and Neoism made it hard to see any "truth", they forced us to question and examine our identities. If you claim to have the truth, you will fail – someone else will proclaim the truth, and perhaps with much more strength and power than you. The Miscommunication Technologies by the Telekommunisten show that the enemy can eat you up and that the capitalist system has endlessly more resources to force its "truth" on you. We have to learn from business, understand how to be pervasive. My point is that we should stop looking for the enemy, because who is the enemy today when disruption and its opposition are feeding the same machine? The challenge is to unite where the system can't get you, and you're not playing into its hands, exposing contradictions, generating disturbance, to disrupt and perform the feedback loop at once. The challenge facing the art of disruptive business is to dissipate oppositions through a network of multiple, distributed, playful and disruptive practices.
MG: It was licensed under a peer Production License (http://p2pfoundation.net/Copyfarleft), similar to a Copyfarleft License (http://p2pfoundation.net/Peer_Production_License). Very different than a Creative Commons Licence, and drawn up by one of the artists you write about in the book Dmytri Kleiner. It feels relevant to be on the P2P Foundation wiki, however it would be useful know how it relates to the context of your publication?
TB: As it is stated on the P2P Foundation website, based on the text published in The Telekommunist Manifesto, "the Peer Production License is an example of the Copyfarleft type of license, in which only other commoners, cooperatives and nonprofits can share and re-use the material, but not commercial entities intent on making profit through the commons without explicit reciprocity". The Peer Production License is a hack of the Creative Commons licenses. Where the Creative Commons is mostly used for sharing works non-commercially, the Peer Production License wants to contribute in expanding a non-capitalist economy, generating earnings that are shared equally. Commercial use is therefore encouraged for independent and collective/common-based users only, proposing a business logic that does not lead to a private appropriation of community-created value.
This logic is also at the core of the "Venture Communism" concept coined by Dmytri Kleiner in 2001, which proposes to allocate equally the collectively owned material wealth, and to create a peer-to-peer social commons as an alternative to venture capitalism.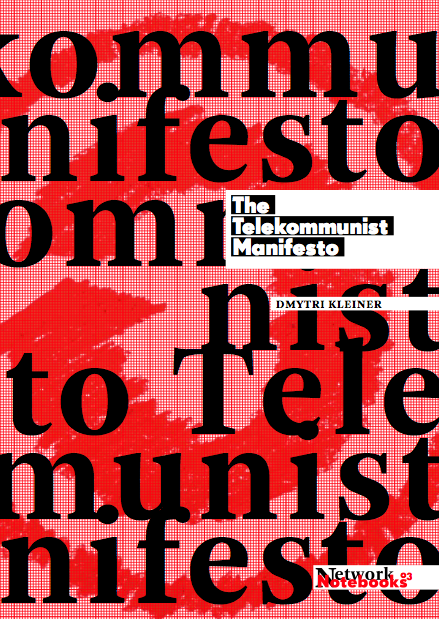 I decided to release the Networked Disruption book under this license because I consider it a coherent intellectual gesture, and also a "business experiment". From what Dmytri told me this is the first book released under this license after the Telekommunist Manifesto, and hopefully the use of such license, if increased, will be part of poking a small hole in the capitalist economy, generating value which is not going into few owners' pockets, but is shared equally among the workers and producers. This is also the reason why all my publications exist both online and on paper and are freely downloadable from the web, because it would be contradictory to write about certain topics and then release my toughts under proprietary licenses. In this case, since the book is about disrupting business, I decided to apply a disrupting business license, and to my point of view this is what the Peer Production License is.
Conclusion:
Bazzichelli's investigation is a timely and necessary critique on how to free up networked forms of freedom of expression and its varied practice. At first, I was suspicious. Indeed, in a later publication on the subject co-edited by Tatiana Bazzichelli & Geoff Cox, called Disrupting Business: Art and Activism in Times of Financial Crisis; "Bifo" Berardi, in his article EMPTINESS says "Business is, in my opinion, the most despicable word in the vocabulary. Well, I will try to express it better: the meaning and implications of the word 'business' in contemporary culture and daily life, and the positive emphasis placed on this term, are the most telling symptoms of the abysmal alienation of our time." On this I agree.
We are all emersed in the sea of neoliberalism and we are struggling to keep our heads above the water at various levels. Some are aware of it and are not dealing with it, most are unconscious of it and are drowning in it, and then there are those actively awake and exploring different and innovative ways to survive and hack 'around, in between and through' this deep totalising ocean.
Whether we like it or not, business unfortunately is the dominating regime controlling our interactions, and this includes our cultural, digital interfaces and social contexts. Bazzichelli asks us to stare into the monster's face – what Bifo sees as a deep emptiness. She pulls out of the slimey depths a glimmer of hope and an advancement for playful and critically aware forms of artistic disruption. It is an academic and cultural hack and reminds me of Donna Haraway's proposition in the mid 90s for Situated Knowledges. Haraway realised with other collaborators that it was a fantasy to think that the patriarch was going to somehow willingly hand over control and be enlightened to the idea that women scientists should be accepted as equal in history and academia.
"We seek not the knowledges ruled by phallogocentrism (nostalgia for the presence of the one true world) and disembodied vision. We seek those ruled by partial sight and limited voice – not partiality for its own sake but, rather, for the sake of the connections and the unexpected openings situated knowledges make possible. Situated knowledges are about communities, not isolated individuals." [4] (Haraway 1996)
Her proposition is not suggesting that critical, ethical artists and pranksters give up and put down their tools and become business men and women instead. Using terms such as 'disrupting business' is not conforming or giving up the fight. It is a shift in strategy. She has successfully illustrated that there is a continual rise in imaginative experimentation where artistic hacking with the protocols, interfaces, code, data and surveillance is alive and well. It is about infiltration of these ideological defaults and the power systems that rely on them. Resistance is not futile, it is just changing direction from reliance for absolute desire (which lets face it is rarely fullfilled) from momentary tactics and momentary hacks, into informed hacking with socially aware and engaged strategies. She is asking for an intelligent response, a less macho way in dealing with the problem. This means building deeper relations with others through affinities and sharing critical knowledges while disrupting the business of neoliberalism. And most of all, carry on playing…
Featured image: Cardboard Soldier, 2009 exhibition T-Space Gallery Beijing. Joseph DeLappe.
Introduction.
Joseph DeLappe's art projects have received much interest ranging from the art world, New York Times, Wired magazine, and publications such as Joystick Soldiers The Politics of Play in Military Video Games, the first anthology to examine the reciprocal relationship between militarism and video games. DeLappe is considered a pioneer of online gaming performance art. His art examines the conditions and processes of cultural information to provoke and critique the state of military influences on everyday culture and people's lives.
DeLappe's work includes the controversial game based, performance and intervention, Dead in Iraq 2006-2011. This involved him frequently visiting the US Army's online recruitment game and propaganda tool America's Army. Using the login name dead-in-iraq, he methodically typed in all of the names of U.S. service personnel killed in Iraq, co-opting the Army's own technology challenging the official figures as a reminder to its players of the real consequences of war. He also directs the iraqimemorial.org project, an "ongoing web based exhibition and open call for proposed memorials to the many thousand of civilian casualties from the war in Iraq."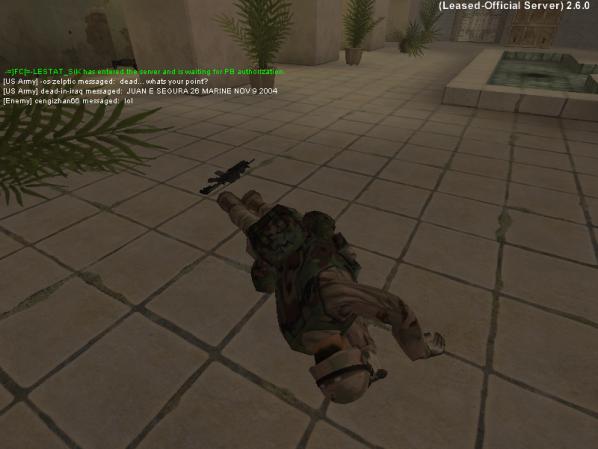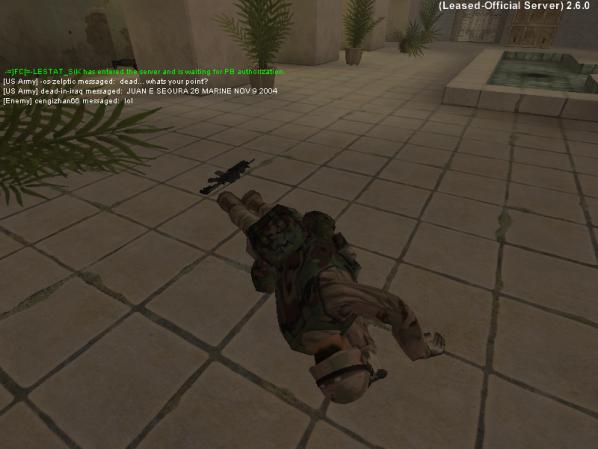 Joseph DeLappe, "dead…whats your point?" dead-in-iraq screenshot 2006-2011.
"The players ask DeLappe to stop what he's doing, but when he continues they shoot him or simply kick him out of the game. You can see the strong reactions from the other players as a proof that DeLappe's performance are successful. He succeeds to break the game illusion, in the same way as Brecht "Verfremdungseffekt" breaks the illusion in drama." [1] (Jansson)
Much of DeLappe's work is known for challenging his own nation's involvement with war. However, if we look at The Salt Satyagraha Online: Gandhi's March to Dandi in Second Life 2008, his work reflects a wider context introducing his concerns on the human condition. Over the course of 26 days, from March 12 – April 6, 2008, using a treadmill customized for cyberspace, DeLappe reenacted Mahatma Gandhi's famous 1930 Salt March. "The original 240-mile walk was made in protest of the British salt tax; my update of this seminal protest march took place at Eyebeam Art and Technology, NYC and in Second Life, the Internet-based virtual world." [2]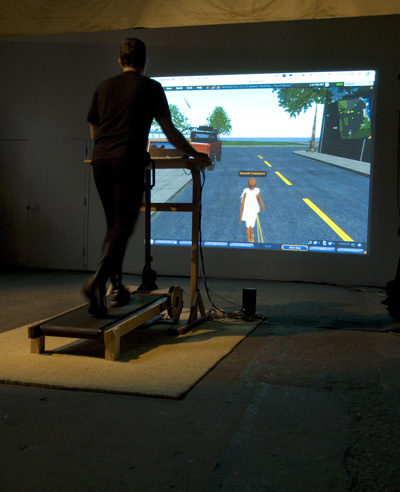 On hearing about DeLappe's The 1,000 Drones Project – A Participatory Memorial, I was immediately intrigued. I wanted to find out more and discuss his approach as well as how he intends to bring to light the lives lost by these unmanned Arial predators as an art project, and what this would look like.
Interview.
Marc Garrett: Could you tell us why you felt it was necessary to do this project even though there is already much media attention out there relating to the use of drones in domestic, military and commercial culture?
Joseph DeLappe: There has indeed been much media attention surrounding the use of militarized drones as a part of US foreign policy. Our drone policies have received much attention yet, as with the coverage of civilian casualties from the Iraq war, the actual human costs of our drone strikes remains rather illusive. Through the work I am doing regarding drones that specifically focuses on memorializing civilian deaths I hope to actualize the estimates of civilian deaths and to call into question the moral issues surrounding such remote killings. You might say that drones have struck a nerve with me. There is something different about drones. They seem to perfectly combine aspects of our worst fantasies of digital technologies, interactivity, computer gaming and war. One might consider them a bit of a "gateway" weapon (the drug reference is of course intentional here). I suspect we have indeed opened a Pandora's box leading to the further utilization of remote and robotized weaponry that will make our current drone usage seem quaint.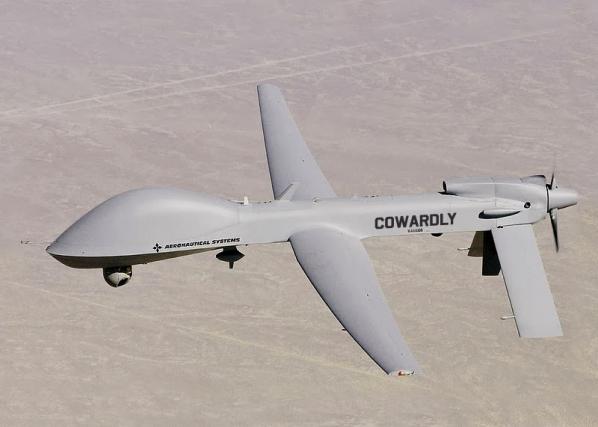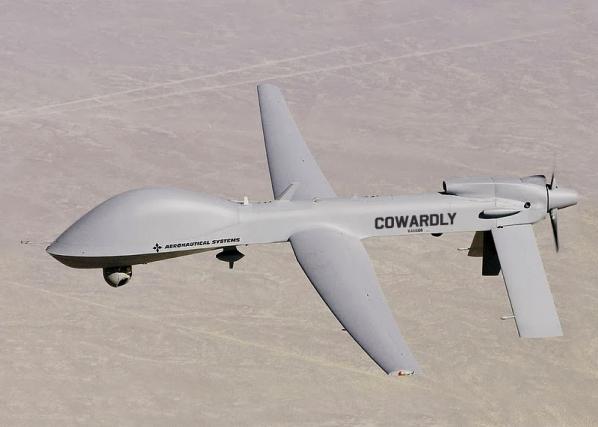 The above is "An ongoing series of image interventions downloading images of UAV's (unmanned arial vehicles) in use by the United States Military, including: General Atomics MQ1-Predator Drone, MQ9 Reaper Drones and Global Hawk Drones from the top results of Google image searches. Each image is slightly adjusted to include the marking "COWARDLY" upon it's fuselage. The saved images are uploaded to my website with basic titling information "Predator Drone", "Reaper Drone", "Global Hawk Drone" – with the intention of having these images begin to appear in searches for information and images on drones occurs online. The works are intended as a subtle intervention into the media stream of US military power." DeLappe
I am working on several drone projects at the moment, including The "1,000 Drones Project – A Participatory Memorial", and seek to draw attention to and creatively memorialize those innocents killed by drones. It invites the public to create a small scale, papercraft replica of a General Atomics MQ-1 Predator UAV (Unmanned Arial Vehicle) – a drone. Participants are asked to write the name of a civilian drone casualty upon the wings of the aircraft.
This project is an adaptation of The 1,000 Cranes or "Senbazuru" tradition from Japan. This tradition holds that anyone who folds one thousand cranes will be granted a wish. Since World War II the tradition has been associated with the atomic attacks upon Nagasaki and Hiroshima – the folding of the cranes has become a wish for peace. [3]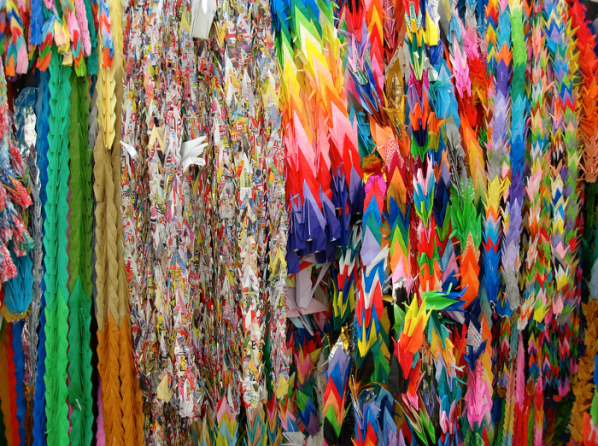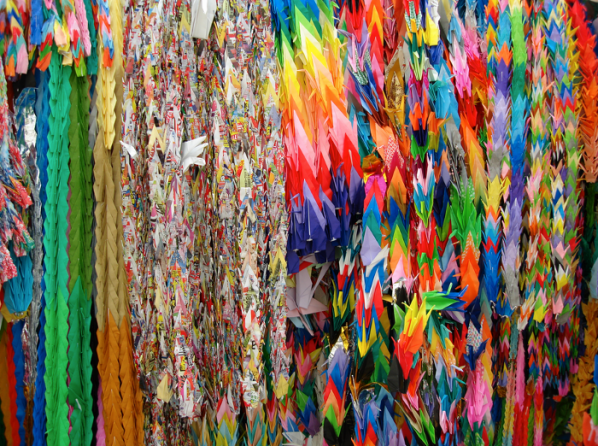 MG: You are inviting participants to be a part of the project. In what capacity will they be taking part?
JD: The 1,000 Drones Project has been commissioned by the FSU Art Museum of the exhibition "Making Now – Art in Exchange". The FSU Department for Art has for the past few months conducted a series of workshop events where the public is invited to make a small, paper drone from a provided template. The form is made directly from MQ1 Predator Drone plans found online. The drone shape is cut out, there are then five dotted lines denoting where to fold the paper – the result is a simple paper facsimile of a drone. Once the drone is created, the participant is invited to write the name of a civilian drone casualty along with their age at the time of death, upon the wings of the drone. The Bureau of Investigative Journalism estimates that between 2004 and 2013, drone strikes in Pakistan killed between 2,536-3,577 people, of these, it is estimated that 411-884 civilians and 168-197 children have been killed. The list of civilian drone casualties comes from The Bureau of Investigative Journalism. We are also using a list of drone casualties from Yemen found here: http://en.alkarama.org/documents/ALK_USA-Yemen_Drones_SRCTwHR_4June2013_Final_EN.pdf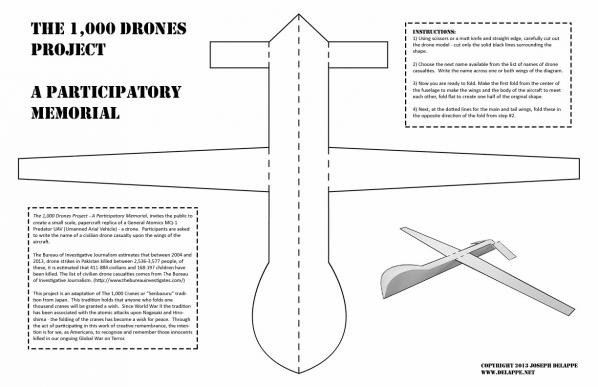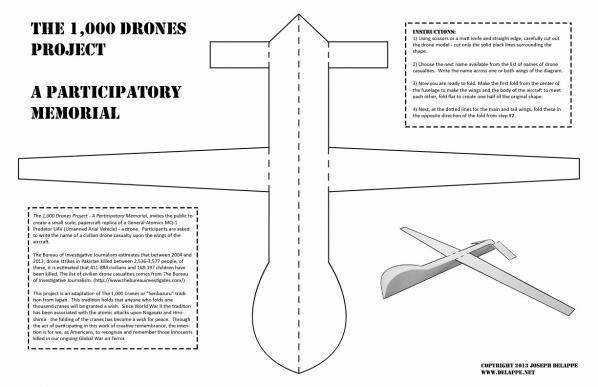 At present we have a total of 464 persons identified as civilian drone casualties from Pakistan and Afghanistan. To complete the 1,000 drones, the remainder will be marked "unknown".
The paper drones are to be strung together in groups of 18 per string, 55 strands will be hung in the center of the gallery to create an installation that will be triangular in shape. The making of the drones will continue with the opening of the exhibition in February until 1,000 are complete and installed.
MG: What will others learn or gain from this participation?
JD: This is difficult to pin down. My intention is that through the act of making a drone, followed by writing a name or "unknown" upon their creation that individual participants will in some small way actualize the loss of individual lives due to our drone attacks. The intent is to perhaps for some brief moment make real these deaths taking place in our name on the other side of the globe. The actions are decidedly low-tech as well – there is something important in this – the deaths become physical, perhaps drawn from the digital media stream, the digital process of the killings to a direct, physical act of making and remembering. I am very interested as well in the overall effect of the piece – to see 1,000 white paper drones hanging in space as a memorial will likely have a powerful impact. Numbers of civilians killed as reported through our media are all too often numbing and abstract – this piece will hopefully make real this abstract process of digitally remote killings.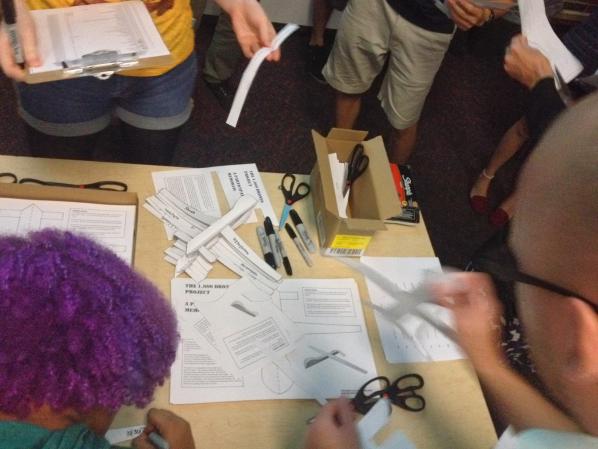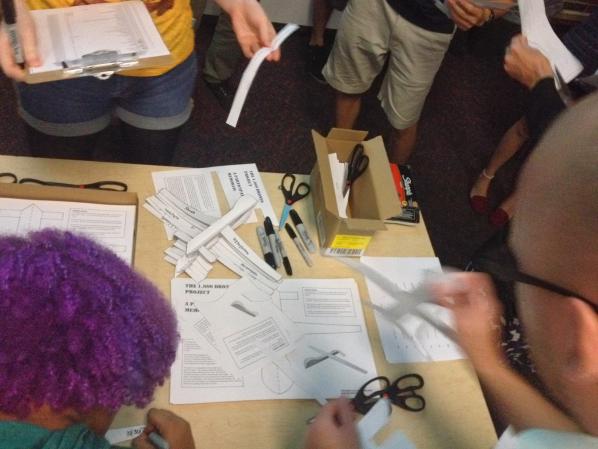 MG: What is the lineage of this project?
JD: I've been working intensively over the past decade to creatively shed light on civilian and military casualties as a result of our ongoing "war on terror". This includes "dead-in-iraq", my intervention as a memorial and protest taking place within the America's Army computer game and iraqimemorial.org, a crowd sourced project launched in 2007 inviting anyone to post concepts, imagined memorials to the many thousands of civilian casualties from the Iraq conflict.
Conclusion.
Looking at DeLappe's breadth of work informs us how detailed and complicated the subject is, and it equally reminds us how distant we all are from any quality debate about war and drone technology and the impacts these militarised technologies have on citizen's lives. Thankfully, on the subject of drones the Internet is supplying us with different view points that mainstream news media fails to seriously investigate. Russia Today, reported that classified documents from the CIA could not "confirm the identity of about a quarter of the people killed by drone strikes in Pakistan during a period spanning from 2010 to 2011." [4]
Kate Rich and Natalie Jeremijenko in 1997 as part of the then, anonymous Bureau of Inverse Technology were pioneers of the first art drone 'The BIT Plane'. This work was featured in a group show at Furtherfield's gallery, Movable Borders: Here Come the Drones! in May 2013. [5] In an article in Mute magazine Rich wrote, "The morally disgusting asymmetry of drones relates not only to their deployment by the powerful against the weak, but also to the radical disparity of risk entailed in exposing the defenceless living to pilotless killing machines." [6] This brings to mind how vulnerable we all are to the whims of the powerful. This feeling of fear will strike at the heart of any humanist not on the 'right' side of those wielding such awsome destruction without challenge, until its too late.
DeLappe's art not only reflects the militaristic world we are living in he is directly engaged with it. His focus on his nation's obsession with war echoes what James Hillman wrote in A Terrible Love of War, "Hypocrisy in America is not a sin but a necessity and a way of life. It makes possible armories of mass destruction side by side with the proliferation of churches, cults and charities. Hypocrisy holds the nation together so that it can preach, and practice what it does not preach." [7] (Hillman 2004)
Many contemporary artists are working with and critiquing Bio-Technology, Nano-technology, engineering, issues on Climate Change, border controls, data-mining, surveillance, economic and political fluctuations, and the military. This is in line with the expansion of the networked society. Controversies and battles are taking place in a time of uncertainty, where the very technology and systems that have supported progress, through its worldwide channels of production and prosperity; are now the very same tools threatening the survival of our species, contributing to climate change and the emergence of the economic, global crisis, as well as a threat to our civil liberties. Art and critical thinking examining this complex and strange territory and its impacts on us and the planet are right up there in pushing forward a new kind of radical investigation as an art practice.
Joseph DeLappe's next exhibition 'Social Tactics' will be from January 24 to April 27, 2014 Fresno State Center for Creativity and the Arts, in the US.
Exhibition Tour and Artists Talk (Magnus Eriksson and Geraldine Juárez)
Saturday 03 May 2014, 2pm
Exhibition tour led by Magnus Eriksson and Geraldine Juárez followed by a live walk-through of the Piratbyrån archive and talk about some overlooked gems from their history at Furtherfield Commons. Expect to learn some Swedish while we are at it!
SEE IMAGES FROM THE PRIVATE VIEW
Contact: info@furtherfield.org
Curated by Rachel Falconer & Furtherfield
EXHIBITION TRAILER – Piracy as Friendship
@Furtherfield "Don't contact future. Future will contact you!"
"For the last sixty years, capitalism has been running a pretty tight ship in the West. But in increasing numbers, pirates are hacking into the hull and the holes are starting to appear. Privately owned property, ideas, and privileges are leaking into the public domain beyond anyone's control." – Matt Mason, The Pirate's Dilemma
Piratbyrån and Friends traces the stories of cultural sharing and affinity-building among the activities and values of the members of Piratbyrån (The Bureau of Piracy). This Swedish artist/activist group was established in 2003 to promote the free sharing of information, culture and intellectual property. The exhibition presents screenings, installations and artworks by founding and more recent members, keen to tell the story of the group on their own terms. It features newly commissioned work by artists Geraldine Juarez and Evan Roth, and a new networked audio collaboration which mediates their rich archive and foregrounds the role of piracy as an agent of innovative disruption and cultural transmission.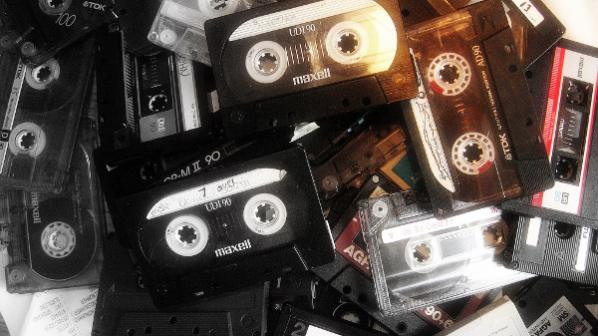 "The specific character of friendship as a form of social relationship is that it does not presume a permanent interaction. Friendships are a type of serial solidarity. The story of friendship is a story of meetings." Viktor Misiano – The Institutionalization of Friendship.
Piratbyrån have always resisted clear definition. Created on the Internet as a loose friendship group with a shared commitment to media and piracy in the shifting ecologies of digital copyright law, Piratbyrån operated through a number of different identities. From the #discobeddienti IRC chatroom, to the infamous Pirate Bay, to the determinedly analogue SX23 bus trip to Manifesta 7, and their subsequent disbandment in 2010, Piratbyrån consciously cultivated an air of mystery and intrigue around their many activities.
Piratbyrån have always had a particular commitment to the value of friendship as a shelter for culture and a space to understand, imagine and experiment as a community from the edges of the Internet.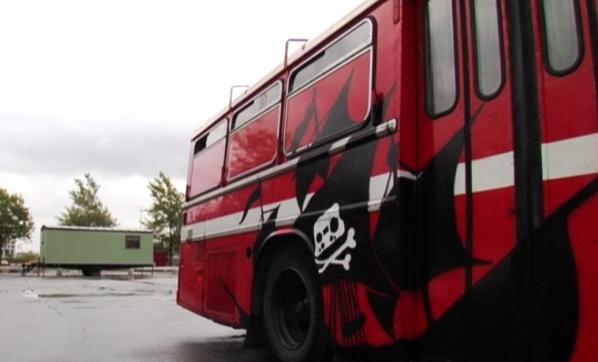 Exhibited Works

The exhibition features newly commissioned sculptures and installations by artists James Cauty, Geraldine Juárez and Evan Roth and a screening programme that includes Steal This Film by Jamie King and Piratbyrån and Friends by Geraldine Juarez.
Tapecasts (2013-2014) – Piratbyrån and Friends
SK23 Suit (2008) – Lina Persdotter Carlsson / Piratbyrån
S23m Manifesta Bus Trip (2008) – Piratbyrån & Simon Klose
S23x Belgrade Bus trip (2008) – Piratbyrån
Polymarchs posters (1980-1990) – Jaime Ruelas
Sharing is Caring Map (2008) – Sara Wolfert / Mathias Tervo / Piratbyrån
Kopimi Totem (2014) – Evan Roth
Torrent Tent (2014) – Geraldine Juárez
Riot Chat (2014) – Palle Thorsson
Smiley Riot Shield 2 (Second Edition) and PB2 (2014) – James Cauty
About Piratbyrån
Piratbyrån (The Bureau for Piracy) was started by a bunch of hacking, coding, reading, listening, philosophising, clubbing, rioting, carding, chatting, loving, slacking people in 2003 as an antidote to Hollywood's representatives in Sweden – Antipiratbyrån.
In 2007 – after having kickstarted the Swedish debate over file-sharing, which by the time had become a major issue in the previous years national election and after having created The Pirate Bay as a side-project that became the world largest file-sharing system – the people from Piratbyrån had grown tired of the file-sharing debate and its endless repetitions of for-or-against, legal-or-illegal, payment-or-gratis. At the last day of April in a Walpurgis fire on the top of the highest mountain in Stockholm the masked members burned the remaining copies of a book on file-sharing they had published some years earlier and declared the debate dead. The video documentation of this ritual, set to the soundtrack of KLF's "What Time is Love", found its way to the Indian Raqs Media Collective group who was just about to curate the next Manifesta biennial in Bolzano, Italy.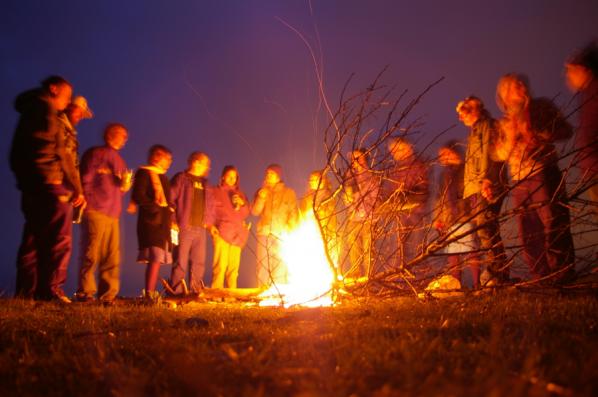 The loose network of Piratbyrån, now loaded with 7000 Euros of art budget and a sizable amount of cash from selling Pirate Bay t-shirts, decided to purchase, renovate and decorate a 1970s city bus, stack it with 23 people, and head down south.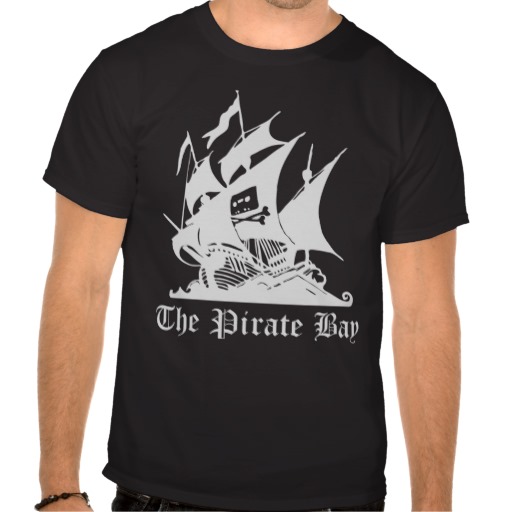 The ongoing relation with the bus – named S23m/x/k respectively for each trip – would later make an exodus from the exhibition in Italy to head across Eastern Europe and end up at the trial against Pirate Bay. It became one of the most significant undertakings of Piratbyrån and shaped their thoughts on the tensions between digital abundance and crowded space, collective decisions and freedom of choice, and that which can be copied and that which can't. The bus became a line of flight from the collective subject that had been built, a subject which was very associated with The Pirate Bay and also with Swedish politics, including the Pirate Party.
While nothing was really the same after the bus had returned, Piratbyrån formally lasted until 2009, when the tragic death of one of the founding members – Ibi Kopimi Botani – defined the end of an era. The Internet had already transitioned to another phase and it is not until now, and enough time has passed, that we as a culture are ready to reflect on what exactly happened during those years.
Piratbyrån always had an implicit friendship with the KLF. They share the same historical web of connections and share a similar trajectory, but their activities are shifted in time by roughly a decade. The only contact between the two is a response from Bill Drummond when Piratbyrån sent a link to the documentation of the Walpurgis ritual. It read:
> Thank you for your email.
> I have just read the text at the link.
> I enjoyed it and understood it.
It is probably good that they didn't exist at the same time because the gap in time gives the relation an infinite unresolvable tension of unfulfilled connectivity and unlimited possibilities.
About the Artists
James Cauty
For Piratbyrån, James Cauty's personal work resonates with the themes of abundance and rarity, presence and absence, functionality and waste, control and chaos, and draws on the same symbolic language that mixes clarity with suggestion. There is also a similar urge to *stir things up* and *stick ones nose where it doesn't belong*.
Evan Roth
Speaking of stirring things up, FATLAB was for Piratbyrån another one of those instantly recognisable friends that had never met; the art group that Piratbyrån never became, the "the unsolicited viral marketing wing of the open-source movement", the graffiti crew of the World Wide Web. FATLAB was born when the file-sharing debate was buried and the new web 2.0 era transformed the web.
Evan Roth, co-founder of FATLAB, has made a piece for the exhibition that in a subtle but direct way captures the concept of KOPIMI; how meetings and connections leave traces and makes you a carrier of ideas and information, sometimes without you even recognising it.
Jaime Ruelas & Polymarchs
The soundsystem collective Polymarchs and their illustrator Jaime Ruelas, probably happily unaware of the existence of Piratbyrån, embodies a scene in Mexico where piracy has always been a way of life and a mode of existence. They have materialised, expressed and lived what was only hinted at in glowing screens up in Sweden. Having outlasted all of the above mentioned collectives and managed to stick together for decades, they also highlight both the potential strength and – as a contrast – the fragility of so called "confidential projects"; those moments when friendships turn into expressive units and the borders between the intimate and the public are blurred.
Geraldine Juárez
Last but not least, Geraldine Juárez is the reason this exhibition came together at all. She began to read the Swedish-language blogs of Piratbyrån members through Google translate – whose mistranslations made them sound like they came from the near future instead of the near past, until she finally came into contact with Piratbyrån by translating updates from the trial – or Spectrial, as it was known – into Spanish. Now she returns the favor of time-travelling by re-awakening Piratbyrån one last time, to allow their archive to again live up, their ideas to be carried over to others and perhaps even some sense made from what happened, although these things can only be interpreted, misunderstood and re-appropriated – never explained.
Inside the tent that she has crafted for the exhibition – a torrent for piracy as the last shelter of culture – there will be a collection of tapes prepared and circulated by Piratbyrån and friends, perhaps giving some seed for thoughts and guidance in the process of excavating the archive of Piratbyrån.
About co-curator Rachel Falconer
Rachel Falconer is a curator, writer and producer working at the intersections of technology, the media and contemporary art. She currently holds the position of Head of Art and Technology at SPACE and runs the art and technology programme at The White Building and SPACE MediaLab. She is Co-Editor at Furtherfield and a founding member of the collective Hardcore Software.
Her curatorial practice is hybrid and interdisciplinary in approach and her current activity and research focuses on the pathologies surrounding social spaces and human behaviours engaged with networks and new technologies.
Location
Furtherfield Gallery
McKenzie Pavilion, Finsbury Park
London N4 2NQ
T: +44 (0)20 8802 2827
E: info@furtherfield.org
Furtherfield Gallery is supported by Haringey Council and Arts Council England
Featured image: Sam Meech, Punchcard Economy, 2013. Photo courtesy of FACT.
The new exhibition "Time & Motion" at FACT in Liverpool, UK, takes the pulse of punchcard protocol and creative capital in our own "Modern Times".
The exhibition Time & Motion: Redefining Working Life at FACT Liverpool is a collaboration between FACT and the Creative Exchange at the Royal College of Art – an initiative which looks at how arts and humanities researchers can work with industry to effect digital innovation. Rachel Falconer reviews the exhibition in the context of the paradoxical dynamics of cognitive capital and the changing landscape of the labour market.
Now self-employed,
Concerned (but powerless),
An empowered and informed member of society
(Pragmatism not idealism),
Will not cry in public,
Less chance of illness,
Tires that grip in the wet
(Shot of baby strapped in back seat),
A good memory,
Still cries at a good film,
Still kisses with saliva,
No longer empty and frantic like a cat tied to a stick,
That's driven into frozen winter shit
(The ability to laugh at weakness),
Calm,
Fitter,
Healthier and more productive
A pig in a cage on antibiotics.
Fitter Happier, Radiohead.
The frantic quest for the elusive Shangri-La of work/life balance is a neurotic luxury afforded only to the always-on, hyper-connected generation of precariously unstable home office workers[1] in our hypercapitalist society. The working rhythms of this emergent class of "precariat" [2] are far removed from the forensically prescribed scientific management resulting from the time and motion studies associated with Taylorism at the beginning of the last century. This shift in working patterns generated by the digital revolution is the primary focus of the exhibition Time and Motion, Redefining Working Life currently at FACT, Liverpool. From an archival, filmic view of the automated, (Western) industrial factory labourer to contemporary portraits of the global information worker's state of perpetual imbalance and non-stop, hyper-connectedness [3] the participating artists expose the – often contradictory – ecologies of labour, consumption, and the conditions in which they operate. The exhibition also marks the collaboration between FACT and Creative Exchange at the Royal College of Art – an initiative which looks at how arts and humanities researchers can work with industry to effect digital innovation and confront contemporary modes of production.
Taking the archival stimulus of time and motion measurement as its title and industrial work patterns as a starting point, the exhibition Time & Motion is the latest in a series of exhibitions and symposia addressing immaterial labour and new working patterns in the age of globalisation and creative capital.[4] Rather than following the well-trodden path of casting the figure of the artist as digital labourer, or attempting to portray an expansive, post-colonial view of nomadic, labouring diasporas, Time and Motion reflects a more subversive and fragmented approach to the politics of work, rest and play in the global information economy.
Sam Meech's Punchcard Economy is at once a homage to the textile industry and a recognition of the contemporary precariat. With more than a symbolic nod to northern England's textile heritage, Punchcard Economy consists of a machine-knitted reinterpretation of the Robert Owen's 8-8-8 ideal work/life balance.[5] The piece was produced on a domestic knitting machine using a combination of digital imaging tools and traditional punchcard systems. During a residency at FACT last year, Meech collected punchcards from visitors detailing their working hours. This data was then translated into a knitting pattern which was used to generate the final work – a banner depicting the contemporary working day. Any hours worked outside the eight-hour day appear as a glitch within the fabric. This banner – historically a symbol of the working class and trade unions – also denotes the fragmentation and blurring of national class structures in the era of globalisation.
The move towards a flexible, open labour market has not eroded the class system completely, but a more fragmented global class struggle has emerged. The "working class", "workers", "proletariat" are terms that have been embedded in our (Western) culture for centuries, and used as badges of honour by some, and terms of derision by others. By incorporating a large cross-section of working society under one banner, Meech has literally – in stitching different socio-economic groups together into the very fabric of the working day – rendered the once potent archaic class signifiers as little more than evocative labels.[6]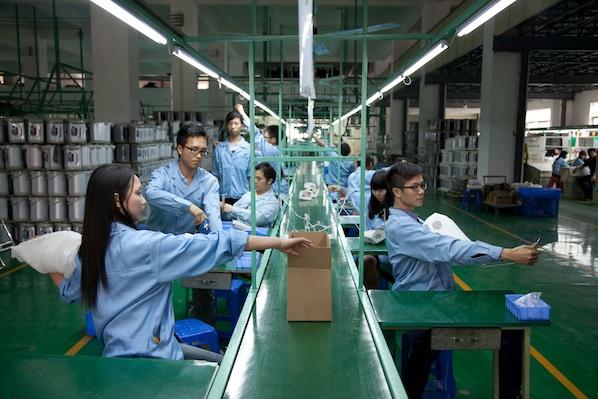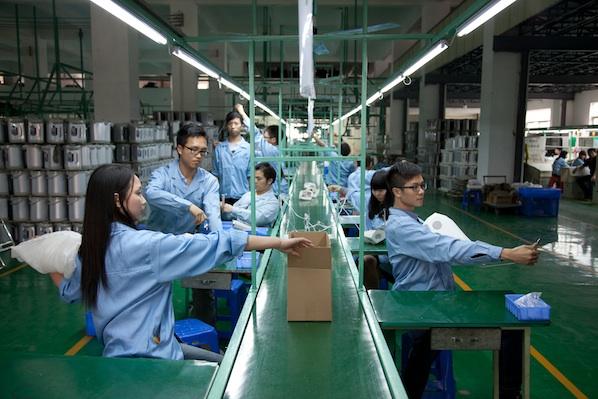 "75 Watt" by artist Cohen Van Balen and choreographer Alexander Whitley also riffs on the trope of the long fought for 8 hour working day. Deriving its title from a quote from Marks' Standard Handbook for Mechanical Engineers: "A labourer over the course of an 8-hour day can sustain an average output of about 75 watts", the film is a subversive ballet of the complex and often skewed relationships between production, consumption and distribution in the post-industrial age. The film features a group of Chinese labourers working an assembly line, (playing on the stereotypical "Made in China" trope). The object they produce, however, has no logical use. The purpose of the exercise is simply to choreograph the combined movements performed by the labourers in the manufacturing process. The work examines the nature of mass-manufacturing on differnt levels; from the geo-political context of hyper-fragmented labour to the bio-political condition of the human body on the assembly line. Echoing the Taylorist ideal, here we see engineering logic taken to its conceptual extreme; through the scientific management of every single movement we witness the passage of factory labourer to a man-machine.
By shifting the purpose of the labourer's actions from the efficient production of objects to the performance of choreographed acts, mechanical movement is reinterpreted into dance. The artists ask: "What is the value of this artefact that only exists to support the performance of its own creation? And as the product dictates the movement, does it become the subject, rendering the worker the object"?
This operatic construction line also points towards the ultimate failure of scientific management. Taylorism was always dictated by the needs of capitalist exploitation, but in its pure form it proved to be inefficient in drawing on workers' talent and potential. In time the bourgeoisie recognised the inadequacies in Taylorism, and Taylorist methodology was mostly withdrawn by the 1930s. However, this was not the end of time and motion measurement. More recent management theories include Theory X and Theory Y introduced by Douglas McGregor in the 1960s.[7] Contemporary Taylorism takes the form of the Lean practices introduced into major departments of the British civil service (including HMRC, DWP, MOJ, and MOD). Workers incorporate "efficiency savings" as an integral part of their job, and work priorities are monitored by the soft panoptic gaze of non-hierarchical "collaborative practice". Here,workers time their work processes, identify forms of waste, and propose changes in work practices. This "bottom-up" approach goes hand in hand with the new language of management – as managers morph into "leaders". As efficiency savings are made from workers' suggestions, the "leaders" try to enforce impossible targets, and decide whose post is next to be eliminated – hence the creation of the precariat. As part of the precariousness of employment, workers not only worry about losing their jobs, but also have to propose measures which, in the name of efficiency, might put them out of work. Added to this the increasing automation of work and the burgeoning AI scene, where does human cognition stand in all of this?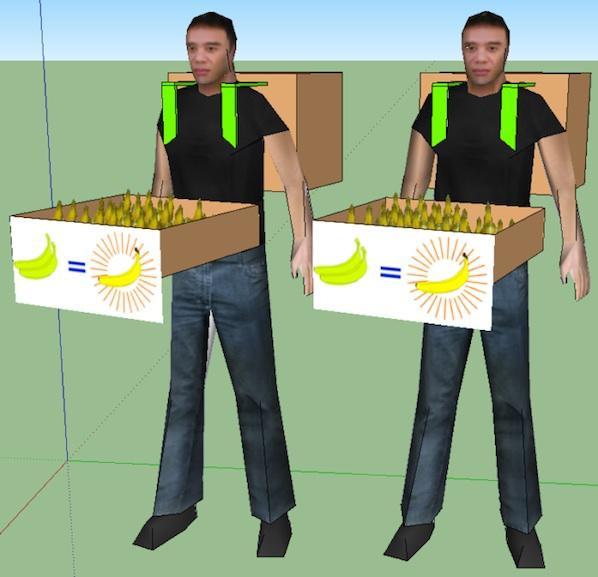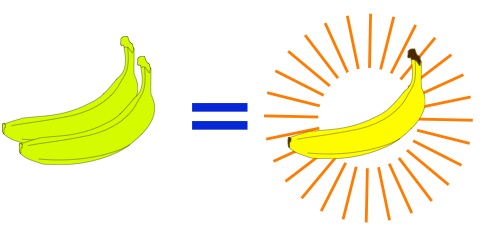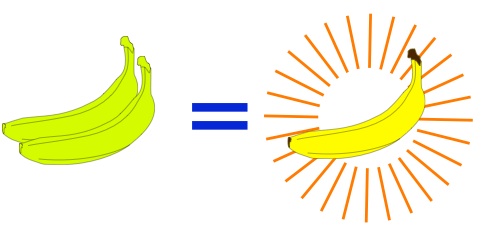 Inari Wishiki's set of ludicrious alternative employment models (such as Banana Multiplier), are in reminiscent of the subversive, performative models of the Fluxus movement. Inari's online work Recruit Agency for People Who Don't Want To Work dramatizes this staging of an alternative labour market. The website includes documentation of a series of performances by the artist exploring the premise that with the proliferation and development of technology, we as humans have lost our place in the world of work, and yet still need to appear to be "useful" in order to earn a living.
Recruit Agency For People Who Don't Want To Work is a set of systems which allow people to engage in the act of commerce while abandoning "all the meaningless rituals of having to be useful in order to earn money". In INARI TRADING CARD, the artist documents the way in which "essential" workers function as a social infrastructure. He observes that "money was naturally following those workers according to their essential motions, unlike that of workers who seek after money". These set of performances are an ironic counterpoint to the hyper-efficiency promoted by neo-Taylorism, and point towards the informal norms that are in tension with the industrial time norms still permeating social analysis, legislation and policymaking in the globalization era.
In his text "The Value of Time Spent" in the accompanying catalogue to the exhibition, Mike Stubbs supports this strategy of "design for disassembly" and novel values of exchange. Stubbs maintains that these alternative ecologies of exchange are necessary in order to allow us to question how we spend our time, and for us to lay bare the new patterns of professional fulfilment and social relations inherent to our hyper-mediated society.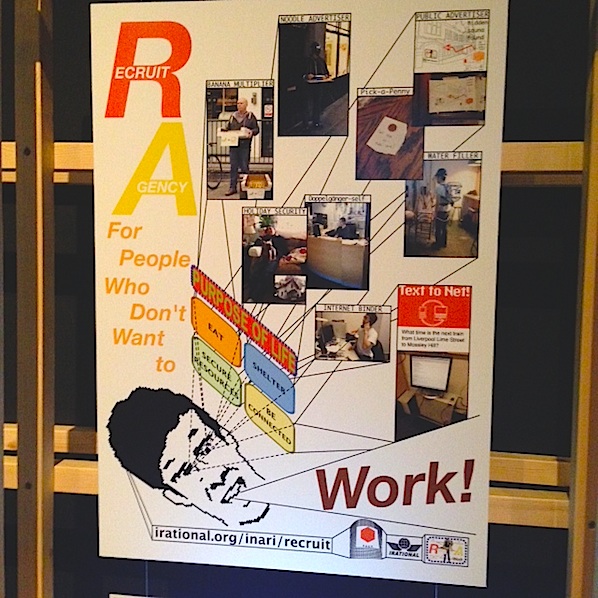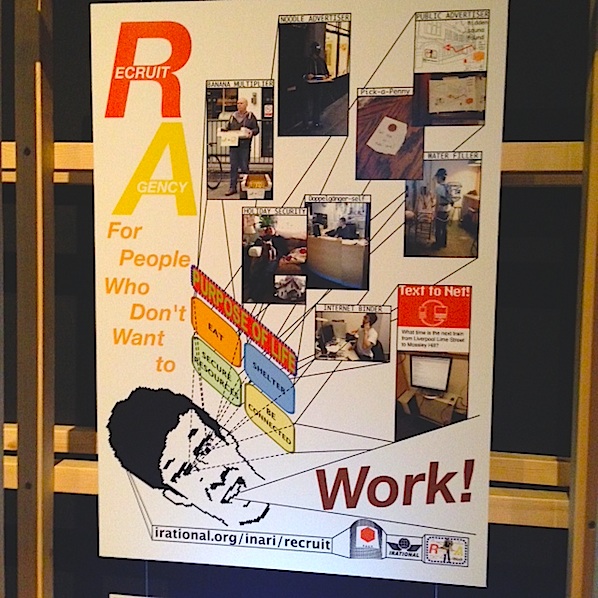 The classic distinction between the workplace and the home was forged in the industrial age, and when today's labour market regulations, labour law and social security systems were constructed, the norm was a fixed workplace. This model has now fragmented and crumbled and the term social factory, popularized by Tiziana Terranova and others, is applied to describe this shift "from a society where production takes place predominantly in the closed site of the factory to one where it is the whole of society that it is turned into a factory – a productive site".[8] The production is one of value, where the collective efforts of intelligence and creativity are networked, controlled and exploited. Labour takes place everywhere, and the discipline or control over labour is universally exercised. But policies are still based on a presumption that it makes sense to draw sharp distinctions between the workplace and home – and between workplace and public space. In a tertiary market society, this model is obsolete, leaving the information worker increasingly pressurized and isolated.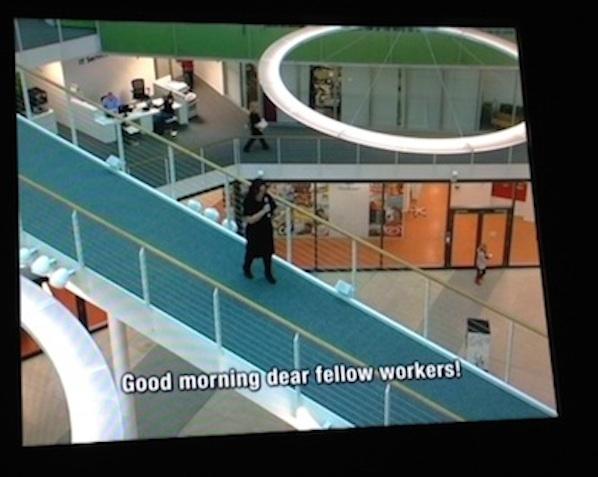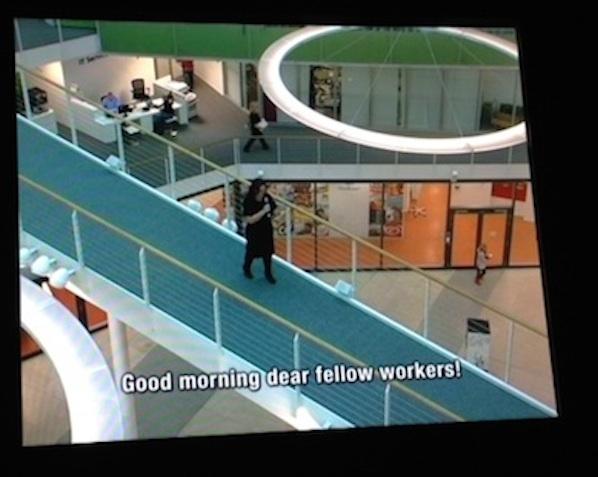 One of the recurring themes in Time & Motion is this hybrid and compromised locus and infrastructure of the work place. Harun Faroki's moving image work A New Product presents an insider's view of the paradoxical construction of so called "fluid" working environments. He describes his new film as: "Scenes from meetings within a company which advises corporations how to design their offices — and the work done there. The film shows that words are not just tools, they have become an object of speculation." In this work, he stages the brainstorming sessions of a business consultancy specialising in the design of workspaces, offices and new concepts for mobile work hubs. The resulting seductive imagery of the ideal workspace is an exercise in brand development pastiche rendered as pseudo video game.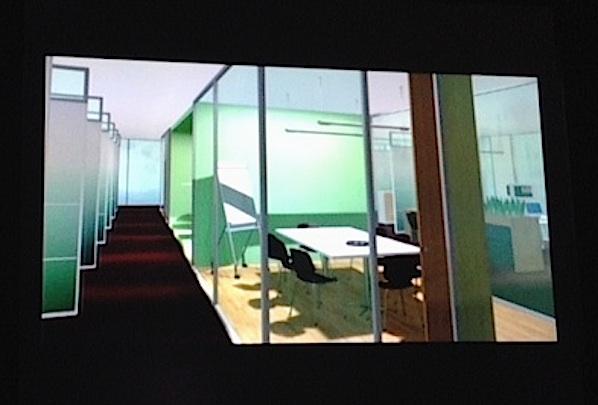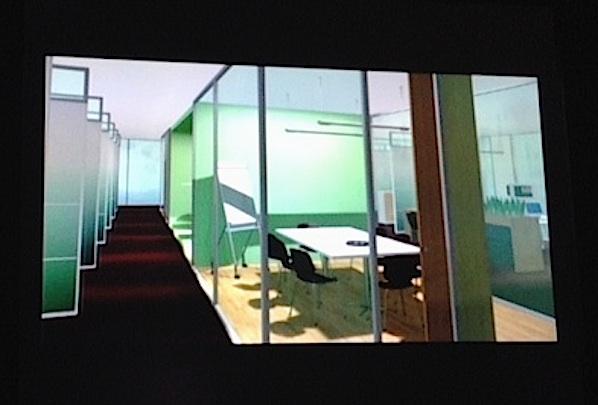 Time & Motion also stages a co-working space, developed by the RCA CX team, which weaves together venue, audience, workspace and digital space – presenting the entrance space of the gallery space into a live research 'lab'. Visitors are encouraged to participate in the research, interaction and interventions, and workshops, salon discussions, and hacking and making sessions are woven into the experimental fabric of the exhibition.
The 'CX Co-Working Space' features three design interventions. The first, Hybrid Lives, features video work by Karen Ingham and an interactive installation responding to data traffic, dressed with 'co-working furniture'. Where Do You Go To? is a wall-mounted moving freize showing the output from an app, co-designed with a group from the BBC, with the mission to connect remote workers through exchanging, Snap-chat-like (pre-hack) images of desks and workspaces. According to Ben Dalton, one of the main developers, this sharing of 'desk context' helps form a synergy of 'headspace' between remote workers.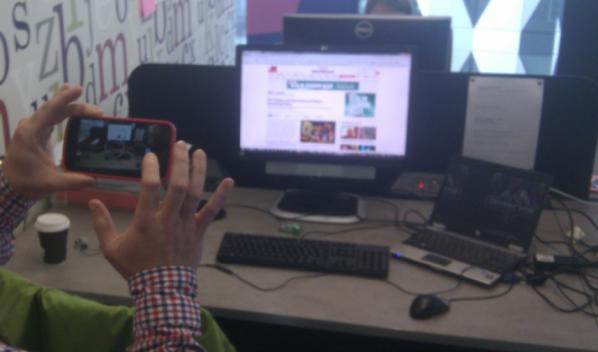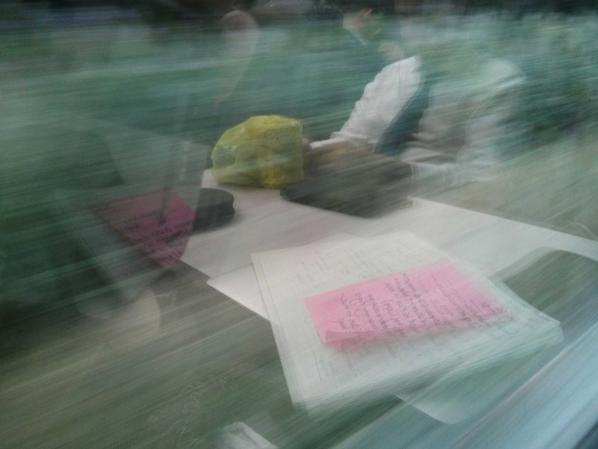 Taking its cue from Frances Cairncross's 1995 "The Death of Distance", where the compelling vision that, over time, the communications revolution would release us from geographic locations, the project illustrates how digital space has redefined our working lives. However, for all its good intentions, this gesture towards remote solidarity seems to be muddying the new principles and rhythms of work with Taylorist and later Fordist ideals of panoptic surveillance and somehow stands in direct opposition to the emancipatory rhetoric of convergence culture.
Time and Motion focuses primarily on a particular demographic of labourer (generally the global information worker), and paints the picture of a tertiary lifestyle which involves multitasking without control over a narrative of time use, and habitual fractured thinking – where non-stop interactivity (a digital version of Taylorist motion) is crack cocaine for the drones. For this category of workers, the workplace is everyplace – diffuse, unfamiliar, a zone of insecurity. We are left with a "thin democracy" in which people are disengaged from political activity except when jolted into consciousness by a shocking event or celebrity meltdown witnessed virally on Youtube during office hours. As more work and labour takes place outside the pre-determined workplace – in the hybrid environments of cafes, trains and across the domestic landscape – the very idea of a work/life balance seems like an alien ideal to aspire to.In an open tertiary society, the industrial model of time, and the bureaucratic time management of factories and office blocks, breaks down. There is no stable time structure and we are increasingly losing our grip on our own time. Time and Motion at FACT interrogates the impact of this fragmentation on the aesthetic forms of contemporary art, and contemplates how artists might offer a critique of our neo-Taylorist predicament.
Read and learn how to solve a Rubiks Cube with the layer-by-layer method. It can be learned in an hour.
Marc Garrett reviews Stefan Szczelkun's book Agit Disco. He is an artist and author interested in culture and democracy. In the early Seventies he was fortunate to be part of the Scratch Orchestra and has since been involved with a series of artists collectives. His doctoral research into the Exploding Cinema collective was completed at the RCA in 2002. Recently his collaborative project Agit Disco was published as a Mute book in 2012. He has been on the Mute magazine editorial board since 2009, and currently working on photographic and performance projects.
Introduction: Entering The Zombie Apocalypse.
"Just cause we can't see the bars
Don't mean we ain't in prison."
Kate Tempest (2009) [1]
The subtle and not so subtle domination by market interests of cultural production and dialogue denies us all access to a wide spectrum of creative expression, especially those that engage in subjects that conflict with the agendas of those in power. Agit Disco by Stefan Szczelkun combats this contemporary trend by focusing on music, politics, DIY culture, and freedom of expression. In doing so he starts to redress the lack of representation across the board for those in grass roots culture and working class lives, whose freedoms to have a voice in society are so commonly restricted.
The future does not look good for those who value cultural and social diversity; who look for a variety of activist histories and experiences to be seen and represented on their own terms. The UK government is changing university regulations so that private companies can become universities. This means tutors will end up replacing educational courses once devised with the public good in mind with modules designed for maximum profit. Luke Martell, a critic of the marketisation and privatisation of education and lecturer of Sociology at the University of Sussex, says "This will lead to a different content to education. Critical thinking is being replaced by conformity to cash. Money-spinning management and business courses are expanding and lower-income adult education is being closed down." [2] (Martell 2013) Already, most researchers, academics and those in professional fields of practice mainly work within insider frameworks, "there is a qualitative difference between the conditions of people living in marginalized communities and those in middle-class suburbia." [3] (Smith 2012)
The knock on effect of an unquestioning culture of compliance with the 'free market' is enormous. How ironic it is that the term 'free market' is attributed with so much value and (a presumed) logic when in actuality it constrains people's freedoms and makes those who are already rich even richer. Because the politicians are not effected by the results personally, and because it also serves their interests, they have handed over their social responsibilities to these market systems. The neoliberal defaults that caused the financial crisis are untouched by our democratic processes. These out of reach, distant power systems are fixed towards property bias and occupy and govern our everyday experiences. How does freedom of expression fit into this and on whose terms?
"The more our physical and online experiences and spaces are occupied by the state and corporations rather than people's own rooted needs, the more we become tied up in situations that reflect officially prescribed contexts, and not our own."[4] (Garrett 2013)
Review of Agit Disco.
Agit Disco offers a breath of fresh air, in the fug of the developing marketisation of everything. It presents grounded examples of difference that contrast with the dominating view of entertainment systems. Published through Mute Books in 2012, it features 23 playlists put forward by 23 different writers, artist and activists. It began as a set of mixed CDs and images, each chapter includes annotations and illustrations. Its contributors are Sian Addicott, Louise Carolin, Peter Conlin, Mel Croucher, Martin Dixon, John Eden, Sarah Falloon, Simon Ford, Peter Haining, Stewart Home, Tom Jennings, DJ Krautpleaser, Roger McKinley, Micheline Mason, Tracey Moberly, Luca Paci, Room 13 – Lochyside Scotland, Howard Slater, Johnny Spencer, Stefan Szczelkun, Andy T, Neil Transpontine, and Tom Vague.
Mostly from working class backgrounds the contributors were invited to focus on politics and music, and share memories relating to what the tunes meant to them at the time. In the preface Szczelkun states, his selection of contributors comes from his own worldview and personal contacts. Anthony Iles, in his introduction says most who have contributed "are closely associated with anti-authoritarian politics and DIY culture."[5] (Iles 2012) Contributors offer insights into the connections between their music and the politics of the time. Louise Carolin says, "When I was a teenager in the '80s I lived through one of the golden ages of British chart pop, listening to music that was by turns, political, danceable, challenging and entertaining. I attended CND rallies, marched against South African Apartheid, ran the feminist group at school and went to GLC-funded music festivals."[6] (Carolin 2011)
What adds depth to Louise's story, as with the rest of the contributions is that many readers feel connected with these histories, and I am one of them. It highlights an indigenous, working class culture and their personal struggles in a period when neoliberalism was in its early stages of world domination. To say that these are merely anecdotal or subjective would completely miss the point. It calls for an awareness and understanding about people giving an account for themselves in relation to music, politics and their social contexts on their own terms.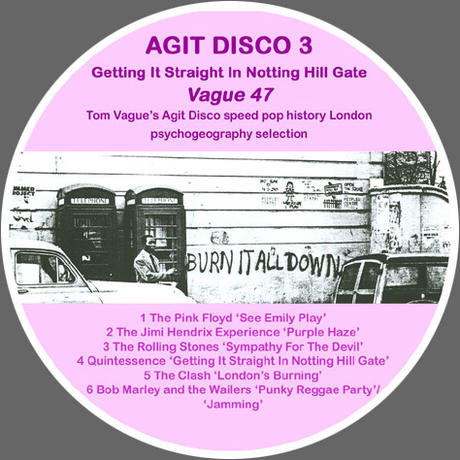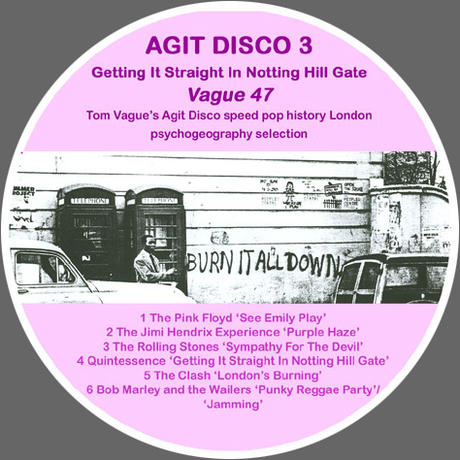 Just as it is important to ask contextual and critical questions of why a particular artwork is being shown at a certain venue or seen in an art magazine. It is also necessary to observe who published Agit Disco and why? It is no coincidence that it's a Mute publication, Szczelkun has been on its editorial board since 2009, and has written various articles, reviews and interviews for Mute.
Agit Disco resonates with Mute's dedication to DIY culture. Indeed, Mute has an excellent history in independent publishing alongside its DIY methods of production. Mute's earliest incarnation used Financial Times' pink paper, broadsheet printing cast offs. Later on a traditional magazine format. From 2005 onwards it moved onto its online site, and developed a publishing platform that allowed the publication of its POD (Print On Demand) magazine. [7] The design and production of Mute and its platforms have come a long way enabling a pamphlet-like production and distribution, echoing Thomas Paine's own DIY releases of the Rights of Man.[8]
DIY Culture (and its distribution channels) offer a vital alternative to mainstream frameworks and their dominating hegemonies as a way to route around the restrictions to content, freedom of thought and free exchange. We have to contend with networked surveillance strategies initiated by corporations and state secret services. Censorship exists in many forms and recently there has been a rise of self censorship by workers and academics worried about losing their jobs if bosses see their interactions on Facebook or similar Web 2.0 social networks.[9] And the worrying antics of Britain's GCHQ, in collaboration with America's National Security Agency (NSA), targeting organisations such as the United Nations development programme, the UN's children's charity Unicef [10] reveal a greater investment in the surveillance of everyone, and the downgrading of privacy and fundamental human rights.
The credo that Anyone Can Do It reached a mass of individuals and groups not content with their assigned cultural roles as disaffected consumers watching the world go by. Like the Situationists, Punk was not merely reflecting or reinterpreting the world it was also about transforming it at an everyday level. Sadie Plant states that with the "emergence of punk in the late 70s […] lay the possibility of a threatening political response to the vacant superficiality of contemporary society." [11] From this, a whole generation of diverse artists emerged; and through their practices they critiqued the very society they lived in, questioning authority and the authenticity of established politics, language, art, history, music and film.
Has the process of appropriating people's civilian personas, and then replacing their social contexts with a corporate role as consumer created a more selfish world, lacking compassion for others and less interest for societal and ethical change? Ubermorgan discussed in a recent interview with Stevphen Shukaitis that people are in a state of 'mediality'. "What we refer to as reality very often is just mediality, and also because that's how human nature often prefers to observe reality, you know, via some media." [12] Perhaps our constant interactions through different interfaces of proprietorial frameworks distances ourselves to what is important. In the 21st Century demonstrations and civil disobedience are policed intensively, and even though much of contemporary activism exists on-line. The frontline, or the heart of politics is still mainly a physical matter; it is still in our streets, our homes, our bodies, in our neighbourhoods and communities.
As Oxblood Ruffin a Canadian hacker and member of the hacker group Cult of the Dead Cow (cDc) and the founder/director of Hacktivismo, said "I know from personal experience that there is a big difference between street and on-line protest. I have been chased down the street by a baton-wielding police officer on horseback. Believe me, it takes a lot less courage to sit in front of the computer." [13]
So Agit Disco reminds us that music is a vital way of both bringing people together in a space, story telling and communicating with each other, sharing what is happening with people's lives. It is usually at the moment of censorship that we then realise how essential this freedom of expression stuff really is. For instance, nine months after Islamic militants had taken over in northern Mali they announced that all music is banned. "It's hard to imagine, in a country that produced such internationally renowned music as Ali Farka Touré's blues, Rokia Traoré's soulful vocals and the Afro-pop traditions of Salif Keita. […] The armed militants sent death threats to local musicians; many were forced into exile. Live music venues were shut down, and militants set fire to guitars and drum kits. The world famous Festival in the Desert was moved to Burkina Faso, and then postponed because of the security risk." [14] (Fernandes 2013)
In her article The Mixtape of the Revolution, Fernandes says that in Africa many rappers are "speaking boldly and openly about a political reality that was not being otherwise acknowledged, rappers hit a nerve, and their music served as a call to arms for the budding protest movements."[15] Regarding Egypt, the rapper Mohamed el Deeb in an interview with Fernandes said, "shallow pop music and love songs got heavy airplay on the radio, but when the revolution broke out, people woke up and refused to accept shallow music with no substance." [16] Music, politics and grass roots dissent are concrete expressions and an essential part of our collective freedoms. Alongside this, independent publishing as an alternative voice to the marketed franchises that dominate our gaze, sight, ears and minds, are needed more than ever. Yet, independent voices are being silenced and whittled down by wars, oppression and the neoliberal created financial crisis and its resulting austerity cuts.
What is to become of us if we lose our skills of discernment and slump into a homogenous consumer class, to define ourselves solely through marketed stereotypes and ideologies?
Agit Disco offers a festival of dance and dialogue for independent minded individuals and groups around the upturned burning car in the barricade against the coming zombie apocalypse.
It has been fun listening to all of the playlist contributions provided in Agit Disco. Below is my own Agit Disco playlist. You are welcome to add your own playlist in the comments section below (with links)…
Agit Disco 24. Marc Garrett.
Damien Dempsey – 'Dublin Town' (2000)
http://www.youtube.com/watch?v=brhO8pqTNHU
Asian Dub Foundation – 'Modern Apprentice' (2000)
http://www.youtube.com/watch?v=zgtWhjaOgQ4
Dan Le Sac & Scroobius Pip – 'Great Britain' (2010)
http://www.youtube.com/watch?v=YeV2cExvnMI
Kirsty MacColl – 'Fifteen Minutes' (2005)
http://www.youtube.com/watch?v=MSQrH3JUQ2s
Jeffrey Lewis – 'Do They Owe Us A Living?' (2007)
http://www.youtube.com/watch?v=jWU-W0SzVE0
The Pop Group – 'Forces of oppression' (1979)
http://www.youtube.com/watch?v=Txzmbu6o-gg
Kieron Means – 'I Worry For This World' (2005)
https://play.spotify.com/track/6AI2QujkrP6B2nfIUK55lY
Robyn Archer – 'Ballad on Approving of the World' (1984)
https://play.spotify.com/album/3hNQY8q9sO3M0R6es2d3ka
Robyn Hitchcock – 'Point it at Gran' (1986)
http://www.youtube.com/watch?v=_HFkimK9FAU
Sound of Rum – 'End Times' (2011)
http://www.youtube.com/watch?v=9dWPe7Au68A
Silver bullet – '20 Seconds to comply (final conflict)' (1990)
http://www.youtube.com/watch?v=24b6pYGT9MM
Maze – 'Color Blind (Featuring Frankie Beverly)' (1977)
http://www.youtube.com/watch?v=COY4gKLwV2I
Akala – 'Bullshit' (2006)
http://www.youtube.com/watch?v=mxpxpQ7j8Sg
Sarah Jones – 'Your Revolution' DJ Vadim (2000)
http://www.youtube.com/watch?v=E62SZ1CmBOI
Julian Cope – 'Soldier Blue' (1991)
http://www.youtube.com/watch?v=8dGOr-JpOmI
June Tabor – 'A place called England' (2009)
https://play.spotify.com/track/3YB6sSlLfB8kmMrrm5COKX
Introduction.
For over 17 years Furtherfield has been working in practices that bridge arts, technology, and social change. Over these years we have been involved in many great projects, and have collaborated with and supported a variety of talented people. Our artistic endeavors include net art, media art, hacking, art activism, hacktivism and co-curating. We have always believed it is essential that the individuals at the heart of Furtherfield practice in arts and technology and are engaged in critical enquiry. For us art is not just about running a gallery or critiquing art for art's sake. The meaning of the art is in perpetual flux, and we examine its changing relationship with the human condition. Furtherfield's role and direction as an arts collective is shaped by the affinities we identify among diverse independent thinkers, individuals and groups who have questions to ask in their work about the culture.
Here I present a selection of Furtherfield projects and exhibitions featured in the public gallery space, we have ran in Finsbury Park in North London for the last two years. I set out some landmarks on the journey we have experienced with others, and end my presentation with news of another space we have recently opened (also in the park) called the Furtherfield Commons.
Running themes in this presentation include how Furtherfield has lived through and actively challenged the disruptions of neoliberalism. The original title for this presentation was 'Artistic Survival in the 21st Century in the Age of Neoliberalism'. The intention was to stress the importance of active and open discussion about the contemporary context with others. The spectre of neoliberalism has paralleled Furtherfield's existence, affecting the social conditions, ideas and intentions that shape the context of our work: collaborators, community and audience. Its effects act directly upon ourselves as individuals and around us: economically, culturally, politically, locally, nationally and globally. Neoliberalism's panoptic encroachment on everyday life has informed Furtherfield's own motives and strategies and, in contrast with most galleries and institutions that engage with art, we have stayed alert to its influence as part of a shared dialogue. The patriarch, neoliberalism, de-regulated market systems, corporate corruption and bad government; each implement the circumstances where us, everyday people are only useful as material to be colonized. This makes us all indigenous peoples struggling under the might of the wealthy few. Hacking around and through this impasse is essential if we are to maintain a sense of human integrity and control over our own social contexts and ultimately to survive as a species.
"The insights of American anarchist ecologist Murray Bookchin, into environmental crisis, hinge on a social conception of ecology that problematises the role of domination in culture. His ideas become increasingly relevant to those working with digital technologies in the post-industrial information age, as big business daily develops new tools and techniques to exploit our sociality across high-speed networks (digital and physical). According to Bookchin our fragile ecological state is bound up with a social pathology. Hierarchical systems and class relationships so thoroughly permeate contemporary human society that the idea of dominating the environment (in order to extract natural resources or to minimise disruption to our daily schedules of work and leisure) seems perfectly natural in spite of the catastrophic consequences for future life on earth (Bookchin 1991). Strategies for economic, technical and social innovation that fixate on establishing ever more efficient and productive systems of control and growth, deployed by fewer, more centralised agents have been shown conclusively to be both unjust and environmentally unsustainable (Jackson 2009). Humanity needs new strategies for social and material renewal and to develop more diverse and lively ecologies of ideas, occupations and values." [1] (Catlow 2012)
It is no longer critical, innovative, experimental, avant-garde, visionary, evolutionary, or imaginative to ignore these large issues of the day. If we as an arts organization, shy away from what other people are experiencing in their daily lives and do not examine, represent and respect their stories, we quite rightly should be considered as part of an irrelevant elite, and seen as saying nothing to most people. Thankfully, there are many artists and thinkers seriously taking on these human themes in their work in various ways, on the Internet and in physical spaces. So much so, this has introduced a dilemma for the mainstream art world regarding its own relevance, and whether it is really contemporary anymore.
Furtherfield has experienced in recent years a large-scale shift of direction in art across the board. And this shift has been ignored (until recently) by mainstream art culture, within its official frameworks. However, we do not only need to thank the artists, critical thinkers, and hackers and independent groups like ours for making these cultural changes, although all have played a big role. It is also due an audience hungry for an art that reflects and incorporates their own social contexts, questions, dialogues, thoughts and experiences. This presentation provides evidence of this change in art culture, and its insights flow from the fact that we have been part of its materialization. This is grounded knowledge based on real experience. Whether it is a singular movement or multifarious, is not necessarily important. But, what is important is that these artistic and cultural shifts are bigger than mainstream art culture's controlling power systems. Make no mistake, this is only the beginning and it will not go away. It is an extraordinary swing of consciousness in art practice forging other ways of seeing, being, thinking, making and becoming.
Furtherfield is proud to have stuck with this experimental and visionary culture of diversity and multiplicity. We have learned much by tuning into this wild, independent and continuously transformative world. On top of this, new tendencies are coming to the fore such as re-evaluations and ideas examining a critical subjectivity that echo what Donna Haraway proposed as 'Situated Knowledges' and what the Vienna based art's collective Monochrom call 'Context Hacking'. Like the DADA and the Situationist artists did in their time; many artists today are re-examining current states of agency beyond the usually well-promoted, proprietorial art brands, controlling hegemonies and dominating, mainstream art systems.
Slide Presentation
Most Art Says Nothing To Most People.
"The more our physical and online experiences and spaces are occupied by the state and corporations rather than people's own rooted needs, the more we become tied up in situations that reflect officially prescribed contexts, and not our own." [2]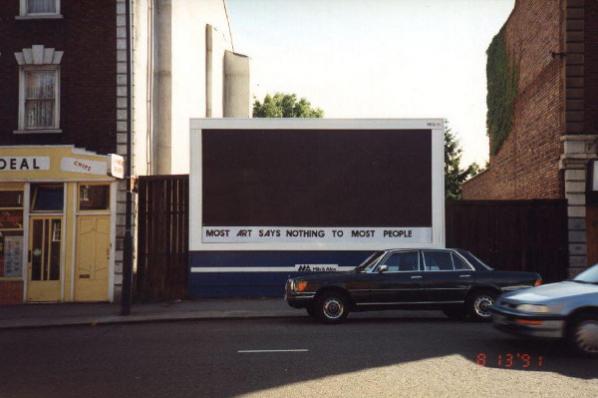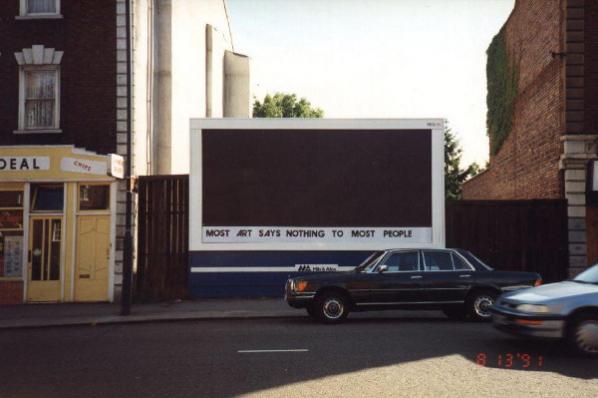 To start things off, I want to refer to a past work that myself and Heath Bunting (co-founder of irational.org) were involved with in 1991. The above image is a large paste-up displayed on billboards around Bristol in the UK. At the time, as well as being part of other street art projects, pirate radio and BBS boards, Heath and I and others were members of the art activist collective Advertising Art. It was street art that critiqued a presumed ownership of art culture by the dominating elites. The words "Most Art Says Nothing To Most People" has remained as an inner mantra in my mind ever since.
Furtherfield is inspired by ideas that reach for a grass roots form of enlightenment, and so nurture progressive ideas and practices of social and cultural emancipation.The Oxford English Dictionary describes Emancipation as "the fact or process of being set free from legal, social, or political restrictions; liberation: the social and political emancipation of women and the freeing of someone from slavery."
"Kant thought that Enlightenment only becomes possible when we are able to reason and to communicate outside of the confines of private institutions, including the state." [3] (Hind 2010)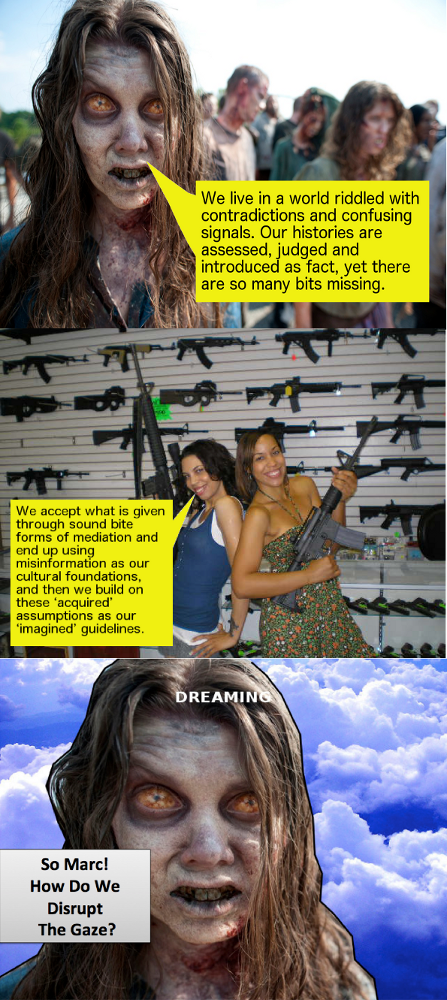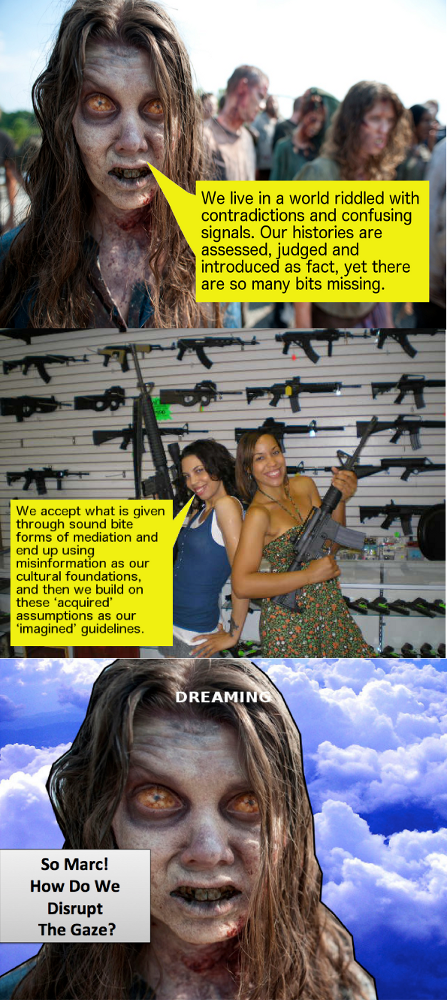 Well, a start would be to get organized and build something of value with others.
As usual, it is up to those people who know that something is not working and those feeling the brunt of the issues affecting them who end up trying to change the conditions. It is unlikely that this pattern of behaviour will change.
To expect or even wish those who rule and those serving them to change, and challenge their own behaviours and seriously critique their own actions is as likely as winning the National Lottery, perhaps even less.
Art critic Julian Stallabrass proposes that there needs to be an analysis of the operation of the art world and its relation to neoliberalism. [4]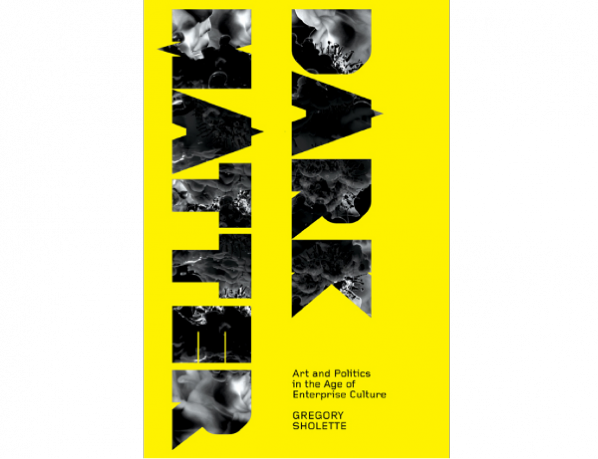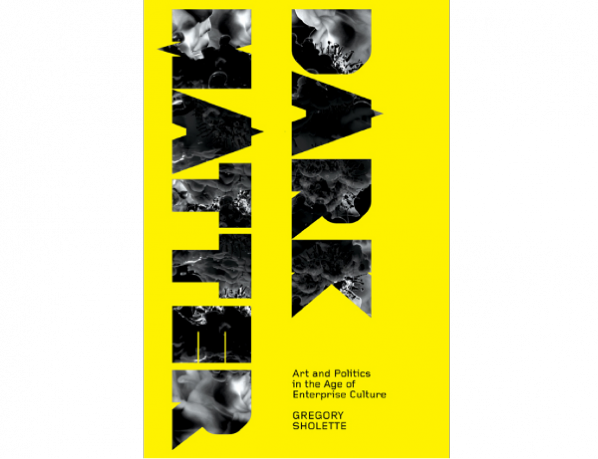 In the above publication Gregory Sholette argues, "that imagination and creativity in the art world thrives in the non-commercial sector, shut off from prestigious galleries and champagne receptions. This broader creative culture feeds the mainstream with new forms, and styles that can be commodified and utilized to sustain the few elite artists admitted into the elite. […] Art is big business: a few artists command huge sums of money, the vast majority are ignored; yet these marginalized artists remain essential to the mainstream cultural economy serving as its missing creative mass. At the same time, a rising sense of oppositional agency is developing within these invisible folds of cultural productivity. Selectively surveying structures of visibility and invisibility, resentment and resistance […] when, the excluded are made visible, when they demand visibility, it is always ultimately a matter of politics and rethinking history." [5] (Sholette 2013)
Drawing upon Sholette's inspirational, unambigious and comprehensive critique of mainstream art culture. I would like to consider examples that are closer to home blocking avenues of artistic and social emancipation that also need an urgent critique. And this blockage resides within media art culture (or whatever we call it now) itself. Recently, I read a paper about 'Post-Media' – said to "unleash new forms of collective expression and experience" [6]- which featured in its text only established names. Furtherfield is native to 'Post-Media' processes, a concept that theorists in media art culture are only just beginning to grasp. This is because they tend to rely on particular theoretical canons and the defaults of institutional hierarchies to validate their concepts. Also, most of the work they include in their research is either shown in established institutions and conferences. They assume that because a particular art work or practice is accepted within the curatorial remits of a conference theme, that this means the art shown is representative of what is actually happening, thus more valid than other works and groups not included. This is a big mistake. It only serves to reinforce the conditions of a systemic, institutionalised, privileged elite and enforces a hierarchy that will reinforce the same myopic syndromes of mainstream art culture. The extra irony here, is that many of these supposedly insightful art historians and theorists advocate a decentralised, networked culture in their writings, or as a relational context. However, many of them are not actually either engaged in supporting or creating these alternative structures with others. The real problem is how they acquire their knowledge. Presently the insular and hermetically sealed dialectical restraints and continual reliance on central hubs as official reference is distancing them from the actual culture they propose to be part of.
Furtherfield and Hack Value.
"We must allow all human creativity to be as free as free software" [7] (Steiner, 2008)
Furtherfield comes from a cultural hacking background and has incorporated into its practice ideas of hacking not only with technology but also in everyday life. In fact, Furtherfield is one big social hack. Hack Value advocates an art practice and cultural agency where the art includes the mechanics of society as part of its medium as well as social contexts with deeper resonances, and a critical look at the (art) systems in place. It disrupts and discovers fresh ways of looking and thinking about art, life and being. Reclaiming artistic and human contexts beyond the conditions controlled by elites.
Hack Value can be a playful disruption. It is also maintenance for the imagination, a call for a sense of wonder beyond the tedium of living in a consumer, dominated culture. It examines crossovers between different fields and practices, in relation to their achievements and approaches in hacking rather than as specific genres. Some are political and some are participatory. This includes works that use digital networks and physical environments as well as printed matter. What binds these examples together is not only the adventures they initiate when experimenting with other ways of seeing, being and thinking. They also share common intentions to loosen the restrictions, distractions and interactions dominating the cultural interfaces, facades and structures in our everyday surroundings. This relates to our relationship with food, tourism, museums, galleries, our dealings with technology, belief systems and community ethics.
Donna Haraway proposes a kind of critical subjectivity in the form of Situated Knowledges.
"We seek not the knowledges ruled by phallogocentrism (nostalgia for the presence of the one true world) and disembodied vision. We seek those ruled by partial sight and limited voice – not partiality for its own sake but, rather, for the sake of the connections and the unexpected openings situated knowledges make possible. Situated knowledges are about communities, not isolated individuals." [8] (Haraway 1996)
Furtherfield's move to the heart of a North London park.
Furtherfield had run [HTTP], London's first public gallery for networked media art, since 2004 from an industrial warehouse in Haringey. In 2012 the gallery moved to a public location at the McKenzie Pavilion in the heart of Finsbury Park, North London.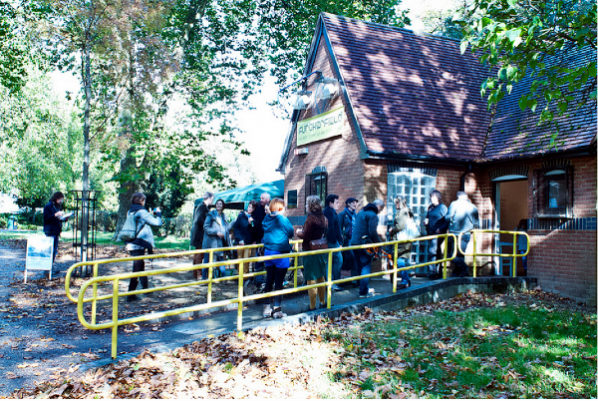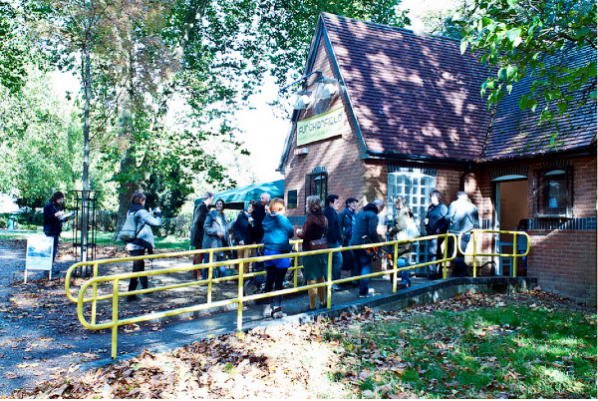 However, we are not just a gallery, we are a network connecting beyond a central hub.
"It is our contention that by engaging with these kinds of projects, the artists, viewers and participants involved become less efficient users and consumers of given informational and material domains as they turn their efforts to new playful forms of exchange. These projects make real decentralised, growth-resistant infrastructures in which alternative worlds start to be articulated and produced as participants share and exchange new knowledge and subjective experiences provoked by the work." [9] (Garrett & Catlow 2013)
The park setting informs our approach to curating exhibitions in a place with a strong local identity, a public green space set aside from the urban environment for leisure and enjoyment by a highly multicultural population.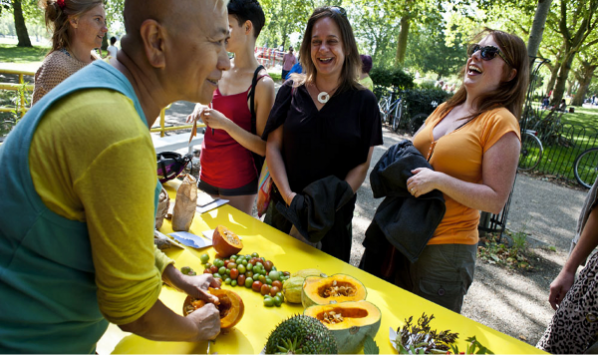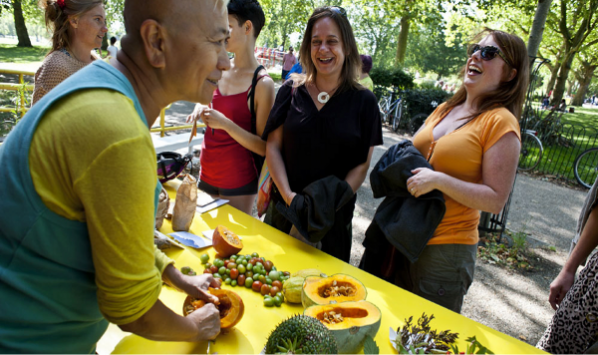 We are simultaneously connected to a network of international critical artists, technologists thinkers and activists through our online platforms and communities, as well as a wider networked art culture. We get all kinds of visitors from all backgrounds and this includes those who do not normally visit art spaces. We are not interested in pushing the mythology of high-art above other, equally significant art practices. Being accessible has nothing to do with dumbing down it concerns making the effort to examine deeper connections between people and the social themes effecting theirs and our lives. We don't avoid big issues and controversies and are constantly engaged in a parallel dialogue between these online communities and those meeting us in the park.
We feature works that incorporate the contributions of local people and this brings them closer to the art and engagement of a social dialogue. For instance, London Wall, N4 by Thomson and Craighead, that reflected a collective stream of consciousness of people all around Finsbury Park, gathering their Tweets to print out and paste onto the gallery walls. By retweeting the images of the tweet posters we were able to gather many of the original authors in the gallery to see their words physically located among others made in the vicinity.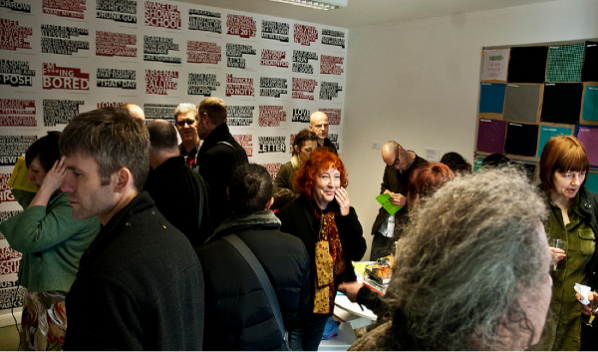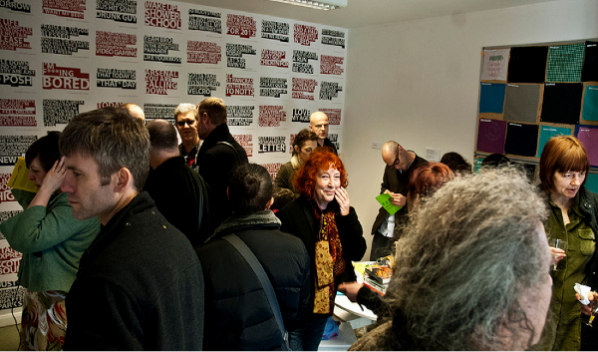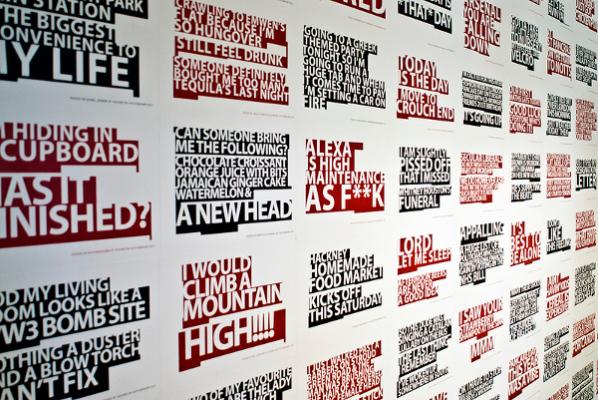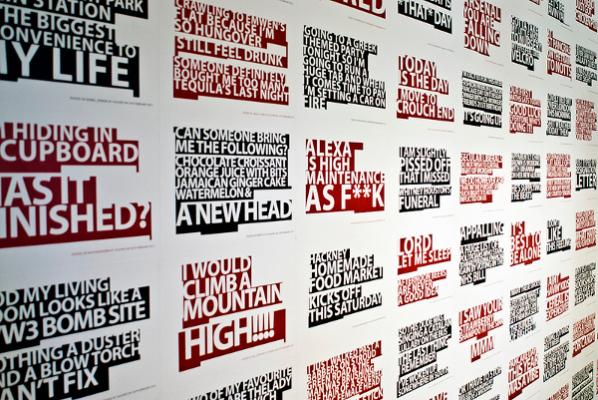 Crow_Sourcing by Andy Deck invited people to tweet animal expressions from around the world – illuminating the link between the formation of human language and our relationships with other wild webs of animal life. Gallery visitors illustrated their own animal idioms, drawing directly onto the gallery walls, inspired by the ducks, crows, squirrels and dogs that inhabit the park.
We feature works that deal with the human and social effects of networked and pervasive technologies. Web 2.0 Suicide Machine by moddr_ proposed an improvement to our 'real' lives by providing a one click service to remove yourself, your data, and your profile information forever, from Facebook, Twitter and MySpace, replacing your icon (again, forever) with a logo depicting a noose. They also reflect on new forms of exposure and vulnerabilities they give rise to such as Kay's Blog, by Liz Sterry, which replicated in physical space the unkempt bedroom of an 18 year old Canadian girl based only on her blog posts, to eirie effect. The intention is to reach people in a way that has people question their own relationship with those technologies. This does not mean promoting technology as a solution to art culture but exploiting it to connect with others and also critique technologies at the same time.
Below: Selection of images from original slide presentation – exhibitions & events.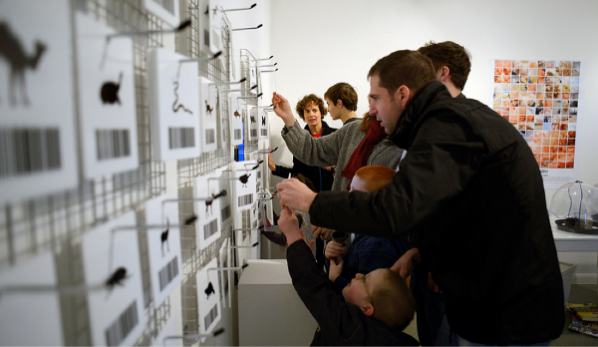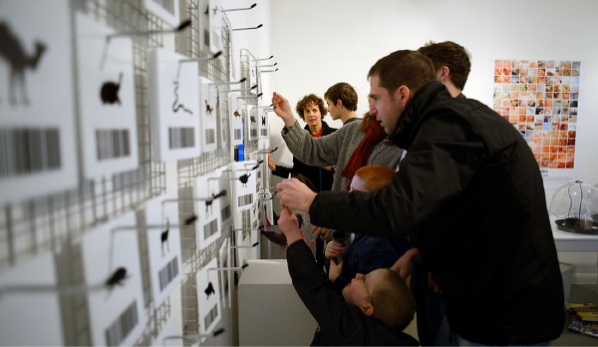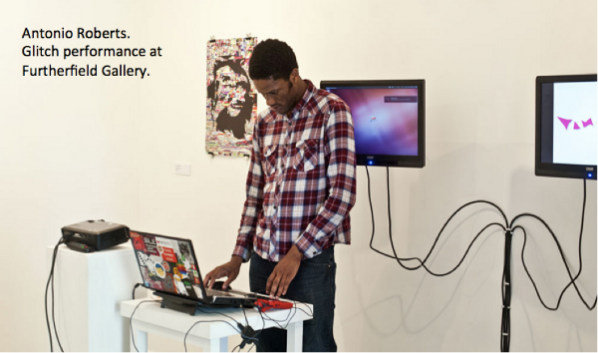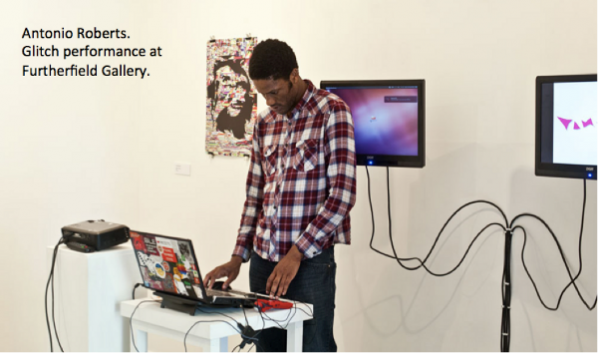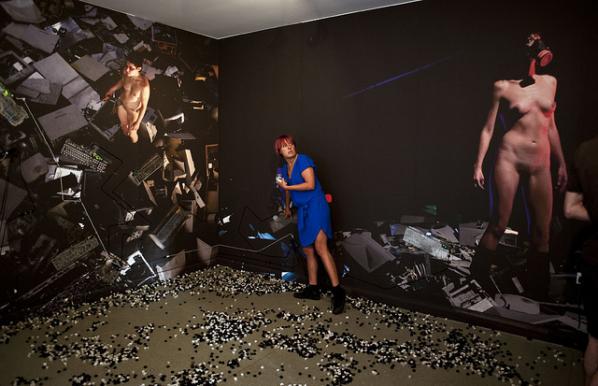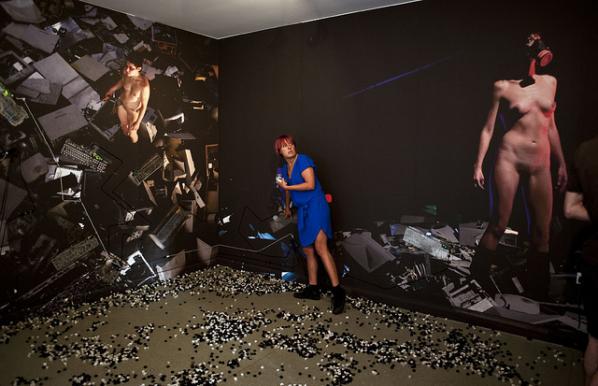 The Furtherfield Commons.
On the 23rd of November we opened our second space in the park 'The Furtherfield Commons'. It kicked off with The Dynamic Site: Finsbury Park Futures, an exhibition by students from the Writtle School of Design (WSD) featuring ideas and visions for future life in Finsbury Park, coinciding with the launch.
This new lab space for experimental arts, technology and community sets out to explore ways to establish commons in the 21st Century. It draws upon influences from 1700s when everyday people in England such as Gerrard Winstanley and collaborators forged a movement known as the Diggers also known as the True Levellers, to reclaim and claim common land from the gentry for grass roots, peer community interests. Through various workshops, residencies, events & talks we will explore what this might mean to people locally and in connection with our international networks. These include free software works, critical approaches to gardening, gaming and other hands-on practices where people can claim direct influence in their everyday environments in the physical world, to initiate new skills and social change on their terms. From what we have learned from our years working with digital networks we intend to apply tactical skills and practices into everyday life.
"You have created a true Peer 2 Peer philosophy of art, with a great network and reach!" – Michel Bauwens, Founder of the P2P foundation
Notes:
Furtherfield is a network across different time zones, platforms & places – online & physical, existing as various decentralised entities. A culture where people interact: to create, discuss, critique, review, share information, collaborate, build new artworks & alternative environments (technological, ecological, social or both), examine & try out value systems. "A rhizome has no beginning or end; it is always in the middle, between things, interbeing, intermezzo." (Brian Massumi 1987)
What Influences Furtherfield?
DADA, Situationism, punk, Occupy, hacktivism, networks, Peer 2 Peer Culture, feminism, D.I.Y, DIWO, Free Software Movement, independent music labels, independent thinkers, people we work with, artists, activism, grass roots culture, community…
This comprises technological and physical forms of hacking. It also includes aspects and actions of: agency-generation, skill, craft, disruption, self-education, social change, activism, aesthetics, re-contextualizing, claiming or reclaiming territories, independence, emancipation, relearning, rediscovering, play, joy, being imaginative, criticalness, challenging borders, breaking into and opening up closed systems, changing a context or situation, highlighting an issue, finding ways around problems, changing defaults, and restructuring things – Claiming social contexts & artistic legacies with others!
Extra Notes:
This text is a re-edited slide presentation first shown at the ICA, London UK on 16th November 2013 (Duration 25 min). Intermediality: Exploring Relationships in Art. Speakers Katrina Sluis, Peter Ride, Sean Cubitt & Marc Garrett.
http://www.ica.org.uk/39077/Talks/Intermediality-Exploring-Relationships-in-Art.html
Transdisciplinary Community (TDC) Leicester UK 27th Nov 2013 (45 min). Institute of Creative Technologies. De Montfort University.
Two projects Gregory Sholette is currently involved in:
It's the Political Economy, Stupid. Curated by Oliver Ressler & Gregory Sholette
http://gallery400.uic.edu/exhibitions/its-the-political-economy-stupid
Matt Greco & Greg Sholette | Saadiyat Island Workers Quarters Collectable, 2013
http://bit.ly/1eSI5kX
—————————————————–
All exhibitions, events & projects at Furtherfield – http://www.furtherfield.org/programmes/exhibitions
Featured image: XRay by Claude Chuzel
Introduction.
"One of the most consequential outcomes of this ubiquitous mode of organization of social life is that we have become so accustomed to relating to space in "either/or" and "here/there" terms that we have become mentally trapped inside this binary border-based model, making it difficult to imagine alternative ways of territorial organization." Popescu [1a]
Maps inform us where things are situated. The borders depicted in each map propose a different view on the social conditions, attitudes, and interactions with others in the world. The AntiAtlas of borders project shows us different approaches for understanding "the mutations of control systems along land, sea, air and virtual states" and their borders. It has done this through the combined contributions of social and 'hard' science researchers and artists, all engaged in creative practices including Internet art, tactical geography, filmmakers, performers and hackers. The project also includes other relevant actors such as people working as professionals for customs agencies, surveillance industries and the military.
This is the first of two interviews with Isabelle Arvers who has collaborated with the IMERA team (the Mediterranean Institute for Advanced Research of Aix-Marseille University), to curate this expansive and dynamic project. The first interview discusses the operational side of the project and the next interview examines selected writings, artworks, projects and ideas featured as part of the project.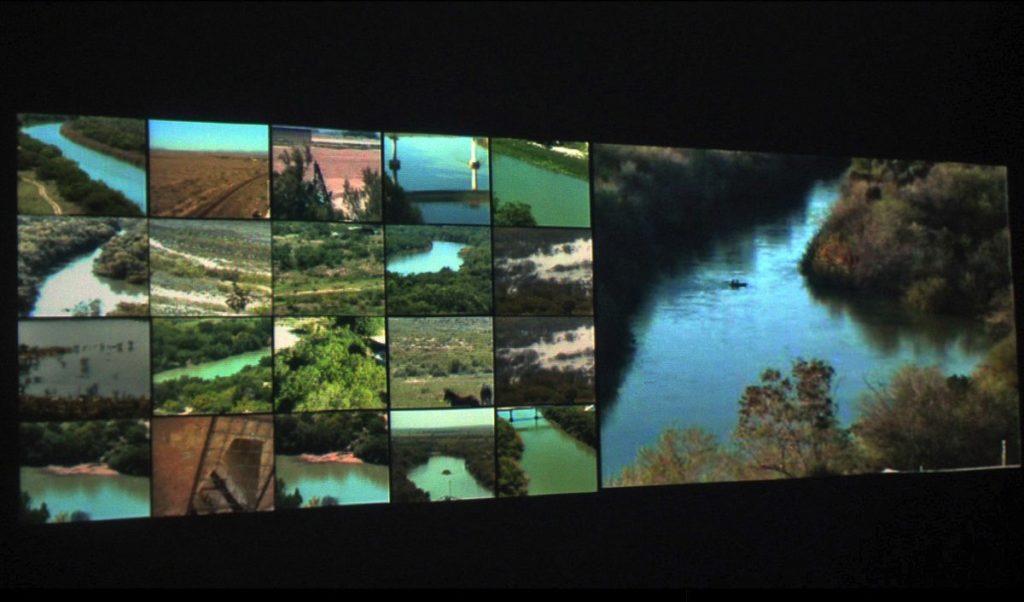 Marc Garrett: Before we begin the interview it would great if you could tell us when and where the exhibitions, events, publications and other parts of the project begin?
Isabelle Arvers: The AntiAtlas programme will run from 30 September 2013 to 1 March 2014 and will be composed of five initiatives: an inaugural international symposium, two exhibitions, a website and the publication of a book. The International Conference will be held from 30 September – 2 October 2013 at the New Conservatory of Aix en Provence. The main aim of this conference is to present the results of the interdisciplinary workshops that took place in the last two years at IMéRA et at the Higher School of Art of Aix-en-Provence.
The AntiAtlas of borders will present two interlinked exhibitions. The first will take place in Aix-en-Provence at the Musée des Tapisseries from 1 October to 3 November 2013. The second will take place in Marseille at La Compagnie creative arts centre from 13 December 2013 to 1 March 2014. The two exhibitions will present works developed in collaboration with social scientists, researchers in the hard sciences and artists. They will offer several levels of reading and forms of participation. Visitors will discover new works, engage with transmedia documentation and participate in experiments. They will interact directly with robots, drones, video games, walls and systems. The aim is to encourage everyone to reflect on how we are directly and personally affected by the transformations of borders in the 21st century.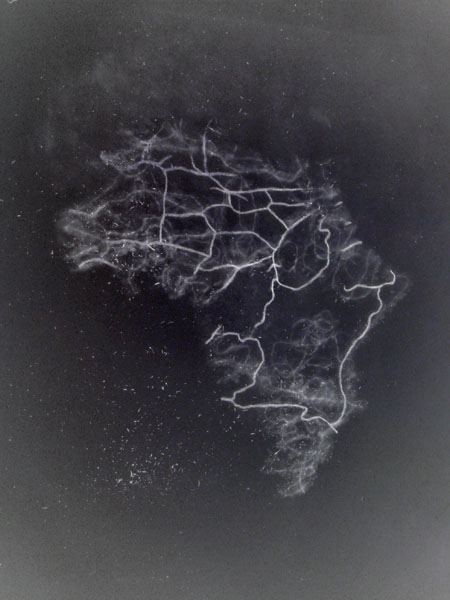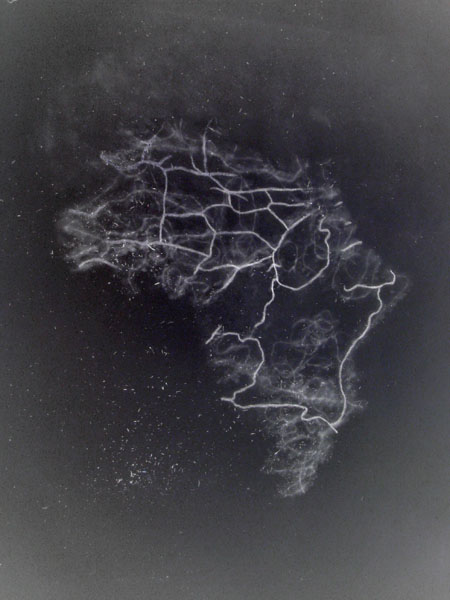 The final version of the website www.antiatlas.net/eng is an online extension of the exhibitions. Most importantly, the website provides access to works of net.art and artistic interventions in the form of an online gallery of works. This website and its documentation will extend the progress and reach achieved by the project. It will act as an archive and documentation site for the general public, artists, researchers and institutions.
In 2014, an AntiAtlas of border publication will be produced, gathering publications of researchers and artists on different and selected themes of the international conference and the two exhibitions.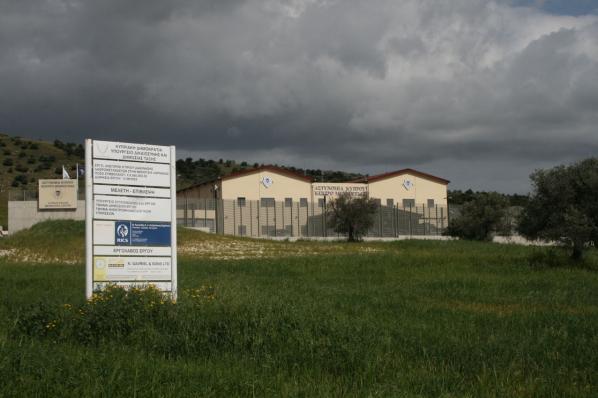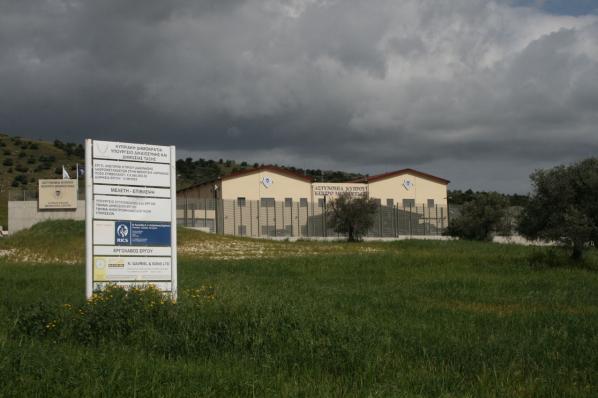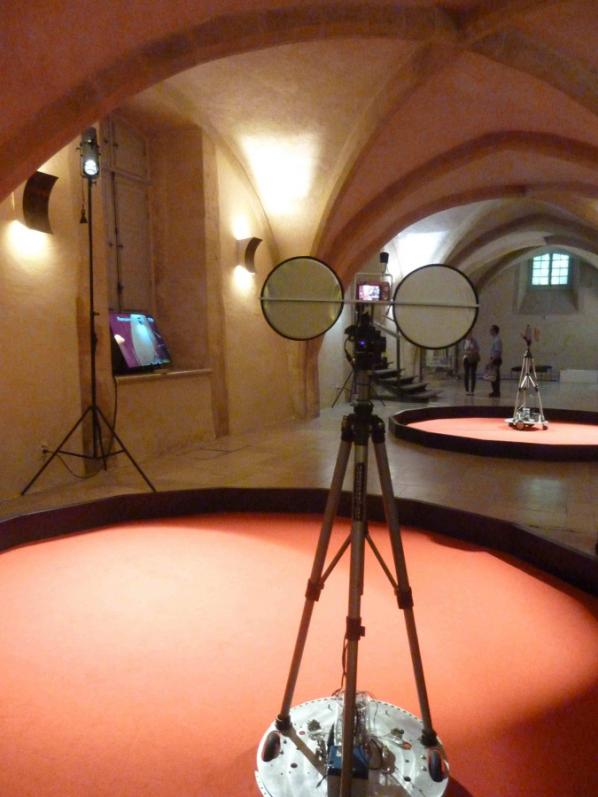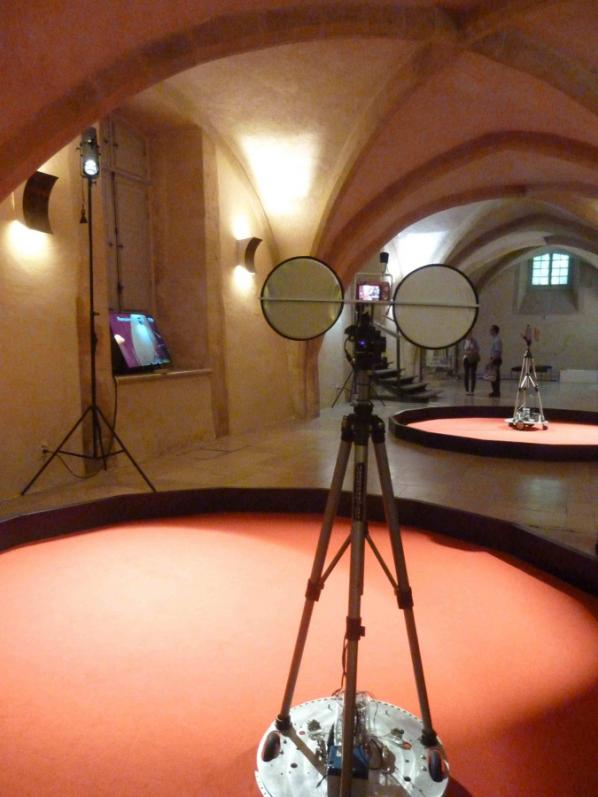 MG: What has been your involvement with AntiAtlas?
IA: When I met the IMERA team (the Mediterranean Institute for Advanced Research of Aix-Marseille University), they were looking for a curator in order to disseminate the outcomes of the past three years of seminars they conducted on borders. I saw this project as a great opportunity as there was a political dimension within it that attracted me. Also, I am deeply interested in tactical media and tactical geography and by new forms of visualisation and new aesthetics related to systems of control like drones, robots, satellites or surveillance cameras.
I wanted to create a participatory event that would allow people to follow our work online and offline. I also wanted to mix different kinds of works from research in the hard and social sciences to artistic installations, websites, games and videos. To do so, we decided to create a website www.antiatlas.net that would gather artworks, research articles and interviews, an online gallery and also all the presentations given during the different seminars conducted by IMERA on borders during the last three years. Thanks to the website, we were able to launch a call for proposals as I wanted to get the testimonies and the voice of migrants about their vision on borders.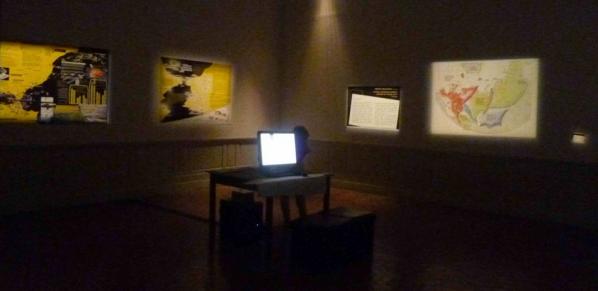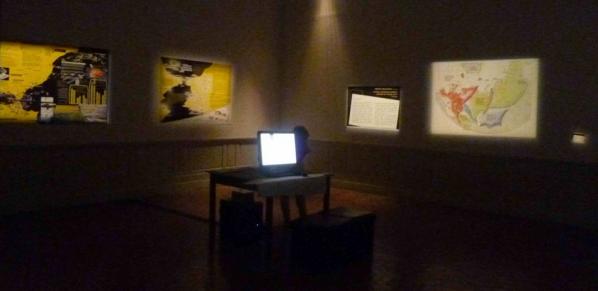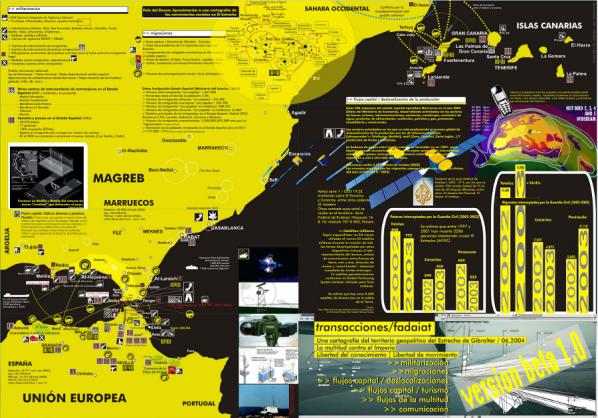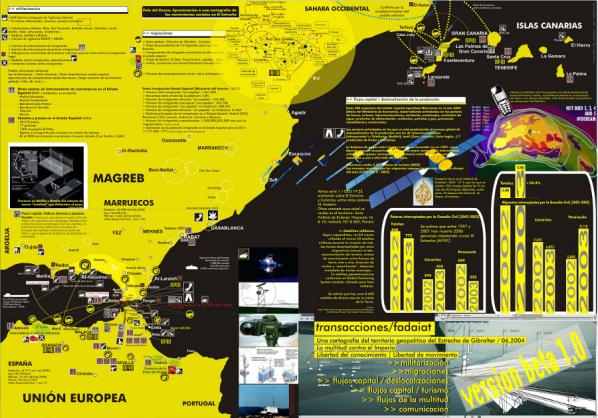 Very quickly we understood that we needed to get more funding and partners, so I offered to seek media, private and institutional partnerships as well as to manage the communication of the entire event. This fundraising was needed to promote a global vision of the antiAtlas of borders and to link all the parts of the event: from the website, to the call for proposal, till the international seminar and the two exhibitions. Because of my multiple engagements in the project, I became one of the 5 co-producers of the programme.
MG: This is a complex project. It is noticeable that there is a diverse and dynamic, cross section of different practices being bridged to make it all happen. Has it been difficult to combine all of these practices so they can relate to each other coherently?
IS: Combining all these different practices was a wonderful and exciting adventure. During one year and a half, we worked very closely with the scientific and artistic committee and tried to exchange as much as possible between different visions and ways of working. I learned a lot from researchers and was amazed by the deep understanding and knowledge they have on the subject of borders. Thanks to their research and to their approaches to this issue, I was able to get a very diverse understanding of this complex subject. From me, they discovered the online communication and the power of the web and social networks to diffuse and share the information. They also got a better understanding of the tactical media field and we learned so much from each other that this experience is already a beautiful success in sharing and learning from passionate human beings. I come from media art world and I tried to respond to a scenario that the committee conceived with artists' works, which is a very different way for me to work. This time I had a script to follow; the way I did it was to try to find some ludic interactive installations, as well as documentary projects or games, in order to allow the experimentation of the subject by the audience. They trusted me even if it wasn't a field they knew well.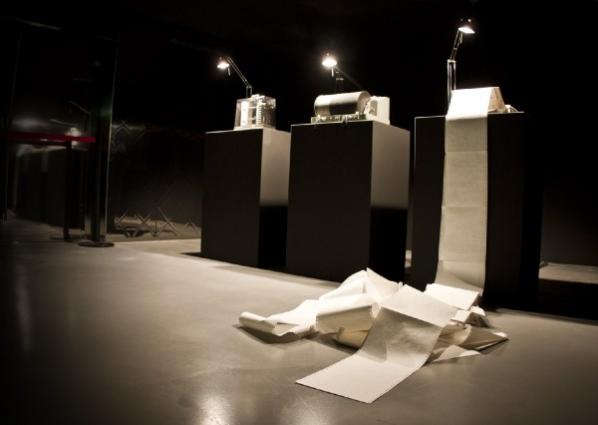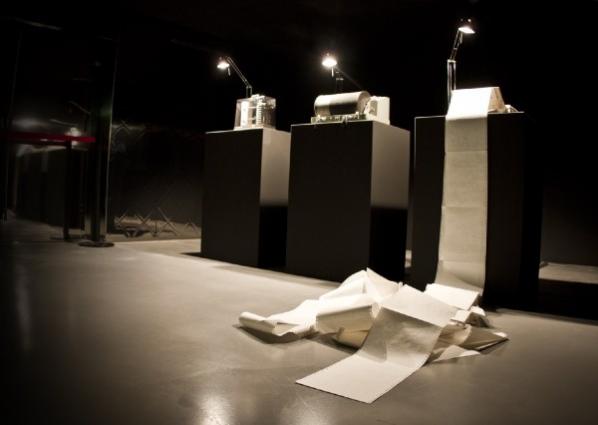 MG: Do you feel that it has de-compartmentalised these varied fields of knowledge successfully?
IS: What was particularly positive in the last seminars on borders we organised was that they allowed plenty of time to discuss and facilitate the exchange between the different perspectives. A specific example is a game project resulting from the collaboration between an anthropologist – Cédric Parizot – and a interactive laboratory from the Superior art School of Aix-en-Provence, which is led by the artist and game designer Douglas Edric Stanley. The idea is to create a "crossing industry game" drawing on the data collected by Cédric Parizot on trafficking. The collaboration addressed the visualisation, contextualisation and re-appropriation of a field of knowledge through game mechanics. I think that this experience really enriched all the team. The anthropologist was able to analyse his data in a different way, while the interactive students got closer to the reality of trafficking as they were experiencing through a game.
There are many other cross-disciplinary projects made in the framework of the AntiAtlas. I would say that what we want is to multiply different experiences and forms of knowledge on borders across and between the separate but intersecting fields of art and science. The exhibition is conceived to mix everything: research through the documentation space, researchers' interviews, counter cartographies, interactive installations on biometrics and surveillance technologies, applications to divert control systems and documentaries providing a wider point of view on multiple dimensions of borders and their representations. Artists and researchers meet three times per year, some of them collaborate on trans-disciplinary projects, so that the conditions to meet and de-compartmentalise these fields are created. This is only the beginning. The process still needs to be pushed and facilitated as the antiAtlas is an attempt to create a new kind of cross-disciplinary encounter, let's see how it will evolve!
Conclusion.
This first interview with Arvers attended to organisational and operational aspects of the inter-disciplinary border-crossing within AntiAtlas project. The complex task of collating, sharing and collaborating to make it all happen at all could use its own map. The processes and engagements that evolved as the project took shape involved a collaboration of many different fields and practices, individuals, groups, organisations and cross cultural relations. This transdisciplinary approach helps us to unpack the deep levels of the meanings and value of crossing borders, in an organisational sense. Their dedication to transcend the seemingly 'scripted' blockages and restraints echoes a strong feeling that we need to re-assess the maps given to us, and what this means.
"What is needed to escape the modern mental "territorial trap" are ways of seeing and drawing that reveal what the geographical abstraction of the borderline obscures. It is only in this way, then, that we will acquire the necessary tools to think through a technologically enabled world of border flows and portals" Popescu.[1b]
Notes:
Isabelle Arvers is an independent author, critic and exhibition curator. She specializes in the immaterial, bringing together art, video games, Internet and new forms of images by using networks and digital imagery. She has organized a large number of exhibitions in France and overseas (Australia, Canada, Brazil, Norway, Italy, Germany) and collaborates regularly with the Centre Pompidou and French and international festivals. http://www.isabellearvers.com/
"None but those who have experienced them can conceive of the enticements of science." Mary Shelley, Frankenstein.
Rachel Falconer writes about the cyberfeminist art collective subRosa, a group using science, technology, and social activism to explore and critique the political traction of information and bio technologies on women's bodies, lives and work.
Following a recent interview with the founding members of the collective, Hyla Willis and Faith Wilding, this article presents subRosa's trans-disciplinary, performative practice and questions what it means to claim a feminist position in the mutating economies of biotechnology and techno-science.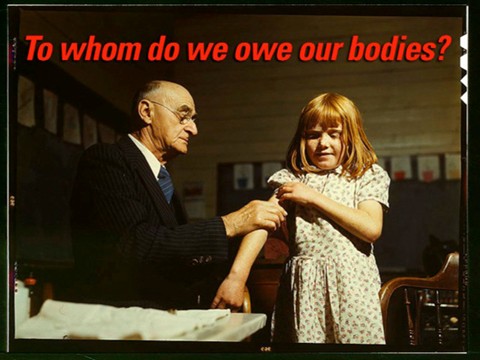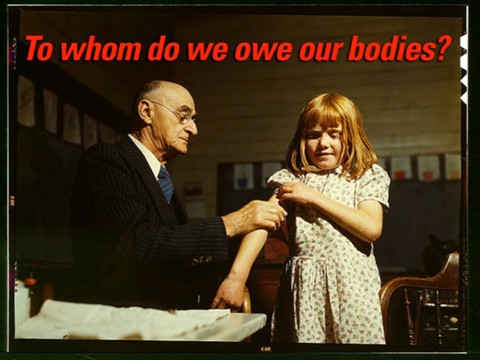 The technological redesigning and reconfiguration of bodies and environments, enacted through the economies of the biotech industry, is an emerging feature of contemporary life. As these new 'bits of life' enter the biotech network, there is a slippage in our mental model of what constitutes the body, and more specifically, 'life' itself. As radically new biological entities are generated through the processes of molecular genetic engineering, stem cell cultivation, cloning, and transgenics, bio-artists and bio-hackers co-opt the laboratory as a site of critical cultural practice and knowledge exchange. Human embryos, trans-species and plants are constructed, commodified, and distributed across the biotech industry, forming the raw materials for bio-art, DIY biologists and open science culture.[1] These corporeal products and practices exist within new and alien categories, transgressing the physical and cognitive boundaries set by biopunk science fiction and edging towards the possibility of a destiny driven by genetics and life sciences. With the eternal rhetoric of a high-tech humanity, and the threat of Michel Foucault's[2] biopolitics constantly on the horizon, today Harraway's[3] myth of the cyborg exists in the form of corporeal commodities travelling through the global biotech industry. Scientific research centres stock, farm, and redistribute biological resources, (often harvested from the female scientists themselves). Cells, seeds, sperm, eggs, organs and tissues float on the biotech market like pork belly and gold. Seeds are patented, and other agro-industrial elements are remediated and distributed as bits of operational data across the biotech network. We/cyborgs[4], are manifested as a set of technologies and scientific protocols, and, as a result, the female body in particular, is reconfigured into a global mash-up of cultural, political and ethical codes.
The increasingly pragmatic realisation of the biotech revolution has provoked a 'cultural turn' in science and technology studies in general, and feminist science studies in particular. Carolyn Christov-Bakargiev's dOCUMENTA (13) proposed an interdisciplinary approach to the role of science for 'culture at large'. Certainly, by foregrounding the heavy hitters in the field such as Donna Haraway and Vandana Shiva, dOCUMENTA (13) laid claim to addressing the global conflicts of biotechnology. However, the feminist agenda was not specifically addressed, and the key issues of the impact of biotechnologies on feminist subjectivities were only paid minimal lip service. With the exception of Shiva[5], the tone of dOCUMENTA (13) hinted at a positivist, emancipatory take on biotechnology and technoscience without assuming a critical position. There was very little public debate or critical analysis engaging the philosophical, ethical, and political issues of feminism and female subjectivities within the realm of biotechnology.
Notably absent from last year's dOCUMENTA (13), the activist feminist collective subRosa's performative, interdisciplinary projects are channelled towards embodying feminist content, practices, and agency, and laying bare the impact of new technologies on women's sexuality and subjectivities – with a particular emphasis on the conditions of production and reproduction. Through their research-led practice and pedagogical mission, the collective analyse the implications and conditions of the constantly surveyed female body, whilst mapping new possibilities for feminist praxis. subRosa interrogate the conditions of surveillance, private property rights, and other control mechanisms the female body is subjected to by ART(Assisted Reproductive Technologies). The collective's hybrid, interdisciplinary practice navigates the multiple identities the female body has taken on through techno-scientific development, including: the distributed body, the socially networked body, the cyborg body, the medical body, the citizen body, the soldier body and the gestating body. In contrast to the overarching and pervasive illustration of the technoscientific cultural landscape painted by dOCUMENTA(13), the current members and founders of the collective, Hyla Willis and Faith Wilding, are very clear in their critical intent. The collective choreograph and place themselves within globalized bio-scenarios in order to question the potential for resistance and activism within these constructs.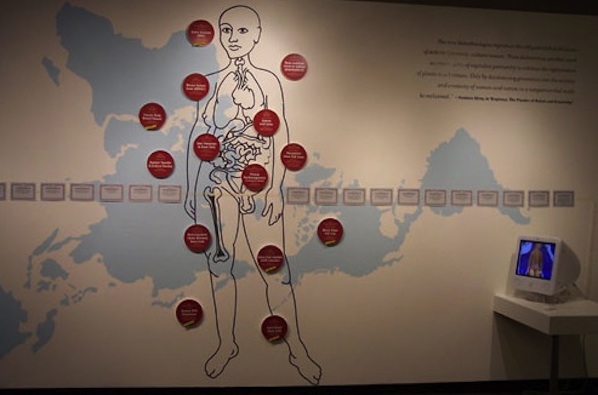 subRosa's overarching vision to create discursive frameworks where feminist interdisciplinary conversations and experiments can take place, is research-led and takes its cue from the canon of radical feminist art practices. Cell Track: Mapping the Appropriation of Life Materials has featured in a number of exhibitions, most recently in Soft Power. Art and Technologies in the Biopolitical Age, Vitoria-Gasteiz, Spain. This project consists of an installation and website examining the privatization and patenting of human, animal and plant genomes in the context of the history of eugenics. Cell Track highlights the disparity between the bodies that produce stem cells and the corporations that control the products generated from them. Bringing together scientists, cultural practitioners and wider publics in the construct of the gallery space, subRosa generate discourse around the patenting and licensing of DNA sequences, engineered genes, stem cell lines and transgenic organisms. The project's participatory aim is to set up an activist, feminist embryonic stem cell research lab in order to produce non-patented stem cell lines for distribution to citizen scientists, artists and independent biotechnologists. This environment of shared knowledge production and speculative, alternative, research activity is at the heart of subRosa's social practice.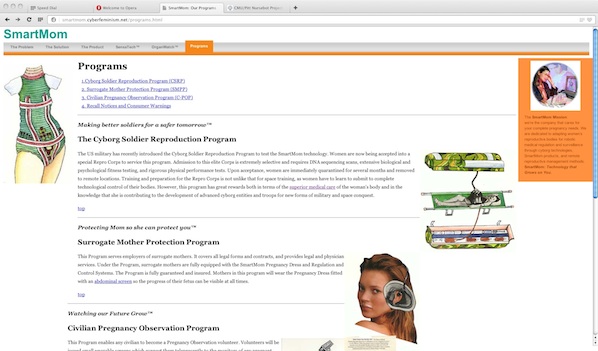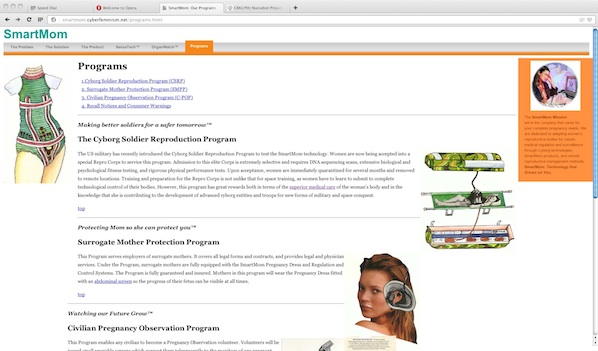 Due to the pedagogical nature of subRosa's activities, the collective's critical stance towards IVF and ART has proven to be particularly provocative, and their scepticism towards the emancipatory language of 'choice' co-opted by ART, has been met with some resistance by other feminist practitioners. However, it is in this very agonism[6] that subRosa wish to become more visible, and they welcome criticism and debate in the public discursive spaces that they create. In a recent interview, Faith Wilding and Hyla Willis both expressed their desire to generate an expanded, and deeper discussion about the wider issues involved in ART in particular and biotechnology's effect on female identity in general. subRosa's potential to reach wider publics and audiences is partially determined by the socio-political context of the communities in which they operate. Perhaps in reaction to this, subRosa's focus is now shifting towards embracing the aforementioned 'cultural turn' in science as they address the position of feminist scientists themselves.
The imperative to reclaim feminist discourses and narratives in science is of growing concern to subRosa, as they believe that feminist agency lies in the practice of science itself. By relocating lab-work from the dominant scientific institutions to the public environment of the gallery, subRosa provide the critical space in which new feminist scientific praxis can operate,[7] and new dialogues and discourses can be created. Their conviction that political and critical traction lies in practice as discourse, and the potential of face to face encounters, is demonstrated in their recent project for the Pittsburgh Bienal: Feminist Matter(s): Propositions and Undoings (2011). In this installation, SubRosa take Virginia Woolf's[8] assertion that 'tea-table thinking' provides an effective antidote to the male-driven 'war-mentality brewed in boardrooms and command centers' as their main conceit. Redeploying Woolf's idea toward the rethinking of the traditionally male-dominated discipline of science, Wilding and Willis' installation brings traces of the science laboratory to the intimacy and hospitality of the kitchen table, and in turn, also situates what is normally a private, feminized space in a more public domain.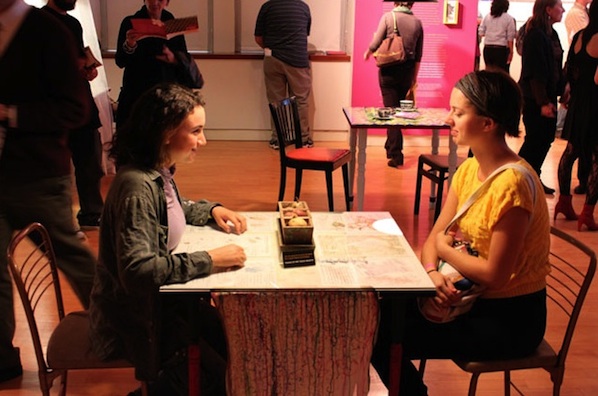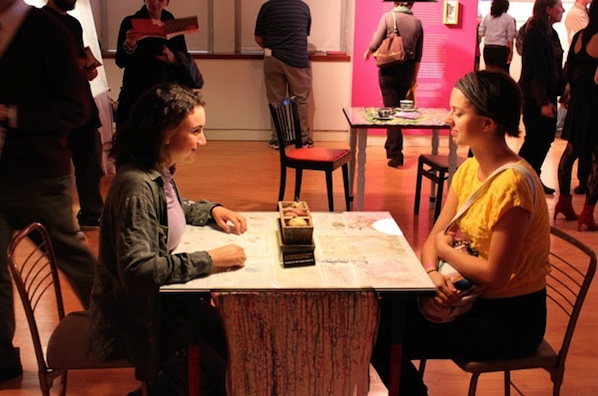 These tables stage a dialogue between one or two visitors in response to the presentation of female figures in science, both the popularly acknowledged and the underexposed. subRosa foreground women scientists past and present and reimagine an alternative, feminized history of science and technology. The installation explores feminism and participatory practices as modes of scientific research, with the aim of generating dialogue and discourse around the questioning of the dominant historical narrative of science. Specially tailored installations reside on each table, evoking lab work while celebrating the history of the women protagonists they play host to – from anarchist painter Remedios Varo to geneticist Barbara McClintock.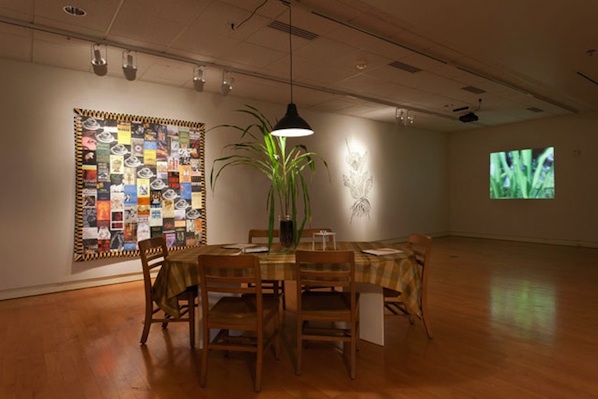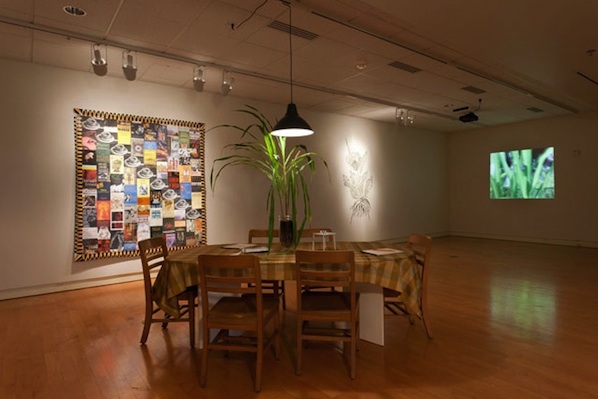 subRosa's pedagogical imperative is at once inclusive and provocative, and their role as facilitators of a discursive space outside the traditional institutions and control structures of science, is where their radical aspirations lie. Pedagogical art practices often teeter on the brink of propaganda, and subRosa are quite comfortable with the propagandistic label. Considering the economic and cultural climate in the USA with regard to the politics of reproduction, their work has been particularly well received in the context of European cultural institutions, whereas in the USA there is greater interest for the work in academic institutional settings. Perhaps this could be symptomatic of the general privileging of discourses around intersex, transgender and queer subjectivities. The dominant bias of the gatekeepers of the artworld to showcase queer practices is evident in the promotion of artists such as Ryan Trecartin and Carlos Motta on the international circuit. Curators have tended to position artists addressing the gendered 'Other' within a contemporary queer framework, whilst keeping feminist art practices on the peripheries of 1960s/1970s retrospective nostalgia. This tendency presents a muddying of the waters for contemporary feminist art practices such as subRosa.
This may also be part of a more general tendency to demonize and move away from feminist identities and discourses in wider society. The academic shape shifting from 'women's studies' to 'gender studies' to 'queer studies' has diminished the feminist conversation and, therefore, the impact and receivership of feminist art practices. This has rendered the popular conception of 'Queer' as acceptable and non-aggressive. Furthermore, the term 'Queer' and the subsequent morphing into the verb 'queering', has been co-opted by transdisciplinary academic discourse, and is now an expansive, all embracing cultural term – a phenomenon that has met with a certain amount of scepticism from the queer community.
This privileging of the expansive 'othering' of queer rhetoric has often resulted in feminism being rejected as a radical and out-dated political identity by art practitioners themselves. This ambivalent attitude is perhaps also indicative of the wider feminist debate, in which post-feminism has splintered into fragmented, diluted groups, each policing their own identity politics with little sense of a bigger struggle. However, the collaborative, interdisciplinary environments orchestrated by subRosa signal a return to the indisputably material actuality of the female body. Through their insistence on the possibilities of feminist bench-side practices, and the forensic unpicking of the power/control structures inherent in biotechnology, subRosa expands the feminist lexicon through the empirically re-appropriated organic materiality of the body.
Featured image: PAH graphic resources
Over the last few years there has been a keen interest in discussing the notion of public space; demonstrations, camps, collaborative projects, artistic interventions, community projects, social activism are just a few names that exemplify the different forms of engagement that deal with the complexities of it. Despite their different aims and impact most of these actions have given evidence of the need to re-appropriate the public space; through collective and networked practices individuals, groups and organizations 'challenge the conventional notion of public and the making of space'[1]. Although the liveness and even virality of these events, projects or actions hinder any prediction about its midterm effects or endurance, the fact is that there is an emerging legacy that is already dismantling certain assumed thoughts about 'the public'.
The retiree Hüseyin Çetinel's initiative of painting a public stairway with rainbow hues in his neighbourhood in Istanbul has been the last case involving cultural transformation, virality and social activism. After he painted the local stairs to 'make people smile' and 'not as a form of activism' the municipal cleaning service painted over the stairs in dull grey provoking a chain reaction that mobilized citizens to paint stairways throughout the city. Local communities and social movements appropriated this beautiful participatory action as a form of protest after Çetinel's stairway became viral in the social media. This example shows the intricacies of the public space and its expanded performativity. As Gus Hosein Executive Director of Privacy International argues 'there is a confusion as to what is public space is and how it relates to our personal and private space' in a social context where the emergence of the use of social media and surveillance as well as the appropriations of the space by private corporations and social movements and individuals are constantly questioning its boundaries[2].
From my point of view, some of these actions that play in-between the social, political and artistic might be considered re-enactments of the public space as they aim to reconstruct the term itself by applying alternative procedures and by generating at the same time transductive pedagogies. However, in order to give a comprehensive understanding of the implications of the public space and its controversies it is essential to rethink the notion of the private space. Traditionally, home has been recognized as the physical private space; home is the main representative of the private sphere that encompasses the domestic and intimate. According to Joanne Hollows, 'the distinction between the public and the private has been a key means of organizing both space and time'[3] and consequently to promote a clear functional division.
This traditional perspective has been questioned and altered due to some current issues and events that are noticeably interconnected with those of the public space; an increasing number of evictions and homeless peoples, housing policies, escraches[4] in front of the houses of politicians, the appearance of ghost neighbourhoods due to real estate speculation, home as an alternative space for performance practice and community development, among others. Thus, home might be conceived as a container of individuals and actions, as a social product or instrument, as topographical placement or as a relational structure. Home entangles interesting layers of analysis that might serve to establish new relational and yet responsive parameters to understand both the private and public space. Some of the following examples that perform between art, activism and affections corroborate the significance of home; as Blunt and Dowling state 'home is not separated from public, political worlds but it constituted through them: the domestic is created through the extra-domestic and viceversa'[5].
Where is home?
In Barcelona, the city where I live there have been noticeable factors that have stressed the importance of home as a topic of interest. Probably the most significant case is the increasing number of evictions―over 350.000 in the last four years―as many families cannot afford their rent or mortgage after losing their jobs (the unemployment rate is 26.3%). Beyond the personal implications and devastating effects that evictions have on families, they also indicate that home is not anymore our secure space or refuge; on the contrary, if the individual does not respond to the production and consumption requirements is physically displaced to the streets. Consequently, many citizens are trying to find shelter back again in the public space.
If the 70s Richard Sennett announced the decay of the public space by the emergence of an 'unbalanced personal life and empty public life'[6], the related problems with housing have provoked the reactivation of the public space at many levels. At the same time, there is an increasing culture of the debt that ties together individuals and financial institutions in long-term relationships. As Hardt and Negri explain 'Being in debt is becoming today the general condition of social life. It is nearly impossible to live without incurring debts—a student loan for school, a mortgage for the house, a loan for the car, another for doctor bills, and so on. The social safety net has passed from a system of welfare to one of debtfare, as loans become the primary' means to meet social needs'[7].
These ideas can be exemplified by the actions of PAH (The Platform of People Affected by Mortgage Debt), an activist group of citizens that stops evictions through demonstrations and guerrilla media actions in the streets and that also helps struggling borrowers to negotiate with banks and promotes social housing[8]. This organized group of citizens has been awarded this year the Citizen Award by the European Union for denouncing abusive clauses in the Spanish mortgage law and battling social exclusion. PAH has received the support of the collective Enmedio that generates actions in the midst of art, social activism and media. For example, their photographic campaign 'We are not numbers' consisted in the design of a collection of postcards each one containing a portrait of a person that was affected by the mortgage debt by a local bank entity. The postcards were delivered in front of the bank's main building for people to write a message. The written postcards were then stuck in the front door main door turning numbers into a collage of human struggle. PAH and Enmedio actions become highly effective thanks to their media impact and their virality in the social media. Invisible individuals isolated in their struggle, find alternatives through an assemblage of support that connects the public and private space and that is also mediated by informative and constitutive tools that the virtual space offers. As Paolo Gerbaudo claims 'social media have been chiefly responsible for the construction of a choreography of assembly as a process of symbolic construction of public space which facilitates and guides the physical assembling of highly dispersed and individualized constituency'[9].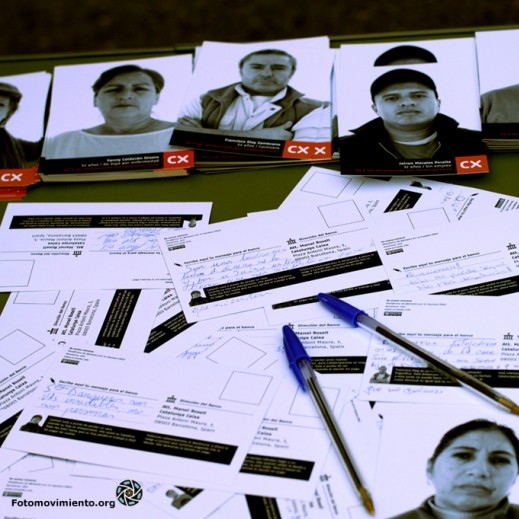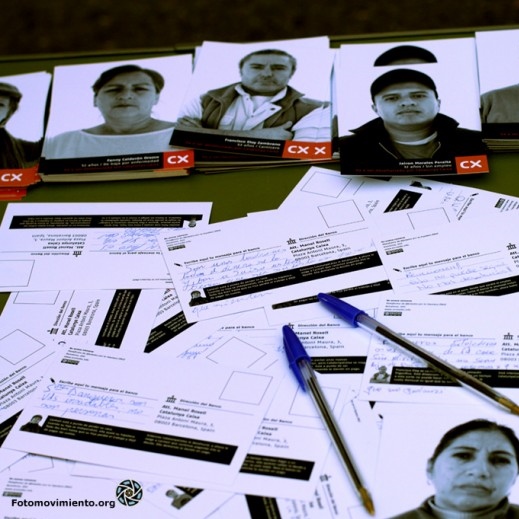 Processes of speculation, gentrification and eviction can be found in many western cities as well as different kinds of collectives and groups working for human rights advocacy. This is also the case of the Brooklyn based collective Not an Alternative has also carried out different guerrilla actions concerned with the problem of housing and eviction such as their series of workshops and media actions of 'Occupy Real State' or 'Occupy Sandy'.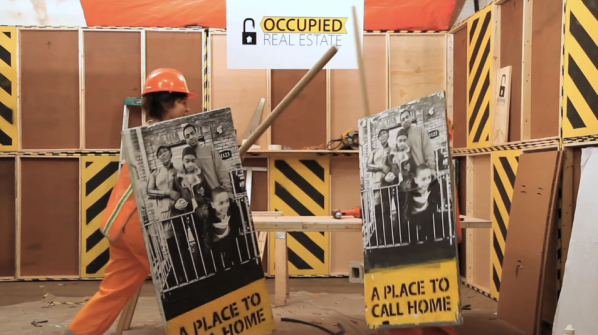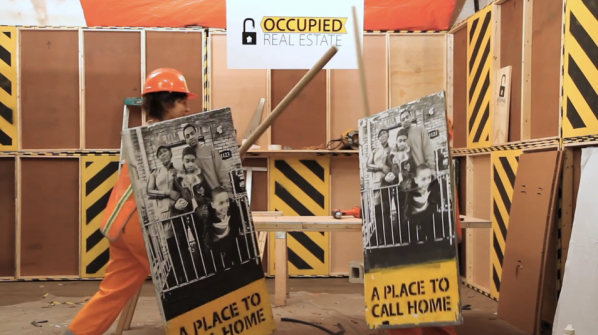 Many of the actions that these collectives promote might be understood as DIY activism as they are based on the empowerment and the development of skills. In this regard, it is interesting to observe how DIY that traditionally has been related to activities in the domestic space serves as a strategy to protect it and to trigger new forms of protest in the public space while enhancing the creation of an expanded family (or at least a sense of togetherness) through the social media.
Despite these actions, the public space is still home for many individuals. In the UK, different associations are concerned about the impact that the implementation of the bedroom tax might have, especially in London where the number of rough sleepers rises every year with an increase of the 62% since 2010-2011. The scenario is not different in many other European cities where beyond these worrying numbers there is also an increasing number of regulations and policies that difficult the life in the public space. As Suzannah Young stresses, 'homeless people often need to use public space to survive, but are regularly driven off those spaces to satisfy commercial or even state interests'. Public space is often only open to 'those who engage in permitted behaviour, frequently associated with consumption'[10]. The increasing number of quasi-public spaces―'spaces that are legally private but are a part of the public domain, such as shopping malls, campuses, sports grounds' and so forth― questions again the boundaries of the private and public space, especially when 'some EU cities use the criminal justice system to punish people living on the streets for doing things they do in order to survive, such as sleeping, eating and begging'[11]. All these policies have clear implications in the use of space and it is potential possibilities. The fact that the public space becomes home involves the reconsideration of the uses of the public space and the understanding of it through the eyes of the people that fully inhabit it. The London collective The SockMob run the Unseen Tours, alternative city tours guided by a group of homeless. Their embodied knowledge appears as a key aspect to develop these DIY versions of the city while promoting relationships between the homeless and the tour participants.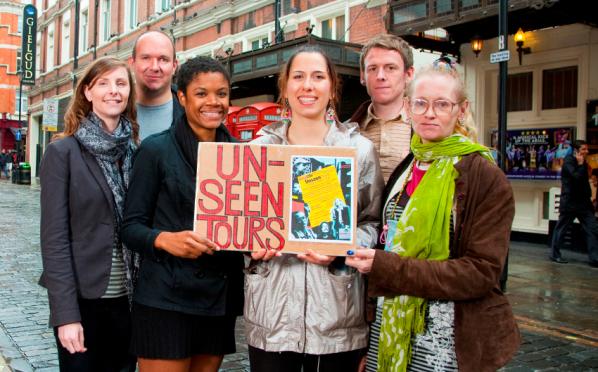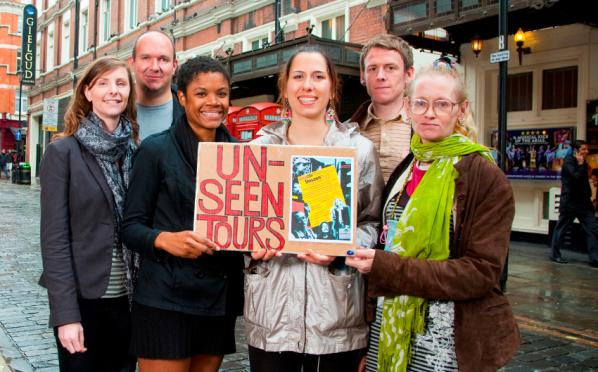 Where is home? In which ways access to spaces gives us opportunities and rights as individuals? In which ways all these site-specific initiatives that often have a transnational reach re-construct the notions of private and public space? How these DIY and media actions are generating new forms of visual arts activism? Despite the fact that these queries might need further analysis, I believe that the qualities of space becomes visible and tangible through these interactive and responsive actions with the spaces. Recently, an international group of activists, visual artists and scholars have published a handbook in which their consider these forms of activism militant research. According to them, 'militant research involves participation by conviction, where researchers play a role in the actions and share the goals, strategies, and experience of their comrades because of their own committed beliefs and not simply because this conduct is an expedient way to get their data. The outcomes of the research are shaped in a way that can serve as a useful tool for the activist group, either to reflect on structure and process, or to assess the success of particular tactics'[12]. Hence, the idea of some hands-on, the acquisition of skills and the performance of theory appear as key aspects to disentangle and analyse the qualities of the space.
Clandestine Publics [13]
From an artistic perspective home has been crucial in many historical periods of dictatorship to construct an underground scene of the arts; in many of these cases, the evidence of artistic practice appears through testimonials and documentation (photographs, fanzines, recordings, etc.). Again different forms of media help to make the clandestine public, crossing the sphere of the private into the public realm. Thus, the importance of documentation enhances different temporalities of reception and impact in the public realm. In this regard, a differed presentation of the artistic works triggers a reconsideration of the attributes of the spaces too. Currently, homes serve as a basic space for artists to present their work; in the case of music, this is a widely known practice in the US that is becoming more and more common in other countries and other art forms. Homes serve as a personal curatorial space for fine arts artists through the open studio festivals too; artists make their private space open for others as a strategy to show their work publicly. At the same time, in some artistic disciplines self-curation through digital portfolios is becoming increasingly used to showcase artworks. One way or another, home remains often the main space for creativity, production and curation through and expanded DIY conception of their profession.
Home becomes even more crucial in a context marked by the arts cuts and the economic crisis. In this regard, there are initiatives that see an opportunity in the relationship between the public and private space not only to exhibit or perform art but also to trigger a counter-performative form of showing works. This is the case of the domestic festivals that try to challenge the concepts of cultural enterprise and institution by proposing home as a legitimate space of the artistic experience. Friends, neighbours and acquaintances offer a room or a space in their house for artists to perform there (examples can be found in different cities such as Santiago de Chile, Madrid, Berlin, Barcelona, etc.). At the same time, the format wishes to transform the spatial and affective relationships that citizens have with the space, by inverting the spatial dichotomy between the public and the private. Hence, the idea goes beyond to a practical solution to have a space to perform as it also aims to give visibility to performing practices that have not been yet legitimized by the public sphere and they are in danger to remain in a sort of clandestinity (as they are not part of the current cultural market). In this regard, there is also a sense of evicted or homeless art that is trying to produce a social context of experience and articulation beyond the immediate effects of the power that governs at many level the public sphere. These kinds of initiatives generate 'an activity that undermines the exclusion by letting occur, at the very boundary which separates the public from the "secret"', an articulation which challenges the prevailing framework of representation and legitimation'[14].
The intersection between art, activism and affections help to explain the multiple and complex questions that configure the notion of home. With these examples I just wanted to stress the importance of home in the discourses that address the concepts of public space/public sphere/publicly. Thus homes 'are thereby metaphorical gateways to geopolitical contestation that may simultaneously signify the nation, the neighbourhood or just one's streets'[15]. From a transnational perspective, home seems to pose the crucial questions that connect us with what is happening inside, outside and in-between the spaces and gives us a different perspective to analyse current artistic and social practices that engage with our mode of action, production and identity.
I guess this is all from my home.
Cornelia Sollfrank, Joss Hands & Rachel Baker
Public Screening and Discussion at Furtherfield
Contact: info@furtherfield.org
Visiting Information
THE EVENT HAS LIMITED AVAILABILITY.
PLEASE RSVP TO BOOK YOUR PLACE TO ALESSANDRA
FILM PRESENTATION

---
Cornelia Sollfrank will present her latest film Giving What You Don't Have. It features interviews with individuals Kenneth Goldsmith, Marcell Mars, Sean Dockray, Dmitry Kleiner, discussing with Sollfrank their projects and ideas on peer-to-peer production and distribution as art practice. It includes the projects ubu.com or aaaaarg.org, which combine social, technical and aesthetic innovation; they promote open access to information and knowledge and make creative contributions to the advancement and the reinvention of the idea of the commons.
DISCUSSION

---
The post-screening discussion will be led by Cornelia Sollfrank, Joss Hands & Rachel Baker.
On the basis of the interviews of Giving What You Don't Have, we would like to discuss some of the issues they represent such as new forms of collaborative production, the shift of production from artefacts to the provision of open tools and infrastructures, the development of formats for self-organisation in education and knowledge transfer, (the potential and the limits of) open content licensing as well as the creation of independent ways of distributing cultural goods. An implicit part of Giving What You Don't Have is a suggested reconceptualization of art under networked conditions.
ABOUT THE SPEAKERS

---
Cornelia Sollfrank is a postmedia conceptual artist and interdisciplinary researcher and writer. She studied painting at the Academy of Fine Arts in Munich and fine art at the University of Fine Arts of Hamburg (1987-1994). Since 1998 she has taught at various universities and written on issues in the nexus between media, art and politics. In 2011 Sollfrank completed her practice-led interdisciplinary research at Dundee University (UK) and published her PhD thesis with the title Performing the Paradoxes of Intellectual Property. In addition to her work in the artistic and academic fields, Sollfrank gathered experience in the private sector by working as product manager for Philips Media for two years (1995-1996).
Joss Hands' research engages the relationship between media, culture and politics. His recent work has explored the role of digital media in direct action, protest and activism, culminating in his book @ is For Activism: Dissent Resistance and Rebellion in a Digital Culture, published by Pluto Press in 2011. His previous research has explored the role of new media in formal democracy and governance as well as its cultural, economic and social impact. He has published in a number of journals such as Information, Communication and Society, Philosophy and Social Criticism and First Monday as well as writing commentary for publications such as Open Democracy, IPPR Journal, The New Left Project, and others.
Rachel Baker is a network artist who collaborated on the influential irational.org. Her art practice explores techniques used in contemporary marketing to gather and distribute data for the purposes of manipulation and propaganda. Networks of all kinds are "sites" for Baker's public and private distributed art practice, including radio combined with Internet (Net.radio), mobile phones and SMS messaging, and rail networks. She has presented and exhibited work internationally at various new media and electronic art festivals.
Giving What You Don't Have is an artistic research project commissioned by the Post-Media Lab, Leuphana University.
LOCATION
---
Furtherfield Gallery
McKenzie Pavilion, Finsbury Park
London N4 2NQ
T: +44 (0)20 8802 2827
E: info@furtherfield.org
Furtherfield Gallery is supported by Haringey Council and Arts Council England.