Introduction.
Joseph DeLappe's art projects have received much interest ranging from the art world, New York Times, Wired magazine, and publications such as Joystick Soldiers The Politics of Play in Military Video Games, the first anthology to examine the reciprocal relationship between militarism and video games. DeLappe is considered a pioneer of online gaming performance art. His art examines the conditions and processes of cultural information to provoke and critique the state of military influences on everyday culture and people's lives.
DeLappe's work includes the controversial game based, performance and intervention, Dead in Iraq 2006-2011. This involved him frequently visiting the US Army's online recruitment game and propaganda tool America's Army. Using the login name dead-in-iraq, he methodically typed in all of the names of U.S. service personnel killed in Iraq, co-opting the Army's own technology challenging the official figures as a reminder to its players of the real consequences of war. He also directs the iraqimemorial.org project, an "ongoing web based exhibition and open call for proposed memorials to the many thousand of civilian casualties from the war in Iraq."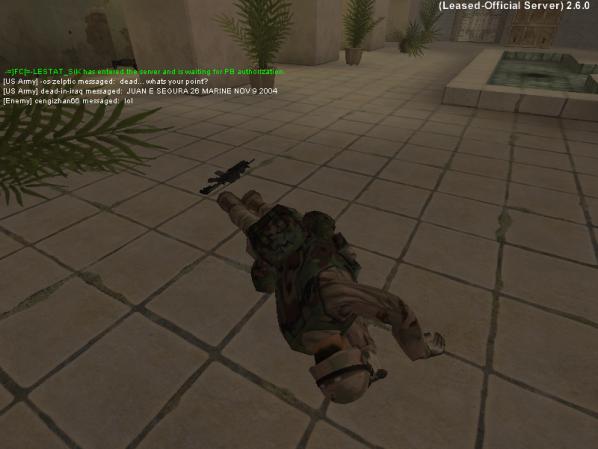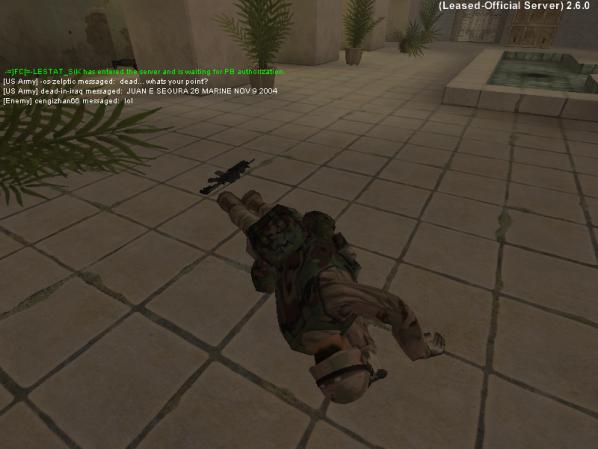 Joseph DeLappe, "dead…whats your point?" dead-in-iraq screenshot 2006-2011.
"The players ask DeLappe to stop what he's doing, but when he continues they shoot him or simply kick him out of the game. You can see the strong reactions from the other players as a proof that DeLappe's performance are successful. He succeeds to break the game illusion, in the same way as Brecht "Verfremdungseffekt" breaks the illusion in drama." [1] (Jansson)
Much of DeLappe's work is known for challenging his own nation's involvement with war. However, if we look at The Salt Satyagraha Online: Gandhi's March to Dandi in Second Life 2008, his work reflects a wider context introducing his concerns on the human condition. Over the course of 26 days, from March 12 – April 6, 2008, using a treadmill customized for cyberspace, DeLappe reenacted Mahatma Gandhi's famous 1930 Salt March. "The original 240-mile walk was made in protest of the British salt tax; my update of this seminal protest march took place at Eyebeam Art and Technology, NYC and in Second Life, the Internet-based virtual world." [2]
Joseph DeLappe. The Salt Satyagraha Online, 2008 image by Christine A. Butler.
On hearing about DeLappe's The 1,000 Drones Project – A Participatory Memorial, I was immediately intrigued. I wanted to find out more and discuss his approach as well as how he intends to bring to light the lives lost by these unmanned Arial predators as an art project, and what this would look like.
Interview.
Marc Garrett: Could you tell us why you felt it was necessary to do this project even though there is already much media attention out there relating to the use of drones in domestic, military and commercial culture?
Joseph DeLappe: There has indeed been much media attention surrounding the use of militarized drones as a part of US foreign policy. Our drone policies have received much attention yet, as with the coverage of civilian casualties from the Iraq war, the actual human costs of our drone strikes remains rather illusive. Through the work I am doing regarding drones that specifically focuses on memorializing civilian deaths I hope to actualize the estimates of civilian deaths and to call into question the moral issues surrounding such remote killings. You might say that drones have struck a nerve with me. There is something different about drones. They seem to perfectly combine aspects of our worst fantasies of digital technologies, interactivity, computer gaming and war. One might consider them a bit of a "gateway" weapon (the drug reference is of course intentional here). I suspect we have indeed opened a Pandora's box leading to the further utilization of remote and robotized weaponry that will make our current drone usage seem quaint.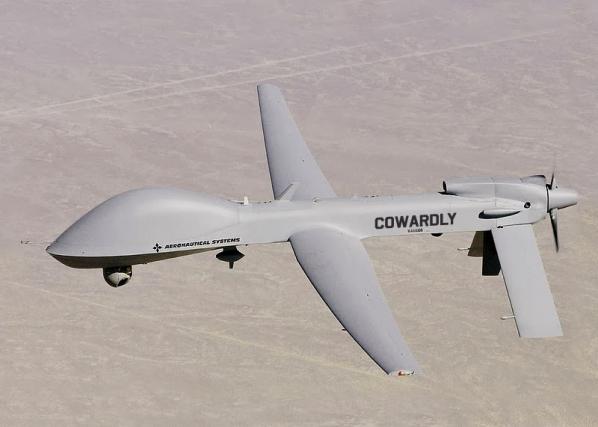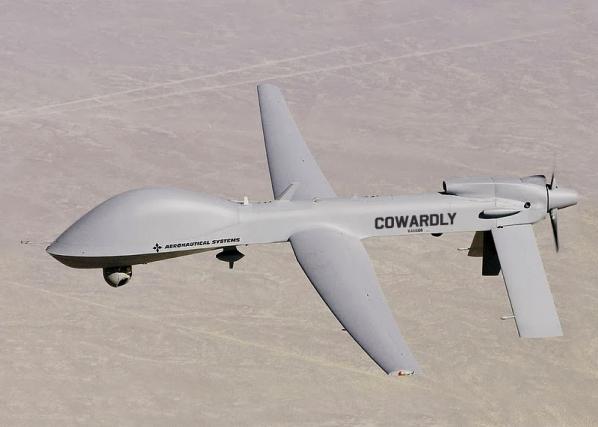 Cowardly Drone, 2013. Joseph DeLappe.
The above is "An ongoing series of image interventions downloading images of UAV's (unmanned arial vehicles) in use by the United States Military, including: General Atomics MQ1-Predator Drone, MQ9 Reaper Drones and Global Hawk Drones from the top results of Google image searches. Each image is slightly adjusted to include the marking "COWARDLY" upon it's fuselage. The saved images are uploaded to my website with basic titling information "Predator Drone", "Reaper Drone", "Global Hawk Drone" – with the intention of having these images begin to appear in searches for information and images on drones occurs online. The works are intended as a subtle intervention into the media stream of US military power." DeLappe
I am working on several drone projects at the moment, including The "1,000 Drones Project – A Participatory Memorial", and seek to draw attention to and creatively memorialize those innocents killed by drones. It invites the public to create a small scale, papercraft replica of a General Atomics MQ-1 Predator UAV (Unmanned Arial Vehicle) – a drone. Participants are asked to write the name of a civilian drone casualty upon the wings of the aircraft.
This project is an adaptation of The 1,000 Cranes or "Senbazuru" tradition from Japan. This tradition holds that anyone who folds one thousand cranes will be granted a wish. Since World War II the tradition has been associated with the atomic attacks upon Nagasaki and Hiroshima – the folding of the cranes has become a wish for peace. [3]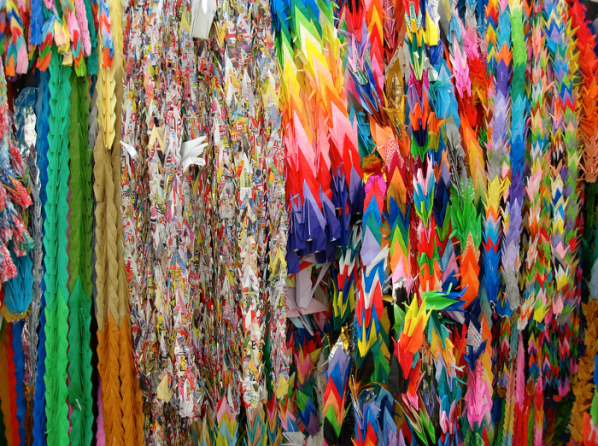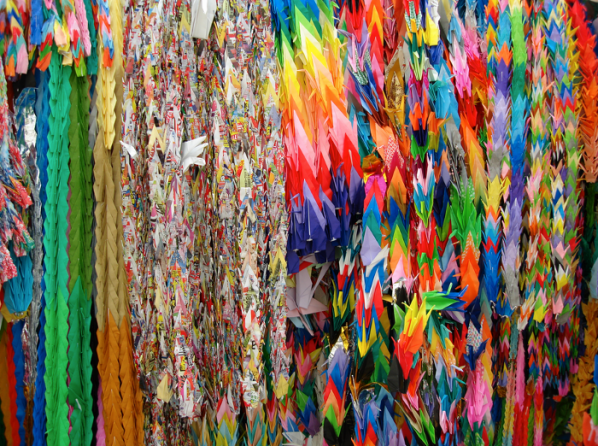 1,000 Cranes – Senbazuru.
MG: You are inviting participants to be a part of the project. In what capacity will they be taking part?
JD: The 1,000 Drones Project has been commissioned by the FSU Art Museum of the exhibition "Making Now – Art in Exchange". The FSU Department for Art has for the past few months conducted a series of workshop events where the public is invited to make a small, paper drone from a provided template. The form is made directly from MQ1 Predator Drone plans found online. The drone shape is cut out, there are then five dotted lines denoting where to fold the paper – the result is a simple paper facsimile of a drone. Once the drone is created, the participant is invited to write the name of a civilian drone casualty along with their age at the time of death, upon the wings of the drone. The Bureau of Investigative Journalism estimates that between 2004 and 2013, drone strikes in Pakistan killed between 2,536-3,577 people, of these, it is estimated that 411-884 civilians and 168-197 children have been killed. The list of civilian drone casualties comes from The Bureau of Investigative Journalism. We are also using a list of drone casualties from Yemen found here: http://en.alkarama.org/documents/ALK_USA-Yemen_Drones_SRCTwHR_4June2013_Final_EN.pdf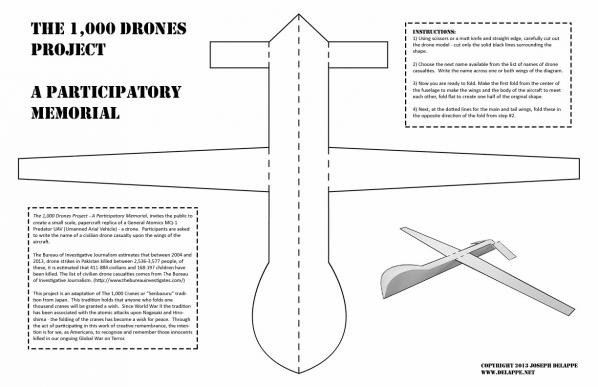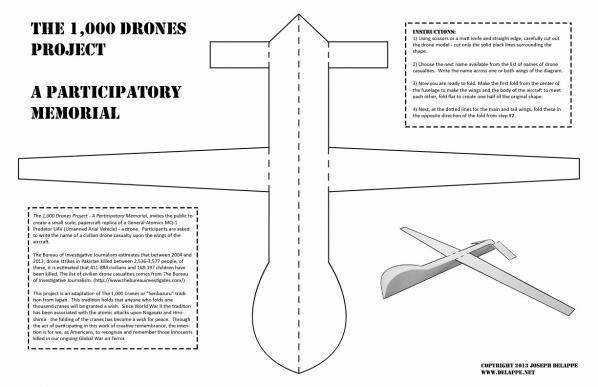 At present we have a total of 464 persons identified as civilian drone casualties from Pakistan and Afghanistan. To complete the 1,000 drones, the remainder will be marked "unknown".
The paper drones are to be strung together in groups of 18 per string, 55 strands will be hung in the center of the gallery to create an installation that will be triangular in shape. The making of the drones will continue with the opening of the exhibition in February until 1,000 are complete and installed.
MG: What will others learn or gain from this participation?
JD: This is difficult to pin down. My intention is that through the act of making a drone, followed by writing a name or "unknown" upon their creation that individual participants will in some small way actualize the loss of individual lives due to our drone attacks. The intent is to perhaps for some brief moment make real these deaths taking place in our name on the other side of the globe. The actions are decidedly low-tech as well – there is something important in this – the deaths become physical, perhaps drawn from the digital media stream, the digital process of the killings to a direct, physical act of making and remembering. I am very interested as well in the overall effect of the piece – to see 1,000 white paper drones hanging in space as a memorial will likely have a powerful impact.  Numbers of civilians killed as reported through our media are all too often numbing and abstract – this piece will hopefully make real this abstract process of digitally remote killings.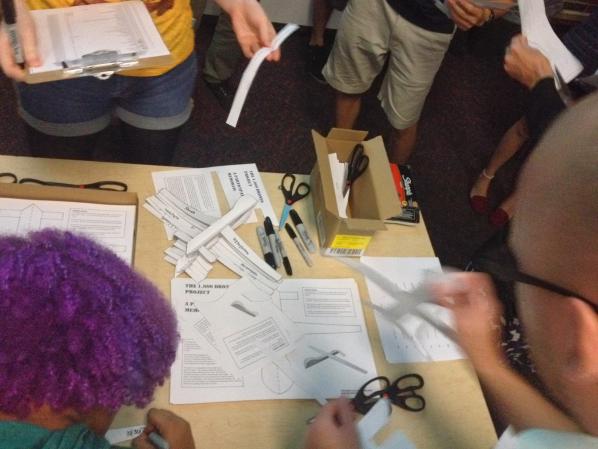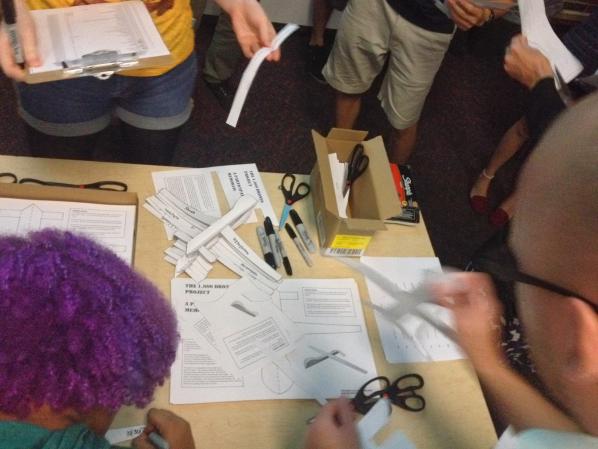 MG: What is the lineage of this project?
JD: I've been working intensively over the past decade to creatively shed light on civilian and military casualties as a result of our ongoing "war on terror". This includes "dead-in-iraq", my intervention as a memorial and protest taking place within the America's Army computer game and iraqimemorial.org, a crowd sourced project launched in 2007 inviting anyone to post concepts, imagined memorials to the many thousands of civilian casualties from the Iraq conflict.
Conclusion.
Looking at DeLappe's breadth of work informs us how detailed and complicated the subject is, and it equally reminds us how distant we all are from any quality debate about war and drone technology and the impacts these militarised technologies have on citizen's lives. Thankfully, on the subject of drones the Internet is supplying us with different view points that mainstream news media fails to seriously investigate. Russia Today, reported that classified documents from the CIA could not "confirm the identity of about a quarter of the people killed by drone strikes in Pakistan during a period spanning from 2010 to 2011." [4]
Kate Rich and Natalie Jeremijenko in 1997 as part of the then, anonymous Bureau of Inverse Technology were pioneers of the first art drone 'The BIT Plane'. This work was featured in a group show at Furtherfield's gallery, Movable Borders: Here Come the Drones! in May 2013. [5] In an article in Mute magazine Rich wrote, "The morally disgusting asymmetry of drones relates not only to their deployment by the powerful against the weak, but also to the radical disparity of risk entailed in exposing the defenceless living to pilotless killing machines." [6] This brings to mind how vulnerable we all are to the whims of the powerful. This feeling of fear will strike at the heart of any humanist not on the 'right' side of those wielding such awsome destruction without challenge, until its too late.
DeLappe's art not only reflects the militaristic world we are living in he is directly engaged with it. His focus on his nation's obsession with war echoes what James Hillman wrote in A Terrible Love of War, "Hypocrisy in America is not a sin but a necessity and a way of life. It makes possible armories of mass destruction side by side with the proliferation of churches, cults and charities. Hypocrisy holds the nation together so that it can preach, and practice what it does not preach." [7] (Hillman 2004)
Many contemporary artists are working with and critiquing Bio-Technology, Nano-technology, engineering, issues on Climate Change, border controls, data-mining, surveillance, economic and political fluctuations, and the military. This is in line with the expansion of the networked society. Controversies and battles are taking place in a time of uncertainty, where the very technology and systems that have supported progress, through its worldwide channels of production and prosperity; are now the very same tools threatening the survival of our species, contributing to climate change and the emergence of the economic, global crisis, as well as a threat to our civil liberties. Art and critical thinking examining this complex and strange territory and its impacts on us and the planet are right up there in pushing forward a new kind of radical investigation as an art practice.
Joseph DeLappe's next exhibition 'Social Tactics' will be from January 24 to April 27, 2014 Fresno State Center for Creativity and the Arts, in the US.

Notes and References.
[1] Mathias Jansson. From Plaintext Players to Avatars Actors: A Short Survey of Online Gaming Performance. http://www.hz-journal.org/n17/jansson.html
[2] Joseph DeLappe. The Salt Satyagraha Online: Gandhi's March to Dandi in Second Life, 2008. http://www.DeLappe.net/game-art/mgandhis-march-to-dandi-in-second-life/
[3] Note: The thousand origami cranes were popularised through the story of Sadako Sasaki, a Japanese girl who was two years old when she was exposed to radiation from the atomic bombing of Hiroshima during World War II. Thousand origami cranes. Wikipedia – http://en.wikipedia.org/wiki/Thousand_origami_cranes
[4] Russia Today. Classified documents reveal CIA drone strikes often killed unknown people. June 06, 2013. http://www.metamute.org/editorial/articles/view-kill
[5] Exhibition, Furtherfield. Movable Borders: Here Come the Drones! May 2013.
http://www.furtherfield.org/programmes/exhibition/movable-borders-here-come-drones
[6] Kate Rich. View from a Kill. Mute Magazine (online) December 2013.
http://www.metamute.org/editorial/articles/view-kill
[7] James Hillman. A Terrible Love of War. Penguin Press. 2004. P.197.
The new exhibition "Time & Motion" at FACT in Liverpool, UK, takes the pulse of punchcard protocol and creative capital in our own "Modern Times".
The exhibition Time & Motion: Redefining Working Life at FACT Liverpool is a collaboration between FACT and the Creative Exchange at the Royal College of Art – an initiative which looks at how arts and humanities researchers can work with industry to effect digital innovation. Rachel Falconer reviews the exhibition in the context of the paradoxical dynamics of cognitive capital and the changing landscape of the labour market.

Now self-employed,
Concerned (but powerless),
An empowered and informed member of society
(Pragmatism not idealism),
Will not cry in public,
Less chance of illness,
Tires that grip in the wet
(Shot of baby strapped in back seat),
A good memory,
Still cries at a good film,
Still kisses with saliva,
No longer empty and frantic like a cat tied to a stick,
That's driven into frozen winter shit
(The ability to laugh at weakness),
Calm,
Fitter,
Healthier and more productive
A pig in a cage on antibiotics.
Fitter Happier, Radiohead.
The frantic quest for the elusive Shangri-La of work/life balance is a neurotic luxury afforded only to the always-on, hyper-connected generation of precariously unstable home office workers[1] in our hypercapitalist society. The working rhythms of this emergent class of "precariat" [2] are far removed from the forensically prescribed scientific management resulting from the time and motion studies associated with Taylorism at the beginning of the last century. This shift in working patterns generated by the digital revolution is the primary focus of the exhibition Time and Motion, Redefining Working Life currently at FACT, Liverpool. From an archival, filmic view of the automated, (Western) industrial factory labourer to contemporary portraits of the global information worker's state of perpetual imbalance and non-stop, hyper-connectedness [3] the participating artists expose the – often contradictory – ecologies of labour, consumption, and the conditions in which they operate. The exhibition also marks the collaboration between FACT and Creative Exchange at the Royal College of Art – an initiative which looks at how arts and humanities researchers can work with industry to effect digital innovation and confront contemporary modes of production.
Time & Motion: Refedining Working Life, FACT, 2013.
Taking the archival stimulus of time and motion measurement as its title and industrial work patterns as a starting point, the exhibition Time & Motion is the latest in a series of exhibitions and symposia addressing immaterial labour and new working patterns in the age of globalisation and creative capital.[4] Rather than following the well-trodden path of casting the figure of the artist as digital labourer, or attempting to portray an expansive, post-colonial view of nomadic, labouring diasporas, Time and Motion reflects a more subversive and fragmented approach to the politics of work, rest and play in the global information economy.
Sam Meech's Punchcard Economy is at once a homage to the textile industry and a recognition of the contemporary precariat. With more than a symbolic nod to northern England's textile heritage, Punchcard Economy consists of a machine-knitted reinterpretation of the Robert Owen's 8-8-8 ideal work/life balance.[5] The piece was produced on a domestic knitting machine using a combination of digital imaging tools and traditional punchcard systems. During a residency at FACT last year, Meech collected punchcards from visitors detailing their working hours. This data was then translated into a knitting pattern which was used to generate the final work – a banner depicting the contemporary working day. Any hours worked outside the eight-hour day appear as a glitch within the fabric. This banner – historically a symbol of the working class and trade unions – also denotes the fragmentation and blurring of national class structures in the era of globalisation.
The move towards a flexible, open labour market has not eroded the class system completely, but a more fragmented global class struggle has emerged. The "working class", "workers", "proletariat" are terms that have been embedded in our (Western) culture for centuries, and used as badges of honour by some, and terms of derision by others. By incorporating a large cross-section of working society under one banner, Meech has literally – in stitching different socio-economic groups together into the very fabric of the working day – rendered the once potent archaic class signifiers as little more than evocative labels.[6]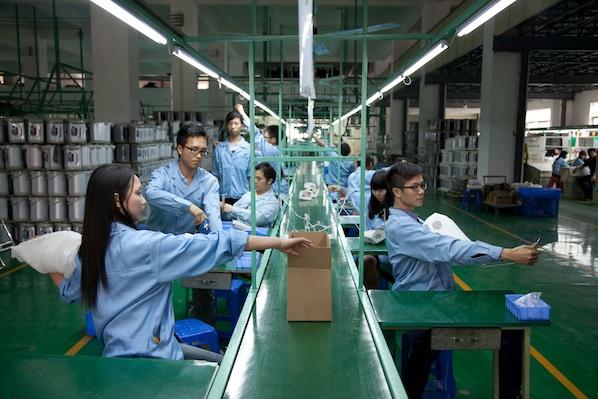 75 Watt, Cohen Balen and Alexander Whitley, 2013 
"75 Watt" by artist Cohen Van Balen and choreographer Alexander Whitley also riffs on the trope of the long fought for 8 hour working day. Deriving its title from a quote from Marks' Standard Handbook for Mechanical Engineers: "A labourer over the course of an 8-hour day can sustain an average output of about 75 watts", the film is a subversive ballet of the complex and often skewed relationships between production, consumption and distribution in the post-industrial age. The film features a group of Chinese labourers working an assembly line, (playing on the stereotypical "Made in China" trope). The object they produce, however, has no logical use. The purpose of the exercise is simply to choreograph the combined movements performed by the labourers in the manufacturing process. The work examines the nature of mass-manufacturing on differnt levels; from the geo-political context of hyper-fragmented labour to the bio-political condition of the human body on the assembly line. Echoing the Taylorist ideal, here we see engineering logic taken to its conceptual extreme; through the scientific management of every single movement we witness the passage of factory labourer to a man-machine.
By shifting the purpose of the labourer's actions from the efficient production of objects to the performance of choreographed acts, mechanical movement is reinterpreted into dance. The artists ask: "What is the value of this artefact that only exists to support the performance of its own creation? And as the product dictates the movement, does it become the subject, rendering the worker the object"?
This operatic construction line also points towards the ultimate failure of scientific management. Taylorism was always dictated by the needs of capitalist exploitation, but in its pure form it proved to be inefficient in drawing on workers' talent and potential. In time the bourgeoisie recognised the inadequacies in Taylorism, and Taylorist methodology was mostly withdrawn by the 1930s. However, this was not the end of time and motion measurement. More recent management theories include Theory X and Theory Y introduced by Douglas McGregor in the 1960s.[7] Contemporary Taylorism takes the form of the Lean practices introduced into major departments of the British civil service (including HMRC, DWP, MOJ, and MOD). Workers incorporate "efficiency savings" as an integral part of their job, and work priorities are monitored by the soft panoptic gaze of non-hierarchical "collaborative practice". Here,workers time their work processes, identify forms of waste, and propose changes in work practices. This "bottom-up" approach goes hand in hand with the new language of management – as managers morph into "leaders". As efficiency savings are made from workers' suggestions, the "leaders" try to enforce impossible targets, and decide whose post is next to be eliminated – hence the creation of the precariat. As part of the precariousness of employment, workers not only worry about losing their jobs, but also have to propose measures which, in the name of efficiency, might put them out of work. Added to this the increasing automation of work and the burgeoning AI scene, where does human cognition stand in all of this?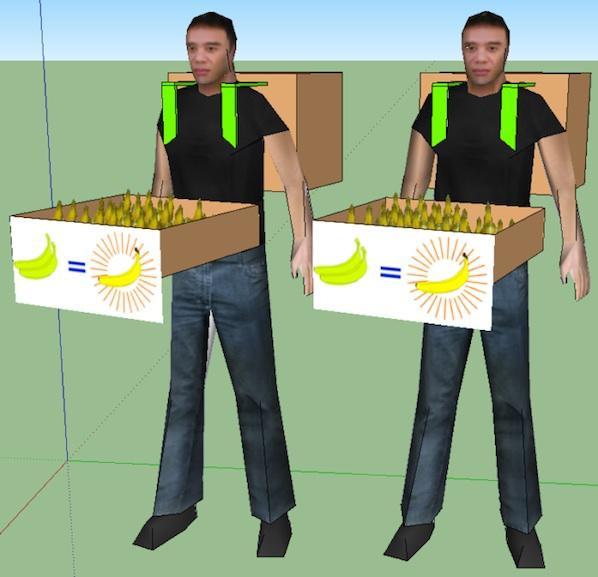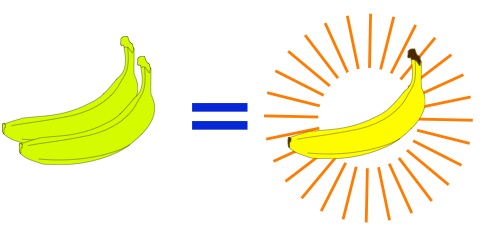 Banana Multiplier, Inari Wishiki, 2013.
Inari Wishiki's set of ludicrious alternative employment models (such as Banana Multiplier), are in reminiscent of the subversive, performative models of the Fluxus movement. Inari's online work Recruit Agency for People Who Don't Want To Work dramatizes this staging of an alternative labour market. The website includes documentation of a series of performances by the artist exploring the premise that with the proliferation and development of technology, we as humans have lost our place in the world of work, and yet still need to appear to be "useful" in order to earn a living.
Recruit Agency For People Who Don't Want To Work is a set of systems which allow people to engage in the act of commerce while abandoning "all the meaningless rituals of having to be useful in order to earn money". In INARI TRADING CARD, the artist documents the way in which "essential" workers function as a social infrastructure. He observes that "money was naturally following those workers according to their essential motions, unlike that of workers who seek after money". These set of performances are an ironic counterpoint to the hyper-efficiency promoted by neo-Taylorism, and point towards the informal norms that are in tension with the industrial time norms still permeating social analysis, legislation and policymaking in the globalization era.
In his text "The Value of Time Spent" in the accompanying catalogue to the exhibition, Mike Stubbs supports this strategy of "design for disassembly" and novel values of exchange. Stubbs maintains that these alternative ecologies of exchange are necessary in order to allow us to question how we spend our time, and for us to lay bare the new patterns of professional fulfilment and social relations inherent to our hyper-mediated society.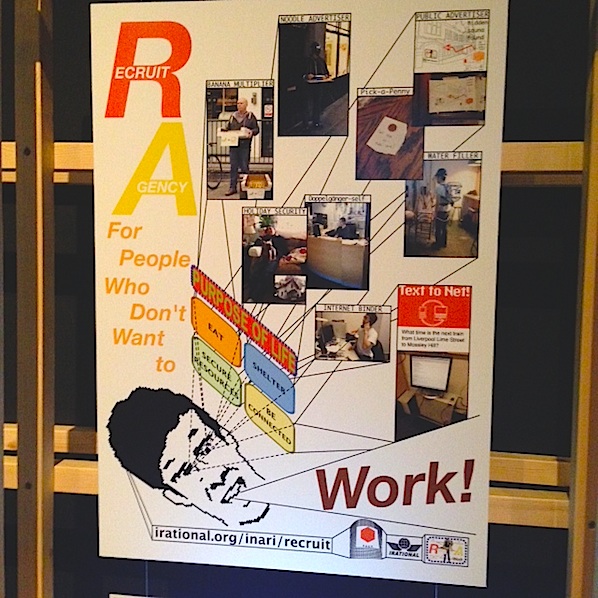 Recruit Agency For People Who Don't Want To Work, Inari Wishiki, 2013. FACT install shot (RF).
The classic distinction between the workplace and the home was forged in the industrial age, and when today's labour market regulations, labour law and social security systems were constructed, the norm was a fixed workplace. This model has now fragmented and crumbled and the term social factory, popularized by Tiziana Terranova and others, is applied to describe this shift "from a society where production takes place predominantly in the closed site of the factory to one where it is the whole of society that it is turned into a factory – a productive site".[8] The production is one of value, where the collective efforts of intelligence and creativity are networked, controlled and exploited. Labour takes place everywhere, and the discipline or control over labour is universally exercised. But policies are still based on a presumption that it makes sense to draw sharp distinctions between the workplace and home – and between workplace and public space. In a tertiary market society, this model is obsolete, leaving the information worker increasingly pressurized and isolated.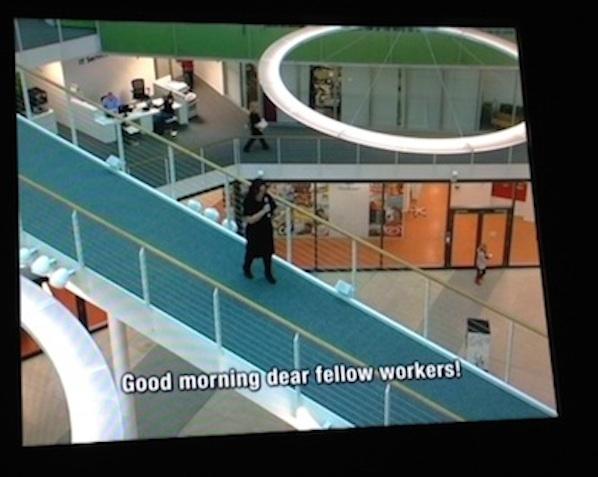 New Product, Harun Faroki, 2012. FACT Install shot (RF).
One of the recurring themes in Time & Motion is this hybrid and compromised locus and infrastructure of the work place. Harun Faroki's moving image work A New Product presents an insider's view of the paradoxical construction of so called "fluid" working environments. He describes his new film as: "Scenes from meetings within a company which advises corporations how to design their offices — and the work done there. The film shows that words are not just tools, they have become an object of speculation." In this work, he stages the brainstorming sessions of a business consultancy specialising in the design of workspaces, offices and new concepts for mobile work hubs. The resulting seductive imagery of the ideal workspace is an exercise in brand development pastiche rendered as pseudo video game.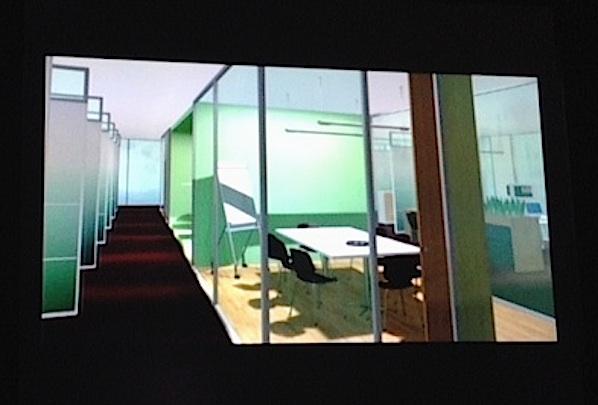 New Product, Harun Faroki, 2012. FACT Install shot (RF).
Time & Motion also stages a co-working space, developed by the RCA CX team, which weaves together venue, audience, workspace and digital space – presenting the entrance space of the gallery space into a live research 'lab'. Visitors are encouraged to participate in the research, interaction and interventions, and workshops, salon discussions, and hacking and making sessions are woven into the experimental fabric of the exhibition.
The 'CX Co-Working Space' features three design interventions. The first, Hybrid Lives, features video work by Karen Ingham and an interactive installation responding to data traffic, dressed with 'co-working furniture'. Where Do You Go To? is a wall-mounted moving freize showing the output from an app, co-designed with a group from the BBC, with the mission to connect remote workers through exchanging, Snap-chat-like (pre-hack) images of desks and workspaces. According to Ben Dalton, one of the main developers, this sharing of 'desk context' helps form a synergy of 'headspace' between remote workers.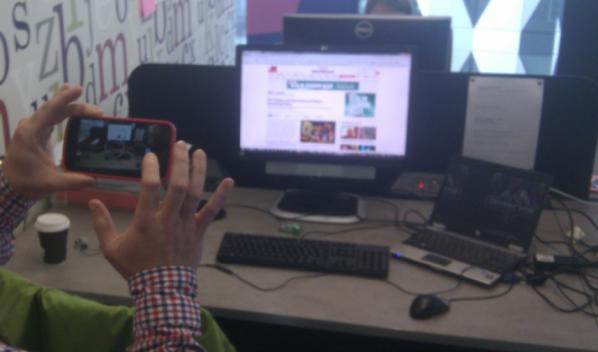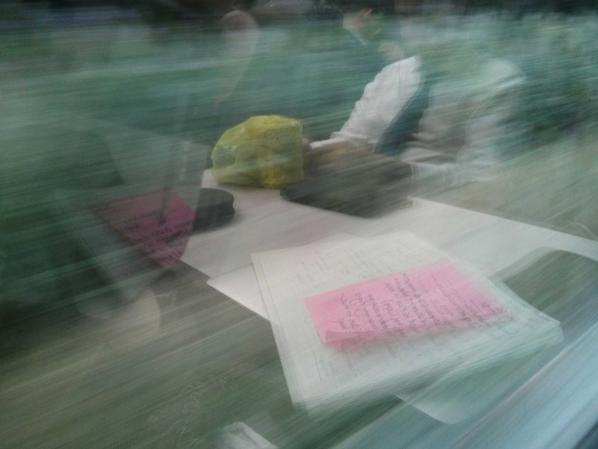 Where Do You Go To?, CX Project Partners: Ben Dalton- RCA, Bridget Hardy – Integrans Consulting, Ltd, Claire McAndrew – The Bartlett, UCL, 2013.
Taking its cue from Frances Cairncross's 1995 "The Death of Distance", where the compelling vision that, over time, the communications revolution would release us from geographic locations, the project illustrates how digital space has redefined our working lives. However, for all its good intentions, this gesture towards remote solidarity seems to be muddying the new principles and rhythms of work with Taylorist and later Fordist ideals of panoptic surveillance and somehow stands in direct opposition to the emancipatory rhetoric of convergence culture.
Time and Motion focuses primarily on a particular demographic of labourer (generally the global information worker), and paints the picture of a tertiary lifestyle which involves multitasking without control over a narrative of time use, and habitual fractured thinking – where non-stop interactivity (a digital version of Taylorist motion) is crack cocaine for the drones. For this category of workers, the workplace is everyplace – diffuse, unfamiliar, a zone of insecurity. We are left with a "thin democracy" in which people are disengaged from political activity except when jolted into consciousness by a shocking event or celebrity meltdown witnessed virally on Youtube during office hours. As more work and labour takes place outside the pre-determined workplace – in the hybrid environments of cafes, trains and across the domestic landscape – the very idea of a work/life balance seems like an alien ideal to aspire to.In an open tertiary society, the industrial model of time, and the bureaucratic time management of factories and office blocks, breaks down. There is no stable time structure and we are increasingly losing our grip on our own time. Time and Motion at FACT interrogates the impact of this fragmentation on the aesthetic forms of contemporary art, and contemplates how artists might offer a critique of our neo-Taylorist predicament.
References:
[1] Here I specify worker over labourer as a form of popular parlance. Space restriction does not allow for a more in depth analysis of the definition between labourer, worker and praxis, but these differences are played out throughout the exhibition.
[2] "A neologism that combines an adjective "precarious" and a related noun "proletariat". A class in the making? If not yet a class for itself, in the Marxian sense of the term". Guy Standing, The Precariat, (Bloomsbury Academic), 2011.
[3]Infamously described in Gilles Lipovetsky's dytopic vision of hypercapitalist society in which he states that the technocratic normalisation and the loosening of social bonds has simultaneously produced a blurring of public space, work and leisure. Gilles Lipovetsky, "Hypermodern Times",(Polity Press), 2005.
[4] Eg.: (Untitled) Labour, Tate Britain, March 2012 and Image Employment, MoMA PS1, September 2013.
[5] Factory owner Robert Owen's credo for a full and healthy life "eight hours labour, eight ours rest, and eight hours recreation" came to symbolize democracy in the work place for the proletariat at the time and for generations to come.
[6] Andre Gorz(1982) wrote of the end of the working class long ago.
[7]Theory X works on the assumption that workers are lazy and will only respond to the carrot and stick binary, whereas theory Y relies purely on self-motivation – workers have to identify with the needs of their employers and bring their own initiatives to the work process – taking the lead in their own exploitation.
[8]Tiziana Terranova, Recomposing the University, MUTE 2004. http://www.metamute.org/editorial/articles/recomposing-university
Read and learn how to solve a Rubiks Cube with the layer-by-layer method. It can be learned in an hour.
Marc Garrett reviews Stefan Szczelkun's book Agit Disco. He is an artist and author interested in culture and democracy. In the early Seventies he was fortunate to be part of the Scratch Orchestra and has since been involved with a series of artists collectives. His doctoral research into the Exploding Cinema collective was completed at the RCA in 2002. Recently his collaborative project Agit Disco was published as a Mute book in 2012. He has been on the Mute magazine editorial board since 2009, and currently working on photographic and performance projects.
Introduction: Entering The Zombie Apocalypse.
"Just cause we can't see the bars
Don't mean we ain't in prison."
Kate Tempest (2009) [1]
The subtle and not so subtle domination by market interests of cultural production and dialogue denies us all access to a wide spectrum of creative expression, especially those that engage in subjects that conflict with the agendas of those in power. Agit Disco by Stefan Szczelkun combats this contemporary trend by focusing on music, politics, DIY culture, and freedom of expression. In doing so he starts to redress the lack of representation across the board for those in grass roots culture and working class lives, whose freedoms to have a voice in society are so commonly restricted.
The future does not look good for those who value cultural and social diversity; who look for a variety of activist histories and experiences to be seen and represented on their own terms. The UK government is changing university regulations so that private companies can become universities. This means tutors will end up replacing educational courses once devised with the public good in mind with modules designed for maximum profit. Luke Martell, a critic of the marketisation and privatisation of education and lecturer of Sociology at the University of Sussex, says "This will lead to a different content to education. Critical thinking is being replaced by conformity to cash. Money-spinning management and business courses are expanding and lower-income adult education is being closed down." [2] (Martell 2013) Already, most researchers, academics and those in professional fields of practice mainly work within insider frameworks, "there is a qualitative difference between the conditions of people living in marginalized communities and those in middle-class suburbia." [3] (Smith 2012)
The knock on effect of an unquestioning culture of compliance with the 'free market' is enormous. How ironic it is that the term 'free market' is attributed with so much value and (a presumed) logic when in actuality it constrains people's freedoms and makes those who are already rich even richer. Because the politicians are not effected by the results personally, and because it also serves their interests, they have handed over their social responsibilities to these market systems. The neoliberal defaults that caused the financial crisis are untouched by our democratic processes. These out of reach, distant power systems are fixed towards property bias and occupy and govern our everyday experiences. How does freedom of expression fit into this and on whose terms?
"The more our physical and online experiences and spaces are occupied by the state and corporations rather than people's own rooted needs, the more we become tied up in situations that reflect officially prescribed contexts, and not our own."[4] (Garrett 2013)
Review of Agit Disco.
Agit Disco offers a breath of fresh air, in the fug of the developing marketisation of everything. It presents grounded examples of difference that contrast with the dominating view of entertainment systems. Published through Mute Books in 2012, it features 23 playlists put forward by 23 different writers, artist and activists. It began as a set of mixed CDs and images, each chapter includes annotations and illustrations. Its contributors are Sian Addicott, Louise Carolin, Peter Conlin, Mel Croucher, Martin Dixon, John Eden, Sarah Falloon, Simon Ford, Peter Haining, Stewart Home, Tom Jennings, DJ Krautpleaser, Roger McKinley, Micheline Mason, Tracey Moberly, Luca Paci, Room 13 – Lochyside Scotland, Howard Slater, Johnny Spencer, Stefan Szczelkun, Andy T, Neil Transpontine, and Tom Vague.
Mostly from working class backgrounds the contributors were invited to focus on politics and music, and share memories relating to what the tunes meant to them at the time. In the preface Szczelkun states, his selection of contributors comes from his own worldview and personal contacts. Anthony Iles, in his introduction says most who have contributed "are closely associated with anti-authoritarian politics and DIY culture."[5] (Iles 2012) Contributors offer insights into the connections between their music and the politics of the time. Louise Carolin says, "When I was a teenager in the '80s I lived through one of the golden ages of British chart pop, listening to music that was by turns, political, danceable, challenging and entertaining. I attended CND rallies, marched against South African Apartheid, ran the feminist group at school and went to GLC-funded music festivals."[6] (Carolin 2011)
Agit Disco 14 by Louise Carolin
What adds depth to Louise's story, as with the rest of the contributions is that many readers feel connected with these histories, and I am one of them. It highlights an indigenous, working class culture and their personal struggles in a period when neoliberalism was in its early stages of world domination. To say that these are merely anecdotal or subjective would completely miss the point. It calls for an awareness and understanding about people giving an account for themselves in relation to music, politics and their social contexts on their own terms.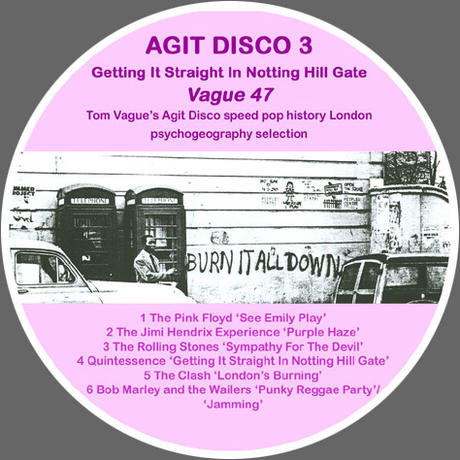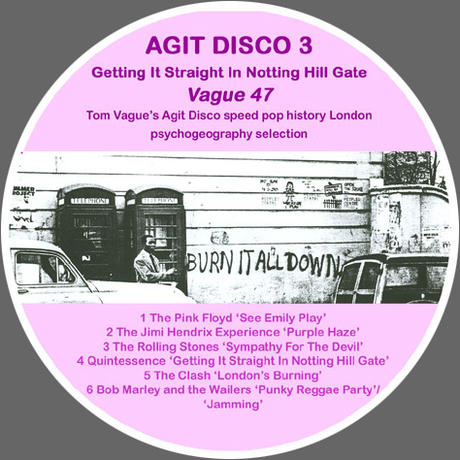 Agit Disco 3 – Getting It Straight In Notting Hill Gate by Tom Vague
Just as it is important to ask contextual and critical questions of why a particular artwork is being shown at a certain venue or seen in an art magazine. It is also necessary to observe who published Agit Disco and why? It is no coincidence that it's a Mute publication, Szczelkun has been on its editorial board since 2009, and has written various articles, reviews and interviews for Mute.
Agit Disco resonates with Mute's dedication to DIY culture. Indeed, Mute has an excellent history in independent publishing alongside its DIY methods of production. Mute's earliest incarnation used Financial Times' pink paper, broadsheet printing cast offs. Later on a traditional magazine format. From 2005 onwards it moved onto its online site, and developed a publishing platform that allowed the publication of its POD (Print On Demand) magazine. [7] The design and production of Mute and its platforms have come a long way enabling a pamphlet-like production and distribution, echoing Thomas Paine's own DIY releases of the Rights of Man.[8]
DIY Culture (and its distribution channels) offer a vital alternative to mainstream frameworks and their dominating hegemonies as a way to route around the restrictions to content, freedom of thought and free exchange. We have to contend with networked surveillance strategies initiated by corporations and state secret services. Censorship exists in many forms and recently there has been a rise of self censorship by workers and academics worried about losing their jobs if bosses see their interactions on Facebook or similar Web 2.0 social networks.[9] And the worrying antics of Britain's GCHQ, in collaboration with America's National Security Agency (NSA), targeting organisations such as the United Nations development programme, the UN's children's charity Unicef [10] reveal a greater investment in the surveillance of everyone, and the downgrading of privacy and fundamental human rights.
The credo that Anyone Can Do It reached a mass of individuals and groups not content with their assigned cultural roles as disaffected consumers watching the world go by. Like the Situationists, Punk was not merely reflecting or reinterpreting the world it was also about transforming it at an everyday level. Sadie Plant states that with the "emergence of punk in the late 70s […] lay the possibility of a threatening political response to the vacant superficiality of contemporary society." [11] From this, a whole generation of diverse artists emerged; and through their practices they critiqued the very society they lived in, questioning authority and the authenticity of established politics, language, art, history, music and film.
Has the process of appropriating people's civilian personas, and then replacing their social contexts with a corporate role as consumer created a more selfish world, lacking compassion for others and less interest for societal and ethical change? Ubermorgan discussed in a recent interview with Stevphen Shukaitis that people are in a state of 'mediality'. "What we refer to as reality very often is just mediality, and also because that's how human nature often prefers to observe reality, you know, via some media." [12] Perhaps our constant interactions through different interfaces of proprietorial frameworks distances ourselves to what is important. In the 21st Century demonstrations and civil disobedience are policed intensively, and even though much of contemporary activism exists on-line. The frontline, or the heart of politics is still mainly a physical matter; it is still in our streets, our homes, our bodies, in our neighbourhoods and communities.
As Oxblood Ruffin a Canadian hacker and member of the hacker group Cult of the Dead Cow (cDc) and the founder/director of Hacktivismo, said "I know from personal experience that there is a big difference between street and on-line protest. I have been chased down the street by a baton-wielding police officer on horseback. Believe me, it takes a lot less courage to sit in front of the computer." [13]
So Agit Disco reminds us that music is a vital way of both bringing people together in a space, story telling and communicating with each other, sharing what is happening with people's lives. It is usually at the moment of censorship that we then realise how essential this freedom of expression stuff really is. For instance, nine months after Islamic militants had taken over in northern Mali they announced that all music is banned. "It's hard to imagine, in a country that produced such internationally renowned music as Ali Farka Touré's blues, Rokia Traoré's soulful vocals and the Afro-pop traditions of Salif Keita. […] The armed militants sent death threats to local musicians; many were forced into exile. Live music venues were shut down, and militants set fire to guitars and drum kits. The world famous Festival in the Desert was moved to Burkina Faso, and then postponed because of the security risk." [14] (Fernandes 2013)
In her article The Mixtape of the Revolution, Fernandes says that in Africa many rappers are "speaking boldly and openly about a political reality that was not being otherwise acknowledged, rappers hit a nerve, and their music served as a call to arms for the budding protest movements."[15] Regarding Egypt, the rapper Mohamed el Deeb in an interview with Fernandes said, "shallow pop music and love songs got heavy airplay on the radio, but when the revolution broke out, people woke up and refused to accept shallow music with no substance." [16] Music, politics and grass roots dissent are concrete expressions and an essential part of our collective freedoms. Alongside this, independent publishing as an alternative voice to the marketed franchises that dominate our gaze, sight, ears and minds, are needed more than ever. Yet, independent voices are being silenced and whittled down by wars, oppression and the neoliberal created financial crisis and its resulting austerity cuts.
What is to become of us if we lose our skills of discernment and slump into a homogenous consumer class, to define ourselves solely through marketed stereotypes and ideologies?
Agit Disco offers a festival of dance and dialogue for independent minded individuals and groups around the upturned burning car in the barricade against the coming zombie apocalypse.
It has been fun listening to all of the playlist contributions provided in Agit Disco. Below is my own Agit Disco playlist. You are welcome to add your own playlist in the comments section below (with links)…
Agit Disco 24. Marc Garrett.
Damien Dempsey – 'Dublin Town' (2000)
http://www.youtube.com/watch?v=brhO8pqTNHU
Asian Dub Foundation – 'Modern Apprentice' (2000)
http://www.youtube.com/watch?v=zgtWhjaOgQ4
Dan Le Sac & Scroobius Pip – 'Great Britain' (2010)
http://www.youtube.com/watch?v=YeV2cExvnMI
Kirsty MacColl – 'Fifteen Minutes' (2005)
http://www.youtube.com/watch?v=MSQrH3JUQ2s
Jeffrey Lewis – 'Do They Owe Us A Living?' (2007)
http://www.youtube.com/watch?v=jWU-W0SzVE0
The Pop Group – 'Forces of oppression' (1979)
http://www.youtube.com/watch?v=Txzmbu6o-gg
Kieron Means – 'I Worry For This World' (2005)
https://play.spotify.com/track/6AI2QujkrP6B2nfIUK55lY
Robyn Archer – 'Ballad on Approving of the World' (1984)
https://play.spotify.com/album/3hNQY8q9sO3M0R6es2d3ka
Robyn Hitchcock – 'Point it at Gran' (1986)
http://www.youtube.com/watch?v=_HFkimK9FAU
Sound of Rum – 'End Times' (2011)
http://www.youtube.com/watch?v=9dWPe7Au68A
Silver bullet – '20 Seconds to comply (final conflict)' (1990)
http://www.youtube.com/watch?v=24b6pYGT9MM
Maze – 'Color Blind (Featuring Frankie Beverly)' (1977)
http://www.youtube.com/watch?v=COY4gKLwV2I
Akala – 'Bullshit' (2006)
http://www.youtube.com/watch?v=mxpxpQ7j8Sg
Sarah Jones – 'Your Revolution' DJ Vadim (2000)
http://www.youtube.com/watch?v=E62SZ1CmBOI
Julian Cope – 'Soldier Blue' (1991)
http://www.youtube.com/watch?v=8dGOr-JpOmI
June Tabor – 'A place called England' (2009)
https://play.spotify.com/track/3YB6sSlLfB8kmMrrm5COKX
References & Notes:
[1] Kate Tempest. Song – Sound of Rum 'End Times' & Rhyme 'Broken Herd' (2009)
The Sorcerer's Apprentice (March 2011) pdf – http://bit.ly/1ggn2Kp
[2] Luke Martell. The privatisation of the universities. Filed under Education. Web site – Shifting Grounds. July 2013. http://bit.ly/1ltLRTB
[3] Linda Tuhiwai Smith. Decolonizing Methodologies. Research and Indigenous peoples. Second Edition. Zed Books Ltd. 2012. P.207.
[4] Marc Garrett. DIWO (Do-It-With-Others): Artistic co-creation as a decentralized method of Peer-2-peer empowerment in today's multitude. From chapter – DIWO, Emancipation and Mainstream Culture. Page 2. (2013.) http://bit.ly/1d9EDRA
[5] Anthony ILes.. AGIT DISCO. Edited by Stefan Szczelkun and Anthony ILes. Mute Books 2012. P.6.
[6] Louise Carolin. AGIT DISCO. Edited by Stefan Szczelkun and Anthony ILes. Mute Books 2012. P.105.
[7] Julian Stallabrass. DIGITAL PARTISANS. On Mute and the Cultural Politics of the Net. 2012. P.2.
[8] Rights of Man: Being an Answer to Mr. Burke's Attack on the French Revolution. (2nd edition) by Thomas Paine (London: J.S. Jordan, 1791). Paine's pamphlet defending the early liberal phase of the French Revolution was written in response to Edmund Burke's critique.
http://bit.ly/1aiXXtu
[9] Rebecca Schuma. The Brave New World of Academic Censorship. If you're a professor in Kansas, better stay off the Internet. http://t.co/gpG3NkNdKF
[10] James Ball and Nick Hopkins. NSA/GCHQ Targeted EU Chief, UNICEF, and Charities, Amongst Others. Dec 20th 2013. http://bit.ly/19zu2gA

[11] Sadie Plant. The Most Radical Gesture: The Situationist International in a Postmodern Age. Chapter – Those Who Create Disorder. Routledge 1992. P. 143
[12] We Hate the Users: An Interview with UBERMORGEN. By Stevphen Shukaitis, 18 December 2013. http://bit.ly/1dP1fqO

[13] Activism! Direct Action, Hacktivism and the Future of Society. Editor, Tim Jordan. Reaktion Books Ltd. 2002. P.132.
[14] Sujatha Fernandes. The Day the Music Died in Mali. Published: May 19, 2013. http://bit.ly/1cQ7tdv

[15] Sujatha Fernandes. The Mixtape of the Revolution. New York Times. Published: January 29, 2012. http://nyti.ms/1d3qjbS
[16] Ibid.
Introduction.
For over 17 years Furtherfield has been working in practices that bridge arts, technology, and social change. Over these years we have been involved in many great projects, and have collaborated with and supported a variety of talented people. Our artistic endeavors include net art, media art, hacking, art activism, hacktivism and co-curating. We have always believed it is essential that the individuals at the heart of Furtherfield practice in arts and technology and are engaged in critical enquiry. For us art is not just about running a gallery or critiquing art for art's sake. The meaning of the art is in perpetual flux, and we examine its changing relationship with the human condition. Furtherfield's role and direction as an arts collective is shaped by the affinities we identify among diverse independent thinkers, individuals and groups who have questions to ask in their work about the culture.
Here I present a selection of Furtherfield projects and exhibitions featured in the public gallery space, we have ran in Finsbury Park in North London for the last two years. I set out some landmarks on the journey we have experienced with others, and end my presentation with news of another space we have recently opened (also in the park) called the Furtherfield Commons.
Running themes in this presentation include how Furtherfield has lived through and actively challenged the disruptions of neoliberalism. The original title for this presentation was 'Artistic Survival in the 21st Century in the Age of Neoliberalism'. The intention was to stress the importance of active and open discussion about the contemporary context with others. The spectre of neoliberalism has paralleled Furtherfield's existence, affecting the social conditions, ideas and intentions that shape the context of our work: collaborators, community and audience. Its effects act directly upon ourselves as individuals and around us: economically, culturally, politically, locally, nationally and globally. Neoliberalism's panoptic encroachment on everyday life has informed Furtherfield's own motives and strategies and, in contrast with most galleries and institutions that engage with art, we have stayed alert to its influence as part of a shared dialogue. The patriarch, neoliberalism, de-regulated market systems, corporate corruption and bad government; each implement the circumstances where us, everyday people are only useful as material to be colonized. This makes us all indigenous peoples struggling under the might of the wealthy few. Hacking around and through this impasse is essential if we are to maintain a sense of human integrity and control over our own social contexts and ultimately to survive as a species.
"The insights of American anarchist ecologist Murray Bookchin, into environmental crisis, hinge on a social conception of ecology that problematises the role of domination in culture. His ideas become increasingly relevant to those working with digital technologies in the post-industrial information age, as big business daily develops new tools and techniques to exploit our sociality across high-speed networks (digital and physical). According to Bookchin our fragile ecological state is bound up with a social pathology. Hierarchical systems and class relationships so thoroughly permeate contemporary human society that the idea of dominating the environment (in order to extract natural resources or to minimise disruption to our daily schedules of work and leisure) seems perfectly natural in spite of the catastrophic consequences for future life on earth (Bookchin 1991). Strategies for economic, technical and social innovation that fixate on establishing ever more efficient and productive systems of control and growth, deployed by fewer, more centralised agents have been shown conclusively to be both unjust and environmentally unsustainable (Jackson 2009). Humanity needs new strategies for social and material renewal and to develop more diverse and lively ecologies of ideas, occupations and values." [1] (Catlow 2012)
It is no longer critical, innovative, experimental, avant-garde, visionary, evolutionary, or imaginative to ignore these large issues of the day. If we as an arts organization, shy away from what other people are experiencing in their daily lives and do not examine, represent and respect their stories, we quite rightly should be considered as part of an irrelevant elite, and seen as saying nothing to most people. Thankfully, there are many artists and thinkers seriously taking on these human themes in their work in various ways, on the Internet and in physical spaces. So much so, this has introduced a dilemma for the mainstream art world regarding its own relevance, and whether it is really contemporary anymore.
Furtherfield has experienced in recent years a large-scale shift of direction in art across the board. And this shift has been ignored (until recently) by mainstream art culture, within its official frameworks. However, we do not only need to thank the artists, critical thinkers, and hackers and independent groups like ours for making these cultural changes, although all have played a big role. It is also due an audience hungry for an art that reflects and incorporates their own social contexts, questions, dialogues, thoughts and experiences. This presentation provides evidence of this change in art culture, and its insights flow from the fact that we have been part of its materialization. This is grounded knowledge based on real experience. Whether it is a singular movement or multifarious, is not necessarily important. But, what is important is that these artistic and cultural shifts are bigger than mainstream art culture's controlling power systems. Make no mistake, this is only the beginning and it will not go away. It is an extraordinary swing of consciousness in art practice forging other ways of seeing, being, thinking, making and becoming.
Furtherfield is proud to have stuck with this experimental and visionary culture of diversity and multiplicity. We have learned much by tuning into this wild, independent and continuously transformative world. On top of this, new tendencies are coming to the fore such as re-evaluations and ideas examining a critical subjectivity that echo what Donna Haraway proposed as 'Situated Knowledges' and what the Vienna based art's collective Monochrom call 'Context Hacking'. Like the DADA and the Situationist artists did in their time; many artists today are re-examining current states of agency beyond the usually well-promoted, proprietorial art brands, controlling hegemonies and dominating, mainstream art systems.
Slide Presentation
Most Art Says Nothing To Most People.
"The more our physical and online experiences and spaces are occupied by the state and corporations rather than people's own rooted needs, the more we become tied up in situations that reflect officially prescribed contexts, and not our own." [2]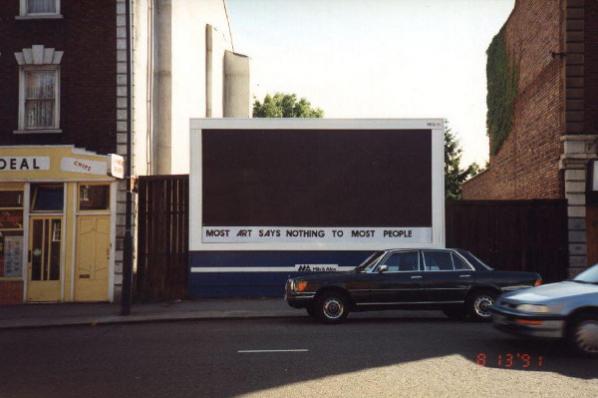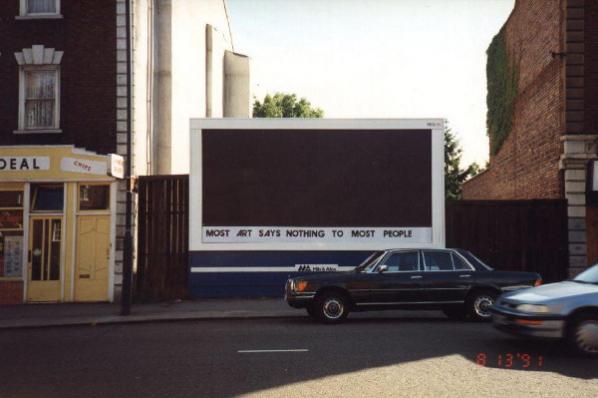 To start things off, I want to refer to a past work that myself and Heath Bunting (co-founder of irational.org) were involved with in 1991. The above image is a large paste-up displayed on billboards around Bristol in the UK. At the time, as well as being part of other street art projects, pirate radio and BBS boards, Heath and I and others were members of the art activist collective Advertising Art. It was street art that critiqued a presumed ownership of art culture by the dominating elites. The words "Most Art Says Nothing To Most People" has remained as an inner mantra in my mind ever since.
Furtherfield is inspired by ideas that reach for a grass roots form of enlightenment, and so nurture progressive ideas and practices of social and cultural emancipation.The Oxford English Dictionary describes Emancipation as "the fact or process of being set free from legal, social, or political restrictions; liberation: the social and political emancipation of women and the freeing of someone from slavery."
"Kant thought that Enlightenment only becomes possible when we are able to reason and to communicate outside of the confines of private institutions, including the state." [3] (Hind 2010)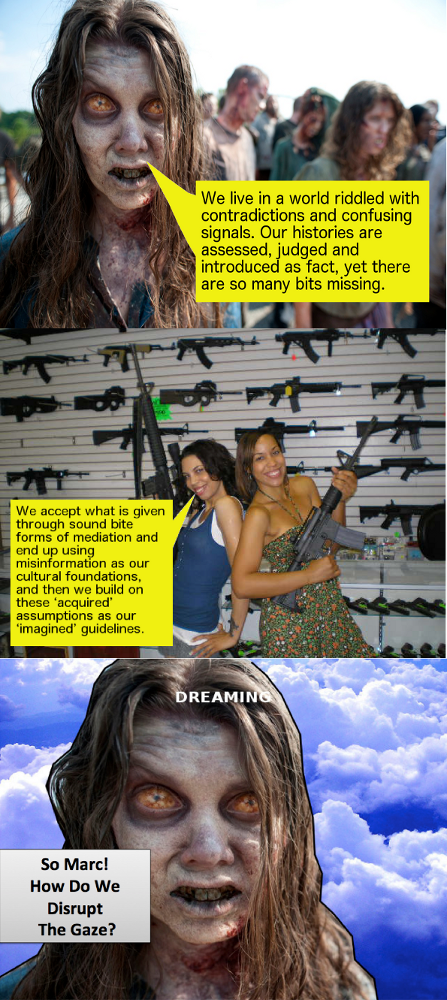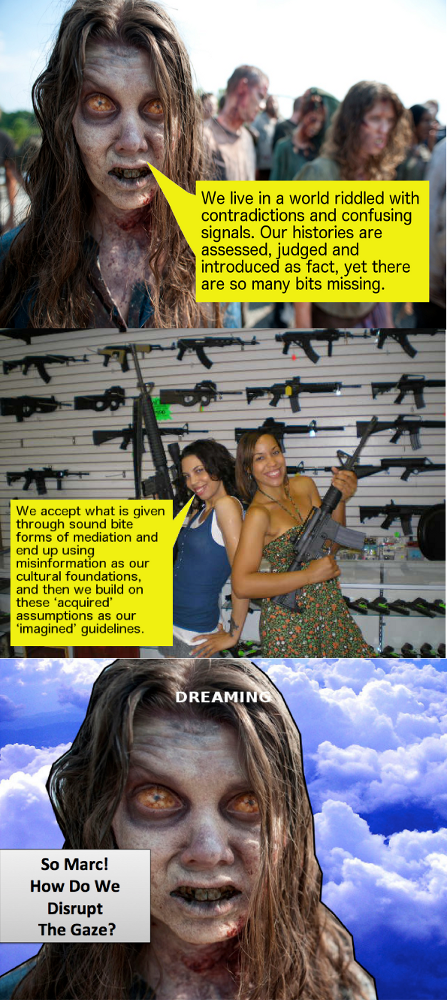 Well, a start would be to get organized and build something of value with others.
As usual, it is up to those people who know that something is not working and those feeling the brunt of the issues affecting them who end up trying to change the conditions. It is unlikely that this pattern of behaviour will change.
To expect or even wish those who rule and those serving them to change, and challenge their own behaviours and seriously critique their own actions is as likely as winning the National Lottery, perhaps even less.
Art critic Julian Stallabrass proposes that there needs to be an analysis of the operation of the art world and its relation to neoliberalism. [4]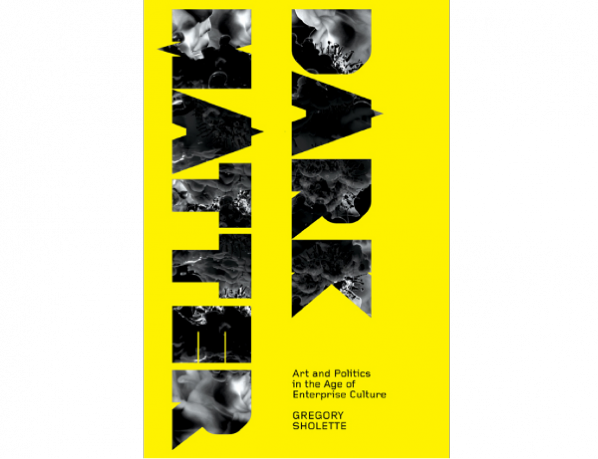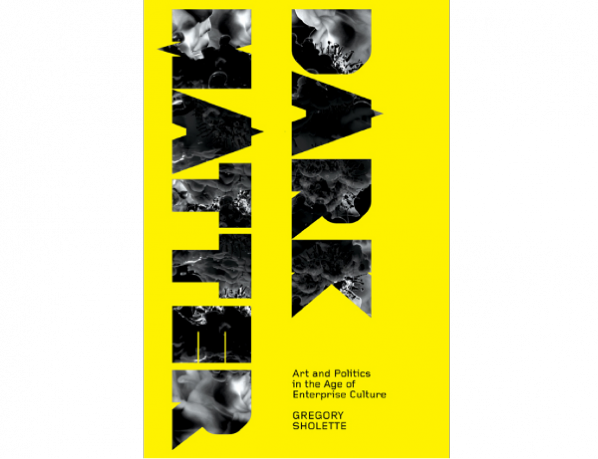 In the above publication Gregory Sholette argues, "that imagination and creativity in the art world thrives in the non-commercial sector, shut off from prestigious galleries and champagne receptions. This broader creative culture feeds the mainstream with new forms, and styles that can be commodified and utilized to sustain the few elite artists admitted into the elite. […] Art is big business: a few artists command huge sums of money, the vast majority are ignored; yet these marginalized artists remain essential to the mainstream cultural economy serving as its missing creative mass. At the same time, a rising sense of oppositional agency is developing within these invisible folds of cultural productivity. Selectively surveying structures of visibility and invisibility, resentment and resistance […] when, the excluded are made visible, when they demand visibility, it is always ultimately a matter of politics and rethinking history." [5] (Sholette 2013)
Drawing upon Sholette's inspirational, unambigious and comprehensive critique of mainstream art culture. I would like to consider examples that are closer to home blocking avenues of artistic and social emancipation that also need an urgent critique. And this blockage resides within media art culture (or whatever we call it now) itself. Recently, I read a paper about 'Post-Media' – said to "unleash new forms of collective expression and experience" [6]- which featured in its text only established names. Furtherfield is native to 'Post-Media' processes, a concept that theorists in media art culture are only just beginning to grasp. This is because they tend to rely on particular theoretical canons and the defaults of institutional hierarchies to validate their concepts. Also, most of the work they include in their research is either shown in established institutions and conferences. They assume that because a particular art work or practice is accepted within the curatorial remits of a conference theme, that this means the art shown is representative of what is actually happening, thus more valid than other works and groups not included. This is a big mistake. It only serves to reinforce the conditions of a systemic, institutionalised, privileged elite and enforces a hierarchy that will reinforce the same myopic syndromes of mainstream art culture. The extra irony here, is that many of these supposedly insightful art historians and theorists advocate a decentralised, networked culture in their writings, or as a relational context. However, many of them are not actually either engaged in supporting or creating these alternative structures with others. The real problem is how they acquire their knowledge. Presently the insular and hermetically sealed dialectical restraints and continual reliance on central hubs as official reference is distancing them from the actual culture they propose to be part of.
Furtherfield and Hack Value.
"We must allow all human creativity to be as free as free software" [7] (Steiner, 2008)
Furtherfield comes from a cultural hacking background and has incorporated into its practice ideas of hacking not only with technology but also in everyday life. In fact, Furtherfield is one big social hack. Hack Value advocates an art practice and cultural agency where the art includes the mechanics of society as part of its medium as well as social contexts with deeper resonances, and a critical look at the (art) systems in place. It disrupts and discovers fresh ways of looking and thinking about art, life and being. Reclaiming artistic and human contexts beyond the conditions controlled by elites.
Hack Value can be a playful disruption. It is also maintenance for the imagination, a call for a sense of wonder beyond the tedium of living in a consumer, dominated culture. It examines crossovers between different fields and practices, in relation to their achievements and approaches in hacking rather than as specific genres. Some are political and some are participatory. This includes works that use digital networks and physical environments as well as printed matter. What binds these examples together is not only the adventures they initiate when experimenting with other ways of seeing, being and thinking. They also share common intentions to loosen the restrictions, distractions and interactions dominating the cultural interfaces, facades and structures in our everyday surroundings. This relates to our relationship with food, tourism, museums, galleries, our dealings with technology, belief systems and community ethics.
Donna Haraway proposes a kind of critical subjectivity in the form of Situated Knowledges.
"We seek not the knowledges ruled by phallogocentrism (nostalgia for the presence of the one true world) and disembodied vision. We seek those ruled by partial sight and limited voice – not partiality for its own sake but, rather, for the sake of the connections and the unexpected openings situated knowledges make possible. Situated knowledges are about communities, not isolated individuals." [8] (Haraway 1996)
Furtherfield's move to the heart of a North London park.
Furtherfield had run [HTTP], London's first public gallery for networked media art, since 2004 from an industrial warehouse in Haringey. In 2012 the gallery moved to a public location at the McKenzie Pavilion in the heart of Finsbury Park, North London.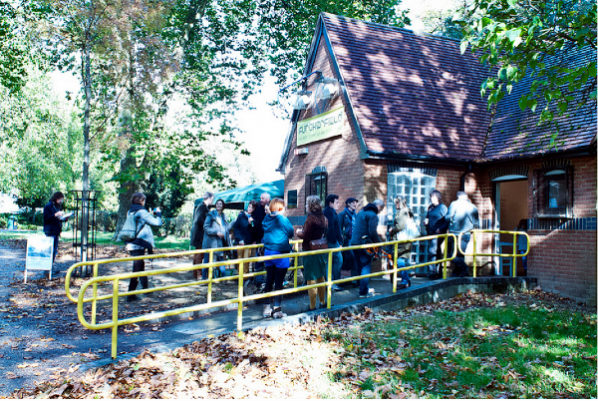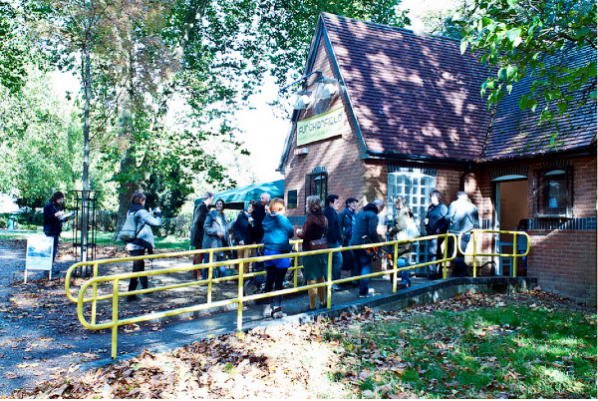 However, we are not just a gallery, we are a network connecting beyond a central hub.
"It is our contention that by engaging with these kinds of projects, the artists, viewers and participants involved become less efficient users and consumers of given informational and material domains as they turn their efforts to new playful forms of exchange. These projects make real decentralised, growth-resistant infrastructures in which alternative worlds start to be articulated and produced as participants share and exchange new knowledge and subjective experiences provoked by the work." [9] (Garrett & Catlow 2013)
The park setting informs our approach to curating exhibitions in a place with a strong local identity, a public green space set aside from the urban environment for leisure and enjoyment by a highly multicultural population.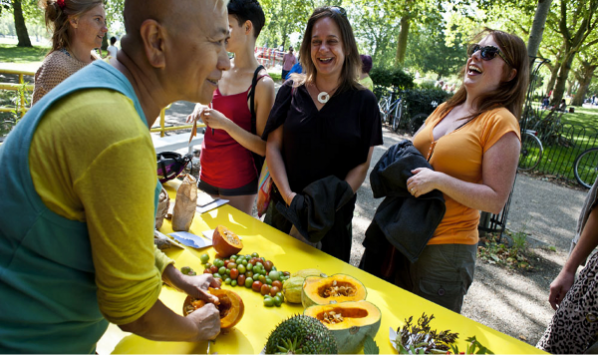 Seeds Underground Party by Shu Lea Cheang. Aug – Oct 2013.
We are simultaneously connected to a network of international critical artists, technologists thinkers and activists through our online platforms and communities, as well as a wider networked art culture. We get all kinds of visitors from all backgrounds and this includes those who do not normally visit art spaces. We are not interested in pushing the mythology of high-art above other, equally significant art practices. Being accessible has nothing to do with dumbing down it concerns making the effort to examine deeper connections between people and the social themes effecting theirs and our lives. We don't avoid big issues and controversies and are constantly engaged in a parallel dialogue between these online communities and those meeting us in the park.
We feature works that incorporate the contributions of local people and this brings them closer to the art and engagement of a social dialogue. For instance, London Wall, N4 by Thomson and Craighead, that reflected a collective stream of consciousness of people all around Finsbury Park, gathering their Tweets to print out and paste onto the gallery walls. By retweeting the images of the tweet posters we were able to gather many of the original authors in the gallery to see their words physically located among others made in the vicinity.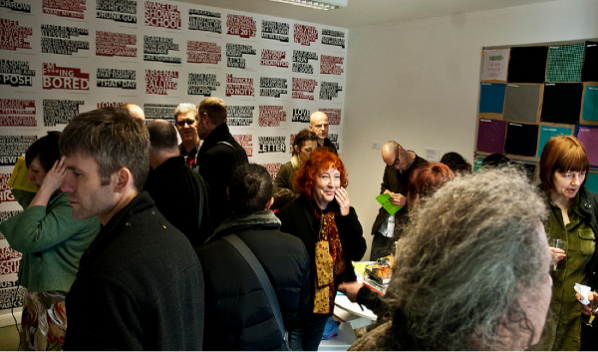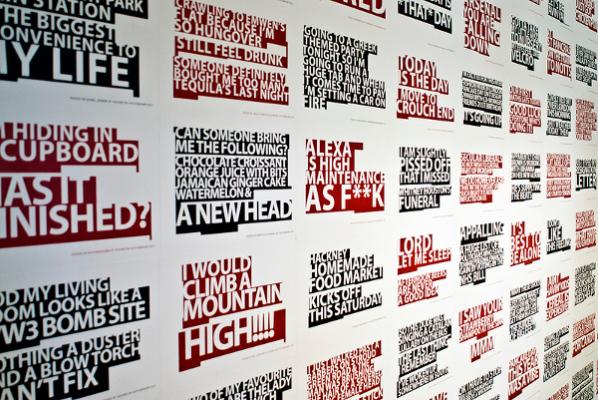 Above: London Wall, N4 by Thomson and Craighead, as part of Being Social, Feb – April 2012. Other artists included , Annie Abrahams, Karen Blissett, Ele Carpenter, Emilie Giles, moddr_ , Liz Sterry. See more info about the exhibitio Also to Flickr
Crow_Sourcing by Andy Deck invited people to tweet animal expressions from around the world – illuminating the link between the formation of human language and our relationships with other wild webs of animal life. Gallery visitors illustrated their own animal idioms, drawing directly onto the gallery walls, inspired by the ducks, crows, squirrels and dogs that inhabit the park.
We feature works that deal with the human and social effects of networked and pervasive technologies. Web 2.0 Suicide Machine by moddr_ proposed an improvement to our 'real' lives by providing a one click service to remove yourself, your data, and your profile information forever, from Facebook, Twitter and MySpace, replacing your icon (again, forever) with a logo depicting a noose. They also reflect on new forms of exposure and vulnerabilities they give rise to such as Kay's Blog, by Liz Sterry, which replicated in physical space the unkempt bedroom of an 18 year old Canadian girl based only on her blog posts, to eirie effect. The intention is to reach people in a way that has people question their own relationship with those technologies. This does not mean promoting technology as a solution to art culture but exploiting it to connect with others and also critique technologies at the same time.
Below: Selection of images from original slide presentation – exhibitions & events.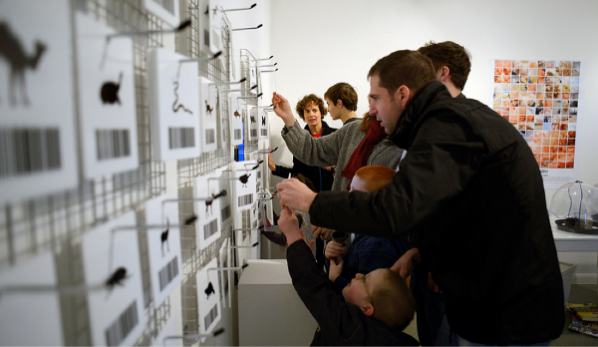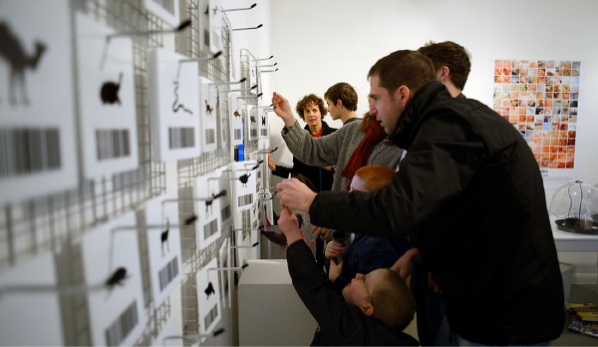 Crow_Sourcing by Andy Deck, WWW: World Wild Web Oct – Dec 2012.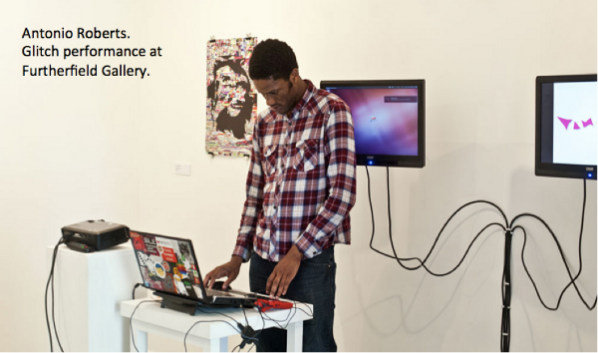 Glitch Moment/ums Exhibition June – July 2013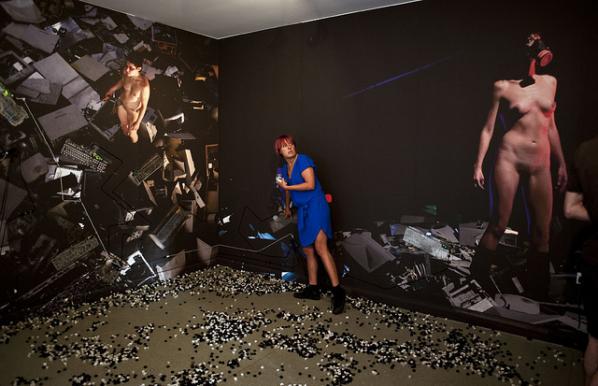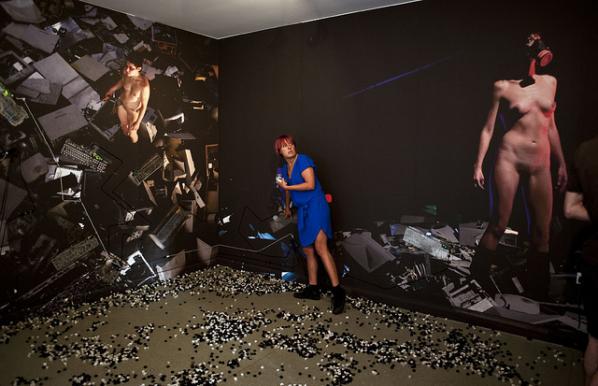 Shu Lea Cheang & Mark Amerika. UKI – Viral Love by Shu Lea Cheang. Aug – Oct 2013.
The Furtherfield Commons.
On the 23rd of November we opened our second space in the park 'The Furtherfield Commons'. It kicked off with The Dynamic Site: Finsbury Park Futures, an exhibition by students from the Writtle School of Design (WSD) featuring ideas and visions for future life in Finsbury Park, coinciding with the launch.
This new lab space for experimental arts, technology and community sets out to explore ways to establish commons in the 21st Century. It draws upon influences from 1700s when everyday people in England such as Gerrard Winstanley and collaborators forged a movement known as the Diggers also known as the True Levellers, to reclaim and claim common land from the gentry for grass roots, peer community interests. Through various workshops, residencies, events & talks we will explore what this might mean to people locally and in connection with our international networks. These include free software works, critical approaches to gardening, gaming and other hands-on practices where people can claim direct influence in their everyday environments in the physical world, to initiate new skills and social change on their terms. From what we have learned from our years working with digital networks we intend to apply tactical skills and practices into everyday life.
"You have created a true Peer 2 Peer philosophy of art, with a great network and reach!" – Michel Bauwens, Founder of the P2P foundation
Notes:
Furtherfield is a network across different time zones, platforms & places – online & physical, existing as various decentralised entities. A culture where people interact: to create, discuss, critique, review, share information, collaborate, build new artworks & alternative environments (technological, ecological, social or both), examine & try out value systems. "A rhizome has no beginning or end; it is always in the middle, between things, interbeing, intermezzo." (Brian Massumi 1987)
What Influences Furtherfield?
DADA, Situationism, punk, Occupy, hacktivism, networks, Peer 2 Peer Culture, feminism, D.I.Y, DIWO, Free Software Movement, independent music labels, independent thinkers, people we work with, artists, activism, grass roots culture, community…
This comprises technological and physical forms of hacking. It also includes aspects and actions of: agency-generation, skill, craft, disruption, self-education, social change, activism, aesthetics, re-contextualizing, claiming or reclaiming territories, independence, emancipation, relearning, rediscovering, play, joy, being imaginative, criticalness, challenging borders, breaking into and opening up closed systems, changing a context or situation, highlighting an issue, finding ways around problems, changing defaults, and restructuring things – Claiming social contexts & artistic legacies with others!
Extra Notes & References:
This text is a re-edited slide presentation first shown at the ICA, London UK on 16th November 2013 (Duration 25 min). Intermediality: Exploring Relationships in Art. Speakers Katrina Sluis, Peter Ride, Sean Cubitt & Marc Garrett.
http://www.ica.org.uk/39077/Talks/Intermediality-Exploring-Relationships-in-Art.html 
Transdisciplinary Community (TDC) Leicester UK 27th Nov 2013 (45 min). Institute of Creative Technologies. De Montfort University.
Two projects Gregory Sholette is currently involved in:
It's the Political Economy, Stupid. Curated by Oliver Ressler & Gregory Sholette
http://gallery400.uic.edu/exhibitions/its-the-political-economy-stupid
Matt Greco & Greg Sholette | Saadiyat Island Workers Quarters Collectable, 2013
http://bit.ly/1eSI5kX
—————————————————————
[1] Ruth Catlow. We Won't Fly For Art Culture Magazine, special themed issue Paying Attention: Towards a Critique of the Attention Economy. Special Issue of CULTURE MACHINE VOL 13 2012 by Patrick Crogan and Samuel Kinsley.
[2] Marc Garrett. DIWO (Do-It-With-Others): Artistic co-creation as a decentralized method of Peer-2-peer empowerment in today's multitude. From chapter – DIWO, Emancipation and Mainstream Culture. Page 2. (2013.) http://seadnetwork.wordpress.com/white-paper-abstracts/final-white-papers/diwo-do-it-with-others-artistic-co-creation-as-a-decentralized-method-of-peer-empowerment-in-todays-multitude-diwo-do-it-with-others-artistic-co-creation-as-a-decentralized-method-of-pe/
[3] Dan Hind. The Return of the Public: Democracy, Power, and the Case for Media Reform. Verso 2010. pp 155.
[4] Julian Stallabrass. Art Incorporated: The Story of Contemporary Art. OUP Oxford 2004.
[5] Gregory Sholette. Author of Dark Matter: Art and Politics in the Age of Enterprise Culture. Pluto press. (2011)
[6] About the Post-Media Lab By Post-Media Lab, 20 January 2012. Metamute.
http://www.metamute.org/editorial/lab/about-post-media-lab
[7] Hans-Christoph Steiner. Floss + Art. Compiled and Edited by Aymeric Mansoux and Marloes de Valk. GOTO10 in Association with OpenMute. 2008. P.151.
[8] Donna Haraway. Situated Knowledges: The science Question in Feminism and the Privilege of partial Perspective. Feminism and Science. Editors, Evelyn Fox Kellor and Helen E. Longino. Oxford University Press. 1996. P.259.
[9] DIWO: Do It With Others – No Ecology without Social Ecology. By Marc Garrett, Ruth Catlow. 2013. First published in Remediating the Social 2012. Editor: Simon Biggs University of Edinburgh. Pages 69-74. http://www.furtherfield.org/features/articles/diwo-do-it-others-%E2%80%93-no-ecology-without-social-ecology
—————————————————–
All exhibitions, events & projects at Furtherfield – http://www.furtherfield.org/programmes/exhibitions
Introduction.
"One of the most consequential outcomes of this ubiquitous mode of organization of social life is that we have become so accustomed to relating to space in "either/or" and "here/there" terms that we have become mentally trapped inside this binary border-based model, making it difficult to imagine alternative ways of territorial organization." Popescu [1]
Maps inform us where things are situated. The borders depicted in each map propose a different view on the social conditions, attitudes, and interactions with others in the world. The AntiAtlas of borders project shows us different approaches for understanding "the mutations of control systems along land, sea, air and virtual states" and their borders. It has done this through the combined contributions of social and 'hard' science researchers and artists, all engaged in creative practices including Internet art, tactical geography, filmmakers, performers and hackers. The project also includes other relevant actors such as people working as professionals for customs agencies, surveillance industries and the military.
This is the first of two interviews with Isabelle Arvers who has collaborated with the IMERA team (the Mediterranean Institute for Advanced Research of Aix-Marseille University), to curate this expansive and dynamic project. The first interview discusses the operational side of the project and the next interview examines selected writings, artworks, projects and ideas featured as part of the project.
The Texas Border, Joana Moll and Héliodoro Santos Sanchez. Link
Marc Garrett: Before we begin the interview it would great if you could tell us when and where the exhibitions, events, publications and other parts of the project begin?
Isabelle Arvers: The AntiAtlas programme will run from 30 September 2013 to 1 March 2014 and will be composed of five initiatives: an inaugural international symposium, two exhibitions, a website and the publication of a book. The International Conference will be held from 30 September – 2 October 2013 at the New Conservatory of Aix en Provence. The main aim of this conference is to present the results of the interdisciplinary workshops that took place in the last two years at IMéRA et at the Higher School of Art of Aix-en-Provence.
The AntiAtlas of borders will present two interlinked exhibitions. The first will take place in Aix-en-Provence at the Musée des Tapisseries from 1 October to 3 November 2013. The second will take place in Marseille at La Compagnie creative arts centre from 13 December 2013 to 1 March 2014. The two exhibitions will present works developed in collaboration with social scientists, researchers in the hard sciences and artists. They will offer several levels of reading and forms of participation. Visitors will discover new works, engage with transmedia documentation and participate in experiments. They will interact directly with robots, drones, video games, walls and systems. The aim is to encourage everyone to reflect on how we are directly and personally affected by the transformations of borders in the 21st century.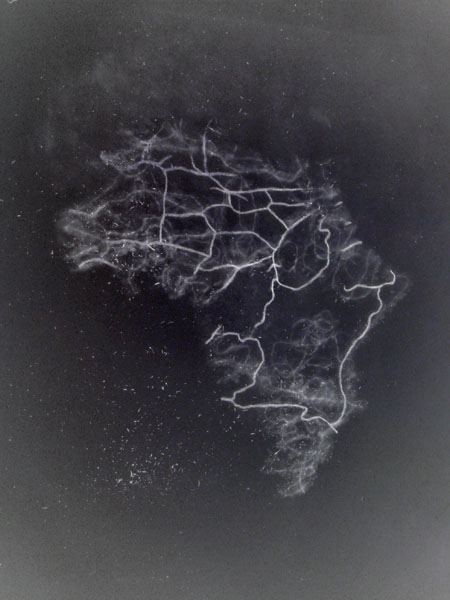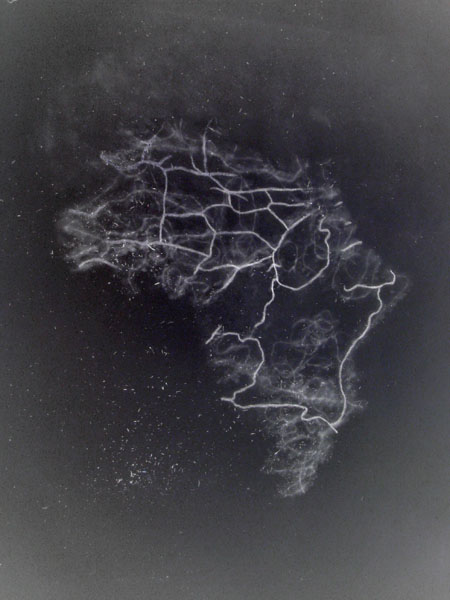 Borders, Simona Koch. Link
The final version of the website www.antiatlas.net/eng is an online extension of the exhibitions. Most importantly, the website provides access to works of net.art and artistic interventions in the form of an online gallery of works. This website and its documentation will extend the progress and reach achieved by the project. It will act as an archive and documentation site for the general public, artists, researchers and institutions.
In 2014, an AntiAtlas of border publication will be produced, gathering publications of researchers and artists on different and selected themes of the international conference and the two exhibitions.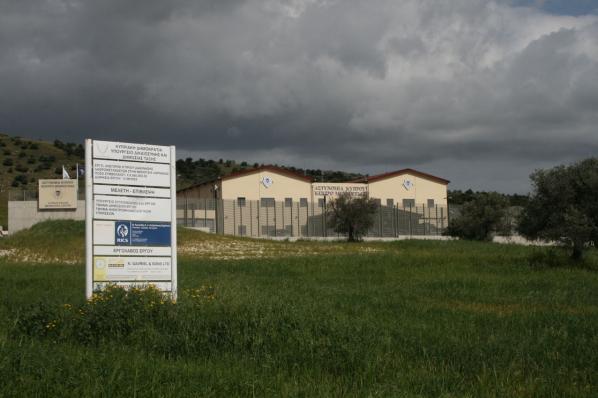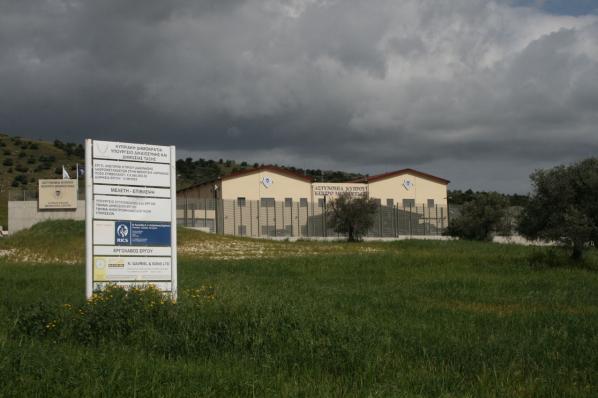 Dynamic Map of Foreign Citizens Detained at State Borders,
Olivier Clochard (Migreurop) 2013. Link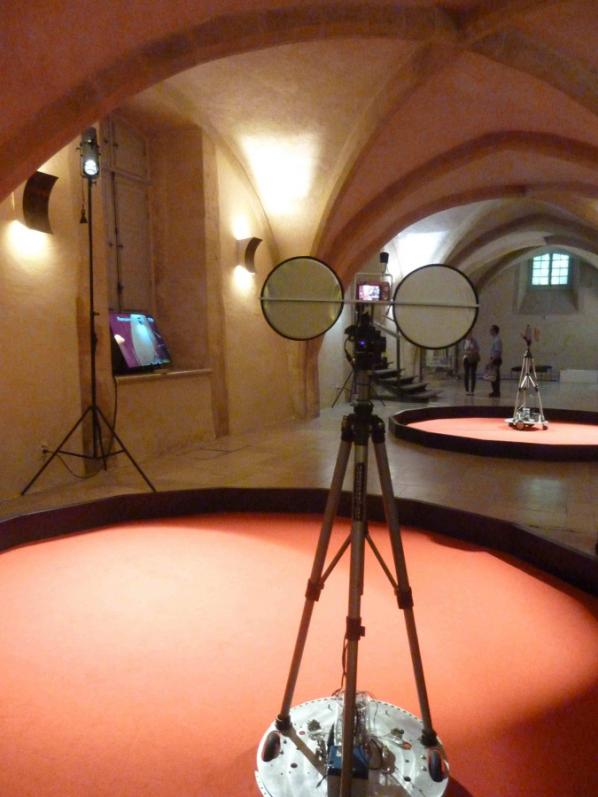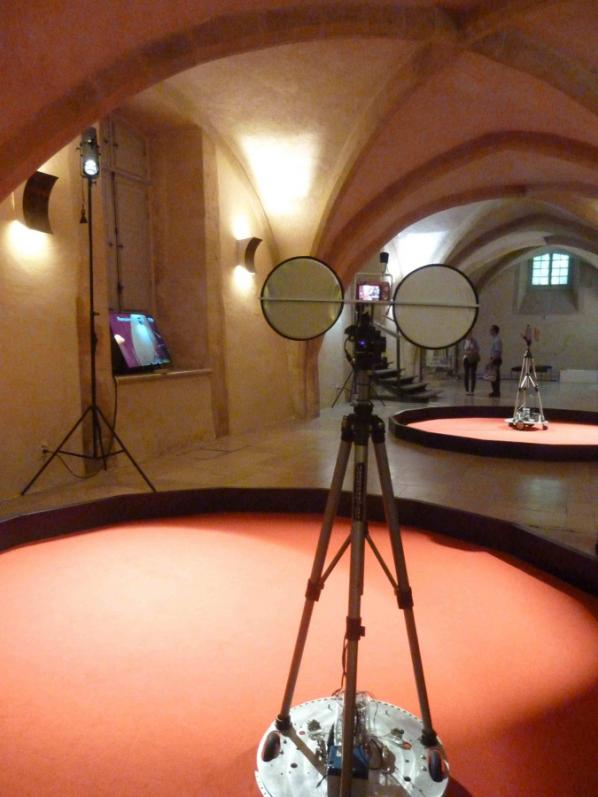 Paparazzi Bots by Kenneth Rinaldo. Exhibition view.
MG: What has been your involvement with AntiAtlas?
IA: When I met the IMERA team (the Mediterranean Institute for Advanced Research of Aix-Marseille University), they were looking for a curator in order to disseminate the outcomes of the past three years of seminars they conducted on borders. I saw this project as a great opportunity as there was a political dimension within it that attracted me. Also, I am deeply interested in tactical media and tactical geography and by new forms of visualisation and new aesthetics related to systems of control like drones, robots, satellites or surveillance cameras.
I wanted to create a participatory event that would allow people to follow our work online and offline. I also wanted to mix different kinds of works from research in the hard and social sciences to artistic installations, websites, games and videos. To do so, we decided to create a website www.antiatlas.net that would gather artworks, research articles and interviews, an online gallery and also all the presentations given during the different seminars conducted by IMERA on borders during the last three years. Thanks to the website, we were able to launch a call for proposals as I wanted to get the testimonies and the voice of migrants about their vision on borders.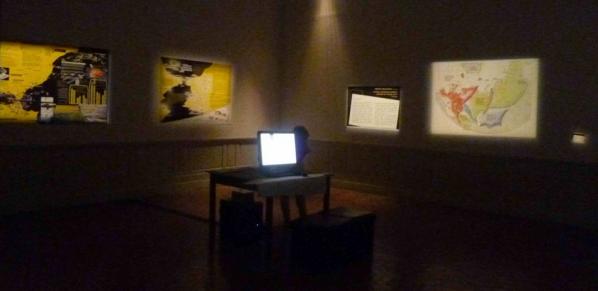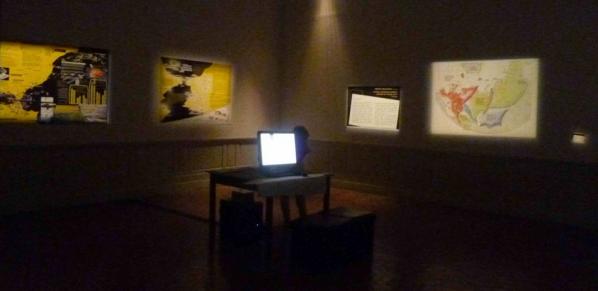 Cartographies by Hackitektura. Exhibition view.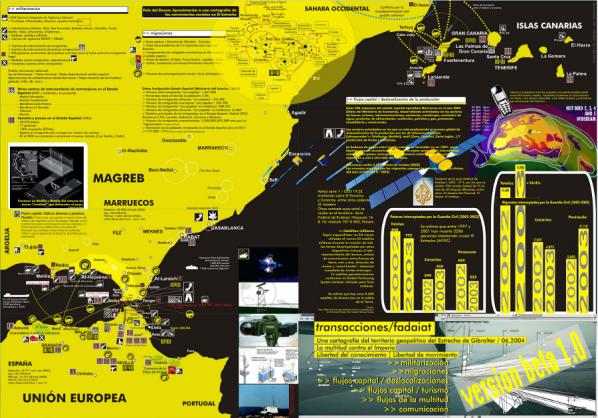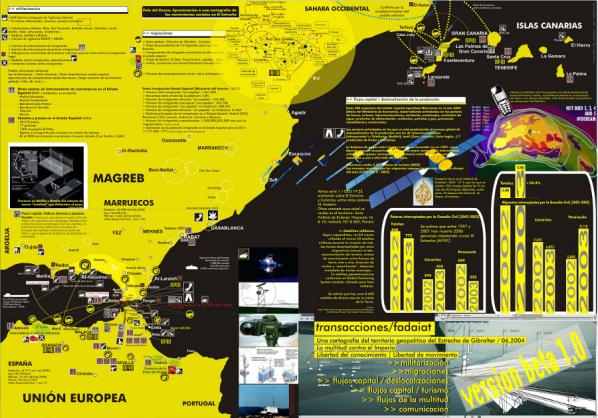 Close up – Tactical cartography of the Straits, in progress (Beta State – Side A)
madiaq indymedia and hackitectura.net. Production: osfa
Very quickly we understood that we needed to get more funding and partners, so I offered to seek media, private and institutional partnerships as well as to manage the communication of the entire event. This fundraising was needed to promote a global vision of the antiAtlas of borders and to link all the parts of the event: from the website, to the call for proposal, till the international seminar and the two exhibitions. Because of my multiple engagements in the project, I became one of the 5 co-producers of the programme.
MG: This is a complex project. It is noticeable that there is a diverse and dynamic, cross section of different practices being bridged to make it all happen. Has it been difficult to combine all of these practices so they can relate to each other coherently?
IS: Combining all these different practices was a wonderful and exciting adventure. During one year and a half, we worked very closely with the scientific and artistic committee and tried to exchange as much as possible between different visions and ways of working. I learned a lot from researchers and was amazed by the deep understanding and knowledge they have on the subject of borders. Thanks to their research and to their approaches to this issue, I was able to get a very diverse understanding of this complex subject. From me, they discovered the online communication and the power of the web and social networks to diffuse and share the information. They also got a better understanding of the tactical media field and we learned so much from each other that this experience is already a beautiful success in sharing and learning from passionate human beings. I come from media art world and I tried to respond to a scenario that the committee conceived with artists' works, which is a very different way for me to work. This time I had a script to follow; the way I did it was to try to find some ludic interactive installations, as well as documentary projects or games, in order to allow the experimentation of the subject by the audience. They trusted me even if it wasn't a field they knew well.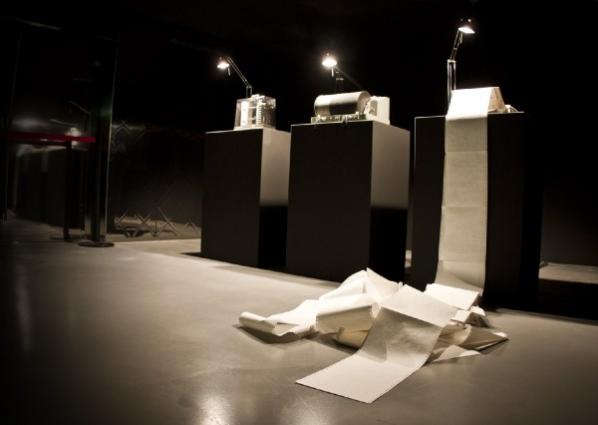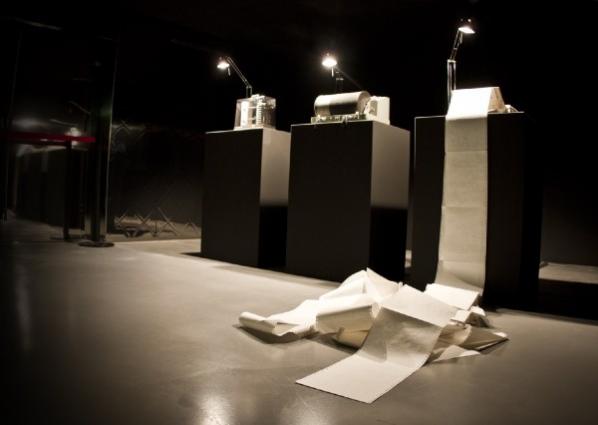 Robot ADM8, Rybn, 2011. Link
MG: Do you feel that it has de-compartmentalised these varied fields of knowledge successfully?
IS: What was particularly positive in the last seminars on borders we organised was that they allowed plenty of time to discuss and facilitate the exchange between the different perspectives. A specific example is a game project resulting from the collaboration between an anthropologist – Cédric Parizot – and a interactive laboratory from the Superior art School of Aix-en-Provence, which is led by the artist and game designer Douglas Edric Stanley. The idea is to create a "crossing industry game" drawing on the data collected by Cédric Parizot on trafficking. The collaboration addressed the visualisation, contextualisation and re-appropriation of a field of knowledge through game mechanics. I think that this experience really enriched all the team. The anthropologist was able to analyse his data in a different way, while the interactive students got closer to the reality of trafficking as they were experiencing through a game.
There are many other cross-disciplinary projects made in the framework of the AntiAtlas. I would say that what we want is to multiply different experiences and forms of knowledge on borders across and between the separate but intersecting fields of art and science. The exhibition is conceived to mix everything: research through the documentation space, researchers' interviews, counter cartographies, interactive installations on biometrics and surveillance technologies, applications to divert control systems and documentaries providing a wider point of view on multiple dimensions of borders and their representations. Artists and researchers meet three times per year, some of them collaborate on trans-disciplinary projects, so that the conditions to meet and de-compartmentalise these fields are created. This is only the beginning. The process still needs to be pushed and facilitated as the antiAtlas is an attempt to create a new kind of cross-disciplinary encounter, let's see how it will evolve!
Conclusion.
This first interview with Arvers attended to organisational and operational aspects of the inter-disciplinary border-crossing within AntiAtlas project. The complex task of collating, sharing and collaborating to make it all happen at all could use its own map. The processes and engagements that evolved as the project took shape involved a collaboration of many different fields and practices, individuals, groups, organisations and cross cultural relations. This transdisciplinary approach helps us to unpack the deep levels of the meanings and value of crossing borders, in an organisational sense. Their dedication to transcend the seemingly 'scripted' blockages and restraints echoes a strong feeling that we need to re-assess the maps given to us, and what this means.
"What is needed to escape the modern mental "territorial trap" are ways of seeing and drawing that reveal what the geographical abstraction of the borderline obscures. It is only in this way, then, that we will acquire the necessary tools to think through a technologically enabled world of border flows and portals" Popescu.[2]
References & Notes:
Isabelle Arvers is an independent author, critic and exhibition curator. She specializes in the immaterial, bringing together art, video games, Internet and new forms of images by using networks and digital imagery. She has organized a large number of exhibitions in France and overseas (Australia, Canada, Brazil, Norway, Italy, Germany) and collaborates regularly with the Centre Pompidou and French and international festivals. http://www.isabellearvers.com/

[1] & [2] Gabriel Popescu. Re-visualizing Border Cartographies through Art: From lines to flows and portals.
http://www.antiatlas.net/en/2013/09/28/re-visualizing-border-cartographies-through-art-from-lines-to-flows-and-portals-gabriel-popescu/
"None but those who have experienced them can conceive of the enticements of science." Mary Shelley, Frankenstein.
Rachel Falconer writes about the cyberfeminist art collective subRosa, a group using science, technology, and social activism to explore and critique the political traction of information and bio technologies on women's bodies, lives and work.
Following a recent interview with the founding members of the collective, Hyla Willis and Faith Wilding, this article presents subRosa's trans-disciplinary, performative practice and questions what it means to claim a feminist position in the mutating economies of biotechnology and techno-science.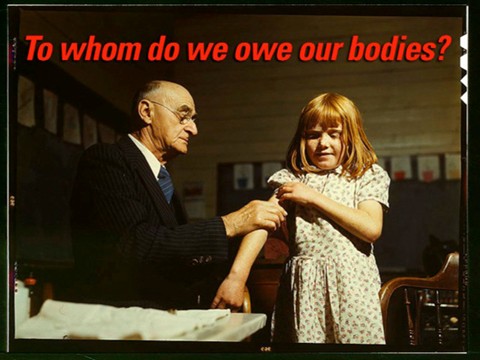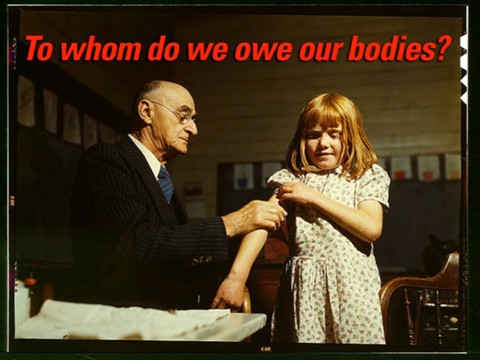 Cyberfeminism Interrogates Biotechnology: subRosa's Participatory Information Performances video.
The technological redesigning and reconfiguration of bodies and environments, enacted through the economies of the biotech industry, is an emerging feature of contemporary life. As these new 'bits of life' enter the biotech network, there is a slippage in our mental model of what constitutes the body, and more specifically, 'life' itself. As radically new biological entities are generated through the processes of molecular genetic engineering, stem cell cultivation, cloning, and transgenics, bio-artists and bio-hackers co-opt the laboratory as a site of critical cultural practice and knowledge exchange. Human embryos, trans-species and plants are constructed, commodified, and distributed across the biotech industry, forming the raw materials for bio-art, DIY biologists and open science culture.[1] These corporeal products and practices exist within new and alien categories, transgressing the physical and cognitive boundaries set by biopunk science fiction and edging towards the possibility of a destiny driven by genetics and life sciences. With the eternal rhetoric of a high-tech humanity, and the threat of Michel Foucault's[2] biopolitics constantly on the horizon, today Harraway's[3] myth of the cyborg exists in the form of corporeal commodities travelling through the global biotech industry. Scientific research centres stock, farm, and redistribute biological resources, (often harvested from the female scientists themselves). Cells, seeds, sperm, eggs, organs and tissues float on the biotech market like pork belly and gold. Seeds are patented, and other agro-industrial elements are remediated and distributed as bits of operational data across the biotech network. We/cyborgs[4], are manifested as a set of technologies and scientific protocols, and, as a result, the female body in particular, is reconfigured into a global mash-up of cultural, political and ethical codes.
The increasingly pragmatic realisation of the biotech revolution has provoked a 'cultural turn' in science and technology studies in general, and feminist science studies in particular. Carolyn Christov-Bakargiev's dOCUMENTA (13) proposed an interdisciplinary approach to the role of science for 'culture at large'. Certainly, by foregrounding the heavy hitters in the field such as Donna Haraway and Vandana Shiva, dOCUMENTA (13) laid claim to addressing the global conflicts of biotechnology. However, the feminist agenda was not specifically addressed, and the key issues of the impact of biotechnologies on feminist subjectivities were only paid minimal lip service. With the exception of Shiva[5], the tone of dOCUMENTA (13) hinted at a positivist, emancipatory take on biotechnology and technoscience without assuming a critical position. There was very little public debate or critical analysis engaging the philosophical, ethical, and political issues of feminism and female subjectivities within the realm of biotechnology.
Notably absent from last year's dOCUMENTA (13), the activist feminist collective subRosa's performative, interdisciplinary projects are channelled towards embodying feminist content, practices, and agency, and laying bare the impact of new technologies on women's sexuality and subjectivities – with a particular emphasis on the conditions of production and reproduction. Through their research-led practice and pedagogical mission, the collective analyse the implications and conditions of the constantly surveyed female body, whilst mapping new possibilities for feminist praxis. subRosa interrogate the conditions of surveillance, private property rights, and other control mechanisms the female body is subjected to by ART(Assisted Reproductive Technologies). The collective's hybrid, interdisciplinary practice navigates the multiple identities the female body has taken on through techno-scientific development, including: the distributed body, the socially networked body, the cyborg body, the medical body, the citizen body, the soldier body and the gestating body. In contrast to the overarching and pervasive illustration of the technoscientific cultural landscape painted by dOCUMENTA(13), the current members and founders of the collective, Hyla Willis and Faith Wilding, are very clear in their critical intent. The collective choreograph and place themselves within globalized bio-scenarios in order to question the potential for resistance and activism within these constructs.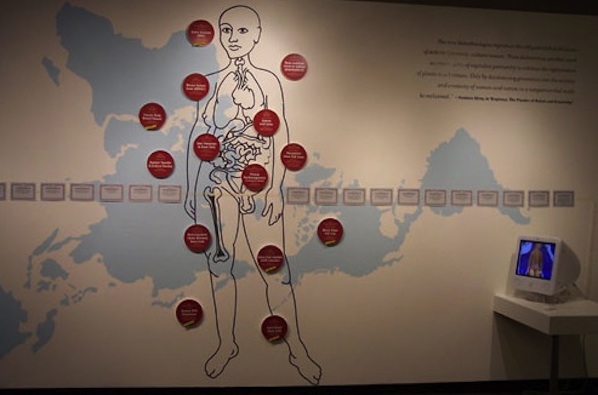 Cell Track: Mapping the Appropriation of Life Materials, subRosa, Chicago 2004.
subRosa's overarching vision to create discursive frameworks where feminist interdisciplinary conversations and experiments can take place, is research-led and takes its cue from the canon of radical feminist art practices. Cell Track: Mapping the Appropriation of Life Materials has featured in a number of exhibitions, most recently in Soft Power. Art and Technologies in the Biopolitical Age, Vitoria-Gasteiz, Spain. This project consists of an installation and website examining the privatization and patenting of human, animal and plant genomes in the context of the history of eugenics. Cell Track highlights the disparity between the bodies that produce stem cells and the corporations that control the products generated from them. Bringing together scientists, cultural practitioners and wider publics in the construct of the gallery space, subRosa generate discourse around the patenting and licensing of DNA sequences, engineered genes, stem cell lines and transgenic organisms. The project's participatory aim is to set up an activist, feminist embryonic stem cell research lab in order to produce non-patented stem cell lines for distribution to citizen scientists, artists and independent biotechnologists. This environment of shared knowledge production and speculative, alternative, research activity is at the heart of subRosa's social practice.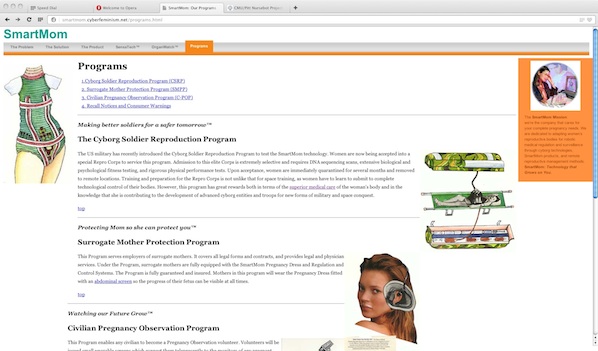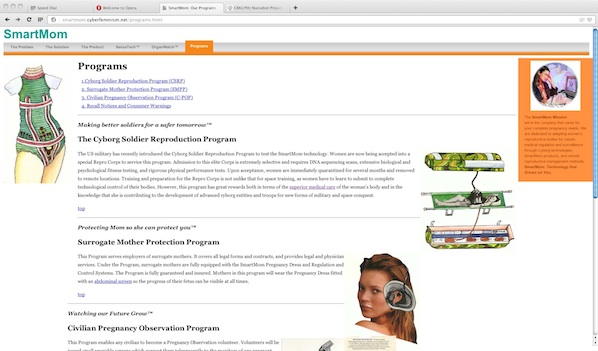 Smart Mom, website, subRosa, 2009
Due to the pedagogical nature of subRosa's activities, the collective's critical stance towards IVF and ART has proven to be particularly provocative, and their scepticism towards the emancipatory language of 'choice' co-opted by ART, has been met with some resistance by other feminist practitioners. However, it is in this very agonism[6] that subRosa wish to become more visible, and they welcome criticism and debate in the public discursive spaces that they create.  In a recent interview, Faith Wilding and Hyla Willis both expressed their desire to generate an expanded, and deeper discussion about the wider issues involved in ART in particular and biotechnology's effect on female identity in general. subRosa's potential to reach wider publics and audiences is partially determined by the socio-political context of the communities in which they operate. Perhaps in reaction to this, subRosa's focus is now shifting towards embracing the aforementioned 'cultural turn' in science as they address the position of feminist scientists themselves.
The imperative to reclaim feminist discourses and narratives in science is of growing concern to subRosa, as they believe that feminist agency lies in the practice of science itself. By relocating lab-work from the dominant scientific institutions to the public environment of the gallery, subRosa provide the critical space in which new feminist scientific praxis can operate,[7] and new dialogues and discourses can be created. Their conviction that political and critical traction lies in practice as discourse, and the potential of face to face encounters, is demonstrated in their recent project for the Pittsburgh Bienal: Feminist Matter(s): Propositions and Undoings (2011). In this installation, SubRosa take Virginia Woolf's[8] assertion that 'tea-table thinking' provides an effective antidote to the male-driven 'war-mentality brewed in boardrooms and command centers' as their main conceit.  Redeploying Woolf's idea toward the rethinking of the traditionally male-dominated discipline of science, Wilding and Willis' installation brings traces of the science laboratory to the intimacy and hospitality of the kitchen table, and in turn, also situates what is normally a private, feminized space in a more public domain.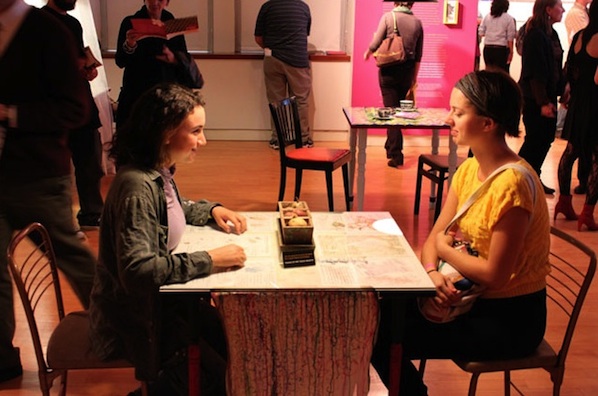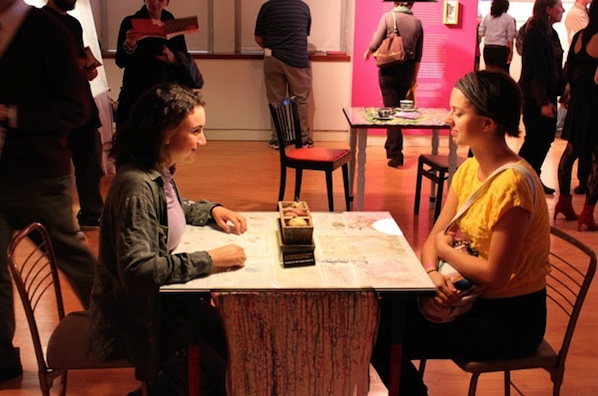 Feminist Matter(s): Propositions and Undoings, opening reception, subRosa, 2011. Photo: Tom Little, Miller Gallery.
These tables stage a dialogue between one or two visitors in response to the presentation of female figures in science, both the popularly acknowledged and the underexposed. subRosa foreground women scientists past and present and reimagine an alternative, feminized history of science and technology. The installation explores feminism and participatory practices as modes of scientific research, with the aim of generating dialogue and discourse around the questioning of the dominant historical narrative of science. Specially tailored installations reside on each table, evoking lab work while celebrating the history of the women protagonists they play host to – from anarchist painter Remedios Varo to geneticist Barbara McClintock.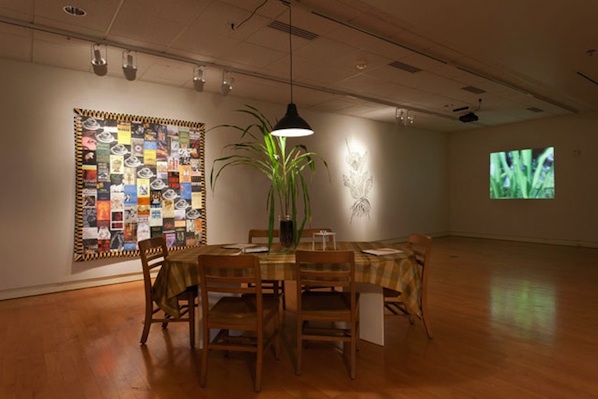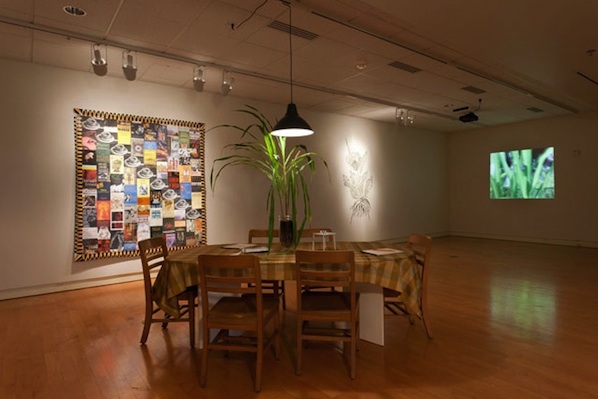 Feminist Matter(s): Propositions and Undoings, opening reception, subRosa, 2011. Photo: Tom Little, Miller Gallery.
subRosa's pedagogical imperative is at once inclusive and provocative, and their role as facilitators of a discursive space outside the traditional institutions and control structures of science, is where their radical aspirations lie. Pedagogical art practices often teeter on the brink of propaganda, and subRosa are quite comfortable with the propagandistic label. Considering the economic and cultural climate in the USA with regard to the politics of reproduction, their work has been particularly well received in the context of European cultural institutions, whereas in the USA there is greater interest for the work in academic institutional settings. Perhaps this could be symptomatic of the general privileging of discourses around intersex, transgender and queer subjectivities. The dominant bias of the gatekeepers of the artworld to showcase queer practices is evident in the promotion of artists such as Ryan Trecartin and Carlos Motta on the international circuit. Curators have tended to position artists addressing the gendered 'Other' within a contemporary queer framework, whilst keeping feminist art practices on the peripheries of 1960s/1970s retrospective nostalgia. This tendency presents a muddying of the waters for contemporary feminist art practices such as subRosa.
This may also be part of a more general tendency to demonize and move away from feminist identities and discourses in wider society. The academic shape shifting from 'women's studies' to 'gender studies' to 'queer studies' has diminished the feminist conversation and, therefore, the impact and receivership of feminist art practices. This has rendered the popular conception of  'Queer' as acceptable and non-aggressive. Furthermore, the term 'Queer' and the subsequent morphing into the verb 'queering', has been co-opted by transdisciplinary academic discourse, and is now an expansive, all embracing cultural term – a phenomenon that has met with a certain amount of scepticism from the queer community.
This privileging of the expansive 'othering' of queer rhetoric has often resulted in feminism being rejected as a radical and out-dated political identity by art practitioners themselves. This ambivalent attitude is perhaps also indicative of the wider feminist debate, in which post-feminism has splintered into fragmented, diluted groups, each policing their own identity politics with little sense of a bigger struggle. However, the collaborative, interdisciplinary environments orchestrated by subRosa signal a return to the indisputably material actuality of the female body. Through their insistence on the possibilities of feminist bench-side practices, and the forensic unpicking of the power/control structures inherent in biotechnology, subRosa expands the feminist lexicon through the empirically re-appropriated organic materiality of the body.
References:
[1]Eduardo Kac's fluorescent glow in the dark rabbit, Alba and Critcial Art Ensemble's bio-art practices are popularly cited historical examples of the artworld's forays into biotechnology and transgenics. C-Lab and Rüdiger Trojok recently showed at Art Laboratory Berlin, August 2013.
[2] In his theory, Michel Foucault describes the related term "Biopower" as the governance of population through the control of the body, the mind and every aspect of human life, particularly those directly related to subjectivity. Michel Foucault The History of Sexuality Vol 1 p.140 (1976)
[3]Haraway, Donna Jeanne ,"A Cyborg Manifesto: Science, Technology, and Socialist-Feminism in the Late Twentieth Century". Simians, Cyborgs and Women: The Reinvention of Nature. Routledge. (1991).
[4] Ibid.
[5]Shiva, Vandana The Corporate Control of Life in Documenta 13: The Book of Books (2011
[6] Relating to Chantal Mouffe's conviction of the positive channelling of political conflict
[7]Other subRosa projects which have appropriated and staged the conventions of the science industry and pedagogical investigation include Expo EmmaGenetics (2001),a faux biotech trade show, Epidermic!DIY Cell Lab, (2005), an amateur science performance and experimental lab
[8] Woolf, Virginia, Thoughts of Death in an Air Raid, 1940,(Penguin), 2009
Over the last few years there has been a keen interest in discussing the notion of public space; demonstrations, camps, collaborative projects, artistic interventions, community projects, social activism are just a few names that exemplify the different forms of engagement that deal with the complexities of it. Despite their different aims and impact most of these actions have given evidence of the need to re-appropriate the public space; through collective and networked practices individuals, groups and organizations 'challenge the conventional notion of public and the making of space'[1]. Although the liveness and even virality of these events, projects or actions hinder any prediction about its midterm effects or endurance, the fact is that there is an emerging legacy that is already dismantling certain assumed thoughts about 'the public'.
The retiree Hüseyin Çetinel's initiative of painting a public stairway with rainbow hues in his neighbourhood in Istanbul has been the last case involving cultural transformation, virality and social activism. After he painted the local stairs to 'make people smile' and 'not as a form of activism' the municipal cleaning service painted over the stairs in dull grey provoking a chain reaction that mobilized citizens to paint stairways throughout the city. Local communities and social movements appropriated this beautiful participatory action as a form of protest after Çetinel's stairway became viral in the social media. This example shows the intricacies of the public space and its expanded performativity. As Gus Hosein Executive Director of Privacy International argues 'there is a confusion as to what is public space is and how it relates to our personal and private space' in a social context where the emergence of the use of social media and surveillance as well as the appropriations of the space by private corporations and social movements and individuals are constantly questioning its boundaries[2].
Istambul Stairways. Image from InEnArt.
From my point of view, some of these actions that play in-between the social, political and artistic might be considered re-enactments of the public space as they aim to reconstruct the term itself by applying alternative procedures and by generating at the same time transductive pedagogies. However, in order to give a comprehensive understanding of the implications of the public space and its controversies it is essential to rethink the notion of the private space. Traditionally, home has been recognized as the physical private space; home is the main representative of the private sphere that encompasses the domestic and intimate. According to Joanne Hollows, 'the distinction between the public and the private has been a key means of organizing both space and time'[3] and consequently to promote a clear functional division.
This traditional perspective has been questioned and altered due to some current issues and events that are noticeably interconnected with those of the public space; an increasing number of evictions and homeless peoples, housing policies, escraches[4] in front of the houses of politicians, the appearance of ghost neighbourhoods due to real estate speculation, home as an alternative space for performance practice and community development, among others. Thus, home might be conceived as a container of individuals and actions, as a social product or instrument, as topographical placement or as a relational structure. Home entangles interesting layers of analysis that might serve to establish new relational and yet responsive parameters to understand both the private and public space. Some of the following examples that perform between art, activism and affections corroborate the significance of home; as Blunt and Dowling state 'home is not separated from public, political worlds but it constituted through them: the domestic is created through the extra-domestic and viceversa'[5].
Where is home?
In Barcelona, the city where I live there have been noticeable factors that have stressed the importance of home as a topic of interest. Probably the most significant case is the increasing number of evictions―over 350.000 in the last four years―as many families cannot afford their rent or mortgage after losing their jobs (the unemployment rate is 26.3%). Beyond the personal implications and devastating effects that evictions have on families, they also indicate that home is not anymore our secure space or refuge; on the contrary, if the individual does not respond to the production and consumption requirements is physically displaced to the streets. Consequently, many citizens are trying to find shelter back again in the public space.
If the 70s Richard Sennett announced the decay of the public space by the emergence of an 'unbalanced personal life and empty public life'[6], the related problems with housing have provoked the reactivation of the public space at many levels. At the same time, there is an increasing culture of the debt that ties together individuals and financial institutions in long-term relationships. As Hardt and Negri explain 'Being in debt is becoming today the general condition of social life. It is nearly impossible to live without incurring debts—a student loan for school, a mortgage for the house, a loan for the car, another for doctor bills, and so on. The social safety net has passed from a system of welfare to one of debtfare, as loans become the primary' means to meet social needs'[7].
These ideas can be exemplified by the actions of PAH (The Platform of People Affected by Mortgage Debt), an activist group of citizens that stops evictions through demonstrations and guerrilla media actions in the streets and that also helps struggling borrowers to negotiate with banks and promotes social housing[8]. This organized group of citizens has been awarded this year the Citizen Award by the European Union for denouncing abusive clauses in the Spanish mortgage law and battling social exclusion. PAH has received the support of the collective Enmedio that generates actions in the midst of art, social activism and media. For example, their photographic campaign 'We are not numbers' consisted in the design of a collection of postcards each one containing a portrait of a person that was affected by the mortgage debt by a local bank entity. The postcards were delivered in front of the bank's main building for people to write a message. The written postcards were then stuck in the front door main door turning numbers into a collage of human struggle. PAH and Enmedio actions become highly effective thanks to their media impact and their virality in the social media. Invisible individuals isolated in their struggle, find alternatives through an assemblage of support that connects the public and private space and that is also mediated by informative and constitutive tools that the virtual space offers. As Paolo Gerbaudo claims 'social media have been chiefly responsible for the construction of a choreography of assembly as a process of symbolic construction of public space which facilitates and guides the physical assembling of highly dispersed and individualized constituency'[9].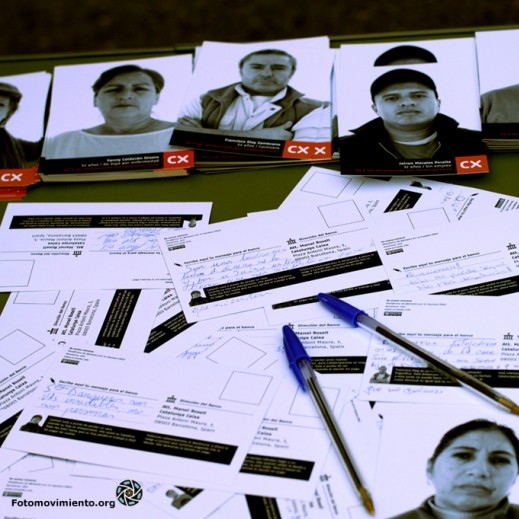 Image of 'We Are Not Numbers' by Enmedio Collective.
Processes of speculation, gentrification and eviction can be found in many western cities as well as different kinds of collectives and groups working for human rights advocacy. This is also the case of the Brooklyn based collective Not an Alternative has also carried out different guerrilla actions concerned with the problem of housing and eviction such as their series of workshops and media actions of 'Occupy Real State' or 'Occupy Sandy'.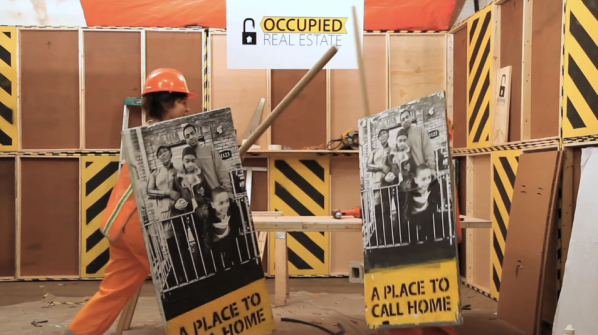 Occupied Real Estate (rough) from Not An Alternative, on Vimeo. https://vimeo.com/36647951
Many of the actions that these collectives promote might be understood as DIY activism as they are based on the empowerment and the development of skills. In this regard, it is interesting to observe how DIY that traditionally has been related to activities in the domestic space serves as a strategy to protect it and to trigger new forms of protest in the public space while enhancing the creation of an expanded family (or at least a sense of togetherness) through the social media.
Despite these actions, the public space is still home for many individuals. In the UK, different associations are concerned about the impact that the implementation of the bedroom tax might have, especially in London where the number of rough sleepers rises every year with an increase of the 62% since 2010-2011. The scenario is not different in many other European cities where beyond these worrying numbers there is also an increasing number of regulations and policies that difficult the life in the public space. As Suzannah Young stresses, 'homeless people often need to use public space to survive, but are regularly driven off those spaces to satisfy commercial or even state interests'. Public space is often only open to 'those who engage in permitted behaviour, frequently associated with consumption'[10]. The increasing number of quasi-public spaces―'spaces that are legally private but are a part of the public domain, such as shopping malls, campuses, sports grounds' and so forth― questions again the boundaries of the private and public space, especially when 'some EU cities use the criminal justice system to punish people living on the streets for doing things they do in order to survive, such as sleeping, eating and begging'[11]. All these policies have clear implications in the use of space and it is potential possibilities. The fact that the public space becomes home involves the reconsideration of the uses of the public space and the understanding of it through the eyes of the people that fully inhabit it. The London collective The SockMob run the Unseen Tours, alternative city tours guided by a group of homeless. Their embodied knowledge appears as a key aspect to develop these DIY versions of the city while promoting relationships between the homeless and the tour participants.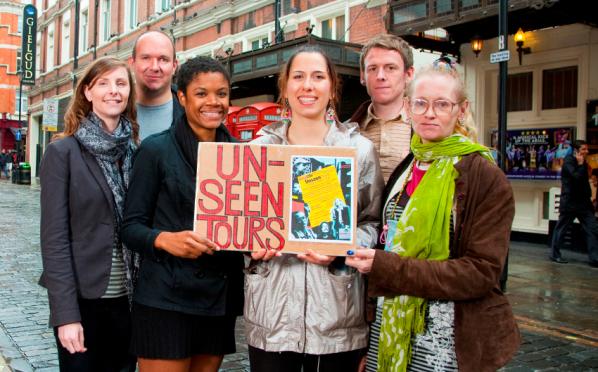 The London collective SockMob.
Where is home? In which ways access to spaces gives us opportunities and rights as individuals? In which ways all these site-specific initiatives that often have a transnational reach re-construct the notions of private and public space? How these DIY and media actions are generating new forms of visual arts activism? Despite the fact that these queries might need further analysis, I believe that the qualities of space becomes visible and tangible through these interactive and responsive actions with the spaces. Recently, an international group of activists, visual artists and scholars have published a handbook in which their consider these forms of activism militant research. According to them, 'militant research involves participation by conviction, where researchers play a role in the actions and share the goals, strategies, and experience of their comrades because of their own committed beliefs and not simply because this conduct is an expedient way to get their data. The outcomes of the research are shaped in a way that can serve as a useful tool for the activist group, either to reflect on structure and process, or to assess the success of particular tactics'[12]. Hence, the idea of some hands-on, the acquisition of skills and the performance of theory appear as key aspects to disentangle and analyse the qualities of the space.
From an artistic perspective home has been crucial in many historical periods of dictatorship to construct an underground scene of the arts; in many of these cases, the evidence of artistic practice appears through testimonials and documentation (photographs, fanzines, recordings, etc.). Again different forms of media help to make the clandestine public, crossing the sphere of the private into the public realm. Thus, the importance of documentation enhances different temporalities of reception and impact in the public realm. In this regard, a differed presentation of the artistic works triggers a reconsideration of the attributes of the spaces too. Currently, homes serve as a basic space for artists to present their work; in the case of music, this is a widely known practice in the US that is becoming more and more common in other countries and other art forms. Homes serve as a personal curatorial space for fine arts artists through the open studio festivals too; artists make their private space open for others as a strategy to show their work publicly. At the same time, in some artistic disciplines self-curation through digital portfolios is becoming increasingly used to showcase artworks. One way or another, home remains often the main space for creativity, production and curation through and expanded DIY conception of their profession.
Home becomes even more crucial in a context marked by the arts cuts and the economic crisis. In this regard, there are initiatives that see an opportunity in the relationship between the public and private space not only to exhibit or perform art but also to trigger a counter-performative form of showing works. This is the case of the domestic festivals that try to challenge the concepts of cultural enterprise and institution by proposing home as a legitimate space of the artistic experience. Friends, neighbours and acquaintances offer a room or a space in their house for artists to perform there (examples can be found in different cities such as Santiago de Chile, Madrid, Berlin, Barcelona, etc.). At the same time, the format wishes to transform the spatial and affective relationships that citizens have with the space, by inverting the spatial dichotomy between the public and the private. Hence, the idea goes beyond to a practical solution to have a space to perform as it also aims to give visibility to performing practices that have not been yet legitimized by the public sphere and they are in danger to remain in a sort of clandestinity (as they are not part of the current cultural market). In this regard, there is also a sense of evicted or homeless art that is trying to produce a social context of experience and articulation beyond the immediate effects of the power that governs at many level the public sphere. These kinds of initiatives generate 'an activity that undermines the exclusion by letting occur, at the very boundary which separates the public from the "secret"', an articulation which challenges the prevailing framework of representation and legitimation'[14].
The intersection between art, activism and affections help to explain the multiple and complex questions that configure the notion of home. With these examples I just wanted to stress the importance of home in the discourses that address the concepts of public space/public sphere/publicly. Thus homes 'are thereby metaphorical gateways to geopolitical contestation that may simultaneously signify the nation, the neighbourhood or just one's streets'[15]. From a transnational perspective, home seems to pose the crucial questions that connect us with what is happening inside, outside and in-between the spaces and gives us a different perspective to analyse current artistic and social practices that engage with our mode of action, production and identity.
I guess this is all from my home.
---
Richard Stallman[1] the outspoken promoter for the Free Software movement, hates Facebook with a passion. He proposes that we should all leave Facebook and either find or build our own alternatives. The evidence offered by Stallman's and the Electronic Frontier Foundation's (EFF), who have been fighting for Internet freedoms since the 90s [2] shows how necessary it is that we understand and are more pro-active in managing the personal data that we give away through our online activities.
When we subscribe to Web 2.0 platforms such as Facebook we are at the mercy of the data brokers. These companies trade in people's personal data; information which is aggregated by monitoring user actions and interactions across social media. This information can include "names, addresses, phone numbers, details of shopping habits, and personal data such as whether someone owns cats or is divorced."[3] Fast moving developments in social media, make it difficult to keep up with the effects and consequences of these platforms. This is why the work of groups such as Commodify Inc. is so valuable. They bring imaginative and critical attention to the situation, sharing their knowledge of these daily networked complexities and correcting what they see as its negative effects.
Commodify Inc. is an artist-run Internet startup producing projects to help individuals capitalize on their online monetary potential. Their intention is to correct the imbalance of power in markets where users have no control over the transactions made with their personal data. They have completed various artistic projects and interventions on social media like, Fame Game, Give Me My Data, and Web 2.0 Suicide Machine. The co-founders are Birgit Bachler, Walter Langelaar, Owen Mundy, Tim Schwartz, with additional contributors Joelle Dietrick and Steven Alvarado.
Their new project Commodify.Us, was initiated when Owen Mundy and Tim Schwartz were invited by moddr_ to a residency in their lab in the summer of 2012 – when they were still a part of the WORM collective in Rotterdam. They worked on an initial idea that would succeed previous experiences of their already well-known and respected projects.
Commodify.Us is currently in beta phase. It promises to provide a platform for people to regain control over the commercial exploitation of their own personal data.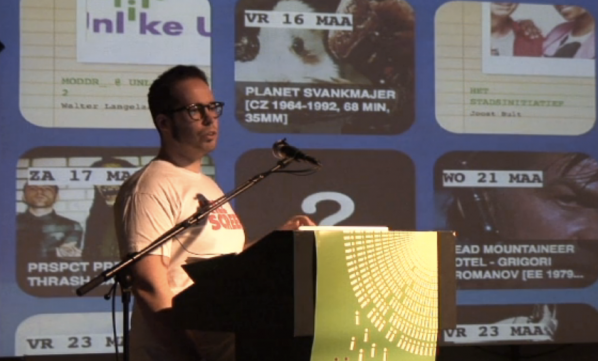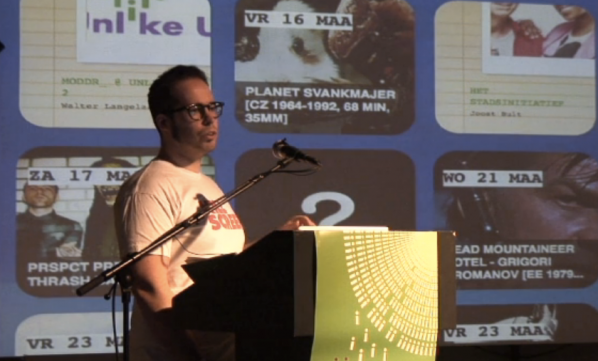 Walter Langelaar (NL). Image from Video presentation at Unlike Us #2: Understanding Social Media
Monopolies and Their Alternatives. 2012 Amsterdam. Video here…
Intrigued by this project I contacted one of the co-founders, Walter Langelaar via email and asked him a few questions about this new platform.
Marc Garrett: Commodify.Us is for people to have greater control over their data. And it works when users export their data from social media websites and upload it to your platform. How will these users gain more control over their data and why is this important?
Walter Langelaar: Commodify.Us provides a platform for you to regain control over the commercial exploitation of your personal data. After exporting your profile data from social media websites and uploading the data to Commodify.Us, you can directly get in contact with interested buyers. On the importance for users I would say that it's part raising awareness surrounding the monetization of profile data, and part creating a platform where people might work out and discuss how to do this themselves.
MG: It proposes to re-imagine the potential of relational data, creating a casting agency for virtual personas. I'm wondering what this may look like?
WL: We were too. In an early stage of the project we played with the idea that peoples' various profiles could function like that within an agency; a client would ask for a specific set of qualities and/or characteristics within a set of profiles, and we could provide for this based on the uploads and their licensing options as set by the user. In the end we abandoned this idea for clarity.
MG: Commodify.Us offers people the opportunity to be part of an economy where interested buyers will pay to use the data supplied, unlike existing social media websites. How does this work?
WL: We are gearing up for a launch where the main goal will be to get a critical mass of around, a 1000 profiles. We anticipate that only with this kind of mass or volume will our initiative take hold with the potential buyers we have in mind, and the same goes for the more creative projects that could use the (open) data. Regarding the open profile data and otherwise licensed profiles that allow for reuse, we are researching the idea of 'Fair Data' (as in Fair Trade) and how to implement this as a profitable protocol for the end-user.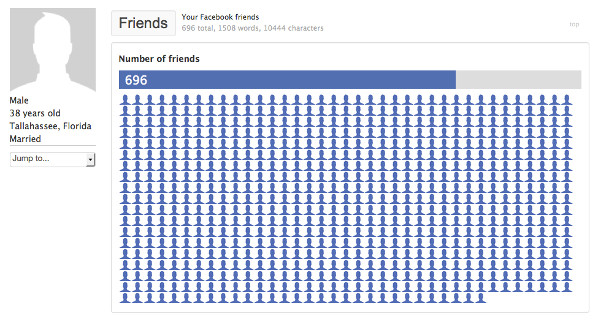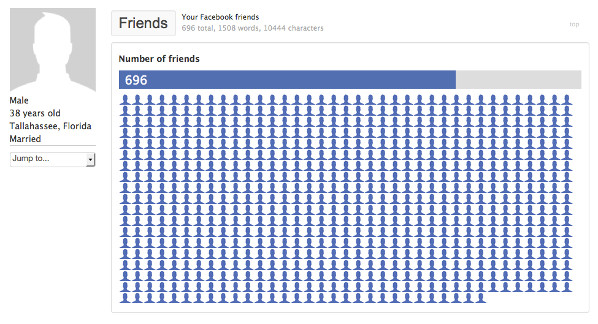 "Net activists construct tools whose intervention potential can be initiated by users under net conditions. These tools enable activists to develop new strategies in the data space of the Internet because they offer new means: New means afford new ends."[4] (Dreher)
In his publication Networks Without a Cause: A Critique of Social Media, Geert Lovink lays down the gauntlet and asks us to "collectively unleash our critical capacities to influence technology design and workspaces, otherwise we will disappear into the cloud." Anna Munster opens her excellent survey, Data Undermining: The Work of Networked Art in an Age of Imperceptibility, by saying "The more data multiplies both quantitatively and qualitatively, the more it requires something more than just visualisation. It also needs to be managed, regulated and interpreted into patterns that are comprehensible to humans."[5] Commodify.Us goes one step further by allowing users to manage, regulate, repattern and reappropriate their own data using tools that share an essential functionality (if not purpose) with the power tools of Web 2.0.
Those previously seen as rebellious hacktivists are moving into new territories that deal with concepts of service. There has been a significant rise of artists exploring technology to influence mass Internet activity, against the domination of corporations who are data mining and tracking our on-line activities. Another example is TrackMeNot developed by Daniel Howe and Helen Nissenbaum. This is an extension created for the Firefox browser. "It hides users' actual search trails in a cloud of 'ghost' queries, significantly increasing the difficulty of aggregating such data into accurate or identifying user profiles."[6]
Howe and Nissenbaum mention they are aware their venture is not an immediate solution. However, the more we hear of and join these imaginative strategies "whereby individuals resist surveillance by taking advantage of blind spots inherent in large-scale systems" [7], and the more we adapt our behaviours to adopt these new 'activist' services, the more we demonstrate the demand for these new alternatives. And by so doing, we argue for the value of services that we can trust not to steal or manipulate our social contexts for financial and political gain.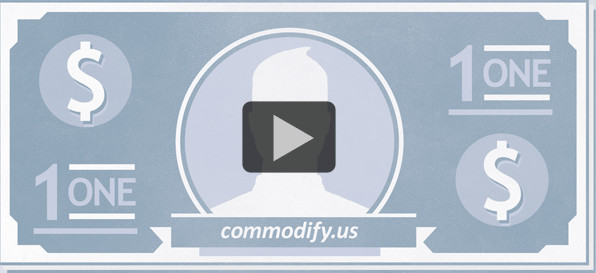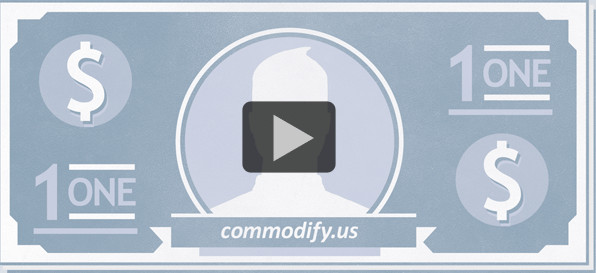 A significant value offered by the Commodify.Us platform is the power to manage our own data. The simple act of downloading our own data from Facebook, and then uploading it to Commodify.Us supports us to rethink what all this information is. What once was just abstract data suddenly becomes material that we can manipulate. Alongside this realization arrives the understanding that this material was made by our interactions with all these platforms, and that other people are spying on us and making money out of it all. Once this data material is uploaded onto the Commodify.Us platform, it asks if we want this stuff to be a product under our own terms, or if we wish to make art out of it using their tools.
This is a cultural shift that demonstrates how contemporary Hacktivists are developing software that promises to offer realistic service infrastrucutures. When I interviewed Charlie Gere in 2012[8] he said that these artists "are not part of the restricted economy of exchange, profit, and return that is at the heart of capitalism, and to which everything else ends up being subordinated and subsumed. Thus they find an enclave away from total subsumption not outside of the market, but at its technical core." For me, this kind of work is of central importance to the contemporary era, and it only occurs where artists cross over into territories where their knowledge of networks directly contributes to the building of alternative structures of social independence.
References.
[1] Richard Stallman's personal site. Facebook.
(http://stallman.org/facebook.html)
[2] Electronic Frontier Foundation (EFF).
https://www.eff.org/about
[3] The Disconcerting Details: How Facebook Teams Up With Data Brokers to Show You Targeted Ads. By Kurt Opsahl and Rainey Reitman.
https://www.eff.org/deeplinks/2013/04/disconcerting-details-how-facebook-teams-data-brokers-show-you-targeted-ads
[4] From "Radical Software" to Netactivism. Thomas Dreher. January 2004 and Mai 2004 (first and second, corrected version)/ October 2006 (update)/ February 2007 (update).
http://iasl.uni-muenchen.de/links/NARSe.html
[5] Walter Langelaar: The Artistic Intervention of the Web 2.0 Suicide Machine. By Rania (Ourania) Dalalaki.
http://networkcultures.org/wpmu/unlikeus/2012/03/09/walter-langelaar-the-artistic-intervention-of-the-web-2-0-suicide-machine/#more-1358
[6] Data Undermining: The Work of Networked Art in an Age of Imperceptibility. Anna Munster.
http://munster.networkedbook.org/data-undermining-the-work-of-networked-art-in-an-age-of-imperceptibility/
[7] Gary T. Marx "A Tack in the Shoe: Neutralizing and Resisting the New Surveillance," Journal of Social Issues, Vol 59, No. 2, 2003, 369-390) (reference from http://cs.nyu.edu/trackmenot/#marx)
[8] Charlie Community without Community in Digital Culture: An interview with Charlie Gere. By Marc Garrett 2012.
http://www.furtherfield.org/features/interviews/community-without-community-digital-culture-interview-charlie-gere
I met Eugenio Tisselli in Edinburgh at the Remediating the Social conference in November 2012. Eugenio gave a presentation on the project Sauti ya wakulima, "The voice of the farmers": A collaborative knowledge base created by farmers from the Chambezi region of the Bagamoyo District in Tanzania, and "by gathering audiovisual evidence of their practices they use smartphones to publish images and voice recordings on the Internet", documenting and sharing their daily practices.
I was struck by his sensitivity to the social contexts and political questions around this type of project engagement. This interview explores the challenges we all face in connecting to a deeper understanding of what technology can succeed in doing beyond the usual hype of the 'New' and its entwined consumerist diversions. Not only does the conversation highlight how communities can work together in collaborating with technology on their own terms. But, it also discusses the artists' role in the age of climate change and the economic crisis, locally and globally.
Marc Garrett: Can you explain how and why the Sauti ya wakulima, "The voice of the farmers" project came about?
Eugenio Tisselli: Sauti ya wakulima is the fruit of my collaboration in the megafone project, started in 2004 by Catalan artist Antoni Abad. During six years, we worked with different groups at risk of social exclusion, such as disabled people, immigrants or refugees. The idea was to provide these groups with the tools to make their voices heard: smartphones with a special application that made it easy to capture images, sound recordings or short videos, and a web page where these contents could be directly uploaded. Using these tools, the participants of each project were able to create a collaborative, online "community memory", in which they could include whatever they considered to be relevant. Although megafone was relatively successful and, in some cases, made a positive impact on the people who participated, I was worried that the project was becoming too dispersive. We worked in six countries, with extremely different groups. So, in 2011, I decided to follow my own path and apply a similar methodology into more focused projects, related with sustainable agriculture and environmental issues. I realized that the projects which sought to increase the empowerment of a community could become too complex for a single artist to handle. That's why, in Sauti ya wakulima, I'm not "the artist", but a member of a transdisciplinary team which includes biologists, agricultural scientists and technicians. Such a team came together after my PhD advisor Angelika Hilbeck, my colleague Juanita Sclaepfer-Miller and myself came across the possibility of working with farmers in Tanzania. The network formed by local researchers, farmers and ourselves was quickly formed, so we started the project on March, 2011.
MG: I find it interesting that you made the decision to put the role of artist aside. This reminds me of a discussion in Suzi Gablik's book published in 1995 'Conversations before the end of time'; where James Hillman in an interview talks about learning to refocus our attention from ourselves and onto the world. Further into the conversation Gablik says "In our culture, the notion of art being a service to anything is an anathema. Service has been totally deleted from our view point. Aesthetics doesn't serve anything but itself and its own ends".[2]
So, I have two questions here. The first is how important was it for you to put aside your status as an 'artist', and what difference did it make?
And, where do you think you and others may fit when considering the discussion between Gablik and Hillman?
ET: It is important for me to make it clear that I didn't abandon my role as an artist. Instead, I fully assumed my status, but only as a member of a transdisciplinary team. I believe that this may be a point of departure from the classical view of the artist as a "lone genius", which is closely related to the discussion about service in art. So I'll try to interweave both questions together. In a recent publication, Pablo Helguera aimed to set a curriculum for socially engaged art. He identified the new set of skills to be acquired by the artists, and the issues they must address when dealing with social interaction. But, as Helguera suggests, perhaps what's most important is to overcome the "prevailing cult of the individual artist", which becomes problematic for those whose goal is "to work with others, generally in collaborative projects with democratic ideals." [3] To me, this implies that the artist must give up control of the work to a certain degree. I find myself in this scenario, and I think of my role in Sauti ya wakulima as that of an instigator and coordinator. Furthermore, all of us involved in Sauti ya wakulima aim to effect actual changes in the lives of the participating farmers, rather than obtaining purely symbolic results. Our project is a socially engaged artwork that wants to be useful, to deliver a service.
We are living in urgent times, beyond any doubt. Looming global challenges, such as climate change, radically cancel the luxury of being useless, of not doing anything. This includes the artist who, as any other citizen, is called to use his or her abilities to help in preventing a catastrophe. I especially like Franco "Bifo" Berardi's proposal about the new task that the artist might assume: that of reconstructing the conditions for social solidarity. This work of reconstruction would oppose competition, a value often found in the markets that deal with self-referential, self-serving artworks. Solidarity, writes Berardi, is neither an ethical nor a political program, but a pure aesthetic pleasure [4]. In my opinion, the artists who still embrace the idea that art should only serve its own ends will become those who play the lyre while our world burns.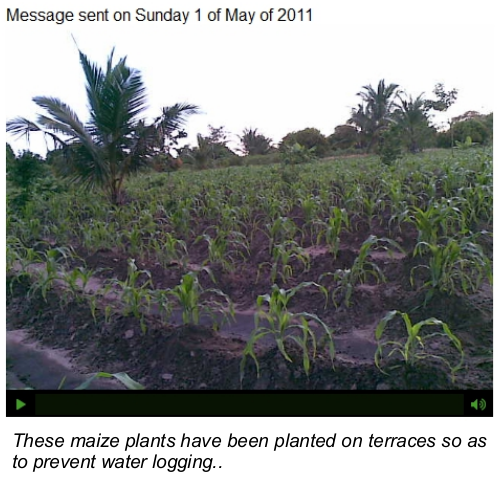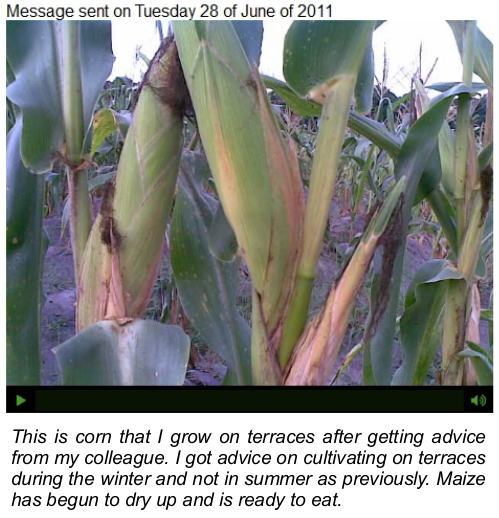 MG: What kind of behaviours began to emerge once the farmers took control of the smartphones supplied?
ET: It was quite interesting to see that the farmers started to use the phones for purposes which were different from those that we had originally proposed. This happened very soon after the project started. Only one month had passed, and the farmers had already started to go beyond merely documenting the effects of climate change. They interviewed other farmers, and asked them all sorts of questions about their crops and agricultural techniques, their opinions and views. In short, they slowly laid out a web of mutual learning. This was a real eye-opener for us. As we began to observe this, the environmental researchers in the team became worried that the farmers were deviating from the goals that we had set. I wanted to leave room for this deviation, as I was particularly interested in studying the process of technological appropriation. So I had to convince the researchers that we should leave enough room for the farmers to freely explore the potentials of the smartphones. It was not easy but, in the end, negotiating the tensions between a goal-oriented and an open-ended research turned out to be quite fruitful.
On one hand, the farmers found that they could shape the project to fit their interests which, as they said, were to "learn about what other farmers in remote areas were doing." On the other, the researchers finally realized that the images and voice narrations posted by the farmers were an invaluable source of information about what was actually going on in the farms and within the communities. Sometimes, agricultural initiatives may be designed with an insufficient understanding of the social context in which they are applied. By allowing the farmers to publish a wide range of topics, Sauti ya wakulima became a "community memory" that reveals rich details about farming and the social life of rural communities in Bagamoyo.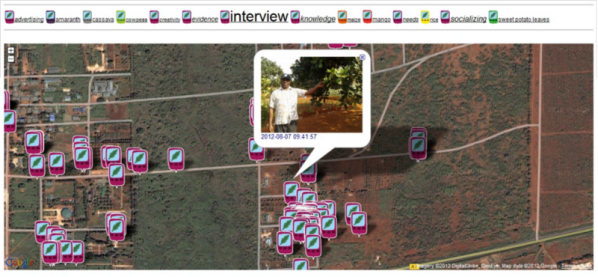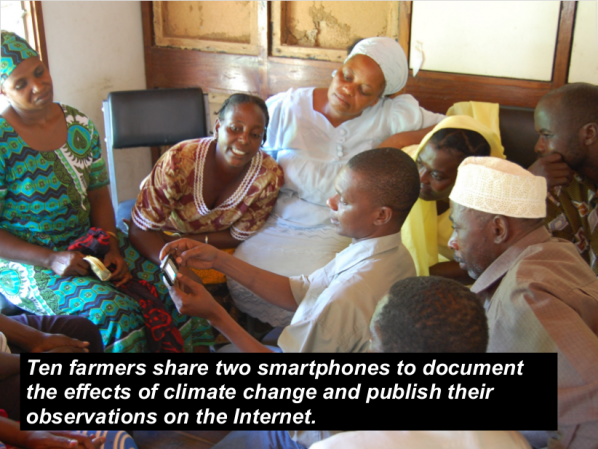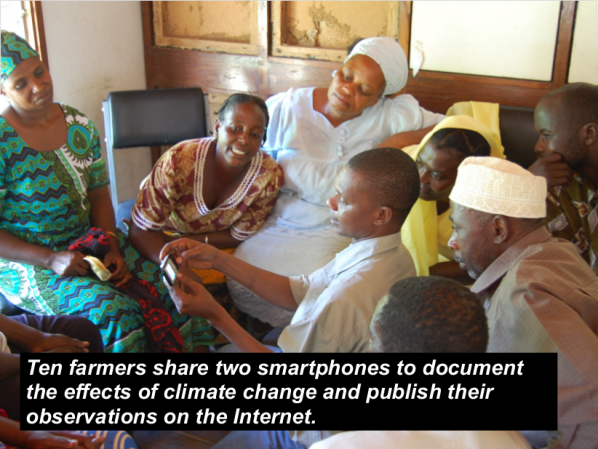 MG: In your presentation at Remediating the Social, I remember a quote from one of the farmers saying "The project helped me learn that phones can be used for other things besides calling people, and that computers can also be used to solve problems: they are not just a fancy thing for the rich people in towns." What's interesting here is, these words could be said any where. And that our consumer orientated culture could still learn a few things regarding uses of technology.
What lessons can the farmers teach 'us' in a culture where computers are part of the everyday life?
ET: I have interpreted this particular quote in two different ways. The first, most obvious one, is that the farmers discovered that the smartphones and the web can be useful tools, which may be shaped and adapted to meet their needs. For many of them, Sauti ya wakulima was their first chance at trying out these technologies. And, happily, the project showed us all that they can become an important ingredient in making farmers' lives a little better.
However, my second interpretation is not as optimistic: in the quote, there is an explicit comparison between the (poor) farmers living in remote areas and "the rich people in towns." Moreover, the fact that smartphones are explicitly considered as fancy devices points towards issues which need to be handled very carefully. In every part of the world, technological gadgets are quickly becoming symbols of social status. Currently, I am working in a rural zone in southern Mexico where cellphone coverage was nonexistent only two years ago. But as soon as the first antennas were installed, young people in those communities started buying smartphones, and now there is an open competition to see who has the fanciest one. A similar thing happens in Bagamoyo.
So, of course, smartphones can be useful tools, but they can also bring more consumerism into poor communities. This is very dangerous. I'd like to stress that, in our project, the smartphones are used as shared tools. This means that there is a limited number of devices available, and everyone must have a chance to use them at least once. I believe that this is a small but significant contribution towards diluting the extreme individualism and consumerism that are closely linked to these technologies.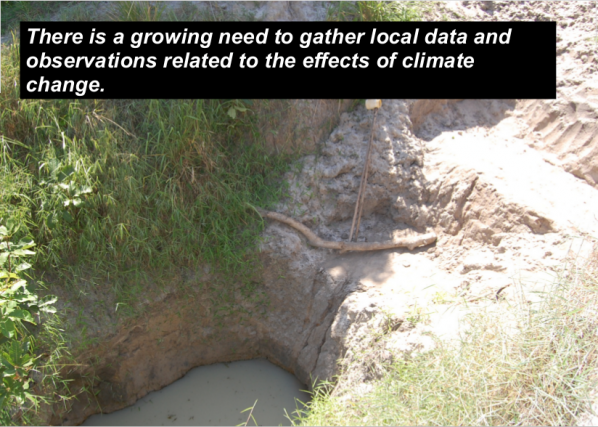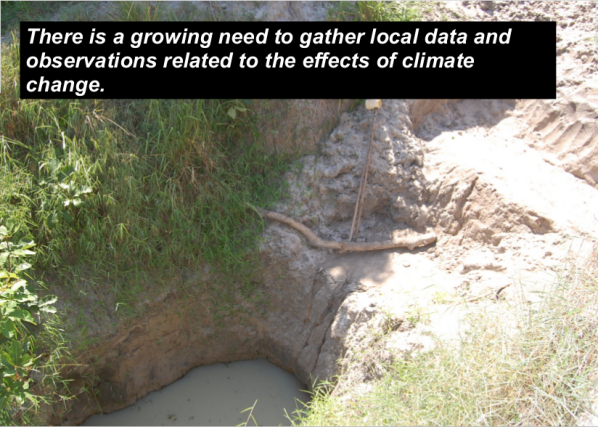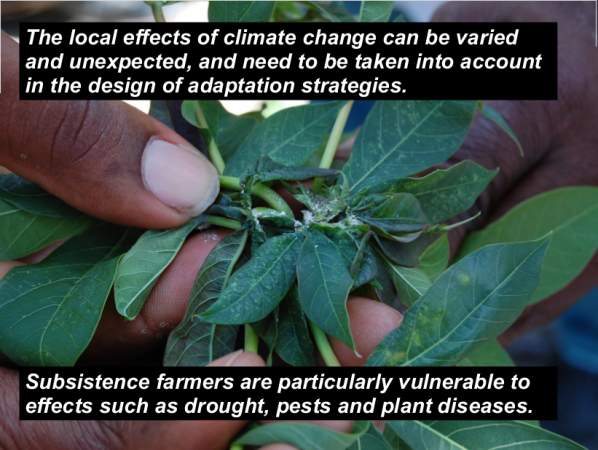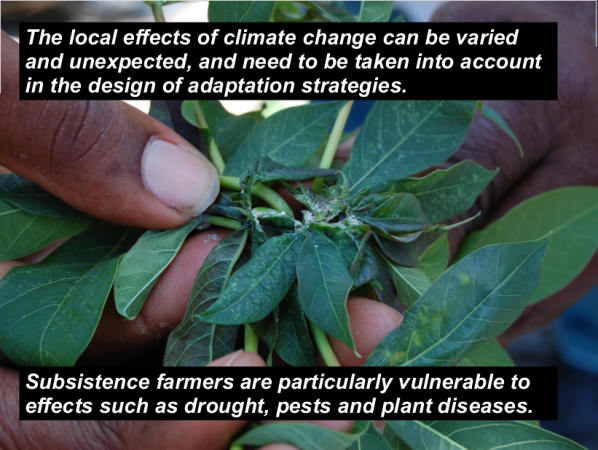 The farmers I have met in Bagamoyo have a very strong sense of community. Although their farms can be very far apart, sometimes with no roads between them, they still get together very often. They work together, learn together, have fun together. That's the biggest lesson I've learned: we need each other's presence. Quoting "Bifo" again, we are living in a time of precarization of the encounter of bodies in physical space. I agree with him that the most important poetic revolution has to be the re-activation of bodies. The farmers, with the great efforts they make to get together, and the great joy they find in doing so, have taught me a great deal: I need to get out of Facebook and step in to the "here and now", together with others.
MG: What has this experience taught you. And how will it impact your future practice as an artist?
ET: I have partially replied to the first part of this question. But besides learning how to re-dimension the importance of computers in my life, I have also learnt a lot about agriculture. This is not a minor thing for me: after all these years of living in big cities, and realizing that I lack a basic connection to the earth, I believe I have found the best possible teachers. Of course, I've also learnt a lot about how to work with non-expert users of technology. This has made me better as a teacher. And, as you can imagine, many of the things we take for granted at home won't necessarily work in Bagamoyo. So, doing projects in difficult environments has taught me to adapt, and to transform things that escape my control into opportunities. All of this changes me, not only as an artist but as a human being. My artistic practice is already quite different from what it was before Sauti ya wakulima. I have adopted a very critical position towards technology. Now, this is also a major shift: I started programming creatively when I was ten years old, and have been a media artist almost since then. But I feel I can't go on with those artistic explorations, knowing what I know now. Consequently, last year I wrote and published a small note explaining why I stopped creating works of e-Literature, a field in which I was involved for more than ten years [5]. That was both a closure and a point of departure. Let's see what the future brings.
Excerpt from 'Why I have stopped creating e-Lit' by Tisselli (November 25th, 2011)
Dear friends: this morning I went for a walk along the Naviglio Grande in Milan, and I entered a shop selling second-hand books. There I found a small book, "The Computer in Art", by Jasia Reichardt, published in London in 1971. The book described the works of pioneers of Computer Art, such as Charles Csuri or Michael Noll, who were active at that time. A real gem. But the biggest surprise came when I turned to the last page, on which the previous owner had written: "I married on 23, November. I would like to be a man, not artist, not engineer, a man."
I took the book with me.
Notes And References:
Those involved in the Sauti ya wakulima / The voice of the farmers project.
The farmers: Abdallah Jumanne, Mwinyimvua Mohamedi, Fatuma Ngomero, Rehema Maganga, Haeshi Shabani, Renada Msaki, Hamisi Rajabu, Ali Isha Salum, Imani Mlooka, Sina
Rafael.
Group coordinator / extension officer: Mr. Hamza S. Suleyman
Scientific advisors: Dr. Angelika Hilbeck (ETHZ), Dr. Flora Ismail (UDSM)
Programming: Eugenio Tisselli, Lluís Gómez
Translation: Cecilia Leweri
Graphic design: Joana Moll, Eugenio Tisselli
Project by: Eugenio Tisselli, Angelika Hilbeck, Juanita Schläpfer-Miller
Sponsored by: The North-South Center, Swiss Federal Institute of Technology – Zürich
With the support of: The Department of Botany, University of Dar es Salaam (UDSM)
[1] Megafone.net is a platform which can be useful as an alternative medium of communication for groups, collectives and associations who wish to organize themselves in order to project their own views and opinions, and counterbalance the negative stereotypes that the mass media disseminate when referring to them. Among its features, you will find geo-localization, which allows the carrying out of digital public cartography projects.
[2] Suzi Gablik. Conversations Before the End of Time. Thames & Hudson. 1995. p 196.
[3] Pablo Helguera. Education for Socially Engaged Art. Jorge Pinto Books, New York. 2011. p 4.
[4] Franco "Bifo" Berardi. Perché gli artisti? MACAO è la risposta. Sinistrainrete.
http://www.sinistrainrete.info/cultura/2074-franco-berardi-bifo-perche-gli-artisti-macao-e-la-risposta.html (viewed 26.11.2012)
[5] http://netartery.vispo.com/?p=1211
The activist initiatives of this art group from Vienna seem fascinating due to its art-tech philosophy and it puts a smile on my face due to its pop attitude. In May 2011 Günther Friesinger, one of the creators of monochrom, gave a lecture to Media Art Histories students of the Donau Universität, which inspired me to arrange an interview with him. The first question I asked was about establishing monochrom. Günther explained that "monochrom came into being in 1993 as a fanzine for cyberculture, science, theory, cultural studies and the archeology of pop culture in every-day life. Its collage format is reminiscent of both the early DIY fanzines of the punk and new wave underground and the art books of figures such as Dieter Roth, Martin Kippenberger and others. For a while now, monochrom have been venturing further than publishing alone, and have been responsibly influencing people's minds via film production, performances and festivals. If you are in Vienna in autumn by chance, have a look at the paraflows festival – one of the main projects run by monochrom.
Natascha Fuchs: How much has monochrom's aims changed since 1993?
Günther Friesinger: We didn't really develop a concept back then, monochrom has evolved over time. In the beginning there was only the idea of publishing a fanzine – lots of other different things resulted from that. At some point we started doing performances. In the Internet's primordial age we developed a robot that could be controlled via the web, and so we began entering the art scene. Our first exhibition was in 1998 in the Secession, Vienna. Unfortunately, they didn't have Internet access back then, so our little robot simply stood in a corner, immobile. The people visiting the exhibition back then still considered it interesting enough to some extent, but many things back then didn't work the way we'd have liked them to work.
NF: Art, technology and philosophy – are they equal for monochrom? What is the starting point for monochrom's particular initiatives?
GF: We are a political group that gives statements through different means, those of art in all its varieties. I think it is important for us to find a fitting medium for the right story. This is something that specifically characterises us as a group. There are lots of different actions implicated by that, such as writing plays, making a movie, producing a music CD or writing a book. Normally, people try to achieve excellence in one medium. With us, it's the other way round, that's why we're active in so many different areas.
NF: Which historical background concerning the relationship of philosophy, art and technology is especially meaningful for you?
GF: A difficult question. I think that Guy Debord and the Situationists are those one could consider most fitting. Certainly also some parts of Fluxus are of relevance.
NF: To which media theoreticians do you refer in your practice?
GF: I am of the opinion that as a theorist, artist and curator in the areas of media art, net art, digital art and culture it is important to confront oneself with theorists like Kittler, Luhmann, Flusser, McLuhan, Rheingold and many more. However, it is not the case that we refer to one theorist or other in all our works. I think that this system of self-affirmation through referall quite interesting – but I think that for myself, monochrom and for our audience there is value added by self-generated theories for our projects and the discourses they cause.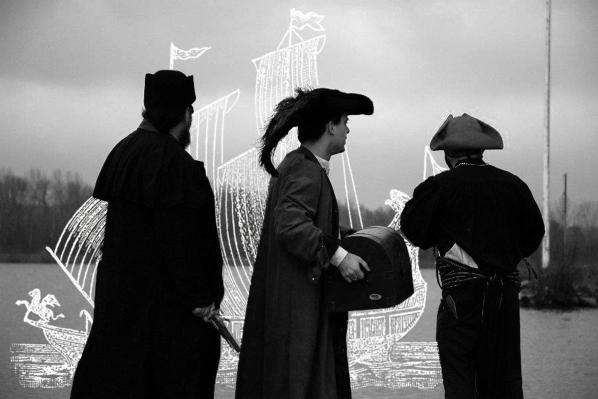 NF: What are international projects of monochrom? And what is the difference between monochrom audiences in Vienna and abroad?
GF: There are too many of those to be listed here. Since our big USA tour of 2005 we produce most of our projects bilingually in German and English, or only in English, in order to be able to have an international impact. Of course, many members of monchrom live and work in Vienna, and we also produce projects in Vienna, but our main focus is on our international presence. One of the big international projects, running since 2007 in San Francisco, is the Arse Elektronika: a conference on pornography, sci-fi, games and the development of technology. I would say that with the San Franciscans we've found the ideal community for such a conference.
NF: You call yourself "edu-hacker". Why that and how is it connected with your studying and teaching experience?
GF: I have always loved reading, learning and continuing to further myself intellectually. I really enjoyed my studies and I enjoy sharing my knowledge and skills with my students. Universities are, in my book, places where it is possible to acquire knowledge, to reflect upon it, places of discussion and freedom. Because of the process of universities becoming more like schools, among other things caused by the Bologna Accords, those in my opinion are important areas that enable students to become self-reliant, critical people are struck from the curriculum. I'm trying to counteract this in my classes, trying to cause rifts in the school-like system, by using other methods of transmitting knowledge, using a great deal of humorous elements, and by always meeting the students eye to eye as equals.
NF: What is philosophical society in contemporary Austria now?
GF: Alive and kicking as always, I'd say 😉 One of the exciting things is that exactly now there are a lot of young, fascinating philosophers out there. The topics that I mostly concern myself with are, however, copyright, intellectual property, culture, art, media and technology.
NF: Is paraflows one of your biggest current projects? What's the concept of this festival? Is it independent from monochrom activities?
GF: paraflows is surely one of the biggest projects that I am working on at the moment, apart from monochrom. monochrom helped to start and grow the festival in the first two years, as monochrom has done with many other projects worldwide. "paraflows – festival for digital art and culture" has been established in the last seven years as a new annual festival situated between the Ars Elektronika and the Steirischer Herbst. It serves as both a platform for the young, local scene of digital art and culture and as an interface to international and renowned media art.
NF: How is monochrom activity is financed?
GF: We do get occasional subsidies for some projects, we get money from performances, the sale of our publications and sometimes the sale of a work of art, and recently we have also acquired crowdfunding. I'd say, however, that around 80% of the projects we do are not financed in any way and are purely done because we have fun doing them.
NF: Do your own curatorial projects serve in some way as a research method for you?
GF: I take the liberty that I only curate projects that I am very interested in myself. That is to say, projects where I have a very strong urge to explore the topic, to read, write and of course also to do research. That is probably the reason why I try to achieve a publication for each project that I curate, in order to give those who are interested in it some sort of preliminary report, a possibility to expand upon.
NF: Is activism capable to envision the future or does it just reflect, react on what is and has happened?
GF: It is getting increasingly difficult to be subversive. monochrom is fundamentally critical of the bourgeois world view. We examine it from a distance, dissociating ourselves from it. The question is: How do we get out? Our current late-capitalist aims for transgressions. That is to say that capitalism requires transgressions as a principle. Viennese Actionism, the most relevant cultural statement in Austria for the last hundred years, was doomed to fail at a certain point, because in the 60ies Austria still had a society based on discipline. One of the central strong points of monochrom: Finding the right story for the right medium could be a opportunity to deal with this situaltion.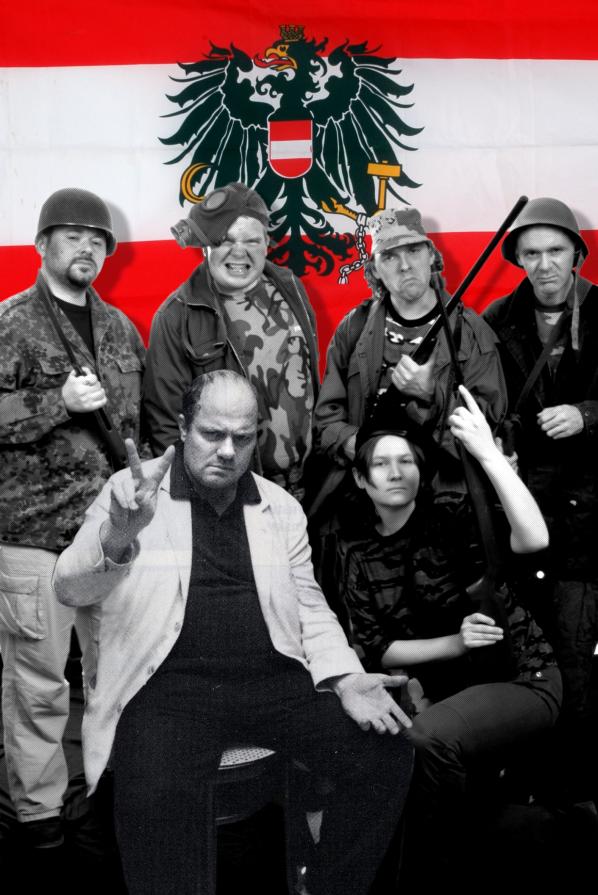 NF: Which publications about monochrom you would recommend to read?
monochrom's ISS. In space no one can hear you complain about your job. (2012)
monochrom's Zeigerpointer. The wonderful world of absence (2011)
Urban Hacking. Cultural Jamming Strategies in the Risky Spaces of Modernity (2011)
monochrom #26-34: Ye Olde Self-Referentiality (2010)
Do Androids Sleep with Electric Sheep? (2009)
Pr0nnovation?: Pornography and Technological Innovation (2008)
Other information:
monochrom: www.monochrom.at
paraflows festival: www.paraflows.at
(c) Natascha Fuchs is an independent expert in cultural projects management and international public relations, graduate of the University of Manchester (Cultural Management) in 2008. She has been living in Vienna, Austria, studying History of Media Arts at the Donau-Universität and collaborating with sound:frame Festival for audio:visual expressions, since her move from Moscow, Russia in 2011. In Russia she was related to MediaArtLab and Media Forum — the special program of the Moscow International Film festival dedicated to media arts, experimental films and digital context with more than 10 years history. As a researcher and practitioner, she works in a variety of topics and participates in different international projects focused on media arts, cinema and sound. Columnist and writer for several online magazines.
In September 2012, Italian tactical media artist Salvatore Iaconesi got the diagnosis. He had a glioma (glial cell brain cancer) of approximately 2×3 cm on the surface of his right hemisphere. Upon asking to see all the data relating to his condition, he found that all of the documents, MRI scans, and so on were in obscure not readily used formats. This meant that if one wanted to view the data, you needed specific or corporate software.
What he did then was remarkable. Iaconesi then hacked the formats of the documents and converted them into open-source ones that anyone could read could read with FLOSS (Free Libre Open Source) software. He then created the site, La Cura, where he presented his records as an "open source cure". People around the world could access his records and then add their recommendations and findings about his condition, cancer, and so on. I begin this interview with Salvatore on September 15, 2012, and the La Cura website already has a rapidly expanding database of information at http://www.artisopensource.net/cure/.
Patrick Lichty: Salvatore, thank you for having this conversation. I remember that it was only a year and a half ago when we were shop-giving copies of the REFF tactical media book from your project, Fake Press in Rome. So, it was a shock when I learned of the glioma the day you launched the site. Could you talk a little about what is on the La Cura site?
Salvatore Iaconesi: Hi Patrick! Yes I do remember, too. And that is also a great explanation on what can be found at La Cura site: it is like one of our "fakes", except that it is not a fake.
La Cura is about an alternative reality which I want to materialize on this planet, now. In this alternative reality, when someone has a serious disease, life does not end. One can be social, creative, and friendly. Work, art, design, fun and entertainment are possible for diseased people in this alternative reality, just as it is possible to reach out to find cures in any philosophy, time, strategy, culture or way one wishes. And consider that even technologies in this alternative reality are designed to enable and facilitate all this, actively promoting the freedom and autonomy of people.But, sadly, life is not like this alternative reality.
I wanted it to be my alternative reality, so I just did everything it took to bring that reality into the world. It's like when you make an Augmented Reality application: you do a series of things to "materialize" some other things into ordinary reality. And then you have them, right there. So, La Cura is my personal Augmented Reality, in which, if I want to, I have all the tools and information I need to find a "cure" for my disease in one of multiple ways and strategies, which are medical, cultural, technological, emotional, artistic, political etc.
To achieve this, I have had to go through a series of obstacles:
The first is connected to language and information, as the first thing you notice at the hospital is that they are not really talking to you. Medical language is difficult and complex, and they rarely take action to make things more understandable to you. One of the testimonies I received in La Cura was that of a lady who has found herself in front of a doctor shouting at her: "You really think that I will explain to you why your thyroid has to be removed? It has to be removed! That's it!"
This is really not "open", in any sense. And, in more than one way, it is an explicit evidence of the approach which medicine has towards patients: they cease to be "humans" and become sets of parameters on a medical record subject to certain protocols and standards. When you are in the hospital, it's often as if you're not there.  The only thing that matters is your data: blood pressure, heartbeat, magnetic resonance etc.
And the way in which information reflects this if handled in this context. Data formats may be, technically "open", meaning that they are described somewhere but they're really an explicit reflection that when you're sick you "step out of society". That data is usable and accessible only to "professionals" and to those people who have tools and skills to handle them.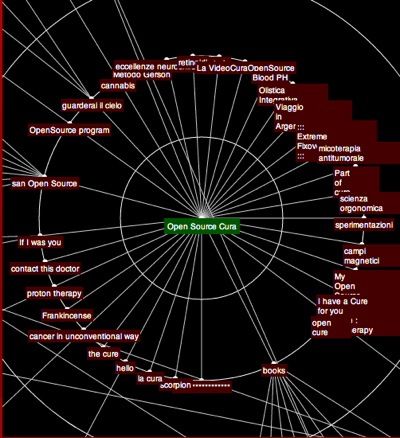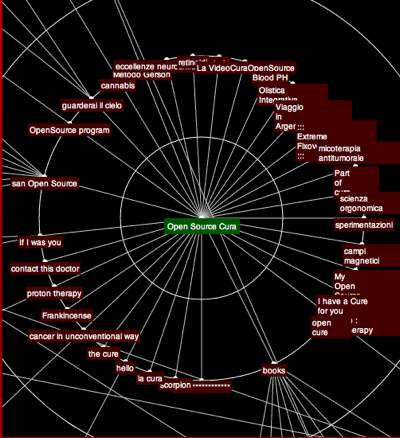 Salvatore Iaconesi's scrollwheel – you can use your mouse
                                                                             to navigate the graph. Info is added to it each day.
I, as someone with considerable expertise with computers, have had some difficulties in opening them.  Imagine someone else with less skill!  Most people would not have been able to benefit from all the types of "cure" which I am currently accessing from a variety of sources and modalities. They would not have access to a "cure" that doesn't end at a list of medicines and dosages, but spreads out into society.
To do that, I have had to hack into the information and convert it into really "open" data, using multiple formats that could be used by many kinds of people to do multiple things. In the format that the data was originally in, even if it was "technically open", that data would have been seen only by "professional doctors" and, instead of being a "human being", I would only have been a "patient", or worse yet, a "case".
PL: What do you want people to do with the information?
SI: Whatever they wish! Obviously! What is important in this case is that we must agree on what the "information" is… What I am publishing is my autonomous will to disclose my state of disease, including all data and medical information. I have my own purposes for this, but it does not necessarily mean that this purpose must/should be shared by others.
My personal purpose for this disclosure is to autonomously shape my own human condition. I have a disease but I am not a "diseased person". I am a person. And, as such, I wish to create my personal "cure", which has to do with my life, not with my disease. For what people know, I might even consider cancer as not being a "disease" at all! I might, for example, consider it an expression of the "cure", such as if I adhered to Hamer's theories. Which I don't, or, at least, not in the sense that "I believe" in Hamer's theories; I take them into consideration, but I don't believe in them, just as I don't believe in chemotherapy, in Aloe Vera, in Caisse Formula, in surgery, in shamanism, in healers, oncology or in any of these things. I take all of them into serious consideration, just as I seriously consider certain philosophies that say that we are made of energy, energy creates matter, and cancer is "matter" and so on. Therefore, cancer must be created by energy in some form. And so it could possibly be that I created cancer myself in a way or another.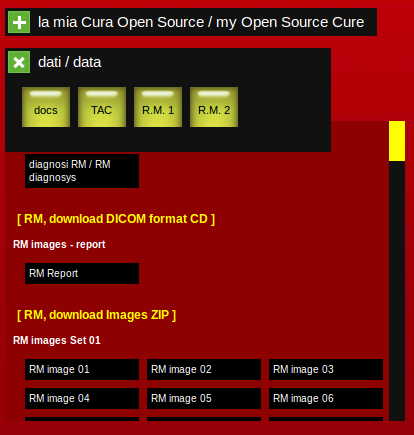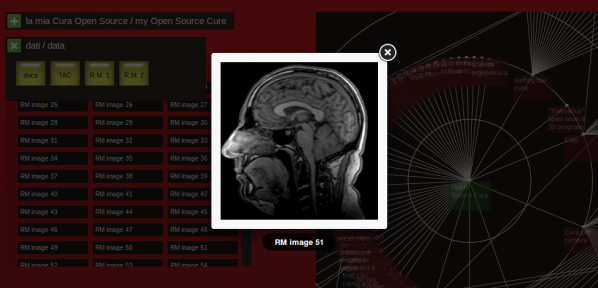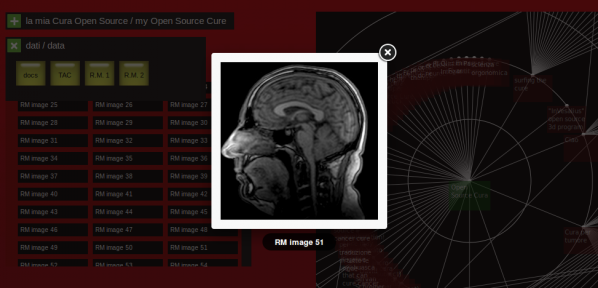 So in this sense, I think it is very important to be able to easily look at the images of my cancer and to say "hello" to them. It is important to turn them upside down, to edit them with GIMP, to make mosaics out of them, to speak to them, asking "hello?" What are you doing in there? Did I do something to cause you?  Can I change something to make you/myself feel better?"
Both scientific and traditional evidence shows that art, positive emotions, laughter, reduced stress, and a good social life have great practical benefits to the human body, I want to seriously consider that part of my cure could be formed by receiving an image of my brain with a smiley face drawn across it over the tumor, or a picture of a friend of mine, or a video of a projection mapping done with Processing in which the images of my cancer cover a whole facade of a building.
And since I don't want to believe, but I want to take all of these things into serious consideration, I cannot focus only on the "medical" approach (and the related information, and its formats).  I need to access all of my information in multiple ways, and I wish that everyone could do the same (as, from my point of view, it's part of my Cure). And, even if "technically open", the format in which my medical records have been disclosed is not enough, because it is "open for professionals" and so the only thing I could do with it would be "show it to professionals", missing out on all the other wonderful parts of the "cure" which are available in the world.
This for me, is an interesting starting point to think about what things such as "OpenData" could mean.  This is far beyond the idea that some government can some data according to ways in which some "professionals" could grab it and, do something like make a visualization or an App out of them. Who knows?  In this sense, instead, we would not be talking about "technology", we would be talking about "humanity".
In the end, this is exactly what I'd like people to do with the "information". I want the world to take the fact that I decided to disclose the fact that I have a disease and that I want to actively search for a cure for from all of these perspectives.  In the meantime, I want to reconsider what it means to be "diseased" in current times and what new conceptions of the word "cure", "medicine" associated with my condition could mean.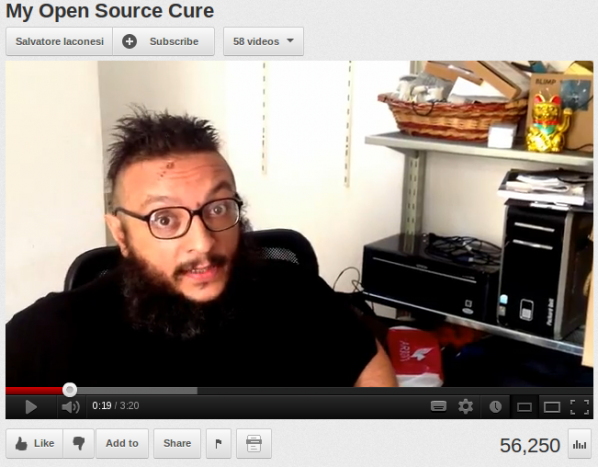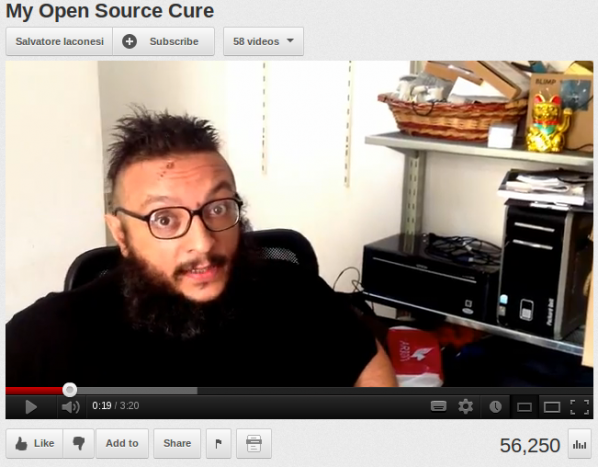 Iaconesi's video on Youtube "My Open Source Cure". Click above image to watch video.
PL: What has happened since you launched the La Cura site?
SI: Lots of things. People are contributing and participating in multiple ways. There are testimonies, art, poetry, suggestions, videos, performances. Many doctors have called in to propose their methodologies and technologies. I have had very interesting and profound discussions with people who are prepared to deal with very complex things every day of their lives. I've communicated with doctors who are perfectly open to the possibility of such a paradigm change for the word "cure". Artists, designers, activists, are giving me wonderful parts of "cure". Many "patients", "ex-patients", "relatives" and "friends" of "diseased people" are sharing their experiences, are opening discussions, are sharing the information I found on possible medical cures. And so many people want to talk to someone in new and different ways, becoming again, simply, humans. Journalists from all kinds of media have started to ask for interviews, texts and videos. We stopped that after a while, as we don't wish to turn this into merely a "spectacle". We only keep on working on this with journalists which we know we can trust and which we know will not transform what we say to produce their news.
PL: For your information, I had an MRI in 2009 here in the States, due to my doctors' concerns of something similar (nothing was found), but when I asked for the data, I got a CD full of JPEG images. Were you surprised when you found out your records were in particular formats?
SI: They were not really in a proprietary format. Let's call them "exotic formats for professionals". And yes, I would have expected something which I could have shared easily (such as your JPEG images, and maybe some meta-data in some easy to use format such as XML, or even a spreadsheet). But this was a sort of paradox: an "open" format which is really hard to open and to use for something else other than putting the CD in an envelope and (snail)mailing to the next doctor.
PL: What do you think the line is between privacy and data oppression? Would that be when the patient is denied access to their rights to access the information and distribute it as they wish?
SI: We should all know this by now. Privacy is not a problem unless the "system" is made by lousy people. We have tools to protect ourselves and to promote ourselves, and these tools are dangerous only when who runs them is a lousy person. Privacy protection arises through education (understanding what is privacy and when/where/how/why would I want to protect it) and through the acquisition of decent ethics from the people and organizations which run the entire infrastructure through which all our digital data goes through. And obviously, and most importantly, our ethics is created by helping each other out in a P2P way, teaching each other what we know, what we discover and how we decided to handle it when we found out.
There is no single line between privacy and data oppression. Not one which everyone would agree on. We have the tools for each one of us to tune this line to our own wishes, according to what we want to do, what are our desires, what are our objectives etc. We "just" need more places (physical, digital, virtual, institutional, occasional…) in which to discuss and share our points of view, as every time this happens, many things are learned on all sides.
PL: Do you consider your site a form of radical tactical media intervention?
SI: I can now say "I have a radical tactical media intervention in my head". Cancer is the new Black. The Cancer is the Message. And we could go on. I don't know. I guess I could call it that. I also guess I could call it a performance. I guess I could call it life. I guess I could call it hacking or whatever. I will just call it La Cura.
PL: What has been the most inspirational information, art, or otherwise that has resulted from the launching of the La Cura site?
SI: The most enlightening thing that happened is the experience of talking about the same exact thing using dozens of different languages. I have spoken with neurosurgeons, shamans, nutritionists, pranotherapists, doctors, activists, macrobiotics, hippies, cyberpunks, punks, friends, relatives. Most of the time, I received incredibly good advice. When you look at that advice from different points of view, you start to understand that you are really talking about the same thing, but in different languages.
For example, two of the most important things which you deal with when you talk about cancer are the idea of creating alkaline environments in your body (because cancer cells cannot stand them) and the facts that anti-oxidants are a great tool in support of any type of therapy (because of the molecular reactions which are at the base of cancer).
Well, speaking of just these two, it occurred to me that multiple theories deal exactly with these two concepts.  I have had an esoteric master describe my cancer as an invisible living being, and he suggested to drive it away using sulfur and Rosa Rubiginosa oil, in ways which turn them into two incredible anti-oxidants and creators of alkaline environments as well as powerful stimulants of the immune system. I have also spoken with nutritionists and macrobiotics communities and learned about their instructions on choosing food, cooking and eating, many of which are directed exactly to that: anti-oxidants and creating alkaline environments, but through food.
And when an oncologist explained us his therapy, that's exactly what it was about: powerful anti-oxidants and alkaline environments. And on, and on and on.  Aloe Vera, Caisse formula, fungus theory, chemiotherapy, Di Bella method, potassium ascorbate, ketogenic diets, etc: all highlight cancer cells in some way; create an environment around them which is as alkaline as possible; anti-oxidate them; activate the immune system as powerfully as possible so that the highlighted weakened, cancer cells can be more easily "convinced" at mutating back to a decent form or to commit suicide with the help of the immune system. Realizing this is an enlightening experience: it spans across thousands of years and also helps you make some choices (things stand out when they speak about different things!).
Everything else that is going on in La Cura is wonderful, but having realized this fact is just incredible and fascinating. You start imagining about all the other things we discuss about in our daily lives using multiple languages (energy, politics, emotions…) and start to wonder what would happen if you turned on this shared, P2P modality in those cases as well.
PL: How do you hope that others will benefit from the conversation that you are starting through La Cura?
SI: I don't "hope" anything. I did this because I felt I needed to. When one talks about "revolution" dialogues start arriving at the point when one says, "Let's burn everything down!" "Let's destroy everything!" and so on.
We know we can't do it. We can't "destroy everything". It's not possible. What we can do is to create a reality as if everything already happened – as if the "revolution" already happened, as if the world had been burned down already, and rebuilt, just the way you like it. We can live life like this. It is a bit more than "seeing things". But you do Augmented Reality, Patrick. You know what I mean. It's a bit more than "writing", it's about creating worlds.
PL: As of this interview, what is the prognosis of your condition?
SI: Depends on what perspective you look at it from. From the medical point of view I have a low-grade glioma at intensity which is still undecided, between 1 and 2 (we will have to wait an histologic exam to know for sure). From the human point of view: I am fine! I have no apparent symptoms. I just need to be careful because if I find myself in stressful situations I could react by having an epileptic shock. So it is not advised that I drive or things like that. It's the perfect excuse! 🙂
PL: Don't you think it's funny that the abbreviation for your name is "si"?
SI: Sì! Obviously 🙂
Lies, Lawlessness and Disbelief: An Attempt at Thinking Art and Capital is an essay by Canadian artist & critical thinker, Katie McCain. McCain discusses how capitalism has become on the one hand all-encompassing and on the other utterly unreal. Arguing that we need to focus on moments of paradox, illogic and the impossible in order to rethink capital, this essay explores and succumbs to the circuity of it's own thinking. Drawing on a host of sources, it attempts to weave an account in which system failure is seen as a point of rupture, whether in legislation, bureaucracy or thought itself.
Moments of paradox are seen as a space in which to re-orient our capacity for thought, and in doing so find a place for art as a point of resistance. It promotes a negative approach to capital, a re-imagining of nihilism, and fosters a general penchant for the illegal and the illogical. Ultimately it seeks the expansive space contained within what is impossible or unknown, although this is known to be impossible.
Download PDF of Lies, Lawlessness and Disbelief: An Attempt at Thinking Art and Capital
Wisconsin has arguably been ground zero for union busting, DIY social movements, corporate takeover of government, and divisive – and often misinformed – political debate in the US for more than a year. And the Overpass Light Brigade (OLB), initiated by Milwaukee artists Lane Hall and Lisa Moline, have been a guiding light – literally – in how ground-up messaging and change can happen. Now a collaboration between many people, the OLB relies on an ever-widening community of activists, artists, thinkers, and do-ers for their "Signs of Resistance." After a few rounds of local rye whiskey at Milwaukee's Riverwest Public House Cooperative – one of the only co-op bars in the country – I did an email back and forth with OLB co-founder Lane Hall to find out more about what makes them tick, how they see themselves, and where the movement they are a part of is headed.
Nathaniel Stern: What is OLB? It feels more "struggle-" rather than "goal-" orientated, despite that its first mainstream recognition is in relation to a specific campaign. Can you talk a bit about its history: how it started, where it headed, and what it might become?
Lane Hall / Overpass Light Brigade (OLB): On November 15 of last year a rally was organized by grassroots groups in Wisconsin in order to kick off the Recall Walker campaign. It was to begin right after work, at 5:00 pm. Both Lisa Moline (co-founder of OLB) and I had been very active in what we now think of as the Wisconsin Uprising, and we asked ourselves the simple question, "How do we achieve visibility for graphic messages when it is dark at 4:30?" We began to tinker with off-the-shelf Christmas lights, and found some battery-powered strings of LEDs. We built our first sign, a 3′ x4′ panel that spelled out RECALL WALKER. When we arrived at the rally, we were immediately asked to be behind the speakers. That sign got on the Rachel Maddow and Ed Schultz show that evening, so we knew we had hit on something that afforded powerful visibility. That first sign is now, incidentally, in the archive of the Wisconsin State Historical Society.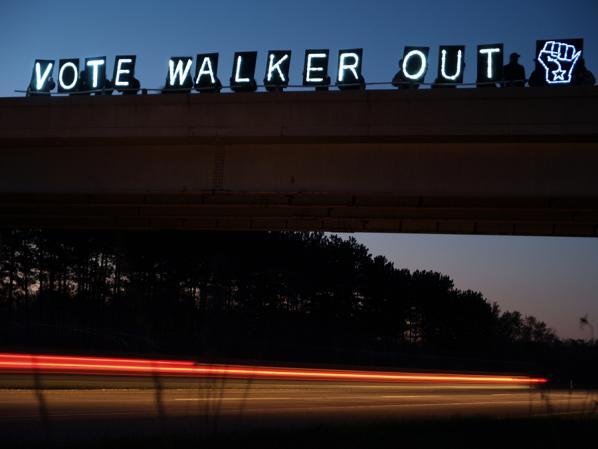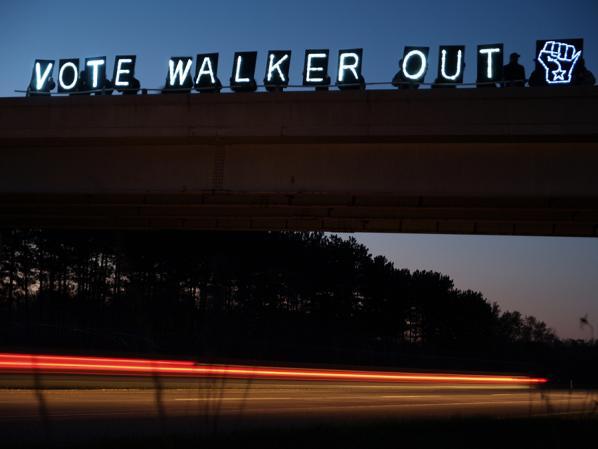 We then proposed a second design challenge to ourselves: how do we get messages out to masses of people, since we can't command the airwaves like Walker's Koch-fueled campaign? Once we decided to go out on highway overpasses, we "scaled-up" the letters so that we could spell out words, refrigerator magnet style, one letter per 2′ x 3′ placard.
Our first night out was on an overpass in South Milwaukee. It was very cold, fairly miserable really, with freezing winds kicking up from the passing semi-trucks. We had a few fellow activists to help, and our idea was to bungee-cord the signs to the fence while we stood by. We were accosted by a right-wing nut, a Young Republican, who was vehement in his insistence that we were breaking the law by affixing the signs to the fencing. He ended up in a physical altercation with Lisa in his insistence to rip our signs off the fence as well as forcefully take Lisa's video camera, since she was capturing his vigilante actions on video. When the police came, they did reiterate that nothing could be affixed to the bridges, though also supported our right to be there. From that night on, we realized that for OLB to work, we needed Holders of the Lights – one person per letter, as well as "spotters" for safety and a couple of people to take video and photos. This was a profound tweak of the original idea, in that it shifted our actions from mere signage to a form of witness or testimonial. It is very powerful to see one person per placard, positioned high above the highway, committed to the politics of physical presence.
We began to go out around the area, scoping out different overpasses, hooking up with different grassroots groups in Madison and Racine and Kenosha and Milwaukee. For about two months we took out RECALL to various locations, often getting hassled by people, questioned by cops, pushed to defend our rights to be out in these odd public spaces. We began to add letters and attract more volunteers who were attracted to our strange mix of Fluxus happening and focused message. RECALL WALKER, then 1% WALKER, then JOHN DOE (referring to an ongoing investigation into alleged campaign corruption when Walker was Milwaukee County Executive), then WALKER=JOBS FAIL and WALKER LIES and WALKER IS A CROOK, etc. We have always tried to index the message to what is breaking in the broader mediascape, so that there is resonance between multiple layers of information and our activist response.
Once Walker was officially recalled (he was "recalled to election") things really picked up. We were getting invited to hold actions around the state – Madison, Fond du Lac, Portage, Appleton, Kenosha, Racine – and more and more people began to join us. The 2 hour overpass occupations began to take on a real festive quality, with people bringing food, making music, chatting, singing, chanting and enjoying the angry and happy honks from the freeway. Our messages expanded, and our Bridge Parties have become somewhat legendary, with anywhere between 40 and 120 people commonly showing up. We even have a bagpiper who often leads us on and off the overpass.
A big part of the success of OLB is its mediagenic quality. Photographs and videos have been distributed freely and widely, at times even virally. We've been highlighted in the NY Times, CNN, Time Magazine, the Milwaukee Journal Sentinel, countless blogs and Facebook sites too numerous to even itemize. Our Facebook "reach" was hitting 182,000, and I was getting constant queries about the project. Our community of activists is extremely diverse, which is one of the things I am most appreciative of. It is odd how powerful holding a sign over a highway is, how many conversations happen in the two hours of bearing witness, and how compelling the action remains for our volunteers.
We immediately went out the night after the disappointing results of the recall. I felt that what I call "essential visibility" was even more important for the progressive community. WE SHALL OVERCOME and SOLIDARITY FOREVER graced the bridges, and we subsequently began to help some striking workers in Milwaukee pizza factory with BOYCOTT PALERMO'S. Since the recall, I feel we have gotten stronger and deeper, no longer relying on the easy binary of our disaffection towards our tea-bagger governor. Our issues are bigger and broader, more national. We just went out in Madison with CORPORATIONS ≠ PEOPLE and 56 volunteers showed up, along with some projector-shine activists, live-streamers, and a phalanx of videographers. We have also taken out QUESTION AUSTERITY and are integrating it with a social media #questionausterity campaign. I see the synthesis of physical and virtual space as the future of OLB actions, as well as our growing ties with the Occupy movement.
NS: This is more than inventive campaigning or even creative activism, but protest art with heavy political, aesthetic, ethical, and technological implications. The Graffiti Research Lab was first to use high technology to ask, "Can any public space be a blackboard?" You take that as given, provide the chalk, and ask for important messages to be broadcast on said blackboards. I'd like for the both of you to write a bit about your practice as artists, as activists, where they are one and the same, and where sometimes they differ.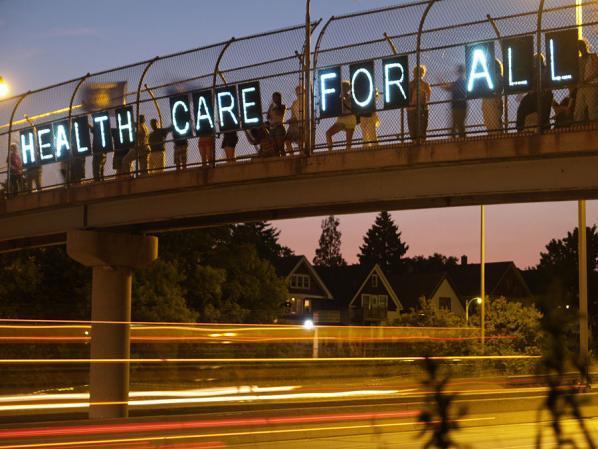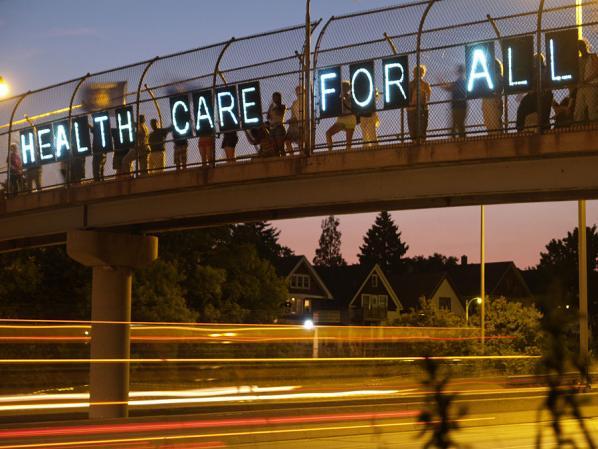 OLB: The Graffiti Research Lab is a continued inspiration for us in terms of their open-source ethos, and their bold pushing at the "public" aspect of "public space." I have great admiration for what they accomplished, yet have always felt frustrated that their messages generally stayed within existential parameters. That is, their presence in urban space was implicitly political, but their projections were generally, "I exist" with variations on the theme such as "Fuck you!" However, the way their events brought people together in the streets is also noteworthy. OLB has achieved some of these same dynamics, though with very directed and explicit political messaging. We are a fluid mix of relational aesthetic, Fluxus happening, street party and progressive messaging, all part of an inherently ethical practice. We think of ourselves as "the people's bandwidth," having found an open venue that takes a lot of dedication but only a small outlay of capitol, which is intrinsically public to thousands of passersby.
Our own work has been collaborative for a long time. Before the Wisconsin Uprising, our art – often about environmental issues and animal subjects – was implicitly political, but rarely pushed the boundaries of sanctified institutional spaces. Once the Uprising began, we got very involved with activist work, and took our creative efforts to the streets. We were inspired, set up a PAC called The Playground Legends with some other activists, and began working within some of Milwaukee's African American communities on voter education and Get Out The Vote campaigns. We set up "parties in the parks" for neighborhood groups, and used these relational activities to help create cohesion around a political purpose. This was exhausting and finally not sustainable for us, but some larger groups such as Wisconsin Jobs Now emulated our inventiveness and have really made a difference in spite of the Right's coordinated campaigns of disenfranchisement.
After working with this PAC, and struggling with the official requirements of a 501C3 and meetings with minutes and budgets and fundraising and reports, we chose to make OLB as flexible and open as possible. We are a loose affiliation of activists who show up on bridges and hold signs. It is very simple. Anyone can join. All ideas are welcome for consideration. Our community of activists is really the heart and key to sustainability with OLB. Most of them don't care whether this is art, or what the cultural precedents might be. All of them value this odd form of engagement, where they can see a beautiful and directed message reflected back through social media, and be a part of a much larger – and historical – emergence of a progressive political movement.
NS: Who do you want to follow your lead? Who do you want to help OLB progress to more innovative interventions? How can we help you help us?
OLB: We freely share the instructions for making the signs. They are very easy in concept, very DIY, and need only basic wood shop fabrication skills, akin to stretching canvasses or making a woodcut print. However, each sign does take a lot of concentrated construction, which can discourage some who have wanted to create their own. So far, we have 3 different chapters that have taken to the bridges: OLB-Fox Valley, OLB-Dane County (both in WI) and OLB-Harrisburg. We've also seen other iterations, such as a Madison based "Sign Brigade" doing daytime roadside actions. I see that OLB has a function as a model of empowerment, as well as the joy (or anger) one gets from seeing a message "done up in lights." One thing that hasn't happened yet is an ongoing series of "hacks" that extend and expand the idea. The off-the-shelf lights get expensive. Could someone figure out how to make battery powered (not big battery + inverter, but lightweight AA batteries) LED light strings so that we could build our own? How about other variations? This would be great to see, especially now that the Graffiti Research Lab's open inquiry with LEDs seems a thing of the past.
NS: What have been some favorite moments from the bridges?
It always amazes me when some random stranger pulls off the highway and comes to find us. Sometimes, especially at first, this would mean trouble, in that aggressors would want to direct anger at us. But one night in the bitter cold weather of January, an African American man came up to the bridge, told us he saw us and wanted to give us a gift, and offered each Holder a beautiful knit hat. He was a salesman of sports clothes, and had a lot of hats. We each left that night with a new Milwaukee Bucks hat!
Another time, just a few weeks ago, two women – an older woman and her adult daughter – came up to the overpass. Both were public school teachers. The teachers have been so demonized in Wisconsin – it is both ridiculous and shameful, but it obviously works to divide us, and as obviously takes its emotional toll on these new "enemies of the state." The older woman exclaimed that they were "so grateful to see us out there doing this" and she burst into tears. There were lots of hugs and they hung around for awhile, held a couple of letters, and left. It was very moving, as a lot of our Holders are themselves teachers.
We also hosted the famous "Nuns on the Bus" tour – the politically progressive group of Sisters who are going around the midwest to decry the austerity budgets of Paul Ryan and the Republicans. It was amazing when their bus pulled up by the overpass, and these elderly activists (along with the powerful Sister Simone) approached the bridge and saw the QUESTION AUSTERITY message we had created just for their tour. There were 96 people on the bridge that night, and they all sang happy birthday to one of the Sisters since it was her 72nd celebration that day. That was a wonderful event, and a great example of diverse activist communities coming together based on these joyful actions.
I could go on and on. Each action, each Bridge Party, is a whole narrative – interactions with police, with passersby, with neighbors both supportive and critical, and now and then with aggressors who have busted out our car windows or tried to shut us down. But it is all powerful, all a microcosm of the rifts in our country. The bridge is a forceful metaphor beyond its commanding physical presence over the geospatial distribution network function of our highways. It works both linguistically and architecturally, and affords a curious perch for our loose affiliation of committed brigadiers.
NS: How can we make our own stuff?
OLB: Check out our new site at http://overpasslightbrigade.org/
You can also find "noise of rain" posts on the Daily Kos site
http://www.dailykos.com/user/noise%20of%20rain