The Future Machine, part of Furtherfield's Citizen Sci-Fi programme, has been built with local groups as a witness to people and places, changing over time. It gathers evidence and stories of these turbulent times, as the Earth changes, and we journey to an uncertain future.
You are invited to join the Future Machine on it's first procession around Finsbury Park on Sat 12 Oct. We begin at Furtherfield Gallery at 3.00pm. Then the Future Machine will be welcomed at various stops on the way by local groups who promise to care for the future, it ends its journey at 6pm with a party to welcome the Autumn in at Furtherfield Commons Garden.
Please join the procession at Furtherfield Gallery at 3pm, or at any of the stops and dress up in your best or wildest Autumn clothes.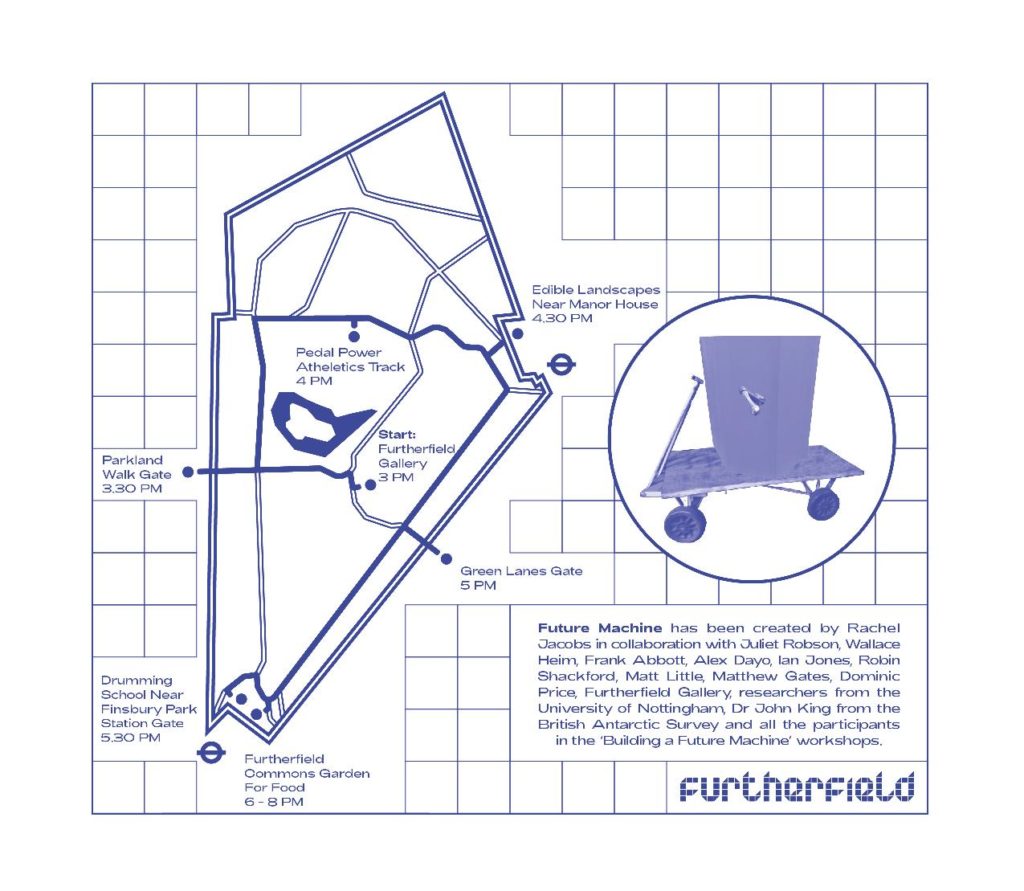 Future Machine Procession Stops:
3pm Furtherfield Gallery
3.30pm Parklands Walk Gate
4pm Pedal Power, Athletics Track
4.30pm Edible Landscapes, near Manor House
5pm Green Lanes Gate
5.30pm Drumming School, Finsbury Park Station Gate
6pm Furtherfield Commons Garden for food
Future Machine has been created by Rachel Jacobs in collaboration with Juliet Robson, Wallace Heim, Frank Abbott, Alex Dayo, Ian Jones, Robin Shackford, Matt Little, Matthew Gates, Dominic Price, Furtherfield Gallery, researchers from the University of Nottingham, Dr John King from the British Antarctic Survey and all the participants in the 'Building a Future Machine' workshops.
After touring to other places across England, the Future Machine will return to Finsbury Park in October in 2020 and 2021, as the future comes.
Featured image: credit to Rachel Jacobs