Way back in 1995, the artist collective Critical Art Ensemble (CAE), said "What your data body says about you is more real than what you say about yourself. The data body is the body by which you are judged in society, and the body which dictates your status in the world." These words now haunt us, and take their place alongside numerous other ignored warnings about global threats to the wellbeing of our societies and the planet.
In this interview with curator Dani Admiss, we discuss how the data-driven gamification of life and everything has shaped the development of Playbour – Work, Pleasure, Survival at Furtherfield and why the Gallery is currently being transformed into a psychological environment.
Gallery visitors are presented with a series of game-like installations, which are the result of the shared and collective cognitive labour of artists, curators and gallery staff. First the artists, and then the public (as players) are invited to test the processes and experiences offered by new mechanisms of play and labour. Each 'game' simulates an experience of how some techniques and technologies of gamification, automation, and surveillance, are at work in our everyday lives, in order to capture all forms of existence.
Interview
Marc Garrett: Before the exhibition, you initiated an open call for a Lab. You invited participants to join a three-day art and research lab at Furtherfield Commons, Finsbury Park, London. Could you elaborate why you did this and how it informed the exhibition?
Dani Admiss: A couple of months before the exhibition, I ran a 3 day co-research lab that brought together artists, designers, activists, and researchers. I like to refer to it as a performative, temporary exhibition in the form of a lab. There were discussions, performances, interventions, games, and exercises. We had discussion with Jamie Woodcock on gaming and digital labour, he walked us through an interview session with gamers on the Twitch platform. Steven Levon Ounanian held a performative experiment where we thought about how we might render the suffering online in the real world, Itai Palti worked with us to think about design principles and neuroscience. FUN! The idea was that we would collectively explore, discuss and define key issues that we thought were important to then take forward to develop into games and experiences to share with the public. The aim was to play off each other in a live context to generate new perspectives and ideas.
Building on this, I decided to hold an open call for participants. In my most idealistic moment, I'd say I wanted to try and find ways to expand who gets to produce, stage and display, how we define what these issues actually are for wider audiences. Can this lead to new stories about art, tech, society? Like any project it is never exactly as you imagined it, but I think the majority of people got a lot out of working like this. I did. Working with people that aren't always the people you expect to be attached to a project always throws up unexpected experiences. Everyone brought their best themselves with them. Open. Interested. Warm. Prepared. Ready to listen, and for fun!
I'd make the lab longer next time, so it wasn't as intense, and I'd try to have more people join the open call.
MG: The open-curation process you have developed is core to the realisation of the Playbour lab and exhibition. It resonates strongly with Furtherfield's DIWO ethos. It turns on its head, the traditional approach to curating thematic group shows. Please can you tell us about the process and say why this new approach is important at this time?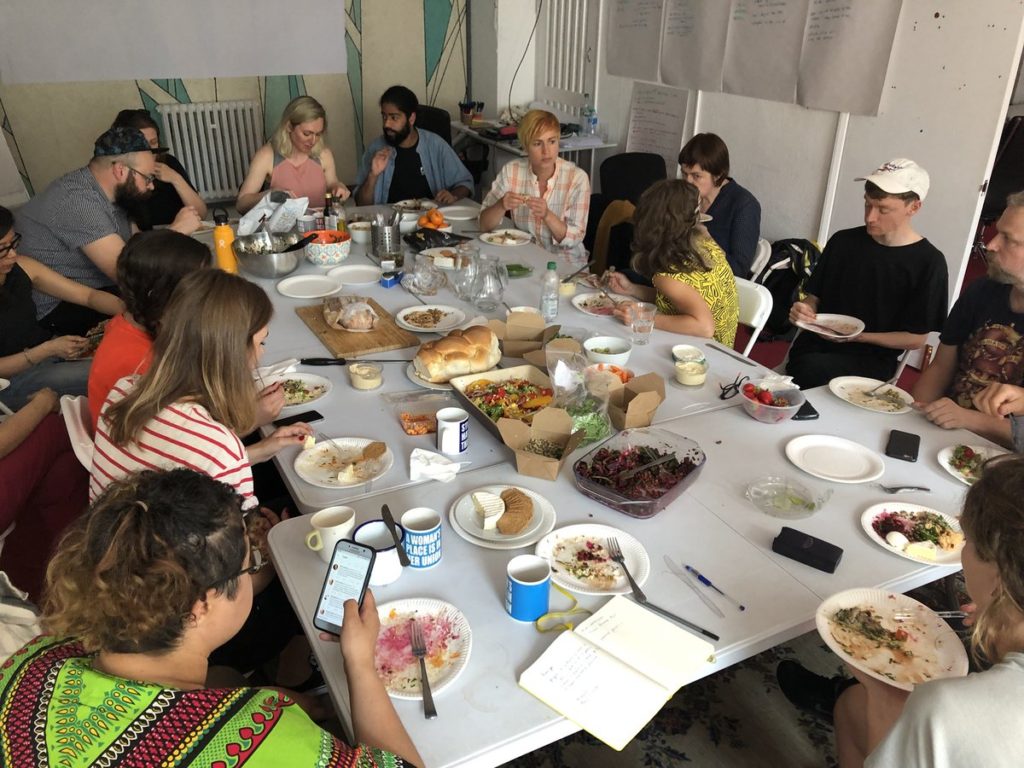 DA: DIWO definitely informed Playbour! I think the spirit of co-creative discovery is a powerful tool that curators should use more. I refer to it as co-research, which is ultimately a way to research-with others. What separates it from more traditional approaches to curating is the unclear distinction between author/researcher and subject/participant. The aim is to achieve closer equality between the participant and subject area, in the form of valuing a person's idea's and lived-experience as much as other 'expert' forms of knowledge. Historically, it has roots in a highly specific context of the radical Left in post-war Italy with Operaismo. This is where the seeds of debate on post-immaterial labour emerged, arising from Hardt, Negri, Bifo, Terranova, etc, and why I originally was interested in working in this way because of the subject matter of the project, however, it became something so much more.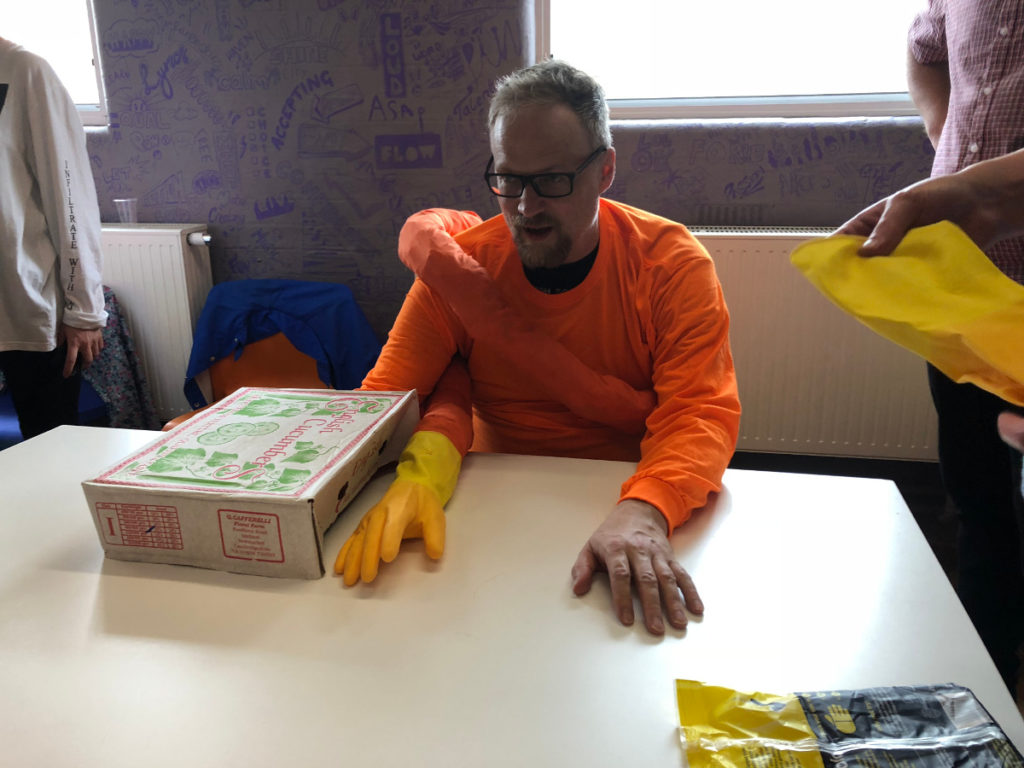 For me, as a curator, creating projects about complex subject areas that bring together embodied and embedded social relations with technical worlds, is something that needs to be done with people rather than to them. I think the most interesting works of art being produced today are treated less like things and instead draw into the very making of the ways in which we get to know what we know. You can see this in works from Cassie Thornton's project Collective Psychic Architecture (an exploration of "bad support" in Sick Times) 2018, where she extends the responsibilities of the gallery or institution through performative means, or in the high-profile modeling and mapping practices coming out of the Forensic Architecture network. How can curating exist in a wider space than before? I'm trying to work in much more extended and expanded ways with the primary intention to include more end users into the areas we are looking at.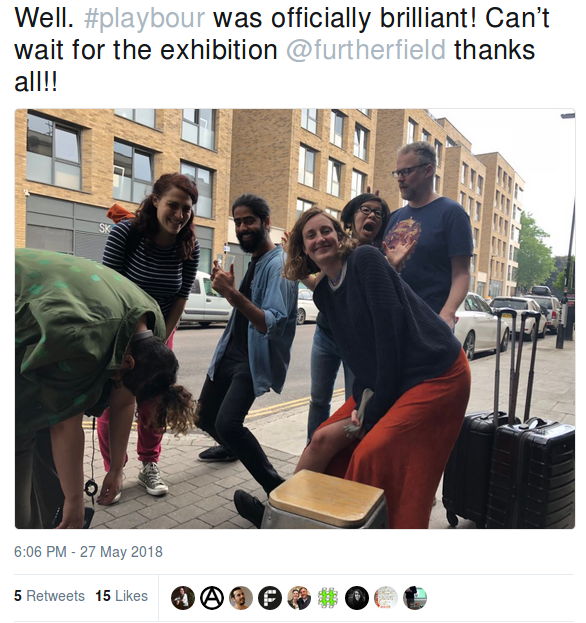 Adopting a co-research model (in the lab, in the show, in the publication, in the micro-commissions) meant that the aim of the exhibition shifts, it becomes less about what the topic is and how it works and more about how it came to be. Brian Holmes once wrote that making an image remakes the world. Yes, but it also distances us from it. Playbour asks people to consider how the world organises us by facilitating moments where people can identify with particular phenomena. I feel this is more fitting and has more potential to create moments of personal learning and change than trying to represent it through curatorial practice. Why do we need this in an age of information? My thinking is that knowledge-projects are not simply objective processes but deeply subjective ones that are enacted through and with others. Finding ways for people to identify in more meaningful ways with the subject will hopefully lead to greater chance that people will gain greater perspective and agency over their own worlds.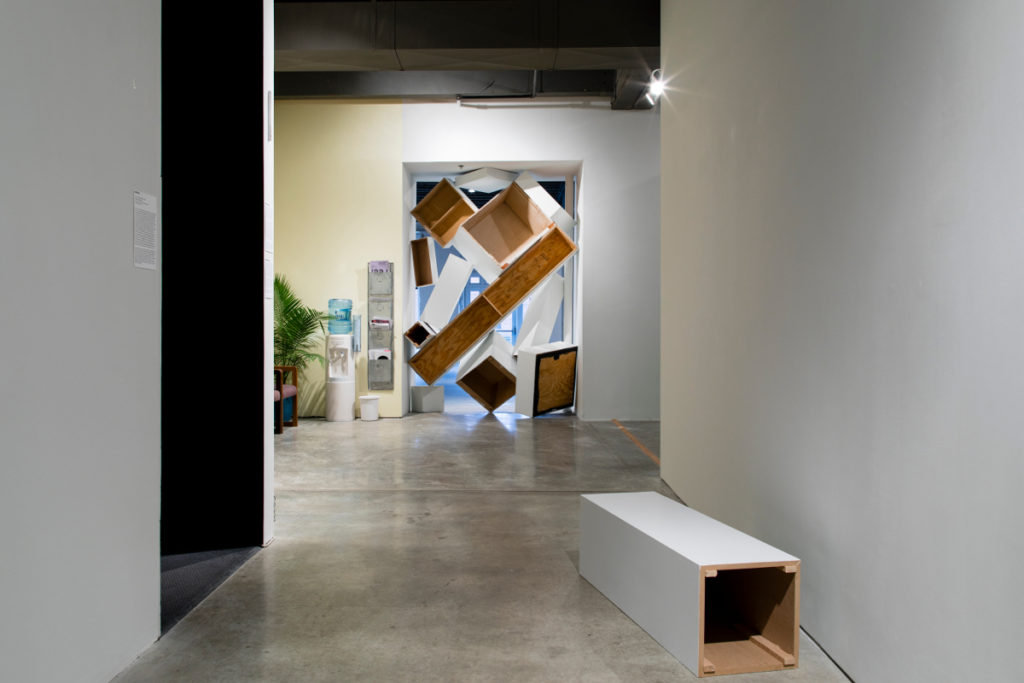 MG: The term Playbour brings attention to critiques of gamification and to the extraction of value via social media platforms. But your subtitle then opens up a whole other world of reflection. What are you discovering about the relationship between "work, pleasure and survival"?
DA: The project is exploring the role of the worker in the age of data technologies, but this looks less at the "future of work" and chooses instead to focus on the shifting roles and blurred boundaries of work, play and well-being – how do we place value on these areas, how do we work with and against them?
Quite often when we talk about opaque terms like immaterial labour and cognitive capitalism we fail to grasp the production processes of these phenomena. Immaterial labour depends on the self and our social relations. We are asked to 'post', 'share', 'network', 'emote', 'communicate', 'know'. Not so much 'understand'. These acts inform the control and creation of our subjectivity. At the same time, very little discussion is happening about the fact that so much exploitation -physical, ecological, economical- sits behind the new commons we are all talking about.
Opening the project out to think about work, pleasure, survival, is a provocation. On one level, it is a nod to the fact that this conversation is for a privileged few. Many choose what they do and this 'choice' is supposed to operate as an expression of one's personality. On the other, it's human nature to get swept up in what is considered the norm, so it's also a challenge to think about what are your own limits, returning to the idea of inviting people to find moments of identification with these broader issues to their own lived experience.
MG: Why is it important that the work being prepared for Furtherfield gallery is conceived of more, as a series of game experiences, than a display of discrete art objects, or a didactic exhibition on the topic of Play and Labour? Has the gallery's location in a public park influenced your thinking at all?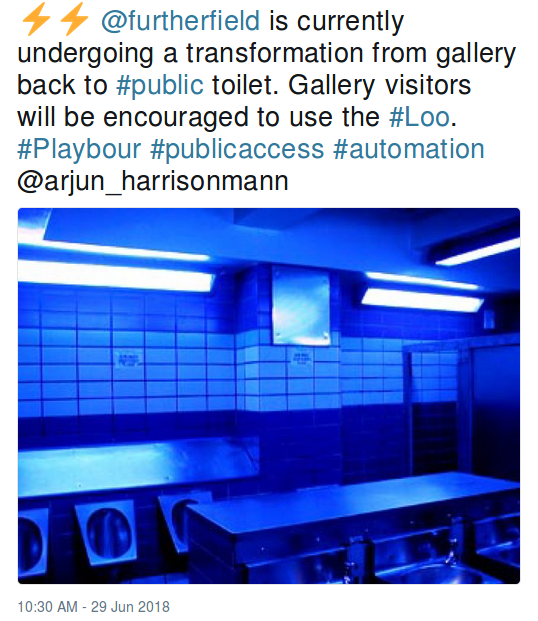 DA: Well, first off, it has been a collective process and so I wanted to show that process to people. Secondly, you have to invest part of yourself in play. The more I research the areas of digital and immaterial labour the more I'm keen to work with others to understand the not yet completed transformations of body, society, and world, into a global capitalist system. These are suffuse and pervasive and nudge our behaviours all of the time. Organising the exhibition as experiences is a way for us all to live-out (at least temporarily and in a safe, playful space) the tentacular effects of immaterial labour and economies of knowledge and information. This is not to say let's walk away from a highly networked society, it's an invitation back into perspectival agency.
MG: You've chosen to put together three themes for the exhibition, ranging across work, pleasure, and survival. Why was it important to choose these three themes in particular?
DA: I'm fascinated by how we are involved in the making of worlds we are then conditioned by. From the learnings in the lab, my own research and collaborations leading up to Playbour, I think gamification, automation, and surveillance are three key areas that scaffold a lot of the debate on digital and immaterial labour.
1) SURVEILLANCE. How we are measured and how we measure ourselves? Traditionally, government control used to come from top-down surveillance techniques, such as the type Michael Straeubig's Hostile Environment Facility Training (HEFT) is looking at. However, I think we should be talking about how forms of control are exercised through our own self-monitoring processes – self-improvement culture is a perfect example of this. Cassie Thornton's Feminist Economics Yoga (FEY), is a wonderful remedy for this.
2) AUTOMATION. How technology is removing decision-making from us in the pursuit of a frictionless universe. In Harrison-Mann's Public Toilet he is talking about how automation is used to address the need of social issues. The starting point is the lack of public services offered in Finsbury Park and how that is altering how we use and experience the public space of the park. He is interested in making a connection between this and how metrics can often end up being exercised in controversial and even arbitrary ways inhibiting people getting what they need, such as disability benefits in the UK.
3) GAMIFICATION. How are rewards and competition embedded into our online interactions and interfaces? Jamie Woodcock has this excellent term that describes gamification-from-above and gamification-from-below. Like the Situationist socialism-from-below. How we might use gamification for our own positive manipulations, diversions and distractions? I think a lot of media and new media practice has long been engaged in gamification-from-below. Marija Bozinovska Jones' piece Treebour (201) plays on this, transferring manipulation of social relations levelled at online interactions to the "natural" networking of trees.
MG: After visitors have experienced the exhibition, what emotions, thoughts and understandings, would you like them to leave with?
I think you introduced the show in an interesting way in your opening text with the notion of the data body and the extension of our bodies into new spaces with unknown consequences. These happen inside the screen, at the edges of the world, in transit, at the end of the supply chains. At the same time, they also operate on semi-conscious refrains, in our behaviours, actions, thoughts and emotions about the world. Taking part, thinking-with, making-with, are strategies to find ways to open up discussions about how we are all involved in making and unmaking our worlds via different actions. Something like digital and immaterial labour is not a discrete issue reservable for experts who work in this area, the connections and consequences weave in and out of our lives and impact us all. We are constantly reacting to thing around us, taking in these cues and pushing them back out into the world.
In terms of emotions, I don't want to spread fear and despair, I'm hoping that some visitors will identify with some of the ideas in the show and relate them to something in their life that perhaps they'd not thought of in that way before.
Notes: Main top image by Marija Bozinovska Jones, Treebour 2018.
DIWO – Do It With Others: Resource
archive.furtherfield.org/projects/diwo-do-it-others-resource