Compiler is an experimental platform organised by curator Alisa Blakeney, artist-curator Tanya Boyarkina, artist Oscar Cass-Darweish and choreographer Eleanor Chownsmith, all currently students of MA Digital Cultures, Goldsmiths. The platform is being built in order to "support collaborative, process-driven projects which connect artists and local communities in networks of knowledge-exchange".
The organisers of Compiler describe it as a kind of ongoing prototype, a structure constantly negotiating the openness to maintain links to varied practices with the coherence of framing, containing, and describing some of the complicated products of digital-analogue interactions. Their focus is looking at what 'digital culture' means and having a productive conversation about it.
From 6-8 April, the first Compiler, Play Safe took place downstairs at OOTB in New Cross. The exhibition examined practices of surveillance inherent in "states, corporations, technological spaces and the idioms of digital art". It questioned whether an increasing intensity of surveillance is linked to control, extraction and politics, or can be understood as a pleasurable phenomenon. People were invited to "Dance a website, see through the eyes of a computer, and have our cryptobartender mix you a cocktail to cure your NSA woes". The work on show, made by students from MA Computational Arts and MA Digital Cultures (both Goldsmiths), included Eleanor Chownsmith's software and performance which turned website HTML into dance routines, Michela Carmazzi's photographic project documenting the reactions of Julian Assange and his supporters following the United Nations' ruling about his case, and Saskia Freeke's machine which repeatedly and intentionally failed to create a ticker-tape parade using sensors and fans.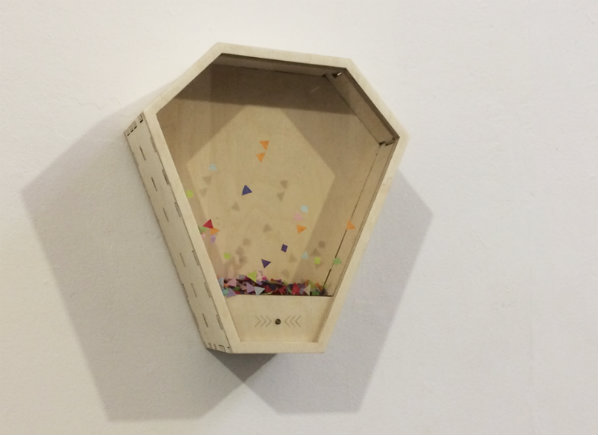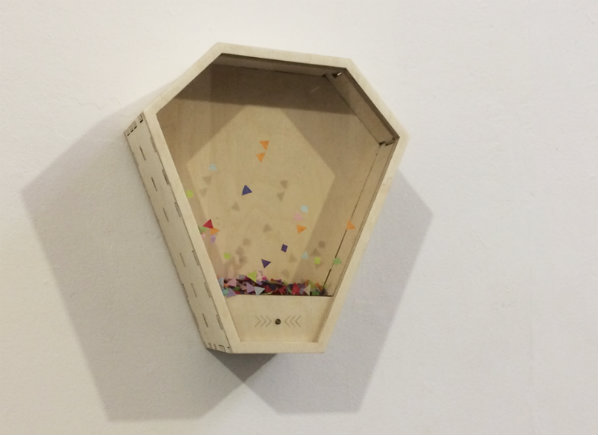 An exhibition on the theme of surveillance creates a strange grey area for itself when shown in a building with nine screens of CCTV footage. Oscar Cass-Darweish's project made a fairly direct link to the CCTV cameras which emphasised this greyness. The project produced a rendering of the exhibition space by using a function usually found in motion detection processes. This function calculates the difference in pixel colour values between frames at a set interval and averages them, creating a visual output of how machines calculate difference over time.
Another work which made links with the room upstairs was Fabio Natali's Cryptobar, where following an interview with the 'bartender' about your data privacy needs you were recommended a cocktail of data-encryption software. Upstairs you could buy, and drink, a cocktail with the same name (the Cryptobar was part of the V&A Friday Late on Pocket Privacy on 28 April).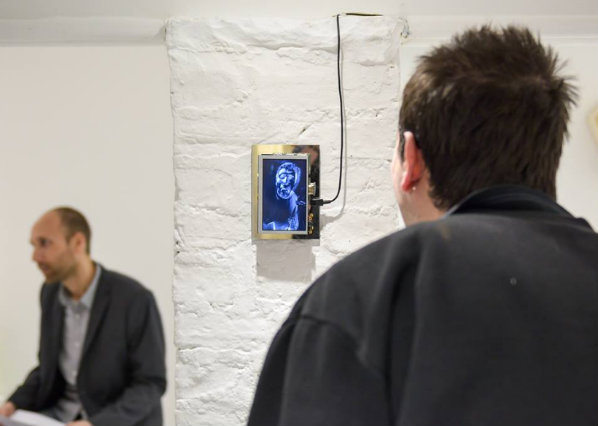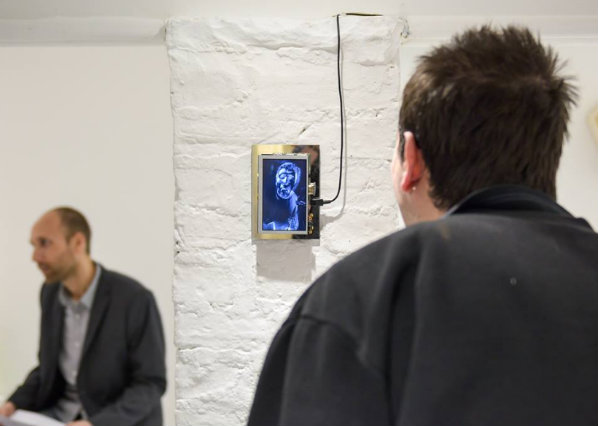 So far, Compiler has made a variety of spaces for conversation about digital culture through both its artworks and its organisation. Each artwork has a different 'footprint' of interactions, linking websites to rooms, success to failure, data privacy to financial transaction via consultation, and making interesting connections between CCTV and code, dance notation and HTML, activism and commerce.
An interesting way to read the Compiler platform is as a series of combinations of human-readable codes and machine-readable codes. The platform 'compiles' a different combination each time, and each time the output is different. Through this, the interaction of analogue and digital processes is demystified and muddled, in a distinct way. The platform is in its early days, but it seems likely that new connections and new grey areas will appear over the next few months, as Compiler has its second exhibition (again at OOTB) in May, takes part in the CCS conference at Goldsmiths in June and heads in other directions thereafter.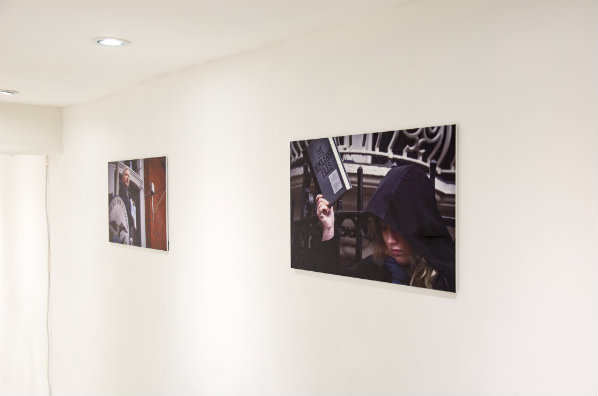 The exhibition offered plenty to play with, while posing complicated problems in relation to openness and experimentation. When I spoke to Eleanor, Tanya and Alisa about Compiler and its aim to engage local communities in networks of knowledge-exchange , we talked about how it's an impossible and strange aspiration to have a 'neutral' venue. While a cocktail can be delicious and engaging, it's also expensive. While a cafe is, arguably, a less exclusive space than a gallery, OOTB itself is a cafe which targets a specific audience. Drink prices, decor and a host of other factors mean OOTB, like all spaces, is politicised in a particular way. Their venue choices so far will influence, in subtle and overt ways, their future attempts to engage diverse local communities. The organisers of Compiler acknowledge this; their response is that rather than trying to make an artificial neutrality they are keen to move as the platform develops to new spaces and new and different contexts.
A change of context, message, communication style is not easy; nor does it fit with to an easily recognisable politics or aesthetics. Moving into and out of contexts is something to be done carefully and thoughtfully. It seems to me that the Compiler team will have their work cut out, but if they can direct that work in such a way that the platform is able to communicate in multiple ways at once, 'networks of knowledge-exchange' could develop between, and in response to, the markers set by the organisers. The question is, how will they develop?
Feature image: Still from Dreams Rewired: original source Das Auge der Welt (Germany 1935); dir: C. Hartmann
Dreams Rewired / Mobilisierung der Träume – Trailer from Amour Fou on Vimeo.
The 2015 film Dreams Rewired, recently shown at the Watermans Digital Weekender in London on 12-13 November, will be screened again at Watermans on 3 December. Directed by Manu Luksch, Martin Reinhardt and Thomas Tode, the film has the tagline 'Every age thinks it's the modern age'. It looks back to the early 20th Century, to the development and implementation (first locally, then globally) of the telephone, the radio and television.
The makers of Dreams Rewired unearthed and arranged early film recordings and brought them into the 21st century context. This was done via a playful narrative written by Manu Luksch and Mukul Patel and read by Tilda Swinton. The tagline was well chosen; almost everything Swinton says would have been relevant at almost any point within the last century. Time periods, machineries and political movements are connected in clever and unexpected ways, meaning that Dreams Rewired, a durational video whose narrative follows a recognisable storytelling structure, makes numerous links between times, places and people, which branch off from the safety of its linear structure.
Dreams Rewired is something of a treasure trove, not only for the glimpses its found-footage building-blocks gives into a past era but also because of the inter-generational, inter-national, inter-thematic connections it makes. Frequently while watching the film I felt the urge to burrow into an investigation of one of the clips, stories or introduced contexts. To emulate this 'tip of the iceberg' effect, this review will pull words directly from the film, linking quotations to some of the themes which appear and reappear throughout.
"A new electric intimacy"
With new media come new practices of communication. One of the recurring themes described in Dreams Rewired is the coupling of intimacy and invasion of privacy introduced to society along with a new communication method. Just as a new invention is prototyped, its social implementation causes new prototypical behaviours – new ways of caring, new ways of injuring, new comings-together, new separations. Uncertainty is inherent to experimentation.
"The waves travel at the speed of light, defining what simultaneous means. Information can travel no faster."
When something is newly possible it also newly achievable – new precedents are set and new avenues opened for exploration. There is a flurry of activity, a rapid diversification. For those looking to gain or retain power over others, this is a problem; diversity requires more effort to manage. Initial flurries of activity are curtailed by the introduction of rules, the setting of precedents.
This limitation sets new targets to meet, new challenges to overcome. The cycle starts again as those in power look for ways to consolidate it while those without look to gain what they can. This is a simplistic, but not inaccurate, description of the machinery of the capitalist world.
This cycle of diversification and restriction is always coupled with the establishment and transcendence of thresholds. Experimentation with a new technology reveals some of its limits. (Side note – of course, what is understood as a limit is defined by wider cultural contexts.) "Information can travel no faster" is a provocation to speed up.
"Geography is history"
New advances cause conceptual shifts. Early telephony and television shrunk the gap in time between a thought or plan and its activation. Understandings of time and geography changed, and it became possible to move into new spaces and in new ways at socially impressive speeds. New powers, in short, were available to those who knew how to access them, to those who understood the preceding context well.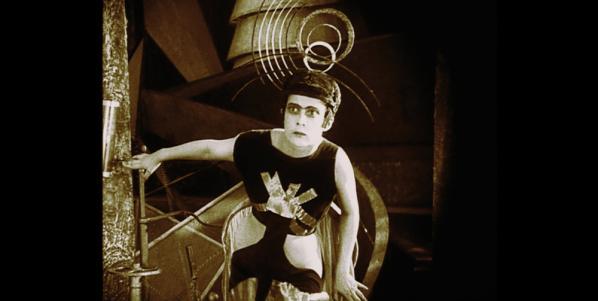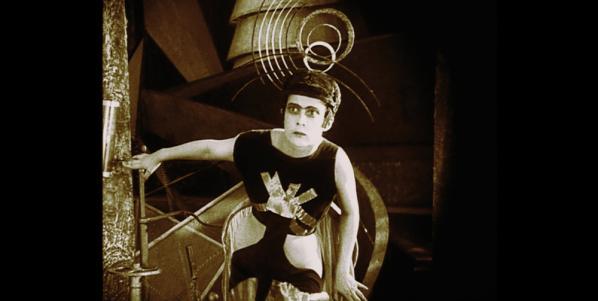 "A model of the new human is put into circulation"
A network grows, its complexity and partner processes intensifying. The machinery of daily life is altered, and daily life is a testing ground. Social interactions change as the new set of behaviours required to work the new machinery collide with existing social norms and rituals. New jobs and new workplace structures appear and people previously without responsibility or power find themselves in contact with it (though they may not understand the possibilities at first). People are no longer the same beings as before. Cycles of experimentation and consolidation reach into the body.
"Someone will have to lift us up. But who will lift them up?"
The flurry of excitement surrounding a new invention is based on the idea that 'our' lives will be improved, that 'we' will be able to do, see, have more. There is a problem here. The words 'we' and 'us' are too abstract – they bracket whoever the speaker wants them to bracket and recapitulate the prejudices they have. Anyone who is not included as part of the 'we' simply does not exist. This is convenient for the 'us' – while 'we' rush excitedly towards a future in which we have more and better, what 'they' do is of little concern. The 'us' does not care – or even think much – about the 'them'. The 'us' cannot understand why the 'them' has not joined the 'us'. After all, the 'us' is at a new threshold – who would not want to reach the other side?
"Personal profiles, passwords, biometrics..fully documented. Every trace filed. Bigger data, better analytics. Opt out, and we lose our place in the world. So…we share the keys to our desire, our habits, to ourselves."
To be part of the 'us' and the 'we' requires effort. To 'opt in' requires sacrifice. At the same time, 'opting in' is the easiest thing in the world when 'opting out' means facing a void. Advice on how to do well, how to achieve, how to be healthy is easy to come by, but there is little guidance for those who find themselves, or wish themselves, outside the mainframe. Losing one's place in the world means losing access to that mainframe and the stability that comes with a highly legible structure. Today the legible structure is far-reaching and well established, to the extent that opting out is dealt with violently. The new models of human coming into circulation have trouble recognising the old. There is a mutual rejection.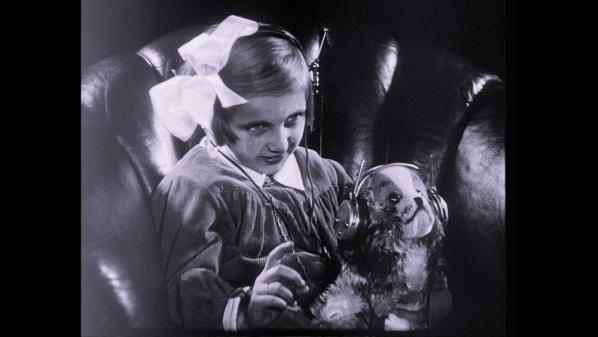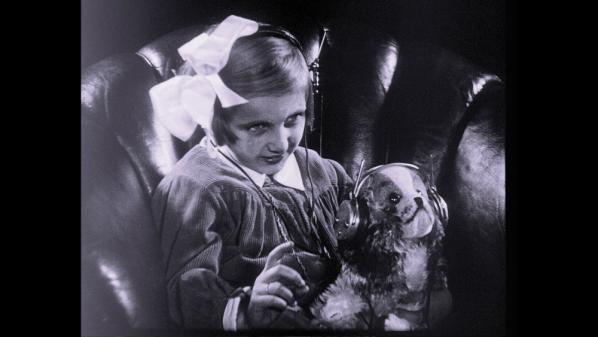 "Government regulation stifles amateur culture – military and commercial interests occupy most of the spectrum … transmission becomes a privilege, not a right"
As I wrote earlier, the 'us' and 'them' structure is too simple. It would be more accurate to think of people as communicating on multiple frequencies. The machinery of society is complicated to say the least, and made more so by the mainframe, which amplifies transmissions at some frequencies while restricting others. In the early 20th Century, multiple obscure radio channels were repressed, responsibility placed with public backlash following rumours that amateur radio was responsible for the sinking of the Titanic. Side questions: where did the rumours come from? What were they based on? How was the public response measured?
"For the first time he hears himself as others do. A voice absolutely familiar but estranged…But her power also grows: by controlling his voice she controls her time"
There is a strange relationship between the controller and the controlled. For every CEO there is a team whose own agenda seeps into the workings of the company. Dislocated power and fragmented or unplaceable identity are some of the symptoms of a complex system undergoing change. When a system is so complex as to involve multiple timescales, spaces, materials and structures, it is impossible to predict the future.
—
Dreams Rewired is part of the Technology is Not Neutral Symposium
3 December 2016
Watermans, London
https://www.watermans.org.uk/events/technology-is-not-neutral-symposium/
For more than two decades, Italian artist duo Eva and Franco Mattes have sought to subvert and expose the systems which produce power. Their current exhibition, Abuse Standards Violations at Carroll/Fletcher gallery, looks at who and what is made visible and invisible in the process of producing culture for online consumption.
The artists, who did not receive a formal arts education, describe themselves as "a couple of restless con-artists who use non-conventional communication tactics to obtain the largest visibility with the minimal effort." They repeatedly worry the edges of technical structures – legal, religious, software – observe the resultant content and feed it back into new structures. It's a process which acknowledges and seeks to communicate erasure, loss and chaos as well as their inverses. In Abuse Standards Violations, the artists acknowledge that chaos, and slippiness of boundaries in the arrangement of work that collides fragments of different disciplines and practices together.
The central work in the exhibition is Dark Content. When their project No Fun (2010), presented unchallenged in a gallery, was removed from YouTube on the grounds of being 'shocking and disgusting content', the Mattes' began investigating content moderation. The video, image and text content we encounter on platforms like Youtube is there because it has been permitted to be there. To gain permission, content once produced must be approved. The approval process involves a number of decision-making structures. The rules determining which content passes or fails (is good or bad, safe or unsafe) are built by, and entangled with, the organisational framework of the platform. To deploy this framework and enforce its rules, algorithms organise data and trace patterns, and people – working as 'content moderators' – are paid to decide which criteria a piece of content belongs to, and act accordingly.
Eva and Franco spoke to a number of content moderators about their work. These interviews give insight into a role which is simultaneously powerful and socially stigmatised (one moderator does not tell their partner what they do); which, despite actively forming culture, is in many ways concealed. Following the neoliberal pattern, process is skipped over to reach the content; moderators are scarcely mentioned by the culture in whose production they are thoroughly implicated. This is unsurprising given that the moderators are people like you and me, as well as being points through whom the governing structures of social media can be accessed.
The Mattes' interviews with content moderators are presented in the exhibition as stock avatars, preserving the anonymity of the speakers; away from the exhibition, the interviews can be seen only on the Darknet. The avatars in Dark Content are displayed on screens within booths constructed from office furniture; structures designed for typing and filing are flipped around like tetris blocks to become a new kind of structure. The furniture is simultaneously recognisable, and out-of-place – particularly, no doubt to the freelance, self-employed person who often works from the sofa or cafe.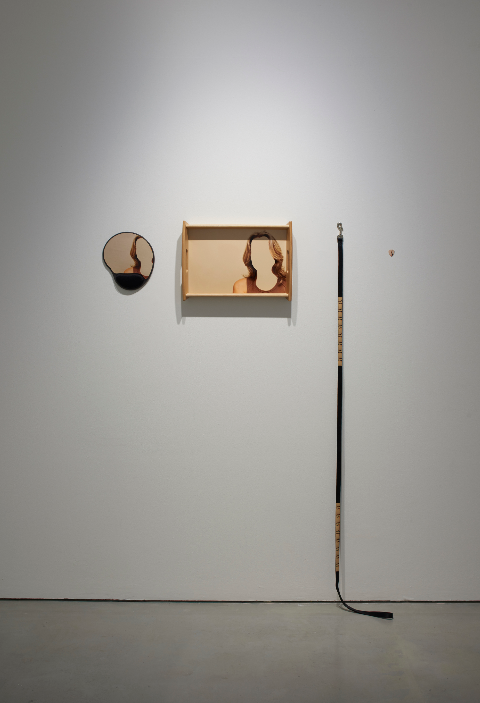 As well as creating hybrid structures, the presentation of the works in the exhibition addresses questions of agency in relation to the production of content. Among these questions are some about the agency of the artists. Presenting an artistic project involves numerous choices which tangle the agencies and the work of different people and systems. These choices cover, among other things, who gets paid, how to choose which materials to use, and what particular configuration of concepts and materials should be the one eventually presented publicly. The Mattes' often choose to use readymade or found components in the exhibition. For example, one work in the Image Search Result series displays objects printed by online services featuring the result of a search for the word 'invisible'. By outsourcing the production of the objects, the artists make visible their reliance on remote work. The neoliberalist trade in values relies heavily on the expenditure of energy of distant bodies, actively concealed; the Mattes' choice to make their outsourcing explicit is a challenge to empty abstract value, whether in the gallery or elsewhere.
BEFNOED (Be Everyone For No One Every Day), deploys unusual positioning of screens in the gallery space. Visitors are required to lie on their backs, crouch down or otherwise contort themselves in order to watch videos of other people carrying out banal tasks such as putting a bucket on their head. The latter group of people has been paid for their work, the tasks having been advertised on crowdsourcing websites. Both groups have spent energy and time on their endeavours, and now both come together in a space. The intimacy is an interface which suggests the connectedness of gallery visitor and global networks and their mutual implication in the way culture is produced.
The works in Abuse Standards Violations relate and separate different lives, different cultures and different kinds of labour. They muddle contexts and objects, creating spaces and structures that are – clearly and disconcertingly – no less strange than those already available in contemporary society. These spaces and structures complicate the difference between reality and simulation. They also make the distribution of power painfully clear. For a powerful structure to appear trustworthy it is useful to appear impartial, logical, scientific; to appear trustworthy it is useful to destabilise or dismantle other structures by choosing what is made visible and what is not, what to make public and what to keep private. Those who are unfamiliar with the regulatory structures become implicated unknowingly. One of the moderators interviewed for Dark Content did not consider their work censorship since they worked for the government. Another comment ran along the lines of 'I am only enforcing the rules; I don't make them'.
In making clearer the arrangements of power behind YouTube, the arrangements of power in the art world – one of the routes to cultural production – are necessarily also challenged. The aesthetic choices the artists have made have clear social and political implications which create uncomfortable questions about concepts such as privacy. The complicated act of content moderation makes some information unavailable in order to communicate other information. This process is by no means limited to the world of content moderation – it applies wherever there is a message to pass on.
Invisible labour and visible outputs are separated by social stigma, sophisticated regulatory systems and other factors, local and global, which create a powerful invisibility. The works in Abuse Standards Violations combine objects, images, texts and concepts in surprising ways which give some substance to this invisibility. The job of the content moderator is part of culture, as is the expenditure of energy by bodies, as are rotas, as are company regulations, as are artists and galleries and gallery visitors. Thinking about how such things relate leads to challenging and powerful questions.
Abuse Standards Violations is at Carroll/Fletcher gallery in Soho until 27 August alongside Planetary-scale Computation by Joshua Citarella.
http://www.carrollfletcher.com/exhibitions/55/overview/

Big Bang Data is a major travelling exhibition currently set within London's Somerset House. That a large institution is presenting a journey via data capture through 'selfies, surveillance and infographics' is in itself an interesting patchwork of intent and realisation. The aim of the exhibition is to 'demystify data'. This is a grand, summative and in actuality slightly awkward claim which, in my view, encapsulates the character of an interesting, textured exhibition in an unintentionally astute way.
As Big Bang Data is dedicated to revealing data comprehensively through its various architectures and iterations, it makes sense for the underrepresented materiality of information to have prominence early on. This materiality, perhaps inevitably, was compromised in the gallery space. Entering the first room brings you face to face with Timo Arnall's Internet Machine, which takes the form of multiscreen video documentation of not just the machines, but also the architecture, which supports mobile telephony.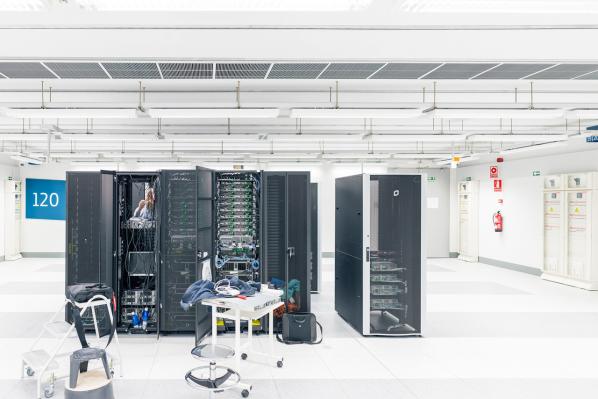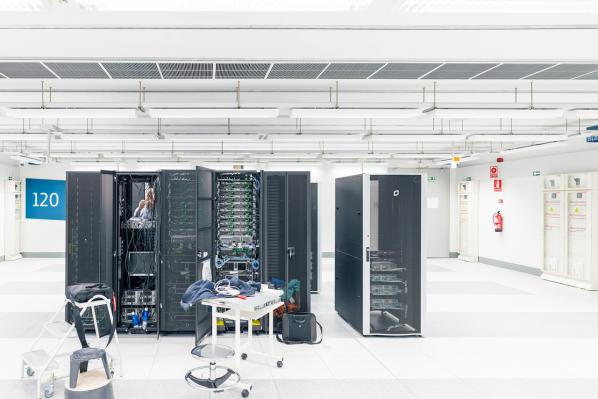 I would have loved to have experienced the spaces shown more intimately and walked around one of these structures; the installation was illuminating but I was still most certainly watching at a remove. This initial interplay of removal and involvement is central to the way we experience data. How can people begin to understand something which exists as multiple codes and flows, on a scale and at a speed which is not concerned with making itself understood by humans? What form could an understanding of data possibly take? When learning about something this far from our grasp, it seems that 'understanding' must be replaced by 'awareness'. Rather than seeking one answer via one route the visitor to Big Bang Data has to build an impression, obviously subjective and subject to change.
In its quest to expose and explain data's social and cultural uses, it presents a fairly overwhelming amount of information. It is interesting to walk through the space thinking about how this information has been channeled by each specific project. Some representations, such as Owen Mundy's 'I Know Where Your Cat Lives', link distant people and spaces via connected points, while others such as Phillip Adrian's 'One Second' capture in great detail one specific point in time and space.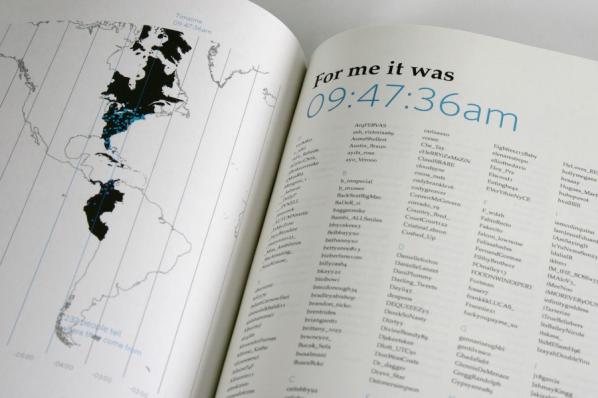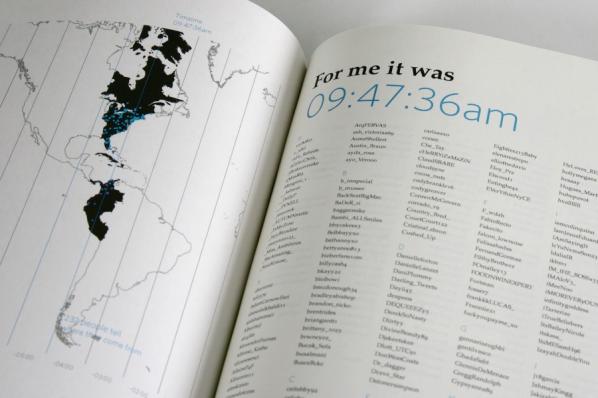 5522 Tweets within the same Second. Sent from all over the world.
Preserved and categorized in four Books.
Julian Oliver's 'Transparency Grenade' brings together graphical, console and physical representations of data to offer a transportable means of leaking information as a response to impenetrable governing systems. Each of the works on display demonstrates a negotiation between temporality, materiality and spatiality, and often one is sidelined in favour of the other. Again, considering the exhibition in this way is also to consider the world of data in all its contrariness.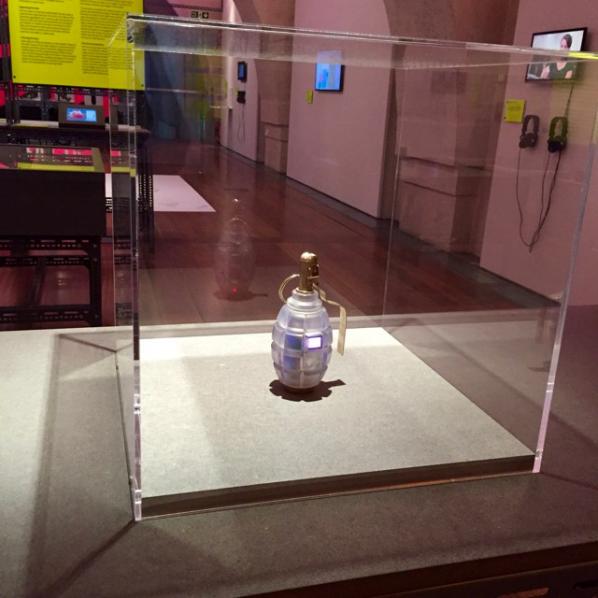 Data manifests itself at the same time locally and globally. As well as addressing specificity, the projects shown in Big Bang Data dwell repeatedly on scale. Works such as Tejka's 'London Data Streams' and Nicholas Felton's 'Annual Reports' pit scales against each other to cast light on the filters through which data is processed.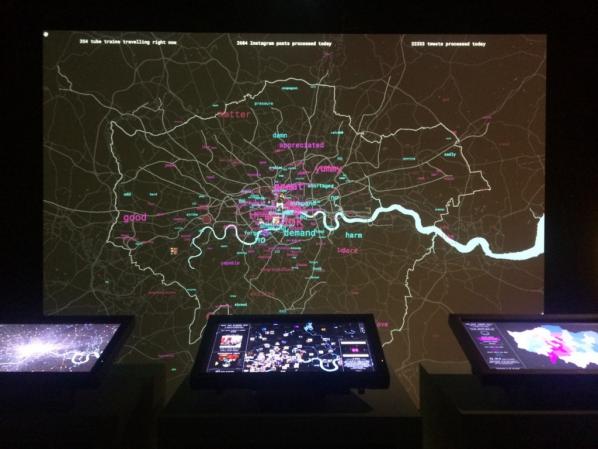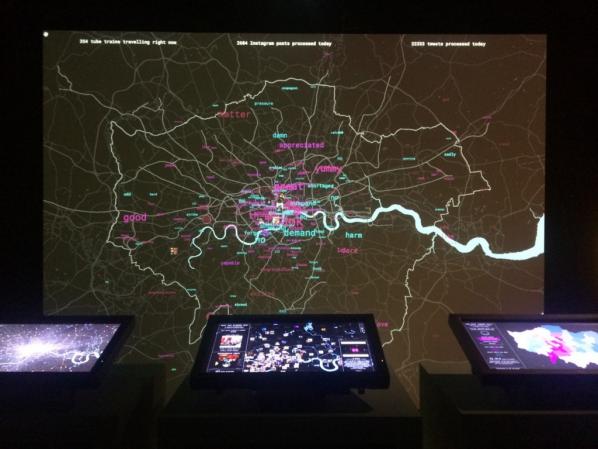 Tekja's installation in the London Situation Room shows a live feed of Tweets,
Instagram posts and TfL data from London.
Ingo Günther's 'World Processor' and Forensic Architecture's 'Liquid Traces: The Left-To-Die Boat Case' are examples of resonant, atypical data visualisations which mutate familiar imagery and present alternative summaries of events. The section entitled 'Data For The Common Good' shows some of the ways data is being actively used in society to empower citizens with works such as Safecast's 'bGeigie Nano' and IF's 'Data Licenses', while a series of video interviews with journalists and other professionals working with data illuminate the processes through which information becomes communication.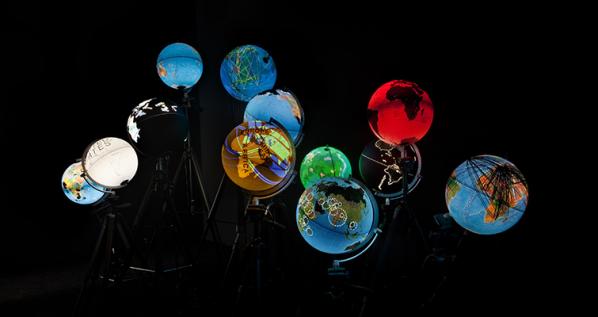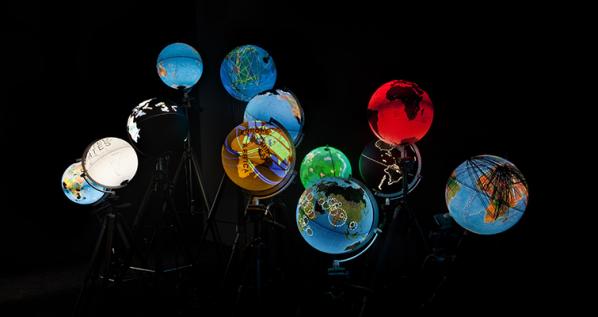 Ingo Günther / World Processor.
The previously mentioned tension between object and their presentation recurs at various points throughout the exhibition, a great example being the array of undersea telephone cables, presented in cases of wood and glass which could have been magpied from a display of historical artifacts (each cable segment has a number next to it which corresponds to a factual description). It felt strange not being able to touch them. A work which I felt fully occupied, and knowingly played with, its surroundings was Ellie Harrison's vending machine, which sits unassumingly in the gift shop; its secret is that when search terms connected to the recession make the headlines, free snacks are dispensed. Its presence in a exhibition on data in a gallery space felt appropriate.
Ellie Harrison. Vending Machine. An installation for which an old vending machine is reprogrammed to release snacks only when news relating to the recession makes the headlines on the BBC News RSS feed.
Big Bang Data, which runs alongside a programme of events and has previously been exhibited at CCCB in Barcelona, comes at a moment where large organisations are more frequently bringing concepts such as surveillance, open source and free software into public spaces. There is a great need to bring the concepts and processes surrounding data more wholly into the public eye, and this exhibition strikes me as, overall, a big step in a good direction. It makes real and challenging efforts to bring together world-spanning processes, complex concepts and extremely diverse content into an exhibition space. The task of the exhibition's curatorial and production teams must have been difficult.
Of course the challenges they faced have been dealt with before many times in many ways, and of course the practical decision-making involved in producing an exhibition invariably creates tension points. The reason I've dwelt on the problems of the organisers here is that the tensions evidenced within the space at Somerset House say much not just about the response of the publicly funded arts to data but also about the nature of data itself. The exhibition turns into at times a museum, a bedroom, a classroom, an information point, a scruffy new gallery space and a state of the art new media space. In bringing together the story of data the exhibition also brings together the story of representation in space more generally.
In writing about Big Bang Data I have had to choose to highlight certain works and not others. Your interpretation will be entirely different from mine, which is as it should be where data and cultural inclusion is concerned. What's important is that the exhibition's prominence and texture opens up conversation and critique. The exhibition is detailed, procedural and expansive. It is also alive with contrariness, generality and awkwardness. Perhaps one of the great things about the show is that these qualities are left to jostle for space. For me, reading this exhibition as a performative event was useful; others may leave Somerset House with an entirely different view having taken an entirely different route. This is inevitable where data is concerned – learning is incremental and procedural, but not traditionally linear.