In recent times we have often heard that we're facing the end of the world as we know it because of factors such as potential nuclear wars, self-sufficient machines, international political crises, and global environmental disaster. However, people in every single age have believed they were heading towards the end of the world. The feeling of being trapped at the end of a road leading nowhere is crucial to understanding why we have needed to apply definitions such as "post-truth" and "alternative facts" to centuries-old rhetorical strategies – creating new terms for the last age of humankind as we know it.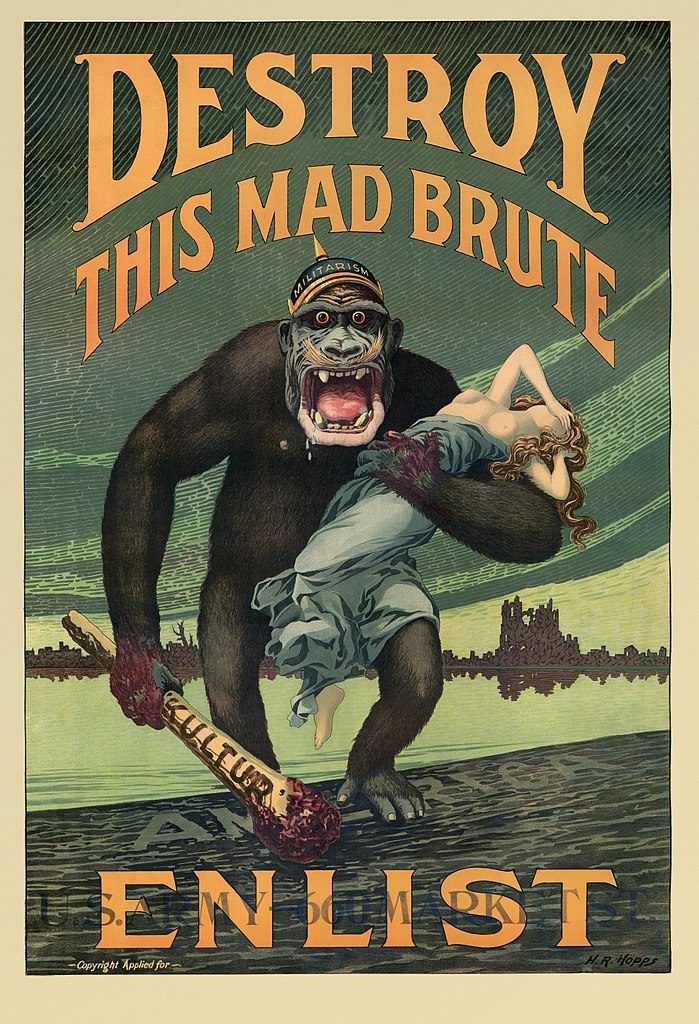 Whilst it may be true that propaganda has been strategically important in shaping opinions since King Darius, the nature of media – from cinematic newsreels created by 1910s national bureaus to today's social media landscape – plays a crucial role in shaping how strategic messages are created and disseminated. Although we have shifted from the broadcast model of the 20th Century to a mode of prosumption, we are still dealing with the same questions: what effective power does language have? When does a message become propaganda? To what degree can individuals be defined as passive (or active) agents when they share officially approved information? Given these questions, it is no surprise that a number of contemporary artists working with the internet and digital cultures are responding to a perceived crisis of "truthiness" with strategies deriving from the 1910s activity of the Dadaists, a cultural elite who worked in Europe and the U.S. in war times.
Since the 1980s, early artists working with the internet claimed a connection between online art and Dada. It is now important to consider the reasons why, more than two decades later, new generations are still playing in the same field discovered by the Dadaists. The first Dada group was founded in 1915 in Zurich, one of the safest places in Europe, by artists and poets who could afford the journey and the stay. In such a city, anything could be said and written without caring too much about the actual consequences. Broadly speaking, this perceived freedom of expression is analogous to the promises of today's social media, where everyone purportedly has the same right to share opinions and get involved in discussions as everyone else, without feeling obliged to be politically correct. A sense of detachment is among the features shared by the original Dadaists and contemporary artists with an interest in political questions. Often working in isolated environments, today's artists use detachment as a strategy by distancing themselves from what's happening behind the borders and commenting on the daily news, attending to how 'facts' have been narrated rather the 'facts' themselves.
Another important feature shared both by contemporary artists and the Dadaists is a focus on the 'flatness' of communication, which was adopted in strategies of advertising, propaganda and manifesti. This flatness arises since every sentence is an exclamation and the reader's attention is diverted by unexpected changes and incessant slogans, making the message a discourse without hierarchies. This mechanism makes every part important and urgent, such that, no one part is actually necessary for the economy of the message.
A century ago, a political or artistic group couldn't be defined as such if it didn't publish at least a founding manifestoin a newspaper. To write a manifesto meant to impose a vision of the world, to claim the priority of some values in respect to other interpretations. Nowadays people rarely make manifesti, but a spectacular exception is Google's list of guidelines for Material Design. These aim to spread the word about a "unified system that combines theory, resources, and tools for crafting digital experiences", a mission recalling those stated by avant-garde and modernist groups to rebuild the world according to a unifying principle embracing all aspects of human beings. Artist Luca Leggero followed the guidelines provided by Google to make #MaterialArt (2017), colourful plastic art sculptures challenging the definitions of artwork and design pieces. Leggero critiques Google's objective to reconstruct reality under its terms by putting into practice an accelerationist strategy; if everything must become part of the Google-branded world, why not art?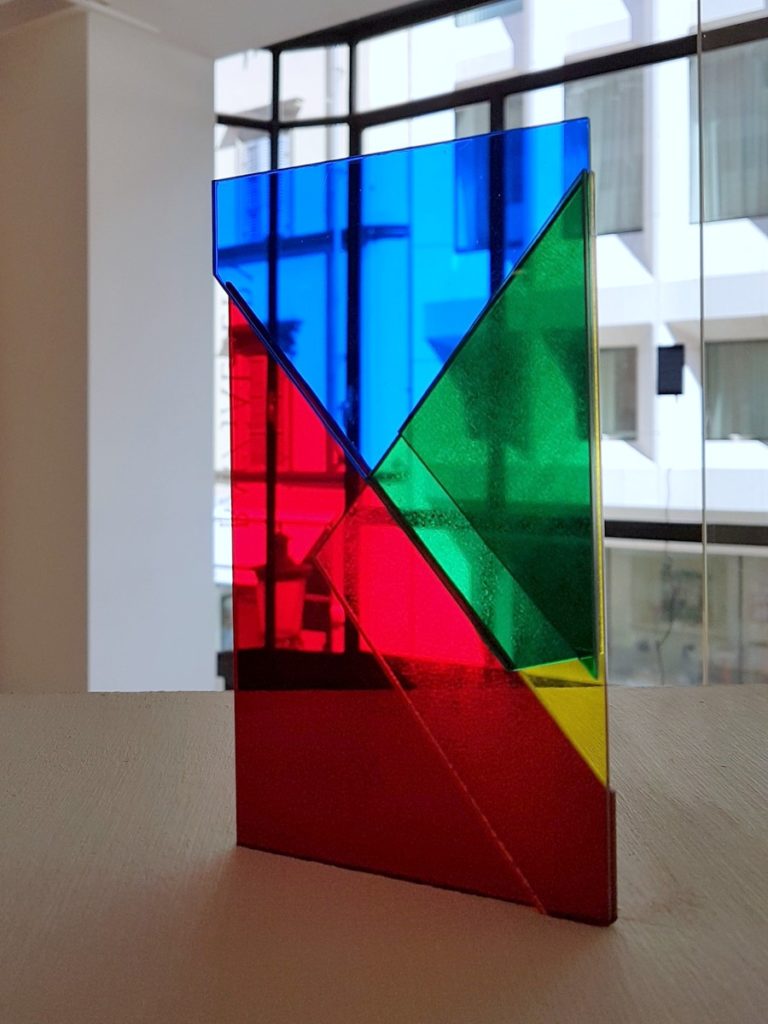 In the 1910s, groups published as many manifesti as possible in order to maintain interest among the public.4 To respond to their dogmatic and flat communication mode, however, Dadaists created countless statements that were not linked with each other whatsoever. For the Zurich group, the goal was to generate noise in the endless stream of commercial and political propaganda; it was a joyful activity that, with its randomness, confirmed the nonsense of all the other official communications. Today, the production of noise, and the disruption of corporate and political communication platforms is the aim of many artists' practices, but only a few of them are so incisive as Ben Grosser's. "ScareMail" (2013) is a web browser extension that originated in the midst of the 2013 NSA surveillance scandal. For every new email, it adds an algorithmically generated narrative comprising terms that would likely ring an alarm bell at the NSA.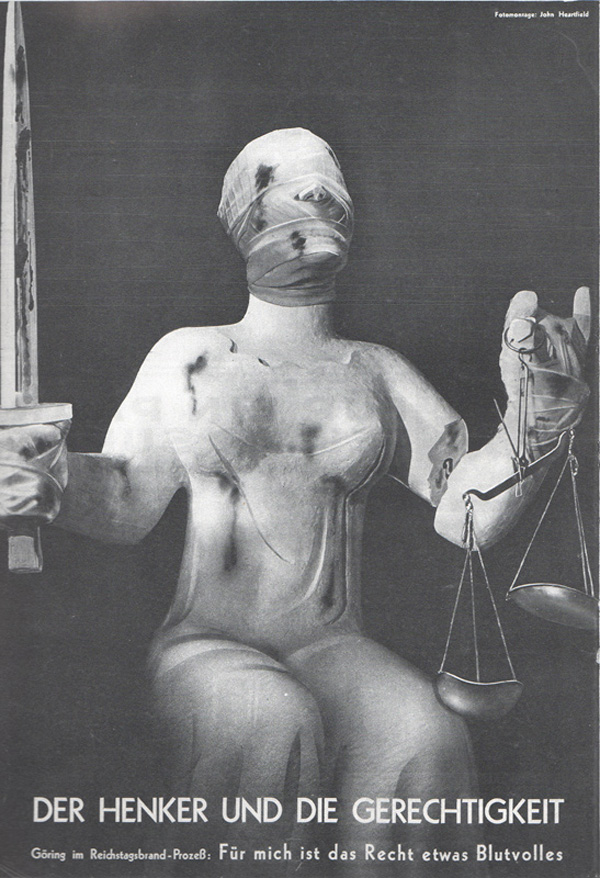 Given the importance of 'flat' communicative hierarchies in Dada practice, it's not surprising how many Dada artists studied the concepts of randomness and entropy as a way of making new realities. There is not just one reality, they seemed to claim, but too many to even imagine; there is not just one imposing point of view, but many – and these may not concur with each other. An exemplary case is a series of collages by Hans Arp arranged according to the Laws of Chance, which didn't mean they were made without the exercise of any control, but that the artist arranged the pieces automatically, by will. An interest in automatism can be found in many contemporary artists using algorithms as artistic tools, such as Rafaël Rozendaal with Abstract Browsing (2014), a Chrome extension that turns any website into a colourful composition. HTML is a language and as such, it can be read by the browser in many ways, not only the one used by developers and designers. Rozendaal's work shows the random potential innate in anything, while suggesting there are alternative ways to consume given contents.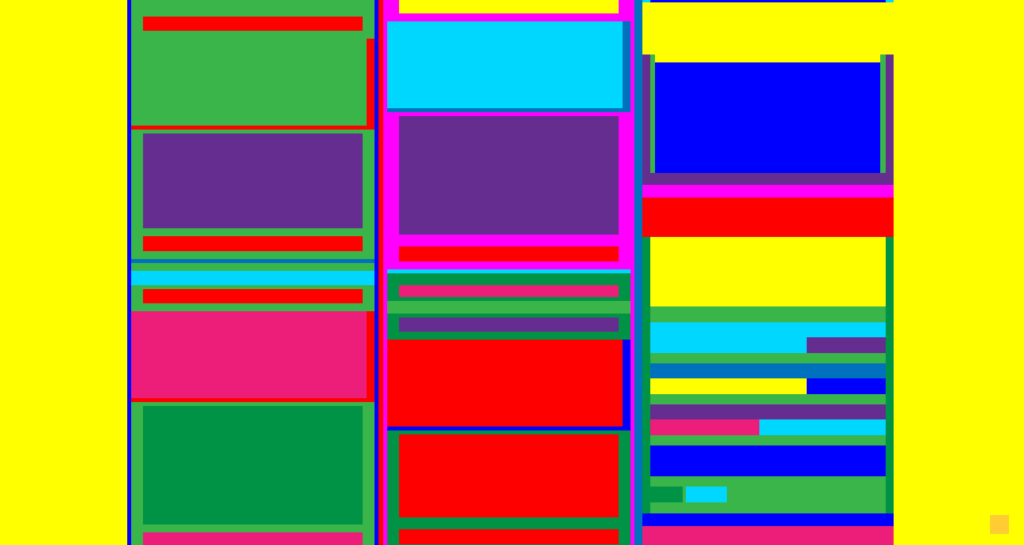 "Abstract Browsing" (2014), Rafaël Rozendaal
The production of noise seems to have been the most disruptive response to nationalist propaganda and corporate advertising produced by the original Dada groups. Most of these artists challenged the dogmatic, exclamatory tone used in the official language of war bulletins and newspaper adverts. Taking advantage of this tone and using it in chance-driven messages allowed them to reveal the absurdity of the dogmatic nature of propaganda and advertising.
Many contemporary artists are more or less consciously keeping alive these practices and producing their own kinds of noise in the face of fake news and alternative facts. Nowadays, not only do governments and advertising companies subtly practice dogmatic and exclamatory strategies, but it is even taken for granted they can and indeed do put into practice such disruptive ways to spread messages. When propaganda exploits guerilla strategies, and is generated in the same way art projects disrupt media environments, how should artists respond? This is one of the most challenging issues some artists want to address and the next few years will be a rich (and noisy) testing ground for many of them.
In many of the projects by French Vancouver-based artist Nicolas Sassoon, space and how we perceive it are two of the most inquired questions; it could seem casual that he mostly makes GIFs, but looking at his works you'll realise the necessity of reflecting on environments, both artificial and spontaneous, using such a specific format. His works ask the viewer to not stop just at the first impressions; sure, most of his GIFs are astounding in terms of animation, use of colours and shapes, but all this technical skill is employed for inquiring our position within environments – not just laptop monitors, but real, concrete buildings and dreamy contexts as well. This is just one of the many introductory points from which we can start talking about INDEX, his latest work which has been featured on the homepage of Rhizome in the first weeks of October and that can be viewed here, on his website.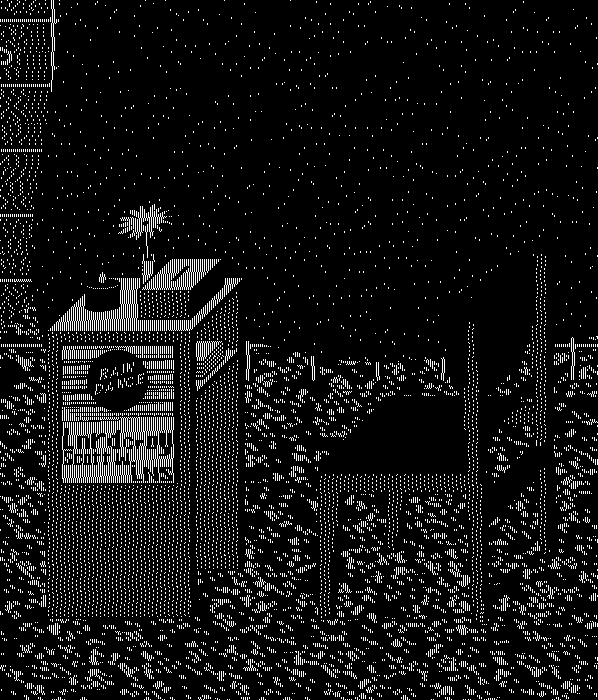 FL: One of the first things that struck me about this project is the relation between hypnagogic dimensions and the technical features of GIF format. The never ending loop of events and the way in which you can change your perception of the same object are important aspects of both; I wonder what you do think about this, especially from your point of view as an artist.
NS: INDEX is representing a project space/music venue in Vancouver BC where I co-organized electronic music events in 2015. It is depicted in the process of being setup for an event titled Rain Dance which happened in August 2015. When I started working on INDEX I was curious about the process of rendering a detailed scene from memory. I had many memories of the venue during the installation phase, a few days before the event. I began to render these memories and details from the installation period within what I could remember of the overall architecture. In that regard, INDEX is an effort to recollect and fixate details about this particular space at this specific time. Some parts of the work are relatively accurate while some other parts are imaginary. The hypnagogic and effervescent visual aspect of the work is informed by this process. It's also informed by the nature of the events that took place at this venue.
FL: Speaking of memory, what could be a connection between it and GIFs in your own opinion? What are the technical features of this format that could it make appropriate as mean to show memories? Since you mostly worked with GIFs for many years, I wonder if you started to experience events and places as objects suitable to be translated into this format.
NS: The most tangible connection I can think of between GIFs and memory has to do with the history of the web since GIF is an image format that has survived throughout the evolution of the Internet; it is an ancient species that has survived numerous cataclysms. In my work, the connection between GIFs and memory comes from a desire to reconnect with specific moments and places, to create a form of record of these memories. The representation of these memories is an opportunity to formulate mental images of architectures, landscapes and other elements into visual forms that are minimal, incomplete, and encoded. I also enjoy using the GIF format as a very subjective archive; for example, in opposition to the objectivity of 3D scans from historical artefacts. INDEX contains some historical and factual data but it's also completely skewed by my own perspective.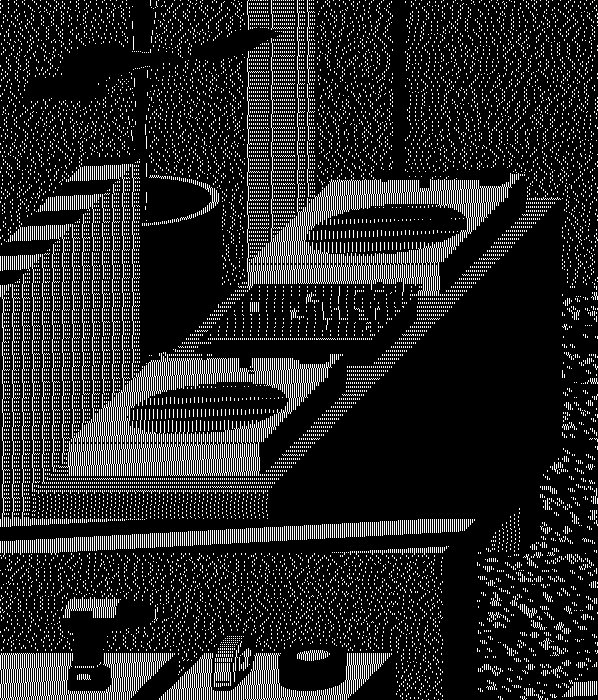 FL: This is an interesting reflection; I like the concept of the GIF format behaving as a selfish gene, in terms of adaptability throughout many different contexts and times. In your own opinion, what is the reason behind the fact it has so much importance in the last 20 years (and counting)? I can't help but think about the relation between the ways we use to connect to the internet (ie the devices we use, the span of time we stay connected, the reasons we're connected, etc.) and the faster and faster speed of our internet connections. What do you think?
NS: The continuous presence of GIFs online has to do with the format being perfectly adapted to web environments and its relentless user applications. If you look at early HTML pages, GIFs were always a highlight; they allowed users to add dynamic elements throughout their content. Inserting animations in the middle of text, images or diagrams was a novelty. GIFs embodied that novelty; they were a simple and accessible display of something "multi-media" so they became instantly thought after, heavily used, and stored into databases. GIFs are still pervasive today in forums as image profiles or as punctuation in comments; DUMP.FM personified that within the net-art community, but if you look at any forum or social medias platform it's still present. From a technical standpoint, the GIF format is attractive because it works like simplified video editing; you set up an image sequence, decide on the speed, and loop it forever. Aside from the APNG format – which never really took off – no other image format offers these capabilities. It covers fundamentals, from traditional animation (frame by frame) but also offers flexibility in terms of input since you can make GIFs from literally anything. The looping function has infinite fields of applications and is impactful visually, which is perfect for the attention seeking nature of Internet space.
FL: Yes, GIFs have been very important in the first years of the Web especially because they bring depth to Web environments; the fact that artists like you are bringing this format from the usual contexts (ie laptops' monitors, smartphones' screens, etc) to physical spaces totally makes sense to me. In both cases, we're talking about fixed environments where the never ending GIF's movement affects their perception. What do you think? What does it change when you work on a project that will be on display on a Web site and another one which will be hosted on the facade of a building? I'm especially thinking in terms of spaces and perception of shapes and colours…
NS: It has been a challenging process to exhibit screen-based works into physical space, mainly because screen space and physical space are so different in terms of experience. Looking at something on a laptop screen feels intimate, but watching the same thing in a gallery or museum is more of a social experience determined by the immediate architecture. I think a lot in terms of experience in my work and I've come to adapt this thought process for installations. I determine the scale of my installations based on the architecture in context. I work primarily with projections whose shapes and sizes references windows, doorways, or other architectural features appearing in the space. These referential elements articulate my work in space like an environment adjusted to the architecture; an added layer which plays with the configuration of the space. I often see my installations as projected sets, or giant digital props injecting imaginary scenarios within architecture. It feels like a natural extension of what I'm trying to do with screen-based works, but it also really engages with the architecture in context.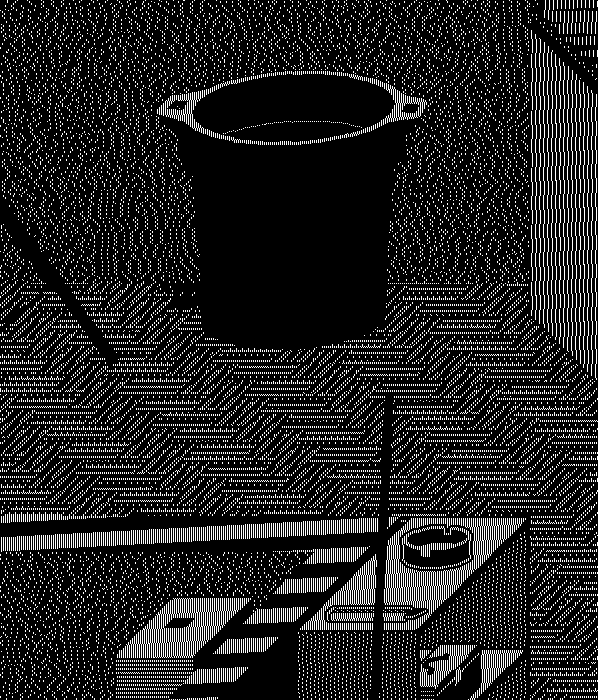 L: Speaking of the importance of GIFs in our daily online routines, I wonder if and how the so-called GIF art has been influential in respect to the broader use of this format by general public; I'm especially thinking to Simple Net Art Diagram (1997) by MTAA, to the way it used the features of this format to add a little magic to what would look like as a diagram – in other terms, do you think the irony, the cleverness and the experimental approach of the first artists working with GIFs have been understood and implemented by non-experts?
NS: I find early GIFs made by artists as influential as the GIFs made by early web designers, scientists, and other random users involved with the format. GIFs are created from pretty much anything and there has been an infinity of cross-overs in terms of influences. So many users have gone beyond the typical level of involvement with this image format, it would be presumptuous to give credit only to the artists. Still it's amazing to see the format being acknowledged in the recent historical work on Internet Art, and I'm hoping to see many GIFs in the new Rhizome's NET ART ANTHOLOGY! I also believe the history of GIF is a history of the vernacular which would deserve its own separate study.
FL: When you see the work, you can't help but think of '80s computers; in other terms, the black background and the blinking white dots and lines suggest this association. Can I ask you why you did choose this specific aesthetic?
NS: One of my interests for this type of early computer imaging has to do with the formal and optical properties of these graphics; the way they behave on screens and how they produce kinetic experiences. This is visible in works like PATTERNS where I focus on abstracted animations. Working with these out-dated graphics feels similar to working with an engraving technique or a type of craft that belongs to a certain time period. Some crafts and imaging techniques tend to be associated with specific eras. In the case of early computer graphics, their era is the end of the 20th century which I feel strongly connected to. I also look at these graphics for what they generate in terms of aesthetic experience. They are the primary visual language of the display technology we use today, and they've generated many revolutions in the way we perceive contemporary images.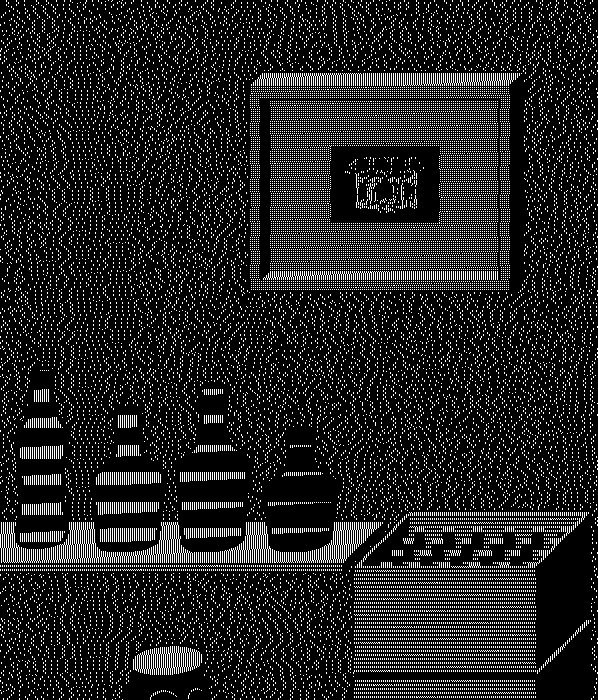 FL: You just highlighted one important aspect of your works as whole; This makes your projects, on one hand, to look modernist as they explore how minimum information can create a kinetic effect, rooted in the belief that objects can be reduced to quantifiable patterns and shapes; and on the other, they are nostalgic, reminding us of the times when when creating digital pictures was not so dissimilar from artisanship. What do you think? Am I wrong?
NS: I've always been attracted to the idea of developing a craft or skill as far as possible. My focus on early computer graphics was a conscious choice in that sense. It came quite late in my practice when I felt the need to make art for my own sake, without professional incentives. My generation grew up with the first home computers and there is often a generational shift of perception when it comes to early computer graphics. For me, this aesthetic is linked to childhood, fantasy, entertainment, while for other generations it doesn't have the same emotional input. But no matter the generation, this aesthetic has a definite "time-stamp" and most audiences will associate this aesthetic with that "time-stamp". The early stages of my practice were very focused on how to appropriate this aesthetic, to turn it into my own visual vocabulary and to articulate it with elements inside and outside of this specific "time-stamp". I feel many affinities to painting because of this relationship I have with the visual components of my work.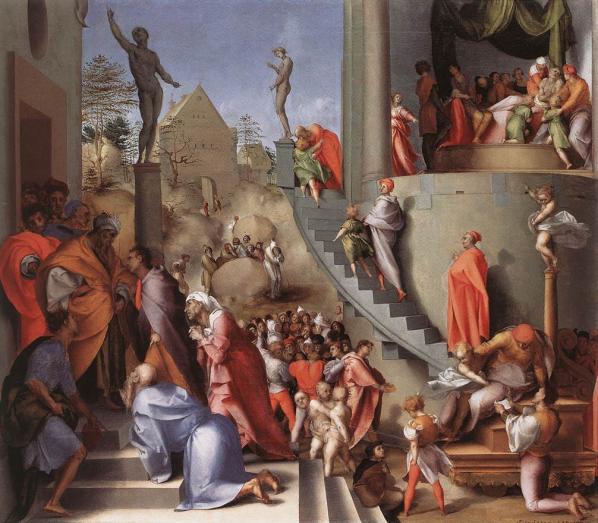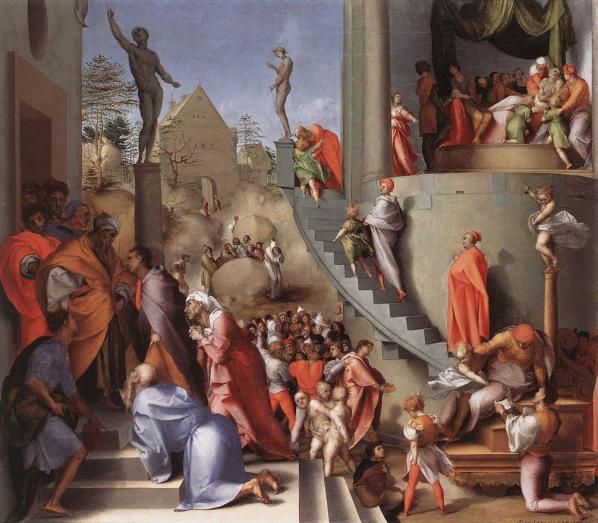 FL: Speaking of painting, the other day I was reading The Social History of Art (1951) by Arnold Hauser and one text passage struck me in relation to INDEX. "[Mannerism] allows spatial values, different standards, different possibilities of movements to predominate in the different sections of the picture. […] The final effect is of real figures moving in an unreal, arbitrarily constructed space, the combination of real details in an imaginary framework, the free manipulation of the spatial coefficients purely according to the purpose of the moment. The nearest analogy to this world of mingled reality is dream." Now, I'm not suggesting the idea that your project is mannerist, but I can see some shared features; the way you constructed the space makes me feel a set of arbitrary rules working underneath the blinking white lights, the objects you depicted are somehow real but fixed in a non-realistic dimension. What's your opinion?
NS: When I began this project, I wanted to develop a new direction that I approached with previous works like STUDIO VISIT. I wanted to portray a real space and make it exist within a different dimension. I was picturing an animated relic, completely isolated and playing itself indefinitely. I focused on my memories of the space and on the reasons that led me to render it. Index was a project space which felt important in the cultural landscape of Vancouver, it also had its own personality. I knew the venue would eventually disappear and be forgotten for the most part. I wanted the work to become an expressive record of this, charged with energy and subjectivity. There is also a form of nostalgia expressed in the visual language I use, and I wanted to articulate this sentiment with the work. This is what led most of my formal decisions. I worked with mental images of the space seen through a lens revealing the energy of each object, and how these objects were infused with the activity of the space. For instance, some parts of the floor were made of these very small sections of hardwood flooring, and it was an area where people used to dance. This translated into a very dynamic area in the work, like a multitude of small conveyor belts imbricated into one another.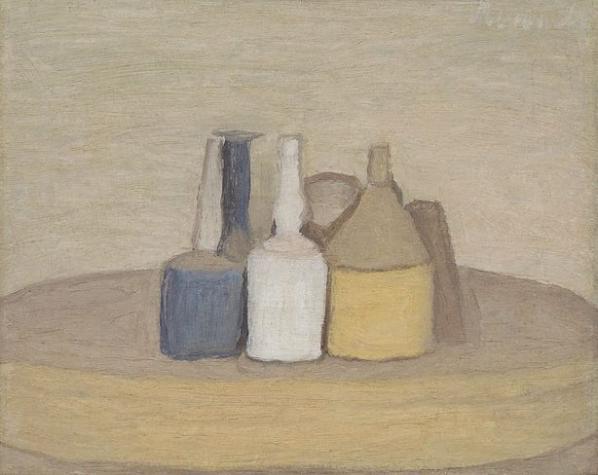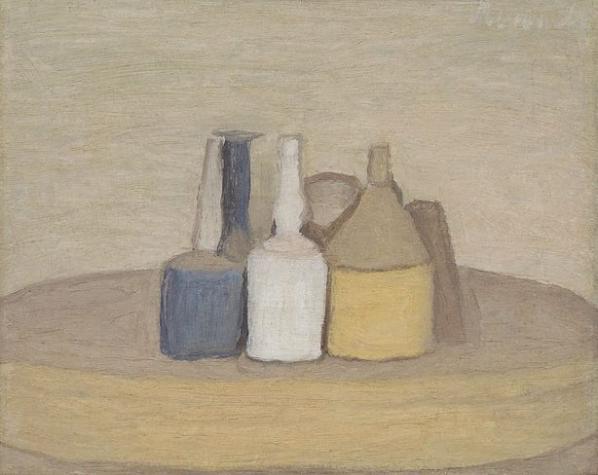 FL: It seems to me you used isometric projection to depict the objects, a technique employed mostly in technical and engineering drawings; in fact, the scenes look real but not physically reachable, as if they exist on their own – in other terms, they look eternal, recalling the still life paintings by Italian painter Giorgio Morandi. In his case, unlabelled bottles and unrecognisable objects make the scenes unhistorical and closed in themselves; I think it's interesting the fact you both employed similar devices to depict still life objects – although it's clear there are many important differences between your works. What do you think?
NS: I've always been interested in using screen-based graphics to express the materiality of physical objects or imaginary structures. This is very apparent in early works like FREE CUTS. These works were created as sketches for sculptures, but in the end, they embodied the sculptures on screen. Like paintings, digital images exist on their own plane, and they can develop their own materiality. In my work, this materiality often manifests as a tension between the flatness of the screen and the sculptural properties of the graphics. Sometimes the work feels like it resides in its own plane of existence, like an object stuck between two worlds. This image of something stuck between two worlds is dear to me because it feels so relevant to my experiences on screens. Things can appear so tangible and so distant at the same time, so desirable yet completely unattainable. With isometric perspective, I find a lot of interesting ideas in ancient Japanese works. Isometric perspective is nothing new but it seems to hold a stronger imprint from engineering drawings and video games than from these much earlier art forms. In the case of INDEX, works like The Tale of Genji – a scroll depicting Japanese interiors from the 12th century – were very inspirational. The scroll depicts social scenes with a good level of detail, and it gives the feeling of overlooking the architecture. The vision is fragmented like in INDEX, and you have to unroll – or scroll – to see the rest of the space. These old works feel very contemporary, probably because isometric perspective has been so used in computer graphics.
When looking at the many artistic projects focused on how and why we use the internet, it's easy to find yourself lost in a field which doesn't show obvious, strong ties with what we normally know as "traditional art history". This is due to historical and social reasons that emerged between the 80s, 90s and early 2000. These artists were at the vanguard of art culture and pushed at the edges of what art could be, whilst living in a post-punk and postmodernist era, and on tip of this, the arrival of the Internet in 94 changed everything. Many artists took on the challenge of what the Internet offered the world creatively, and explored it not merely as a marketing tool or a place to upload images and videos, but as a medium in its own right, inventing new technically informed, artistic tools and also building grass root led, networked art groups with new infrastructures as cultural platforms. Turning away from anything relating to the mainstream art world and what was seen as outmoded and tired traditions.
In the last decade, we've seen the expansion of the Internet and its use by younger generations where the medium is no longer something you exploit to change the culture, but more to integrate in traditional terms, canonical contexts.However, artist Jan Robert Leegte (born in 1973) is a very important figure to reflect upon, in order to understand this transition; while other artists of his generation were taking the internet for a non-hierarchical distributed system, he chose to explore it from a classical studies background that forged the cardinal points of his artistic research. He reflects an Internet art influenced practice which not only exists online but also in physical space. In fact, we can safely say he can be considered as one of the first Post-Internet artists. This makes him a pivotal figure in this historical segment and it's under this light that one must visit the online exhibition On Digital Materiality (Carroll / Fletcher Onscreen, 3 August-12 September 2016). It's a retrospective show presenting some of the most important and representative works of the Dutch artist, who wrote for the occasion an essay in which describes some of the most important aspects of his work.
Leegte says, the "materials I first used were basic HTML objects, buttons, scrollbars, frame borders, table borders, and also plain color fields and found images. I questioned what it was that rendered this practice similar to making installations rather than collages. At first it was the simulacrum of real world interactive elements (buttons, window frames, etc.). The operating system extended this haptic strategy with traditional paper-based forms, like check boxes, text fields, lists, etc, and, along with the form elements and the interactive document, led to an ecosystem of fake 3D, interactive objects."
The work fluctuates between working on the surface and thinking in three dimensions. The same difference can be found with his use of Photoshop and HTML. If in the former case an image editing software operates directly on the final result, for the latter there is the need to know how to write code while at the same time imagine what the potential results will bring via its translation in the public space, the internet. In this sense, we do not hesitate to define Leegte as an artist who studies and uses the tools of the sculptor; he wonders how to place objects in the space, he feels the problem of contextualising a work in relation to a public and physical environment.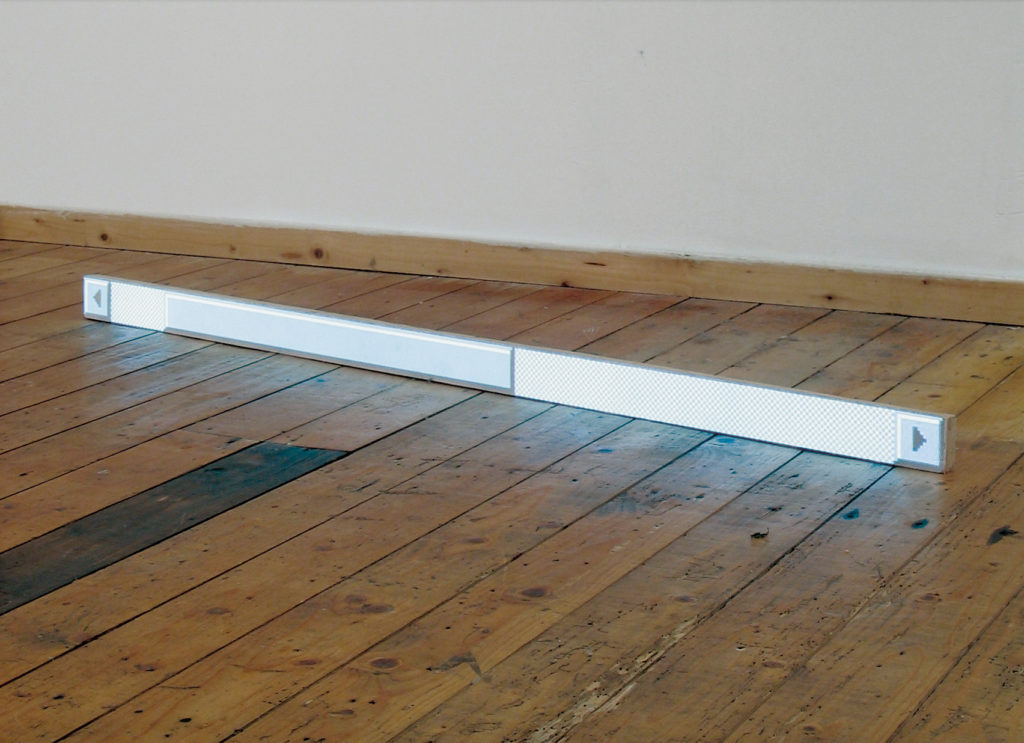 The perception of a substantial difference between surface and space is also proven with his interest in the basic elements of composing the digital interface (scrollbars, mouse pointers, etc). His research examines the artificial environment built by Microsoft and Apple designers. The colours and the shapes were designed to not be perceived as evident mediating agents between the user and the content – in this sense, it is interesting to note that Microsoft has often chosen a minimalist style (shades of grey, square shapes) while with Apple systems the style is usually more exuberant.
However, we should not look at the former as a less culturally relevant product. In the same way, we should not take the white cube exhibition space as a synonym of neutrality (unless we want to think that the whiteness and emptiness stay for an objectivity). This is an aspect that the artist does not seem to detect (in the text, he writes that he "preferred the aesthetics of the Windows classic interface design because of its minimalistic design – no rounded corners and ribbings like the OS 9 design, but simple beveled grey rectangles and a button object was merely a highlight and a shadow, nothing more").
The artist reflected on how specific design elements may in some sense be preserved, as reflections and products of a particular aesthetic and cultural taste: "In Memory of New Materials Gone" (2014) is a work made by a print of the OS9 scrollbar placed in a transparent case in the same way you would do with an object no longer fashionable. This project and all the other works belonging to The Scrollbar Composition Series programmatically address the perception of virtually anonymous and transparent objects on the screen in a three-dimensional space. In a situation where their significance must be noticed; it's the artist himself who begs to not see in this a disruptive act, an action that reveals the subtle ways in which they influence us. It is, however (but not "in opposition to"), a reflection on the artist's activity; as we previously noted, these works are shown on the internet in the same manner in which they would be set up in a gallery space.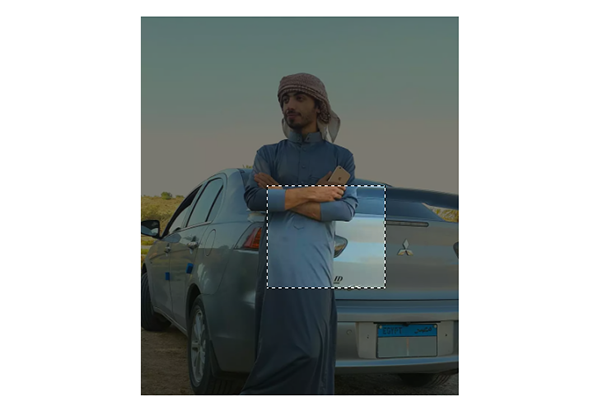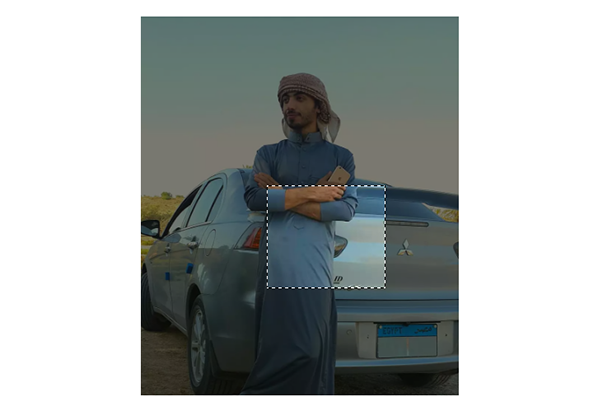 Perhaps, the highest point of the artist's reflection on the differences you meet working on a surface or in three dimensions is The Photoshop Marquee Selection Series. "Random Selection in Random Image" (2012), in which a randomly generated selection marquee is shown within an image randomly obtained from the net. It is the most important work of this series because it opens three-dimensional gaps which have been created sculpturally in two-dimensional images – a dynamic that has echoes of "Scrollbar Composition" (2000), in which the Web browser's monodimensional space is broken down and reassembled in many windows, many independent spaces sharing only the mathematical material they are made of.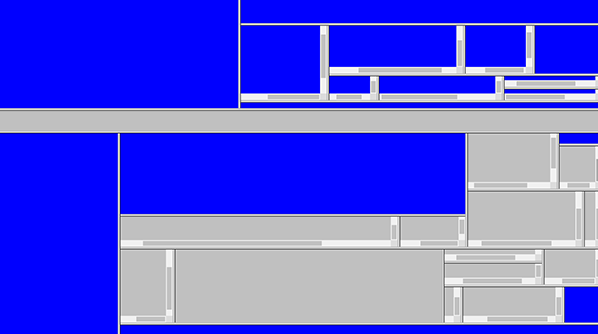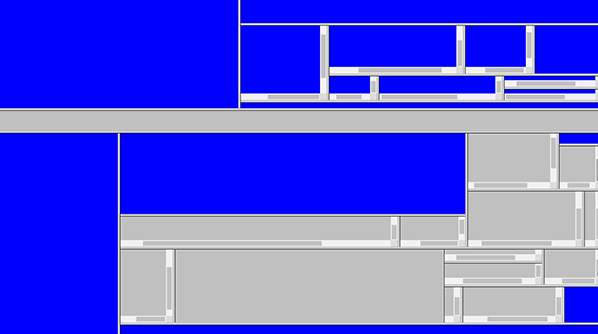 The works featured in this exhibition are related to questions that go beyond the historical and cultural contingency in which they have been created. This makes many of them feel very much alive even 20 years after their creation (a novelty in digital art, I would say). This allows a healthy dialogue between different generations of artists to exist as common ground. It also engages art experts who want to be introduced to artistic issues linked to the internet. It is a dynamic that makes this exhibition a special opportunity for us all to relook at this so-called digital culture and its traditional and non-traditional art theories and its practice under a peculiar and exciting light.
On Digital Materiality – an Internet exhibition is online at Carroll / Fletcher Onscreen until 12 September 2016
Antonio Roberts is a digital artist based in Birmingham. In 2011 he has completed his Masters level studies in Digital Arts in Performance at Birmingham City University. His artwork focuses on the errors and glitches generated by digital technology. An underlying theme of his work is open source software and collaborative practices. His video work has been screened in Chicago, Illinois, at GLI.TC/H, Notacon in Cleaveland, Ohio, and Newcastle Borough Museum and Art Gallery, amongst other places.
In October 2015 he opened his first solo exhibition, "Permission Taken", at Birmingham Open Media and in these weeks is taking part to "Jerwood Encounters: Common Property" (15th January – 21st February 2016, Jerwood Visual Arts), a group show curated by Hannah Pierce focused on the limits of Copyright when it's about visual arts, with two projects: the installation "Transformative Use" and a collection of four works, "I Disappear", "Blurred Lines", "My Sweet Lord" and "Ice Ice Baby".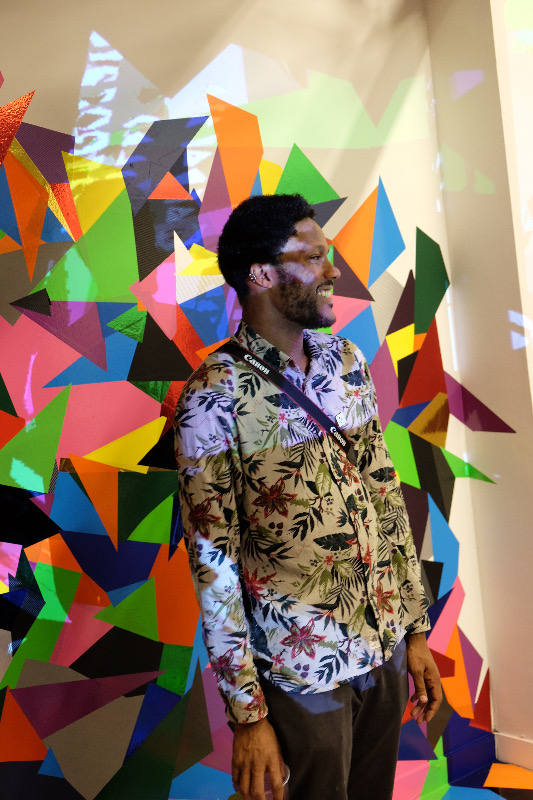 Filippo Lorenzin: You've been always interested in how corporate and industrial logics affect daily life and art. How did you get interested in these questions?
Antonio Roberts: It's a by-product of my interest in open source software and free culture, something which I've been interested in from as early as 2002 but only started taking seriously around 2007. One of the main motivators of this was my reaction to Adobe Photoshop and its influence on creative practices. My experience of studying Multimedia Graphics – and I'm sure the same can be said for Graphic Design, Illustration and any creative practice – was that it seemed more like an exercise in how to use Adobe products, not how to be creative with tools. It felt like Adobe software had gone from being one of the many tools for creating art to the art in itself. This corporate sponsorship of course has many implications for how we create and disseminate art. It poses restrictions and dictates who and who cannot create art.
View of "Permission Taken" exhibition
FL: Copyright issues are one of the main focuses of your research and this fascinates me because of your age. You (as me, by the way) have experienced probably the most troublesome period for Copyright systems, with the wide spread of p2p networking and remixing approaches to cultural industry products. What do you think?
AR: I'm inclined to agree. I've had access to the internet since I was around 14 years old and in that time I've seen the internet and culture as a whole change drastically. For me the rise and fall of Napster, spearheaded by Metallica's very public outcry against it, signalled the beginning of the end of the free internet that I had only known for not even a year.
Around that time Digital Rights Management (DRM) became a hot topic. The entertainment industry saw it (and suing everyone) as the only way to protect their property and so kept bundling DRM with their products, which often at times resulted in a broken experience for the user. One example that springs to mind was the attempt to make CDs unreadable by computers (and so prevent ripping), by adding in corrupted data at the beginning of CD. Whilst it did temporarily stop people to using it on computers – you could simply use a marker pen to circumvent it – it also prevented some CD players from using the CD and in general was obtrusive. This cat and mouse game is still going on to the point where simply attempting to bypass DRM to watch/listen to something that you have purchased, can be an illegal act.
As mentioned before, It wasn't until around 2007 that I began to reconsider how Copyright affected my work. By this time I saw that there was more weight being pushed behind open source software, free culture and things like the Creative Commons licences, and so I started to get involved myself. The first stage was ditching all proprietary software (which I did in 2009) and then licensing my work under Creative Commons licences.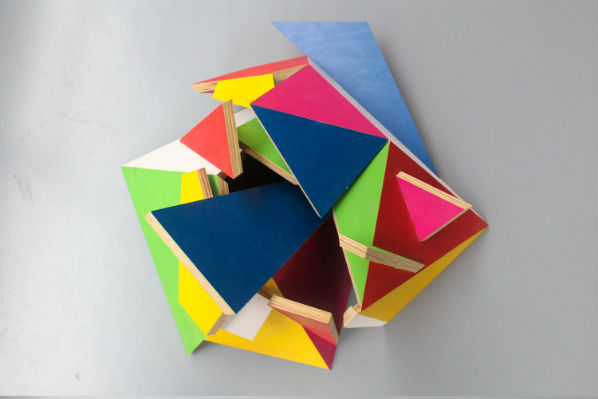 "Copy Bomb", 2015
FL: "Jerwood Encounters: Common Property", curated by Hannah Pierce, is a group show that seeks to investigate the new borders of Copyright, especially in regard of art. How would you define the state of these questions in UK?
AR: I think Copyright as a whole is in a terrible state. As Cory Doctorow suggests in the exhibition programme (which is in itself an excerpt from his book "Information Doesn't want to be Free") Copyright as we know it isn't written for artists or any individual. Its verbose terms and complexities cannot be understood and are probably not even read by most of us. They are written for other lawyers. If, in order to go about our creative business, we are expected to read and understand the terms and conditions and law – it is estimated that it would take 76 days to read all of the Ts and Cs of websites we use – what time do we have to be creative?
FL: What's your point of view, from your position as an artist?
AR: I think Copyright is a mess because it tries to dictate how we should be creative. Creativity is free-flowing. Copyright, and its cousins patents and trademarks, justify their existence by saying that these restrictions encourage innovative new ideas but what they do is just stop us.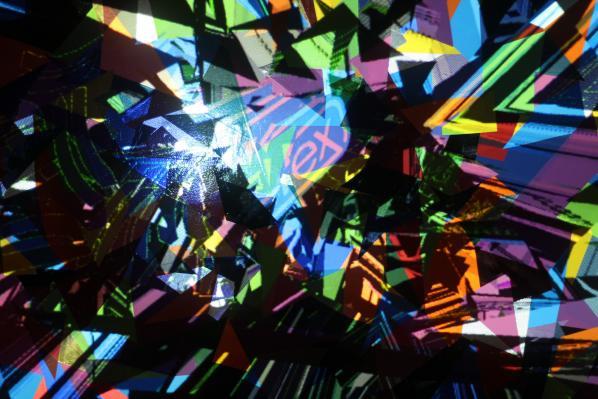 "Dead Copyright", 2015
FL: "Dead Copyright" reminds me some reflections by Walter Benjamin on the shock of the city, about how advertising assaults our senses 24/7 with louder and louder messages – until it reaches a state of entropy. At this stage the message isn't actually more important than the media itself, quoting Marshall McLuhan, and all the brands create a single, colourful ambient. How much this reality has been voluntarily planned by corporations, in your own opinion?
AR: I think it's all completely planned. The more pervasive the advertising becomes the more we accept it as part of our every day life and culture. On the other side this does mean that they have to try ever more invasive methods to get our attention. Think about the uproar over the Coca Cola van at Christmas, or Cadbury's at Easter. They have usurped the original holidays and are more important.
FL: The reduction of brands to colorful simple shapes created something that visually reminds some of op art works, a movement that experimented with visual perceptions and that has been an important inspiration for fashion and design. I was just wondering what you think of this similarity: is there any real connection between your work and those works?
AR: Yes, certainly and this comes through with my use of glitch art techniques. In glitch art we're often trying to find signal in the noise, and I find that many successful glitch art works (however you define successful) have some resemblance to the original yet are transformed and destroyed in way.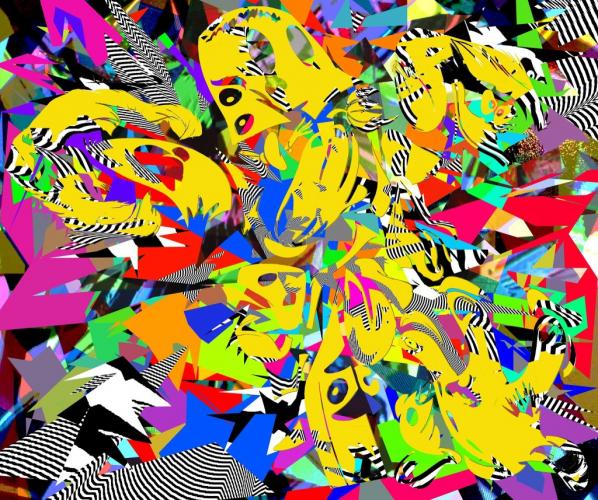 "Transformative Use" 2015
FL: With "Transformative Use" you use shapes that recall not just brands, but a wider imagery. It's as if you're focusing on other targets: can I ask you how did you get interested in this new research?
AR: I recalled all that I had learnt during my residency at University of Birmingham and during the CopyrightX course. From this I paid particular focus to the Sonny Bono act from 1998. This effectively extended the Copyright terms so that it won't be until 2023 until works from 1923 begin to enter the Public Domain. This act is sometimes called the Mickey Mouse Protection Act, which led me to use them as a focus point for the work. Mickey Mouse should, by now, be in the Public Domain but they've fought to stop this in order to "protect" their brand.
People in favour of long or perpetual Copyright terms usually point to it allowing artists to reap the benefits of creating work. In truth, however, only a very small percentage of works made will be profitable in the future. To put it another way, how many books published today will see reprints? I don't have any official statistics, but I know it would be a small percentage. So, extended Copyright terms only really benefit the small percentage of artists or publishers, whilst harming everyone else.
FL: What does it mean to deal with corporate imagery within such a chaotic and in a somewhat charming ambience? I mean, what remains a logo or a character when it gets lost within this borderless blob? Are the corporations losing their borders too, maybe?
AR: Yes.
FL: As discussed before, "Transformative Use" has been inspired by two previous projects: do you think that in future you'll make a work that will update for the fourth time these reflections of yours?
AR: Most certainly yes. "Permission Taken" will be having an iteration at the University of Birmingham in March 2016 and will feature new and existing work. Aside from this I will continue to work with found materials but with a more explicit intention to provoke discussion around Copyright.
Varvara Guljajeva & Mar Canet have been working together as an artist duo since 2009. They have exhibited their art pieces in a number of international shows and festivals. As an artist duo they locate thermselves in the fields of art and technology, and are interested in new forms of art and innovation, which includes the application of knitting digital fabrication. They use and challenge technology in order to explore novel concepts in art and design. Hence, research is an integral part of their creative practice. In addition to kinetic and interactive installations, the artists have also experience with working in public spaces and with urban media.
Varvara is originally from Estonia, and gained her bachelor degree in IT from Estonian IT College, and a masters degree in digital media from ISNM in Germany and currently is a PhD candidate at the Estonian Art Academy in the department of Art and Design. Mar (born in Barcelona) has two degrees: in art and design from ESDI in Barcelona and in computer game development from University Central Lancashire in UK. He is also a co-founder of Derivart and Lummo.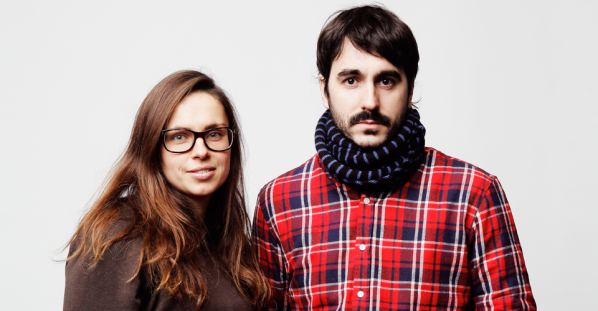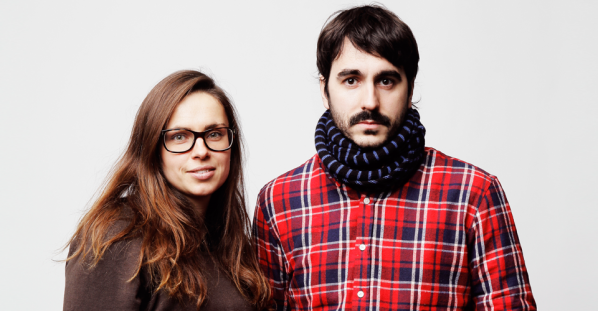 Filippo Lorenzin: Open culture is one of the main points of your research and activity. Could you describe how this influences your art practice?
Varvara & Mar: We are living in very exciting times. Open source has introduced democratization of production and creation. Now you can build your own 3D printer, laser cutter, knitting machine, make a light dimmer circuit or develop a body tracking system. Some years ago we couldn't even imagine this and now we have access to this knowledge. People share their creations and these process, which is incredibly inspiring for us and many more people. Thus, knowledge is built on top of knowledge. We make use of open source marterial in our work and we try also to contribute back. This is the whole point of open source in our mind. And if one looks in the perspective of art to open source projects, then really many open source projects have artists on board, for example, OpenFrameworks, Processing, and more.
Open source also has an educational aspec. We do many workshops with people and teach what we know and how we work. We think open source culture is largely based on the spirit being open to sharing knowledge with many others.
FL: I'm really fascinated by your interest in textile fabrication. it reminds me the early industrial developments that were deeply connected to in the textiles industry. How and why would knitting be integrated these days as part of a makers' culture?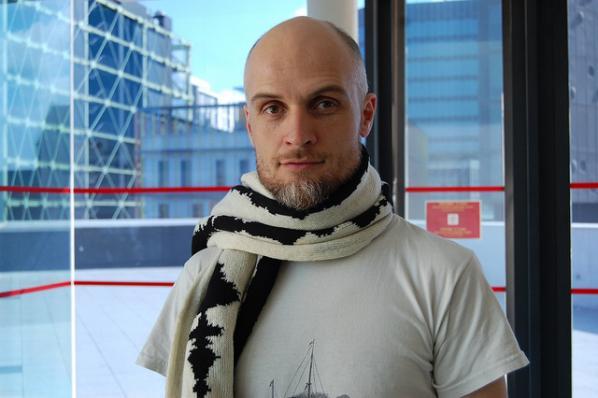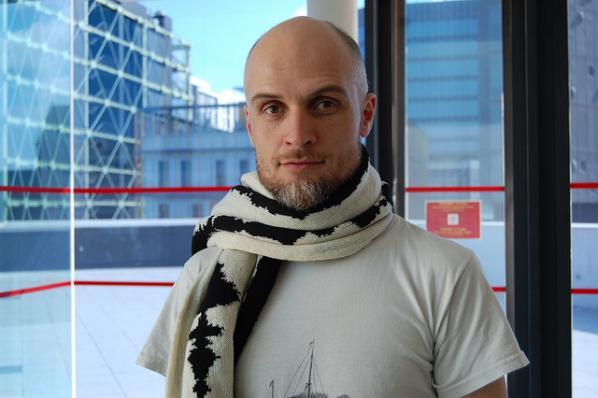 "NeuroKnitting", 2013
V&M: The process of integration is well under way. There has been a good number of makerspaces who have dedicated areas for textile production, like WeMake in Milan and STPLN in Malmö. And believe it or not this simple thing helps to introduce gender balance in these kind of places. We're not just talking about innovation, which can boost gender equality when you introduce knitting to hacking. We're also talking about the democratisation of production, when thinking about clothing too. This area is quite vital and commonly understood. 3D printing toys is a cool activity for a weekend, but then it becomes boring. Knitting a sweater or a scarf has real value and the quality is always higher than a typical mass produced factory product.
For 3D printing we cannot say the same. Don't get us wrong, we are not against the 3D printing. We love it and have six printers in our studio. Our point is that the areas of concern for digital fabrication are not complete, and the founders of FabLab have overlooked the whole area of textiles.
FL: You've run many workshops taking in account various topics such as 3D printing, solar energy and knitting, of course. How do these activities connect with your research?
                                           3D printing workshop, June 2015
V&M: First of all, we like to teach and interact with our students. Second, preparing a workshop, allows us to research more about the field, and organise and share our accumulated knowledge and experience.
And finally, workshops are one part of our income. We don't have any other jobs on the side, and exhibitions and commissions are not regular and do not always pay well, and yet the bills keep coming in. Hence, workshops help us to pay our bills.
FL: One of your works which most fascinate me is "Sonima" (2010). It's a project that takes in account questions that have become quite recurrent in last months, mostly linked to Anthropocene discussions. The soft coexistence of technology and nature which is organic and artifical. Which is one of the main topics of your research: why are you so interested in this question? It looks like you're trying to develop experiments for an utopistic future in which humans and nature live in symbiosis. Am I wrong?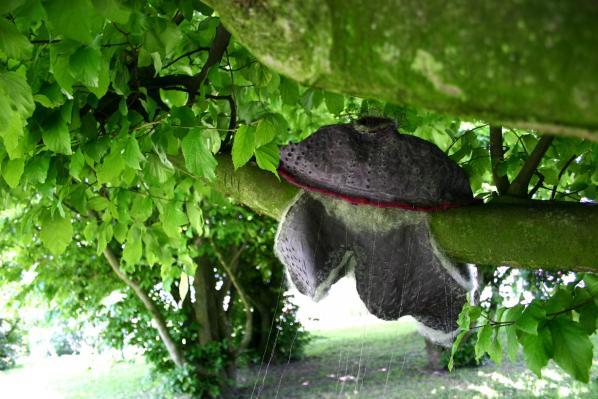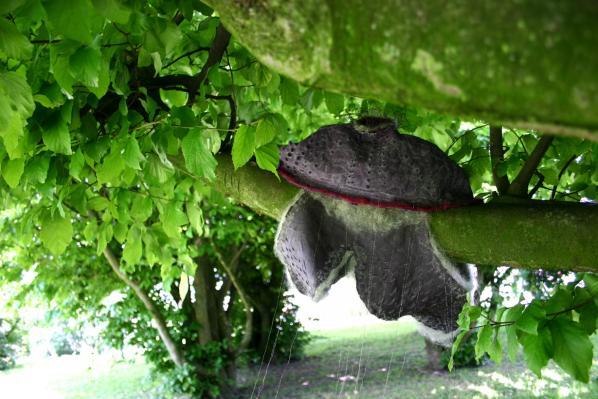 "Sonima", 2010.
V&M: Yes, many of our works express our futuristic thoughts or imagination where the digital age will lead us and our planet to. It is nice that you have noticed this. I would say this kind of concept in 2010 was quite subconscious. I (Varvara) was very interested in organic form but with mutational origins but still adapted by nature.
More conscious approach towards anthropocene epoch can be seen and felt in "Tree of Hands" (2015), which is one of our recent works. However, it looks like we have touched quite a taboo topic. For instance, "Tree of Hands" was rejected by jury of PAD London fair because of its depressive concept.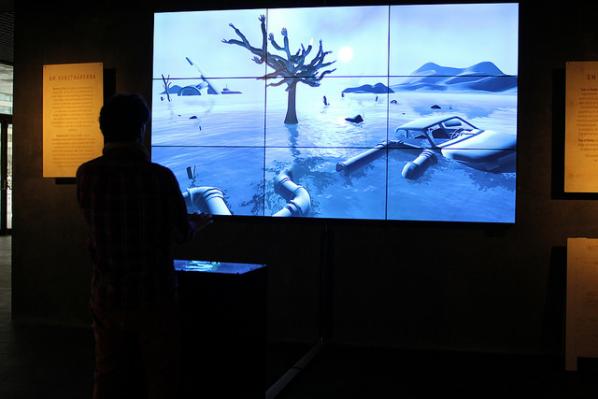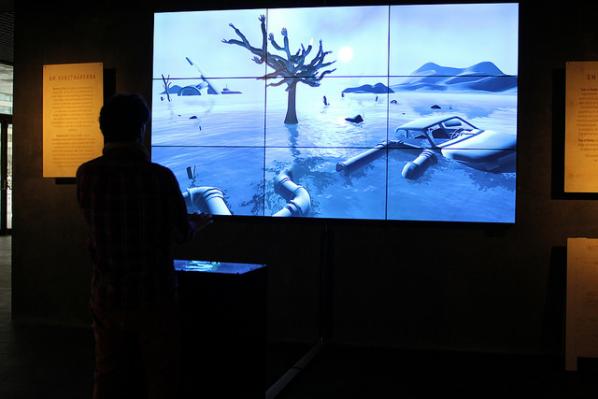 "Tree of Hands" (2015).
FL: "Shopping in 1 Minute" (2011) is another project I would like to ask you about. This work is about consumerism at its finest (or worst), turning one of the most typical capitalistic places (supermarkets) into ludic spaces. It's a piece of social art that presents itself without informing the public what is right and what is wrong, but it rather suggests in a more subtle way the perversion at the base of that system. What do you think?
V&M: Yes. What we are doing is the absurd exaggeration of the same action (buying) to a maximum with one but: not buying and playing instead. There is a saying that shopping is 5 min happiness. The artwork tries to create a synthetic feeling of satisfaction of the ability to buy. The shopping centers are doing everything to stimulate our consumption needs, and our artwork manages to get inside their ecosystem and playfully releases that artificial desire to buy.
FL: With at least a couple of projects, you've also worked to the redefine hurban landscapes by looking at the invisble while at the same time taking on rather specific forces such as mass use of Wi-Fi networks becoming part of the everyday. I can't help thinking that this is somehow related to privacy questions, probably because one of the most notorious scandals some years ago was Google's secret recording of Wi-Fi networks with their Street View cars. Am I wrong?
V&M: Not really. But definitely Google has played a role in feeing our concerns about being watched, spied, hacked, scanned, etc. For example, the last scan for WiFi router names we did last summer in Tallinn some people were quite freaked out seeing a person on a bike with a camera on its head and tablet in front. I was even once asked if I worked for Google. 🙂 Anyways, the project was great fun for us, and we got to explore the city and discover the whole invisible communications networks and the self expressive layers of it all. After the Tallinn scan we even changed our minds about the 32-character local Twitter that the WiFi router SSID could be used for. The Tallinn experience showed us the new tendency: where people would use radio waves for semi-anonymous graffiti, communicating sometimes silly, protective, racist or political messages.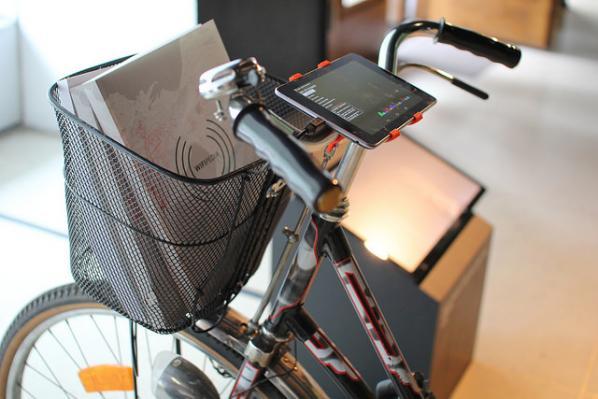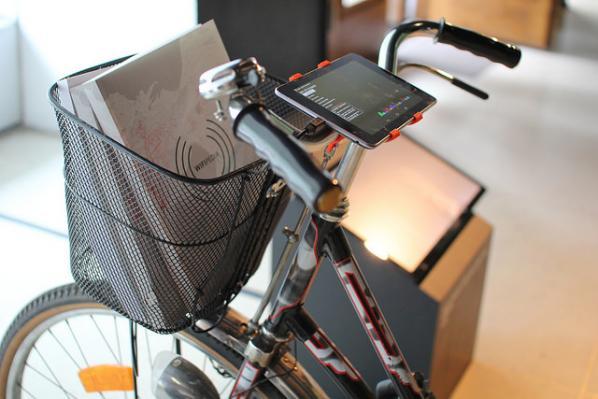 "WifiPedia", 2015, exhibition view, Tallinna Kunstihoone Gallery
Talking about inspiration for this project, we got our interest for WiFi names from one article talking about the ability to track down pro- and contra-Obama communities by just looking at WiFi names in the neighborhood. This was before the US president election. Then we started to thinking of an art project on this topic.
FL: "The Rythm of City" (2011) is another project which is also 'subtly' related to control issues. The idea that someone can depict the state of a city by looking at data deducted from social media and web platforms. This type of thing is real now isn't it – what do you think?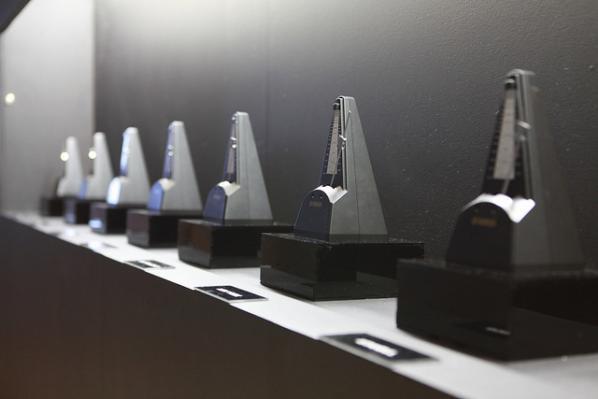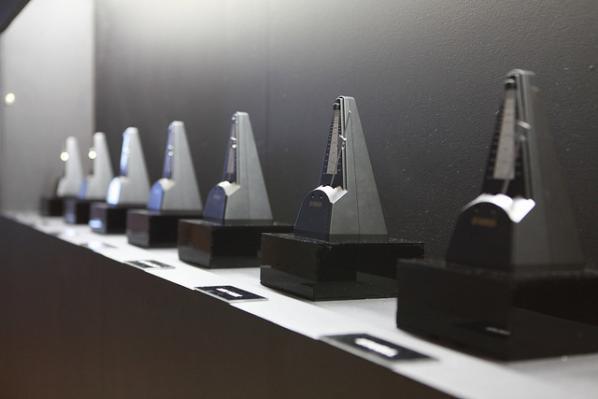 "The Rhythm of City", 2011.
V&M: Definitely it is. However, the work's main intention is not to talk about control issues rather about big data and its applications. Perhaps the main intention of this work is to offer to the viewer(s) a birds eye view on different cities in real time. In other words, The Rhythm of City allows you to zoom out and witness the larger picture on the current situation. And this larger picture is formed by everybody's activity on social media, which is tracked down every minute. We call this action 'unaware participation' by digital inhabitants. The urban studies of Bornstein & Bornstein from early 1970s served as an inspiration for this artwork. They had discovered a positive correlation between the walking speed of pedestrians and the size of a city. Simply put: the bigger a city, the faster people move. The artwork demonstrates our interpretation of a city's tempo through in its digital form or life. Hence, The artwork talks about pace of life in different cities at the same moment when the piece is viewed.
FL: What have you been working on these last few months and what plans do you have for 2016?
V&M: We are working on a series of new works talking about money. When we have completed "Wishing Wall" in London in 2014, since then we have noticed that the majority of people, especially a younger audience, wish for money. This really caught our attention. The ongoing hard economical situation in Europe pushes forward the need for money and also introduces a growing gap between the economical classes. So we're investigating people's desire for money and its connection with happiness. Making use of interactive technology we are aiming to approach playfully and magically the desire for becoming rich. At the same time, we cannot let go of knitting. At present, we are working on an open source flat knitting machine, which will be able to knit patterns also. Besides the new productions, we are showing our existing works in various exhibitions. For the confirmed ones, "The Rhythm of City" will be part of "REAL-TIME" a group show curated by Pau Waelder in Santa Monica museum in Barcelona from the 28th January. In February "Digital Revolution" (the touring exhibition by Barbican), which "Wishing Wall" is part of, moves from Onassis Cultural Center in Athens to Zorlu Center in Istanbul. And hopefully we get couple of other shows and new productions that are in the air at the moment and still to be confirmed soon.
Angela Washko is an artist, writer and facilitator devoted to creating new forums of discussions in spaces most hostile towards feminism. She is a Visiting Assistant Professor at Carnegie Mellon University. Since 2012, Washko has also been facilitating The Council on Gender Sensitivity and Behavioral Awareness in World of Warcraft, her most known project: it's a series of actions taken within the virtual space of World of Warcraft ("WoW"), an online video game set in a fantasy universe in which people play as orcs, knights and wizards. Her research is focused on the social relations between the gamers, with great attention towards on how these relate with feminism and women, who are becoming more and more numerous between the players of this game. Washko investigates also how design elements of the game influence the relationships of the people who inhabit it; it's a social study on a community expanding more and more widely, and acts within a limited set of rules designed by video game producers.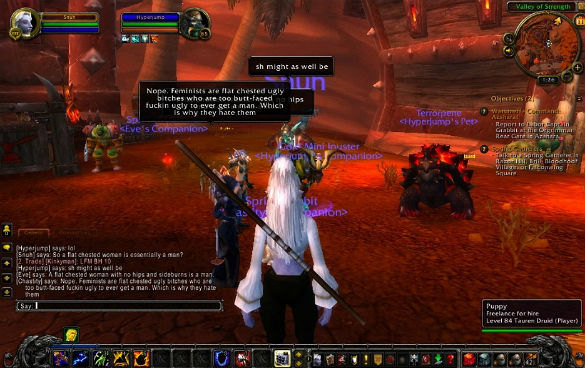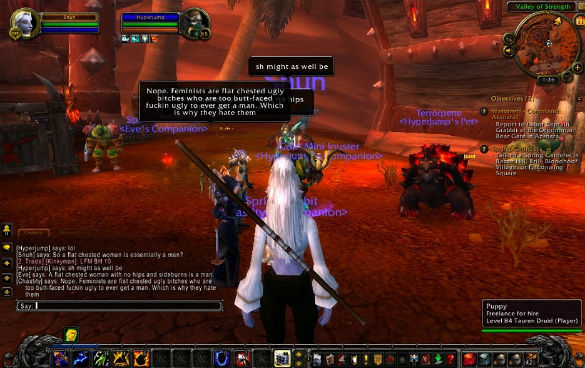 Angela Washko, "The Council on Gender Sensitivity and Behavioral Awareness in World of Warcraft", 2012, Screenshot
Filippo Lorenzin: I've read in some your previous interviews that you started playing WoW in 2006, so we can say you're a veteran gamer. In the same interviews you pointed out many important elements linking to some of my own research. First of all, the fact you didn't hesitate to make a parallel between IRL public spaces and online public spaces makes me think you're part of a generation (as me) that doesn't care of this division. You create situations and opportunities to let people discuss: it's as if you meant online gaming as a social activity, rather than a set of rules designed by programmers in which people interact as NPCs ("Non-Player Characters"). What do you think?
Angela Washko: I wouldn't say that I don't make a distinction between online and offline space… rather, that these spaces are so integrated and much less separate than the outdated "it's online/digital therefore it's not real" model. Online gaming is a very general term and they each have a specific way of operating with contexts that have particular ways of allowing players to communicate to each other. Some of those games are designed to institute high degrees of collaboration in order to get to the most difficult content. World of Warcraft falls into this category. This coercive collaboration breeds a social/chat structure which makes the game as much of a social space as a play space.
My work in WoW is about analyzing the user's social culture created within the otherwise fantasy oriented landscape and talking to players about the way that it's developed. So of course there are thousands of things I could have focused on within WoW (and in The World of Warcraft Psychogeographical Association I focus more on exploring the landscape free from quest suggestion/utility and drift about exploring), but for The Council on Gender Sensitivity and Behavioral Awareness in World of Warcraft I was driven to work the way I did due to the treatment of women by the community within the space once players establish their self-identified gender behind the screen. At least on the servers I was playing on.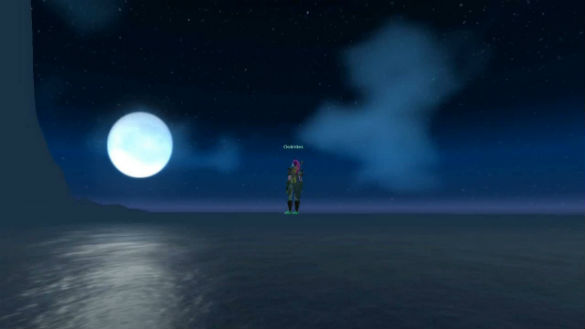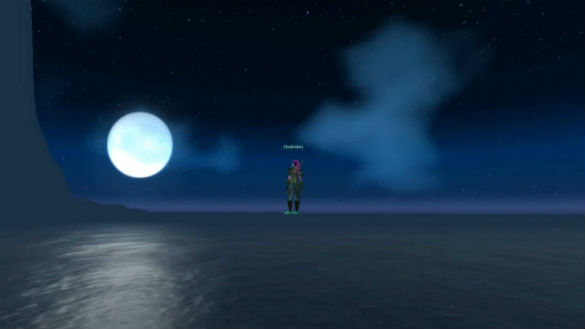 Angela Washko, World of Warcraft Psychgeographical Association – Helsinki Drift 2014, Screenshot

FL: Your use of WoW mechanics in order to raise questions about sexuality and identity makes me think of situationist approaches. As they wanted to create new urbanism refecting the grounded needs and identities of the people, and your actions seem to lead to the creation of a new gaming system, based on players/people who aware of the characteristics of the game and their results in the definition of their identities. Am I wrong?
AW: I guess in WoW I was wondering why the politics of everyday life outside the screen had to govern the rules of this otherwise epic and otherwise not-human-like landscape. I wondered why women were excluded or treated as though they were inherently unskilled (naturally/biologically non-gamers) and at the same time were rewarded for being willing to be abstractly sexualized in guild hierarchies and elsewhere. After being asked to "get back in the kitchen and make [insert player name here] a sandwich" enough times, I stopped playing for a bit. And then I returned, determined to figure out why this was an ubiquitous approach to talking to women in the game space. So I wanted it to be in a place where we could openly discuss and potentially become more considerate about communal language to the point that it could become a much more inclusive space for everyone, and maybe a more diverse social space than we all curate for ourselves in our everyday (physical space) life. Why did our identities outside the screen still have to govern how we are treated as orcs and trolls and whatnot? This game still holds onto a lot of the qualities of the avatar-hidden web 1.0 persona…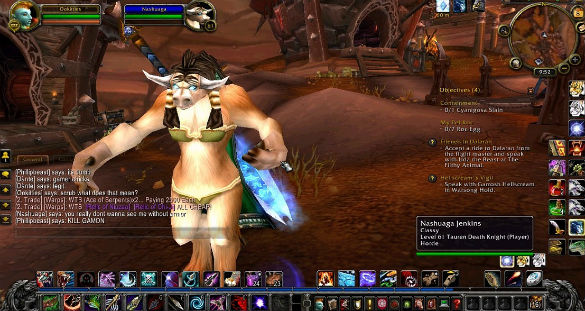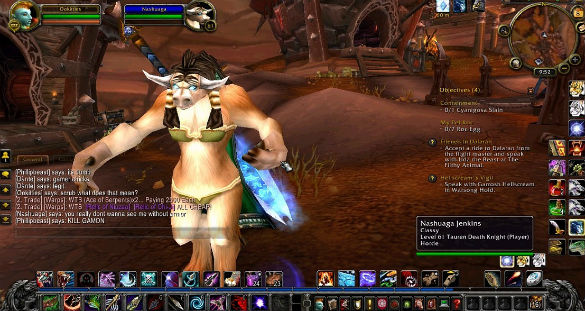 Angela Washko, "The Council on Gender Sensitivity and Behavioral Awareness in World of Warcraft", 2013, Screenshot
FL: Debord wrote that "the construction of situations begins on the other side of the modern collapse of the idea of the theatre. It is easy to see to what extent the very principle of the theatre – non-intervention – is attached to the alienation of the old world. Inversely, we see how the most valid of revolutionary cultural explorations have sought to break the spectator's psychological identification with the hero, so as to incite this spectator into activity by provoking his capacities to revolutionize his own life. The situation is thus made to be lived by its constructors.".
As you can see, it looks like he's describing your work and I'm really curious to know your opinion.
AW: Well, I have thought about this work (and the psychogeographical work that came slightly later) as definitely linked to Debord and Situationism. I think I became tired of just being able to show the injustices women face everyday. Just prior to the WoW work, I was making videos from replaying single player RPGs from 1992-2003ish showing only women's storylines and the ways women were represented. I think the work shocked the gallery audiences who saw it because they weren't gamers and instead of making them think about why the ways in which "women are supposed to act" are embedded in all of our cultural artifacts – it made audiences ask me why anyone would play video games? This frustrated me because I hated the 90s stereotypes that existed about gamers being delinquent and lazy and so I wanted to have conversations in game spaces themselves among the communities that I was involved in rather than just taking from games and then putting them into an art context to be exoticized by art audiences. This is changing a lot as more people identify as gamers and more academics realize the massive amount of people that play games and the cultural importance of games themselves. But I wanted to be able to create a space for discussion with the playerbase itself directly and make that the work rather than making some kind of insightful commentary – to give voice to the community itself to let it speak for itself (regardless of my point of view on the matters discussed) and at the same time try to make sense of how it ended up the way that it did.
FL: The players are being involved in discussions about sexuality and identity. Could you tell your art and cultural references? I can see a lot of '60s and '70s approaches…
AW: Oh yes – I mean artists like Valie Export, Adrian Piper, Lynn Hershman, Sophie Calle and the Guerrilla Girls of course, in terms of performance and visibility of women and feminism/feminist activism but in terms of public/media intervention and social practice I think of people like Paper Tiger TV, The Yes Men, The Center for Post Natural History, The Institute for Applied Autonomy, Dara Greenwald, Ant Farm, Kristoffer Orum and Anders Bojen.
I also feel very indebted to remix/appropriation artists like Craig Baldwin who have reclaimed what can be used and how we can rethink existing pop cultural material as sites of intervention for artwork. I also feel like I'm even more influenced by diaristic women writers– particularly Phoebe Gloeckner, Kathleen Blee (sociologist), Elfriede Jelinek, Chris Kraus, Kathy Acker…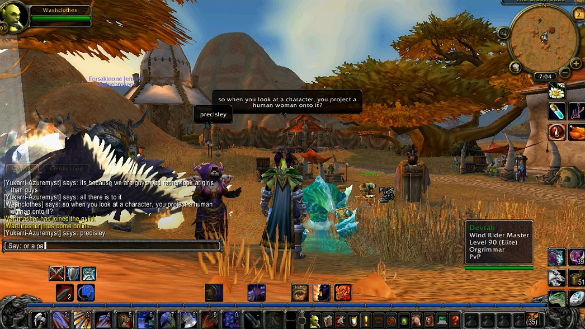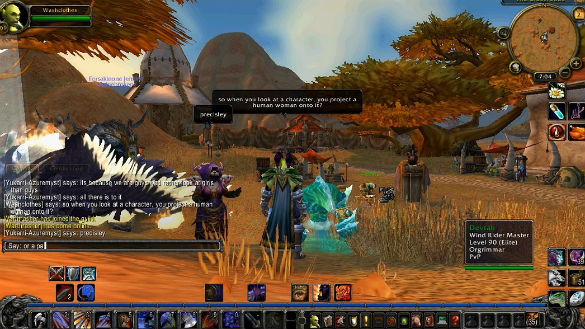 Angela Washko, "The Council on Gender Sensitivity and Behavioral Awareness in World of Warcraft", 2013, Screenshot
FL: Though question: do you think artists have (or "must have") a social role? And if they take a stand, what should be their goals?
AW: I think for me interesting artists have a social role! I don't think that all artists have to make socially engaged work or have to have some kind of service responsibility. I think what was appealing to me about pursuing art as a context for the things I aspire to do is that it is so broad! I mean you have so many "art worlds", this is a really broad question! So I would say no, but I think artists are in a unique position to have so much flexibility in what you're permitted to do in your work. In a sociology context, my work would require so much paperwork it would be impossible to get every player I talk to in WoW for my research to sign the necessary papers outside of the game space!  So art affords me the flexibility, spontaneity and responsiveness to context to experiment, and really get in there in a way that other fields don't. So I have found for someone interested in looking at why women are treated the way that they are in fields that are ephemeral and difficult to document, and wanting to have direct discussions about it…art seems to be the field for me to do it in.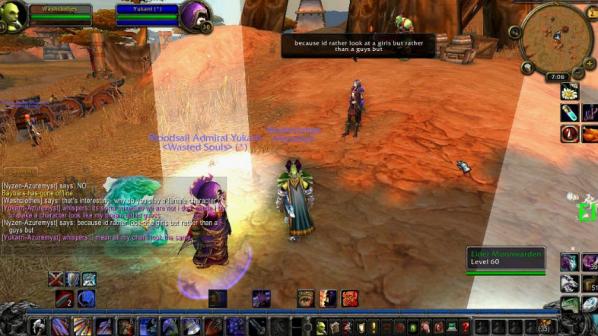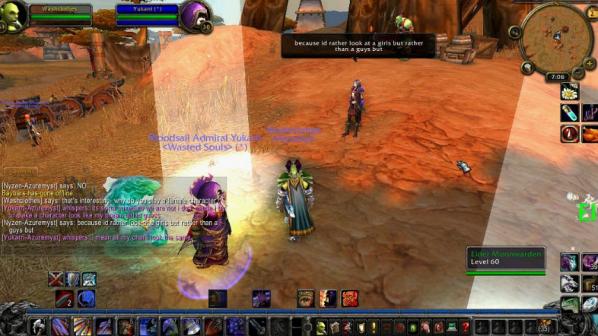 Angela Washko, "The Council on Gender Sensitivity and Behavioral Awareness in World of Warcraft", 2013, Screenshot
FL: What did you learn from your projects?
AW: Things that I learned which I think will be beneficial for me in the future:

– Be responsible and respectful to everyone you work with.
– Be flexible and responsive. Recalibrate your expectations and be prepared to be wrong about every assumption you've already made.
– Think about power. Remember that by being able to capitalize on what you collect, you are in a position of power – make efforts to put yourself in positions of vulnerability. Acknowledge whether or not what you are doing is exploitative. Make everything you do available to all participants who are interested.
– Be clear about what you are doing with the people involved. Be upfront with your participants.
FL: As you previously stated, feminism is a really important element of your research. Did you notice any change between 2010 and now? I'm especially referring to how feminists are portrayed by society, the opportunities in which you can debate and share ideas with somekind of new wave of young artists and critical thinkers who are also deeply involved in these discussions.
AW: When I first started the project, "feminism" was the worst possible word you could say in WoW. Everyone went crazy – feminists were widely described as man-hating whores, flat-chested ugly bitches, women with hairy armpits and worse. But I've definitely noticed over time with more mainstream visibility and more writing and a younger generation of artists and celebrities identifying proudly as feminists…the discussions about feminism have become much more complex in WoW and there are many more perspectives and a lot more people self-identifying that way in the space.
Outside of WoW, it seems like more and more women are identifying as feminists and a lot of young writers are really making space for feminism in mainstream media. However, I think it's been quite polarizing and alienating as well. More and more Men's Rights Activist groups and nearly militarized manosphere communities are popping up. So with the growth of feminism we also have the growth and visibility of self-identified counter-feminist movements. I think the fact that feminism is a part of mainstream media vocabulary in a way that is a bit more dimensional is definitely positive. The ideas of what a feminist and what a woman can be/do are shifting and evolving and that's exciting to see.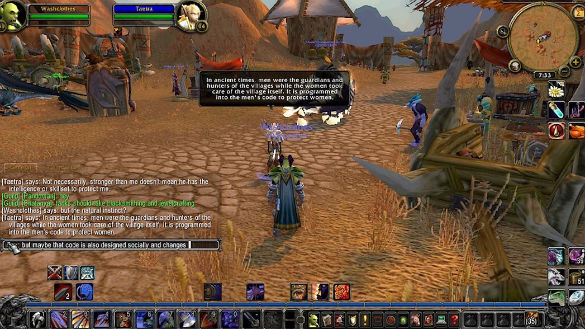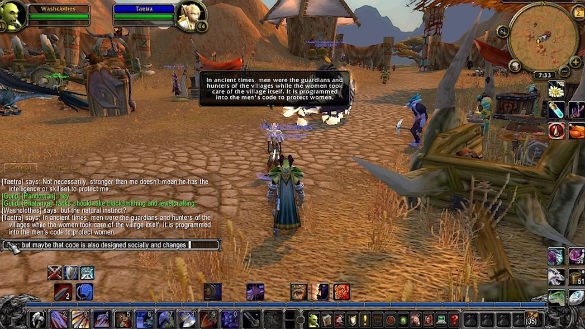 Angela Washko, "The Council on Gender Sensitivity and Behavioral Awareness in World of Warcraft", 2012, Screenshot
FL: Products like WoW are designed for a masculine audience but looks like it's not so evident for most of them. With your actions you push other players to discover this aspect, so I wonder if you would define your research as critical art, and or an art that helps others to see the reality behind what the system teaches them).
AW: I would definitely call my work critical art in regard to what you're proposing! I think in all of my work I am looking at systems and trying to reveal the way they work, using an approach that is accessible to wider audiences than the systems typically reach. I like to approach cultural artifacts by exploring and then dissecting them and then translating/excavating those findings from the site and sharing them as widely as I can.
"Outside of the Internet there's no glory" Miltos Manetas"
Guido Segni, is an Italian artist whose activity began in the fields of hacktivism and Net Art in the 90s. As part of his practice he questions the nature of identity that resides on the Web (acting under many fake identities, like Dedalus, Clemente Pestelli, Guy McMusker, Angela Merelli, Anna Adamolo, Guy The Bore, Umberto Stanca,Silvie Inb, Fosco Loiti Celant, Guru Miri Goro, Leslie Bleus, Luther Blissett) and the value of digital activity with projects like 15 Minutes, anonymous, and The middle finger response.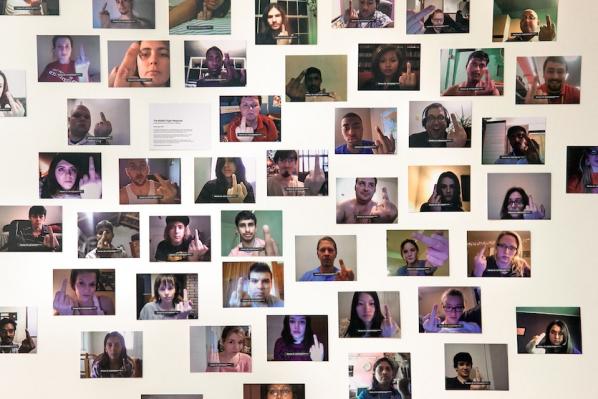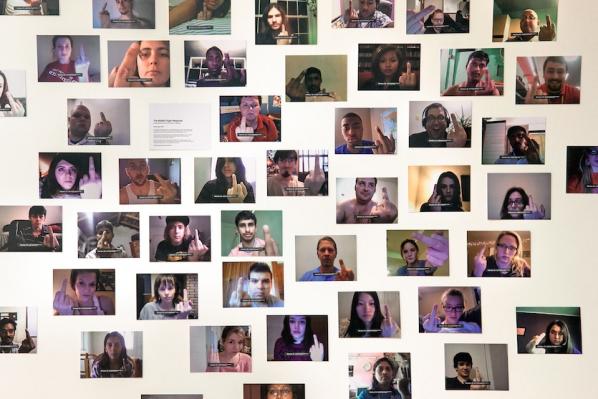 Guido Segni, The Middle Finger Response , installation for Reality Check,
photo credit Fabrizio Misson – http://bit.ly/1KV76PW

The Internet and lists are two things that have always been together, especially now many of us use social networking platorms such as Twitter and Facebook. We can't track how and when the first "Top 25/10/5" appeared on the Web, but it's for sure one of the most frequent ways to gain a lot of attention from Internet users, and it can make you feel as if you're trapped in a never ending, online fast-food loop. However, when I found out that Guido Segni had created his own version of a top 25 list I was naturally intrigued, so I decided to ask him what it was all about.
Filippo Lorenzin: How and when did you start working on Top 25 Expiring Artists?
Guido Segni: It all started in 2013 after a discussion with Luca Leggero, an artist friend of mine who was working on a piece about the ephemerality of internet art pieces, and it stimulated in me many thoughts on the subject. In the beginning I just wanted to create a sort of memento mori, a list of all artists' expiring websites. It was only a few months later I introduced the idea of it as a competition, transforming the work into an ironic top artists ranking list, based on the expiration date of their websites.
FL: Could you tell us how it works and how are artists ranked on the list?
GS: It works as many of the other ranking lists you can find on the web. The difference stands on  the criteria. While many lists circulating on the web (Top 10 young artist to follow, Top 5 internet artist, etc) are often based on unintelligible criteria, in TEIA (Top Expiring Internet Artists) the criteria are as clear as useless and absurd: the whole list is in fact ordered by the expiration date of the artist website. The nearer is the website expiration date, the better ranking the artist website will obtain. It's a democratic but very competitive race where everyone can reach the first position even if just for a day. Top 25 Expiring Artists is automagically updated every day – you can only see the top 25 but actually the project counts more than 50 artists. To be included in this list an artist just needs to make an email submission sending the URL of his/her/its website.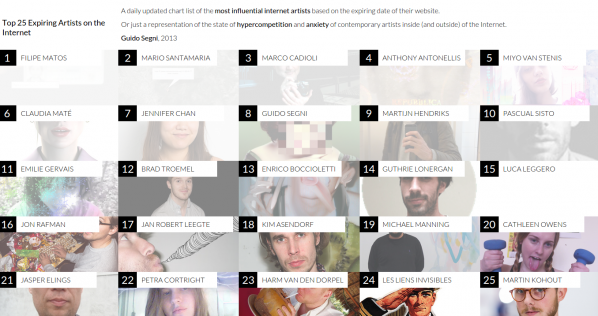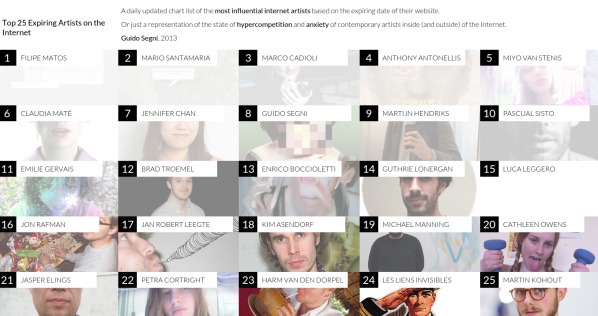 FL: This work has many interesting points to talk about, but I would start with lists-related questions. Does ranking artists on the basis of their aim to be not forgotten mean to highlight a typical behavior of all online users or does it specifically relate to web-based artists?
GS: Actually, the piece is mainly focused on web-based artists. Working with digital based technologies, I've always had to face the problem of ephemerality: every year I need to renew the subscription to the hosting service of the many website I own, I periodically have to upgrade the technical environment of my works and often I also need to recode them from scratch in order to keep them all working. That's why I decided to transform this everyday battle with technology into an ironical and nonsense race for artists, aiming to survive to time.
FL: In the list there are only artists mostly interested in digital issues and I know most of them by person. I have even worked with some of them in previous years and this makes me quite comfortable, like if it was more a sort of reunion with old friends, rather than a competitive race. Is this part of the project or would you like it to be more harsh?
GS: Remember the list is a top 25 Internet artists, so it was natural for me when I started the project to choose the first group of artists mainly involved in digital issues. That said, apart from that memento mori feeling which I've discussed before, I was also interested in creating a believable and ironical representation "of the state of hypercompetition and anxiety of contemporary artists inside (and outside) of the Internet." Probably it's because I'm a nostalgic of the early days of the Internet –  the period of the net utopia  – but what I see today is more and more a rising feeling of egotism and selfishness. So what I tried to do is just to stress this contraposition between the brotherhood – what you call the reunion with old friends – and the competition, a perpetual struggle between peers for not being forgot.
FL: This project is ironic. You can say this just by seeing how you mimick aesthetic and text styles of online services like Klout or Google Rank. It seems to me that this is a recurring feature in your works – like in The Middle Finger Response. Is it true?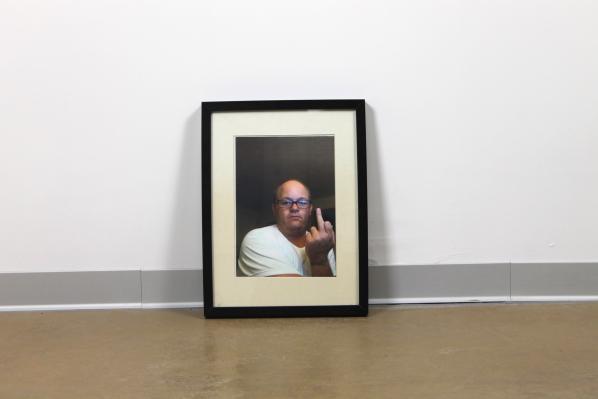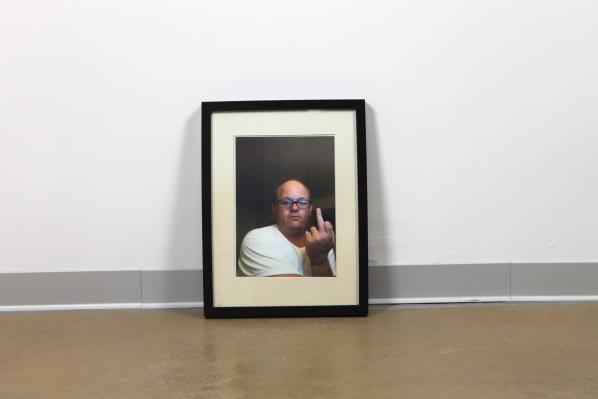 The Middle Finger Response
GS: It maybe depends on the fact that I'm from that particular area in Italy (Tuscany) where you can't either take yourself too seriously. Or maybe it depends on the fact that irony itself is an important feature you can find over all the formats on the Internet. But I agree with you that willing or not the use of irony is a recurrent and strong component of my works. 
FL: I'm interested in how people (me too, yes) sign to online services that promise them to rank their online lives on the base of their influence capacity. It's like watching a mirror made on quantification premises, built by the same system that push you to post more and more about yourself and your incredibly unique existence. In which way this project is related to this phenomenon?
GS: The main intent of the project is to ridicule lists of any sort. But said that, I think the reason why lists – as a cultural form – are so popular is that they have the power to simplify the representation of complex phenomena of reality. So the various "Top artists to discover", "Top 10 rock bands" or the "Most influential person in the world" are just examples of a fictious narration which give the apparent comprehension of the real. And this is particulary true in an over-polluted space like the Internet.
FL: In the brief conversation we had previously on Twitter, you said to me that you would like to make other versions of this project. Can you tell me something about this?
GS: I have many ideas about these new versions but unfortunately I'm a very slow man and I still don't know how and when they will be released.
FL: You worked on the branding of people also with 15 Minutes, anonymous. Could you tell us if and how there is a connection between that work and Top 25 Expiring Artists?
GS: To be honest, at that time I hadn't in mind these connections. From a certain point of view I think they are very different form each other, but it's true that they both implicitly move around the concepts of fame and anonymity in opposite directions. While in Top 25 Expiring Artists the expire date is an ironic way to reach a sort of fame – even if only for a day – in the case of 15 Minutes, anonymous I focused on the algorithmic aspect of transforming a very large number of pictures of pop symbols into anonymous and abstract pictures.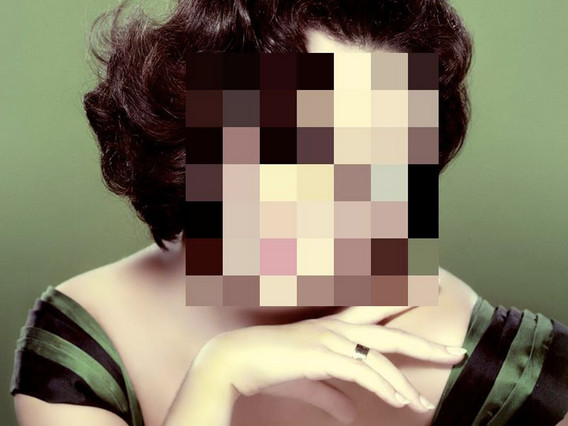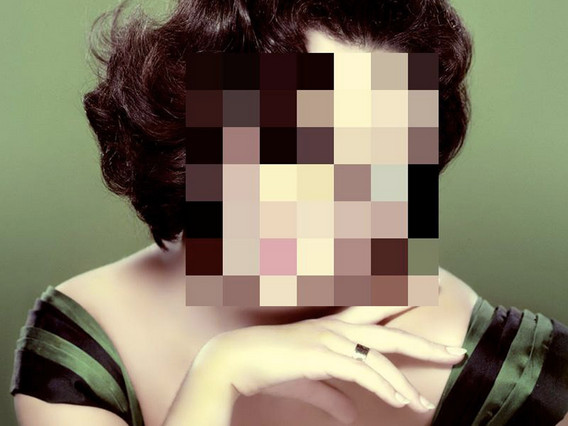 15 Minutes, anonymous.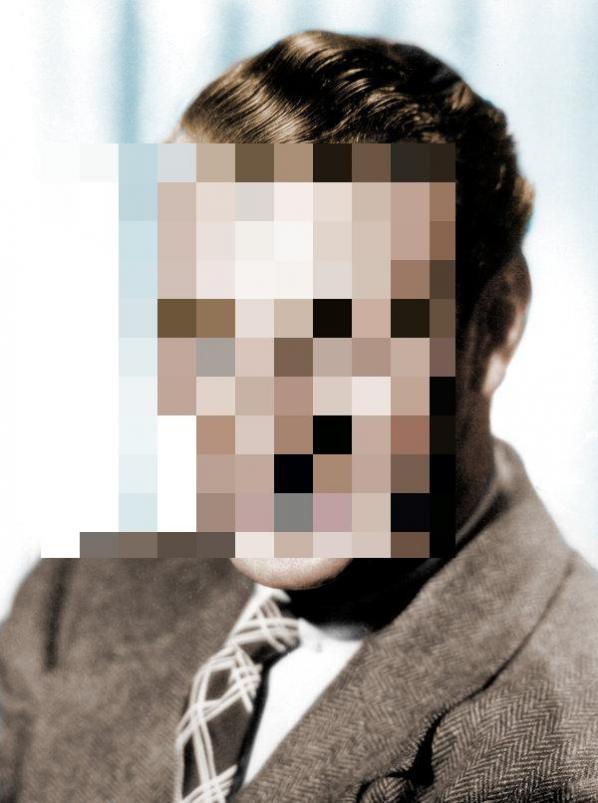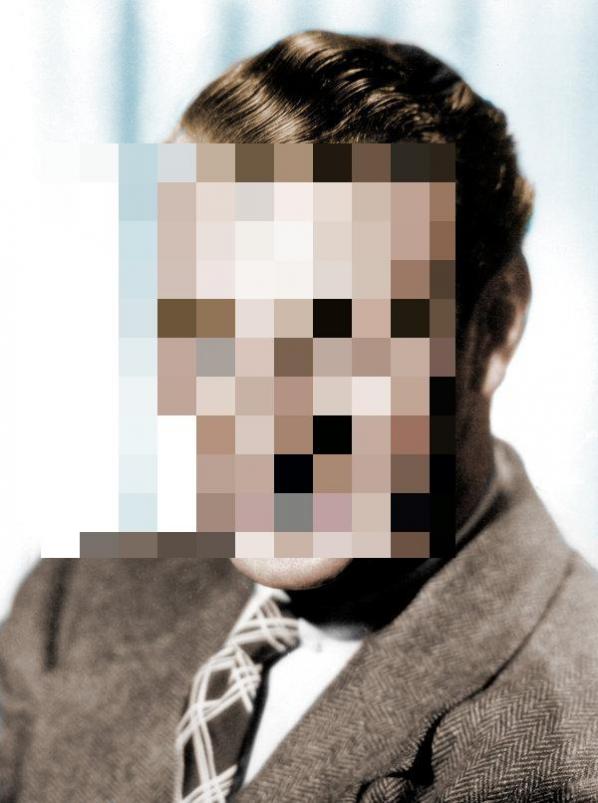 15 Minutes, anonymous.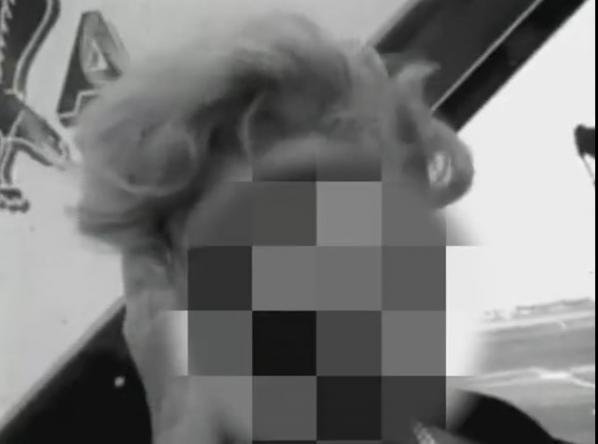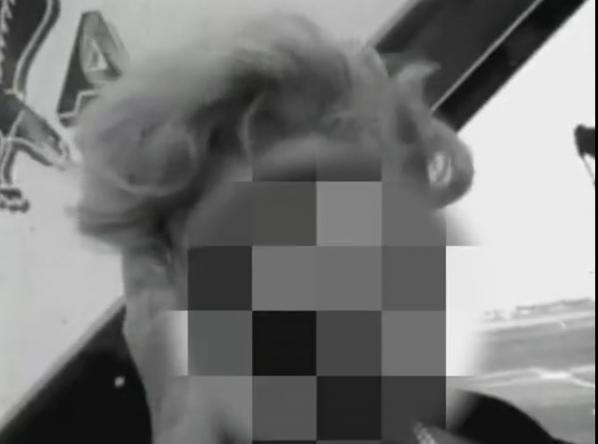 Still from 'Marylin, anonymous'. Guido Segni, 2013. Vimeo – https://vimeo.com/84358965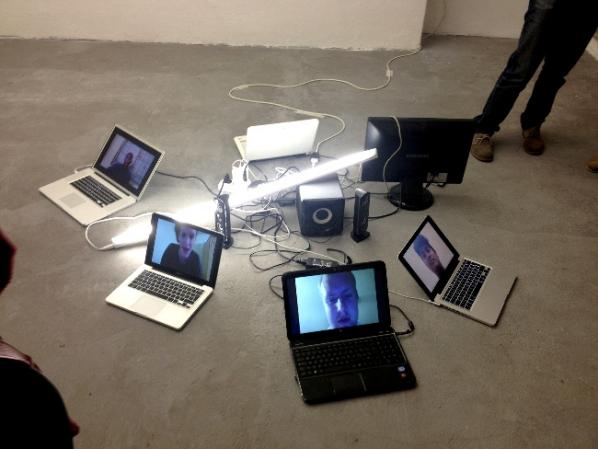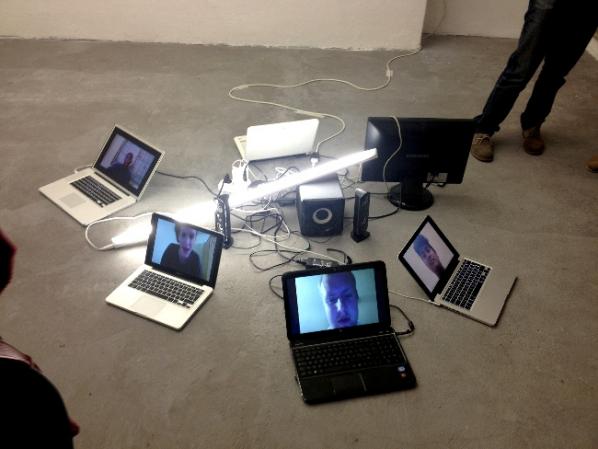 Proof of existence of a cloud worker
FL: Again, the anonymity and the individual are two of the main questions in your research. This happens also with Proof of existence of a cloud worker, and I recall me Middle Finger Response. What do you think?
GS: Between 2013 and 2014 I made several experiments with crowdsourcing and, yes, Proofs of existence of a cloud worker and Middle Finger Response have many points in common apart from that they are projects based on Amazon Mechanical Turk platform. Basically they both document and display what crowdsourcing is from the point of view of the workers dispersed through the new digital frontiers of leisure and labour. I think you got the point when you talked about anonymity and individual. As all the efforts of crowdsourcing platforms are to hide and anonymize the crowd, what I tried to do is to give them back a face and a voice. In The Middle Finger Response I focused on the spontaneous pose and gesture captured by the webcam, while in Proofs of existence of a cloud worker I used a more abstract and apparently nonsense approach as I asked them to re-enact a clip found on YouTube which shows a person claiming "Pics or it didn't happen".
FL: What will you be doing in the future?
GS: As I've already said I'm a very slow guy and I've been working on this particular project for almost 2 years. But I think we're almost there and in a few months I'm going to release it. It's a project about failures, datacenters, space/time travels and desertification of communications. Stay tuned 😉