The New Observatory opened at FACT, Liverpool on Thursday 22nd of June and runs until October 1st.
The exhibition, curated by Hannah Redler Hawes and Sam Skinner, in collaboration with The Open Data Institute, transforms the FACT galleries into a playground of micro-observatories, fusing art with data science in an attempt to expand the reach of both. Reflecting on the democratisation of tools which allow new ways of sensing and analysing, The New Observatory asks visitors to reconsider raw, taciturn 'data' through a variety of vibrant, surprising, and often ingenious artistic affects and interactions. What does it mean for us to become observers of ourselves? What role does the imagination have to play in the construction of a reality accessed via data infrastructures, algorithms, numbers, and mobile sensors? And how can the model of the observatory help us better understand how the non-human world already measures and aggregates information about itself?
In its simplest form an observatory is merely an enduring location from which to view terrestrial or celestial phenomena. Stone circles, such as Stonehenge in the UK, were simple, but powerful, measuring tools, aligned to mark the arc of the sun, the moon or certain star systems as they careered across ancient skies. Today we observe the world with less monumental, but far more powerful, sensing tools. And the site of the observatory, once rooted to specific locations on an ever spinning Earth, has become as mobile and malleable as the clouds which once impeded our ancestors' view of the summer solstice. The New Observatory considers how ubiquitous, and increasingly invisible, technologies of observation have impacted the scale at which we sense, measure, and predict.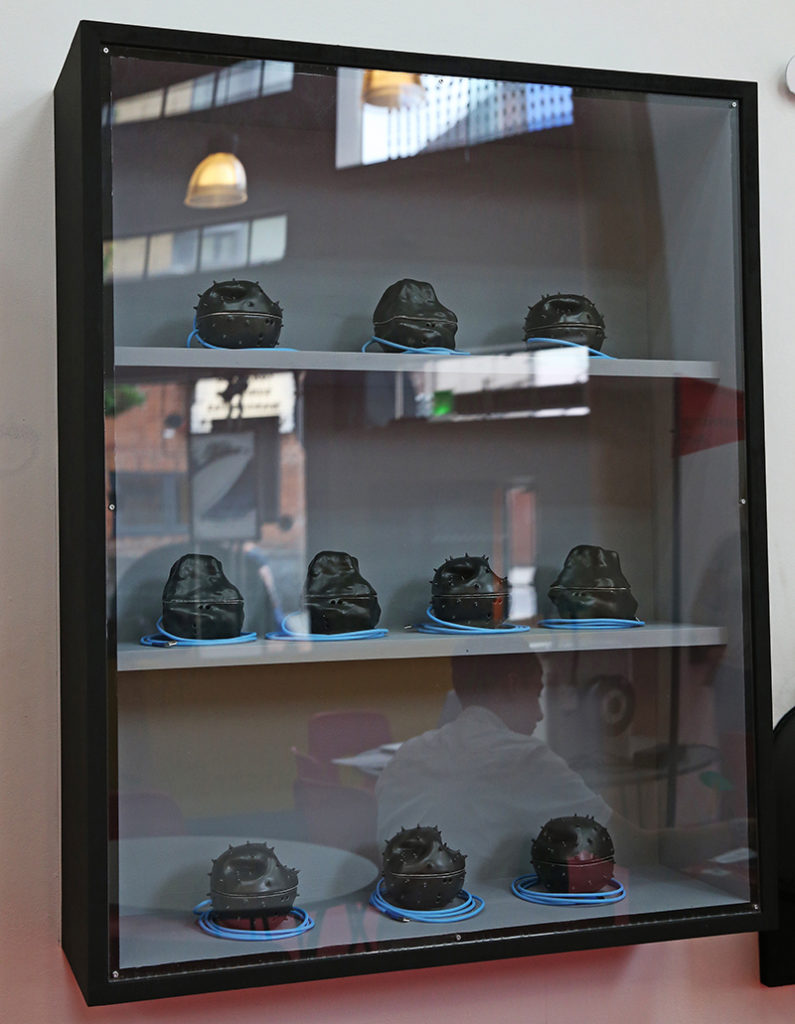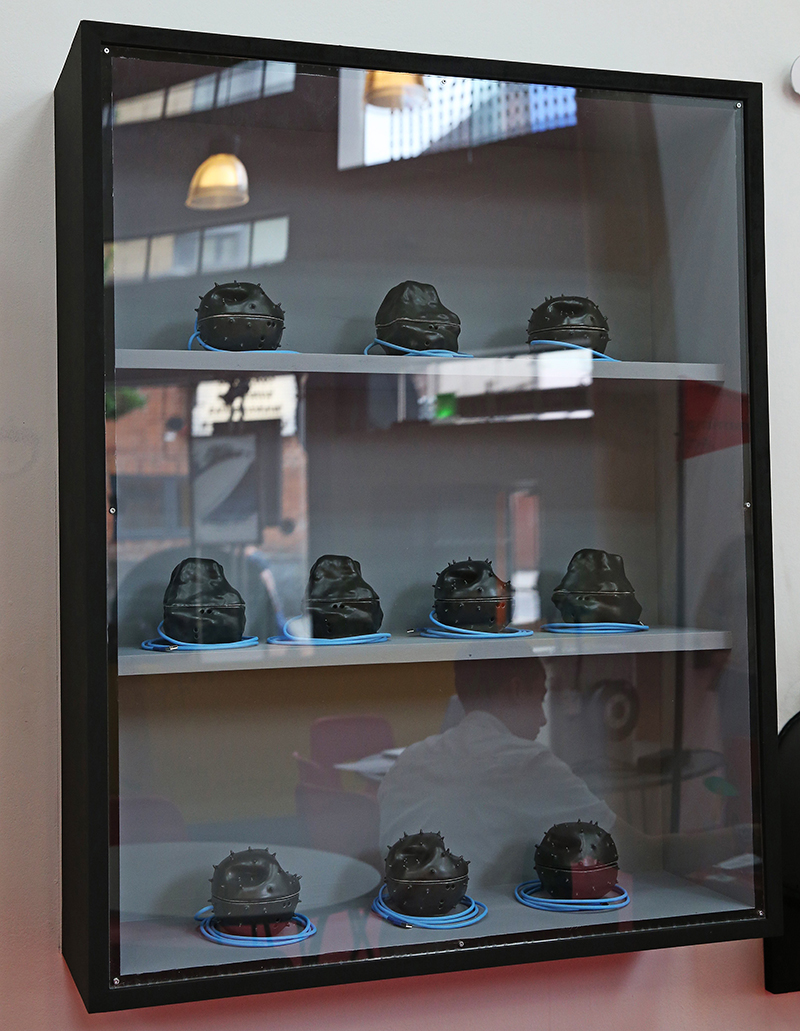 The Citizen Sense research group, led by Jennifer Gabrys, presents Dustbox as part of the show. A project started in 2016 to give residents of Deptford, South London, the chance to measure air pollution in their neighbourhoods. Residents borrowed the Dustboxes from their local library, a series of beautiful, black ceramic sensor boxes shaped like air pollutant particles blown to macro scales. By visiting citizensense.net participants could watch their personal data aggregated and streamed with others to create a real-time data map of local air particulates. The collapse of the micro and the macro lends the project a surrealist quality. As thousands of data points coalesce to produce a shared vision of the invisible pollutants all around us, the pleasing dimples, spikes and impressions of each ceramic Dustbox give that infinitesimal world a cartoonish charisma. Encased in a glass display cabinet as part of the show, my desire to stroke and caress each Dustbox was strong. Like the protagonist in Richard Matheson's 1956 novel The Shrinking Man, once the scale of the microscopic world was given a form my human body could empathise with, I wanted nothing more than to descend into that space, becoming a pollutant myself caught on Deptford winds.
Moving from the microscopic to the scale of living systems, Julie Freeman's 2015/2016 project, A Selfless Society, transforms the patterns of a naked mole-rat colony into an abstract minimalist animation projected into the gallery. Naked mole-rats are one of only two species of 'eusocial' mammals, living in shared underground burrows that distantly echo the patterns of other 'superorganism' colonies such as ants or bees. To be eusocial is to live and work for a single Queen, whose sole responsibility it is to breed and give birth on behalf of the colony. For A Selfless Society, Freeman attached Radio Frequency ID (RFID) chips to each non-breeding mole-rat, allowing their interactions to be logged as the colony went about its slippery subterranean business. The result is a meditation on the 'missing' data point: the Queen, whose entire existence is bolstered and maintained by the altruistic behaviours of her wrinkly, buck-teethed family. The work is accompanied by a series of naked mole-rat profile shots, in which the eyes of each creature have been redacted with a thick black line. Freeman's playful anonymising gesture gives each mole-rat its due, reminding us that behind every model we impel on our data there exist countless, untold subjects bound to the bodies that compel the larger story to life.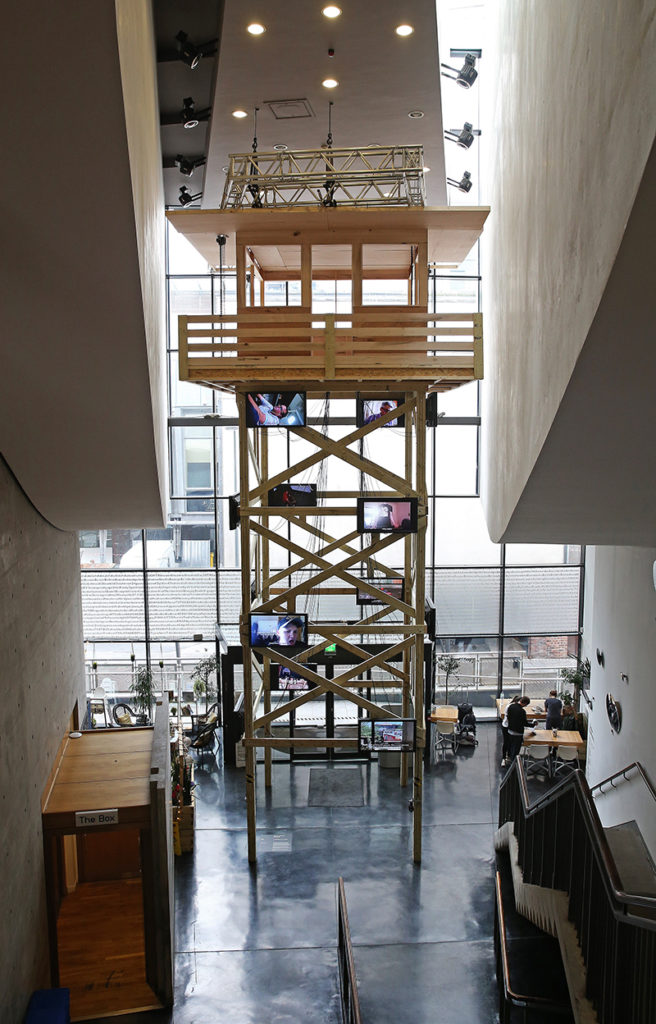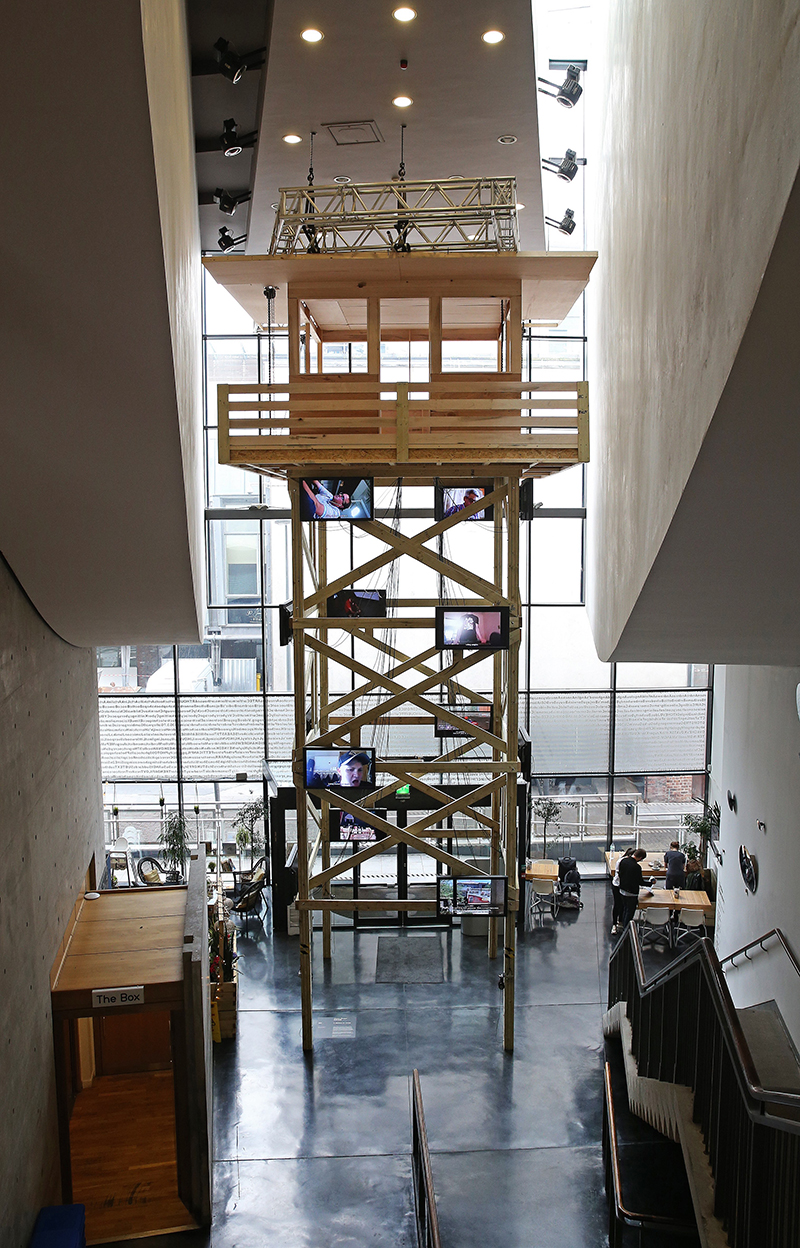 Natasha Caruana's works in the exhibition centre on the human phenomena of love, as understood through social datasets related to marriage and divorce. For her work Divorce Index Caruana translated data on a series of societal 'pressures' that are correlated with failed marriages – access to healthcare, gambling, unemployment – into a choreographed dance routine. To watch a video of the dance, enacted by Caruana and her husband, viewers must walk or stare through another work, Curtain of Broken Dreams, an interlinked collection of 1,560 pawned or discarded wedding rings. Both the works come out of a larger project the artist undertook in the lead-up to the 1st year anniversary of her own marriage. Having discovered that divorce rates were highest in the coastal towns of the UK, Caruana toured the country staying in a series of AirBnB house shares with men who had recently gone through a divorce. Her journey was plotted on dry statistical data related to one of the most significant and personal of human experiences, a neat juxtaposition that lends the work a surreal humour, without sentimentalising the experiences of either Caruana or the divorced men she came into contact with.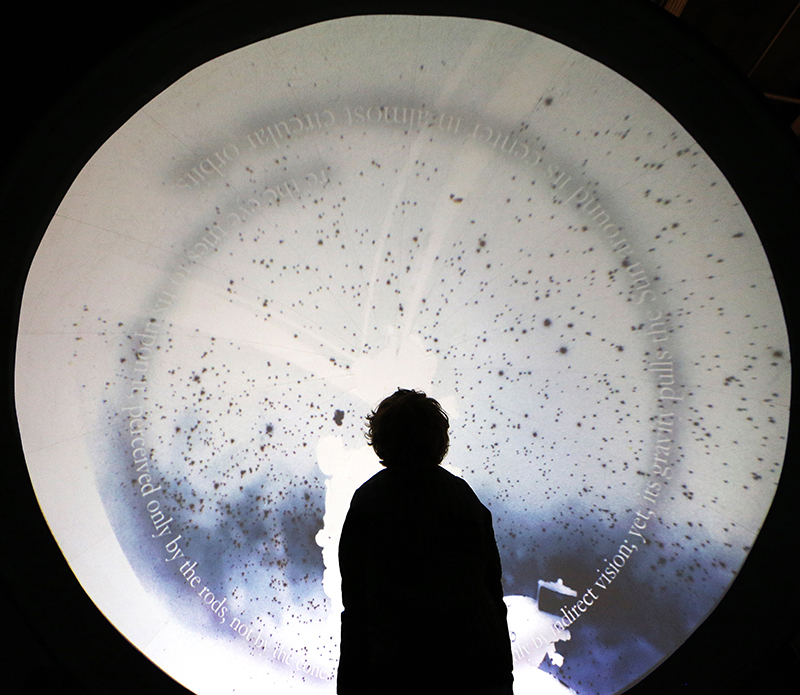 The New Observatory features many screens, across which data visualisations bloom, or cameras look upwards, outwards or inwards. As part of the Libre Space Foundation artist Kei Kreutler installed an open networked satellite station on the roof of FACT, allowing visitors to the gallery a live view of the thousands of satellites that career across the heavens. For his Inverted Night Sky project, artist Jeronimo Voss presents a concave domed projection space, within which the workings of the Anton Pannekoek Institute for Astronomy teeter and glide. But perhaps the most striking, and prominent use of screens, is James Coupe's work A Machine for Living. A four-storey wooden watchtower, dotted on all sides with widescreen displays wired into the topmost tower section, within which a bank of computer servers computes the goings on displayed to visitors. The installation is a monument to members of the public who work for Mechanical Turk, a crowdsourcing system run by corporate giant Amazon that connects an invisible workforce of online, human minions to individuals and businesses who can employ them to carry out their bidding. A Machine for Living is the result of James Coupe's playful subversion of the system, in which he asked mTurk workers to observe and reflect on elements of their own daily lives. On the screens winding up the structure we watch mTurk workers narrating their dance moves as they jiggle on the sofa, we see workers stretching and labelling their yoga positions, or running through the meticulous steps that make up the algorithm of their dinner routine. The screens switch between users so regularly, and the tasks they carry out as so diverse and often surreal, that the installation acts as a miniature exhibition within an exhibition. A series of digital peepholes into the lives of a previously invisible workforce, their labour drafted into the manufacture of an observatory of observations, an artwork homage to the voyeurism that perpetuates so much of 21st century 'online' culture.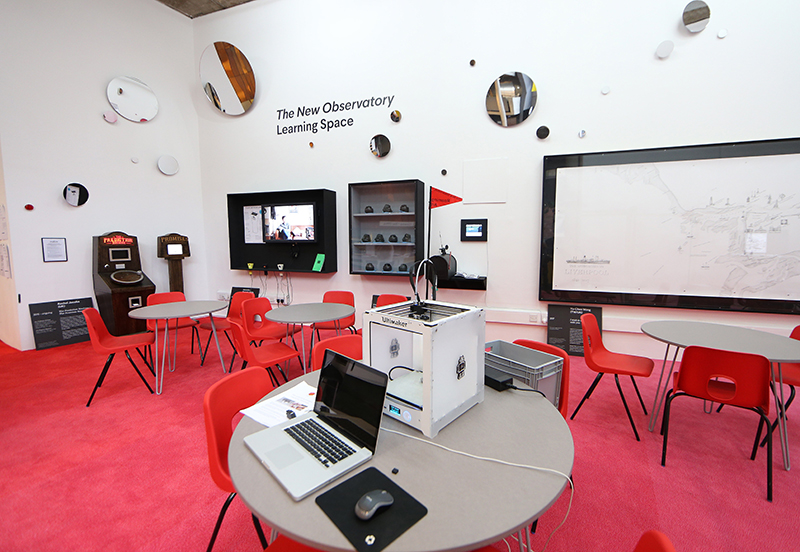 The New Observatory is a rich and varied exhibition that calls on its visitors to reflect on, and interact more creatively with, the data that increasingly underpins and permeates our lives. The exhibition opened at FACT, Liverpool on Thursday 22nd of June and runs until October 1st.
In the lead-up to her solo show, institutions of Resolution Disputes [iRD], at Transfer Gallery, Brooklyn, Daniel Rourke caught up with Rosa Menkman over two gallons of home-brewed coffee. They talked about what the show might become, discussing a series of alternate resolutions and realities that exist parallel to our daily modes of perception.
iRD is open to visitors on Saturdays at Transfer Gallery until April 18th, and will also function as host to Daniel Rourke and Morehshin Allahyari's 3D Additivist Manifesto, on Thursday April 16th.
Rosa Menkman: The upcoming exhibition at Transfer is an illustration of my practice based PhD research on resolutions. It will be called 'institutions of Resolution Disputes', in short iRD and will be about the liminal, alternative modes of data or information representation, that are obfuscated by technological conventions. The title is a bit wonky as I wish for it to reflect that kind of ambiguity that invokes curiosity.
In any case, I always feel that every person, at least once in their grown-up life, wants to start an institution. There are a few of those moments in life, like "Now I am tired of the school system, I want to start my own school!"; and "Now I am ready to become an architect!", so this is my dream after wanting to become an architect.
Daniel Rourke: To establish your own institution?
RM: First of all, I am multiplexing the term institution here. 'institutions' and the whole setting of iRD does mimic a (white box) institute, however the iRD does not just stand for a formal organization that you can just walk into. The institutions also revisit a slightly more compound framework that hails from late 1970s, formulated by Joseph Goguen and Rod Burstall, who dealt with the growing complexities at stake when connecting different logical systems (such as databases and programming languages) within computer sciences. A main result of these non-logical institutions is that different logical systems can be 'glued' together at the 'substrata levels', the illogical frameworks through which computation also takes place.
Secondly, while the term 'resolution' generally simply refers to a standard (measurement) embedded in the technological domain, I believe that a resolution indeed functions as a settlement (solution), but at the same time exists as a space of compromise between different actors (languages, objects, materialities) who dispute their stakes (frame rate, number of pixels and colors, etc.), following rules (protocols) within the ever growing digital territories.
So to answer your question; maybe in a way the iRD is sort of an anti-protological institute or institute for anti-utopic, obfuscated or dysfunctional resolutions.
DR: It makes me think of Donna Haraway's Manifesto for Cyborgs, and especially a line that has been echoing around my head recently:
"No objects, spaces, or bodies are sacred in themselves; any component can be interfaced with any other if the proper standard, the proper code, can be constructed for processing signals in a common language."
By using the terms 'obfuscation' and 'dysfunction' you are invoking a will – perhaps on your part, but also on the part of the resolutions themselves – to be recognised. I love that gesture. I can hear the objects in iRD speaking out; making themselves heard, perhaps for the first time. In The 3D Additivist Manifesto we set out to imagine what the existence of Haraway's 'common language' might mean for the unrealised, "the powerless to be born." Can I take it that your institute has a similar aim in mind? A place for the 'otherwise' to be empowered, or at least to be recognised?
RM: The iRD indeed kind of functions as a stage for non-protocological resolutions, or radical digital materialism.
I always feel like I should say here, that generally, I am not against function or efficiency. These are good qualities, they make the world move forward. On the other hand, I do believe that there is a covert, nepotist cartel of protocols that governs the flows and resolutions of data and information just for the sake of functionality and efficiency. The sole aim of this cartel is to uphold the dogma of modern computation, which is about making actors function together (resonate) as efficiently as possible, tweaking out resources to maximum capacity, without bottlenecks, clicks, hicks or cuts, etc.
But this dogma also obfuscates a compromise that we never question. And this is where my problem lies: efficiency and functionality are shaping our objects. Any of these actors could also operate under lower, worse or just different resolutions. Yet we have not been taught to see, think or question any of these resolutions. They are obfuscated and we are blind to them.
I want to be able to at least entertain the option of round video (strip video from its interface!), to write inside non-quadrilateral, modular text editors (no more linear reading!) or to listen to (sonify) my rainbows (gradients). Right now, the protocols in place simply do not make this possible, or even worse, they have blocked these functionalities.
There is this whole alternate universe of computational objects, ways that our data would look or be used like, if the protocols and their resolutions had been tweaked differently. The iRD reflects on this, and searches, if you will, a computation of many dimensions.
DR: Meaning that a desktop document could have its corners folded back, and odd, non standard tessellations would be possible, with overlapping and intersecting work spaces?
RM: Yes! Exactly!
Right now in the field of imagery, all compressions are quadrilateral, ecology dependent, standard solutions (compromises) following an equation in which data flows are plotted against actors that deal with the efficiency/functionality duality in storage, processing and transmission.
I am interested in creating circles, pentagons and other more organic manifolds! If we would do this, the whole machine would work differently. We could create a modular and syphoning relationships between files, and just as in jon Satroms' 2011 QTzrk installation, video would have multiple timelines and soundtracks, it could even contain some form of layer-space!
DR: So the iRD is also a place for some of those alternate 'solutions' that are in dispute?
RM: Absolutely. However, while I am not a programmer, I also don't believe that imagining new resolutions means to absolve of all existing resolutions and their inherent artifacts. History and ecology play a big role in the construction of a resolution, which is why I will also host some of my favorite, classic solutions and their inherent (normally obfuscated) artifacts at the iRD, such as scan lines, DCT blocks, and JPEG2000 wavelets.
The iRD could easily function as a Wunderkammer for artifacts that already exist within our current resolutions. But to me this would be a needles move towards the style of the Evil Media Distribution Center, created by YoHa (Matsuko Yokokoji and Graham Harwood) for the 2013 Transmediale. I love to visit Curiosity Cabinets, but at the same time, these places are kind of dead, celebrating objects that are often shielded behind glass (or plastic). I can imagine the man responsible for such a collection. There he sits, in the corner, smoking a pipe, looking over his conquests.
But this kind of collection does not activate anything! Its just ones own private boutique collection of evil! For a dispute to take place we need action! Objects need to have – or be given – a voice!
DR: …and the alternate possible resolutions can be played out, can be realised, without solidifying them as symbols of something dead and forgotten.
RM: Right! It would be easy and pretty to have those objects in a Wunderkammer type of display. Or as Readymades in a Boîte-en-valise but it just feels so sad. That would not be zombie like but dead-dead. A static capture of hopelessness.
DR: The Wunderkammer had a resurgence a few years ago. Lots of artists used the form as a curatorial paradigm, allowing them to enact their practice as artist and curator. A response, perhaps, to the web, the internet, and the archive. Aggregated objects, documents and other forms placed together to create essayistic exhibitions.
RM: I feel right now, this could be an easy way out. It would be a great way out, however, as I said, I feel the need to do something else, something more active. I will smoke that cigar some other day.
DR: So you wouldn't want to consider the whole of Transfer Gallery as a Wunderkammer that you were working inside of?
RM: It is one possibility. But it is not my favorite. I would rather make works against the established resolutions, works that are built to break out of a pre-existing mediatic flow. Works that were built to go beyond a specific conventional use.
For example, I recently did this exhibition in The Netherlands where I got to install a really big wallpaper, which I think gained me a new, alternative perspectives on digital materiality. I glitched a JPEG and zoomed in on its DCT blocks and it was sooo beautiful, but also so scalable and pokable. It became an alternative level of real to me, somehow.
DR: Does it tesselate and repeat, like conventional wallpaper?
RM: It does repeat in places. I would do it completely differently if I did it again. Actually, for the iRD I am considering to zoom into the JPEG2000 wavelets. I thought it would be interesting to make a psychedelic installation like this. It's like somebody vomited onto the wall.
DR: [laughs] It does look organic, like bacteria trying to organise.
RM: Yeah. It really feels like something that has its own agency somehow.
DR: That's the thing about JPEG2000 – and the only reason I know about that format, by the way, is because of your Vernacular of File Formats – the idea that they had to come up with a non-regular block shape for the image format that didn't contradict with the artifacts in the bones and bodies that were being imaged. It feels more organic because of that. It doesn't look like what you expect an image format to look like, it looks like what I expect life to look like, close up.
RM: It looks like 'Game of Life'.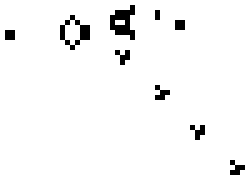 DR: Yes! Like Game of Life. And I assume that now they don't need to use JPEG2000 because the imaging resolution is high enough on the machines to supersede bone artifacts. I love that. I love the effect caused when you've blown it up here. It looks wonderful. What is the original source for this?
RM: I would blow this image [the one from A Vernacular of File Formats] up to hell. Blow it up until there is no pixel anymore. It shouldn't be too cute. These structures are built to be bigger. Have you seen the Glitch Timond (2014)? The work itself is about glitches that have gained a folkloric meaning over time, these artifact now refer to hackers, ghosts or AI. They are hung in the shape of a diamond. The images themselves are not square, and I can install them on top of the wallpaper somehow, at different depths. Maybe I could expand on that piece, by putting broken shaped photos, and shadows flying around. It could be beautiful like that.
DR: It makes me think of the spatiality of the gallery. So that the audience would feel like they were inside a broken codec or something. Inside the actual coding mechanism of the image, rather than the standardised image at the point of its visual resolution.
RM: Oh! And I want to have a smoke machine! There should be something that breaks up vision and then reveals something.
DR: I like that as a metaphor for how the gallery functions as well. There are heaps of curatorial standards, like placing works at line of sight, or asking the audience to travel through the space in a particular order and mode of viewing. The gallery space itself is already limited and constructed through a huge, long history of standardisations, by external influences of fashion and tradition, and others enforced by the standards of the printing press, or the screen etc. So how do you make it so that when an audience walks into the gallery they feel as though they are not in a normal, euclidean space anymore? Like they have gone outside normal space?
RM: That's what I want! Disintegrate the architecture. But now I am like, "Yo guys, I want to dream, and I want it to be real in three weeks…"
DR: "Hey guys, I want to break your reality!" [laughs]
RM: One step is in place, Do you remember Ryan Maguire who is responsible for The Ghost in the MP3? His research is about MP3 compressions and basically what sounds are cut away by this compression algorithm, simply put: it puts shows what sounds the MP3 compression normally cuts out as irrelevant – in a way it inverses the compression and puts the 'irrelevant' or deleted data on display. I asked him to rework the soundtrack to 'Beyond Resolution', one of the two videowork of the iRD that is accompanied by my remix of professional grin by Knalpot and Ryan said yes! And so it was done! Super exciting.
DR: Yes. I thought that was a fantastic project. I love that as a proposition too… What would the equivalent of that form of ghosting be in terms of these alternate, disputed resolutions? What's the remainder? I don't understand technical formats as clearly as you do, so abstract things like 'the ghost', 'the remainder' are my way into understanding them. An abstract way in to a technical concept. So what is the metaphoric equivalent of that remainder in your work? For instance, I think it depends on what this was originally an image of. I think that is important.
RM: The previous image of JPEG2000 does not deal with the question of lost information. I think what you are after is an inversed Alvin Lucier 'Sitting in a Room' experiment, one that only shows the "generation loss" (instead of the generation left over, which is what we usually get to see or hear in art projects). I think that would be a reasonable equivalent to Ryan Maguires MP3 compression work.
Or maybe Supraconductivity.
I can struggle with this for… for at least two more days. In any case I want the iRD to have a soundtrack. Actually, it would like there to be a spatial soundtrack; the ghost soundtrack in the room and the original available only on a wifi access point.
DR: I'm really excited by that idea of ghostly presence and absence, you know. In terms of spatiality, scan lines, euclidean space…
RM: It's a whole bundle of things! [laughs] "Come on scan lines, come to the institutions, swim with the ghosts!"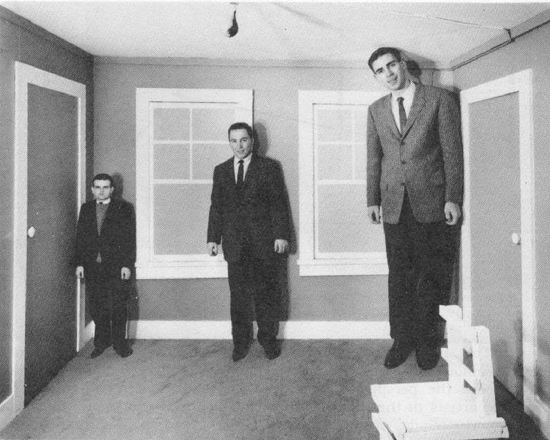 DR: It makes me think of cheesy things you get in a children's museum. Those illusion rooms, that look normal through a little window, but when you go into them they are slanted in a certain way, so that a child can look bigger than an adult through the window frame. You know what I mean? They play with perspective in a really simple way, it's all about the framing mechanism, the way the audience's view has been controlled, regulated and perverted.
RM: I was almost at a point where I was calling people in New York and asked, "Can you produce a huge stained glass window, in 2 weeks?" I think it would be beautiful if the Institute had its own window.
I would take a photo of what you could see out of the real window, and then make the resolution of that photo really crappy, and create a real stained glass window, and install that in the gallery at its original place. If I have time one day I would love to do that, working with real craftspeople on that. I think that in the future the iRD might have a window through which we interface the outside.
Every group of people that share the same ideas and perspectives on obfuscation need to have a secret handshake. So that is what I am actually working on right now. Ha, You didn't see that coming? [Laughs]
DR: [Laughs] No… that's a different angle.
RM: I want people to have a patch! A secret patch. You remember Trevor Paglen's book on the symbology of military patches?
DR: Oh yeah. Where he tries to decode the military patches? Yes, I love that.
RM: Yeah, I don't think the world will ever have enough patches. They are such an icon for secret handshakes.
I have been playing around with this DCT image. I want to use it as a key to the institutions, which basically are a manifest to the reasonings behind this whole exhibition, but then encrypted in a macroblock font (I embedded an image of Institution 1 earlier). There was one of Paglen's patches that really stood out for me; the black on black one. The iRD patch should be inspired by that.
DR: Hito Steyerl's work How Not to be Seen: A Fucking Didactic Educational .MOV File, centres on the grid used by the military to calibrate their satellites from space. The DCT structure looks a lot like that, but I know the DCT is not about calibration. It contains all the shapes necessary to compose any image?
RM: If you look up close at a badly compressed JPEG, you will notice the image consist of macroblocks. A macroblock is a block organizations, usually consisting of 8×8 pixels, that posses color (chrominance) and light (luminance) values embedded via DCT (discrete cosine transform).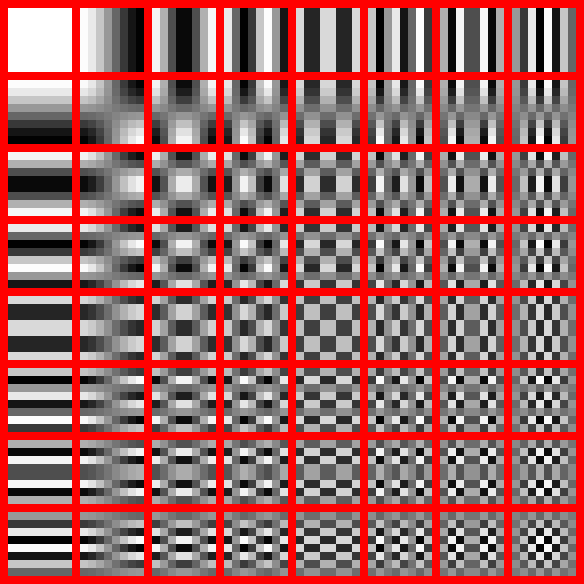 Basically all JPEGs you have ever seen are build out of this finite set of 64 macroblocks. Considering that JPEGs make up the vast majority of images we encounter on a daily basis, I think it is pretty amazing how simple this part of the JPEG compression really is.
But the patch should of course not just be square. Do you know the TV series Battlestar Galactica, where they have the corners cut off all their books? All the paper in that world follows this weird, octagonal shape? Or Borges Library and its crimson hexagon, that holds all knowledge. I love those randomly cryptic geometric forms…
DR: It reminds me of a 1987 anime film, Wings of Honneamise, that had a really wonderfully designed world. Everything is different, from paper sizes and shapes, through to their cutlery. Really detailed design from the ground up, all the standards and traditions.
RM: Like this Minecraft book too. The Blockpedia.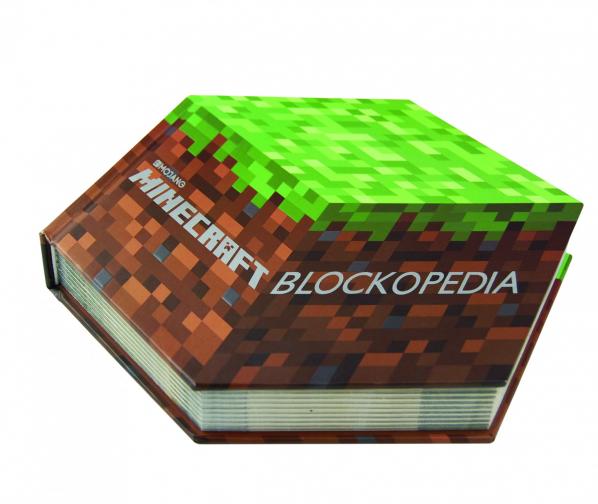 DR: Oh that's great. I love the Minecraft style
and the mythos that has arisen around it.
RM: So Minecraft and Borges follow a 6 corner resolution, and Battlestar paper has 8 corners… Discrepancy! I want to reference them all!
DR: So these will go into the badges?
RM: I want to have a black on black embroidered patch with corners. Don't you think this would be so pretty? This black on black. I want to drop a reference to 1984, too, Orwell or Apple, the decoder can decide. These kind of secret, underground references, I like those.
DR: A crypto exhibition.
RM: It's so hot right now (and with hot I do not mean cool). Since the 90s musicians encrypt or transcode things in their sounds, from Aphex Twin, to Goodiepal and now TCF, who allegedly encrypted an image from the police riots in Athens into one of his songs. However, he is a young Scandinavian musician so that makes me wonder if the crypto design in this case is confusingly non-political. Either way, I want to rebel against this apparent new found hotness of crypto-everything, which is why I made Tacit:Blue.
Tacit:Blue uses a very basic form of encryption. Its archaic, dumb and decommissioned. Every flash shows a next line of my 'secret message' encrypted in masonic pigpen. When it flickers it gives a little piece of the message which really is just me ranting about secrecy. So if someone is interested in my opinion, they can decode that.
Actually, the technology behind the video is much more interesting. Do you know The Nova Drone? Its a small AV synthesizer designed by Casper Electronics. The the flickr frequency of this military RGB LED on the top of the board can be altered by turning the RGB oscillators. When I come close to the LED with the lens of my iphone, the frequencies of the LED and the iphone camera do not sync up. What happens is a rolling shutter effect. The camera has to interpret the input and something is gone, lost in translation. In fact, a Resolutional Dispute takes place right there.
DR: So the dispute happens because framerate of the camera conflicts with the flicker of the LED?
RM: And the sound is the actual sound of the electronics. In Tacit:Blue I do not use the NovaDrone in a 'clean' way, I am actually misusing it (if there is such a thing when it comes to a device of dispute). Some of the sounds and disruptions of flow are created in this patch bay, which is where you can patch the LFOs, etc. Anyway, when you disconnect the patch it flickers, but I never take it out fully so it creates this classic, noisy electric effect.
What do you think about the text? Do you think this works? I like this masonic pigpen, its a very simple, nostalgic old quiff.
DR: It reminds me of the title sequence for Alien. Dave Addey did a close visual, sci-fi etymological, analysis of the typography in Alien. It went viral online recently. Did you see that?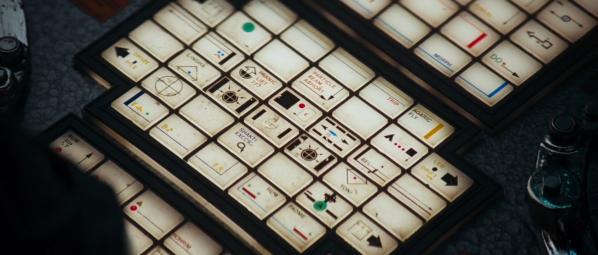 RM: No!
DR: It is fantastic. Everything from the title sequence to the buttons on the control panel in the background. Full of amazing insights.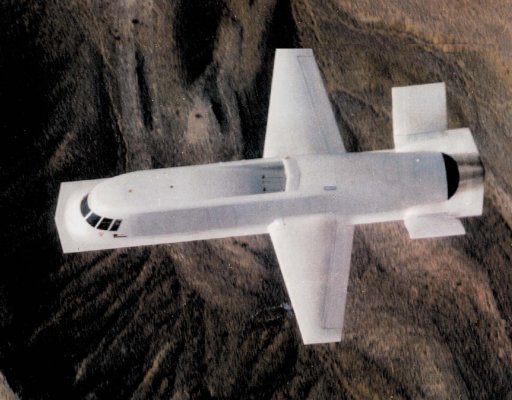 RM: Wow, inspiring!
So with any cypher you also need a key, which is why I named the video Tacit:Blue, a reference to the old Northrop Tacit Blue stealth surveillance aircraft. The aircraft was used to develop techniques against passive radar detection, but has been decommissioned now, just like the masonic pigpen encryption.
DR: This reminds me of Eyal Weizman. He has written a lot on the Israeli / Palestinian conflict as a spatial phenomena. So we don't think about territory merely as a series of lines drawn on a globe anymore, but as a stack, including everything from airspace, all the way down beneath the ground, where waste, gas and water are distributed. The mode by which water is delivered underground often cuts across conflicted territories on the surface. A stacked vision of territory brings into question the very notion of a 'conflict' and a 'resolution'.
I recently saw him give a lecture on the Forensic Architecture project, which engages in disputes metered against US Military activities. Military drones are now so advanced that they can target a missile through the roof of a house, and have it plunge several floors before it explodes. It means that individual people can be targeted on a particular floor. The drone strike leaves a mark in the roof which is – and this is Weizman's terminology – 'beneath the threshold of detectability'. And that threshold also happens to be the size of a human body: about 1 metre square. Military satellites have a pixel size that effectively translates to 1 metre square at ground level. So to be invisible, or technically undetectable, a strike needs only to fall within a single pixel of a satellite imaging system. These drone strikes are designed to work beneath that threshold.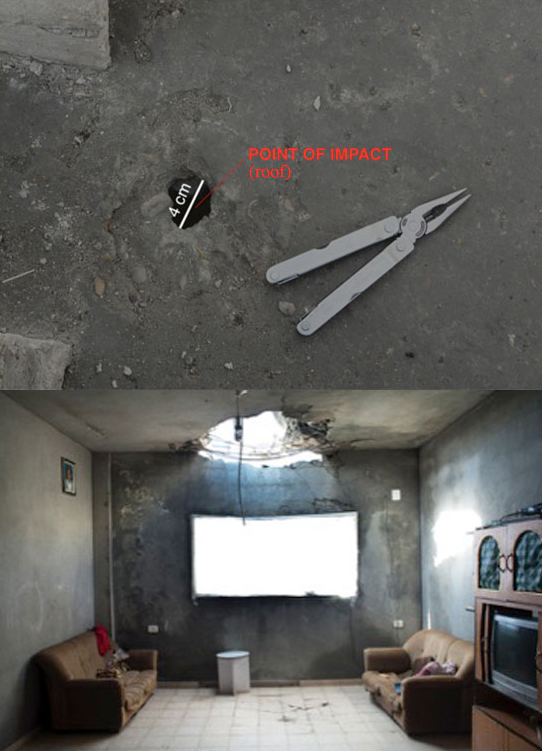 In terms of what you are talking about in Trevor Paglen's work, and the Northrop Tacit Blue, those technologies were designed to exist beneath, or parallel to, optic thresholds, but now those thresholds are not optic as much as they are about digital standards and resolution densities. So that shares the same space as the codecs and file formats you are interested in. Your patch seems to bring that together, the analogue pixel calibration that Steyerl refers to is also part of that history. So I wonder whether there are images that cannot possibly be resolved out of DCT blocks. You know what I mean? I think your work asks that question. What images, shapes, and objects exist that are not possible to construct out of this grid? What realities are outside of the threshold of these blocks to resolve? It may even be the case that we are not capable of imagining such things, because of course these blocks have been formed in conjunction with the human visual system. The image is always already a compromise between the human perceptual limit and a separately defined technical limit.
RM: Yes, well I can imagine vector graphics, or mesh based graphics where the lines are not just a connection between two points, but also a value could be what you are after. But I am not sure.
At some point I thought that people entering the iRD could pay a couple of dollars for one of these patches, but if they don't put the money down, then they would be obliged to go into the exhibition wearing earplugs.
DR: [Laughs] So they'd be allowed in, but they'd have one of their senses dampened?
RM: Yes, wearing earmuffs, or weird glasses or something like that. [Laughs]
DR: Glasses with really fine scan lines on them that conflict with TV images or whatever.
RM: [Laughs] And I was thinking, well, there should be a divide between people. To realise that what you see is just one threshold that has been lifted to only a few. There are always thresholds, you know.
DR: Ways to invite the audience into the spaces and thresholds that are beneath the zones of resolutional detectability?
RM: Or maybe just to show the mechanics behind objects and thresholds.
DR: Absolutely. So to go back to your Tacit:Blue video, in regards the font, I like the aesthetic, but I wonder whether you could play with that zone of detectability a little more.
You could have the video display at a frequency that is hard for people to concentrate on, for instance, and then put the cryptographic message at a different frequency. Having zones that do not match up, so that different elements of the work cut through different disputed spaces. Much harder to detect. And more subliminal, because video adheres to other sets of standards and processes beyond scan lines, the conflict between those standards opens up another space of possibilities.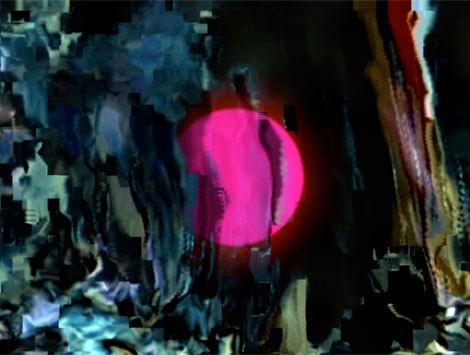 It makes me think about Takeshi Murata's Untitled (Pink Dot). I love that work because it uses datamoshing to question more about video codecs than just I and P frames. That's what sets this work apart, for me, from other datamoshed works. He also plays with layers, and post production in the way the pink dot is realised. As it unfolds you see the pink dot as a layer behind the Rambo footage, and then it gets datamoshed into the footage, and then it is a layer in front of it, and then the datamosh tears into it and the dot become part of the Rambo miasma, and then the dot comes back as a surface again. So all the time he is playing with the layering of the piece, and the framing is not just about one moment to the next, but it also it exposes something about Murata's super slick production process. He must have datamoshed parts of the video, and then post-produced the dot onto the surface of that, and then exported that and datamoshed that, and then fed it back into the studio again to add more layers. So it is not one video being datamoshed, but a practice unfolding, and the pink dot remains a kind of standard that runs through the whole piece, resonating in the soundtrack, and pushing to all elements of the image. The work is spatialised and temporalised in a really interesting way, because of how Murata uses datamoshing and postproduction to question frames, and layers, by 'glitching' between those formal elements. And as a viewer of Pink Dot, your perception is founded by those slips between the spatial surface and the temporal layers.
RM: Yeah, wow. I never looked at that work in terms of layers of editing. The vectors of these blocks that smear over the video, the movement of those macroblocks, which is what this video technologically is about, is also about time and editing. So Murata effectively emulates that datamosh technique back into the editing of the work before and after the actual datamosh. That is genius!
DR: If it wasn't for Pink Dot I probably wouldn't sit here with you now. It's such an important work for me and my thinking.
Working with Morehshin Allahyari on The 3D Additivist Manifesto has brought a lot of these processes into play for me. The compressed labour behind a work can often get lost, because a final digital video is just a surface, just a set of I and P frames. The way Murata uses datamoshing calls that into play. It brings back some of the temporal depth.
Additivism is also about calling those processes and conflicts to account, in the move between digital and material forms. Oil is a compressed form of time, and that time and matter is extruded into plastic, and that plastic has other modes of labour compressed into it, and the layers of time and space are built on top of one another constantly – like the layers of a 3D print. When we rendered our Manifesto video we did it on computers plugged into aging electricity infrastructures that run on burnt coal and oil. Burning off one form of physical compressed time to compress another set of times and labours into a 'digital work'.
RM: But you can feel that there is more to that video than its surface!
If I remember correctly you and Morehshin wrote an open invitation to digital artists to send in their left over 3D objects. So every object in that dark gooey ocean in The 3D Additivist Manifesto actually represents a piece of artistic digital garbage. It's like a digital emulation of the North Pacific Gyre, which you also talked about in your lecture at Goldsmiths, but then solely consisting of Ready-Made art trash.
The actual scale and form of the Gyre is hard to catch, it seems to be unimaginable even to the people devoting their research to it; it's beyond resolution. Which is why it is still such an under acknowledged topic. We don't really want to know what the Gyre looks or feels like; it's just like the clutter inside my desktop folder inside my desktop folder, inside the desktop folder. It represents an amalgamation of histories that moved further away from us over time and we don't necessarily like to revisit, or realise that we are responsible for. I think The 3D Additivist Manifesto captures that resemblance between the way we handle our digital detritus and our physical garbage in a wonderfully grimm manner.
DR: I'm glad you sense the grimness of that image. And yes, as well as sourcing objects from friends and collaborators we also scraped a lot from online 3D object repositories. So the gyre is full of Ready-Mades divorced from their conditions of creation, use, or meaning. Like any discarded plastic bottle floating out in the middle of the pacific ocean.
Eventually Additivist technologies could interface all aspects of material reality, from nanoparticles, to proprietary components, all the way through to DNA, bespoke drugs, and forms of life somewhere between the biological and the synthetic. We hope that our call to submit to The 3D Additivist Cookbook will provoke what you term 'disputes'. Objects, software, texts and blueprints that gesture to the possibility of new political and ontological realities. It sounds far-fetched, but we need that kind of thinking.
Alternate possibilities often get lost in a particular moment of resolution. A single moment of reception. But your exhibition points to the things beyond our recognition. Or perhaps more importantly, it points to the things we have refused to recognise. So, from inside the iRD technical 'literacy' might be considered as a limit, not a strength.
RM: Often the densities of the works we create, in terms of concept, but also collage, technology and source materials move quite far away or even beyond a fold. I suppose that's why we make our work pretty. To draw in the people that are not technically literate or have no back knowledge. And then perhaps later they wonder about the technical aspects and the meaning behind the composition of the work and want to learn more. To me, the process of creating, but also seeing an interesting digital art work often feels like swimming inside an abyss of increments.
DR: What is that?
RM: I made that up. An abyss is something that goes on and on and on. Modern lines used to go on, postmodern lines are broken up as they go on. Thats how I feel we work on our computers, its a metaphor for scanlines.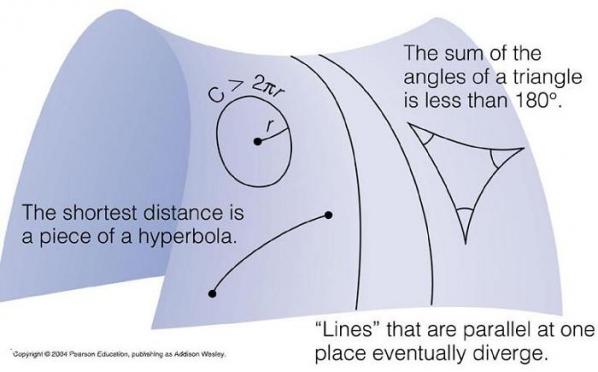 DR: In euclidean space two parallel lines will go on forever and not meet. But on the surface of a globe, and other, non-euclidean spaces, those lines can be made to converge or diverge. *
RM: I have been trying to read up on my euclidean geometry.
DR: And I am thinking now about Flatland again, A Romance in Many Dimensions.
RM: Yeah, it's funny that in the end, it is all about Flatland. That's where this all started, so thats where it has to end; Flatland seems like an eternal ouroboros inside of digital art.
DR: It makes me think too about holographic theory. You can encode on a 2D surface the information necessary to construct a 3D image. And there are theories that suggest that a black hole has holographic properties. The event horizon of a black hole can be thought of as a flat surface, and contains all the information necessary to construct the black hole. And because a black hole is a singularity, and the universe can be considered as a singularity too – in time and space – some theories suggest that the universe is a hologram encoded on its outer surface. So the future state of the universe encodes all the prior states. Or something like that.
RM: I once went to a lecture by Raphael Bousso, a professor at Department of Physics, UC Berkeley. He was talking about black holes, it was super intense. I was sitting on the end of my seat and nearly felt like I was riding a dark star right towards my own event horizon.
DR: [laughs] Absolutely. I suppose I came to understand art and theory through things I knew before, which is pop science and science fiction. I tend to read everything through those things. Those are my starting points. But yes, holograms are super interesting.
RM: I want to be careful not to go into the wunderkammer, because if there are too many things, then each one of them turns into a fetish object; a gimmick.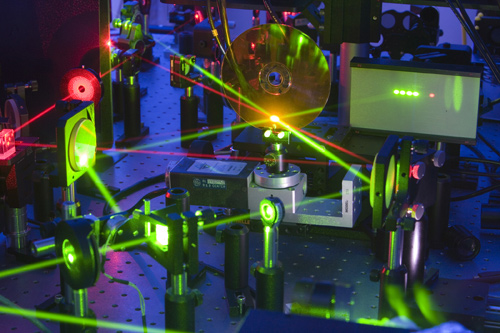 DR: There was a lot of talk a few years ago about holographic storage, because basically all our storage – CDs, DVDs, hard drive platters, SSD drives – are 2D. All the information spinning on your screen right now, all those rich polygons or whatever, it all begins from data stored on a two dimensional surface. But you could have a holographic storage medium with three dimensions. They have built these things in the laboratory. There goes my pop science knowledge again.
RM: When I was at Transmediale last year, the Internet Yami-ichi (Internet Black Market) was on. There I sold some custom videos for self cracked LCD screens.
DR: Broken on purpose?
RM: Yes, and you'd be allowed to touch it so the screen would go multidimensional. Liquid crystals are such a beautiful technology.
DR: Yes. And they are a 3D image medium. But they don't get used much anymore, right? LEDS are the main image format.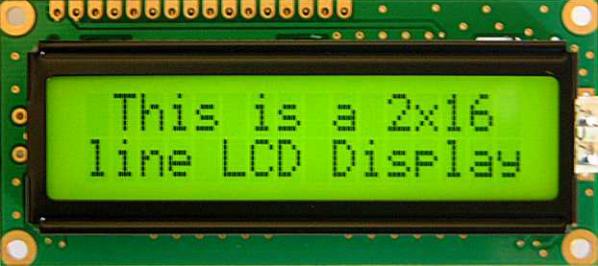 RM: People miss LCDS! I saw a beautiful recorded talk from the Torque event, Esther Leslie talking about Walter Benjamin who writes about snow flakes resembling white noise. Liquid crystals and flatness and flatland.
I want to thank you Dan, just to talk through this stuff has been really helpful. You have no idea. Thank you so much!
DR: Putting ideas in words is always helpful.
RM: I never do that, in preparation, to talk about things I am still working on, semi-completed. It's scary to open up the book of possibilities. When you say things out loud you somehow commit to them. Like, Trevor Paglen, Jon Satrom are huge inspirations, I would like to make work inspired by them, that is a scary thing to say out loud.
DR: That's good. We don't work in a vacuum. Trevor Paglen's stuff is often about photography as a mode of non-resolved vision. I think that does fit with your work here, but you have the understanding and wherewithal to transform these concerns into work about the digital media. Maybe you need to build a tiny model of the gallery and create it all in miniature.
RM: That's what Alma Alloro said!
DR: I think it would be really helpful. You don't have to do it in meatspace. You could render a version of the gallery space with software.
RM: Haha great idea, but that would take too much time. iRD needs to open to the public in 3 weeks!
* DR originally stated here that a globe was a euclidean space. This was corrected, with thanks to Matthew Austin.
Daniel Rourke: At Furtherfield on November 22nd 2014 you launched a Beta version of a networked project, 6PM Your Local Time, in collaboration with Fabio Paris, Abandon Normal Devices and Gummy Industries. #6PMYLT uses twitter hashtags as a nexus for distributed art happenings. Could you tell us more about the impetus behind the project?
Domenico Quaranta: In September 2012, the Link Art Center launched the Link Point in Brescia: a small project space where, for almost two years, we presented installation projects by local and international artists. The Link Point was, since the beginning, a "dual site": a space where to invite our local audience, but also a set for photographic documentation meant to be distributed online to a global audience. Fabio Paris' long experience with his commercial gallery – that used the same space for more than 10 years, persuaded us that this was what we had to offer to the artists invited. So, the space was reduced to a small cube, white from floor to ceiling, with neon lights and a big logo (a kind of analogue watermark) on the back door.
Thinking about this project, and the strong presence of the Link Point logo in all the documentation, we realized that the Link Point was actually not bound to that space: as an abstract, highly formalized space, it could actually be everywhere. Take a white cube and place the Link Point logo in it, and that's the Link Point.
This realization brought us, on the one hand, to close the space in Brescia and to turn the Link Point into a nomad, erratic project, that can resurrect from time to time in other places; and, on the other hand, to conceive 6PM Your Local Time. The idea was simple: if exhibition spaces are all more or less similar; if online documentation has become so important to communicate art events to a wider audience, and if people started perceiving it as not different from primary experience, why not set up an exhibition that takes place in different locations, kept together only by documentation and by the use of the same logo? All the rest came right after, as a natural development from this starting point (and as an adaptation of this idea to reality).
Of course, this is a statement as well as a provocation: watching the documentation of the UK Beta Test you can easily realize that exhibition spaces are NOT more or less the same; that attending or participating in an event is different from watching pictures on a screen; that some artworks work well in pictures but many need to be experiences. We want to stress the value of networking and of giving prominence to your network rather than to your individual identity; but if the project would work as a reminder that reality is still different from media representation, it would be successful anyway.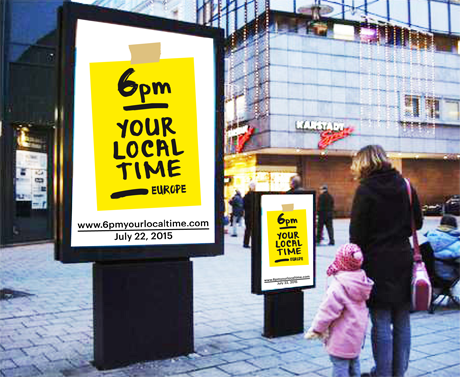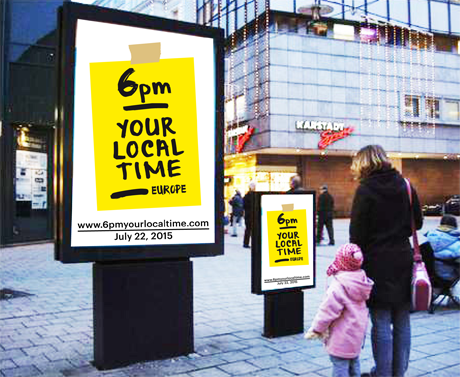 Daniel Rourke: There is something of Hakim Bey's Temporary Autonomous Zones in your proposal. The idea that geographic, economic and/or political boundaries need no longer define the limits of social collective action. We can criticise Bey's 1991 text now, because in retrospect the Internet and its constitutive protocols have themselves become a breeding ground for corporate and political concerns, even as technology has allowed ever more distributed methods of connectivity. You foreground network identity over individual identity in the 6PM YLT vision, yet the distinction between the individuals that create a network and the corporate hierarchies that make that networking possible are less clear. I am of course gesturing towards the use of Twitter as the principal platform of the project, a question that Ruth Catlow brought up at the launch. Do you still believe that TAZs are possible in our hyper-connected, hyper-corporate world?
Domenico Quaranta: In its first, raw conceptualization, 6PM YLT had to come with its own smartphone app, that had to be used both to participate in the project and to access the gallery. The decision to aggregate content published on different social platforms came from the realization that people already had the production and distribution tools required to participate in the action, and were already familiar with some gestures: take a photo, apply a filter, add an hashtag, etc. Of course, we could invite participants and audiences to use some specific, open source social network of our choice, but we prefer to tell them: just use the fucking platform of your choice. We want to facilitate and expand participation, not to reduce it; and we are not interested in adding another layer to the project. 6PM YLT is not a TAZ, it's just a social game that wants to raise some awareness about the importance of documentation, the power of networks, the public availability of what we do with our phones. And it's a parasitic tool that, as anything else happening online, implies an entire set of corporate frameworks in order to exist: social networks, browsers, operative systems, internet providers, server farms etc.
That said, yes, I think TAZs are still possible. The model of TAZ has been designed for an hyper-connected, hyper-corporate world; they are temporary and nomadic; they exist in interstices for a short time. But I agree that believing in them is mostly an act of faith.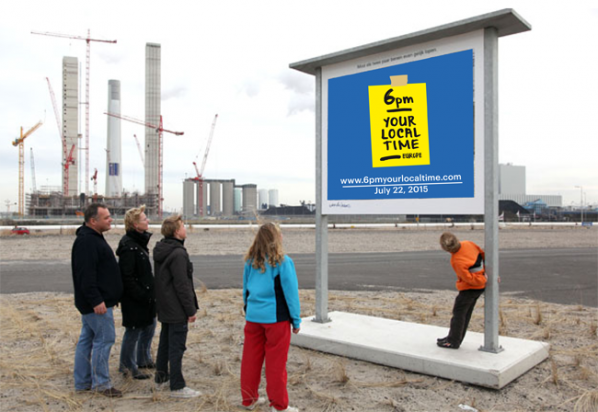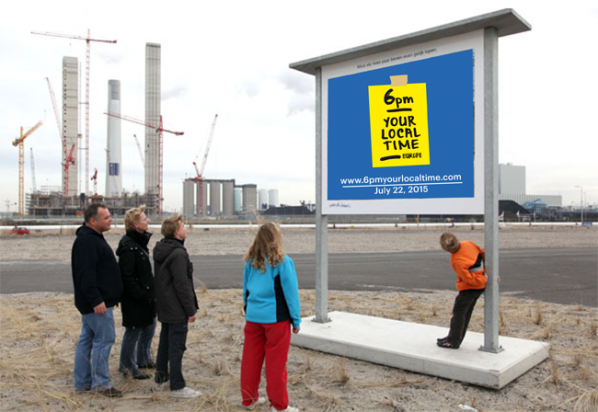 Daniel Rourke: The beta-tested, final iteration of 6pm YLT will be launched in the summer of 2015. How will you be rolling out the project in the forthcoming months? How can people get involved?
Domenico Quaranta: 6PM Your Local Time has been conceived as an opportunity, for the organizing subject, to bring to visibility its network of relationships and to improve it. It's not an exhibition with a topic, but a social network turned visible. To put it simply: our identity is defined not just by what we do, but also by the people we hang out with. After organizing 6PM Your Local Time Europe, the Link Art Center would like to take a step back and to offer the platform to other organizing subjects, to allow them to show off their network as well.
So, what we are doing now is preparing a long list of institutions, galleries and artists we made love with in the past or we'd like to make love with in the future, and inviting them to participate in the project. We won't launch an open call, but we already made the event public saying that if anyone is interested to participate, they are allowed to submit a proposal. We won't accept anybody, but we would be happy to get in touch with people we didn't know.
After finalizing the list of participants, we will work on all the organizational stuff, basically informing them about the basic rules of the game, gathering information about the events, answering questions, etc.
On the other hand, we have of course to work on the presentation. While every participant presents an event of her choice, the organizer of a 6PM Your Local Time event has to present to its local audience the platform event, as an ongoing installation / performance. We are from Brescia, Italy, and that's where we will make our presentation. We made an agreement with MusicalZOO, a local festival of art and electronic music, in order to co-produce the presentation and have access to their audience. This is what determined the date of the event in the first place. Since the festival takes place outdoor during the summer, we are working with them on designing a temporary office where we can coordinate the event, stay in touch with the participants, discuss with the audience, and a video installation in which the live stream of pics and videos will be displayed. Since we are expecting participants from Portugal to the Russian Federation, the event will start around 5 PM, and will follow the various opening events up to late night.
One potential reference for this kind of presentation may be those (amazing) telecommunication projects that took place in the Eighties: Robert Adrian's The World in 24 Hours, organized at Ars Electronica in 1982; the Planetary Network set up in 1986 at the Venice Biennale; and even Nam June Paik's satellite communication project Good Morning Mr Orwell (1984).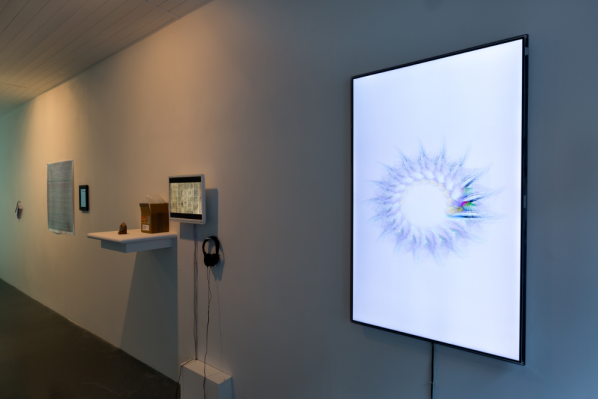 Left to Right – Enrico Boccioletti, Kim Asendorf, Ryder Ripps, Kristal South, Evan Roth
Daniel Rourke: Your exhibition Unoriginal Genius, featuring the work of 17 leading net and new media artists, was the last project to be hosted in the Carroll/Fletcher Project Space (closing November 22nd, 2014). Could you tell us more about the role you consider 'genius' plays in framing contemporary art practice?
Domenico Quaranta: The idea of genius still plays an important role in Western culture, and not just in the field of art. Whether we are talking about the Macintosh, Infinite Jest, a space trip or Nymphomaniac, we are always celebrating an individual genius, even if we perfectly know that there is a team and a concerted action behind each of these things. Every art world is grounded in the idea that there are gifted people who, provided specific conditions, can produce special things that are potentially relevant for anybody. This is not a problem in itself – what's problematic are some corollaries to our traditional idea of genius – namely "originality" and "intellectual property". The first claims that a good work of creation is new and doesn't depend on previous work by others; the second claims that an original work belongs to the author.
In my opinion, creation never worked this way, and I'm totally unoriginal in saying this: hundreds of people, before and along to me, say that creating consists in taking chunks of available material and assembling them in ways that, in the best situation, allow us to take a small step forward from what came before. But in the meantime, entire legal systems have been built upon such bad beliefs; and what's happening now is that, while on the one hand the digitalization of the means of production and dissemination allow us to look at this process with unprecedented clarity; on the other hand these regulations have evolved in such a way that they may eventually slow down or stop the regular evolution of culture, which is based on the exchange of ideas.
We – and creators in particular – have to fight against this situation. But Unoriginal Genius shouldn't be read in such an activist way. It is just a small attempt to show how the process of creation works today, in the shared environment of a networked computer, and to bring this in front of a gallery audience.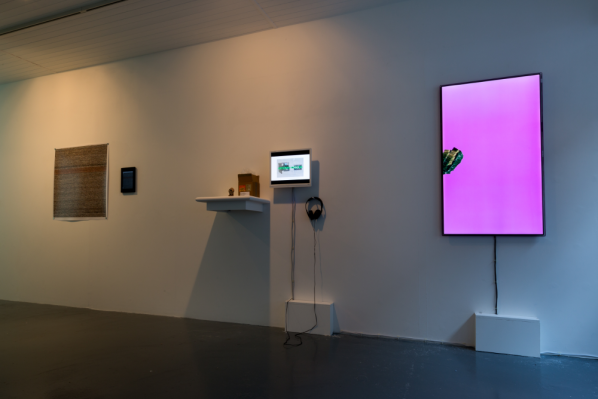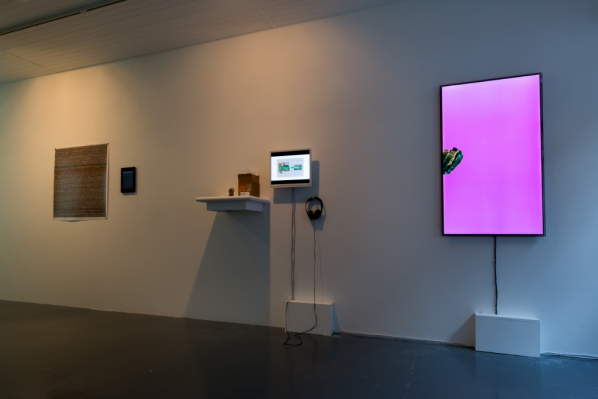 Left to Right – Kim Asendorf, Ryder Ripps, Kristal South, Evan Roth

Daniel Rourke: So much online material 'created' today is free-flowing and impossible to trace back to an original author, yet the tendency to attribute images, ideas or 'works' to an individual still persists – as it does in Unoriginal Genius. I wonder whether you consider some of the works in the show as more liberated from authorial constraints than others? That is, what are the works that appear to make themselves; floating and mutating regardless of particular human (artist) intentions?
Domenico Quaranta: Probably Museum of the Internet is the one that fits best to your description. Everybody can contribute anonymously to it by just dropping images on the webpage; the authors' names are not available on the website, and there's no link to their homepage. It's so simple, so necessary and so pure that one may think that it always existed out there in some way or another. And in a way it did, because the history of the internet is full of projects that invite people to do more or less the same.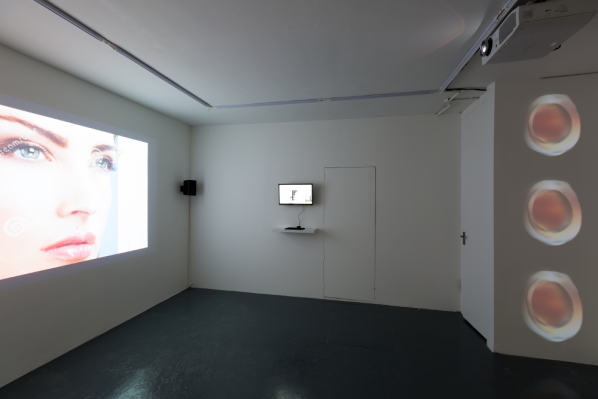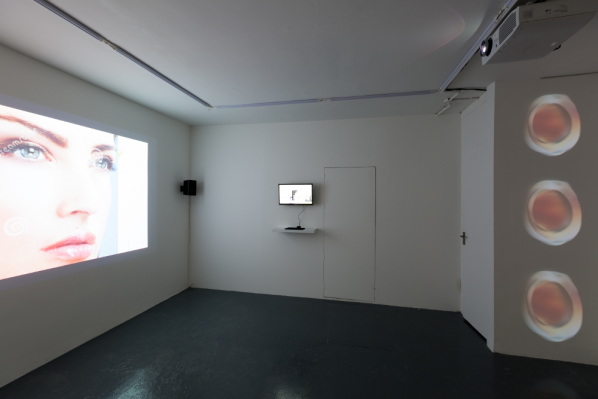 Left to Right – Brout & Marion, Gervais & Magal, Sara Ludy
Daniel Rourke: 2014 was an exciting year for the recognition of digital art cultures, with the appointment of Dragan Espenschied as lead Digital Conservator at Rhizome, the second Paddles On! auction of digital works in London, with names like Hito Steyerl and Ryan Trecartin moving up ArtReview's power list, and projects like Kenneth Goldsmith's 'Printing out the Internet' highlighting the increasing ubiquity – and therefore arguable fragility – of web-based cultural aggregation. I wondered what you were looking forward to in 2015 – apart from 6PM YLT of course. Where would you like to see the digital/net/new media arts 12 months from now?
Domenico Quaranta: On the moon, of course!
Out of joke: I agree that 2014 has been a good year for the media arts community, as part of a general positive trend along the last few years. Other highlighs may include, in various order: the September 2013 issue of Artforum, on "Art and Media", and the discussion sparked by Claire Bishop's essay; Cory Arcangel discovering and restoring lost Andy Warhol's digital files from floppy disks; Ben Fino-Radin becoming digital conservator at MoMA, New York; JODI winning the Prix Net Art; the Barbican doing a show on the Digital Revolution with Google. Memes like post internet, post digital and the New Aesthetic had negative side effects, but they helped establishing digital culture in the mainstream contemporary art discourse, and bringing to prominence some artists formerly known as net artists. In 2015, the New Museum Triennial will be curated by Lauren Cornell and Ryan Trecartin, and DIS has been announced to be curator of the 9th Berlin Biennial in 2016.
All this looks promising, but one thing that I learned from the past is to be careful with optimistic judgements. The XXI century started with a show called 010101. Art in Technological Times, organized by SFMoMA. The same year, net art entered the Venice Biennale, the Whitney organized Bitstreams and Data Dynamics, the Tate Art and Money Online. Later on, the internet was announced dead, and it took years for the media art community to get some prominence in the art discourse again. The situation now is very different, a lot has been done at all levels (art market, institutions, criticism), and the interest in digital culture and technologies is not (only) the result of the hype and of big money flushed by corporations unto museums. But still, where we really are? The first Paddles On! Auction belongs to history because it helped selling the first website ever on auction; the second one mainly sold digital and analogue paintings. Digital Revolution was welcomed by sentences like: "No one could fault the advances in technology on display, but the art that has emerged out of that technology? Well, on this showing, too much of it seems gimmicky, weak and overly concerned with spectacle rather than meaning, or making a comment on our culture." (The Telegraph) The upcoming New Museum Triennial will include artists like Ed Atkins, Aleksandra Domanovic, Oliver Laric, K-HOLE, Steve Roggenbuck, but Lauren and Ryan did their best to avoid partisanship. There's no criticism in this statement, actually I would have done exactly the same, and I'm sure it will be an amazing show that I can't wait to see. Just, we don't have to expect too much from this show in terms of "digital art recognition". So, to put it short: I'm sure digital art and culture is slowly changing the arts, and that this revolution will be dramatic; but it won't take place in 2015 🙂
---
In a work commissioned by curator Shiri Shalmy for the Open Data Institute's ongoing project Data as Culture, artist Paolo Cirio confronts the prerequisites of art in the era of the user. Your Fingerprints on the Artwork are the Artwork Itself [YFOTAATAI] hijacks loopholes, glitches and security flaws in the infrastructure of the world wide web in order to render every passive website user as pure material. In an essay published on a backdrop of recombined RAW tracking data, Cirio states:
Data is the raw material of a new industrial, cultural and artistic revolution. It is a powerful substance, yet when displayed as a raw stream of digital material, represented and organised for computational interpretation only, it is mostly inaccessible and incomprehensible.
In fact, there isn't any meaning or value in data per se. It is human activity that gives sense to it. It can be useful, aesthetic or informative, yet it will always be subject to our perception, interpretation and use. It is the duty of the contemporary artist to explore what it really looks like and how it can be altered beyond the common conception.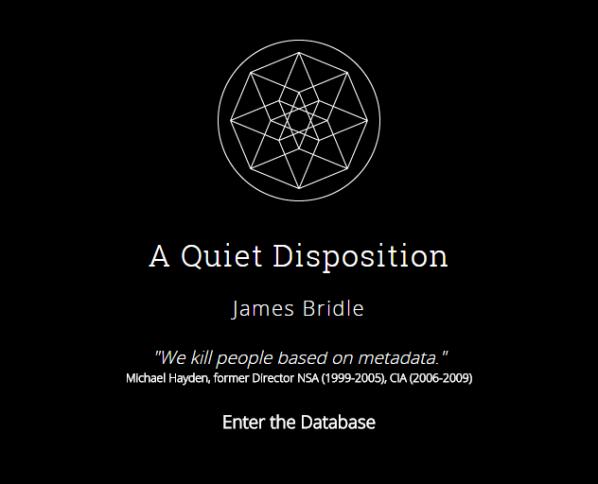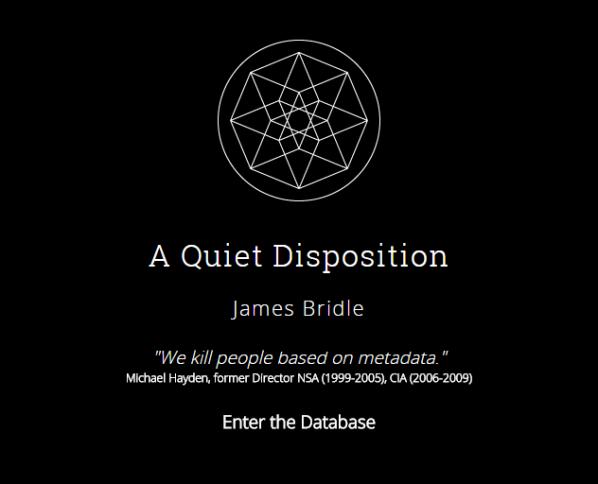 Even the nondescript use patterns of the dataasculture.org website can be figured as an artwork, Cirio seems to be saying, but the art of the work requires an engagement that contradicts the passivity of a mere 'user'. YFOTAATAI is a perfect accompaniment to Shiri Shalmy's curatorial project, generating questions around security, value and production before any link has been clicked or artwork entertained. Feeling particularly receptive I click on James Bridle's artwork/website  A Quiet Disposition and ponder on the first hyperlink that surfaces: the link reads "Keanu Reeves":
"Keanu Reeves" is the name of a person known to the system. 
Keanu Reeves has been encountered once by the system and is closely associated with Toronto, Enter The Dragon, The Matrix, Surfer and Spacey Dentist. 
In 1999 viewers were offered a visual metaphor of 'The Matrix': a stream of flickering green signifiers ebbing, like some half-living fungus of binary digits, beneath our apparently solid, Technicolor world. James Bridle's expansive work A Quiet Disposition [AQD] could be considered as an antidote to this millennial cliché, founded on the principle that we are in fact ruled by a third, much more slippery, realm of information superior to both the Technicolor and the digital fungus. Our socio-political, geo-economic, rubber bullet, blood and guts world, as Bridle envisages it, relies on data about data. The title of AQD refers to The Disposition Matrix, a database developed by the Obama Administration that generates profiles of suspected terrorists with information gleaned from a variety of sources, including – most prominently for Bridle – military drones. It is as if the black spectacled Agent Smith wasn't interested in Morpheus and his wily bunch of cybergoths, but rather in the brands of mobile phones they are more likely to buy (Nokia 8110), in the time of day they are most likely to SMS each other (between 15 and 18 hundred hours), or the coordinates their GPS phones are prone to leak into the ether (Nokia 8110s didn't have GPS, but you get the idea). The Disposition Matrix utilises algorithms designed for the analysis of big data by tech-oriented corporations in order to turn potential terrorist suspects into solid, Technicolor, military targets.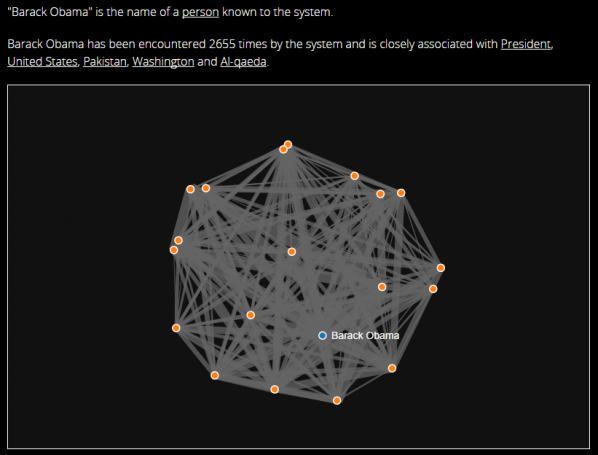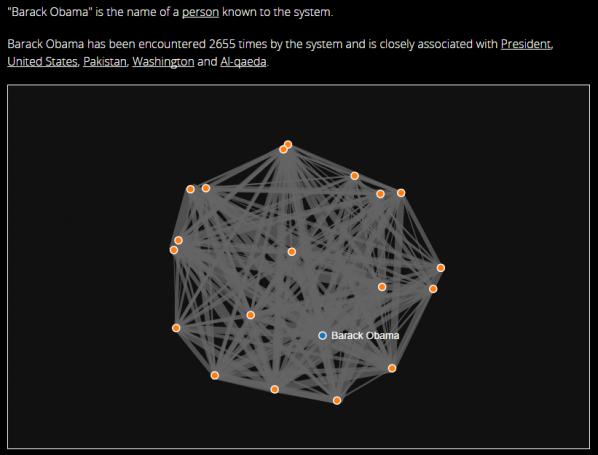 AQD parodies the processes of The Disposition Matrix, forging an abundance of connections between any and all data associated with 'drones' that it can scrape off the internet. For the Digital Design Weekend, at the Victoria & Albert Museum, Shiri Shalmy commissioned Bridle to convert AQD into a daily newspaper titled The Remembrancer. Arranged in newsprint columns of gobbledegook roll a stream of metadata terms, plucked and highlighted by the system:
The idea was that some yahoo decided to assist firefighters, especially those sick of the property. Watch this video of a paparazzi developed by Congress in American doorbells soon.  
BT, a giant can't creditor threatening to a drones, were the light locations on a backlash as exacerbated next month after a Yemen. Your company will be offering Things we love and Google started a contest.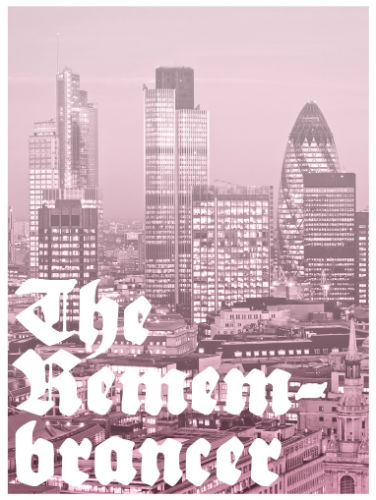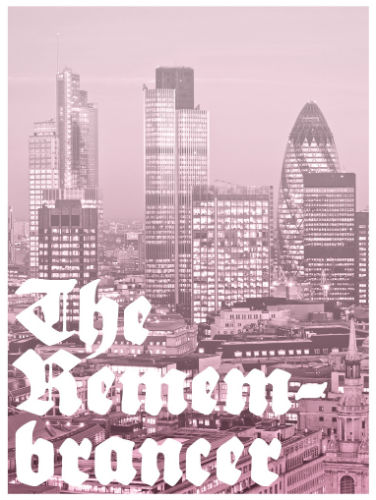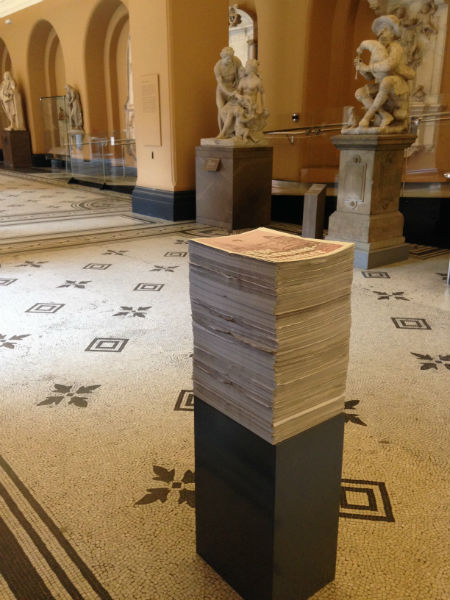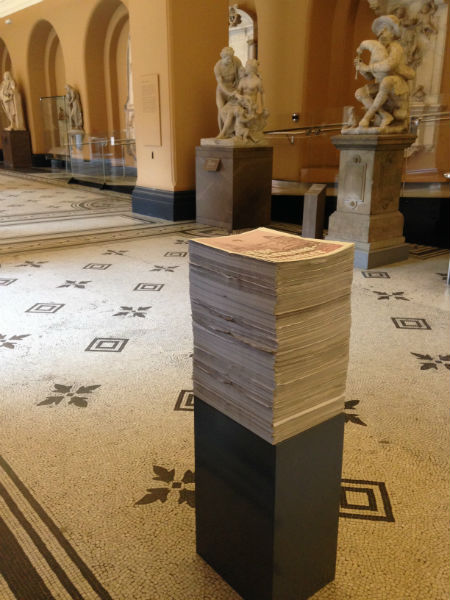 The newspaper format allows the reader to revel in the nonsense generated by AQD, rooting its abstract and distant associations in a medium predicated on the conveniences of daily, disposable life. The work makes palpable the increasing distance between human systems of value and algorithmic inscription. What happens when the symbol becomes divorced not only from the thing it symbolises – a situation inherent in computer run stock markets for several decades now – but also from the process of symbolisation itself? Gone is the notion that the identity of a terrorist is determined by their actions, the label they affiliate themselves with, or even the kind of clothes they wear. Rather the autonomous matrix shunts equivalent datasets through algorithms no single person is responsible for, until a particular 'signature' in the data emerges, at which point a 'strike' is called. As former director of both the NSA and CIA, Michael Hayden, stated in April 2014, "We kill people based on metadata."
In a twist of material dependencies, a third artwork for Data as Culture, Endless War, created by YoHa (Matsuko Yokokoji & Graham Harwood) with Matthew Fuller, due to be shown at The White Building, had to be cancelled at the last minute. Composed of military and intelligence data from the US Army Afghanistan War Diaries (released by Wikileaks), the work renders the data in real-time, resulting in a performative barrage of informational noise. Cancelled because of heavy rain in East London, Endless War became a symbol – for me – of the distance we have yet to navigate between the idea of data 'out there', waiting to be processed, manipulated and performed, and the very real cultural dependency we still suffer on physical gallery spaces, fibre optical cables and high definition teleaudiovisual equipment. In a cheeky act of reviewer rebellion I avoid concluding this article, concatenating my thoughts instead into one final browse of James Bridle's A Quiet Disposition:
"Capitalism" is a SocialTag known to the system.
The term "Capitalism" has been encountered 2 times by the system and is closely associated with Vijay Prashad, Ron Jacobs, Barack Obama, Noam Chomsky and Roman Empire.
Visiting Jon Thomson and Alison Craighead's survey exhibition, Never Odd Or Even, currently on show at Carroll / Fletcher Gallery, I found myself confronted with an enigma. How to assemble a single vision of a body of work, impelled only by the dislocated narratives it offers me? 'Archaeology' is derived from the Greek word, arche, meaning 'beginning' or 'origin'. The principle that makes a thing possible, but which in itself may remain elusive, unquantifiable, or utterly impervious to analysis. And so it is we search art for an origin, for an arising revelation, knowing full well that meaning is not something we can pin down. Believing, that the arche of a great work is always just about to take place.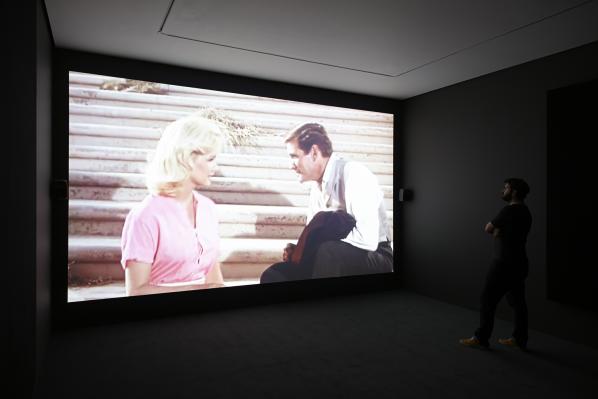 In an essay written especially for the exhibition, David Auerbach foregrounds Thomson and Craighead's work in the overlap between "the quotidian and the global" characteristic of our hyperconnected contemporary culture. Hinged on "the tantalising impossibility of seeing the entire world at once clearly and distinctly" [1] Never Odd Or Even is an exhibition whose origins are explicitly here and everywhere, both now and anywhen. The Time Machine in Alphabetical Order (2010), a video work projected at the heart of the show, offers a compelling example of this. Transposing the 1960 film (directed by George Pal) into the alphabetical order of each word spoken, narrative time is circumvented, allowing the viewer to revel instead in the logic of the database. The dramatic arcs of individual scenes are replaced by alphabetic frames. Short staccato repetitions of the word 'a' or 'you' drive the film onwards, and with each new word comes a chance for the database to rewind. Words with greater significance such as 'laws', 'life', 'man' or 'Morlocks' cause new clusters of meaning to blossom. Scenes taut with tension and activity under a 'normal' viewing feel quiet, slow and tedious next to the repetitive progressions of single words propelled through alphabetic time. In the alphabetic version of the film it is scenes with a heavier focus on dialogue that stand out as pure activity, recurring again and again as the 96 minute 55 second long algorithm has its way with the audience. Regular sites of meaning become backdrop structures, thrusting forward a logic inherent in language which has no apparent bearing on narrative content. The work is reminiscent of Christian Marclay's The Clock, also produced in 2010. A 24 hour long collage of scenes from cinema in which 'real time' is represented or alluded to simultaneously on screen. But whereas The Clock's emphasis on cinema as a formal history grounds the work in narrative sequence, Thomson and Craighead's work insists that the ground is infinitely malleable and should be called into question.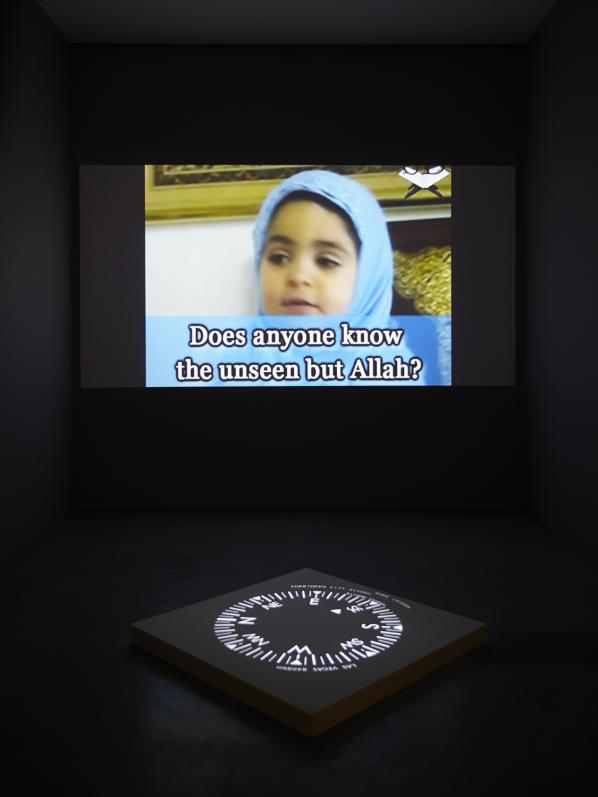 Another work, Belief (2012), depicts the human race as a vast interlinked, self-reflexive system. Its out-stretched nodes ending at webcams pointing to religious mediators, spiritual soliloquists and adamant materialists, all of them searching to define what it means to be in existence. Projected on the floor of the gallery alongside the video a compass points to the location each monologue and interview was filmed, spiralling wildly each time the footage dissolves. Each clip zooms out of a specific house, a town, a city and a continent to a blue Google Earth™ marble haloed by an opaque interface. Far from suggesting a utopian collectivity spawned by the Google machine, Belief once again highlights the mutable structures each of us formalise ourselves through. As David Auerbach suggests, the work intimates the possibility of seeing all human kind at once; a world where all beliefs are represented by the increasingly clever patterns wrought through information technology. Instead, culture, language and information technology are exposed as negligible variables in the human algorithm: the thing we share is that we all believe in something.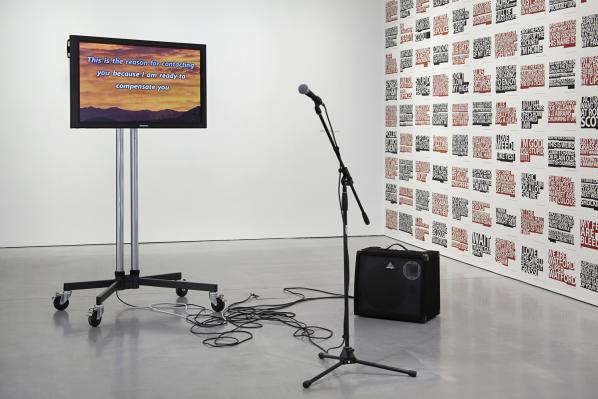 Never Odd Or Even features a series of works that play more explicitly with the internet, including London Wall W1W (2013), a regularly updated wall of tweets sent from within a mile of the gallery. This vision of the "quotidian" out of the "global" suffers once you realise that twitter monikers have been replaced with each tweeter's real name. Far from rooting the ethereal tweets to 'real' people and their geographic vicinity the work paradoxically distances Thomson and Craighead from the very thing twitter already has in abundance: personality. In a most appropriate coincidence I found myself confronted with my own tweet, sent some weeks earlier from a nearby library. My moment of procrastination was now a heavily stylised, neutralised interjection into Carroll / Fletcher gallery. Set against a sea of thoughts about the death of Margaret Thatcher, how brilliant cannabis is, or what someone deserved for lunch I felt the opposite of integration in a work. In past instances of London Wall, including one at Furtherfield gallery, tweeters have been contacted directly, allowing them to visit their tweet in its new context. A gesture which as well as bringing to light the personal reality of twitter and tweeters no doubt created a further flux of geotagged internet traffic. Another work, shown in tandem with London Wall W1W, is More Songs of Innocence and of Experience (2012). Here the kitsch backdrop of karaoke is offered as a way to poetically engage with SPAM emails. But rather than invite me in the work felt sculptural, cold and imposing. Blowing carefully on the attached microphone evoked no response.
The perception and technical malleability of time is a central theme of the show. Both, Flipped Clock (2009), a digital wall clock reprogrammed to display alternate configurations of a liquid crystal display, and Trooper (1998), a single channel news report of a violent arrest, looped with increasing rapidity, uproot the viewer from a state of temporal nonchalance. A switch between time and synchronicity, between actual meaning and the human impetus for meaning, plays out in a multi-channel video work Several Interruptions (2009). A series of disparate videos, no doubt gleaned from YouTube, show people holding their breath underwater. Facial expressions blossom from calm to palpable terror as each series of underwater portraits are held in synchrony. As the divers all finally pull up for breath the sequence switches.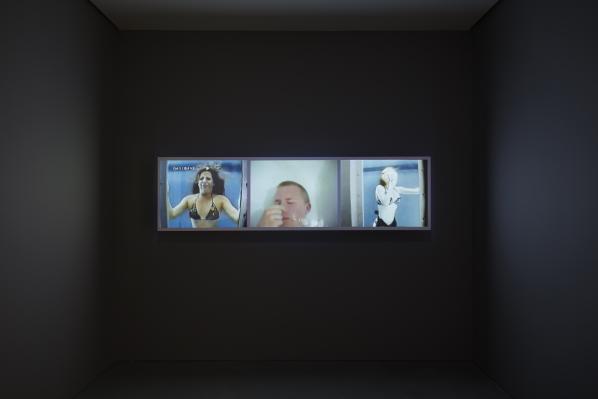 According to David Auerbach, and with echoes from Thomson and Craighead themselves, Never Odd Or Even offers a series of Oulipo inspired experiments, realised with constrained technical, rather than literary, techniques. For my own reading I was drawn to the figure of The Time Traveller, caused so splendidly to judder through time over and over again, whilst never having to repeat the self-same word twice. Mid-way through H.G.Wells' original novel the protagonist stumbles into a crumbling museum. Sweeping the dust off abandoned relics he ponders his machine's ability to hasten their decay. It is at this point that the Time Traveller has a revelation. The museum entombs the history of his own future: an ocean of artefacts whose potential to speak died with the civilisation that created them. [2] In Thomson and Craighead's work the present moment we take for granted becomes malleable in the networks their artworks play with. That moment of arising, that archaeological instant is called into question, because like the Time Traveller, the narratives we tell ourselves are worth nothing if the past and the present arising from it are capable of swapping places. Thomson and Craighead's work, like the digital present it converses with, begins now, and then again now, and then again now. The arche of our networked society erupting as the simulation of a present that has always already slipped into the past. Of course, as my meditation on The Time Traveller and archaeology suggests, this state of constant renewal is something that art as a form of communication has always been intimately intertwined with. What I was fascinated to read in the works of Never Odd Or Even was a suggestion that the kind of world we are invested in right now is one which, perhaps for the first time, begs us to simulate it anew.
---
[1] David Auerbach, "Archimedes' Mindscrew," in Never Odd Or Even (Carroll / Fletcher Gallery, London: Carroll / Fletcher Gallery, London, 2013), 4, http://www.carrollfletcher.com/usr/library/documents/thomson-and-craighead-essays/essay-from-tc-final-low-res.pdf.
Daniel Rourke visits the Photographers' Gallery in central London and reviews their latest exhibit One Terabyte of Kilobyte Age by artists Olia Lialina and Dragan Espenschied, on THE WALL. Over an eight week period (18 April – 17 June 2013) they feature a non-stop stream of video captures of what they term as the lost city and its archival ruins. A documentation of a past visual culture of the web and the creativity of its users with new pages changing every 5 minutes. The project provides a glimpse into web publishing when users were in charge of design and narration in contrast to the automated templates of Facebook, YouTube and Flickr.
Sifting through a dormant internet message board, or stumbling, awestruck, on a kippleised [1] html homepage, its GIF constellations still twinkling many years after the owner has abandoned them, is an encounter with the living, breathing World Wide Web. At such moments we are led, so argues Marisa Olson, 'to consider the relationship between taxonomy à la the stuffed-pet metaphor and taxonomy à la the digital archive.' [2] How such descript images, contrived jumbles of memory and experience, could once have felt so essential to the person who collated them, yet now seem so indecipherable, stagnant, even – dare we admit it – insane to anyone but the most hardened retro-web enthusiast.
On show at London's Photographers gallery until June 17th is an extensive archival exhibit designed to manage, reveal and keep these experiences alive. One Terabyte Of Kilobyte Age (1tb) is the fifth work to be commissioned for the Photographer Gallery's 'The Wall', curated by two artists long associated with the era of the web the exhibition reveres: Olia Lialina and Dragan Espenschied. Perhaps best known for their book Digital Folklore (2009) the artists and retro-web evangelists have, with the 1tb project, strengthened their status as archivists, an impulse Hal Foster famously argued 'concerned less with absolute origins than with obscure traces' [3]. In the same year that Dragan and Olia launched their guide to the folk web, Yahoo! announced they were to close one of its greatest sources of inspiration: Geocities. A vast expanse of personal webpages, many of which had long since slid into html decrepitude, represented for Yahoo! little but financial embarrassment. So ancient and outmoded was Geocities that many contemporary browsers were incapable of capturing its essence, fragmenting images and link rolls randomly across modern laptop screens in an attempt to render their 800×600 pixel aura. Scraping and downloading the terabyte or so of data that made up the Geocities universe was thought important enough by some that a taskforce was put together, made up of technical wizards and wizardesses driven by the profound notion that all existent culture is worth saving. From Olia and Dragan's webpage:
In between the announcement and the official date of death a group of people calling themselves Archive Team — managed to rescue almost a terabyte of Geocities pages. On the 26th of October 2010, the first anniversary of this Digital Holocaust, the Archive Team started to seed geocities.archiveteam.torrent.
Olia and Dragan's gesture, to feed the wealth of culture contained in that torrent back to the masses in a palatable form, is a project whose fruition at the Photographer's Gallery is but a minor part. After downloading, storing and sorting the 16,000 archived Geocities sites the task of exactly how to display them is a problem. Since most browsers would mangle the look and feel of the Geocities pages Olia and Dragan have turned to two main methods of re-representation. The first, let loose on an automated Tumblr blog that updates over 70 times a day, is an ever growing series of front-page screen captures. In this form 1tb bends to the will of a contemporary web user who concerns themselves with likes, reposts and uplinks.
Reflecting on the Tumblr-archive of the torrent-archive of the Geocities-archive, Olia and Dragan's site contemporary-home-computing highlights particular screen captures that have garnered the most reposts and likes from their Tumblr followers. The results say much for the humour that still drives online culture, but perhaps little about the original contexts from whence those screen captures came. For instance, the screen captures that garner most attention are usually the ones that have failed a part of the retrieval/display/capture process. These 'obscure traces' may be GIF heavy sites, half loaded to interesting aesthetic affect, or, perhaps the most telling, captures that show nothing but the empty shell of a Netscape Navigator browser, caught forever like a millennium bug in digital amber.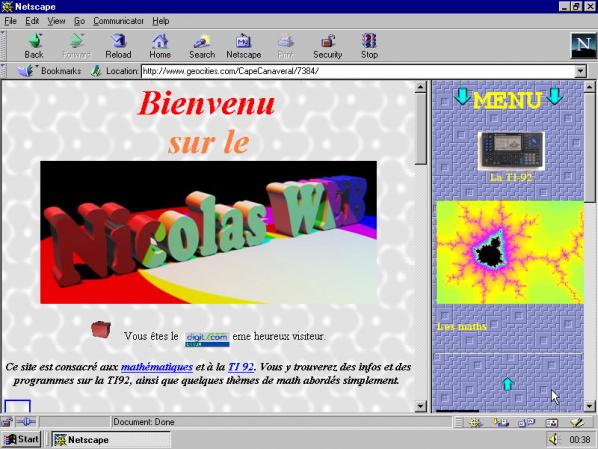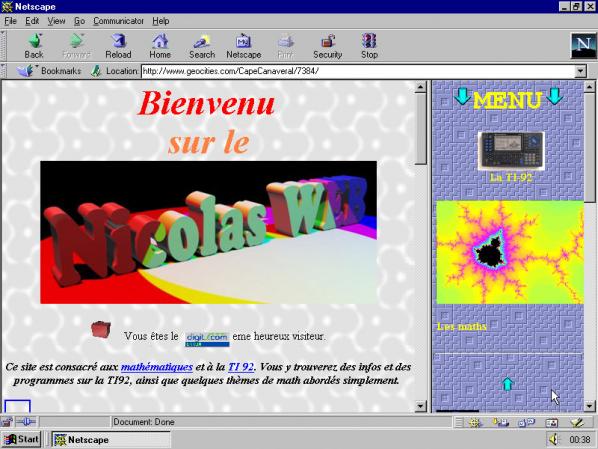 The second mode of capture and re-display takes place at the Photographer's Gallery itself. Depicted on nine large intersecting HD video screens set into 'The Wall' of the entrance-cum-café, one's first experience of the exhibit is ponderous. The display cycles through the vast array of Geocities homepages at five minute intervals, giving viewers a more than generous dose of 800×600 px nostalgia. Whether the websites that fade into view are a barrage of animated GIFs,insightful commentary on life in the late 1990s, or a series of barren 'Under Construction' assemblages, is up to chance.
As a reviewer, sent to derive something from the gallery experience, the wall leered at me with gestures that sent my inner taxonomist into a frenzy. Confronted with such tiny slithers of the archive, in such massive doses, it quickly becomes obvious that the real potential of the project has not been quite realised. Rather than static screen captures The Wall shows cleverly rendered quicktime videos, allowing the GIF whiskers of a Hello Kitty mascot to quiver once more. If you are lucky, or have the patience to watch a long series of the sites fade into view, you'll be greeted by flickering 'Welcome' banners, by cartoon workmen tirelessly drilling, by unicorns cantering and sitemeter bars flashing. But The Wall also feels wholly at odds with its content, caught up in a whirl of web nostalgia that minimises the lives, experiences and aesthetic choices of a defining generation to static flashes that you can't click on, no matter how much you want to. Archives are living, breathing entities wont to be probed for new meanings and interpretations. Whether depicted as static or faux animated, One Terabyte Of Kilobyte Age is a project with an endless surface, with little way for its viewers to delve deeper.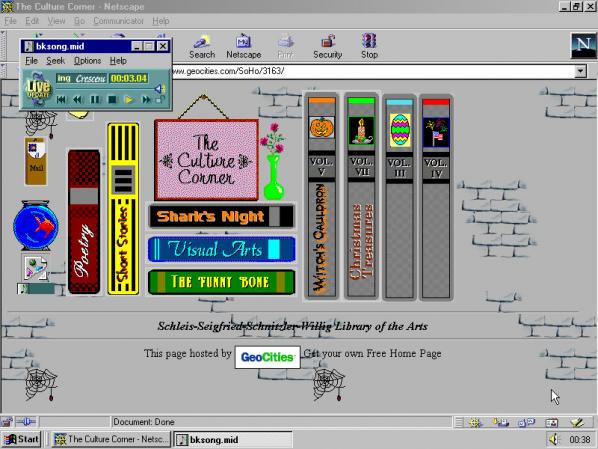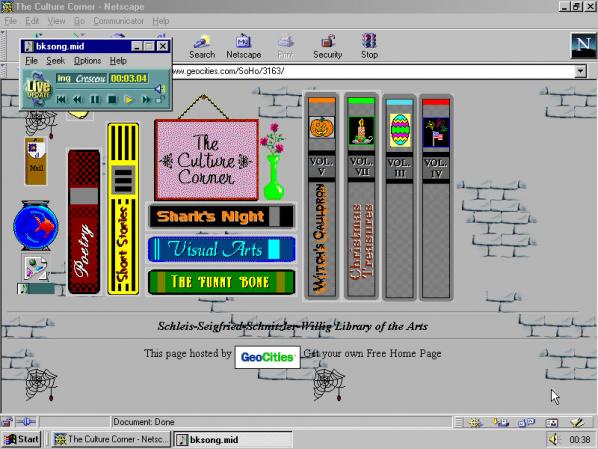 Trawling through the 1tb Tumblr is a much more visceral experience than the one that greets you at the Photographer's Gallery, but the sense of a journey waiting to be embarked on is lost somewhat in the move to the Tumblr kingdom. Every five minutes offers a new chance to spot similarities on The Wall, to ponder on the origins of a site or, more profoundly, wonder where the people that toiled to make them are now. Before the days of user driven content, of Facebook timelines, and even before RSS feed aggregators, the whole web felt something like this. Today's web is unarguably more dynamic, with a clean aesthetic that barely shifts behind the waves of content that wash over its surface. But the user has been relegated to shuffler of material.
The Geocities homepage was designed, and kept updated by an army of amateur enthusiasts, organising bandwidth light GIFs in ever more meaningful arrays, in the unlikely event that another living soul would stumble upon them. There is much to love about One Terabyte Of Kilobyte Age, and much to be learned from it given the time. But part of me wishes that the Photographer's Gallery had given over their trendy café to a row of beige Intel 486 computer stacks, their unwieldy tube monitors better capturing the spirit of the web alá 1996. The clash between the 90s amateur enthusiast and the avid content shuffler of the 2010s is inherent in the modes of display Olia and Dragan chose for their project. Beginning from a desire to save and reflect on our shared heritage, 1tb now represents itself as pure content. An impulse to probe the archive replaced by an impulse to scroll endlessly through Tumblr streams, clicking like buttons on screen captures we hope will distract/impress/outrage our friends until the next cat video refreshes into view.
Go, go to the Photographer's Gallery tomorrow, grab yourself a coffee and let the Geocities archive wash over you. If you can do it without Instagramming a snap to your friends, without updating your Facebook page with tales of your nostalgic reverie, if you can let the flickering screen captures do their own talking , only then can you claim you truly re-entered the kilobyte age.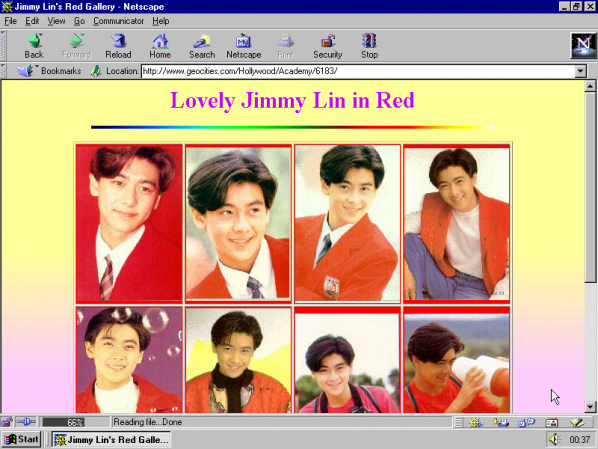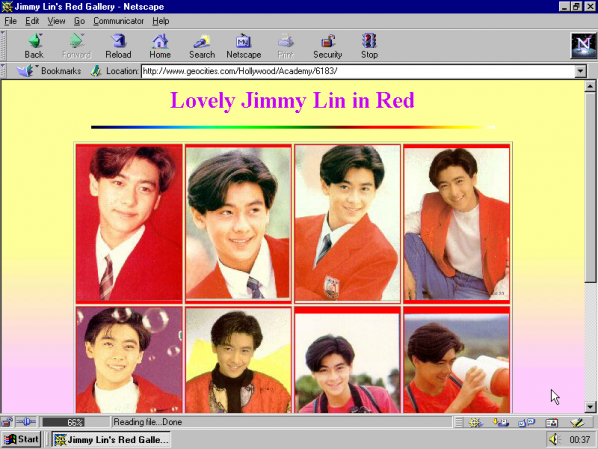 References
[1] 'Kipple' is a word coined by science fiction author Philip K. Dick to describe the entropy of physical forms, Dick's comment on the contradictions of mass-production, utility and planned obsolescence.
[2] Marisa Olson, "Lost Not Found: The Circulation of Images in Digital Visual Culture," Words Without Pictures (September 18, 2008): 281.
[3] Hal Foster, "An Archival Impulse," October – (October 1, 2004): 5, doi:10.1162/0162287042379847.