Women, Art & Technology is a series of interviews that seeks to find different perspectives on the current voice of women working in art and technology. The series continues with curator Sarah Cook.
Sarah Cook is a curator and writer based in Newcastle upon Tyne, UK, and co-author with Beryl Graham of the book Rethinking Curating: Art After New Media (MIT Press, 2010). She is currently a reader at the University of Sunderland where she co-founded and co-edits CRUMB, the online resource for curators of new media art, and where she teaches on the MA Curating course. Most recently she curated the Mirror Neurons exhibition that is part of the AV Festival running through till March 31, 2012, in New Castle.
Rachel Beth Egenhoefer: Over the last few years you have curated a number of exhibitions in relation to festivals of media art. Could you start by giving us a brief description of the AND (Abandon Normal Devices) Festival and your involvement in it last year?
Sarah Cook: My involvement in the AND Festival was to curate a small group exhibition for the galleries at Liverpool John Moore's University Gallery (in the Art and Design Academy Building). The exhibition was a part of AND but was also curated for the crowd of academics attending the Rewire conference which I was co-chairing. Rewire was the Fourth International Conference on the Histories of Media Art, Science and Technology. A three-day, peer reviewed, international event, the conference had over 150 speakers and three keynote lectures including one by Andrew Pickering, author of the book The Cybernetic Brain. The exhibition, Q.E.D., included seven projects all of which questioned how we can know anything but looking at documentation of it (a problem for art historians of course!). In 2011 the AND Festival had as its theme questioning belief and the structures of belief, so this exhibition complemented their huge and diverse programme.
I had been involved in previous Media Art Histories conferences – having co-curated the exhibition "The Art Formerly Known As New Media" for the first one, Re:Fresh!, which was held in Banff in 2005.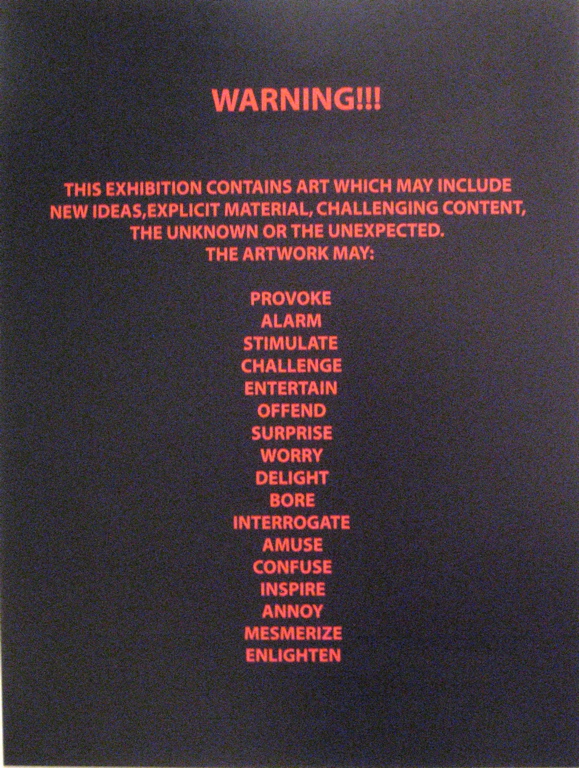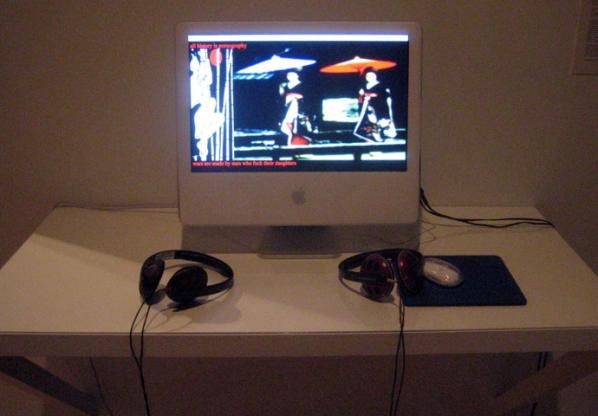 RBE: Could you give us a few examples of work from your exhibition that you felt really abandoned normal devices or methods of production and presented new perspectives?
SC: I selected works in which the artists might have abandoned normal ways of making art, to undertake experiments of sorts, experiments demonstrating phenomena in the world. (Q.E.D. is from the Latin 'Quod Erat Demonstrandum' meaning what was to have been demonstrated or what was required to be proved). I wanted a show in which skepticism was the norm, and a perfectly valid methodology for artists to employ as they go about investigating, modeling or representing the world around them.
So there was documentation of Norman White and Laura Kikuaka's 1988 project Them Fuckin' Robots — an attempt to create one male and one female electro-mechanical sex machine, without sharing in advance any information about materials, function, or how they would connect.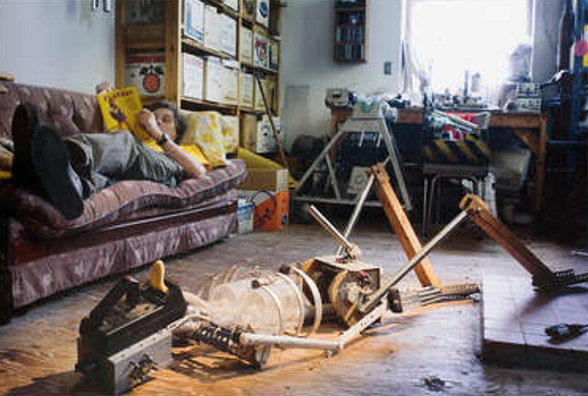 Alexandra Daisy Ginsberg and Sascha Pohflepp's work-in-progress, Yesterday's Today, was part of their Southampton University commission investigating the limits and possibilities of models for describing knowledge. They started with the oldest predictive model known to science, and a very British one at that, the weather forecast, and attempted to cool the gallery space to the predicted temperature for the day. There was a heatwave in Liverpool that week in September, so it was a great to experience reality and a model of reality simultaneously.
Axel Straschnoy, along with his many collaborators at the Robotics Institute at Carnegie Mellon University (Ben Brown, Garth Zeglin, Geoff Gordon, Iheanyi Umez-Eronini, Marek Michalowski, Paul Serri, Sue Ann Hong), showed the documentation of their attempts to create a robot that performs art and a robot that watches and appreciates performance art. The informal video interviews with the artificial intelligence engineers discussing how a robot might want to make art are brilliant and often funny.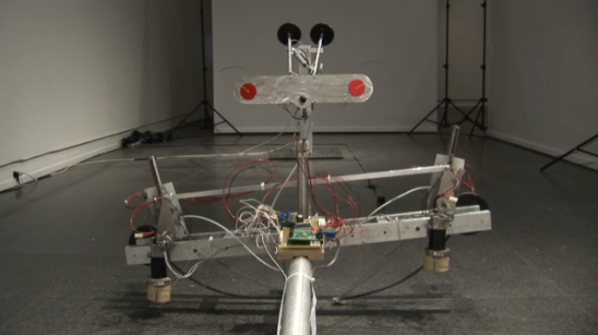 RBE: I understand your work with AND has lead to a new project recently launched with the AV Festival.
SC: Yes, I have curated an exhibition for the AV Festival, taking place across Newcastle, Sunderland and Middlesborough through March 2012. The show is at the National Glass Centre in Sunderland and is called Mirror Neurons. While AV Festival has a theme of Slowness, Mirror Neurons seeks to question time delay, media processing, and the time it takes for our cognition to kick in when we are in the presence of art – interactive, reactive or not. One of the pieces which was in Q.E.D is in this show also: Scott Rogers' Self-Flowing Flask – a glass object made based on a drawing by 17th century scientist and inventor Robert Boyle, shown alongside a digitally created animation of it. There is a real sense of confusion by viewers when they see the object: Does it work? Could it work? How would it work? And then when they see the animation they have to work out if it is real or not.
RBE: You mention "Slowness" as the theme for the AV Festival. "Slowness" is also a trending theme right now with slow food, slow craft, etc. How do you see slowness in relationship to technology which is usually portrayed as something "fast"?
SC: The theme of slowness was chosen by AV Festival director Rebecca Shatwell, and so I was glad to leave exploration of that notion to her and her programme, which is stacked with fantastic works of art in moving media (film and video) and sound and performance. In the exhibitions I've curated for AV Festival, which include both Mirror Neurons, and a new commission from New York-based artist Joe Winter – also on view at the National Glass Centre in Sunderland – I've focused less on the theme of slowness than on the human action of recognising time passing, the lag between our perception or understanding of time and space, and our acknowledgement of our own actions within it.
There are some works in Mirror Neurons which seem, on the surface, to be about time, but which play with the possibility of shifting time, or at least reprocessing it or subjecting it to a new set of rules, with computer technology. By the same token, these works then also implicate you, the viewer, in the time of their action, in your realization of what it is those works are 'doing'. For instance, Thomson & Craighead's work Flipped Clock, is a standard computer digital clock, but with the numerals rotated, so that it is defamiliarised and causes you to do a double take and spend a moment working it out. And Michael Snow's WVLNT (Wavelength for those that don't have the time) was 45 minutes, now 15!!, in my mind collapses time and space, by superimposing scenes from his 1967 structuralist film – not speeding it up but overlaying it, and seeing through it from beginning to end within the same frames.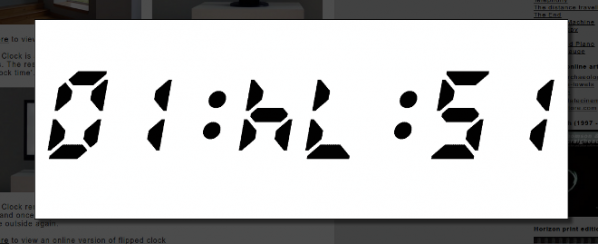 Last comes Joe Winter's work (which was also included in Q.E.D in the form of wall-based works which appear to be representations of astronomical or geological phenomena, but are made from standard office photocopier images or meeting room whiteboards). For the AV Festival I commissioned him to make a new work for the National Glass Centre also. …a history of light: variable array is comprised of a series of sculptural works which appear like lovingly-made office in-box trays to hold documents. Only they are ranged on white pedestals across a sunny balcony space, and contain coloured craft paper and plates of glass produced by Cate Watkinson. The idea is that over the time of the exhibition (1 March to 20 May) the sunlight will fade the coloured paper, through the plates of glass, and abstract images, based on the patterns and effects in the glass, will result. The images are both created, and destroyed, by the light, over time. Joe's previous works have all dealt in conceptions of time – deep time, geological time, astronomical time and media time – and his work takes its aesthetics from the media and technology which surrounds us, in mundane spaces such as the office cubicle or the classroom, which while might contain 'fast' technology, such as computers, also contains quite 'slow' or old or timeless technology, such as chalk, or paper.
RBE: This interview is going to be part of a series of interviews with women working in Art & Technology. What do you consider to be important today about being a woman working in art & technology? Do you think it is still useful to discuss the female voice in the field?
SC: I suppose there is an interesting generational break in the art and technology world at the moment as regards women's work. I am keenly aware of (and tremendously grateful for) the work of a slightly older generation of women than me, including curators, who set up networks, facilitated international exchange, built the platforms which new media artists can work on. This generation also includes important women artists who worked with technology, gaining access to labs and high tech equipment to make work – some understanding it technically better than others, many working with the help of (often male) programmers.
In the exhibition Mirror Neurons is the work of Catherine Richards, a media artist from Canada whose work I wrote about in my PhD dissertation. For her career to date she has investigated how our bodies are plugged in to the electromagnetic spectrum which surrounds us, making Faraday Cages and copper-woven blankets to insulate us from these signals. Other of her work makes visible the connection between us, as electric beings, and our techno-environment. For the work on view in Sunderland, which was made in 2000, she worked with expert vacuum physicists and scientific glass producers at the National Research Council of Canada. For other works she has collaborated with software engineers (it was an early web-based project of hers which led in part to the invention of the software Java). She plays an important role also teaching art students, reminding them of the history of media art, which is often overlooked, and of where these technologies we take for granted come from.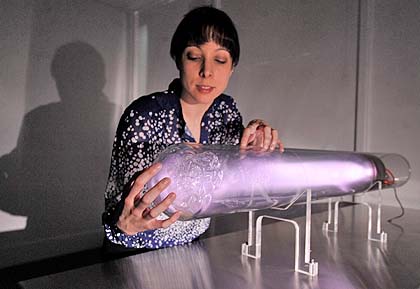 Now that technologies are more ubiquitous there is a younger generation of women artists working in the field, under their own initiative. For instance, the new Pixel Palace programme at the Tyneside Cinema included three women artists in residence earlier this year – working in sound, film and digital media. Sometimes I do wonder what the preceding generation is up to; have they been able to keep up with new technologies or stuck with older ways of doing things? Have they changed tactics and after working so hard to establish themselves in what was then a rather male technological world, decided to move on? Like any field, the art and technology world will have its share of 'old boys' but I suppose in my work I strive to always value the collaborative relationships I have with artists and other curators, of any generation and any gender.
Also read – Woman, Art & Technology: Interview with Lynn Hershman Leeson By Rachel Beth Egenhoefer.