"Hello, I'm Riz Lateef. Tonight our top story: Instagram travel-star Amber Hinton is missing in Indonesia. Initial reports suggest she has been kidnapped by an ISIS faction operating in the region. We'll have more on that after the headlines."
In 2014 Amber Hinton left a lucrative job in finance to follow her 'dream' of travelling the world. Like many young women she recognised the potential inherent in her looks; she had an ability to tap into veins of social media, and grasped the appeal for people to 'follow' in her footsteps. Educated, professional and dedicated she began by surveying Twitter and Instagram; filtering by hashtags she categorised countries by cultural capital (aka likes, retweets, comments) and then cross referenced with existing coverage. Logic followed that if Thailand was hot right now it might not be hot in a year's time. Novelty and newness would be essential to getting a foothold in the market.
After months of post-work spread-sheeting, Amber was ready. At a brunch with friends she introduced a mood-board and sales-pitched her new life. I say mood-board, but really I mean a highly aestheticised business strategy. She'd categorised hundreds of travel lifestyle pics and identified core principles of success. With Google Analytics she'd examined the lifespan of a hashtag. She'd reviewed where successful Instagram travellers had been, which countries were oversaturated and which were primed to explode. She'd mapped a route, ensuring a balance between city, beach and country, simultaneously factoring in cost efficiency. She'd prototyped a website and employed a graphic designer to mock up a look and feel for her personal 'brand identity'. She'd run financial predictions, how long her start-up capital would last, how she expected to turn a profit through funding websites, travel blogging, and eventually as an advertising service for hotels and travel companies.
It was, in short, a stunning piece of work. If Amber had been inclined towards the monastic life of a PhD researcher, she could have turned it into four years paid writing, then subsequently taught her findings at Oxbridge without ever leaving the UK.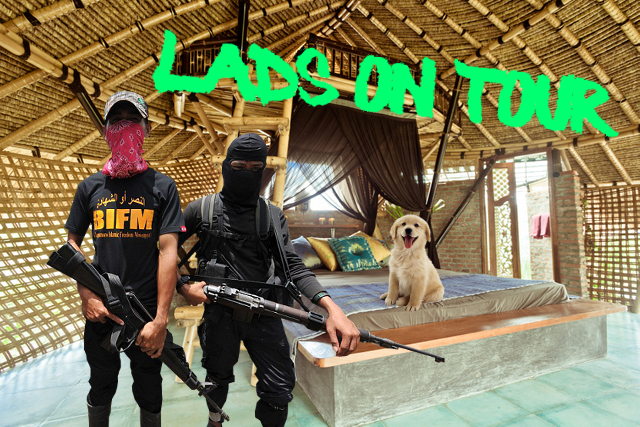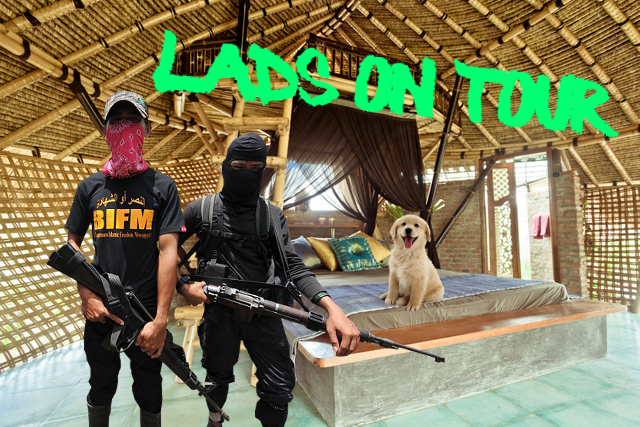 With her friends' enthusiasm and her parents' consent Amber left for Italy. Between 2014 and 2017 she travelled across the world, first moving in small steps, from Italy to Slovenia, to Bulgaria and Turkey. From Turkey she jumped around the Middle East and North Africa, avoiding conflict zones and skipping countries whose religious codes might frown upon her displayed body. Everywhere she went she befriended new contacts to utilise, chic twenty-somethings who'd invite her to their parents' villas, rich bankers who'd get her into rooftop parties. Courting the cultural elite was vital; she didn't have the financial reserves to fund a lavish lifestyle, but she could enter those worlds and achieve an image of effortless glamour.
By the time she reached the Moroccan coast she'd amassed over 75K followers. Enough to be on the radar of international PR girls. Invitations started flying in: five star luxury hotels and exotic adventures. Whilst sipping alcohol-free cocktails and bronzing her skin, she strategised her next move.
She flew to Malta, then across the Atlantic, island-hoping round the Caribbean. In America she visited boutique ranches and hunted down bohemian culture. Down to Mexico, then South America, a perfect blend of high class living and poverty porn. From South America she crossed the Pacific, stopping in at Hawaii on the way, then modern China and finally, in early 2017, Indonesia.
The world first knew something had gone wrong for Ms Hinton was when she posted a unusual message on Twitter. For three days she'd been five star eco-glamping in the rain-forested hills of Lombok, swimming in waterfalls, taking selfies with monkeys and then suddenly:
@amber_abroad
I heard a gun shot! What do I do! HELP HELP HELP
Minutes later a second tweet followed:
@amber_abroad
They said my name, tell me parents I love them
Within minutes a storm of activity was echoing around the Twitter-sphere and #saveamber was the number one trending topic on social media. Facebook campaigns began and Indonesian public officials were receiving flak from latte drinking yuppies in North London. By the second day the Foreign Office had publicly announced that British tourists in Indonesia were advised to leave the country immediately. Typically slow to respond, but then absolutely committed, ISIS announced that Ms Hinton's abduction had been orchestrated by them, despite it obviously being carried out by a unassociated cell with little to no connection with the upper echelons. For three consecutive days BBC Breakfast News dedicated a half hour to the unfolding crisis; they even flew Naga Munchetty out to Bali to goad tourists into overreactions.
Five days of media fixation were followed by a week of not giving a damn; then out of the blue something very odd began to happen. Instagram accounts operating out of the Indonesian and Philippine ISIS territories started taking on a much more aesthetically sensitive tone. Poorly photoshopped images were replaced with a wave of creative shots. Against verdant jungle foliage, handsome young fighters were pictured topless, sweat glistening on their ripped pecks, rifles casually held over their shoulders. Puppies were photographed wrapped in ISIS flags. Trope travel images, 'everyone jumping on the beach together' and 'girl leading boy', were bastardised into calls to martyrdom.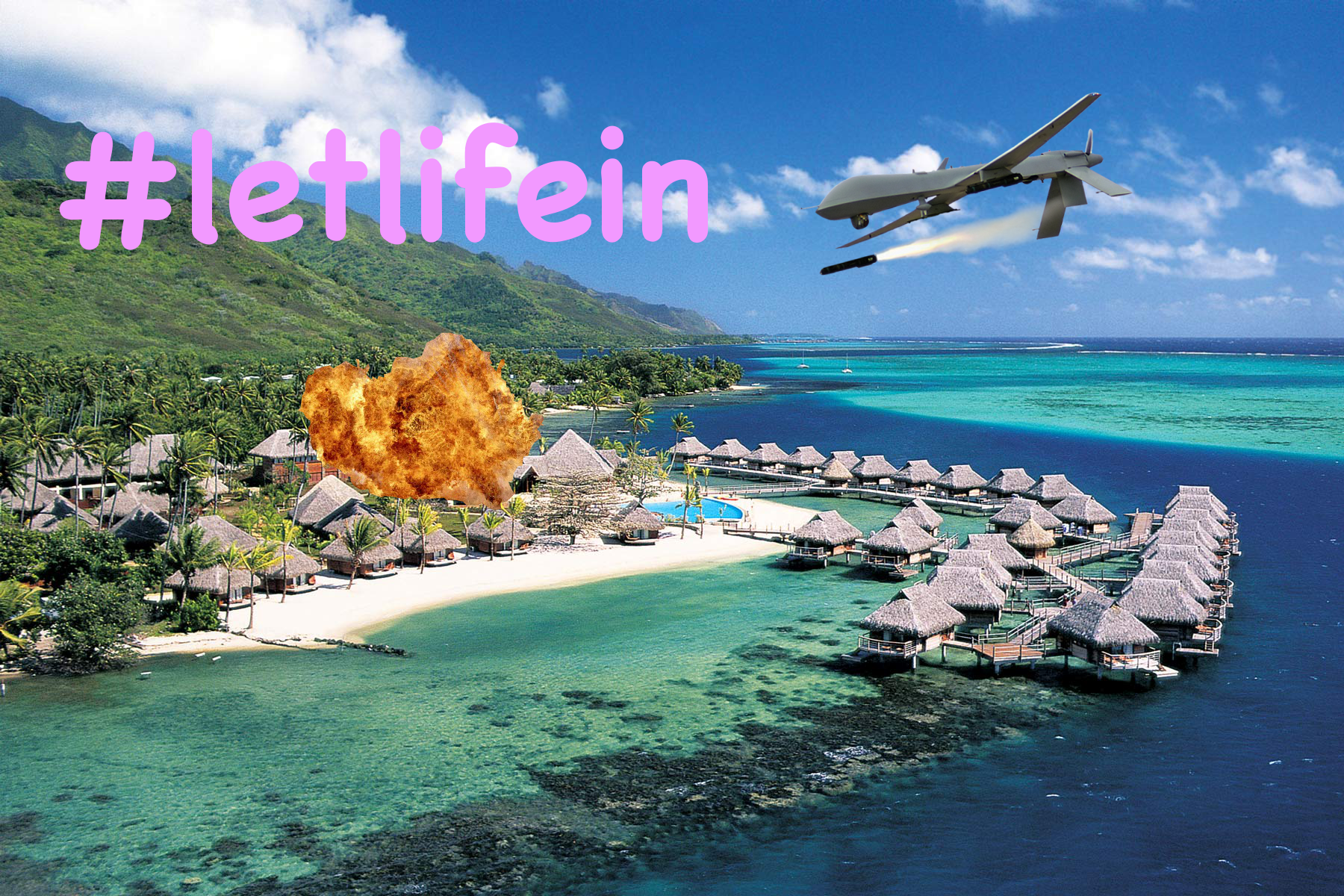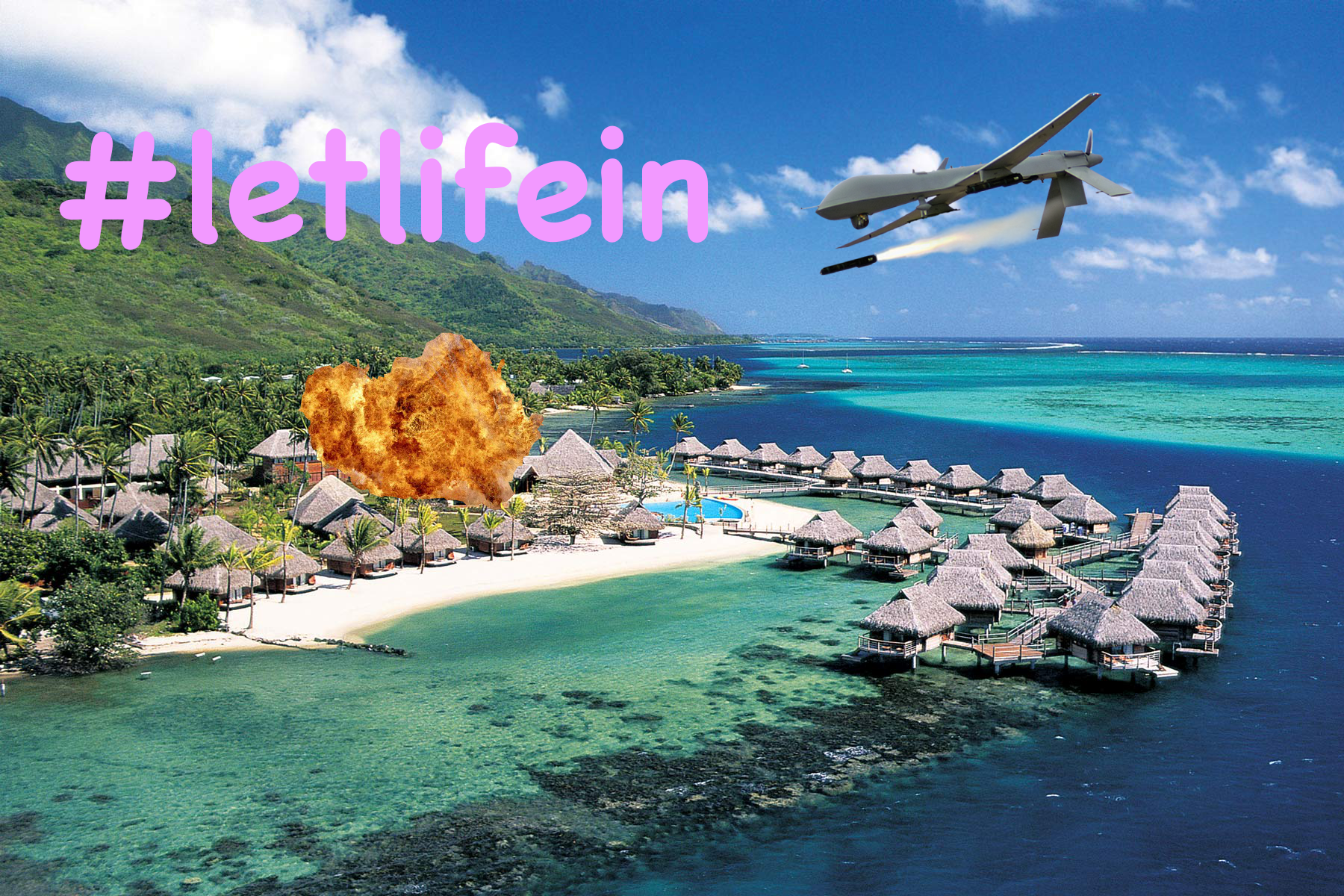 At first Amber's family was relieved; their daughter was alive and communicating with the world. Security services reassured them that eventually she would reveal her position, then they'd be able to plan her rescue. Weeks developed into months and still it seemed Amber was so tightly under the thumb of her captors that she couldn't encode a message. All they could do was watch her PR strategy unfold.
Back home Theresa May used the crisis to spearhead her personal campaign against social media giants and internet freedoms. "By doing nothing, Instagram encourages ISIS". In truth they were shutting down hundreds of accounts each day and actively handing data to the NSA and GCHQ.
By the time a video appeared online, 'Amber's Top 5 Tips For The Perfect Jihadi Pic', Theresa had reached her line in the sand. Co-ordinating with the Indonesian President Joko Widodo, Ms Hinton was marked a priority target. If and when they had a lock on her location, an American drone would strike.
The final Instagram post attributed to Ms Hinton was posted on the 25th of June 2017.
For three weeks MI6 had been working in close communication with Indonesian intelligence officials to triangulate her location, scrutinising every post for a telltale clue. Eventually it was a sun umbrella that gave her away; its pattern of red and yellow stripes was attributed to a hotel on a recently occupied island. The post was confirmed as being a Amber original due to her characteristic use of the Juno filter and the Smiling Cat Face With Heart-Eyes emoji.
Amber's parents were never told the truth about their daughter's death. Several months afterwards a nice man from the intelligence services told them they believed ISIS had killed her, citing a lack of posts as evidence. Communications were falsified when they demanded proof. They were never shown the photos of her charred scalp, or the one of her left foreleg on the beach; it'd be blown clean clear of the hotel. In the end only a few people, in secret rooms, ever saw the evidence. None of the photos ever made their way online.