Features Image: "Dead Copyright" installation view, 2015
Antonio Roberts is a digital artist based in Birmingham. In 2011 he has completed his Masters level studies in Digital Arts in Performance at Birmingham City University. His artwork focuses on the errors and glitches generated by digital technology. An underlying theme of his work is open source software and collaborative practices. His video work has been screened in Chicago, Illinois, at GLI.TC/H, Notacon in Cleaveland, Ohio, and Newcastle Borough Museum and Art Gallery, amongst other places.
In October 2015 he opened his first solo exhibition, "Permission Taken", at Birmingham Open Media and in these weeks is taking part to "Jerwood Encounters: Common Property" (15th January – 21st February 2016, Jerwood Visual Arts), a group show curated by Hannah Pierce focused on the limits of Copyright when it's about visual arts, with two projects: the installation "Transformative Use" and a collection of four works, "I Disappear", "Blurred Lines", "My Sweet Lord" and "Ice Ice Baby".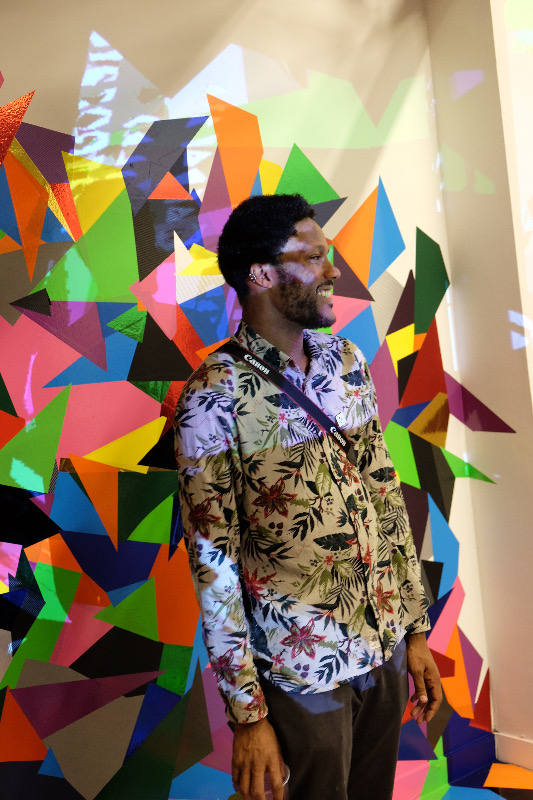 Filippo Lorenzin: You've been always interested in how corporate and industrial logics affect daily life and art. How did you get interested in these questions?
Antonio Roberts: It's a by-product of my interest in open source software and free culture, something which I've been interested in from as early as 2002 but only started taking seriously around 2007. One of the main motivators of this was my reaction to Adobe Photoshop and its influence on creative practices. My experience of studying Multimedia Graphics – and I'm sure the same can be said for Graphic Design, Illustration and any creative practice – was that it seemed more like an exercise in how to use Adobe products, not how to be creative with tools. It felt like Adobe software had gone from being one of the many tools for creating art to the art in itself. This corporate sponsorship of course has many implications for how we create and disseminate art. It poses restrictions and dictates who and who cannot create art.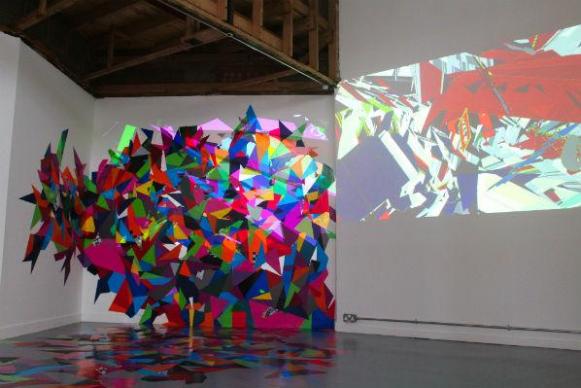 FL: Copyright issues are one of the main focuses of your research and this fascinates me because of your age. You (as me, by the way) have experienced probably the most troublesome period for Copyright systems, with the wide spread of p2p networking and remixing approaches to cultural industry products. What do you think?
AR: I'm inclined to agree. I've had access to the internet since I was around 14 years old and in that time I've seen the internet and culture as a whole change drastically. For me the rise and fall of Napster, spearheaded by Metallica's very public outcry against it, signalled the beginning of the end of the free internet that I had only known for not even a year.
Around that time Digital Rights Management (DRM) became a hot topic. The entertainment industry saw it (and suing everyone) as the only way to protect their property and so kept bundling DRM with their products, which often at times resulted in a broken experience for the user. One example that springs to mind was the attempt to make CDs unreadable by computers (and so prevent ripping), by adding in corrupted data at the beginning of CD. Whilst it did temporarily stop people to using it on computers – you could simply use a marker pen to circumvent it – it also prevented some CD players from using the CD and in general was obtrusive. This cat and mouse game is still going on to the point where simply attempting to bypass DRM to watch/listen to something that you have purchased, can be an illegal act.
As mentioned before, It wasn't until around 2007 that I began to reconsider how Copyright affected my work. By this time I saw that there was more weight being pushed behind open source software, free culture and things like the Creative Commons licences, and so I started to get involved myself. The first stage was ditching all proprietary software (which I did in 2009) and then licensing my work under Creative Commons licences.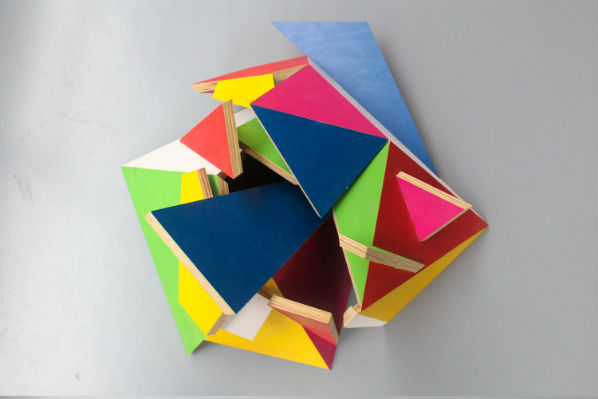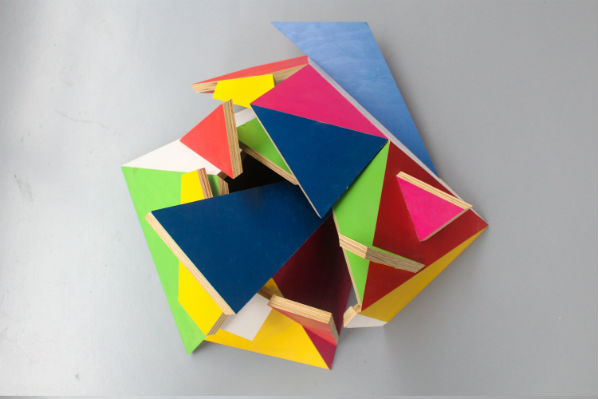 FL: "Jerwood Encounters: Common Property", curated by Hannah Pierce, is a group show that seeks to investigate the new borders of Copyright, especially in regard of art. How would you define the state of these questions in UK?
AR: I think Copyright as a whole is in a terrible state. As Cory Doctorow suggests in the exhibition programme (which is in itself an excerpt from his book "Information Doesn't want to be Free") Copyright as we know it isn't written for artists or any individual. Its verbose terms and complexities cannot be understood and are probably not even read by most of us. They are written for other lawyers. If, in order to go about our creative business, we are expected to read and understand the terms and conditions and law – it is estimated that it would take 76 days to read all of the Ts and Cs of websites we use – what time do we have to be creative?
FL: What's your point of view, from your position as an artist?
AR: I think Copyright is a mess because it tries to dictate how we should be creative. Creativity is free-flowing. Copyright, and its cousins patents and trademarks, justify their existence by saying that these restrictions encourage innovative new ideas but what they do is just stop us.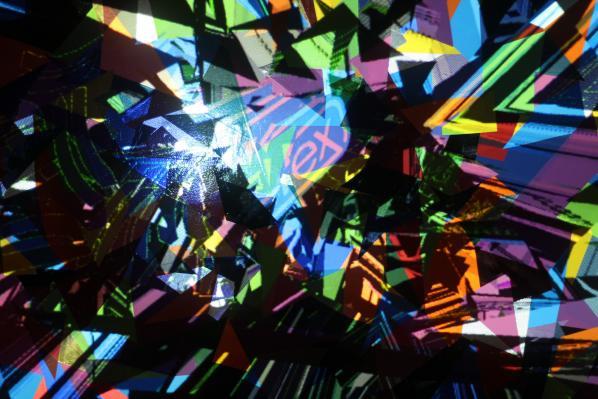 FL: "Dead Copyright" reminds me some reflections by Walter Benjamin on the shock of the city, about how advertising assaults our senses 24/7 with louder and louder messages – until it reaches a state of entropy. At this stage the message isn't actually more important than the media itself, quoting Marshall McLuhan, and all the brands create a single, colourful ambient. How much this reality has been voluntarily planned by corporations, in your own opinion?
AR: I think it's all completely planned. The more pervasive the advertising becomes the more we accept it as part of our every day life and culture. On the other side this does mean that they have to try ever more invasive methods to get our attention. Think about the uproar over the Coca Cola van at Christmas, or Cadbury's at Easter. They have usurped the original holidays and are more important.
FL: The reduction of brands to colorful simple shapes created something that visually reminds some of op art works, a movement that experimented with visual perceptions and that has been an important inspiration for fashion and design. I was just wondering what you think of this similarity: is there any real connection between your work and those works?
AR: Yes, certainly and this comes through with my use of glitch art techniques. In glitch art we're often trying to find signal in the noise, and I find that many successful glitch art works (however you define successful) have some resemblance to the original yet are transformed and destroyed in way.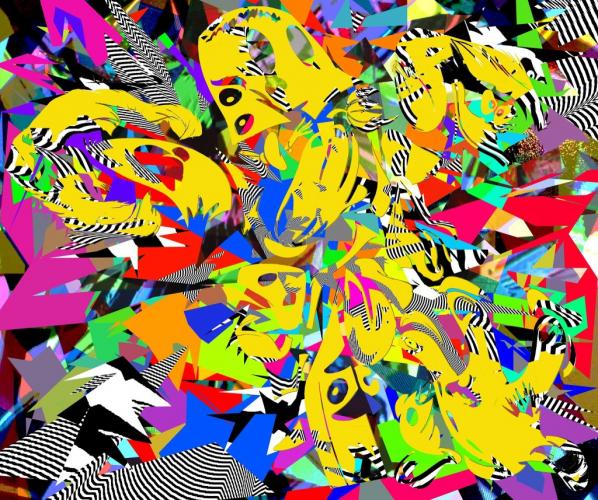 FL: With "Transformative Use" you use shapes that recall not just brands, but a wider imagery. It's as if you're focusing on other targets: can I ask you how did you get interested in this new research?
AR: I recalled all that I had learnt during my residency at University of Birmingham and during the CopyrightX course. From this I paid particular focus to the Sonny Bono act from 1998. This effectively extended the Copyright terms so that it won't be until 2023 until works from 1923 begin to enter the Public Domain. This act is sometimes called the Mickey Mouse Protection Act, which led me to use them as a focus point for the work. Mickey Mouse should, by now, be in the Public Domain but they've fought to stop this in order to "protect" their brand.
People in favour of long or perpetual Copyright terms usually point to it allowing artists to reap the benefits of creating work. In truth, however, only a very small percentage of works made will be profitable in the future. To put it another way, how many books published today will see reprints? I don't have any official statistics, but I know it would be a small percentage. So, extended Copyright terms only really benefit the small percentage of artists or publishers, whilst harming everyone else.
FL: What does it mean to deal with corporate imagery within such a chaotic and in a somewhat charming ambience? I mean, what remains a logo or a character when it gets lost within this borderless blob? Are the corporations losing their borders too, maybe?
AR: Yes.
FL: As discussed before, "Transformative Use" has been inspired by two previous projects: do you think that in future you'll make a work that will update for the fourth time these reflections of yours?
AR: Most certainly yes. "Permission Taken" will be having an iteration at the University of Birmingham in March 2016 and will feature new and existing work. Aside from this I will continue to work with found materials but with a more explicit intention to provoke discussion around Copyright.