Introduction.
I arrived at the Transmediale festival late Friday afternoon, which was hosted as usual at Das Haus der Kulturen der Welt (The House of World Cultures) in Berlin. The area where the building is sited was destroyed during World War II, and then at the height of the Cold War, it was given as a present from the US government to the City of Berlin. As a venue for international encounters, the Congress Hall was designed as a symbol of 'freedom', and because of its special architectural shape the Berliners were quick to call the building "pregnant oyster" [1] The exterior was also the set for the science fiction action film Æon Flux in 2005. Both past references link well with this festival's use of the building. I remember during my last visit, in 2010, standing outside the back of the building watching an Icebreaker cracking apart the thick ice in the river. The sound of the heavy ice in collision with the sturdy boat was loud and crisp. This sound has stayed with me so that whenever I hear a sound that is similar I'm immediately transported back to that point in time. Unfortunately, this time round there was no snow, instead the weather was wet, warm and slighty stormy.
Last year's festival explored the marketing of big data in the age of social control. This year, the chosen format was entitled conversationpiece, with the aim of enabling a series of dialogues and participatory setups to talk about the most burning topics in post-digital culture today. To give it grounding and historical context the theme was pinned to the "backdrop of different processes of social transformation, 17th and 18th century European painters perfected the group portrait painting known as the "Conversation Piece" in which the everyday life of the aristocracy was depicted in ideal scenes of common activity." In recent years the festival has scafolded its panels, workshops and keynotes to grand, central themes to guide its peers and visitors, along with a large-scale curated exhibition. If we view the four interconnected thematic streams- Anxious to Act, Anxious to Make, Anxious to Share and Anxious to Secure – we might guess that the festival curators are also anxious to save all the resources (and celebrations) for next year, which is after all, Transmediale's 30th birthday.
So, I was curious to see how my brief time here would unfold…
Off-the-Cloud-Zone.

This review is focused on the hybrid event Off-the-Cloud-Zone. It featured presentations, talks and workshops, starting at 11 am, going on until 8pm. Hardcore indeed. It demanded total dedication, which unfortunately I was not able to give. However, I did offer my attention to the rest of the proceedings from lunch time until the end. It was moderated by Panayotis Antoniadis, Daphne Dragona, James Stevens and included a variety of speakers such as: Roel Roscam Abbing, Ileana Apostol, Dennis de Bel, Federico Bonelli, James Bridle, Adam Burns, Lori Emerson, Sarah T Gold, Sarah Grant, Denis Rojo aka Jaromil, George Klissiaris, Evan Light, Ilias Marmaras, Monic Meisel, Jürgen Neumann, Radovan Misovic aka Rad0, Natacha Roussel, Andreas Unteidig, Danja Vasiliev, Christoph Wachter & Mathias Jud, and Stewart Ziff.
The Off-the-Cloud-Zone day event was a continuation of last year's offline networks unite! panel and workshops. Which also originated from discussions on a mailing list called 'off.networks' with researchers, activists and artists working together around the idea of an offline network operating outside of the Internet. The talks concentrated on how over recent years there has been a growing scene of artists, hackers, and network practitioners, finding new ways to ask questions through their practices that offer alternatives in community networks, ad-hoc connectivity, and autonomous systems of sensing and data collecting.
Snowden Archive-in-a-Box.
Disillusionment with the Internet has spread widely since 2013, when Edward Snowden the US whistleblower leaked information on numerous global surveillance programs. Many of these programs are run by the NSA and Five Eyes with the cooperation of telecommunication companies and European governments raising big questions about privacy and exploitation of our online (interaction) data. This concern is not only in relation to spying corporations, dodgy regimes and black hat hackers, but also our governments. "The idea of privacy has been flipped on its head. People don't have to disclose their own information voluntarily anymore; it's being taken from them regardless of their wishes." [2] (Nowak 2015)
"The NSA's principal tool to exploit the data links is a project called MUSCULAR, operated jointly with the agency's British counterpart, the Government Communications Headquarters . From undisclosed interception points, the NSA and the GCHQ are copying entire data flows across fiber-optic cables that carry information among the data centers of the Silicon Valley giants." [3] (Gellman and Soltani, 2013)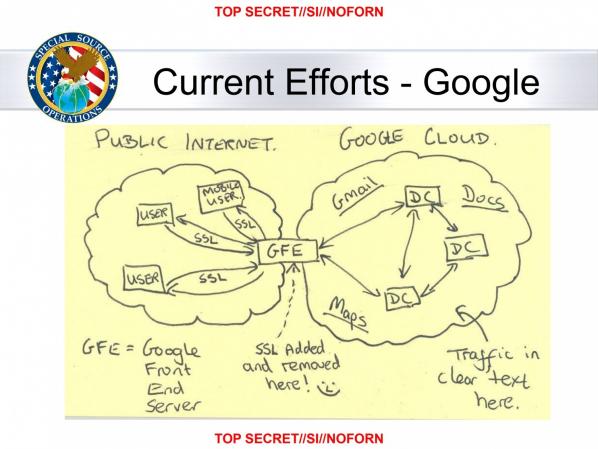 The above slide is from an NSA presentation on "Google Cloud Exploitation" from its MUSCULAR program. The sketch shows where the "Public Internet" meets the internal "Google Cloud" where user data resides. [4]

A legitimate concern for anyone wishing to read the contents of the leaked Snowden files, is that they will be spied upon as they do so. Evan Light has been working on finding a way around this problem, and at the Off-the-Cloud-Zone day event he presented his project Snowden Archive-in-a-Box. A stand-alone wifi network and web server that permits you to research all files leaked by Edward Snowden and subsequently published by the media. The purpose of the portable archive is to provide end-users with a secure off-line method to use its database without the threat of surveillance. Light says, usually the wifi network is open, but users do have the option to make their own wifi passwords and also choose their encryption standard.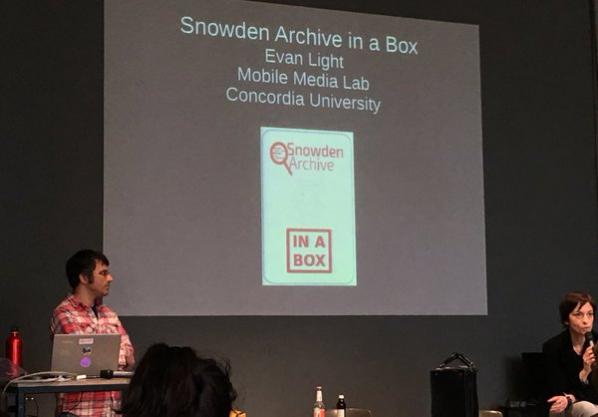 Snowden Archive-in-a-Box is based on the PirateBox, originally created by David Darts who made his in order to distribute teaching materials to students without the hassle of email. It is based on a RaspberryPi 2 mini-computer and the Raspbian operating system. All the software is open-source and its most basic setup can run on one RaspberryPi. In his talk Light said that a more elaborate version would use high-quality battery packs and this adds power for autonomy, along with the wifi sniffer that is running on a secondary RaspberryPi and a flat-screen for playing back IP traffic. If you're interested in building your own private, pirate Archive-in-a-Box, visit Light's web site for instructions on how to.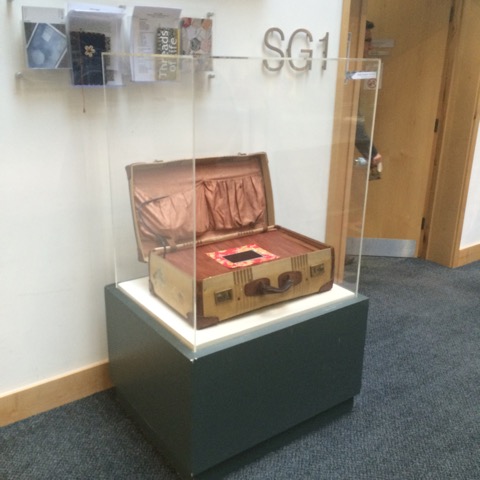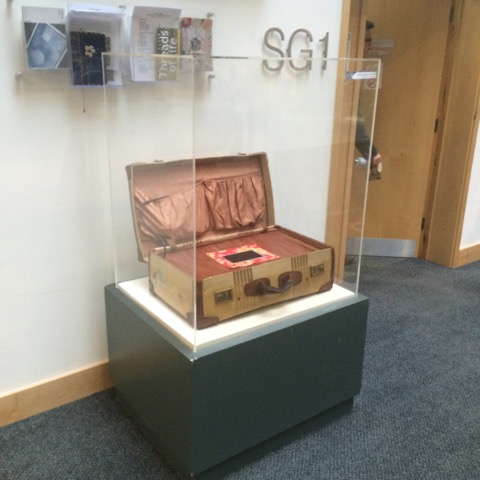 Qaul.net and Can You Hear Me?
Christoph Wachter's and Mathias Jud's work, directly engages with refugees and asylum seeker's social situations, policies, and the migrant crisis. They've worked together on participatory community projects since 2000 and have received many awards. For instance, take a look at their digital communications tool qaul.net which is designed to counteract communication blackouts. It has been used successfully in Egypt, Burma, and Tibet, and works as an alternative to already existing government and corporate controlled communication pathways. But, it also offers vital help when large power outages occur, especially in areas in the world suffering from natural disasters. The term qaul is Arabic and means 'opinion, say, talk or word'. Qaul is pronounced like the English word 'call'.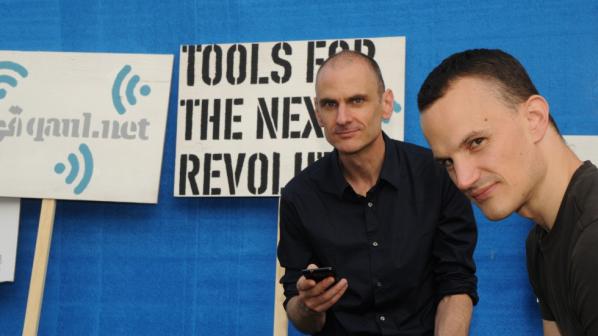 It creates a redundant, open communication code where wireless-enabled computers and mobile devices can directly initiate a fresh, unrestricted and spontaneous network. This includes the enabling of Chat, twitter functions and movie streaming, independent of Internet and cellular networks. It is also accessible to a growing Open Source Community who can modify it freely.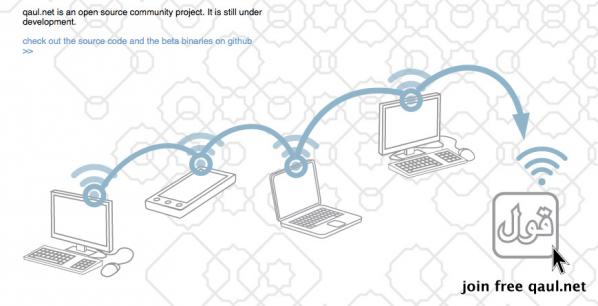 Wachter and Jud also discussed another project of theirs called "Can You Hear Me?", a WLAN / WiFi mesh network with can antennas installed on the roofs of the Academy of Arts and the Swiss Embassy in Berlin, which was located in close proximity to NSA's Secret Spy Hub. These makeshift antennas made of tin cans were obvious and visible for all to see. The Academy of Arts joined the project building a large antenna on the rooftop, situated exactly between the listening posts of the NSA and the GCHQ to enable people to directly address surveillance staff listening in. While installing the work they were observed in detail by a helicopter encircling overhead with a camera registering each and every move they made, and on the roof of the US Embassy, security officers patrolled.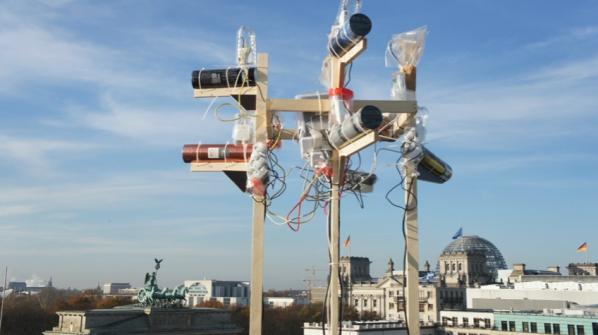 "The antennas created an open and free Wi-Fi communication network in which anyone who wanted to would be able to participate using any Wi-Fi-enabled device without any hindrance, and be able to send messages to those listening on the frequencies that were being intercepted. Text messages, voice chat, file sharing — anything could be sent anonymously. And people did communicate. Over 15,000 messages were sent." [5] (Jud 2015)

A the end of their presentation, they said that they will be implementing the same system at hotspots deployed in Greece by the end of the month. And I believe them. What I find refreshing with these two, is their can do attitude whilst dealing with political forces bigger than themselves. It also gives a positive message that anyone can get involved in these projects.
Dowse.
And then, it was the turn of the well known team at Dyne.org to discuss a project of theirs called Dowse, which is 'The Privacy Hub for the Internet of Things'. They said (taking turns, there was about 5 of them) that the purpose of Dowse is to perceive and affect all devices in the local, networked sphere. As we push on into the age of the Internet of Things, in our homes everything will be linked up.
"Those bathroom scales and home thermostats already talk to our smartphones and in some cases think for themselves." [6] (Nowak 2015)
As these ubiquitous computers communicate to each other even more, control over these multiple connections will be essential. We will need to know how to interact beyond the GUI interfaces and think about who has access to our private, common and public information. A whole load of extra information will be available without our consent.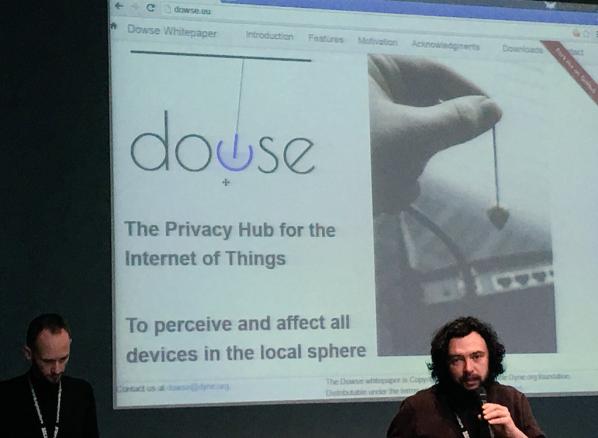 Dowse was conceived in 2014 as a proof of concept white paper by Denis Rojo aka Jaromil. Early contributors to the white paper and its drafting process includes: Hellekin O. Wolf, Anatole Shaw, Juergen Neumann, Patrick R McDonald, Federico Bonelli, Julian Oliver, Henk Buursen, Tom Demeyer, Mieke van Heesewijk, Floris Kleemans and Rob van Kranenburg. I downloaded the white paper and is definitely worth reading.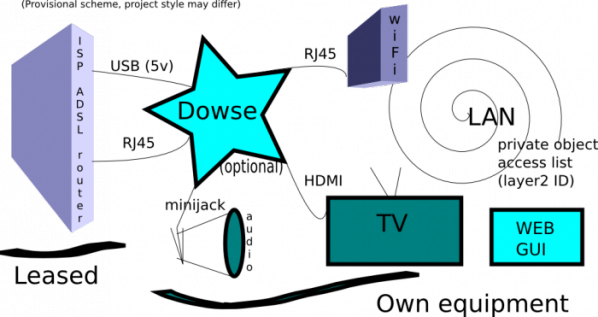 The Dowse project aims to abide to the principles stated in the Critical Engineers Manifesto, (2011). Near the very end of the talk they announced to the audience an open call for artists and techies everywhere to get involved and jump into the project to see what it can do. This is a good idea. If there is no community to make or break platforms, hardware and software, then there is a limited dialogue around the possibilties of what a facility realistically might achieve. Not just that, they want artists to make art out of it. I know there are some pretty clever tech-minded geeks out there, who will in no doubt take on the challenge. However, once those who are not so literate in the medium are able to exploit the project, it will surely fly. It's going to be interesting, because if you look at the 3rd point in the Critical Engineers Manifesto, it says "The Critical Engineer deconstructs and incites suspicion of rich user experiences." I'm thinking, that this number 3 element needs to treated with caution. If they really wish to open it up to a diverse user base, to engage with its potentialities, creatively and practically; thus, allow new forms of social emancipation to evolve as 'freedom with others'. There needs to be an active intent to avoid a glass ceiling based on technical know-how. It's a promising project and I intend to explore it myself and see what it can do and will invite other people within Furtherfield's own online, networks to join in and play, break, and create.
The Sarantaporo Project.
Our final entry is the Sarantaporo Project which is situated in the North of Greece. A village in the mountains just west of Mount Olympus in Central Greece close to Thessaloniki, Macedonia and Larisa. The country has been in recession for over 6 years now, and many communities have had to create alternative ways of working with each other in order to survive the crisis. Over this troubling period, new forms of grass-roots coexistence, solidarity and innovation have evolved. The Sarantaporo Project is an impressive example of how people can come together and experiment in imaginative ways and exploit physical and digital networks.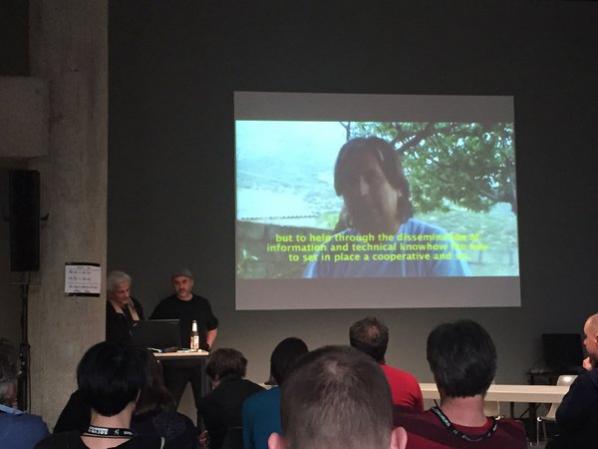 Even before the economic crisis the region was already hit by poverty, and with the added pressures of imposed Austerity measures, life got even tougher. All the young were leaving and then migrating to the cities or abroad. Before the project in Sarantaporo, there was no Internet nor digitally connected networks for local people to use. This situation contributed to the digital divide and made it difficult to work in a contemporary society, when so many others in the world have been using technology to support their civic, academic and business for so many years already.
"In Greece, where unemployment reaches 30% in all ages and genders, and among the youth overpasses 50%, immediate solution for the "social issue" is more than urgent.' [7] (Marmaras).
Conclusion.
"Besides maintaining the network in a DIWO (Do It With Others) manner, and creating an atmosphere of cooperation among far-flung communities that were previously strangers, the Sarantaporo network is incorporating different groups of people into the community, like Farmer's Cooperatives and techies. It is also creating an intergenerational space for learning." [9] (Bezdommy 2016)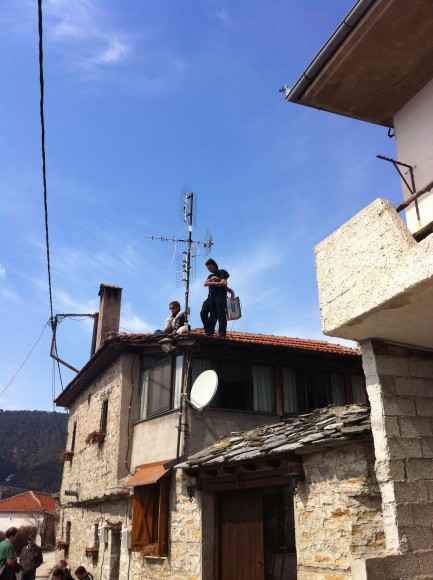 To resolve this issue a group of friends decided to deal with this problem by setting up a community D.I.Y wireless network to provide free internet access to 15 villages in the municipality of Elassona. "Sarantaporo.gr is an open source wireless mesh networking system that relies greatly on voluntary work both for its development and maintenance. Some volunteers are involved in the project by simply installing an antenna on their roof. Others, more actively engaged with the project, are responsible for sustaining the network by hosting meetings and answering technical questions." [8] (Kalessi 2014) The audience was presented with snippets from a film made by the filmmaking collective Personal Cinema, about the project. It was made so the story of Sarantaporo's DIY wireless network gets a wider reach, and that others are also inspired to do similar projects themselves.
These projects are dedicated to creating socially grounded and engaged alternatives to the proprietorial, networked frameworks that currently dominate our communication behaviours. These proprietorial systems, whether they are digital or physical are untrustworthy, and control us in ways that reflect their top-down demands but not our common needs. This reflects a wider conversation about who owns our social contexts, our conversations, our fields of practice, the structures we use, the land, the cables, our history, and so on.
Looking at the state of the planet right now you'd be forgiven for betting on a future not far from the director Neill Blomkamp's vision in the sci-fi movie Elysium where, in the year 2159, humanity is sharply divided between two classes of people: the ultra-rich whom live aboard a luxurious space station called Elysium, and the rest who live a hardscrabble existence in Earth's ruins. However, in the Off-the-Cloud-Zone talks we encountered an ecology of strategies to protect our own indegenous cultures from the crush of neo-liberalism, we felt part of a grounded movement discovering new conversations and new methodologies that may provide some protection against future colonisation. Perhaps there is a chance, we can build and rebuild stronger relations with each other, beyond: privilege, nation, status, gender, class, race, religion, and career.
The festival this year was less structured and more nuanced than usual. It gave conversation a greater role and a deeper social context, and opened up the process for the many to connect with the ideas being explored. The whole affair seemed to be slowed down and less caught up in the hyper-macho trappings of accelerationism. It seemed less neurotic and spending less effort to impress. I'm sure, next year, on it's 30th anniversary, all will be sharp and amazing. However, I liked this less glossy, more messy version of Transmediale and I hope it manages to impress the wrong people again, and again.