Featured Image: Johannes lands in San Francisco.
Traceroute – A Personal Journey Into the Uncharted Depths of Nerd Culture, A Realm Full of Dangers, Creatures, and More or Less Precarious Working Conditions. (Or Fear and Loathing in Nerdcore).
"In the end, we'll all become stories" Margaret Atwood.
Before Vaporwave, Post-Internet, Facebook, and your latest Kickstarter campaign, there was the cybercultural counterculture. I encountered it through publications like Collapse, Mondo 2000, ReSearch, Fringeware Review, and bOING bOING (when it was still in print), and on BBS boards like The Thing and The WELL. This was the land of cyberpunk, Dead Media, Tactical Media, The Church of the SubGenius, online dungeons and wetware hacking. This is the native culture of Johannes Grenzfurthner, born of the dark forests of Austria, famous for music and mass murder (by his own admission), and a crèche for nerddom.
Traceroute (…) is a reflection on his own roots of nerddom, and an On the Road style romp across the United States as he visits icons of the counterculture, the outré, and the generally questionable.
He begins Traceroute with a fitting genesis story of his growing up in Central Europe, dressing like Captain Kirk, making treehouses and accidentally killing the family chicken with a failed science experiment, reading comic books, making short films, and being obsessed with Pachelbel's Canon in D Minor. He saw that the neighbor's patio tile always looked like LCD displays, and he started noodling around with his neighbor's computer, logging into the FIDONet, learning about his nerddom, discovering ASCII porn, and Woschi Woschi Wau Wau, the Dog that Never Pooped. If you're following me up till now, then you'll get the general tone of the movie.
As Johannes expands on his arc from a gawky Austrian kid to founding the cybermedia group Monochrom in a quirky Germanic stream of consciousness, he decides to take his friends Jenny and Eddie on a trip across the US for a tour de farce into the depths of cyber-counterculture.
He begins his trip, of course, in San Francisco – home of the counterculture and the Californian Ideology, which he calls, "a fantastic realm of infinite opportunity and homelessness" There, he begins his intellectual trek across the USA with V. Vale – author and publisher of the ReSearch series of documentary books. Vale began his publishing career with a volume called Search and Destroy while working at the City Lights bookstore – a Mecca of beat culture. He cements the foundations for the film in saying that nerds made the counterculture; there is a sort of reflection that only comes from isolation or obsessiveness, and "There is no creativity in the absence of revolt." says Vale.
Suddenly, I realize that I'm about a half thousand words into this review, and only about a quarter way through the movie, and barely out of San Francisco. That is the nature of Traceroute, a relentless stream of factoids and side trips that talks about many things, like the whiteness of cyberculture, the uncomfortable relationship between counterculture and neoliberalism, shipping containers, Area 51, as well as sci-fi props and makeup at Stan Winston Studios. This is the nature of the nerd; to be infinitely interested in infinite numbers of things, the more obscure the better. Actually, giving a feel for the film without describing it in total is probably the best thing to do, as it leaves many of the places Johannes goes to the imagination.
Traceroute has both memorable moments and stops that simply must be done if one is to visit cyber-counterculture. One of the mandatory stops is to SxSW Interactive in Austin, Texas and a chat with Jon Lebkowsky and Bruce Sterling. Jon is one of the founders of the legendary 90's zine Fringeware Review and icon of Austin counterculture, as well as omniglot. Bruce Sterling, is of course, Bruce Sterling – cyberpunk author, WIRED Magazine blogger, and cyber-tastemaker. Listening to Lebkowski's surprise at the traction of the cyberpunk movement in the 90's in contrast to Sterling's waxing of hanging with the tragically hip Milanese cyber-squatters of the time reminded me of the romanticism that also accompanies the underground.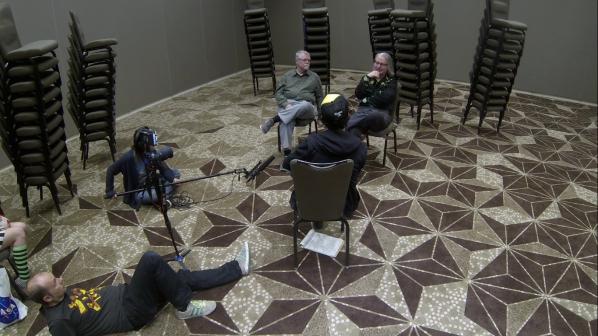 A fantastic moment was when the Traceroute crew actually winds up at the gate to Area 51 in the middle of the night and decide to talk to tactical artist Trevor Paglen to get more information about the site. Paglen, almost more than anyone, has done work that reveals "black" projects being pursued by the US government, such as stealth technology, spy satellites, the location of Internet ocean cables, and so on. During their conversation, Paglen brings up a mission patch for the US Air Force for a stealth project that has two things. First, there is an alien head, as it is Area 51 after all, and a caption that reads, "Gustatus Similus Pullus", (or, Tastes Like Chicken). Frat humor in the skunkworks – hmmm…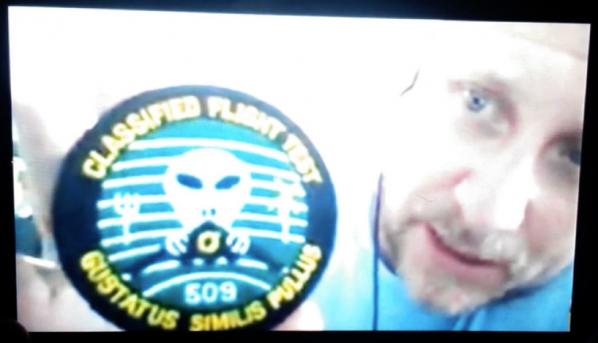 Grenzfurthner also muses that we are two things – sexual beings and tool users. This makes sense as his group Monochrom hosts the annual Arse Electronika festival (a sexual play on the Ars Electronica in Linz). This reveals itself in a number of segments with Miss Maggie Mayhem (San Francisco), Kit Stubbs (Boston), Christina Anapakis (Los Angeles, who does art from body cultures), and Bad Dragon, a company that does science fiction/fantasy dildos. From Maggie's playfully powerful illustrations of the links between sex work and Silicon Valley to Christina's experiments with Johannes' culture to make a failed cheese, I am happy to see that Monochrom's sex and body-positive message that nerds are filled with a curiosity about all of the world around them is present in Traceroute.
My only complaint about the movie is that I wanted more of it, or perhaps more of the eastern US, as it is nearly three-fourths of the way through the film before we leave Austin. Perhaps the newest part of the country, the West, might be the weirdest, but I'll leave that to Johannes. And there are tons of other alternative cultural sites to go, like the Museum of Jurassic Technology and Craig Baldwin's Artist's Television Access in California, and Rich Pell's Center for Postnatural History, the Mystery Spot, but he had a week, and only two hours of video. But on the other hand, I'm giving inordinate attention to the first half of the film, so not only am I self-referentially riffing on Grenzfurthner's narrative style here, but mimicking the structure of the movie.
Lastly, anyone dealing with outré culture that mixes nerddom and capitalist critique has to go to Monroeville, Pennsylvania – site of George Romero's marvelous political zombie flick, Dawn of the Dead. They go to Monroeville Mall, the site of the movie itself, with leftist critic and game designer Paolo Pedercini. There is a certain poesis about Paolo ranting about consumer culture, nerddom, the nexus of the mall and the surveillance state while waiting for the security guards at the mall to show up. These remarkably self-referential shots are what makes Traceroute magical.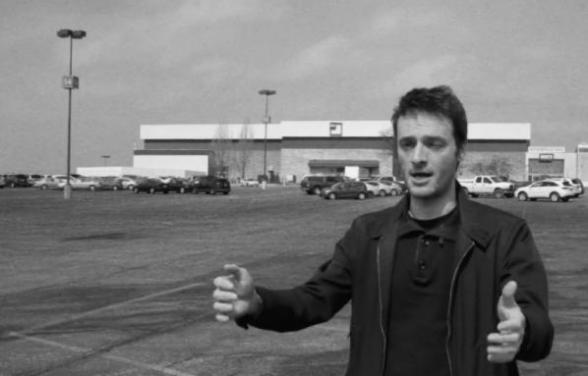 After watching Traceroute, I was left with a real exhilaration and a deeply reflective feeling at once, but I think this would be similar to Grenzfurthner's experience on his ur-nerdtrek across the USA. I mean, except for being a decade older, we have a lot in common. Our upbringings were similarly nerdy, but mine in Ohio, and his in Austria, he started Monochrom while I was with RTMark, we have many friends in common in the film, and we've glancingly communicated for decades. And he just made the documentary of our shared subculture. Of course, I'm going to like this film.
However, I wondered – what about the relevance of cyberculture and the counterculture in the age of Facebook and postinternet slickness? I mean, what role does Traceroute's subject matter have in the light of neoliberal, hyperprofessionalized cultural production evident in the mid-2010's? But then, the words of Sandy Stone, an eternal voice of reason, rang out in my mind. She said that William Gibson (and I'd add, Sterling and the rest of the cyberpunks as well) wrote this future, and a lot of it came true. And it sort of went to shit, and we're still doing it, and it's all good. And I'd like to expand in saying that not just cyberculture, but counterculture just keeps going, and the fact that it's from the 80's or 90's (or the 60's, for that matter) makes any difference. What Johannes terms as nerd culture is merely many aspects of Western counterculture, and it's a tradition that has given rise to everything from the Summer of Love to the personal computer (and that's just San Francisco…). What Traceroute reveals is the tradition of alterity just beneath the surface of Western culture, and that it has a powerful effect on our mass consciousness, whether it is in plain sight or not. Traceroute is debuting at the NYC Independent Film Festival, April 27-May 1, 2016.
The Rubix Cube is is not the only twisty puzzle. Learn about Pyraminx, the 2×2 and 4×4 cubes, the Megaminx on Ruwix.