What would you do if your partner was spending 17 hours a day online to earn a living? This short dystopian fiction by Elliott Burns paints an unsettling vision of a Gamer/YouTuber's life(style) slipping out of control…
posted February 22nd 2017
"Wow, just WOW everyone! So I've got some really big news I want to share with you… Earlier today, after I finished my lunch, Kung-Pow Chicken Sub by the way, I went into my boss's office and calmly explained that I would be leaving the company. So I am now t-minus two weeks until I walk out those doors for the last time EVER.
Why am I doing quitting? Because of YOU! Because of everyone out there who follows this channel, who watches these videos, who makes up this community. After 3 years posting video after video after video, this channel now makes enough in YouTube advertising revenues for me to dedicate my life to it!"
[he holds a wireless webcam with his right hand; raised up it faces back towards him and the room, behind are drawn curtains, shelves of video games and collectable figures, his computer set up and a pro-gaming chair.]
"I want to say a huge thank you to everyone of you! This is a dream come true, for me, my wife (going on 6 months now guys), and our puppy."
[crouching down with his left hand he raises a small fluffy dog to his chest.]
"Say "hi" Jasper, say "hi" to everyone. Jasper's really happy that Daddy gets to stay home all day now and doesn't need to leave him alone. You know what else it means… it means from today onwards I'll be posting more videos, more of the content that you LOVE, like this:"
[the screen switches to footage of a plane pulling a barrel-roll over a middle-Eastern oil refinery; overlaid his voice can be heard erratically.]
"This is Goose Feet! OVER! Deploying payload,"
[just before the right-wing clips a tower, pulling to first-person perspective he is launched into the air, rifle in hand, screaming:]
"MAYDAY MAYDAY pilot down over enemy territory,"
[pulling his chute.]
"I'm going in hard, guns blazing, send EVAC NOW, this is not a drill, I repeat NOT-A-DRILL!"
[the screen switches back to him in his room.]
"Not to mention our times together…"
[now we see a squad of armour clad super soldiers charging up a hill, plasma blasts rain down overhead from multi-jawed aliens and explosions erupt either side; amongst the chaos and lighting-effects he's heard reciting the Micky Mouse Club theme tune:]
"Who's the leader of the club, That's made for you and me, M-I-C-K-E-Y M-O-U-S-E,"
[as his team mates respond with burst of laughing and cries of:]
"SHUT THE F*** UP."
[back in his room again he pants, physically exerted by his excitement.]
"But most important of all, it means I can dedicate more time, NAY, dedicate my life to showing off the best-of-the-best of your clips, the greatest examples of battle from all over the world! Every week I will be showing the most courageous, outrageous and outright insane feats of computer game brilliance that you send me. And each week you can vote on who is the greatest-of-the-great. The insanest-of-the-insane.
Because I LOVE you guys, I LOVE that you've invested in me, this channel, this community that we've built together. Keep the likes, the comments, the shares, everything coming. Follow me on YouTube, on Facebook, on Instagram. There's going to be competitions, give-aways, constant non-stop banter-rific laughs…"
[his focus trails off slightly, pulling out of character before dropping back in…]
And of course, as always, my content is free to view. Subscribe and help me continue making this dream come true, and check out my online-store (link in the description below) for some excellent merchandise!
I can't say how much this means to me. All your support, it makes my life worth living… So for now, until next time, PEACE OUT, SandCastle128."
[the screen splits into 12 pieces showing a selection of related videos]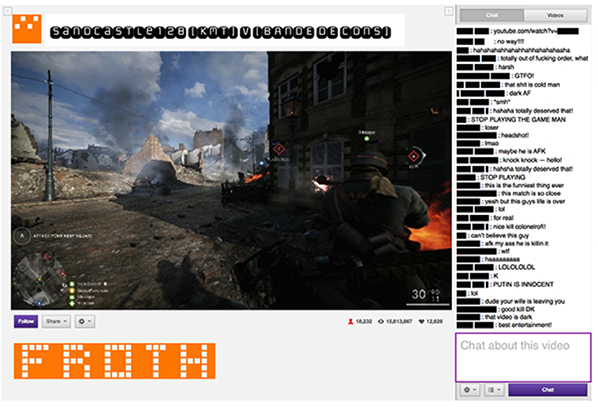 March 1st 2017 00:23am
Downstairs the kettle is whistling; it's on the gas and there's no sign anyone will take it off soon. His wife is asleep with the dog curled up by her feet. In 'his office' the glow of his monitor illuminates his face, providing enough light for the webcam to see him, yet leaving the background in darkness.
With his headphone-mic set he can't hear the kettle. He won't notice it until this round is over with either the terrorist or tactical-squad winning.
He's entered the villa through an open first-floor window. Downstairs a firefight is breaking out as three teammates try to catch the terrorists in a pincer movement, breaching from the front and back entrances. He's careful to avoid traps, they may have left explosive around any corner, or could be camping, waiting for him to make a mistake. Any second now his team should be able to identify how many hostiles are on the ground-floor; however, until then he'll need to exercise extreme caution.
The fifth member of their squad is holding back, sniper scope poised to take a shot through any exposed window. It's the third round and they're two games down, the enemy are co-ordinated so they're working to draw them out.
His teammates report comes in: "They're all on the ground floor. SandCastle128, on my mark, assault from the main stairs." A deafening volley of machine gun fire opens up, his HUD reports one target down, sniper fire takes a second. "GO GO GO." He runs into the fight, catches two targets from behind, raises his shotgun to iron sight and pulls the trigger.
His wife smacks him round the back of the head. His shot misses and the targets turn filling him with lead. "Kettle's boiled, I'm going back to bed!" That live-stream went out to 4,156 people on Facebook.
To read the rest of the story, please download Top 10 Plays of the Week as a PDF