Gretta Louw reviews Abrahams' book from estranger to e-stranger: Living in between languages, and finds that not only does it demonstrate a brilliant history in performance art, but, it is also a sharp and poetic critique about language and everyday culture.
Review.
Annie Abrahams is a widely acknowledged pioneer of the networked performance genre. Landmark telematic works like One the Puppet of the Other (2007), performed with Nicolas Frespech and screened live at the Centre Pompidou in Paris, or her online performance series Angry Women have solidified her position as one of the most innovative net performance artists, who looks not just at the technology itself but digs deeper to discover the ways in which it impacts human behaviour and communication. Even in the present moment, when online performativity is gaining considerable traction (consider the buzz around Amalia Ulman's recent Instagram project, for example), Abrahams' work feels rather unique. The strategy is one of contradiction; an intimacy or emotionality of concept and content, juxtaposed against – or, more accurately, mediated through – the technical, the digital, the screen and the network to which it is a portal. Her recent work, however, is shifting towards a more direct interpersonal and internal investigation that is to a great extent nevertheless formed by the forces of digitalisation and cultural globalisation.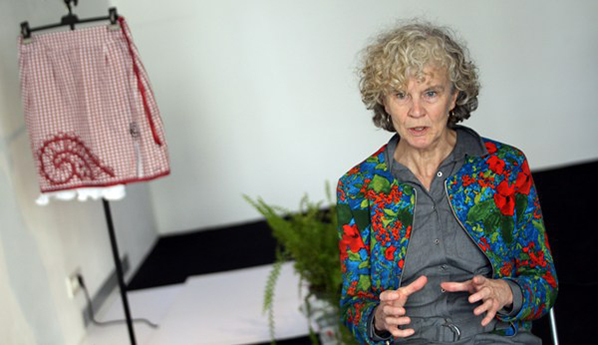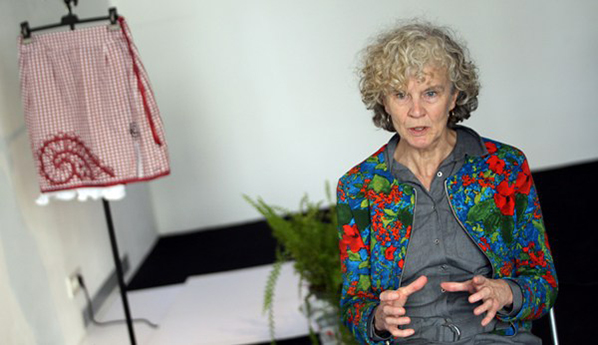 (E)stranger is the title that Abrahams gave to her research project at CONA in Ljubljana, Slovenia, and which led to the subsequent exhibition, Mie Lahkoo Pomagate? (can you help me?) at Axioma. The project is an examination of the shaky, uncertain terrain of being a foreigner in a new land; the unknowingness and helplessness, when one doesn't speak the language well or at all. Abrahams approaches this topic from an autobiographical perspective, relating this experiment – a residency about language and foreignness in Slovenia. A country with which she was not familiar and a language that she does not speak – regressing with her childhood and young adulthood experiences of suddenly being, linguistically speaking, a fish out of water. This experience took her back to when she went to high school and realised with a shock that, she spoke a dialect but not the standard Dutch of her classmates, and then this situation arose again later when she moved to France and had to learn French as a young adult.
There are emotional and psychological aspects here that are significant and poignant – and 'extremely' often overlooked. The way one speaks and articulates oneself is so often equated with intelligence and authority – and thus the foreigner, the newcomer, the language student, is immediately at a disadvantage in the social hierarchy and power distribution. Then, there are the emotional aspects and characteristics requisite for learning a language; one must be willing to make oneself vulnerable, to make mistakes. This is a drain on energy, strength, and confidence that is rarely if ever acknowledged in the current discourse around the EU, migration, asylum seekers, and – that dangerous word – assimilation. Abrahams lays her own experiences, struggles, and frustrations bare in a completely matter-of-fact way, prompting a re-thinking of these commonly held perceptions and exploring the ways that language pervade seemingly all aspects of thought, self, and relationships.
Of course this theme is all the more acute in a world that is increasingly dominated by if not the actual reality of a complete, coherent, and functioning network, then at least the illusion of one. In a world where, supposedly, we can all communicate with one another, there is increasing pressure to do so. Being connected, being 'influential' online, representing and presenting oneself online, branding, image – these are factors that are becoming virtues in and of themselves. Silicon Valley moguls like Mark Zuckerberg have spent the last five or six years carefully constructing a language in which online sharing, openness, and connectivity are aligned explicitly with morality. Just one of the many highly problematic issues that this rhetoric tries to disguise is the inherent imperialism of the entire mainstream web 2.0 movement.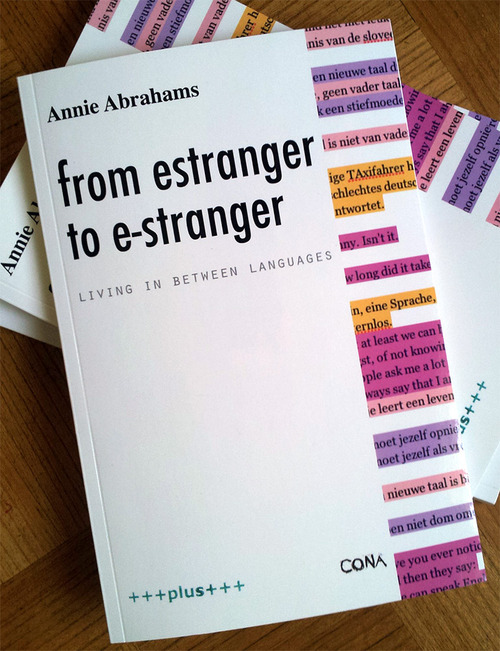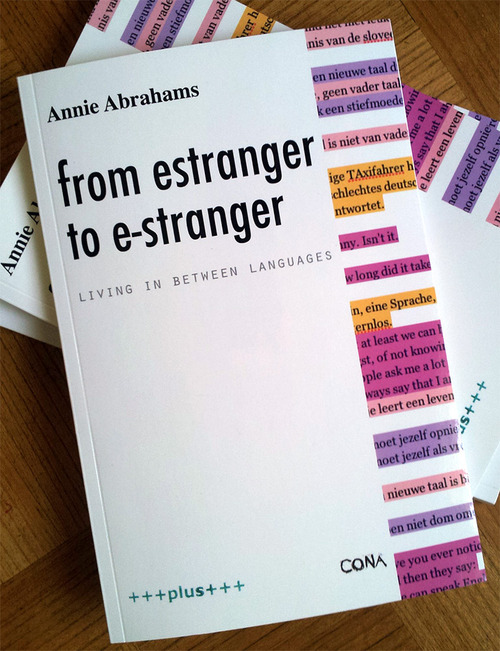 Abrahams' book from estranger to e-stranger: Living in between languages is the analogue pendant to the blog, e-stranger.tumblr.com, that she began working on as a way to gather and present her research, thoughts, and documentation from performances and experiments during her residency at CONA in April 2014 and beyond. Her musings on, for instance, the effect dubbing films and tv programs from English into the local language, or simply screening the English original – how this seems to impact the population's general fluency in English – raise significant questions about the globalisation of culture. And the internet is arguably even more influential than tv and cinema were/are because of the way it pervades every aspect of contemporary life.
This leads one irrevocably to consider the digital colonialism of today's internet; the overwhelming dominance of western, northern, mainstream, urban, and mostly english-speaking people/systems/cultural and power structures. [1] Abrahams highlights the way that this bleeds into other areas of work, society, and cultural production, for example, through her citation of Mladen Stilinovic's piece An Artist Who Cannot Speak English is No Artist (1994). In a recent blog post, Abrahams further reveals the systematic inequity of linguistic imperialism and (usually English speakers') monolingualism, when she delves into the language politics of the EU and its diplomacy and parliament [http://e-stranger.tumblr.com/post/139842799561/europe-language-politics-policy].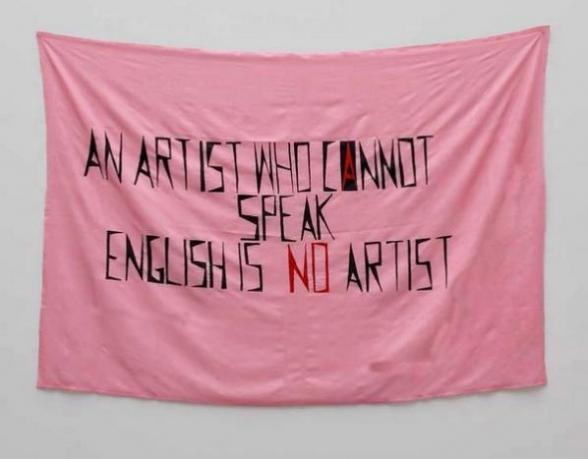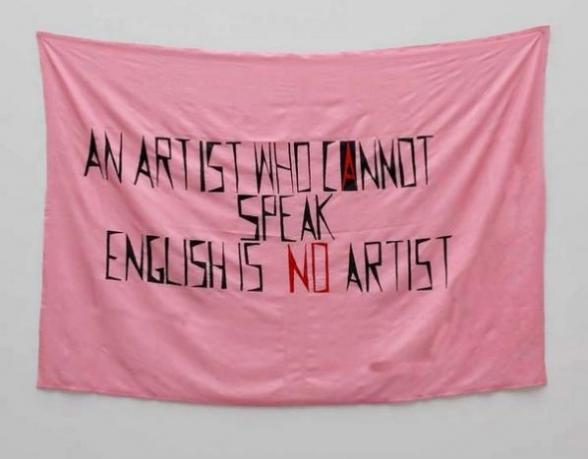 from estranger to e-stranger is an almost dadaist, associative, yet powerful interrogation of the accepted wisdoms, the supposed logic of language, and the power structures that it is routinely co-opted into enforcing. It is a consciously political act that Abrahams publishes her sometimes scattered text snippets – at turns associative or dissociative – in a wild mix of languages, still mostly English, but unfiltered, unedited, imperfect. A rebellion against the lengths to which non-native speakers are expected to go to disguise their linguistic idiosyncrasies (lest these imperfections be perceived as the result of imperfect thinking, logic, intelligence). And yet there is an ambivalence in Abrahams' intimations about the internet that reflect the true complexity of this cultural and technological phenomena of digitalisation. Reading the book, one feels a keen criticism that is justifiably being levelled at the utopian web 2.0 rhetoric of democratisation, connection etc, but there are also moments of, perhaps, idealism, as when Abrahams asks "Is the internet my mother of tongues? a place where we are all nomads, where being a stranger to the other is the status quo."
Abrahams' project is timely, especially now that we are all (supposedly) living in an infinitely connected, post-cultural/post-national, online society, we are literally "living between languages". The book is an excellent resource, because it is not a coherent, textual presentation of a thesis; of one way of thinking. It is, like the true face of the internet, a collection, a sample, of various thoughts, opinions, ideas, and examples from the past. One can read from estranger to e-stranger cover to cover, but even better is to dip in and out, and or to follow the links and different pages present, and be diverted to read another text that is mentioned, to return, to have an inspiration of one's own and to follow that. But to keep coming back. There is more than enough food for thought here to sustain repeated readings.