Featured image: corporations are not people – the Overpass Light Brigade
Overpass Light Brigade in Tosa from Overpass Light Brigade on Vimeo.
Wisconsin has arguably been ground zero for union busting, DIY social movements, corporate takeover of government, and divisive – and often misinformed – political debate in the US for more than a year. And the Overpass Light Brigade (OLB), initiated by Milwaukee artists Lane Hall and Lisa Moline, have been a guiding light – literally – in how ground-up messaging and change can happen. Now a collaboration between many people, the OLB relies on an ever-widening community of activists, artists, thinkers, and do-ers for their "Signs of Resistance." After a few rounds of local rye whiskey at Milwaukee's Riverwest Public House Cooperative – one of the only co-op bars in the country – I did an email back and forth with OLB co-founder Lane Hall to find out more about what makes them tick, how they see themselves, and where the movement they are a part of is headed.
Nathaniel Stern: What is OLB? It feels more "struggle-" rather than "goal-" orientated, despite that its first mainstream recognition is in relation to a specific campaign. Can you talk a bit about its history: how it started, where it headed, and what it might become?
Lane Hall / Overpass Light Brigade (OLB): On November 15 of last year a rally was organized by grassroots groups in Wisconsin in order to kick off the Recall Walker campaign. It was to begin right after work, at 5:00 pm. Both Lisa Moline (co-founder of OLB) and I had been very active in what we now think of as the Wisconsin Uprising, and we asked ourselves the simple question, "How do we achieve visibility for graphic messages when it is dark at 4:30?" We began to tinker with off-the-shelf Christmas lights, and found some battery-powered strings of LEDs. We built our first sign, a 3′ x4′ panel that spelled out RECALL WALKER. When we arrived at the rally, we were immediately asked to be behind the speakers. That sign got on the Rachel Maddow and Ed Schultz show that evening, so we knew we had hit on something that afforded powerful visibility. That first sign is now, incidentally, in the archive of the Wisconsin State Historical Society.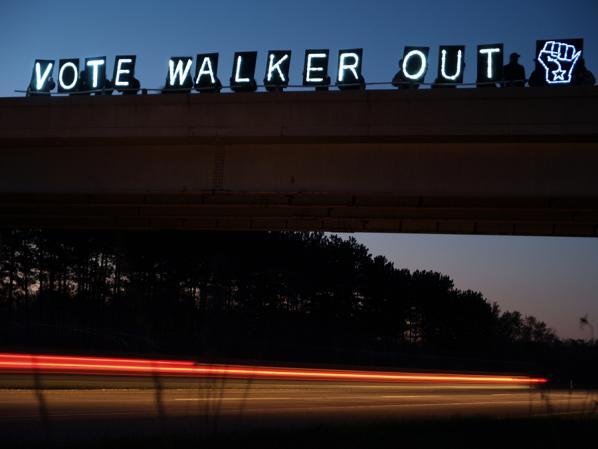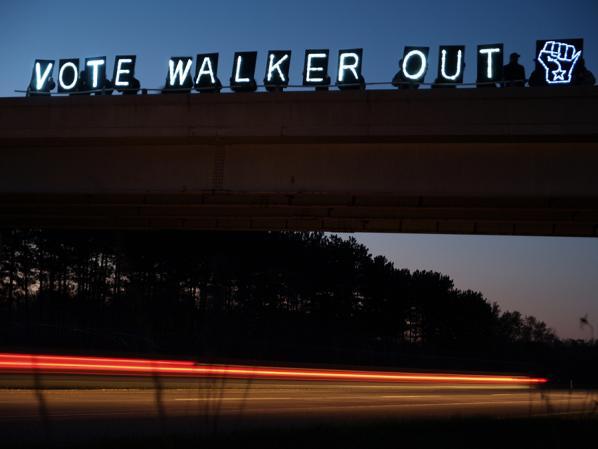 We then proposed a second design challenge to ourselves: how do we get messages out to masses of people, since we can't command the airwaves like Walker's Koch-fueled campaign? Once we decided to go out on highway overpasses, we "scaled-up" the letters so that we could spell out words, refrigerator magnet style, one letter per 2′ x 3′ placard.
Our first night out was on an overpass in South Milwaukee. It was very cold, fairly miserable really, with freezing winds kicking up from the passing semi-trucks. We had a few fellow activists to help, and our idea was to bungee-cord the signs to the fence while we stood by. We were accosted by a right-wing nut, a Young Republican, who was vehement in his insistence that we were breaking the law by affixing the signs to the fencing. He ended up in a physical altercation with Lisa in his insistence to rip our signs off the fence as well as forcefully take Lisa's video camera, since she was capturing his vigilante actions on video. When the police came, they did reiterate that nothing could be affixed to the bridges, though also supported our right to be there. From that night on, we realized that for OLB to work, we needed Holders of the Lights – one person per letter, as well as "spotters" for safety and a couple of people to take video and photos. This was a profound tweak of the original idea, in that it shifted our actions from mere signage to a form of witness or testimonial. It is very powerful to see one person per placard, positioned high above the highway, committed to the politics of physical presence.
We began to go out around the area, scoping out different overpasses, hooking up with different grassroots groups in Madison and Racine and Kenosha and Milwaukee. For about two months we took out RECALL to various locations, often getting hassled by people, questioned by cops, pushed to defend our rights to be out in these odd public spaces. We began to add letters and attract more volunteers who were attracted to our strange mix of Fluxus happening and focused message. RECALL WALKER, then 1% WALKER, then JOHN DOE (referring to an ongoing investigation into alleged campaign corruption when Walker was Milwaukee County Executive), then WALKER=JOBS FAIL and WALKER LIES and WALKER IS A CROOK, etc. We have always tried to index the message to what is breaking in the broader mediascape, so that there is resonance between multiple layers of information and our activist response.
Once Walker was officially recalled (he was "recalled to election") things really picked up. We were getting invited to hold actions around the state – Madison, Fond du Lac, Portage, Appleton, Kenosha, Racine – and more and more people began to join us. The 2 hour overpass occupations began to take on a real festive quality, with people bringing food, making music, chatting, singing, chanting and enjoying the angry and happy honks from the freeway. Our messages expanded, and our Bridge Parties have become somewhat legendary, with anywhere between 40 and 120 people commonly showing up. We even have a bagpiper who often leads us on and off the overpass.
A big part of the success of OLB is its mediagenic quality. Photographs and videos have been distributed freely and widely, at times even virally. We've been highlighted in the NY Times, CNN, Time Magazine, the Milwaukee Journal Sentinel, countless blogs and Facebook sites too numerous to even itemize. Our Facebook "reach" was hitting 182,000, and I was getting constant queries about the project. Our community of activists is extremely diverse, which is one of the things I am most appreciative of. It is odd how powerful holding a sign over a highway is, how many conversations happen in the two hours of bearing witness, and how compelling the action remains for our volunteers.
We immediately went out the night after the disappointing results of the recall. I felt that what I call "essential visibility" was even more important for the progressive community. WE SHALL OVERCOME and SOLIDARITY FOREVER graced the bridges, and we subsequently began to help some striking workers in Milwaukee pizza factory with BOYCOTT PALERMO'S. Since the recall, I feel we have gotten stronger and deeper, no longer relying on the easy binary of our disaffection towards our tea-bagger governor. Our issues are bigger and broader, more national. We just went out in Madison with CORPORATIONS ≠ PEOPLE and 56 volunteers showed up, along with some projector-shine activists, live-streamers, and a phalanx of videographers. We have also taken out QUESTION AUSTERITY and are integrating it with a social media #questionausterity campaign. I see the synthesis of physical and virtual space as the future of OLB actions, as well as our growing ties with the Occupy movement.
NS: This is more than inventive campaigning or even creative activism, but protest art with heavy political, aesthetic, ethical, and technological implications. The Graffiti Research Lab was first to use high technology to ask, "Can any public space be a blackboard?" You take that as given, provide the chalk, and ask for important messages to be broadcast on said blackboards. I'd like for the both of you to write a bit about your practice as artists, as activists, where they are one and the same, and where sometimes they differ.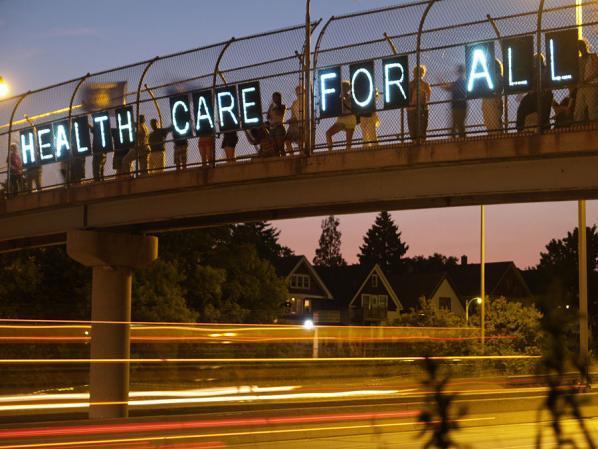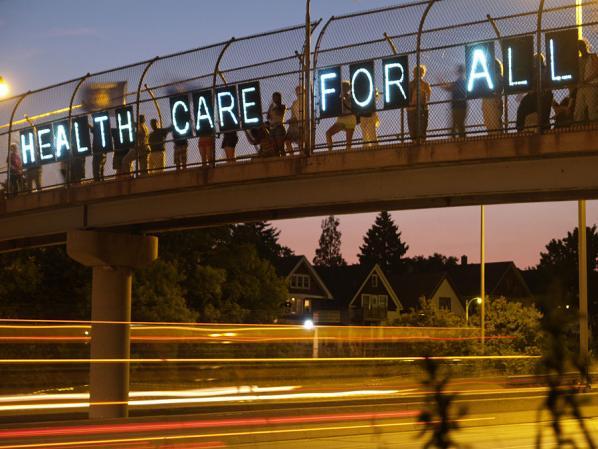 OLB: The Graffiti Research Lab is a continued inspiration for us in terms of their open-source ethos, and their bold pushing at the "public" aspect of "public space." I have great admiration for what they accomplished, yet have always felt frustrated that their messages generally stayed within existential parameters. That is, their presence in urban space was implicitly political, but their projections were generally, "I exist" with variations on the theme such as "Fuck you!" However, the way their events brought people together in the streets is also noteworthy. OLB has achieved some of these same dynamics, though with very directed and explicit political messaging. We are a fluid mix of relational aesthetic, Fluxus happening, street party and progressive messaging, all part of an inherently ethical practice. We think of ourselves as "the people's bandwidth," having found an open venue that takes a lot of dedication but only a small outlay of capitol, which is intrinsically public to thousands of passersby.
Our own work has been collaborative for a long time. Before the Wisconsin Uprising, our art – often about environmental issues and animal subjects – was implicitly political, but rarely pushed the boundaries of sanctified institutional spaces. Once the Uprising began, we got very involved with activist work, and took our creative efforts to the streets. We were inspired, set up a PAC called The Playground Legends with some other activists, and began working within some of Milwaukee's African American communities on voter education and Get Out The Vote campaigns. We set up "parties in the parks" for neighborhood groups, and used these relational activities to help create cohesion around a political purpose. This was exhausting and finally not sustainable for us, but some larger groups such as Wisconsin Jobs Now emulated our inventiveness and have really made a difference in spite of the Right's coordinated campaigns of disenfranchisement.
After working with this PAC, and struggling with the official requirements of a 501C3 and meetings with minutes and budgets and fundraising and reports, we chose to make OLB as flexible and open as possible. We are a loose affiliation of activists who show up on bridges and hold signs. It is very simple. Anyone can join. All ideas are welcome for consideration. Our community of activists is really the heart and key to sustainability with OLB. Most of them don't care whether this is art, or what the cultural precedents might be. All of them value this odd form of engagement, where they can see a beautiful and directed message reflected back through social media, and be a part of a much larger – and historical – emergence of a progressive political movement.
NS: Who do you want to follow your lead? Who do you want to help OLB progress to more innovative interventions? How can we help you help us?
OLB: We freely share the instructions for making the signs. They are very easy in concept, very DIY, and need only basic wood shop fabrication skills, akin to stretching canvasses or making a woodcut print. However, each sign does take a lot of concentrated construction, which can discourage some who have wanted to create their own. So far, we have 3 different chapters that have taken to the bridges: OLB-Fox Valley, OLB-Dane County (both in WI) and OLB-Harrisburg. We've also seen other iterations, such as a Madison based "Sign Brigade" doing daytime roadside actions. I see that OLB has a function as a model of empowerment, as well as the joy (or anger) one gets from seeing a message "done up in lights." One thing that hasn't happened yet is an ongoing series of "hacks" that extend and expand the idea. The off-the-shelf lights get expensive. Could someone figure out how to make battery powered (not big battery + inverter, but lightweight AA batteries) LED light strings so that we could build our own? How about other variations? This would be great to see, especially now that the Graffiti Research Lab's open inquiry with LEDs seems a thing of the past.
NS: What have been some favorite moments from the bridges?
It always amazes me when some random stranger pulls off the highway and comes to find us. Sometimes, especially at first, this would mean trouble, in that aggressors would want to direct anger at us. But one night in the bitter cold weather of January, an African American man came up to the bridge, told us he saw us and wanted to give us a gift, and offered each Holder a beautiful knit hat. He was a salesman of sports clothes, and had a lot of hats. We each left that night with a new Milwaukee Bucks hat!
Another time, just a few weeks ago, two women – an older woman and her adult daughter – came up to the overpass. Both were public school teachers. The teachers have been so demonized in Wisconsin – it is both ridiculous and shameful, but it obviously works to divide us, and as obviously takes its emotional toll on these new "enemies of the state." The older woman exclaimed that they were "so grateful to see us out there doing this" and she burst into tears. There were lots of hugs and they hung around for awhile, held a couple of letters, and left. It was very moving, as a lot of our Holders are themselves teachers.
We also hosted the famous "Nuns on the Bus" tour – the politically progressive group of Sisters who are going around the midwest to decry the austerity budgets of Paul Ryan and the Republicans. It was amazing when their bus pulled up by the overpass, and these elderly activists (along with the powerful Sister Simone) approached the bridge and saw the QUESTION AUSTERITY message we had created just for their tour. There were 96 people on the bridge that night, and they all sang happy birthday to one of the Sisters since it was her 72nd celebration that day. That was a wonderful event, and a great example of diverse activist communities coming together based on these joyful actions.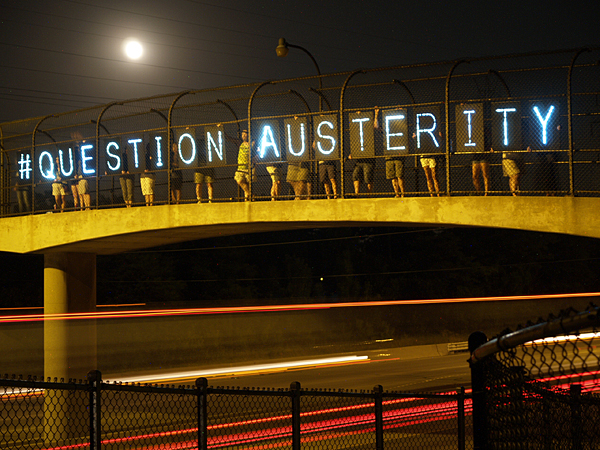 I could go on and on. Each action, each Bridge Party, is a whole narrative – interactions with police, with passersby, with neighbors both supportive and critical, and now and then with aggressors who have busted out our car windows or tried to shut us down. But it is all powerful, all a microcosm of the rifts in our country. The bridge is a forceful metaphor beyond its commanding physical presence over the geospatial distribution network function of our highways. It works both linguistically and architecturally, and affords a curious perch for our loose affiliation of committed brigadiers.
NS: How can we make our own stuff?
OLB: Check out our new site at http://overpasslightbrigade.org/
You can also find "noise of rain" posts on the Daily Kos site
http://www.dailykos.com/user/noise%20of%20rain