Featured image: Spork patient rights (jpeg copy). Millie developed Spork who experienced all manner of catastrophes.
Download PDF of The Last Collaboration
Preface Summer, 2020
The Last Collaboration comprises the joint fatality review of Millie Niss's final illness in a Western New York hospital's ICU by mother and daughter, Martha Deed and Millie Niss in 2009. Furtherfield could scarcely have chosen a more significant time to reintroduce the collaboration.
As is the case for hundreds of thousands of people in this year of COVID-19, Millie's story has no happy ending. In fact, those who knew and loved her were forewarned that Martha could not compose an upbeat conclusion to the recounting of Millie's final illness.
2020 is also the year in which the web art so central to Millie's life will end as well. In this, as in her death from a virus that could not be avoided, Millie also is not alone.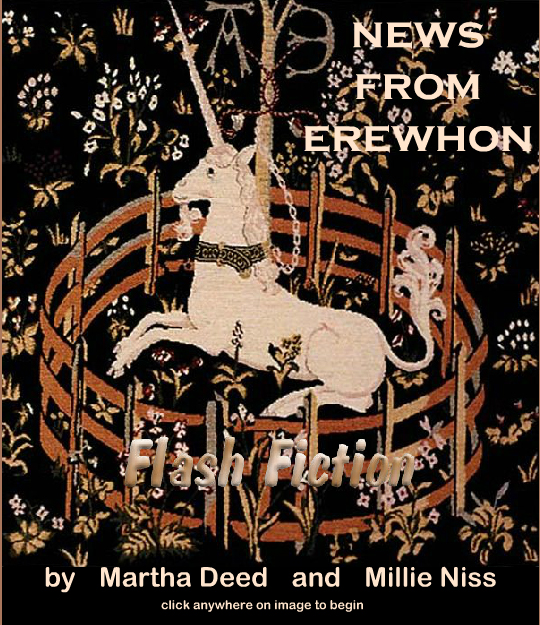 In fact, in parallel to steps Millie took to make sure the story of her illness and death was told in The Last Collaboration, Millie also anticipated the need for future upgrades to her award-winning Erewhon installation.
News from Erewhon, in its initial incarnation is an example of Web Art 1.0 with a slight leaning towards 1.1 because we exploit Google Image search: We display our text with our design. In Erewhon 2.0, we propose to do what older websites have had to do: upgrade from 1.0 to 2.0 whilst preserving the essence of Erewhonicity and without alienating users. Thus, instead of a single URL in a web journal, there will now be a profusion of Erewhon web installations hosted by us and by others. . . (Millie Niss. &Now talk, October 15, 2009)
What Millie did not anticipate, despite her knowledge that she might not have many years ahead of her, was that she would not be able to meet the goal of protecting her work from future changes on the web or with her tools, such as Flash and Actionscript. She died six weeks after delivering her talk.
Martha constructed The Last Collaboration from a collection of circumstances and documents not ordinarily available for a family to review. Family members can keep logs of their observations and conversations with hospital personnel and with their family member patients. They can collect medical records. However, Millie's documentation of her month in the ICU is nearly unique.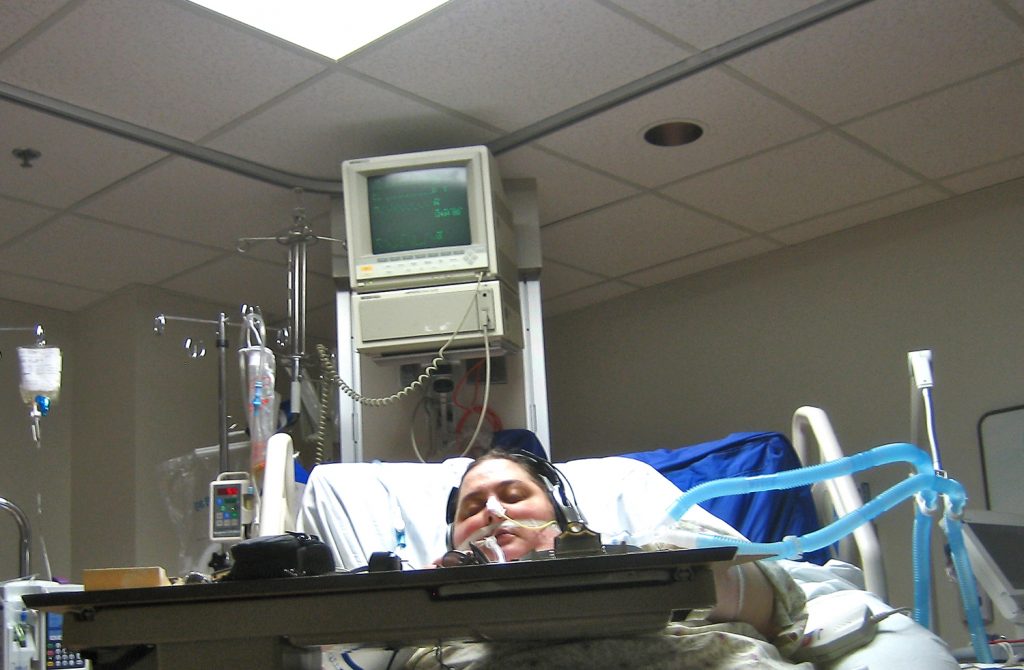 Millie suffered respiratory arrest within an hour of entering the ER, was resuscitated and placed on a ventilator. But she did not require sedation. Millie couldn't speak while on the ventilator. Thus, with her oxygen supply restored, and her computer in front of her or with pencil and notebook in hand, for the next four weeks, she sent reports home, posted emails, and ‒ perhaps most important ‒handwrote her side of every conversation with her family or medical staff. When filled, each notebook was sent home for safekeeping, because Millie wanted her story told. These notebooks are dated and can be linked to her medical record. Thus, both sides of her conversations with medical staff are recorded. Millie's communications in writing can be lined up with progress notes and medical reports to assess whether staff understood the significance of what Millie reported to them.
Millie had struggled with chronic illness that had left her bedridden for several years. She had regained sufficient strength to apply with Martha, her mother, to present at &Now, an international e-poetry conference held in Buffalo, NY. With power wheelchair and oxygen and the help of her aides and family, she had made that presentation. But there was a terrible irony, given our world's current struggle with COVID-19.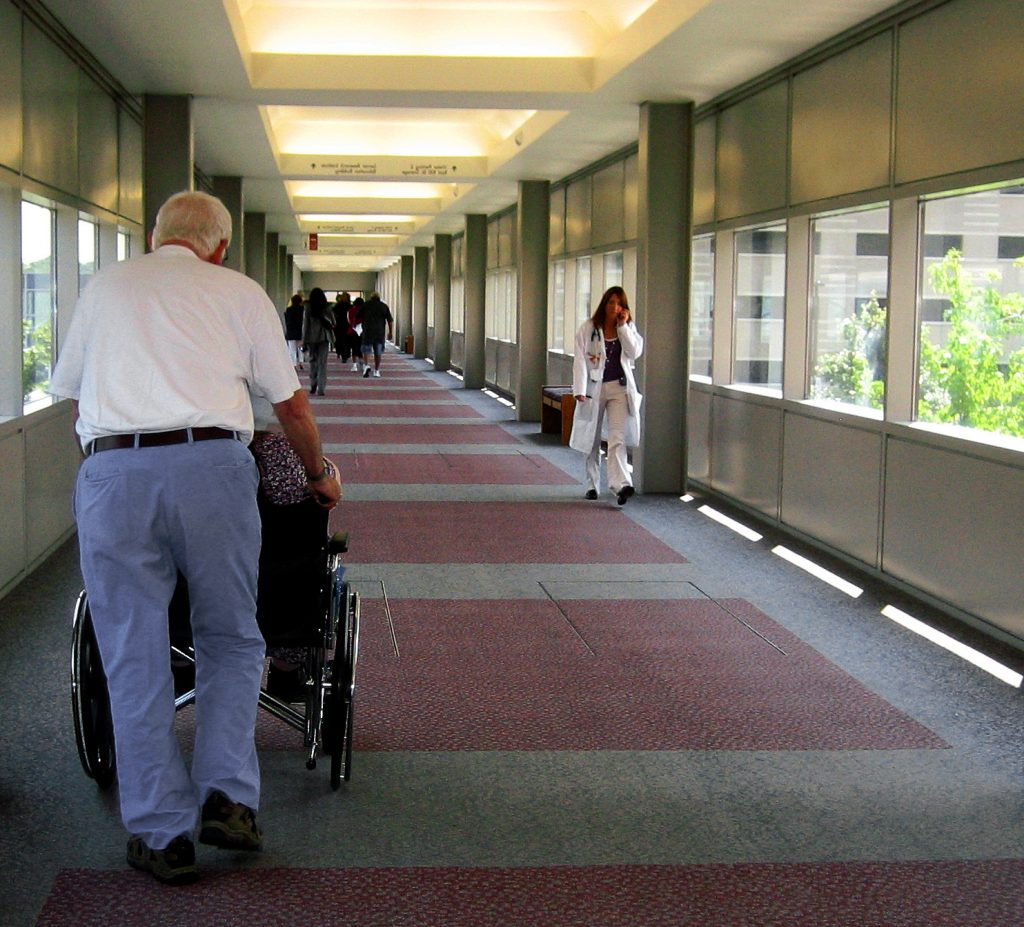 This was October 2009, and there was a major outbreak of H1N1 in the city. Because a vaccine was on the way, but not yet available, local public health officials decided not to announce the outbreak to avoid panic. Only after a dozen or more people, including Millie, had died from H1N1, was the public informed.
Millie and Martha discovered the outbreak when Millie arrived at the ICU, which normally had approximately 20 beds for non-heart patients. Seventeen patients were on ventilators (instead of the usual 3-5), the coronary care ICU had been reduced to accommodate desperately ill patients arriving with H1N1. Patients were forced to remain in the ER until the beds and other equipment were retrieved from storage and set up.
Millie's presentation of her new work, work which excited her because it represented a significant advance in her technical skills led her into H1N1's path and contributed to her death.
And here is the irony to top all others: Erewhon itself will soon disappear. Millie constructed it in Flash and Flash Actionscript, stretching those utilities to their outer limits. And now, the presentation of that project, which was groundbreaking for her, not only is Millie, the author, gone, but in an act of willful obsolescence by Adobe, the work itself also will soon be gone. Although the dire messages of Flash's demise are somewhat contradictory, it appears that the work may not even be viewable downloaded onto laptops and viewed off the web.
To a web artist like Millie, what is happening to her work as well as the work of many others who used Flash when Flash was cutting edge technology, is akin to paper manufacturers decreeing that libraries may no longer use paper in their collections.
Three years' notice is hardly adequate to ensure the work of those early artists, some of whom are no longer here to protect their work.
Impossible to know whether Millie, had she anticipated the early death of her project, would have been willing to risk her impaired immune system to make her &Now presentation in 2009, even absent H1N1 rampant in the community. She had been shut-in for years, as many have been shut in for many months in 2020, due to her risk of death if she had caught a common cold.
Almost certainly, if Millie Niss were here today, she would be coding her own language to preserve her work.
Reading The Last Collaboration in 2020, it is possible to see that changes in health care have improved, particularly in the area of hospital acquired infections (HAI) and medical staff communication with family. The importance of coordinatated, accessible and affordable health care remains critical. Perhaps the most important contribution Martha and Millie's account makes today when families are often excluded from visiting family members seriously ill from COVID-19, is the picture it presents of life in the ICU.