"Canadian artist Jeremy Bailey creates cutesy digital interfaces which facilitate computer-aided performances that bring art and technology, techies and technophobes into tension. Fusing an expert knowledge of software design and acclaimed performance and video art skills, Bailey asks his audience to examine their acquiescence to the GUIs (Graphic User Interfaces) that provide the face of contemporary living. More than that, he invites one and all to watch his unique brand of 'interface-off'." (Charlotte Frost)
Disillusioned by the "machine ego" that has characterised much technology-driven art practice since computers arrived on the scene, Jeremy Bailey creates digital interfaces through which he plays out a critique of the digital auteur with deadly humour. "The Jeremy Bailey Show" presents many of Bailey's most recent works including VideoPaint 3.0 and SOS, alongside a new piece commissioned by HTTP and produced during his adjunct residency. This brand new performance work pokes fun at the value placed on "collaboration" in today's art practice and policy-making. Bailey plans to co-demonstrate, with his audience, new collaborative software that will allow participants to perform office related tasks such as email, word processing, or spreadsheets together while simultaneously composing a visual/musical score with matching choreography. The performance will be staged live at the exhibition opening (Friday 19th Sept 7.30pm) and will be documented for viewing throughout the exhibition.
VideoPaint 3.0 documents Bailey interacting with his bespoke software that "allows you to paint anywhere, anytime". Responding to Bailey's movements and voice, VideoPaint 3.0 lets Bailey draw and tell an irreverent story about a desert encounter between a pink serpent and a green jaguar, all the while being threatened by a "drawing-wiping bomb".
SOS, a series of short videos made for Canadian television, offers a hilarious user's guide to a new "visual operating system", where shapes refer to video files and provide commentary on the system user's actions.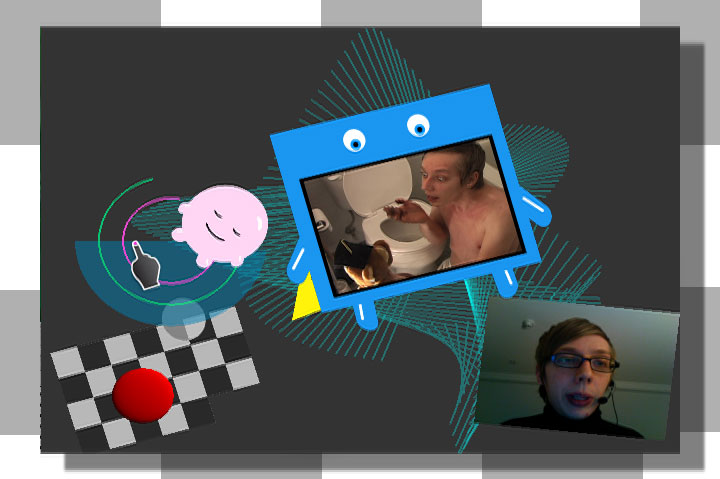 The Jeremy Bailey Show" is Bailey's first solo exhibition in the UK and offers so much more than just "discourse analysis for dummies" (Charlotte Frost). Pop culture, pastiche and a much prettier version of the Paperclip combine, and like any good GUI, make you almost forget the technical wizardry behind them.
Jeremy Bailey received his MFA in Video Art from Syracuse University and an undergraduate degree in Visual Studies from the University of Toronto. He is co-founder of award winning artist video collective 640 480. His work has been described by Filmmaker Magazine as "a one man revolution on the way we use video, computers and our bodies to create art". Bailey lives and works in Toronto, Canada.
Events at HTTP
Private View 7-9pm
Live Performance at 7.30pm
Your chance to meet Jeremy Bailey in the flesh and view brand new work created especially for the HTTP Gallery audience.
HTTP Gallery
Unit A2, Arena Design Centre
71 Ashfield Road
London N4 1LD
+44(0)79 8129 2734
Click here for map and location details