Featured image: Cardboard Soldier, 2009 exhibition T-Space Gallery Beijing. Joseph DeLappe.
Introduction.
Joseph DeLappe's art projects have received much interest ranging from the art world, New York Times, Wired magazine, and publications such as Joystick Soldiers The Politics of Play in Military Video Games, the first anthology to examine the reciprocal relationship between militarism and video games. DeLappe is considered a pioneer of online gaming performance art. His art examines the conditions and processes of cultural information to provoke and critique the state of military influences on everyday culture and people's lives.
DeLappe's work includes the controversial game based, performance and intervention, Dead in Iraq 2006-2011. This involved him frequently visiting the US Army's online recruitment game and propaganda tool America's Army. Using the login name dead-in-iraq, he methodically typed in all of the names of U.S. service personnel killed in Iraq, co-opting the Army's own technology challenging the official figures as a reminder to its players of the real consequences of war. He also directs the iraqimemorial.org project, an "ongoing web based exhibition and open call for proposed memorials to the many thousand of civilian casualties from the war in Iraq."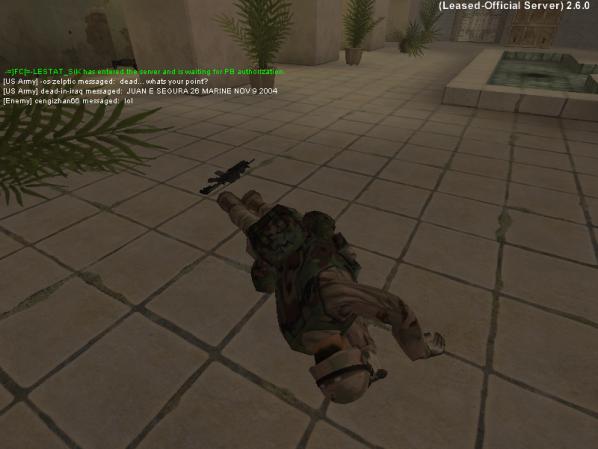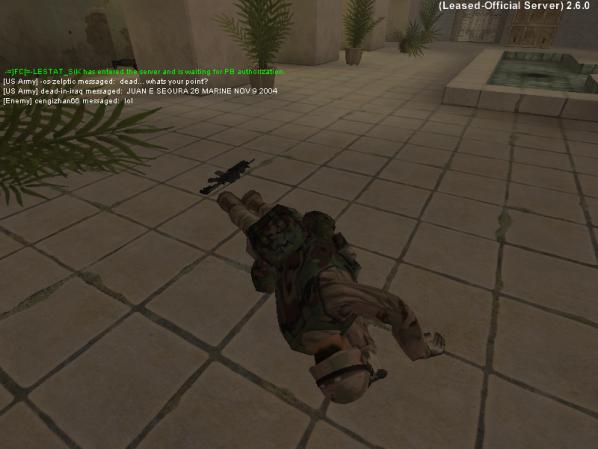 Joseph DeLappe, "dead…whats your point?" dead-in-iraq screenshot 2006-2011.
"The players ask DeLappe to stop what he's doing, but when he continues they shoot him or simply kick him out of the game. You can see the strong reactions from the other players as a proof that DeLappe's performance are successful. He succeeds to break the game illusion, in the same way as Brecht "Verfremdungseffekt" breaks the illusion in drama." [1] (Jansson)
Much of DeLappe's work is known for challenging his own nation's involvement with war. However, if we look at The Salt Satyagraha Online: Gandhi's March to Dandi in Second Life 2008, his work reflects a wider context introducing his concerns on the human condition. Over the course of 26 days, from March 12 – April 6, 2008, using a treadmill customized for cyberspace, DeLappe reenacted Mahatma Gandhi's famous 1930 Salt March. "The original 240-mile walk was made in protest of the British salt tax; my update of this seminal protest march took place at Eyebeam Art and Technology, NYC and in Second Life, the Internet-based virtual world." [2]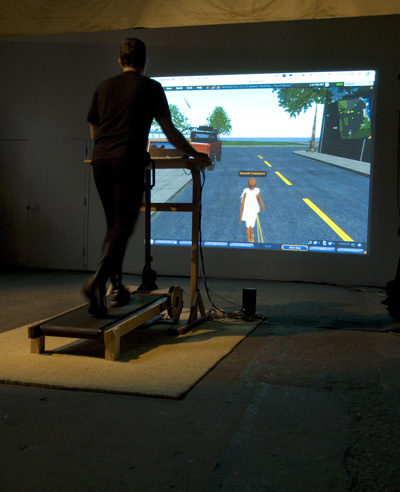 On hearing about DeLappe's The 1,000 Drones Project – A Participatory Memorial, I was immediately intrigued. I wanted to find out more and discuss his approach as well as how he intends to bring to light the lives lost by these unmanned Arial predators as an art project, and what this would look like.
Interview.
Marc Garrett: Could you tell us why you felt it was necessary to do this project even though there is already much media attention out there relating to the use of drones in domestic, military and commercial culture?
Joseph DeLappe: There has indeed been much media attention surrounding the use of militarized drones as a part of US foreign policy. Our drone policies have received much attention yet, as with the coverage of civilian casualties from the Iraq war, the actual human costs of our drone strikes remains rather illusive. Through the work I am doing regarding drones that specifically focuses on memorializing civilian deaths I hope to actualize the estimates of civilian deaths and to call into question the moral issues surrounding such remote killings. You might say that drones have struck a nerve with me. There is something different about drones. They seem to perfectly combine aspects of our worst fantasies of digital technologies, interactivity, computer gaming and war. One might consider them a bit of a "gateway" weapon (the drug reference is of course intentional here). I suspect we have indeed opened a Pandora's box leading to the further utilization of remote and robotized weaponry that will make our current drone usage seem quaint.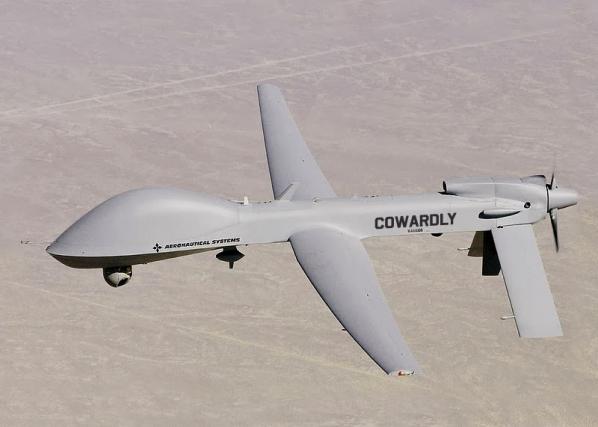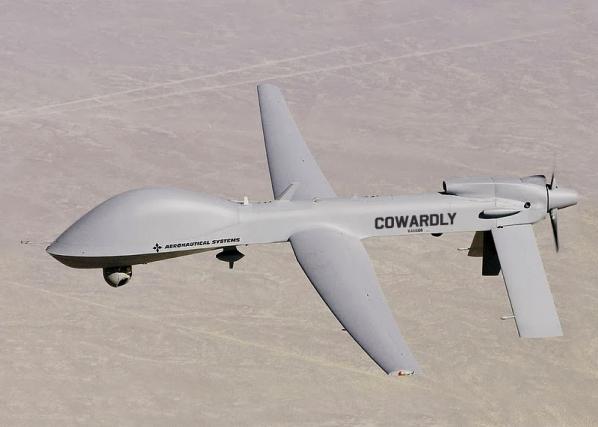 The above is "An ongoing series of image interventions downloading images of UAV's (unmanned arial vehicles) in use by the United States Military, including: General Atomics MQ1-Predator Drone, MQ9 Reaper Drones and Global Hawk Drones from the top results of Google image searches. Each image is slightly adjusted to include the marking "COWARDLY" upon it's fuselage. The saved images are uploaded to my website with basic titling information "Predator Drone", "Reaper Drone", "Global Hawk Drone" – with the intention of having these images begin to appear in searches for information and images on drones occurs online. The works are intended as a subtle intervention into the media stream of US military power." DeLappe
I am working on several drone projects at the moment, including The "1,000 Drones Project – A Participatory Memorial", and seek to draw attention to and creatively memorialize those innocents killed by drones. It invites the public to create a small scale, papercraft replica of a General Atomics MQ-1 Predator UAV (Unmanned Arial Vehicle) – a drone. Participants are asked to write the name of a civilian drone casualty upon the wings of the aircraft.
This project is an adaptation of The 1,000 Cranes or "Senbazuru" tradition from Japan. This tradition holds that anyone who folds one thousand cranes will be granted a wish. Since World War II the tradition has been associated with the atomic attacks upon Nagasaki and Hiroshima – the folding of the cranes has become a wish for peace. [3]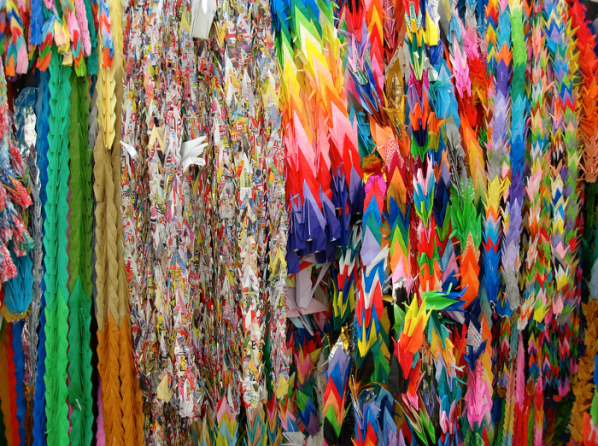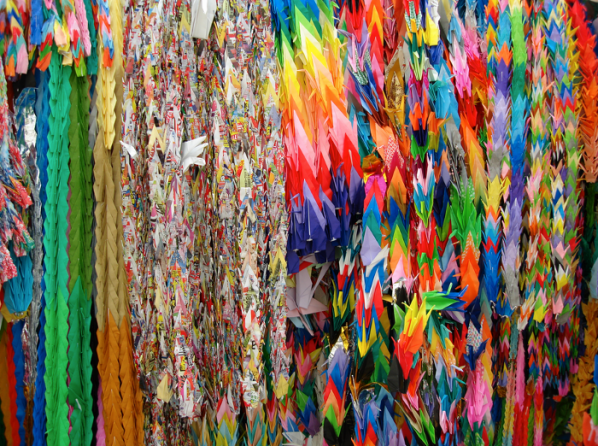 MG: You are inviting participants to be a part of the project. In what capacity will they be taking part?
JD: The 1,000 Drones Project has been commissioned by the FSU Art Museum of the exhibition "Making Now – Art in Exchange". The FSU Department for Art has for the past few months conducted a series of workshop events where the public is invited to make a small, paper drone from a provided template. The form is made directly from MQ1 Predator Drone plans found online. The drone shape is cut out, there are then five dotted lines denoting where to fold the paper – the result is a simple paper facsimile of a drone. Once the drone is created, the participant is invited to write the name of a civilian drone casualty along with their age at the time of death, upon the wings of the drone. The Bureau of Investigative Journalism estimates that between 2004 and 2013, drone strikes in Pakistan killed between 2,536-3,577 people, of these, it is estimated that 411-884 civilians and 168-197 children have been killed. The list of civilian drone casualties comes from The Bureau of Investigative Journalism. We are also using a list of drone casualties from Yemen found here: http://en.alkarama.org/documents/ALK_USA-Yemen_Drones_SRCTwHR_4June2013_Final_EN.pdf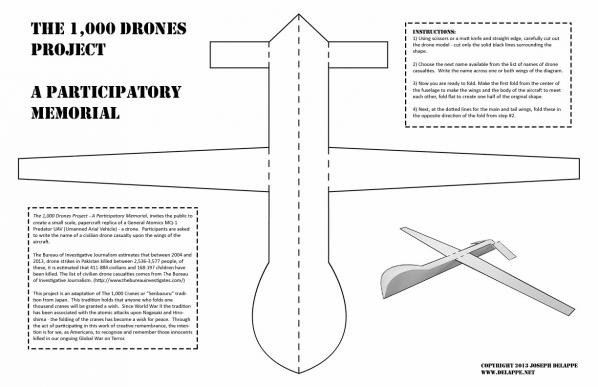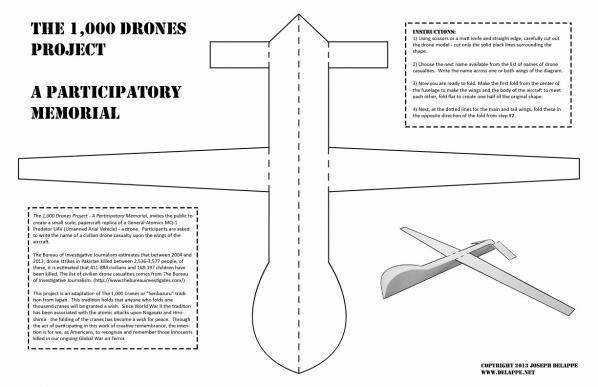 At present we have a total of 464 persons identified as civilian drone casualties from Pakistan and Afghanistan. To complete the 1,000 drones, the remainder will be marked "unknown".
The paper drones are to be strung together in groups of 18 per string, 55 strands will be hung in the center of the gallery to create an installation that will be triangular in shape. The making of the drones will continue with the opening of the exhibition in February until 1,000 are complete and installed.
MG: What will others learn or gain from this participation?
JD: This is difficult to pin down. My intention is that through the act of making a drone, followed by writing a name or "unknown" upon their creation that individual participants will in some small way actualize the loss of individual lives due to our drone attacks. The intent is to perhaps for some brief moment make real these deaths taking place in our name on the other side of the globe. The actions are decidedly low-tech as well – there is something important in this – the deaths become physical, perhaps drawn from the digital media stream, the digital process of the killings to a direct, physical act of making and remembering. I am very interested as well in the overall effect of the piece – to see 1,000 white paper drones hanging in space as a memorial will likely have a powerful impact. Numbers of civilians killed as reported through our media are all too often numbing and abstract – this piece will hopefully make real this abstract process of digitally remote killings.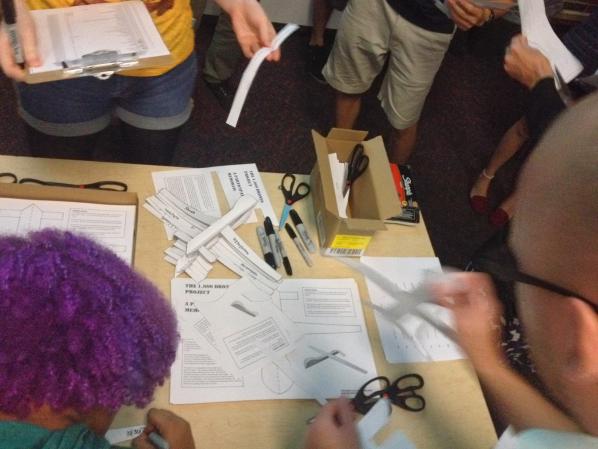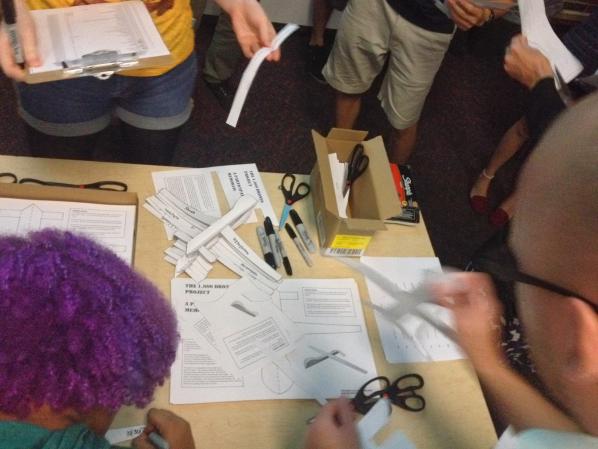 MG: What is the lineage of this project?
JD: I've been working intensively over the past decade to creatively shed light on civilian and military casualties as a result of our ongoing "war on terror". This includes "dead-in-iraq", my intervention as a memorial and protest taking place within the America's Army computer game and iraqimemorial.org, a crowd sourced project launched in 2007 inviting anyone to post concepts, imagined memorials to the many thousands of civilian casualties from the Iraq conflict.
Conclusion.
Looking at DeLappe's breadth of work informs us how detailed and complicated the subject is, and it equally reminds us how distant we all are from any quality debate about war and drone technology and the impacts these militarised technologies have on citizen's lives. Thankfully, on the subject of drones the Internet is supplying us with different view points that mainstream news media fails to seriously investigate. Russia Today, reported that classified documents from the CIA could not "confirm the identity of about a quarter of the people killed by drone strikes in Pakistan during a period spanning from 2010 to 2011." [4]
Kate Rich and Natalie Jeremijenko in 1997 as part of the then, anonymous Bureau of Inverse Technology were pioneers of the first art drone 'The BIT Plane'. This work was featured in a group show at Furtherfield's gallery, Movable Borders: Here Come the Drones! in May 2013. [5] In an article in Mute magazine Rich wrote, "The morally disgusting asymmetry of drones relates not only to their deployment by the powerful against the weak, but also to the radical disparity of risk entailed in exposing the defenceless living to pilotless killing machines." [6] This brings to mind how vulnerable we all are to the whims of the powerful. This feeling of fear will strike at the heart of any humanist not on the 'right' side of those wielding such awsome destruction without challenge, until its too late.
DeLappe's art not only reflects the militaristic world we are living in he is directly engaged with it. His focus on his nation's obsession with war echoes what James Hillman wrote in A Terrible Love of War, "Hypocrisy in America is not a sin but a necessity and a way of life. It makes possible armories of mass destruction side by side with the proliferation of churches, cults and charities. Hypocrisy holds the nation together so that it can preach, and practice what it does not preach." [7] (Hillman 2004)
Many contemporary artists are working with and critiquing Bio-Technology, Nano-technology, engineering, issues on Climate Change, border controls, data-mining, surveillance, economic and political fluctuations, and the military. This is in line with the expansion of the networked society. Controversies and battles are taking place in a time of uncertainty, where the very technology and systems that have supported progress, through its worldwide channels of production and prosperity; are now the very same tools threatening the survival of our species, contributing to climate change and the emergence of the economic, global crisis, as well as a threat to our civil liberties. Art and critical thinking examining this complex and strange territory and its impacts on us and the planet are right up there in pushing forward a new kind of radical investigation as an art practice.
Joseph DeLappe's next exhibition 'Social Tactics' will be from January 24 to April 27, 2014 Fresno State Center for Creativity and the Arts, in the US.