Join us on August 4th between 6 and 6.45 for an exhibition tour by Gretta Louw at the Furtherfield Gallery.
Then from 7-8pm, we will continue at Furtherfield Commons with Your Emojis Are Not Innocent: Selfies and Alterity, a presentation by Louw, in which she will present her upcoming collaboration with Warnayaka Art Centre to create a Warlpiri selfie and photo editing app, and a discussion about how selfies, social media, and alterity can be used for social good.
Gretta Louw is an artist, writer, and curator working predominantly with digital media, social practice, and networked performance, whose work explores the potential of art as a means of investigating cultural and psychological phenomena, particularly in relation to new technologies and the internet. For the last five years she has been deepening her research into cultural change brought about by, or happening in interaction with, digitalisation. She has a long standing collaboration with the Warnayaka Art and Cultural Aboriginal Corporation, a Warlpiri First Nations art centre in the remote community of Lajamanu in central Australia. The current exhibition at Furtherfield Gallery, Networking the Unseen, is a curatorial project born out of Louw's collaboration with Warnayaka and Warlpiri artists like Neil Jupurrurla Cooke, Isaiah Jungarrayi Lewis, and Sharon Nampijinpa Anderson. The exhibition investigates themes of digital colonialism, contemporary indigeneity, digital and media art from outside the urban mainstream, and the ways in which digital media can be used either to perpetuate inequality or as a tool of social empowerment.
FREE – Limited places, booking essential (register)
Richard Stallman[1] the outspoken promoter for the Free Software movement, hates Facebook with a passion. He proposes that we should all leave Facebook and either find or build our own alternatives. The evidence offered by Stallman's and the Electronic Frontier Foundation's (EFF), who have been fighting for Internet freedoms since the 90s [2] shows how necessary it is that we understand and are more pro-active in managing the personal data that we give away through our online activities.
When we subscribe to Web 2.0 platforms such as Facebook we are at the mercy of the data brokers. These companies trade in people's personal data; information which is aggregated by monitoring user actions and interactions across social media. This information can include "names, addresses, phone numbers, details of shopping habits, and personal data such as whether someone owns cats or is divorced."[3] Fast moving developments in social media, make it difficult to keep up with the effects and consequences of these platforms. This is why the work of groups such as Commodify Inc. is so valuable. They bring imaginative and critical attention to the situation, sharing their knowledge of these daily networked complexities and correcting what they see as its negative effects.
Commodify Inc. is an artist-run Internet startup producing projects to help individuals capitalize on their online monetary potential. Their intention is to correct the imbalance of power in markets where users have no control over the transactions made with their personal data. They have completed various artistic projects and interventions on social media like, Fame Game, Give Me My Data, and Web 2.0 Suicide Machine. The co-founders are Birgit Bachler, Walter Langelaar, Owen Mundy, Tim Schwartz, with additional contributors Joelle Dietrick and Steven Alvarado.
Their new project Commodify.Us, was initiated when Owen Mundy and Tim Schwartz were invited by moddr_ to a residency in their lab in the summer of 2012 – when they were still a part of the WORM collective in Rotterdam. They worked on an initial idea that would succeed previous experiences of their already well-known and respected projects.
Commodify.Us is currently in beta phase. It promises to provide a platform for people to regain control over the commercial exploitation of their own personal data.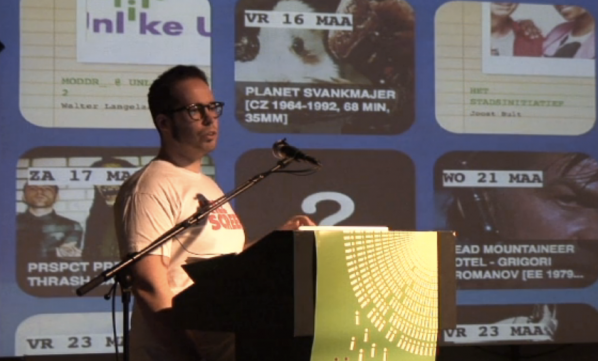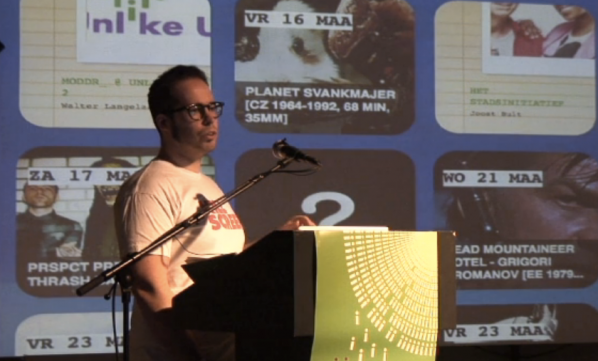 Intrigued by this project I contacted one of the co-founders, Walter Langelaar via email and asked him a few questions about this new platform.
Marc Garrett: Commodify.Us is for people to have greater control over their data. And it works when users export their data from social media websites and upload it to your platform. How will these users gain more control over their data and why is this important?
Walter Langelaar: Commodify.Us provides a platform for you to regain control over the commercial exploitation of your personal data. After exporting your profile data from social media websites and uploading the data to Commodify.Us, you can directly get in contact with interested buyers. On the importance for users I would say that it's part raising awareness surrounding the monetization of profile data, and part creating a platform where people might work out and discuss how to do this themselves.
MG: It proposes to re-imagine the potential of relational data, creating a casting agency for virtual personas. I'm wondering what this may look like?
WL: We were too. In an early stage of the project we played with the idea that peoples' various profiles could function like that within an agency; a client would ask for a specific set of qualities and/or characteristics within a set of profiles, and we could provide for this based on the uploads and their licensing options as set by the user. In the end we abandoned this idea for clarity.
MG: Commodify.Us offers people the opportunity to be part of an economy where interested buyers will pay to use the data supplied, unlike existing social media websites. How does this work?
WL: We are gearing up for a launch where the main goal will be to get a critical mass of around, a 1000 profiles. We anticipate that only with this kind of mass or volume will our initiative take hold with the potential buyers we have in mind, and the same goes for the more creative projects that could use the (open) data. Regarding the open profile data and otherwise licensed profiles that allow for reuse, we are researching the idea of 'Fair Data' (as in Fair Trade) and how to implement this as a profitable protocol for the end-user.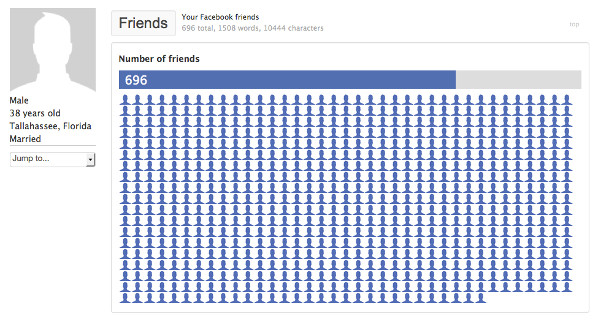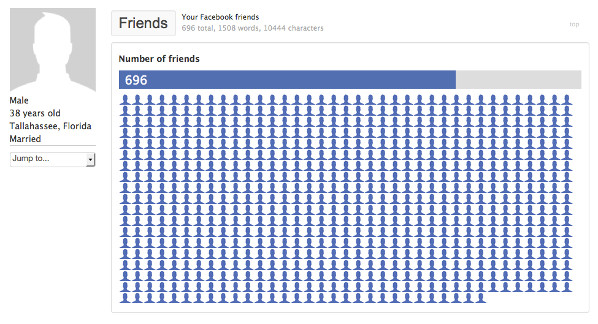 "Net activists construct tools whose intervention potential can be initiated by users under net conditions. These tools enable activists to develop new strategies in the data space of the Internet because they offer new means: New means afford new ends."[4] (Dreher)
In his publication Networks Without a Cause: A Critique of Social Media, Geert Lovink lays down the gauntlet and asks us to "collectively unleash our critical capacities to influence technology design and workspaces, otherwise we will disappear into the cloud." Anna Munster opens her excellent survey, Data Undermining: The Work of Networked Art in an Age of Imperceptibility, by saying "The more data multiplies both quantitatively and qualitatively, the more it requires something more than just visualisation. It also needs to be managed, regulated and interpreted into patterns that are comprehensible to humans."[5] Commodify.Us goes one step further by allowing users to manage, regulate, repattern and reappropriate their own data using tools that share an essential functionality (if not purpose) with the power tools of Web 2.0.
Those previously seen as rebellious hacktivists are moving into new territories that deal with concepts of service. There has been a significant rise of artists exploring technology to influence mass Internet activity, against the domination of corporations who are data mining and tracking our on-line activities. Another example is TrackMeNot developed by Daniel Howe and Helen Nissenbaum. This is an extension created for the Firefox browser. "It hides users' actual search trails in a cloud of 'ghost' queries, significantly increasing the difficulty of aggregating such data into accurate or identifying user profiles."[6]
Howe and Nissenbaum mention they are aware their venture is not an immediate solution. However, the more we hear of and join these imaginative strategies "whereby individuals resist surveillance by taking advantage of blind spots inherent in large-scale systems" [7], and the more we adapt our behaviours to adopt these new 'activist' services, the more we demonstrate the demand for these new alternatives. And by so doing, we argue for the value of services that we can trust not to steal or manipulate our social contexts for financial and political gain.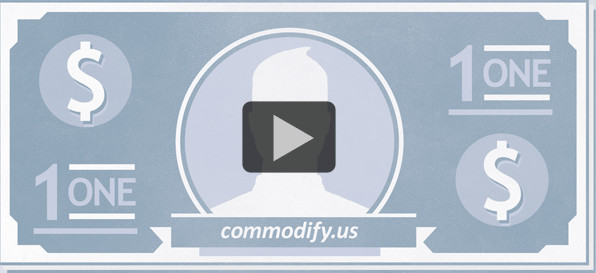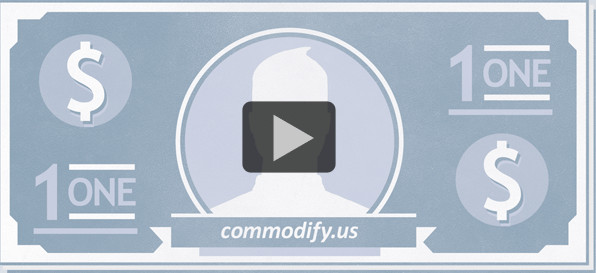 A significant value offered by the Commodify.Us platform is the power to manage our own data. The simple act of downloading our own data from Facebook, and then uploading it to Commodify.Us supports us to rethink what all this information is. What once was just abstract data suddenly becomes material that we can manipulate. Alongside this realization arrives the understanding that this material was made by our interactions with all these platforms, and that other people are spying on us and making money out of it all. Once this data material is uploaded onto the Commodify.Us platform, it asks if we want this stuff to be a product under our own terms, or if we wish to make art out of it using their tools.
This is a cultural shift that demonstrates how contemporary Hacktivists are developing software that promises to offer realistic service infrastrucutures. When I interviewed Charlie Gere in 2012[8] he said that these artists "are not part of the restricted economy of exchange, profit, and return that is at the heart of capitalism, and to which everything else ends up being subordinated and subsumed. Thus they find an enclave away from total subsumption not outside of the market, but at its technical core." For me, this kind of work is of central importance to the contemporary era, and it only occurs where artists cross over into territories where their knowledge of networks directly contributes to the building of alternative structures of social independence.
Someone said to me 'To you football is a matter of life or death!'
and I said 'Listen, it's more important than that'.
Bill Shankly
Drawing is one of the two oldest purely cultural – in the sense of playful, not directly concerned with keeping body and soul together like cooking or hunting or shelter – activities that comes down to us today directly in the form of artefacts from between 25 – 35 thousand years ago [1] (the other is music [2]). There is no known human culture that has not made representational and other marks with something, on something, for both fun and survival. Furthermore, as Patrick Maynard demonstrates in his steely eyed and magisterial Drawing Distinctions [3], it can be shown to be the practice which more than any other underpins not only all of present day visual culture (including photography, which, following Maynard [4], we read as a species of drawing) but also the technical developments of our advanced industrial age. With satisfying circularity, drawing, a fundamental tool for engineers and architects, scaffolds the level of production which (by guaranteeing surplus product) is the prerequisite for the very existence of our substantial caste of artists and designers, those useless and indispensable dreamers.
Arguably, then, in a perfect world its study might be counted, with literacy and numeracy, as a genuinely key skill to be studied by all. Certainly, perhaps a more realistic demand, it should be a practice both underpinning and overarching any systematic education in art and design. What concrete shape might this take within the Babel of practices which current art education encompasses?
Experimental teaching and peer-learning
A couple of years ago the two of us, both from a background in digital art/moving image, started teaching on two consecutive courses – a Foundation degree in Digital Art and Design and its top-up, a BA (Hons) degree in Art and Design Practice. Much of the formal documentation of the courses specified the use of particular kinds of software and allegedly real-world reasons for deploying them (many involving the demands of "industry"). From the start we were antagonistic to this approach. We wanted to "artify" the course – introduce as much experimental, speculative, exploratory, pleasurable and downright pointless (in the way that the best art is both pointless and hugely important) activity as possible. We didn't abandon the idea of teaching design, but we did decide that the core course programme would henceforth be art/design agnostic – it would deal with ways of making and thinking about images (as well as sound, performance, interactions or concepts) that could be used with profit by students moving in either or both or other directions. It would not be training; work would be driven by the imagination and shaped by the ambitions of students. Teachers would introduce new technical processes, but these would be embedded in thematically organised investigations of historic and contemporary precedents. Help with technique or software might be part of what teachers did, but this would be part of an organic investigation/development by student and teacher together. If a teacher knew something they would help; if they didn't, they might know where to look; if neither knew, they might search together; if the student knew, they could teach other students and the teacher too. In short we identified a peer-learning process as the only sensible approach sufficient for developing the necessary skills, knowledge and flair in a rapidly-developing field.
Moreover we wanted a course that integrated the digital with every other sort of visual (and conceptual, performative and sonic) practice. We were both impatient with the idea that work made using digital tools, or work created within and distributed across a network, was somehow qualitatively different from all that had preceded it (a not uncommon view often allied to a species of digital mysticism). Indeed we realised we both sensed, and gradually came to articulate clearly, that there was a continuum – a chain – from the cave painter to the contemporary artist. Not to say that social and historical concreteness plays no explicatory role, but that there is some still human centre to mark making (and to allied practices – singing, the telling of tales, etc.) which has persisted and will persist and is part of the territory of being human. 'A chain' is no loose metaphor, but a precise account of the reality. Inspiration and technique pass continuously from generation to generation. And this is cumulative – making much of the past of art available to its future. In a sense the terrain of art accretes, expands, as time passes. Even what is lost to famine or war, proscription, taste and changes in technology leaves traces, the possibility of reconstruction and re-use (and, often most creatively, misuse). This is what we wanted to instil in our students.
Teachers as learners: drawing and the digital
Our drawing sessions link to and are inspired by earlier instances of art powered pedagogy that place cross-form conversation at the heart of learning together. Joseph Beuys made drawings throughout his artistic life – often enigmatic constellations of media, concepts, entities, political figurations and material properties. However of particular relevance here are his extended works, Office of the Organization for Direct Democracy by Popular Vote for 100 days at documenta 5, 1972 and Honey Pump in the Workplace for documenta 6 in 1977, in which he demonstrates his expanded notion of art that is exactly congruous with his philosophy of teaching – 'to reactivate the "life values" through a creative interchange on the basis of equality between teachers and learners.' [5] Both pieces required the involvement of many people in processes outside of the realms of ordinary action (such as the maintenance of the plastic pipes of the honey pump as it circulated 2 tonnes of honey through the building) in order that they might connect with unfamiliar concepts and experiences. The artworks integrated many different categories of work (some, but not all, associated with art making) including performance and the practice of various disciplines (of dialogue, rhetoric, democratic processes of exchange and decision making). And yet, in an interview with Achille Bonito Oliva, Beuys makes it clear that he has no interest leading audiences towards an "activism devoid of content" [6]. The liberation of humankind through art (Beuys proposes that everyone is an artist and society is to be sculpted by everyone) depends on a more deliberate engagement of individual energies.
Drawing was particularly important to both of us. It was something Ruth had always done from an early age. Collections of drawings made by her between the ages of six and thirteen depict public street scenes of everyday social groupings and activities (a group of kids running with a dog, two mothers with two prams, businessmen waiting for a bus). The figures are too small to carry facial expressions. Nevertheless their interactions, mood, social status and relationships are expressed by their outfits, gaits, their gestures and their proximity to each other and other elements of the scene. Ruth now looks back on these as evidence of an early growing fascination with sociality. Through school she learned that 'drawing well' meant producing an image as much like a photograph as one might render. Praise and grades were awarded accordingly. Later, at art school, drawing became a liberating process of discovery. She generated abstract marks, as traces of energies within the body, rather than to create a deliberate composition within a pictorial plane. In this way she produced surfaces such as might be produced by soot covered animals (think monkey, gazelle, seal, tiger, crow) thrown together into a white room. This surface would then serve as a mirror (or crystal ball) from which entities, gestures and forms of light and shadow emerged to be drawn out in further explorations of aspects of her unconscious.
Drawing was something that Michael aspired to. Because he had come to moving image work – to "being an artist" – by a strange route through theatre, maths and music, he had both a fascination with and a terror of drawing. He had been the kid in the class who couldn't draw, and yet had loved the feeling, the deep engagement with both the act and with what it awoke inside him –his mind's eye – that it brought. In his moving image work he had attempted to confront this. The inverted commas that came with a certain species of conceptualism were a great help because he could frame himself performatively, comically almost, as an uncertain but oh-so-willing draftsperson, one with no eye or dexterity, a technical schlemiel.
In his secret heart, though, he knew he wanted to do this thing without (or at least largely without) irony.
Arising out of this obsession, in the early years of the new millennium, Michael had launched a little provocation where he challenged digital artists, as they were then still called, to create self-portraits, on the sole condition that this be done using non-digital means, and subsequently to photograph them for display in an online archive. Those who didn't baulk at the task produced a touching and intriguing panorama, of pen and paint and pencil but also of bathroom tile, egg tempera and iron filings… [7]
As part of a discussion about this Michael had opined on some listserv or other that the barriers between artistic practices were porous and that the true measure of anyone aspiring to be an artist (musician, film maker, poet) was that, if lost in a deep forest or desert isle, with only a rock to make some marks on and another rock to make those marks with, the putative artist would eventually produce something of interest, depth and value.
Early on we introduced chunks of drawing as an occasional workshop – Ruth introduces, and then builds on familiar art school, Bauhaus type exercises that attempt to separate process from outcome-anxiety, allowing students to engage with an inner dialogue about their looking and representation un-disrupted by fears of inadequacy. These include:
drawing without looking at the paper; from memory; without removing pencil from paper; drawing with the "wrong" hand; drawing in five minutes or five seconds; drawing only negative space; having the pencil trace the movement of the eyeball as the drawer observes an object, etc.
Michael felt the centrality of drawing calling him but these sessions still felt like a slightly naughty holiday, an activity that did not necessarily link to his background and formation as an artist. The teacher, like the student, was still exploring.
Students as teachers
The big epiphany came with the introduction of a weekly drawing session for all three years of the course. It happened and happens every Monday of term, without fail, and everyone in the room takes part, staff included. As many days as possible where more than one member of staff is present in the room, to make for debate, thus modelling civilised disagreement and forcing students, ultimately, to make up their own minds; there are usually two members of staff and occasionally more present. Each drawing session is led by a student who brings in an object, procedure or puzzle for the rest of us to address.
What happened is that we were rapidly out-Bauhaused by our students. Byzantine sets of instructions for tasks that we as teachers would have rejected out of hand as overly complex, impractical or confusing were carefully explained by students and then carried out by all of us in utter silence.
Half an hour elapses, we place our sets of images on the floor and we process around them all, discussing them. The important thing is that everyone has drawn. Everyone is both vulnerable and admirable. Teachers are not privileged. For students, it is understood that although the process carries course credit, what is being marked eventually is a series of drawings – some "good", some "bad", most neither – and that technique – whatever that is – is not the focus. There must be room for play in creative education; hence, for this part of the course, taking part in all of the sessions is enough to secure a pass.
With respect to collective feedback, our experience has been that perceptive kindness predominates. We search for the wonderful things, speculating on why they are wonderful, maybe asking questions of the person who has made this thing, trying to elicit that week's secret or lesson. The drawings are a pleasure to behold. We have no intention of reproducing any of them here, though many would bear reproduction – we do not want to betray the egalitarian, labouring-together ethos of the thing by selecting outside the sessions and group. We are not sentimentalists – it is precisely because we understand the necessary element of brutality involved in the fair administration of an assessed course that we want to create oases, visions of how things could be other. It is the collective production of shared work that matters – it is not, let us emphasise though, a privileging of "process over production". The production matters – desperately so. [8]
Over the weeks, our drawings are diverse in category, style, media and technique including: illustrations of the set task, abstractions, naïve figurations, diagrams, signs; some are performances of processes made in pencil, pen, paper, wood, charcoal, paint, collage, arrangements of plastic objects, paper-constructions; they reveal our choices and learning. Some students advance arguments in their drawings either with each other or with their own earlier work. As new tasks are set we each decide in the moment whether we understand the activity we are to involve ourselves with is mundane, ritualistic (perhaps even sacred), mad or wise, pointless or significant – our conclusions shape our drawings. In this way collective drawing has become central to the ethos of our courses as an integrative practice for negotiating a shared studio culture and shaping our learning together, our movement towards collegiality. Doing the drawing means the week has a start to it – we affirm ourselves as folk with a common interest, different but equal. The sessions have helped to provide a social glue, too, across the three years of the course.
Conclusion
There are areas where we as teachers know more than the students; both of us have track records of work in the art world, but the drawing sessions level us all – they enable a mutually supportive but acute look at progress on a common task. Since the drawing started we have also incorporated its lessons to other disciplines; staff and students share their photography work in a more horizontal way than the demands of the course would normally allow. We use new forms of social media, and have Flickr accounts in which all participants are contacts.[9] We comment on and "favourite" each other's works as equals and collaborators.
Both drawing and photography in these contexts devolve to something similar – filling a blank space by mark making, with valuable, experiential knowledge accrued: repeating processes many times over to find out what constitutes skill and when (often, it turns out, much more often than is often acknowledged) to accept the gifts brought by chance; discovering that the art happens in a social space between the maker, the wider world and the viewer; understanding the work of others because we do it side by side; and, finally, coming to grips with the question of personal style and the diversity of ways of doing things well and meaningfully.
Each week reveals both artistic phylogeny and ontogeny – we solve the problem here and now, as if for the first time ever and this illuminates the historical chain, the intertwining of theory and practice, our mutual dependence, all of us artists and all of us nourished by art too.
—-
Originally written for Drawing Knowledge (2012). Tracey, The Journal of Drawing and Visualisation Research, Loughborough University.
Revised and republished Miller, A & Strong, J. (eds). (2012) Research-Led and Research-Informed Teaching. CREST Publishing.
"Tweets in Space beams Twitter discussions from participants worldwide towards GJ667Cc – an exoplanet 22 light years away that might support extraterrestrial life. By engaging the millions of voices in the Twitterverse and dispatching them into the larger Universe, Tweets in Space activates a potent conversation about communication and life that traverses beyond our borders or understanding."
Marc Garrett: Could you explain to our readers what 'Tweets In Space' is?
Scott Kildall and Nathaniel Stern: Tweets in Space is an art project — a networked performance event — which beams your Twitter messages to a nearby exoplanet that might support human-like, biological life. Anyone with an Internet connection can Tweet with the hashtag #tweetsinspace during the performance time, and their messages will be included in our shotgun blast to the stars. The performance is on September 21st, 20:30 – 21:00 Mountain Time (3:30 AM BST / London time).
MG: What was the motivation behind your current collaboration?
SK and NS: We found inspiration from various sources. First, in NASA's Kepler mission, whose purpose is to discover planets in the "habitable" or "Goldilocks" zone. The project has found over 2000 exoplanets thus far, all of which are "not too hot, not too cold, but just right" for life as we know it. Scientists now estimate that there are at least 500 million planets like this in the Milky Way alone. Our conclusion: extraterrestrial life is almost certainly out there.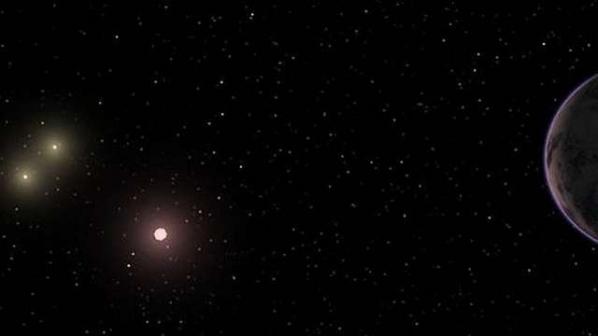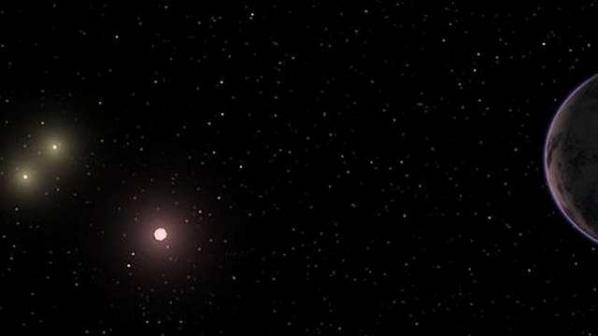 "The latest discovery is at least 4.5 times bigger in size than Earth. Reportedly, the planet exists 22 lightyears away from Earth and it orbits its star every 28 days. The planet is known to lie, in what is being referred to as the star's habitable zone. A habitable zone is a place where the existing conditions are just perfect for life sustenance. Astronomers, according to this report also suspect that the GJ667Cc may have been made out of earth-like rock, instead of gas." [ibid]
Another source of great inspiration is how we use social media here on Earth. This is our second, large-scale, Internet-initiated collaboration. In 2009, we amplified the power structures and personalities on Wikipedia, and questioned how knowledge is formed on the world's most-often used encyclopedia – and thus the web and world at large. Now, we are turning to the zeitgeist of information and ideas, feelings and facts, news and tidbits, on Twitter. The project focuses on and magnifies the supposed shallowness of 140-character messages, alongside the potential depth of all of them – what we say in online conversation, as a people.
We are directing our gaze, or rather tweets, via a high-powered radio telescope, towards GJ667Cc – one of the top candidates for alien life. It is part of a triple-star system, has a mass that is about 4 times that of Earth, and orbits a dwarf star at close range. GJ667Cc most certainly has liquid water, an essential component for the kind of life found on our own planet.
MG: Right from its early years when Jagadish Chandra Bose [2], pioneered the investigation of radio and microwave optics – science, technology and art have had strong crossovers. And it might be worth mentioning here that Bose was not only well versed as a physicist, biologist, botanist and archaeologist, he was also an early writer of science fiction. [3] Which, brings us back to 'Tweets In Space', wherein lies themes relating to science fiction, radio broadcasting (commercial, independent and pirate), wireless technology of the everyday via our computers, and 'of course' the Internet.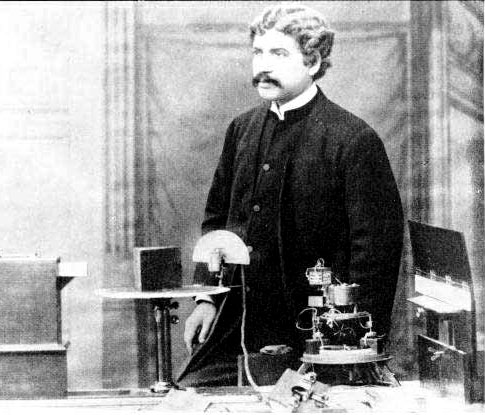 But, what I want to pin down here is, where do you feel you fit in historically and artistically with other past and contemporary artists, whose creative art works also involved explorations through electromagnetic waves?
Scot Kildall: The work of JC Bose is incredible and what strikes me is that he eschewed the single-inventor capitalist lifestyle in favor of his own experiments. Isn't this the narrative that artists (often) take and linked back in many ways to the open-source/sharing movement, rather than the litigious patent-based corporation? And it mirrors in many ways the reception of electromagnetic radiation as well. You can't really "own" the airwaves. Anyone who is listening can pick up the signal. This comes back, as you point out, to the internet. Twitter is now, one of the vehicles, and, ironically entirely owned by a benevolent* corporation.
Nathaniel Stern: (Agreeing with Scott) and we can't forget of course Nam June Paik, who played with naturally occurring and non-signal based electromagnetic fields to interfere with analogical signals (as well as the actual hardware) of tube televisions, and more. And of course, there have been other transmission artists, explored in depth by free103point9, among others. I think, like them and others, we are messing with the media, amplifying (figuratively and metaphorically) and intervening, pushing the boundaries of DIY and cultural ethico-aesthetic questions…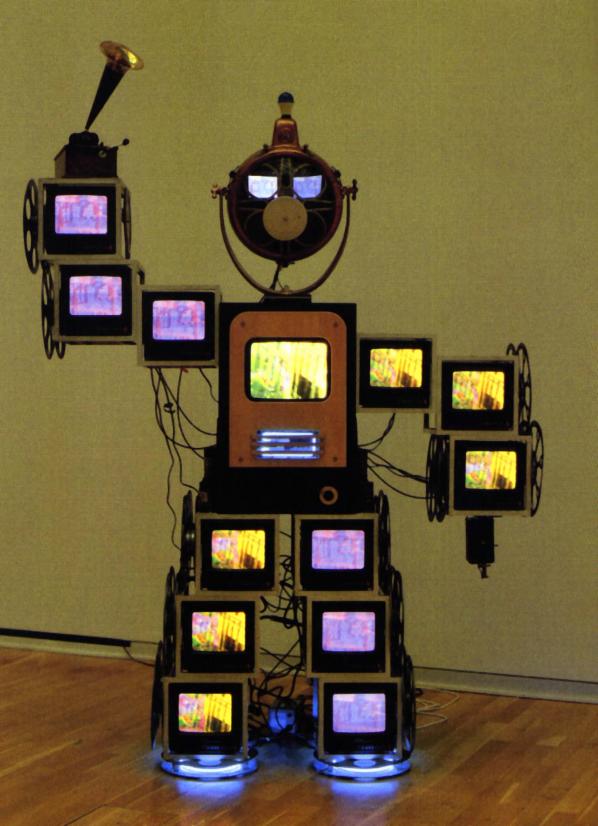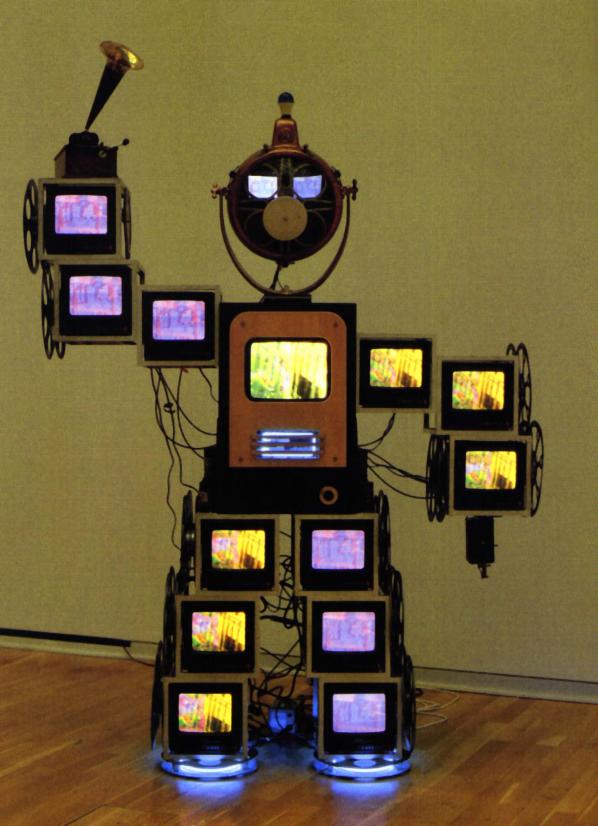 MG: What is especially interesting is that all the tweets submitted by the public are unfiltered. How important is it to you that people's own messages are not censored when going into space?
SK and NS: Absolutely. Tweets in Space is by no means the first project to transmit cosmic messages with METI technologies (Messaging to Extraterrestrial Intelligence). Our fellow earthlings have sent songs by the Beatles, photos of ourselves shopping at supermarkets, images of national flags, and even a gold record inscribed with human forms – controversially, where the man has genitals and the woman doesn't. These slices of hand-picked content exhibit what a select few believe to be important, but ignore, or willfully exclude, our varied and collective modes of thinking and being.
Tweets in Space is "one small step" with alien communications, in that it is open to anyone with an Internet connection. It thus represents millions of voices rather than a self-selected few. More than that, our project is a dialog. There have been, very recently, a small number of projects that similarly "democratize the universe" but none are like ours: uncurated, unmediated thoughts and responses from a cooperative public. We can speak, rebut, and conclude, and nothing is left out. Our transmission will contain the good, the bad, and the provocative, the proclamations, the responses, and the commentary, together, a "giant leap" for all of humankind – as well as our soon-to-be friends.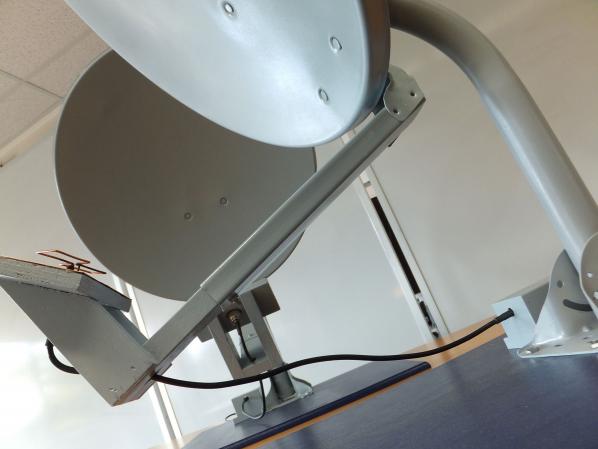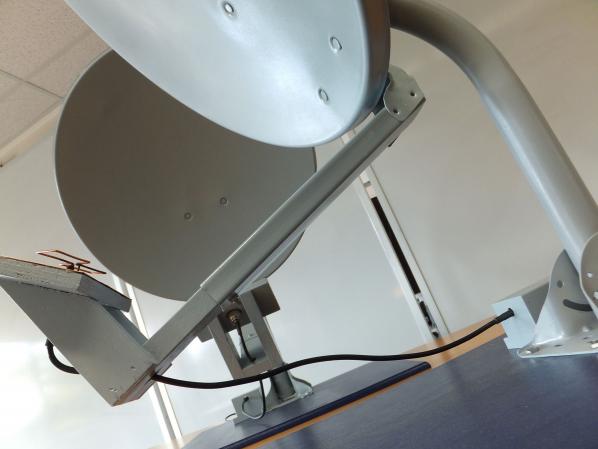 Furthermore, by limiting the event to a small window of only 30 minutes, we are encouraging all our participants to speak then respond, conversing with one another in real-time, through networked space. We are not just sending lone tweets, but beaming a part of the entire dialogical Twitterverse, as it creates and amplifies meaning. Tweets in Space is more than a "public performance" – it "performs a public."
MG: Now, you will be transmitting real-time tweets toward the exoplanet GJ667Cc, which is 22 light-years away. How long will it all take to get there?
SK and NS: Well, first off, we're collecting all of the tweets in real time, but only sending them out later in October. The main reason for this is that we have to wait for the planets to align – literally. We want line of sight with GJ667Cc from where our dish is. The added bonus of time, however, is that this will allow us to really flesh out how we send the messages in a bundle. We want to include a kind of Rosetta Stone, where we will not only send binary ASCII codes of text in our signal, but also analog images of the text itself. We additionally intend to choose the most frequently used nouns in all the tweets from our database, then give a kind of "key" for each. If "dog" is common, for example, we can transmit: 1. an analog image of a dog, like a composite signal from a VCR; 2. a text image of the word "dog" in the same format; and 3. the binary ASCII code for the word dog.
In terms of time/distance, when speaking in light years, these are the same thing. A light year is the distance light can travel in one year of Earth time (about 9.4605284 × 10 to the 15 meters). Since radio travels at the speed of light, a big dish on GJ667Cc will pick up the signal in 22 years. We should start listening for a response in 44 – though it may take them a while to get back to us…
MG: Will the code used for the project be open source, and if so, when and where can people expect to use it?
SK and NS: Yes it is! The most useful part of our code is the #collector, which saves real-time tweets to a database, that can then be used for live projections or web sites, or accessed and sorted later via all kinds of info. The problem is that it's not really user friendly or out of the box – folks need a suped up server (VPN), and to plug into a few other open source wares. The main portion of the backend we used is actually already available at 140dev.com, and then we plugged that into Drupal, among other things. For now, we're telling interested parties to contact our coder, Chris Butzen, if they want to use our implementation. And we hope to do public distribution on tweetsinspace.org if we are able to package it in a more usable format in the next 6 months.
MG: Are there any messages collected so far, grabbing your attention?
We've had thousands of tweets so far – even while just testing the ware in preparation for the performance. We're anticipating a lot of participation! The tweets we've seen have ranged from variations on "hello [other] world" and "don't eat us," to political activism and negative commentary, to a whole surreal narrative of about 30 tweets per day over the last 3 months.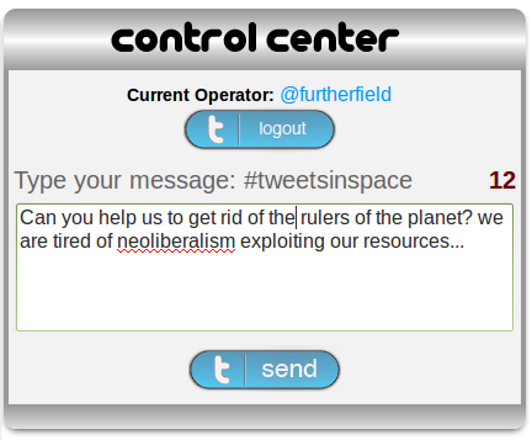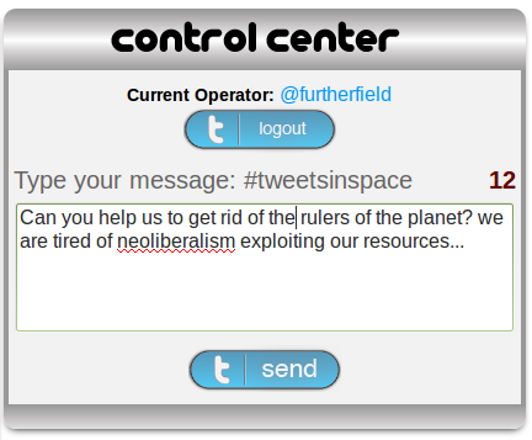 go to tweet aliens to add your own words…
Some of our favorite tweets have been those that question how to make our own world better. These speak to both the hope of space age-ike technology, as well as the hope in collective dialog – both of which our project tries to amplify. Such tweeters ask about the alien planet's renewable energy sources, tax structures, education, art, and more.
We imagine the 30-minute performance will see a much more potent discussion about such things, and hope your readers will participate. The final transmission will be archived permanently on our site once we've prepared it for launch.
How to Take Part.
As part of the International Symposium on Electronic Art in New Mexico (ISEA2012). We will collect your tweets and transmit them into deep space via a high-powered radio messaging system. Our soon-to-be alien friends might receive unmediated thoughts and responses about politics, philosophy, pop culture, dinner, dancing cats and everything in between. By engaging the millions of voices in the Twitterverse and dispatching them into the larger Universe, Tweets in Space activates a potent conversation about communication and life that traverses beyond our borders or understanding. http://tweetsinspace.org/
AND THEY WILL BE SENT INTO DEEP SPACE!!!
Watch the stream LIVE here – http://tweetaliens.org/tweets/tweets.php
Charlie Gere is a Professor of Media Theory and History in the Lancaster Institute for Contemporary Arts, Lancaster University. Co-curator of FutureEverybody the 2012 FutureEverything exhibition in Manchester. In 2007 he co-curated Feedback, a major exhibition on art responsive to instructions, input, or its environment, in Gijon, Northern Spain. He has given talks at many major arts institutions, including the Centre de Cultura Contemporània de Barcelona, the Architectural League in New York, Tate Britain, and Tate Modern. Gere's new book, Community without Community in Digital Culture (Palgrave MacMillan, 2012), is out now.
Previous titles include: Digital Culture (Reaktion Books, 2002), Art, Time and Technology (Berg, 2006), Non-relational Aesthetics, with Michael Corris (Artwords, 2009). Gere was co-editor of White Heat Cold Logic (MIT Press, 2009), and Art Practice in a Digital Culture (Ashgate, 2010), as well as writing many papers on questions of technology, media and art. He is also co-editing with Robin Boast an anthology entitled Allegories of the Information Age (forthcoming).
Marc Garrett: Digital Culture was originally published in 2002, which happens to be the version I've had all these years. In 2008 it was republished, revised and expanded. Now the book has an extra chapter 'Digital Culture in the Twenty-first Century'. Of course, we already know that digital technology and society has changed dramatically since 2002. So, what themes and historical contexts did you choose, as necessary to include in this new and last chapter?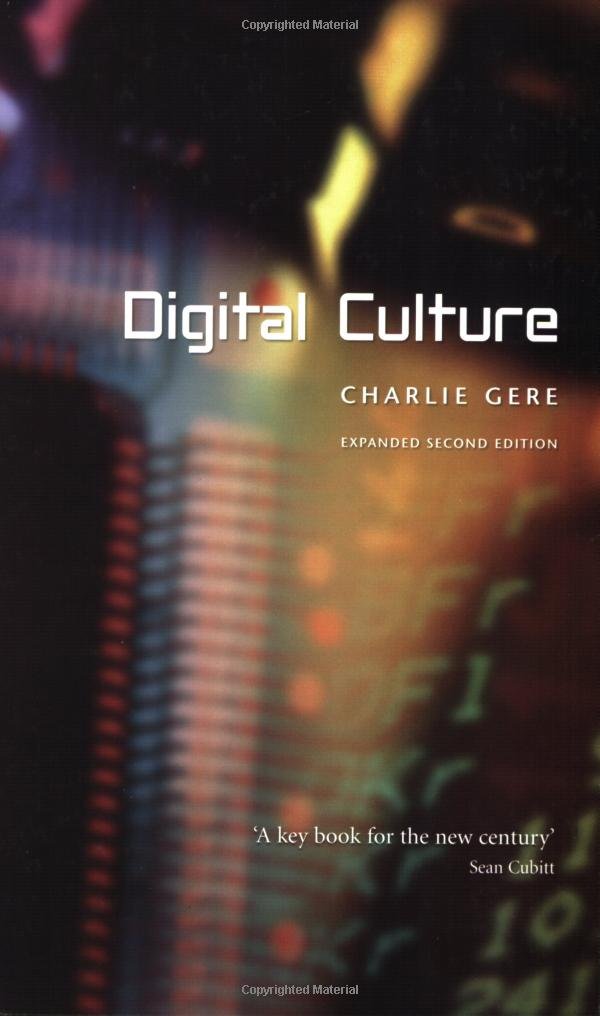 Charlie Gere: What happened after the publication of the first edition was of course the rise of so-called Web 2:0, which was simply the greater exploitation of the reciprocal possibilities of the Web. I tried to reflect on how this reciprocity was visible beyond the Web itself, and was becoming part of a more general culture of engagement and exchange, not that I share some of the more utopian visions of this phenomenon. Indeed, in my new book Community without Community in Digital Culture I try to counter the, for me, more naive visions of community in relation to digital technology. I advocate a more 'non-relational' approach that does not deny the transformative effects of new media in terms of community, but thinks of it more in terms of hospitality to the other.
MG: Many of the artists we have worked with are using new media to explore and critique the utopian assumptions you discuss: YOHA, IOCOSE, Liz Sterry, M.I.G (Men In Grey, Julian Oliver and Danja Vasiliev), Heath Bunting, Face to facebook (Paolo Cirio and Alessandro Ludovico), Annie Abrahams and more. Each of them work in a deeply relational way to intervene in the mythologies projected about digital technology; and, with a knowingly crtical eye of the technical limitations and the social controls at work when using networked technology. At different levels, all are producing work that 'consciously' incoporate relational contexts, in some way or another, this includes ideas and approaches with autonomy as part of their art, but not necessarily advocating technology as a singular, saving grace.
How do you view the role of this practice in the context of the wider corporate and state impact on the way technical cultures are evolving. How do you see the notion of hospitality working between the arts and these other more mainstream cultures?
CG: I greatly admire and like the work of the artists you mention and others doing similar things. For me they exemplify the complexity of the idea of hospitality. In general the Web is about exchange, whether that of money for goods, social links and relational exchanges in social networks, or the exchange of speech and dialogue in on-line fora. The work of these artists refuses this demand for exchange and profit within a restricted economy. Thus they are in a sense parasitical on the Web. The word 'parasite' comes from 'para sitos', meaning 'beside the grain', and refers to those animals that take advantage of grain stores to feed. They are the creatures to who must be offered hospitality, as a gift, without expectation of return, which means that while they are bound up with the technological systems that comprise the Web, they are not part of the restricted economy of exchange, profit, and return that is at the heart of capitalism, and to which everything else ends up being subordinated and subsumed. Thus they find an enclave away from total subsumption not outside of the market, but at its technical core.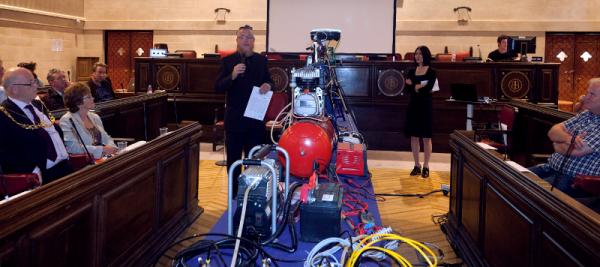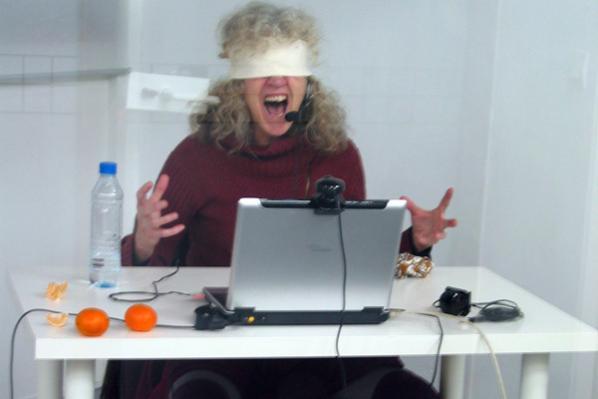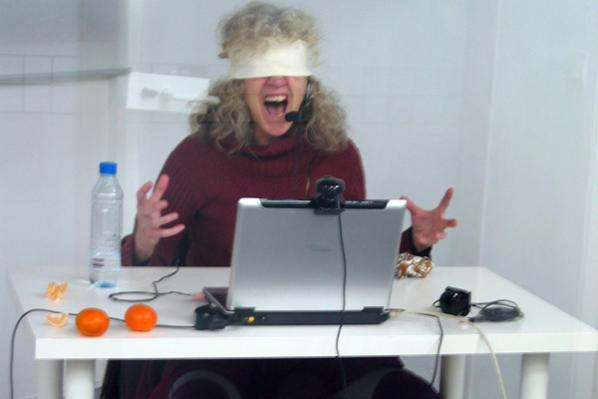 MG: Many are aware that technology and digital culture has changed the world we live in, and appreciate its immediate effects on our everyday behaviours and situations. But, there is a bigger story to tell and history can offer us insightful glimpses, important clues and ways into this story about our relationship with technology and digital culture. One of the arguments outlined in your book 'Digital Culture' is that, digital culture is neither radical, new nor technologically driven. With this in mind, which past developments do we need to acknowledge and be reminded of and why?
CG: For me the emergence of digital technology is part of a much longer story of abstraction, codification, quantification and mathematisation that can be traced back to numerous points in the history of the West, from Ancient Greece, to early Modernity to the rise of industrial capitalism. Here one might think of Heidegger's use of 'cybernetics', a word we normally associate with post-war computing culture, to describe the technology and calculative enframing of modern society which he traces back to the Ancient Greeks and especially to Plato. I am not a particular advocate of digital technology, and while I appreciate its uses, I also think we must try to be aware of how it determines the way in which we think, and in which we conceive of the world. Above all we should not regard it as merely a conduit to an uncomplicated world simply out there, but rather the means by which a particular world comes to be for us. That said, this is very hard, given that in my view, and to adapt a well-known phrase from Derrida, il n'y a pas de hors-media, there's no Archimedean point outside of our medial condition, from which we can understand it as from a god's eye view. 'Media determine our situation' as Friedrich Kittler put it.
MG: In Digital Culture, you write about the composer John Cage and how he "has had the most profound influence on our digital culture", and how his influence has opened up various different avenues of creative engagement. And, many of his ideas on interactivity and multi-media not only "have repercussions in the art world", but also a strong influence on how computers are used as a medium. Which art movements in particular did he influence and what kind of legacy did he leave for others in relation to computers?
CG: Actually Cage's influence on those using computers in the arts is probably less to do with what he himself did with such technology and more to do with his use of aleatory methods in many his different projects across many artforms. Also there is something about Cage's own refusal of a normative Western subjectivity that is also consonant with aspects of our hyper-technologised existence with its emphasis on decentering the individual. Both the refusal of such subjectivity and the aleatory work together to produce a new model of the artist as conduit of contingent social forces rather than protean demi-urge or genius.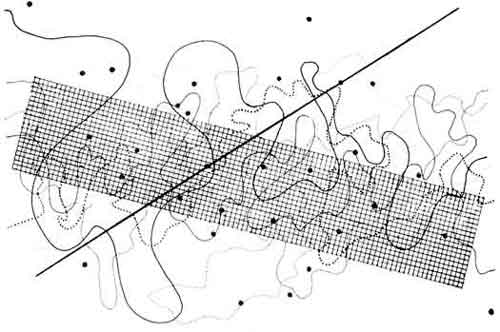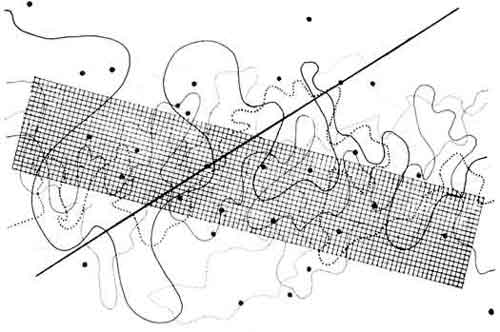 MG: Your new book 'Community without Community in Digital Culture', has come out at the same time as Geert Lovink's 'Networks Without A Cause: A critique of Social Media'. Lovink asks "How do we overcome this paradoxical era of hyped-up individualization that results precisely in the algorithmic outsourcing of the self? How do we determine significance outside of the celebrity paradigm and instead use intelligence to identify what's at stake?" [1]
Where are your thoughts in regard to Lovink's question, and does it relate to what you propose in terms of "hospitality to the other?"
CG: I haven't read Geert's book, yet at least… But I am highly sympathetic to what I take to be his position. My view is that the Web is part of a broader set of developments that apparently concern relationally, but actually emphasize the sovereign individual and autonomous subject of modernity, as well as promoting spectacular and image-bound forms of presentation and relation. The problem is that one alternative to this individualization is a kind of fascistic identification with the mass, in the form of fusion that negates the individual. A solution maybe to engage with the idea of the other in terms of difference, as both relational and separate, and yet also that which we depend on for our identity in a process of differentiation; thus the idea of hospitality as a reception of the other in difference.
MG: Community without Community in Digital Culture, is a curious title. It proposes contradictory meanings and these contradictions are clearly explained in the introduction. Although, the last sentence says "In this such technologies are part of the history of the death of God, the loss of an overarching metaphysical framework which would bind us together in some form of relation or communion. This can be understood in terms of contingency, which has the same root as contact."
Could you unpack this last sentence for us, I'm especially interested in what contingency means to you?
CG: I owe my understanding of contingency to the work of philosopher Quentin Meillassoux, whose book After Finitude is causing a stir. Meillassoux is one of a small number of young philosophers sometimes grouped together under the name 'speculative realism', mostly because of their shared hostility to what they call 'Kantian correlationism', the idea that there can be no subject-independent knowledge of objects. Meillassoux follows the work of David Hume, who questioned the whole notion of causation; how one can demonstrate that, all things being equal, one thing will also cause another. For Hume causation is a question of inductive reasoning, in that we can posit causation on the grounds of previous experience. Meillassoux pushes the implications of Hume's critique of causation to a point beyond Hume's own solution, to propose the only necessity is that of contingency, and that everything could be otherwise, or what Meillassoux calls 'hyperchaos'.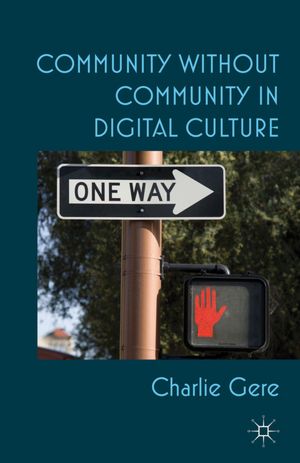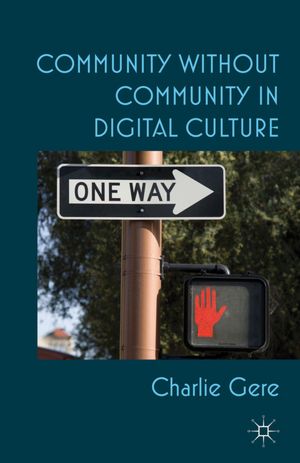 I use his ideas to think through the implications of the 'digital'. According to the Oxford English Dictionary 'digital' has a number of meanings, including '[O]f, pertaining to, using or being a digit', meaning one of the 'ten Arabic numerals from 0 to 9, especially when part of a number', and also 'designating a computer which operates on date in the form of digits or similar discrete data… Designating or pertaining to a recording in which the original signal is represented by the spacing between pulses rather than by a wave, to make it less susceptible to degradation' (the word for data in the form of a wave being 'analog').
As well as referring to discrete data the dictionary also defines 'digital' as '[O]f or pertaining to a finger or fingers' and [R]esembling a finger or the hollow impression made by one', thus by extension the hand, grasping, touching and so on. Much of the book concerns deconstructing the 'haptocentric' implications of contact, and communication, especially in relation to the claims made for social networks, and to engage with what I understand as the relation between 'contact' and contingency'. 'Contingency' is derived from the Latin con + tangere, to touch. 'Contingency' enables us think through the implications of the term digital, by acknowledging both its relation to the hand and touch and also to the openness and blindness to the future that is a concomitant part of our digital culture after the death of God.
MG: What other subjects can we expect to read about in the publication?
CG: Touch in Aristotle and medieval theology, cave painting, mail art, Darwin and Dawkins, Luther Blissett, On Kawara, Frank Stella, Bartleby the Scrivener, Christianity – among other things… oh, and a lot of Derrida.
MG: If there is a message you'd like to send to the world, as it carries on regardless with its "permanent exposure of life, of all lives, to 'all-out' control […] thanks to computer technology" [2] (Virilio 2000), and it was printed on a banner, or on a billboard in the streets, what would it be?
I am reading Blanchot at the moment, so perhaps something like 'the disaster has already happened' (it's suitably enigmatic to annoy people).
<———————————- The End (for now) ——————————>