This year's festival of "Mine, yours, ours"(Moje, tvoje, naše) puts emphasis on people who are behind the work performance of machines, literally as well as metaphorically, and without whom the machines cannot perform their work.
Automatization, computerization, robotization, mechanization. Recent studies point out that by 2030 as many as 800 million workers throughout the world will lose their jobs to robots. Predictions that already in six years time robots with artificial intelligence will have replaced more than half of the human workforce, and thereby leave 75 million people unemployed, and that the number of robots that perform work of which humans are capable would double from the current 29%, have flooded web portals.
Questioning the status of work conditioned by the relation between man and machines, and observed from the perspective of contemporary artists, was chosen as the theme of the festival "Mine, yours, ours" carried out by Drugo More, held from the 14th to the 16th of February at the building of Filodrammatica in Rijeka. The international festival "Mine, yours, ours" has for fourteen years in a row by the means of art questioned the topics related to the exchange of goods and knowledge, an exchange that today is conditioned by capital and consequently bereft of all the aspects of a gift economy. Exchange via gifts has been replaced by mechanical work whereby the worker is distanced from the very purpose of the work and thereby doomed to a feeling of purposelessness, while the final product and service remain dehumanized. In a world that is mongering fear about robots taking over human jobs, the curator of the exhibition and moderator of the symposium, Silvio Lorusso, decided to give a new perspective on the topic putting emphasis on the people behind the work of the machines, literally and metaphorically, without whom the machines cannot – work.
Like robots that perform work mechanically and lacking intrinsic motivation, people play the roles of robots through various forms of work. The sequence of actions that we observe on the internet are attributed to the work of machines, ignorant of the fact that human work, hidden on purpose, is behind all the exposed data. A human, according to research by artist Sebastian Schmieg, writes the descriptions of the photos that we find on the internet and we are deceiving ourselves thinking that the descriptions are the product of an automatized system. A group of crowd workers creates the database for recognition of pictures, while the neural network of artificial intelligence is shaped with the help of manual work by a collective of people who choose what the machines will see, and what is to remain unrecognized. The role of human work is crucial to the processes that enable self-driving cars. Researcher and designer Florian Alexander-Schmidt explained how the detailed localization of an object is possible exclusively due to a human workforce, not robots. Digital platforms tend to locate vehicles at a precision rate of 99% and this cannot be achieved by an algorithmic system. Alexander-Schmidt points out that the cheapest workers are employed at servicing the digital platforms, such as those from Venezuela, whose work is hidden behind the magical acronym "AI".
Artificial intelligence operates thanks to the strength and precision of human intelligence, and workers are the slaves of a system that functions like a computer game, demanding that employees score more and thereby perpetuate a game in which, no matter how high they score, they lose. They lose because a cheap labor force, qualified via automatized training, secretly performs the work that consumers consider a product of automatization, and they remain at insecure workplaces whose existence persists due to risky capital and results in constant change of workplaces – virtual migrations. The market of the internet diminishes the global geography of honorary work, while humans play machines performing jobs exclusively for a salary, turning into an invisible, undefined (robotized) mass employed at unstable workplaces and conditioned by risky capital.
The work performed by humans is considered a product of the work of machines, while machines are often replaced by humans. Entering a relationship, developing a sense of connection, characteristic for the human species, is becoming one of the fields in which robots are developing. Chatrooms and platforms for looking for a partner more and more often include programmed robot profiles that engage in communication and emotional bonding with those who sign up, as reported by the artist Elisa Giardina Papa. Robots replace humans, but this change of identity isn't recognized by the other human – instead, they see a potential partner. In that sense we can speak about a justified presentiment not only of a loss of workplaces and the current modus operandi of the labor market, but of changes in the way emotional relationships are built as well.
Changes in the development of artificial intelligence (AI), virtual reality (VR), robotics, quantum computers, the internet of things (IoT), 3D printing, nanotechnology, biotechnology and the car industry improve some aspects of human life, but place humanity before social, economic and geopolitical challenges. Sustainability of the internet is entirely dependent on humans since the spare time that humans are ready to use for posting content conditions the survival of web portals, video and music channels and social networks. Giardina Papa explained how the spare time of humans has become the time of unpaid work for the internet. Activities that spare time offers – relaxing, self-realization, healthy spontaneous sleep, have been replaced with the production of content for others and posting it on the internet. Creativity, productivity, self-realization are falling into oblivion. Creative work has been replaced by plain performance and we identify more and more often with the byword which the artist Giardina Papa brought up as an example and are becoming "doers, not dreamers".
Such an approach to life and work affects everybody, and is consciously looked on as a problem by artists in their attempts at a good-quality creative life. The average artists spend their days trapped doing jobs of stocking up shelves in stores, taking in orders, working for telecommunications operators and only at night devote themselves to acting, dancing, painting. Constant financial instability, insecure and temporary jobs, low income, unregistered work and an absence of pension are the conditions of life that the contemporary artist faces. A few European countries are an exception from this. Denmark awards 275 artists an annual scholarship that amounts to between 15000 and 149000 Danish krones. France made sure that every region secures a certain amount of financial support for artists and therefore in for example the region of Ile-de-France are recipients of up to 7628,47 euros for the organization of their workshops. Unfortunately, in most countries artists without rich parents or benefactors can only survive by performing daily work. While spare time is subordinate to work, work is becoming more and more precarious, per hour, without contracts, while full day work time is becoming the lifestyle of the millenium. A way of life where spare time is spent working, subordinated to a mechanical execution of tasks that don't foster the self-development of the worker, makes man function in a way characteristic of machines.
The individual aspect exposes it's intimacy in front of a collective audience and thereby diminishes it's own independence. Simultaneously, via the intrusion of the private into the public, the collective character of the public now becomes more individualized, more personal and strives to be unique. Faced with changes artists are trying out new ways of expressing themselves as a means of enjoying their work. The joy in their work and their artworks stems from the recognition that their activities are actually creative and not plain performance, that is, mass-producing content for others and suitable to others, and such an approach seldom comes to anyone's (robotized/artistic) mind anymore. Artists are the ones who in times of computerization of work tend to enjoy their work and work in a way to develop oneself.
We are witnessing processes where work is developing via control of people (crowdsourcing), it is transforming and making people similar to machines, and machines to people and making people's work the work of machines and vice versa. Man is faced with new challenges at the workplace, and with the focus on securing existential necessities as well as necessities conditioned by the contemporary approach to existence, there is no spare time to devote to questioning the position to which he brought himself to. Artists, equally affected by the changes, succumb to them, but also analyze them, deautomatize them and actively do research on them. The international guests to the festival "Mine, yours, ours" have through their works pulled back the curtain to make the supposedly automatized work transparent for people to see that a well hidden group of humans is behind this work. While explaining the results of their research, preceding the artistic exhibition, at a two-day symposium, they gave the public new perspectives on the theme, but also further corroborated the existing view. Where does the robot begin and where does man end and who or what is to whom or to what a robot, and who or what to whom or to what a human are the questions that, concerning the labor market, pave the way for – a new set of sub-questions.
Jelena Uher
When I first heard about MoneyLab, it was back in 2013 or the beginning of 2014, when I was doing my masters in London. A friend of mine handed a flyer to me and I was intrigued by the strange typography and the combination of bright colours. However, I didn't quite believe that any kind of initiative could really start an alt-economy movement. Not that I didn't believe in local currency or creative commons, but those gentle approaches generally seemed to lack traction, just like liberals do with voters. I naturally thought MoneyLab was one of those initiatives.
However, as Bitcoin was becoming a hype, the name popped up again; MoneyLab itself was also becoming a hype. While bitterly regretting not being able to be associated as the first wave of participants, I started to think that maybe MoneyLab might be the framework that can really push out alternative economic attempts as mainstream culture. My stance towards economic shifts was somewhat similar to that of William Gibson's; he said in an interview with the British newspaper The Guardian, 'What would my superpower be? Redistribution of wealth'. How did that change after reading the MoneyLab Reader 2?
Digital payments spaces as a driving force
Before going into the details of what blockchain technology can really do, it is crucial to understand a new "unit of value" created in modern society (Pine and Gilmore 1999). Since the most prominent piece of technology of our era is undoubtedly smartphones (with Apple being the first 1 trillion dollar publicly listed company in the US), a lot of transactions are inevitably conducted through apps and web services. The proliferation of the so-called "payments space" signifies the era of UX design, which is the third paradigm of HCI (Human-Computer Interaction), "tak[ing] into account…affect, embodiment, situated meaning, values and social issues" (Tkacz and Velasco 2018). In other words, experience has become the deciding factor of customers' choices. With vast amounts of data generated at the back of sleek interfaces, one can precisely oversee the users' behaviour, which then is fed back into the system.
All the payments spaces are essentially digital. This means transactions leave digital traces whether you like it or not. The idea of a cashless society exactly stems from this interest, the authorities can have better understandings of how people make money; in other words, where black money flows. Brett Scott has been pointing out the danger of a cashless society for quite some time now, I saw another variation in this book.
Money becoming programmable
According to Jaya Klara Brekke, blockchain technology can make money programmable, "allow[ing] for very fine-grained (re)programming of the medium of money, from what constitutes, and how to measure, value-generating activity to the setting of parameters on the means and conditions of exchange – what is spendable, where and by whom" (Brekke 2018). The overall impression I got from the MoneyLab Reader 2 about what blockchain technology can really do is basically this. Making a currency programmable using smart contracts.
More than a couple of authors discuss how "contingency" should take place in designed currencies. Contingency is different from randomness; in fact, it could mean exactly the opposite. For example, when coins are distributed in a perfectly random manner, you have absolutely no control in the handling process. If contingency is embedded in a system, it means there are exploitable gaps, which seem to almost randomly benefit people. On the other hand, some individuals would find ways to make use of these gaps, which are considered to be legitimate. Brekke discusses how the way in which contingency is programmed into a currency will be a key for the future of finance, both in terms of experience and redistribution of wealth. Therefore, currency designers will be the next UX designers.
Everything blockchain?
A number of ideas applying blockchain technology to both physical and cultural objects are mentioned in this book, from a self-maintaining forest to blockchain-based marriage. "Terra0" is the concept of an autonomous forest which can "self-harvest its own value" (Lotti 2018). Utopian views of a human-less world are prevalent, but in reality, a healthy forest requires an adequate amount of human intervention. In addition, the value of a forest cannot be determined by itself; trade routes, demand and supply, they are all drawn by human movements. For example in Japan, domestic wood resources are generally not profitable because of the expensive labour costs. Illegally cut trees without certification from Southeast Asia dominate the market, putting domestic ones in a bad position. When a forest itself is not profitable, how can it accumulate capital autonomously? Besides, the oracle problem has not been discussed at all. Unless everything is digital in the first place, there always needs to be somebody to put data onto the blockchain. In other words, the transcendence of the boundaries between the physical and the digital is not possible without human intervention. Blockchain marriage would face a similar problem; who might be the witness if circumventing the government official? Max Dovey investigates the notion of "crypto-sovereignty" while introducing an example of a real blockchain marriage where they "turn[ed] 'proof of work'… into 'proof of love'"(Dovey 2018). Just as the sacramental bond between spouses can be broken before Death Do Them Part, so can any cryptographic marriage unravel despite having been recorded in an immutable ledger. Whatever repercussions may exist for divorce, there are no holy or technological mechanisms to prevent it.
Platform Cooperativism or Platform Parasitism?
Platform co-ops is one of the largest topics in the book besides Universal Basic Income (UBI). A platform co-op is often a cooperatively owned version of a major platform that is supposed to be able to pay better fees to the workers. Also, a platform co-op is often associated with "lower failure rate"; 80% of them survive the first five years when only 41% of other business models do (Scholz 2018). While embracing the positive aspects of platform co-ops, I have this question stuck in my head: can you not make a platform co-op based on a new idea rather than copying existing ones?
Most platform co-ops seem that they are looking at already successful and established concepts such as rental marketplaces for rooms and ride hailing services. As a result, platform co-ops are considered more to be a social movement than an innovation. Why not just run a business right at the centre of Capitalism without being motivated by profit? Many platform co-ops challenge the main stream services such as Airbnb or Uber, however those services operate based on scale; if they have the largest user base, it will be very difficult to take them on, unless they die themselves like Myspace… Moreover, more hardware side of development can be happening around co-ops, but I don't hear anything except for Fairphone. When can I stop using my ThinkPad with Linux on it?
After reading the MoneyLab Reader 2: Overcoming the Hype, now I'm thinking of how I should design my own currency. Of course whether cryptocurrencies are actually currencies is up to debate; depending on who you ask, Ethereum is a security (SEC), a commodity (CFTC), taxable property (IRS) or a currency (traders).
MoneyLab 2 authors overall suggest that we should not limit our imagination to fit in the existing finance systems, but think beyond. You don't necessarily need to cling to cryptocurrencies but they may help you shape your ideal financial system.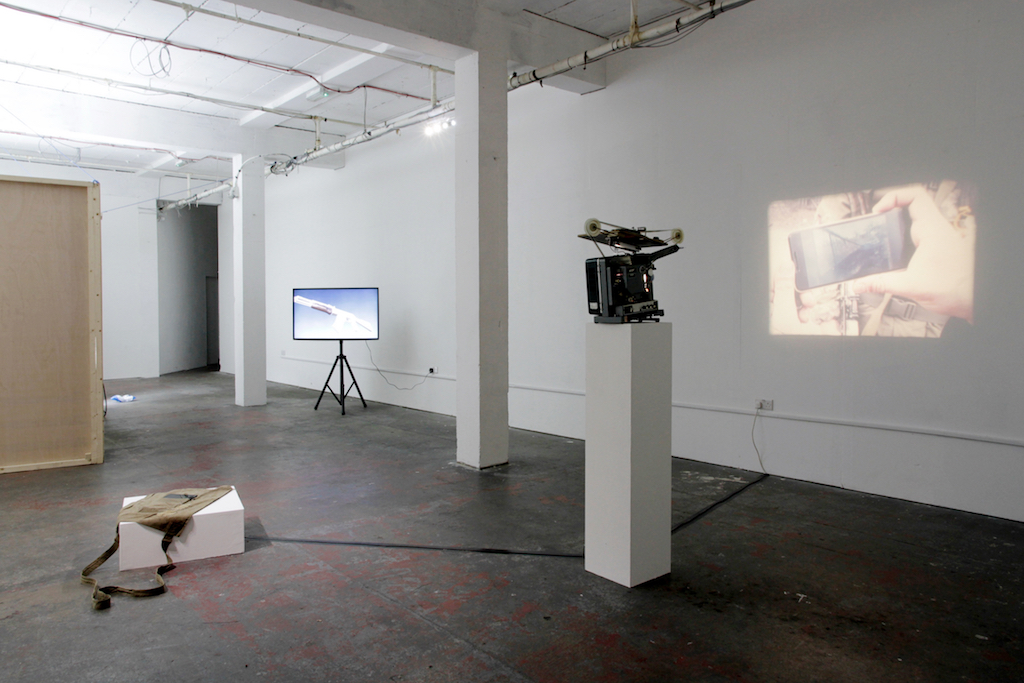 Referring to Ernst Jünger's proto-fascist concept of the 'front experience,' Dani Ploeger's fronterlebnis takes us to a frontline where digital consumer culture and traditional warfare meet. Combining filmed footage of a journey to the frontline in the Donbass War, Ukraine, alongside vintage military paraphernalia, Ploeger puts the artist in the field with the 'real' soldier. These soldiers are men from the far-right Ukraine Volunteer Corps, affiliated with the Right Sector, and remind Ploeger of 'the weird and wonderful mix of action heroes in Sylvester Stallone's Expendables series, albeit without the body builder physiques and less carefully manicured.' Here, Ploeger not only conceives an exhibition which examines the relationship between the cleanliness of modern day technology and the grittiness of traditional warfare, but also highlights wider issues around society's continued masculinised and fetishised relationship to conducting, and, as some of these pieces show, documenting war. With Ploeger's 'weird and wonderful' group made up exclusively of men, featuring masculine nom de guerres such as Bear and Carpenter, fronterlebnis is an exhibition in which masculinity is in the crosshairs as much as anything else.
The four-piece exhibition is part of Ploeger's current exploration into the militarisation of public spaces across Western Europe in connection with our increasingly fetishised relationship with consumer technologies, and how these apparently disparate elements converge in various conflicts, ranging from the Donbass War to public security in cities like Brussels and Paris. The soldier's body has arguably shifted in its role since the latter part of the 20th century, with the advent of sophisticated warfare technologies moving the human body away from the process of killing, at least in popular imaginations of conflict. With this development, the methods of war appear to have shifted, but it is in fronterlebnis that we are able to see how in the Donbass War in Ukraine, traditional warfare not only remains but has now become intertwined with advanced techno-consumer culture.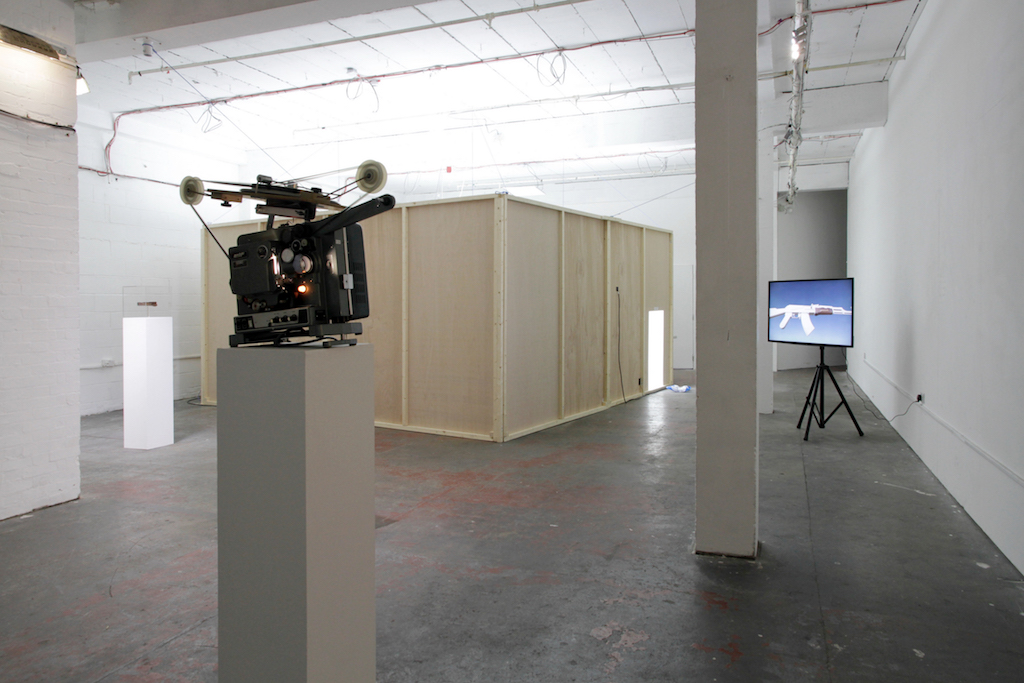 This juxtaposition of the old and new is present in the first piece you encounter as you enter the gallery. In Patrol (2017), Ploeger captured a firefight on his smartphone. The footage has been transferred to 16mm film and is being projected onto the wall of the gallery in a continuous loop. In the film, we see three soldiers – Bear, Carpenter and Steinar – escort Ploeger around the frontline on the edge of the destroyed seaside village, Shyrokyne. These men, in an assortment of vintage and contemporary battle array, many carrying the iconic Kalashnikov rifle, are seen sharing footage of their exploits on the frontline with each other, which they have captured on their smartphones and GoPros. Steinar, the youngest and, as Ploeger told me, the most fashion conscious in his choice of military gear, is filmed by Ploeger watching footage of the moment where he and Carpenter blow up an unexploded mortar shell. In this piece, the 16mm film echoes the era of the weapons that the men are carrying. The manner in which this film is projected reveals the peculiarity of watching a modern day firefight where many of the weapons and uniforms are from the Soviet era, but the men are astute in their engagement of consumer technology in order to document their experiences of the conflict. In Patrol, the Kalashnikov and the smartphone appear to have made an unlikely pairing.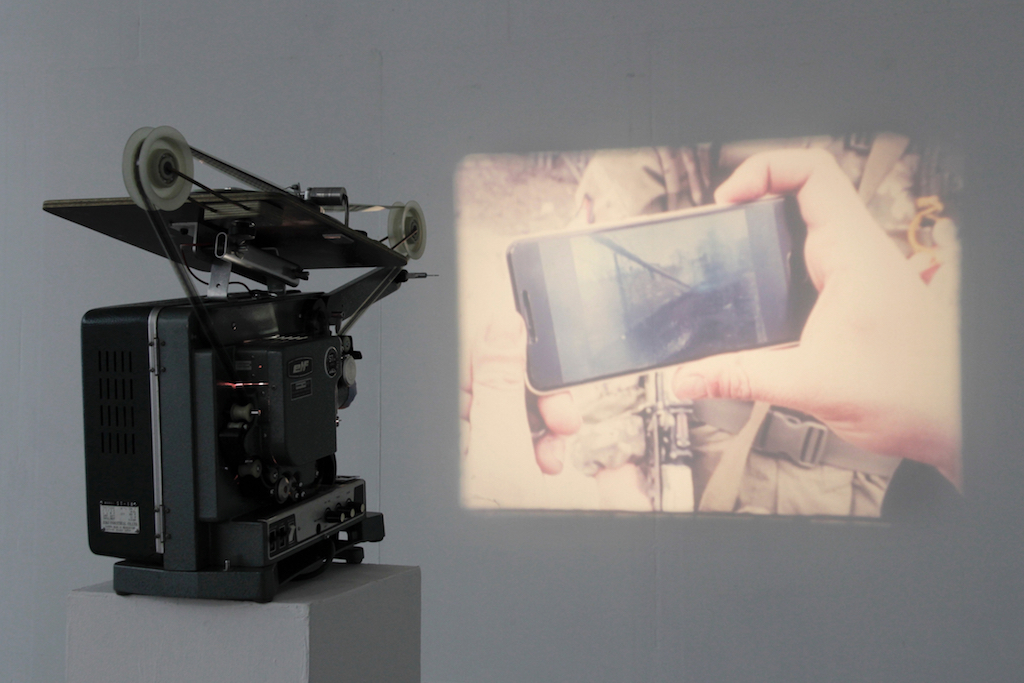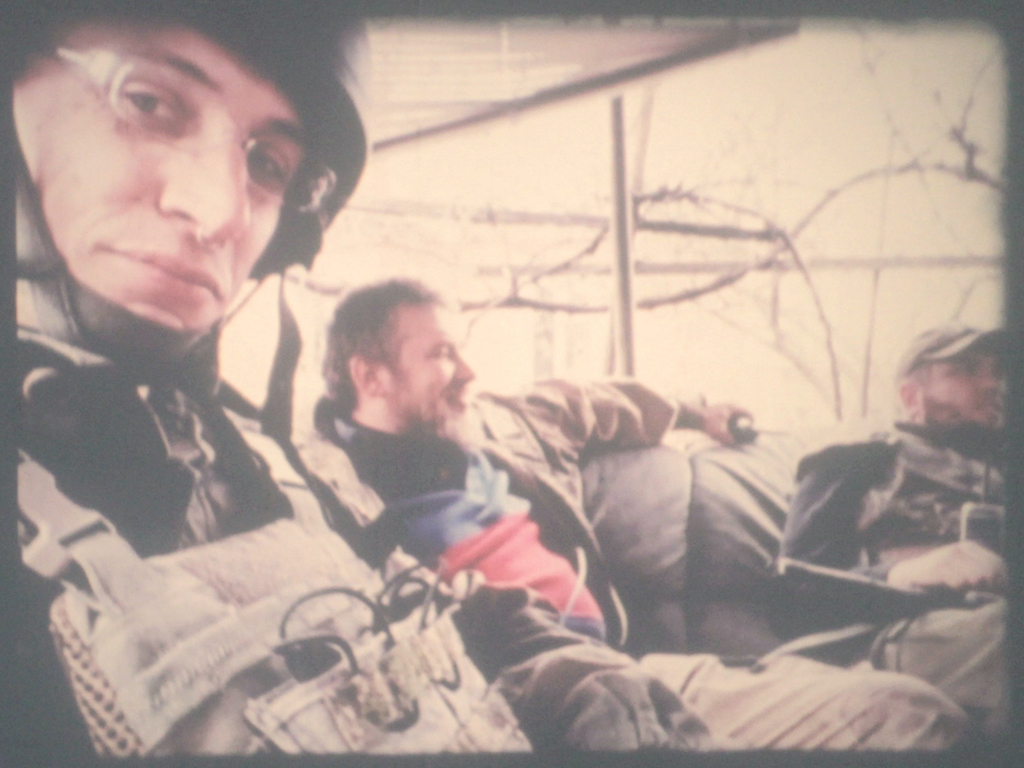 The other work in the show features such seemingly unlikely pairings of traditional paraphernalia of warfare coupled with different pieces of consumer technology. In artefact (2017), the wooden handguard of a Kalashnikov assault rifle is exhibited like an archaeological artefact. Presented on a white plinth, encased in Perspex glass, you can see that the wood of the handguard has been worn with the indents of many hands, signalling its intense use. This carefully exhibited object is just one half of this piece though. The other half consists of digital video animation in which a high-resolution 3D scan of the handguard is inserted onto a digital model of an AK-47. Presented on a large television screen, the digital model, set against a standard blue sky backdrop reminiscent of game development engines, highlights how many of us only come into contact with these types of weapons in a digitised form; whether that be in video games or through action movies. Ploeger's engagement with firearms here reminds me of some of his past work that seems to suggest an interest in these weapons in relation to masculinity and phallic imagery. Dead Ken /Less Pink (2016), a short video installation in which Ploeger fires a small revolver at a Ken doll, speaks to the seemingly indelible relationship between firearms and masculinity. When seen in relation to this video installation, artefact signals an enduring fascination in our shared social psyche with these weapons, but also speaks to how these weapons continue to be consumed and represented in relation to masculine identities.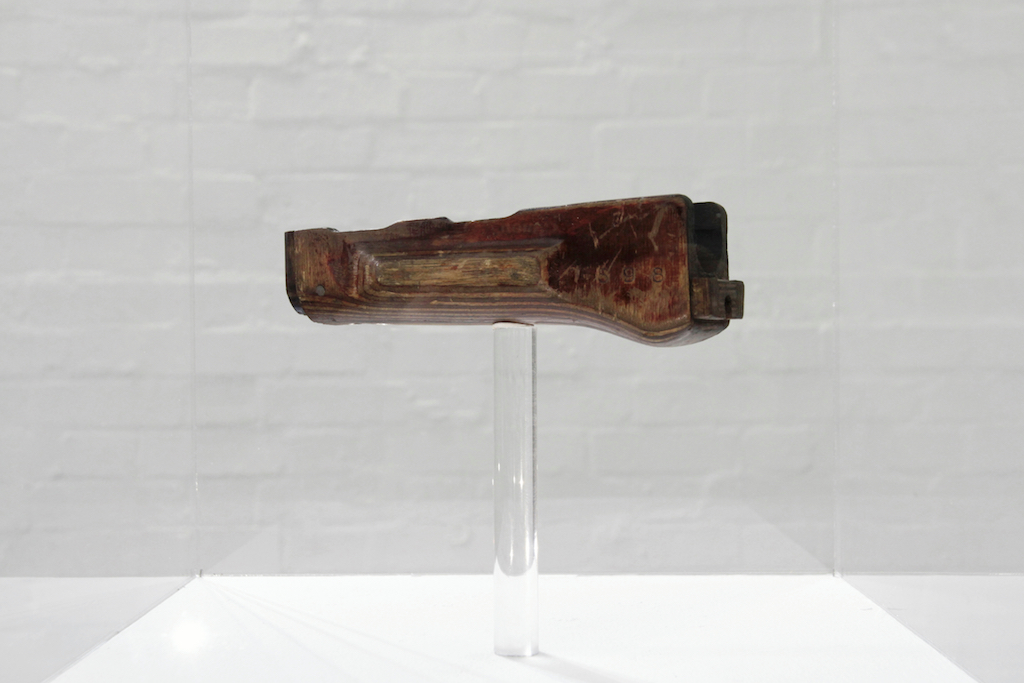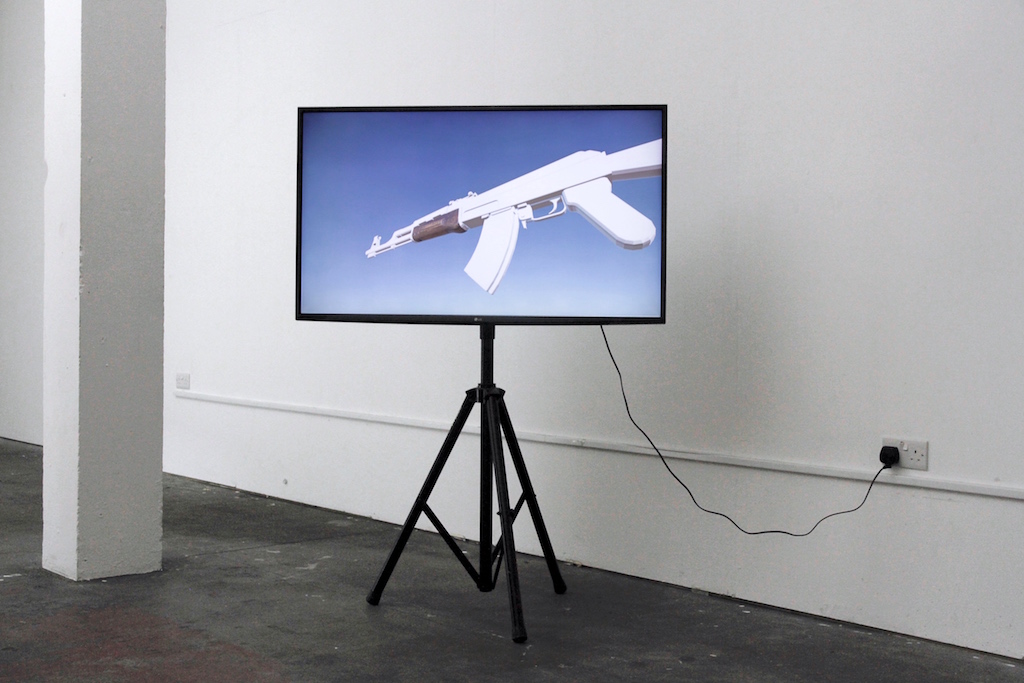 In worse than the quick hours of open battle, was this everlasting preparedness (2017), we can see a more tangible engagement with the co-existence of war artefacts and digital technology. Held in the front pocket of a Soviet army backpack from the Afghanistan War period is a damaged tablet computer which displays a bouncing screensaver, featuring a piece of text from Ernst Jünger's proto-fascist novel Storm of Steel (1920). Jünger describes his experiences of fighting on the frontline during the First World War and the title of this piece is a translation of the text we see displayed on the tablet. Here, the mediatised depictions of war that are so pervasive in popular culture are delineated from the lived experience of Jünger, who discusses this perennial notion of prepared waiting that is a common, though rarely shown, aspect of war. Here, the worn backpack which has been roughly patched and repaired, presumably by the hands of the man to which it used to belong (men's hands are for holding guns rather than sewing needles this bag appears to suggest), holds the similarly worn and damaged tablet. These damaged items speak to Ploeger's past work with electronic waste, which explored our society's proclivity for abandoning technologies when they become outdated or damaged. In this exhibition, however, Ploeger brings together the old and new, using pieces of (almost) electronic waste alongside other material artefacts to further explore the relationship between the material and digital.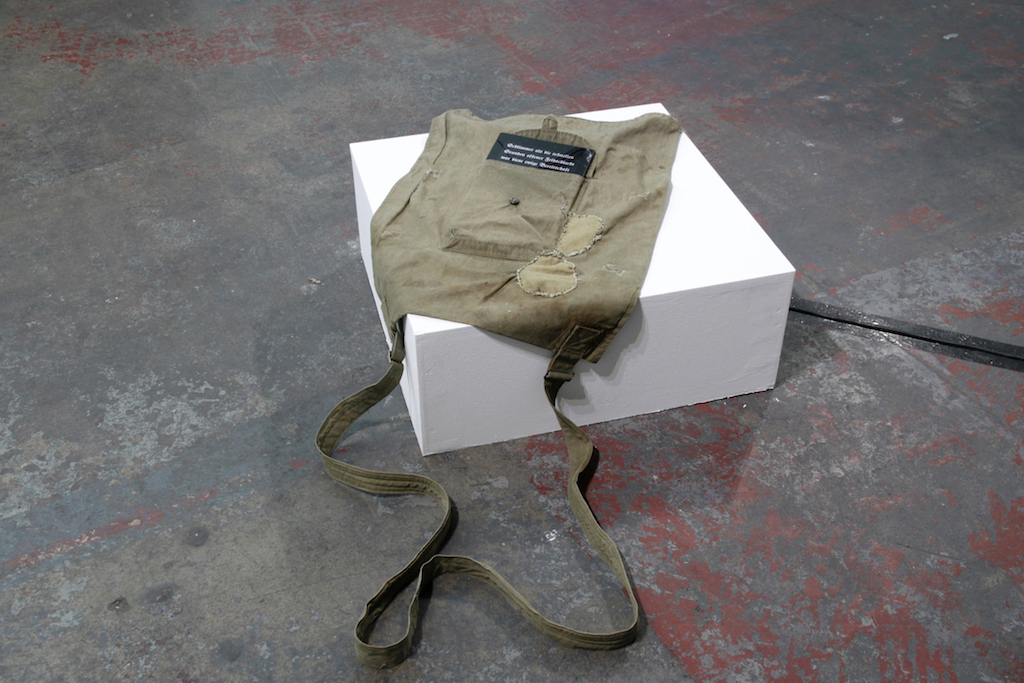 The largest piece of the exhibition, frontline (2016-17), deploys this new and 'clean' technology in order to take us to the frontline. The work consists of a big wooden enclosure of about 5 by 5 meters which can be entered through a small opening on its side. The entirely white inside of the space is brightly lit by a large grid of office LED lighting that hangs above it. This enclosed space speaks to the ways in which Westernised notions of conducting war are now considered clean and sterile as a result of the technology that they use. Before entering the space, you are asked to place foot coverings over your shoes, as if you would be entering a sterile space, a futile gesture it would seem as the same coverings are used again and again. This action, however, also references the cultural shift in how Western nations like to represent high-tech warfare as a clean affair.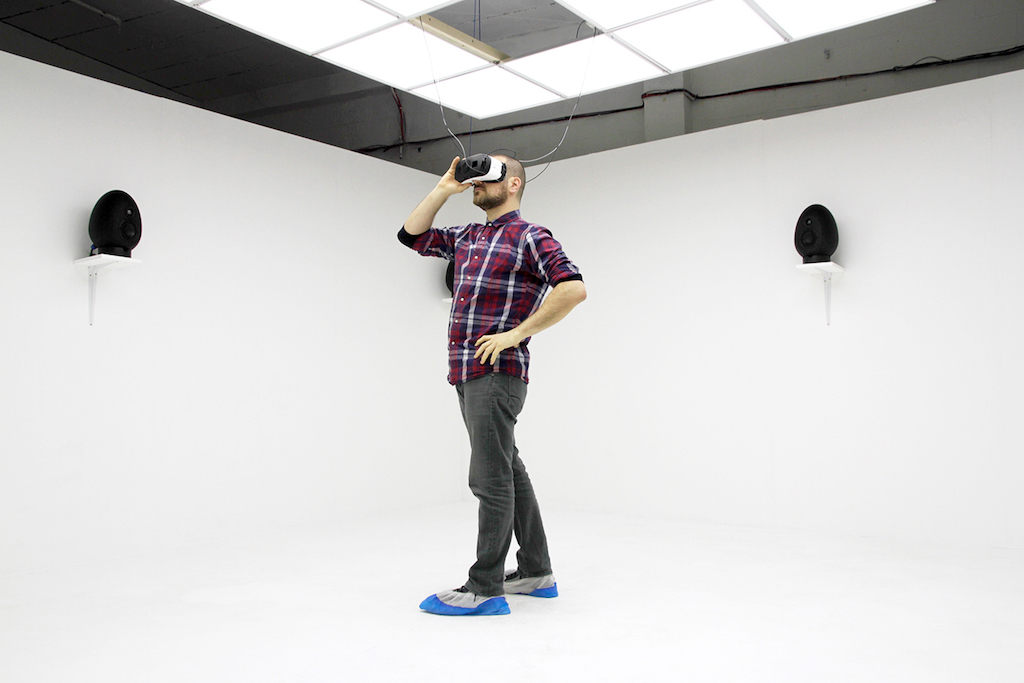 When you enter the enclosure a sensor is triggered and a soundscape of intense gunfire and explosions suddenly surrounds you. It is only until the you place the VR headset on to your eyes that this soundtrack, fit for an action movie, ceases. Roused by the noise, you are then met with a starkly contrasted image to what was suggested through the preceding gunfire soundscape. Rather than an action scene which complements the sounds previously heard, you enter an uneventful immersive video of soldiers smoking and sitting on the frontline. Using an intricate combination of partial video loops, the men appear to be on a never ending smoking break. frontline, subverts our spectacular expectations of warfare and VR technology by creating a VR experience that – after using sound to further heighten our expectations – foregrounds the mundanity of waiting for something to happen that makes up most of everyday life in an area of conflict.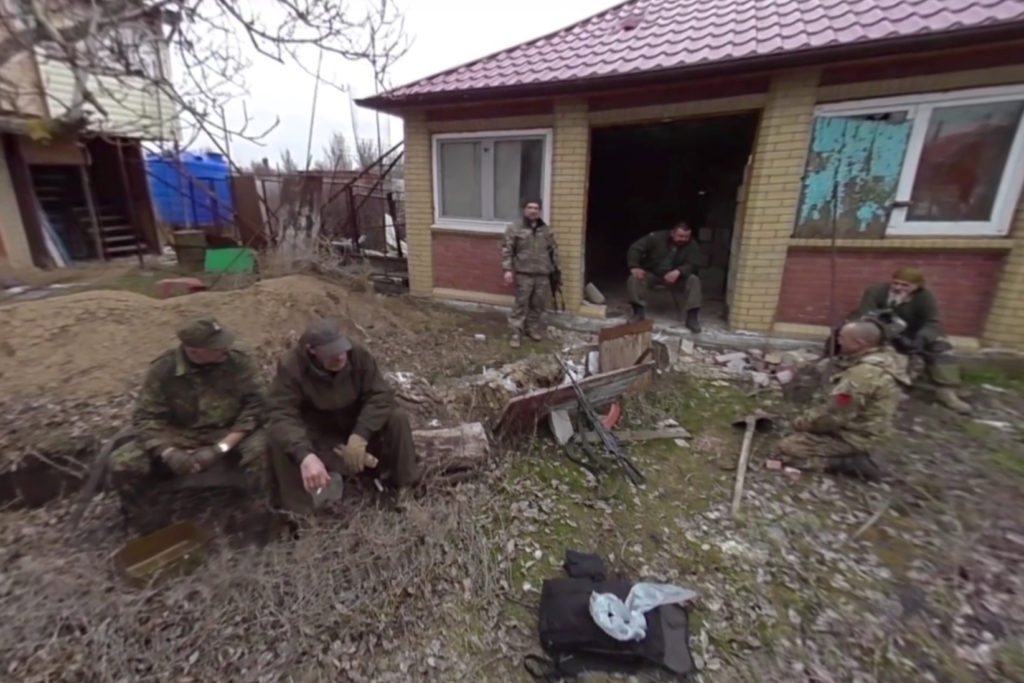 ---
In frontline, as in all of the pieces that are exhibited as part of fronterlebnis, Ploeger subverts our expectations by combining and repurposing technology to make us question our relationship with our technological devices and how we perceive and engage with them in everyday life. In addition to its examination of digital culture, fronterlebnis also seems to suggest that warfare remains a man's game. We encounter men who are still prone to having their boy's toys, but it would seem that in this case they are a GoPro in one hand, and a Kalashnikov in the other. Ploeger's documentation of these conflicts, made with his own personal technological devices, arguably envelopes him in similar mechanisms of fetishization as the soldiers he was with. Neither soldier nor artist seem able to extract themselves from the seductive realm of audiovisual gadgets and self-mediatization in an era of omnipresent digital consumer culture that even reaches as far as the trenches of a dirty ground war.
Disobedient Electronics: Protest is a limited edition publishing project that highlights confrontational work from industrial designers, electronic artists, hackers and makers from 10 countries that disobey conventions. Topics include the wage gap between women and men, the objectification of women's bodies, gender stereotypes, wearable electronics as a form of protest, robotic forms of protest, counter-government-surveillance and privacy tools, and devices designed to improve an understanding of climate change.
I was one of the lucky few to receive a hard copy of this fine little zine, a handmade limited edition of 300, put together by Canadian artist & researcher Garnet Hertz. It features 24 contributions of critical art & design, many of which taking a strong stand on feminism and surveillance /privacy issues, indispensable in current debate. Hertz initiated this publication in response to post-truth politics, in itself a notion shrugged off by populist drivel – "Politicians have always lied." – Ptp- strategies involve the removal of scientific context from popular claims in order to comfort the masses in turbulent times of change. Such trends are noticeable in culture and thus in the DIY- movement too. After a disappointing visit at a maker's fair, which essentially promoted the aesthetic design of blinking LEDs and the 3D-printing of decorative junk in an overall atmosphere of relentless marketing, the manifesto of Disobedient Electronics caught my attention, reflecting my impressions accordingly.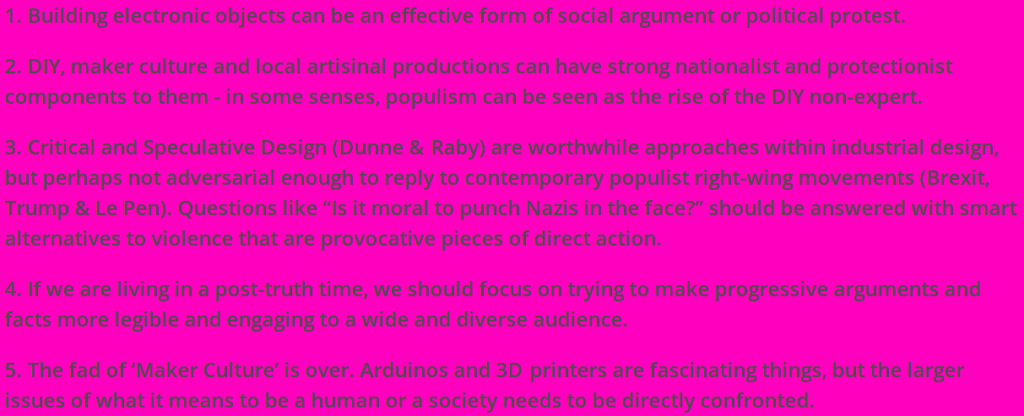 Decline of culture becomes visible as 'popular' themes such as sustainability or integration policies are readily adopted but actually serve as mere buzzwords to increase the marketability of events and products. Since it became profitable to sell electronic boards and a variety of accessory components, the prosumer (Ratto, 2012) is bound to available materials and building instructions and not encouraged to experiment or imagine alternatives to already available commercial design. Therefore many important layers of technology get ignored or regarded as not worth exploring due to the fetishisation of the final result. Although focus should be on action oriented making, tactile objects /installations are important when linguistics fail. We have already incorporated digital structures in every social aspect of our lives and it is difficult to observe let alone express them.
The book treasures the craft of DIY technology development, notably in the surveillance /privacy sector, and highlights the pressing need for knowledge in light of the technological advantage of those in power. Backlash provides us with an educational protest kit, including devices for off grid communication and bugging defence. These are functional but not necessarily designed for situations of conflict, rather for inciting a relevant debate among the general public. Phantom Kitty (work in progress) defies spying by authorities without a warrant and the enforced quantification of humans based on evaluations of online activity. It produces arbitrary noise when the user goes offline to obfuscate browsing habits and it is possible to integrate machine learning algorithms at a later stage, which could mimic or create identity patterns. Phantom Kitty features a stunning mechanical rack for keyboard and mouse operation, fed by a program executing search queries and the access of webpages. The project draws on the eeriness of neither knowing to what extent gathered data is exploited, nor against which parameters and targets it is set.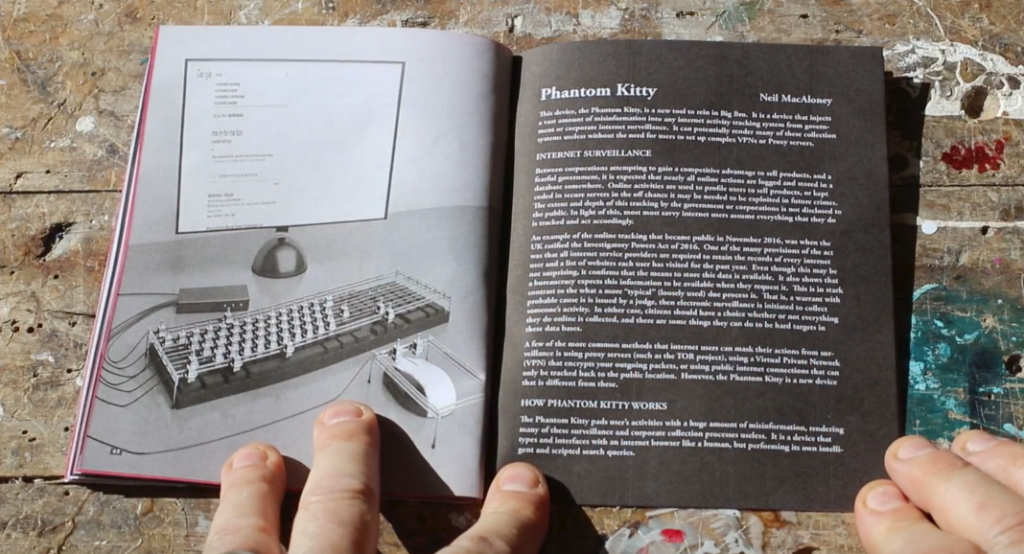 Completely left in the dark about the full scope of exercised control and entailing consequences The transparency grenade by Julian Oliver reminds us that citizens have a right to openness too. The promise of "making the process of leaking information from closed meetings as easy as pulling a pin" is tempting, and in contrast to the opaqueness of corporate and governmental policies, the artwork, other than claiming transparency, is representing it, in its aesthetics, open source software and in the thorough documentation of its engineering process.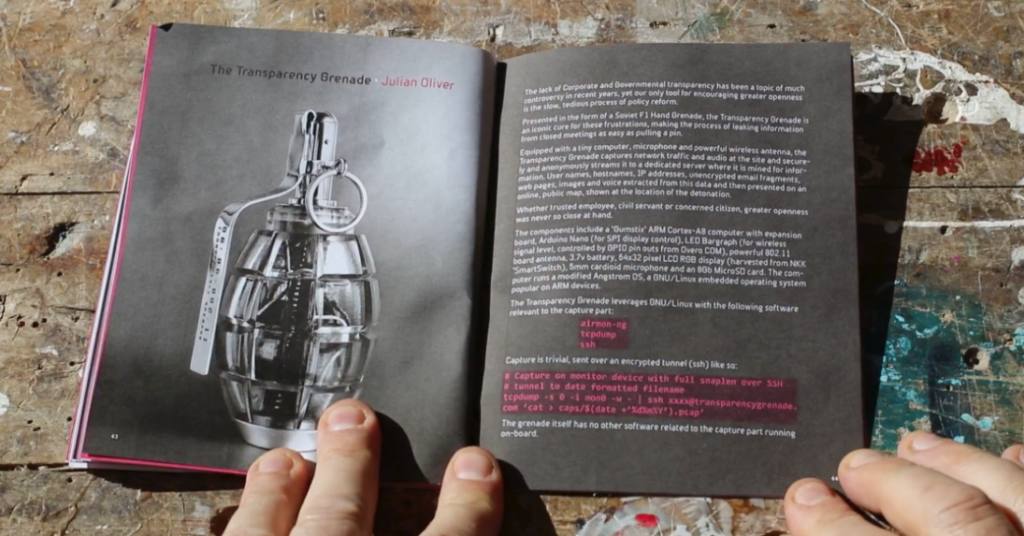 The well written accompanying text of one of my favourite projects PROBOTS describes effective works as "technologies of dissent that work at both the practical level but also the symbolic", by all means valid for those involved making this book, albeit associating with a manifold of disciplines. The tele-operated protest robot certainly meet those demands and can be sent out by the precarious worker as an answer to the efficiency of contemporary policing, simultaneously a metaphor for the limited potential in the act of present-day corporeal protest. The silencing of political resistance happens far beyond the streets and PROBOTS makes an extraordinary research tool for investigating the organisational power of technology, which prevents social progress already from the outset.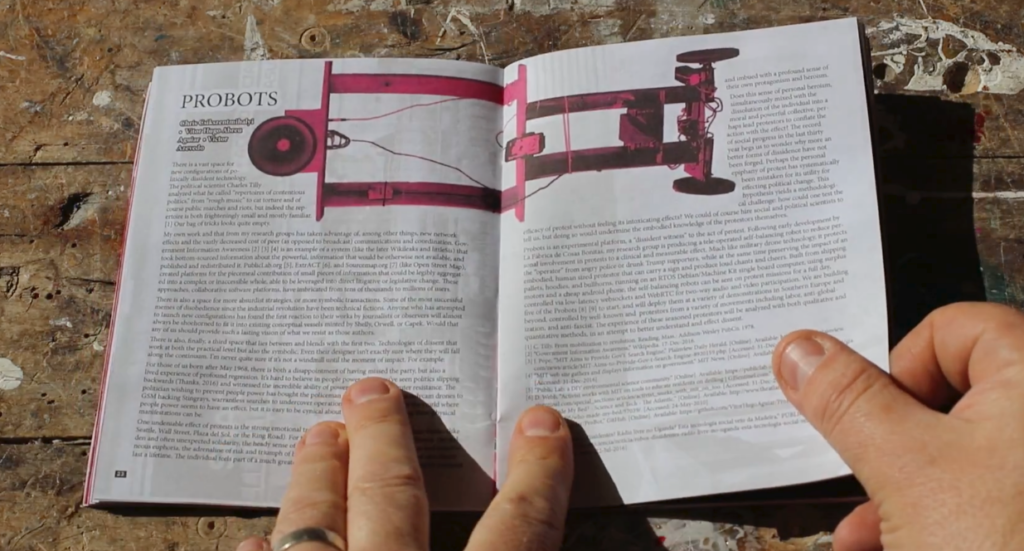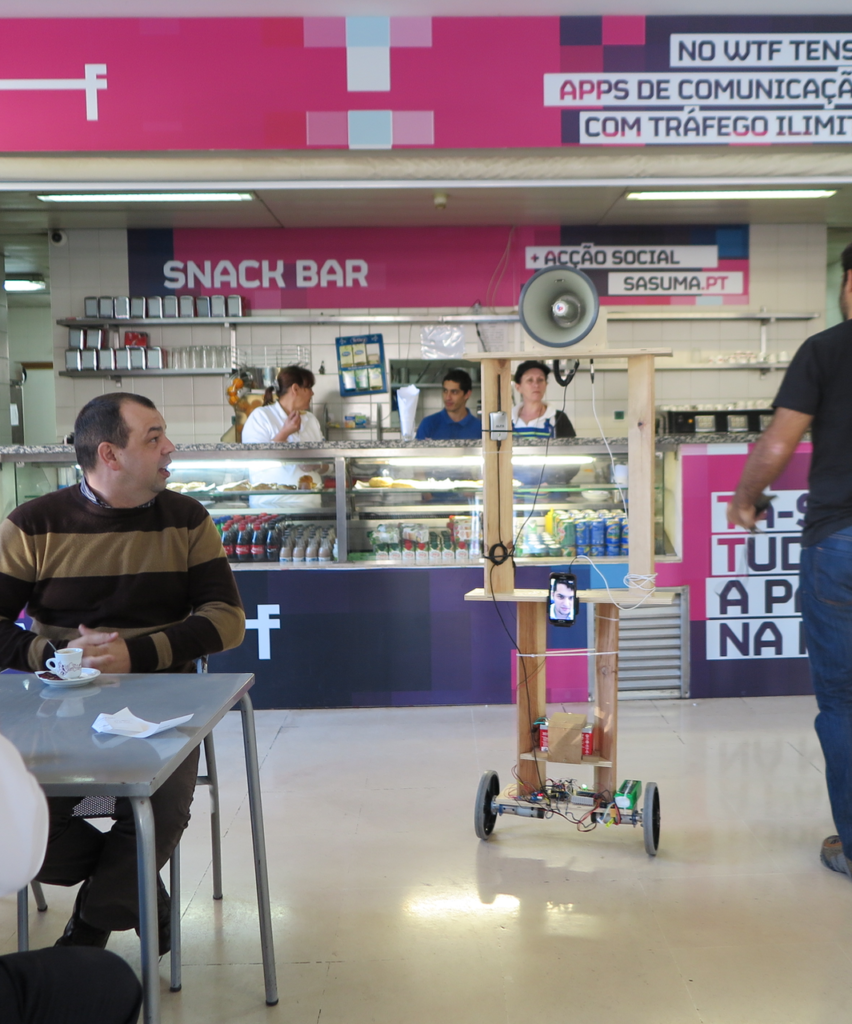 I've only recently discovered that e-textiles is not the same as smart clothing. It is a discipline, focusing on the act of making rather than the actual result, albeit in this case impressive too. The makers of The Knitted Radio approached the craft of knitting and electronics without economic reasoning, a factor which primarily informs the engineering process in industrial design. The liberation from conventional standards brought about alternative forms and methods, that is a sweater that also functions as a FM radio transmitter and the skill to knit electronic components /devices such as resistors, capacitors and coil with conductive yarn, an off-the-shelf material. The knitting instructions for the sweater are available online, it can provide a free of cost, independent communications infrastructure. The concept was inspired by the protests on Taksim Square, Istanbul, Turkey, and associated violations of freedom of speech. A Piece of the Pie Chart: Feminist Robotics by Annina Rüst illuminates gender inequity in form of a production line, which decorates edible pies with pie charts, depicting gender ratios in tech affiliated corporate or public organisations.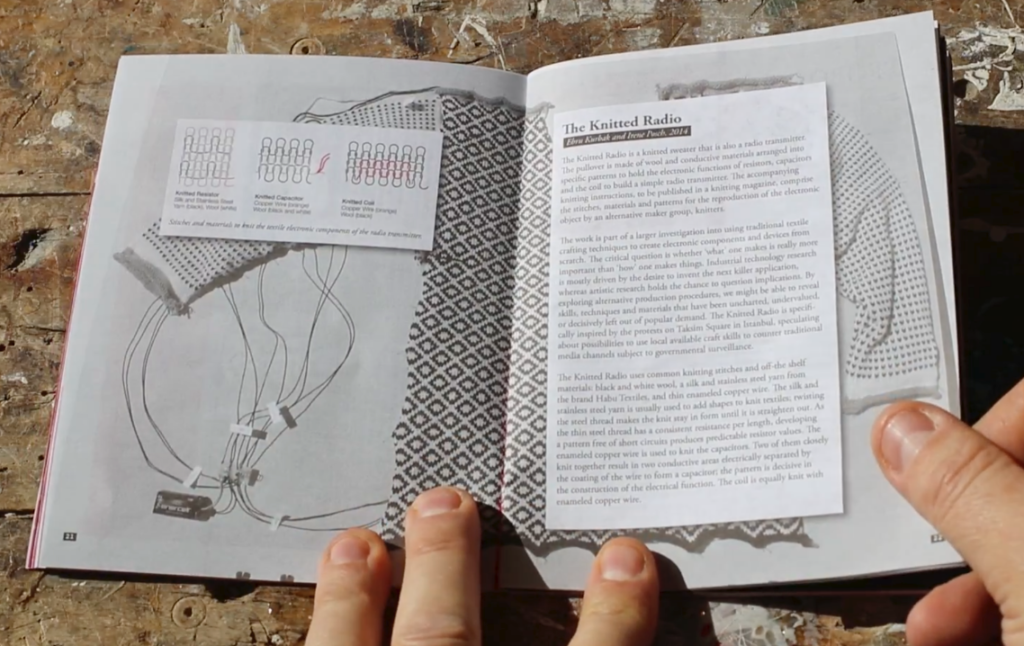 Women are generally underrepresented in tech related workplaces and users of the gallery installation can browse and choose between various data sets on gender in technology, e.g. computer science graduation rates, before an ensemble of household applications and semi-pro robotics sorts the cake. The mere visualisation of data was not radical enough, so the finished pie can be shipped to the institution of which data (and gender inequity) originates, and where it can be consumed accordingly. Women have to be content with the smaller piece of the cake, also symbolic for economic inequality and the missed out experience of working in tech. Rüst was not satisfied with the claim that women are just not interested in tech, and further qualitative research in feminist technology showed that women are rather put off by its hostile macho culture and that technological pedagogy simply failed to inspire girls.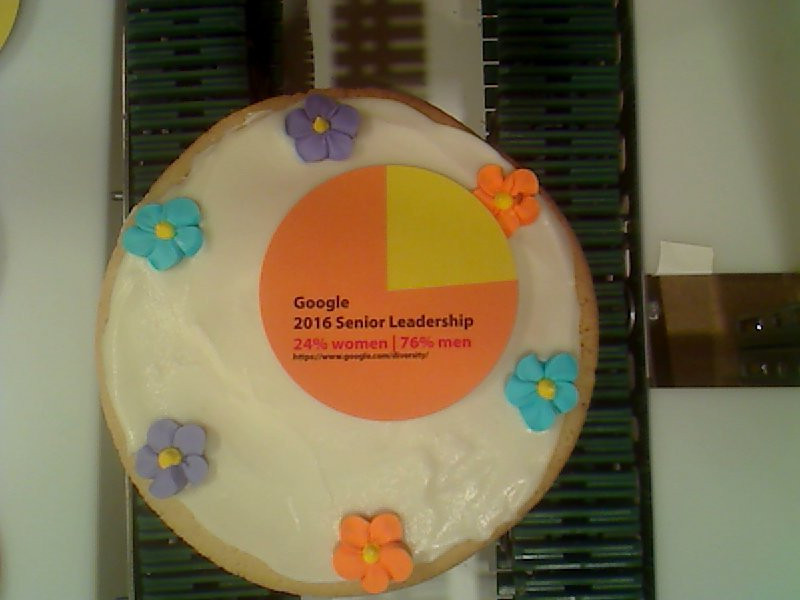 Tweeted image of a finished pie. Source: https://twitter.com/PieChartRobot
The PROTEST issue lives up to its title and emphasizes on projects, which propose hands-on political action and intervention with society, not in terms of providing solutions but to spark much needed discussion and inspire disruptive technology. Disobedient Electronics follows the publishing project Critical Making, which comprised 11 issues, so there is hopefully some more to come.
The word speculation is defined as 'the forming of a theory or conjecture without firm evidence'. The act of speculating was predominantly popularised with the rise of the stock market, however, recent environmental destruction and technological advancements have prompted a rich pool of speculation about the future of our planet, our species and our connection to other facets of life. Tomorrows: Urban Fictions for Possible Futures is such an exhibition, compromised of imaginative narratives speculating the future of our cities – how they will look, how they will function and the degree by which these cities will form new types of citizens directly operating within the network of that future city. In the context of the exhibition's content, fiction is transformed into mighty medium, utilised to share the ideas of thirty-two individual and group projects. These projects envision and share their anticipation for the future as a means of addressing socio-economic, environmental and other issues we face today with a goal to reassess of our presence on the planet.
Tomorrows was curated by Daphne Dragona and Panos Dragonas, and organised by the Onassis Cultural Centre in Athens – a city experiencing continual fluctuations since the end of World War II. The location itself, Diplarios School (a place of former learning and listening), stresses the aspect of sharing and the telling of important narratives determining the shaping of the future. The exhibition begins with a didactic, yet absolutely accessible approach to understanding the notion of developing a future city. As a starting point, the exhibition borrows and advances the ideas of Doxiadis' speculative plans of an Ecumenopolis from 1959-1974. More particularly, we must take into consideration the term 'ekistics' which was coined by Doxiadis in 1942 as derived from the ancient Greek noun οίκιστής, meaning a person who installs settlers in a place or creates a settlement.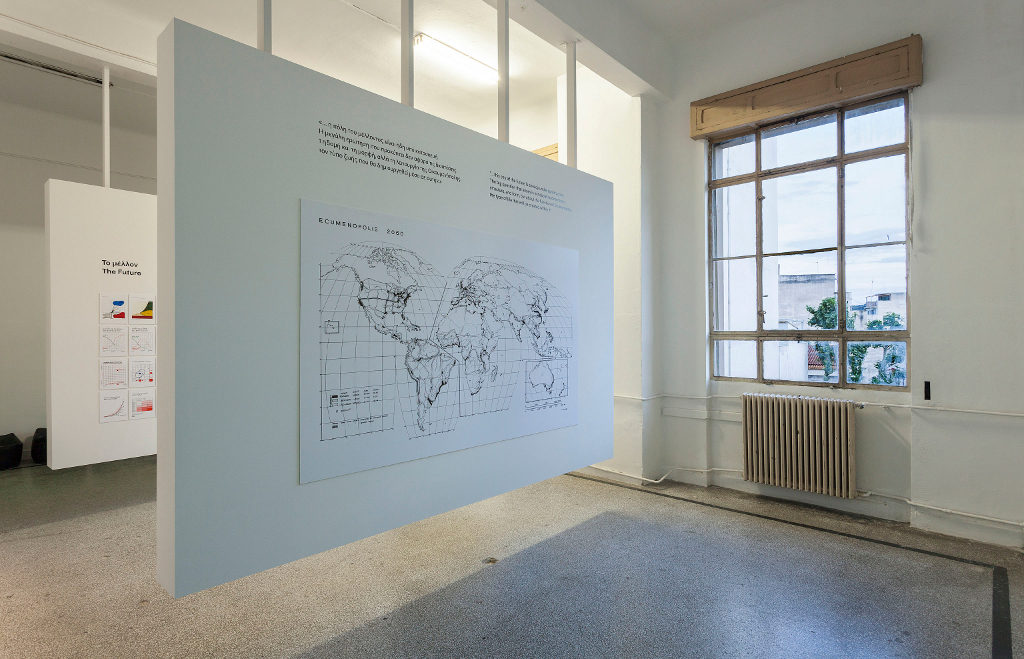 In order to create the cities of the future, we need to systematically develop a science of human settlements. This science, termed Ekistics, will take into consideration the principles man takes into account when building his settlements, as well as the evolution of human settlements through history in terms of size and quality. – Doxiadis
Doxiadis was a visionary and the decision to reinstate his work within the framework of the exhibition was incredibly rewarding for visiting audiences. He anticipated that cities were to become more than global in order to accommodate an ever changing human and non-human environment – as one huge network perhaps out of the control of human capacities. Ecumenopolis is installed on large hanging panels in the first room of Tomorrows and acts as a reference point to the five themes developed: Post-Natural Environments, Shells & Co-Habitats, Networks & Infrastructures, Algorithmic Society and Beyond Anthropos. These themes resonate to the acceleration of our urban development hybridising the natural with the artificial, future network infrastructures of our habitats becoming dependent on inhuman mediation, the possibility of an omnipresent and undemocratic structure within the city through the interdependence of economy, ecology and technology, possible forms of organisation to encourage modes of co-existence within the city, and technological singularity as challenging human sovereignty within our future cities. Doxiadis work gives way to the participants who are primarily artists, architects and designers, to explore these imminent futures of our present planet's landscape.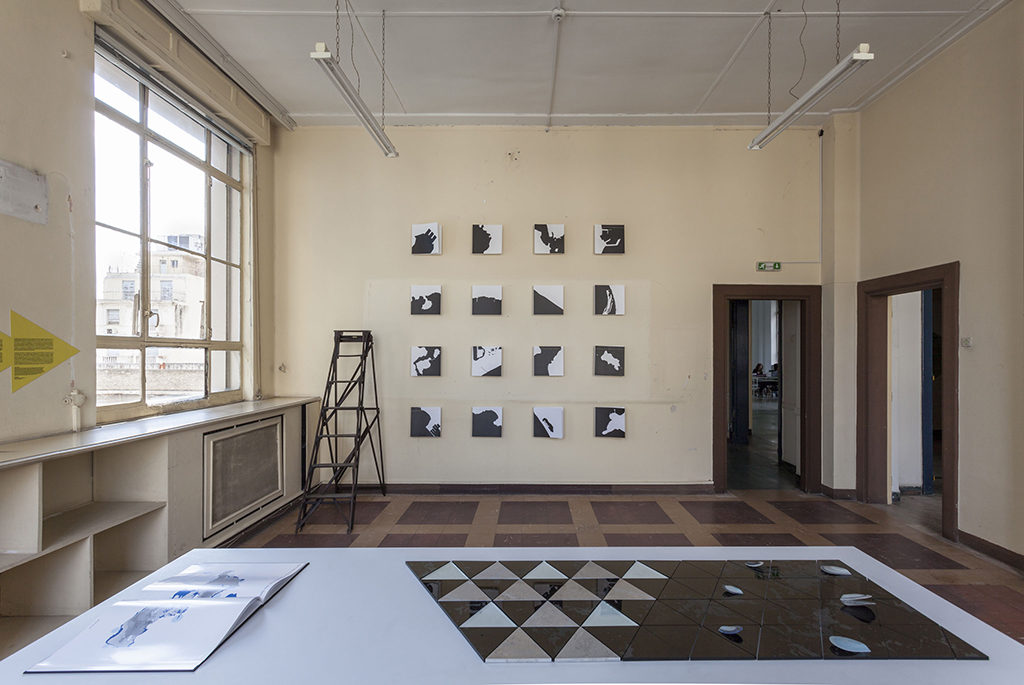 Coastal Domains is an on-going research project exploring the future landscaping of coastal territories in the Northeastern Mediterranea facilitated by Demetra Katsota along with 4th and 5th year students at the Department of Architecture, University of Patras. The installation Coastal Domains was made up of sixteen books, acting as case studies, secured on the wall and a ladder to reach them, encouraging brave visitors to climb and read them – a curatorial decision simultaneously inspiring participation and learning as it is explicitly reminiscent of old archival libraries. The 7th book in the series of sixteen engaged with the coast land of Kanoni and its Sea Lane on the island of Corfu, the research undertaken by Stella Andronikou and Iasonas Giannopoulos. As with each book in the series, the research was made up historically archived material, such as cartographical maps from different centuries and topographical material including the arrangement of roads and different fauna on the island thus unveiling issues of coastal development, the implications of an upsurge of tourism in the 1970s and possible environmental issues. Coastal Domains speculates and designs possible structures for the reinforcement of sustainability, devising various strategies that can protect the coasts of the Mediterranean Sea.
Tomorrows is particularly involved in engaging its locality of the Mediterranean, treating it as a microcosm for observing the implications of the future's development. Silo(e)scapes by Zenovia Toloudi envisages a hybrid of a seed bank and museum for Mediterranea plant species as a tool inspiring a sharing economy. The installation of Silo(e)scapes required the audience to cradle themselves into the centre of the structure in order to experience the transparent silos-displays of the community LEGO labourers sharing their local seeds at the seedbanks. The audience suddenly find themselves in a possible future reality, all encompassing of agrarian sounds and 360 views of kaleidoscopic mirrors that trick perception of your depth of field. Almost theatrical, Silo(e)scapes is immersive and constructs a space where the audience is directly in conflict with the imminent shortage of supplies due to harmful environmental issues and increasing urban development. The audience becomes entirely physically encased in Silo(e)scapes, as a result inciting the plausibility of this future reality.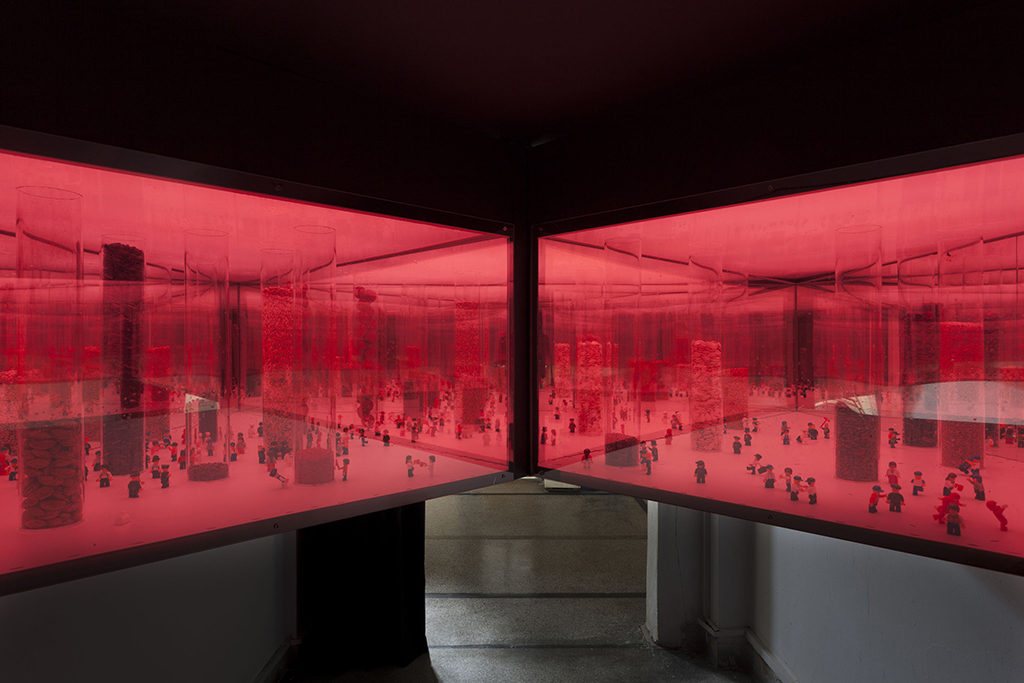 A Cave for an Unknown Traveler by Aristide Antonas introduces another form of habitable landscape for the possible future. The installation is structured like a 'fake archaic cave' that is buries inside it a structure as luxurious as a modern hotel room, invisible to the eye from the outside. The installed structure of the cave is complimented by a large sketchbook denoting the various features of the Cave for an Unknown Traveler. Antonas' work brings to mind the concept of Plato's Allegory of the Cave. The infrastructure and services within Antonas' cave can be taken in context of the prisoner's in Plato's cave perceiving shadows as objects when in fact they are a mere representation of their physical form grasped by our mind. In this context, Antonas' invisible cave begins to resemble an imagined safe haven for a traveling passer-by.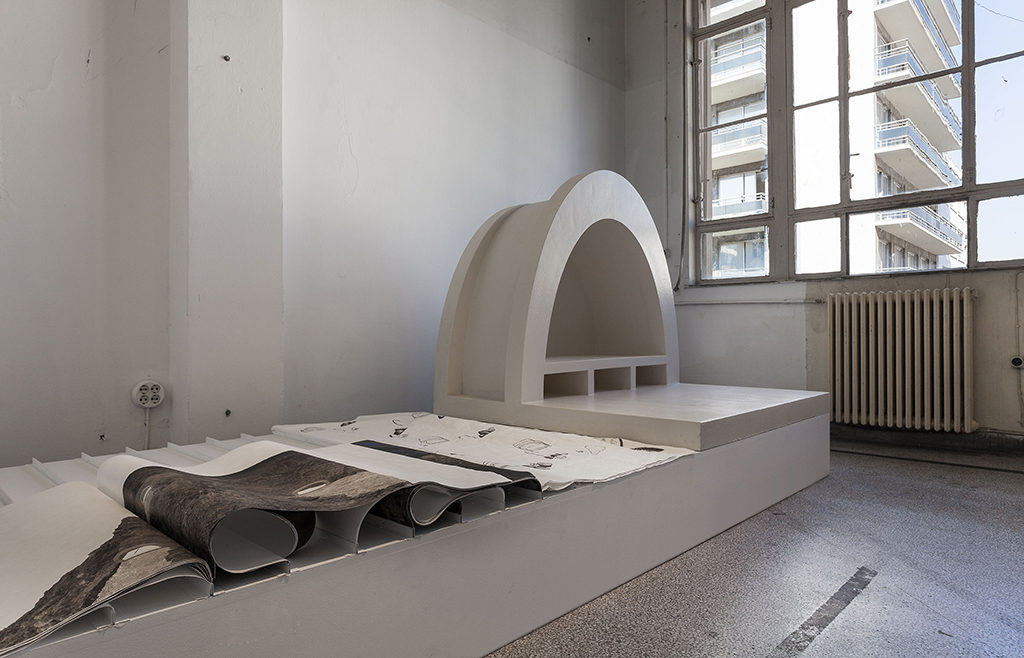 The highlight of Tomorrows is undoubtedly Liam Young's commissioned work Tomorrow's Storeys – a two-channel video installation isolated in a dark room with modular seating. The title of the work acts with a double meaning as in storeys of a building and the stories being told through them. The content, or stories, narrated in Tomorrow's Storeys were first conceived in a workshop in mid-March as part of the programming to the run-up of the exhibition opening in mid-May. The workshop of visual artists, authors, photographers, directors and architects produced an abundance of local stories in the future city of Athens, particularly a future Athenian apartment block. In Tomorrows Storeys all apartments blocks have the ability to reorganise themselves automatically – modular entities like seating in the installation. The videos convey intricately detailed shots of the façade of these apartments as well as its contents recalling film shot by aerial drones and ads for IKEA products. The audience act as omnipresent eavesdroppers drifting from storey to storey into the conversations and local happenings in these apartment blocks. These apartment blocks of the future have found a way to reorganise themselves where Athenians are not given a minimum basic income but instead a minimum basic floor area – the occupants do not own an apartment but a specific volume of space which does not have a fixed location. Amongst these stories of shifting permanence and impermanence one stood out: that of an old grandmother dying and the family arguing about who takes over her volume of space as one character cries quite humorously "Can't you wait until the funeral?!". Tomorrows Storeys are part of a city where bots constantly reorganise your living in a form of urban computation according to best fit the needs of its citizens. In this way, a living space becomes a temporality, alluding the audience to question if their home is real if it always available for smooth transition to another space.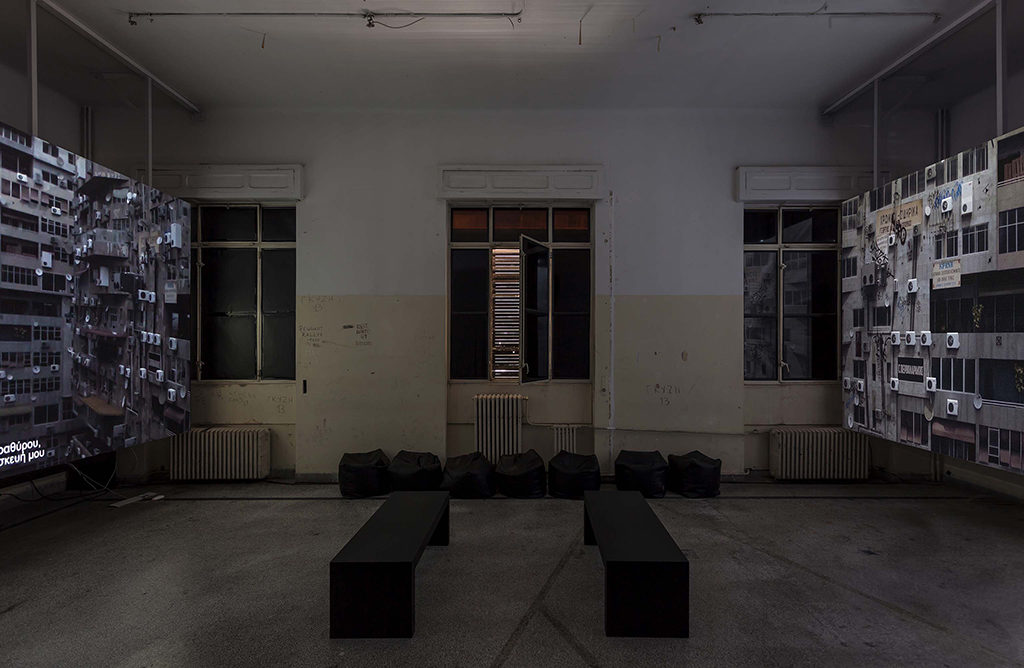 Within urban infrastructures are the human entities contained within them, as Young's work emphasises, however some of these are becoming increasingly inhuman as the theme of 'Beyond Anthropos' suggests. The notion of inhuman or machinic entities being able to replicate human form and intelligence is common and highly popularised since the 1980s as films such as Bladerunner introduced global audiences to 'replicas'. Today, AI is becoming so intelligent that it urges inventors such as SpaceX and Tesla CEO/founder Elon Musk to warn for correct precautions to be taken when engaging with AI, in fact comparing it to 'summoning the demon' and naming it 'our biggest existential threat' in the 2014 AeroAstro 1914-2014 Centennial Symposium by MIT. The work of !Mediengruppe Bitnik, coming only a couple of years after Musk's interview, exemplify the relationship between human and machine. Ashley Madison Angels at Work in Athens is a research project initiated after the data of the Canadian online dating service was leaked in 2015. The leak revealed that Ashley Madison had created 75,000 female chatbots that catered to 32 million mostly male users, engaging them in costly internet intimacy. In Athens, there were 165 fembots for around 22,910 registered users. The installation was comprised of seven of these 165 fembots active in Athens, and were installed in a room dimmed by a fluorescent pink light with screens on tripods similar to average human height and alluding to a physical form. The fembots, programmed to be of different ages, utter pick-up lines they are allocated from a predetermined list to the 22,910 registered users who could not distinguish that they were talking to a machine and not a real person.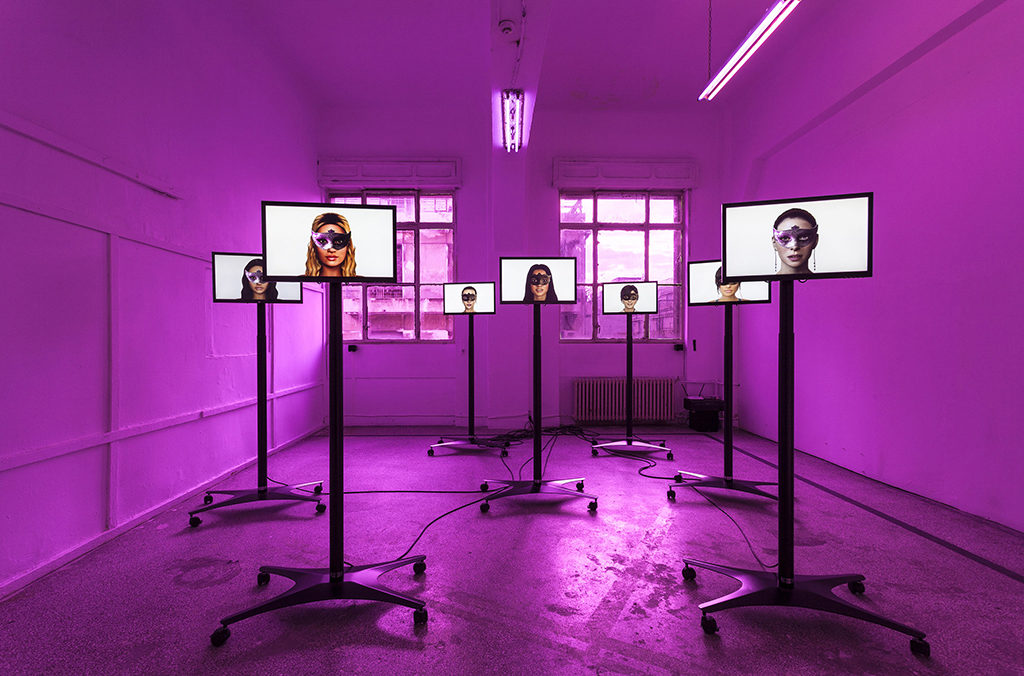 Tomorrows does not wish to present us a future as a prediction or as a form of critique of these technological, environmental and urban developments. Rather, it presents the future as an on-going participatory project, as a tool that can be utilised to examine who we are and where we are at in present tense, as well as where we could be potentially going. These urban fictions of our possible futures, are a speculative activity with the capability of making us more aware of the changes that have taken place whilst simultaneously illustrating the changes that are afoot. Tomorrows was a show that took place over six months ago, but its value to the discourse of the future will remain timeless for decades to come.
The New Observatory opened at FACT, Liverpool on Thursday 22nd of June and runs until October 1st.
The exhibition, curated by Hannah Redler Hawes and Sam Skinner, in collaboration with The Open Data Institute, transforms the FACT galleries into a playground of micro-observatories, fusing art with data science in an attempt to expand the reach of both. Reflecting on the democratisation of tools which allow new ways of sensing and analysing, The New Observatory asks visitors to reconsider raw, taciturn 'data' through a variety of vibrant, surprising, and often ingenious artistic affects and interactions. What does it mean for us to become observers of ourselves? What role does the imagination have to play in the construction of a reality accessed via data infrastructures, algorithms, numbers, and mobile sensors? And how can the model of the observatory help us better understand how the non-human world already measures and aggregates information about itself?
In its simplest form an observatory is merely an enduring location from which to view terrestrial or celestial phenomena. Stone circles, such as Stonehenge in the UK, were simple, but powerful, measuring tools, aligned to mark the arc of the sun, the moon or certain star systems as they careered across ancient skies. Today we observe the world with less monumental, but far more powerful, sensing tools. And the site of the observatory, once rooted to specific locations on an ever spinning Earth, has become as mobile and malleable as the clouds which once impeded our ancestors' view of the summer solstice. The New Observatory considers how ubiquitous, and increasingly invisible, technologies of observation have impacted the scale at which we sense, measure, and predict.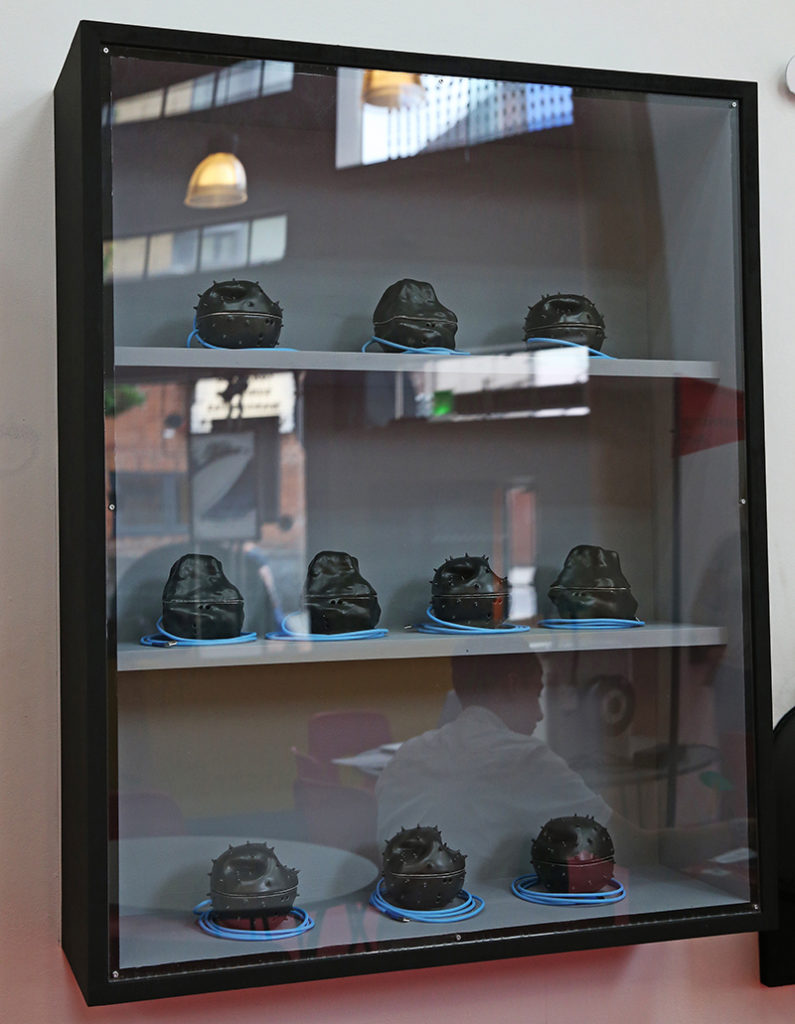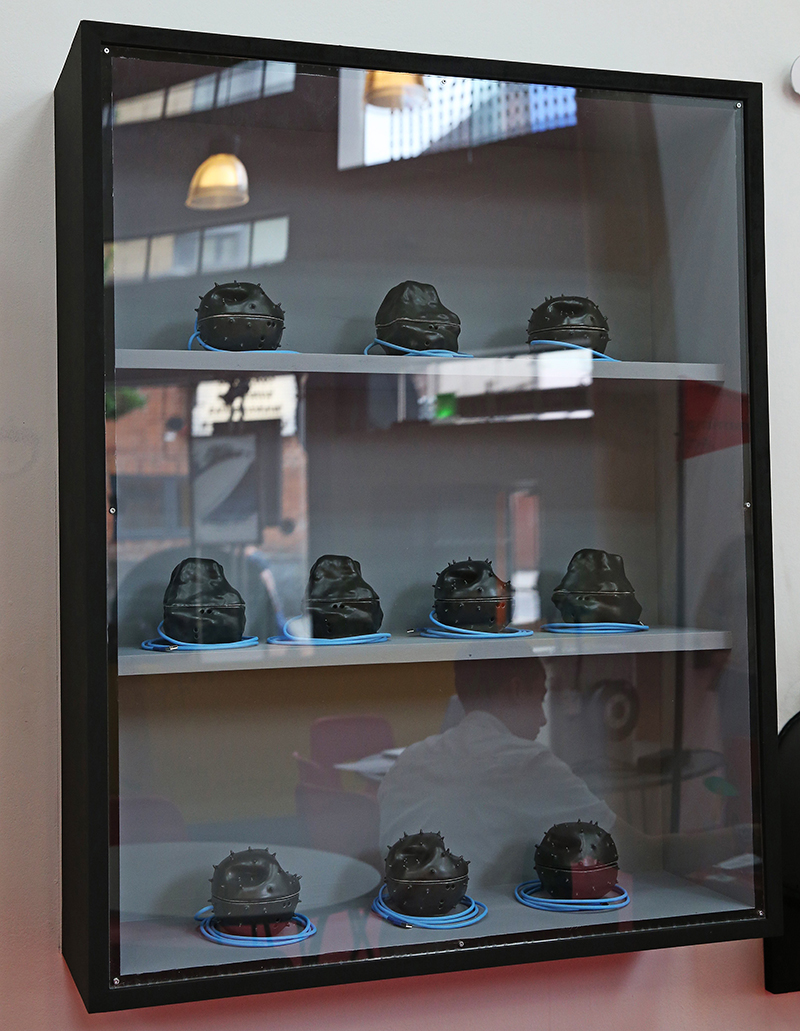 The Citizen Sense research group, led by Jennifer Gabrys, presents Dustbox as part of the show. A project started in 2016 to give residents of Deptford, South London, the chance to measure air pollution in their neighbourhoods. Residents borrowed the Dustboxes from their local library, a series of beautiful, black ceramic sensor boxes shaped like air pollutant particles blown to macro scales. By visiting citizensense.net participants could watch their personal data aggregated and streamed with others to create a real-time data map of local air particulates. The collapse of the micro and the macro lends the project a surrealist quality. As thousands of data points coalesce to produce a shared vision of the invisible pollutants all around us, the pleasing dimples, spikes and impressions of each ceramic Dustbox give that infinitesimal world a cartoonish charisma. Encased in a glass display cabinet as part of the show, my desire to stroke and caress each Dustbox was strong. Like the protagonist in Richard Matheson's 1956 novel The Shrinking Man, once the scale of the microscopic world was given a form my human body could empathise with, I wanted nothing more than to descend into that space, becoming a pollutant myself caught on Deptford winds.
Moving from the microscopic to the scale of living systems, Julie Freeman's 2015/2016 project, A Selfless Society, transforms the patterns of a naked mole-rat colony into an abstract minimalist animation projected into the gallery. Naked mole-rats are one of only two species of 'eusocial' mammals, living in shared underground burrows that distantly echo the patterns of other 'superorganism' colonies such as ants or bees. To be eusocial is to live and work for a single Queen, whose sole responsibility it is to breed and give birth on behalf of the colony. For A Selfless Society, Freeman attached Radio Frequency ID (RFID) chips to each non-breeding mole-rat, allowing their interactions to be logged as the colony went about its slippery subterranean business. The result is a meditation on the 'missing' data point: the Queen, whose entire existence is bolstered and maintained by the altruistic behaviours of her wrinkly, buck-teethed family. The work is accompanied by a series of naked mole-rat profile shots, in which the eyes of each creature have been redacted with a thick black line. Freeman's playful anonymising gesture gives each mole-rat its due, reminding us that behind every model we impel on our data there exist countless, untold subjects bound to the bodies that compel the larger story to life.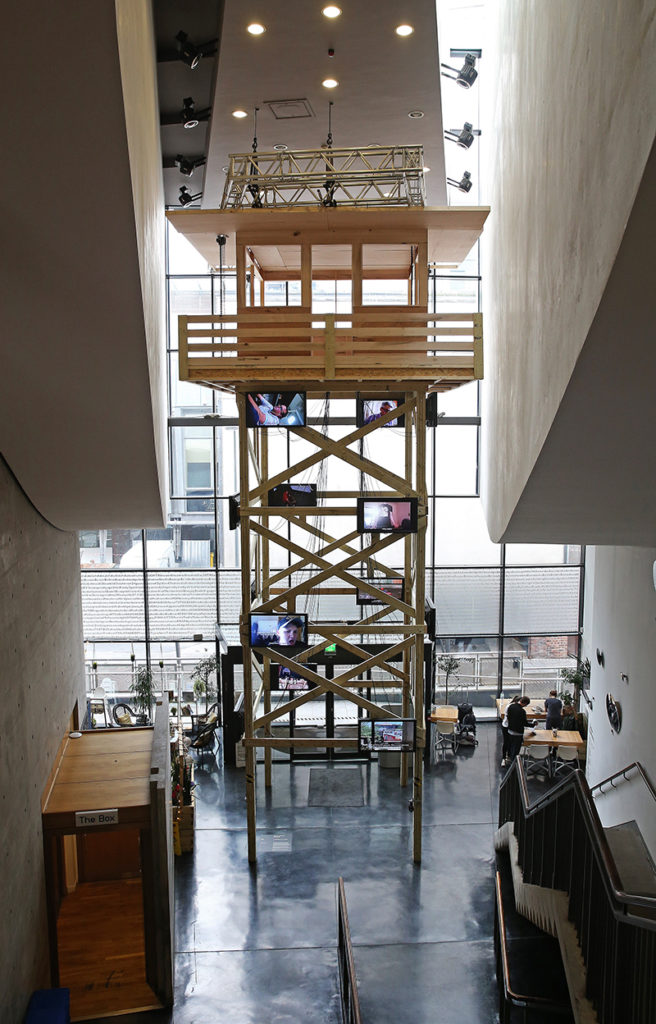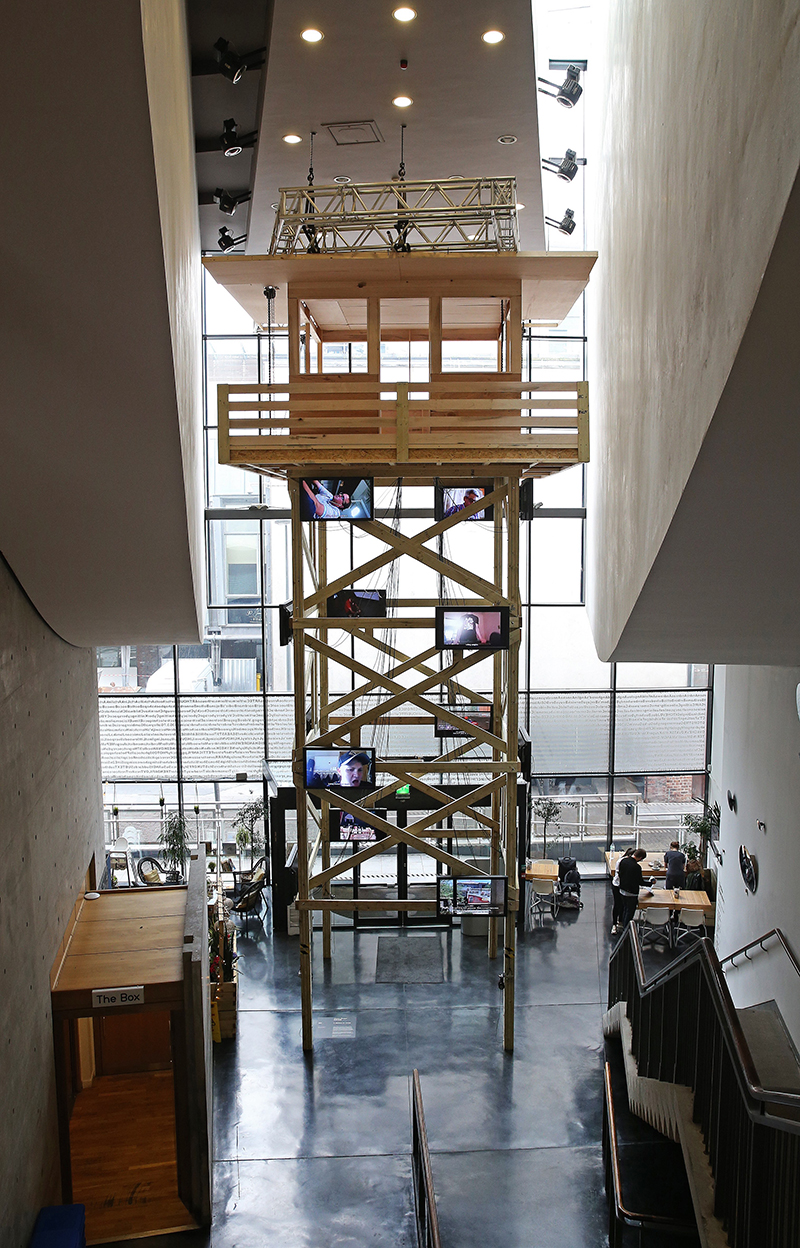 Natasha Caruana's works in the exhibition centre on the human phenomena of love, as understood through social datasets related to marriage and divorce. For her work Divorce Index Caruana translated data on a series of societal 'pressures' that are correlated with failed marriages – access to healthcare, gambling, unemployment – into a choreographed dance routine. To watch a video of the dance, enacted by Caruana and her husband, viewers must walk or stare through another work, Curtain of Broken Dreams, an interlinked collection of 1,560 pawned or discarded wedding rings. Both the works come out of a larger project the artist undertook in the lead-up to the 1st year anniversary of her own marriage. Having discovered that divorce rates were highest in the coastal towns of the UK, Caruana toured the country staying in a series of AirBnB house shares with men who had recently gone through a divorce. Her journey was plotted on dry statistical data related to one of the most significant and personal of human experiences, a neat juxtaposition that lends the work a surreal humour, without sentimentalising the experiences of either Caruana or the divorced men she came into contact with.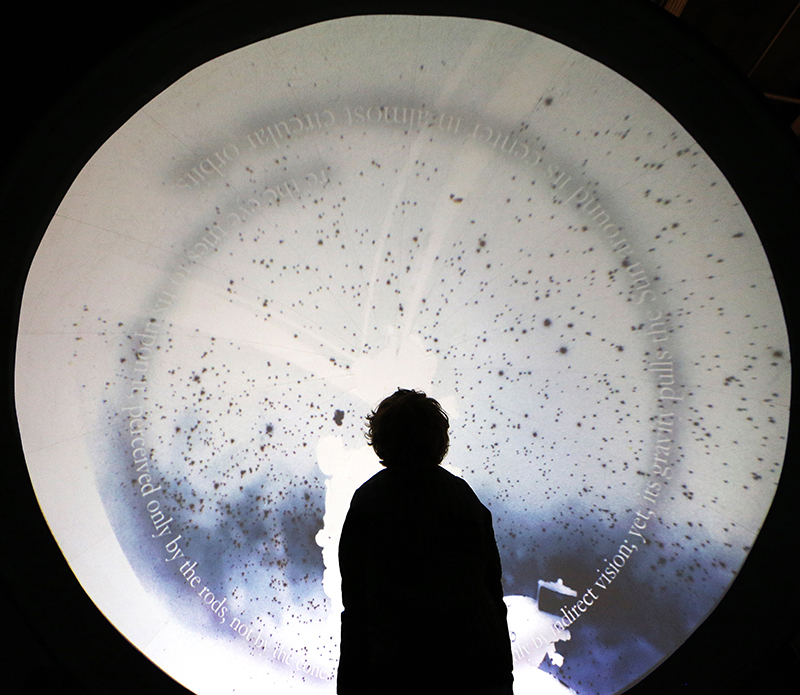 The New Observatory features many screens, across which data visualisations bloom, or cameras look upwards, outwards or inwards. As part of the Libre Space Foundation artist Kei Kreutler installed an open networked satellite station on the roof of FACT, allowing visitors to the gallery a live view of the thousands of satellites that career across the heavens. For his Inverted Night Sky project, artist Jeronimo Voss presents a concave domed projection space, within which the workings of the Anton Pannekoek Institute for Astronomy teeter and glide. But perhaps the most striking, and prominent use of screens, is James Coupe's work A Machine for Living. A four-storey wooden watchtower, dotted on all sides with widescreen displays wired into the topmost tower section, within which a bank of computer servers computes the goings on displayed to visitors. The installation is a monument to members of the public who work for Mechanical Turk, a crowdsourcing system run by corporate giant Amazon that connects an invisible workforce of online, human minions to individuals and businesses who can employ them to carry out their bidding. A Machine for Living is the result of James Coupe's playful subversion of the system, in which he asked mTurk workers to observe and reflect on elements of their own daily lives. On the screens winding up the structure we watch mTurk workers narrating their dance moves as they jiggle on the sofa, we see workers stretching and labelling their yoga positions, or running through the meticulous steps that make up the algorithm of their dinner routine. The screens switch between users so regularly, and the tasks they carry out as so diverse and often surreal, that the installation acts as a miniature exhibition within an exhibition. A series of digital peepholes into the lives of a previously invisible workforce, their labour drafted into the manufacture of an observatory of observations, an artwork homage to the voyeurism that perpetuates so much of 21st century 'online' culture.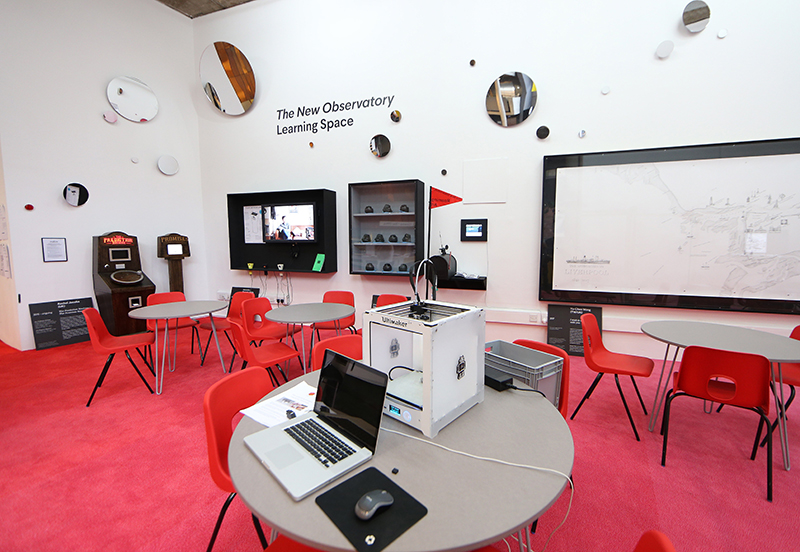 The New Observatory is a rich and varied exhibition that calls on its visitors to reflect on, and interact more creatively with, the data that increasingly underpins and permeates our lives. The exhibition opened at FACT, Liverpool on Thursday 22nd of June and runs until October 1st.
"In a world full of conflicts and shocks," has the past year become the, arguably, most standardized introduction, preempting, in an almost doomsday manner, articles, political speeches and curatorial statements alike. The world has turned Political (with capital P) and even the most mundane event is quickly made part of current politics, which in turn, seems to occupy a space somewhere between reality TV and satire. One feels the same dreadful fascination as when watching accident videos on YouTube; with eyes hypnotically fixed to the screen as we observe our world digress into an ever-growing state of chaos. A general unease can be traced throughout the world, and even the most apolitical communities are mobilizing at each side of the spectrum, in the desperate search for ways to overcome the immediate and underlying threats-at-hand.
It is within this urgent search for solutions, that this year's Venice Biennale positions itself. The 57th biannual gathering of today's most prominent instances of Contemporary Art, offer, under the lead of curator Christine Macel, its own proposal as to how we might address our sometimes-hopeless situation. And, perhaps surprisingly, we are in fact given an answer, which eschews the otherwise often-ambiguous and overly-complicated musings traditionally marking the Art World. Within the manifesto of the biennale, immediately greeting you as you enter the Giardini venue located South of the City, Macel calls for a return to humanism, expressing the need for a new-found believe in the power and agency of humans. And not just any human; particular emphasis is given to the Artist, the persona through which, supposedly, "the world of tomorrow takes shape."
Structurally, the role of the artist is explored over the course of nine chapters, spanning themes as distinct as 'earth', 'colors' and 'time and infinity'. Each, we are told, does not only account for the artist's practice in isolation, they further set out to investigate how such creative acts resonate and bring about change in the world.
1 and 2: Arts and Books and Joys and Fears
One misses immediately this latter concern within the two first pavilions Artists and Books and Joys and Fears. We are invited into the space and mind of the artist, in what quickly becomes an introvert, almost nostalgic account of the studio, presented here as a place which escapes the neoliberal ideals of progress and productivity. One senses an immediate contradiction, being surrounded by pieces which literally embody the immaterial value so indicative of modern capitalism.
This haunting sense of conflict is occasionally placated, if only because many of the individual pieces go further than the prescribed curation, integrating a sense of criticality in their exploration of the art practice. As in the breathtaking video by Taus Makhacheva, in which a tightrope walker carries paintings between two cliffs, over a lethal fall, seemingly free, while caught in a pointless, repetitive and dangerous act, dictated by guidelines which goes beyond his immediate control. Or in the, now infamous work, by John Walter, Study Art Sign, which appropriates the language of advertisement in simple catch phrases such as "art – for fun or fame," and in doing so, highlights the entanglement of any artistic act with commercial viability.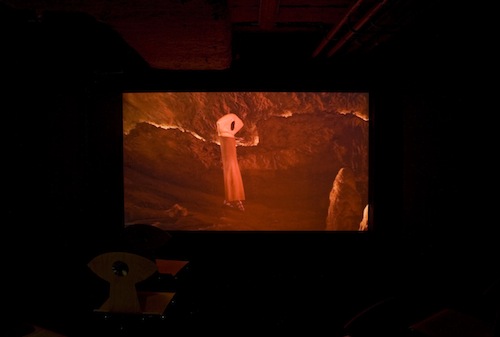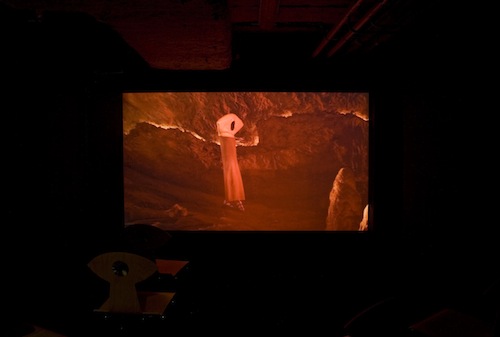 3 and 4: Commons and Earth
A 20-minute walk, and the habitual crossing of at least 5 Venetian bridges, brings you to the Arsenal pavilions, and the home of the next 7 chapters. The first two of these, Commons and Earth, are (at least superficially) more successful in exploring the link between the artist and the world at large. The exhibited pieces are centered around the creation of community or situations. They echo in this sense the much-disputed Relational Aesthetics as advocated by Nicolas Bourriaud, which defines contemporary art, as one of "interactive, user-friendly and relational concepts."(1)
What Bourriaud and the Biennale both seem to overlook, is the inescapable mediation and exclusivity of artistic acts, despite any willingness to advocate inclusivity and openness. Because, let's face it, none of the presented practices can be equaled to just another social situation – each and single one has been extensively documented, carefully edited and analyzed, to finally make their way into one of the most prestigious temples of contemporary art: The Venice Biennale anno 2017.
This does not make them insignificant, it simply means that one cannot feign apparent neutrality, as the emphasis on 'anthropological approaches,' seems to suggest. In fact, the more 'honest' pieces are the ones which embrace such mediation, exposing it, rather than hiding it behind a layer of innocent interaction. This is done brilliantly in the video piece of Charles Atlas, A Tyranny of Consciousness – an epic compilation of sunsets, countdowns and disco. The groovy lyrics, 'You were the one, I blew it, it's my own damn fault,' sung by the iconic drag queen Lady Bunny, is given new meaning in the context of environmental, human-provoked disasters.
This is done, while avoiding any moralistic undertones. Rather, the piece dares to reflect the ambiguity which defines the actual human-earth-relation, and through this, overcomes the simplified 'if we all work together it'll be fine' attitude, otherwise permeating the majority of the exhibited work.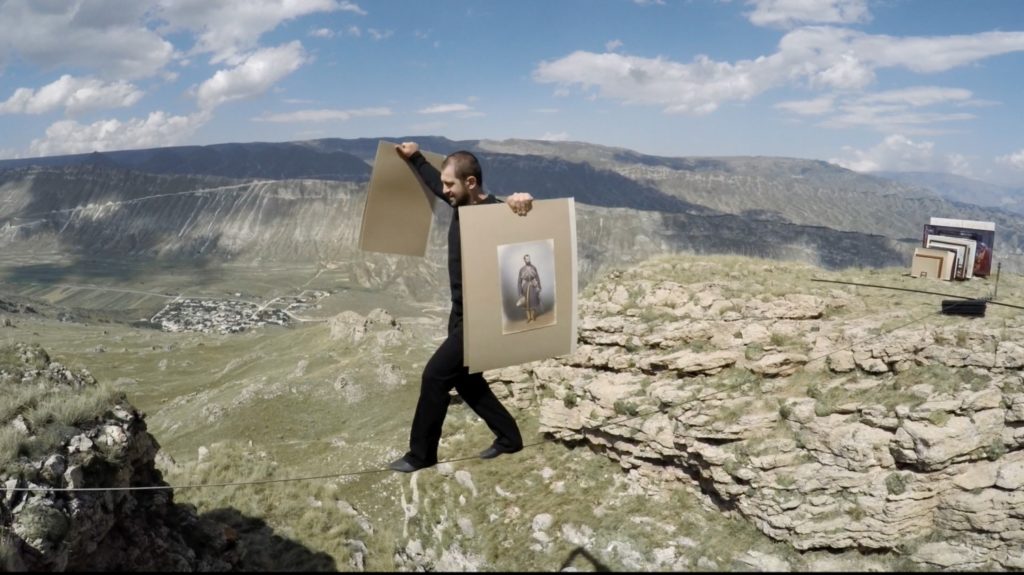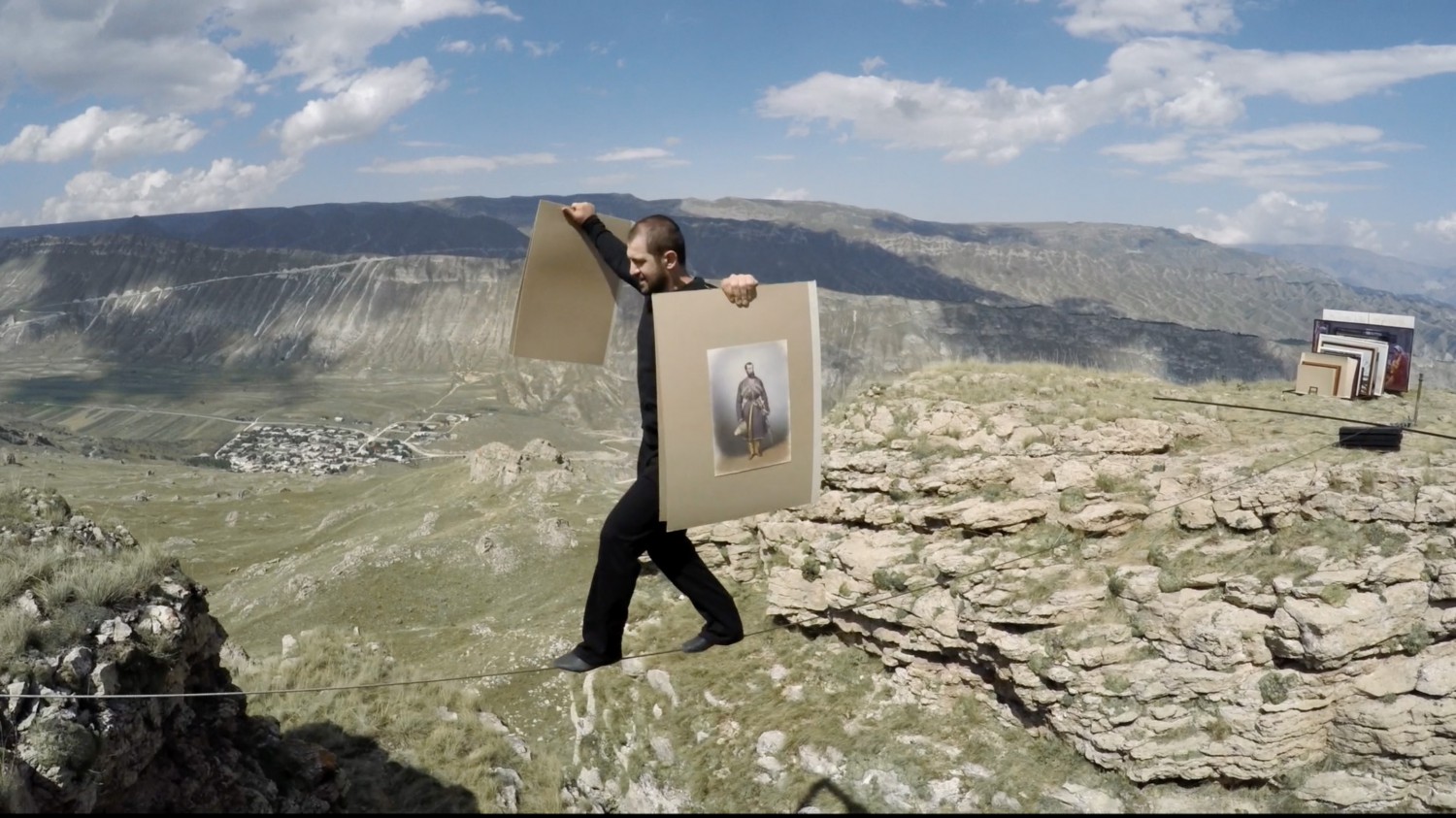 5, 6 and 7: Traditions, Shamanism and Dionysian
Within Traditions, the chapter following, the most successful pieces are similarly those which allow for complexity and move beyond an often much-too-obvious contrasting of the old with the new. One notable example, is the piece by Guan Xiao, which traces the famous statue David by Michelangelo. In bringing together numerous amateur-looking clips capturing this iconic figure, she humorously points to how objects ironically become invisible, through our extensive documentation of them; as hidden behind the connotations and expectations which come to shape the way we perceive our cultural heritage.
On entering the next theme of Shamanism, the first piece which meets the visitor is by Ernesto Neto – a tent-like installation made up of robes, under which guests are offered a place to rest. The otherwise beautiful piece come to look like a feature of Burning Man, with hippie-esque slogans such as 'with love and gratitude to mother earth' or ''war is not good, gold is life," covering the surrounding walls.
What Macel here wants to explore is the artist as magician or healer. While attempts of healing is sympathetic (and needed), such efforts are undermined by, a once again, rather naïve approach. It seems as if the striking similarity to the peace-promoting, but notoriously exclusive, festival is not only aesthetic. There is a failure at acknowledging the difference between giving the (very specific demographic of) biennale goers a place for momentary reflection, and the large-scale healing announced in the curatorial statement.
This pseudo-commitment to seventies politics carries over to the Dionysian Pavilion, which 'celebrates the female body and its sexuality'. The decision to dedicate a pavilion specifically to female artists and femaleness implicitly tells us that
a) womanhood is still something distinct, which should be explored separately from other identity politics
b) women artists need their own space, neatly separated from the rest of the pavilion (which is, interestingly, dominated by male artists)
We see here not only a return to humanism, but the ugliest of humanisms, one which still insists on highlighting an assumed distinction between manhood and womanhood. Such essentialist undertones are only enforced by the first part of the pavilion which greets you with pastels, vaginas and a propensity for weaving.
While the theme might be questionable, we do, while moving through the pavilion, find some incredibly strong pieces, which insists on addressing the individual in its many nuances and confused nature. This is particularly present in the all-encompassing installation/sound/performance work of artists Pauline Curnier Jardin, Mariechen Danz and Kadar Attia.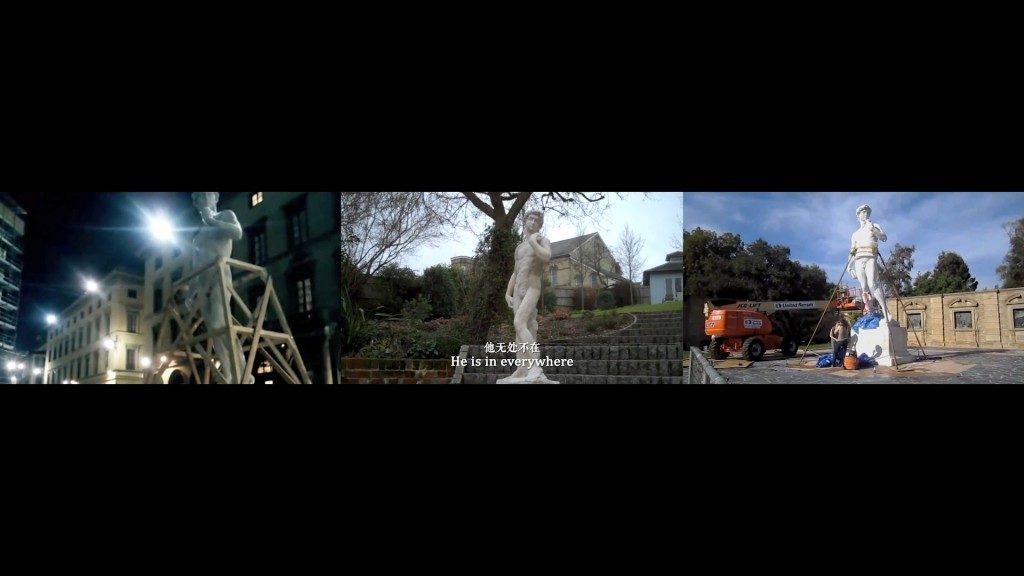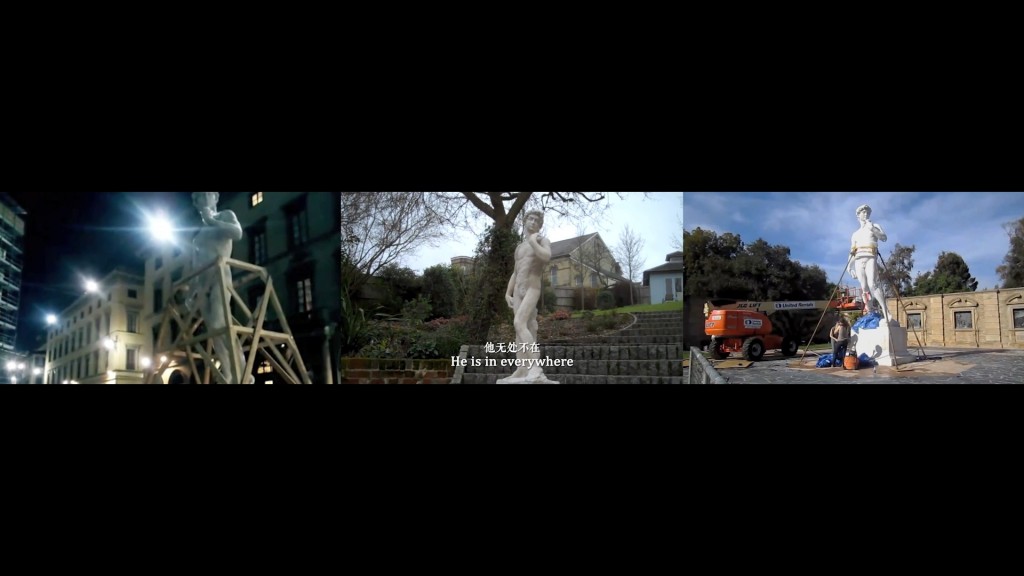 6 and 7: Colours and Time and Infinity
This far-reaching journey culminates in the chapters Colours and Time and Infinity which bombastically sets out to explore the way artist come to influence that which exists outside and before a human sphere. Within both pavilions, there is a distinct failure at acknowledging the specificity of the individual works, which, besides from their formal qualities, seems to have little to do with either Colours or Time. Once more the curation, ironically, overshadows, rather than enhances, the complexity of the individual works at stake.
It is symptomatic of the, perhaps biggest, misunderstanding of this year's biennale: That a return to the artist, or the human more generally, is what will allow us to understand and surpass our current state of crisis. It seems to overlook that our anthropocentric attitude is what originally brought us into trouble. Just as the individual pieces of art are diluted by insisting on the narrow focus of the artist, so does humanism distract us from the complexity of the world in which the human is only one part out of many. It simply seems outdated to return to the human-figure, conceptually broken by critical theory and practically threatened by developments in AI. Rather we need to accept, as many of the brilliant pieces do, a state in which humans are not in control; which allows for spaces of ambiguity and contingency. We do not need a return to humanism. Rather, now is a time to be humble, to look outside of humanity and think beyond that which already was, and never really worked in the first place.
Walking off the Akadimias district and onto the steps leading up towards the entrance of building number 23, I am greeted by a large hall with high red ceilings. The hall is covered with lavish white and black dot marble, and there is a large staircase acting as a guide to the top floors of the manor-like building. This was the home for the Diplomatic Centre of the Third Reich, designed in 1923 by Vassillis Tsagris, and used until 2011 by the Foreign Press Correspondent Union after the Second World War. Since then it has stood derelict and dusty, but for one week, in parallel to the opening of documenta 14, it played temporary host to the artist-in-residence programme of Palais de Tokyo, alongside with Foundation Fluxum/Flux Laboratory, bearing the name Prec(ar)ious Collectives. Six visual artists in residence at Pavillon Neuflize OBC and eight contemporary Greek choreographers envision and fabricate a hybrid space whereby an experimental notion of a community is executed as a situation rather than as a subject. The visual artists and performers involved congregated together in Athens and on site for a two-week workshop in March in order to produce the works. The title, Prec(ar)ious Collectives, is a linguistic amalgamation of the adjectives 'precarious' and 'precious', implying the state of the collective that performs together.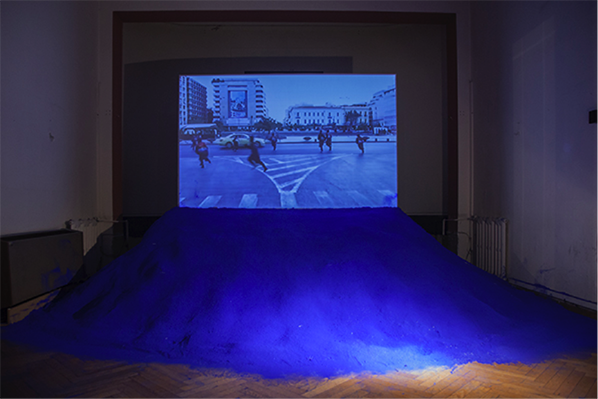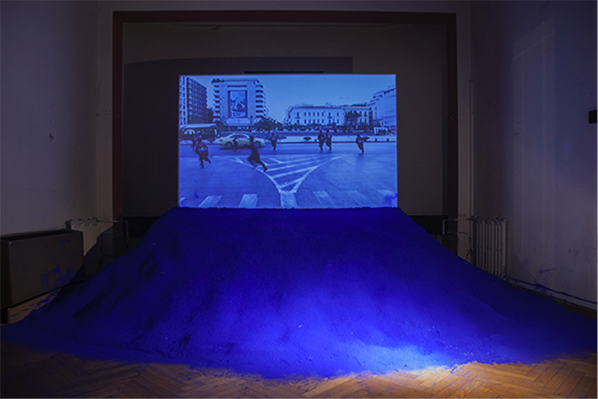 The opening façade echoes with the humming and reverberated sound of Manolis Daskalakis-Lemos' Dusk and Dawn Look Just The Same (Riot Tourism), guiding us towards its installation room. The video installation stands above a mountain of blue powder in a room sectioned off with construction tape. The short sequence of about a minute and a half displays a group of hooded figures, dressed identically. As the soundtrack's volume begins to escalate, the group progresses from walking to running on the uncannily void and ghostly streets of Athens. A city always bustling with noise is now at its most quiet and pubescent state of the day – dawn. The hooded figures run together and – even though it is in a disordered manner – command your attention and pensiveness until they all reach Omonia Square. The work demonstrates a resistance to a status quo which may be aligned with the political engagement within the city. This is not, however, done in an expected reactionary manner, but instead in a way that promotes uprising through the creation of a meditative state. One cannot help but watch Lemos' work a couple of times more before leaving it behind and only then noticing the thundering beneath their feet.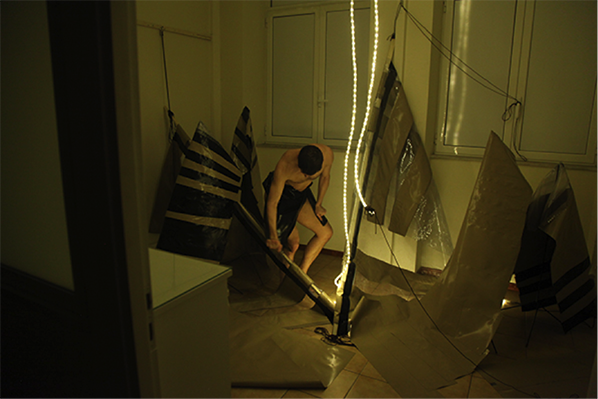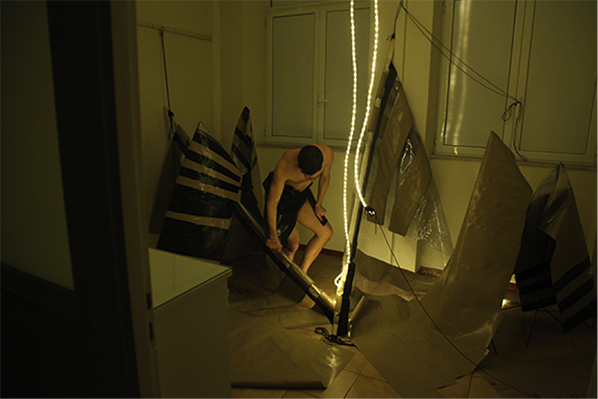 This historic building has a basement and is the temporary home of Taloi Havini's performative work. The large-scale installation occupying four rooms consists of PVC vinyls, seemingly discarded or hung from the low ceiling. These PVC vinyls are lit by dispersed and differently coloured strings of light, some are red, others are purple and others are cream. The performance is underway and its performers dress themselves with the PVC vinyl and the lights and jolt their bodies vigorously to the rhythm of the thundering – sometimes in sync, sometimes not. The dark basement is transformed into a cavern of rhythmic delight alluding to a ritual where its power lies in the gathering of people.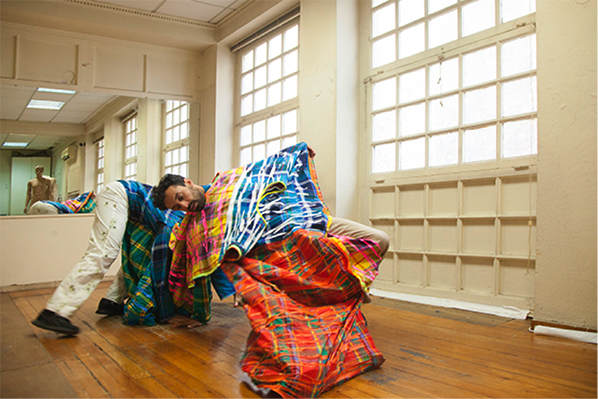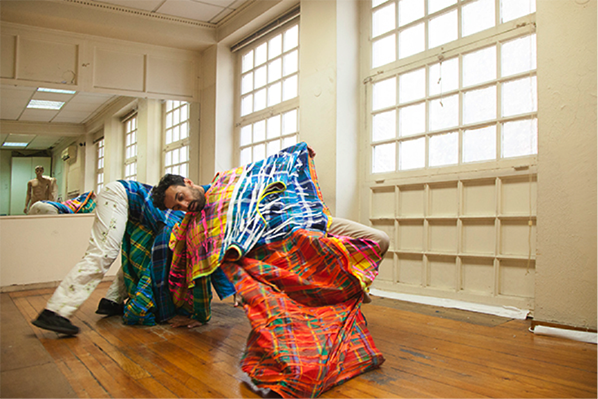 As one inspects the garments of Wataru Tominaga and those who wear them, this synthesis of the PVC, the space and the performers as a gathering appears to be a motif. Tominaga created the garments during a preliminary workshop, with great care and appreciation of how he and others were to utilise them during Prec(ar)ious Collectives. Originally presented on mannequins before being worn and performed, the garments boast vivid colours and patterns, some of them containing animalistic features such as feathers or fur. Those who wear Tominaga's work perform in such a way as to invent a new form of communication between themselves and their observers. They move and conjoin like animals, sometimes hiding underneath the fabric and at times evoking the traditional Japanese 'snake dance'. The performance, being in a transitional space between the ground floor and the first floor, naturally spreads itself upstairs whereby the performers not only continue to wear the garments in obscure ways, but additionally interact with Yu Ji's agave plants and other objects.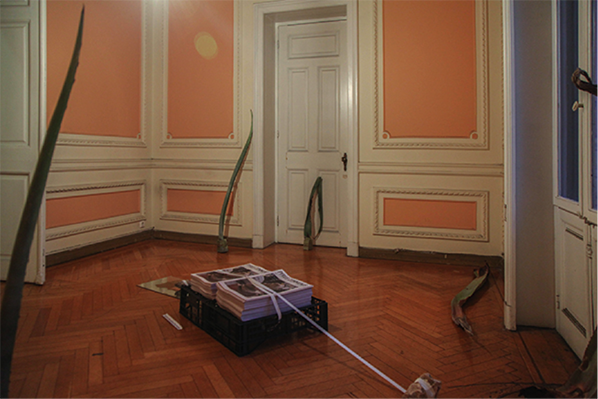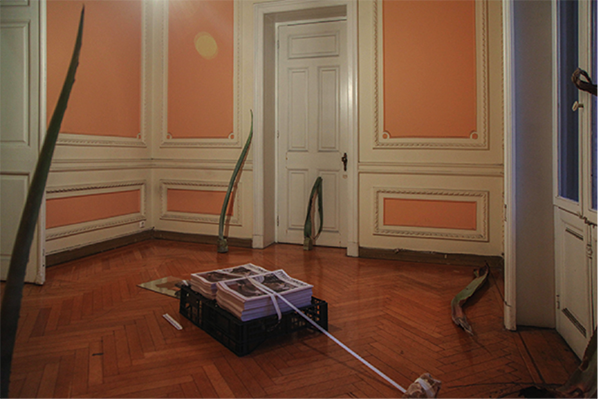 Yu Ji's work, Lycabettus Tongue, Oliv Oliv and This is Good For You! Are formed by the use of displaced agave plants, half-fragmented found mirrors and lights. The agave plants interlock with various architectural patterns of the building such as stair banisters, whilst the mirrors and round-ball lights are positioned in ways offering various points of view for observation and appreciation of space. The work revitalizes the architecture of the building denoting its historical vitality and the synergy of the encompassing works into a haunting existence rather than an abandoned one. Here, haunting is used not for means of negative connotations but instead as a form of aloof yet introspective sensation, exasperated further with Lola Gonzàlez's video installation in the next room.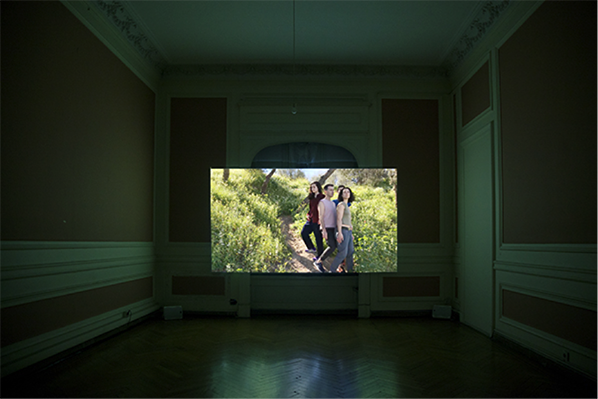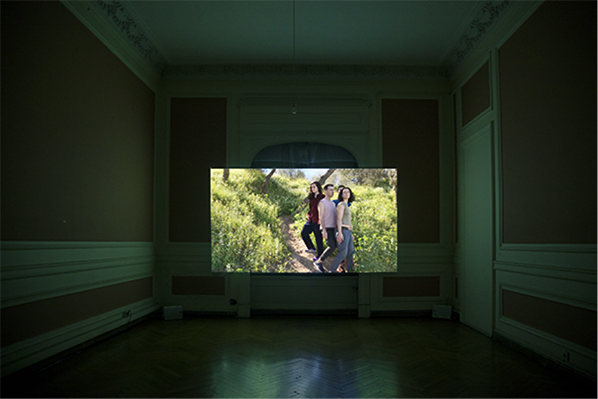 Lola Gonzàlez's Now my hands are bleeding and my knees are raw begins with its protagonists split into groups and observing the city of Athens from various points at the top of the hills. The groups begins to move, run and hop together towards a direction down the hill, whilst a chorus of droning voices begin to chant and harmonise. As the groups get closer and closer to the city, Gonzalez transforms the image into a complete inversion, like one you may find in negative photography. The chanting becomes louder as the three groups get closer and closer to their meeting point within the city – the exact space where the video is being showed. They are finally shown entering the building and making their way up the stairs to the room where they vocalize in unison until they fade away from our view. Now my hands are bleeding and my knees are raw alludes to an atmosphere in which the power of gathering together evokes a community whose intention is situated between an uncertain balance of peril and strength. It is the same kind of uncertainty that one finds when exploring the top floor of the building only to discover Thomas Teurlai's room of machines and looped functions.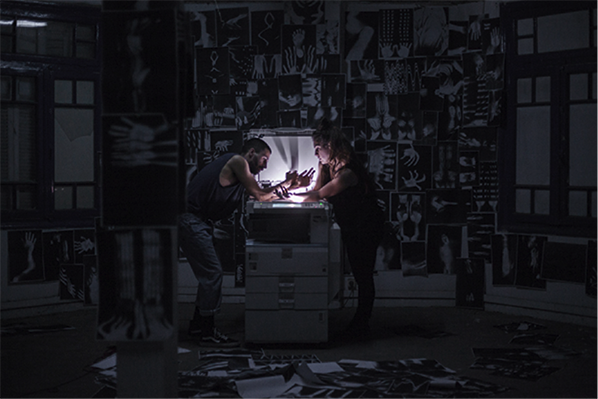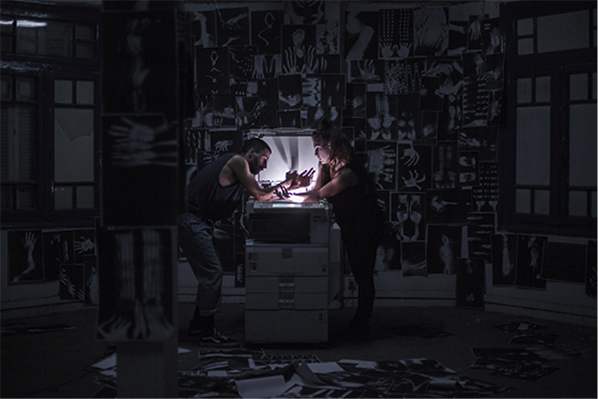 On the top floor, there are still the remnants of neglect, rooms empty of anything but the garbage that piled up over the building's six years of desertion. Thomas Teurlai's Score for bodies and machines consists of a room installation of two printers used by the performers to scan different parts of their bodies. These scans are then plastered on the wall whilst the fluorescent lights constantly trickle on and off. The two performers are attempting to archive as much of the movement involved in their choreography as possible. The looped function of copying and the crackle of its repetitive working-noises do not clash with the choreography but instead drive its energy.
Indeed, it may be the encounter between the building, the communal working spirit of the performers and the result of this effort that defines this rejuvenating energy as a fruitful rebirth of the building's utility.
To find out more, read Chloe Stavrou's recent interview with Fabien Danesi of Prec(ar)ious Collectives.
The Gathering Cloud makes slow reading. Let's start with the title. It trips off the tongue, doesn't it? Rolls around in the mind like a marble you've had since childhood. But there's something unfamiliar about it, too. 'The gathering cloud' evokes a threat – the gathering crowd, perhaps; words haunted by expectation; a riot just about to begin. The gathering cloud sounds material and immaterial at the same time. It could signal rain, or warmth, or happiness for shepherds and fishermen, if only you knew how to read it. Could the ancients interpret celestial data? Can Google analysts do it now?
Every sentence in JR Carpenter's literary artwork, The Gathering Cloud, is as resonant and expansive as its title. The work is so full of meaning, in fact, that it pushes beyond its own borders. Both a piece of digital literature commissioned by Neon Digital Arts Festival, and a book published by Uniform Press, The Gathering Cloud hovers, as an aesthetic experience, in between (it also exists as a printed A3 zine, distributed in more informal ways).
Its theme is climate change. Or, more precisely, the material effects of technologies euphemistically named 'cloud computing' on the health of the planet. Or the systems of knowledge that reveal and obscure our relationships to our world. Or the impossible responsibility of human actions that have a global impact. Or, in Carpenter's characteristically succinct language in the afterword ('Modifications on The Gathering Cloud'):
The Gathering Cloud aims to address the environmental impact of so-called 'cloud' computing and storage through the overtly oblique strategy of calling attention to the materiality of the clouds in the sky.
Online, The Gathering Cloud appears as a palimpsest of moving images, interacting as a series of animated gifs. To read this work is to move with it. Fragments of text respond to the hover of your mouse. Symbols march across the screen and align in multiple combinations. The experience, in other words, is just like using the internet. There is more here than you will ever be able to discover, and yet the format entices you to keep looking. The world of the browser is both (seemingly) infinite, and controlled by your gaze.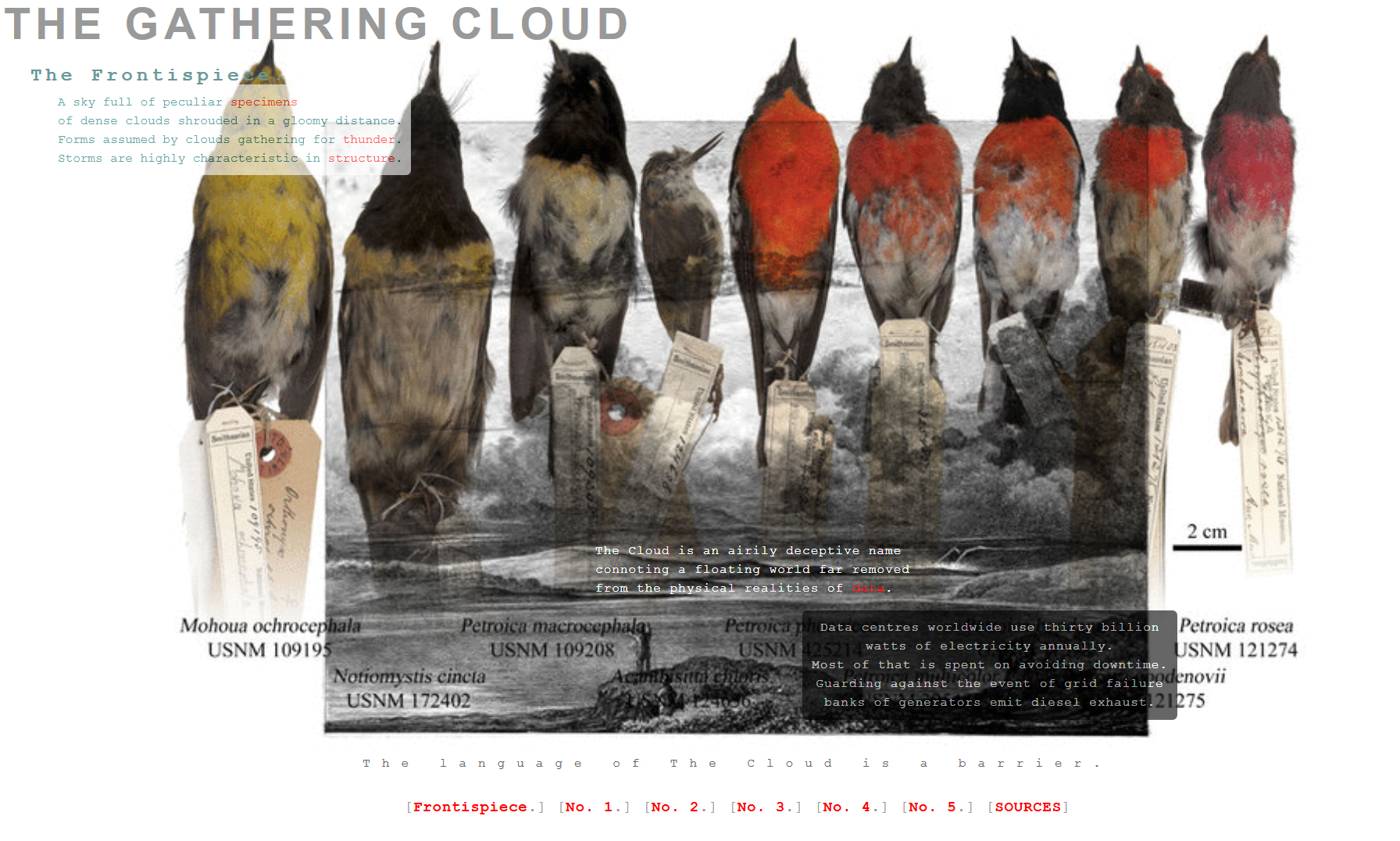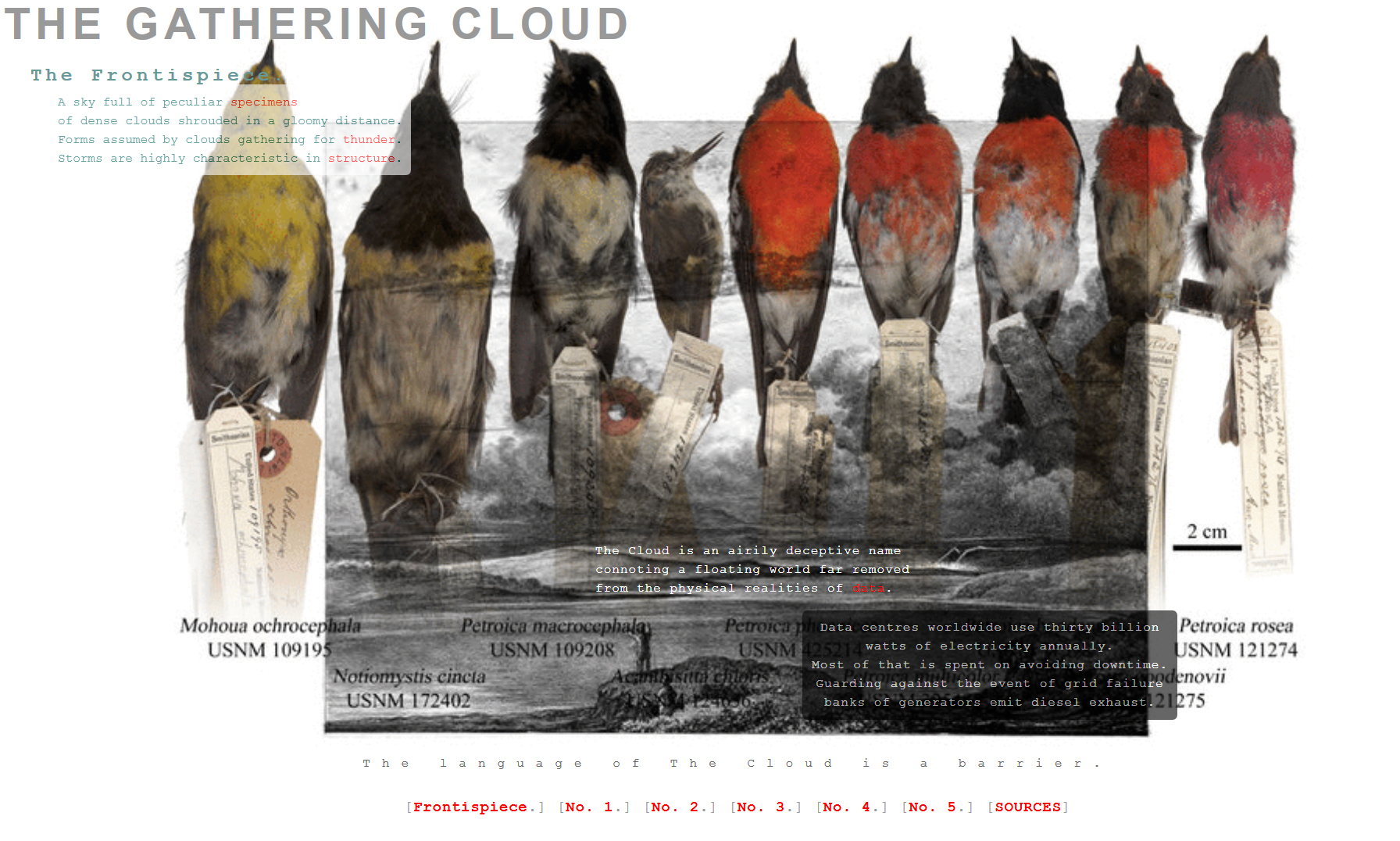 The first images you see are cloudscapes taken from Luke Howard's Essay on the Modifications of Clouds (1803). Howard was the first person to devise a popular and scientific naming system for the clouds in the sky. His process was based on natural history classifications, Latin naming principles and the fact that clouds are subject to endless change. His project was such a success that we still use his cloud nomenclature today. But, as Carpenter points out, 'The language of The Cloud is a barrier.' Here, she is talking of the language of cloud computing, and how its association with the mutable territory of the sky fails to communicate its dirty, real-world effects. But the language of the clouds is also, always, a reference to Howard's system and its structuring aim: a grand attempt to explain the (previously) unexplainable, to box in the search for knowledge, to capture what is not still there.
The illustrations that accompanied Howard's published text were minutely detailed etchings based on his own watercolours. In the book, Carpenter describes the journey of the images as technological as well as scientific artefacts, 'Translated into cross hatching,' she writes,
Howard's studies
lost subtlety, but gained fixity, moving
them toward the diagrammatic scientific.
Carpenter uses these pictures, then, to draw attention to how we understand the world as well as what we (try to) understand. Onscreen, she overlays them with photographs and illustrations of animals – elephants, birds, beetles – which echo metaphors evoked in fragments of her poetic text ('A cloud the weight of one hundred elephants', for example, 'How many more birds/ have been captured and tagged and stored in The Cloud?'). Like the etchings, these animal images bear the time-stamp of specific systems of thought. Some are scientific and precise, for example, and belong, stylistically, to a process of classification: illustration as pedagogic tool.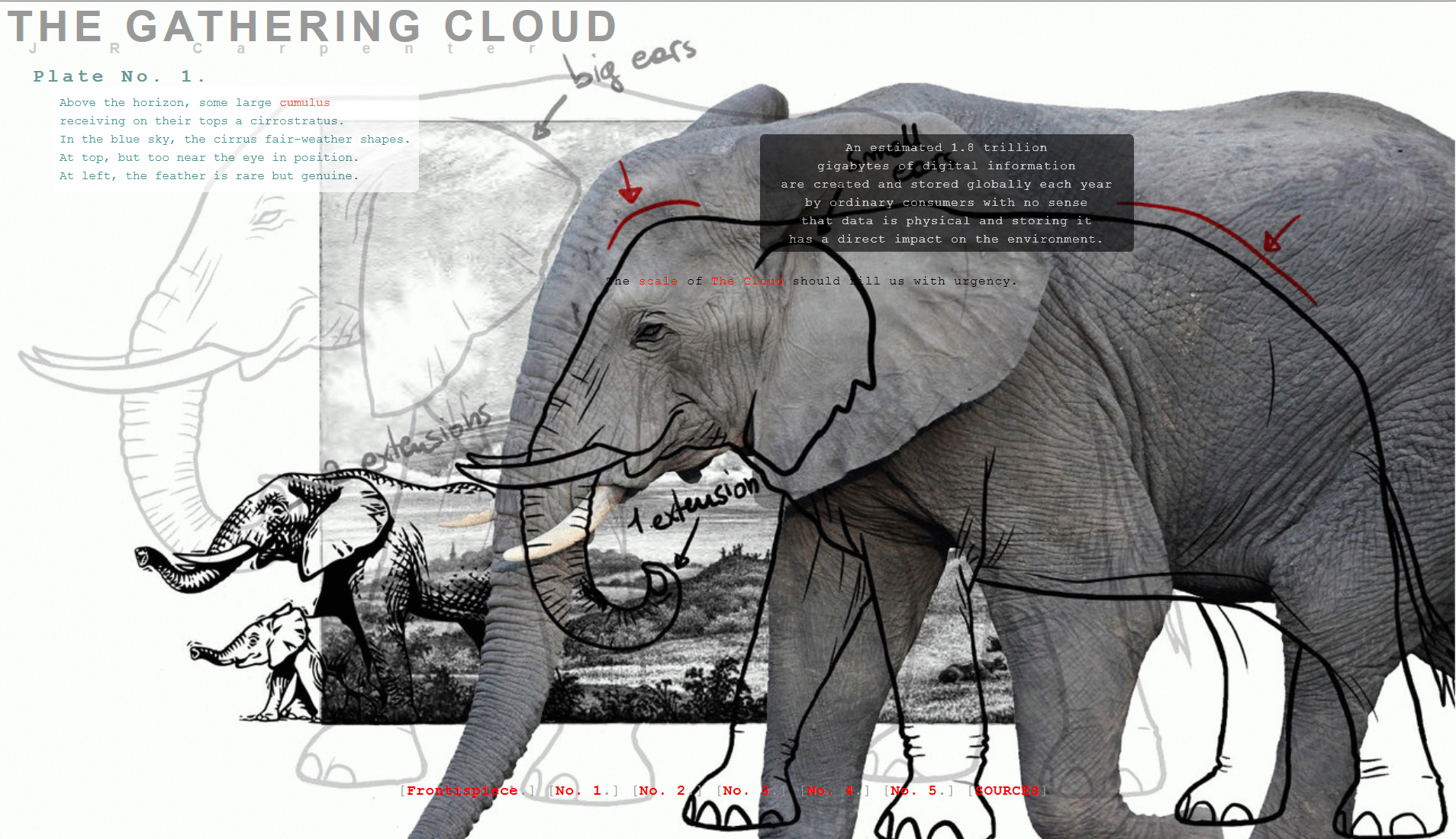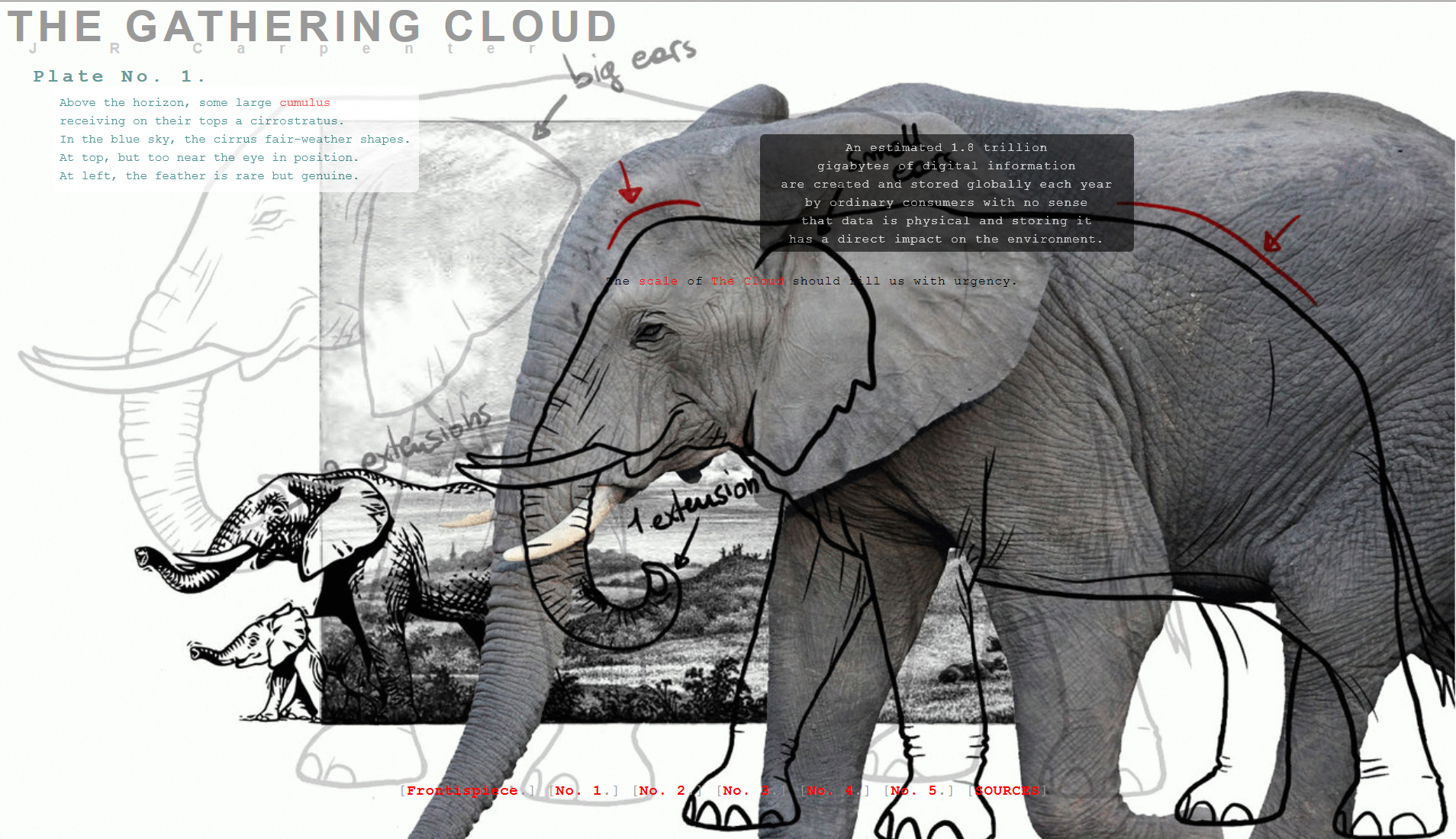 In a final conceptual twist, each of these interwoven, visual elements has been 'materially appropriated' (Carpenter writes), 'from publicly accessible cloud storage services.' These, then, are pictures of weather clouds, and of the ways we think about weather clouds, and of the technological border patrols that control the ways we think. These are images preserved in the hardware of server farms, which means they are also images of the billow of fossil fuels, the gasp of countless lives and minerals, ground into the earth over geological time, as unimaginable in scale as the size of the data stores themselves, or the climate change precipitated by the energy they need.
Tech giants Apple, Amazon and Microsoft
power their twenty-first century clouds with
dirty nineteenth-century coal energy.
And here is the context for Carpenter's words: lines of hendecasyllabic (eleven-syllable) verse arising inside, on top of or behind the images, borrowing and interpreting found texts from Howard's nomenclature and contemporary media studies. All of this, finally, is the context for you: the reader/user, dragging your finger across your mouse pad as you enact the dynamic complexity The Gathering Cloud represents:
To miniscule cumulus water droplets
air is an upwelling thermal below them
is as dense as honey is to a pebble
five thousandths of a millimetre across.
As a work of digital literature, then The Gathering Cloud is an extraordinary marriage of concept and content. By which I mean literally extra-ordinary: representing and exceeding the ordinary functions of its source images and texts. While the work is hosted online, however, its rhizomatic affect has less to do with technology than with attention. In an interview in 2010 Carpenter said, 'I imagine my target audience being people sitting at desks pretending to do other things. Like work, for example. Or writing. Because they are already pretending, their minds are wide open. [1]' The Gathering Cloud is a lucid dream space for people not entirely in charge of their dreams.
*
The most obvious difference between the printed and online versions of The Gathering Cloud is that the book feels primarily textual. Featuring an extended prologue, the book showcases Carpenter's writing on spacious pages, interspersed with occasional black and white 'plates' taken from the digital piece. Simply framed in this way, the power and precision of her words come to the fore. The hendecasyllable format produces a bare, pared down kind of language that sounds natural and restrained, like a conversation with someone who has much more to say. Describing the ancient Roman philosopher Lucretius' theory of clouds, for example, Carpenter writes:
Nothing can be created out of nothing.
The whole earth exhales a vaporous steam.
Meaning hangs like a lifetime between these lines. The gap between 'nothing' and the exhalations of the earth is as big and as small as a breath being held.
Like the skeleton of a bird's wing, each line in Carpenter's perfectly crafted, fragile text takes the body of the work in a new direction. And yet, the most thrilling element of the book is not textual, but visual.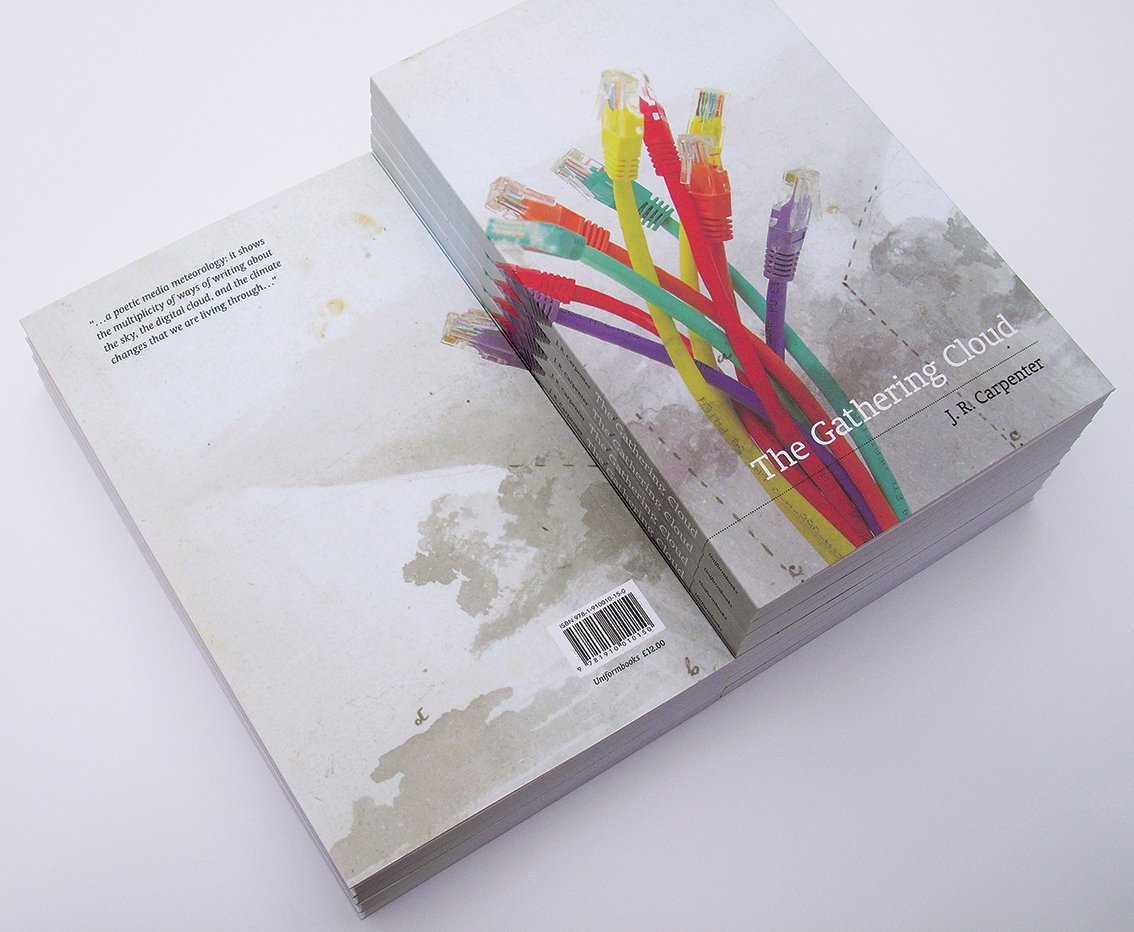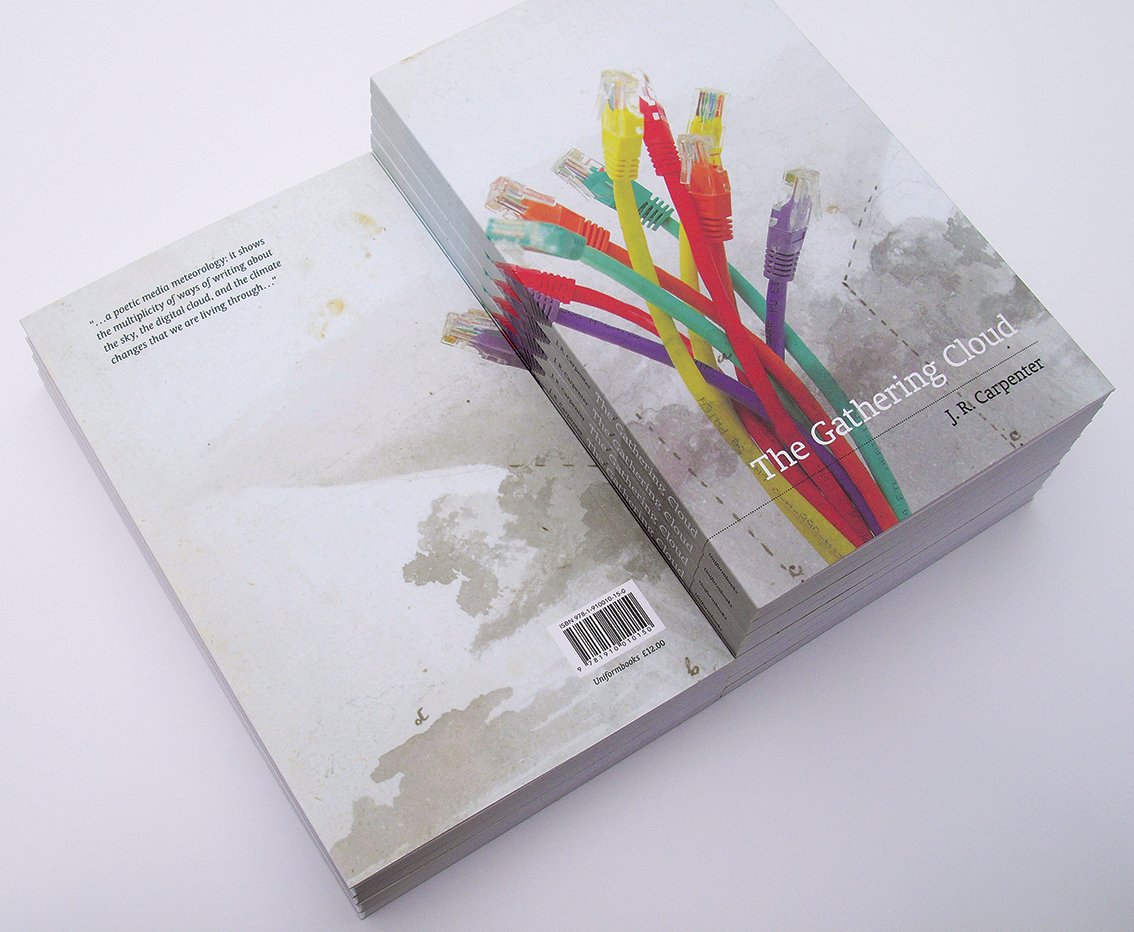 In print, some of the words appear greyed out. Twenty-first century readers recognise this allusion, immediately, as a hyperlink; but of course, there is nothing to click on a printed page. A book is an emblem of past decisions in a way that online experiences pretend not to be. These un-links, then, are uncanny. They promise potential, in the same moment as they fatally disappoint. They wave to the future but they are, literally, pulped emulsions of the past. They call to a space beyond the page, ripe with forbidden fruit, humming with endless desire: more knowledge, more dreaming, more distraction.
An estimated 1.8 trillion
gigabytes of digital information
are created and stored globally each year
by ordinary consumers with no sense
that data is physical and storing it
has a direct impact on the environment.
These un-links represent everything you want and everything you can't have. They are the spaces for you to dream in and the alarm that stops you dreaming. They are the endless potential of the internet, and the finite resource that will shut it down. In other words, just as the online version of The Gathering Cloud performs the limits and aspirations of older systems of thought – the acid hatch of etchings, the earnest naivety of visual or linguistic classification – so the printed work performs the futile urgency of lives lived online. In each case, the performer on centre stage is the reader/viewer, forced to confront her own ambitions and her impotence as she navigates through mutable worlds.
This, in a nutshell, is our relationship with climate change: it is about us, but bigger than we can comprehend; we are compelled to act, but crave direction; we want to dream, but we are afraid to lose. Crucially, Carpenter asks us to inhabit this relationship, not the climate itself: her work is emotional, not didactic. Instead of explaining climate change, Carpenter explores the extent to which it can possibly be imagined. Then, gently but firmly, she pushes the borders of our thoughts, and gets us to imagine some more.
'Like a muzzled creature', Carpenter writes, 'the cloud strains to be/more than it is.' The same could be said for her work, of course, and for the people who move through it. In a perfect echo of the systems of weather and data that are its subject, different iterations of the The Gathering Cloud (whether real or imagined) are held, within the reader, as memory, as action, and as technology of thought. The Gathering Cloud could signal rain, or warmth, or happiness for idle browsers,if only you could trace your finger along each acid scratched line. Could the ancients sculpt the hubris of the searching gaze? Can the Google server farms do it now?
By Mary Paterson
Review of The Gathering Cloud, JR Carpenter
http://luckysoap.com/thegatheringcloud/
Uniform Books, 2017
On January 17th 2017 outgoing American President Barack Obama commuted the 35 year sentence of whistleblower Chelsea Manning. She was to be released on May 17th 2017. The Disruption Network Lab (DNL) Berlin has in the past addressed various forms of disruption techniques. In celebration of Manning's release, the DNL, which is under the curation of Tatiana Bazzichelli, decided to devote their latest event, Prisoners of Dissent, Locked Up for Exposing Crimes to the voices of dissent of our time.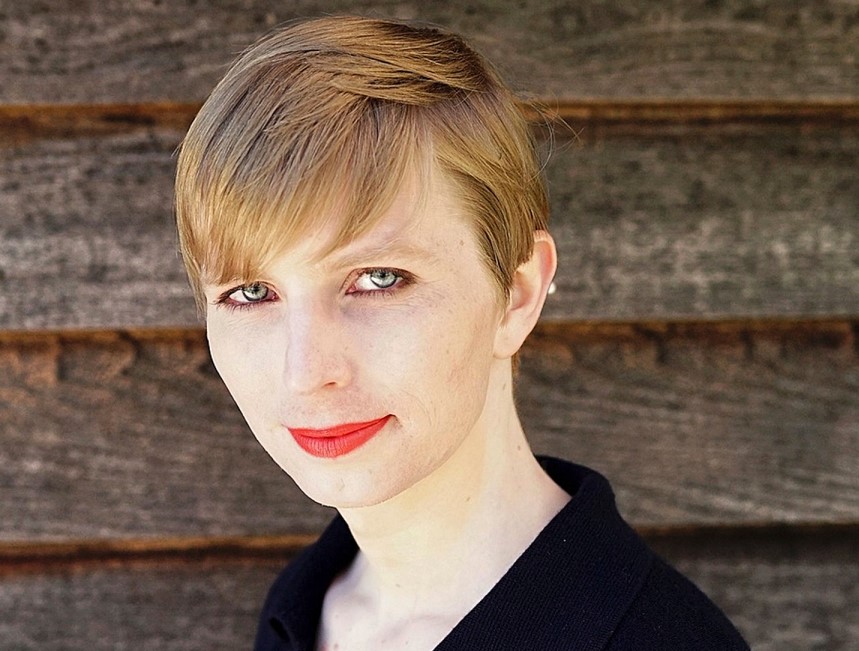 DNL's new event-venue is a historic Berlin theater called the Volksbühne ("People's Theater") that stands on the Rosa-Luxemburg square. The square's namesake was a famous anti-war activist and communist revolutionary. Rosa Luxemburg was murdered for her political activism by right-wing paramilitaries in 1919. Thus, the new location draws an historic parallel between dissidents and the often violent ways they are silenced.
While attendees waited for John Kiriakou to present his new book, "Doing Time Like a Spy: How the CIA Taught Me to Survive and Thrive in Prison", the wood-heavy 1920s-style saloon of the Volksbühne was completely filled with people, leaving not a single chair free. Kiriakou served in the CIA as an analyst and officer for 14.5 years and is now a whistleblower of their practices. He was operating in the Middle East with a focus on counter-terrorism and human rights. In 2007 he brought to light that the CIA was using waterboarding as torture and was subsequently alleged to have disclosed the identities of undercover CIA agents. For this, he was charged with violating the 1917 Espionage Act under U.S. Law and had to spend two years in a low-security prison in Pennsylvania.
In 2014, while Kiriakou still served his sentence, his pixelated lego-portrait was among the 176 political prisoners of Ai Weiwei's artwork "Trace" that was part of his Alcatraz show in California.
KEYNOTE: DOING TIME LIKE A SPY. ON PRISON SURVIVAL AND THE CIA'S WAR ON TERROR.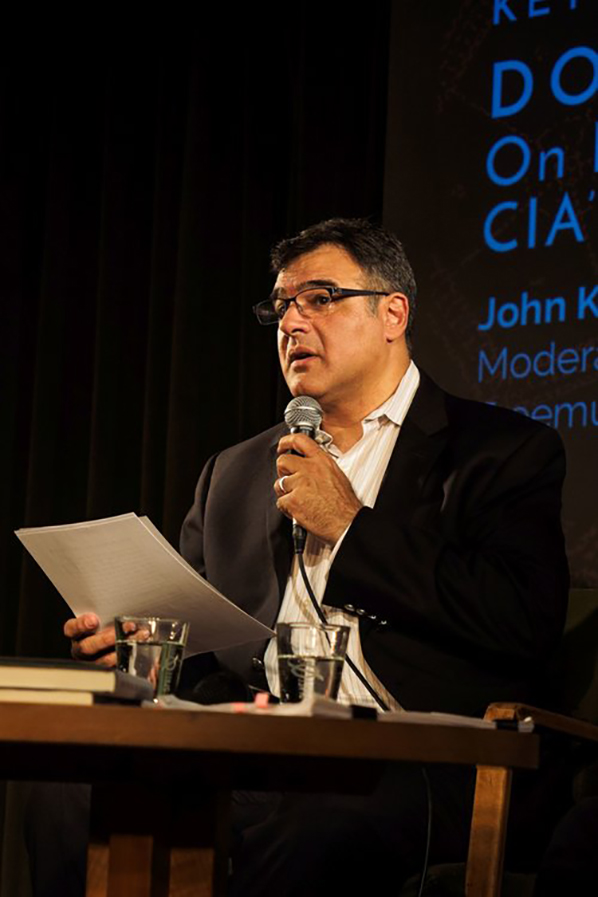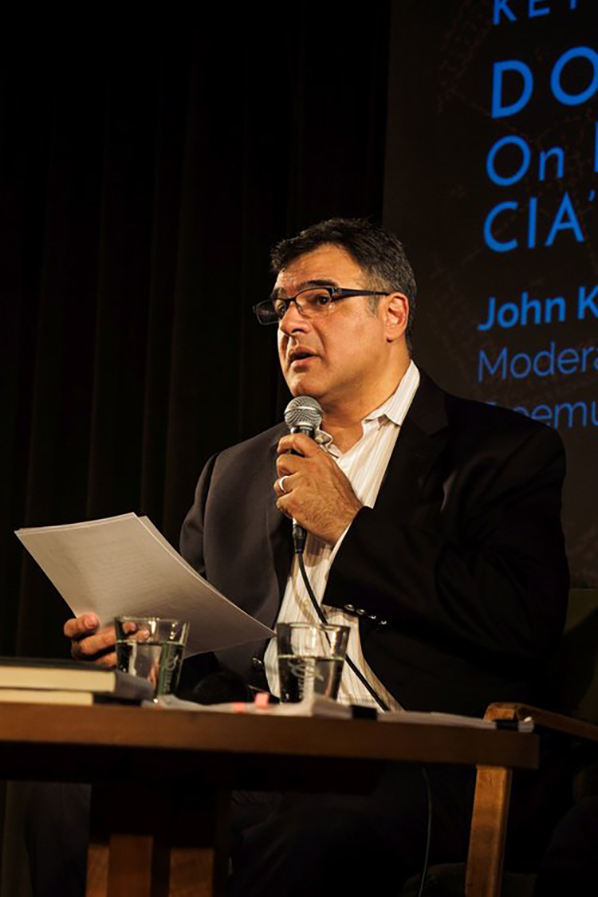 Kiriakou is a man in his early fifties with a likeable charisma. But as one would think of a spy, there are many more dimensions to his character, and he is only hinting at these while reading from his book. Recounting how he made use of his CIA training in daily prison life – living between Mexican drug kingpins, Neo-Nazis and Italian mafia members, he concedes that he can also be a man with nasty manners – if he has to. (Kiriakou points out that the CIA hires individuals with sociopathic tendencies). The audience listens closely while he describes his prison encounters with an enthusiastic storytelling voice. In one anecdote that reminds me of high-school politics he describes the Italian mafia members he made friends with. They made sure that another inmate who pulled Kiriakou's name through the dirt would be "taken care of". There is a lightness and sense of humor to Kiriakou's character. His stories, often punctuated by laughs from the audience, are witty and fascinating. One easily gets lost in listening to them, nearly forgetting the seriousness of the situation he had to bear.
Kiriakou, who had six passports with six different backgrounds and survived two assassination attempts, also mentions the psychological stress and pressure whistleblowers struggle with. As he states that all whistleblowers have their own moments of desperation, I'm reminded of the two suicide attempts Chelsea Manning undertook and the harsh reality of injustice whistleblowers have to experience under their governments.
According to Kiriakou, his motivation came from a patriotic disposition which compelled him to act when the government violated constitutional rights. Snowden states a similar reason, although it is rather interesting that Kiriakou more or less accidentally became a whistleblower, which differentiates him from many others who made a conscious choice of disclosing information in the first place.
The book is definitely worth a read (the copies he brought were sold out by the end of the event) as it gives a unique and very personal insightful view into a CIA officer's life post-whistleblowing.
In the Q&A session that follows the book presentation, Kiriakou is asked whether in hindsight he would have done anything different. In response he gives two pieces of advice to future whistleblowers: First, get an attorney before you go public with information. Second, don't trust anyone. Well, somehow what one would expect from a spy?
PANEL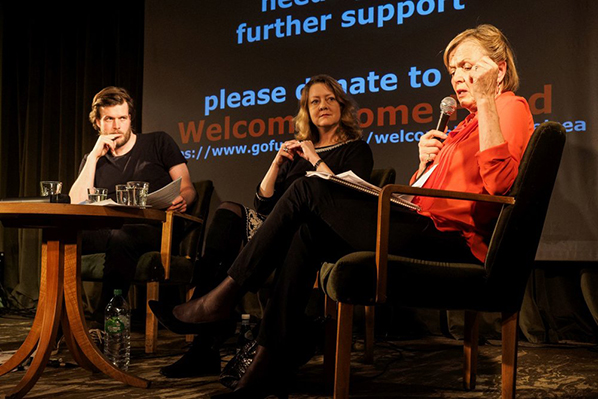 The second part of the event consisted of a panel with four guests, that was moderated by Annegret Falter from the Whistleblower Netzwerk e.V.. To introduce Chelsea Manning's case, a video from the Chelsea Manning Initiative Berlin was shown, which documented their activity from 2011 until now. As a prelude to the panel Annegret Falter read Manning's public statement, which was released on May 9th by her legal team. She quoted Manning's words:
"[…] Freedom used to be something that I dreamed of but never allowed myself to fully imagine. Now, freedom is something that I will again experience with friends and loved ones after nearly seven years of bars and cement, of periods of solitary confinement, and of my health care and autonomy restricted, including through routinely forced haircuts. […]"
The short statement implies the outstandingly harsh conditions Manning, being a transgender woman in an all-male prison, had to live under the past seven years. The exceptionally severe sentence for exposing crimes was commuted by Obama after an outpouring of public support over Manning's mistreatment in prison and with the prospect of a Trump presidency, many feared for Manning's life.
Manning was charged under the Espionage Act, which was introduced in 1917 shortly after the U.S. entered the First World War. Many critics see it as a legal relic – an outdated federal law, originally applied to individuals interfering with the U.S. war effort. It is now abused to persecute whistleblowers, among them Daniel Ellsberg, John Kiriakou, and Edward Snowden. Not only is this law incompatible with human rights and civil liberties, but legal scholars argue that it is written so vaguely that a fair trial is impossible in addition to it being unconstitutional
Spies, Lies and Whistleblowers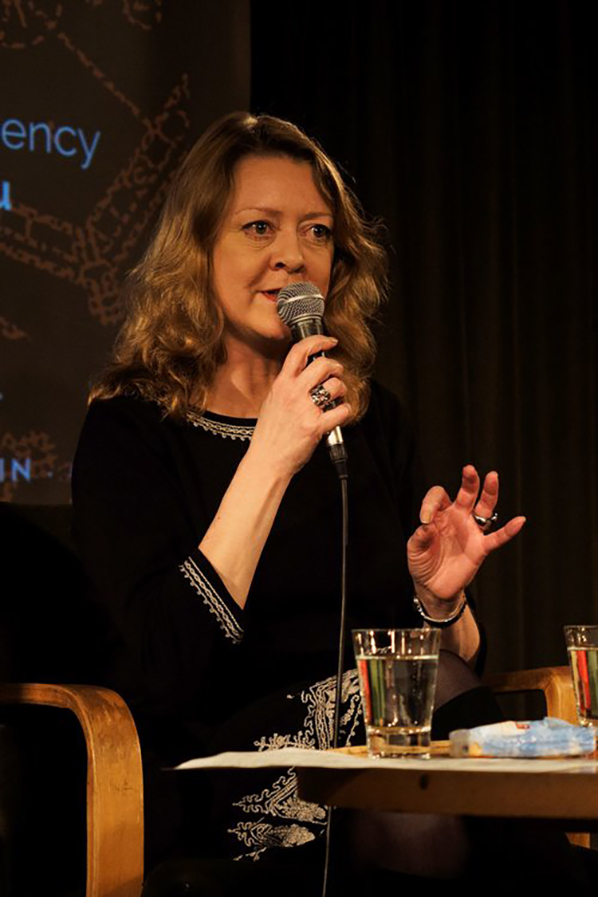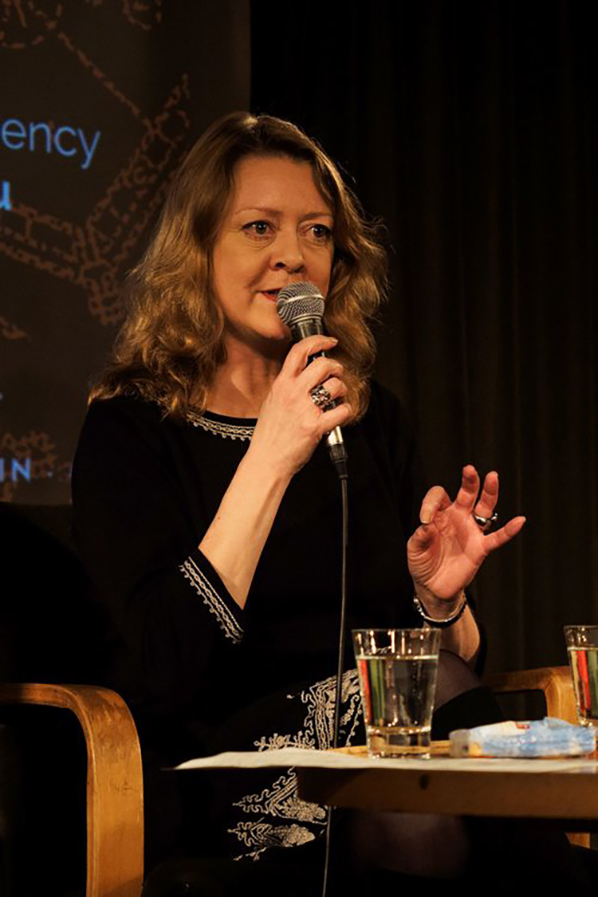 One of the guests on the panel was the British-born Annie Machon. The former MI5 intelligence officer (The UK's Secret Service) left the organization in 1996 after the Security Service was involved with a branch of Al-Qaida in a plot against Libyan leader Colonel Muammar Gaddafi. The assassination failed and several civilians lost their lives. Consequently she resigned and teamed up with her then-partner David Shayler – an MI5 officer himself – to blow the whistle on the crimes and incompetence of the intelligence community. He was later accused under the 1989 Official Secrets Act, and the three-year exile and two-year legal battle against her former partner publicly became known as the Shayler Affair. Machon wrote a book about the affair, speaking out about both their motivations and the legal injustices the pair endured.
Machon had extensive experience on a professional and personal level, making her an expert on issues like the war on terror, whistleblowing, and the U.K. legislation. Criticizing the U.S. Espionage Act of 1917, Machon pointed out that it was the U.K. that gave the world a notion of such laws with their 1911 Official Secrets Act. While the 1911 law was originally used for spies betraying the country, it was adapted in 1989 to specifically target whistleblowers. New legislations on surveillance, secrecy, and whistleblowing pushed state power even further forward while continuing on a downward spiral. Machon expressed concern that the world would follow the U.K.'s example once again. Clearly she was advocating for a necessity of legal protection for whistleblowers, instead holding criminals to account, not jeopardizing the liberty of the brave individuals who feel compelled to speak out.
On the subject of the psychological issues whistleblowers suffer with, which Kiriakou addressed earlier, she added that the stress also had an effect on Shayler. With a worried voice she said that he now believes himself to be the reincarnation of Jesus Christ.
#ArtIsNotACrime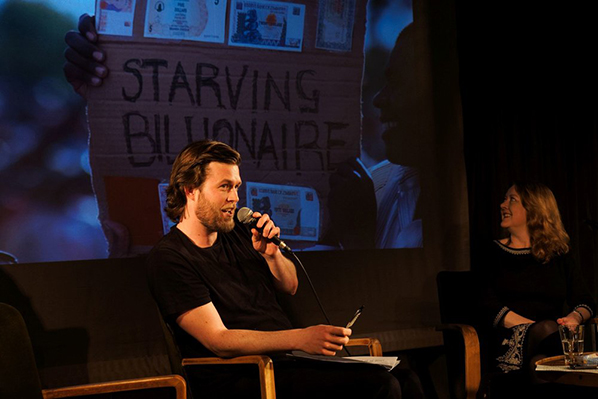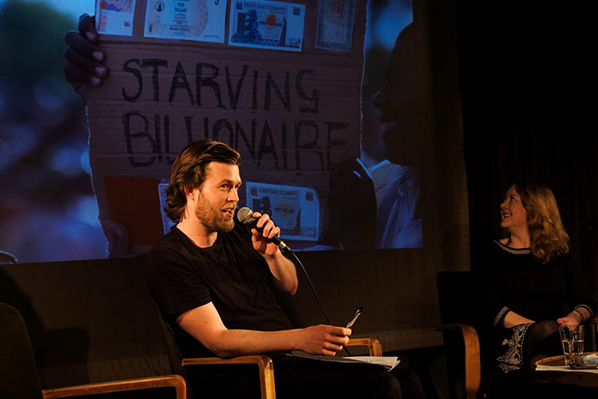 Another guest on the panel was the Danish-born human rights activist Magnus Ag, who works for Freemuse, a global organization advocating freedom of artistic expression. Underlining the importance the arts play as a powerful medium of dissent, he quotes Picasso: "Art is a lie that makes us realize the truth."
Various cases worldwide remind us of artists experiencing oppression, censorship or imprisonment for their work. From the feminist Russian punk-rock band Pussy Riot, facing a two-year sentence for protesting Putin, to Ai Weiwei who disappeared for 81 days, detained in a secret prison by communist-led China. Under the hashtag #ArtIsNotACrime, Magnus Ag and Freemuse draw attention to lesser known cases. According to Freemuse's report, China is among the worst offenders for violating artistic freedom. He introduced the case of five Tibetan musicians who were imprisoned by the Chinese government for simply singing songs that refer to the Dalai Lama and praising Tibetan culture. For charges like "seditiously splitting the state", as of 2017, all five remain in prison.
Magnus Ag then introduced another guest of the panel, Silvanos Mudzvova who unfortunately was not able to come in person. Mudzvova is an activist, performance artist and a man of outstanding courage. In a video portrait he was shown criticizing the corrupt government of his home country Zimbabwe via the means of art. Dominated by Mugabe since 1980, Zimbabwe suffers an immense financial crisis, besides the recent scandal of $15 billion USD that had been raised from diamond sales and gone missing. Protesting and addressing these issues, Mudzvova staged a public performance in front of the parliament. For his art, he was abducted, tortured, and almost lost his life. Unfortunately, the country is affected by heavy censorship that targets activist, artists, and journalists. As Mudzvova says, he uses art as a catalyst in order to achieve change in the world.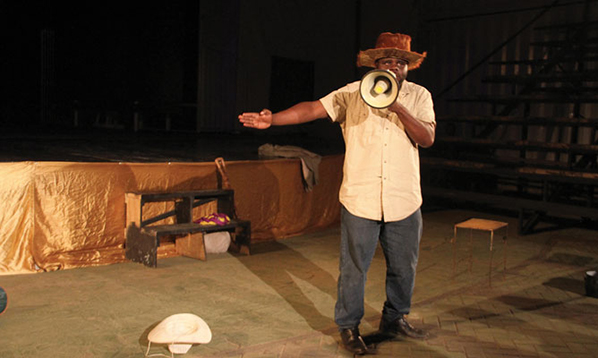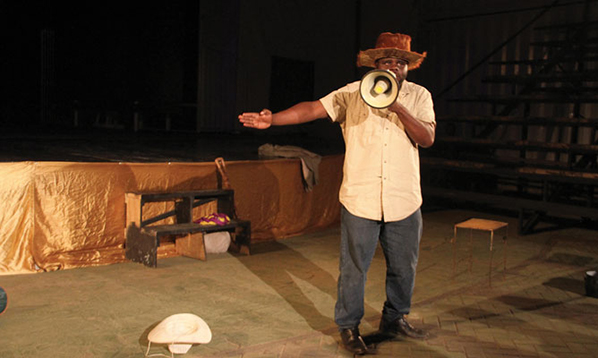 One may ask what makes art so powerful that governments fear it, which brings me back to Picasso's quote. Art can spark a thought, question the status quo, and subtly shed light on the obscure. Art therefore makes us not only realize a truth, but it can start a revolution – something regimes fear. Hence organizations such as Freemuse take an important role in providing a platform to protagonists of dissidence, bringing those cases into the conscious realm or even guiding them into safety.
I found myself deeply appreciative the presence of Mudzvova's work on the panel as it provided an artistic and non-white perspective on enduring violent oppression from a dictatorship, thus adding to the wide spectrum of activism.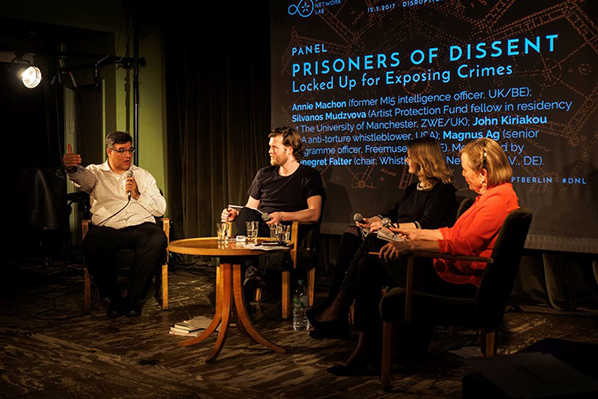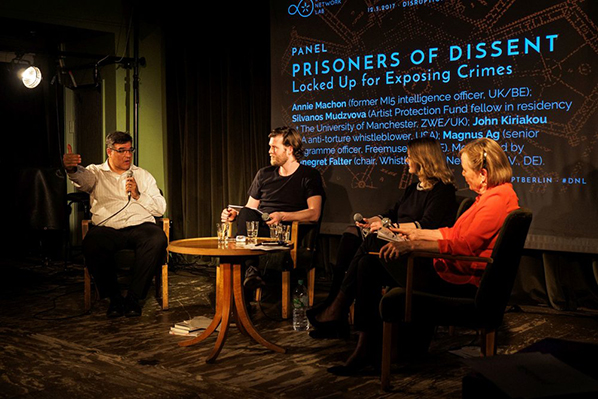 Obey
The tone of the event urgently suggested the necessity for a global paradigm shift on the perception whistleblowers: from a prosecuted traitor to a celebrated truth-teller. Such a shift would have to be underpinned by legislative means. The suggested solution was to rewrite laws so political dissent can be protected instead of prosecuted. Looking at the legal definition of a whistleblower, it is a person that sheds light on evidence of fraud, abuse or illegality in the public interest. Why would exposing crimes be followed by imprisonment?
One can hope that Chelsea Manning's release sets an example to nourish new thoughts and laws for future whistleblowers to be better protected. Whistleblowers have always been important players in the modern political landscape within the democratic model. They refuse to conform to the hegemony, have moral principles, and an awareness of the power of information. As such they enable change for the better and for the more transparent which a fortiori reinforces the fundamental values of democracy: civil liberties, freedom of expression, participation, and peacemaking.
Without the courage of whistleblowers and activists who often put themselves in great danger, our world would look very different. This teaches us that one should practice dissent, be it as a whistleblower of injustices, in the field of arts, or in any form of disruption. In the words of Hannah Arendt, who Annegret Falter quoted in her closing of the panel: "Nobody has the right to obey".
________
Photocredits: Thomas Schmidt
The next Disruption Network Lab event is planned for November, so make sure you follow DNL on their website on and on twitter
Support John Kiriakou's legal defence by buying his book here
Consider donating to the Courage Foundation supporting whistleblowers
Find out more about the Chelsea Manning Initiative Berlin and the Chelsea Manning Welcome Home Fund
Find out more about the work of the Whistleblower Netzwerk e.V.
Follow the speakers on twitter:
@JohnKiriakou
@AnnieMachon
@AgMagnus
@SilvanosVhitori
Review on PRISONERS OF DISSENT: Locked Up for Exposing Crimes, Berlin 2017. By Berit Gwendolyn Gilma
Feature image:
Trust Me, I'm an Artist: Jennifer Willet and Kira O'Reilly, Be-wildered, 2017. Photo: Nora S. Vaage
Trust Me, I'm an Artist is an exhibition organized in cooperation with the Waag Society at Zone2Source's Het Glazen Huis in Amstelpark, in the outskirts of Amsterdam. It is a culmination of a Creative Europe-funded project, aiming to explore ethical complexities of artistic engagements with emerging (bio)technologies and medicine. The explorations in the exhibition have taken place through a play on the format of 'the ethics committee'. In university contexts, particularly within medicine and the natural sciences, researchers need to submit their proposals to ethics committees to check whether their proposed projects comply with the relevant ethical guidelines, and to point to any issues the researchers hadn't thought of. In the last couple of decades, as artists have increasingly taken part in institutional settings, even becoming residents in scientific labs, they too have sometimes been faced with these committees. The Trust Me, I'm an Artist project has included a handful of artists' proposals to ethics committees, performed in front of an audience. Some of the exhibited pieces are documentation from those events, and are aesthetically somewhat unfulfilled. As thought-provocations, however, they still work.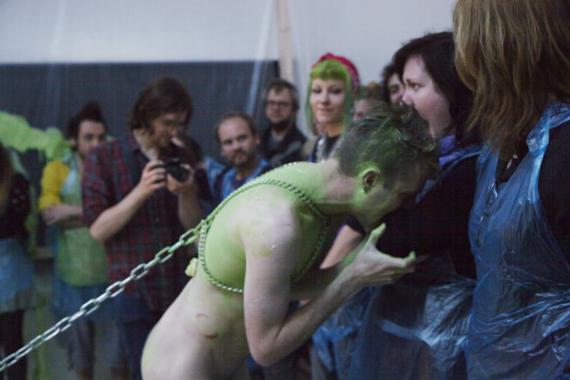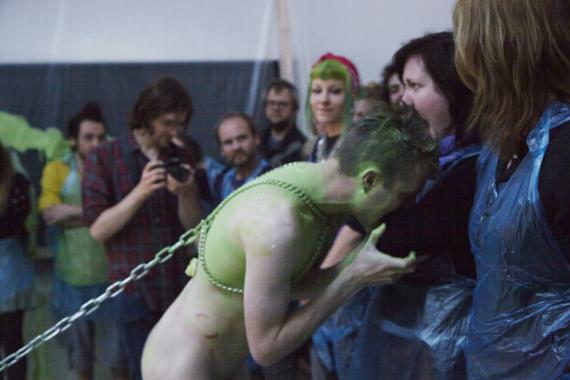 Het Glazen Huis is, indeed, made mostly from glass, which creates the effect that the park outside enters into the exhibition room. For this exhibition it seems fitting, as the artworks deal, in various ways, with living things. While one of the pieces, Špela Petrič's Confronting Vegetal Otherness: Skotopoiesis, focuses directly on plants (more on that later), the only direct conversation with the green exterior is a pile of soil, generously run through with green specks of glitter, crowned by a striking headpiece topped with tall green feathers, which seems to mirror a fern plant of about the same height on the other side of the glass wall. The soil/hat construct is paired with a strange frock, constructed from old labcoats, but with frills and a cut resembling a 17th century garment, and far from white. The front and back of the coat is decked with transparent orbs, resembling snow globes. Each of them contains a different set of microbes, placed there through various acts of swabbing the environment or asking artist colleagues for donations in the form of mucus.
The frock and the soil concoction are the remnants of a performance by Jennifer Willet and Kira O'Reilly, which took place at the Waag Society the night before the exhibition opening. Willet was wearing the repurposed labcoats, O'Reilly the green headgear and a sparkling green dress inspired by drag and camp aesthetics. For much of the three-hour event, they talked about trust: what does it mean to trust? Do these artists trust themselves? O'Reilly stated that she is not sure she even values trust that much. They shared stories about their previous work, toasted with champagne, and interspersed their conversation, gradually, with elements of a "project proposal".
O'Reilly, with Willet's help, coated her arms in whisked eggs, as a base for green glitter. She showed examples of previous performances she had done using such glitter, often in the nude and sometimes involving fertilized chicken eggs. An hour into the performance, Willet revealed that her garment had been buried in soil at a conference, where people were encouraged to do stuff to the soil over the week: composting, urinating, etc, which explained the coat's uneven, brownish tint. Only towards the end of the performance did she tell us that the globes were repurposed bowls made into "petri dishes", filled with agar and ready to serve as a growth medium for various microorganisms. She then swabbed the jacket, swiping it onto the agar in one of the bowls, then swabbed O'Reilly's nose. Willet proposes to wear another coat in the laboratory for a year, exposing it to various microorganisms, and to also wear it at home around her twin daughters, reflecting on how we large mammals serve in any case as carriers for all sorts of microbes. The ethics committee considered this a risky and unlikely aspiration, and did not think she would be allowed to go through with it. They did, however, encourage her to consult with them in developing her idea. A similar response was given to O'Reilly, who wants to cover a pine tree in Finland in glitter, reflecting on how her use of glitter is contributing to plastic pollution, and to work with a dead farmed salmon that she would get directly from a fish farm in Norway. At the end of the performance, O'Reilly unfolded a plastic sheet, spread three bags of soil onto the plastic, poured a bowl of glitter on top, and mixed it with her hands in a languid, beautiful way. She fetched a gutted whole salmon from a fridge, sprinkling glitter on it as well. Both of them, thus, did part of what they are proposing to do for their project already during the "ethics consultation", challenging the format. But they reflected at the close that the opportunity to think extensively on the ethics of their ideas was rewarding and important.
Martin O'Brien's Taste of Flesh – Bite Me I'm Yours is also documentation of a performance, which he did in London at Space c/o the White Building, in April 2015. His performance was an exploration of endurance, pain, and the overstepping of intimate boundaries. Working with his own body, O'Brien seems to have embraced the facts of living with a genetic disorder, Cystic Fibrosis, to the full. The disease causes him to produce a lot of mucus, and be short of breath.
Over a number of hours, he did a series of actions; chaining himself, biting people, being bitten, coughing up mucus, crawling around in a way that was inspired by the zombie as metaphor for being sick. He played with the fear that interaction will result in contagion, and with S&M paraphernalia and the limits between pain and pleasure. In the exhibition we see the performance on a projection taking up a whole wall, and five small, parallel video screens showing different parts of the performance. Remnants of the paraphernalia he used are exhibited on a plinth. The films in part convey the intensity and some-time repulsion that the performance must have inspired.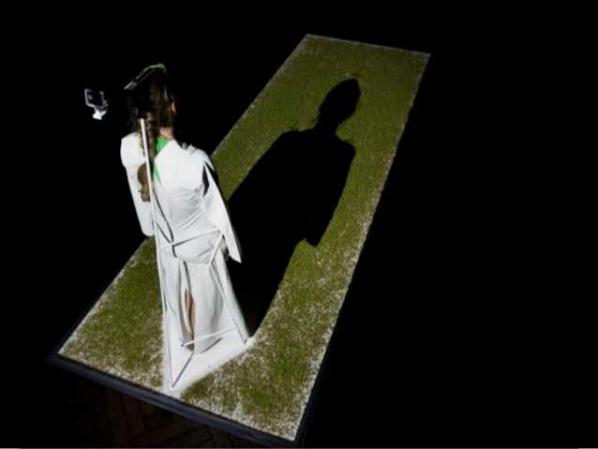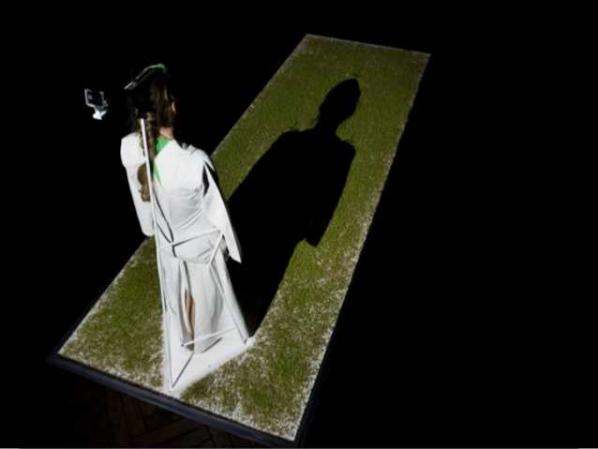 Petrič's work Skotopoiesis is less explicit, and perhaps less provocative to most. In the exhibition, we see a photograph of a field of cress, with the outline of a human shadow making the center cress paler than the rest. By standing in front of the field, preventing the light from falling onto the same spot for 19 hours a day, three days on end, she created a visible imprint of her body, through cress that grew to be longer and paler than the neighboring plants that got direct sunlight.
Plants do not follow same rules of agency as animals. We cannot easily relate to them, although some, such as trees, seem to have more presence and individuality. Grass, on the other hand, is impossible to think of as single entity. Often, as part of the ethics procedure, researchers are asked if they can use plants rather than animals, as current perceptions of what is ethical tend to exclude plants from our ethical consideration. Petrič wanted to challenge the committee with something anti-spectacular, where it would be difficult to see ethical issues. Through existing with plants, trying to conform to their timescale and mode of existence, but also modifying them through her very presence, she entered into a pensive engagement not just with the plants themselves, but with the ethics of our coexistence with them. This seems quite a timely, as recent studies show plants to have more sensations, reactions, and even abilities of communication, than has previously been thought. Given this, our disregard for the life of plants may be seen as a great ethical challenge.
Artist Gina Czarnecki and scientist John Hunt, in the piece Heirloom, created masks in the shape of Czarnecki's two daughters' faces, grown from their skin cells over glass casts. This, too, is shown on several video screens, as documentation of the actual installation of the bioreactors in which the masks were grown. The artist wanted to preserve her daughters' youthful likenesses, and the idea led to the development of a new, simple set-up for three-dimensional cell growth. One of the tricky ethical issues here is that of the ownership of a child's cells. As the girls' parent, Czarnecki could herself consent to using their cells in this way. They were happy to participate at the time, but does this kind of artistic, experimental use constitute "informed consent"? At the opening, Czarnecki observed that her daughters, moving into their mid-teens in the three or so years since their skin samples were taken, had become less comfortable with being on display in this way.
The videos show fascinating glimpses of the process, footage of the masks inside the bioreactors, flashing shots of the daughters' faces, and narrations by the key actors. At one point in the video, Hunt describes how he and two of his fellow researchers both came into the lab because they were worried about the skin cells being contaminated. Without having anything to do there, they sat together and watched over them. A rare admittance of the personal bonds that can be formed with cell cultures, and reasons for action that are far from the rational.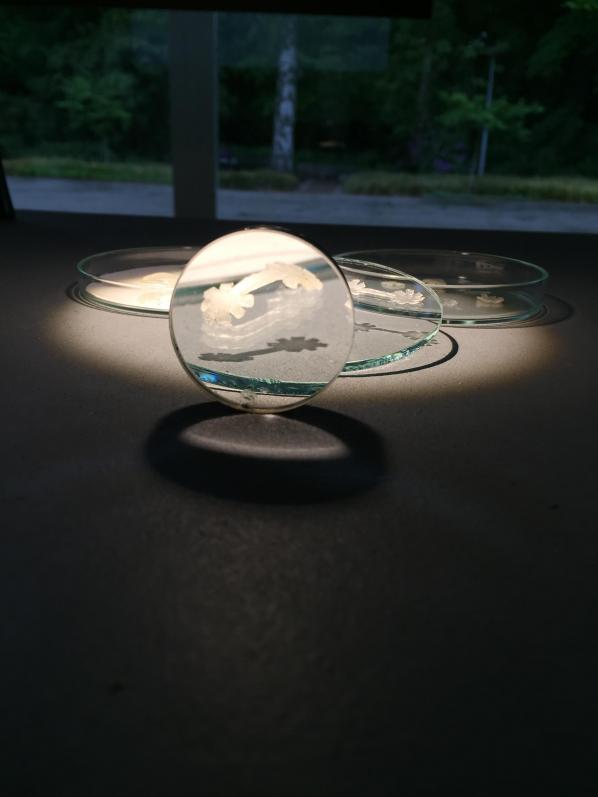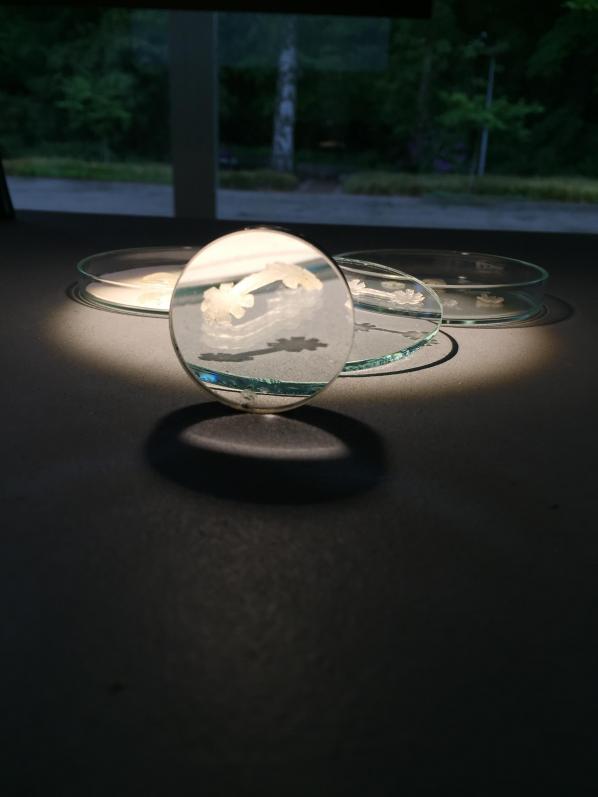 Howard Boland's Cellular Propeller is represented in the exhibition through a few sculptural elements and photos. The project started as part of his long-time engagement with synthetic biology, and his ambition was to work with living, moving cells, attached to inorganic structures, to play with the old idea that "If it moves, it is alive". Originally he hoped to use heart cells from new-born rats, but this proved difficult. Instead, he ended up using his own sperm cells, which are much more easily available, and share the ability to move. He created coin-sized, wheel-shaped plastic scaffolds that the sperm cells can ideally attach to, serving as "propellers" to literally,move the human cells, although this does not happen in a predictable way. In the exhibition, we saw reproduced the little plastic scaffolds, but not with the cells "in action".
With the change from heart cells to sperm, the connotations of the piece changed slightly; while the question of "what is living" remains, reproduction, birth and movement still being central to the piece, the use of sperm also brings in ideas about pleasure and the surplus production of cells through recreational sex. Through repurposing sperm cells for the mechanical task of moving these wheels, Boland shifts the discussion towards life without the basic "meaning" that reproduction conveys.
"Controlled Commodity" by Anna Dumitriu features a dress from 1941, also exhibited on a headless mannequin, and mended with patches containing gene-edited E. coli bacteria. An example of wartime austerity, the dress is CC41 – controlled commodity 41. Dumitriu stresses the fact that 1941 was the first year that penicillin was used, and unlike clothing, this was not a controlled commodity. Overuse of antibiotics over many years has led to the current crisis, with more and more bacteria becoming resistant to the antibiotics we commonly use.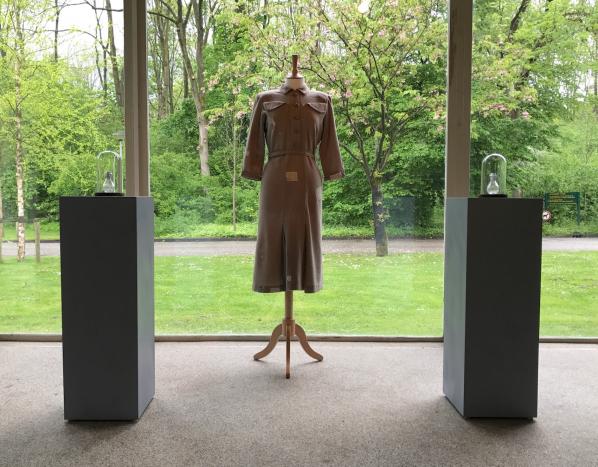 Through participation in the Future and Emerging Art and Technology program, Dumitriu was an artist in residence in an Israeli lab, and worked with the much-hyped, much-discussed CRISPR-Cas9 technology. The use of CRISPR for gene editing is currently being presented as a much easier way to insert or remove genetic information. In this case, Dumitriu used it to remove a gene for antibiotics resistance.
When she had to create a repair fragment to patch the bacteria back together, she used the phrase 'make do and mend', an explicit reference to WWII history. Dumitriu grew the CRISPRed bacteria on silk, sterilized them, and sewed the E. coli patches onto the (somewhat moth-eaten) dress. In addition to the dress, she is displaying the plasmid created using CRISPR in a little glass vase, only covered with aluminum foil – and without having asked permission. In an identical glass vessel, little paper circles contain all the antibiotics in commercial use.
The piece is rich, complex, and daring. In editing the genome of E. coli bacteria to remove an ampicillin antibiotic resistance gene, Dumitriu is proposing a potential solution to the pervasive problem of antibiotics resistance, which might also be ethically problematic: such suggested solutions being "around the corner" might lead to less focus on discovering new antibiotics, or the sense that continued over-use can be maintained. Also, her insistence on exhibiting plasmids in the gallery is not high-risk (as far as we know, plasmids need some sort of shock effect to be taken up by bacteria), but it does seem a somewhat unnecessary exposure. Dumitriu's CRISPR work will be discussed in a Trust Me… event at the British Science Festival in Brighton in September.
Open Care – Inheritance, by Erich Berger and Mari Keto, imagines a personal responsibility for nuclear waste, in the form of radioactive family jewellery that goes from generation to generation, in the hope that you might one day wear it. The jewellery is kept in a radiation-proof container, and for each generation that takes over its care, it can be tested to see if the radioactivity has gone down to a safe level, so that "the jewellery can finally be brought into use and fulfill its promise of wealth and identity or if it has to be stored away until the next generation" (quote from the exhibition catalogue). The jewellery box and low-tech tools to check its radioactivity are exhibited behind a glass wall. This thought experiment suggests that the unimaginably long timespans that it takes for radioactivity to subsist can be broken down into spans of time that we can relate to. The personal nature of such family jewellery creates an emotional narrative of very personal responsibility for the waste we produce.
The artistic license seems to be to challenge, stretch, and provoke, and indeed, the artworks in this exhibition both challenge and stretch our views on what responsibility means. So, can we trust what these artists are up to? One never knows, but through engaging in these extended conversations with the public and hand-picked committees, they do give us new grounds for reflection on ethics, trust, and responsibility in science, in society at large, and in art.
Note: I saw this exhibition during the opening, and some elements were still not up and running.
Feature image:
Iza Pavlina, "Rule 34", solo exhibition, Aksioma Project Space, Ljubljana, Slovenia 19 April – 12 May 2017
The Aksioma Project Space hosting Iza Pavlina's "Rule 34" exhibition is an immaculate visual realisation of a lifestyle minimalist's wet dream. There are two large video projections covering the surfaces of opposite walls in the white cube. Another set of four monitors is tilted on the floor, beaming at you towards the center of the space. All projections show the same composition of a young woman, the artist herself, on a clear background, overwhelmingly beautiful and innocent, mildly disinterested, bare-shouldered, engaged in playing repetitively with a different toy in each video. The third wall is neatly adorned with a set of six C-print photos with the same flawless composition. The last wall presents outlined drawings of yet the same composition, stamped with a QRcode of pages like Pornhub, xHamster, and Xvideos. Each QRcode leads to the artist's profile on different social media sites, where the same set of perfect videos are presented. Perhaps you have no idea what these sites are, but if you are one of a quarter of internet users who frequent online porn sites, the chances are that your own profiles on these sites are your deeply buried dirty secret.
Much like any other of your favorite social media sites, porn sites include a public profile for the gaze of all your friends and a private space for personal chats. How Web 2.0 has changed the meaning of concepts such as friends, public and private space is beside the point; What is meaningful for the exhibition is that Pavlina lets you take a sneak peek into private messages she has had with her friends, or rather fans, on these sites. For this private viewing, she adopted an exhibition format called "offline art", which was initially developed by German artist Aram Bartholl. Essentially, every video or photo is connected to a local Wi-Fi router, which lets you hub into a specific private chat. Here is where the titillation, arousal, curiosity, surprise, even shock or disgust emerge – here, in this secret hidden space, where the boundaries of mainstream porn as we know it are challenged and explored.
Somehow, Pavlina's interest in sexuality, pornography, and paraphilias is well summarized in the title itself. The rules of behaviour for being on the internet were posted on meme-sharing sites like 4chan.org sometime back in 2004. Rule 34 says: "There is porn of it, no exceptions." The following two rules clarify the statement. Rule 35 says "If no porn is found of it, it will be made," and Rule 36: "There will always be more fucked up shit than what you just saw." [Paasonen, 2011] These three rules alone show that the diversity of pornographic exploration has exploded with the easy accessibility and seeming anonymity of online identities. Social taboos have been lost somewhere in the translation of the meaning of the virtual i.e digital. For a time, it was believed online porn had little effect on the corporeal, and the social taboo and guilt associated with it seemed not to be applicable. But it has turned out that fiddling with oneself on the internet is just as carnal. As a young artist in her 20s, Pavlina started exploring the subject a few years ago with her half-hour video piece "Talk to Strangers!" (2014). This piece was edited from online video chats, during which she pretended to be a 14-year-old girl. With this piece, she was trying to "highlight and expose in an original and unobtrusive way the global issue of disorders of sexual preference and the incidence of paedophilia on the World Wide Web". However, in the "Rule 34" exhibition, she takes a turn from a legal and moralistic point of view towards a more uncharted and ambivalent pornographic landscape. Interestingly enough, the kink of mainstream heteronormative sexuality is a topic which really appeals to artists and researchers alike. There is a wide acceptance and interest for alternative porn in the arts, whether it is vintage, humorous or LGBT, while the mainstream is often disregarded as tacky, normative or even filthy. The first set of genres is easy to read since they obviously produce a set of meanings in the field of cultural critique. The mainstream, however, bemuses.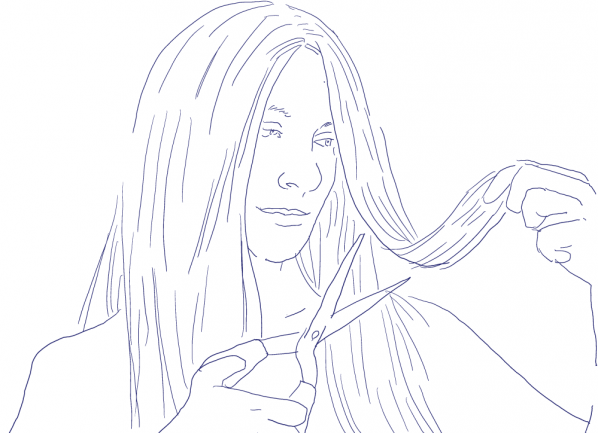 Now it is time to explore the toys Iza Pavlina is playing with. For her videos, she has chosen a set of less known and quite surprising paraphilias, which produce an intense sexual arousal for specific individuals. The activities may seem usual or even quite ridiculous to another individual who is turned on by something completely different. In the process of making "Rule 34", she has uploaded the videos to her profile on various pornographic social media sites with the name of a specific paraphilia and a teasing description such as "Agalmatophilia: Virgin turns into a fuck robot", "Balloon fetishism: Young looner babe blowing her first balloon", "Exophilia: Nasty girl playing with balls", "Pony play: Wild pony getting trained", "Plushophilia: Hot naked blonde cuddling her teddy bear", "Trichophilia: Submissive bitch gets her hair chopped off". In these descriptions, there are a number of clichéd identifications such as blondeness, paleness, youthfulness and submissiveness, which suggests a blunt disregard for the question of race and other identities, yet she somehow evades the need for the interpretation of her actions. The videos are visceral and saturated with body and presence, yet surprisingly unintrusive. Her action is not trying to identify with the fetish nor to imitate the fantasy, but to become it. And she does so with a laboratory accuracy. The work seems to treat corporeality in Elizabeth Grosz's terms, proposing the presence of the body without the need to reduce it to semiotic inscriptions or the assertion of meanings.
Even though the artist creates a set of online identities, she seems not to be interested in the question of mimicry or fake personalities. On the contrary, she becomes and plays with these identities, interacting with her friends or rather fans, who she teases, tempts, and attracts. She is interested in the performativity of the body, and its capability to speak for itself. As Susan Paasonen would put it, the interest lies in "resonance", which equally "encompasses the emotional and cognitive as well as the sensory and affective" (Paasonen, 2011, 27), producing intensity, appeal, and force. "Rule 34" does not produce any metaphorical meaning, and perhaps this novelty within the storytelling of a young generation becomes most obvious if we try and compare it to an older example of paraphilia in arts. For example, we may associate the injury fetishism, which Pavlina also explores, with J.G. Ballard's book "Crash" and its film translation by David Cronenberg. Ballard himself explained it as a result of "the marriage of reason and nightmare, which has dominated the 20th century with its sinister technologies and the dreams that money can buy"; It is a "the merging of sex and paranoia" and "the death of affect".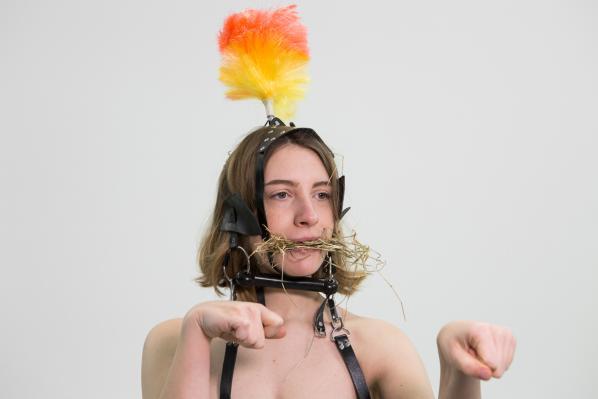 Pavlina however, finds no fear in the omnipresence of technology and the visceral connection between the human body and technological tools. She seems to value only the "resonance" of technology, regardless of what cultural conditions it is produced in. She is liberating the list of fetishes and fantasies from the history of treating sexuality in clinical terms, since the normality of desire has been culturally produced and theoretically reduced to a psychoanalytic understanding of suppressed memories, phobias and philias. There is absolutely nothing psychoanalytical about "Rule 34". The artist goes against the understanding of paraphilias as objects of perversions. She plays and enjoys the outcome, communicates with fans and haters, and even lets the gallery visitor to sneak peek into private messages with particularly kinky content. One of these is "Cum Tribute" – the act of cumming on a printed picture, monitor or pad, which has so often been contributed to her gorgeousness, that she received in private messages for every video she uploaded. By documenting such actions, she has archived a behavioural phenomenon that is completely off the chart from conventional archives, and in her playful exploration of mainstream porn, she seems to reassure: there is nothing normative about any sexuality and that's just fine.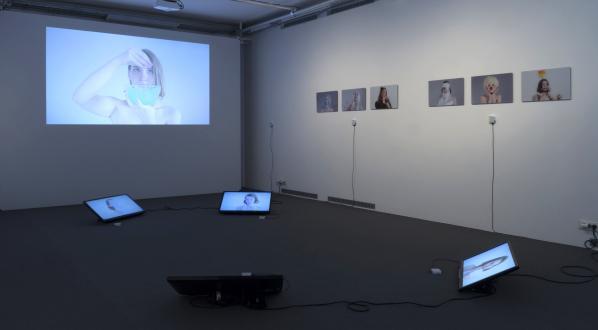 Economic theory states that technological change comes in waves: one innovation rapidly triggers another, launching the disruptions from which new industries, workplaces and jobs are born. Steam power set in motion the industrial revolution, and likewise since the 1990s a torrent of digital and software developments have transformed industries and our working lives. But the revolutionary very quickly becomes humdrum, and once-radical and efficient innovations like the telephone, email, smartphones and Skype, become part of everyday, even mundane experience. Despite all the time-saving devices we have successfully integrated into our lives, there is a collective anxiety about the current wave of technological change and what more the future holds. Mainstream dystopian visions of our relationship with technology abound, but are we in fact engaged in a group act of cognitive dissonance: using our smartphones to read and worry about robots taking over our jobs, whilst wishing for a shorter work week and more time for creative pursuits?
The British Academy recently brought together a panel of experts in robotics, economics, retail and sociology to talk about how technology is reshaping our working lives. This review summarises some of their thoughts on the situation now, and what developments lie ahead. Watch the full debate here.
Helen Dickinson OBE reported on the British Retail Consortium's project, Retail 2020, a practical example of how technology is changing consumer behavior and affecting firms in her industry. The UK's retail sector has on the one hand embraced technology and created a success story. The UK has the highest ecommerce spend per head in the developed world, with c15% of transactions taking place online, and at 3.0m employees it is also the largest private sector employer in the UK. However, beneath this, internet price comparison ushered in fierce price competition. Retailers are using technology to improve manufacturing and logistic efficiencies to control costs and offset shrinking profit margins. Physical stores are closing as sales migrate online. The BRC predicts a net 900,000 jobs will be lost by 2025. Nor will the expected impact be even: deprived regions are more reliant on retail employers and so will be more affected by job losses. Likewise, the most vulnerable, with less education or skills and looking for work in their local area, will be the hardest hit.
Prof Judy Wajcman resisted the urge to overly rejoice or despair at technological developments. For her, this revolution is not so different to the waves which have come before. It is impossible to predict what new needs, wants, skills and jobs will be created by technological advances. Undoubtedly some jobs will be eliminated, others changed, and some created. However, we can certainly think beyond the immediate like-for-like: a washing machine saves labour, but it has also changed our cultural sense of what it means to be clean. Critically, we should stop thinking of technology as any kind of neutral, inevitable, unstoppable force. All technology is manmade and political, reflecting the values, biases and cultures of those creating it. As Wajcman said, 'if we can put a man on the moon, why are women still doing so much washing?' In other words, female subjugation to domestic labour could have been eliminated by technology, but persistent cultural norms have prevented this from happening.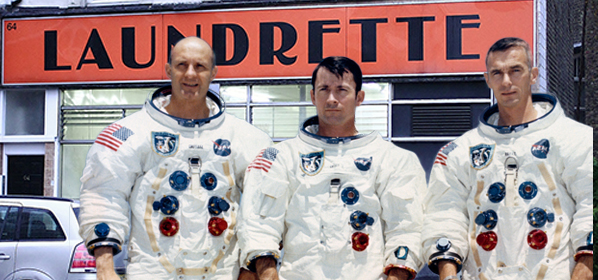 Dr Sabine Hauert is a self-professed technological optimist. For her technology has the potential to make us safer and empower us, for example by reducing road accidents, or allowing those who cannot currently drive to do so. Hauert sees a future not where robots completely replace humans, but where collaborative robots work alongside them to help with specific tasks. The crucial issue for dealing with this future lies in communication and education about new technologies, since the general public, mainly informed by news and cultural media, is ill-served by a steady drip of negative stories about our future with robots.
The short film Humans Need not Apply is one such alarming production, chiming with Dr Daniel Susskind's altogether more gloomy view of the longer term effects of technological advances on the workforce. To date, manufacturing jobs have been those most affected by automation, but traditionally white collar jobs also contain many repetitive tasks and activities (just ask the employee drumming their fingers on the photocopier). Computing advances mean that many more of these are now in scope for automation, such as the Japanese insurer replacing some underwriters with artificial intelligence. For Susskind, it is not certain that workers will continue to benefit from increased efficiencies as technology advances. A human uses a satnav provided s/he is still needed to drive, but the same satnav could just as easily interface with a self-driving car, eliminating the need for any kind of human-machine interaction. Calling to mind the wholesale changes to UK heavy industry in the 1980s, any redeployment of labour will present huge challenges, and what work eventually remains may not be enough to keep large populations in well paid, stable employment.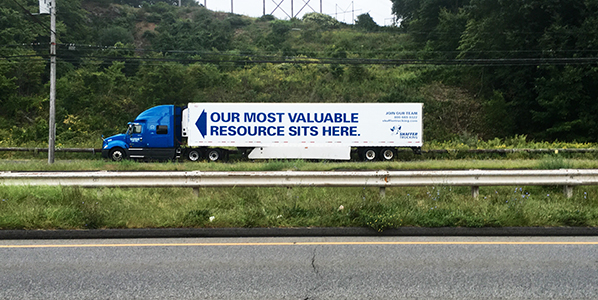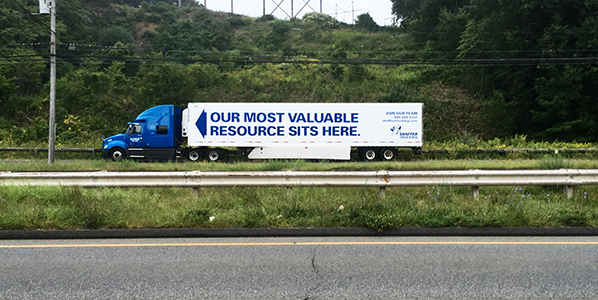 Can humans benefit from robots in the workplace?The panel agreed that technological change will continue apace with wide reaching ramifications for our workplaces and our wider societies, but that it is our human qualities that will give us an advantage over machines. Perhaps this is the most pressing notion: we urgently need to recalculate the value we place on tasks within society. Work where social skills, communciation, empathy, and personal interaction are prioritised (like teaching or nursing) may develop a value above that which is rewarded today.
If we smell such change coming, it is no wonder we are anxious. The panellists differed on the ability of our society to absorb and adapt to coming technological change, and the distribution of any net benefit or loss. So, is the only option to accept the inevitable and brace for the tsunami to hit? Well, no. We need to realise that 'technology' is not one vast, distant wave on the horizon, but a series of smaller ripples already lapping higher around our ankles. Returning to Wajcman's point, all technologies are created by people. If innovation has a cultural dimension, it can be influenced, so we must take heart and believe in our ability to effect change.
The further we can work to democratise and widen the pool of creative engineers, developers, artists, designers and critical thinkers contributing to the development of technologies, the broader the spectrum of resulting applications and consequent benefits to society as a whole. We can be conscious in our choices as consumers as we adopt new products and services into our lives, and challenge the new social norms emerging around work and life as technology allows us to blur the boundaries between them. And finally, we need to consider who profits, and who doesn't, from new business models. We should lobby government to be deliberate in designing policy that looks to these future developments, and their likely unequal impacts across regions, industries and populations, to ensure that existing social inequalities are not entrenched or magnified. Hopefully the creative community can help steer this wave in the right direction, painting a vivid picture of our possible futures, to persuade the powerful to act in the interests of the greater good.
Speakers:
Helen Dickinson OBE, Chief Executive, British Retail Consortium
Dr Sabine Hauert, Lecturer in Robotics, University of Bristol
Dr Daniel Susskind, Fellow in Economics, University of Oxford and co-author of The future of the professions: How technology will transform the work of human experts (OUP, 2015)
Professor Judy Wajcman FBA, Anthony Giddens Professor of Sociology, LSE and author Pressed for time: The acceleration of life in digital capitalism (Chicago, 2015)
Chair:
Timandra Harkness, Journalist and author, Big Data: Does size matter? (Bloomsbury Sigma, 2016)
Katharine Dwyer is an artist who considers the modern corporate workplace in her practice.